Yes, it may be cold, but the romance of the season, the glamour of a dark evening reception, the fabulous rich colours all add up to something rather special, as today's beauty proves. And what more perfect timing for this gorgeous, festive, Christmas wedding.
Meet Tash, a data analyst, and Dave, a surveyor, who married at Ballydugan Mill in Northern Ireland on the 16th December 2017 in a festive and romantic winter ceremony.
"We chose this old renovated mill as our venue as it was perfect for a winter wedding, having that romantic, rustic feel.  It also looks amazing when its dark with all the beautiful twinkly lights."
Images by Simon Hutchinson Photography
Tash wore a beautiful gown by Naomi Neoh, which she wore with a matching lace jacket.  I absolutely adore the sweetheart neckline and full skirt, as well as its deceptive simplicity.
"I fell in love with this dress as I felt it had that classic romantic princess feel and when I tried it on I knew nothing would compare. I loved the big skirt and fitted waist.  I also loved that I had the lace jacket for the ceremony and a belt for the reception/evening (from Etsy store Magnificence Bridal) which transformed the dress and made it feel like having two separate outfits."
"The first time we were in each other's company we were at a mutual friend's wedding in Ballydugan Mill – the same place that we got married.  I remember saying to my best friend Hanna (who's wedding it was) that I would love to get married here.  Dave moved to London shortly after that for a few years and we didn't properly meet again until he moved home."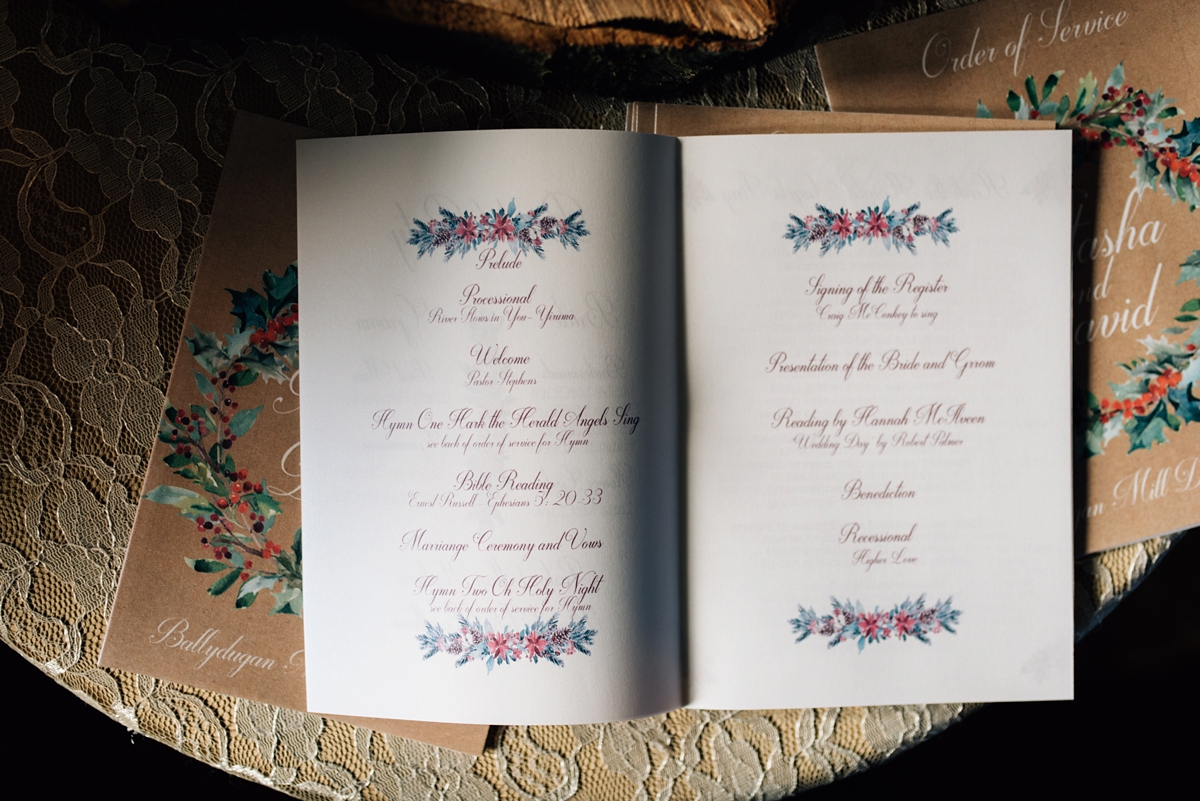 "We met again at a fancy dress party – I was dressed as a chicken and Dave was dressed as a mime – and since then we've been inseparable.  We decided to buy a house after being together for a year – a few weeks before we got the keys to our house we went round to do a few measurements for furniture and that is where we got engaged."
Hair and make up were the work of Tash's sister Sophie Daisy Mcclure and Tash opted to wear her hair down in loose curls, with dramatic eye make up and a pink lip, perfect for the season.
[JP-VIDEO]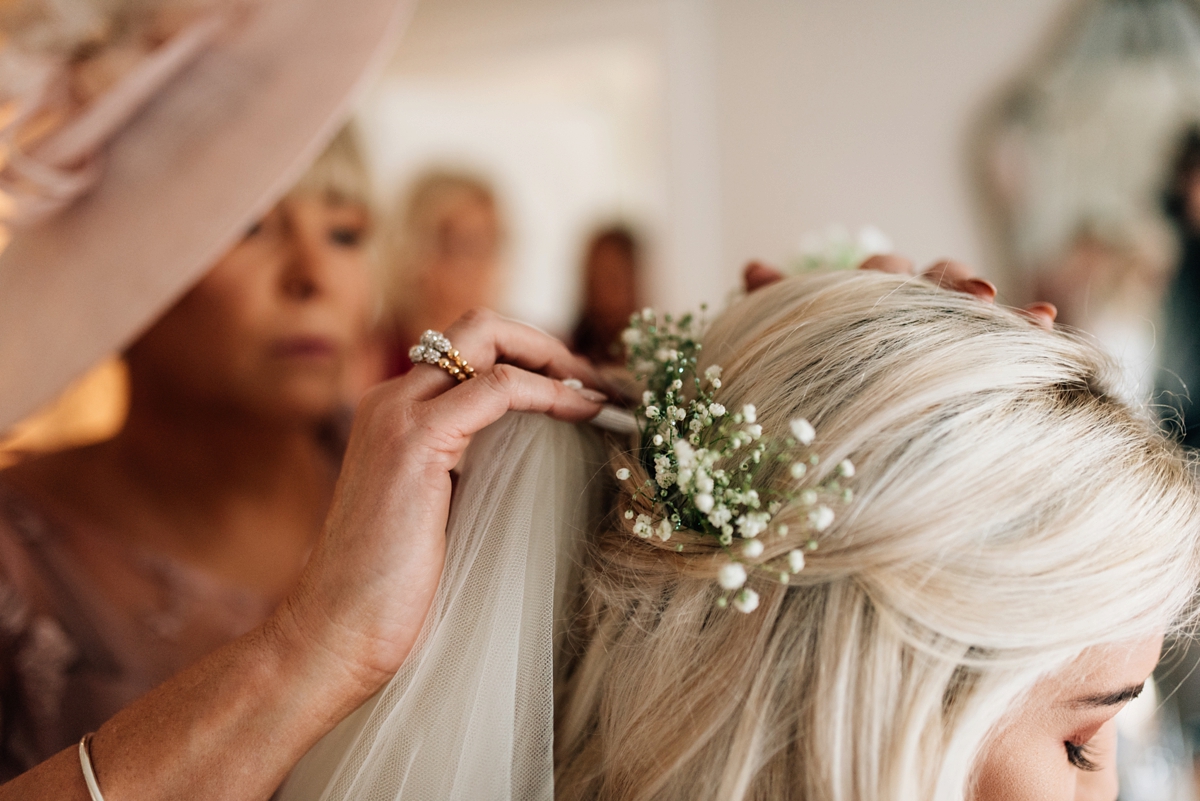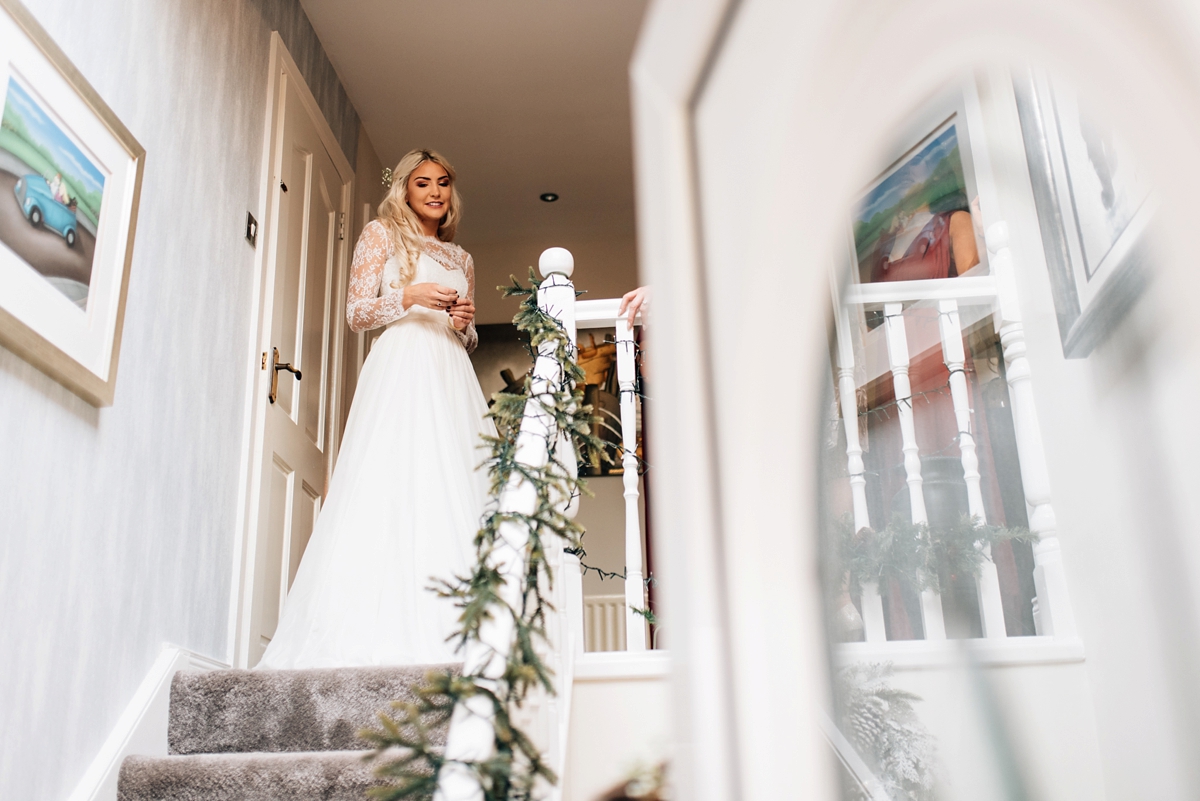 On her feet Tash wore shoes from Dune, while for her veil she chose a family heirloom, wearing her mother's own wedding veil from 1987.  I just love it when this sort of thing is possible!
In her hair she chose to wear romantic fresh gypsophilia, while for jewellery she borrowed a pair of earrings from Dave's sister.
"Dave gave me a gift to open on the morning of the wedding which included a Michael Kors bag and Victoria's Secret perfume – I wore this on the day."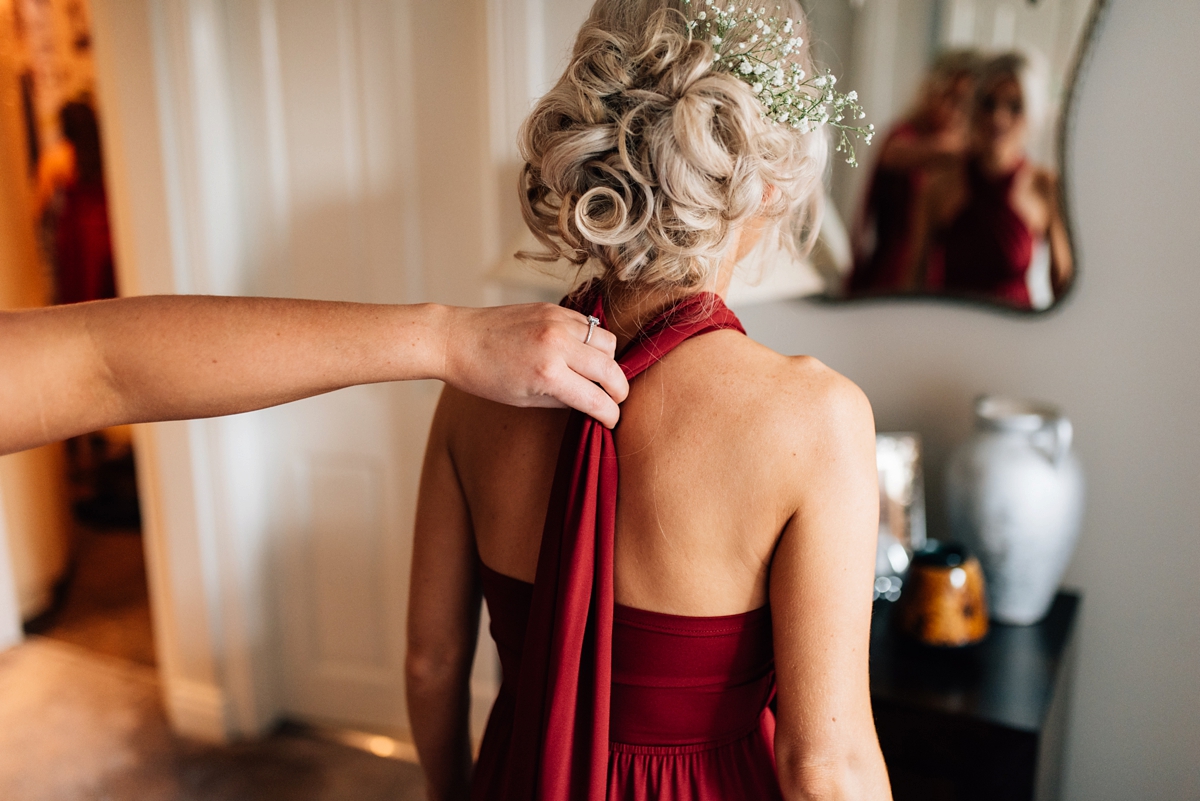 For flowers, Tash chose The Flower Room Belfast, after seeing their work on Instagram.  Sometimes I think winter brides can worry over flowers – is anything available in the winter?- but Tash's gorgeous bouquet proves there is no need for concern.
The flamboyant mix of berries, roses and lush greenery is the perfect accessory.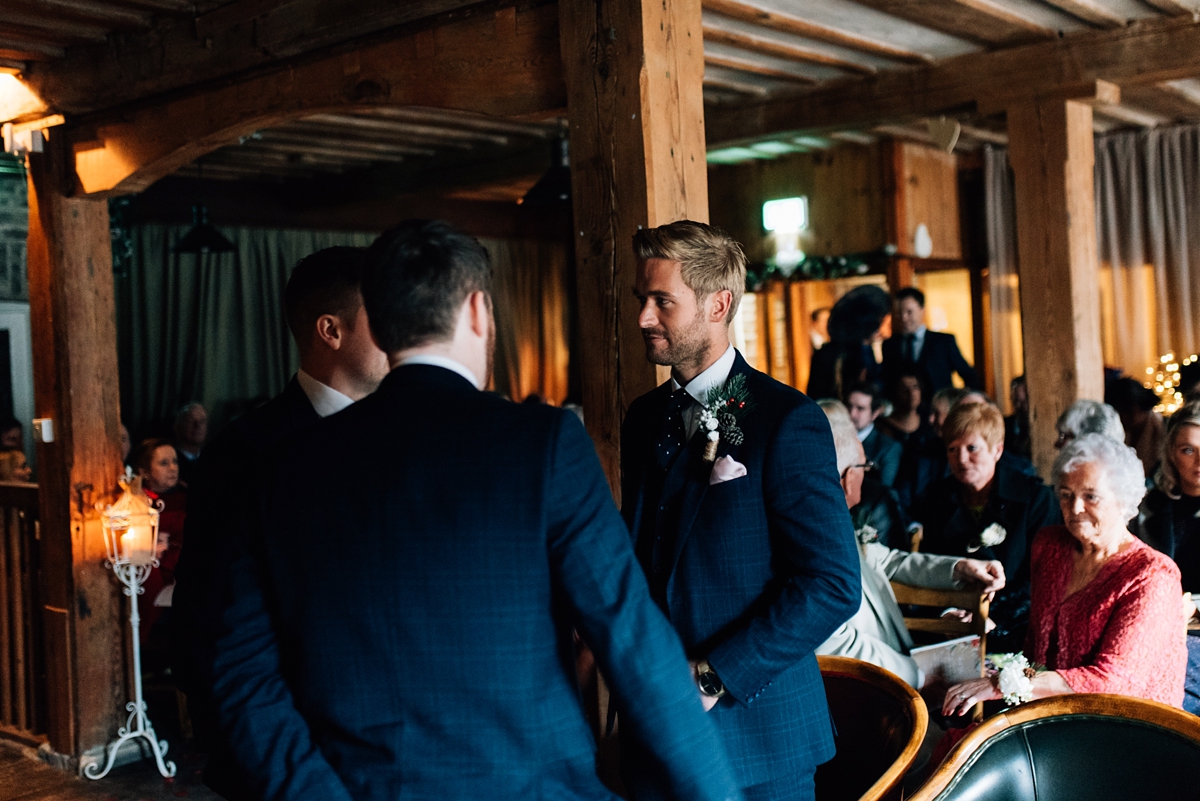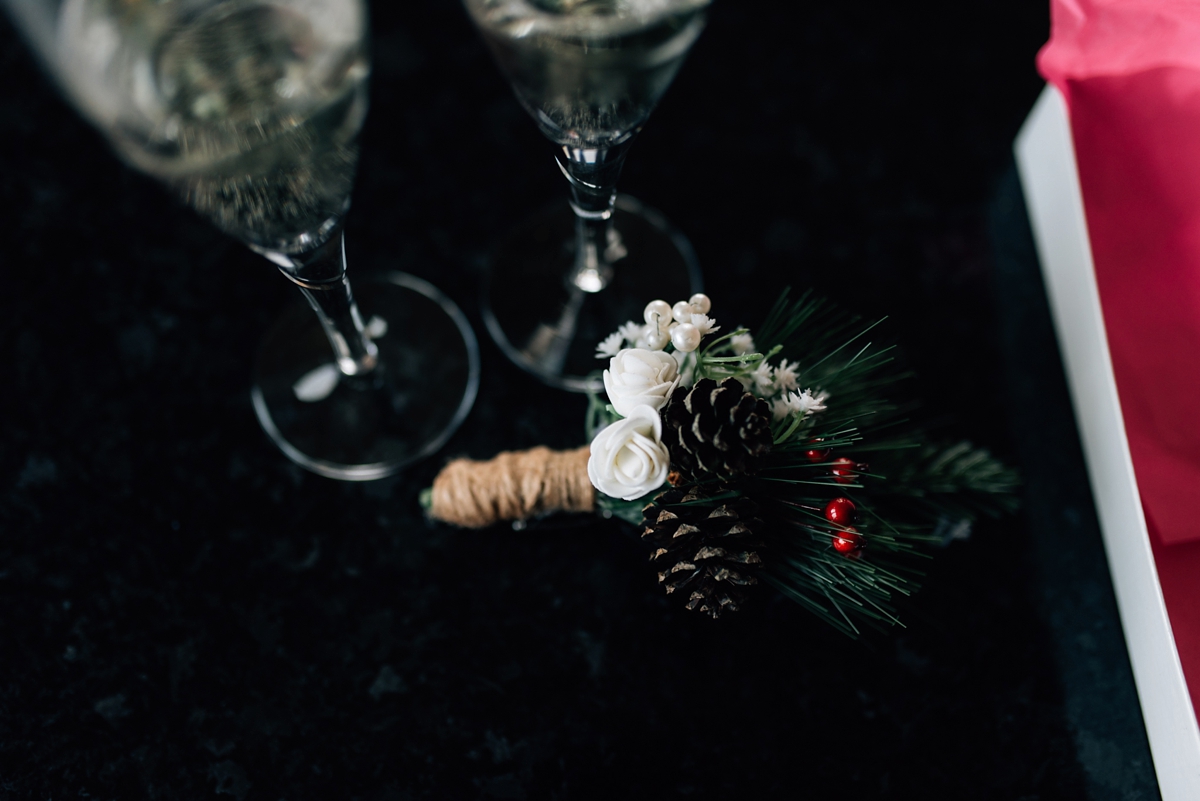 Dave wore a dark blue suit from Herbie Frog Menswear, worn with a spotted tie from T.M Lewin, a pocket square from Reiss, tie clip and belt from Marks and Spencer, cufflinks from Next and a watch from Michael Kors.
The groomsmen matched him, but were distinguished from the groom by a plain blue tie and different pocket square.
Tash was preceded down the aisle by the bridesmaids and flowergirl and her dad then proudly accompanied her down the aisle to 'River Flows in You' by Yiruma.
"We had a religious ceremony and the Pastor from my parent's church (who I have known for many years) married us which made it feel very intimate.  The room in which our ceremony was held was quite small which we loved (and it helped with the nerves)."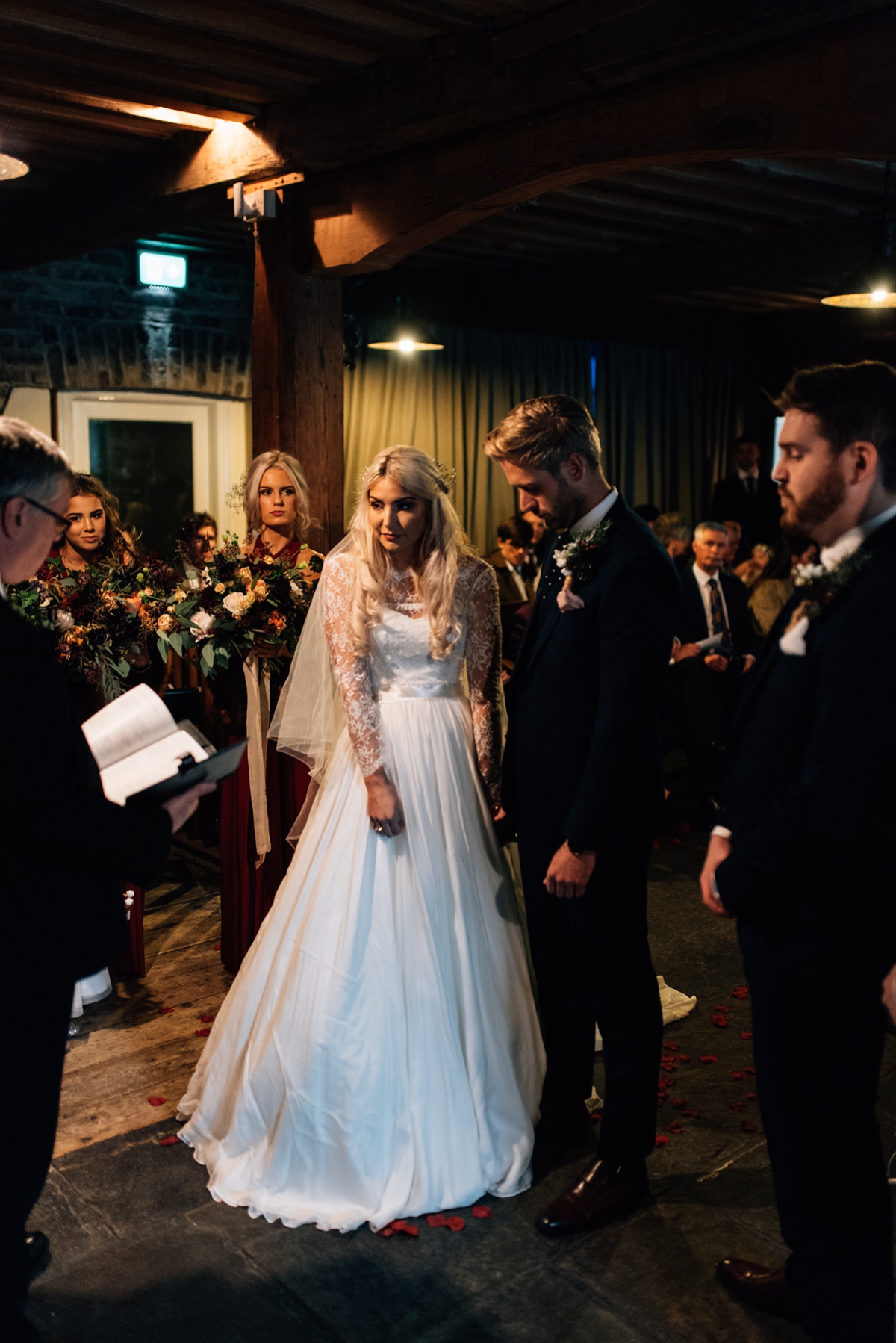 Tash and Dave spoke the traditional church vows and Tash's grandfather read from the bible, while her best friend Hanna read 'Wedding Day' by Robert Palmer.
To cement their words of love and commitment, the newlyweds exchanged rings, purchased from Ellisons Jewellers in Belfast.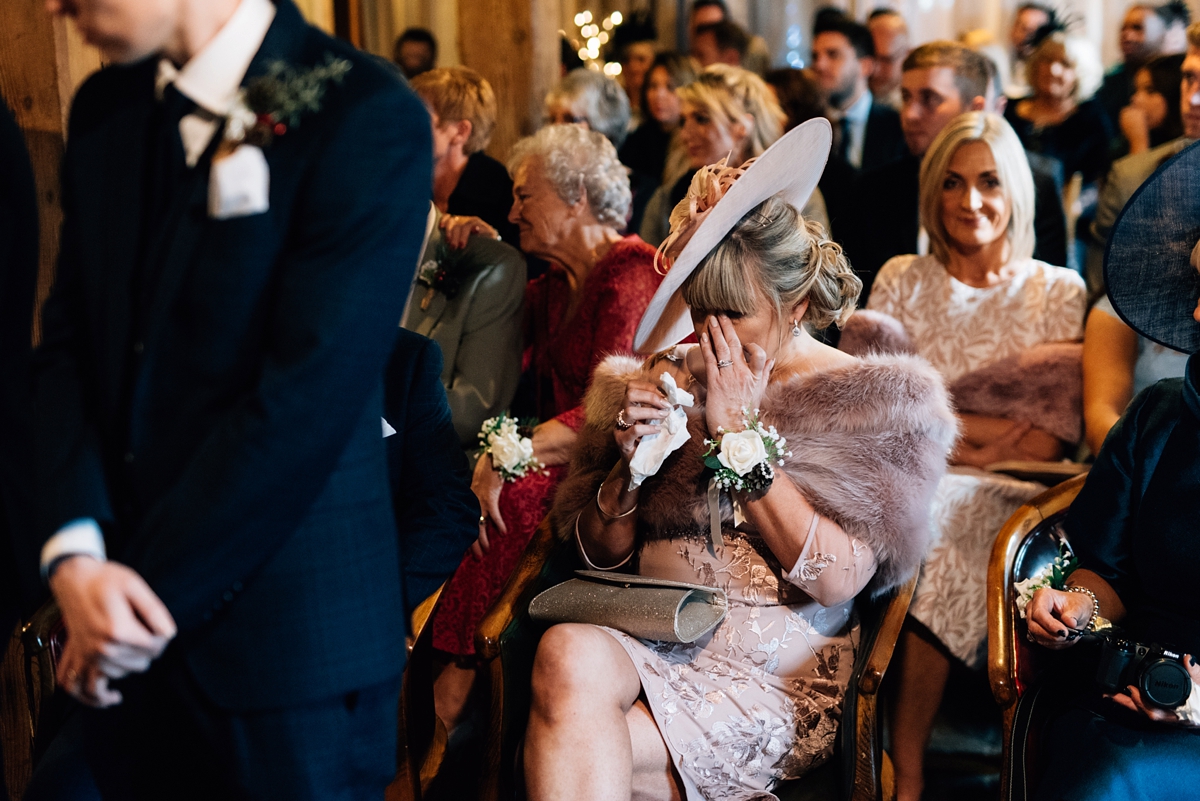 "The engagement ring that Dave got for me was a beautiful gold band with a large ruby and diamonds so we used the red and gold as our colour scheme, which worked perfectly with the festive season."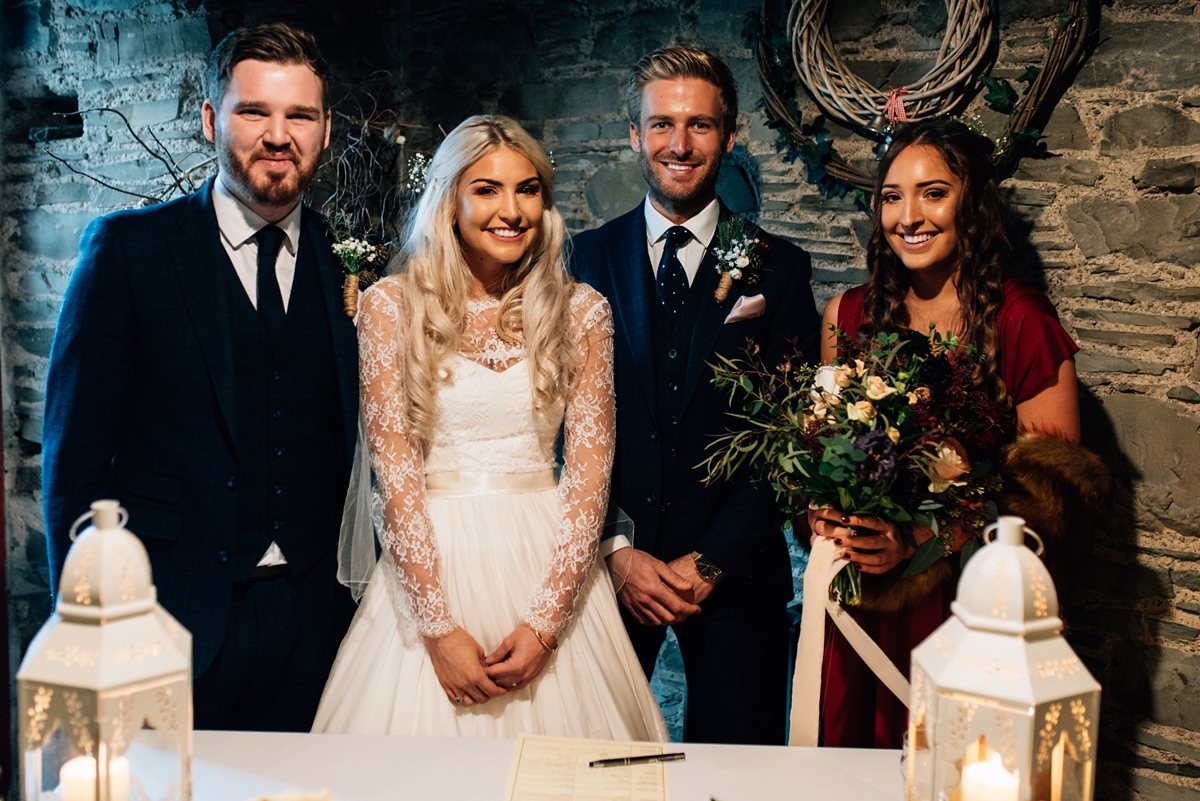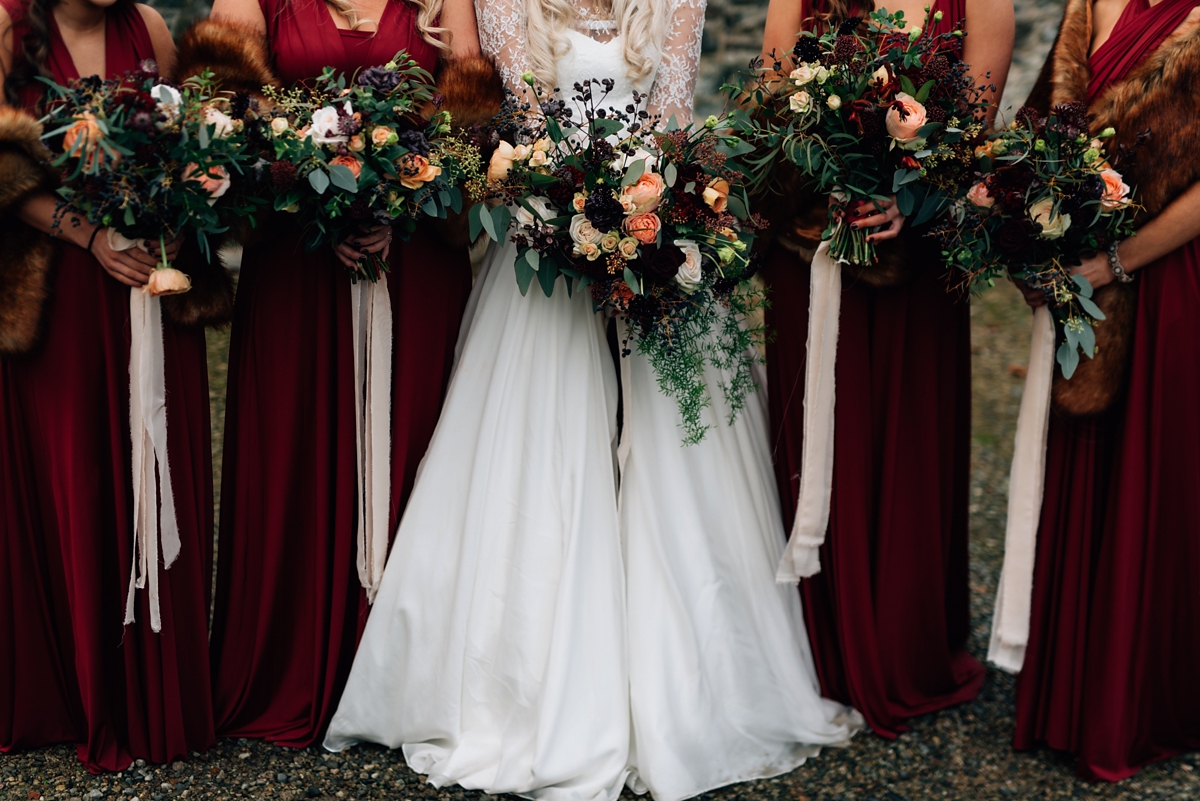 The talent behind the lens of today's beautiful photographs was Simon Hutchinson Photography.  I especially love the mix of portrait shots and documentary-style images, which build up a lovely picture of the day.
Tash and Dave also chose to have their day captured on film, and chose Eternal Sunshine Productions for the job.  If you have a spare five minutes today (or four minutes and fifty-three seconds to be precise) I would highly recommend a peek at the short version of the video, which can be found here.
The bridesmaids looked festive in deep red dresses from The Daintyard, Etsy, worn with shoes from Matalan, fresh gypsophilia in their hair to echo the bride and bracelets and earrings from Accessorize, while the little flower girl wore a white dress from our Little Book Wedding Directory members, Monsoon, worn with a little faux-fur cape.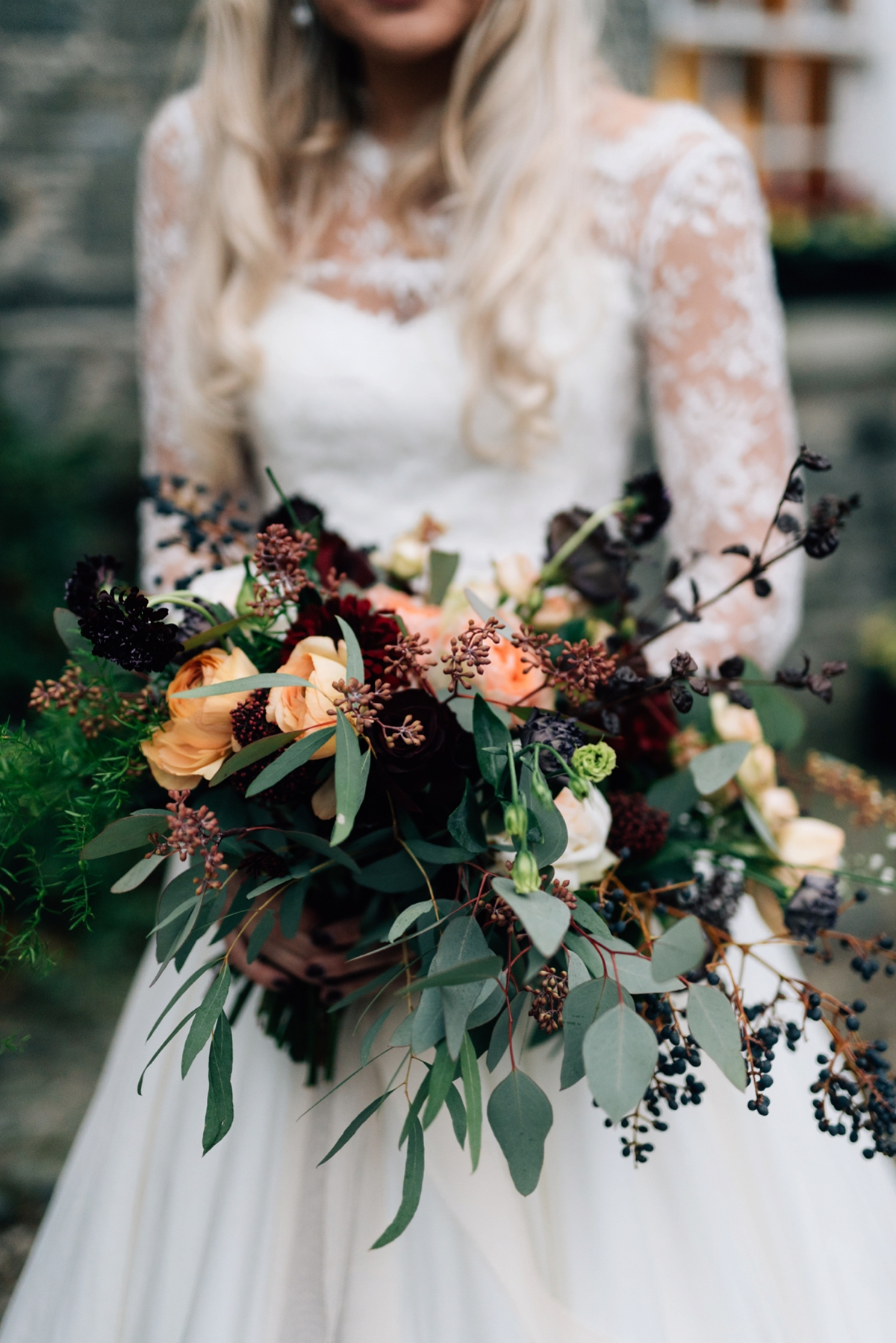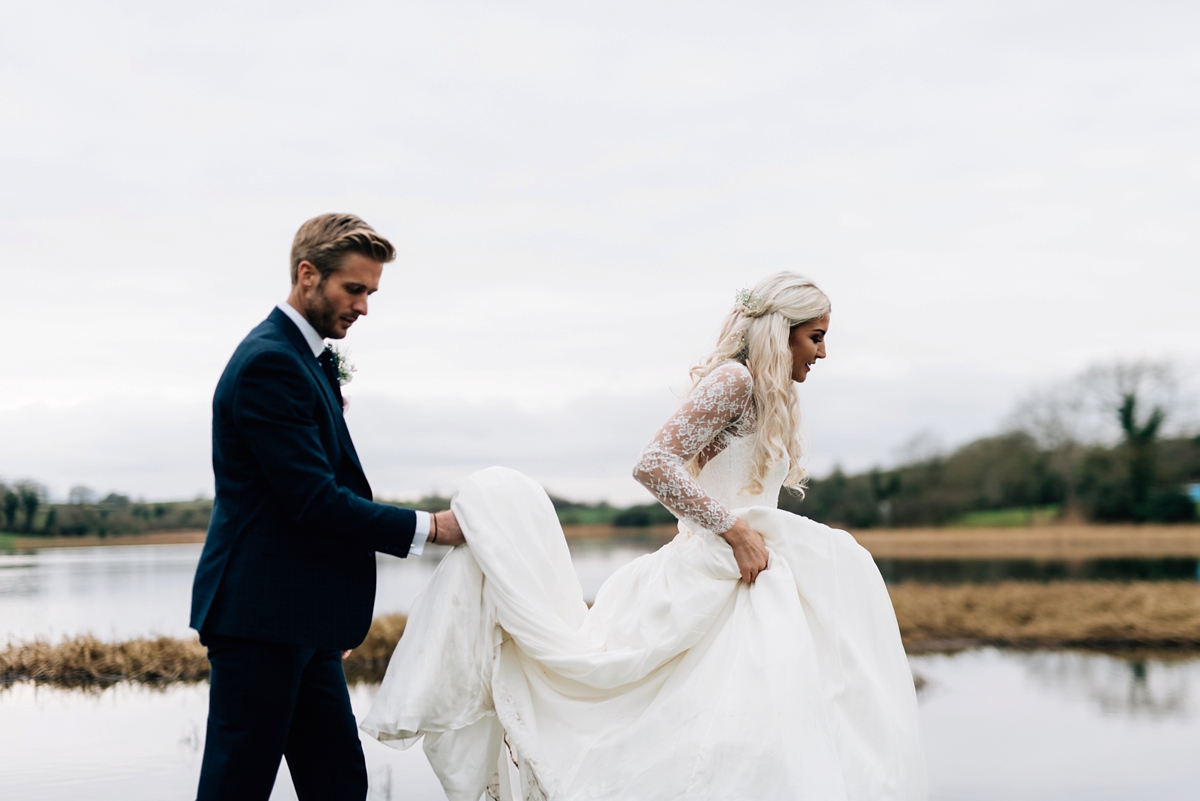 Ceremony and drinks reception music was provided by Craig McConkey and entertainment pianist Jill Hawthorne kept the celebratory atmosphere going throughout the afternoon, while band the Astronomers took over for the evening, keeping the dancefloor constantly full.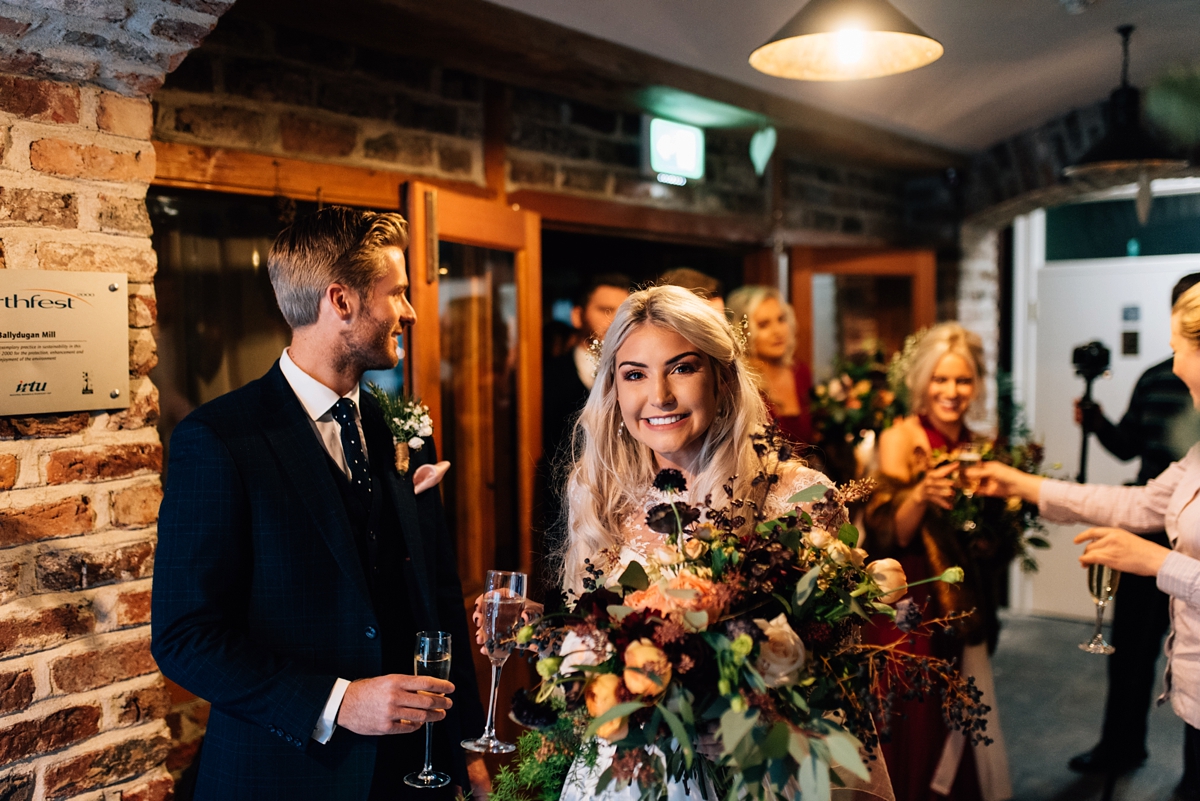 Decor took the form of Christmas trees and garlands, while fairy lights and greenery completed the cosy picture.  Stationery was the work of Stationery Laura Linter from Two Little Words Designs.
Catering was done in house by Ballydugan Mill while the fabulous wedding cake and doughnuts were from Roy's Home Bakery (no website) in Belfast.  Favours were candy canes, to keep with the Christmas theme.
"It's so difficult to say what my favourite part of the day was.  I really enjoyed that feeling straight after the ceremony when there was a real buzz in the air and everyone was congratulating us and we were all taking pictures together.  There was a champagne reception at this part of the day and everyone was excited for what was to come.
Words of Wedded Wisdom
"Enjoy the planning stage – don't get too stressed out about anything and shop around before jumping into anything."
In hindsight I wish I had taken a second to stop and really embrace the moment. There is so much going on and everyone is wanting to talk to you so the day just flies by and you don't really get a chance to just appreciate it."
"When it comes to the actual day, enjoy it.  Try not to worry about everyone enjoying themselves because everyone is there to celebrate you so make the most of it!"
So many thanks to Tash and Dave for sharing their glamorous gorgeous winter wedding with us all.  One of my best friends got married in early December several years ago and the festive excitement and rich colours of the season made for an unforgettable day- if you're thinking of a winter wedding, do let today's inspire you (and also take a peek here for more beautiful examples).
If its the dress which has captivated you, and you're as taken with Tash's Naomi Neoh gown as I am, then take a look here for more Love My Dress brides wearing dresses by this wonderful British designer.
All my love,
Shona x