I have a feeling that you're going to fall head over heels for today's wedding. It's full of creative, inspired elements that make Catriona and Tom's day beautifully unique and a real celebration of their lives together.
Have I whet your appetite? Let's begin. Catriona, founder and designer at Lilliput & Felix and Studio Cat and she married Tom, who works for Swire, in an intimate, garden ceremony at her mum's home Newhall Mains, on the Black Isle in the Scottish Highlands on 23 June 2018. They created a day of homespun celebrations where they could spend time with family and friends, eating wonderful food and drink, all of which inspired by the beautiful Scottish landscape.
Photography Caro Weiss Photography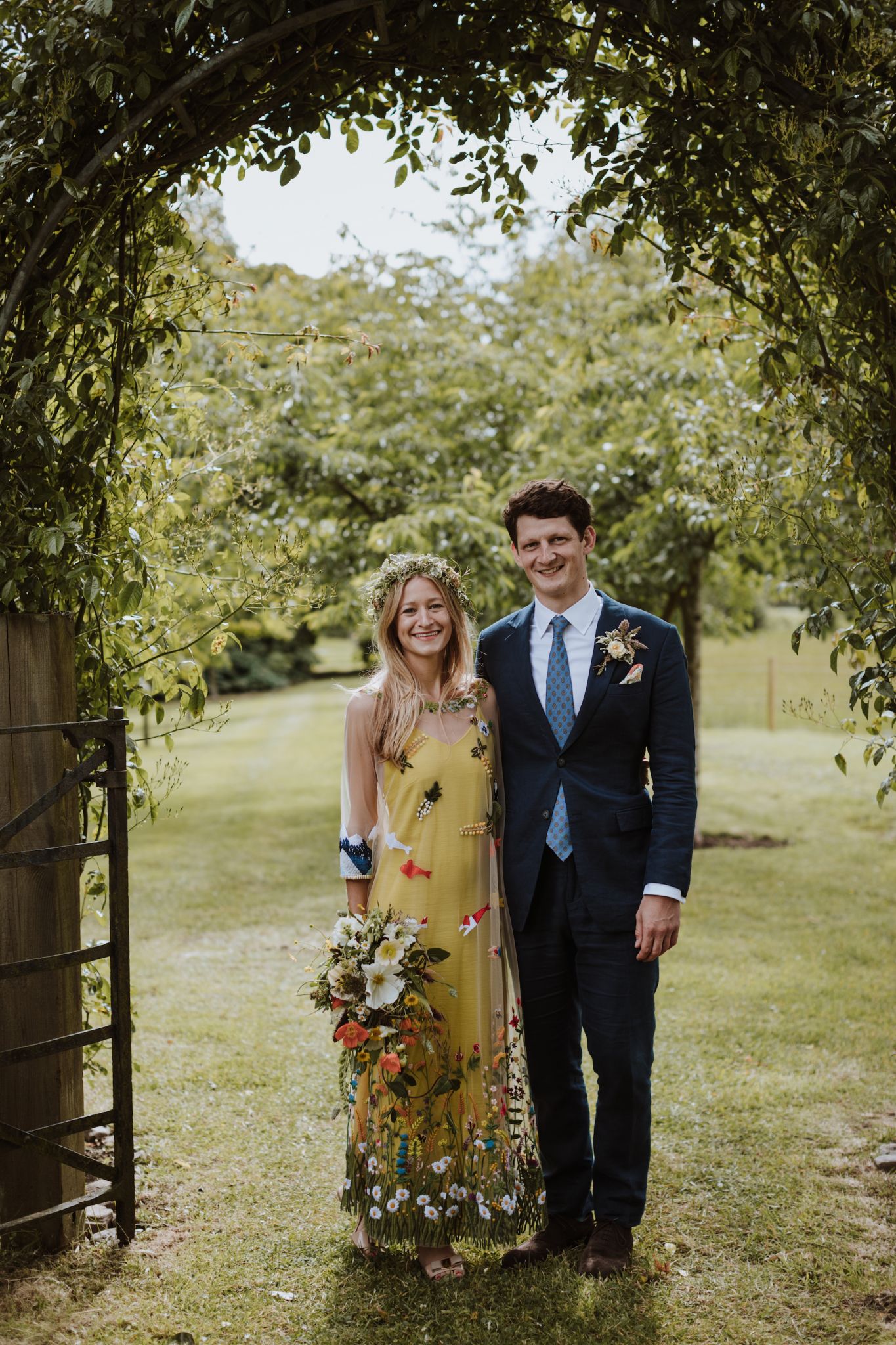 "It is home and it felt special to be there. We had our ceremony in the garden with half of it under a tree and then the reception and dinner in the Mains building's long gallery and dancing in the courtyard.""My mum has put a lot of love into restoring and renovating the 18th century farm building and we felt very lucky to take part in its inaugural wedding as it is now available for private accommodation and as a wedding and events venue."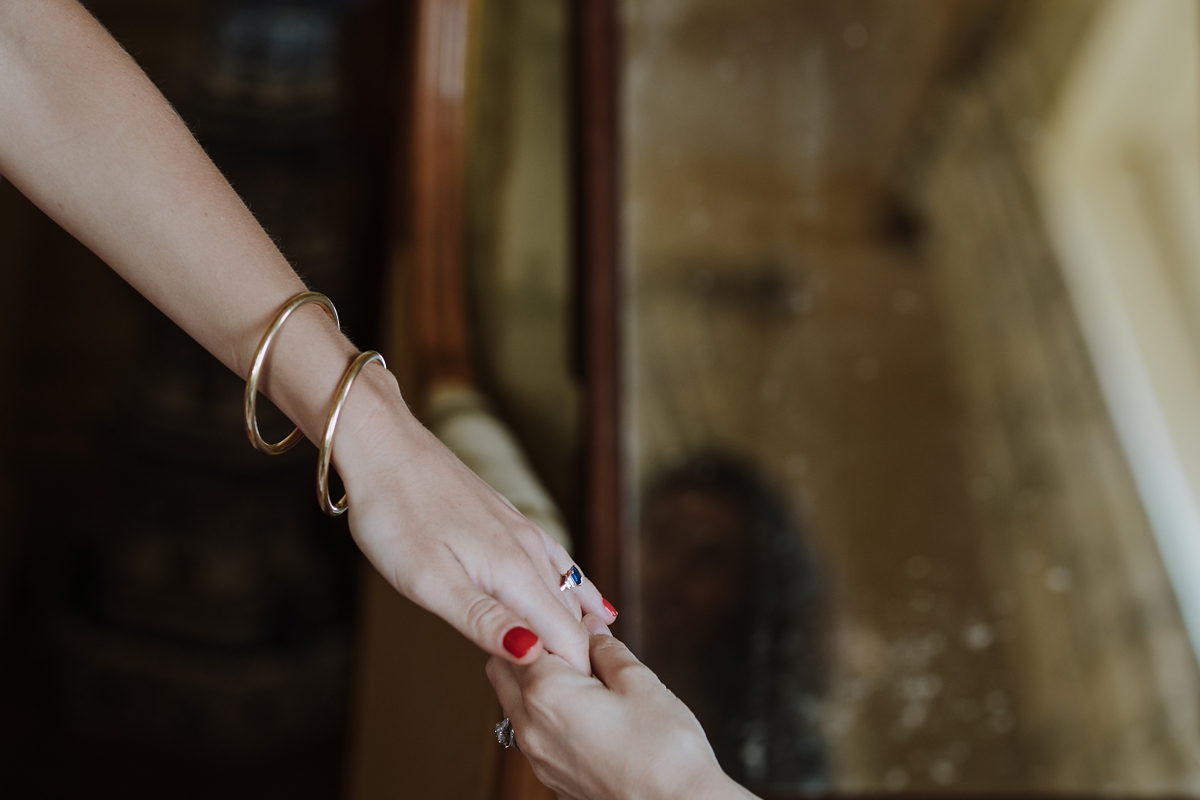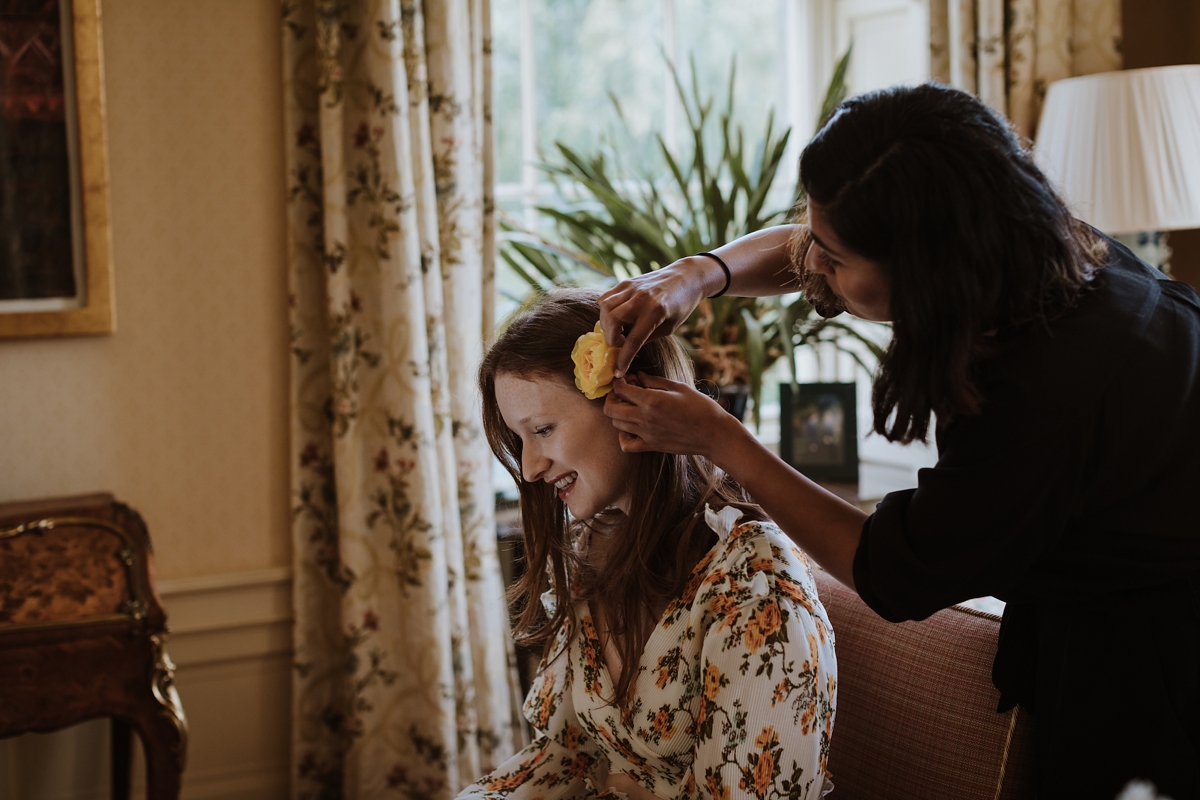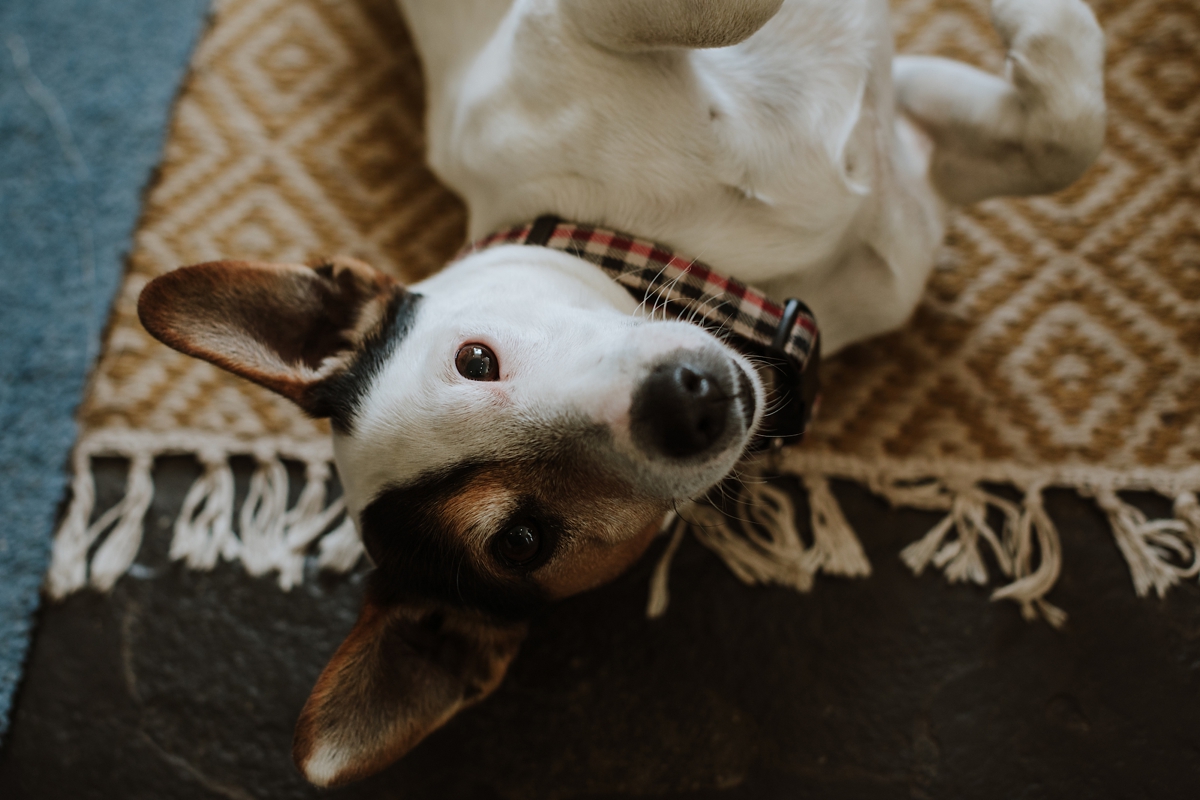 As a skilled designer and embroiderer, the bride chose to design her own dress, and asked Diane de Malherbe and her team to create the exquisitely-embroidered dress.
[JP-VIDEO]
She's incorporated references to their story past, present and future for such a lovely touch.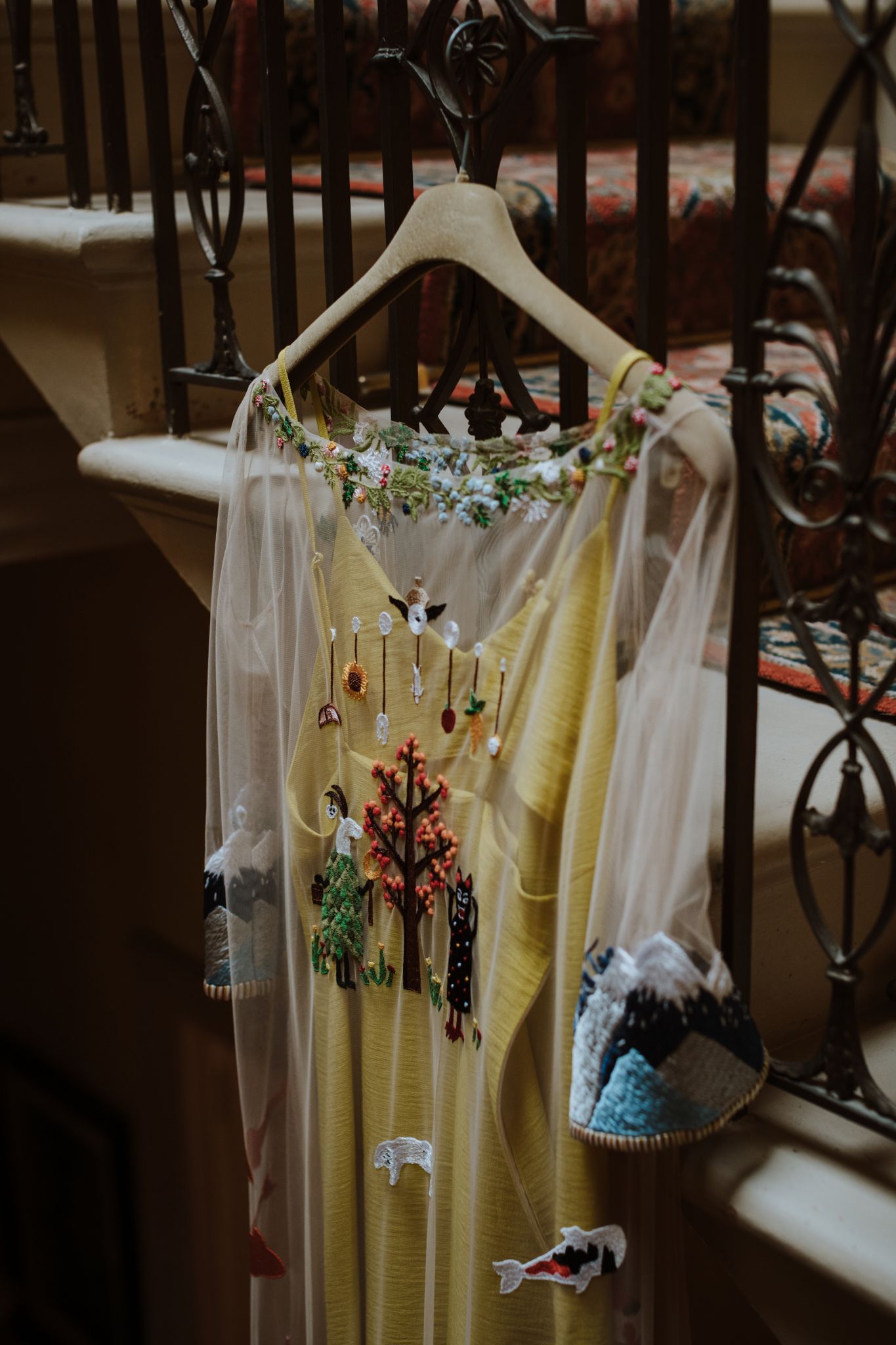 Please do take a moment to look at Caro Weiss's photos to see the incredible amount of detail and work she put into creating her gown. I particularly love the 'meadow' which dances along the gown's hem.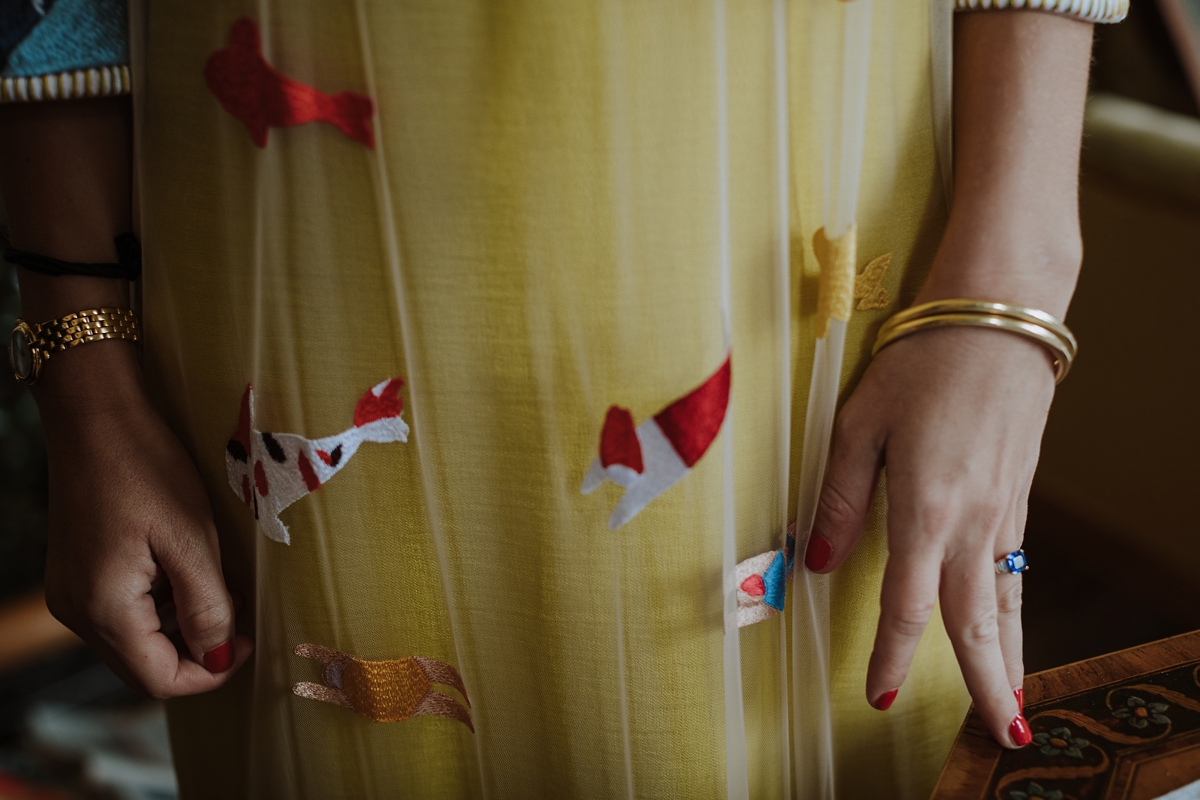 "I wanted to wear a dress that was totally me and embroider elements that were important to Tom, me, our life together and our marriage ceremony – things that symbolised our plans and dreams for the future and also represent us now."
"I didn't want to wear white so I wore a bright yellow slip under the embroidered tulle gown for the daytime ceremony and changed into a blue slip underneath for the evening. I loved feeling completely comfortable and very myself."
Catriona wore various pairs of shoes throughout the day, depending on what was taking place.
"I wore Ferragamo heels for photos followed by plimsoles by Muji for ceremony and stilettos by Charles & Keith for dinner and dancing."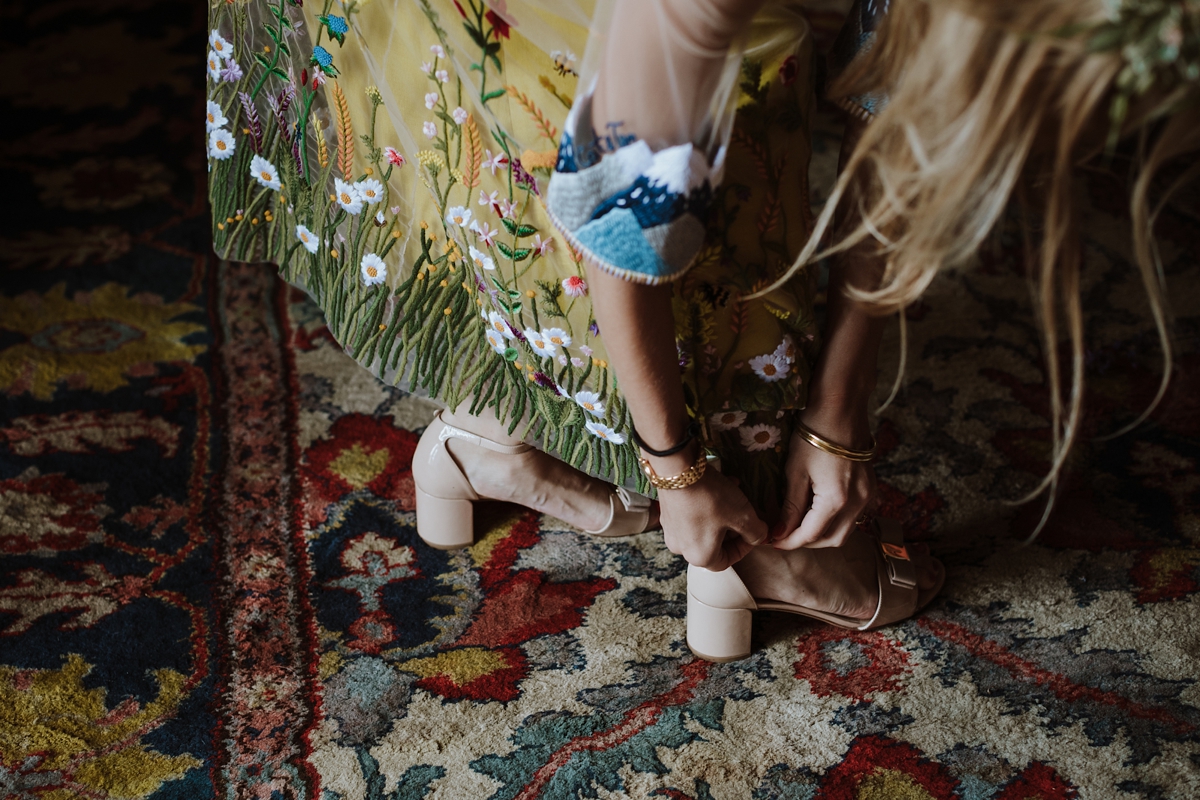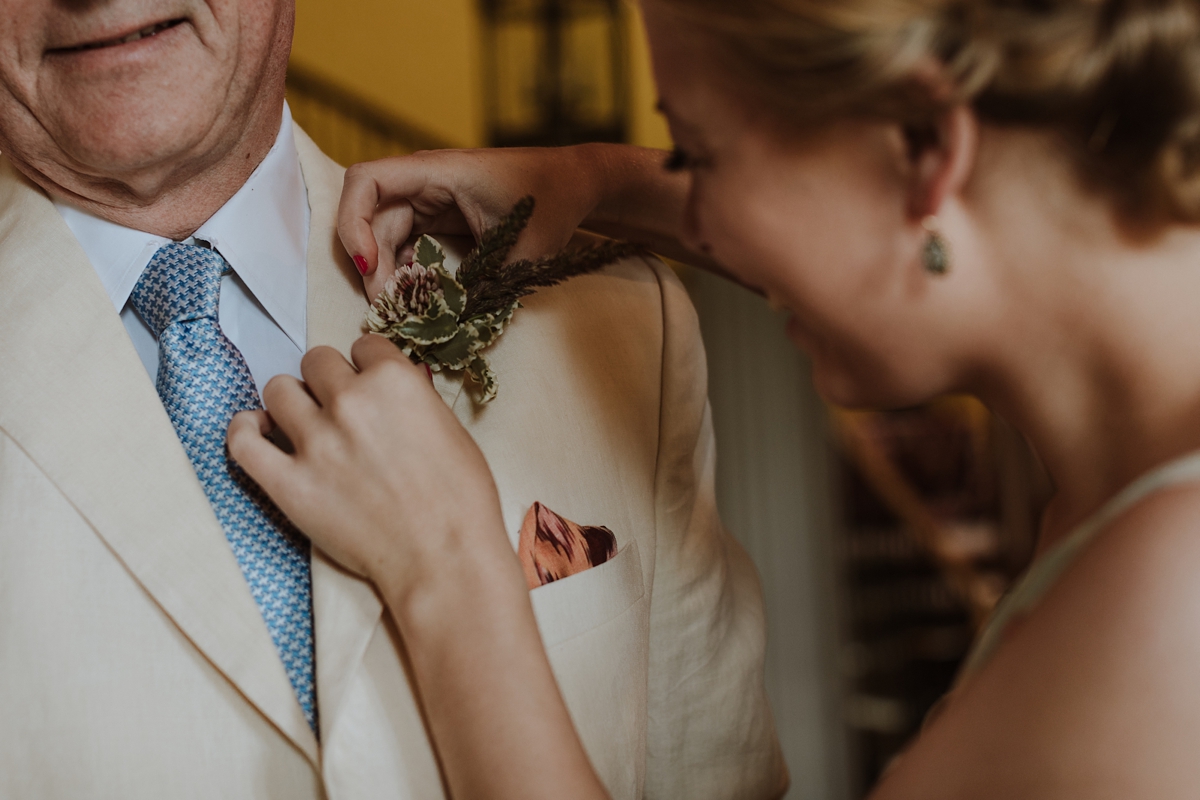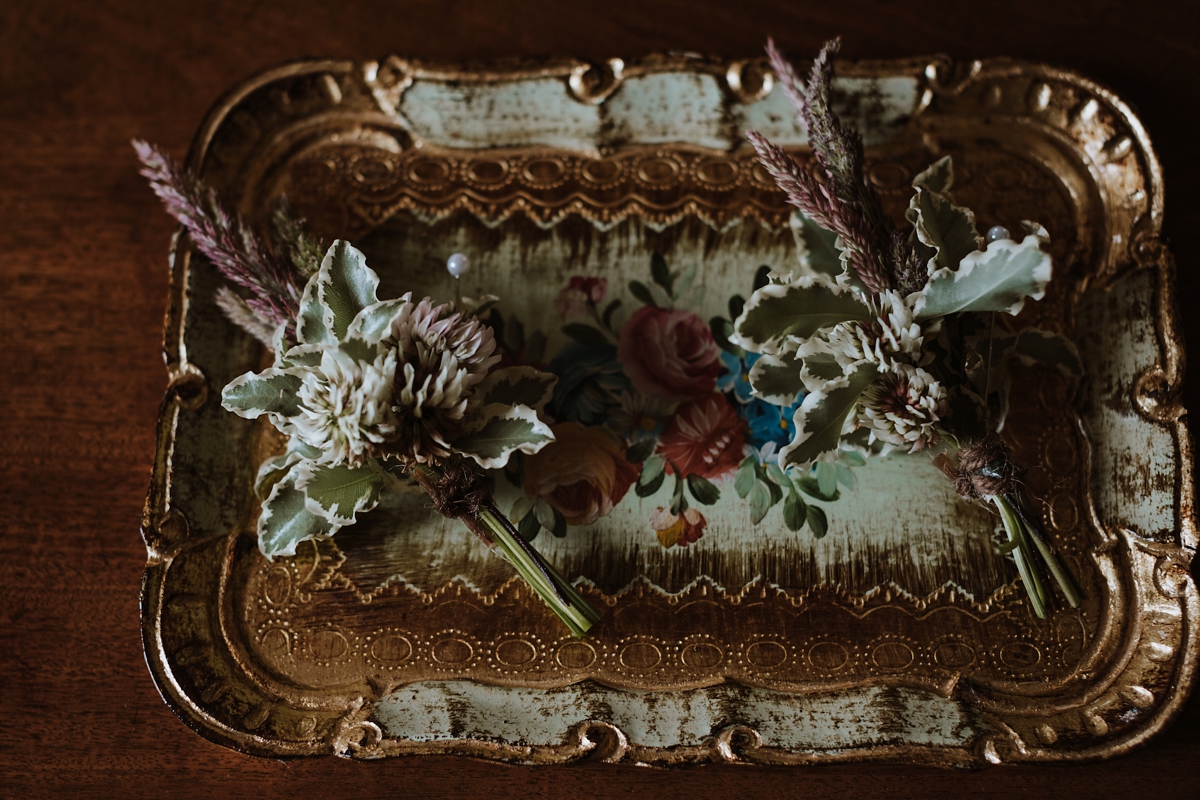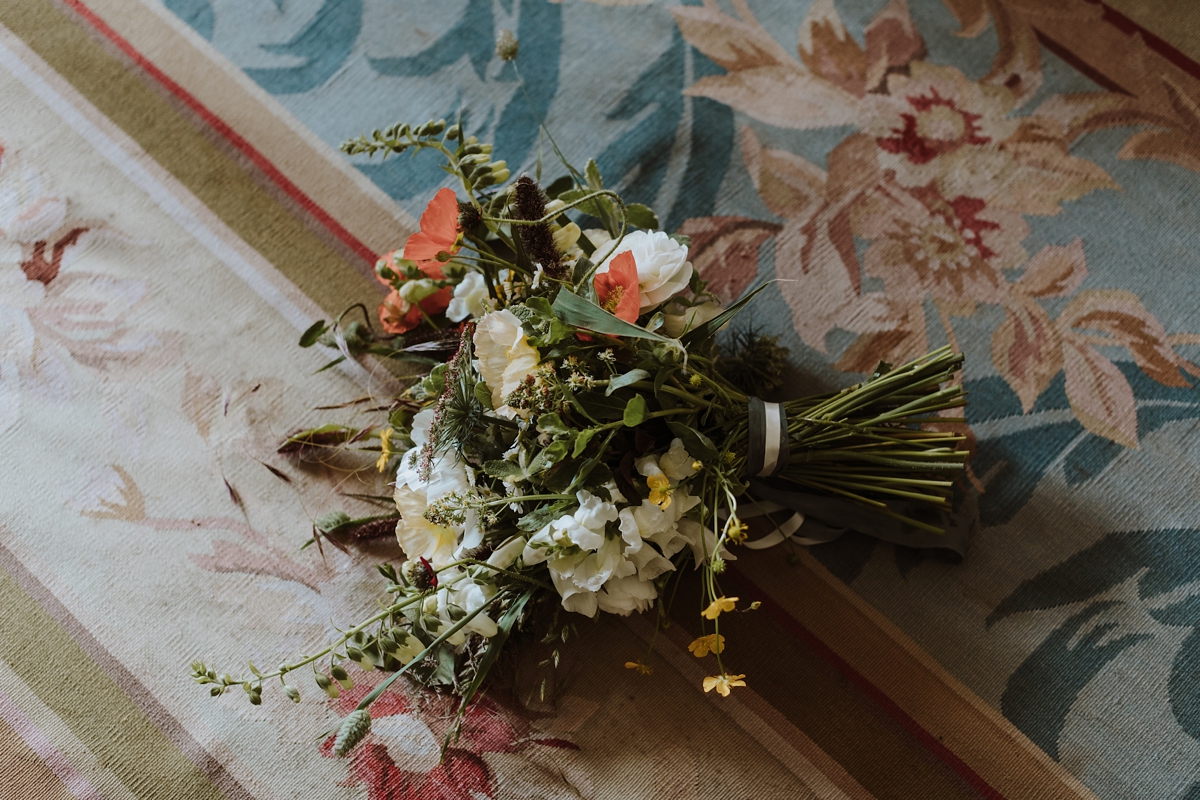 For jewellery, the bride chose to wear her usual everyday jewellery and watch, as well as her wedding ring. In her hair were fresh flowers, which the bridesmaids also wore.
They all look so vibrant and joyful in their mismatched floral dresses, tunics and jumpsuits; such a wonderful take on bridesmaid style.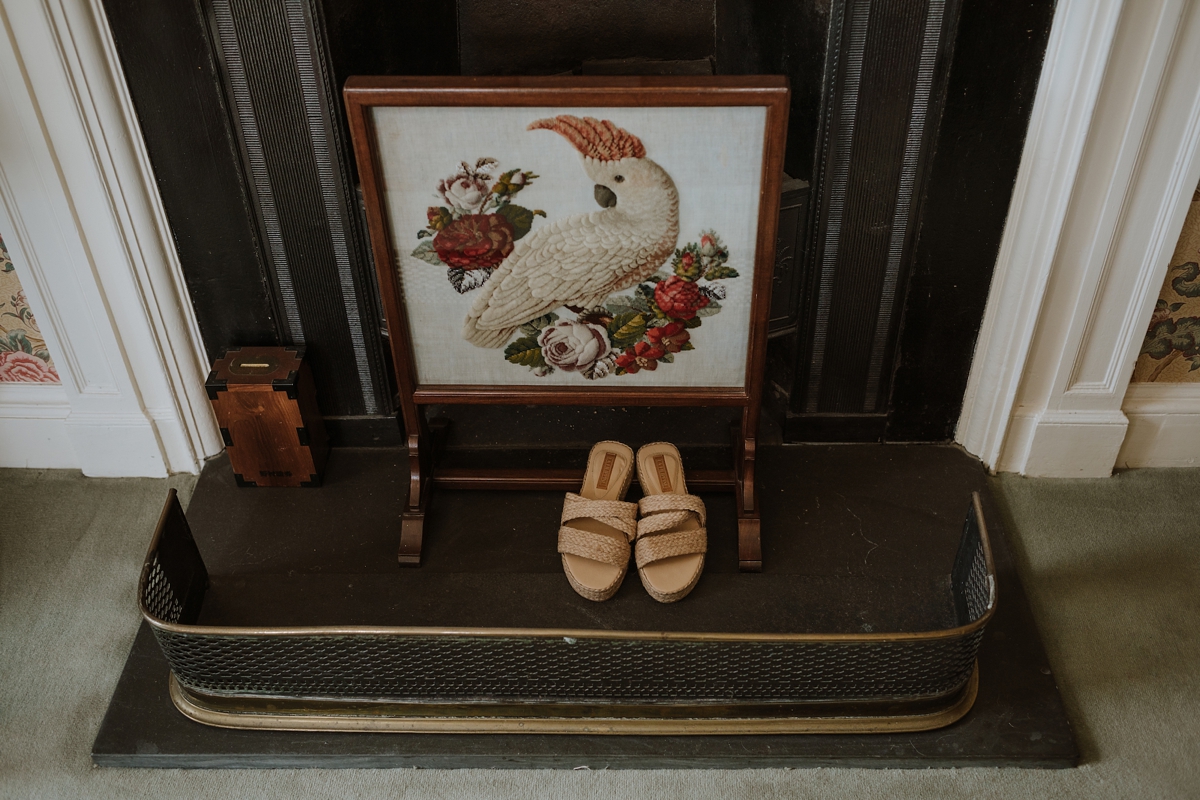 They all wore matching shoes by Catriona's friend Julia Barba, designer of La Filippine.
"She makes beautiful bags and shoes using sustainable natural fibres from her hometown in the Philippines. She personalised each pair with their initials."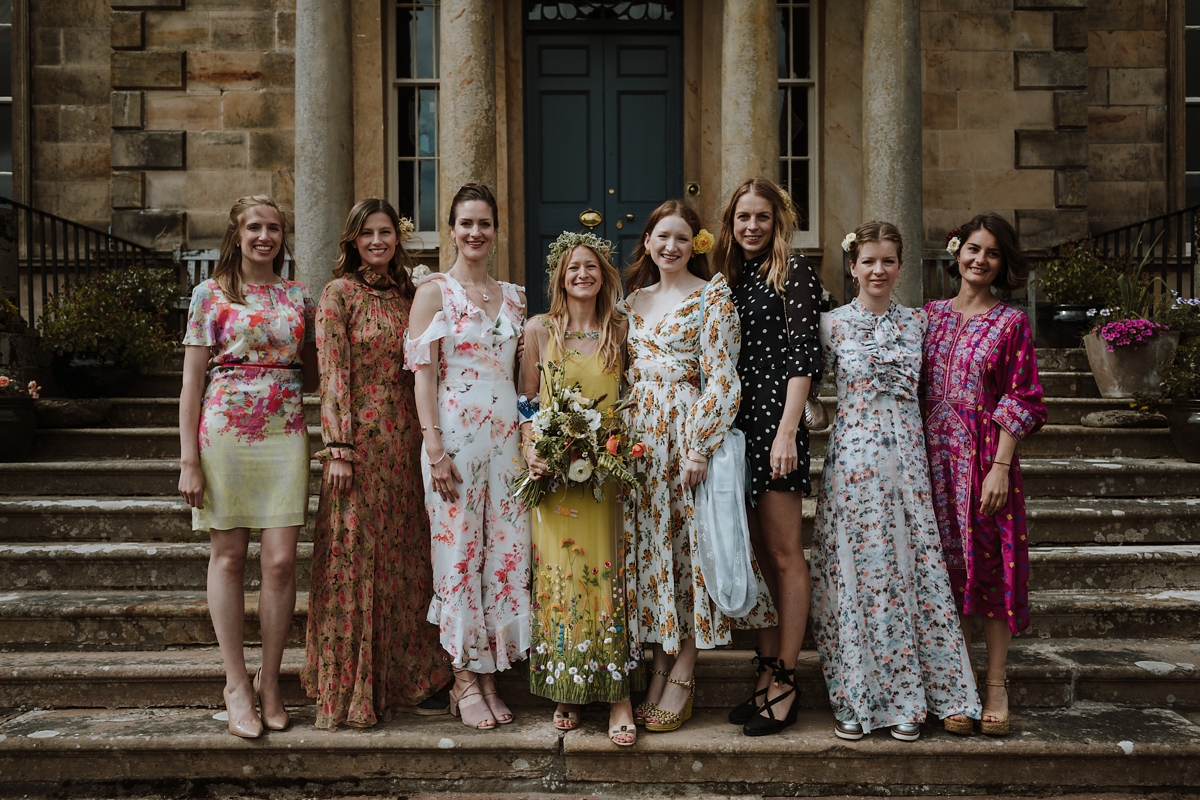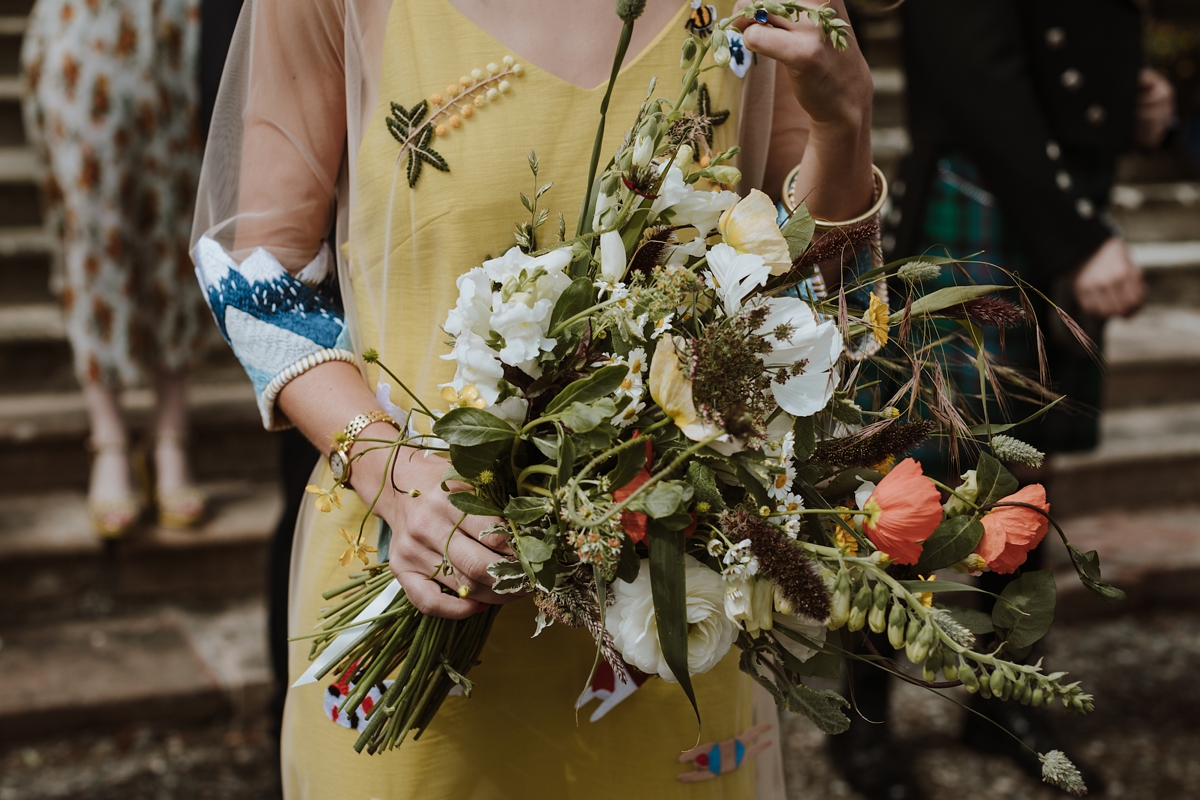 The talented Caro Weiss was asked by the couple to capture the day, and her timeless, classic style has resulted in these wonderful, utterly beautiful images. I love the muted landscape hues which make the vibrant colours in Catriona's gown and flowers pop all the more.
If you love this photographic style and want to see more of Caro's work then please head to our Little Book where we are so proud to showcase her beautifully composed work.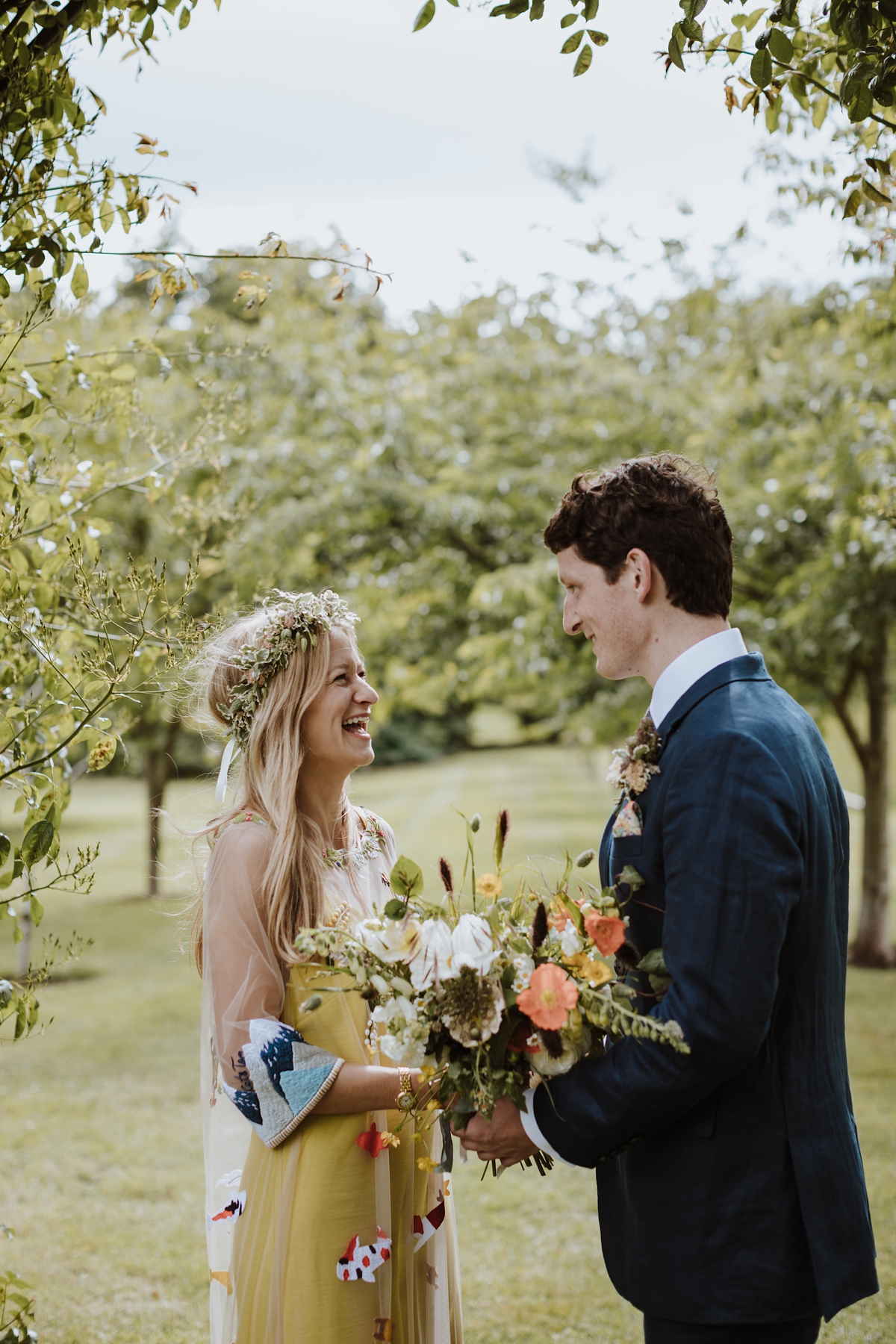 "Caro Weiss, was a dream to work with. She put everyone at ease, especially Tom and me, who are not at home in front of the lens. We are so pleased with the photos she took of the day and she made the follow up viewing and ordering process really easy for everyone. I was nervous about the photographic attention, but Caro was discreet yet charming, whilst capturing all the special moments."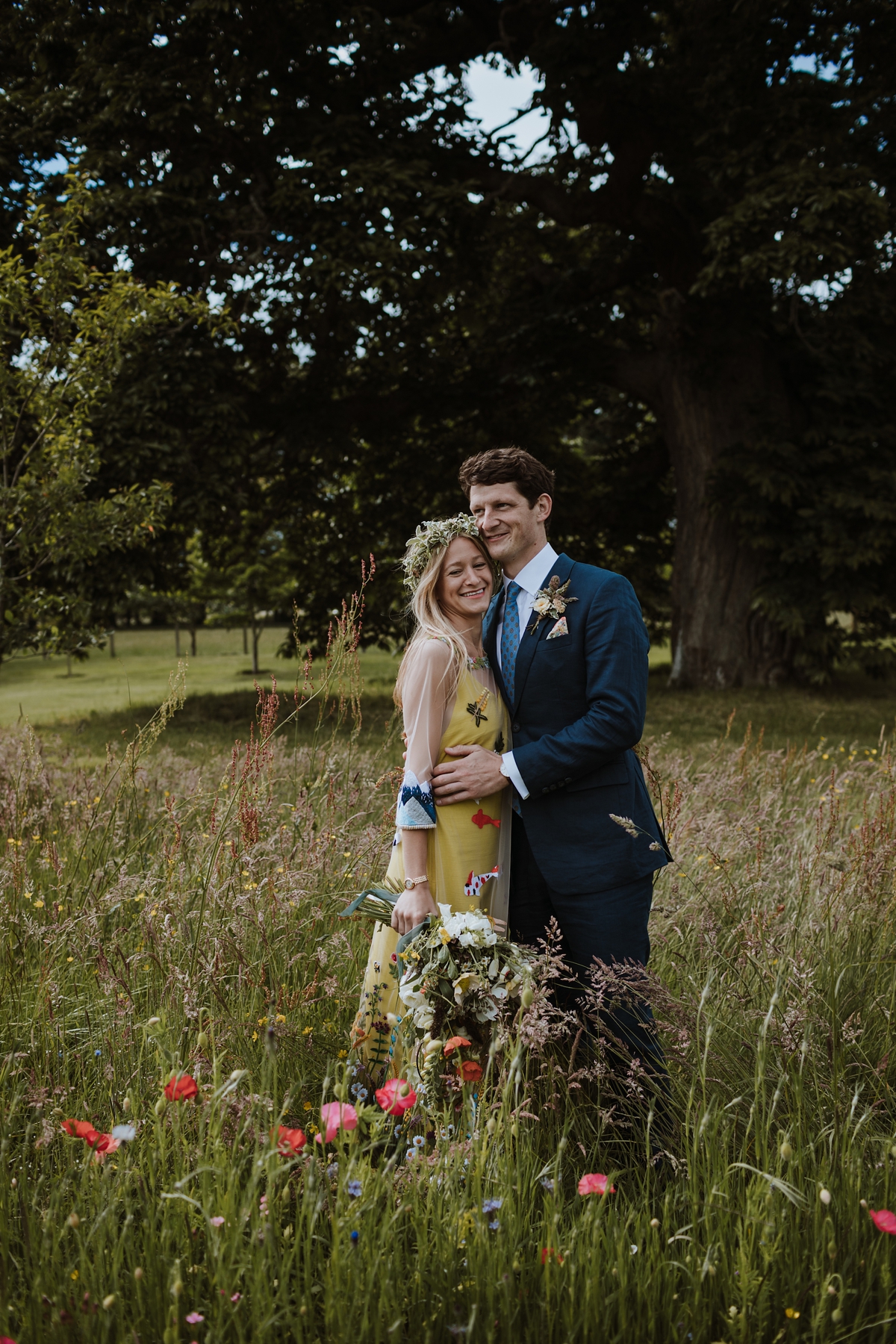 Catriona and Tom currently live in Singapore, and had their legal ceremony there before their Scottish day. They've brought Singaporean inspiration over too in a lovely nod to their life together.
"We met at Cambridge and then Tom went off to work around the world. We re-met at a party in London in May 2016 and decided to move to Asia together not long after and get married. We were engaged for seven months before our Singaporean ceremony and nine months before our Scottish one with friends and family."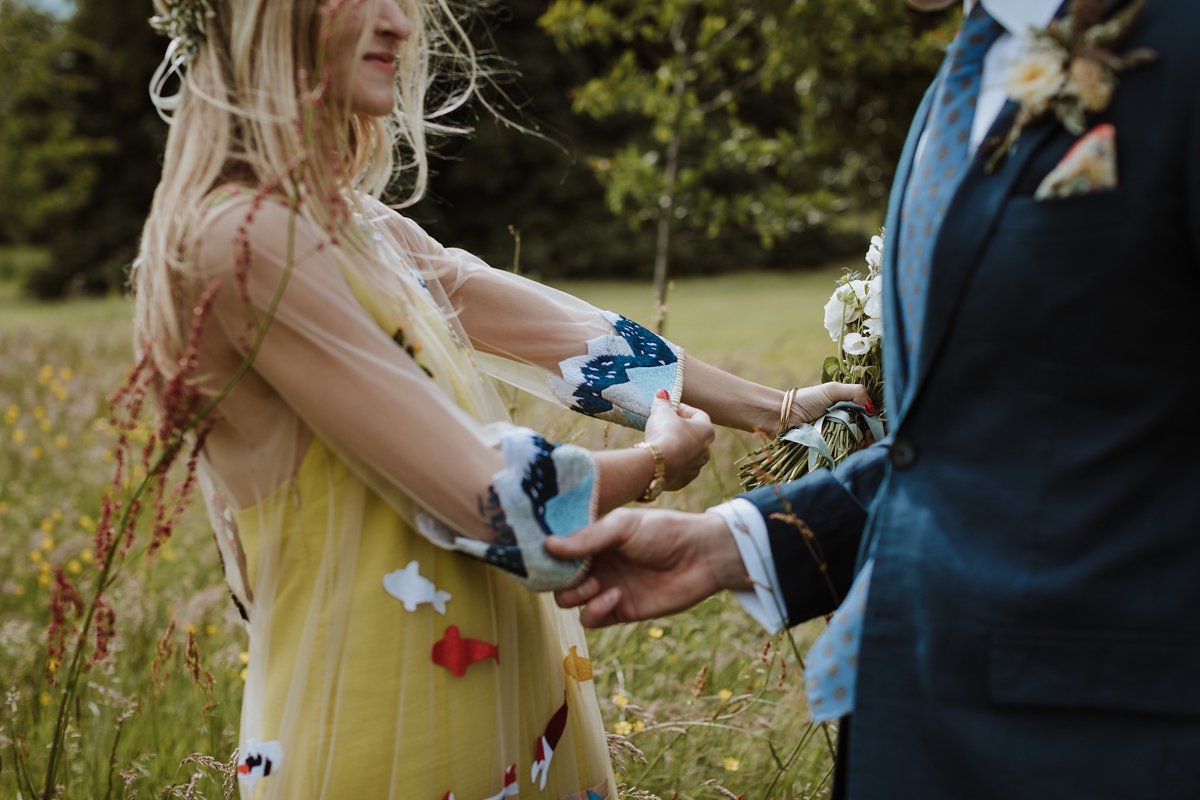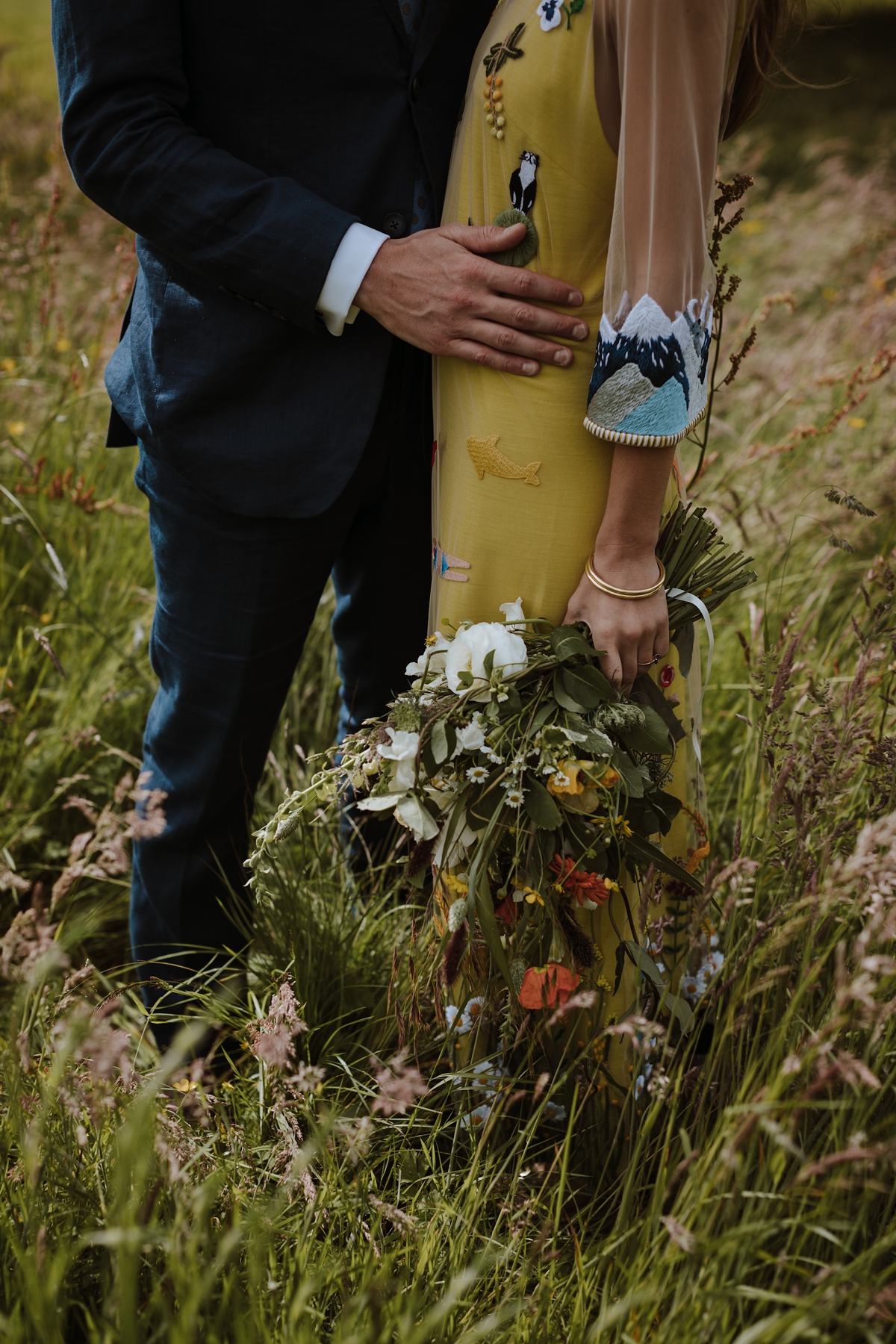 Catriona recruited an old friend to style her hair and make-up for a fresh, natural look.
"Min Sandhu does the hair and makeup for all my campaign shoots so it was so special that she came up and to actually be in her hot seat this time around! She is fabulous and so talented and can follow any brief."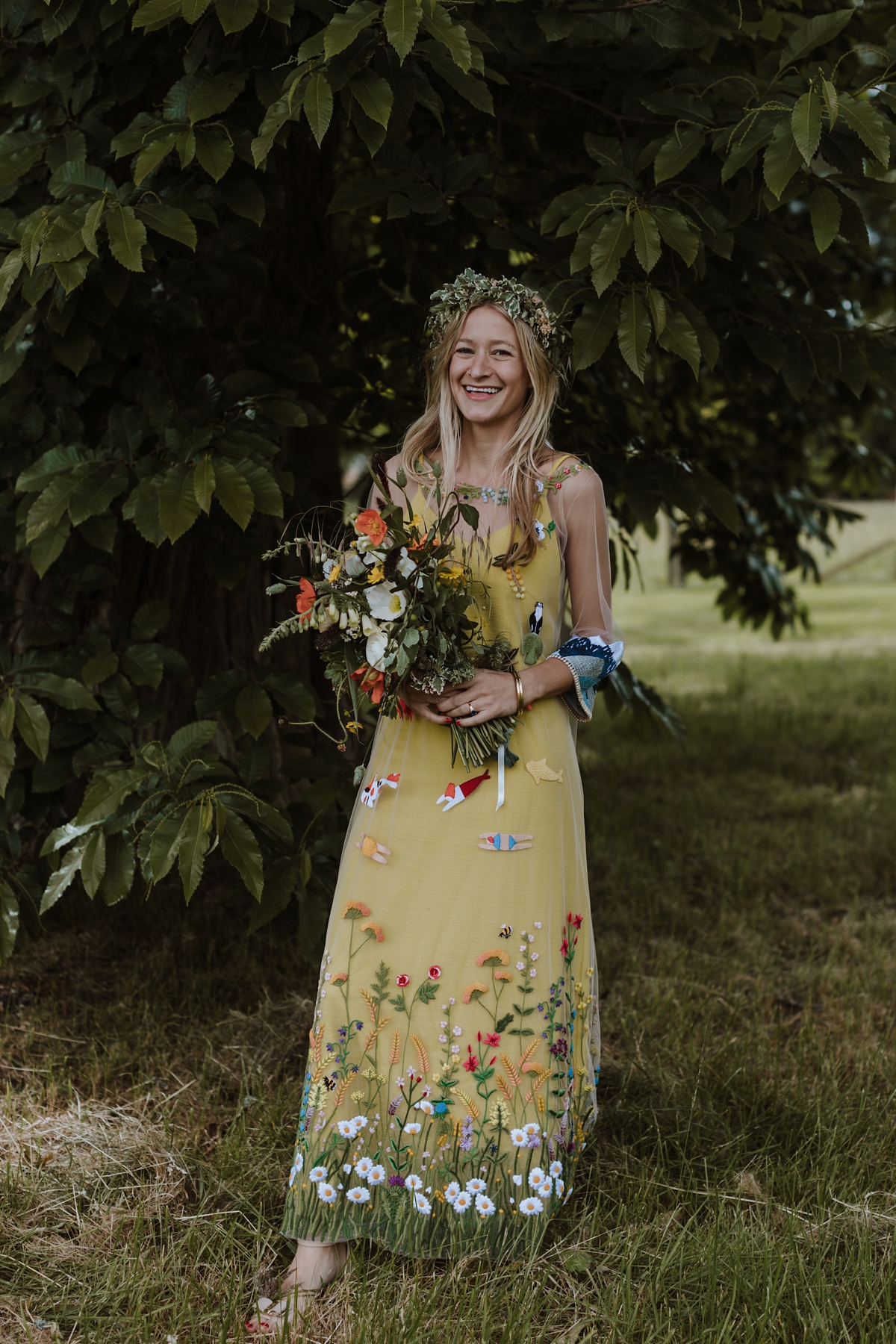 Meanwhile, Tom was dressed in a bespoke linen suit tailored in Hoi An, Vietnam, along with a vibrant silk pocket square, cut and sewn from an old kimono.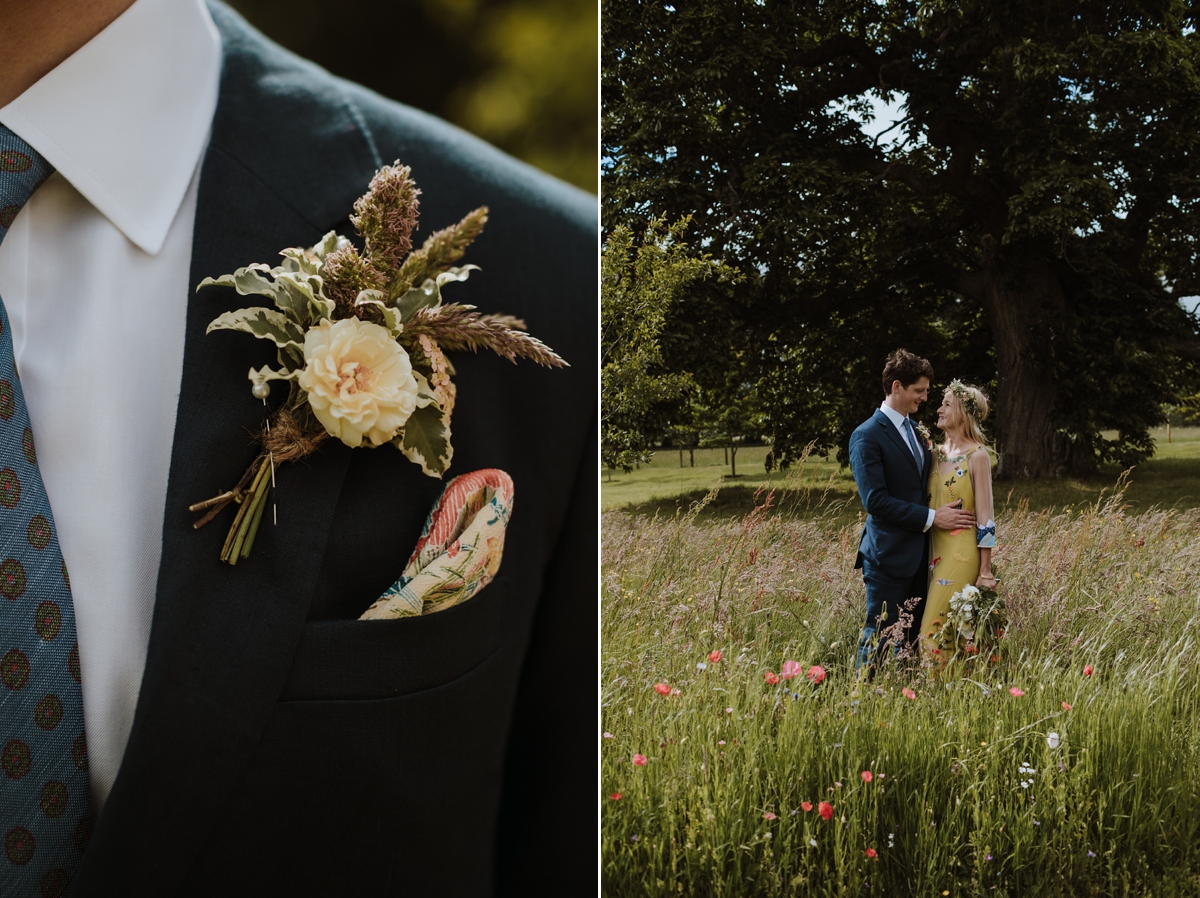 Before their garden ceremony, the couple spent time together in Newhall Main's stunning gardens to capture these portrait shots that I'm sure they'll treasure together.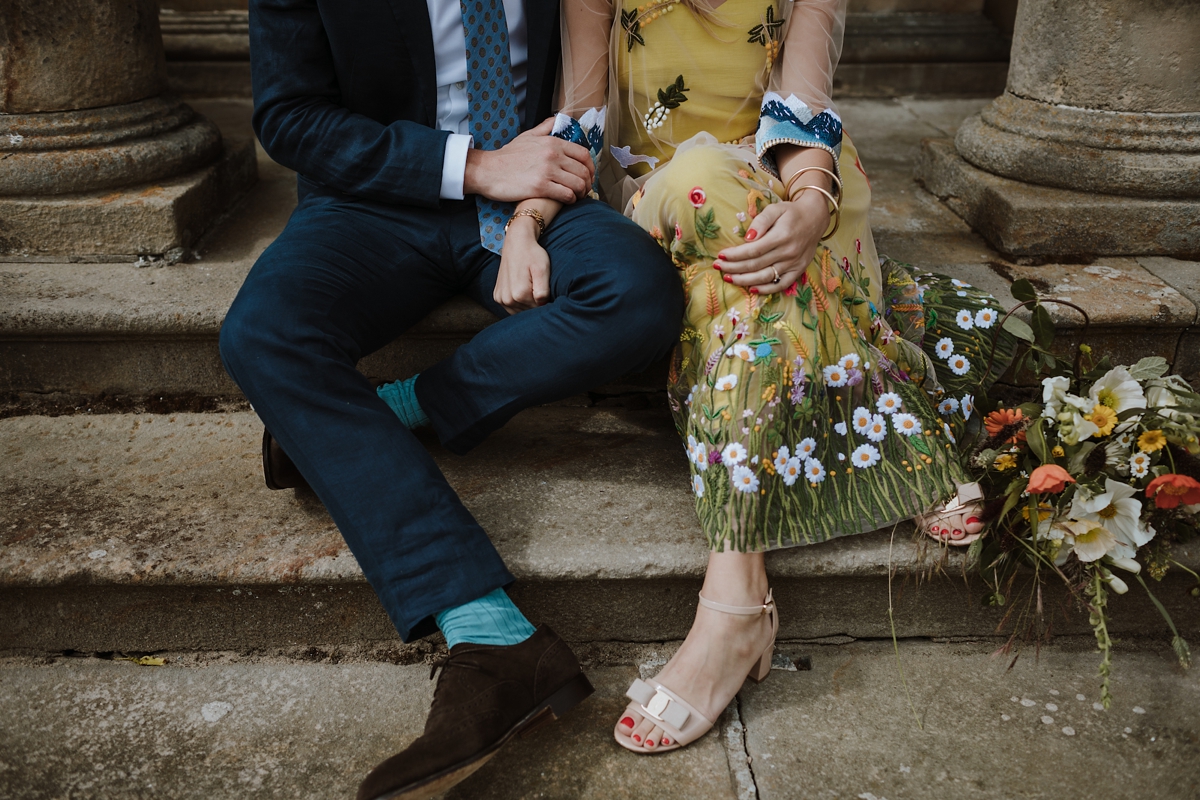 The weather held for them to marry beneath a tree in the garden, Catriona wrapped up warm in a dusty pink kimono. The couple were piped in by a Scottish piper before their traditional ceremony.
"Highlights included the piped walk to the tree and our ceremony and singing under the eaves of its branches. We spoke the traditional Celtic vows and did the hand-fasting."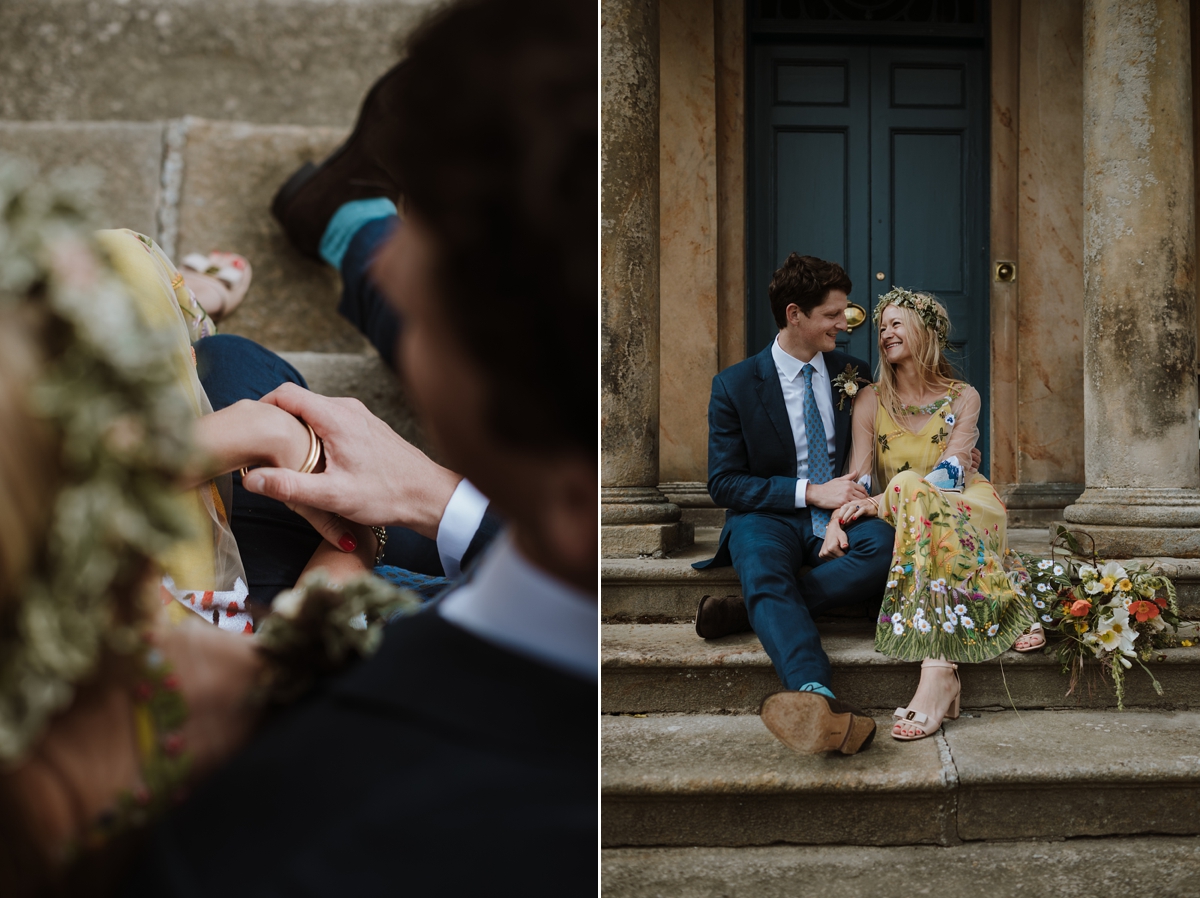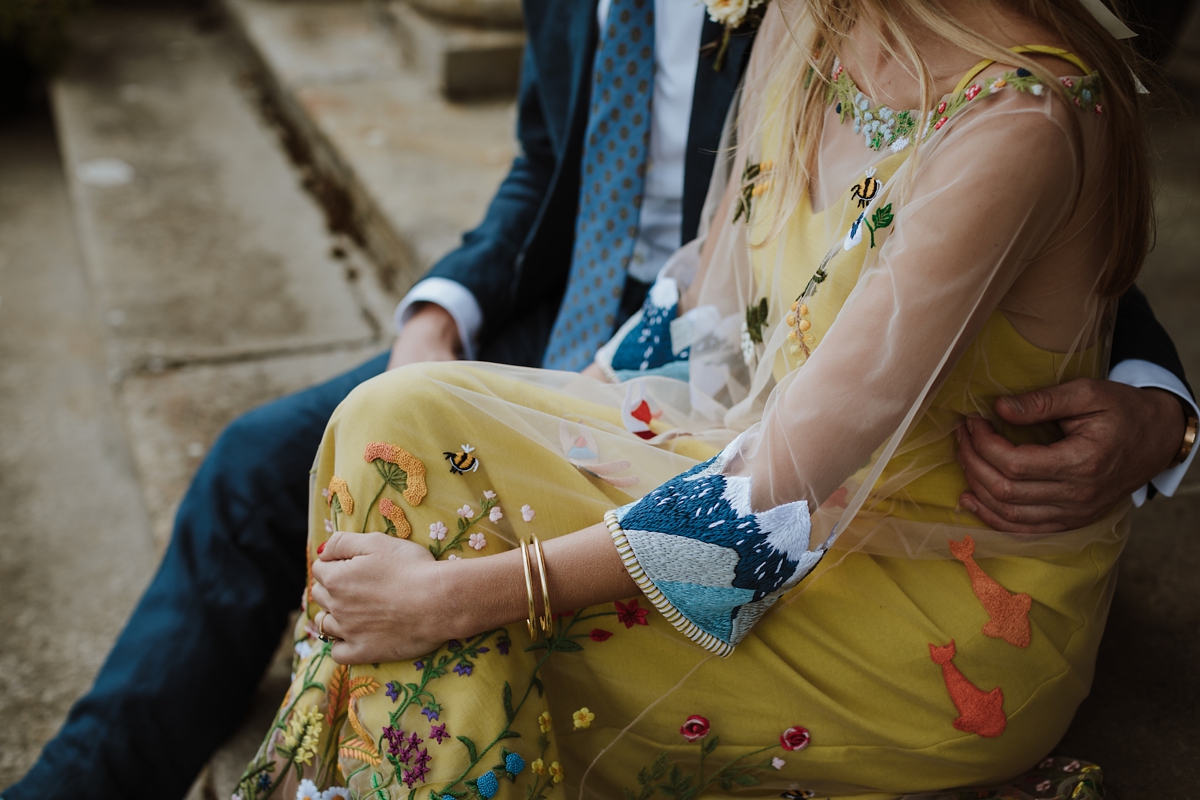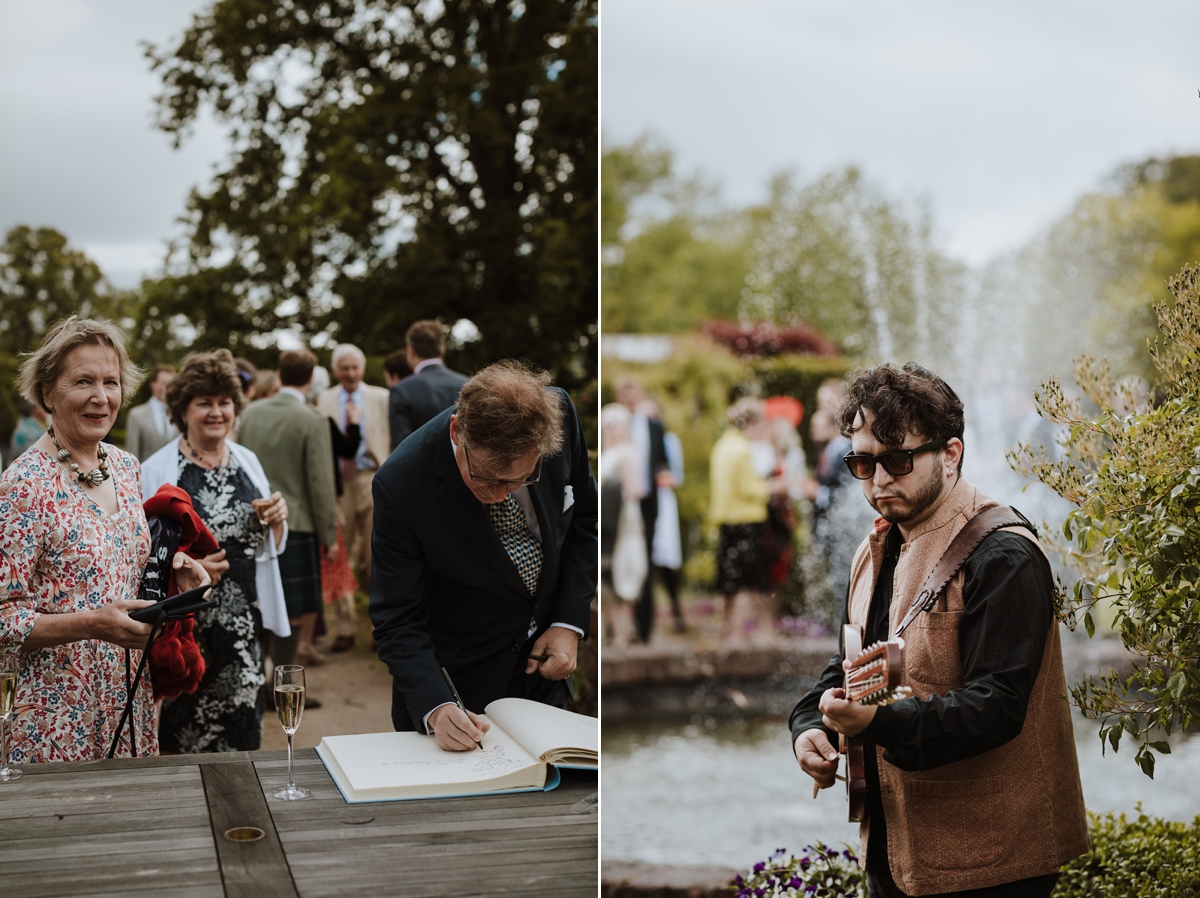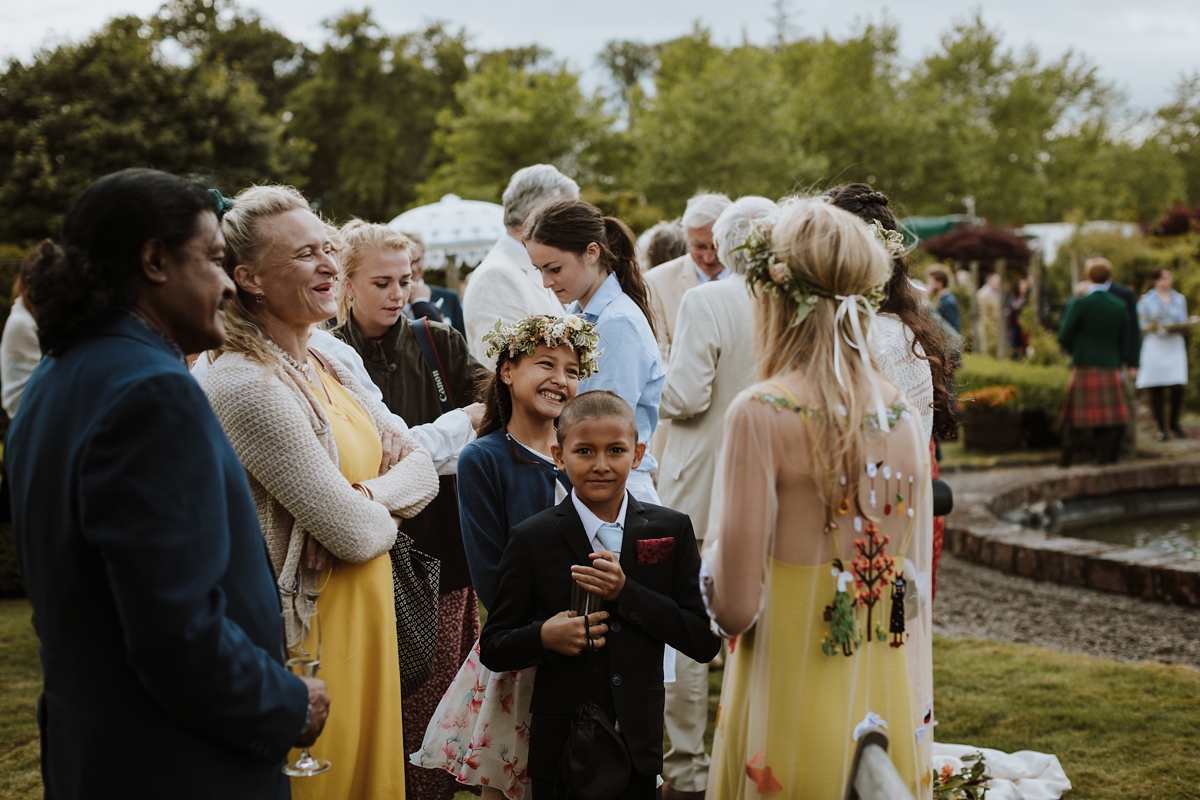 The elegant calligraphed stationery was designed and made by Catriona with help from her brother Euan's girlfriend, Eliza Baker.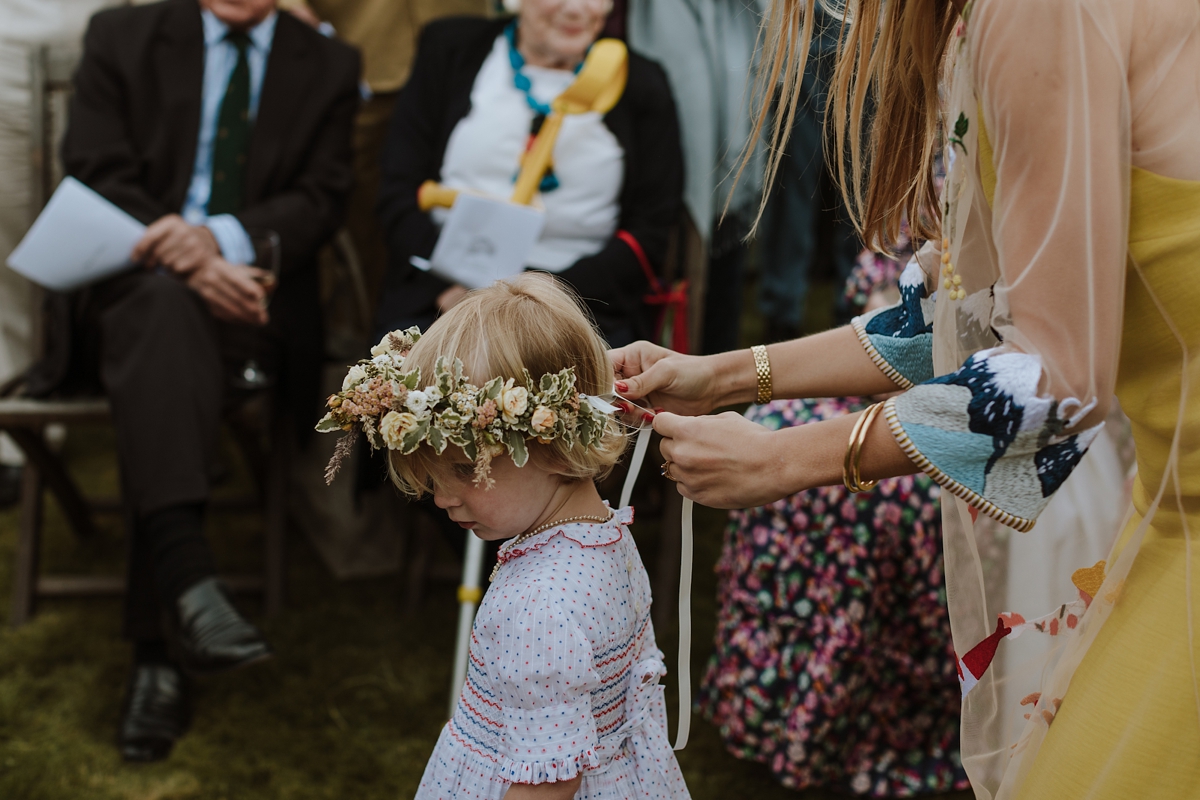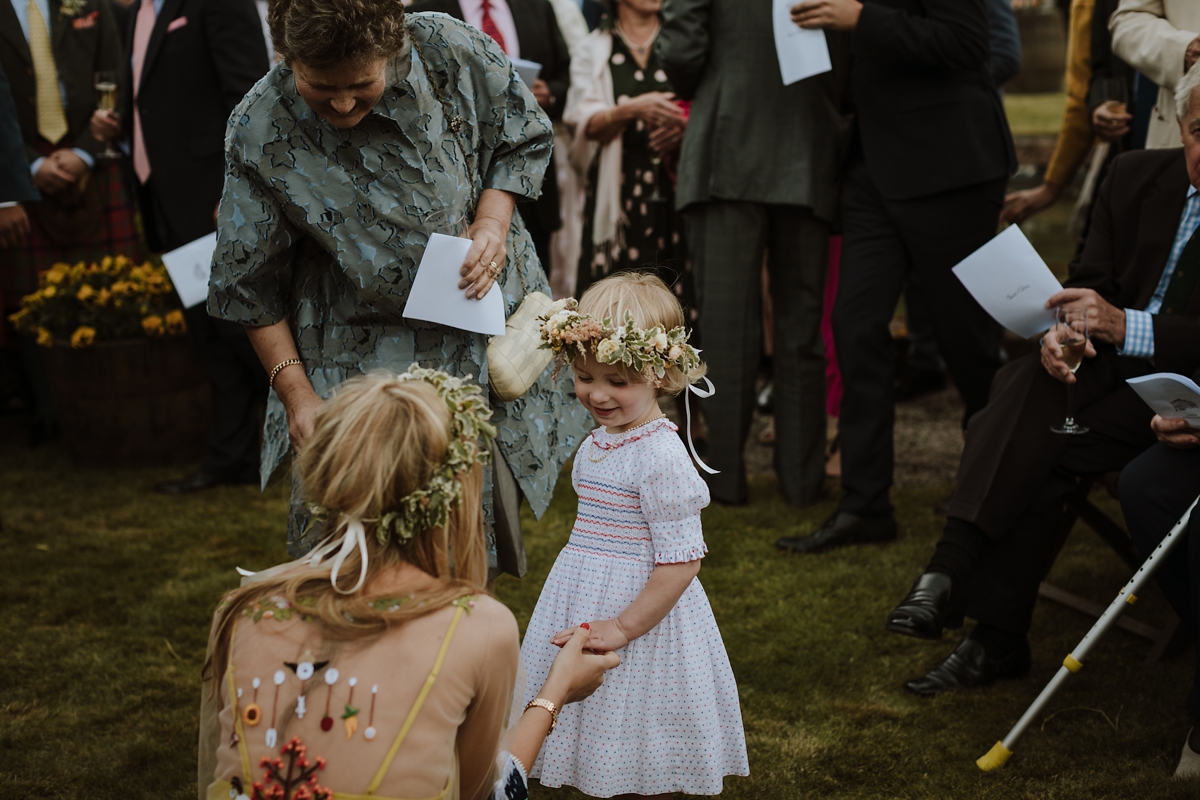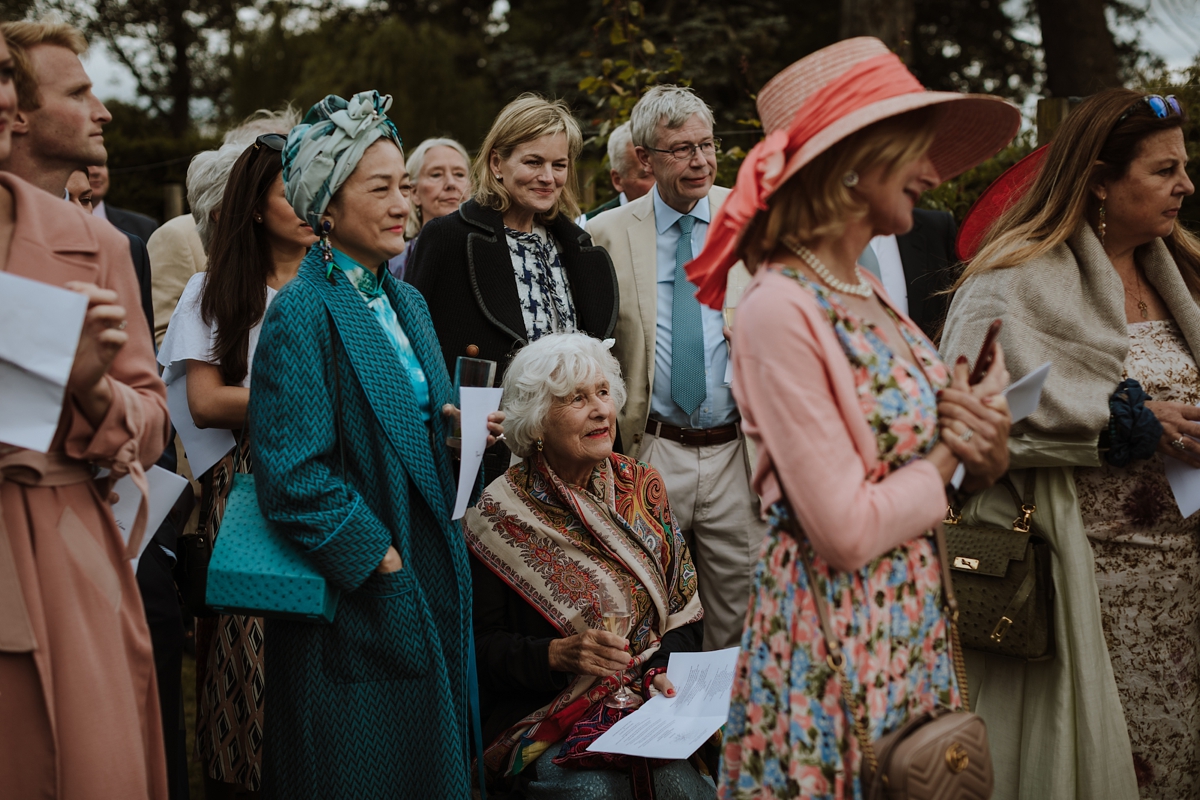 Close family members did readings to add meaning to the beautiful ceremony.
"Tom's sister read an excerpt from 'The Old Mendicant' and his godmother also spoke some very touching words on the importance of marriage. My grannie read an excerpt from 'The Brihadaranyaka Upanishad'."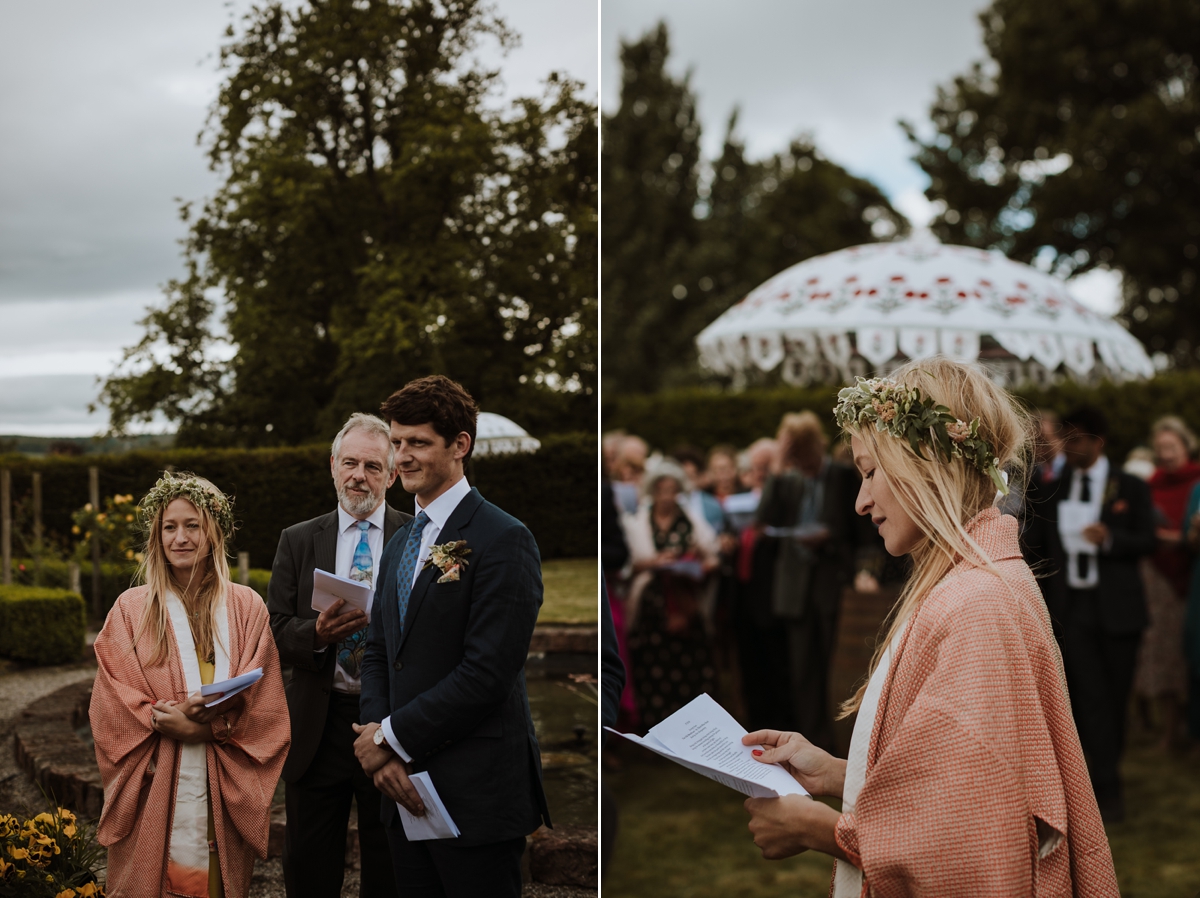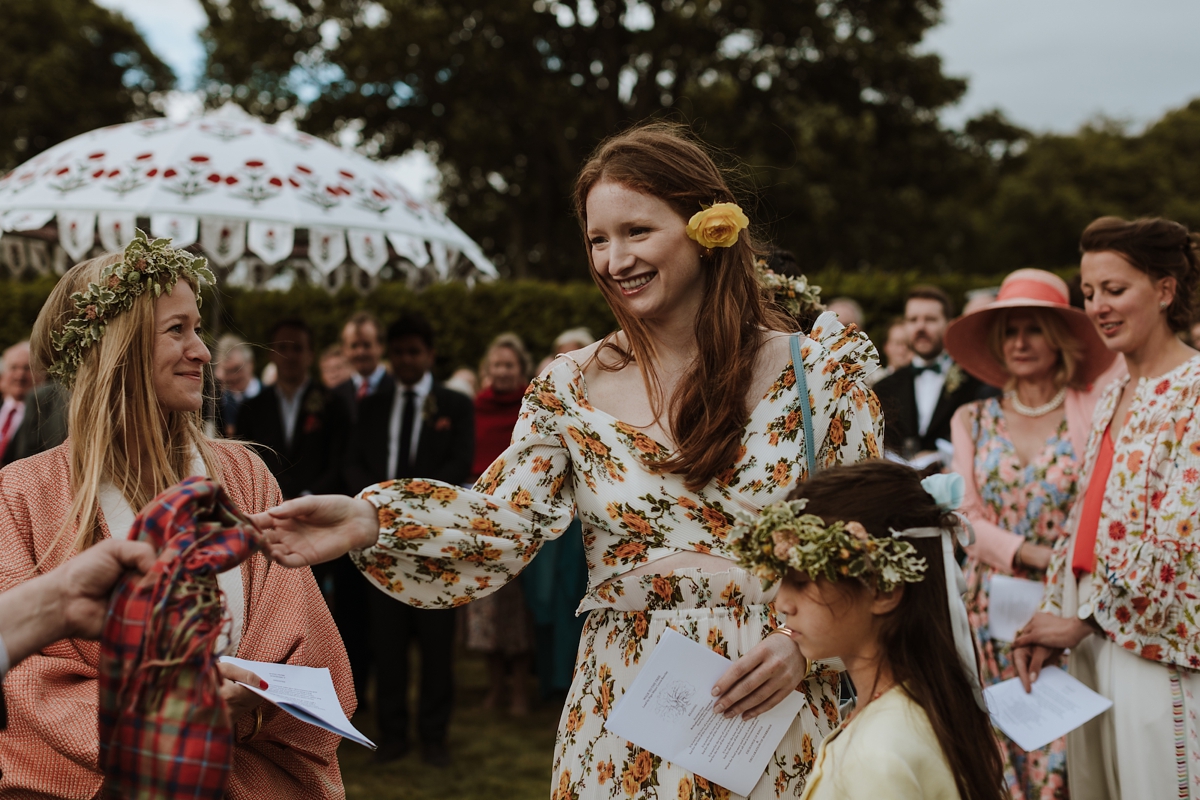 Tom and Catriona exchanged rings made by their friend Andy Everest.
"He's absolutely amazing and can create anything you want and source beautiful stones. We designed our rings together and wrote personal messages on the inside."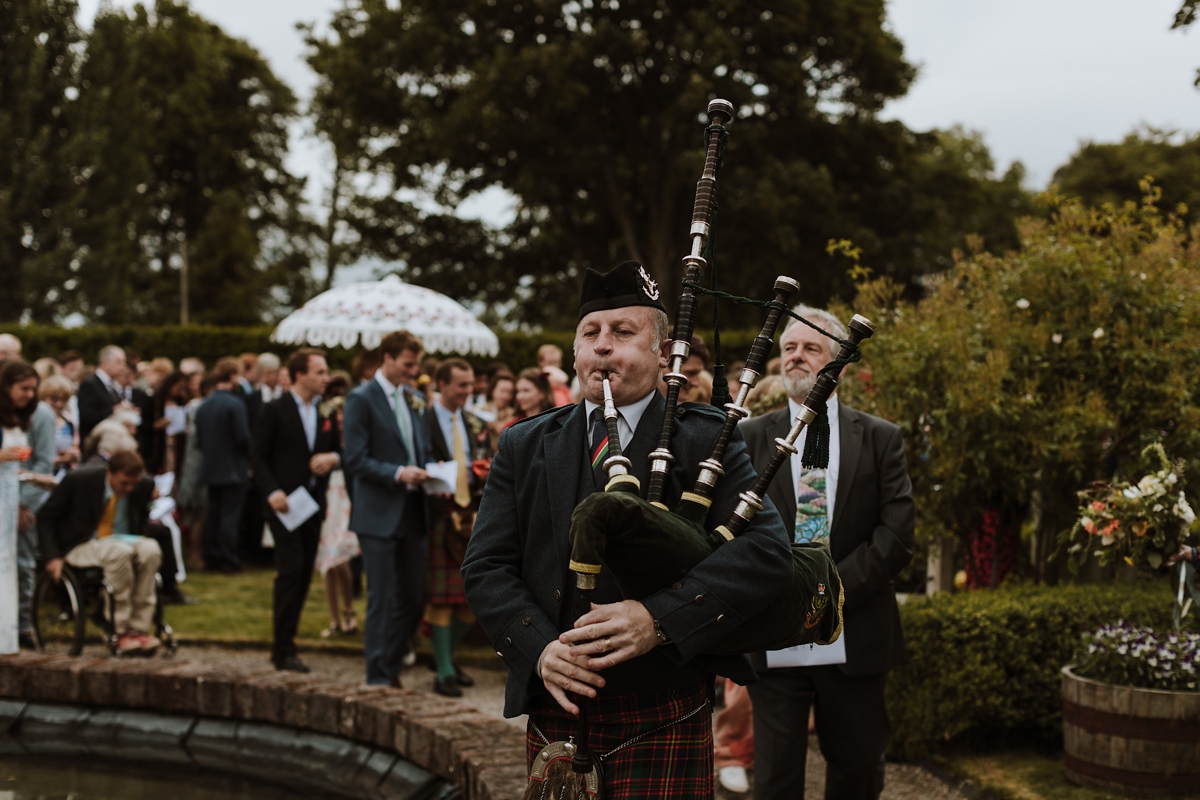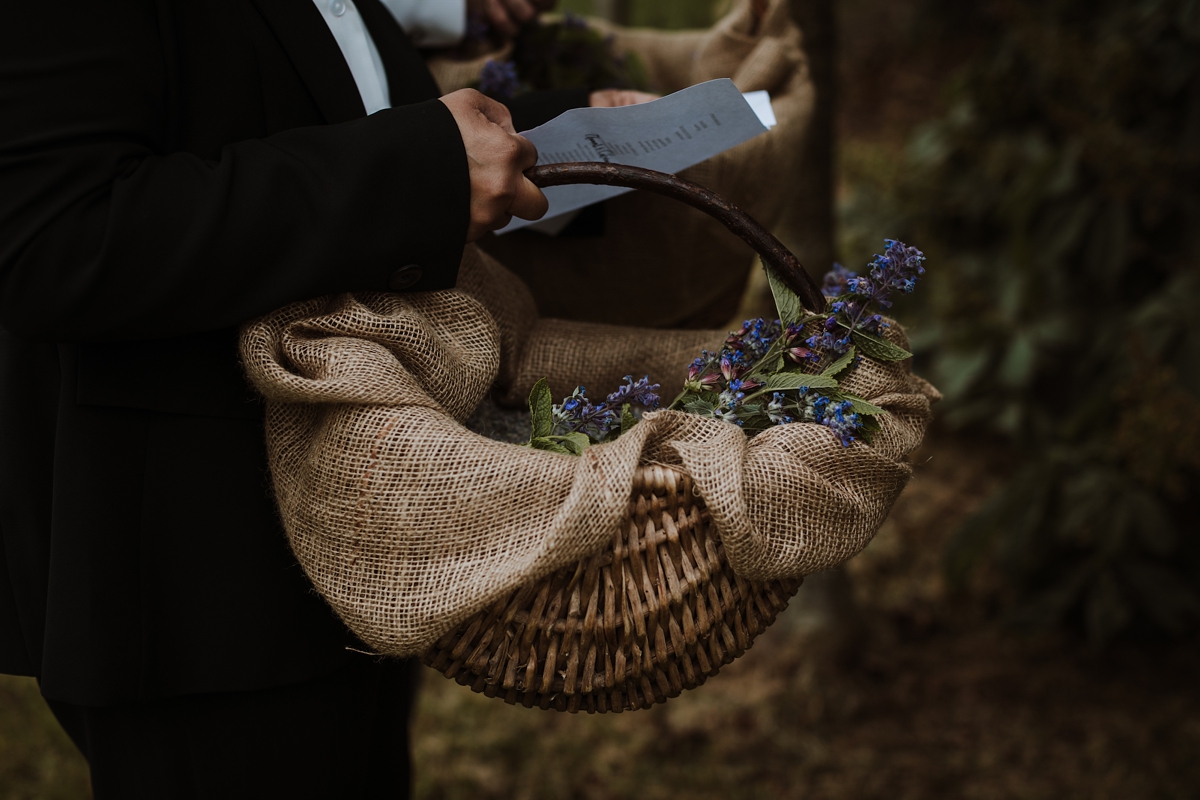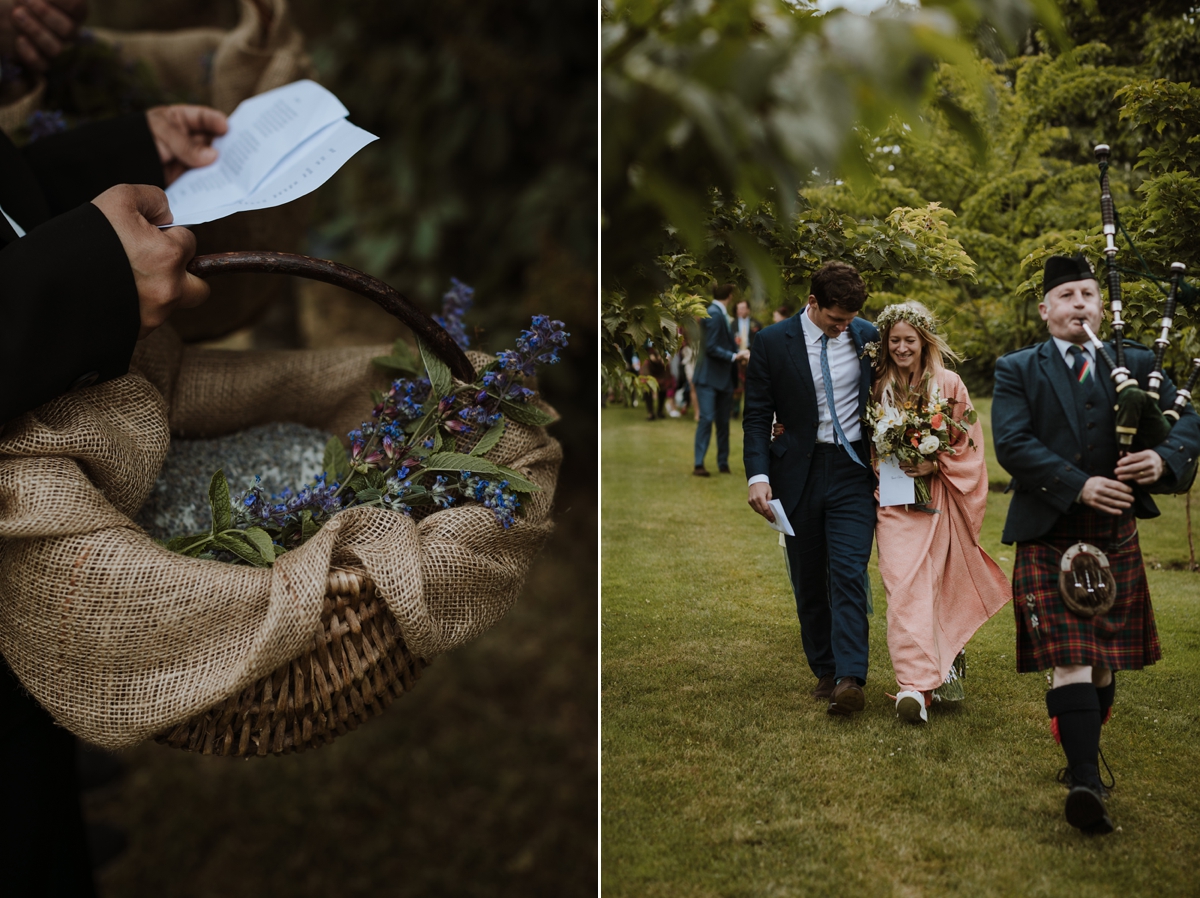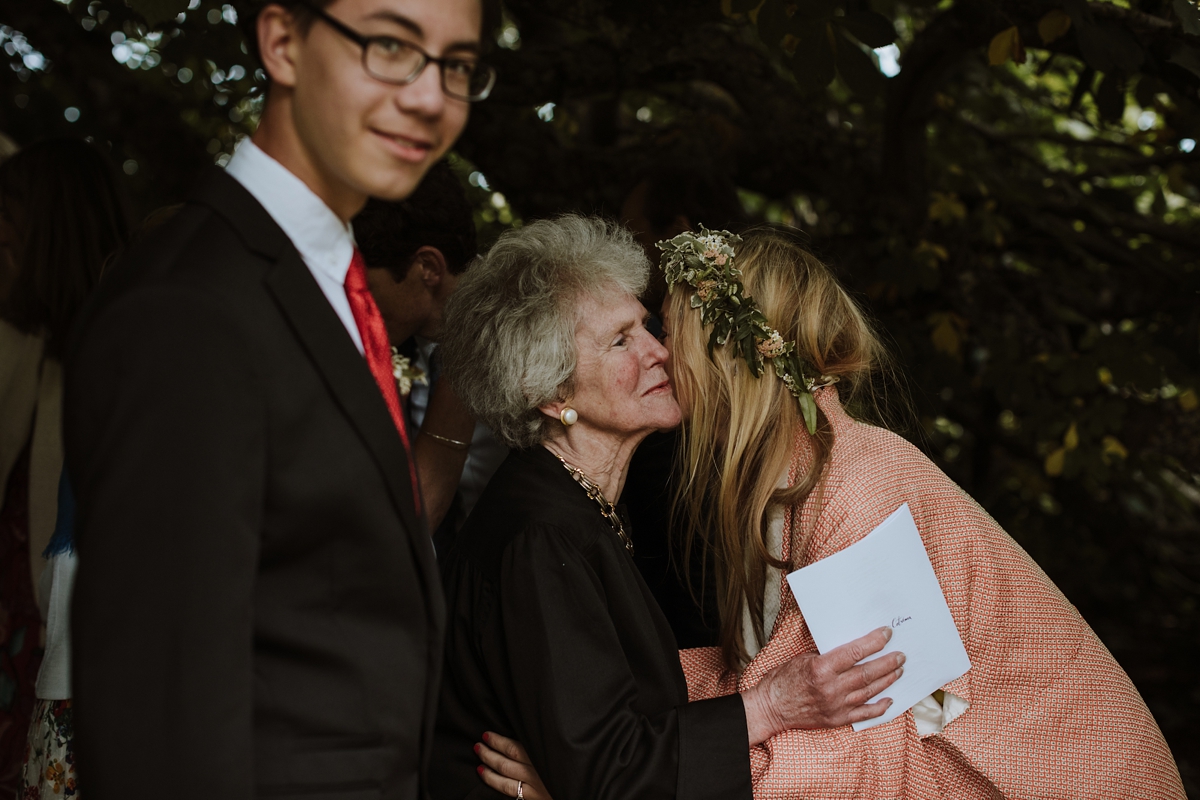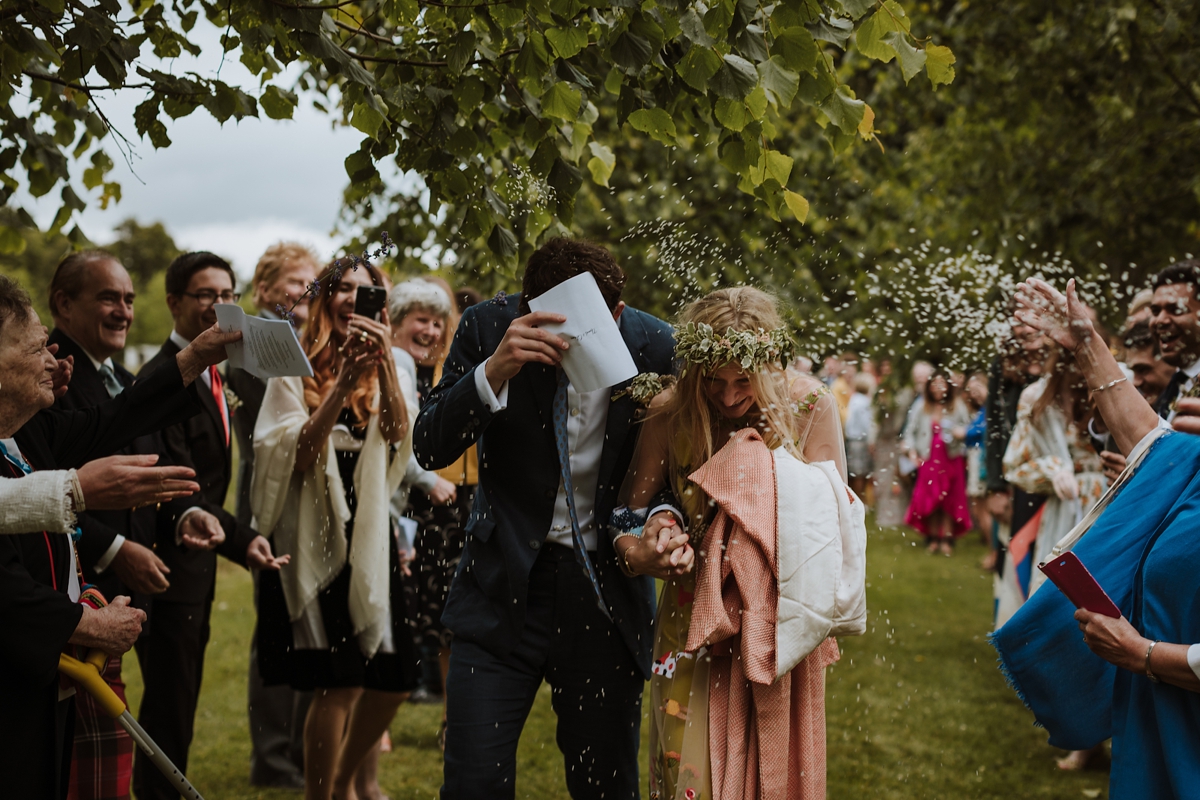 Local catering company True Deli provided the guests with a real feast.
"They were completely fabulous. From first meeting to execution, they were so enjoyable to work with. They took care and attention to understand what we were looking for and went above and beyond the brief."
"It was important to both us and them that we used local ingredients as much as possible and they sourced and cooked fantastic food. It was delicious and everything was seamless. They and their staff are also very, very nice."The couple opted to bypass a first dance and get everyone up dancing straight away.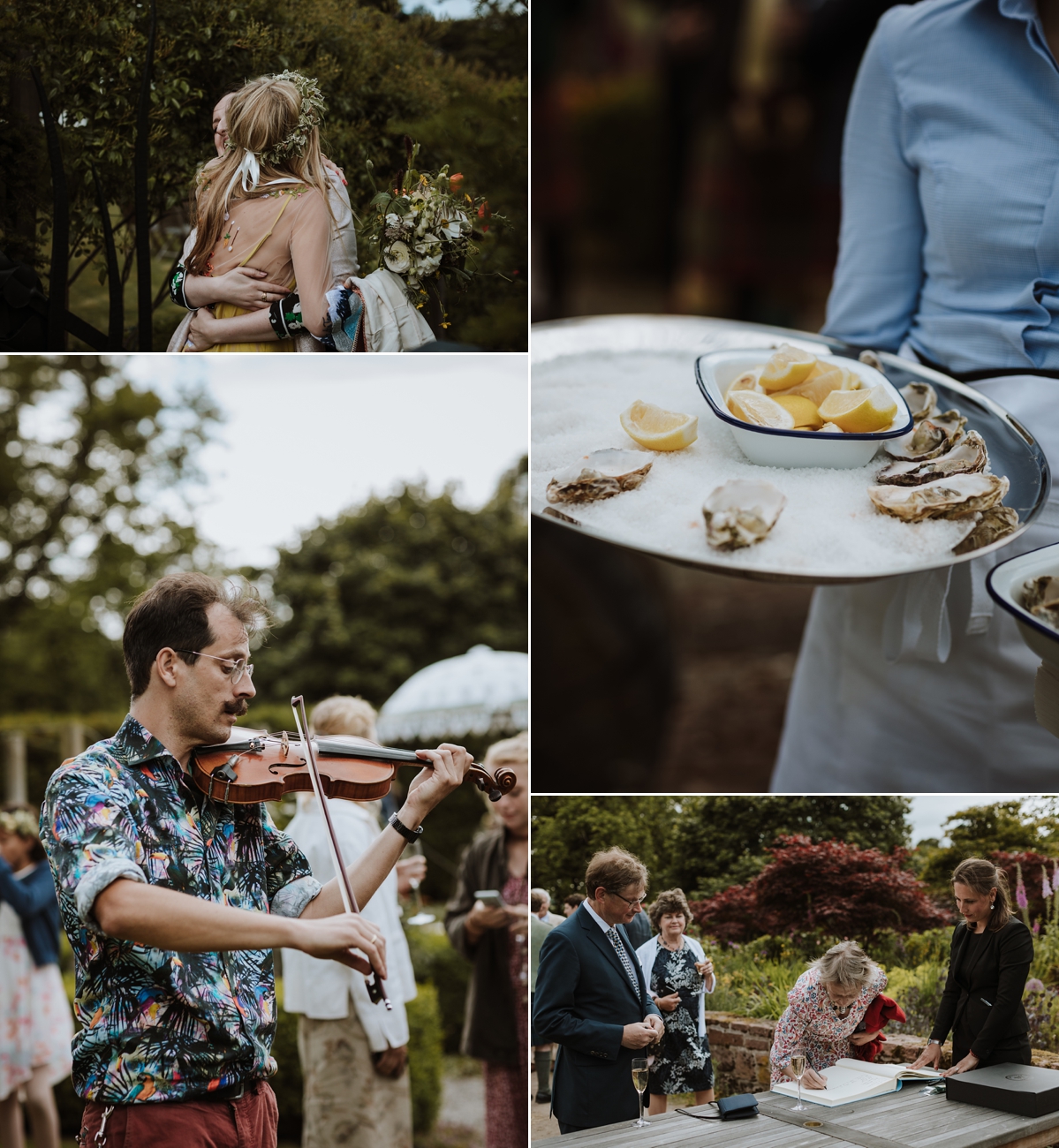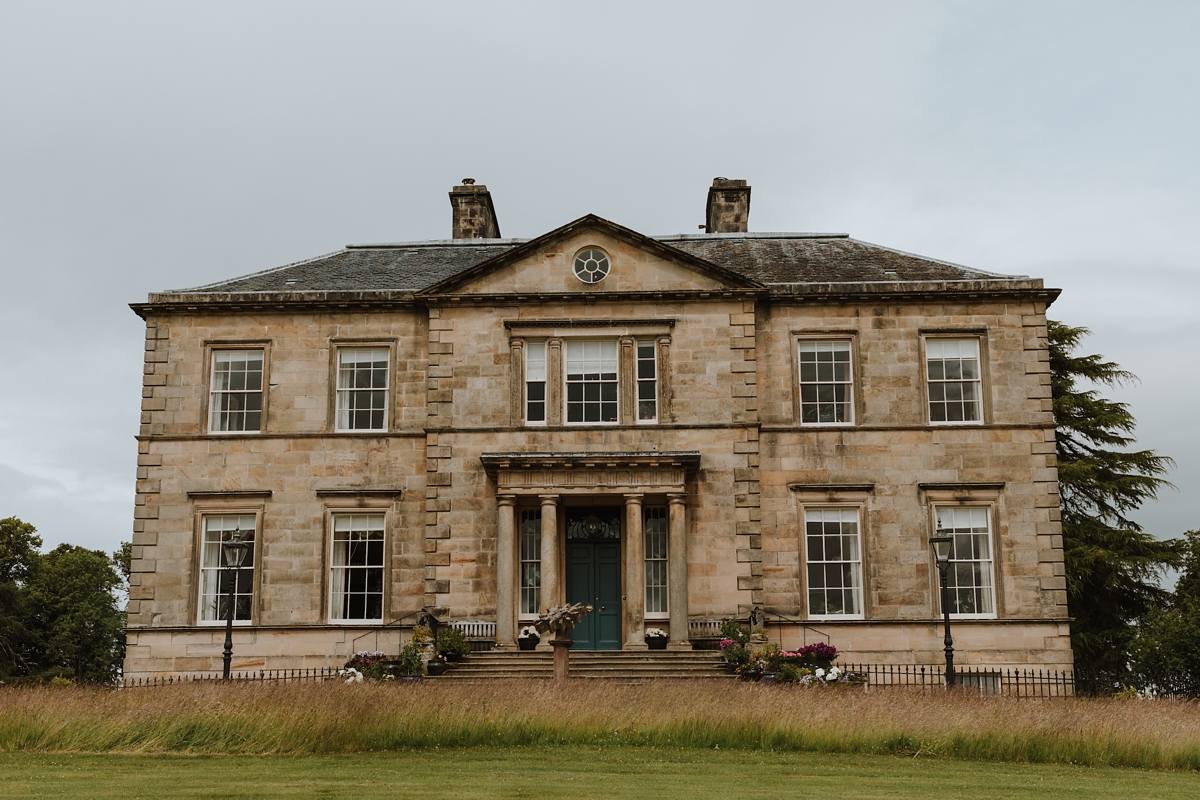 It sounds as if Catriona's mum put a lot of love and time into the entire project, especially important as the couple are based abroad.
"My mum was amazing at organising everything. We were abroad for most of the planning and she pulled everything together, including renovating the Mains buildings in the nick of time, with astounding skill and grace. We really have her to thank for making it happen, and so beautifully."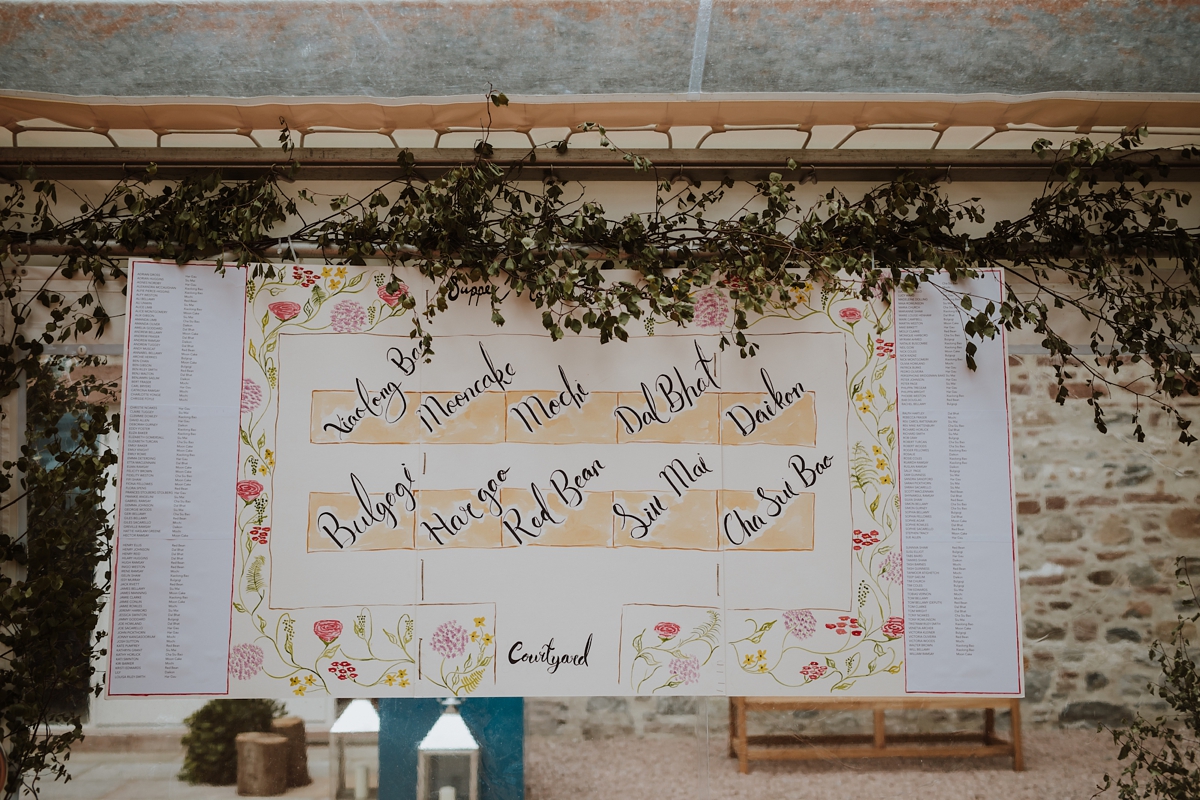 "In terms of inspiration, we just wanted to eat and drink and make merry with all of our friends and family, but the landscape and surroundings set the scene and everyone came together to make it personal. My dad grew all the wine, for example!"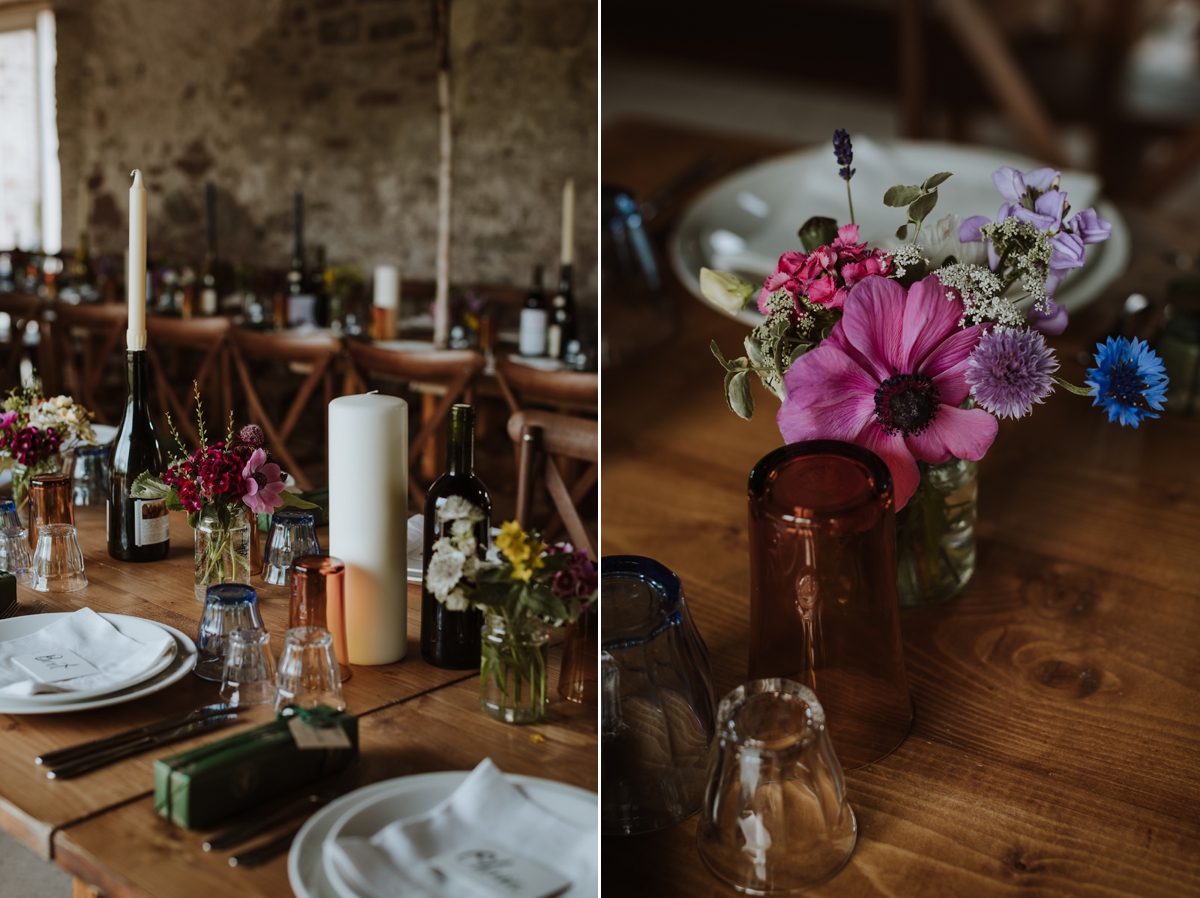 The dinner was held in the long gallery and set out on long tables adorned with candles in wine bottles, unusual wedding favours and fresh, wild flowers styled by Adelaide Knott of Adelaide's Secret Garden.
"She was incredible to work with. She totally understood what we wanted, which was un-stylised wildness and completely exceeded our expectations. She grows so many of the flowers herself and made everything and everyone look magical. She transformed our venue into a wild meadow. I wish I could work with her everyday! She is also really lovely and I can't recommend her enough."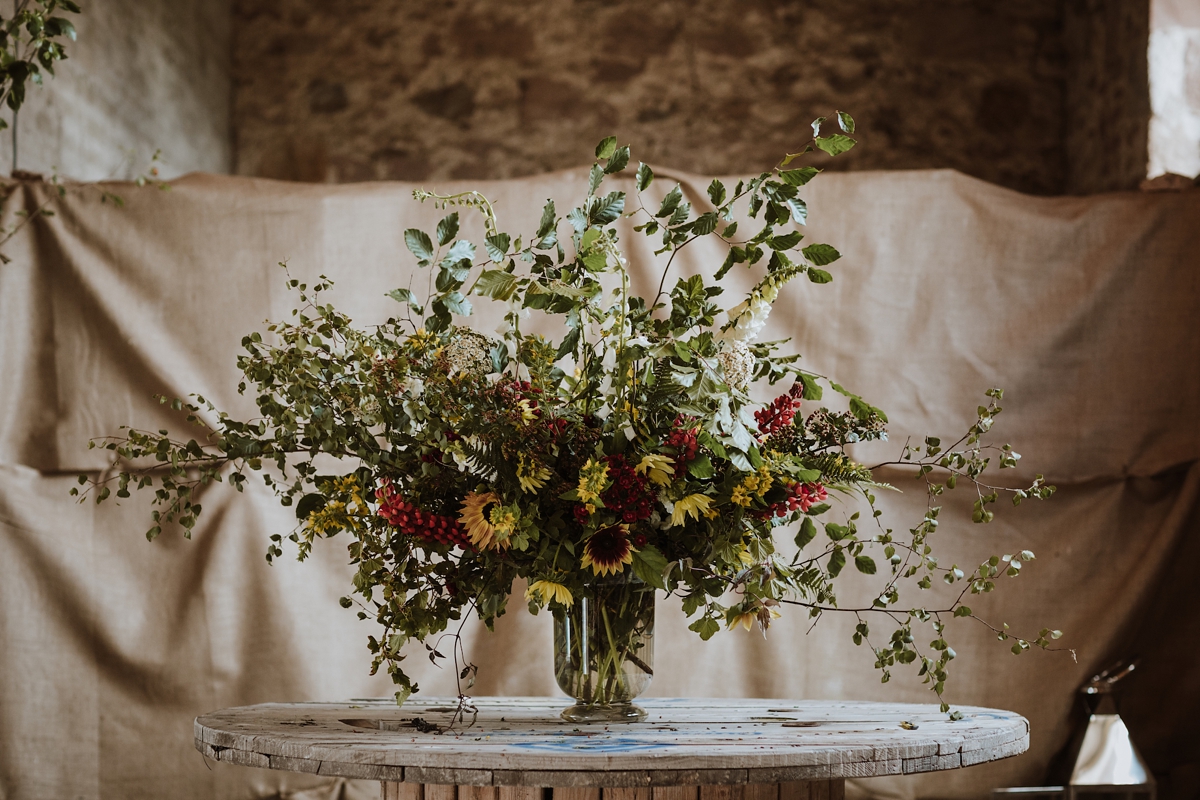 "We cut down birch trees and spaced them out amidst the tables for dinner, which made for a great atmosphere with the festoon lighting. We used old wine bottles for candle holders (cue speech quip on how much drinking was required…) and plenty of flowers by Adelaide on the tables."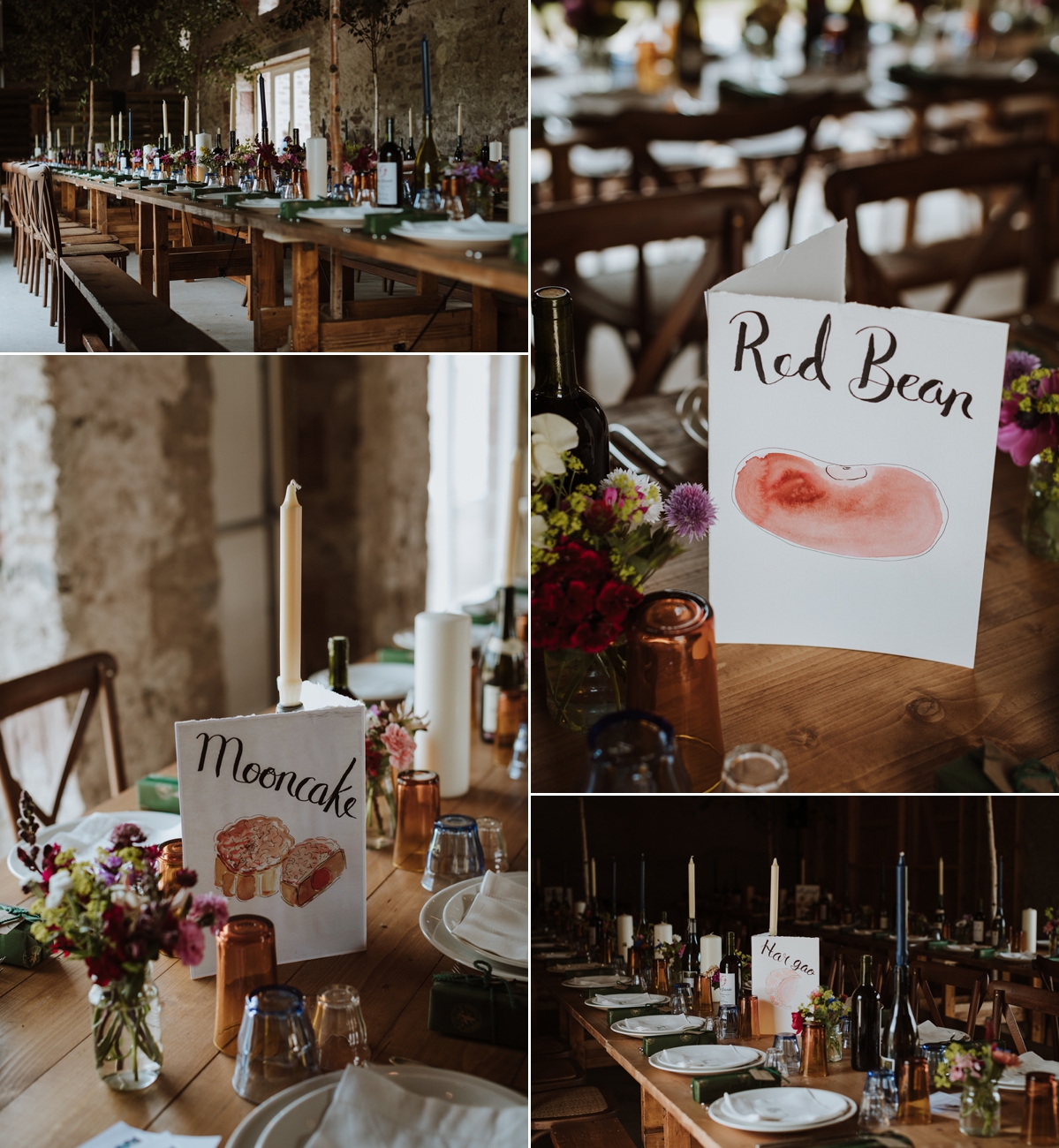 "My mum sourced old whisky barrels and turned these into bar tables and we lit fires in the courtyard along with lots of lanterns."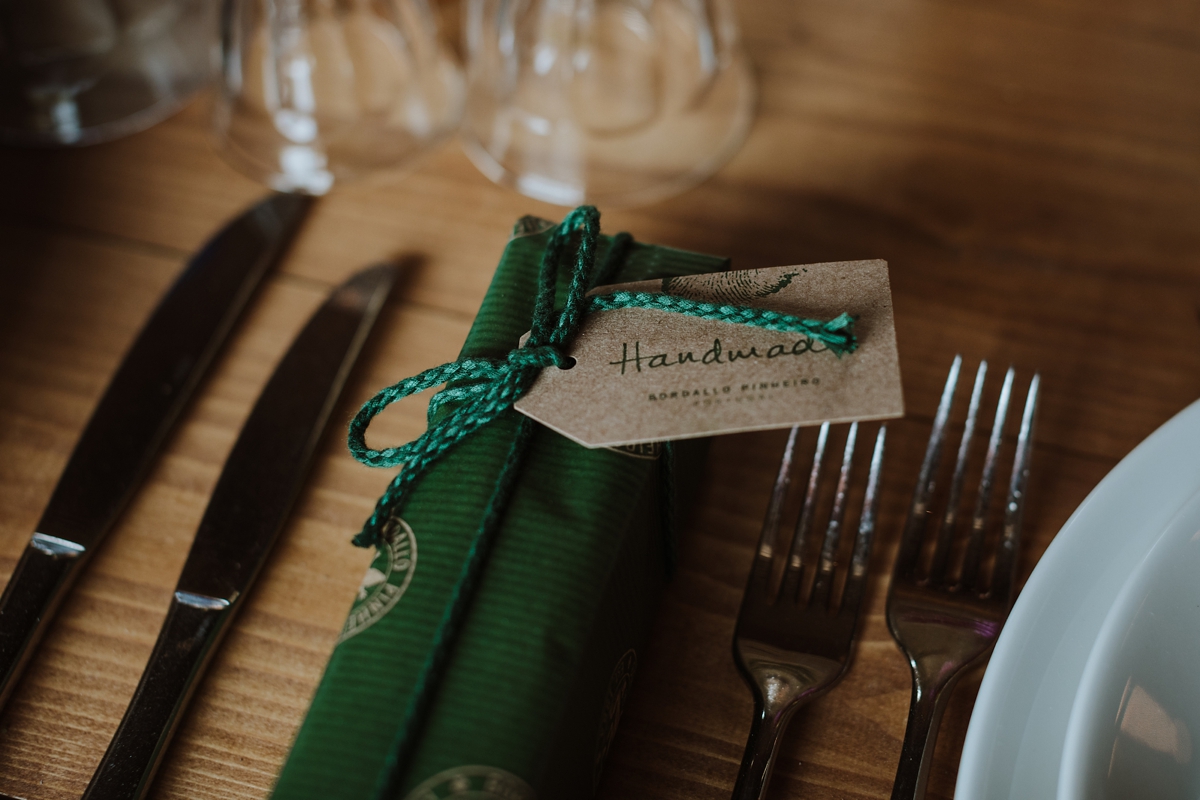 "Our favours were Portuguese ceramic sardines sourced by my dad, who lives in Cascais. A lot of dancing with fish ensued."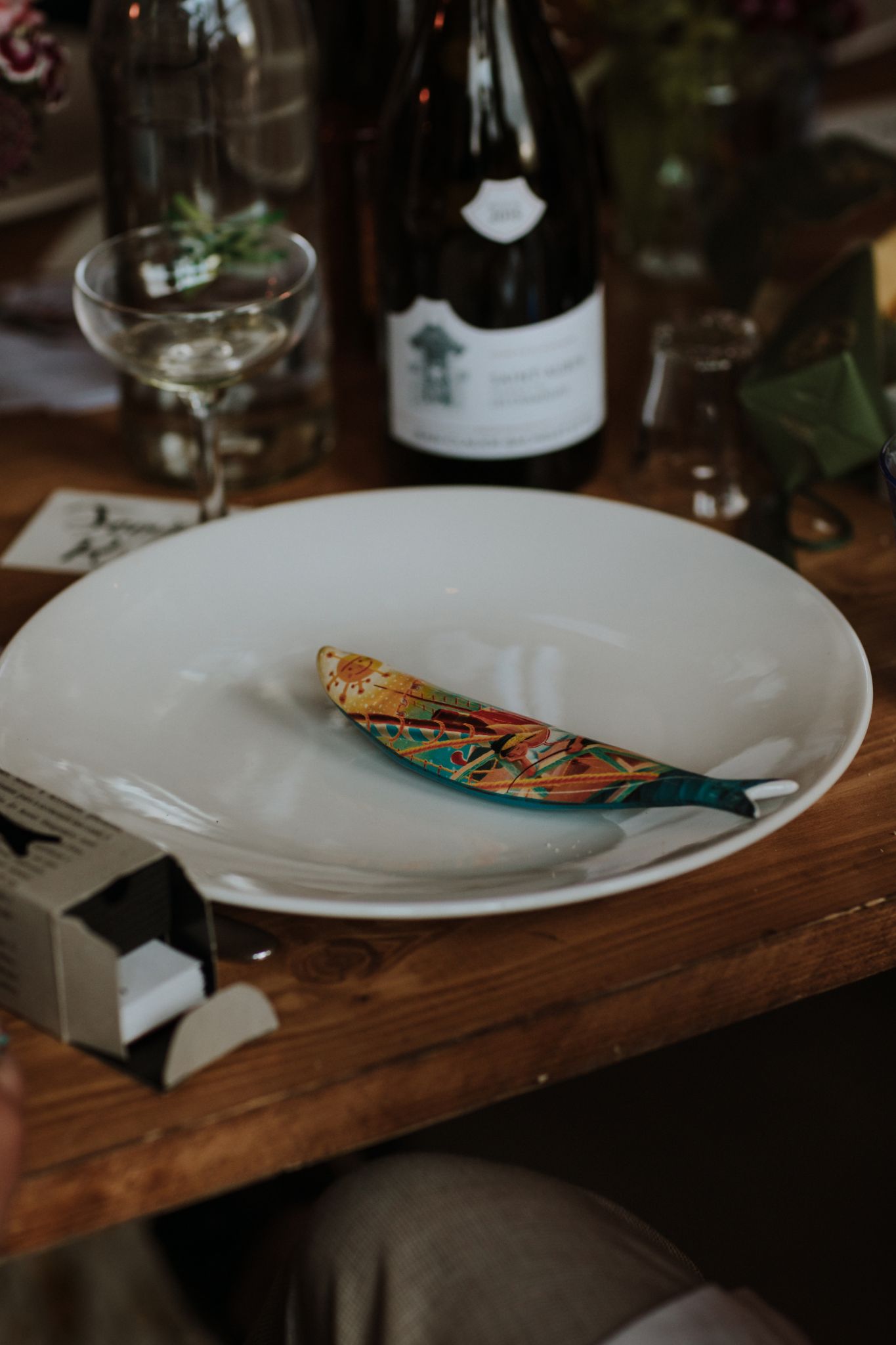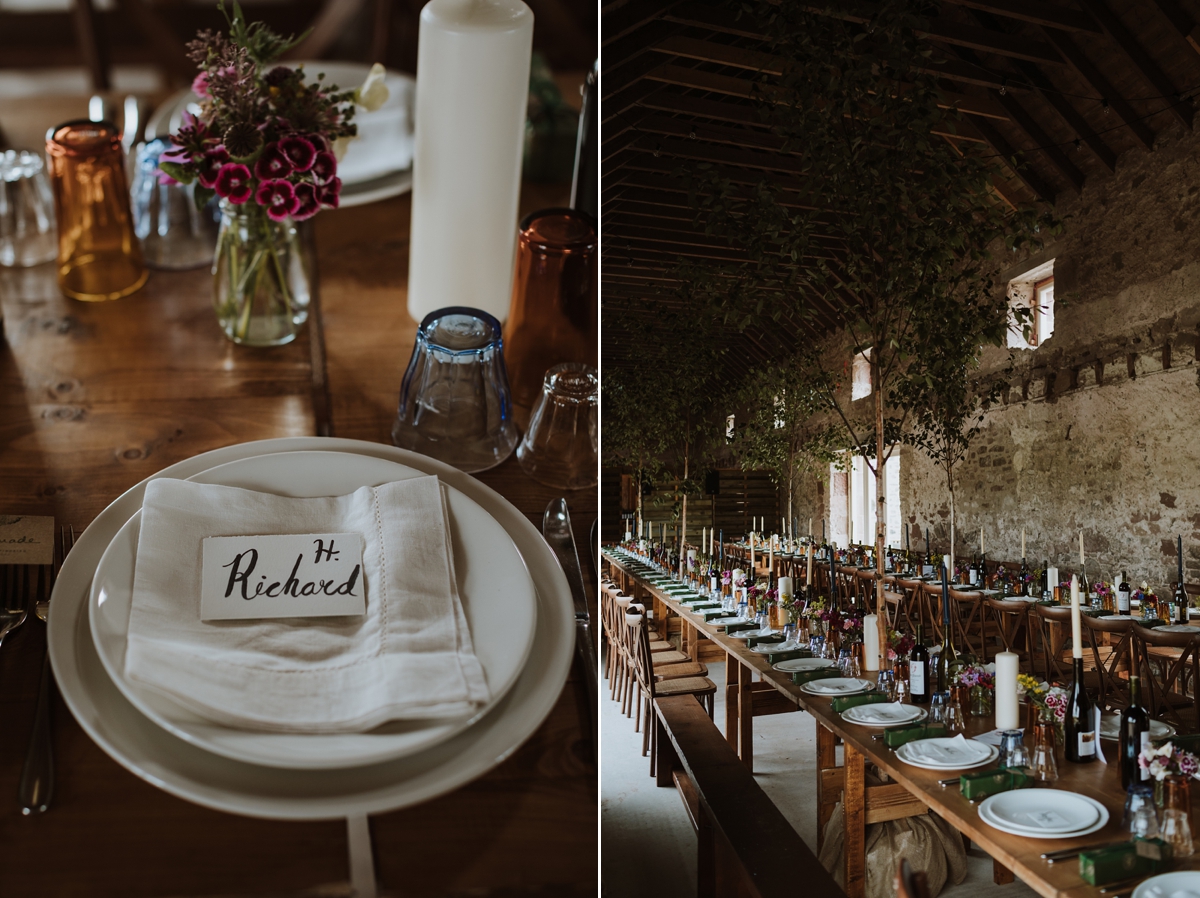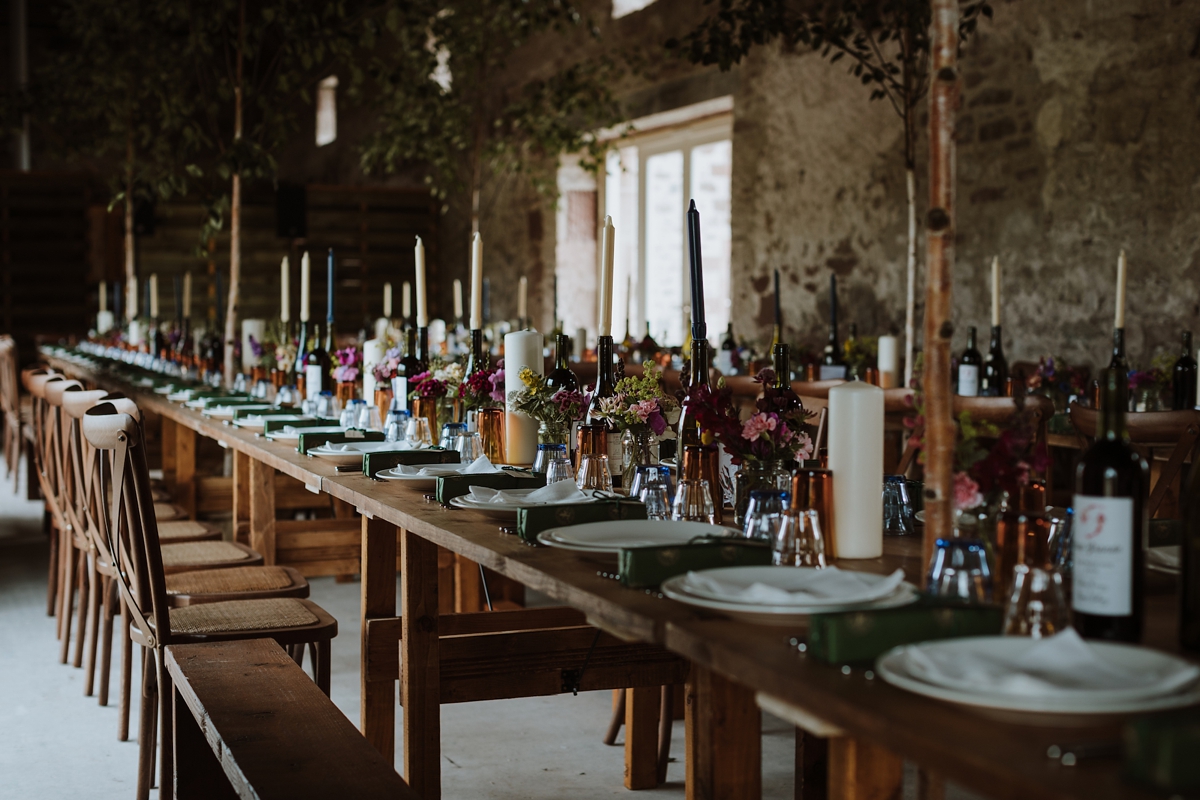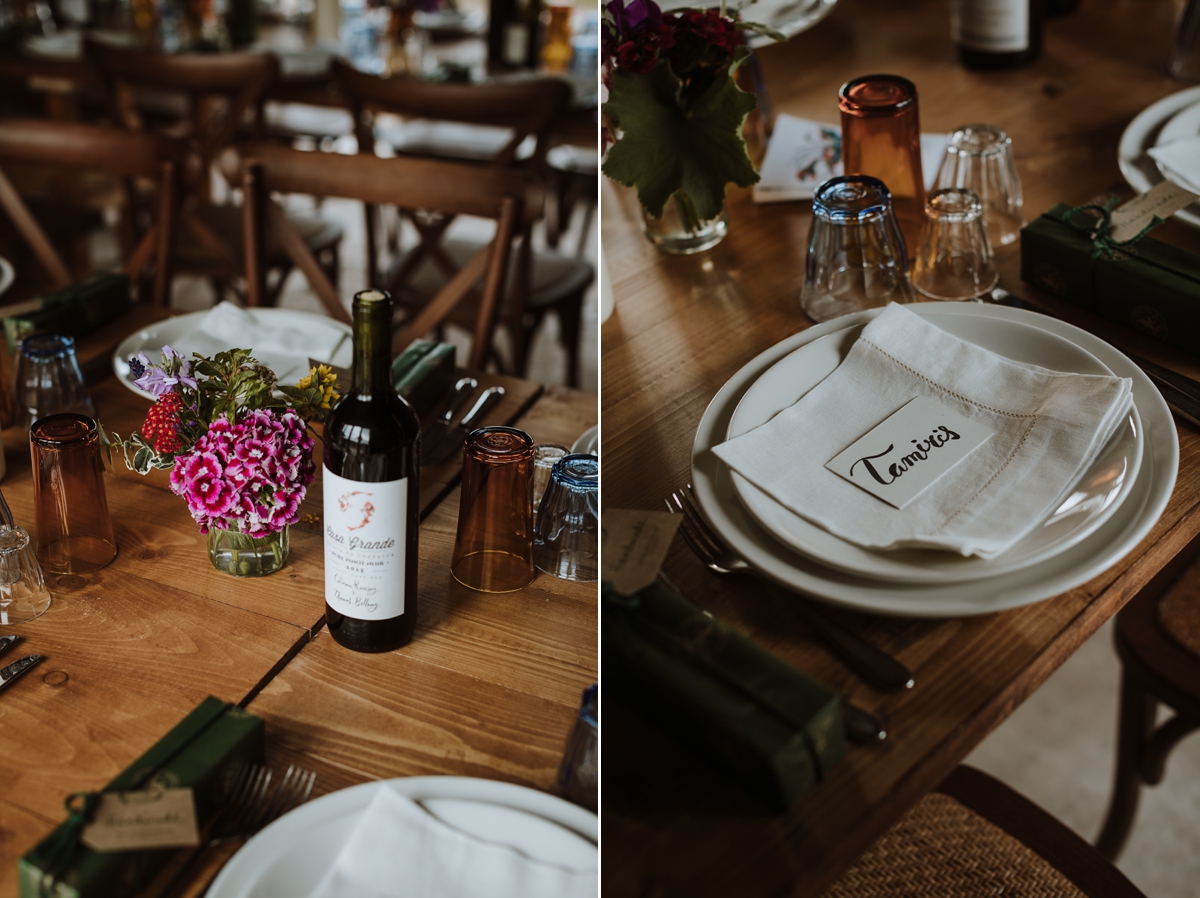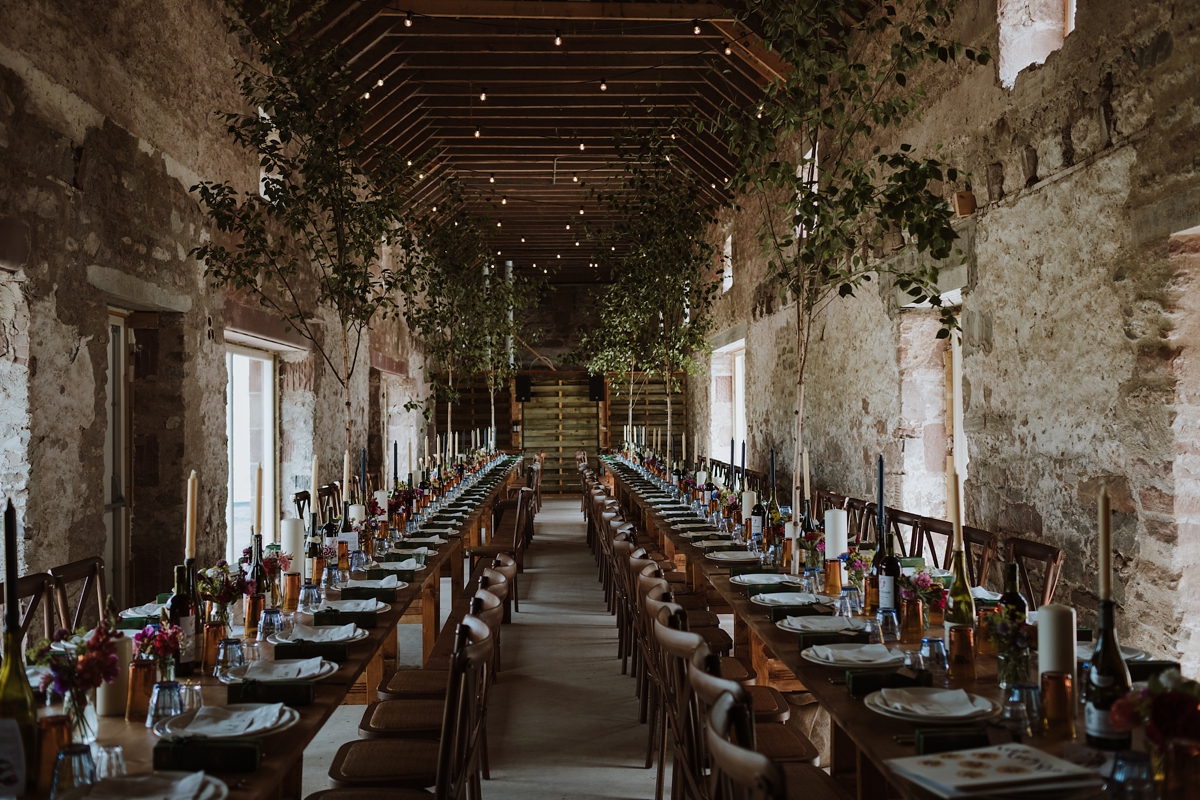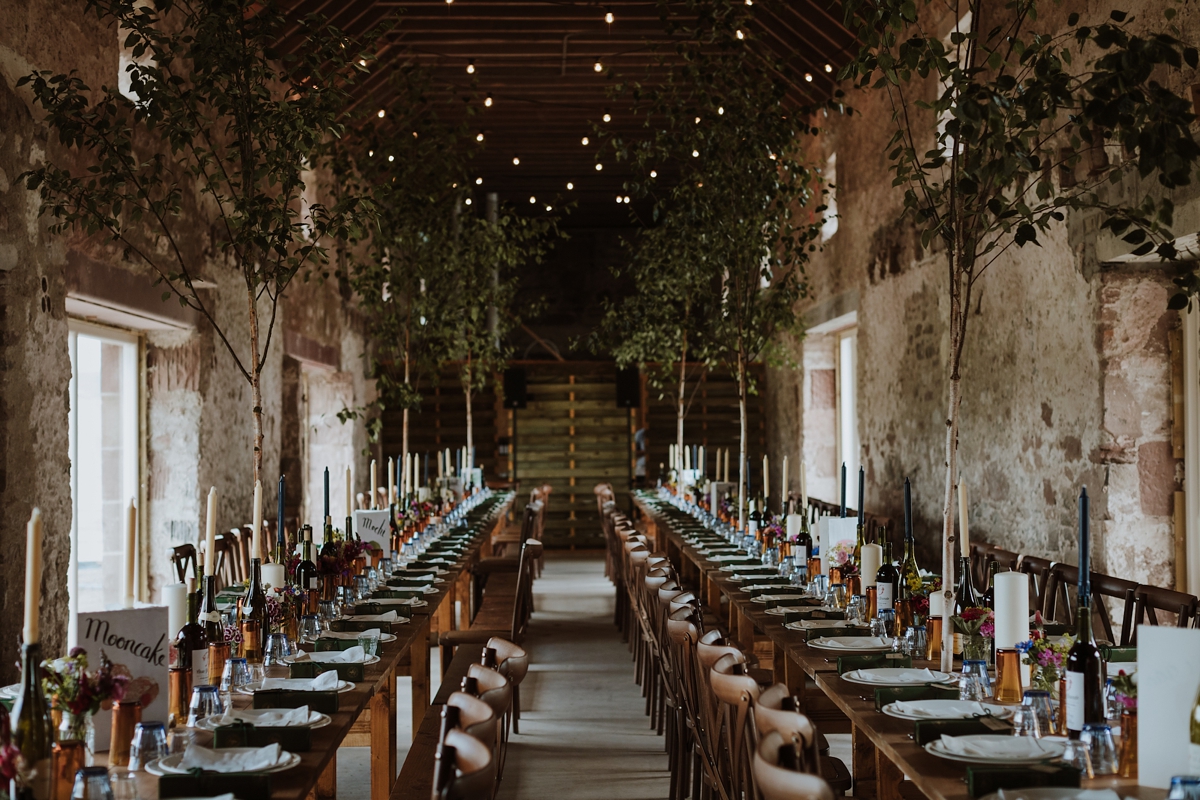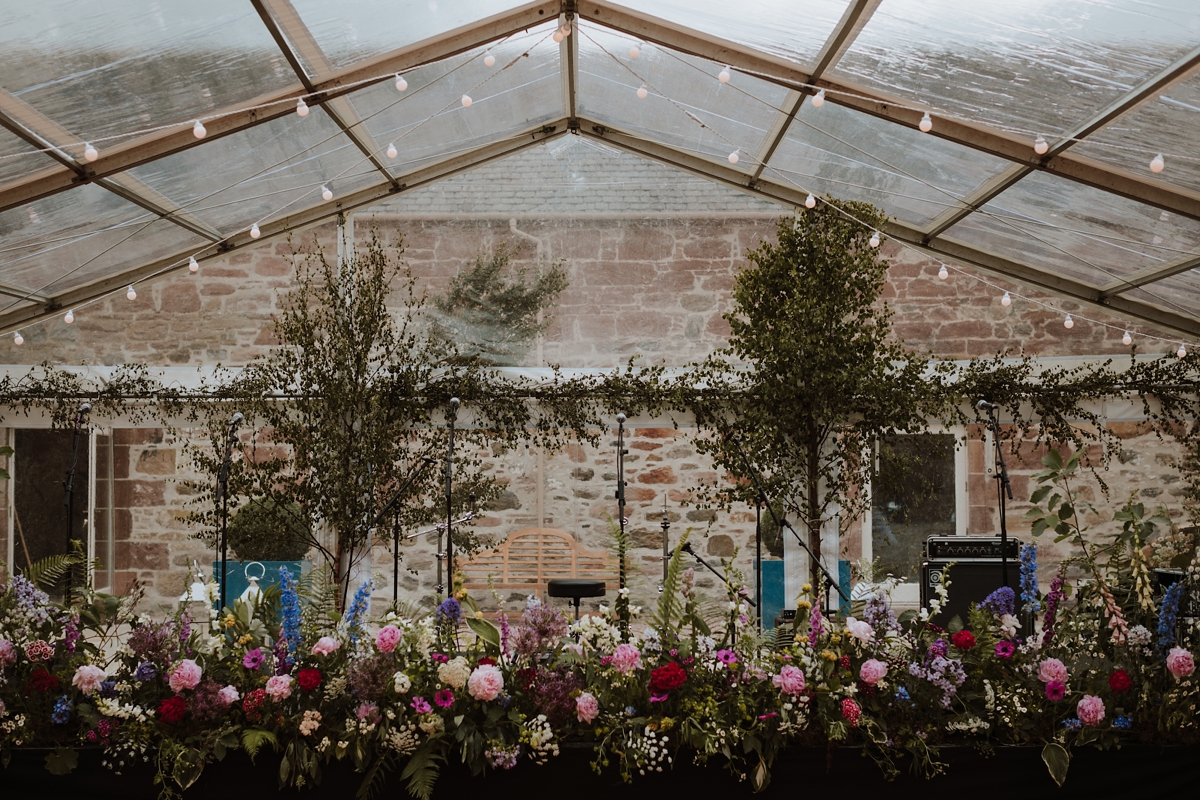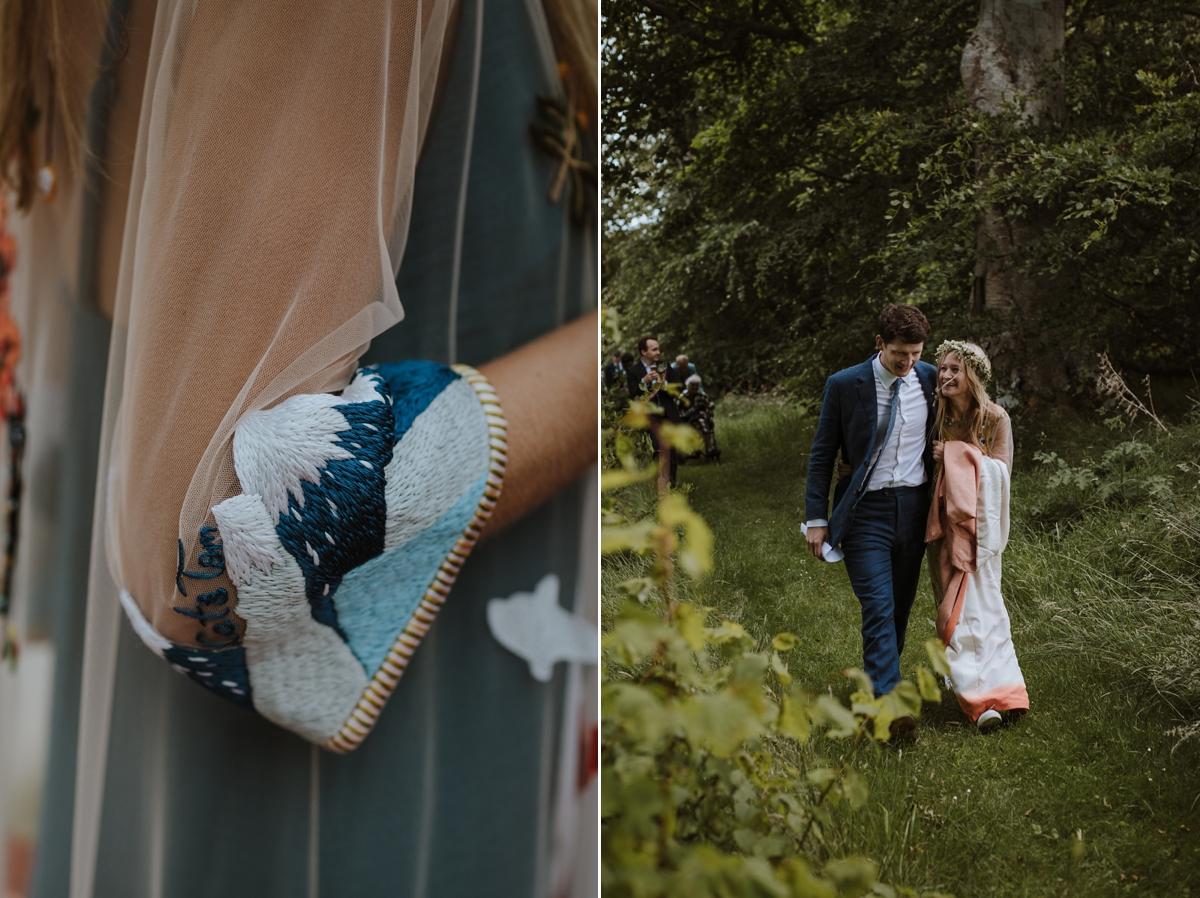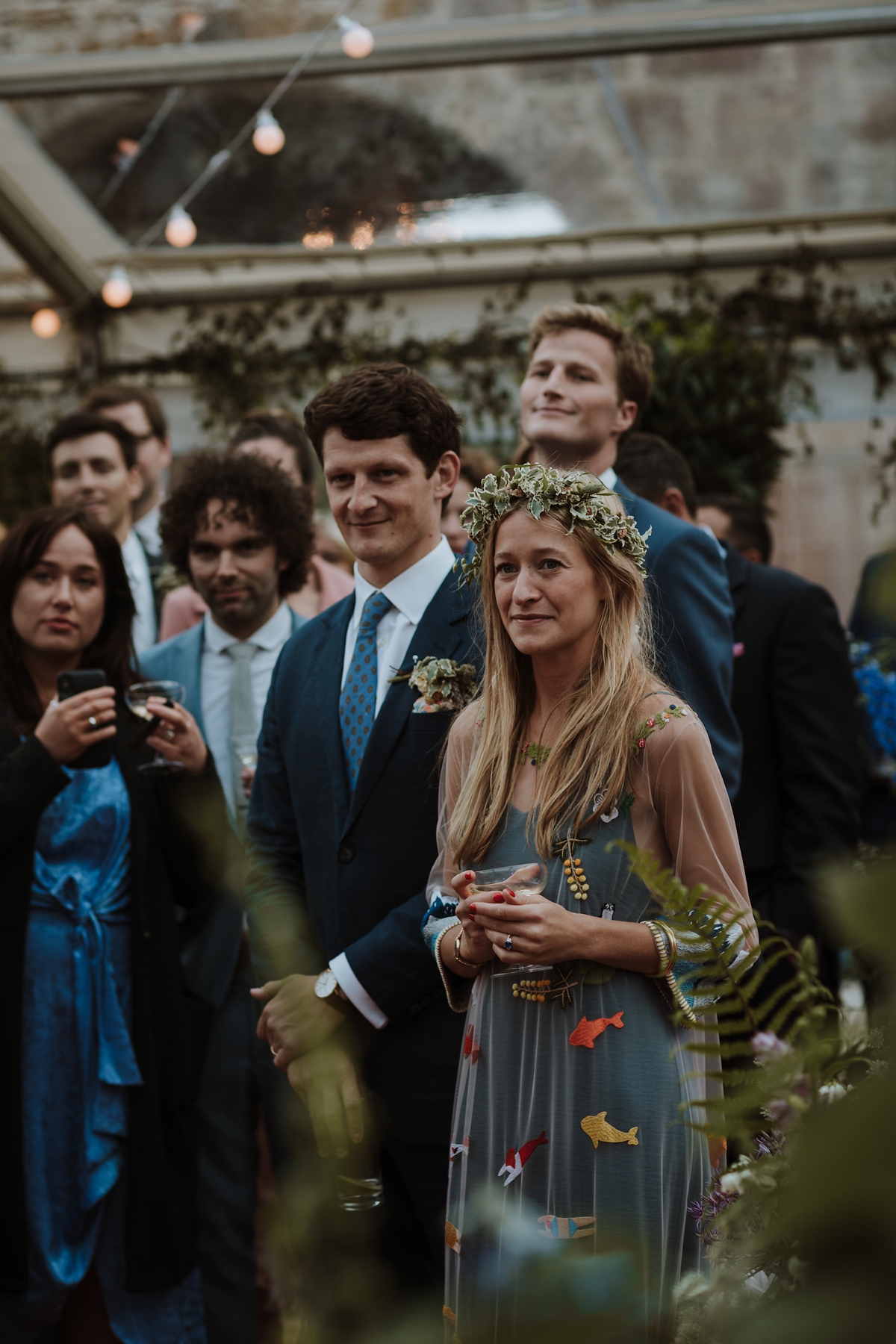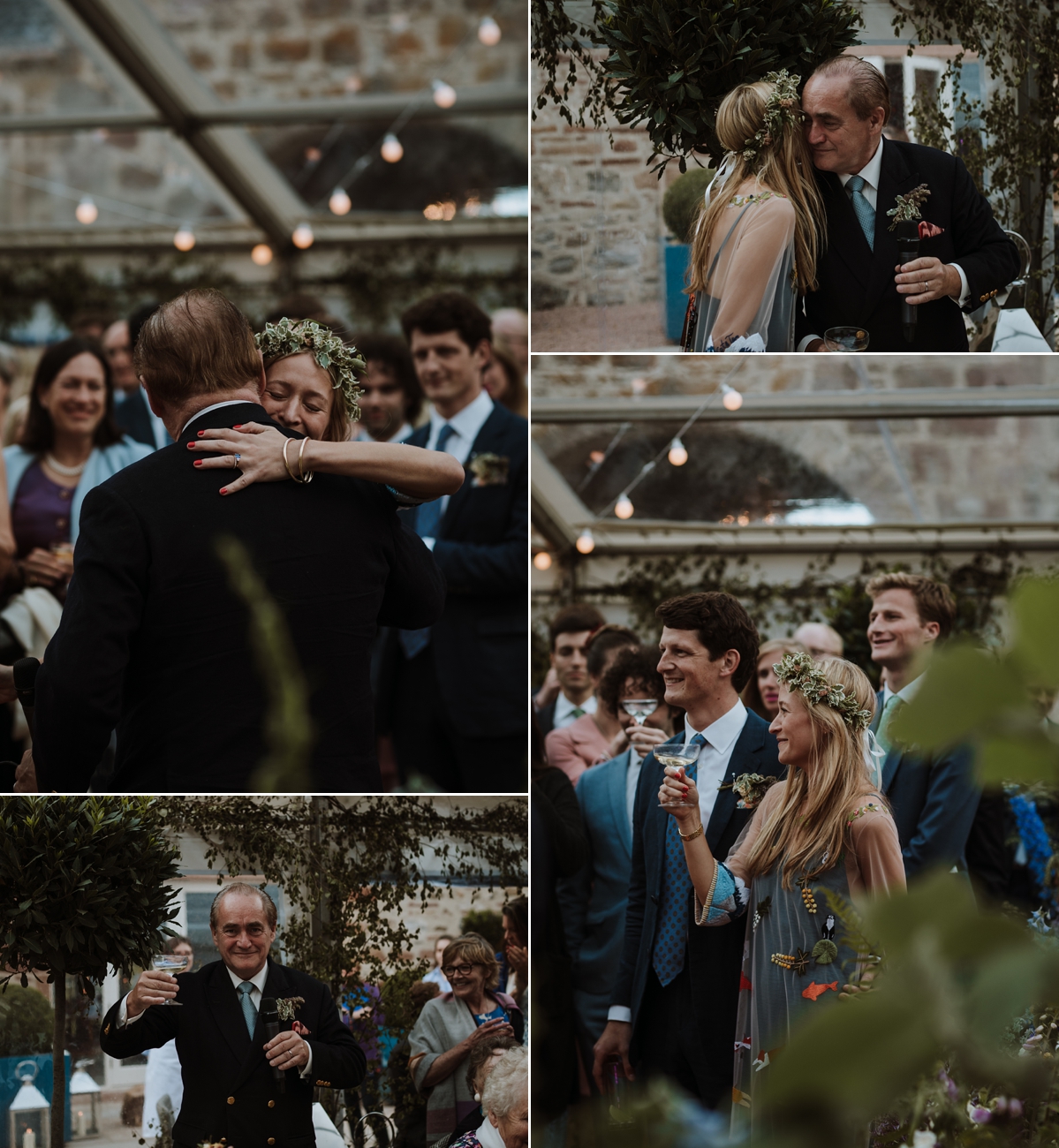 The three-tier, white cake with its fresh floral adornment was home-made.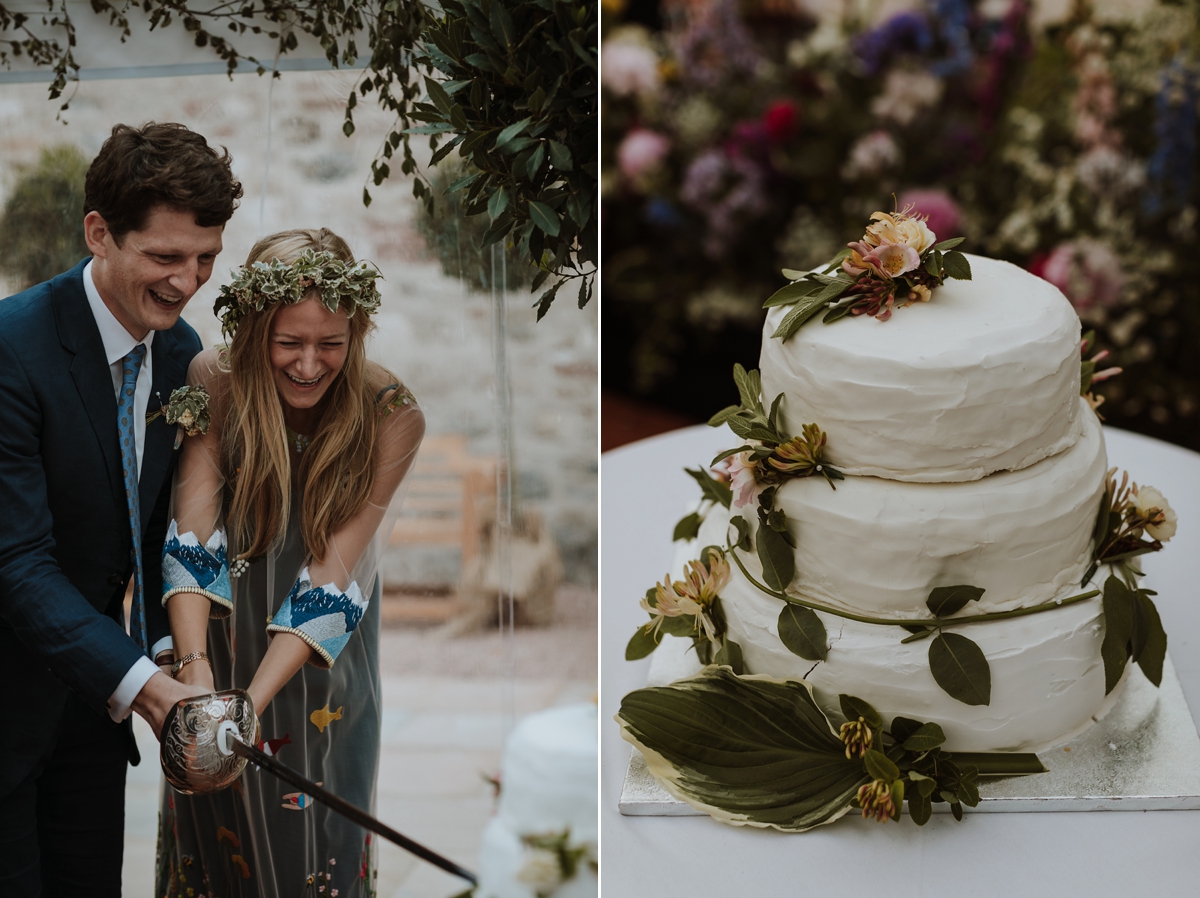 "Favourite moments included Tom and his best man, Alfy's, incredible and touching speeches and dancing all night with everyone to the incredible music by The Turbans."
"The Turbans were the best. Their music is out of this world and they had everyone, of all ages, dancing from start to finish. My grannie didn't sit down until the music stopped."

For the evening dance, Catriona switched in to a Diane de Malherbe jumpsuit before letting loose to music from The Turbans.
"I went into full diva mode though and swapped my dress for Diane de Malherbe's fabulous jumpsuit which she made for me with a lace bolero for full dancing flexibility."
"We are far too shy and awkward but we toyed with a family 'Zorba The Greek' dance as backup."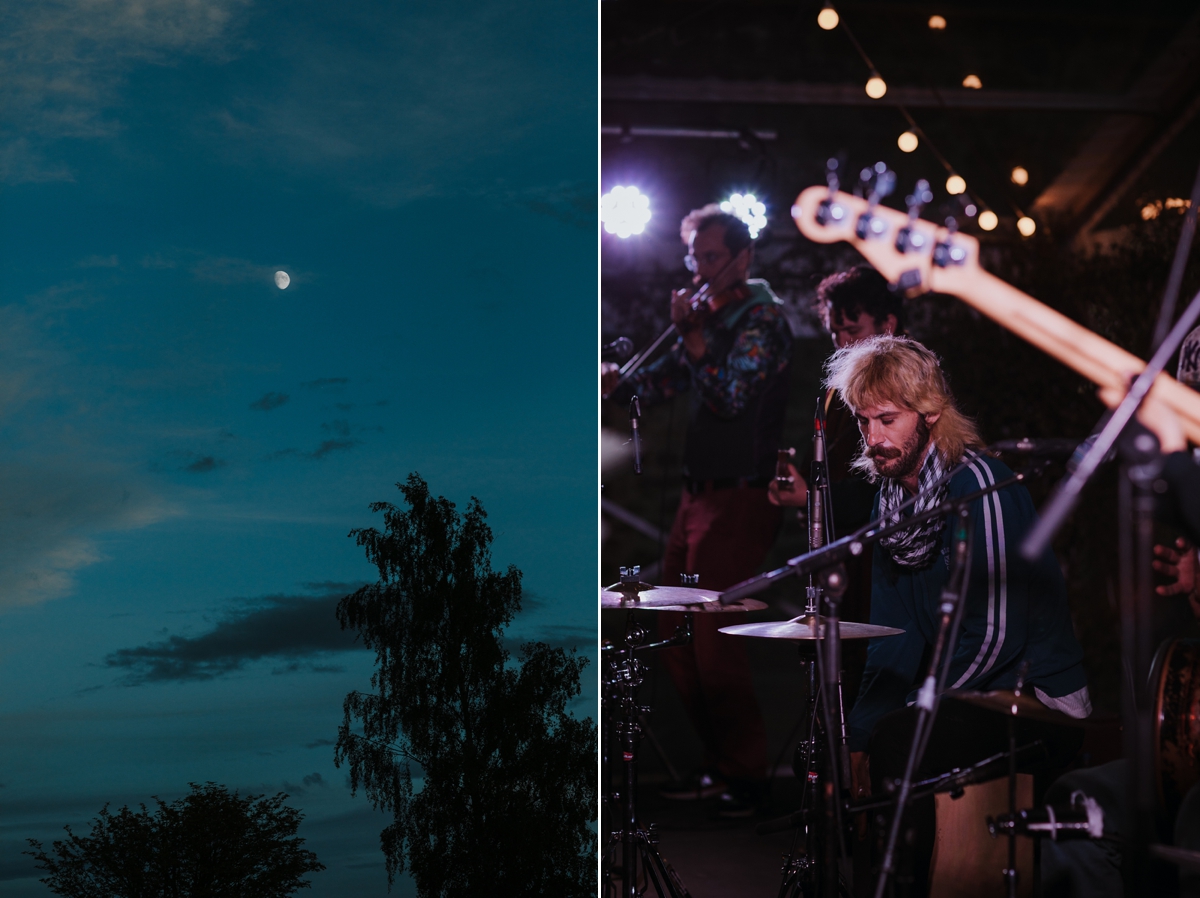 Words of Wedded Wisdom
Catriona has some amazing and very practical words of wisdom for those of you considering marrying at home.
"Book the big things straight away and tick them off your list- loos, catering, music etc and then don't sweat the small stuff. It all comes together and ultimately everyone wants to have a good time so they will!"
"It was really important to us to do the legal bit privately so we wouldn't be distracted or feel pressured to perform; we wanted it to feel personal."
"So we did that bit in our kitchen/garden at home in Singapore with a Buddhist monk in April and it meant that we could really enjoy the symbolism and celebrations of our wedding day at home in Scotland in June."
"My advice to anyone planning on getting married is to think about why you are getting married and what about the marriage itself is meaningful to you and to prioritise this. Everything else can be a party."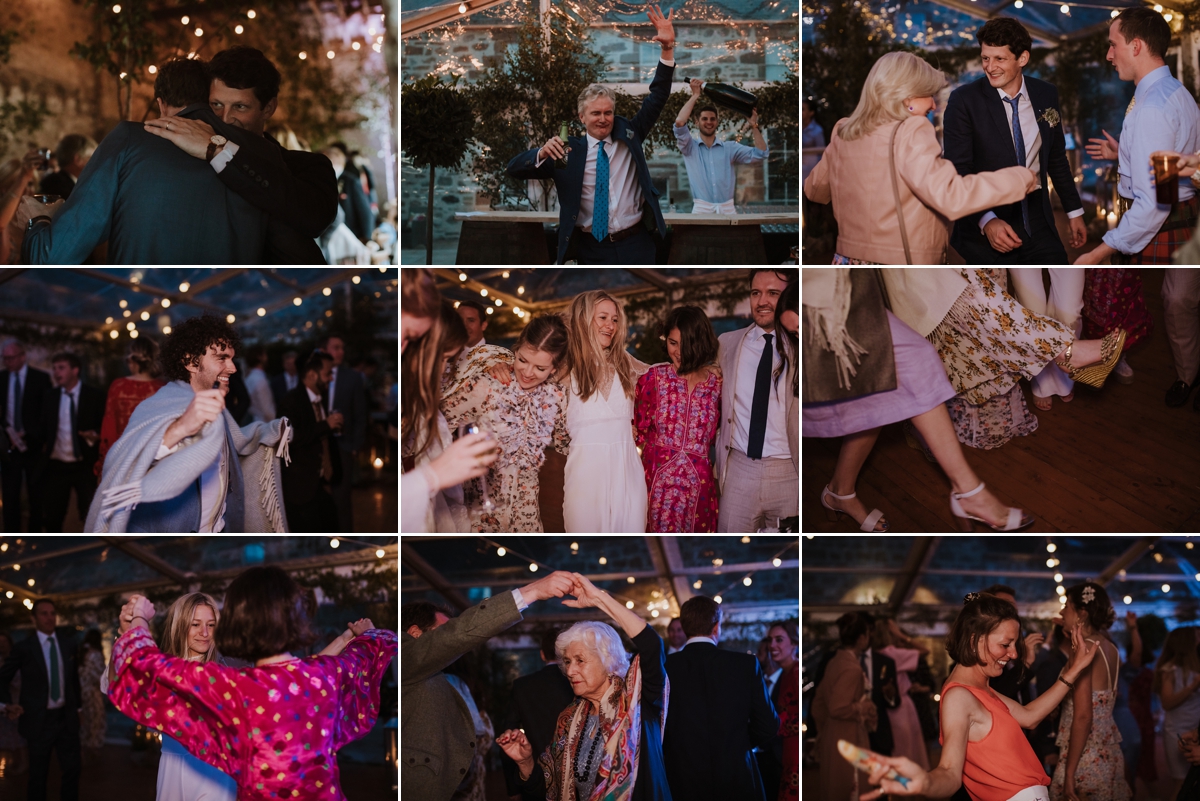 Oh Catriona and Tom, thank you so much for this account of your Scottish ceremony. Catriona, I love the unusual design of your gown which is truly one of a kind.
Sending many thanks, too, to Caro Weiss Photography for her beautiful photography. Well, lovelies, are you thinking about a homespun wedding? Please do take a look at these Love My Dress weddings to get even more inspiration.
Ele xx