Oh, it's lovely to be with you today and I hope that your day is a good one. I'm here today to talk about couture – wonderful, stylish, beautiful French couture – but this isn't a feature about wedding dresses or even suits for grooms and groomsmen.
Oh no, today we're all about flower girls and page boys and it's an enormous pleasure to welcome French maison de couture, Little Eglantine, to Love My Dress. If you've got little ones in your wedding party, read on…
Little Eglantine creates the most gorgeous flower girl dresses and page boy outfits for super lucky children! French designer Stephanie Staub creates unique garments, working with the finest taffetas, silk organzas and gorgeous ribbons to match colours and shapes to create pieces that are just dreamy. The label is all about simple, timeless and luxurious French elegance and it's as far from fast fashion and mass production as you can imagine.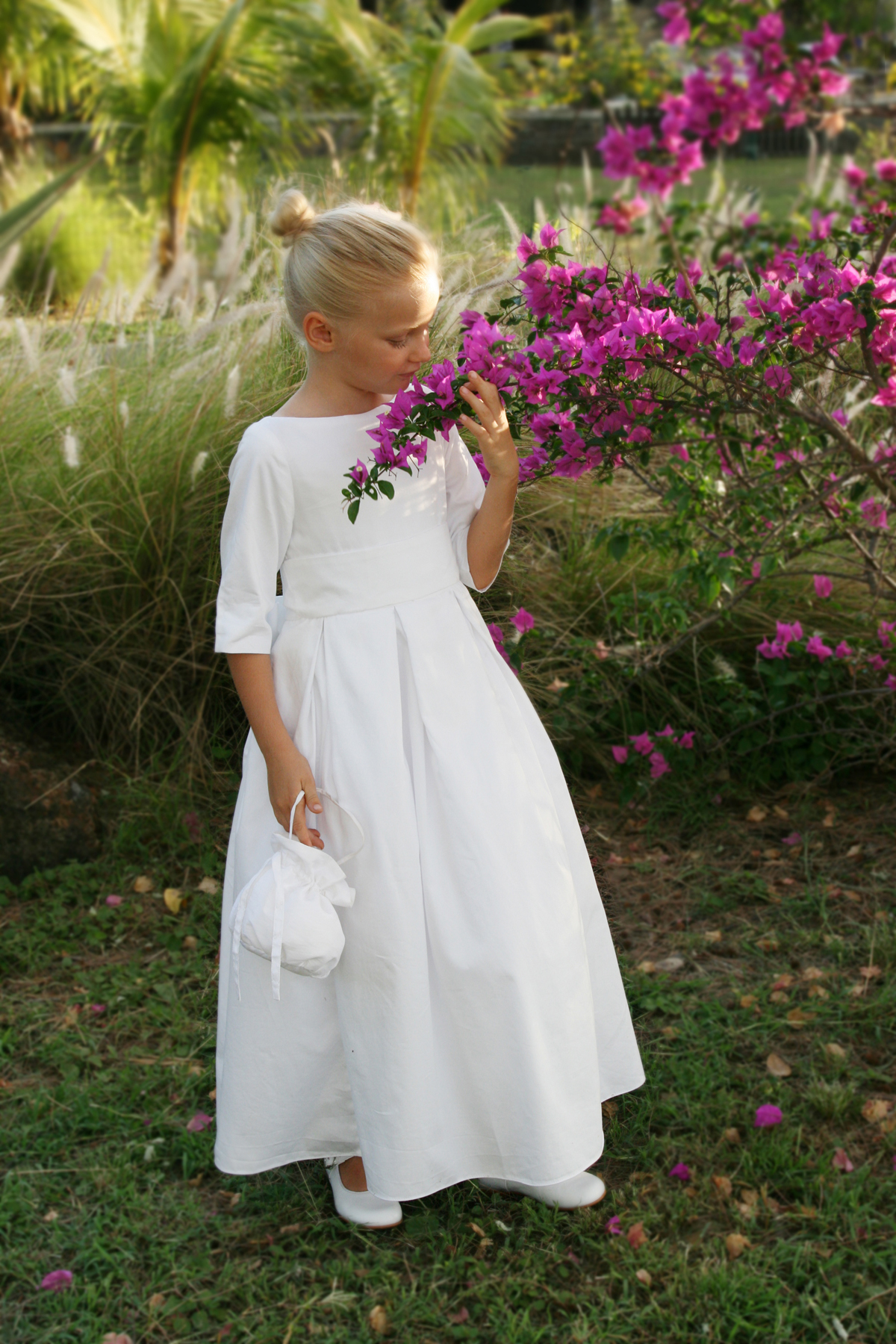 The brand new SS19 capsule collection is full of the sweetest, most charming flower girls' dresses that are all handmade to perfection.
"I wanted to explore movement through shapes and pleats," explains Stephanie. "The dresses play with the proportions and fullness of the skirt to create a soft and enchanting silhouette. I draw my inspiration from all the different elements of a wedding, which can be timeless, sophisticated, graceful, traditional and even playful so I wanted my designs to reflect that."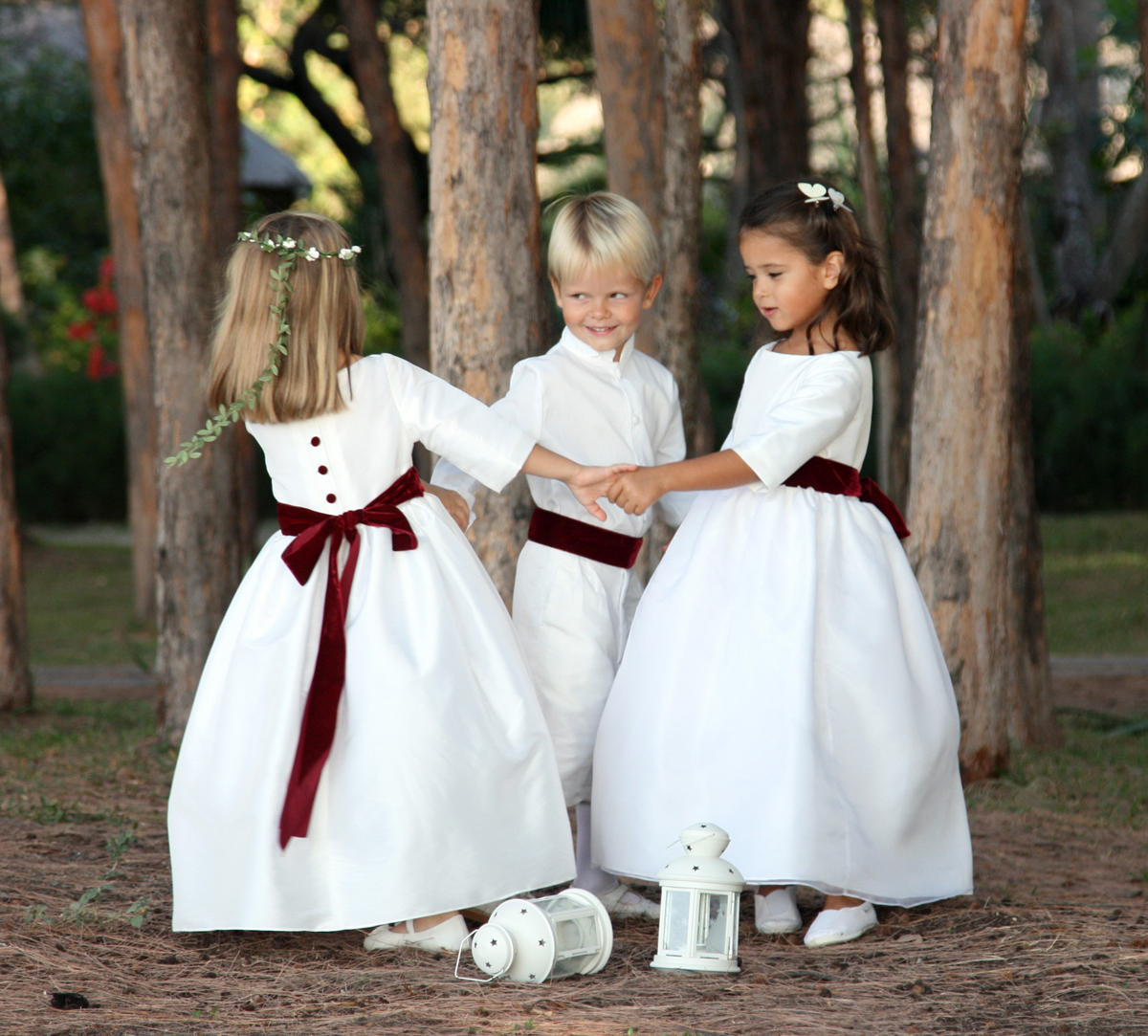 Whilst the magnificently pleated skirts are the standout features in this collection, there are also lots of details to love. The soft spotted tulle sleeves, the signature boat necklines and the traditional Peter Pan collars all exude timeless style but they also come with a modern twist. I have to say that I'm a fan of those big bows – statement details can be for flower girls too!
"I think about my ideas for a long time and it's when that idea becomes really insistent that I know it's time for me to bring it to life. I start by playing with fabrics, assembling, cutting, creating shapes and looking to find the perfect harmonies in terms of shape, colour and proportion. Then my team and I make a prototype and adjust this until the dress is exactly as it was in my mind."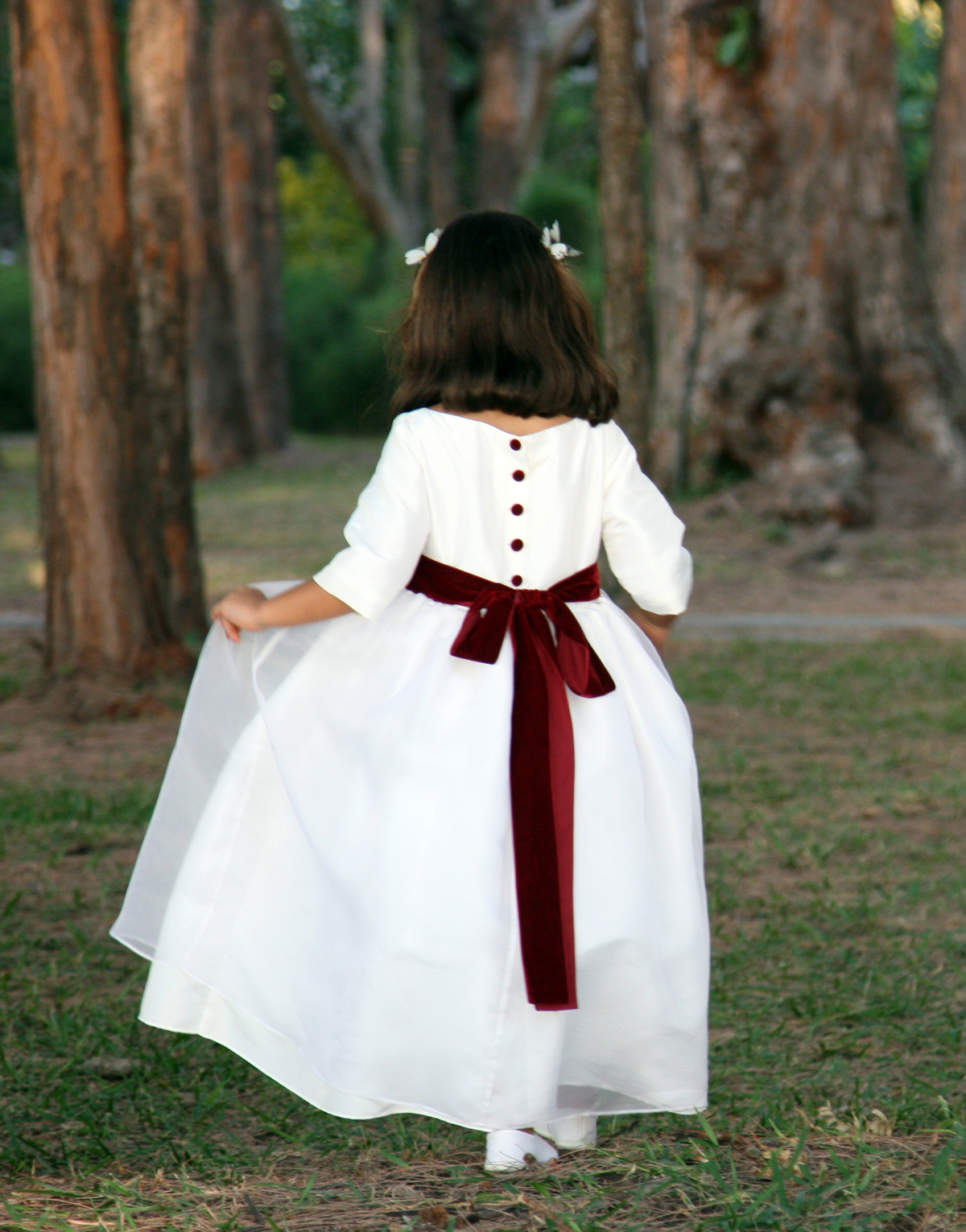 Like Stephanie, I'm in love with the classic styling cues of the Flora dress. It features those large pleats and it manages to be formal but not too conventional. The shorter length is as pretty as it is practical and those puff sleeves couldn't be cuter.
"I'm also a big fan of the Camille dress. I find it so elegant and romantic. I worked on the contrasts of colour, between the white of the dress and the deep burgundy of the sash and buttons and it really works. There's also the contrast of materials between the soft silk organza skirt overlay, the smooth velvet and the crispness of the taffeta."
When you start to search for your flower girl dresses, Stephanie suggests that you're clear about the style you want for your wedding. Is it a city or country wedding? What colours will you be working with and what will be the dress code for the event?
"For a traditional wedding, our Gallia dress with its Peter Pan collar and puff sleeves is perfect whilst page boys can wear our three-quarter length shorts or knickerbockers with a double-breasted shirt and cummerbund."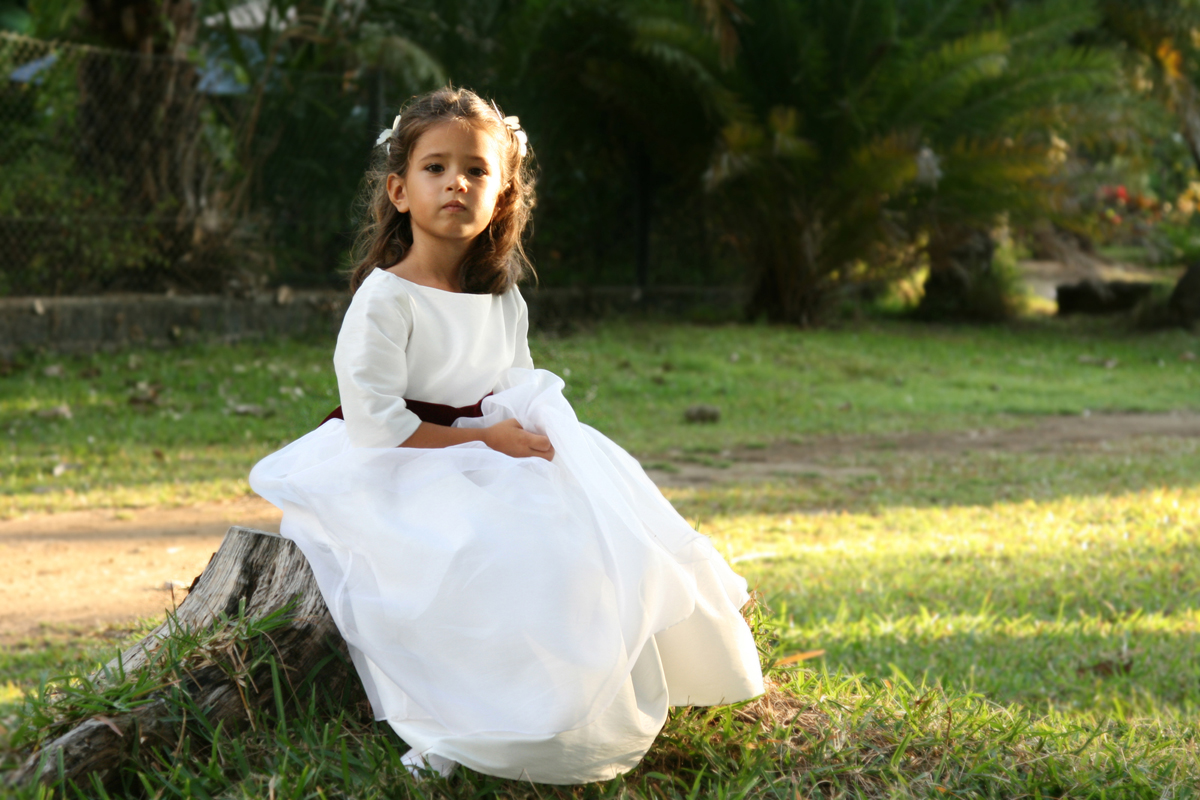 "If you'd prefer a more romantic look, our silk organza dresses are ideal. There's Chloe with its frill collar or Adele with its flounce sleeves. Page boys can again wear three-quarter length shorts but with a Peter Pan collar shirt."
"For a countryside wedding, white flower girls dresses with a pale green sash are adorable and whatever design you choose, you can match them with page boys wearing white cotton shorts, white Mao collar shirts and pale green cummerbunds. Relaxed weddings really suit our Amelie and Suzanne short dresses and boys can wear sailor tops with French shorts or knickerbockers."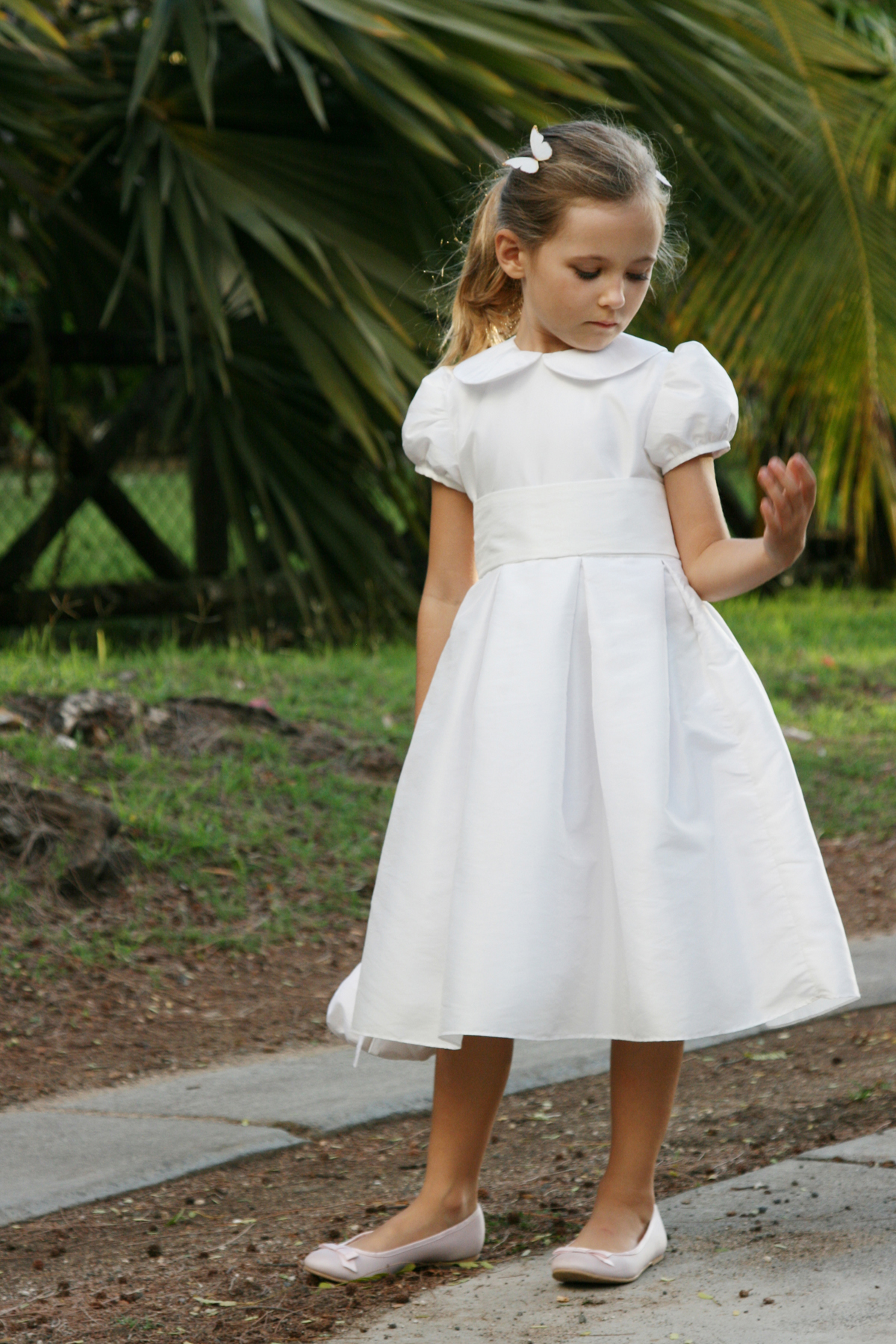 Stephanie is also very aware that these outfits have to be practical. Children will want to run around and play so their clothes need to allow this as well as being comfortable to wear and absolutely gorgeous.
"We don't want children to look like mini adults and we don't want older flower girls to look like little ones either. It's important that the garments are adapted to the child's age and everyone feels at ease and comfortable with what they're wearing. Not only are our taffeta fabrics beautiful and soft against the skin but you can also rinse off stains which would have otherwise left a permanent stain on silk fabrics."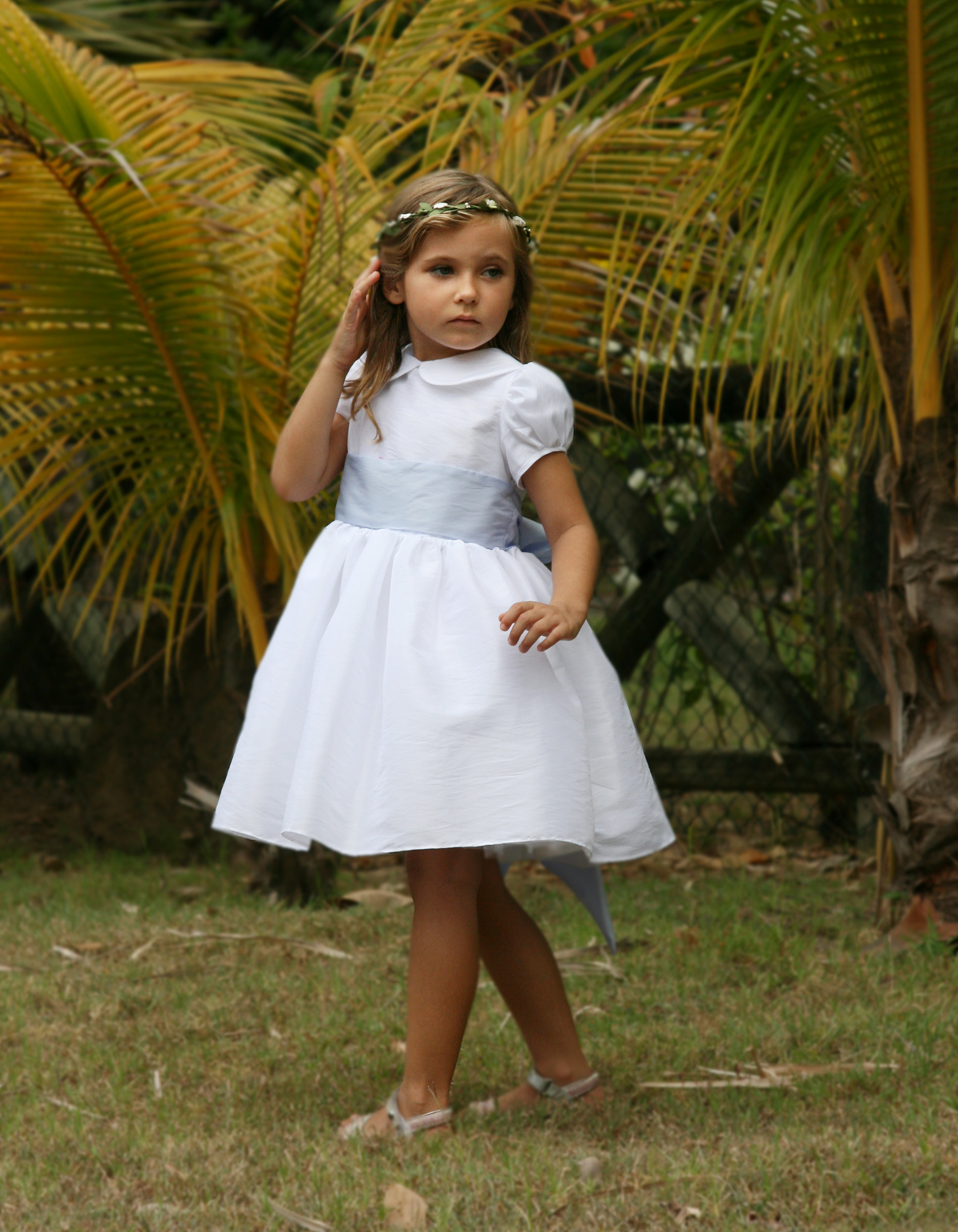 It's easy to see why celebrities and Royalty alike have trusted Stephanie's Little Eglantine label with the creation of their junior bridal party outfits. She's all about perfection in every detail and the service that you receive couldn't be more personal. Impeccably handmade and thoughtfully designed, these outfits will delight you and the lucky children that will get to wear them on your wedding day.
To find out more about the Little Eglantine collection of elegant flower girl dresses and page boy outfits, do take a look at the website.
Love,
Tamryn x