We always say our Norwich show is the smaller, wilder more Bohemian little sister to the London show.
It has 60 exhibitors which are mainly from East Anglia and there's a little more of an outdoorsy vibe, closer to nature, seasonal, fresh feel rather than urban and industrial like London.
And because of the timing it is always a bit of a celebration of the start of Spring. However there are 10 exhibitors and moments which, if you didn't have a chance to see at the London show, you can catch again, doing their thing at Norwich on Sunday 24th March.
First up is the show venue itself, The Fire Pit Camp. These guys showed their wares at the London show but will now get their chance to really shine at Norwich, as the host of the whole occasion.
This cool camp and glamping site is also registered and fully licensed for marriages and ceremonies indoors and out, with its honeymoon suite made of hazel wood, the Wrens Nest, giant warehouse for party all night reception vibes, it really is the perfect venue for a festival-style wedding.
You can also catch the arid, artsy, abstract styling of the show all over again as our cork and sand has been delivered over to Norfolk and maybe a few totems too, plus terracotta tones and graphics from Studio Sophie.
But mostly we are super happy to say Boomting Bunting will be there again with their hand dyed drapes and fabric decor creations of glory, including the abstract rainbow banners to celebrate new Most Curious baby Sonny and celebrate his two sisters too, one who founder Becky Hoh-Hale lost the weekend of the Norwich show when she was 24 weeks pregnant in 2017, so it's a bit of a full circle, or should we say rainbow.
Boomting Bunting, by September Pictures
One big player at London was White Reflections who are stockists of some of the world's hugest and most sought after bridal brands, such as Yolan Cris and Rue De Seine – there were ripples of 'OMG is that a Rue De Seine dress??', as the catwalk shows took place at London, so you could be in with a chance to see it happen all over again at Norwich.
White Reflections is actually local to Norwich as well you lucky East Anglian lot!
OK, photographer Carla Blain was not exactly exhibiting but she has taken some of the most exquisite imagery of the London show and was part of the team over the weekend, and the great news is she is actually exhibiting at the Norwich show!
See her beautiful work and meet the lady herself and find out how she would bring some of her magic to your wedding photography.
Mia Sylvia also brought her absolute A-Game and was branded as the best newcomer at the show by Love My Dress's Annabel herself! She created the natural dyed fabrics in the wonderful entrance space installation…
An absolute gem for Norfolk, a Norwich-based maker coming up strong through the ranks! MiaSylvia's textiles & Bridal wear are fair trade, ethically made with organic and up-cycled fabrics.
She can create small on the day details such as custom napkins, bouquet ribbons and table runners right up to finding and bespoke dying your perfect dress.
Working together with your chosen colour palette and the specific florals and foliage in your bouquet, MiaSylvia can then mirror this with in your textile fabrics.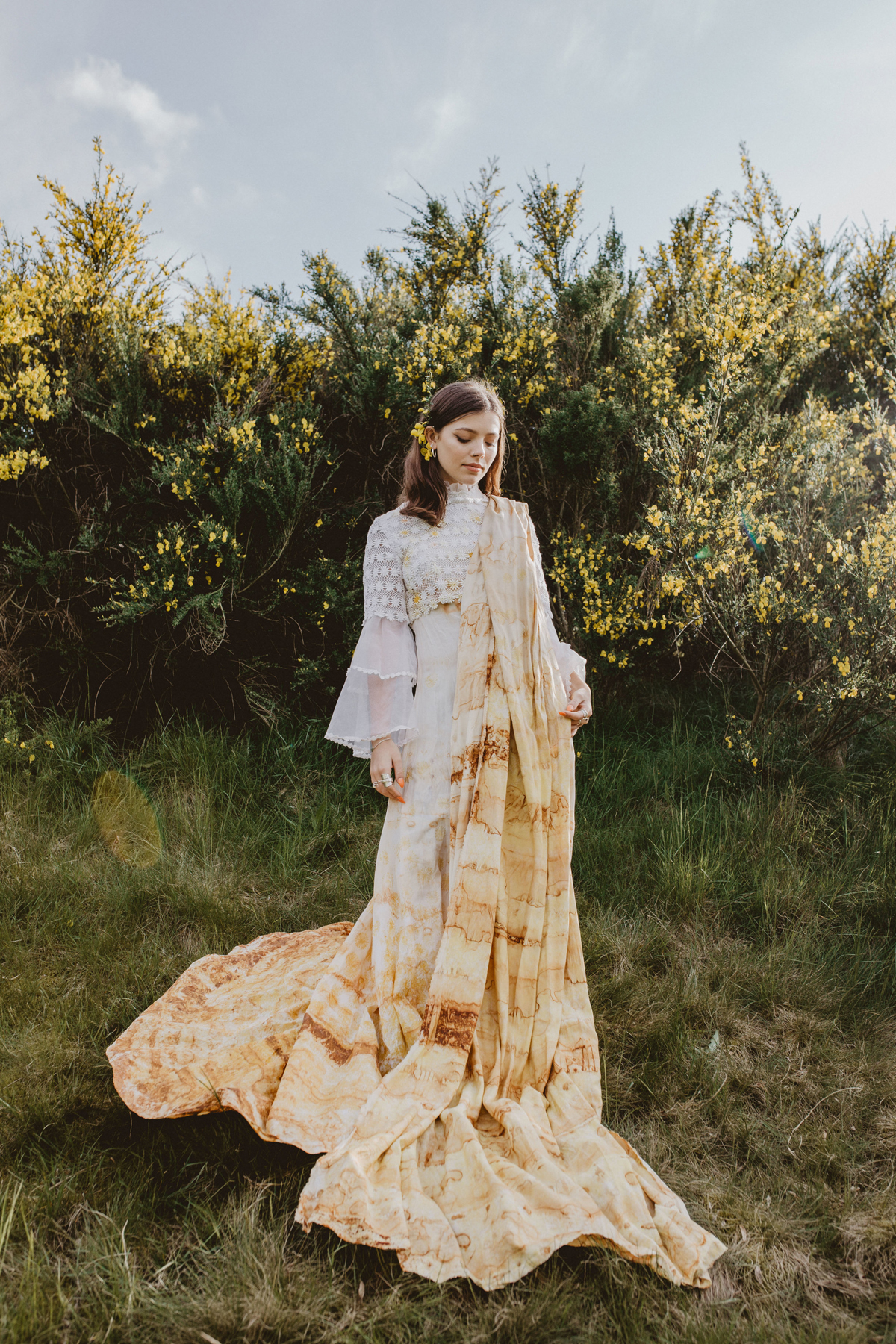 Mia Sylvia, image by Camilla Andrea
Mia says "Where do your textiles come from? Who is making them? These are the questions that I ask myself daily. The over-consumption of the textiles industry and production is at an alarming rate. I create my work with this ethos in mind."
Quality over quantity. The natural dyes are created in my studio using a variety of fruit, vegetables, plants, and flowers. My ethos behind my work is a zero waste policy. (Mia Sylvia)
"Every item I make is bespoke and made from organic fabrics of high quality, and the colours I can create are all natural. Let's create something beautiful together."
Mia Sylvia, images by Camilla Andrea
Another fantastic Norwich brand and talented young up start is Lennie Beare, whose work looked amazing at the London show and on the catwalk itself.
Lennie hand-makes each piece of jewellery from start to finish, allowing the hand made process to organically dictate the outcome, rather than making exact copies. The contemporary simplistic style is timeless, and coupled with her drive to make every item different, Lennie creates jewellery heirlooms unique to you.
After making her first wedding rings in the Summer of 2018, she went on to be commissioned for a second set of rings and is now hooked. She is launching her first official collection of rings at the Most Curious fairs. See them revealed at the Norwich event.
Eden b. Studio is a Luxury Bridal Accessories brand, and was a total hit at the London show. Her designs are inspired by the beautiful botanicals of the English countryside, with a focus on natural, soft colour palettes and delicately unstructured pieces. Each design is handcrafted with love and passion in our small studio based in the heart of Tunbridge Wells, Kent.
She will be bringing her beautiful collection of Hair vines, Pins, Combs and Headbands to Norwich, as well as offering hair trials and will be there to chat about bespoke designs too. " Hair trials are a great opportunity for brides to try as many pieces as they like in their hair,' say the team. 'It's always nice to try them on and I can offer stylising advice as most of my pieces can be worn in loads of different ways.'
Lola Elliot who is a visual merchandiser at And Other Stories and all round style guru, assisted Luke Reene on the London catwalk shows and will be head Honcha for the Norwich runway, styling the looks, taking influence from the knock out catwalks at London. So be sure to watch the magic she creates unfold there too.
On the catwalks you will see White Reflections , Bud and Boe, Mia Sylvia and Lennie Bearee at 12pm and 1.30pm.  The catwalk itself will be styled by Norwich show organiser extraordinaire The Little Lending Company in collaboration with the Swaffham Florist and Boomting Bunting .
Purveyor of perfect photography, plants and that boho life and living somewhere between the Norwich and London show, Craig Williams is in the line up for the Norfolk event show too, following his exhibitor stint at the Truman Brewery. Come and see his amazing warm, follow the light photography style and probably a lot of houseplants at his stand.
From the people behind the brilliant 'Disco Shed' comes this spin-off wedding DJ service, DISCO WED. Perfect for cool couples seeking a credible alternative to cheesy wedding DJ clichés, they rock receptions as expertly as they do huge festivals and club nights! The Disco Shed has been a huge hit with festival–goers wherever it's been, which includes events such as Bestival, Leeds, Reading, Latitude, Camp Bestival, Shambala, the Big Chill, Cornbury, Thames Festival and many more.
They get so many requests to play at private parties and weddings from people who have seen them at festivals or their club nights, that they had to quit their jobs to manage it all, and so Disco Wed was born!
Disco Wed will be joining the Norwich show with their cute shed set up, playing the tunes for the creative couples in the Fire Pit warehouse!
Buy Your Tickets!
The MOST CURIOUS NORWICH event will be taking place on Sunday 24th March at The Fire Pit Camp, The Firs, Wendling.
Tickets available online at a mere £3.50 and VIP GOODY BAG tickets £6.00.  Tickets are also available on the door.
We look forward to seeing you there! In the meantime, come follow us over on Instagram.
________
Main image at top – Backdrop fabrics by Mia Sylvia, cakes by The Glorious Bakery + Ard Bakery + treats by Sweet Feast Grazing, mobile by Wild & Wonder Events + florals by Bloom. Image by Carla Blain.