Happy Sunday lovely readers. I hope this finds you in restful place today. Today's couple didn't let a little something like Storm Callum put a dampener on their day, despite it taking place at a coastal location.
It just goes to show that with the right mind-set, the weather doesn't need to rule proceedings and it's the celebration of togetherness and love for each other that's the main focus when it comes down to it. It helps when the bride and groom have such a beautiful vision and manage to pull off a stunner of a wedding too. So let's meet them, shall we? Buyer Lisa and retail manager David wed on 13th October 2018 at the unique Tunnels Beaches in Ilfracombe, North Devon.
Images by Inbetween Days Photography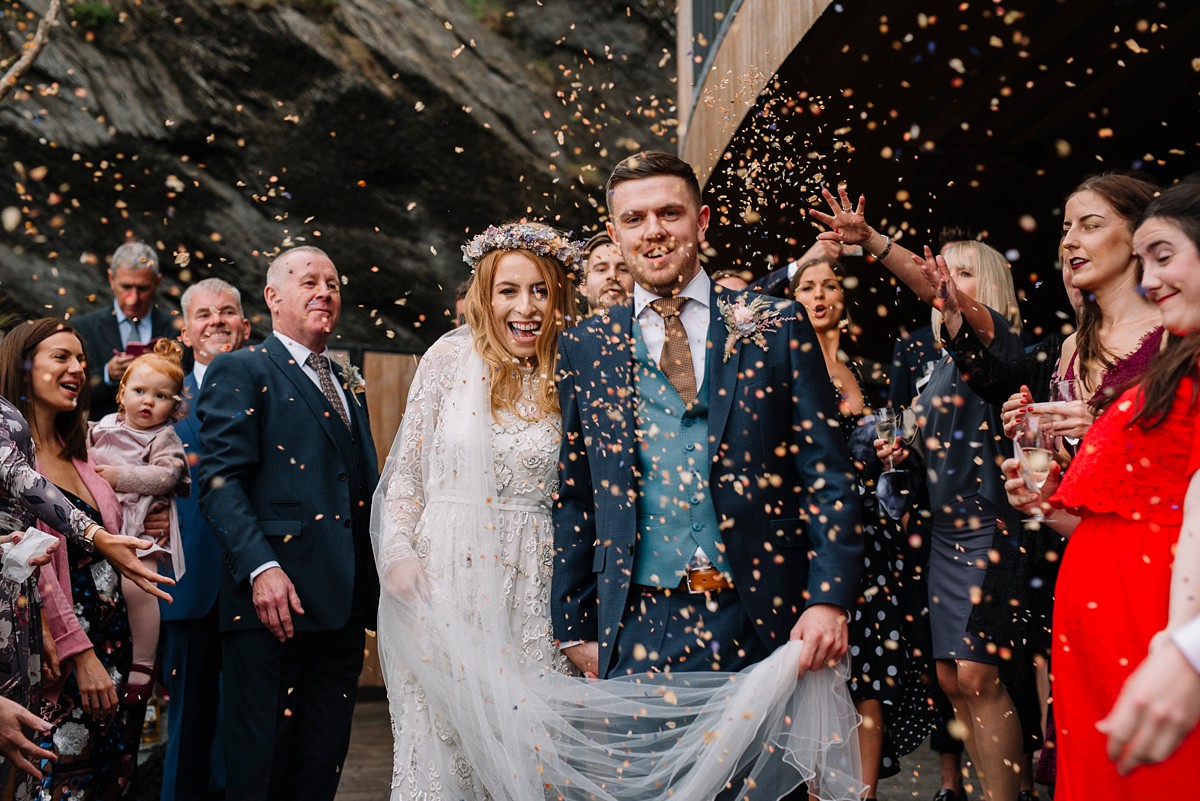 "My shoes were Prada and the best shoes I've ever owned. They were the last pair in my size in the London Prada store and half price in the sale. The wonderful team at the store posted them out for me to try when I explained they were for my wedding day.""Luckily they fit like a dream and I was able to wear them all day, apart from changing into flip-flops whilst on the beach during the day. I also loved that they were my 'something blue', I even took them to the nail salon so I could have my nails painted to match."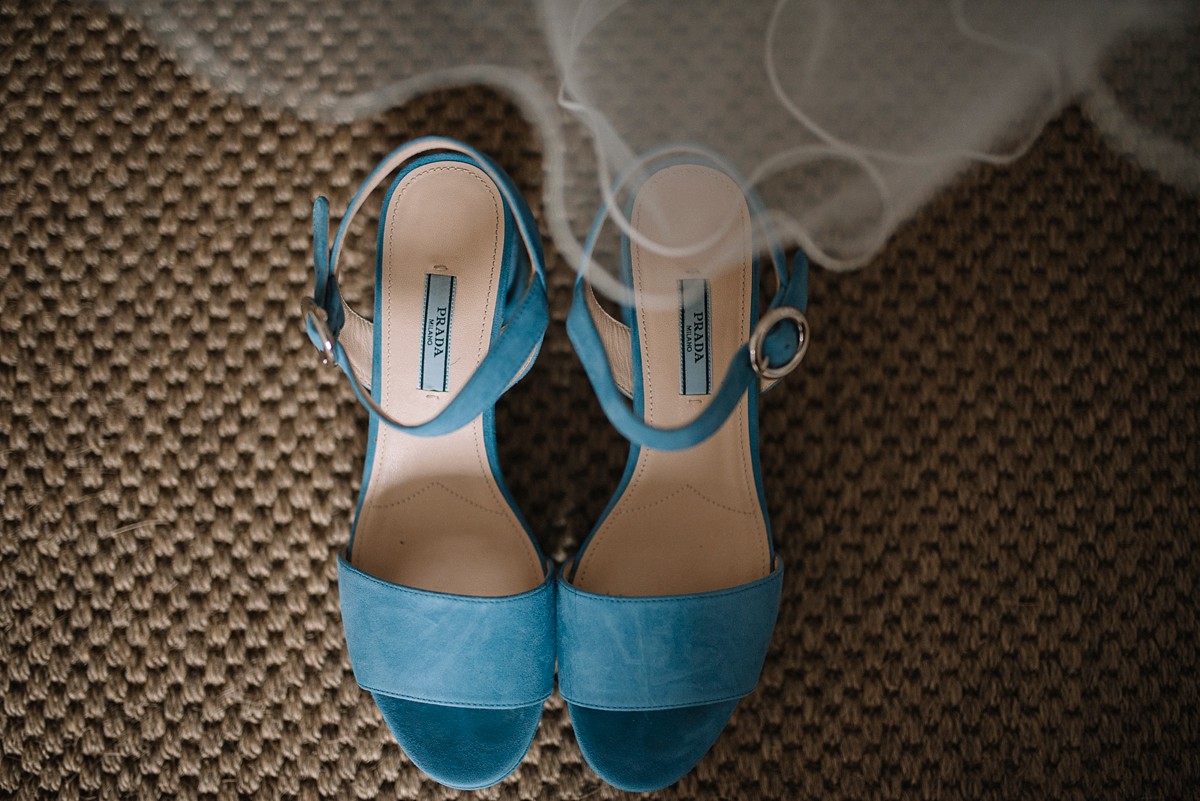 "I wore Chance by Chanel as my perfume. I was really undecided when it came to fragrance as I don't really have a signature scent. I was perfume shopping with my mum, we tried a few different fragrances but when she mentioned my Grandma always swore by Chanel, I knew my decision was made."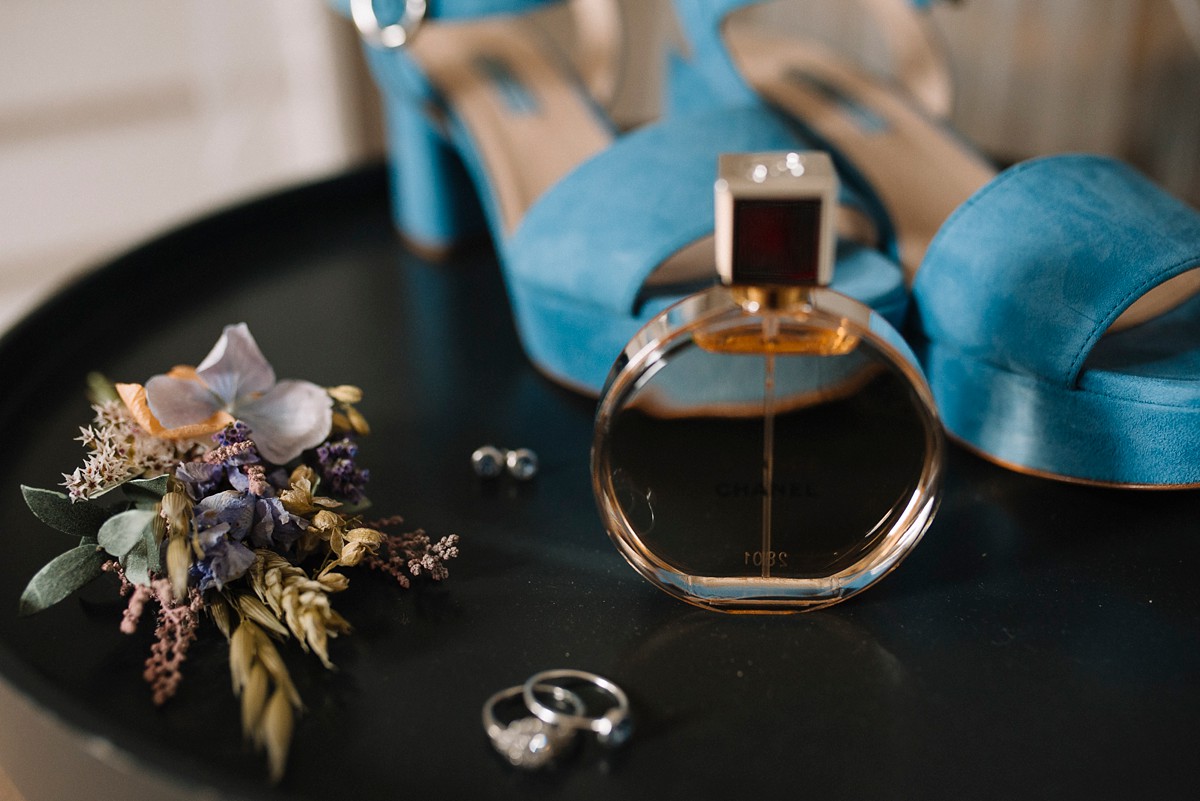 "I also love that this is a fragrance I don't usually wear so it will always remind me of our wedding day."
"My bridesmaids wore a mixture of high street and ASOS. I was fairly relaxed about the shape and length but knew I wanted embellished dresses in colours that would fit in well with the surroundings. I spent time with my bridesmaids in the run up to the wedding looking in high street shops and online and even though we bought all the dresses separately, I was really pleased with how well they all worked together on the day."
"I bought my dress from Needle & Thread and had alterations made by Wendy at Perfect Fit Bridal Couture. Wendy was fabulous! I was nervous about the alterations on my heavily embellished dress but she immediately put my concerns to rest. She is professional, highly skilled and gave us some great tips along the way."
"I also purchased my veil from Wendy. As soon as she saw the dress, she knew exactly which veil would work best. She fully understood my vision for the day and I'm so pleased I found her."
"Like many other brides to be, I started browsing wedding dresses online pretty much as soon as we got engaged. I had never really thought about the type of wedding dress I'd like but when looking at Love My Dress, I stumbled across Needle & Thread dresses. Upon browsing the website, I found my beautiful dress with long sleeves and embellishment and it incorporated all the elements I love. It was bohemian, vintage and unique with long sleeves and I thought it would be perfect for an Autumn wedding."
"However, with 18 months until the wedding still, we decided it was too early to buy a dress. My mum also really wanted the wedding dress experience by visiting a bridal shop. Despite this, I couldn't get the dress out of my head and knew there was only 1 of them left online."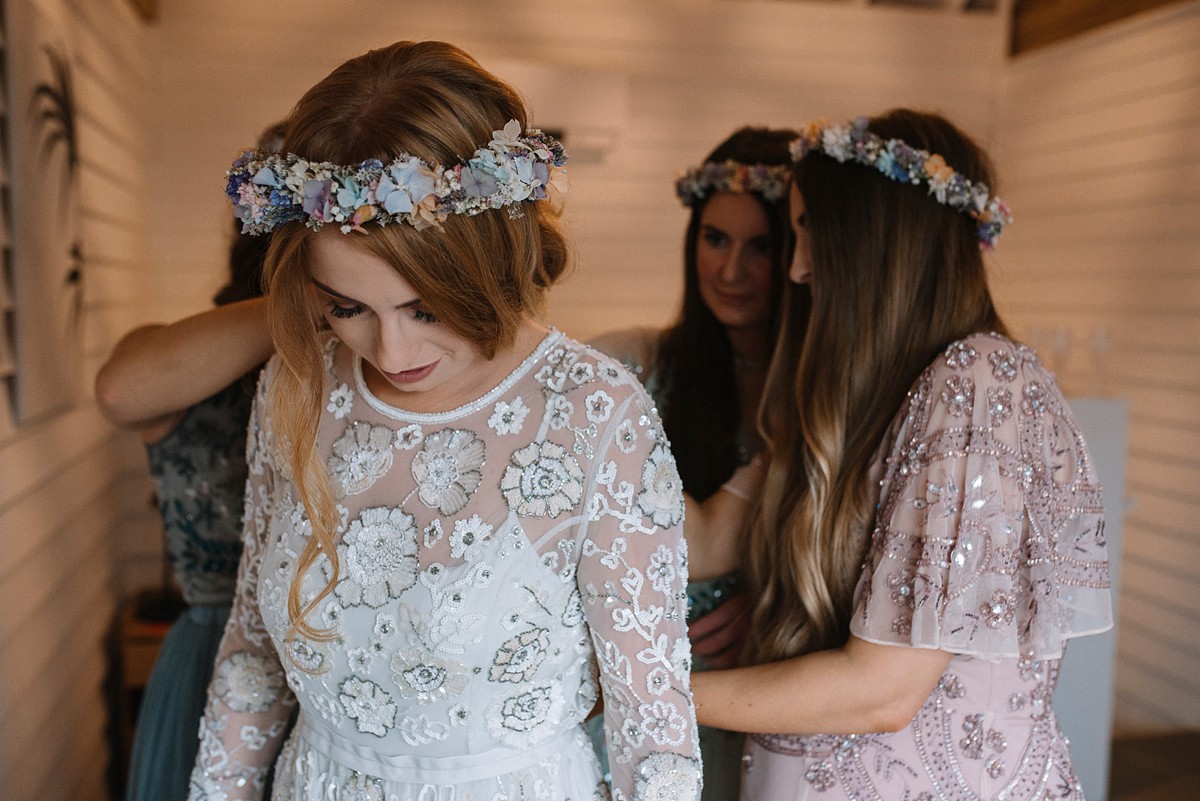 "When I noticed the dress had sold out, I was so disappointed, but after a few days refreshing the website, I thought maybe it just wasn't meant to be. A couple of weeks later my mum invited me round to hers for lunch on a Sunday and to my surprise when I arrived, there were also 3 of my bridesmaids and my aunt."
"We had prosecco and tapas and then I had one of the biggest surprises throughout my bridal experience. My mum came wandering down the stairs with a big excited, nervous smile on her face and a white sheet in her hands."
"She removed the sheet and surprised me with the Needle & Thread dress! She knew how much I'd fallen for it and bought the last one available online. My bridesmaids and I raced upstairs and in my old bedroom, I put the dress on. I knew immediately it was the one. It was the most beautiful dress I had ever seen and it felt perfect. It was the first wedding dress I ever tried on and I can't imagine ever getting married in anything else."
"Folky Dokey made my flower crown, button holes and bouquets. As soon as I found Gez on the Love My Dress website I knew I wanted to book her. In fact, I would say that was one of the first things I booked. Gez was so amazing throughout the whole process. I sent her an inspiration board and she captured everything perfectly. The flowers looked wonderful and I was so pleased how the colours looked against the Devon coastline."
"David and I first met at the age of 18 whilst studying at the University of Huddersfield. We got engaged on our 7 year anniversary. We were in Edinburgh at the Christmas markets and after David proposed in our beautiful hotel room, we watched the fireworks and had a wonderful meal."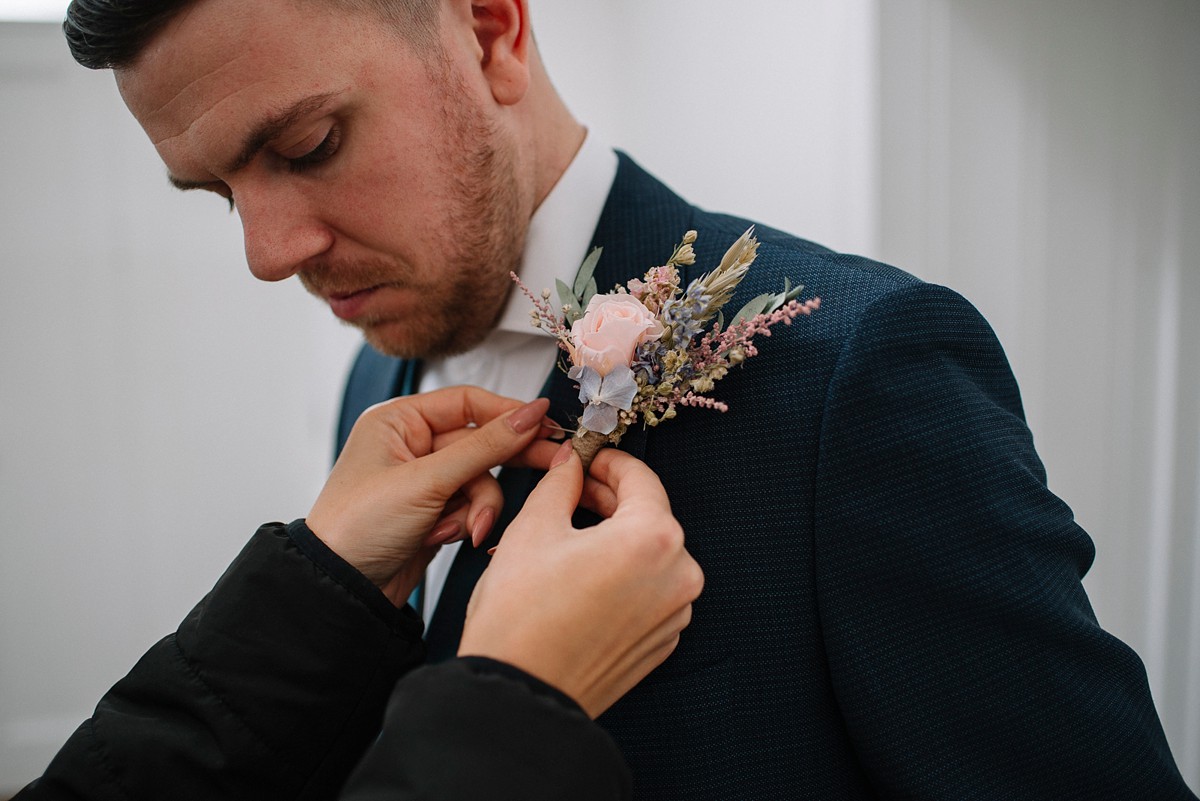 "We always wanted a bohemian ocean view wedding and originally we thought about getting married in Ibiza. We have been to Ibiza on numerous occasions together over the years but after researching, we decided we would rather pick somewhere to have an actual wedding, rather than a blessing."
"Despite this, we wanted to incorporate some elements of Ibiza and wanted a wedding that was super chilled through the day but really dancey at night. We definitely achieved that and the dance floor was full from the minute the DJ started until 1am. In terms of colours, we wanted colours that would fit in with the beautiful, rugged shorelines of North Devon, along with a sprinkle of embellishment."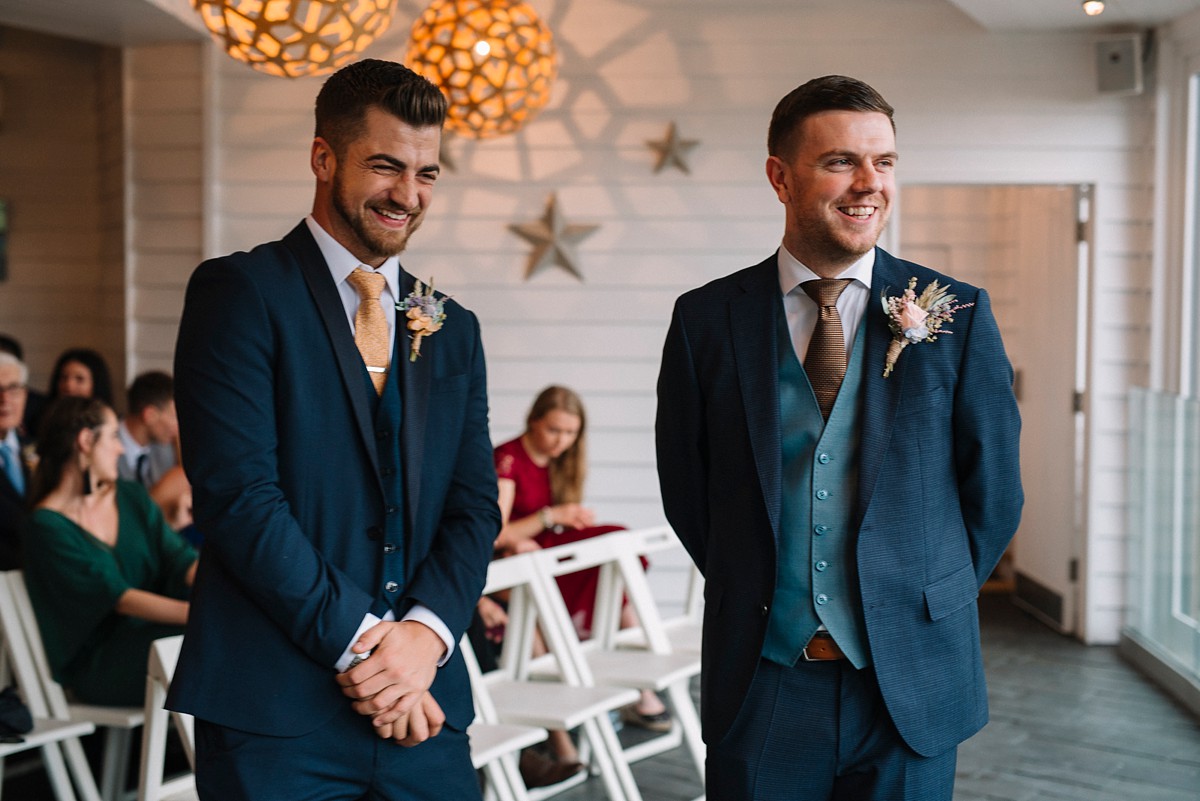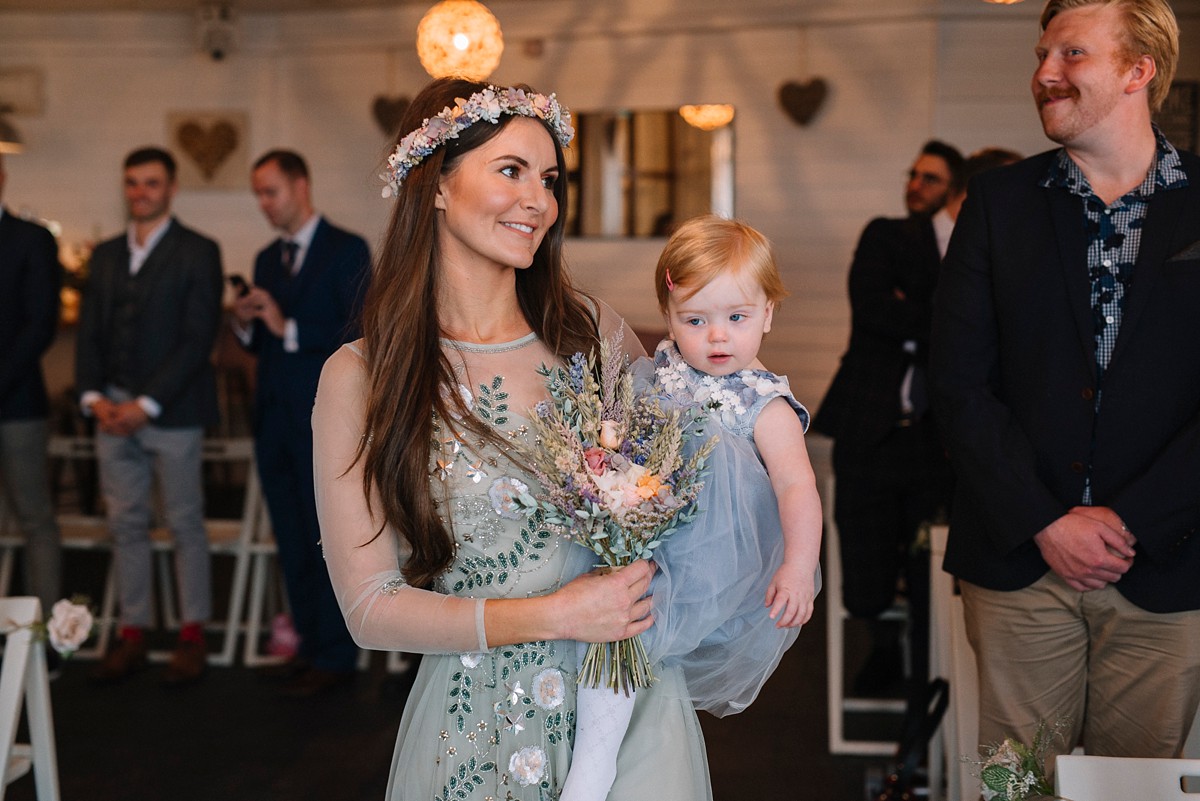 "My stepsister Charlotte is a hairdresser and did my hair. I did my own make up with help from my best friend Sarah who did my eye make up. Even though she did have a very big hangover from the wine bar the night before..!"
"As my dress was heavily embellished, I didn't want lots of accessories, however about 5 minutes before I was due to walk down the aisle, my dad presented me with a little floral pouch. I opened the pouch and inside were my grandmas engagement ring and wedding ring."
"My grandma passed away when my dad was only a teenager so we never got the chance to meet. I put the rings on and it turned out we were exactly the same ring size. I wore the rings on my right hand and it felt so special having such a sentimental item."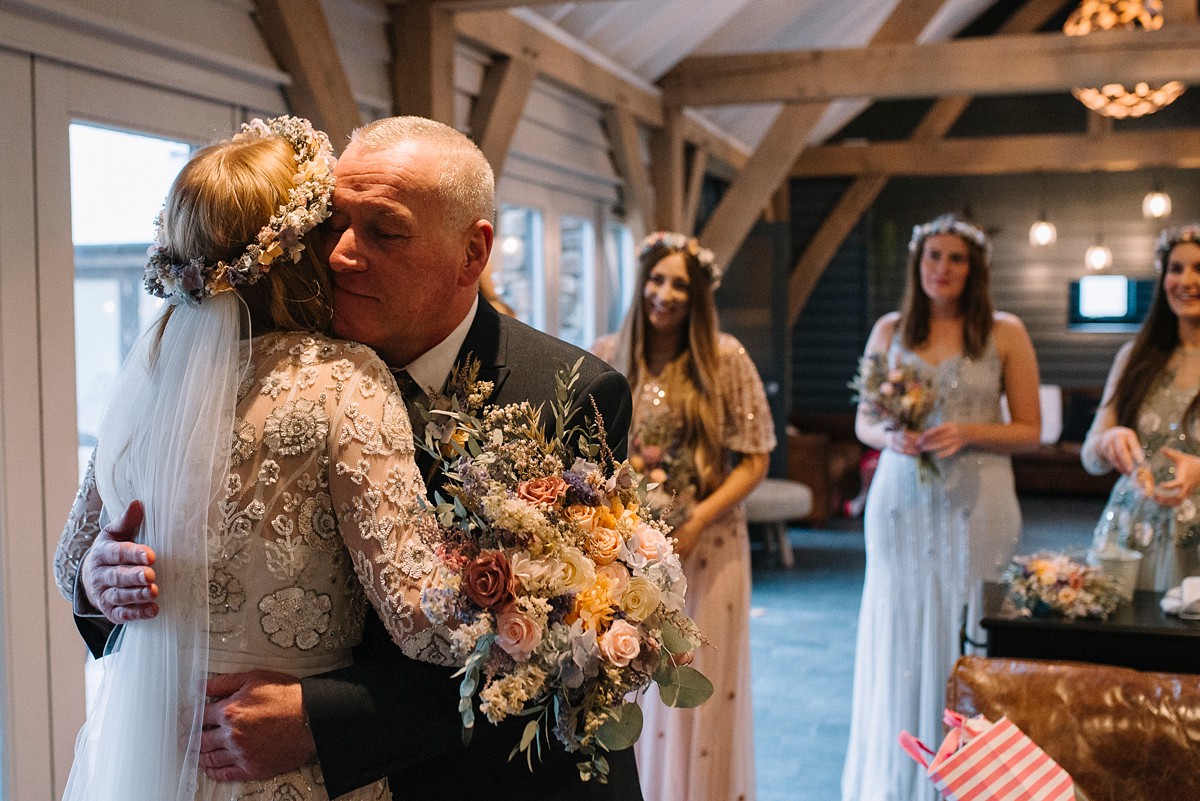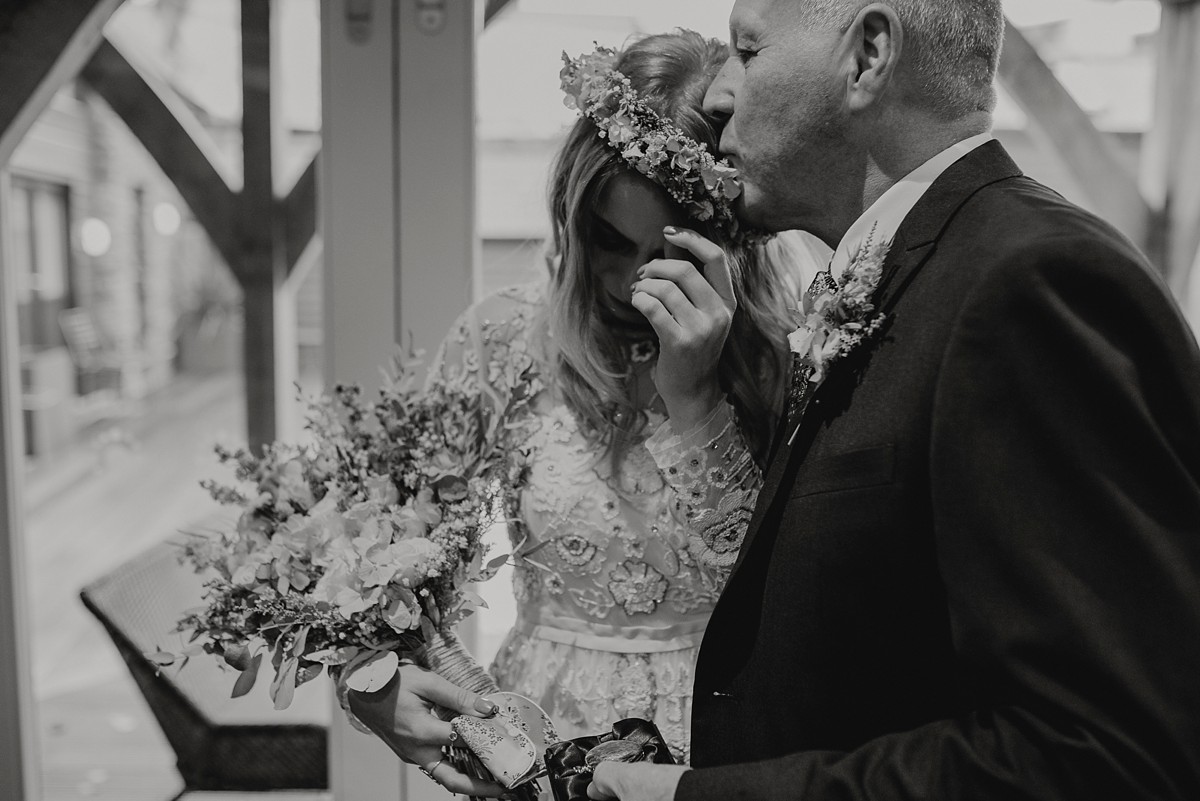 "My dad accompanied me down the aisle to an acoustic version of Latch by Sam Smith and we wrote our own vows. A registrar from Devon Registration Services officiated the wedding and we included two readings within the ceremony; On Your Wedding Day by Ellen Baratt, read by David's mother, and To My Daughter On Her Wedding Day and personal extract written by Sandra Burnley, my mum."
The groom chose a 3-piece blue suit from Hugo Boss, paired with Loake shoes and belt, and a Hugo Boss watch engraved with the wedding date gifted to him by Lisa on the morning of the wedding.
"For the groomsmen we decided to be in keeping with the relaxed vibes of the wedding so didn't want them in matching suits. They all have their own style so the brief was simple – a blue suit. We got them all matching ties from TM Lewin and personalised tie clips to bring it all together."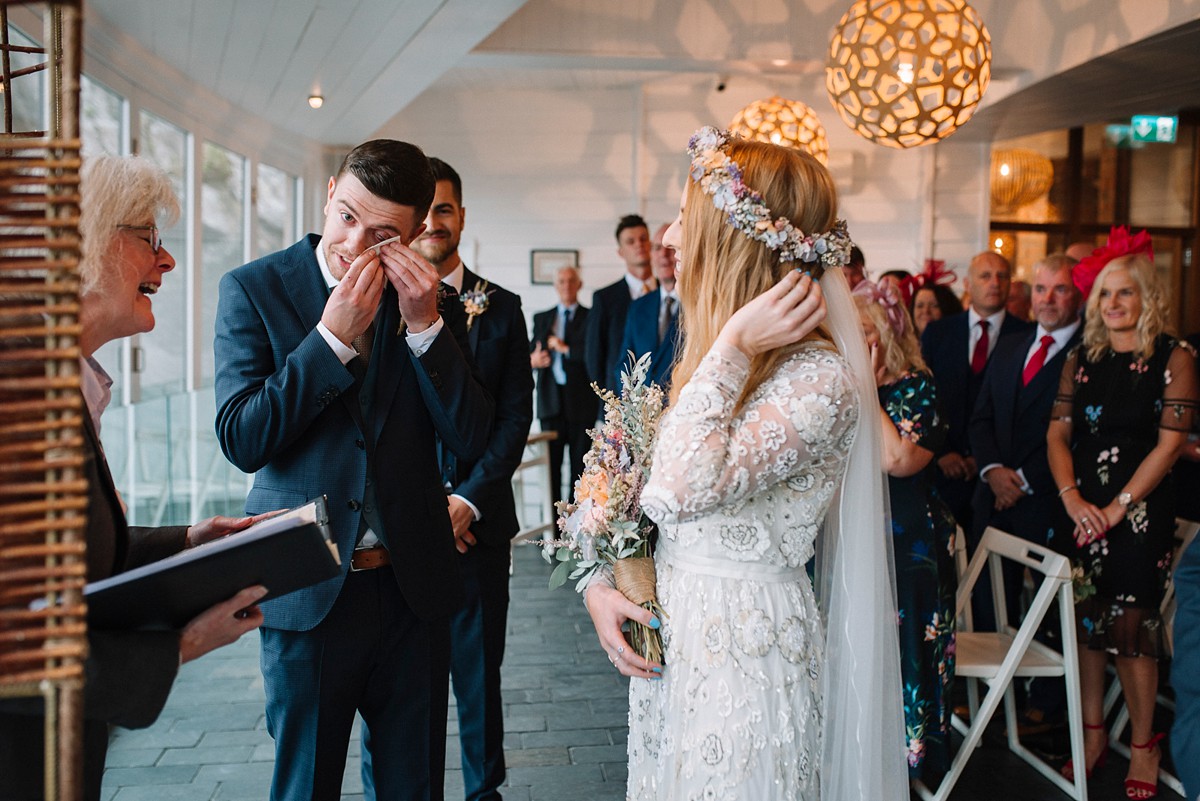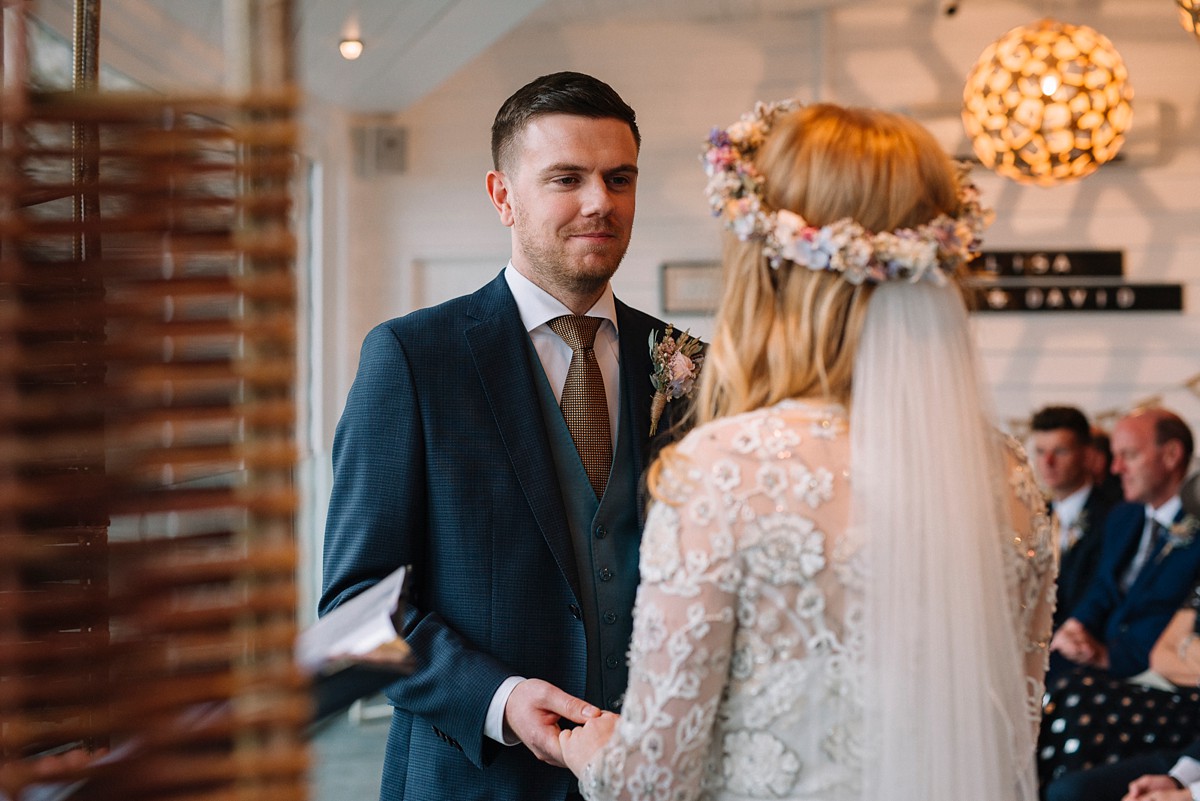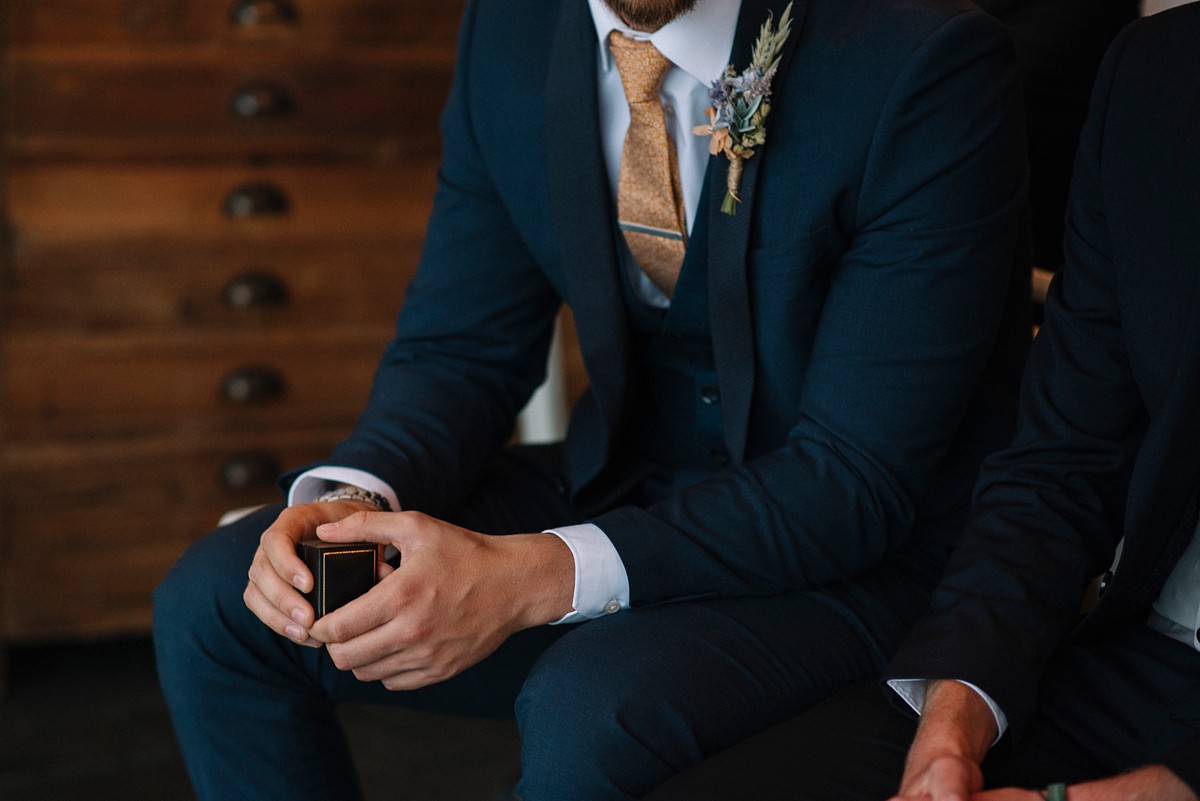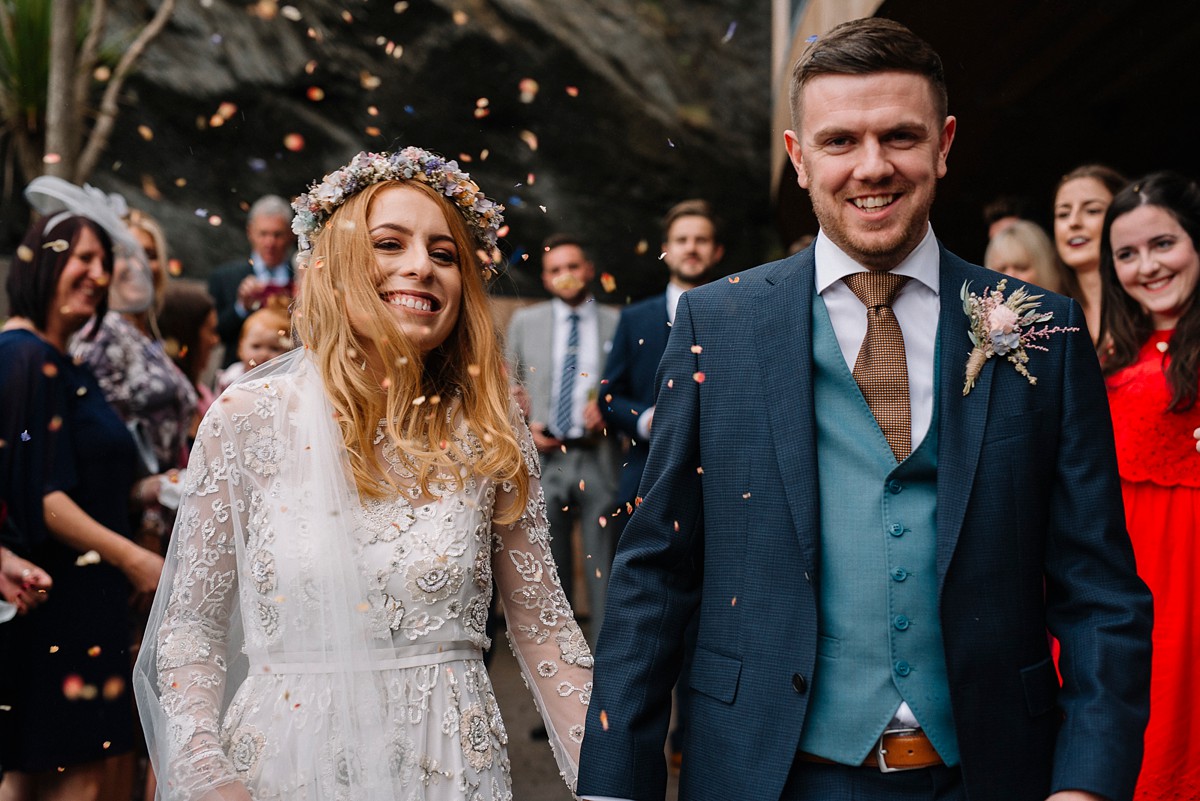 Inbetween Days Photography, a Brighton-based photography duo, were the chosen ones to capture Lisa and David's special day on camera, after Lisa discovered them via the venues website.
"I had no idea after finding Alex and Laura on the Tunnels Beaches website that we would have such an adventure with them both. David and I met Laura in the Peak District for an engagement shoot over a year before we got married and we got on so well that it really put my mind at ease."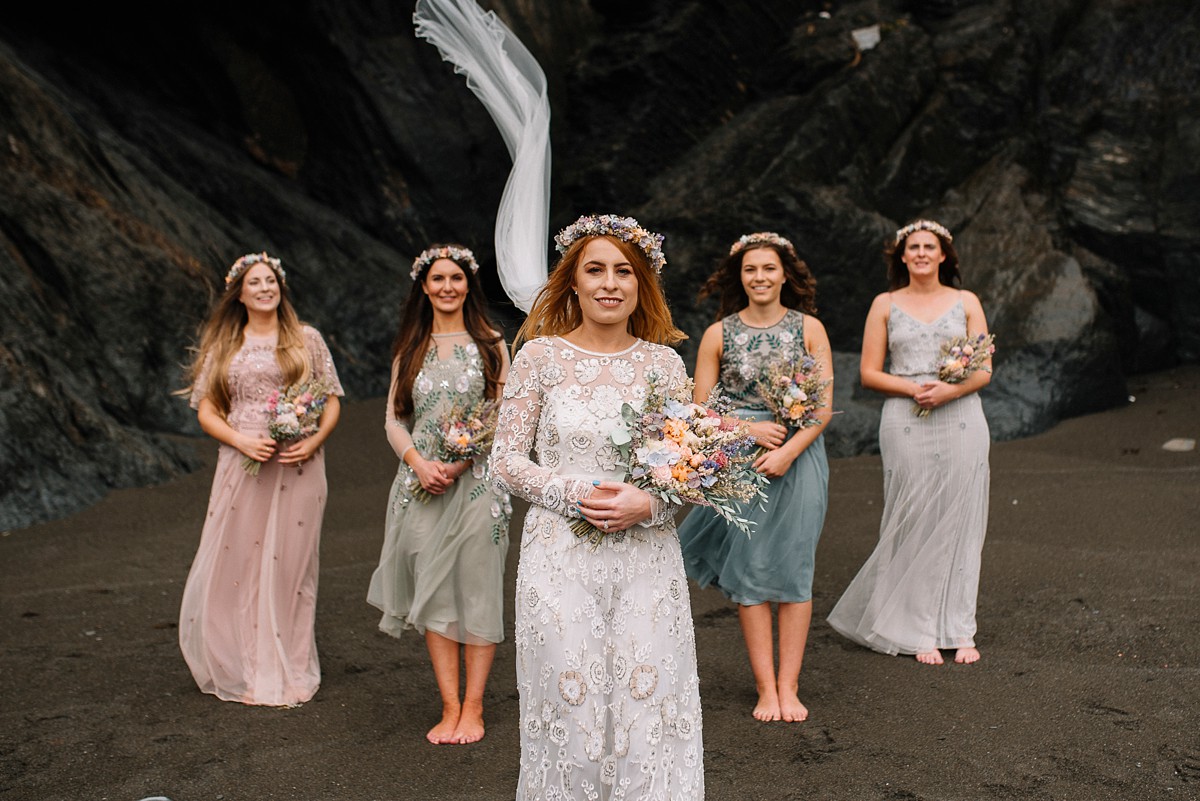 "Having Laura there whilst I was getting ready was great and it was lovely to feel so relaxed, even if I did ask her 200 times if my eyebrows were even. We had so many wedding guests come up to us after the wedding and say how nice the photographers were."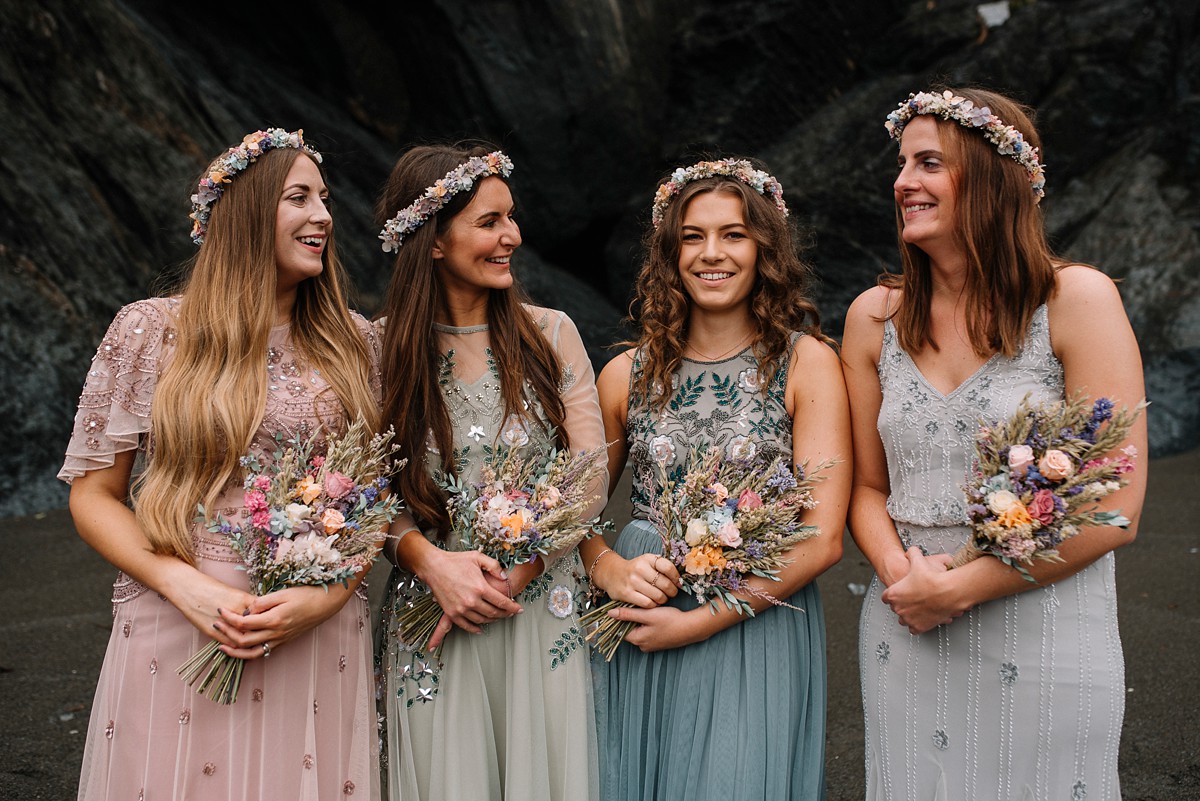 "They really got on with everyone and it felt just like they were guests. I barely noticed them taking pictures and am so glad with how they turned out; unique, happy and relaxed. They captured the essence of the day perfectly."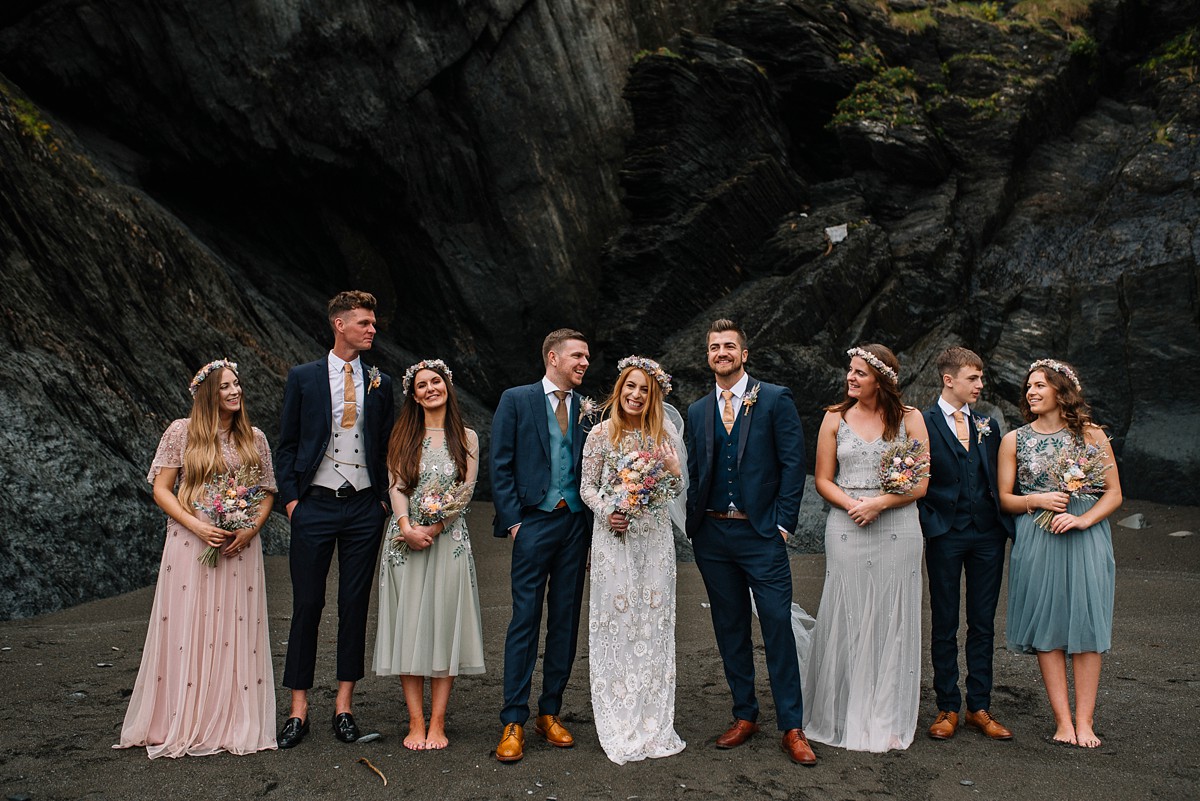 "Tunnels Beaches was the only venue we viewed and we decided pretty much straight away this was the place for the informal, relaxed beach wedding we had always dreamed of. We viewed the venue on a cold but bright day in January 2017 and since then have fallen in love with North Devon."
"The biggest question we have been asked since getting married is 'why Devon?', as it's a 5 hour drive from where we live in Leeds. The truth is, we have no other connection apart from always wanting a wedding by the sea, though we recently found out that David's grandparents had their honeymoon in Ilfracombe in 1954!"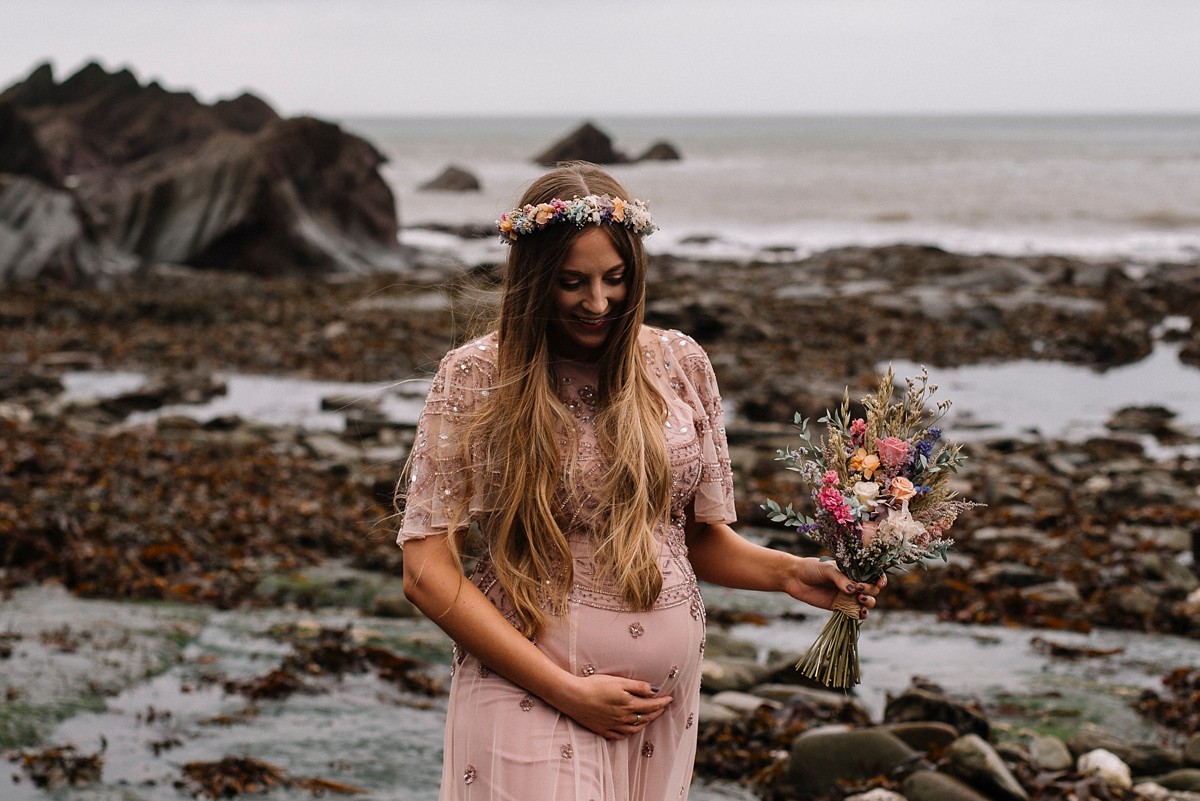 "The Tunnels Beaches team couldn't have done enough for us. They really took all the stress out of wedding planning and nothing was too much for them. We were lucky to book The Bathhouse and The Courtyard accommodation (part of the venue) too for 3 nights. This ensured we could really make the most of our time in this beautiful part of the world."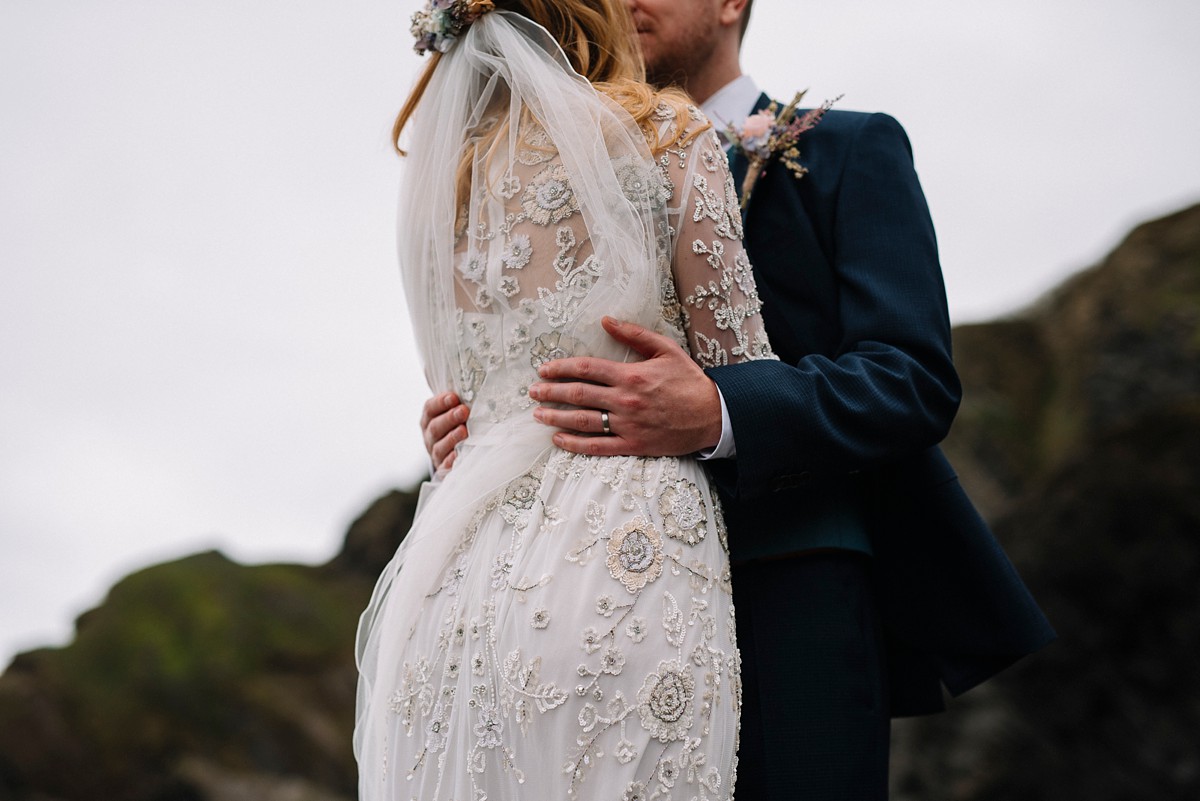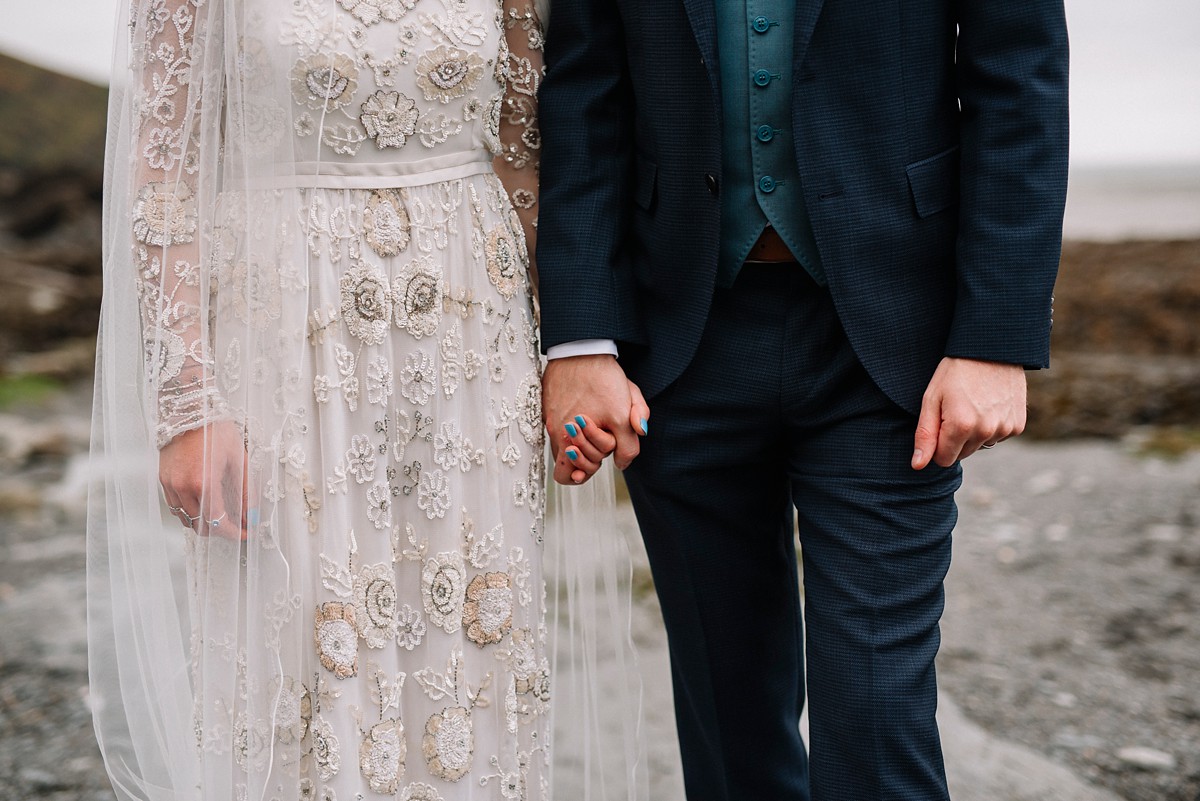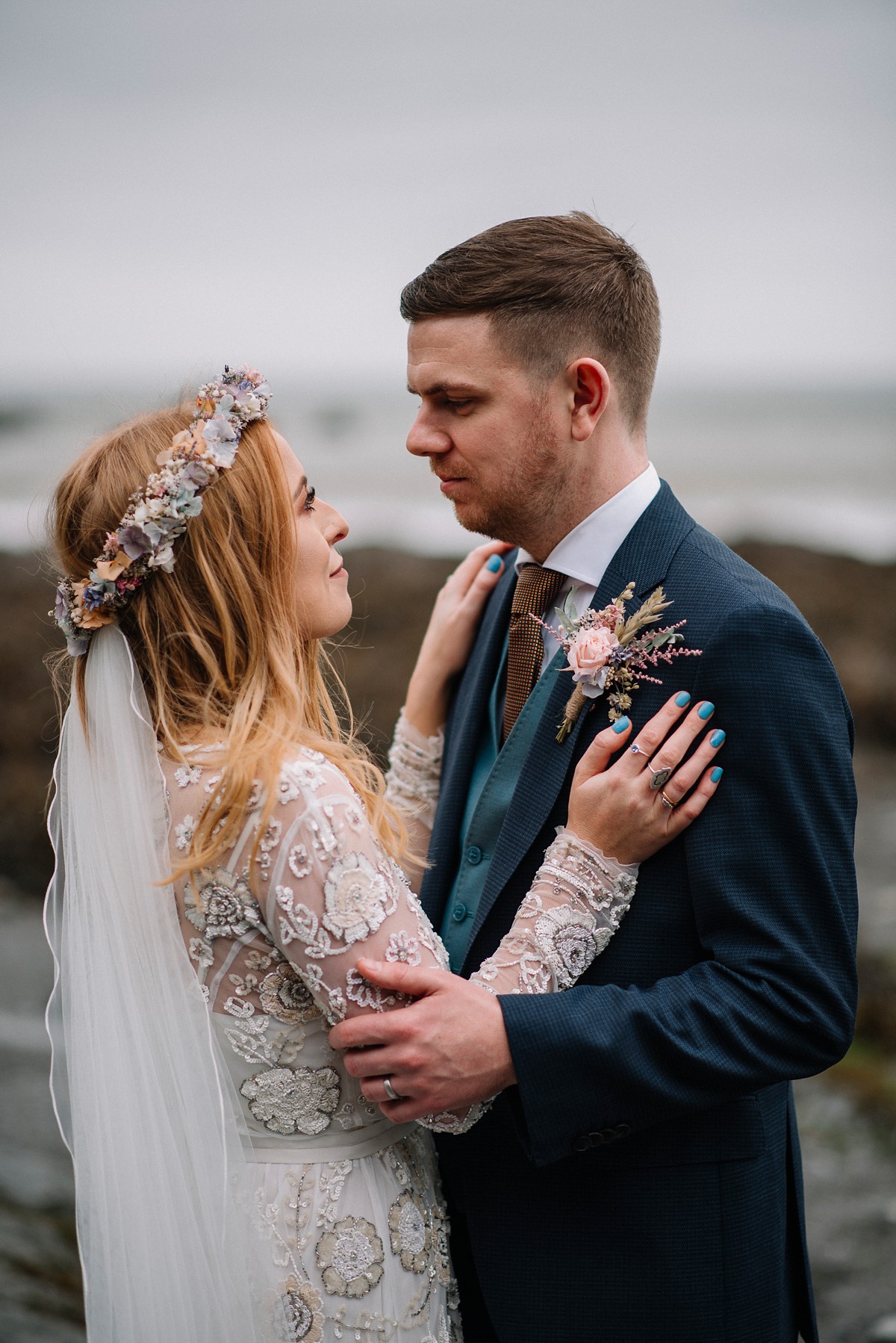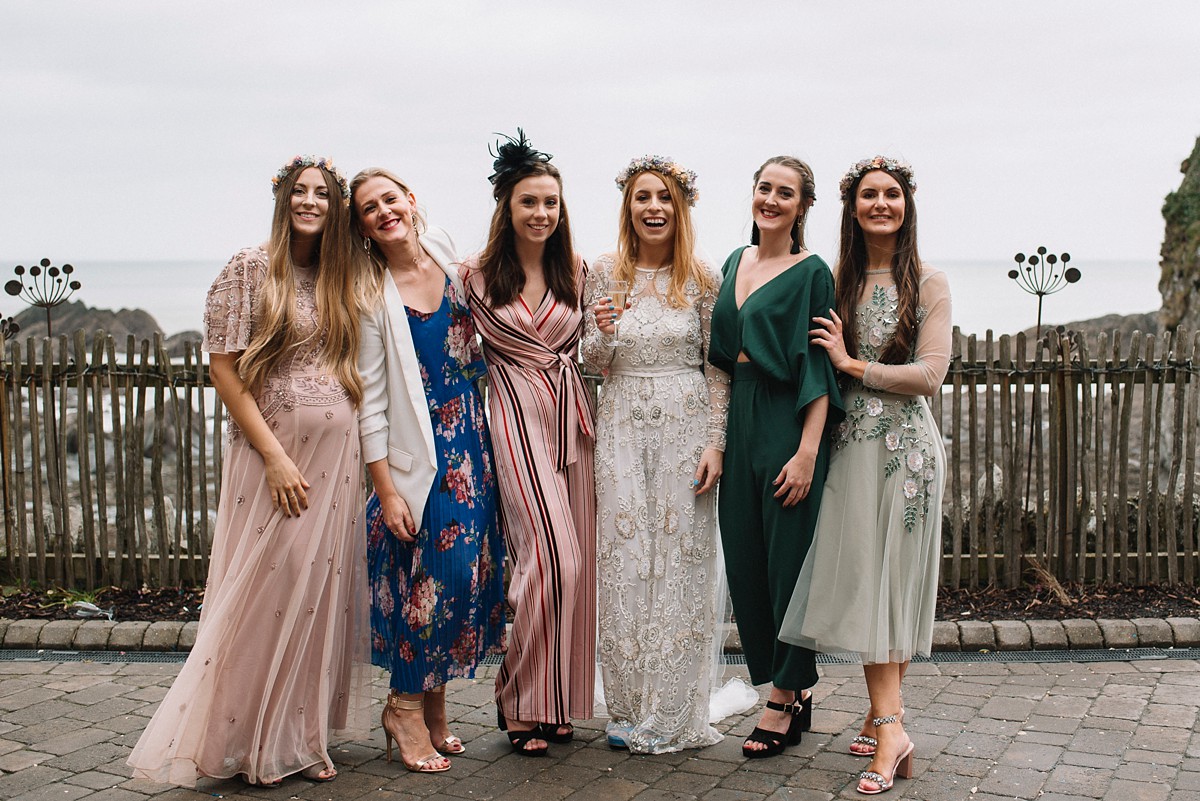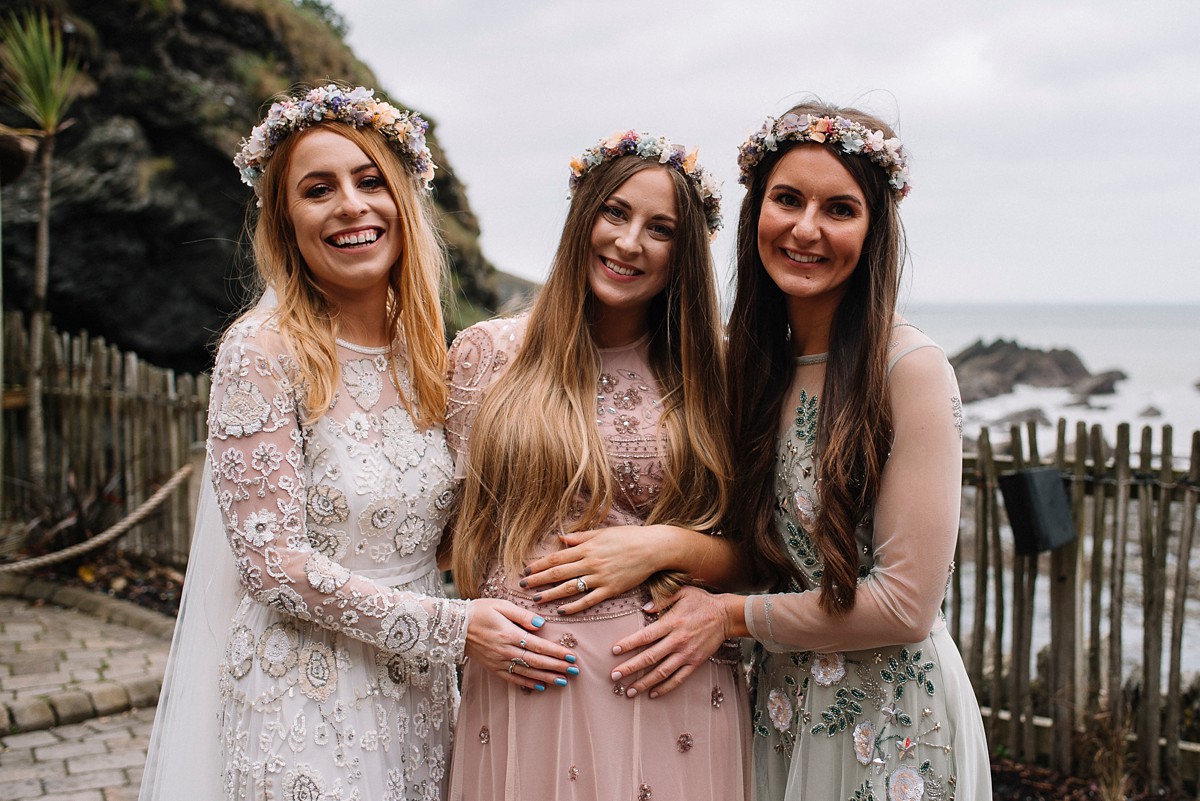 "Our best friends Jen and Cal Fortune did the illustrations, calligraphy and designs for our save the dates and wedding invites. Jen also used amazing calligraphy skills to do our chalkboards and welcome sign on the day."
"We had lots of fun times together creating the stationery, from sat on the kitchen floor painting chalkboards, to having design meetings over too many glasses of wine after work."
"Tunnels Beaches provided all the food on the day and it was amazing! We had prawn skewers, mini burgers, marinated chicken, pulled pork and halloumi skewers with an array of sides."
"We named the tables after our favourite beaches in North Devon. We got photo frames for the table names and the table plan from The Range. For the centre pieces I didn't want anything too fussy so we used hessian fabric, flowers in the jars, tea lights, shells and little floral plates from TK Maxx."
"We also had gold frames with pictures of all our grandparents, a light up 'until death do us party' sign and a few accessories I collected along the way. For the guest book we used a big glass 'message in a bottle'. The drunken messages from some of our wedding guests make for a very interesting read."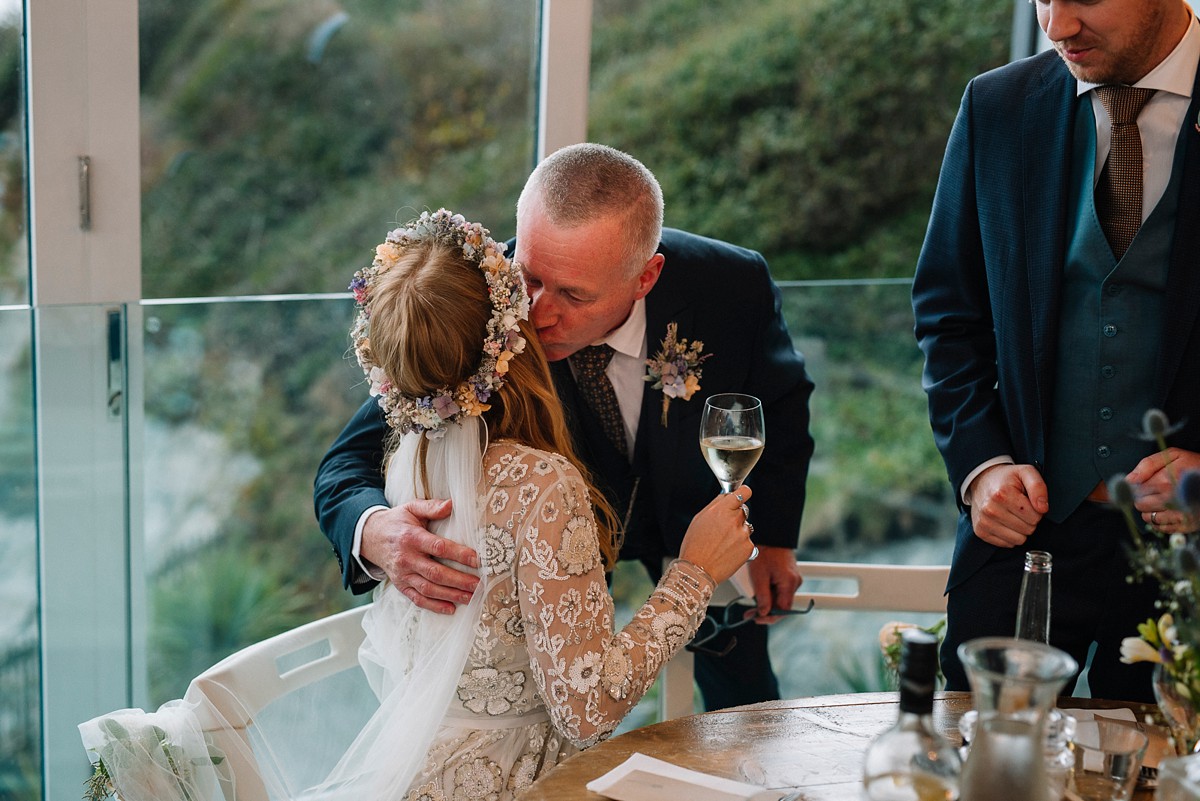 "My friend Jayne from university makes beautiful cakes in her spare time so I asked her to make our wedding cake. It was perfect and a mixture of chocolate cake and vanilla sponge. It felt extra special that such a good friend had made our wedding cake."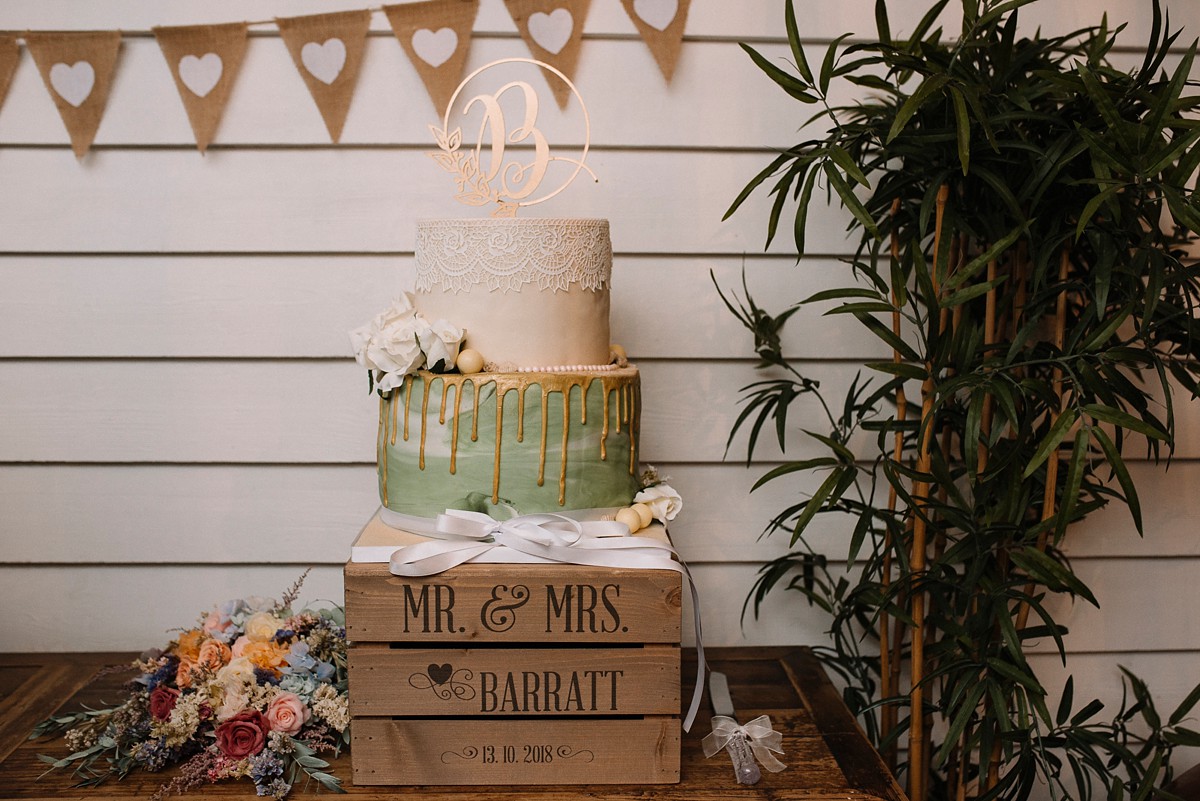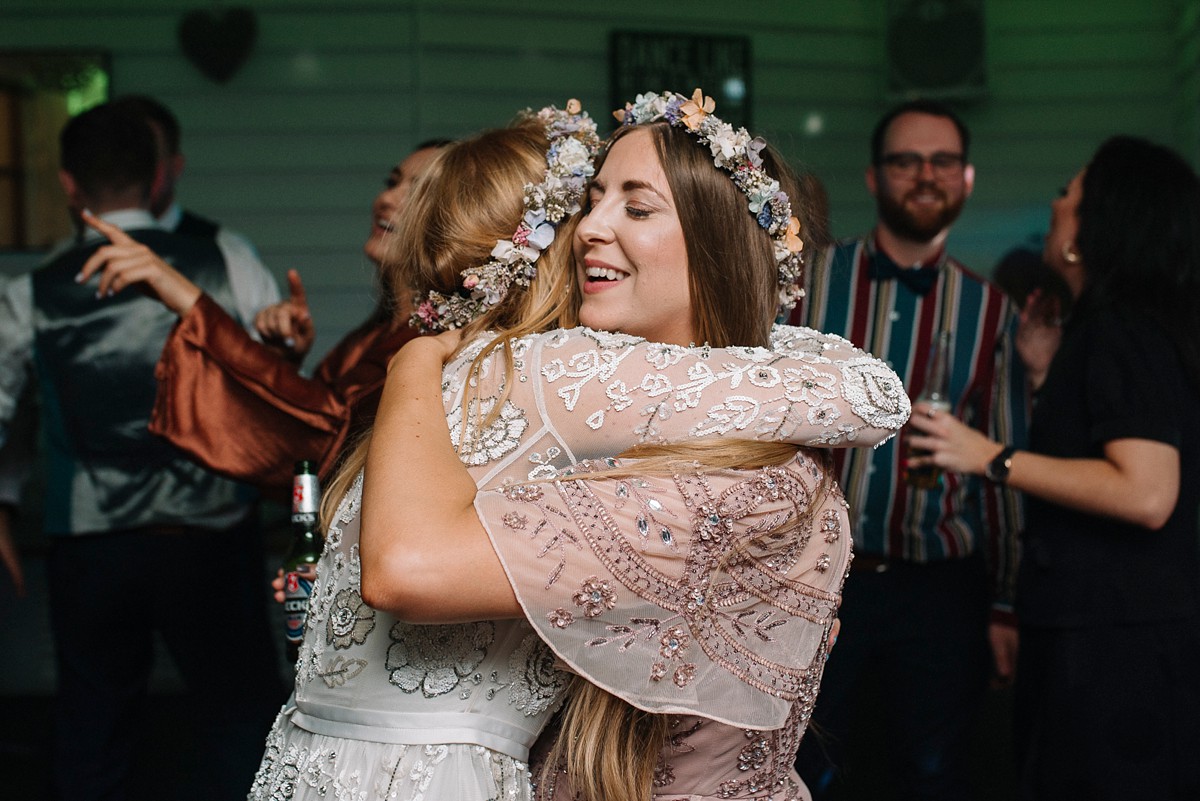 "We hired Paul from The Wedding Spinner to DJ the evening and what can I say, he was amazing! We chose Insomnia by Faithless as the first dance song. From the beginning of wedding planning we knew our wedding would never be traditional."
"We wanted our decisions to reflect us as a couple. We chose this song because it's one of our favourites and it's a nod to our years partying together. The DJ invited all the wedding guests onto the dance floor and when the music dropped, the whole dance floor erupted. It was a definite highlight of the wedding!"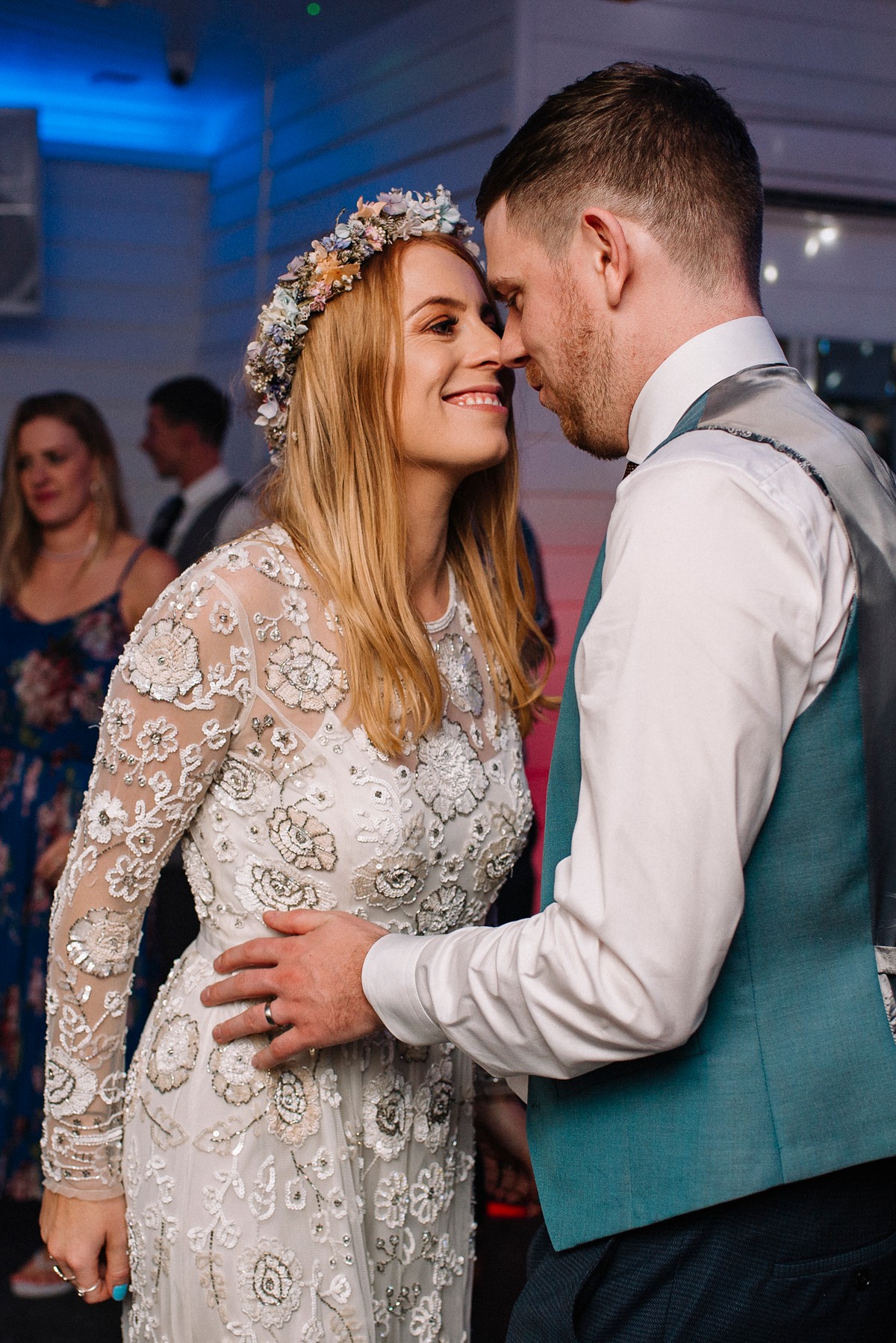 "Other highlights include my dad walking me down the aisle and seeing David's reaction when I walked down the aisle. I wouldn't have changed a single thing about the day, not even the weather! We got married during Storm Callum and in the days leading up to the wedding, David and I religiously checked the forecast. We both had our hearts ser on getting married outside. The day before the wedding the rain started and it didn't stop – I barely slept!"
"On the morning of the wedding the rain continued so I had my mind set on an indoor ceremony by that point. The ceremony itself was perfect and I didn't care one bit that it was indoors in the end and I can honestly say the rain made absolutely no difference."
"As soon as the ceremony was over, the rain stopped and we were lucky enough to spend some time outside. In the evening we could even light the fire pit and toast marshmallows, something I did not expect to be able to do in the days leading up to the wedding. You just never know what might happen!"
"We decided not to use a videographer but if I went back, this is something I might have considered further. I'm just so thankful we have such lovely photos to look back on."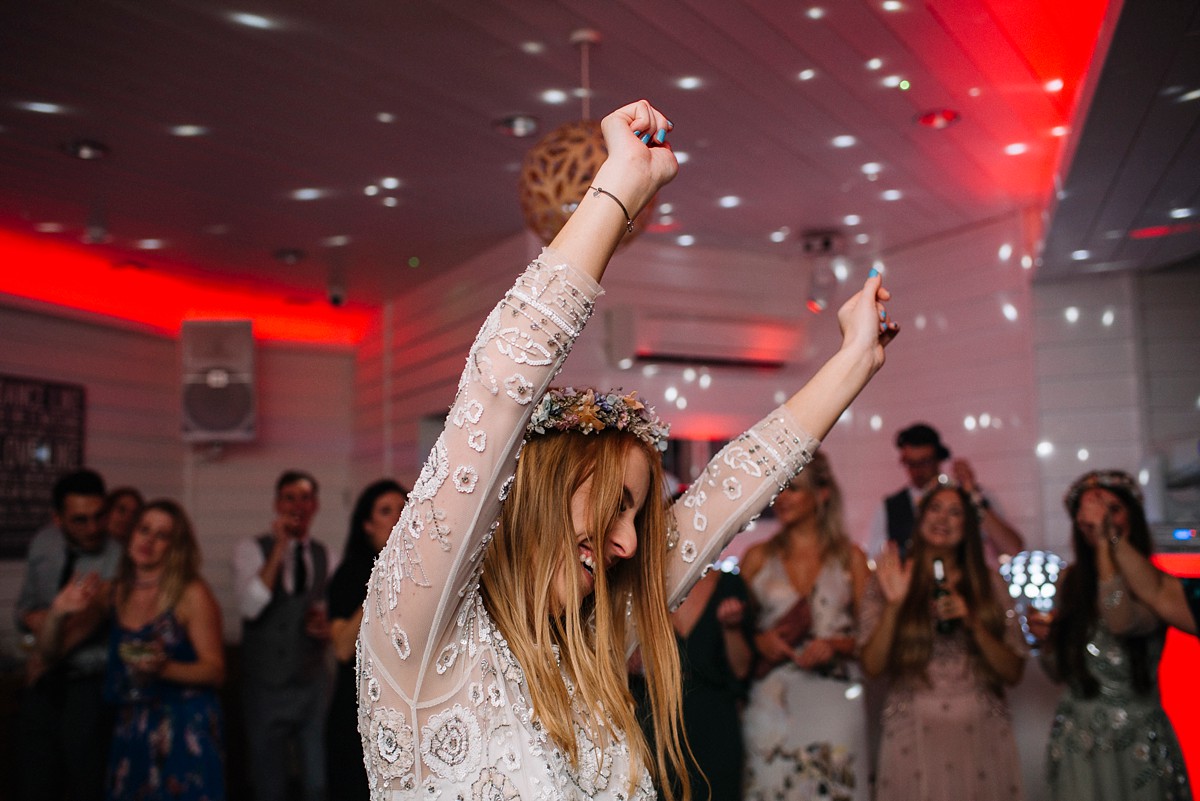 Words Of Wedded Wisdom
"Just do whatever feels right for you as a couple and don't try too hard to please everyone. Try and spend as much time as possible together on the day as it really does go so quickly. We decided to have our own table just the two of us for dinner and it was perfect as it gave us a brief period to get some time just the two of us."
"Take time to look around and soak everything up, it's one of the few times in your life you'll have everyone you love in one room. Use your family and friends and don't be afraid to ask for help!"
Congratulations Lisa and David! I completely agree that the weather seemed to have no effect on the day whatsoever, in fact it made for some outstanding images! A big thank you to Inbetween Days Photography for sharing these gorgeous photos with us.
Until next time…
Much love,
Holly x