The arrival of spring signifies the arrival of colour so it's the perfect time to share today's wonderful, festival-inspired wedding in all its glory.
Come with me to Hampshire for a wedding weekend which wove together Indian and British styling along with an injection of festival vibrancy. Please meet freelance arts producer George and natural history cinematographer Tom who married on 8 September 2018 in the beautiful grounds of Tom's family home, Summers Farm near Long Sutton in Hampshire. It's so good to hear that George found these pages a source of inspiration, even coming across the designer of her bridal two-piece here. Her words really sum up the ethos behind Love My Dress, too.
Photography Paul Blakemore + second shooter Jack Anstey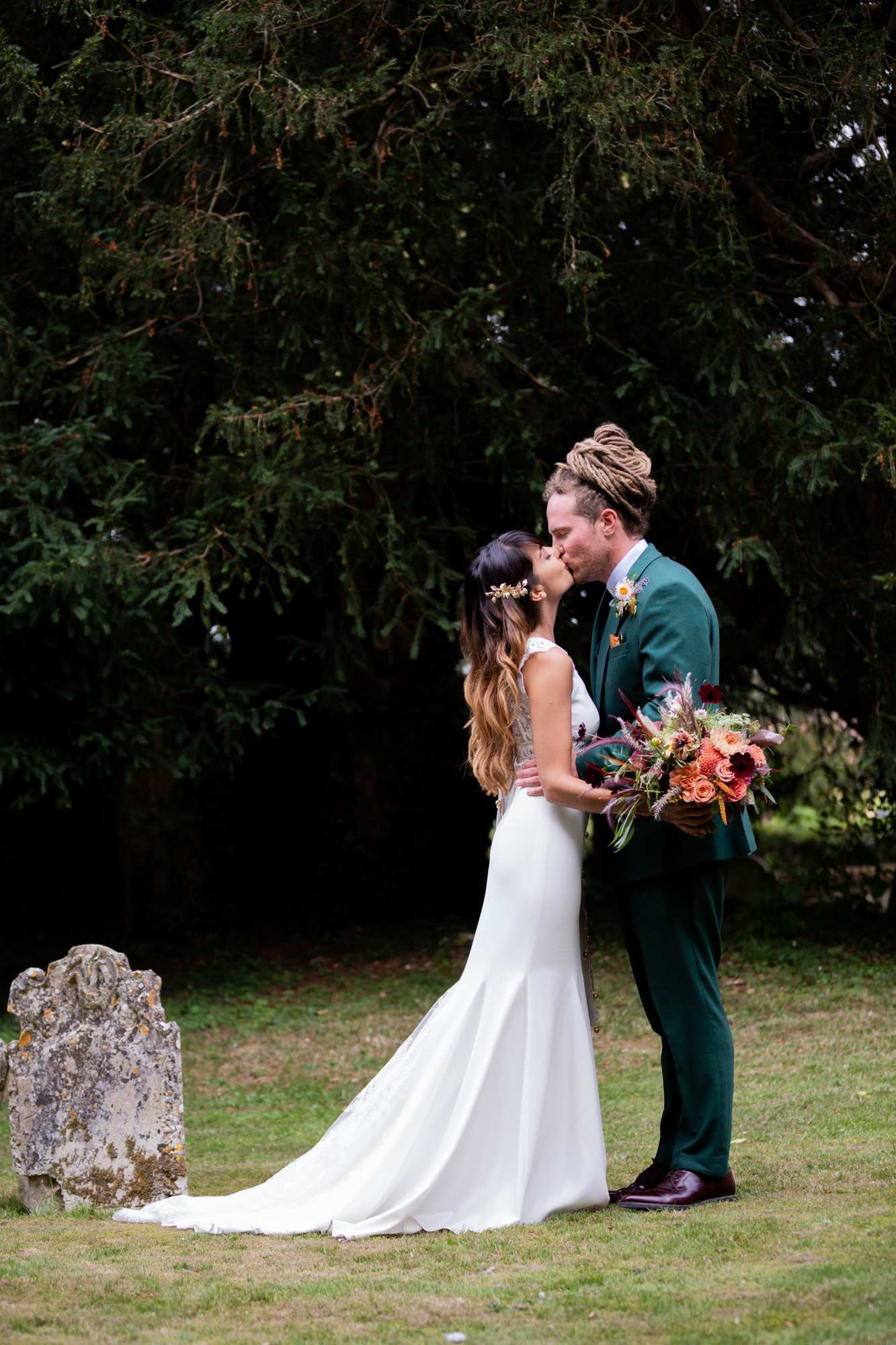 "I discovered my dream wedding dress designer, Rime Arodaky, through Love My Dress. Your blog was a real source of inspiration for styling and suppliers from the very beginning."
"I loved delving into the vast variations of weddings you celebrate, from town halls to country houses or street parties.""It really is a huge inspirational resource especially for me who, as a producer, really wanted to get stuck in. The Little Book Wedding Directory was fab and referencing brands/designers really helpful."
The couple worked closely with their friend Rachel Dunning, to create a vibrant stationery suite.
"Our incredibly talented freelance designer (and one of our best friends) Rachel Dunning designed all our wedding branding and stationery. It was an absolute joy to be a part of this process and the end result ended up shaping the 'Wild Colour' brief."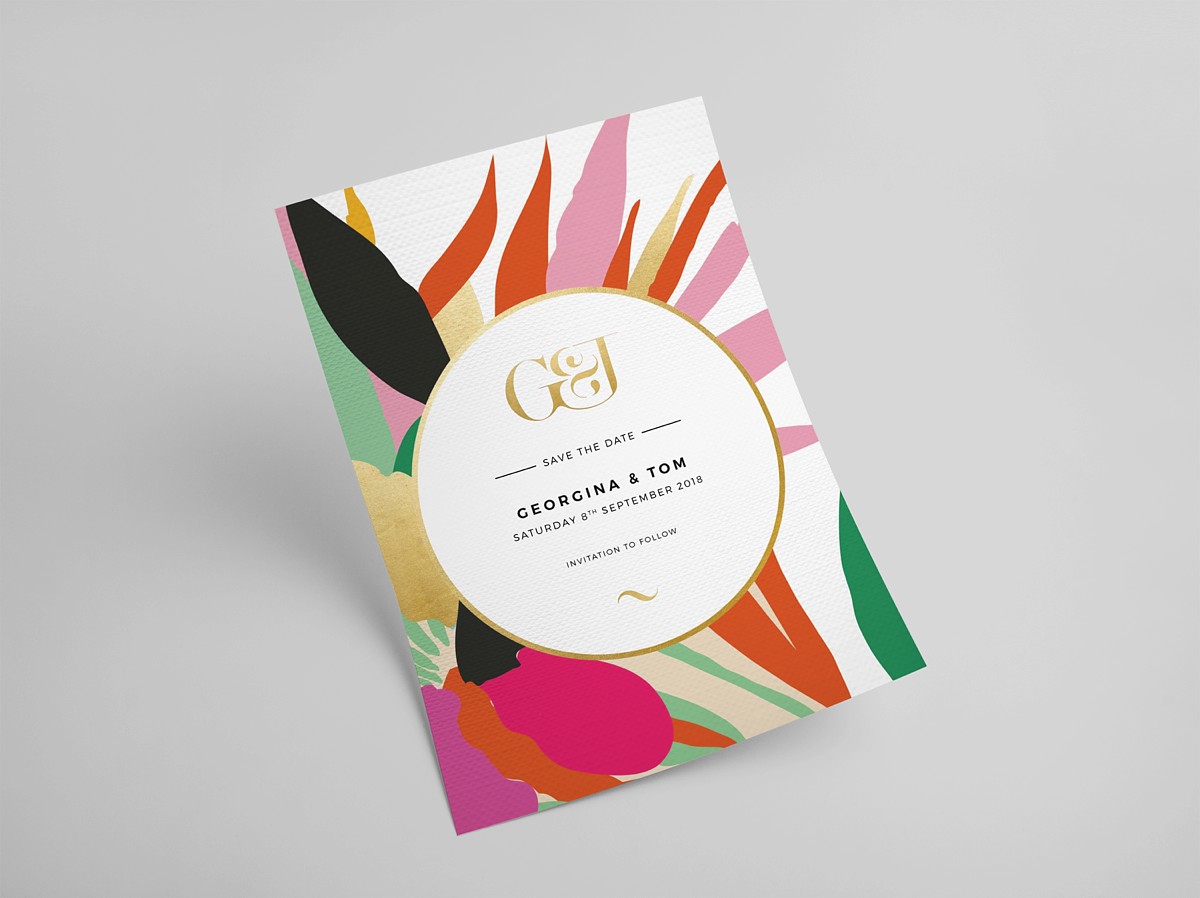 Their Church of England ceremony took place at All Saints Church in Long Sutton before the entire party decamped to the farm for a colourful celebration in party tipis from Buffalo Tipi. The couple chose the phrase 'Wild Colour' to inspire the styling, combining their loves for festival, colour and nature with George's Indian heritage.
"We were lucky enough to have our wedding at a place very close to our hearts; Summers Farm, Tom's beautiful family home in Long Sutton, Hampshire where he and his brothers grew up. Set in the rolling Hampshire hills we were able to create a wedding weekender for guests to remember, with a bell tent village in the adjacent field for overnight accommodation and a trio of tipi tents to host the wedding feast, G&T bar and late night dancing!"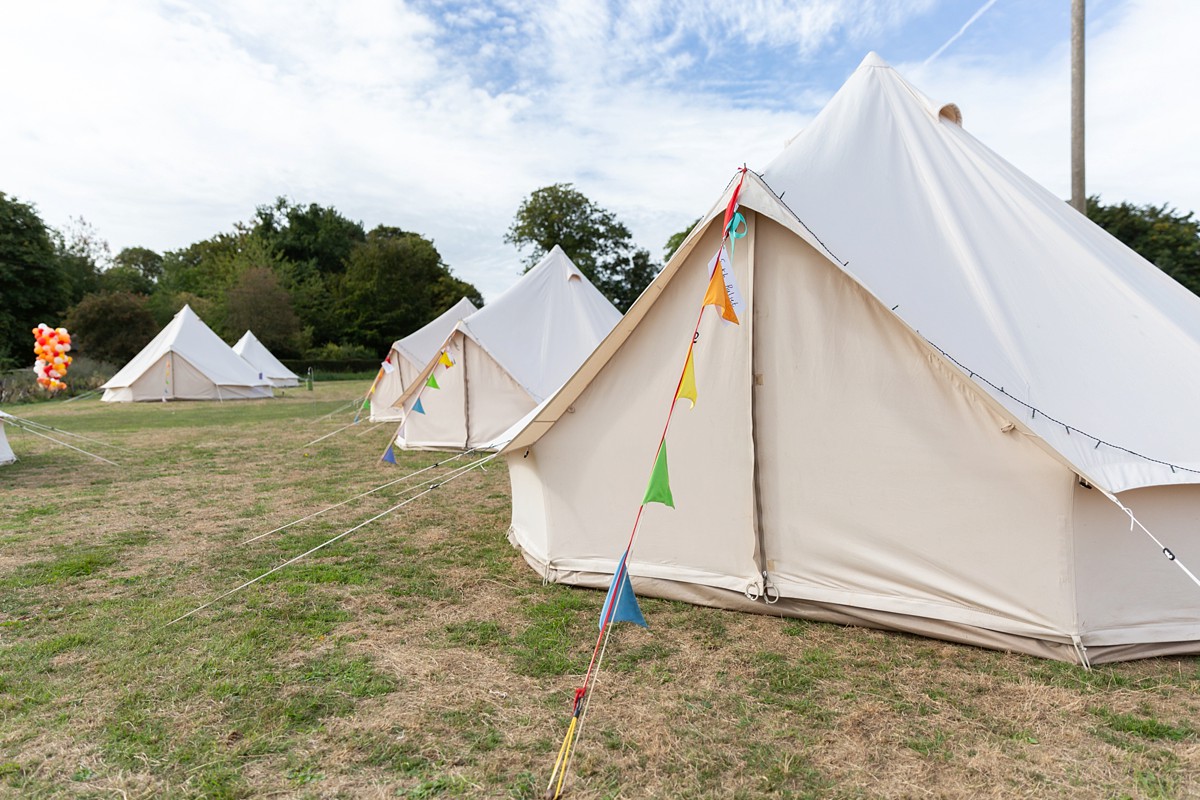 Tom and George got to know each other whilst at university in Edinburgh. They were engaged in spring 2017 and planned their wedding for sixteen months later.
"We were circulating in similar friendship groups but had yet to meet properly until second year, as we studied at completely different campuses (me studying History of Art and Tom studying Zoology down at Kings buildings). Suddenly something clicked and we fancied the pants off each other. Love bloomed from there and has never stopped."
"We got engaged on 17 April 2017 down in beautiful Hartland, Devon. Tom had whisked me away on a weekend adventure where some of our best friends were joining us later on in the weekend. After walking down to a beautiful remote beach whilst the tide was out with our new puppy, Tom got down on one knee by the most incredible rock formation (where the void looked like a heart, very romantic), and proposed (rather unconventionally) with a beautiful diamond necklace!"
"We were then able to choose an engagement ring together a few weeks later. The celebrations continued through the weekend with beach BBQs with our best friends, swimming and dancing into the night."
George chose to wear her hair down, with Amy Davies Makeup styling it into sumptuous curls for a relaxed, polished style. Glowy make up, also by Amy Davies, and traditional Indian Henna completed her bridal preparations.
"I had this done in Bristol a couple of days before heading to Hampshire for our wedding set up. I've always loved North Indian Bridal Mehndi and it reminds me of when I was young attending family weddings or designing Henna for fun with friends. We choose a design that complemented and reflected the lace on the back of my bridal top, with the scalloped lace shoulder details. It was all these subtle details that hopefully added to the cross-cultural look of my wedding outfit."
Very sadly, George suddenly lost her mum Manjit in late summer 2017 so planning her day must have been a bittersweet time. She has some heart-felt words to share with other brides in a similar situation.
"Tom and I have had a tough few years as his dad passed away unexpectedly and then my mum – one of the reasons why the wedding was such a milestone for us and celebrating something happy was definitely needed after much sadness."
"We were so thankful to have both my wonderful dad and my incredible mum-in-law to support us, along with many of our family. I am so, so lucky to have my dad and he really stepped up during the whole process. Both sets of parents were so in love and both Tom and I always use our parents as our example of marriage and true love. If we are as lucky to have what they had for the time that they did then we will be well and truly blessed."
"When life does and has thrown curve balls your way and you have experienced loss, sharing a whole weekend with those you love most is a very special opportunity – one that we will forever be grateful for. Mum wrote some powerful words in a letter that we will forever live by –  'remember the love, always'. That's definitely what we intend to do."
The bride has summarised the vision behind the celebration; wow, wow, wow.
"We have always loved being creative and wild. We are festival kids at heart and are never happier than when dancing glittered through fields. We really wanted to bring this atmosphere to our wedding and combine this with our love for colour. We came up with a brief of 'Wild Colour' which celebrated our interests whilst giving a nod to the Indian culture of gorgeous bright colours, patterns and gold leaf."
"Our love for the natural world also shone through, with references to abstract-coloured leaves or feathers running across our wedding branding."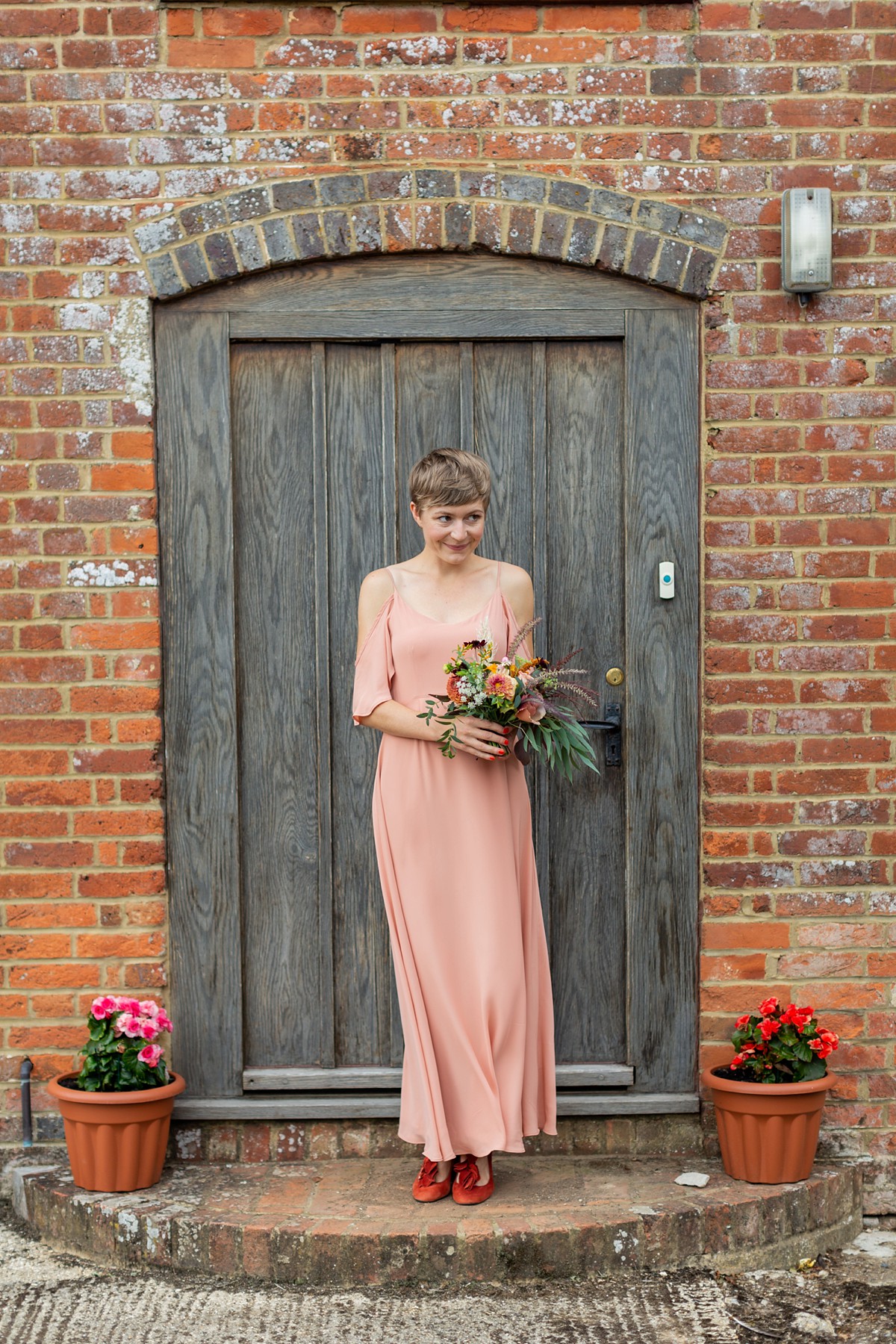 "As I am half-Indian we wanted to celebrate a cross-cultural atmosphere, combining Indian and British styles and visual elements. The day was very much about bringing everyone together, celebrating our love and the richness of culture we share between us."
In keeping with the Wild Colour brief, the bridesmaids wore elegant, flowing Rewritten 'Mykonos' gowns in greens, peach and lilac.
"I am very grateful to have come across the incredible Rewritten bridesmaid dresses through the Little Book directory. Their colour range was almost identical to our styling colour palette; I couldn't quite believe it. We visited the showroom in London and were hugely taken care of by the Rewritten team, trying on the dresses and falling in love with them and their irresistible 'swish."
"I'm not in to everything matching and the range allowed for a mixed approach that reflected the originality of all the girls' different styles and skin tones whilst also tying together as a whole. We went for the same dress (Mykonos) in different colours. My bridesmaid crew rocked it!"
They accessorised with silver and Indian agate bangles, specially commissioned from Hayley King, and carried wild and natural bouquets from Luna In The Wild.
"Unique wild and organic style with a bold use of colour. Maria was wonderful, warm and fun, and we immediately clicked over our colour brief and style! I loved her story and ambition after recently changing careers and particularly supported Maria's policy to give part of her profits to Cancer Research – very inspiring. We had so many comments on how unique and beautiful our arrangements were. My bouquet really was my bouquet of dreams!"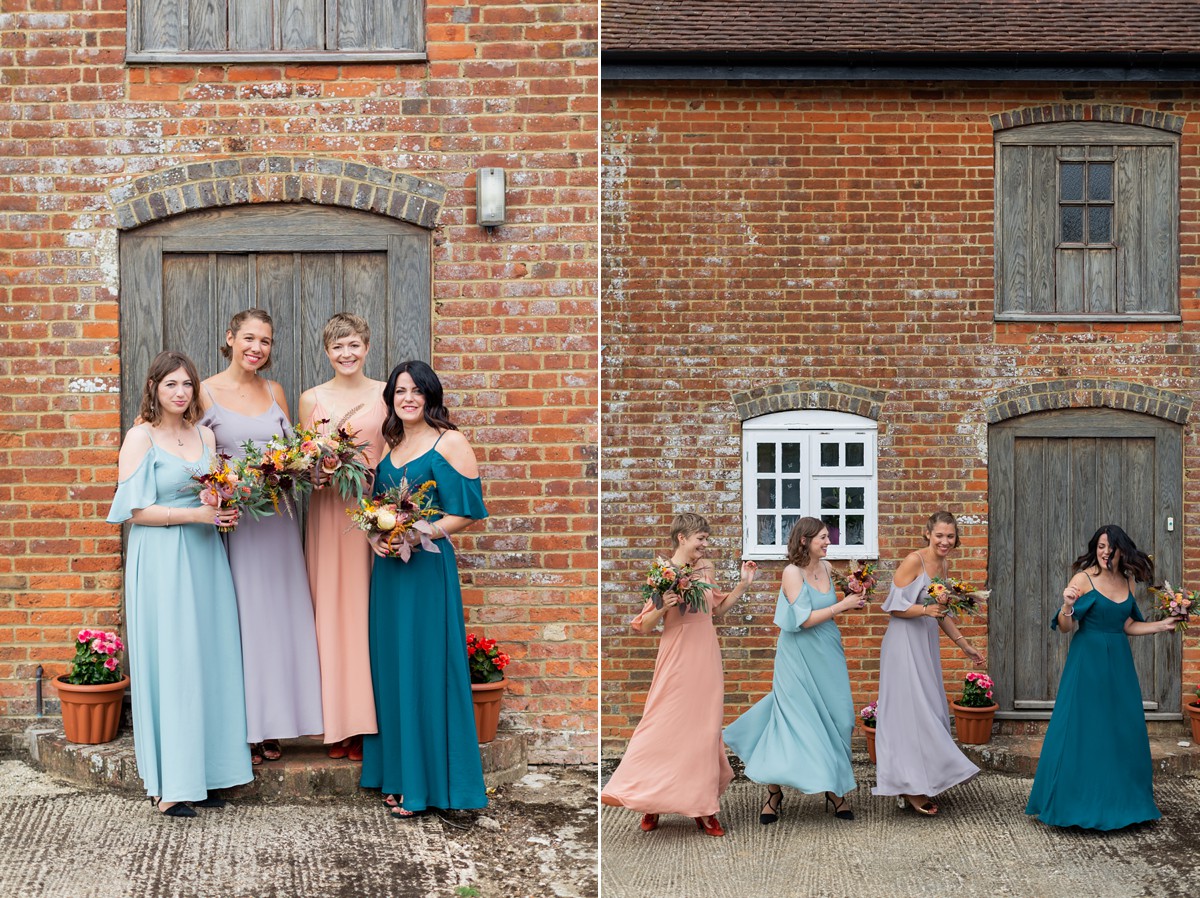 Tom was true to his own quirky style, choosing a three-piece Brown In Town in emerald green with an open shirt, colourful pocket square from Wolf & Badger and burgundy Loake shoes. What do you think of this non-traditional look?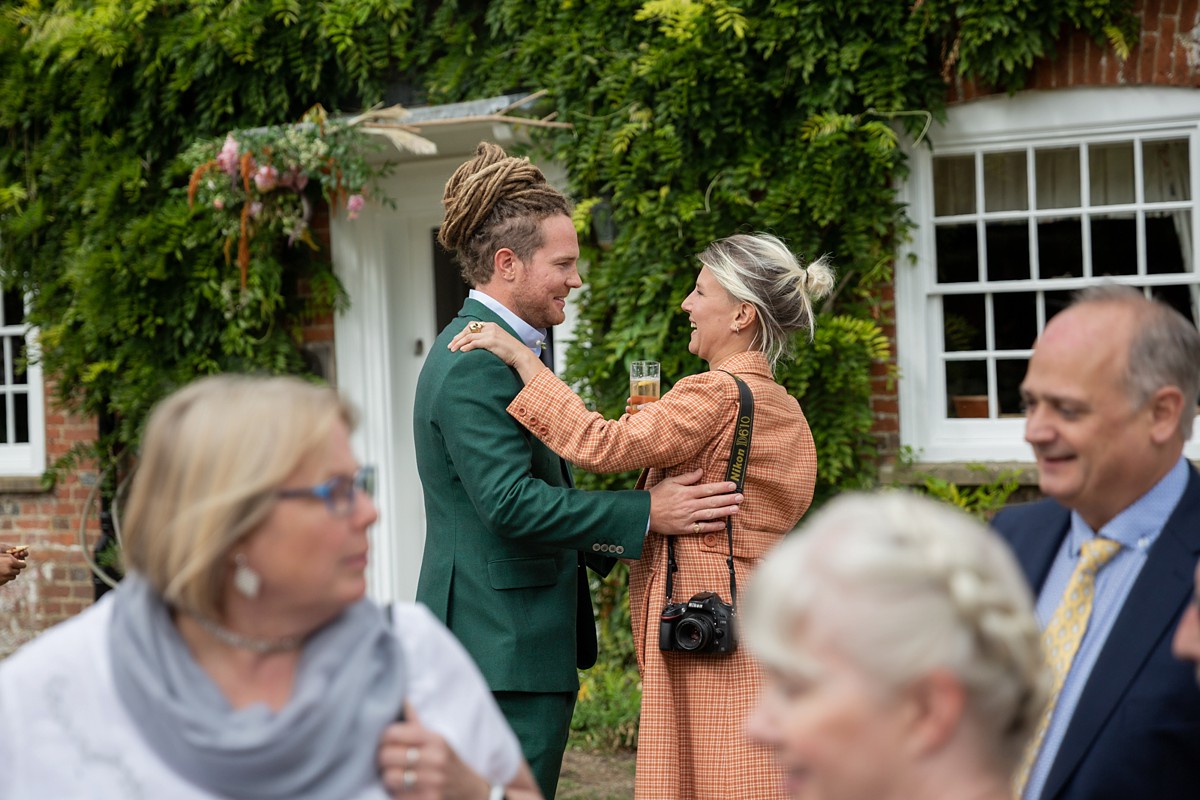 The bride was driven to All Saints Church in her uncle's vintage, open-topped Lagonda before she walked down the aisle with her father, Ian Bolton.
"We had a male ensemble comprised of four singers accompany me down the aisle with an interpretation of an old folk song special to us re-arranged by the amazingly talented composer and dear friend Verity Standen. They also sang their interpretation of Jackie Wilson's 'You Take Me Higher' as the recessional, all a cappella!"
The service was led by the Reverend Mary-Beth Hawrish, with George and Tom choosing their own vows and exchanging rings designed by Hayley King.
"All Saints is a very atmospheric and beautiful small, stone church where many family moments have taken place over the years, both happy and sad. It meant a lot to us to get married here in front of all our closest family and friends, filling it with smiles and happiness."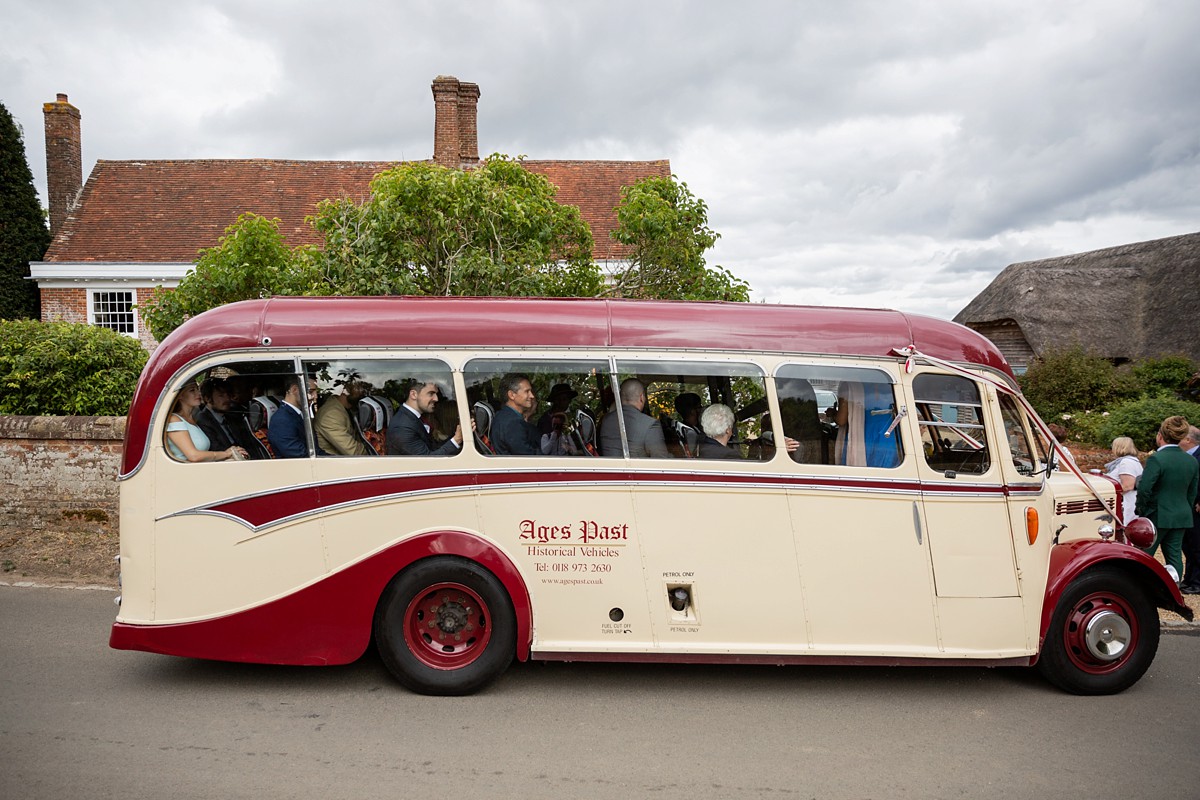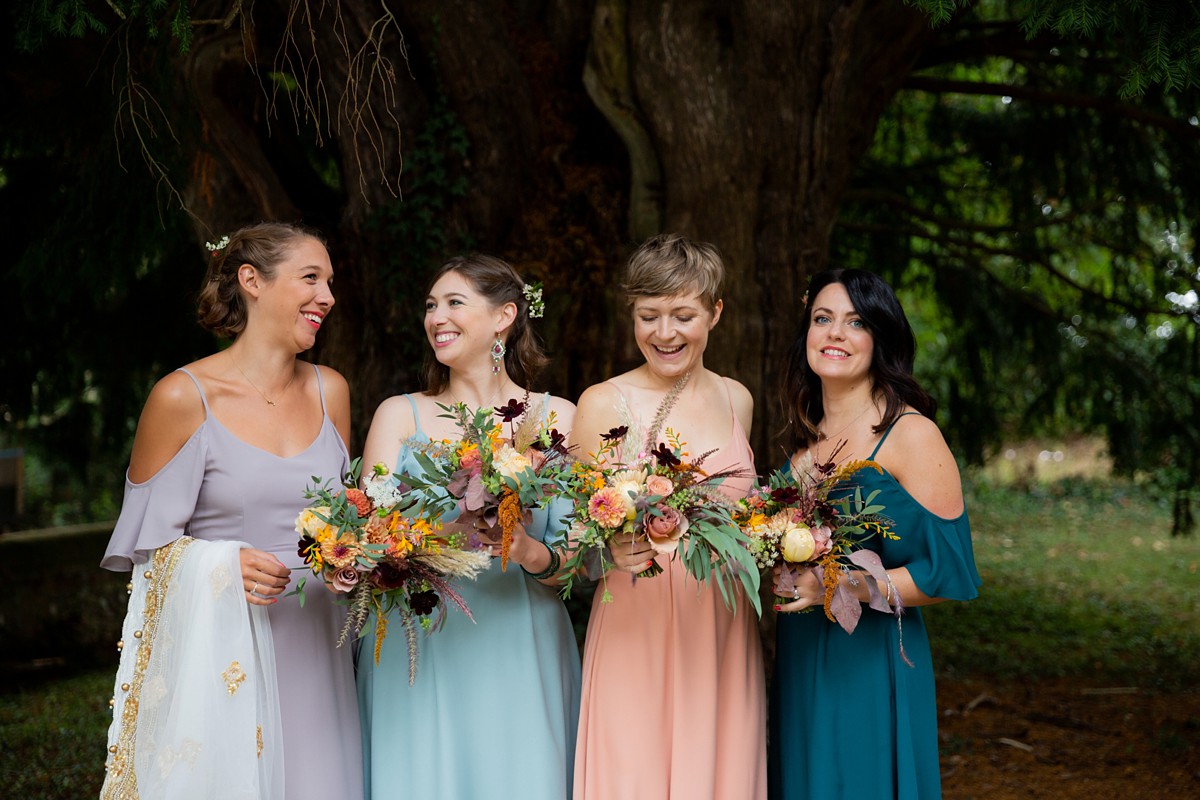 On to the bride's beautiful separates. She paired a cropped lace-trimmed Rime Arodaky bodice with a fitted skirt, complete with flowing train for a contemporary, summery feel.
"Very early on I saw an amazing bride rock a Rime Arodaky two-piece dress and completely fell in love with her as a designer; effortless style, elegance and sophistication with a really unusual modern twist."
"I loved the idea that there would be a cross-cultural reference to Indian culture. By coincidence there was a stockist of her dresses very local to me in Bristol – The Mews Bridal – and I immediately booked an appointment to try them on."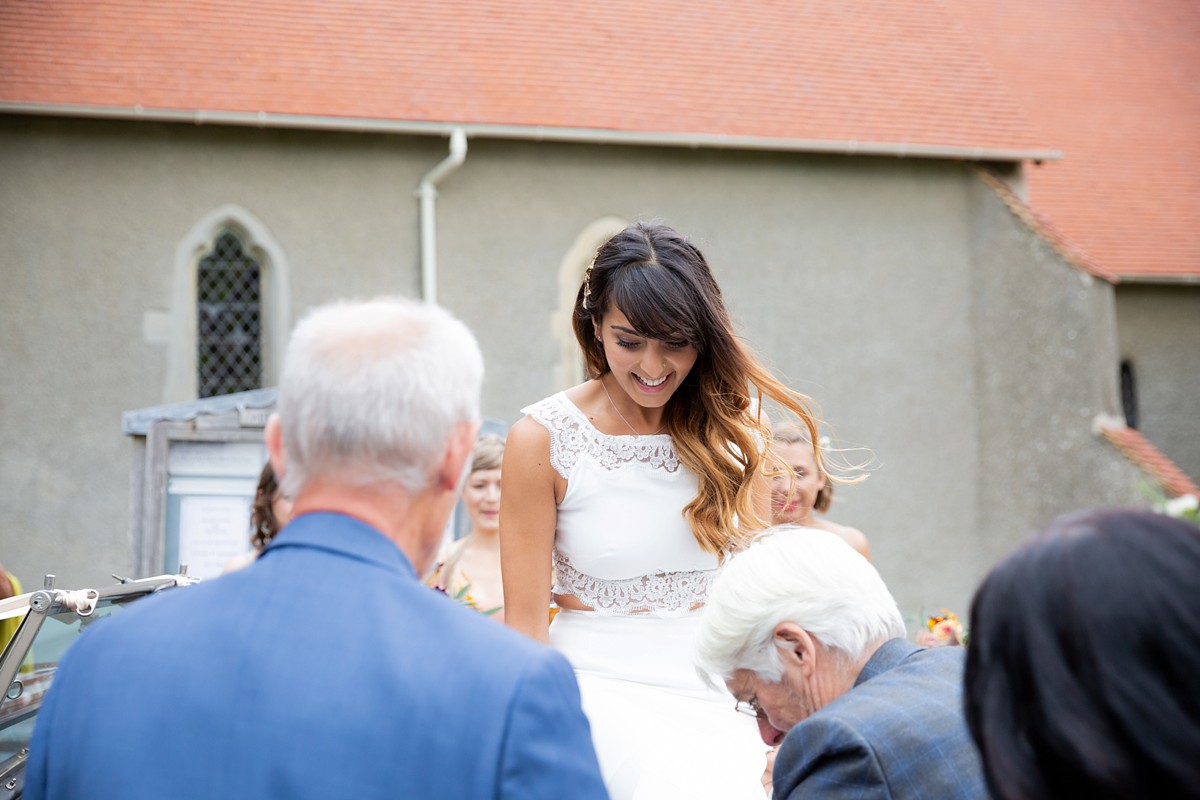 "I fell in love with one of the first dresses I tried on – the Caplan/Pennington two-piece. I had never seen a lace back like it and it has the most beautiful nod to Indian patterns despite being the most exquisite French design. It was a very emotional and difficult process not having Mum there with me to choose my dress. After returning with my amazing dad for a final important opinion, I trusted my instincts and knew that it was it."
Instead of a veil, George added a gorgeously gold dupatta – what a beautiful piece of craftsmanship. The gold of the veil was picked up beautiful by the intricate hair vine from By Jodie Bijoux and her heirloom earrings.
"This was a very special experience as I worked with one of my aunties who has a tailor in India to commission a one-of-a-kind Indian wedding shawl or 'dupatta'. Mum and I were talking about a trip to India to get elements of our wedding outfits. Since we sadly weren't able to do this I wanted to incorporate an element of this idea into my outfit. It was like my mum was by my side throughout the day."
"My earrings were borrowed from my 82 year old nana. These gold diamond earrings were bought for her by my grandad from Oman when they were newly married. It was very special to wear these on the day."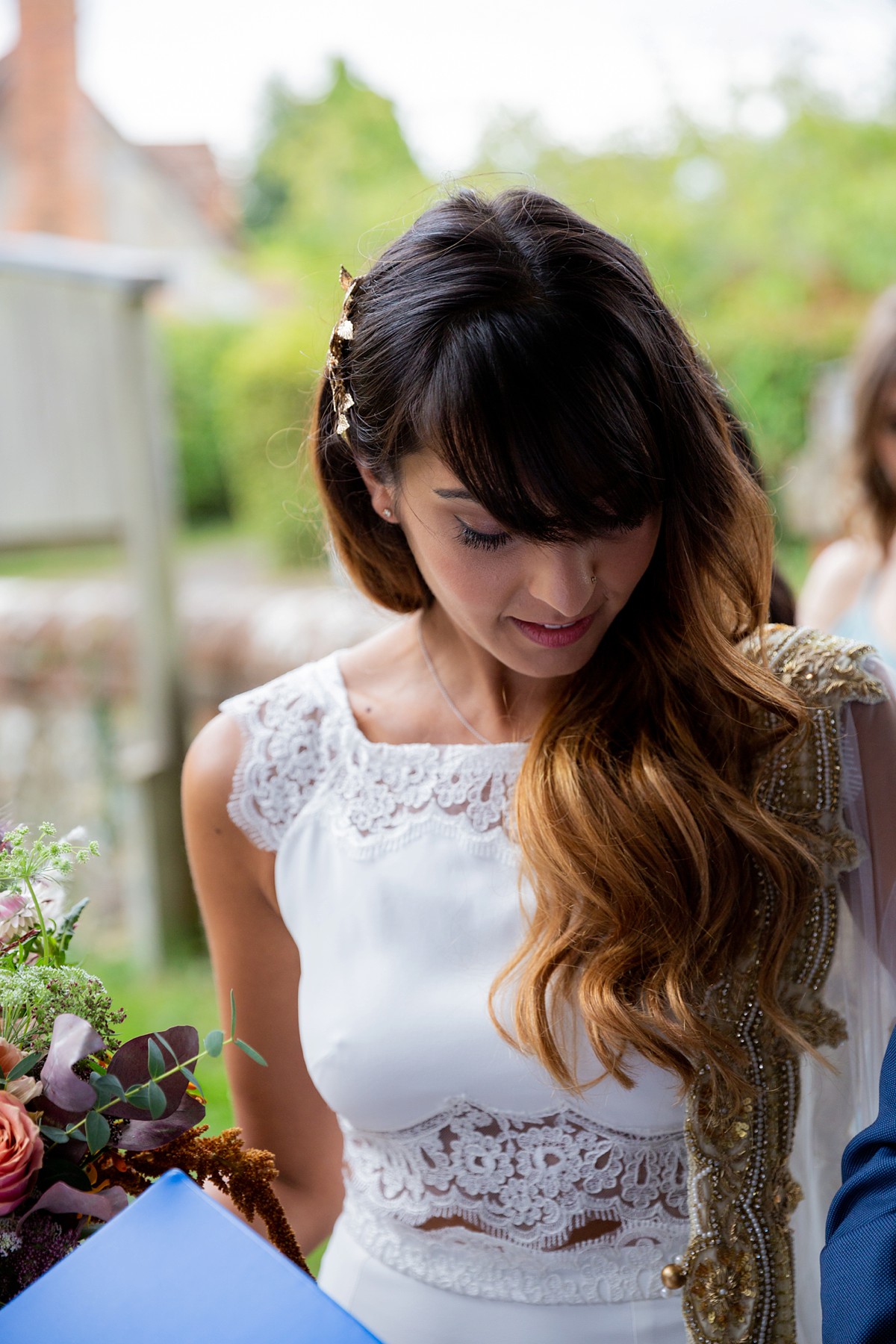 "We tailored our own vows because we wanted to add in a personal declaration within the service. It was a special feeling saying them in front of all our friends and family."
"Tom's ring is Welsh rose gold designed by our wonderful friend Hayley King who lives in Ibiza and runs her business from there. My ring, engagement ring and engagement necklace are from Titcombe Bespoke Jewellery in Clifton. For my wedding ring I went for a very thin, rose gold, tapered band with diamond inlay. It tucks in underneath my engagement ring perfectly and I love the mix of metals together. "
The newly-weds emerged from the church to a guard of honour of confetti throwers.
"If I had to choose one favourite moment it would have to be when we were just married. We just felt the incredible love and joy of all our family and friends during the confetti moment leaving the church. Tom and I were then driven by my cousin Mark back to Summers Farm in the open top Lagonda. Even though it was a very short drive I remember just feeling so overwhelmed and happy. Those first moments together married were really special. I remember thinking just how lucky we are to have found each other."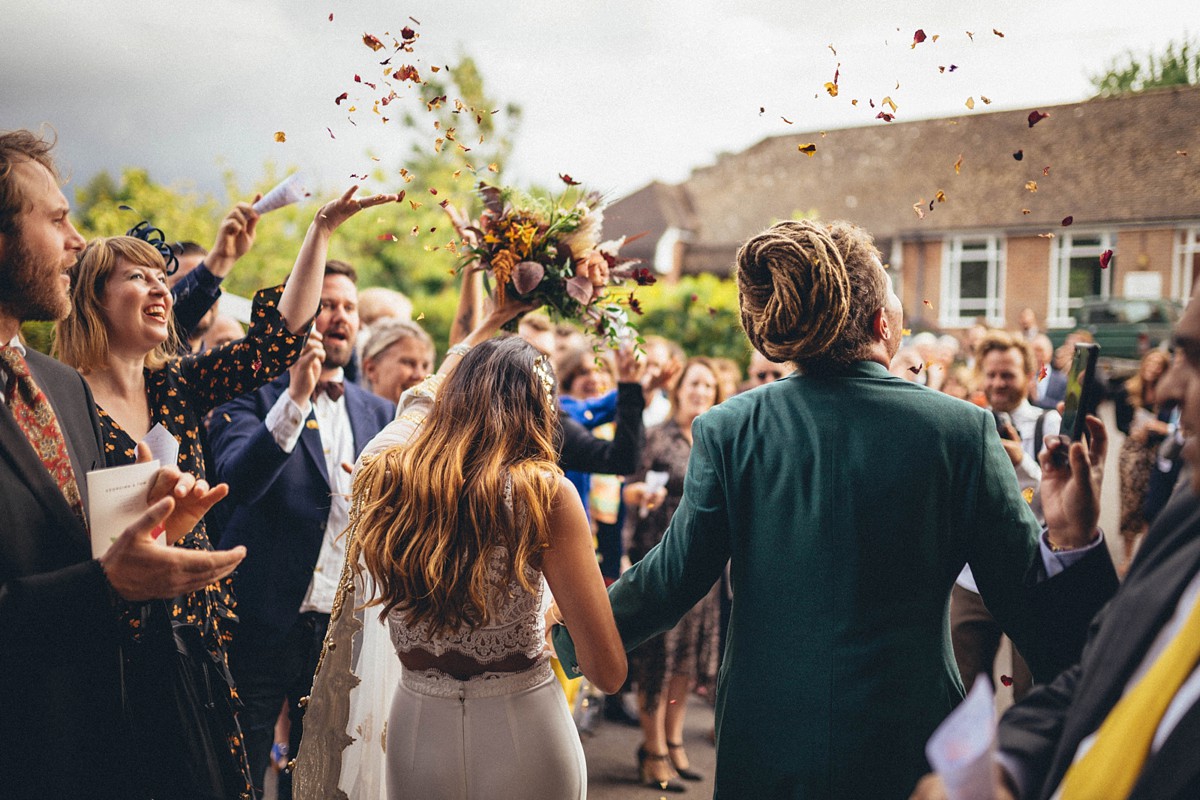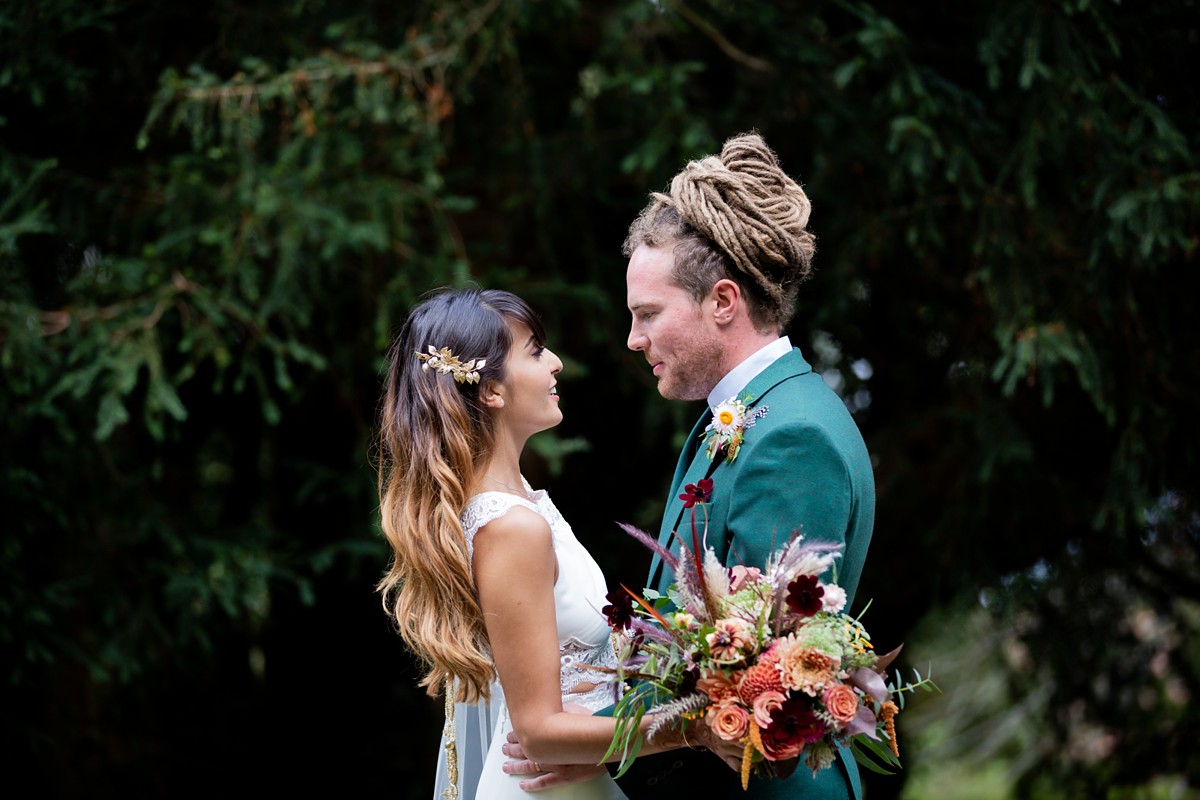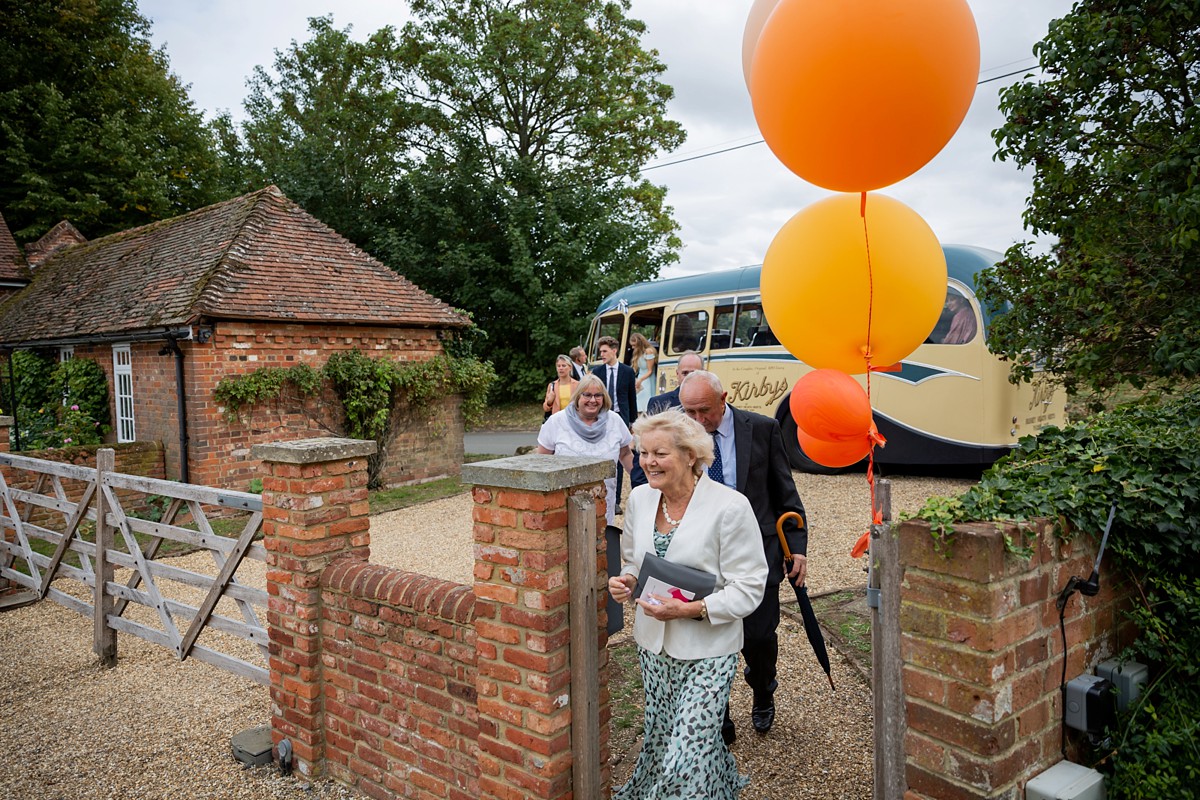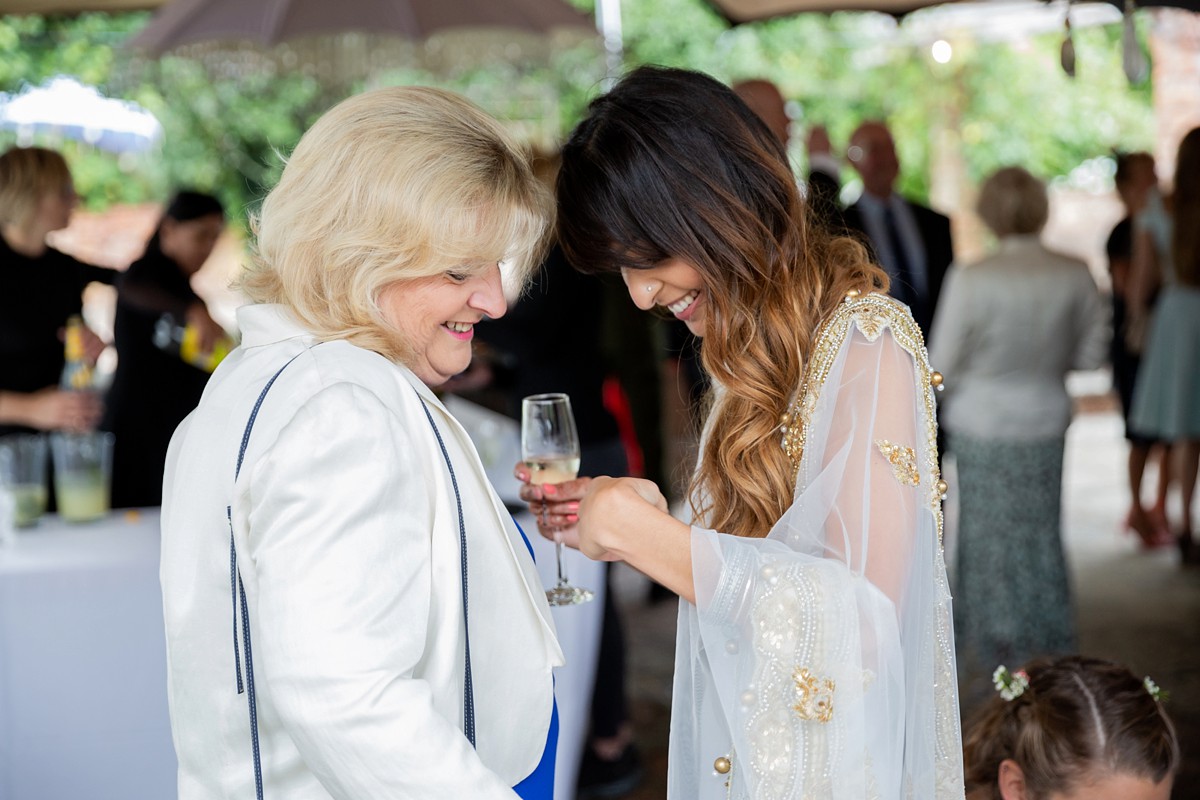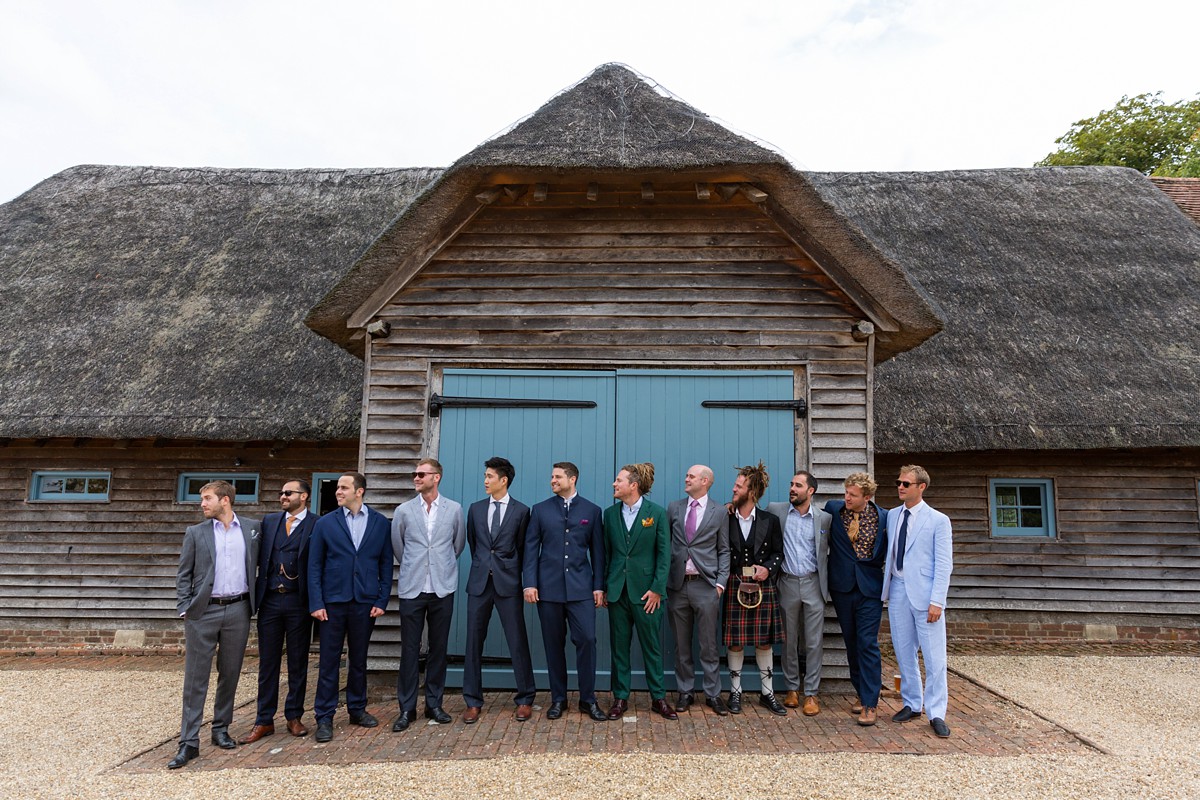 "Paul Blakemore was our main photographer for the day and is also responsible for the fun, coloured smoke images from the Sunday. Paul has a magic skill for capturing the true essence of each moment and is an absolute joy to have around. As a highly renowned Performing Arts and events photographer, Paul tells the story of an event in his energetic, playful, yet sensitive style. He's a whizz at capturing the unpredictable!"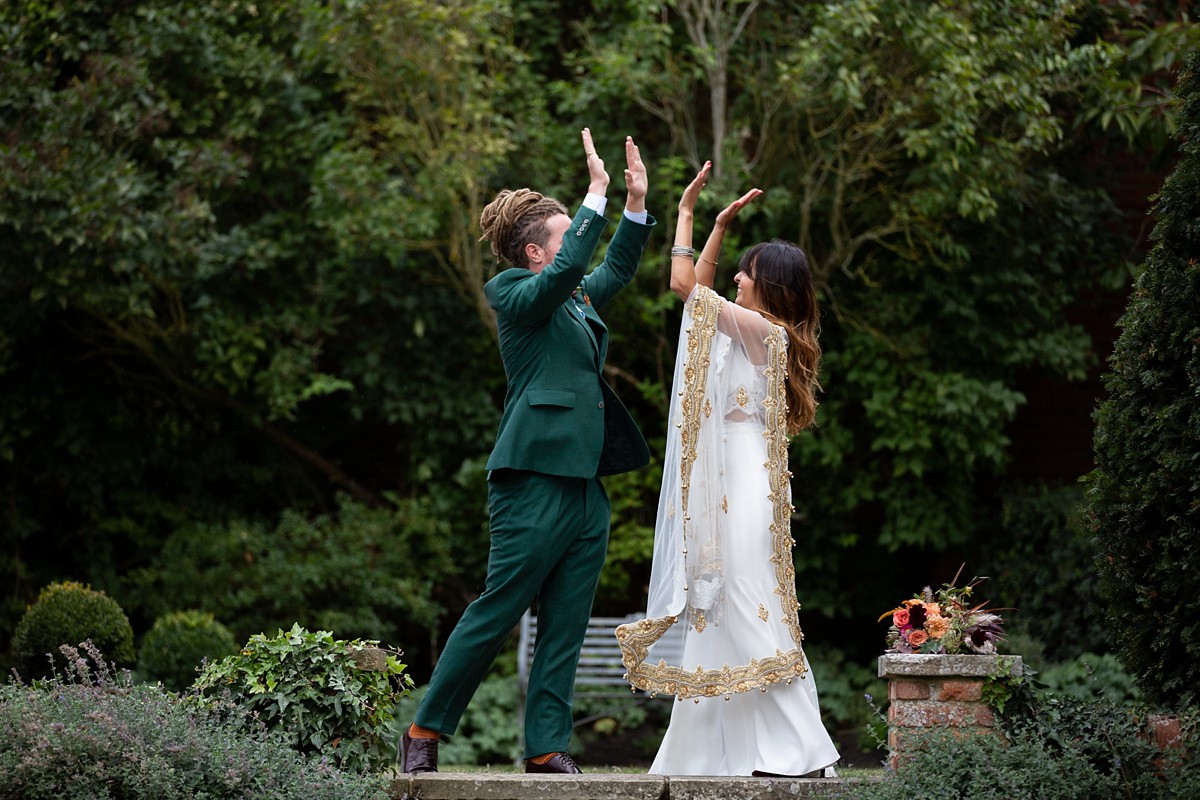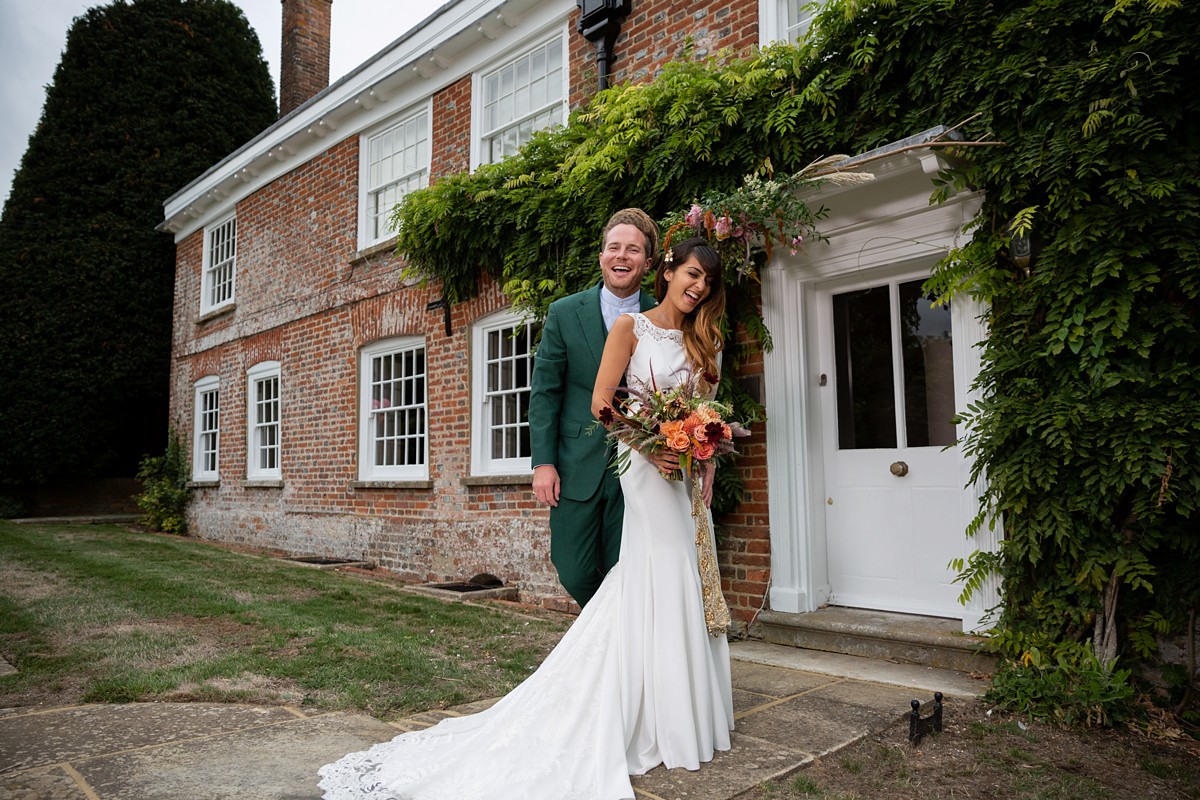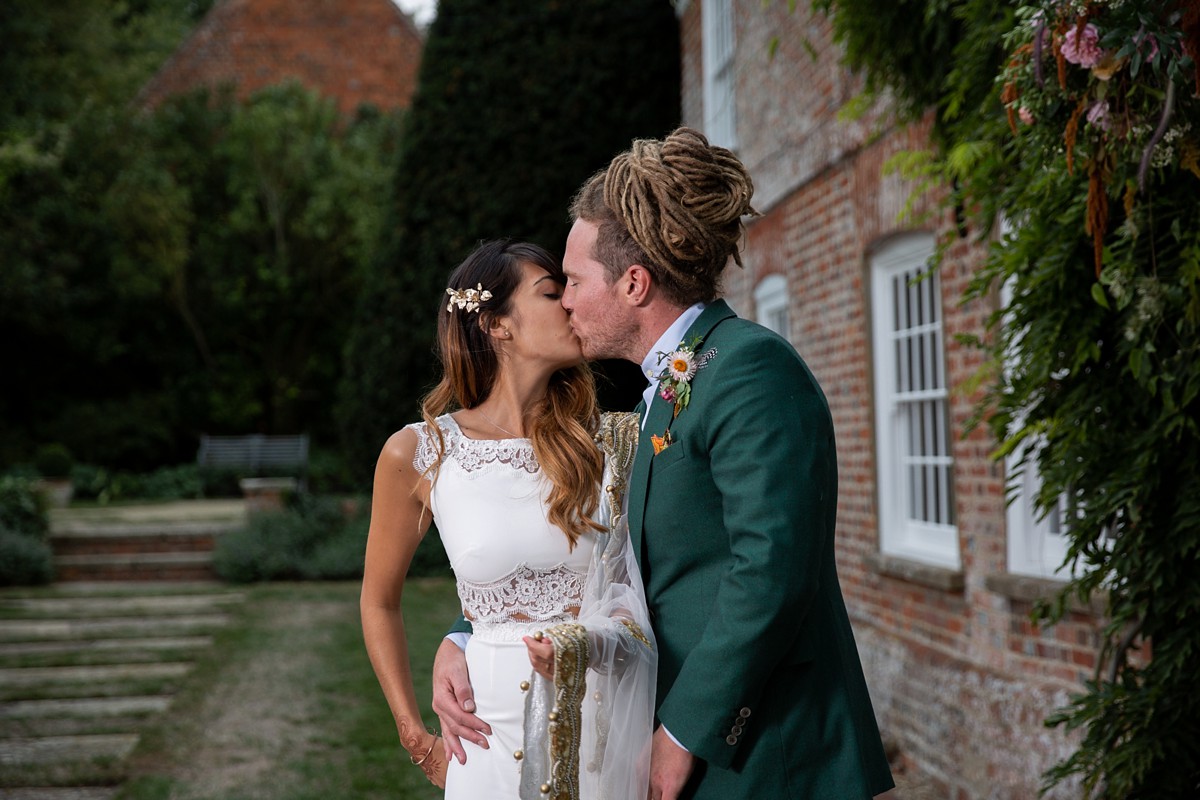 Back at the farm, a trio of open-sided tipis from Buffalo Tipi had been decked out for the celebrations. The couple had hung coloured paper star lanterns from India, lit with LED lights, along with ribbon installations in shades of orange and gold gradients in the dining and dance tipis. There was also a specially commissioned 'YES' sign, commissioned from their friend Meg Tait, along with iron letters decorated with foliage for the 'G&T' Sipsmith cocktail bar.
"Buffalo Tipi were amazing. We would highly recommend using them."
"One of my bridesmaids, Hermione Spriggs, hand-drew all our table place names based on animals from around the world."
The wedding breakfast included a decadent Persian sharing feast, from Bubble & Squeak Food.
"Sarah and Stew were absolutely fantastic. Along with a delicious afternoon tea spread before the ceremony and then lots of delicious canapes after the service we had a Persian feast for our main course. The food was served beautifully on long scaff-board platters placed on bricks, the table bursting with flavour and colour."
"We had a cake stand of different muffins for our wedding cake, baked by Henry Awin at The Bedlington Bakery."
"It was important to both Tom and I that we had a strong gender-balanced speech line up, with myself and two of my incredible bridesmaids (Georgie and Sasha) taking to the stage as well as the men."
"It's fair to say that everyone raised the roof! One of Tom's usher's – Tom D. Morgan – also surprised us after our wedding with a fab video of all of the speeches which was the most special wedding gift."
The dance tipi was not only for dancing to music for Das Brass; it was also the location for an Instax Polaroid station with frames and a glitter station.
'We had an 'It's in Your Dreams' glitter station for late night revelry!"
Hosting a wedding weekend meant that the newly-weds enjoyed two first dances.
"Our first dance was to a Das Brass version of Hot 8 Brass Band's 'Sexual Healing' – an impromptu outside jam session under the stars. Perfect."
"We had another dance on the Sunday of our wedding to 'Best Of Your Love' by The Emotions which was also amazing!"
Words of Wedded Wisdom
George has lots of advice for brides planning a wedding weekend, and for those taking a non-traditional approach.
"We kept a close eye on budget but went a little over what we intended. Our biggest bits of spending were the food and drink over the two day celebration as it was really important to us to keep all our guests fed and watered. Each couple should prioritise the bits that are important to them and run with it. There are always way to save costs on other bits, but go all out on the bits that you feel will be the most appreciated and enjoyed by your guests (and yourselves!)."
"Think of your guests but also stay true to your own ideas. Do keep coming back to how you visualise the day in your head and have fun with it! Definitely go off piste with those wild plans and have a laugh together making your styling ambitious and unique."
"If you are planning to project manage the wedding yourselves definitely draw on the wonderful talents (and generosity) of your friends and delegate jobs. Make a good list ahead of the set up so that all of it doesn't just exist in your head."
"The night before 'clock out' from all the production and just concentrate on getting excited and trying to get a good night's sleep."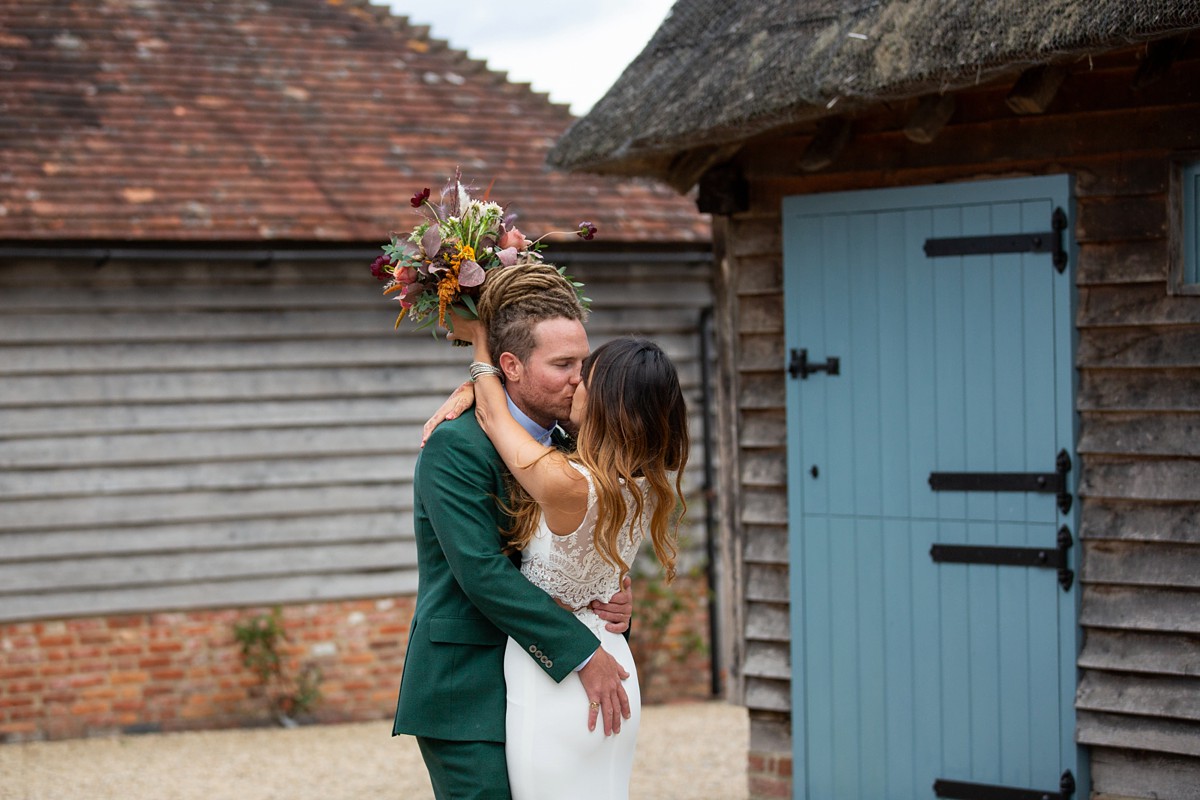 Please join me in sending a massive 'thank you' to George and Tom, and congratulations as well! I've loved every minute of sharing your colourful, joyful day and hope it's given all of you lovelies plenty of inspiration. George, I am delighted to hear that you visited Love My Dress so often during your engagement and found ideas from the weddings we feature here. Thank you also to Paul Blakemore and Jack Anstey for these lovely images.
For more colourful, festival wedding inspiration, then please do head here to see other weddings we've featured. And, if you haven't already checked out our Little Book directory, then be sure to put aside some time to discover it here.
Ele xx