The joy and energy radiating from the lovely couple in today's elegant wedding celebration is so charmingly infectious, I hope it makes you smile as much as it has me!
Our setting is beautiful Co. Kerry in Ireland, and a ceremony in a wonderfully picturesque woodland chapel, followed by a coastal country house reception. As you can probably guess, there are gorgeous views in abundance.
Film by Edithouse
Kat, who is a project manager for a tech company, and Stefan, technical co-founder (of a different tech company!) celebrated their marriage on the 23 April 2018, with a ceremony at Dawros Church, just outside Kenmare, Co. Kerry, and then a reception at Dromquinna Manor, a lovely 1890s waterside manor house.
Kat and Stefan live in New York City, where Stefan was born and raised, whilst Kat grew up near Killarney, Co. Kerry.
Images by Katie Kav Photography
"We wanted to incorporate both Irish (for Kat) and Swedish (for Stefan) traditions. We wanted it to feel relaxed and cosy with a bit of elegance – and honestly, we just chose things that we liked, with a few quirks thrown in for good measure. Kenmare Bay and Dromquinna provided the perfect backdrop for this."
Kat's shoes were a pair of sumptuous green velvet 'Annie' sandals by Jimmy Choo. In her hair, she wore a sparkling crystal comb from Mariell, and for her other accessories, earrings from Alexis Bittar, and a pearl necklace from Stefan's mother.
"I wore Jo Malone's Wood Sage & Sea Salt cologne – it's fresh and airy, reminds me of the ocean, and kept things lighthearted."
"I tried on so many dresses in bridal salons around New York, but didn't find anything that I really loved. As soon as I met Kathryn in her studio, I knew I wanted to work with her to create a custom dress. I love creative projects, and even though it was a lot of time and effort, designing a dress was a relaxing and rewarding escape from the barrage of logistical tasks that make a wedding happen."
[RELATED]
"Collaborating with Kathryn on the design was my favourite part of wedding planning. I was so impressed by her creativity and design expertise, and we just had a lot of fun throughout the process."
"After much discussion of silhouettes, fabrics and 'feel', we settled on a floaty silk chiffon A-line skirt. Kathryn made a detachable silk chiffon train that snapped on for the trip up the aisle, and was easily removed for dancing at the reception."
Kat's amazing bouquet was a mixture of wild greenery, succulents and astilbe, and with vibrant bursts of citrus colours in the garden roses, stocks and berries – all the work of Denise O'Sullivan, of Kenmare Flowers.
"The flowers were based on our coral and blue palette. Hanging foliage and pops of colour kept it fun, and full of movement and texture."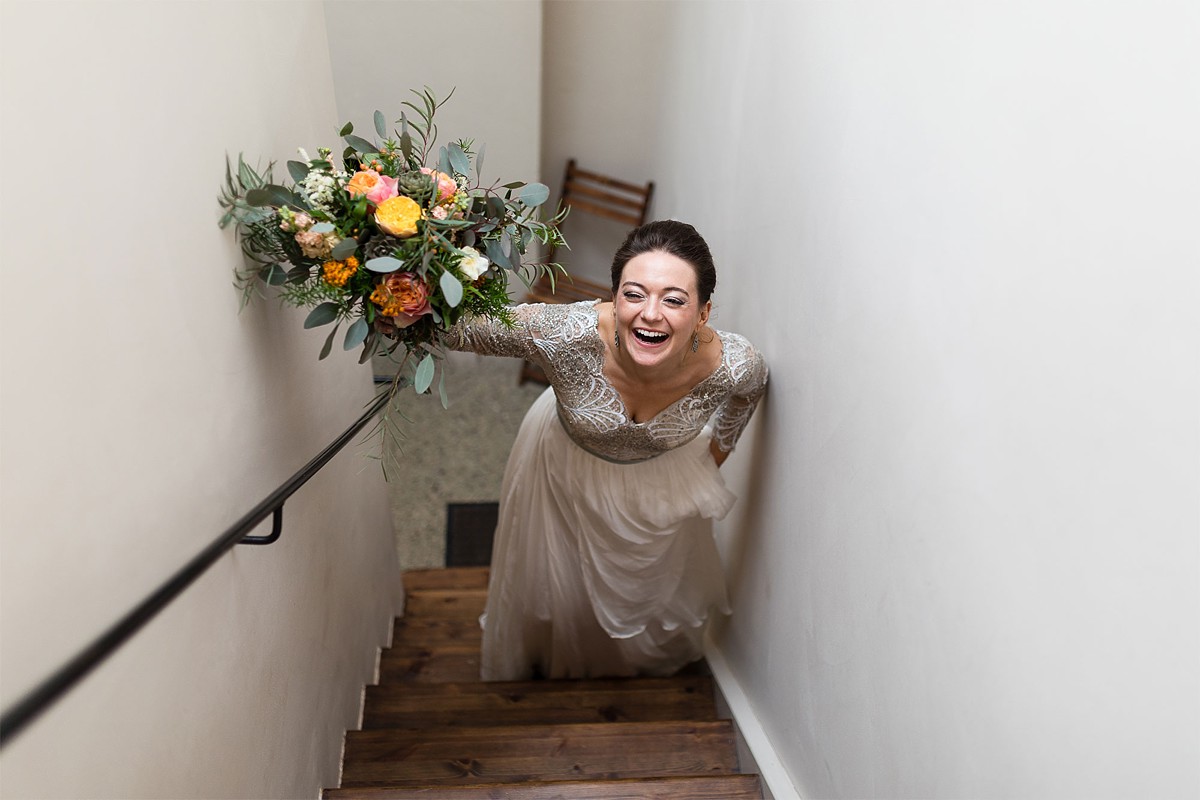 "The skirt was really soft and floaty—and fun to wear. I loved that the train was detachable because it provided a bit of drama for the trip up the aisle, but we didn't need to worry about bustling it."
"Kathryn also dreamed up a couture French lace bodice with stunning beading, which she designed and sent to India for hand-beading. It's so amazing, I've been thinking about re-purposing the top with a different skirt so that I can wear it again."
"I had a simple tulle veil from Kathryn Conover for part of the photoshoot – which Katie (our photographer) helped me to remove during the first look on the Kenmare Bay waterfront, once I decided that veils, rain and wind didn't mix!"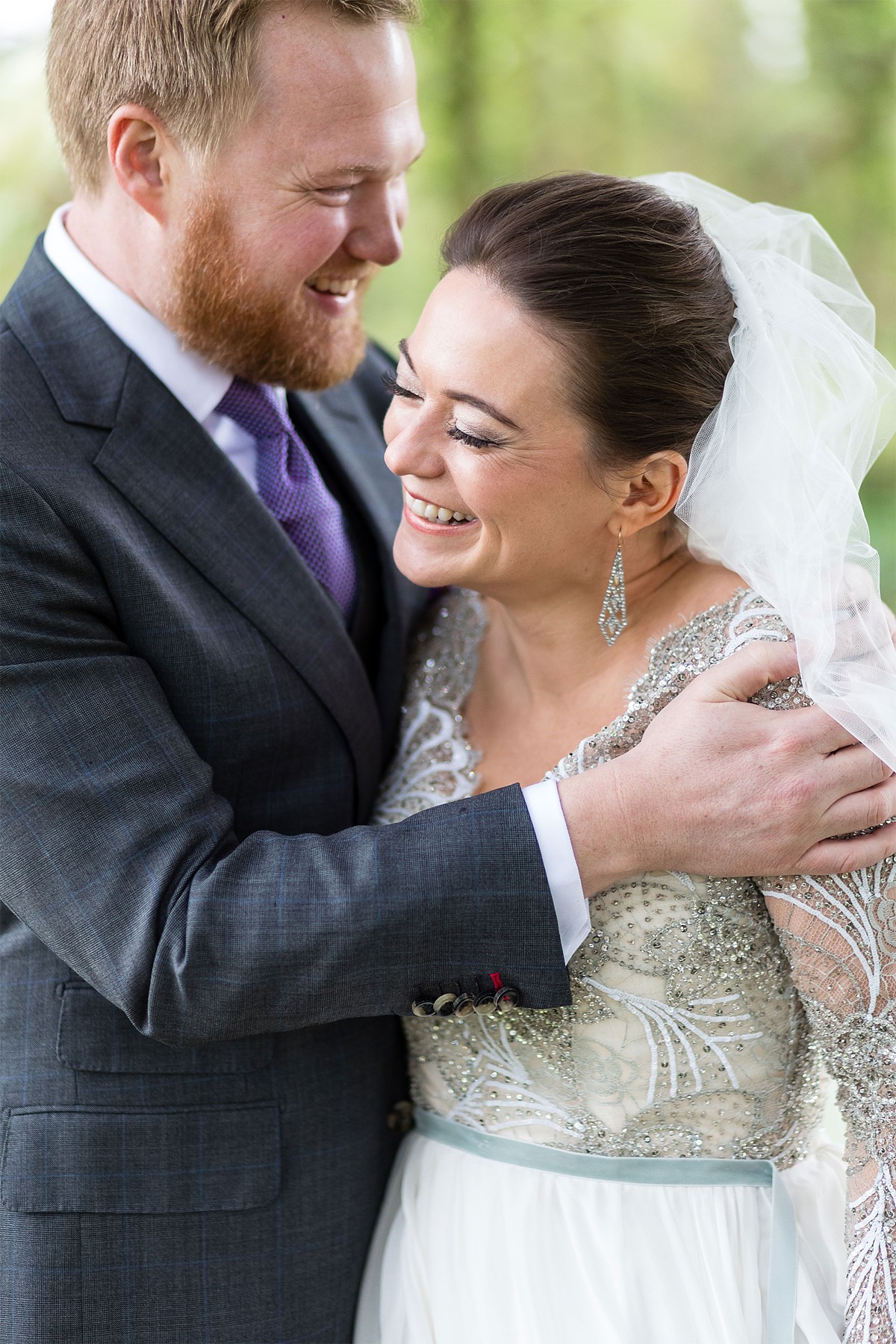 Jill Duggan, from Killarney Toning and Beauty Studio created a timeless, romantic make-up look for Kat, with her hair styled in an elegant chignon by Sean Taaffe Hair & Beauty.
Kat wore an exquisite and ethereal bespoke dress by Kathryn Conover, who is based in New York. I love the contrast between the simple skirt in the lightest of chiffons, with the French lace bodice painstakingly embellished with beads and sequins, managing to be both delicate and dramatic at the same time. I also love the subtle vintage Art Deco feel with the repeating fan design.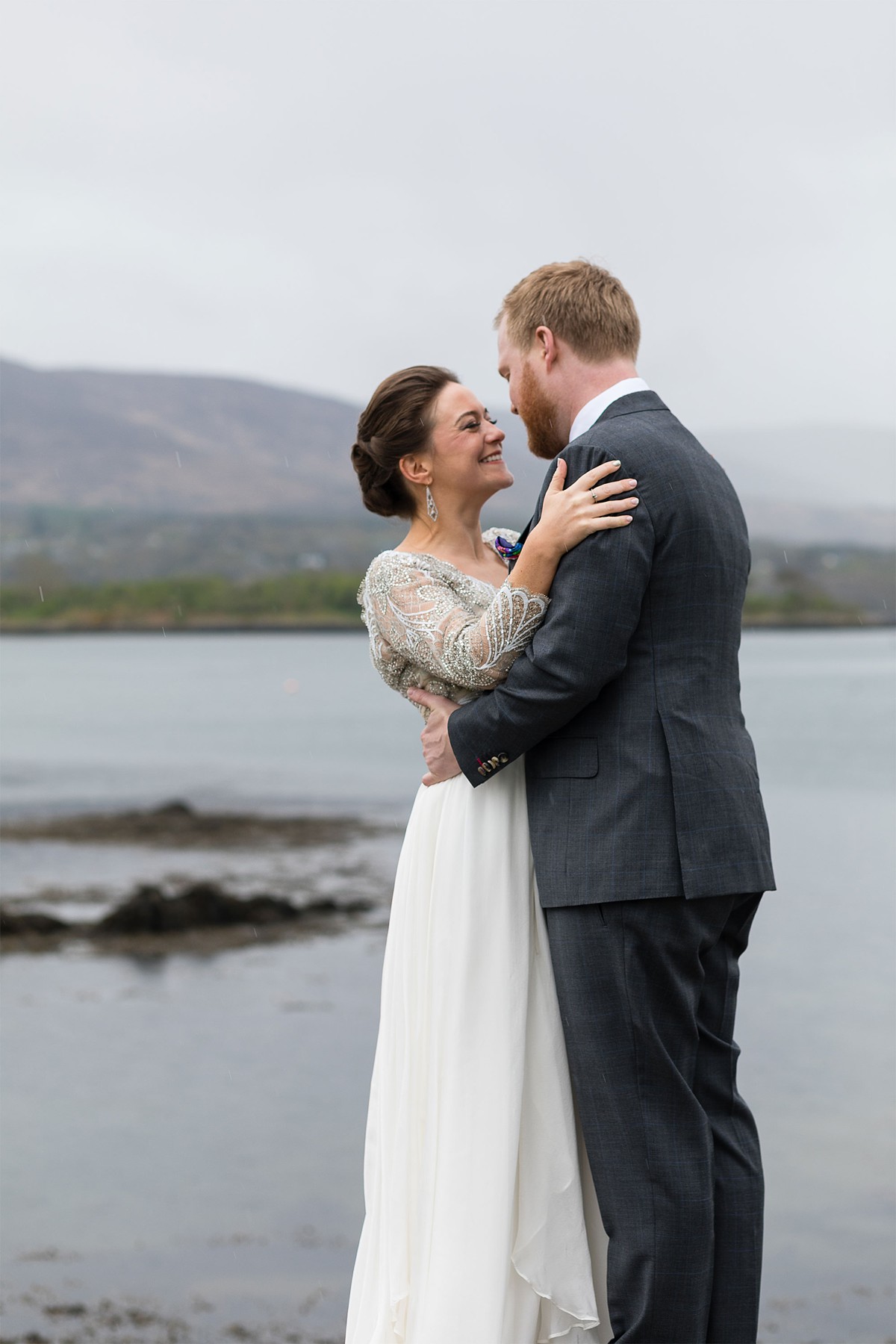 Despite the rainy weather, Kat and Stefan enjoyed a lovely first look before the ceremony, and a stroll to the waterfront to admire the spectacular view – this, and all the lovely details of the day were captured expertly by Katie Kav Photography.
"We fell in love with Katie's colourful, candid and fun photographic style, and then the deal was sealed upon meeting her in person – we just knew she was the one. In the months leading up to our wedding, Katie was one of our most trusted advisors and friends, always responsive and willing to share advice and tips on just about anything wedding-related."
"On the day itself, Katie truly went above and beyond our expectations! She has boundless energy and ran the show all day long, easing our nerves, and corralling 150 boisterous, excited guests. She captured the happenings of our wedding day in brilliant colour, and also quirky moments, and tiny but significant details (like my father's cat cufflinks!) that made us feel all warm and fuzzy inside."
"Katie's greatest recommendation was to do a 'first look' – and I'm so glad we did. Not only did it help alleviate the pre-ceremony jitters, getting the photos out of the way before the ceremony gave us more time to spend at the cocktail reception! We cannot recommend Katie highly enough – she is an incredibly talented photographer."
Kat and Stefan first met in a five bar in Manhattan's East Village, before moving onto a cocktail bar (at Kat's suggestion), and here Stefan picks up the story.
"As we talked, we learned that we had an uncanny number of things in common. Playing the flute. Mothers from other countries. Expired EU passports (that needed renewing). A love of vinegar. Families that spent summers at Barnegat Light."
"We very nearly made plans to go to Burning Man together – Kat already had two tickets, waiting for us – stopping short only because we both realised that was a ridiculous thing to plan on a first date. It was a perfect first date, and it ended with a sweet, electric kiss by the entrance to the 1st Avenue L stop."
Six months later, they did indeed go to Burning Man together, having enjoyed many more dates together in the intervening period, and afterwards!
"Two joyous, fun-filled years later, I knew. In truth, I had always known. I got a ring in January, guessing at the size and style so that I could surprise Kat. But I wasn't sure how or when to propose. Did she want a grand gesture? Or a small, intimate proposal? When should I do it? Should I wait until we were on a romantic trip somewhere?"
"On the morning of Valentine's Day, a month or so later and exactly two years and two days after our first date, Kat got up early and made BLTs. After we ate the BLTs—which were delicious—she gave me a card that expressed her love for me, and her appreciation and gratitude for the things I did for her, large and small. My heart was as filled with love as my tummy was filled with bacon. I thought to himself, 'Today is the day. It's Valentine's Day. It is the last day anyone would expect.'"
"After dinner, I gave Kat a card. She read it and looked a bit strangely at it. The front read, 'I want to grow old with you', with a cute drawing of an old couple sitting on a park bench. Her face said that she thought the card was sweet, but a bit of an odd choice."
"When I got down on one knee while she was re-reading the card, she was even more confused, until I started speaking, and it gradually dawned on her what was happening. Neither of us remember the exact words I spoke, down on one knee, a bit awkwardly close to her, looking up at her surprised, beautiful face. But her response is easy to remember: 'Yes', spoken though tears of happiness, surprise, and joy."
Stefan wore a blue three-piece suit with a fantastic subtle check from Michael Andrews Bespoke in New York, and there were brilliant pops of colour in his outfit, too, with a purple tie from Thomas Pink, and floral print pocket square from Ralph Lauren.
The interior of Dawros Church was decorated beautifully for the ceremony, with floral pew ends and altar arrangements, large lanterns lining the aisle, and branches of pretty cherry blossom. Elegant blue and grey stationery came courtesy of Minted.
Kat was accompanied down the aisle by her dad, Dermot, to J.S. Bach's Jesu, Joy of Man's Desiring, and the ceremony was conducted by family friend, Father John Ahern.
"The other ceremony music included a mixture of traditional Irish church music and secular songs that we love: The Book of Love (the Magnetic Fields), Sé an Tiarna m'Aoire by F. O' Cearbhaill, Mo Ghrá'sa, Mo Dhia by Liam Lawton, and You're So Cool by Hans Zimmer (from the film, True Romance). Music and vocals were by Jack Patrick Healy (piano and vocals) and Siobhan Moynihan (vocals)."
"Our ceremony unexpectedly took place in Dawros Church outside Kenmare, Co. Kerry – a last-minute change after a fire that occurred in Holy Cross Church in Kenmare, where we originally planned to be wed, just a few days before the wedding. No-one was hurt, but there was enough smoke damage to require events be moved elsewhere."
"Dawros Church is a tiny, beautiful chapel in the woods by a babbling creek, about 10 minutes into the woods outside Kenmare. The whole church-changing process was a bit of a scramble, as you might imagine, but we were lucky and Dawros Church was available (on a spring Saturday, no less!)."
The couple chose two fitting scripture readings for their ceremony; the first was Song of Songs 2:8-10, 14, 16a; 8:6-7a.
"We chose the second reading about friendship from the Book of Ecclesiasticus. It seemed fitting simply because we are lucky to have such amazing friends, many of whom had gone to great lengths to be there on our wedding day."
Simple and traditional vows were said to one another, and rings were exchanged, too. Stefan chose a simple gold band from Doyle & Doyle in New York, and Kat had a custom diamond and platinum ring made by Lori McLean, to complement her 1930s Art Deco engagement ring.
"During the ceremony, I remember squeezing Stefan's hand and looking out towards the faces in the church and thinking, these people have come all the way here for us! It was exciting and surreal. I'm pretty sure my heart was beating a mile a minute, but in hindsight there was little to be anxious about by that point."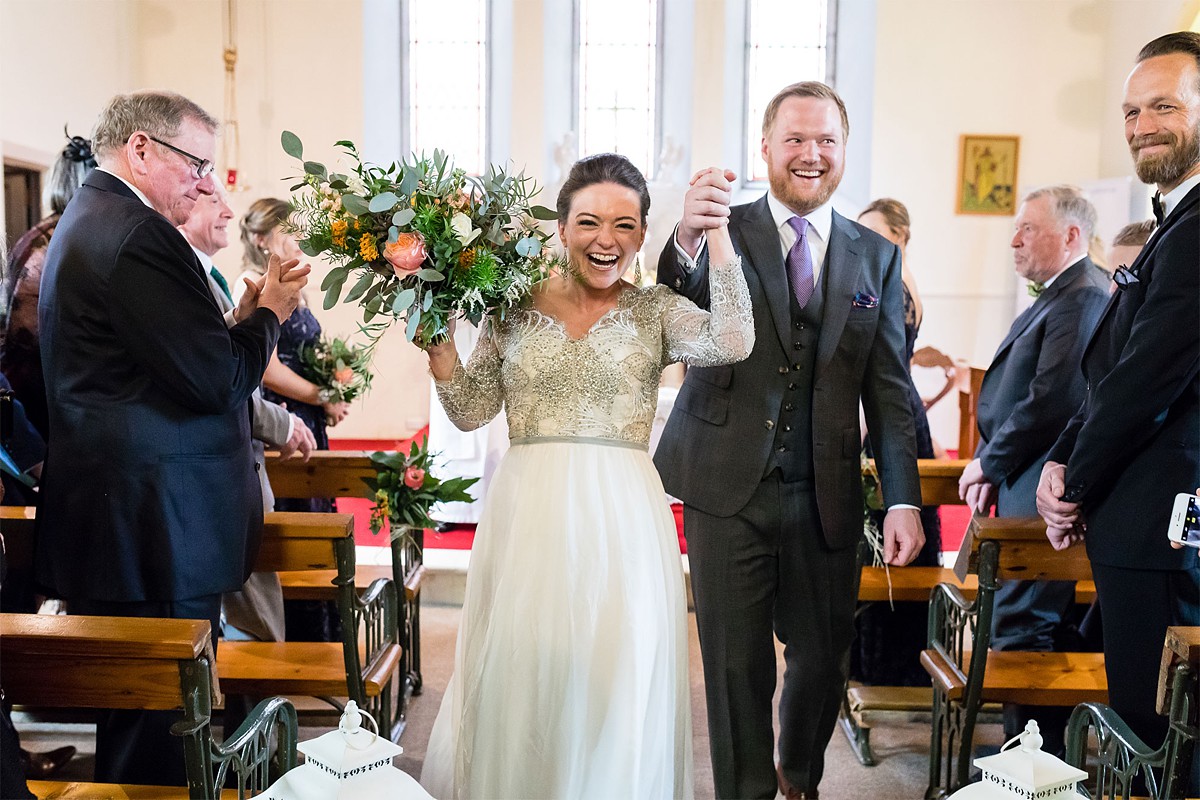 "Stefan's favourite moment was in the car right after the ceremony and the receiving line. It was this brief bit of calm and feeling so happy to be together, just the two of us, and then back into the beautiful storm of being surrounded by so much love and merriment, and taking a million and one photos!"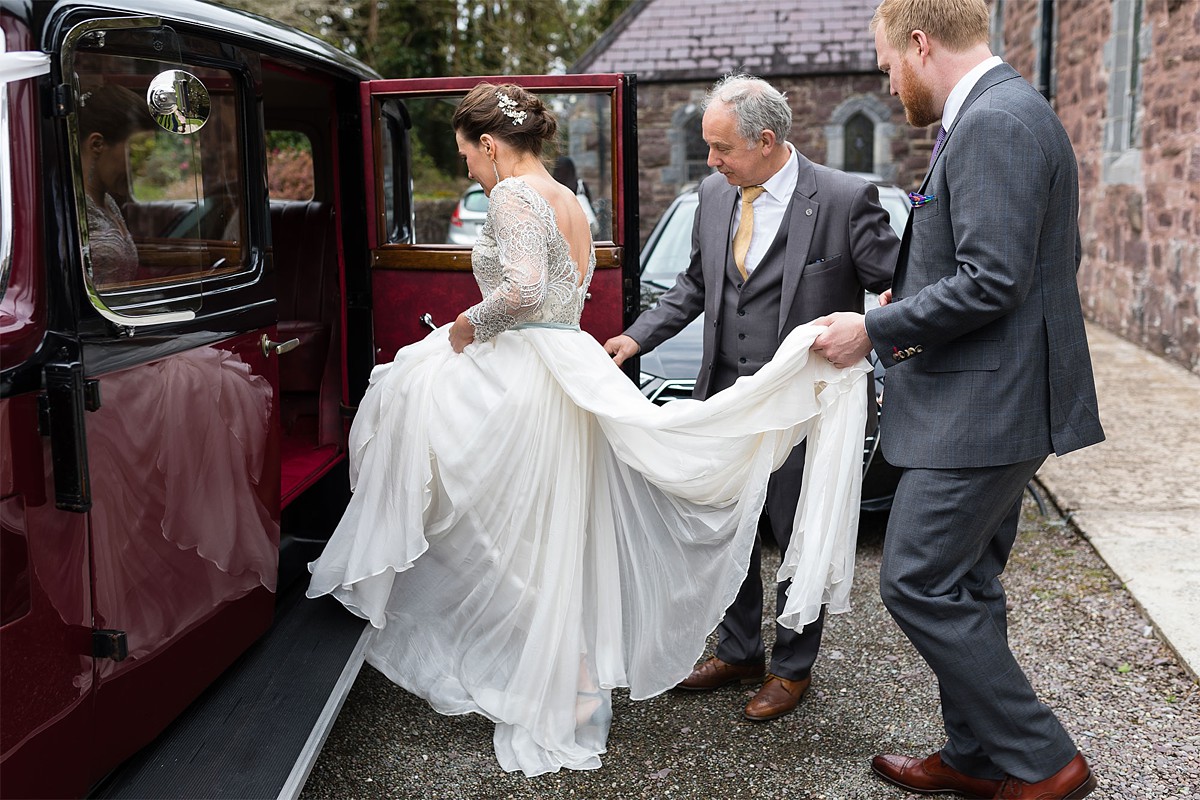 After the ceremony, it was over to the beautiful Dromquinna Manor to begin the celebrations with a cocktail reception and lawn games, and the chance for some lovely group shots with Kat and Stefan's wedding party, too.
"The wedding party was mixed boys and girls: two ladies and two gents on the groom's side, including the Best (Wo)man, who is a lady; three ladies and one gent on the bride's side.We specified navy gowns and each of the ladies chose her own, so they came from a variety of places."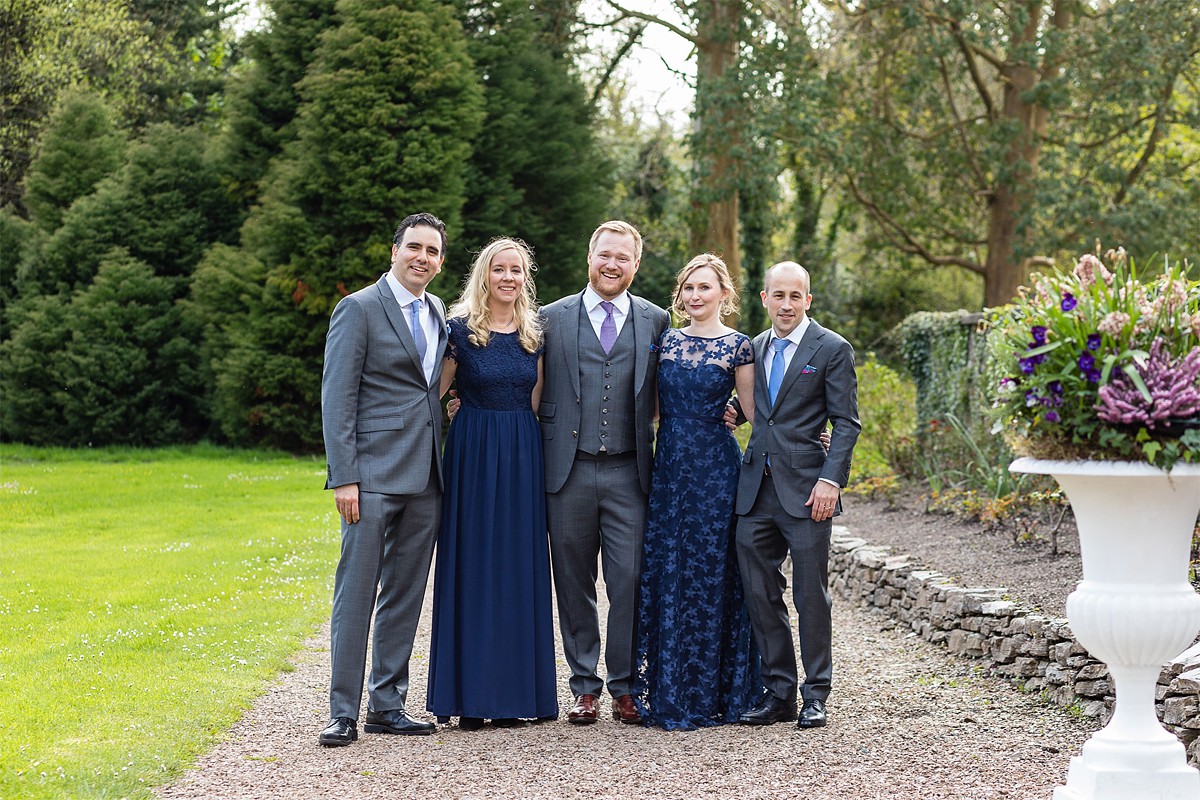 "Each bridesmaid found a pair of shoes that she liked. Like the dresses, we had a combination that worked together pretty well. The men wore charcoal grey suits, shimmery cross-hatched blue ties and matching floral blue pocket squares from Thomas Pink."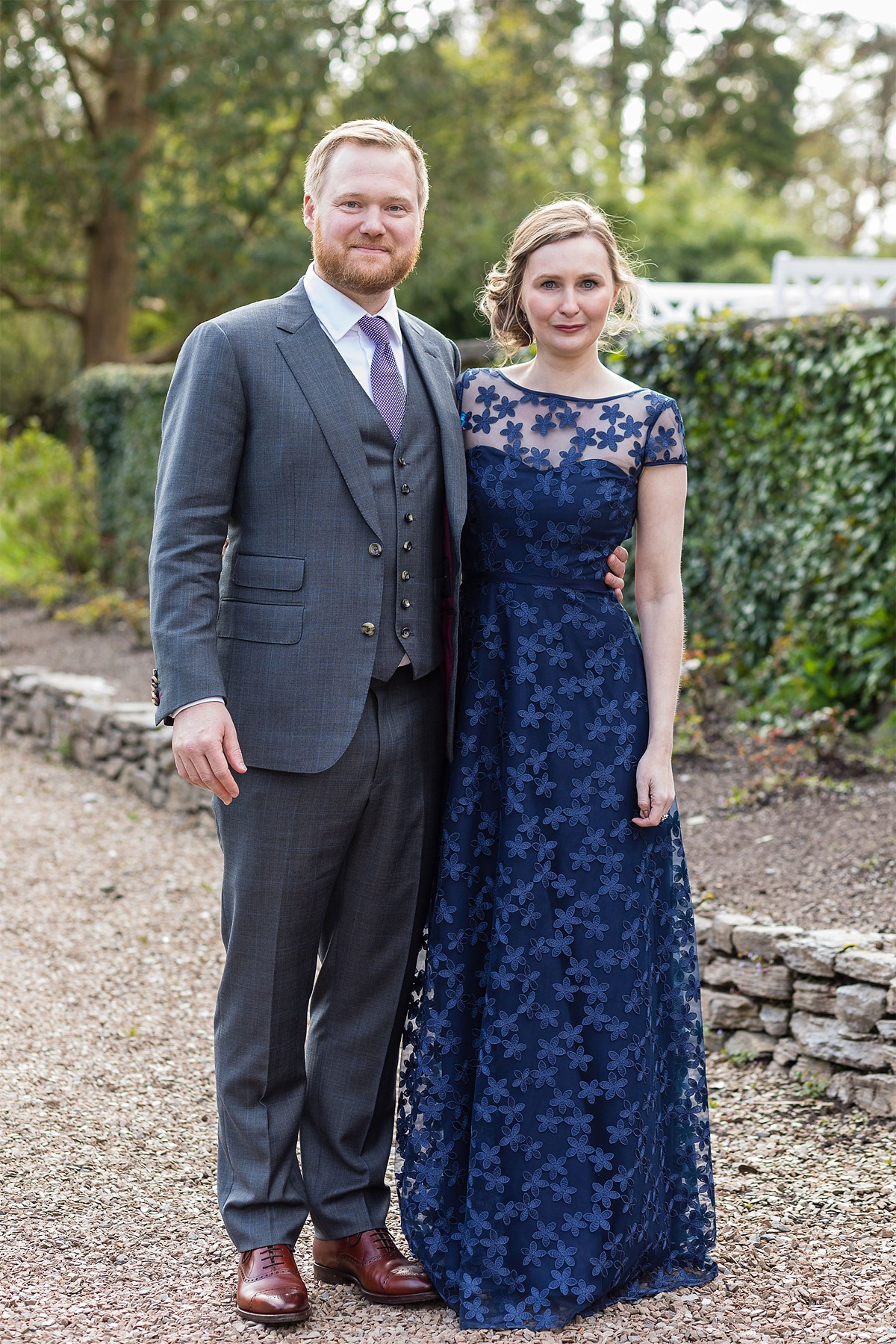 "Our reception took place at Dromquinna Manor, outside Kenmare town. The location was ideal because Kenmare is a scenic 40-minute drive through Killarney National Park for those travelling from Kat's hometown of Killarney; and for our guests travelling from the US, India, Panama and the UK, Kenmare is a picturesque destination brimming with Irish warmth and hospitality."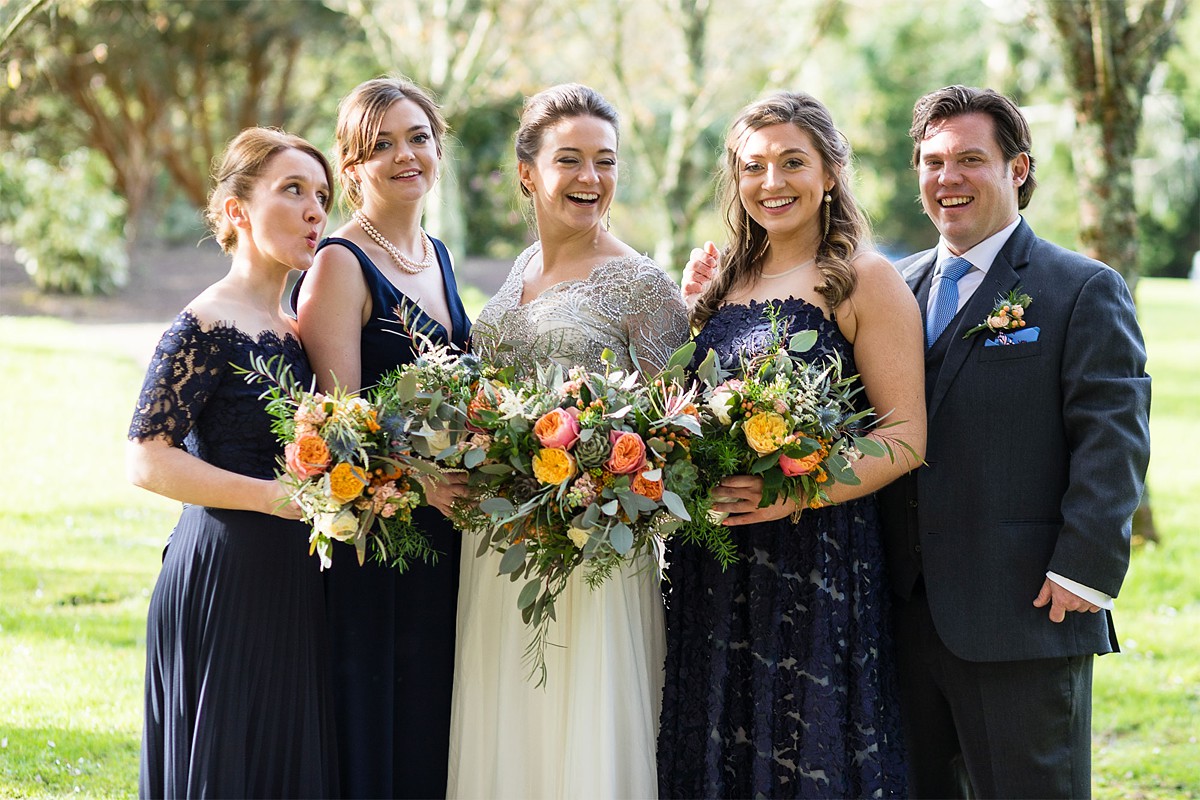 "We fell in love with Dromquinna Manor because of its incredibly beautiful location on Kenmare Bay, and because we could have the entire venue to ourselves. The house is so charming and warm, and full of character. There's an outdoor patio for a cosy fire after dark."
"There is a spectacular view from the house, with a scenic path along the pier for any guests looking for a quick stroll down to see gorgeous Kenmare Bay."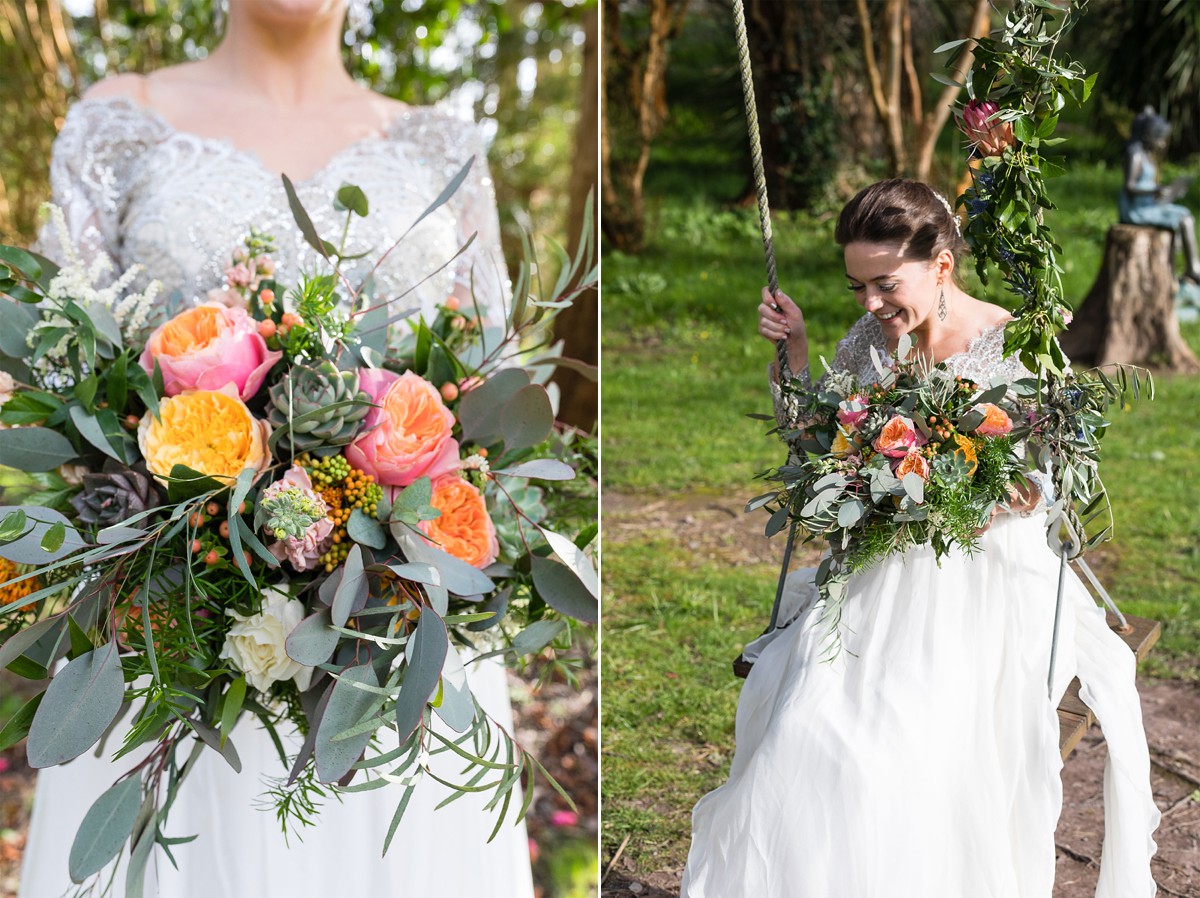 During the drinks reception, guests were serenaded by Jack Patrick Healy (AKA Killarney's 'Liberace'!), with a set played on a grand piano.
Inside the manor, the styling was vintage inspired, with candles, garlands of greenery, and vases and jars of flowers accented with feathers, as well as confetti filled balloons. All of the elegant decor was executed to perfection by Caroline, of Creative Hart.
"We didn't do wedding favours on the day because they felt unnecessary, but focused our energy, time and money on the experience of the day. Caroline at Creative Hart put together little grab bags for guests to make their own Tayto sandwiches!"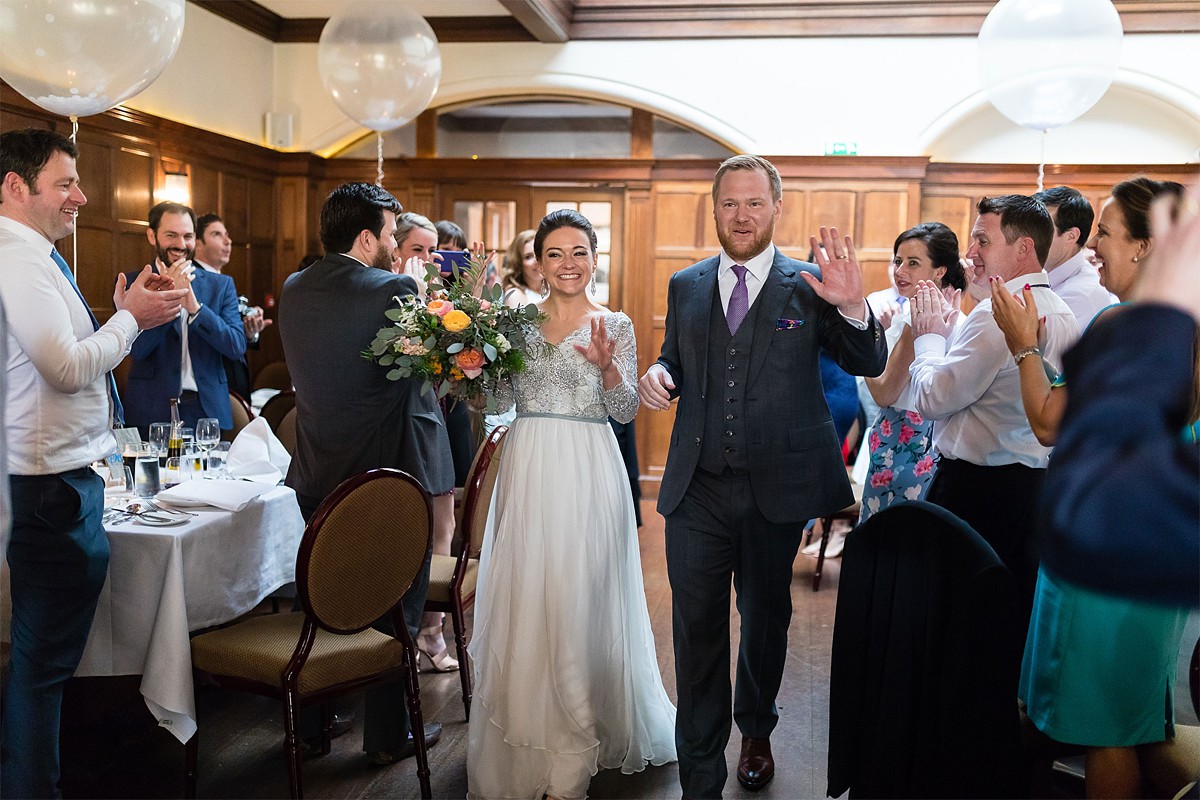 Delicious food was cooked by the team at Dromquinna Manor, and rather than a wedding cake, Kat and Stefan instead chose to have a glorious selection of desserts for everyone to enjoy.
"The chefs at Dromquinna created a delicious selection of desserts like Eton Mess and chocolate profiteroles in giant bowls, one per table, and let the guests barter with other tables for different desserts. The interaction this created was pretty brilliant."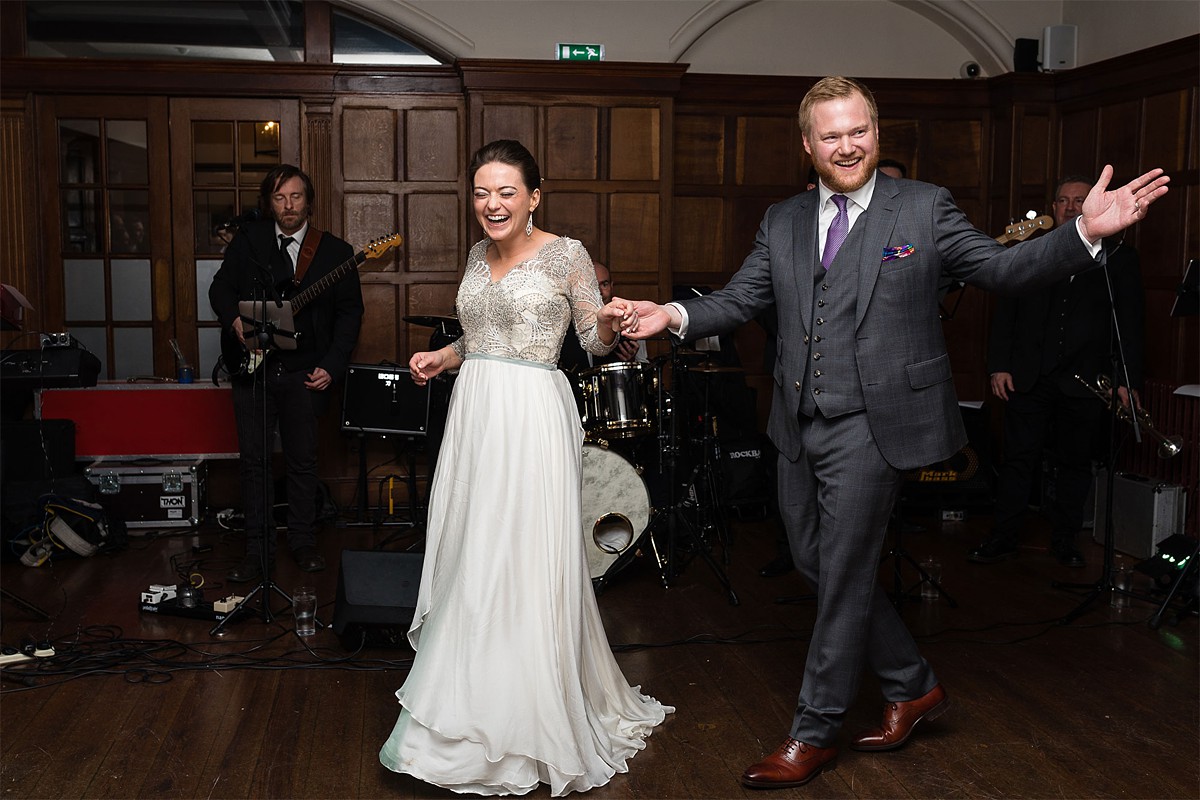 "We incorporated the Swedish tradition of having several speeches throughout the dinner, facilitated by our good friend Adel, who agreed to be our toastmaster. Any guest who is interested is invited to give a speech, and we had 15 heartwarming and hilarious speeches altogether, with a time limit of 2 minutes each."
There were late night snacks of hot dogs and burgers, sparklers, and lots of dancing, with live music from the Bentley Boys. Kat and Stefan's joyous first dance was to the wonderful Louis Armstrong version of La Vie En Rose.
"It's hard to believe that all that time, energy and expense is going to be worth it as the day approaches, but it really was. Best weekend of our lives, so far!"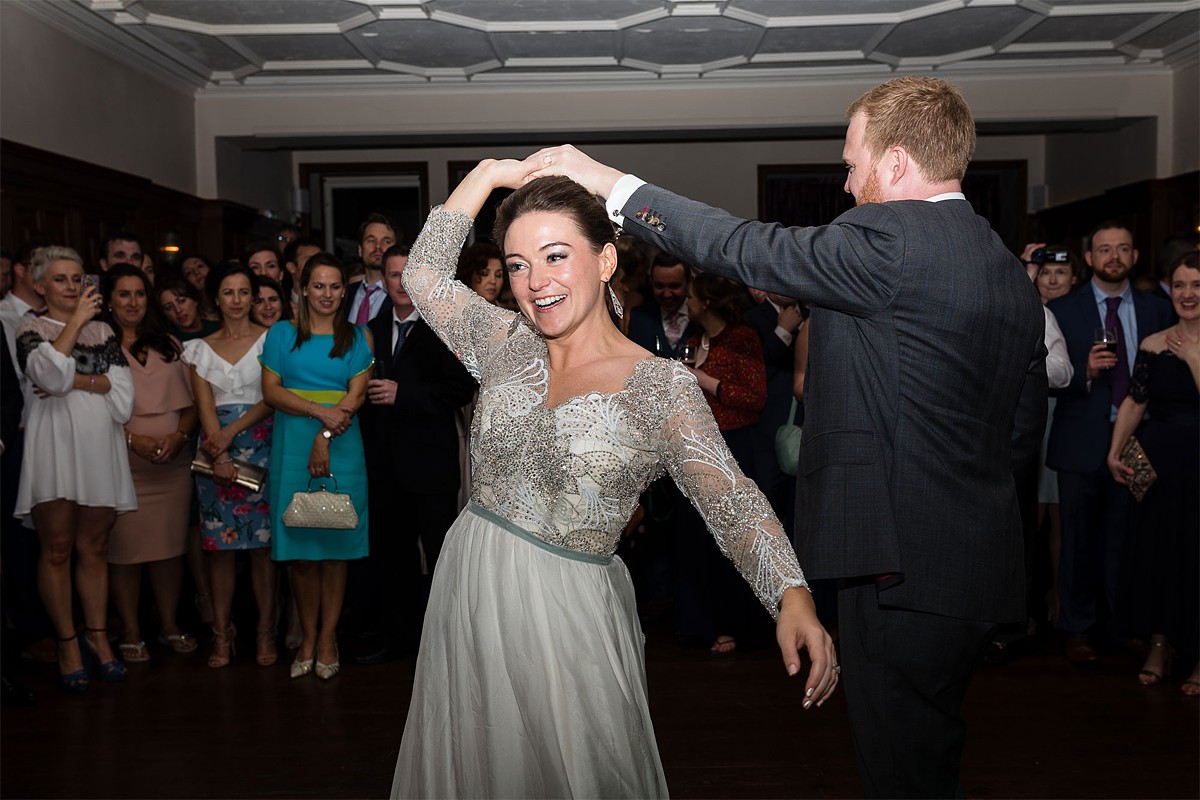 Words of Wedded Wisdom
"Eat breakfast! Aside from making for some cosy and relaxed family photos, you'll be glad later on to have eaten something before the champagne begins to flow. You can use your one-day-only (okay, maybe a week) special bridal powers to delegate the job of making breakfast to someone who's not in the bridal party. In our case, the lucky man was my sister's boyfriend, Jarret. He whipped up a delicious full Irish breakfast, buffet-style, and kept feeding us as we were rushing about getting hair and make-up done."
"For the groom's side, keep in mind that the 'getting ready' pictures don't actually have to be of you getting dressed. It'll probably be before the bride's side's pictures, early in the morning so it feels a bit silly to pretend to be getting ready just for photos. Stefan and his crew didn't bother putting on their suits at that point – and Katie captured some fun, relaxed pictures of the groom's party hanging out with his Swedish family, making Swedish breakfast—which is lots of coffee, and cheese and butter on brown bread."
"Relax and enjoy the day. You spent so much time planning, now the day is here and you're ready. Something will go wrong! But that's okay—nobody remembers a perfect wedding. It's the flaws that make things special. In our case, the bridal party somehow walked up the aisle before the bride arrived at the church, and only figured it out when Katie and Emma came running after them."
"By the time they all walked up the aisle for the second time—not forgetting the bride this time—the church was already full of warmth and smiles and laughter. The ice was definitely broken and it was the liveliest, most entertaining marriage ceremony. People were already having a blast before they even got to the drinks reception."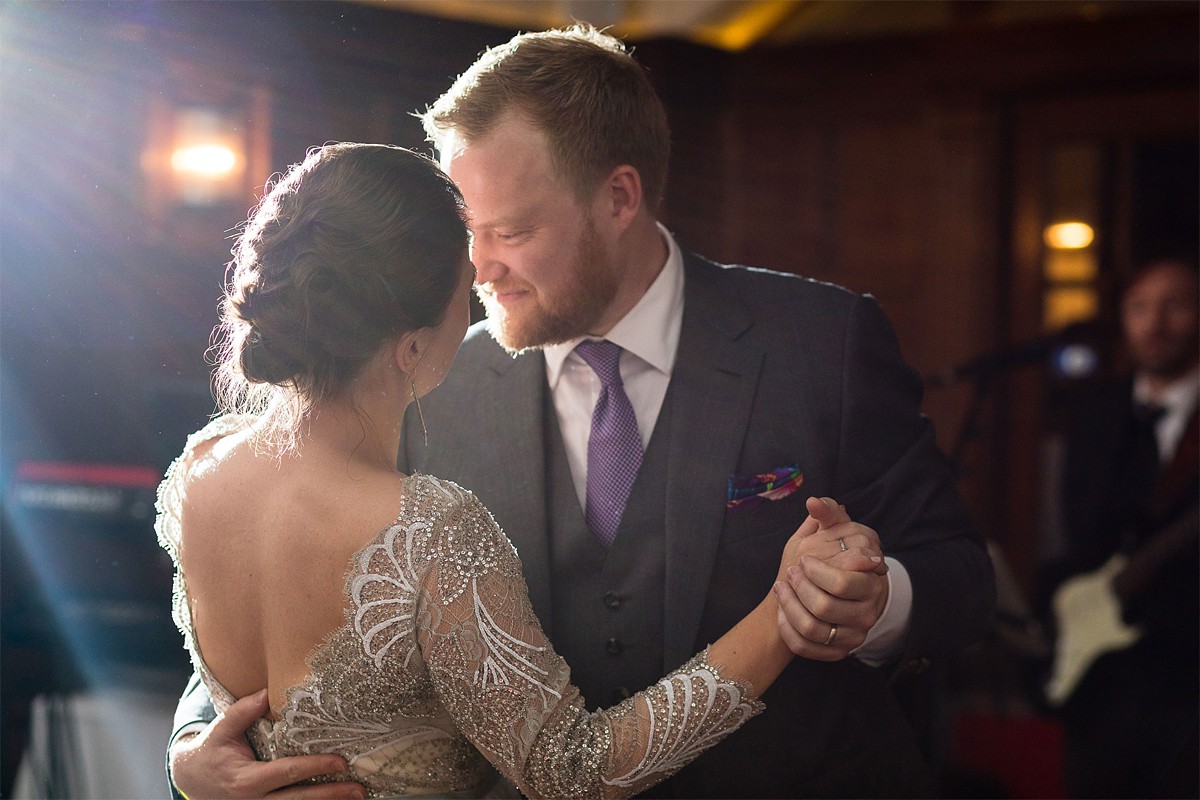 Kat and Stefan, congratulations and thank you, for sharing your day with us, and for such beautiful and evocative words with which to share your magical story. Huge thanks also go to Edithouse for their fantastic film, and to Katie Kav for these intimate, romantic images.
Lovely readers, if you'd like to see more wonderful weddings in Ireland on our pages, then do take a look here.
Until next time!
With love,
Laura