Grace Loves Lace. If you haven't heard of this brand yet, let us be the first to introduce you to them (although if you're an Instagram user and even remotely interested in weddings, chances are you will have stumbled upon one of their glamorous and head-turning images).
It's so good to be amongst the very first to share a first look at the sublime new collection from this much sought after Australian label for brides who adore glamorous, bohemian style. And British brides – fear not, whilst this label isn't wholesaled and thus not carried in any independent bridal boutiques (an intention decision by the brand), they do have their own gorgeous London based showroom.
Grace Loves Lace's new 'La Bamba' collection has stolen my heart with it's gorgeous shape, silhouettes, fabric and detail.  Let's dive right in and indulge in these images together…
Grace Loves Lace is one of the biggest names in the world of bridal wear right now. Their modern, luxurious designs hold the title of 'the world's most pinned wedding dress'. They're all about effortless and timelessly sophisticated gowns made from the finest European laces and silks that move effortlessly and and flatter the female form.
Their mission is to fight the commerciality of getting married and strip it back to what really matters – love and love alone.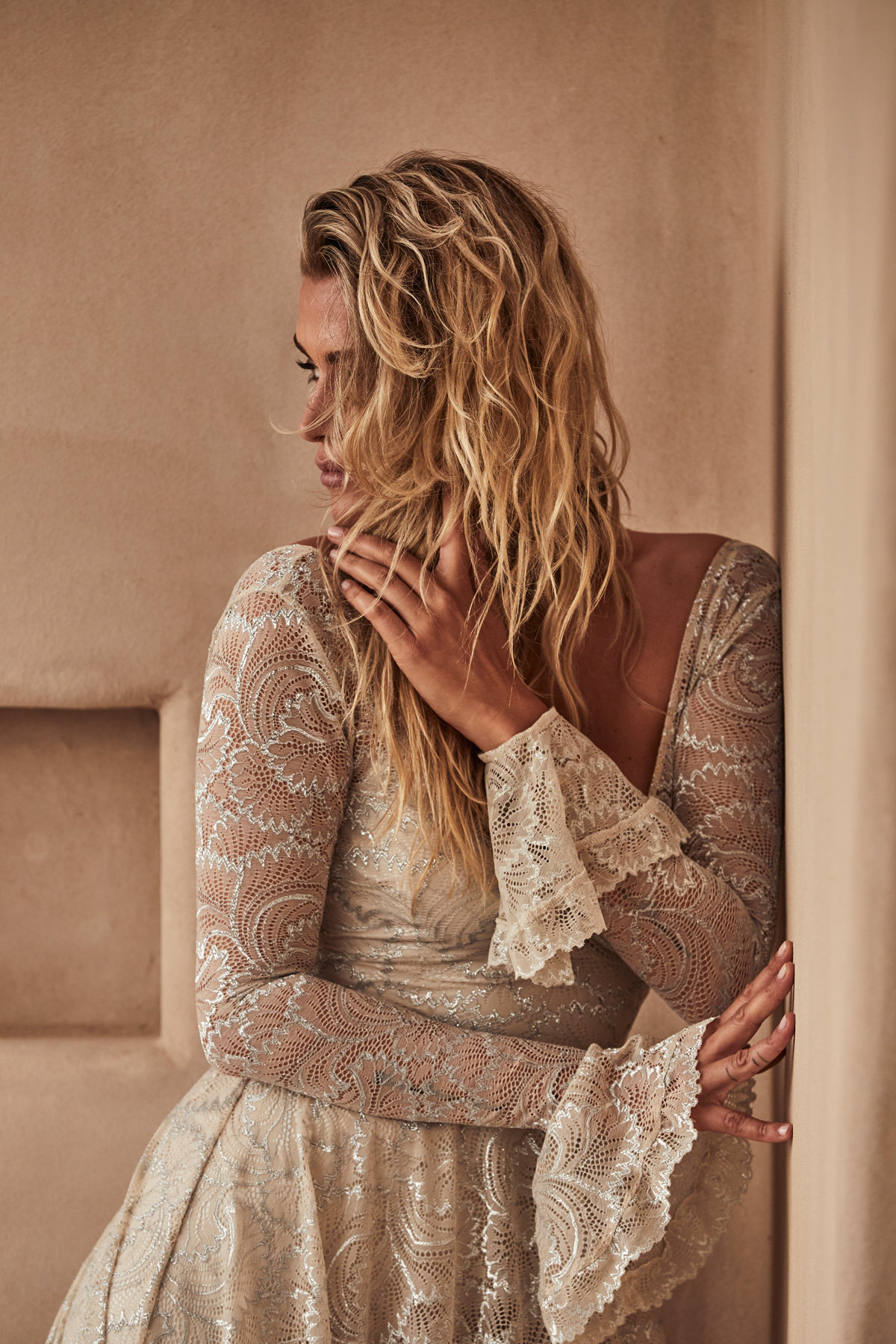 Our whole team is smitten with this brand, but personally, I adore that the fact that Grace Loves Lace gowns embrace a 'no zippers', 'no seams' and 'no corsets' policy. There are brilliant brands out there who do provide sublime, discrete inner corsetry for those of you seeking more support, but this is a brand for those seeking something less structured and more natural.
La Bamba is Grace Loves Lace's highly-anticipated 2019/20 collection of 13 new bridal gowns,, which  launched this week. The collection continues their tradition of innovative and creative bridal design in fine style.
La Bamba features metallic laces and burnout silks, all designed in-house. There are playful and brilliantly deconstructed silhouettes and high impact gowns that are still incredibly wearable. There's no sacrificing of comfort here and the collection is all the more stunning because of it.
"As the original disruptors, we feel it's our duty to turn it up a notch" says Founder and Creative Director Megan Ziems. "We're giving women the excitement and authenticity they deserve and La Bamba is truly luxury you can dance in."
"Our vision has been to create gowns that are dramatic and effortless – fabrics and shapes that have visual impact whilst still being lightweight and easy to wear, rather than traditional, restrictive dresses that don't allow women to move freely."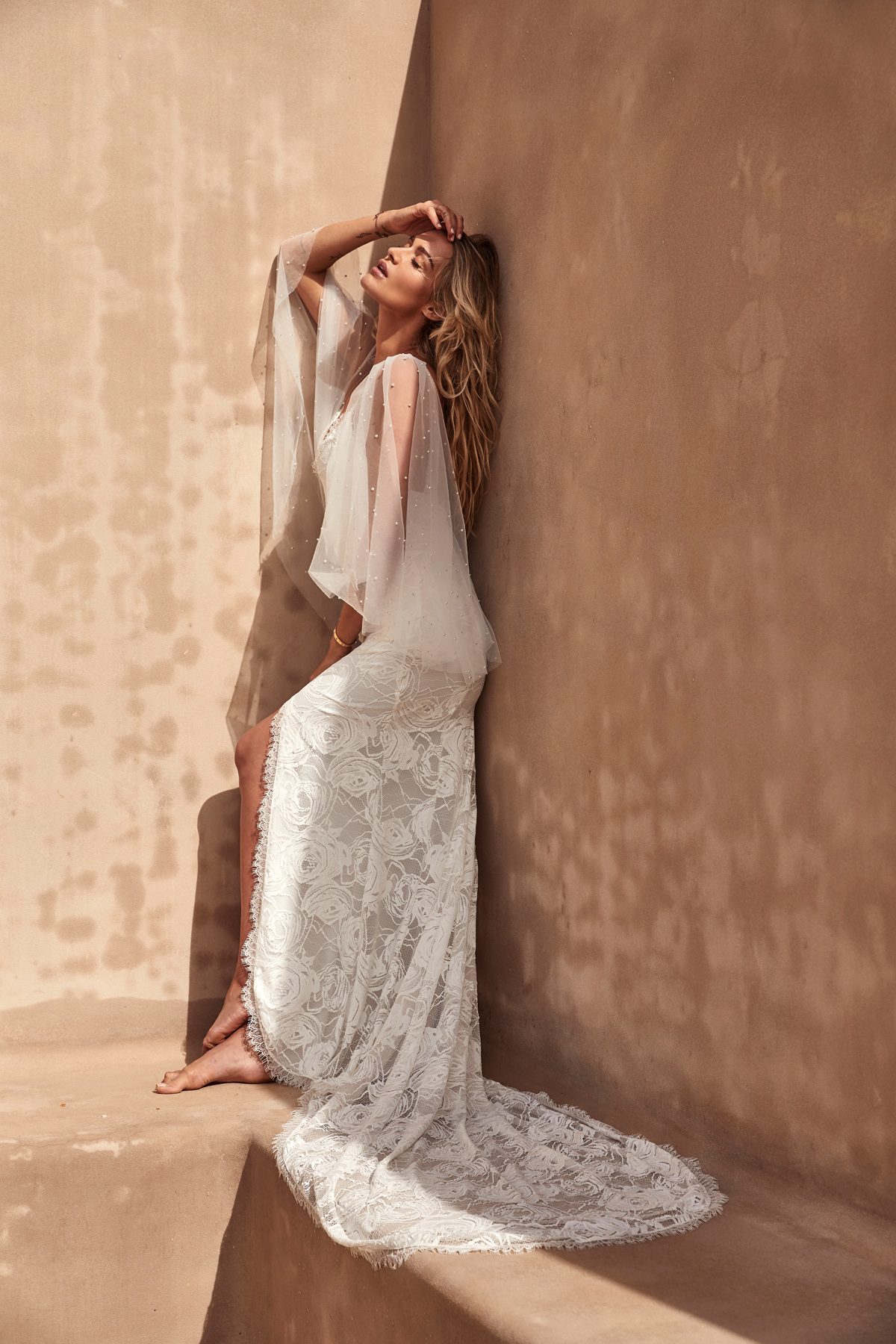 They've created an outstanding collection of, as they say "gowns without the bling". There's no heavy embellishment and adornment and instead, it's the scale and placement of the fabric that creates the impact and, of course, the Grace Loves Lace stretch lace does all the right things for your natural, womanly curves.
This is also Grace Loves Lace's first collection with new head of design, Rosie Keating, who last year, joined the team from London (yay London!). Together, Megan and Rosie have brought together an exceptional collection. The directional metallic lace has been designed in-house and that divine soft silk capsule of bias-cut Crepe de Chine gowns are absolutely stand-out.
This beautiful collection is accompanied by a range of veils and the most gorgeous party foot accessories that provide confident, style conscious modern brides a really beautiful and diverse offering.
"The backpieces are an avant-garde take on bridal jewellery – combining lustrous pearls and gold and silver hardware. They fall beautifully from our signature low-back styles."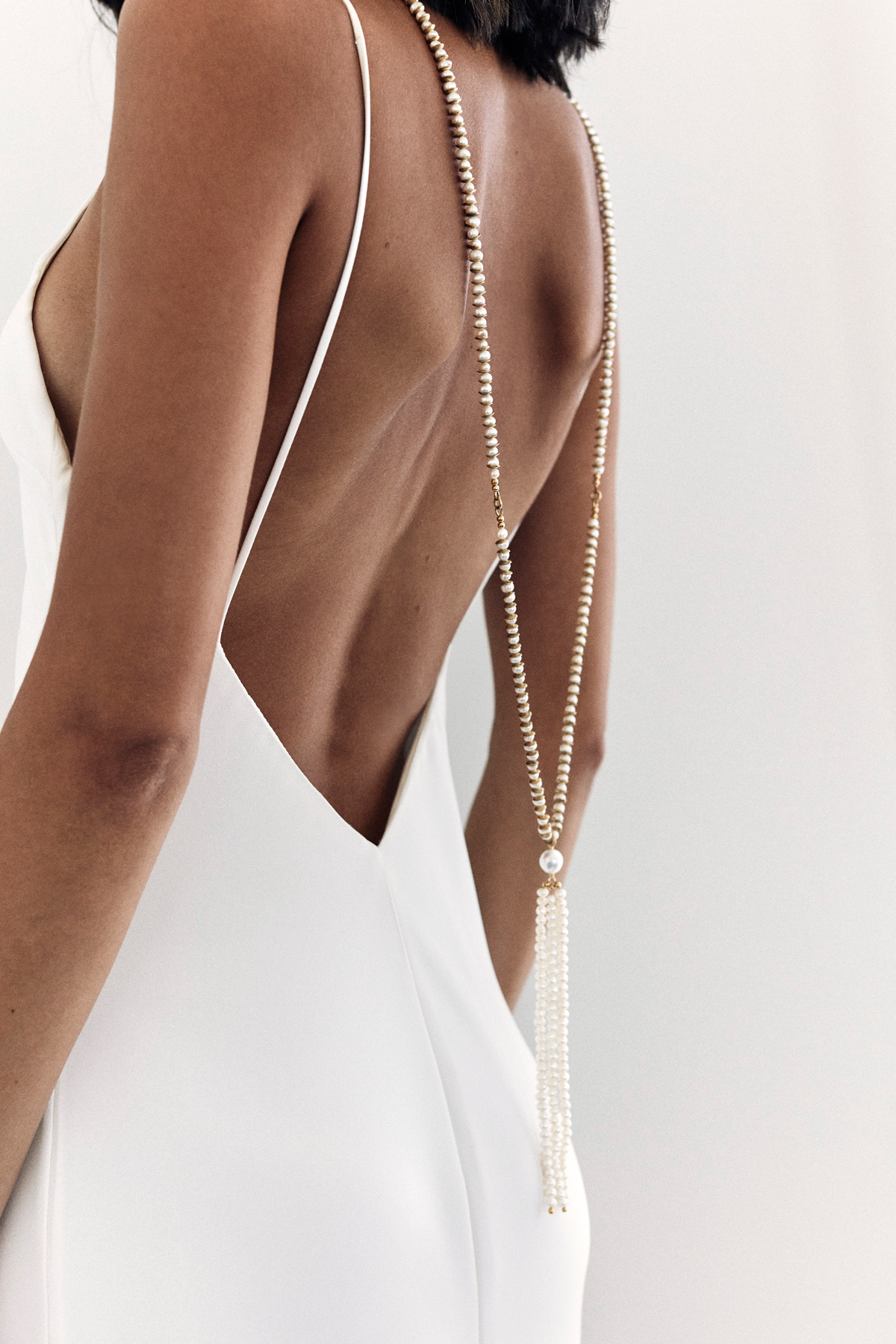 I also adore these little anklet designs (see more in the gallery below). Aren't these just sublime? I am already adoring the pearl trend right now (my Grandma would be proud) but imagine these peeping out sweetly from beneath your gown, or popping them on in the evening with a dress to dance in…
"We're also stepped up our veil game, introducing exciting elements such as pearl studs, shimmering tulle, muted colours and silk burnout. There's also a selection of sheer-yet-shimmering socks and ruffled ankle accessories to encourage creativity and individuality."
All in all, this collection is a masterpiece and it's a fitting way to mark Grace Loves Lace's nine-year anniversary.
Their collections, sold online and in their five flagship stores, have revolutionised how dresses are designed and sold and they play by their own rules, they're led by passion and they design for women, not just for brides. It's refreshing, it's wonderful and it's downright exquisite.
"We are thrilled to offer our London brides the opportunity to be among the first to try on the new collection by booking an exclusive appointment at our stunning Shoreditch showroom. We pride ourselves on delivering an unforgettable experience – whether shopping at one of our exclusive global bridal suites or online.
"Our La Bamba collection pushes the boundaries of bridal like never before. We know our UK customers will be blown away by the new campaign and we can't wait to see them as a Grace bride."
To see the new La Bamba collection for yourself, get in touch with the London showroom to make an appointment via [email protected] or 020 3487 0000. If you'd like to find out more about the new collection or about Grace Loves Lace, just check out their website.
Annabel x