Are you considering a non-traditional gown for your wedding day? If so I hope the wedding we are sharing today gives you lots of inspiration and the confidence to go for something a little different. It really is an absolute beauty and a wonderful foil for the riot of blooms that characterised the day.
The bride and groom are Julz and Andy, who wed on 20 October 2018 in the Thomas Morton Hall at Leith Theatre, Edinburgh. The wedding styling grew from the idea of an 'Autumnal Art Deco disco' as their starting point, adding in masses of red and orange blooms in a nod to the season and lots of lights and glitter to, quite literally, reflect the bride's gown.
Photography Claire Fleck Photography
"We wanted a wedding that people would instantly recognise as ours. We didn't want something overly traditional but wanted to keep some traditions we liked and that were important to us. We didn't have a theme originally but whenever anyone asked the first thing that came to mind was an autumnal, Art Deco disco. Being an October baby and loving Edinburgh at that time of year, I wanted nods to the season."
Photographing the day was Claire Fleck Photography, and wow what beautiful images and such vivid colour. I love her shots of the autumnal flowers and her newly-wed portraits have such a feel of intimacy and romance.
"Claire was fantastic from start to finish. On the day I don't really remember her being there, she just blended in with all our friends and family and gave us the wedding photos dreams are made of. They are all so natural and filled with love, exactly what we asked for."
The bride's kitten-heeled metallic sling-backs were Dune and her scent was Le Labo Jasmin 17.
"The smell of jasmine always makes me feel calm so it seemed a perfect scent to wear on the day."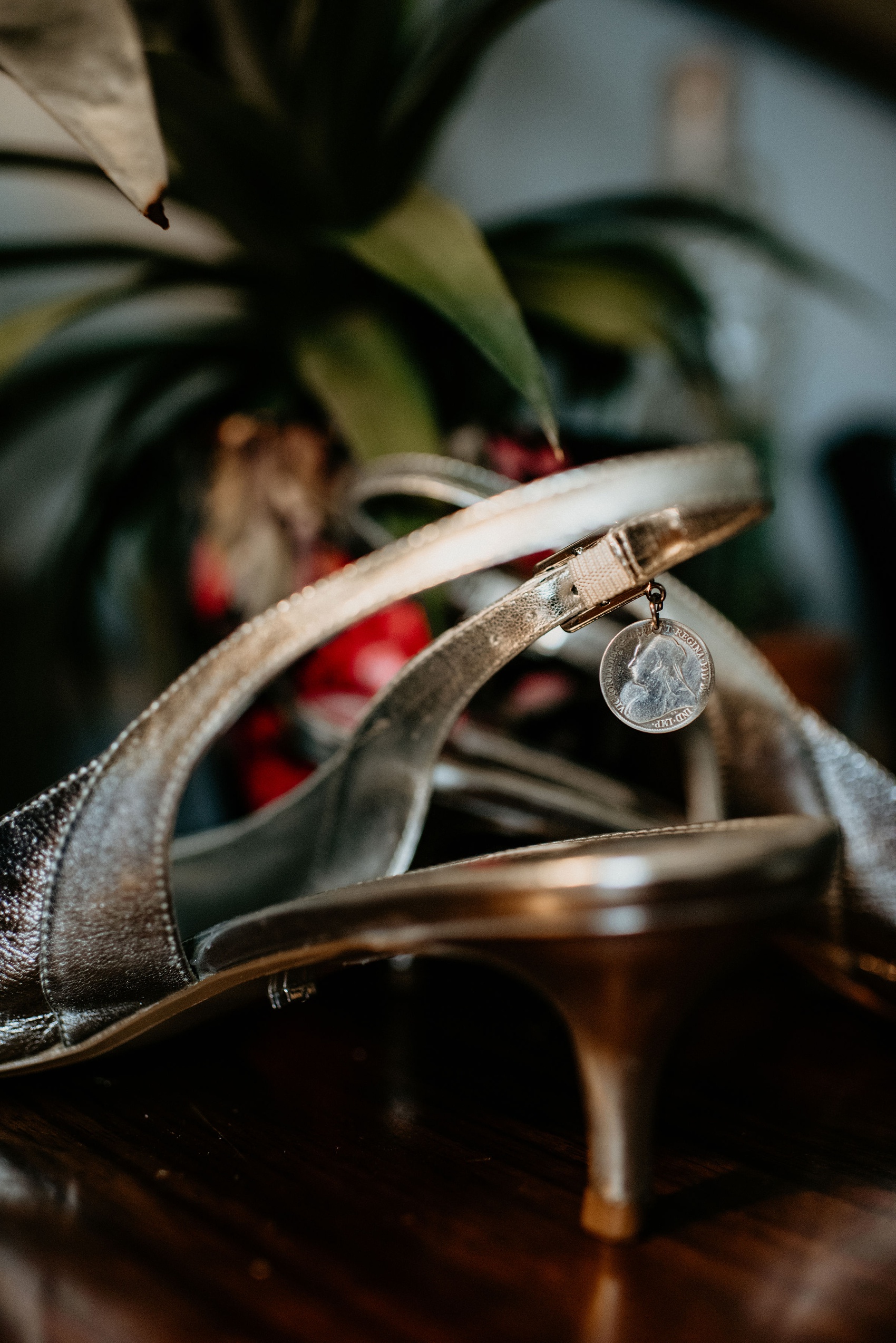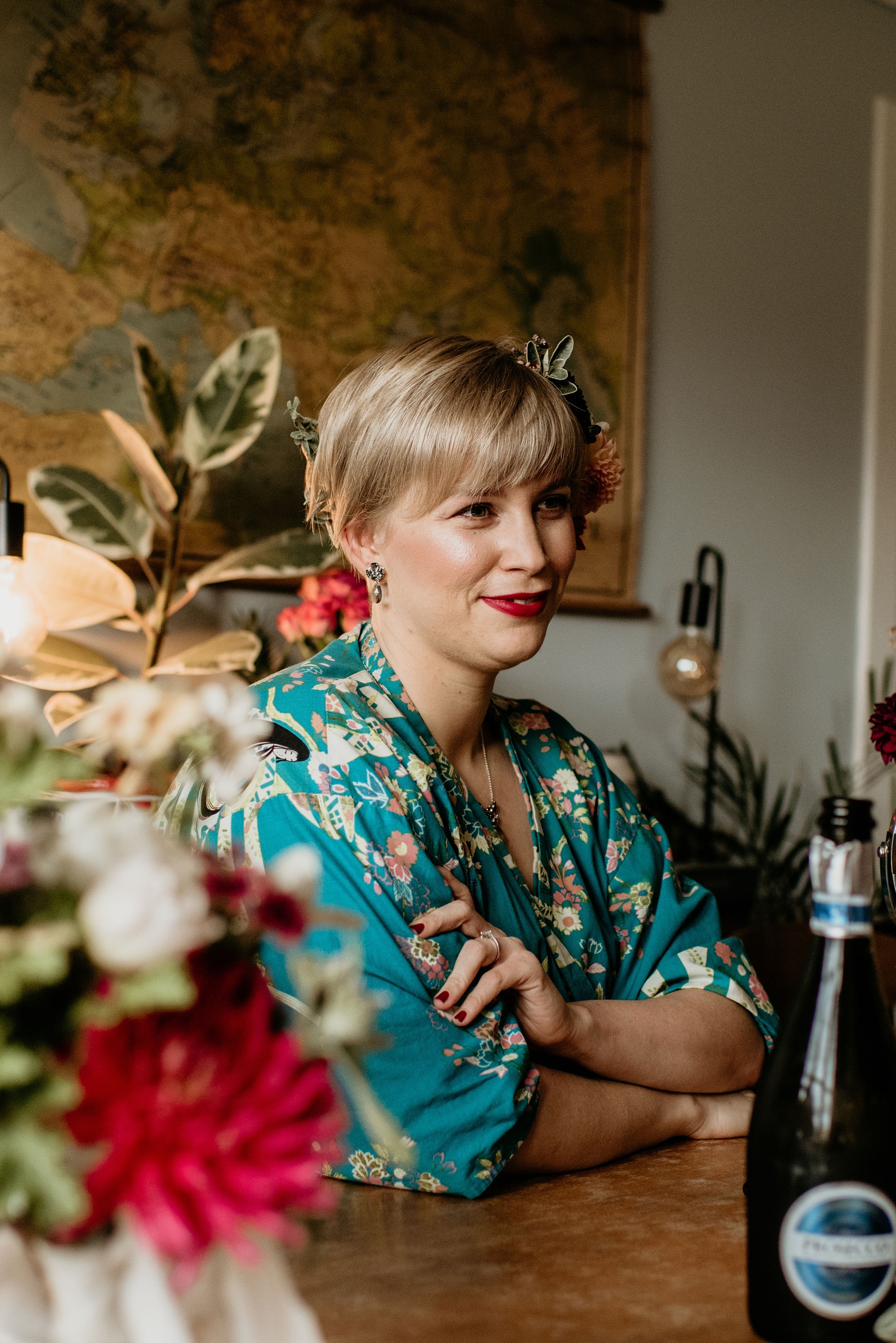 The couple planned their wedding in eight months following their beach engagement.
"Andy started working in my friend's bike shop opposite my house. I would pop over most days for a coffee, more so when Andy started working there. We quickly became inseparable and very quickly became an item. Fast forward a year and a half to a beautiful sunny day in February. After having a breakfast BBQ on Yellowcraigs beach we were walking along the coast and Andy stopped and, I thought, had dropped something and went to pick it up."
"It was a complete surprise. Poor Andy was down on one knee on soggy wet sand for a while as I shouted 'Really?' repeatedly before quickly saying yes and crying a lot. We spent the afternoon visiting my family to let them all know and then went out for dinner at our favourite local restaurant, Good Brothers in Stockbridge. We were engaged for 8 months, so it was a pretty quick turnaround but completely manageable."
Don't Julz's warmth and personality just leap out from her words? Her vitality is clear to see in her choice of gown too, a simply-cut but show-stopping sequinned design made by Rowan Joy Bridal. Cut to midi-length so that it swung beautifully as the bride moved, it featured floaty bat-wing sleeves and a deep V front and back.
"I knew that I was never going to wear a white dress. During the eight-month planning process I never tried on a wedding dress. I am nothing but decisive and knew exactly what I wanted to wear. It was always going to be sequins and something that could be worn again. I had drawn multiple sketches and made a mood board of shapes, colours and textures."
"I met Rowan and she just got it instantly. I studied textiles at art school and am under no illusion that Rowan took on a hugely difficult task – sequins are a nightmare to work with – but she made something beyond all my expectations and something that I will wear again and again."
With such a knock-out gown, accessories needed to be minimal so the bride added a beautiful half-crown of fresh flowers by Pyrus Botanicals which looks wonderful on her cropped hair. Her earrings and necklace were designed and made by Edinburgh designer Rene Walrus.
"The necklace was a secret wedding gift from Andy."
Pyrus Botanicals were the creative force behind the wedding flowers and my, how beautiful! I adore the vivid colours and wild and natural feel of the bridal bouquet which really pops against the silver sequins.
"Pyrus have been friends for years. I am basically their number one fan and as soon as we got engaged they were the only florist on my list. Alongside making the most glorious floral arrangements and installations, bringing a walled garden back to life and being creative masterminds, Fi and Natalya are two of the nicest women. Everything they do oozes with kindness. They were an absolute dream to work with and took everything I had in my head and made it a reality."
Womankind Beauty created the bride's glowing look and her deep red lip, as well as styling the bridesmaids. They wore gowns and shoes of their own choosing, all in beautiful jewel tones. The flower girl wore a matching floral crown and a velvet M&S dress, embellished by the bride with sequins taken from her own dress.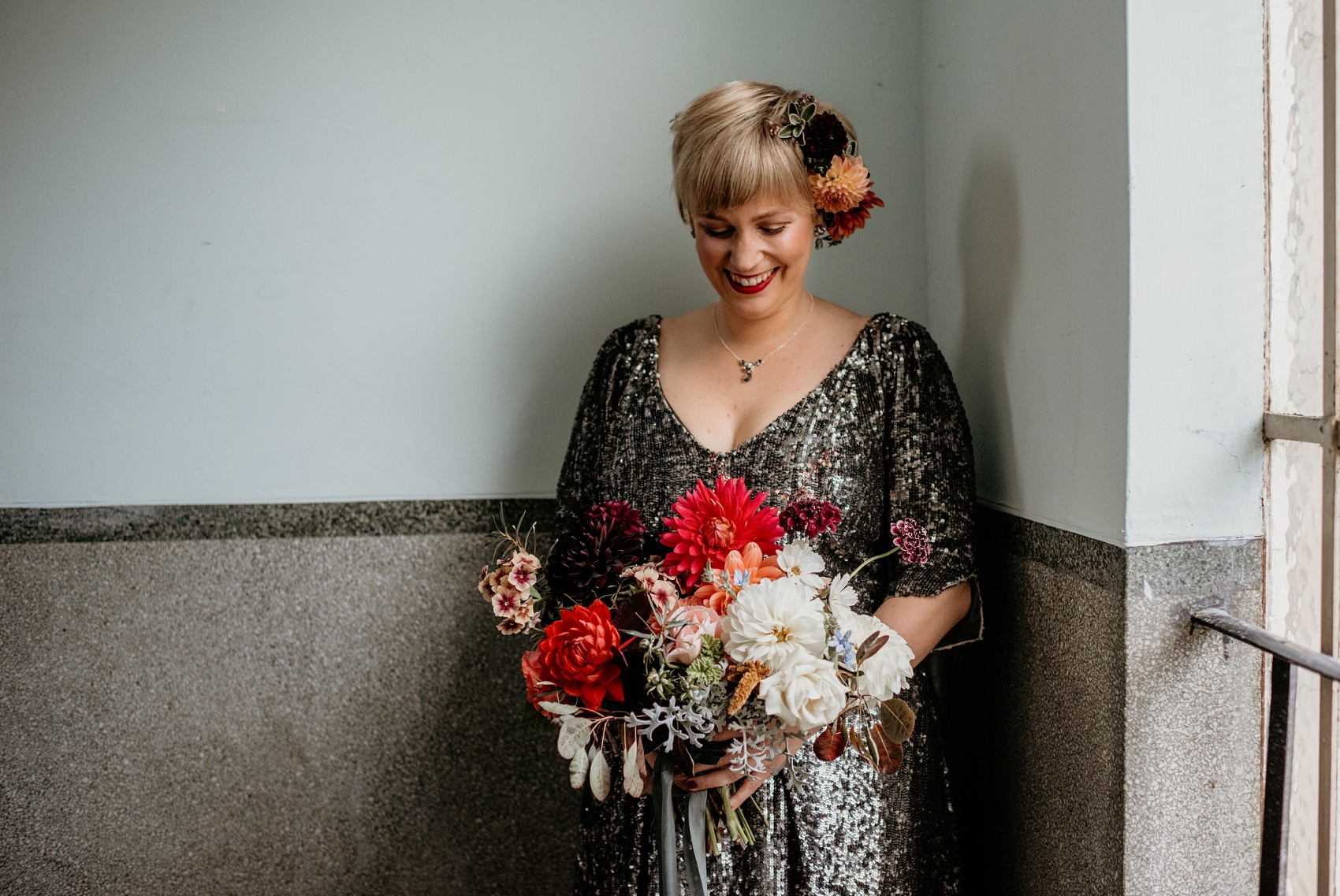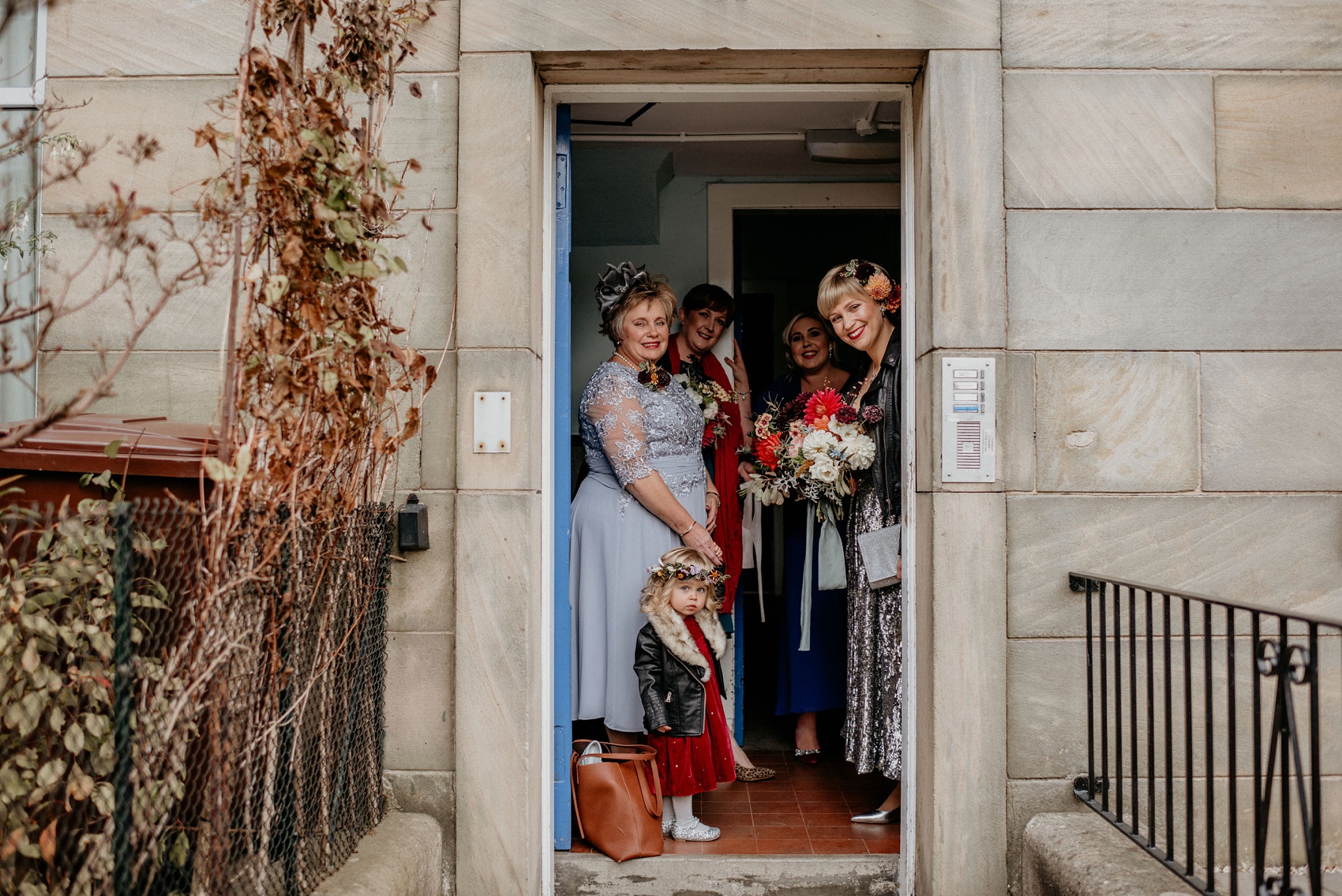 Alan of Hunter Kingsley tailored Andy's bespoke suit, a smart three-piece in a light check cloth.
"I know Alan from art school and he was our first port of call when looking for Andy's suit. Andy chose a cashmere blend, Prince of Wales check for the suit and a petrol blue tweed for the waistcoat. This, combined with a fuchsia print lining, really made the suit pop!"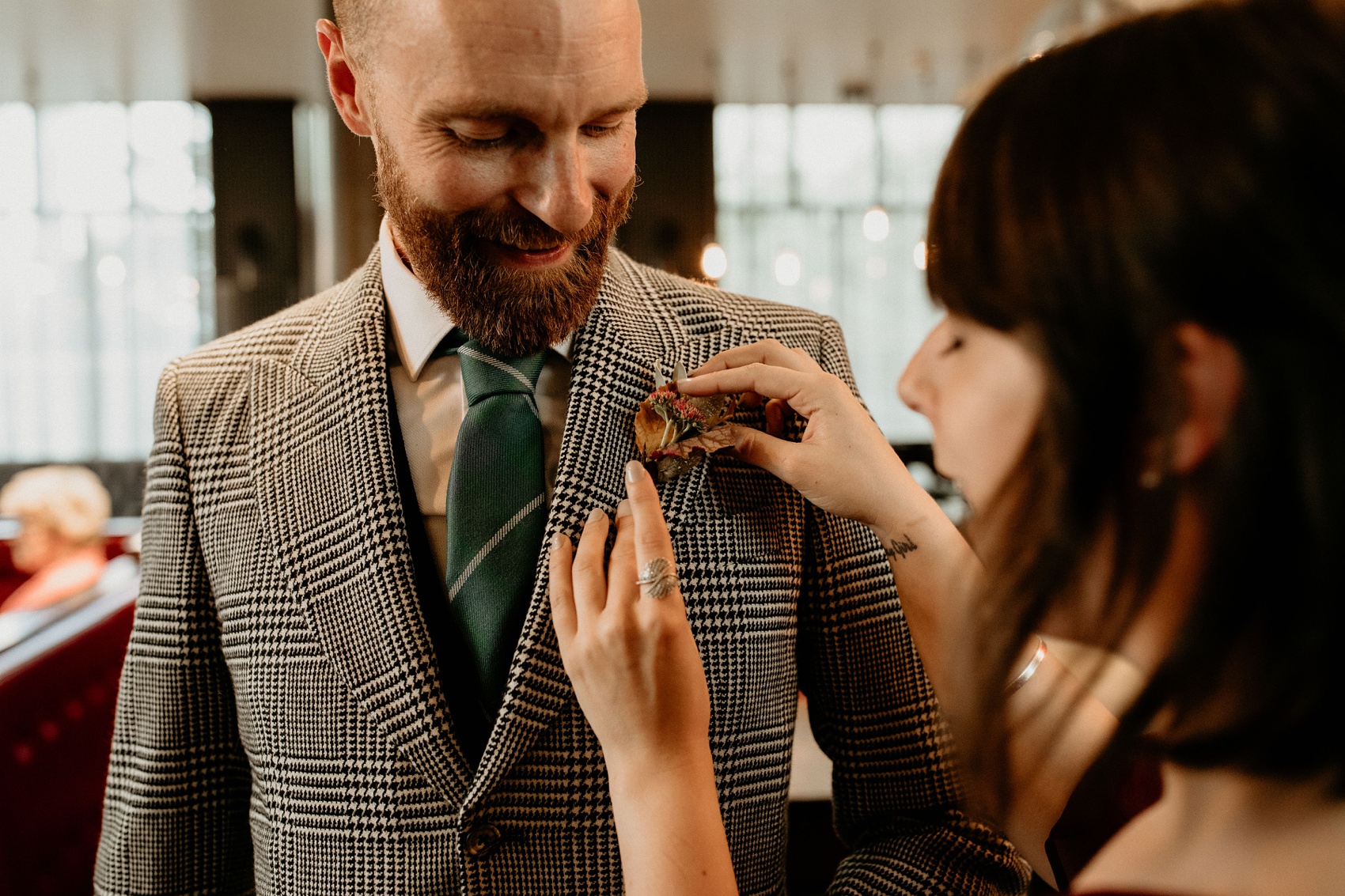 He added a tie in his family tartan, Loake shoes and an Instrmnt watch, as well as a cute buttonhole, to complete his outfit.
Setting the Art Deco tone for the day and its styling was this beautiful metallic stationery with its Art Deco motif, which Julz designed herself. The ceremony was held in the opulent Theatre, decorated so effectively with silver pumpkins and pineapples, massive balloons with tinsel garlands, opulent florals and, in such a gorgeous touch of inspiration, sleigh bells for people to play whilst Julz walked down the aisle.
"I remember eating pizza with Andy a few months after we met. 'At Last' came on and I was thinking how perfect the words were – life was exactly like a song now that I had met him."
Leith Theatre, with its 1930s architecture, was the ideal blank canvas backdrop for the humanist ceremony and the reception.
"We wanted a venue that would allow us to put our own stamp on it. We have always loved Leith Theatre – it's an Art Deco dream! It was also good to know that the money we spent hiring the venue went in to the redevelopment of such a stunning building."
The bride had also embroidered a banner which hung over the stairs in the ceremony room. It featured the words 'At last, my love has come along, my lonely days are over, and life is like a song' from 'At Last' by Etta James.
Julz asked her father to walk down with her, as 'Baby I Love You' by The Ronettes played. The ceremony was led by humanist celebrant Sheila Lawtie and included an Irish Blessing and a reading from Camera Obscura's 'I Love How You Love Me'.
"We wanted the ceremony to be short and sweet. We wanted to party! Sheila was a breeze to work with because she understood exactly what we wanted and how we wanted it done. The ceremony was all about us, how we met and our life together. Our vows even included promising to make each other cups of tea. It was perfect."
Jeweller Cecilia Stamp designed and made the couple's wedding rings.
"I have followed Cecilia on Instagram for ages and absolutely adore her work. We had really struggled to find wedding rings, especially as Andy wasn't very keen on wearing one. As soon as we met Cecilia and chatted with her about what we wanted and what she could do, his mind was completely changed."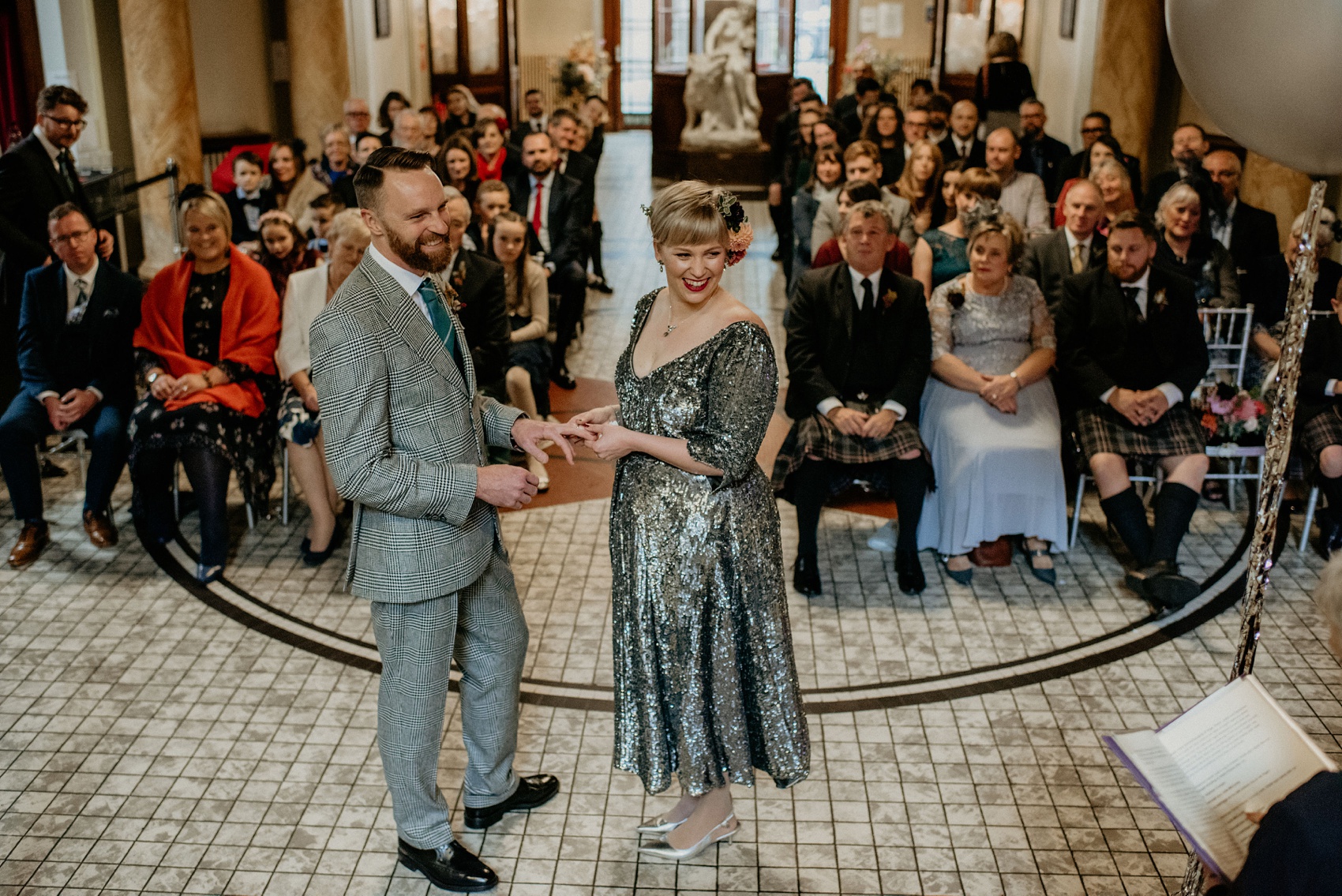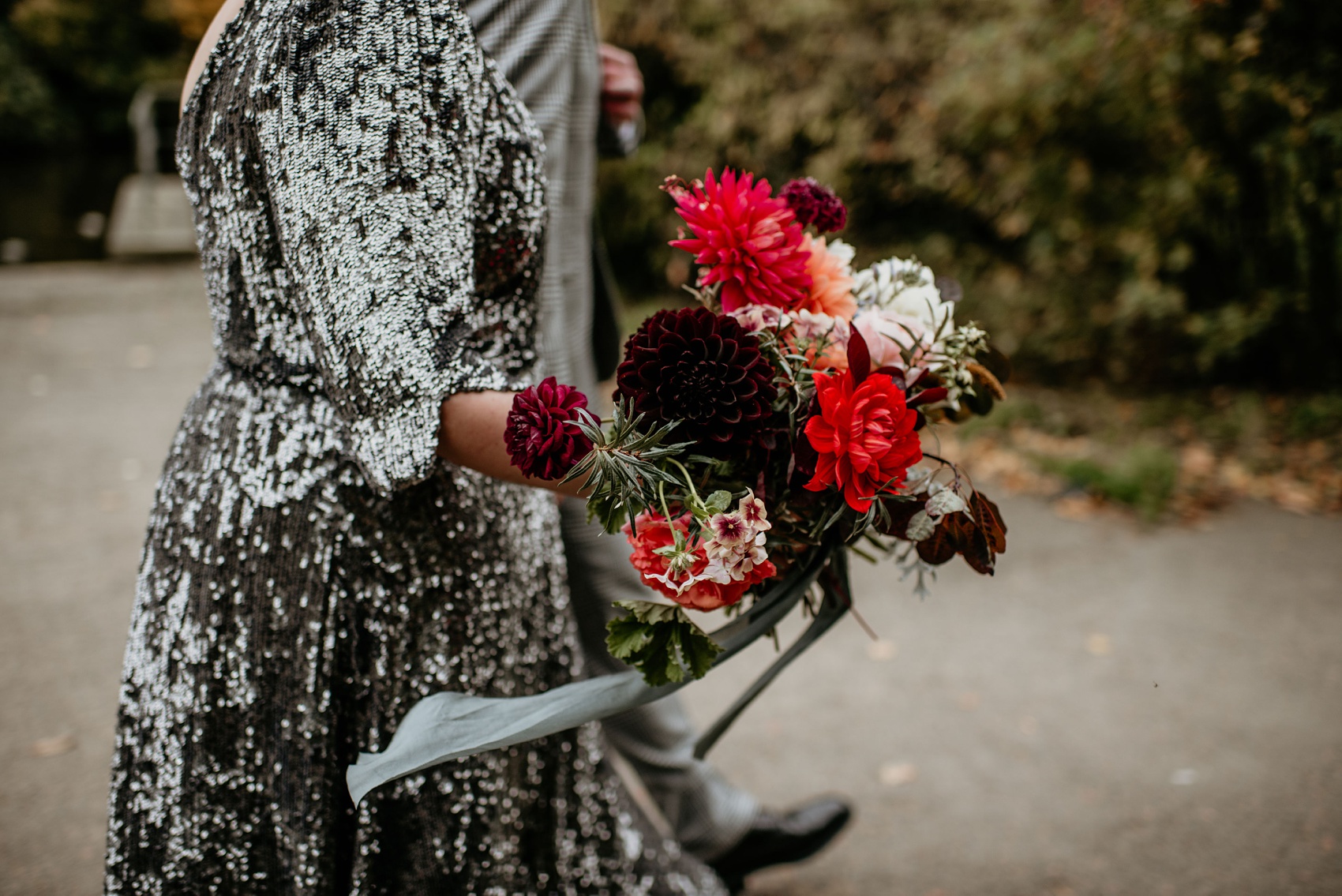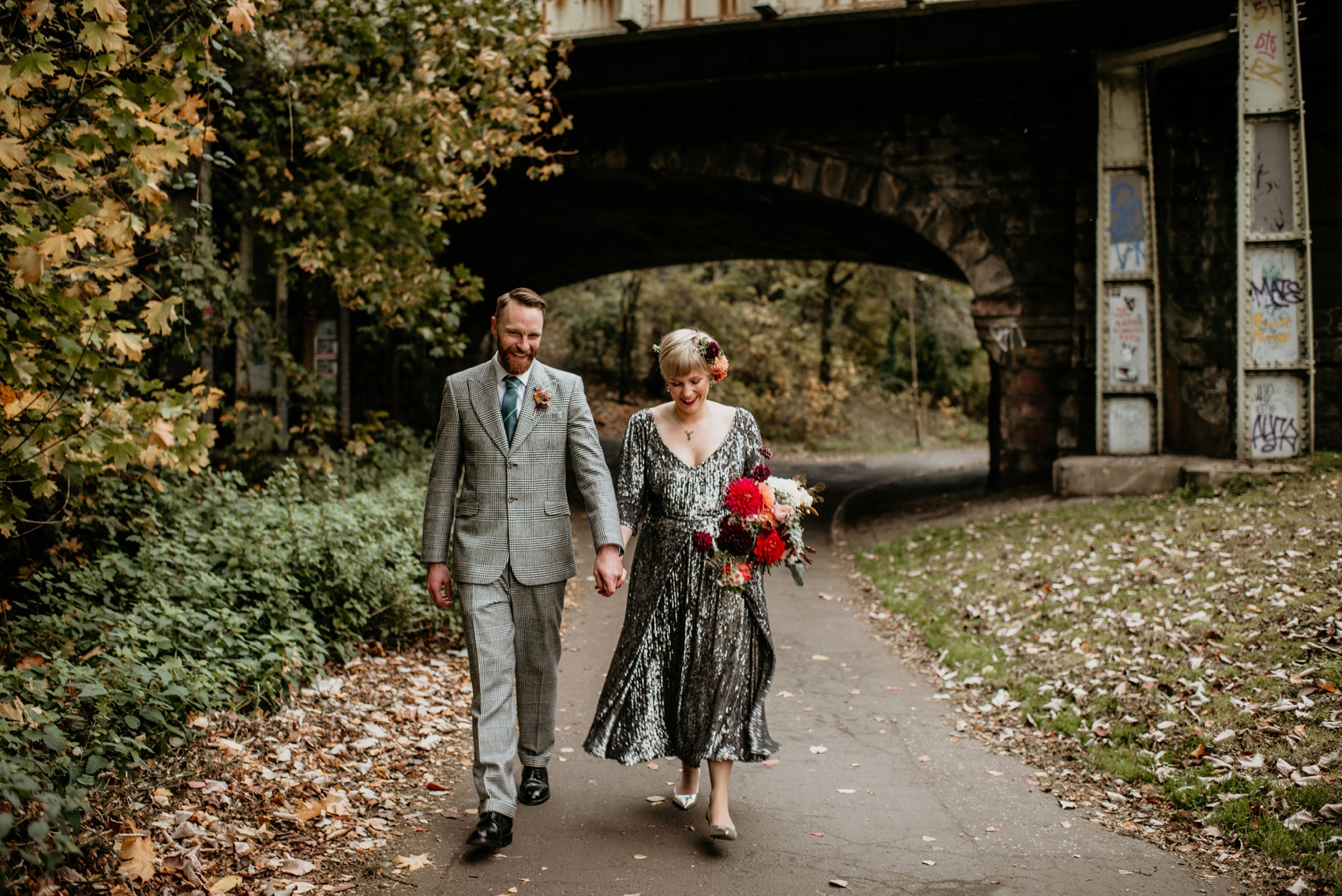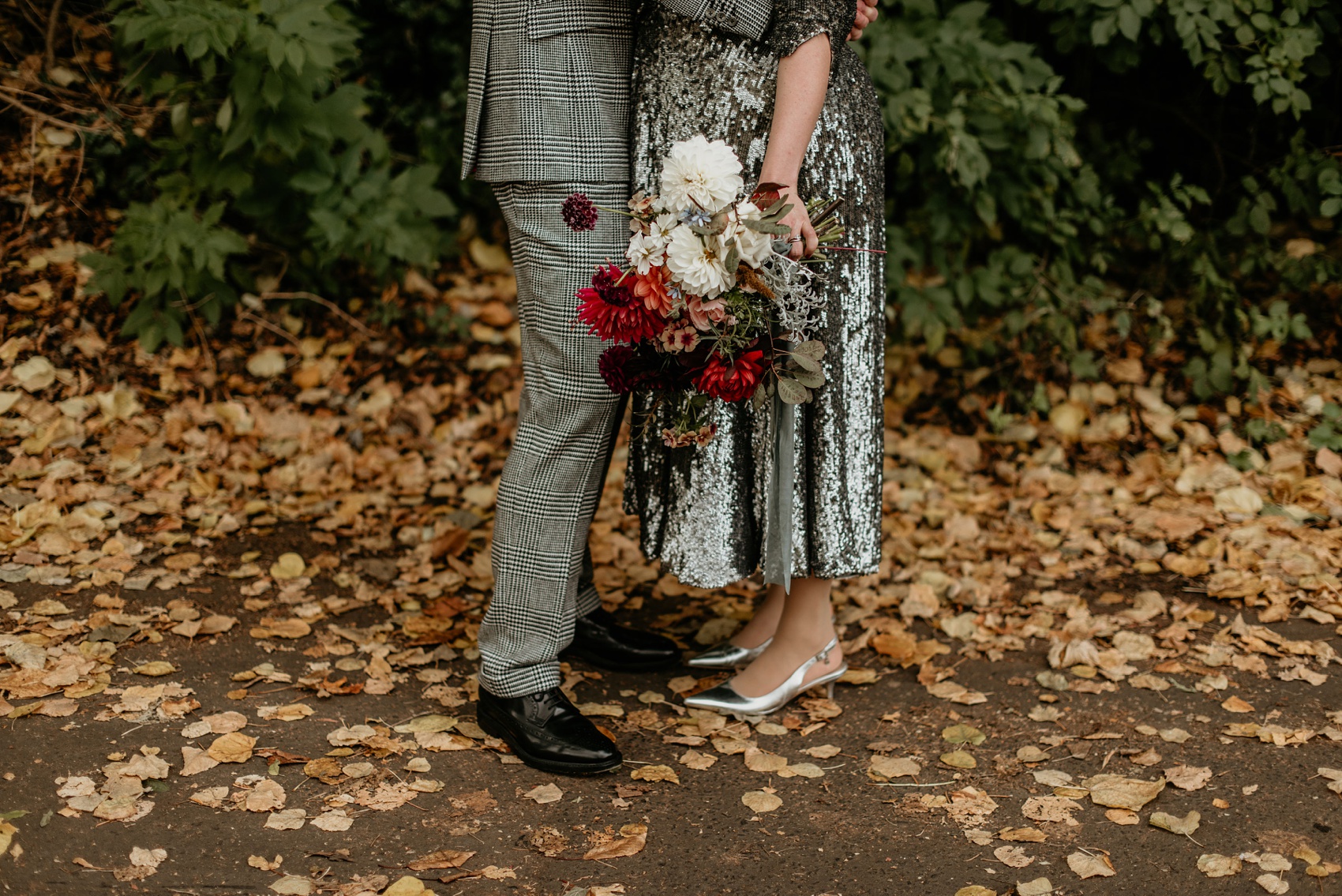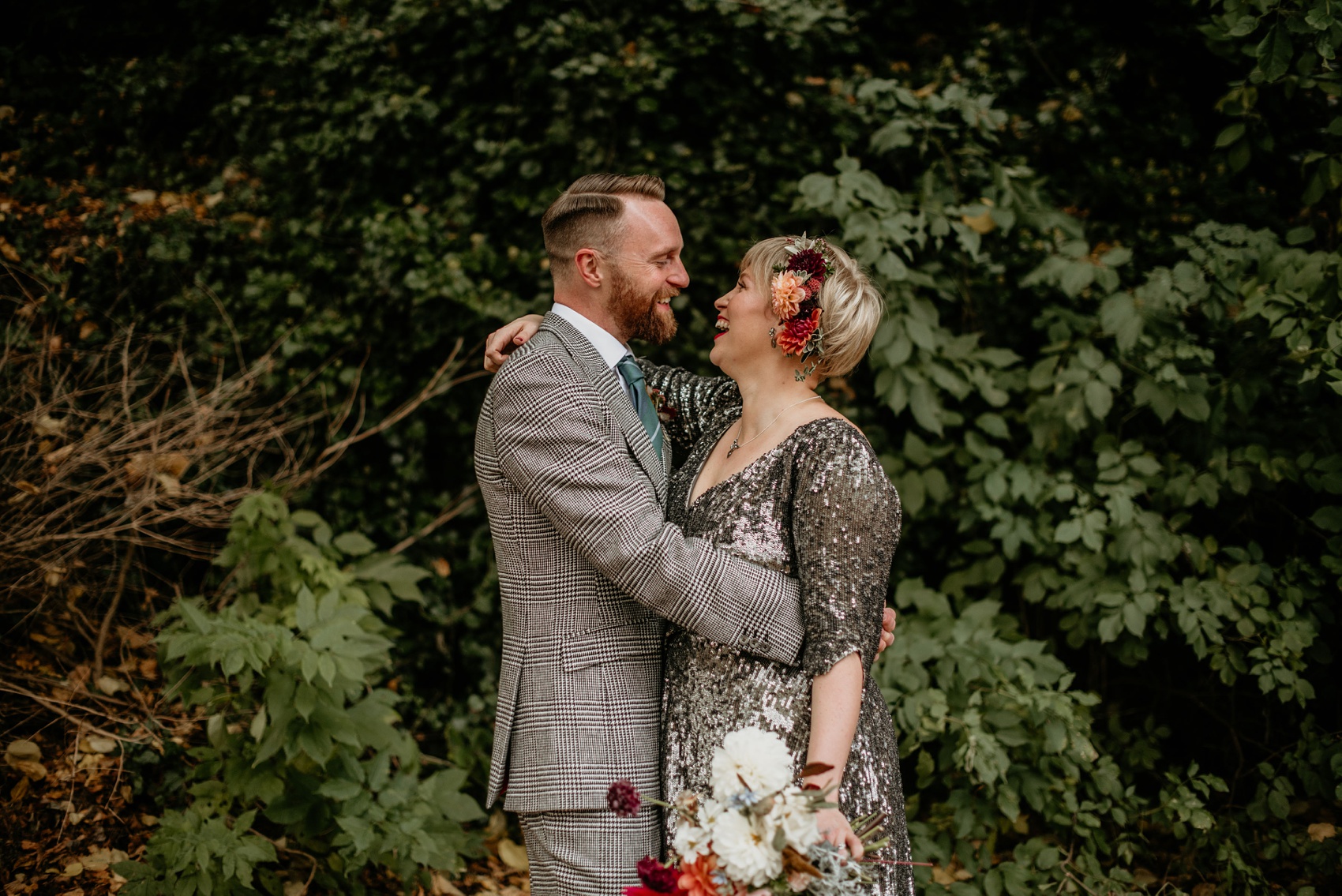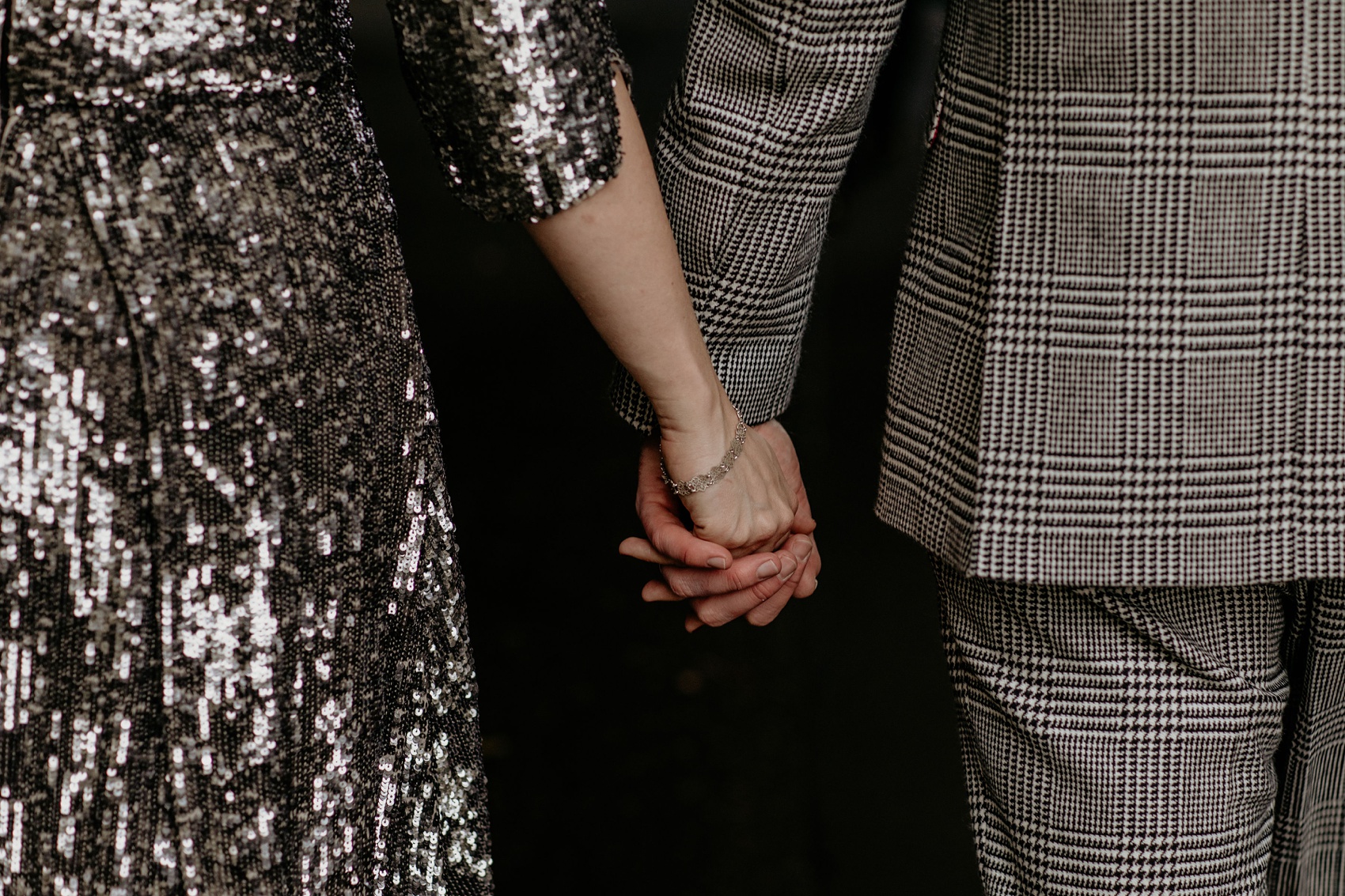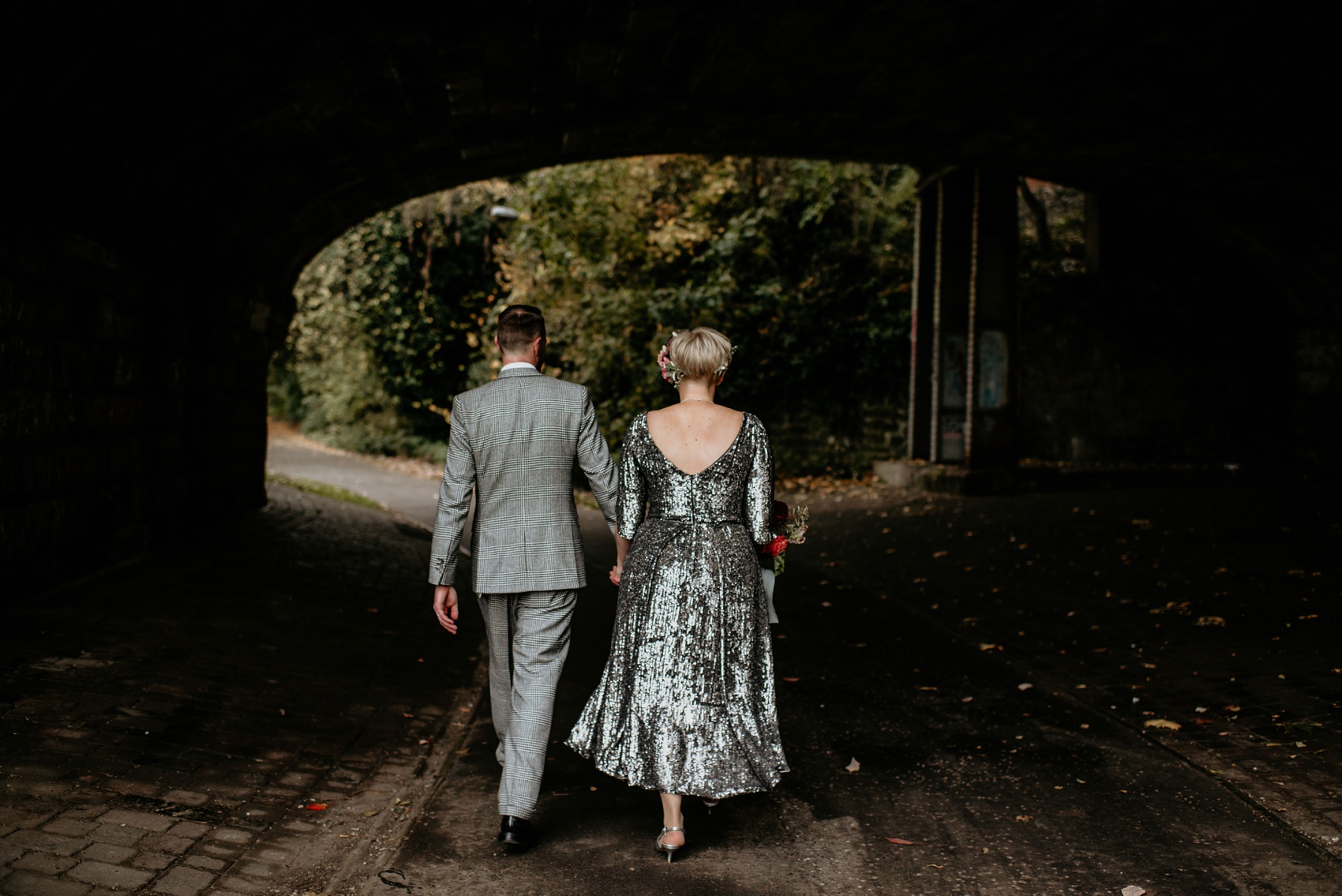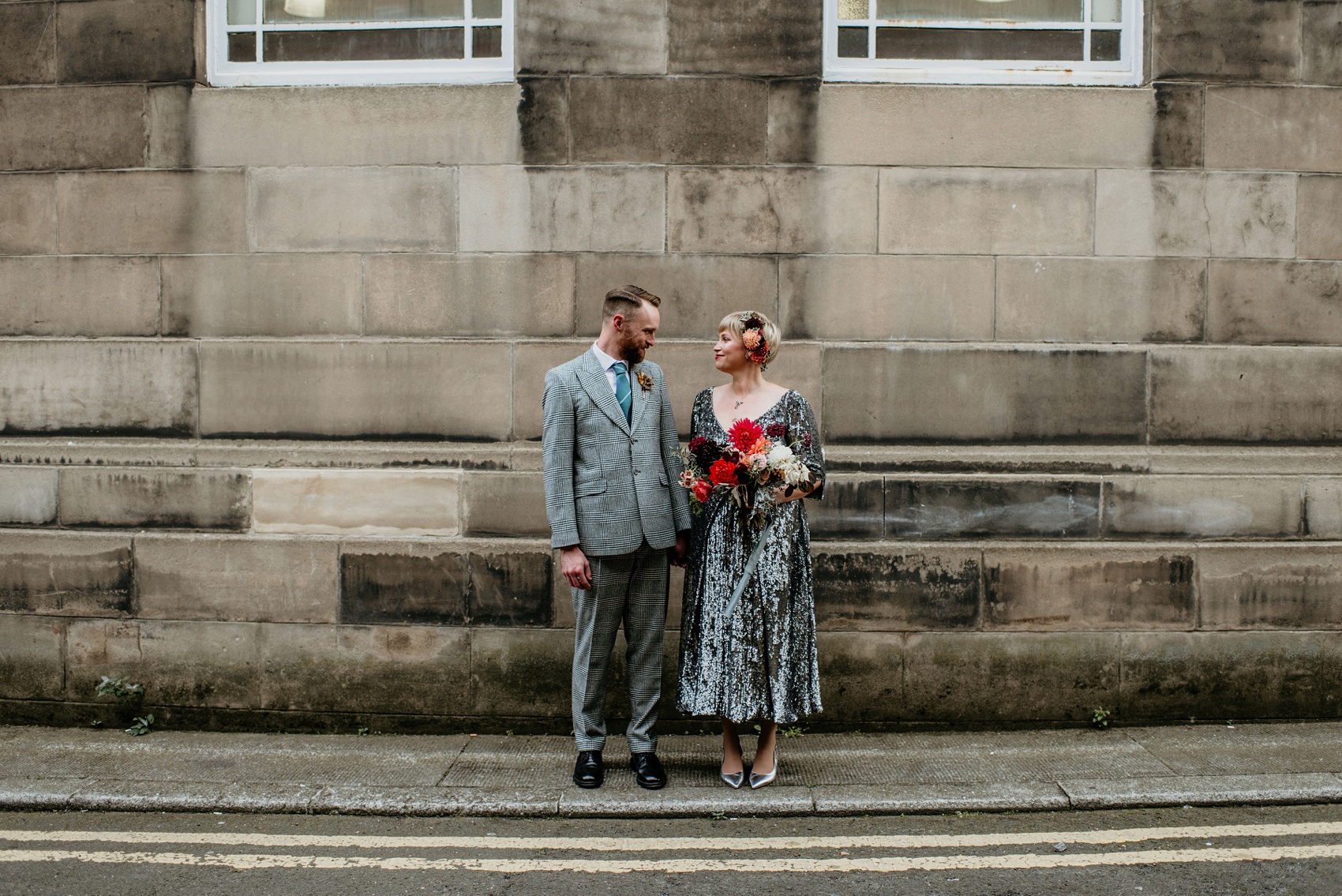 After the ceremony it was party time for the newly-weds and their guests. They headed outside with their photographer to get some beautiful canal-side shots, before hiding away in a darling caravan for a picnic and some precious time together.
"The caravan is named after my Papa, Tom. It was a project I worked on years ago and has stayed in the family for birthday parties and special occasions. It acted as a wonderful wee den for Andy and me to relax in after getting our photos done. Lovecrumbs had made us a lovely picnic to have inside (by this point we were starving) so we sat, drank Champagne and had our first picnic as husband and wife."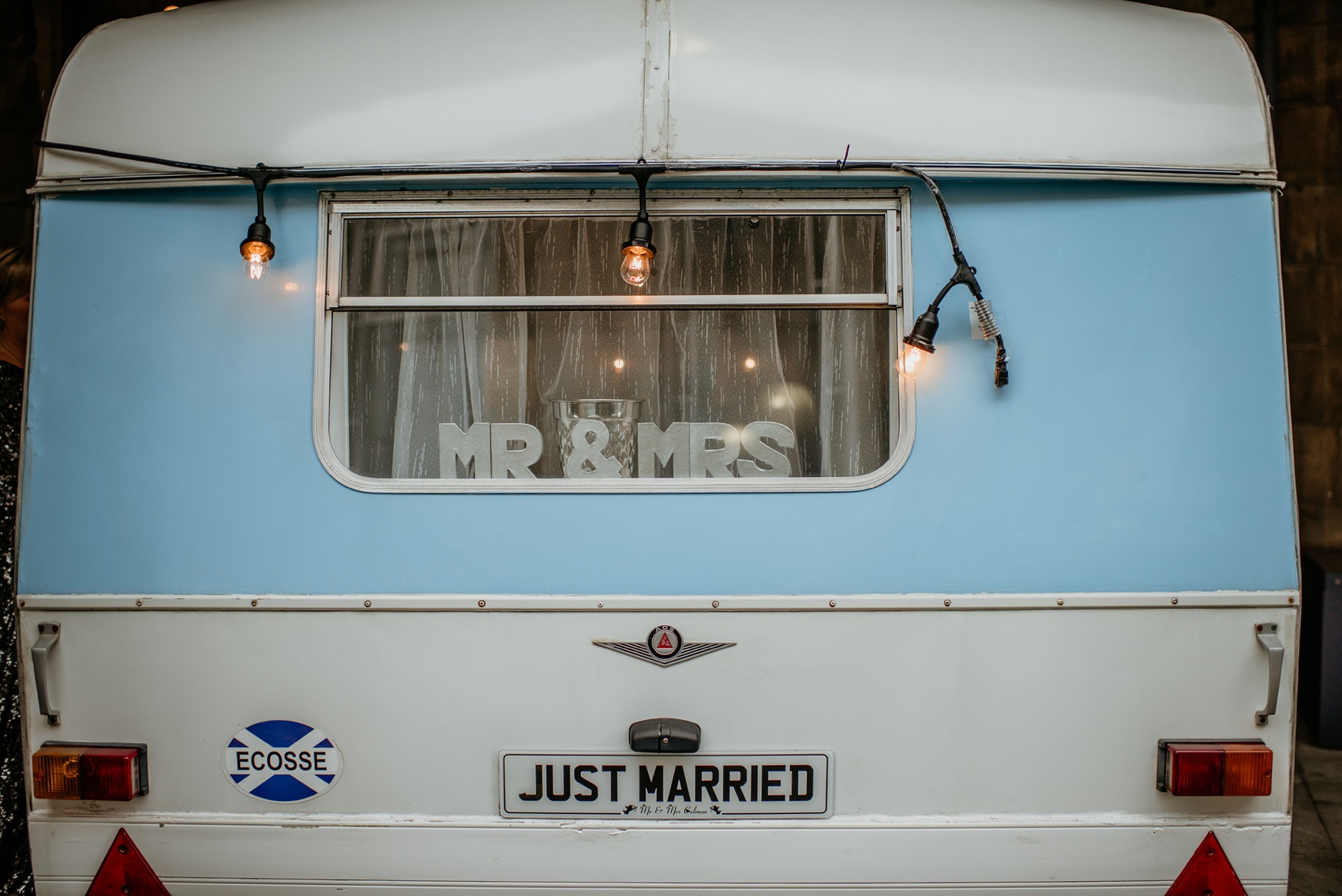 "It was lovely to have some time just the two of us, after a fairly hectic morning. It also acted as a gin den for the later part of the evening and a hangout for our nieces and nephews to escape their parents' embarrassing dancing."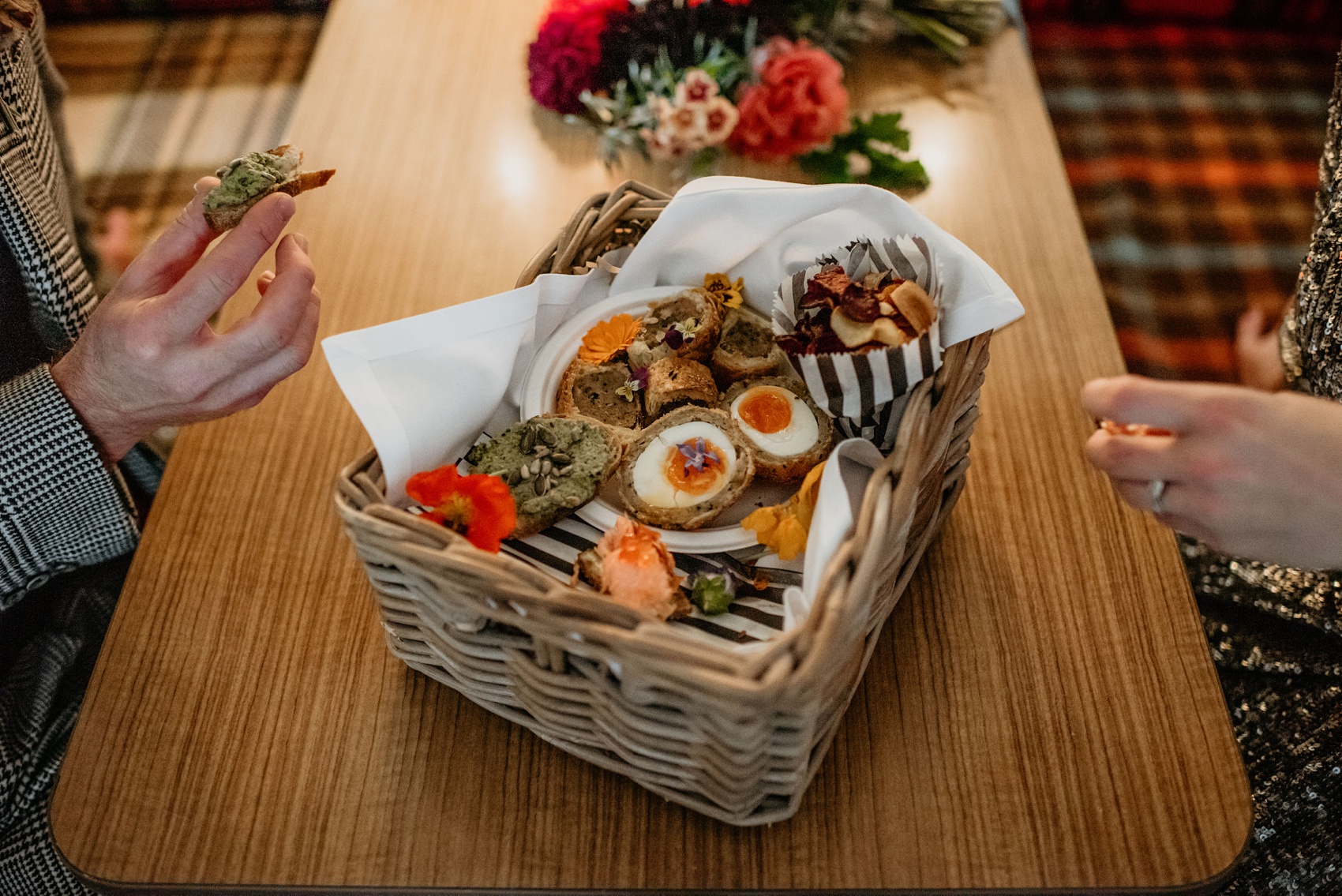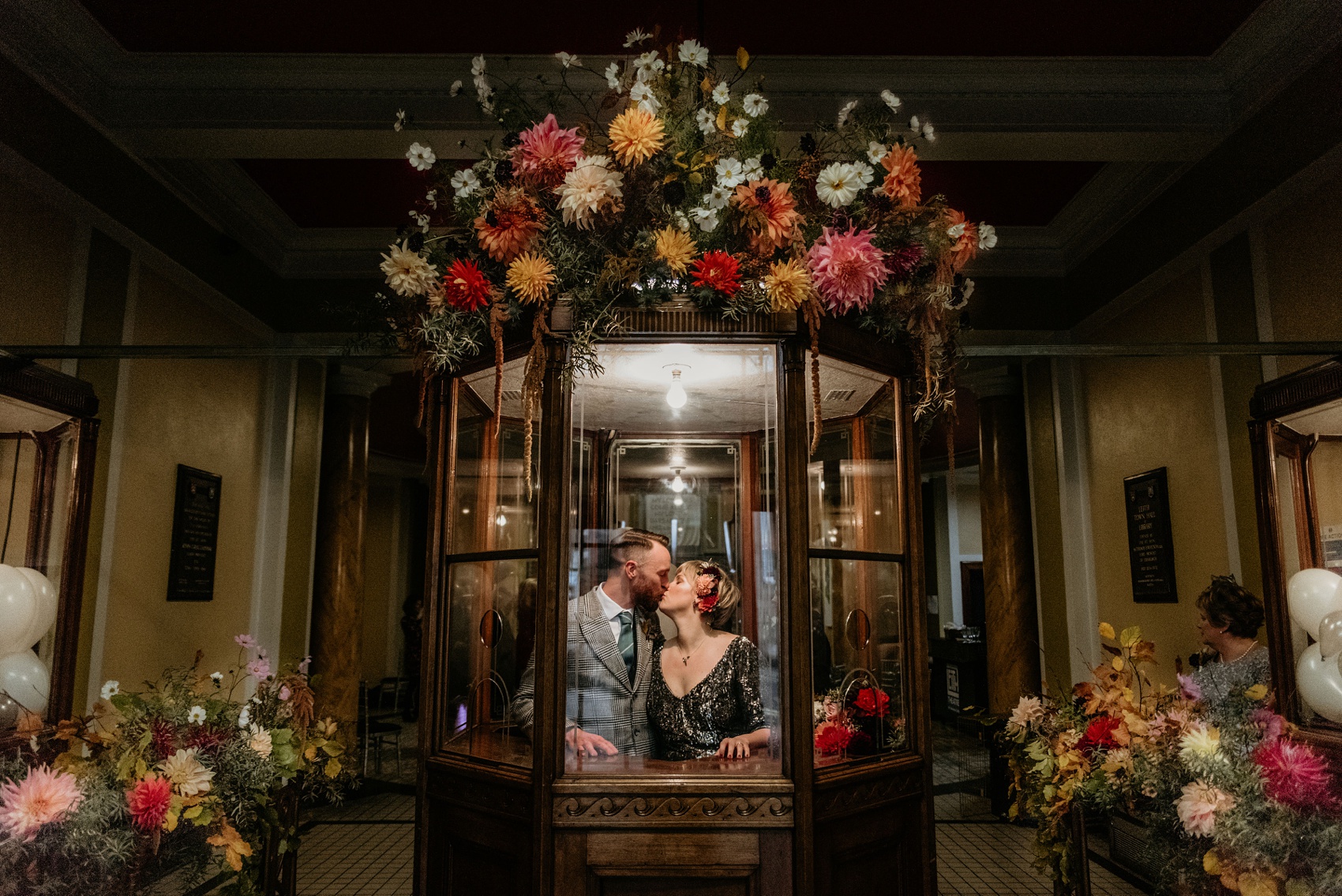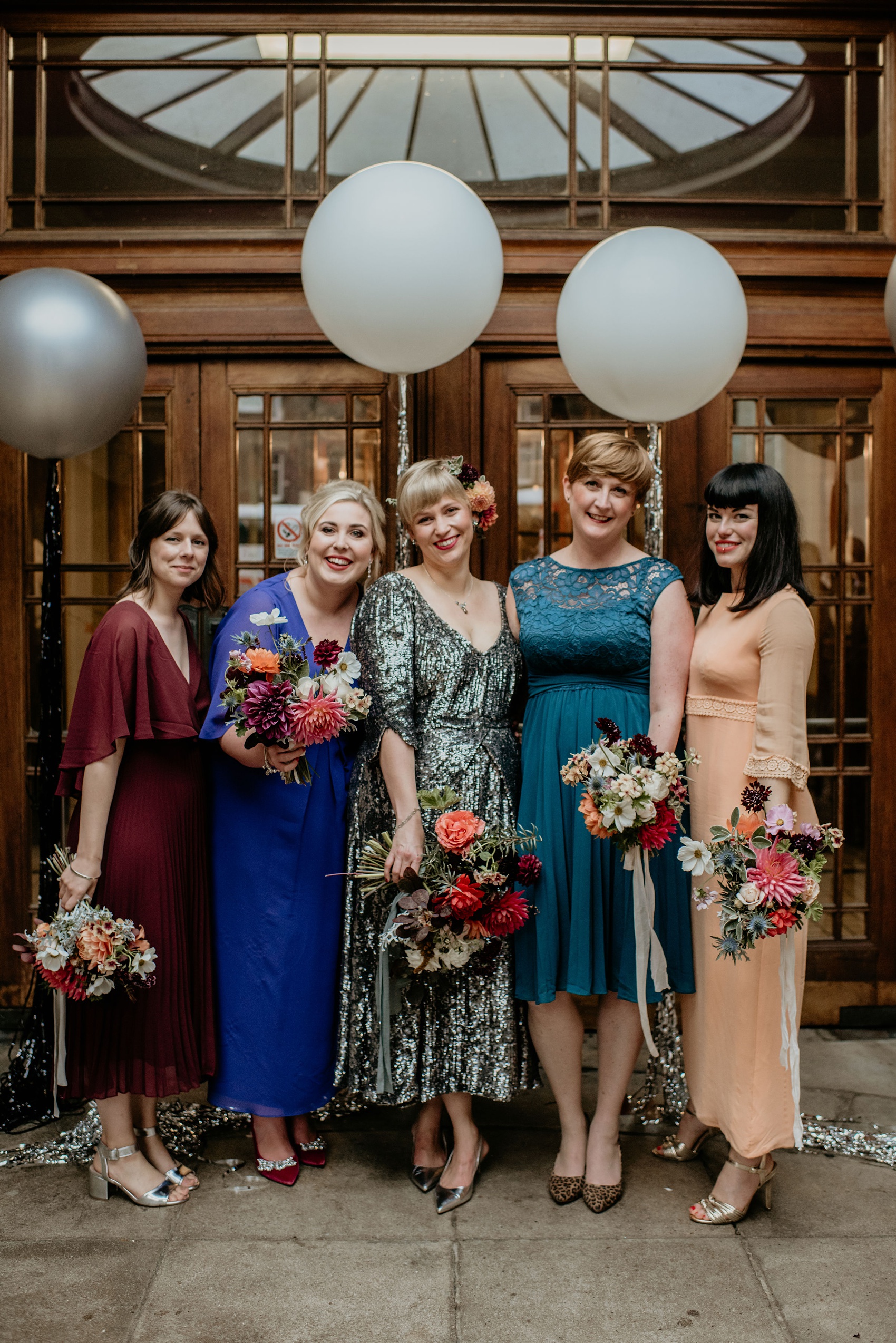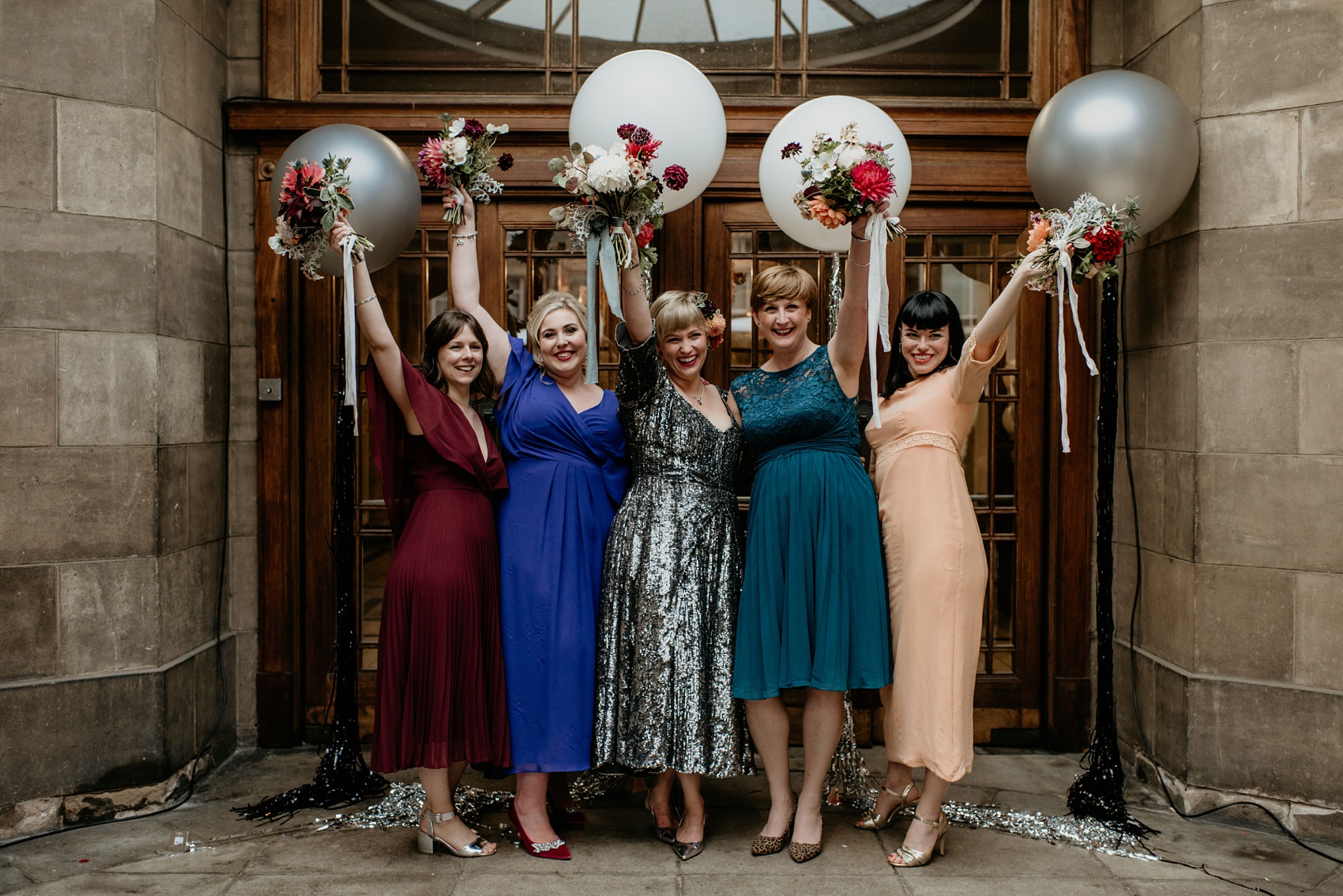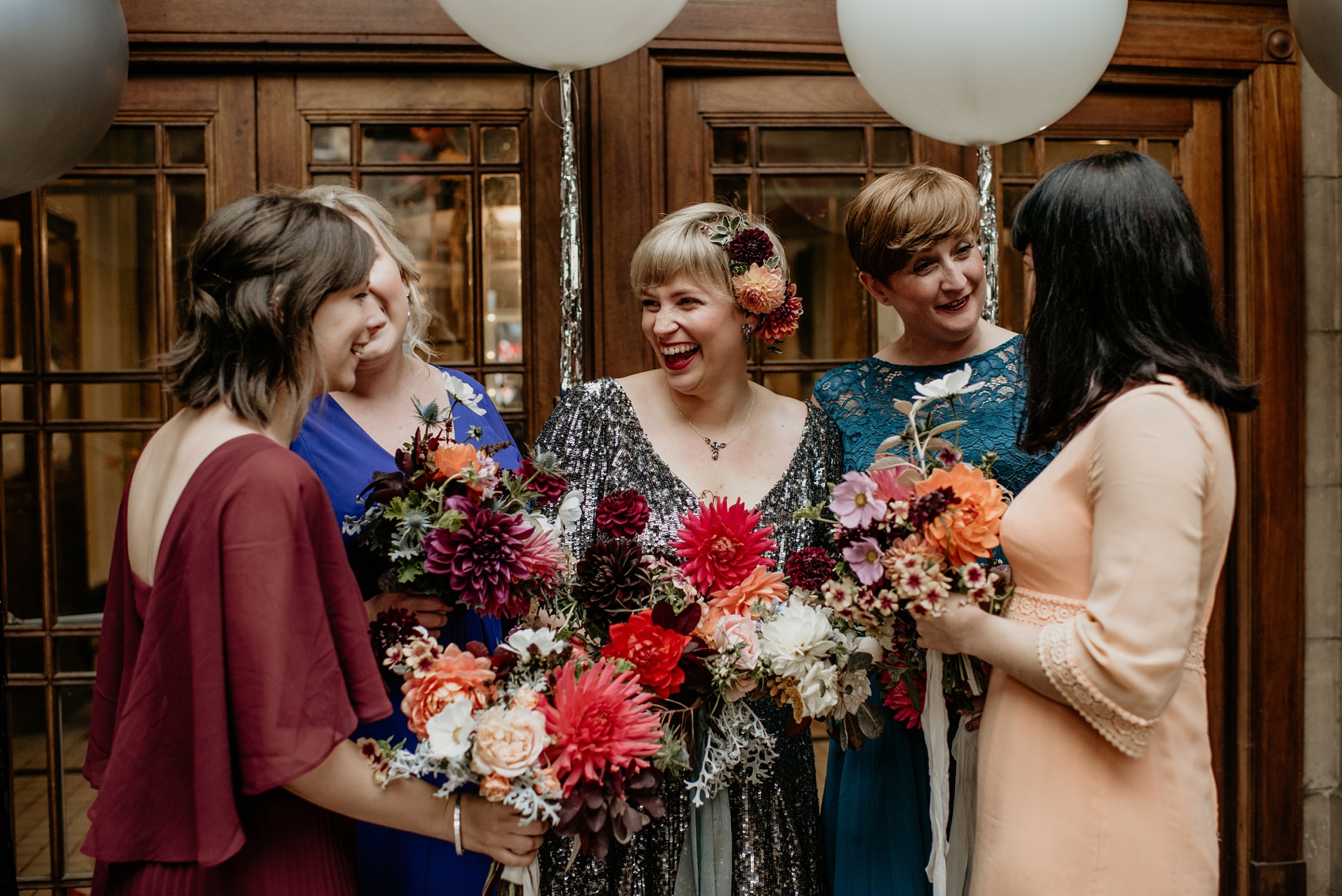 Although Julz planned and styled the day herself, she enlisted the services of Ellie at The Wedding Enthusiast for on-the-day co-ordination.
"Ellie came up from London to help coordinate our day. A few months before the wedding I was left heartbroken as I realised that I wouldn't be able to do all the things I was really excited about doing – balloons, room dressing, table organising etc."
"It was really important to me that we had someone we could completely trust with this part of the day. Ellie was amazing and kept me constantly updated while I was getting my hair and make-up done so I could remotely direct everything that needed to be done. Ellie was fantastic, so helpful, brilliantly good fun and is now a pal for life."
"Our table numbers were pumpkins spray-painted silver and we had munchkin pumpkins dotted around everywhere too. I knew my dress was going to be made of sequins so we wanted a bit of disco around the venue as well. We had 100 mini disco balls on all the tables. Luckily for our budget, my cousin is studying sound and lighting at the Royal Conservatoire in Glasgow so he decked out Thomas Morton Hall beautifully. We had amazing festoon lighting, disco lights and confetti cannons shipped in from Germany." 
Lovecrumbs also provided the sharing banquet for the wedding party, which was served in the theatre under hundreds of festoon lights.
"I went in to chat to Lovecrumbs about cakes and came away with an entire catering company. Despite having never done a wedding before, they were both completely up for doing it after hearing me moan about other catering companies whose prices were astronomical and menus weren't very creative. We gave them an idea of the type of food that we wanted – picnic tables for after the ceremony and a Sunday roast for dinner-  and they put together the most stunning menu. We wanted dinner to be very relaxed and fun, with people sharing everything."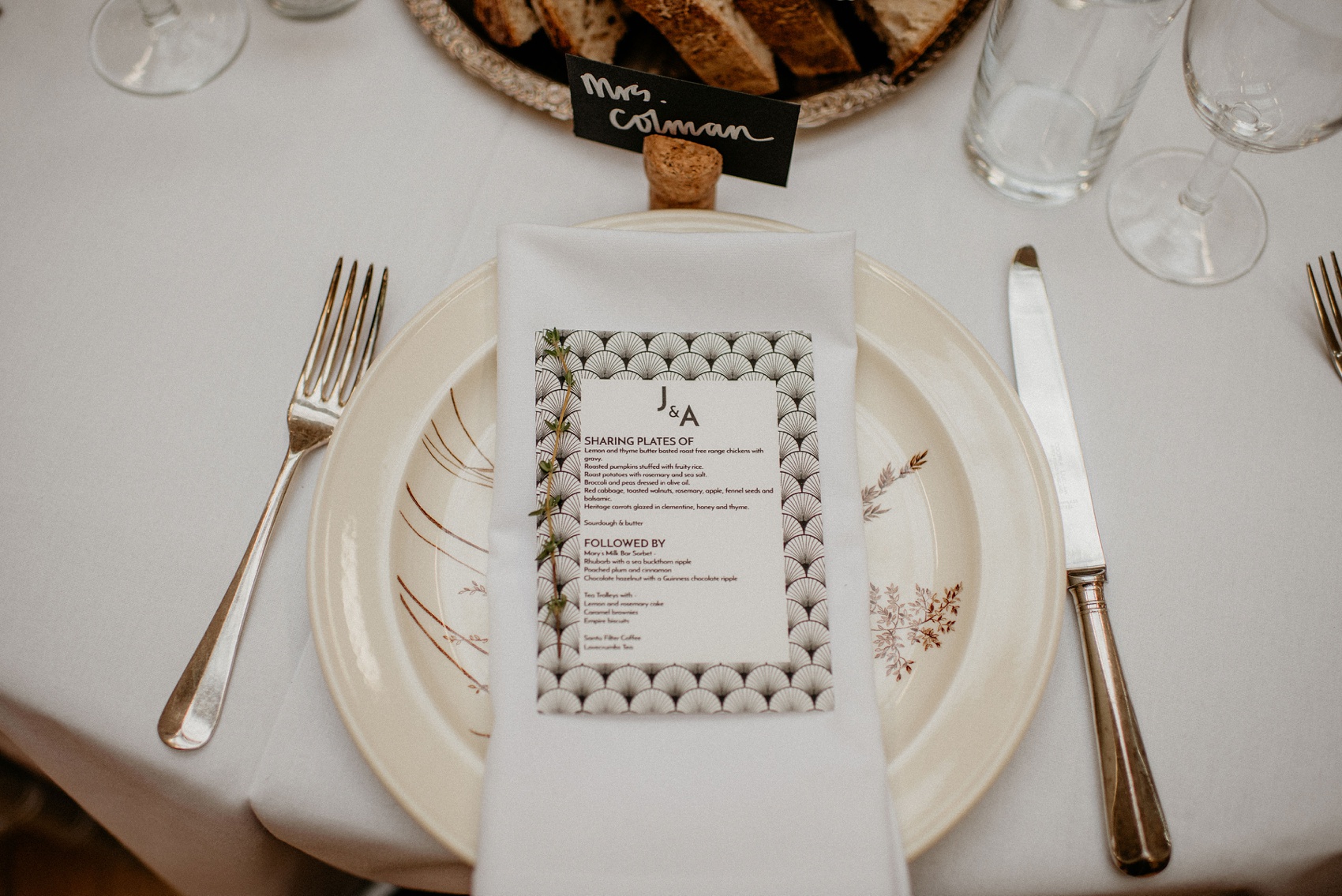 Instead of a traditional tiered cake, Julz and Andy commissioned an array of cakes for their guests to enjoy.
"Lovecrumbs were always going to be our cake supplier. We've been going there for years, love the type of cakes they make and Hollie and Fi have been pals for ages. We weren't keen on having one cake and didn't really want to partake in the tradition of 'cutting the cake' so I had a fun idea about having a tea trolley of cakes for every table."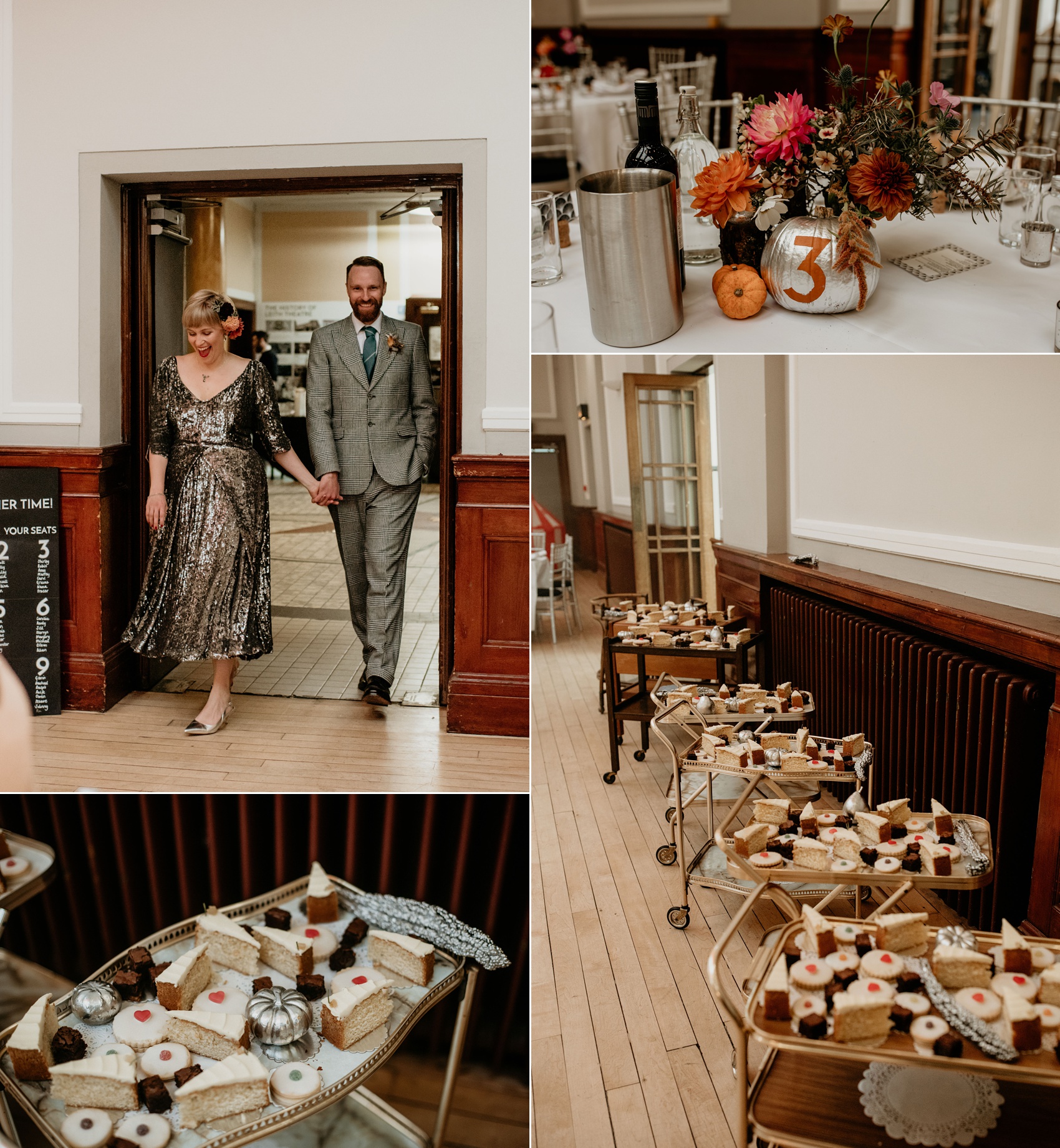 "When I took this to Hollie at Lovecrumbs she didn't bat an eyelid. It was agreed and the outcome was, again, beyond expectation. The first thing I bought for the wedding a month after we were engaged was a lot of two tea trolleys at an auction, so cake was on my mind from the very beginning."
"Andy is a distiller so gin featured quite heavily in the wedding. We made a bespoke gin as wedding favours and also had cans of Edinburgh Gin and tonic for the toasts (Andy was working at Edinburgh Gin at the time of the wedding)."
"It was the most delicious meal I have ever had. Hollie and Fi did a spectacular job with it all. They worked so unbelievably hard to create what we wanted and it turned out better than I could have ever hoped. Mary's Milk Bar also made us three delicious bespoke sorbets for the day that were served on usherette trays with popcorn and Tunnocks tea cakes."
The guests were treated to a bespoke gin as a wedding favour with a lot of local flavour.
"As Andy is a distiller we made a bespoke gin which included sea buckthorn from the beach where we got engaged, seaweed from Larne where Andy is from and Scottish raspberries."
The couple's song, 'At Last' by Etta James, was their romantic first dance before an energetic ceilidh to music from Wullie Fraser Ceilidh Band.
"A two-piece ceilidh band who were an absolute BARGAIN. I can't recommend them enough."
Words of Wedded Wisdom
"Have fun! The eight months I planned our wedding were the happiest of my life. I got to be creative on a daily basis, I got to meet so many wonderful wedding suppliers, I got to be part of an amazing, supportive community whose sole purpose was to help me have the best wedding day possible, what's not to love? It was an absolute joy. It's an emotional rollercoaster but the best type."
"Things will go wrong, extra people may show up, you will need to hire two extra ovens, the festoon lights may all fall down at 2am the night before the wedding but you are marrying the person you love most in this world. Nothing else matters. Focus on all the love in the room and it will get you through."
"We really didn't want our wedding budget to spiral out of control and wanted to keep it around £15,000. Thankfully we have a very hands-on, Edinburgh-based family who were more than happy to help out with various tasks. We couldn't have done the wedding without them. By doing the creative ourselves we managed to save so much money. We also stuck to local Edinburgh-based suppliers who we knew and trusted which also really helped keep costs down. I had a very clear vision from the start of how I wanted the wedding to look, I knew exactly what I did and didn't want and that really helped with costings. When you have a clear idea in your head, it makes it so much easier to not get carried away. "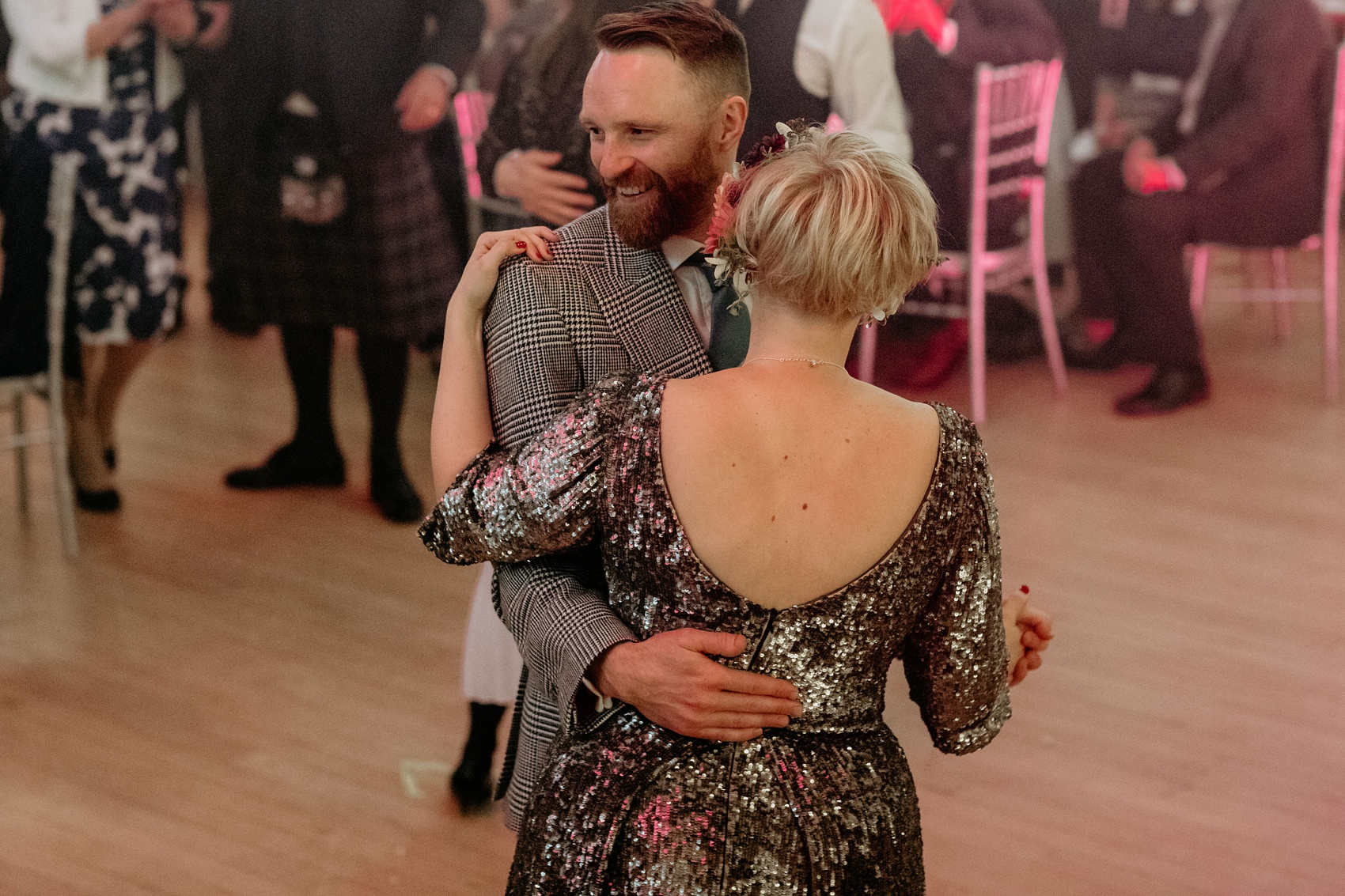 Julz and Andy, thank you so much. I love how you got to be so creative with your wedding and really followed your own sense of style. It's been such a pleasure to share your day on Love My Dress, so thank you so very much to the two of you and to your wonderful photographer Claire Fleck. Lovelies, I hope that this has inspired any of you thinking about a non-traditional dress to just go for it; what a beauty.
Ele xx