Hello lovelies! How are you today? It's my absolute delight to be sharing this seaside wedding in Whitstable, Kent with you today.
The bride wore a Rolling in Roses gown (we are BEYOND excited to have been asked to share designer Hayley's brand new Rolling in Roses collection – watch this space) – and worked a modern edgy look thanks to a leather jacket and gold bootees. On 4 November 2018 Leila and David married in the seaside location of East Quay Venue, Whitstable, Kent. The pair are originally from Kent so returning to the seaside was a natural choice, and East Quay offered the relaxed venue they wanted for their ceremony and reception. The vision was 'secret garden', a style they created using lots of wild foliage, magnificent, winter flowers in rich jewel tones of red, orange and green and elegant tapered candles.
Photography Epic Love Story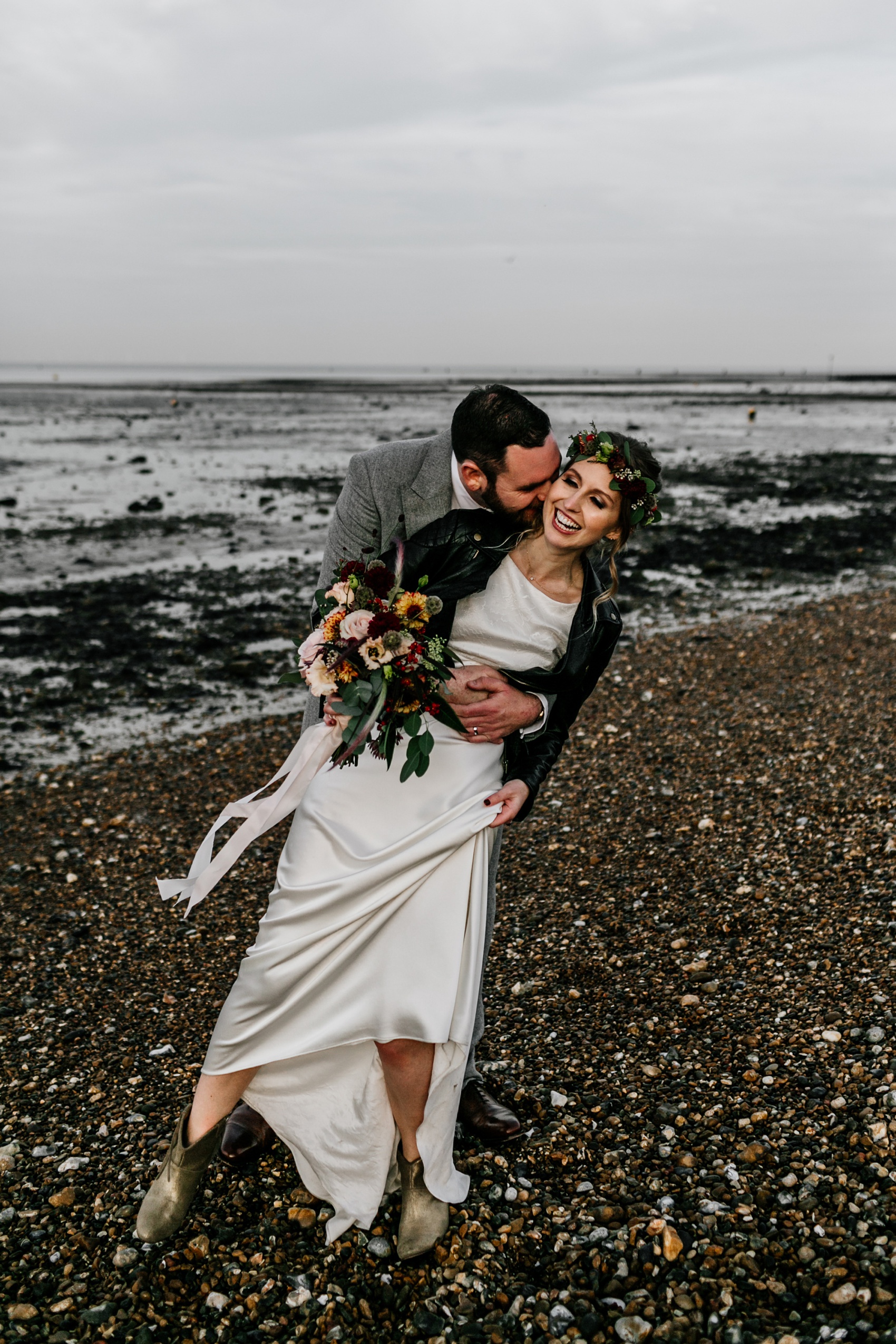 The inspiration for the day was 'secret garden', which looked wonderful against the edgy elegance of Leila's Rolling in Roses gown.
"I wanted the venue to feel a bit like a secret garden with lots of foliage and flowers all around – we went for a huge floral arch in the ceremony room, a foliage hoop above the dance floor and a floral 'meadow' creeping up the staircase, all complemented by loads of pillar candles. On the tables we used tapered dark red candles, more foliage and fruit scattered around."
Kent boutique Story of My Dress helped Leila source this utterly divine gown by Rolling in Roses, which was then customised to perfection to suit her personal style. Wow, I wish I had the oomph to pull of this gown so wonderfully. Just look at the delicate lace sleeves and scalloped open back. For more about Story Of My Dress, make sure you check out their Little Book listing here.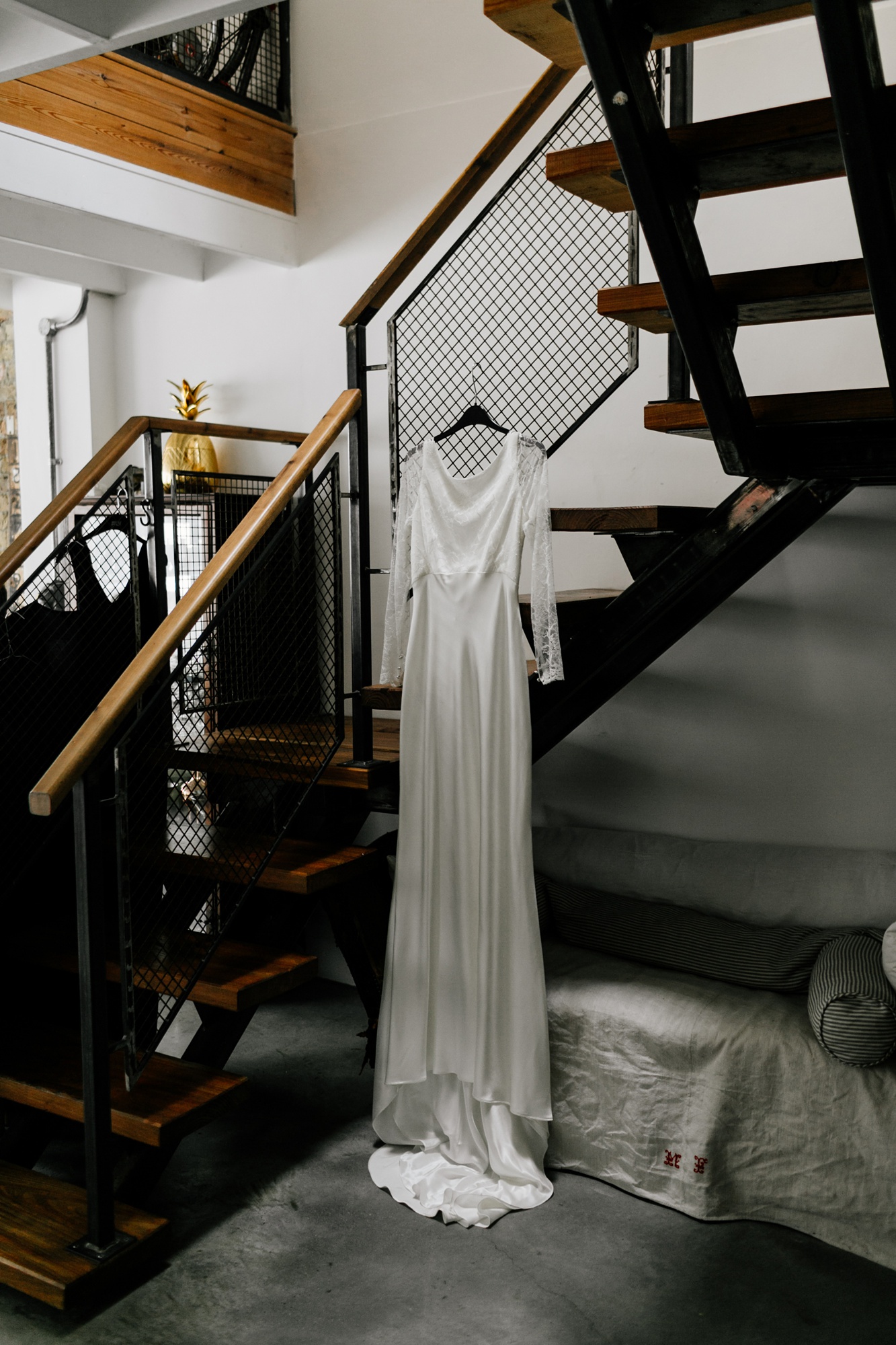 "I knew I wanted lace and long sleeves for my dress. When I met Cara at Story of My Dress and she showed me some of the Rolling in Roses designs I just fell in love with their whole vibe."
"I loved that all of my suppliers were from Kent (where both David and I are from) so the fact that Story of My Dress are based in West Malling felt serendipitous."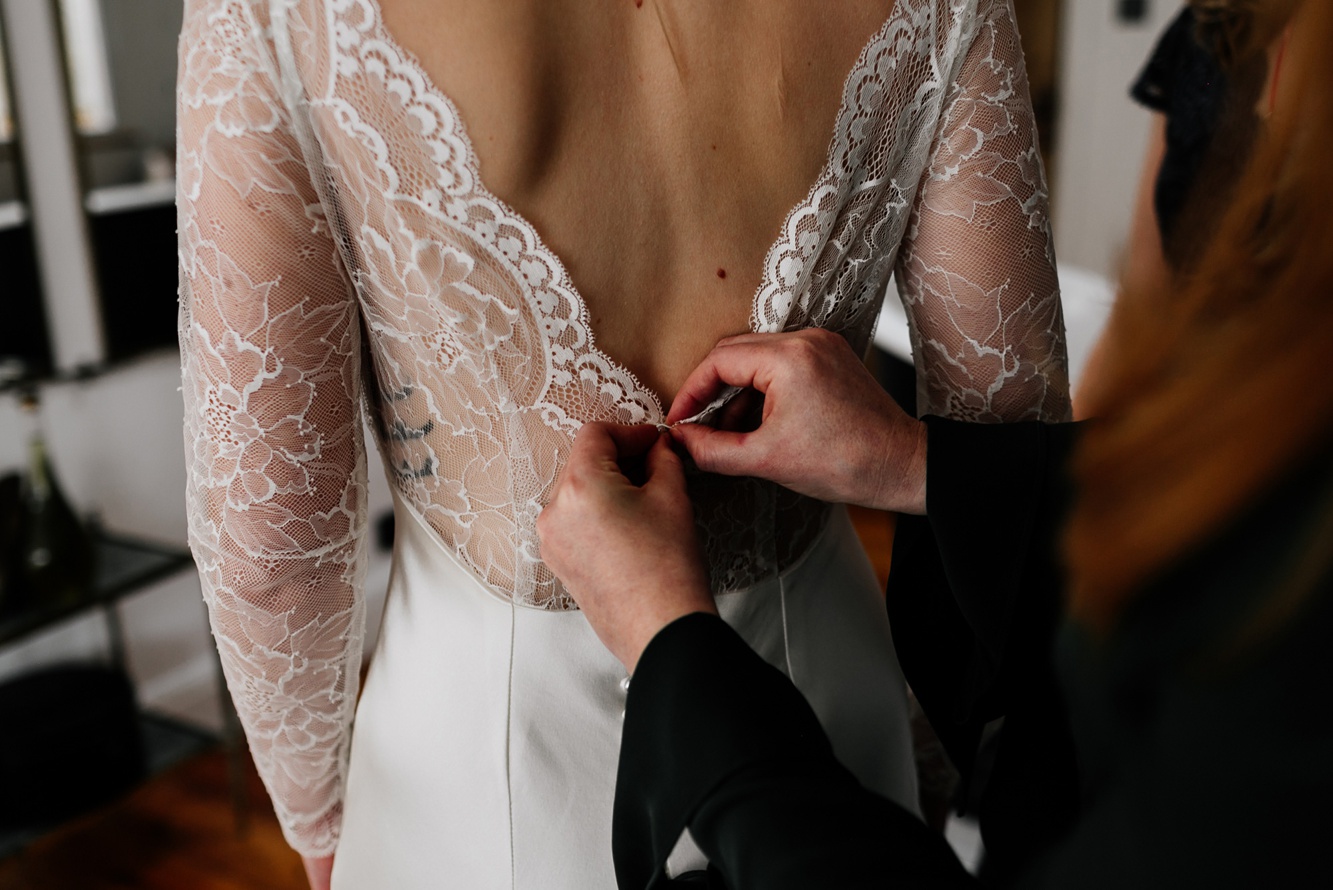 "Cara and Gill at SOMD worked with Rolling In Roses to customise the Katie-Lou gown to have a lace top with long sleeves and an open back. I loved everything about it."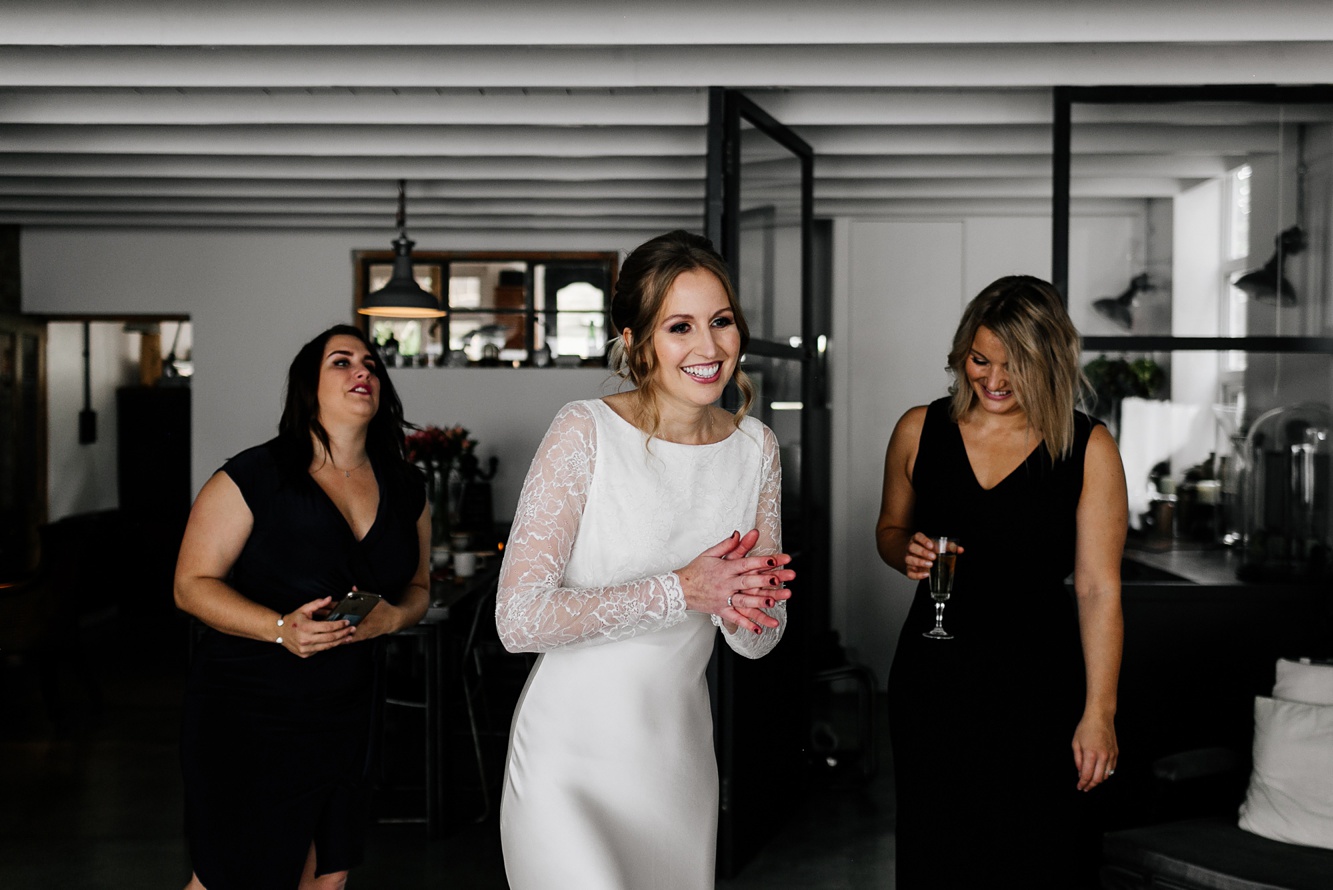 Leila's florist, Helen at Blubelle Creative, put together a delicate floral crown in tones of red and orange with berries and foliage, which the bride wore across her forehead.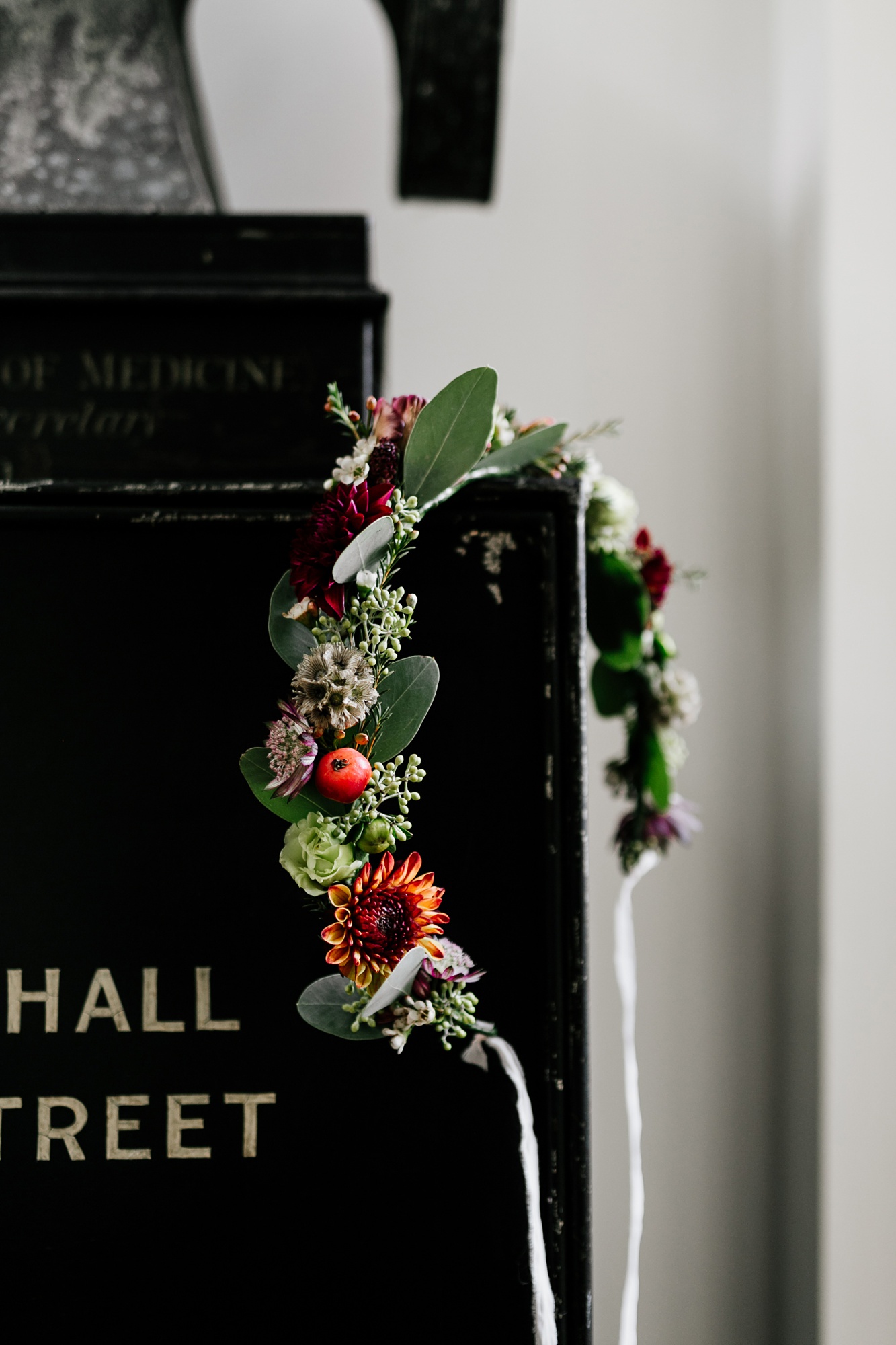 To suit the winter season and for extra chic, Leila selected gold boots from Maje, worn with electric blue socks for her 'something blue'.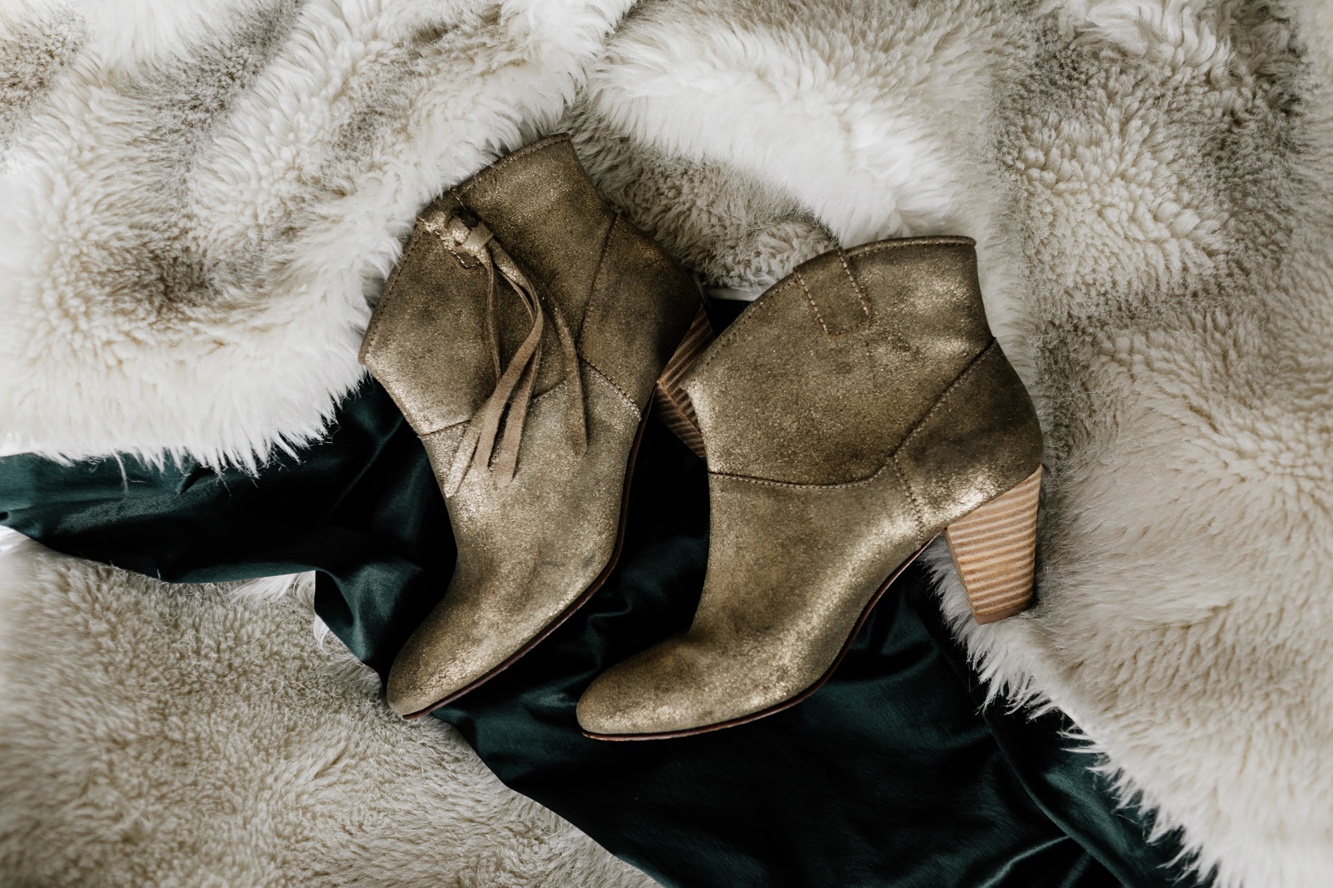 "The gold went with the autumnal tones I wanted for the wedding and with cute tassels on the sides they had just the right amount of hippy vibe I wanted too."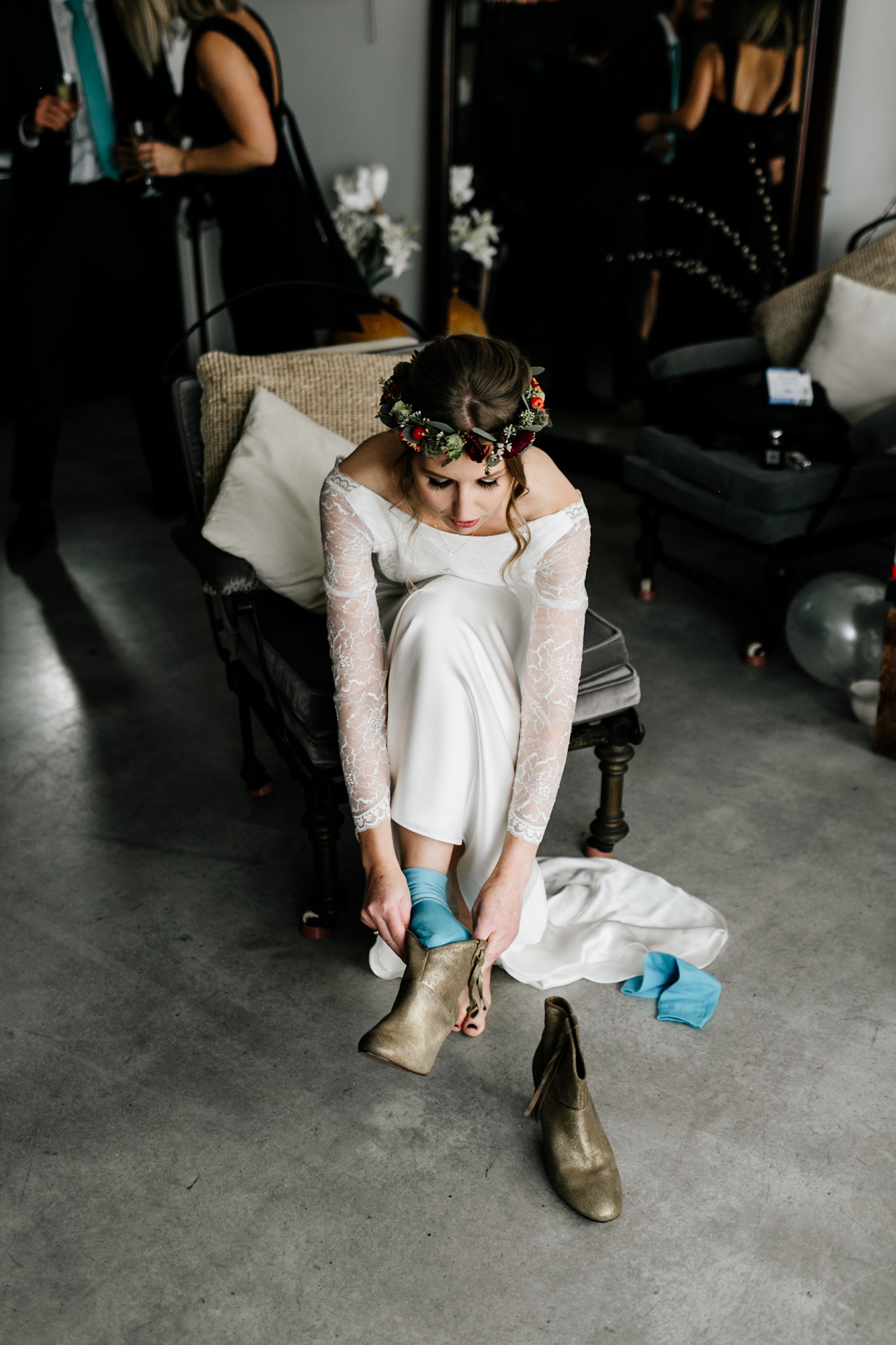 "I had a vintage diamond necklace on a gold chain which was my something old. I wore Jo Malone's Wood Sage & Sea Salt – as we were getting married by the sea in Whitstable and honeymooning by the sea too (Cornwall) it felt like a natural fit. I combined it with Jo Malone's Dark Amber & Ginger Lily to add warmth."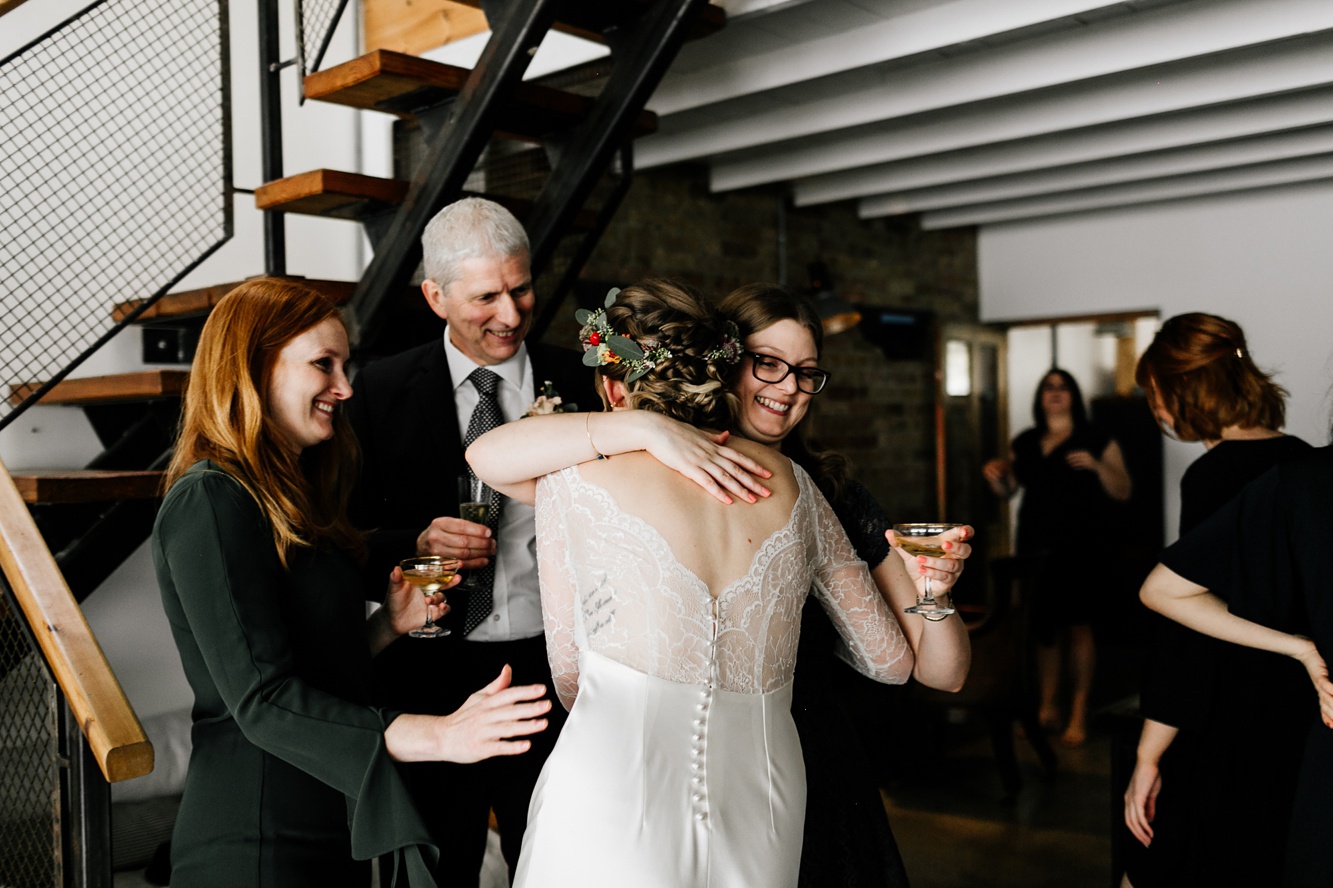 Her hair was pulled back into a relaxed and elegant braided do by Terri at Kent Bridal Hair whilst make-up artist Elizabeth Joseph-Love created a flawless complexion and a dramatic dark eye and lip."
"For warmth and as her 'something borrowed', Leila slipped on her sister's leather jacket. The overall look? Bridal, modern, edgy, beautiful.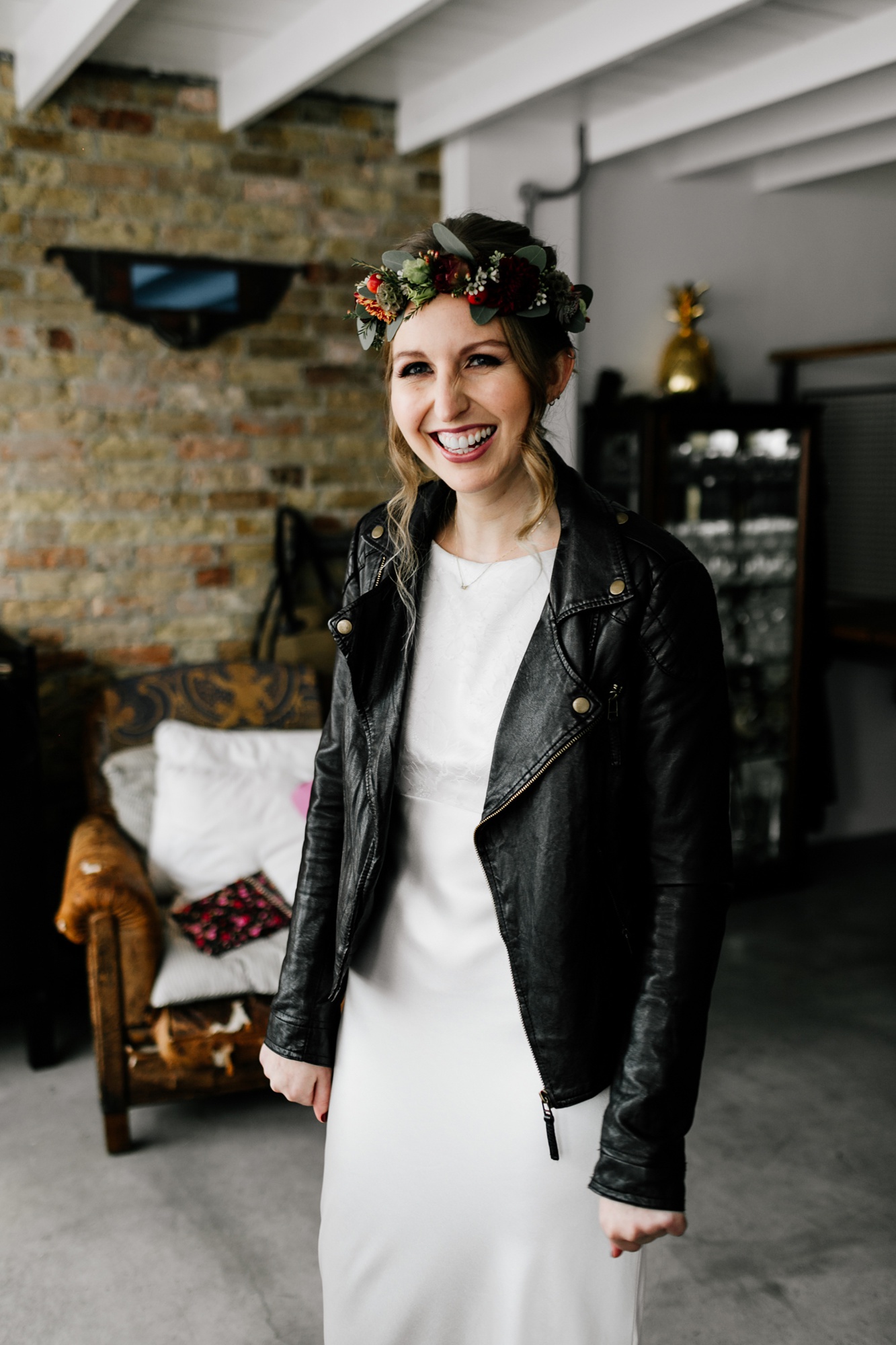 Leila carried a wild and natural bouquet, styled by BluBelle Creative who also provided the flowers and lighting for East Quay.
"We used lots of dark greens and dark reds as well as some autumnal burnt orange in my bouquet. I saw some of Helen's work at the East Quay open day and thought that her styling would fit the type of wedding I wanted."
"She was so enthusiastic about my ideas and made us feel like nothing was too much trouble. All the flowers looked beautiful, the lights she provided looked great and her whole styling of the venue was really well thought-through and was exactly what I wanted."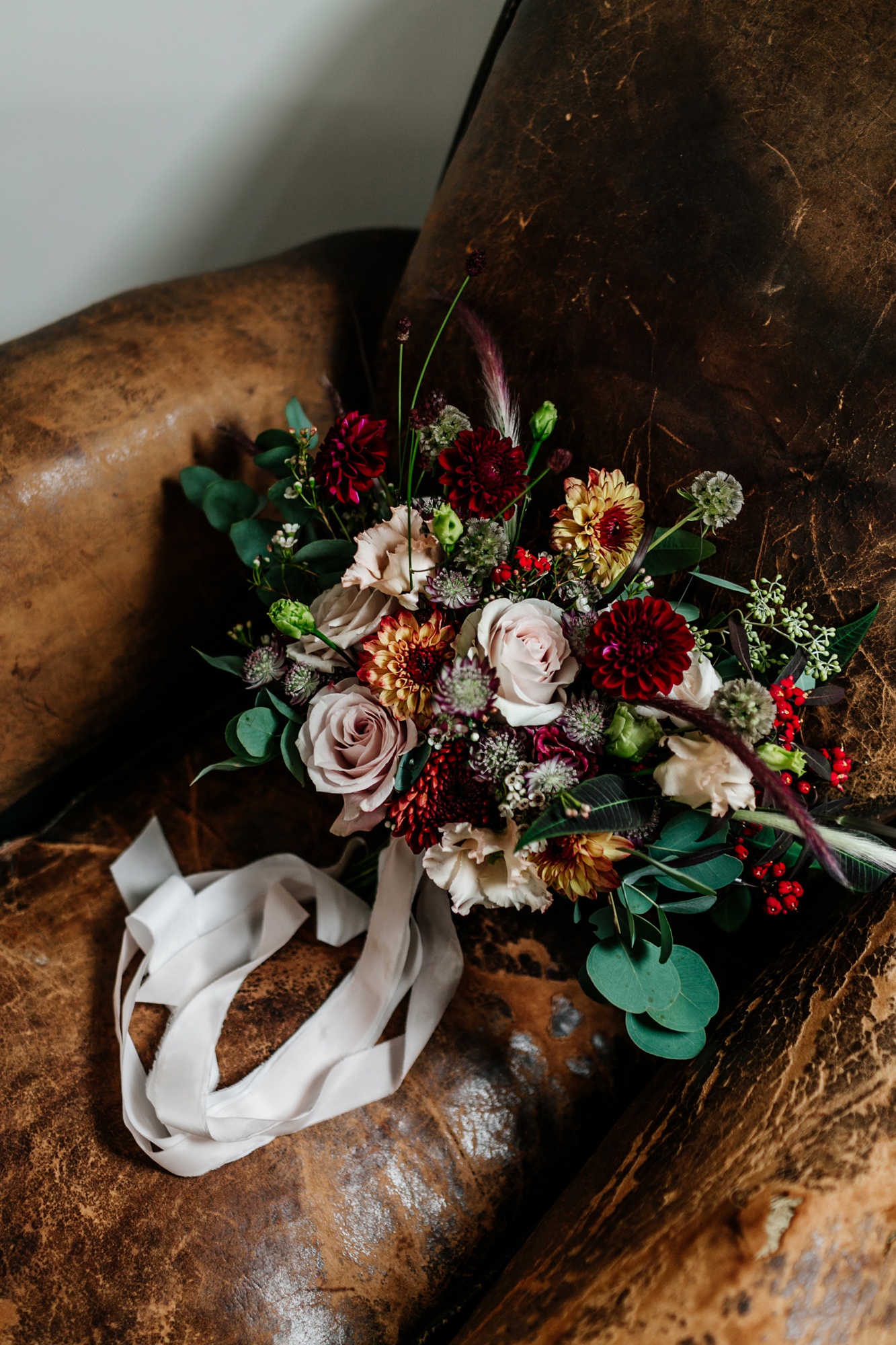 I adore these photographs of Leila and her father walking along the seafront to the ceremony in the November sunshine. Emma at Epic Love Story has such an eye for natural, informal shots, as well as capturing the winter seaside atmosphere to perfection.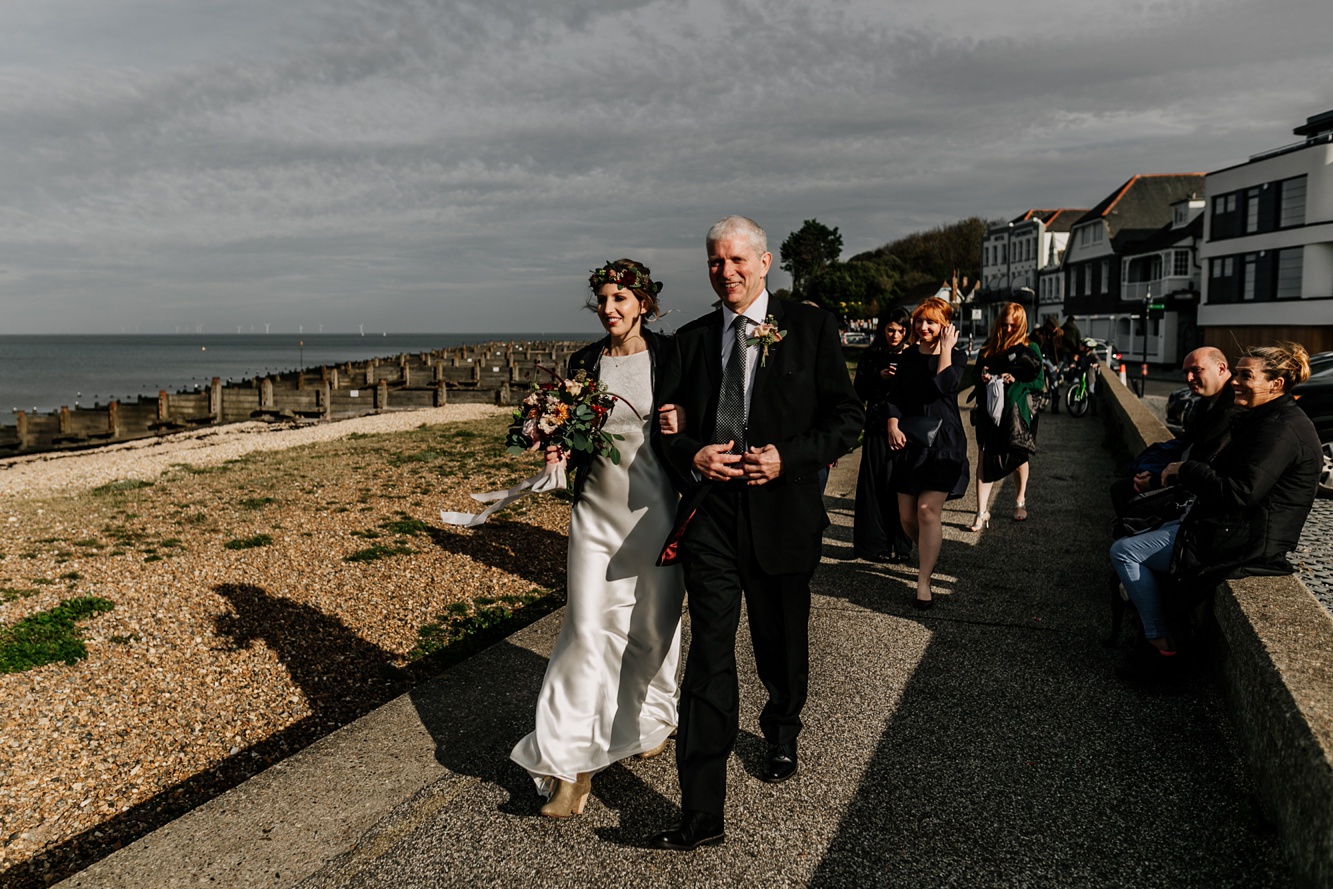 "I absolutely loved getting ready at a nearby AirBnB and then walking down the venue with my friends, sisters and my dad. Luckily the weather was sunny so it made for some really nice photos on the seafront."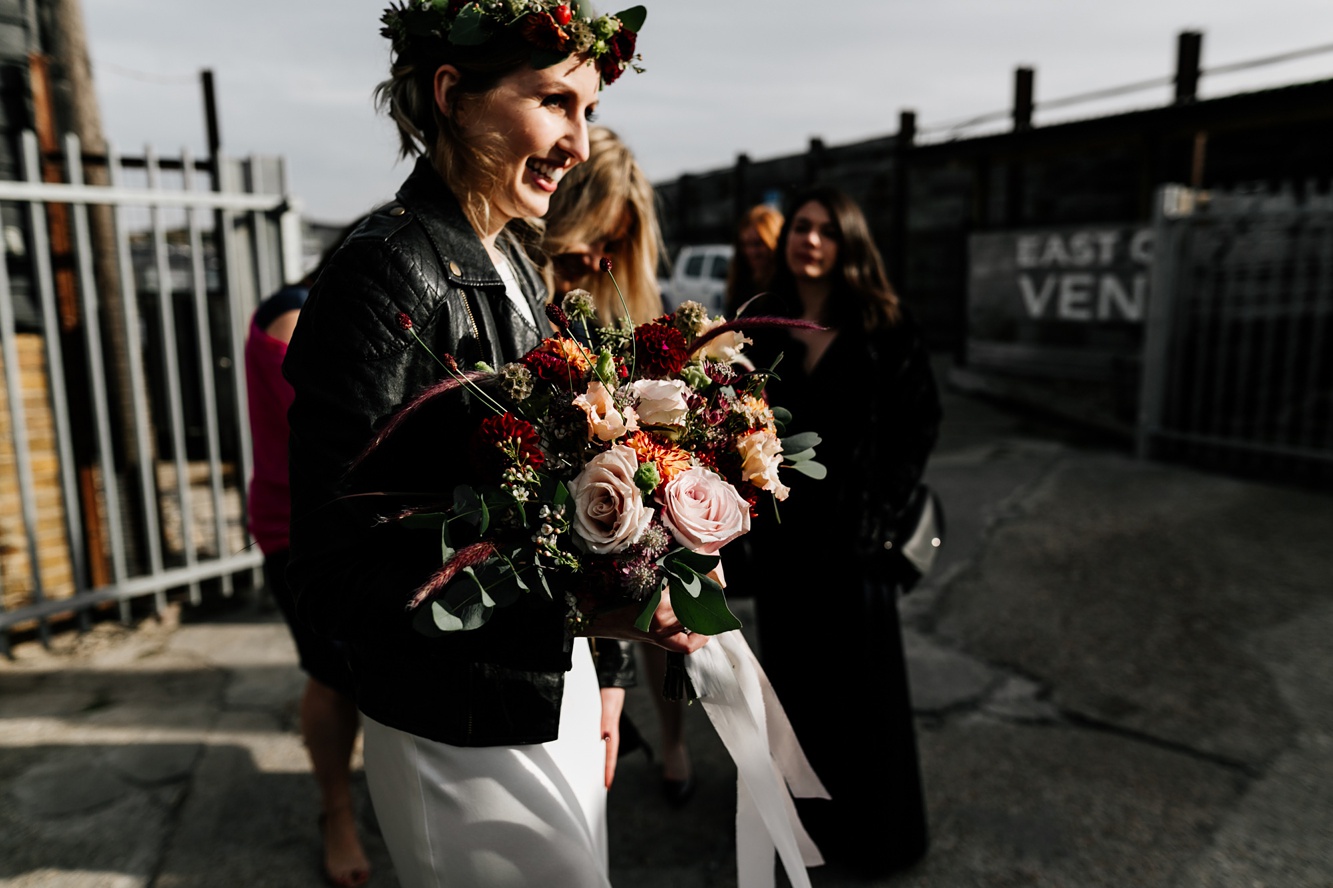 David looked immaculate in his Cad & The Dandy suit in a light grey, worn with a Turnball & Asser shirt, Loake shoes and a warm Liberty print tie from Cad & The Dandy.
"We met at school when we were 16 and got together a couple of years later. We've been together over eleven years now and David proposed whilst we were on holiday in June 2017 on the balcony of our hotel in Lake Como. We were engaged for 18 months before tying the knot."
"We're both from Kent and have always loved Whitstable so when East Quay had an open day we went along and instantly fell in love with the place – it just felt so relaxed and all the staff were so lovely and helpful. We love being by the sea, seafood and oysters so it felt like a great fit! It was great to be able to get married and have the reception all in the same place."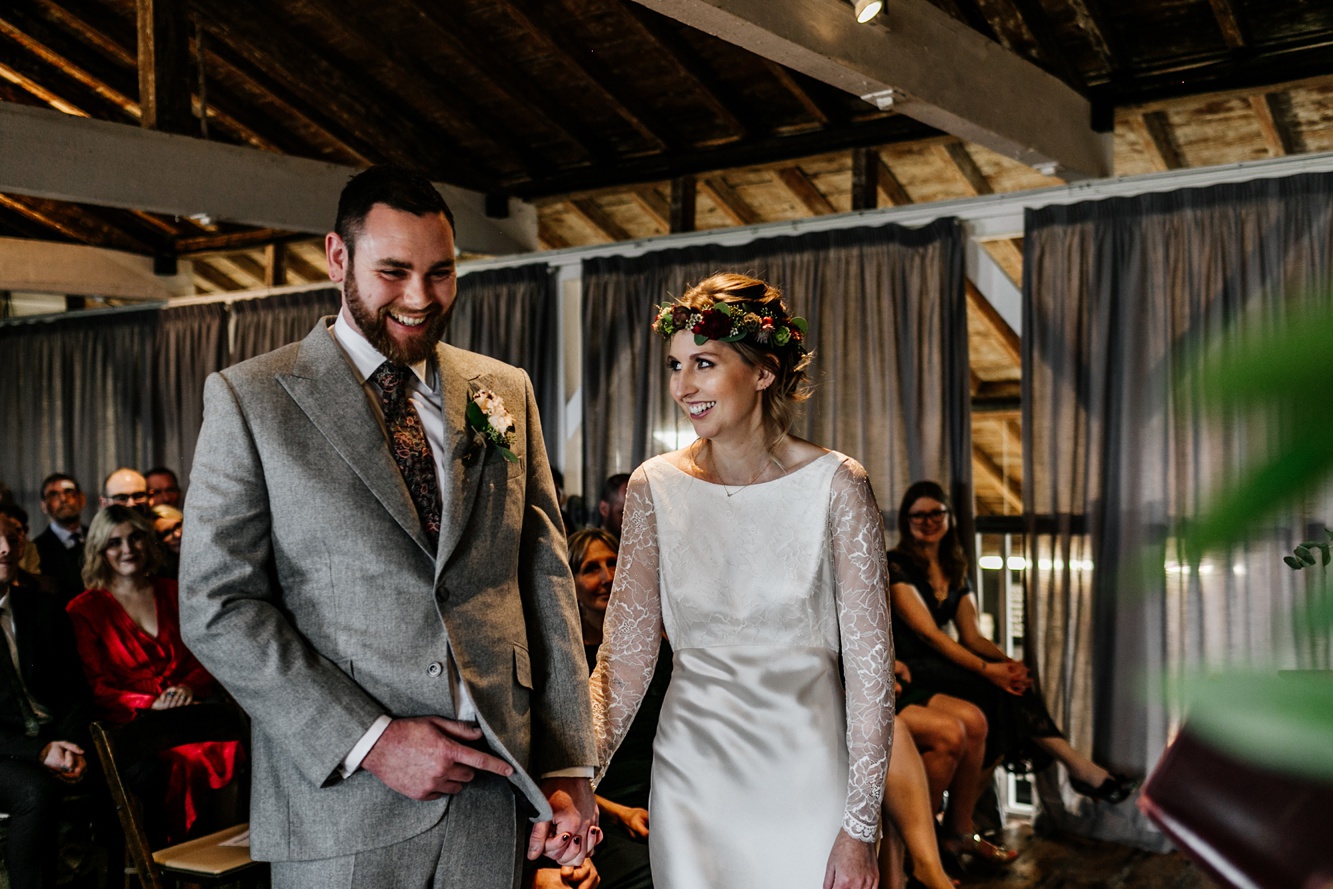 Leila and her father Paul walked in to East Quay to 'Here Comes the Sun' by the Beatles, performed by string trio Astley Strings. David was waiting at the top of the aisle, where they then got married framed by this utterly beautiful floral hoop.
"I loved walking into the venue and seeing all the flowers… and going up the stairs to meet David on the other end of the aisle was amazing and emotional."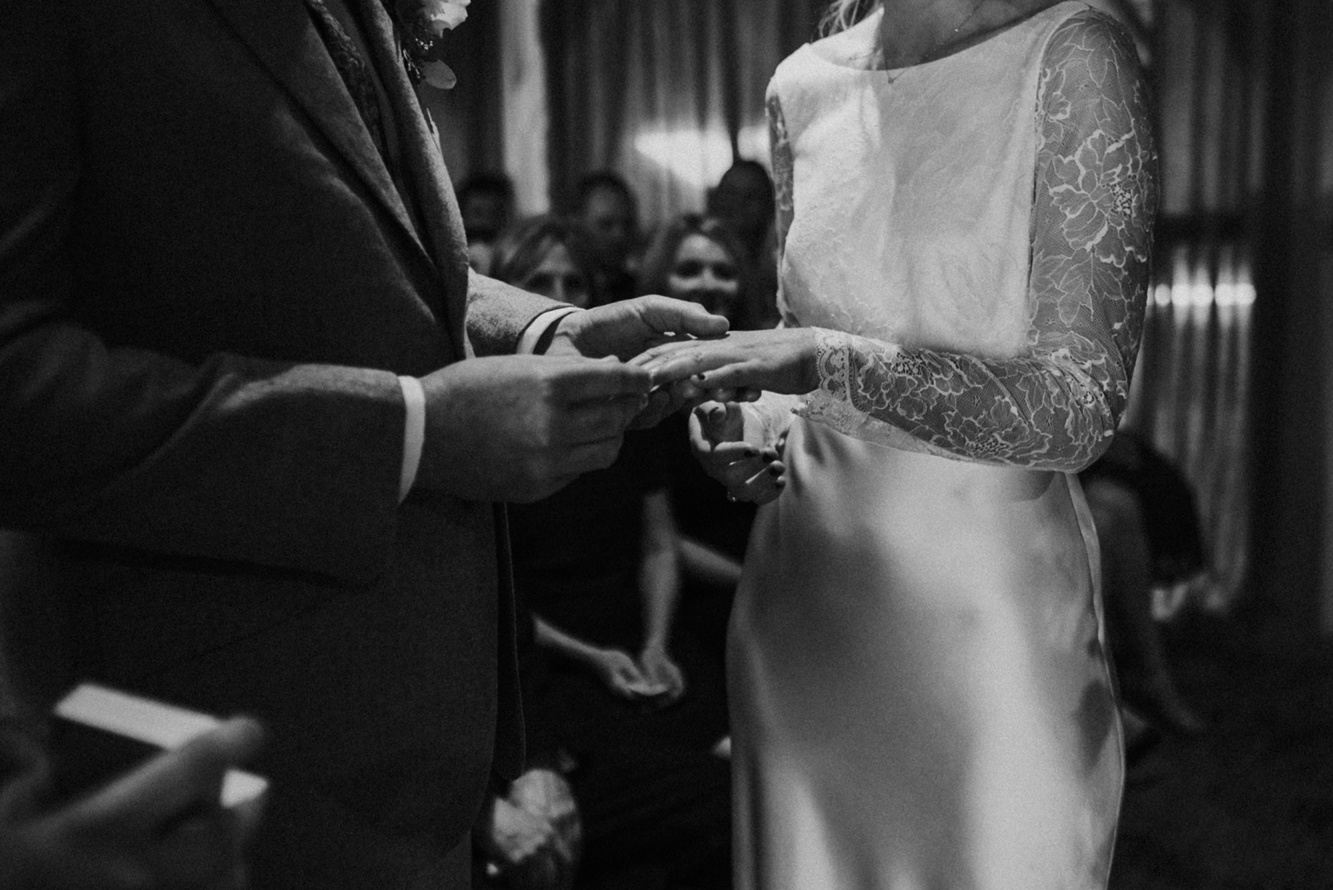 "We used the standard vows provided by A Kentish Ceremony as we were both giving speeches so wanted to save all the personal stuff for them!"
The couple exchanged rings from Alan Bick in Hatton Garden, where David had bought Leila's engagement ring.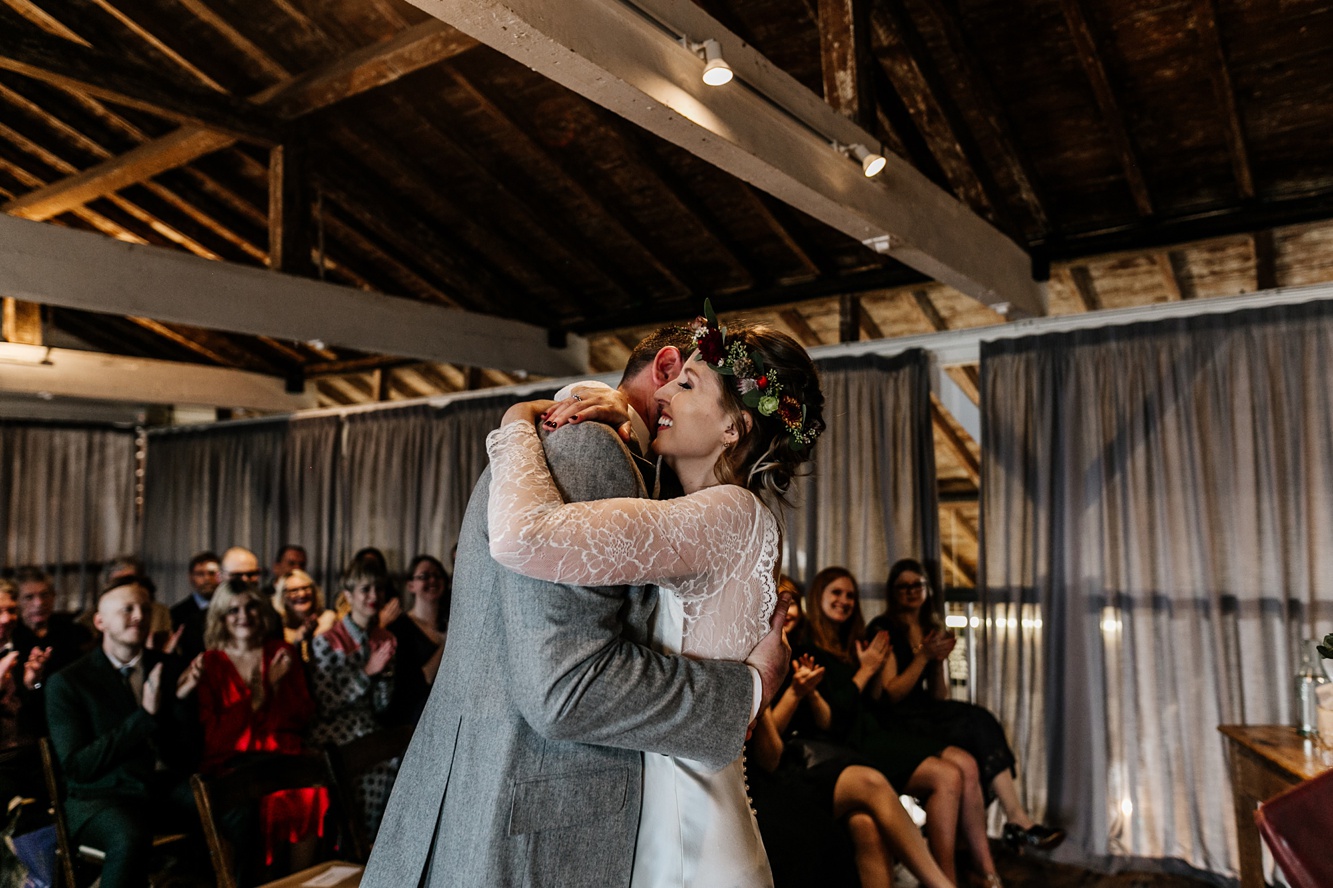 "After the ceremony David and I walked down the aisle to 'Heroes' by David Bowie, also performed by Astley Strings. The photo shoot on the beach was so much fun. I didn't care that my dress was getting covered in seawater because we were just having the best time."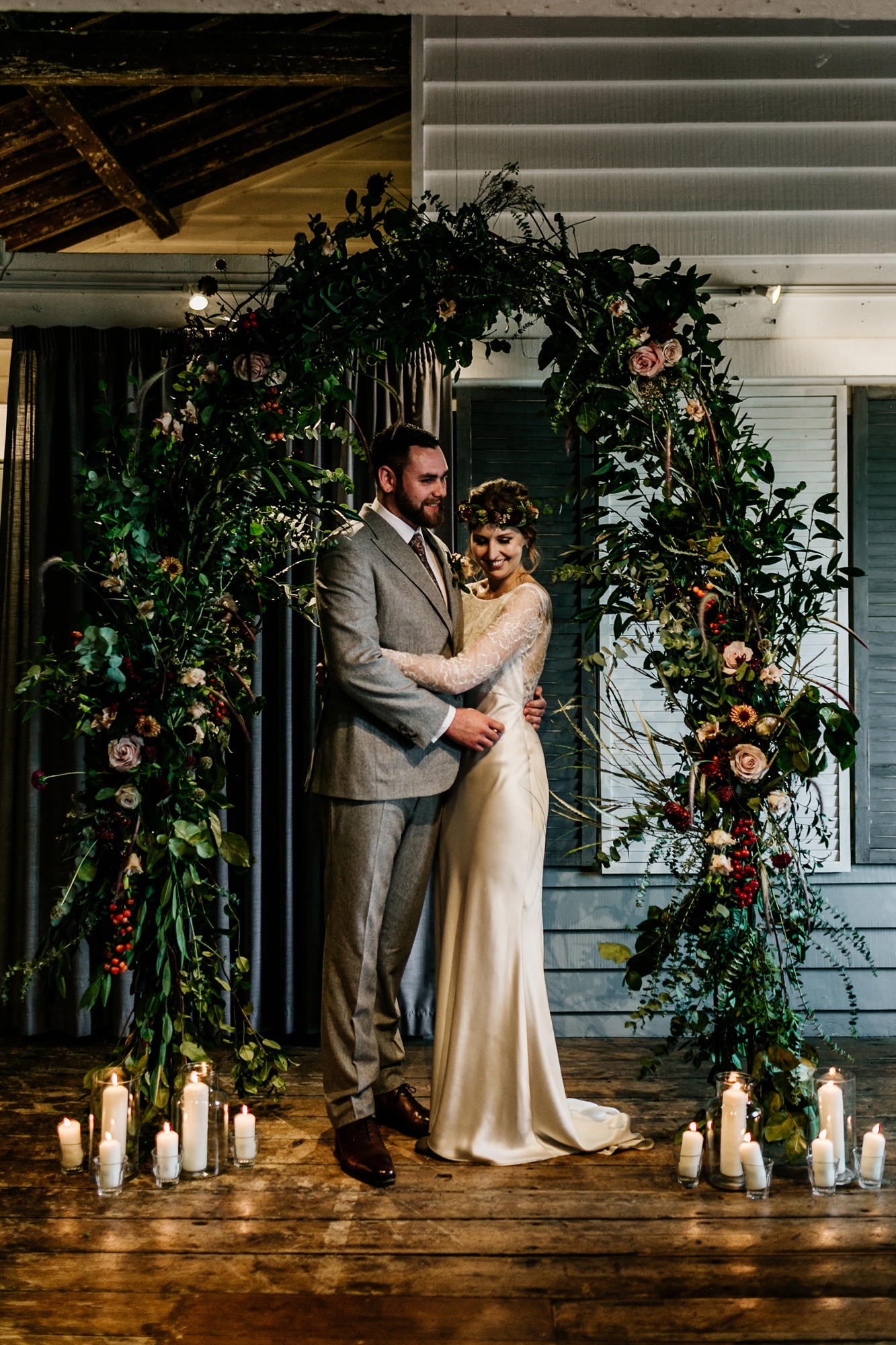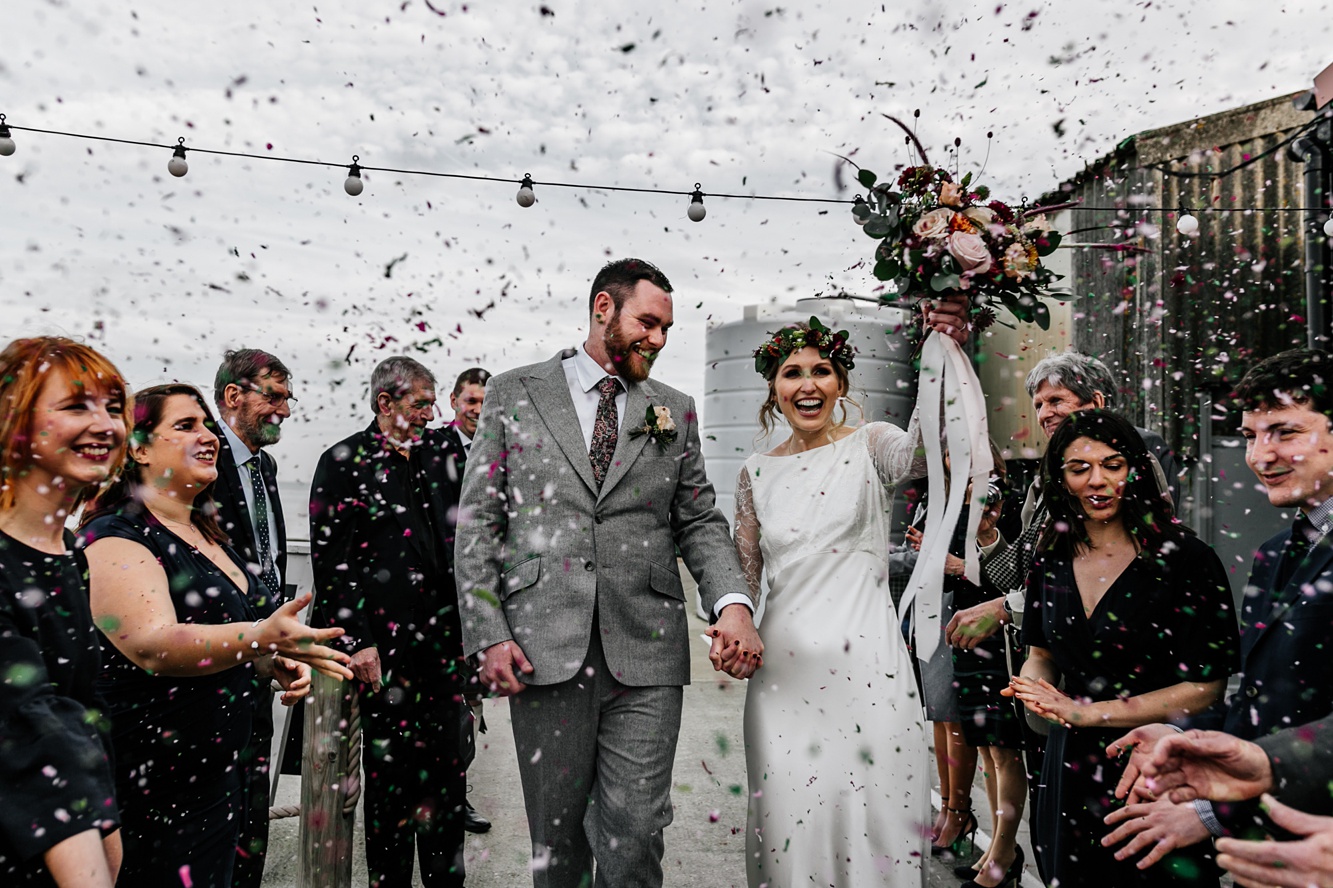 East Quay really does look like the perfect venue for a winter wedding, with its cosy interior and beautiful views over the coastline. It was transformed into a magical secret garden with hundreds of fairy lights, tapered candles and masses of flowers.
"Helen at Blubelle Creative was in charge of styling and did an amazing job with the flowers and lights. We used a mix of festoon lighting and fairy lights, and a tonne of candles, to complement my autumnal secret garden theme."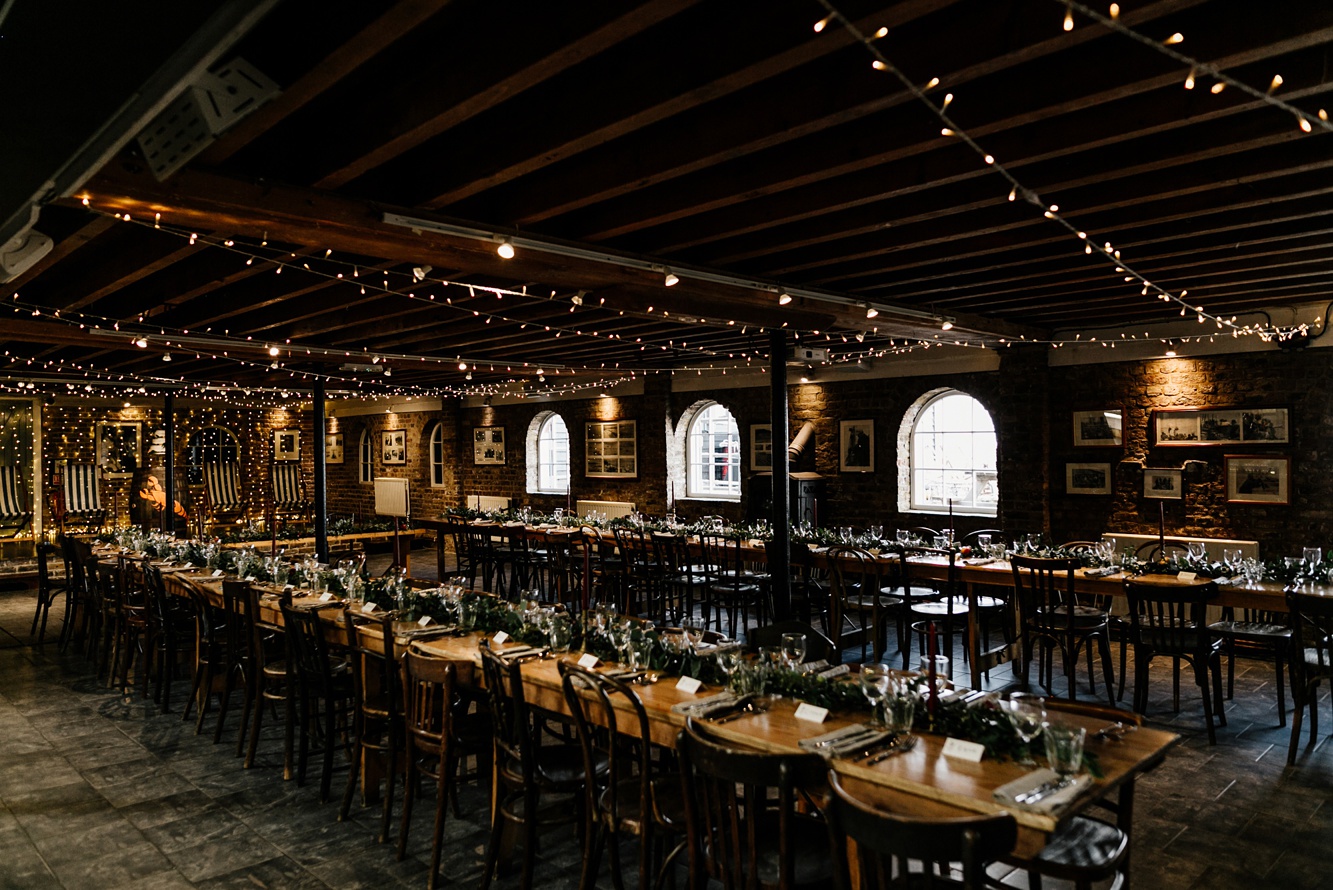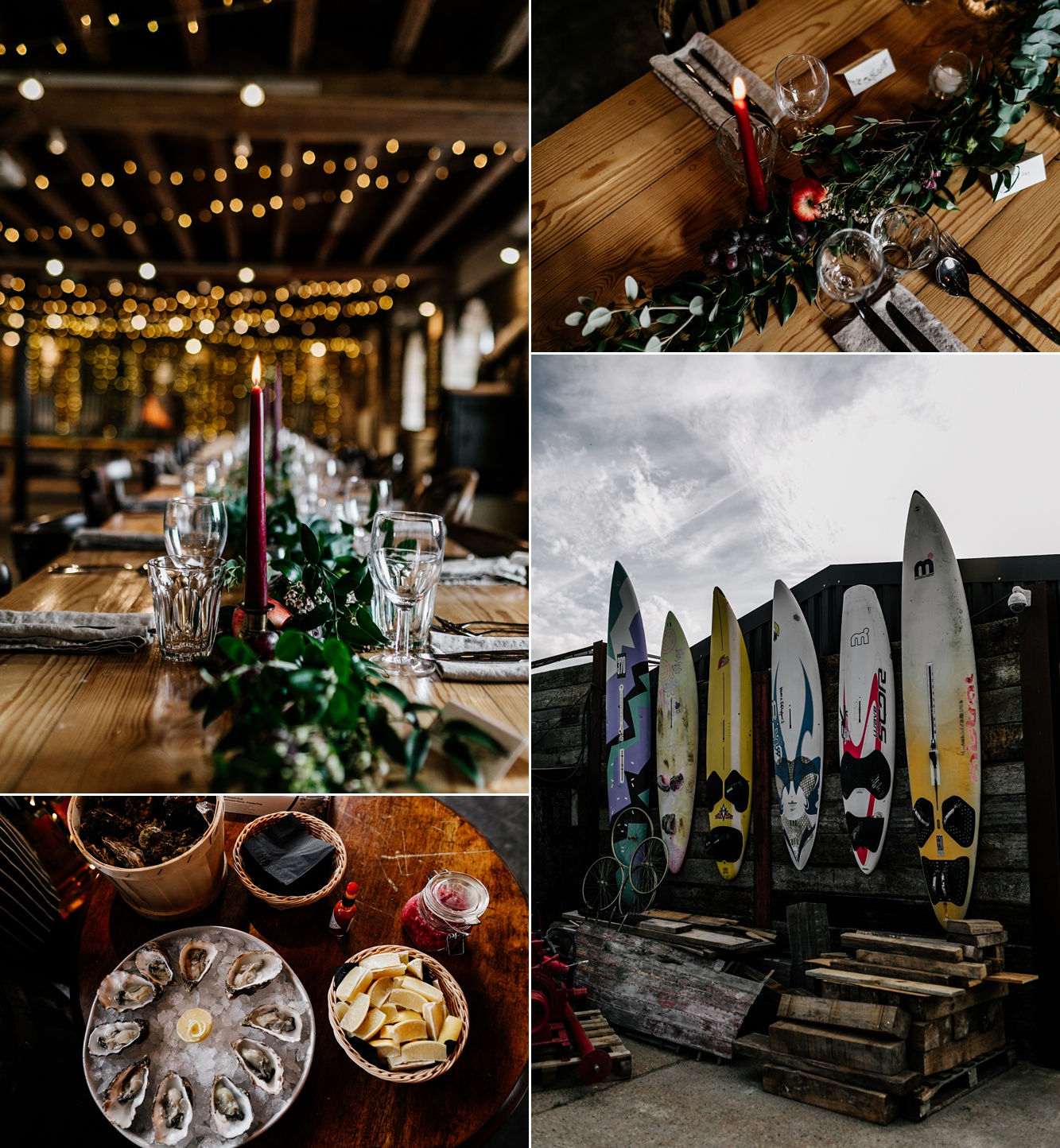 The East Quay team provided the wedding breakfast, whilst the cake was three-tiers of deliciousness baked by Melissa at Fairy Dust Bakery.
"Loads of people complimented the food at East Quay. I wish I'd sat down to eat more of it, I was too busy walking around saying hi to everyone and too busy crying and laughing at the speeches to eat much. I wish I'd eaten more as everyone said how delicious it was!"
"We went for a semi-naked cake (espresso, red velvet and chocolate) decorated with fruit and foliage."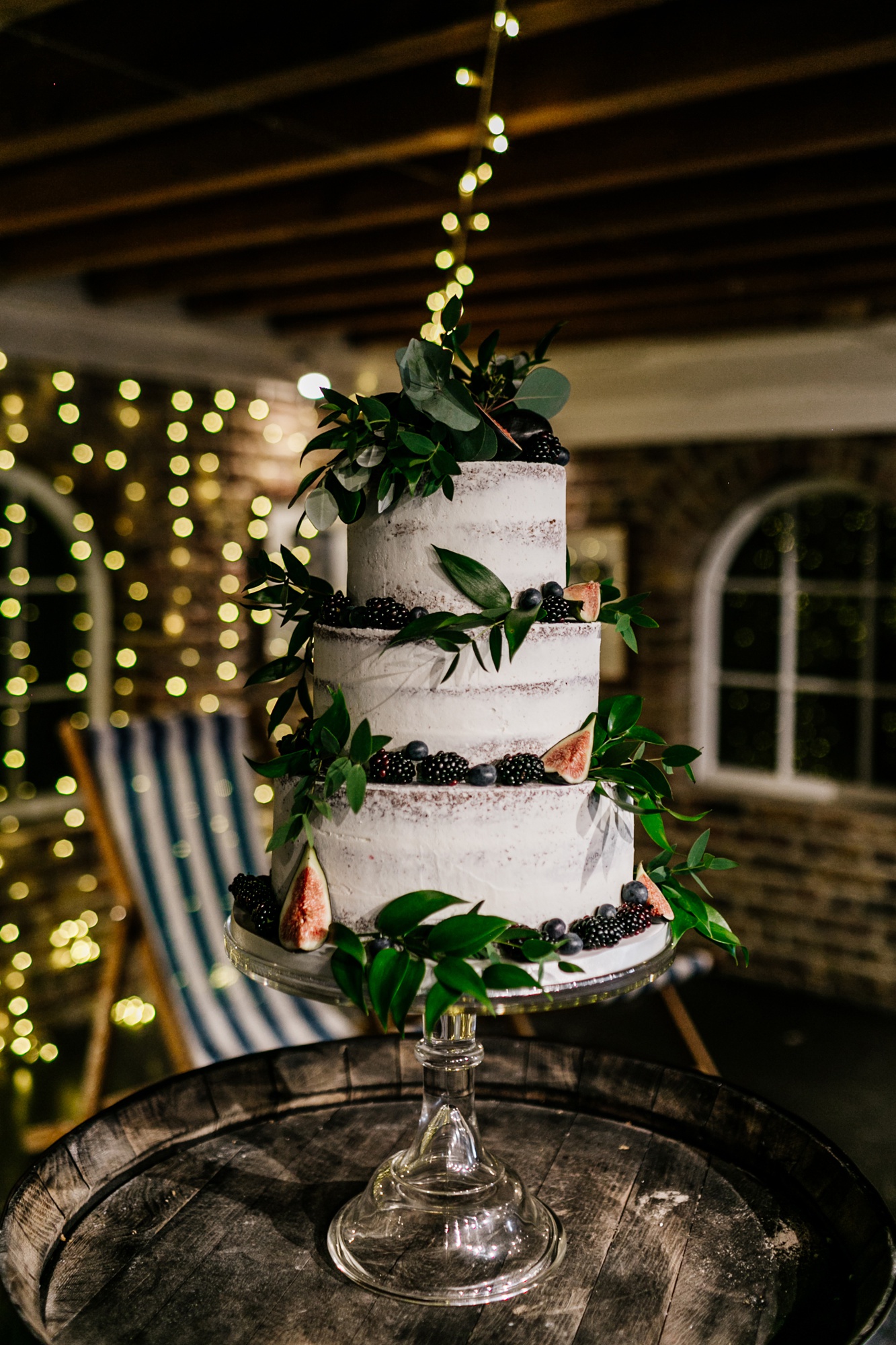 "The calligraphy on the place names and chalkboards was by Whilst Jude Sleeps, on Papier stationery. We also used Papier for our invitations."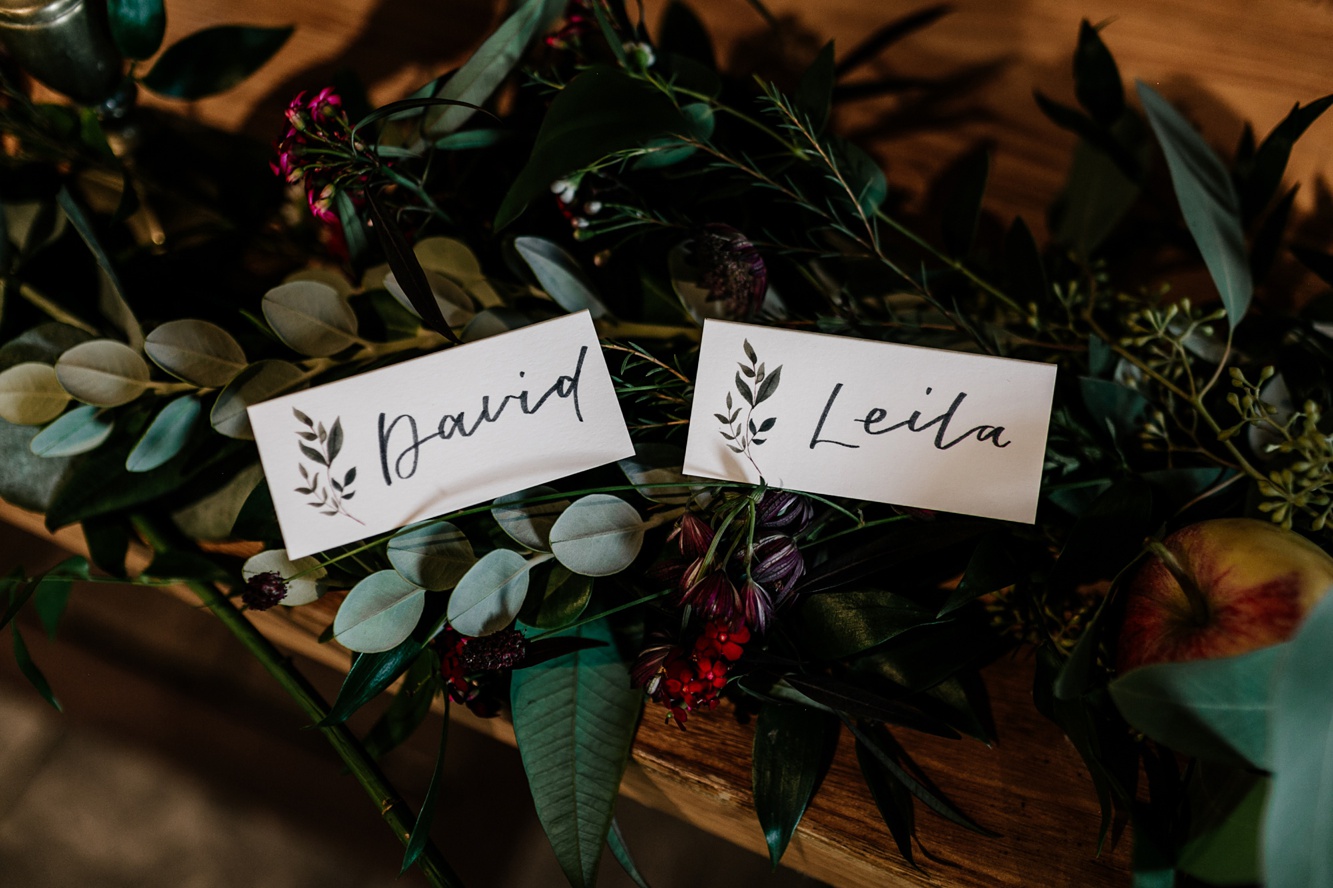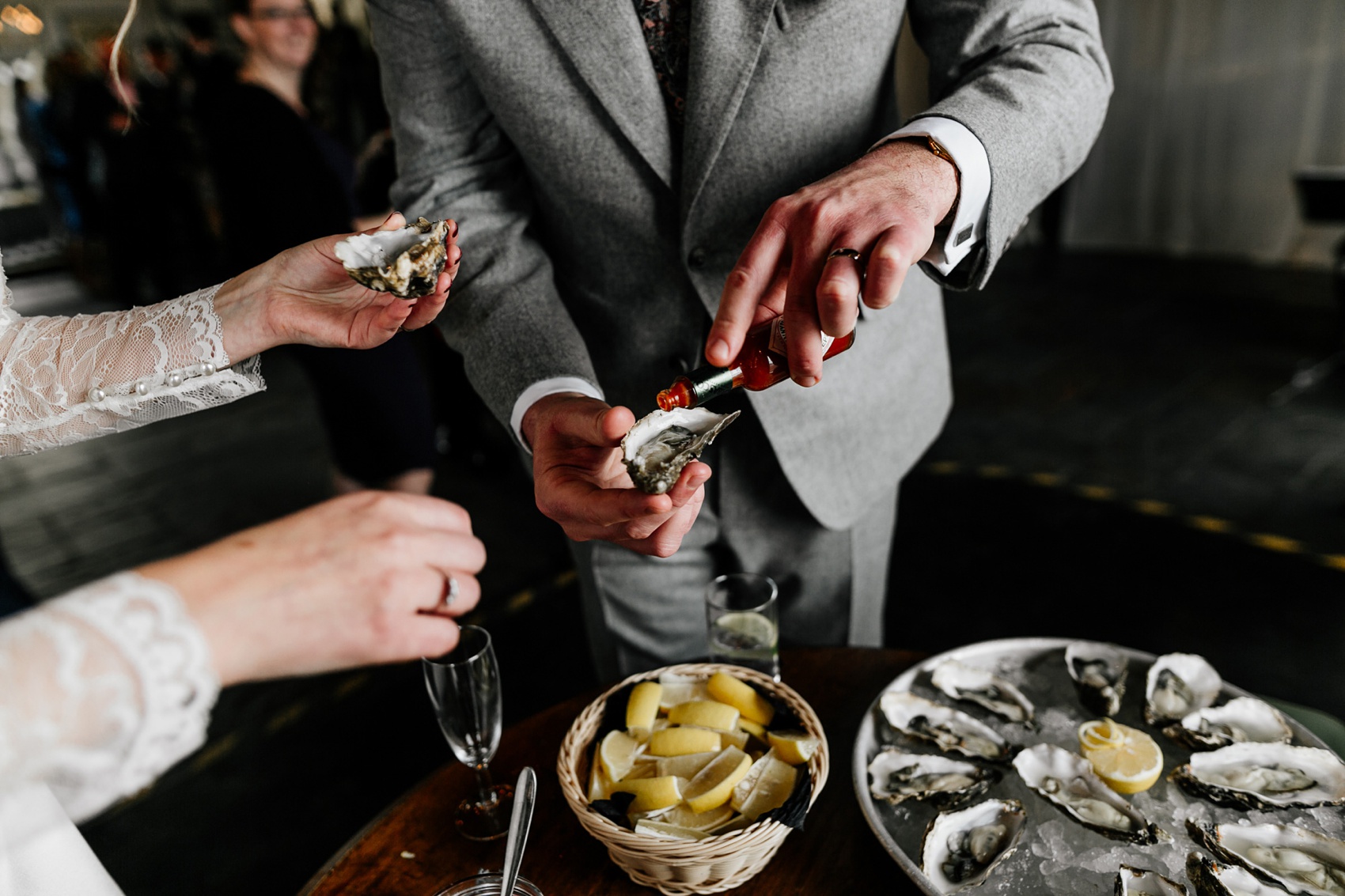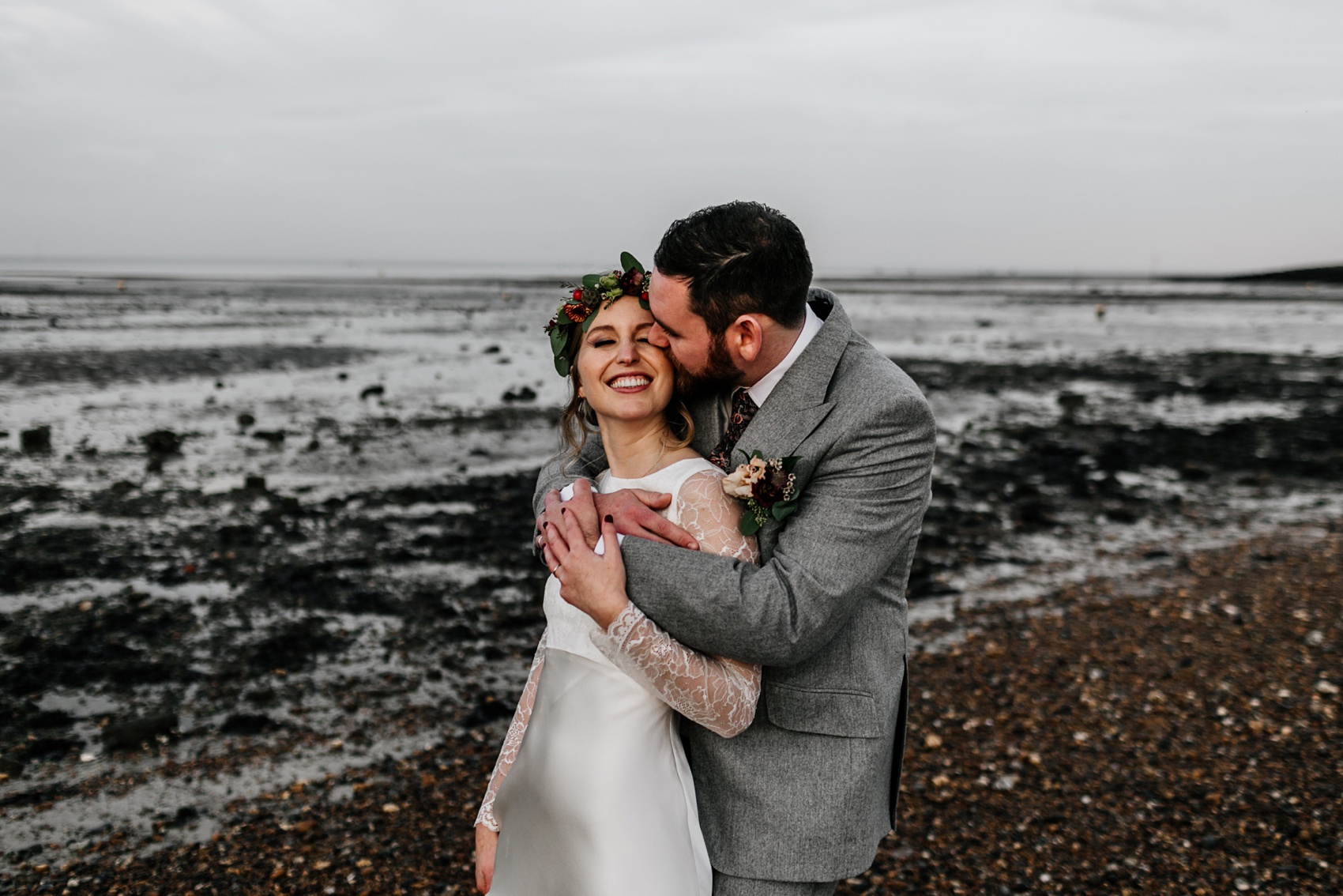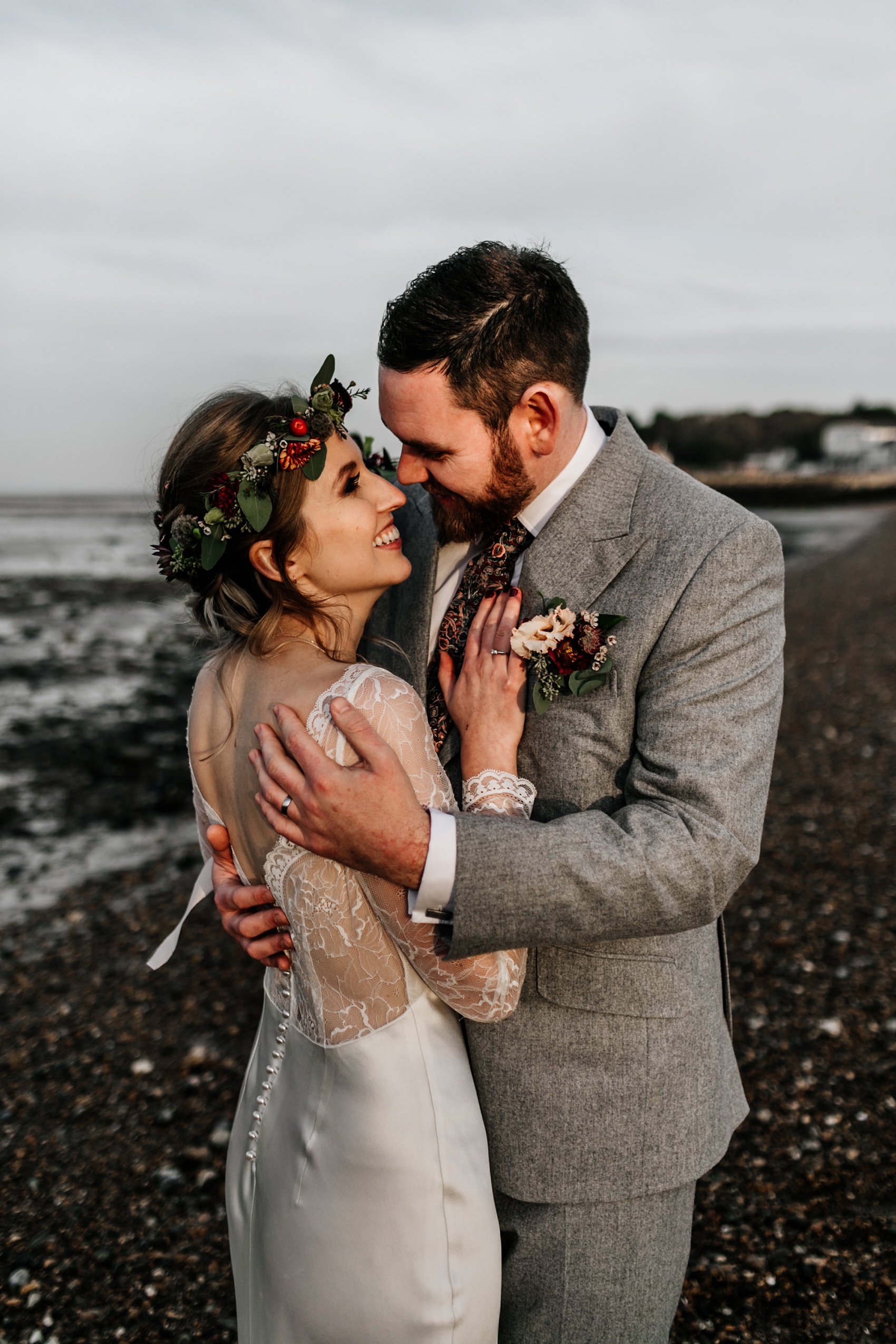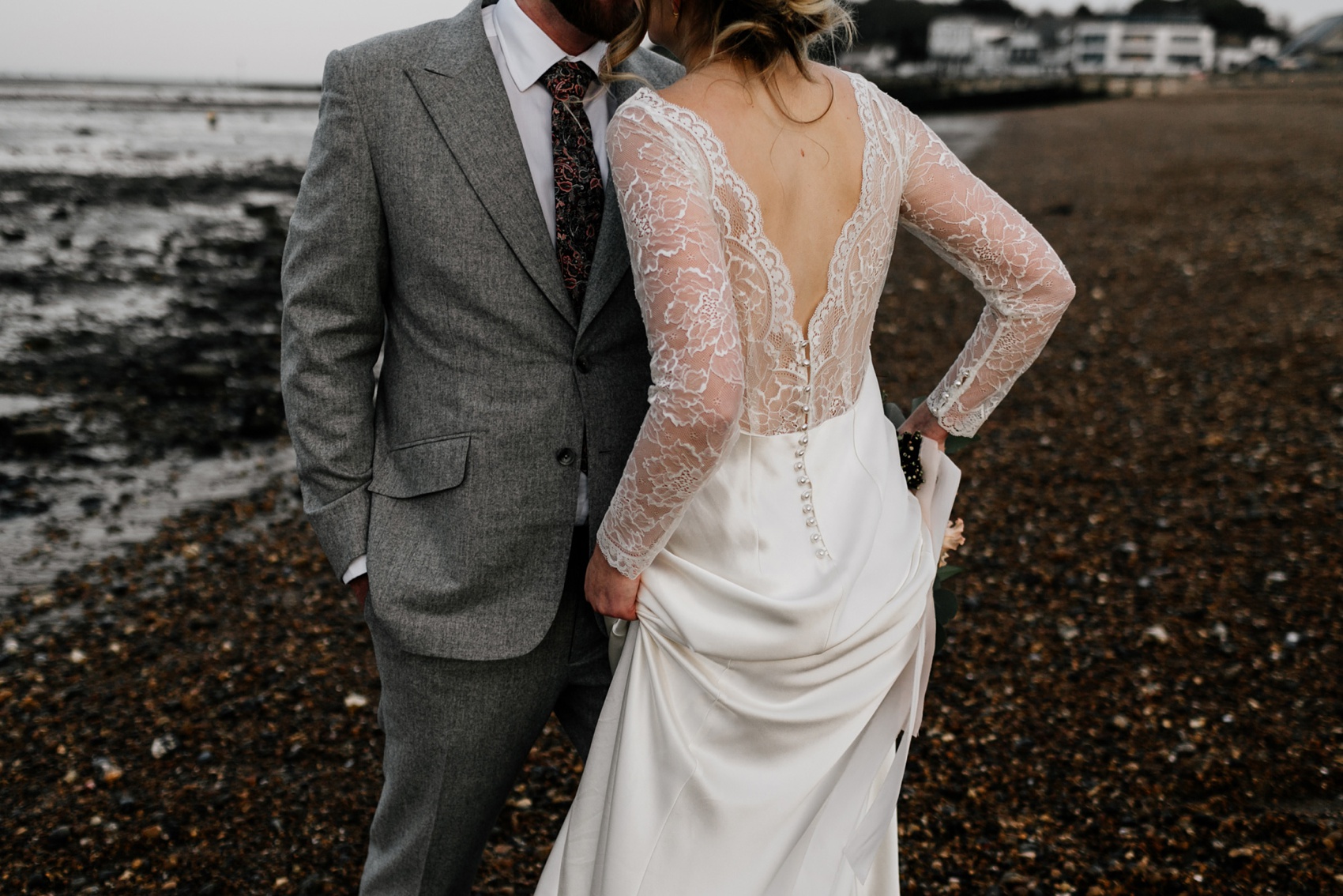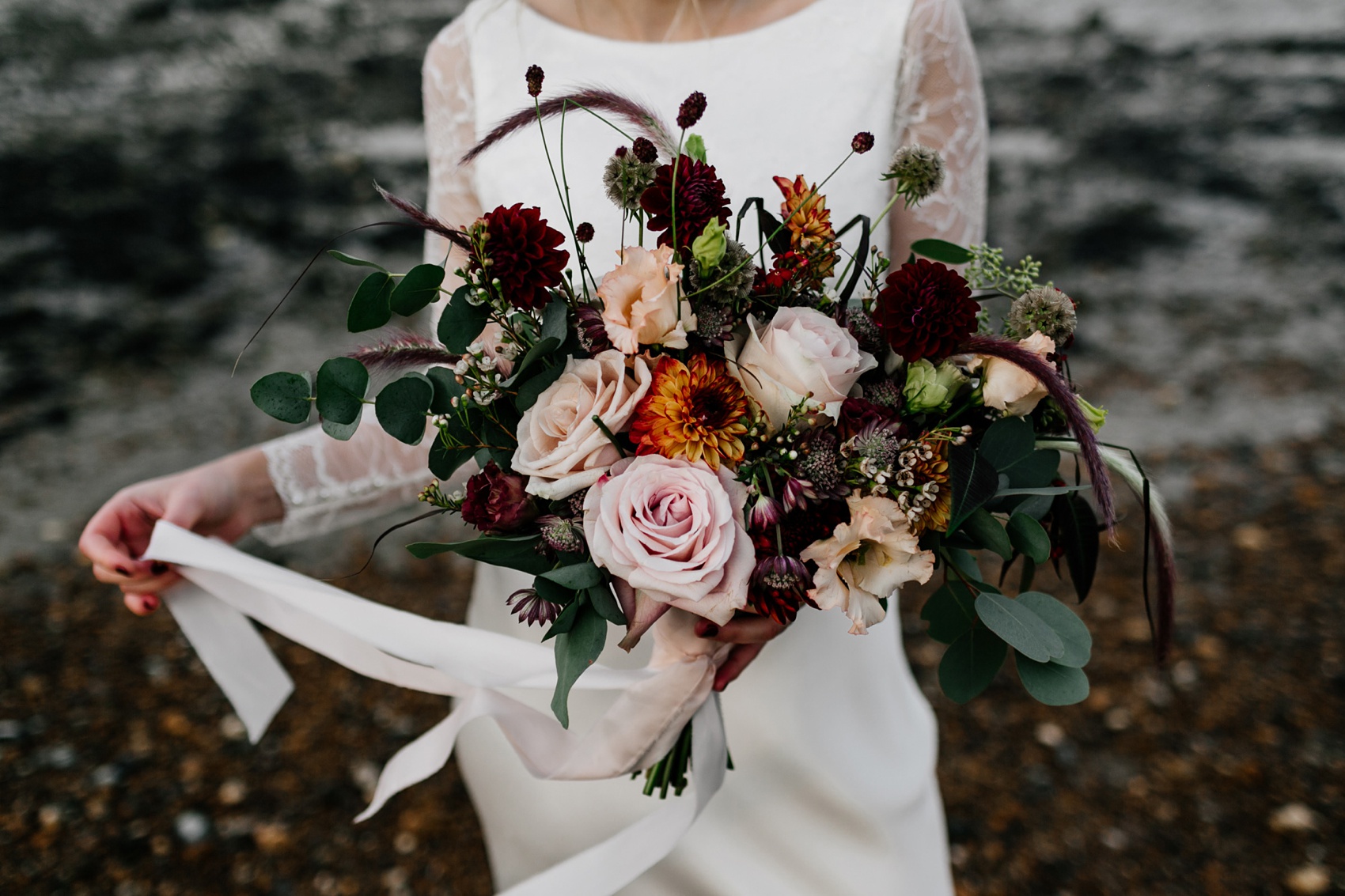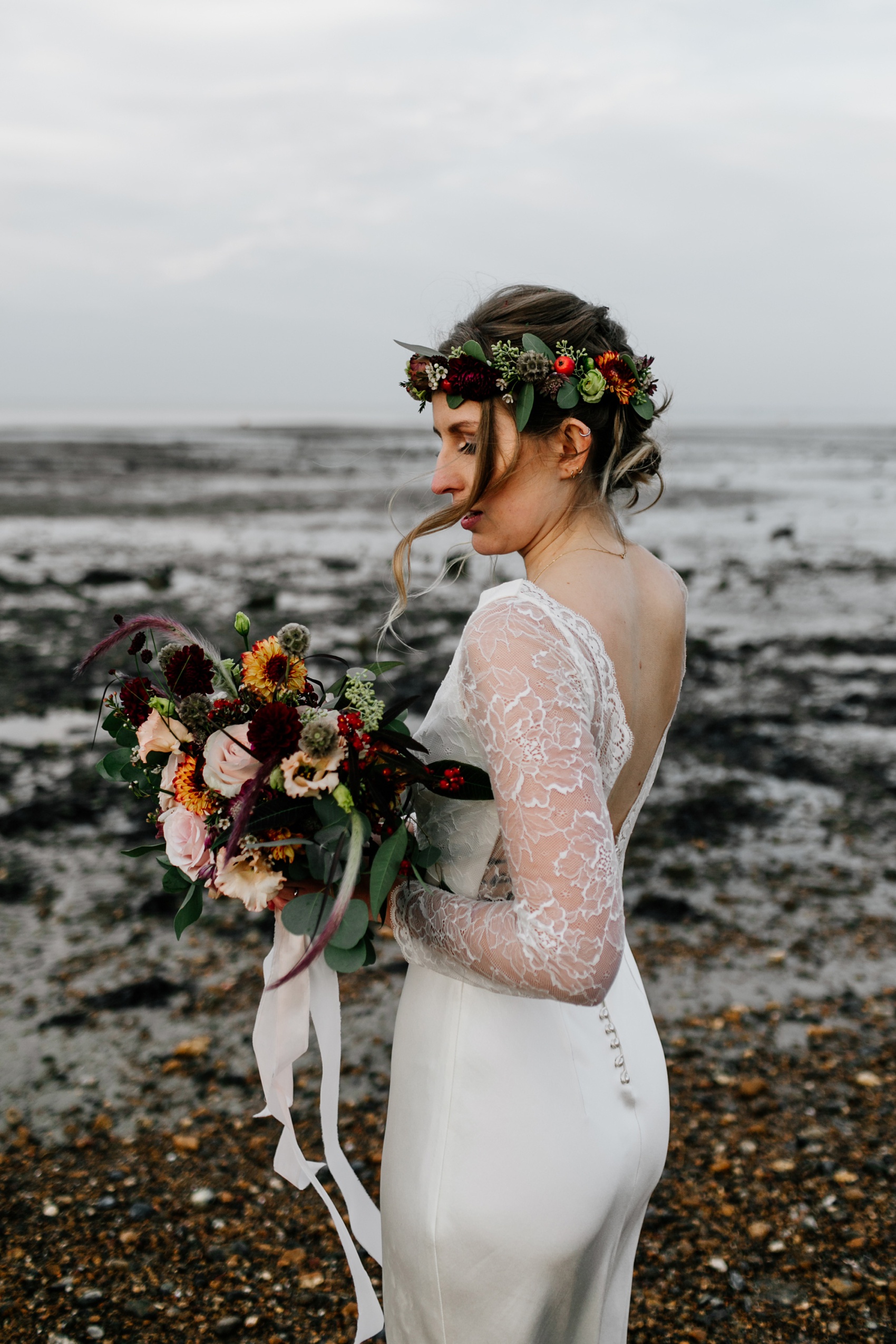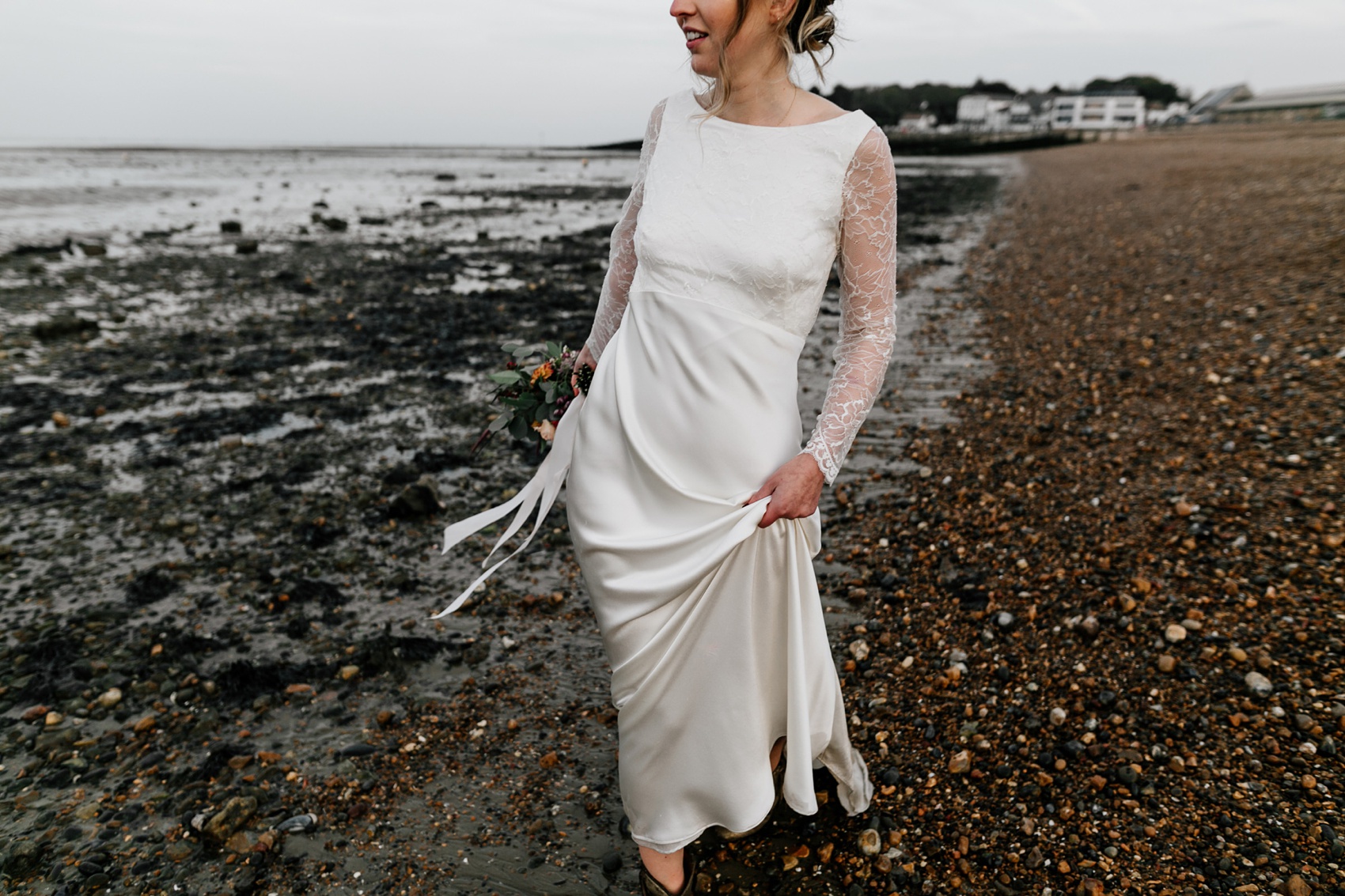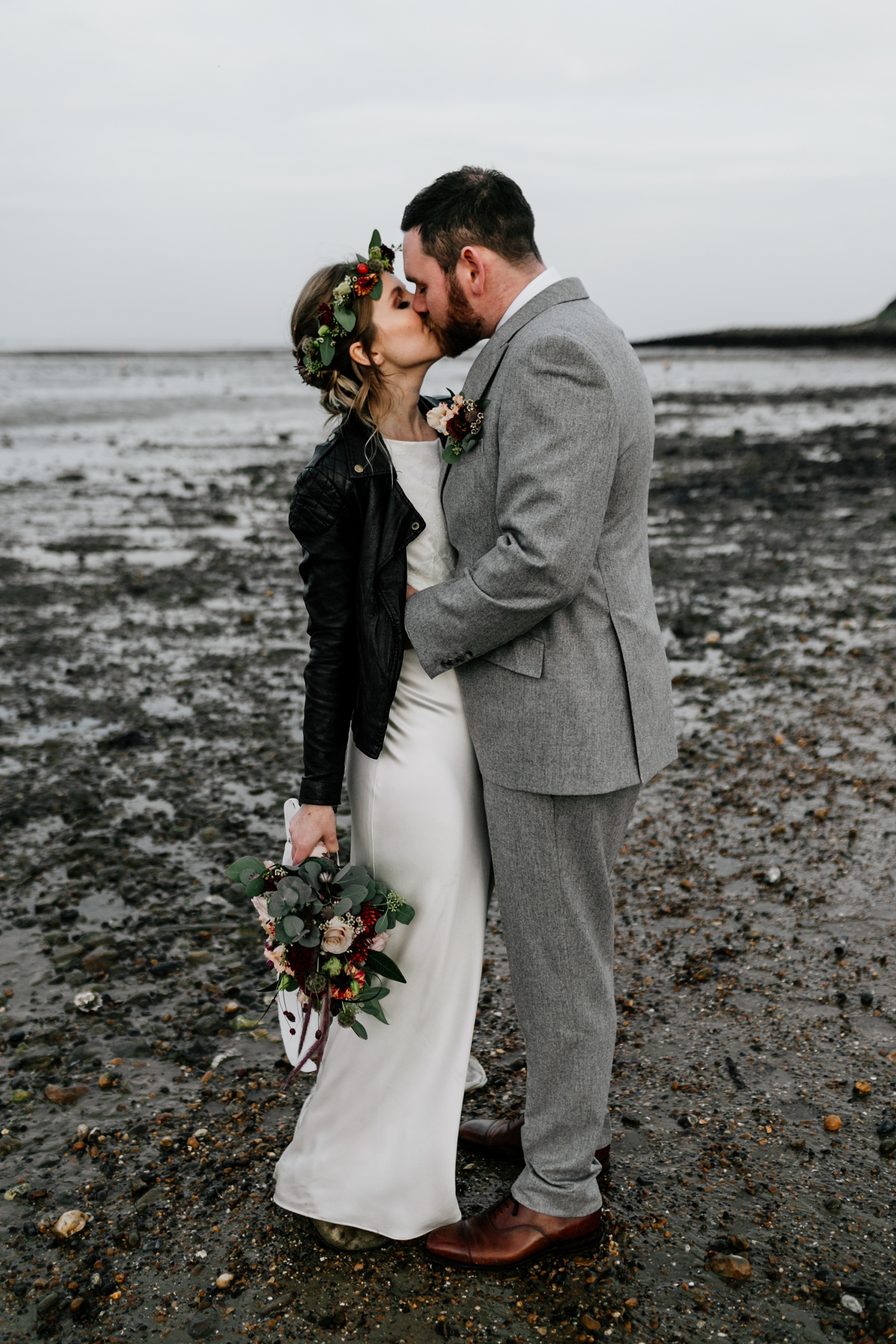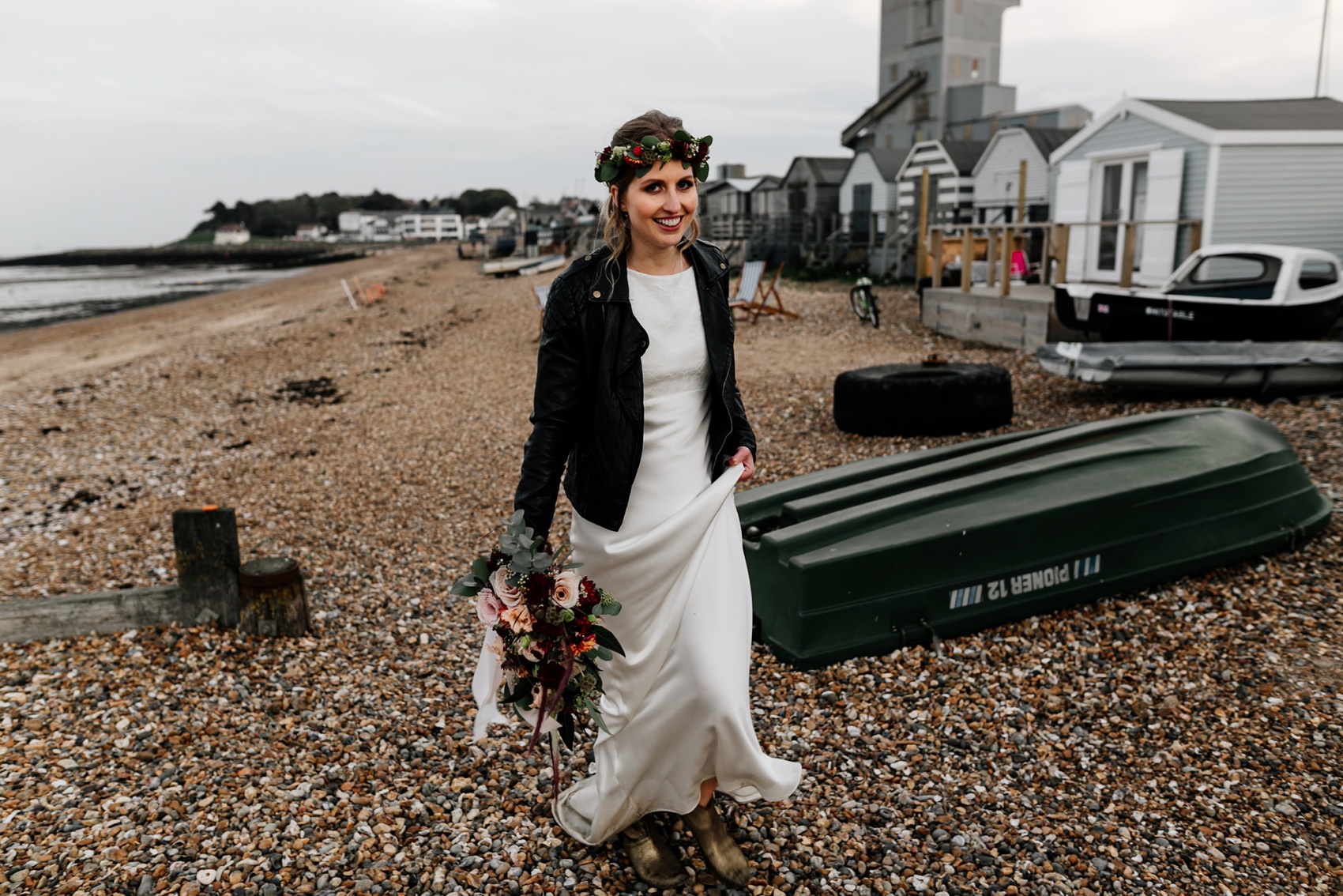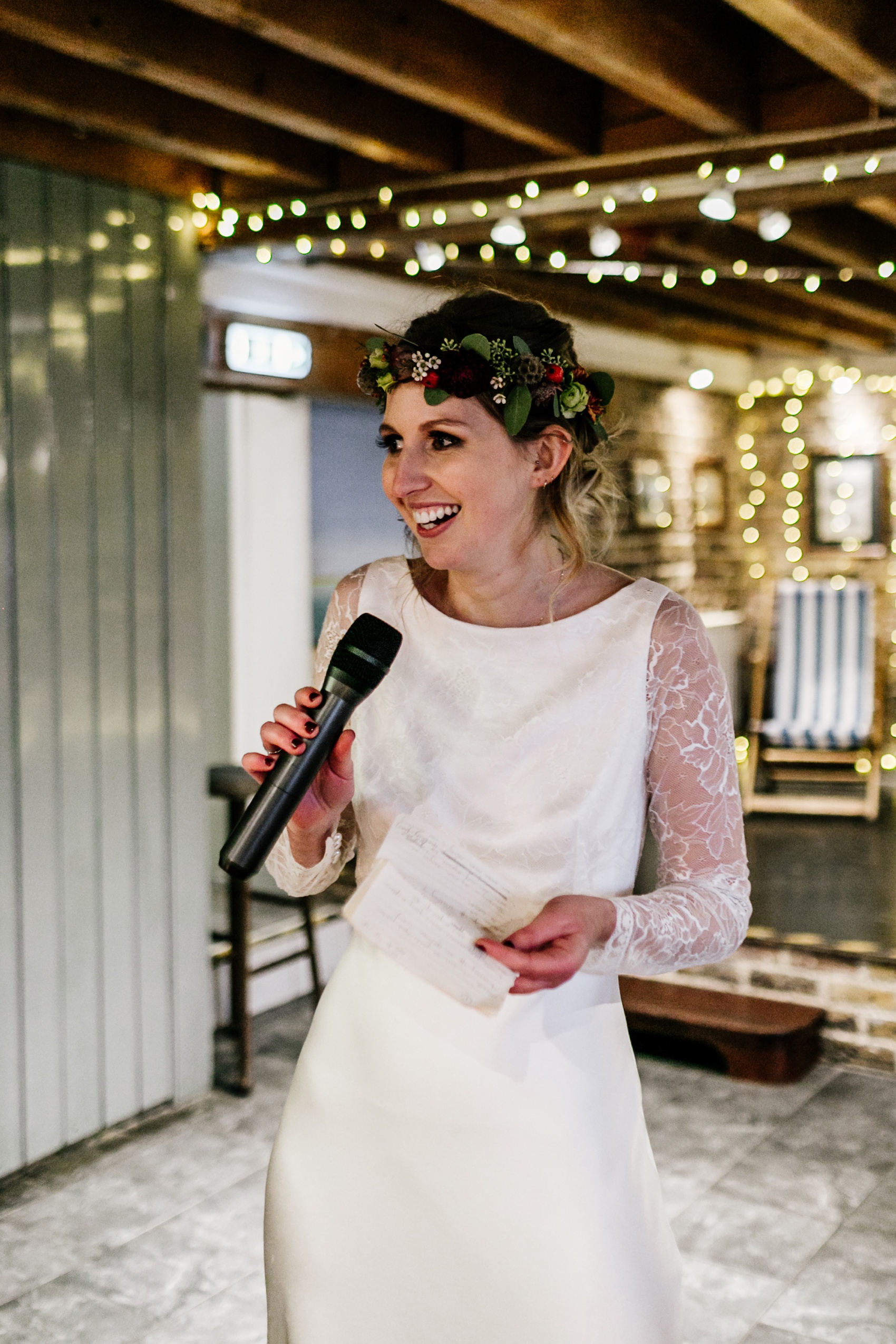 The meal was interspersed with speeches, one of the couple's favourite parts of the day.
"I loved all the speeches and I was really happy to be able to buck tradition and give my mum and best friends a chance to speak, as well as doing my own speech of course! My mum read out the poem 'Wedding Day' by Abigail Burdess as part of her speech."
"We passed over a few traditions and made up some traditions of our own but we did cut the cake as a couple, which in hindsight I would have skipped, as it felt a bit weird and staged."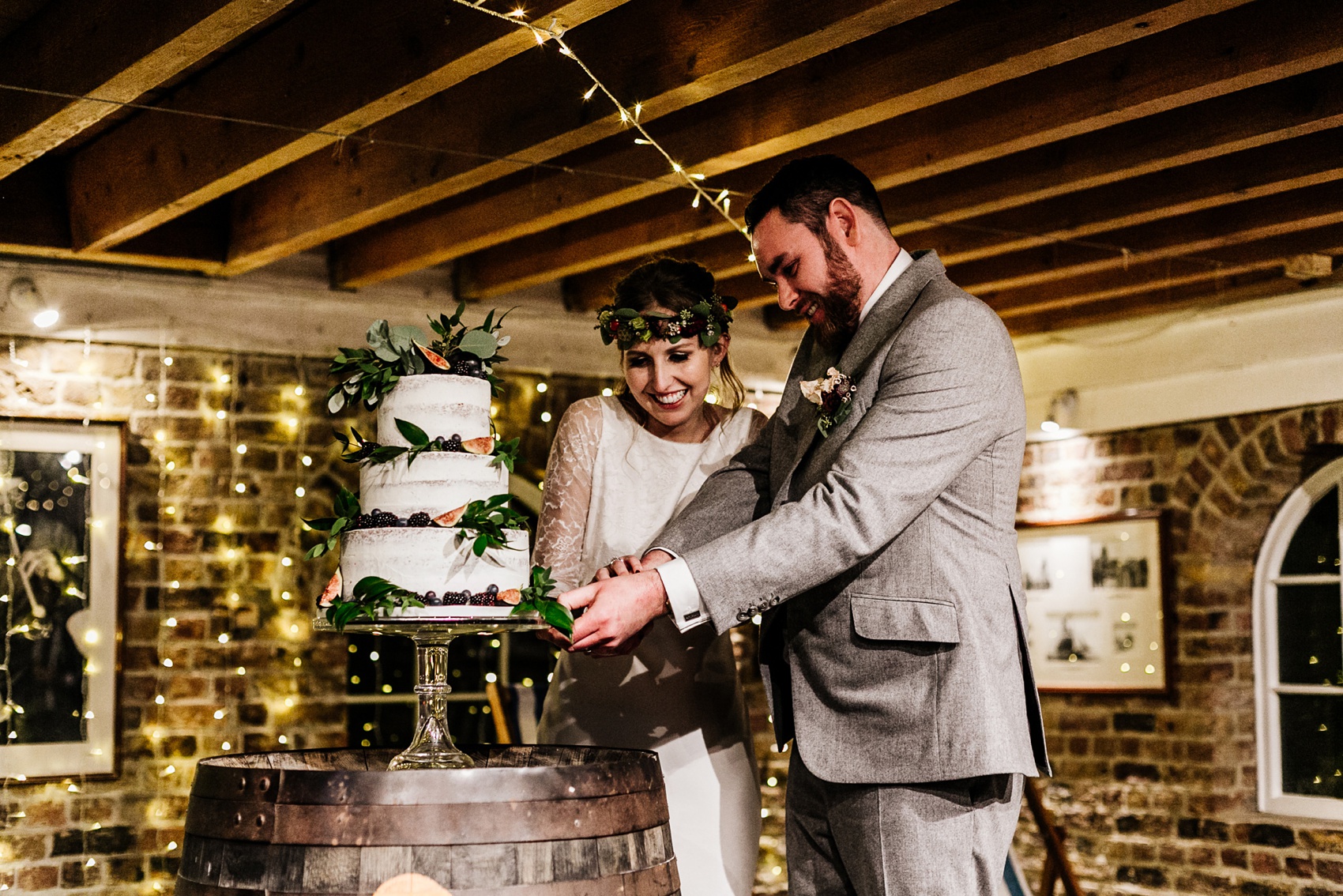 Music for the evening reception came from Brothers From Another Cover before Jools Butterfield of Hot Blood DJs kept the party going late in to the night.
"Our first dance was to 'Bros' by Wolf Alice, because we're best friends and it's a fun song."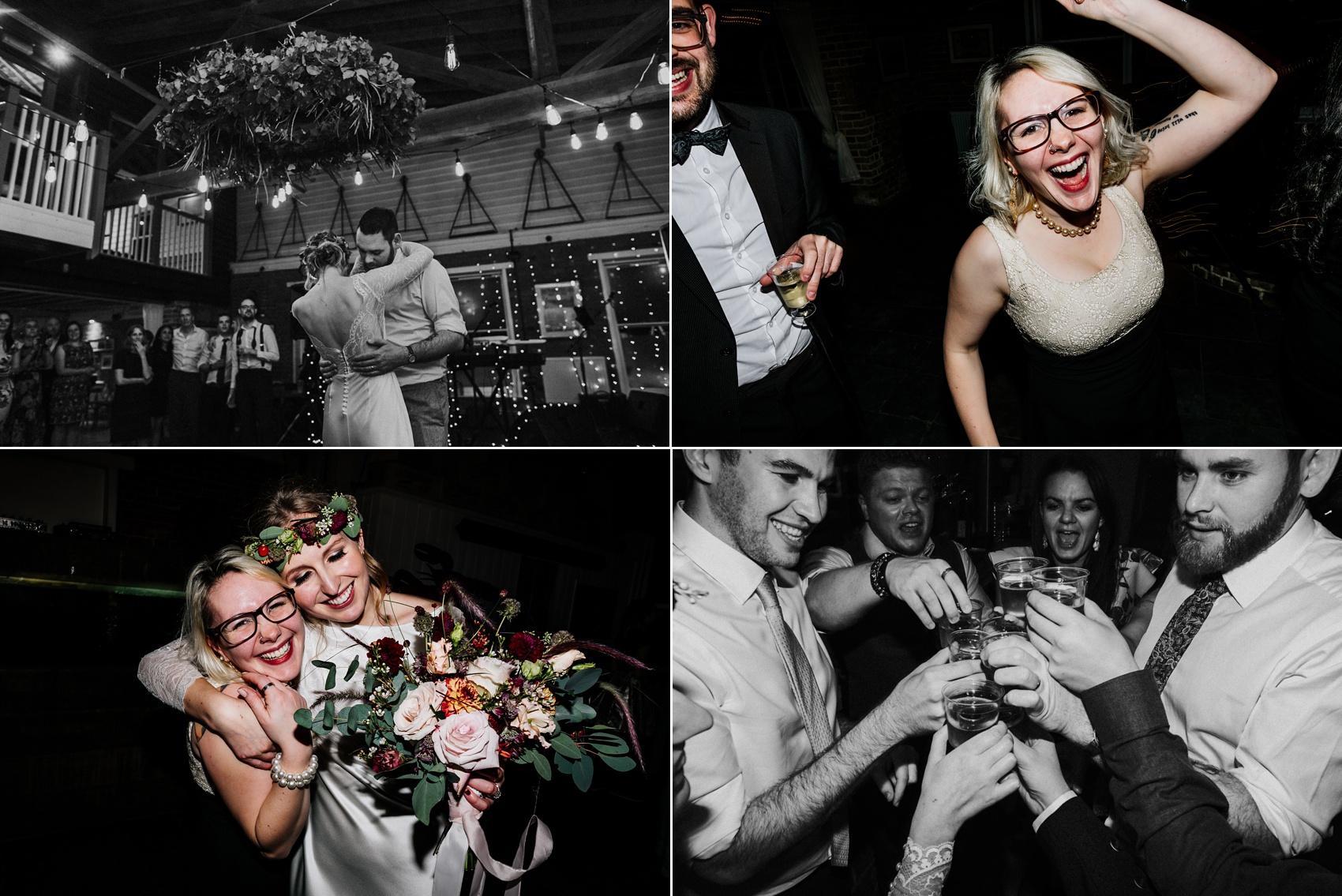 Words of Wedded Wisdom
"It can be really stressful trying to cater to everyone's tastes and trying to second-guess what friends and family want. The only thing you really need to think about is what you both want from the day and don't worry about anyone else. It's your wedding day after all and what matters is that you have it the way you want. And ultimately no-one will mind if things aren't as they expected or the way they would do them – everyone will embrace the day anyway as they're there to celebrate you both."
"Eat a big breakfast – you won't eat again until the evening – and try to have some time chilling out and collecting your thoughts in the morning before it all kicks off."
"It will go so quickly so savour every moment!"
"Don't worry about getting your dress dirty – you're only going to wear it once anyway."
"Our original budget was around £18-20k which we pretty much stuck to. Getting married on a Sunday meant East Quay gave us a really good rate and it meant we could spend the money on other things like a free bar, which I think our guests really appreciated (judging by the amount of Jägerbombs consumed!)."
Ele xx