Hello lovelies, I've got a gorgeous DIY wedding up my sleeve for you today. When you live on a farm, it's only fair you take advantage of the beautiful surroundings when planning your own wedding, right?
That's what today's bride and groom did, using their own land and an old hay barn to create their wedding venue of dreams. With some crafting from the bride, and a lot of team work, they managed to create a truly gorgeous day, with their little boy as their proud page boy. So without further ado, let's meet them shall we? Fashion and textiles teacher Hannah and project manager Sam were wed on 28th July at St Mary's in Elmbridge, followed by a reception at their own farm, Badge Court Farm, also in Elmbridge, Worcestershire.
"We built our house on the farm and it's also where Sam grew up. He asked his dad and he said yes, so we transformed an old hay barn into our wedding venue. Between the two of us, we then planned, designed and coordinated pretty much everything ourselves."
Film by Blue Sky Wedding Films
"Sam and I first met on Tinder in the summer of 2013. We met at Gordon's Wine Bar in London as we'd both been living and working there and we've been glued to the hip ever since. We moved to Brentwood in the summer of 2014 and Sam proposed in 2015. His plan was to do it at Gordon's as that's where we first met, but he quickly changed his mind when it was really busy for Friday night drinks. Instead he did it in bed that night whilst watching Celebrity Juice. We were moving back to Worcestershire to build our house and planned to get married in 2017 but our son Reuben came along in July 2017."
Images by Sam Jayne Photography
"We both always wanted a very rustic and relaxed wedding. We knew we were going to have our reception in the barn, so thought we would keep it very simple and in the style of a country wedding. We have lots of access to vintage and antique furniture equipment, so these items were the main focus of the wedding. Sam had always said he liked the idea of getting married in a church to keep the community spirit alive and link our family with the local village church so we decided to have the ceremony at St Mary's in Elmbridge. We also christened our son there earlier in the year.""I really struggled to find a dress as I always thought, as a fashion and textiles teacher, that I'd make it, but I quickly went off that idea as the pressure would really be on. I looked into designing it and having it made for me but it was coming out too pricey. I decided to go and try some on, which was a massive disappointment as I'm between a size 16 and 18 with a big chest and I quickly became deflated with the idea."
[RELATED]
"I researched plus size wedding dress shops and booked an appointment with Lily Rose Boutique in Kenilworth. It was the first dress I tried and I fell in love immediately – it was basically the dress I'd design. I tried on pretty much every dress in their shop, just to rule out other ideas, but went back to the original one I loved."
"I loved the lace on it as I'd always wanted a lace dress, the heavier the better. The whole dress was lace in a champagne colour and it fitted the style of our wedding perfectly. I was so surprised at how good I felt in a fit and flare but I loved it so much."
"My hair was done by Blue Rose Beautification. I wanted a real boho chic style as I knew I would be wearing a flower crown too. I knew Jody from school and had heard wonderful things, and she was fab and got the style straight away. She came over the night before the wedding and put my hair in what looked like cinnamon swirls and the next day she did a wicked job! My hair stayed perfect pretty much the whole day, even under the stresses of some serious dancing. My make up was always going to be done by Sophie at Swan Beauty. I have known her for years, watched her business grow and truly believe she has a real skill. She did an amazing job, even with the added pressure of being one of my bridesmaids. She was up at the crack of dawn sorting out the make up and she did mine and my mums on the day."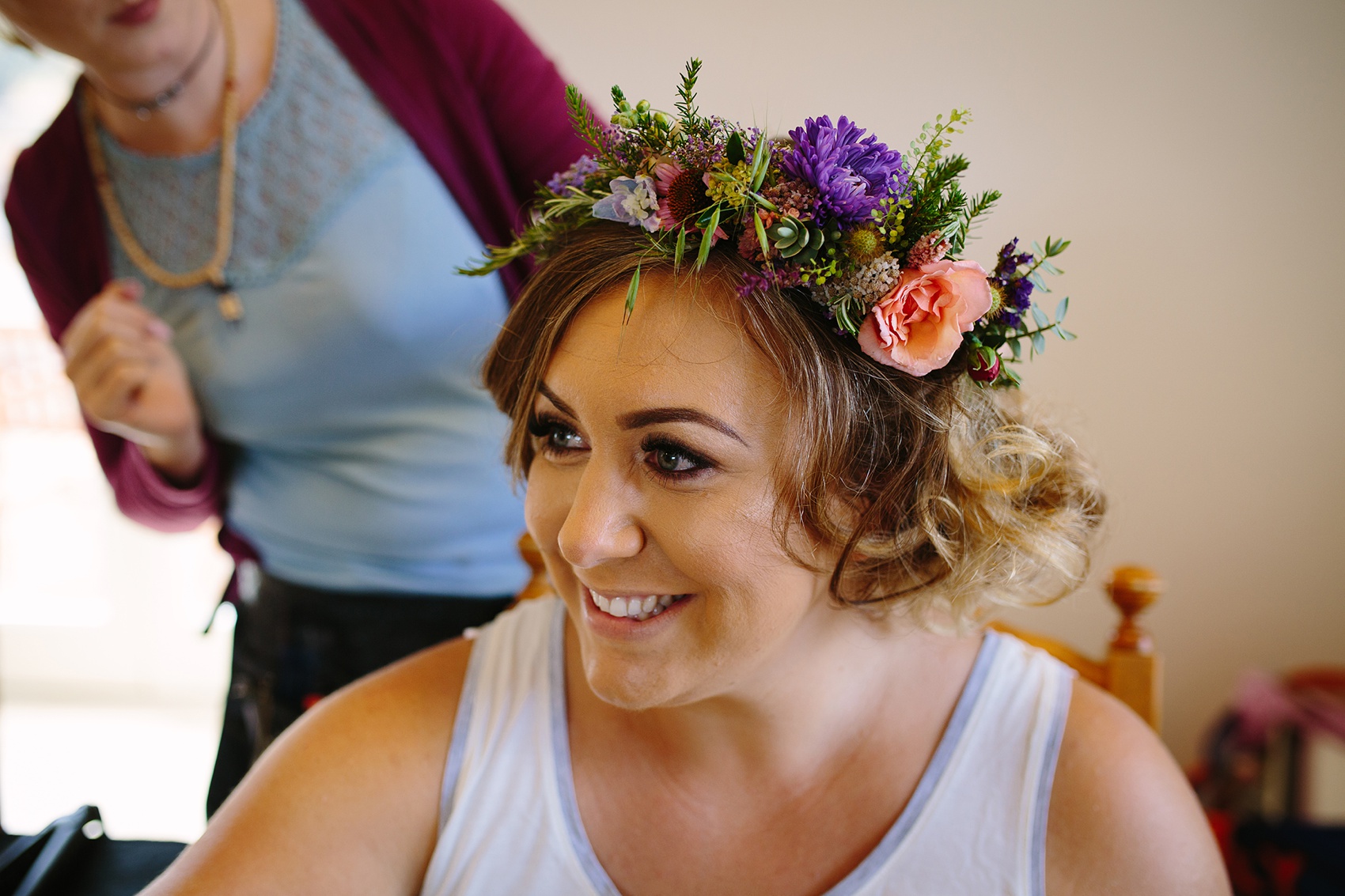 "I wore a real flower crown made by Bride and Bloom and a pair of flat shoes. I knew I wanted to wear flats as I wanted to enjoy the day and not put pressure on it by wearing heels as they ruin most nights out for me! I spent ages trying to decide what I wanted and landed on a pair of Toms – comfiest shoes ever!"
"For my scent, we both bought Hugo Boss as we call each other boss! It seemed fitting to have boss perfume. I made my garter and used lace from my mums wedding dress. I didn't wear any other accessories apart from a pair of earrings that were from Next. I lose earrings all the time so I went with a cheap pair."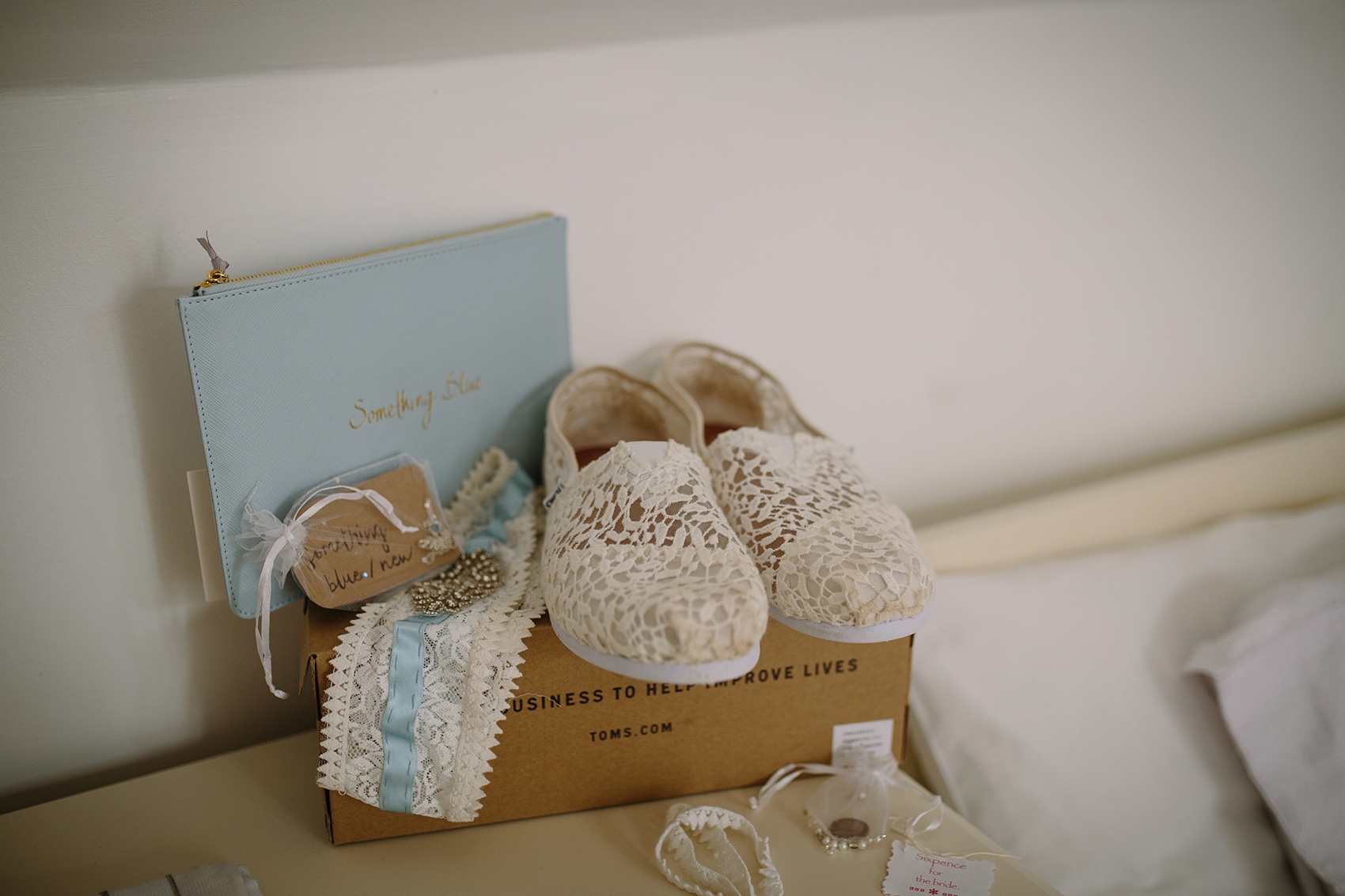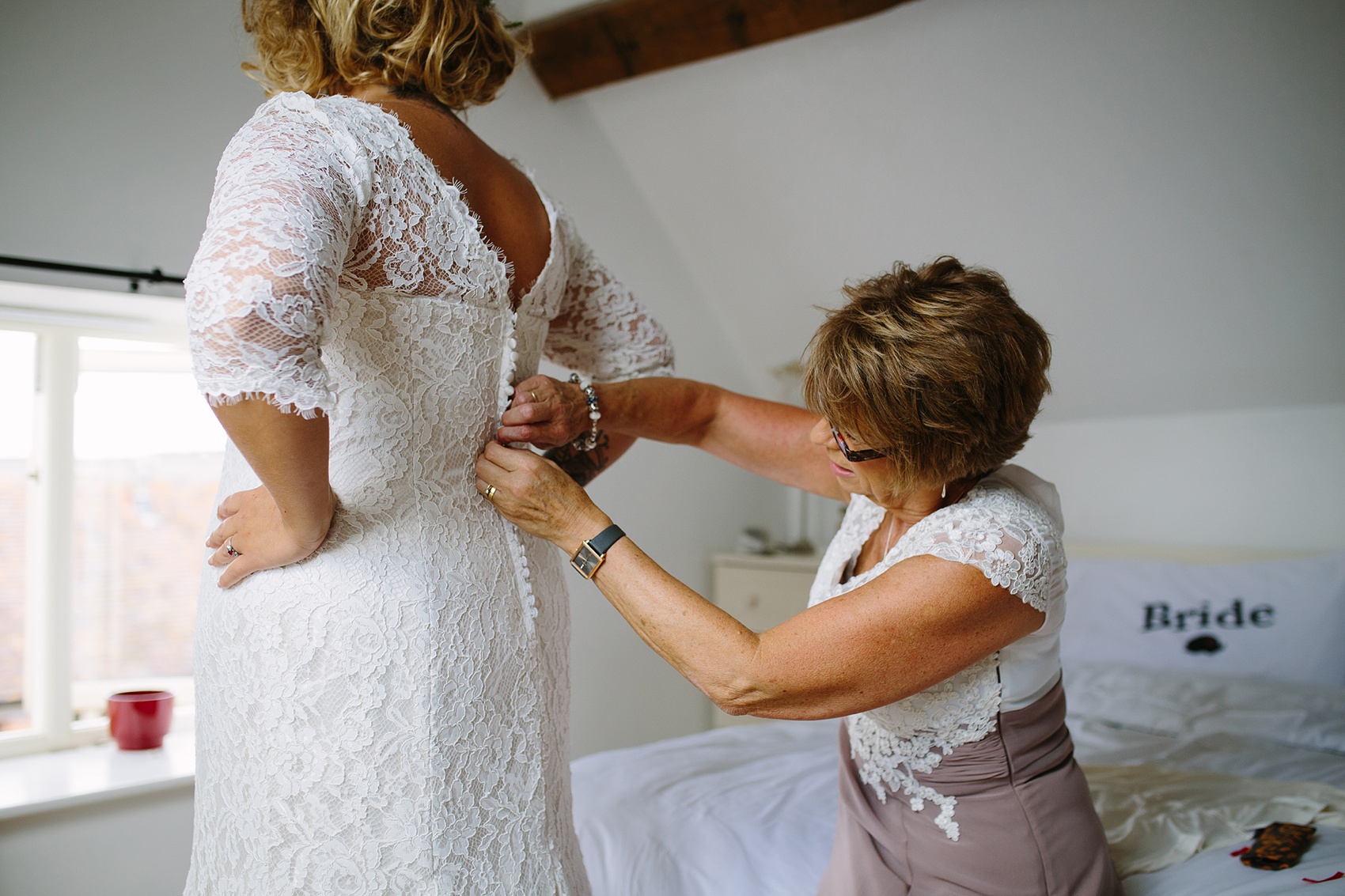 "We used Hannah at Bride and Bloom as a florist and she was wonderful. She loved our vision and was really excited by our ideas. We knew we wanted British flowers, typical of a cottage garden. The sunflowers were a little nod to my dad as this was his favourite flower. I really wanted a very wild, thrown together bouquet and Hannah captured it perfectly."
"As we had the facility, we decided to bulk out our table flowers with some of our own flowers, so we grew a vast amount of sweet peas, mine and Sam's favourite flower. He would cut the peas every morning in the run up to the wedding to ensure they were in full bloom on the day – the barn smelt amazing!"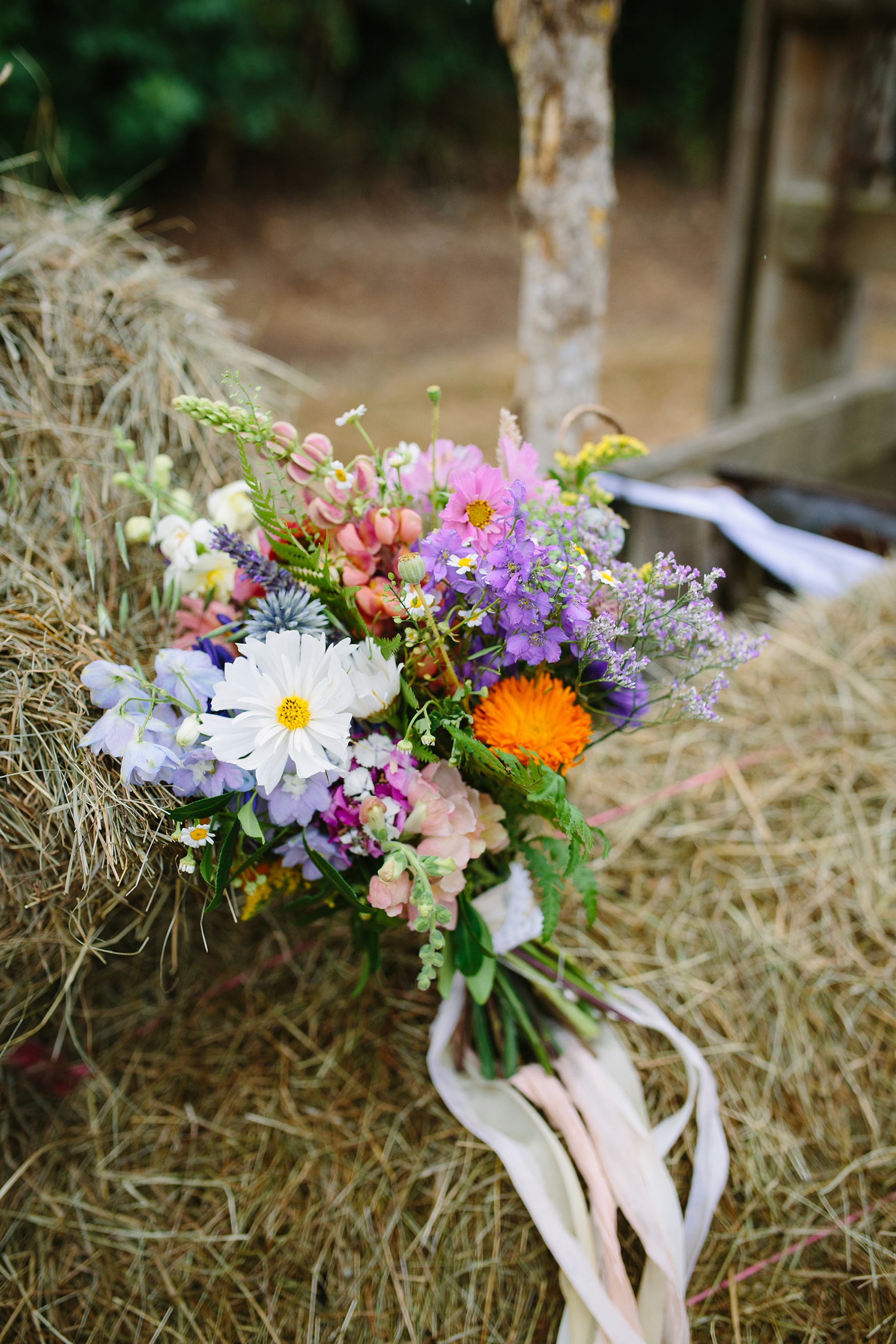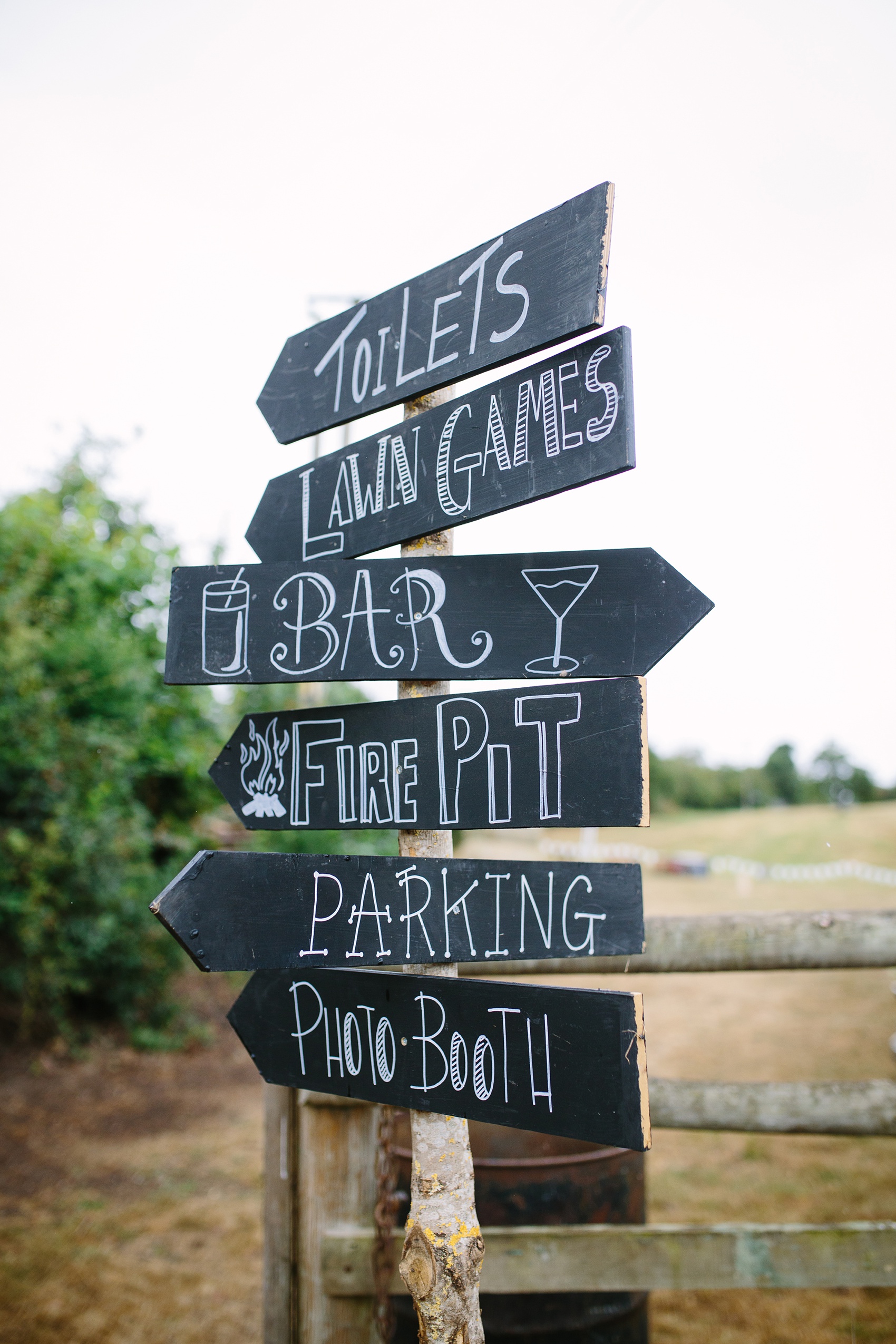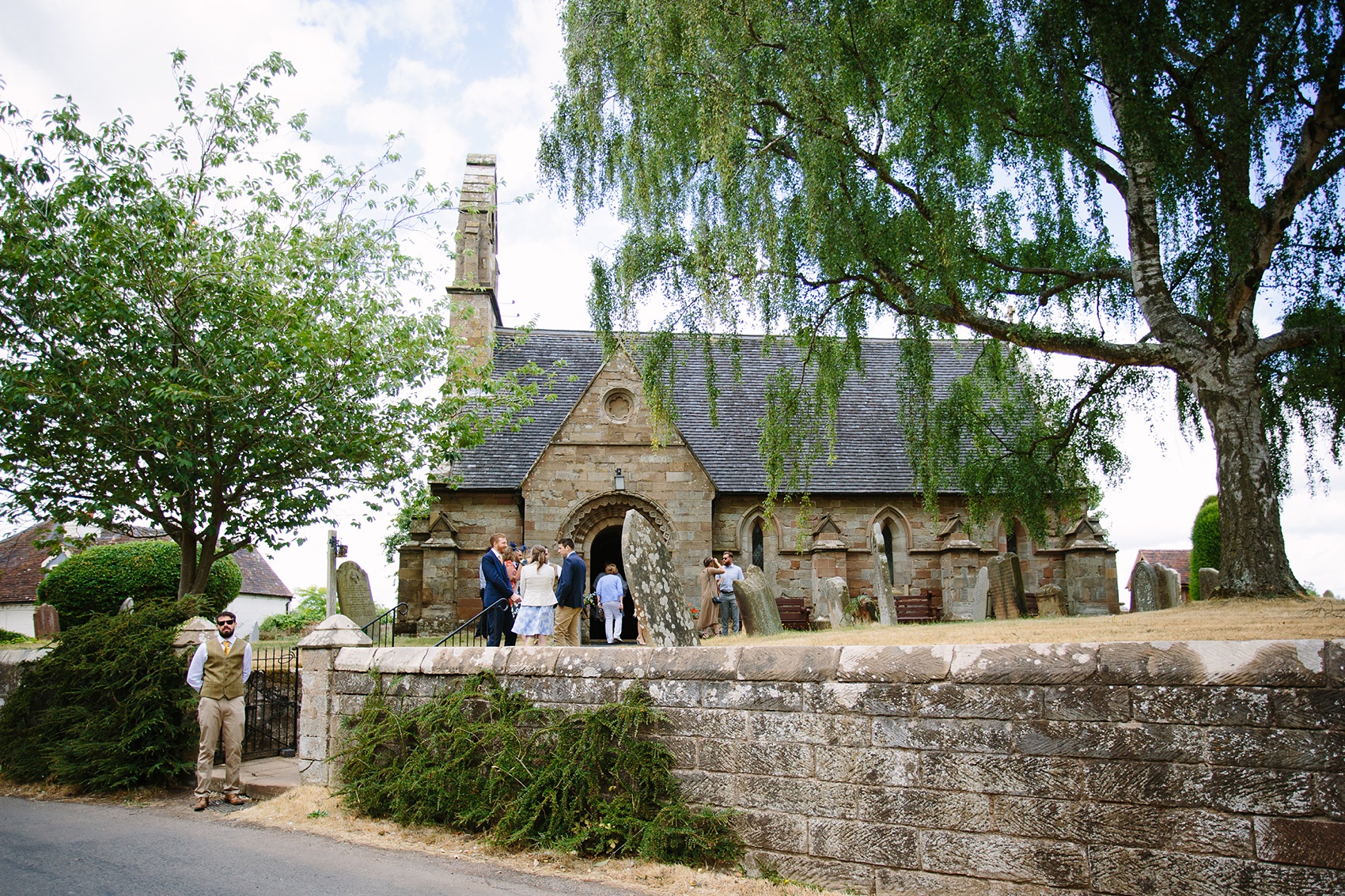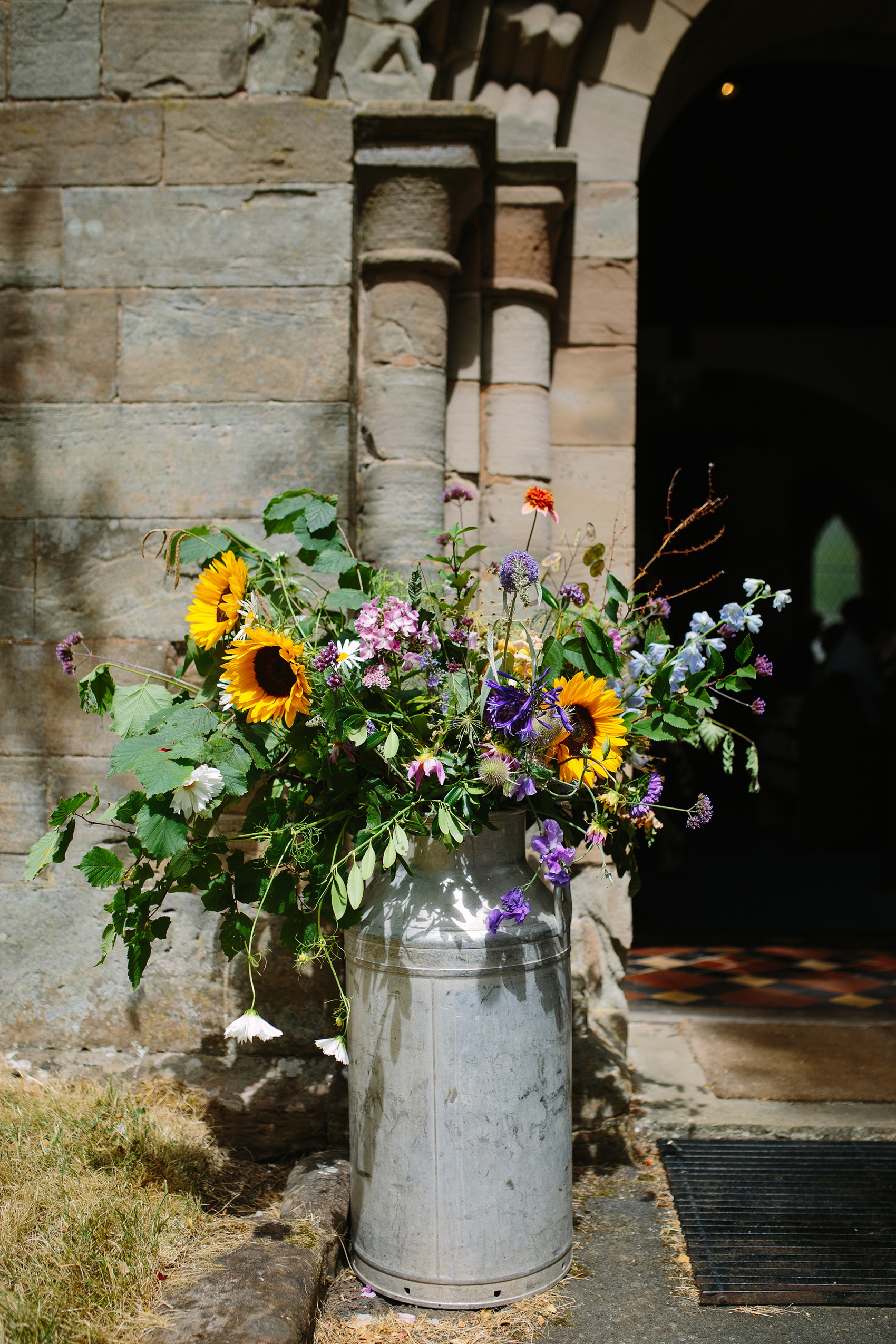 "My son Reuben was our page boy. I made his waist coat from tweed that I sourced that was similar to the groomsmen's suits. He wore it with a little Oxford shirt and sand coloured chino shorts and white trainers."
"I sourced Sam and his groomsmen's suits from Marc Darcy. We thought of the little details with the boys."
"Their ties had pheasants on and we purchased them all a bee tie pin each too. We really liked the little nods to country living. Mike, the best man, had the same brogues as Sam. They had a Harris tweed detail on the upper, which we thought quite fitting. He and his brother both wore the same jacket too. We wanted the boys to be similar but not the same, so they all wore sand chinos, a brown belt, brown brogues and a white cotton shirt with a gold pheasant tie and tweed waistcoat. They all looked very dapper and buying online meant it was a fraction of the cost it would have been in store."
"I designed all of the stationery, getting handy with my school's laser cutter. I loved this part and really took pleasure in making all our stationery. I made all the table games and activities as well. Being a DT teacher, I have access to printing and really enjoy being creative."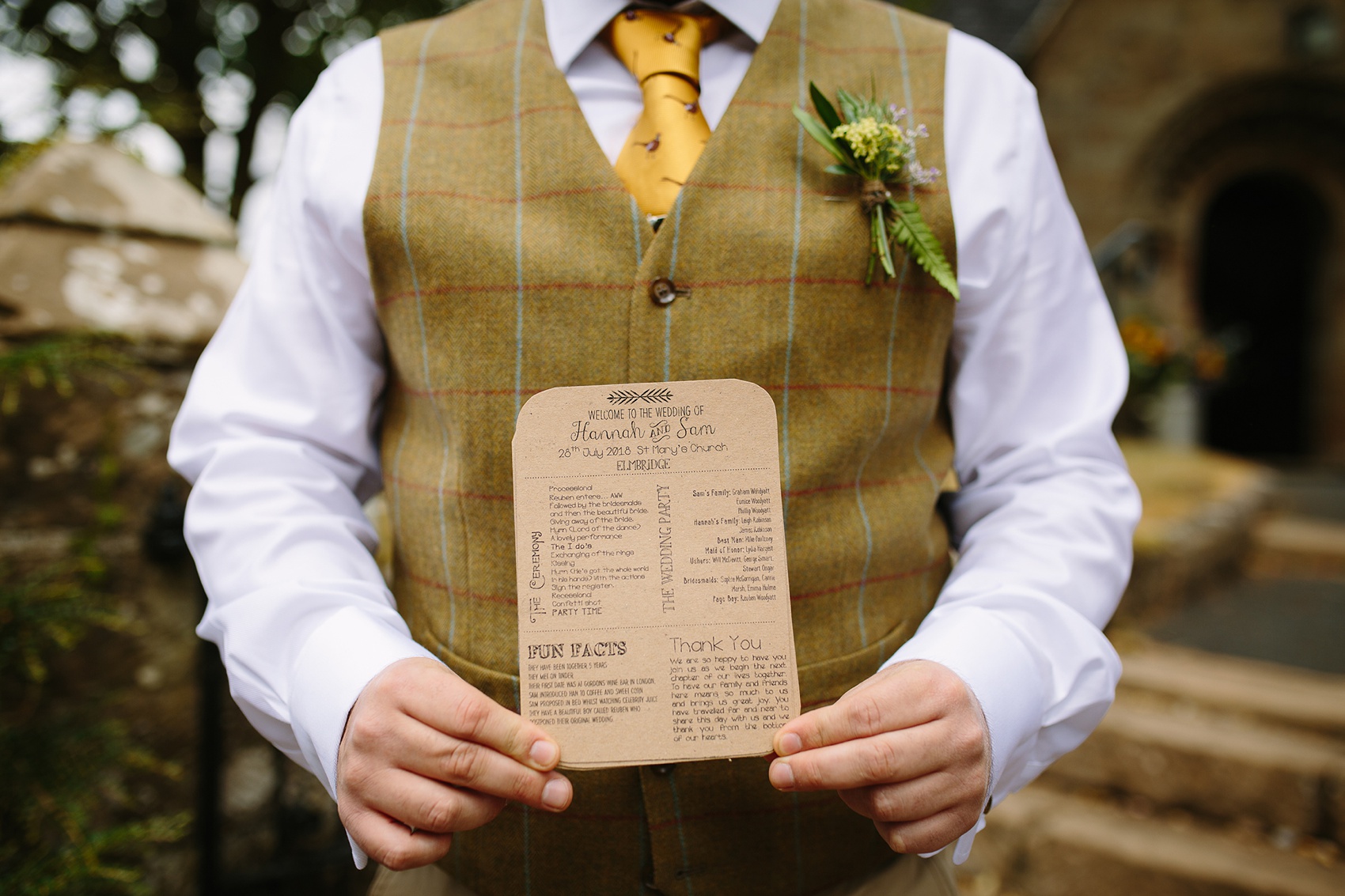 "My bridesmaids each picked their own dresses. I just said to look at ASOS and that they had to be a maxi dress in a shade of pink. My maid of honour I wanted in sparkles too. I bought the girls a delicate pearl hair accessory each and asked my friend Rachel from Happiness and Hair to do their hair. She did an amazing job with a relaxed country feel."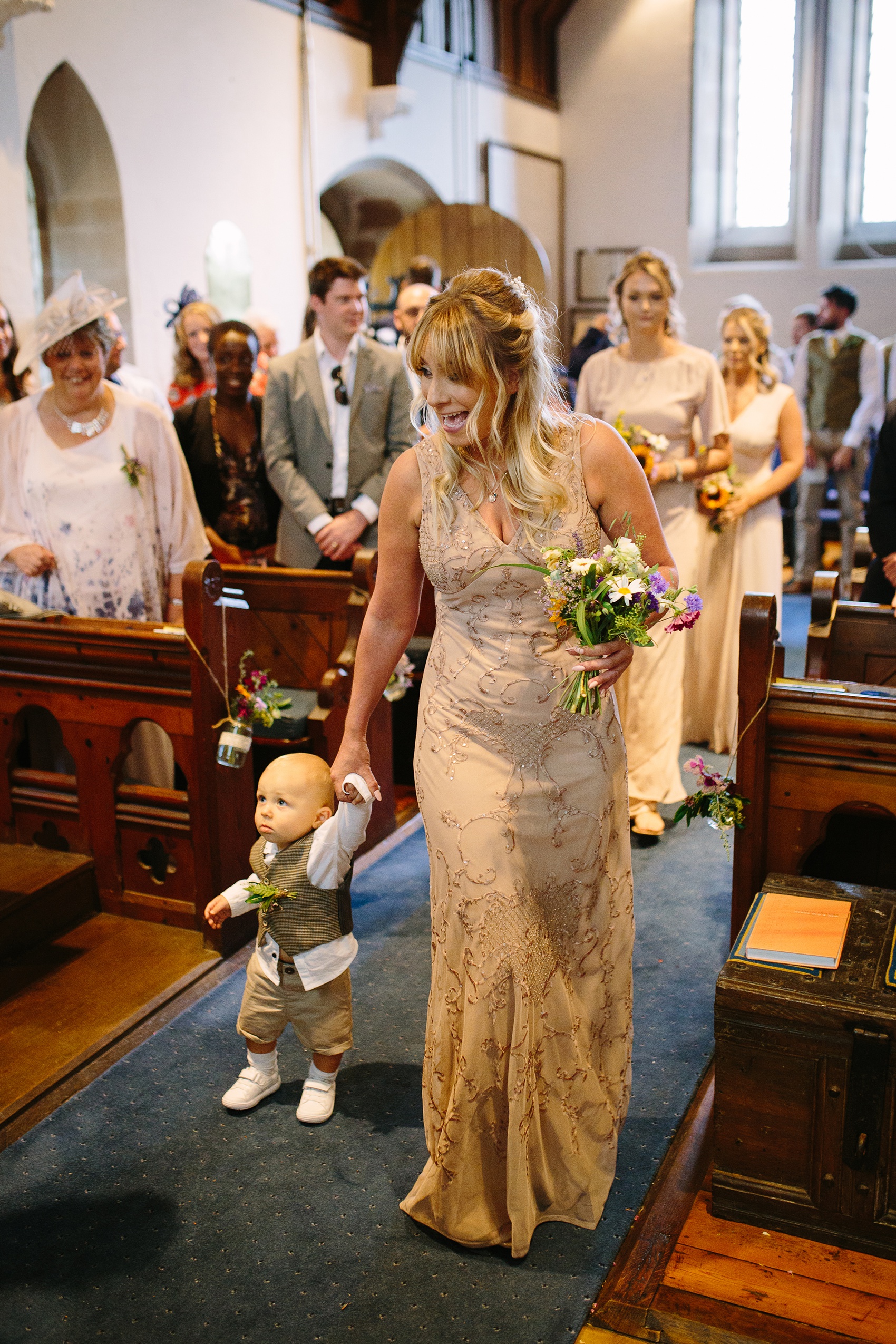 "My brother accompanied me down the aisle to the traditional Wedding March. Our service at the church was informal but still a traditional Church of England service by the vicar. One of my bridesmaids performed How Long Will I Love You by Ellie Goulding on her Ukulele during the ceremony. This song is special to me as it's how I told Sam I loved him."
"I asked Carrie a few years back to sing it for our first dance, then just before Reuben was born, she sent me a video of her arrangement of it and sang it as a lullaby to our new arrival so it made the song extra special. I thought it would be perfect for her to perform it in church as we didn't want to do a first dance."
"I asked my friend Emma from Whitney Goldsmiths to make our wedding rings. I have known her a long time and think her work is exquisite. She is a real perfectionist and worked with us to produce our beautiful wedding bands. We have our thumb prints engraved inside of them."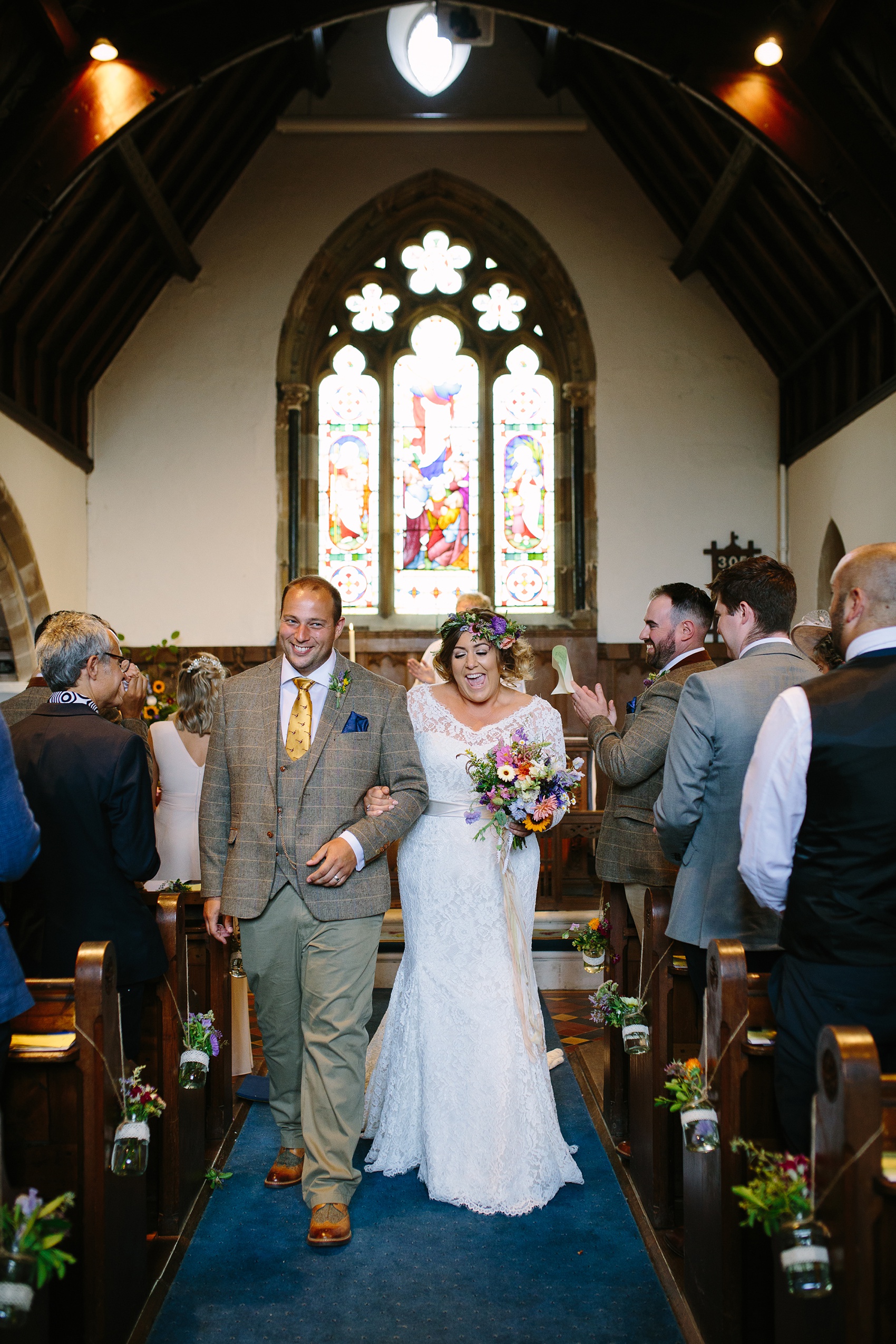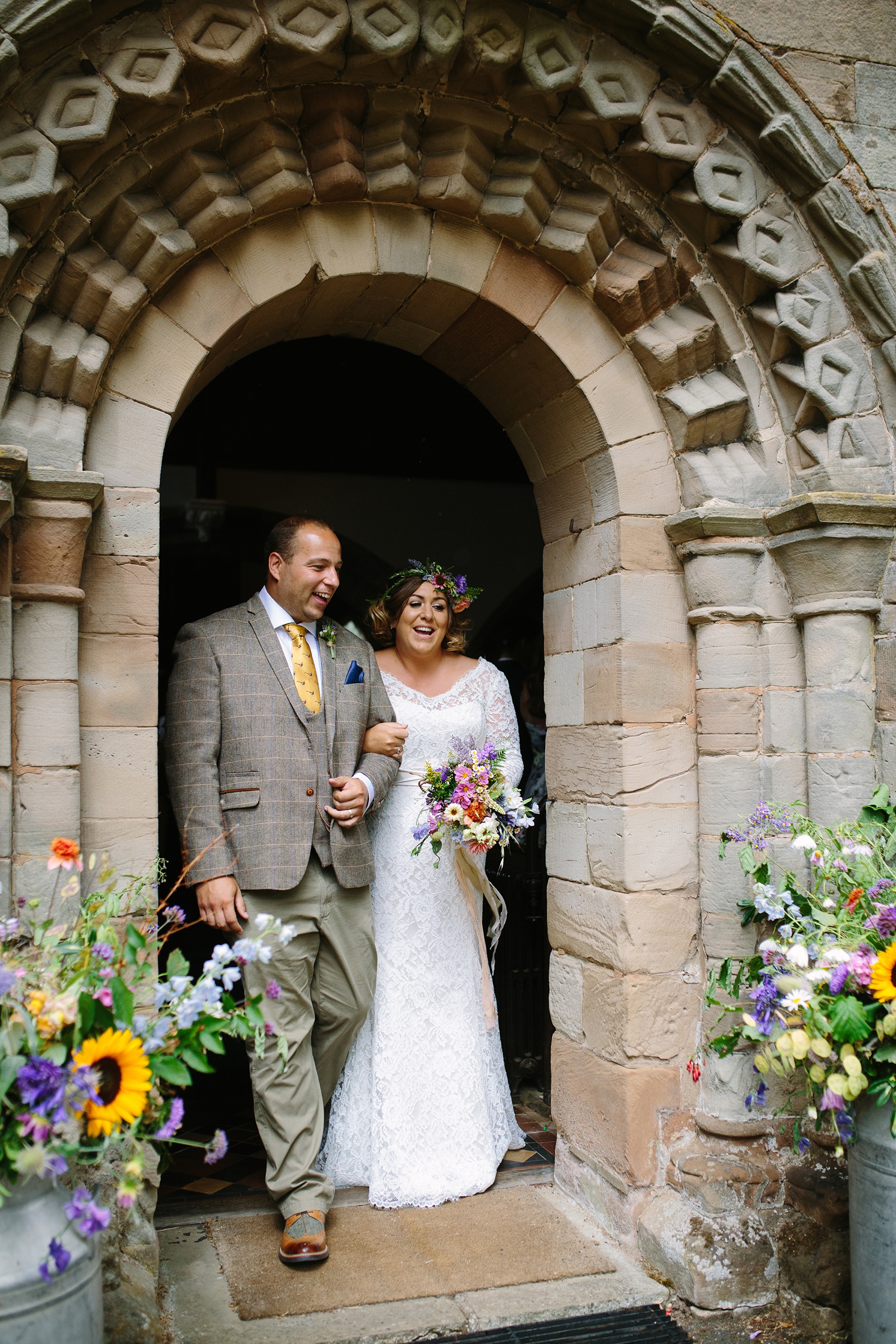 "Sam had always said he wanted candid and informal photos for the wedding and I stumbled across Sam Jayne Photography whilst searching for a photographer. We met with her and thought she was great. Sam was originally booked for our first wedding date, but after finding out our son was on his way into the world, we postponed the wedding by a year and Sam was available for the new date."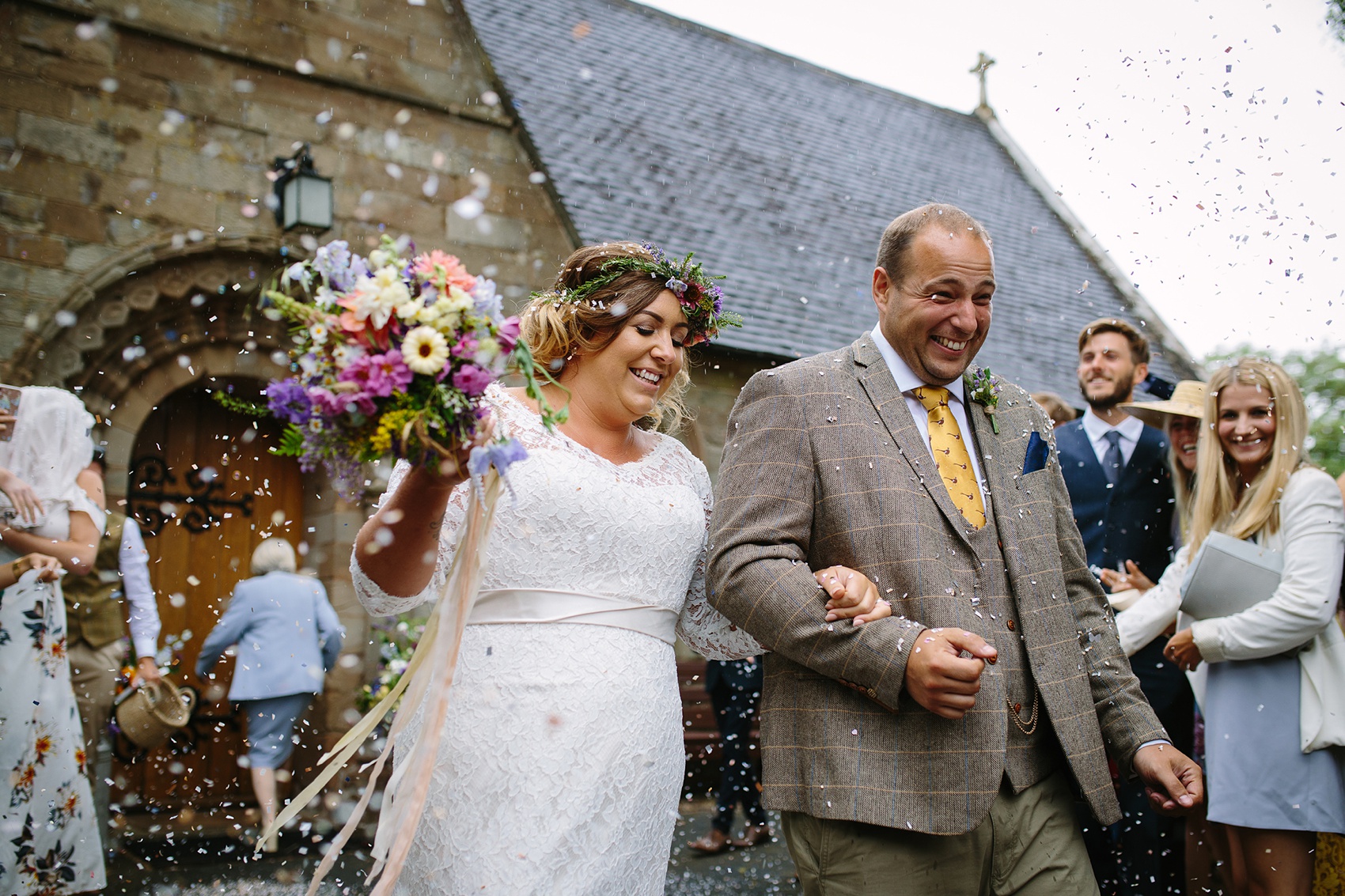 "Sam also came over to the farm for what was meant to be our engagement shoot, but we turned it into a family shoot as Reuben was 3 months old by then. Sam got to see the farm in all its rustic glory and it gave her inspiration for the day. She was a dream to work with and so relaxed and on the ball. She sorted out the guests when necessary and I'd always recommend her."
"Blue Sky Wedding Films filmed the wedding. Tom is the boyfriend of one of my close friends, which is why we chose these guys. They did such an amazing job at capturing the day!"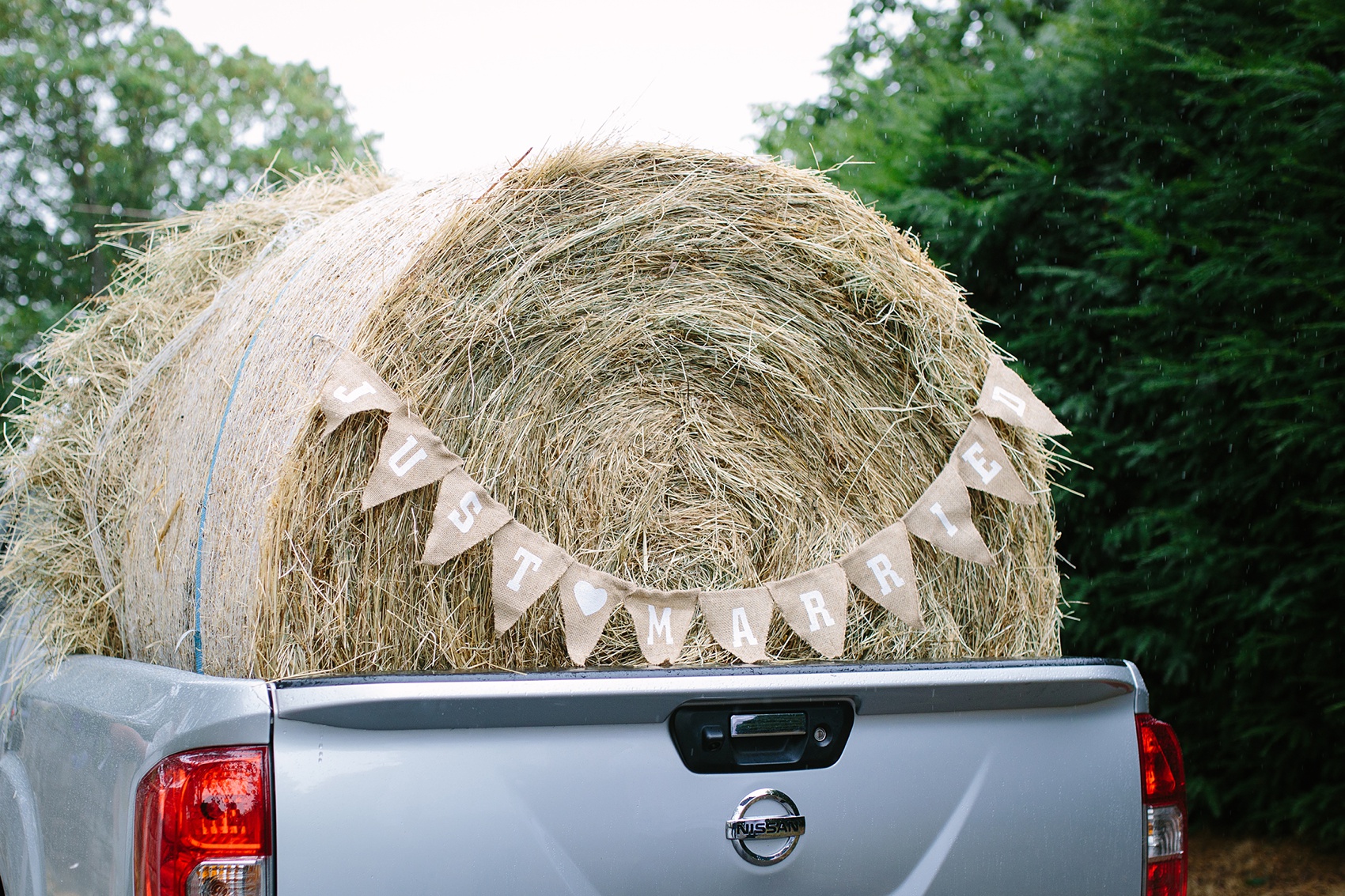 "The decor was probably my favourite part of the wedding! Sam made a giant H and S that lit up and we salvaged a lot like the barrels and cog table. All the suitcases and vintage elements to the wedding were found at farm sales or from around the actual farm yard itself. We bought plants and potted them in watering cans, tractor tyres and barrels and used it to decorate the venue."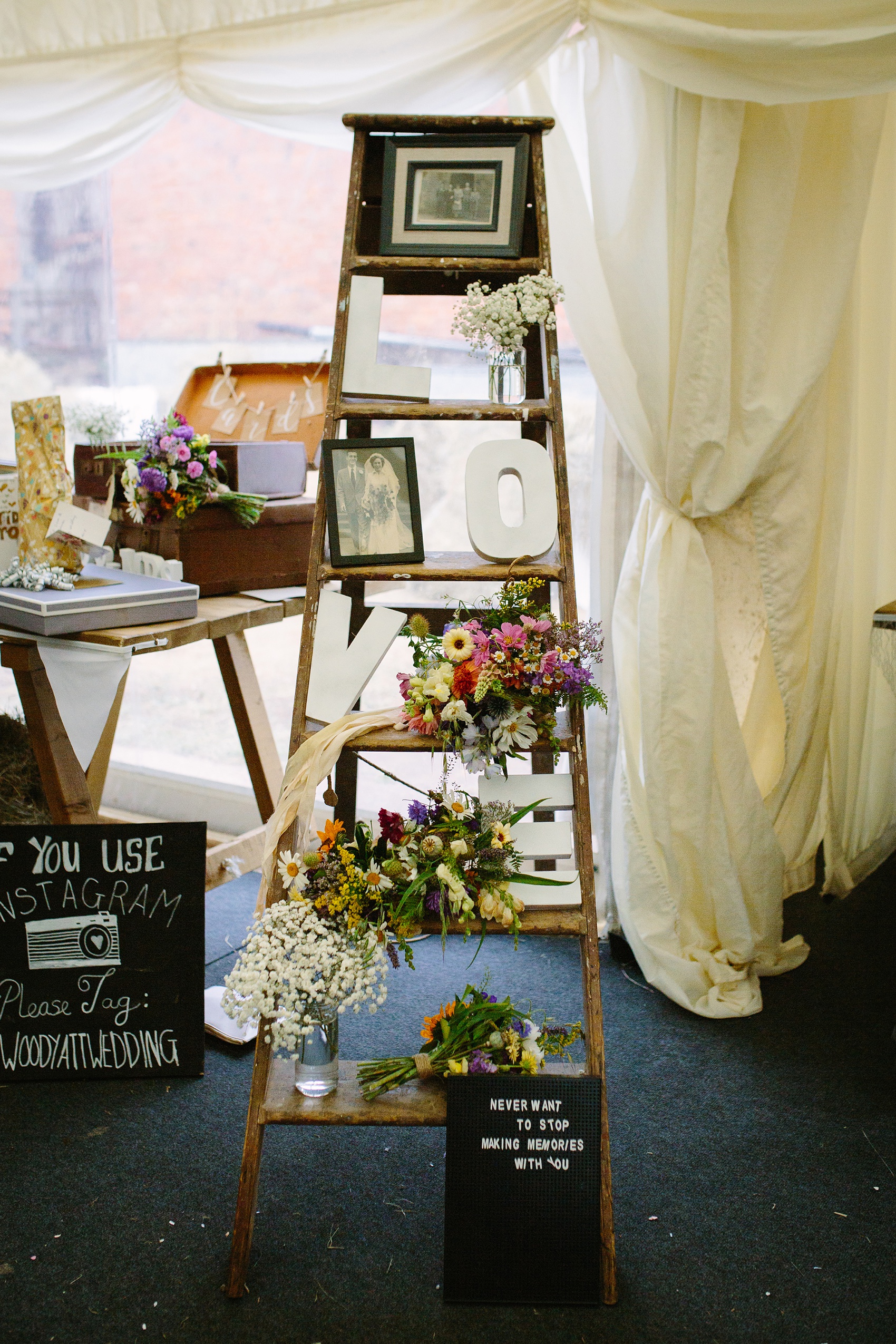 "I bought so much bunting to dress the ceiling and the outside and had twinkle lights everywhere. We also used jam jars hanging from ladders with tea lights inside as extra details. The tables each had a large wooden board for food, which I sanded and oiled myself. I think I did about 20 in the end. I made the seating plan from an old tin roofing panel and used an old tea trolley for water and cocktails to decant from. I cut, painted and designed all the signs too."
"We used Saffron's Catering for the wedding breakfast, based up in Appleby Magna. They produced our bespoke mezze platter as we wanted a posh picnic (our favourite food!). We sourced our own scotch eggs from the Scotch Egg Company and had a scotch egg bar during the canapés, which went down a treat. Saffron's also did us a posh BBQ in the evening, which they set up outside the marquee."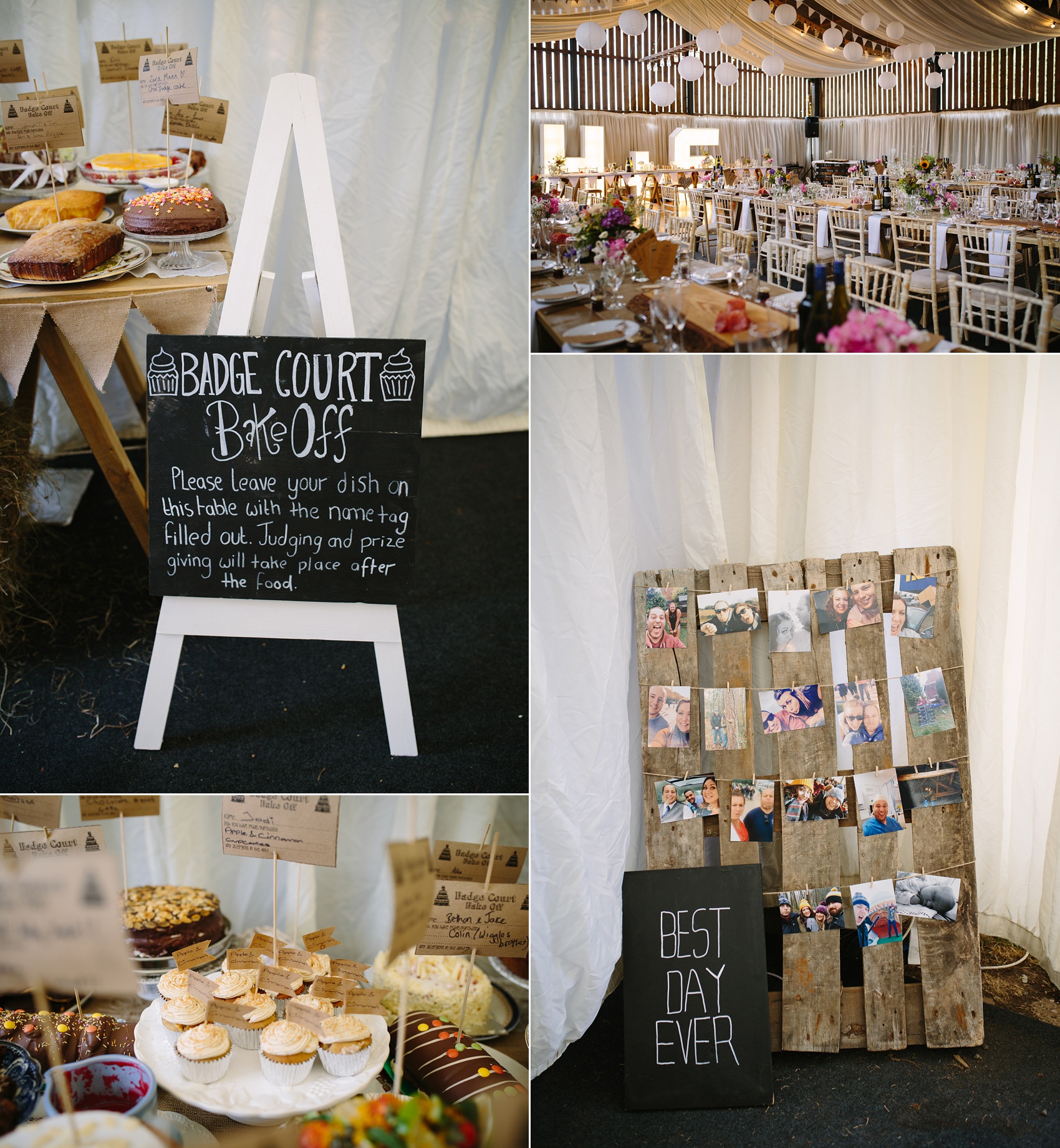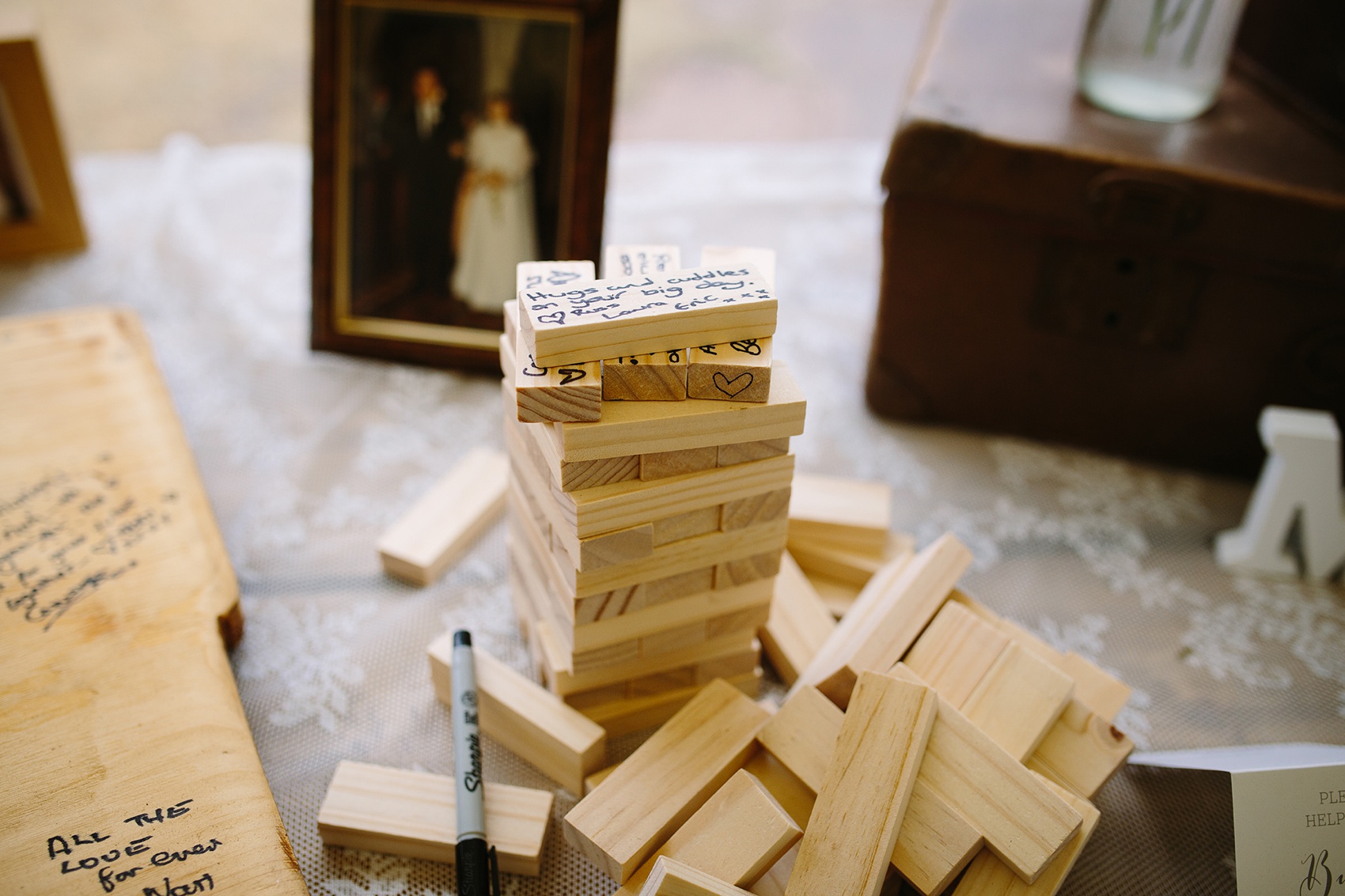 "For the favours we made sloe gin from our sloe berries. I bought little jam jars and made some labels and they looked really special on our table layout."
"We had two types of music for the entertainment, plus my brother who did an amazing job of mixing in my playlist. It took him months but he blended together our favourite songs to fit the wedding perfectly. We had Esther Turner for the wedding breakfast – she's a singer/songwriter from Birmingham. We saw her perform at a friends wedding and thought she would be amazing. We also booked The Brethryn, a local band from Bredon. Again they blew us away and the music complimented the wedding perfectly."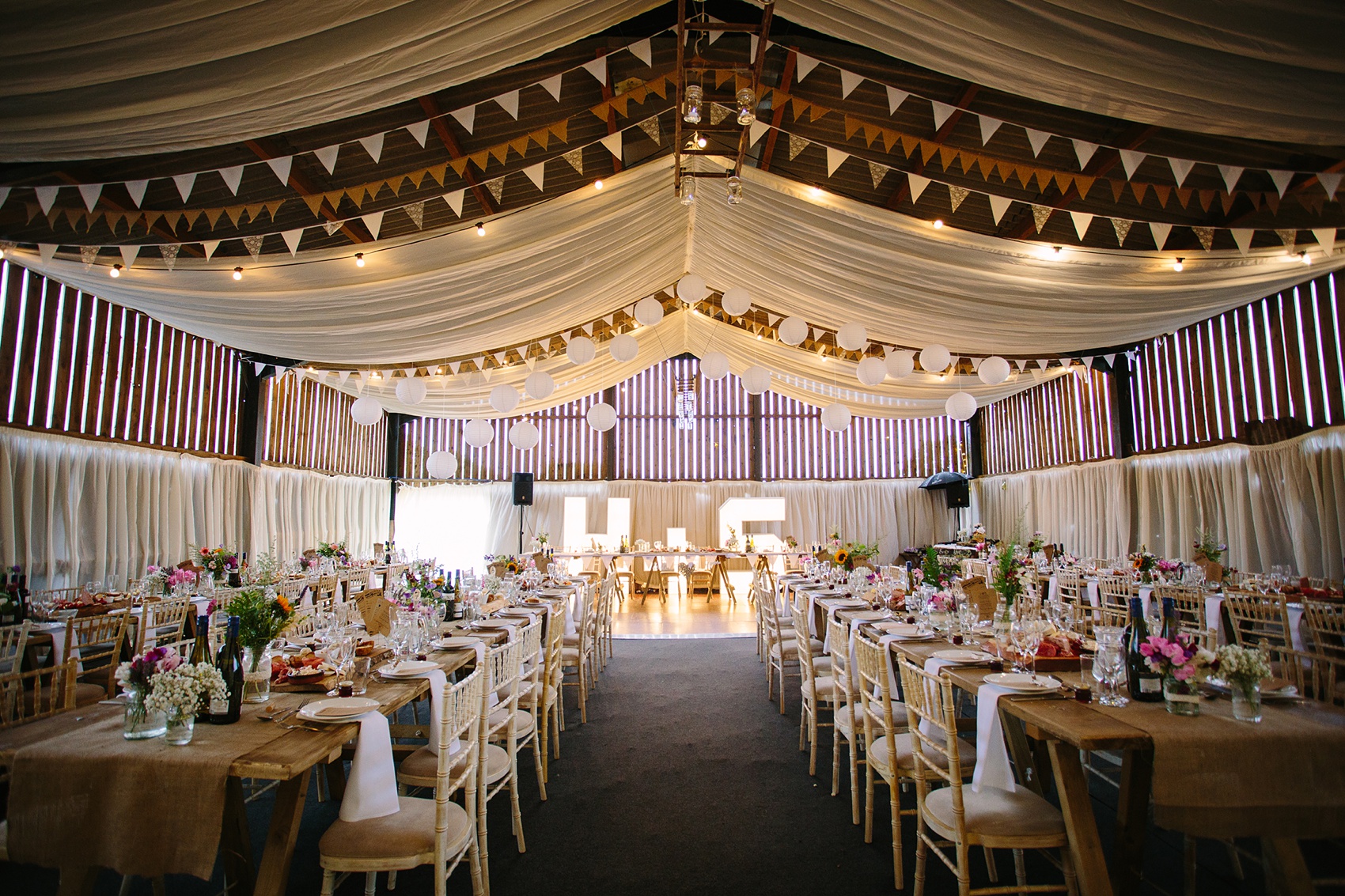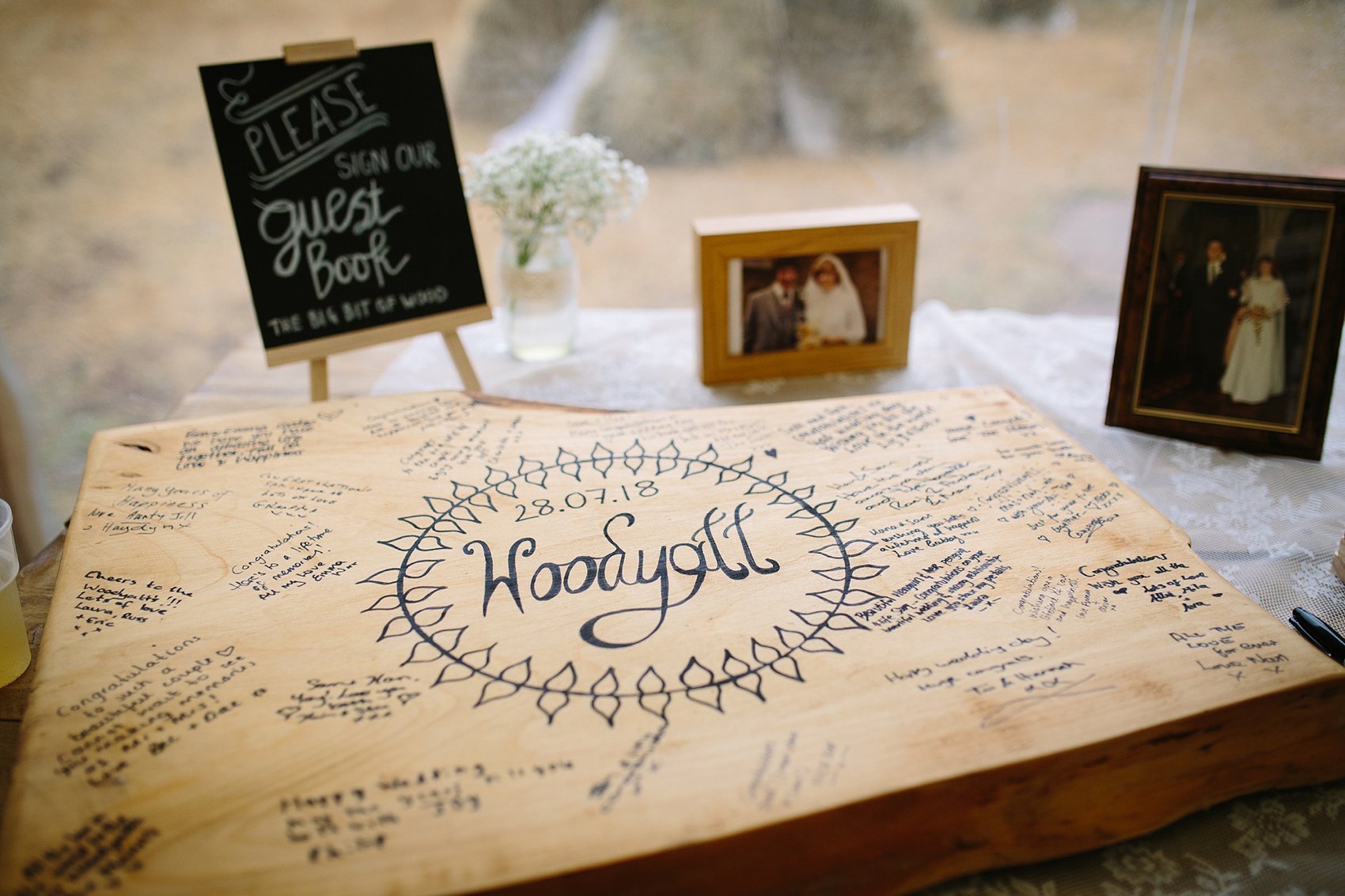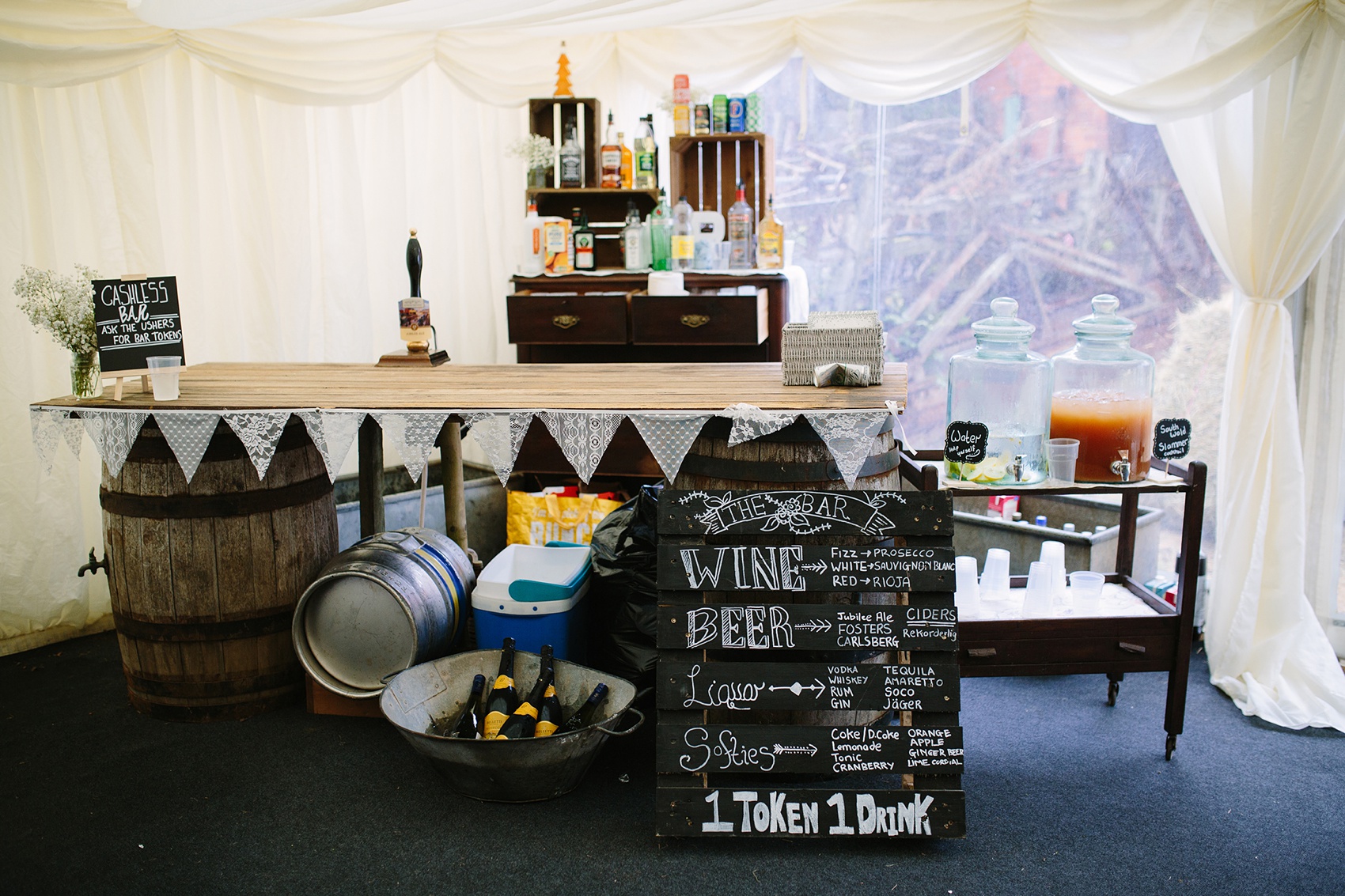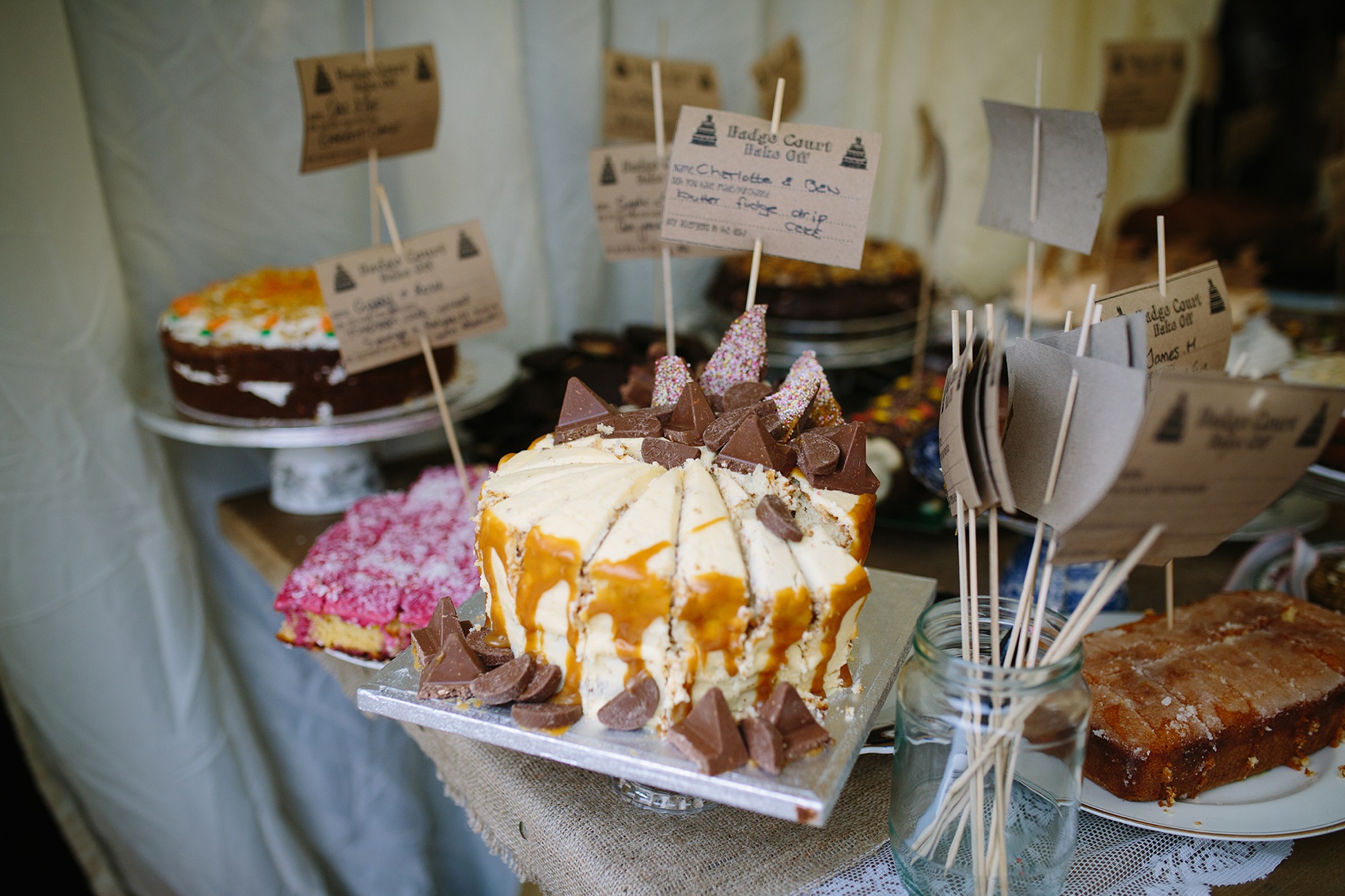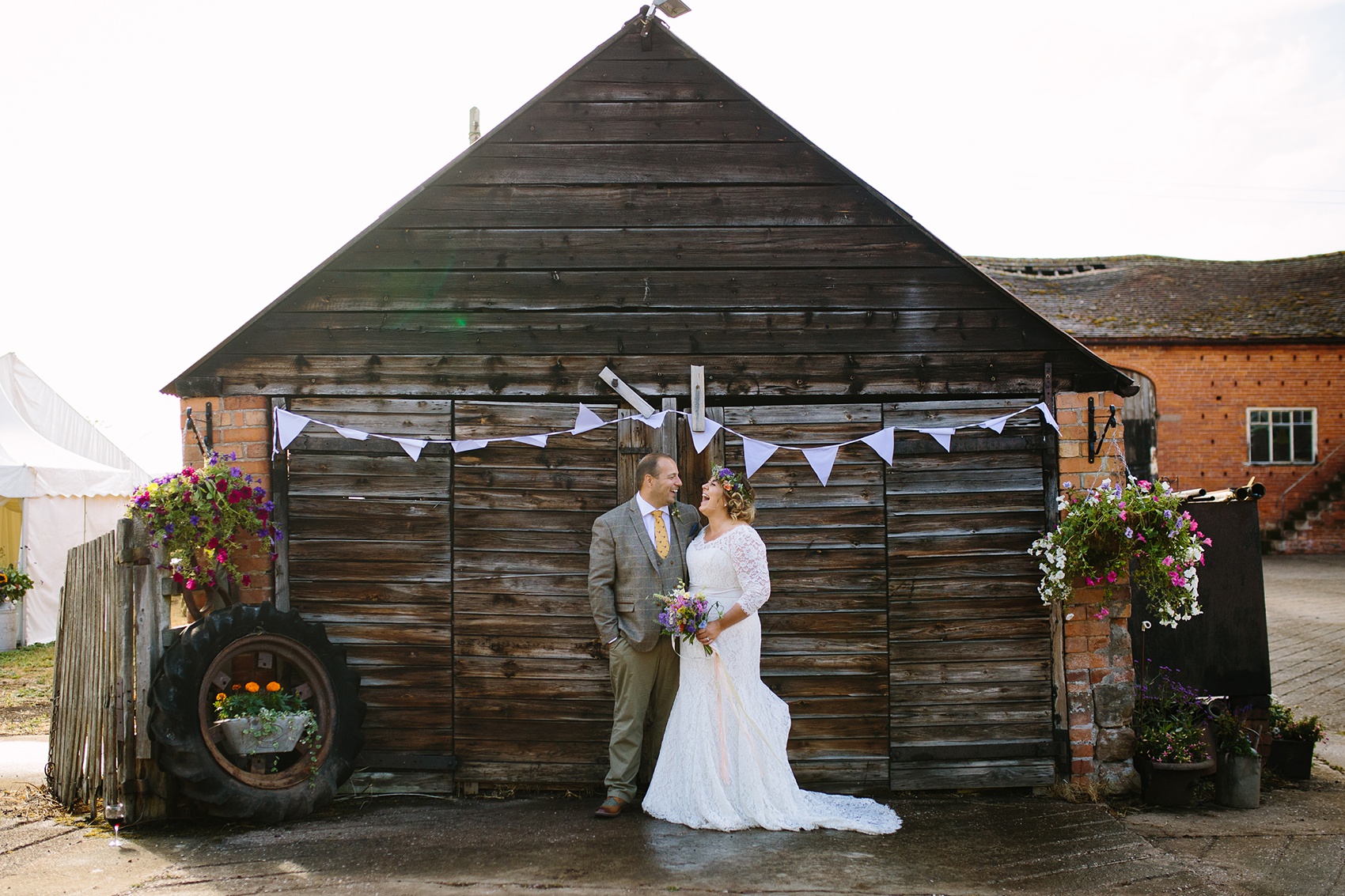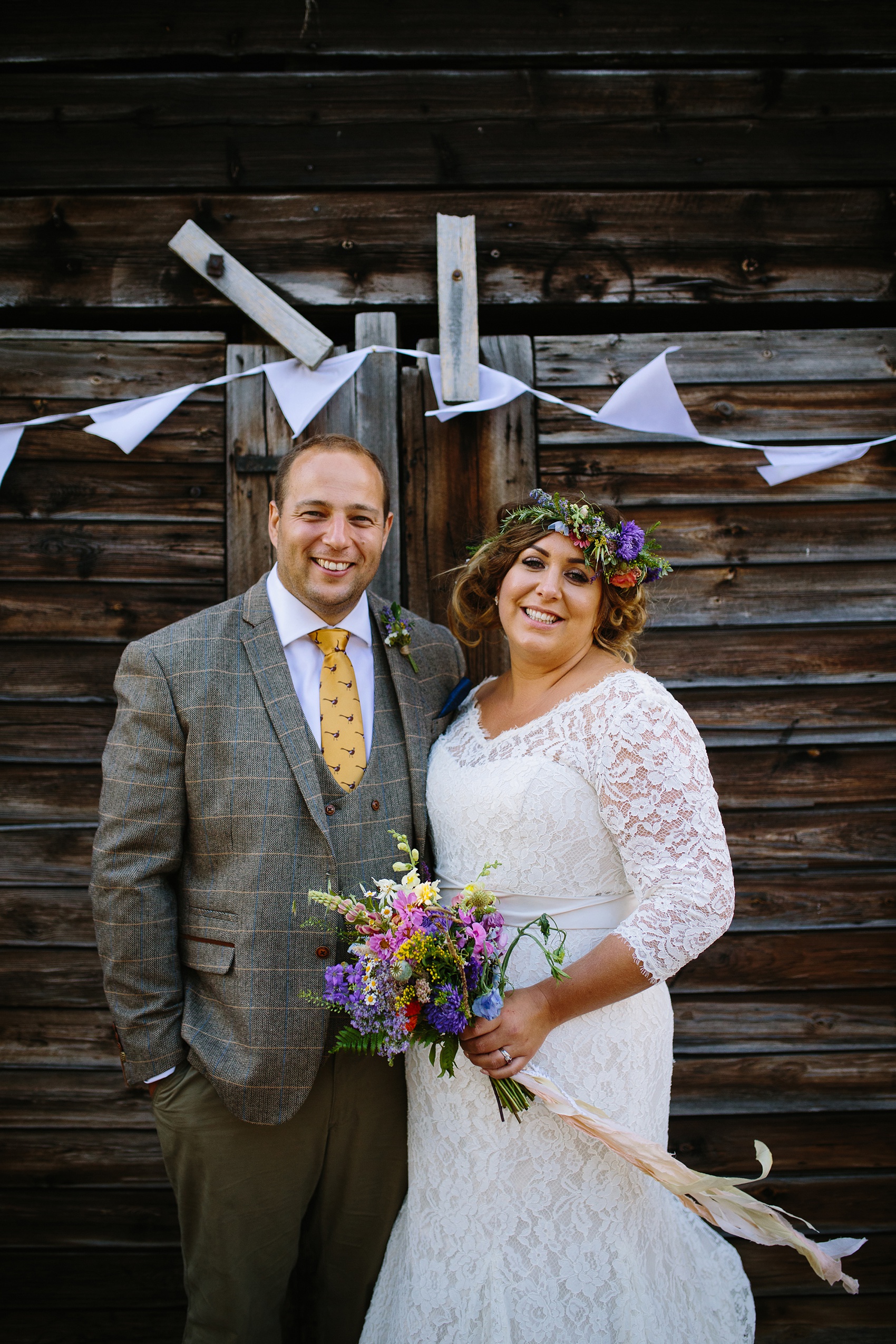 "We had a bake off as part of the wedding, so all guests each brought a cake with them. We displayed them on cake stands that I made and we had an actual bake off – with prizes! This was our dessert course and the wedding cake was a cheese cake from Croome Cheeses. I dressed the cake with figs, grapes and flowers and made a bride and groom mouse cake topper to boot."

"We had fireworks at the end of the night and they were amazing for both of us. It was a great way to finish off the day and it was a really emotional and and meaningful moment."
Words Of Wedded Wisdom
"Having a baby first, your priorities change massively, so planning a wedding isn't as stressful if you can manage a baby! You already feel married once you have a child so the wedding planning just feels like planning one amazing party. It meant I was a lot less stressed and just enjoyed all the crafting."
"We struggled with the weather and the music equipment got a little wet due to the top of the barn being slightly open. In hindsight, had we paid for a professional to deal with the running side of the wedding, it would have been much more relaxing for us. Sam took on a lot, which is in his nature, but looking back I wish he'd have stepped back a bit to enjoy more of the day."
What a wonderful day! A big thank you to Hannah and Sam for sharing their day with us, and to Sam Jayne Photography for capturing the mood so effortlessly.
Until next time…
Much love,
Holly x