For me, the flower that evokes late summer has to be the sunflower; seeing them transports me back to spending long, hot summer days outside on holiday in France.
As soon as I saw the choice of flower for this relaxed, DIY wedding, I was taken back in time and I can't wait to share this celebration, along with a gown made by the bride herself, with you all. Come with me down to Gloucestershire for the charming, DIY wedding of Natalie, a scientific researcher and Max, a musician. They married outdoors on 1 September 2018 in the orchard at Day's Cottage in Brookthorpe, Gloucestershire with a reception held in yurts from Cheltenham Yurt Hire.
Photography Emma Stoner Photography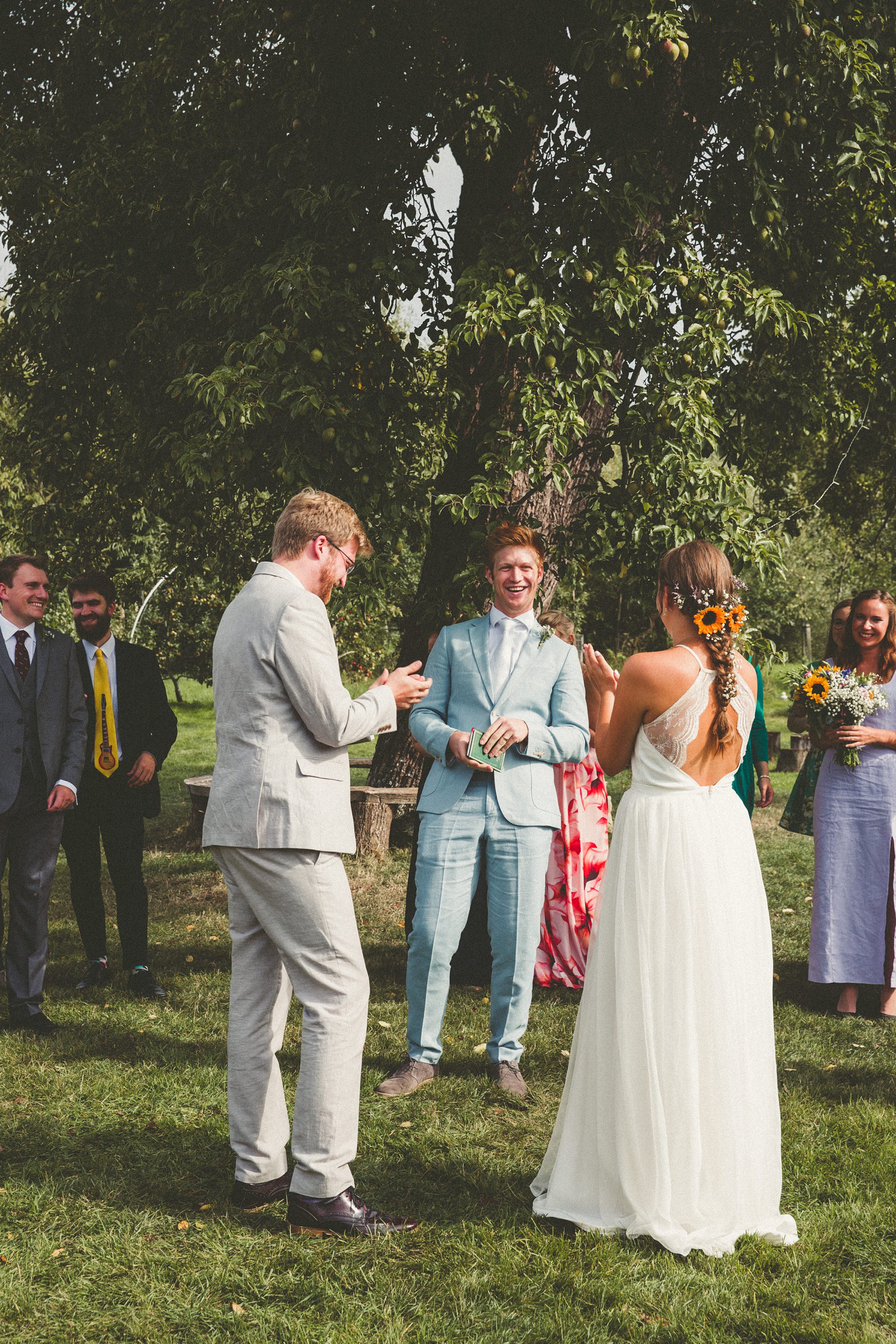 The couple opted to host a wedding weekend, giving them lots of time to enjoy the company of their guests.
"We made a weekend of it and booked some space in a local pub the night before to see folks who were coming in earlier and have a bit more of a relaxed, social atmosphere before the big day. We had a wedding brunch the morning after (with supplies from Waitrose and Ocado) onsite for similar reasons."
Natalie and Max met at university through their shared love of music. Max is a trombonist and trumpeter who plays in wedding bands Down For The Count and the Happy Hour Collective whilst Natalie is a singer as well as a scientific researcher – she has recently finished her PhD studying the origin of life on Earth.
"We met at university through the Jazz Society. We lived together in London for a few years before moving to Valencia in Spain for six months while I was writing up my PhD thesis. While we were out there, Max popped the question during a December stroll along the beach at sunset. We were engaged for just under two years before our wedding in 2018."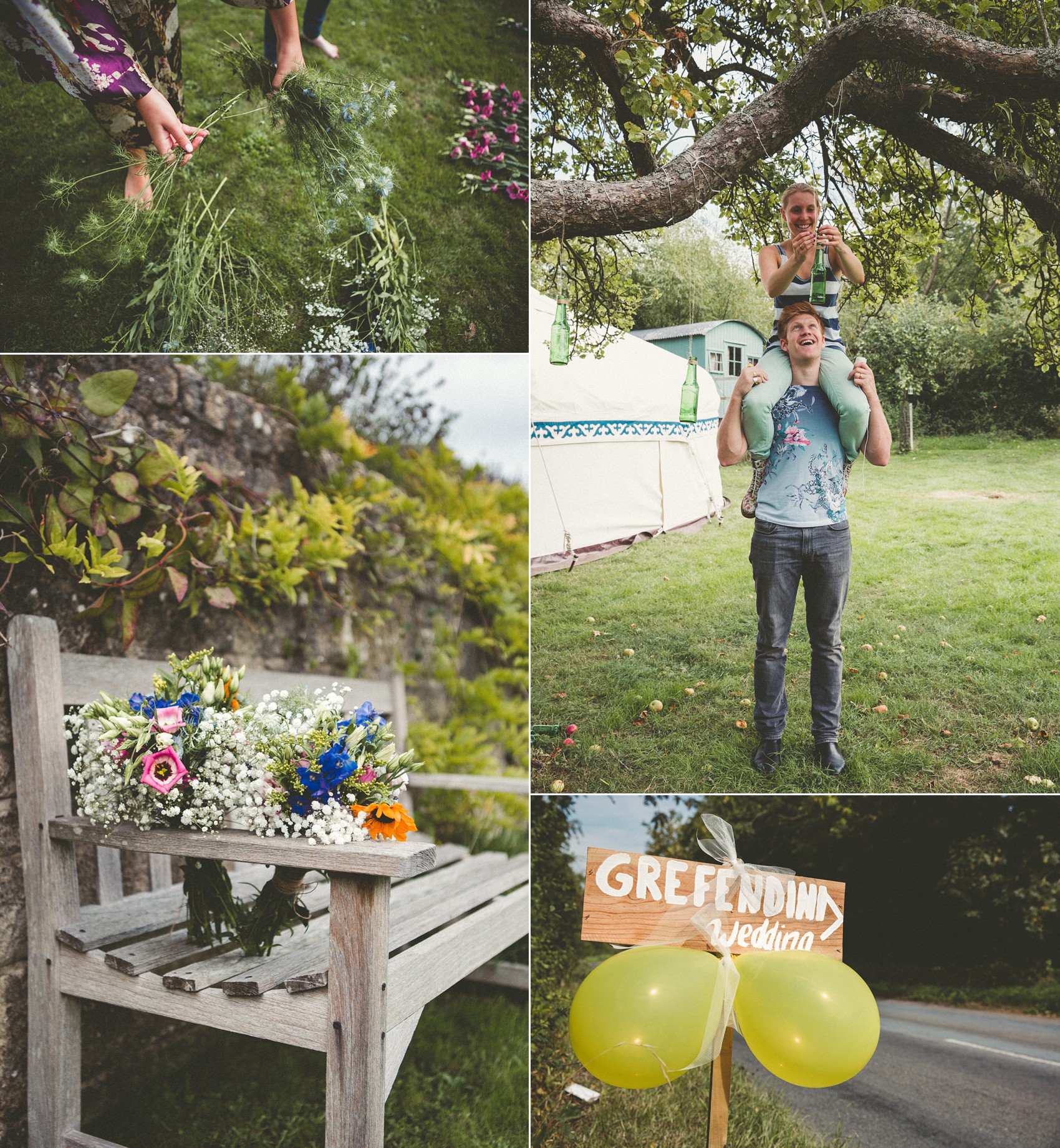 The couple were keen to do as much as possible themselves, from the flowers and yurts to stationery and photobooth, and Natalie even designed and sewed her wedding gown herself too. Cue a relaxed, laid-back outdoorsy ceremony with lots of natural, organic elements.
"We knew we wanted more of a DIY-style wedding to reflect us – something that didn't just look like it had come out of a traditional catalogue. We did the vast majority of the decorations and things ourselves, from the flowers to the table settings and even the dress itself!"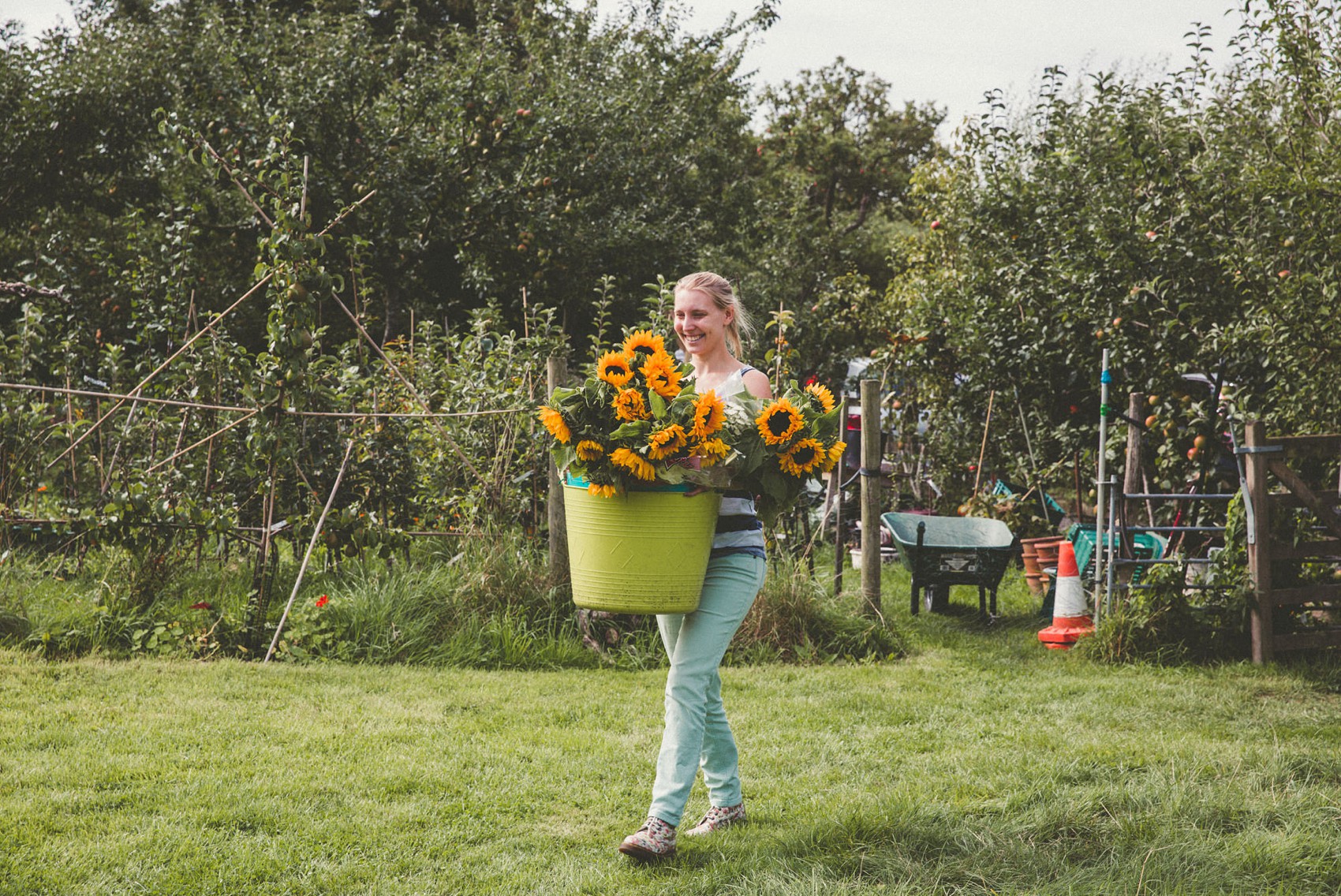 "We visited Day's Cottage about 18 months before our planned wedding date and loved it even in the dead of winter – it's a beautiful orchard where they make their own cider and apple juice and the owners, Helen and Dave, were so friendly and kind that we knew it was the right place for us. They partner with Cheltenham Yurt Hire to offer a memorable and eco-friendly package on their site."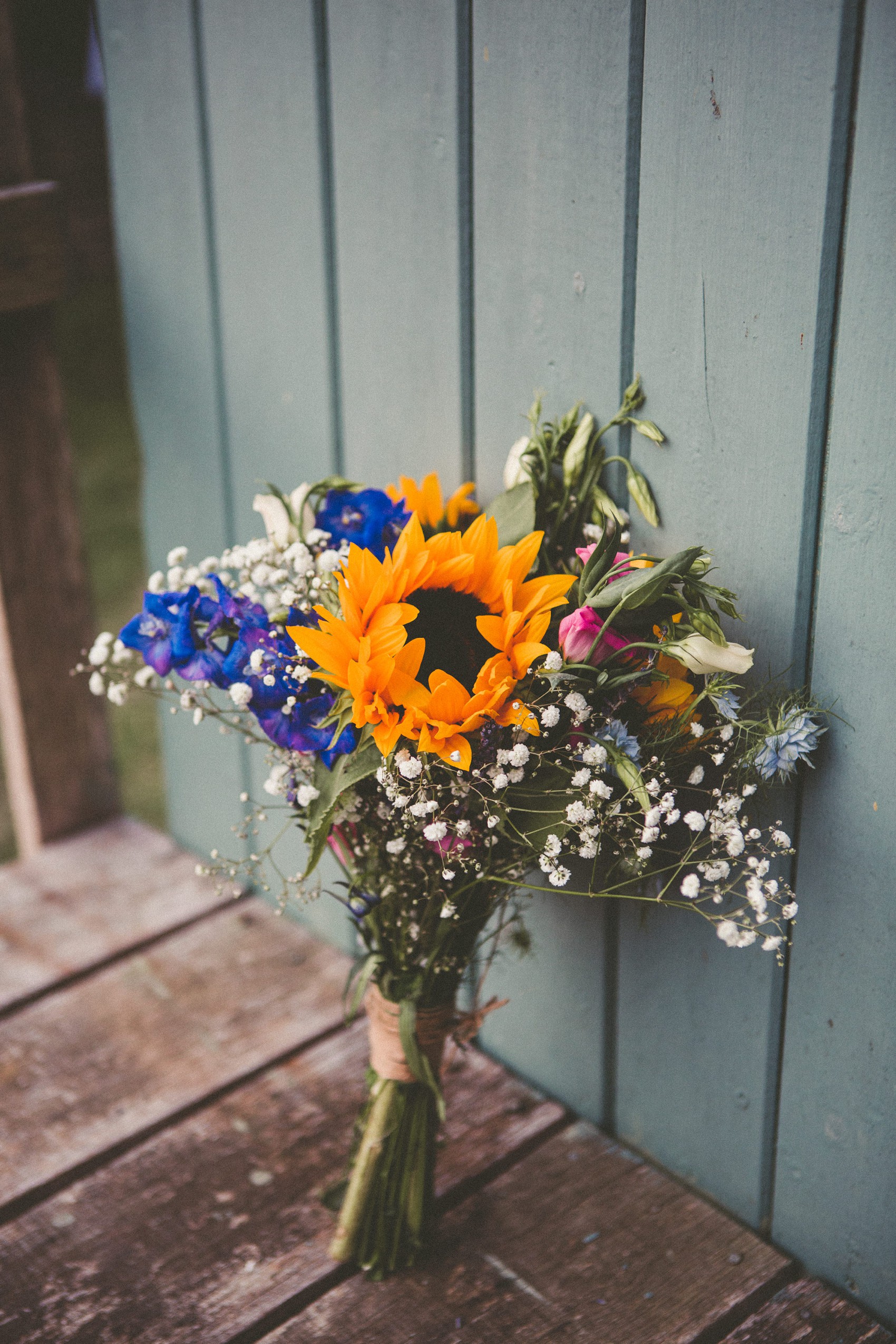 I adore Natalie's choice of hairstyle, a relaxed, tumbling plait woven through with fresh sunflowers and gypsophila. Her hair and natural make-up were styled by Hannah Gillies.
The creative bride was keen to make her own gown, and designed a flowing, open-backed silk dress with lace detailing and a halter-neck bodice, cinched in at the waist. It looks wonderful in the orchard setting and perfect for the relaxed vibe of the day and I'm in awe of Natalie's workmanship.
"Always a creatively-minded person, I wanted to design and make my own dress as a personal challenge. After seeking some inspiration online I went with a sheath halter-top style."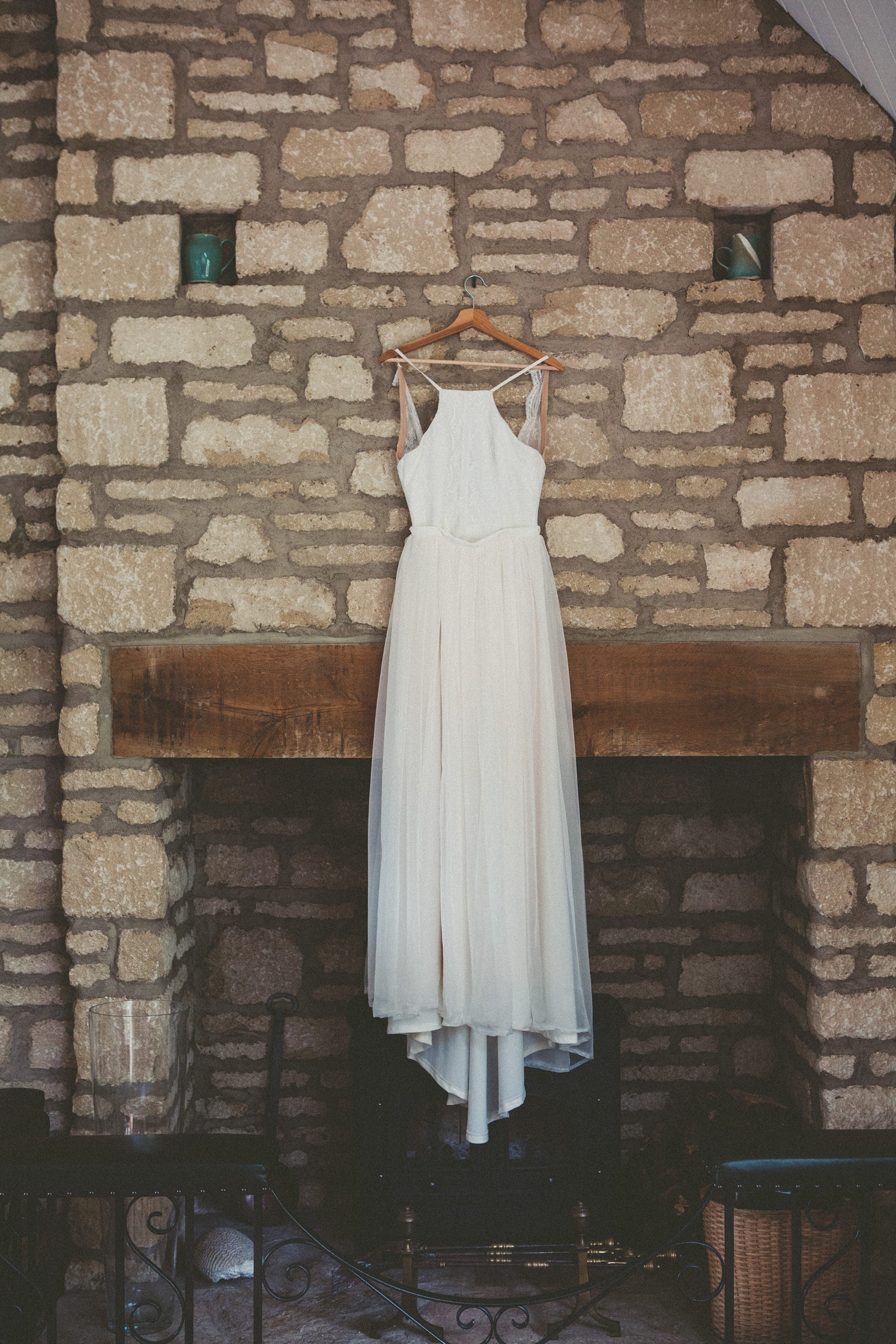 Natalie wore a selection of jewellery, chosen for sentimental reasons as well as nude, metal edge, strappy sandals from New Look.
"I wore a sapphire necklace as an anklet and a gold bracelet –  family heirlooms in memory of Natalie's grandmother. My moonstone earrings, to match my engagement ring, were from Chalso on Etsy."
"I wore Lust Solid Perfume from Lush. It's jasmine-scented and I wanted to remember our wedding every time I smelled it."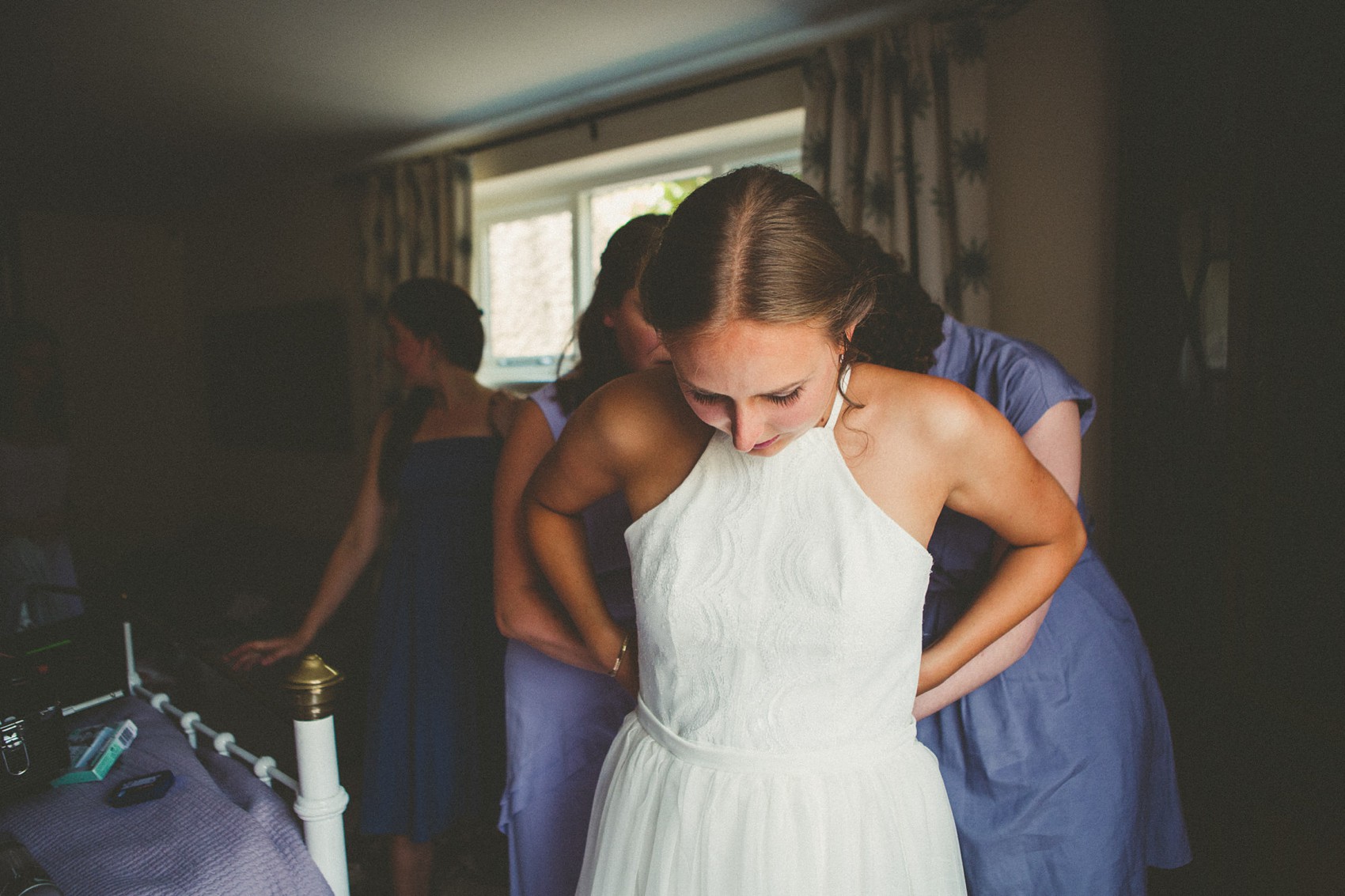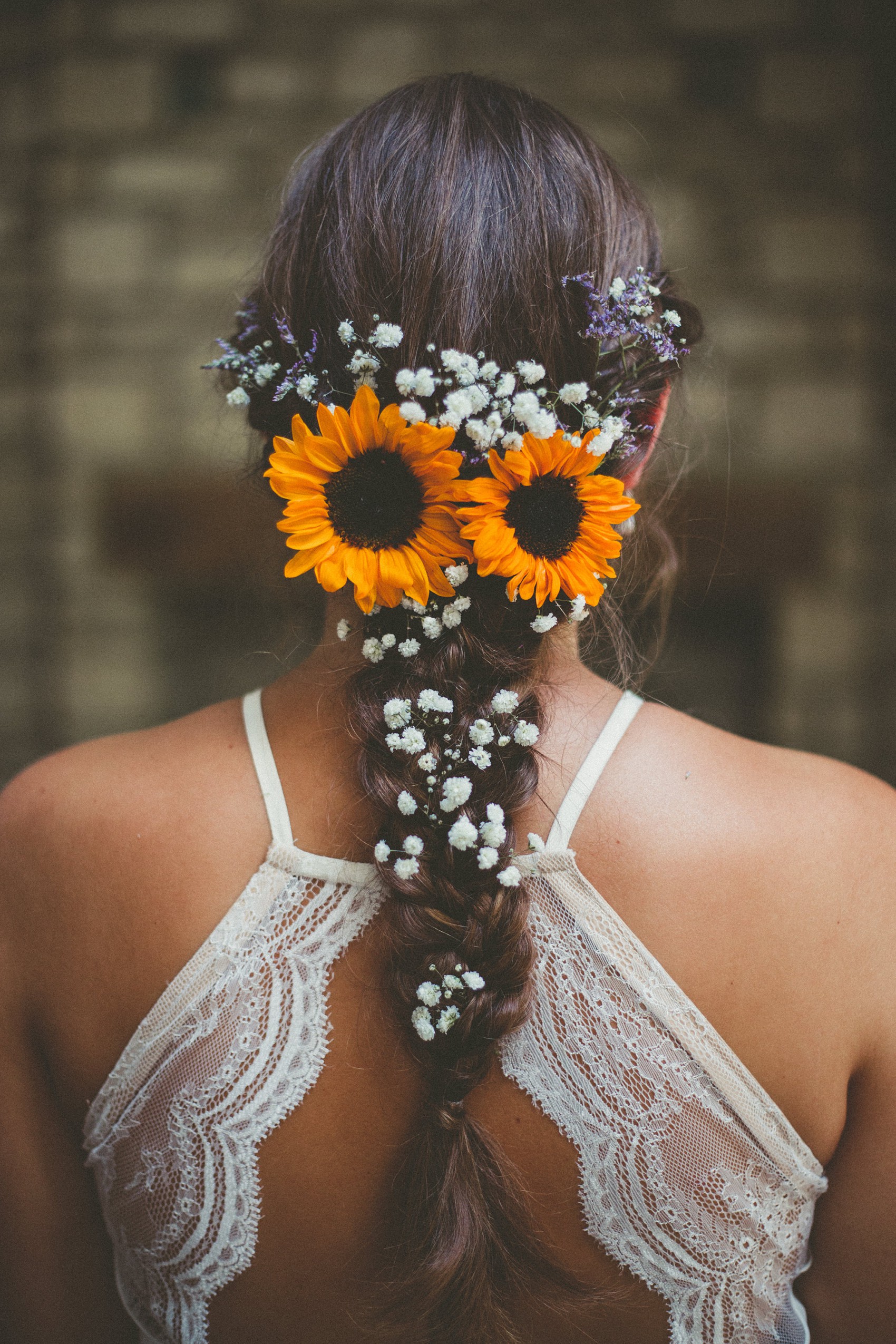 For the relaxed ceremony, Max chose a light grey linen suit from Moss Bros, with which he wore ASOS Design brogue shoes in burgundy leather, a Citizen EcoDrive watch and personalised wooden cufflinks from NorthMadeGoods on Etsy.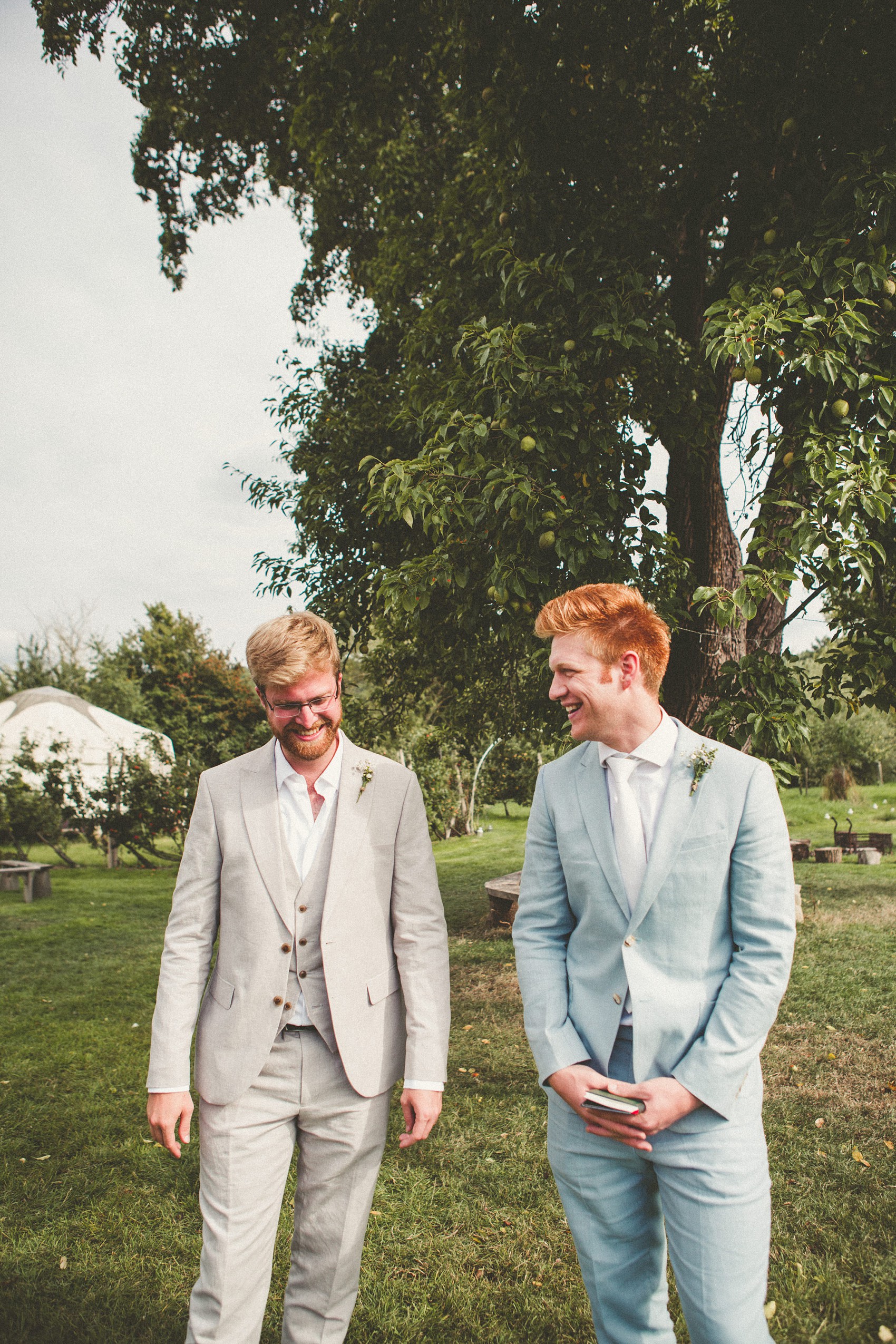 The gorgeous late summer weather meant that the ceremony could be held under the fruit trees in the orchard at Day's Cottage, which was simply  dressed with wooden chairs for the guests. The couple's friend, Callum Gillies,, led the very personal ceremony to a soft acoustic soundtrack.
"I was accompanied down the aisle by both my parents, Irene and Greg. We made a chilled acoustic guitar playlist for the ceremony, and selected 'Instrumental' by Joshua Hyslop as the processional music."
"We asked our good friend, Callum Gillies, to be our celebrant. It was his first time officiating a wedding (we had been legally married in France beforehand so we didn't need to worry about that side of things!) and he absolutely smashed it."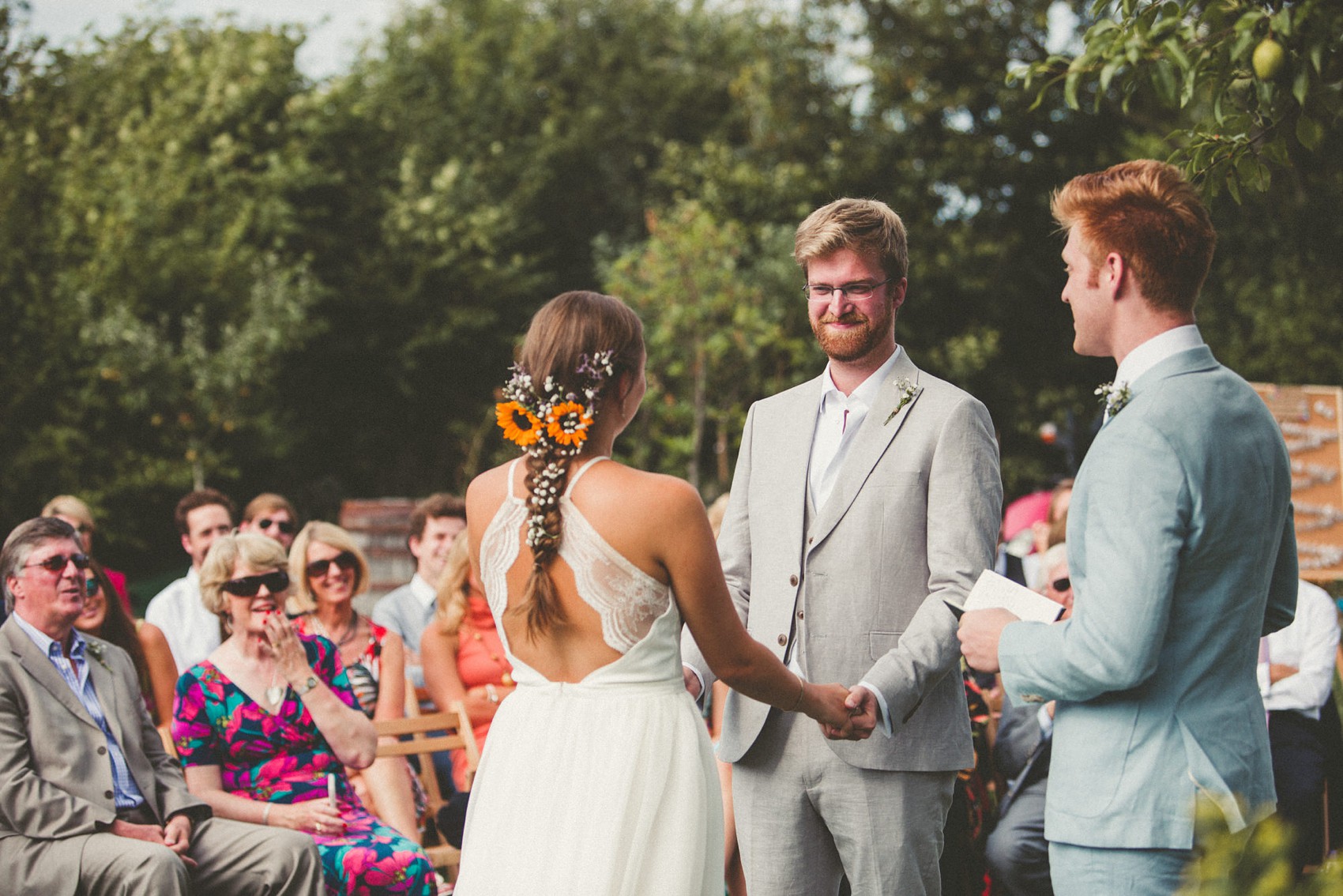 "We wrote our own vows (and wrote them down in a cute little handmade booklet to read from for the ceremony) – it really made a difference to us knowing how personal they were to each other."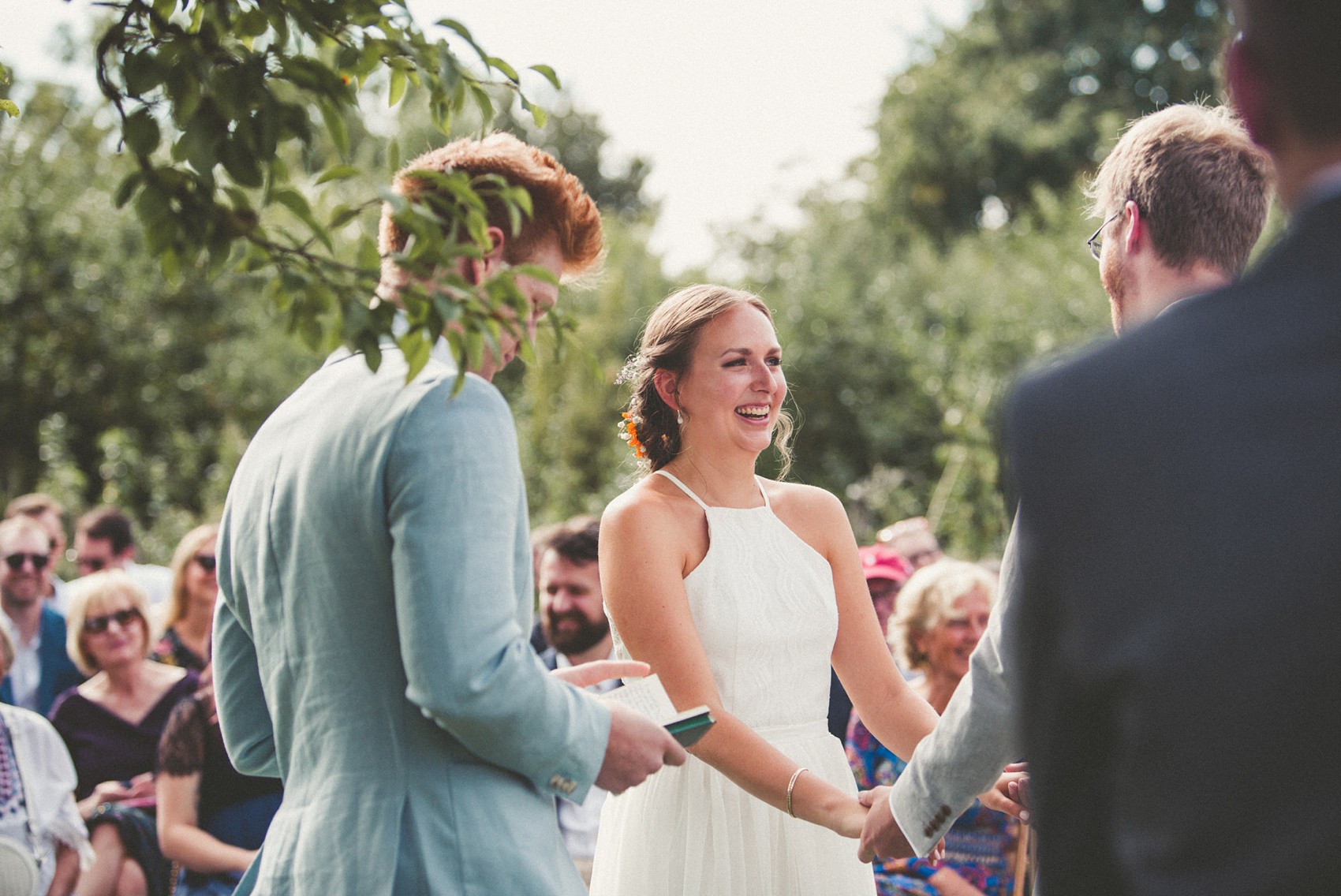 The couple exchanged unusual rings made from tungsten carbide with a koa wood inlay from Nakoa.
"We wanted rings with a wood inlay and chose koa wood to remind us of an amazing holiday we spent in Hawaii a few years ago, which still stands as one of the best trips we've ever taken."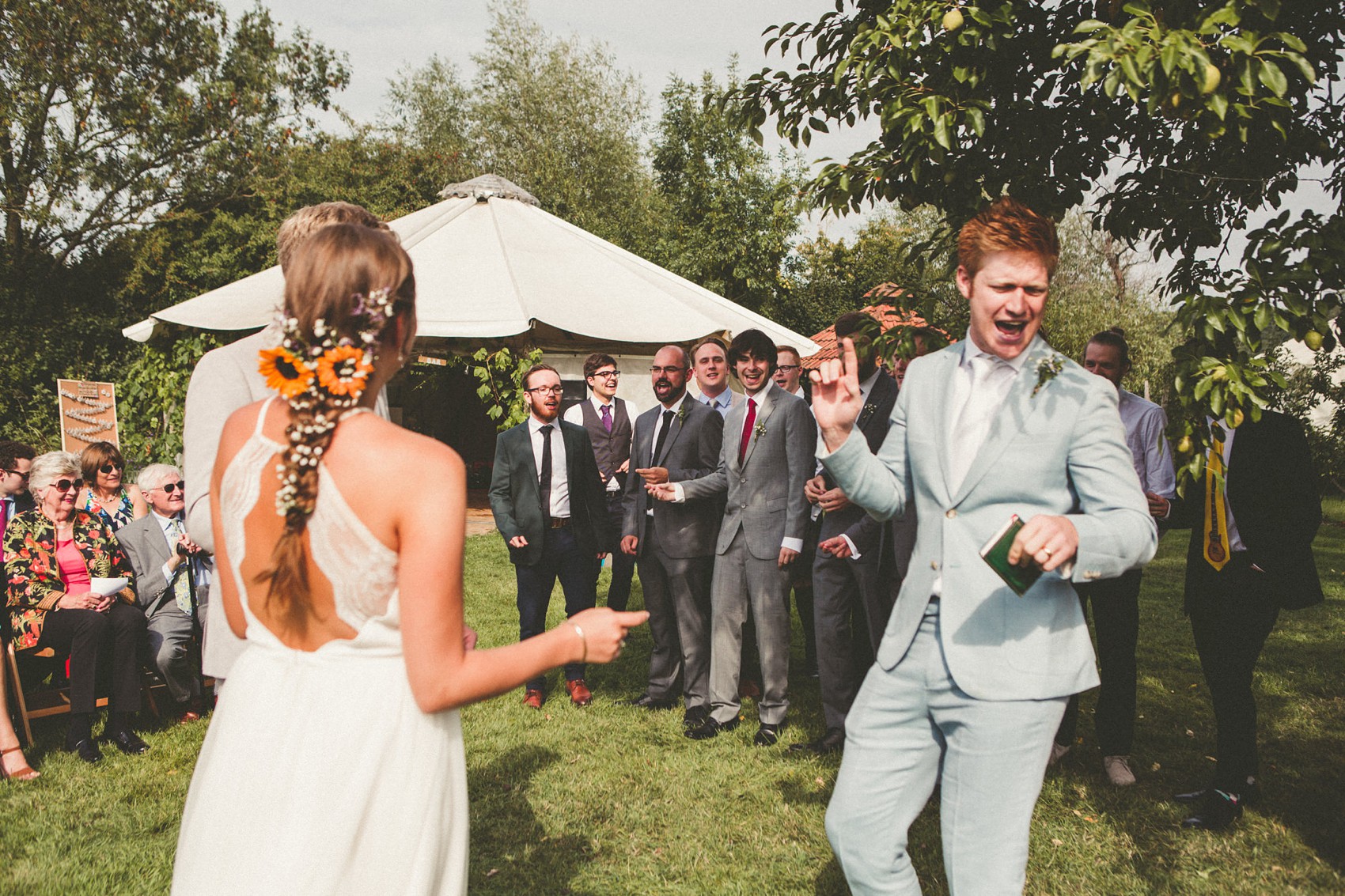 "We didn't have any readings but our friends surprised us with a flashmob in the middle of the ceremony – they're all very musical (including Callum, the celebrant) and had rehearsed a four-part harmony version of 'September' by Earth Wind and Fire, with adapted lyrics about our relationship and the wedding day! It was definitely a highlight of the day."
"Probably our favourite bit was the ceremony itself, as it really brought home how lucky we were to have each other and to have surrounded ourselves with such amazing and loving friends and family. We couldn't have asked for a better bunch to spend that most amazing weekend with."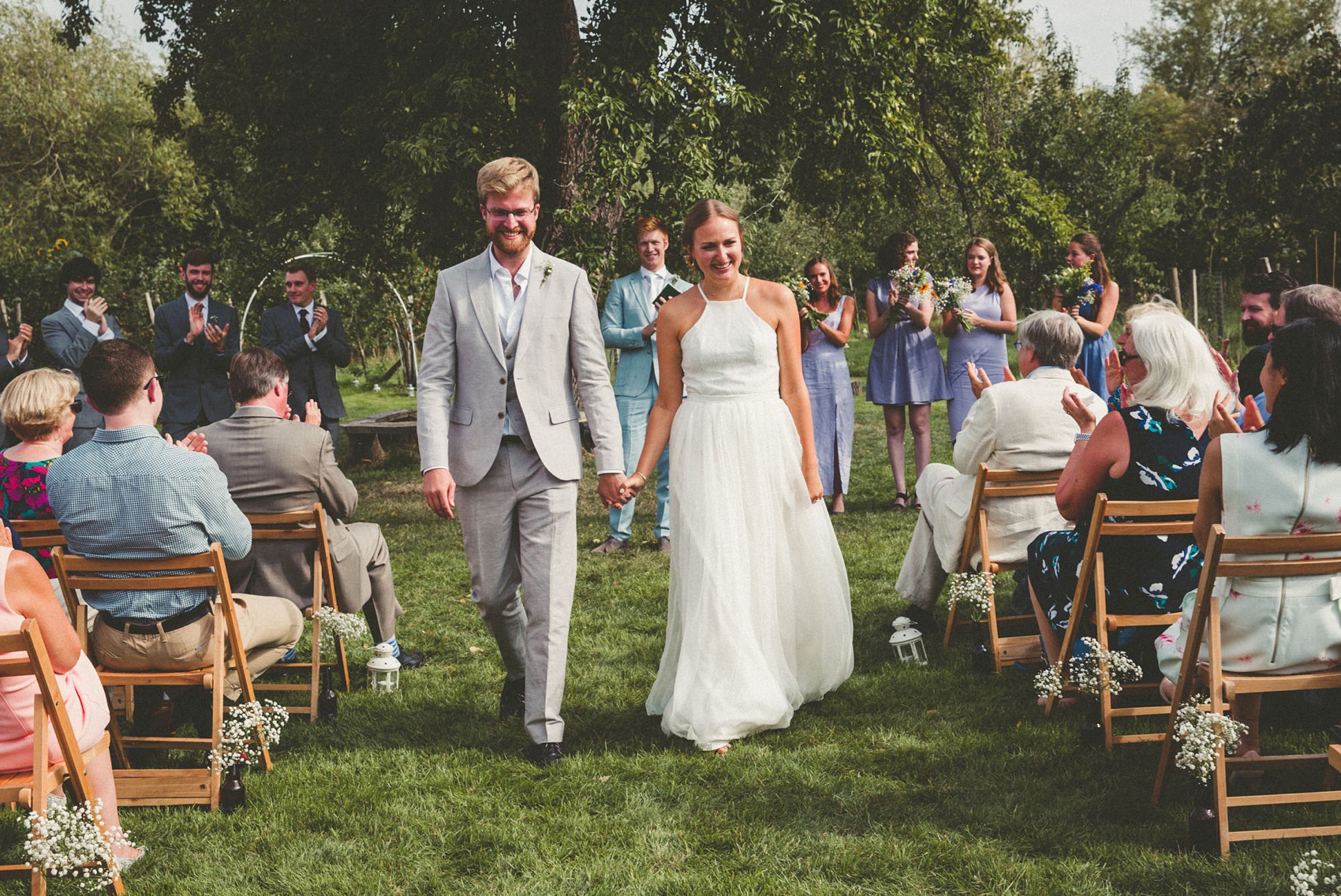 After the ceremony, the grounds of Day's Cottage were a wonderful place for the guests and newly-weds to relax and enjoy the September sunshine before they all moved in to the light and airy yurts from Cheltenham Yurt Hire. The couple and their friends had worked hard to dress them, adding single stems of lavender, lots of sunflowers, foliage and baby's breath and fairy lights for a magical atmosphere as night fell.
These beautifully natural images are the work of Emma Stoner, whose unobtrusive style marries so well with the overall feeling behind the wedding.
"We chose Emma for her natural documentary/candid photography. She kindly provided us with an engagement shoot in London where were able to meet and get to know her a bit which was lovely and very helpful. On the day she was joined by Alice as a second shooter on our wedding day who was also great and easy to work with. We were thrilled to receive the final shots, they're all amazing and really capture the spirit of the day."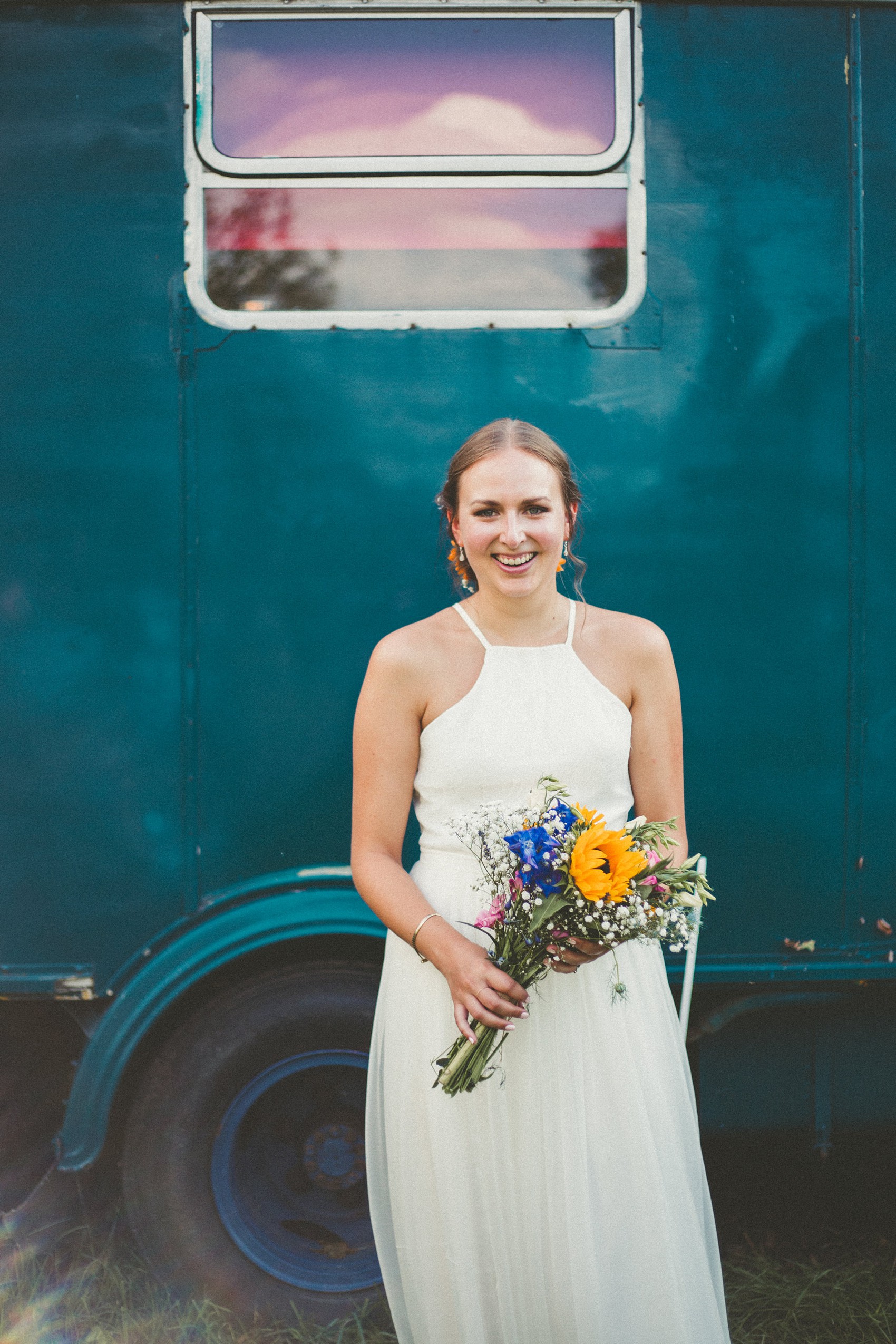 As well as the lush yellows, greens and whites of the flowers and foliage, the day had a soft lilac colour scheme and Natalie asked her bridesmaids to find their own gowns in purple or lilac to match. They all carried hand-tied bouquets of sunflowers, baby's breath and vivid blue blooms. These, with the rest of the wedding flowers, they put together themselves on the wedding morning using fresh flowers and foliage from Cathedral Wholesale Florists in Gloucester.
"We pre-reserved some sunflowers and baby's breath and went the day before to pick out a variety of other flowers to go in the bouquets, boutonnières and table settings."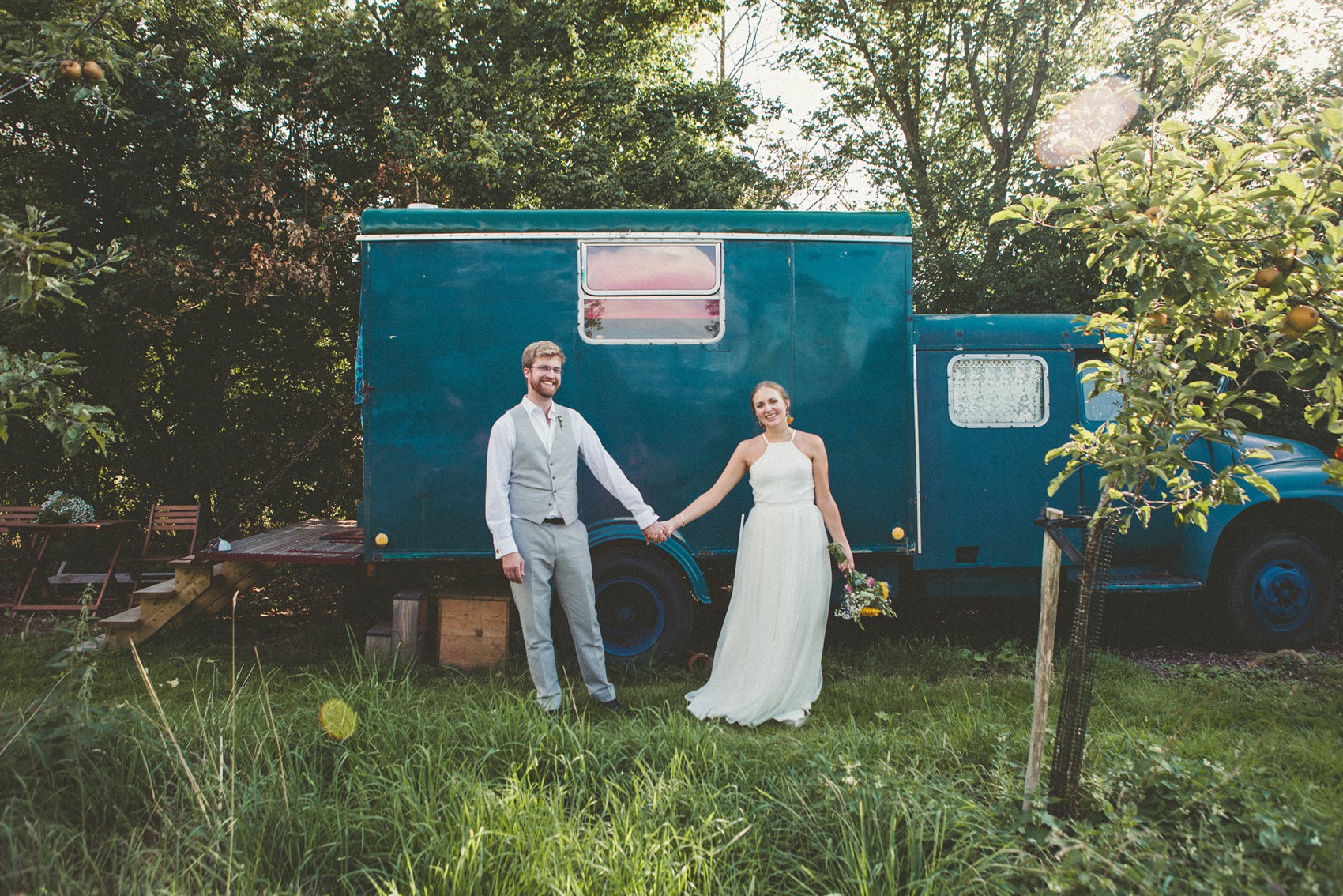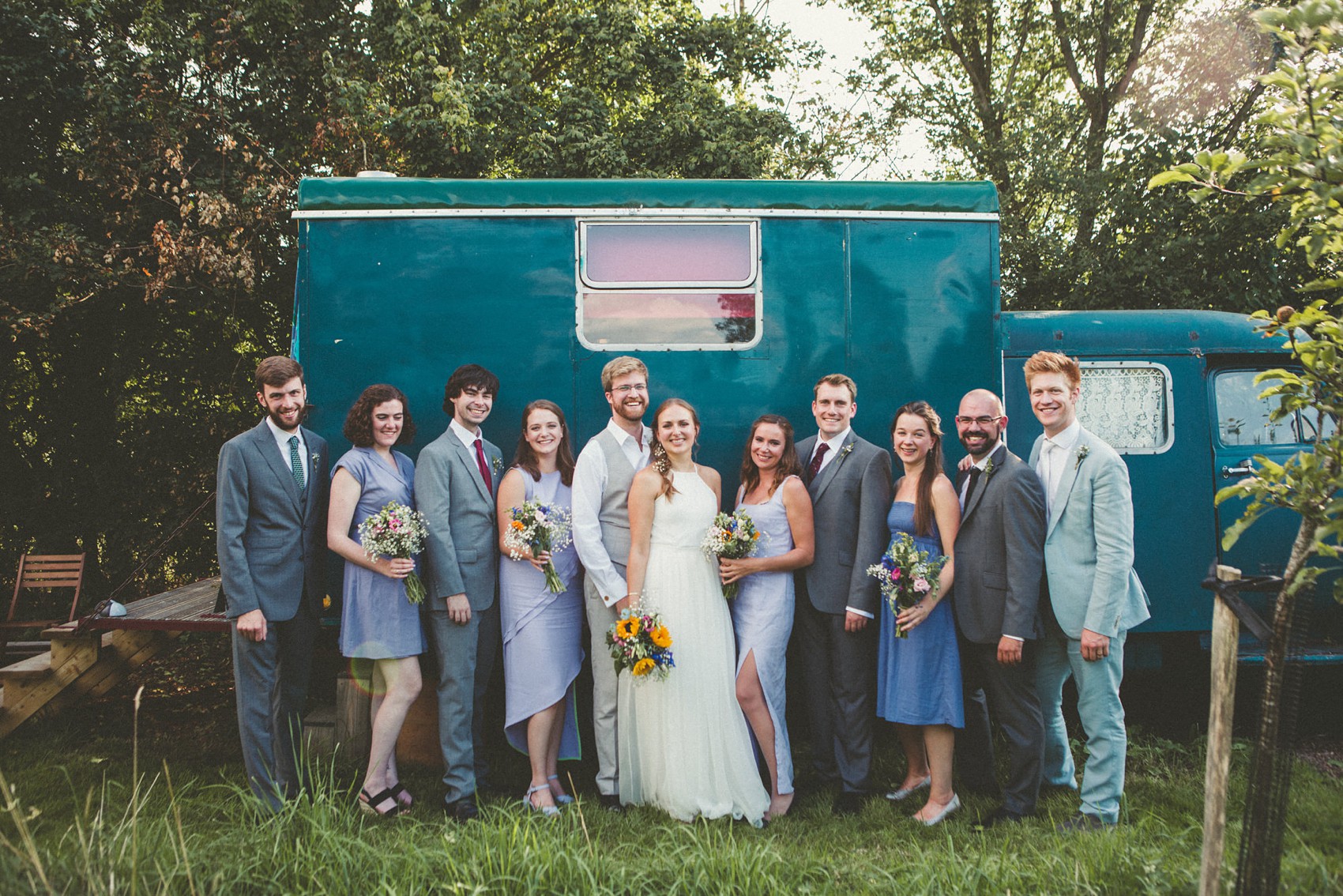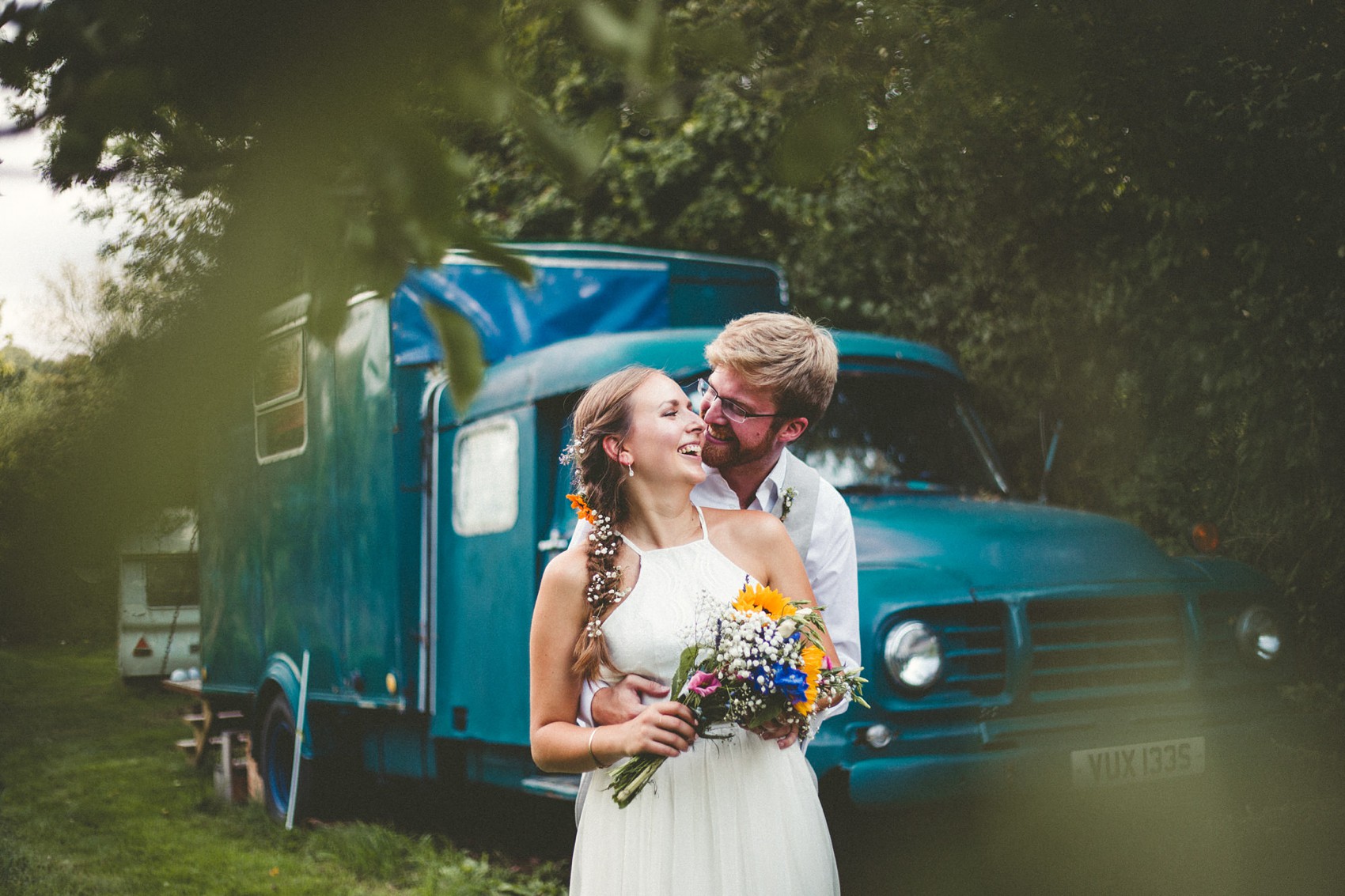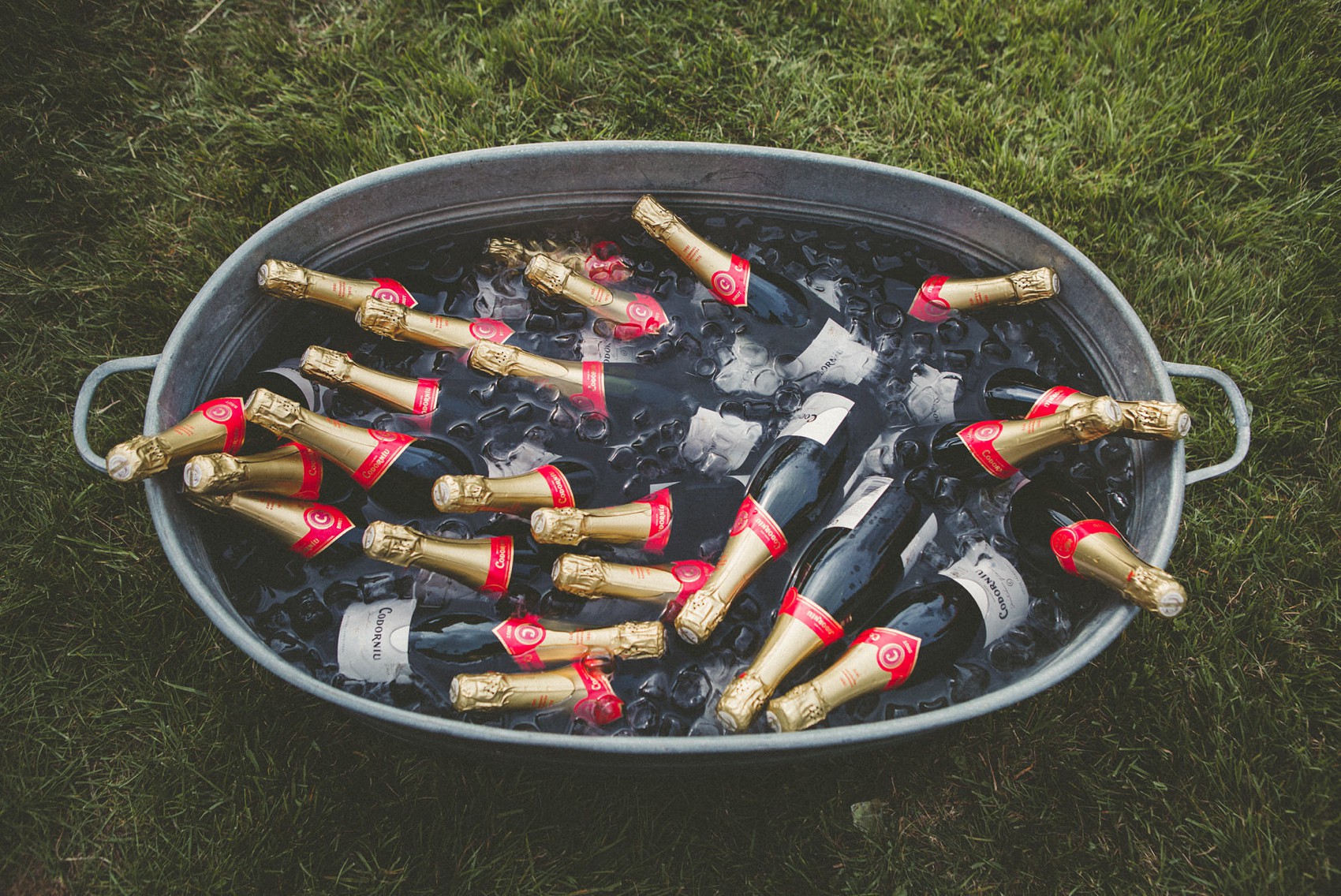 "We went DIY with materials bought from Amazon – strings of fairy lights, table setting cards, dip-dyed coffee filters for a backdrop for a photobooth-type corner, decanters and signs for homemade cocktails. Our cutlery, crockery, glassware and the like was hired from Plato Hire. I handmade the menus and table numbers for the day; I also designed our invitations and we printed them with Solopress."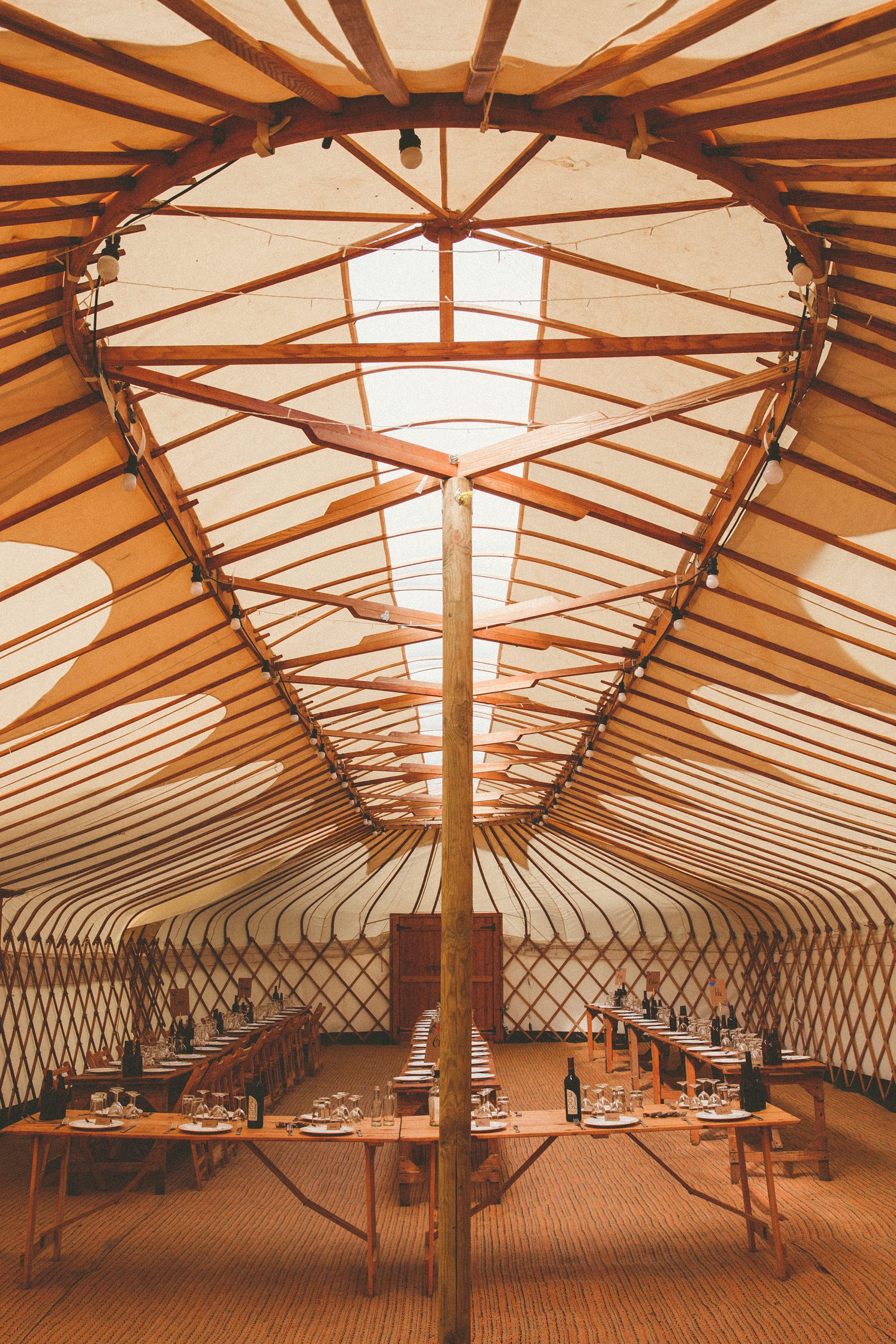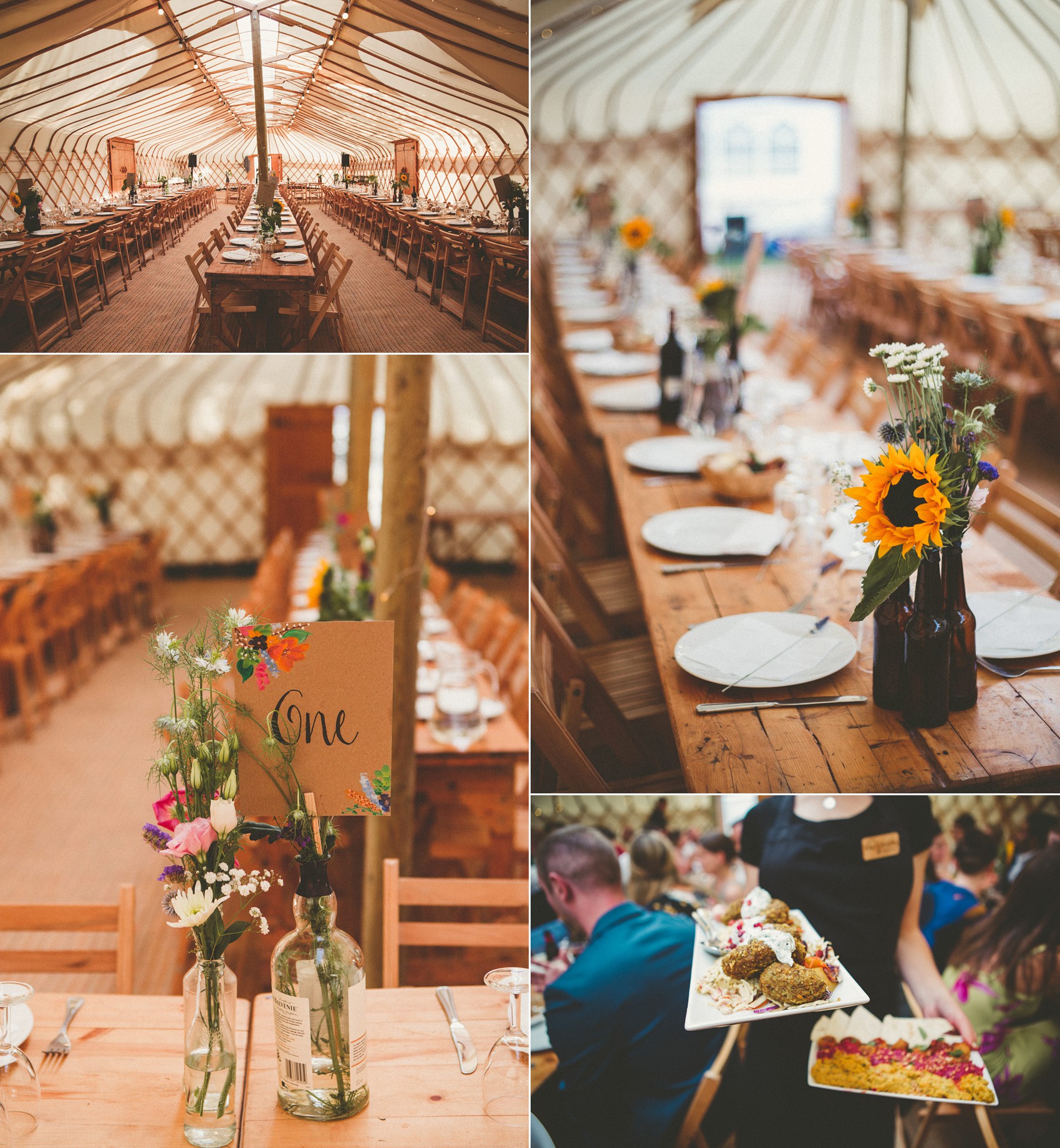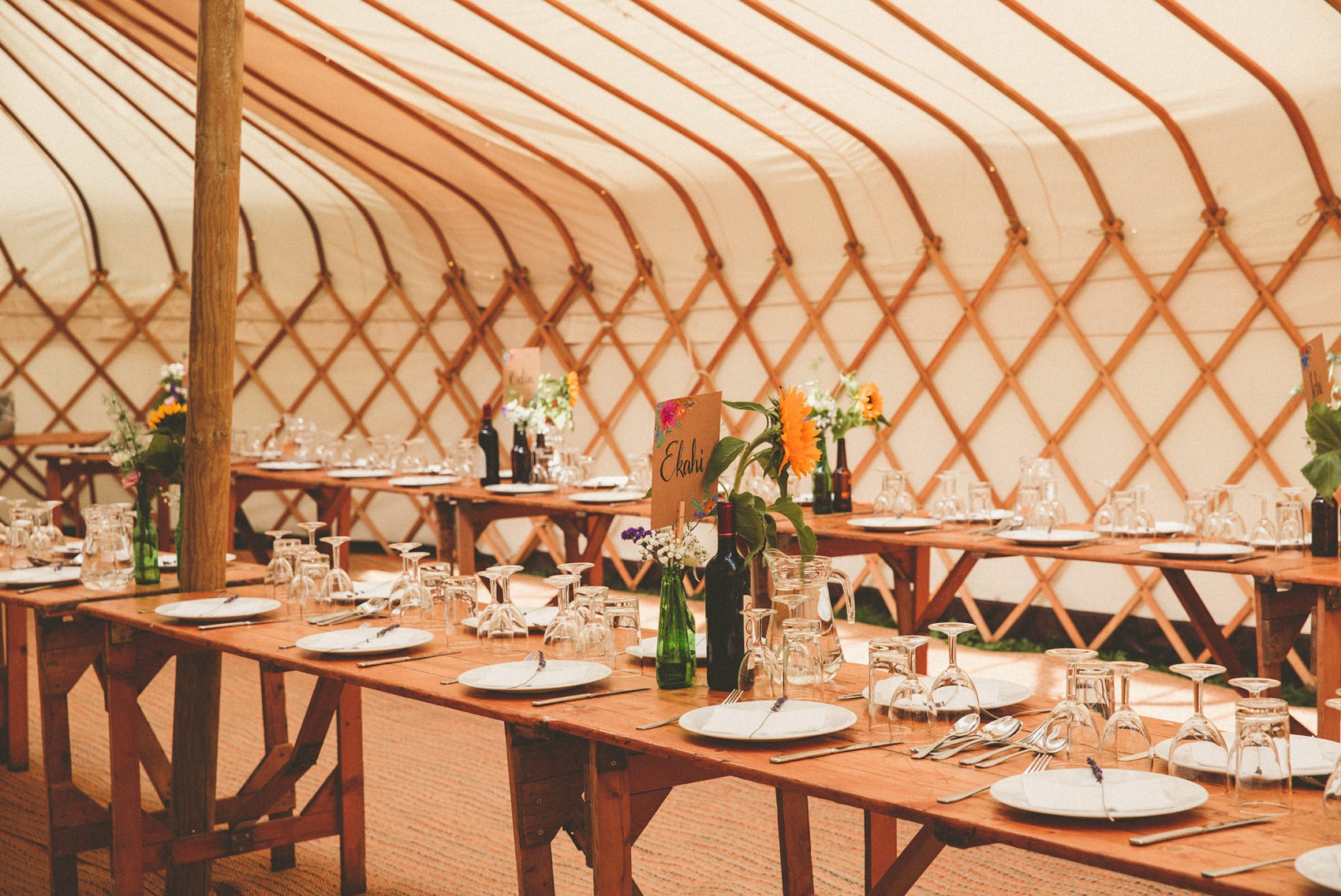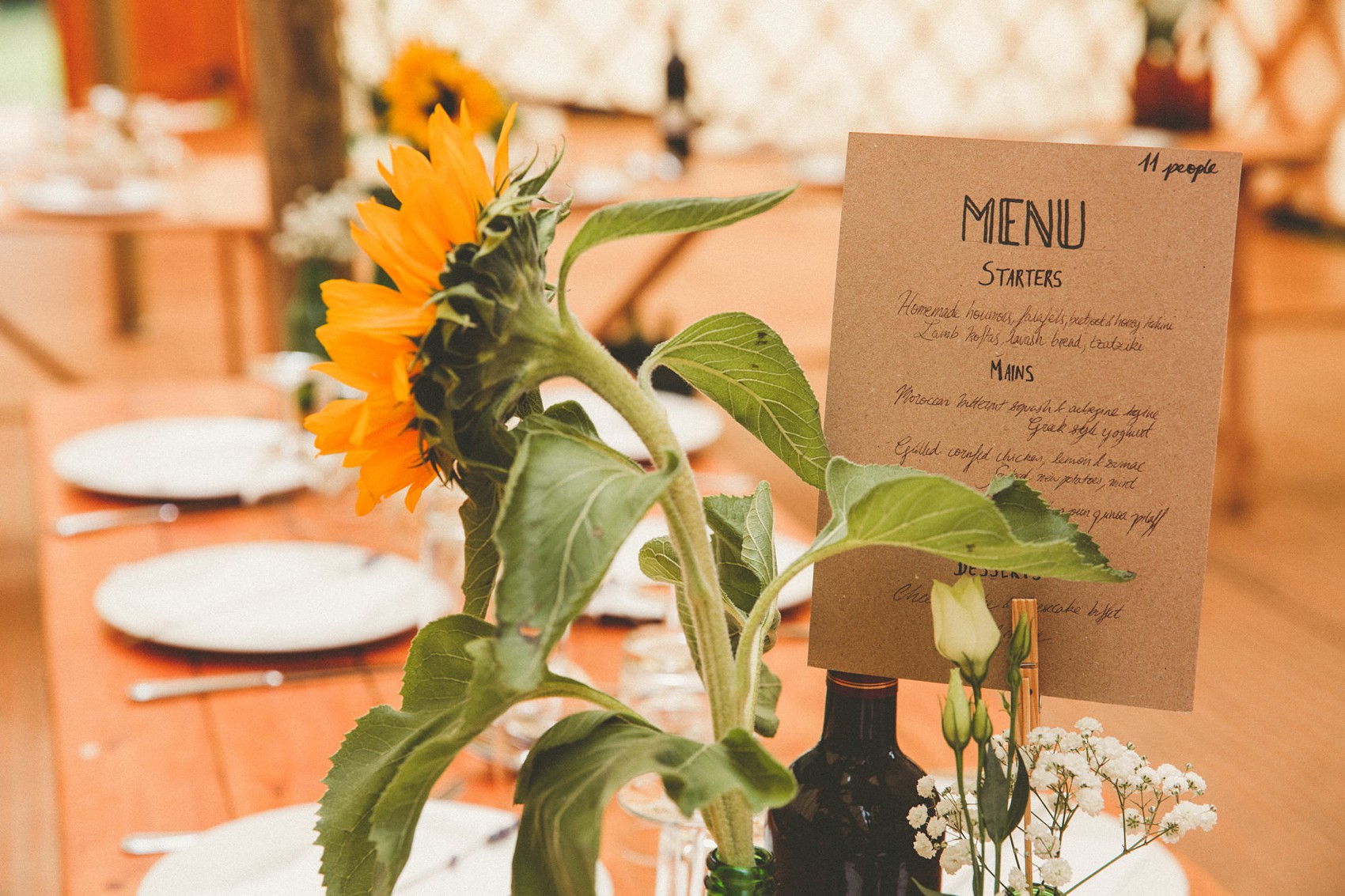 The wedding breakfast came courtesy of Vaughan's Kitchen whilst there was a cake table full of treats for later on.
"Vaughan's Kitchen came recommended by the owners of the venue and they were superb. We wanted family-style catering for our day and they were happy to oblige, providing a delicious Middle Eastern-inspired and veggie-friendly feast for us all. We also provided a bar ourselves (which helped lower costs), bringing a carful of wine and bubbles over from Majestic Calais."
"In retrospect, we probably could have done with buying a tiny bit less alcohol – not because anyone was particularly badly behaved or anything, but more because we still hadn't quite finished all of it six months after the big day! We were so wary of running dry that we may have overshot a bit…"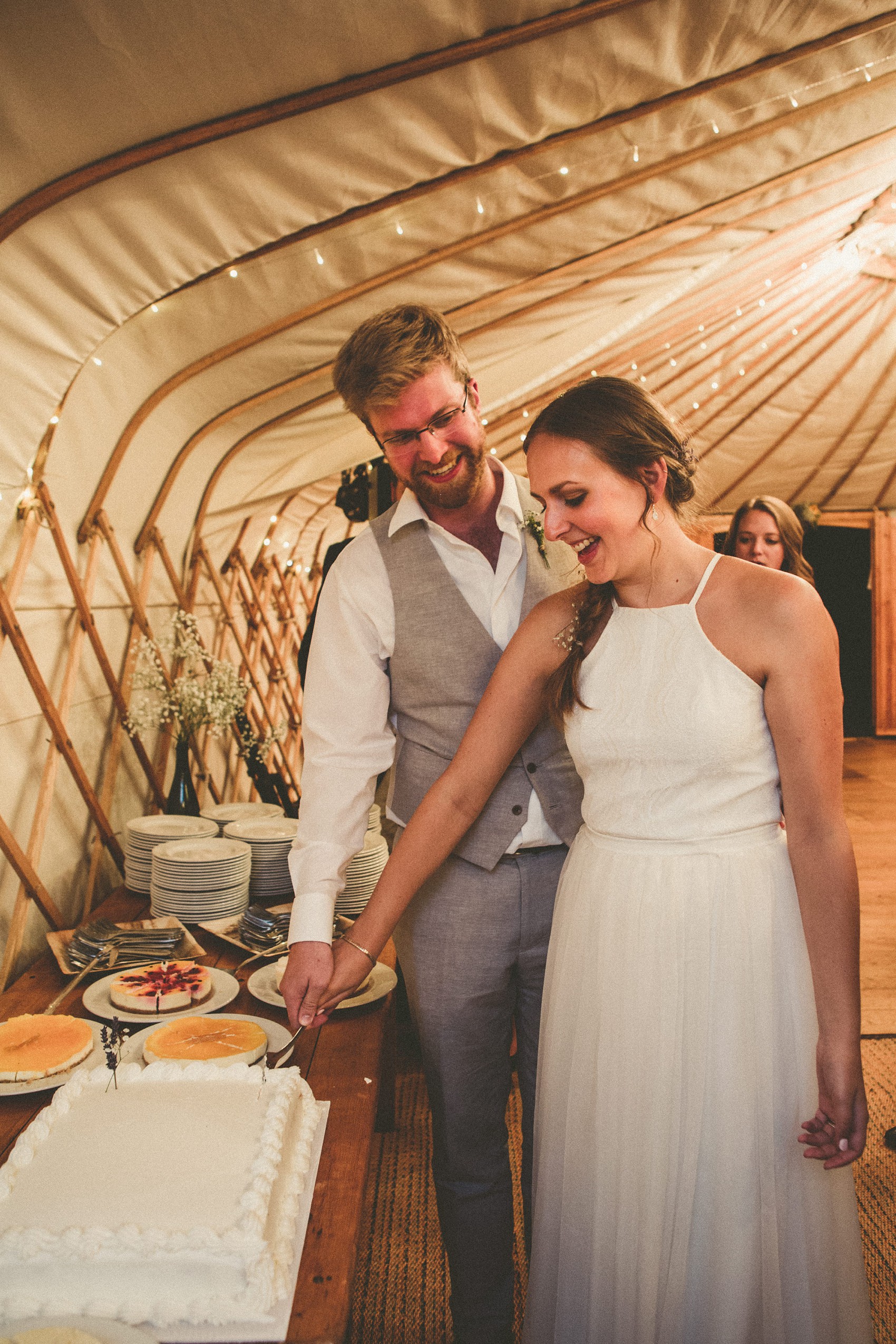 Jazz was a theme running through the day, inspiring the newly-weds' first dance, too.
"We had 'Georgia On My Mind' as performed by Ray Charles. It was one of my first solo songs in a Jazz Soc show back at university and to this day, whenever it comes on, Max remembers hearing me sing it so beautifully."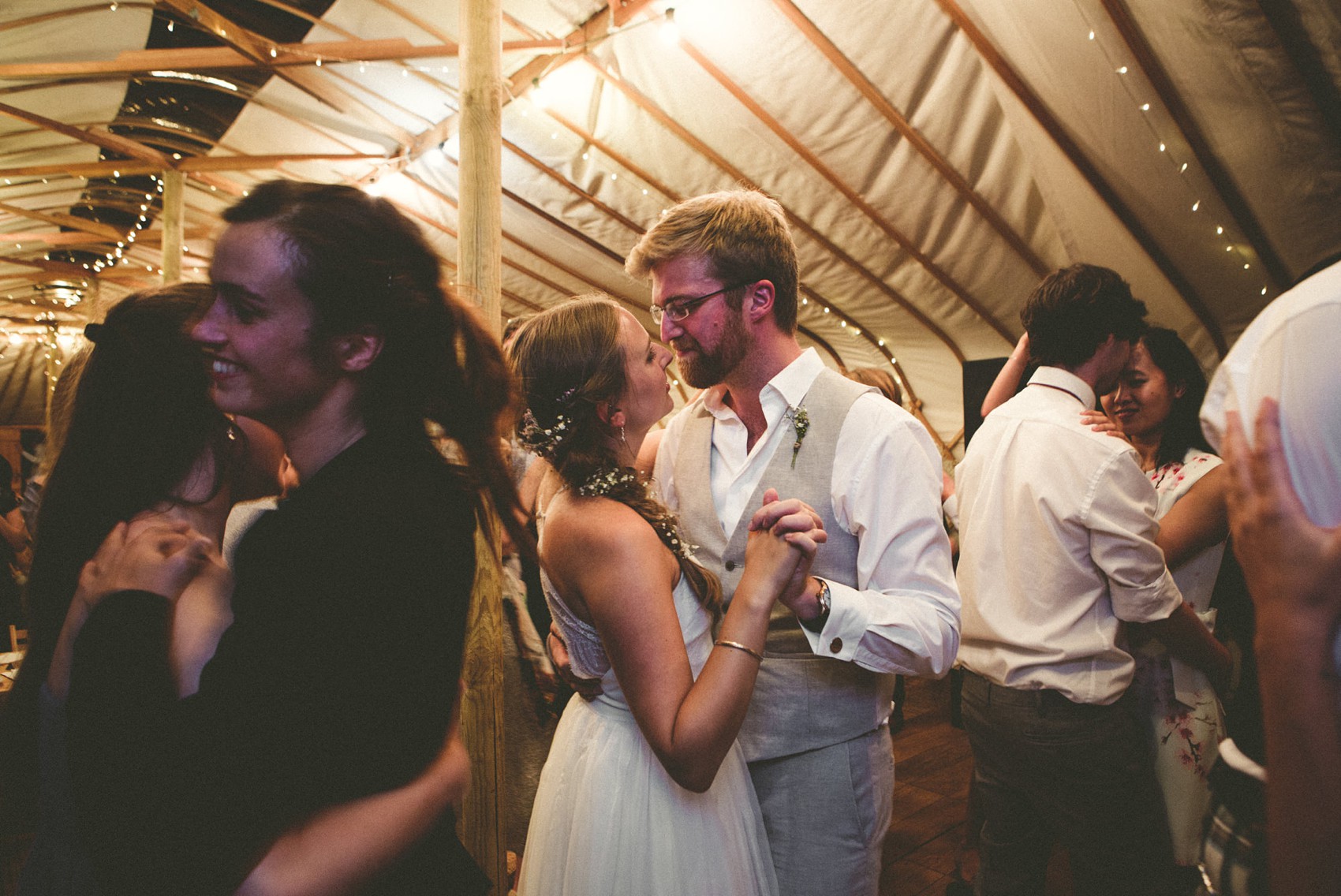 "We opted for a variety of cheesecakes (including a gluten- and dairy-free option) from Waitrose and Ocado. We also picked up a couple of white sheet cakes from Costco and a TON of cheese from France (where my family lives)."
As well as music played on a PA system, the guests were treated to a silent disco; such a fun idea.
'We hired PA gear from our friends at Down For The Count for background music and a good few hours of dancing after dinner, then had a silent disco provided by Silent Disco UK until the wee hours of the morning. It was a fantastic experience and we'd highly recommend a silent disco for entertainment!"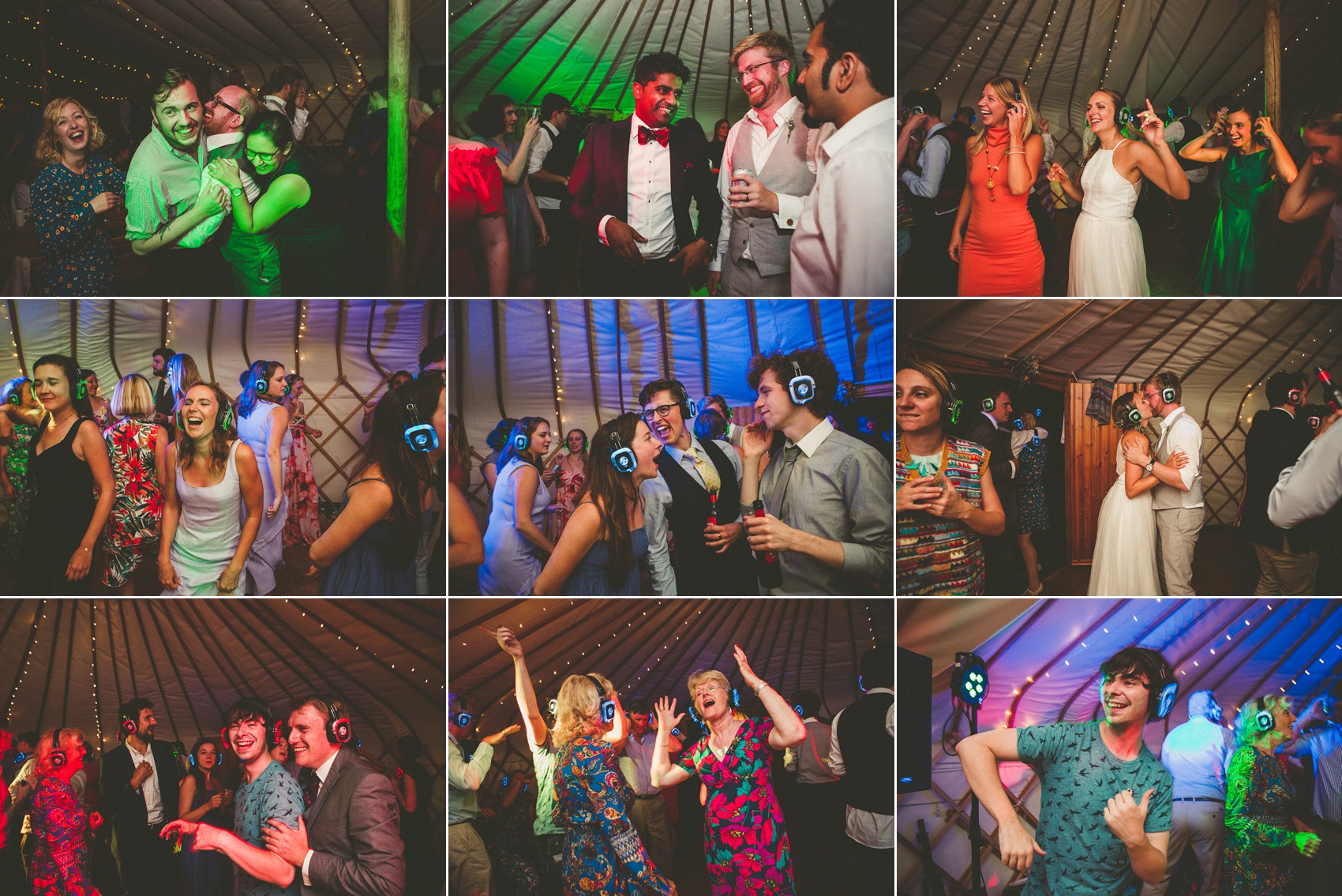 Words of Wedded Wisdom
"Accept help when offered but remember that it's your wedding and your decisions. Try not to feel pressured to do/buy/change anything that you actively don't want to do."
"Try to enjoy the planning, setting up, getting ready etc – it will get done, and it'll be over before you know it. Your friends and family are coming to celebrate you two, and they're going to have a good time – try not to lose any sleep over details."
"Take a few minutes right after the ceremony just to be alone together – once you get out into the crowd you're probably not going to be alone for the rest of the day! We took ourselves off to our little cabin nearby with some canapés and bubbles and just enjoyed being married for a little bit before doing photos and saying hi to everyone, and we were very glad we did. Also, try and stick together when doing the rounds – it's nicer that way!"
"Our budget going into it was £15-18k (we were very fortunate to have help from both sets of parents who offered to split the costs with us!), and in the end we landed right under £16k."  
Oh Natalie and Max, I've absolutely loved sharing your sunshiny day today, and adore that so much of it was crafted yourselves. It does look like you had the best party ever, and what a glorious setting. Thank you so much to you both, and sending congratulations too on your first wedding anniversary. Of course, many thanks go to Emma Stoner too for such vibrant photography. If you love her style I think you're going to like her other weddings we've published on Love My Dress and for more DIY wedding inspiration, I invite you to take a look at this selection.
Ele xx