Happy bank holiday Monday, lovelies; how was your weekend? I was over in Leeds for the wedding party of a very good friend who I met in China. I made and decorated the wedding cake and thankfully got it there in one piece.
The pressure isn't off though; another friend is marrying in Devon this Saturday… cue another long journey with precious sugarcraft flowers in the boot. Now, it most definitely is wedding season for me but today we're harking back to winter for a magical January wedding. Can I tempt you with a candle-lit ceremony, warm shades of red and green and an exquisite lace gown? Then keep on reading.
Photography From The Smiths Photography
The beautiful bride and groom are Cecile and Matt, who chose 12 January 2019 for their wintry nuptials at the atmospheric and totally romantic Lains Barn, Wantage, Oxfordshire. The couple fell in love with the rustic barn and its grounds, and thought it would be the perfect location for a wintry celebration. Cue an intimate and cosy day full of touches of warm reds and greens along with lots of home-spun elements made by Cecile.
"We fell in love with the authenticity of the place and its cosy rustic look. Plus they have a license to close at 2am which we really wanted."
It's time to write about possibly one of my favourite elements of the day; Cecile's stylish, strappy 'Rosa' gown from Grace Loves Lace. I adore its pooling train and simple silhouette which packs in so much detail.
"I love Grace Loves Lace dresses. They have such an unusual design and amazing lace patterns. I never thought I would go for a dress so form-fitting but once I tried it I fell in love with it; the details are amazing. It was such a light dress and easy to move in."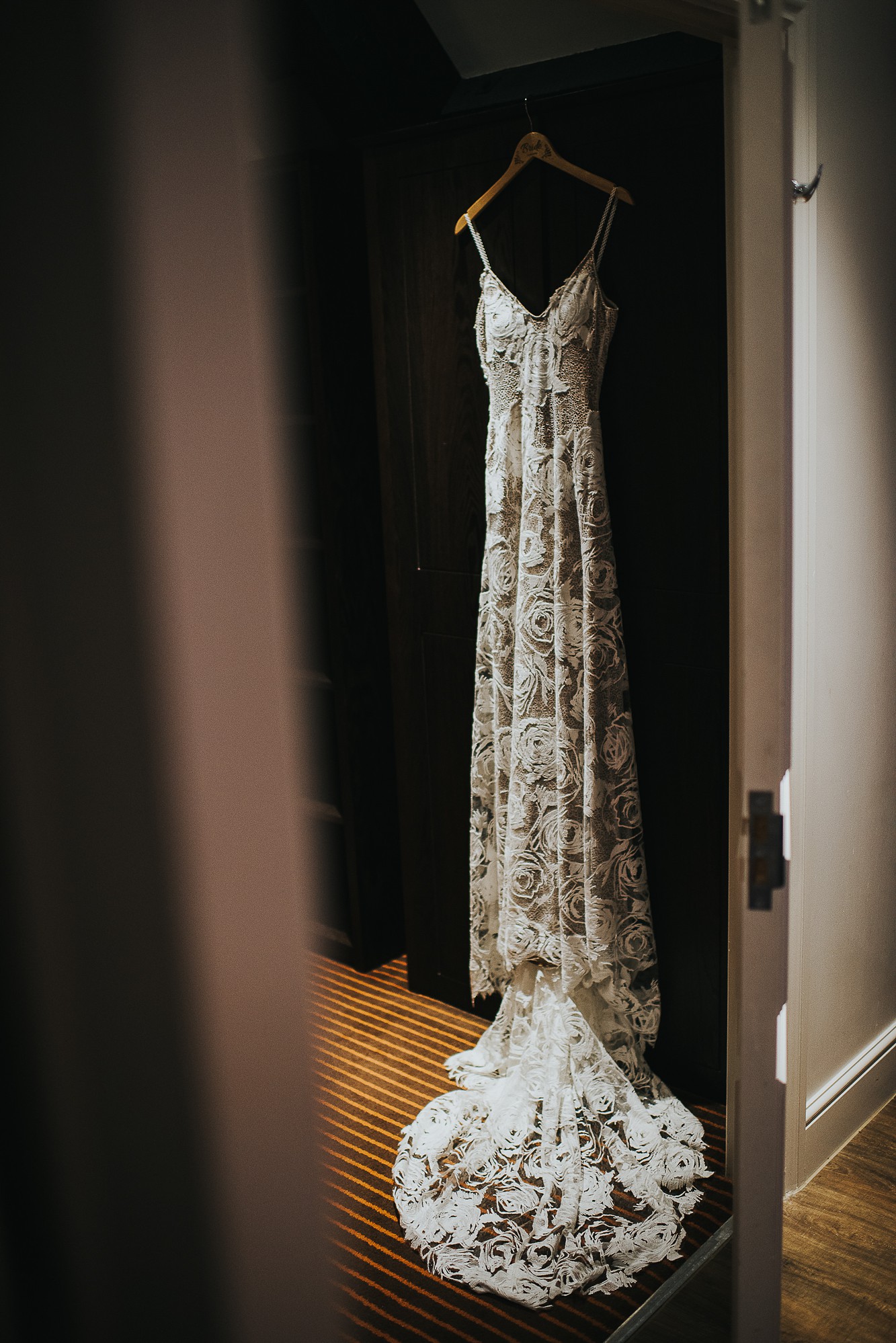 For the ceremony, the bride wore Tory Burch shoes, swapping later in the day for a pair of Jimmy Choos. Her gorgeous dark locks were swept over one shoulder and secured with a peacock feather hair pin from FloraAndTheFox on Etsy and a crystal hair comb by TheFawnAndTheSparrow on Etsy for a touch of sparkle.
"I wore my favourite earrings from Anthropologie, rings from & Other Stories plus my great-grandmother's wedding band. My mom lent me a Dior throw."
The couple met online back in October 2015 and got engaged on the Isle of Wight in June 2018. Their engagement was seven months long and Cecile enlisted the help of her friend Sepideh for the planning and creative styling of the day.
"My favourite colours at the moment are shades of red and green so for a winter wedding, my choice went naturally towards these colours. I like everything crafty, DIY and a bit different so I got a lot of inspiration through Pinterest from different weddings and styles. We planned and organised everything with the help of my friend Sepideh."
Cecile dressed her bridesmaids in a range of rich jewel tones, finding a navy gown at Coast, a red dress at ASOS and choosing teal and black and gold gowns from ba&sh. They all added a labradorite bracelet made by Mimibay Creation.
"The bridesmaids' hair and makeup and my hair were done by Holly Preston at Oxford Hair & Makeup. My makeup was done by my friend Lottie Valentine."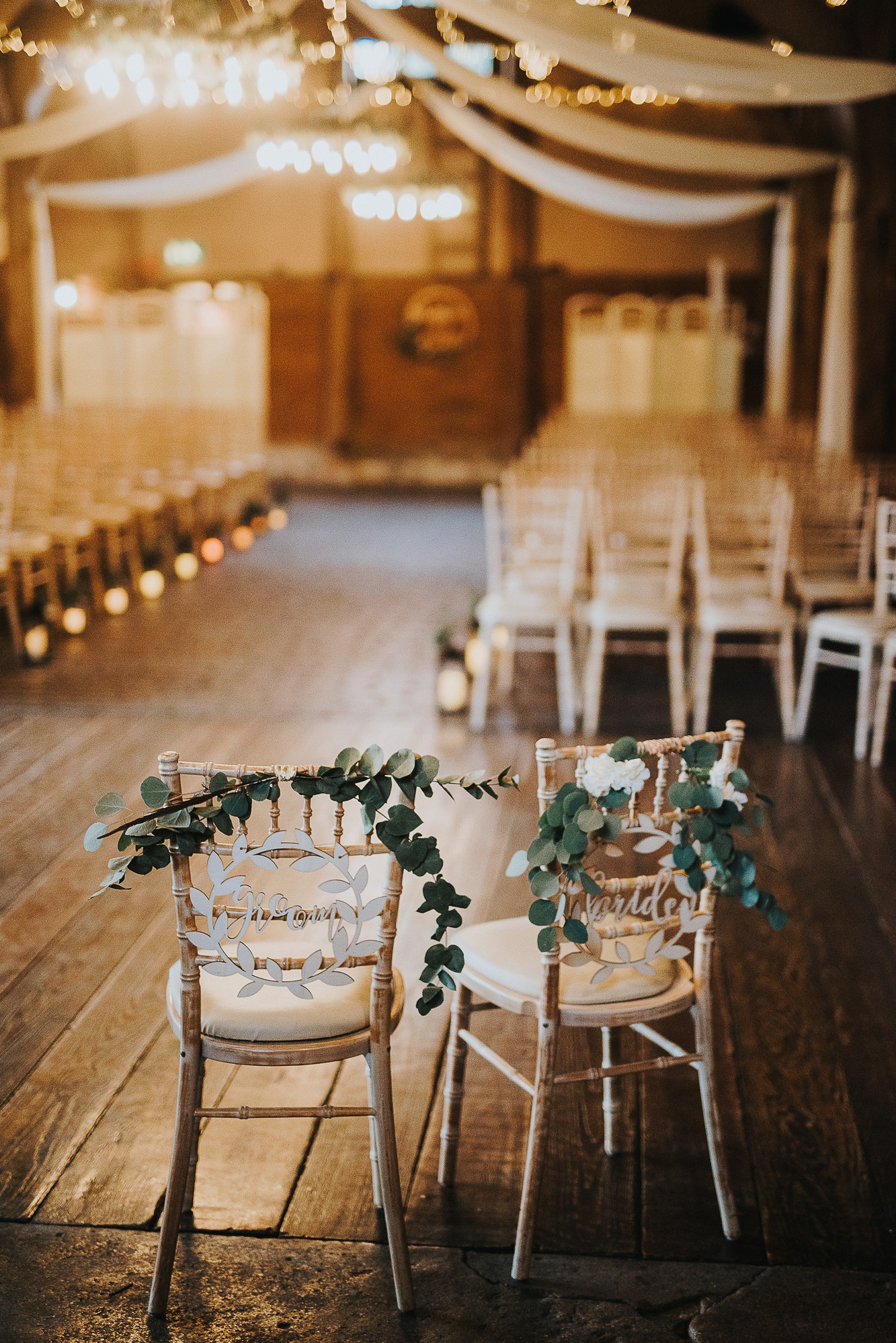 Cecile and her friend Sepideh are clearly very skilled creatives, making so many elements of the décor themselves, including these wonderful flowers.
"I absolutely love working with flowers so I decided not to get a florist. My very talented friend Sepideh and I designed and created everything flowers for the wedding. We wanted to keep the colour wintry and simple."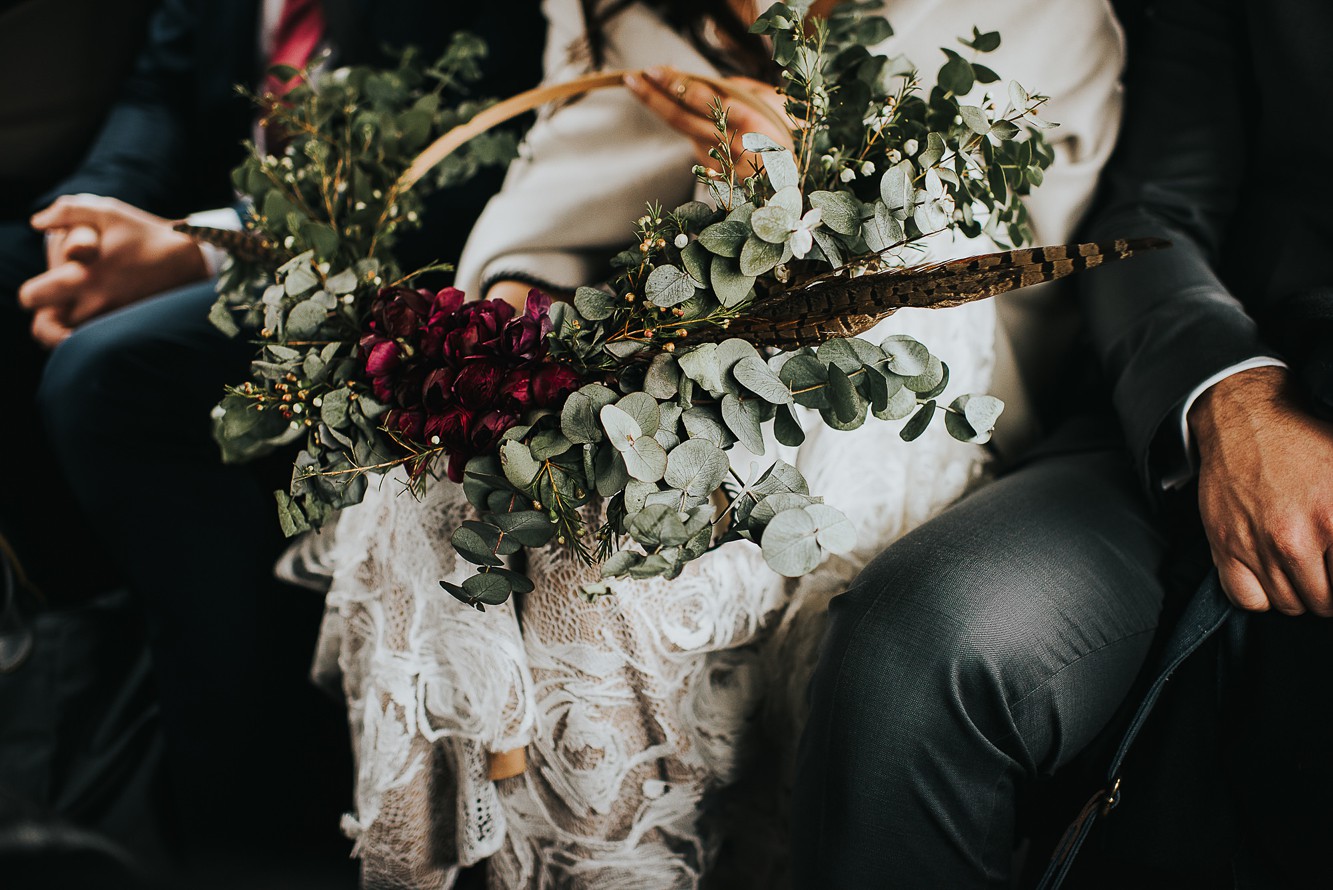 "Eucalyptus was an all-time favourite. We opted for cotton flowers as the main flower to bring softness and added a few touches of colour with carnations, ranunculus and astrantia. Our colour scheme was greens and reds so we tried to keep our flowers within this mood."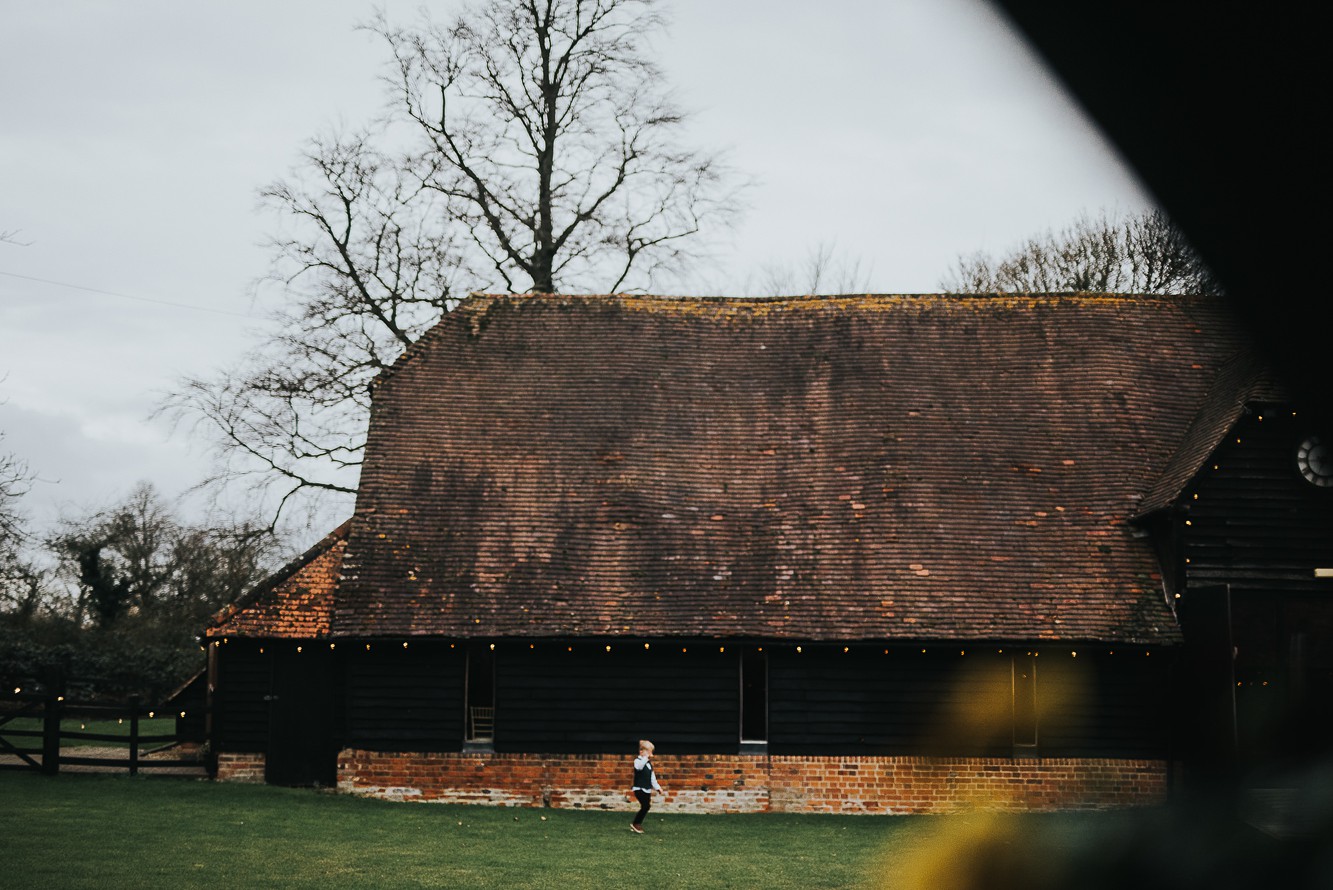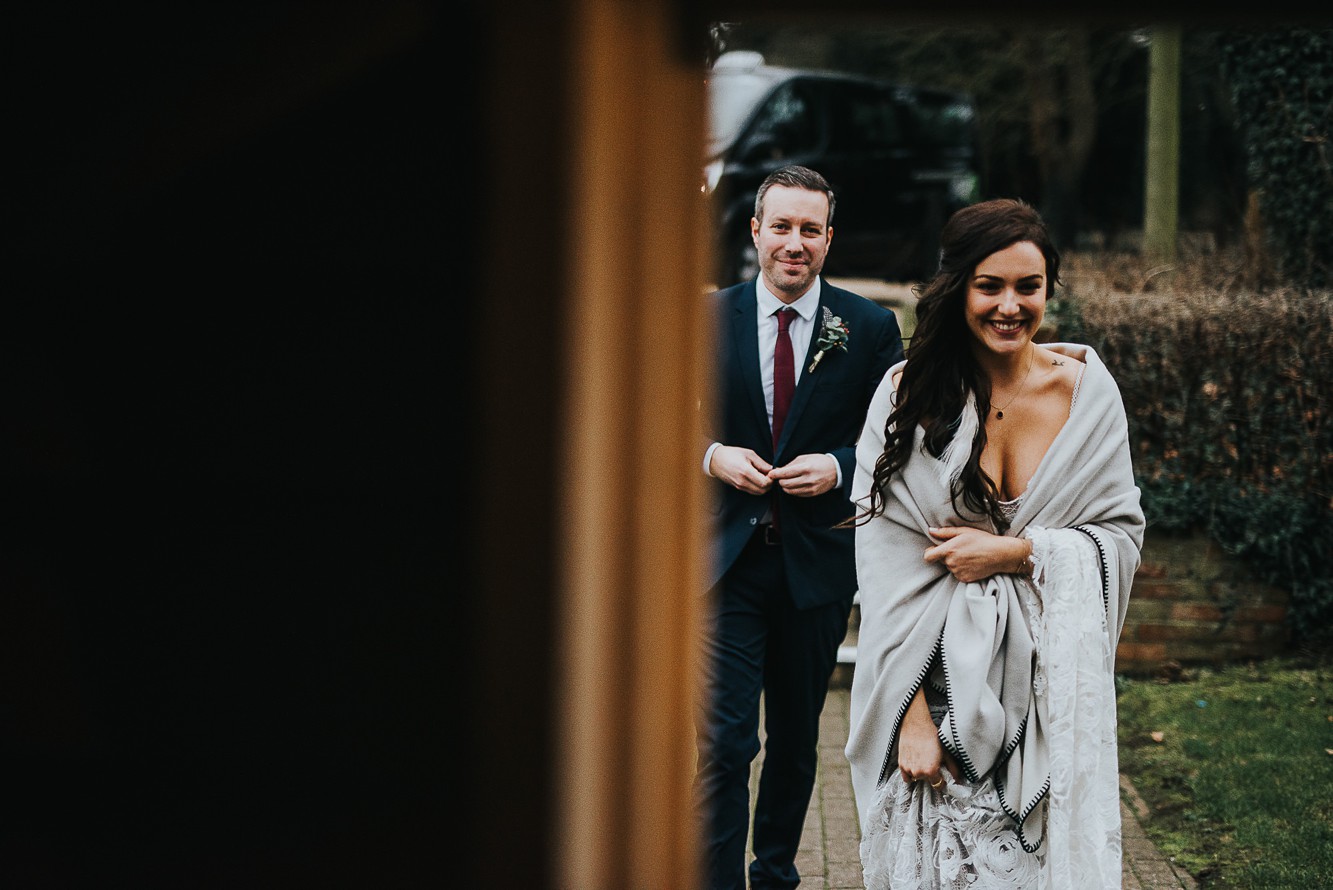 Come ceremony time, Cecile asked her brothers to walk down the aisle with her to Mumford and Son's 'Guiding Light'. Matt was waiting for her with his groomsmen under the fairy-lights and drapery, wearing a Ted Baker suit and rusty red tie.
"Matt's ring is from Tiffany & Co – he was looking for something different and loved the mix of platinum with black titanium.  My wedding ring is vintage, just like my engagement ring. My engagement ring is from an antique jewellery shop in Richmond upon Thames and my wedding band was found in an antiques shop in the south of France."
The cosy vibes of the barn have been so well captured by the epic duo that are From The Smiths Photography. However, I have fallen hard for these outdoor images; so perfectly evocative of the stillness and silence of the landscape at that time of year.
"SJ and Simon are super-talented and we are so happy with our pictures. They were able to capture so much emotion throughout the day. They were super-friendly from the moment we made our first enquiry and made everything so easy."
"As a bonus, we have way more pictures than we ever expected thanks to having both of them snapping away all day. We would highly recommend them; the quality of their work is up to the highest expectation."
After the ceremony, the newly-weds and their photographers headed out for some couple portraits and time to reflect on the day so far.
"Our couple pictures gave us time to spend a quiet moment together after an emotional ceremony. SJ and Simon made it so easy with nice chit-chat and walking around the fields in the area. It was what helped us to relax and start enjoying the day fully."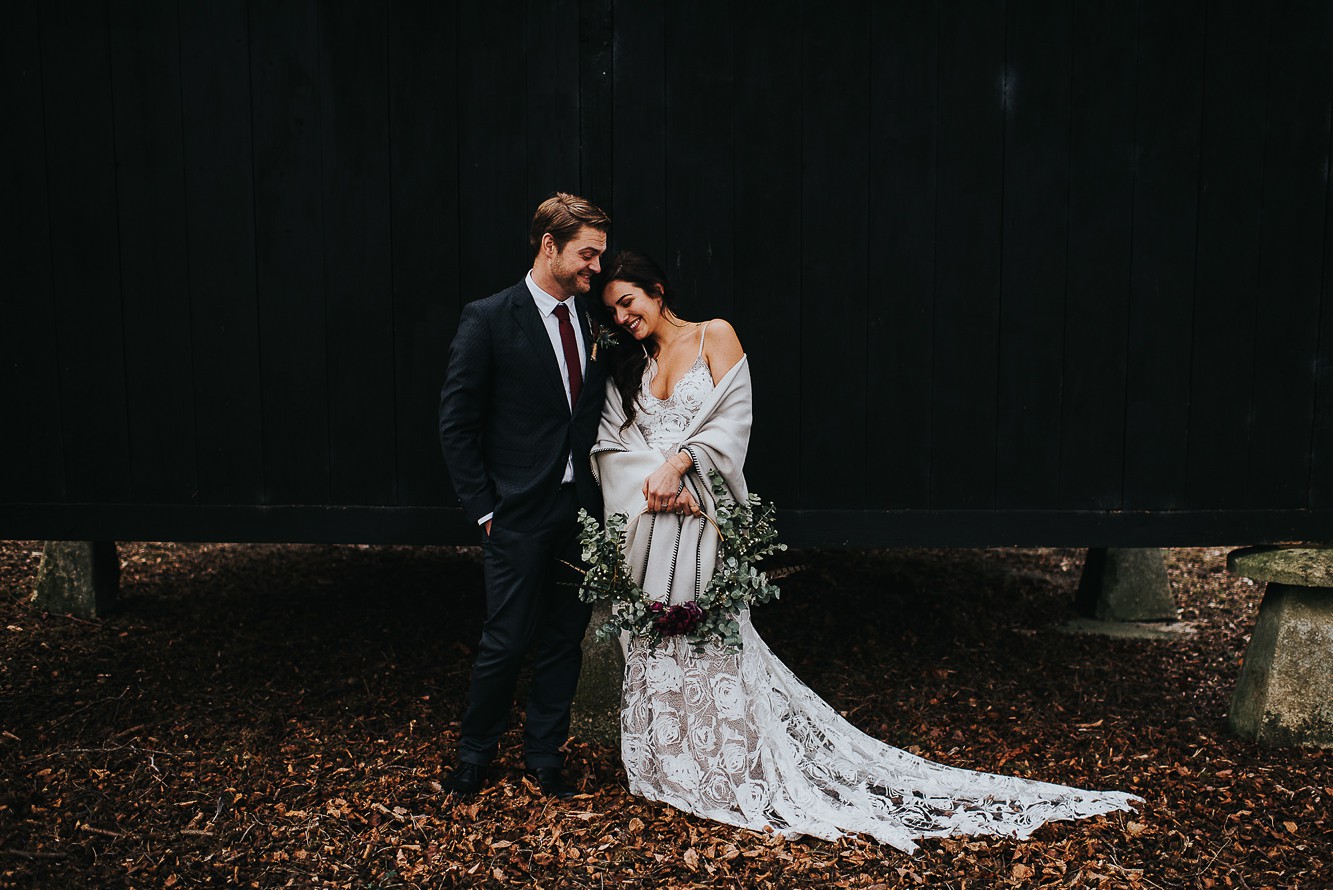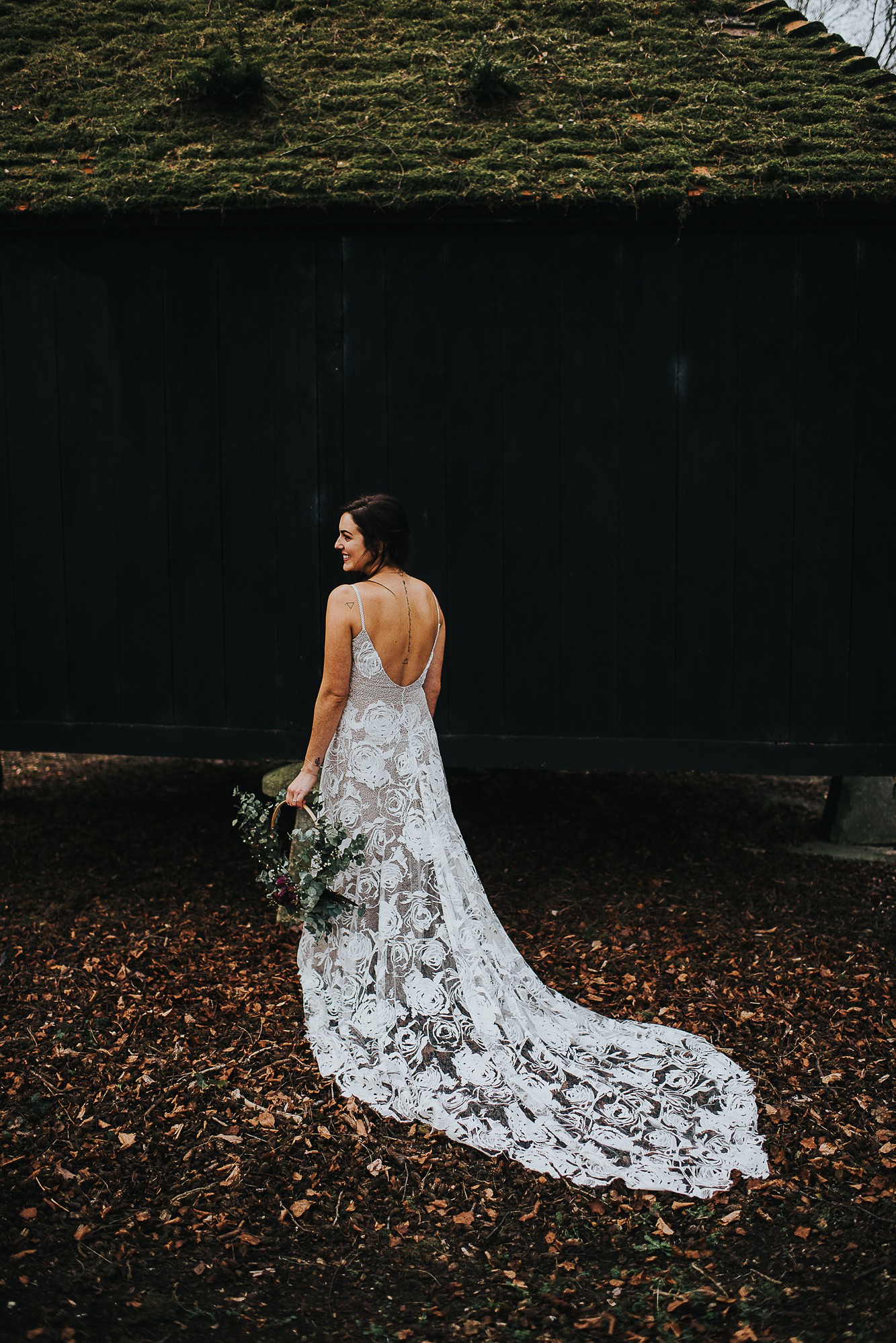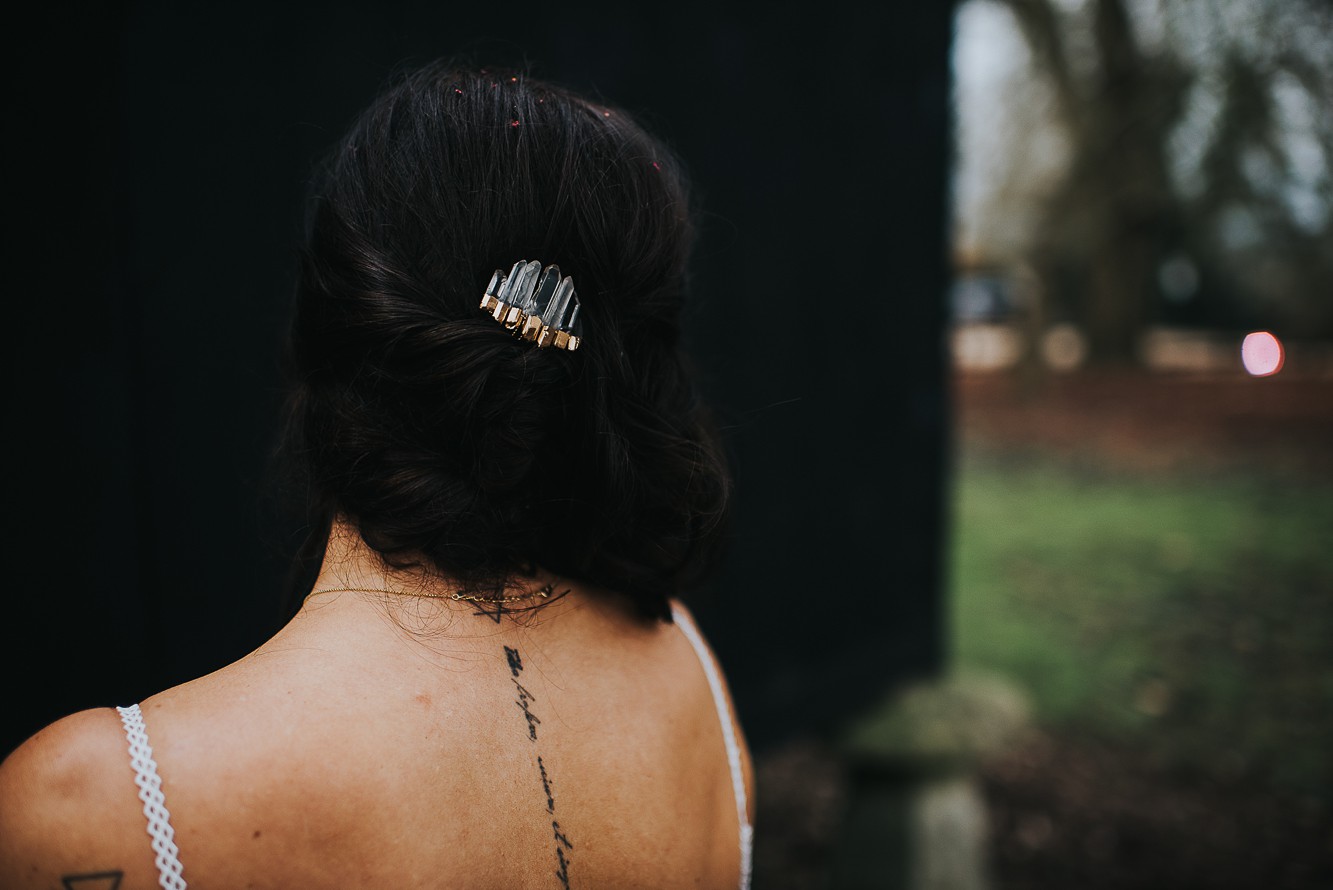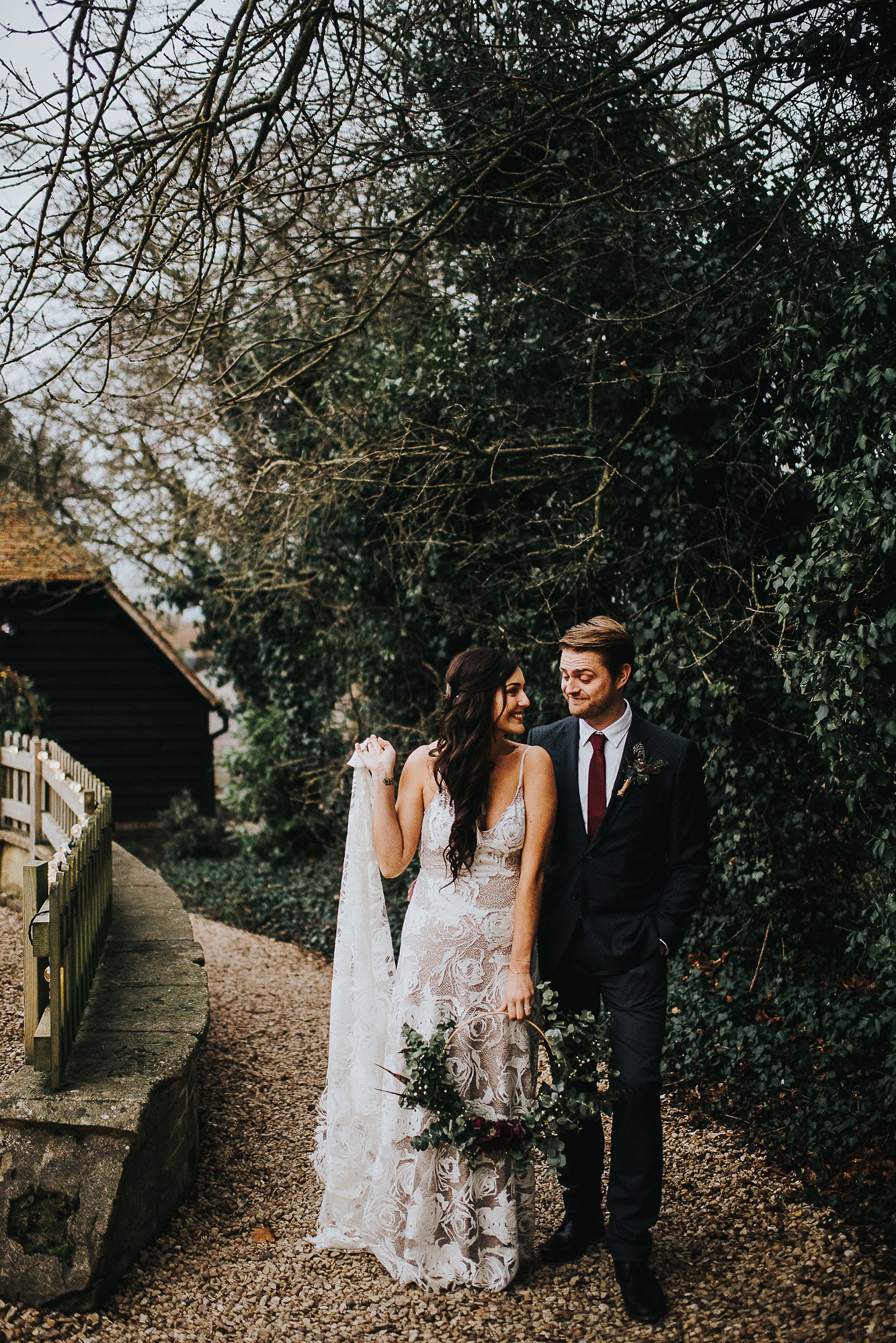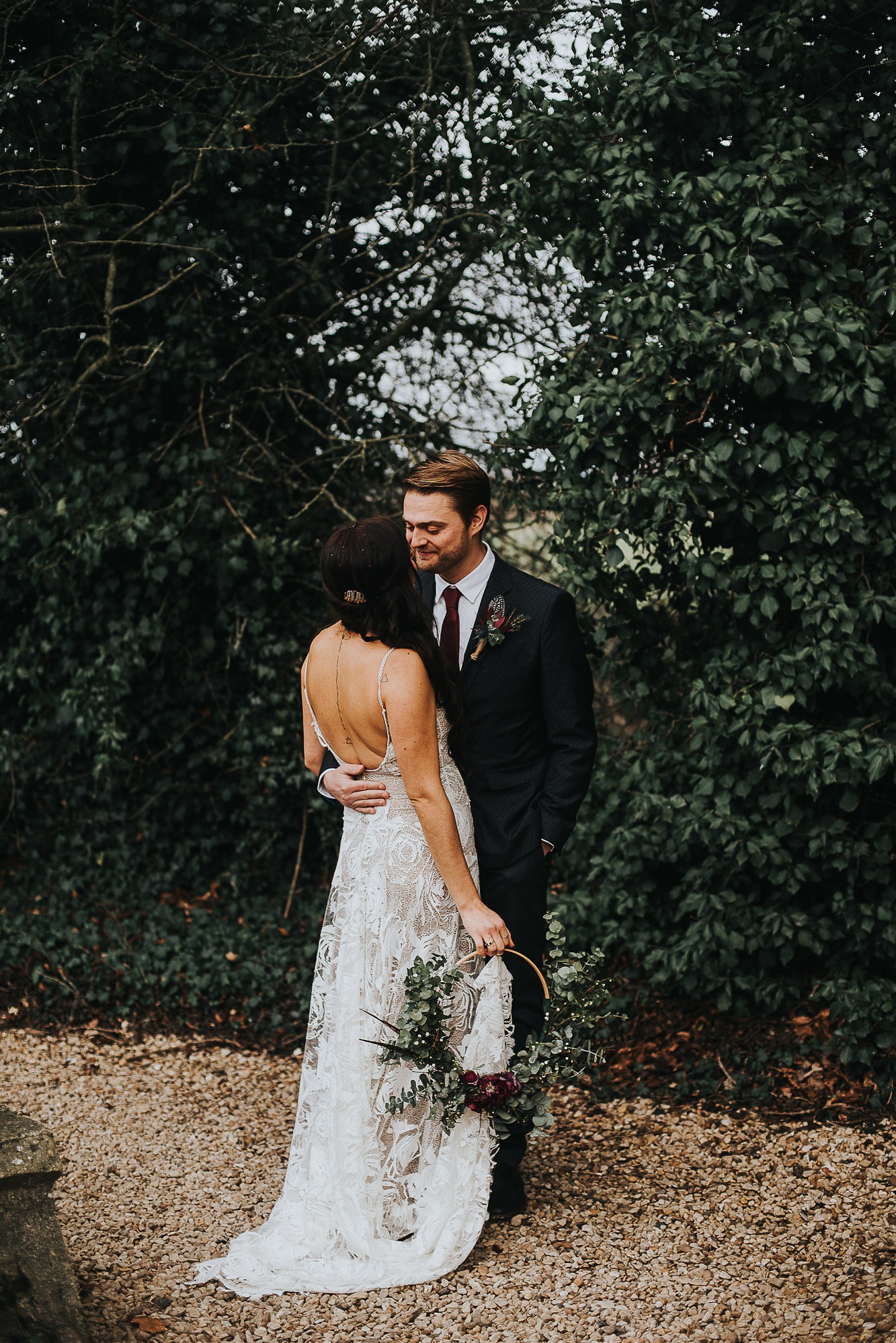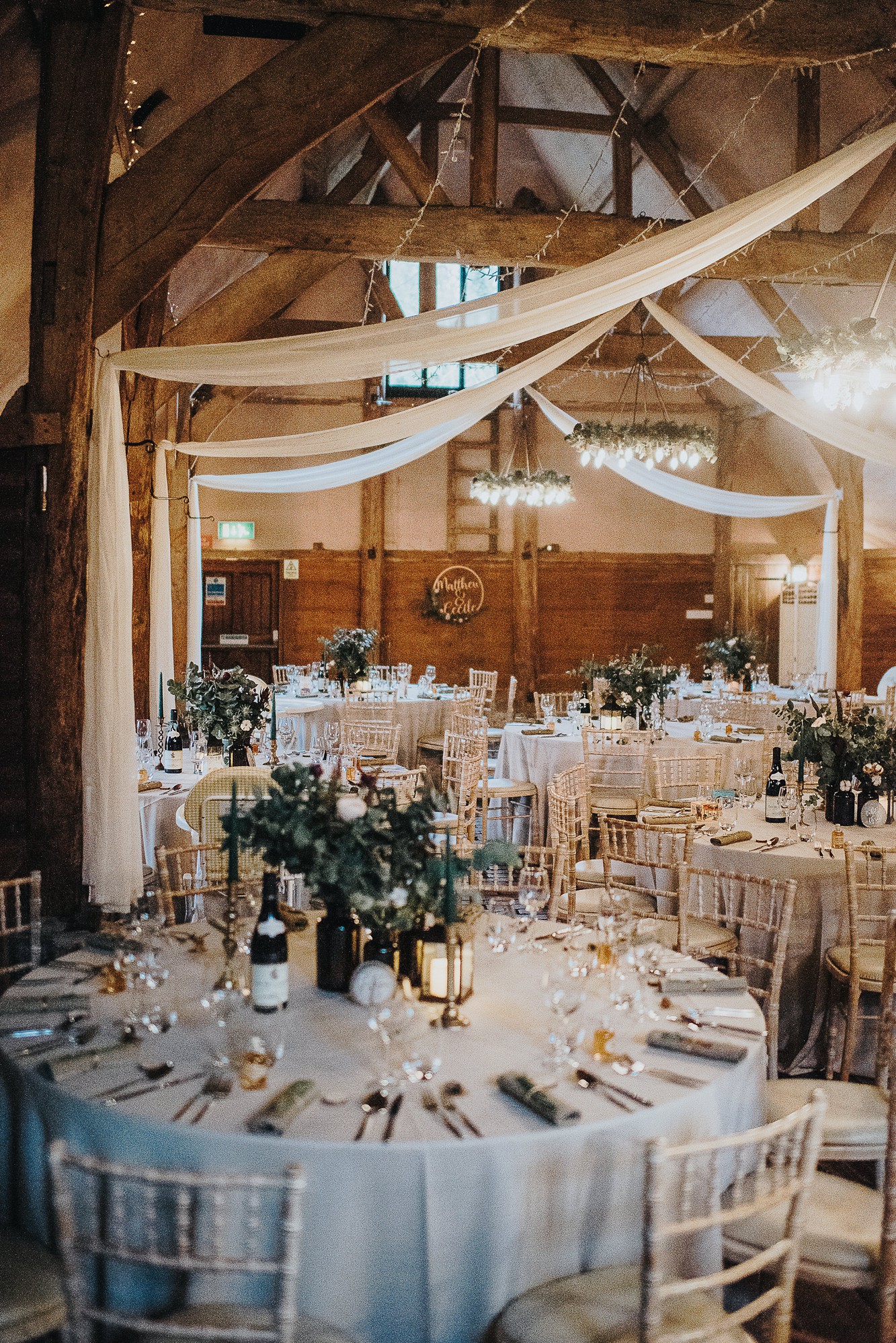 "All of the stationery was designed by my bridesmaid Ophelia."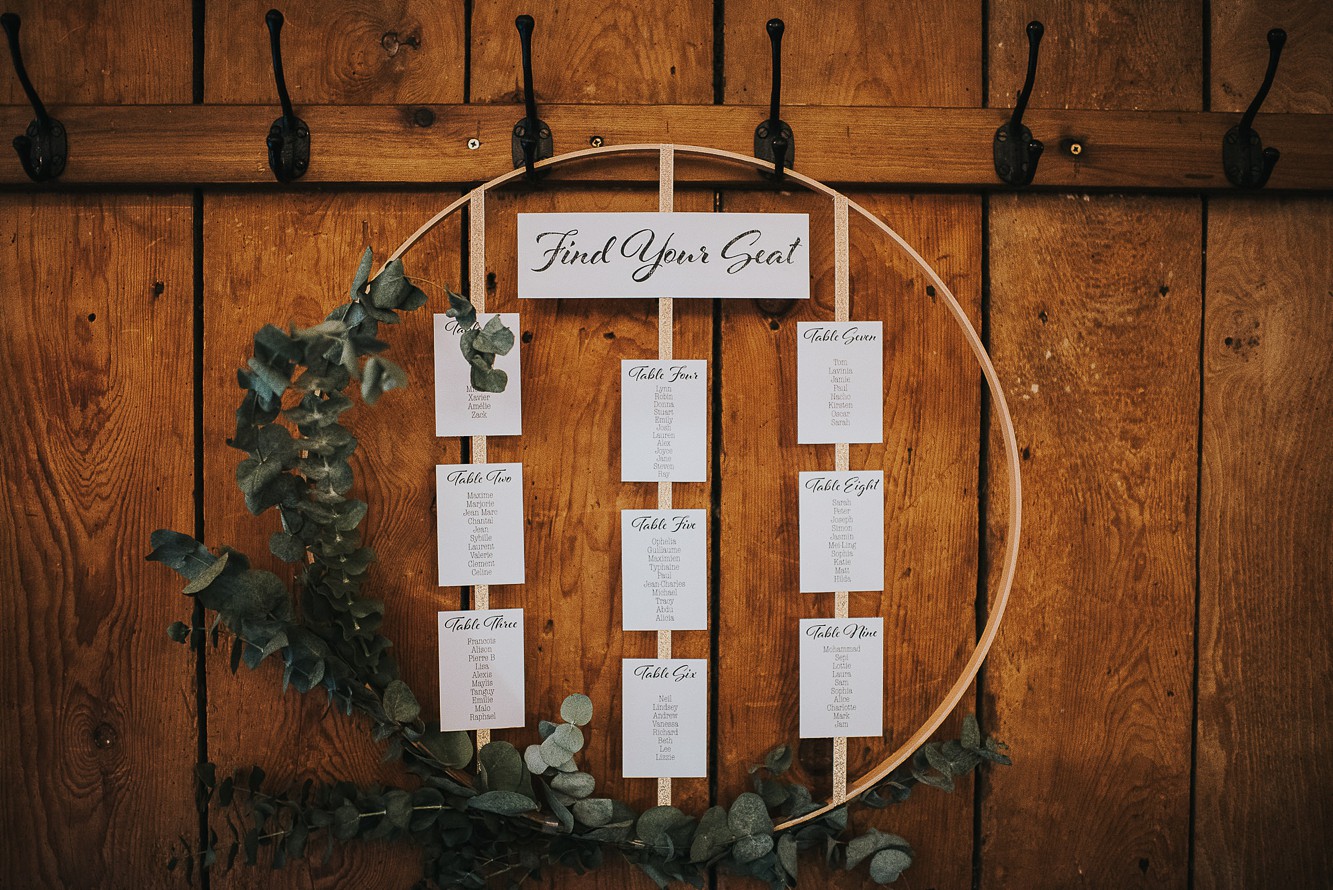 For dinner, the barn had been beautifully set to create a cosy and magical vibe. Just look at how much effort has been put in to the foliage which hangs from the ceiling and chandeliers.
"We took the lanterns we used for the ceremony and placed them on the tables as part of the centrepieces. Brass candle stick holders were hired from Rock The Day Styling, agate slices for table number from LuckyNibsDesign on Etsy and the hoop sign of 'Matt & Cecile' was from Etsy shop TheSavvyShed."
"The metal and glass frame for stationery and the boxes for presents were from H&M Home and the printed napkins for the reception and evening nibbles were from Etsy shop NapkinNiche. The place-cards were hand-printed by myself with stamps on little slices of wood."
"We placed games on tables outside to entertain the kids (and grown-ups); Tic Tac Toe, classic 4 score, Tumble Tower and Dart. We had wooden crates too; one was used outside, filled with blankets to use if it got too cold. A few were stacked in the ceremony room and filled with flowers."
Each guest received a handmade favour which sound so special.
"Women were offered a small crystal, men a vanilla rum we infused at home, and the kids had little safari bags with presents depending on their age. The crystals were found in a fair in the south of France and the bags at Leanne Rayner Designs on Etsy. We had matchboxes personalised on Etsy via WeeFavours for the smokers."
The team at Lains Barn provided the wedding breakfast but the show-stopping, five-tier wedding cake came courtesy of another talented friend.
"Our cake was made by our friend Laura. We liked naked cakes and we trusted her with the details. She surprised us with the final cake. Needless to say we absolutely loved it!"
DJ Matt at Visually Sound was in charge of the evening party and the newly-weds skipped the first dance to get everyone on the floor.
"We didn't have a first dance but asked all our friends to join us on the song 'Intoxicated' from Martin Solveig."
Words of Wedded Wisdom
"Don't stress about little details going askew. Your guests don't know what to expect of the day and only you will notice if something is not quite as you pictured it. Your guests will love all the effort you've put in, no matter what!" 
"Your wedding day will pass in a blur. Everyone always says it and it is so true! Make sure you take ten minutes after your ceremony just for the two of you. Enjoy this intimate moment before celebrating with friends and family."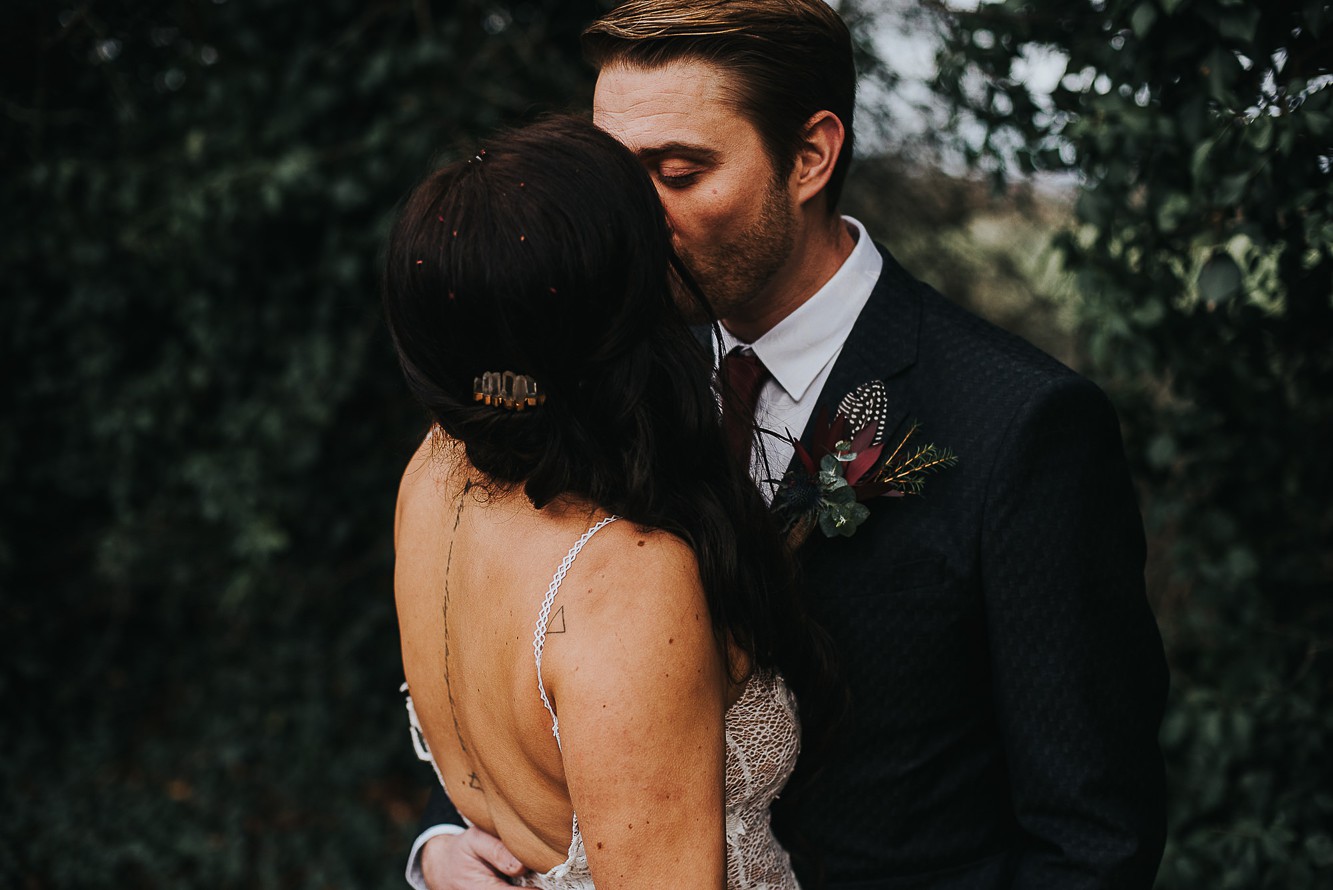 Such wise words, thank you Cecile. It's been a total joy to share your winter wedding, and please accept my thanks and congratulations on your marriage to Matt. I'm in awe of your creative talents, too. Thank you also to From The Smiths Photography and, if you've been inspired by these photographs, we have got many more wintry weddings here for you to enjoy.
Ele xx