With the beautiful summer weather we've been enjoying (well, perhaps not this week) and the relaxed, outdoor lifestyle it brings, it really is the perfect time to share today's wedding.
I have all the love for this intimate July celebration which oozes relaxed wedding vibes and laid-back, DIY charm –  and prepare to fall in love this divine Needle & Thread gown. The bride and groom are Becky, who is self-employed and runs Head In t'Clouds and Andy, a web developer.
They selected the wonderful Chilli Barn near Otley, West Yorkshire for their civil ceremony and relaxed marquee reception on 14 July 2018. The day was inspired by Andy's proposal at RHS Harlow Carr, with a loose theme of botanicals, fruits and vegetables underpinning the styling of the yurts and décor. And with a surname of 'Farmer', what could be more apt?
Photography Jordanna Marston Photography
Becky's long-sleeved 'Rosette' gown from Needle & Thread boasts the most exquisite floral embroidery on its bodice and skirt and really epitomises the bride's breezy, relaxed vibe. I love this style for its ethereal elegance and subtly boho vibe. She bought it directly from the brand's online store.
"I knew I didn't want a traditional dress. I didn't want a dress that felt like it was wearing me, all structured and heavy and uncomfortable. I wanted unique, something a little different, and something very 'me'."
"This was actually the first wedding dress I tried on. I did go to wedding dress shops afterwards with my mum and bridesmaids which was a great experience. Although there was another dress that threw me off for a moment, I knew this was the one."
"When I asked my husband a few weeks before the wedding to guess the dress I might wear he almost exactly described the dress, including the flowers and the sleeves! I knew then that I had made the right decision."
The bride chose for her and her bridesmaids to style their hair and make-up themselves, and she left her hair down in pretty, boho-inspired waves.
Becky is clearly a talented florist, putting together her bouquet and delicate floral crown using blooms and foliage from Triangle Nursery.
"I didn't have a veil, just a flower crown that I made myself with flowers matching my bouquet and herbs from our garden. Triangle Nursery was recommended on the Love My Dress Facebook group and it was a brilliant find.  They were super helpful in the run-up, answering all my many questions about when to order and which flowers go together. Their website is full of useful information and tips too."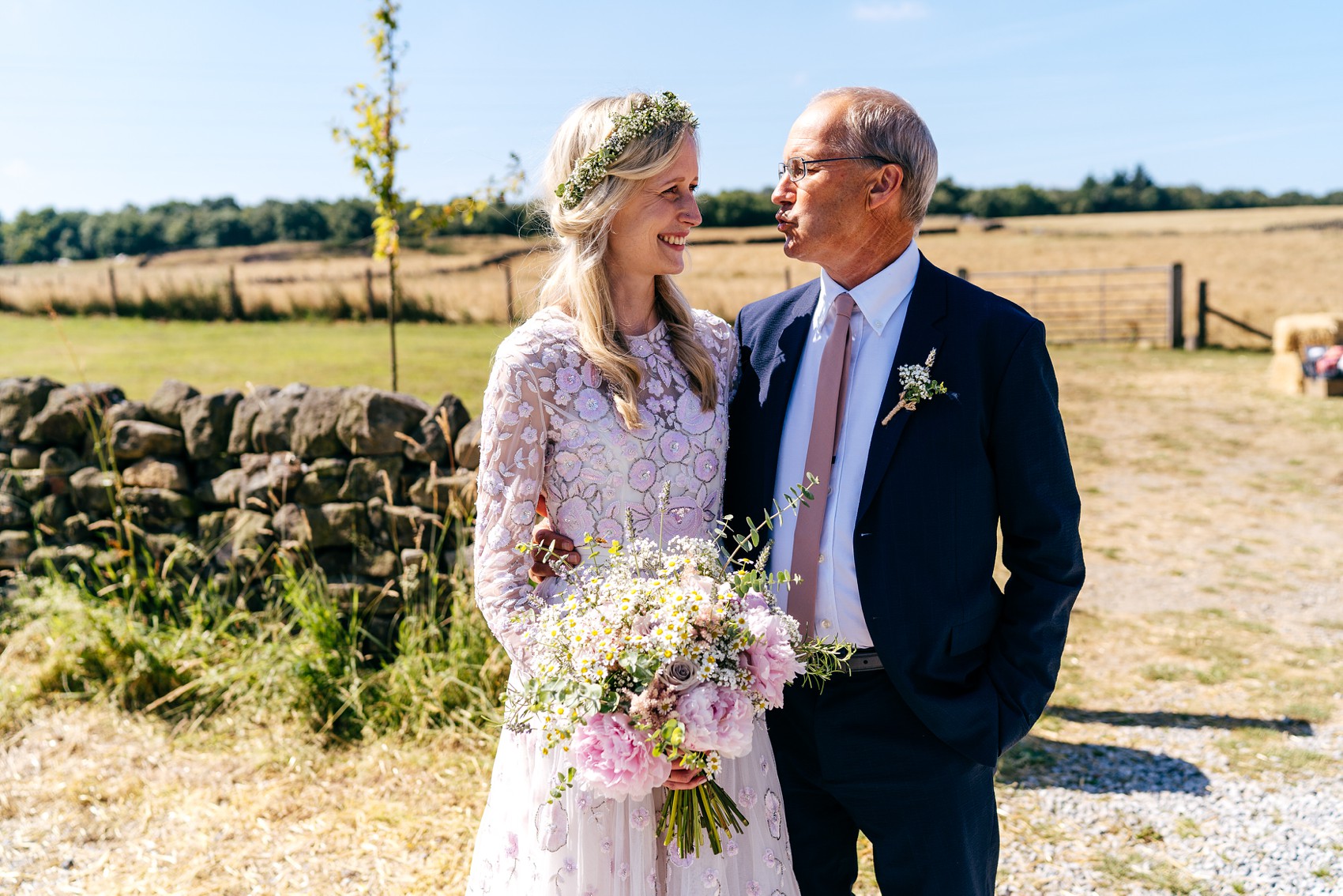 Becky and her father were driven to Chilli Barn by friends and she walked down the aisle of the barn to Northern Wind's 'City & Colour'.
"We played it from our favourite vinyl record."
Their civil ceremony was made personal with two readings, which Becky has shared with us here. Are you looking for readings for your own wedding? Please do make a note to visit our wedding readings pages here, which are full of inspiration.
"The first reading was 'The Future' read by Andy's school friends Katie and Alice. Our second reading was written by my bridesmaid Mally who unfortunately couldn't make the wedding as she lives in Canada. It was read by my school friends Emma and Libby."
"They will build a home together
A home that warms and glows
Built for sunshine and stormy weather
The home in which they grow
They will find their place together in this universe,
and will live this way forever for better and for worse."
"So they will build a life together
that stands in dark and light
and they will love with all their heart
and with all their might."
"I loved the ceremony, walking down the aisle to my future husband and seeing all my family and friends smiling. It was overwhelming but one of the moments that really sticks in my mind from the day."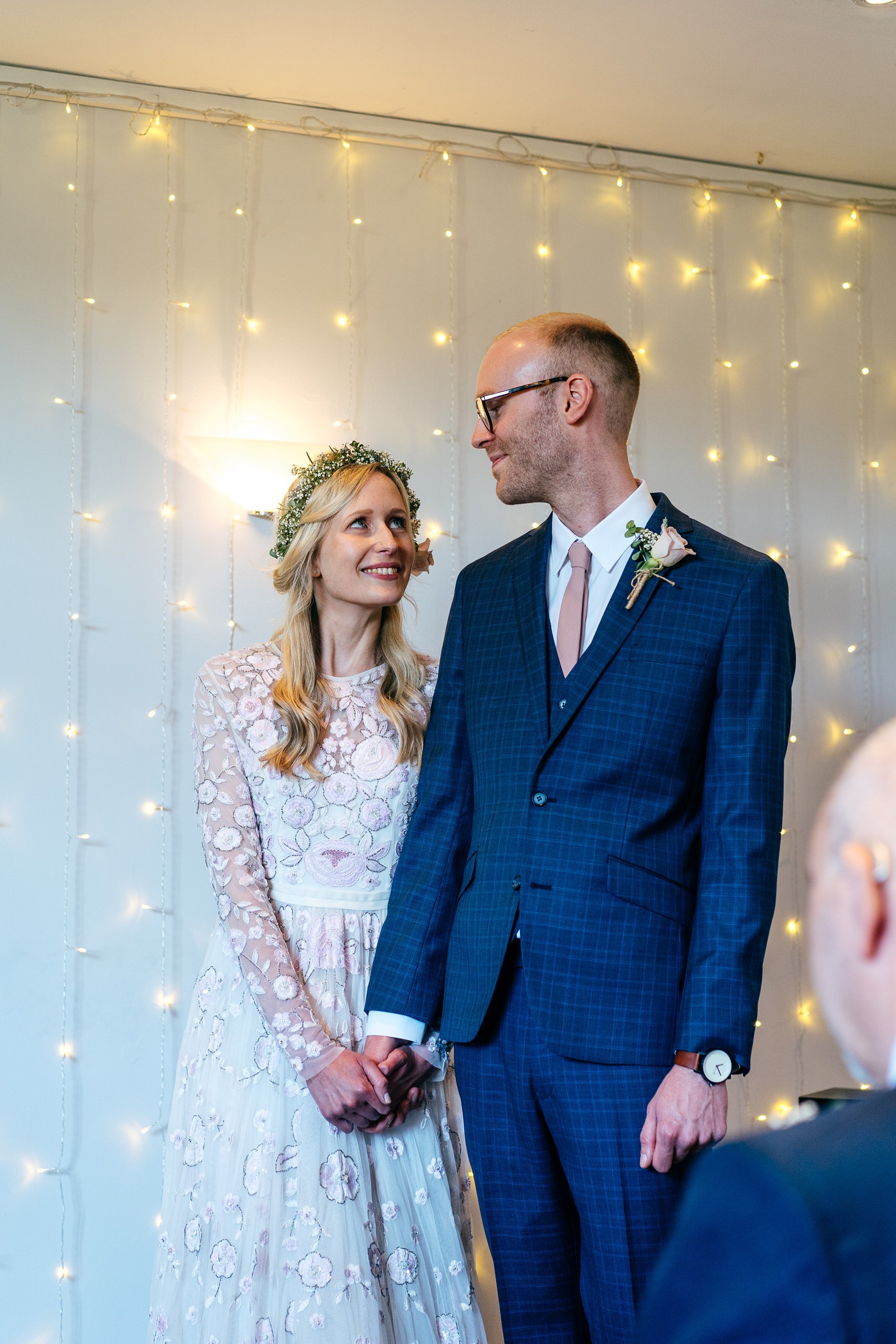 Andy and Becky exchanged rings from Hugh Rice (the groom) and Rust Jewellery (the bride), to suit her love for botanicals.
"I wanted something different rather than just a plain band. I found Rust online one day and fell in love with their beautiful, botanical, delicate rings. Mine is super thin at 2mm wide."
Bridesmaid Hatty first introduced Becky and Andy when he was at university in Southampton. There followed a long-distance relationship which resulted in their engagement, around seven years later.
"We met through mutual friends at Andy's uni in Southampton. Hatty, my best friend and bridesmaid and Garry, his school friend and groomsman lived together during first year in halls. We met at Hatty's 'hat party' and bonded over a mutual love for the band The Goo Goo Dolls and pizza."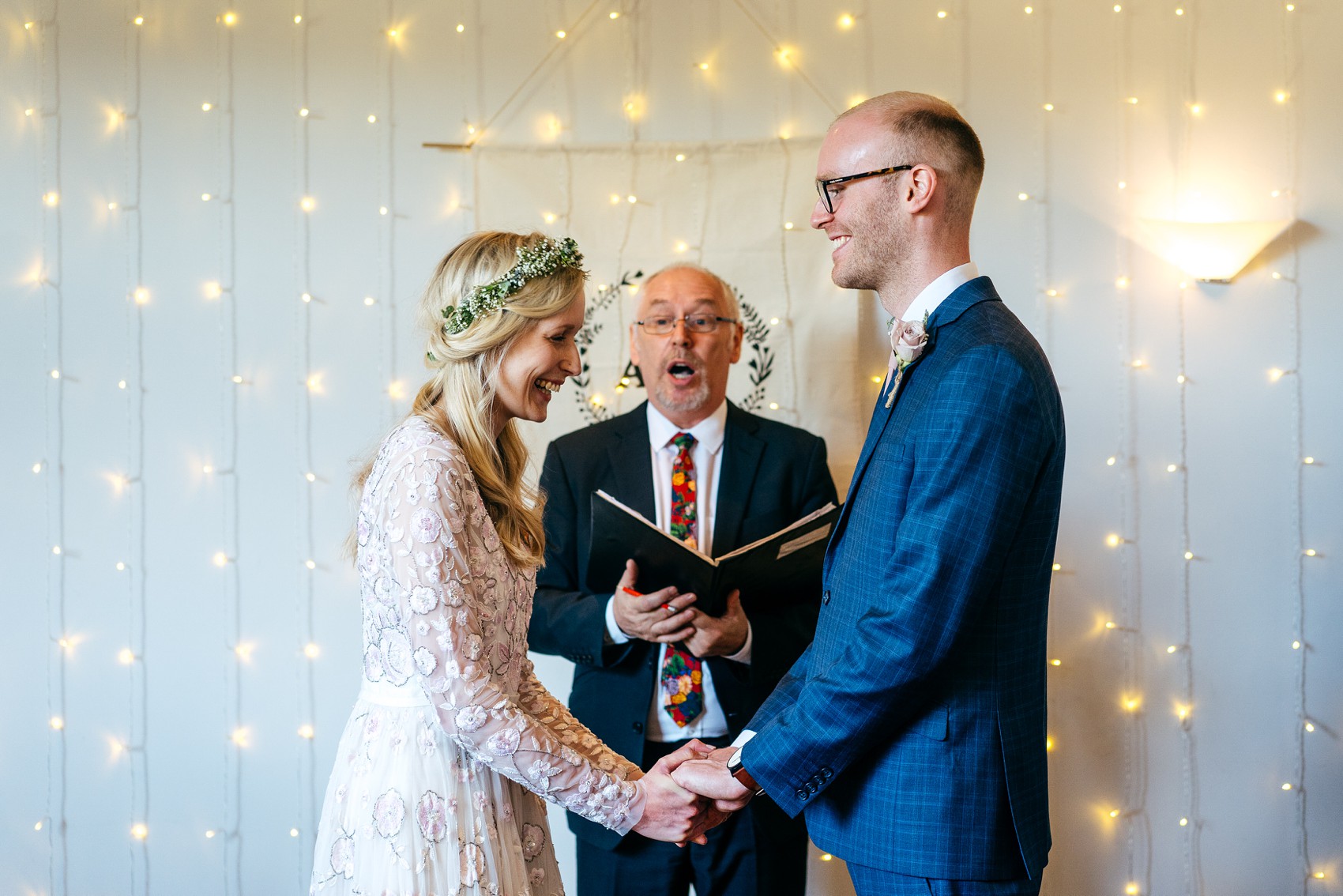 "We talked for months whilst travelling up and down the M1 between Leeds, Leicester and Southampton and finally had a first date in London (we decided that was sort of the middle!)."
"Andy popped the question on an evening walk around our local RHS garden whilst drinking a cup of Betty's tea! Our engagement was just over a year long and we spent most of the time planning, crafting and making all the details that went into our day."
Chilli Barn is close to Becky's childhood home and offered the pair the perfect flexible option. They worked with the in-house event co-ordinator to plan and style their day.
"We knew straight away that this venue was perfect for us. We didn't even view anywhere else because nothing else came close."
"Venue picking was fairly easy as we ruled out a lot of venues very quickly. Ugly carpets, seat covers, strict rules on catering… these were just definite no-no's for us but Chilli Barn was perfect. It is a gorgeous venue in my hometown, just ten minutes away from my parents' house where I grew up. Opposite the venue is The Chevin, a big hill overlooking the town of Otley surrounded by woodland with an amazing view."
The couple took inspiration for their wedding stationery from RHS Harlow Carr too, using the most beautiful botanical postcards for their invitations and that gorgeous bunting backdrop. Becky made all of the stationery herself, from invitations, menus and table names to the table plan, place names and favours, and you can see more of her work on her site Head In t'Clouds.
"The table plan and table decor were all made myself using botanical postcards. The order of the day sign was made from a pallet. We had a large, handwritten, fabric sign, with our initials and leaf design on, as our ceremony backdrop and a huge, handmade, fabric banner sign behind the top table for our wedding breakfast in the marquee which had the hand-written wording 'eat drink and be married'."
"I was very much a DIY bride and did everything from the invitations to the flowers, place settings, table plan and all the little detail touches around the venue that were so important to us."
"Bex from Oakleaf Weddings & Events helped us to organise and plan our day. Bex was brilliant during the planning and on the day itself."
"I guess our theme was 'fruits and vegetables'; think more botanical drawings than harvest festival! It was mostly inspired by the proposal at Harlow Carr, an RHS garden near where we live. Our invites were all made using RHS postcards with botanical drawings of fruits and vegetables. And my new surname is Farmer so fruits and veg just seemed appropriate. We even had a Polaroid guestbook with Farmer emoji props."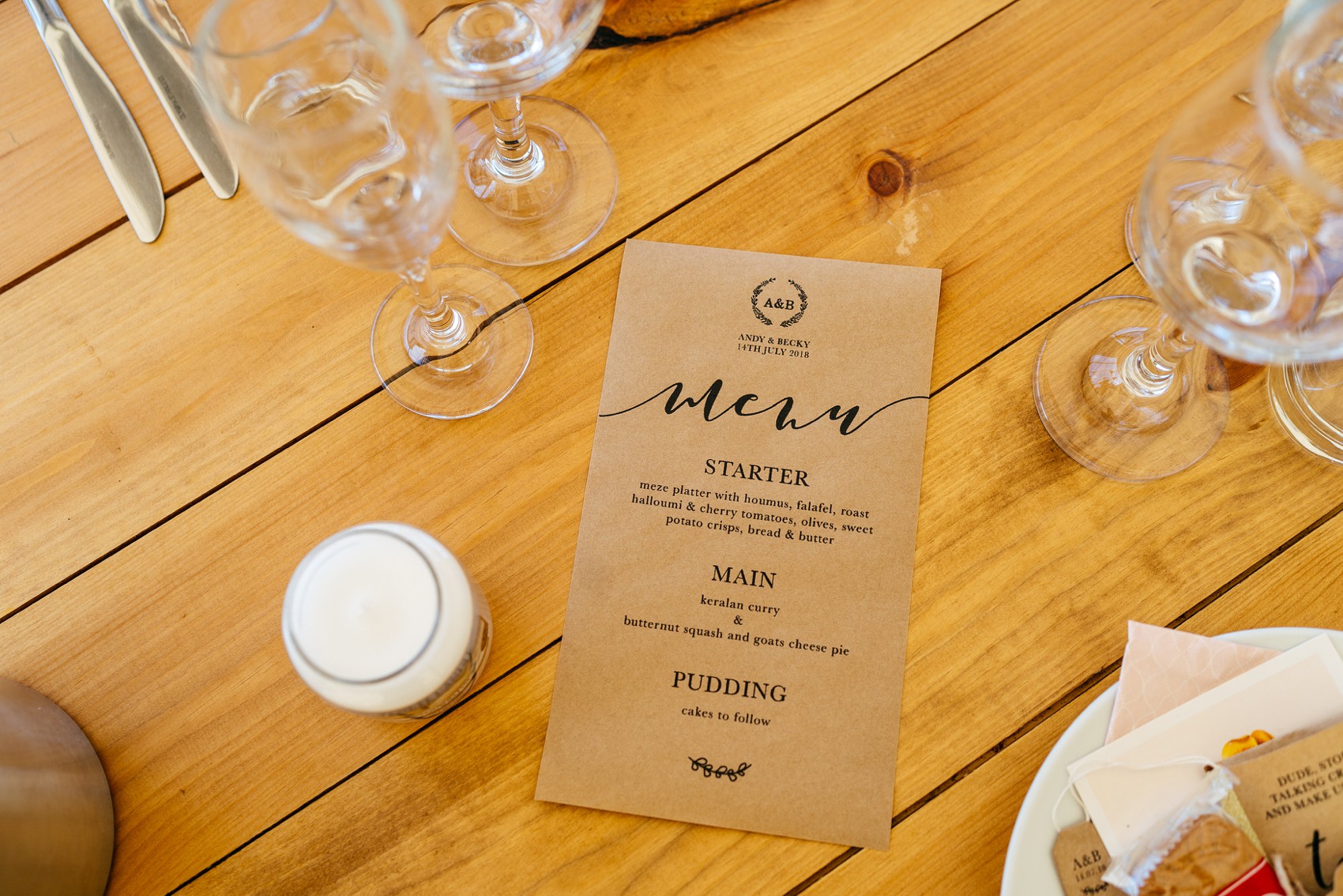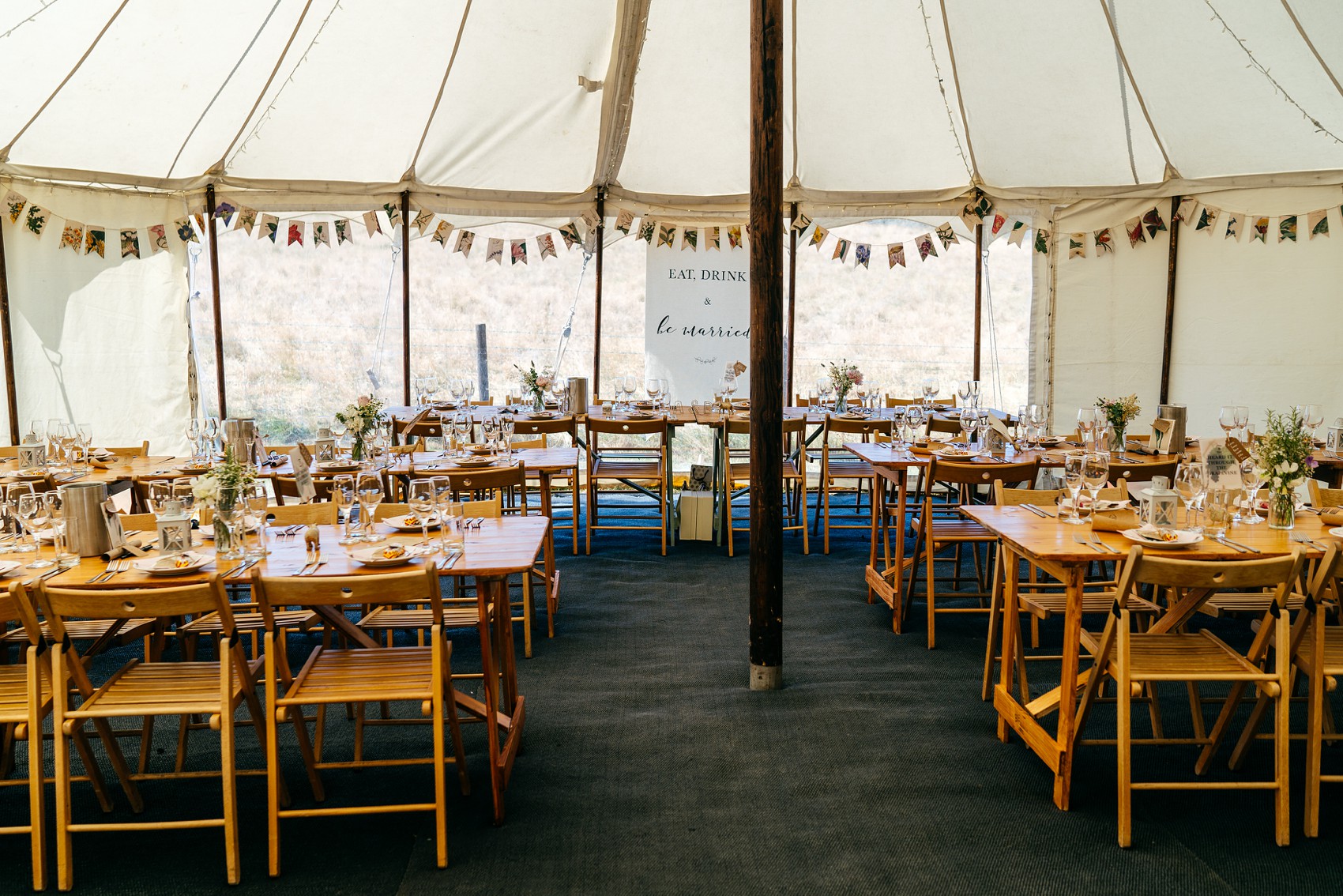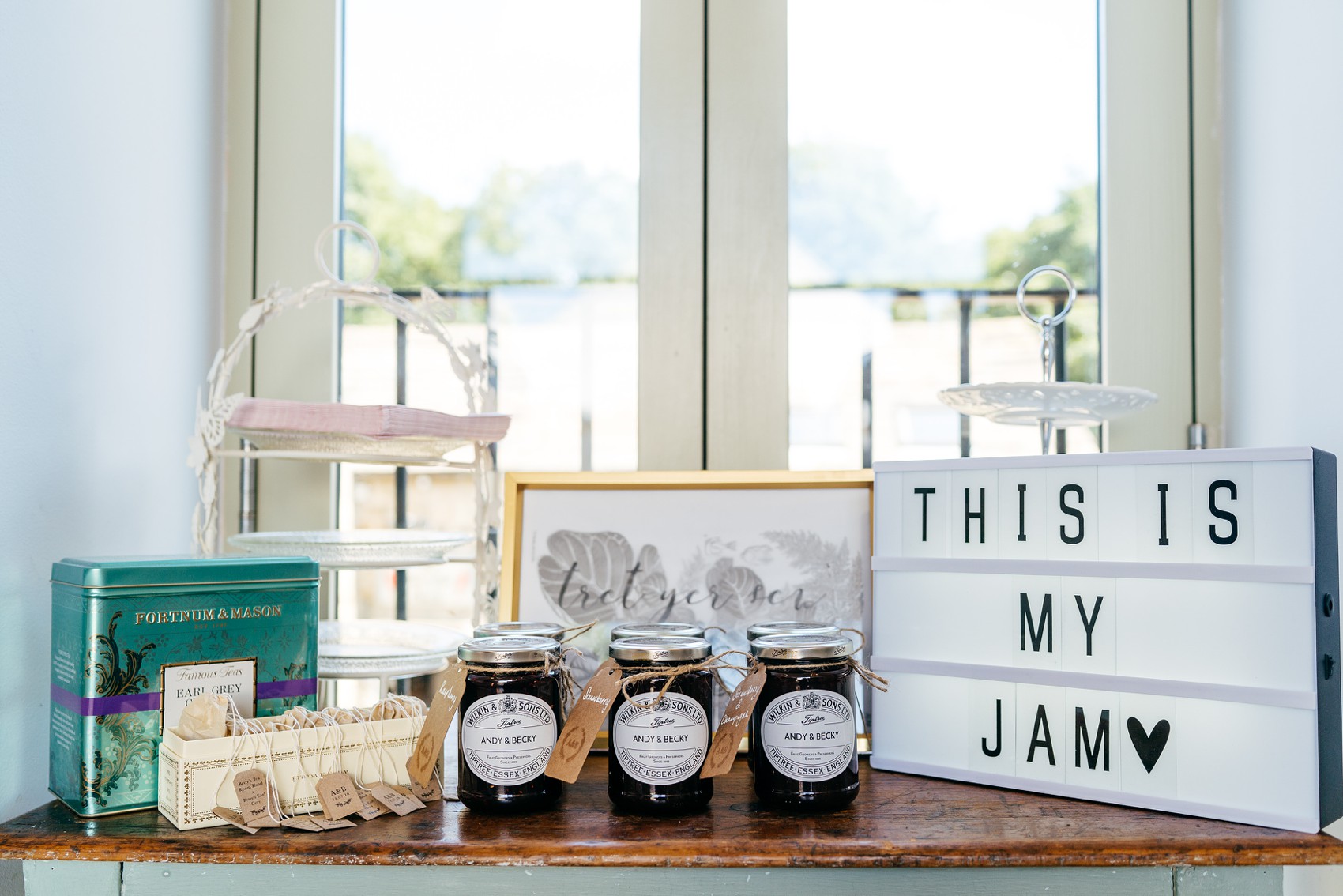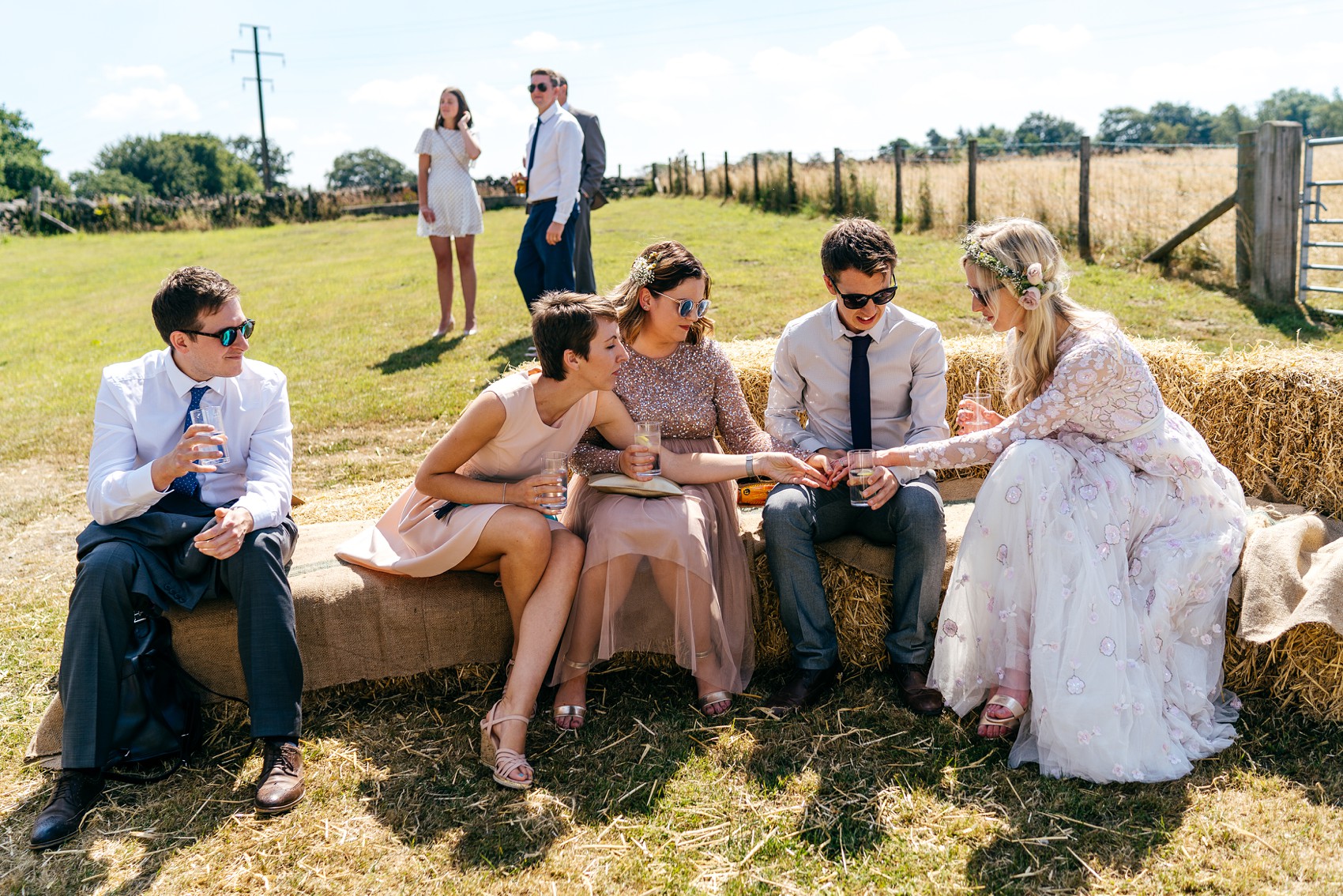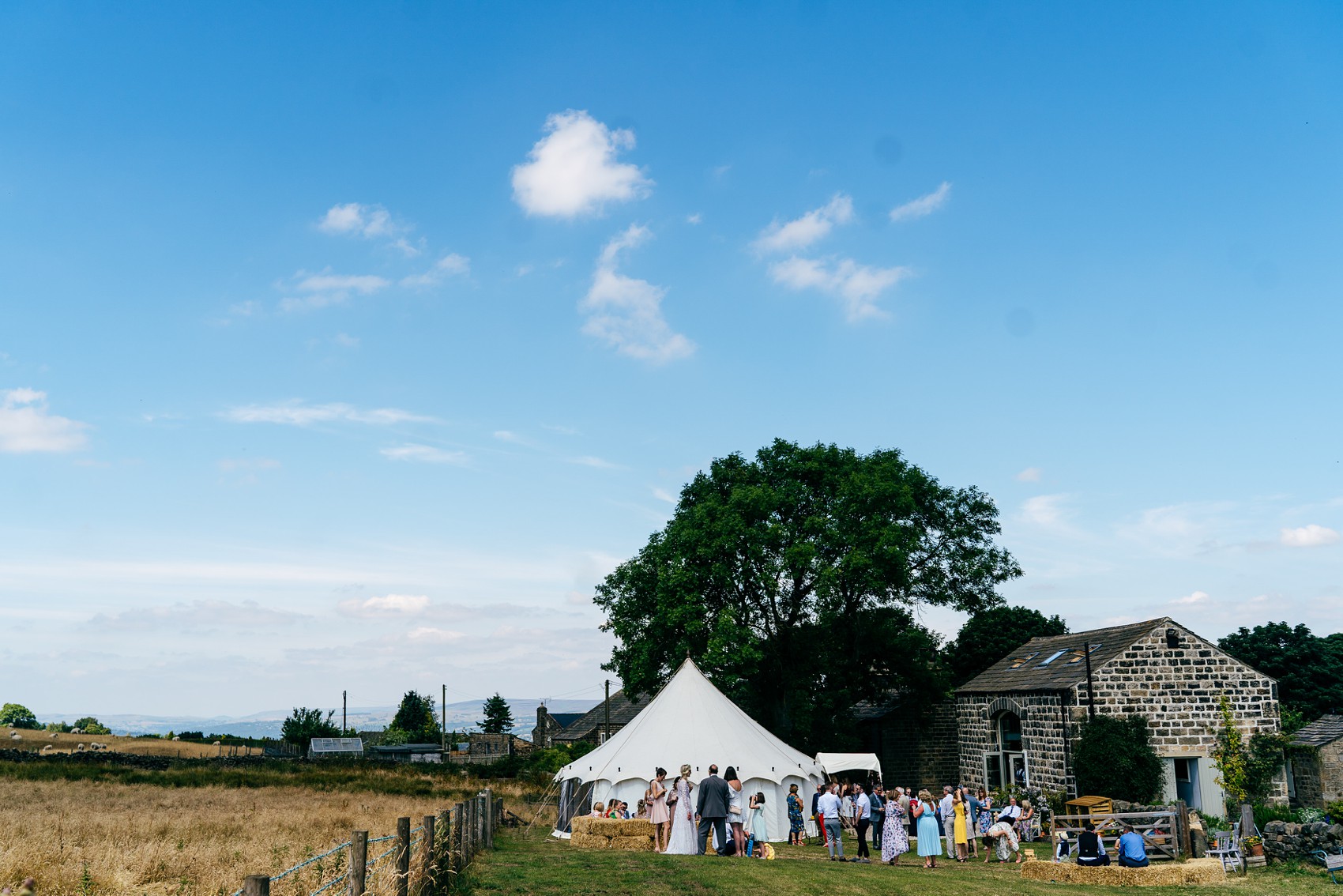 To suit the laid-back feel of the day, Becky selected Maya at ASOS gowns for her bridesmaids, combining floaty pink skirts with sequinned, glamorous bodices. They added silver knot earrings, sandals in rose gold from ASOS and wore fresh gypsophila in their hair.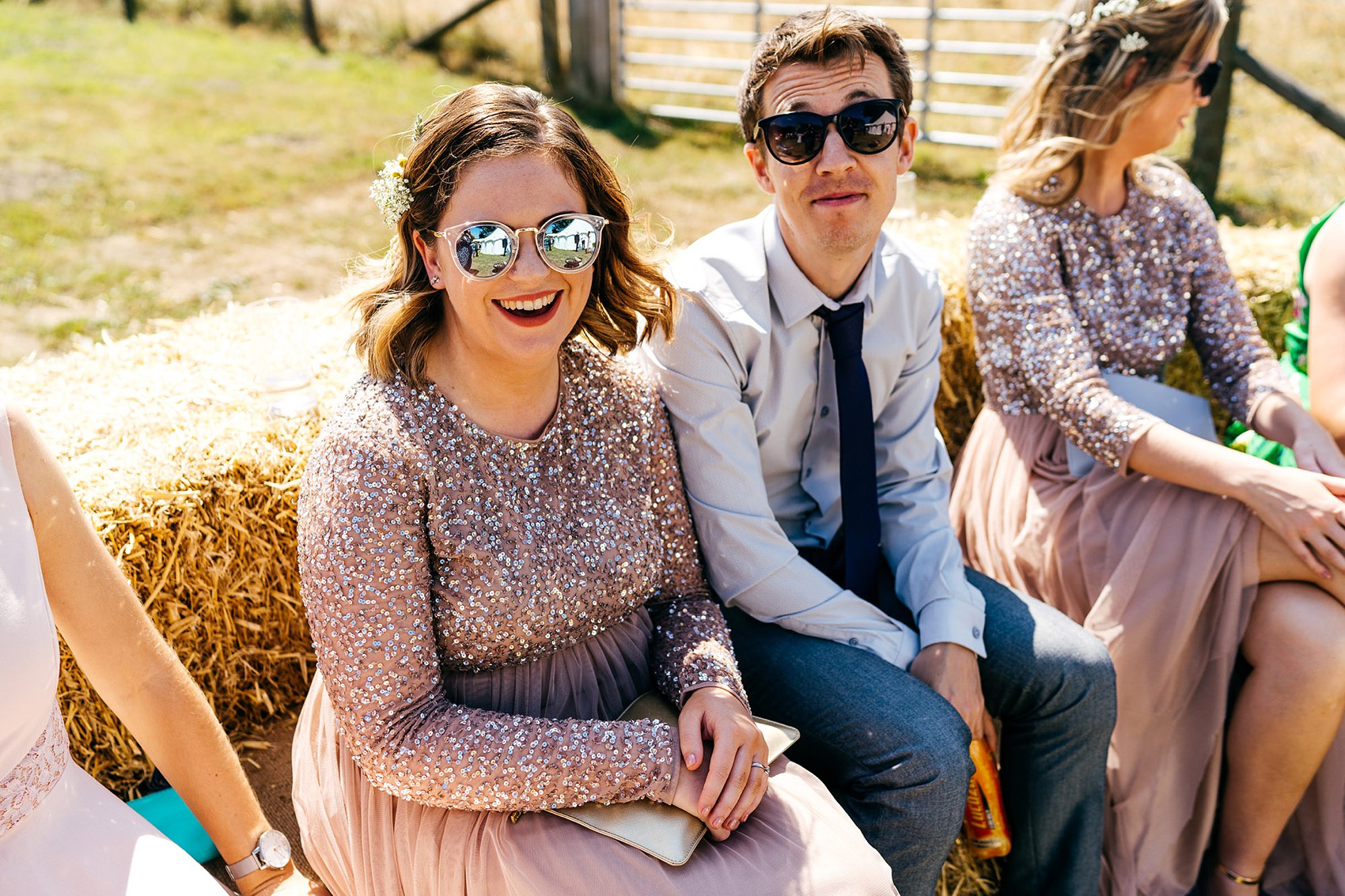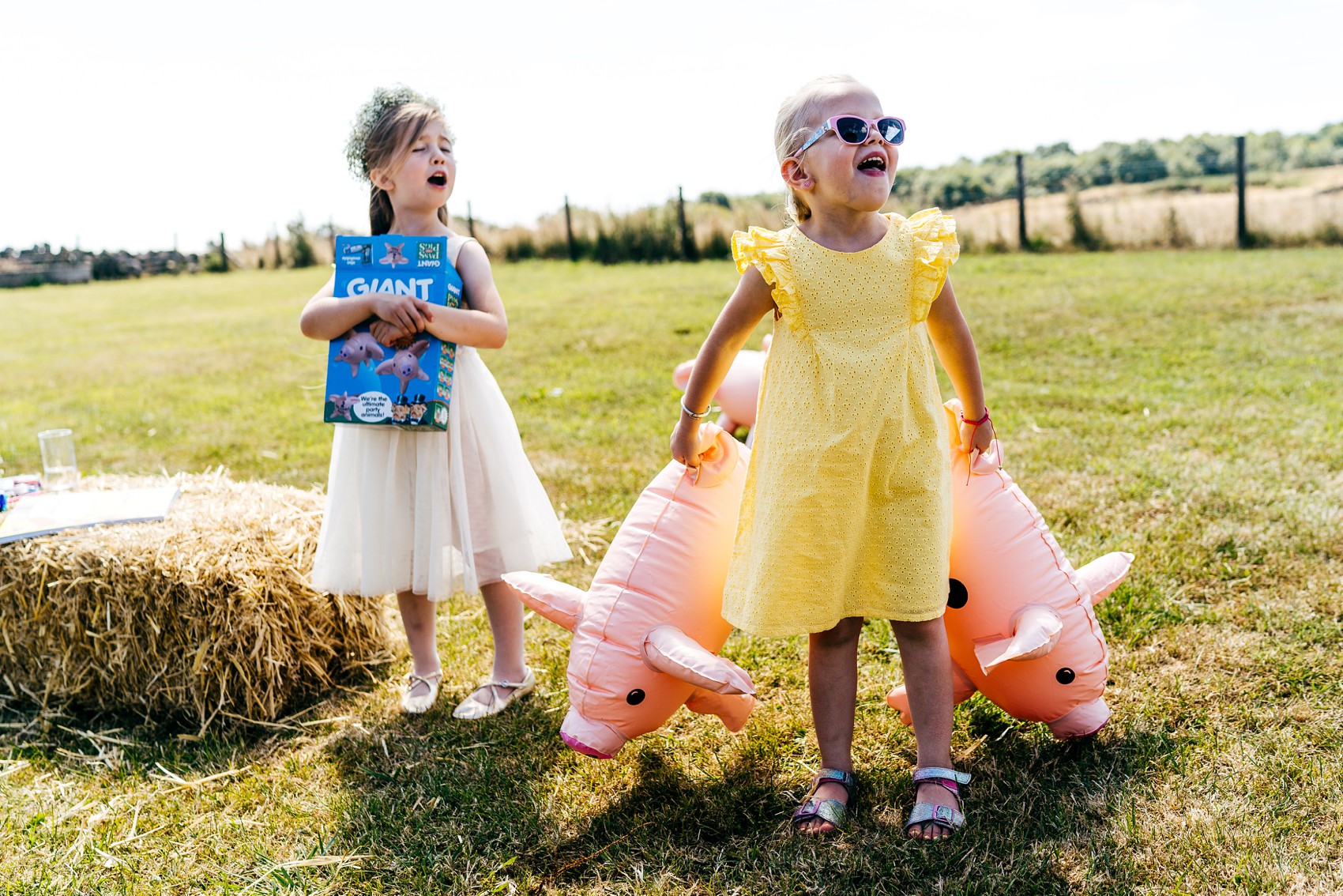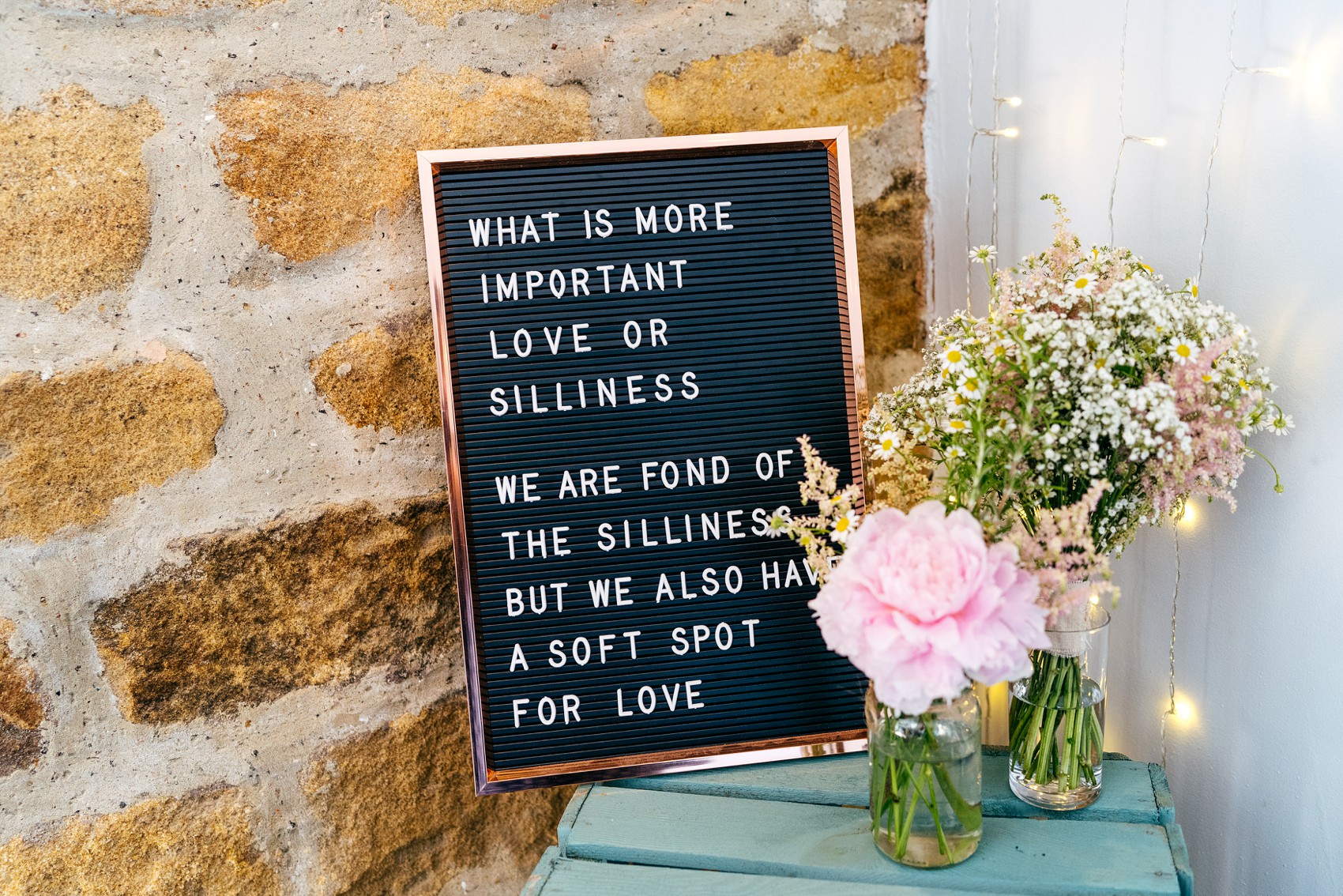 Capturing the day in its full Yorkshire glory was Jordanna Marston Photography. I can't get enough of those incredible portrait shots looking out over The Chevin.
"Jordanna Marston was our amazing photographer whose fun and colourful photos we fell in love with immediately. Jordanna has captured so many wonderful moments with such creativity and the photos reflect the happiness and joy of the day. Jordanna was amazing, so relaxed and making us laugh constantly with her hilarious comments. We felt totally at ease."
The open-sided marquee simply perfect for a rustic, summery do, with its masses of bunting, hand-made signage and pretty collections of seasonal flowers on the tables. The wedding favours were again made by creative Becky.
"We had our own blend of tea that we made into personalised teabags with our favourite biscuits, all wrapped up with a botanical postcard."
The catering team at Chilli Barn put together the wedding dinner whilst street food vendor The Ball Box created the evening menu. There was also a cream tea in the afternoon, complete with personalised jam.
"The Ball Box were wonderful. Chris and Emily were so lovely and planned us a special menu based on our favourite foods. We had a lovely tasting at their house in York before the day (where we also discovered the magic of rhubarb gin and ginger ale) and our guests LOVED the meatballs."
"We sourced our own personalised jam from Tiptree, complete with our names, for our scone cream tea in the afternoon."
The dinner was followed by the speeches, which look full of love and fun.
"I loved the speeches (it is usually my favourite part of any wedding) and our friends and family did not disappoint. We had speeches from both dads, my husband, best man and my bridesmaid, and I also did a speech."
The newly-weds invited their guests to spend the afternoon on a shady woodland walk in the beautiful Yorkshire countryside; such a gorgeous idea and a great opportunity for some photographs.
"Another favourite part was our afternoon walk. After dinner we invited all our guests to join us on a wander into the forest, promising them some welcome shade on one of the hottest days of the summer, and a perfect view!"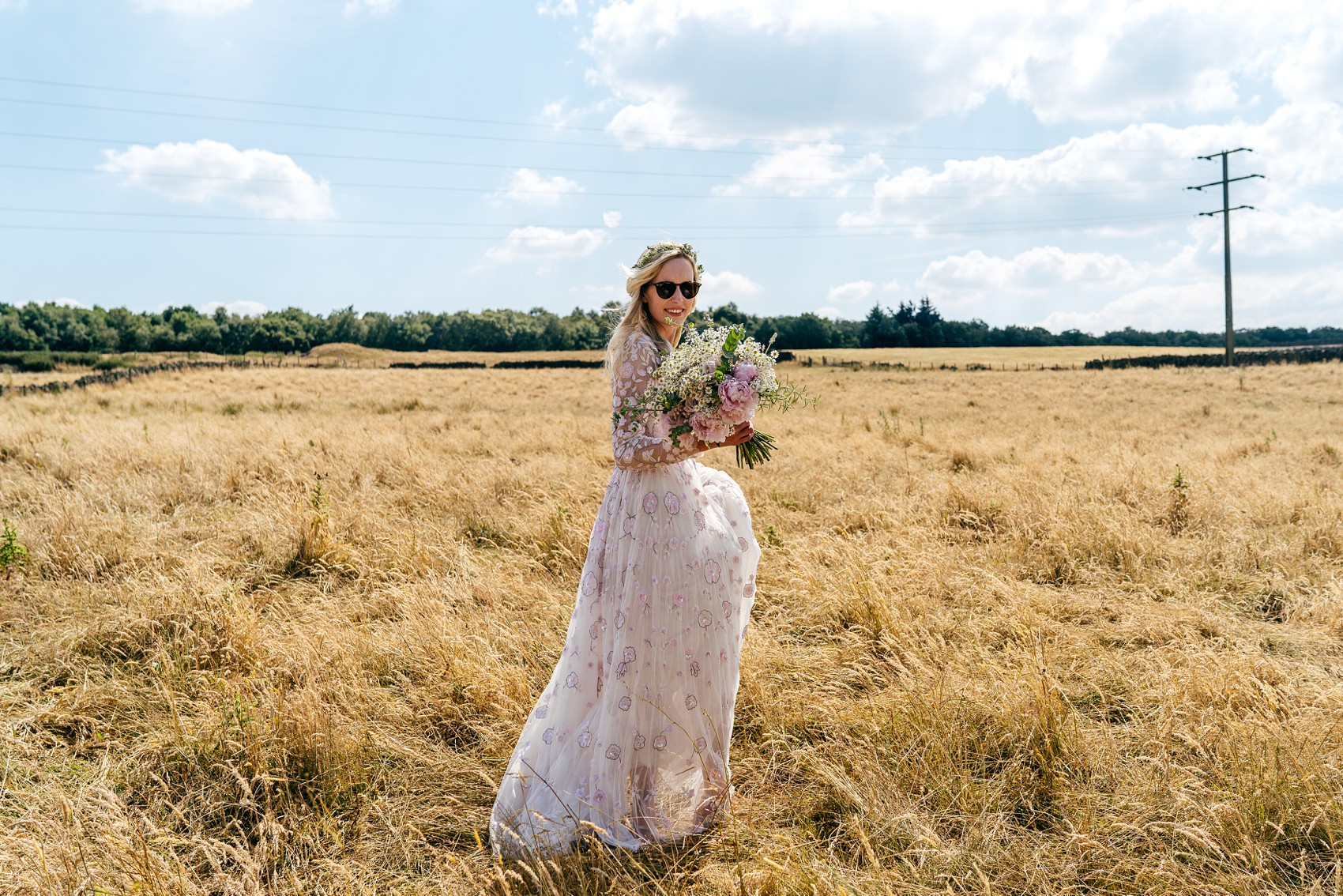 Thankfully, the incredible weather meant that everyone could kick back and relax outside, enjoying the seating area made of hay bales, fun countryside games and DIY Polaroid photo-booth complete with 'Farmer' themed props.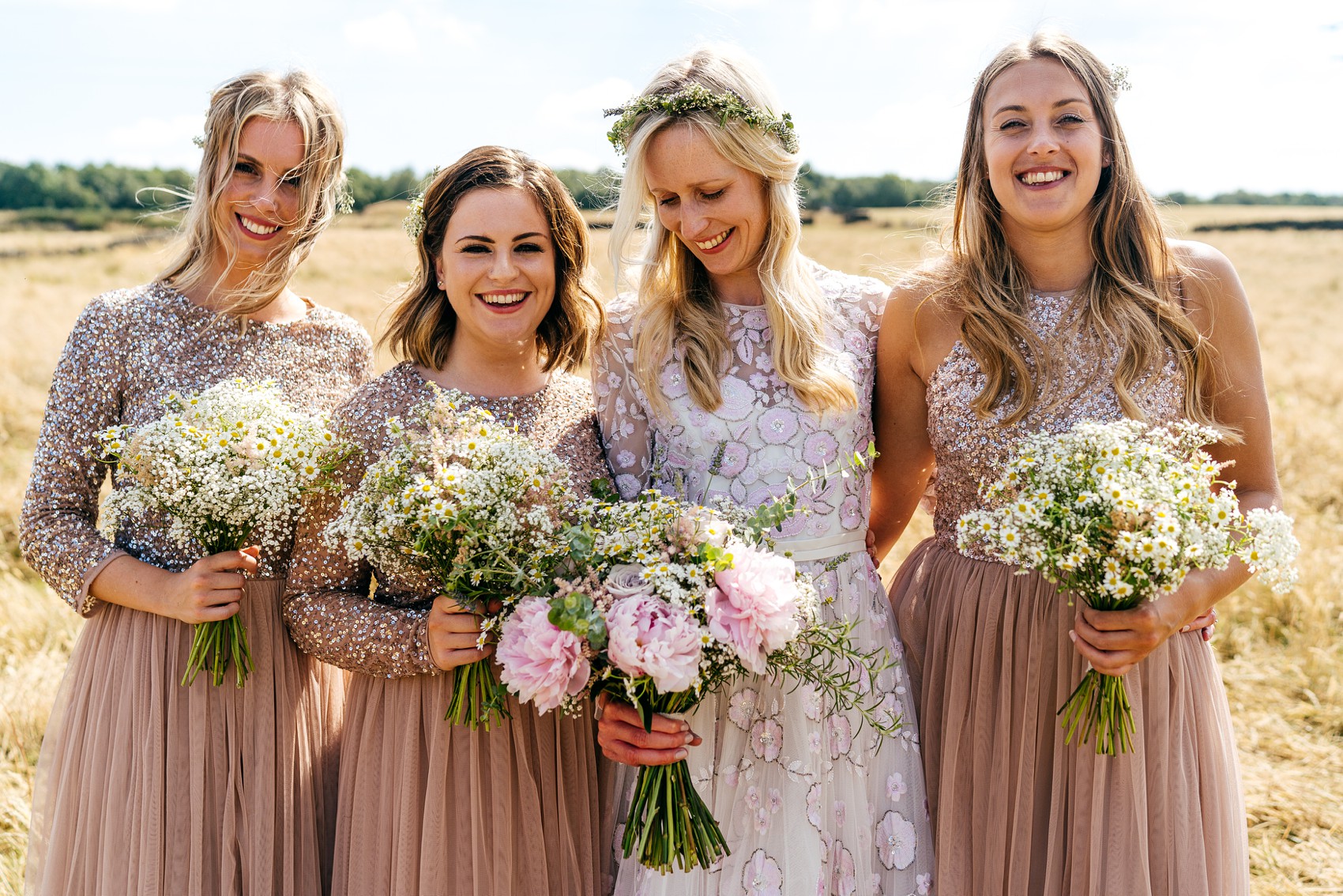 Just as the bride channelled a relaxed vibe, Andy opted for a more informal groom's look, wearing a bespoke duo of blue trousers and waistcoat, complete with his initials in the label. His accessories, shoes, tie and socks were all from ASOS. I love how the soft pink of his tie marries in with the bridesmaids' dress and the embroidery on Becky's gown.
The bride added delicate silver jewellery to let her gown sing, and her shoes were a surprise purchase from Matalan.
"My little silver knot earrings were a gift from a friend. I bought my mum and bridesmaids similar ones to wear on the day.  I wore the necklace I always wear which is a silver Monica Vinader necklace with a 'B' on it. I couldn't fit my engagement ring on any other finger so I wore it on the necklace until after the ceremony when I could return it to my finger. My bridesmaids bought me a little blue bracelet with a daisy on as my 'something blue' which I wore all day."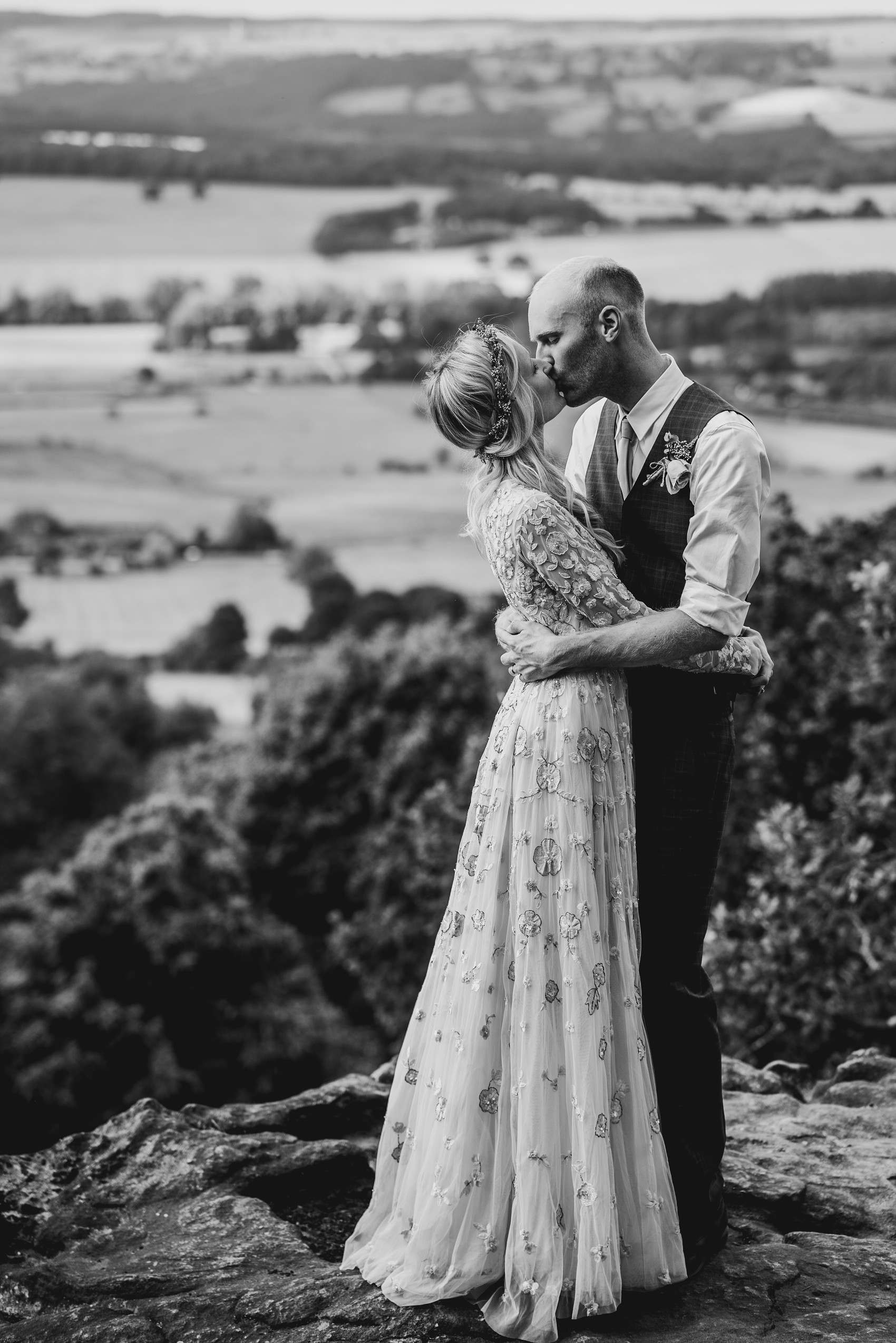 "I wanted the perfect low block heel and I found these in Matalan one day when I had almost decided to give up looking and just wear Birkenstocks! My bridesmaids bought me a 'silver sixpence for my shoe' and on the morning of the wedding, my dad was supergluing it to the heel of my shoe."
The impressive, stacked wedding cake was adorned with a bespoke topper from Polly & Me.
"My Auntie Fiona kindly made our beautiful cake. It was a three-layer Victoria Sponge with fresh fruit and buttercream. We also had a pile of lovely scones very kindly made by Lindsay."
Later on, the party started with a dance to Peter Gabriel's 'The Book of Love' and more dancing to a Spotify playlist, curated by the bride and groom.
"'The Book of Love' has always been 'our song' and we sung it to each other repeatedly (and badly) on our first holiday together, trying to remember all the lyrics. For one of our first Christmases together, I bought Andy a limited-edition vinyl record of this song and we danced to that exact record on our wedding day. The last line says, 'I love it when you give me things, and you ought to give me wedding rings'."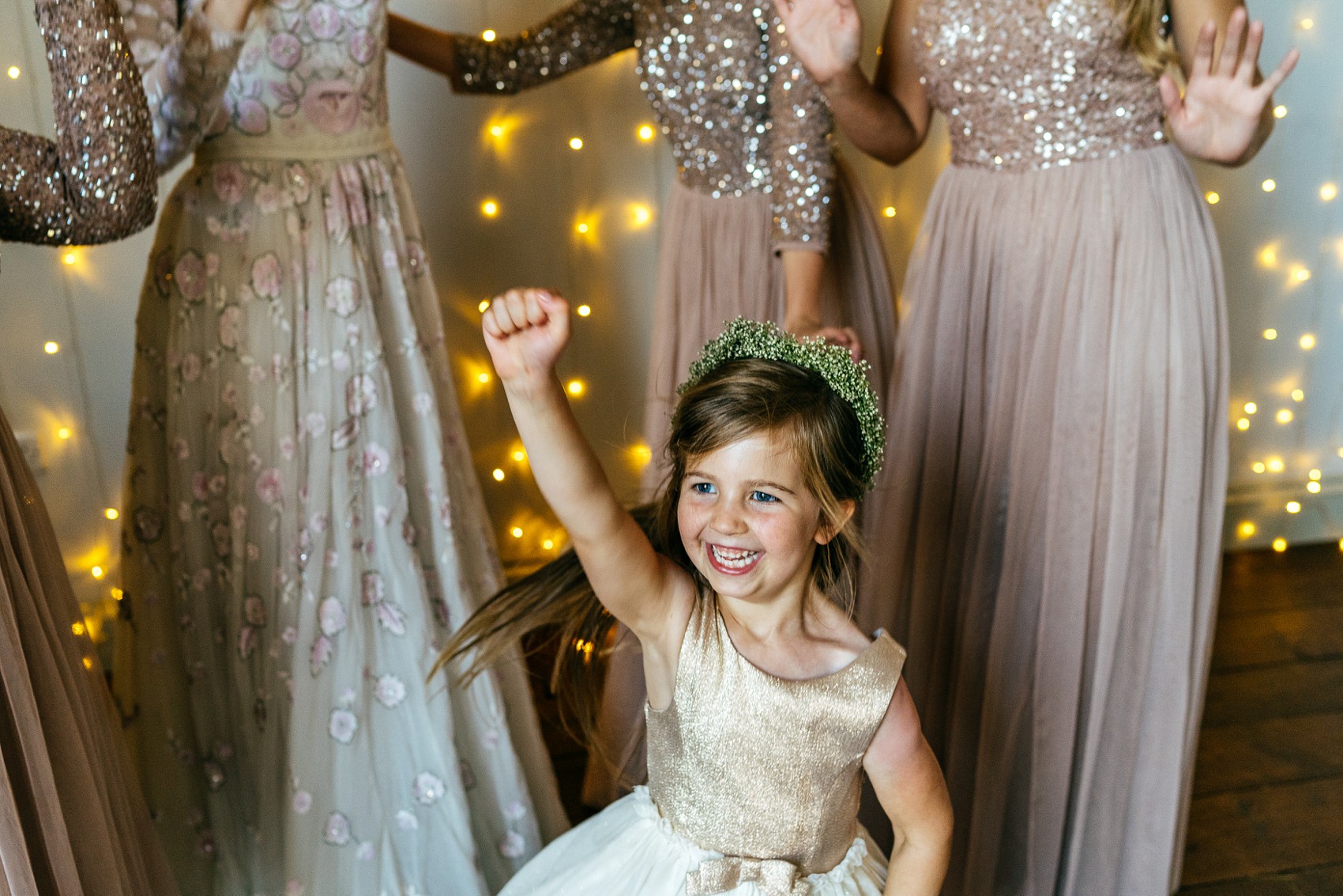 "The whole day was just amazing. I loved the relaxed atmosphere and seeing all our friends and family in one place enjoying themselves."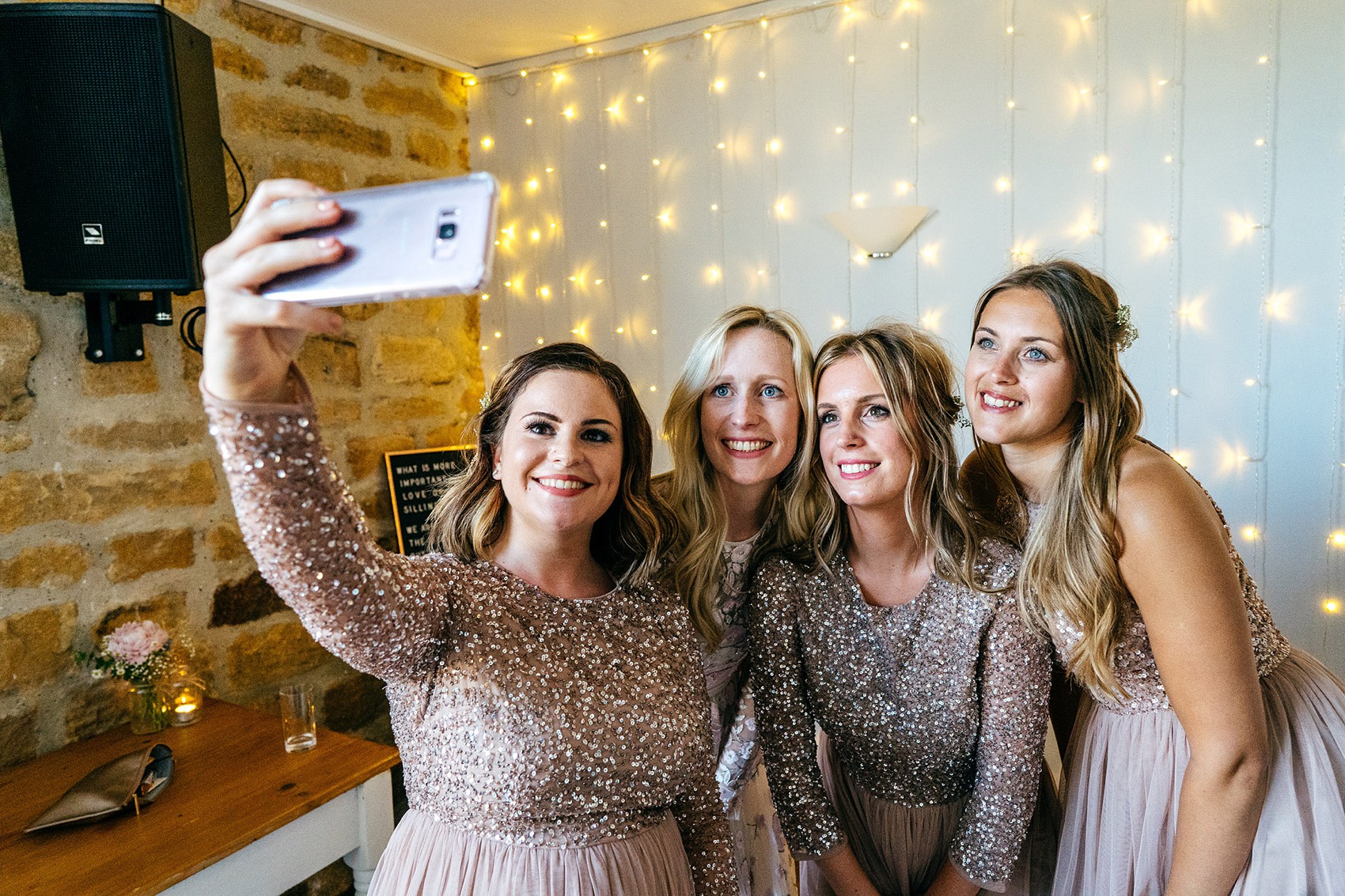 Words of Wedded Wisdom
"You don't have to have all the 'stuff'. We didn't have cars or a videographer or a florist. Our family friends drove us to the wedding, we did a video ourselves with guests' footage and we did all the flowers ourselves. It really saved on the budget but also gave our day that personal touch."
"Don't be scared to do the things you want to do. I had my heart set on a walk on our wedding day, including our guests. People were a little confused; 'You want all your guests to come with you on a walk?'"
"Dress dilemmas may happen but try your best not to be overcome with the situation. I knew I didn't want a traditional dress but somehow was almost drawn in with a princess gown. You may not hear birds sing and fireworks going off when you try your dress on and that's okay. It might just be the right dress for you and your day, without being a show-stopping dramatic moment. You will feel amazing on the day because you are marrying the love of your life. Honestly, nothing else matters."
"Having lots of things to read afterwards is wonderful. I didn't cry on the day but I sure cried for about three days afterwards reading all our cards, and guestbook and notes from our guests. It is such a nice feeling to be surrounded by love."
"Everyone says it but it does go fast. Everything feels like a happy joyous blur. I wish I could remember the details of every moment. I wish I could re-live it all in slow motion. But we can't. And a marriage is not a wedding, our marriage is now. Our marriage is viewing our photos for the first time on the sofa with a bottle of champagne and a Nando's. And it is AMAZING."
Well lovelies, I hope this has given you plenty of ideas if you're thinking of your own DIY wedding. Sending Becky and Andy many thanks for sharing your incredible day with us all, and thanks also to Jordanna Marston for these divine images.
Ele xx