Ladies looking for stylish, flattering and affordable bridesmaids dresses – go grab yourself a cuppa and fetch your diary because this one is for you!
Our friend Michaela, founder of Maid with Style London has been in touch to tell us about a super-fun sounding 'Bridesmaids Brunch' event taking place in November, that we think you're going to love the sound of. More on that in just a moment – please allow me first to properly introduce you to Maid With Style are and tell you why they're so flipping marvellous.
Maid with Style is a brilliant website concept that brings together all the best bridesmaids looks and styles into one easy to explore online resource. The website brings together looks by colour, because, let's face it, the colour is usually the first aspect we think of when searching for our bridesmaids gowns. And thus, you can search for dresses in yellows, blues and greens, pinks and purples, ivory and whites, reds (adore that belter below), greys and blacks, separates (skirts/tops) and other gorgeous bridesmaids bits and bobs.
Some of the most popular and sought after bridesmaids brands are listed, including the wonderful TH&TH (timeless, effortless style), Rewritten London (modern, sophisticated and fashion forward), Jarlo London (Hollywood glamour and vintage inspired decadence), Constellation Ame (sophisticated luxury and elegance), Willow & Pearl (stylish, diverse, multiway gowns) and Motee Maids (elegant, contemporary and affordable). But the site links to other brilliant British highstreet brands too who are killing it in the fancy frock department, including Ghost, Monsoon, Ted Baker, Whistles, Needle & Thread, Reiss and River Island.
This superb idea means that you don't need to have 63 tabs open in your Internet browser as you try to shop and compare bridesmaids dress styles online (been there!). Instead, you can view them all from a single, sweet and very stylish website – each dress being only a single click away from purchasing online should you wish to do so.
Genius!
So now you know what Maid With Style is, let's find out more about this special event they're hosting in November, which I'm stoked to discover is being sponsored and styled by the exceptionally very lovely Valentina of The Stars Inside (who quite frankly is one of the loveliest humans I have ever met in wedding world – and meet her I did, at this year's Most Curious Wedding Fair).
This is actually the second 'Bridesmaids Brunch' being hosted by Maid With Style. Their inaugural event last year was such a huge and brilliant success that Michaela and her team are making an annual occasion out of it. Let's find out more from Michaela…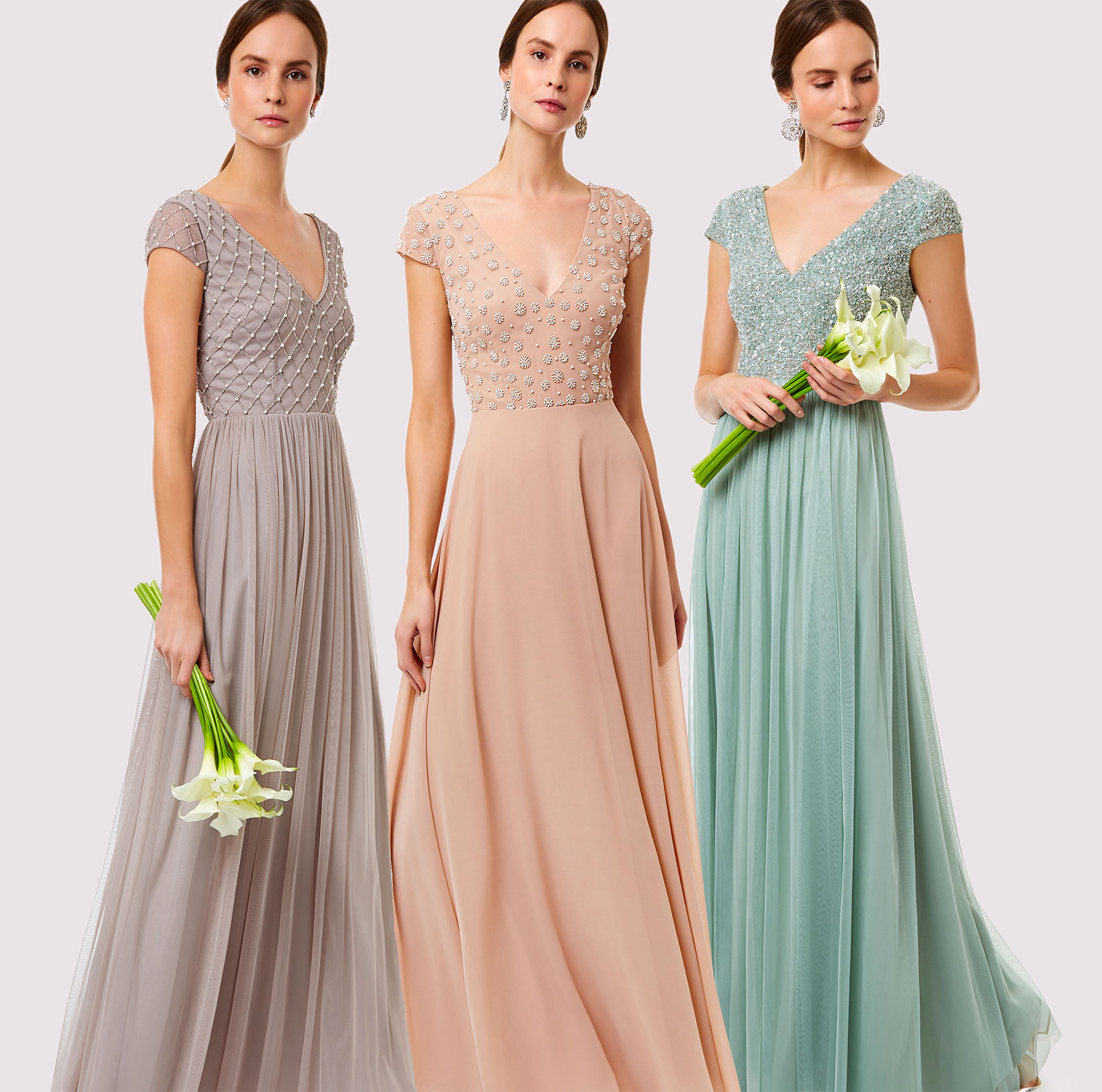 "Hello Love My Dress readers! It's so good to be here! I'm so happy to be able to tell you that our bridesmaids brunch event takes place on Saturday 2nd November 2019 – and that you are personally invited to come and join us. We'll be doing our thing at The Ministry private members club in London. Join us on the day and you can expect all the bridesmaids dress styles you might ever want to look at, available under one roof – which you'll be able to enjoy exploring (and your bridesmaids trying on) ahead of a gorgeous Prosecco filled bottomless lunch."
"Our event has been tailored entirely for the enjoyment of bridesmaids – and we've put a lot of effort into make it a really fun and memorable experience. Our hosts, The Ministry Private Members Club, is a hub for some of the most exciting creatives in the industry and London scene – the whole vibe and feel of the place really loans itself to our event and the sense of creativity and style that we'll have going down on the day."
Bells & Whistles Floral Design
"The idea is that the bride attends with her maids and spends time with her maids as they all choose their ideal bridesmaids dresses. It's honestly such a super-fun day out for the whole bridal party – we had such a laugh getting to know our visitors last year, it was wonderful."
"All our favourite brands including Rewritten, TH&TH and Motee Maids will be showcasing their latest beautiful collections – we'll be showing off some brands new and exciting brands on the day too."
"Also, you can bet the food being served will be delicious as; the Minstry have some seriously cool culinary skills."
Georgina Keeley
"We want to encourage our visitors to delight in the opportunity to mingle with other bridal parties, exchange stories and general bridesmaid survival tips. Or just stick with your team for some quality time and organise everything from their dresses to the flower crowns while taking in the tunes and all round good vibes."
"This year, we have invited creative wedding planner and stylist Valentina from The Stars Inside, who will bringing to life unique decor and design inspiration in each room."
"This talented stylist and all-round lovely lady will also be on site offering mini drop-in wedding planning and styling consultations."
"The nightmare logistics of balancing bridesmaid shopping and spending quality time with your top team can be a thing of the past at this stylish hub. So get ready to shop, discover and chill."
Like the sound of it? Buy tickets now
Maid with Style London's 'The Bridesmaids Brunch', sponsored by The Stars Inside, will be taking place on Saturday 2nd November 2019 at The Ministry, 79 – 81 Borough Road, London, SE1 1DN. Visiting times will be allocated to ensure there aren't too many people attending at the same time.
Ticket prices are £49 per person and this includes a bottomless Prosecco brunch. For further information, please visit Maid With Style London.
I honestly think this sounds ruddy marvellous and if I didn't have prior commitments already I'd be joining you all on the day to meet some of you! Alas, you will have to have a double bottomless lunch with me in mind. Book your tickets now ladies. You know you want to!
Love Annabel x