There's something about September; the warm colours of late summer blooms, the lush abundance of greenery and spectacularly vibrant sunsets. All of these things, and many more, are celebrated in the September blessing that we are sharing today. So, come to Northumberland with me.
Welcome to the wedding of Charlie, a designer of interior products and prints and civil engineer Sam, who married on 1 September 2018 in the magnificent setting of Brinkburn Priory, Morpeth, Northumberland. Having fallen in love with the natural beauty of its gardens, woodlands and ancient architecture it made a divine setting for their Priory blessing and tipi wedding reception.
Photography From The Smiths Photography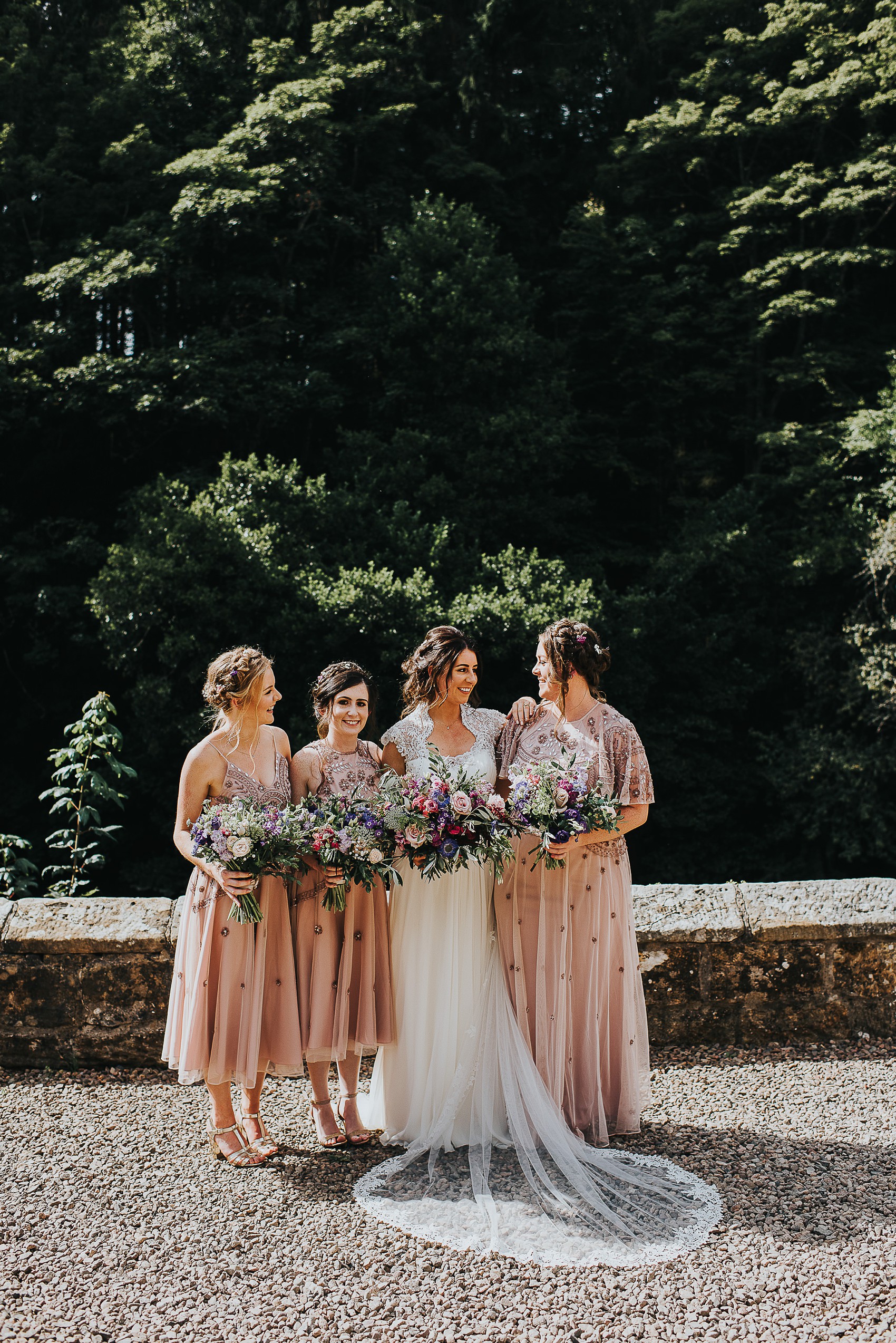 "The style of the day highlighted the natural beauty of the venue. There are wildflowers everywhere and the backdrop of the river and forest-covered valley really didn't need much else. We both adore nature and being outside and really wanted to host a big party for all our loved ones in a beautiful place. We were the first of our friends to get married and wanted to celebrate those who have been there throughout our journey and give them an amazing day to remember forever."
Bex Brides
in Hurworth to select her gown; an elegant, lacy piece in pure white with a gorgeous cap sleeve detail and sheer back.
"Bex made the process so easy and is so experienced. This was the only shop I went to and I only tried on around four dresses before we found the one. Her shop is a treasure trove of new and vintage pieces."
"I went quite boho for our Catholic wedding the day before so had the freedom to try something different for Brinkburn. I never thought I would choose something with a bit of sparkle but I loved the shape and Bex added embellishments to the sleeves and middle of the dress. I really loved the sheer lace back, high neckline and felt that the style really flattered my shape."
Her shoes were a last-minute find at Debenhams and Charlie treated herself to a Jo Malone bridal experience to select her wedding perfume.
"After a luxurious bridal consultation at the Jo Malone Leeds store, I chose English Pear & Freesia. Brinkburn scent the house with Lime, Basil & Mandarin too and it will forever remind me of our weekend there."
The day and its relaxed but stylish decor which focused on lots of greenery, fairy lights and wildflowers was created by the bride with the help of Brinkburn's wedding planner Leah for the on-the-day running.
"Leah was absolutely fantastic. She went over and above to make sure our day went smoothly and even ended up taking one of our groomsmen to hospital late at night due to a dance-floor dislocation injury."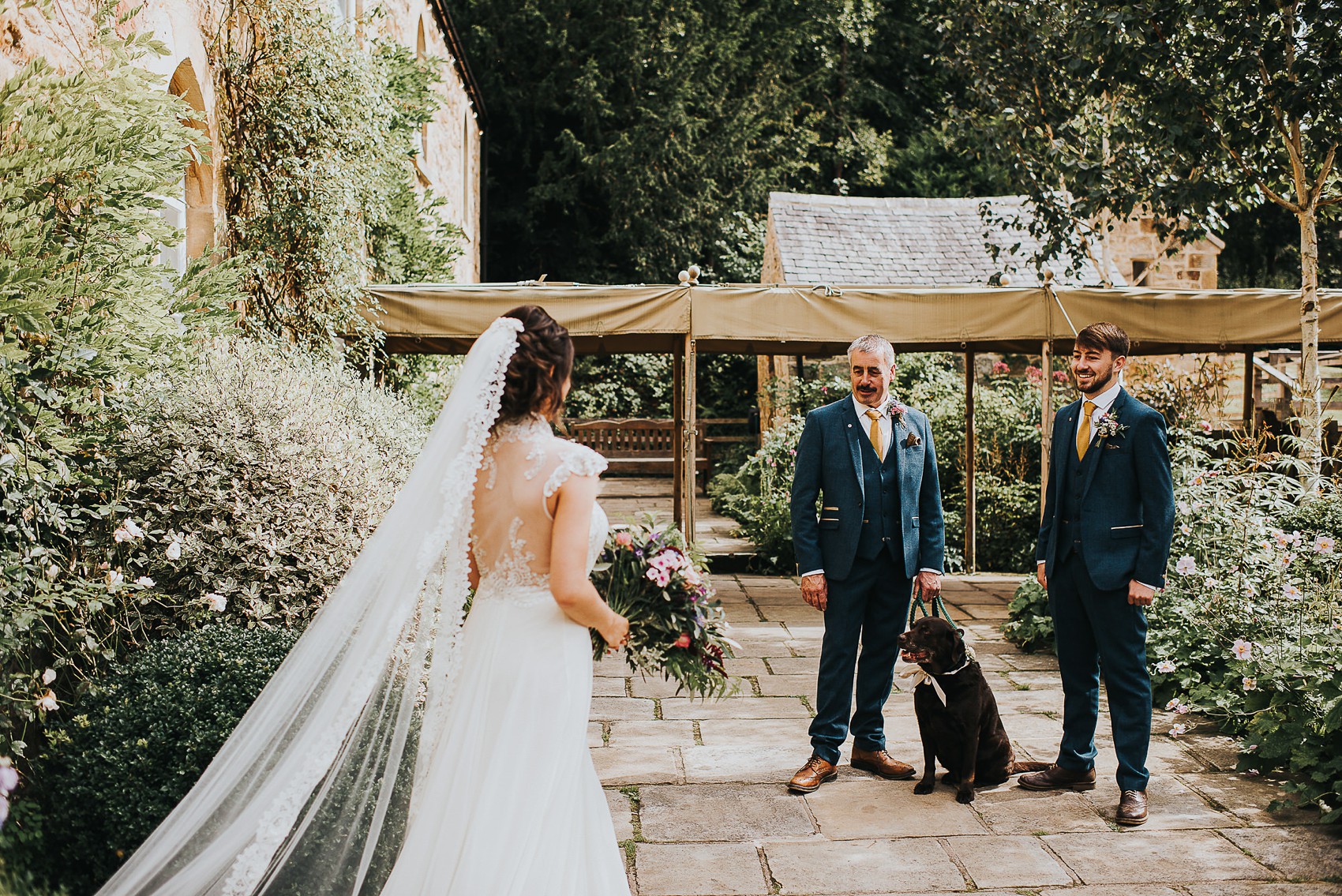 "Christine from Lavenders Blue was our florist and I adored the flowers she created. Flowers were so, so important to me. I wanted wildflowers everywhere but I was also quite specific on colour and style; I wanted relaxed and loose bouquets."
"She created the most beautiful round of wildflowers in the White Room; our guests couldn't stop taking photos of it!"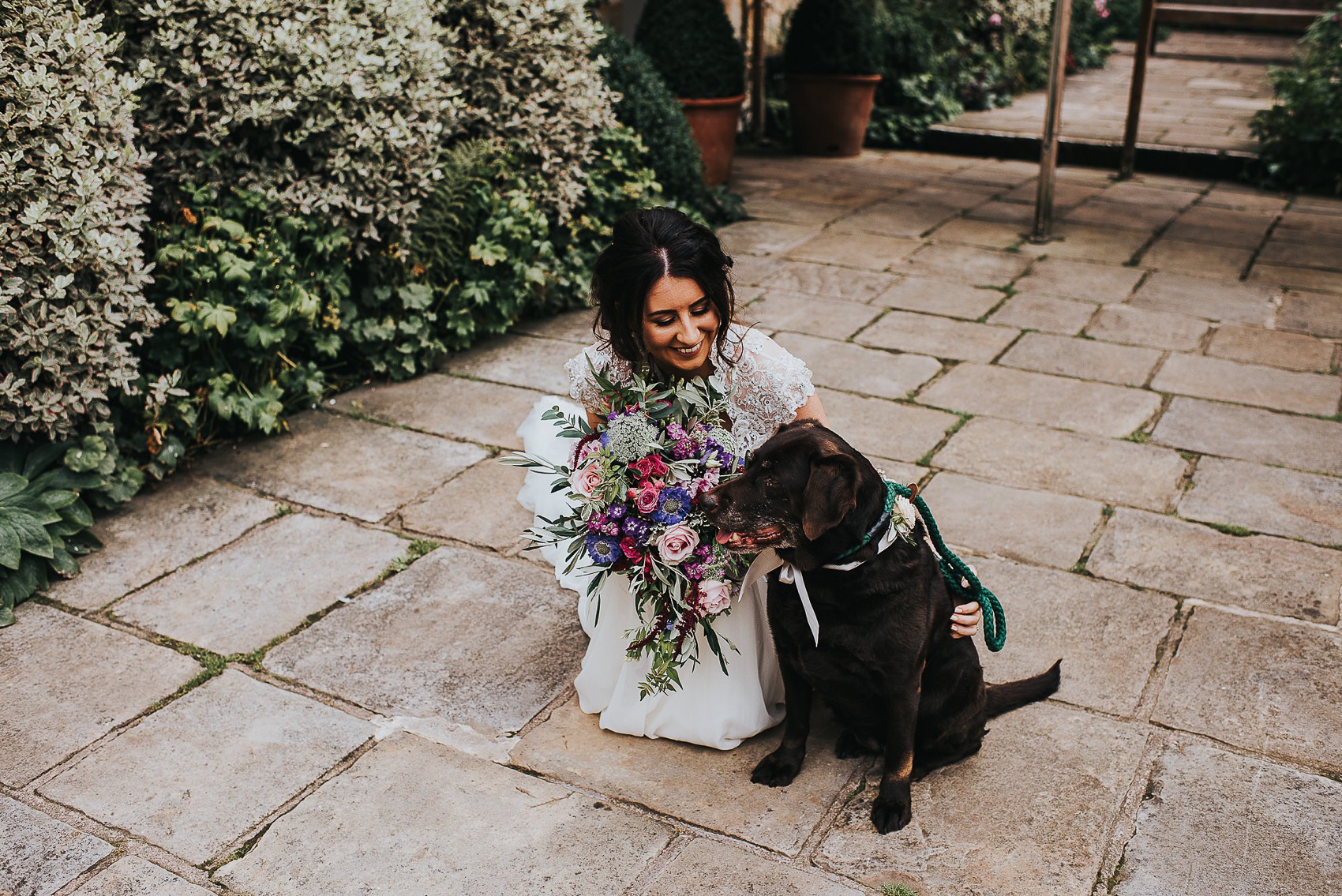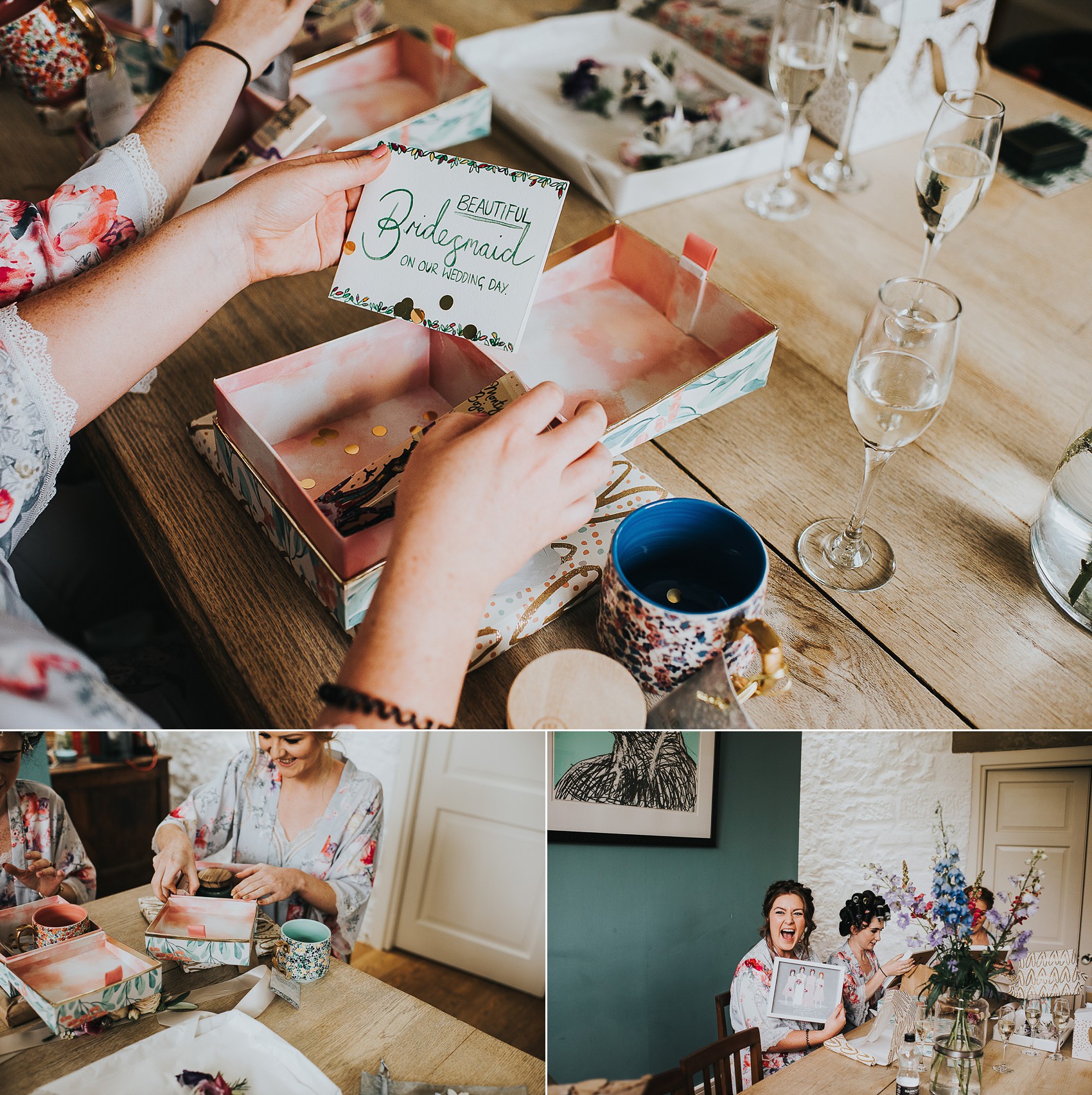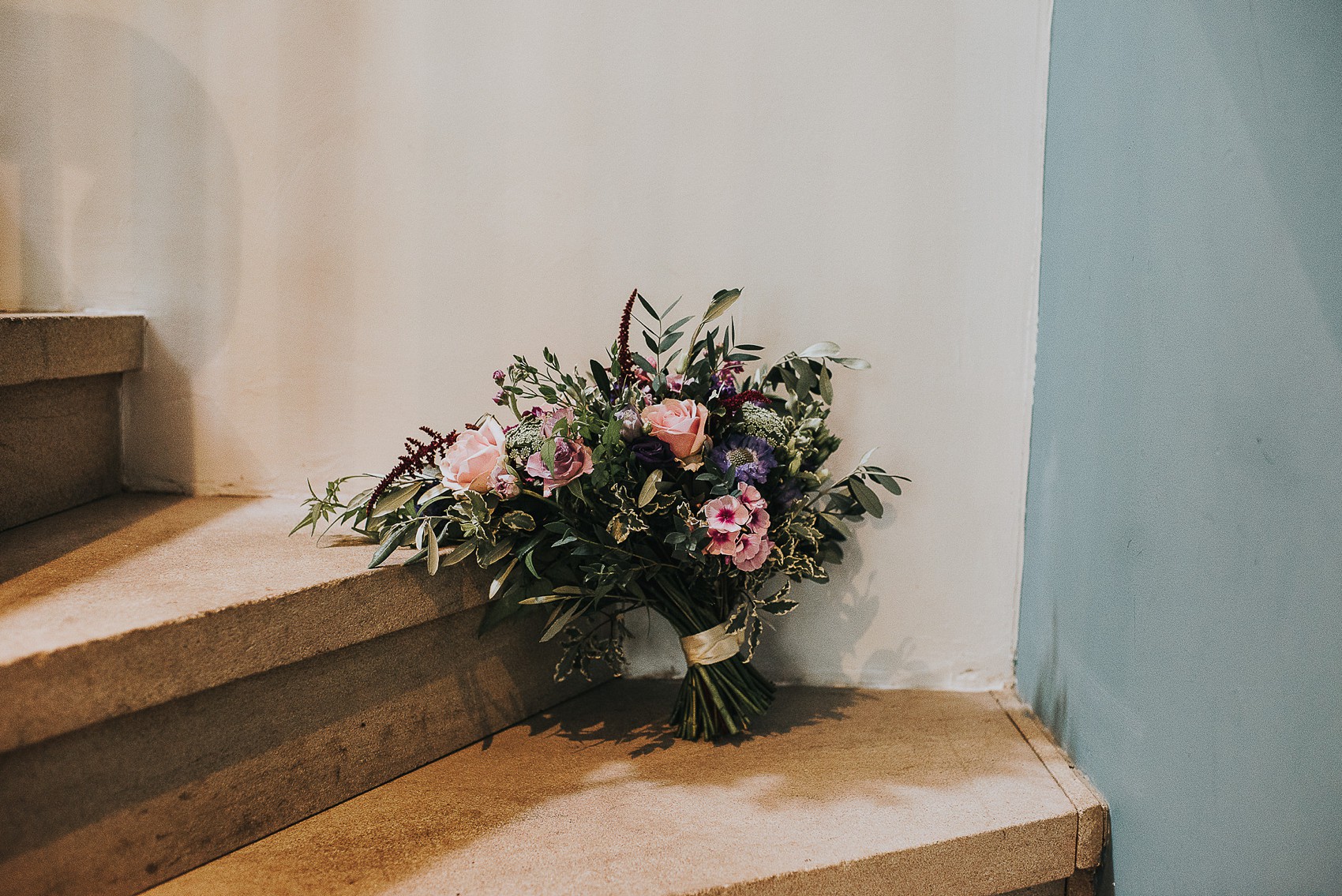 The couple met at college through mutual friends and were together for seven years before Sam's proposal.
"Sam invited himself to a party I was hosting at the farm where I used to live. We became really good friends and then, before I left for uni, realised we wanted to be more. Sam proposed on the rooftop of a riad on a holiday to Marrakesh. It was gorgeous."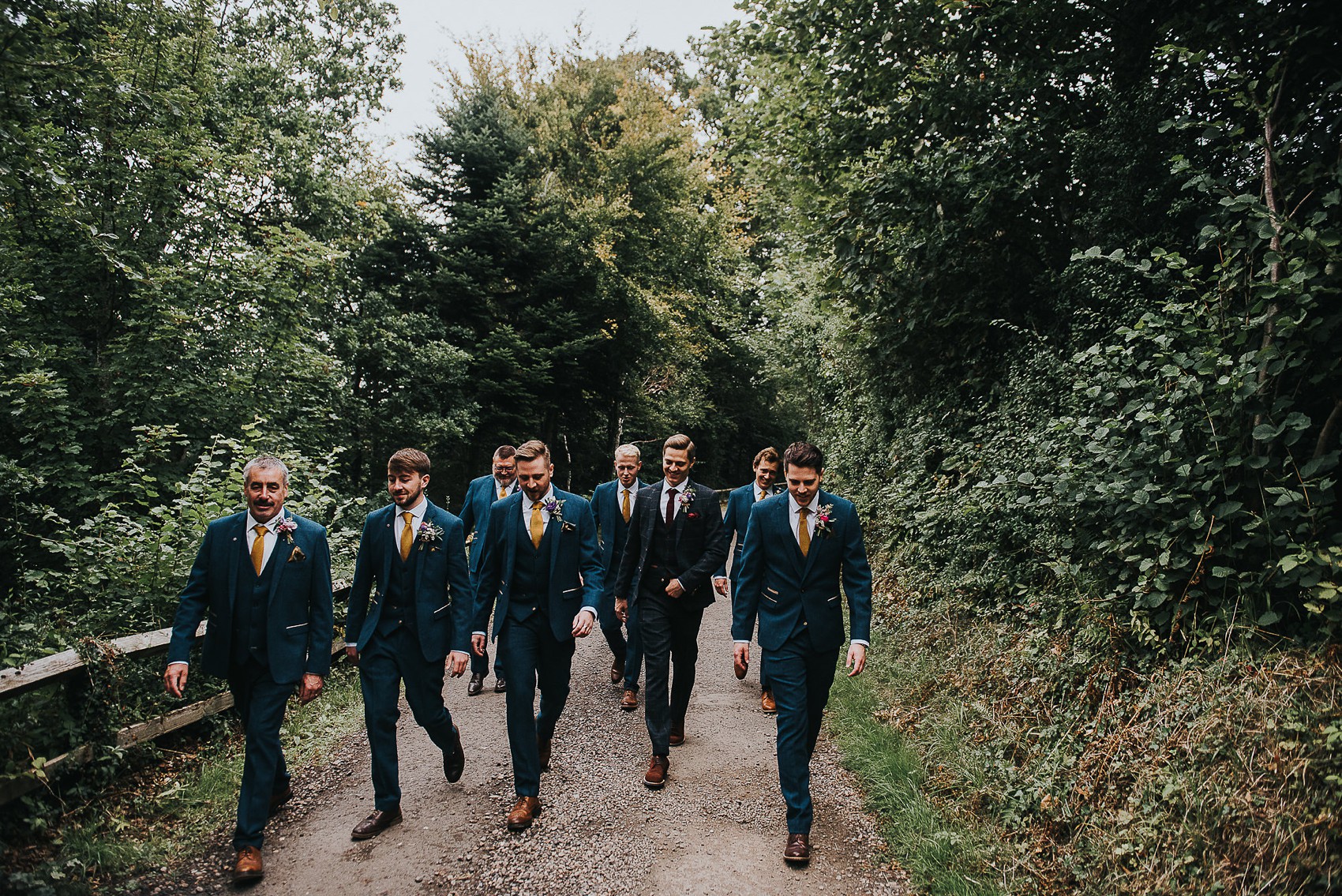 Complementing the gown so wonderfully was her full-length veil with its lace edging, also from Bex Brides.
"My necklace was a wedding present from Sam, a gorgeous necklace with a single diamond. My earrings were a present from my mum on the wedding morning – really beautiful, hammered metal with a stone in the centre."
Having got ready at the Priory, Charlie didn't have far to go to walk down the aisle into the truly beautiful Priory. Sam was waiting there with his groomsmen, dapper in a tweed suit from Master Debonair.
"My wonderful dad walked me down the aisle. The bridesmaids followed with Meg, the family chocolate Labrador wearing flowers around her neck. She definitely got more 'awws' than me!"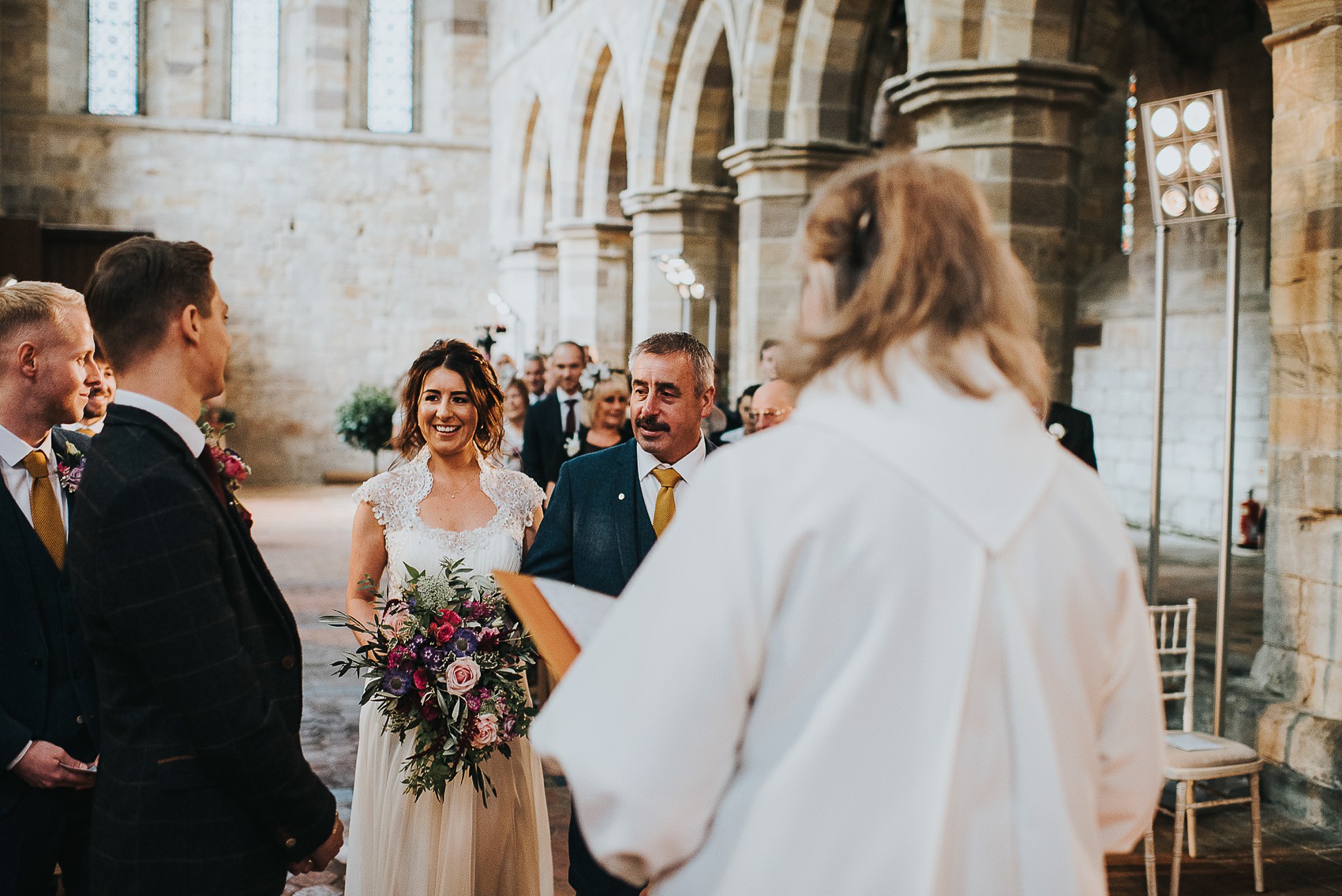 "We walked down the aisle to 'Ave Maria' sung by the amazing Antiphon choir. They filled up the whole Priory and it was a magical moment. They also sang a beautiful version of Elvis's 'Can't Help Falling In Love'. I watched as so many family members shed a happy tear as many of them had it at their weddings. We walked out of the Priory to 'Hallelujah Chorus', a funny nod to how long we have been together and how anticipated our marriage was."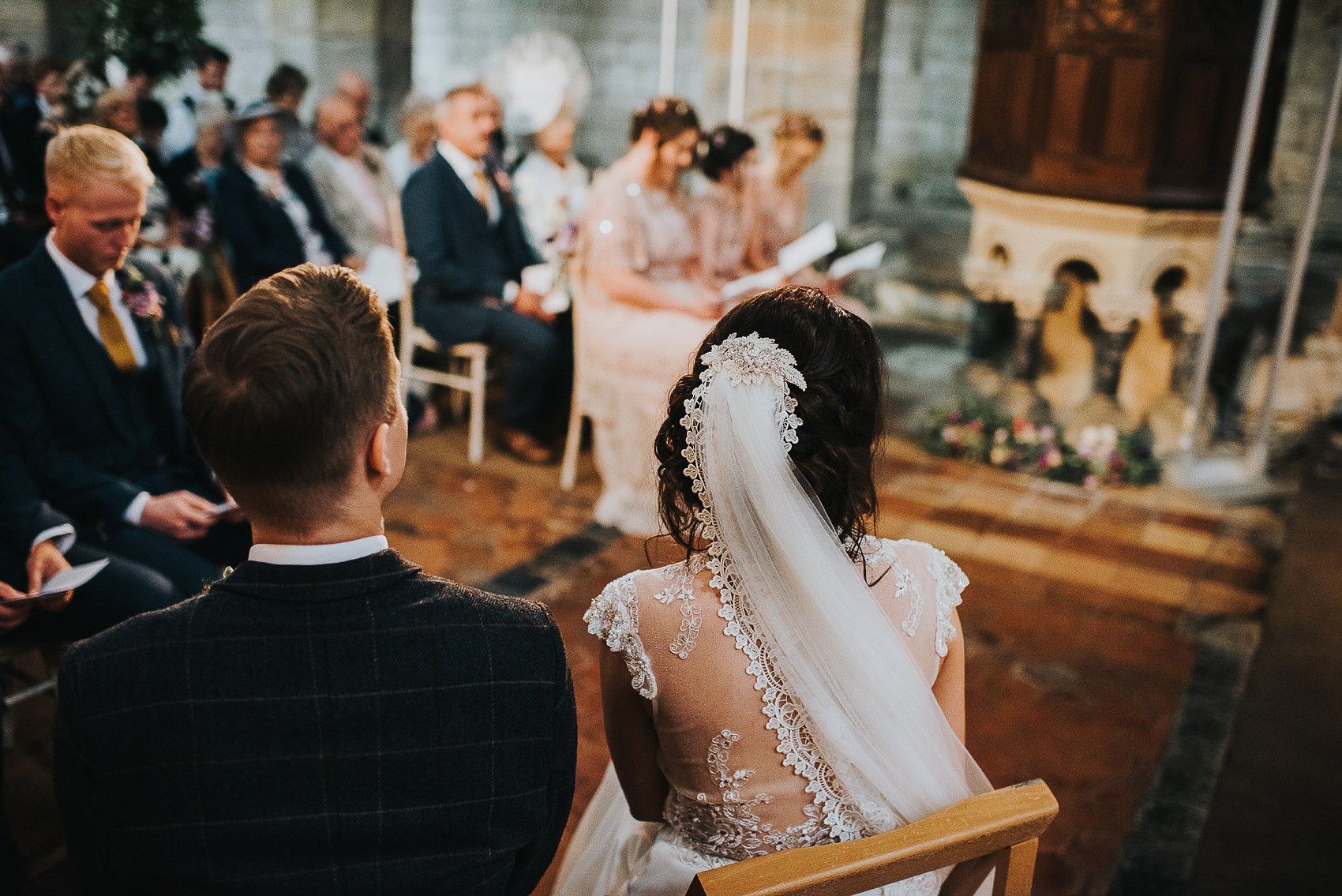 The blessing of the marriage was led by Reverend Gabby and the couple exchanged personal vows and readings.
"Reverend Gabby brought so much joy and made us and our guests feel so welcome and relaxed. We wrote personal vows to each other and it made the ceremony so special. We didn't tell anyone we were doing this so it was a lovely addition."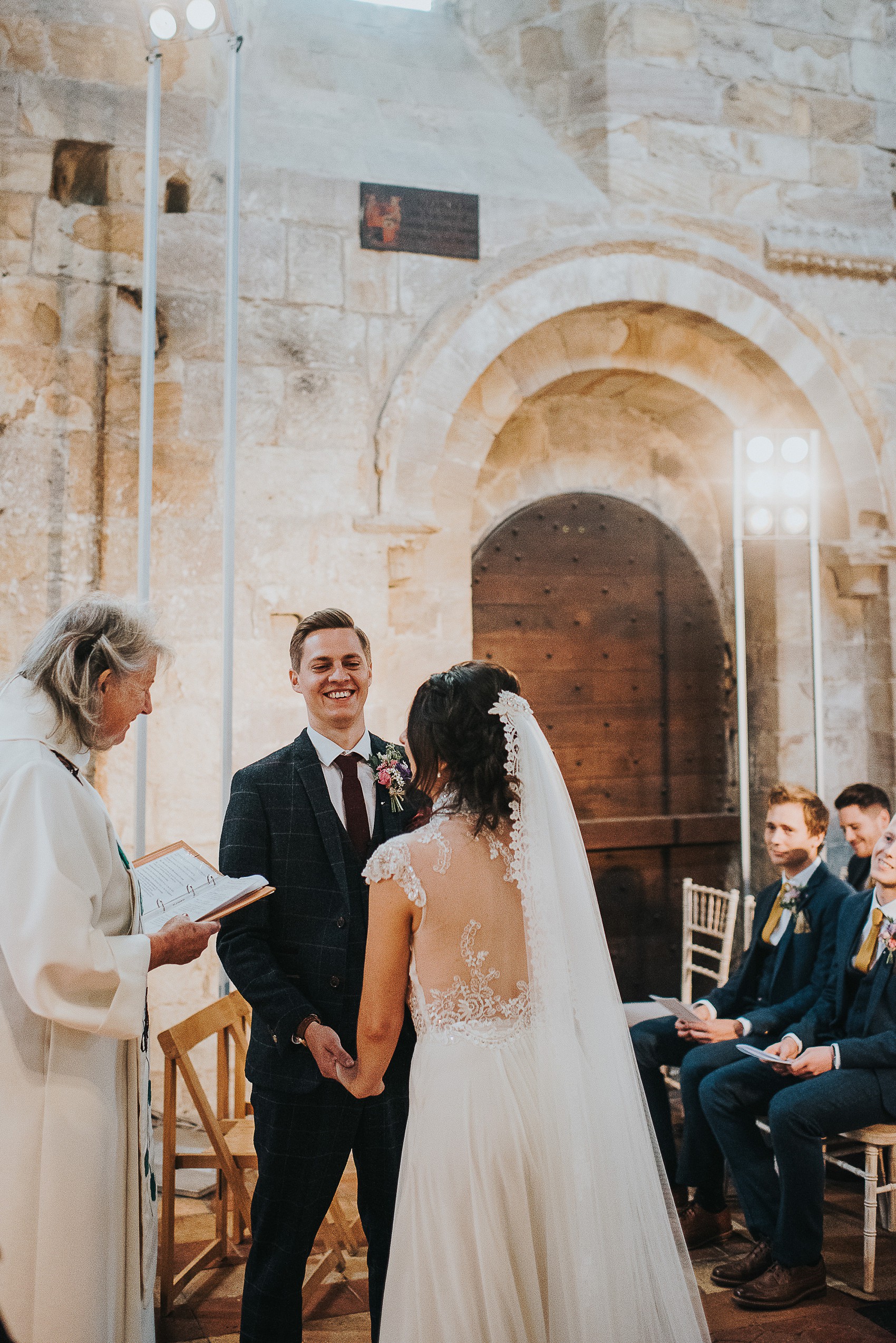 "Our first reading was 'St Paul's Letter to the Colossians' and the second was 'To Love Is Not To Possess' by James Kavanaugh, a really moving and beautiful piece."
"My engagement ring was made using stones from my mum's original engagement ring. It is so special and was made by the talented Mark Lloyd Jewellery in Hartlepool. I went for a simple wedding band as it's so unusual. Sam went for a simple gold band too."
"We had a small Catholic ceremony the day before the big celebration. This meant we could tailor our blessing ceremony at Brinkburn and make it really personal."
1 September was a beautifully sunny day, meaning the newly-weds and their guests could really enjoy their beautiful surroundings. The portrait shots of Charlie and Sam are so magical with the dense woodland behind them, too.
"We loved walking out of the Priory to the sun unexpectedly shining gloriously to greet our guests."
I love the bridesmaids' looks; so elegant and subtly-boho in embellished, nude-pink gowns from ASOS worn with gold shoes.
"We were so lucky as the three different styles fitted the girls' shapes perfectly. I loved that they were the same colour and embellishments but different styles."
The girls' hair and make-up were styled by Lisa Cameron Wedding Hair and Kitty Kerry Make-Up Artistry.
To her relaxed, loose up-do, Charlie added an embellished, floral-inspired hairpiece from Bex Brides whilst the bridesmaids wore little sprigs of flowers to tie in with their bouquets.
From The Smiths Photography's style is so well-suited to the feel of the day; their natural, relaxed vibe with its fine art edge makes the most of the natural light and results in this portfolio of beautiful images.
"SJ and Simon were outstanding and I couldn't have wished for anything more. I booked them before we found our venue as I loved their style so much and knew they would capture our day perfectly."
"We really wanted natural photos that would capture the spirit of our day, our personalities, the beautiful venue and our beloved guests. Our photos exceeded all our expectations and we absolutely adore them."
"Neither of us were keen on the idea of being in front of the camera but they made us feel so relaxed, almost as if they weren't there or we were just chatting with friends. They gave us some gorgeous moments away from everyone that are so precious in the chaos of a wedding day."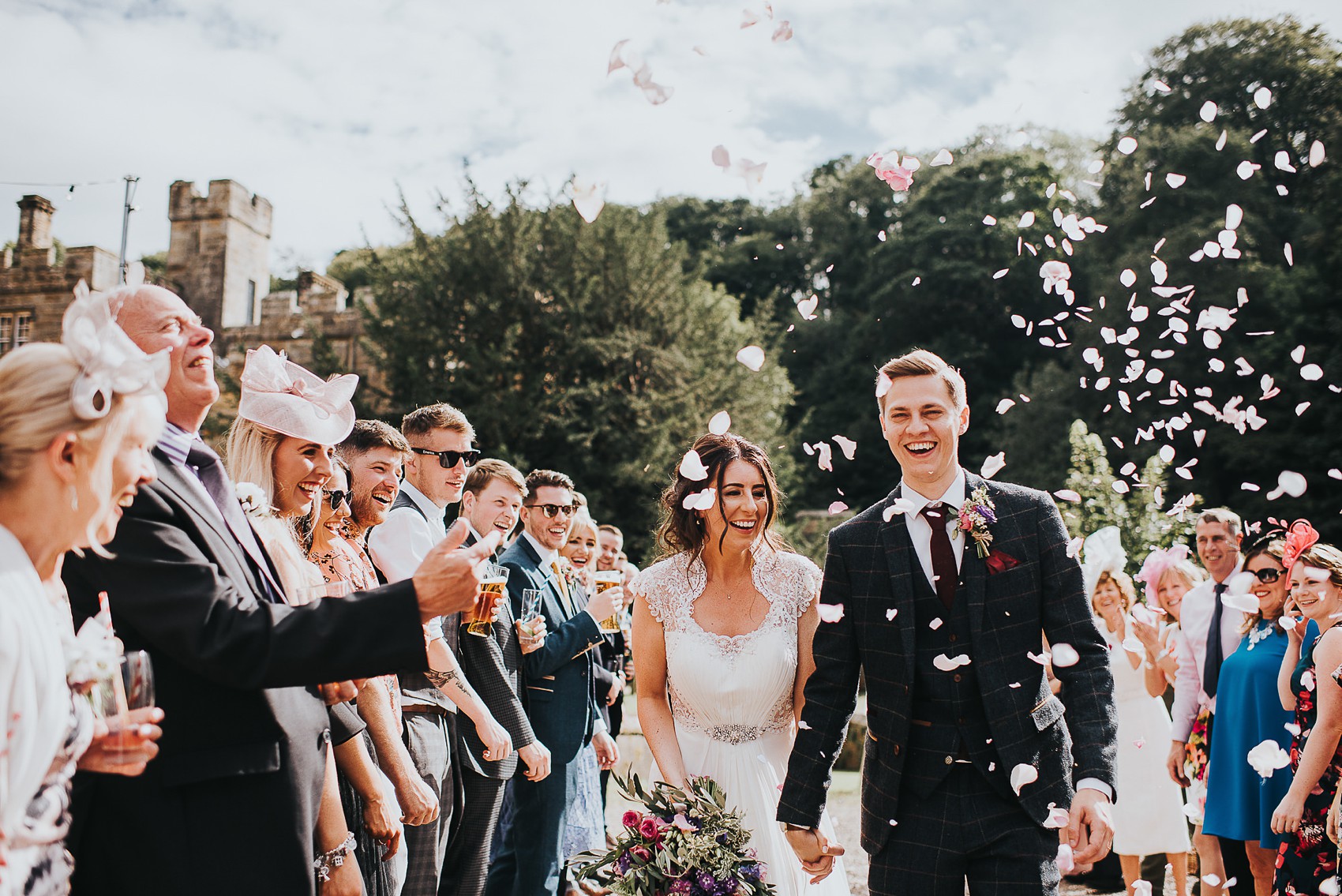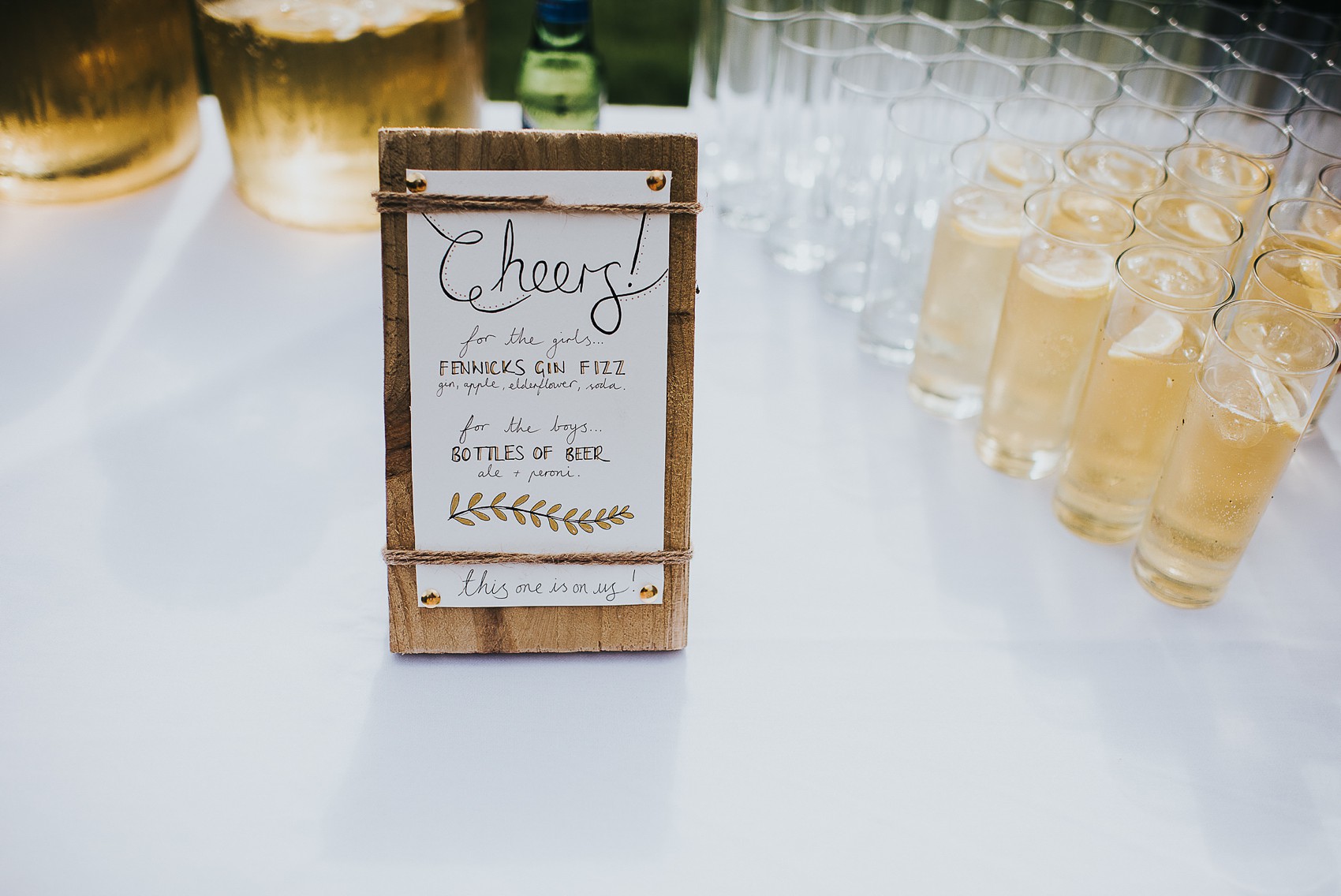 In the Priory's grounds, the tipis were adorned with swathes of foliage, strings of fairy-lights and elegantly-set tables bedecked with more greenery. The guests tucked in to sharing bowls of food from Wilkins Fine Dining.
"They went down so, so well and got everyone interacting."
"We let the flowers and the natural beauty of the venue do the talking. On the middle of the tables were jars, jugs and bottle of flowers and candles. Sam knocked up some simple wooden boards that we used as menus to add a rustic touch."
I really wanted to inject some subtle colour and texture by using linen napkins; I bought and cut up linen bedsheets and they worked perfectly. Paired with a simple sprig of eucalyptus from my mum and dad's garden, each place setting had a bit of something beautiful and rustic."
"I created the table plan using photos of each person pinned onto a board that Sam made out of old pallet wood. My dad works in the haulage industry so pallets are very easy to come by; we used them as signage and for the order of the day. I'm all about pattern and texture so brought some rugs from home to use in the entrance to and inside the tipi."
"This really helped bring our style to the venue and make it 'us'. As our ceremony in the Priory only lasted around half an hour, we made sure all of the decor was brought over to the tipis so we weren't doubling up on flowers and it saved on costs."
"On each person's name card we attached a Cancer Research UK horse-shoe badge. We donated money to the charity instead of providing favours. The badges went down really well and everyone wore them with pride. I love horses so chose a horse-shoe badge which is also very fitting with marriage."
As a designer, it was natural for Charlie to design the stationery and lots of the décor herself. One of my favourite details is the divine floral chandelier, so romantic with its trailing leaves. Charlie has shared more about how this beautiful look was pulled together.
"I designed all of the stationery and thoroughly enjoyed the process. I loved encapsulating the beautiful venue and vibe of the day on paper. I have since started selling bridesmaids illustrations like those I gifted the girls on the wedding morning after struggling to find them a meaningful gift that they could treasure forever; Iris Illustrations if anyone is interested!"
"We collected jars and bottles and used these for simple centrepieces. We had milk urns filled with flowers outside the Priory and bay trees inside. In the tipi, Christine created a gorgeous centre piece above the top table, filled with loose greenery. It really gave the illusion of bringing outside in and was so perfect for the style of the day. Christine is amazing at what she does and really made my vision come to life."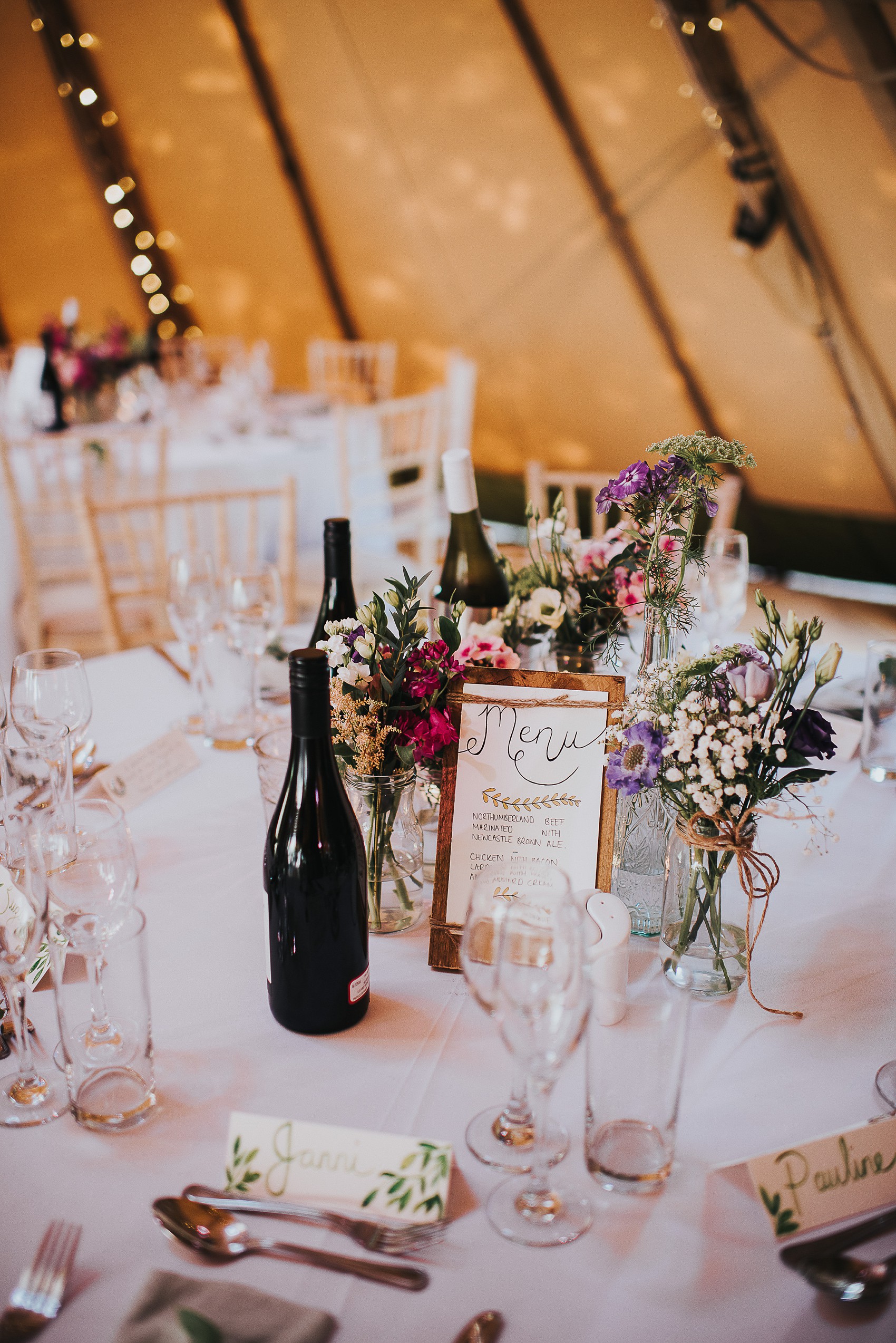 One of the bride's very talented friends, Katie, created a semi-naked cake with more wildflowers as decoration.
"One of my best friends made our wedding cakes and blew us away with her creations. We went for a simple, rustic, naked cake covered in flowers. The layers were lemon and elderflower and white chocolate and raspberry, so delicious we didn't have any left over! My dad was adamant about having a fruitcake. It's his absolute favourite and he eats it all year round. He scored Katie a 9.5 out of 10, which is huge."
Dessert came with an unexpected musical accompaniment.
"My mum and dad gave us the incredible (and well kept) surprise of the Secret Singers. We were speechless and it meant everyone was up dancing before we had even finished dessert. They had every single person swinging their napkins and singing their hearts out, truly unforgettable!"
"I ordered a bespoke denim jacket from Katie at Beespoke. We used to work together and I love the cool and relaxed vibe it gave to some of the photos taken later in the day."
As night fell, the tipis were transformed into a party space, with a chill-out area outside where everyone could tuck in to fresh pizza.
"We had a Scream for Pizza truck to cater for the evening food – so many of our guests said it was the best pizza they had ever eaten in their whole lives. The colourful little truck just added to the spirit of our day. One of the best men, Tim, made a variety of desserts that were brought out in the evening. He is a dessert chef and so they were delicious."
"We also had Snaparrazi Photo Booths which supplied our guests with unlimited fun and us with funny photos of the drunken moments to last forever."
The couple asked friends from home to be their wedding band, with music later from Bride and Groove.
"Our band, Thank Funk For That, are lads that we know from home and had everyone dancing all night. Their set list was so fun. Bride and Groove were an amazing DJ company. They really listened to what we wanted and were so attentive to the mood and feel and catered the music accordingly. We couldn't recommend or sing their praises enough!"
Before the party properly got started, though, there was time for a romantic first dance to 'Loving You' by Paolo Nutini.
"Our guests were pre-warned to be ready to join us on the dance floor as soon as the band kicked in straight after our first dance."
"Our day was filled with so much happiness and joy and everyone was smiling all day long. Seeing how happy everyone was for both of us truly meant the world."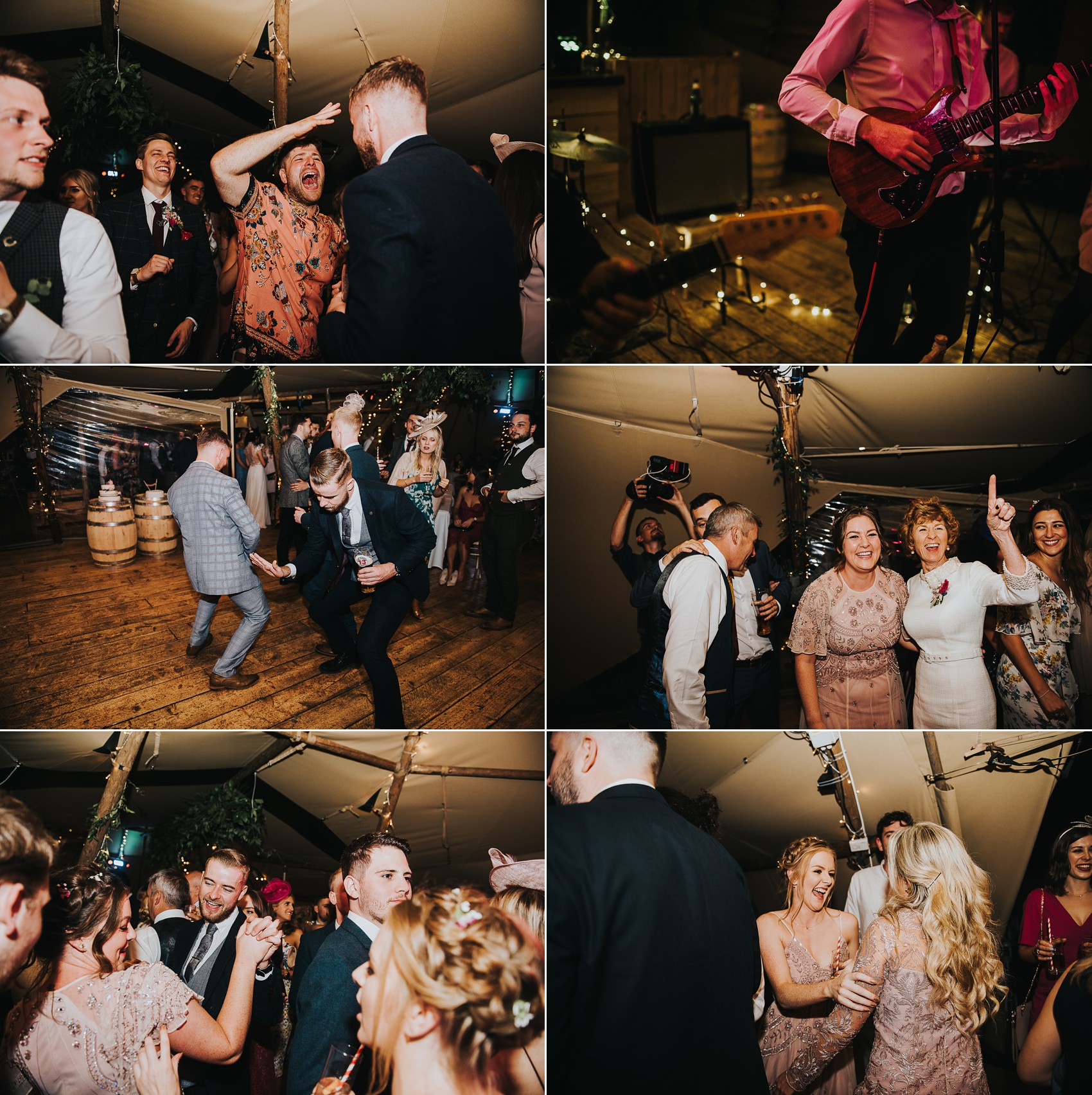 Words of Wedded Wisdom
"Being authentic to your true style and vision is so helpful in the planning process. I had an idea of how I wanted my day to look and just trusted my gut when it came to making decisions and bringing my vision to life. I have a keen eye for detail due to my work and had to trust our suppliers to bring it all together on the day, which of course they did spectacularly."
"There is so much amazing inspiration out there that you could go on forever adding bits and pieces and it becomes quite overwhelming. Remember that everything doesn't need to be all-singing and all-dancing – your guests are just happy to be sharing your day with you."
"If you are planning on giving any family members, the bridal party, suppliers and so on gifts, try to organise these early on. I spent the week before the wedding rushing around trying to organise hampers, presents, gift bags and cards. Give yourself plenty of time."
Charlie and Sam, how wonderful to have shared your beautiful September blessing here. Thank you so much, and to From The Smiths Photography, too.
Ele xx