Some of the most beautiful weddings ever to be shared on this much loved wedding blog are those that encourage the presence of children.
No judgement here my friends – ever; whether you have children at your wedding or not is a very personal decision. But I love to see children running around full of joy – and especially so when they look as stylish as the little ones do at this beautiful late winter wedding. I hope you enjoy this day as much as I do.
Therapist Bella and Stephen, who is head of policy for a justice reform think tank, tied the knot on 8th February 2019 at the infamous Wilton's Music Hall in London's Tower Hill – a venue which made an indelible impression on me ever since we published this particular wedding (which also happens to be my favourite wedding ever to be shared on Love My Dress).
Photography by Sarah Legge
The couple hired photographer Sarah Legge to capture their wedding.
"We met a number of very talented photographers but no one quite a special as Sarah. Everyone fell in love with her on the day and our guests have gone wild over the images she produced. We feel very lucky."
The tone of Bella and Stephen's wedding day was one of effortless elegance with fabulous little splashes of gold here and there, including the couple's stationery.
"Our stationery designer Angie of Love Struck Stationerywas brilliantly kind and talented."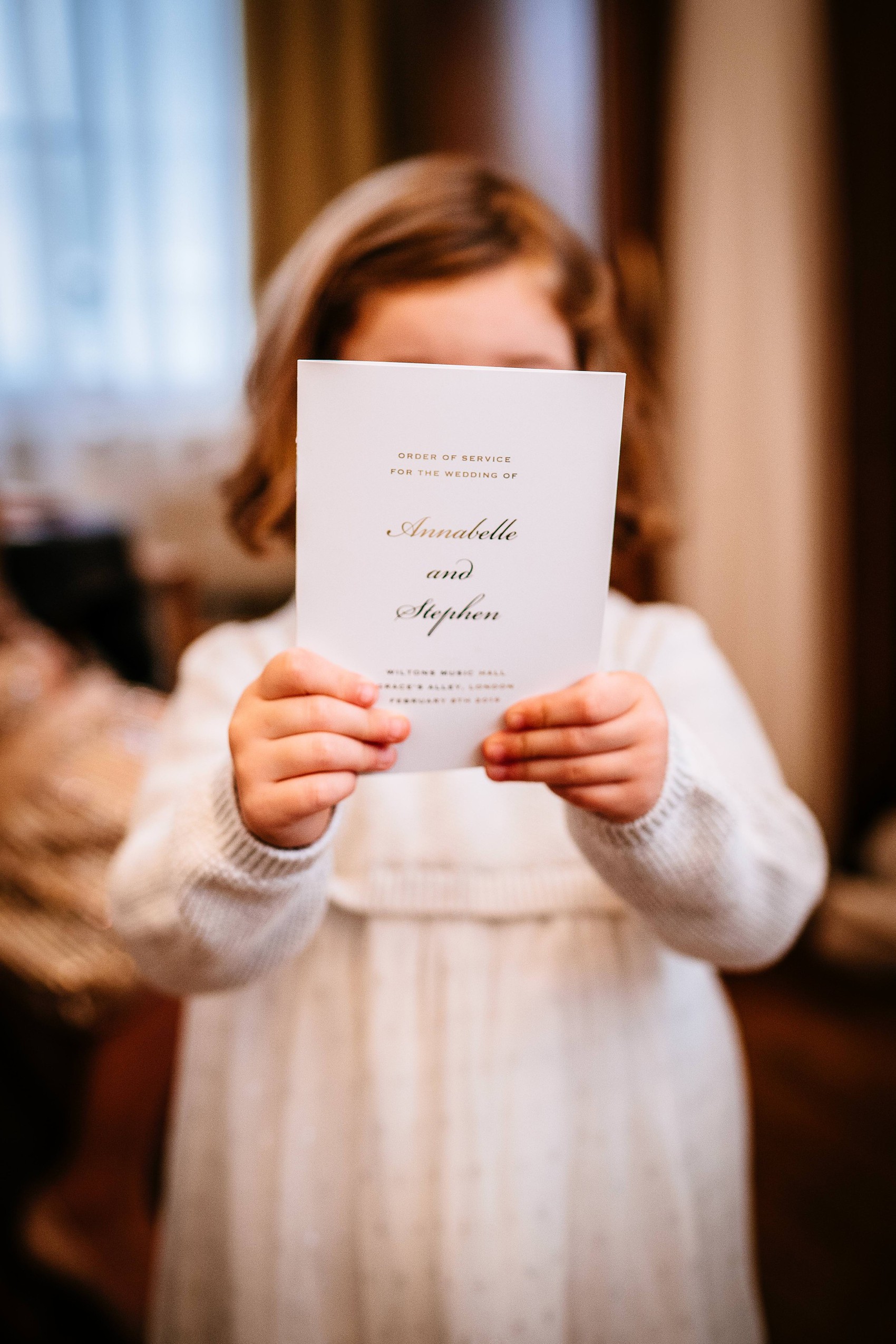 "My darling friend Helen pointed out that LK Bennett do half sizes so you are more likely to get a better fit ( all the better for dancing) and then my lovely friend Chloe spotted the ones I chose."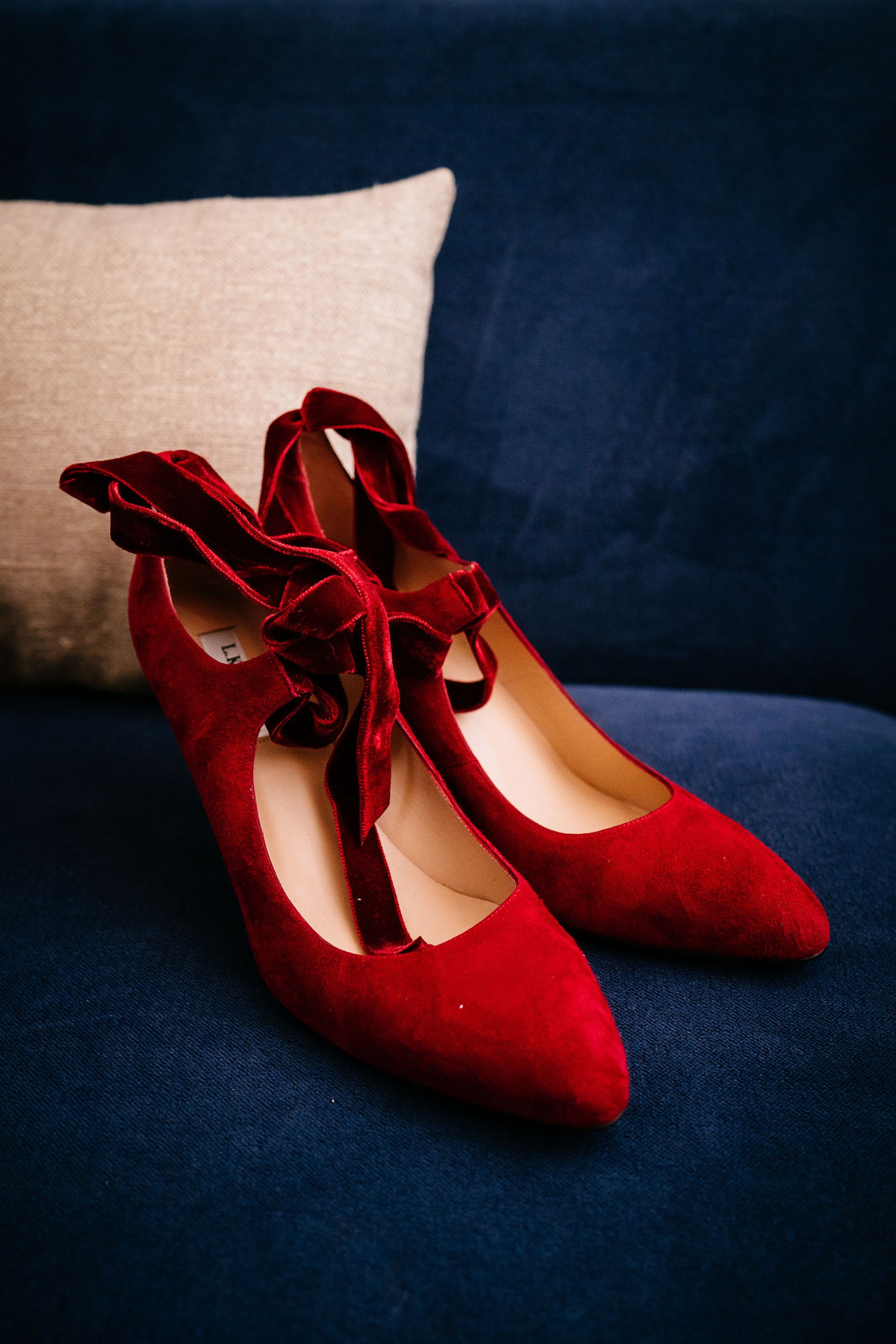 The beautiful bride hired professional makeup artist Laura Anne.
"Laura Anne of Laura Anne Makeup is a wonder and certainly someone you would want around on your wedding day."
"My veil was my sister's – she bought it from Mathilda Rose Bridal."
"I also wore my engagement ring. It was Stephen's grandmothers and It is so beautiful – when he gave it to me I said 'who helped you choose that' because I was so shocked by lovely it is."
"Stephen an I met at a three year old's birthday party (she was a flower girl on the day). We were both single parents facilitating the social life of our children (my son, Edward and Stephen's daughter, Lily)!"
"I knew I wanted to know more about him from the moment I saw him and so I stalked him on Facebook and asked him out! It then all happened fairly quickly, in fact we were married exactly three years to the day from the day I asked him to go for a drink! Stephen asked me to marry him in Brighton at the end of March 2018, we don't hang around!"
"Stephen wore a suit by Ben Lawrence.  They actually had to make a second at very short notice because Stephen left his on the train! They were wonderful."
"The groomsmen all wore ties and pocket squares by The Tie Garden."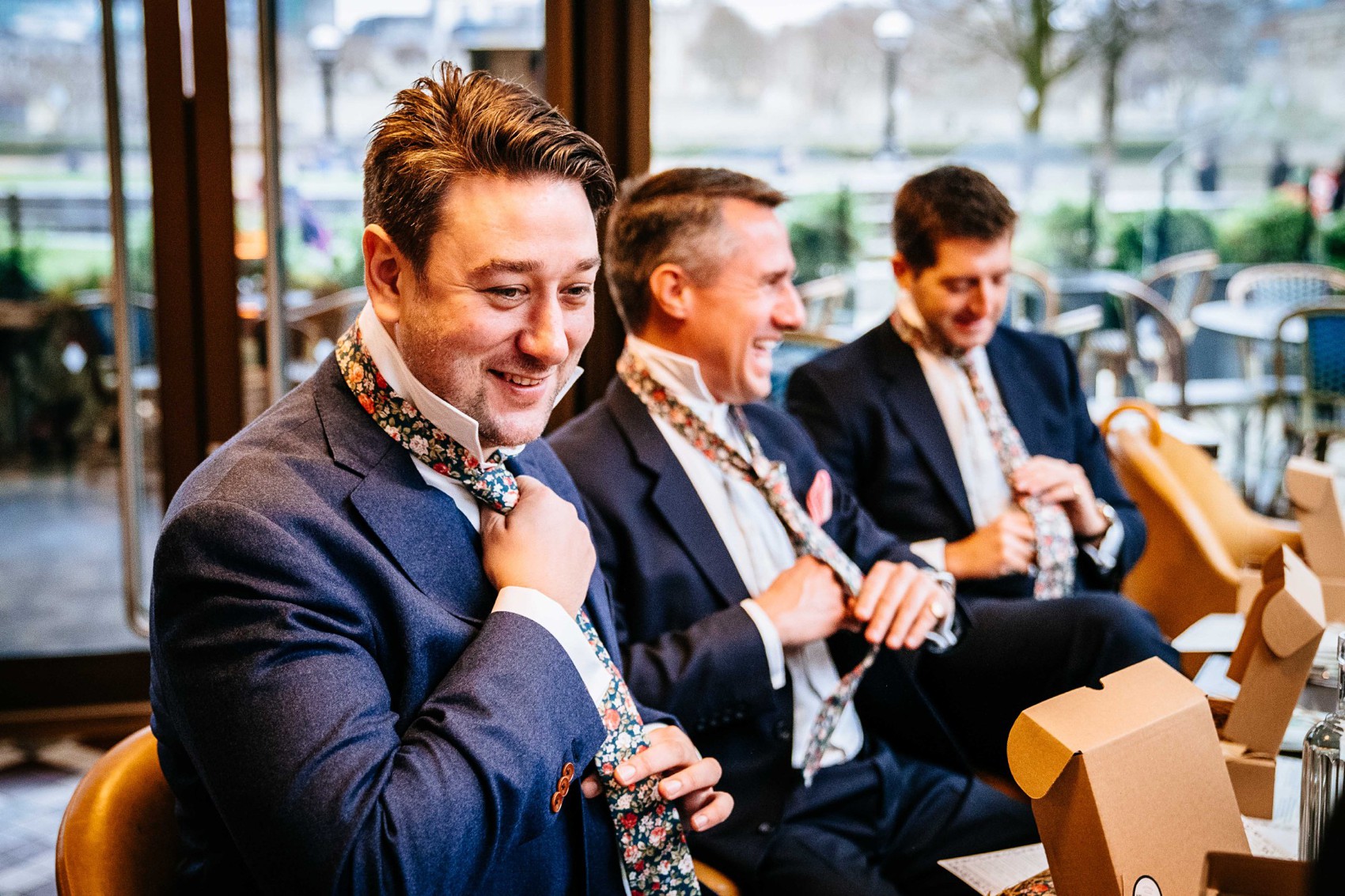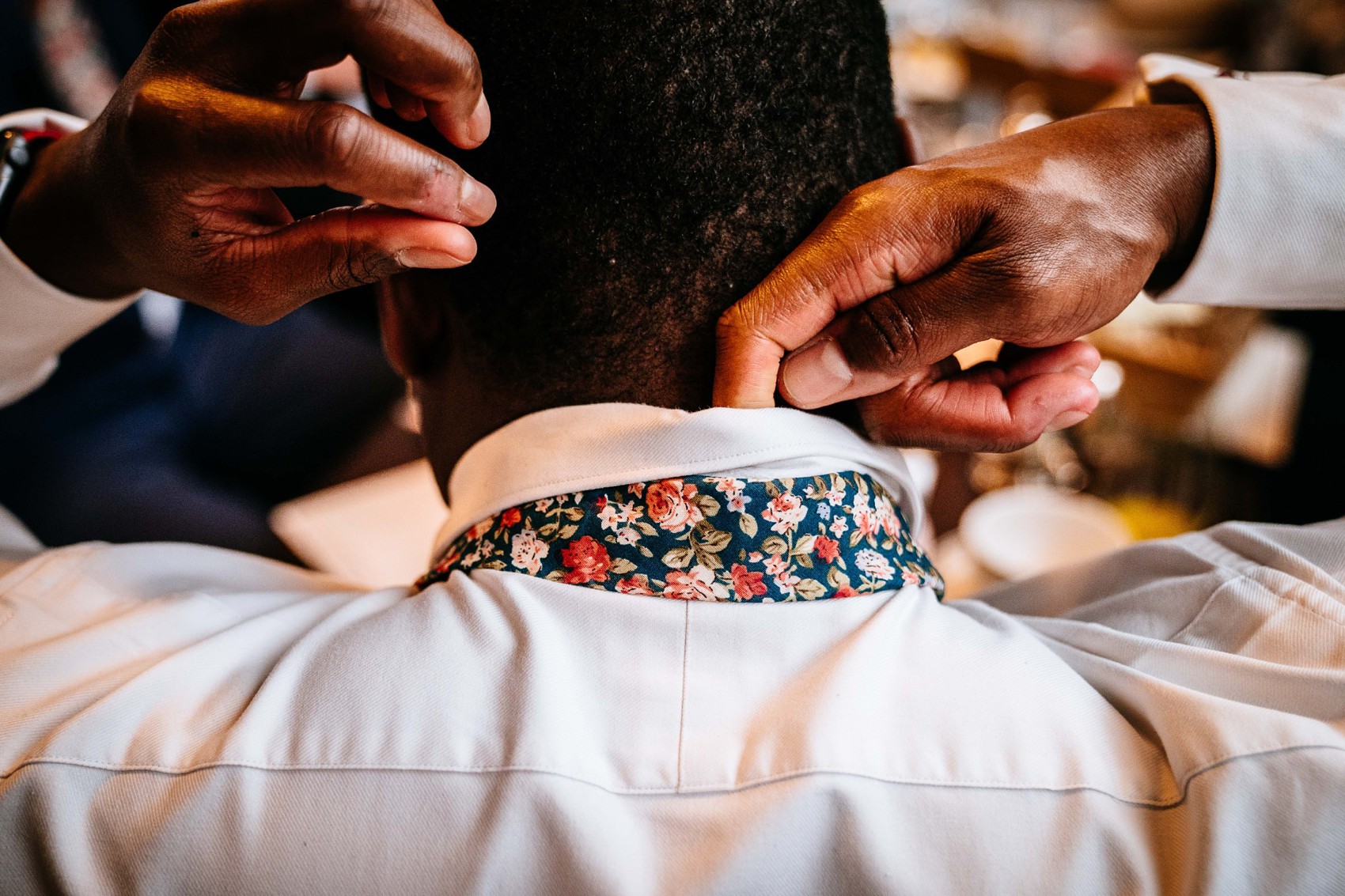 "My dress was actually a skirt and a top and it was by Temple by Bo and Luca, I bought it at Luella's Bridal. In the evening I replaced the skirt with a gold sequin skirt by Emelia Wickstead."
"I loved the fact that it looked like a dress but I could swap in a skirt to dance the night away."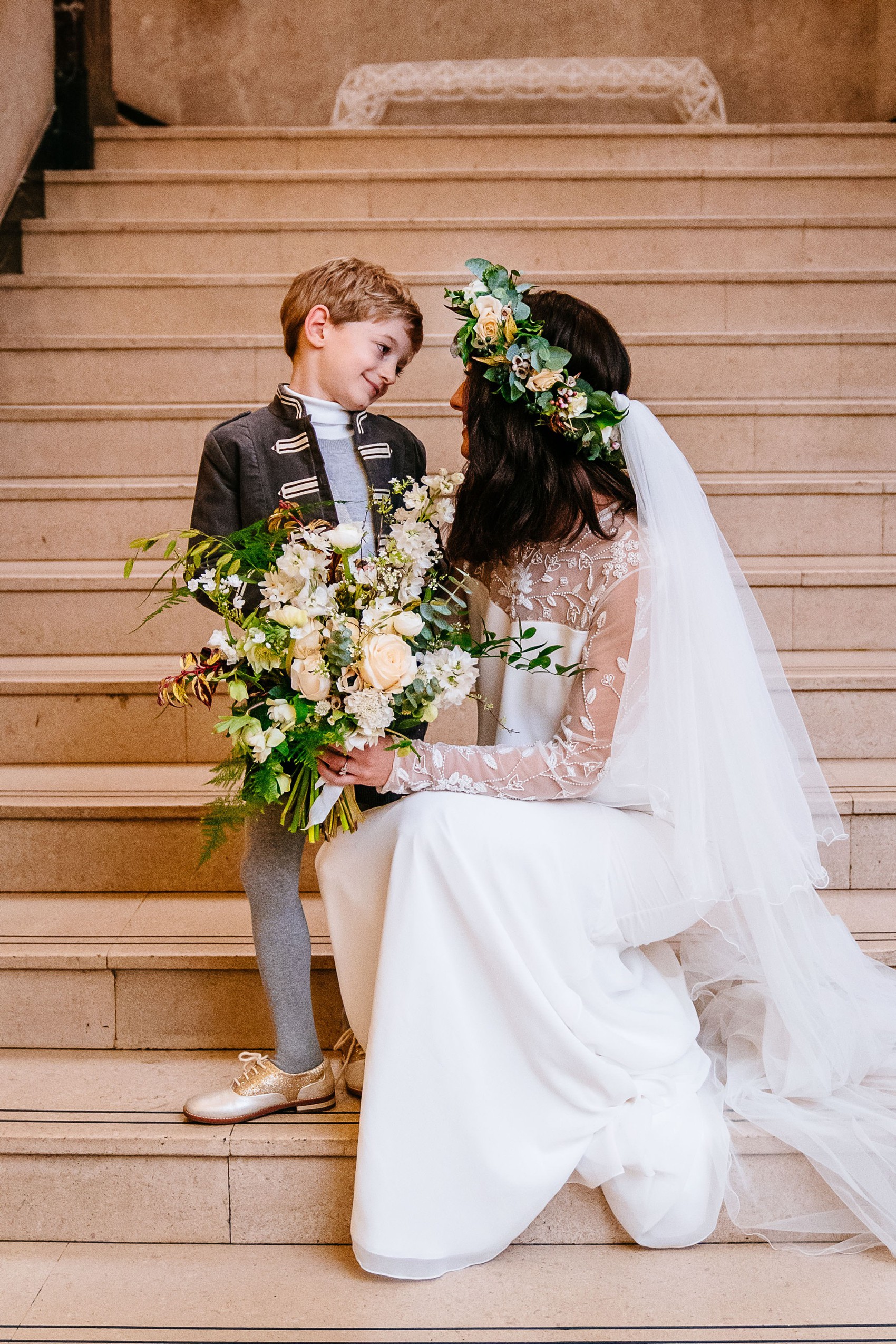 "Our florists were Grace and Thorn – I told them I wanted wild, magical and romantic and boy did they deliver. There were also brilliant to work with, the way they quote is super clear and flexible."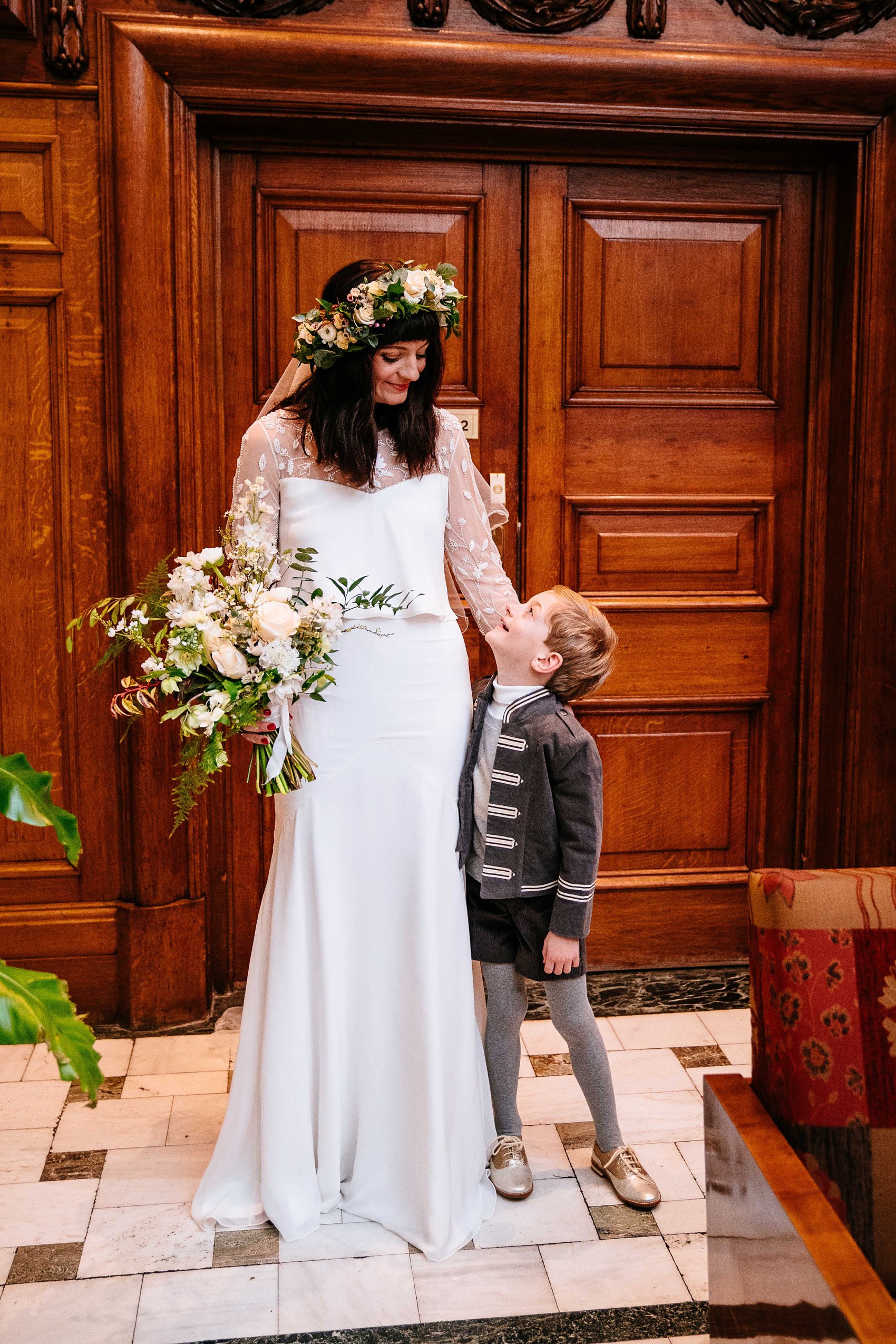 "Our florists, Grace and thorn, made me my dream flower crown.  I also wore my great aunt's smokey topaz ring, it is huge, her granddaughter spotted it as I walked down the aisle and that meant we could have a special little moment when she told me in the reception."
"My great aunt personified love, I wanted her with me on the day."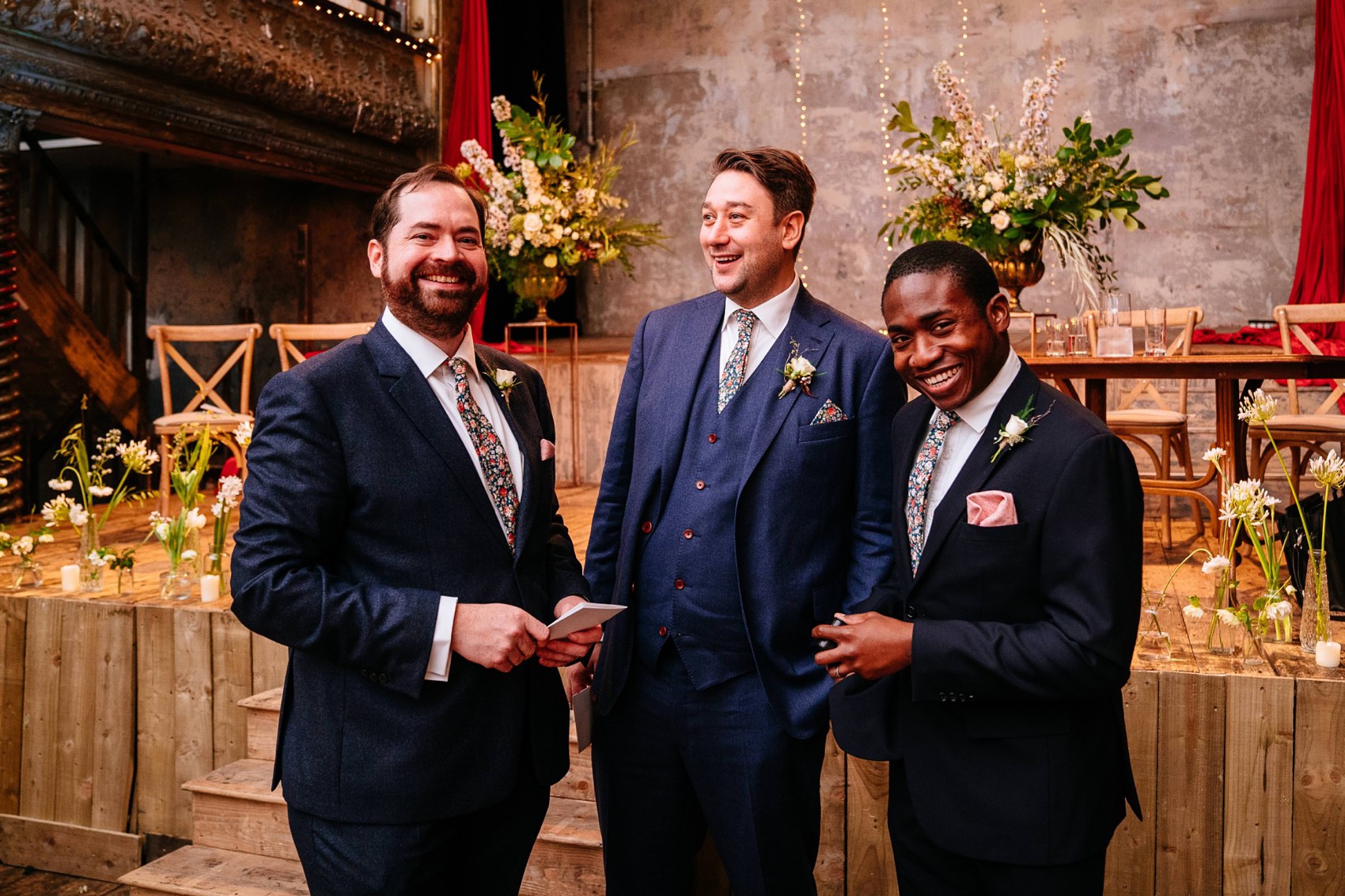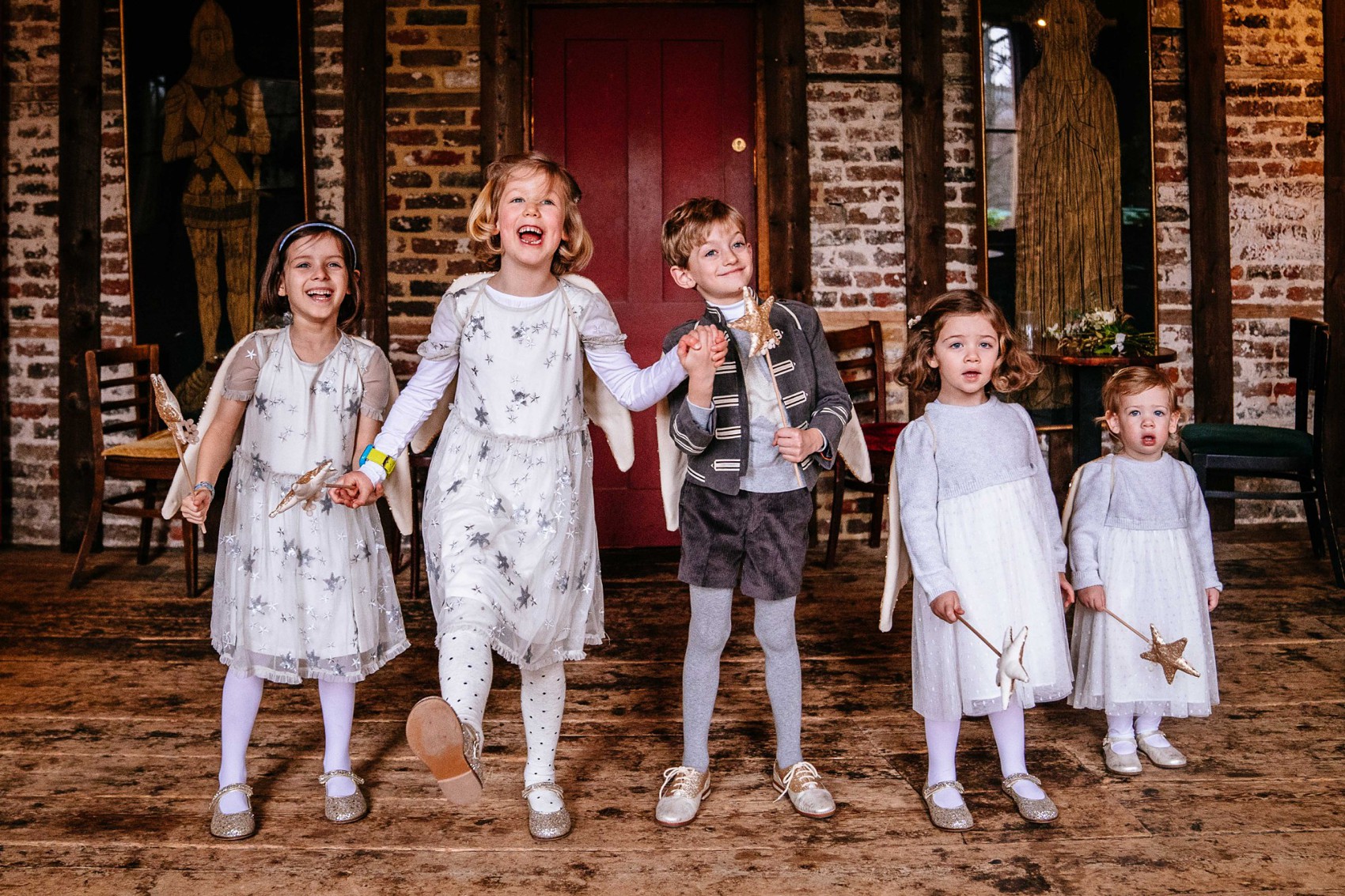 The bride's father accompanied her down the aisle.
"My daddy, he is my hero, it would never have been anyone other than him. "My girlfriends sung me down the aisle to an arrangement of 'I can't help, falling in love with you. My sister took me to an Ingrid Michealson concert years ago and I heard her sing a version of it that I loved.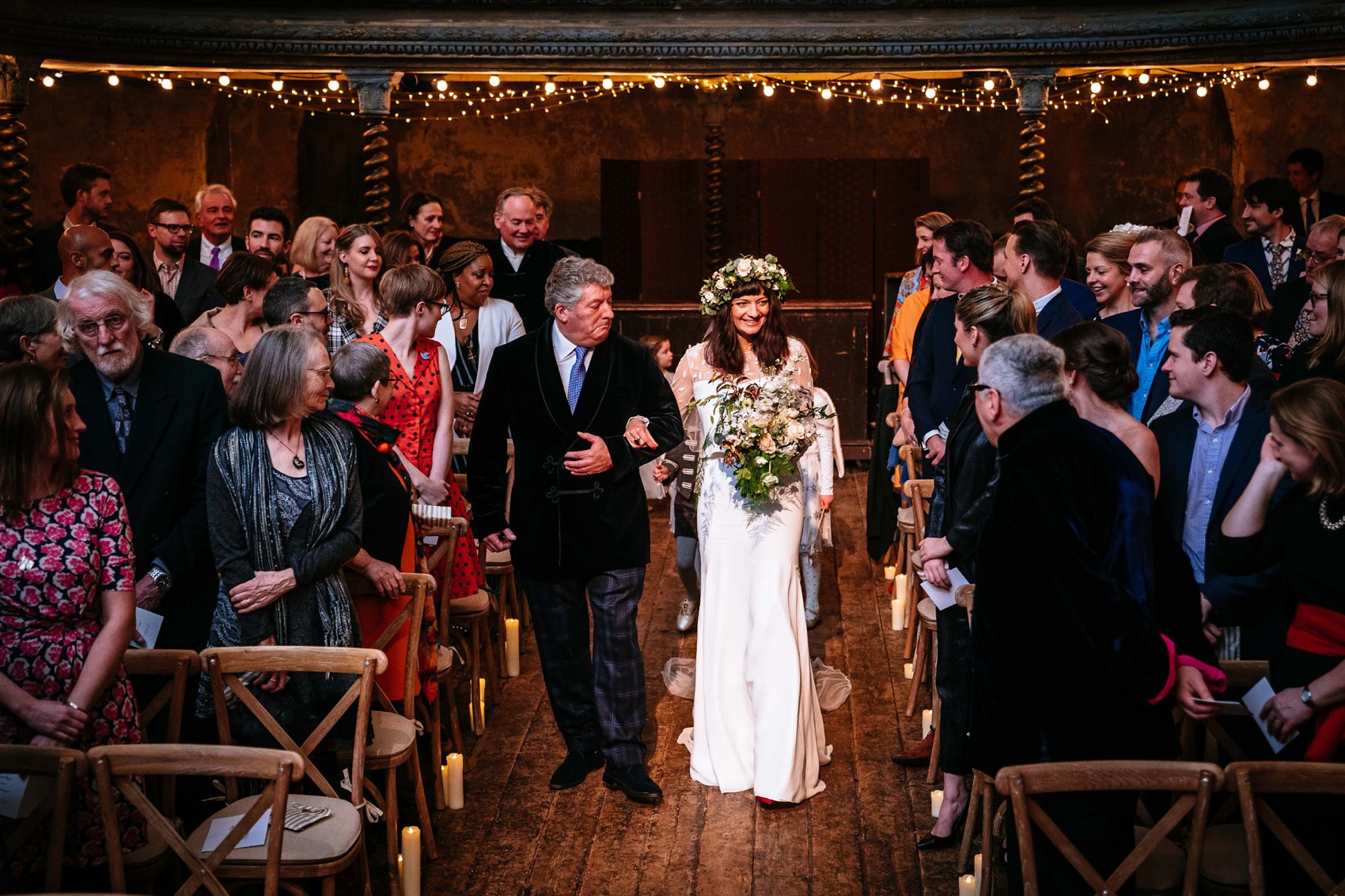 "We had the Tower Hamlet Registrar for our wedding ceremony – she was so enthusiastic and lovely."
"We kept the vows as they are written, we both gave speeches later in the evening. It felt right that the important bit was not something we had made up."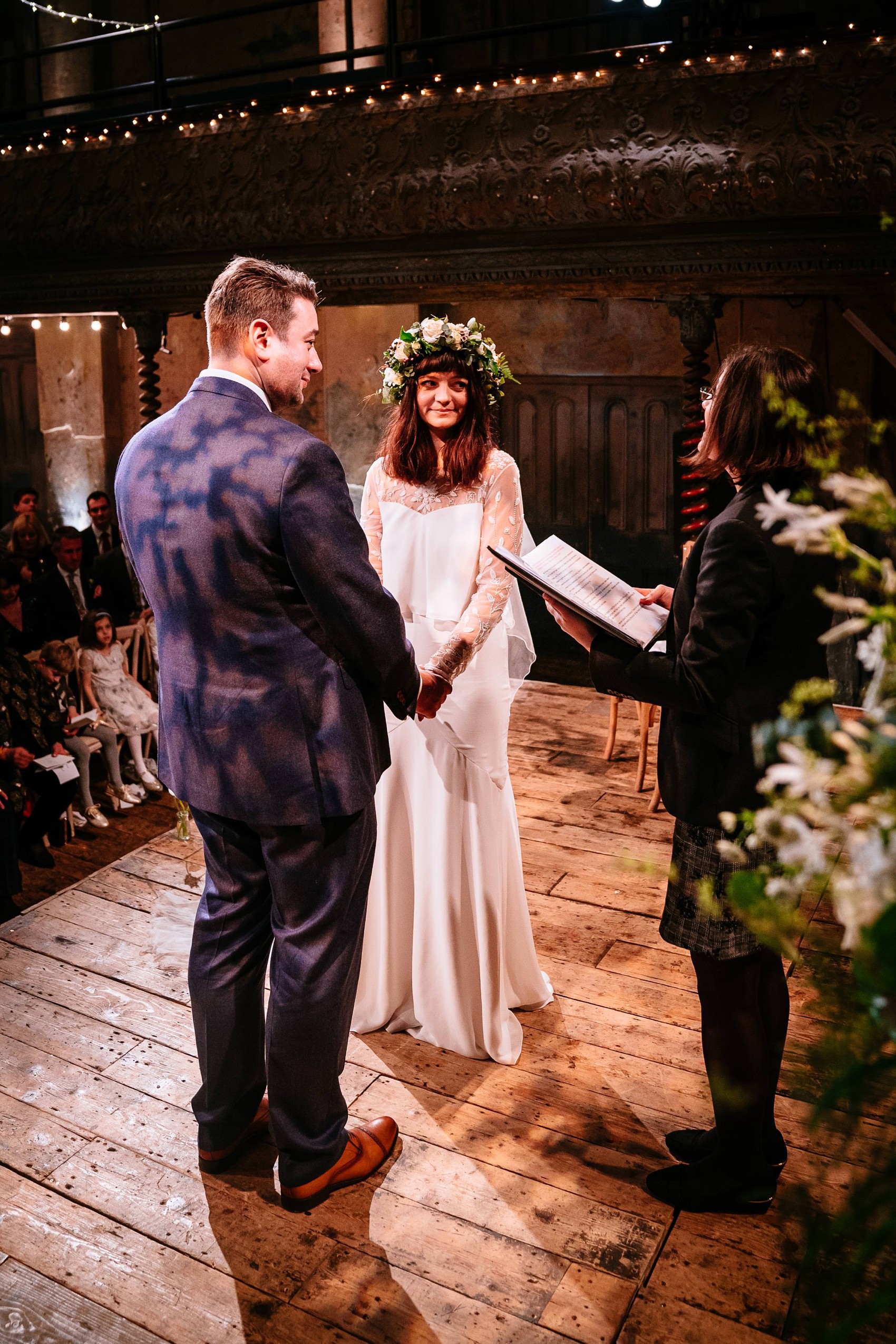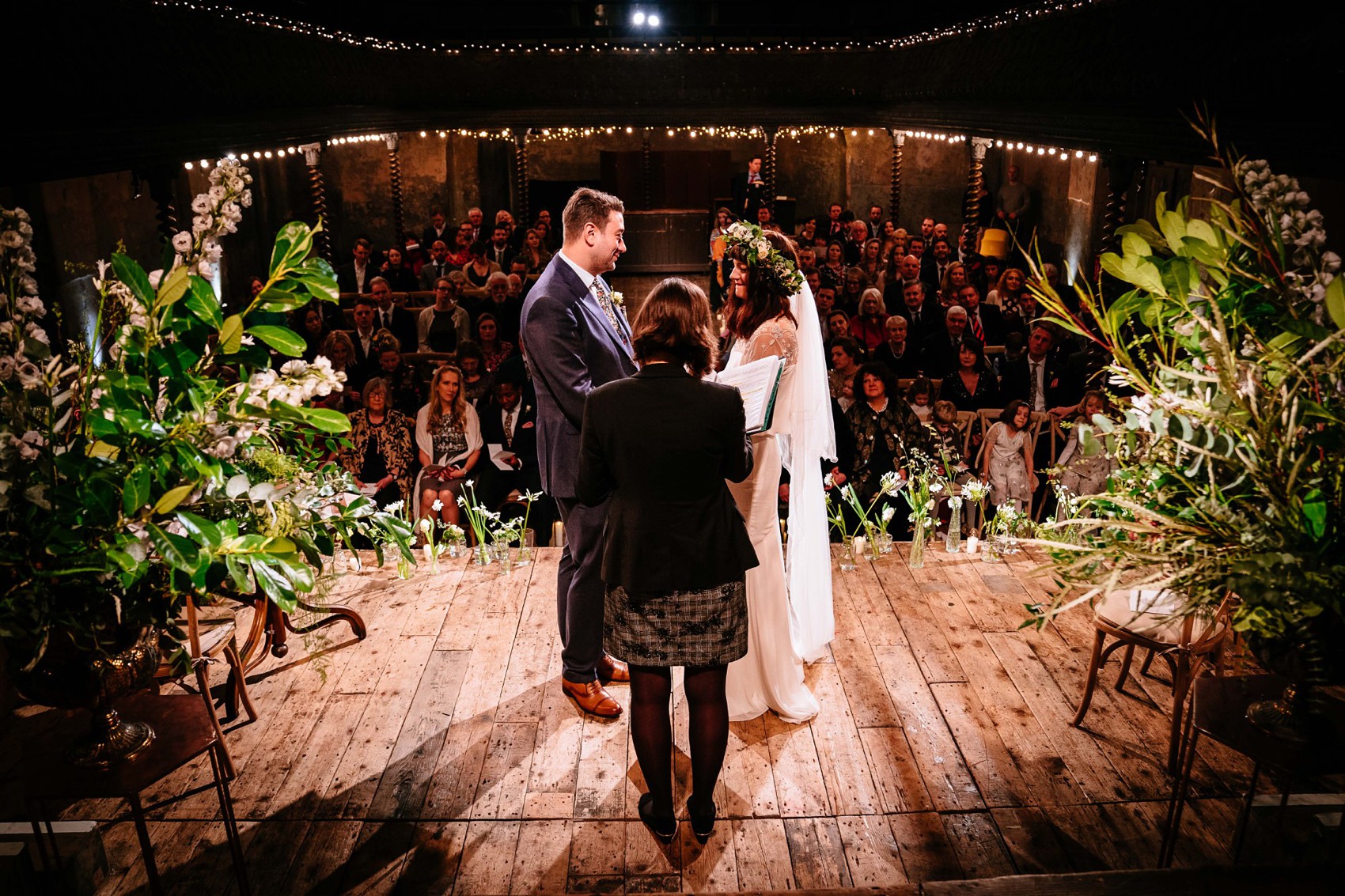 "My Brother, My Cousin and My sister in law read words that meant so much to us.  My Brother's in particular was special as it was about love in an inclusive way. I wanted everyone to be able to identify:
'My god, I hope you find love. And I don't just mean that in regards to someone you wrap your tired bones around at night. I mean that I hope you find love in every aspect of your life. I hope you find it tucked into early morning sunrises, and the smell of your favorite places. I hope you find it strung between the laughter you share with your friends, I hope it bounces off of you when you hug the people you care for,  I hope it swells within your ribcage whenever you hear your favorite song, or discover something that moves you. I hope you fall in love with growth, and change, and the messiness and the beauty of fucking up, and making mistakes, and becoming exactly who you want to be. I hope you find love in places that were once void of it, in places within yourself that you could have been softer to, kinder to, in the past . Because if there is one thing I have learned, it is that love is so much more than a boy, or a girl, who holds your heart. Love is everything around you. It is everything. By Bianca Sparacino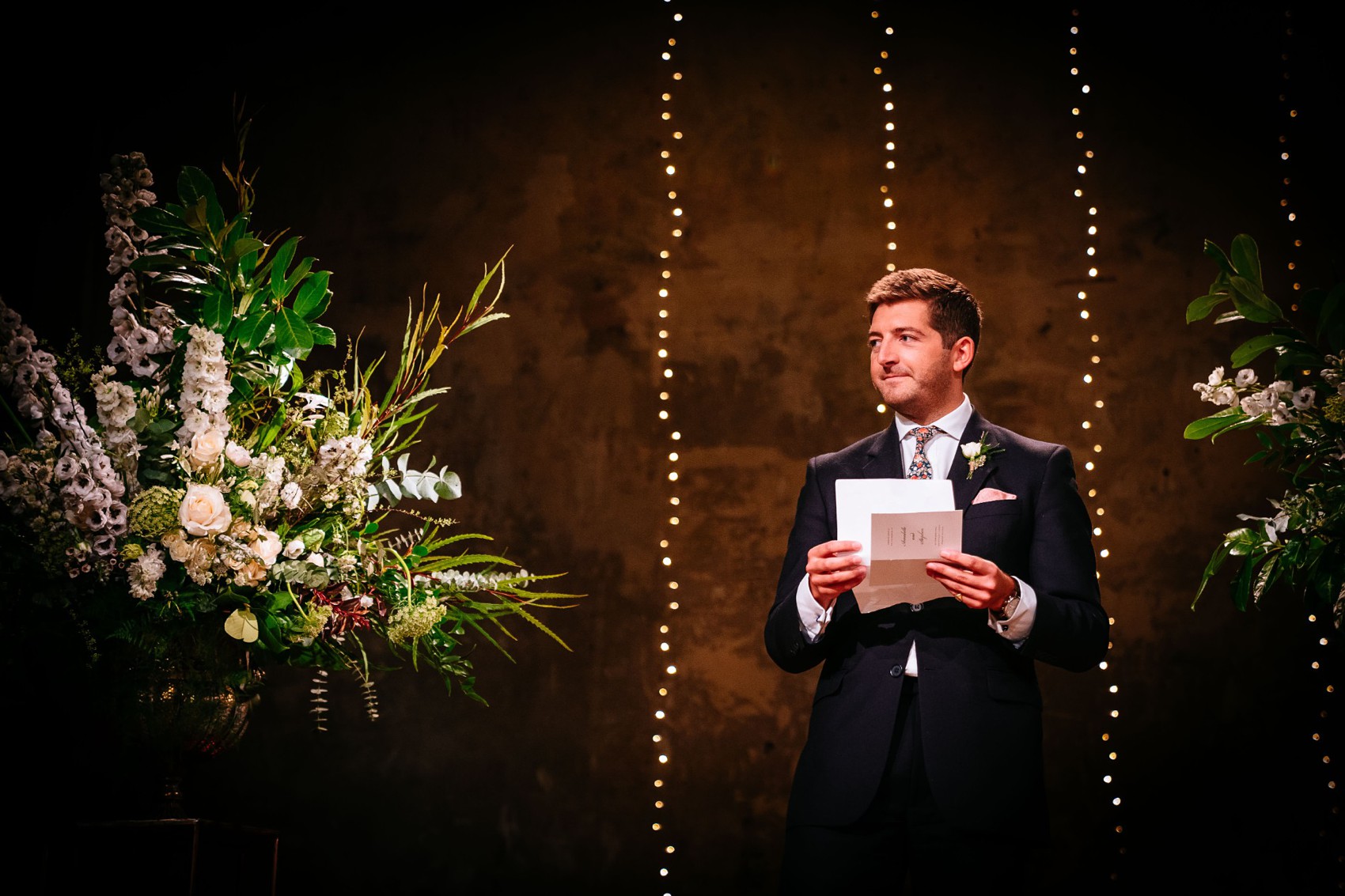 "We used David's Jewellers in Richmond for our rings, because they were so kind to use when we resized the engagement ring."
"For me the ceremony was always going to be the most important bit. We thought in great detail about the music that was going to be played and the words that would be read. I wanted it to be magical and romantic and that is exactly what it was."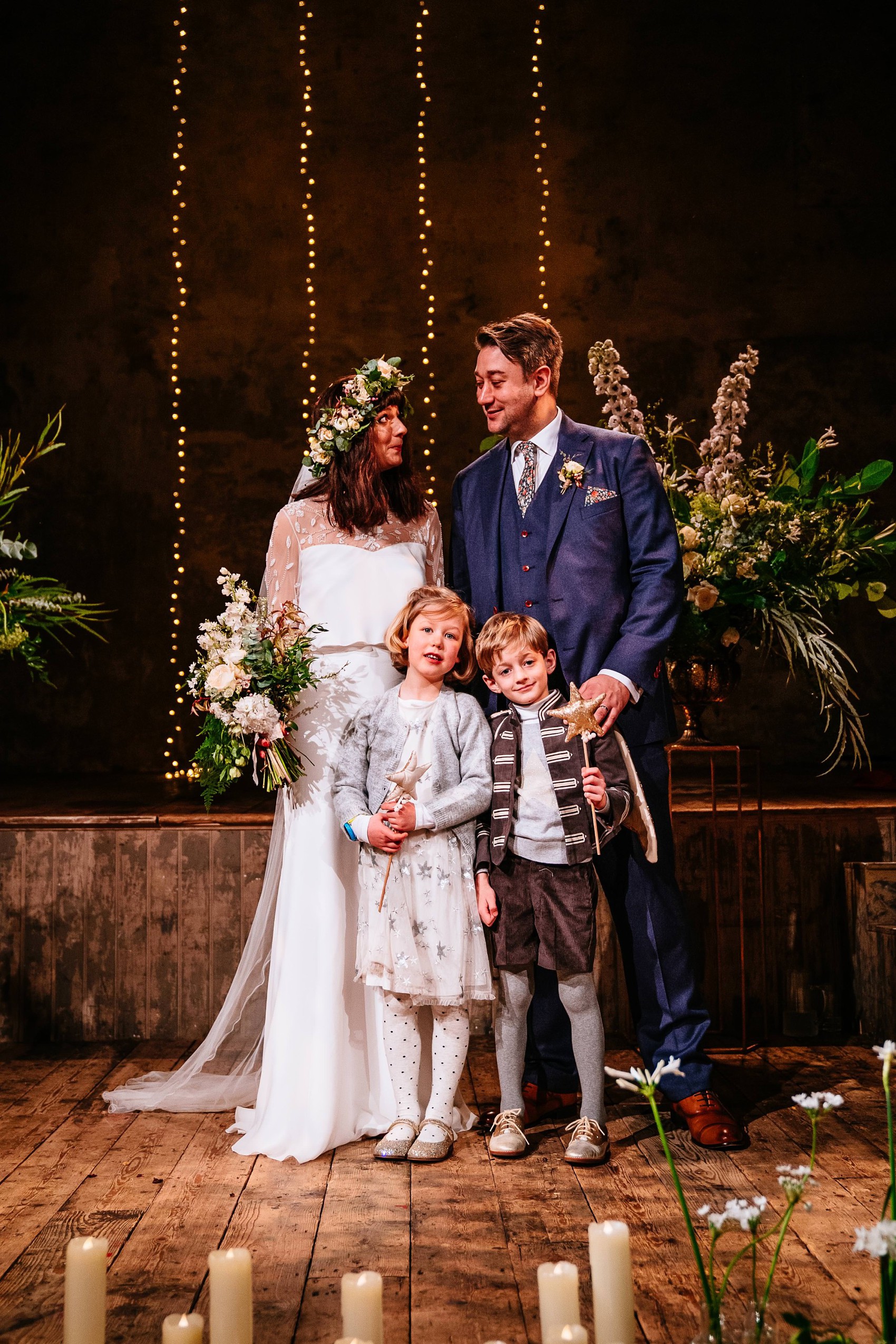 "Stephen chose our venue – he had been to a gig there and he suggested that I went and take a look and when I did she fell I love with it. I am from a catholic family and although I did not want a religious ceremony it felt important that we were married somewhere that felt otherworldly and historic, Wilton's did exactly that."
"Wilton's really needed very little to make it beautiful. Grace and Thorn worked their magic and then we had hundreds of (fake) pillar candles."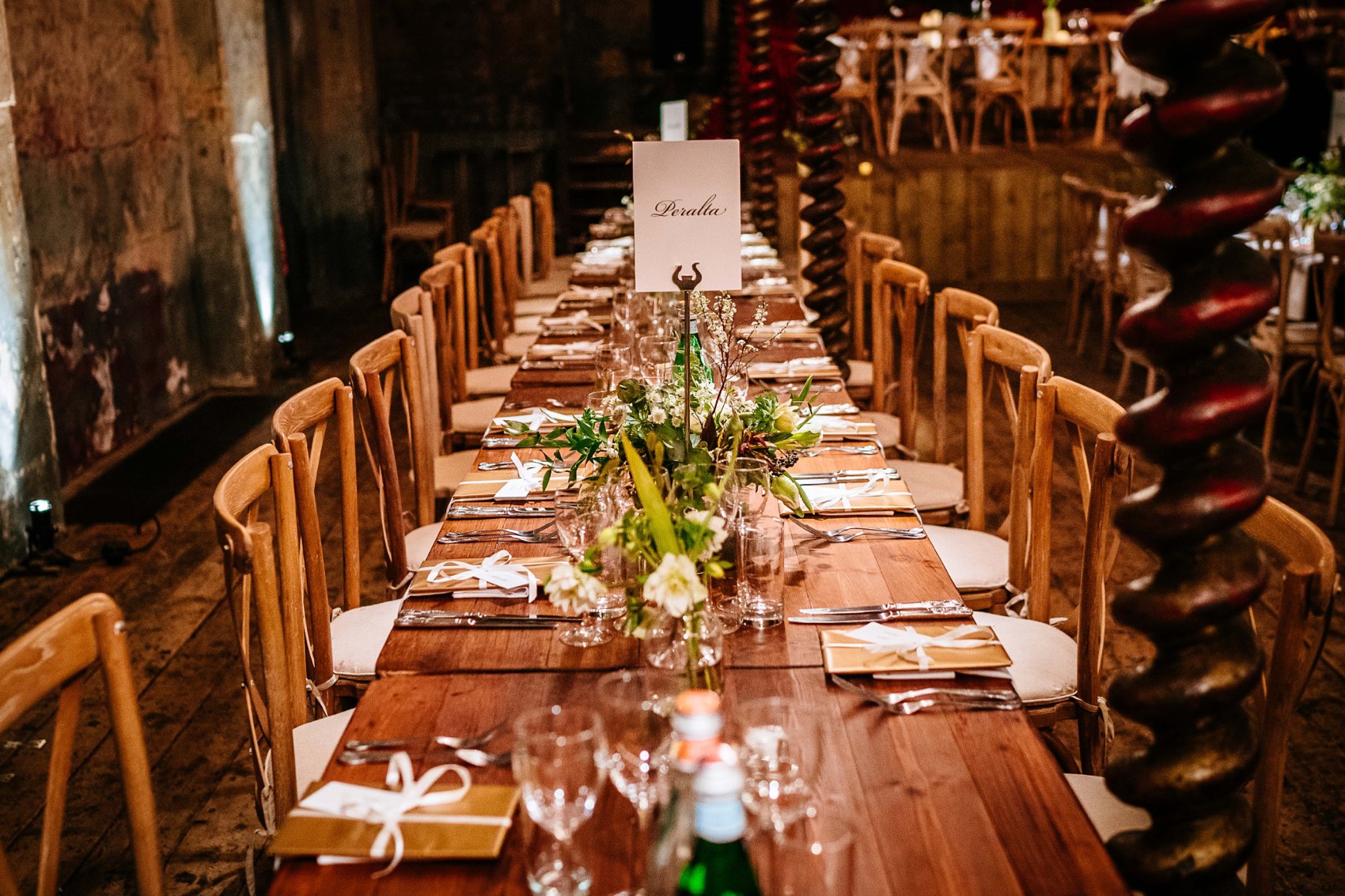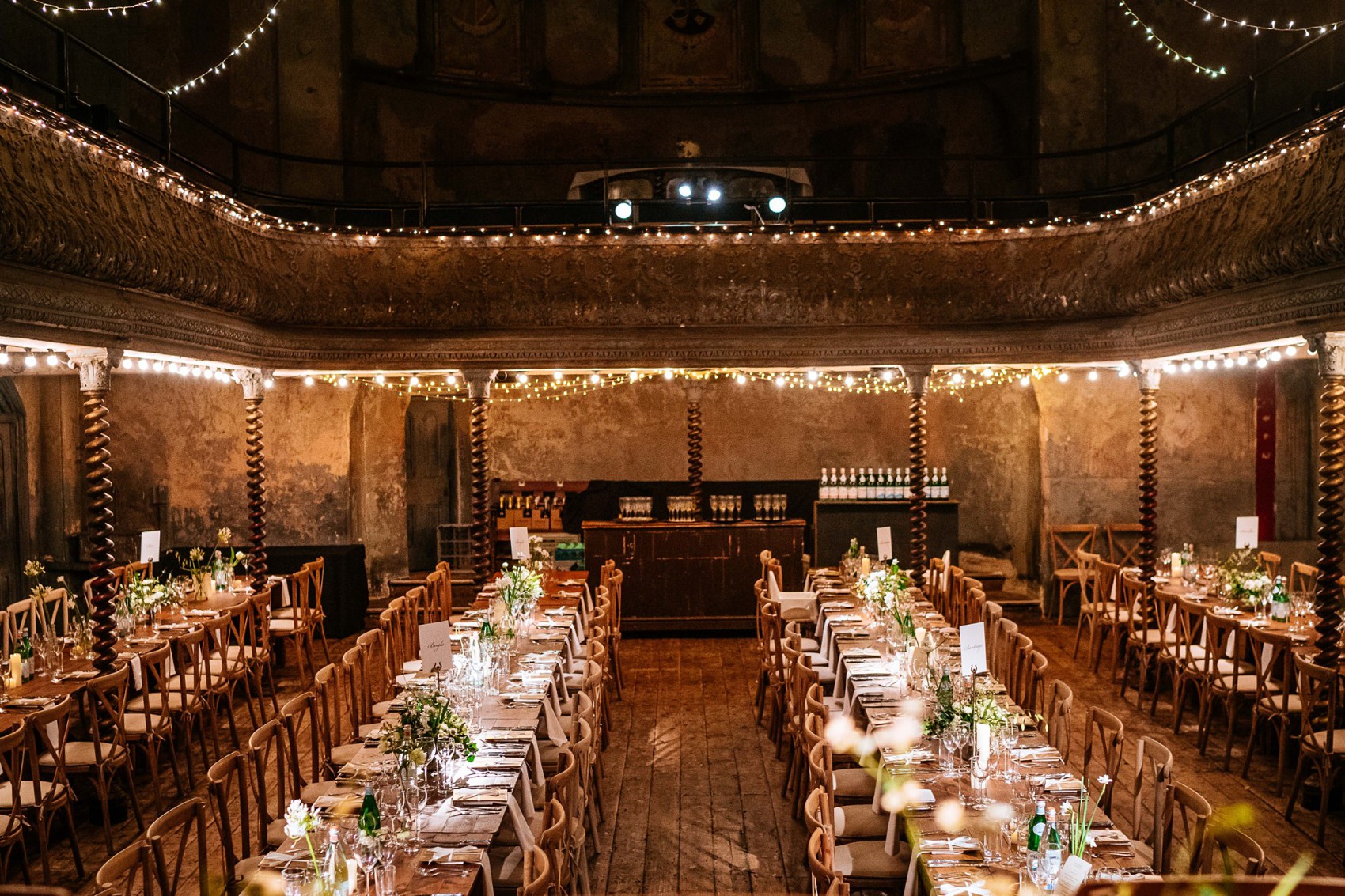 "We had all our guests contribute words and pictures inspired by the word 'Love' and then we worked with my amazing cousin to put them together and publish a book, we gave the books as favours."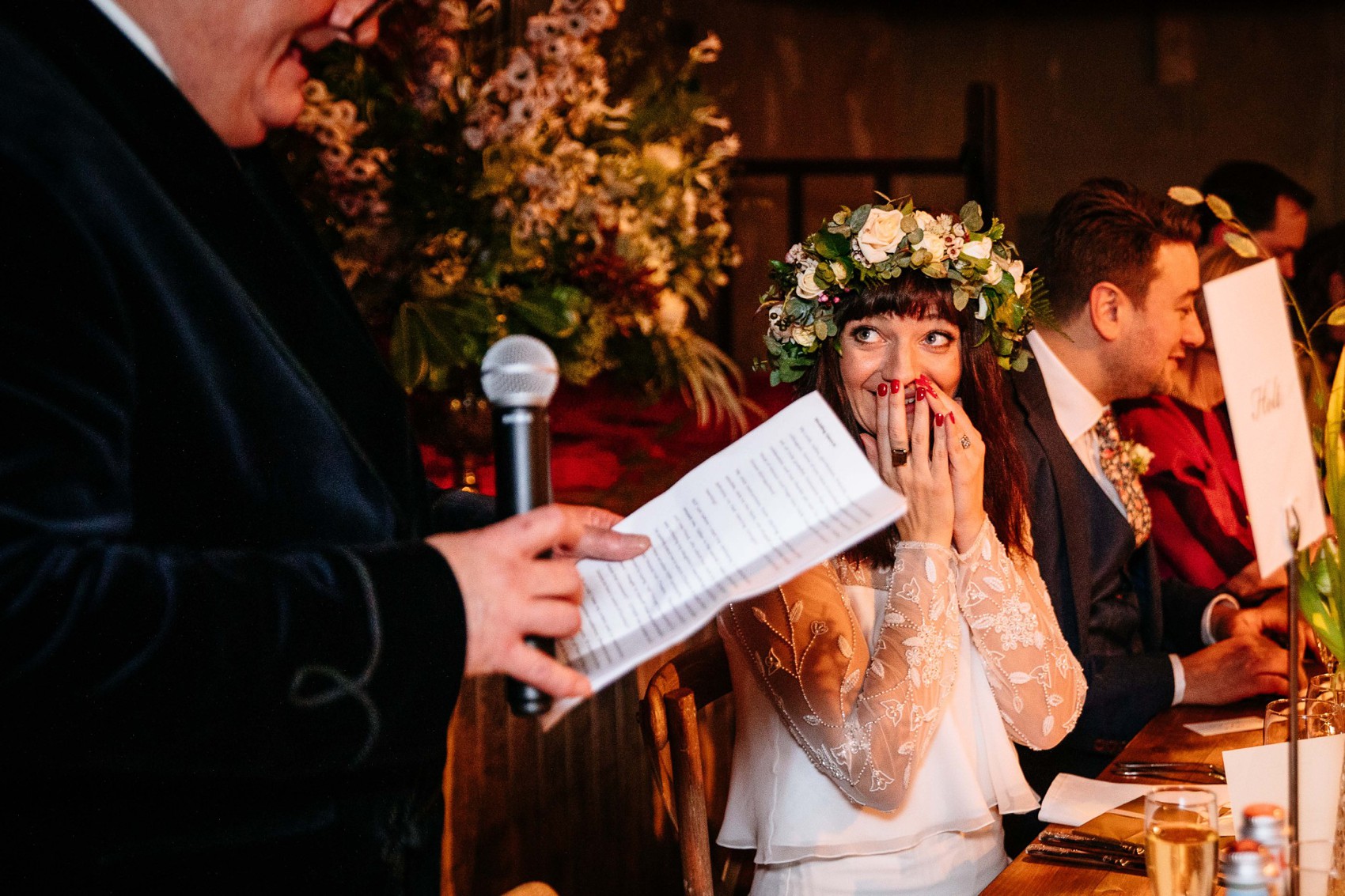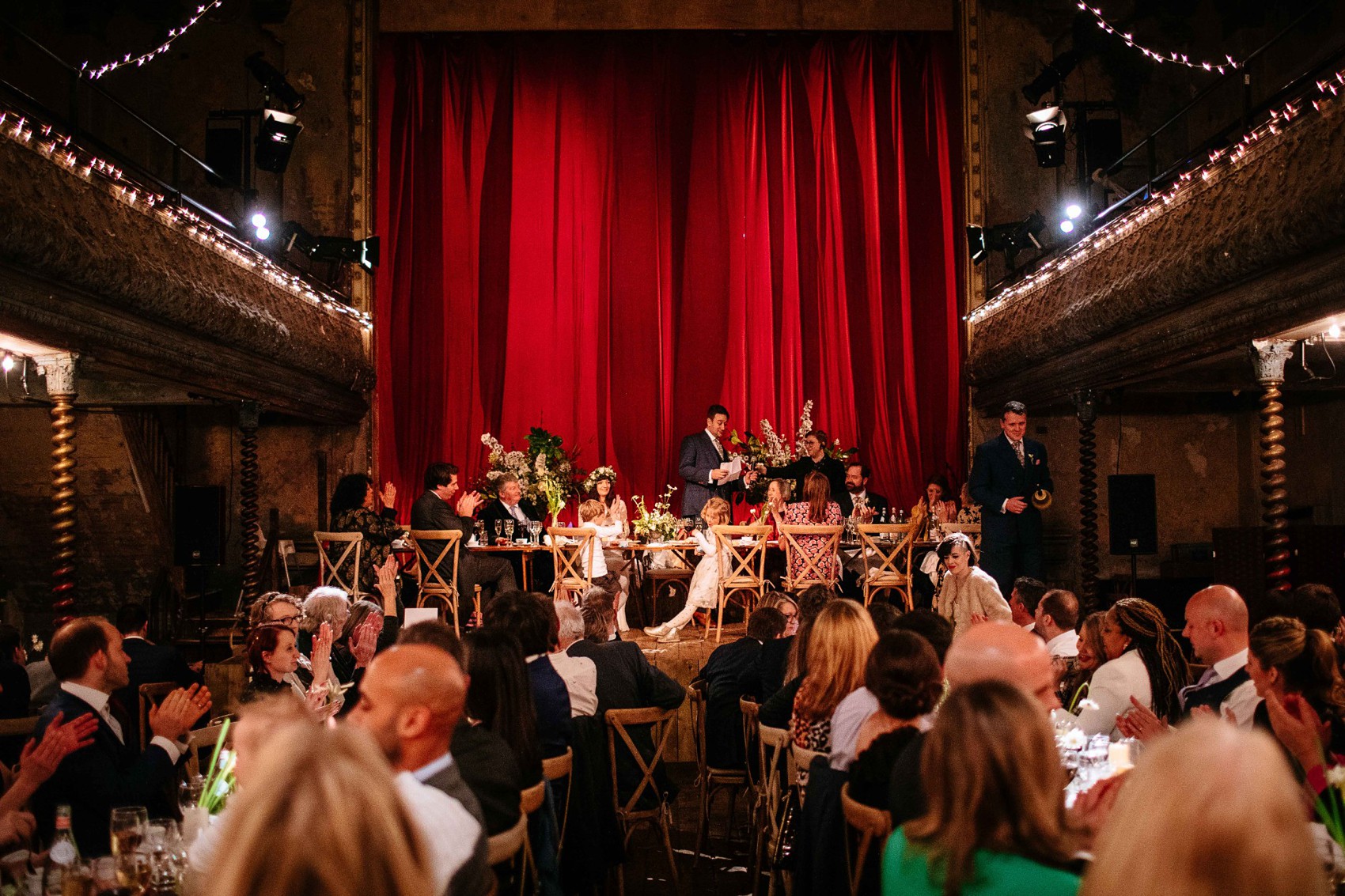 "I am not a massive cake fan. I love eclairs, and not just any eclairs. In fact long before I had met Stephen I knew I wanted Maitre Choux eclairs at my wedding, hundreds of them, so that is what we had! We needed something to cut so Fondant Fox created a gluten free cake (grooms mother is gluten intolerant) that was to die for."
The couple hired The Flo Collective to entertain guests in the evening;
"If you are planning a wedding you need to hire this band. Stephen booked them, I had no idea what to expect but they made our reception so completely brilliant, plus they learnt our slightly obscure first dance. We chose 'Postal Service, Such Great Heights for our first dance, because it was about the only song we both like!"
"The Flo Collective had us on the stage for 'Your Love is Lifting me higher', and 'We are family' – it felt amazing to see all our loved ones singing back at us.
Also Stephen arranged for the final song to be one that my siblings and I used to dance to – my brother, sister and I got up on the stage and danced. I felt so loved!"
Words of Wedded Wisdom
"When I met Kate at Wiltons she told me to pick supplier who I got along with. I followed her advice. In fact I loved everyone who we worked with and it made such a difference. You are going to be in contact with these people a hell of a lot and at times emotions will run high. There are lots of very talented people out there, choose to work with the ones you click with."
"I would have worried less about whether or not I was upsetting someone or other. The truth is that you can't please everyone in life and on your wedding day you get permission to be a bit selfish."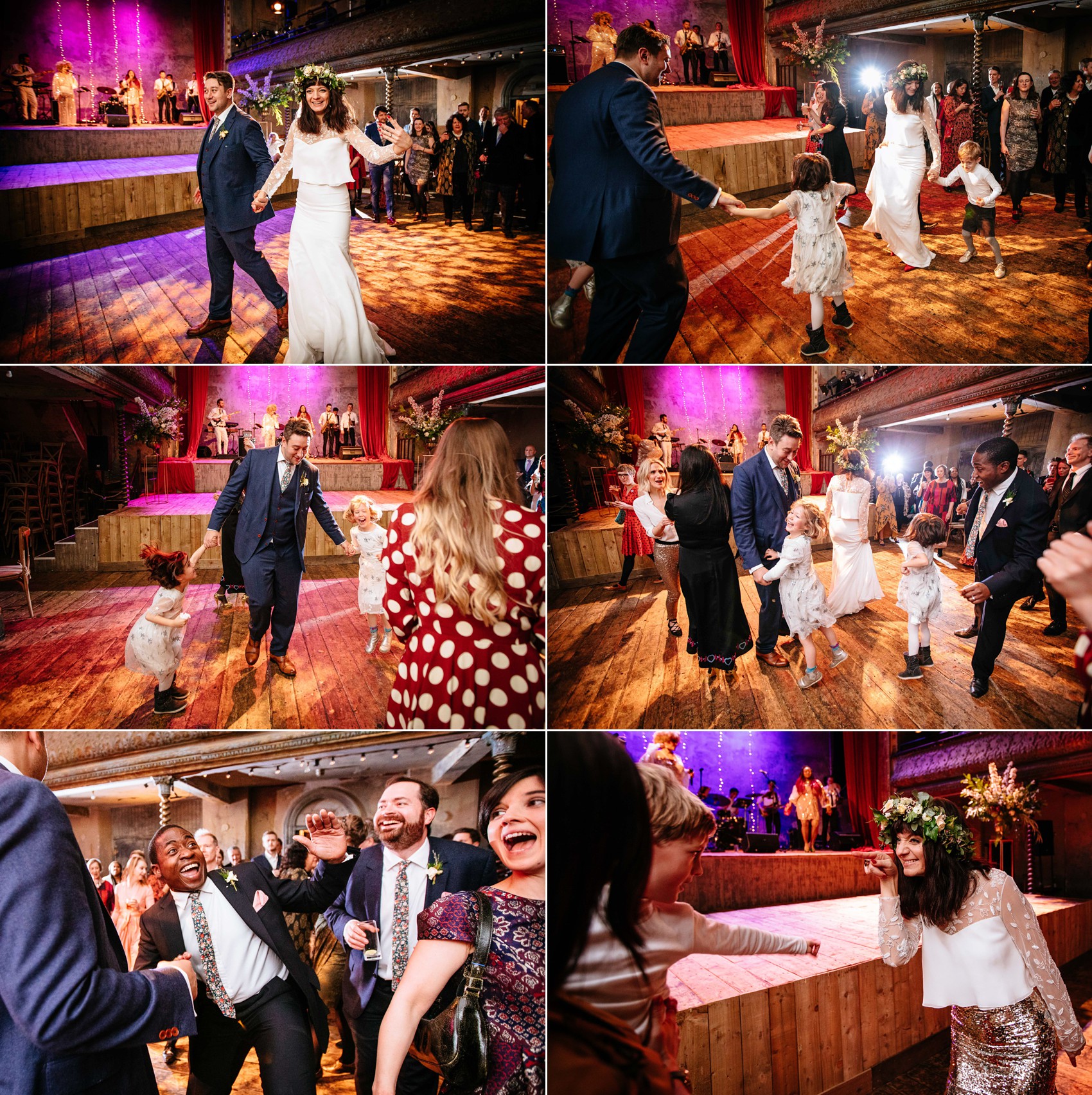 Utterly gorgeous – thank you so much Bella and Stephen for allowing us to share your beautiful wedding day.
Love Annabel x