New Year is a time for new beginnings, and what better way to start a new year other than waking up married? That's exactly what today's couple, Catherine and Simon, did as they chose 31 December to bring their friends and family together to see them wed in Wales.
The bride and groom are Catherine, an account director at a marketing agency and Simon, a management consultant, whose church wedding was followed by a marquee reception in the bride's parents' garden in Newport in Pembrokeshire, Wales.
Photography Angharad Thomas Photography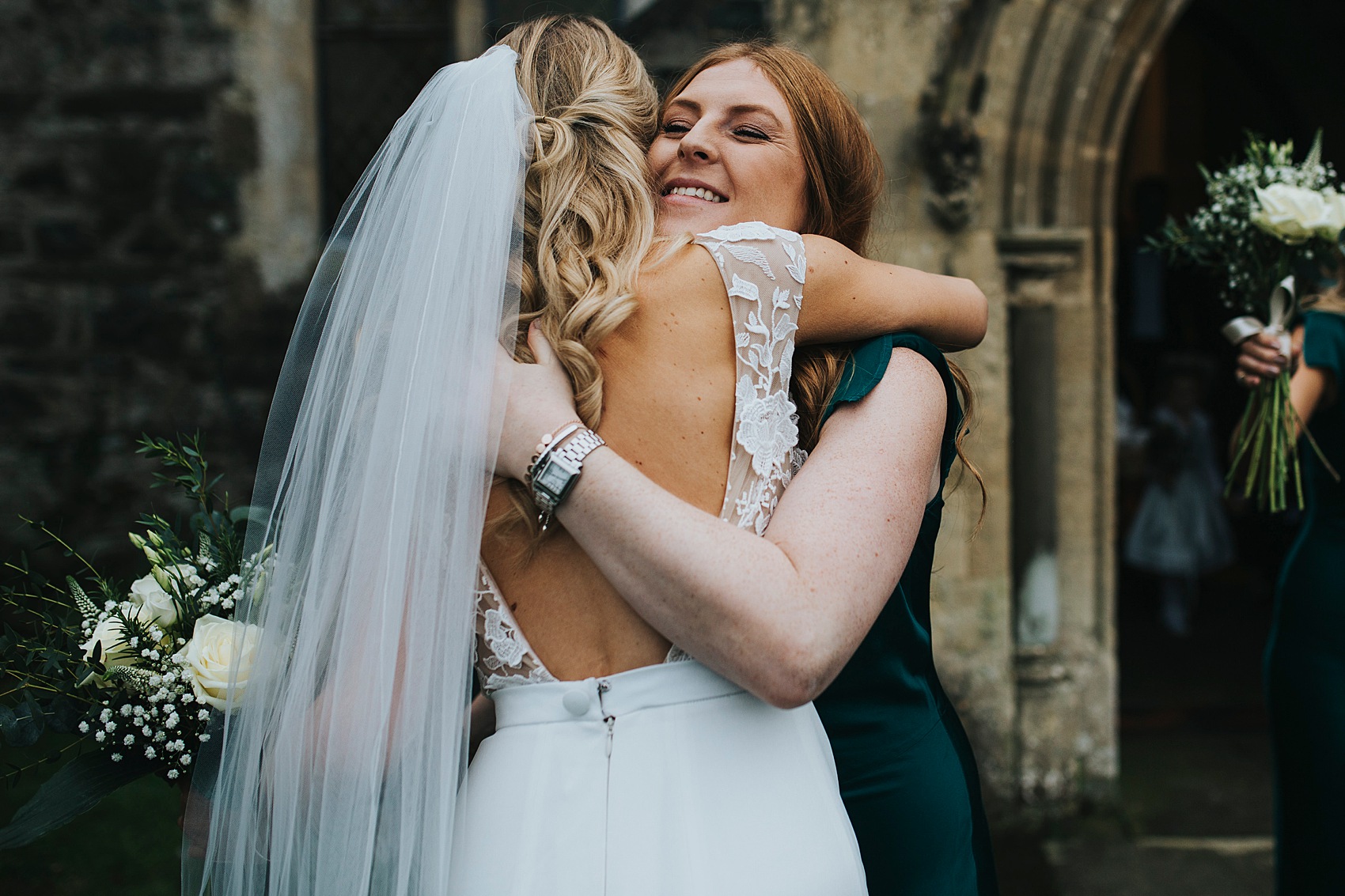 With a festive, wintery vibe at its heart, the couple planned a day that was boho and natural but still elegant and glamorous; made even more so by its black tie dress code, masses of greenery and magical fairy lights.
"We loved the idea of a festive, wintery wedding. As it was New Year's Eve we had a black tie dress code with a masked ball theme, which meant everyone was super dressed up, which was so much fun."
Catherine looks sensational in her contemporary, modern 'Sewell' gown from Rime Arodaky, a wonderful combination of a flowing, button-down skirt and a glamorous lace bodice. She bought it at Notting Hill boutique The Mews Bridal.
"I tried on a lot of dresses in other shops and felt that they were too traditional and fussy for me. When I went to The Mews I fell in love with the relaxed yet sophisticated style of all of their dresses. The Rime Arodaky dress was actually the first one I tried on in the shop."
Underpinning the festive feel was the rich, jewel-like hue of deep green, seen in the bridesmaids' gowns and the men's cummerbunds. They marry perfectly with the abundance of natural foliage and white blooms, styled by Emma Powell Flowers.
"We wanted a lot of greenery with some white flowers to bring it all together. Ness and her team created a floral frame to sit over the dance floor which looked perfect! We had Christmas trees to keep the festive feel."
To wear with their sophisticated Ghost gowns, Catherine gifted her bridesmaids cute bracelets.
"I bought them each a bracelet from Missoma with a star on it (my family name is Starr)."
Catherine chose to wear her usual, favourite perfume by Chloé, and wore her long, blonde hair down in glossy waves, styled by MB Hair & Make-up. Her polished make-up was applied by Nia at Delwedd Beauty Salon.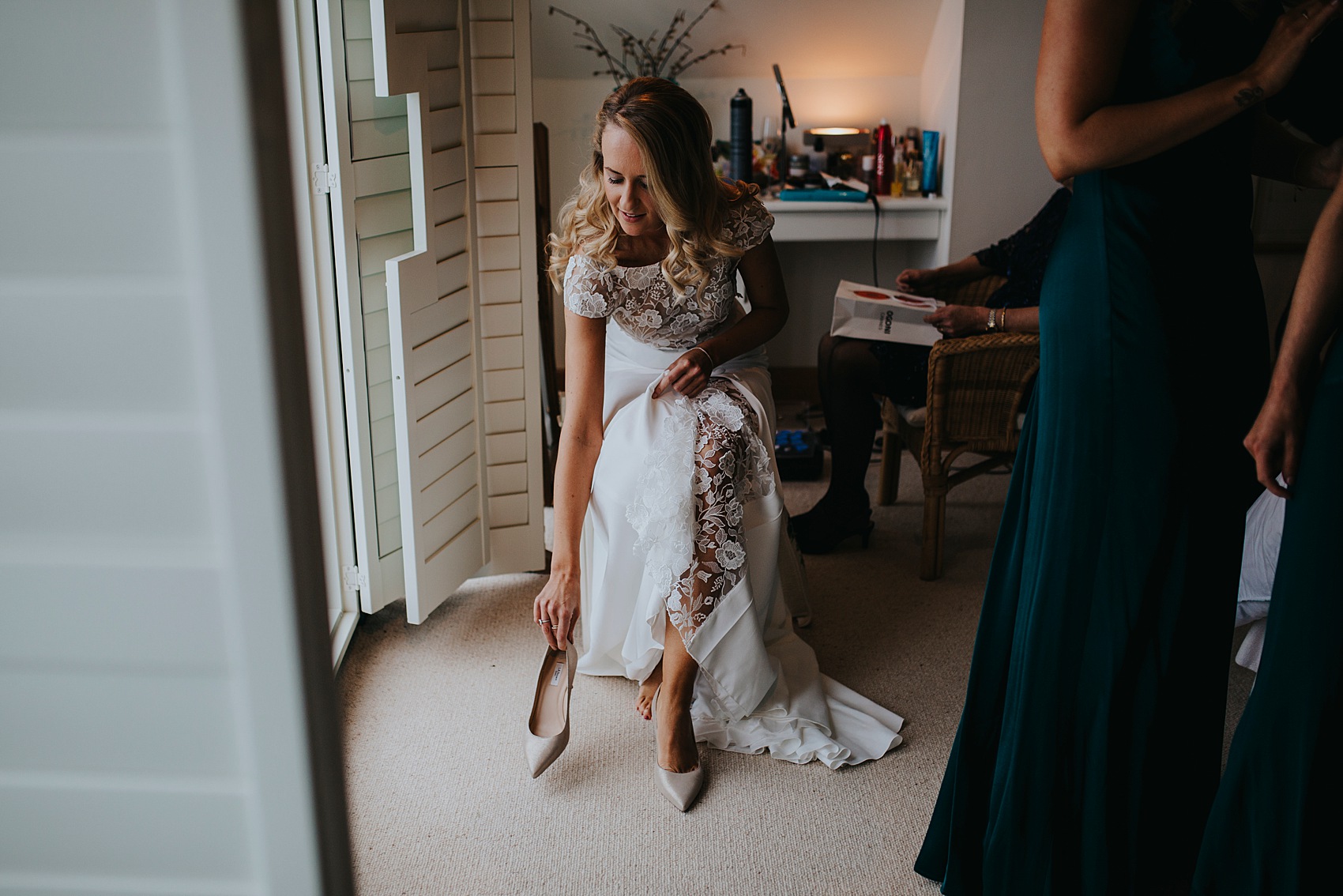 The bride wore a flowing veil, bought at I Do! I Do! in Amsterdam and pale gold heels from L.K.Bennett. Her contemporary two-toned earrings were from Alighieri and she wore a thoughtful wedding present from Simon.
"I saw my earrings on Instagram and fell in love with them. They so beautiful and modern. The day before the wedding Simon gave me a lovely diamond bracelet from Monica Vinader that I wore – it complemented my engagement ring perfectly."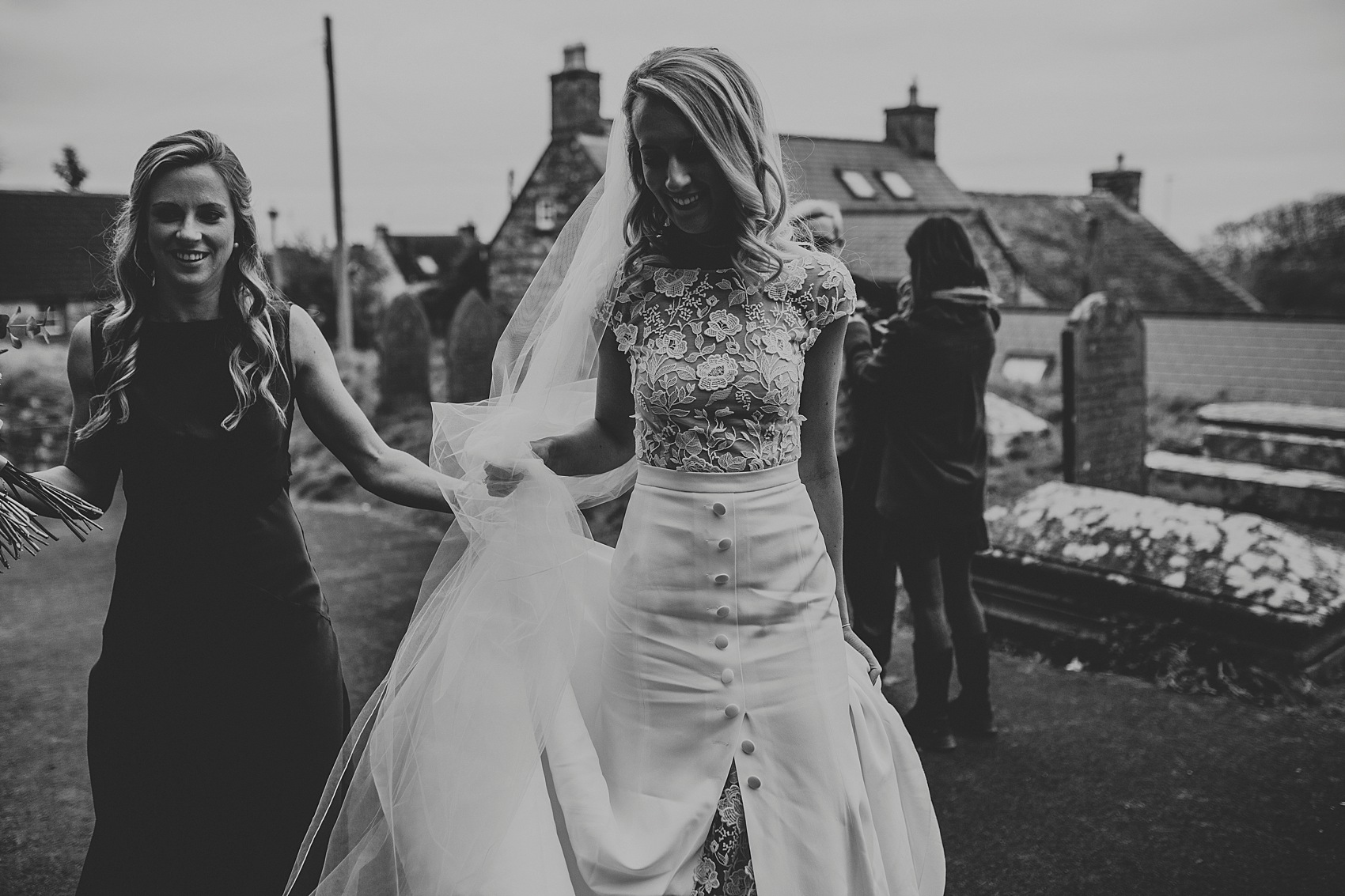 Growing up, Catherine spent many happy summers at her parents' home in Wales. Although she and Simon now live in Amsterdam, choosing to marry back in Pembrokeshire was a clear choice.
"My parents own a house there and I grew up spending all of my school holidays there, so it's really special to me. I always knew that I wanted to get married in Wales as it's such a beautiful part of the world."
Simon and Catherine met through a mutual friend, hitting it off over a disastrous dinner – for the rest of the party.
"We met one evening at a dinner where we bonded over being the only ones that didn't get food poisoning from the oysters! We were engaged in Lisbon in a beautiful hotel on a hill overlooking the city and were engaged for just over a year before we got married."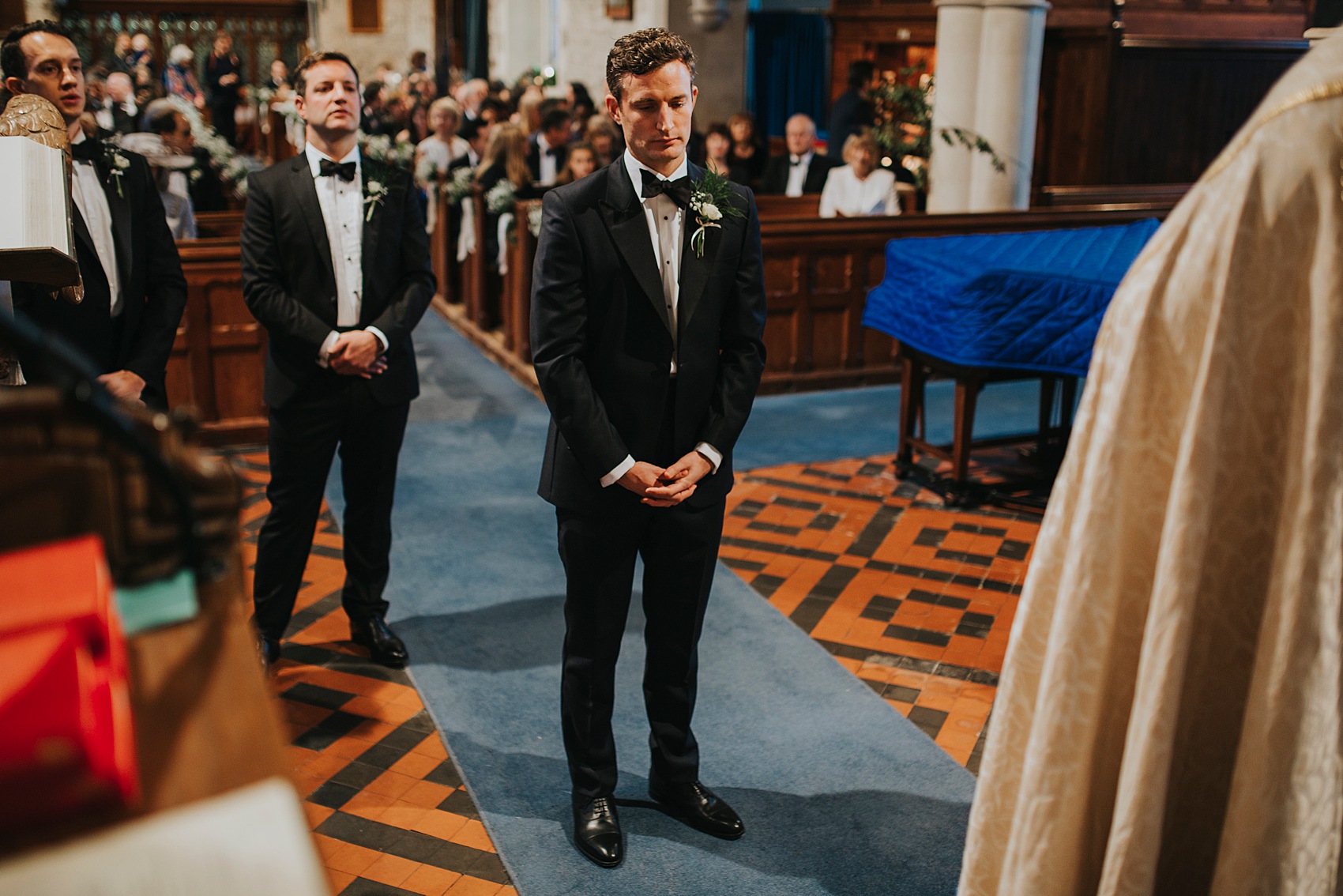 Come ceremony time, Catherine entered the family church with her father as the church organ played. The service was led by Reverend Neil Llewellyn and made personal to the couple by their lovely choice of readings.
"Our mutual friend wrote a poem – a take on 'The Owl And The Pussycat' – 'The Si And The Starry Cat'. There wasn't a dry eye in the house! My brother read an extract from 'Wild Awake' by Hilary Smith which starts with "People are like cities". We thought that represented our relationship really well. Simon's uncle read Corinthians – a beautiful reading on love."
"We were both surprised at how special the service was, and how much the tradition and beauty of having everyone together meant to us. I know a lot of times it seems like weddings are all about the party but the service was my favourite part of the day as it was so sacred and lovely."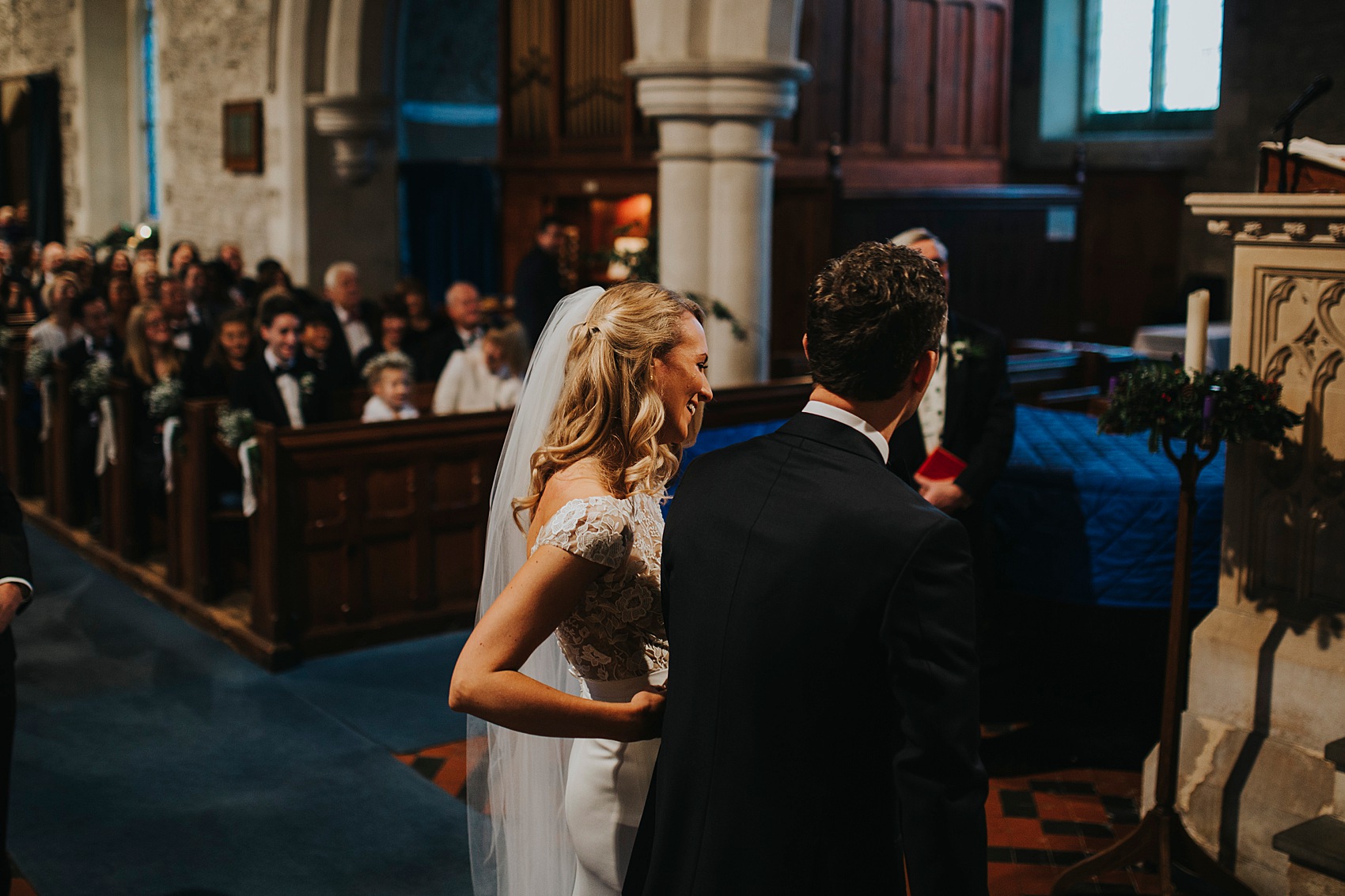 The couple exchanged rings brought over from Gassan, a jeweller in their home city of Amsterdam.
"My ring was a plain, rose gold band. I love rose gold and it complemented my diamond engagement ring perfectly. Simon's ring is white gold with rose gold running along the inside. We like that we both have the same colour theme for our rings. He actually forgot his wedding ring on the day and had to borrow his brother's!"
The day was recorded in these wonderfully modern, reportage-style photos from Angharad Thomas Photography.
"She was great, very relaxed and easy to work with. We loved her style as it was super-natural and we have such beautiful photos to treasure for life."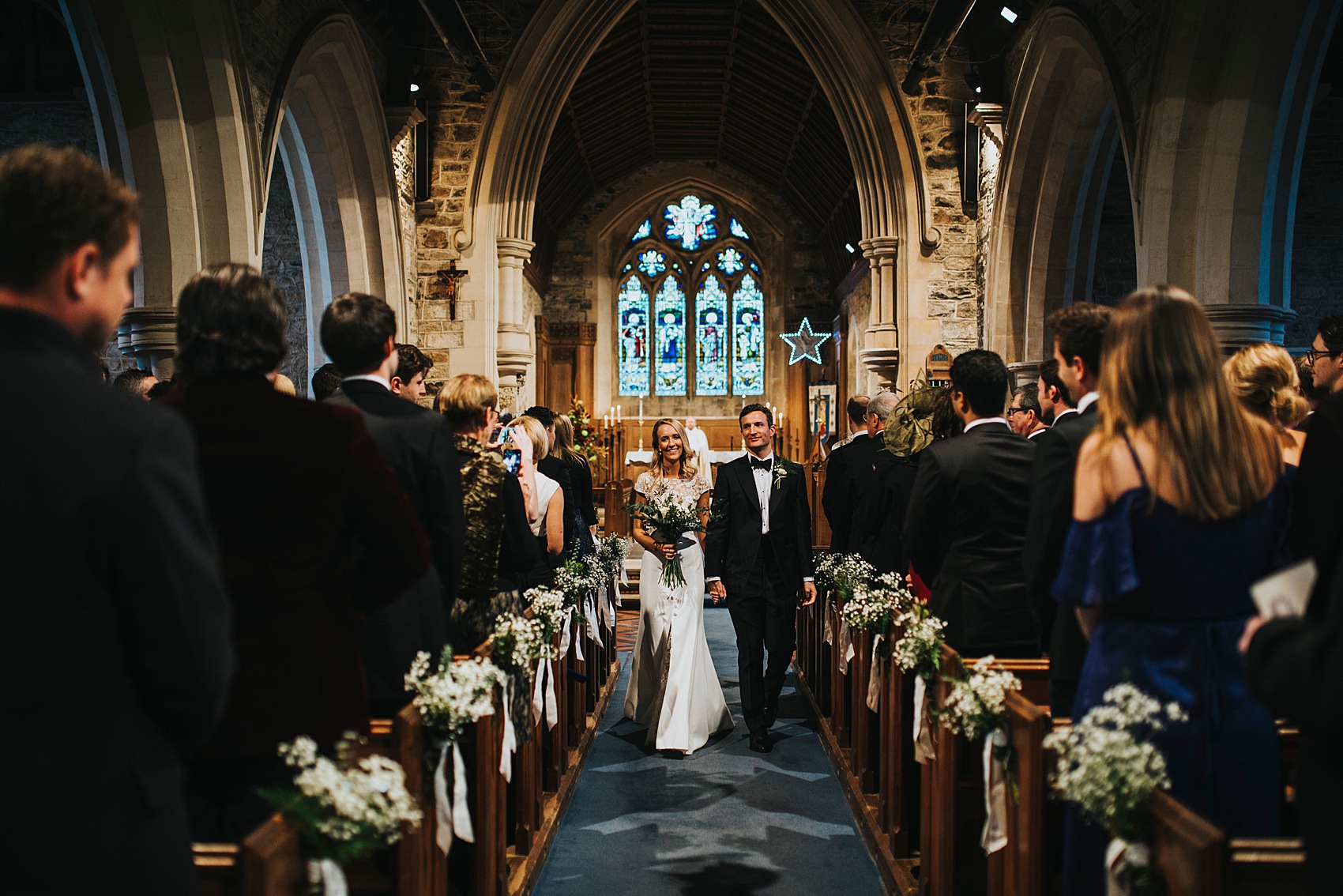 Simon's fitted tux was from Gieves & Hawkes and he wore it with Barker shoes.
"I bought Simon engraved cufflinks from Links of London to remember the day."
The best man and groomsmen were in matching suits, too.
"They all wore a tux with green cummerbunds and black bowties. Simon also gave them matching socks."
After the ceremony, the newly-weds spent some precious moments together driving to the masked ball reception in a borrowed Jaguar.
"We got coaches to transport guests from the church to the reception venue."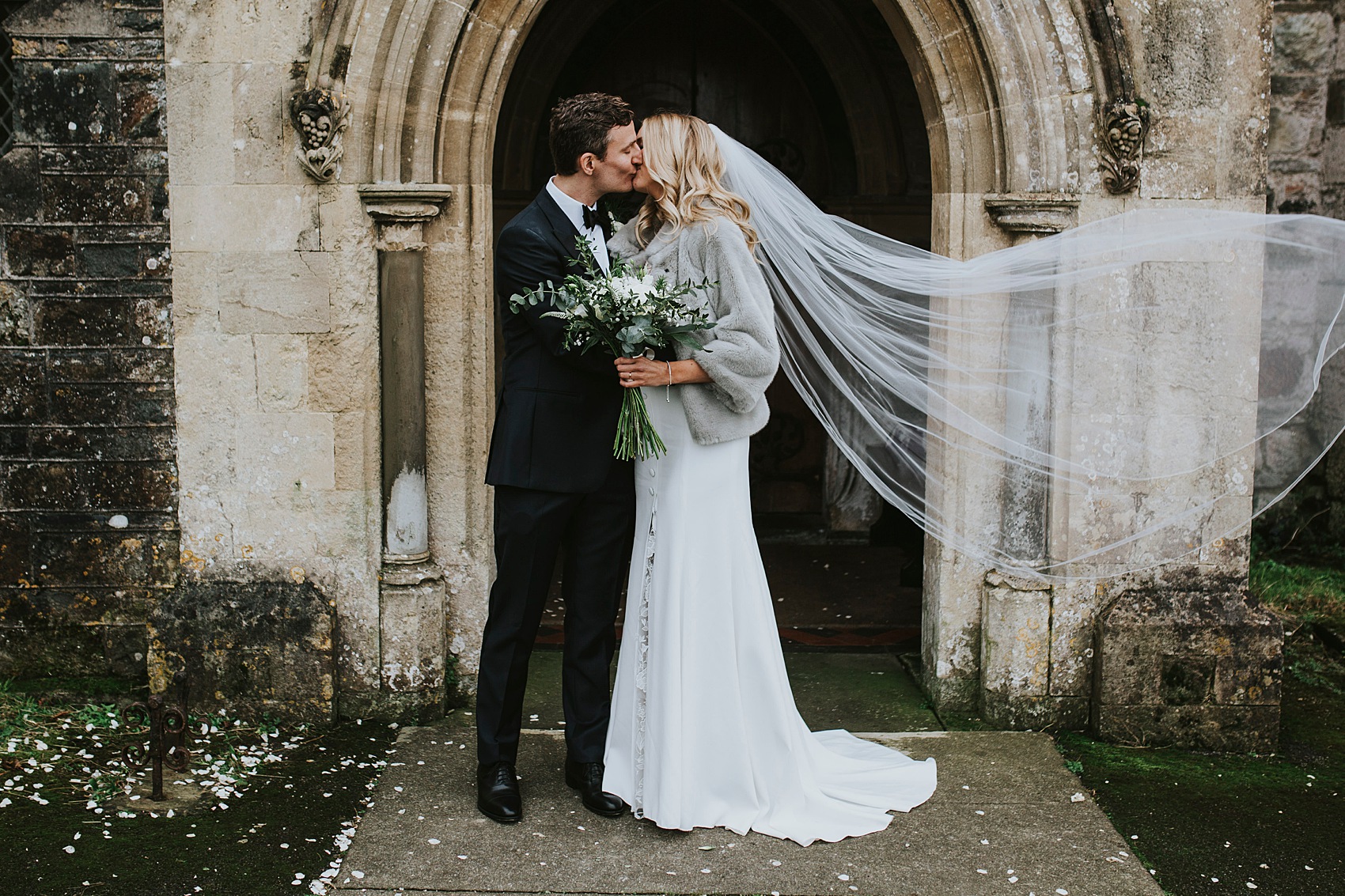 The marquee looked so festive with its festoon lighting, masses of greenery and magical candles. The wedding breakfast was supplied by The Creative Catering Co. and the guests were treated to bride and groom cocktails too – margaritas and negronis. They were also gifted a bottle of festive sloe gin from Sipsmith.
The elegant tone was set with a stationery suite from Papier.
"A lot of the stationery was provided by Papier. It's such an easy website and the designs are beautiful."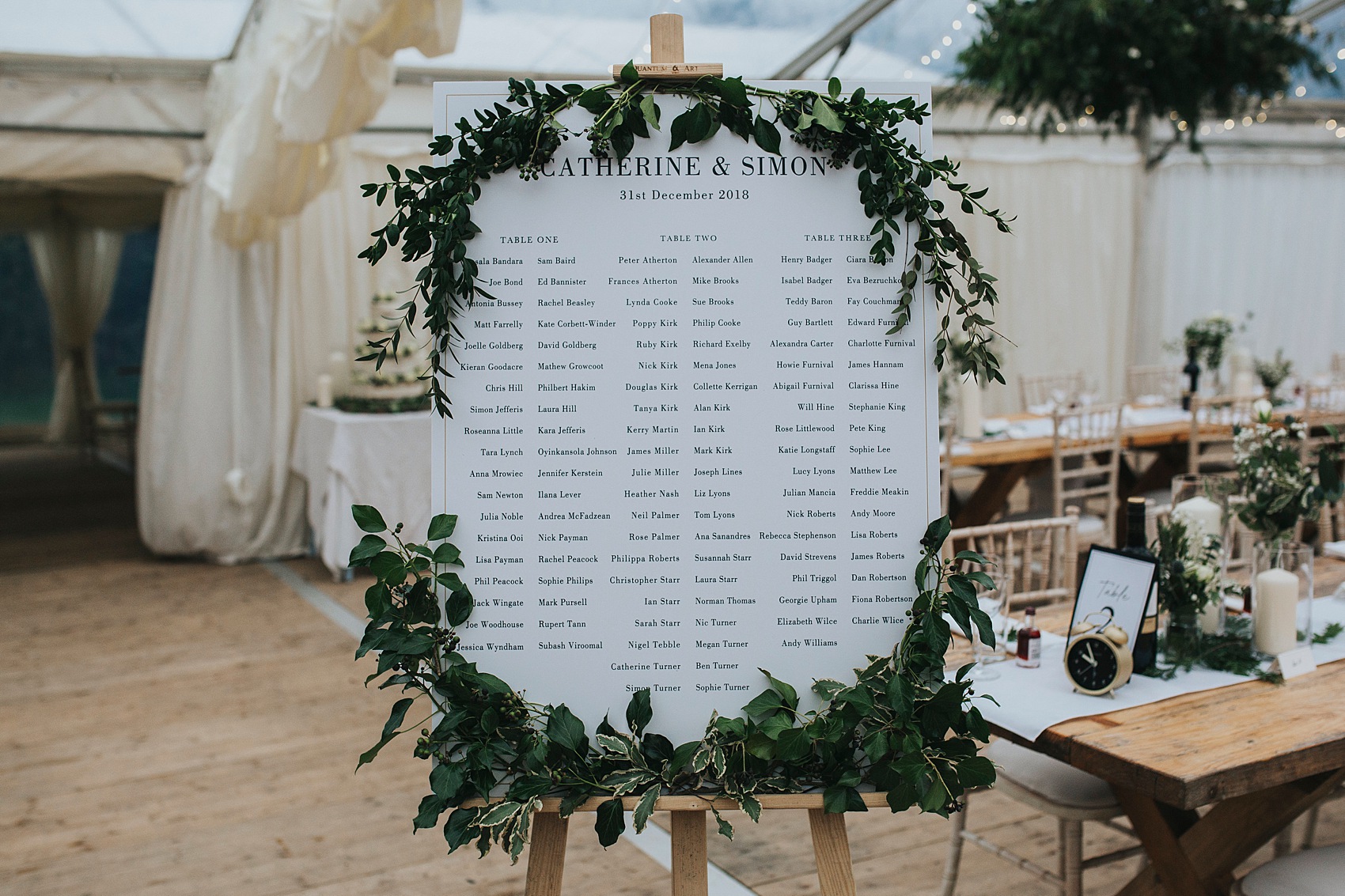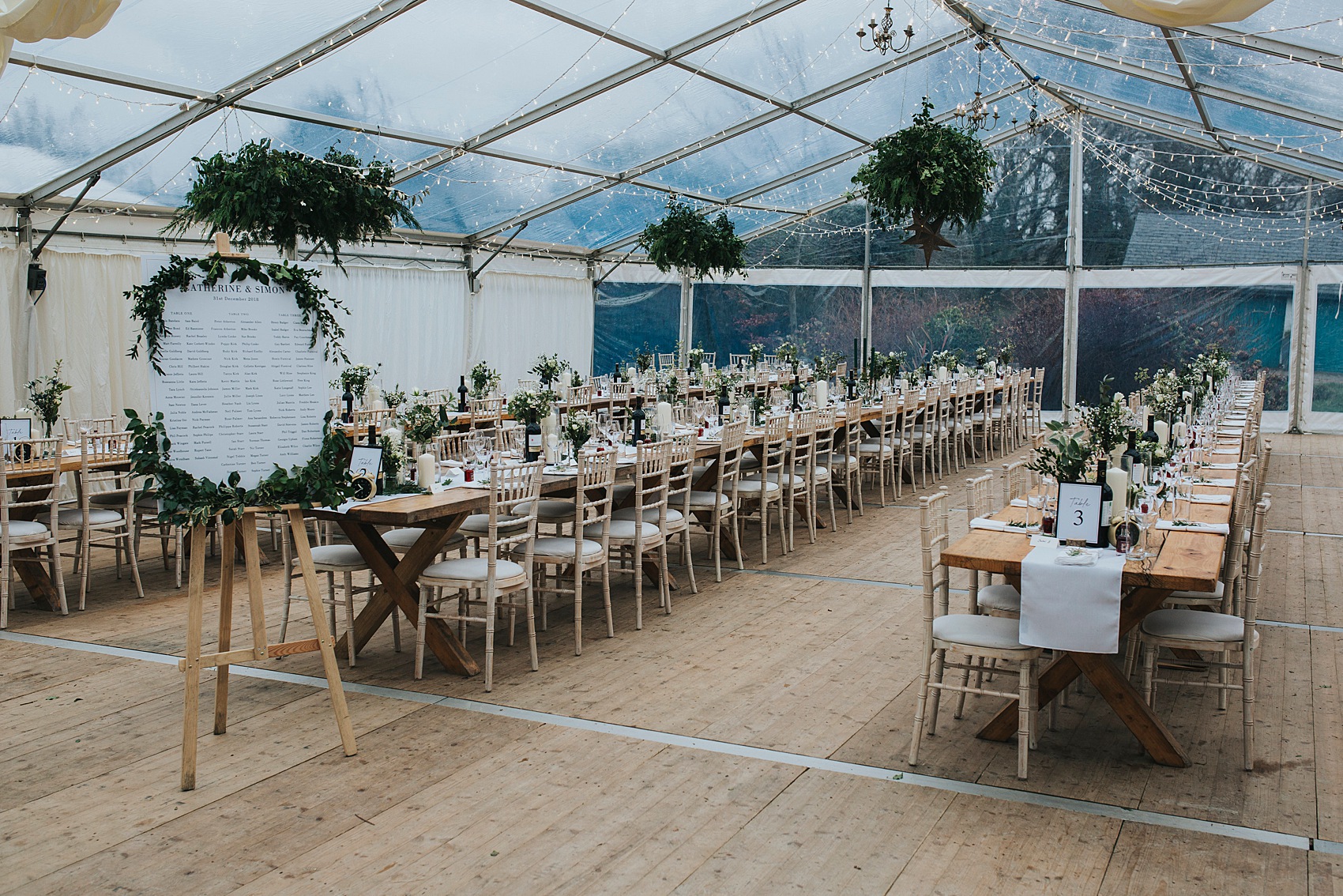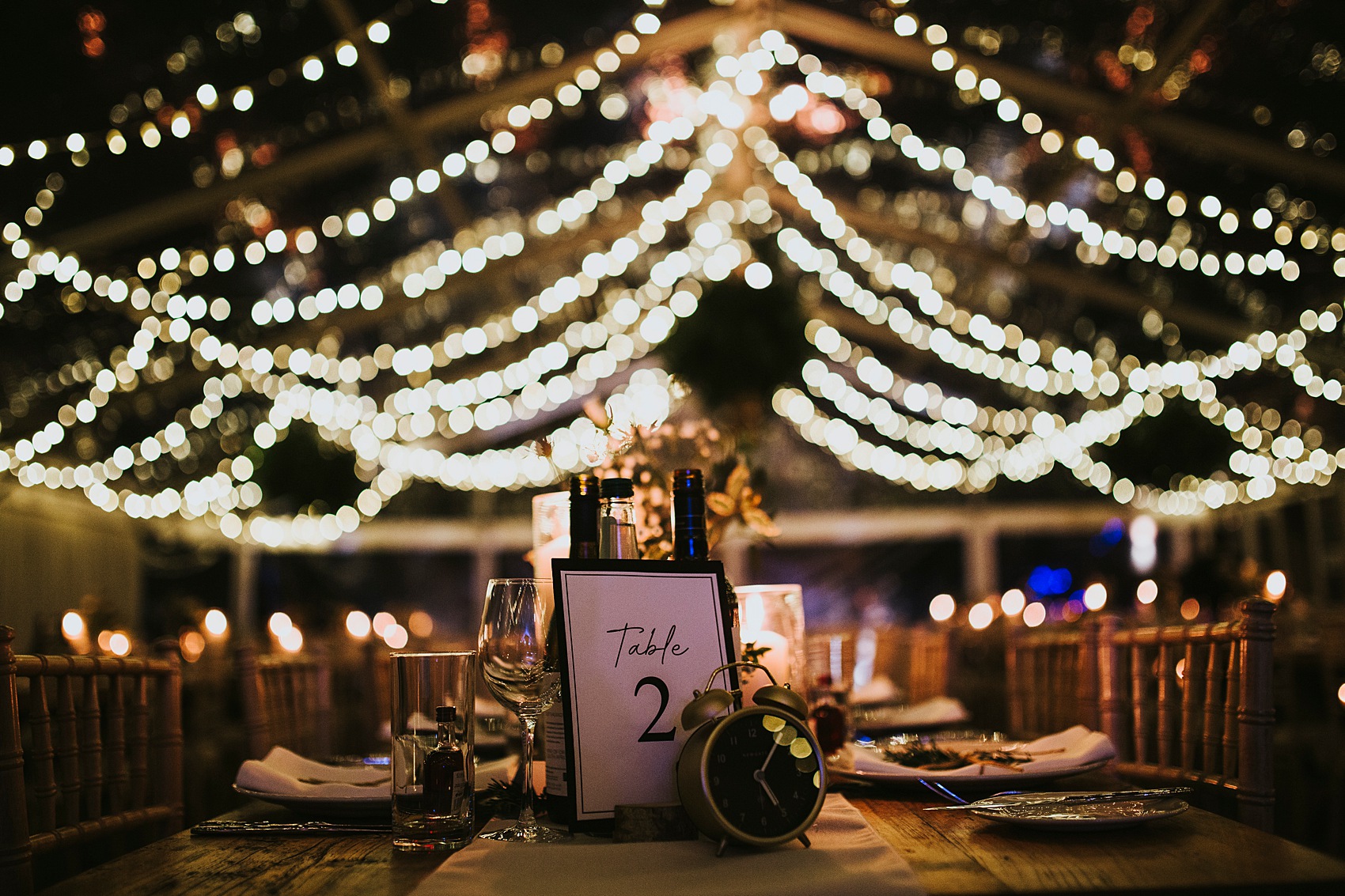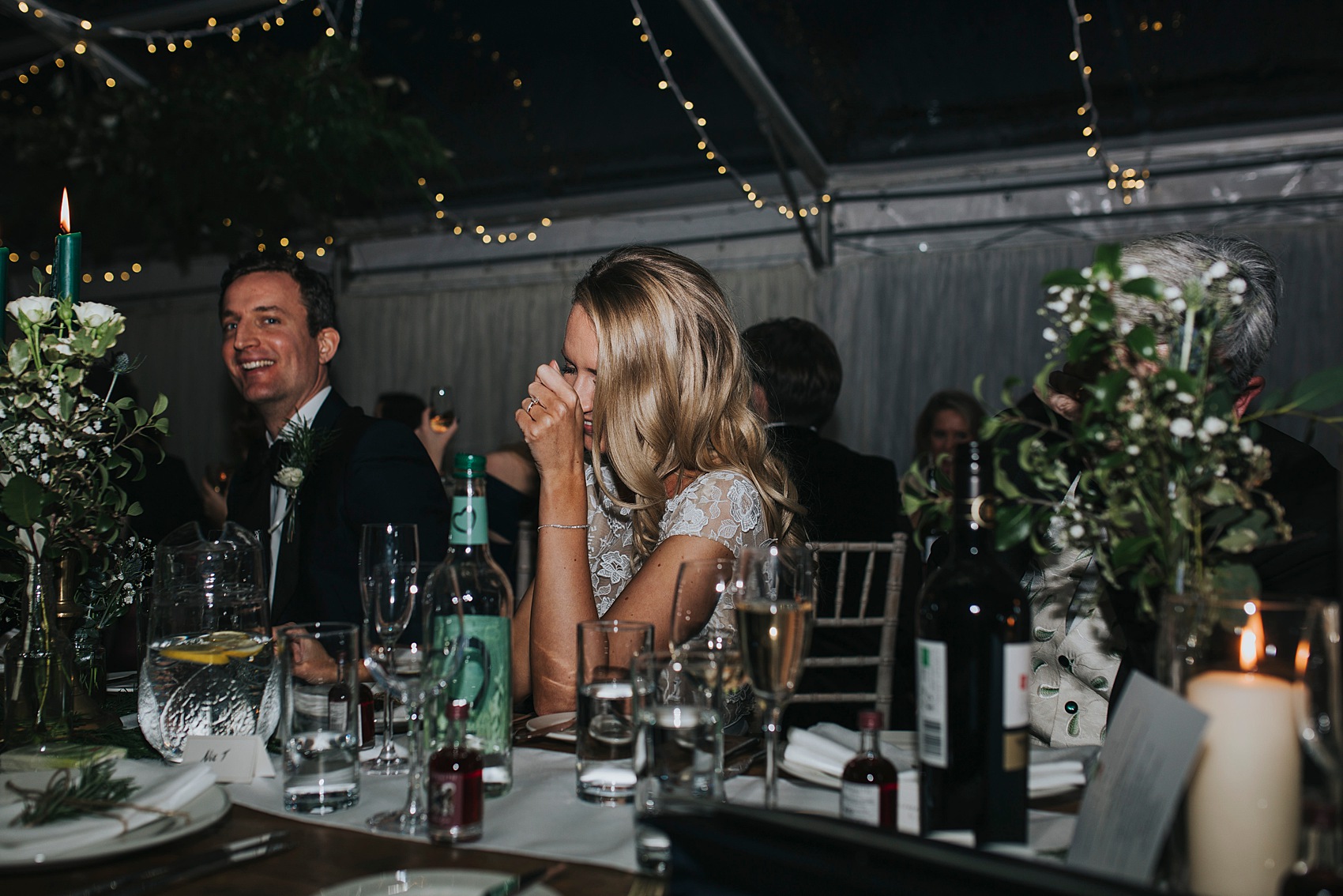 The couple worked with Ness of Together Ness to bring together their festive celebration.
"Ness was amazing! We couldn't have pulled it off without her. We had festoon lighting all outside the marquee as it got dark very early. Most of the décor was through flowers and greenery and Christmas trees with fairy lights. We also had a lot of candles which really added to the romantic, festive feel that we wanted."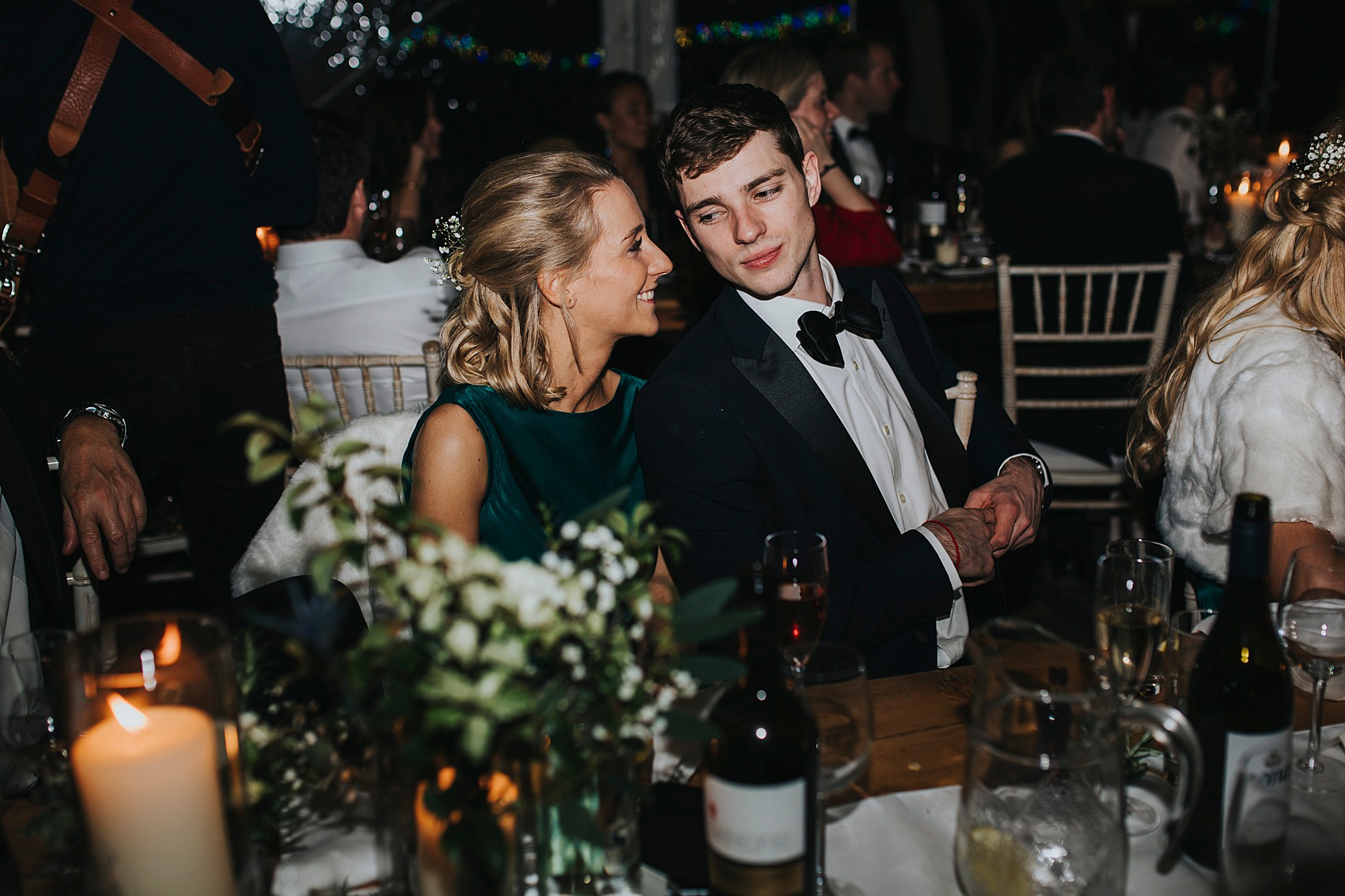 "My sister made the cake as our wedding gift. It took her around a month and was the best wedding gift we could have asked for. She made a naked cake and added the flowers that we used throughout and it looked stunning."
"Flo Collective were the most incredible band, so good that one of our neighbours that didn't attend the wedding gave them a 5 star review on Google as they could hear the music from across the street. We put on a garage and R&B set after the band finished playing at midnight and all danced until the early hours! We had fireworks at midnight to bring in the new year."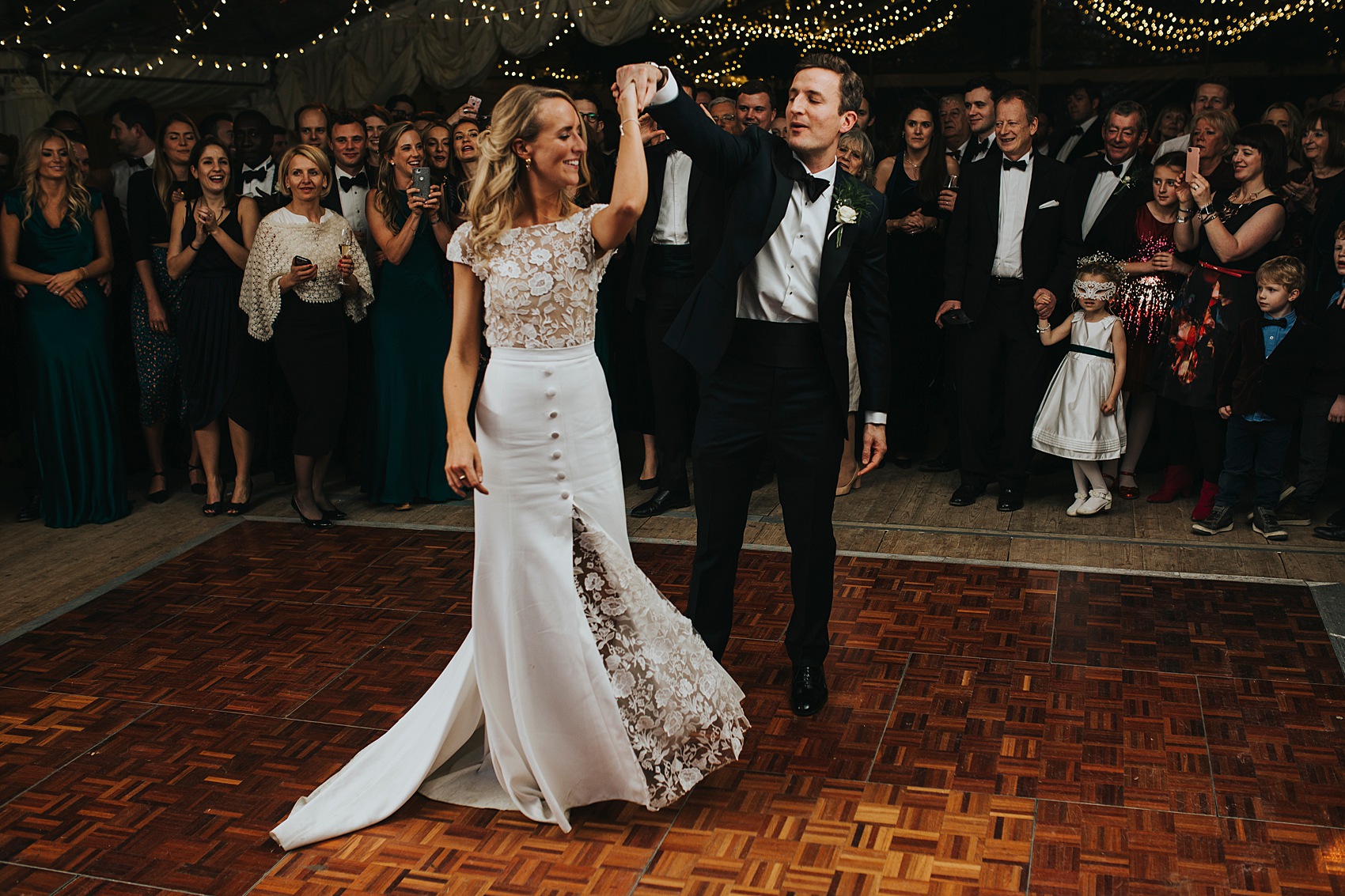 "Everyone could take home a mask (we bought a lot of masks from eBay!)."
For the evening reception, the couple threw an incredible New Year's Eve party, complete with masks, live soul music from Flo Collective and fireworks. Oh, and not forgetting the majestic cake which the bride's sister baked.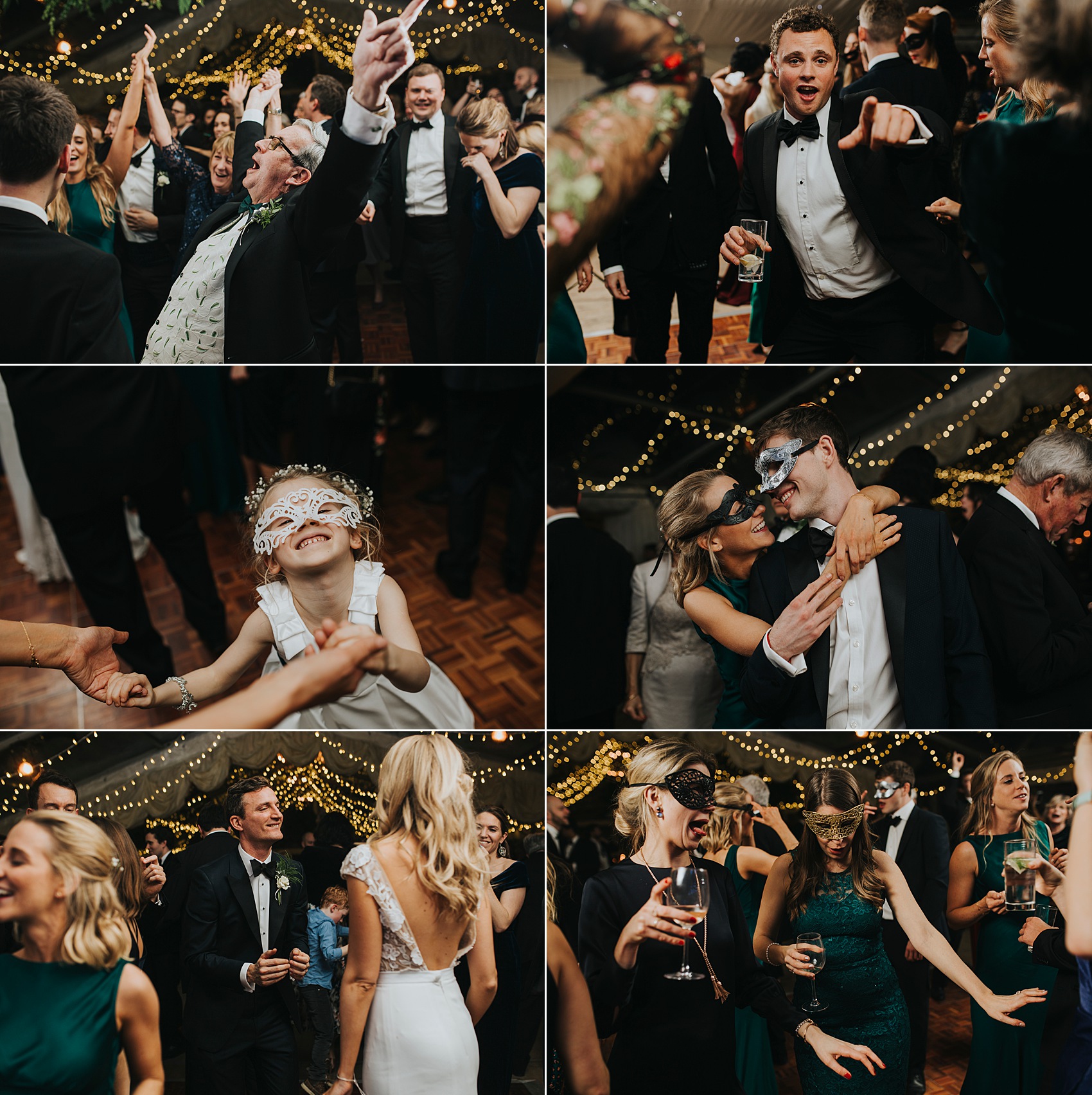 Words of Wedded Wisdom
"The day goes by so quickly just make sure you take everything in, and don't worry at all about everything being perfect. If something goes wrong either no one notices or that's what makes the wedding memorable!"
"Put some thought into the ceremony, as it is so sacred to you and your other half."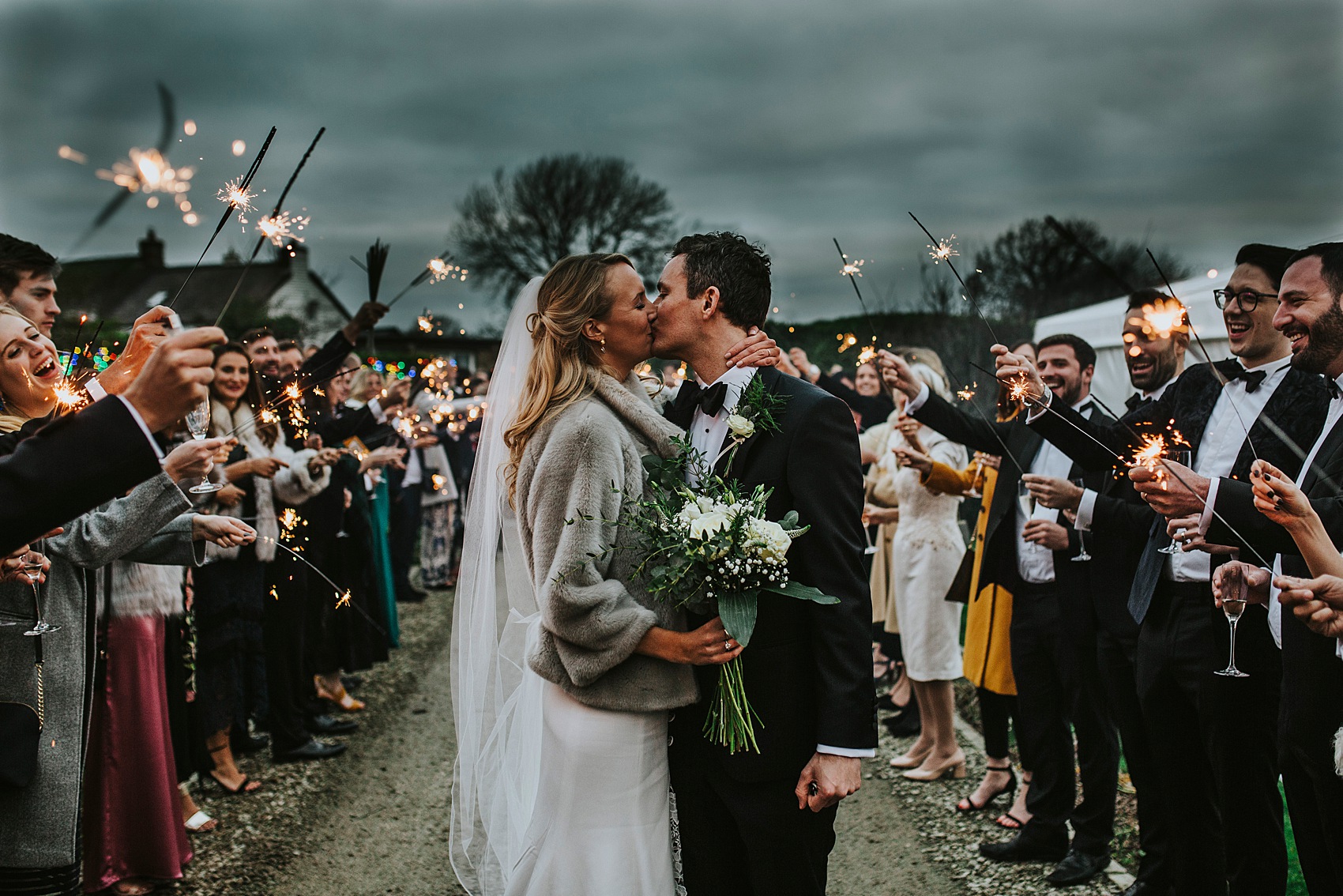 How wonderful to see in the New Year surrounded by your friends and family, and what a glamorous way to do it. I've loved sharing this magical celebration with you all, so please join me in thanking Catherine and Simon, and their photographer Angharad Thomas. I do hope that this has given you plenty of ideas for your own winter-time nuptials but if you want even more festive joy, take a look at our selection here.
Ele xx