If you're a fan of macramé, then you're going to love the wedding I have to share with you today. It's an Italian destination beauty; a day of relaxed fun in the sunshine, filled with gorgeous Tuscan food and wine, and beautifully crafted macramé adding cool, boho style.
Leanne, a solicitor, and Therapon, a GP, were married on the 30 June at the lovely Fattoria La Loggia, San Casciano in Tuscany, Italy. They first met at school when they were 16, and began dating after knowing each other for a week.
"We were together for 13 years before Therapon proposed. He got down on one knee on top of a mountain in Val d'Isere France. I didn't see it coming! He proposed with his grandmother's engagement ring, which was beautiful."
Images by Richard Skins Photography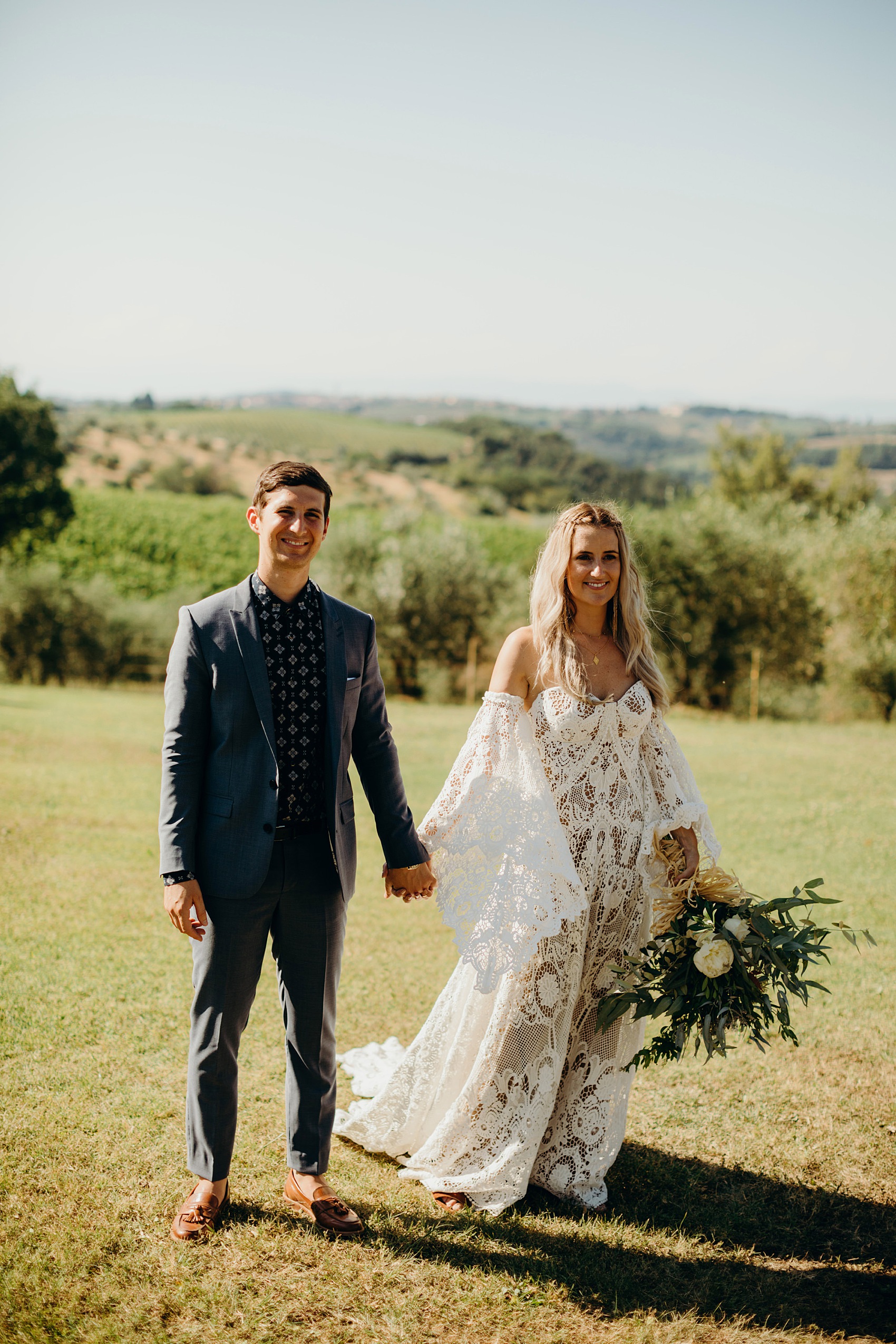 It's a pleasure to share more work on our pages by our fantastic Little Book member, Richard Skins, whose natural, documentary style of photography always captures the beauty and emotion of a couple's day – and is seen to brilliant effect in these images.
"We couldn't recommend Richard enough. My husband and I are hardly naturals in front of a camera, but Richard made photographing the whole day an absolute pleasure. Our guests loved him and the photos were just unbelievable."
"He really captured the whole feel of the day. Richard was also a very calming influence, and made a special effort in researching locations around the venue to take some breathtaking shots. We don't get tired of looking through the photos and smiling at just how happy everybody looks."
Talented loved ones were on hand to groom Leanne to perfection, with her lovely braided hair by sister-in-law Metaxoulla, and friend Sarah taking care of gorgeous, glowing make-up.
On her feet, Leanne wore brown suede sandals from Free People, and as her wedding day perfume, Chanel Chance.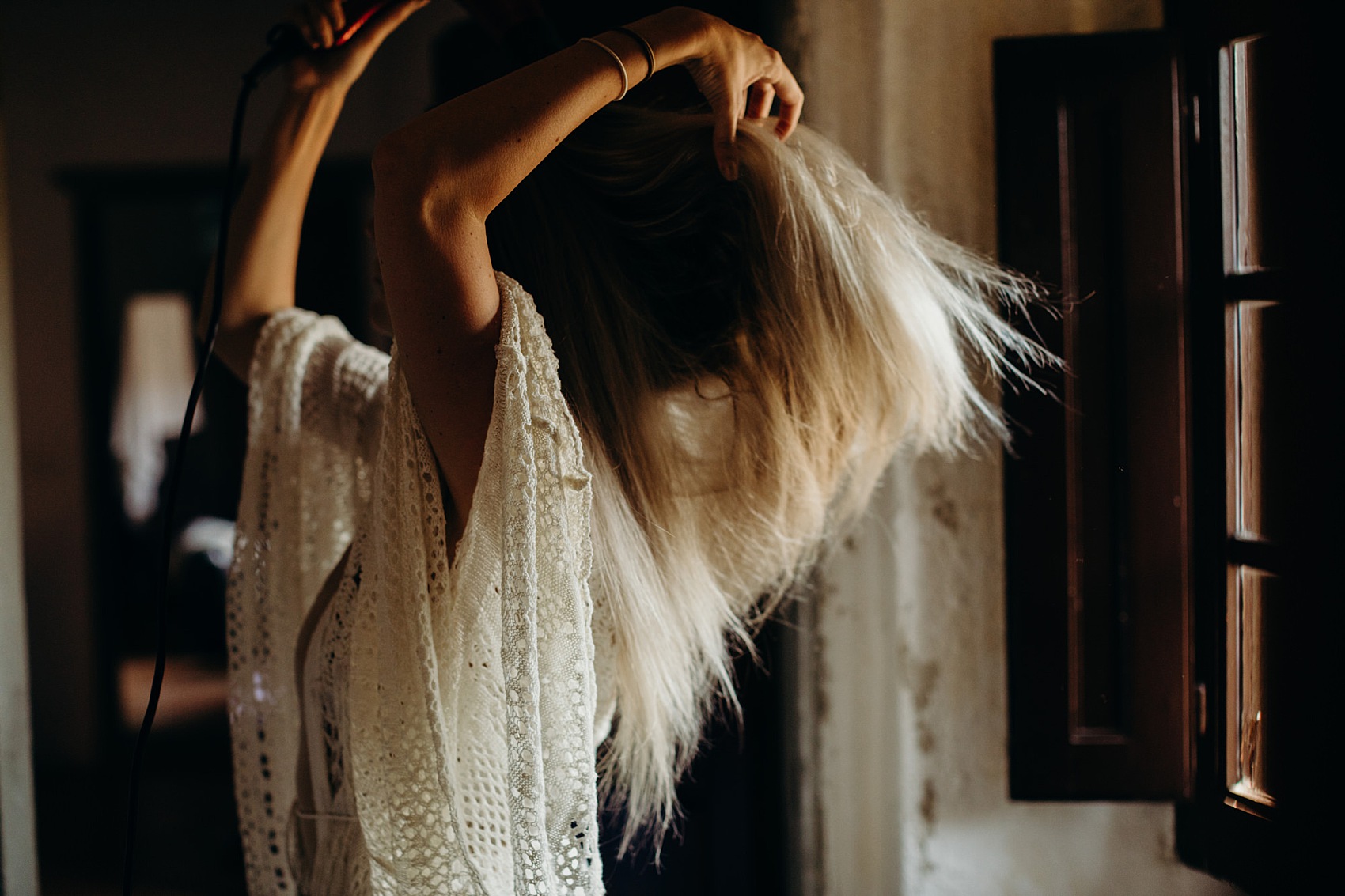 To finish off her look, Leanne added lots of lovely jewellery; delicate gold necklaces and rings by Carrie Elizabeth, small hoop earrings by Seol + Gold paired with long gold earrings by Free People, rings from Seol + Gold, and custom-made gold midi rings by Steven Charles Quance.
Leanne had a great experience at boutique The Wedding Club in Birmingham, and it's here that she discovered her incredible, 1970s style boho crochet dress by Rue de Seine. How amazing does she look? I love the sweetheart neckline and tapered, off-the-shoulder sleeves.
"I wanted something relaxed with a bohemian feel. I am certainly not a princess dress kind of girl. I also wanted something a little bit different and unique, but also something that would work with the venue and the hot weather. Rue de Seine make beautiful dresses, and I fell in love with the designer instantly. It helps that it was also super comfortable!"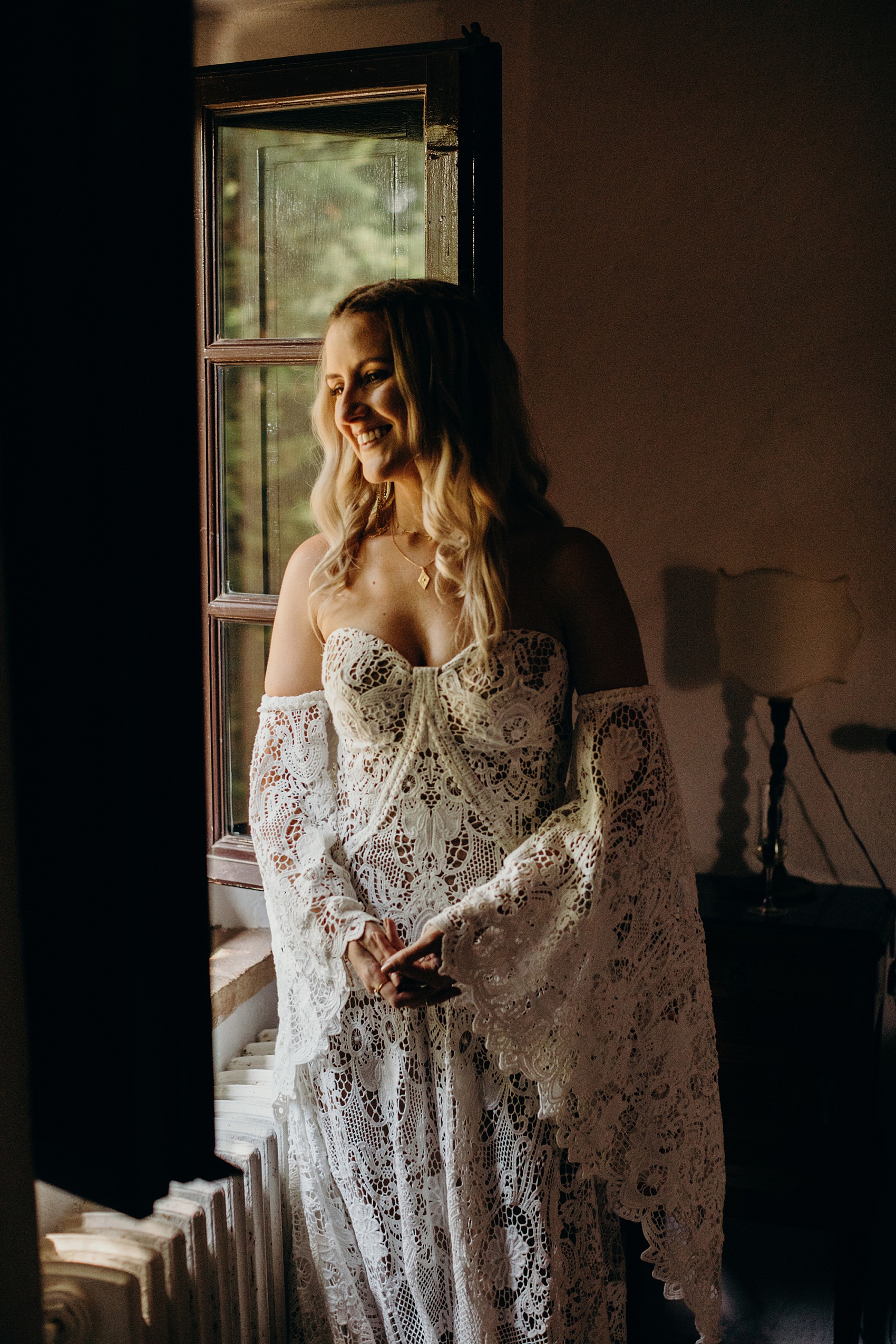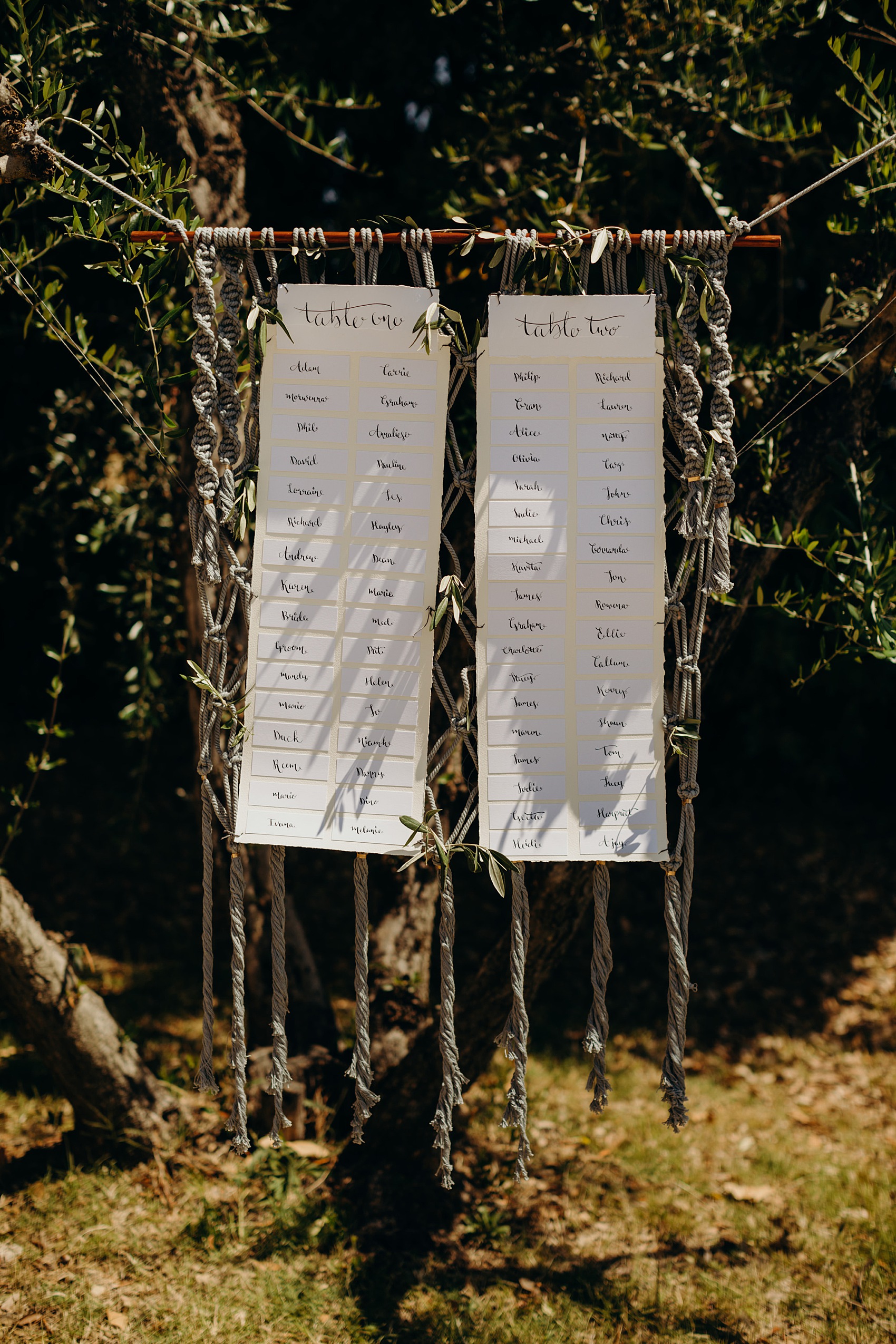 Therapon found his smart grey suit at The Kooples, which he wore with a fantastic printed shirt, shoes from Russell & Bromley, and a vintage Omega watch, passed down from his grandad.
"Therapon's father, Mario, was his Best Man. They have a very close bond, and we couldn't have been happier to have him by Therapon's side on the day."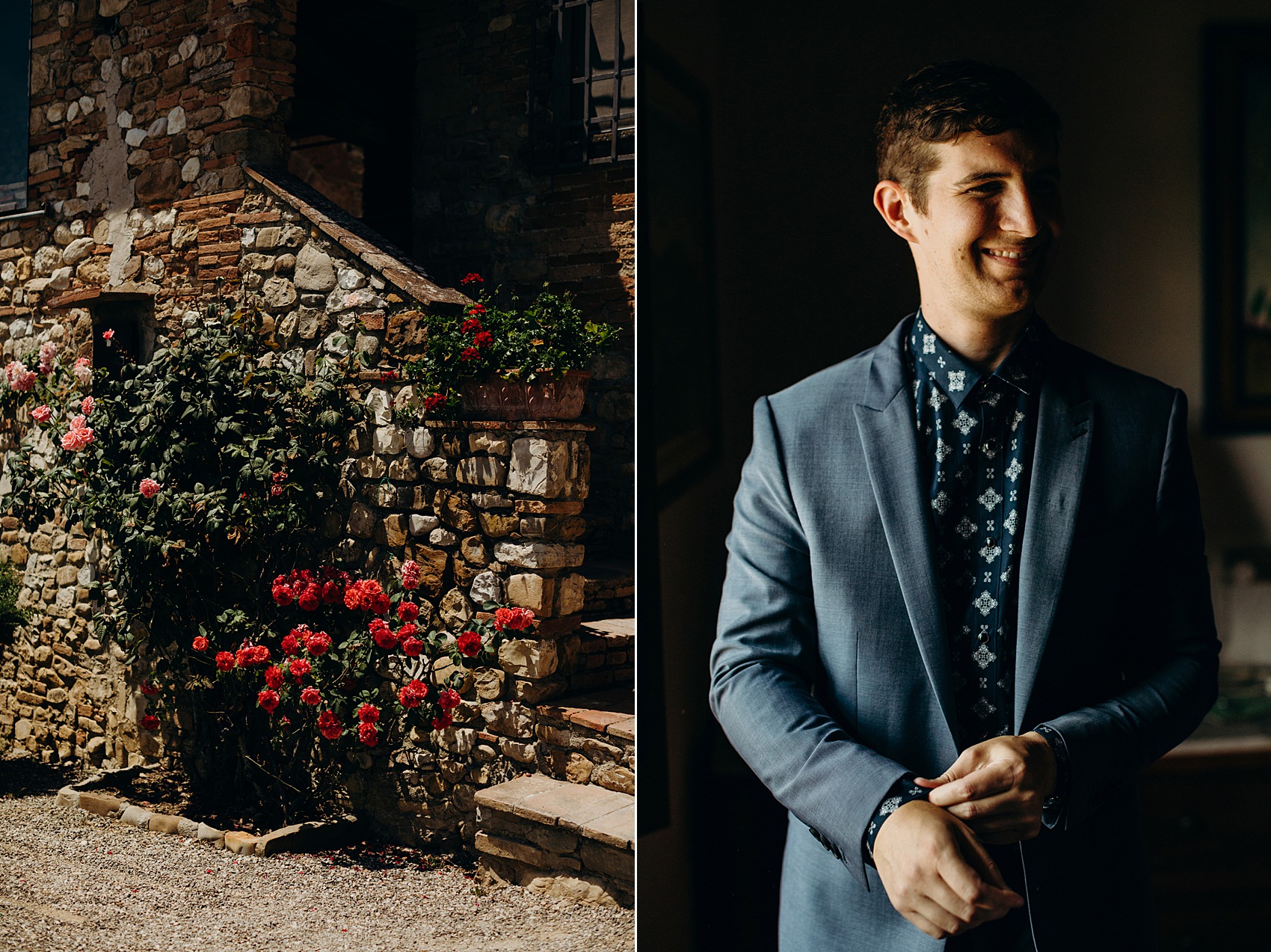 On flowergirl and page boy duty were Olivia and Kallan (Kallan, what a fantastic name you have!), and Olivia wore a lovely white broderie anglaise dress (off-the-shoulder, to mirror Leanne's) from Abercrombie & Fitch. Kallan wore a pair of chino shorts with a white shirt, braces and bow tie by Ralph Lauren.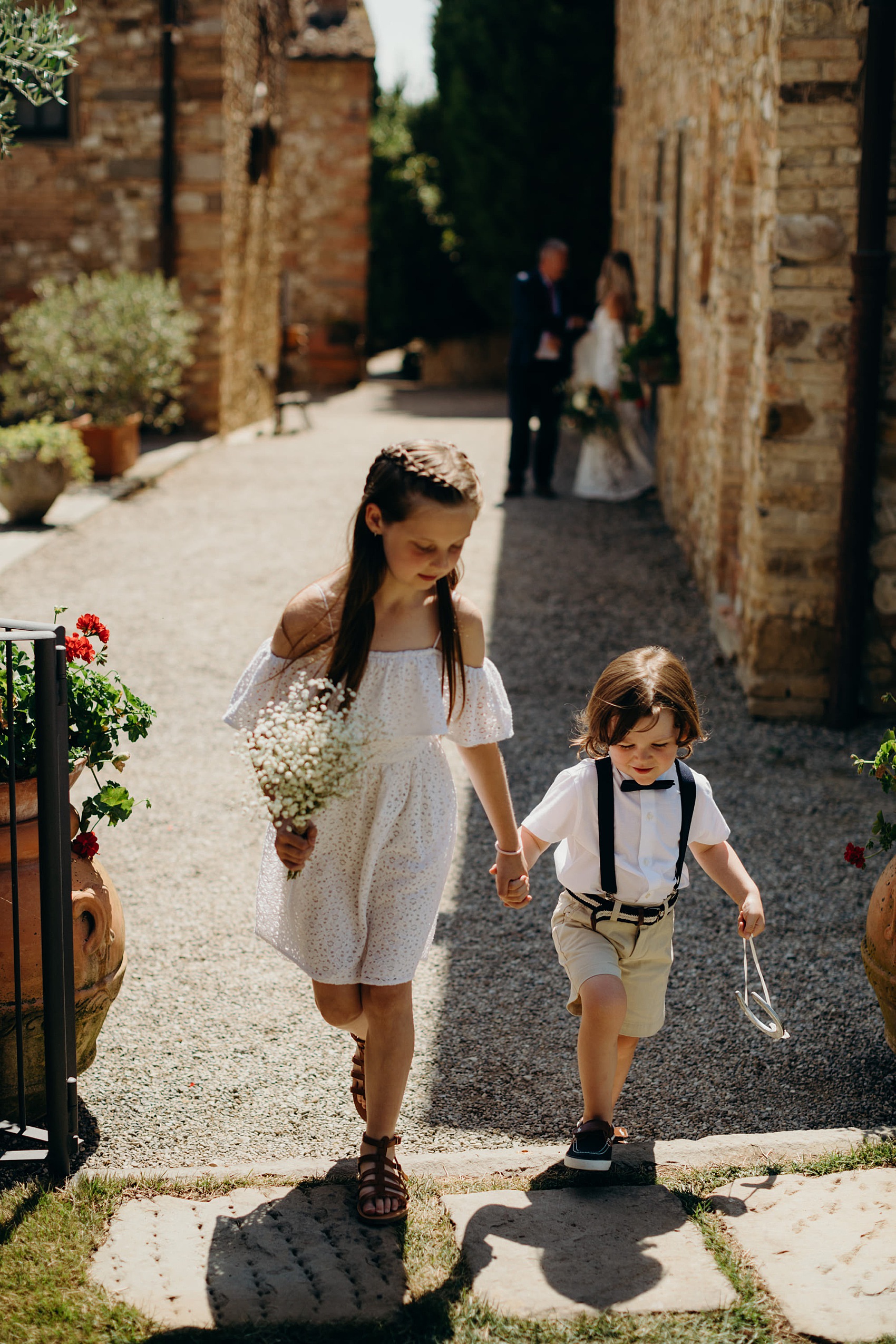 Family and friends gathered on chairs arranged outside, in front of a wonderful arbour of greenery decorated with beautifully made macramé.
"We were engaged for 2 years before we got married. We didn't want to put too much pressure on ourselves to plan the big day in such a short space of time, especially as it was abroad. We also wanted to give our friends and family plenty of notice to make sure they could join us."
Leanne was accompanied down the aisle by her proud father, Richard, and chose the song No Witnesses by Keaton Henson as her entrance music.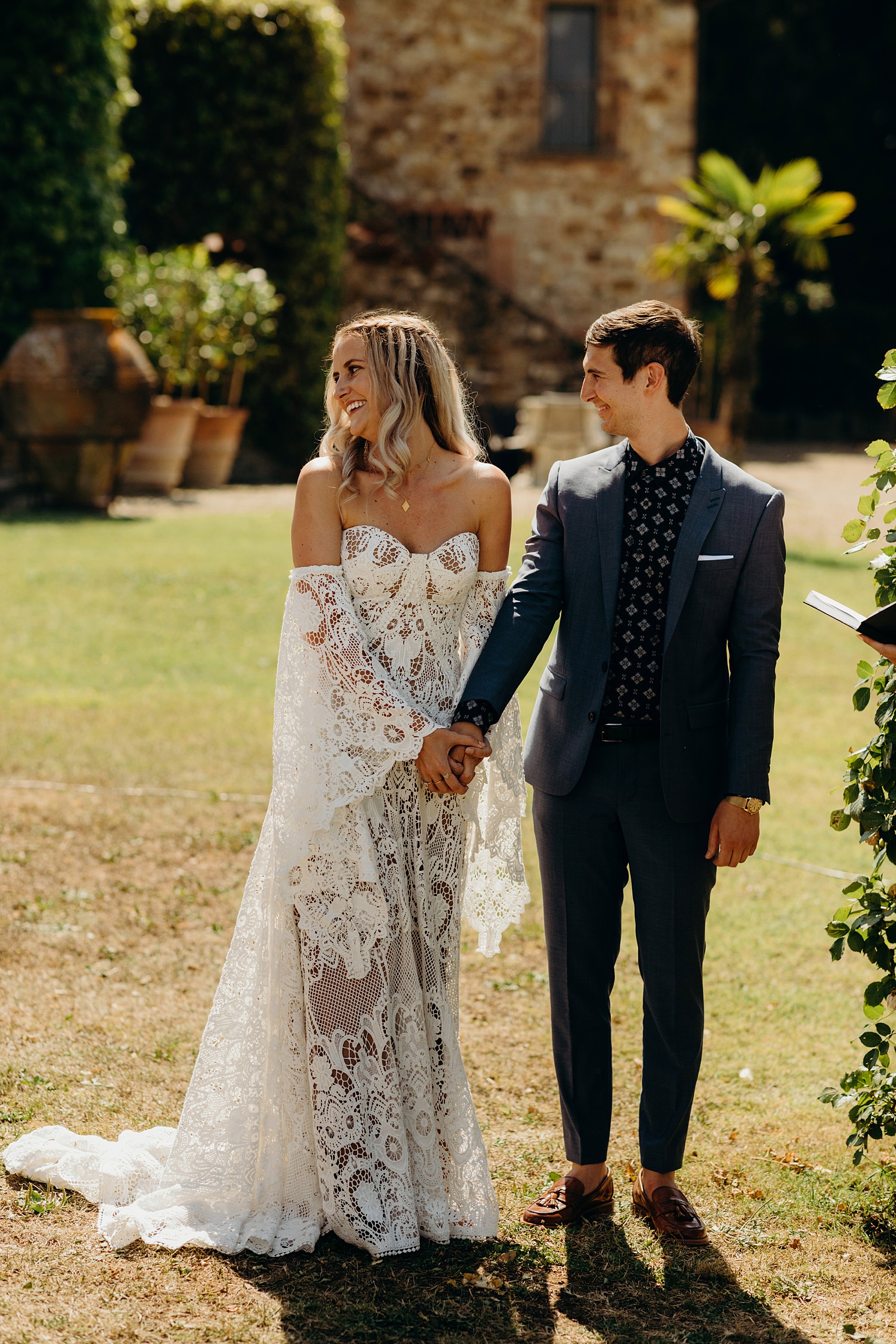 "Our friend of 10 years, Caz Depledge, married us. We worked with Caz to create a ceremony script that was really personal to us. We didn't want to be constrained to any particular format, and it was really important to us to be married by someone who actually knew us."
"It's the first time Caz had ever done this, and she did such an incredible job. The ceremony was so personal and specific to us. We wouldn't have done it any other way."
Leanne's engagement ring had been custom-made by designer Fei Liu, and for their wedding bands, the couple again went down the bespoke route, with rings made by Steven Charles Quance. These were exchanged together with their tailor-made vows, which Leanne and Therapon have kindly shared with us.
"I promise to be: your comrade in adventure; your accomplice in mischief; your partner in parenthood; your biggest fan and your toughest adversary; your lover and your tormentor. I offer myself to you as I am, all my flaws and all my strengths, safe in the knowledge that you complement me perfectly. I vow to always communicate with you freely – never to hold back, but to be honest and loyal as a wife / husband. I vow to fill our life with adventure, and our home with laughter. I trust in you, and in us completely, and love you without measure."
There were also lovely readings during the ceremony; the first being the lyrics to Bruce Springsteen's song, If I Should Fall Behind, and the second, a sonnet by Pablo Neruda, Sonnet XVII.
"We chose these as they were a bit unconventional. We both love music, so music lyrics felt like a nice choice. I think Bruce's lyrics are really beautiful and very symbolic of a marriage. Pablo's poem gave me goosebumps. It was actually found and chosen by Therapon. We liked it because it felt very real, and not typically idealistic (as you find with some poetry)."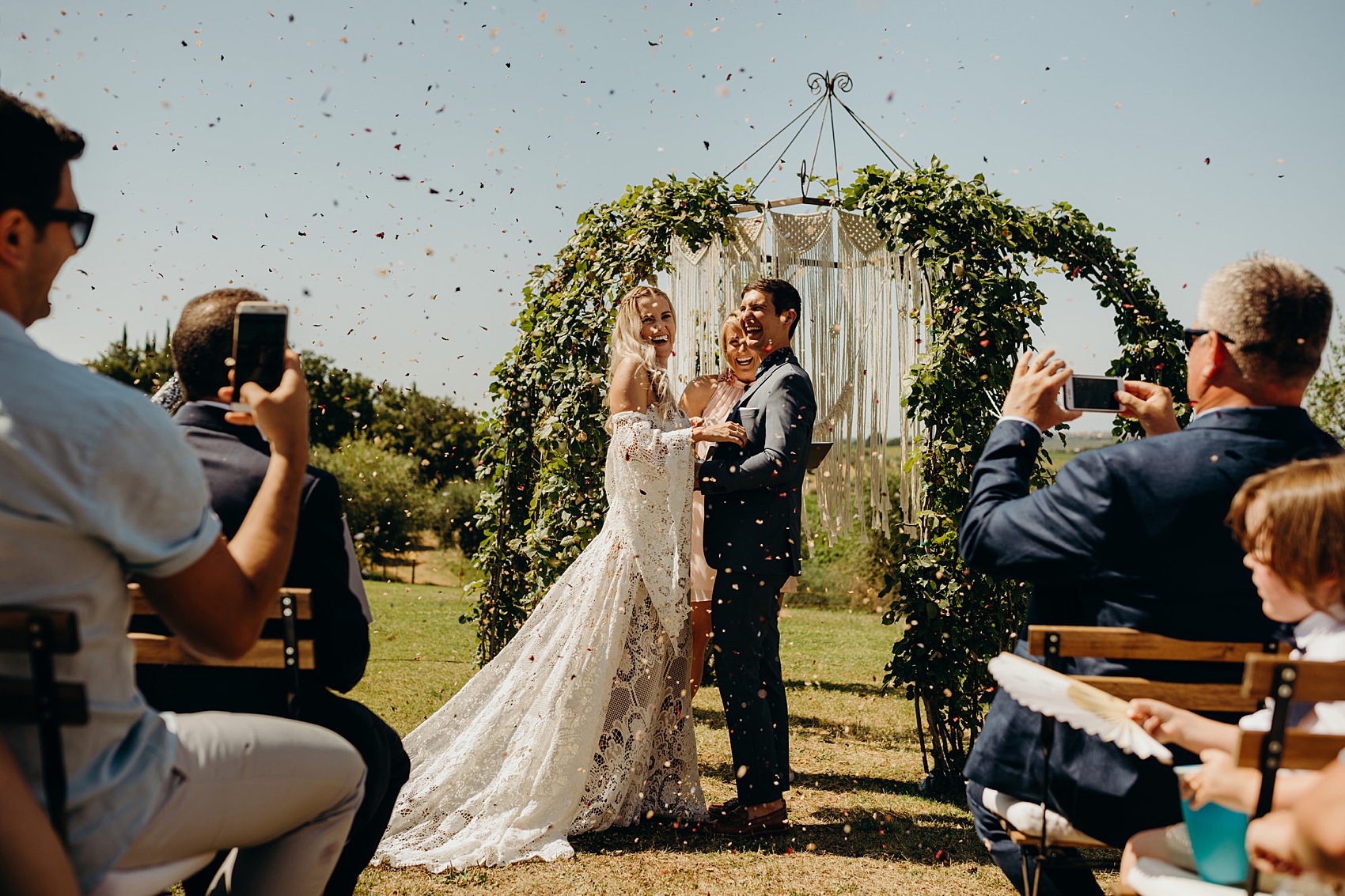 After the ceremony, there were cocktails and canapes, and a live acoustic set from Leanne and Therapon's friends, Callum and Ellie.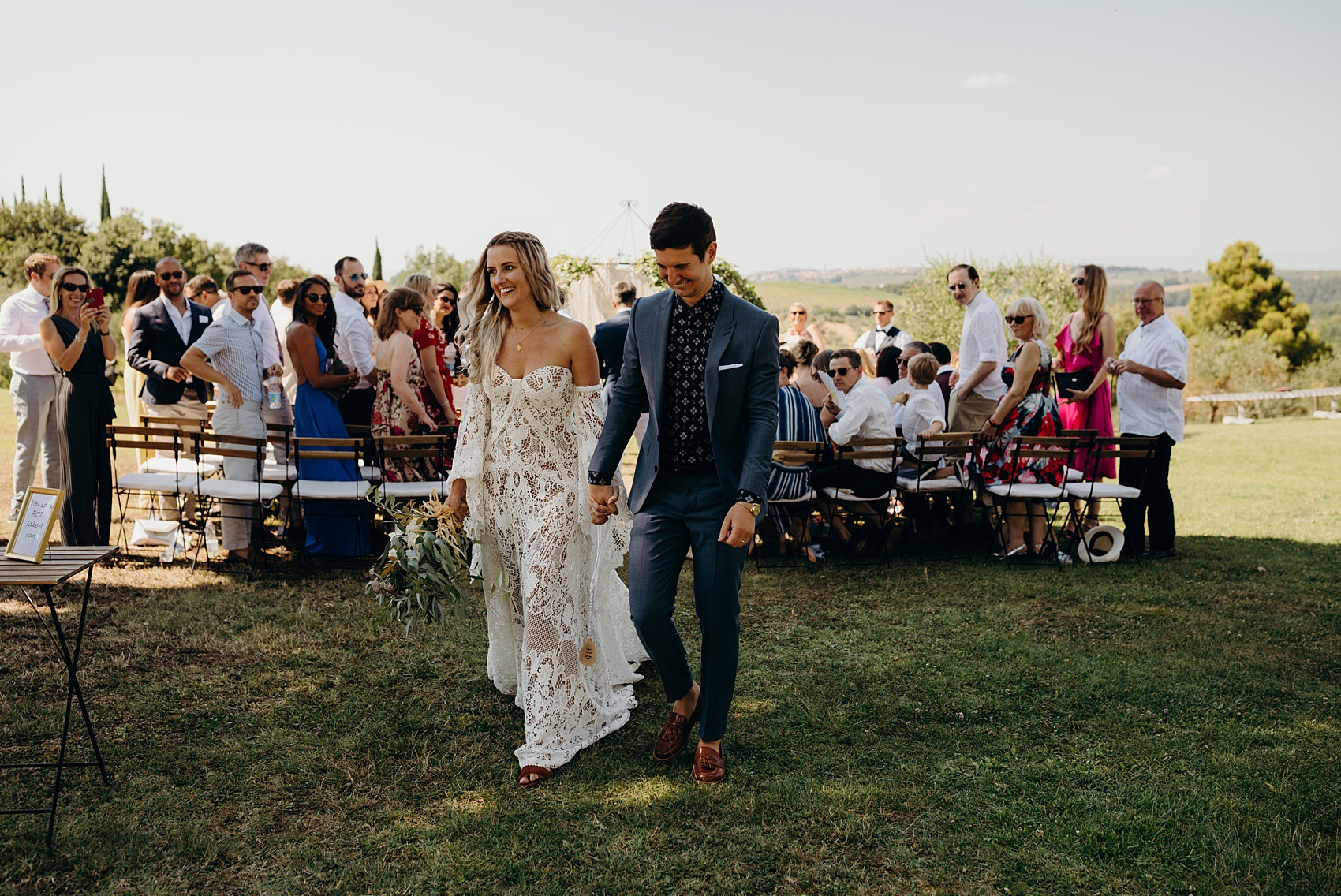 Leanne and Therapon took a walk amongst the vines, basking in the sunshine and that feeling of just-married-joy, before heading back to their guests.
"We both love the great outdoors, good food and good wine, so Italy was a great choice for our wedding. The venue is a vineyard and makes its own wine and olive oil. We loved being surrounded by the rolling hills and vineyards. We didn't want to take away from these beautiful surroundings, so wanted to make sure the day fit with that. We wanted it to look and feel natural, beautiful, relaxed and very fun."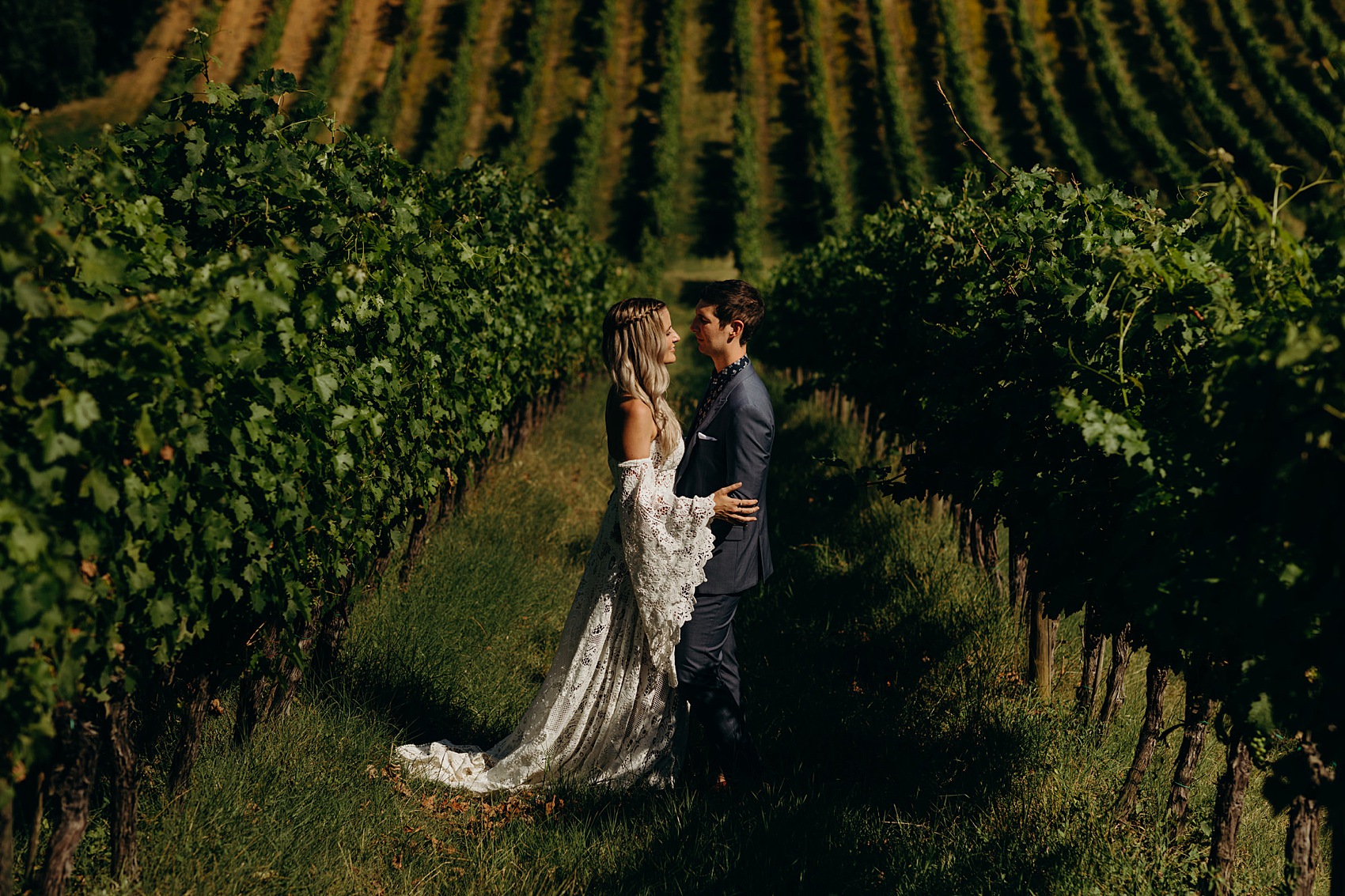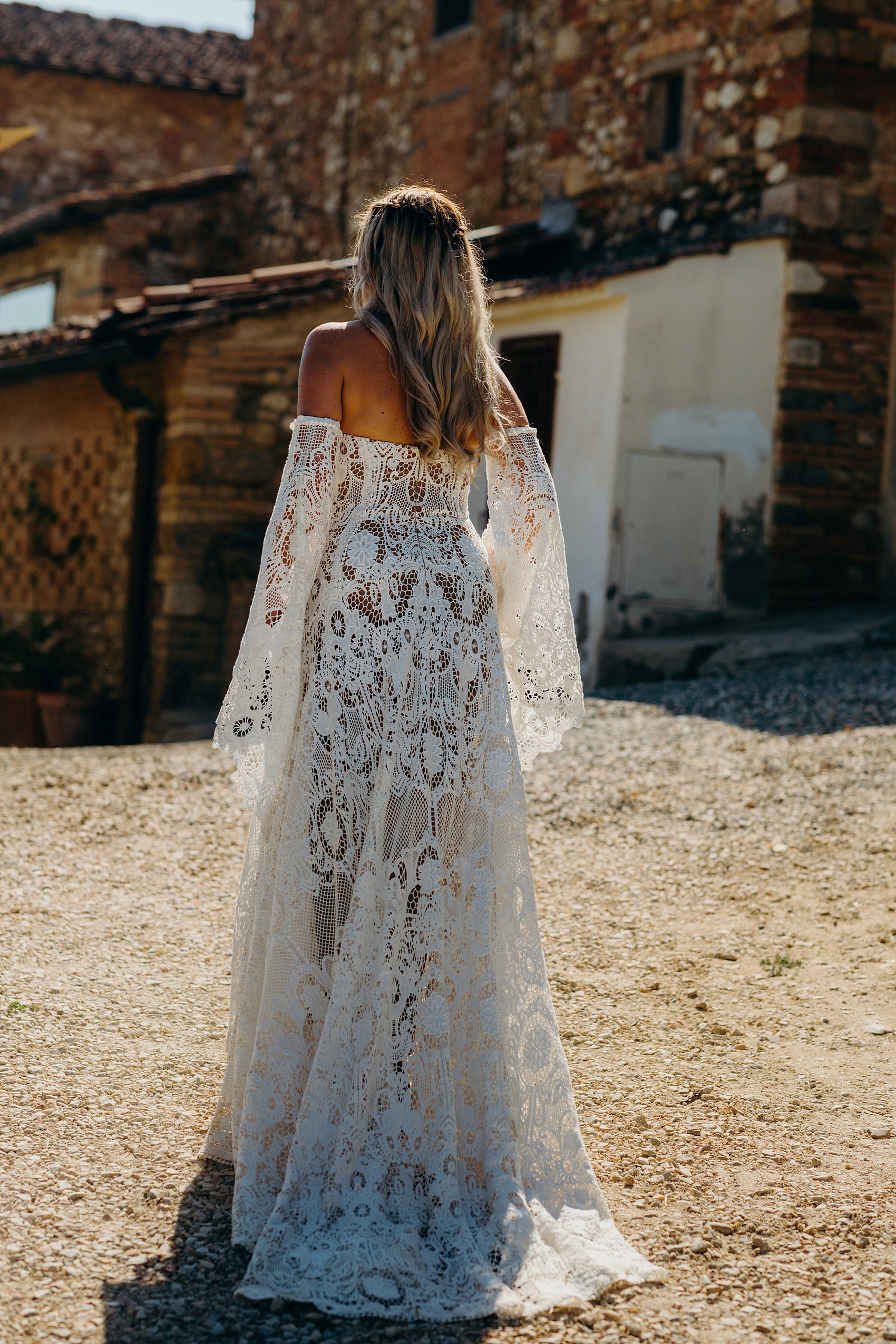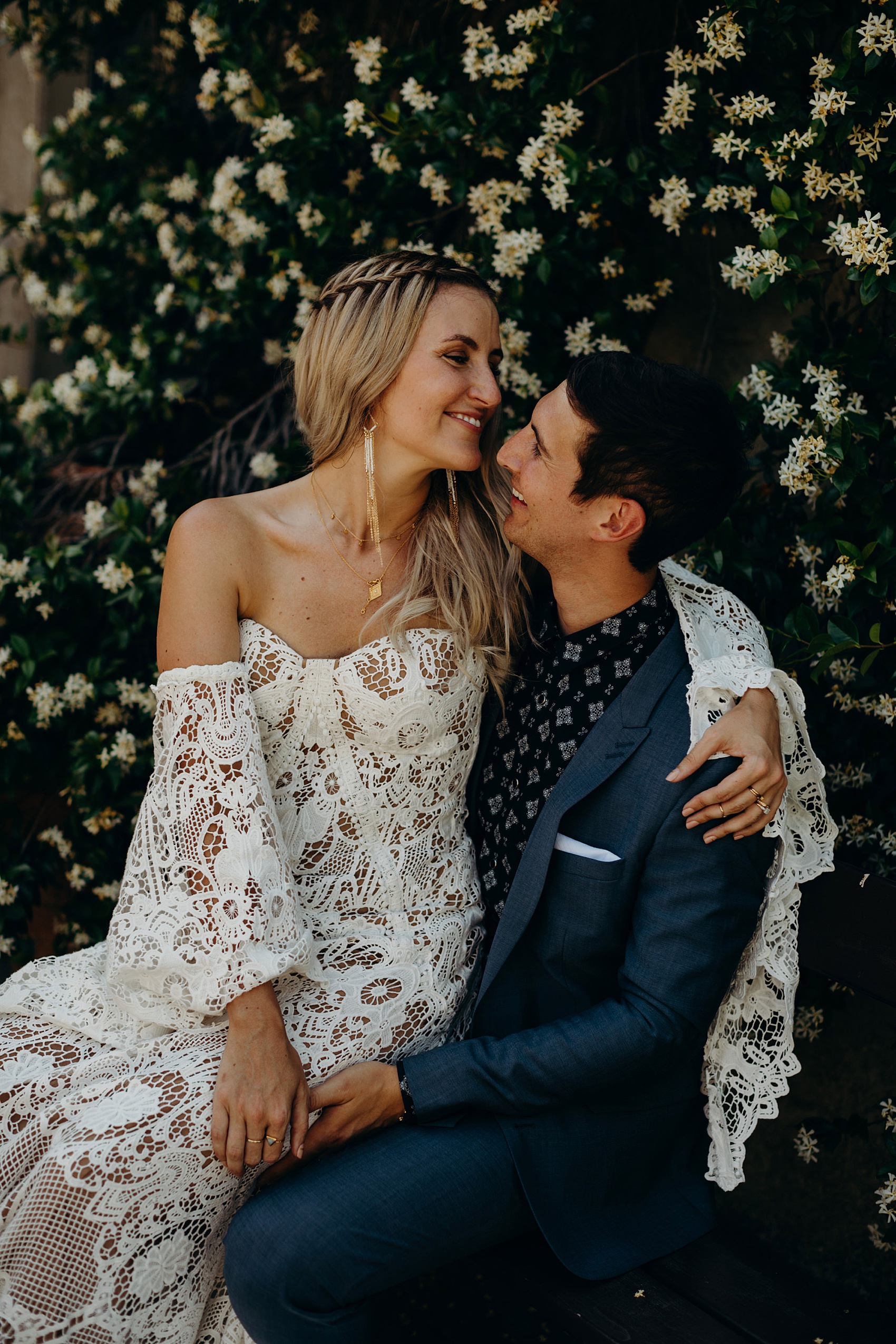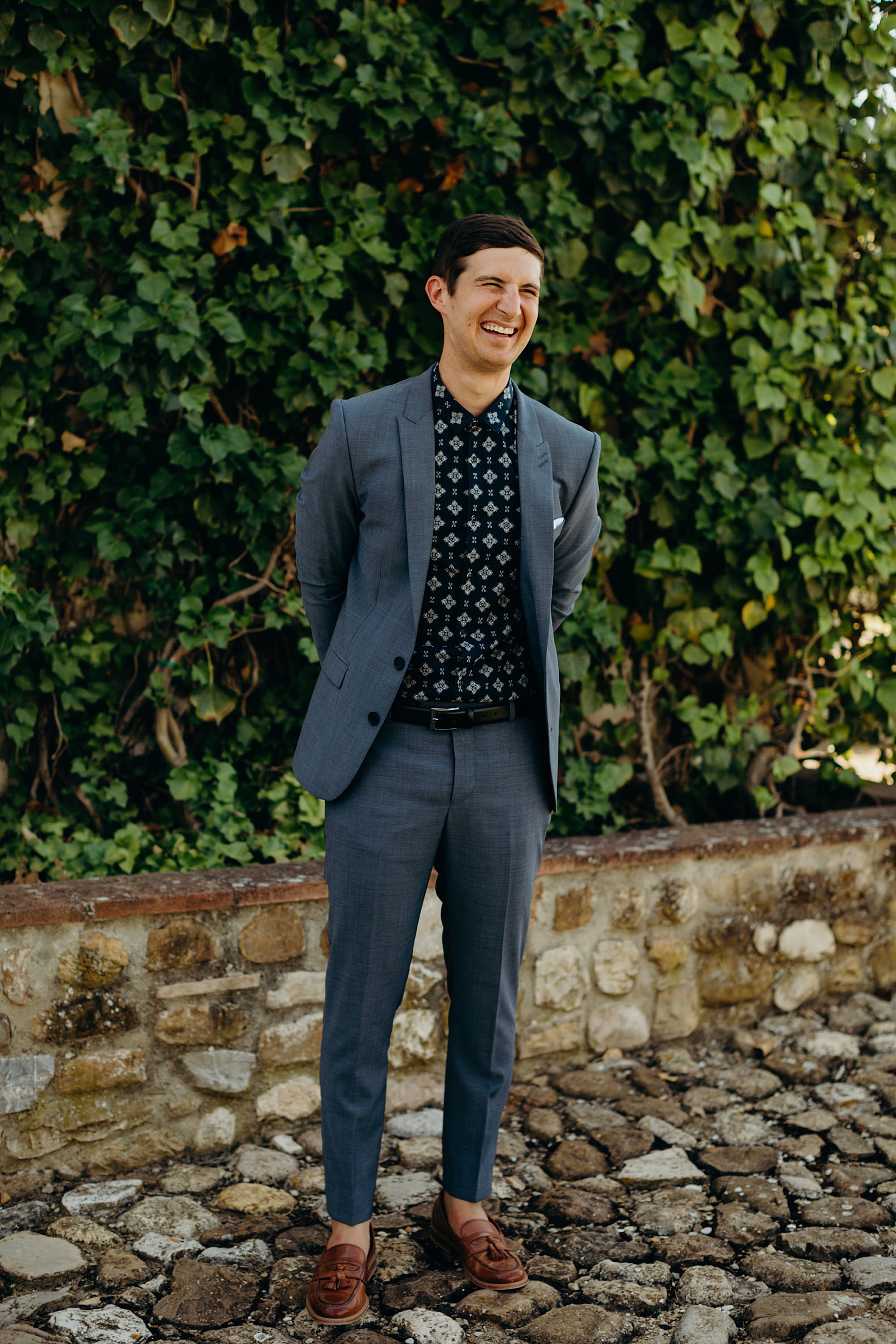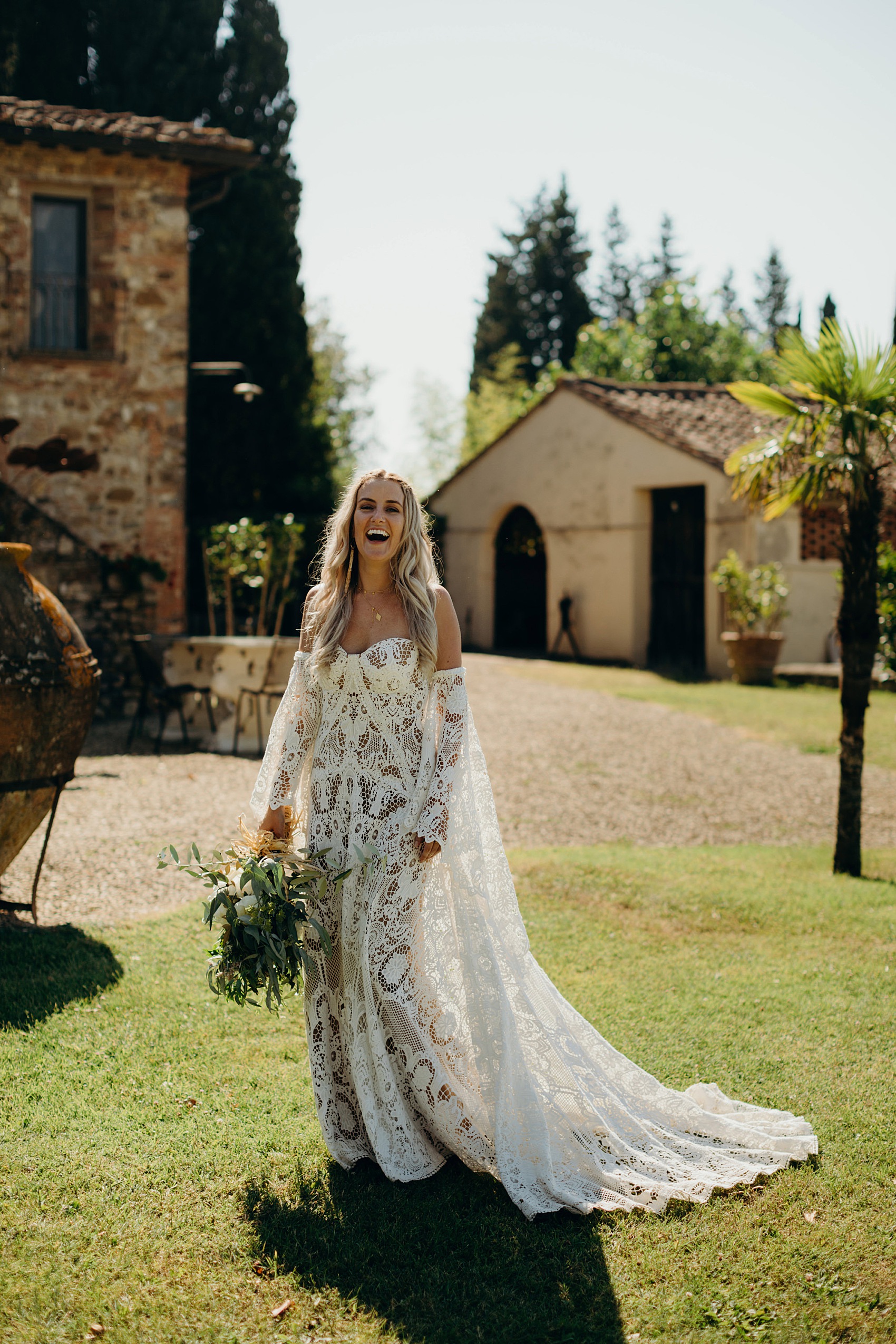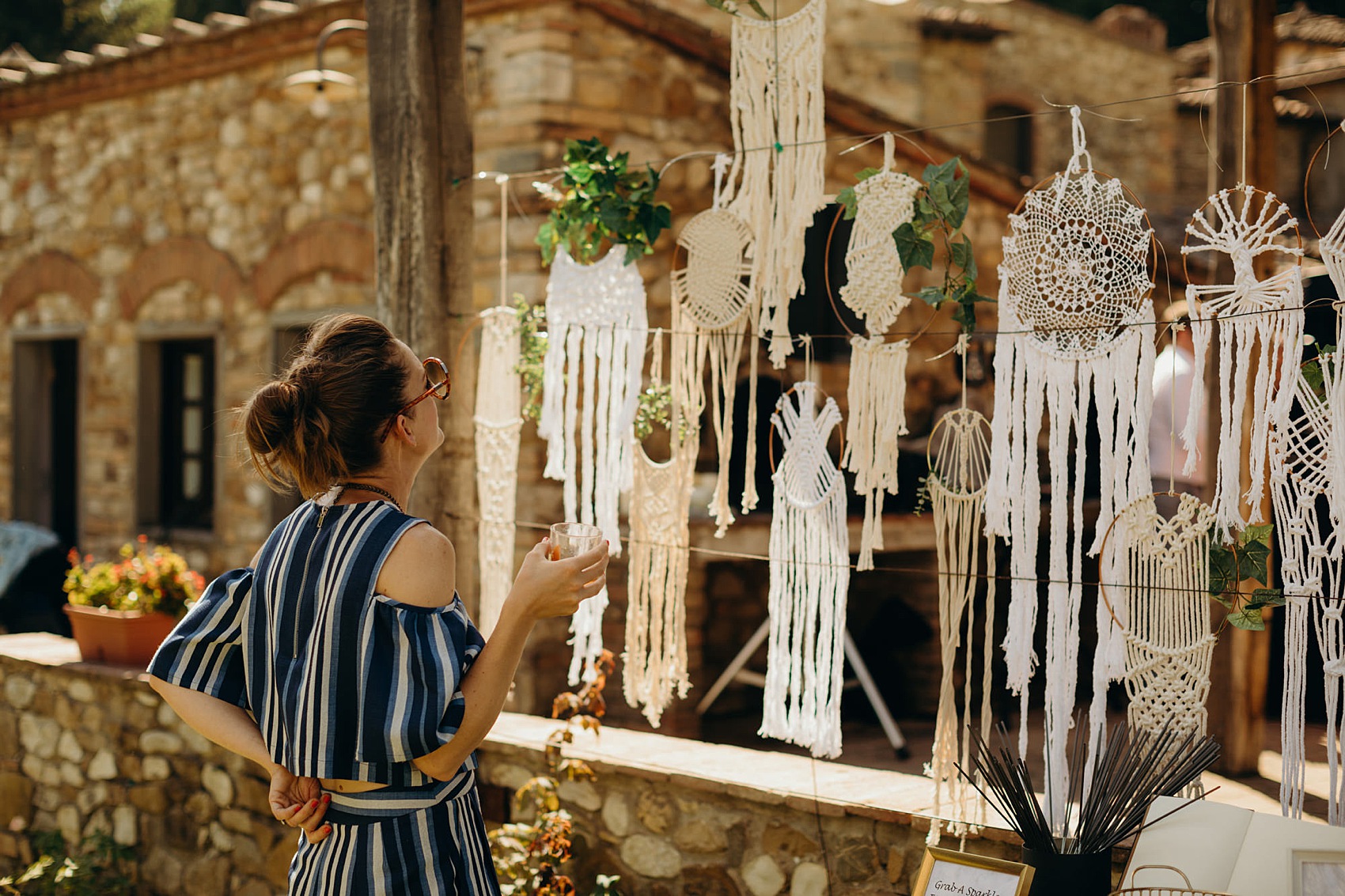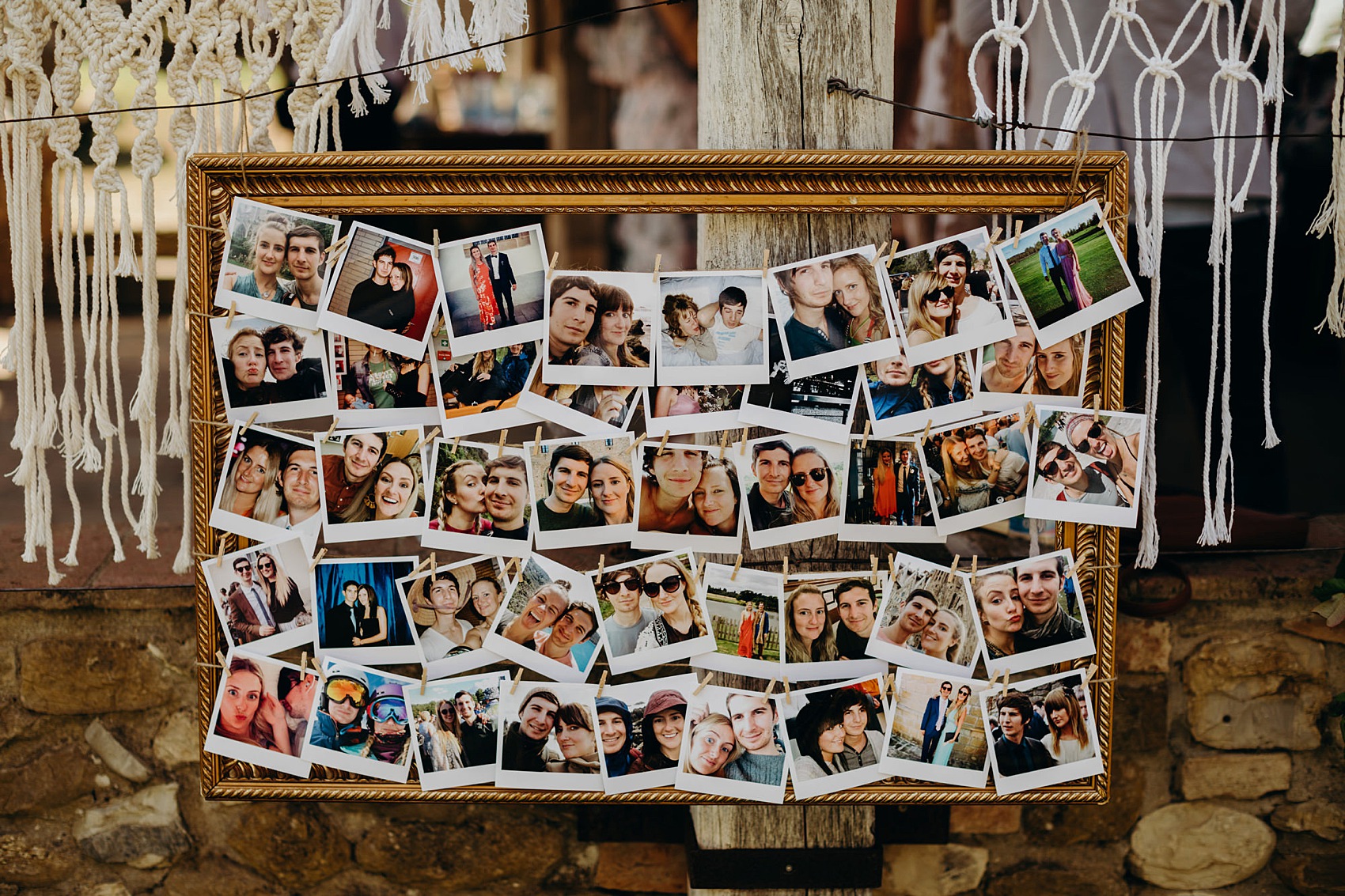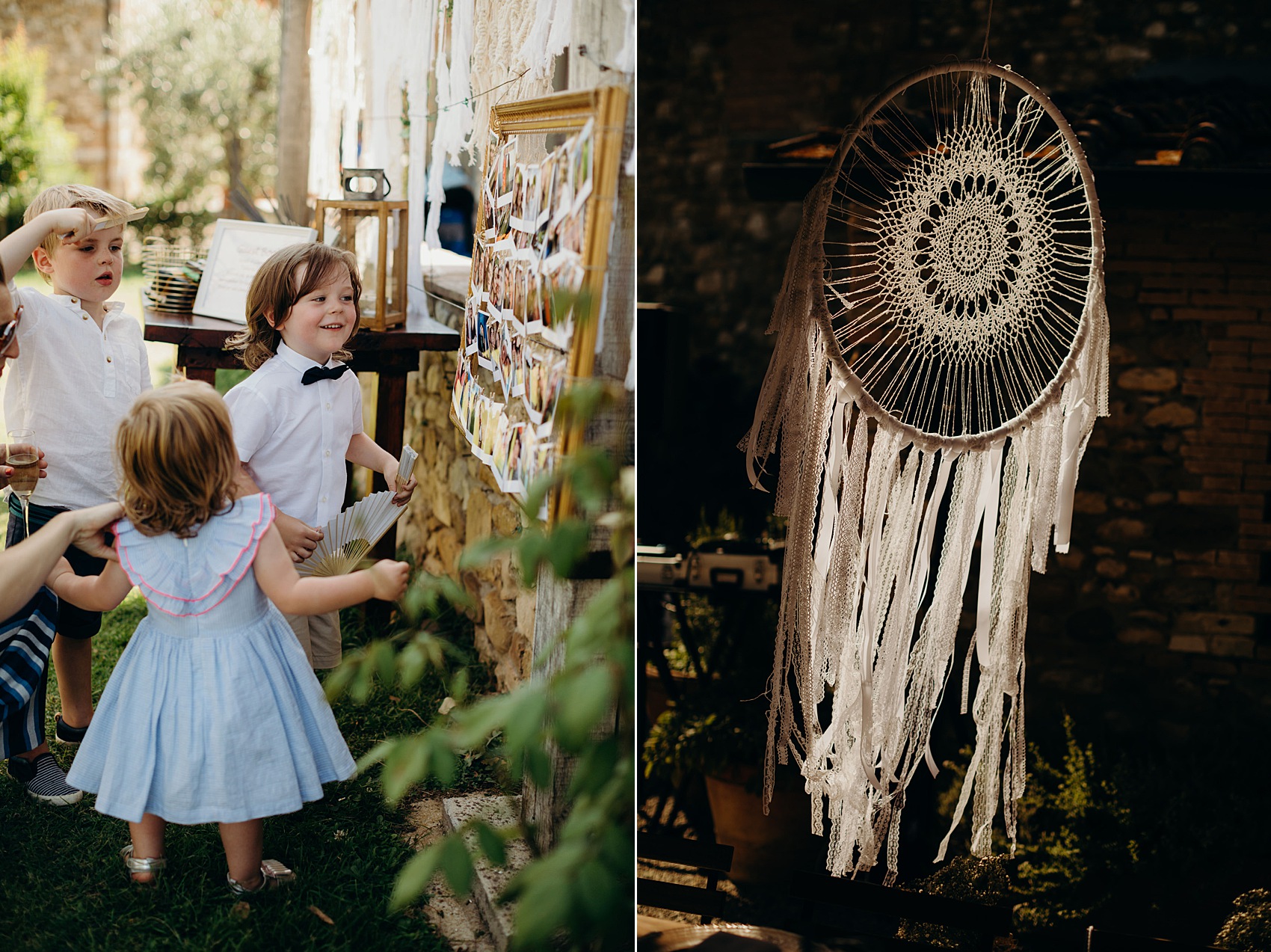 Wedding planner Erica, of Tuscan Dreams, arranged the wonderful bouquet of creamy roses, peonies and beautiful greenery that Leanne carried, and kept the rest of the venue's botanical decor simple, with garlands of fresh foliage as runners across the long, wooden dining tables.
"We loved the contrast of the greens with brass and gold. It gave both the day and the night a very natural but magical feel. Myself, Metaxoulla (sister-in-law) and Mandy (mother-in-law) – the Macramé Army – made all of the macramé hangings for the venue by hand. This included all of the dreamcatchers, the backdrop for the ceremony, the chair backs for Therapon and I, and the table plan."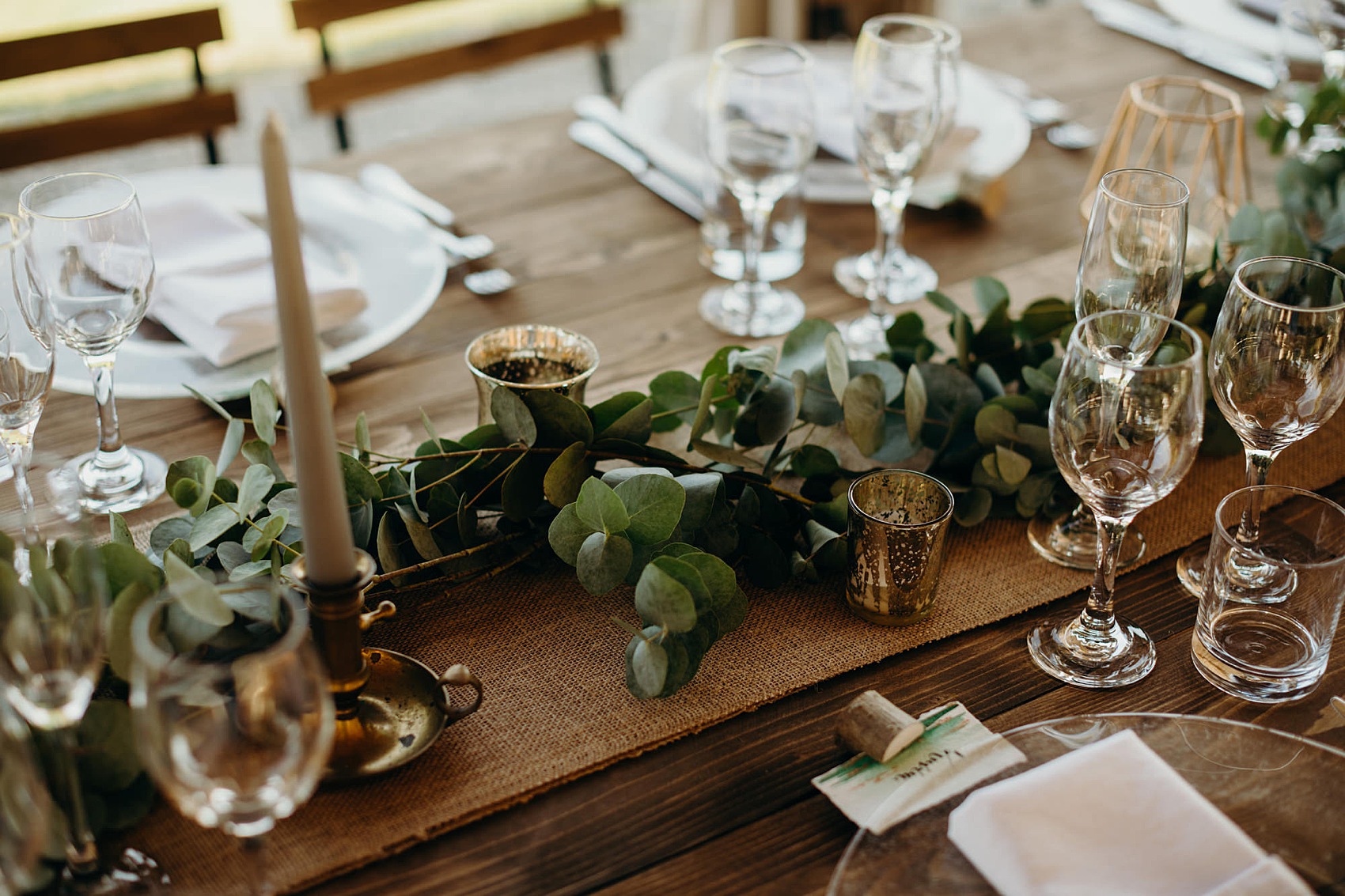 Leanne had designed the wedding invitations herself, which she then converted to PDF format and sent via text message. Leanne also designed and made on-the-day signage, printed onto marble effect card and mounted inside gold frames, as well as making the spectacular macramé backdrop for the table plan, whilst talented friend Kavita hand lettered the names, place cards and additional welcome signage, too.
"Myself, Mandy and my mother, Karen and friend Rowena went hunting for all of the brass candlesticks, pots, ornaments etc. for the venue and tables."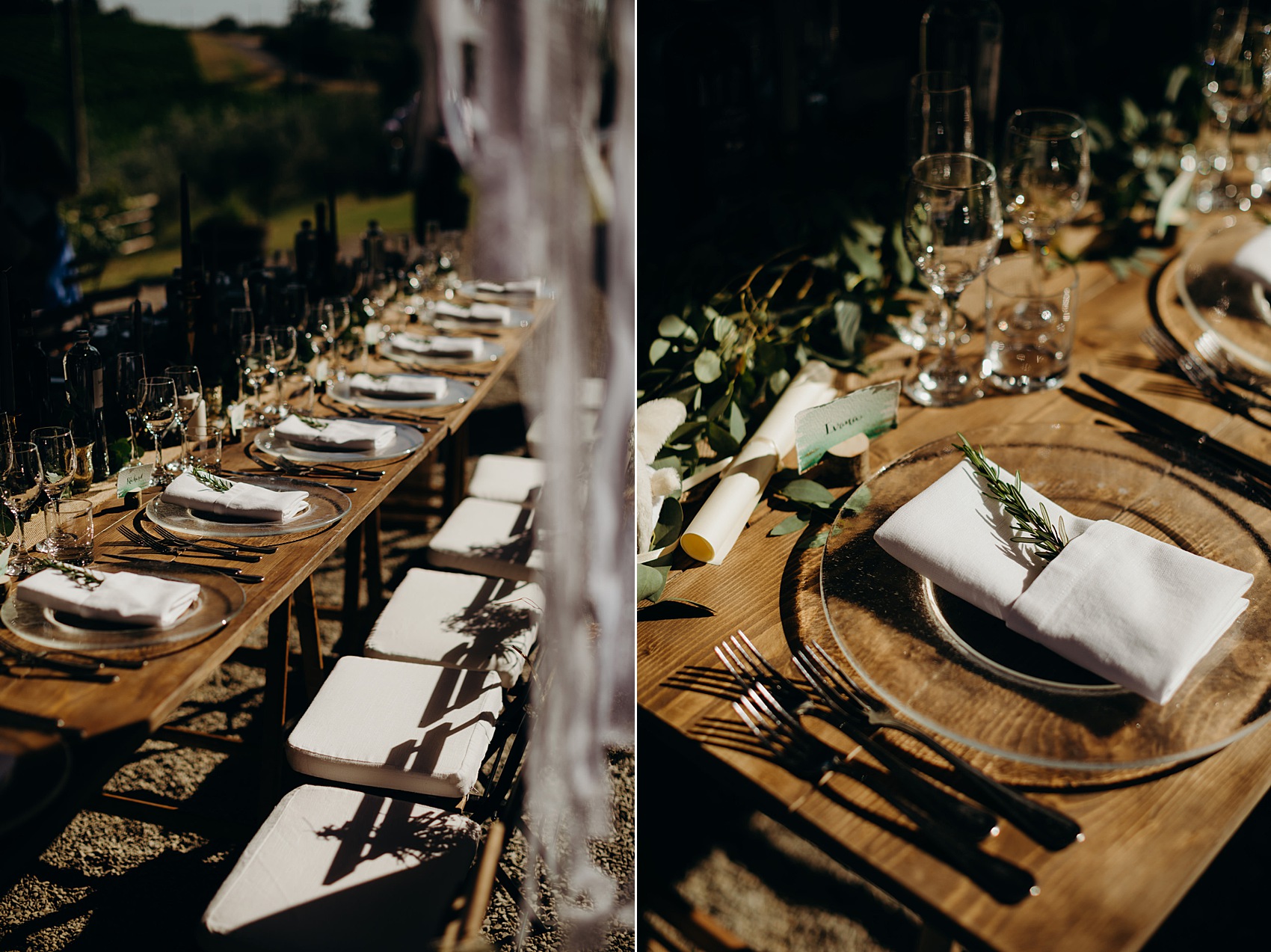 To the tables, Leanne added hessian runners and candles, and small log place card holders. Friend Caz sourced gold geometric candle holders, and Kavita framed Polaroid snaps of the couple inside a vintage frame. The day before the wedding, loved ones came together to help decorate the venue, and what a wonderful job they did.
Everyone sat down to a magnificent Tuscan feast (sadly, no further details available about the caterers, who were arranged through Tuscan Dreams). The meal began with a four cheese risotto and spinach and ricotta ravioli, followed by steak on a bed of rocket and Parmesan, with grilled and baby vegetables.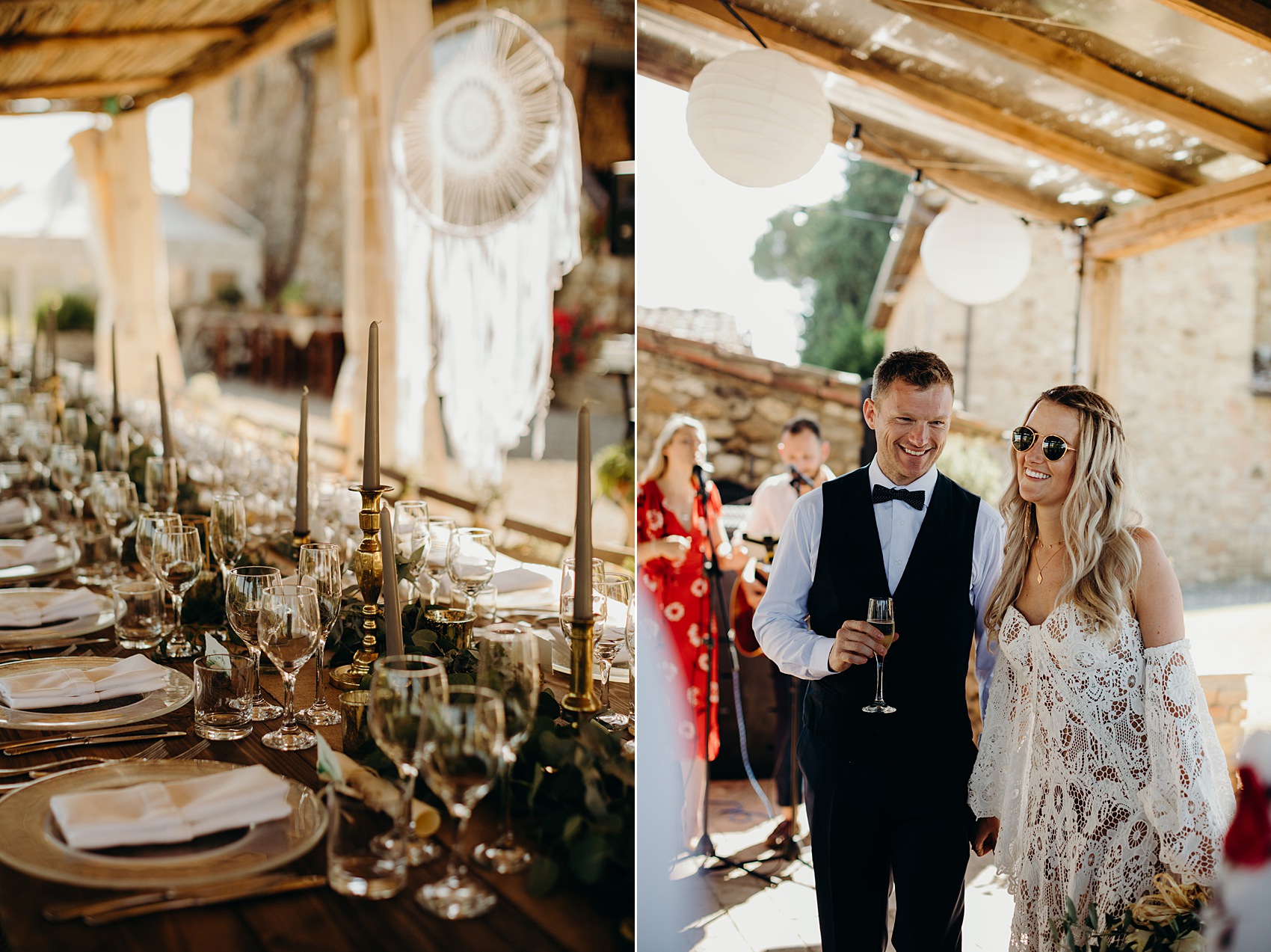 "We didn't have any wedding cake – controversial, I know! Instead we opted for a gelato van, which went down a treat. We're not huge fans of wedding cake and tradition wasn't too important to us. We were never going to have a cutting of the cake ceremony, so did away with the cake altogether."
"I think what really stood out during the day was the speeches. Both Therapon and I did a speech – as well as both of our fathers. It was one point in the day where we were both able to sit with all of our friends and family and take everything in, and the speeches were so heartfelt and emotional."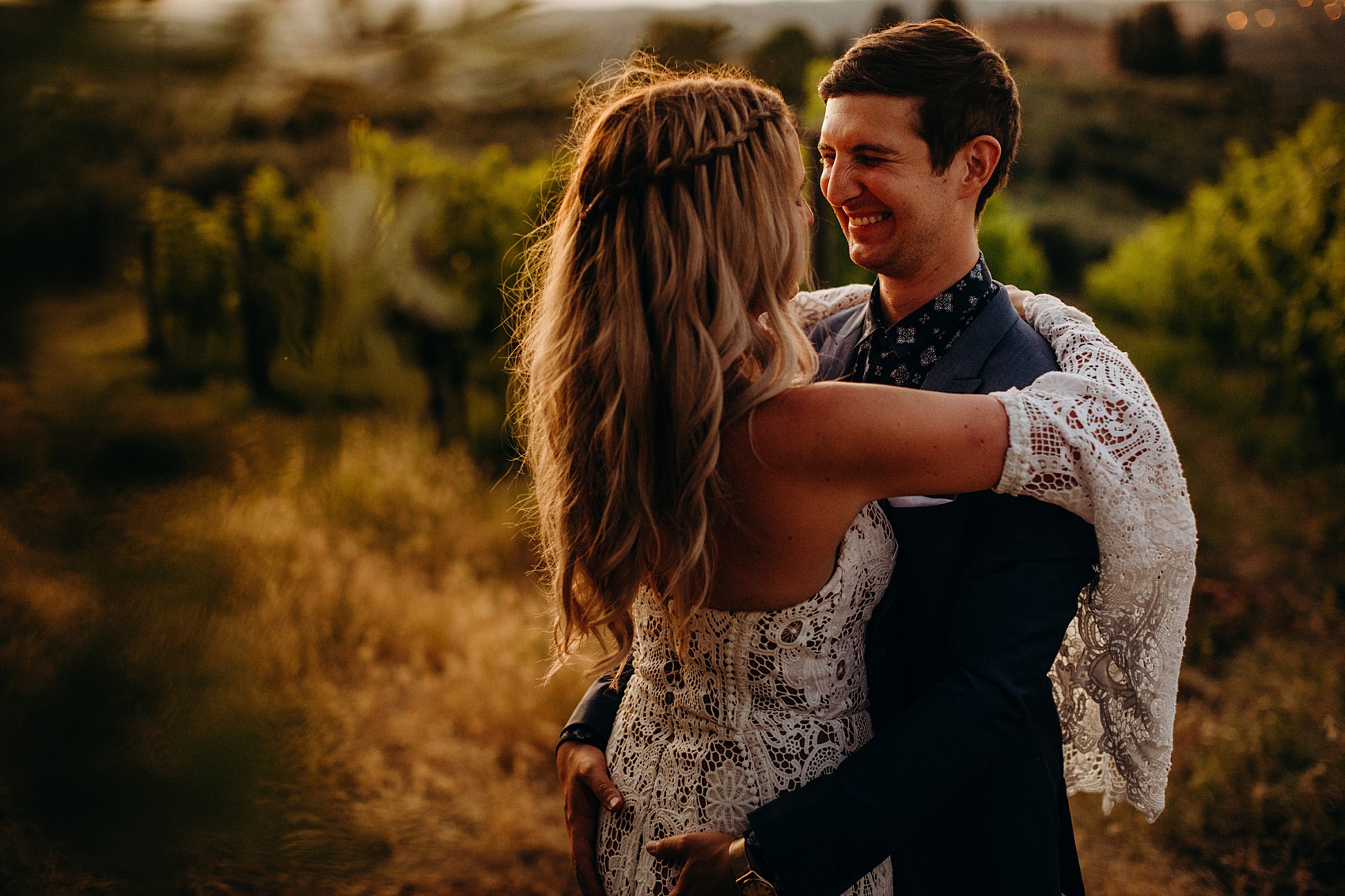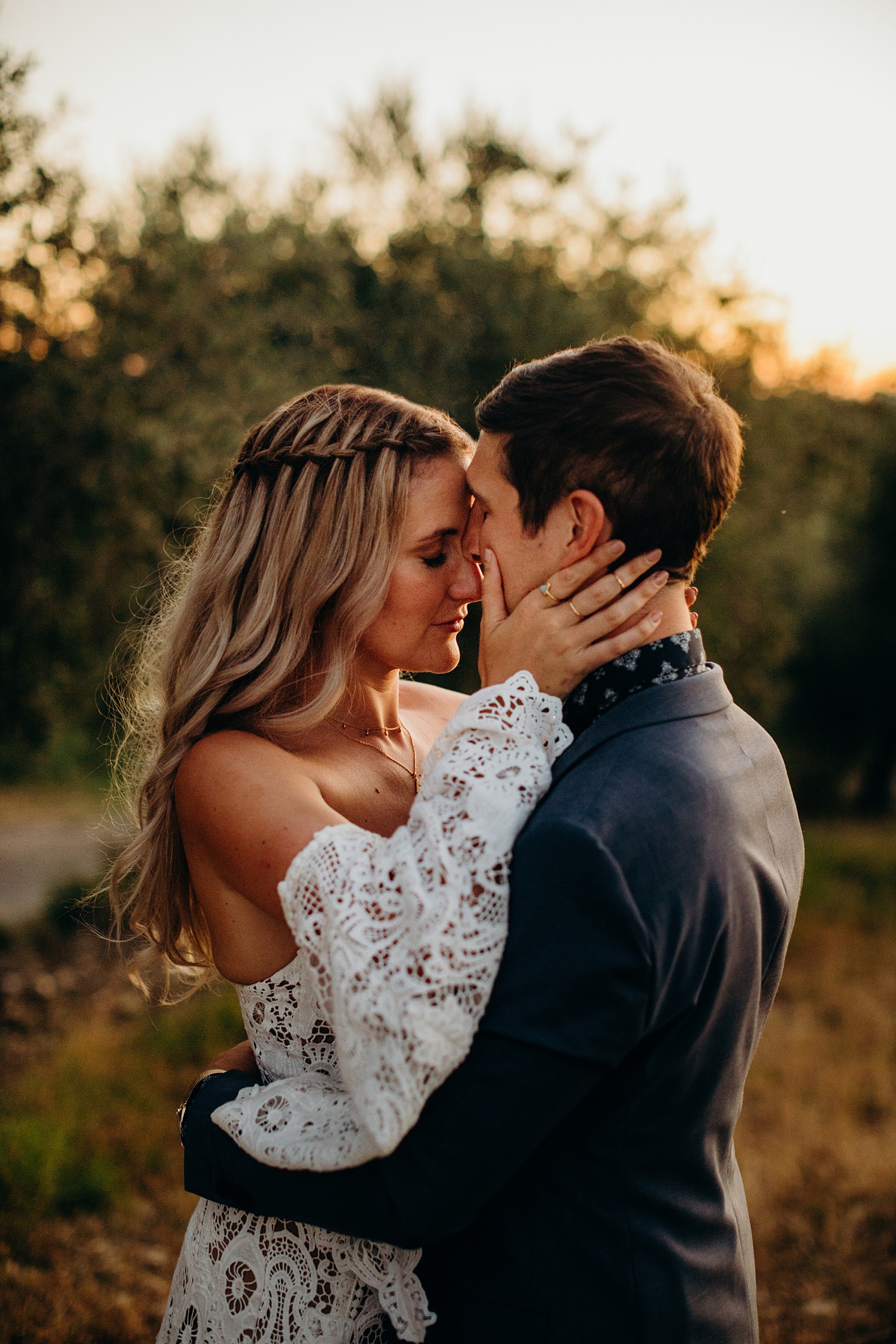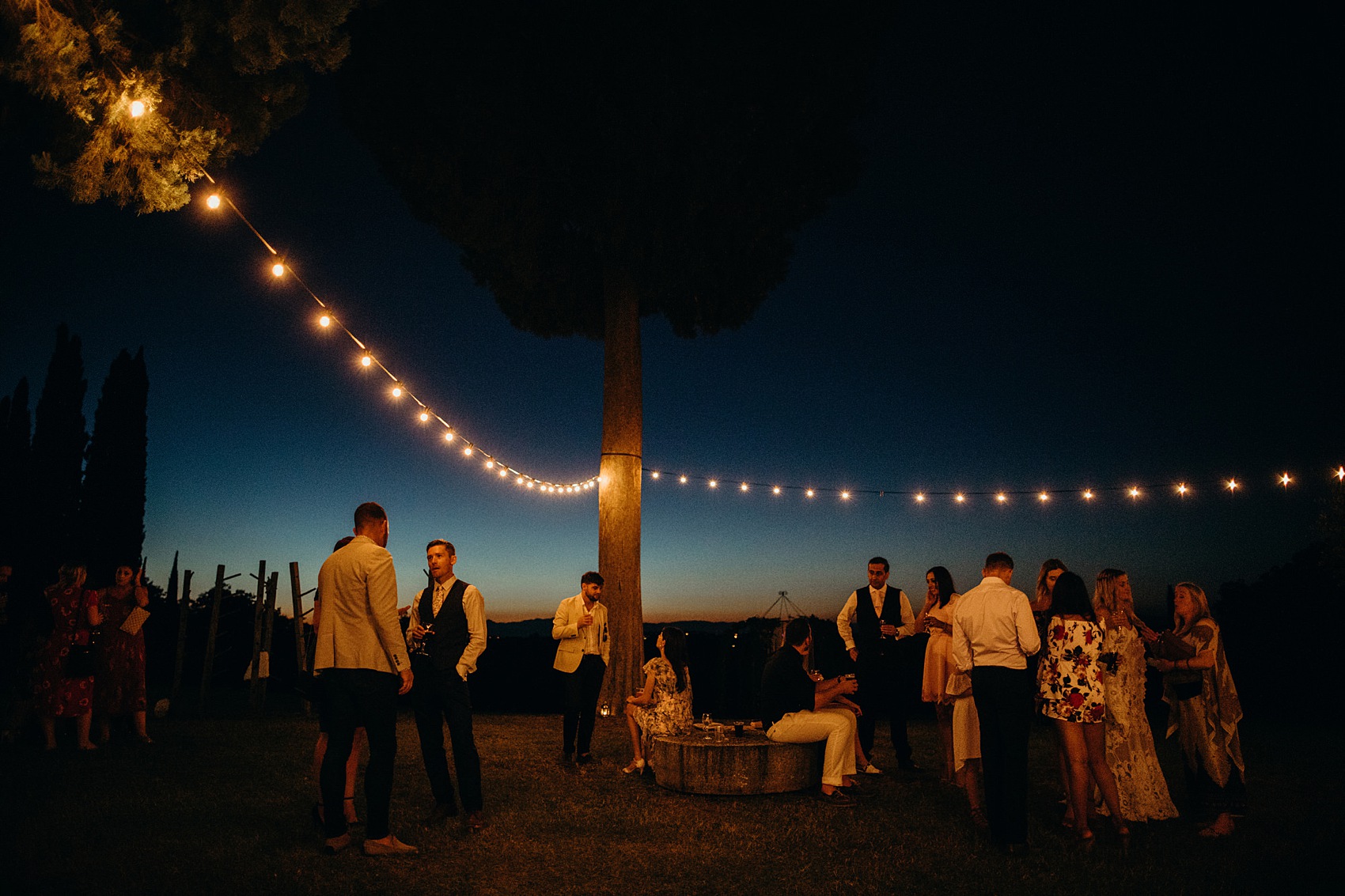 In the evening, paper lanterns, festoon lights and sparklers filled the night sky with glowing light, as the dancefloor filled, and Leanne and Therapon danced together for the first time as husband and wife, to the Arctic Monkeys' version of I Wanna Be Yours.
"We have been huge Arctic Monkeys fans since we were kids, and even went to gigs when we were teenagers together. The lyrics to this song (albeit not originally performed by Arctic Monkeys) are beautiful."
"I think it's really hard to pinpoint what particular part of the day was our favourite. The whole day was made so personal by our friends and loved ones chipping in to help: Caz as the celebrant, Metaxoulla doing my hair, Sarah doing my make-up, Callum and Ellie performing, our friends pulling together the playlists, my brother Andrew coming all the way from Australia and being our MC, my friends Maren, Kerry and Sadie helping decorate the venue, Kavita creating the table plan and place names, James and Andrew doing the beautiful readings, my Macramé Army doing all of the macramé for the venue, and our family being there every step of the way to provide their love and support through the whole thing."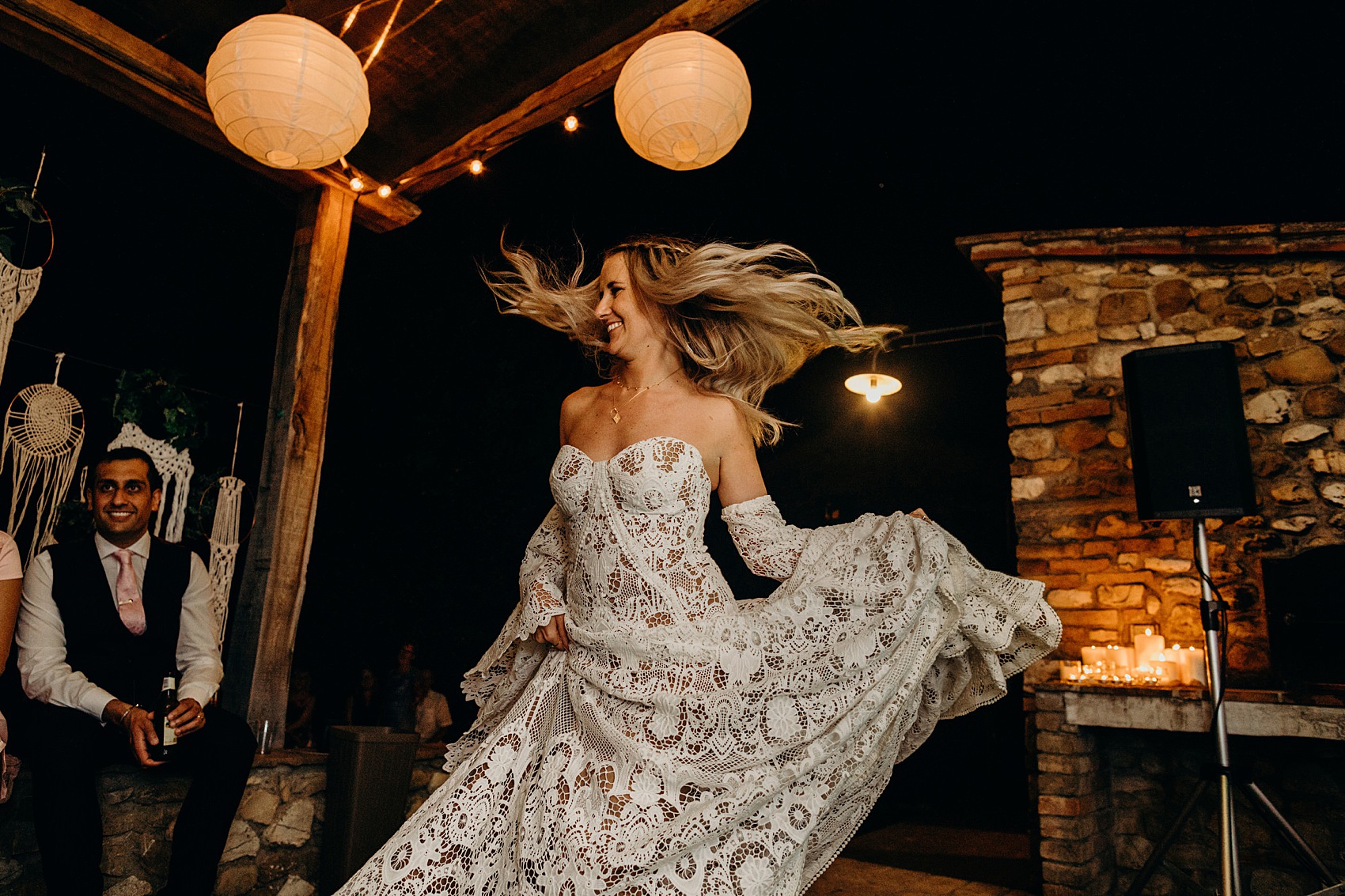 "The whole day made us feel truly overwhelmed and grateful to be surrounded by such great people.
Words of Wedded Wisdom
"I know everyone says this, but don't sweat the small stuff. It is nice to have the little touches, but the little touches don't ultimately make a wedding day. It's sharing the love with your new husband/wife, having fun with your guests and creating memories that will last forever."
"Also, stay true to what you and your significant other want. Don't ever feel pressured into changing your ideas because it suits others. If you stick to your guns, you will have your dream wedding exactly how you both wanted it. It should be a reflection of the both of you, and if it is, you are absolutely bound to love every minute of it."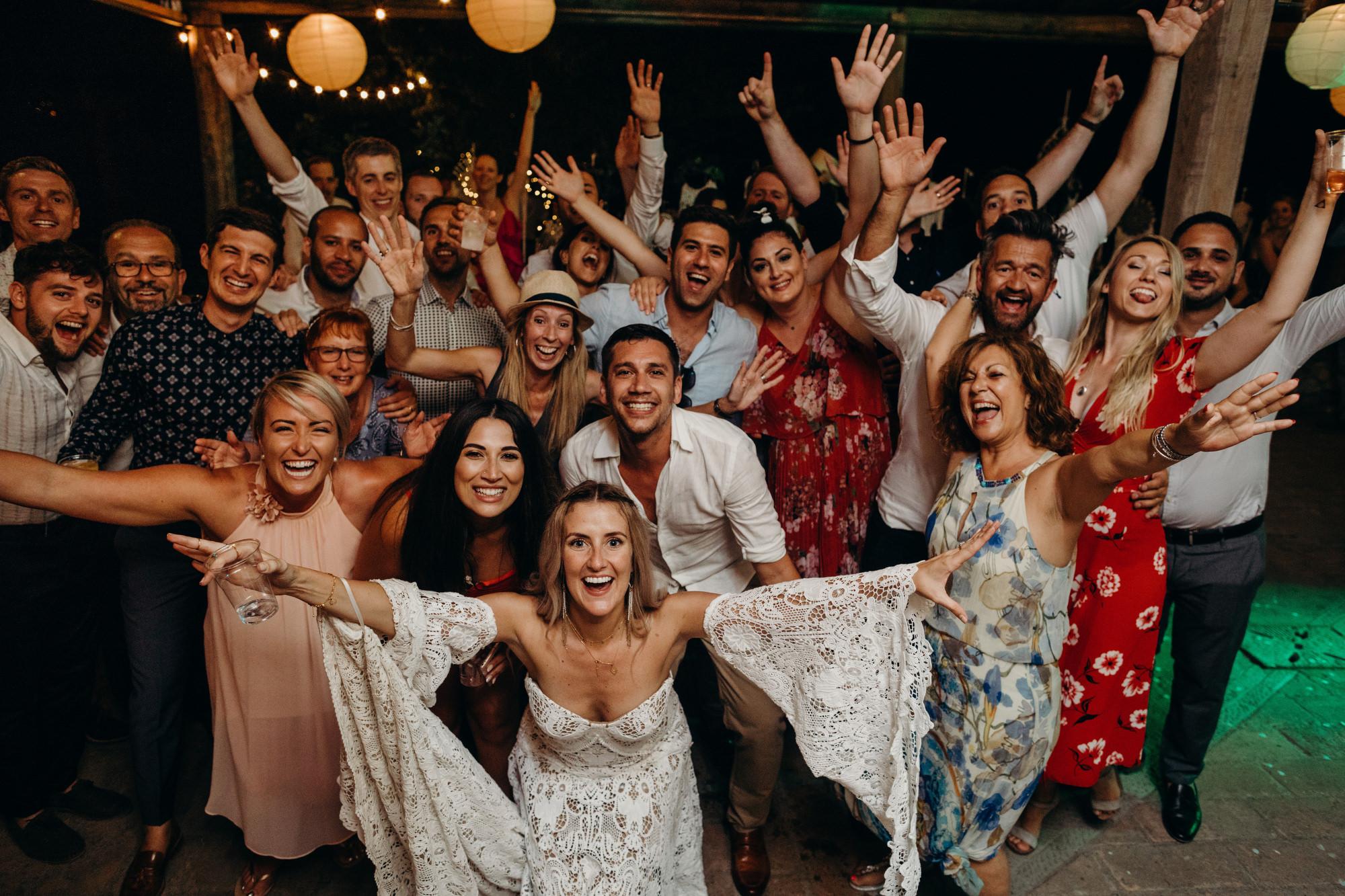 Leanne and Therapon, thank you so much. It's been wonderful to share your super cool, boho day – and that macramé looked incredible. Many thanks to Richard Skins for capturing everything so beautifully. Do make sure you look at other weddings featuring his work, right here.
With love,
Laura