OK, we know it's not December yet but, we're going to cheat and share a Christmas wedding. This is one seriously glamorous celebration, filled with contemporary, luxurious touches, all taking place at the beautiful Elmore Court – a venue we adore, and who we are very proud to recommend through our Little Book supplier directory.
Veterinary Nurse Leanne, and Rich, an Agency Account Director, were married on the 9 December, and first met 17 years ago after being set up on a blind date. Living in different parts of the country at the time, they decided to be friends instead, but after moving to the same city and beginning to see more of each other, their feelings grew, and they were together for 7 years before becoming engaged.
Film by Mrs Mashup
"Having a wedding video was something I was really keen on, but Rich wasn't as he worried it might alter our memories of the day. We also weren't really sure that our budget would stretch to one. In the end I knew that it was something that I couldn't do without, and so we squeezed it into our budget and we are both really glad we did."
"We love our video so much! We love how they have managed to capture so much of the emotion and feeling of the day in such a different way to the photos."
Images by Eve Dunlop Photography
We also love that we can watch the ceremony and speeches all over again, as some of this was such a blur of emotions it was difficult to recall."
"We wanted the day to have a winter luxe feel to it without being too Christmas themed. We wanted to have lots of faux fur, antlers, greenery and metallics to reflect the time of year, and create a cozy and relaxed feel to the day."Making sure everything ran perfectly was Elmore Court's wedding coordinator Katrina, who provided invaluable help and guidance in the run up to the wedding, as well as on the day. Leanne and Rich also secured the services of stylist Lauren Grey, who worked closely with their florist, Maria, to work magic with the breathtaking decor.
"We had a meeting with them both, and described the look we were going for and our budget, and then left it up to their artistic interpretation. We loved the look that they created for our wedding, it was absolutely perfect and blew us away. We also really enjoyed the surprise of seeing it on the day."
I love the gorgeous shimmer of Leanne's eyeshadow and rich berry lip colour – a wonderful look created by Harriet of HC Brides Hair & Make-up.
"I don't wear a lot of make-up, and so this was an area I didn't have many ideas about. All I knew was that I wanted to look like me, but on a really good day with a natural look. Harriet captured this perfectly. I felt amazing and the make-up lasted all day long! She also did the bridesmaids and my mum's make-up with the similar brief of subtle but individual, and they all loved theirs, too."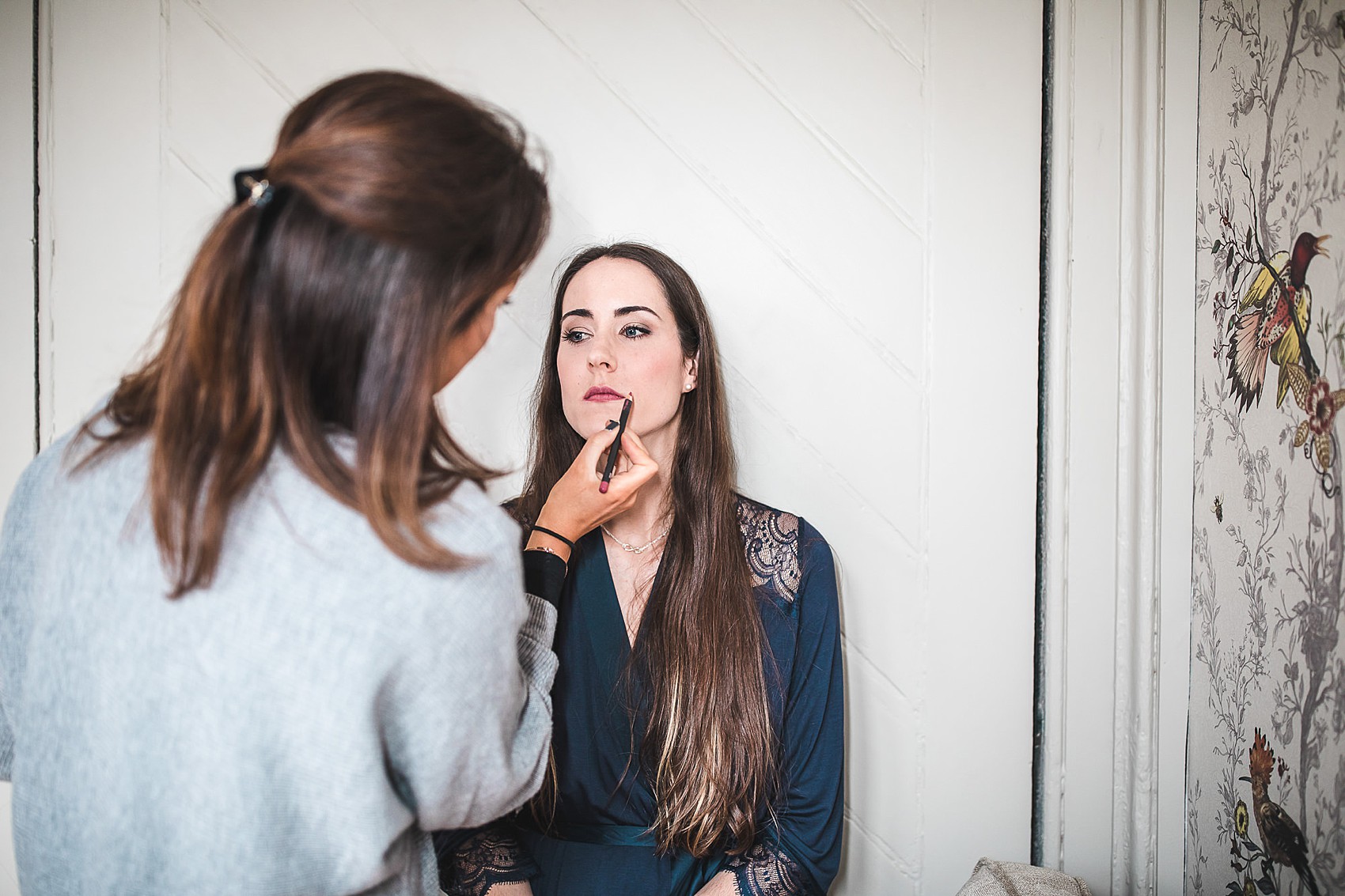 Leanne's long hair was curled and styled by Aidan and Lisa from Aidan Garlington Hair Design, and as Aidan has been cutting her hair for years, Leanne felt most comfortable having her wedding hair styled by him and colleague, Lisa.
"I wasn't really sure what I wanted to do with my hair for a long time. I tried a few styles but didn't really like them, and as my hair was so long all the styles I tried didn't look quite right and felt heavy. In the end, when I was at a dress fitting, I spotted the most beautiful hair vine by Honor and Rose, called Sadie."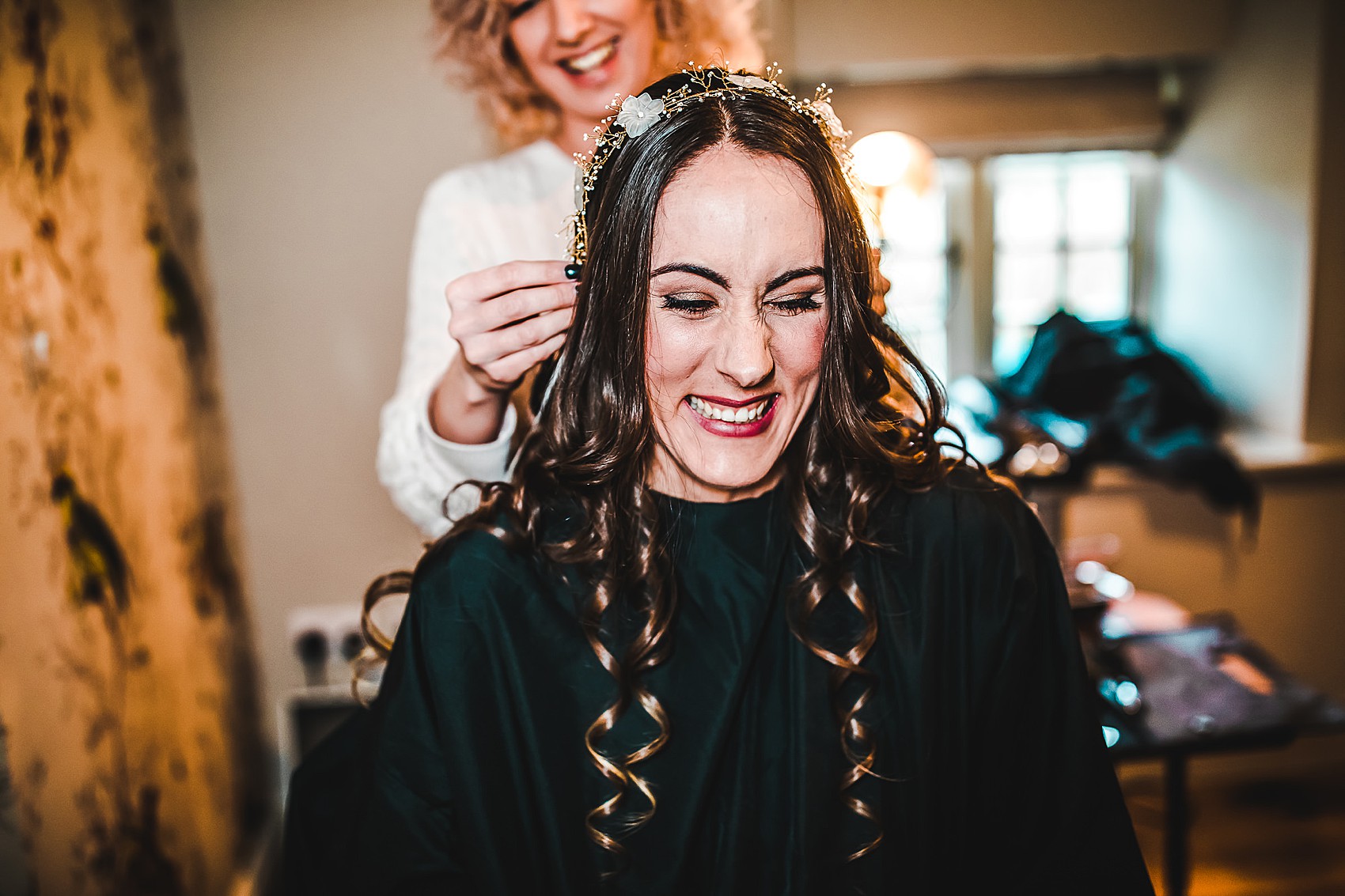 "I just so happened to have my hair down and lightly curled (my usual style) and when the vine was on, I realised that this was exactly how I wanted to look on our wedding day. I also realised that I was approaching the hairstyle from the wrong aspect. I wear my hair down and loosely curled almost all the time. It's how I feel most comfortable and myself, and so this was how I wanted to feel on our wedding day."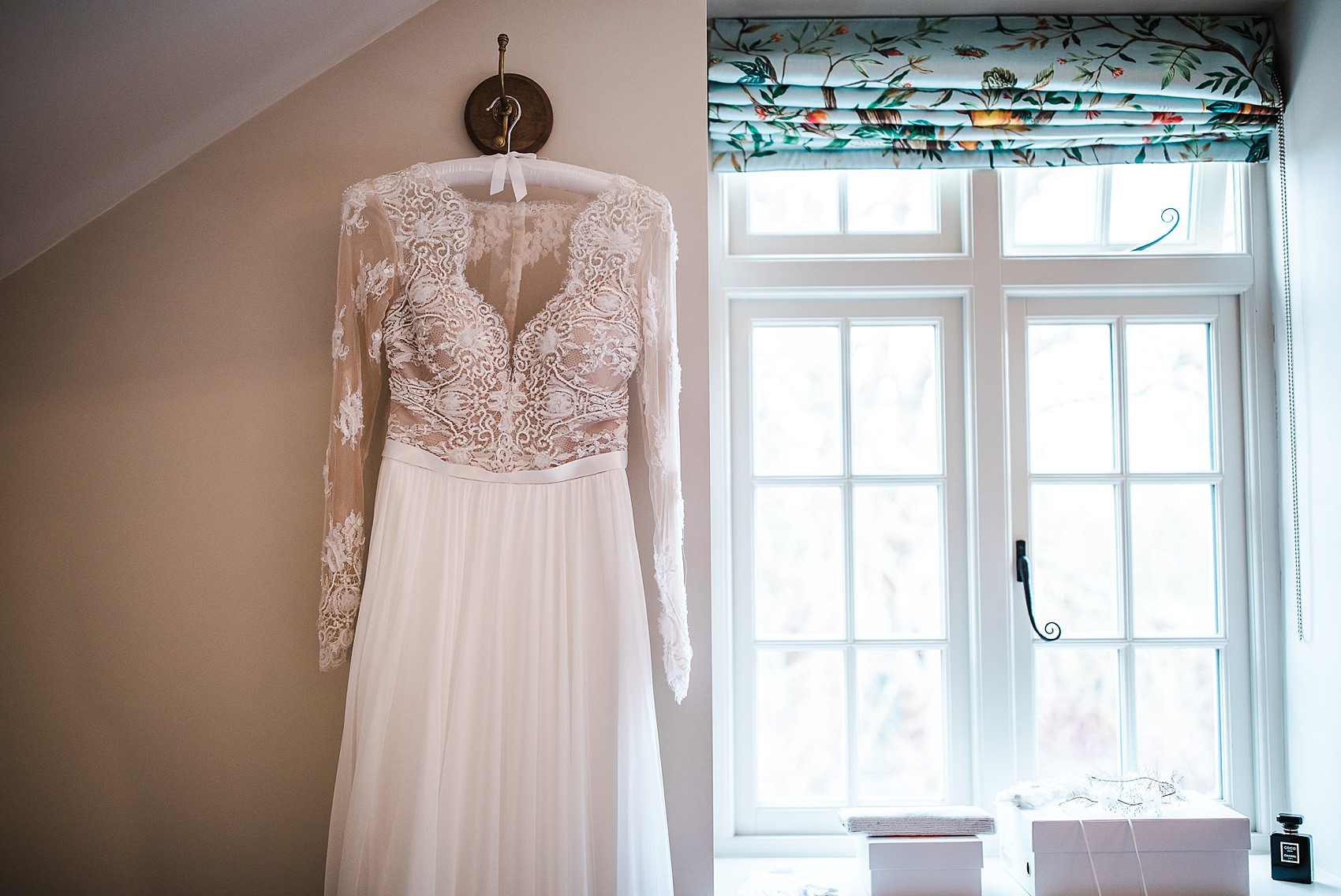 Leanne looked incredible in a gown by Suzanne Neville (the 'Camellia') which she chose at The Mews Bridal, Clifton. This brilliant boutique has outposts in Notting Hill and New York as well as Clifton, and as a side note, now stock exclusively French designers. What a beautiful confection of delicate floral lace, tulle, embellishment and organza this dress is, with the long sleeves perfect for the colder temperatures of a winter wedding.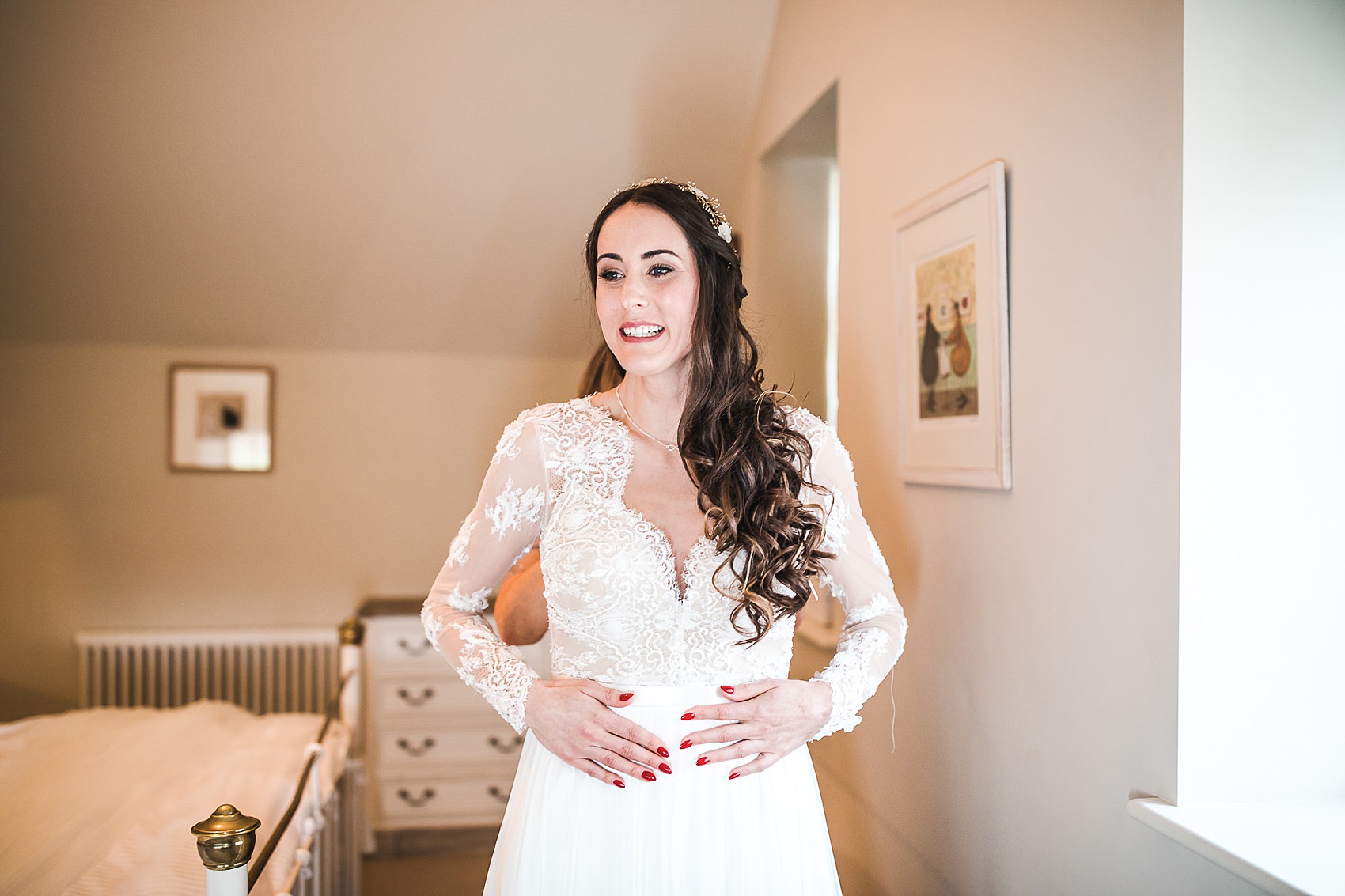 "I approached searching for a wedding dress with an open mind, however, I also know what I like and don't like, what suits my shape, and so I had a bit of an idea in my head as to what I was looking for."
"I wanted something that I could move in and eat as much as I wanted to. I also knew that I wanted something with sequins and beads, and these has always been elements I've been drawn to. Also, as a larger busted lady, I wanted to be able to wear a bra under the dress so that I didn't worry that the ladies might move or escape during the day!"
"I loved it the moment I had it on. As soon as I came out to show everyone, we all burst into tears. I loved the lace, the beading and sequins, and the way the skirt moved when I walked. I loved that it was comfortable and had beautiful long sleeves. It felt like it was a dress made just for me. I agonised about making the decision and it wasn't until a few months later that I finally committed, and I'm so glad I did." 
"It's a lot of pressure to put on one item of clothing, and I think this is what made it so hard to commit. I kept worrying that I wouldn't like it on the day, or that there was another dress I hadn't found that I would love more. In the end what made me decide was reading a blog post that one of the lovely ladies on the closed Love My Dress Facebook group posted about the subject."
On her feet, Leanne wore a pair of white sandals with floral applique and gold studs, from I Am Florence, and for jewellery, a very special pair of pearl earrings borrowed from her mum, as a touching reminder of her much-missed dad.
"These earrings were a really special part of my outfit, as they were a gift that my dad gave to mum on her 30th birthday. As my dad had passed away when I was 9 years old, I wanted to have a piece of him with me on our wedding day. It meant so much to me to be able to wear them, and they hold a special place in my heart."
Wonderful Sian at Blossom and Bluebird made Leanne a long veil of soft tulle, and as her wedding day fragrance, she wore Coco Noir, by Chanel.
"Sian was amazingly helpful and provided the most wonderful service and experience. I messaged her with what I was after, and she created it perfectly. I really loved the fact that I was supporting an independent business."
x
x
x
"When we visited Elmore, we almost instantly fell in love with the place. We loved the mix of old in the main house, and the new and contemporary space of the Gillyflower. They truly embrace the ethos of 'Your day your way'. Pretty much anything goes and is encouraged! We also loved that they run the venue sustainably, such as using local, seasonal foods and that the Gillyflower space was built using the earth on site."
A lovely, sparkling Christmas tree stood in a beautiful stained glass bay window, and the room where Leanne and Rich's ceremony was held was decorated with a spectacular table garland of huge white hydrangeas, clusters of roses and sea holly, with boughs of winter greenery accented with pheasant feathers, made by talented florist Maria of Sorori Design.
Bunches of fragrant pine and eucalyptus hung as pew ends, and the aisle was lined with glowing wrought iron lanterns.
"For the flowers, we asked for a relaxed look with a simple mix of seasonal foliage and white flowers with some blue thistles, which were in the bunches of flowers at Rich's proposal. This would also act as my something blue."
"Maria hit the nail on the head, and I was amazed at the floral decorations on the day, and the bouquets. I actually cried when I had to leave my bouquet behind, as we went on our honeymoon the day after!"
Rich's proposal to Leanne was meticulously and lovingly planned, with a surprise trip to Raymond Blanc's Le Manoir aux Quat'Saisons. They arrived to champagne and chocolates before a lovely lunch and walk in the gardens, and in the evening, just before dinner, Rich suggested another walk in the grounds.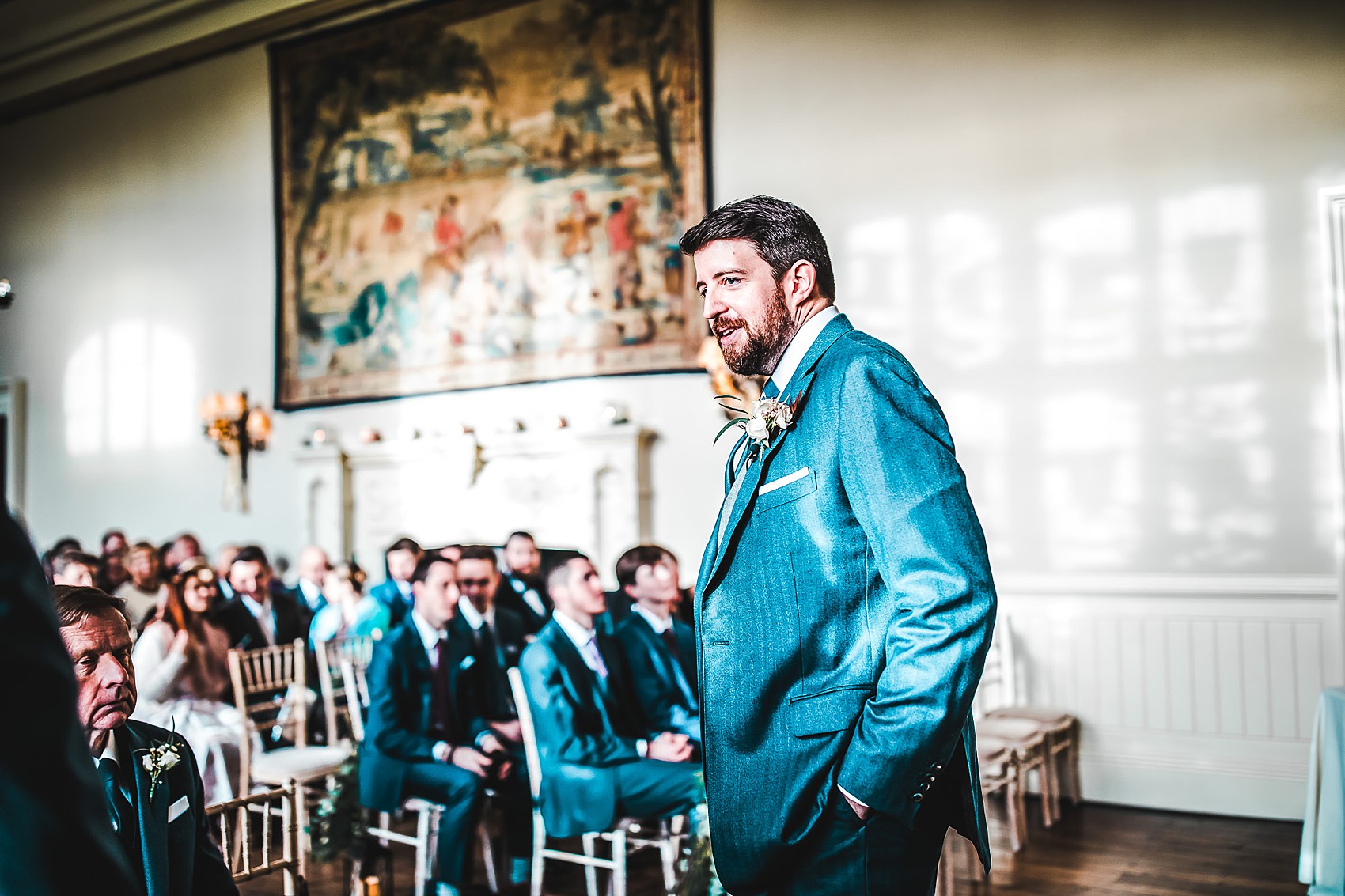 "I noticed that there were lanterns leading down a path that hadn't been there before, and Rich suggested we should investigate. This took us to the Japanese Garden where inside a tea house were candles and flowers. Here, Rich proposed overlooking the beautiful gardens. We then went inside and celebrated with one of the most amazing meals I have ever had."
Leanne carried a heavenly bouquet of snowy blooms – ranunculus, roses, hydrangeas and waxflowers, accented with greenery and delicate budding branches, silver brunia, sea holly, and more pheasant feathers.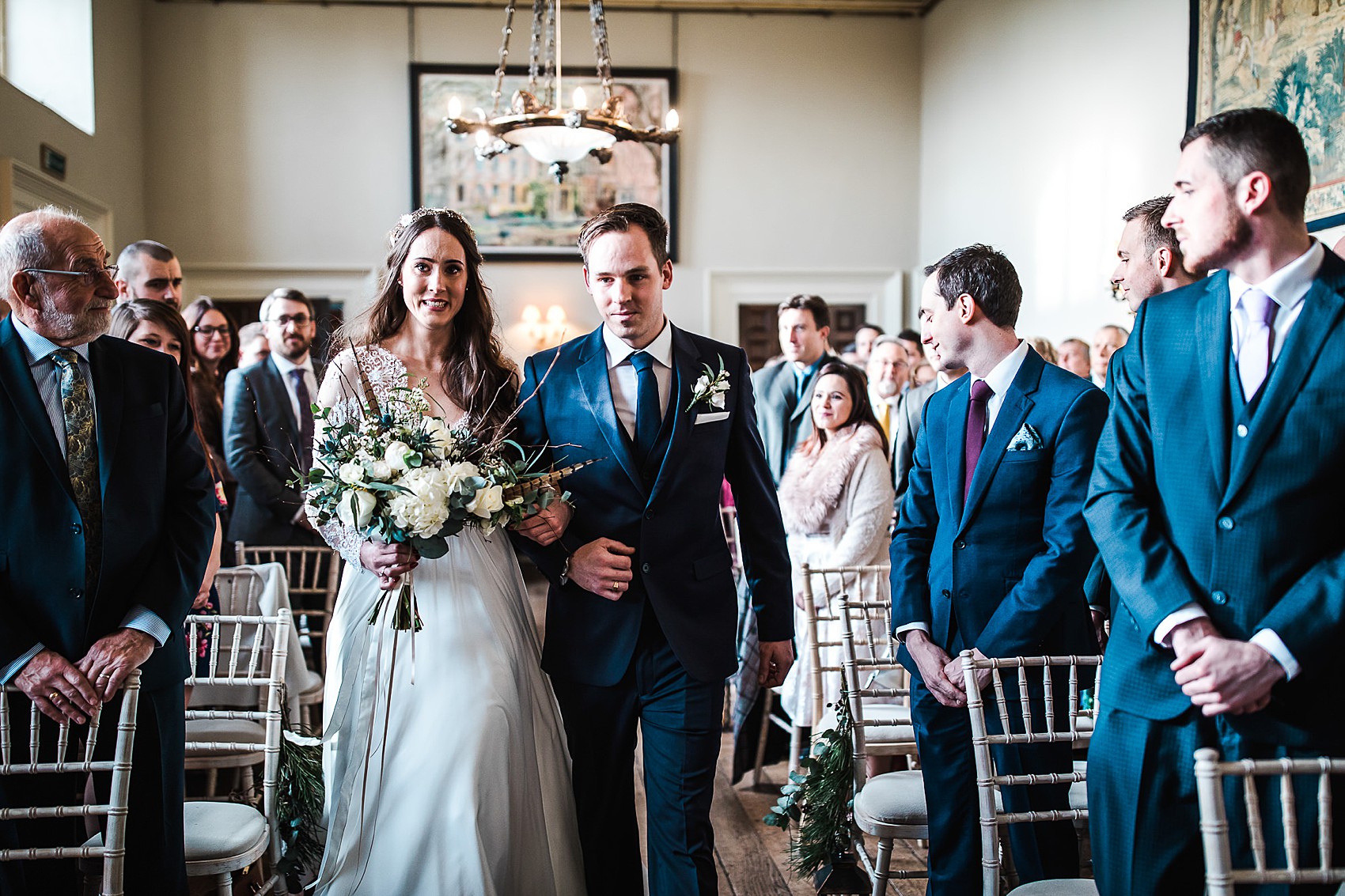 "I asked the eldest of my three younger brothers, Daniel, to walk me down the aisle. We wanted to stick to tradition here a little, and my mum wanted to be at the top of the aisle to watch me come in. It was such a special moment with him, waiting for our turn to walk down the aisle. He also did a really good job at keeping pace with me, as I practically ran down the aisle to Rich!"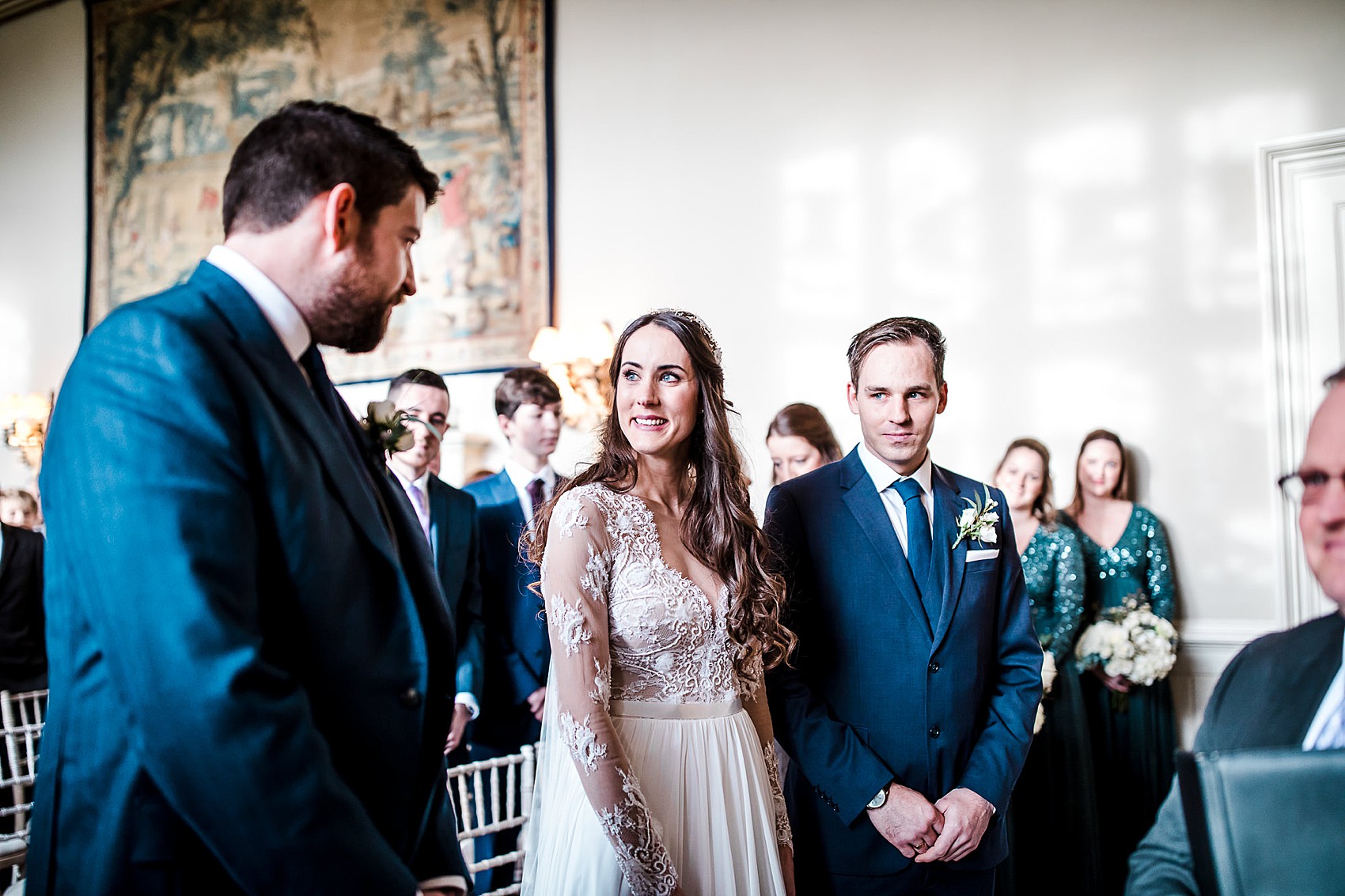 "My entrance music was A Thousand Years by Christina Perri. Even though I listened to this song loads of times before the ceremony and managed not to cry, on the day I was overwhelmed with emotion and happy tears as I walked (ran!) down the aisle."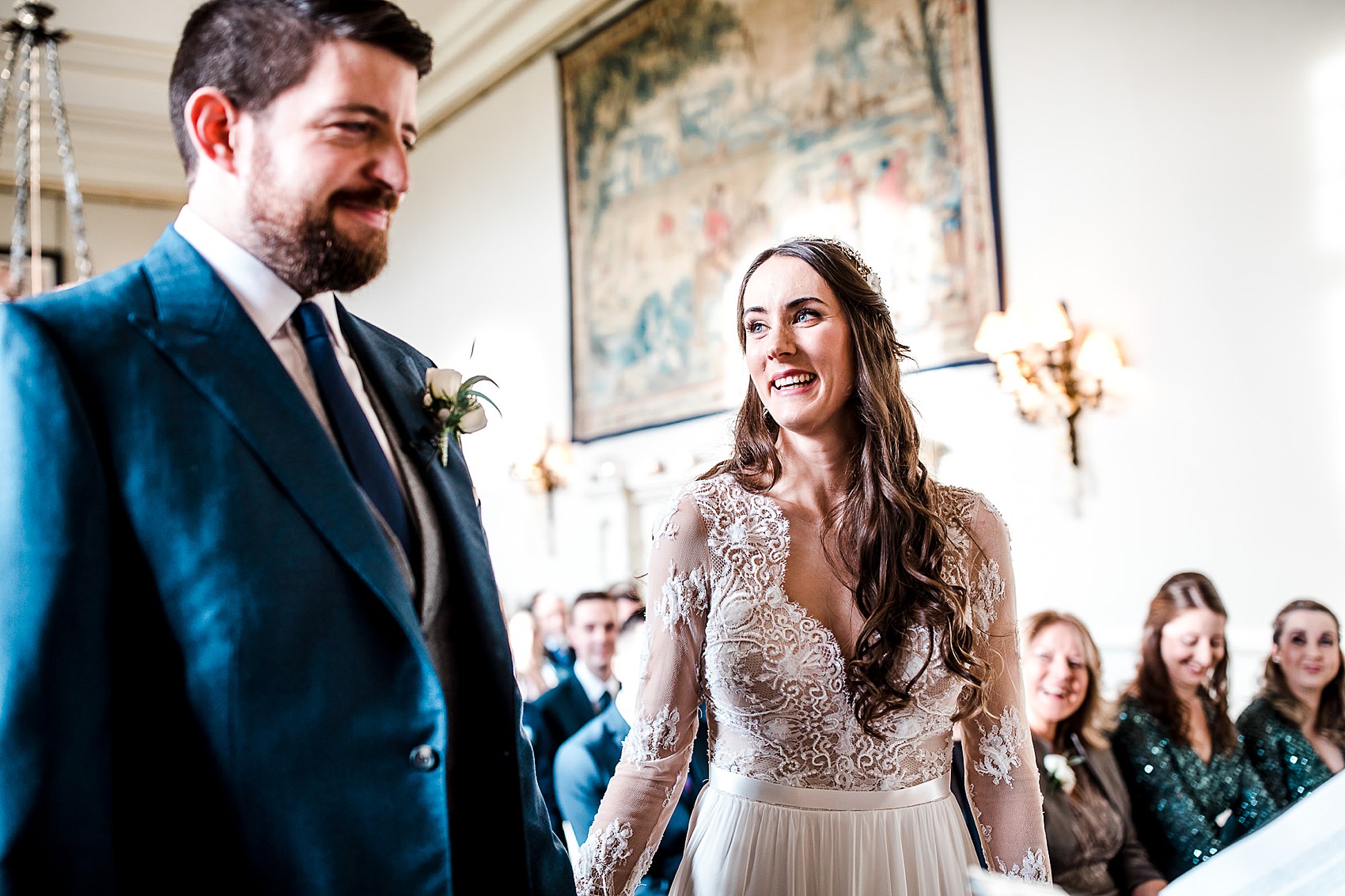 For their ceremony readings, the couple chose one each, with Leanne going for A Lovely Love Story, by Edward Monkton, whilst Rich chose Union, by Robert Fulghum.
"We chose to go to Marlow's for our wedding rings, as Rich had picked up my engagement ring from there and loved the service, as well as it being the best value for money. I knew that I wanted something with a bit of sparkle. I also knew I wanted something that I could wear every day with my job. The platinum band with diamonds I chose fitted this perfectly, and I love it. Rich chose a plain, matte finish platinum band."
After a shower of confetti on the steps of Elmore Court, Leanne and Rich hopped into a classic racing green Mini Cooper Mk I belonging to Rich's dad, for a romantic getaway drive before making their way back for some magically captured shots by their photographer, Eve Dunlop.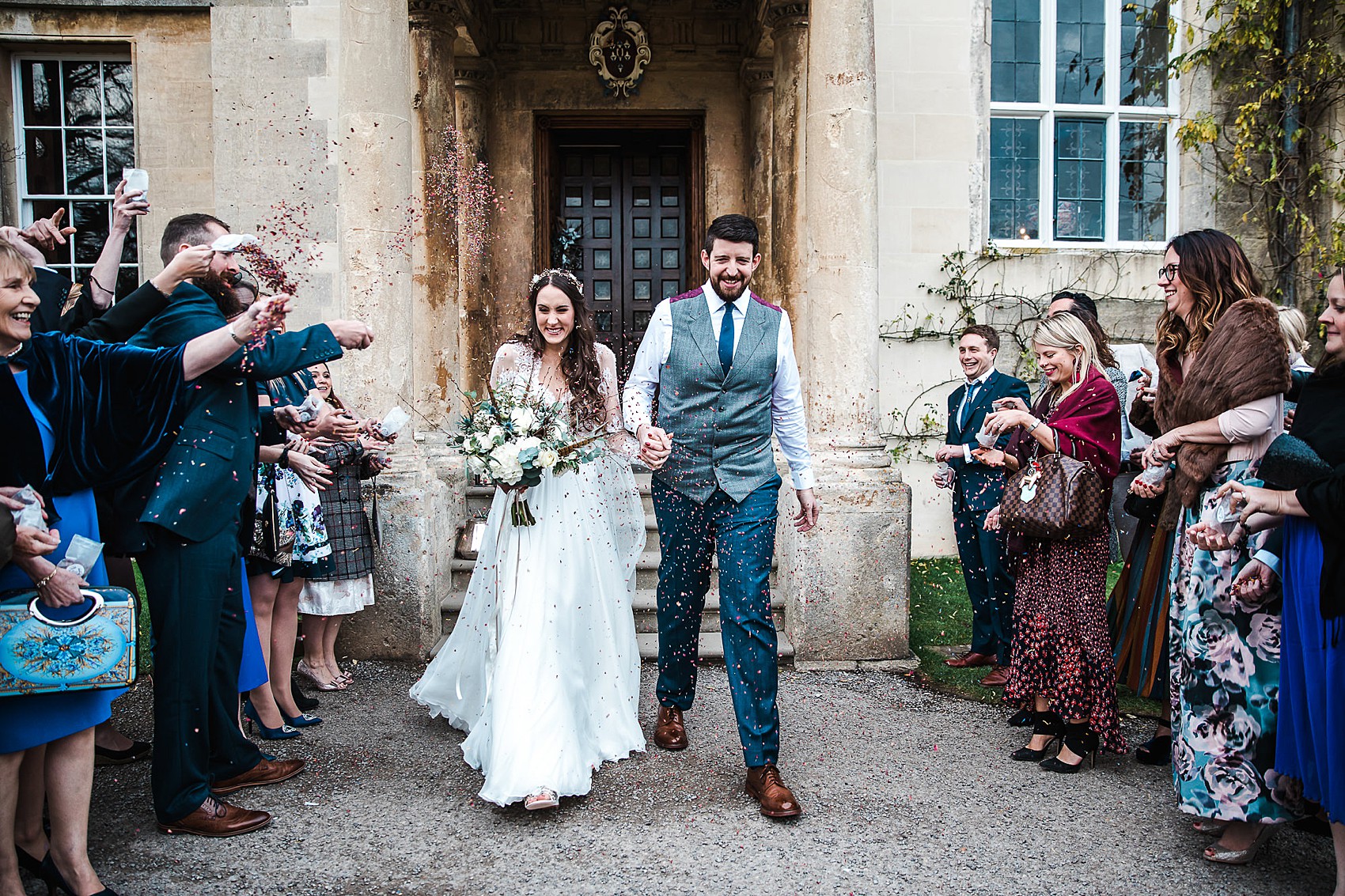 "We came across Eve as she was one of the recommended suppliers for our venue. We were really drawn to her relaxed style and the work she produced. We knew that she would capture the true feeling of our wedding after our first meeting with her, and booked her without meeting with any other photographers."
"Rich and I aren't the most comfortable in front of the camera, and so we booked an engagement shoot to help us relax a little. I'm so glad we did, as it meant that we got to hang out with Eve and helped to relax us about having our photos taken on the day, plus, we got some beautiful extra photos from it.
I am so glad that we chose Eve as our photographer. We absolutely love our photos."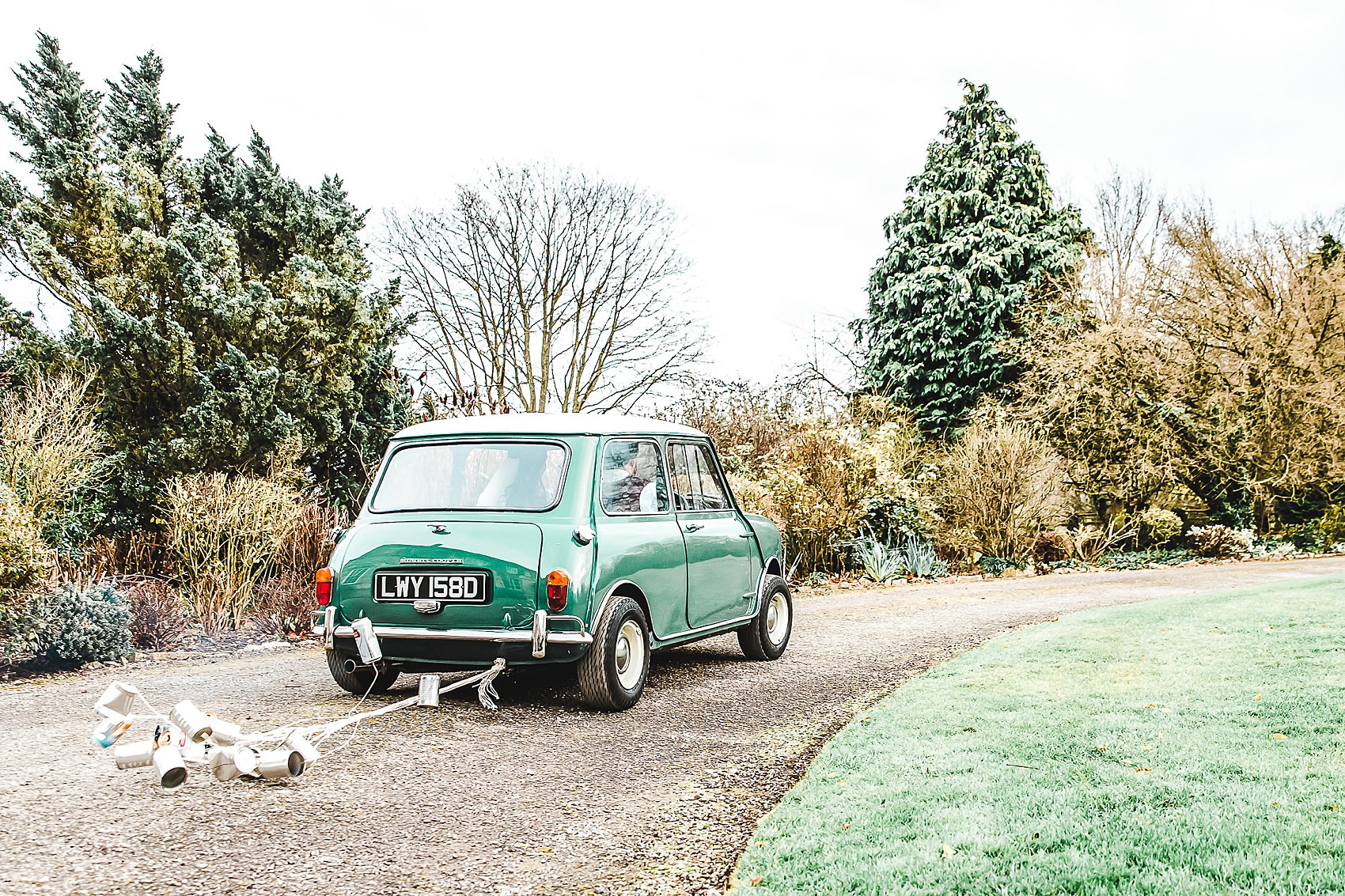 "On our wedding day she was amazing. She captured every aspect and emotion of the day, and a lot of the time I didn't even know she was there taking photos of us! She went above and beyond and even helped to fix my veil into place when it kept falling out before the ceremony! We honestly can't recommend her enough."
"Rich chose his groomsmen – he wanted to have a team of the people closest to him in his life for the big day. Best Man was a clear choice, his best mate Andy who he's known for many years – they've had numerous adventures together. He then wanted a special role for his best and closest friend from school, so appointed Rob as Master of Ceremonies for the day. He did a great job and ensured all the announcements were made, people were in the right place and (nearly) always the right music was playing!"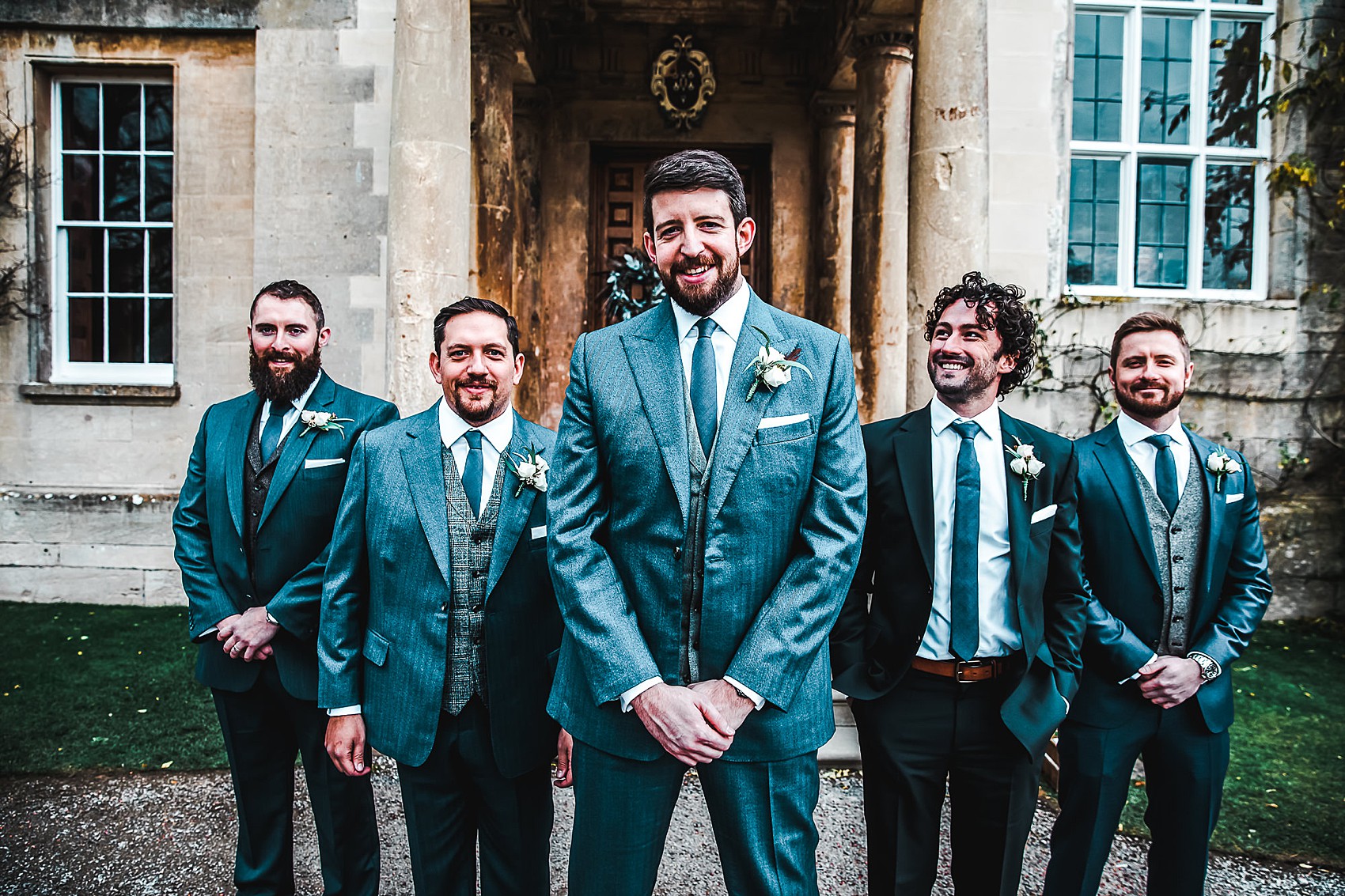 "Rich rounded out the team with two very close friends, Mike and Liam, as ushers. They did an outstanding job on the day and we couldn't have asked for more. Overall it was a great team, and with Rich choosing specifically the people who he knew and trusted the most, it made the day much less stressful."
Rich had a fantastic experience at Cad & The Dandy on Savile Row, where he went along with his Best Man Andy for a bespoke suit. Rich's suit was blue with a subtle herringbone weave, which he wore with a contrasting grey waistcoat, as well as a white shirt, navy blue tie and brown shoes.
The team at Elmore Court pulled out all the stops for a magnificent, festive-inspired feast, with post-ceremony canapes served with mulled wine and champagne, followed by a starter course of baked Camembert with chutneys and bread.
"The main was a local game pie with seasonal vegetables, mash and gravy. We also had our initials put on the top of each pie in sesame seeds, which went down a storm and we really loved."
"For dessert we had sticky toffee pudding and clotted cream ice cream. We basically chose all the foods we loved, and that would make up a hearty winter meal."
"Suffice it to say, no-one was hungry! In the evening, we had a range of sausage and caramelised onion sandwiches, fish finger sandwiches with tartar sauce as well as mushroom sandwiches. All the food was amazing, and we received so many compliments from guests long after the wedding."
The couple held their reception at Elmore Court's incredible new addition, the Gillyflower, which was built sustainably using traditional craft methods, and materials sourced from the estate. Below the soaring ceiling with its contemporary chandelier, long wooden tables were decorated with greenery, antlers and moss, along with candles and stationery designed by graphic designer friend Lewis, AKA Wrightio.
"We designed a logo with Lewis. Everything looked amazing and we cannot thank him enough. For place cards we ordered really cute antler cards, and Liz, my Maid of honor and Rich's sister,  wrote everyone's names on them for us, as she has the most lovely handwriting."
The couple's wonderful silver drip cake had four different flavours, which were carrot, chocolate orange, lemon, and chocolate and caramel. It was made for them by Celia (no further details provided, sadly) from Leanne and Rich's hometown, and decorated with a custom-made T-Rex topper from Painted Parade, to reflect their mutual love of dinosaurs.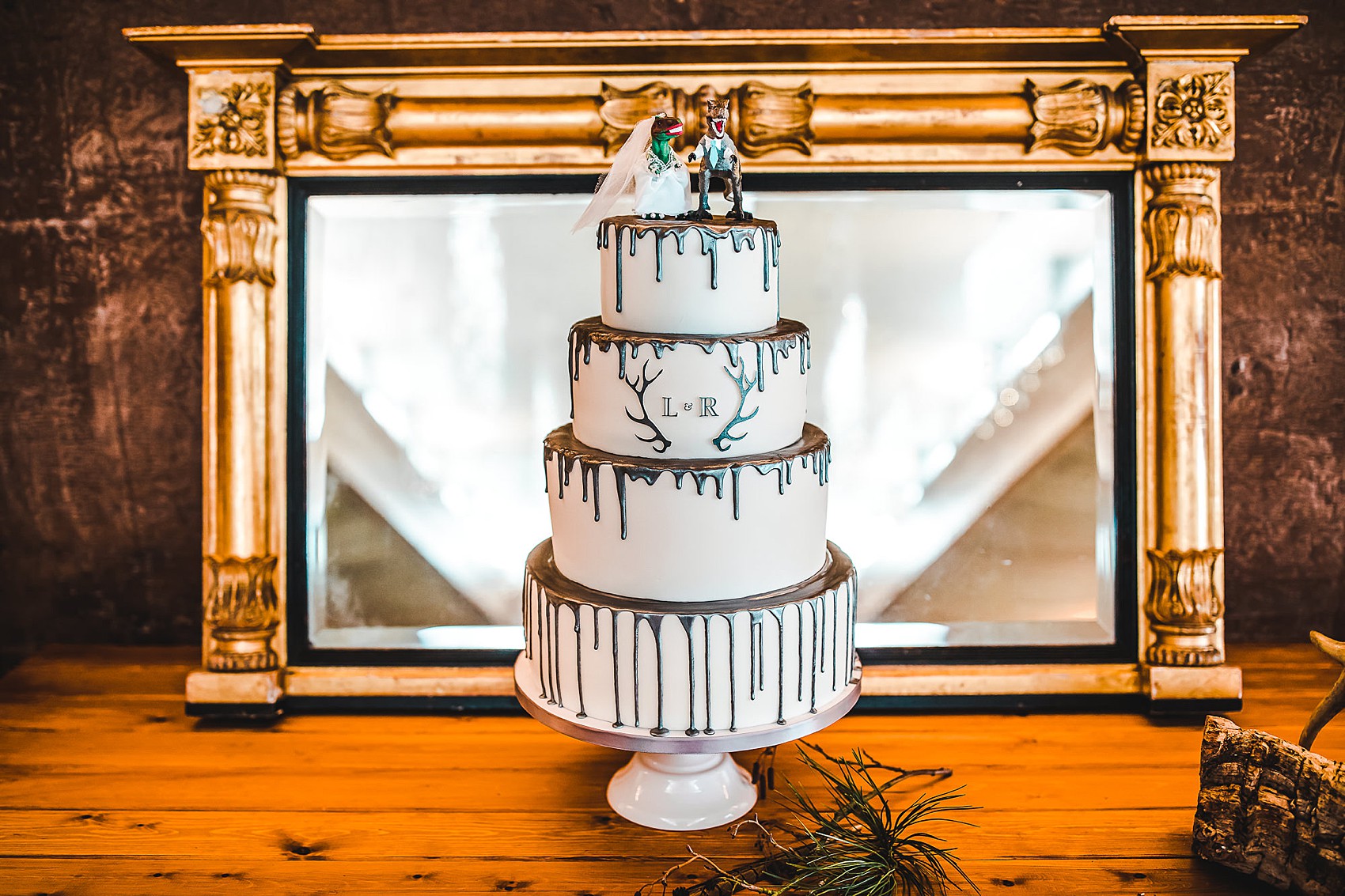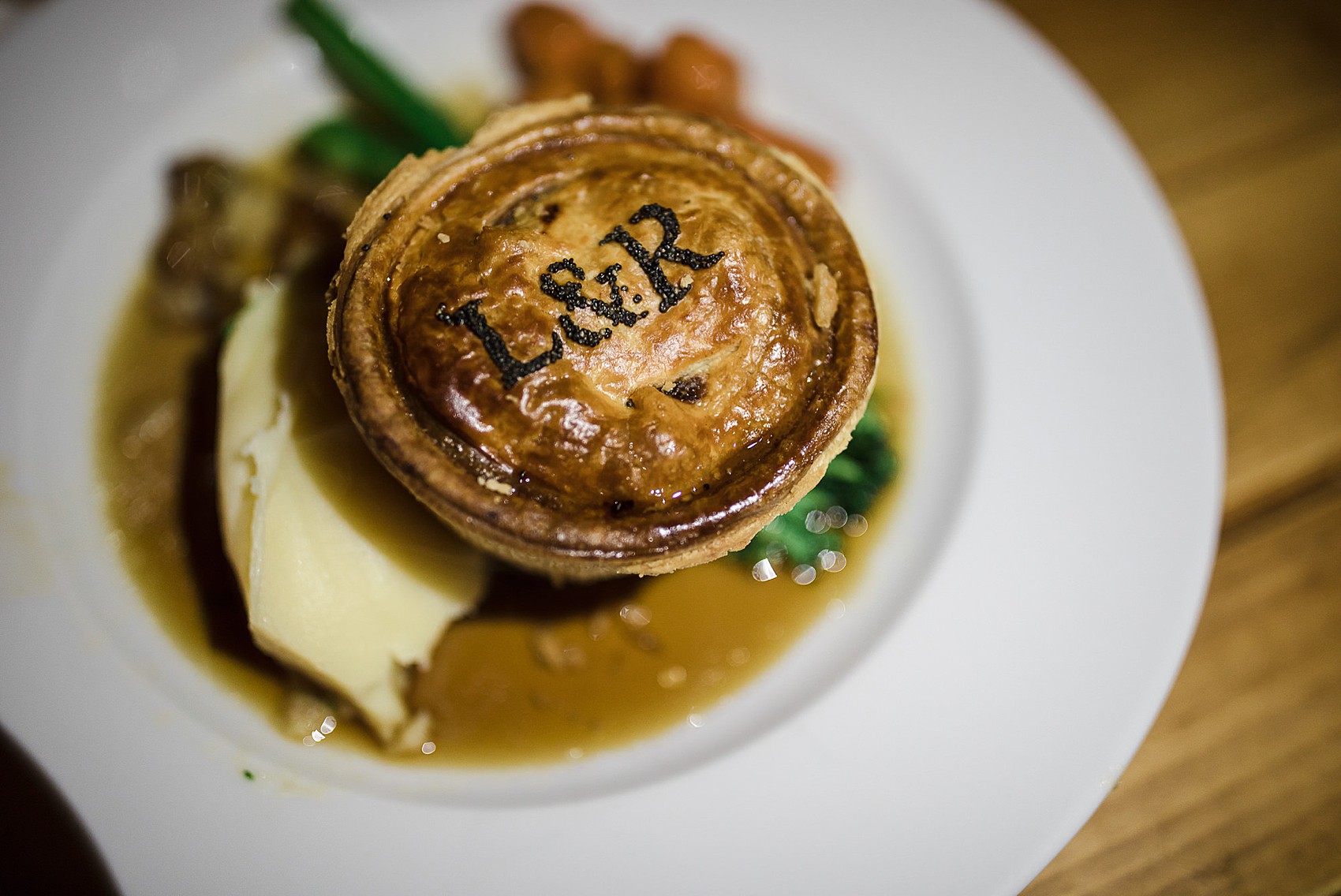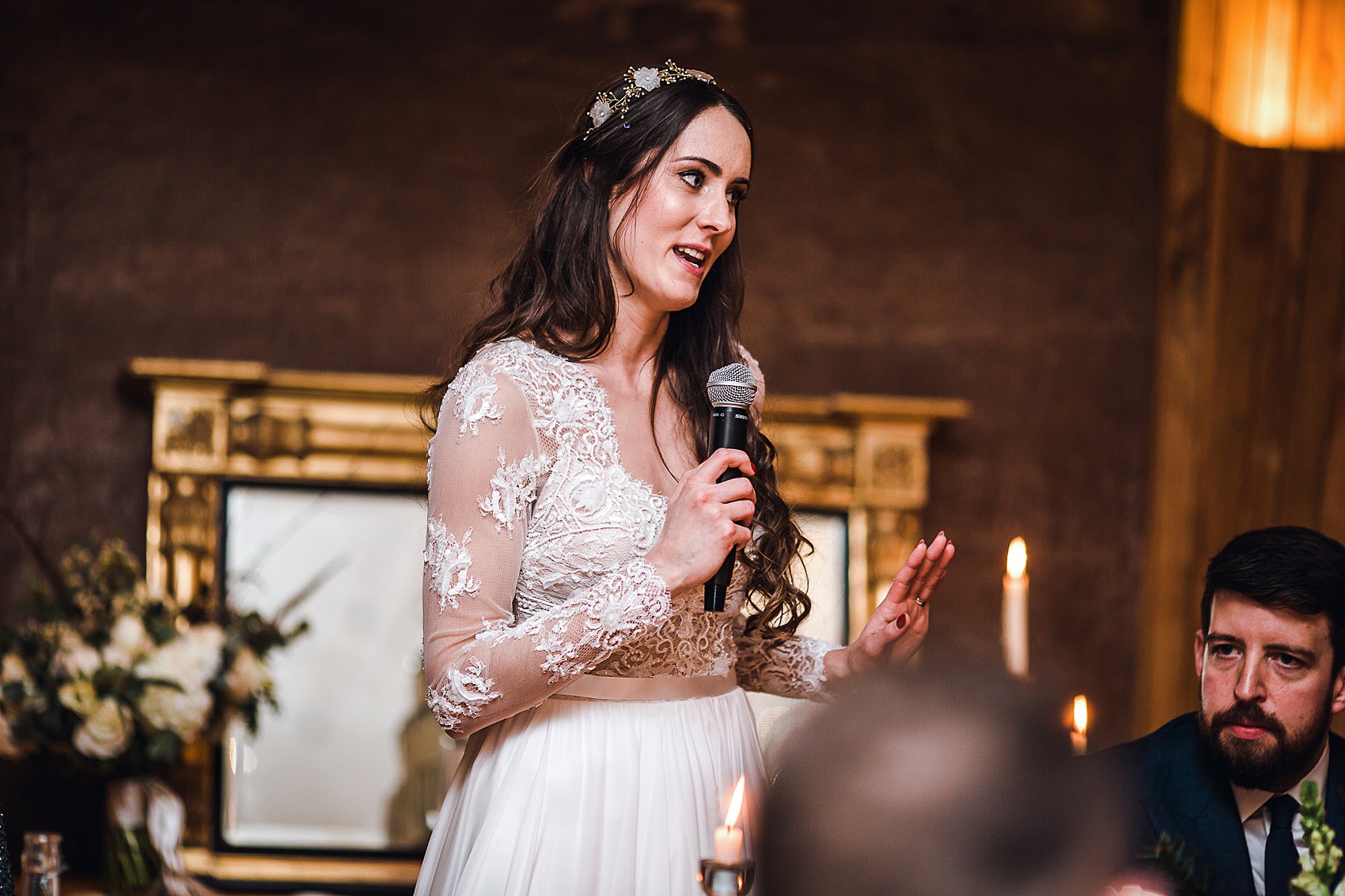 "We wanted a local band that had a bit of a rock and roll vibe to them and came across The 45's. The 45's are not your typical wedding band, which was exactly what we were looking for. We had heard them at a local festival, really loved them and had them recommended to us by a friend, too. They play a mix of rock, blues and Motown with an individual take. This meant that there was something for everyone to get up and dance to. On the night they were brilliant, entertaining and got the party started."
For their first dance, Leanne and Rich chose Aerosmith's I Don't Want to Miss a Thing, and Rich surprised Leanne with an amazing confetti cannon, too!
"We were talking one night and recalled a moment at a festival one year whilst watching Aerosmith. It was pouring with rain, and we couldn't get near to the stage at all and the speakers cut out so we couldn't hear the set. As it was almost the end of the festival we decided to head back to the car and go home."
"Just as we got to the car, in the middle of a field in the pouring rain, lit by a flood light, the speakers all of a sudden kicked in and this song boomed across to us. In the middle of the field, soaked to the bone we had a slow dance to the song. It was this reason that helped us to choose this song."
There was one more surprise in store, with sparklers and a fireworks display courtesy of Shockwave Pyrotechnics lighting up the sky on a crisp, winter night.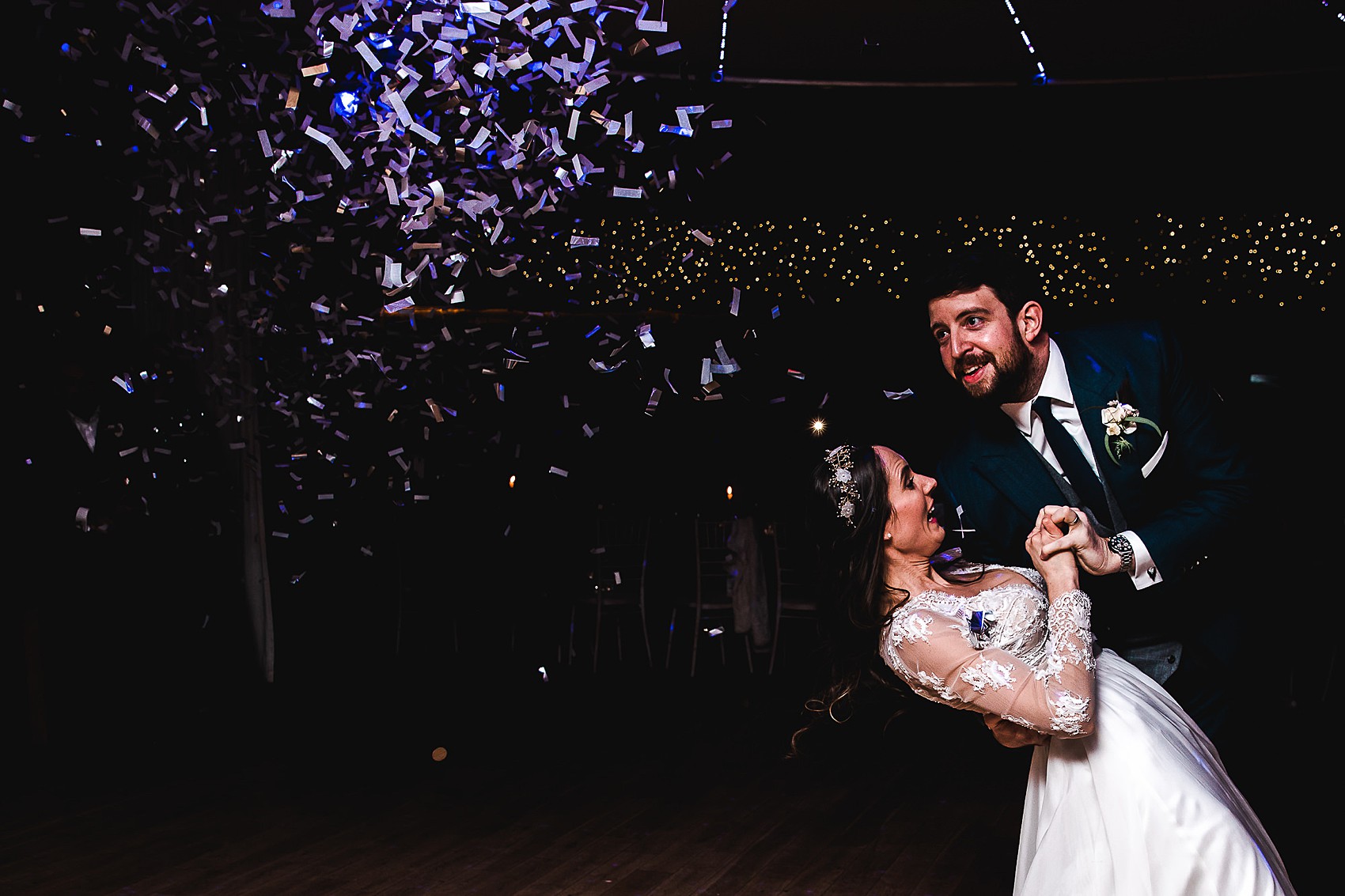 "Our favourite moment has to be the ceremony. It was such a special and happy moment and the best bit of the whole day. The feeling of walking into a room filled with all your favorite people, full of love. It was such an amazing moment. There is nothing that we would have done differently about the day at all. It was absolutely perfect."
Words of Wedded Wisdom
"I know it's easier said than done, but try to trust your instincts when making decisions on things like your wedding dress, style of the the day, etc. I could have saved myself a lot of agonising if I had just trusted my gut." 
"Drop your dress more! I ended up holding my dress off the ground more than I should have, as I was worried about it getting filthy where the ground was a little wet. I wish I hadn't worried so much, but I do love the fact that my shoes got in more photos as a result!"
Leanne and Rich, thank you so much and all the very best to you both. Many thanks to Mrs Mashup and Eve Dunlop for the enchanting ways in which they captured this gorgeous day. If this festive treat has left you wanting to see more, then do spend some time enjoying our other winter wedding features, too.
With love,
Laura