Most Curious 2020 LONDON will feature a brand, spanking new workshop and experience section during their 8th and 9th February show at the Truman Brewery in Shoreditch.
This is our third year of doing workshops, but this year we have really worked hard to elevate this area of the show to become a super inviting space to get wedding-giddy, pampered or creative with your pals, learn a skill that can help you in your wedding prep or all of the above.
Artisan attitudes and celebrating independent makers is something synonymous with Most Curious so we feel extending this magic into something interactive with our visitors is a natural addition to the MC world, which already includes 140 exhibitors, catwalk shows, the FEAST food hall, DJs and inspirational installations.
We set our new team member Amanda – who runs her slow craft workshops and curates creative sessions for her business Head & Hands– to task on this and she has certainly come up with the goods. Check out this wonderful selection of exciting, cute, fun, cool, interactive, inspirational happenings to accompany and compliment your Most Curious experience.
Have a little look see and you can book now on the website here. Every guest that books a workshop gets a free welcome drink and a fabulous discount on their ticket to the show too.
Saturday 8th February
10.30am-11.30am: Natural dye workshop with MiaSylvia (1 hour)
Join MiaSylvia for a masterclass in the world of natural dyes. You'll take away an organic cotton muslin napkin hand-dyed by you, using 100% organic and natural ingredients and pigments found in your kitchen cupboards and gardens.
Bespoke, ethical bridalwear for the eco-conscious bride. Hand customised colours created in the UK from sustainable, hand-foraged pigments and repurposed textiles.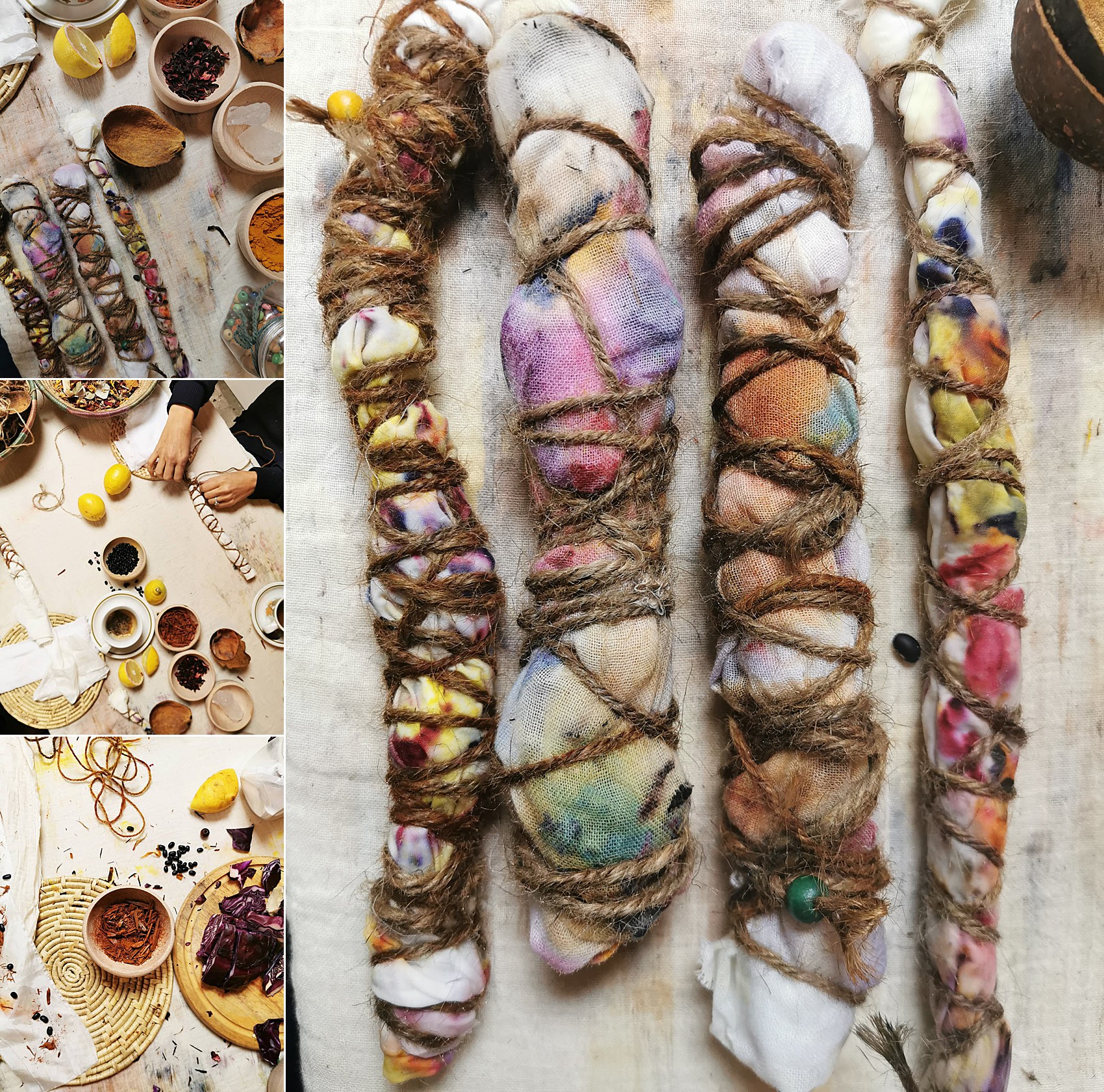 12pm-1.20pm: Brush Calligraphy DIY Name Cards with Calligraphy by Kiki (1 hour, 20 minutes)
Join Calligraphy by Kiki at this workshop where you'll learn the fundamentals of hand-written lettering using the brush calligraphy technique, unlocking your own creative talent and style throughout the session.
We'll begin by practising the basic strokes using a brush pen, paper and exercise worksheets that will be provided during the workshop. Once you've mastered the basics, you'll progress on to writing your own name place cards using a brush pen, which are yours to keep and take home.
With plenty of practice modern calligraphy can be a wonderful and therapeutic skill to hone. In time, you'll be able to personalise gift tags, address DIY wedding envelopes, or create your own seating plan – the possibilities are endless.
The class is suitable for either right- or left-handers (Kiki is left-handed herself), you'll be given tips tailored to suit your personal style.
Calligraphy by Kiki specialises in modern calligraphy, creating bespoke hand lettering for weddings and events to bring a touch of luxury to special occasions.
Visit the Calligraphy by Kiki website
2pm-3pm: Candle Making Workshop with The London Refinery (1 hour)
This candle making workshop by The London Refinery will last for about 1 hour. Guests will start with learning about how our sense of smell works and how fragrance affects our mood and emotions. They will then learn about the different fragrance families and what top, heart and base notes are. Next, they will learn how to use the range of essential oils to blend into their own soy wax candle. They will start by heating the wax, blending of the oils, and finish with pouring their own 60ml (15 hr burn time size) candle to take home. Each workshop participant will have their own blending equipment, mixing jug, whisk and glassware provided.
At the London Refinery, it's all about keeping our products as sustainable as possible. We craft natural candles by blending pure essential oils and eco soy wax in our studio in London. We aim to bring nature's work into the modern-day, by creating simple and natural products that are free from petrochemicals and synthetic fragrances.
Visit the London Refinery website
3.30pm-4.30pm: Dried Flower Floral Crown with Hazel Gardiner  (1 hour)
Looking for sustainable wedding flowers? Hazel Gardiner Design will be running an exclusive dried floral crown workshop for those looking to keep their flowers for eternity. You'll learn every step from correct measuring to selecting the right blooms. You will create your crown using the best of British dried materials, in Hazel's signature style, mixing scale, texture and tones. You'll walk away with a unique crown and full confidence and skills to create more for your special day.
This class is suitable for everyone, including absolute beginners, all materials provided.
Hazel Gardiner is a London floral artist & designer, creating unexpected visual stories mixing form, colour & texture.
Visit Hazel Gardiner's website
Sunday 9th February
10.30am-11.50am: Paper Marbling Taster Workshop with Marmor Paperie (1 Hour, 20 Mintues)
In this fast-paced workshop brought to you by Marmor Paperie you will get messy straight away, dropping paints onto a tank of thickened water and manipulating them with a variety of tools to create beautiful, colourful patterns.
Lucy McGrath, founder of Marmor Paperie, will guide you through the techniques for a variety of stunning patterns, gradually building up the complexity from elegant swirls to intricate combed chevrons. You'll capture you patterns on 5-6 pieces of paper which will be hung to dry and collected later in the day.
Marbling is the perfect creative tool for a stunning DIY wedding – marble your invitations, envelopes, ribbons, favours, place-names and more. And remember: no artistic skills are needed – you can't do it wrong.
Lucy McGrath is one of just a handful of paper marblers left in the UK. She started Marmor Paperie in 2015 with a mission to breathe new life into the endangered craft. Lucy's marbling is characterised by a fresh, contemporary colour palette and patterns that celebrate the chaotic qualities of marbling.
Visit the Marmor Paperie website
12.15PM-1.45PM: Creative Lettering for Wedding Props With Edlyl (1 hour, 30 minutes)
Ever wanted to create something special for your wedding day? Fancy learning how to make your own event signage or a large bespoke print?
Come and join Edlyl in this new creative workshop where she will be sharing her secrets on how to use basic pens to form modern calligraphy style lettering and incorporate them into other crafts that you can use on your wedding day.
By the end of the workshop you should be able to write on various surfaces. A personalised acrylic print/sign will be your hand finished product.
You will be provided with the tools needed to be able to personalise anything you set your heart on. All the materials provided can be taken home with you. There will also be samples that will be shared throughout the workshop for even more inspiration.
2pm-3pm: Personalised floral handkerchiefs with Ink & Thimble (1 hour)
Come and learn the craft of modern floral embroidery with JB of Ink & Thimble. In this class guests will learn the basics of modern embroidery, creating a personalised floral handkerchief of their own. The class will start with embroidery basics; using embroidery hoops, starting knots, & transferring the paper design to a stitched piece. At the end of the class, guests can take home their own floral creation as well as an obligatory goodie bag to continue to practise at home. JB will be on hand for the full hour for any questions or advice needed.
This is a beginner's workshop, so previous needlework skills and nimble fingers are not necessary. All tools and materials will be provided so please just bring your lovely selves.
Ink & Thimble is a creative embroidery & illustration service, founded by human being Julia Bethan (JB).
Textile artist & freelance illustrator JB specialises in crafting handmade, original items for playful, uniquely-sentimental & creative human beings. From bespoke wedding veils, to denim patches, to stitched love letters – Ink & Thimble is there for all and any needs that require 1) a creative brain 2) embroidery and/or illustration design 3) the celebration of one or more lovely human beings.
Visit the Ink & Thimble website
3.30pm-4.30pm: Make your own cake topper with May Contain Glitter (1 hour)
In this fun and easy workshop you will learn how to make small paper flowers with May Contain Glitter, how to cut them and how to shape them. These will then be attached to a ready-made cake topper. A wide range of colours and styles will be available so you can make a topper to match your wedding theme.
You will also learn how to attach flowers to stems so you can make your own bouquet, the flowers are also great to add to place name cards and favours. You will leave with a complete cake topper as well as some templates to make more and some ready cut centrepieces.
May Contain Glitter was set up by Michaela Childs, it was born from a lifelong love of papercraft, pattern and glitter. With an emphasis on bespoke and personalised items the collection consists of lovingly handmade paper creations, from wedding stationery and table décor to oversized wall flowers and sparkly cake toppers. Perfect personal touches for weddings and special occasions.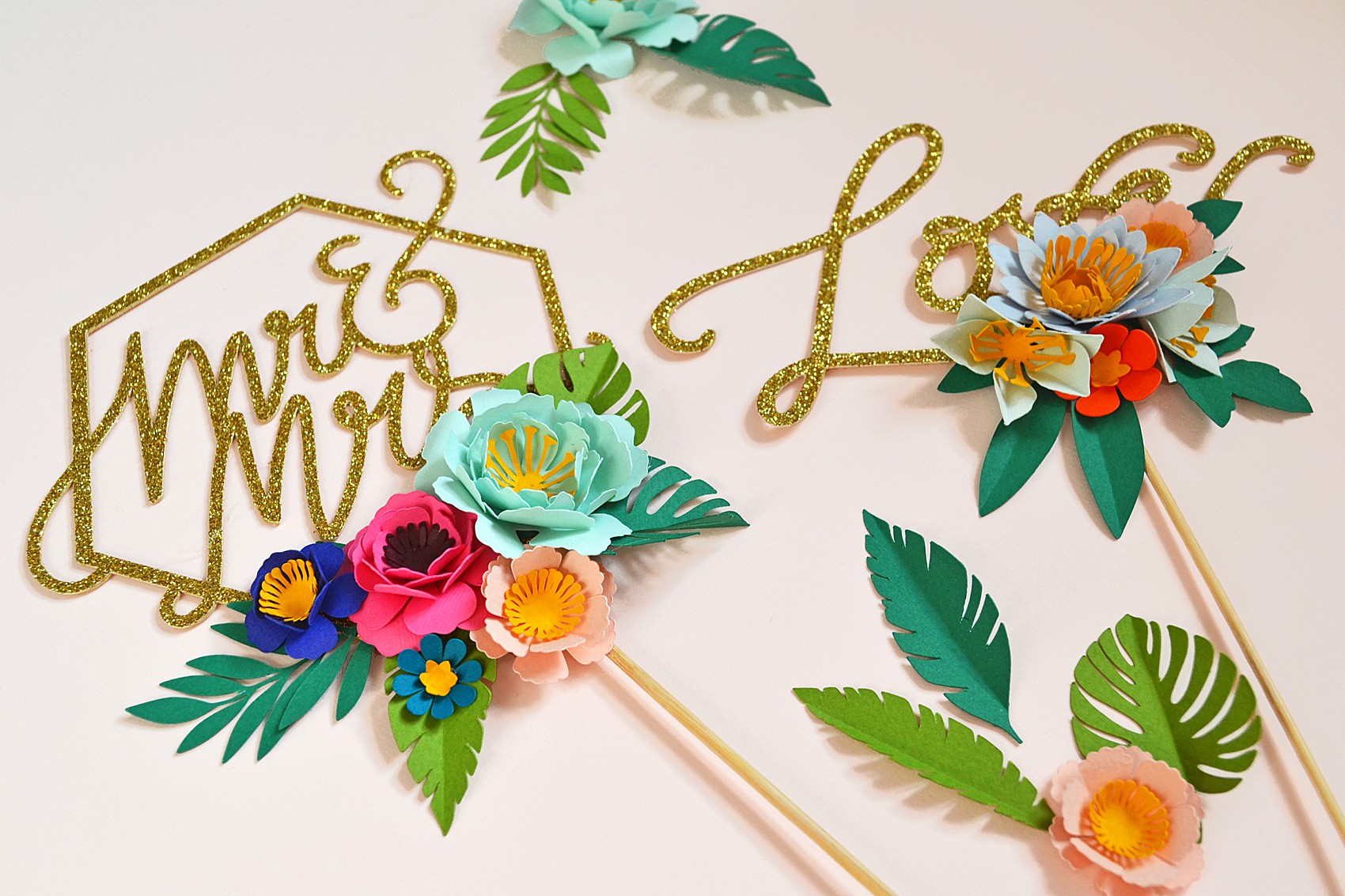 The workshop fee includes a free welcome drink and every guest that books a workshop also receives a fabulous discount on their ticket to the show. Have a peruse to find out more.
The MOST CURIOUS Shows will be taking place over
three amazing spaces in 2020, the Old Truman Brewery in London on 7-9
th
February, the exciting new Northern venue Archive at Depot, Mayfield, Manchester on 29
th
February and The Fire Pit Camp in Norwich on 29
th
March.
Get your

TICKETS NOW

and come and get curious with us!