In mid-December it can be hard to remember what warm sunshine feels like, so I hope today's May wedding brings back happy memories for you all.
It always amazes me how beautiful springtime weather can be, and today's couple enjoyed it to the max on their wedding weekend in May 2018. Please, come with me to The Byre at Inchyra in Perthshire, Scotland for today's relaxed yet polished celebration.
Photography SJH Photography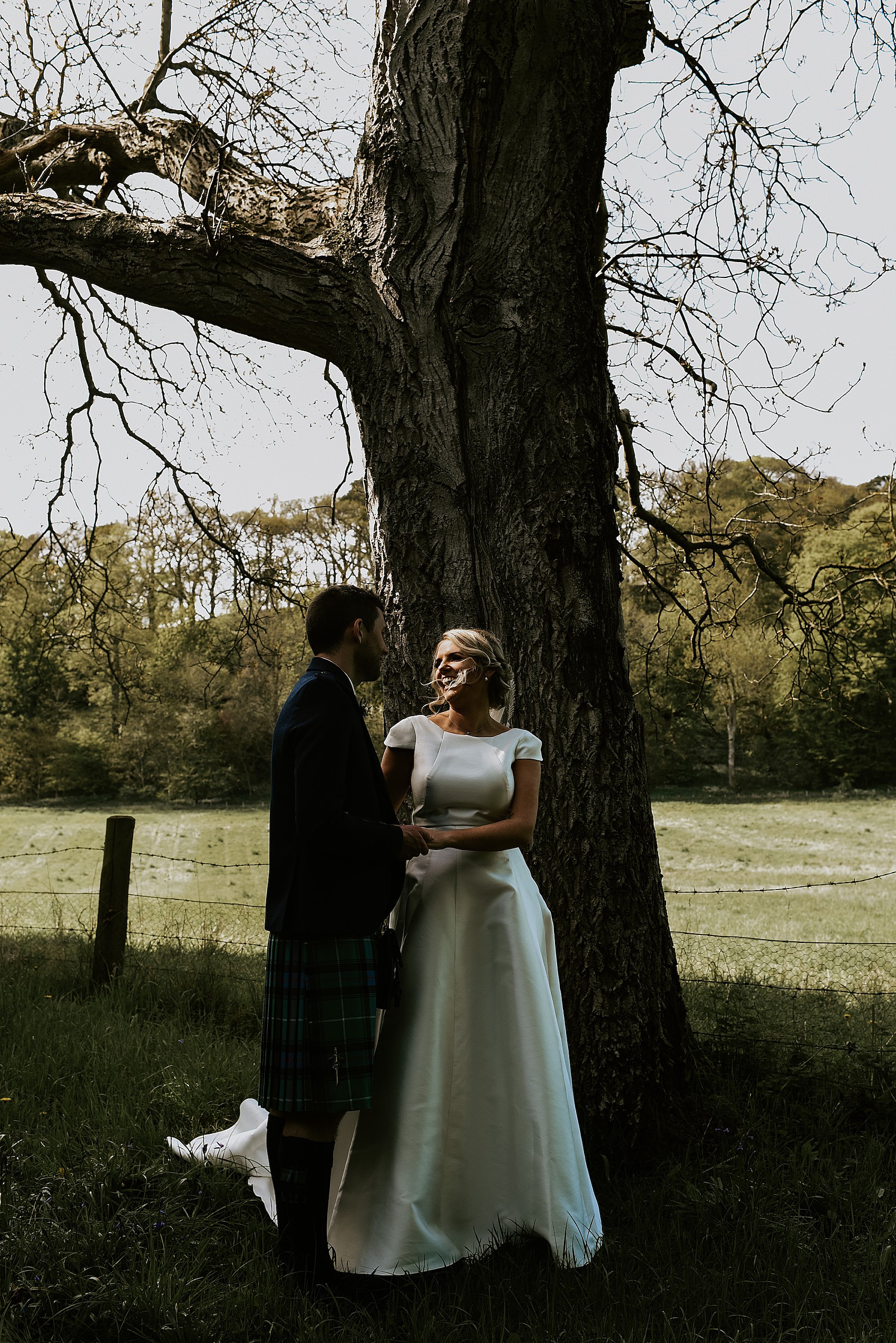 The bride and groom are producer Aillie and process engineer Duncan, who met at university and returned back home to Scotland for their outdoor wedding on 12 May 2018 at The Byre at Inchyra, Perthshire, Scotland. The venue was located half-way between the couple's home towns and its stable house and grounds offered a perfect blank canvas for their stylistic brief of 'relaxed and natural aesthetic but with a polished and modern twist' – think fresh foliage, monochrome accents and natural wood.
"Love My Dress was really helpful for pulling together inspiration and ideas from real weddings. Living and planning the wedding from London, I used the Little Book Directory to give insight into bridal boutiques in Scotland and to find a stockist for the dresses I wanted to try on once I returned home."
Getting ready at the Byre was one of Aillie's most memorable parts of the day.
"The Byre has a wonderful Stable Yard Bride's Room. We were free to enjoy a completely open and beautifully decorated room with gorgeous lighting and plenty of room to stay cool whilst being pampered. One of my favourite shots from the whole day is myself and the bridesmaids sat on a bench inside this room, taken minutes before we walked outside to begin the ceremony."
With pointy gold shoes, a bargain at £32 from ASOS, and her favourite perfume, Olympéa by Paco Rabanne, the bride was ready.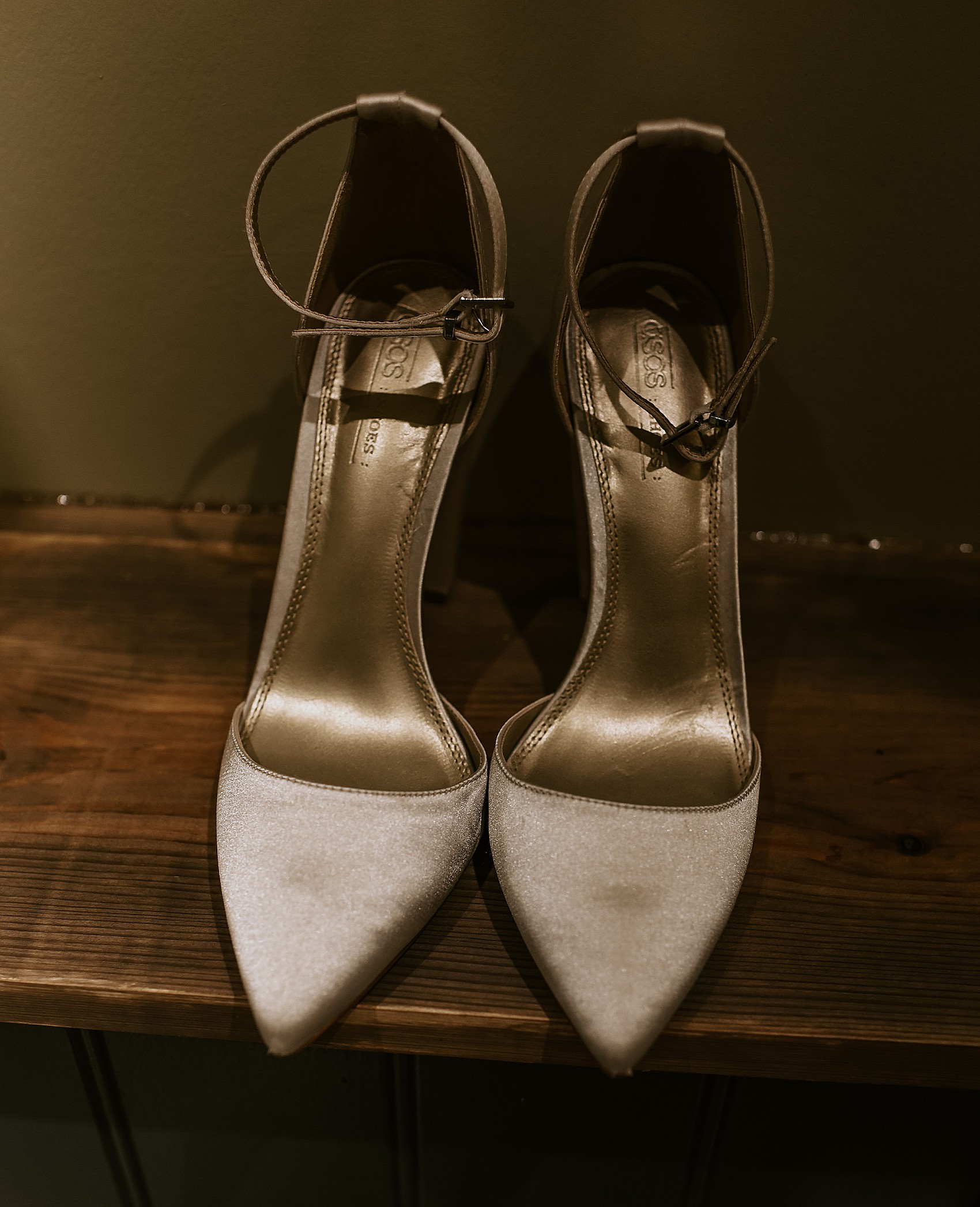 It's been a while since I had the pleasure of sharing details of a bridal separates and I really do adore this sumptuous two-piece from Karen Willis Holmes' 'Wild Hearts' collections. With pretty cap sleeves and a dipped back the cropped bodice looks impeccable paired with the full, exquisitely-cut skirt.
"My dress was the Mabel two-piece top and skirt, purchased from Angelica Bridal in London. I found the dress in an unplanned visit when out having a drink with a friend. The store was open late and we loved the teaser dresses in the window. The sales person, Sara, allowed me to try on a couple of gowns whilst the store was quiet. She offered advice based on my body shape and ultimately helped me to identify 'Mabel' as the one. I would absolutely recommend this store to brides looking for a quiet, relaxed and inspiring experience on a 1-2-1 basis with a stylish consultant."
"I really wanted something simple yet modern and with a boho twist. I knew I wanted a train and full skirt, too. My day-to-day wardrobe is modest yet fashionable and I didn't want to feel uncomfortable."
"A two-piece was an idea I had considered and I loved the flattering shape of both pieces. The cap sleeves, button back details and ability to wear a T-shirt bra were the extras that sold me."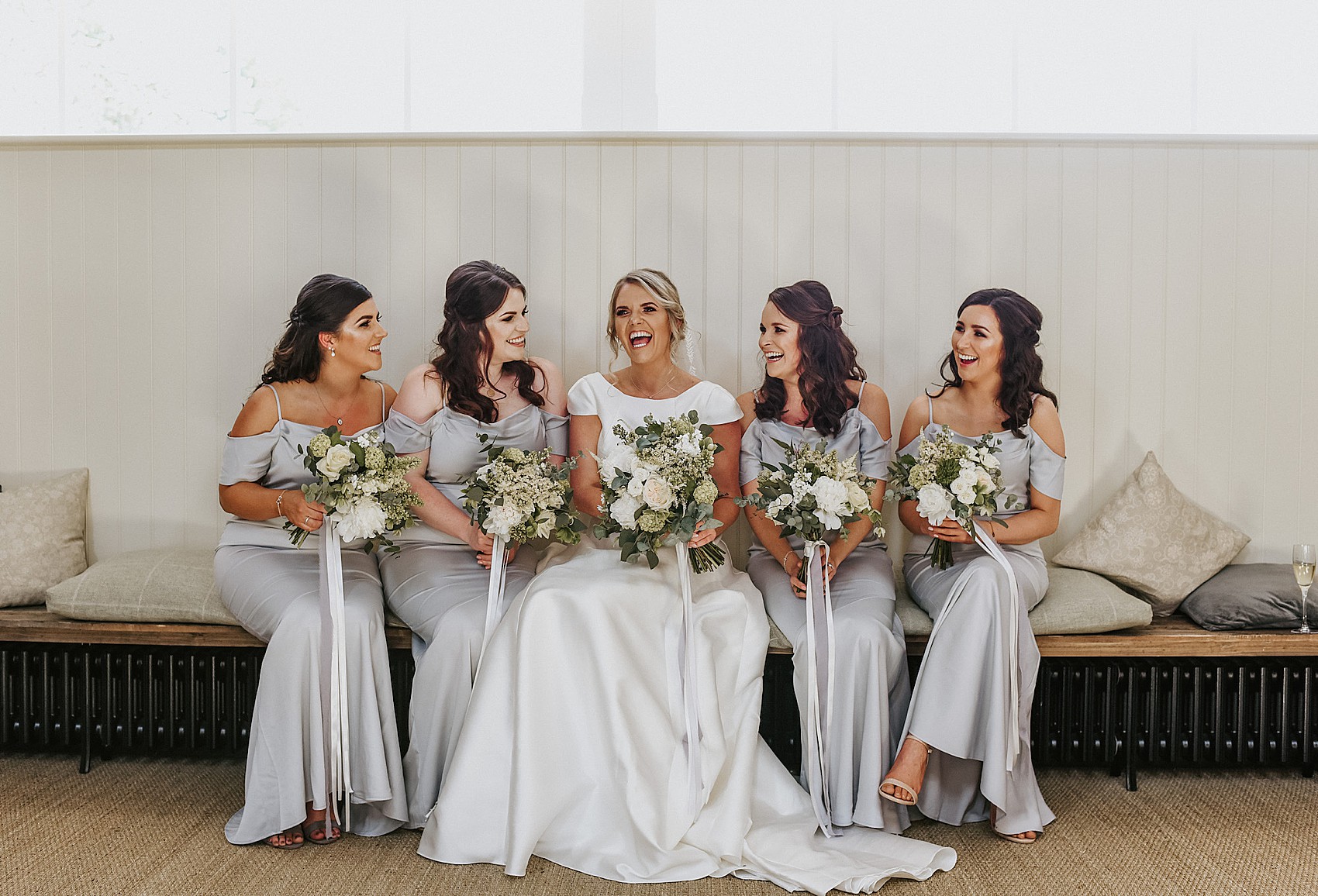 Aillie and her bridesmaids were pampered by Lauren at The Loft and Michelle Allison Make Up Artist.
"Both made for lovely additions to the wedding morning. Lauren McMonagle did the bridal party hair. After a trial a couple of weeks earlier, we knew she would fit right in on the wedding morning. Michelle Allison is a family friend of and an incredibly-talented make-up artist. She completely understood the brief and adapted to suit each face as per their individual needs."
The bridesmaids were given free rein to wear the necklace and earrings of their choice, along with their bespoke bracelets, and they all wore matching, floor-length gowns from Oasis.
"They were the perfect shade of grey and I loved the sheen of the satin finish. I loved that whilst my dress was high on my décolletage and with short sleeves, the bridesmaids' dresses were a cowl-neck, Bardot style."
"The creative and visual side of the wedding was really important. The palette was monochromatic and this was echoed in the decoration, bridesmaid dresses, flowers and dinnerware. The bridal and decorative flowers were always going to be wild with extra-large bouquets hosting large white peonies, eucalyptus, lush green foliage, touches of willow and the added romance of hanging ribbon."
"The location of our venue,The Byre at Inchyra, is simply stunning with beautiful countryside surrounding the most exquisite manor home. The focus for our wedding was the ex-stable house in the estate yard which made for a natural, understated backdrop with the stately home and walled garden a contrasting feature for photographs."
"We took a weekend to travel north from London and view five venues. Once we saw Inchyra nowhere else could compare. We loved that it offered everything we could ever need, want or imagine. There were also two cottages on site which we booked for the whole weekend for ourselves and our immediate families."
"We felt completely looked after. Not in our dreams could we have found a more perfect venue."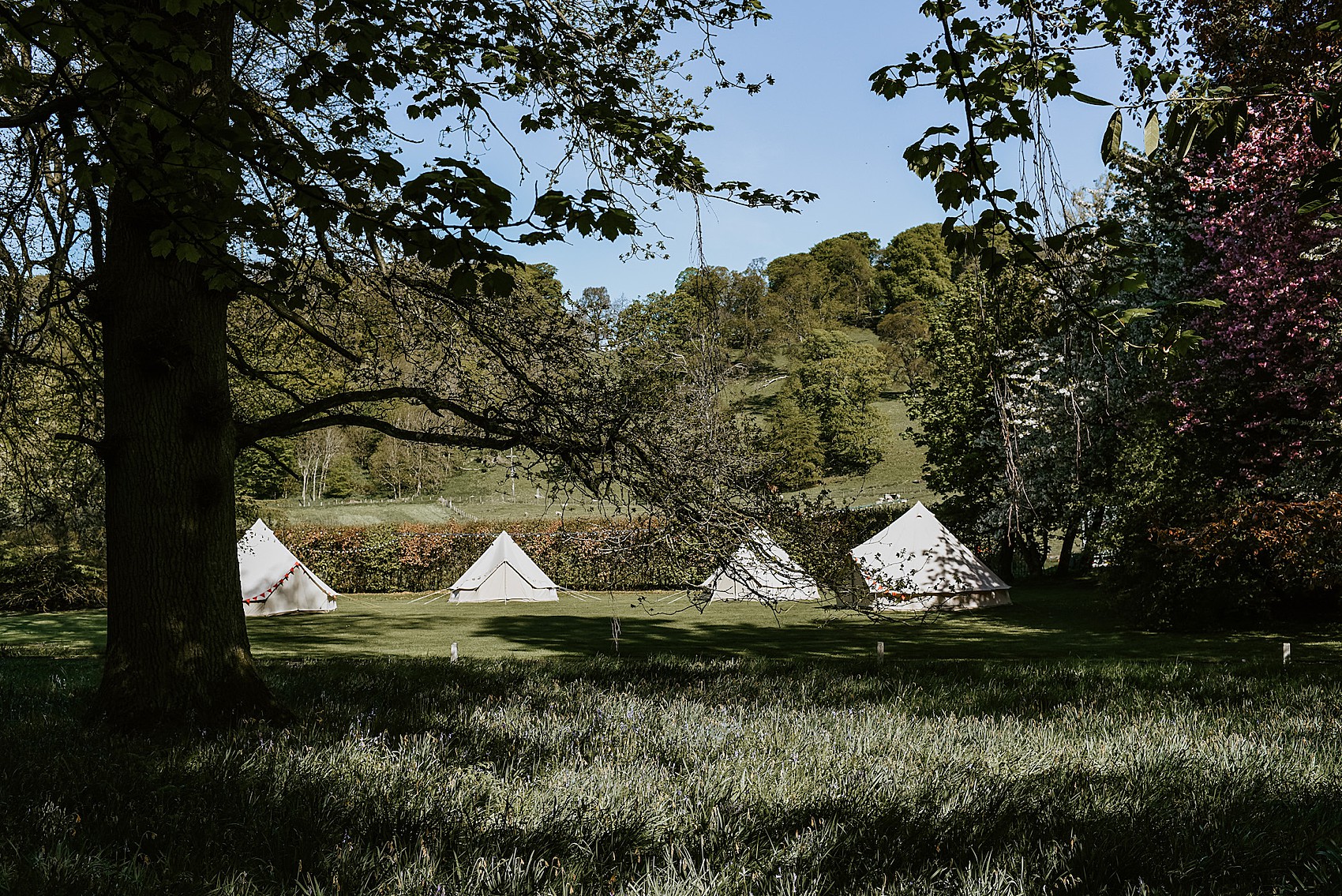 I love how Duncan wore his family tartan, MacDonald – Lord of the Isles.
"His jacket and waistcoat were both made especially by MacGregor & MacDuff who we met for a fitting consultation in Shoreditch at the Courthouse Hotel. They also provided matching navy socks. His tie was a complementary grey to the palette of the wedding from Amazon."
The groomsmen and best man were in matching outfits for a coherent look.
"We hired kilts and jackets from MacGregor & MacDuff and allowed the boys to wear their family tartans. The socks and ties were a gift from us and Duncan presented them with an engraved whisky glass as a special thank you at the pre-wedding dinner."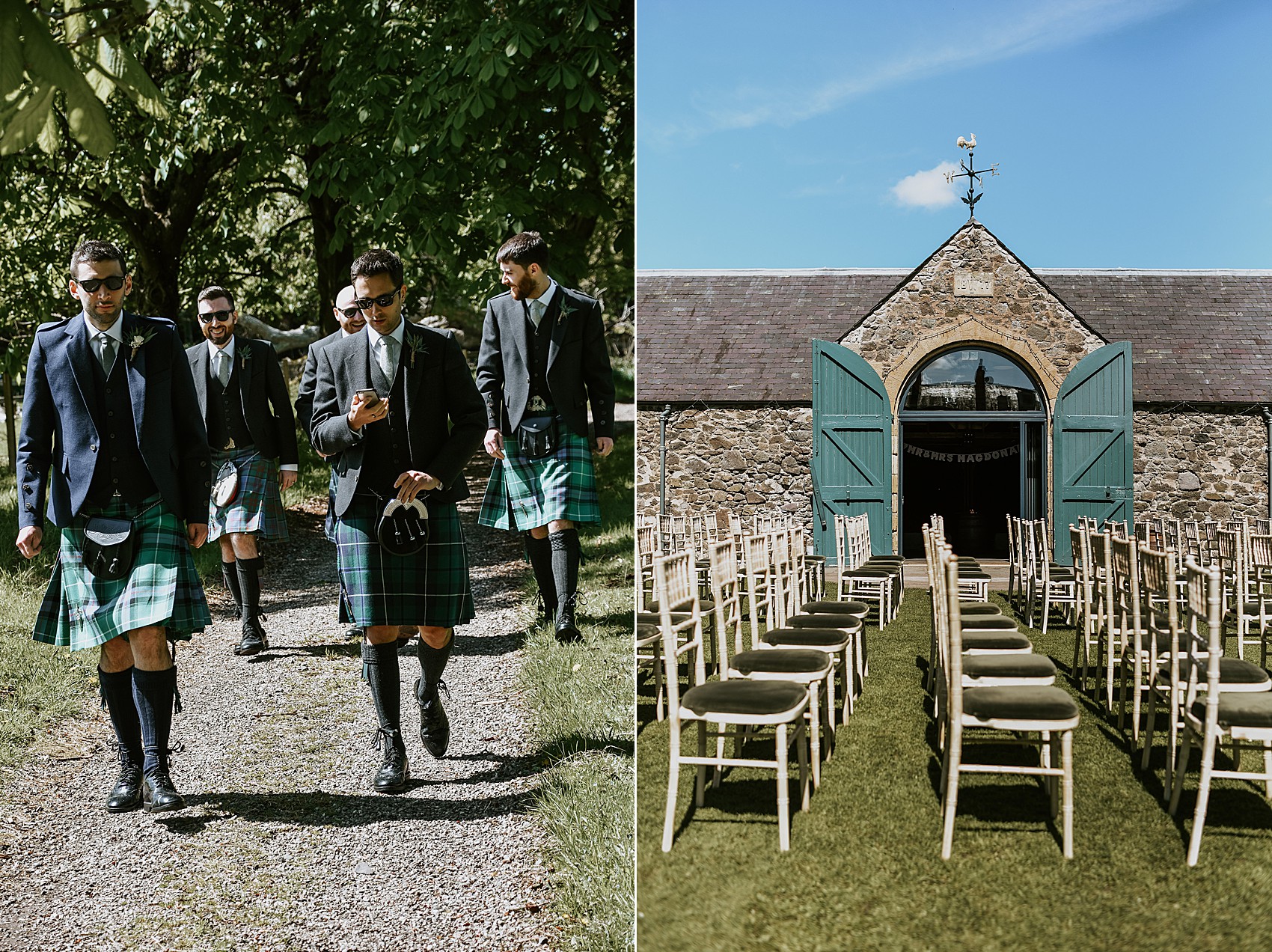 The brides accessorised with some elegant pieces of personal jewellery.
"My Timothy J. Sharp pearl droplet earrings were a gift from my mum the evening before the wedding. She wasn't sure if I would have preferred the more modern ear-crawlers I'd brought with me but on seeing the pearls and knowing how special it was she had picked them out for me, I knew they were perfect."
"My necklace was a bespoke design I commissioned from Duncan's sister, Isla MacDonald Jewellery, and my bracelet was a gift from my husband on the wedding morning. It was a match with the bracelets I had designed and commissioned from Isla MacDonald for the bridesmaids. We all wore our matching bracelets down the aisle."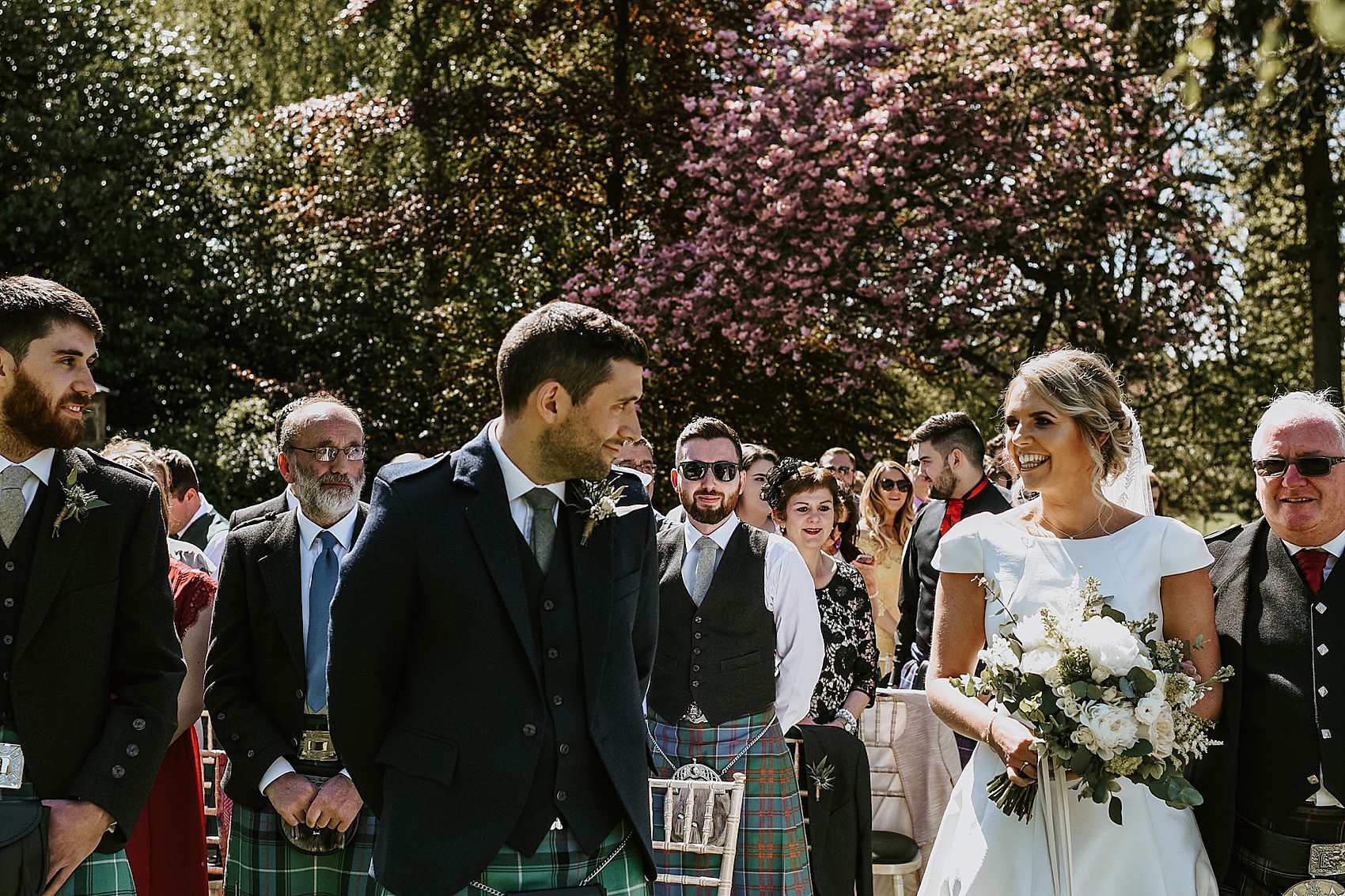 The beautiful May weather allowed Aillie and Duncan to wed outside, and the bride was accompanied down the aisle by her father. There, she and Duncan exchanged their vows in a service led by Kirsten Laing, a legal registrar from Perth and Kinross Council.
"We walked down the grass aisle to an instrumental version of Adele's 'Remedy'. The live music was played by my cousins on the guitar and saxophone."
"We didn't give personalised vows as this isn't really our style. However, the standard wedding script was updated to give a modern and balanced version of the meaning behind the bride being given away by the father. This was an important tradition that both I and my dad wanted as part of the day but without the sexist connotations."
"Our best friend Louise read a reading called 'The Art of a Marriage' by Wilfred A. Peterson. It held a romantic sentiment whilst also capturing both the reality and idealistic truth of married life."
Bespoke wedding bands offered the perfect complements to Aillie and Duncan's day to day style.
I am such a fan of bridal bouquets which feature flowing ribbons – their movement and grace is mesmerising – and these bouquets in white and green by Bothy Blooms are divine.
"The flowers were perfection. We were prepared to invest heavily in them as our main decoration feature but didn't have the budget to go completely wild. The process of creating the floral design for the day was collaboratively creative and cost-efficient."
"Elizabeth helped to refine our ideas and offered her expertise on seasonal flowers, substitutes and creative ways to bring our vision to life. Alongside the bridal bouquets, Bothy Blooms created our unique wedding arch, terrarium wreaths, hanging foliage displays, buttonholes and my flower crown. We also had wrist corsages and gift bouquets for our mothers."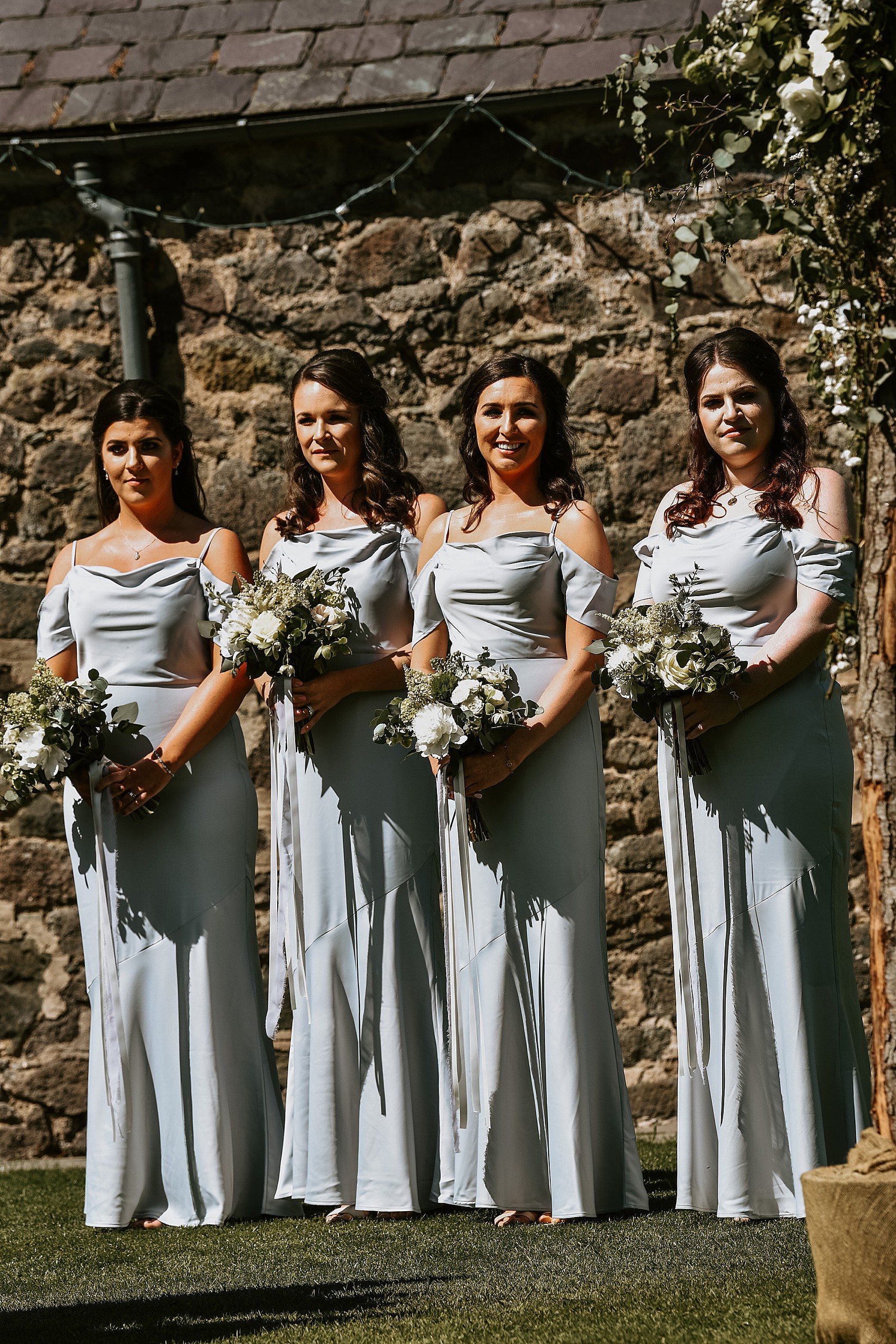 For the ceremony, Aillie wore a dainty, waist-skimming veil edged with lace, a bespoke piece from Hannah at Eden b. Studio. Later in the day, she swapped it for a fresh flower crown made by her florist, Bothy Blooms.
"Hannah and I met at A Most Curious Wedding Fair in London and we chatted about what I wanted, incorporating her willow veil to suit my shorter length request."
"I wanted something modern and unusual with stones and diamonds. Duncan favoured something subtle having never worn a ring before. Taking advice from jeweller and friend, Timothy J. Sharp, the wedding band was a complementary style to my engagement ring; a platinum band with 50% diamond cover. Duncan chose his brushed palladium ring from the jewellery shop in his hometown."
SJH Photography brought her signature, light-infused style to the day to produce these romantic, fine art photographs which showcase The Byre's grounds and the happenings of the day so wonderfully.
She is a natural at capturing the Scottish countryside and its minutiae in such detail too – I love these photographs so much.
"SJ is a friend who we asked to photograph our wedding the day after she photographed my sister's wedding. We knew she was the perfect match based on her presence on the day and the results of the preview shots she sent my sister. We discussed our style and noted we wanted to include only four formal photos. Everything else was to be reportage-style and naturally-captured shots."
Between their engagement and Scottish wedding, the couple were lucky enough to travel extensively around the world, and you can see some of their photographic memories used as table names.
"Duncan and I met at university through mutual friends. We were only 19 years old and didn't look too far into the future back then! Jobs and life took us in opposite directions but we stayed together and got engaged in 2016 in our first shared home in London. Our engagement prompted us to fulfil another lifelong dream of travelling the world before we 'settled down'. We took seven months in 2017 to do just that."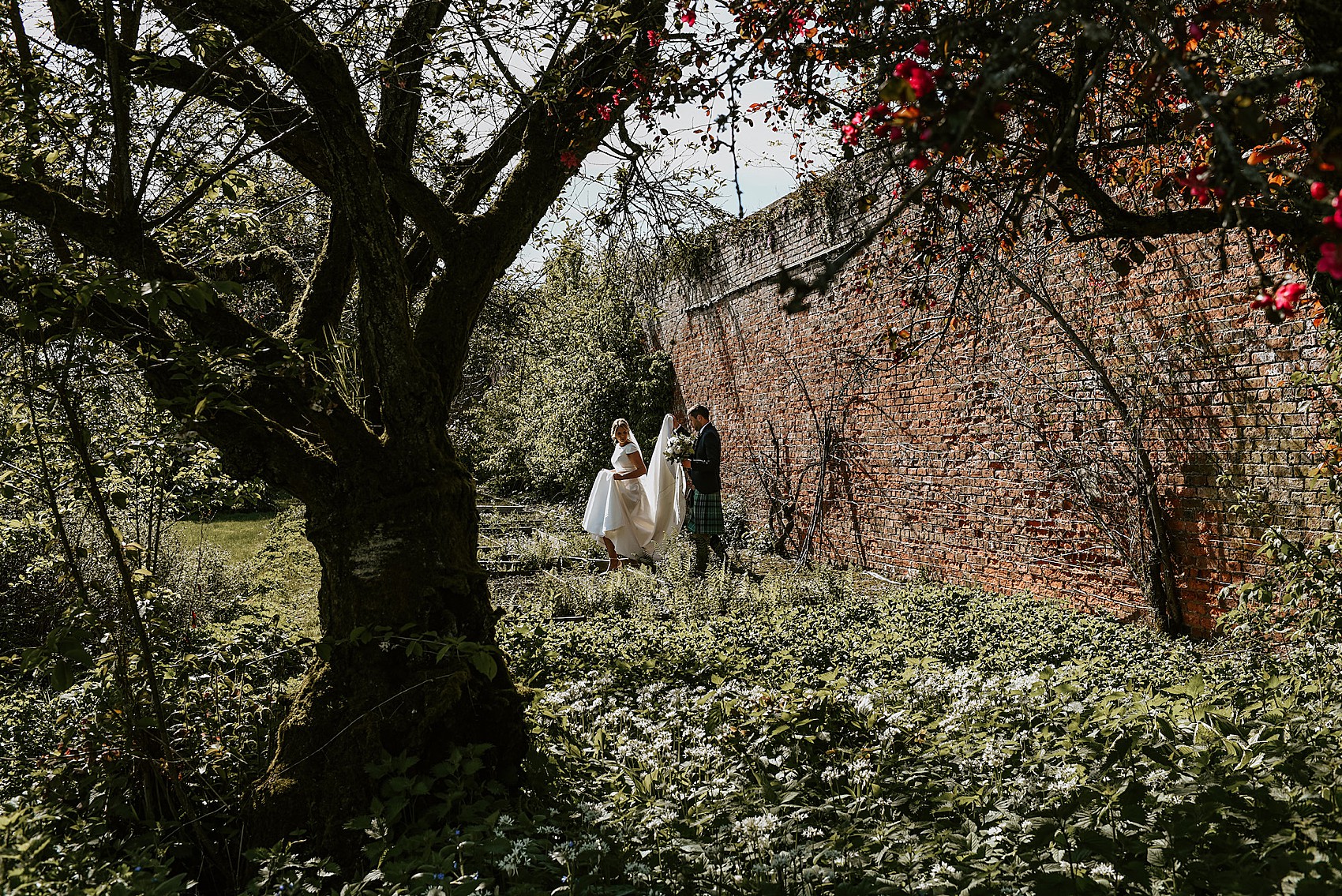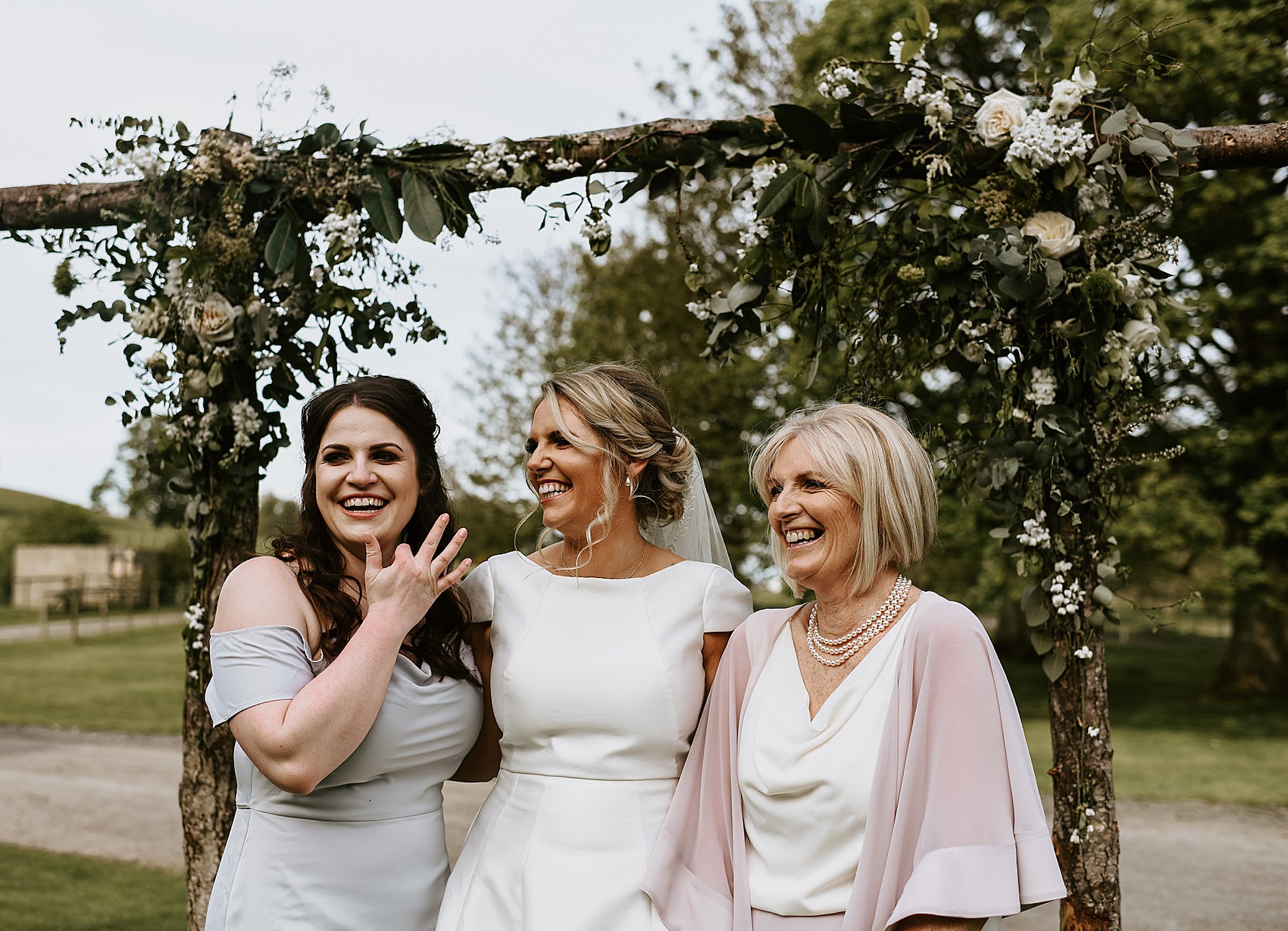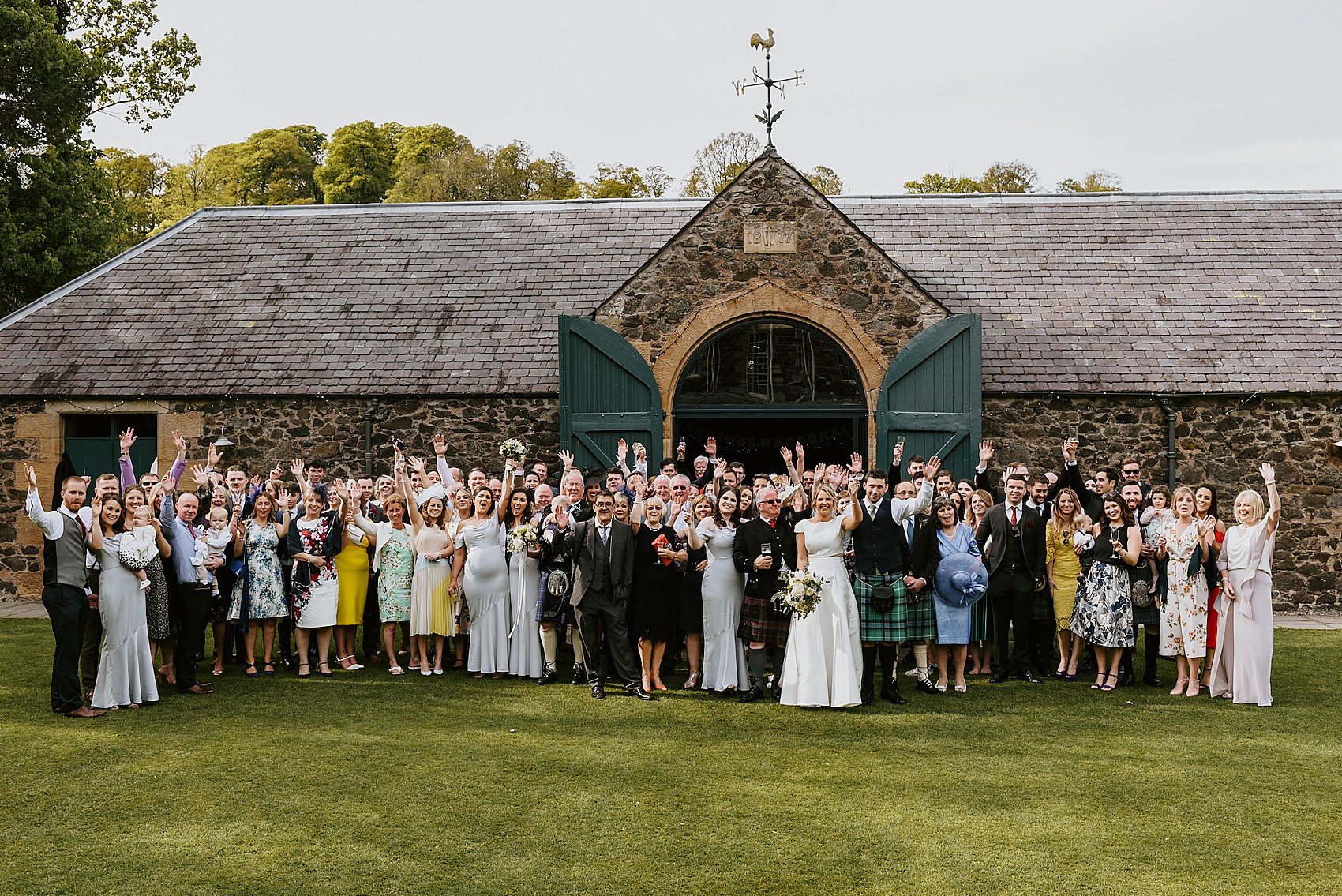 The food from Wild Rover Food was locally-sourced, seasonal and sustainable, all points which Aillie and Duncan loved.
"Catering was really important, especially for Duncan who is passionate about food and cooking. We chose Wild Rover Food for their menu, execution and how personable the correspondence was. The kitchen was set up outside the Byre in an open way meaning that the sights and smells of the canapés and every course was in the air for all to enjoy."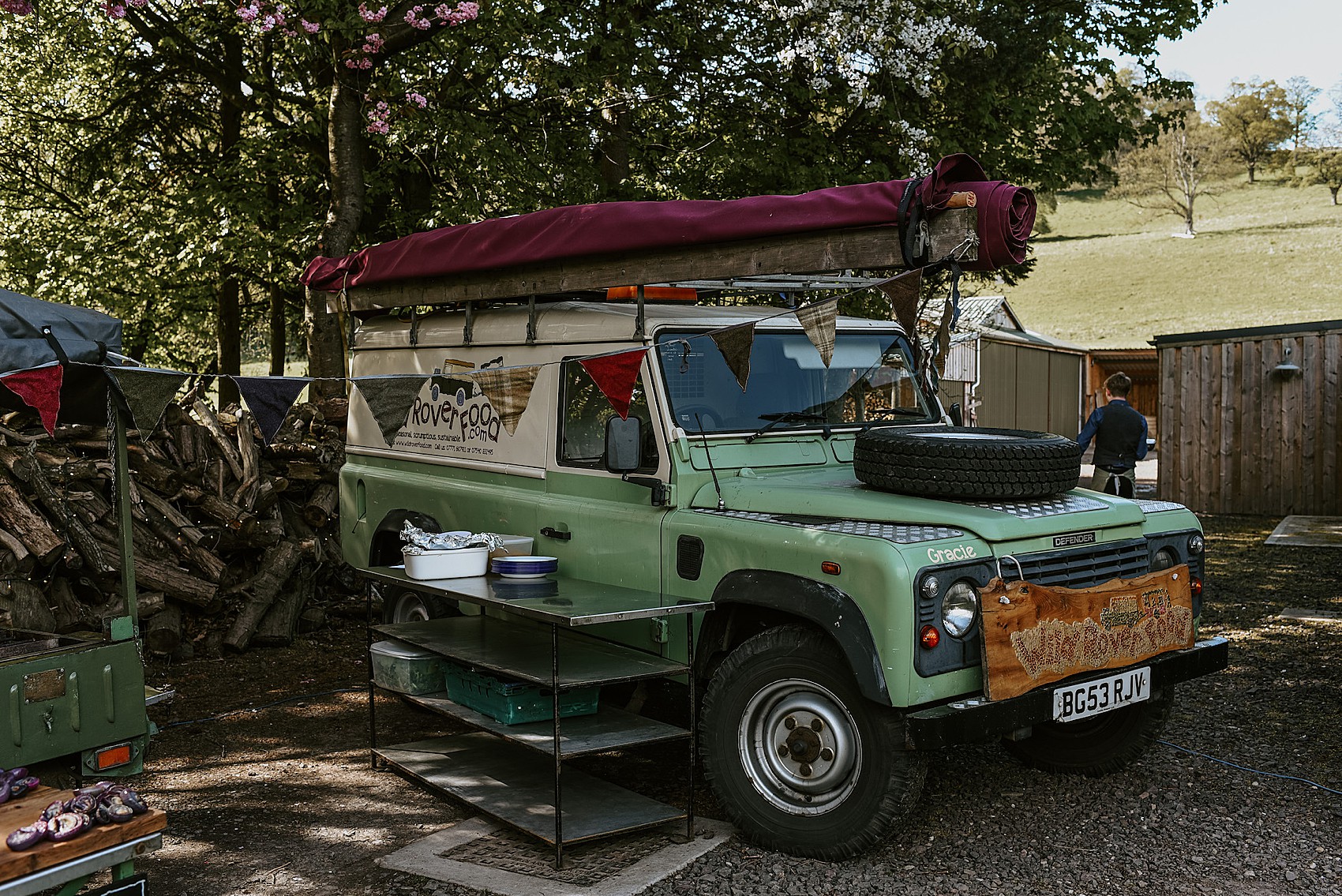 "We surprise-nominated ten guests to be the waiting staff and deliver food from the kitchen to the dining tables. These ten guests were picked by us in advance and had an apron on the back of their seat. Nobody knew the format of the meal so it was an exciting talking point and brought a bit of fun and interaction to the meal."
"Our bar service was delivered by Hutton Bars who were incredible. They provided all the table wine as well as the sparkling wine for the drink reception and toasts. The staff were attentive to our guests all night long and allowed us to offer our favourite cocktails; Pornstar Martini for Aillie and Mojito for Duncan. We also asked them to bring in alcohol from Black Isle Brewery in honour of Duncan's roots"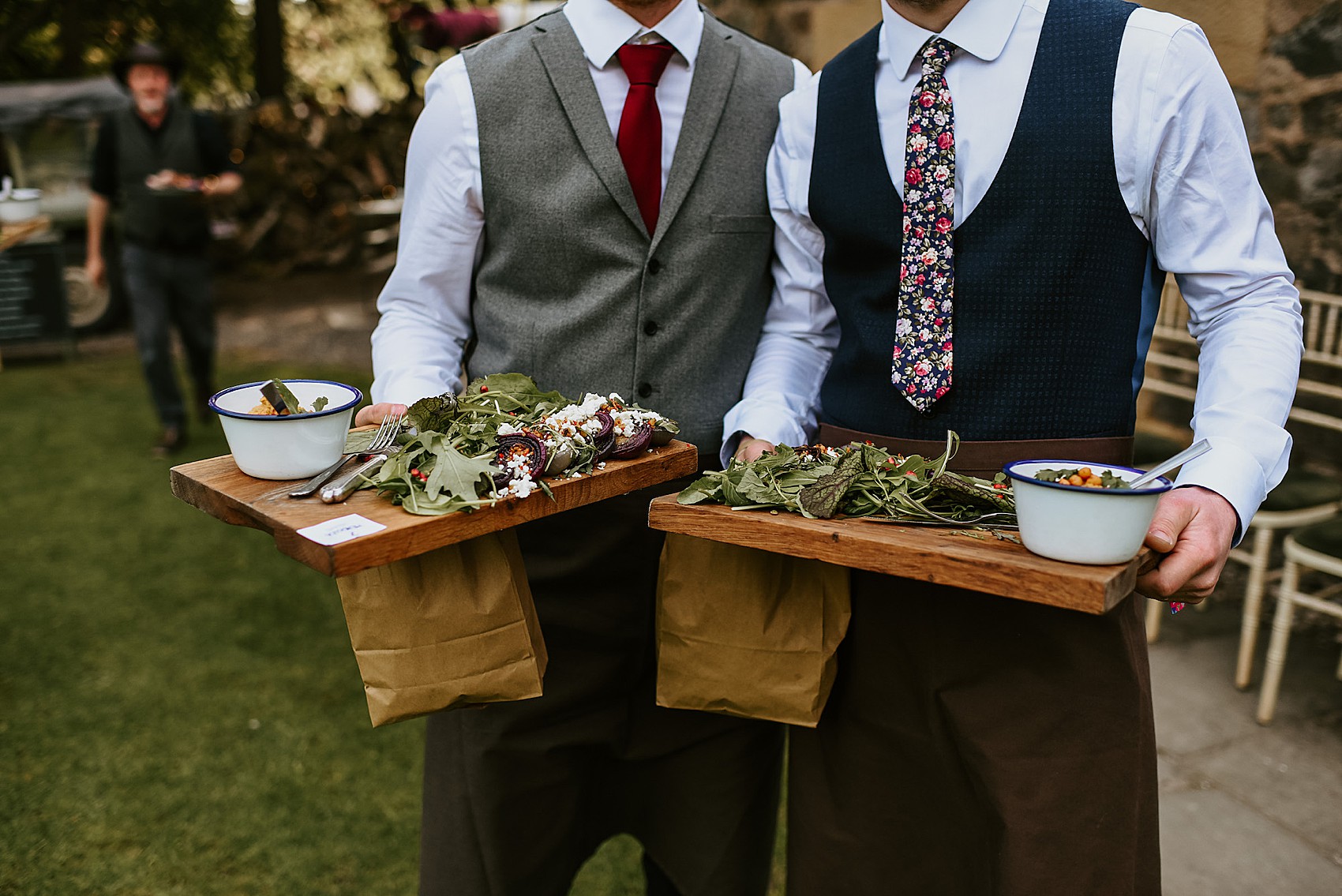 Inside The Byre, the beams had been draped with natural foliage whilst other touches including candles, willow wreaths and discreet lighting made the whole look simple and stylish.
"For the dining area we introduced tall candles in simplistic black holders, glass terrariums surrounded by willow wreaths, grey central runners and heavy white linen napkins."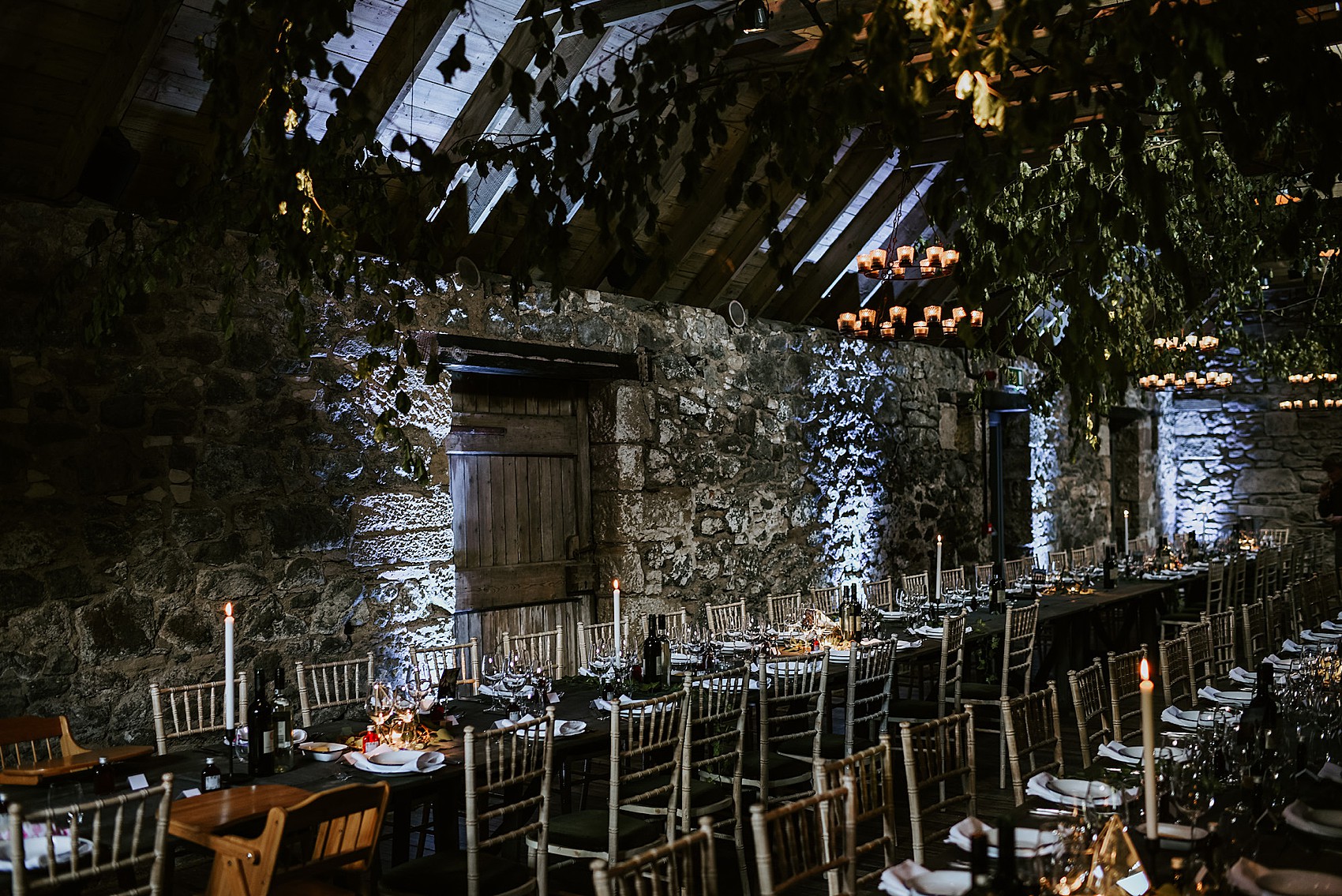 "The wall decoration was kept minimal with serene lighting highlighting the stonework of the walls and our handwritten table plan suspended from the rafters with a foliage feature as a stand-out focal point beside the cake. For the table plan, I bought a roll of paper and hand-drew the table layout with guest names alongside, hung up with heavy-duty twine. The table names were a selection of photographs of us from various spots in the world, taken on our travels the year earlier."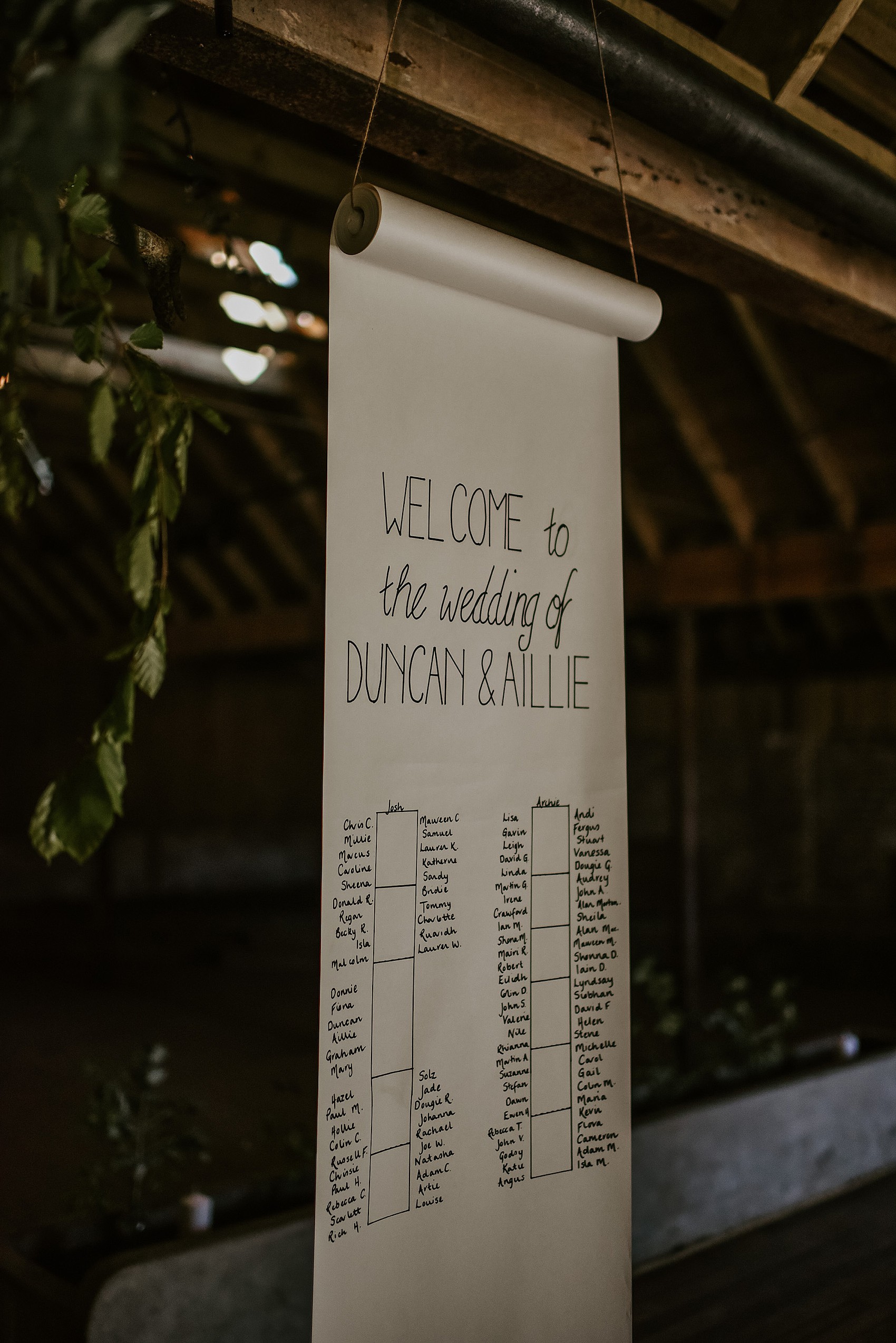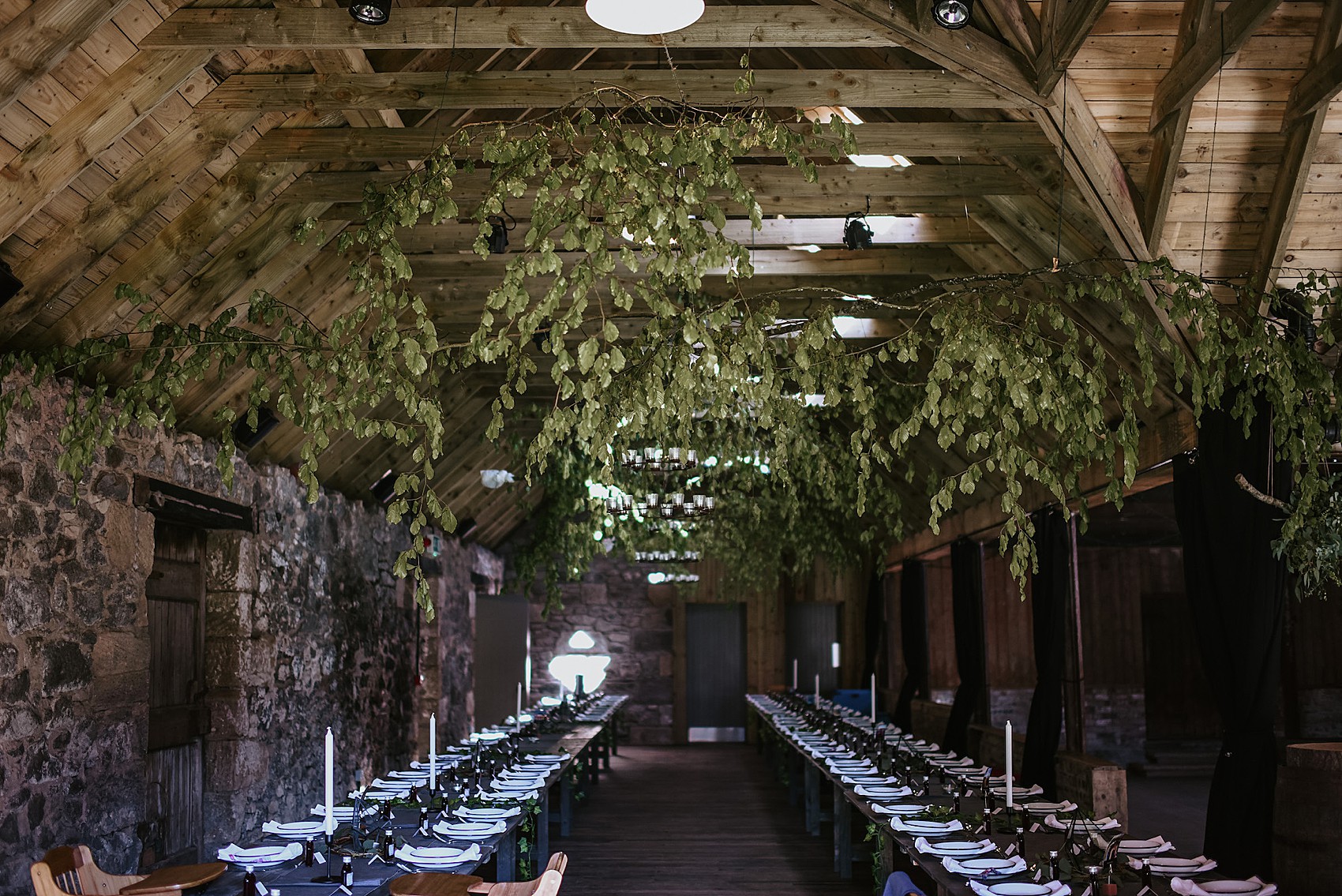 "We also had a handmade "Mr & Mrs MacDonald" hanging garland made by Jonny's Sister which we hope to pass on and keep in the family for many more weddings."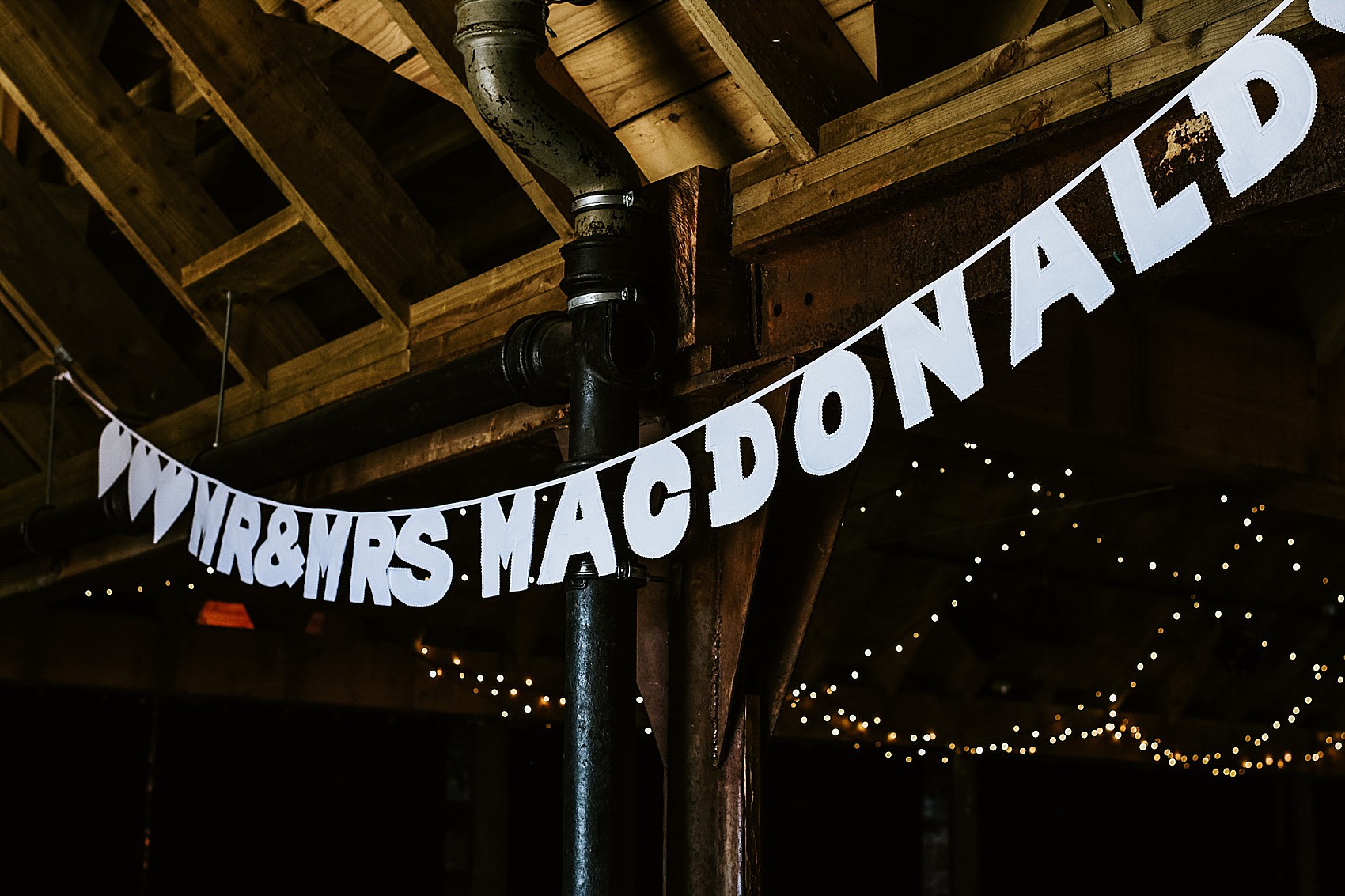 Each guest was given a little bottle of home-made bramble gin, made by Duncan's mum on her farm.
"Wild brambles were collected and infused with gin to create a home-blend, then decanted into little individual 50cl bottles purchased online and labelled with the wedding date on a sticker made by me as part of the stationary suite."
Another creative talent in the family, the bride's sister, made this stylist wedding cake with its wreath of leaves.
"My sister made the cake via her bakery business, Pug and Pastry. Each tier was a different flavour; Victoria sponge, lemon drizzle and chocolate orange. The cake was assembled in situ on the whisky barrel then decorated with offcuts of foliage pinched from Bothy Bloom."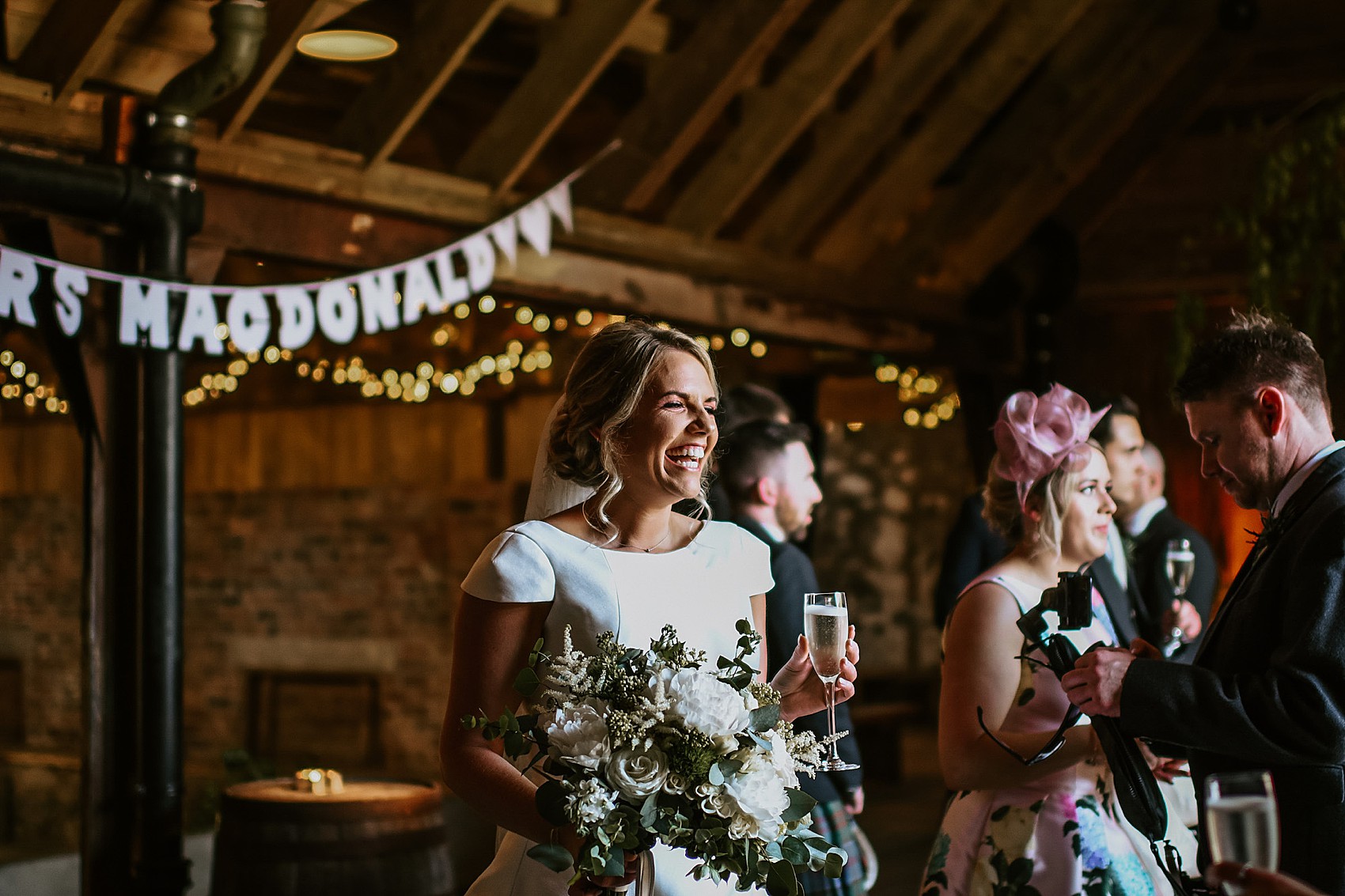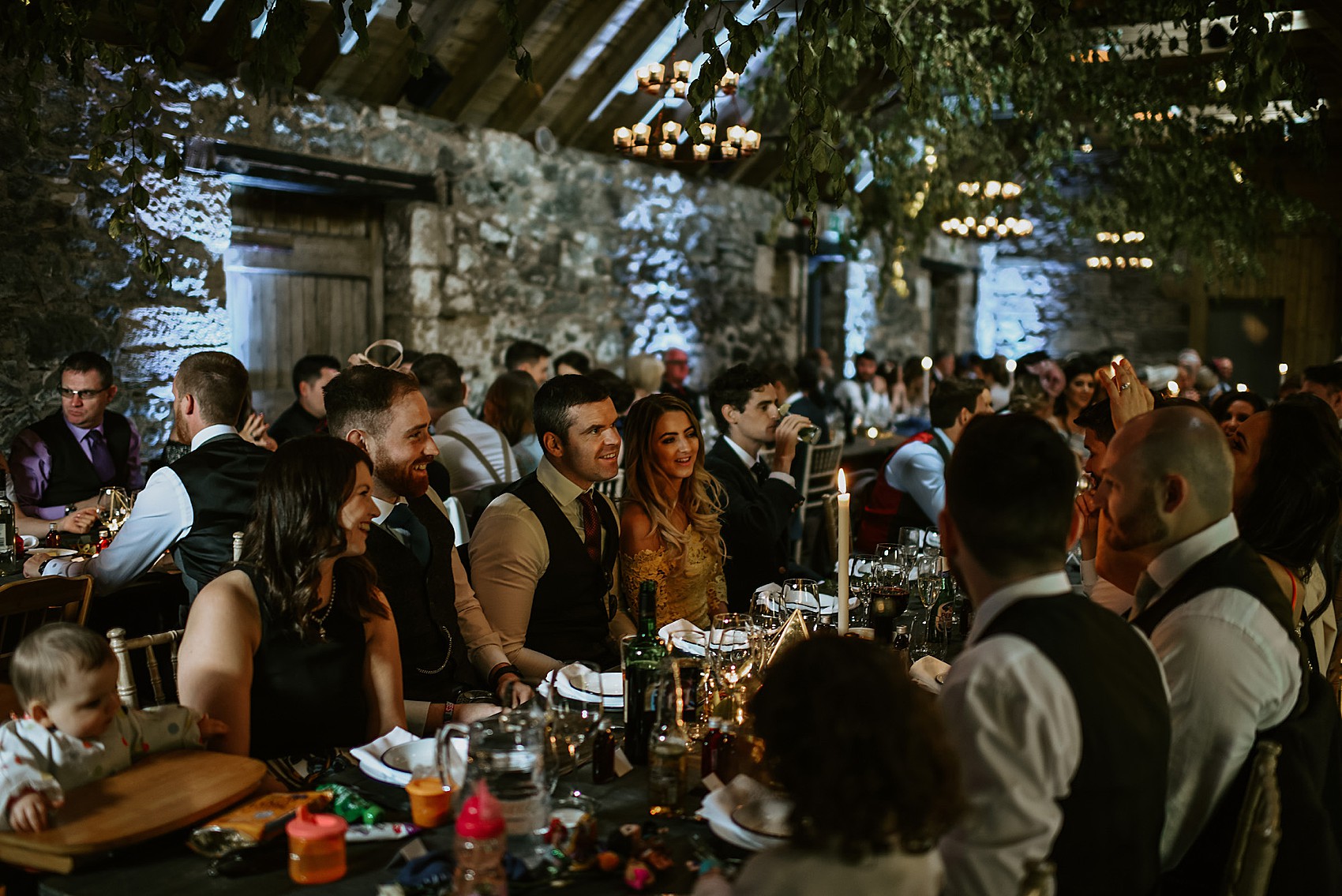 Kicking off the evening party was a first dance to The Verve's 'Lucky Man' before Bahookie arrived for an imaginative mash-up of traditional and modern.
"'Lucky Man' is a long-time favourite of mine and is exactly how Duncan should be feeling in that moment. The evening entertainment was courtesy of Bahookie who play a mix of classic ceilidh songs mashed up with modern dance music. Imagine 'Strip The Willow' to Swedish House Mafia. It was really unusual and got everyone on their feet!"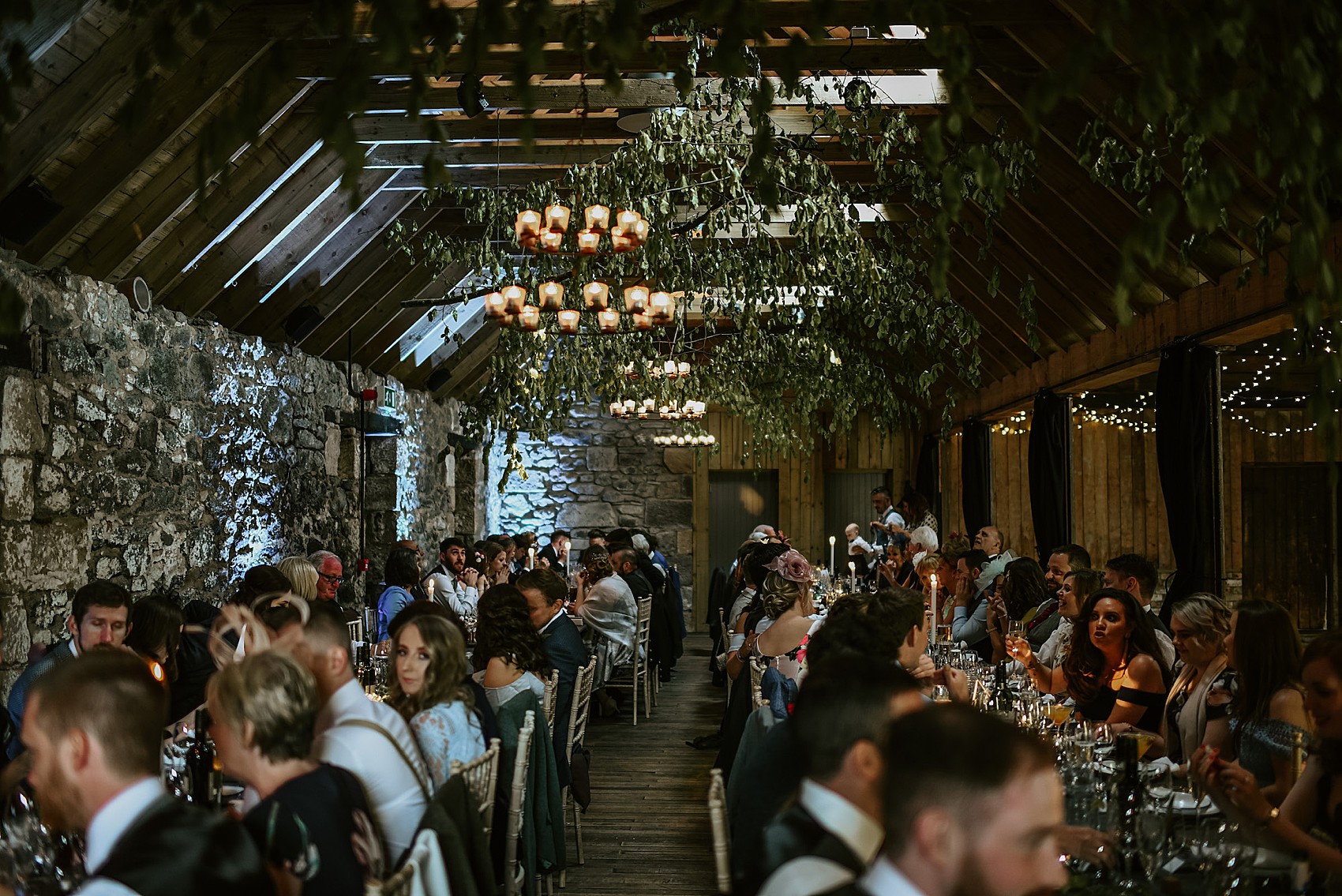 The party didn't stop there though. Later on, the newly-weds and an exclusive bunch of friends continued the night with 'Wedfest'.
"The bridal party and their partners were each given a festival-style wristband that said WedFest. This became a discreet VIP club of twelve who went on to have an after-party, spending the night glamping in four giant bell tents in the paddock to the side of the Byre. The tents were decorated with fairy lights, real beds with duvets and blankets and central hanging candle chandeliers. Tents were provided by Rowan Tree Tents."
Words of Wedded Wisdom
"Having been a bridesmaid many times, I had a pretty good idea of the emotional side of getting married; be it pre-wedding stress and anxiety to full on tears during the vows. I wasn't sure how I was going to be but I did make a conscious effort to try and smile, laugh and concentrate on having fun."
"Yes, there is a lot of money, time and energy at stake but it's not going to be worth it if you don't allow yourself to be fully immersed in the experience of 'being a bride.'"
"Contrary to other brides I would say that the day doesn't fly by, you have the time enjoy and savour every moment, and you should!"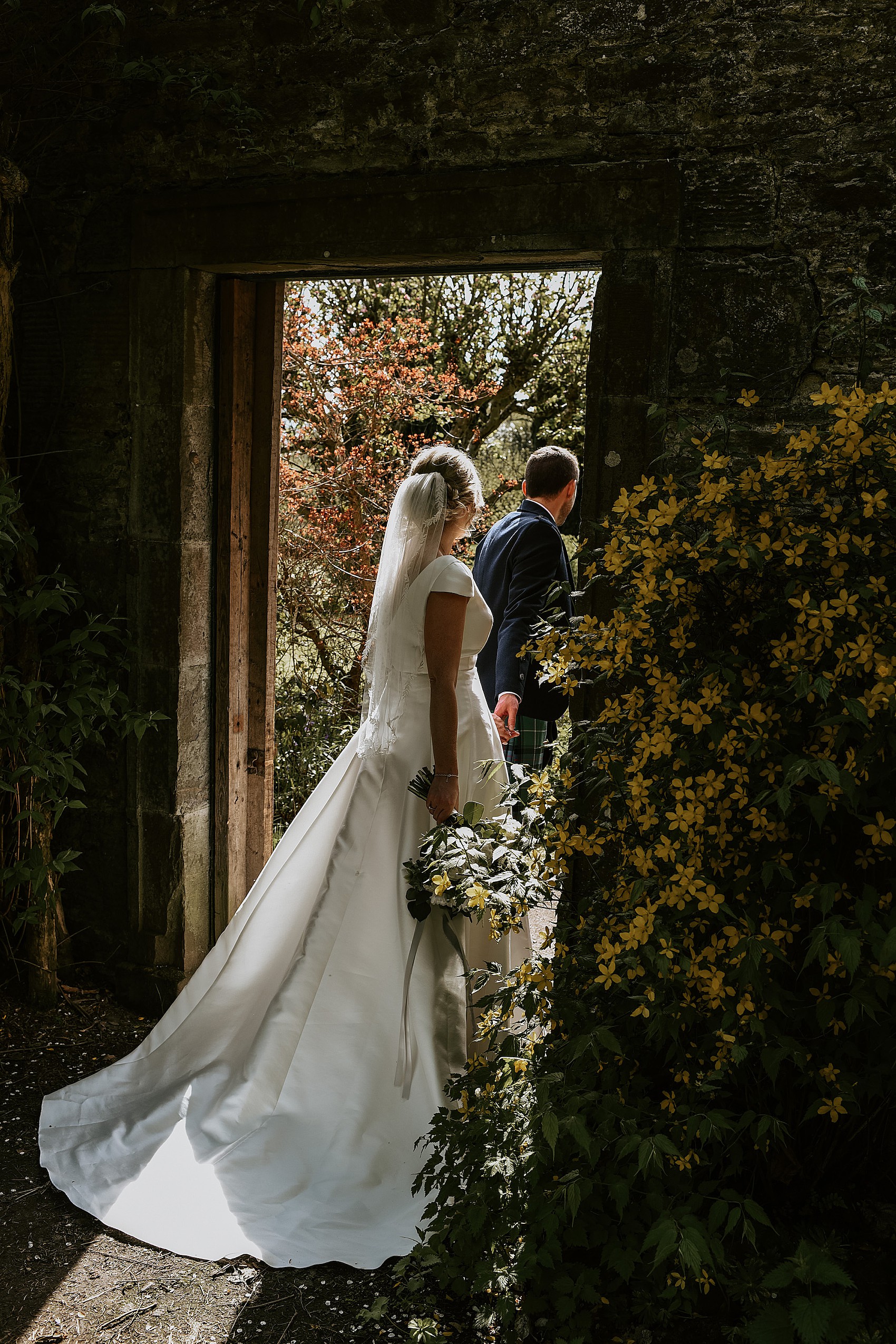 Well, Aillie and Duncan, it looks as if you shared the most beautiful and joyous day, and so stylish too. Thank you so much, and to SJG Photography too, for letting us publish these photographs today. Lovelies, for all of you looking for more modern, stylish weddings please enjoy this selection here.
Ele xx