Well folks, we're well into the festive season now, and I hope you've been enjoying all the joyful Christmas weddings we've been sharing lately here. There have been some absolute beauties, from cool and contemporary to classic country house affairs, and I have another wonderful one to add to the mix today.
This is the wedding of cookery writer and food stylist Ailsa, and Julian, who is a visual effects supervisor. They celebrated their marriage on the 2 December at the splendid Town Hall Hotel in Bethnal Green, East London, followed by a reception at restaurant Sager + Wilde.
Images by Through The Woods We Ran

+ Follow
"We just went for things that we liked. We did want things to be a bit Christmassy and festive (we really love Christmas), so there were some subtle nods with Julian's beautiful green suit, the ivy garlands at the restaurant, and mistletoe in the flower arch. The venues themselves were beautiful, so we didn't feel we needed to do too much to them. It was a small wedding, with just our closest friends and most of our decisions were centered around everybody enjoying themselves."
Ailsa had a wonderful experience with the team at Hermione de Paula, where she chose the most exquisitely crafted tulle and applique lace dress in a bold, botanical design, with a lovely high neck, long sleeves, and a row of delicate buttons running down the back.
Dress by Hermione de Paula

+ Follow
"I found Hermione de Paula maybe 5 years ago, through Pinterest, and as soon as I saw the dresses I was like 'This is it. This is what I am wearing to get married.' Before going to HdP, I went to a few other bridal designers, just to see if anything else could sway my opinion, but nothing compared."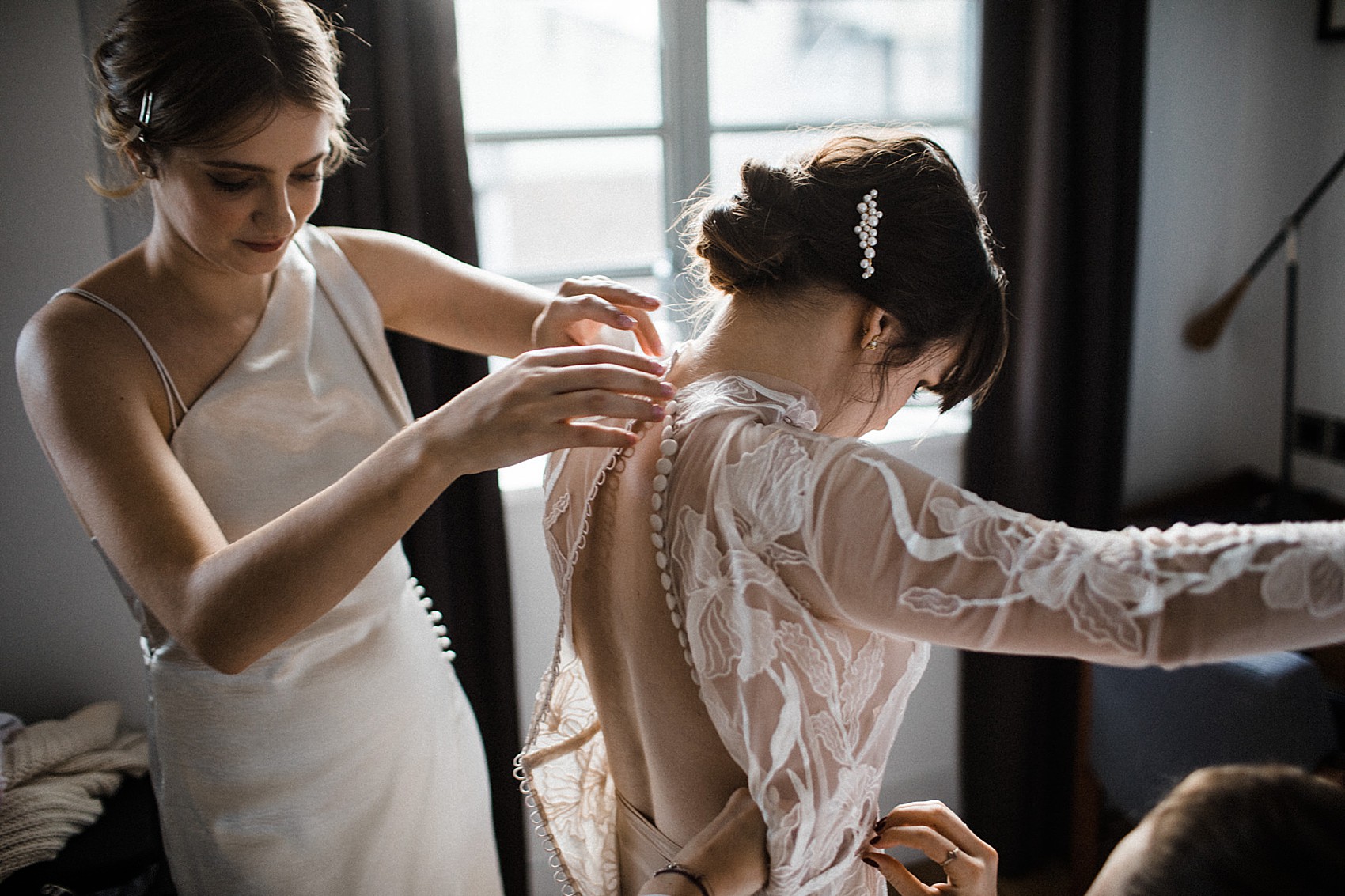 "Other designers were wanting to hurry me along (to be fair, I was shopping in July for a December wedding) and charge me extra for a rush job, but HdP couldn't have been nicer! They were very relaxed, and let me take my time deciding which design I wanted. "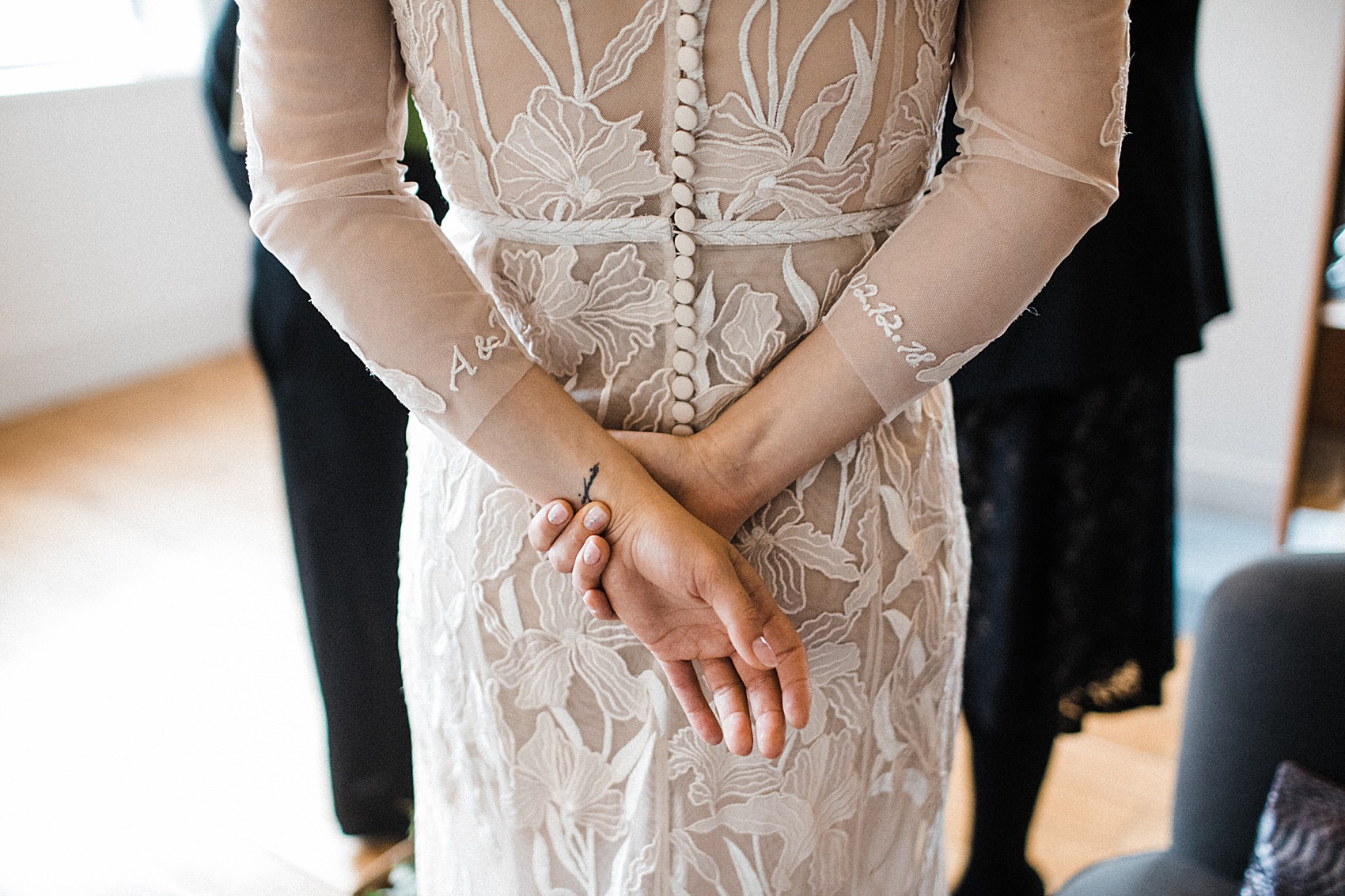 "They're such special dresses; they're modern and feminine and sexy and cool, and everything you want to feel on your wedding day. When trying on other dresses, I felt overdressed and like I was playing dress up. But in my dress, I just felt amazing."
"I love the high neck, the buttons on the back, the flowers snaking all over the dress, the split in the leg, the train, the colour – it's the palest blush pink. I literally love everything about it. It's the only dress I put on where I was like 'Yes, this feels like me. '"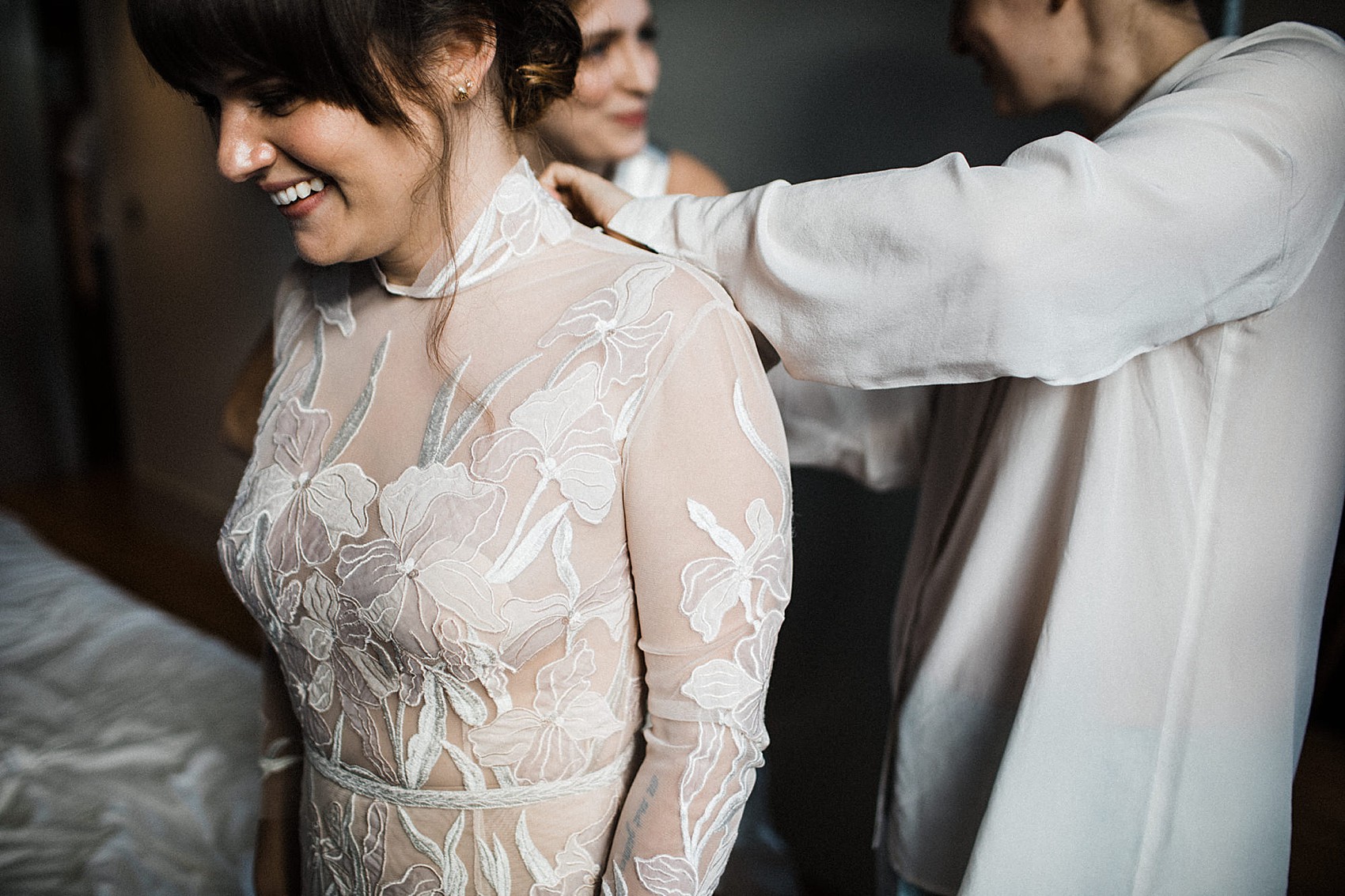 In her hair, Ailsa wore a barette of contemporary pearls by Lelet NY, with her make-up and softly curled and elegant chignon by Poppy Tallulah Hair & Make-up.
"Poppy is wonderful and so talented! When I decided I was going to do a completely different look a month before the day, she was completely unflappable and relaxed about the whole thing. It was so lovely to share the morning with her. I've never felt or looked so good."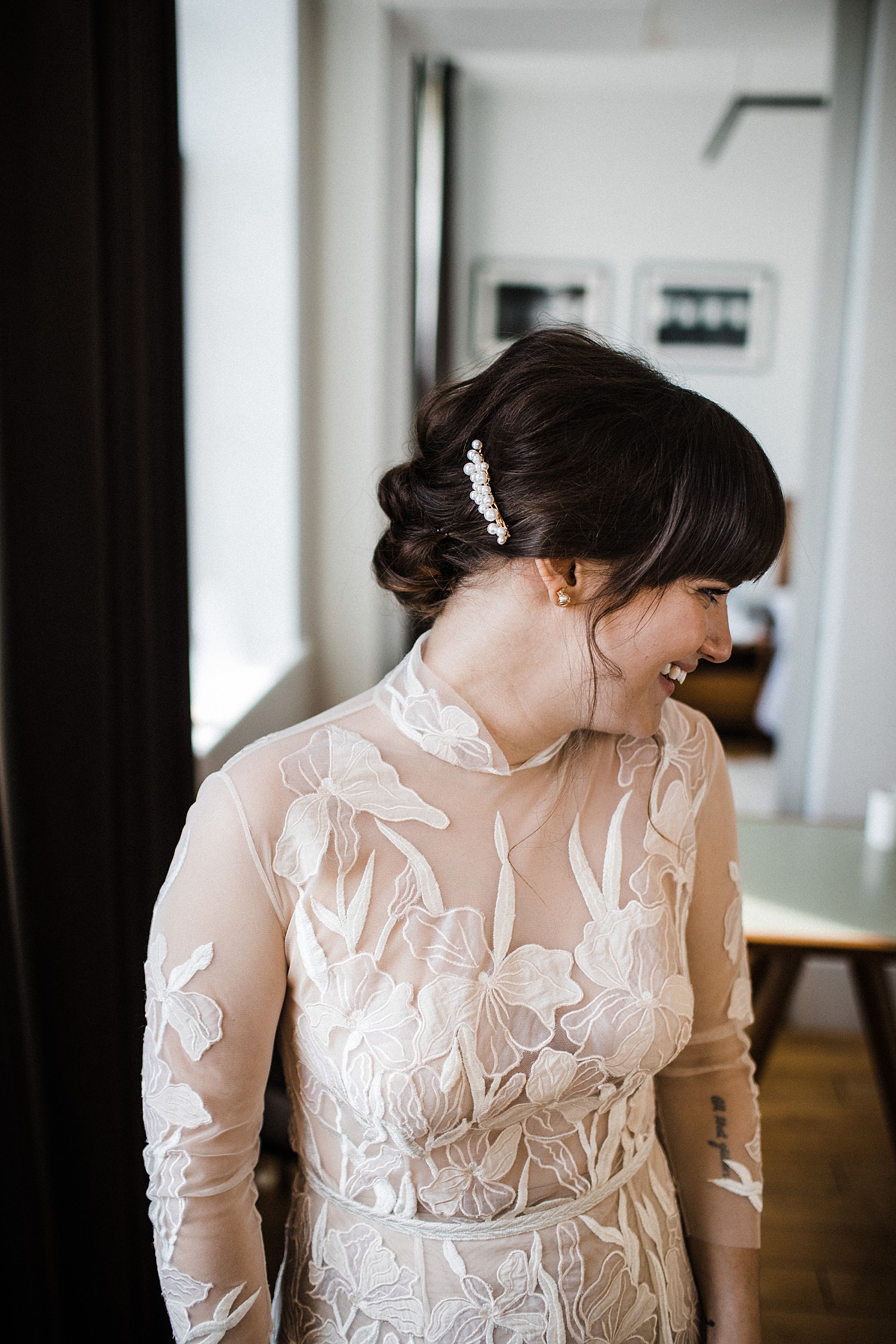 Town Hall Hotel began life as Bethnal Green's Town Hall, and is a grand, Edwardian building with elegant Art Deco additions. Ailsa and Julian chose to hold their ceremony in the original, wood-panelled council chamber, and it was decorated with a spectacular, subtly festive floral arch, created by florist Anya of Bloom East. I just love the way the wild, asymmetrical arch feels like it's growing right out of the floor!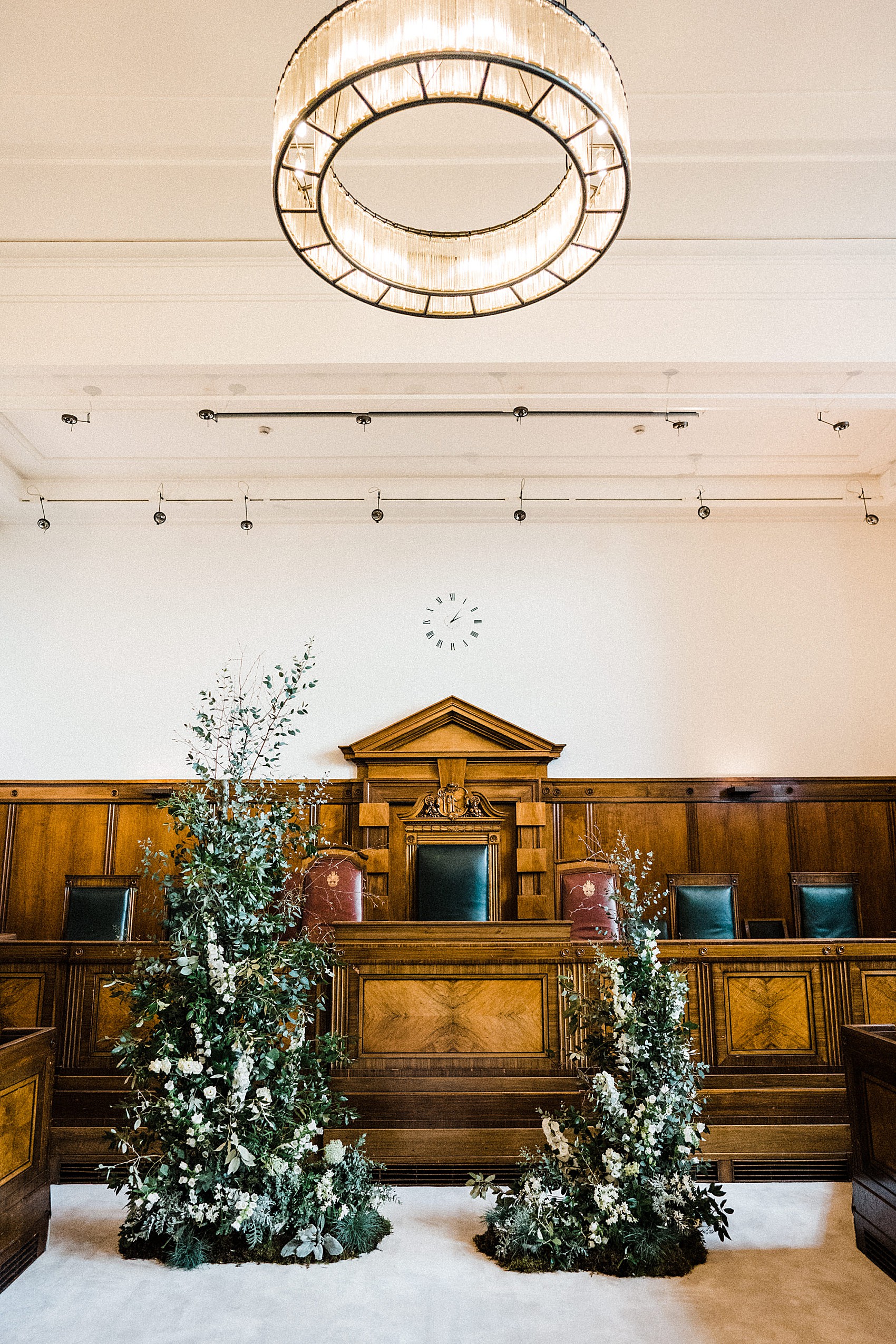 "The flower arch at Town Hall Hotel was a mixture of greenery and white flowers. I really wanted it to look like it was growing straight out of the ground, which Anya totally got and executed to a tee."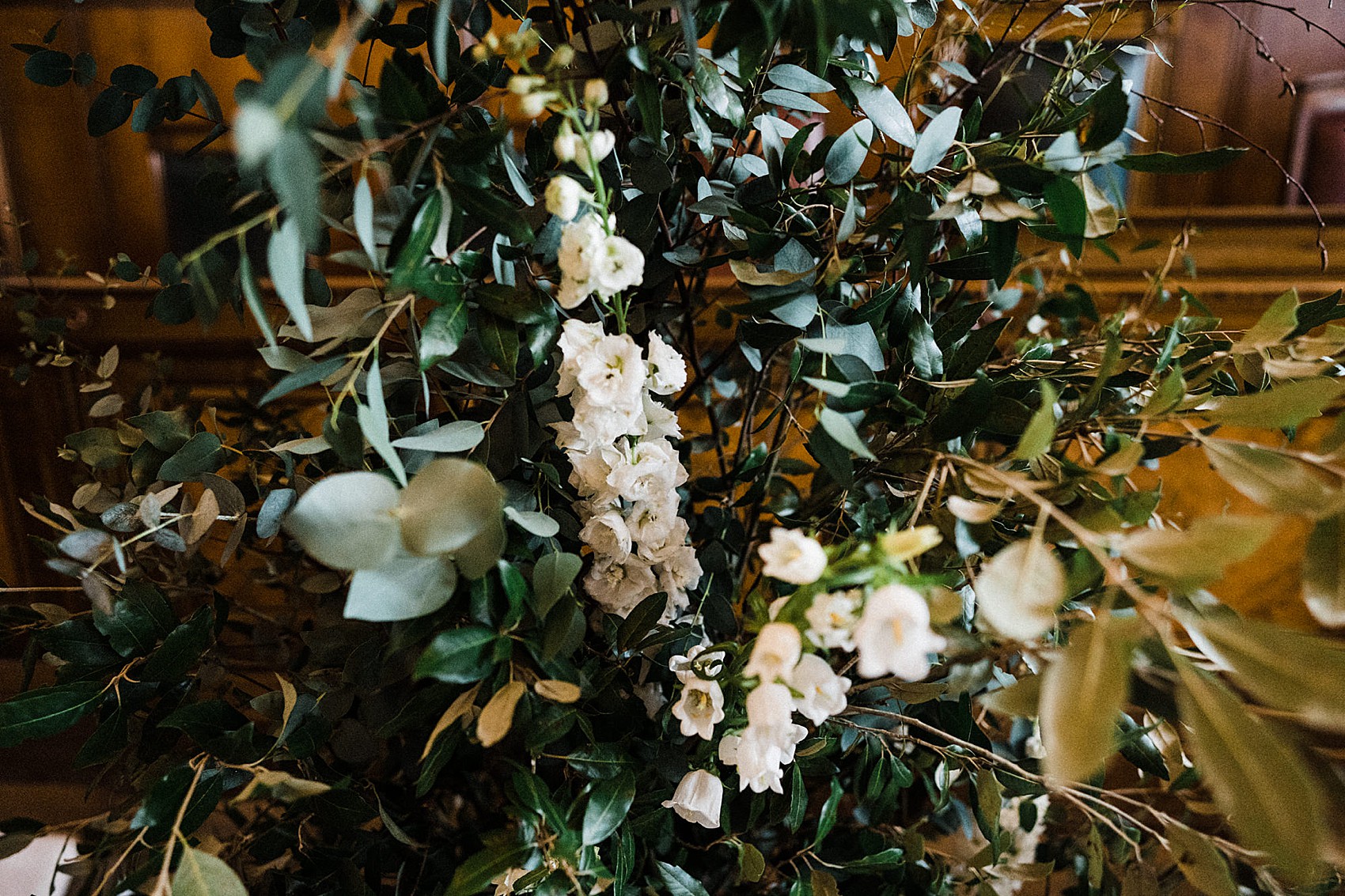 "We met in July 2012, when I was working at Polpo in Soho, as I had just left university and didn't know what to do with my life – but hey, I like food! Julian wandered in with his friend (hi John) late one night and that was it. For the rest of the summer you'd probably find him at the edge of the bar, sitting and waiting for me to finish my shift. Don't worry, he was always well fed! "
"A grey, rainy morning in November, Julian wanted to go for a walk in Regent's Park so I went (rather begrudgingly) and he took me to the tree where we had our first date. I think this is kind of illegal, so I'm just going to say there was definitely no carving on the tree at all, and he asked me to marry him."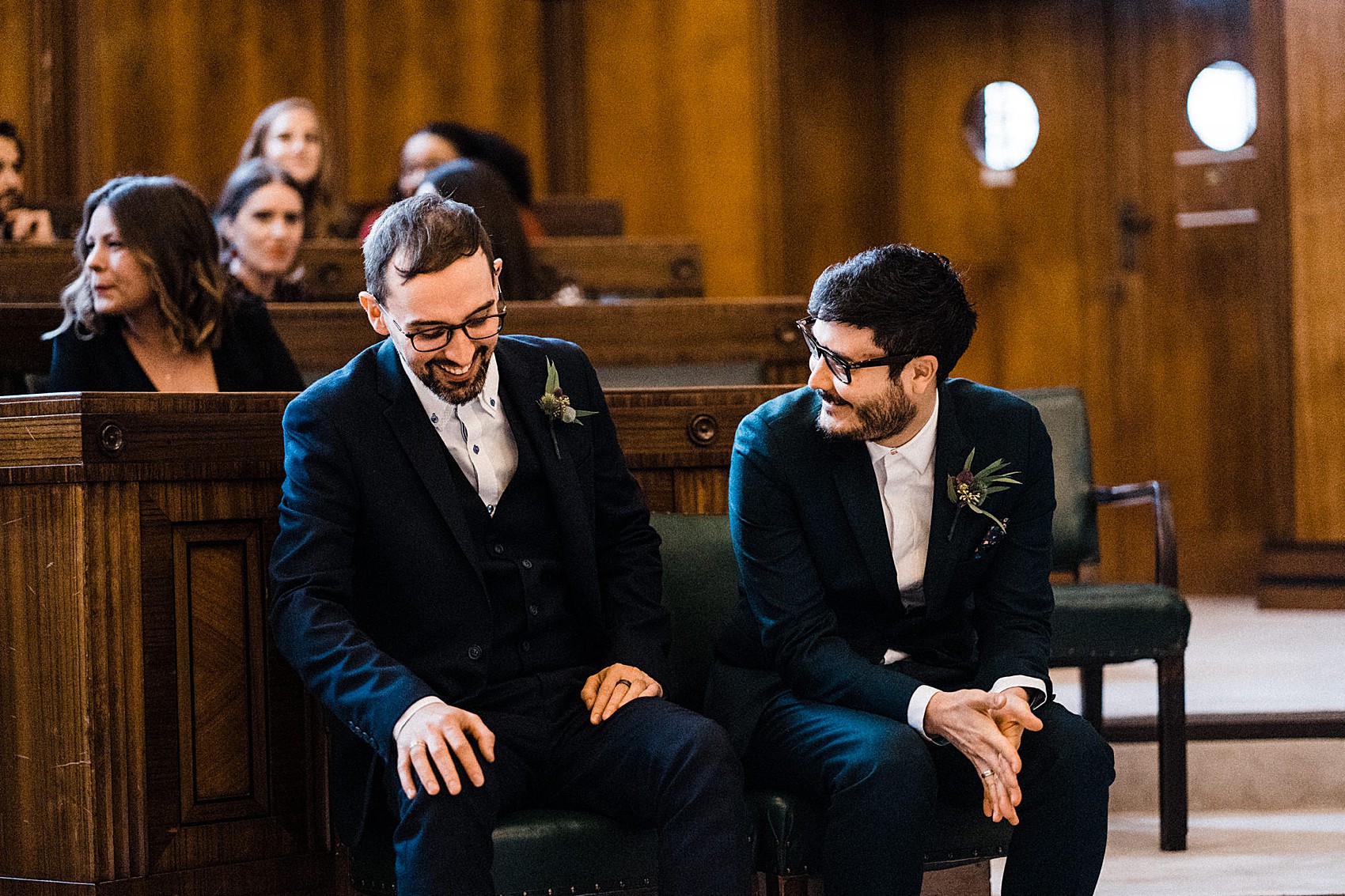 "We decided we wanted to do other things before we got married. I trained at culinary school, he moved through the ranks at his work, and we bought a house. We started seriously thinking about getting married at the beginning of 2018, and we had always wanted to get married in December. So in June 2018 we decided to just go for it."
Ailsa walked down the aisle to Arcade Fire's brilliant song, Wake Up, where Julian waited for his bride, wearing a dark green suit with a crisp white shirt and floral print pocket square, all by Paul Smith, along with shoes from Office.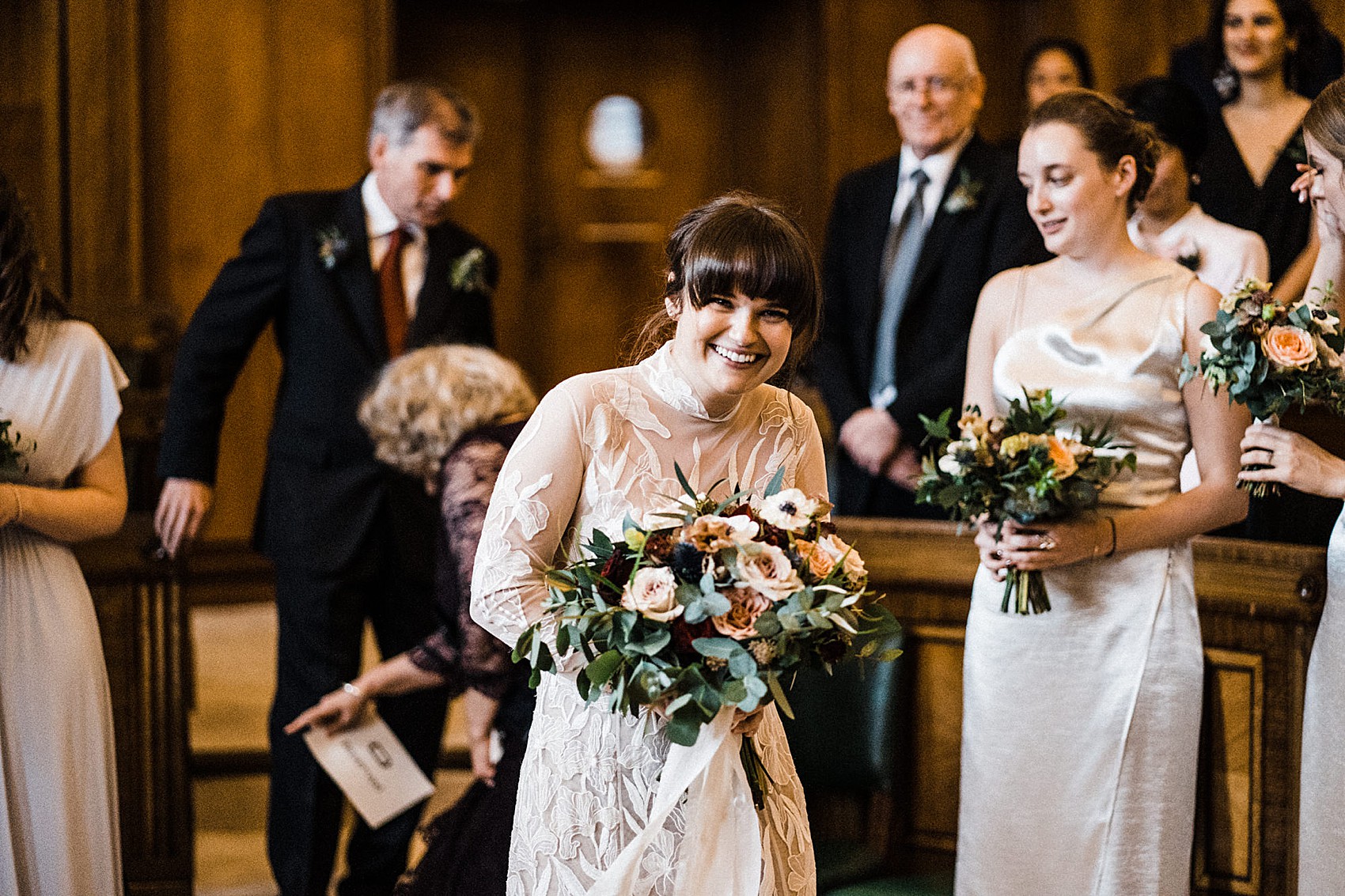 The couple exchanged rings they both found from different makers on Etsy, with Ailsa's from LoveFineDiamonds, and Julian choosing a design by Lilia Nash.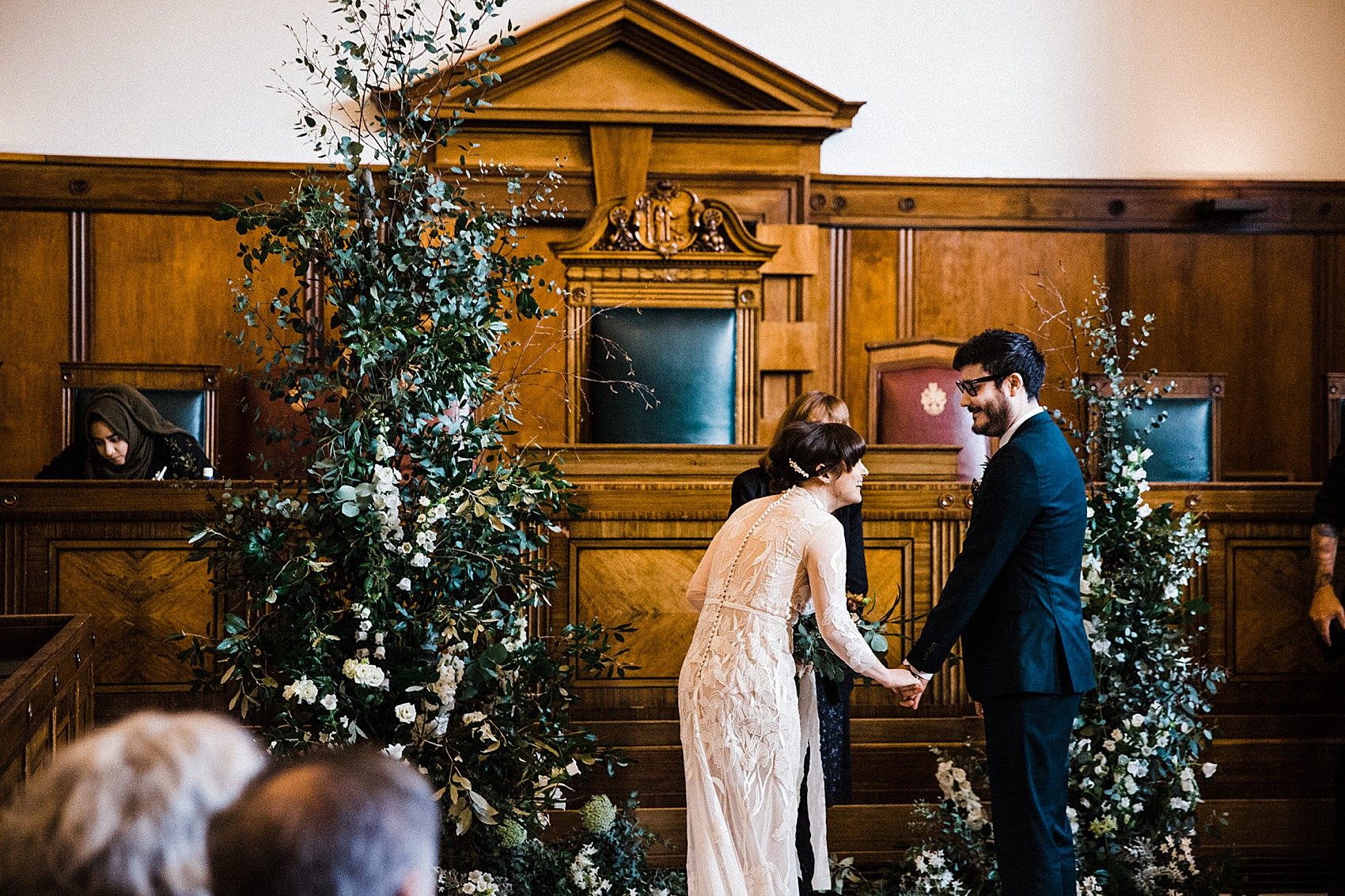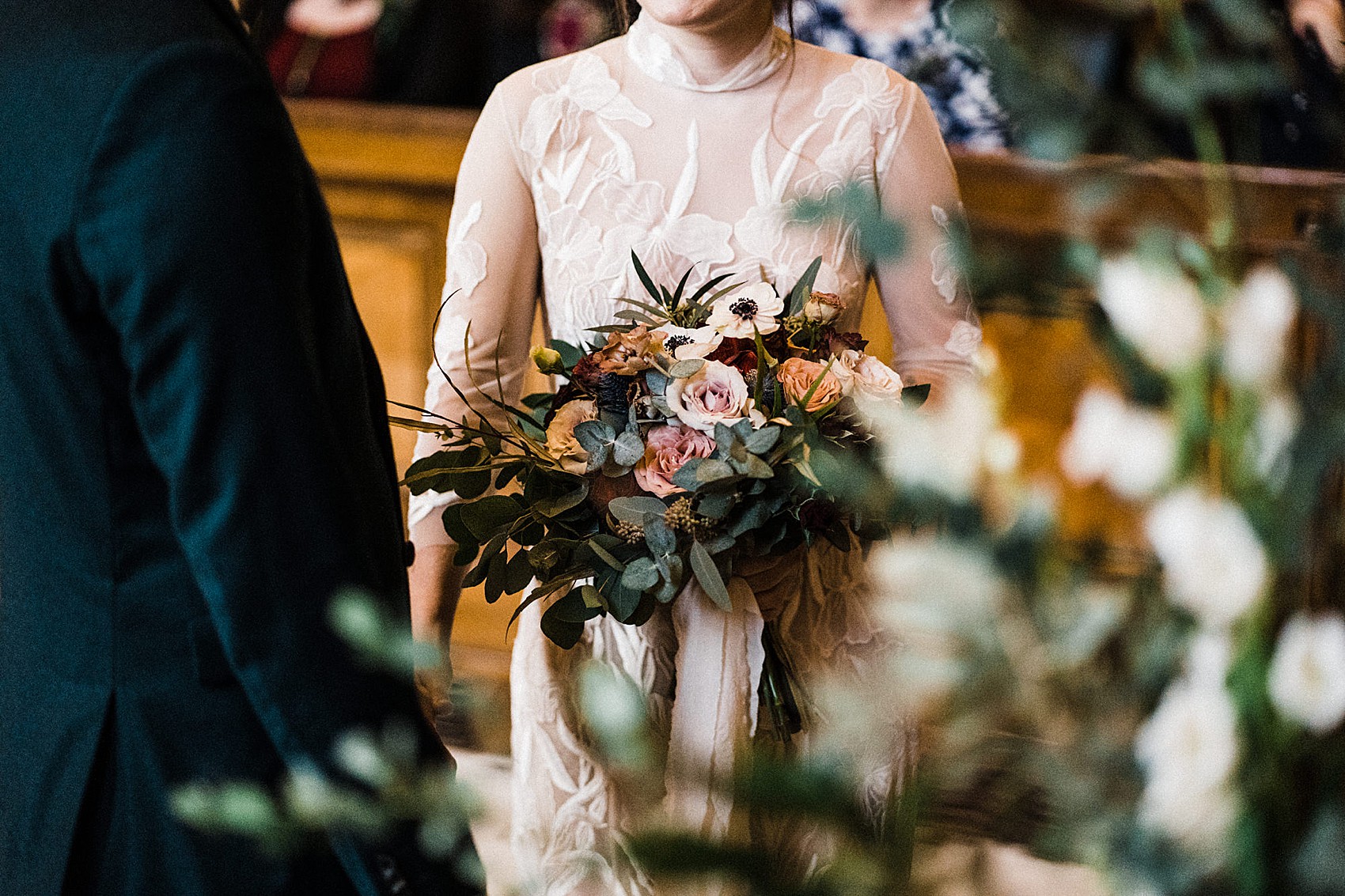 "We're not massively into public displays of affection between the two of us, and we were a bit worried about all eyes being on us, so we went for the standard vows with no readings. It was a short ceremony, but it was one we were comfortable with. "
Ailsa and Julian enjoyed a few joyful, just-married confetti moments on the steps of the hotel before heading off for a few group shots with their lovely wedding party.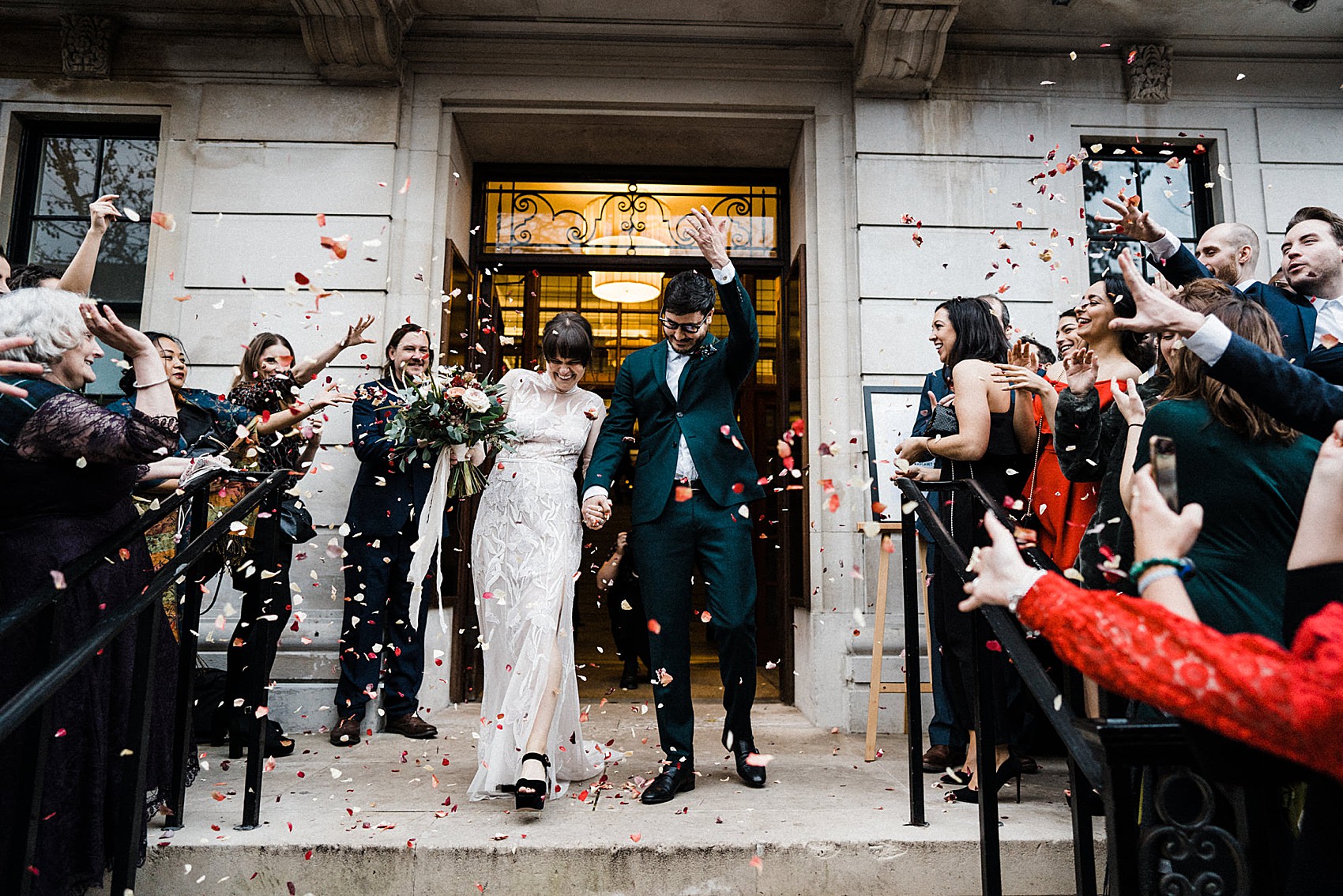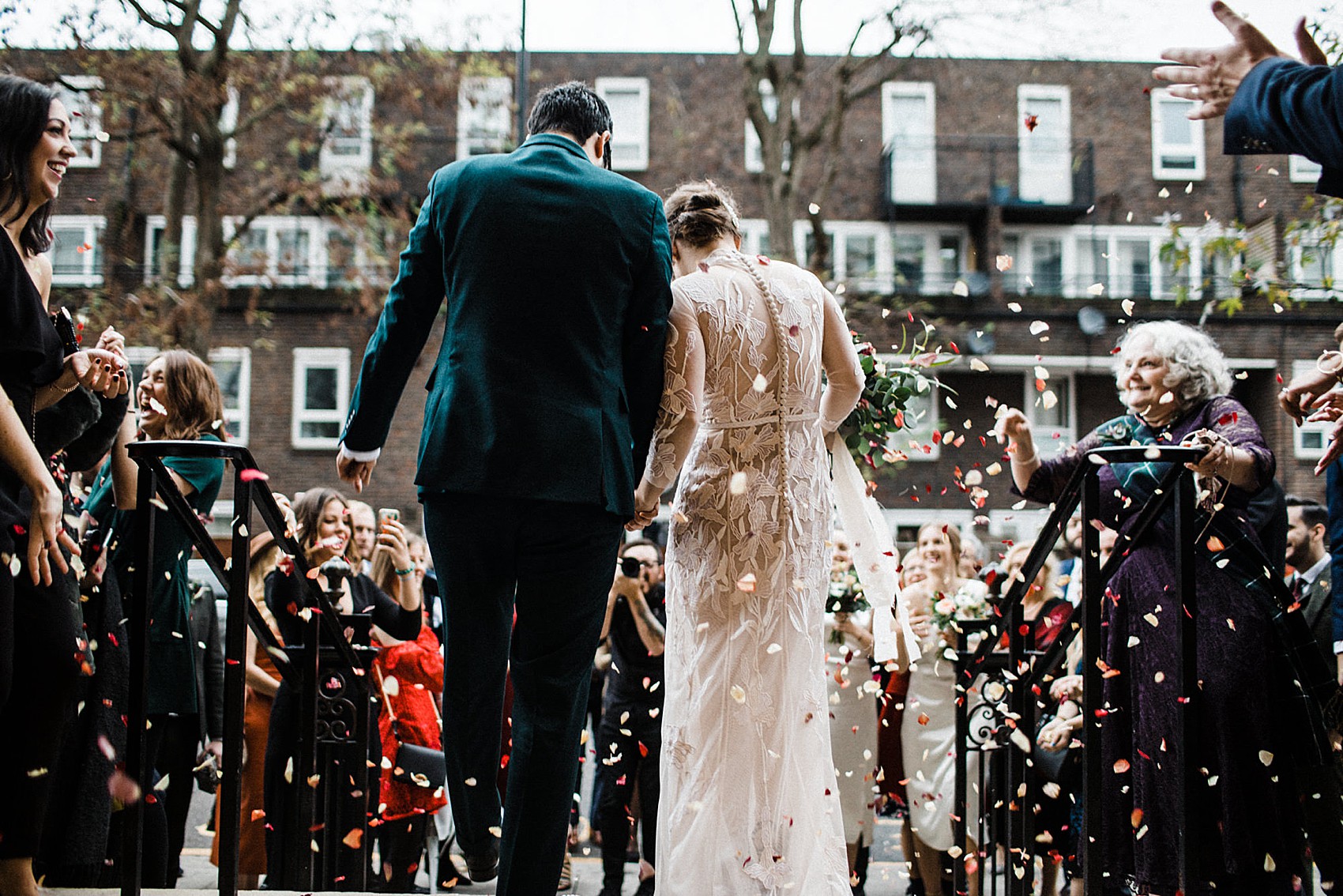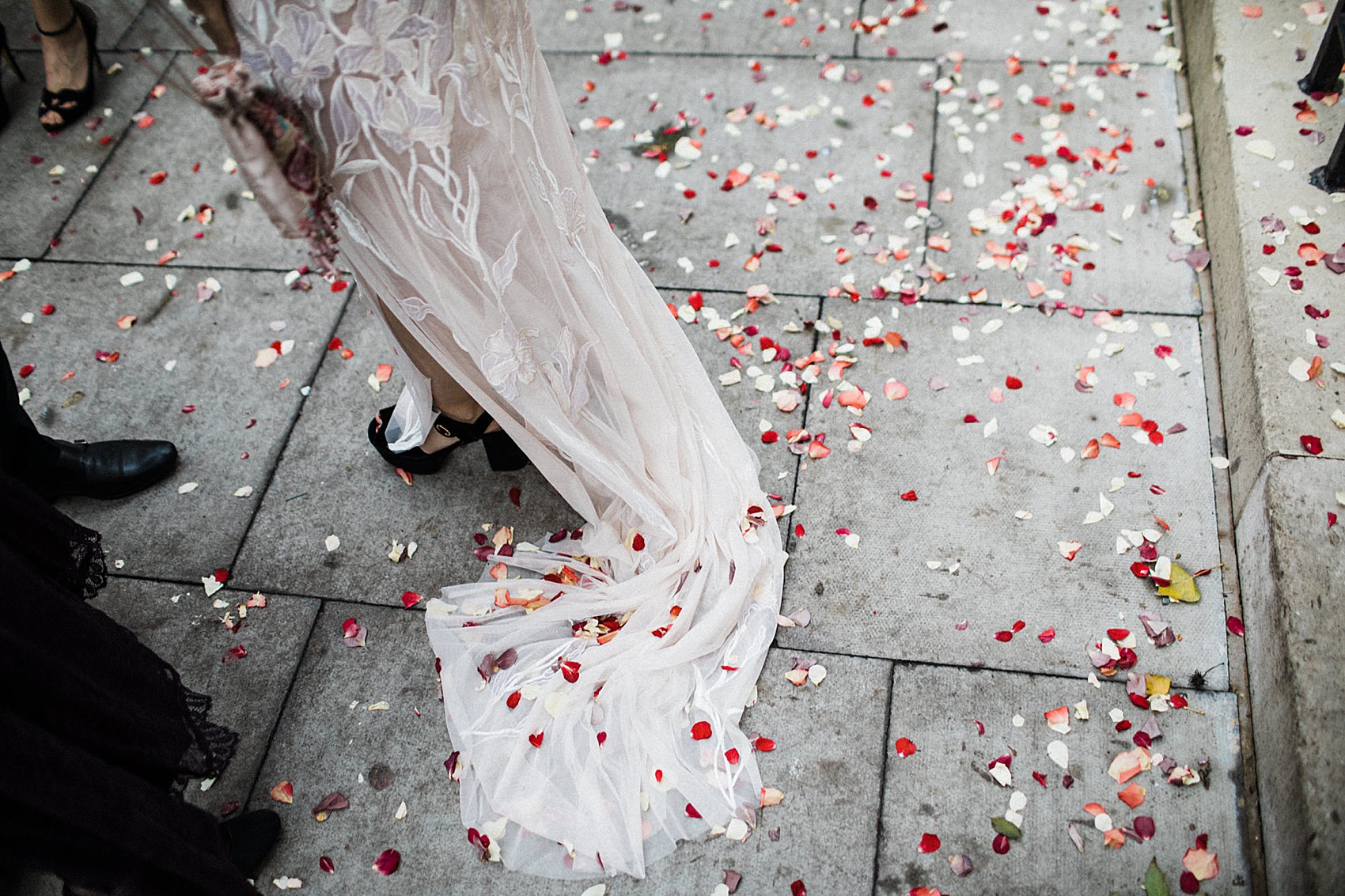 The bridesmaids looked wonderful in an assortment of dresses in icy silver blue and dove grey, with strappy cocktail dresses from Reiss, a wrap dress from Marks & Spencer, and a lace dress from ASOS (currently significantly reduced in the end of year sales ladies!)
Along with Ailsa, they carried beautiful bouquets by Bloom East, with blush pink, red and apricot roses, amaryllis, sea holly, scabiosa, white anemones and lots of fragrant foliage.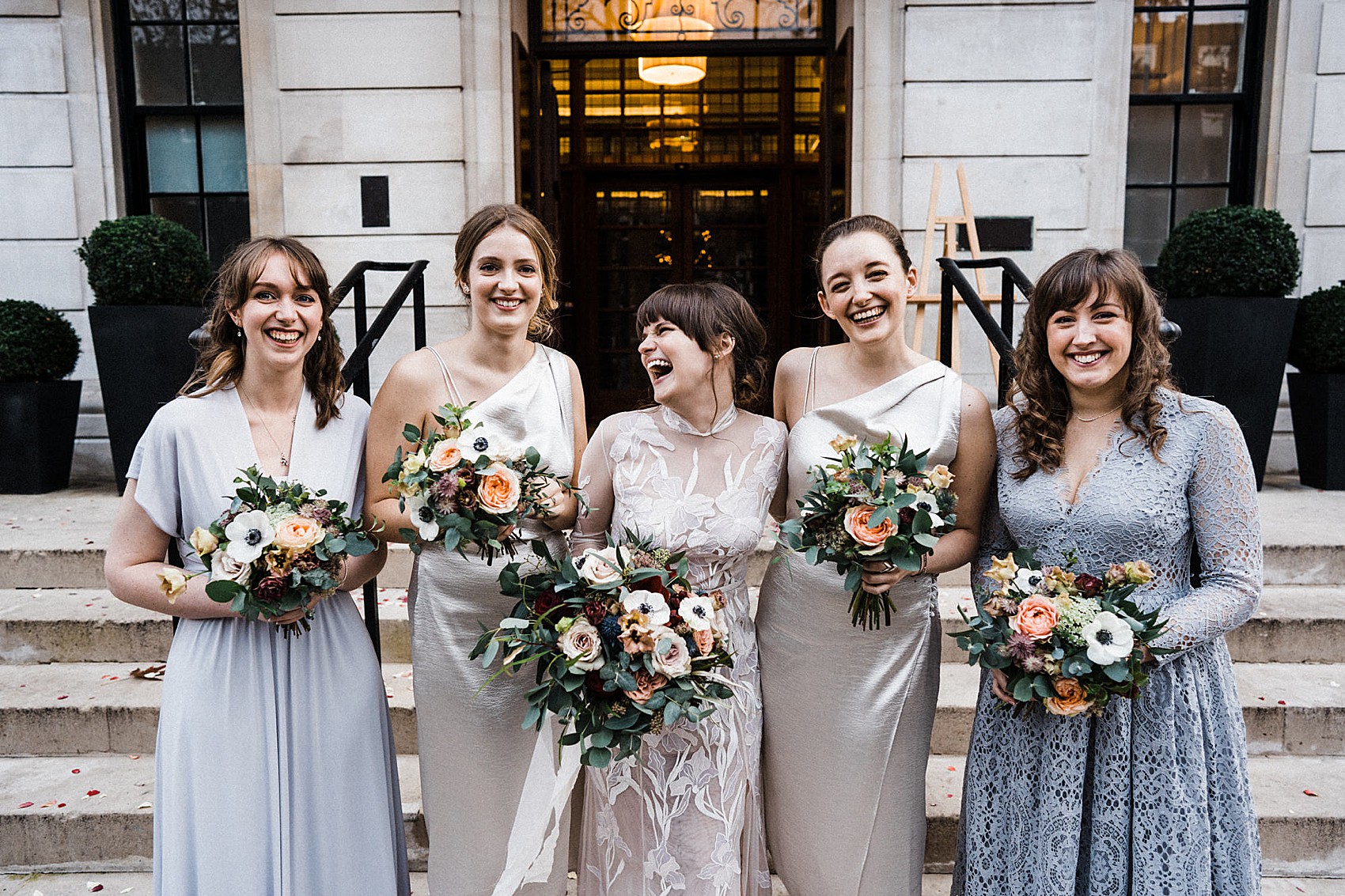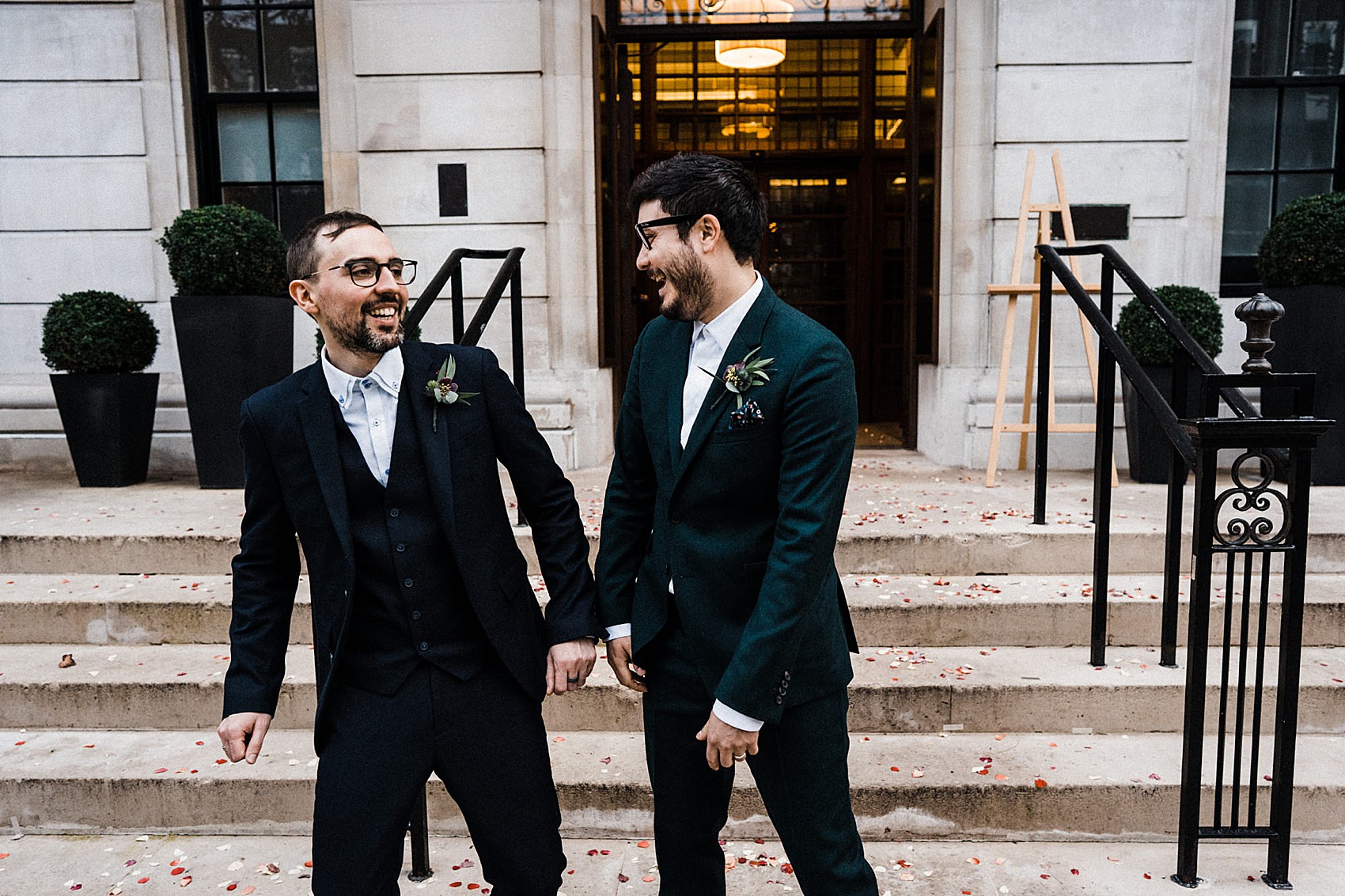 Before their reception, Ailsa and Julian took some time together and went for a walk with their brilliant photographers Lauren and Glenn, from Through the Woods We Ran, who did a masterful job of capturing the cool elegance and sweet intimacy of the day.
"I was won over from the moment I saw how much they loved animals because – same! They were lovely and kind, so many people said how nice they were, they took charge when they needed to and were happy to just let us do our thing."
"We were dreading the couple photos, but they made it painless and quick, assuring us that our pulling weird faces and hiding would make for lovely photos. They were so right. I can't tell you how much I love our photos, they're beautiful and I'm so grateful we have them. Glenn and Lauren are the best, hire them immediately."
"We found Lauren and Glenn through Love My Dress, and it was was definitely my favourite wedding site. I liked the different search bar options, so I could see what Glenn and Lauren had shot before, or what other winter wedding inspiration there was, too."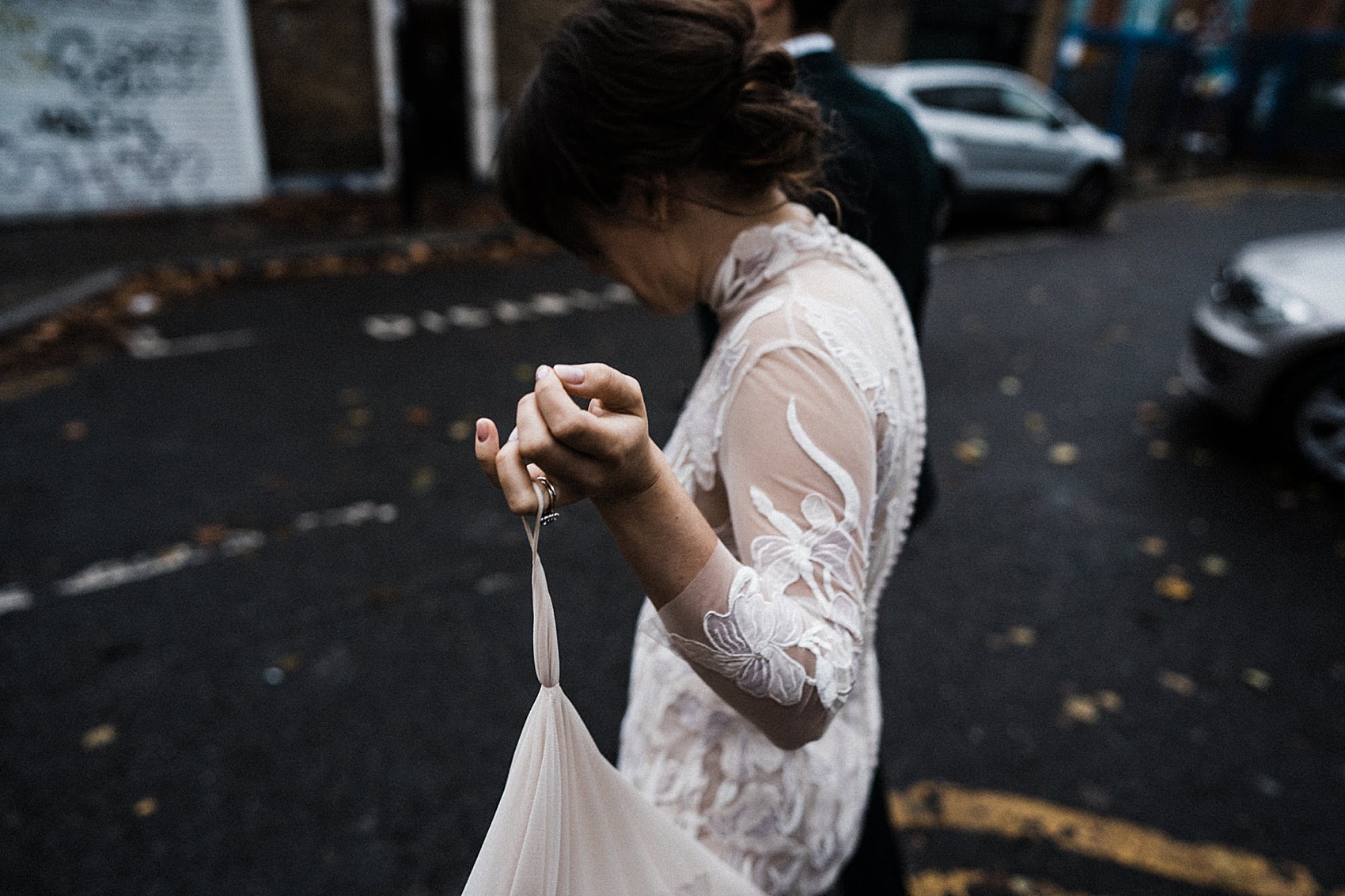 Ailsa's shoes were black velvet platforms by Prada, and her earrings were a mixture of her mother's pearls, along with a silver huggie hoop and white topaz teardrop studs from Otiumberg. Wedding day perfume was a spritz of Bloom by Gucci.
Restaurant Sager + Wilde is rather wonderfully housed inside a grand old railway arch, and has a beautiful wooden bar and row upon row of wine bottles. Dining tables were decorated with vases of flowers, and garlands of ivy hung from the ceiling.
"We looked into lots of different ideas and different places, but all we really wanted was somewhere with outstanding food, where our friends wouldn't have to travel far (or pay an arm and a leg) to get to, and that had the option to go late. We decided it definitely had to be at home in London."
"Our florist Anya was really great with WhatsApping me ideas and flowers to choose from, and you could see she was really invested in it. We wanted to keep things festive so we had big, hanging ivy garlands from the lights at Sager + Wilde, and little flowers that were also in my bouquet on the tables."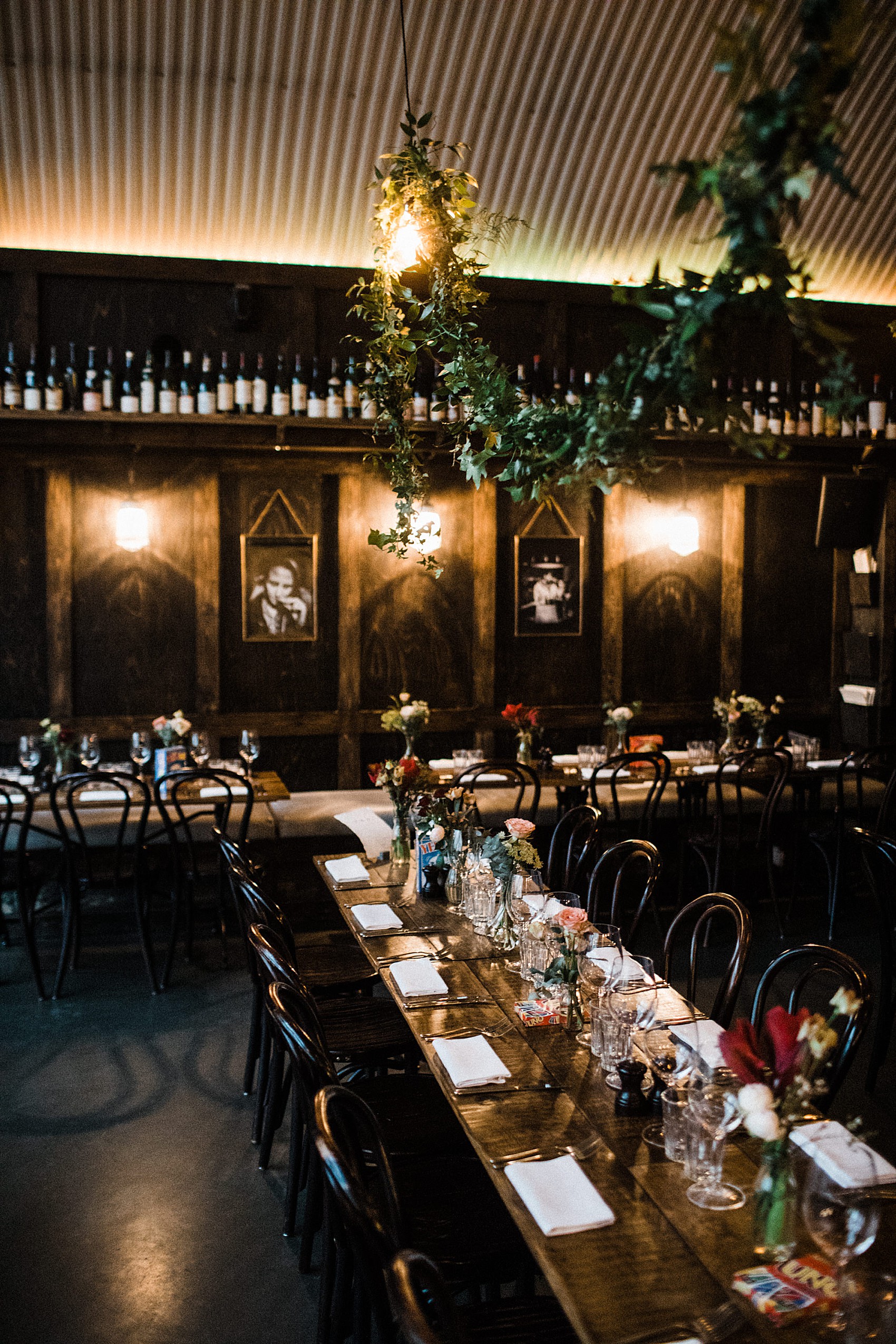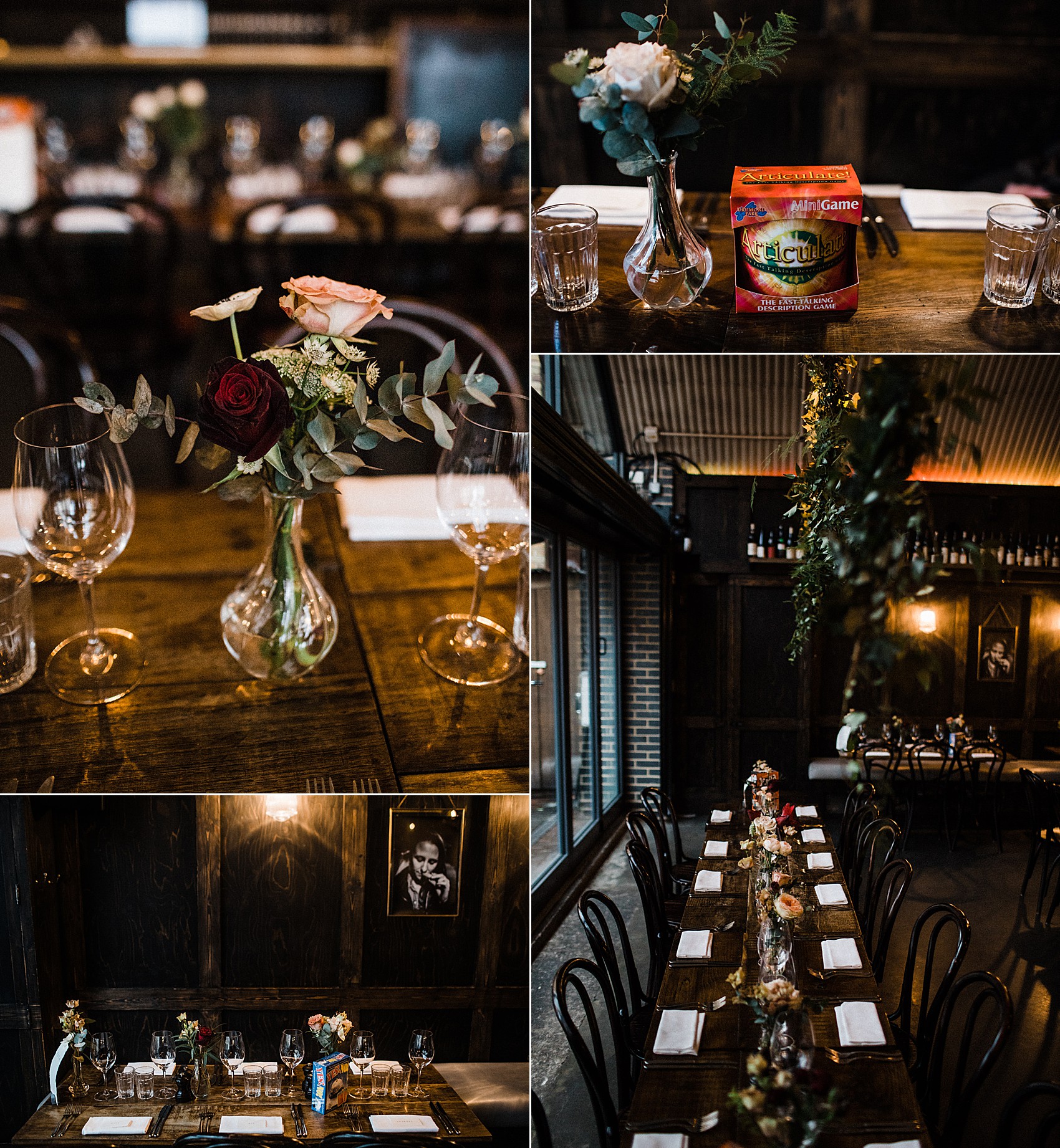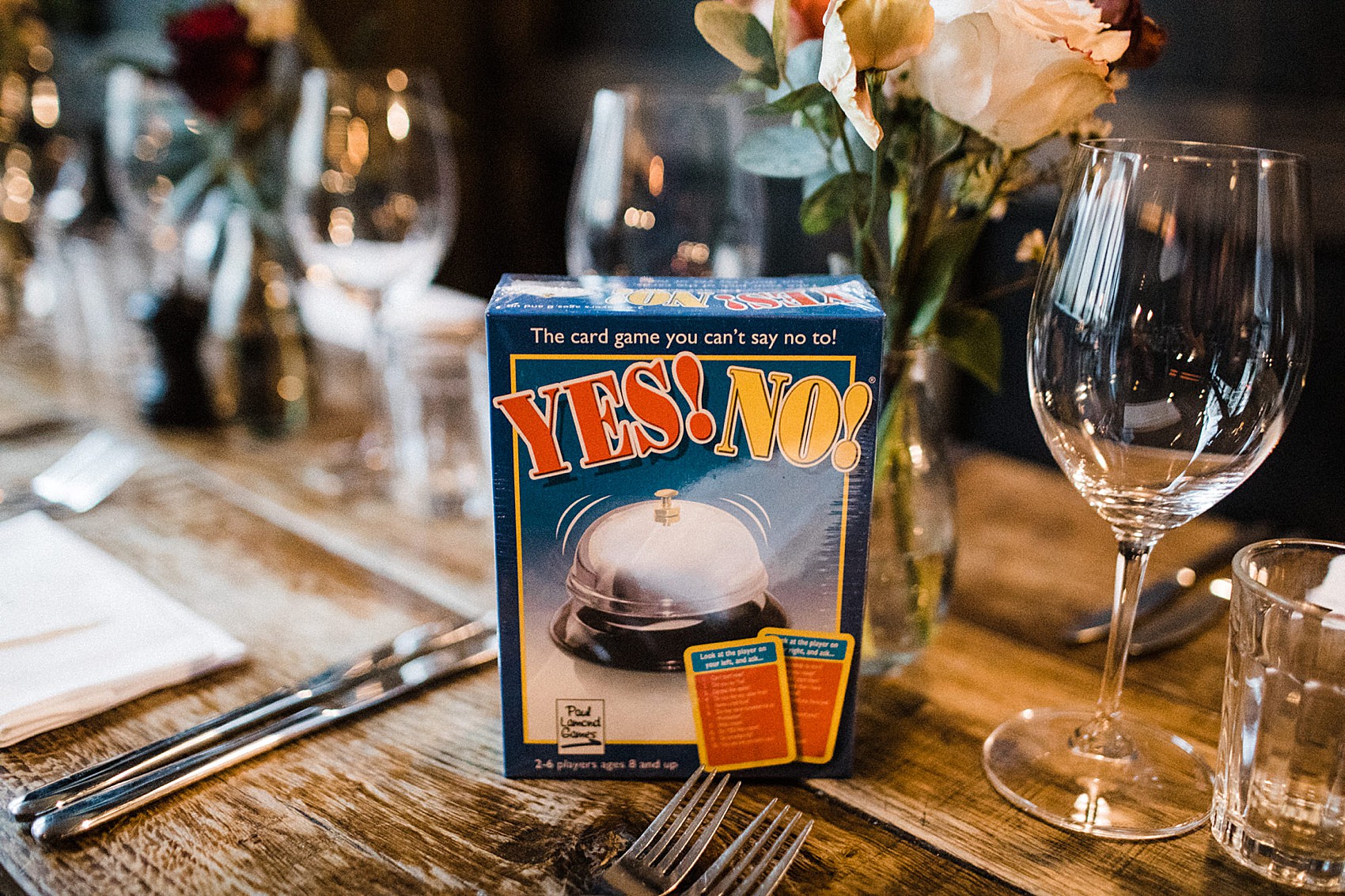 Simple and elegant stationery came courtesy of Pale Press London, and the tables were also dotted with candles, as well as mini board games to keep everyone entertained, and as a nod to Ailsa and Julian's love of them.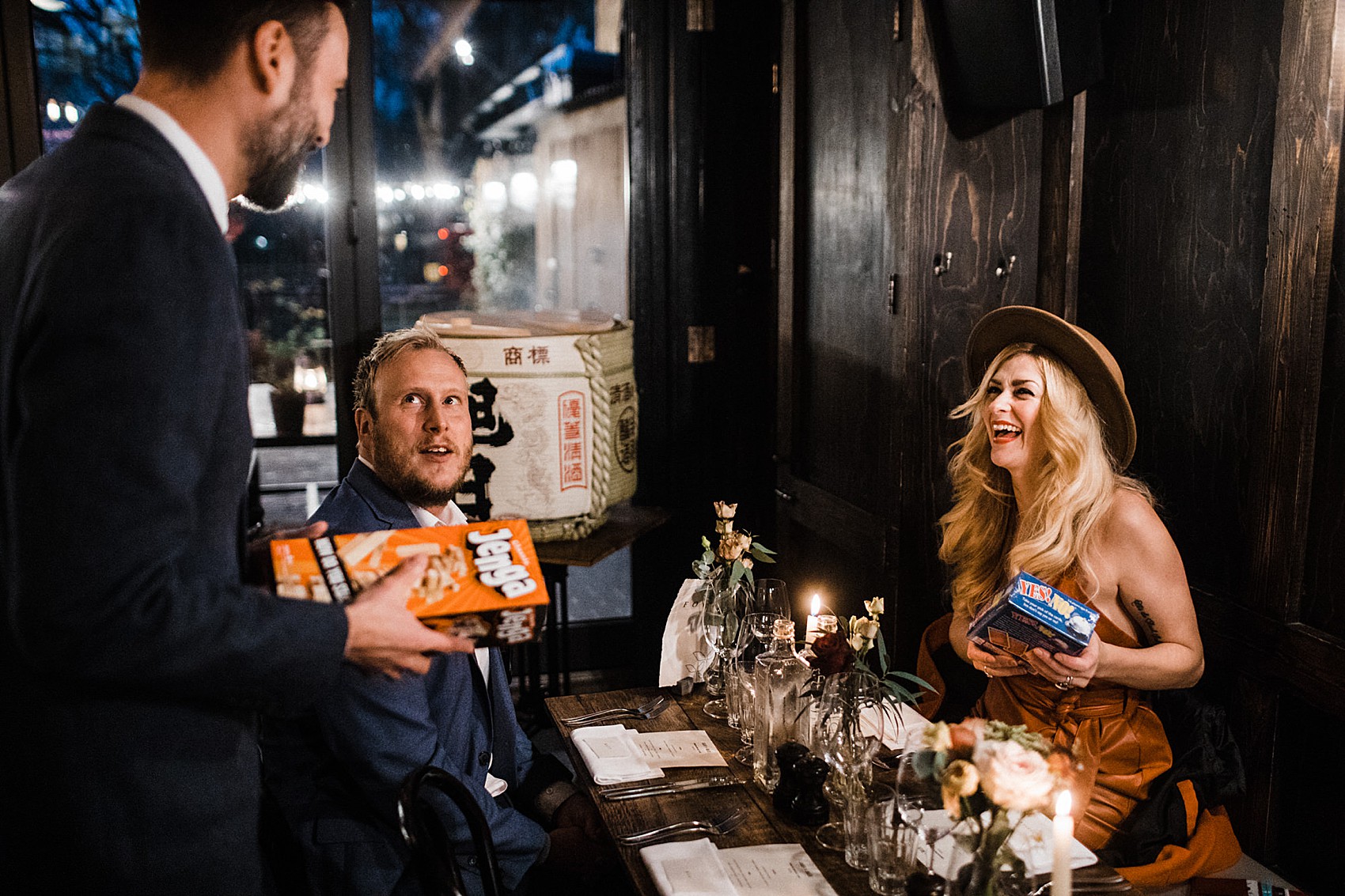 The wedding feast by the team at Sager + Wilde began with homemade focaccia with burrata, persimmon, pomegranate and pistachio, followed by slow cooked pork belly, hake or caponata.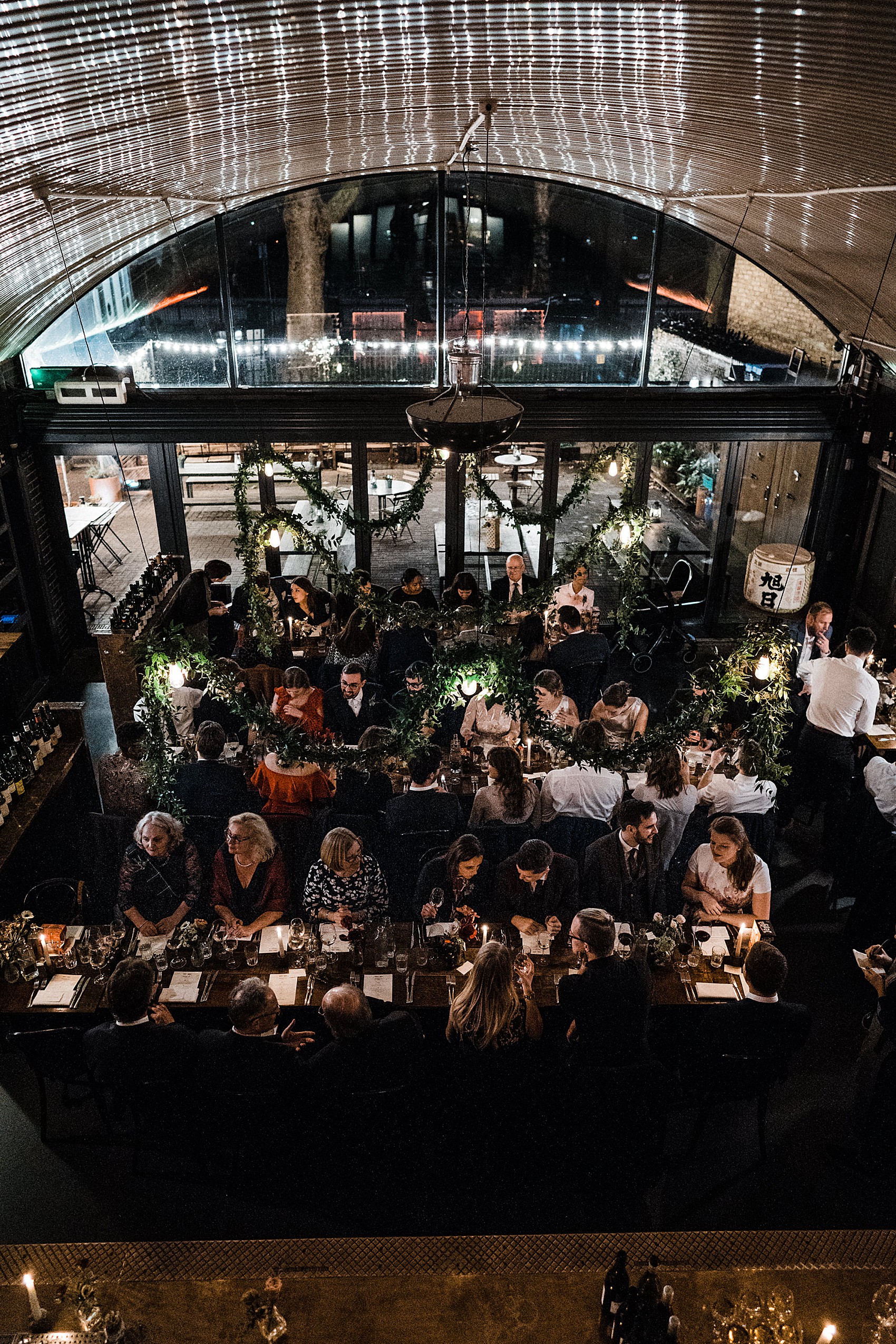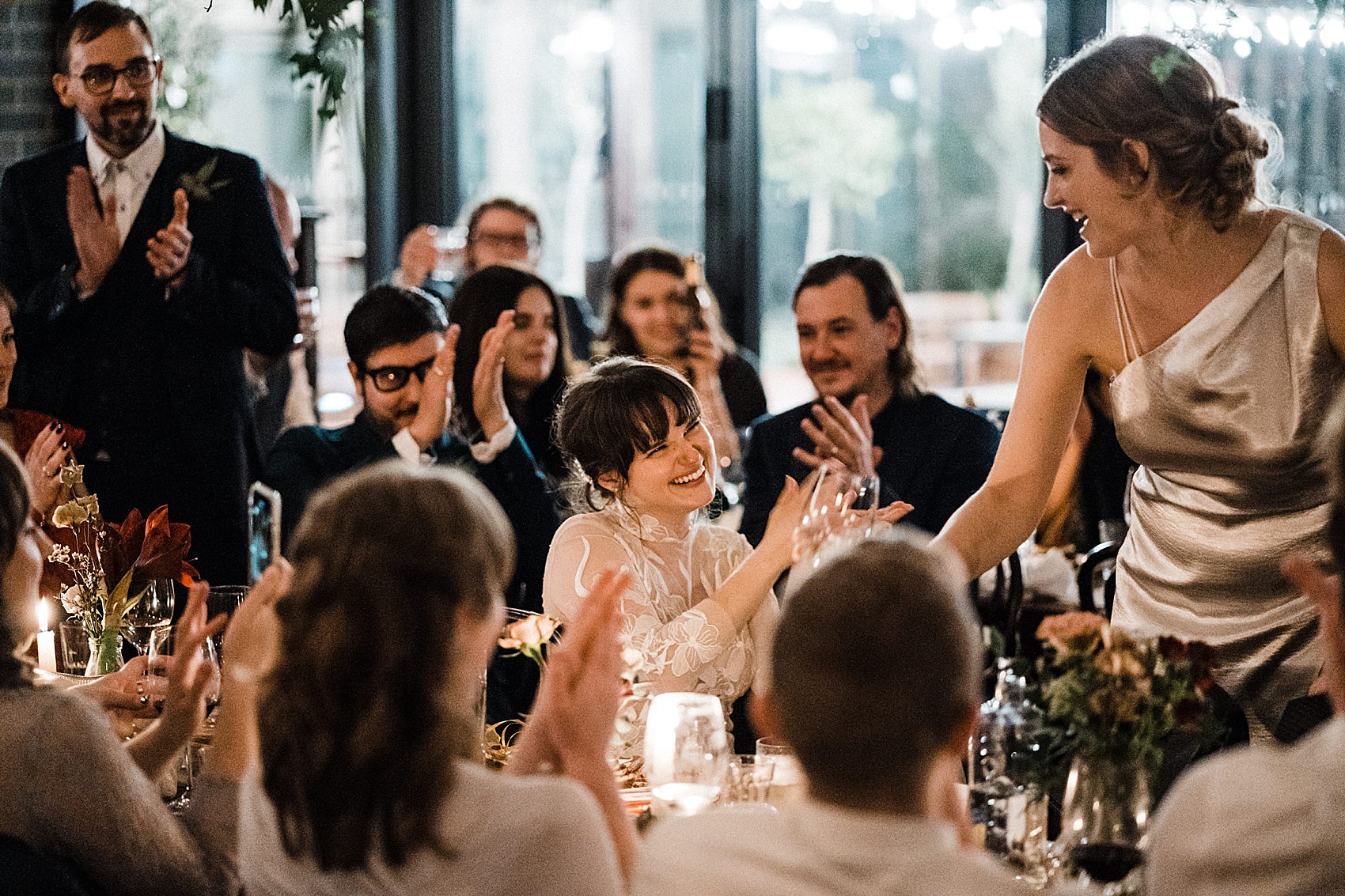 "Instead of a cake, we had tiramisu as dessert with dinner, because who doesn't love tiramisu. There were cheese toasties in the evening, which I think went in a matter of seconds."
Favours were sake cups from Fujii Honke Sake Brewery, to go with the barrel of sake to be smashed open and enjoyed later in the evening.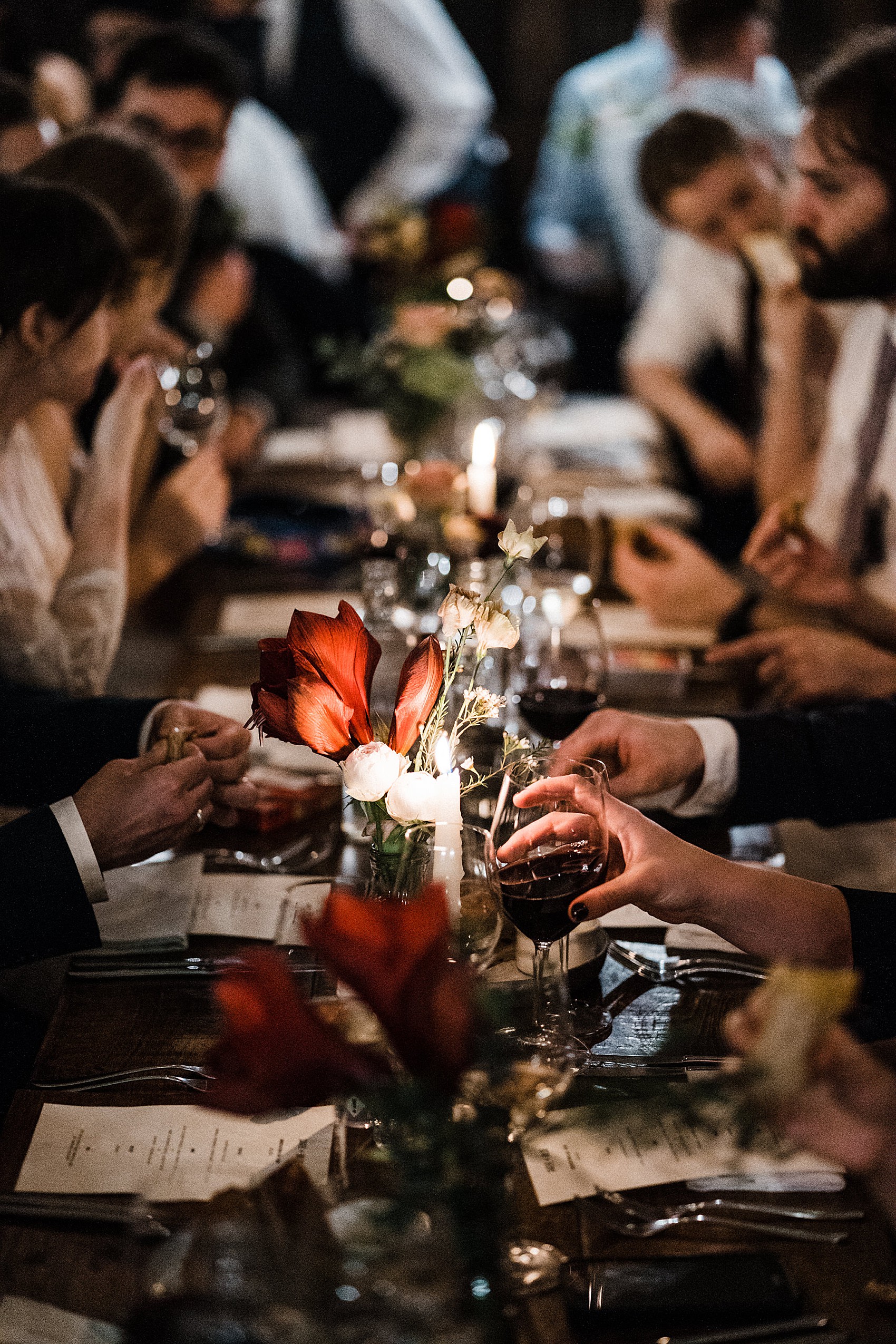 "We wanted to incorporate a Japanese tradition into our day, as Julian is half Japanese, but didn't want it to be too twee. The tradition of Kagami Biraki, which translated, means 'Opening the mirror', is the breaking open of a barrel of sake at a party, and it was perfect for us as we love sake!"
"It was so cool to see everybody's reactions as we did this, and we used a picture of us doing it on our thank you cards. The barrel we have kept, and are planning to turn it into a huge plant pot, or a table, yet to be decided!"
Favourite Moments
"Getting ready in the morning with my best friends was so special, and I really appreciate the time I got to spend with them.  Julian and I smashing the sake barrel together was a barrel of fun (sorry) and something that took a heck of a lot of organisation. From finding somebody in Japan who was able to source it for us, to importing it into the country, so it was amazing to see our friends enjoy it so much."
"Seeing Julian at the top of the aisle was a really lovely feeling, all dressed up in his suit. I'd missed his face as we'd been apart the night before."
"I don't think we would have done anything differently. I was really indecisive in the beginning, but towards the end I forced myself to trust my gut. "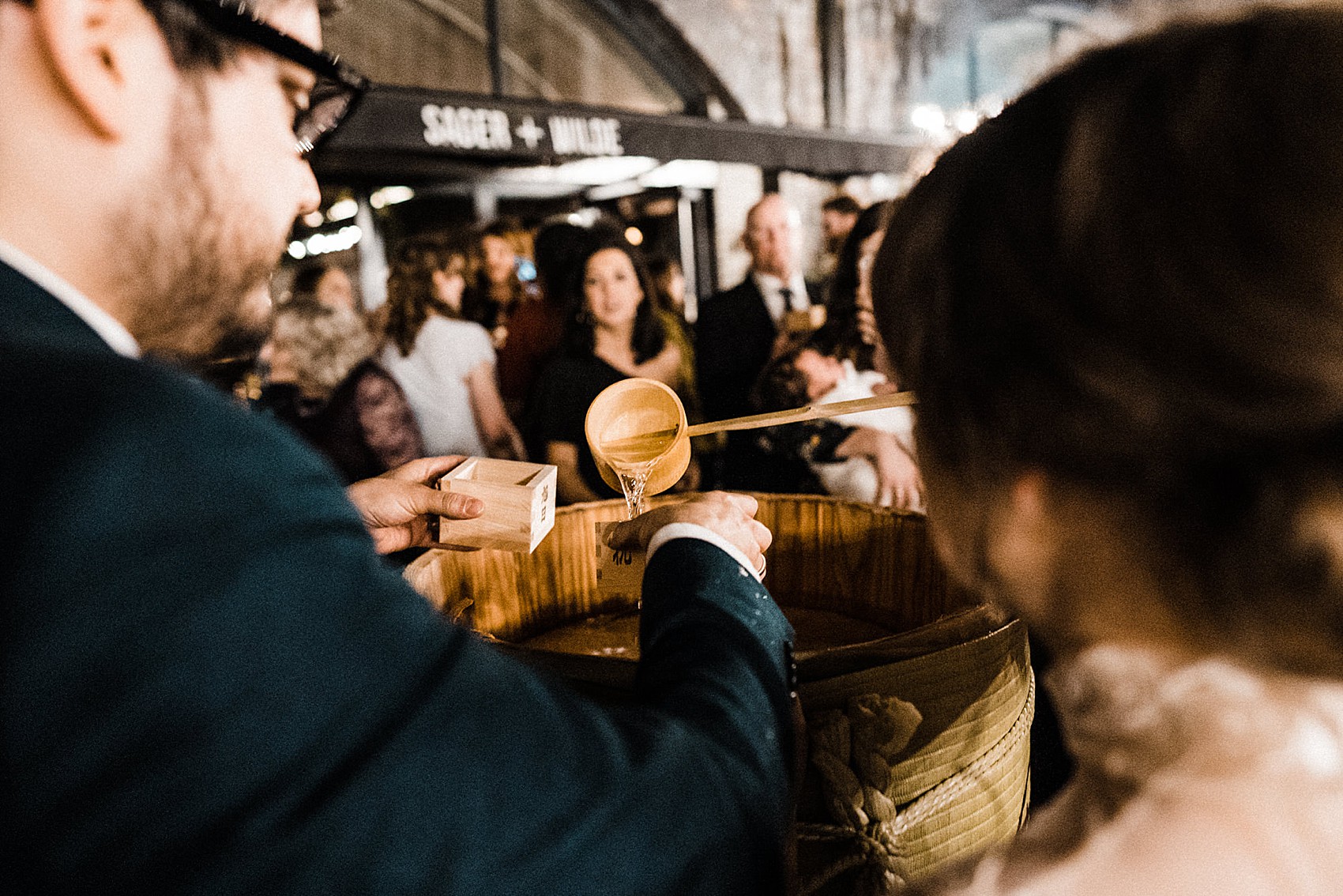 DJ TBX came recommended by a friend, and Ailsa and Julian were thrilled with her approach, and the brilliant music throughout the evening.
"From the moment we spoke on the phone, she was lovely and friendly and the music all night was fantastic. She took care of everything, liaised with the restaurant herself, and was one thing I didn't have to worry about. There was an awful lot of 'One more song' at the end of the night, and if that's not a testament to how great she was, I don't know what is."
"Our first dance was Don't You Want Me by The Human League. This song used to play in Polpo all the time, and it's such a fun song that everybody knows. It's also quite an accurate description of how we met! We're not good dancers, but we like to have fun with it, so after a few little silly moments together we dragged everybody else onto the dance floor with us to join in."
Words of Wedded Wisdom
"Honestly, trust your gut. If something is making you feel a bit uneasy, like you don't like this flower or this invitation design, just say. Especially if you're quite indecisive and anxious like me, it will save you so many sleepless nights if you just speak to your suppliers. Don't worry, you're not bothering anyone!"
"On our photographer's advice we asked people not to take photos during the ceremony, which we now appreciate so much. There are so many lovely photos of friends crying, smiling, laughing, just completely engaged in the moment."
"Give your phone to somebody else for the day! One of my bridesmaid's (Anna) husbands (thanks Francis!) suggested this in the morning as he was doing our music from my phone. He took photos for us throughout the day that I love so much, and captured loads of bits that we didn't see, and it meant the very next morning, we had loads of hilarious pictures to scroll through immediately."
"Also I stopped looking at wedding things online about a month before the wedding. It was really for my own personal sanity, but I do recommend it."
Ailsa and Julian, thank you so much, this has been truly lovely, and very best wishes to you both. Many thanks to Lauren and Glenn from Through the Woods We Ran for capturing everything so beautifully.
Until next time.
Love, Laura