Happy Christmas loves! I've been writing about some brilliant brides in the most amazing headpieces and hair accessories of all kinds lately, from colourful fresh flowers to vintage Hollywood inspired designs.
Today, I'm loving the floral inspired, custom-made golden crown our bride is wearing. This is the wedding of Liv, who works in marketing for Instagram and Facebook, and Adam, who works in business development.
Film by This Modern Revelry

+ Follow
This lovely pair were married on the 19 October 2019 and celebrated at Shoreditch Studios in East London – a multipurpose, open plan event space housed in Victorian railway arch warehouses.
"We really wanted to do something a bit different for our wedding. We have done a bunch of amazing weddings in beautiful castles, rustic barns, and gorgeous hotels abroad, but we had both never been to a big London wedding, so we thought we would stay local and make use of the amazing city backdrop that we call home."
Photography by We Heart Pictures

+ Follow
"We looked around East London because we wanted something with a warehouse/New York style vibe, and we knew we wanted somewhere that wasn't a standard wedding venue, that had weddings every day of the week, and which didn't feel that personal."
"We looked around East London because we wanted something with a warehouse/New York style vibe, and we knew we wanted somewhere that wasn't a standard wedding venue, that had weddings every day of the week, and which didn't feel that personal."
Hair and make-up looks for Liv and her wedding party were created by Leigh and Natalia from The Bridal Stylists.
"They both did an amazing job. I was a bit indecisive about hair and make-up, so I just made a decision on the day and was super happy with my look. For me, the most important thing was that the bridesmaids felt great about themselves, and could chose what they wanted to do with their hair and make-up."
"I didn't mind if they were matching or wanted to go their own way, so some of the girls went with their hair up, others wanted it down, so it was great to see them all look amazing and happy with their individual looks."
Let's talk about that beautiful, bespoke crown by Halo & Co., shall we? I love its floral design in gold, with crystals giving plenty of subtle sparkle.
"I was really unsure what to do with my hair, so I researched lots of accessories and found some amazing options through Little Book for Brides. I kept putting off a decision, but then the week of the wedding, I saw someone wear a Halo & Co crown on Instagram and love it, so I splashed out and got a beautiful custom made crown. In the end, it was one of my favourite parts of the whole look."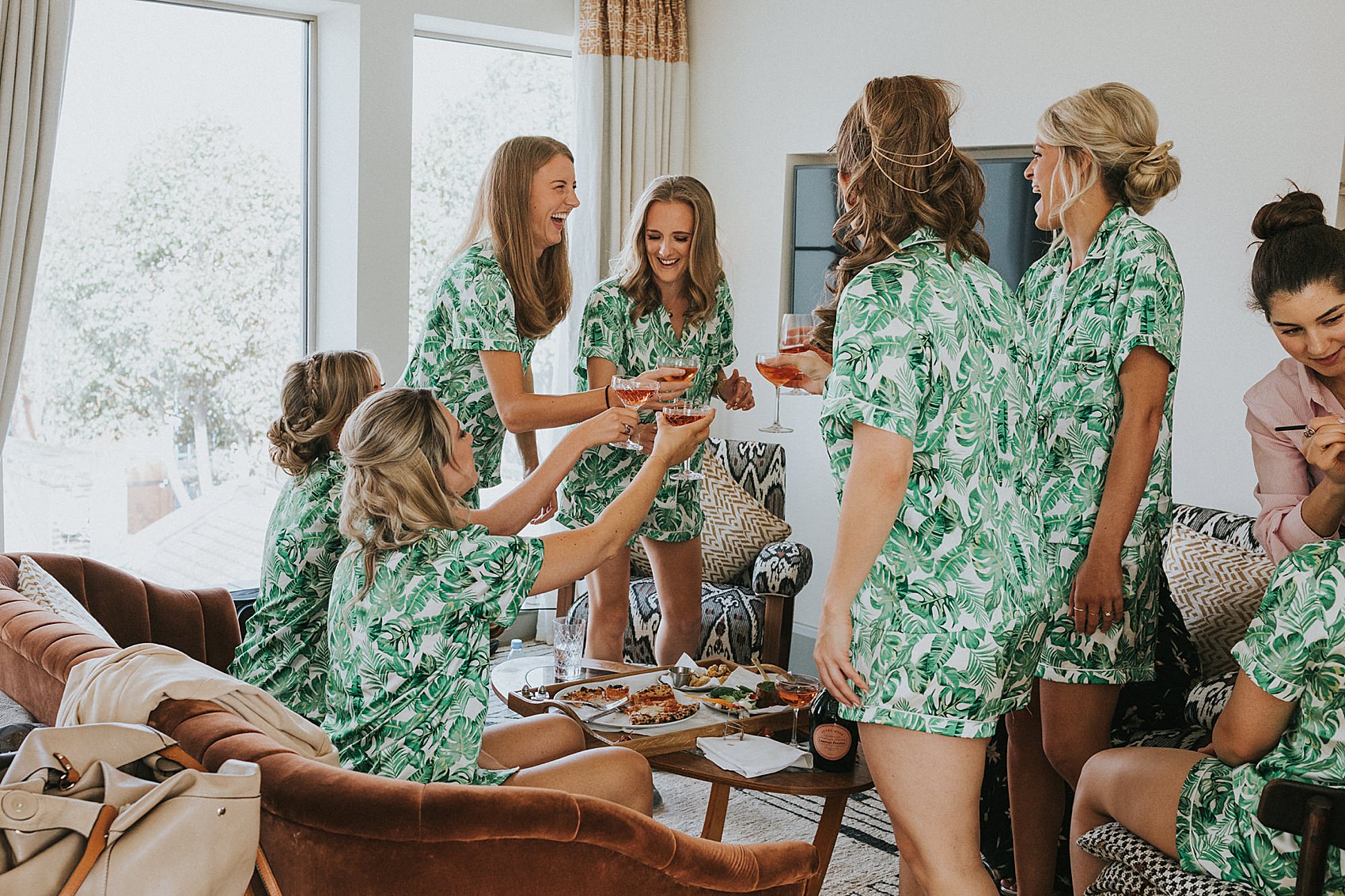 Liv's super-sexy champagne illusion gown adorned with intricate lace and clouds of tulle, was made to measure by Riki Dalal.
"I wanted something that felt different, so originally looked for very casual dresses but quickly felt like I wasn't bridal enough. I had always loved the glamour of Israeli designers, and the fact that most of their dresses aren't white, so I ended up going for a champagne coloured dress, which I loved. It was part of their Shakespeare collection and was called the 'Lady Macbeth', which I loved, too!"
On her feet, Liv wore gold shoes from L.K. Bennett, and as a touching homage to her island home of Guernsey, her dad thoughtfully gifted her a pair of Guernsey Pearl earrings and a necklace, at dinner on the evening before the wedding.
Liv wore an elegant tulle veil by Britten Weddings, and a leather jacket to keep off the autumn chill, too (sadly, no details about this).
"My perfume was Le Labo – Santal 33. I once got told that you should buy a brand new scent for your wedding day so that every time you spray it, it reminds you of the day, so my amazing uni girls bought one for me for my 30th birthday earlier this year with a personalised label. It was one of the nicest gifts I've ever had."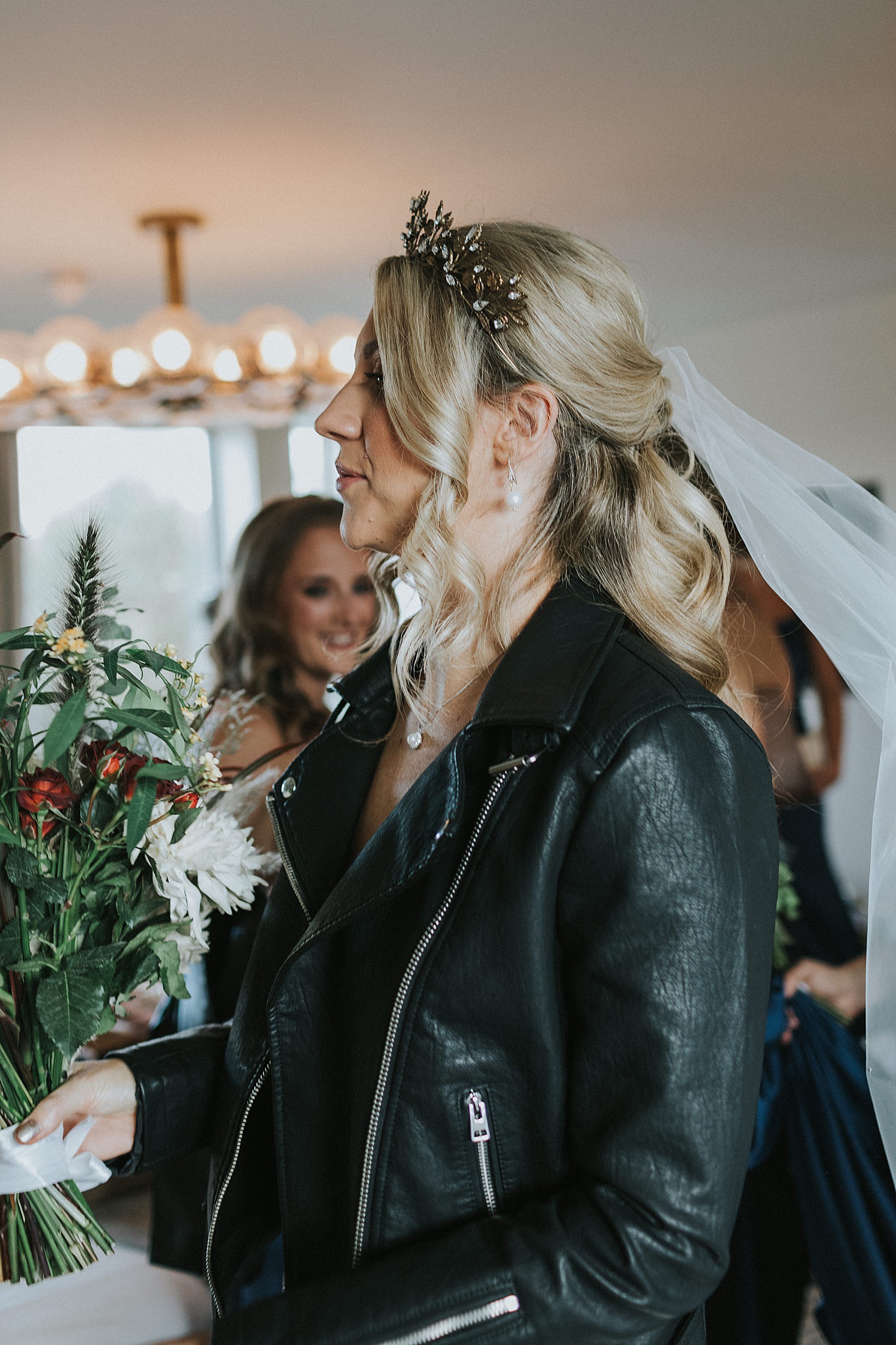 The bridal and bridesmaids' bouquets were incredible, autumnal hued arrangements filled with beautiful, textured grasses, created by Birksen, who are based in Clapham Old Town.
"Tim and his amazing team at Birksen did our flowers for the day. They were fairly local to us, and we were introduced to him by Chris at the Wedding Arrangers, who helped us with our ideas at the start of our wedding planning journey."
We knew we wanted autumnal vibes and to include thistles, but we really let Tim do his thing in terms of making sure to use flowers that were in season."
"They also created two amazing displays for us; one for the copper ceremony arch, and one for a light installation. They used lots of pampas grass style fauna to create an amazing look that worked so well with the venue."
The bridesmaids looked incredible wearing navy blue satin slip dresses from Jarlo, which they wore with their own shoes and accessories, including an amazing hair chain! Liv's new sister Holly wore a pretty navy blue dress from JJ's House to complement the bridesmaids' looks.
To provide support and make sure everything ran smoothly and on time, Liv and Adam hired event manager Kayleigh Folcarelli for the day.
"The venue was quite bare as it's dry hire, so we worked with some great suppliers to help us bring it to life. We hired a neon sign from Bag & Bones which said, 'And so it begins', and also got a custom one made saying 'The Thompsons', which doubled up as a bit of a photo-opp."
"We also got some custom hand painted banners from an amazing lady who runs a business called Darwin & Gray – one with a quote on, one with our names on and one as a table plan. I found both of these suppliers on Instagram."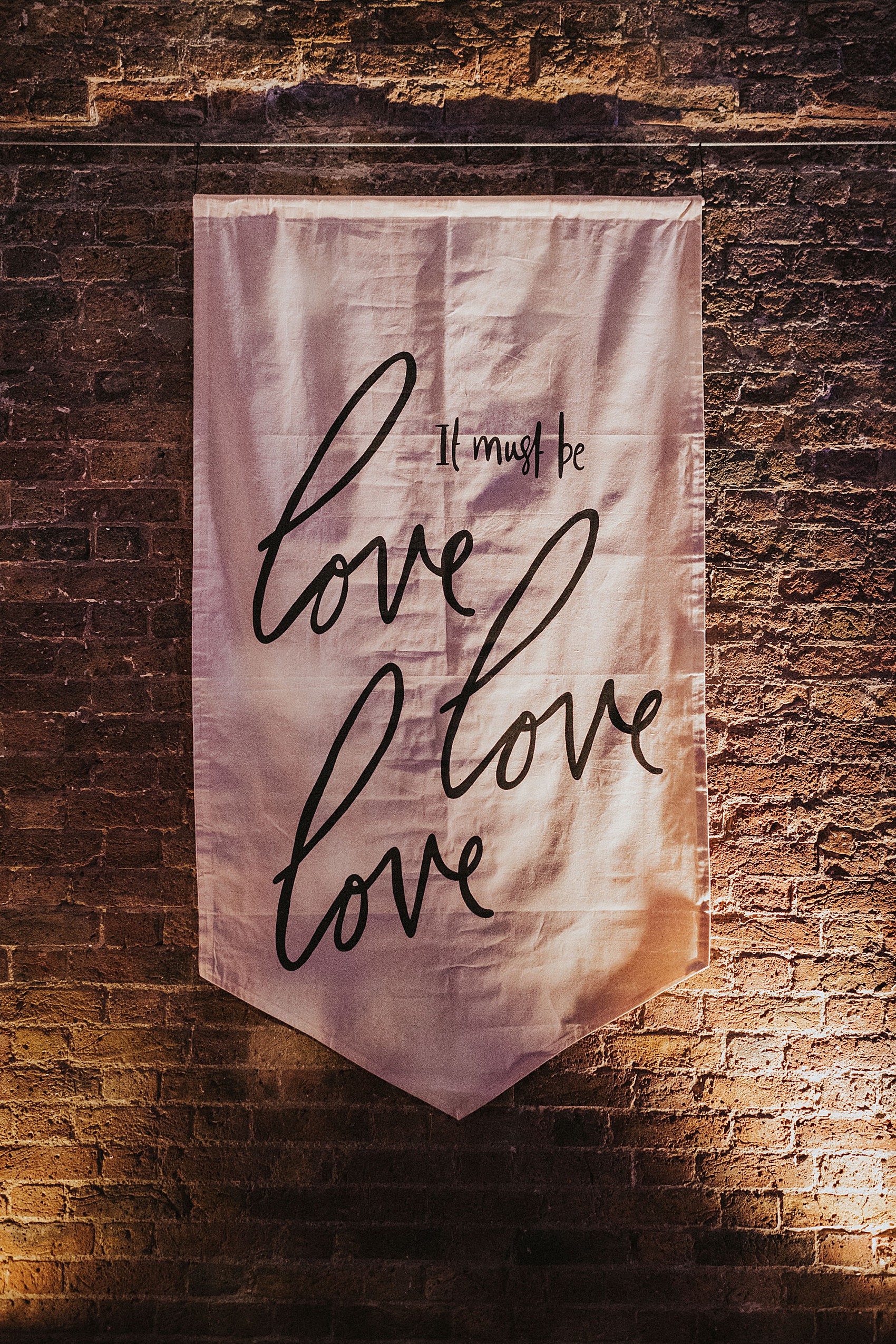 Adam and his groomsmen looked smart in navy blue suits from Next, and Adam added a grey waistcoat to his look, too. As a nod to Liv's Scottish heritage, the boys also wore matching tartan bow ties, which Liv sourced from Amazon.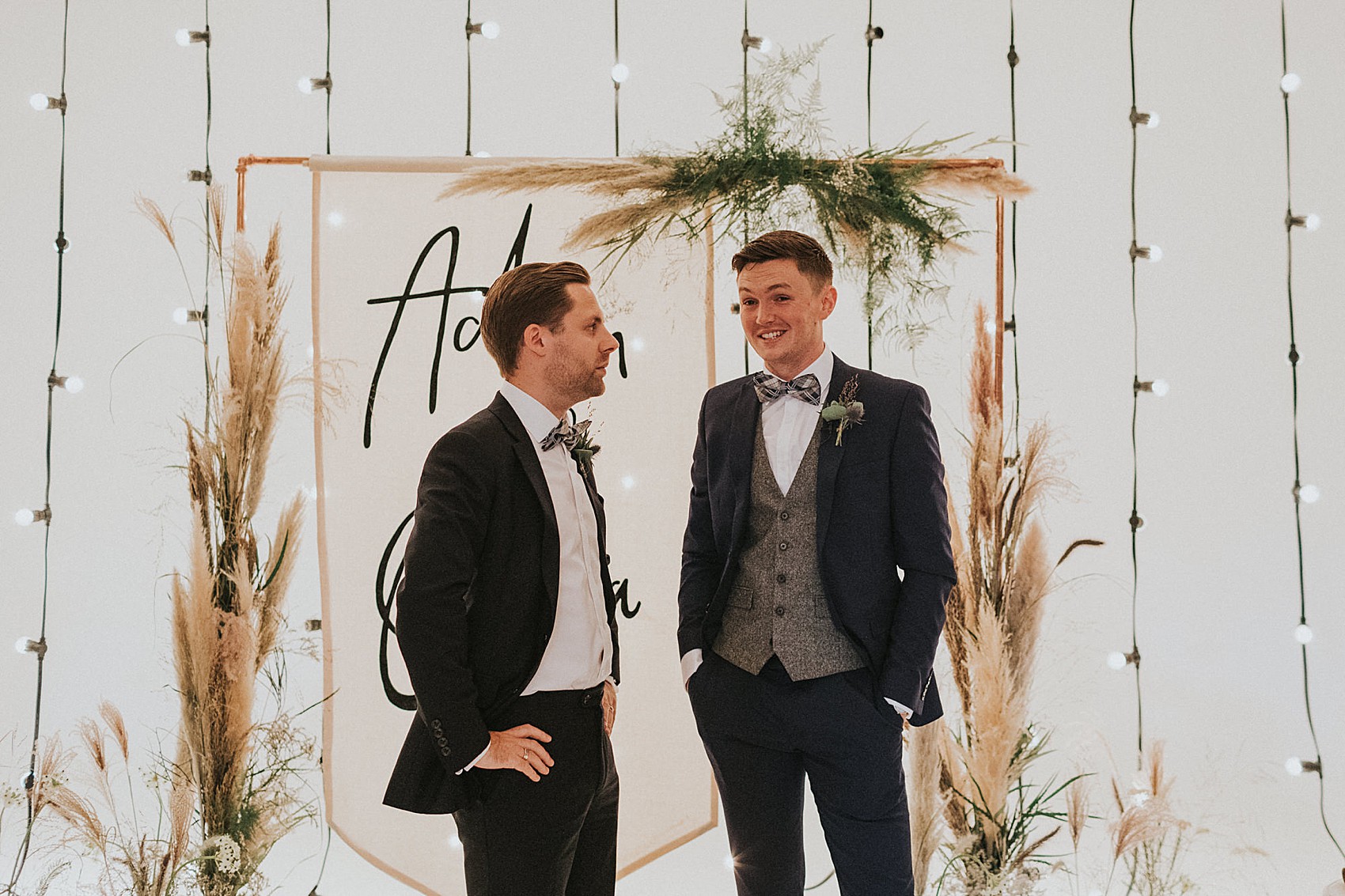 "We didn't have any page boys, but we did have my sister's little sausage dog Dudley as our ring bearer, and he stole the show. He wore a tartan bow tie that I bought from Etsy, and walked down the aisle with our sister Zoe."
The couple first met through work six years ago, began to date four years ago, and became engaged over Adam's 30th birthday weekend.
"My lovely dad walked me down the aisle, and it was super special. I was so proud to walk with him, and loved that he wore his kilt. A moment I will never forget! We walked down the aisle to Sufjan Stevens' Mystery of Love, which is one of my favourite songs. I am a big lover of film, and it was the soundtrack to a great film I loved a few years ago."
"We also create lots of videos of our travels and we used this song for our trip to Italy, which we went on after we got engaged, so it had an extra special meaning."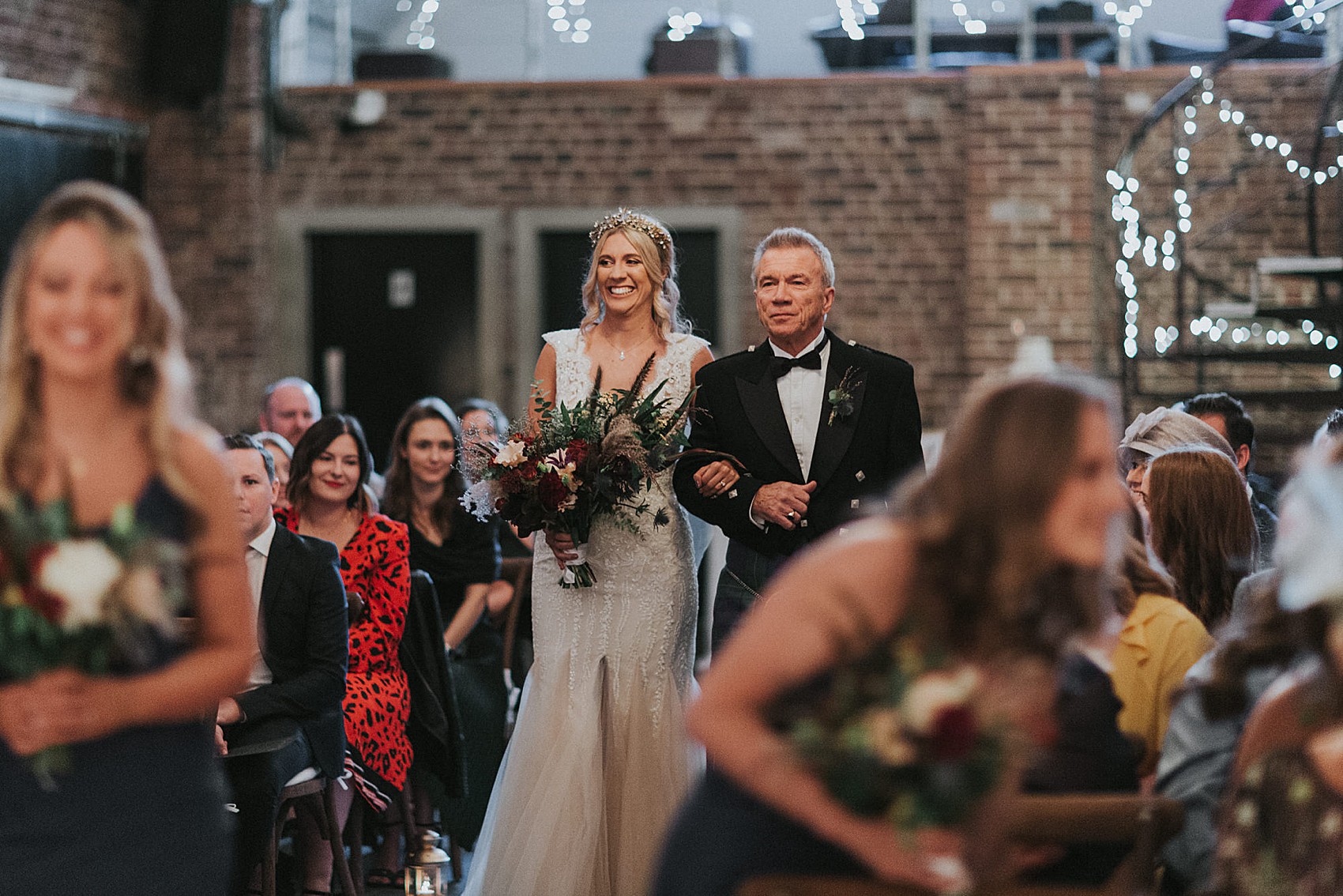 "We are not religious at all, and really didn't like the idea of getting married in a church by a person who didn't know us. We wanted the ceremony to be extremely personal to us, so we started exploring other options. We decided that we would get married, just the two of us, with just two witnesses in our local town hall in advance, and then have a humanist ceremony at a venue, followed by a big dinner and party."
"We asked our brother-in-law to 'marry' us and lead the ceremony, and it was the best decision we made. Due to some family illnesses, we ended up moving our official and legal ceremony to Hatfield, and had our grandparents as our witnesses as they were unable to make it into London for our wedding day and party. It was a really special thing to do, and we have amazing memories with them both from that day."
Liv and Adam were able to totally personalise their second ceremony, and so decided to each write their own vows. This proved to be a very special and emotional moment for them both, and they solidified these vows further by exchanging rings. Liv chose hers from a jeweller on her home island of Guernsey, and Adam chose a simple, classic band.
"I wanted lots of readings as I am a huge book and film fan, so I had a long list of ideas. We wanted them to be short and sweet but also to make sure they had a meaning to the person we had in mind to read them for us. We ended up going for five altogether, including an excerpt from Meet Joe Black and the opening passage from Love, Actually – one of my all time favourite films!"
The many lovely, touching moments from the ceremony were beautifully captured by photographers Hector and Charlie from We Heart Pictures, whose work has graced our pages on a number of other occasions.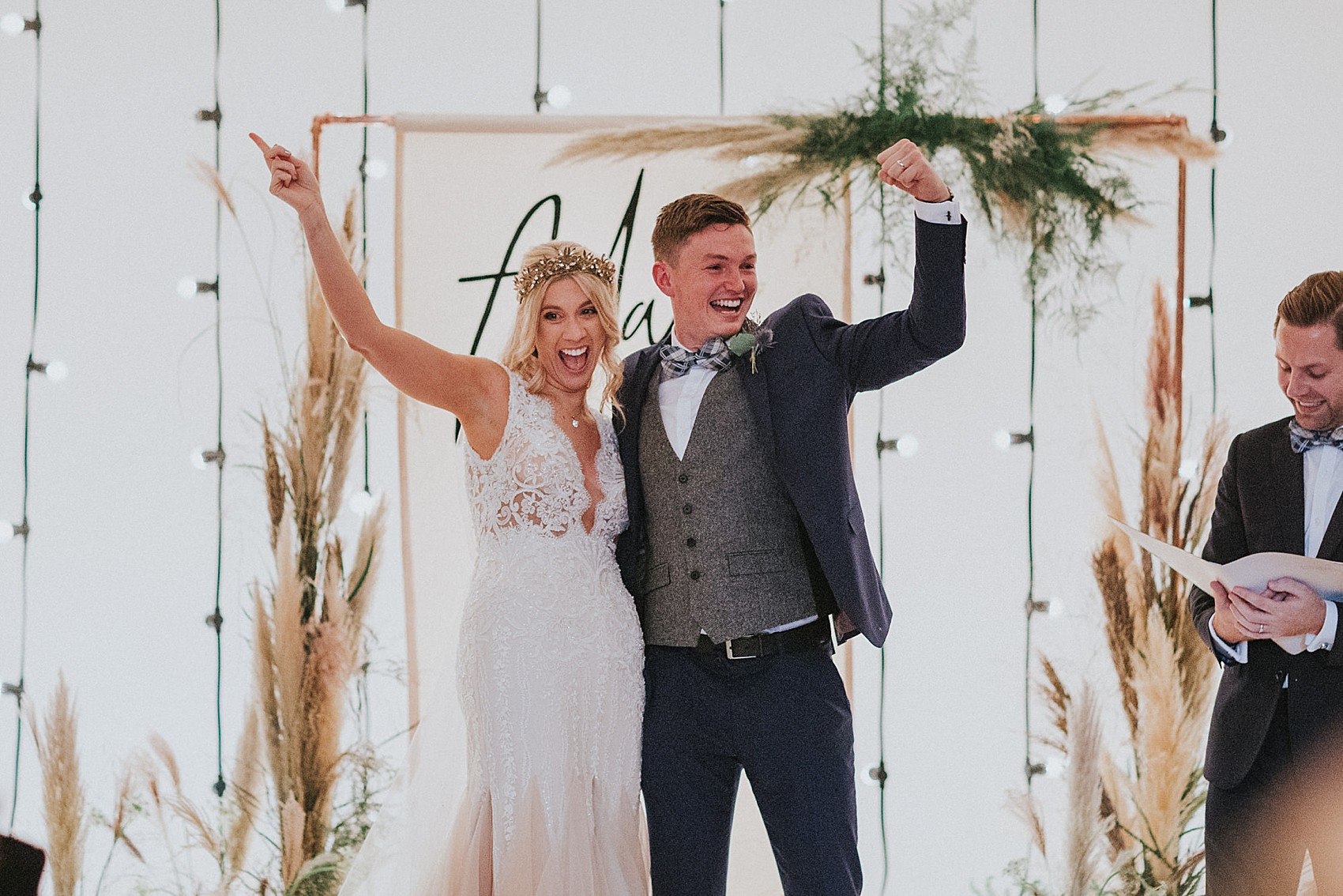 "They were so friendly and easy to work with, and gave us lots of practical advice about timings and shot lists for the day. We both haven't really had our photo taken much by professionals, and felt super awkward about a long portrait session, so Hector did a great job of making it all feel super fun and natural."
"They ended up capturing some fantastic photos of all of the moments from our day, and we are just so thrilled with them. They went along with all of our crazy ideas, from coloured flares to confetti canons – just awesome!"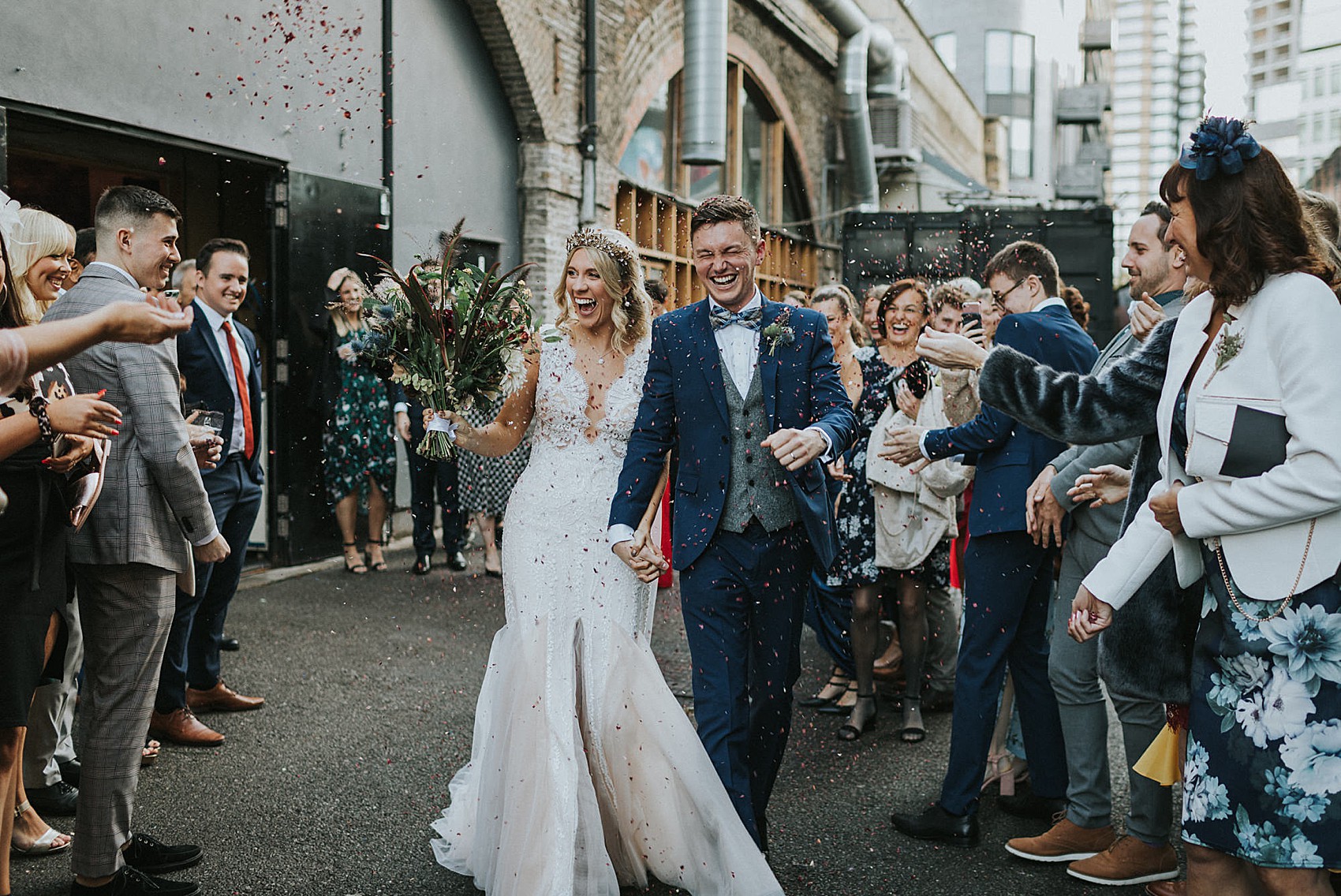 "Laura and Alan from This Modern Revelry shot our big day, and they were just so fab. We met them in a pub and chatted through the day, and they had so many cool ideas for the party too! Their style was exactly what we were looking for."
"We wanted to make sure that in video, it captured all of the guests having fun, partying away, and their fun, upbeat, quick editing style was totally the vibe we were after."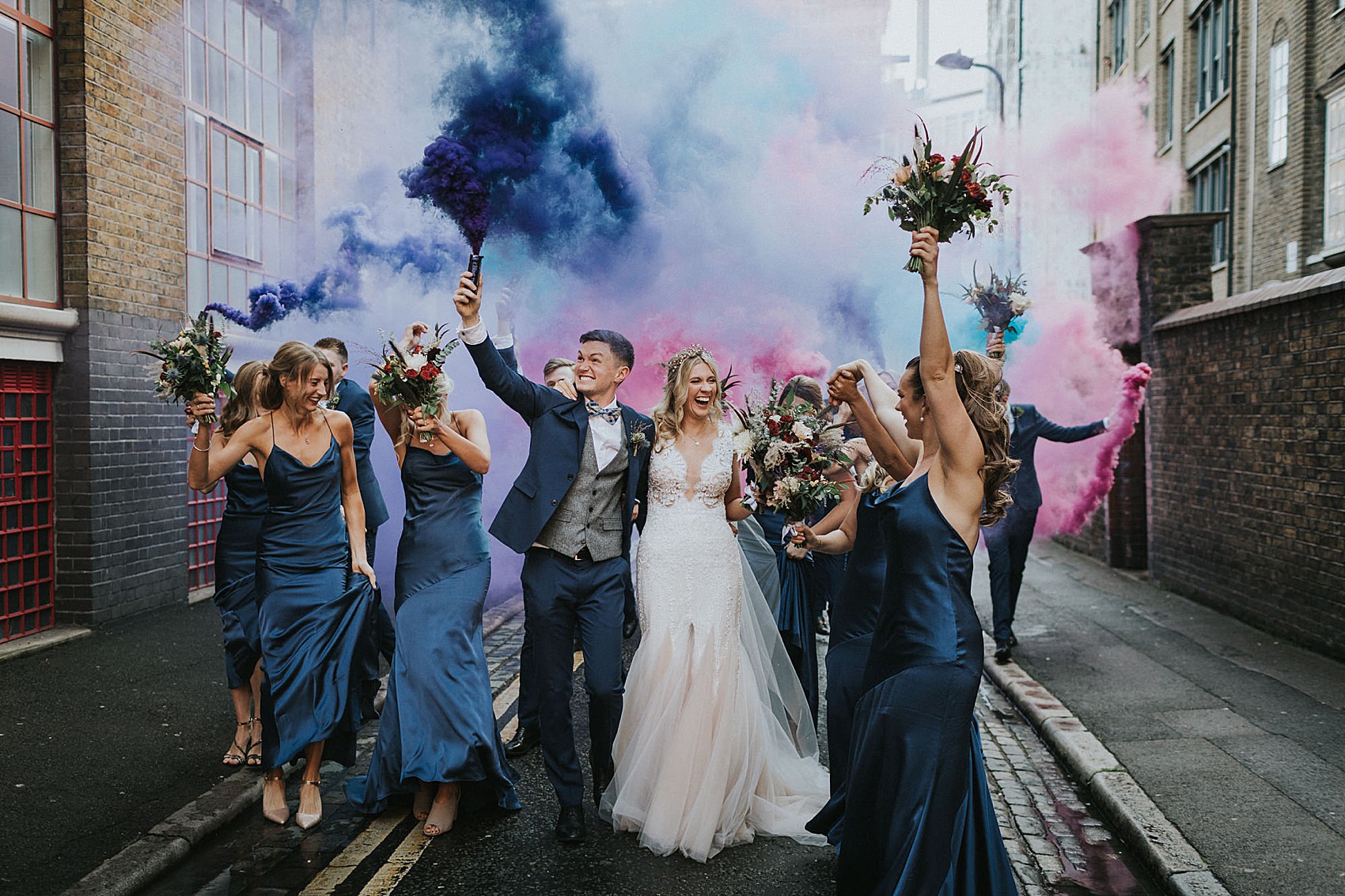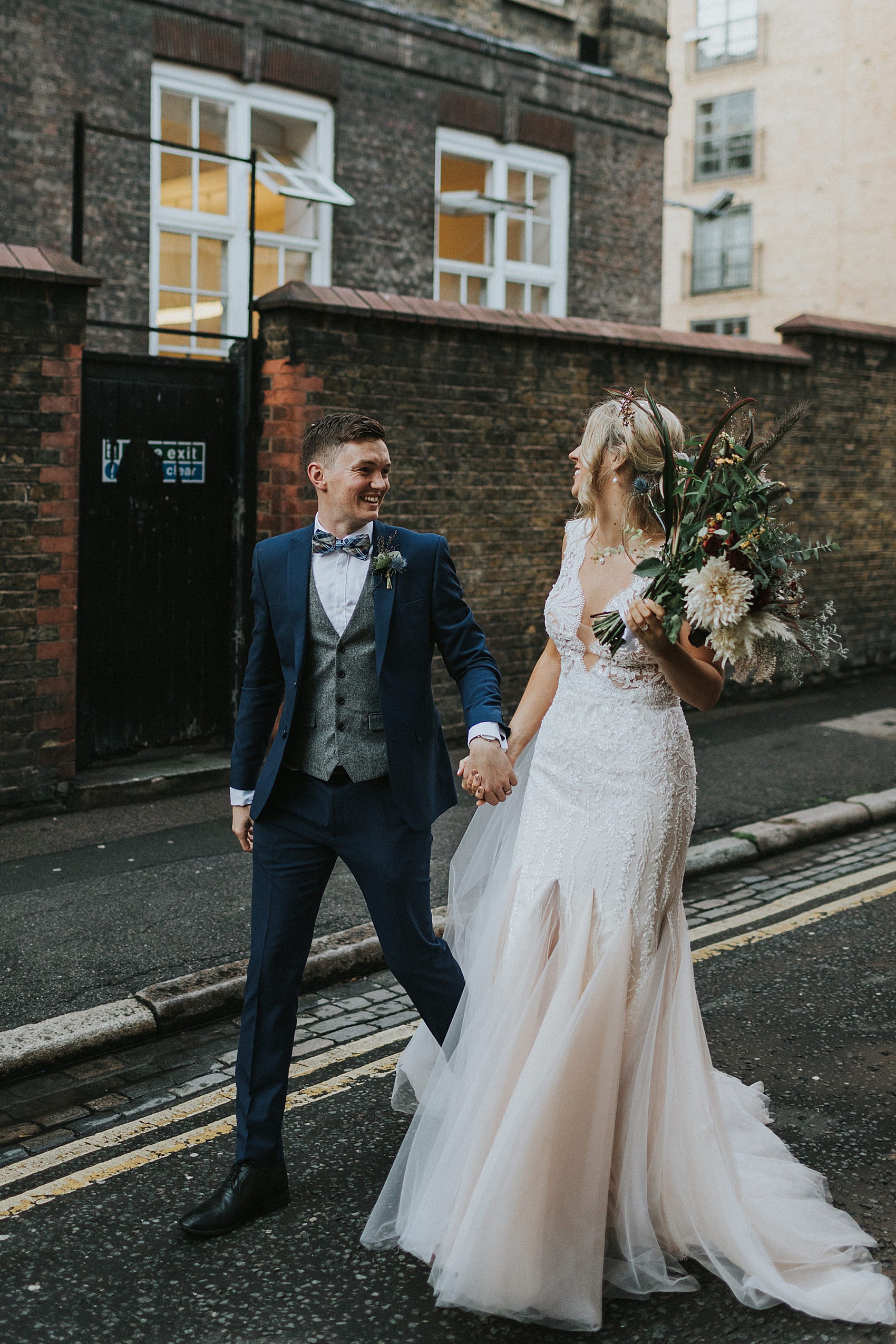 Colourblind Studio transformed the space at Shoreditch Studios, with a custom light installation of Edison style light bulbs decorated with ferns as a focal point, and garlands of lights and a festoon light curtain on one wall, too.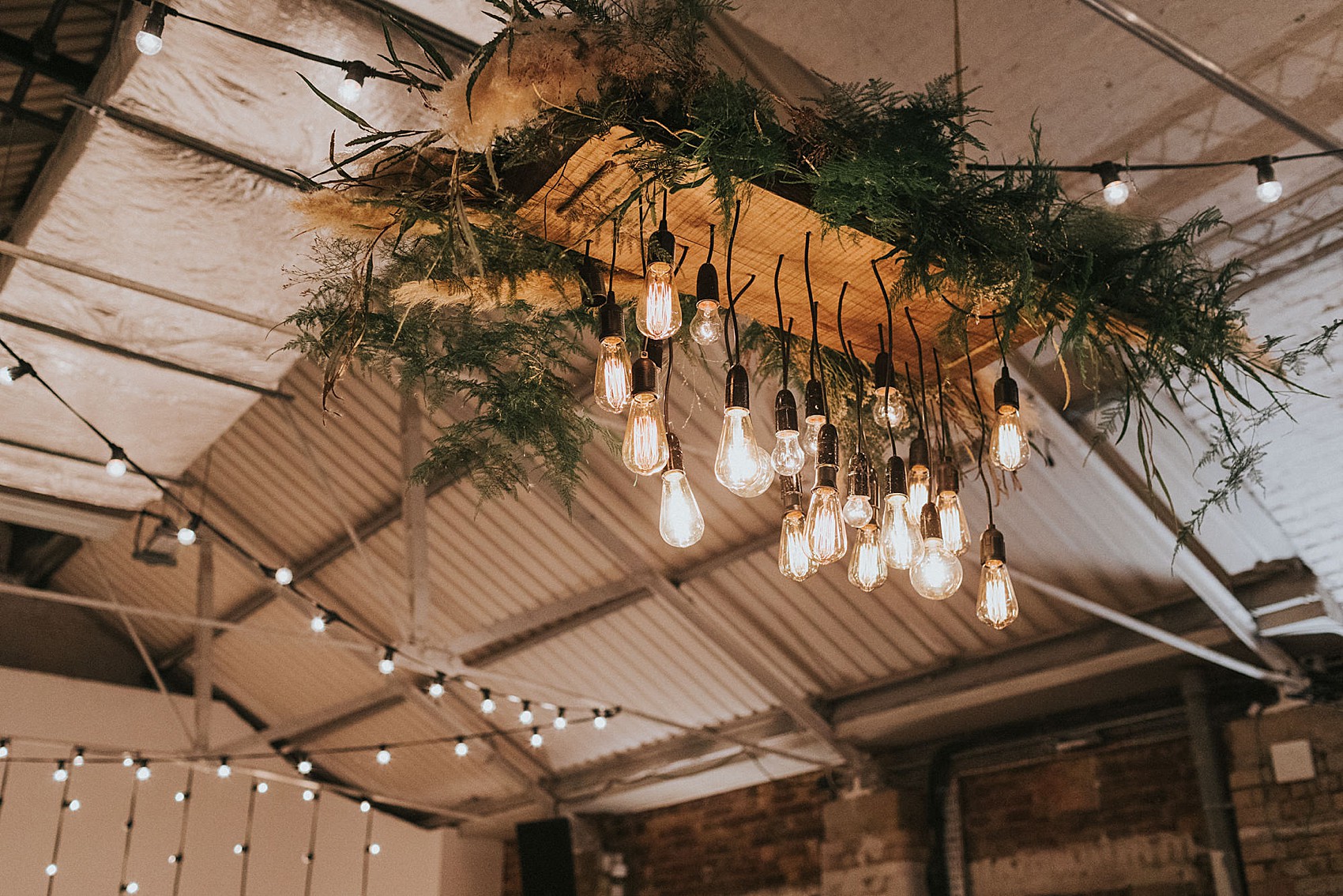 "Shoreditch Studios was by far the best option for us as it was a totally blank canvas, catered for our numbers, we could stay way past midnight, it was in a great location and a good price too. The team were super helpful at organising viewings, and letting us drop off certain things before the wedding, so we were so pleased with our decision."
Shoreditch Studios

+ Follow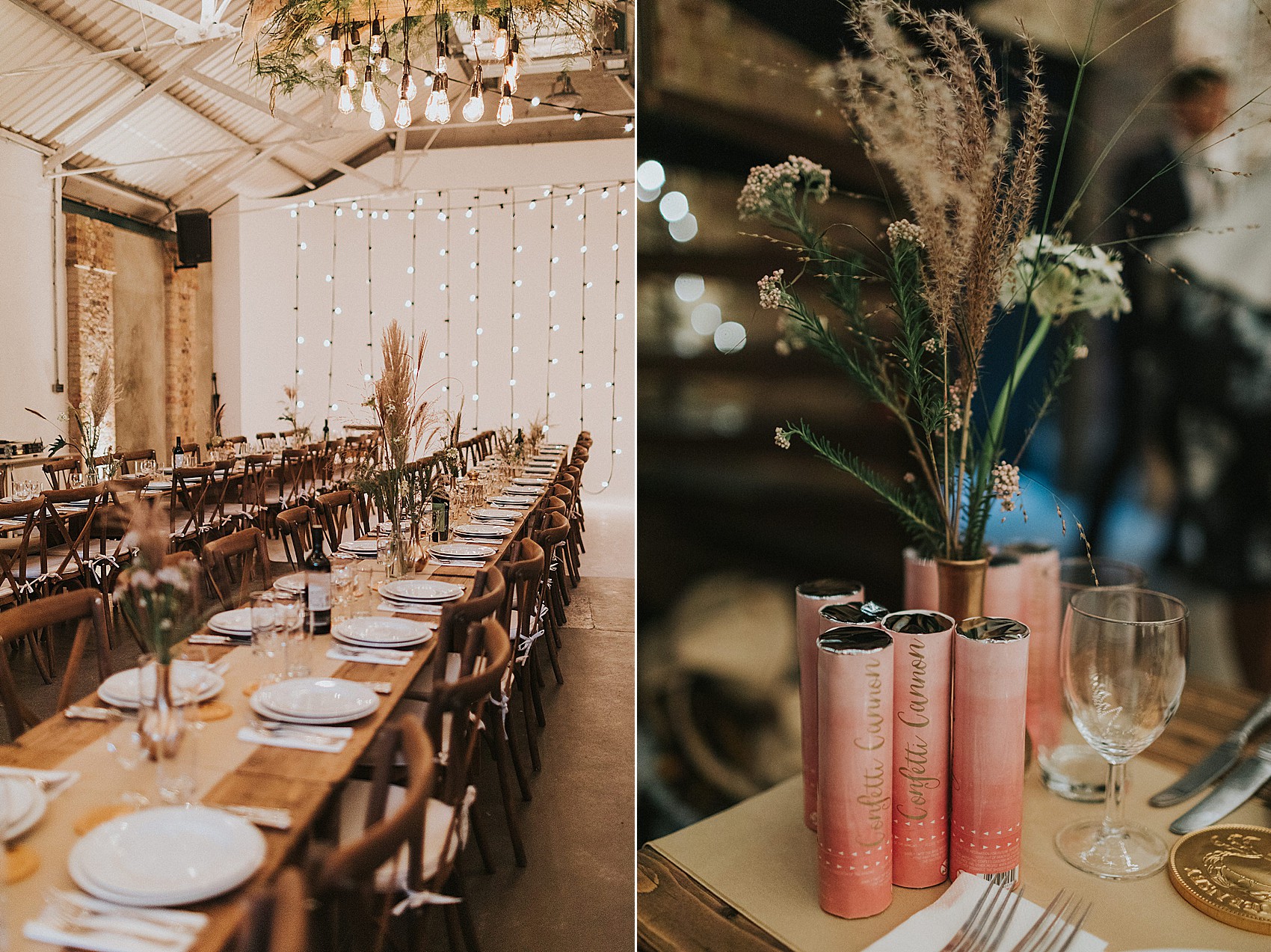 "Originally we thought we may have a summer wedding, but we didn't want too much pressure on the weather playing ball, so we decided that autumn weather would provide a cosy and crisp feel to the day. We love city breaks, so really wanted an urban vibe to the wedding (exposed brick) and something that we could really make our own, so we decided to get a completely dry hire venue in Shoreditch and start from scratch."
Liv made all of the stationery herself on Photoshop, using a template from Etsy, and the long dining tables were decorated with runners, lanterns, and vases of ferns and pampas grass.
"My auntie from Guernsey very kindly brought us over some milk chocolate coins from the island as favours."
"Sabel did all of the food for our wedding, and what a spread it was. They are an absolute dream to work with, and cooked some of the best food we have ever had. We wanted to base our food choices around our travels and make sure that it was family style sharing dishes."
"Adam also wanted to make sure that it didn't feel too posh or stuffy, so we ended up going for an Italian charcuterie board with meats, cheeses, olives, etc. for starters, an American beef brisket dish for the main, followed by an incredible sticky toffee pudding for dessert."
"For canapes, we had a mixture of our favourites including pork belly, scotch eggs, prawns and cheese tartlets. I am also a massive hot dog fan, so they did us some hot dogs for our evening snack, alongside Crosstown Doughnuts and a cheese cake from La Fromagerie."
"As our venue was dry hire, they also managed all of the chairs, tables and equipment which was a huge help. We can't recommend them enough."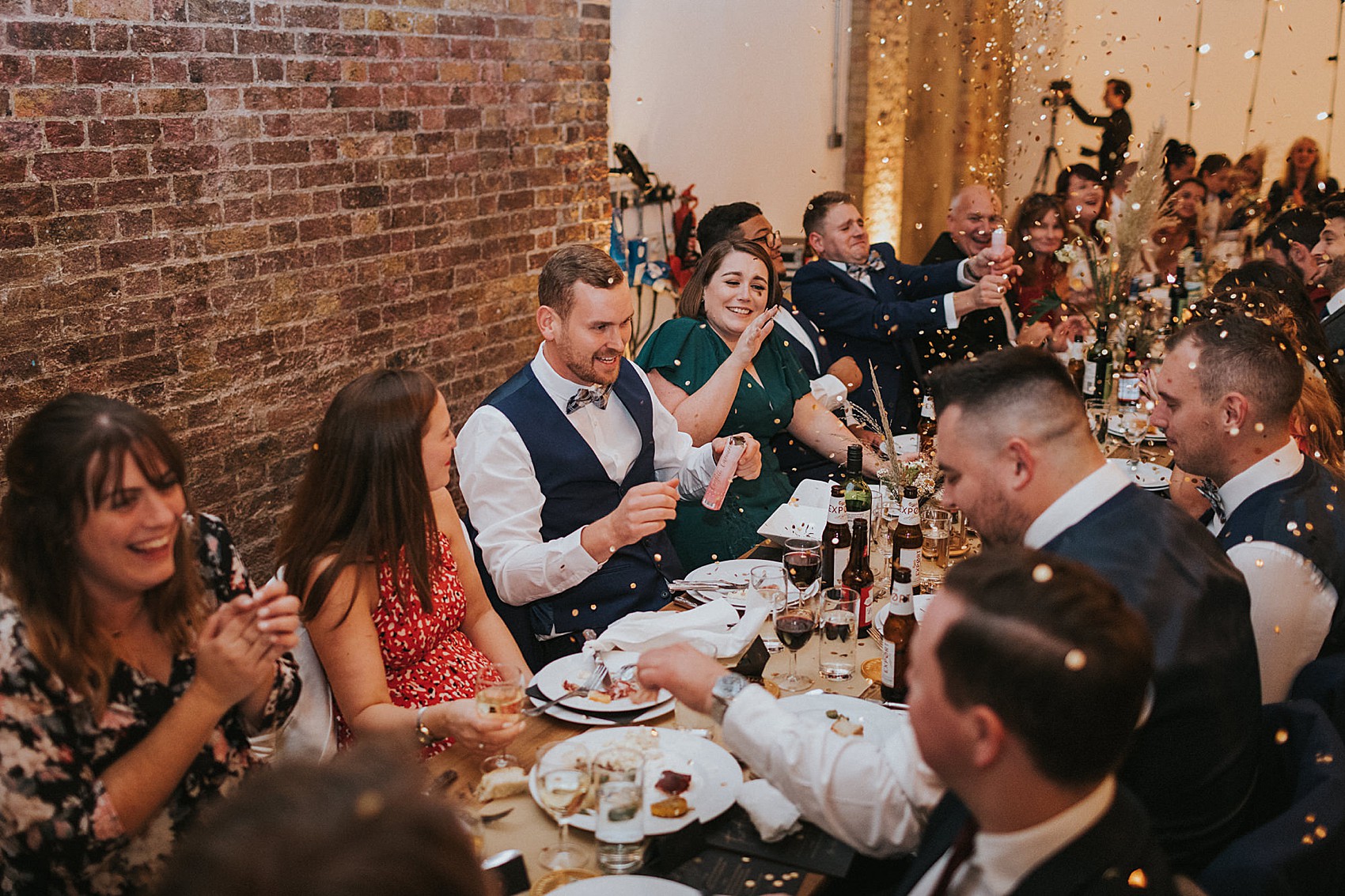 Alongside that maginificent feast, there was a lovely, semi-naked cake made for the couple by their star baker friend, Kim.
Liv and Adam aren't big dancers, but they did take to the dancefloor for a sweet first dance together, and chose Leon Bridges' song, Coming Home.
"We decided to theme the second room of the venue as an underground nightclub, and went with our friends Steve and Al, who are resident DJs at our local club in Tooting and paired it with an awesome saxophonist, who we discovered at our friends wedding in Seville. We had to fly him in from Amsterdam but he was worth every penny!" [sadly, no further details supplied]
"The whole day was absolutely amazing, but a stand out for me was the whole ceremony – seeing all of our vision come together, and saying our personal vows to each other was magical. And then the dancing – we both literally danced for about 4 hours straight, trying to see as many of the guests as we could."
Words of Wedded Wisdom
"I think a lot of people said this to us beforehand, and it was hard to channel this on the day, but not everything will go right and that is okay. I do a lot of events for work and am a real perfectionist, so when things are wrong or late, it really stresses me out."
"A good few things didn't go quite as planned, but we just let them go and focussed on the fact that everyone we loved was there, and that was all that mattered."
"One big thing I would say is that if you do have a dry hire venue, hire a wedding planner for at least the day of the wedding so you don't have to worry about things. We did a lot of manual prep the week before, which we didn't mind, but I can imagine it might be a cause of stress for others."
Liv and Adam – well, this has been lovely! Thank you so much and many congratulations, and of course, huge thanks to Charlie and Hector from We Heart Pictures for the wonderful way in which they've captured this beautiful day.
Until next time!
Love, Laura