We're going bright, breezy and bold with today's wedding, as we go over to a unique Art Gallery in Somerset for a day subtly inspired by 1960s florals and style, and the incredible spaces of the Gallery.
If you're looking for something different today, then stick with me and enjoy. With a bespoke dress in china blue shot with gold thread and a Pinterest-perfect cake made by the bride, you are in for a treat. It's a joy to welcome wedding cake baker Isobel and Chris, Deputy creative director at The Guardian, to our pages.
Film by Clementine Cusack

+ Follow
After eight years together, the pair wed on 17 May 2019 in an intimate celebration at contemporary art gallery Hauser & Wirth in Bruton, Somerset. This creative couple were drawn to the fact that the gallery could let them play with spaces and moods, with their humanist celebration held in the iconic Radić Pavilion and a feast-style dinner in the homely on-site restaurant.
The Gallery and its art led the main styling inspiration, which was also infused by the couple's love of colour and timeless design, with a relaxed, house party vibe at its core.
Luis Calow Photography

+ Follow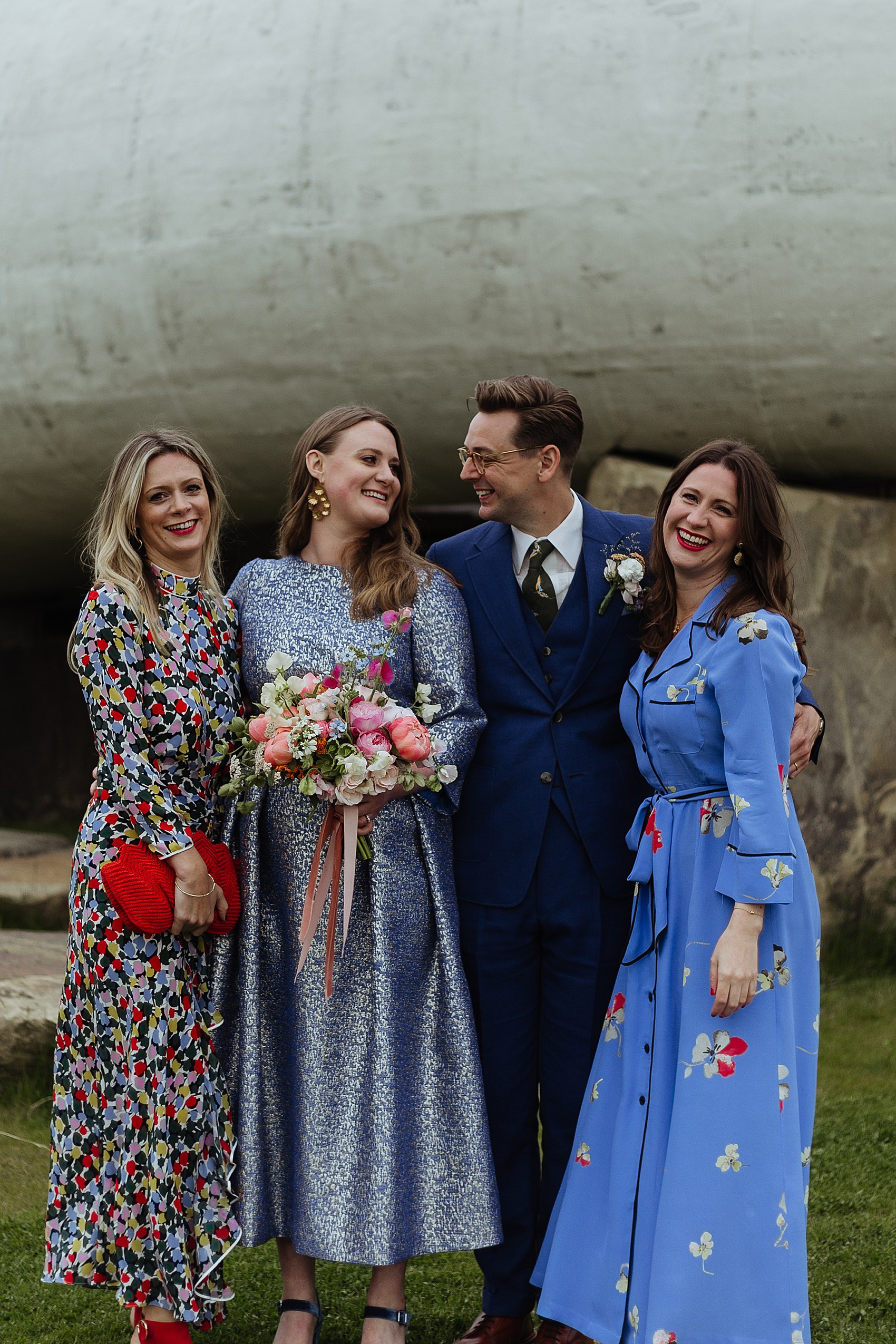 Joining the couple, their family and friends was photographer Luis Calow, whose emotive, candid style perfectly captures the joyful colours and relaxed feel of the day in a classic, timeless way.
"Lu was just wonderful from start to finish. We met him for a beer a couple of months before the wedding and knew he was right for us. He perfectly captured the pure joy, the colour, the details. He was always in the right place at the right time capturing all the laughter and emotion, the colour and the fun. His compositions were just amazing."
Isobel and Chris also chose to have a film of their day, recruiting Clementine Cusack to produce this evocative piece.
"Clem was incredible and worked with Lu to capture all the best moments. She has the ability to capture the smallest and most special details. We gave her three songs that meant a lot to us and she edited it so beautifully. I've watched it over and over and still can't get over it."
"We were each other's inspiration as we took on a lot of the jobs ourselves, with our families. We were fully involved with every aspect and got all of our creative friends involved too – going to the flower market at 4am with my wonderful friend Esme who did our flowers, baking the cake with my mother, finding vintage glass candlesticks in markets, designing our invites together…."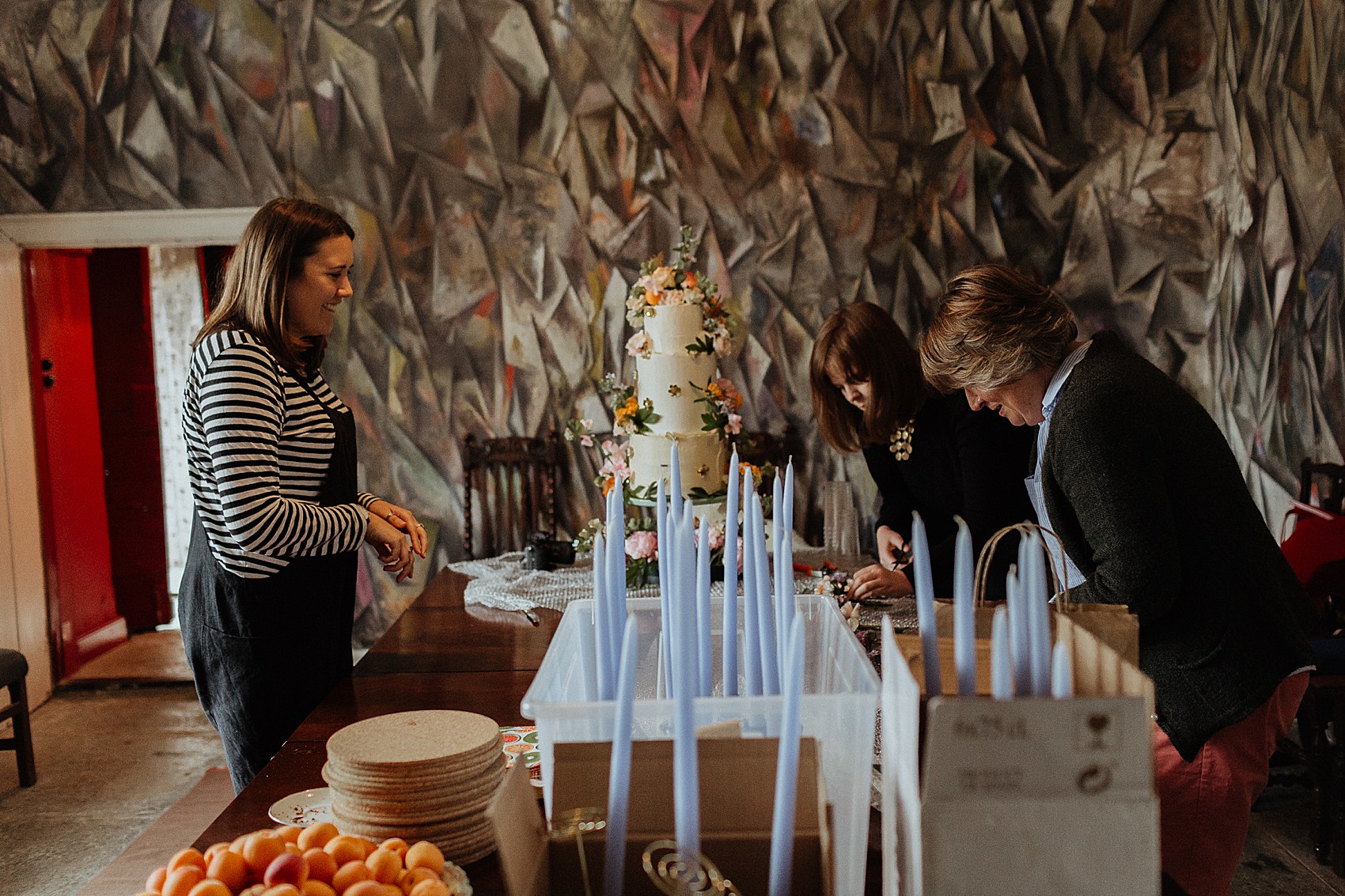 "We have mutual friends and met at their joint birthday party eight years ago. We got engaged on 17 March 2018. Chris took me to Iceland and we drove out to a glacial lake where there were rumoured to be seals lounging around the shores."
"We walked along the black pebbled shoreline and the water was like glass with aqua marine glaciers but there were no seals to be found. Chris got down on one knee and asked me to be his wife overlooking the water. Just as I said 'yes', the seals noses bobbed out of the water as if in celebration."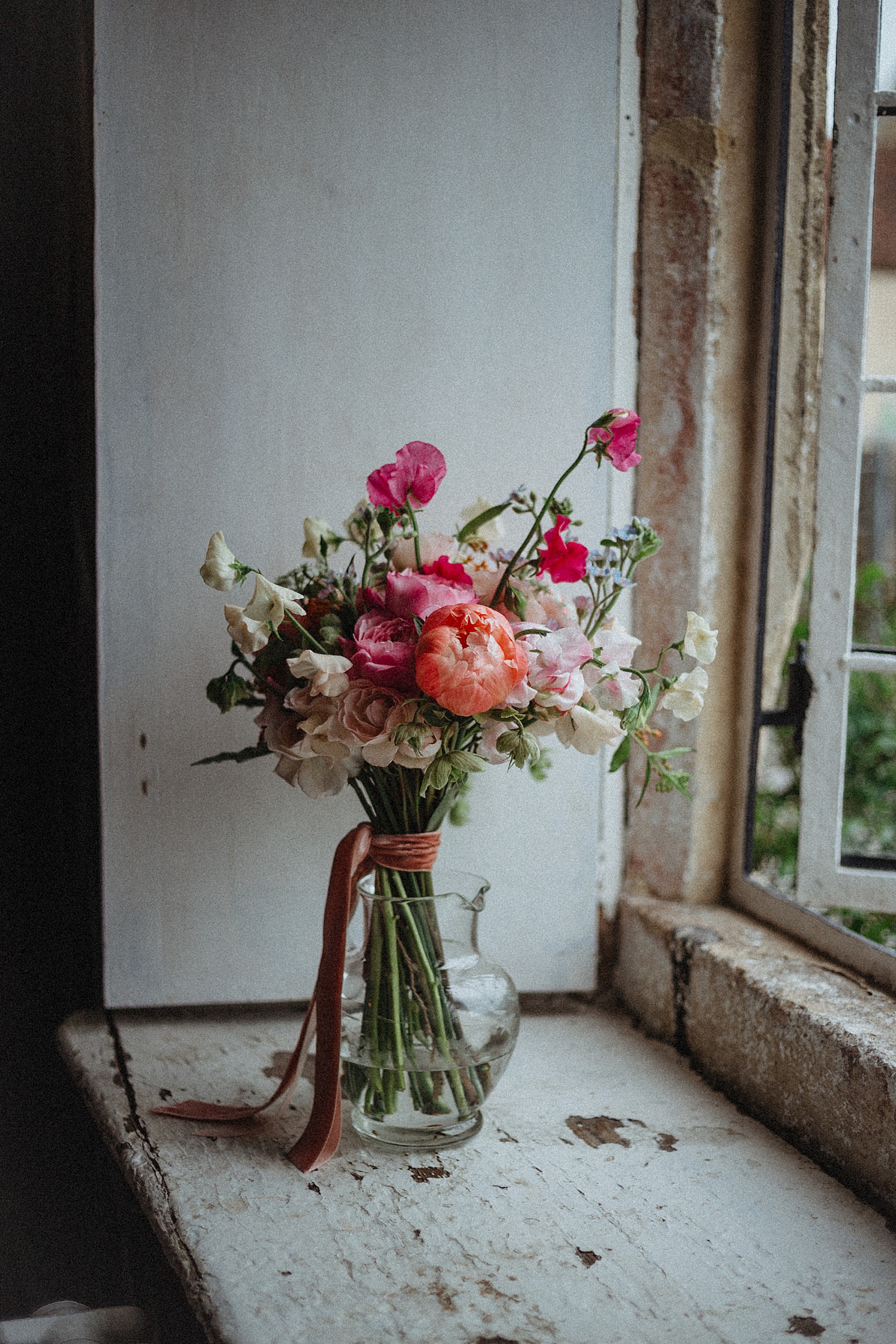 Isobel sought out fellow creatives to work with and one of these is independent wedding dress designer Jax Black of Mrs Bee Vintage Dressmaker. Isobel sourced the blue fabric then worked with Jax to design this 60s-inspired, full-skirted beauty which is totally unique and so, so elegant and pretty.
"I really struggled with a dress before I met Jax. I knew that I didn't want to wear white and also struggled to find shapes that would flatter my figure. I lost a lot of confidence in the process."
"I made the decision to have my dress made bespoke and went to a fabric shop where I found the most beautiful blue fabric with gold thread running through it in quite a 60s style. I took parts from dresses I loved – pockets, good waistline, fuller skirts, wide sleeves and high round necks – and we designed it together."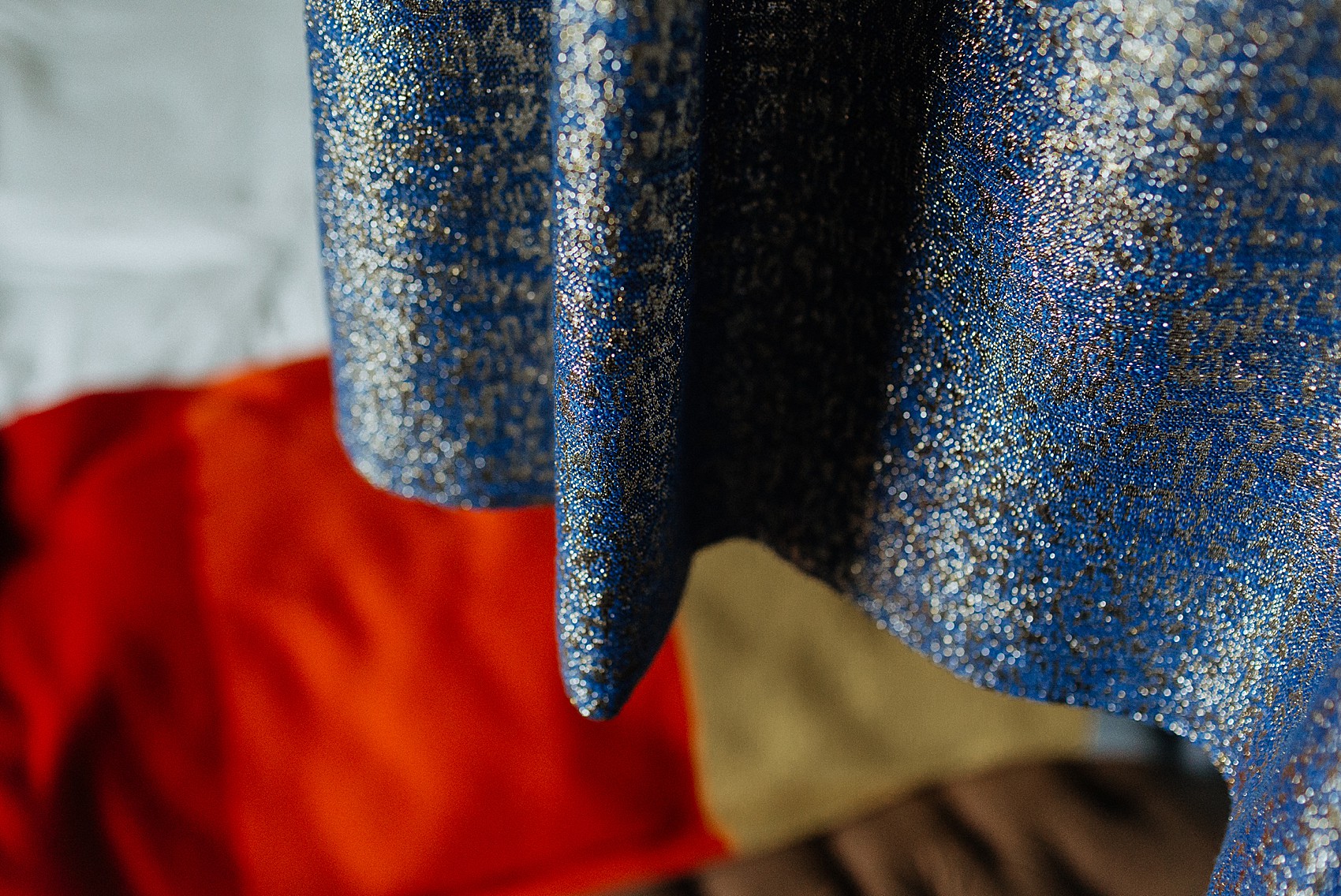 "The main thing I wanted was to feel myself, to dance, to eat, to hug and feel comfortable. Jax was just amazing and made me feel so good about myself, making sure it was exactly how I wanted it. We met before she took on the job and we sat chatting for a good couple of hours over a glass of wine and got on so well. I knew she was the dressmaker for me."
"It made me feel amazing; the way the gold thread caught the light as I moved, the fullness of the skirt but then the fitted bodice hugged my figure perfectly and made me feel so glamorous. Pockets were a must. The wide sleeves gave it a vintage feel but also meant I could hug people and dance all night long without feeling restricted in. The most important thing for me too was to have a dress that I could wear again, and again and always remember that day."
In another nod to the 60s, Isobel designed and ordered her shoes from Madrid company Uniqshoes.
"You can design your own and choose the fabric. I went for blue velvet, platform-heeled sandals."
Whilst the girls got ready, Chris was dressing in his bespoke suit which he had made at Beggars Run in Shoreditch.
"It was made with blue linen with a high-waisted, vintage-style trouser with a waistcoat and jacket. He wore a tie from Drake's and shoes from Tricker's. His pocket square was a gift from his best man, when Chris was best man at his wedding."
Chris and Isobel chose to marry in a humanist ceremony, led by celebrant Julie Lane inside the incredible sculpture which had been simply dressed with flowers and wooden chairs.
"My father Adam accompanied me down the aisle to 'Avril 14th' by Daniel Hope, arranged by Christian Badzura."
The reading was a very special poem and the couple exchanged antique, second hand rings from A.R.Ullmann in Hatton Garden.
"The ceremony was humanist and our celebrant told our story. We had beautiful readings, one of which my sister Katy chose and read – an extract from a Nigel Slater cookbook about what foods go together."
"Being a cook and baker, food is a huge part of our lives so it was perfect. We had Chris's father read 'I Wanna Be Yours', a song by John Cooper Clark that we've always both loved. The morning after we got engaged we sat in our cabin in Iceland and played it over breakfast and both burst into happy tears. It had to be part of our ceremony. It felt so personal and everyone was there to celebrate our love. I'll never forget that feeling."
"We loved the thought that our rings once belonged so someone else and that they had a story behind them. Chris's ring was from 1920 and mine was from the 1930s – delicate, thin gold bands."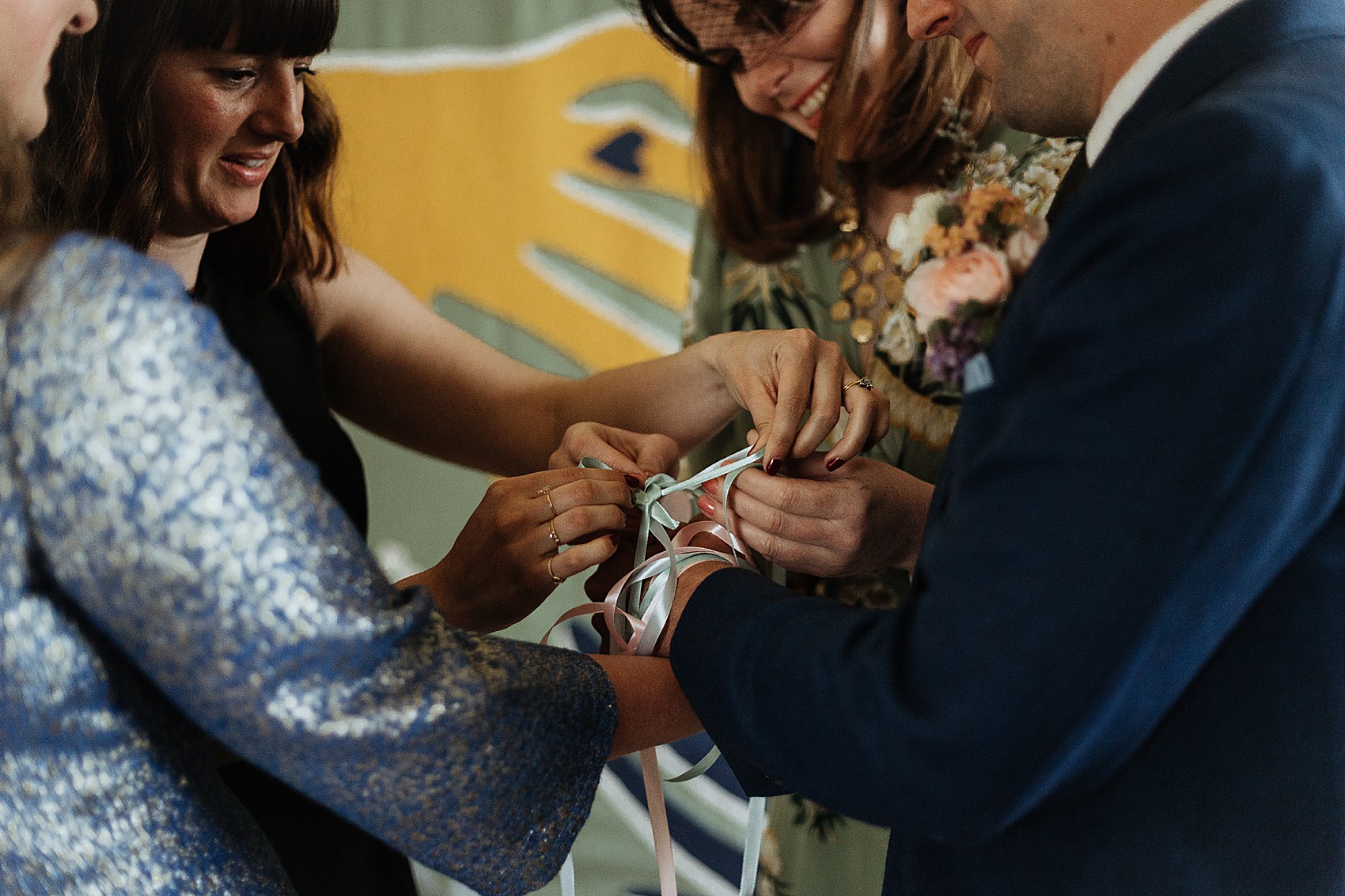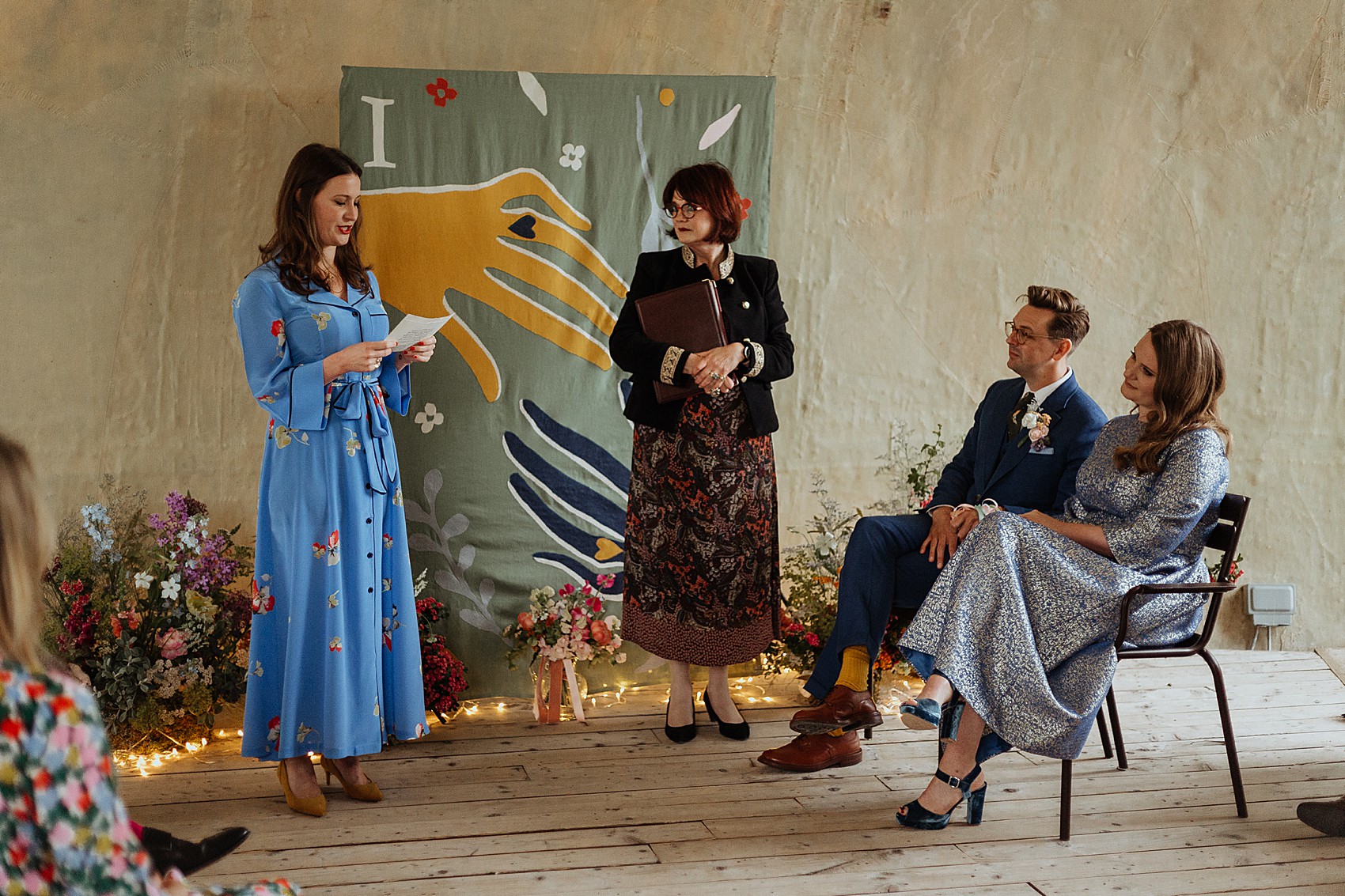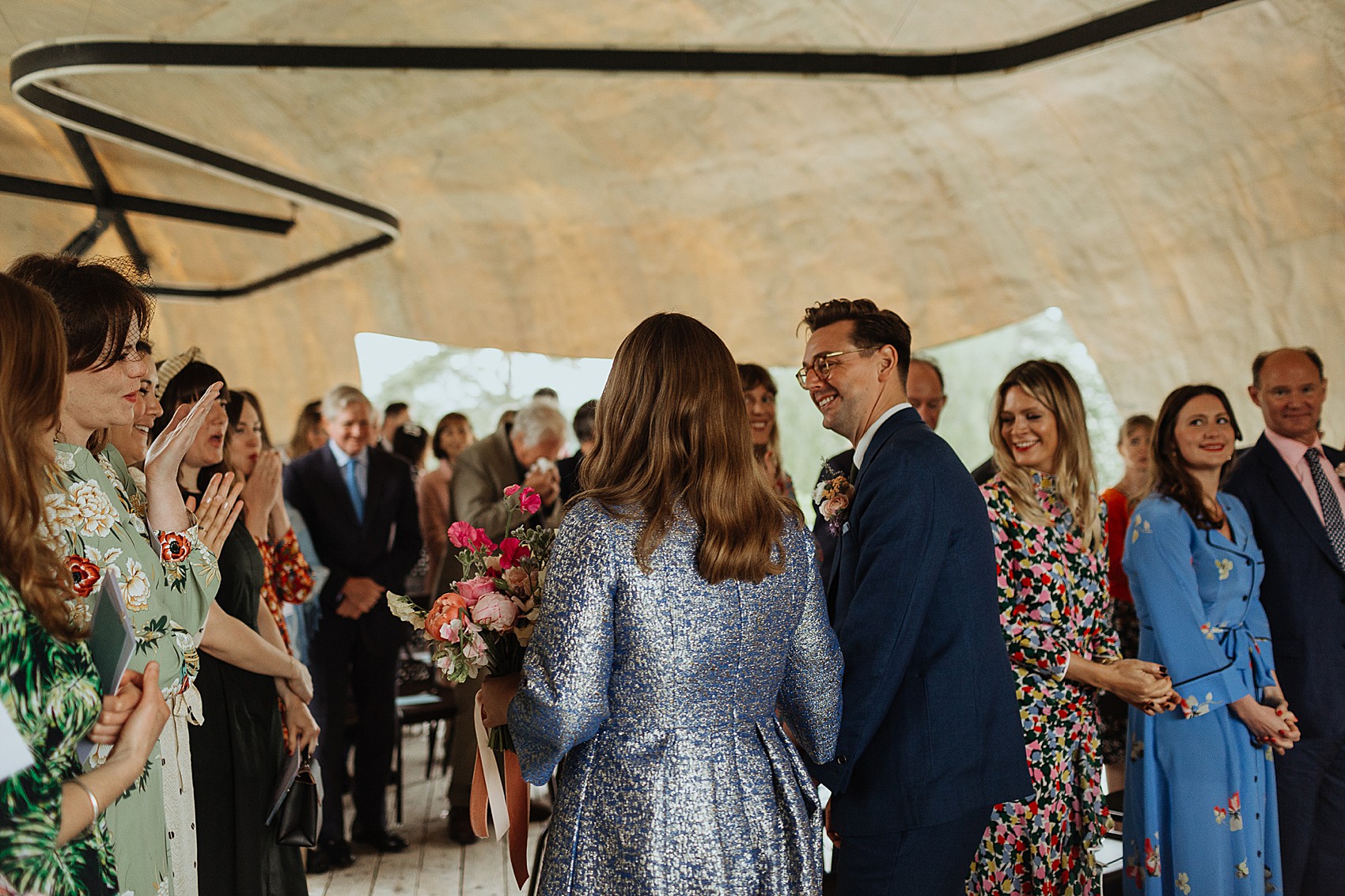 Coming out in to the gallery's gardens, to live New Orleans-style music from Brass Junkies, looks like such a happy and special moment for the newly-weds.
"As we came out of the ceremony the Brass Junkies paraded us down the garden and all the guests followed. They then played a set while everyone was drinking Prosecco and enjoying the feast table outside before the speeches."
To suit the overall relaxed feel and 60s inspiration, Zara and Nadia at Portraits Bridal, one of our much-valued Little Book Wedding Directory members, set the bride's hair into beautiful waves.
"Zara and Nadia made me feel amazing with a set wave and subtle makeup that enhanced my features, especially my eyes, and made me feel so good. I have rosacea so was very conscious and worried about my skin but they were magic. I've never felt so good."
Hair + Makeup by Portraits Bridal

+ Follow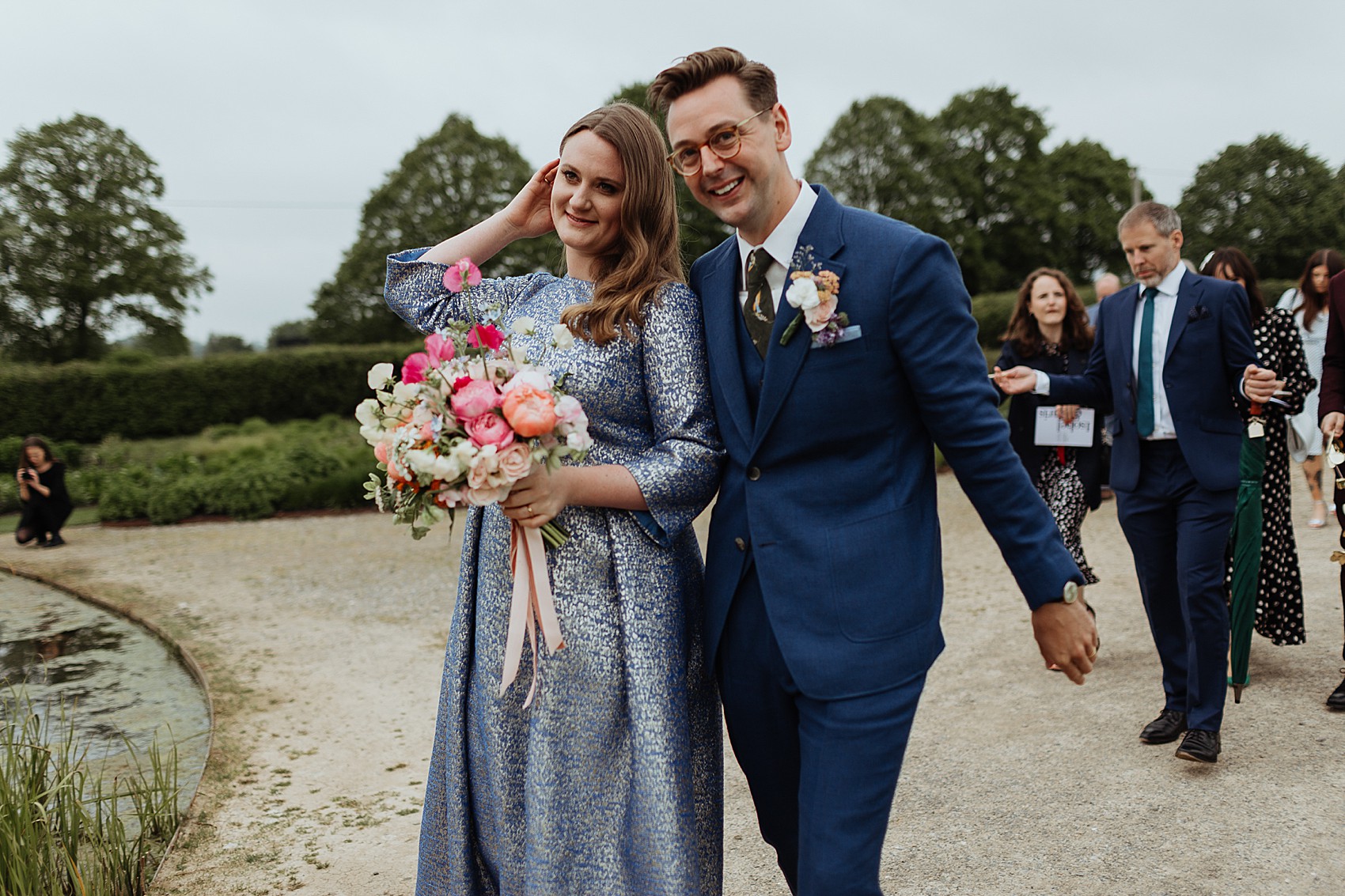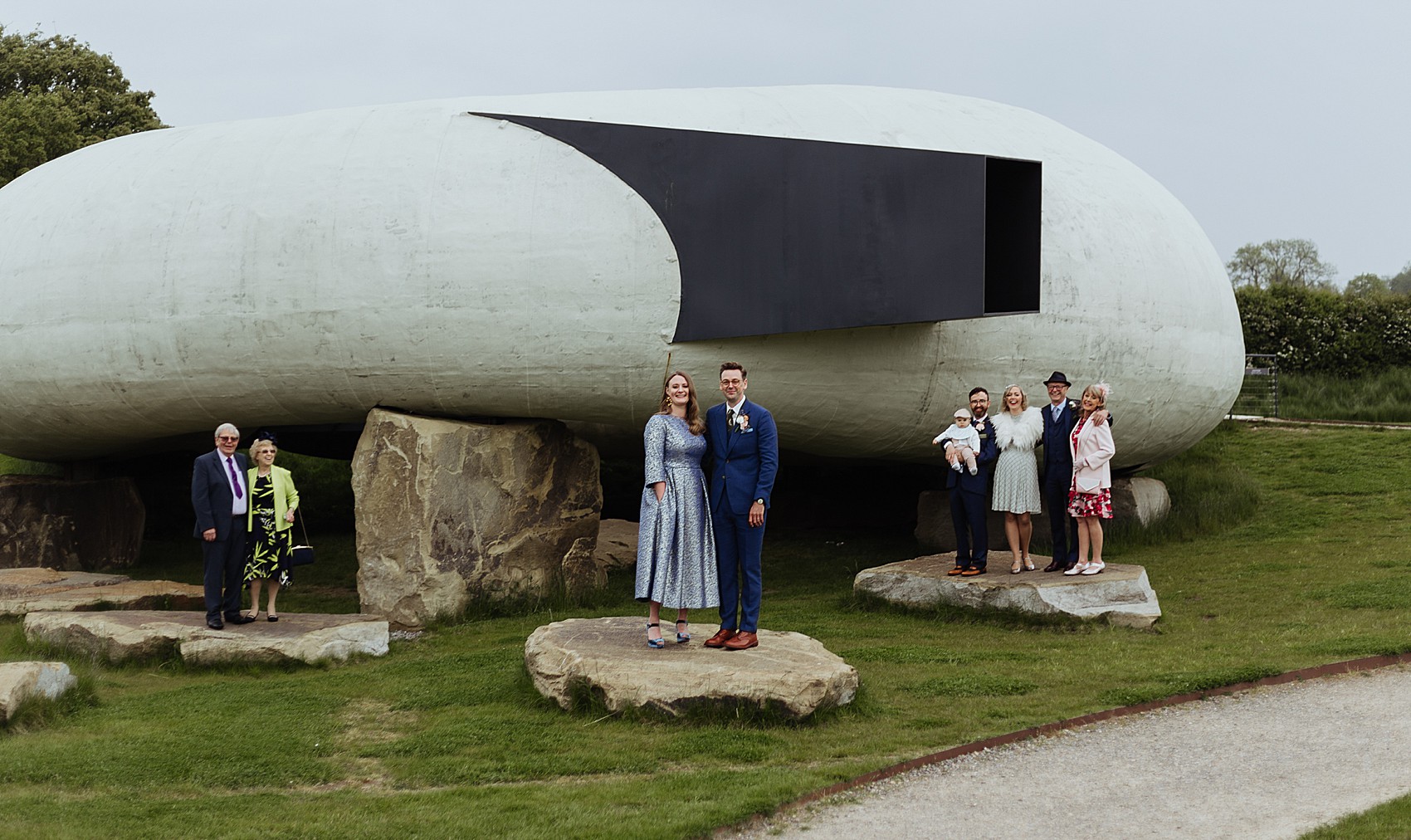 Isobel asked her bridesmaids to wear dresses of their own choosing, and what a vibrant group they make.
"Just in the way I did, I wanted them to feel completely comfortable. They turned up in the most beautiful array of colourful floral dresses and altogether looked so joyous and beautiful."
Isobel's sisters gifted her beautiful earrings by Australian jewellery designer David Neale of The Golden Smith.
"He makes each order by hand. Mine were called Fiori Earrings – individual, gold flowers in a large teardrop shape. I've worn them a lot since."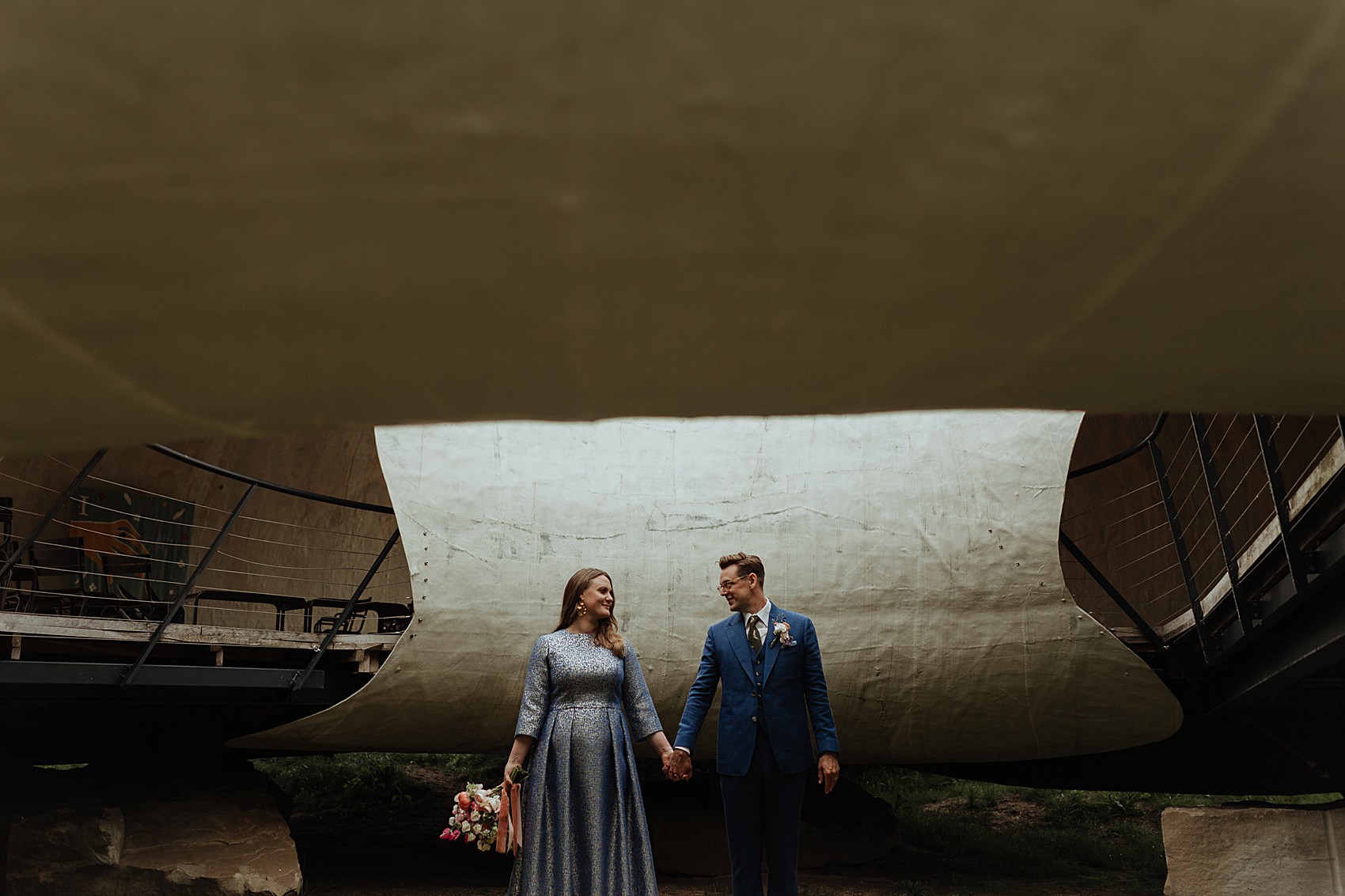 After some precious moments together, it was time for the homely feast in the gallery restaurant, Roth Bar & Grill. It sounds truly delicious, and these photos are so intimate and full of love and warmth.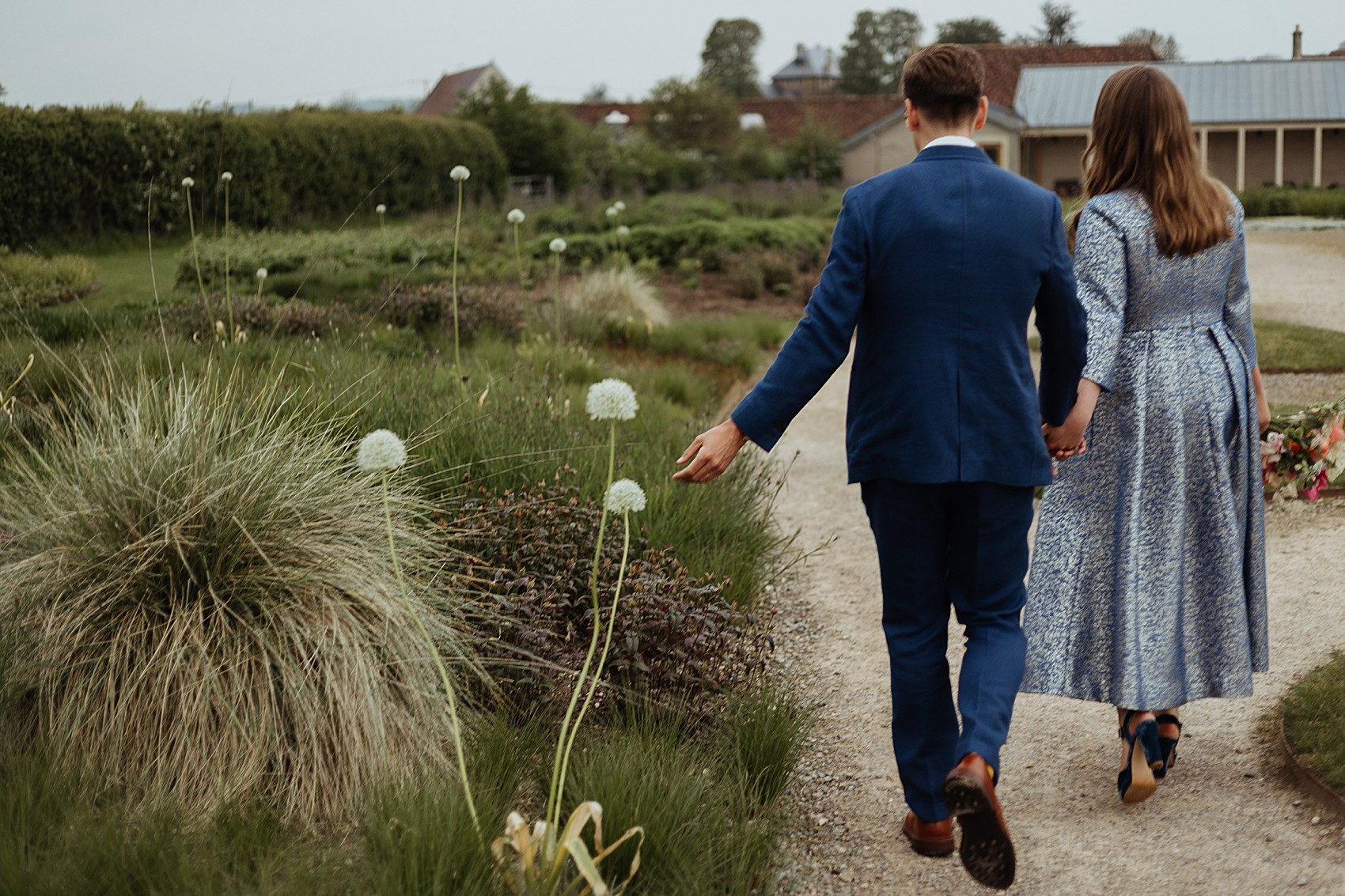 "Hauser & Wirth is a contemporary art gallery with breath-taking gardens designed by Piet Oudulf. There is a sculpture called the Radić Pavilion that once sat in The Serpentine – it almost looks like something otherworldly."
"As a creative couple it was a dream come true and Durslade Farmhouse, the on-site accommodation, was so unique and made the stay even more special. It packed all our friends in for a dinner the evening before and we arranged the flowers in the garden, drinking Prosecco whilst the sun set."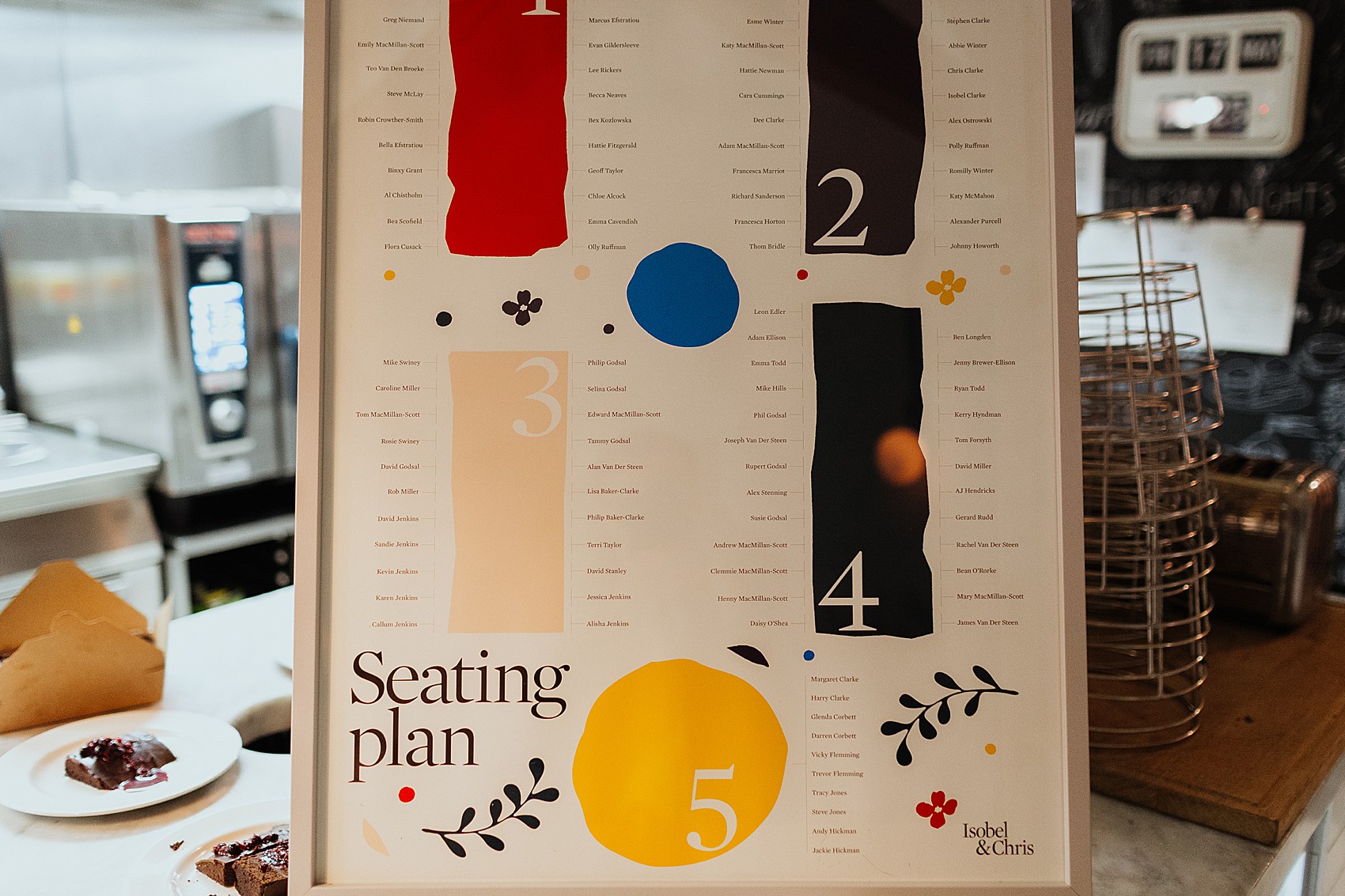 "The onsite restaurant, Roth Bar & Grill, has the most delicious, locally-sourced food, specialising in wood-fired feasts. The walls are covered floor-to-ceiling in colourful artwork and it has everything in one place; beautiful gardens, a contemporary yet relaxed homely feel and a huge emphasis on good food."
"We had eaten here each time we had come to Hauser & Wirth and were always blown away by the food. We wanted the food to bring people together so their style of sharing platters down the table was fantastic. It was such an abundant feast."
"The décor was all homemade from the fruit down the tables to the vintage glass candlesticks we sourced. The restaurant and venue are already so full of artwork, colour and beautiful lighting that we barely needed to touch it."
"Walking into the room with Chris where everyone was sat down long tables laughing and talking, the room lit by candles and the scent of sweet peas and delicious food filling the air was a favourite moment. All the people we loved were in one room together laughing and smiling."
Wild and seasonal, these flowers from Esme Winter must have been a feast for all the senses; I adore the riot of colours.
"Esme Winter has such a beautiful eye for colour and composition and blew us away with what she created. We wanted the flowers to look wild and colourful to mirror the gardens. We went to Covent Garden Flower Market and chose the flowers together. She created a ceremony display around a linen backdrop that my mother made which had an image from our invite of two hands coming together."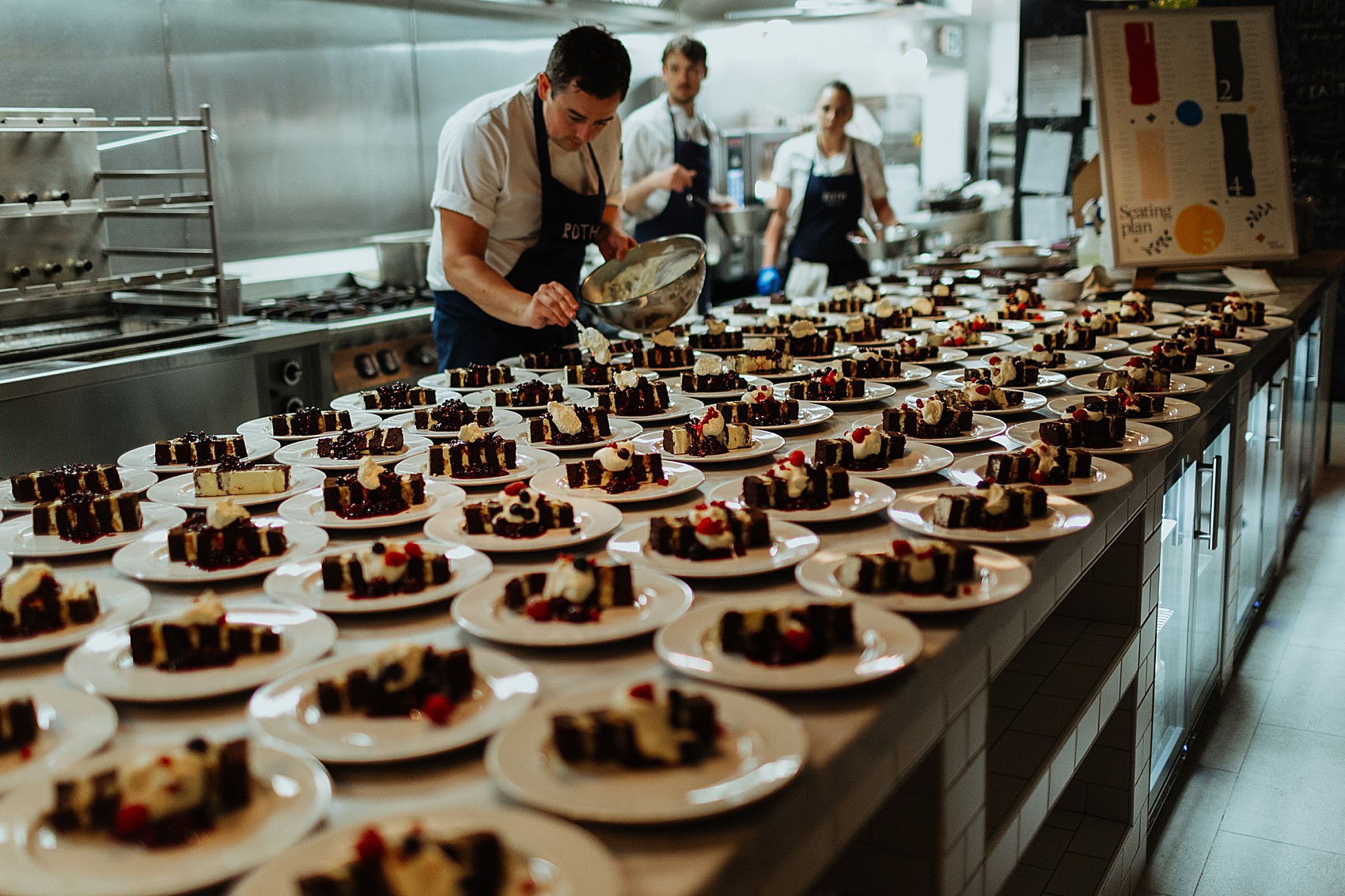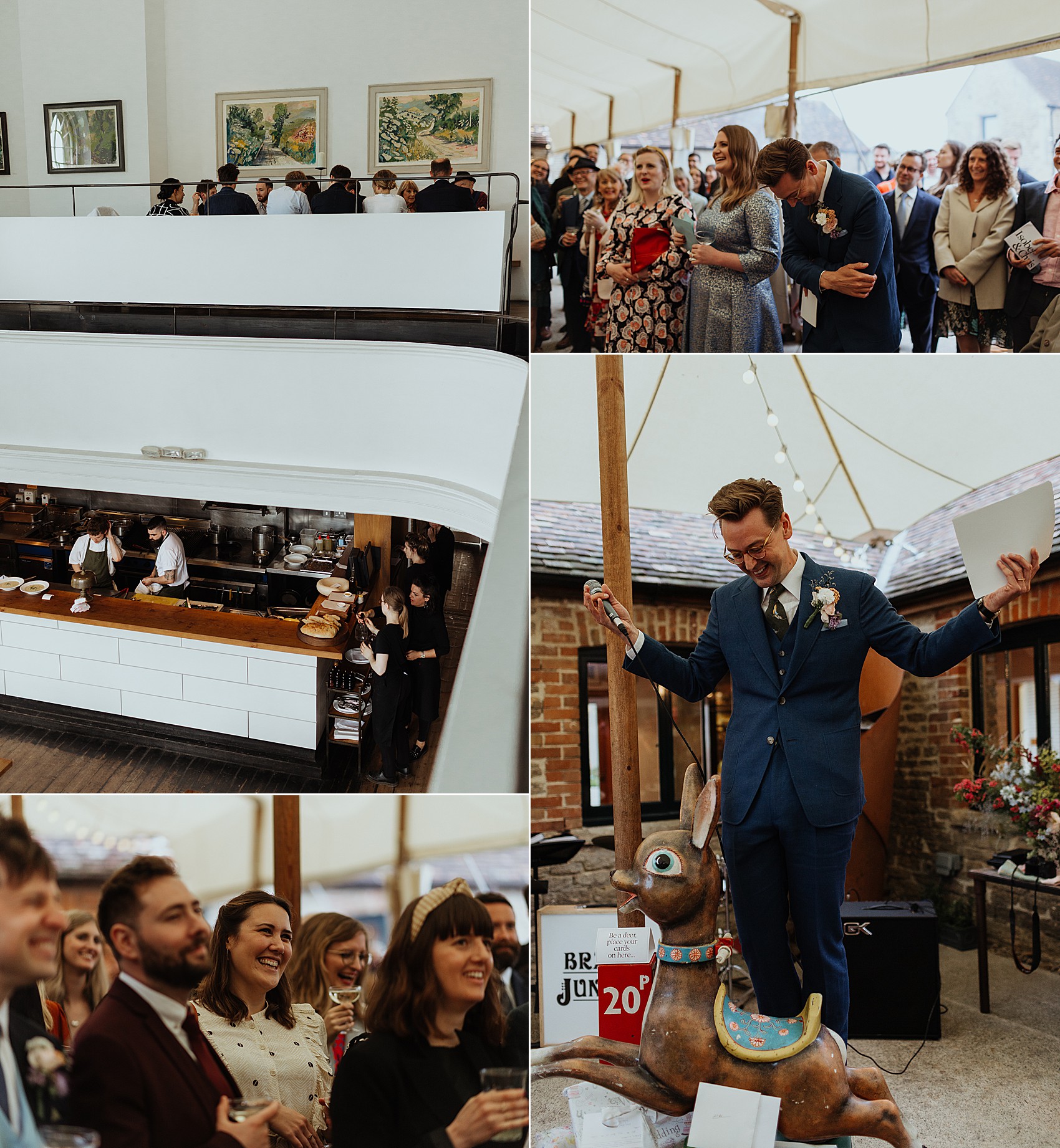 "She made it look as if the flowers were growing from the ground. She also made a display which I can only describe as a firework of cow parsley and delphiniums. She decorated the long tables with 60 bottles of sweet peas, Icelandic poppies and a mix of other colourful blooms, placing the candles, peaches and apricots around them. The smell was heavenly. My mother made my beautiful bouquet."
The bride and groom share a love of colour and have impeccable eyes for detail and design, so creating the day themselves must have been a joy.
"Our venue was our main inspiration with the flowers and art as well as our love of colour and timeless design. Chris designed our wedding stationery with a beautiful bunch of flowers which had a 60s feel. He also made a poster like an exhibition poster to remember the day, which we now have hanging on our wall."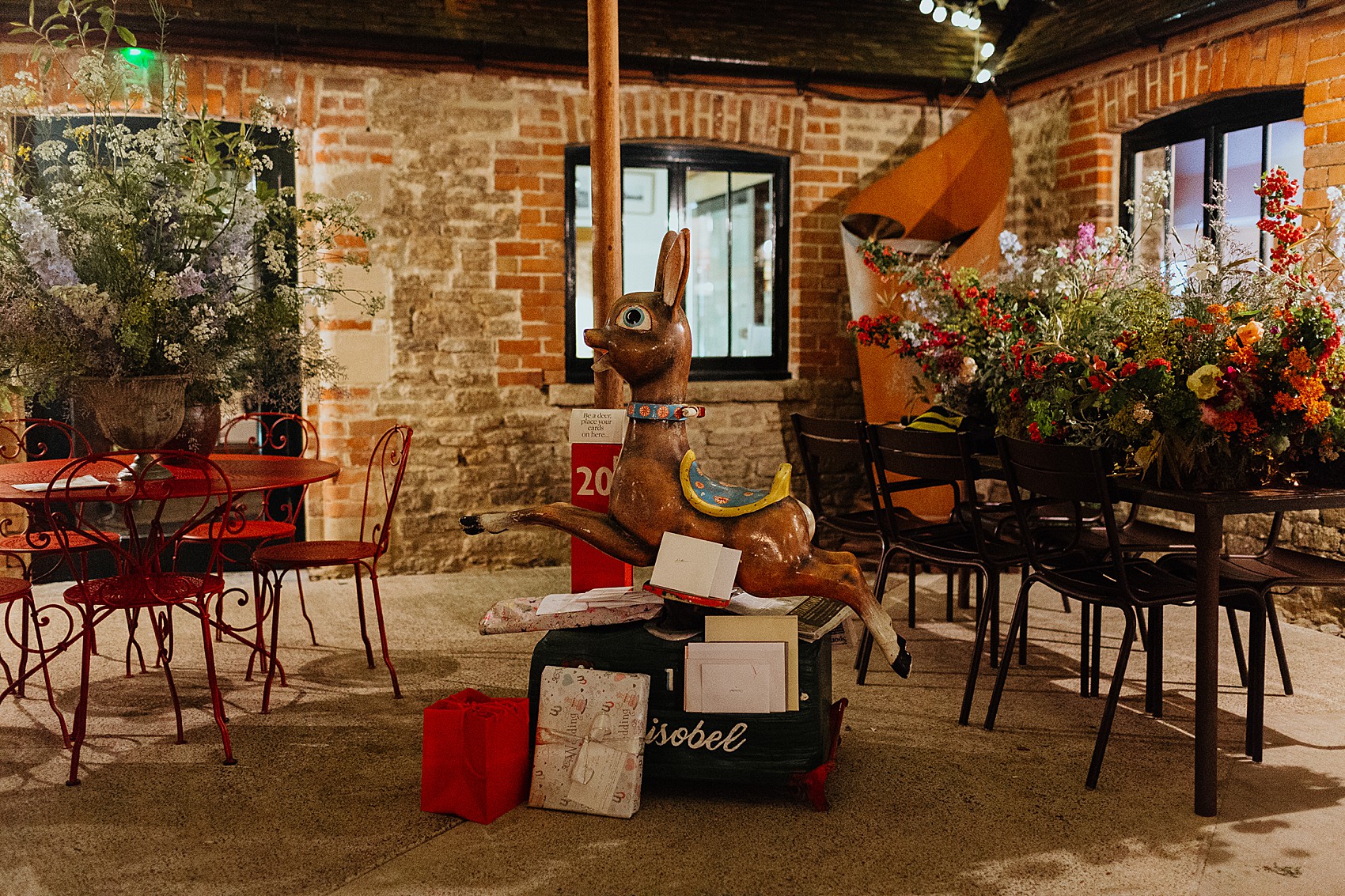 "The main thing was to make our friends and family smile and feel completely relaxed. We wanted to feel like we had invited them all round to a big party, where they could eat delicious food on long, feast-style tables full of sweet peas, Icelandic poppies, candles and fruit. We wanted it to be a treat for the eyes – a celebration of colour and love."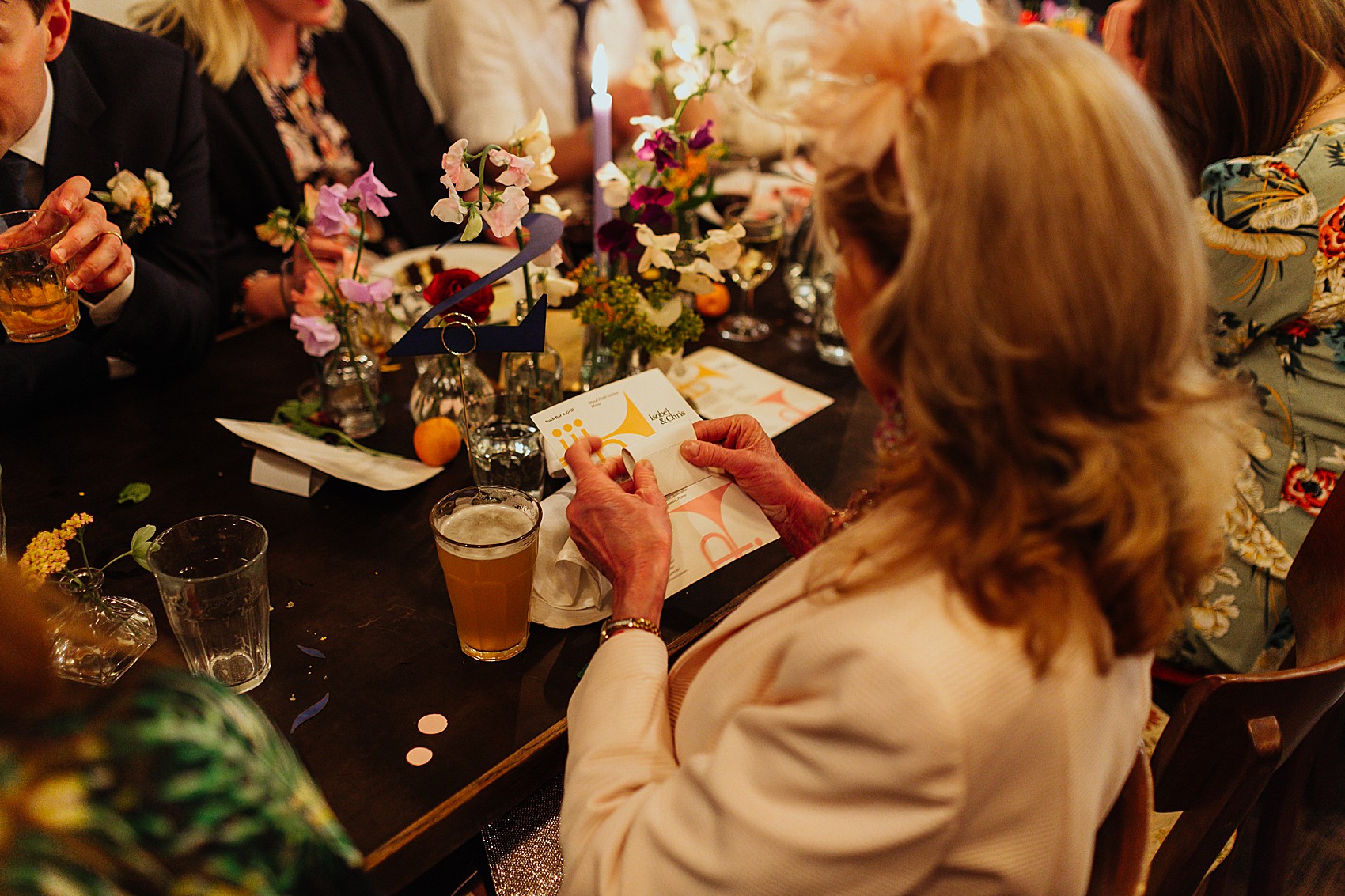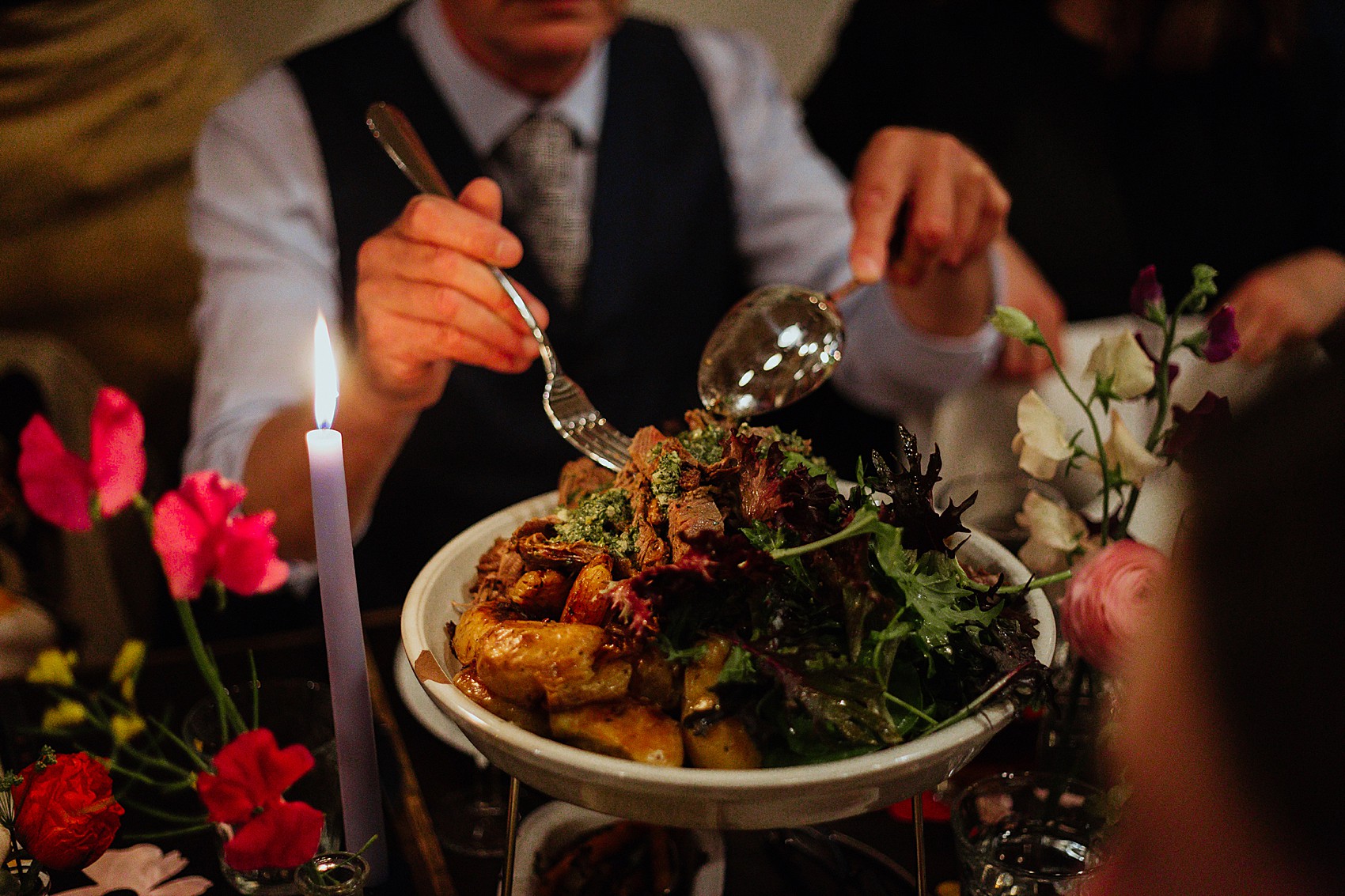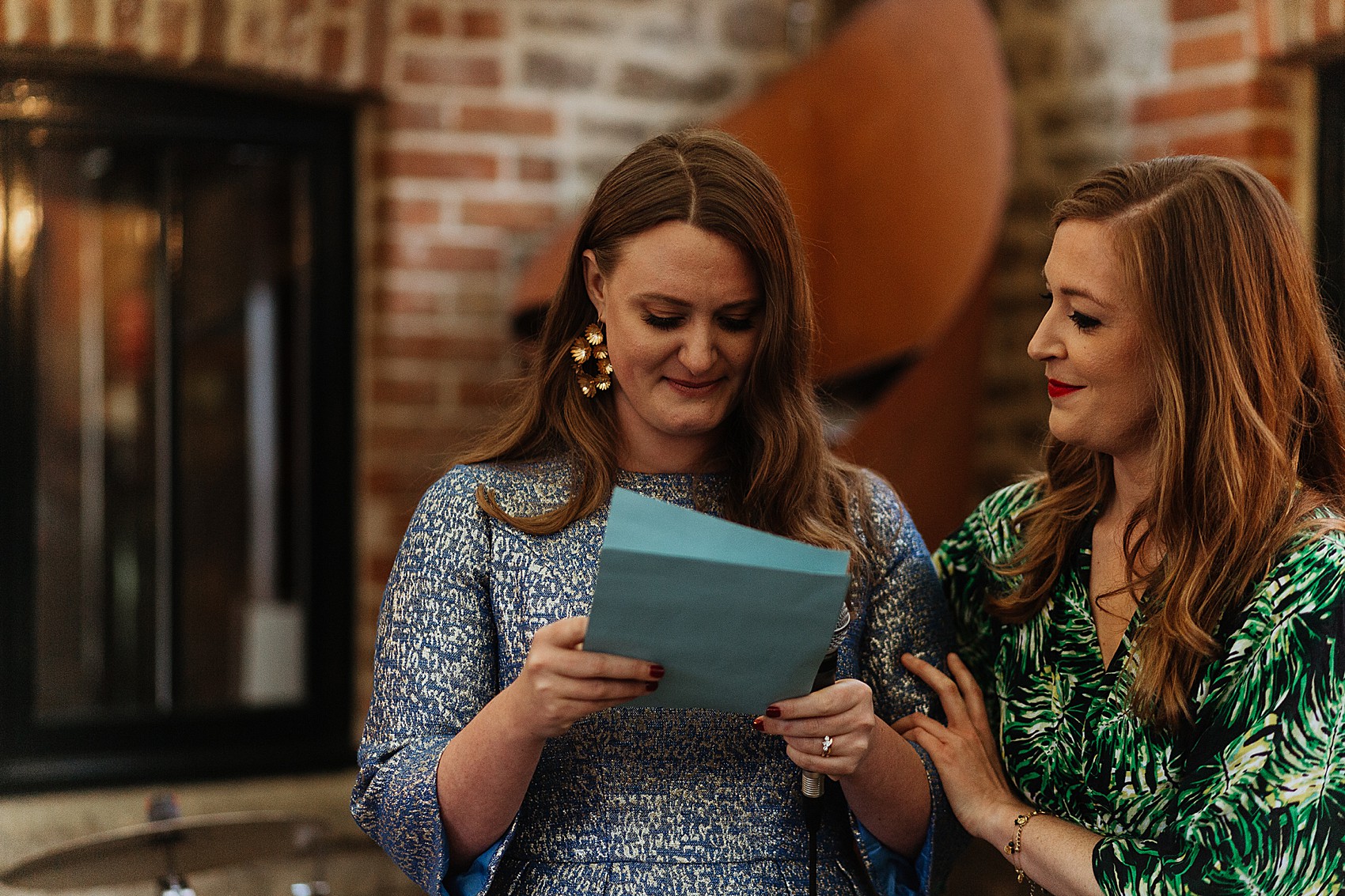 As a baker, of course Isobel had to make her own cake and what a beauty this flower-strewn creation is;
"I wanted the cake to be abundant with blooms and fruit to reflect the rest of the wedding and to make it look delicious."
"We wanted our cake for dessert so I made a dark chocolate sponge layered with stem ginger cookie buttercream with crystallised ginger and salted caramel, served with berries and crème fraîche."
"The cake was set in its own meadow of flowers with flowers, apricots and peaches placed all over it and a nod to our two Russian blue cats with small vintage cats nestled amongst the flowers."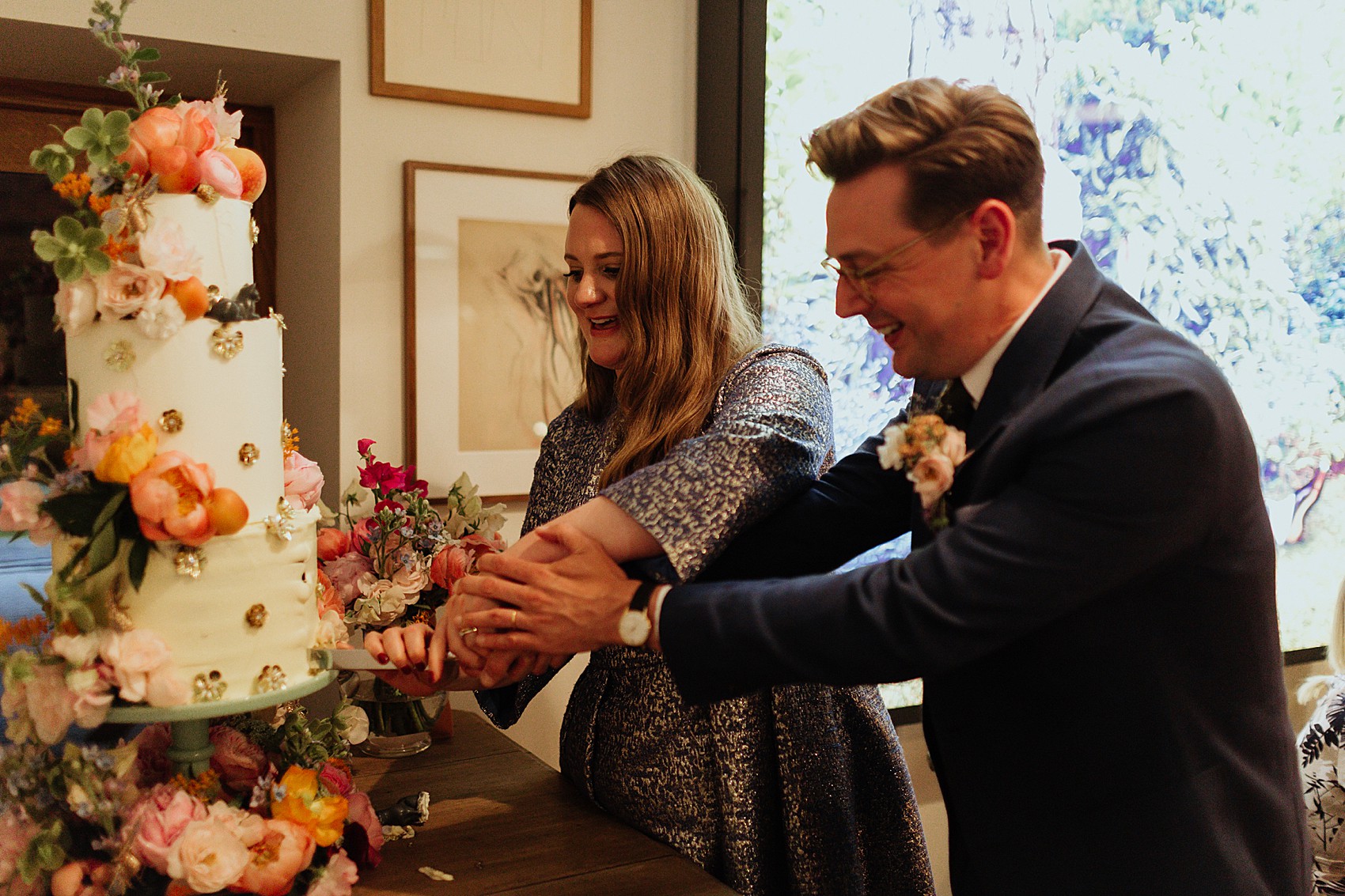 Later in the night, there was more music from Brass Junkies and a first dance for Chris and Isobel, too, to 'You've Got The Best Of My Love' by The Emotions.
"We wanted a happy song that would be a perfect start to a night on the dance floor and everyone would want to jump in."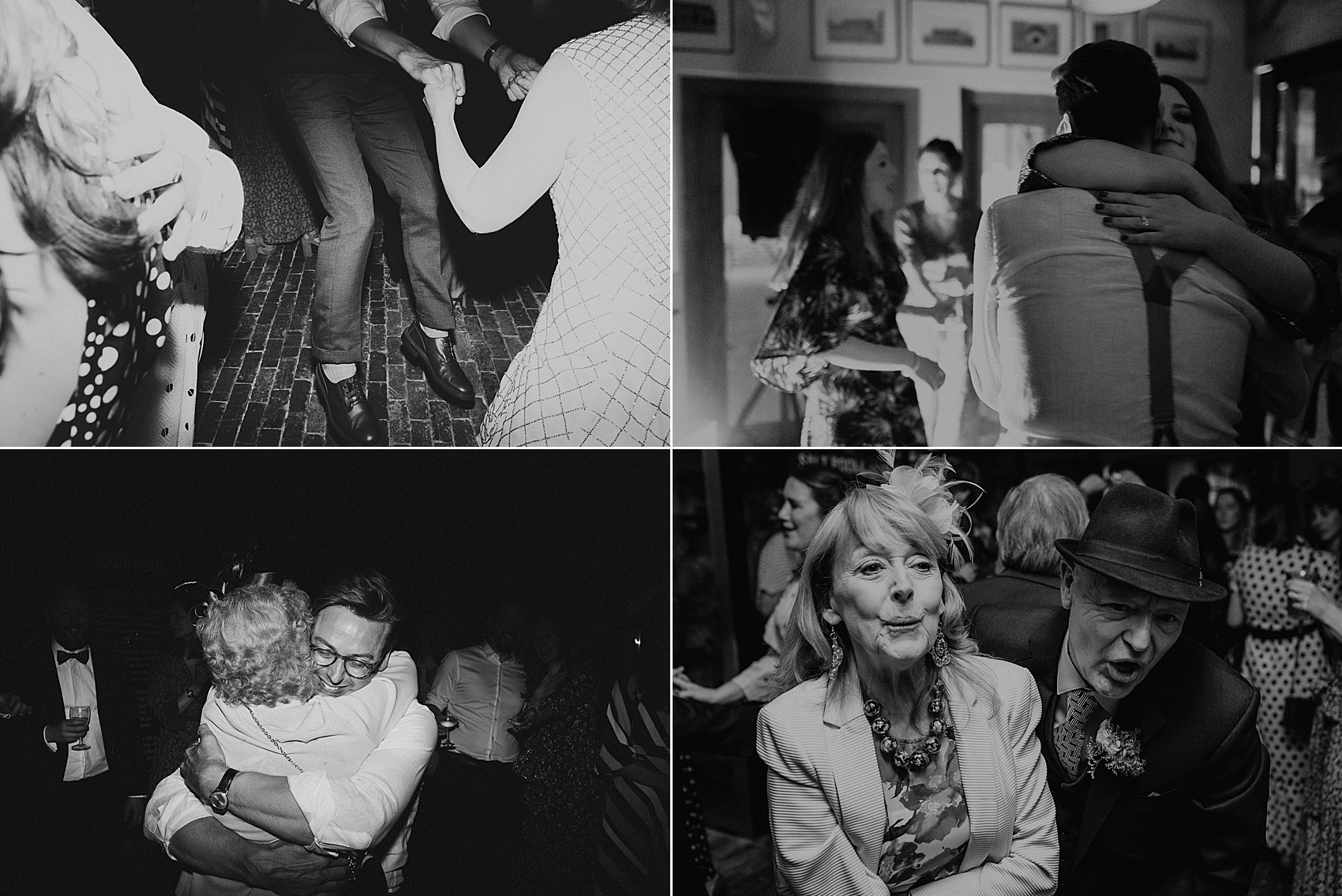 Words of Wedded Wisdom
"Don't be nervous. I wasted so much time being nervous. What will people think of my dress? Will the weather hold up? Getting everything in place in time."
"Remember the venue are there to help and they always have a Plan B if the weather changes. Your friends and family all pitch in to make sure everything is done. Also, no one but you would notice if anything did go amiss."
"The most important thing is to enjoy and soak in every second. It's overwhelming the love you feel. Make sure you have a moment with your husband or wife, squeeze their hand and take it all in. There is no feeling like it."
"If you can, make at least one part of the day yourself and make it about you as a couple. Get crafty; make something that you can keep. You can proudly look at it on the day and think, 'I did that'. Make sure you let your personalities shine through, whether it be the cake, the invites, the use of colour. Be yourselves and enjoy it."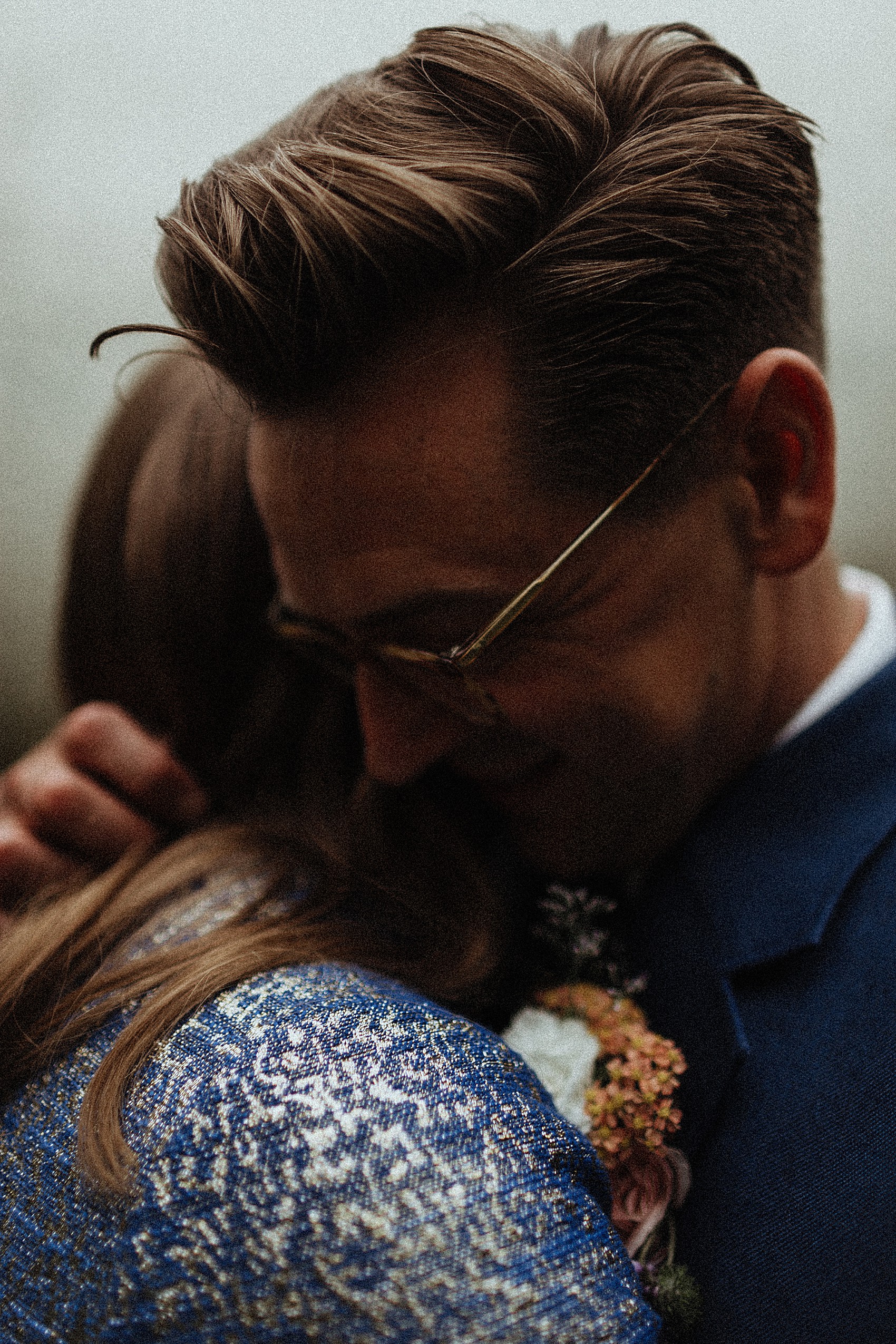 Isobel, what fabulous words of wisdom and I love that your can-do attitude shines right through. I've adored sharing your day today, and I hope you get many more chances to wear your beautiful, beautiful blue and gold gown again. Thank you and congratulations to you both, And, of course, thank you Luis Calow for your beautiful photography.
Ele xx