There is something about the Cumbria and Yorkshire Dales border – the miles of rolling, green countryside, the timeless views that make you think you could be in the 18th century, the extremes of the weather.
I'm delighted to be taking you there today for this wedding, on a day where the sun shone and the wind was light, meaning that Emma and Billy could wed outside. On 7 July 2019 Emma and Billy, both solicitors, exchanged their vows in an outdoor ceremony at Eden Barn, Little Musgrave near Kirkby Stephen in Cumbria. With an aesthetic based on a relaxed and rustic, boho barn vibe, the couple hosted their friends and family for an entire wedding weekend, culminating in one epic party in the barn.
Esme Whiteside Photography

+ Follow
Every single detail, and the informal, relaxed nature of the wedding, has been caught in this series of timeless, intimate images from Esme Whiteside Photography. Don't the blush, green and cream hues look so soft and romantic too?
"I could not be more amazed with her work and talent. Esme did a pre-wedding shoot with us and immediately put us at ease. I was quite nervous but she made us feel so comfortable and we couldn't believe the amount of amazing shots she got. Esme was fantastic on the day and everyone commented on how relaxed she made them feel. I could not have asked for a better photographer and the images capture the day perfectly. She has captured every emotion and looking back through the photographs was like re-living the day."
Throughout their planning, the bride was super-creative and hands-on, beginning with the stationery.
"I am quite creative and love all things crafty so I was excited to make everything myself so it had a handmade, personal feel."
The bride looks beautifully boho yet bridal in her gown, a gorgeous creation of a nude underlay with intricate lace layered over. Perfectly fitted to her silhouette, it looks so easy to wear and move in too, just what you need for an outdoors celebration.
"My dress was 'Stevie' by Made With Love Bridal. I found the designer through Instagram and I knew I wanted one of their dresses. Unfortunately, I was too late to order a Made With Love Dress to Order as I had missed the window."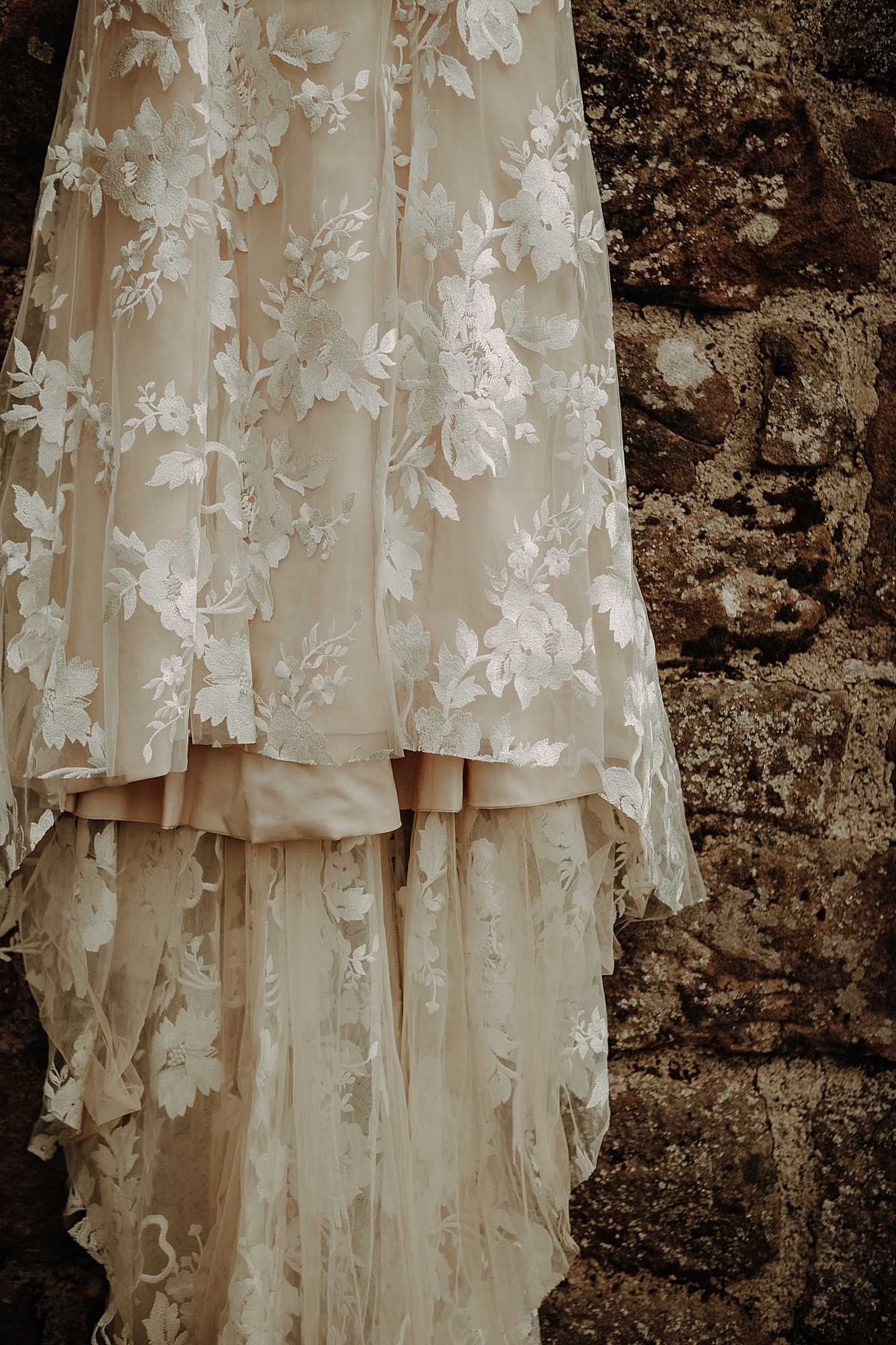 The bride created her natural make-up look herself whilst family members created the relaxed, swept-up hair-dos.
"I am quite confident doing my make-up and decided to do it myself. My auntie and cousin (one of my bridesmaids) are hairdressers and they did everyone's hair. I also curled a couple of my bridesmaids' hair ready for my auntie to pin up. It helped take my mind off the nerves."
"I always wear the original Jean Paul Gaultier perfume but I wanted something slightly different so that I would always be reminded of the wedding. I got a different version of Jean Paul Gaultier and loved it!"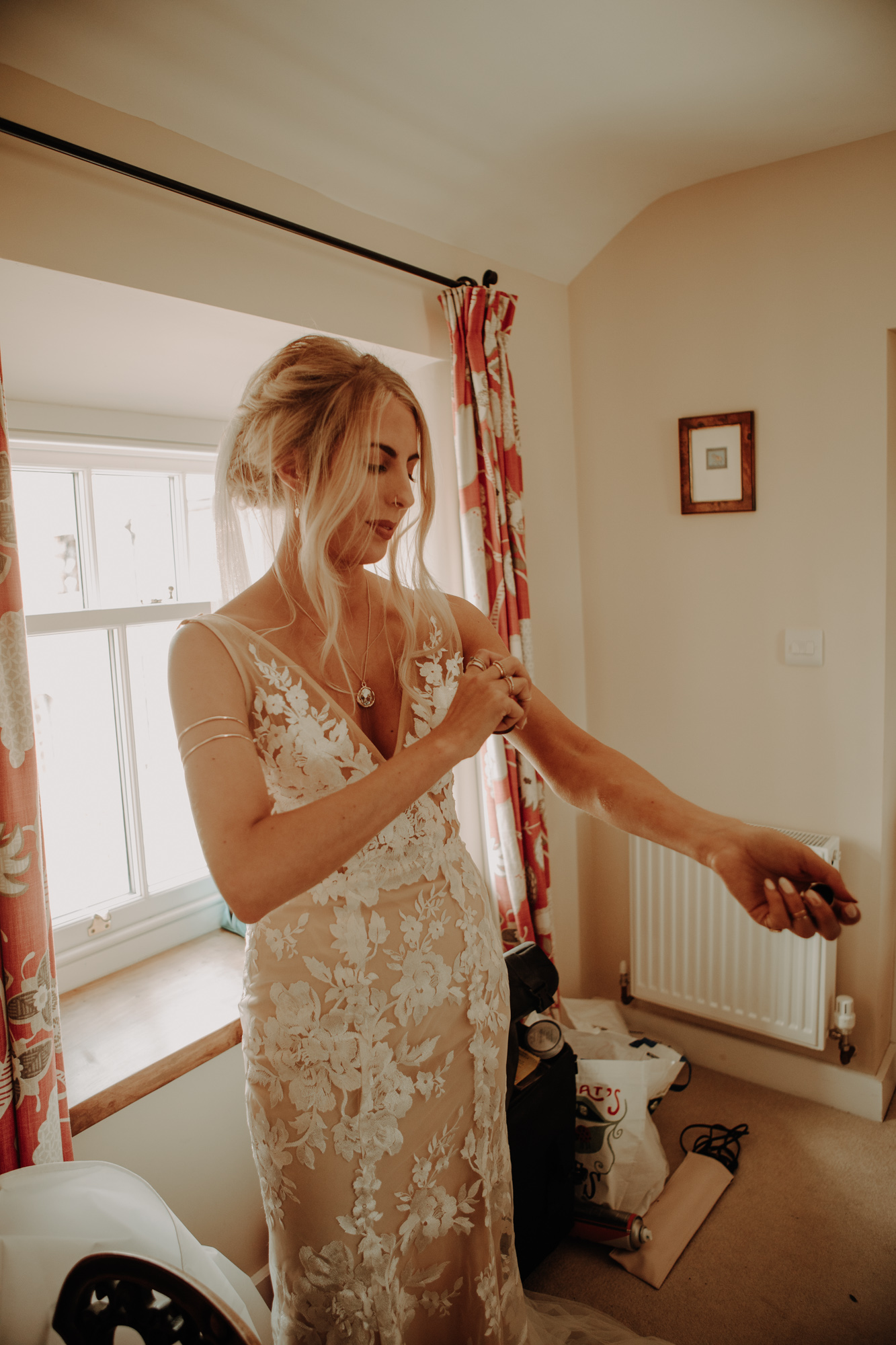 "I saw the gown on the Made With Love Instagram page and fell in love instantly. It was quite a simple shape but the lace and nude underlay were quite unusual and a bit different."
"I was told about Stillwhite.co.uk by a friend and found the dress in my size being sold by a girl in Australia. She gave me all the measurements after the alterations she had done. It came a couple of weeks later and, other than having to have it taken up slightly, it was a perfect fit."
Her heavy pendant necklace was found at Mango and she added some individual pieces in delicate gold, all in keeping with her boho feel.
"I looked everywhere for the perfect necklace. I wore a double upper arm bangle from ASOS, some simple, small, hooped gold earrings with boho detail from Topshop and lots of dainty gold rings on every finger for a very bohemian look. I also wore my great-grandma's gold wedding band as my 'something old'."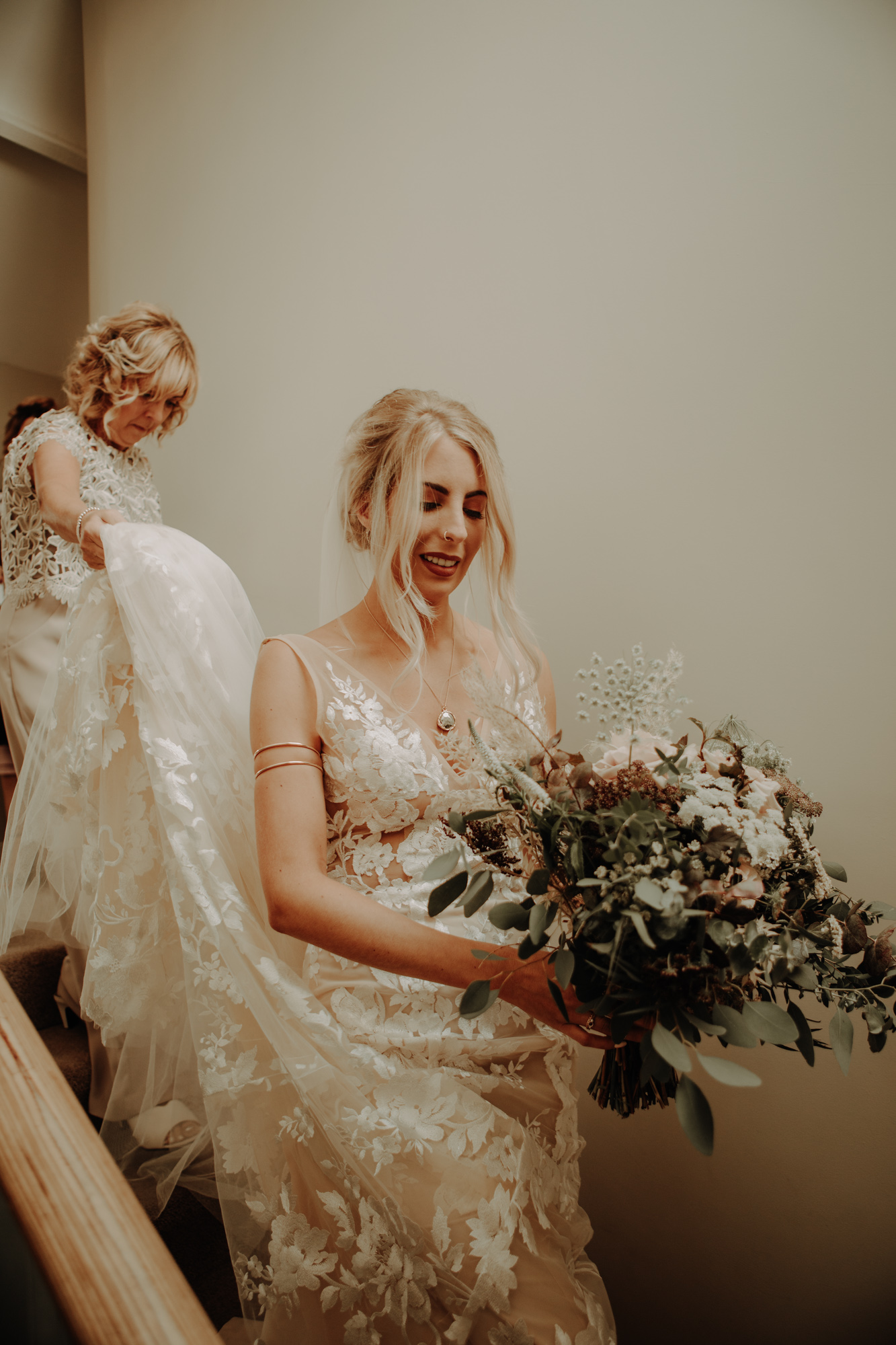 Emma had seven bridesmaids who dressed in a gorgeous variety of long gowns in blush pink, bought at ASOS.
"They had three different styles of the same dress so I let the bridesmaids pick which style they preferred. They were a nudey-blush colour which went really well with the beautiful stone walls inside Eden Barn and toned in well with the nude underlay of my dress."
The couple have been together for six years and, once Billy had proposed, decided they wanted to wed as soon as possible.
"Billy is originally from London and was sent to Manchester for six months by the firm he was working for. We met in a bar in the Northern Quarter and have been together ever since. We do a couples' city weekend away with some of our friends in November every year and the 2018 destination was Hamburg."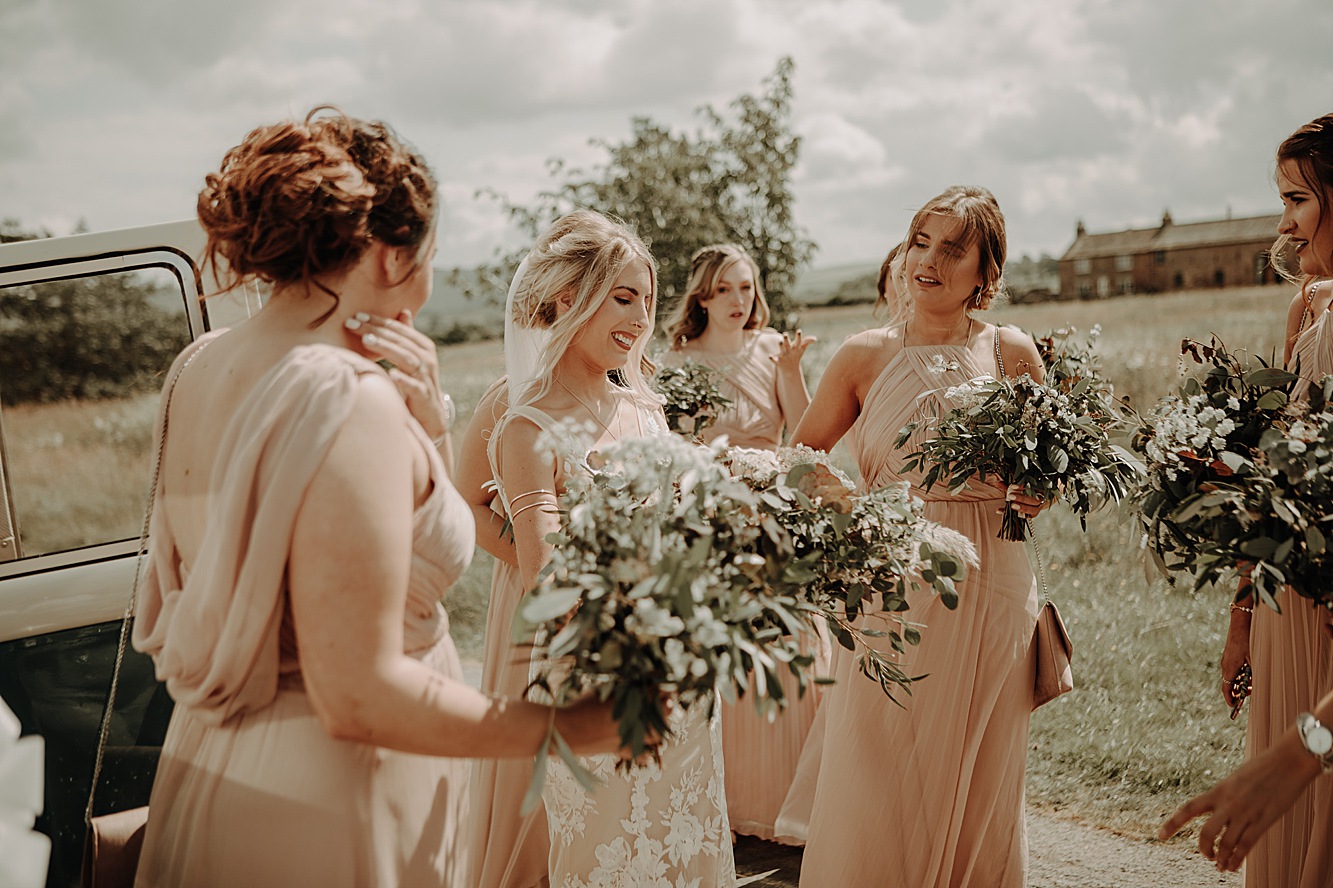 My friends were all in on the engagement surprise and even staged a little argument with Billy to ensure that he and I went to the park alone. We went together in the beautiful November sunshine and he proposed in true Billy style with printed clue cards so that I had to guess what he was asking me. Our friends were all waiting for us at a restaurant with balloons and bubbly and the celebrations continued for the rest of the weekend."
"We decided we wanted to get married as soon as we could and booked our wedding for July 2019."
Emma and Billy were keen to bring their guests together for an entire, chilled-out weekend to really get to know each other, so picking somewhere miles from everywhere was a strategic move to make sure that could happen.
"We wanted to have a 'wedding weekend'. Billy's friends and family are all from down south so most of them had never been to the Yorkshire Dales, Cumbria or the Lakes and we wanted to show them all how beautiful it was – we spend so much time there with our four-legged daughter Ella."
"We thought that if we did it in the middle of nowhere then people would make a weekend of it. We arranged drinks the night before and hired out one of the local pubs for our guests. During the day, everyone met up and the boys played golf and football whilst the girls went for a walk along the canal and got ice creams followed by lots of Pimm's."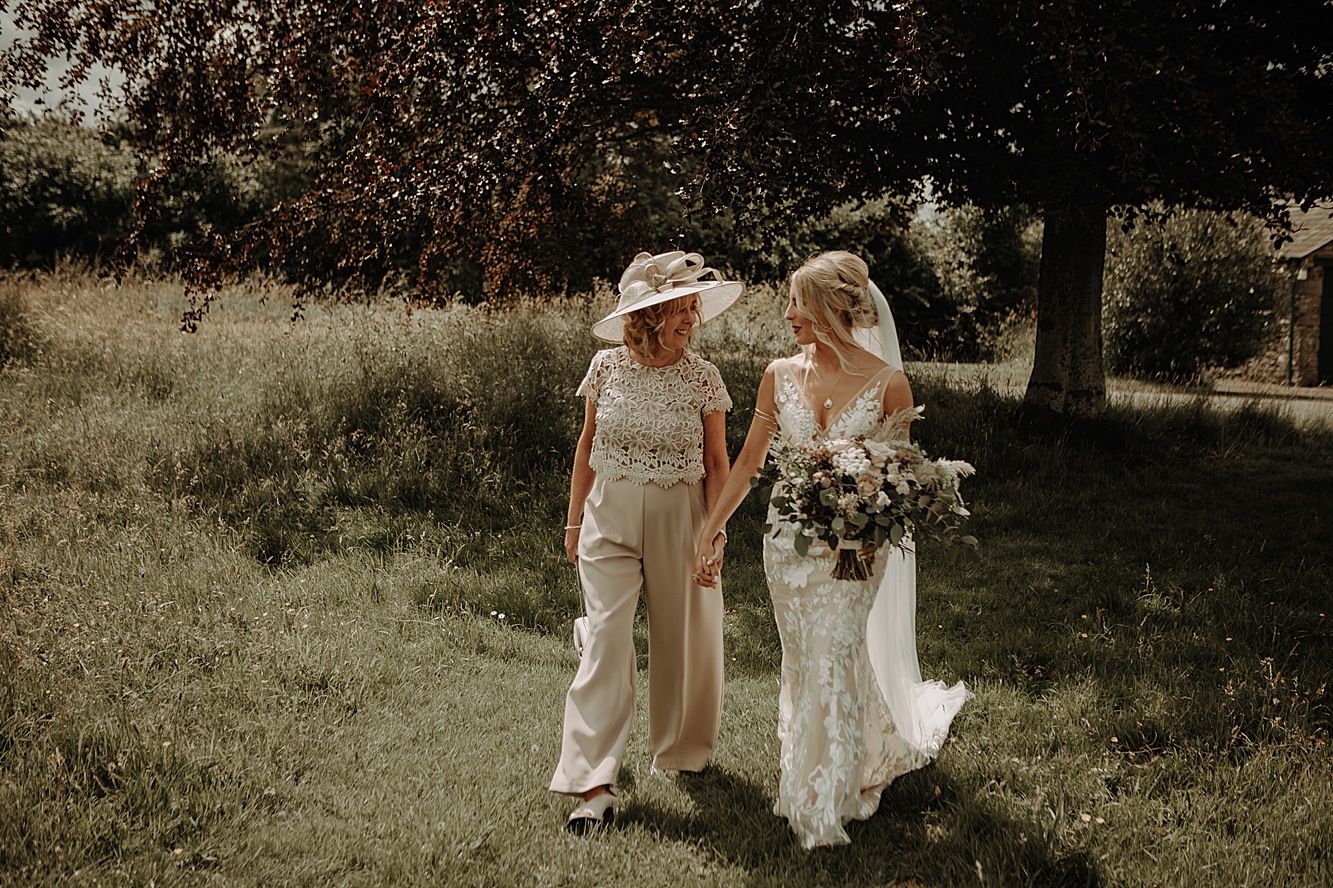 Hats off, quite literally, to Billy's suit and those of his groomsmen too. He had a squad of four best men and five groomsmen, all in black trousers, white shirts and green tweed jackets from Marks & Spencer.
"Billy didn't want anything too formal. He and the best men wore beige dogstooth, woollen ties. The groomsmen, Billy and our dads wore braces and Billy wore a green trilby from ASOS. He is well known for loving a hat so it was only right that he got married in one!"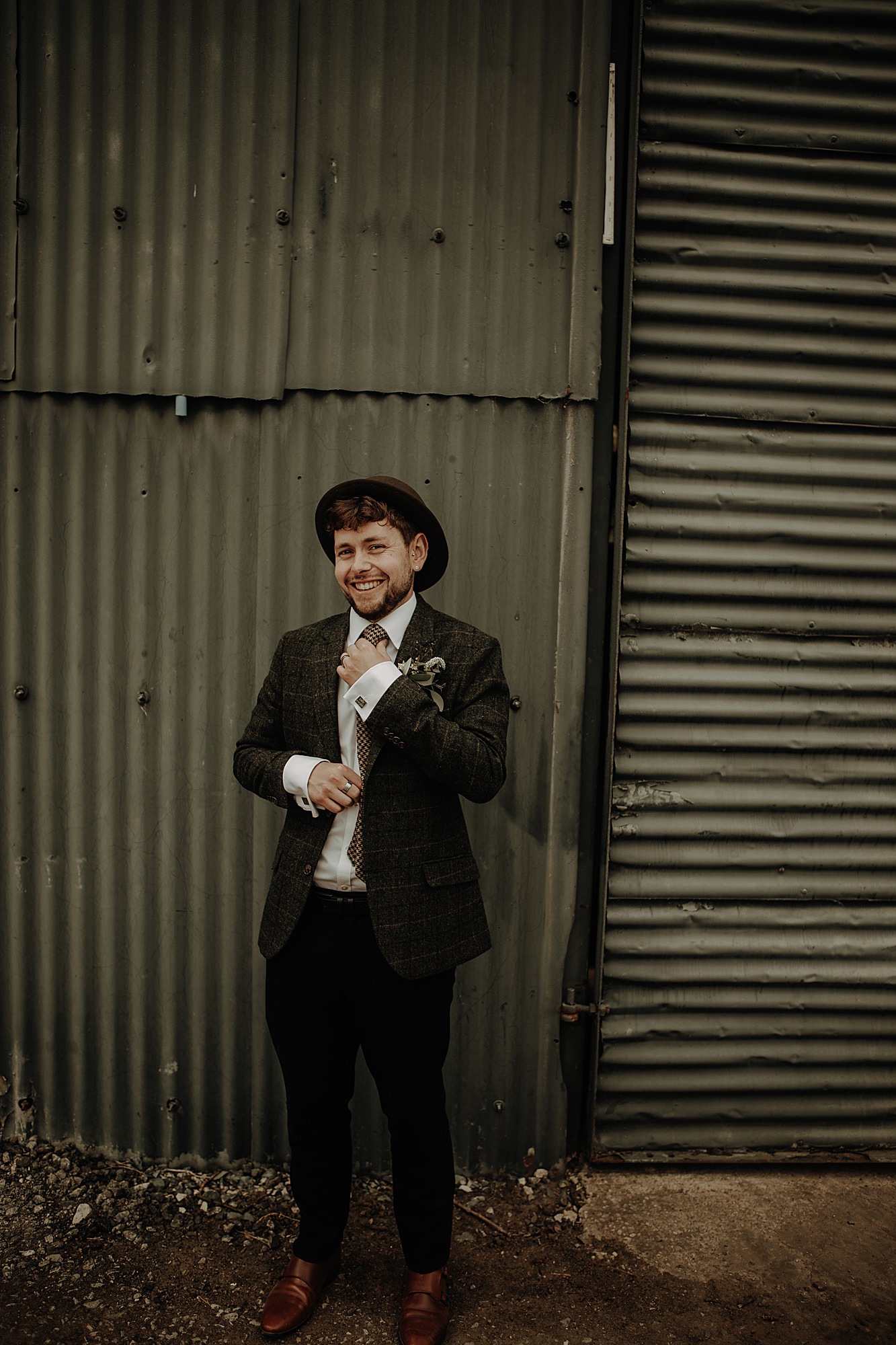 "It brought all of our families and friends together. Everyone got to meet each other and become friends. It also made Billy and I completely relax the day as we were so excited to have all our favourite people together in the glorious mini heatwave."
"We love everything boho and rustic. We were both adamant about a relaxed barn wedding – nothing formal, just a big party in a barn!"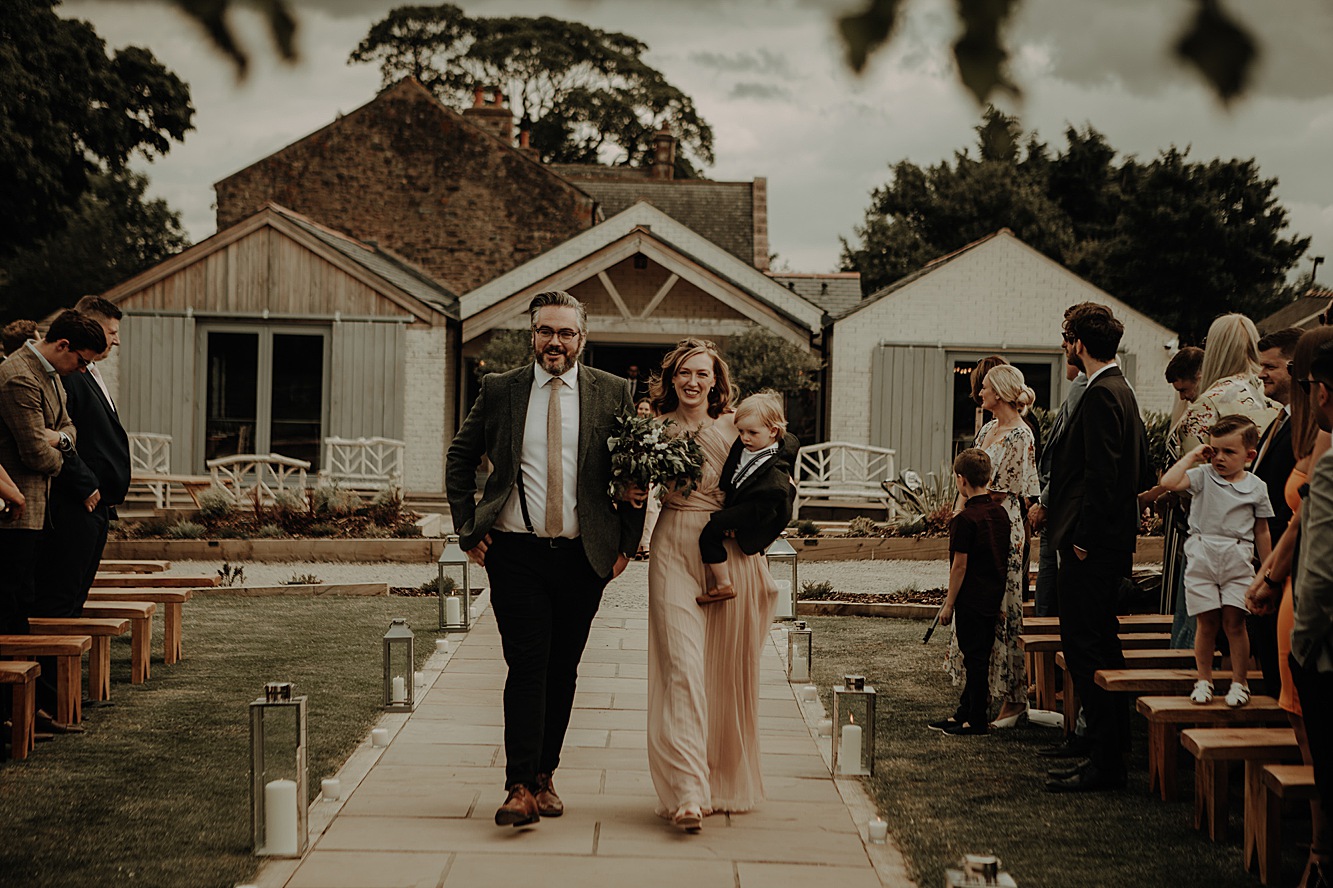 The bridal party was completed by Emma's niece as flower girl and her godson as page boy.
"Gracie Rose wore a nude-coloured dress from Monsoon with a little cream cardigan and gold tights. Jacob wore an outfit to match the groomsmen. He wore black trousers and a white shirt with braces and we found him a matching little green tweed blazer from Amazon."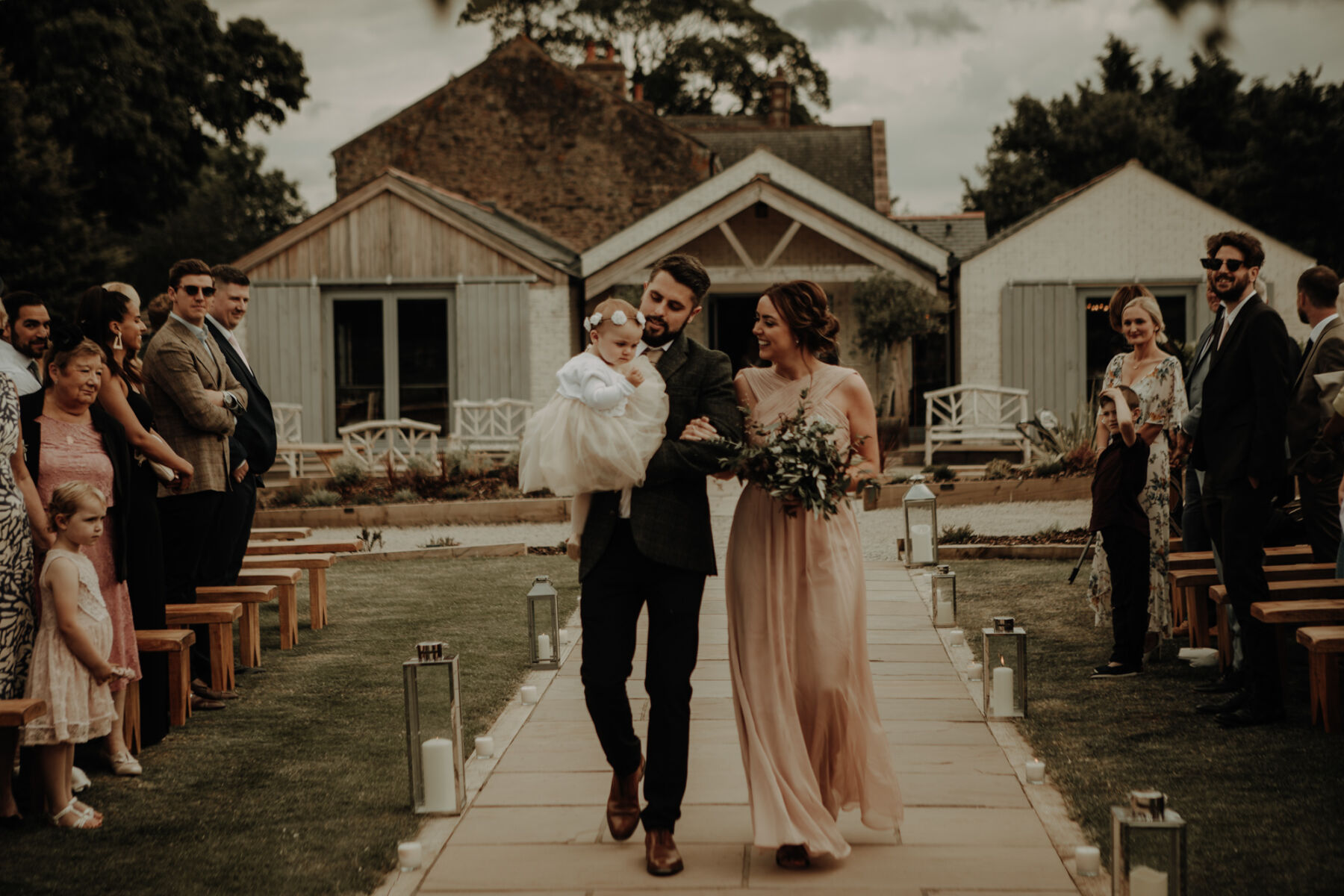 The couple were blessed with a mini heatwave over the wedding weekend, meaning they could wed outdoors.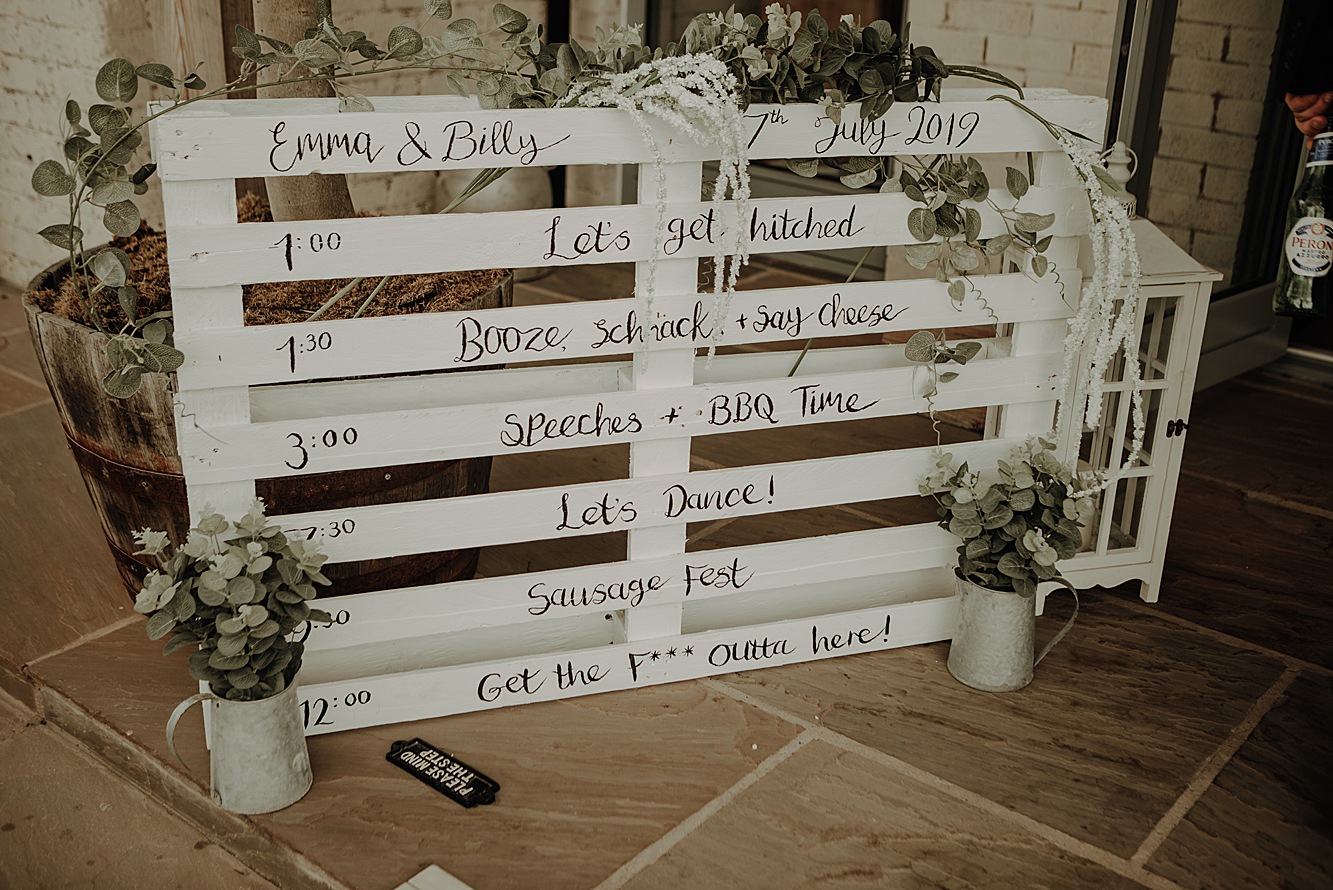 "We really wanted an outdoor ceremony but the weather forecast was rain so thought we would have to do it indoors. But, the day before, the forecast changed and it was really sunny. We just couldn't believe our luck."
The ceremony area was simply dressed with wooden tables, a wooden pergola and lots of greenery, and after some really touching portraits with her mum, Emma walked down the aisle with her dad.
"We walked to the acoustic version of Bombay Bicycle Club's 'Dust On The Ground'. The theme of all the music was bands that Billy and I had seen together and Bombay Bicycle Club are one of our favourites."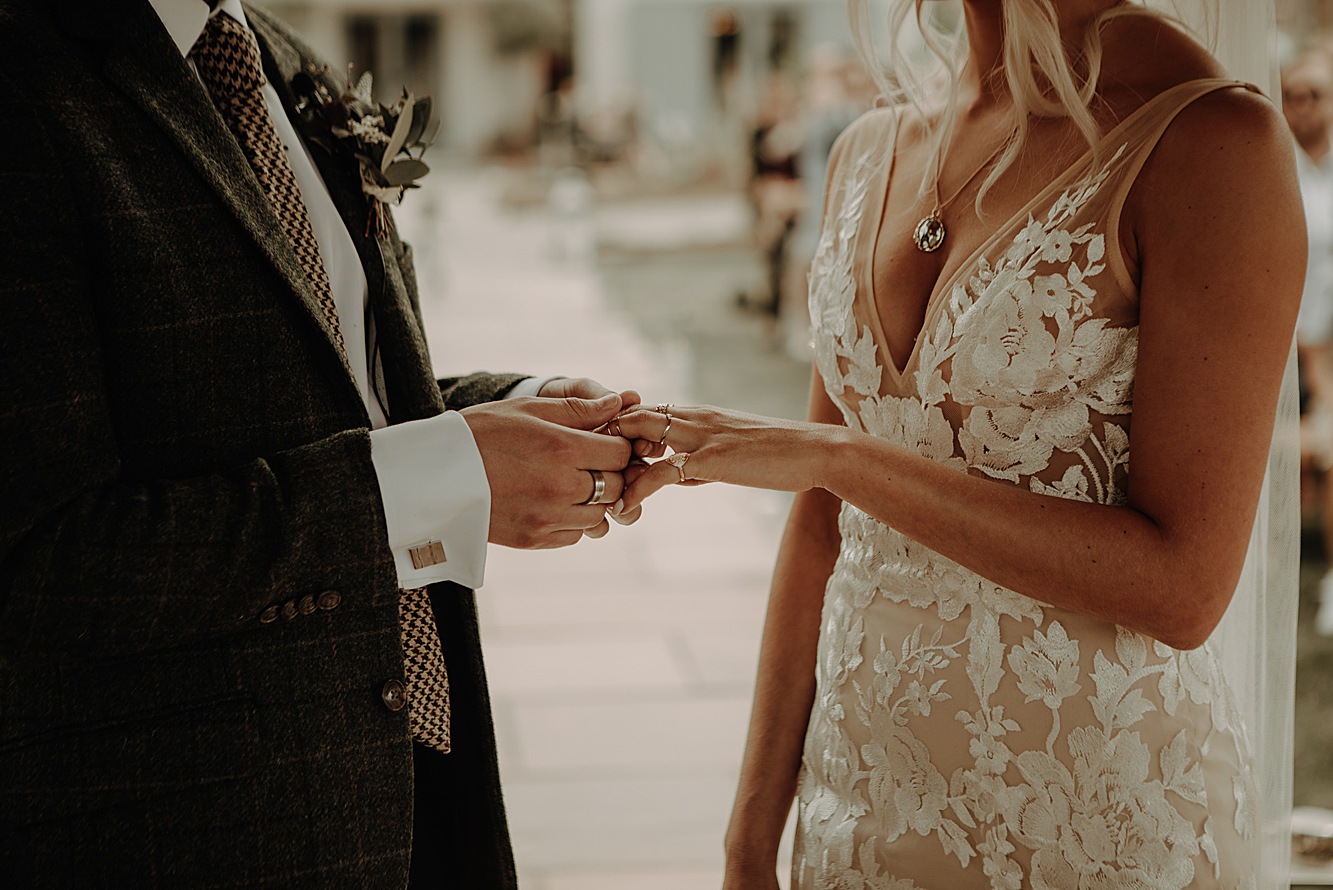 Cumbria Registrars led the service, which included traditional vows and an exchange of rings from a shop in the Trafford Centre.
"Billy preferred to concentrate all of his efforts on his speech so we used the standard vows. My favourite part of the day by far was the ceremony. That's the bit I was most nervous about but I loved every minute. I loved watching all our bridesmaids and best men walk down the aisle together in couples and loved seeing Billy's face as I was walking down the aisle."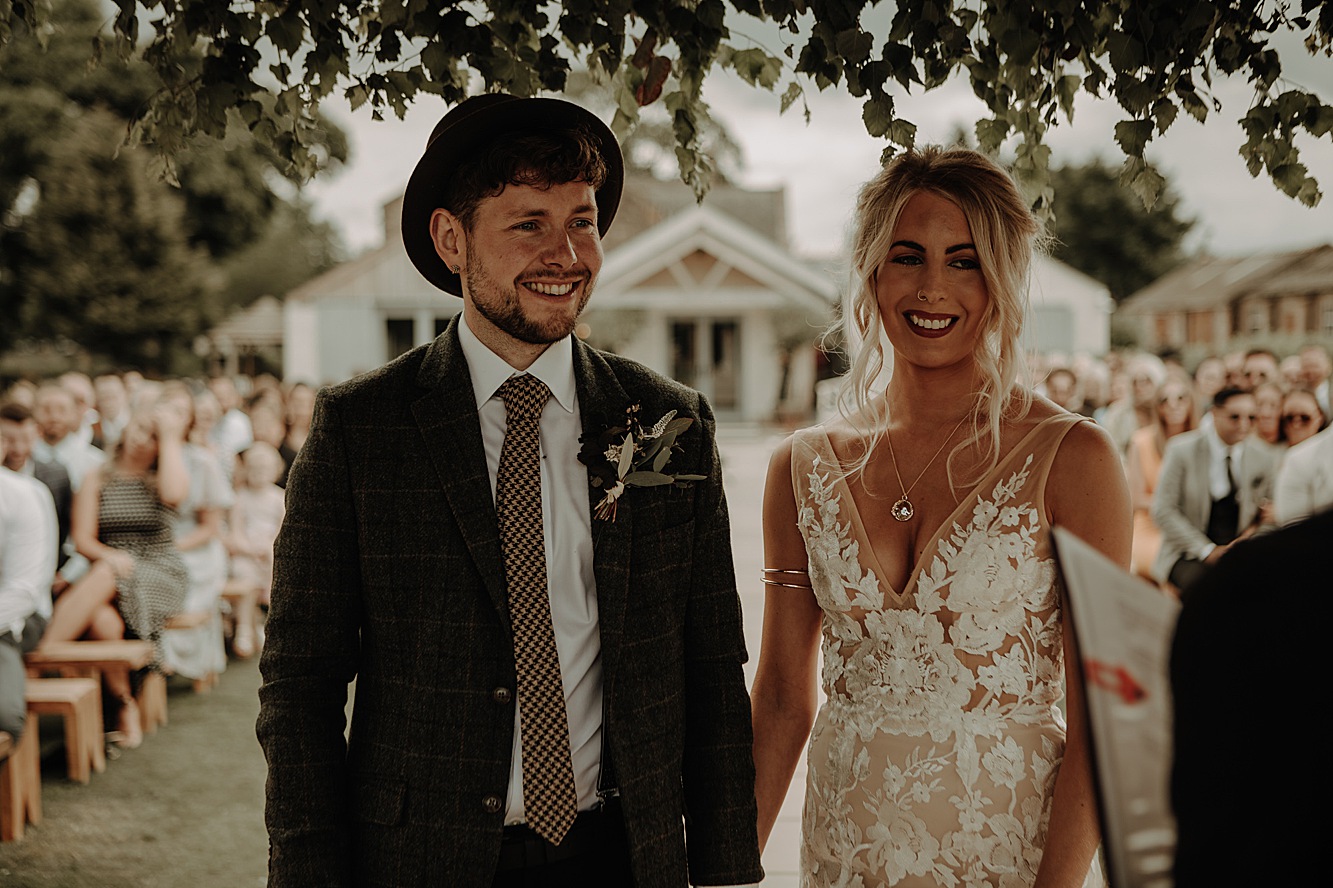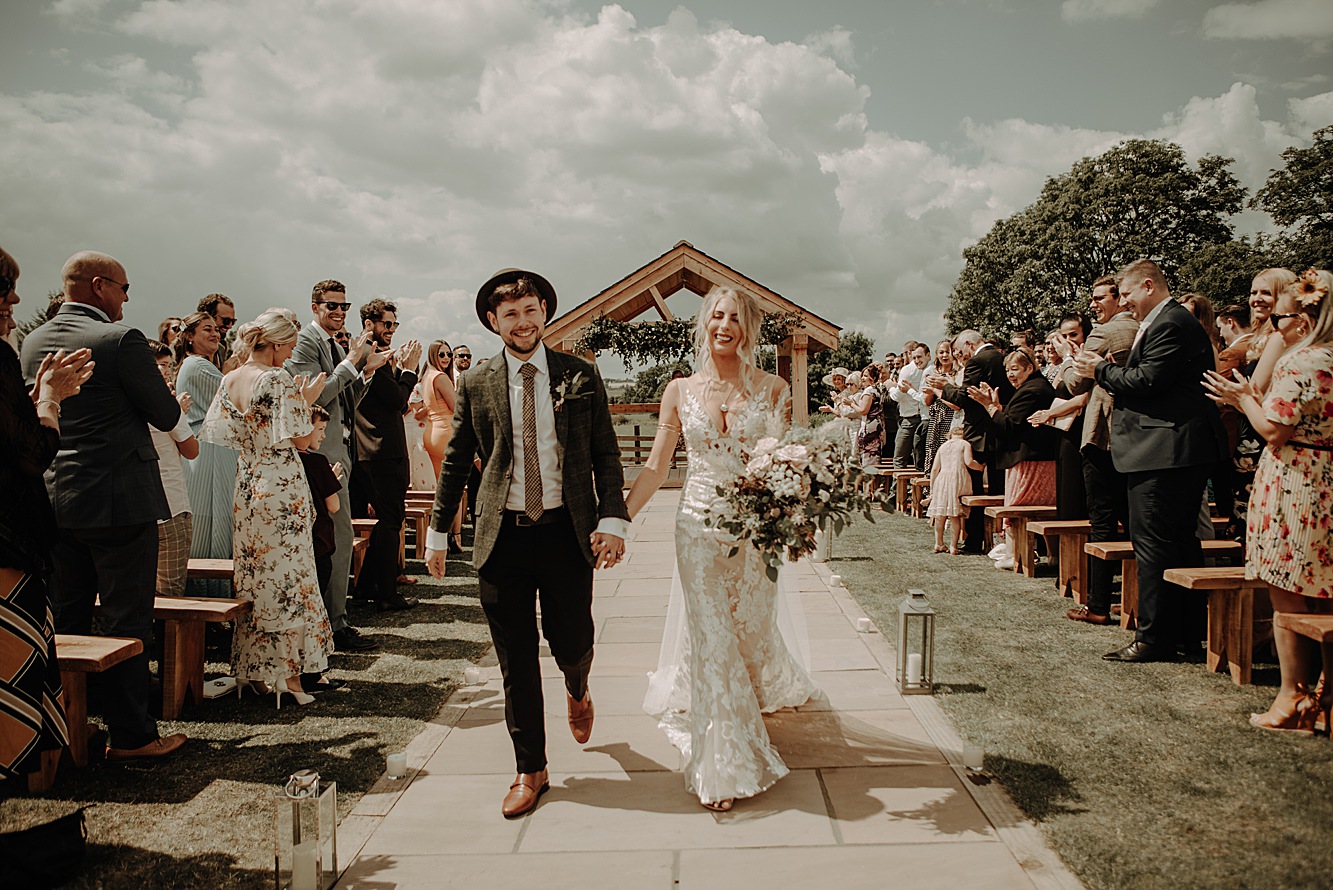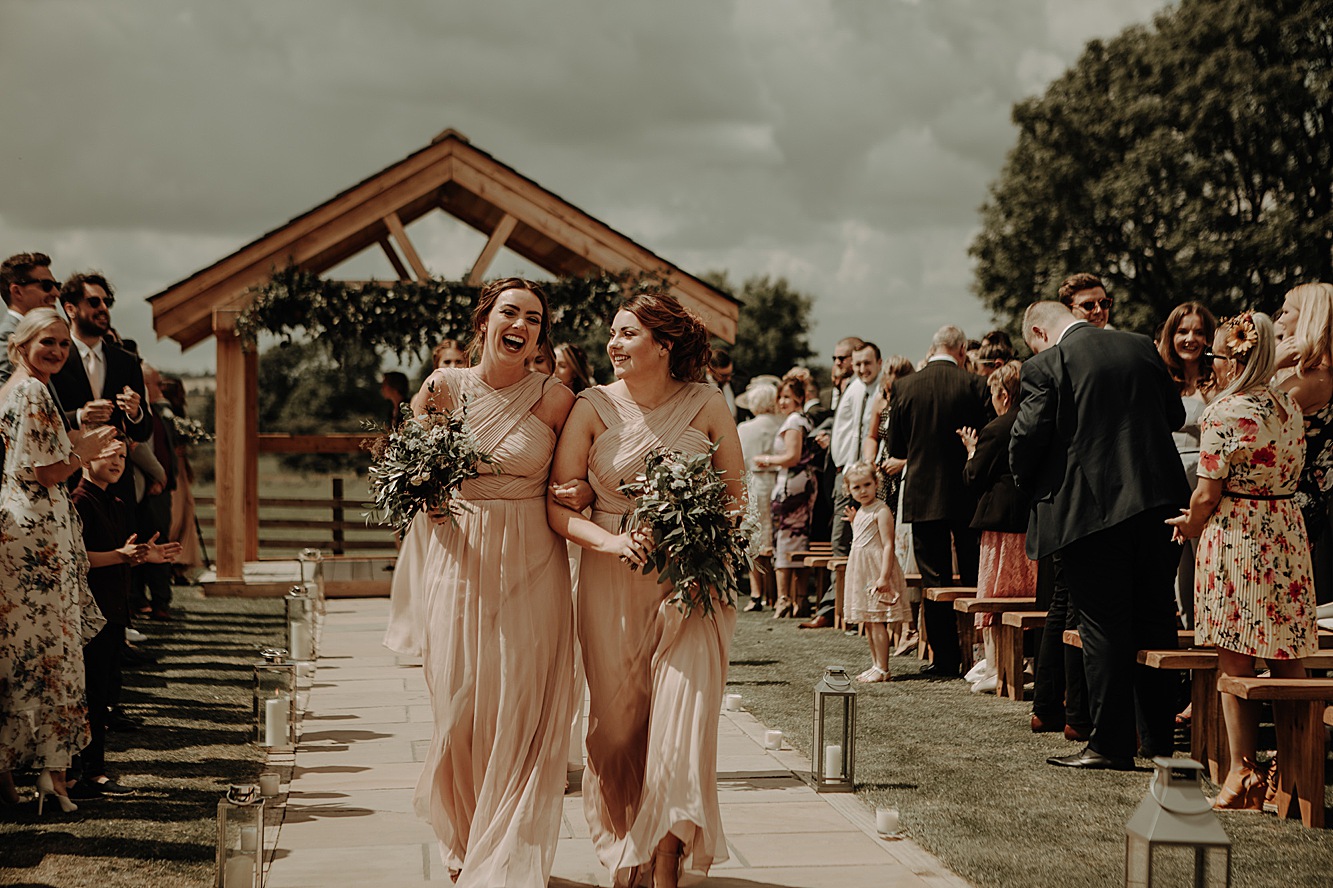 Harry, a vintage VW Campervan from Rainbow Camper Hire, transported the bridal party to Eden Barn.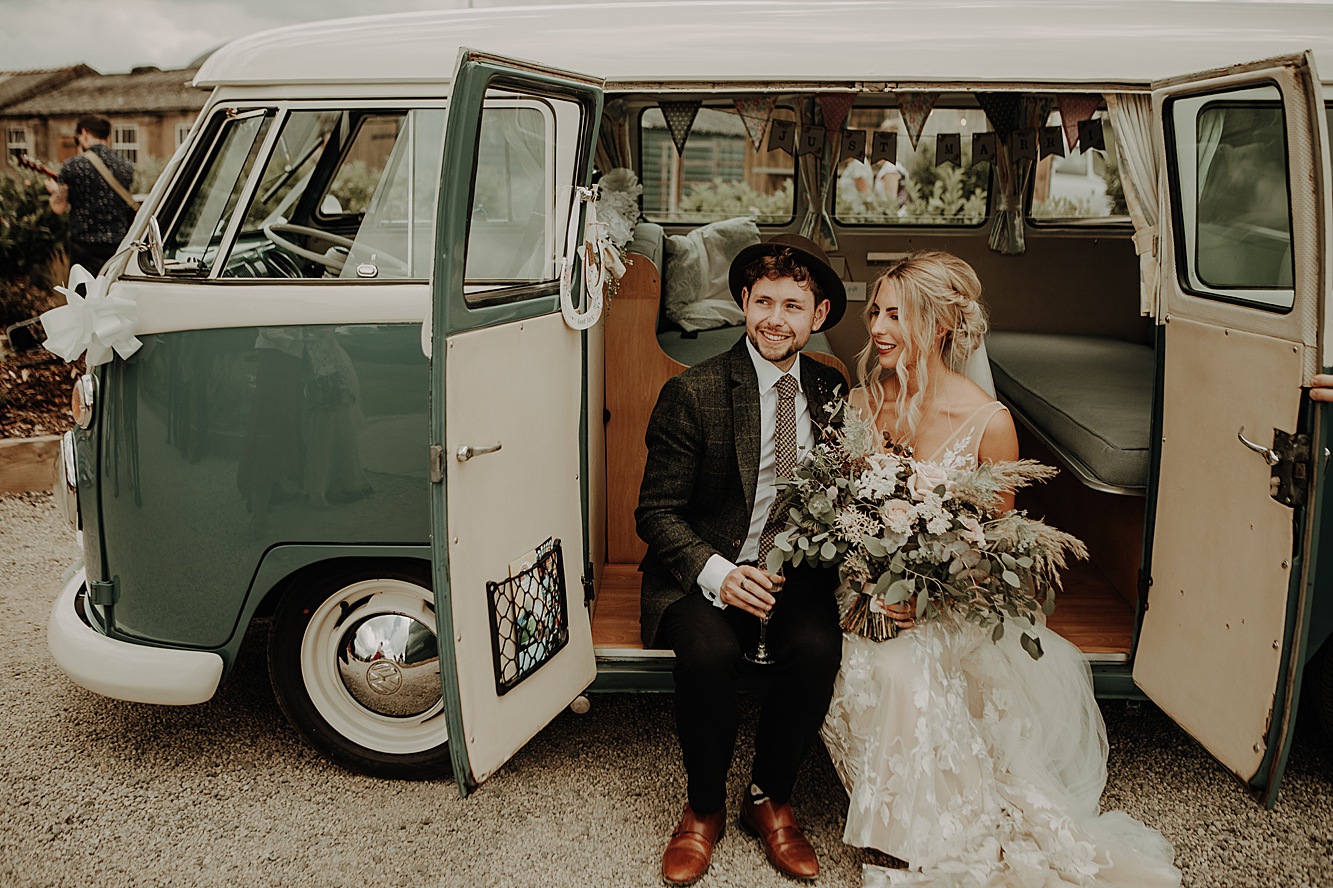 "We are hiring a Camper to travel around Canada for our honeymoon so it seemed a perfect fit."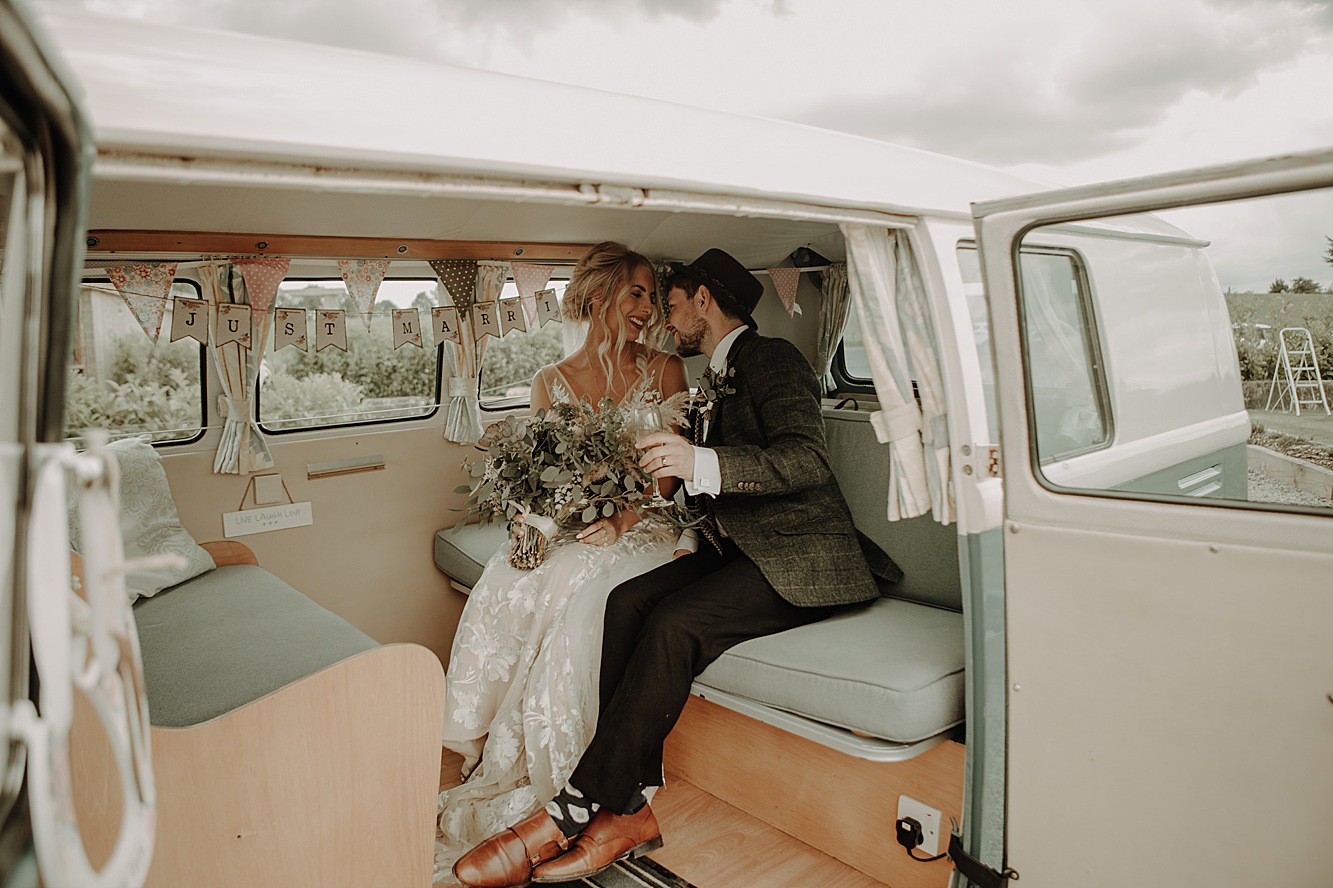 The bride's spectacularly wild and full bouquet was a blend of greenery and nude roses, put together by Sass Flowers who also created the rest of the wonderful displays.
"We decided we didn't want flowers, just the wild rustic look of greenery everywhere. Esme recommended Sassflower in Manchester and Sasha was amazing. She just got the look we were going for and everything was even better than I could have imagined."
"I think every single person commented on my bouquet on the day. It was insane and exactly what I had in mind. I originally wanted all greenery with a few berries and some fluffy pampas grass. Then, a few weeks before, I decided I wanted  a few nude roses just in my bouquet to tone in with my dress."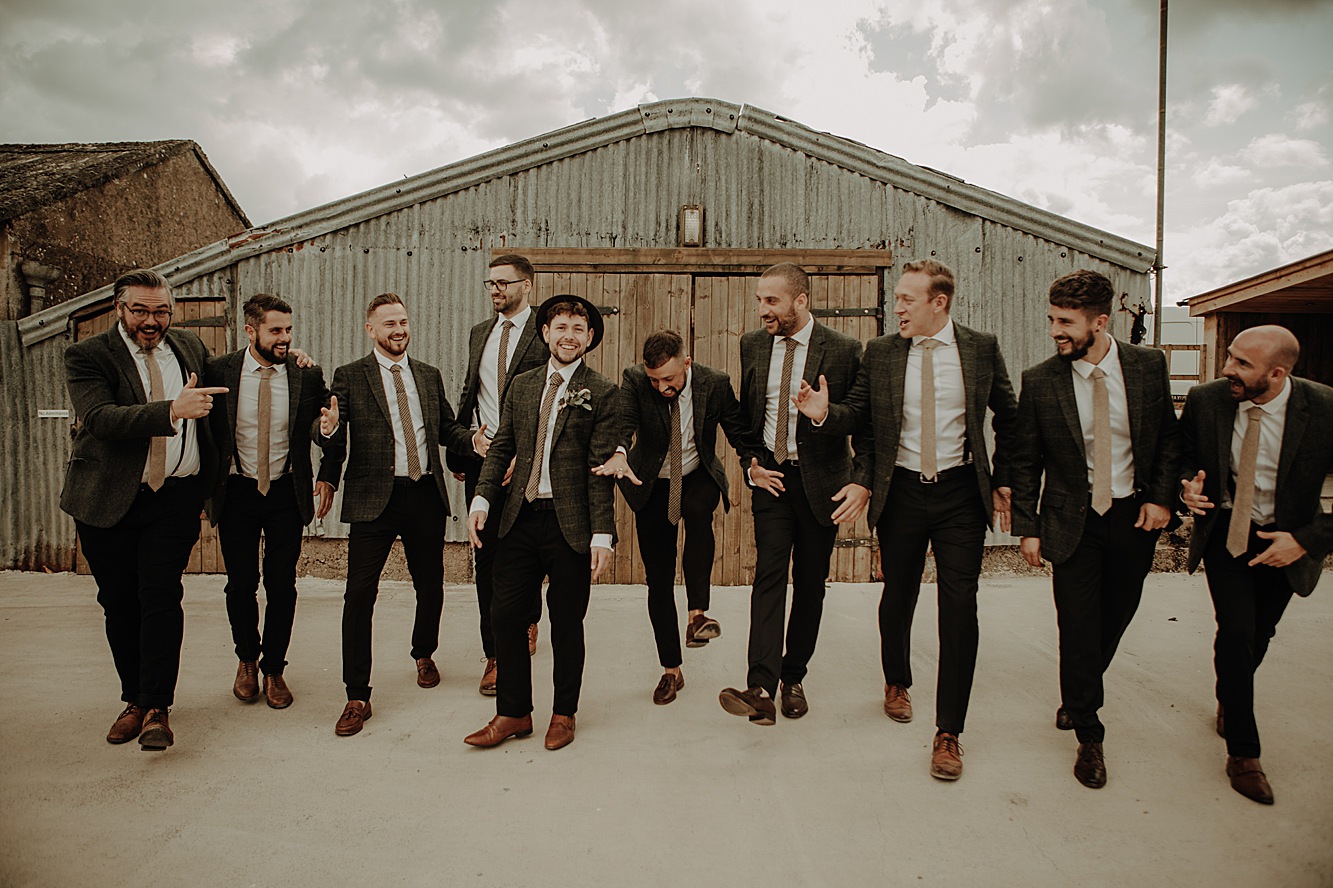 "Fraudio were amazing. They did an hour's acoustic set outside in the afternoon and then two, one hour sets in the evening. They created a great atmosphere and got everyone on the dance floor."
Esme Whiteside's skill at capturing portrait shots is clear to see in these really wonderful images of the newly-weds together; they are so special and full of emotion. After the fun shots with the bridesmaids and groomsmen, the guests were treated to music from live band Fraudio before a feast in the barn.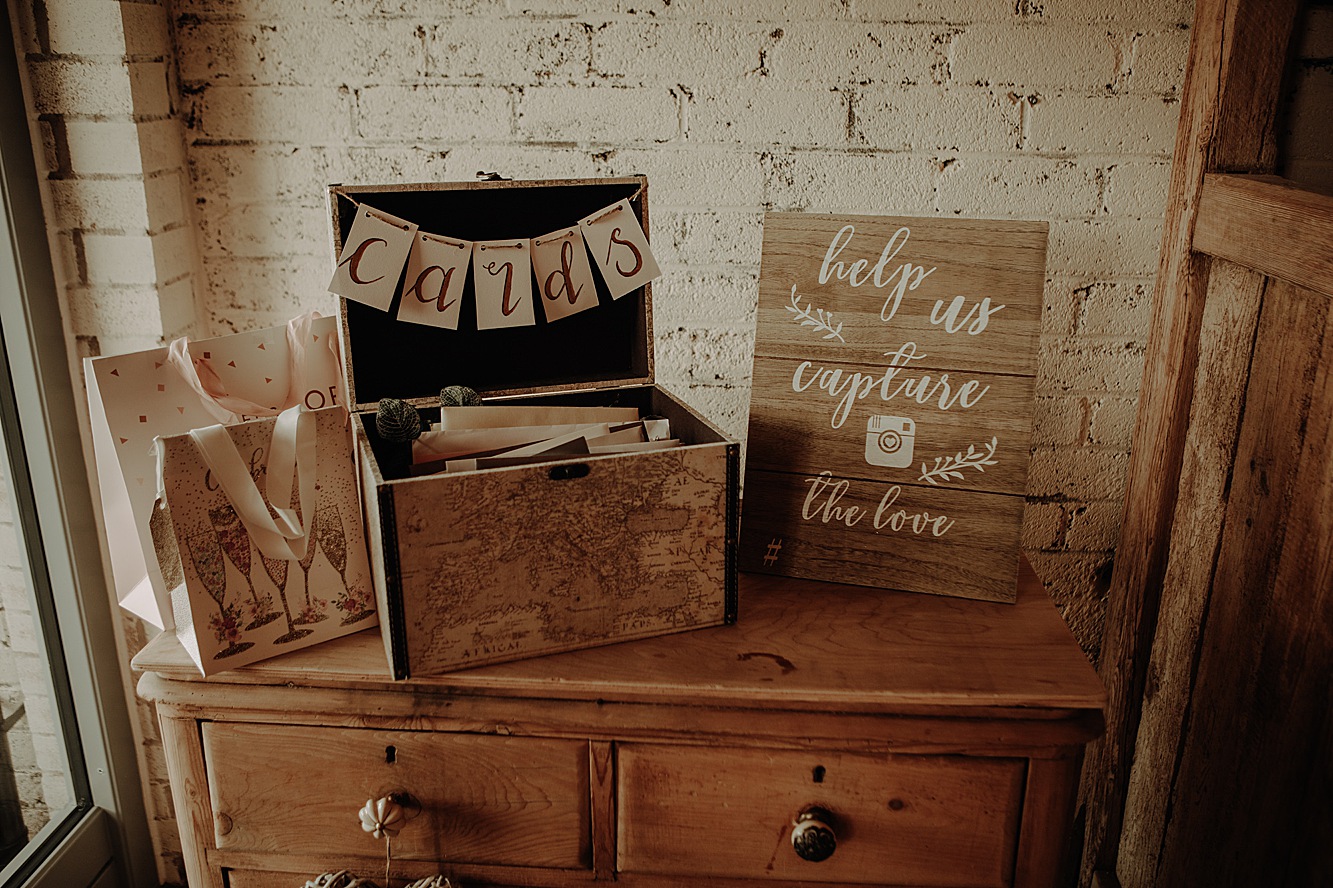 "Our Save the Date was done as a video. We sent it out on Christmas Eve and edited the scene from 'Love Actually' where Andrew Lincoln holds up the cards at the door to Keira Knightley. We edited them out and put Bill and I there instead. We held up cards to give the details of the wedding, along with a couple of jokes."
"I made the Order of the Day using an old pallet and made a welcome sign and seating plan using a copper frame made by my brothers out of bits of old plumbing pipes and MDF."
With tables strewn with greenery, the rustic brown paper place names, a curtain of fairy lights and home-made favours the overall vibe is rustic, magical, cosy and intimate.
"The venue was amazing enough on its own so we just had Sassflower add plenty of greenery everywhere. I made homemade Limoncello in mini glass bottles and decorated them with brown string. We made the place cards using brown luggage labels and wrote a personalised message on the back of every single one (which we soon regretted after the first fifty)."
"Southcott Events Catering were incredible. We wanted a relaxed, serve-yourself BBQ and they did exactly what we wanted. The food was out of this world and we got so many comments on how good it was, especially the steak and the salmon."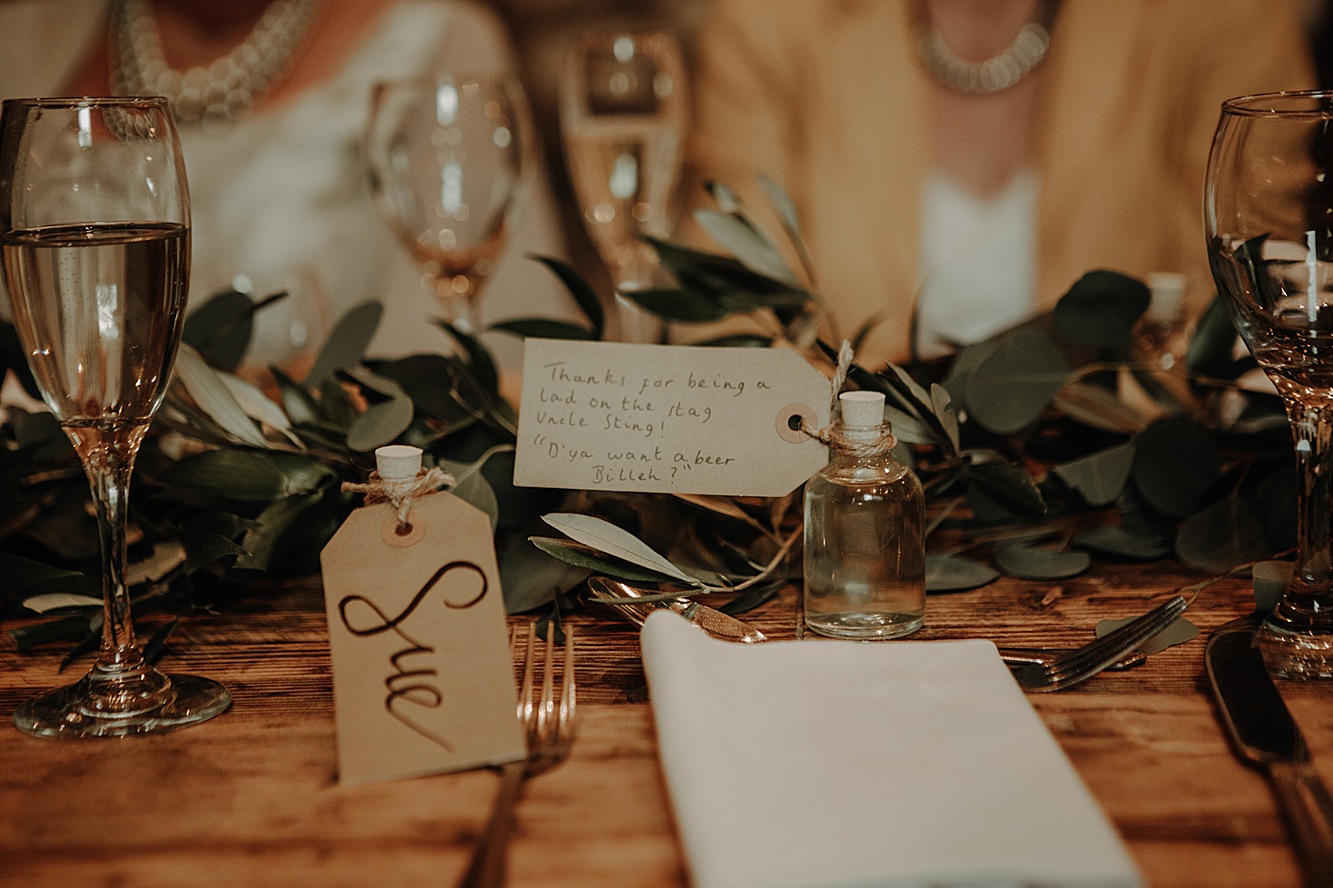 The three-tier cake, with textured white icing to match the weathered white brickwork of Eden Barn, was created by Billy's mum.
"I dressed it with some silk eucalyptus and a couple of Polaroids of Billy and I on top. Billy's mum also bought a rustic wooden crate with our names engraved in it to put the cake on."
After the first dance, the guests danced the night away to more music from Fraudio.
"Our first dance track was 'Toothpaste Kisses' by The Maccabees. Again, this was in the theme of bands that we've seen together."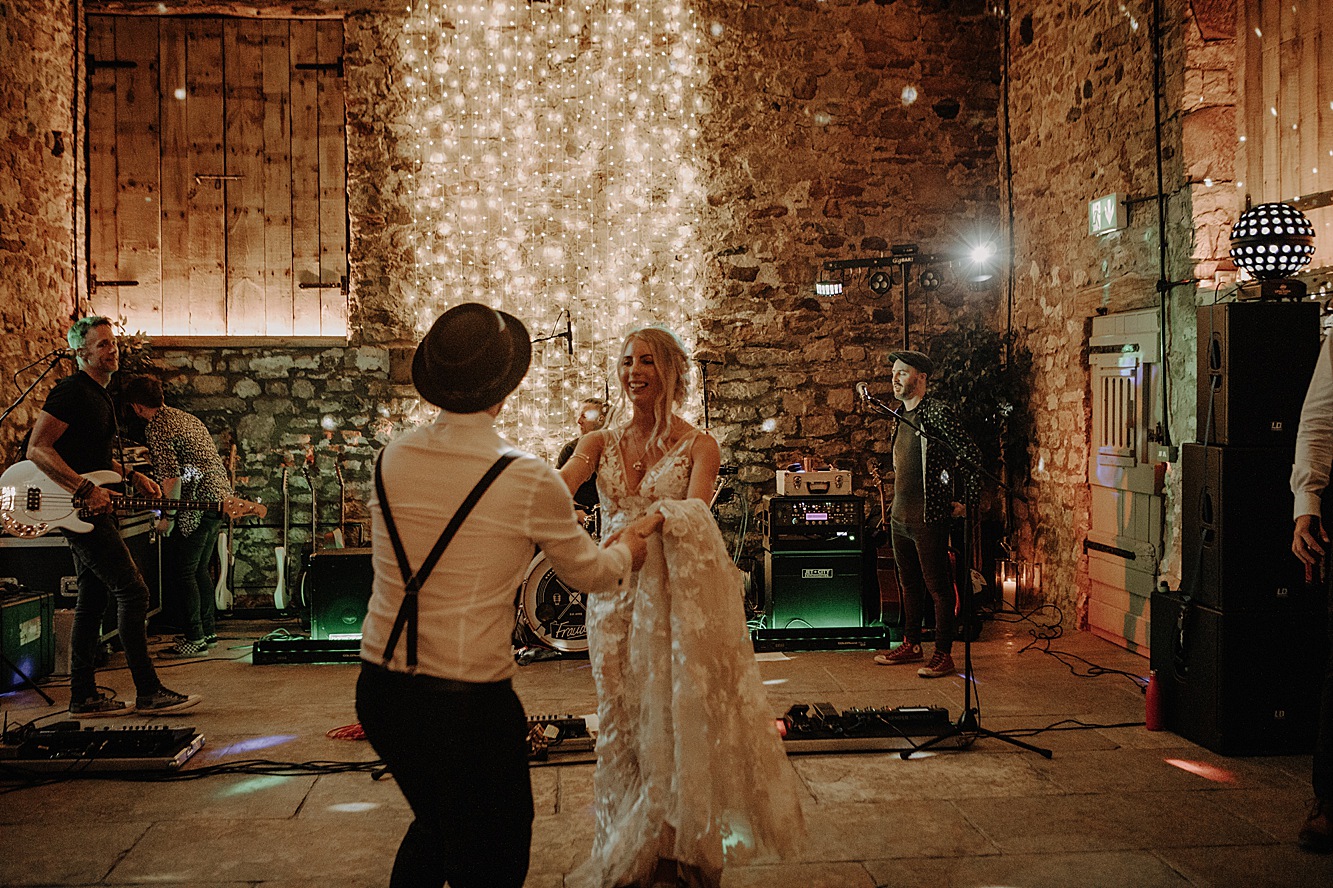 "Our photographer Esme recommended Just By Michael and we booked him as our videographer.We were amazed by his talent! He gave us a teaser video of the pre-shoot and we could not believe how good it was. Michael was so lovely. He came to meet us for a coffee a few weeks before the wedding and we felt like we had known him years."
Words of Wedded Wisdom
"The venue is the most important decision you will make because it makes such a difference. We fell in love with our venue as soon as we saw it."
"Try not to compete with anyone else or feel like you have to do things a certain way to please or impress other people. Just do you! The one thing everyone said about our wedding is that it was just us down to a T and that is what people loved about it."
"The one thing that made us really get the full enjoyment out of the wedding was doing something really fun the day and night before the wedding and getting everyone together. It really does take away any nerves or stress. By that point, there's nothing you can change and there's not much you can do if something doesn't go quite to plan, so there's no point in stressing about it. Absolutely NOBODY will notice if something is not exactly how you planned it. Although it will probably be hectic with last minute prep the few weeks before the wedding by the day before, it's time to relax, enjoy and PARTY!"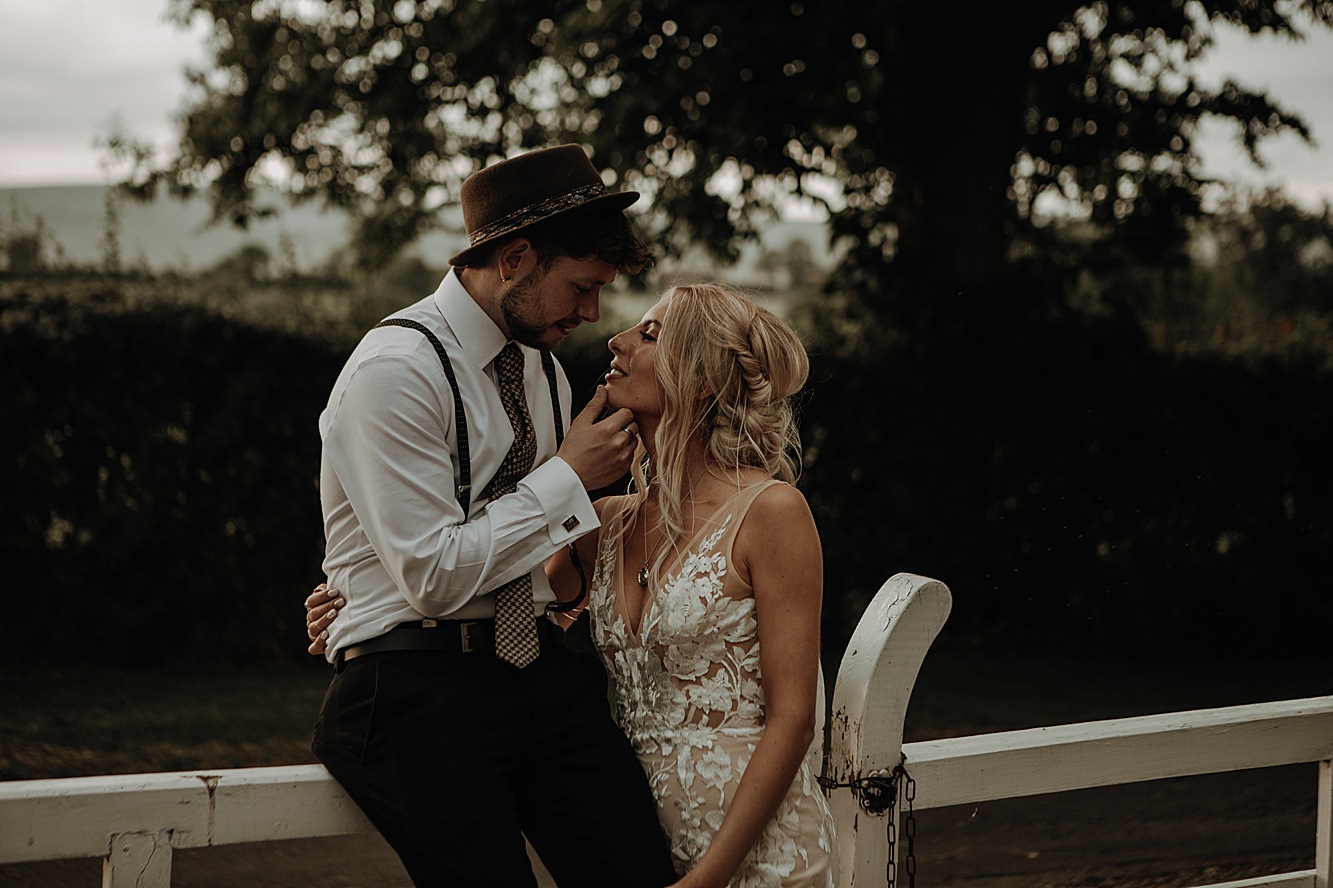 For all of you brides to be thinking about getting crafty, I hope that this wedding has given you lots of ideas and inspiration. I've thoroughly enjoyed sharing these images so thank you Esme Whiteside, as well as Emma and Billy, for sharing them with us.
Ele x