I am so excited to share these truly beautiful images with you today. They capture the gowns of a designer I've been obsessing over for quite sometime – someone whose talent and whole aesthetic has blown me away.
These creations are by the wonderful Emma Beaumont and were captured by the equally talented wedding photographer, Emmylou, of Vanitas Life.  Both these amazing women and their businesses can be found in our Little Book Wedding Directory, our curated collection of wedding suppliers. And I have to confess, I'm feeling rather proud today to be supporting such talented artists.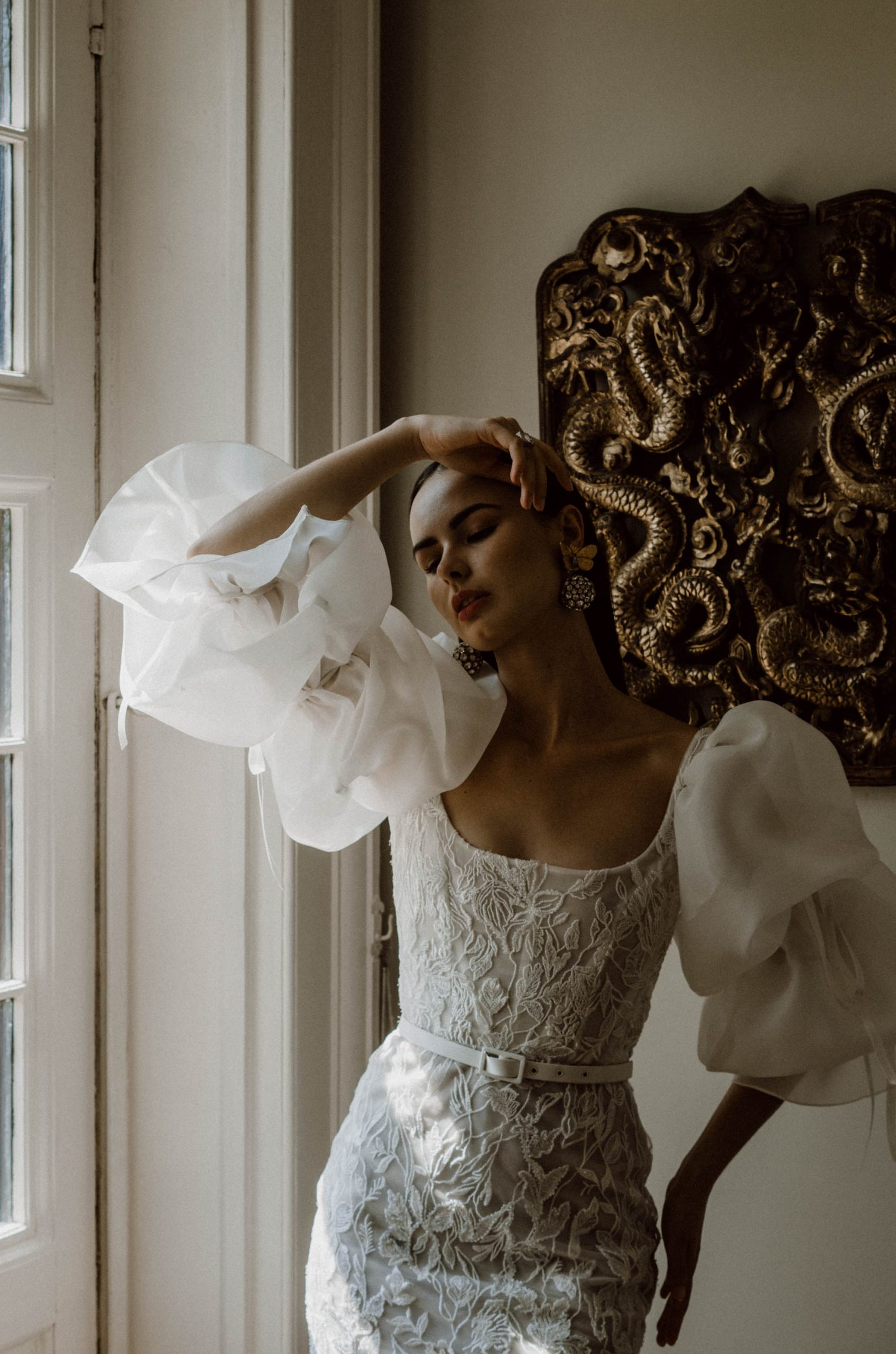 Aptly named 'The Dorfold Collection', after the gorgeous 17th century country house, Cheshire based wedding venue these images were captured in, Emma tells us more…
"This is a small but perfectly formed collection of three breathtakingly beautiful dresses, inspired by the historic Dorfold Hall in Cheshire. It's a fun yet romantic collection, which includes our first ever short dress (pictured above), for clients that are looking for something different and a little more edgy."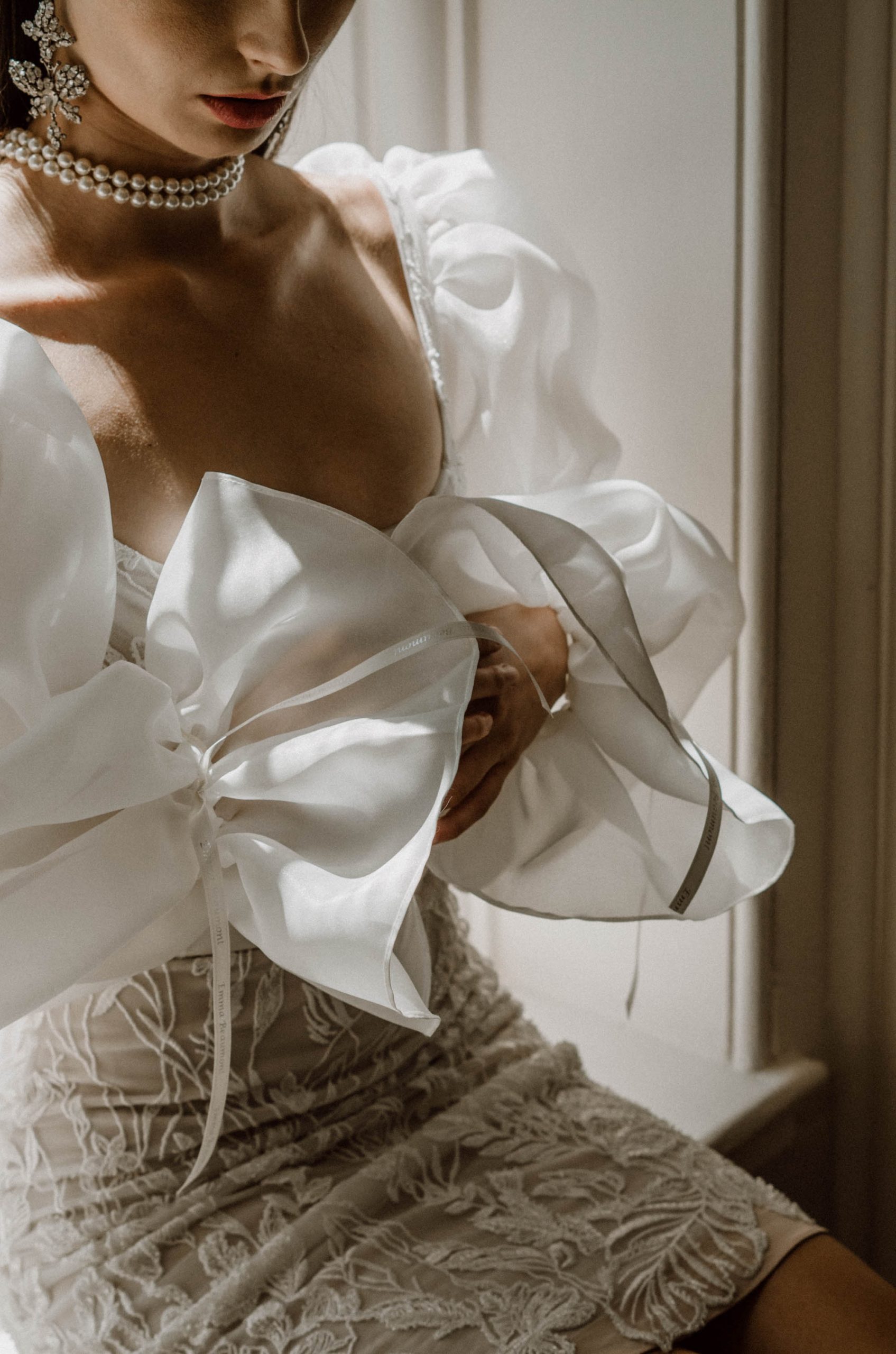 "The dress is paired with huge satin-faced organza, three tier puff sleeves for a softer look with a high fashion edge."
"The collection also includes a stunning blue dress which is a play on the traditional phrase 'something old, something new, something borrowed, something blue'."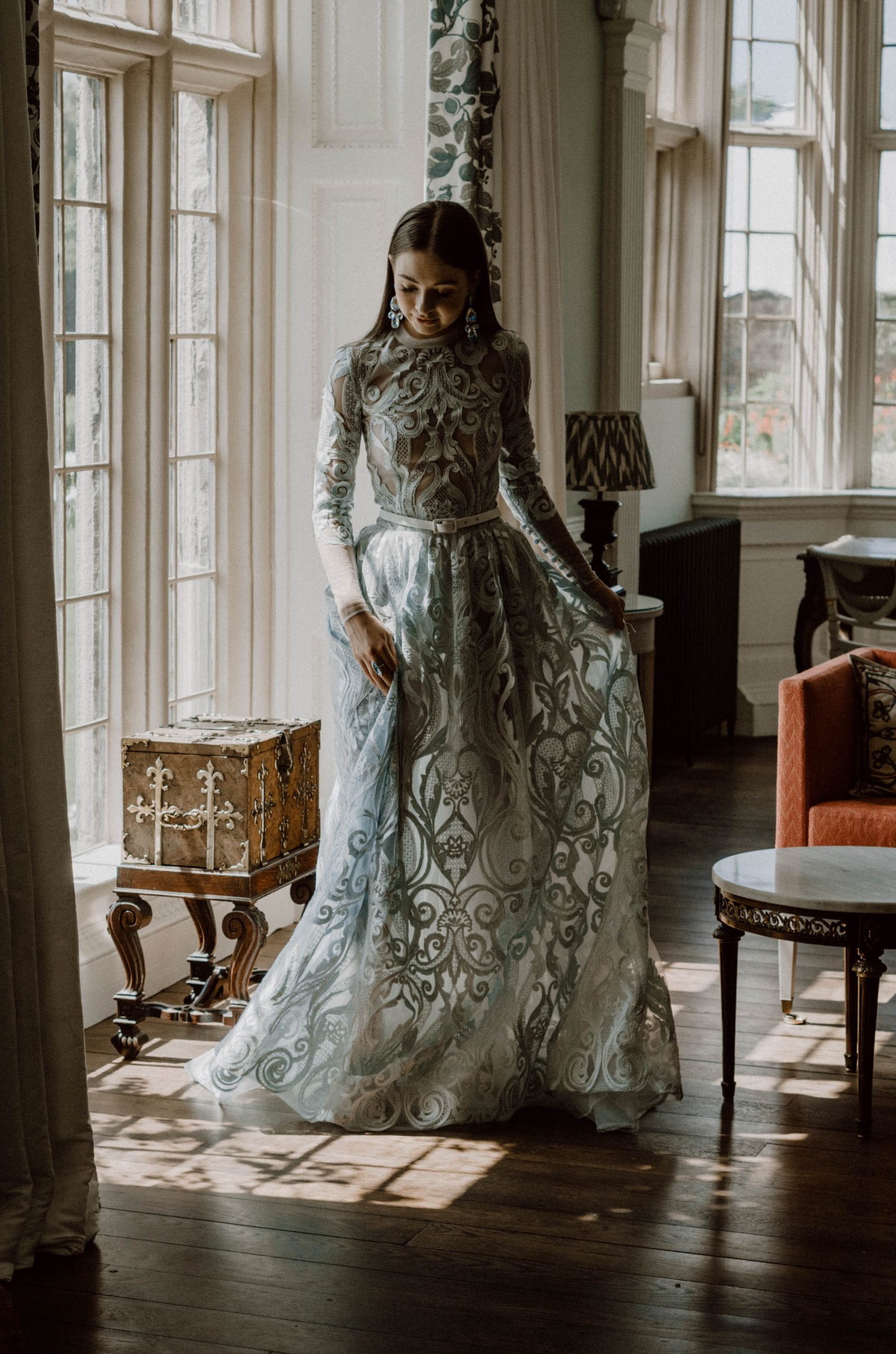 "But the centrepiece of the collection is an exquisite, full floral appliqué dress covered in thousands of tiny, individually stitched daisies."
"This dress features a show-stopping four-metre train, liberally scattered with miniature daisies and is paired with oversized, detachable sleeves to create a gorgeous ombré effect. Handmade headbands of gathered tulle and large florals complement the gowns and complete the look."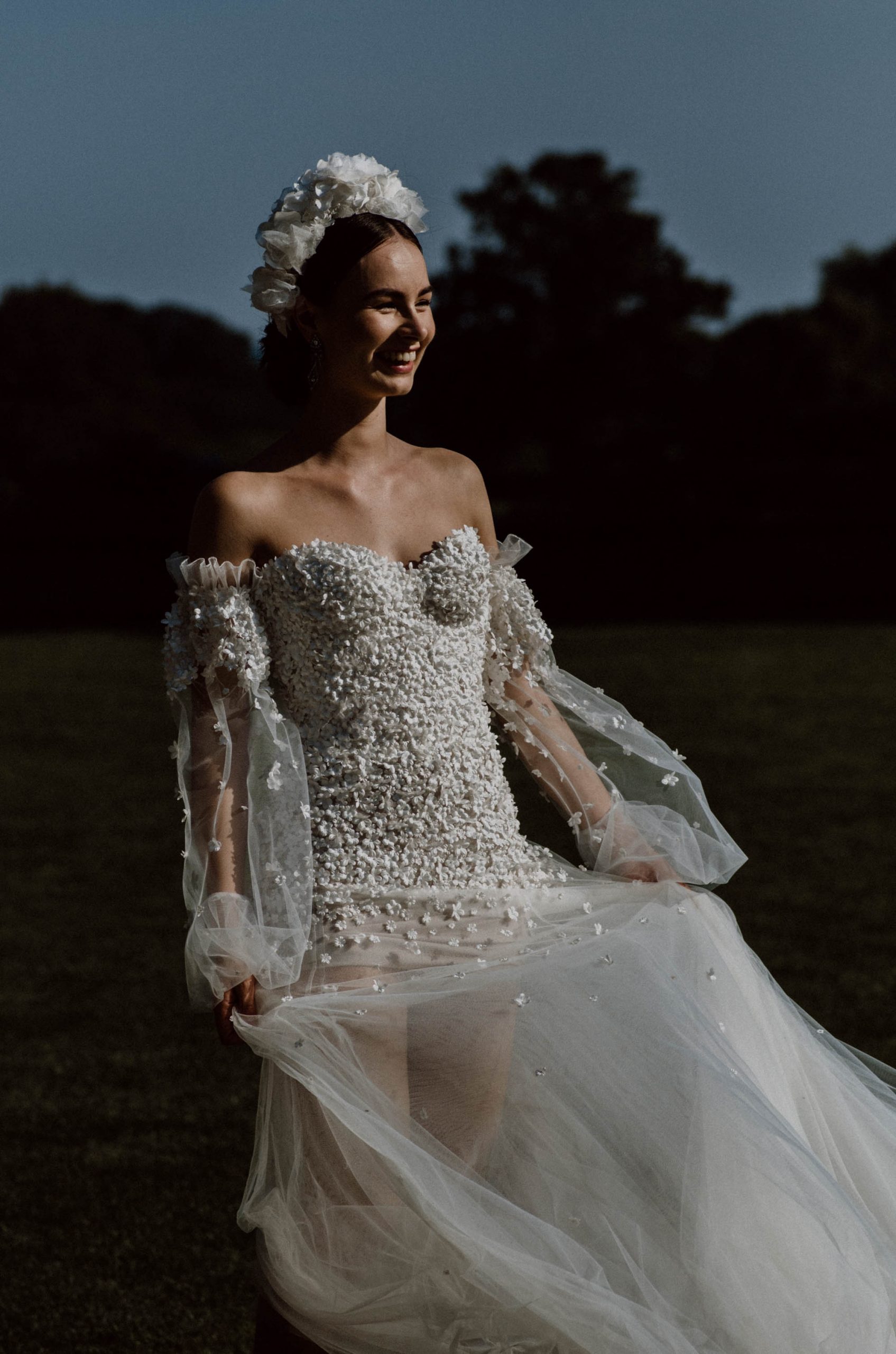 Our wonderfully talented photographer, Emmylou, of Vanitas Life tells us more…
"We wanted to embrace colour and texture as well as the playfulness of Emma Beaumont's gowns in this shoot; Dorfold was the perfect location with its colourful herbaceous borders and newly refurbished contemporary rooms, juxtaposed to the Jacobean façade and historical artworks and furniture."
"The dresses complimented the style of the building beautifully – with the lace in Emma's blue gown matching almost perfectly to the historical 'Dorfold Blue' that has been this venue's signature colour for over four hundred years now."
Emma appointed Fiona of Fifi Boutique Bespoke, a florist from the local town, to create a feature installation of the Dorfold Blue staircase.
Fiona says, "I wanted to design floral arrangements that complimented the very unique style of the dresses. I used a combination of Pampas Grass, Roses, wild grasses and cottage garden flowers for the spiral staircase giving the design a classic yet slightly more edgy look."
"As well as creating arrangements to complement the feel of the shoot I wanted to promote the floral styling of my brand Fifi Boutique Bespoke. Classic and elegant with an organic twist."
"And so the bouquet took on a relaxed classical style with very pretty romantic lisianthus, roses and wild grasses in ivory and dusky pink. For the table an ombré floral arrangement added a quirky twist to your standard arrangement."
Emmy Lou tells us more…
"We sourced colourful, pastel floral linen for a table scape and vintage china to create a maximalist addition that complimented the theme of the look book. The look book was all about textures, fabrics and having fun."
"Our dream team of stylists were on board to finish off the looks, including hair, make up and vintage jewellery collector, Jennifer Gibson."
"Our models were such a pleasure to photograph and Dorfold is one of my favourite venues after coordinating weddings there for almost two years! It will be always be very dear to my heart."
"We had so much fun and really let the dresses tell the story of how beautifully they can be worn and will work on a real wedding day – for us, that means having fun, feeling good about yourself and having the best people around you to put that smile on your face."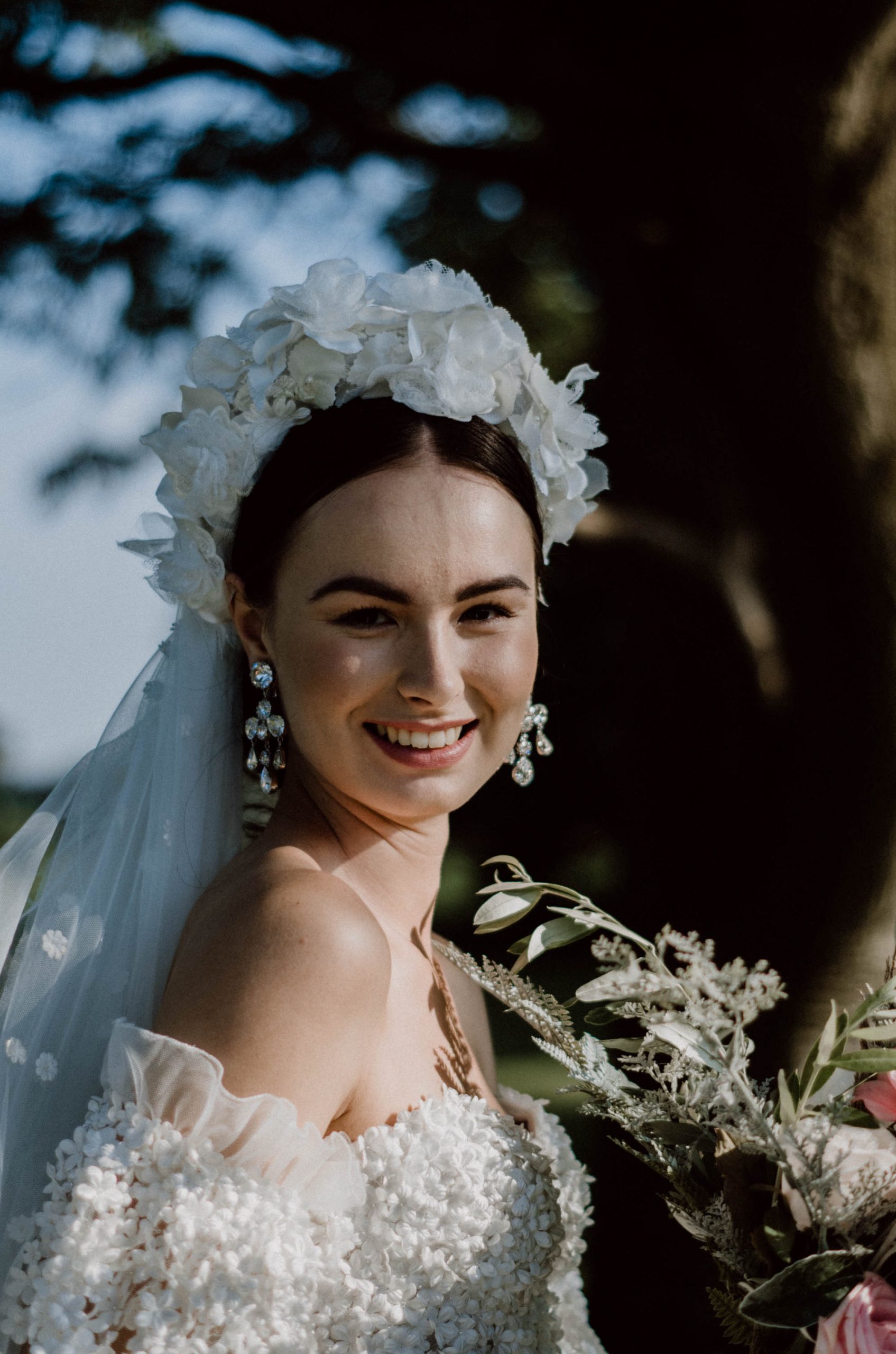 Emmylou is taking bookings for 2021 weddings and beyond, with a few dates still remaining in 2020 – please contact her directly on.
Emma Beaumont's atelier is located at 123 King Street in Knutsford, Cheshire, WA16 6EH. She also takes appointments at 11 Cadogan Gardens Hotel in Chelsea, SW3 2RJ. Telephone  01565 228050 or email [email protected] to book an appointment – a warm welcome awaits.