Award winning, eco luxury bridal designer, Sanyukta Shrestha, has shared some lovely photographs with us that were captured at her home, also her creative retreat in the Lincolnshire countryside.
Those of you unfamiliar with Sanyukta Shrestha should know that this Nepalese born, London based designer has, from the very inception of her business, been creating beautiful, eco friendly wedding dresses wedding dresses for brides using ethical and sustainable processes and materials.
We have shared many articles on Love My Dress that explore Sanyukta's design philosophy and what drives her, but I can say in all sincerity that this is one designer for whom ethical and sustainable production represents the entire purpose of her business.
Sanyukta Shrestha

+ Follow
This comes from a very genuine love of the environment and desire to support artisan communities in Sanyukta's birth country, who make the most exquisite natural silk fabrics.
Creating chemistry on a photoshoot involving a bride and a groom is always tricky – less so when the models are a couple in real life. Charlotte and Jack played newlyweds for the day in the beautiful grounds of Sanyukta's home.
I wish I could have found you before, as I felt a million dollars in these gowns! I know it sounds cheesy, but I want to get married again in these gowns, of course with the same man, she laughs. Fabrics are so soft, and kind and I felt I can eat, have fun, dance all day & night, be comfy, relaxed. Model, Charlotte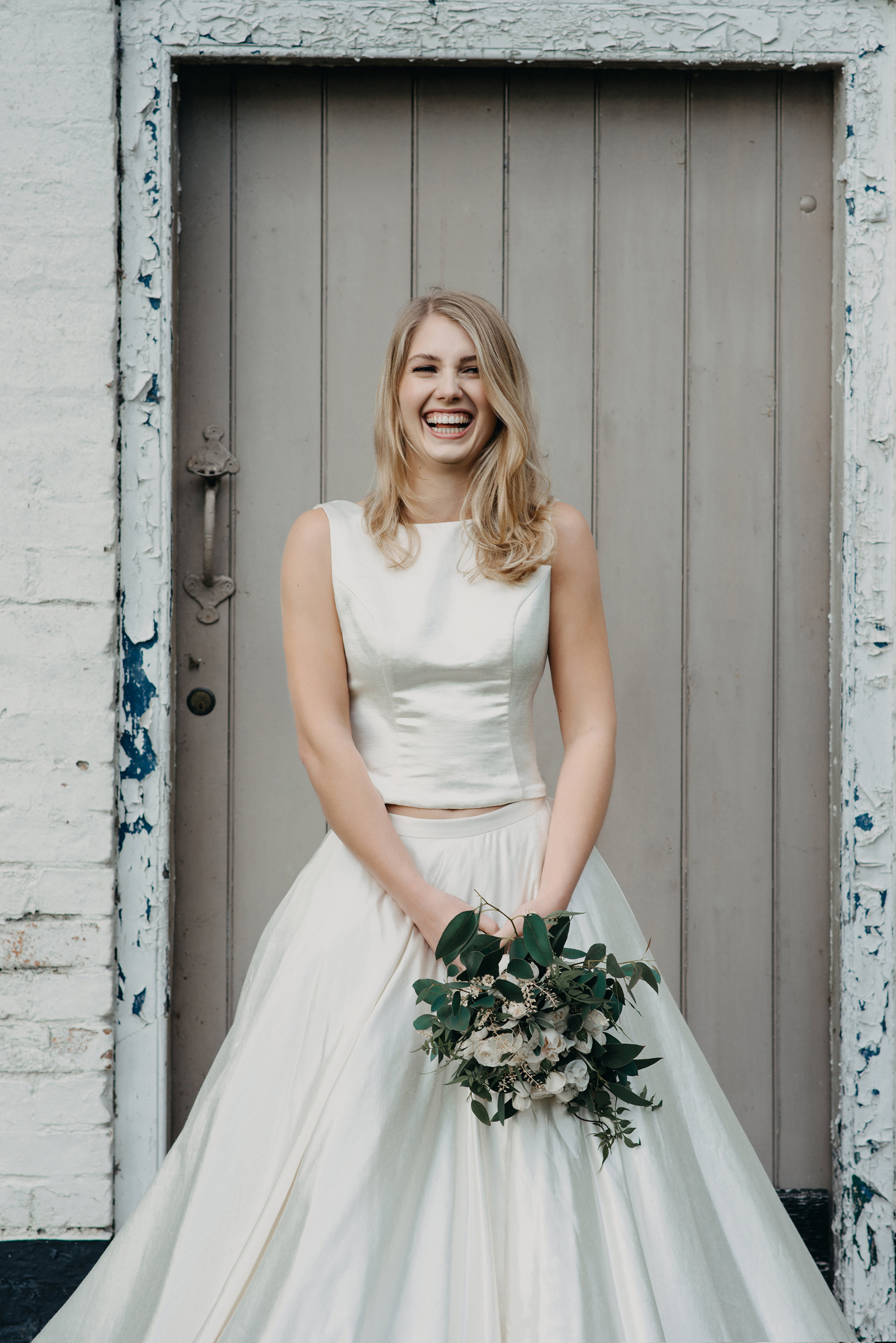 This photoshoot was conceived and styled by Sanyukta Shrestha and her team, who are passionate about finding like-minded, creative and ethical suppliers. Sanyukta is especially passionate about showcasing ethically responsible suppliers in the Lincolnshire area where she lives.
"We know that many brides have a stereotypical image in their minds when it comes to sustainable weddings", says Sanyukta, "and so I very much wanted to create an editorial shoot that proved you don't need to compromise on styling in order to wear a beautifully made and ethically produced wedding dress. For me, it's all about finding the right suppliers and people to help bring your visions and dream to fruition."
I wanted the images to capture a sense of youthfulness and playfulness – that newlywed, joyful celebration of love. Sanyukta Shrestha
"I also wanted the photographs to project a love of one another, of nature and the environment – because these things are so important to the DNA Of my brand. Working with ethical suppliers was essential; ethically produced flowers, a vegan wedding cake and a vintage, rather than brand new/modern car all played a key role in capturing the spirit of eco-friendliness."
This isn't the first time the designer has photographed on site at the 'Seto Mahal' – her home and design sanctuary (a location home to die for if you ask me).
Sanyukta moved with her family to the enchanting Lincolnshire woodland not long go. . The natural tranquility, atmospheric backdrop and romantic vibe of the house and gardens were perfect for capturing the love story between models Charlotte and Jack.
Sanyukta's home is a 200 year old Georgian estate with it's own coach house, and set within a natural surround that includes acres of gardens, woods and uninterrupted views of the rolling Wolds landscape (a recognised and protected area of natural, outstanding beauty). It was just the most perfect scene for letting the models run loose and have fun like they were newlywed all over again.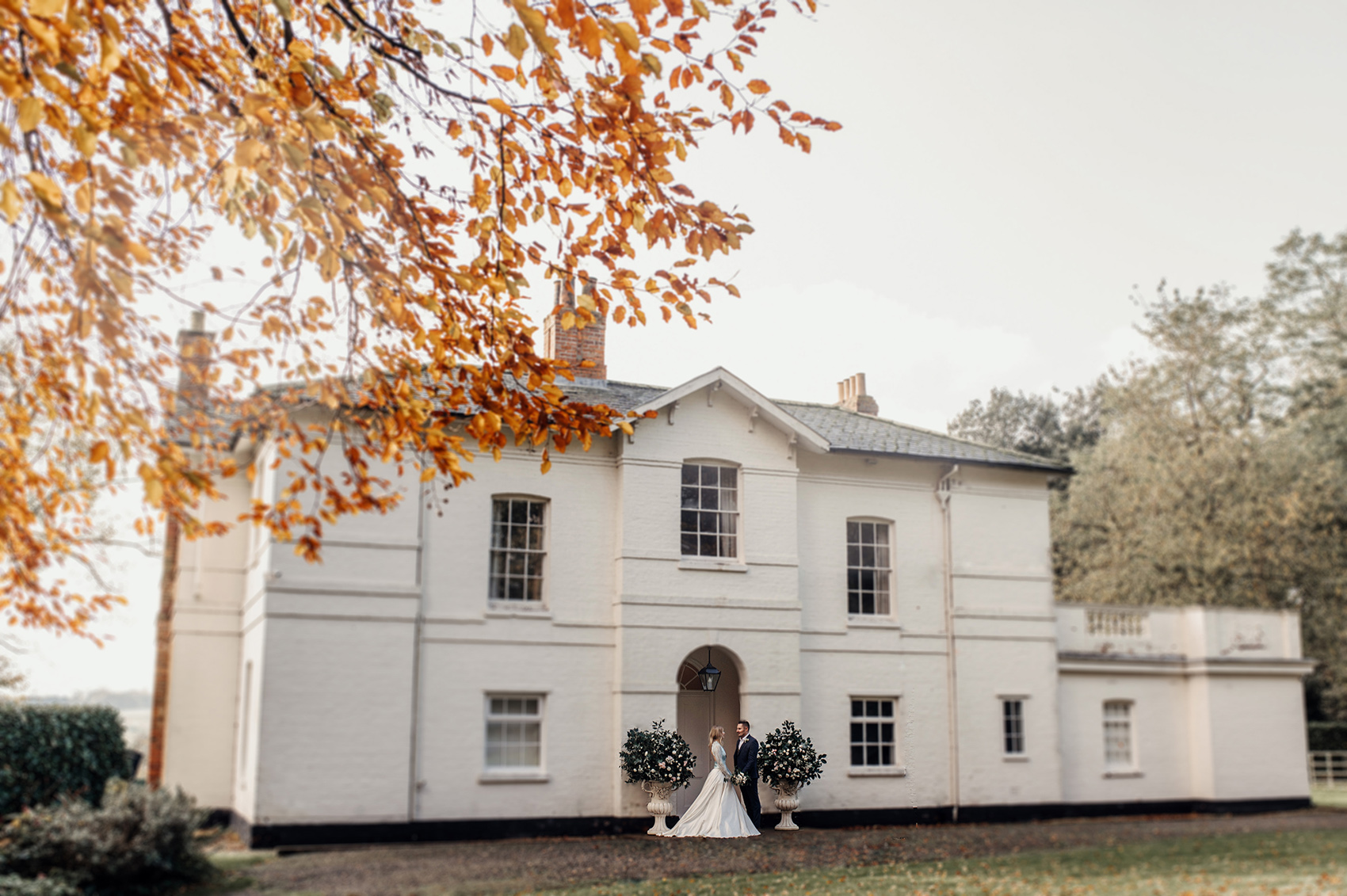 Sanyukta created these dresses exclusively for this shoot, and to highlight the bespoke design services she provides. The collection of designs you see in these images makes up Sanyukta's debut 'Bespoke Edit' collection.
As with all bespoke designs, Sanyukta drew design inspiration from her client – in this case, lovely Charlotte, the model.
"My brides are my muses, and a constant source of inspiration for my designs. I'm excited that this photoshoot introduces my Bespoke Edit concept for the first time. My Bespoke Edit will explore different concepts around the construction and philosophy of a bridal."
Sanyukta's luxurious wedding gowns are each made with organic fair-trade fabrics that are produced by artisan communities in her home country of Nepal.
"I am keen to reinvent the traditional white dress and show brides that stylish, modern bridal fashion can be created that is also more loving towards our precious environment. When a Bride visits my boutique, we take time to see the beauty of the silhouette, but most importantly we explore her unique personality" says Sanyukta.
"Whilst I design a new collection every year, our speciality is our bespoke services – that is, designing gowns from scratch. I wanted this shoot to project a sense of our bespoke service – that anything is in fact possible design-wise. I especially love to create elegant designs with a contemporary twist."
When a dress makes the bride feel the best version of herself, then she's found the one! Sanyukta Shrestha
"My model, Charlotte, looked stunning in the beautiful bespoke Abelia, which perfectly balances the traditional silhouette of a full skirted gown, whilst actually being a modern and more adaptable two-piece top and skirt."
"We will often receive bride's into the boutique who aren't able to find the exact kind of dress they think they want to wear. 'Going bespoke' provides a fantastic solution in this case – as it means we can create anything and really show-off our design and production skills."
"The second bespoke wedding dress that model Charlotte wore was 'Laelia – my personal tribute to the craftsmanship of Nepal, my home country. The detailed work in this skirt is completed by one of our talented artisans and provices a wonderful example of their strong technical background; everything you see on this shoot was handcrafted, from the fabric to the embroidery to the tiniest little finishes on the dress."
"The Cyra gown provide a rustic vibe with minimal detailing. For me, good design is about highlighting and flattering the silhouette of the lovely bride. We wanted to feature this particular design for its warm tone and for brides that are not looking for a typical wedding dress, but for something more relaxed and laidback and crafted using eco-materials and techniques."
"Our final piece, the rather breath-taking Valeria gown, is especially for brides who are more drawn to autumn and winter weddings. We consider this piece one of our signatures for its traditional embroidery and distinctive hand-crafted details – all expertly applied by my team of Nepalese artisans."
"I wanted to create a natural and honest wedding editorial that didn't feel contrived and turned to Kat of KMGS Photography, whose business ethics and values mirror my own. We sough a 'perfectly imperfect' vibe and I love the results."
"Working with Sanyukta and her team was so refreshing and inspiring", says Kat. "In an industry as large as the wedding one, it is important that we think about the environmental impact we are making. Sanyukta's gowns are absolutely stunning, one of a kind and eco-friendly, so they tick all the boxes."
With a late October date for the photoshoot, seasonal flowers were limited. However, Fran of Limewood Flowers was able to source the last of the season's pretty pom-pom dahlias from a local grower, so passionate about his blooms, that he went out every night to cover them with frost netting to make sure they were perfect for the photoshoot.
Limewood Flowers

+ Follow
Other flowers included scented garden roses, fair trade imported from Kenya and the most gorgeous ranunculus from Cornwall.
This clean white colour palette was combined with lots of fresh eucalyptus from Ireland, flowing twisty jasmine trails from another local grower just 10 miles from the photoshoot and all the stunning autumn foliage from the grounds.
When it comes to the cake, Trudy of The Iced Vegan really worked her magic and created an Instagram worthy vegan extravaganza, using local and organic high-quality ingredients. In keeping with the entire shoot, she drew her inspiration from the enchanting surroundings of Sanyukta's home.
Trudy's love for texture created a rustic feeling that Fran completed with dried elements as the final icing on the cake.
"These dried seed heads were grown and dried just 29 miles from me. I love how they added another unique touch to the designs giving it a real 'wow', lifting and blending with the white colour palette."
when it came to bridal hair and makeup, the creative team wanted a natural, timeless and classic vibe, using sustainable, vegan and animal friendly makeup products.
"Apart from being a top professional in her field, we wanted to collaborate with makeup artist Tina Brocklebank, for the amazing skill she has to transform the 'girl next door' into a movie star. When Tina met our lovely Charlotte, she was inspired by her natural beauty and so just easily enhanced it.
Tina was very excited to make use of sustainable makeup range and her newly launched, very own collection of vegan makeup brushes.
Tina Brocklebank Makeup Artist

+ Follow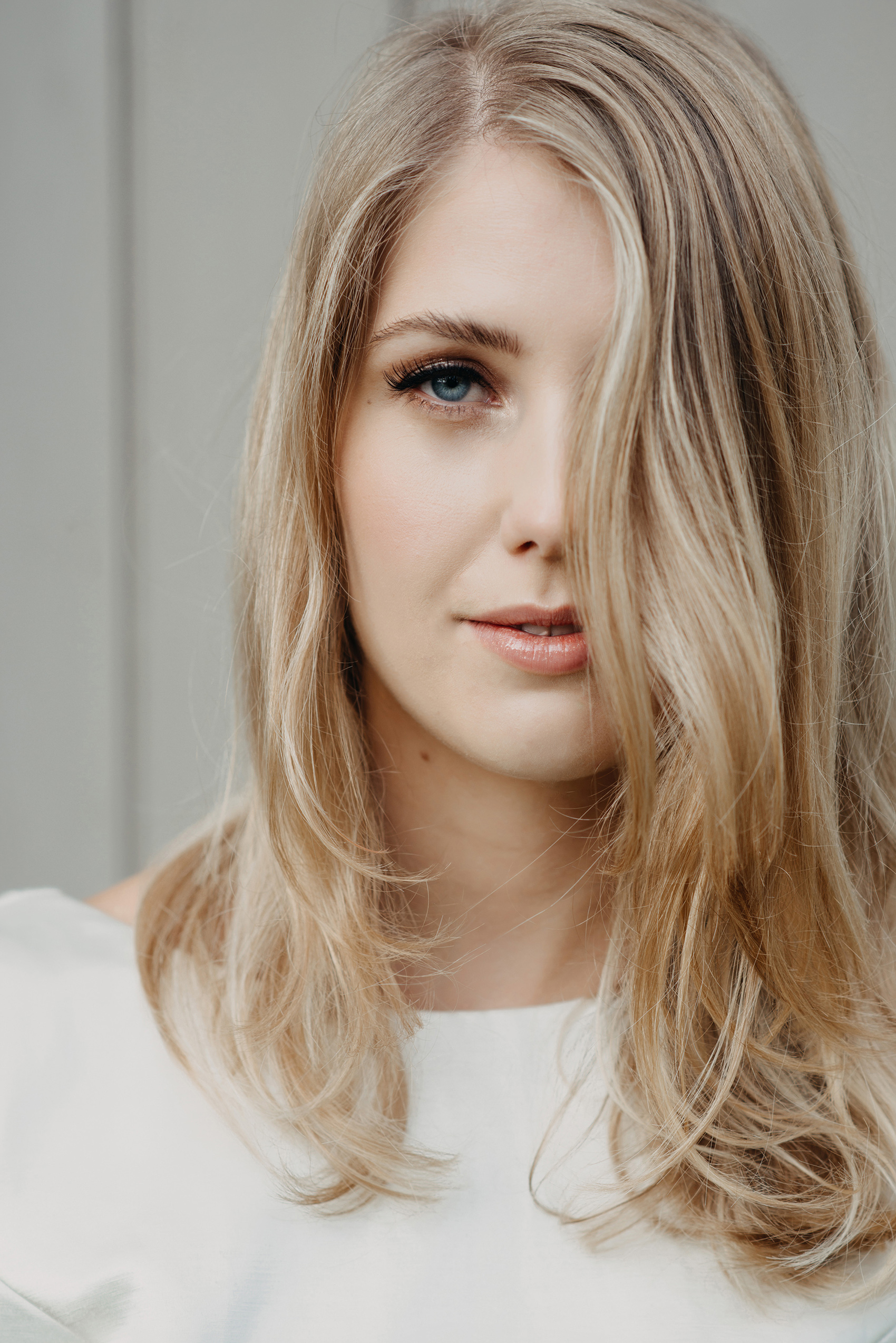 With a background in wedding planning, Claire kept the set design as natural and effortless looking as possible. A woodland wedding reception team was created that incorporated vintage and upcycled elements, all sourced locally.
"'When I first met Sanyukta and discovered she was a wedding dress designer with an eco-ethos I was in awe! So, when Sanyukta approached me to collaborate I jumped at the chance. I just love nature and all things natural! Sanyukta was a dream to work with, she is professional and inspirational I didn't want the shoot to end! I had a truly wonderful experience."
"Our shoot even included a beautiful old vintage car, kindly supplied by a local villager. It was an amazing 1933 Morris 10 – a stunning antique of a vehicle, that really was the perfect addition to our luxury woodland shoot."
Sanyukta Shrestha has a boutique located at 59 Walham Grove, Fulham, London, SW6 1QR. Visits are by appointment only – please telephone 020 7385 9927 or email [email protected].