Hello lovely readers, I do hope you're well. Do you find yourself here today in search of a little bit of an escape? The chance to see and read something completely magical, or in search of all-important planning inspiration?
Well, whatever the reason (and if there's no reason at all!) then I'm sure you're going to really enjoy today's ethereal, romantic and festive celebration. This is the joyful wedding celebration of Mr and Mrs Hermes; Pollyanna, who works in a special school whilst studying for her BA degree in Special Educational Needs and Disability Studies, and Adam, who is a Signaller.
Film and Images by Photography & Films by Charli
The couple were married on the 2 December at the historic, medieval Butley Priory in Suffolk. Once a monastery, it became a royal hunting lodge after Henry VIII's dissolution, and later a family home (which it still is today) and a unique events venue.
It's lovely to begin with a beautiful film by Charli Palmer, who was both videographer and photographer for Pollyanna and Adam's day. She managed both brilliantly; capturing and distilling the enchantment and atmosphere of the venue, the cosy, festive details, and the complete happiness and contentment radiating from the couple.
What a dream of a dress Pollyanna wore – a confection of pale apricot and gold tulle, with sequin embellishment in a delicate, floral design, and a sweet satin belt with a bow. The 'Yvonne' dress was from Australian designer Wendy Makin's French Collection, which Pollyanna discovered through Gumtree, unworn with the tags still attached, being sold by someone who had to sadly cancel their wedding day.
"I had found the dress on Instagram and knew I loved it, so as I searched the style on Google it came up with the advertisement. It was originally from a dress shop in Barnsley, who had it custom-made directly by Wendy Makin.""I had to have it altered a lot, though, and it didn't turn out to be much cheaper than if I had bought it from the shop myself! I had the neckline changed, and added extra fastenings to the back."
"I loved how it looked vintage and was completely unusual. I felt it looked nothing like other wedding dresses I'd seen, and it worked so well for a Christmas wedding. I loved the colour and all the sparkles, and loved wearing it. I loved the little bow belt, and how it looked next to my husband's tweed suit."
Pollyanna styled her dress with a gold cross necklace from Etsy, which Adam gifted to her on the wedding morning, as well as a bracelet from Accessorize, and drop earrings from T.K. Maxx.
"I wore Black Opium perfume and hair mist by Yves Saint Laurent. It's my favourite scent, and added a touch of romance."
On her feet, Pollyanna wore a pair of blush pink suede kitten heeled mules by Sam Edelman, and in her hair, a delicate hair vine of golden leaves, crystals and seed pearls, from whom she sourced her dress, and originally found at Elegance Bridal Studio, where the dress was commissioned.
"I had my veil custom-made by sending off cuttings of my dress to Sash + Veil. It was made to be the same colour as my dress, and was draped, which was unusual. I had my hair going over it. I loved wearing it."
Pollyanna's make-up look; smoky eyes and dramatic, deep burgundy lips, was created for her by Ishita Joshi, and her pretty, curled hair style was by Blown Away Hair and Beauty.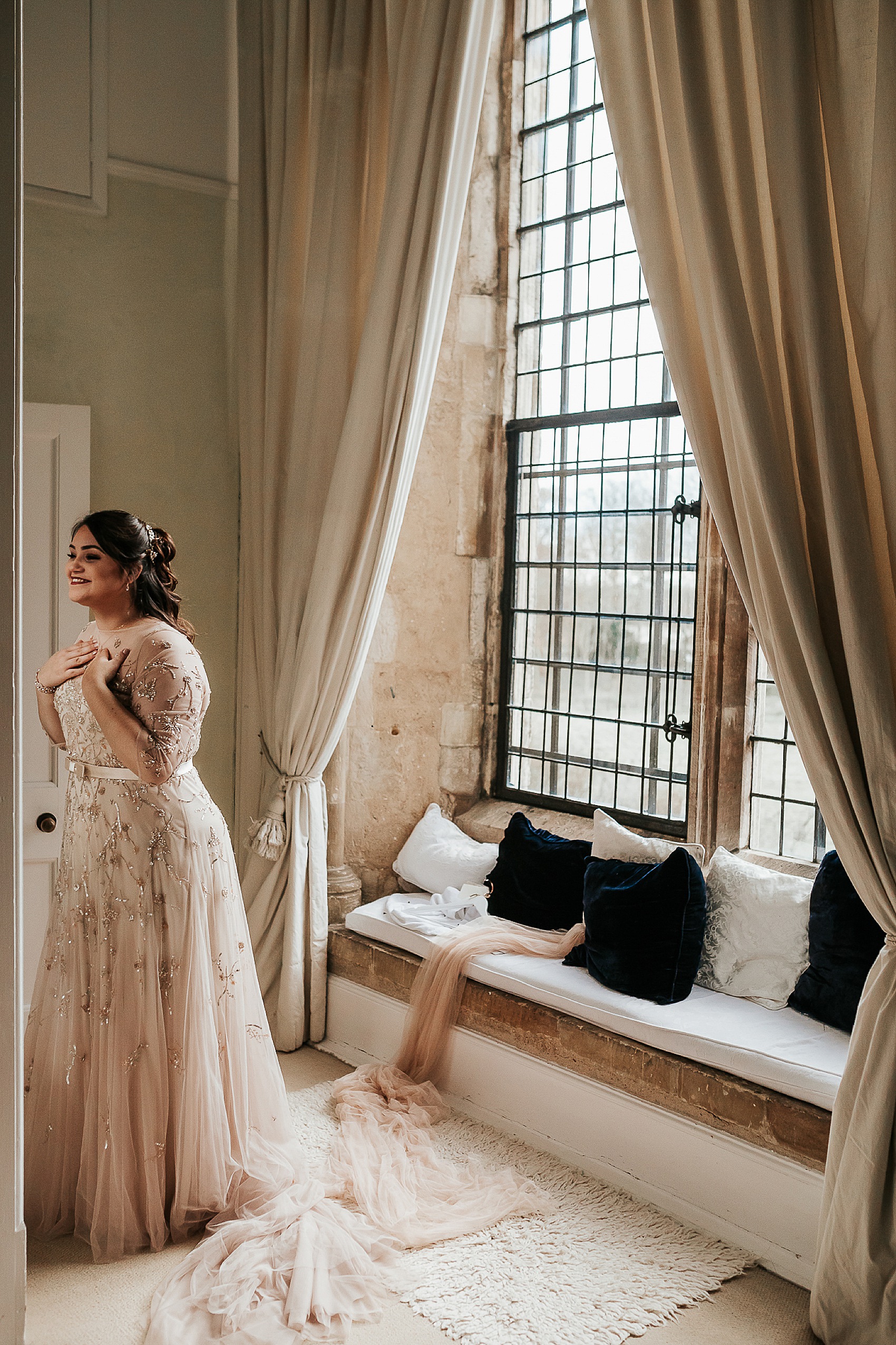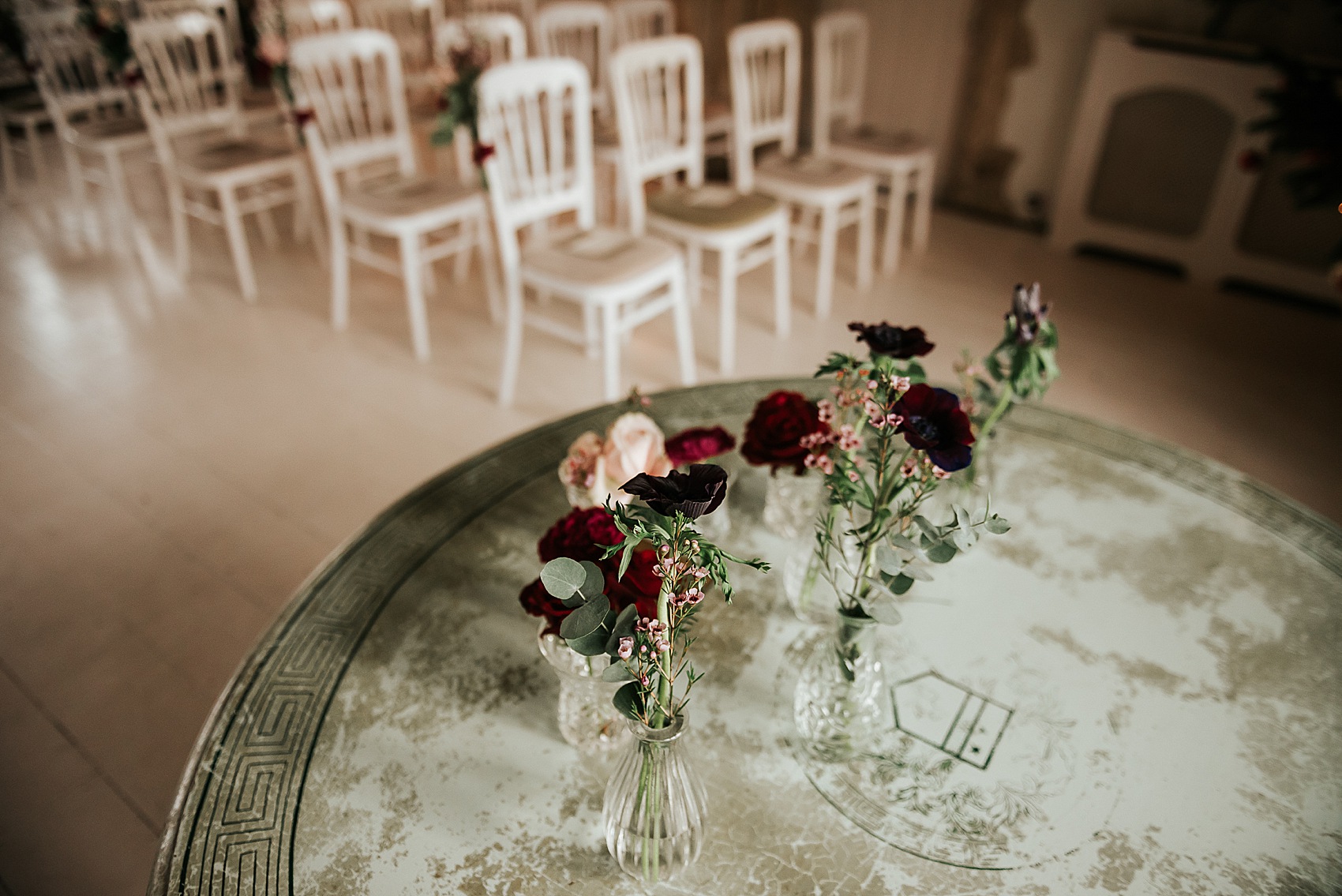 Adam awaited the arrival of his bride in the ceremony room, and looked super-smart in a three-piece Scottish tweed suit from Walker Slater, which he wore with a forest green floral print shirt, and a red tie and pocket square as a lovely nod to the festive period. To finish off his outfit, he wore shoes from ASOS, a belt from Ted Baker, and a watch by Lord Timepieces.
"It was Christmastime, so we wanted to incorporate burgundy and add a slight Christmas feel with a tree and mistletoe. I'm Christian, but Adam isn't, so Butley Priory seemed to be the closest venue which felt church-like with all its history, and had a church ruin outside."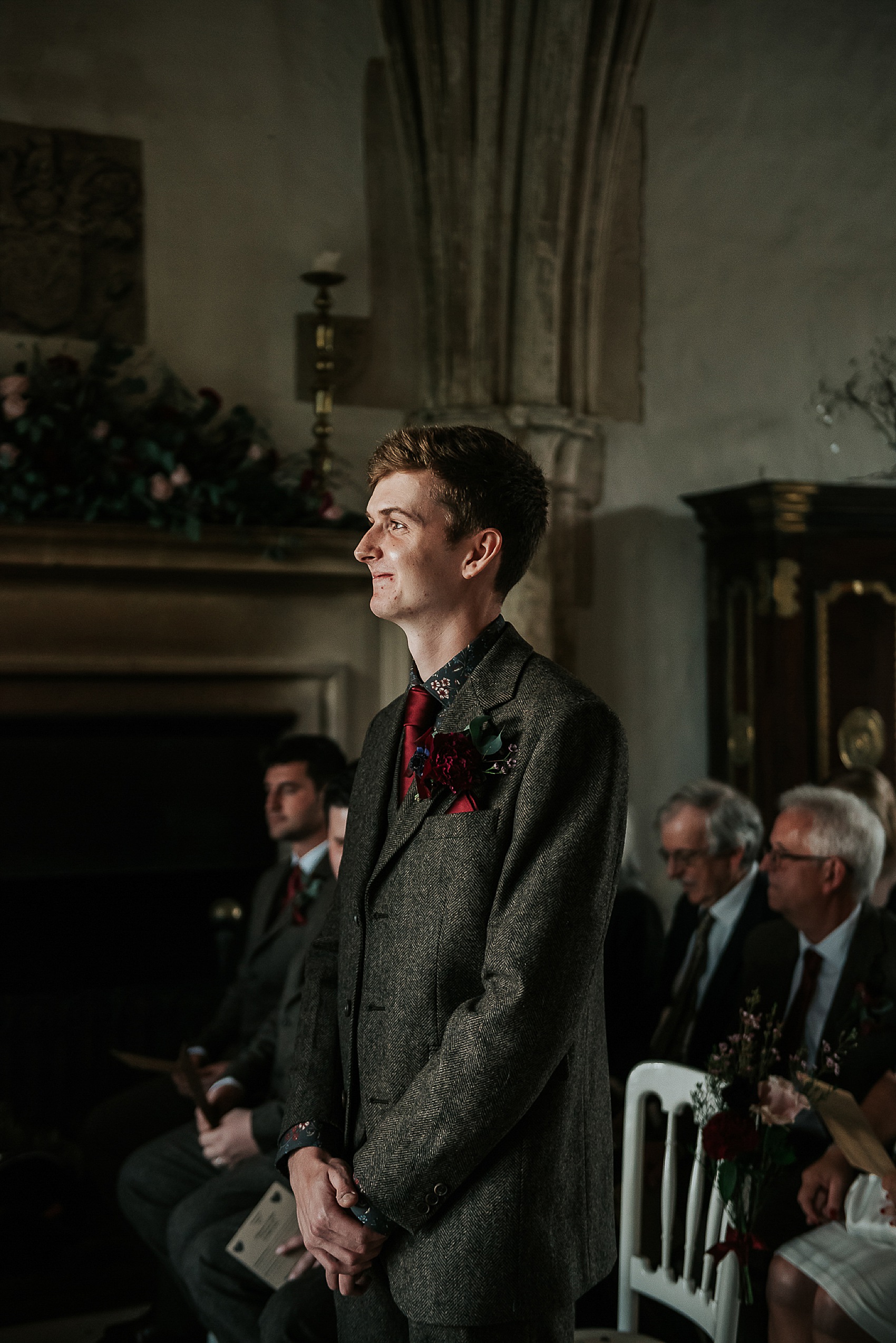 "The main theme of our wedding was cosy, warm, lots and lots of beautiful, unusual flowers, and homely with lots of candles and personal touches like blankets."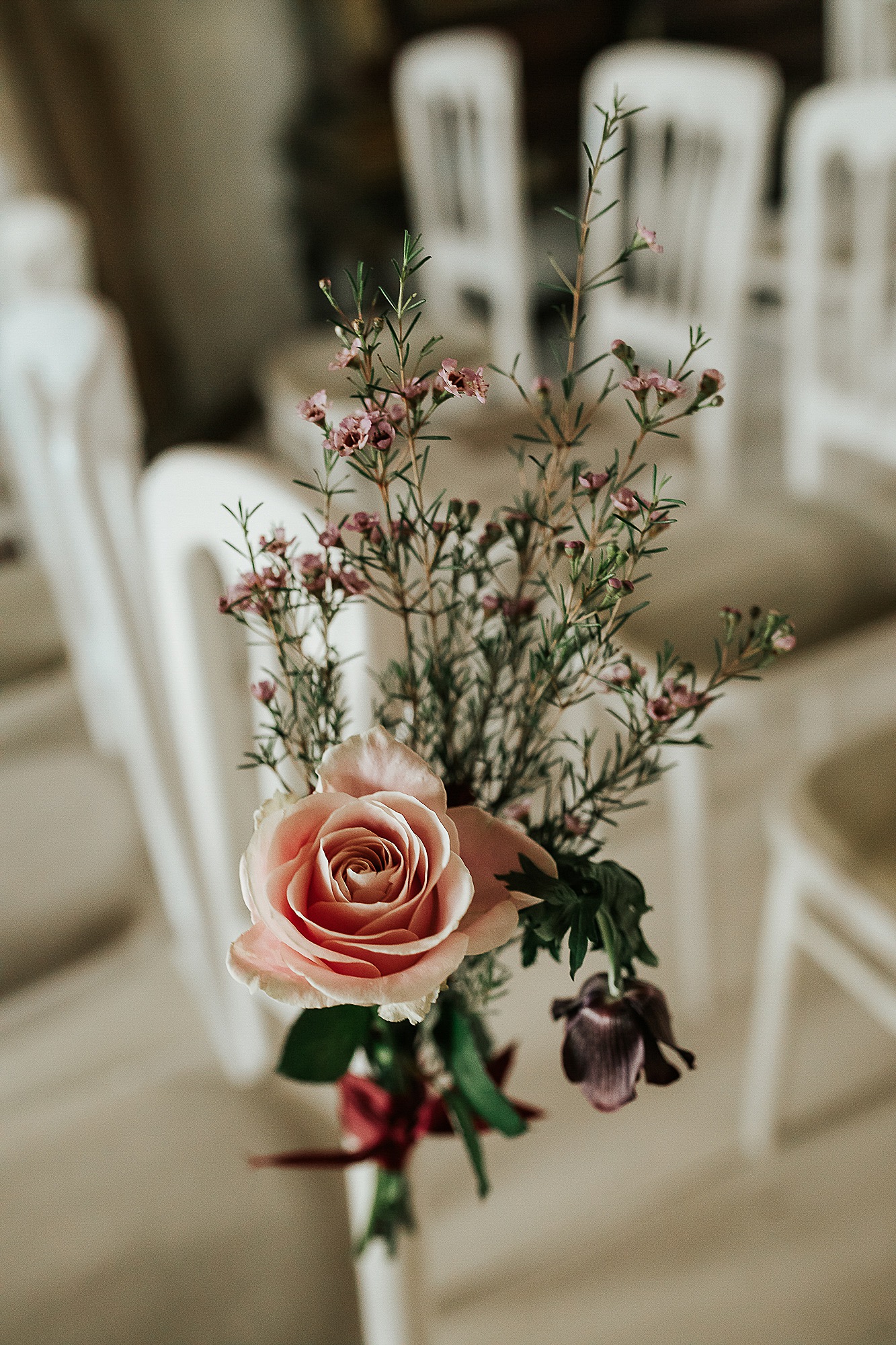 Pollyanna's lovely bridesmaids wore long sleeved burgundy lace gowns from Belle Boutique (website no longer operational), together with their own shoes and bracelets from Etsy. These festive dresses looked wonderful next to the groomsmen in their Walker Slater tweed, and with the exquisite bouquets they carried, along with Pollyanna.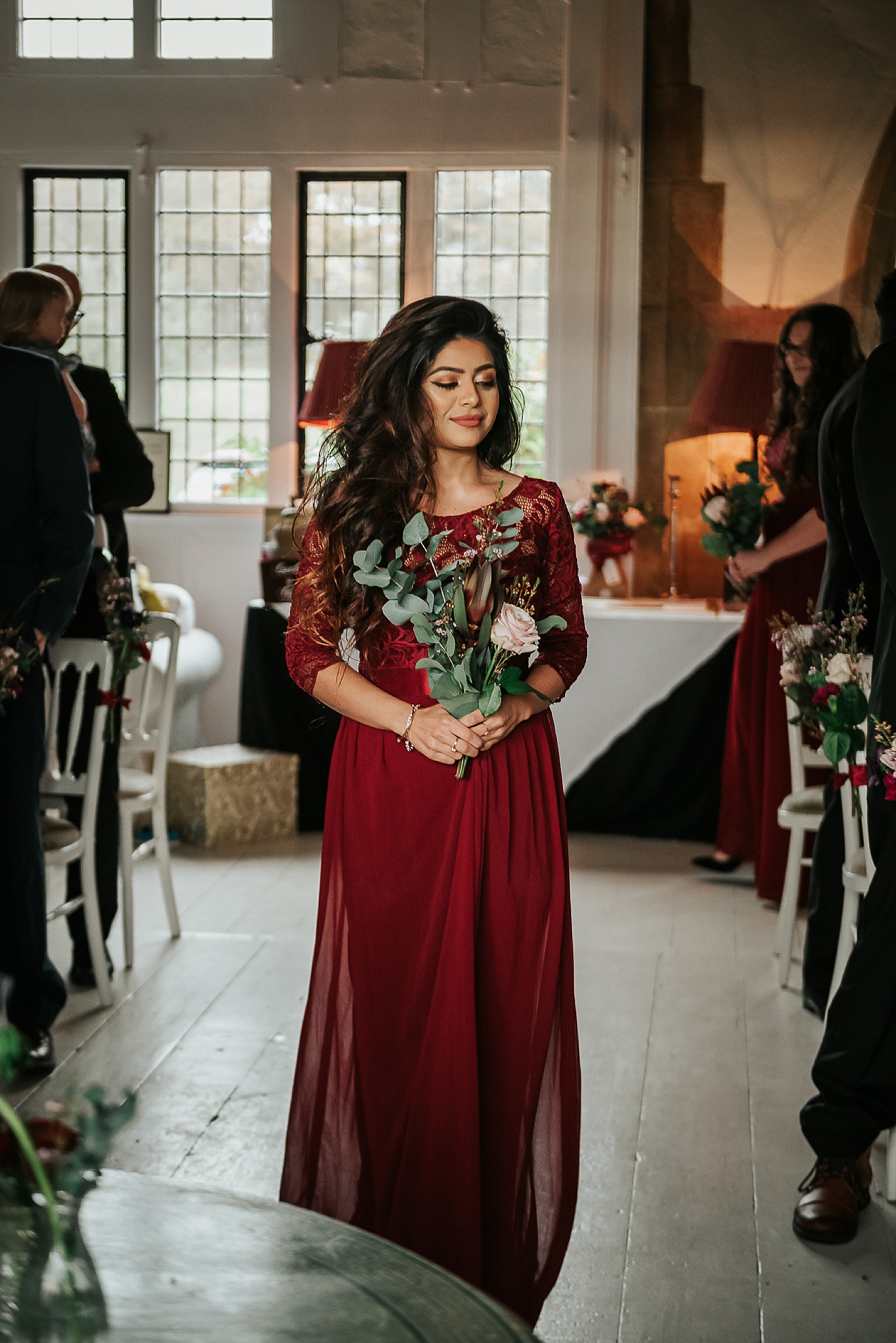 Pianist Nick Raison played on a beautiful baby grand, as Pollyanna walked down the aisle, together with her mother, Lynette.
"We got engaged on May 13 2018 when Adam took me for a helicopter ride across the Norfolk Broads, where we went all the way to the sea and saw seals. Adam was working in Ipswich, and I was living in Peterborough when we first met, although his family live in Peterborough, so I decided to move to be with him in Suffolk, which is what encouraged me to apply for and start university."
Under the Priory's majestic vaulted ceiling, the couple exchanged their specially written vows, which they have been kind enough to share with us here.
"Adam, you are my best friend, soulmate and my one true love. I will cherish all the moments we share together, and all the moments we have already shared. I will support you through all your hopes and dreams, and I will share all my hopes and dreams with you. Together we will face all obstacles that come our way and stay by each other's side, through the good times and the bad. I promise to love you, listen to you and care for you each and every day."
"I will run you baths when you're exhausted, make you a cup of tea when you are stressed, and cook you dinner – at least once a week! I am so excited for our future together, and I feel like the luckiest and happiest girl alive standing here. You have so many wonderful qualities and traits, and will make a fantastic father one day. I cannot wait to share more adventures with you. I love you."
"Pollyanna, you are my soulmate, my lover, my best friend. I promise to support you, comfort you and be there for you during the good times and the bad. You have made me the best person I can possibly be. You are my world, and together there is nothing we cannot overcome."
These deeply felt vows were made and solidified with the exchanging of rings, which Pollyanna and Adam chose at Savvy + Sand.
"My engagement ring and Adam's wedding ring are both Verragio from Savvy + Sand, and my wedding ring is by Savvy + Sand. Sanjit was super helpful before and after our wedding, since Adam bought my engagement ring there also."
"When we first met, I took Adam to Savvy + Sand in London to see the Verragio rings, and said if he ever wanted to propose I'd love a Verragio one! He did not disappoint, and all my dreams came true. Savvy + Sand are the only suppliers in Europe of Verragio rings."
Adam's mum and sister read pieces chosen by the couple to reflect them both and their relationship, too, and these were the anonymous poem, Your Walled Garden, and the second was We're So Lucky to Have Found Each Other, by Nancy Brilliant.
"My favourite part of the day was the ceremony. I loved marrying Adam – it was wonderful, magical and emotional."
The bouquets, filled with roses, velvety red and purple anemones and pale pink waxflowers, were made by Hannah from The Floral Fairy, who worked with Pollyanna and Adam to bring their charming vision to life inside Butley Priory.
"Hannah was amazing. I had been searching for a florist whose flowers looked unusual, wild, and less mainstream. Hannah was able to achieve everything we wanted, and we weren't easy customers!"
"We had so many ideas, and she managed to make all of it work, from our table plan milk churn to fireplace displays. Hannah was fantastic, and the atmosphere was amazing due to her hard work. She even came back after the ceremony to set up. She really went above and beyond."
"Charli was the perfect photographer, and was the first supplier we booked. We had been following Charli on Instagram and Facebook for a while, as a school friend used her for their wedding, and we were blown away with the photographs."
"Charli was so sweet and made us feel at ease all day. Since our wedding, we have had so many compliments about our pictures, and aspiring photographers have said how amazing she is."
"We love our pictures, and think the service Charli provides is the best out there. We wouldn't change a thing about our wedding day– the highlight being the pictures that capture every moment."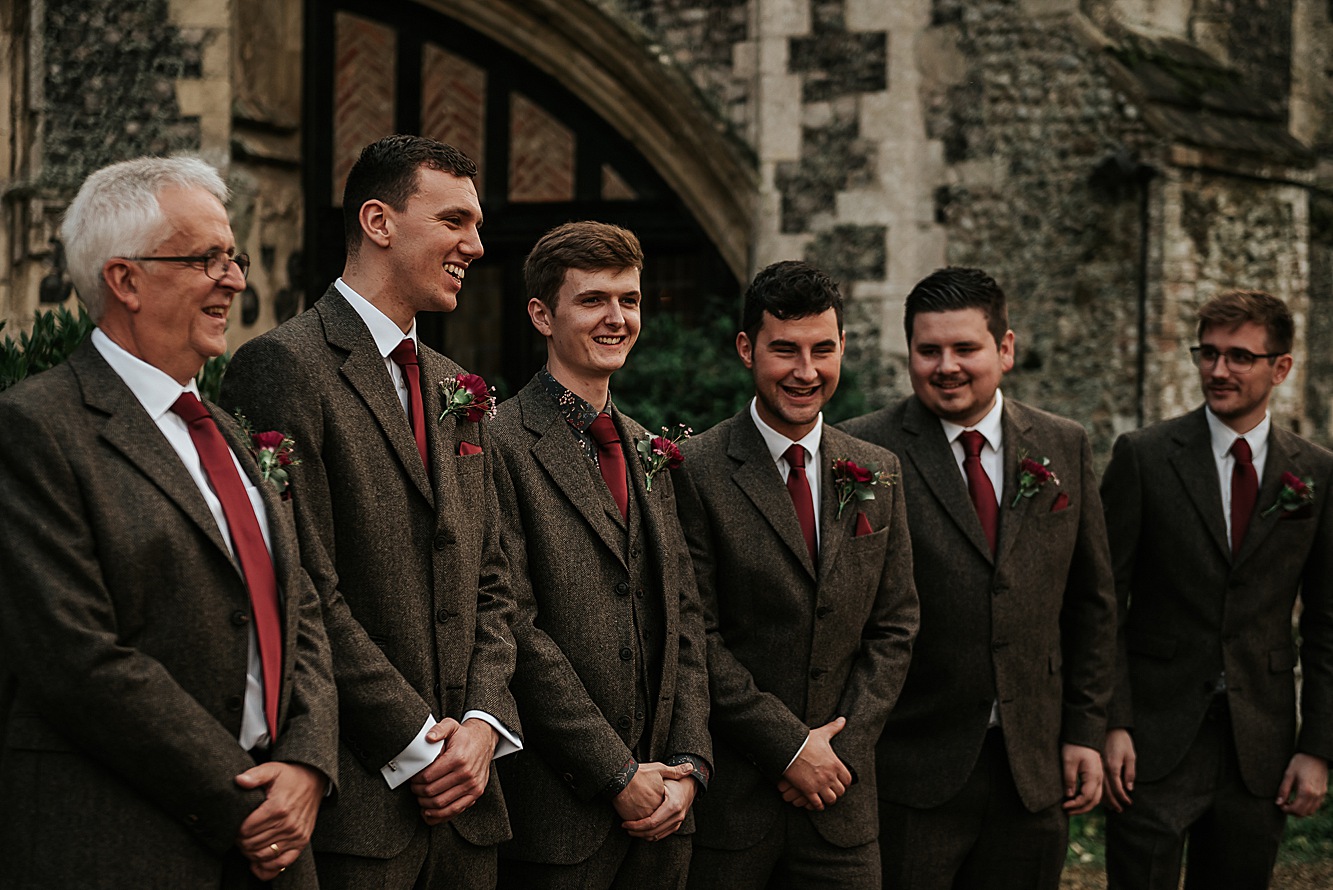 "You wouldn't even know Charli was there most of the time, as her style is not in your face at all, and as a result we have got a ridiculous amount of fantastic pictures! The wedding film is to die for. The music Charli picked suited us to a T. She captured the day, and through film is able to bring tears back into our eyes."
The couple's gorgeous, three-tier, semi-naked cake, with a lovely, subtle hint of red through the bottom tier, was made by Beth Haxby Cakes.
"Beth's cakes looked incredible. Again, we searched high and low to find the right baker for us, as we wanted our cake to taste as good as it looked. Beth was super helpful from the minute we started talking. She delivered cupcakes up to the bridal party the morning of the wedding, which were so yummy."
"Since our wedding, our friends have booked Beth for their cake, as they were so impressed. We now also get our birthday and occasion cakes from Beth, even though she's a 1 hour 30 minutes car drive away! The cakes are worth it – trust me."
Pollyanna, Adam, and their friends and family sat down to dinner prepared and served by the Butley Priory team, at a table adorned with burgundy candles and tealights, and vases of flowers. Favours were wildflower seeds from Wildflower Favours, with proceeds going to the Bumblebee Conservation Trust.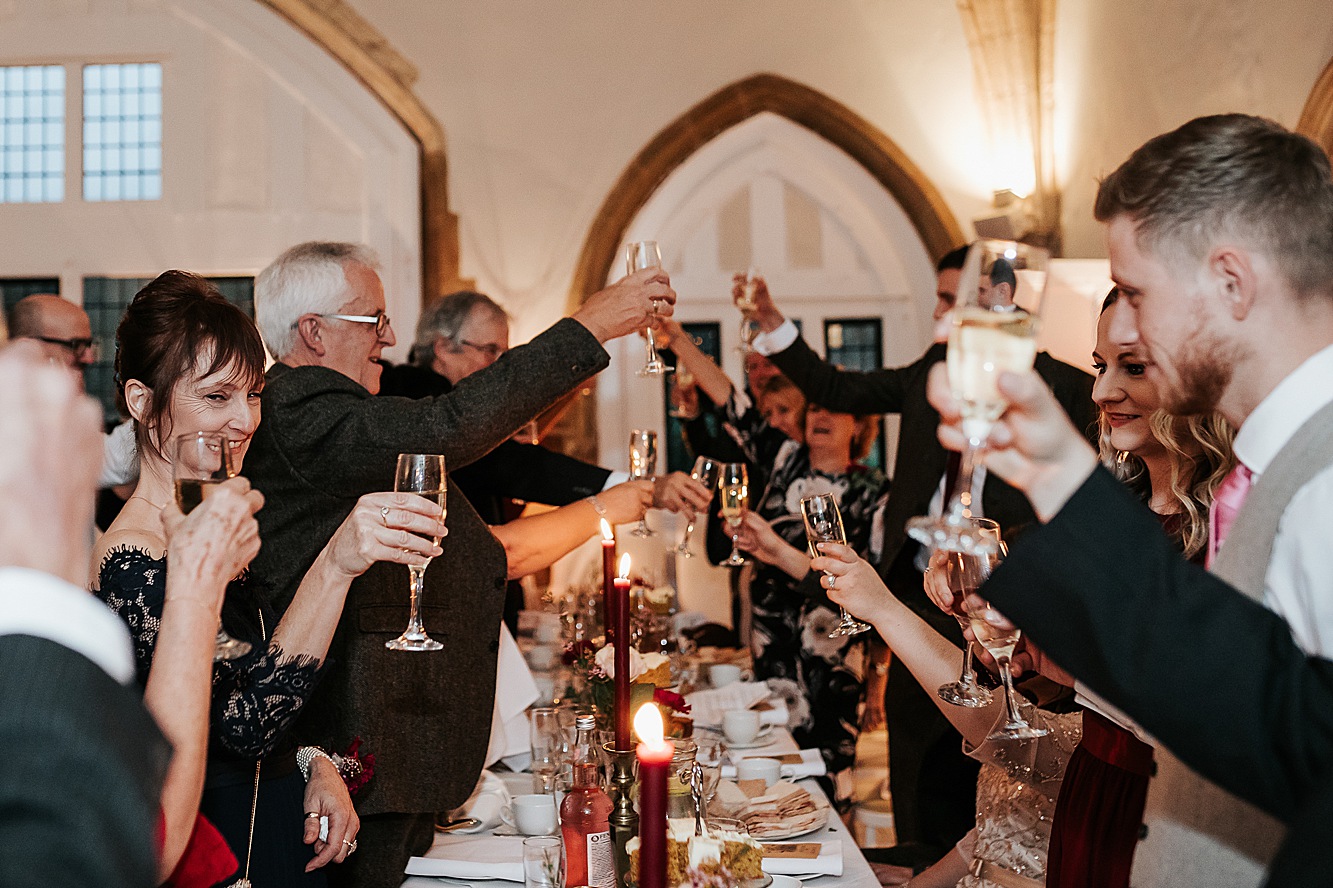 In the evening, there was live music from the Phil Jackson Rock 'n' Roll Band, and photobooth fun from Magnificent Mirror (sadly unable to find any working links).
"We didn't want the day to be awkward for anyone, and we didn't want to feel like pressure was onus, which is why we decided not to have a first dance. The whole day was full of close friends and family, and there wasn't a guest who didn't know the others."
Words of Wedded Wisdom
"Adam and I went upstairs just before the evening guests arrived, and had half an hour just to ourselves, which was so needed, and allowed us to have a chat without everyone being around us. We both didn't eat much at all as we were so overwhelmed, and I'd say make sure you have breakfast that morning before you start getting ready and the nerves hit you."
"Also, pop a pocket mirror and your lipstick in your partner's pocket (if you can) so you can re-apply when having photos and at your wedding breakfast – I found this useful."
"The bathroom baskets with sprays in went down a treat, and our guests loved the band and the photobooth."
"We noticed our guest book wasn't being filled, so we asked someone to go around with it, but it would have been useful to had arranged this before."  
"I'd also write shorter vows, as I cried the whole time reading them."
Pollyanna and Adam, thank you so much. It's been a delight to share your beautiful, intimate day with everyone, and all the very best wishes to you both. Many thanks to Charli Palmer for her fantastic photography and film, too.
With love,
Laura