Lovely readers, I'm so excited to share today's joyful, vibrant celebration with you, which took place at a South London venue I adore; the unique Asylum Chapel in Peckham.
This was a day filled with colour and laughter, inspired by the groom's Sri Lankan heritage, and featuring one seriously cool bride in an exquisite, caped dress by Atelier Pronovias. Amy and James are both classical musicians; Amy is a bassoonist at the English National Opera, and James is a horn player.
Through The Woods We Ran

+ Follow
This lovely couple were married on the 6 October 2019 at Asylum Chapel, Peckham, followed by a reception at Tanner Warehouse, Bermondsey.
"I grew up nearby, and my mum had always talked about this beautiful chapel in Peckham, and as soon as I saw it in real life it was a non-negotiable! Our reception was at Tanner Warehouse. We wanted a super central, relaxed venue that would let you bring all your suppliers and party long into the night! Tanner Warehouse were amazing, and we can't recommend them highly enough."
Make-up artist Suzy Rycroft was on hand to ensure Amy felt like the very best version of herself, and on her feet, she wore ivory slingbacks from Kurt Geiger.
"The only accessory I ended up wearing was an exquisite Sri Lankan ruby necklace on a gold chain, that my father-in-law gave me as a wedding present a few weeks before the big day."
"He'd got it on his most recent trip to visit his family there, and it was honestly the most beautiful thing I'd ever been given (apart from my engagement ring of course!). My friends all jokingly called it the Heart of the Ocean, as it is quite the rock!"
Amy looked incredible in a showstopping gown by Atelier Pronovias. The cut and fit were superb, and I love the Bardot neckline and form-fitting silhouette, contrasting with the flowing, detachable cape.
This beauty of a dress was discovered at The Wedding Club in South Kensington, who we are very proud to highly recommend through our Little Book Wedding Directory;
"They were so helpful, and it was a lovely experience. The dress I wore was not actually the dress I initially ordered. I tried on dresses very soon after I'd had my baby, and ordered straight away. I then ended up losing nearly 4 stone, and had a totally different body shape. I felt so worried for months, knowing that even with potential alterations, I just wasn't happy with what I'd chosen given how different I looked."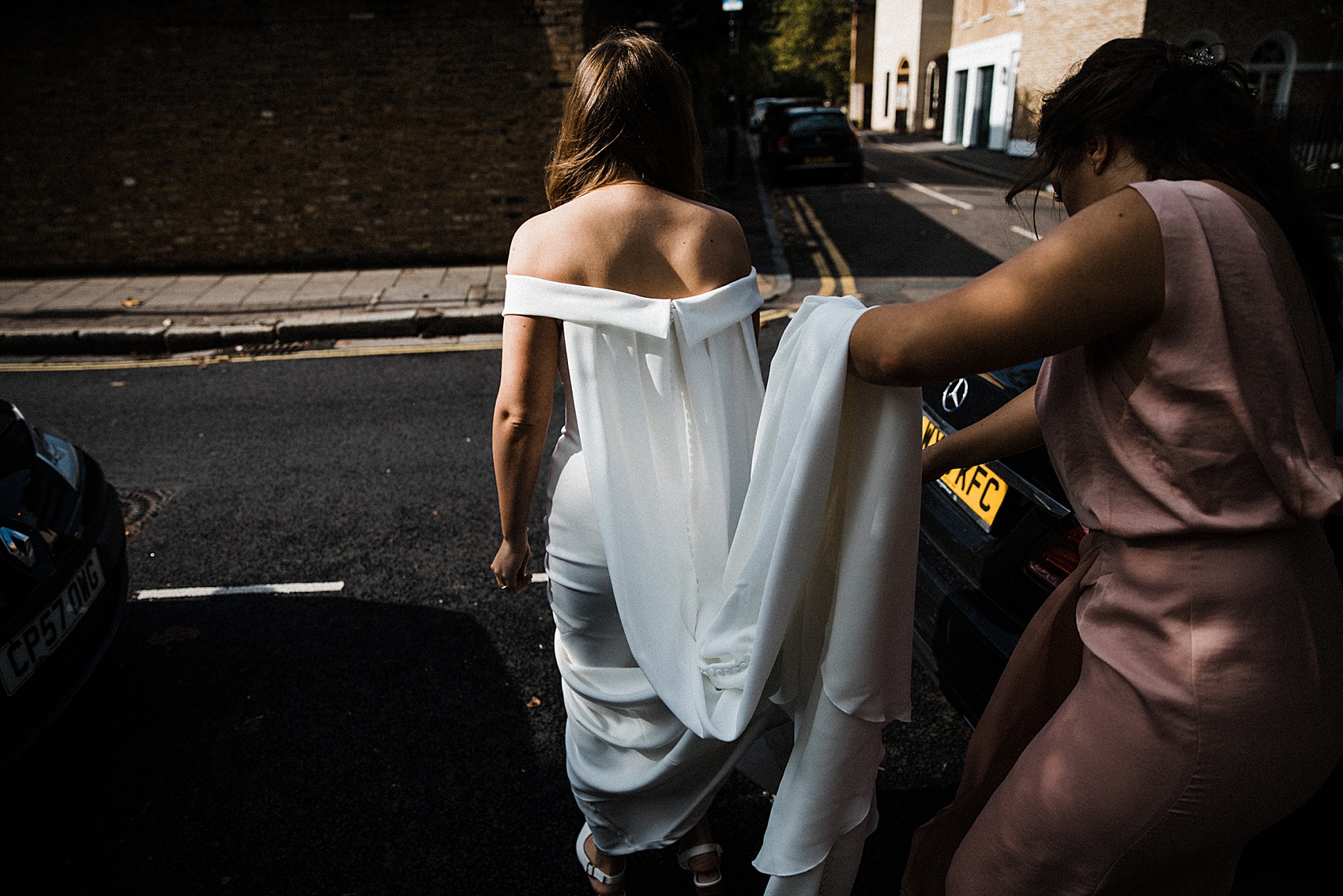 "I decided to bite the bullet and try on one dress that had been in the back of my mind for months. It was an off-the-shoulder, crepe ivory gown by Atelier Pronovias with (most importantly!) a stunning detachable cape. As soon as I tried it, I knew there was no way I was walking down the aisle in anything else!"
"The size they had in stock fit me like a glove, so hardly needed any tailoring. I felt like a modern Disney princess, which is exactly what I'd hoped! It was also so comfortable, and I was heartbroken to take it off at the end of the night."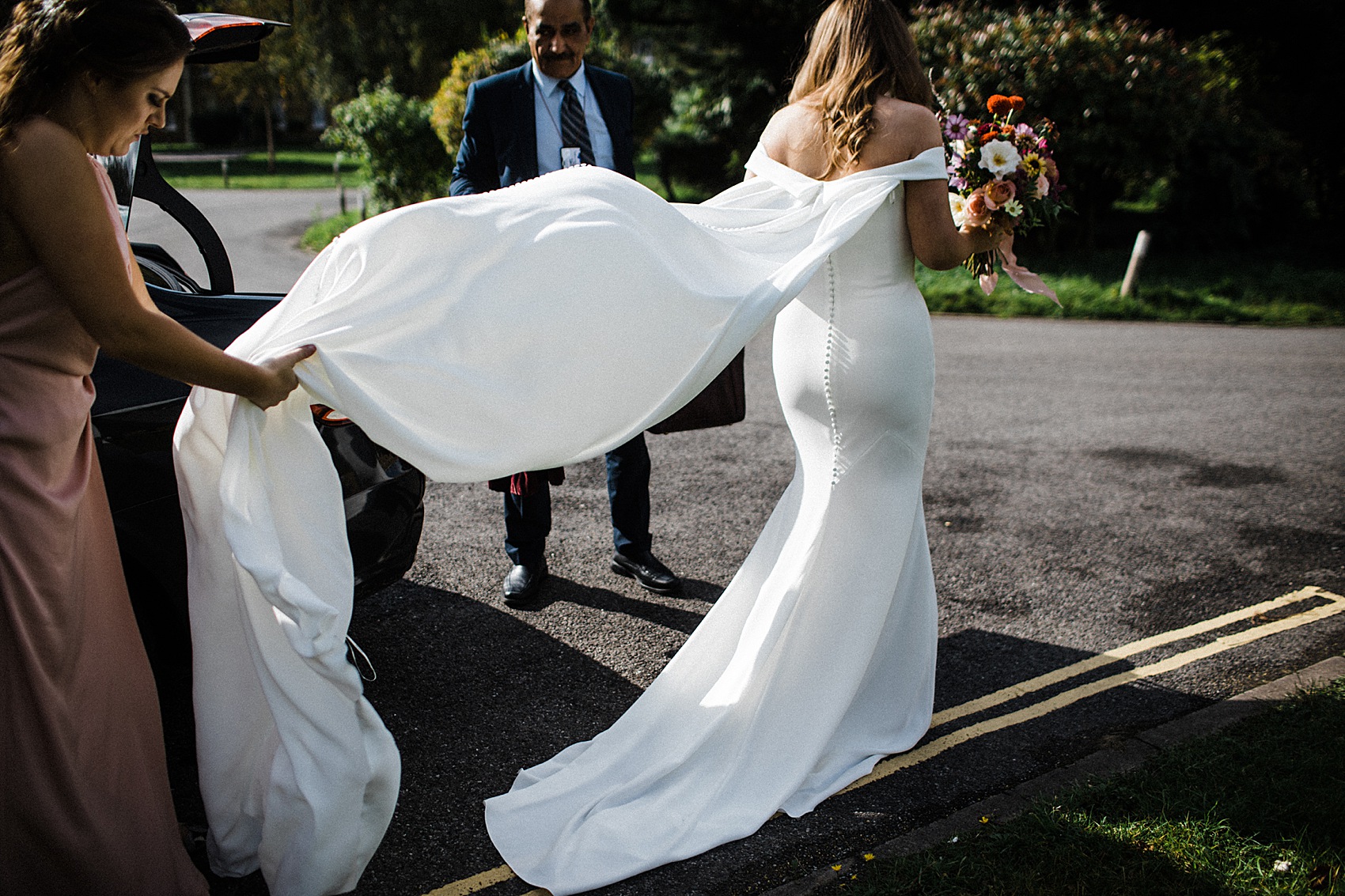 Amy's bridesmaid wore an asymmetrical, blush pink dress from Reiss, and the couple's flowergirl was their sweet daughter, Holly.
"Louise is an internationally successful opera singer, so is dressed up in all sorts every day of her life. I really wanted her to wear something that she chose. She's a total knockout anyway, but she looked especially beautiful that day."
"I went through many outfits for Holly. We usually just have her in leggings and t shirts, as she loves running around so she'd never worn a dress before! She flat out refused to walk in anything we put her in until we found this lovely white tulle dress from Primark. I have no idea about her reasoning, but she decided it was acceptable thank goodness!"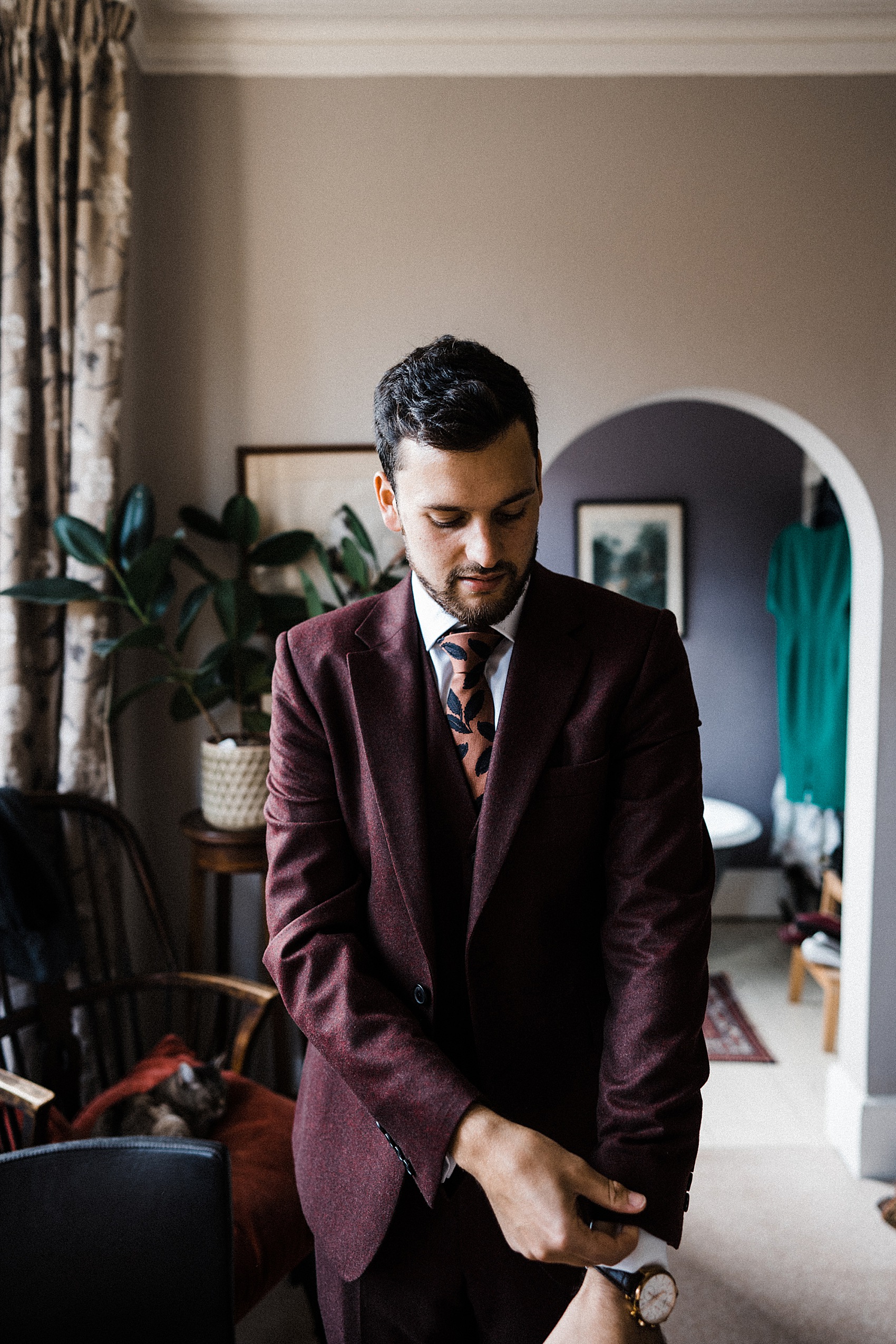 I'm seriously swooning over the spectacular flowers for Amy and James' day, which were all the work of The Flower Appreciation Society. Honestly, where do I begin?!
They're all utterly magical, from Amy's autumnal bouquet of mixed, jewel-like dahlias and roses, to the styling of the chapel with beautiful pew ends (more dahlias, tree branches, and pampas grass arching towards the soaring ceiling) and colourful bowl arrangements either side of the altar space covered in flickering candles.
"I'd followed them on Instagram since I joined many years ago, and had always adored their work. I then found out that one of my oldest friends was dating Anna (one of the co-founders) which added such a lovely personal element."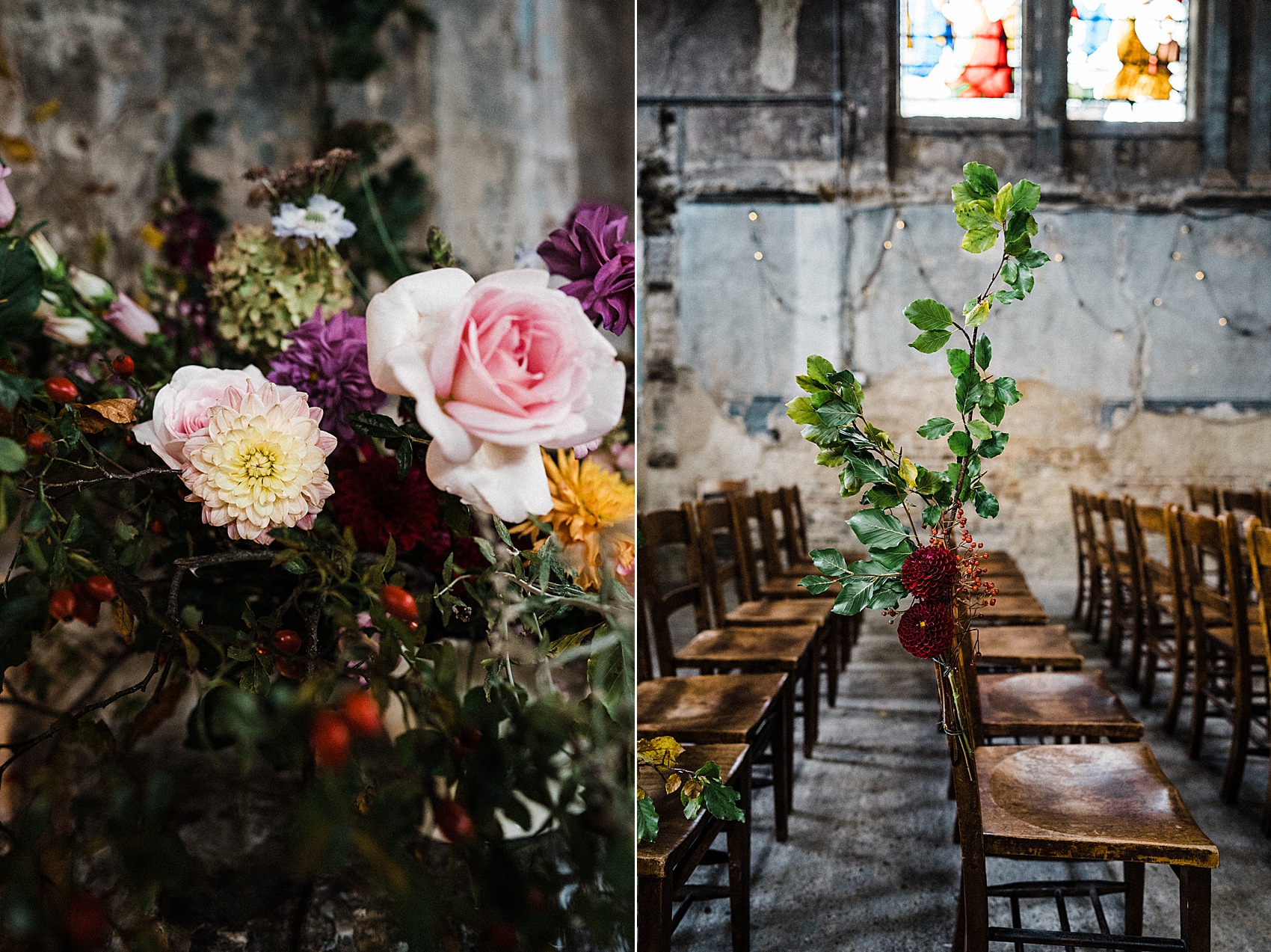 "Their style is seasonal, full of colour, almost wild flowers that they grow in their Hackney garden. They look like works of art – even the event manager at the Asylum said she'd never seen it look so beautiful!"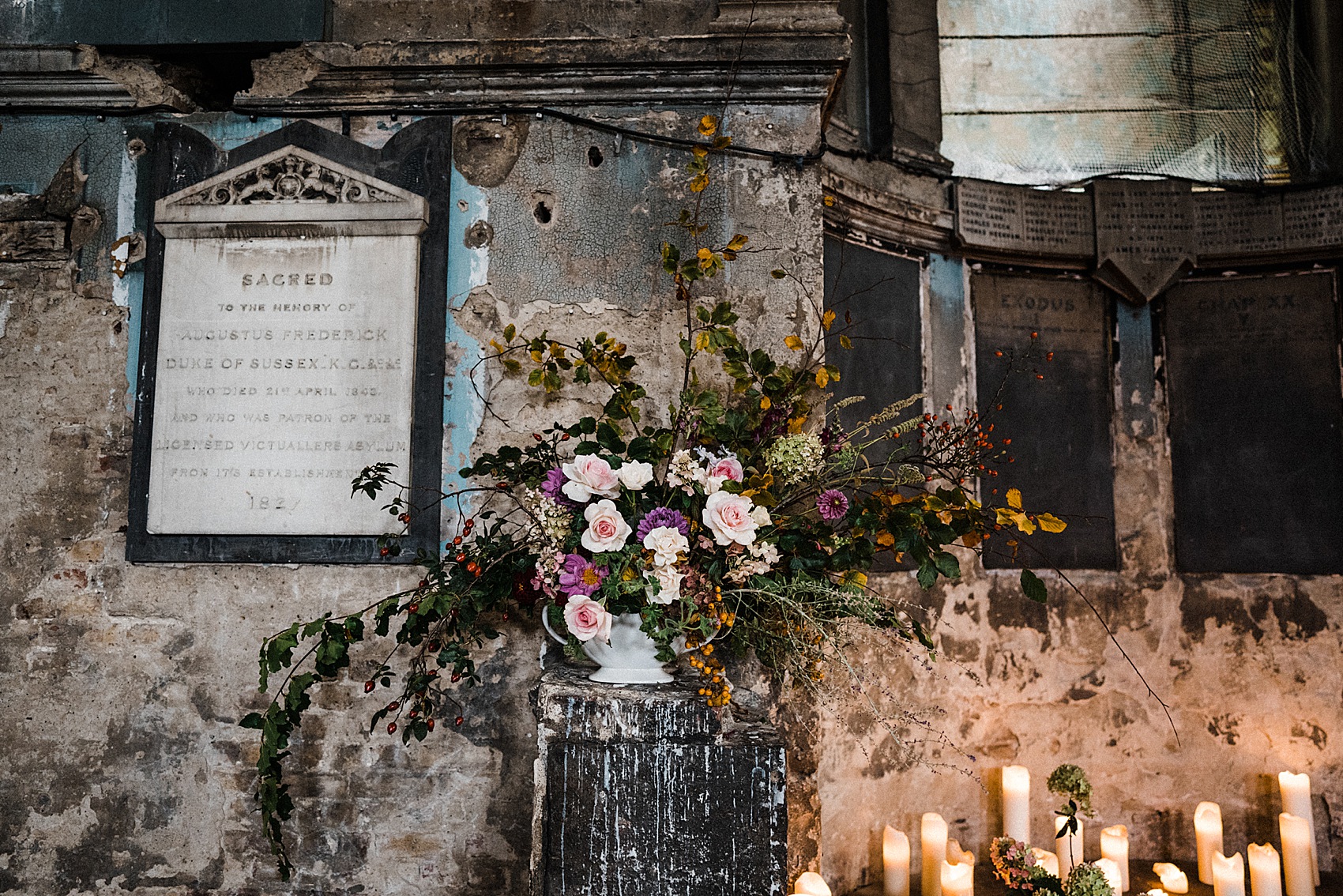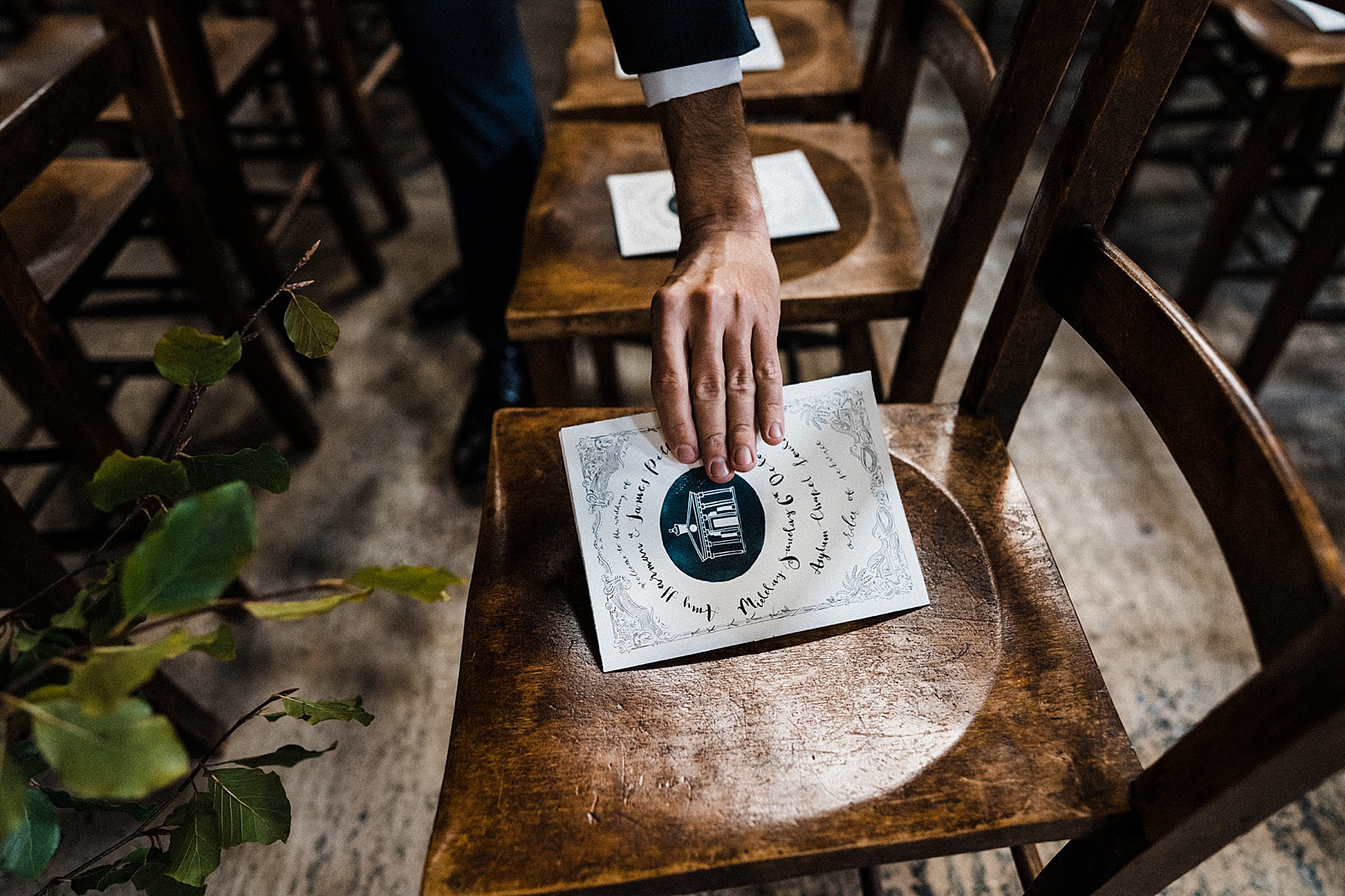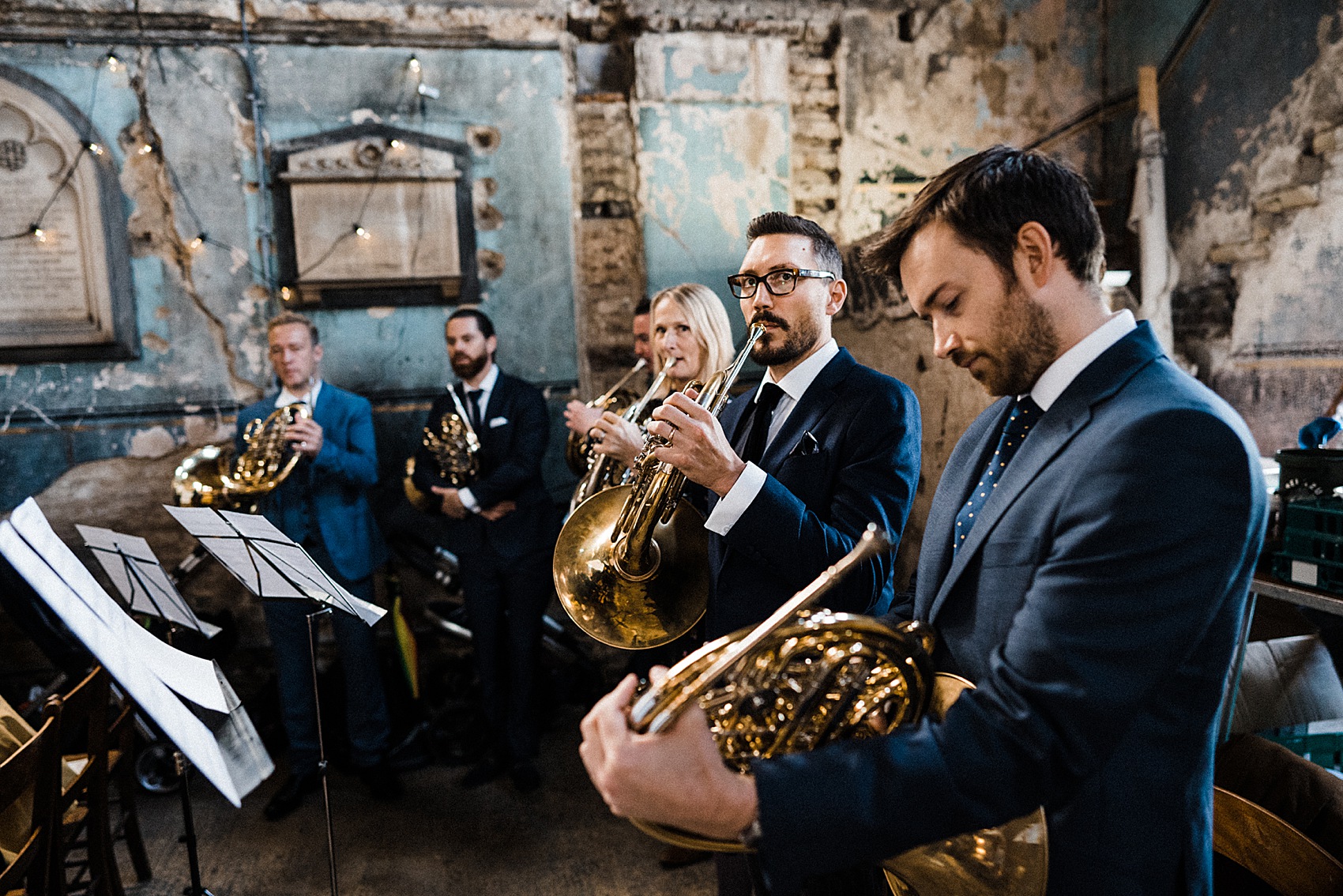 Amy chose to walk down the aisle solo; a feminist choice, and a practical one as well – her cape needed space, and it looked magnificent as she did!
"I walked down the aisle to the Evening Prayer from Hansel and Gretel by Englebert Humperdinck, performed by an octet of horn players who are all friends of ours. It's one of our favourite operas, and the sound in the Asylum was unforgettable. I can't watch the video of them playing without crying my eyes out! It gives me goosebumps."
The couple's ceremony was conducted by Southwark Council registrar, Ricardo Jackson, whose brilliant sense of humour had everyone laughing all the way through the service.
"James and I met sitting next to each other in orchestra (as so many musicians do!) back in 2012. We were both with other people, so were friends for many years before we both found ourselves single at the same time in 2015"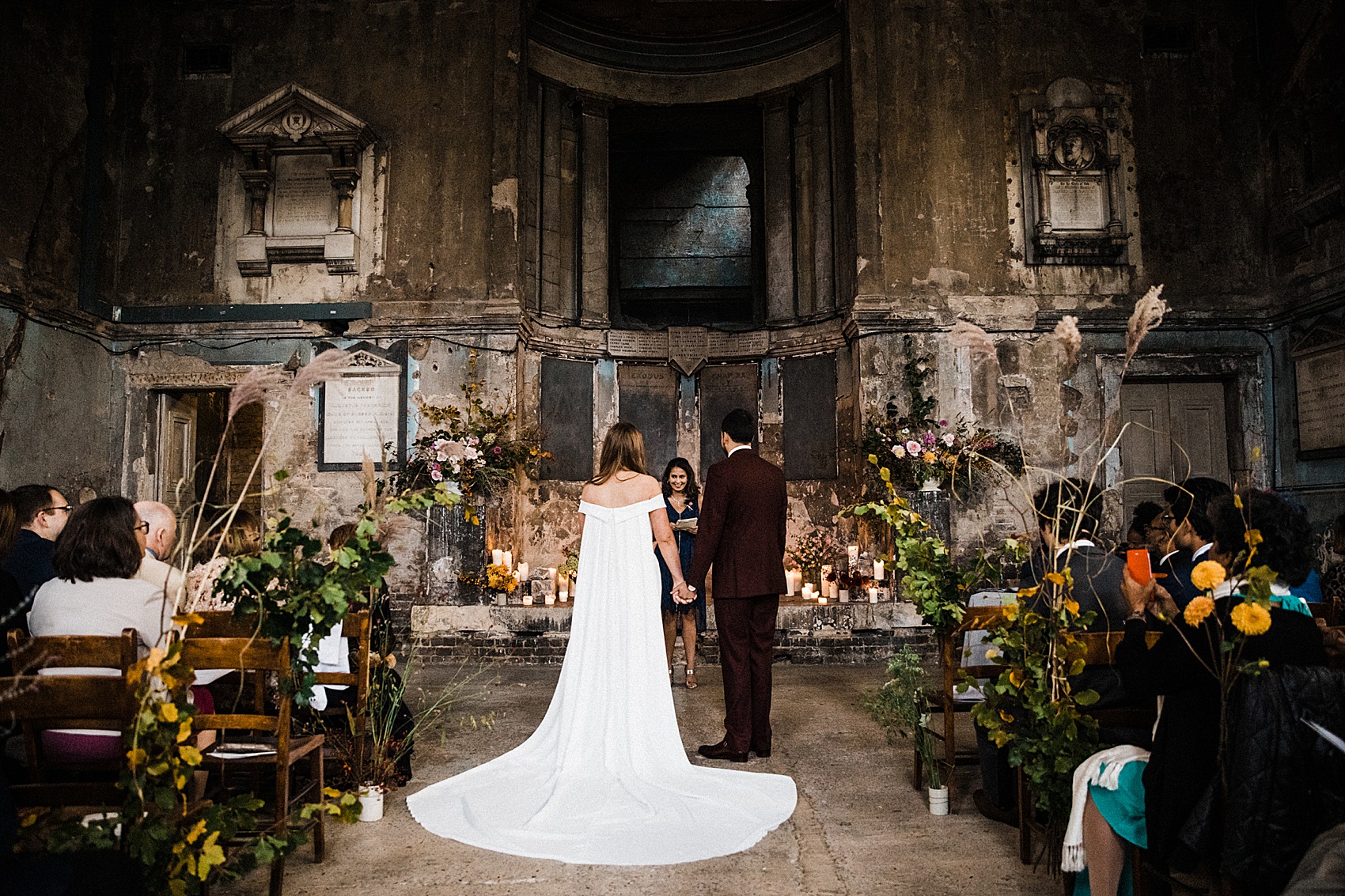 " As soon as we got together there was no going back. Everything felt so right from day one. We had our beautiful baby Holly in 2018, and got engaged when she was 3 weeks old. We got married just over a year later."
Amy and James designed Amy's engagement ring together with Bert Jewellery, and as they made their vows, they exchanged simple gold bands, which had been made in Hatton Garden.
James' sister Abi is a writer, and she wrote a beautiful and incredibly moving poem for the couple's ceremony – an abridged extract of which is kindly shared below.
"You both wear love:
it is thread through
clothes, every
garment an echo
of the love that surrounds you.
Love suits you both.
A gauzy sheen in the air
You inhabit:
a halo of light,
exhales from you.
The gold of your home
lingering in your forms
and sent out to the world."
As the register was signed, Amy's friends Louise Alder and Mary Bevan sang a love duet from Poppea by Monteverdi, and were accompanied by Sergio Bucheli on a theorbo.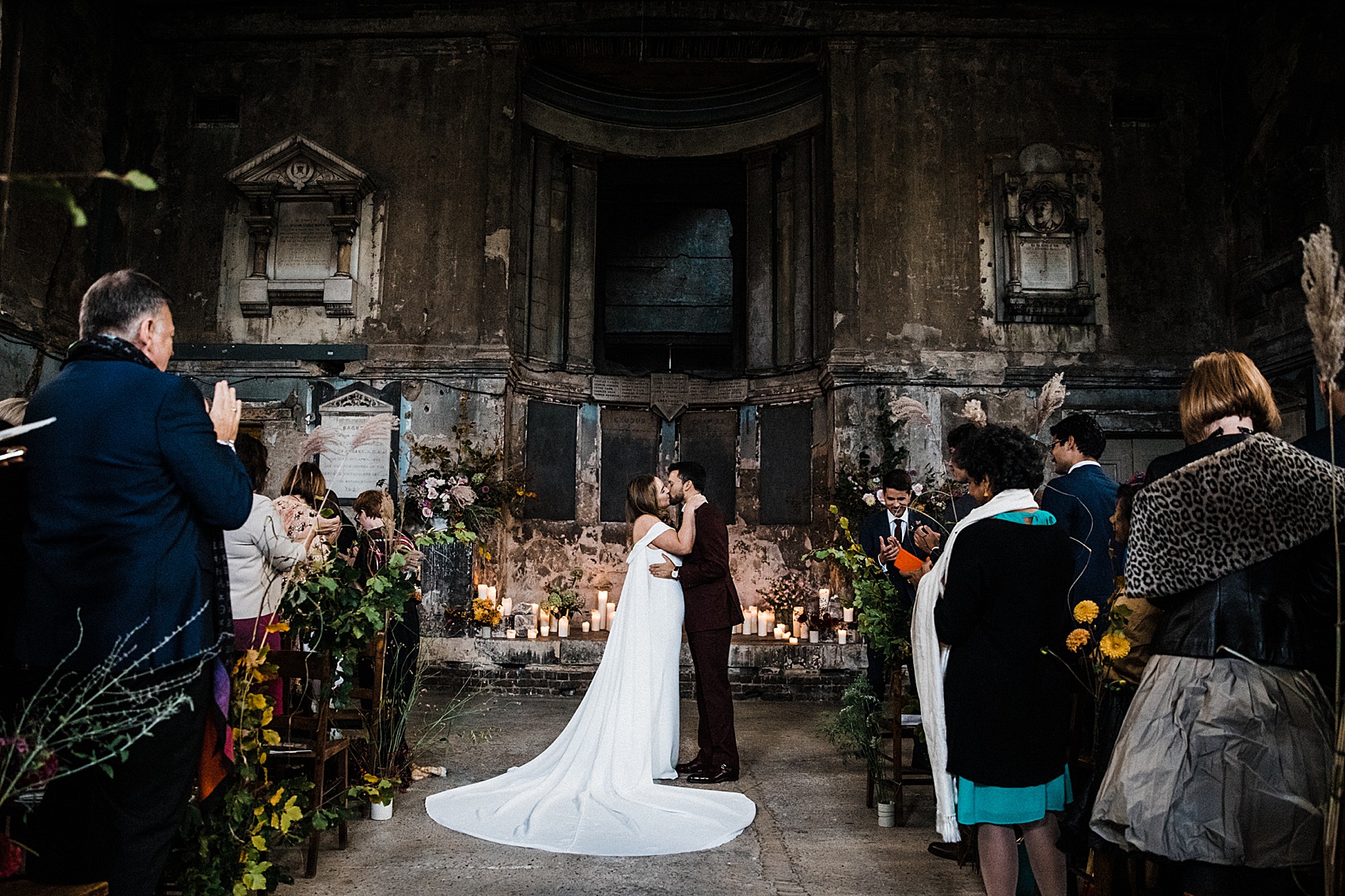 "As we walked out my friends from Ensemble 360 played an arrangement of For the First Time in Forever from Frozen. It was the first film James and I watched together!"
"I would never have thought I'd say this, but the ceremony was my favourite part of the day. I hadn't realised how overwhelming it is to be saying your vows to the love of your life, surrounded by literally everyone that is important to you, all looking gorgeous and smiling for ear to ear, wishing you so much love and happiness."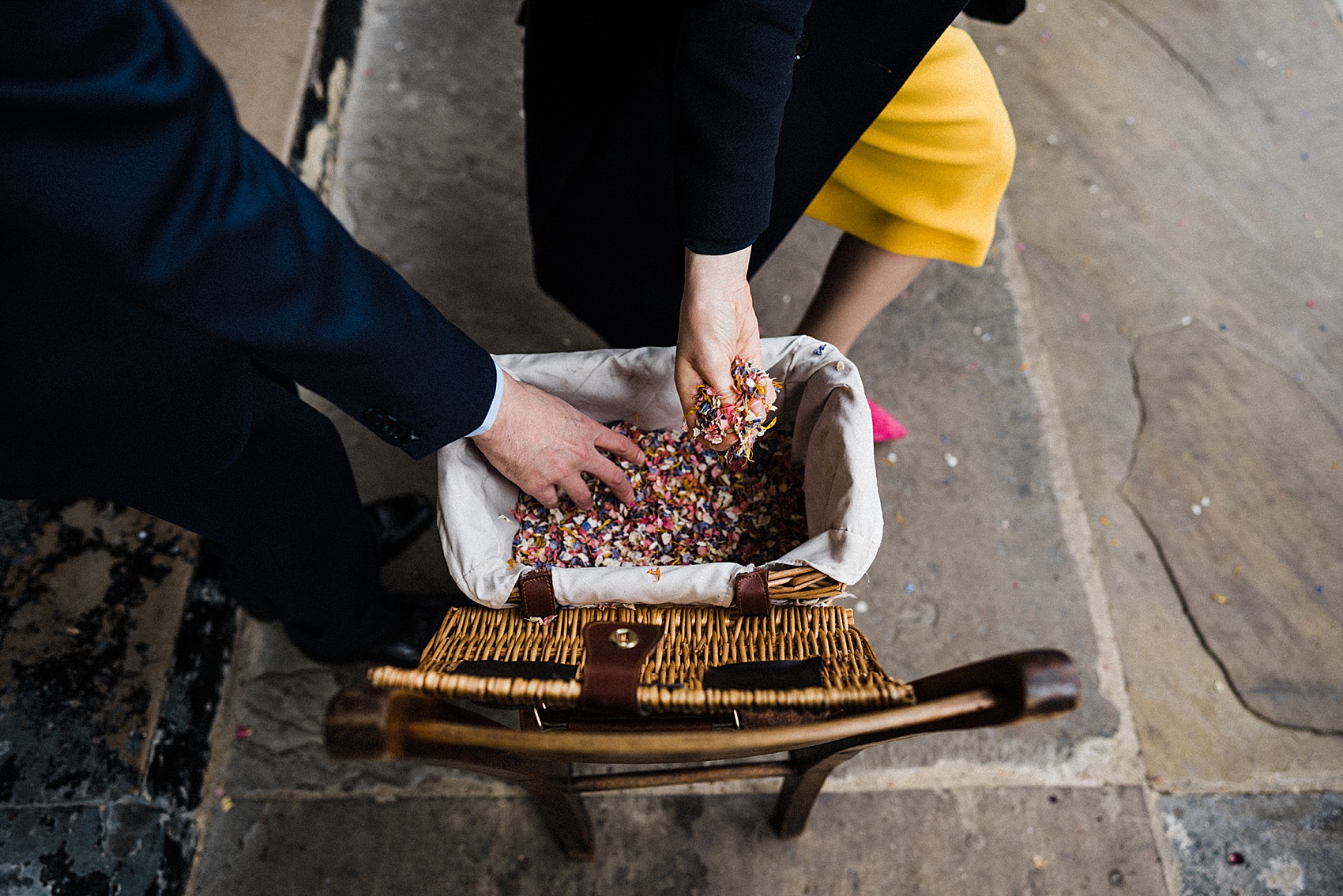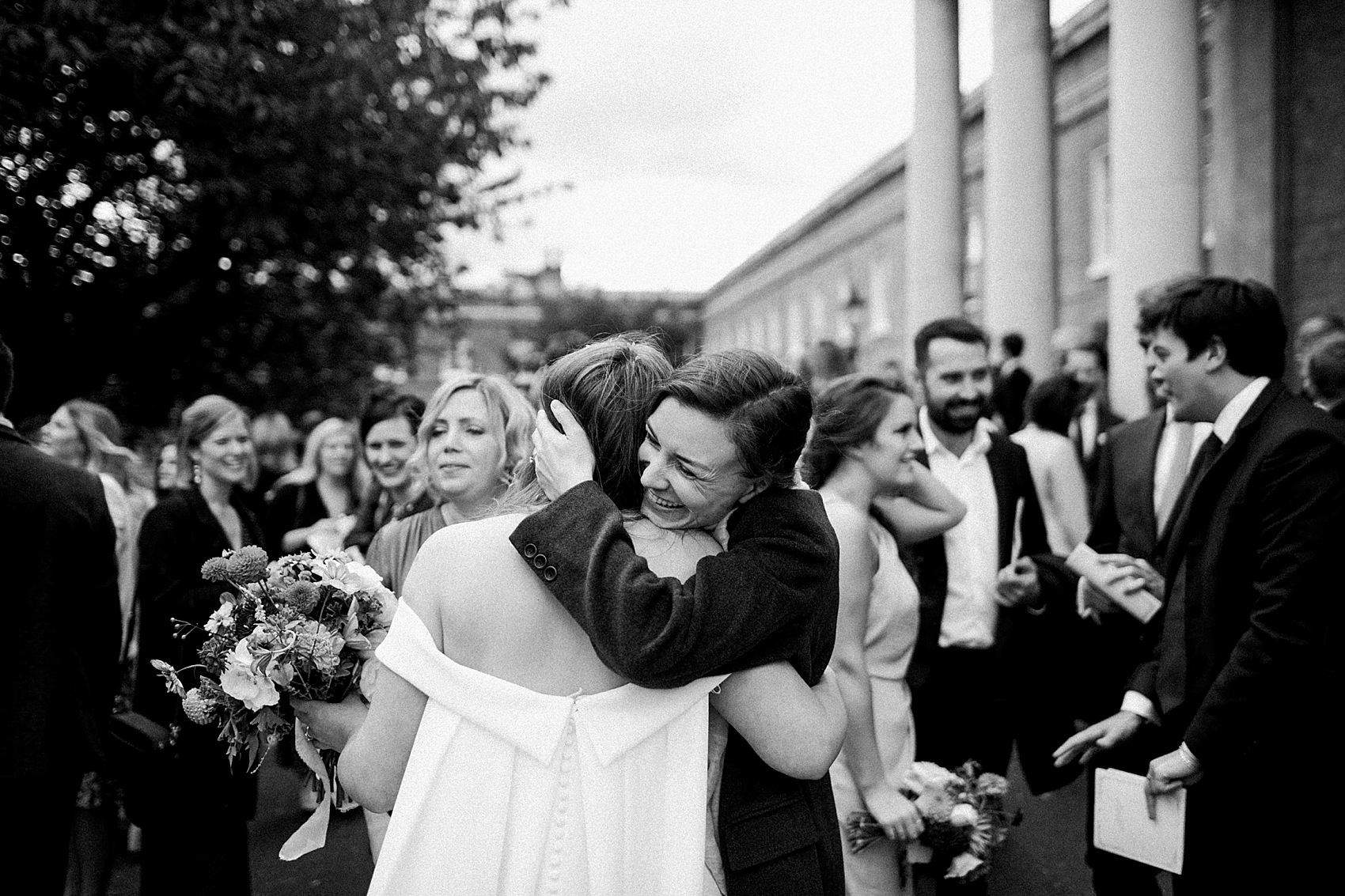 On the steps of the chapel, the newly married couple were showered in handfuls of flower petal confetti, and afterwards, guests enjoyed drinks and canapes from Kitchen Party.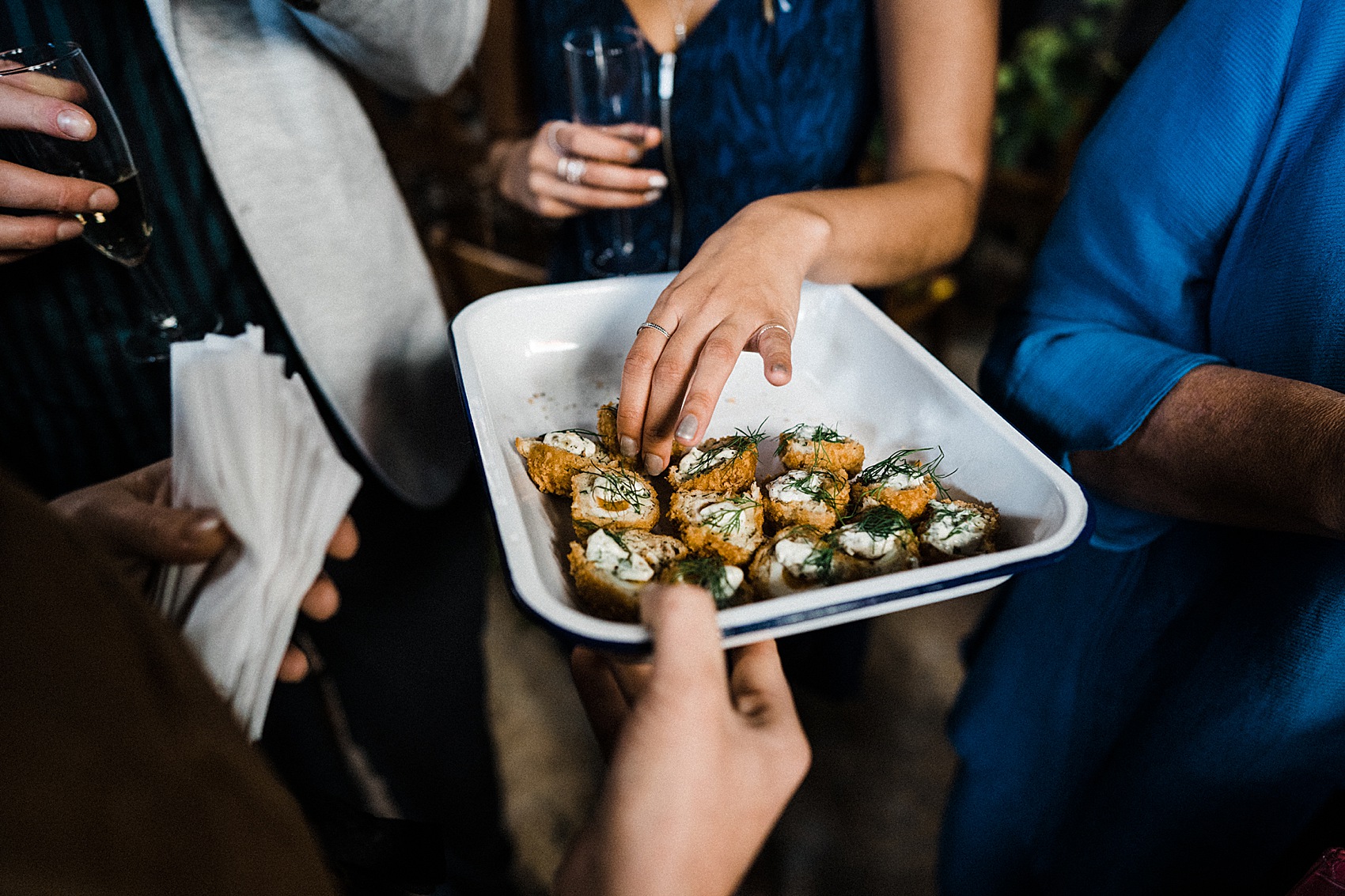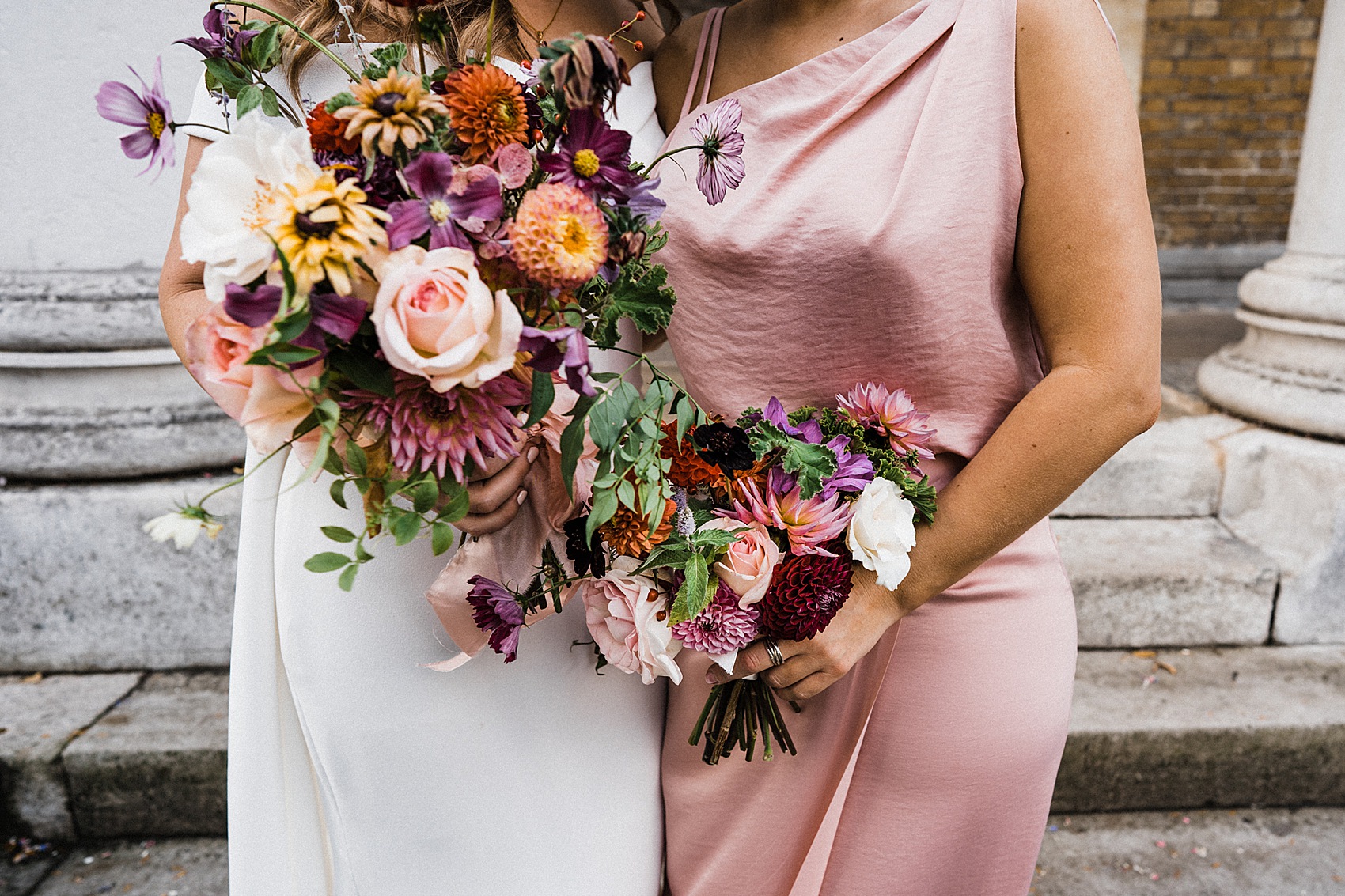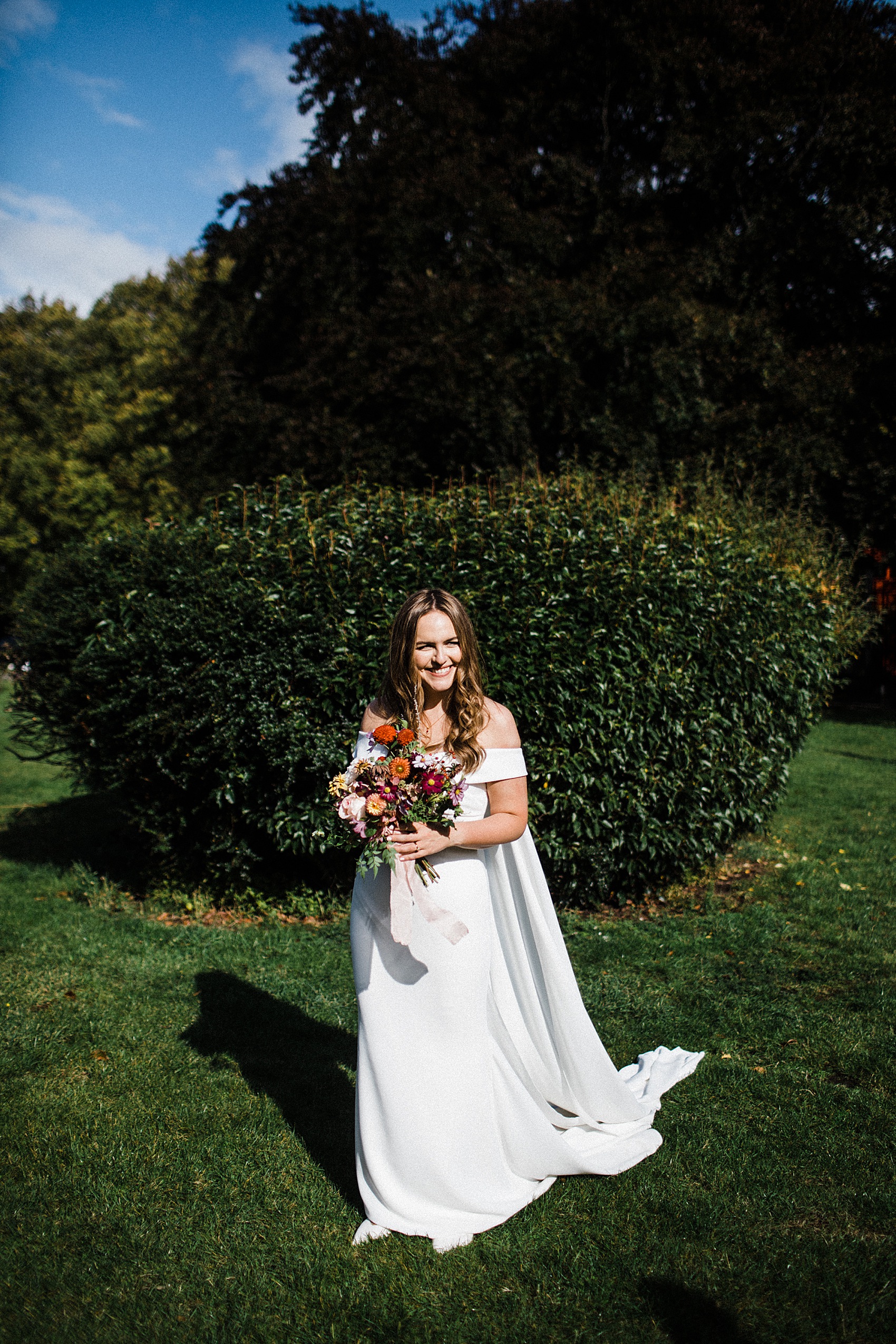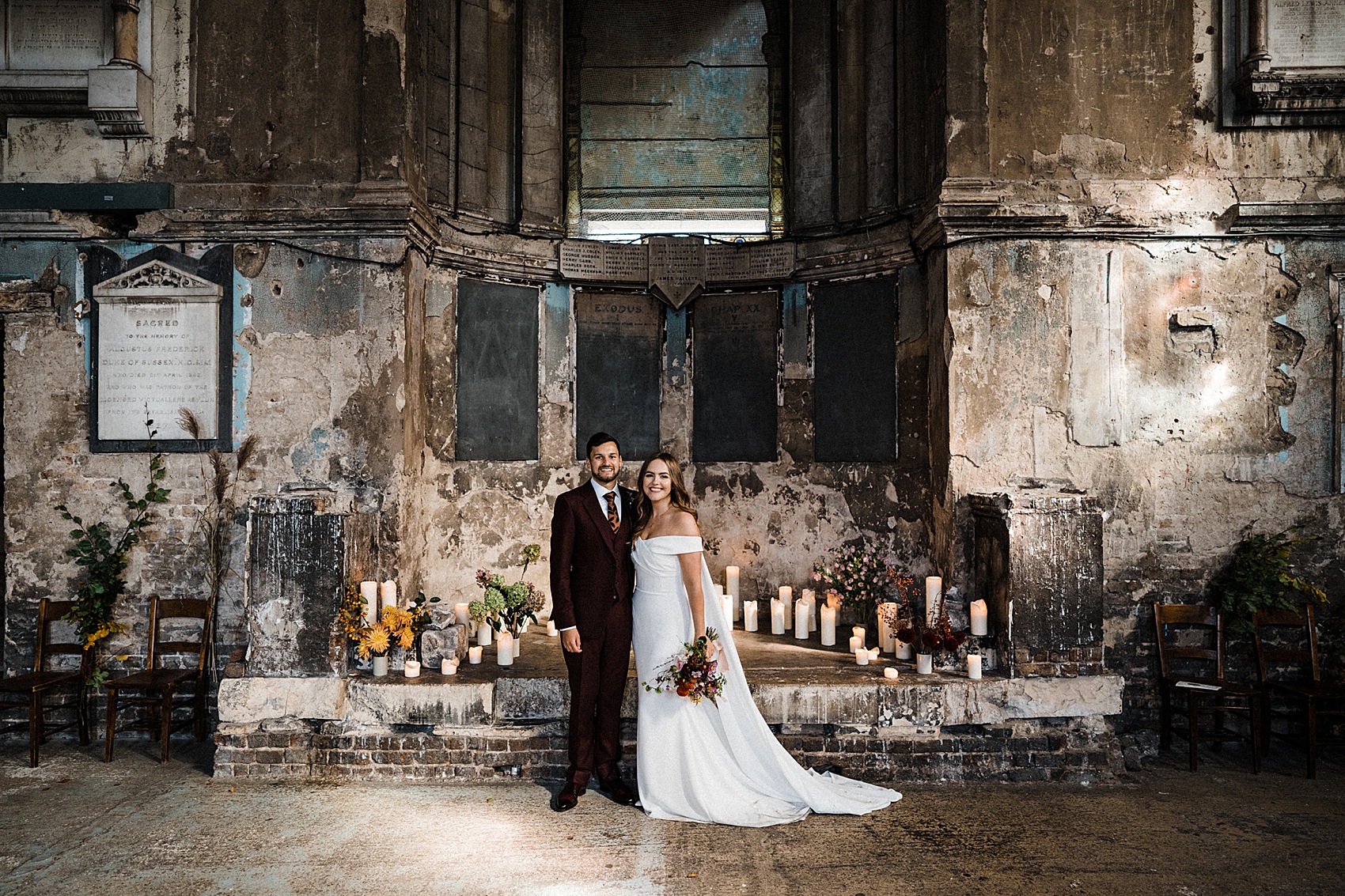 We've shared lots of weddings featuring the work of photographers Lauren and Glen from Through the Woods We Ran, and it's brilliant to be able to share more of their exquisite, fine art work with you all today.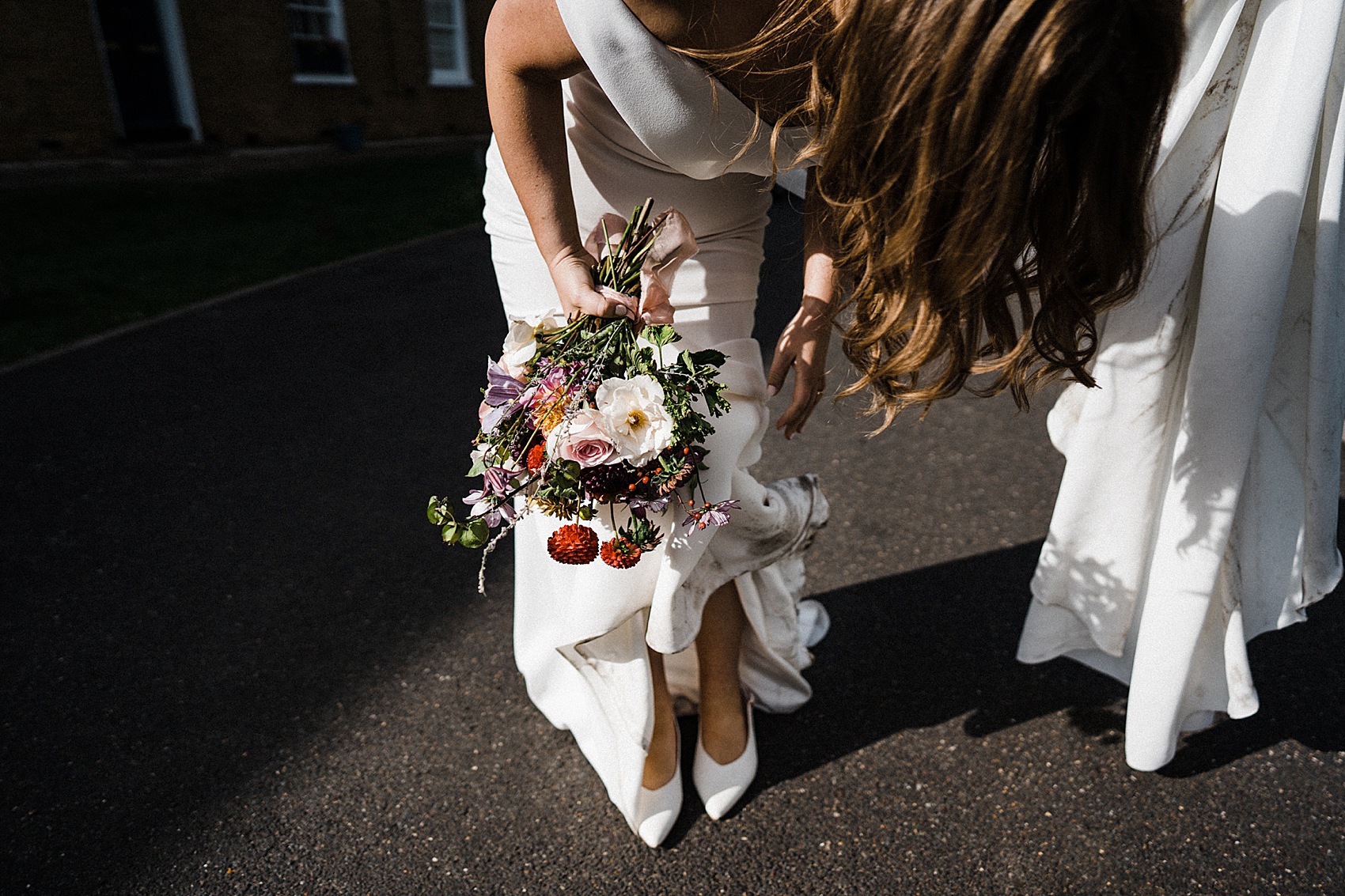 "We found them through Love My Dress, and words cannot describe how amazing what they do is. They captured the feel of the day like they'd known us forever."
"They find such fun, natural but beautiful moments, and I really cannot recommend them highly enough! They are also just lovely people to have around on your wedding day."
To transport everyone over to Tanner Warehouse for the reception, Amy and James hired a vintage Routemaster bus from London Retro Bus Hire.
"We wanted a relaxed, London wedding with delicious food and drink; basically a great big party for all of our loved ones. Also James if half Sri Lankan, and we've had two amazing trips there, so we definitely wanted that to be an influence. We had bright colours everywhere, and Sri Lankan curry for our wedding breakfast." 
At Tanner Warehouse, the couple wanted the pared back, industrial beauty of the venue to speak for itself, so kept decor to a minimum, with festoon lighting hired from Sparkling Lights.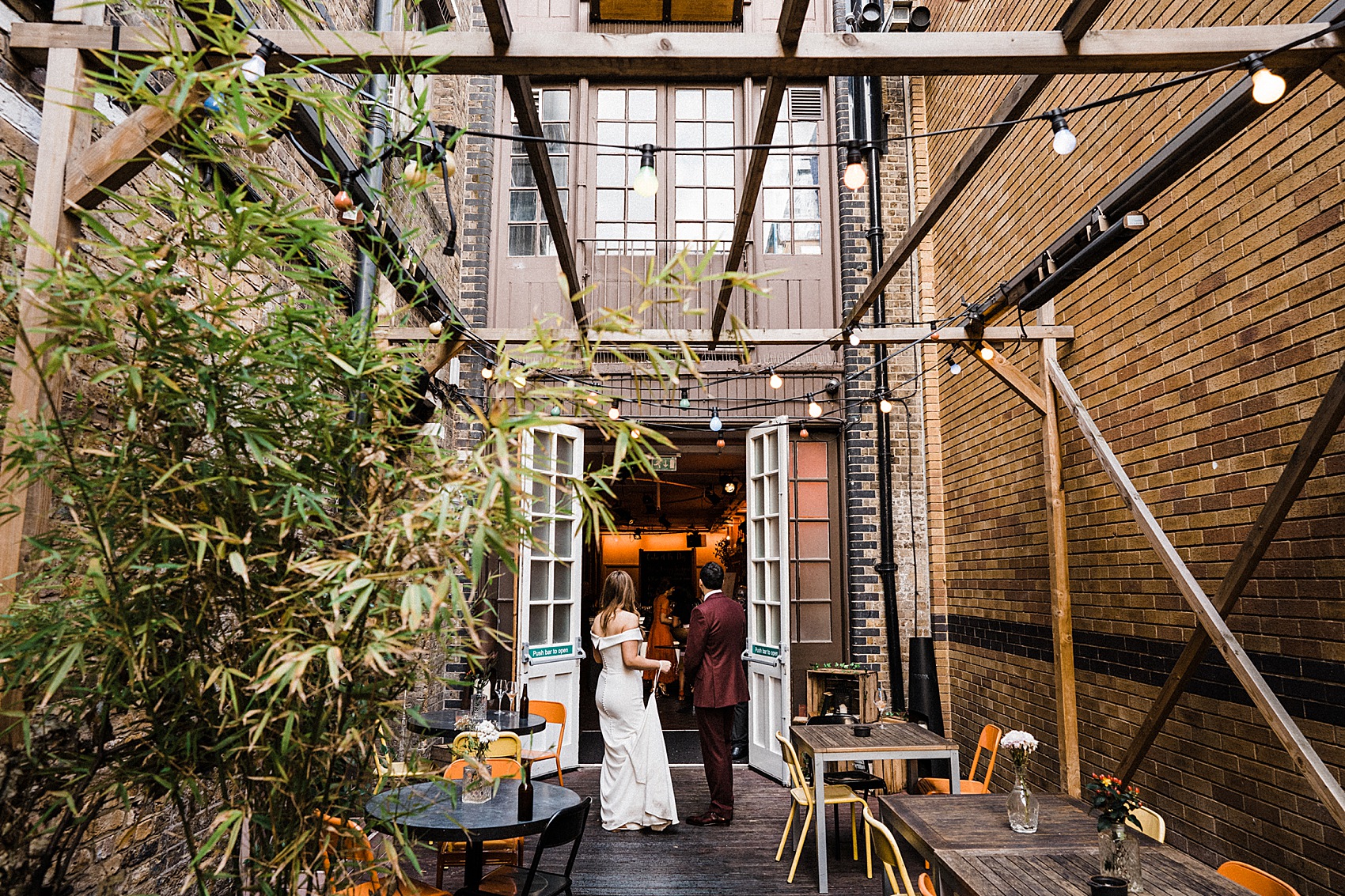 "A very good friend of ours, Tanya from The Illustration Studio, happens to be the most incredible illustrator. We commissioned her to do our invites, menus and orders of service."
"It was a true highlight. She designed and hand printed a beautiful border incorporating lots of personal elements to us, from our favourite operas to Sri Lankan peacocks."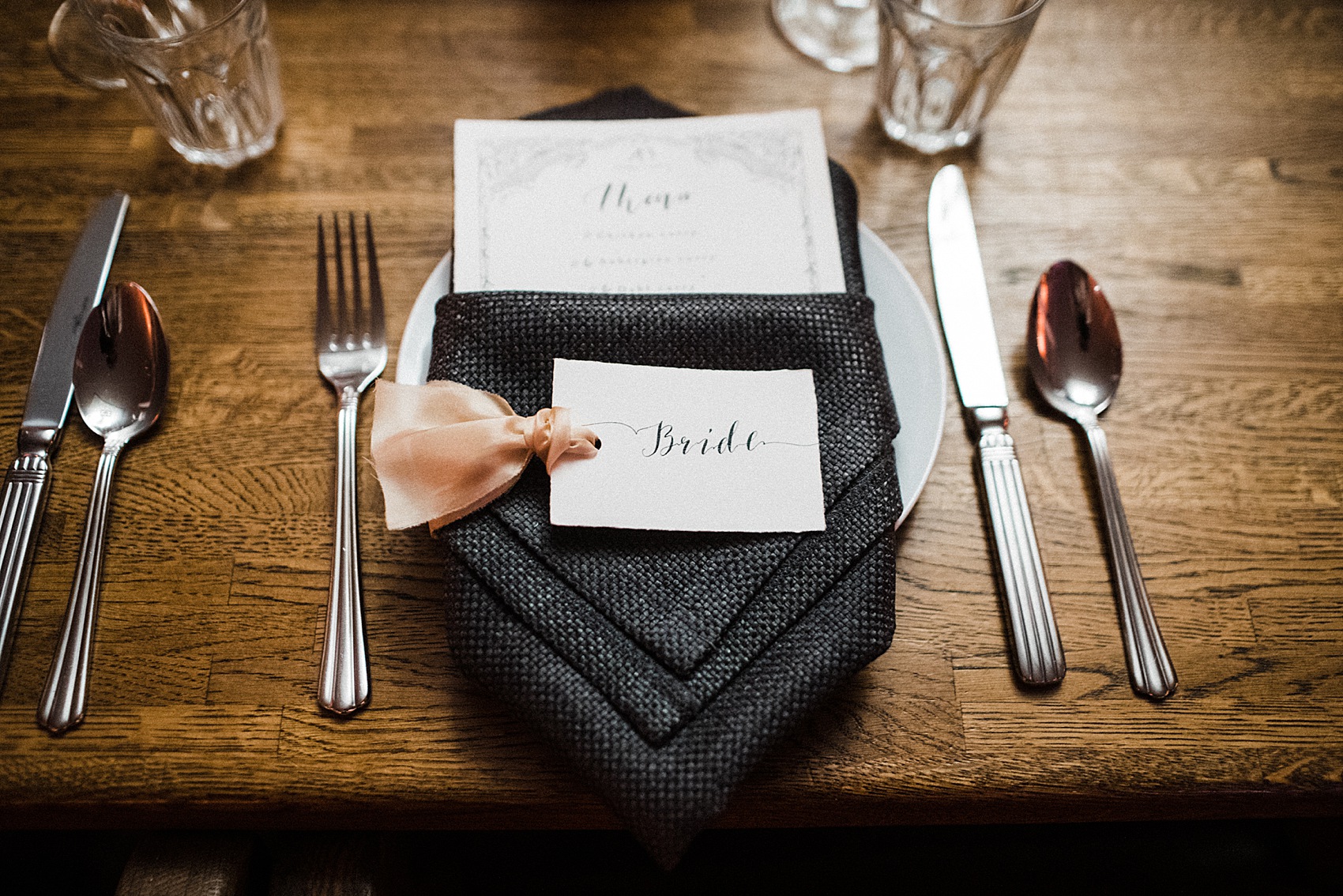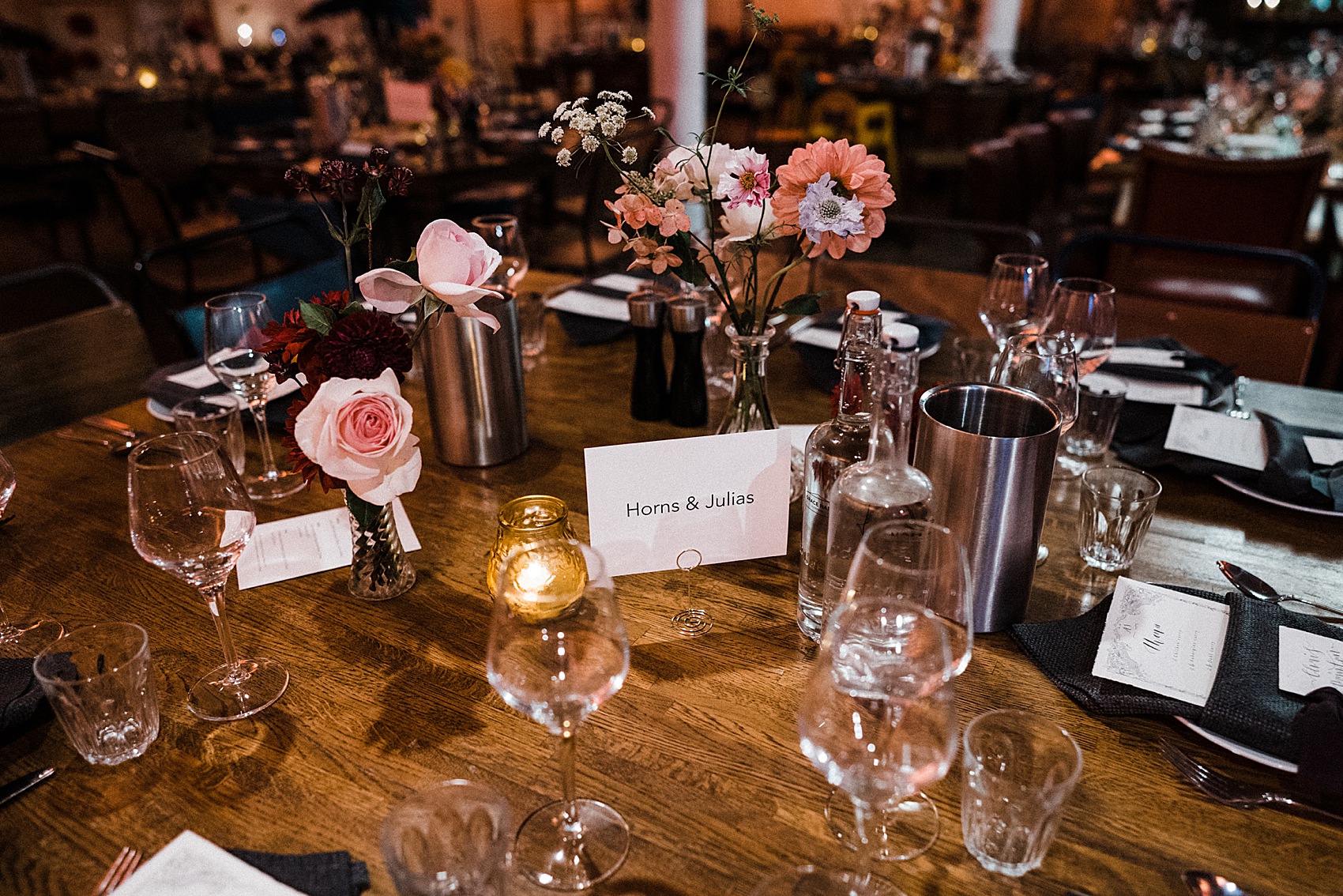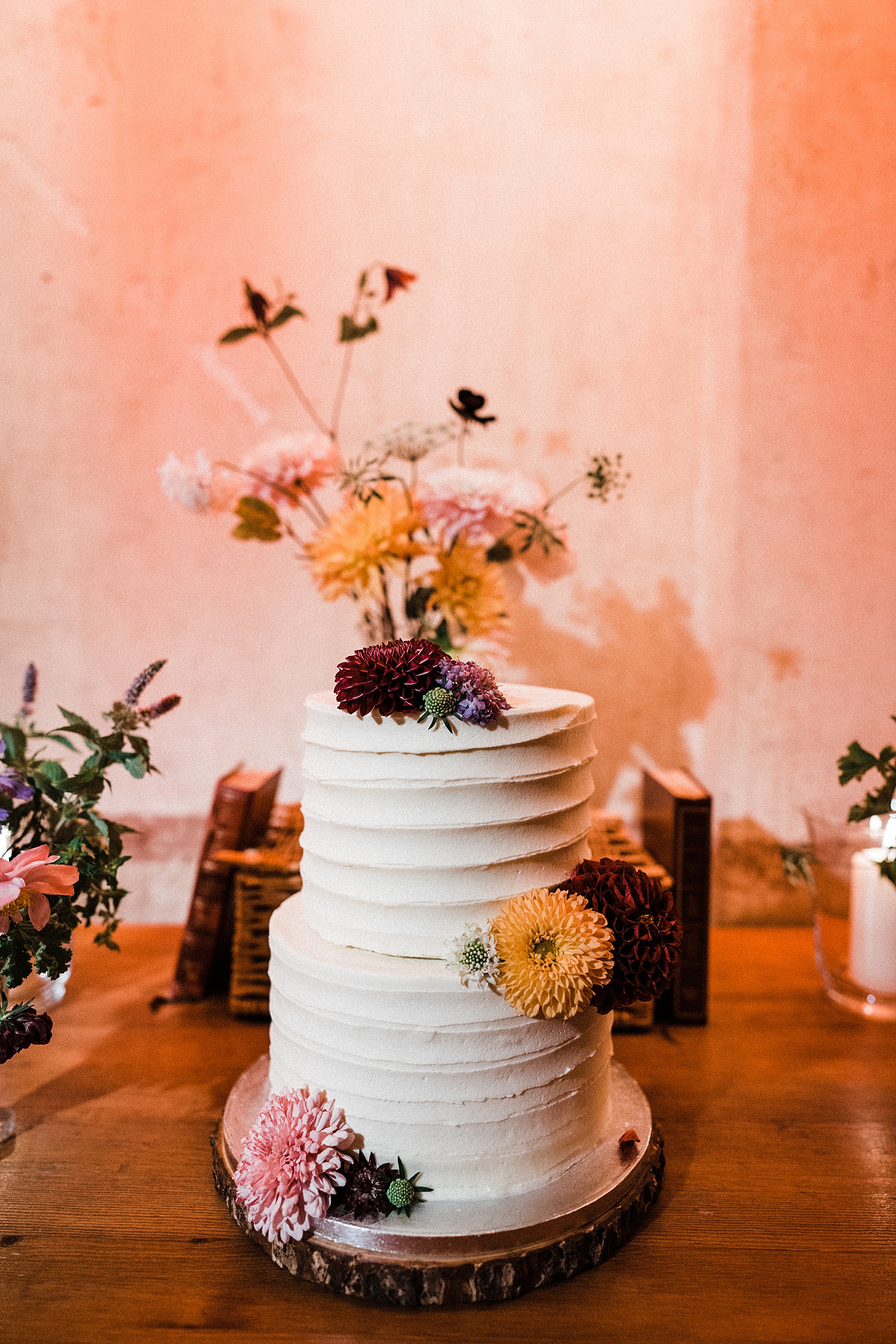 "James is a real wine buff, and Wild + Lees, our local wine merchant supplied delicious Sauvignon Blanc, Pinot Noir and Sancerre rosé. When we got engaged, my 100 year old grandmother (just before she died) said she was so relieved I was no longer going to be an unmarried mother that she wanted to pay for the wine at our wedding (!) Because of this, we were able to splash out and got Taittinger champagne, and made many toasts to her throughout the day."
James wore an impeccably tailored made to measure suit in burgundy, by Gieves & Hawkes, and a floral print tie by Liberty.
"James has a serious fancy shoe addiction and he got Crockett & Jones double monk straps, that he had dyed to complement his suit by Sartor Polishing. I couldn't resist revealing in my speech that his shoes cost literally 25 times what mine did!"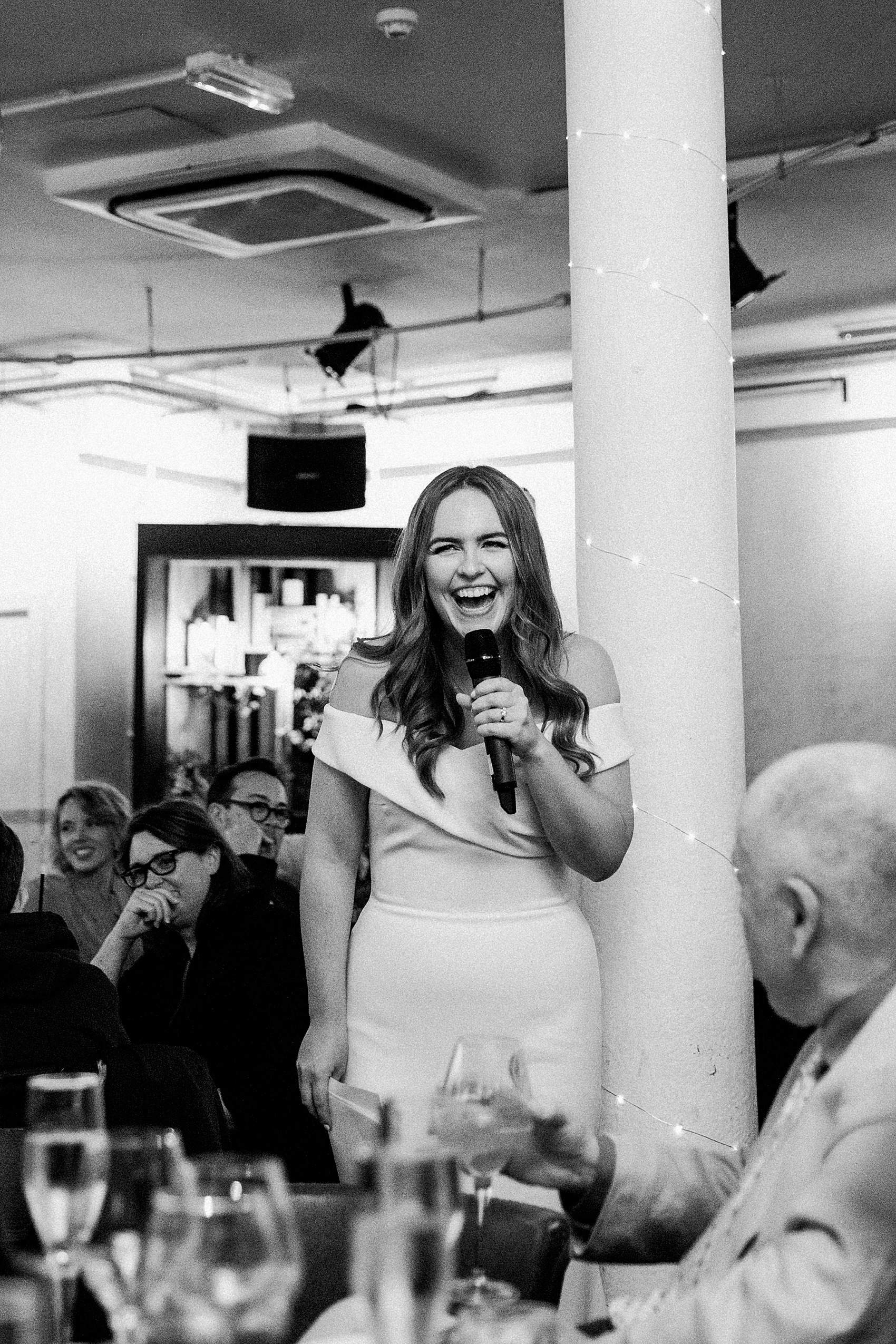 Inspired by another Love My Dress bride who mentioned ordering local takeway for late night food, Amy and James ordered pizza from their favourite local pizzeria, Theo's.
Sri L Catering served an incredible Sri Lankan curry feast, with chicken and aubergine curries, daal, rice, poppadoms and coconut sambol – delicious! This was followed by gelato served from a cart by Nonna's Gelato, who served up damson ripple, two different kinds of chocolate ice cream, and clementine sorbet, too. Post-dinner cocktails were espresso martinis.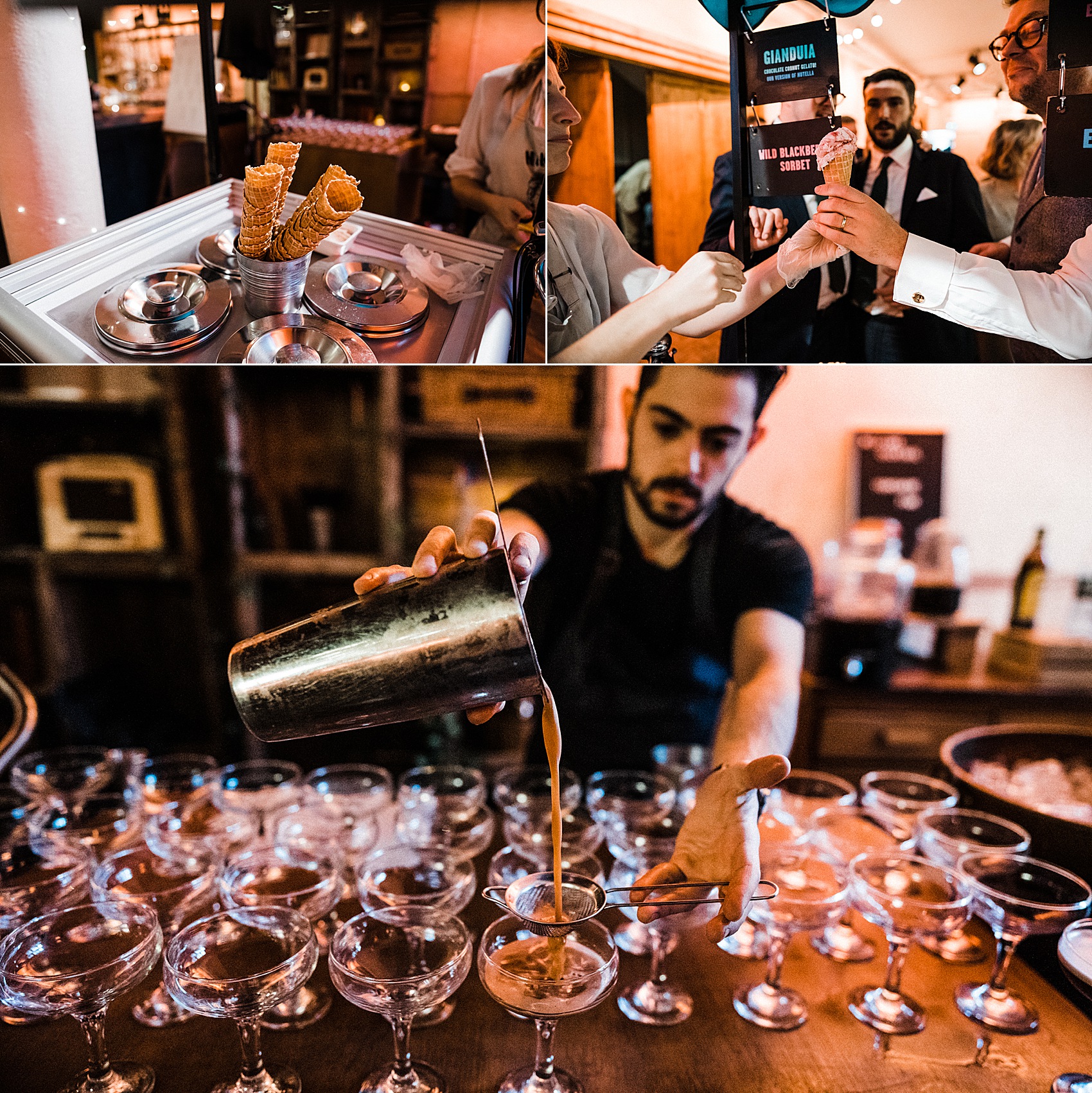 "Our first dance was Blackbird by The Beatles. An arrangement of it was on the first album we recorded together, so it was very close to our hearts. We had Groove on Up play some of our favourite tunes. They were such a great party starter, and the image of my mum throwing some serious shapes to Britney will never leave me."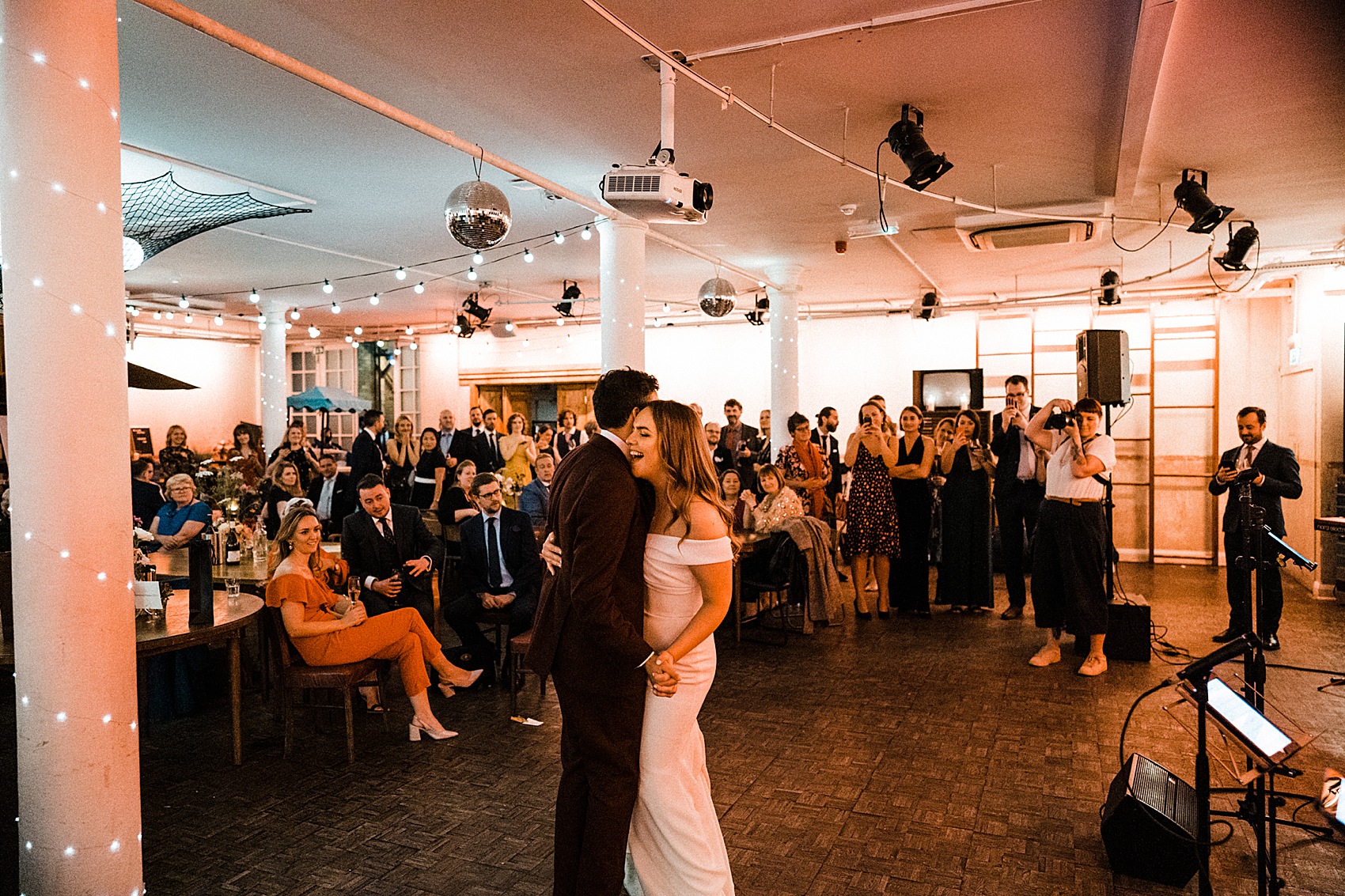 "Deni Teo is a cellist and girlfriend of a friend of mine, who also happens to bake the most unbelievable cakes. She did us a two-tier cake; the top layer was chocolate, and the bottom was raspberry sponge. Eating a slice of chocolate cake when my feet were too sore to dance anymore the end of the night was a real highlight!"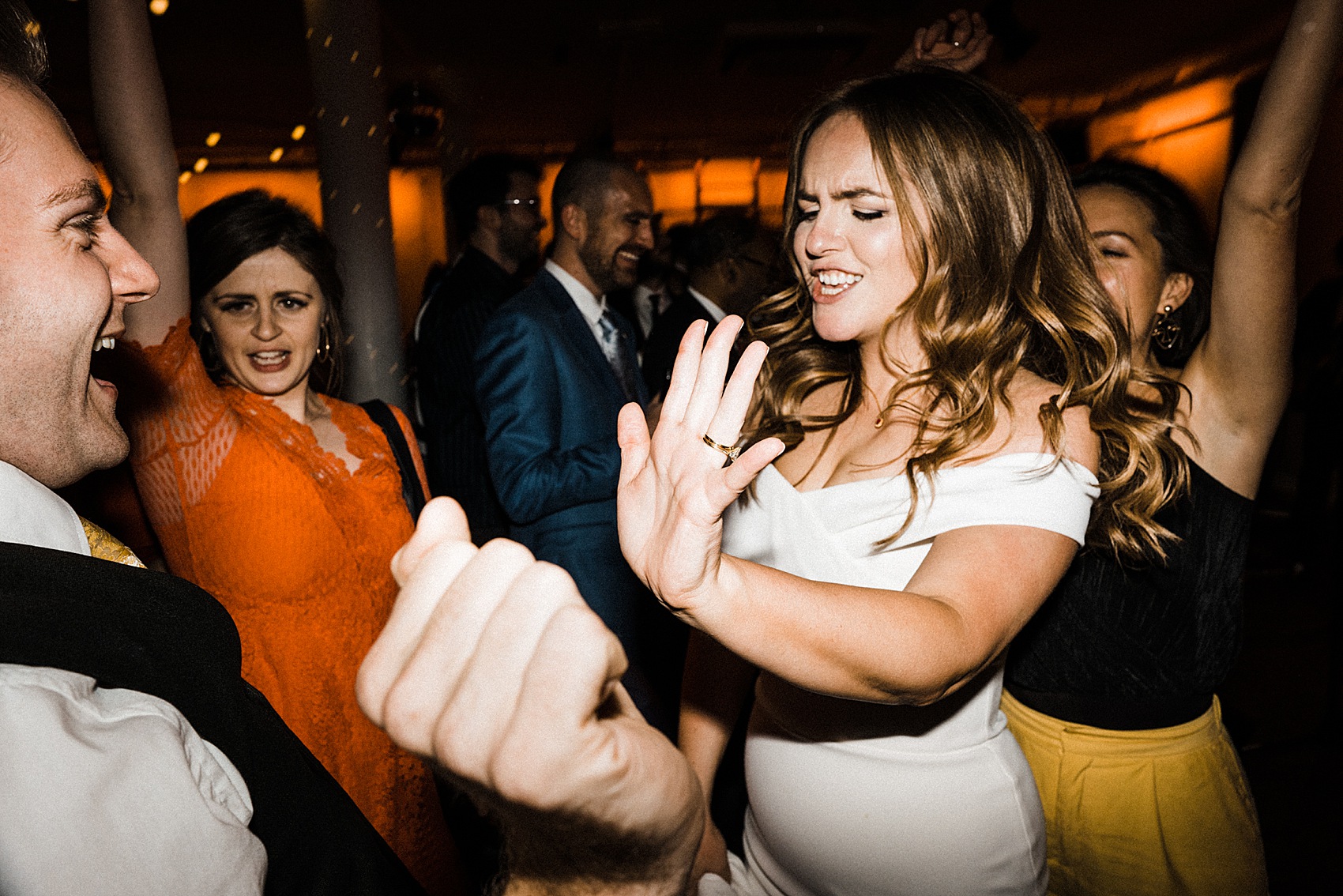 Words of Wedded Wisdom
"I've honestly read Love My Dress daily since James and I got together. I knew we'd eventually get married, and I found Love My Dress so inspiring for weddings that are beautiful, individual and really presented in such an accessible way. Although I don't have anything left to plan, my Love My Dress addiction hasn't faded since our wedding!"
"We chose so many of our suppliers that were either people we knew or local businesses that we love. This meant our wedding really felt like 'us'. The more personal to you, the more you'll enjoy the day."
"Also we stayed at Zetter Townhouse the night of our wedding ,as even though we live closer to the venue than the hotel, we wanted a day to lie in bed and debrief. It was so much fun reliving the day together."
Wow, what a treat that was. Thank you so much Amy and James. What an incredibly talented bunch you, your family, friends, and amazing suppliers are. As ever, huge thanks to Through the Woods We Ran for their beautiful photography.
With love,
Laura