We're taking a tiny, temporary break from our adoration of all things wedding today to allow us to share the debut eveningwear collection from Andrea Hawkes.
It's been a privilege to support Andrea's bridal label over recent years so we just had to feature this wonderful debut collection.And so, whilst we beg that you forgive us for this slight deviation from wedding gowns, we have no doubt that you're going to be as excited by this new collection as we are.
The Andrea Hawkes brand is much-loved within the wedding world and Andrea's interpretation of timeless bridal shapes fused with a contemporary aesthetic is rightly popular. Her designs are the epitome of perfect simplicity and anyone who's visited her Islington boutique will know that the whole Andrea Hawkes experience is relaxed, welcoming and delightfully honest.
All of this why we were so overjoyed to learn about the new eveningwear collection – when a designer that you so admire does something new, you have to pay attention and my goodness, we're so very glad that we did because these pieces are simply sublime.
"Working with special bespoke clients on their Wedding dress has progressed into creating designs for events and ceremonies, allowing us to contine the quality in design, fit and production we have become known for." says Andrea. "We've long wishes to showcase our passion for bespoke design and dress-making outside of a bridal capacity and our eveningwear collection is just a small example of what we're able to do."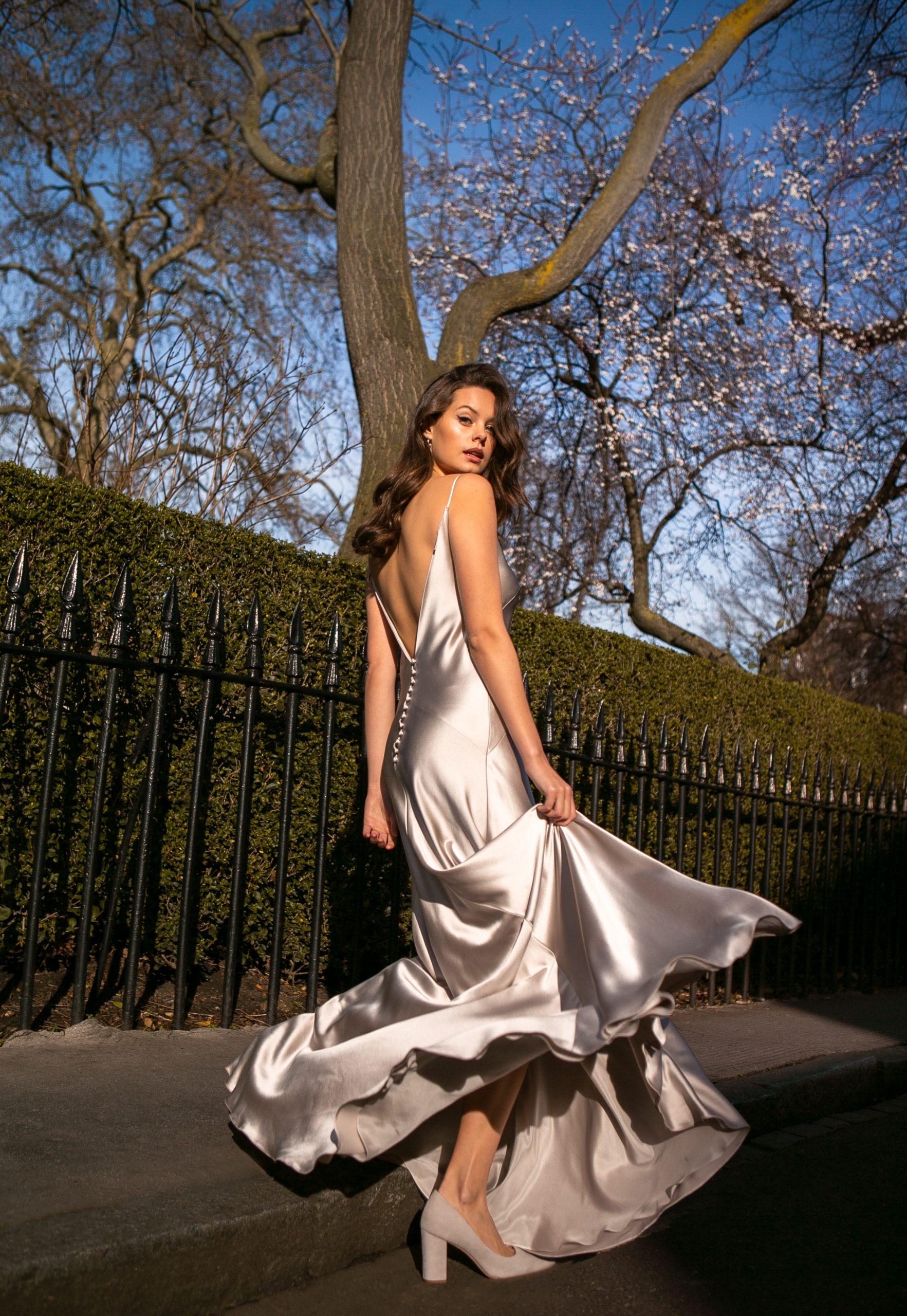 Aerin
This debut collection is made up of five individual looks with each of the pieces being inspired by bespoke clients and some of the brand's bridal designs. Andrea has approached the design of these eveningwear pieces with exactly the same thought and precision of care that she does for her bridal designs and, as always, the quality is exceptional.
Natural silk and beautiful sheer organza in beautifully bold jewel tones alongside classic black and monochrome silver bring real indulgence to these pieces.
"Both beautifully minimalist and a timeless classic, our Cora dress in an inky midnight blue can be worn with our featherlight organza top, featuring puff-ball sleeves for a more statement look. Cora also features a centre split up the back of the dress, adding to the sense of feminine glamour of the overall look. This is probably the look I'd choose for myself as there's something so modern about this design. Cora is a really fun and contemporary way to do black tie that will make you feel incredible."
Cora
"Our much-loved Zelpa dress also features in the eveningwear collection in classic black silk, making a real statement with it clean modern lines and cut-out side panels. This is truly a modern classic and it's our version of the LBD – simplicity as its best."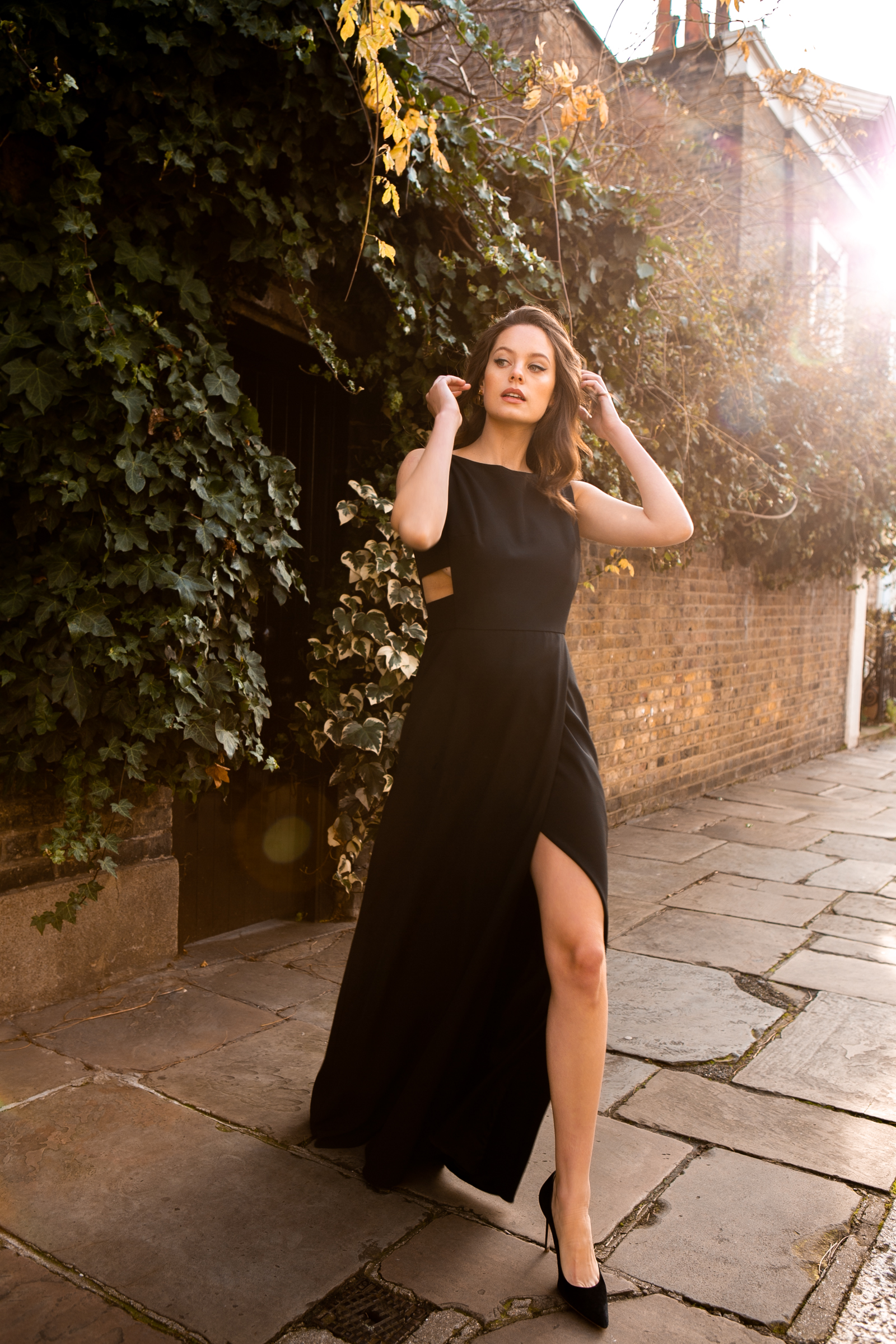 Zelpa
"For a bold, playful look, we've also re-created our Ines dress in beautiful emerald green. Designed in silk with its sheer organza panel detail, Ines is both equal parts sexy and classic with a redefined sense of style."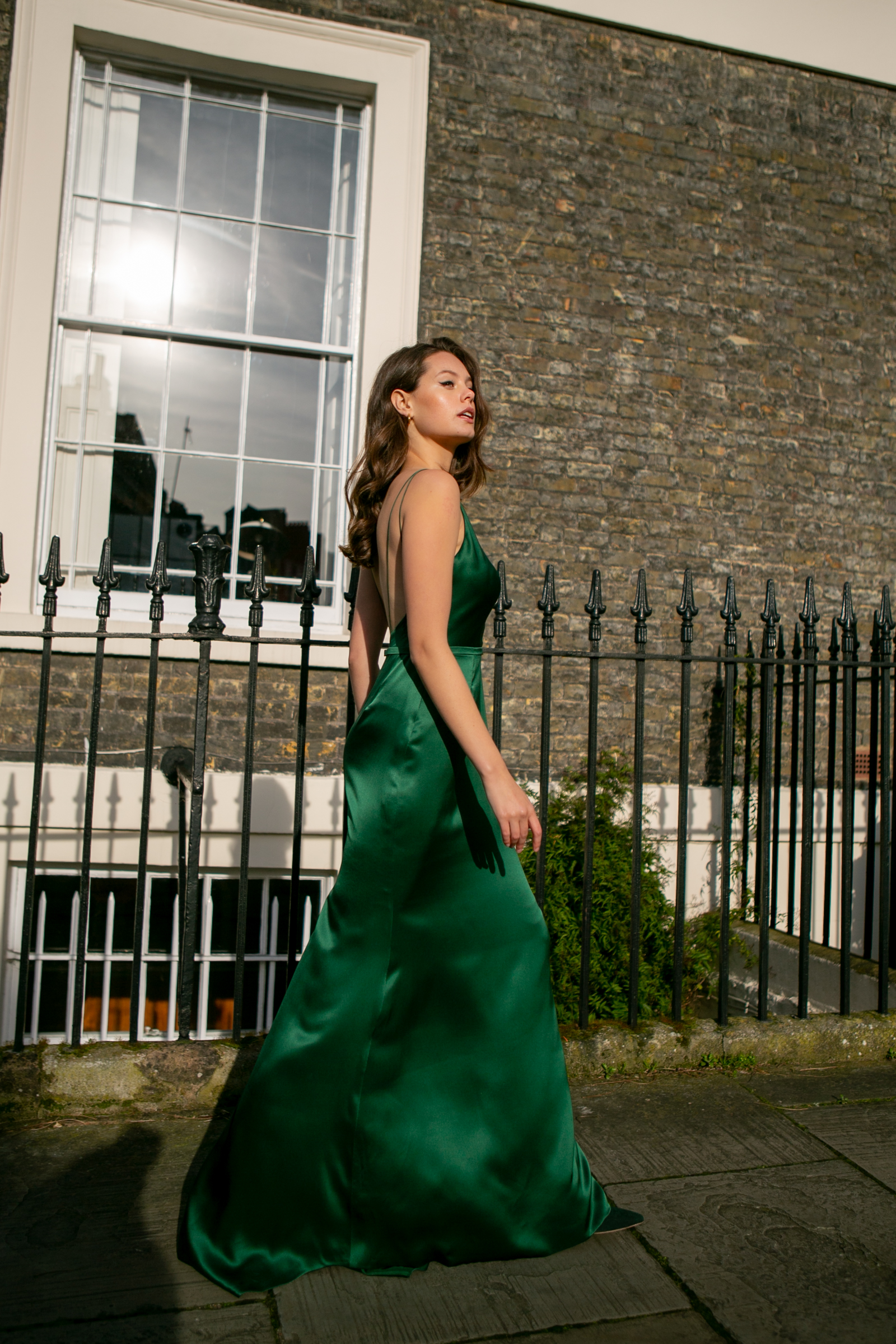 Ines
"If you're looking for a more alternative take on the evening look, we've also included our Mila jumpsuit in a deep purple tone, which will be sure to make a statement at any event. With its wide-leg trouser, deep V-neckline and high back, Mila is a classic shape with an effortless sense of cool."
Mila
"The final look within the collection feature our Aerin dress in a glamorous monochrome-silver. Cut on the bias, with a low back and covered button detail, this is a fresh alternative to the classic slip dress and Aerin is the ultimate sexy evening dress that everyone will wish they'd worn."
Aerin
These are pieces to wear and wear again. The classic-yet-contemporary aesthetic is absolutely ready for any event where you want to look and feel fabulous – from red carpet gatherings, press and charity evening, award ceremonies and important private occasions.
"Any special occasion is just that – it's a time where women want to look and feel their very best and our Eveningwear Collection is where you'll be able to find a design that makes you feel that extra bit special."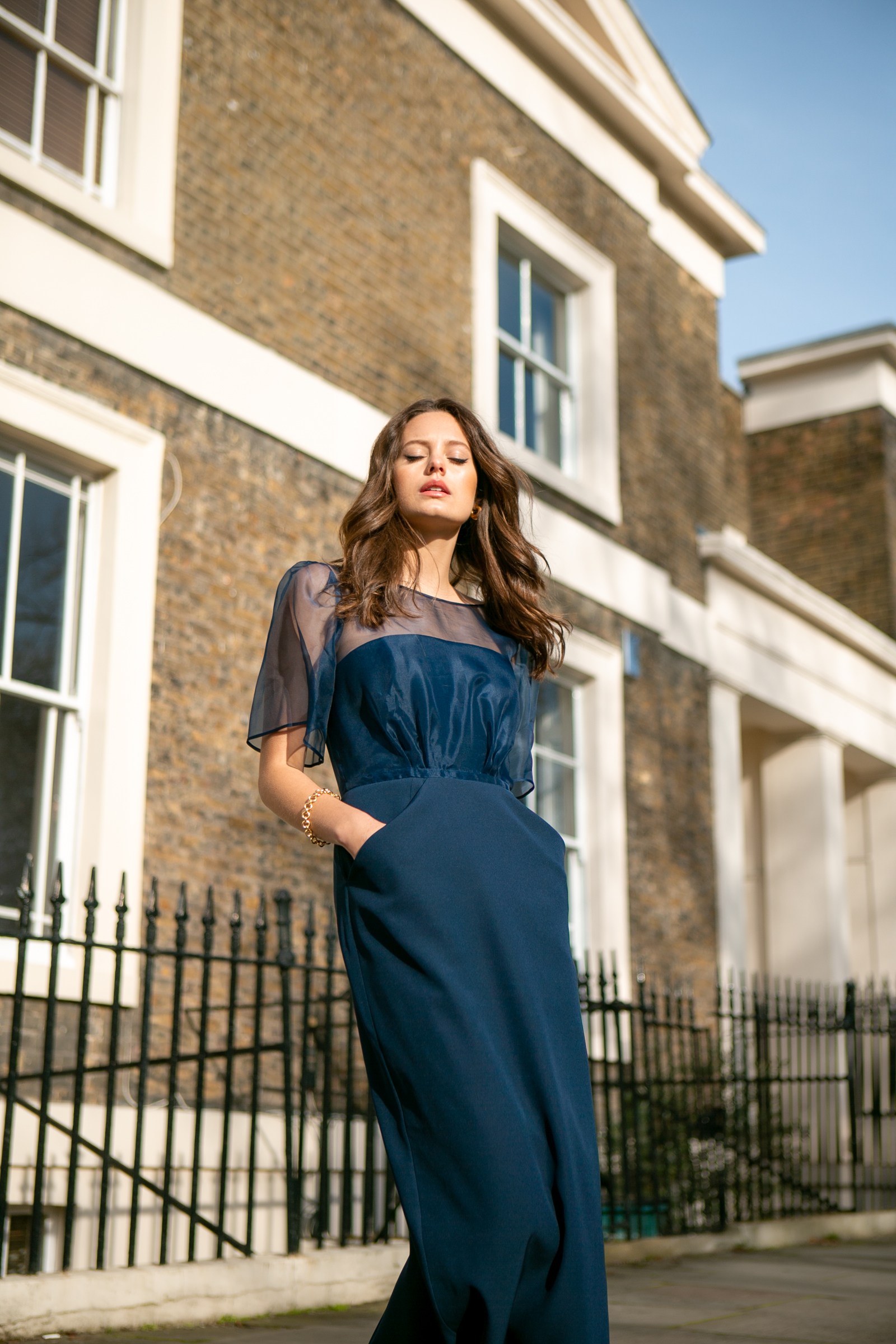 Cora
"Whether you opt for one of our new eveningwear designs seen here or choose a completely bespoke design, our aim will always be to help women be the very best version of themselves. Choose a design that reflects your own sense of style and personality, make it special and unique to you and remember to have fun and enjoy the whole experience. Be the best version of yourself."
To find out more about the debut evening collection from Andrea Hawkes, just click over to the website for all the details.