Lovely readers, with all that's happening in the world right now due to Coronavirus, we sincerely hope you're all well.
You might be here in search of a little happiness, reassurance, and escapism, and so I hope you'll enjoy today's laid back, music festival inspired wedding, which radiates joy from start to finish. It took place in a secluded valley field, surrounded by woodland in Surrey.  Meet our happy couple, Kate and Elliot.
Edward Southwell

+ Follow
Kate is an Office Manager, and Elliot is a Senior Art Director, and they were married on the 15 June 2019 at Hidden Valley, booked through Fiesta Fields, near Godalming in Surrey. Event coordination, including the hire of a stretch tent, loos, lighting, a bar, dancefloor and generator came courtesy of the team at Tipsy Goose.
"We chose this venue because of the breathtaking views. The moment we arrived there, we were completely wowed. Our first thought was that it would be way out of our budget, but it was actually similar to some other not-so-wow places we had seen, too. It was a no-brainer; it completely fitted the festival feel wedding we had in mind."
Gingersnaps Photography

+ Follow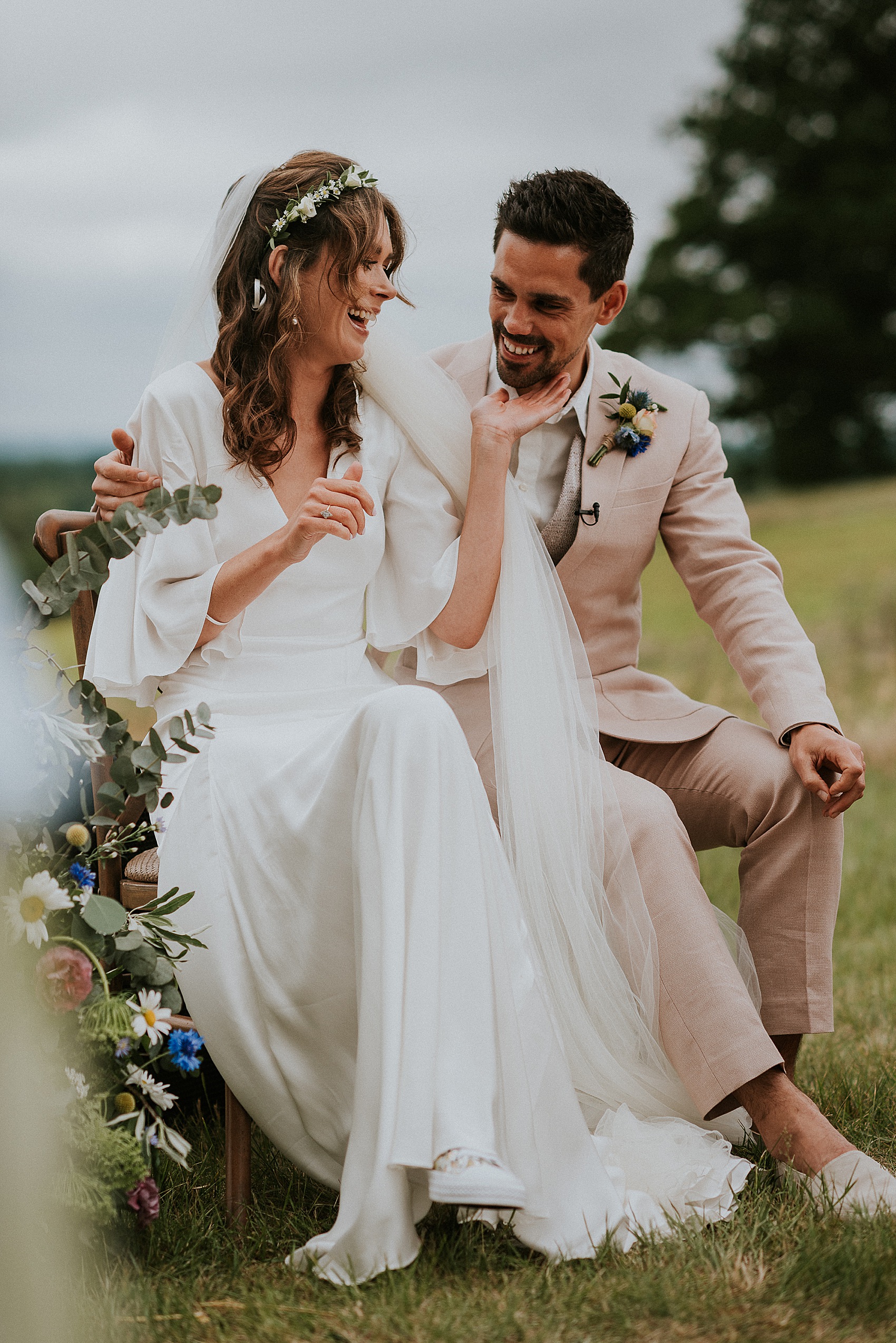 Kate's dress, with its fluttering sleeves and godet skirt was simple, elegant perfection, and she found it on ASOS.
"The dress was simple and feminine, and I thought I could potentially alter it in some way. I tried it on, and it just felt right! I did go to a bridal boutique with my mum and sister to have the whole dress finding experience, but nothing I tried on felt as good as the ASOS dress, especially knowing I could make a few alterations, and that it would be completely unique to me."
"The fit and feel were great, and despite it being quite a budget dress, it was well made and felt very special to me. My brother's mother-in-law, Susie, does alterations and offered to make the changes I wanted. Initially the neckline was high, and I wanted it to be more plunging."
"Susie said she knew it would be tricky, and it took her a week to pluck up the courage to make the cut, but she did it and it was perfect – exactly as I'd imagined. She also sewed our initials inside the neckline in blue cotton, which was so sweet."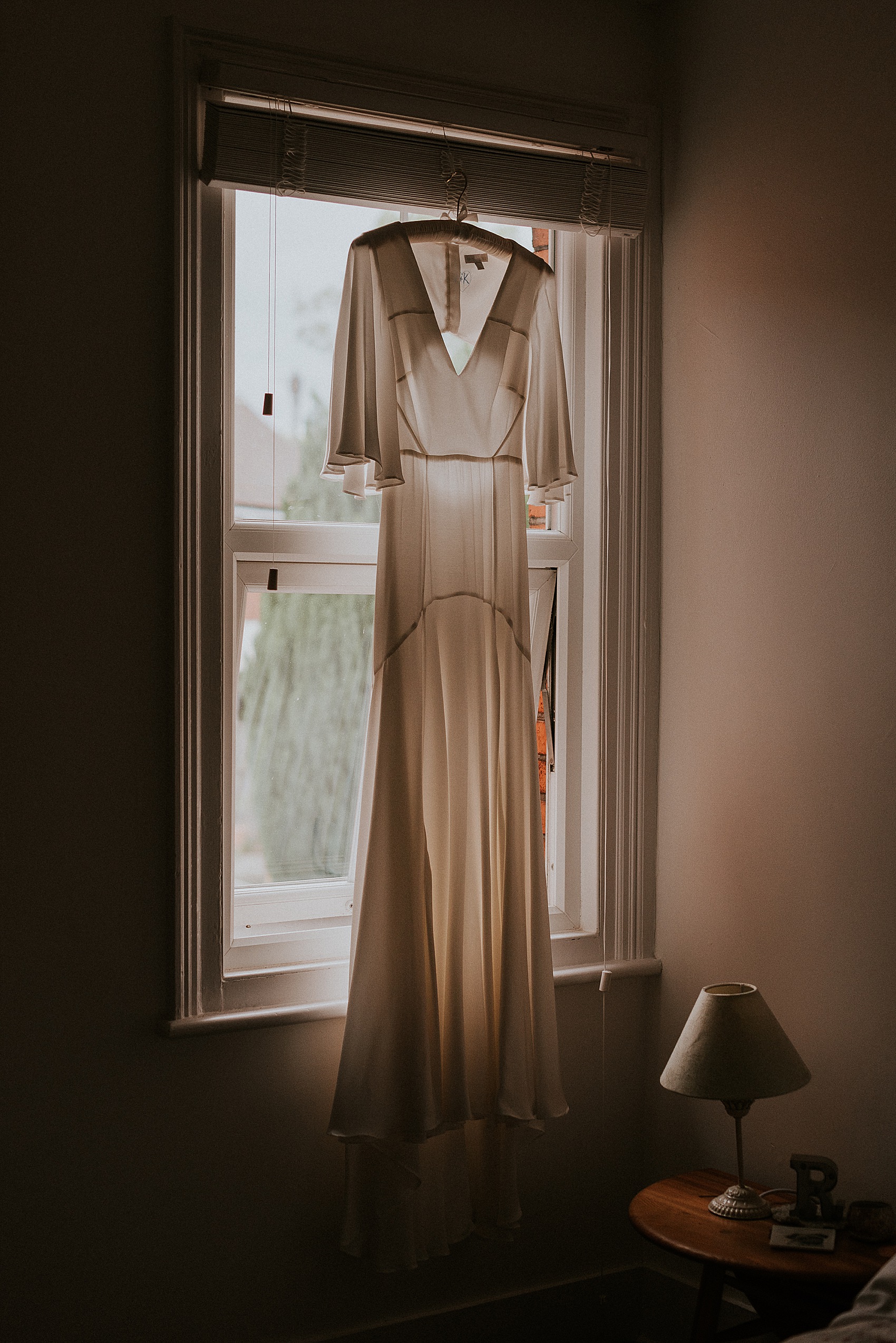 With the help of her sister and mum, Kate styled her own hair in lovely, cascading waves, and added a delicate fresh flower crown of daisies, spray roses, and olive leaves, made by Wild Alice Floral Designs.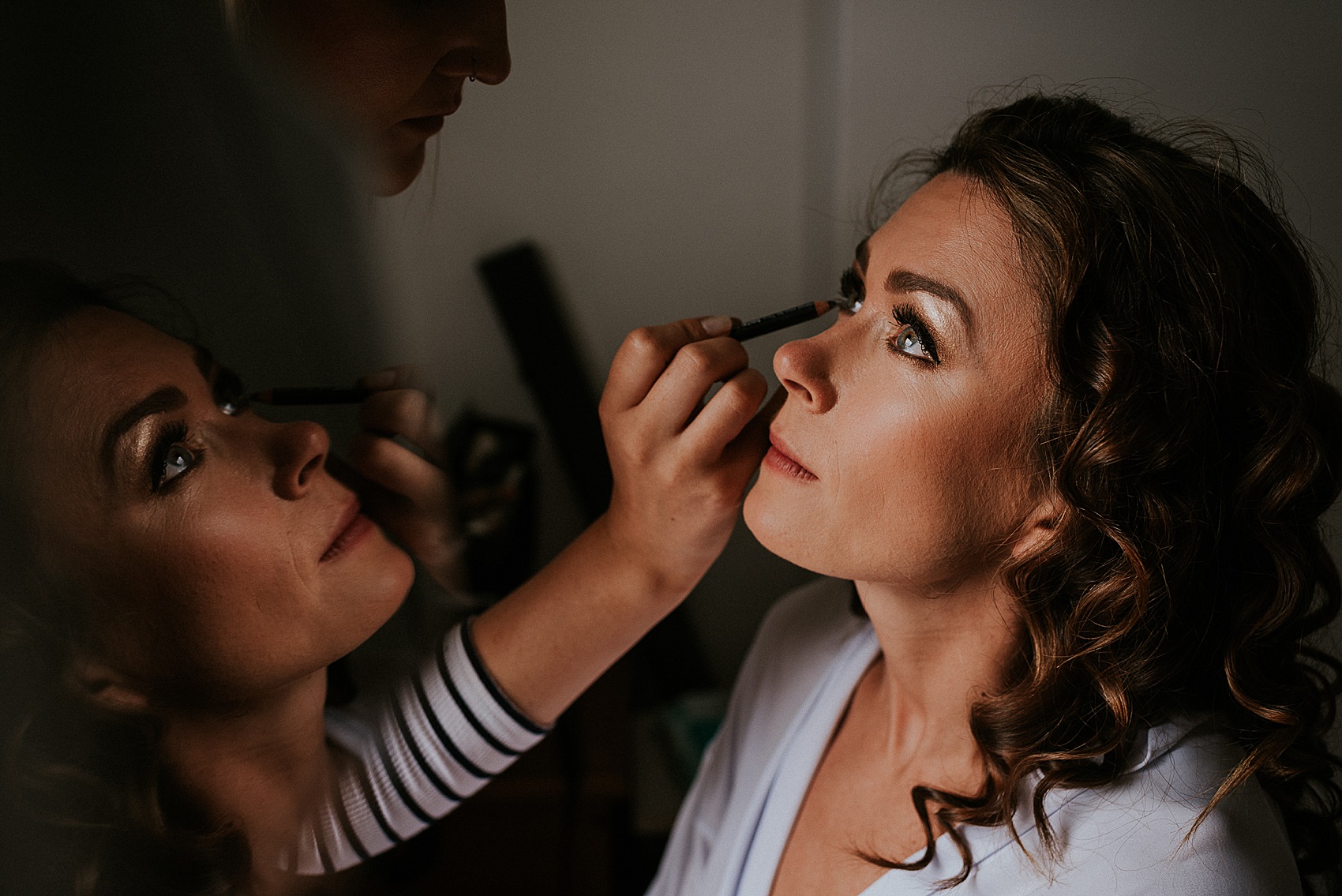 Kate wore a beautiful collection of new, borrowed and heirloom accessories for the day. There were gold hoop earrings with pearl drops from Wolf & Badger, diamond studs borrowed from her mum, and a bracelet she's worn every day for 15 years, which was a gift from her aunt.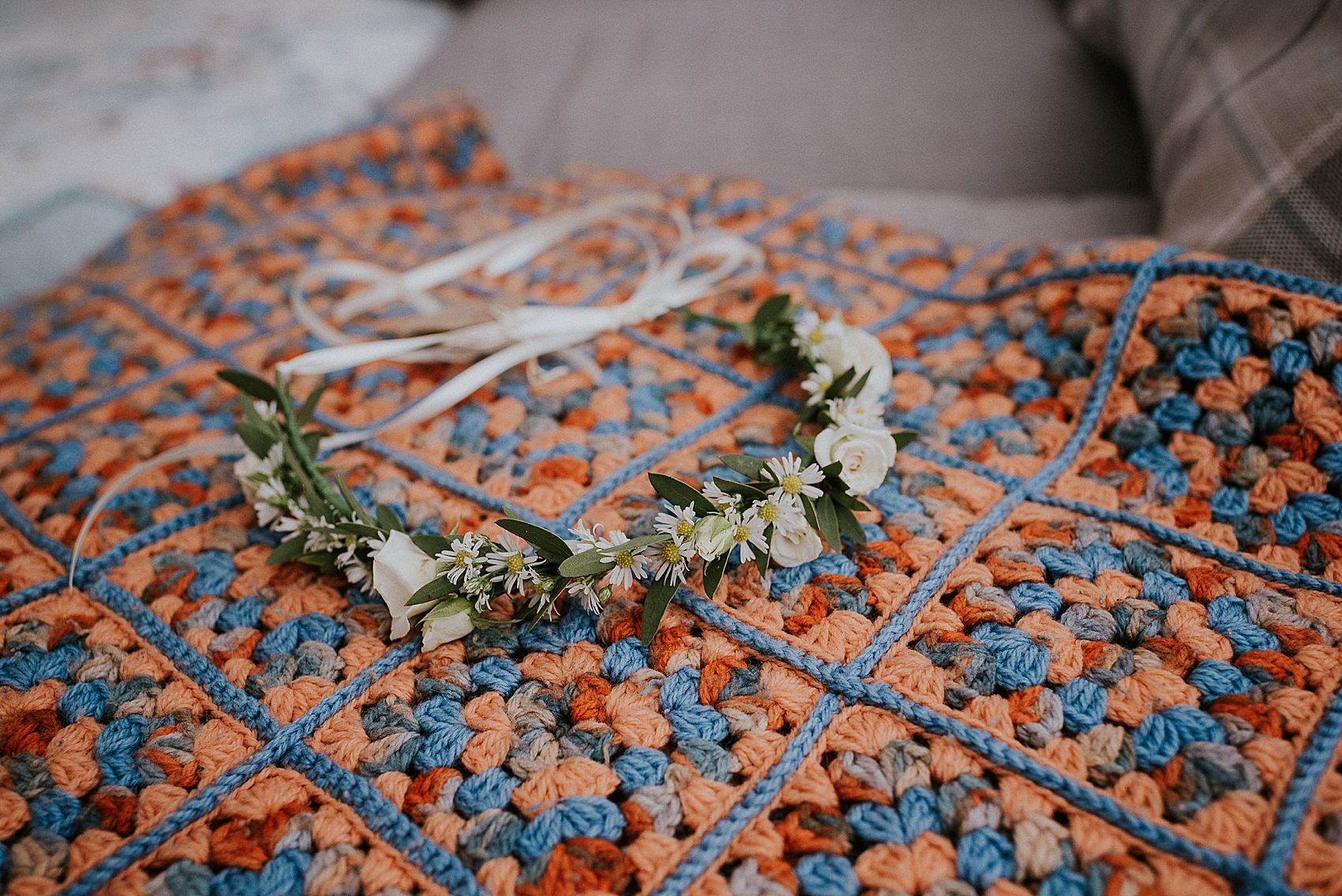 A pretty veil was borrowed from a friend (and Kate was the fourth of her circle of friends to wear it!) and her luminous make-up look was created by her sister's friend, who runs Brows & Beauty By Chloe.
"My shoes were Converse! Being in a field, I was going to wear flat shoes without a doubt. I live in Converse most days, so they were my go-to choice, and when a Google search revealed gold and silver sequinned ones existed, and that they were in the sale at Office, I knew that it was meant to be!"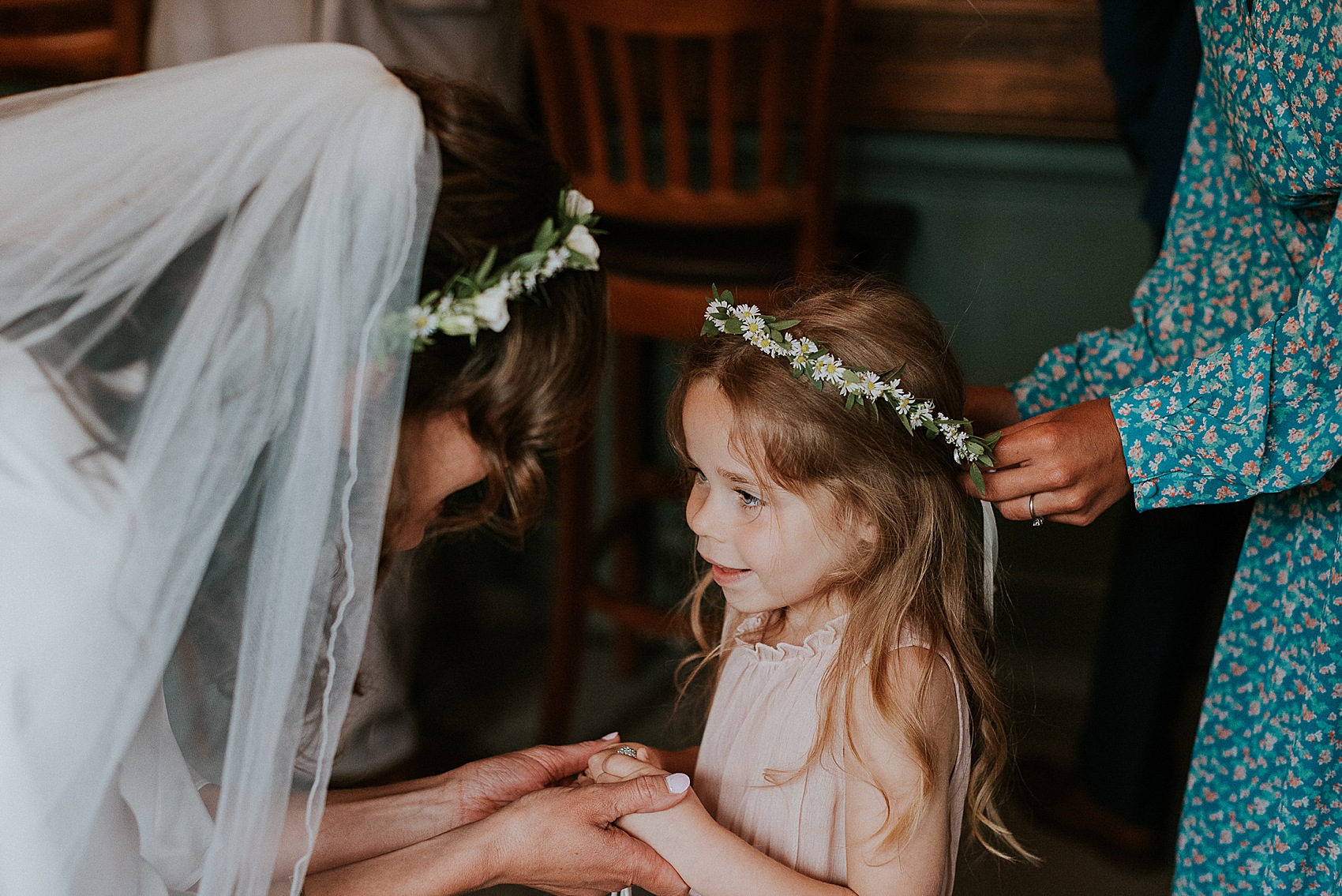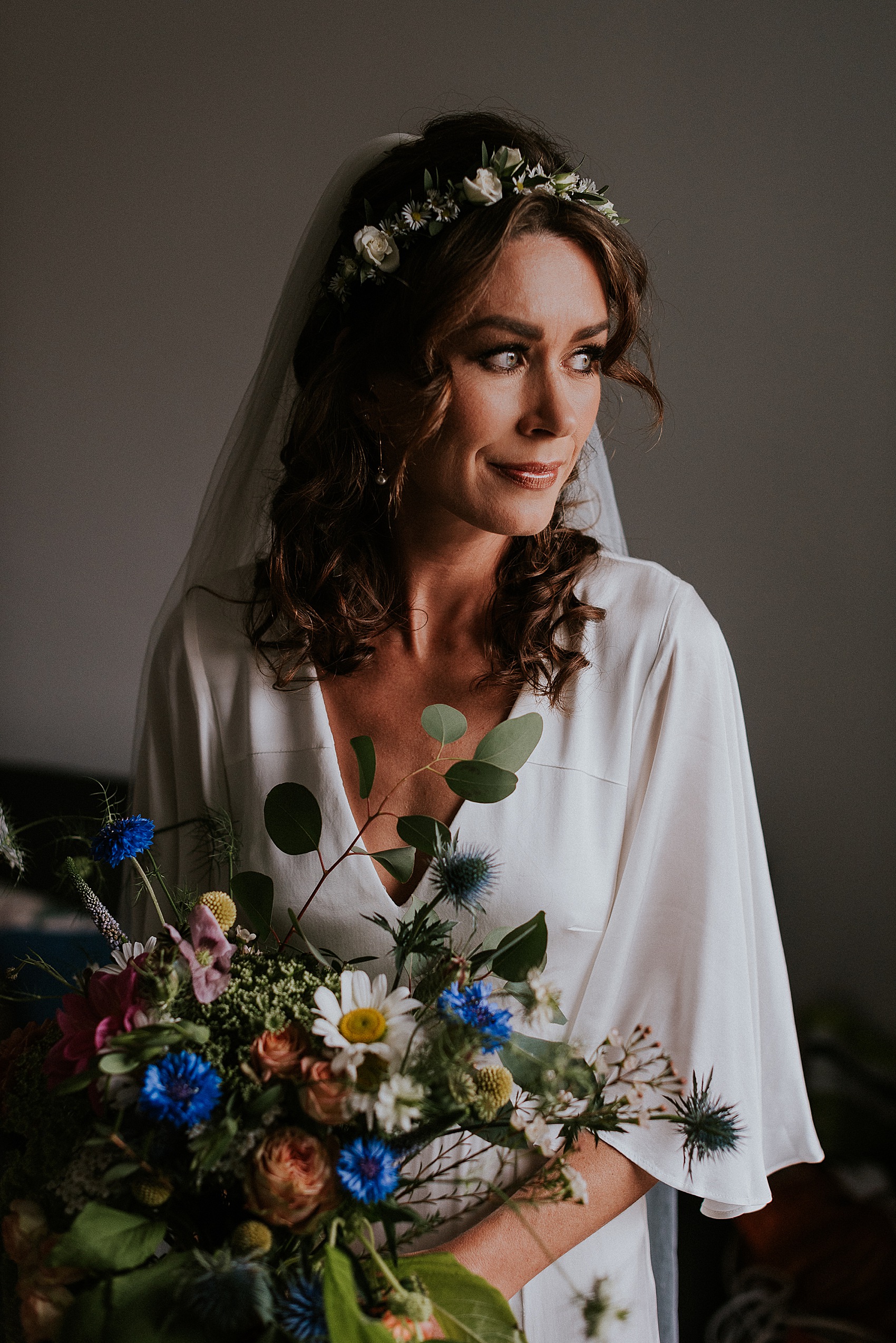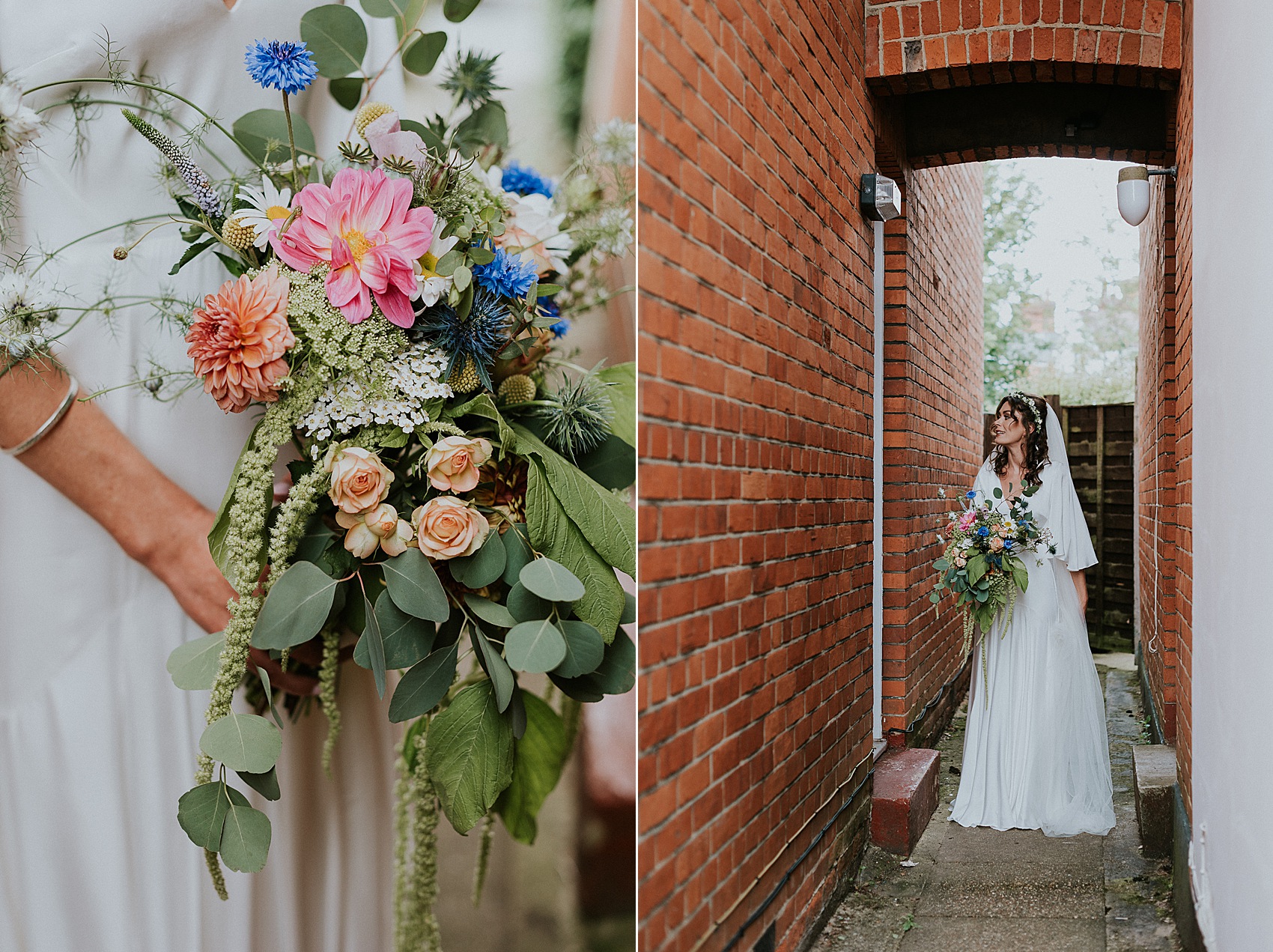 The gents' outfits were summer perfection, with Elliot in a pale, blush pink suit from Reiss, with a custom-made waistcoat and shirt made by Letters From Norman, which is Elliot's mum's label, no less!
"Elliot and I are so lucky! Linda's factory did an amazing job, and she worked tirelessly to ensure that Elliot had a totally unique outfit for the day. She had him a fabulous bead-chain made, too. This was from an online company based in Turkey."
The Best Men and groomsmen wore complementary outfits in ice-cream shades of cream and pale blue, with linen mix jackets from River Island, chinos from Marks & Spencer, and shirts and canvas pumps from ASOS.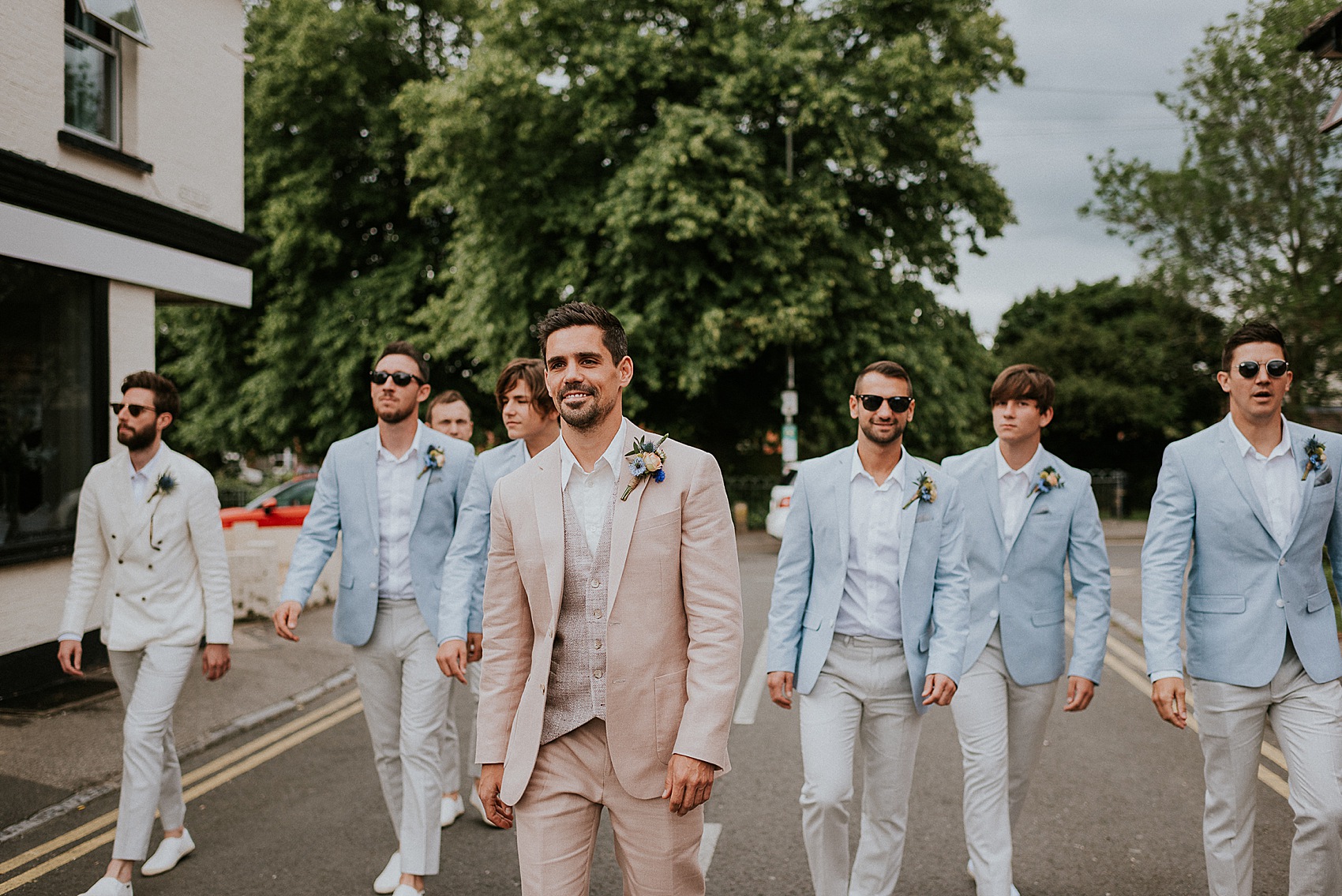 Kate's Uncle Gary drove her to the venue, and the wedding car was decorated with ribbon that had also been used on her mum's wedding car back in the 1970s – how lovely!
"Elliot and I met at work. We both worked for a film company in London. He was a designer, and I was a receptionist. We always got on well as friends, and then things developed! We spent 6.5 years living together, got two dogs together, and had many an adventure. Then one day when we were out walking the dogs, Elliot dropped down on one knee! We set our wedding date about a year after we got engaged."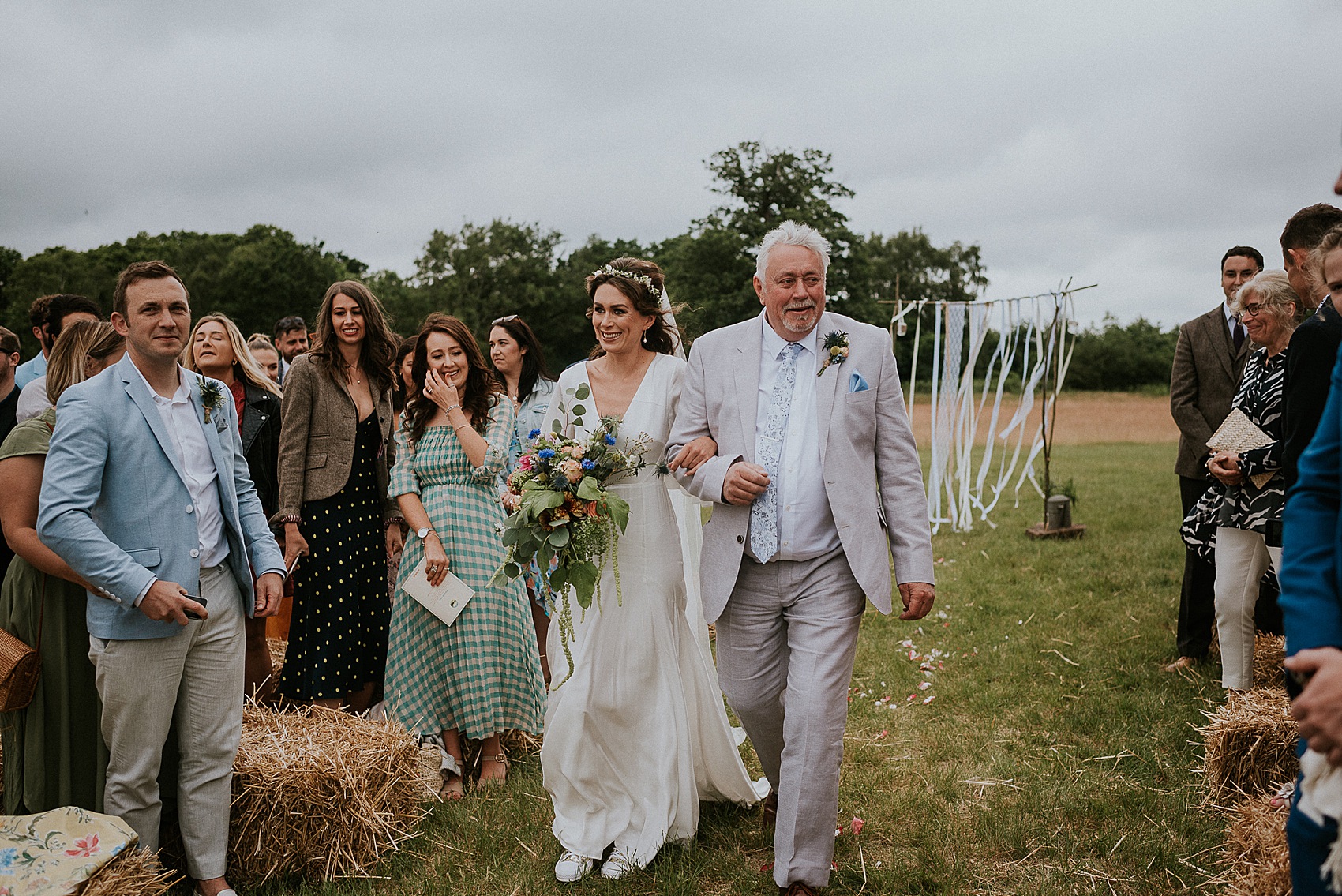 Kate walked down the aisle together with her dad, Eamonn, and chose Deireadh an Tuath, by Enya, as her entrance music. This choice of song was a tribute to her Irish roots, and the fact that one of her earliest memories is of her dad blasting out Enya albums through the house [mine too, Kate, mine too!]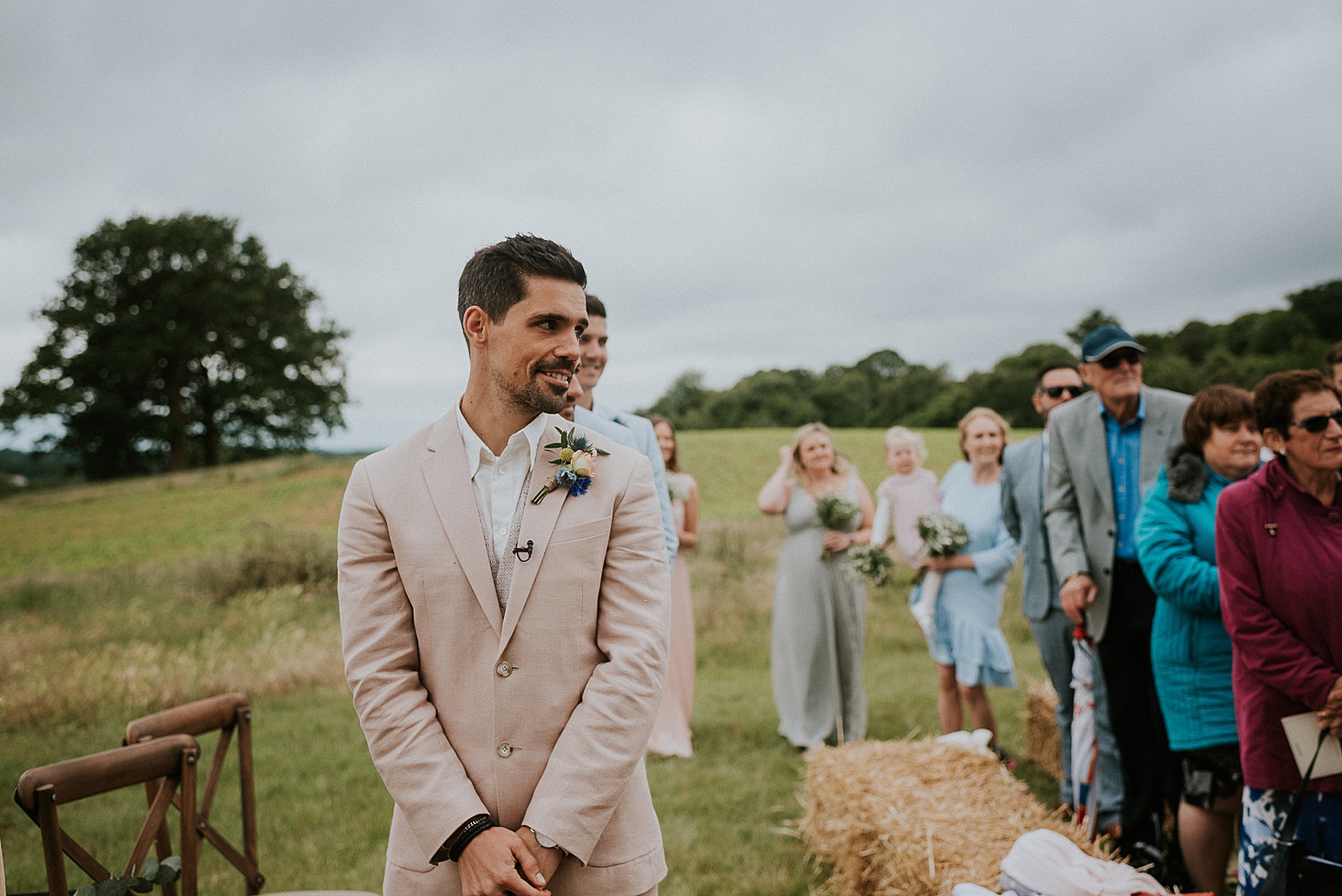 The wind and rain did nothing to dampen the spirits of Kate and Elliot's loved ones, as they gathered on hay bale seating for the ceremony.

"I had quite an image in my mind of how I wanted everything to look, and that I wanted the styling to be eclectic and unique to us. We both love festivals, and I in particular love being outside, so I pushed for an outdoor wedding from the start!"
"We knew we wanted something slightly different, with no set colour scheme or anything too formal."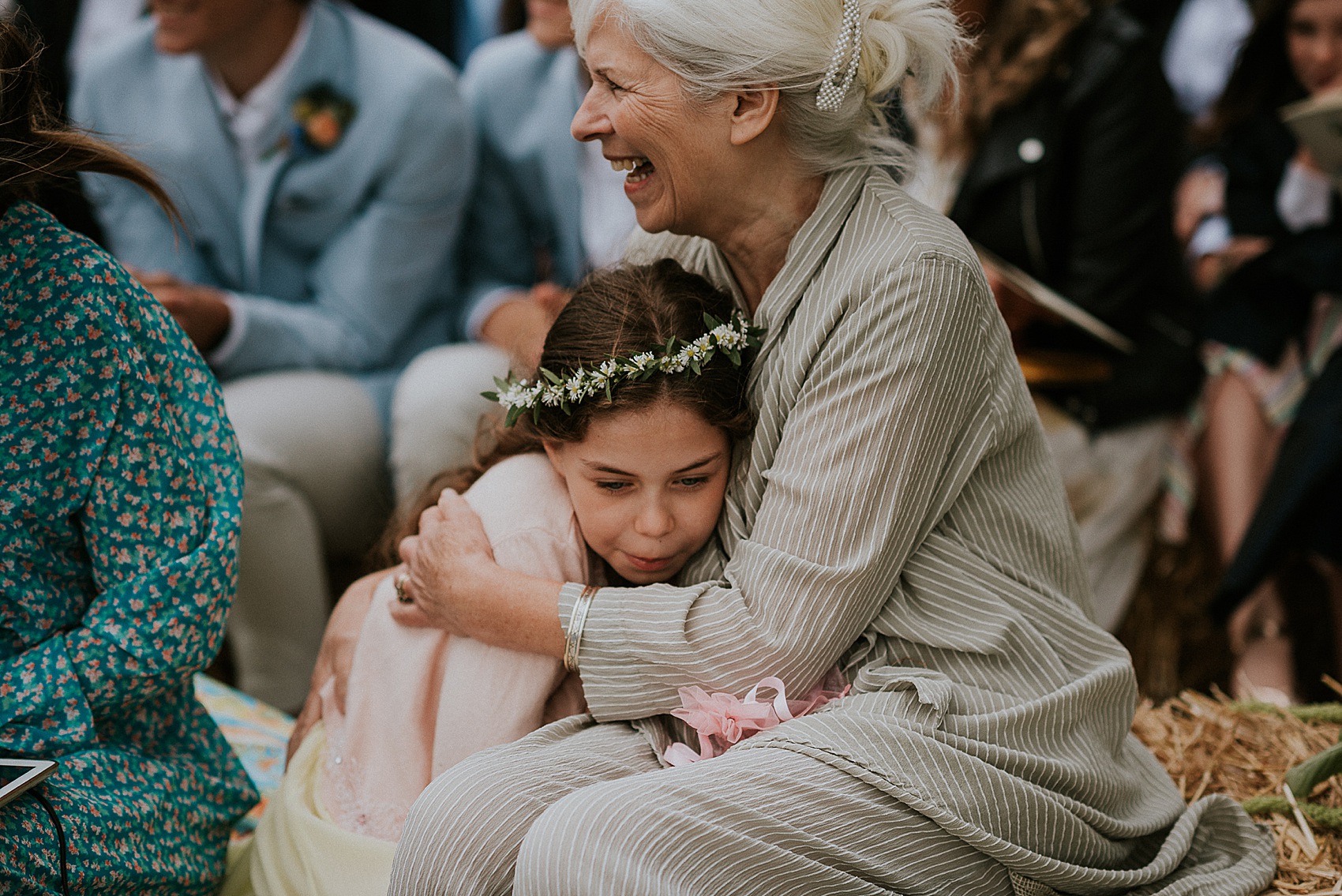 "We got legally married at Guildford Registry Office on the Wednesday before the wedding, so we actually decided to ask our friend Phil to officiate on the Saturday. Phil was our flatmate when we first lived together, and we knew he would do an amazing job. He didn't disappoint."
"His delivery was lighthearted and fun, and he'd put so much effort in to add personal touches. Again, this made the ceremony so much fun and totally unique."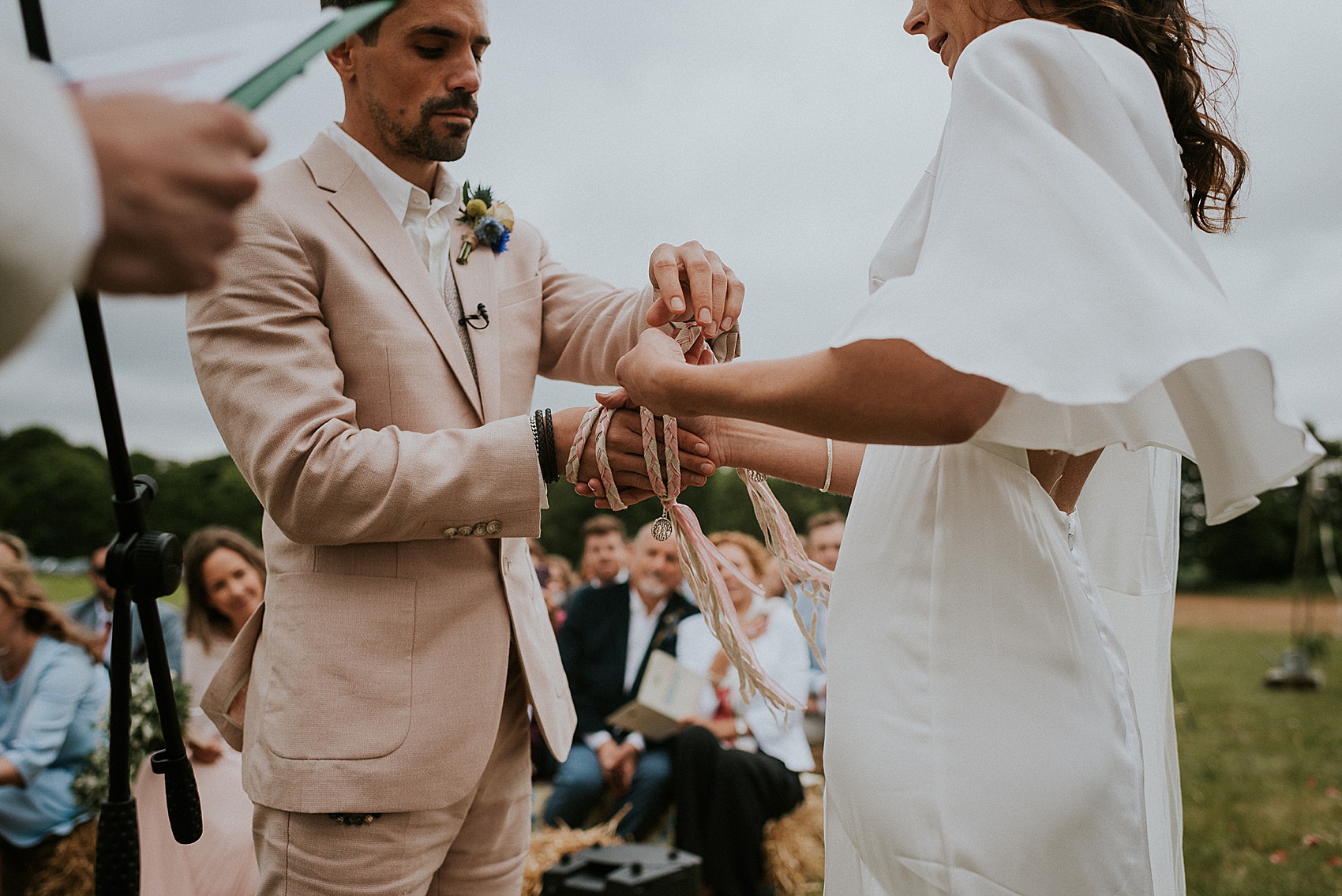 Two rustic, wooden arches provided a lovely focal point, with one for the ceremony, and one acting as a doorway for Kate to step through and walk down the aisle. These were made by Kate's dad and brothers, who are talented carpenters, and decorated with flowers and fluttering pieces of ribbon and lace.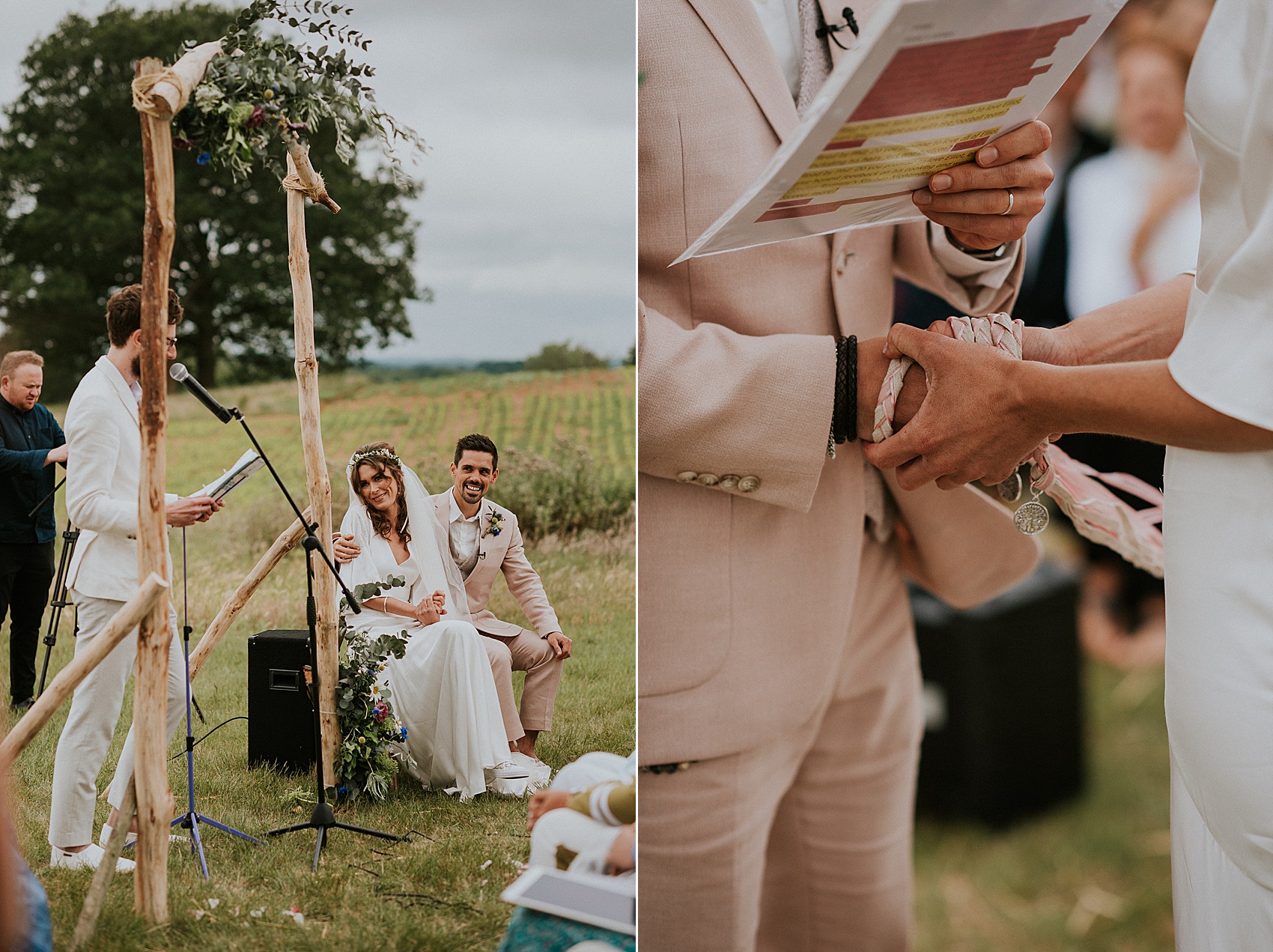 Choosing wedding rings had actually slipped Kate and Elliot's minds, with everything else they needed to organise, so there was a hasty trip to the high street to choose placeholder rings!
"We had two readings at the wedding, the first read by my sister and Maid of Honour, Rachel. Rachel had always wanted to do the reading of E.E Cummings' I Carry Your Heart, as read sister to sister in a film called In Her Shoes. Whenever Rachel gets married, I will return the favour to her."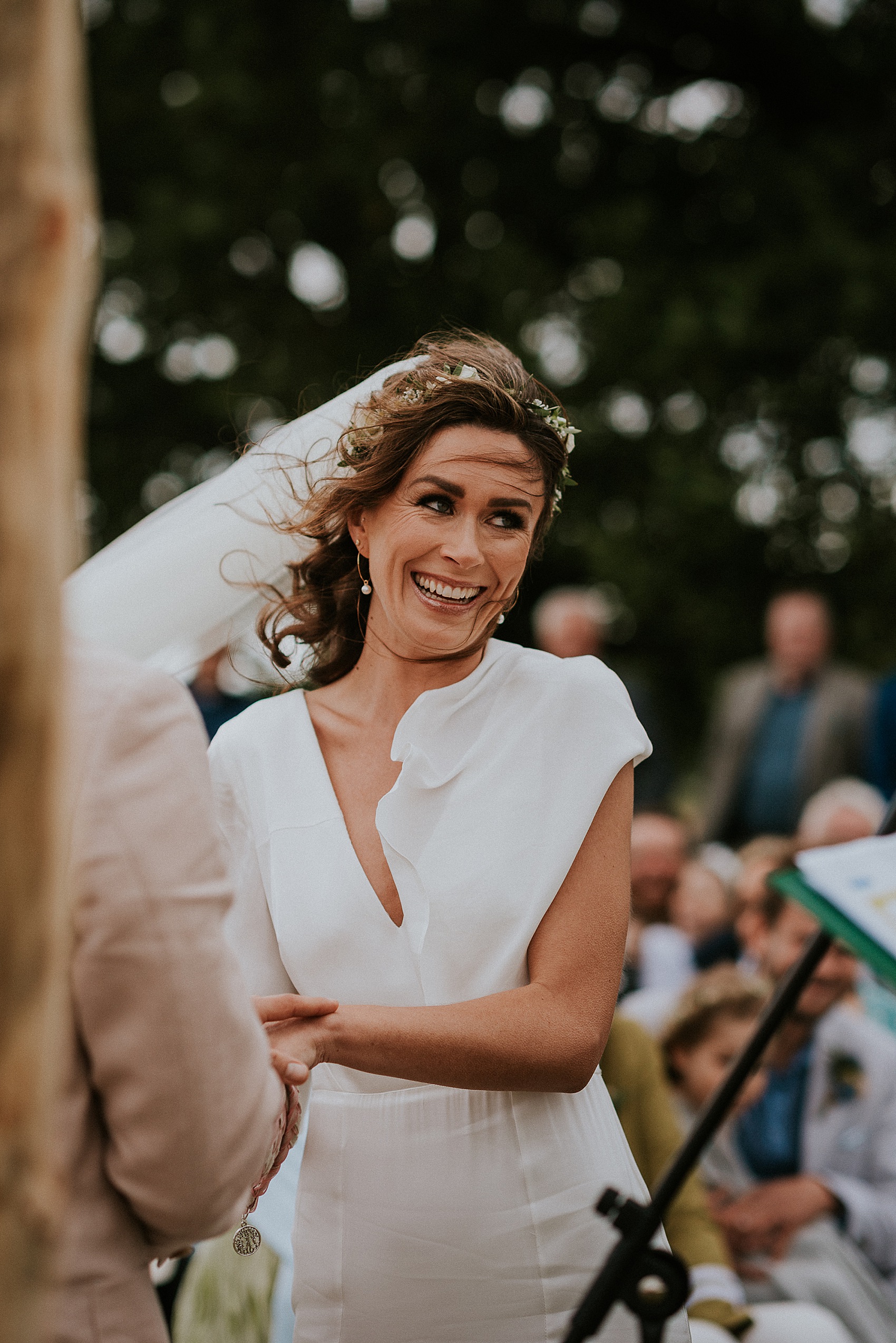 The second piece was read by Elliot's university friend and groomsman, Steve, and was The Priest's speech on love from the TV series Fleabag, written by Phoebe Waller-Bridge.
"I absolutely loved the scene when I saw it, and thought it was so honest and moving, and I really wanted it to be a part of our proceedings. Luckily Elliot did, too! Steve's delivery was impeccable."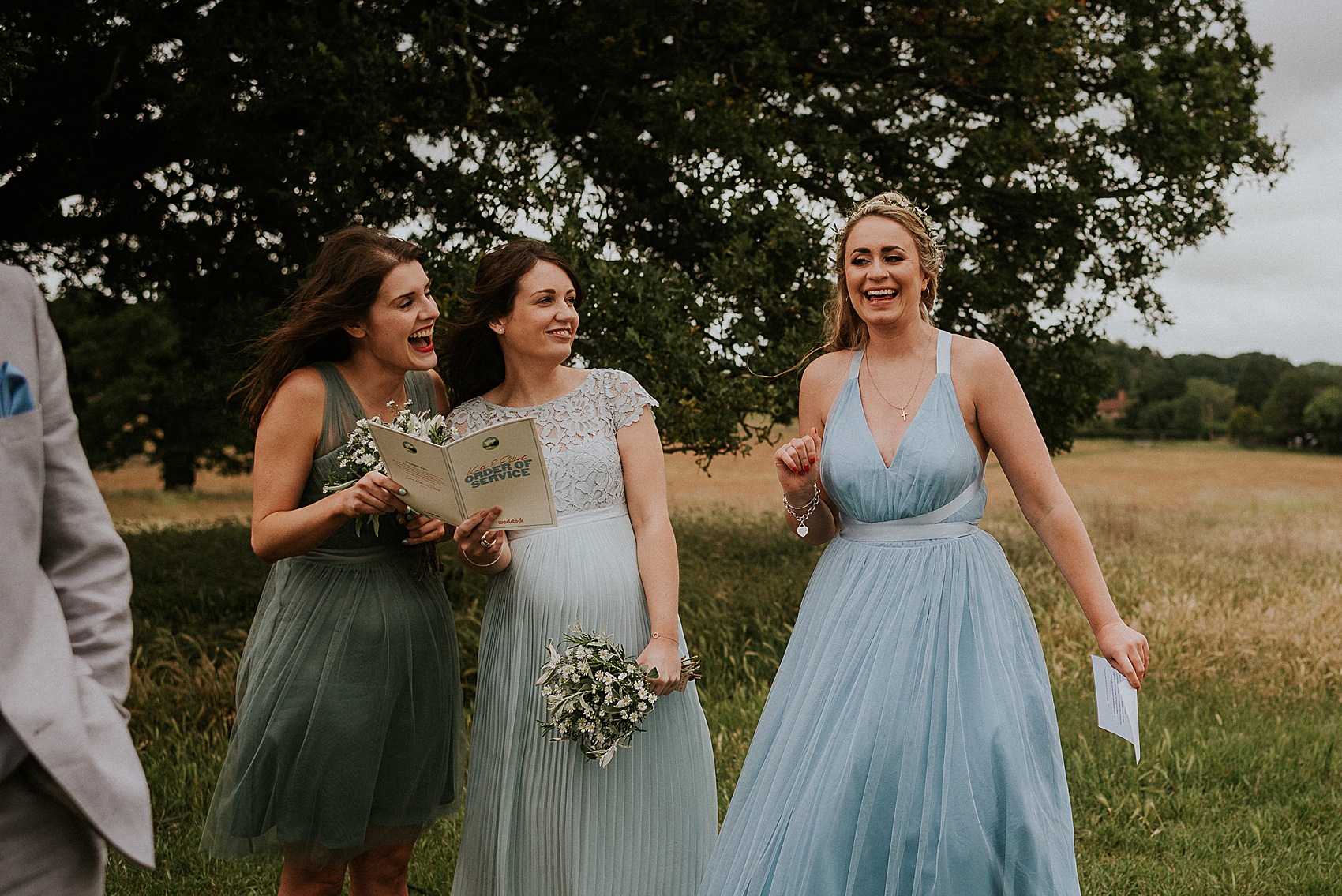 "Even though we weren't in church, I really wanted there to be singing, as I think it can really bring a group together in mutual awkwardness! So we threw in a couple of tracks that we thought most people would know and had a sing-along as part of the service: Something Stupid by Frank Sinatra, and I Got You (I Feel Good) by James Brown."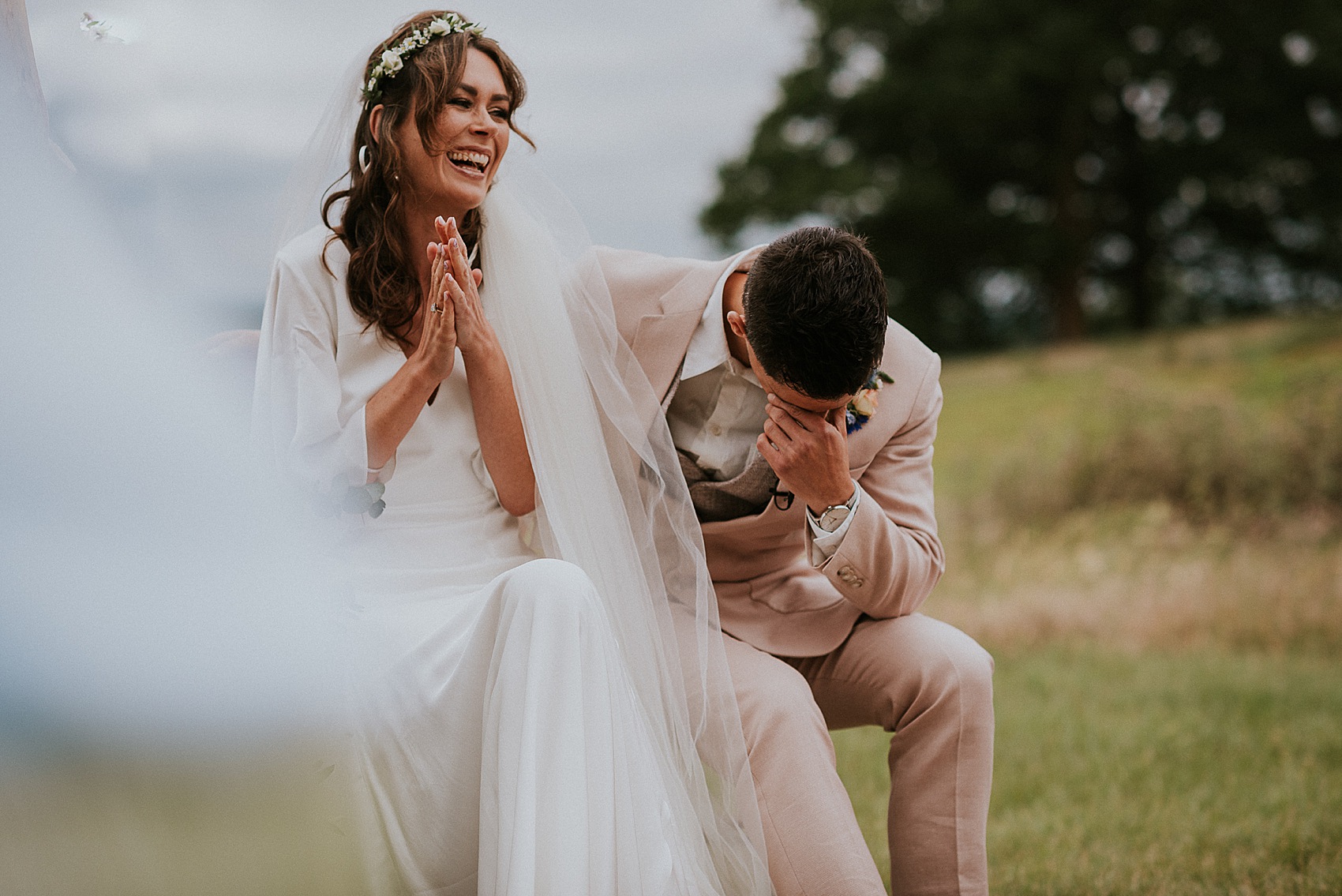 Florist Emma from Wild Alice Floral Designs was recommended to Kate by a work colleague, who spotted Emma at a market, and thought her approach and style was just what Kate had been looking for.
The bouquets were a spectacular, seasonal array of colourful dahlias, daisies, cornflowers, and sea holly, together with poppy seed heads, roses, love-in-a-mist, and lots of lush greenery.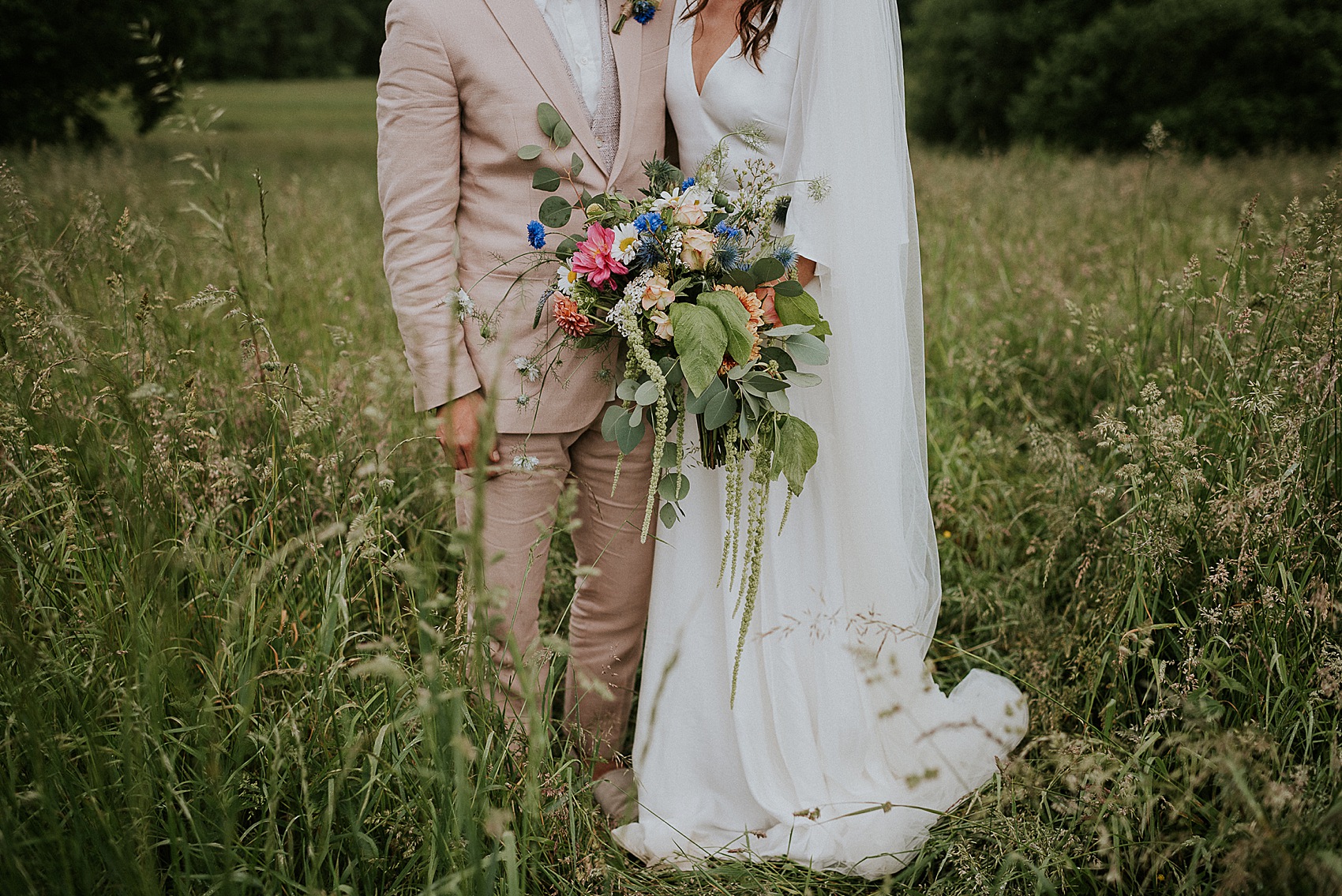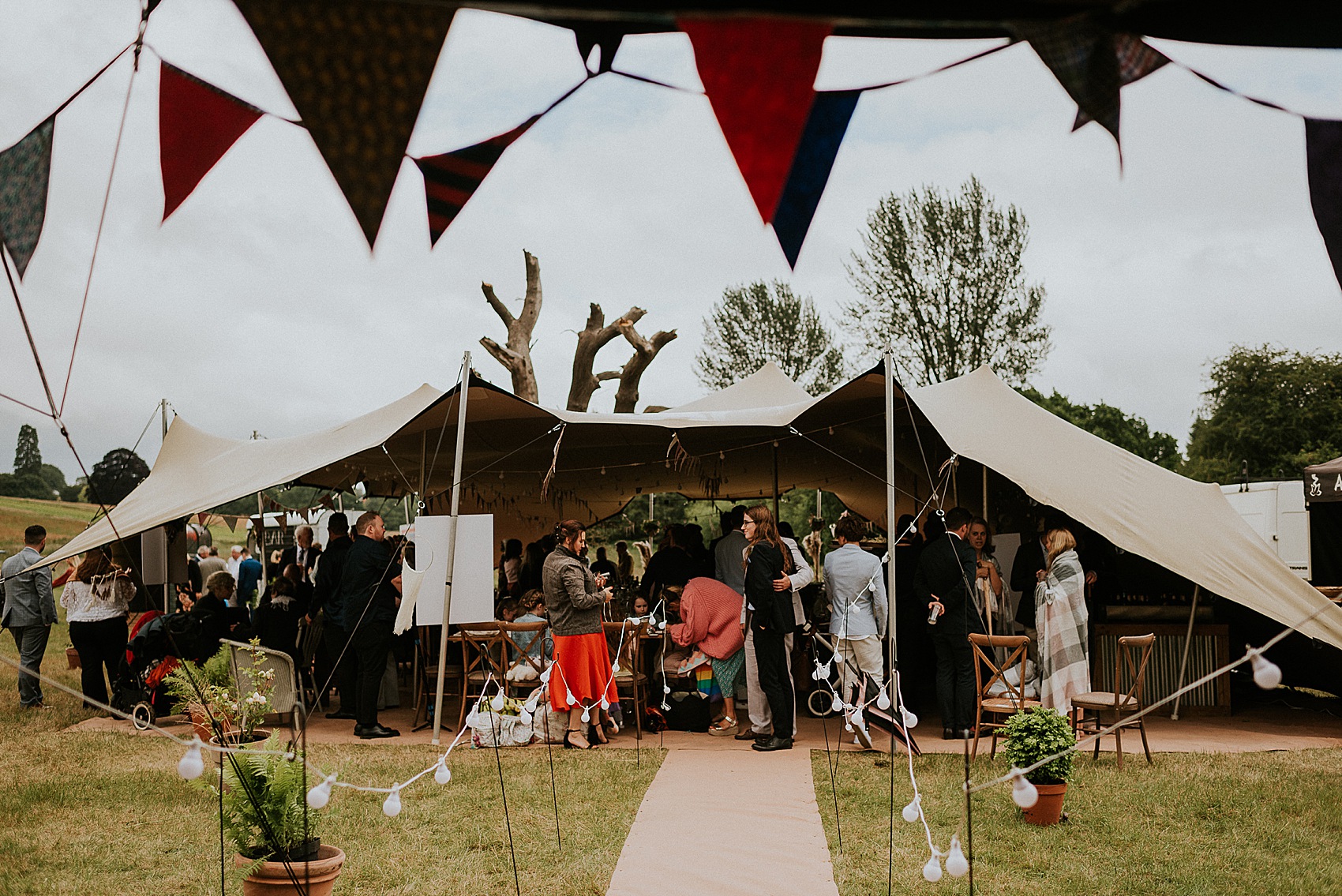 "My two beautiful nieces Bluebell and Savannah were my flowergirls, along with my adorable goddaughter, Evie. Bluebelle's yellow dress, and Savannah's pink dress were from Next, and Evie's lilac dress was from Mamas & Papas."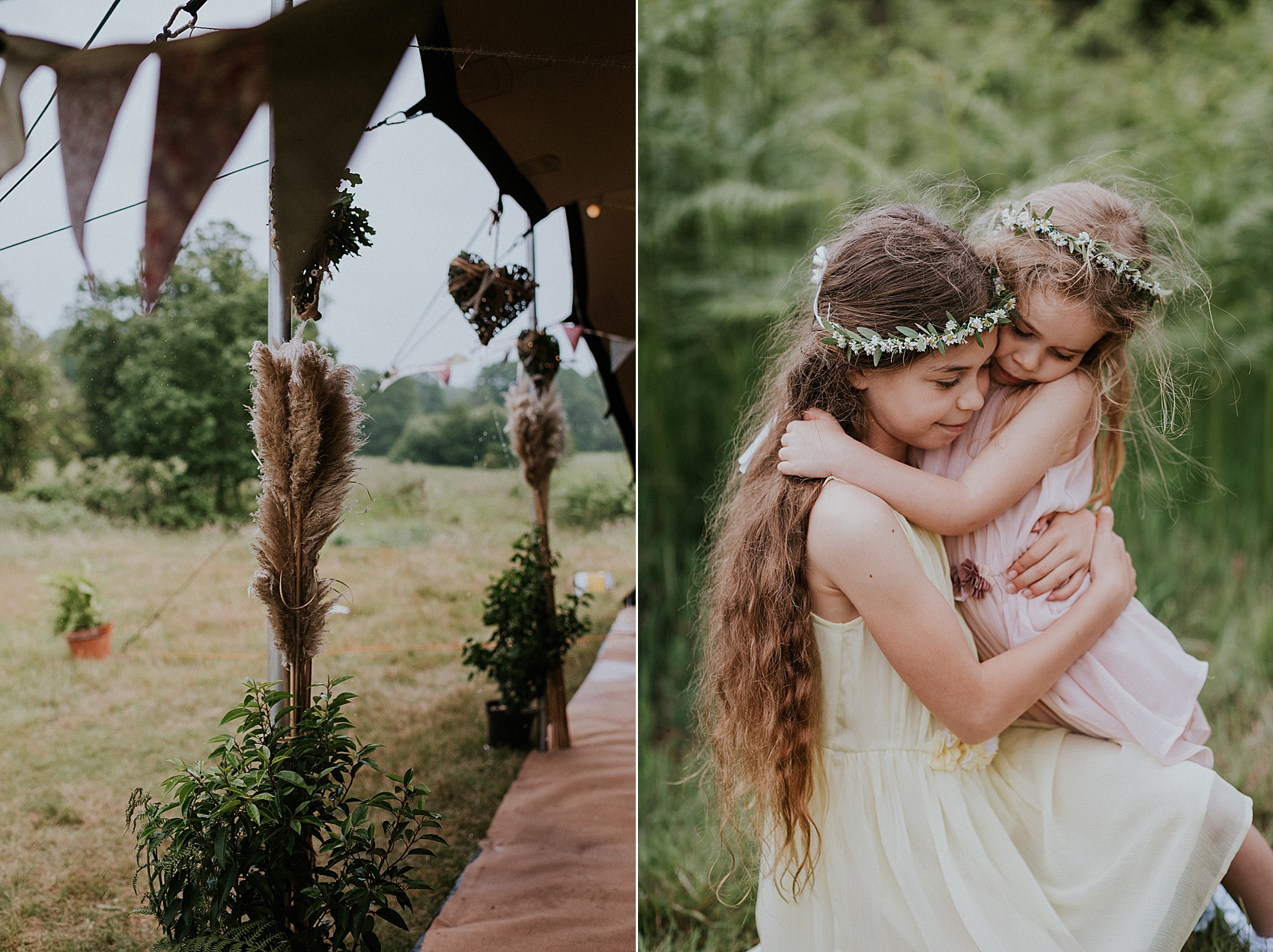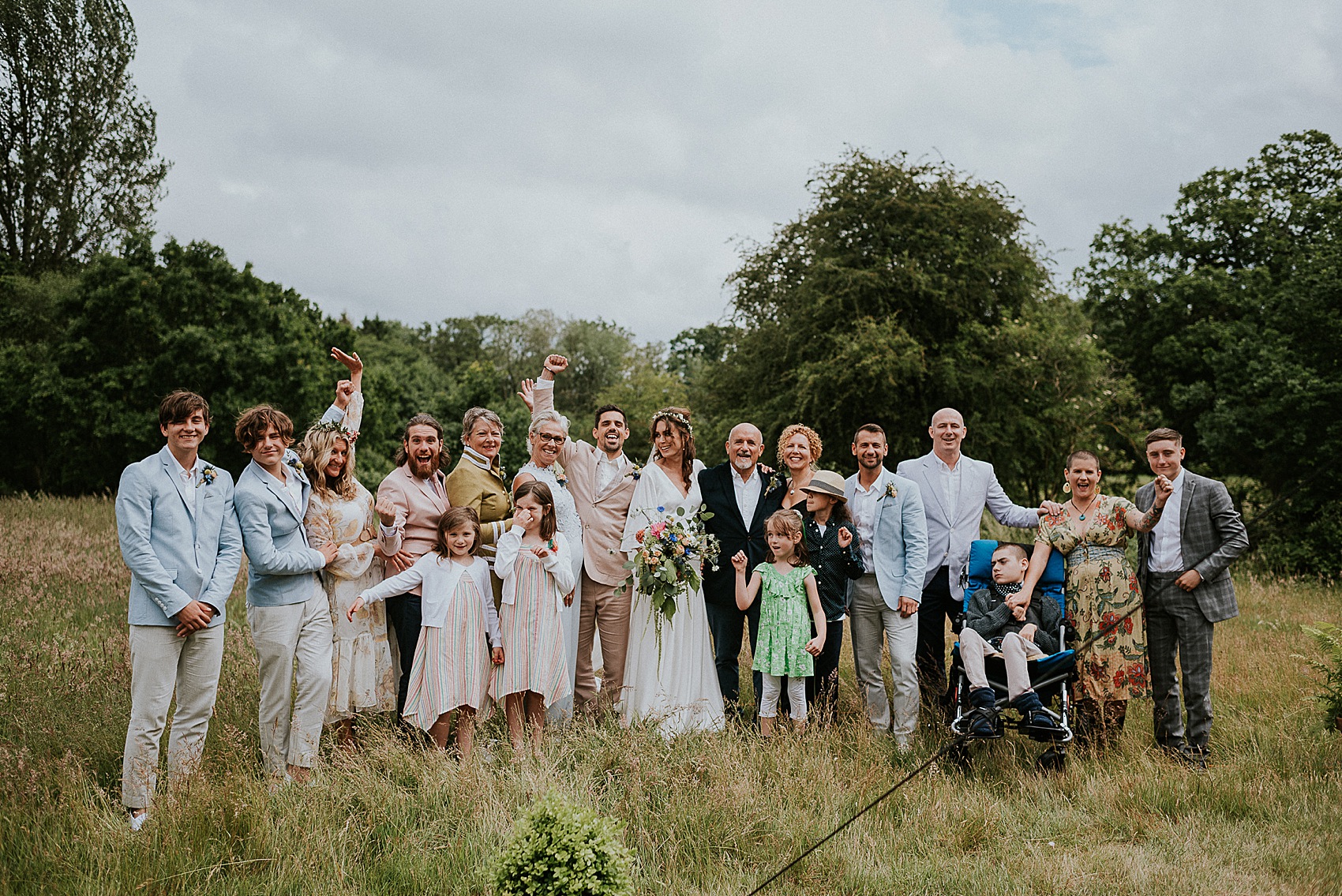 "Elliot is a Graphic Designer by trade, so he created all of our stationery. We were inspired by the Woodstock posters, so based our stationery on them, and we had festival style line-up posters to show the day's events."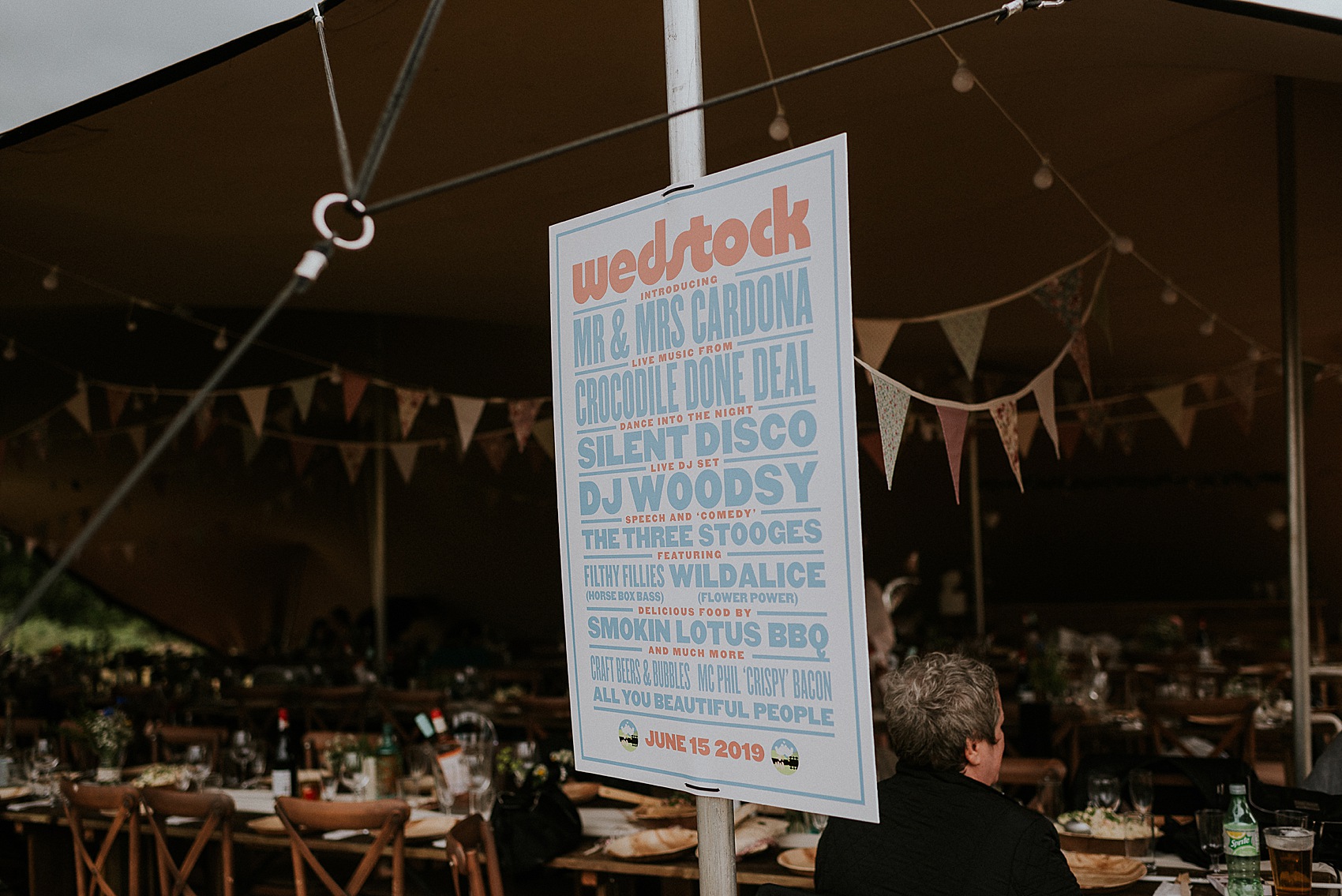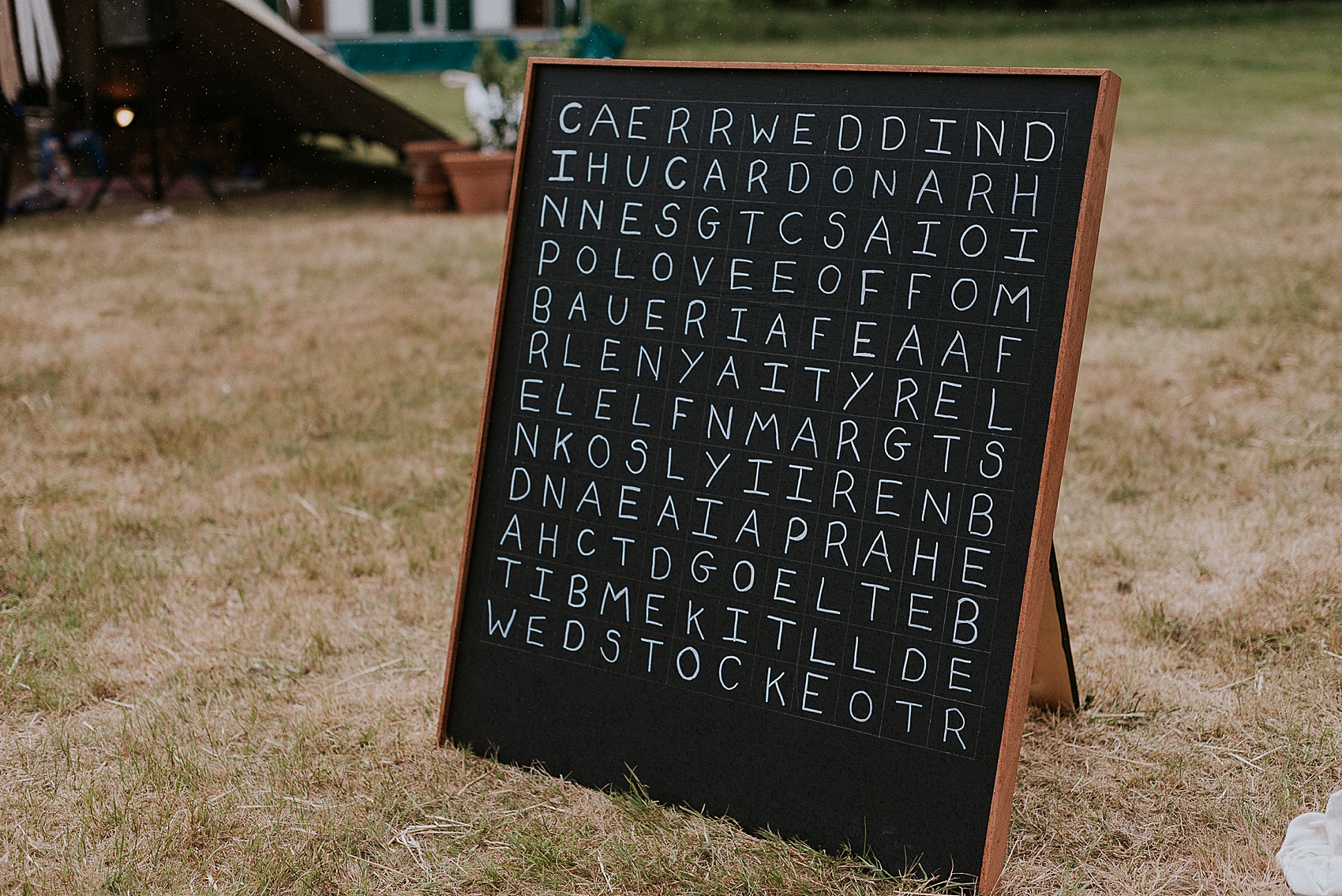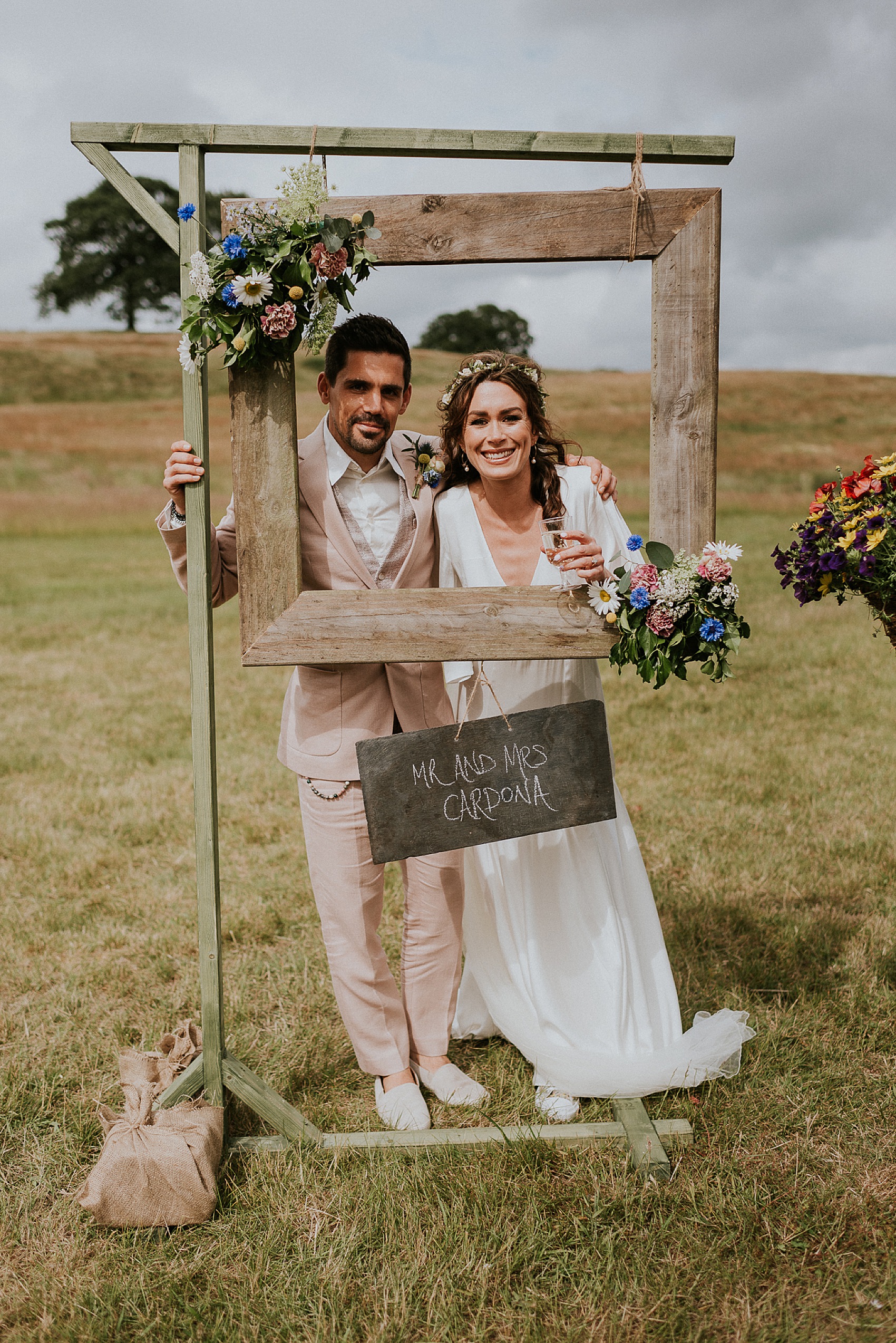 A brilliant horsebox bar was provided by Tipsy Goose, as well as the hay bales, cable reels and tractor seats as additional outdoor seating, and inside the reception tent, the rustic wooden dining tables and chairs.
"My dad and brothers also made a game of cornhole, a giant word search, a signpost and our gorgeous guestbook, which was a bespoke frame that you drop personalised hearts into. They also lent us a prosecco stand, and what looked like a giant birdcage that we decorated with fairylights and Polaroids of all our family and friends who were there on the day."

The tents were hung with bunting borrowed from family friends, and wall hangings made by Kate, and tables were dotted with fresh flowers inside jars and bottles decorated by Kate, her mum and bridesmaids in the run-up to the wedding.
"I work for a landscaping company, and I was lucky enough to borrow big plant pots and a few plants, plus a huge fire pit from them, so that was a massive bonus."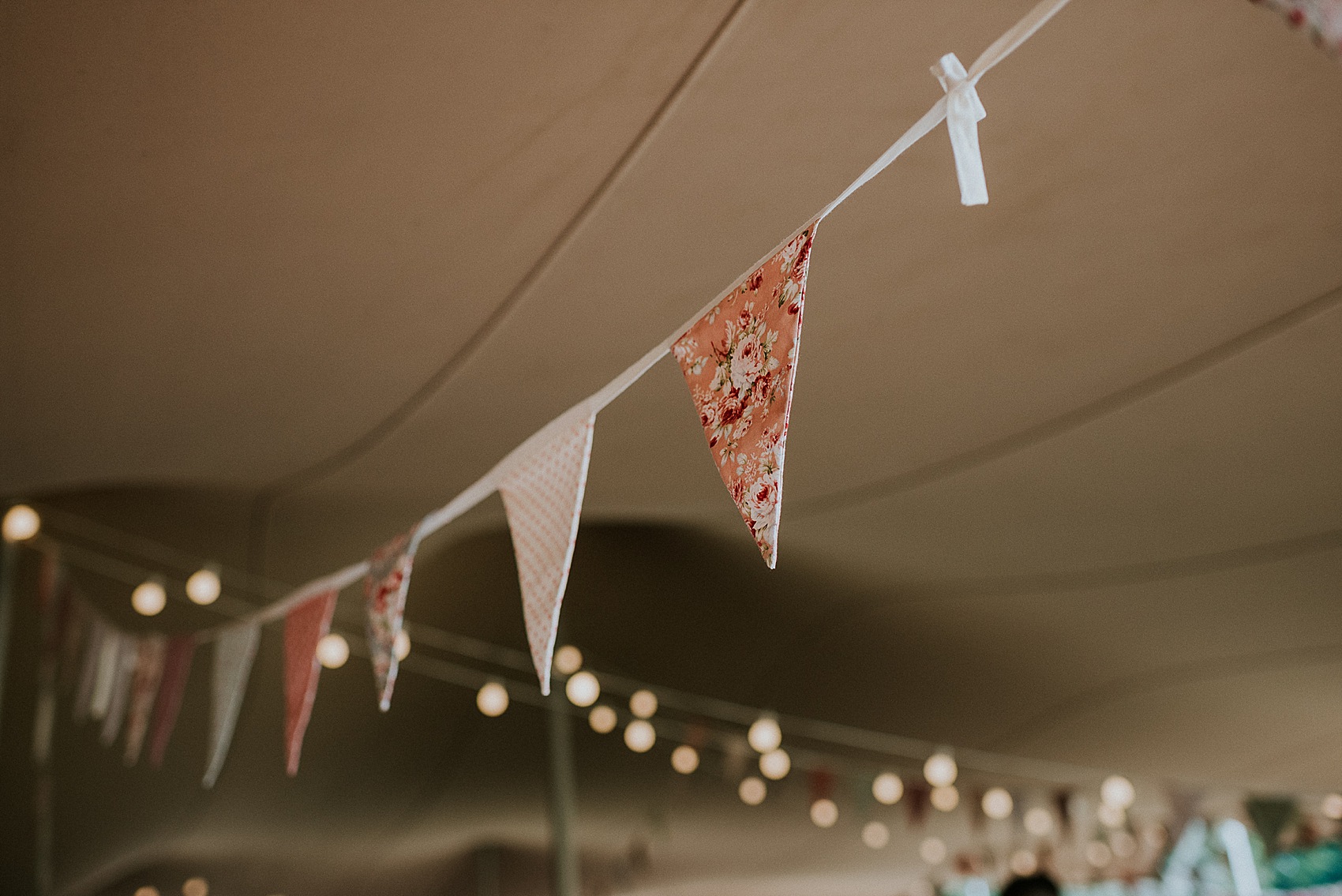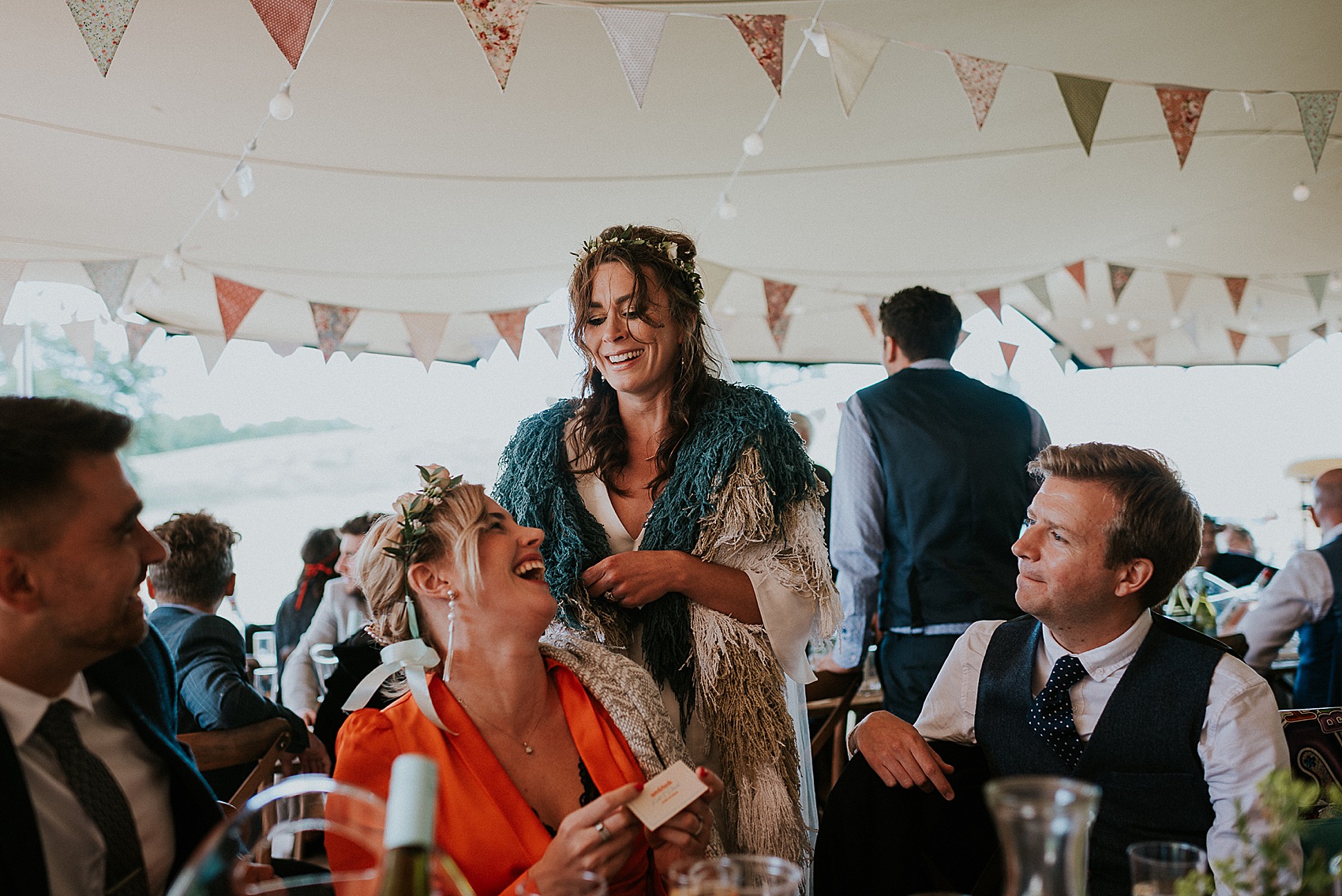 Kate's work friend Rhiannon made a spectacular two-tier cake, with one tier decorated with textured buttercream, and the other a semi-naked style, with raspberry jam and buttercream inside.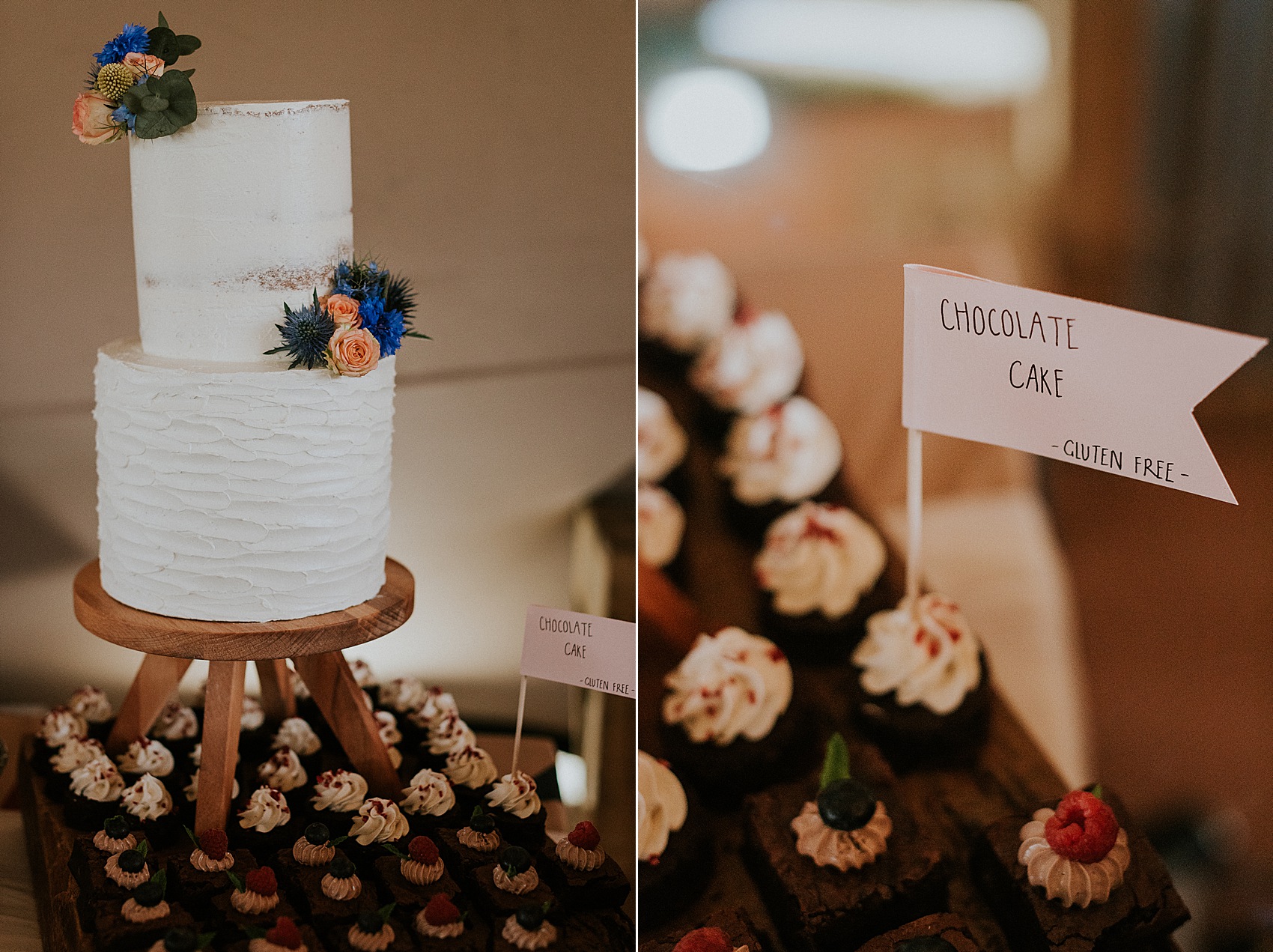 "She's a renowned star baker in the office, so when she offered to make the cake for the day, it was a resounding yes. On top of the cake, she made us several tray bakes and banana loaves too, including gluten free options. We were spoiled for choice, and everything disappeared very quickly."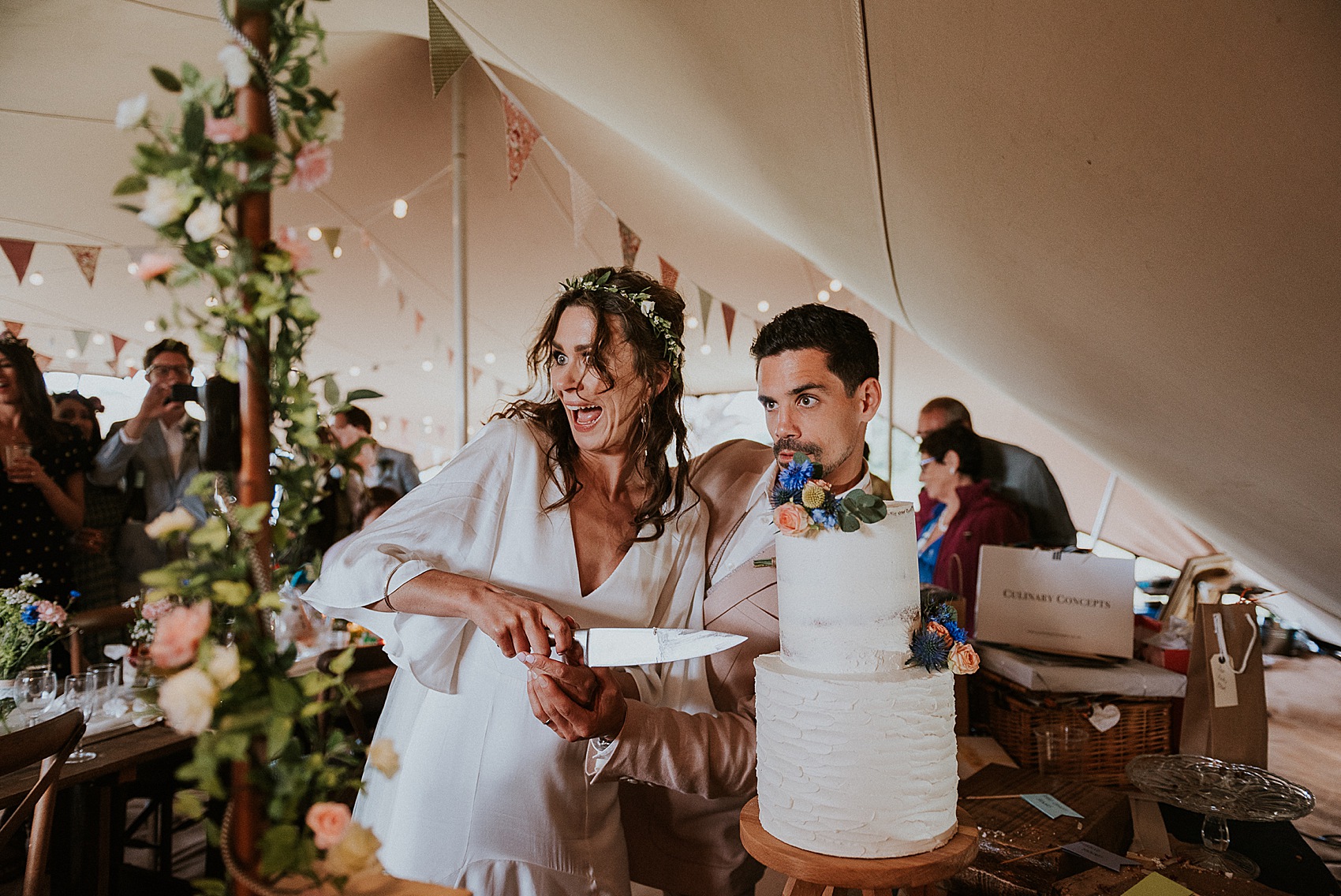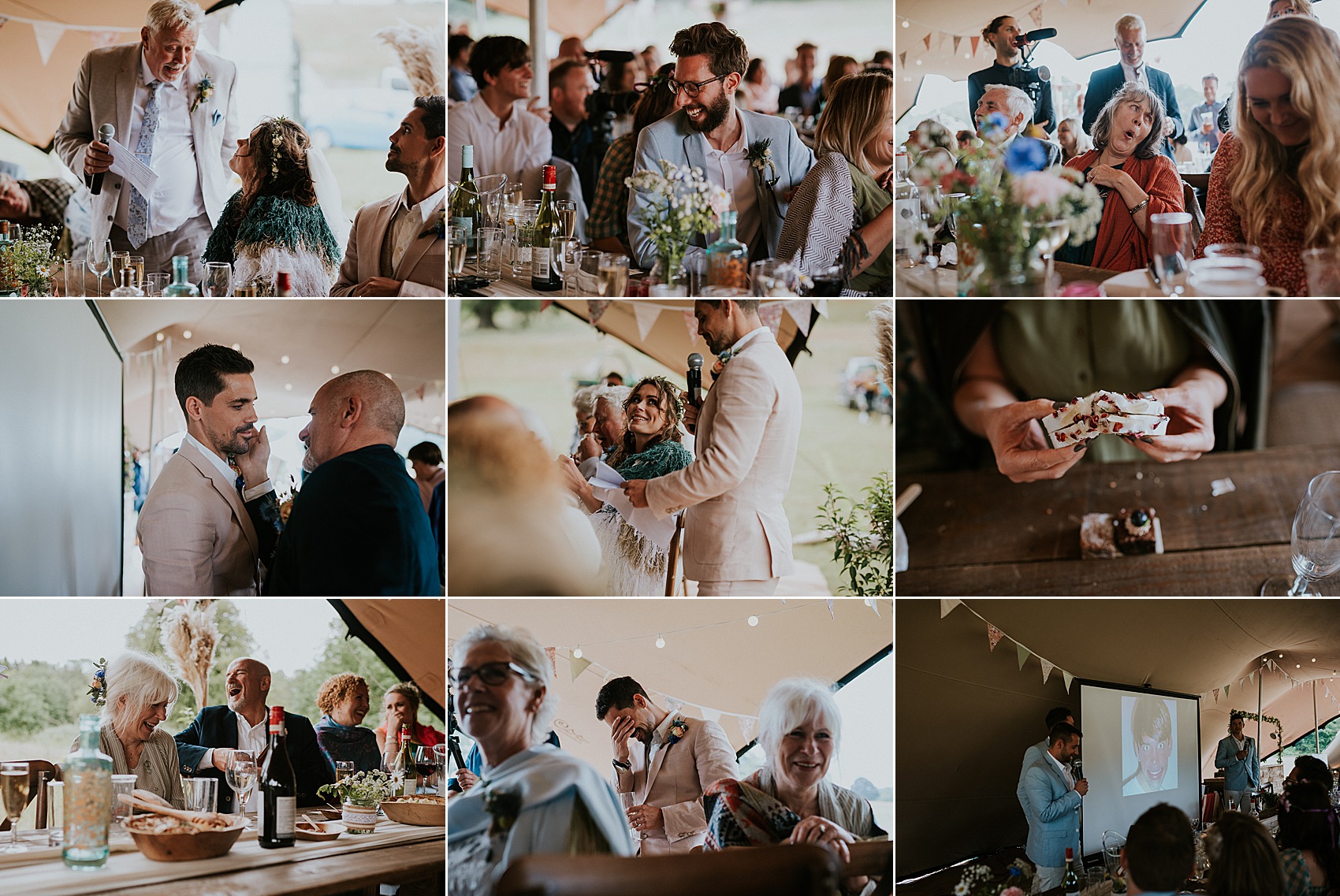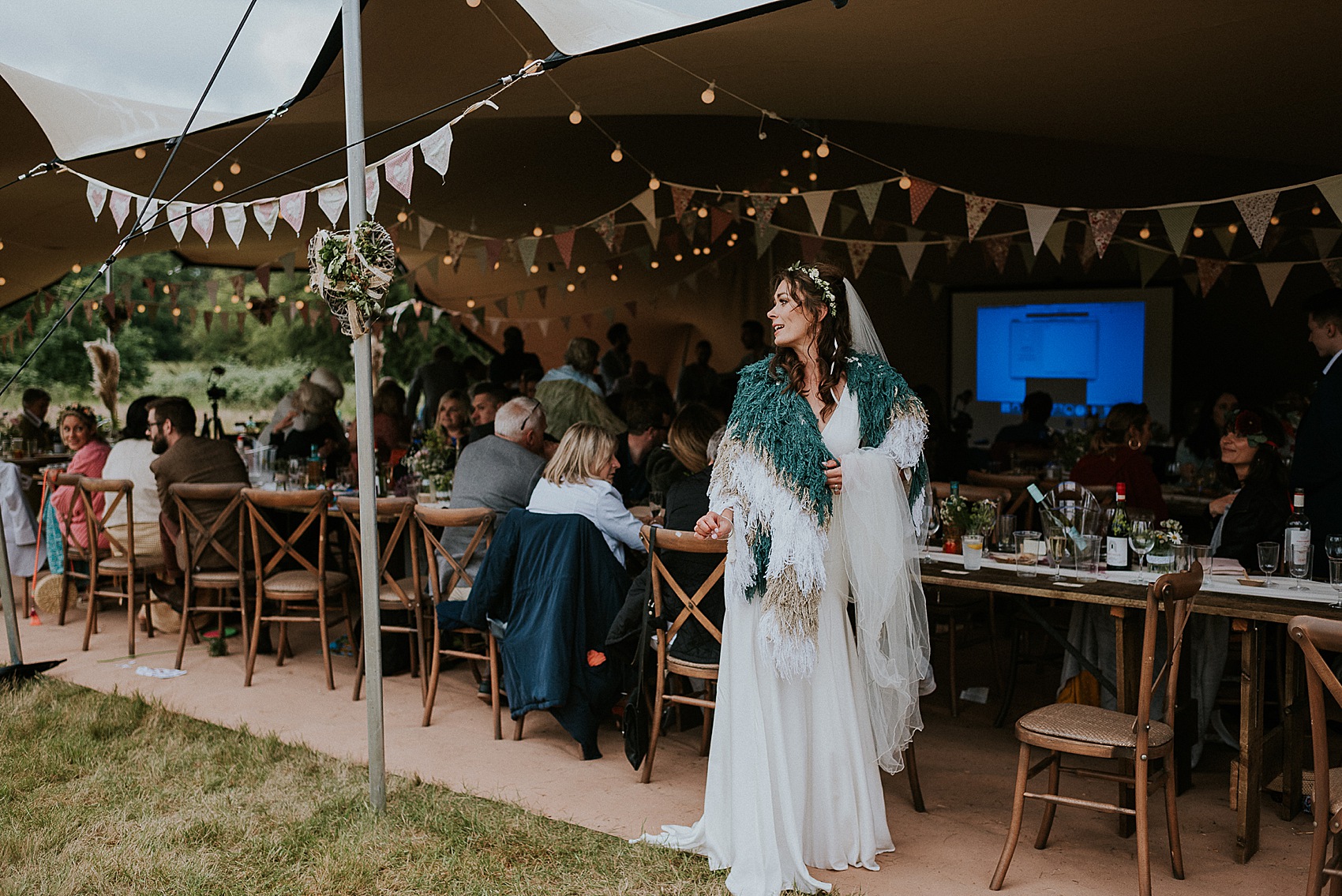 After toasts and cake-cutting, Kate and Elliot took to the dancefloor for their first married dance together, and chose Sharpness by Jamie Woon as their song.
"I was dreading the first dance. The thought of everyone standing around watching us canoodle awkwardly filled me with horror, so we choose a song that was quite pacey to have a little jig to instead. We had a few practice runs in the kitchen running up to the wedding, and cracked out all of our (not so) finest moves on the day with only a hint of awkward!"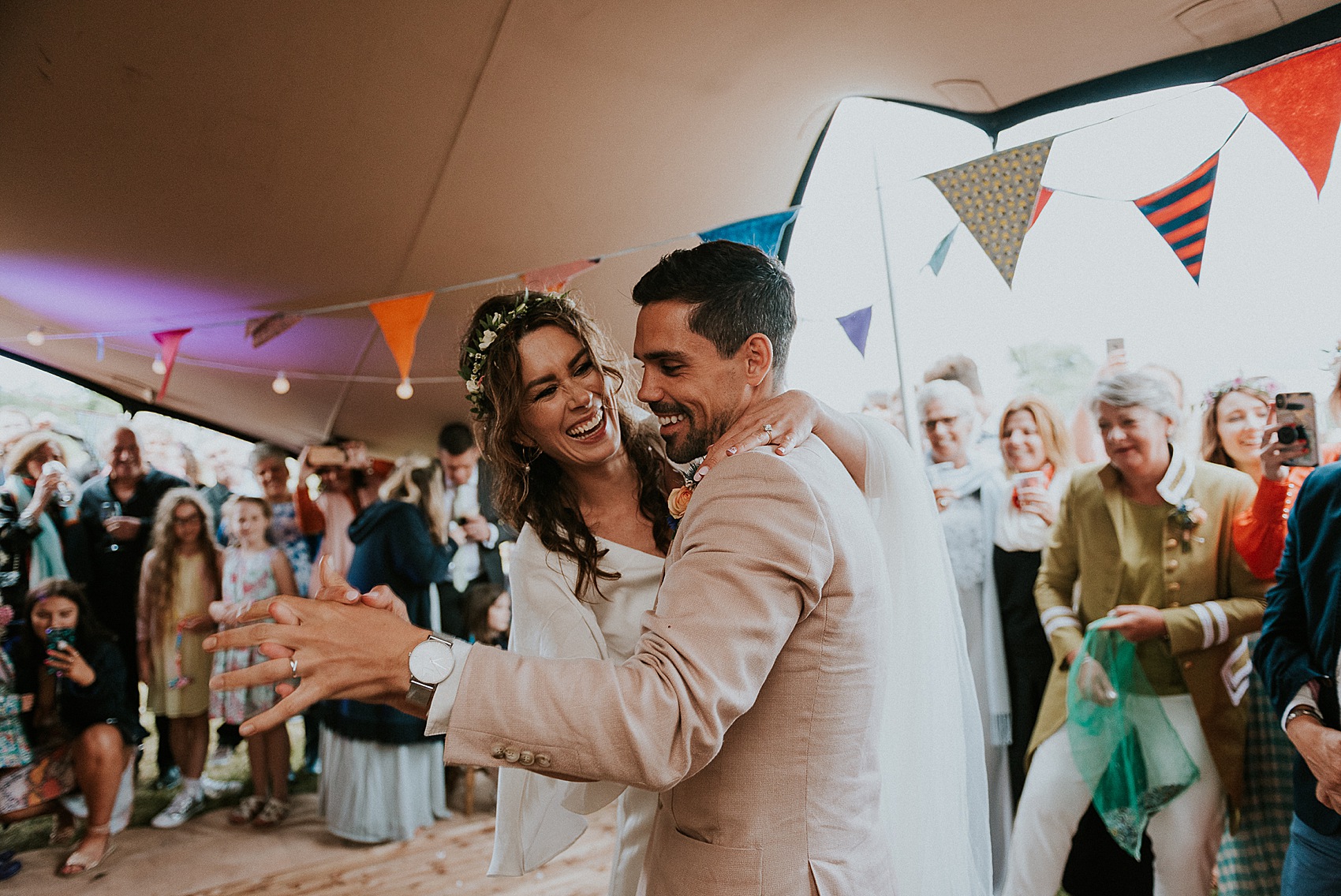 "The Silent Disco Company were great, everything was so easy, and the silent disco itself was amazing! Elliot and his brother Woody did a back to back set, and the dancefloor was rammed until the bitter end."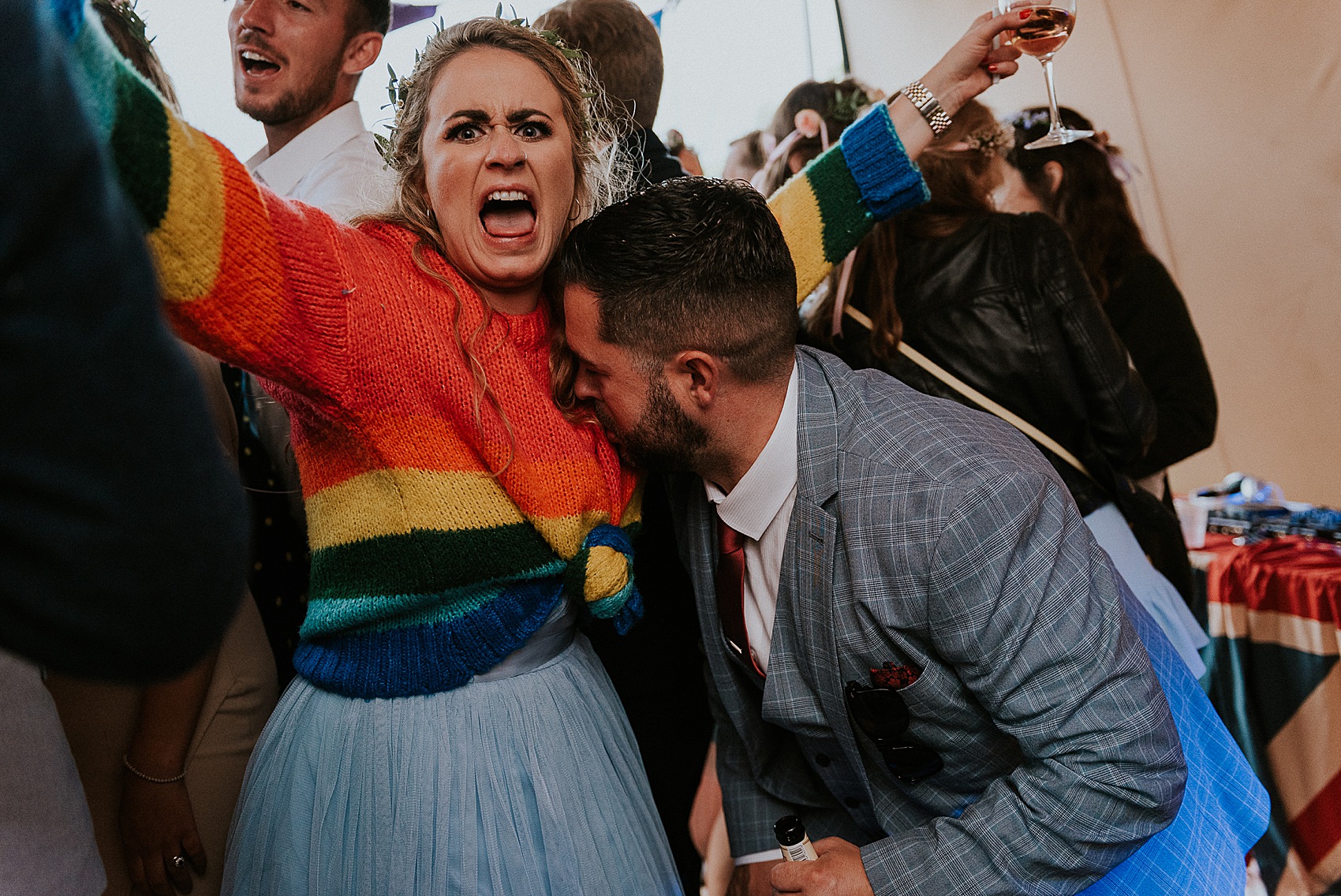 "I've recently bought a horsebox that Elliot and I stripped out and jet washed one weekend. We wanted to have a rave den, and we left it simple and strung up some speakers (with a house/drum 'n' bass playlist on loop) and fairylights. There was a very cosy stag-do reunion in there on the day!"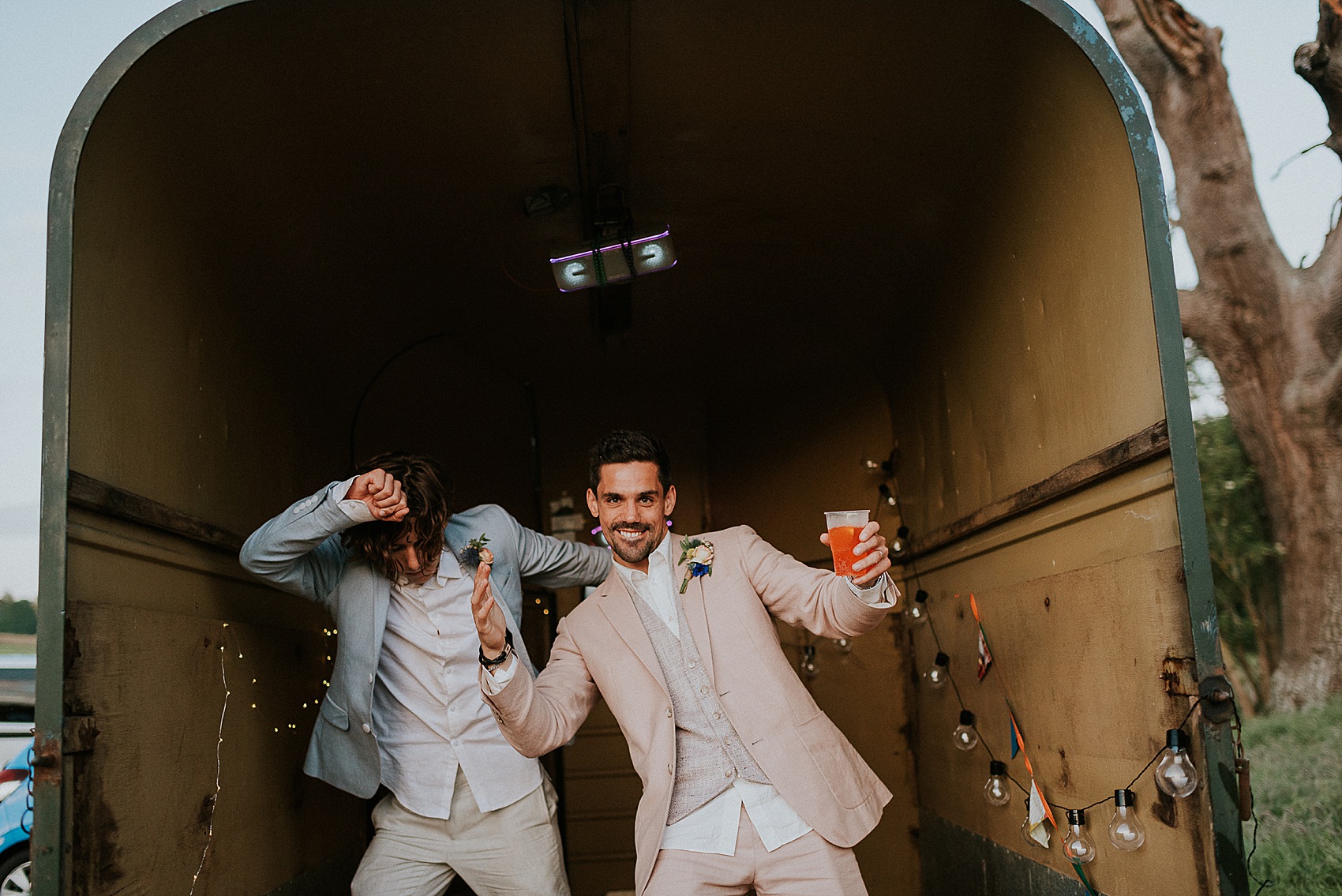 Rosie Chik from Smokin' Lotus cooked and served a delicious barbecue, street food feast for Kate, Elliot and their guests.
"Rosie was quick to respond, and invited us up to try some of her food one Friday evening at The Magic Roundabout in Old Street, London. Her food and all her staff were amazing, so once again, it was a very easy yes. Rosie was a dream, so easy to work with, and she delivered everything we asked for perfectly. We have had so many compliments on the food, it was outstanding."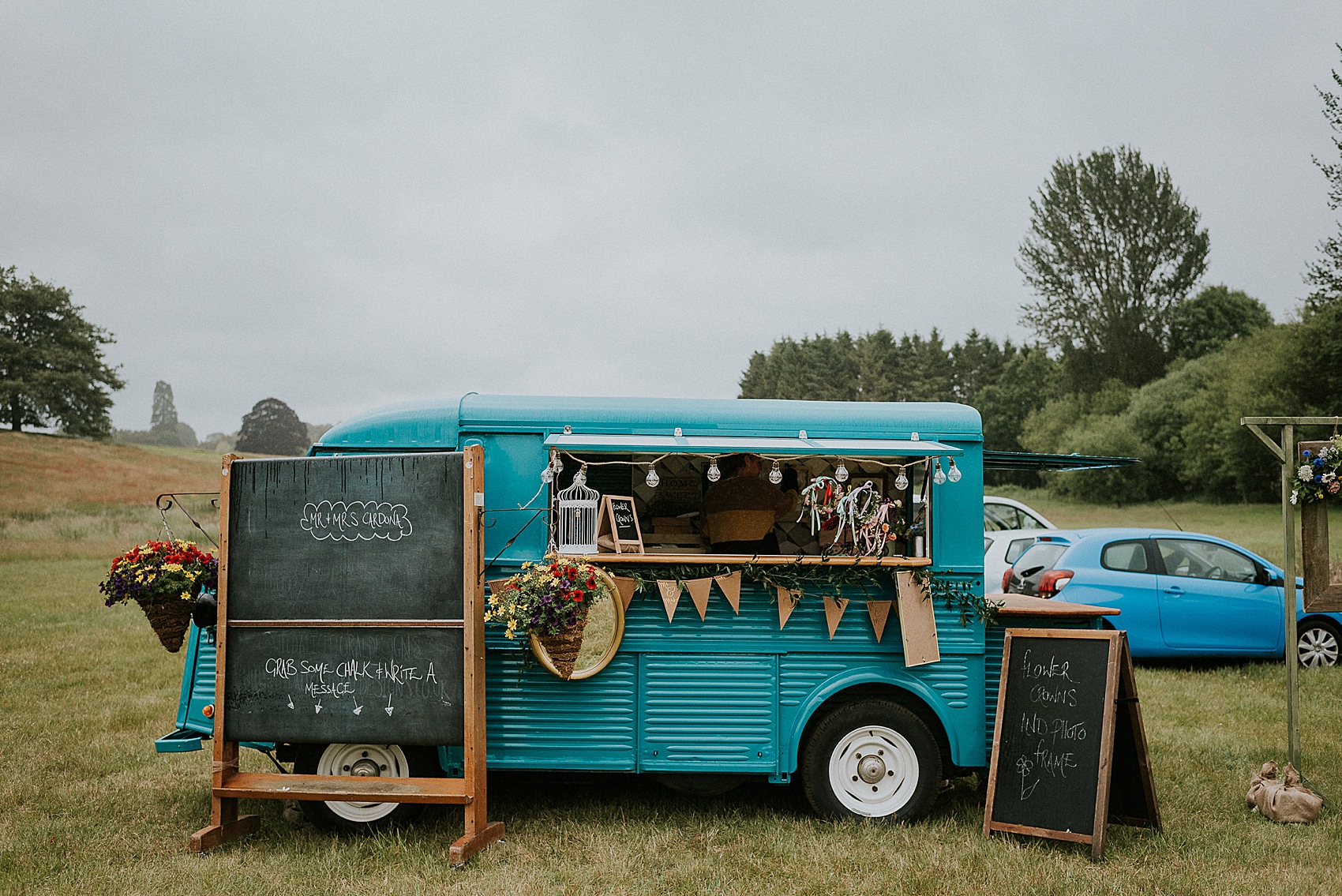 The bridesmaids wore gorgeous, pastel-hued dresses, which looked brilliant alongside the gents' outfits. They came variously from ASOS, H&M, Great Plains, and Phase Eight.
"I wanted my lovely ladies to feel comfortable in their dress, so I made the decision to let them choose their dresses themselves. I showed them my inspiration bouquet from Pinterest, and gave them a colour palette and some examples, and off they went. I also asked the girls to wear silver/gold and sparkly shoes to tie in with mine, but again, there was nothing set in stone."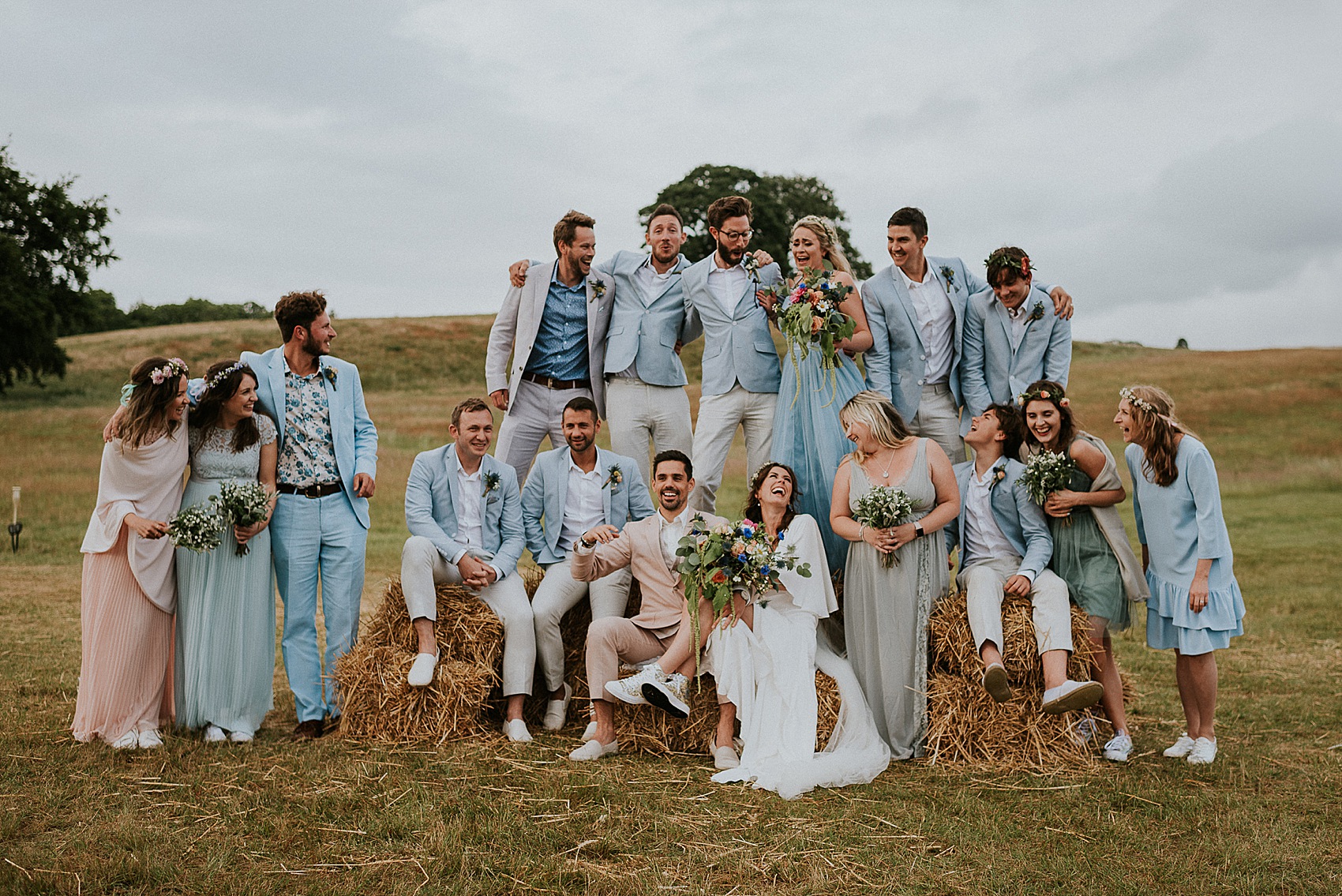 I love all of the beautiful images from Kate and Elliot's day, but the ones I enjoy the most are those from just after the ceremony; joyful group shots and honest and heartfelt candid moments between family and friends. I'm thrilled to be sharing the work of Katy Tanner, from Gingersnaps Photography for the first time on our pages.
"Where do I start?! Elliot already knew Katy through her husband, and we'd admired her work for a while. I really don't like having my photo taken, but I couldn't have felt more comfortable with Katy. She put me and everyone at ease, and captured the day perfectly."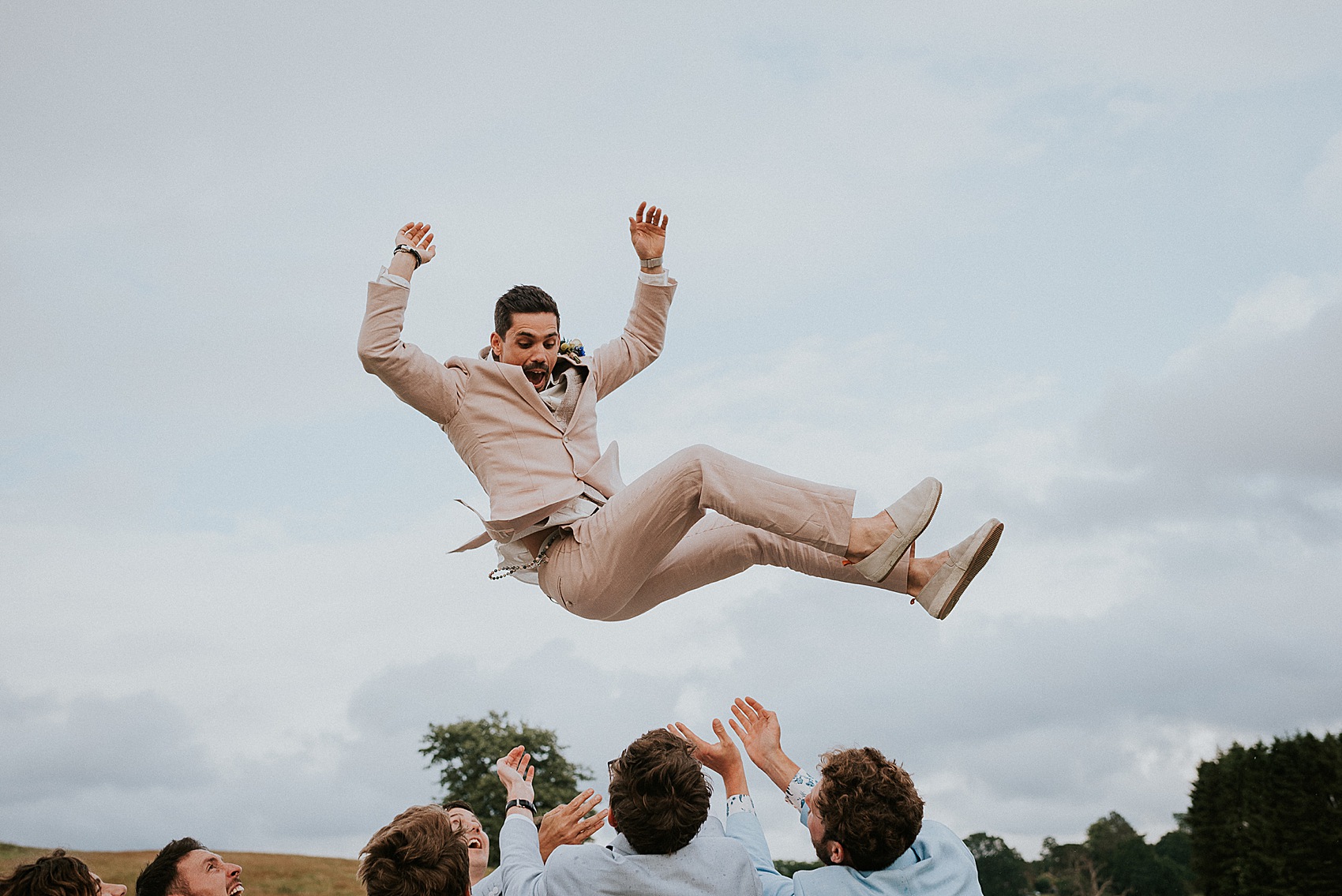 "We didn't want anything staged or formal, we just wanted the special moments, and to be able to get a real feel for the day, and as you can see, Katy did that so perfectly! Getting ready in the morning was completely relaxed and fun, and again, I think that's a big credit to Katy's laid back influence. I can't imagine the day without her, what a ledge!"
In the evening, florist Emma from Wild Alice Floral Designs arrived with her truck to make flower crowns for guests – what an amazing idea!
"I met up with Emma a couple of times before the wedding, and she was so accommodating with everything I had in mind. Emma loved the idea of a festival wedding so much so that she offered to come to the wedding in her trusty floristry truck 'Flora', and make flower crowns for the guests. Everyone loved it, and it really added to the whole tone of the day, and eclectic mix of things going on."
As the sun set, the fire pit was lit, and festoon lights glowed around the party tent. Inside, there was live music from Crocodile Done Deal, and after 11pm, when amplified music needed to stop, The Silent Disco Company provided a brilliant silent disco to keep the party going.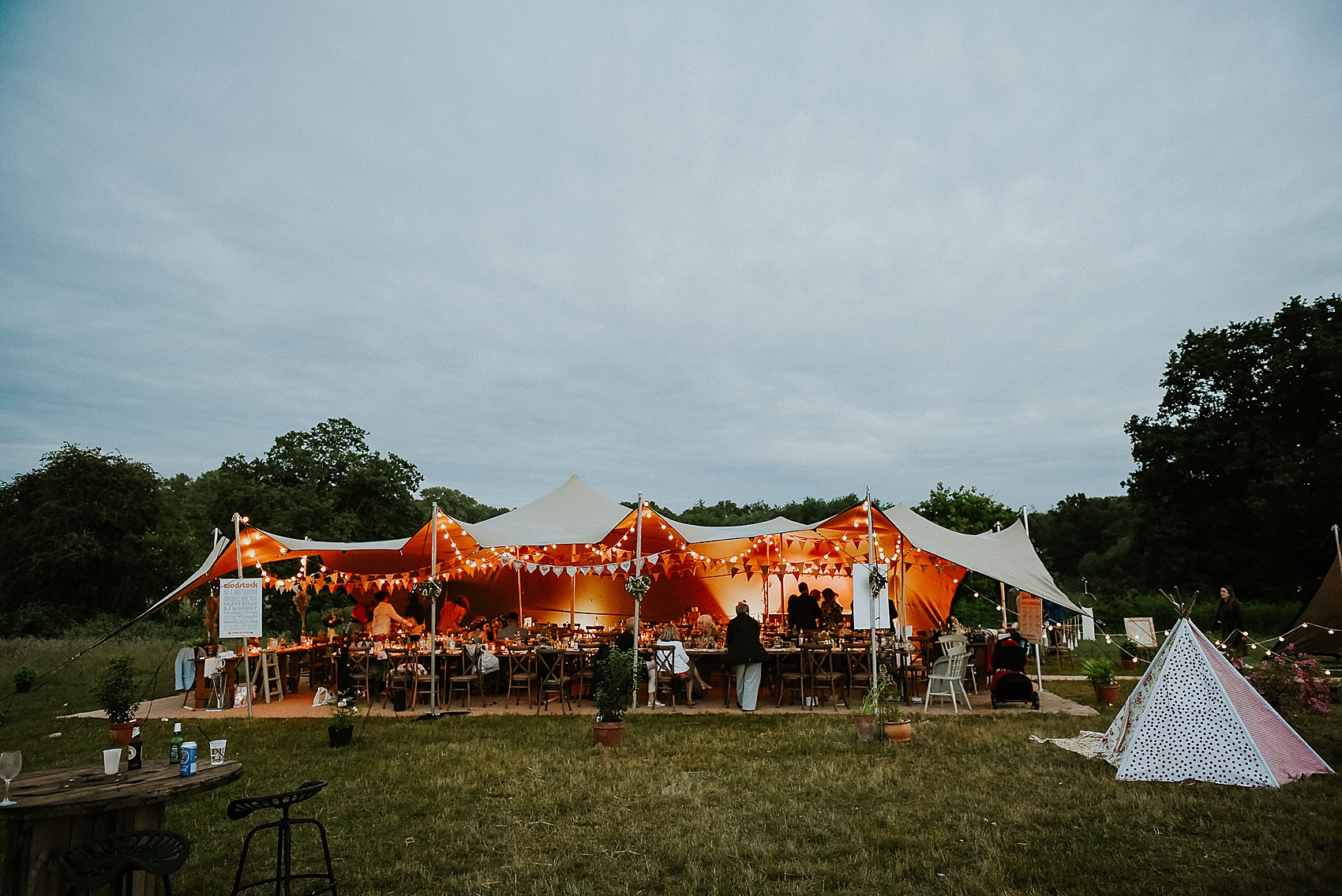 Videographer Edward Southwell (together with team member Joel) was also there to film the day.
"Elliot knew Ed through some work they had done together. He showed me one of Ed's previous wedding videos, and it was amazing. We knew it would be an extra expense, but it was so special and invaluable to have the day captured by Ed, and to be able to look back on it and hopefully hand it down in time. We can't wait to see what he's done!"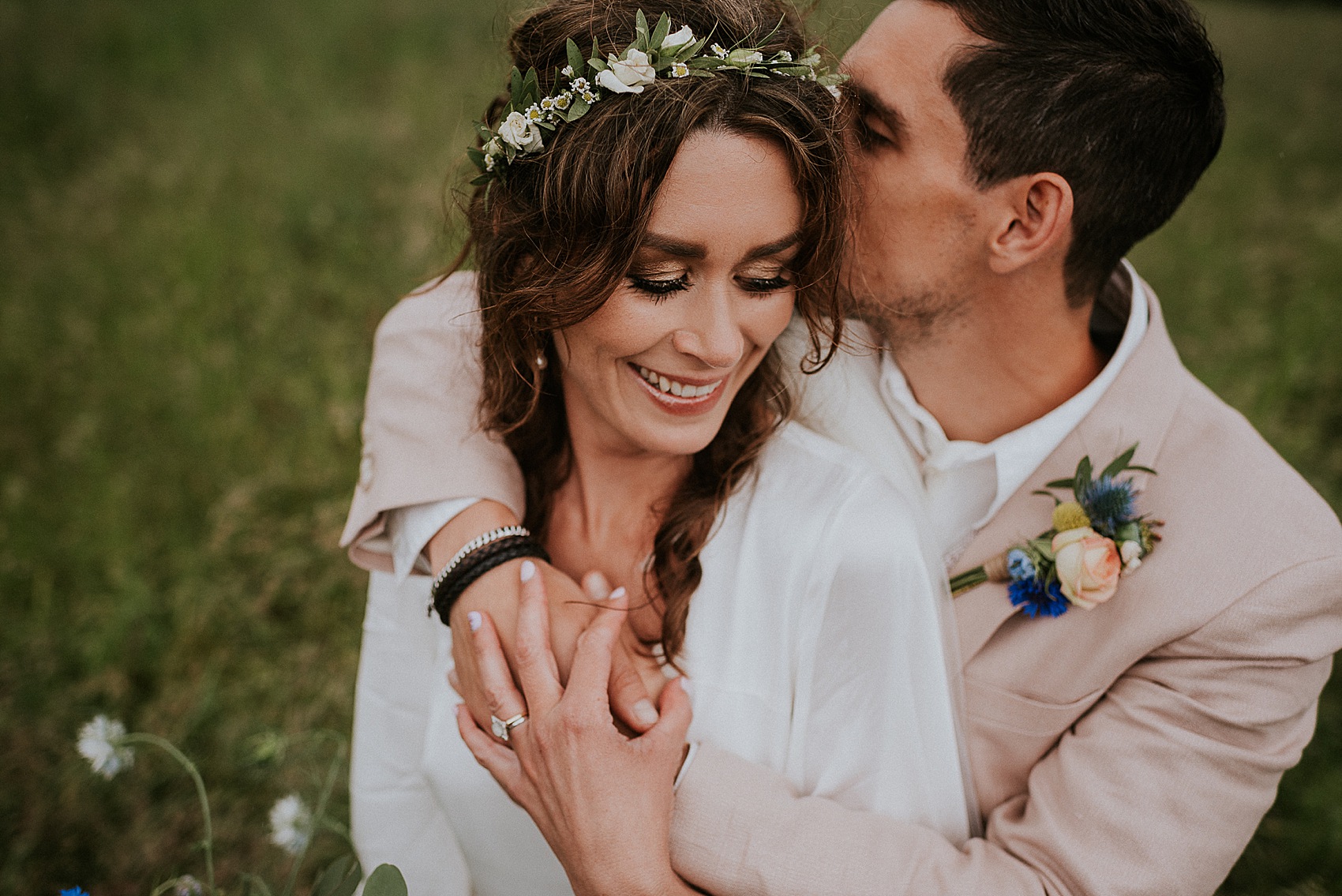 "Ed and Joel, again, were so warm and friendly, and put everyone at their ease. They were so discreet and mingled in with all the guests perfectly."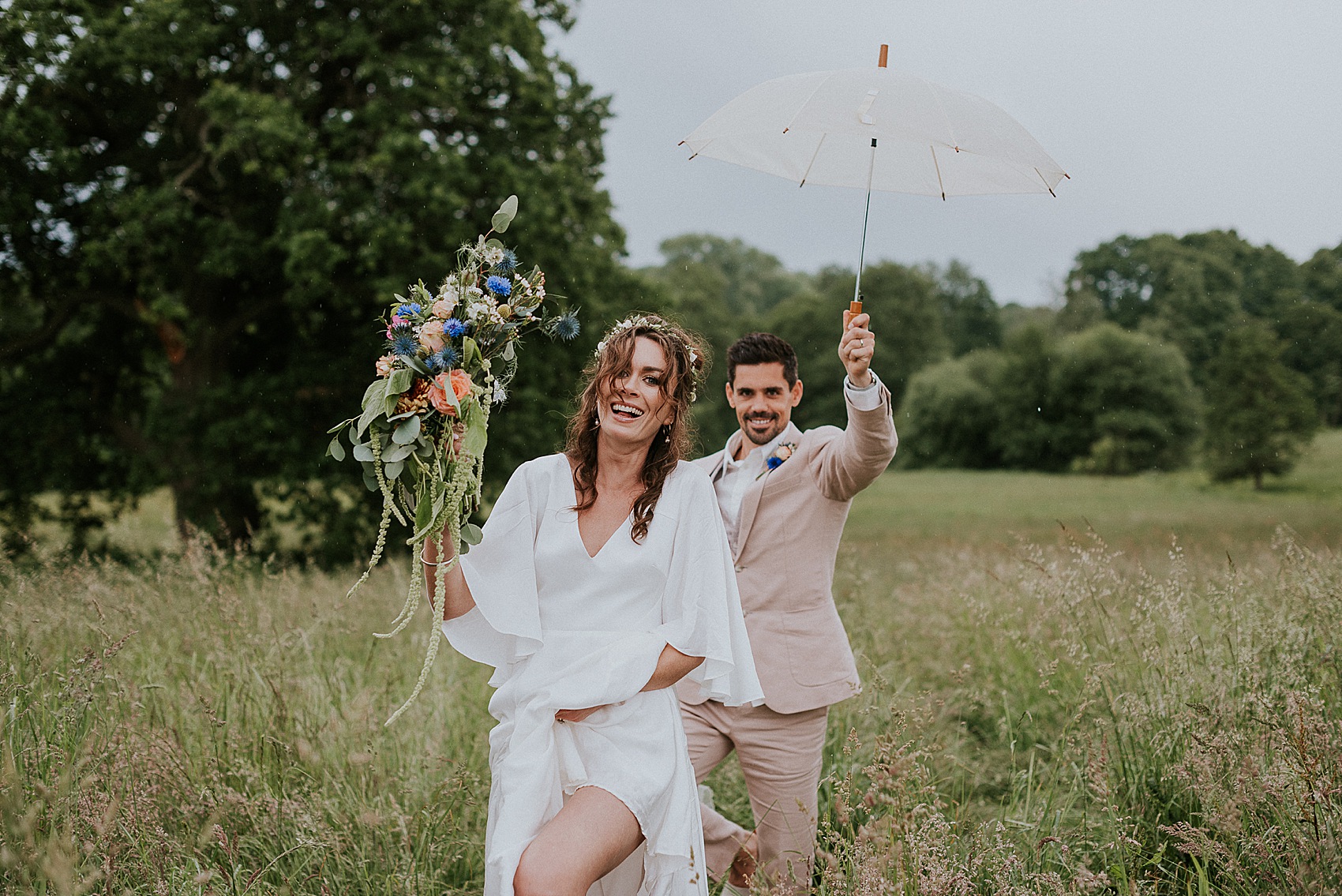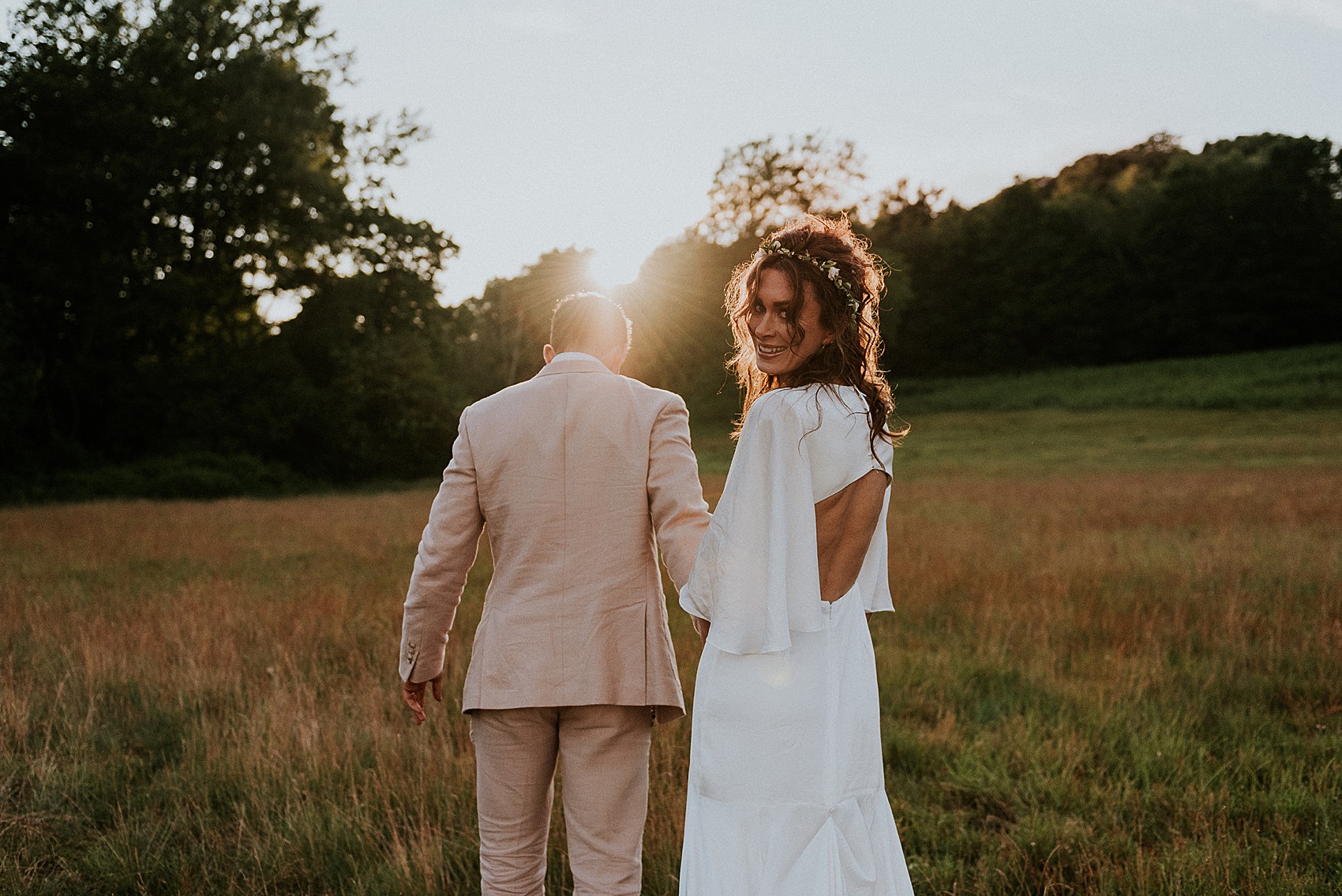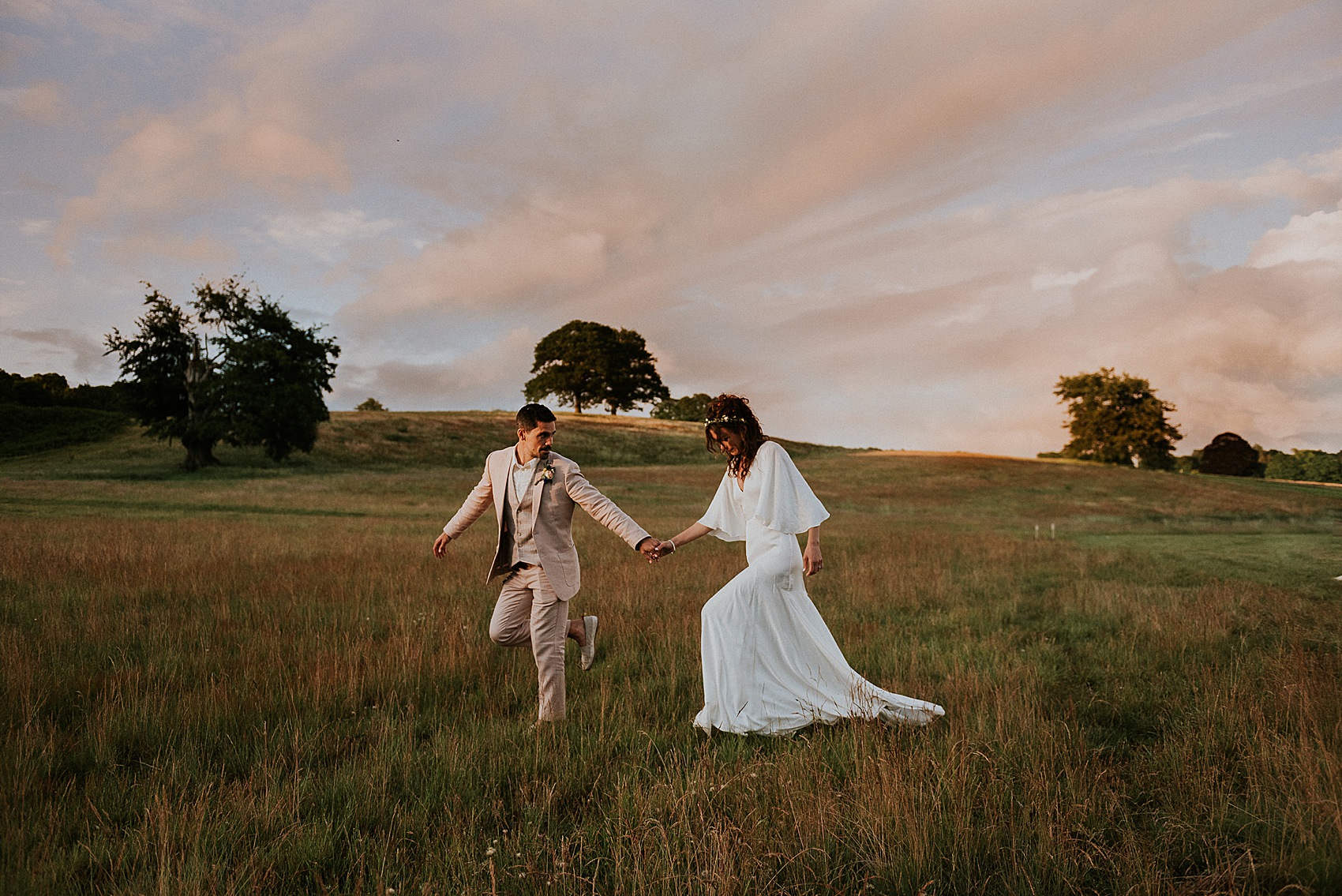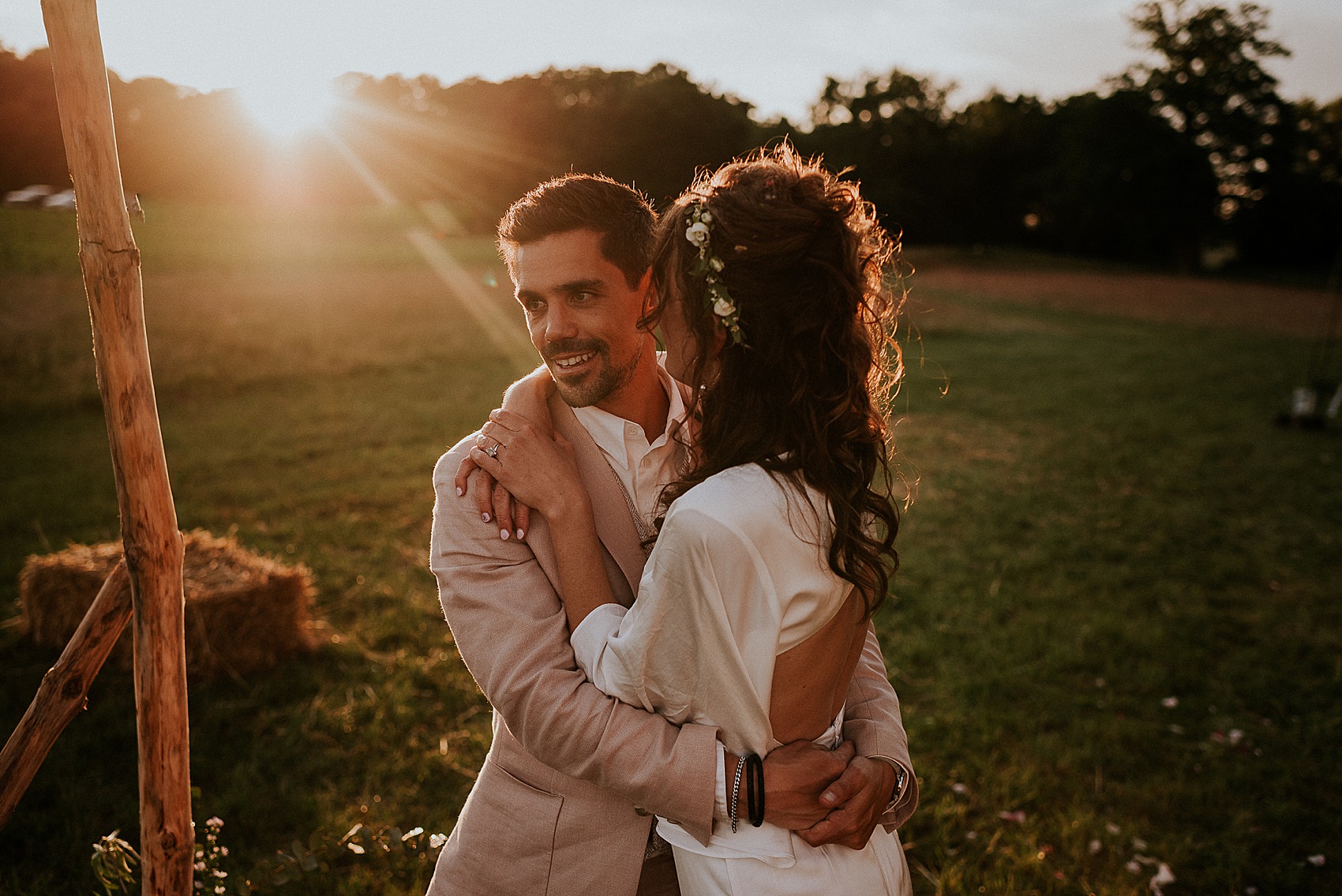 Favourite Moments
"I don't think I could possibly choose one stand out moment, I absolutely loved every single minute. There were so many different moving parts, and bringing it all together ourselves the day before (with the help of so many amazing family, friends and suppliers) was hard work at times."
"All we wanted was to put on a great party for everyone, and I think we did! Seeing everything come together on the day was a dream come true."
"All the angst and constant weather app watching disappeared when I saw all those smiling faces and people getting stuck into the day. It made us feel so incredibly grateful and blessed for the family and friends we have around us, too. We are so lucky."     
"The only thing we both said we would have changed was to stay longer! There was an option to camp in our field, and whoever was camping could party on. If money had been no object, we would have hired in some bell tents and let the party go on all night."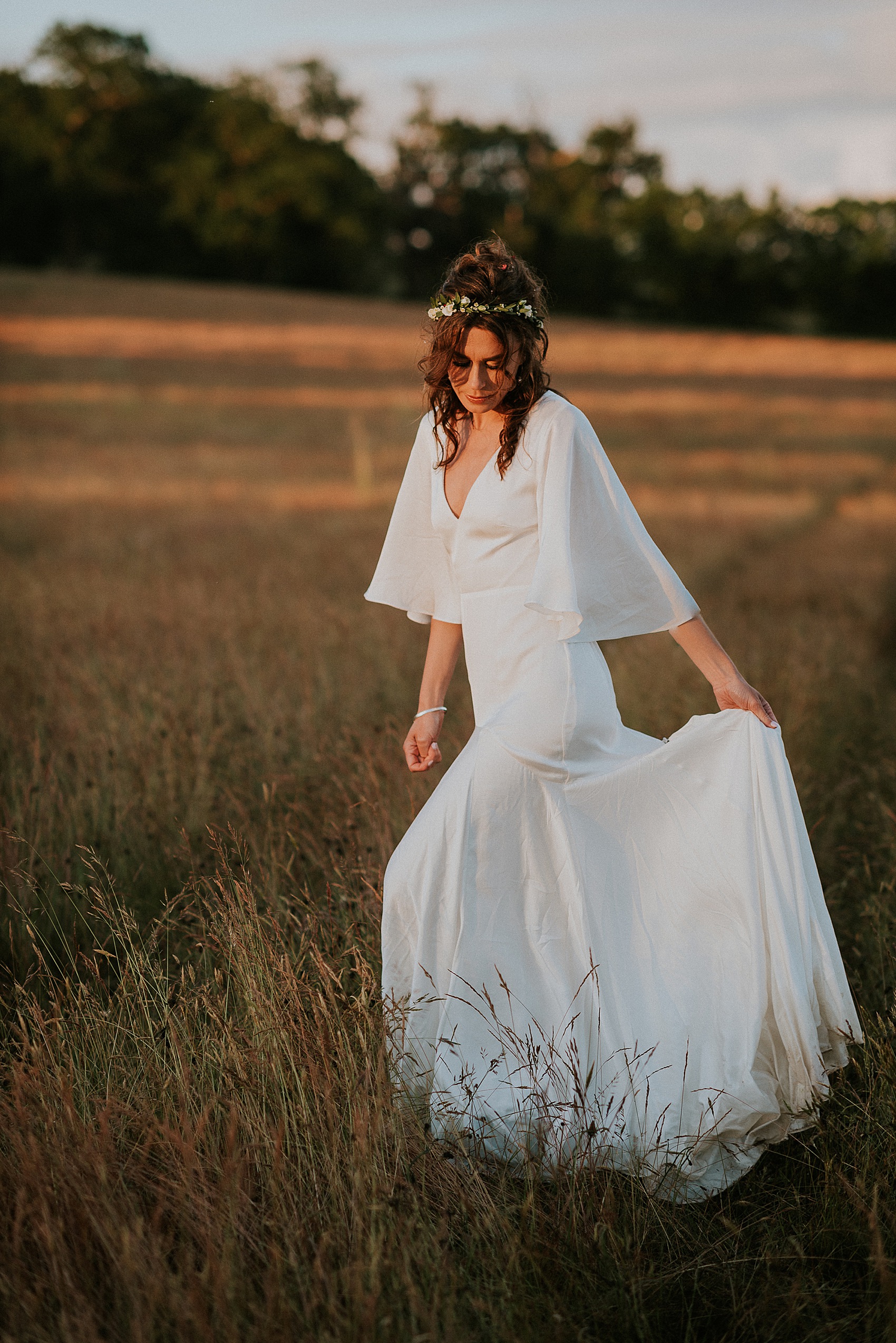 Words of Wedded Wisdom
"Do not stress. You've worked so hard on everything, this day is for you and your partner to enjoy."
"Don't waste your planning time on worrying either, everything will be perfectly imperfect! I was so anxious about everything; walking down the aisle, saying the vows, the speeches, the first dance, the weather, but on the day you will be beaming from ear to ear, and you will be so overwhelmed by the love and energy from your guests there will be no room for worry."
"Make sure you give yourself and your partner just 5 minutes to step back and take in what you've achieved together. Look at all your guests having an amazing time and really let it sink in. Everyone tells you it flies by, and trust me, it really does."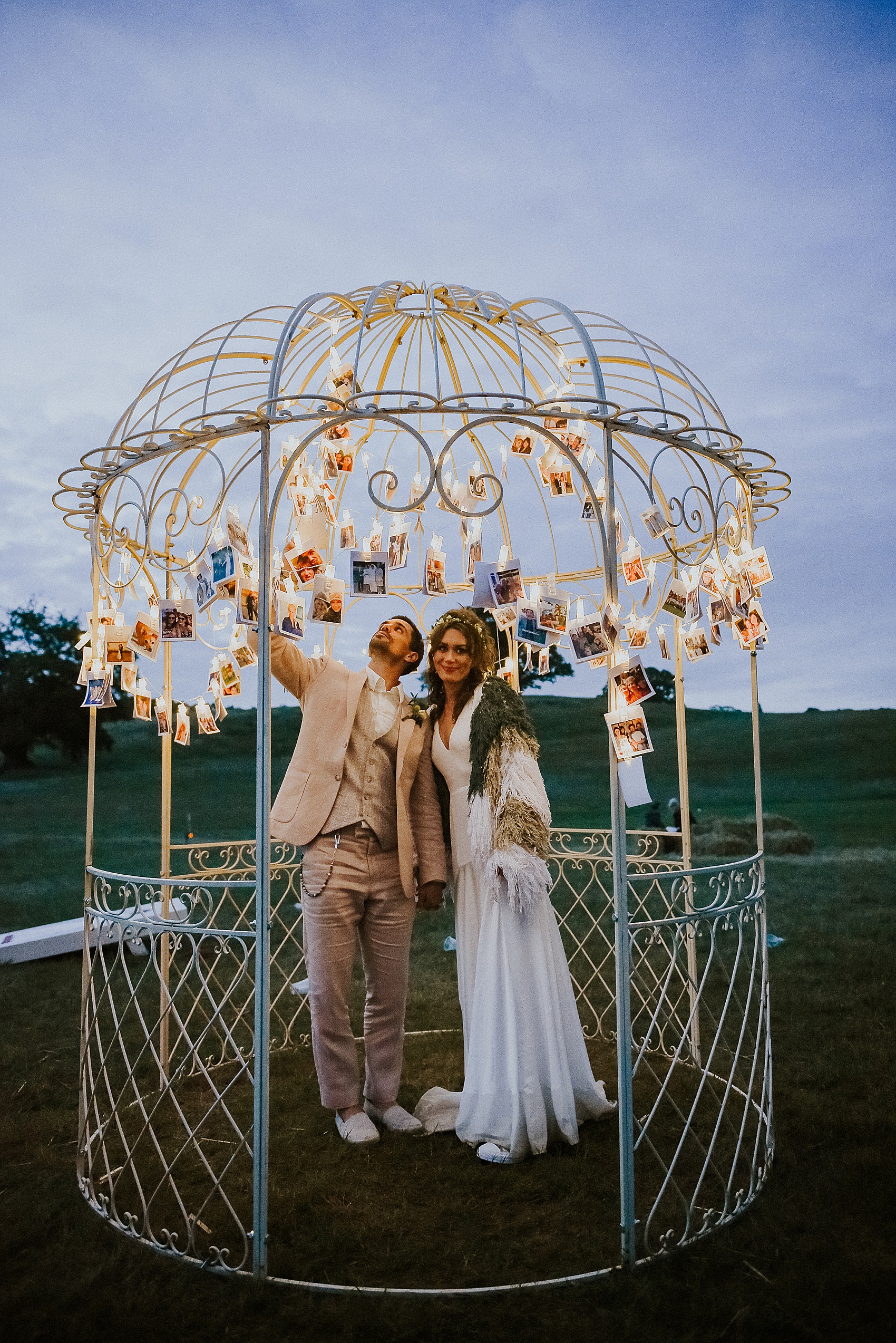 Kate and Elliot, congratulations and thank you so much! It's wonderful that we've been able to share your fun, festival day, with beautiful images by Gingersnaps Photography – thank you.
With love,
Laura