Hello lovely brides – I hope that this finds you safe and well given the circumstances all around us at present. We are here for you and we're not going anywhere.
Please take a moment visit and bookmark this resource, which we'll be adding all kinds of useful and supportive content to in the coming days. In the time being, as requested (in your droves) we are continuing to share beautiful, inspiring stories of love and romance.
Meet social media marketer and brand building enthusiast Rosemary and Deane, a carpenter and furniture designer who returned to the lush gardens of the bride's home in Durban, South Africa for their intimate wedding on 27 October 2018.
Andy & Szerdi Photography

+ Follow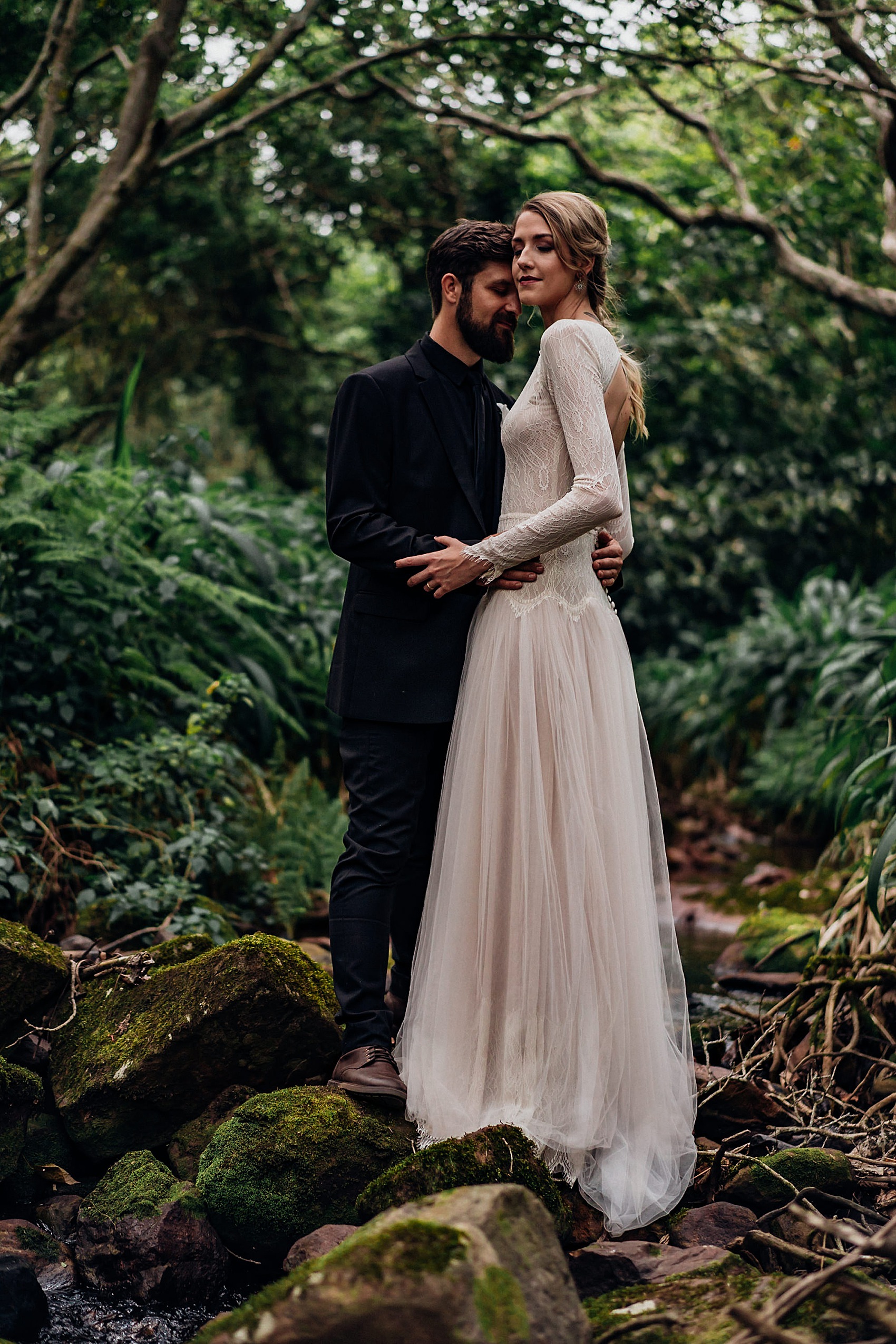 The couple's shared love of nature, botanics and vintage pieces infused throughout the day. And all this against a sumptuous colour palette of rich greens, deep burgundies and black with highlights of antique gold and bronze. 
"We wanted to have a small, intimate wedding with close family and friends. My parent's home has always been a space where we have welcomed friends, spent many holidays together and celebrated many of life's milestones. It is tucked away from the bustle of Durban city and is a wildly tropical garden."
Over the past year or so we've seen so many more long-sleeved gowns on these pages and this particular design has such a sense of timeless elegance and vintage style, all with a modern edge from the open back. I cannot get over the delicacy of the lace and how well it fits the bride's figure. Rosemary had this gown designed especially for her by Sadie Bosworth Atelier, found through Cape Town boutique Fate & Love Bridal and it's now become part of her core collection.
An edgy vibe came from her old, well-worn black ankle boots from Woolworths worn with grey and black striped socks.
"I do love a little Tim Burton accent whenever it can be added. I had two pairs of earrings that day – starbursts which I wore for the first look and ceremony and giant, beaded, heart earrings with an eye in the middle which I wore for the reception and more photos when I remembered I had them. I LOVE my rings so made sure I wore a few of my favourites."
"Sadie Bosworth Atelier was exceptional to work with. She moves, while in conversation, to a shelf of lace, embroidery, tulle, silk and many little embellishments all while you describe your dream dress and show her elements from gathered inspiration."
"She returns with fabrics, her book and a pencil and in a moment, she has captured exactly what you have imagined in the smallest detail."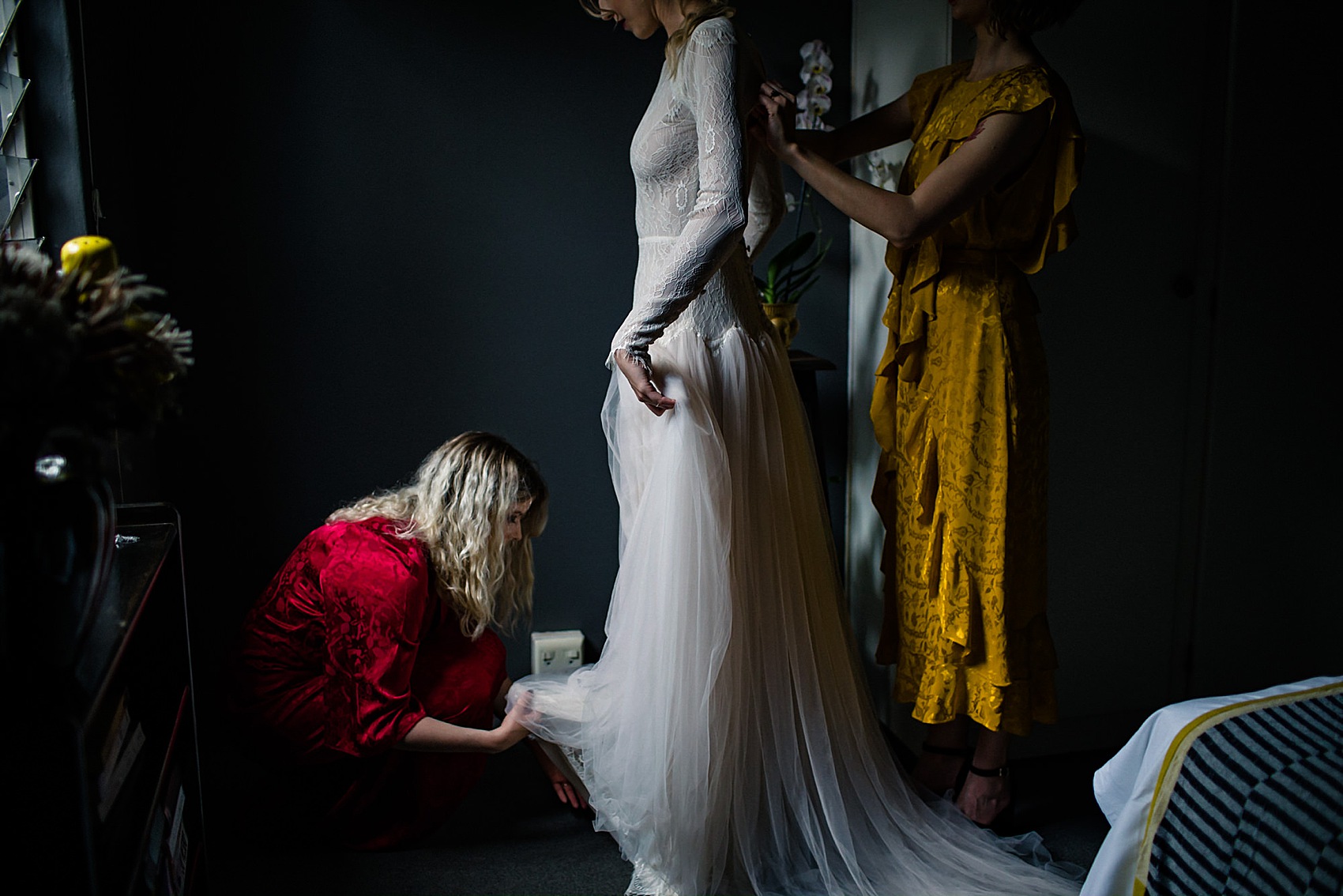 "I have always wanted a dress that was the most elegant version of myself. Lace was always going to be a top priority, long (I am 1.89 meters tall), a small train, long sleeves, buttons, an open back and an air of art nouveau. What Sadie ended up creating a was dress that wowed everyone and even blew me away!"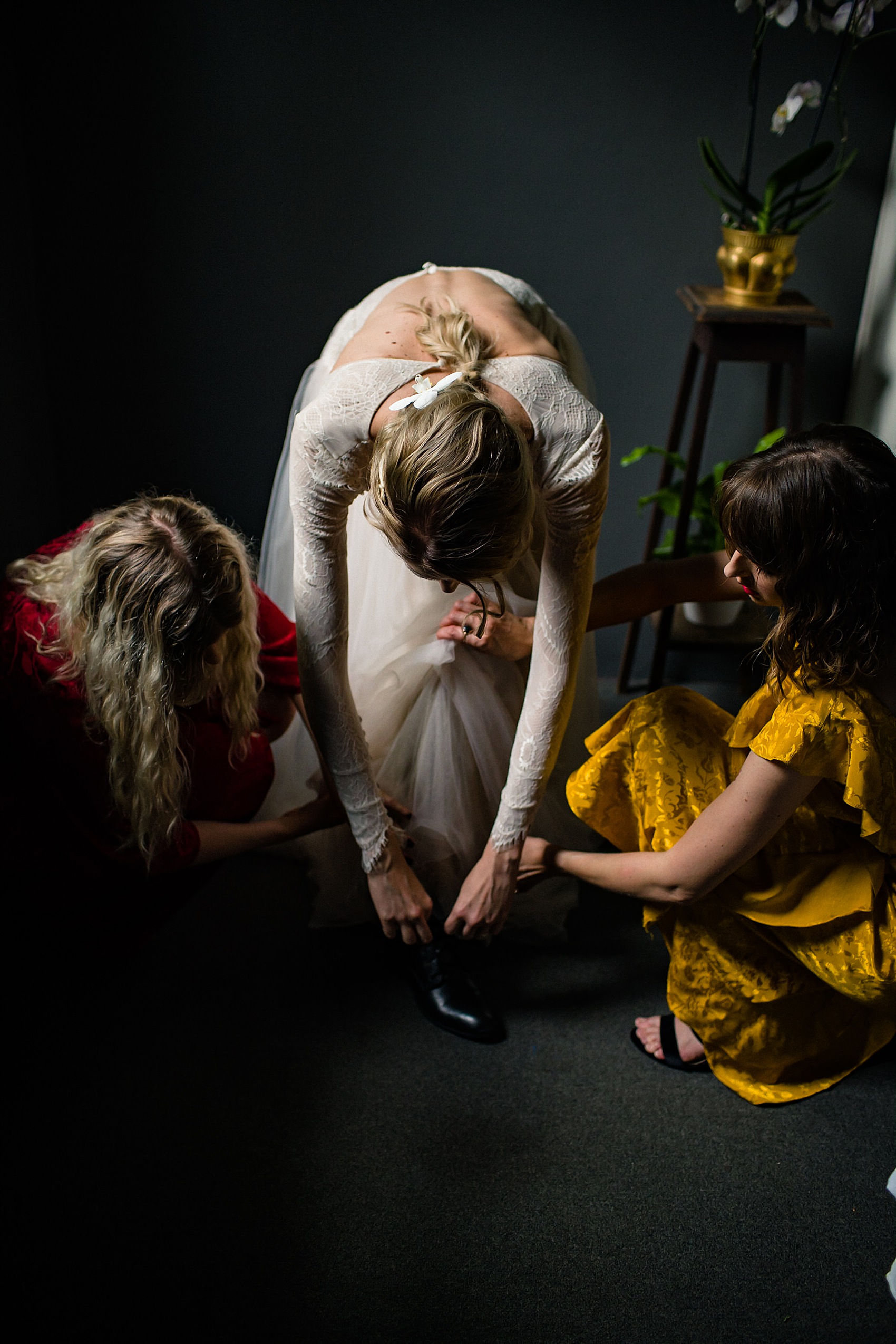 "We both loved it so much that it has now become part of her collection (made to spec, or hired as is) and its name is 'Rosemary'. What an honour to have had my dress be a muse.  What I love most about my dress is that it is the most elegant version of me and Sadie was able to embody that."
"I wore Versace Crystal Noir. Many years back a friend bought me this fragrance for Christmas. As it was handed to me, they noted that it was purchased because it's fragrance was very me. For the longest time and to this day it is still my favourite fragrance."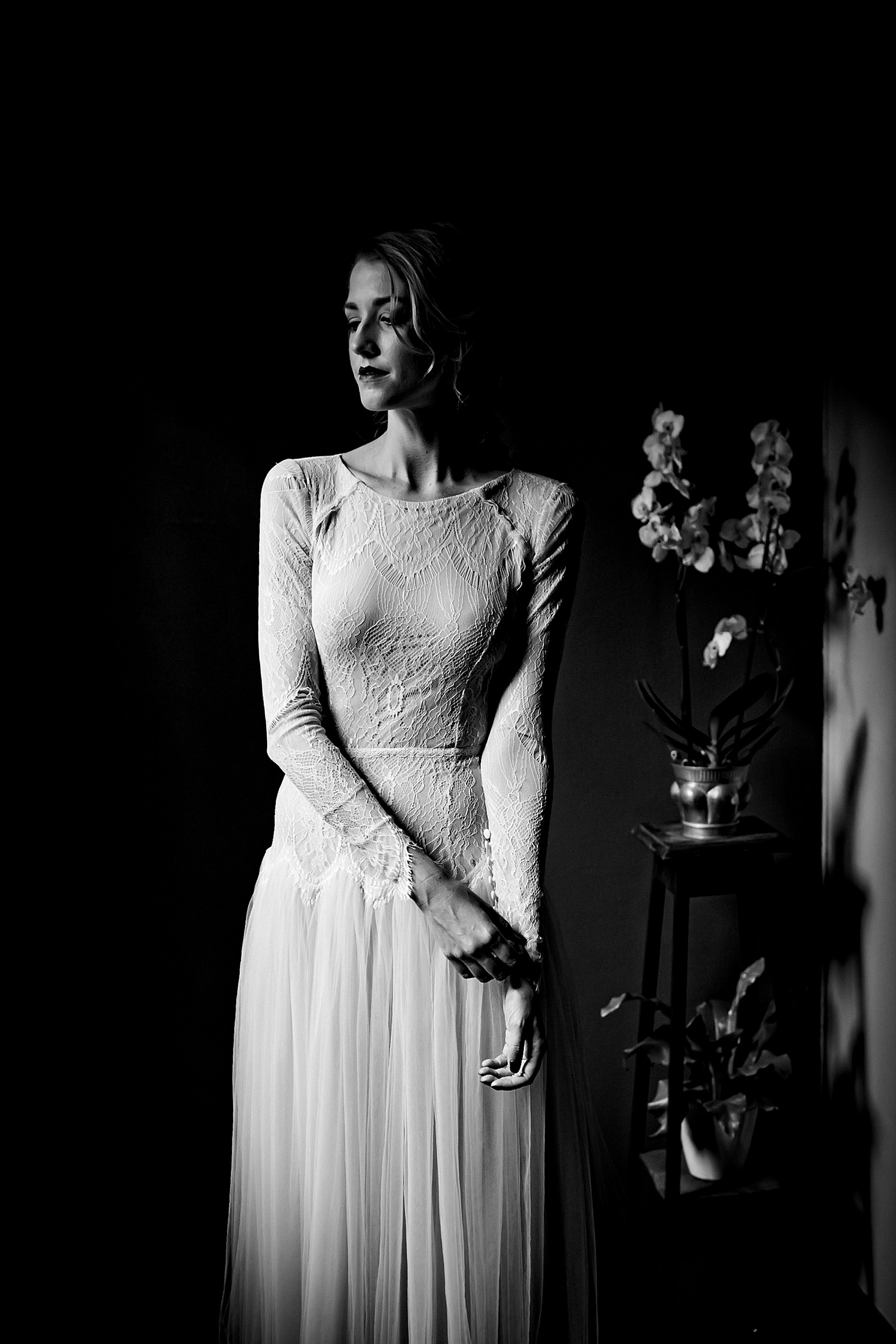 I have to admit to having complete hair envy for Rosemary's thick, boho-inspired plait which was styled by Pamela McNeil of PamJam.
"I contacted Pam directly and from the get go she was excited and couldn't wait to create my chosen look. It was a dark glam makeup with the most beautiful messy braid I have ever had, adorned with a single white Phalaenopsis orchid. She did make up for my mum and sisters as well and they were thrilled. Pam is a gem to work with and is so attentive to your needs."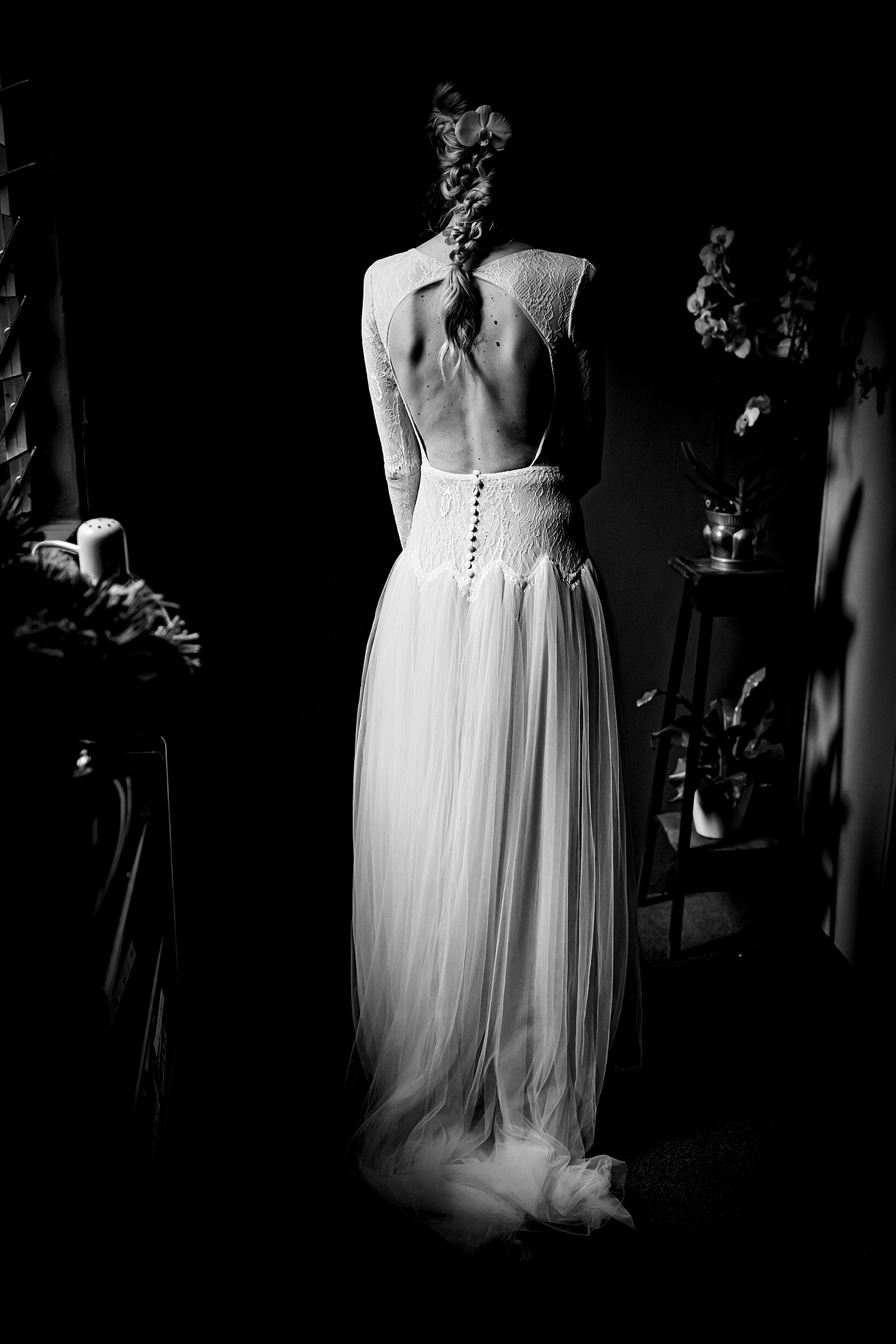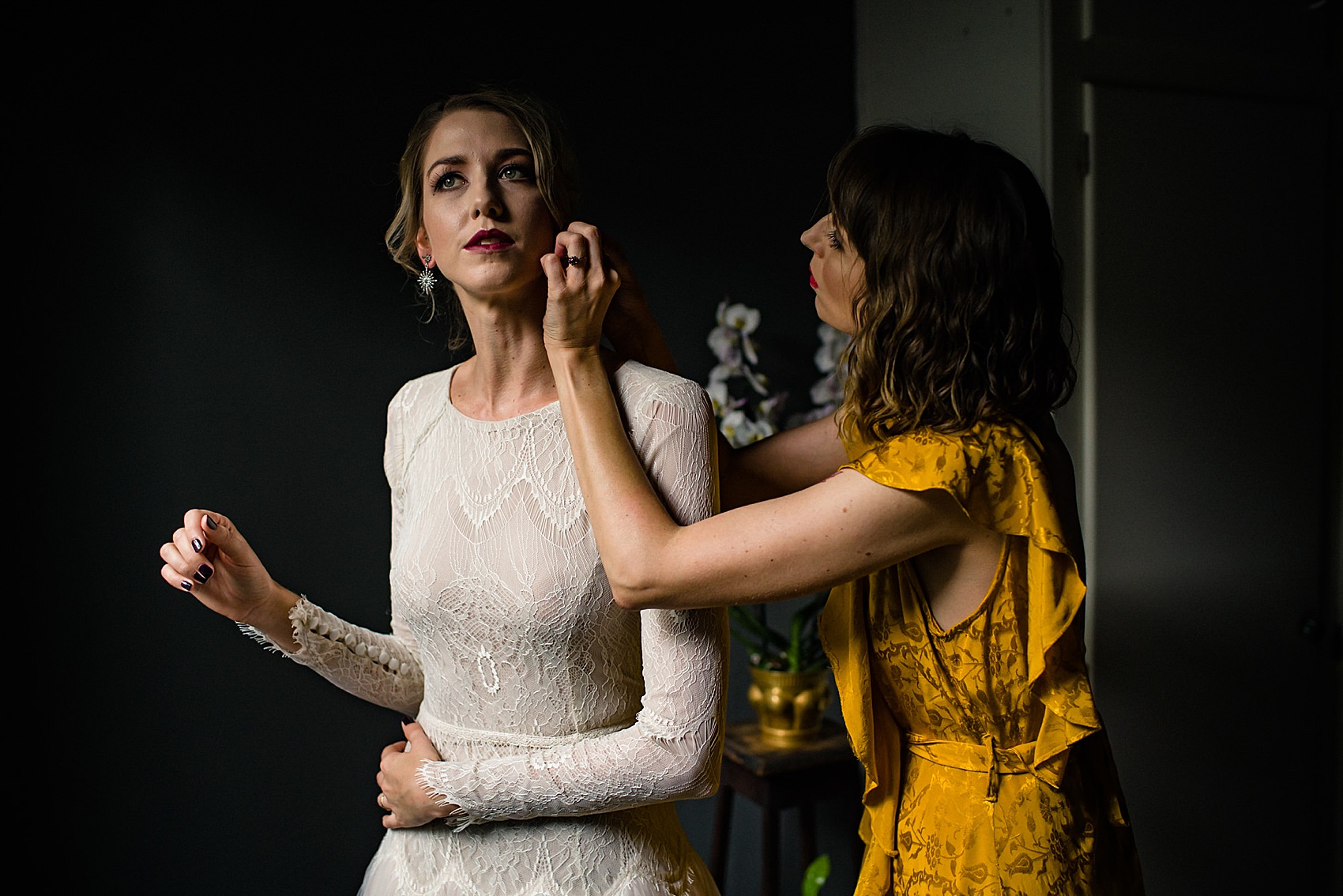 Deane chose a super modern look of black suit and black shirt, worn with a black tie and a single, white, phalaenopsis orchid in his buttonhole.
"We managed to buy, on two separate occasions, a Topshop blazer and Topshop trousers in the same shade of black. I bought the trousers whilst he was away and it was super that they fitted on the day. He wore a black shirt from Mr Price and borrowed a skinny black tie, very Johnny Cash-inspired."
Before their poolside ceremony in the heart of the garden, Deane and Rosemary had a private first look before having some peaceful, romantic portrait shots taken at a local plant nursery.
"My favourite part was having our couple photos taken at a flower nursery in Karkloof that we used to frequent and buy orchids when living in the area. The lush green leaves of orchids, bromeliads and ferns through the filtered light of the shade cloth greenhouse really felt like home. Deane's favourite part was our couple shoot too. After the nursery, we ventured into park of the Karkloof Nature Reserve where we had attended a moth evening."
"Although it was a balmy day, the contrast of our dapper attire contrasted with the red sand and twiggy, indigenous vegetation around us."
Deane and Rosemary first met back in 2010 at a bar in Durban through a mutual friend.
"Standing at the bar ordering a drink I noticed a guy staring at me. I glanced over, smiled and continued to wait for my drink. He continued to stand and stare. After a moment I leaned over to my friend and whispered, 'There is this guy staring at me', at which point he looked over my shoulder, scoffed and replied, 'Oh, that's just Deane my house mate'."
"With the safe confirmation that this guy was not a creep I collected my drink, turned and said hi. Still staring at me, he offered to buy me a drink. We all sat down and got chatting for the evening."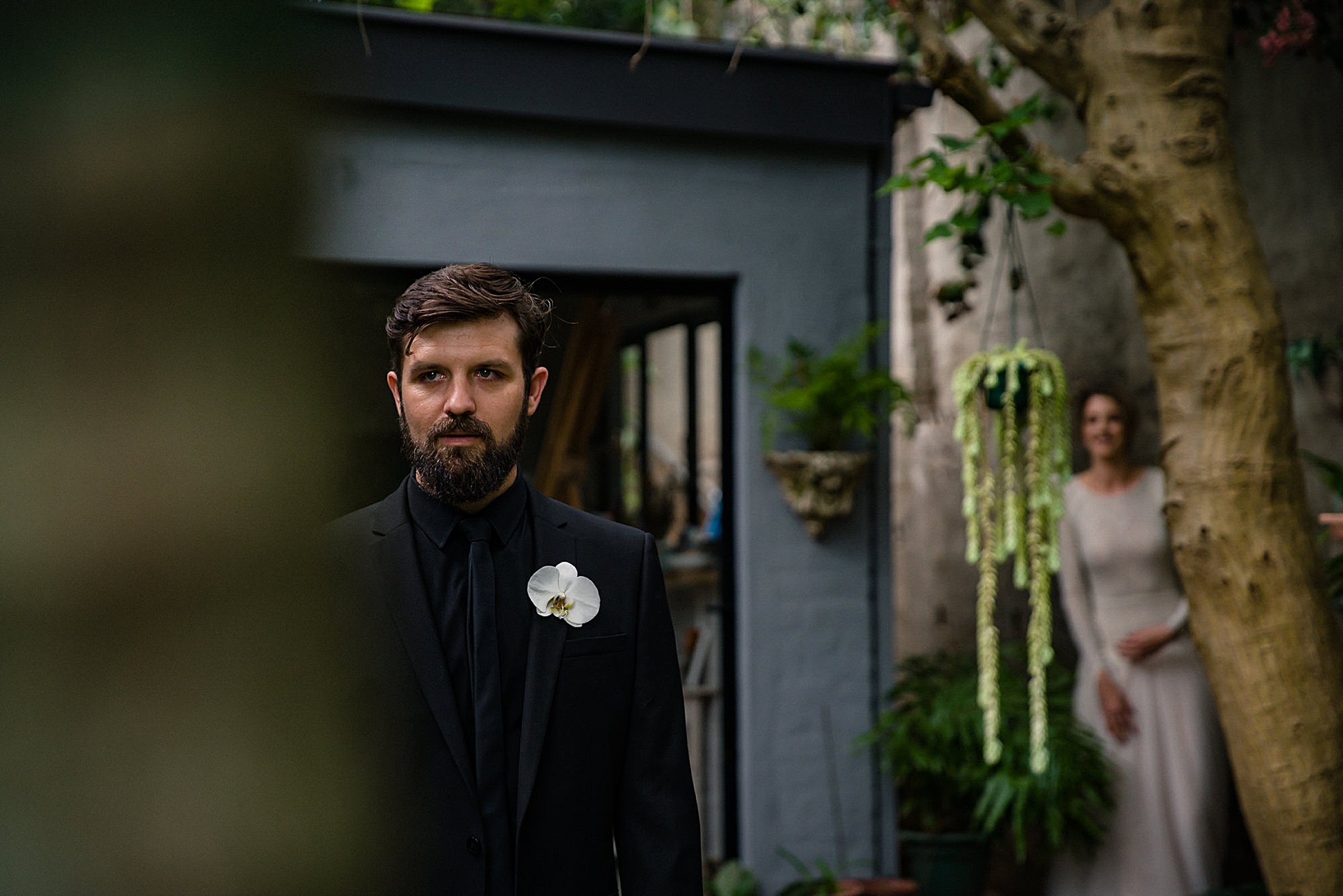 "Later we bumped into each other at local Durban events and moved in the same friends' circles. The following year when I came home for the Easter holidays (I had moved to Cape Town) and needed a place to stay, my friend's digs had a spare bed that was offered to me. It turns out it was Deane's house."
We connected over the Easter and July holidays,  I then made the decision to move back to Durban and see where this would go. I am a rather demanding person with clear goals in mind. He had no idea what was coming! We dated for a number of years before getting engaged in November 2016. We had planned to get married the following year and then moved our date forward after deciding to move to Johannesburg. We then spontaneously decided that we would get married on the 27th October 2018."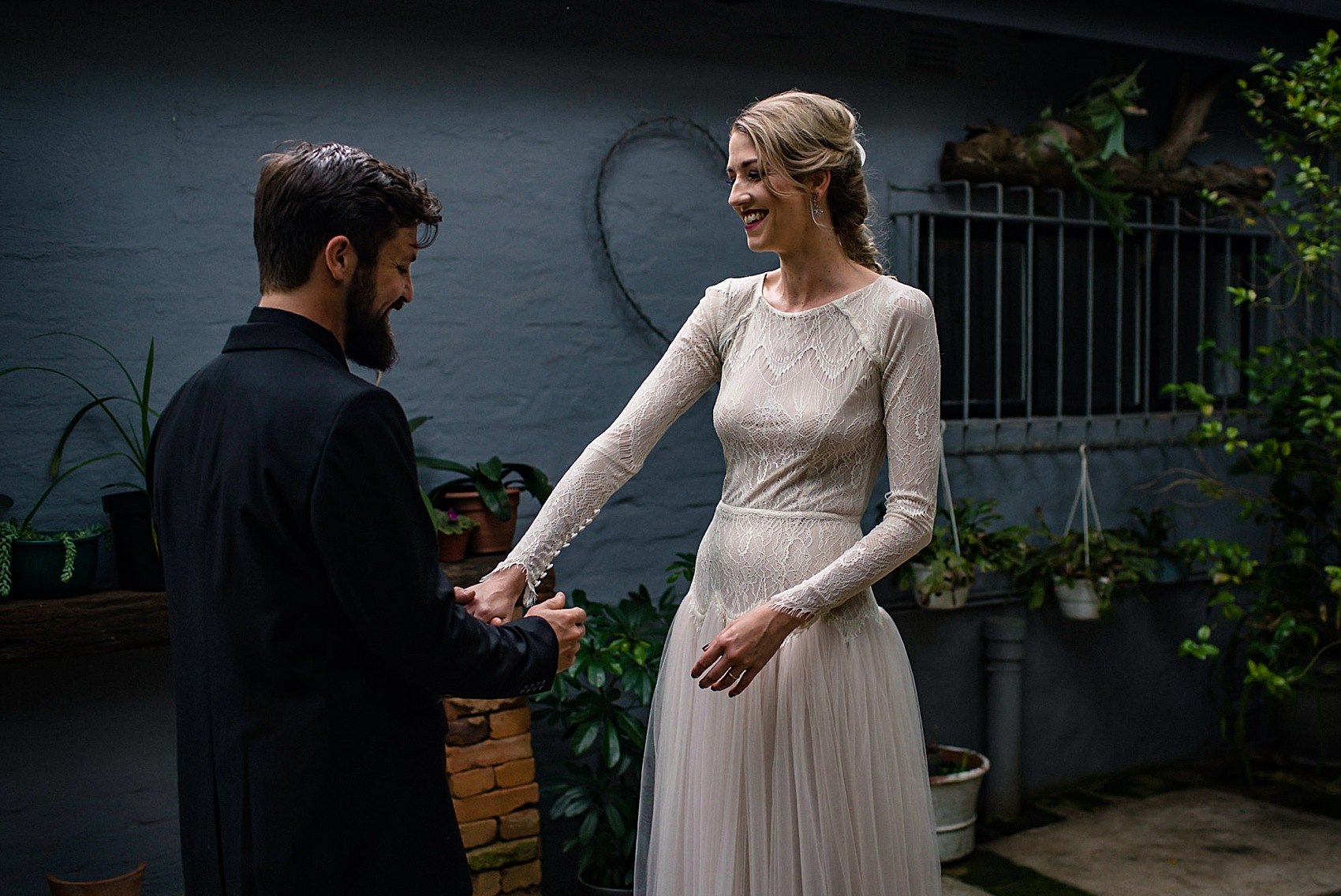 The couple chose not to have bridesmaids or groomsmen, but asked the bride's two sisters to be maids of honour.
"They were there for me every step of the way. They borrowed two beautiful, richly-coloured dresses (one marigold and the other scarlet) from a friend and wore similar strappy, black heels."
For a moody, atmospheric set of images which really shows off the garden in its full glory, the couple asked photographers Andy & Szerdi to capture the day. Those portrait shots are so incredibly romantic too; I'm sure Rosemary and Deane will really treasure these photographs.
"Our photographers were the first service provider we chose and locked down. We loved their candid, moody, rich colours of the moments they captured. Meeting them was absolutely incredible! Andy and Szerdi are the most engaging and involved photographers, curling up on the large floor cushions and chatting with guests."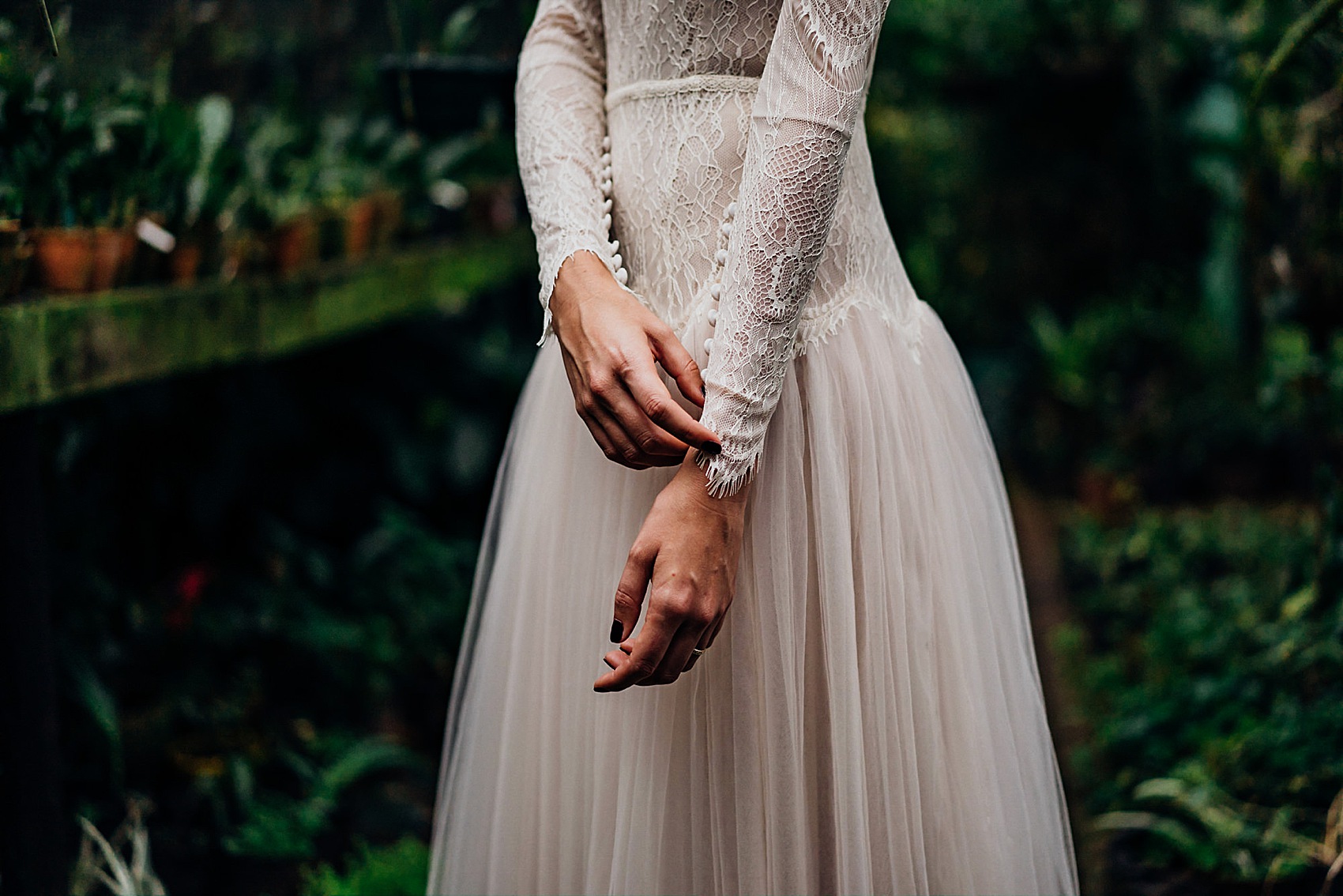 These incredible flowers were put together by Rosemary, her mum and her sisters for a wild, opulent look with a gorgeous touch drama.
"A friend of my sister assisted us with a florist price purchase for my bouquet which my sister put together and used to create our arch. Using extra foliage from my parents' garden and employing the helping hands of her fiancé (now husband) and our younger sister, a most beautiful arch was created."
"The flowers I chose were privet berries, Queen Anne's lace, black tulips, pepper tree branches, magenta carnations, white lisianthus, eryngium (thistle flowers) and maroon dyed eucalyptus. I love a little drama and richness in my blooms."
Come ceremony time, the guests gathered by the pool to see the bride and her father walk together towards Deane to Tom Rosenthal's 'Lead Me To You'.
In their ceremony led by Raymond Dye of Hatches Matches & Dispatches, the couple exchanged bespoke rings and vows that they tailored themselves.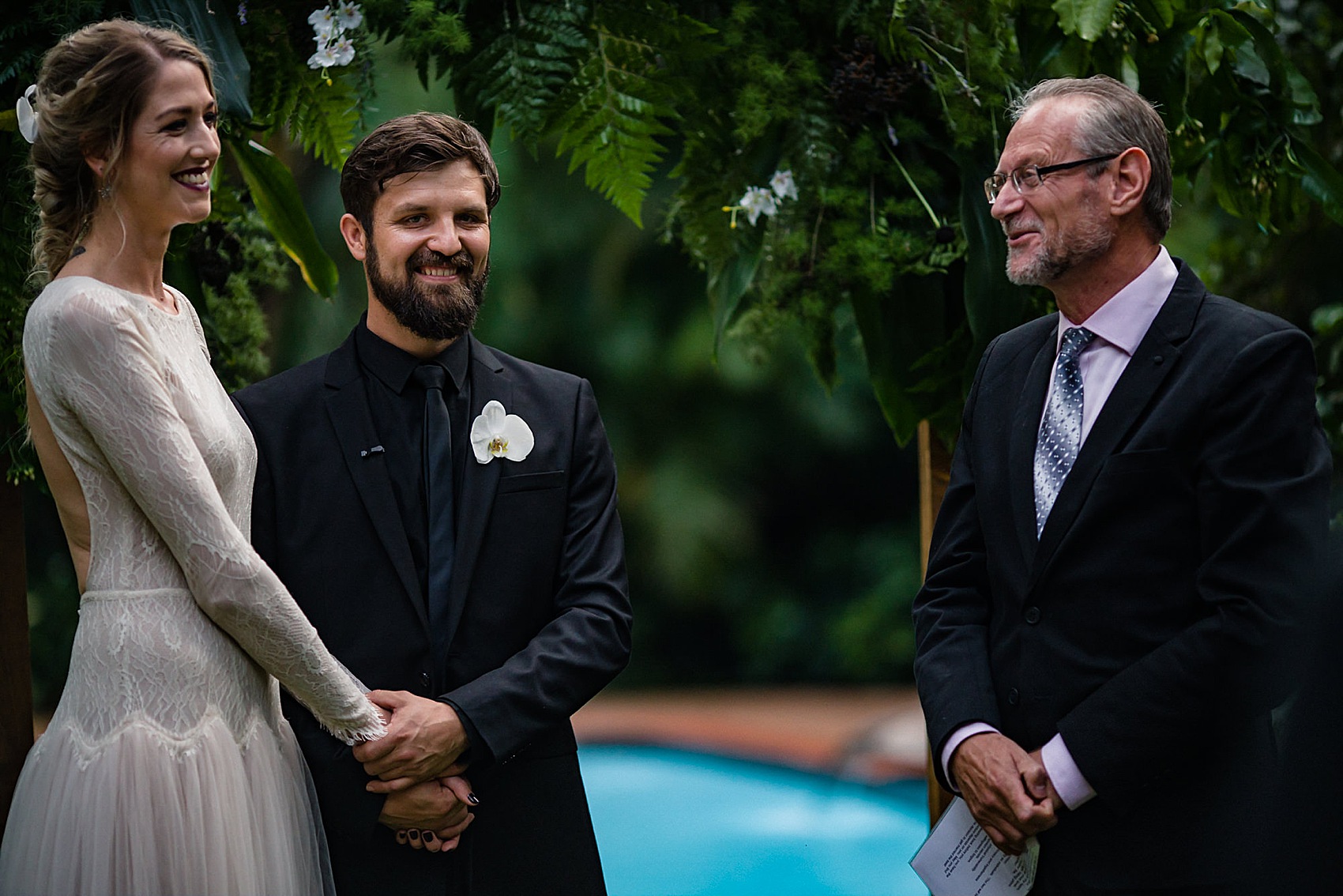 "We tailored overarching vows which our marriage official asked each of us. We then each addressed our wedding guests and one another. Although Deane froze during his speech, I swooped in with a little something of my own and included a poem from Rupi Kaur's 'Milk and Honey'."
"This was a very personal message from me to Deane as we have always had challenges in our relationship and there has been much self-discovery from both sides. It was a very important message."
"My engagement ring is a vintage 1920's wedding band with a fern engraving framing more detailed engravings that mimic the tiny little diamond in the centre. We wanted to incorporate some of the fern engravings in my wedding ring which then lead into arms holding a vintage-style, six claw setting for each of the three, oval-cut amethysts."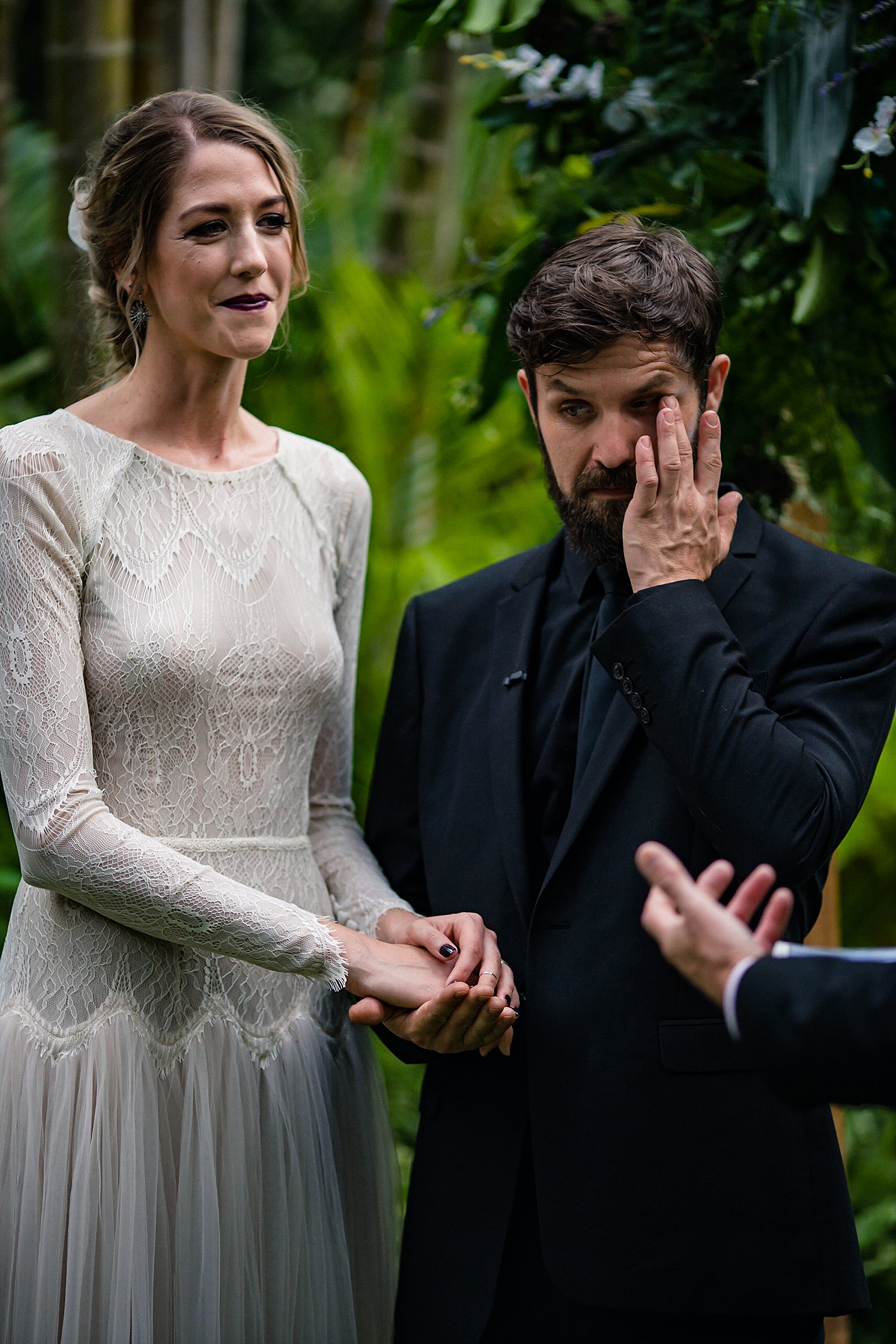 "My ring was designed and created by Christy-Anne Jewellery. I work with Christy's husband and had seen her work. She was amazing and accommodated my every 'um and ah, if we could'. She was wonderful. Deane's is a black silicon ring chosen to accommodate the need for movement and avoid scuffing a metal against the timber he works with."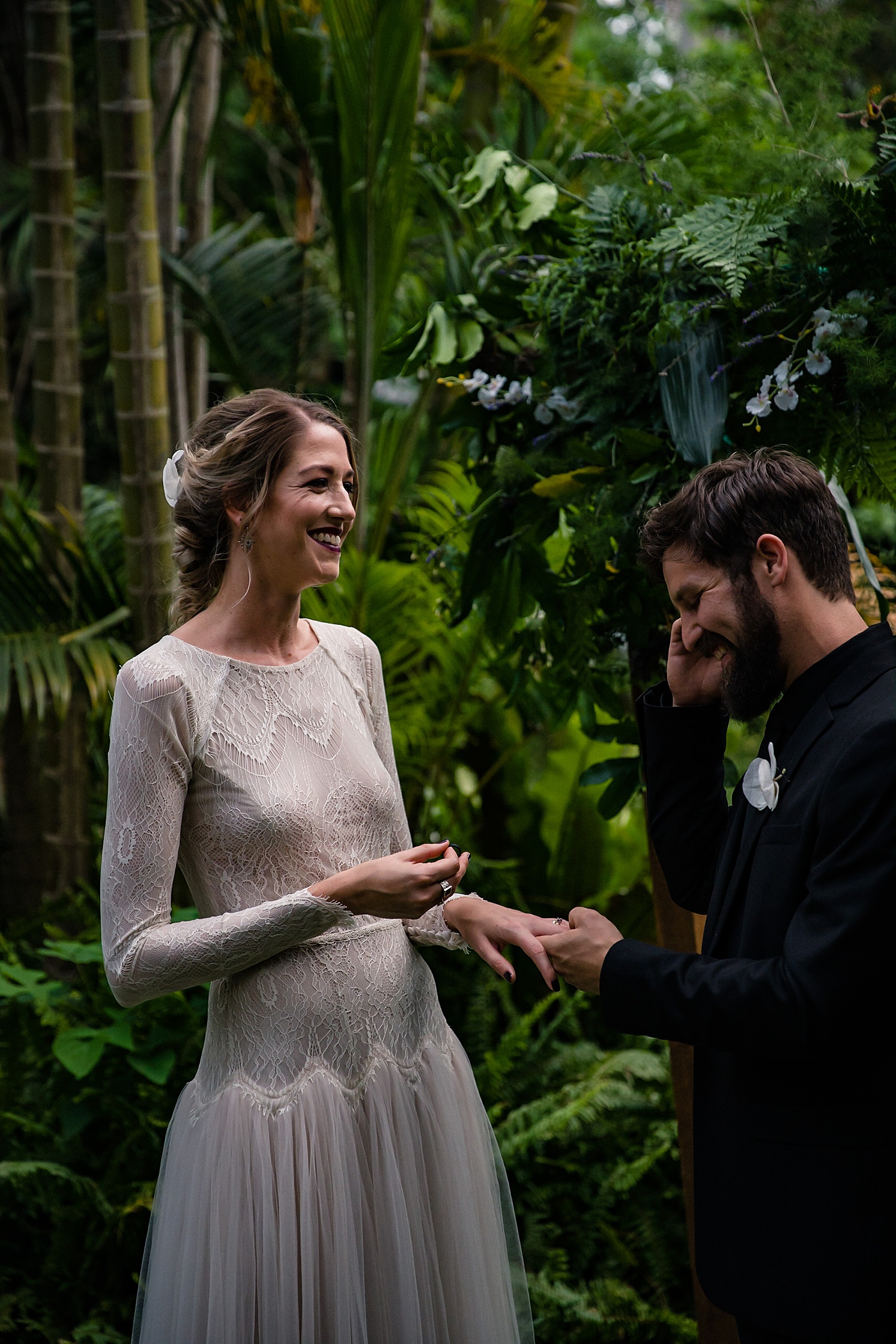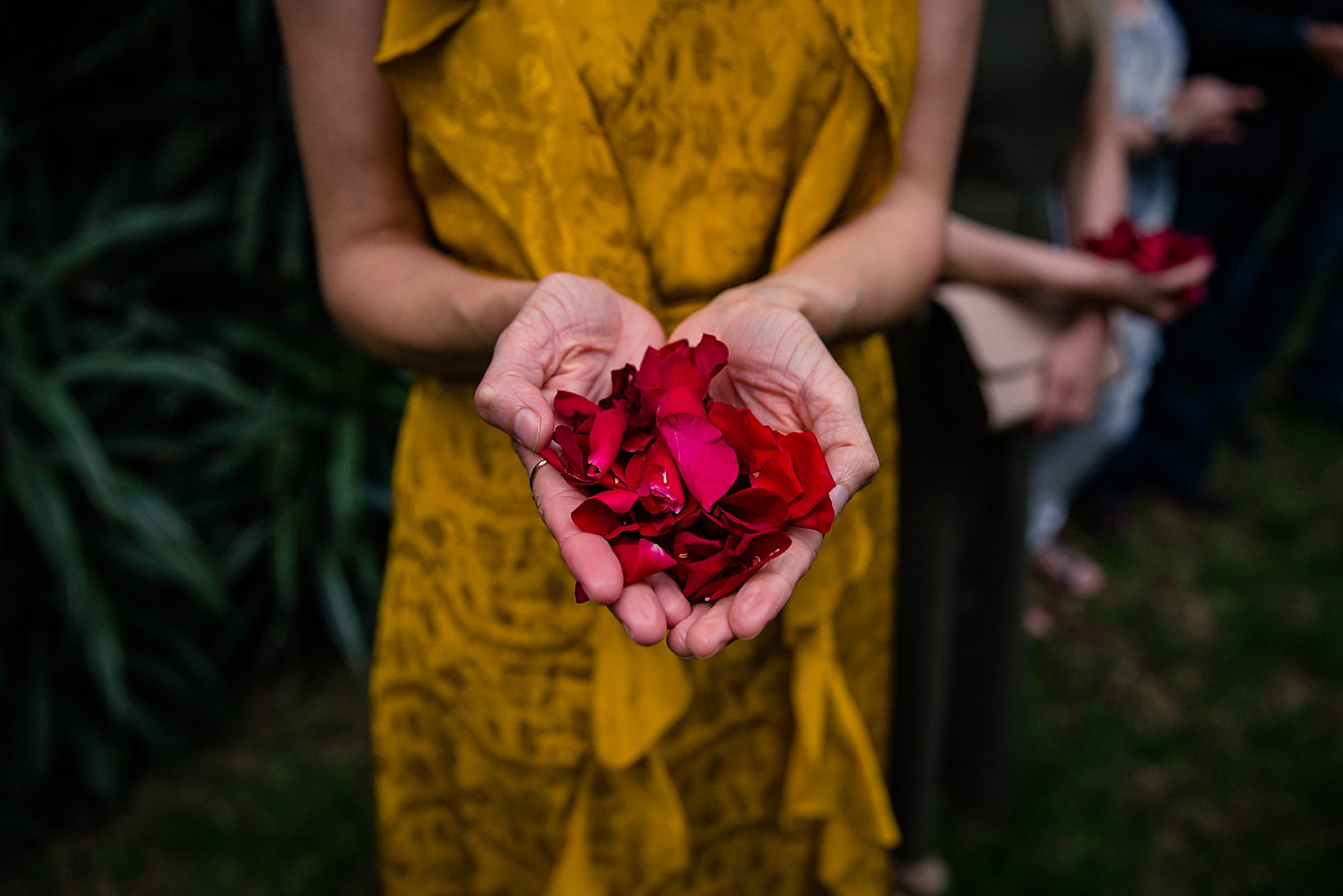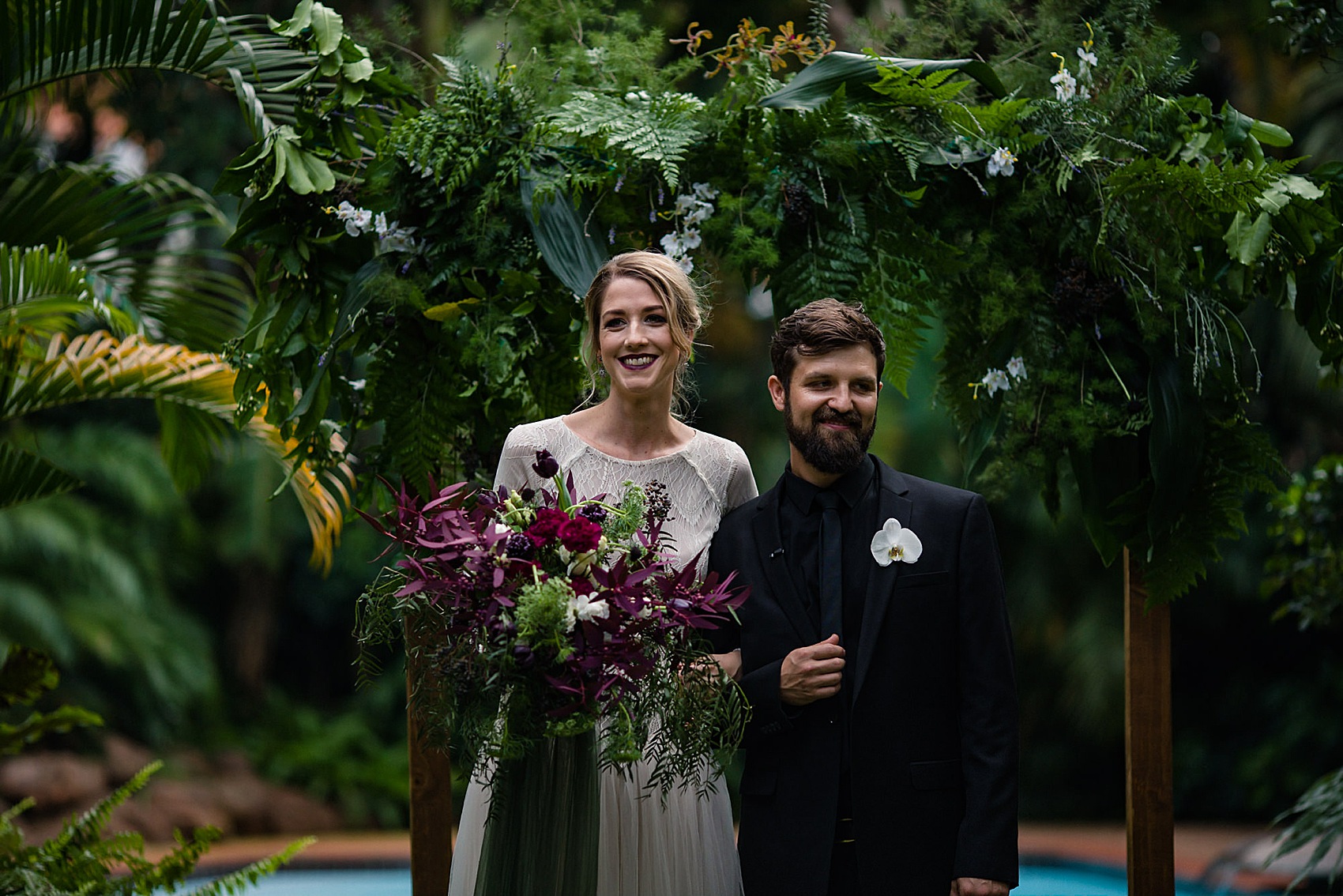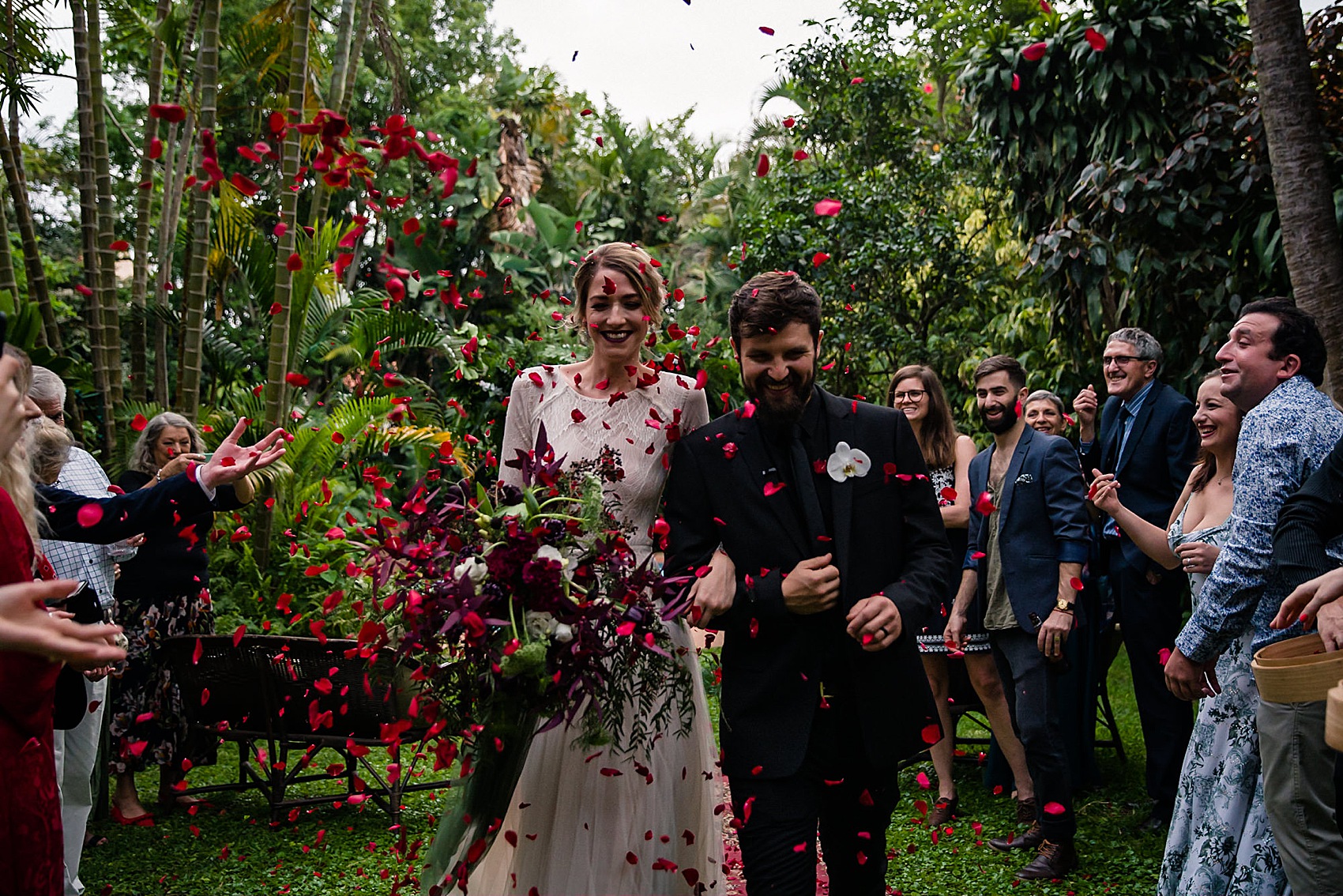 After the ceremony, the garden was a wonderful place for the small group of guests to relax for the cocktail party-feel reception.
"We went for more of a cocktail feel than a sit-down event. We kept it simple and understated with black table cloths, potted orchids, ferns and peace lilies down the centre of the food tables. Planters turned into ice buckets for wine brought a more vintage feel along with shallow cut glass and crystal champagne glasses I had collected over the years from the local SPCA."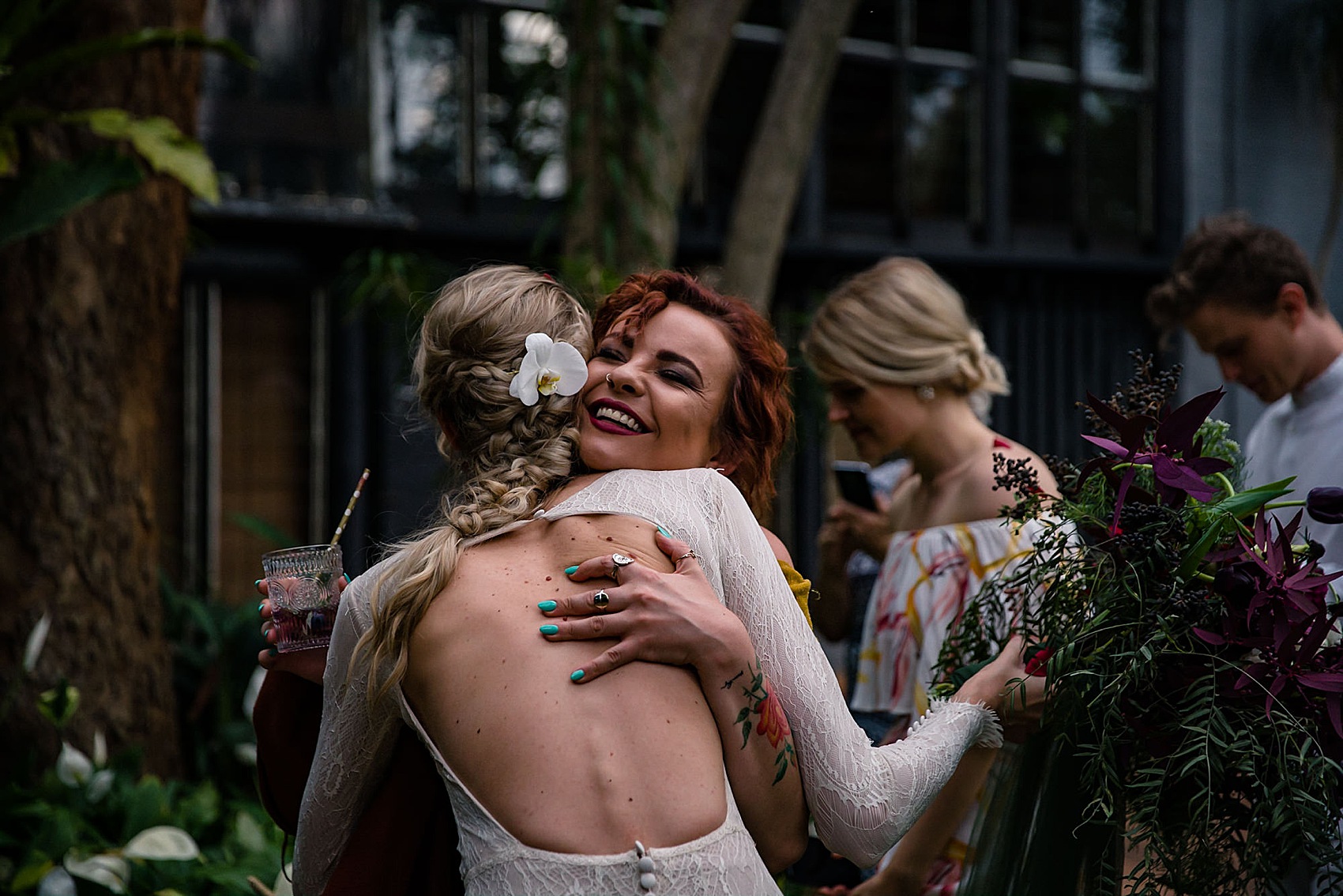 The food was a Mediterranean tapas buffet provided by Eat Greek Caterers.
"We chose Eat Greek because they were able to cater for the variety of dietary specifics we needed; gluten free, vegetarian and banting. The platters were sumptuously loaded with tasty morsels – keftes, brinjal involtini, steak kebabs, mini roti wraps, mini quiches, bowls of olives and marinated artichokes, cheese platters, piles of pita bread and bowls of hummus, skordalia and taramasalata – a veritable feast for the eyes and stomach. There was a table loaded with sweet delights for when we brought out coffee and tea."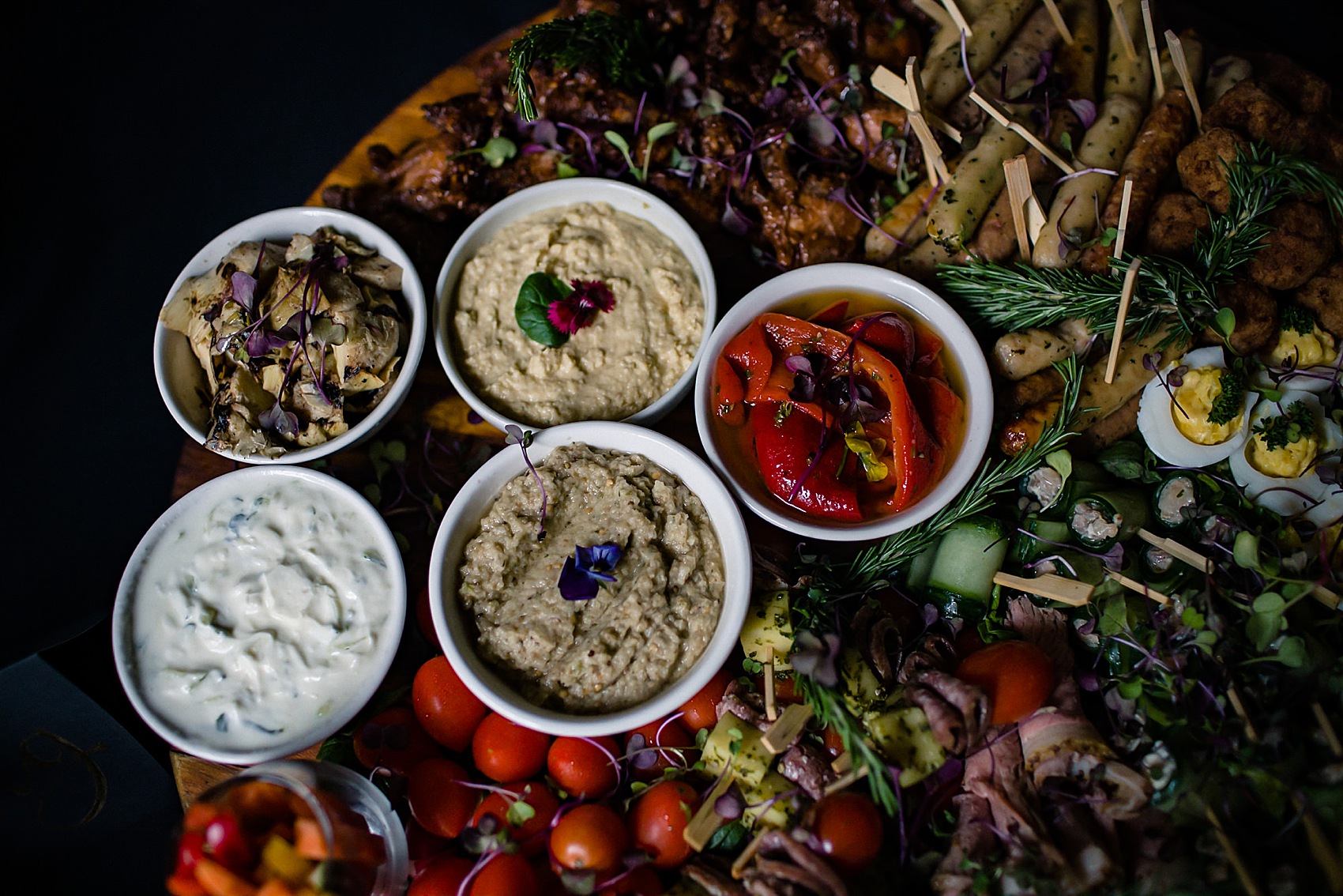 "We had two large water dispensers, one with water and the other with lemonade, and a self-service gin bar with Marari Gin being our featured craft gin by Johannesburg distillery, Time Anchor Distillery. This was a huge hit with everyone and a great conversation starter."
For a wedding cake, Smith's Bakeshop provided a decadent, gluten-free chocolate cake enrobed in chocolate ganache.
"We topped it with Funko pops that best represented our personalities. I went with Emma Bloom from Tim Burton's creation of 'Miss Peregrine's Home For Peculiar Children' (for my love of Tim Burton) and Deane went with Ron Swanson from 'Parks and Recreation' (Nick Offerman is also a role model of his in the carpentry world). My mom wanted to treat us to a wedding cake and so she did some searching and selected the perfect service provider for our day."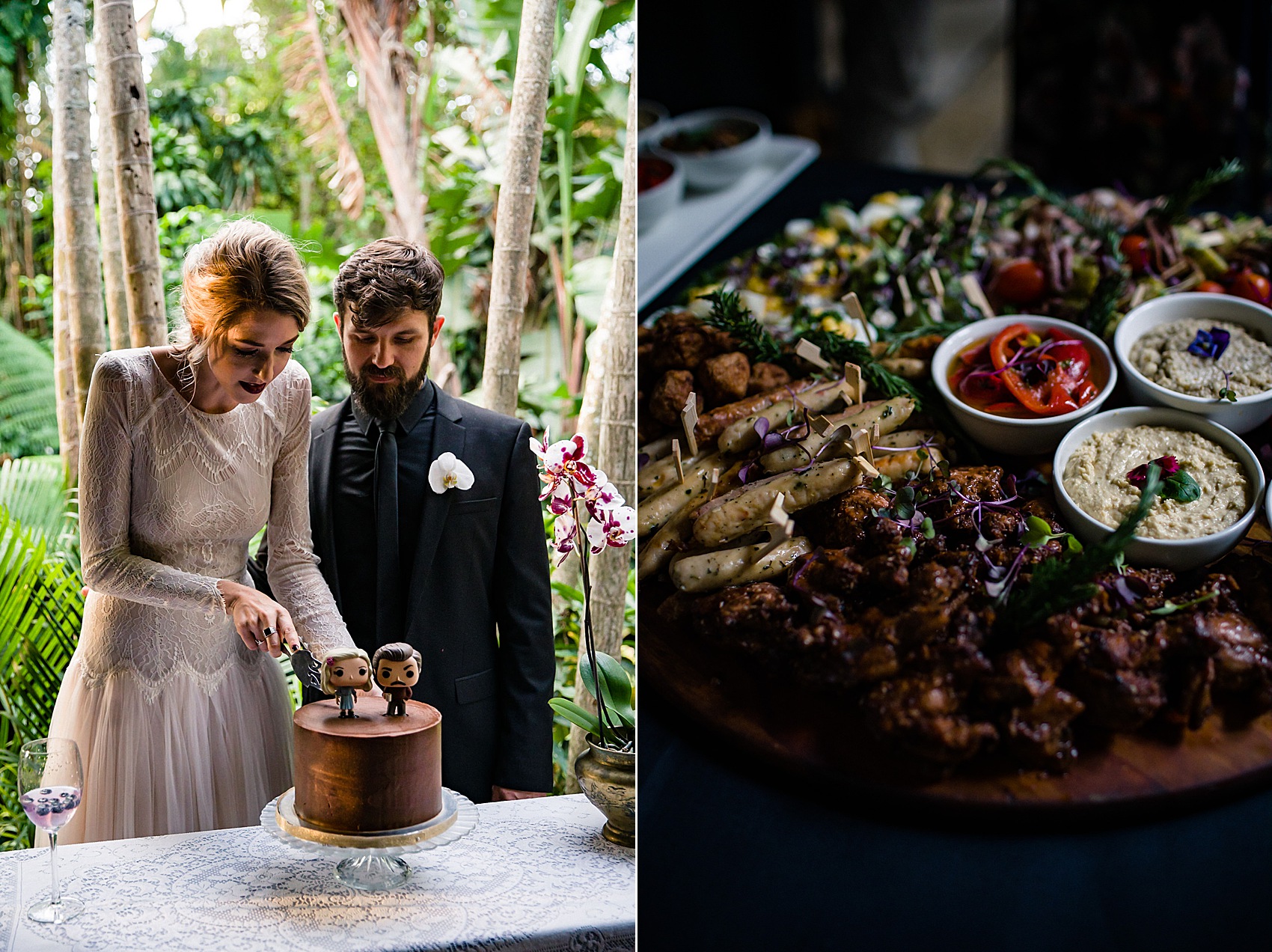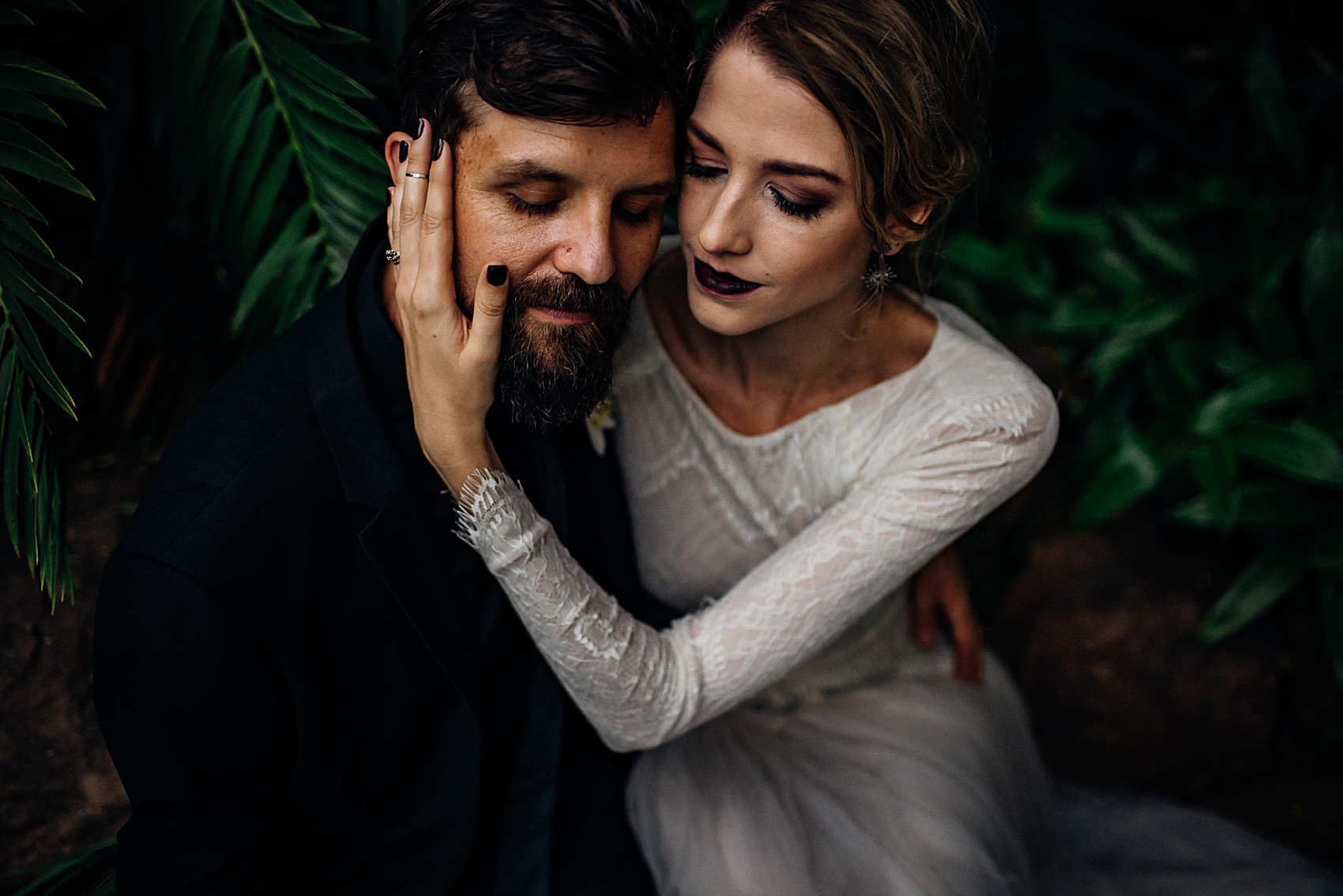 As night fell, the tropical paradise turned into a magical place for music and dancing.
"Candles, fairy lights and a disco ball were added to bring in some ambiance as the sun went down, while large cushions and outside couches provided seating for guests to ease their weary feet or take a breather from dancing."
"My sister's boyfriend, who is a music fanatic, compiled a playlist for the day which we played from a phone to the UE Boom speakers."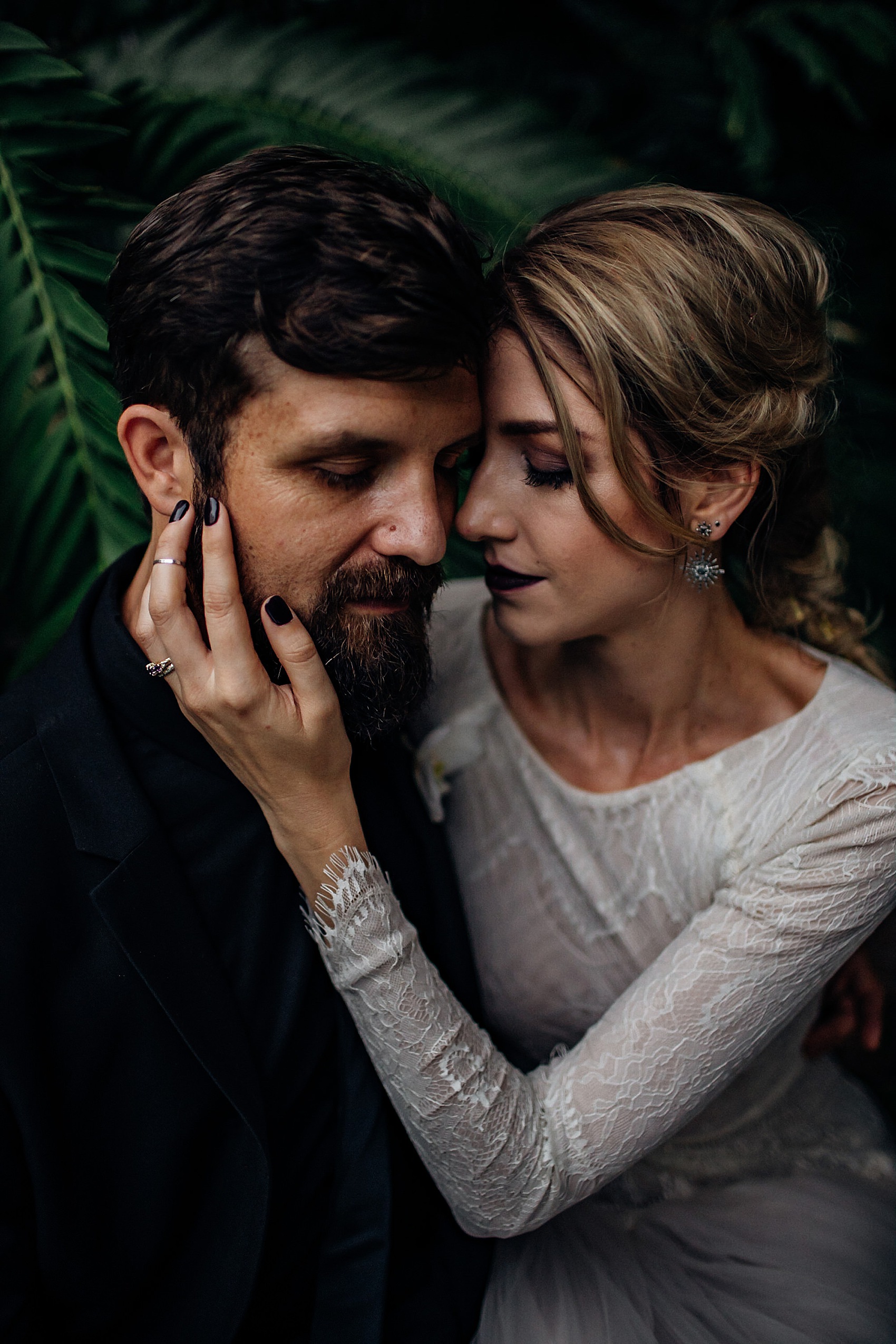 The first dance kicked off the dancing, and was a special choice for the couple – 'Tonight, Tonight' by The Smashing Pumpkins.
"The Smashing Pumpkins are one of Deane's favourite bands and we wanted to incorporate some of our personal music taste into the event without offending too many older generation ears. The lyrics of the song have a personal resonance for us. Although others had doubts and were confused by it, it suited us – the day was about us, our journey and our joining in marriage."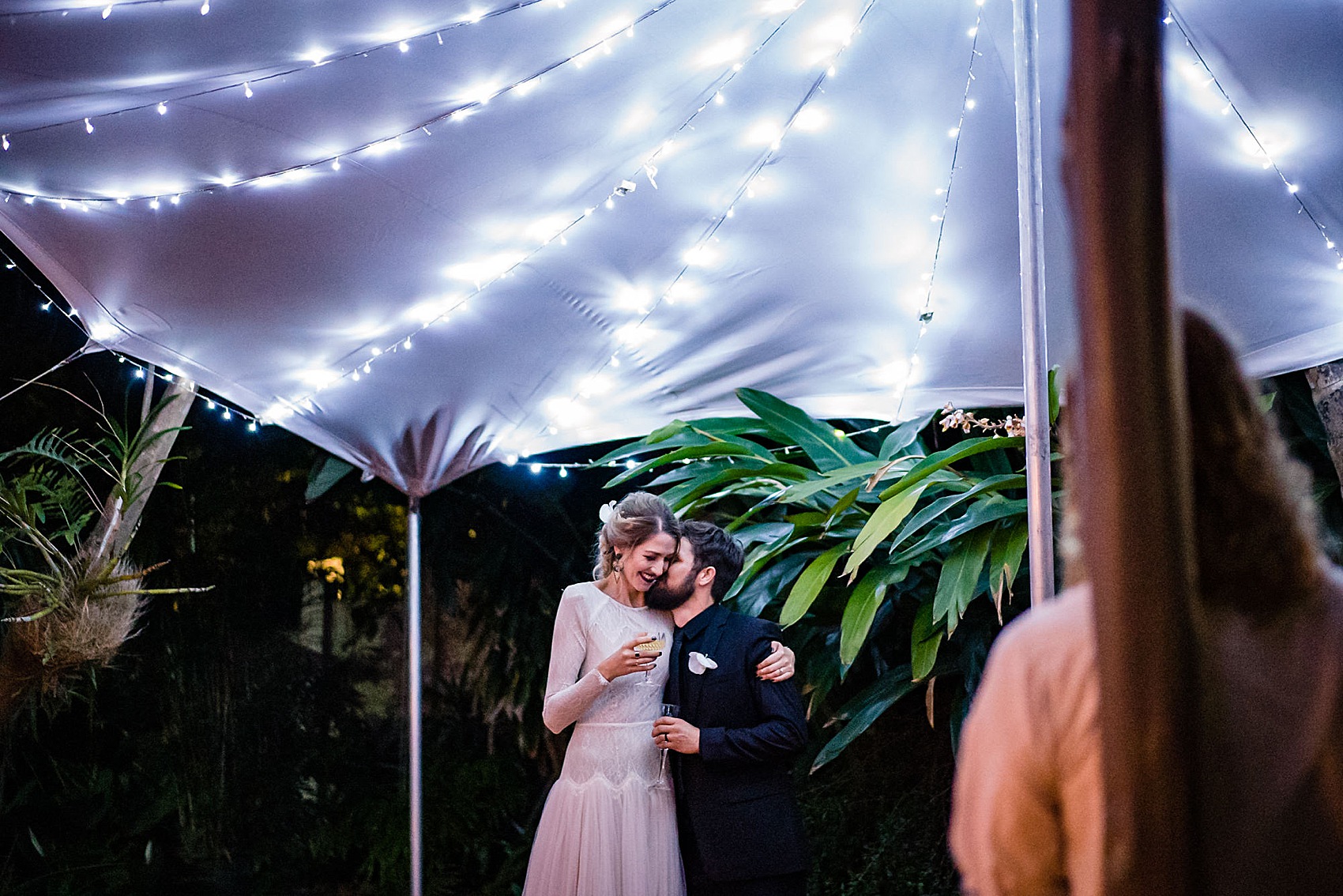 Words of Wedded Wisdom
"This day is about the two of you. Yes, you have invited those who are close to you and mean a great deal in your lives, but it's about you and not their personal dramas when they discover so-and-so is not invited."
"This is your moment to encapsulate your personalities and indulge in a public love affair in the form of a grand event. Even if it is ten people, it is an honour for those people to be the people you chose to witness your commitment to each other."
Rosemary and Deane, what a beautiful, beautiful setting for your intimate day. It must have been so special to celebrate with your very closest friends and family and thank you for giving us a glimpse of your day. Andy & Szerdi, many thanks of course to you too; your work is so evocative and really made me feel immersed in the lush South African gardens.
Ele xx