Hello loves, amidst news streams full of Coronavirus panic, please allow us into your day to bring some elegance, calm and beautiful distraction.
We'd love you to join us on an escape to the idyllic Somerset countryside for a celebration in a characterful eighteenth century barn, beside an ancient watermill, set within immaculately landscaped English country gardens. Here, our couple sought to bring the beauty of nature with them indoors, with wild meadow flowers and whimsical touches, as well as a traditional tea ceremony to honour our bride's Chinese heritage.
Steph Newton Photography

+ Follow
This is the wedding of secondary school English teachers Lydia and John, who celebrated their marriage on the 24 August 2019 at the Tythe Barn at Priston Mill, near Bath.
Lydia's radiant, long-lasting make-up look was created for her by make-up artist Carly Williams, and her hair was styled in gorgeous, relaxed waves by Bath Bridal Hair.
"Both were brilliant and lovely women to have around on the morning of the wedding to help us all get ready. We all felt our best thanks to them. It was a very hot day, and both my hair and make-up lasted, so I was super grateful."
"I wore fresh flowers pinned in the side of my hair, that I got from my florist to complement the ones in my bouquet. I didn't want my hair to be too 'done', as I usually just wear it down."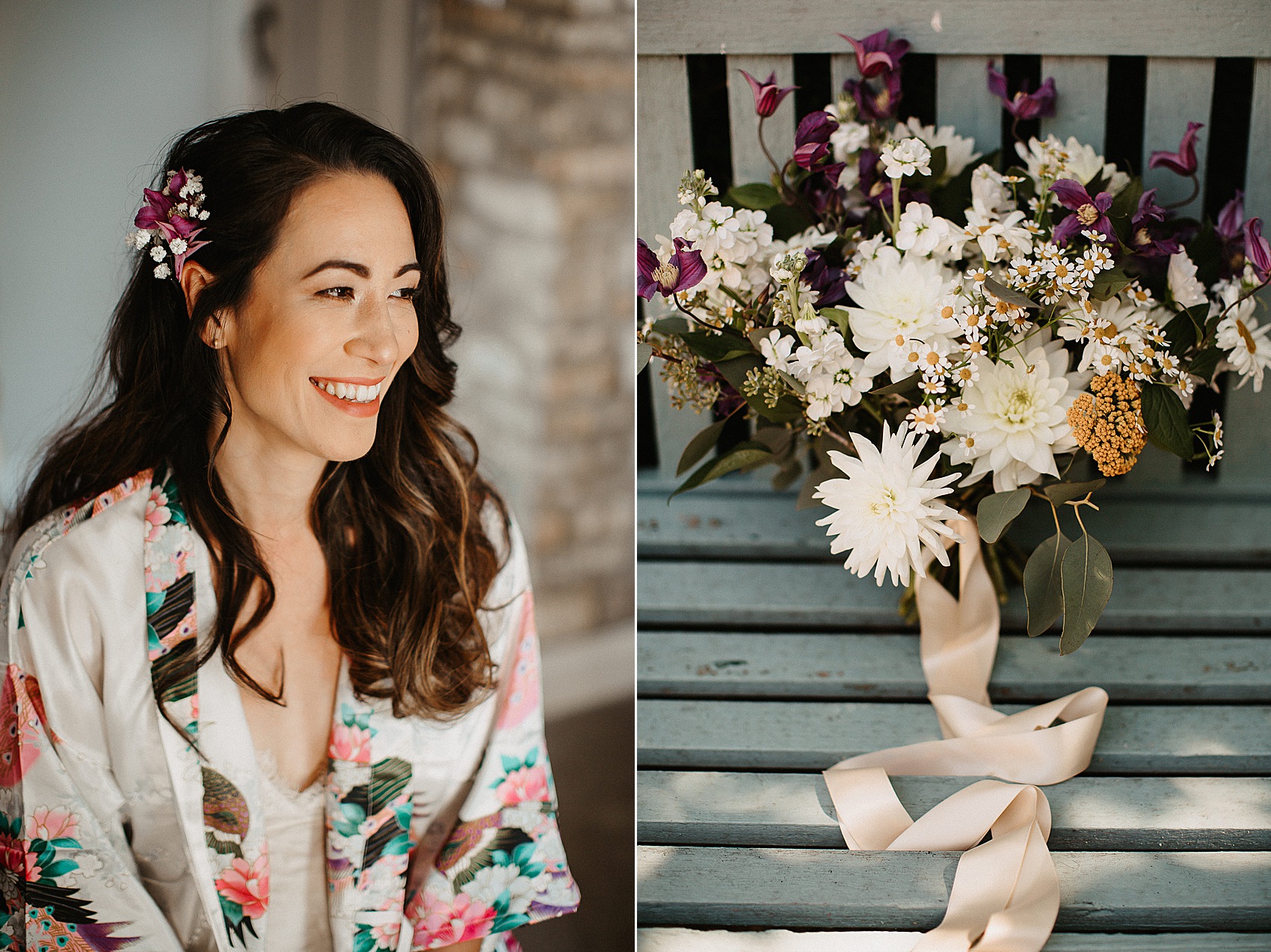 Lydia paired her dress with gold block heeled Carvela sandals from John Lewis, and a pair of moonstone drop earrings by Oliver Bonas.
"I wore a big jade bangle, which was gifted to me when I was 20 by my Chinese grandma. It wasn't really a choice to wear it at the wedding, but I had to as it's too tight and I can't take it off! My perfume was Jo Malone, Peony and Blush Suede, just because it's my favourite smell. I think it's very feminine but not too sweet."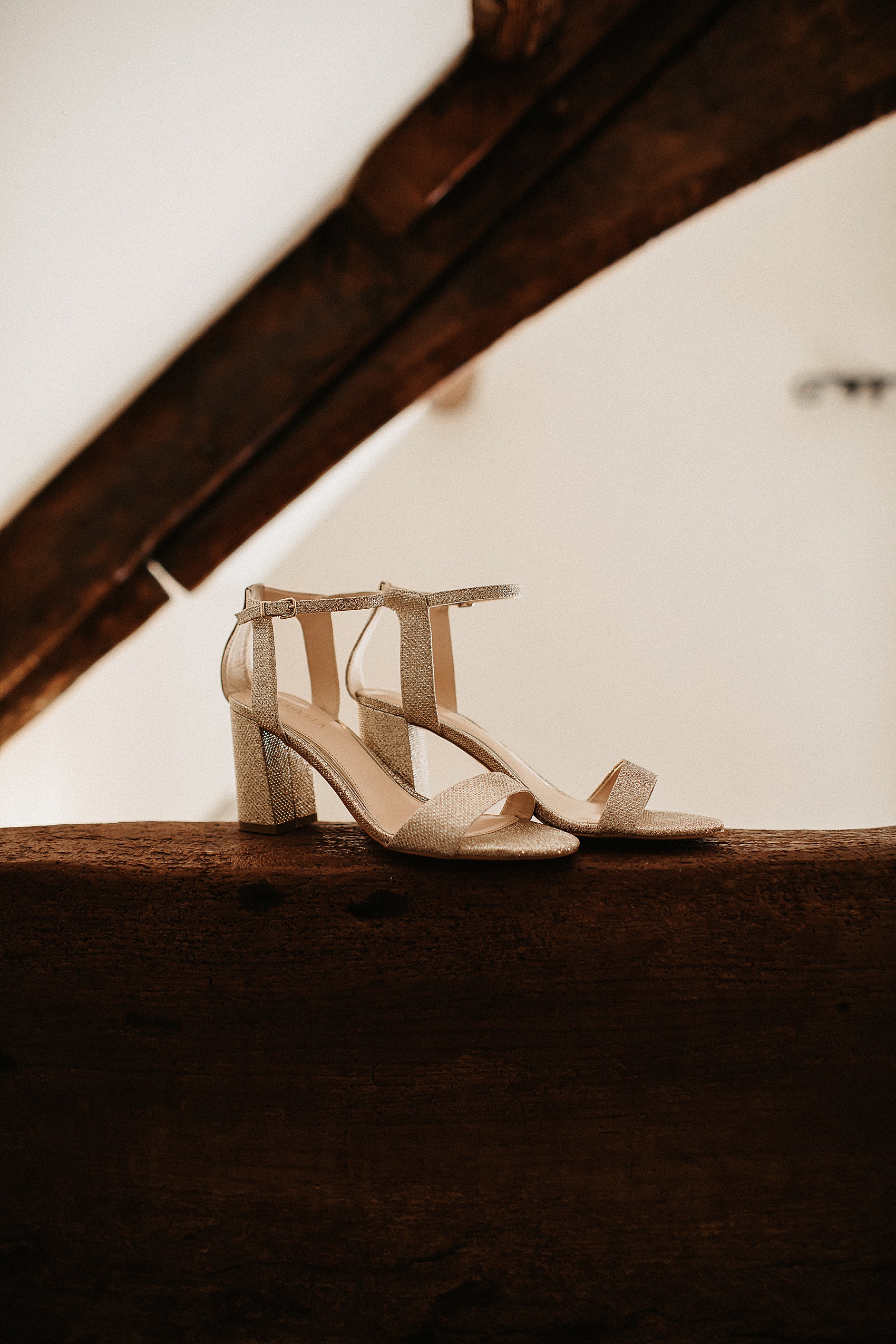 The bridesmaids looked lovely in pale mint green twist neck maxi dresses, with pleated skirts, from Oasis via John Lewis. They wore their own shoes and accessories, and added sprigs of fresh gypsophila to their hair.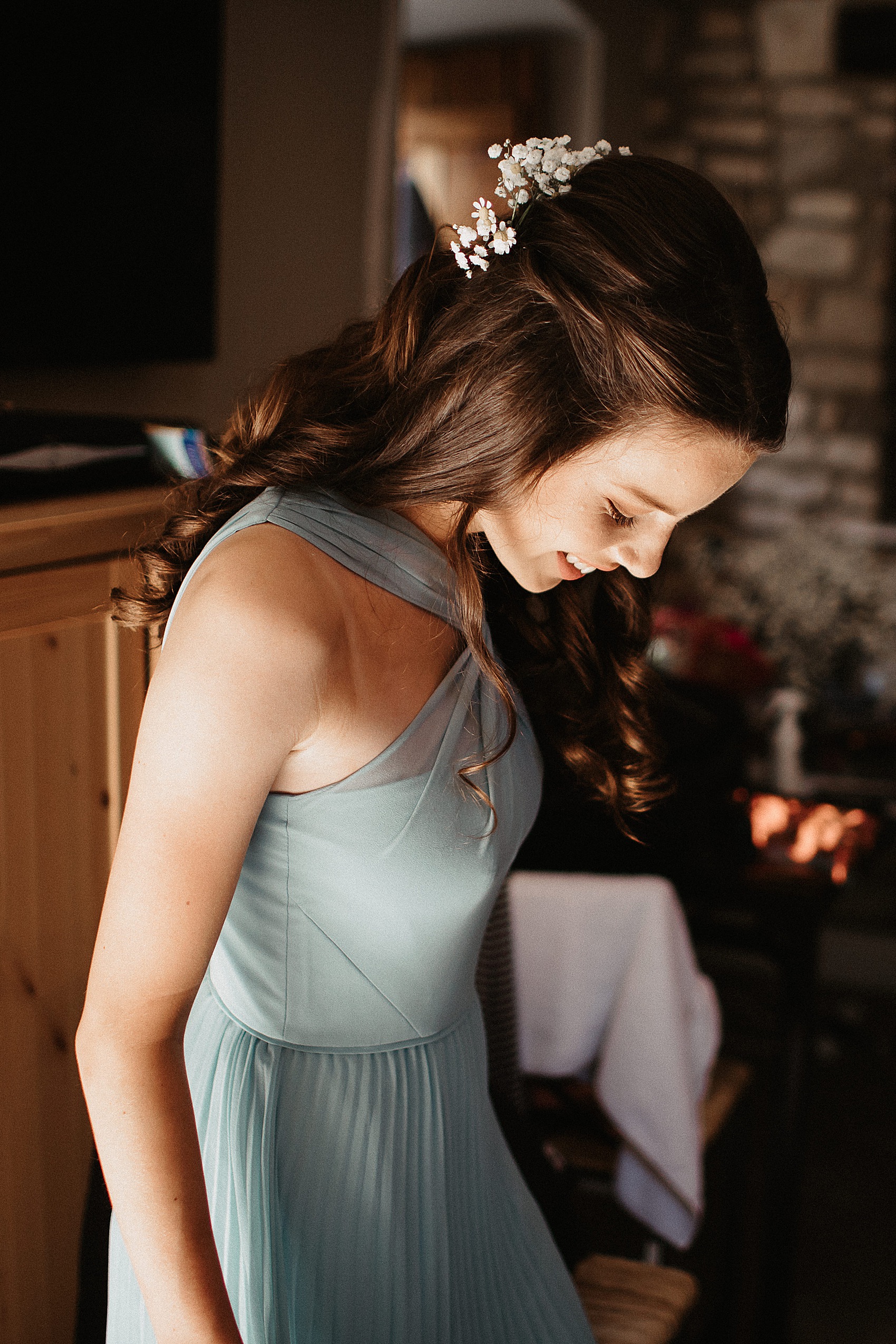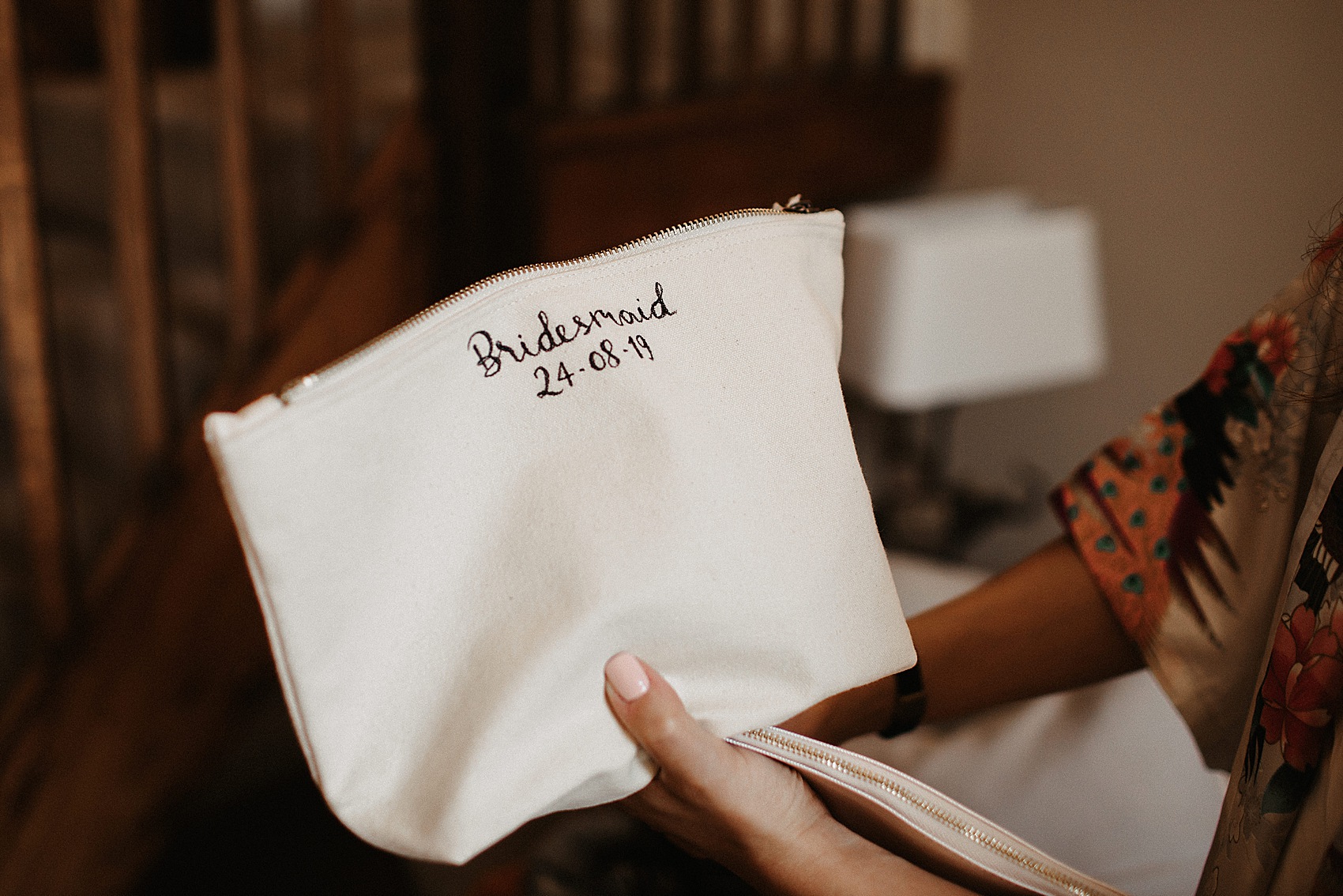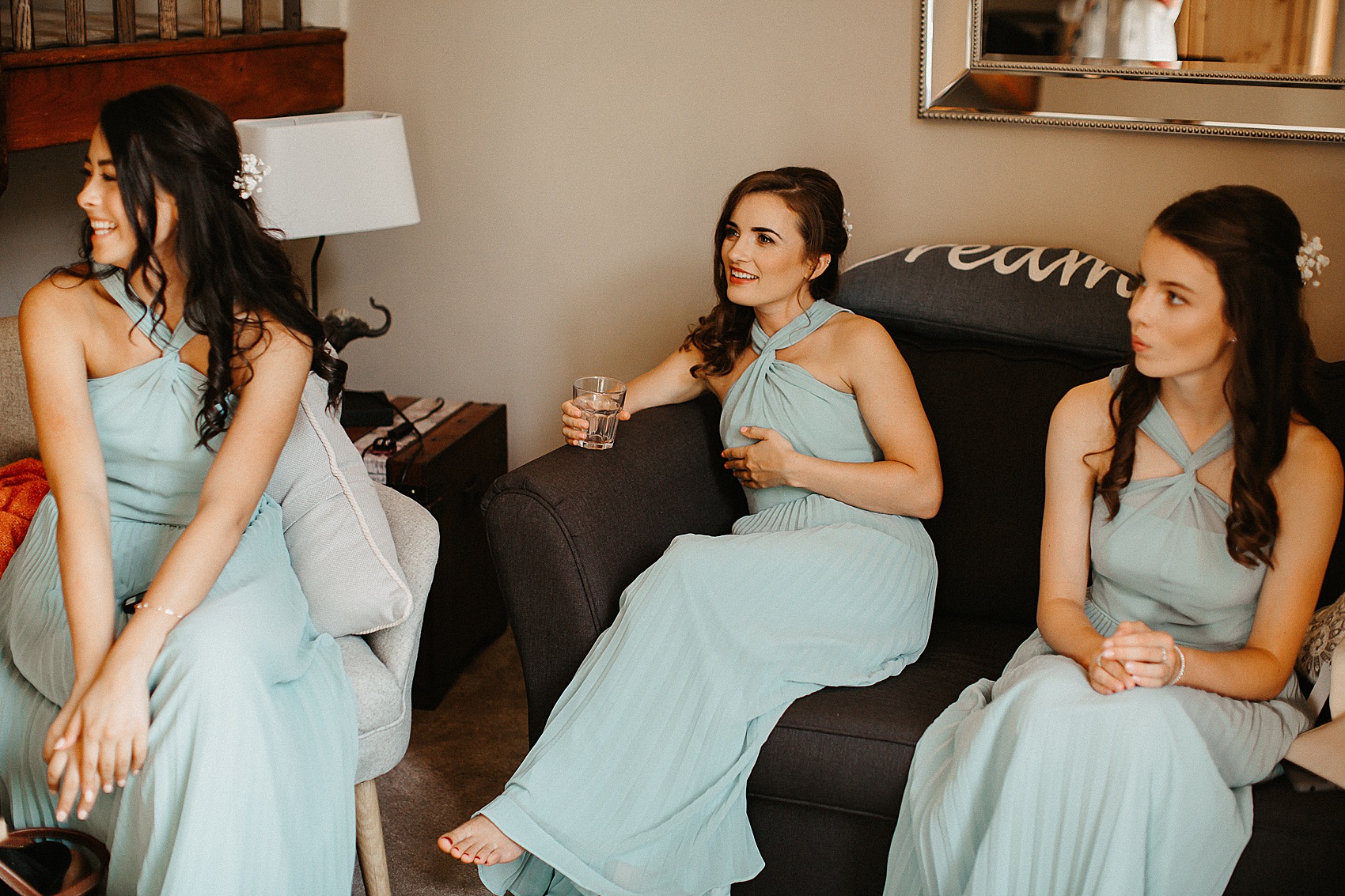 Lydia visited Lace & Grace Bridal Boutique in Keynsham on the recommendation of a friend who had chosen her wedding dress there, and one Lydia had also visited as her bridesmaid. It was there that she discovered her magnificent dress by Savin London.
With its delicate applique flowers, and subtly sparkling, botanical inspired embellishment all over, Lydia looked like she'd stepped from a flower meadow scattered in petals.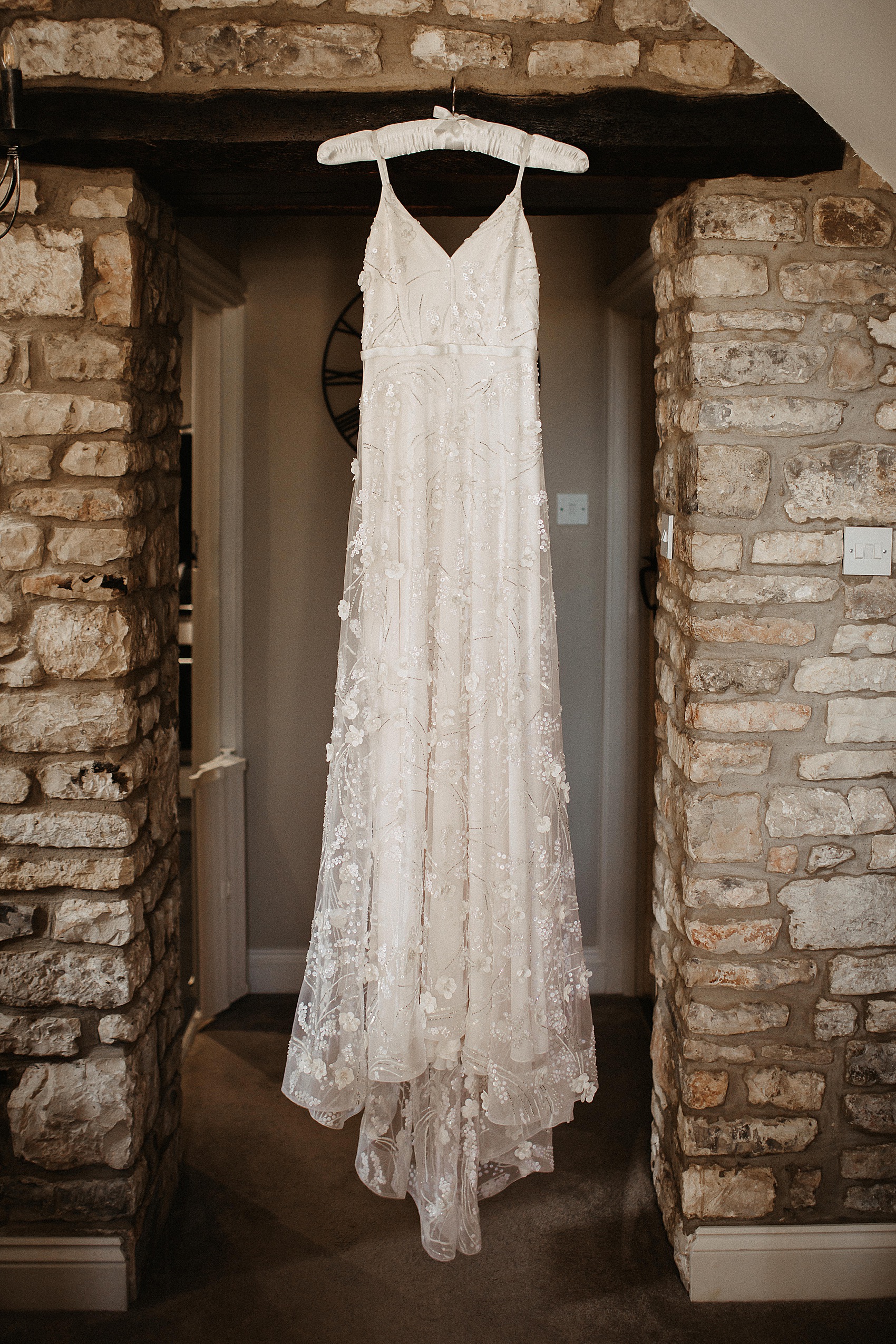 "A mother and daughter team run the shop, and they are the most helpful, kind and genuine women. From the second I arrived, they made me feel really special. They gave us Prosecco and let us have a private fitting. I ended up getting my dress half price in their summer sale – it's worth a look but you have to book in advance."
"Once I'd chosen the dress, I had several more fittings, and the mother was the one who did all the adjustments herself. The dress was heavily embellished and it was such an intricate job. I couldn't believe the work she did. They were honestly amazing."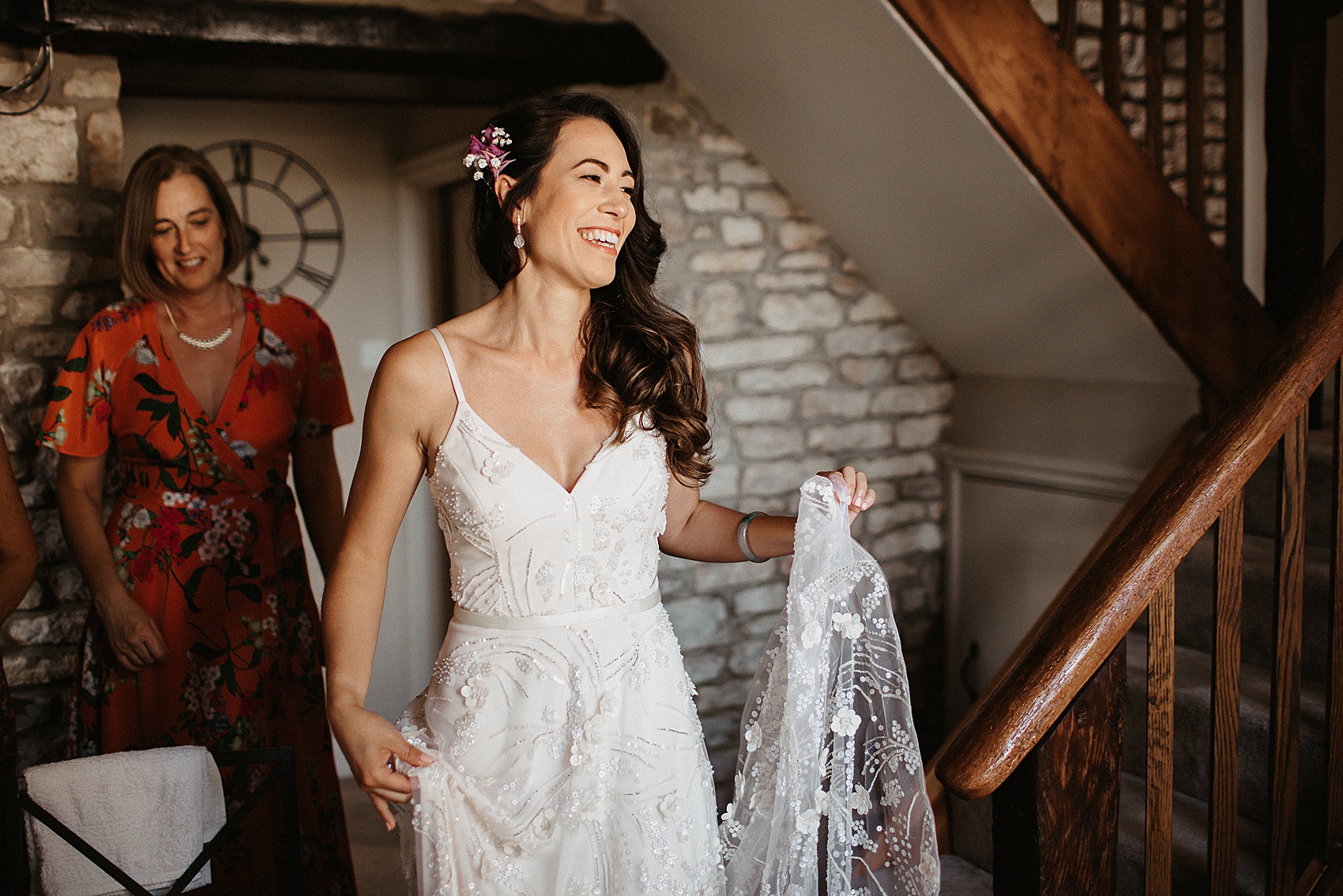 "I loved the fact that I felt completely myself in the dress. It was about the third one I tried on, and I just knew it was the right one. I loved simplicity of the neckline and straps, combined with the intricate detail of the material."
"The colour was also quite creamy/ivory, which I felt was warmer with my skin tone than stark white. I also liked that the skirt was removable, and there was a plain white one underneath, but I decided to keep the top one on as it felt more special in the end."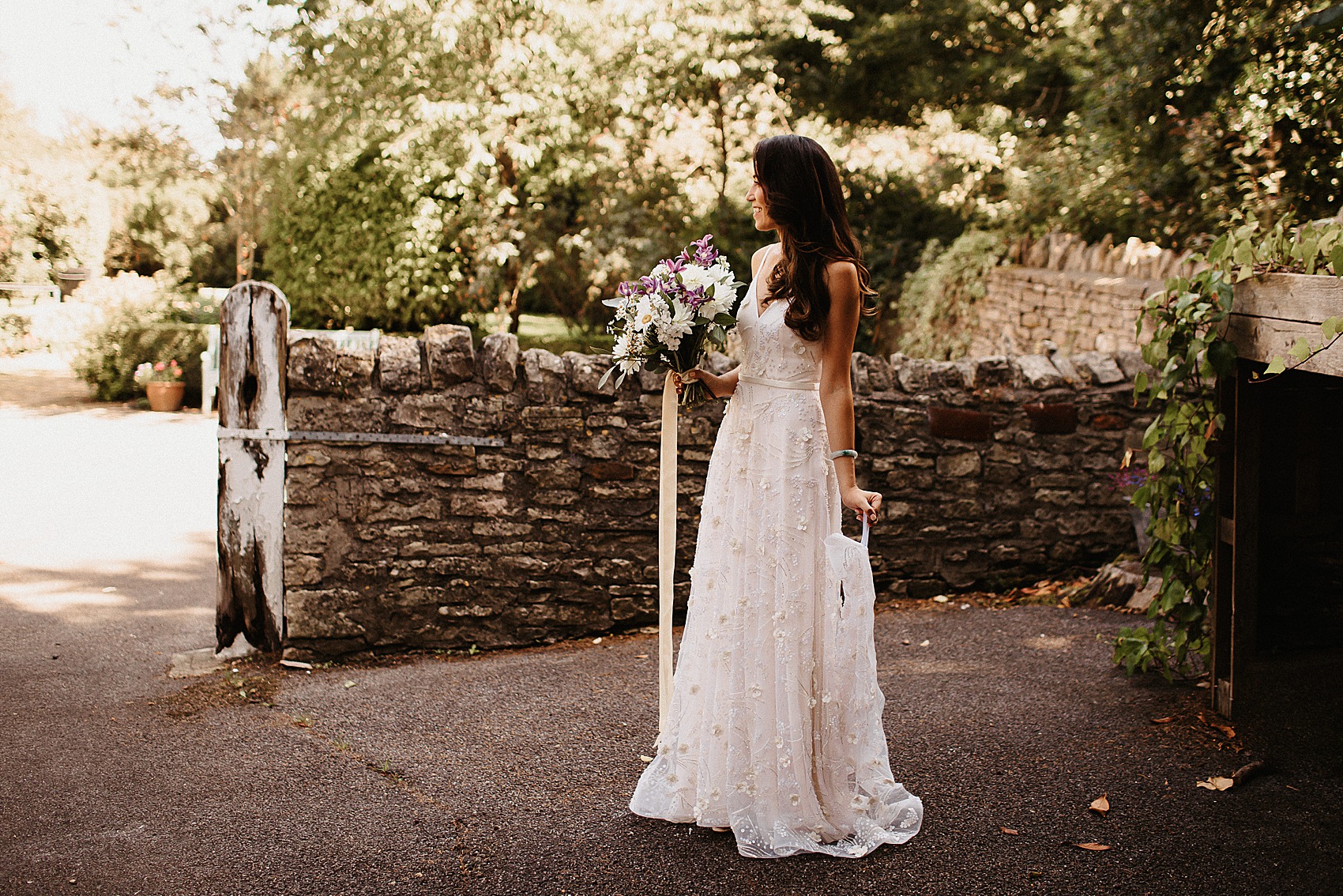 Florists Blomme weaved a magical spell with their breathtaking floral arrangements, including beautiful bouquets for Lydia and her bridesmaids, with white stocks, dahlias and daisies, and bursts of colour in purple clematis, yarrow and greenery.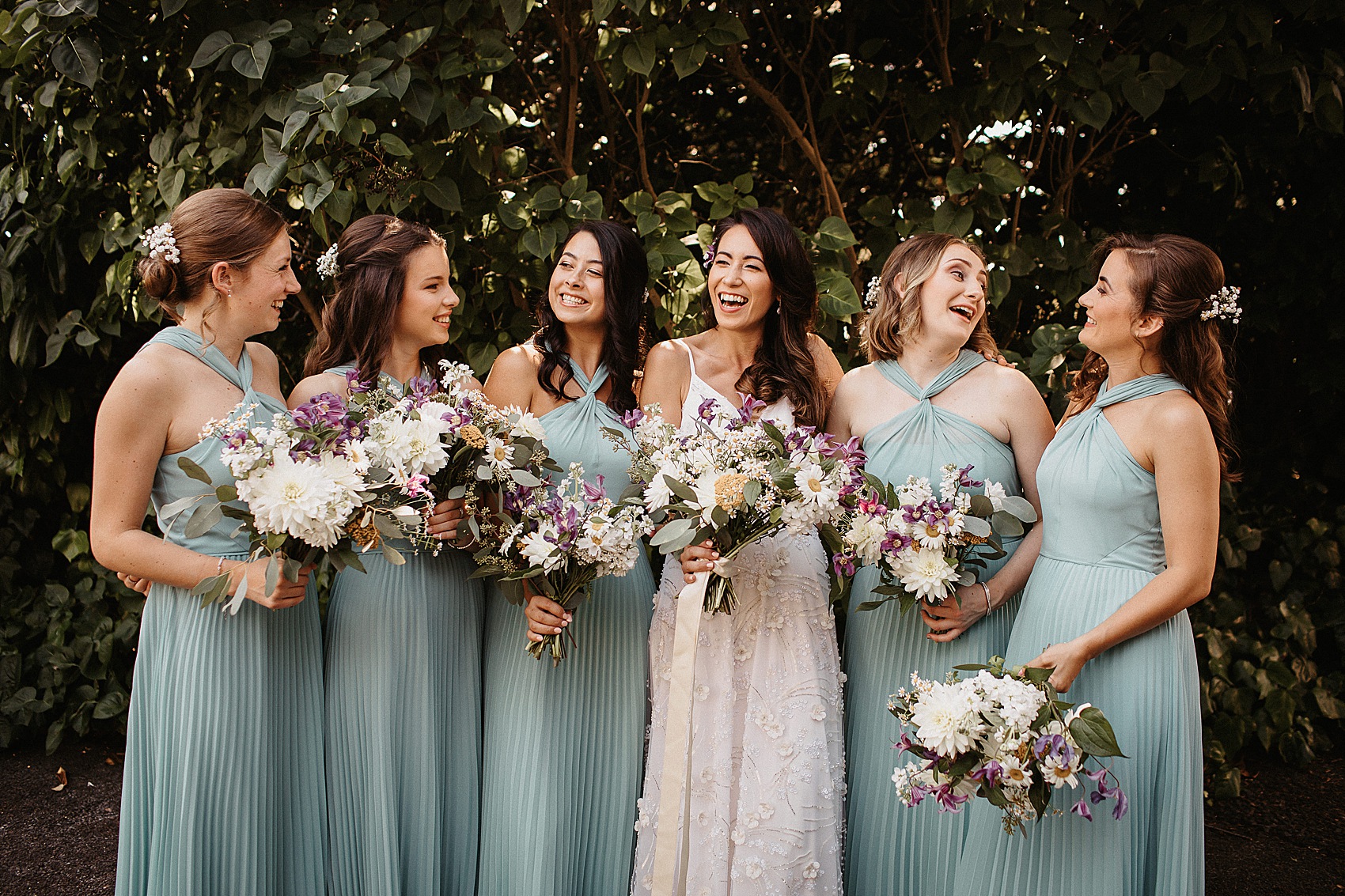 "Nicole did a brilliant job. We told her we wanted something natural that brought the outdoors in. She suggested that we have a meadow style installation down the aisle, and we thought it was a brilliant idea."
"We also went for flowers draping from the mezzanine balcony of the barn to tie in with the natural, hanging look."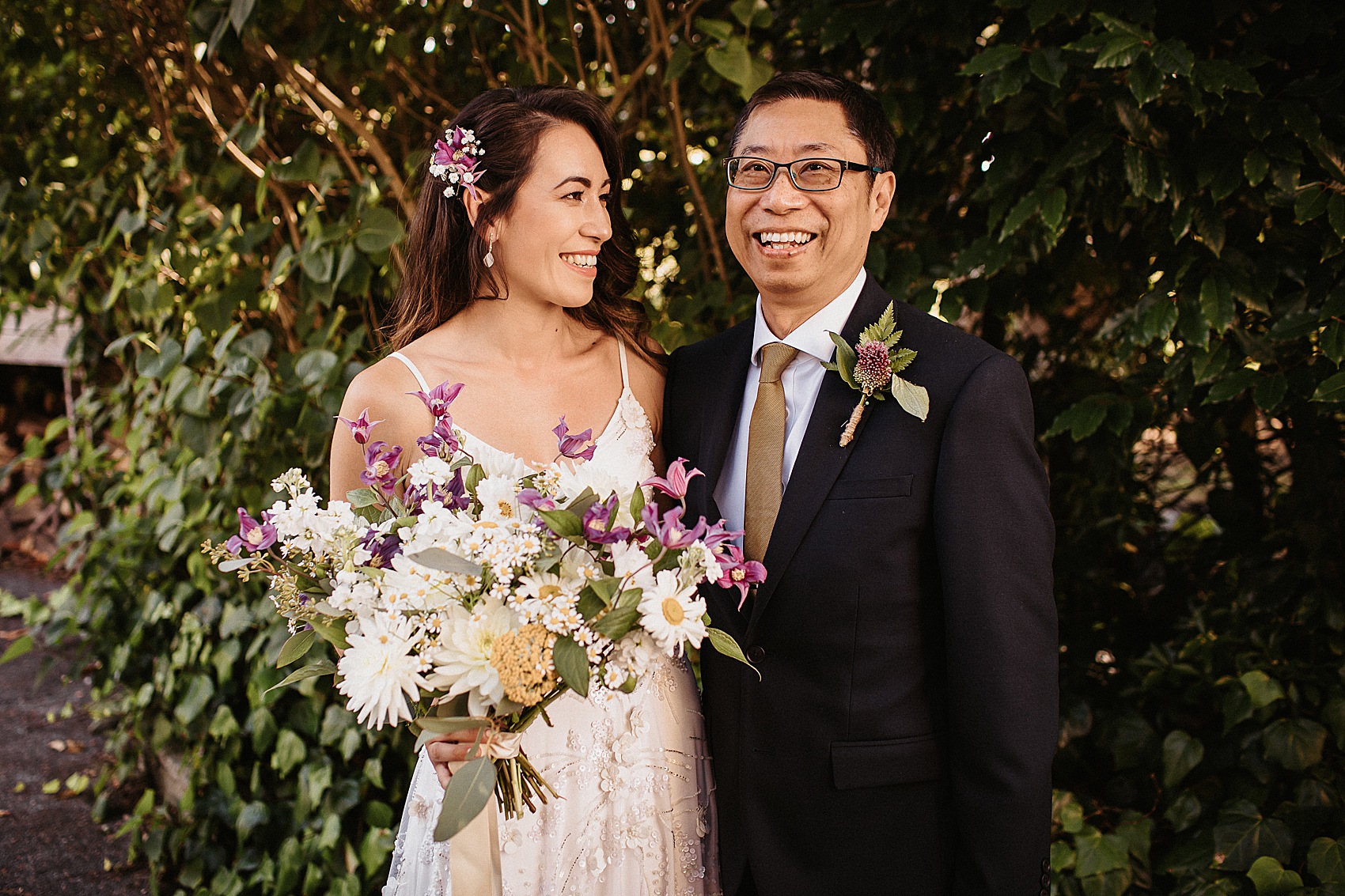 The couple were keen to marry close to their Bristol home, and near to where Lydia grew up in Keynsham. When they viewed Priston Mill's beautifully restored Tythe Barn, it was love at first sight.
"We loved the Tythe Barn as soon as we saw it, because it had a kind a lovely atmosphere, a long aisle (kind of church like) but also a rustic beauty. We also liked the way the indoor and outdoor spaces ran into one another, and how open it was. The gardens were beautiful, and as it was going to be a summer wedding with us both being teachers, we wanted nice outdoor grounds if the weather was good."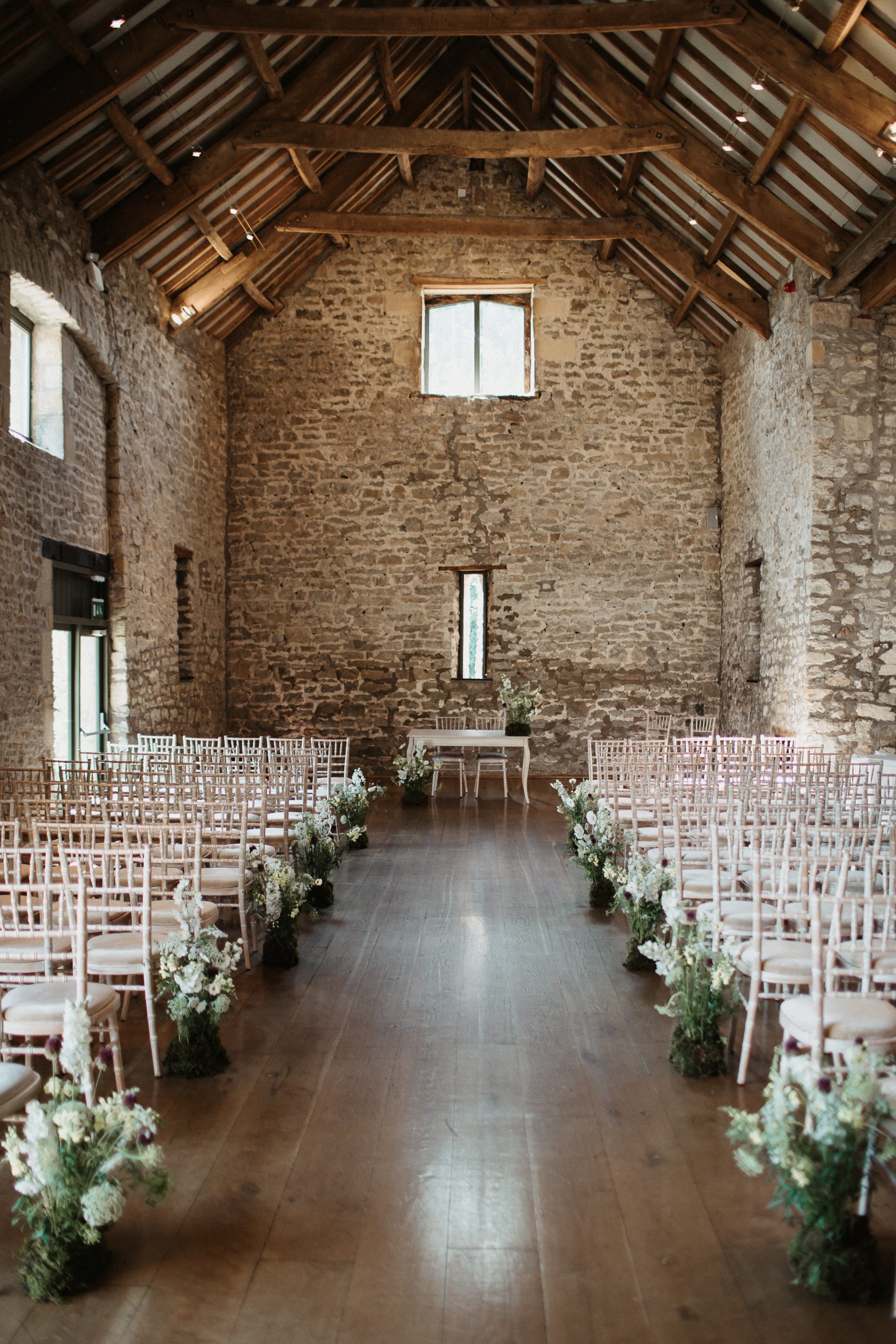 "We didn't really have any particular theme – we just wanted it to be natural, relaxed and to feel like ourselves. We loved the gardens at the venue, and wanted to bring the outdoor feeling indoors."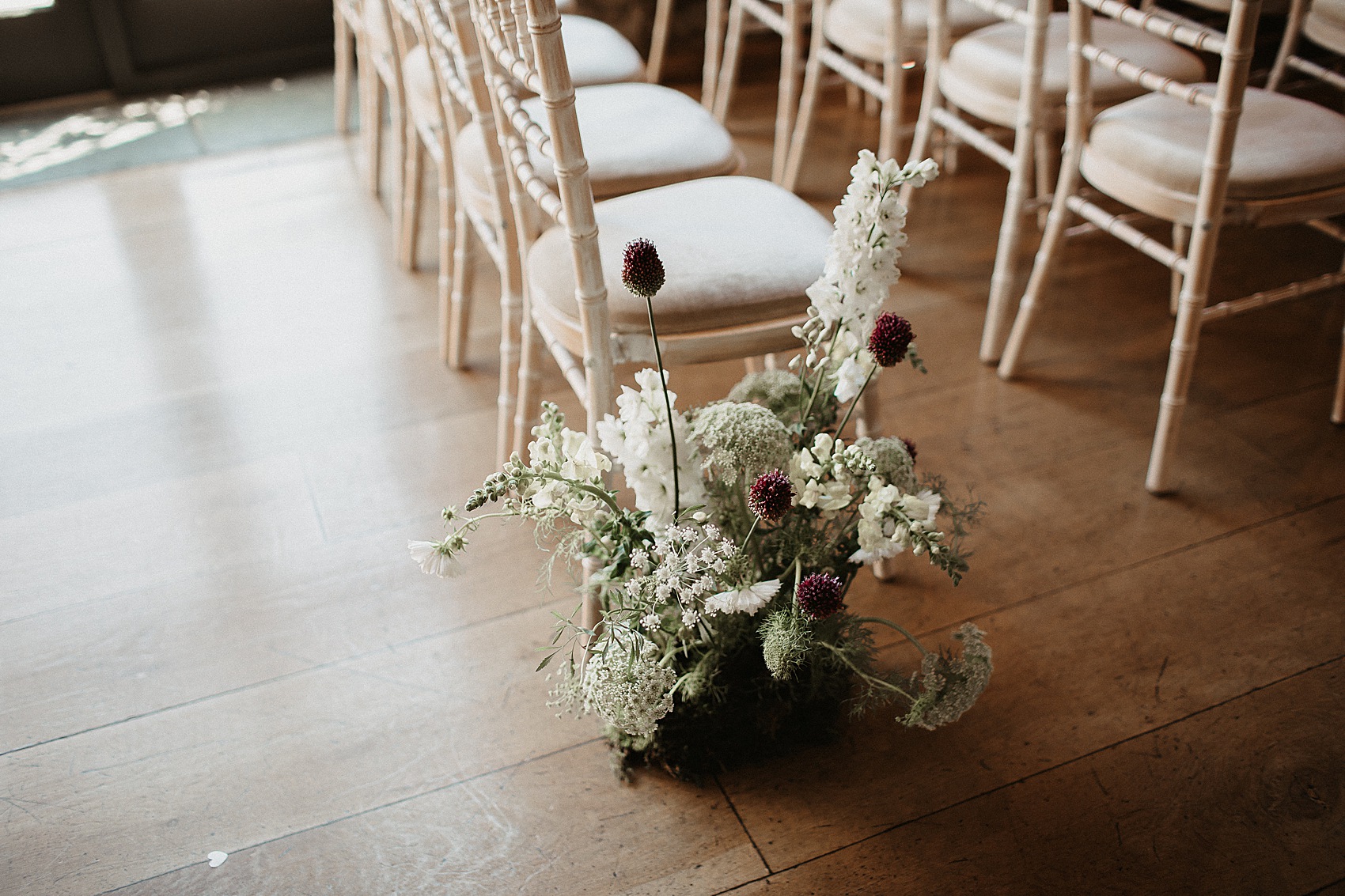 "We did have some cultural considerations as I'm half Chinese, so we needed to include a Chinese tea ceremony. It's tradition in Chinese culture to serve tea to older relatives on the morning of your wedding, and receive gifts from them."
"My niece was my flowergirl. She's only 2 and she wore a dress from Next.  John's grandma helped stitch a belt that came with my wedding dress around the waist band of the flowergirl's dress so it tied in really nicely."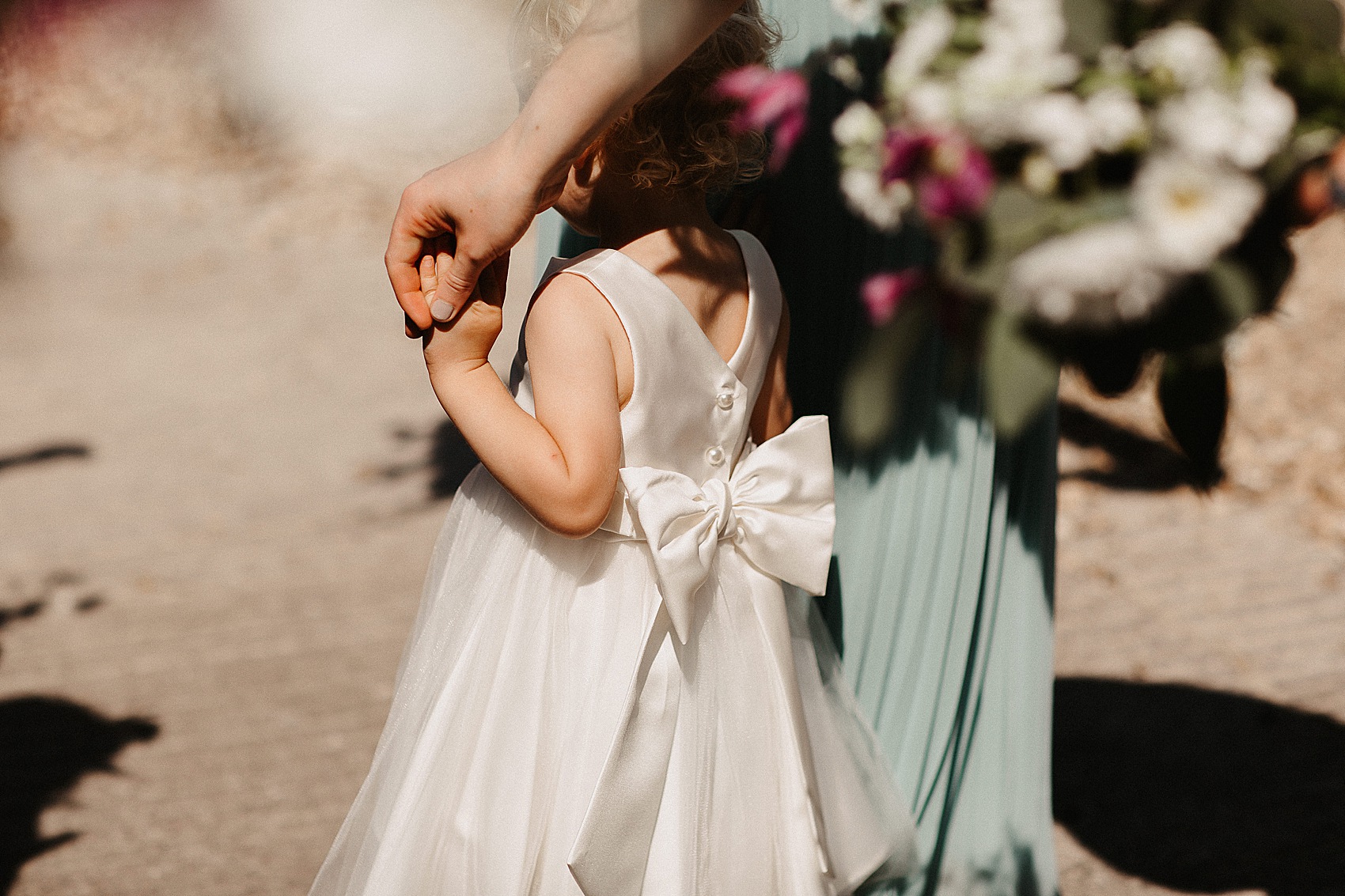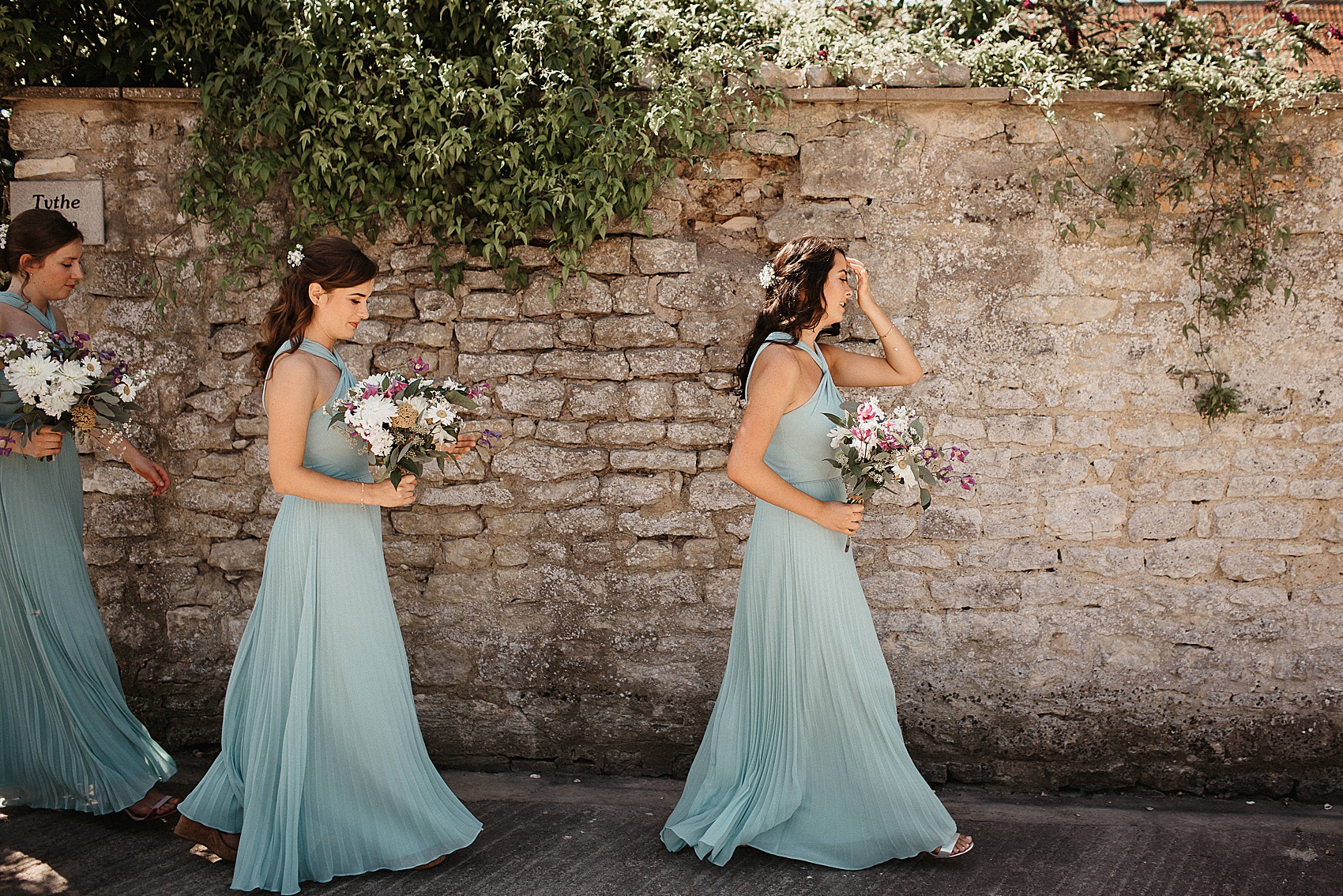 Lydia's uncle hired a splendid set of vintage wheels to whisk her to Priston Mill, and she walked down the aisle to Des'ree's song, Kissing You.
"John's best friend Jonny played songs on acoustic guitar as guests arrived, and as I walked down the aisle."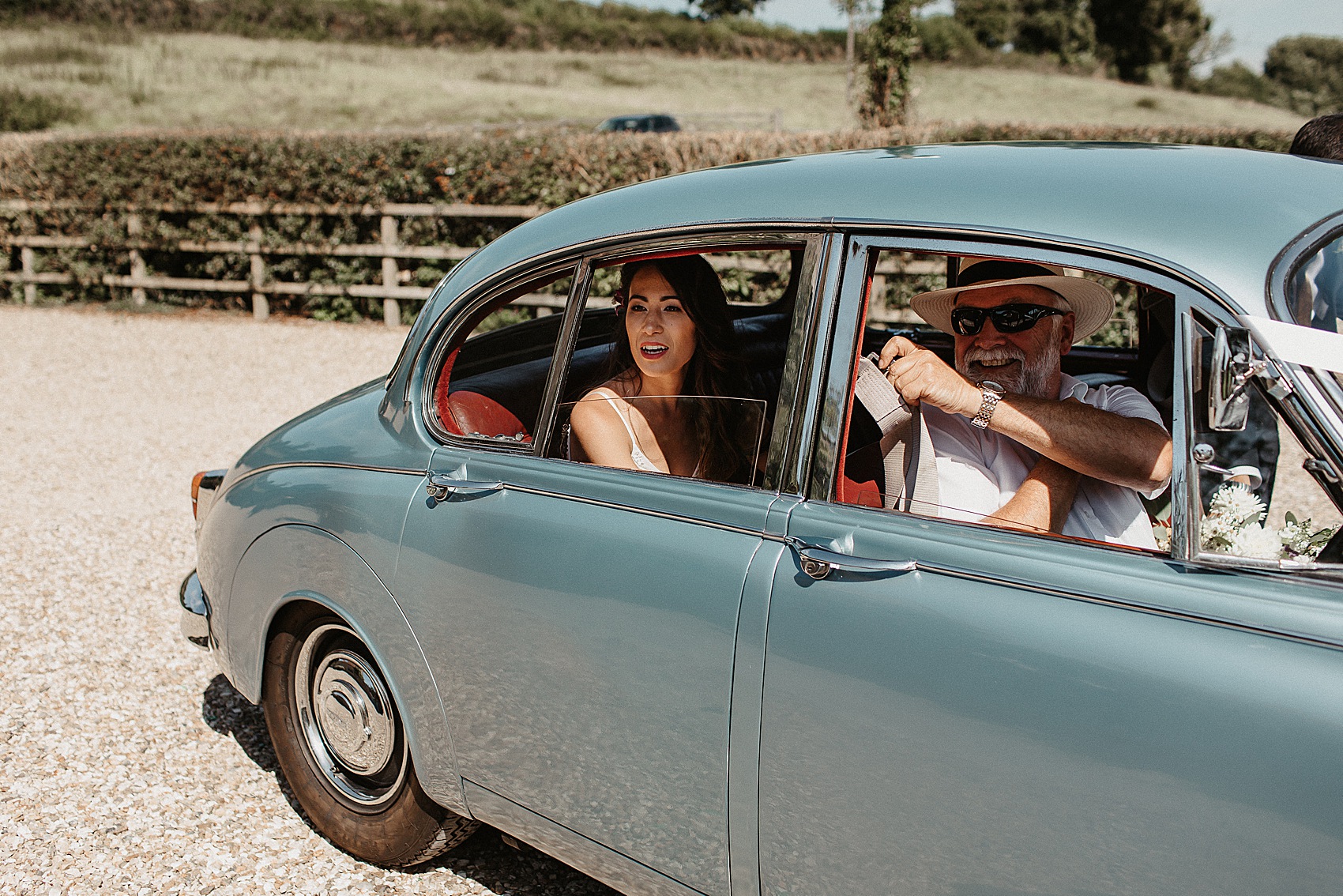 "John and I met at Warwick University in a seminar in our first year where our paths crossed. We got together properly in our second year, and had been together about 8 years before we got engaged."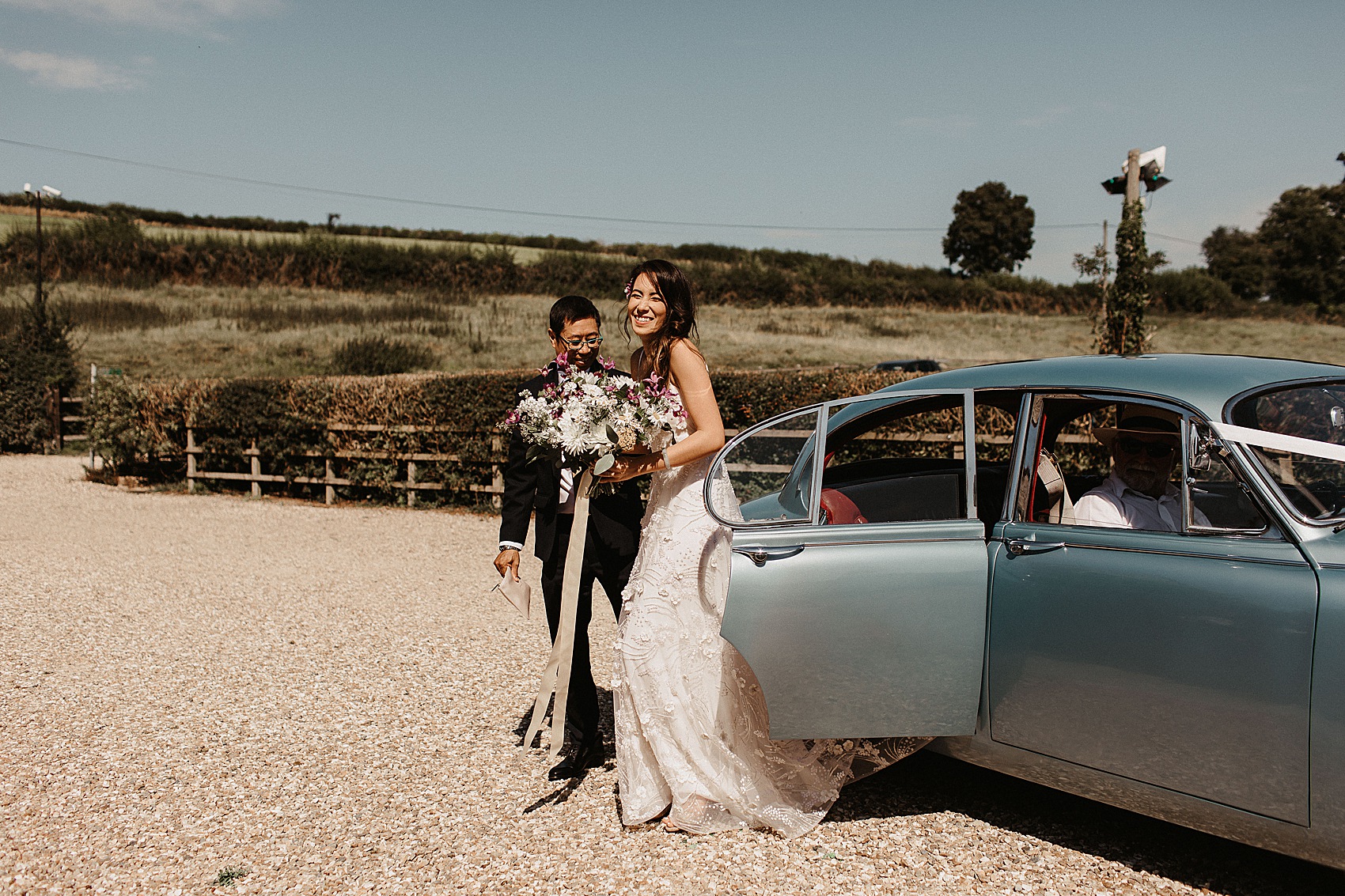 "John took me on holiday to Madrid and proposed there while we were walking through a park overlooking the city. We taught English in Madrid for a year a while ago, so it was a sentimental place for us. We were engaged for about 16 months before we got married."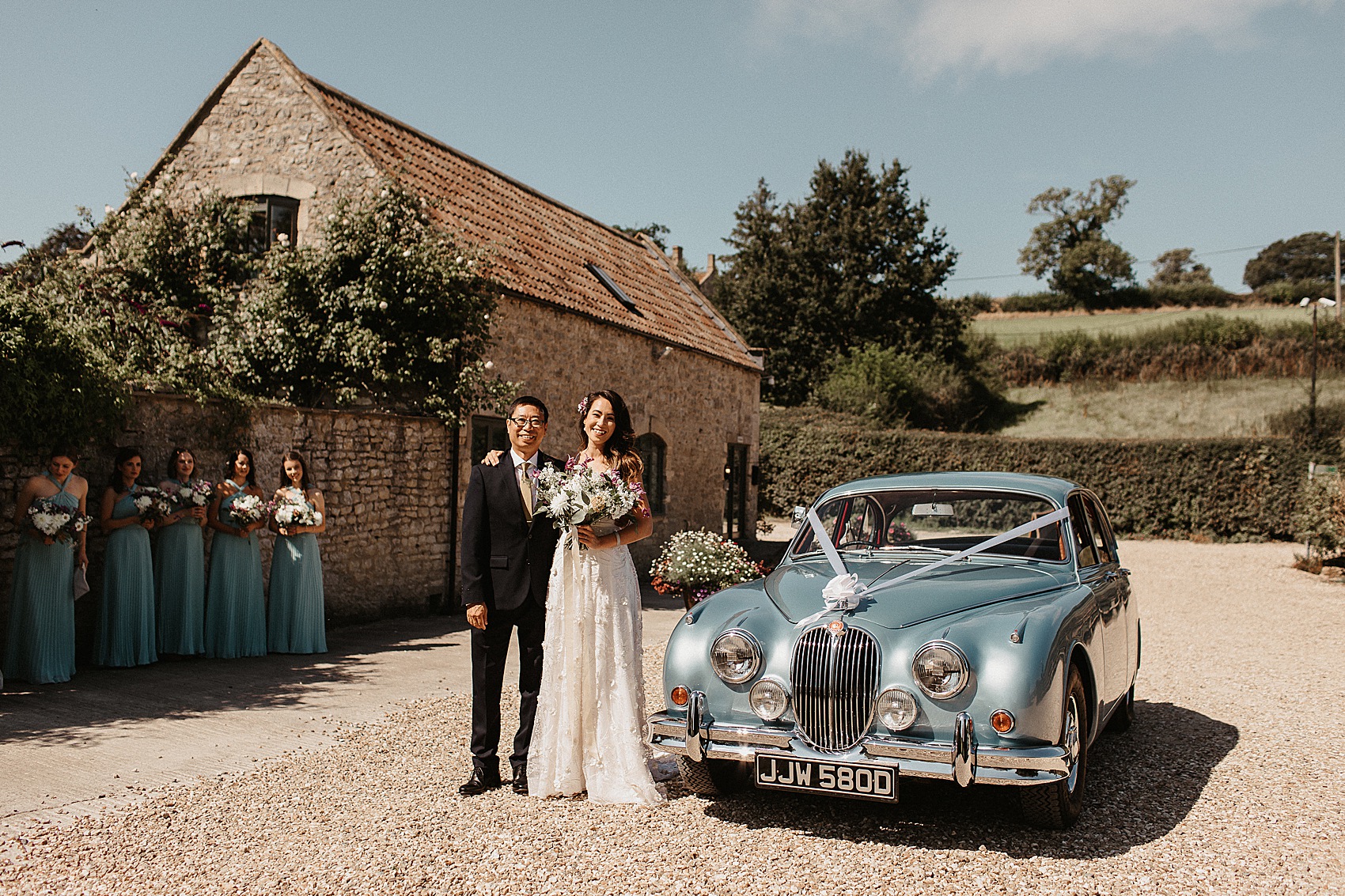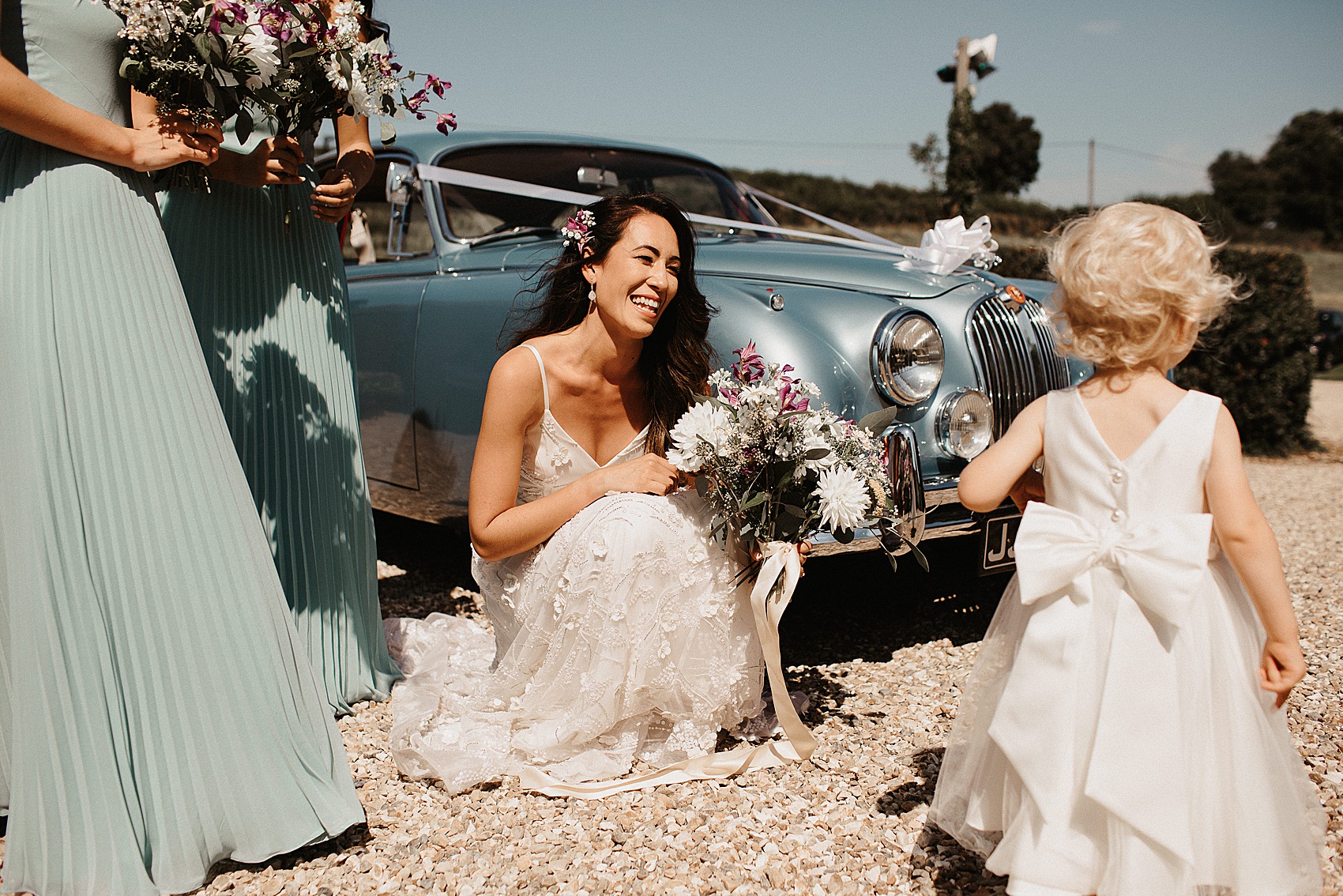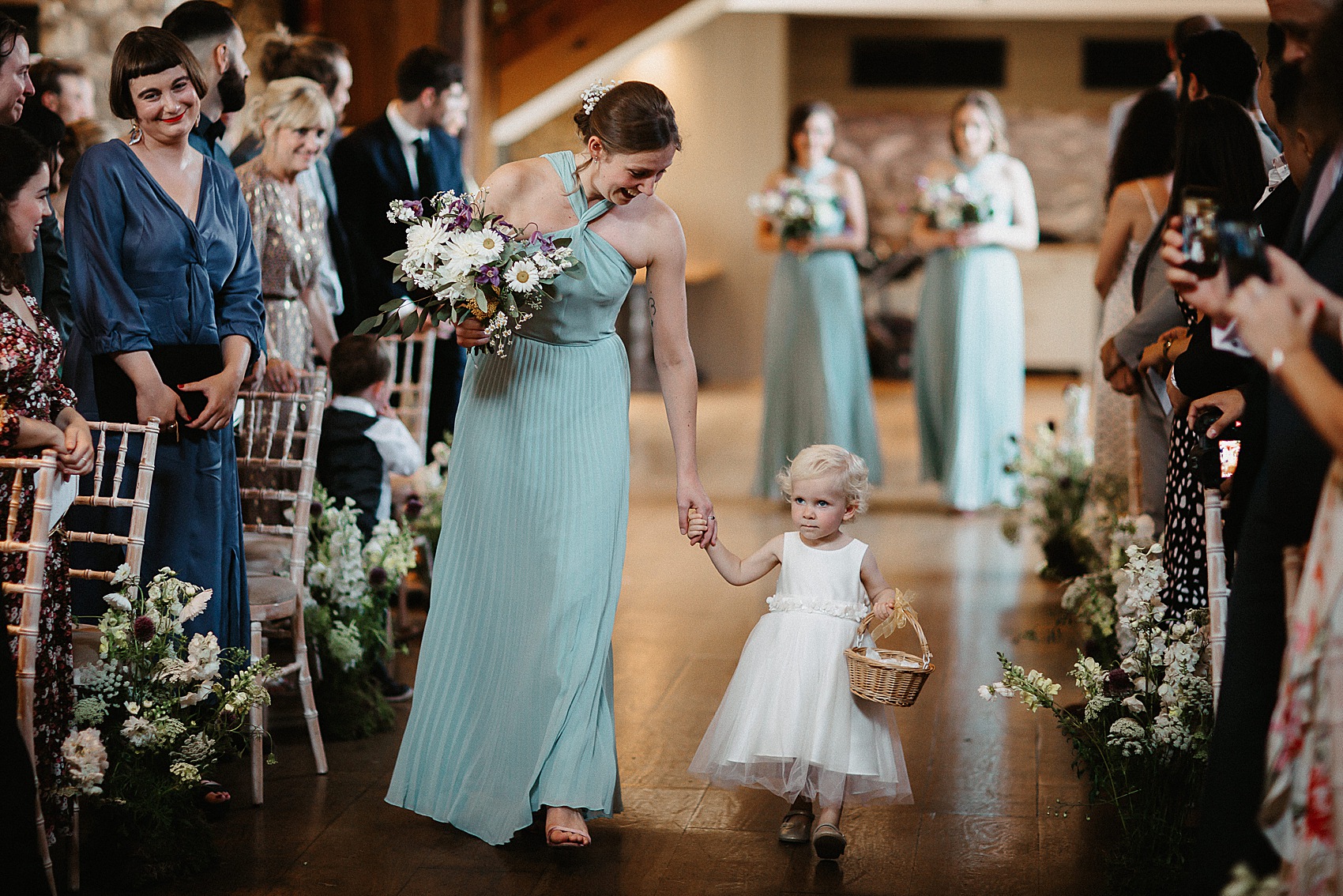 In the beautiful, flower-filled Tythe Barn, the couple made their vows and gave each other rings. Lydia found her ring at Birmingham's Jewellery Quarter, whilst John sourced his online (sadly, no further details supplied).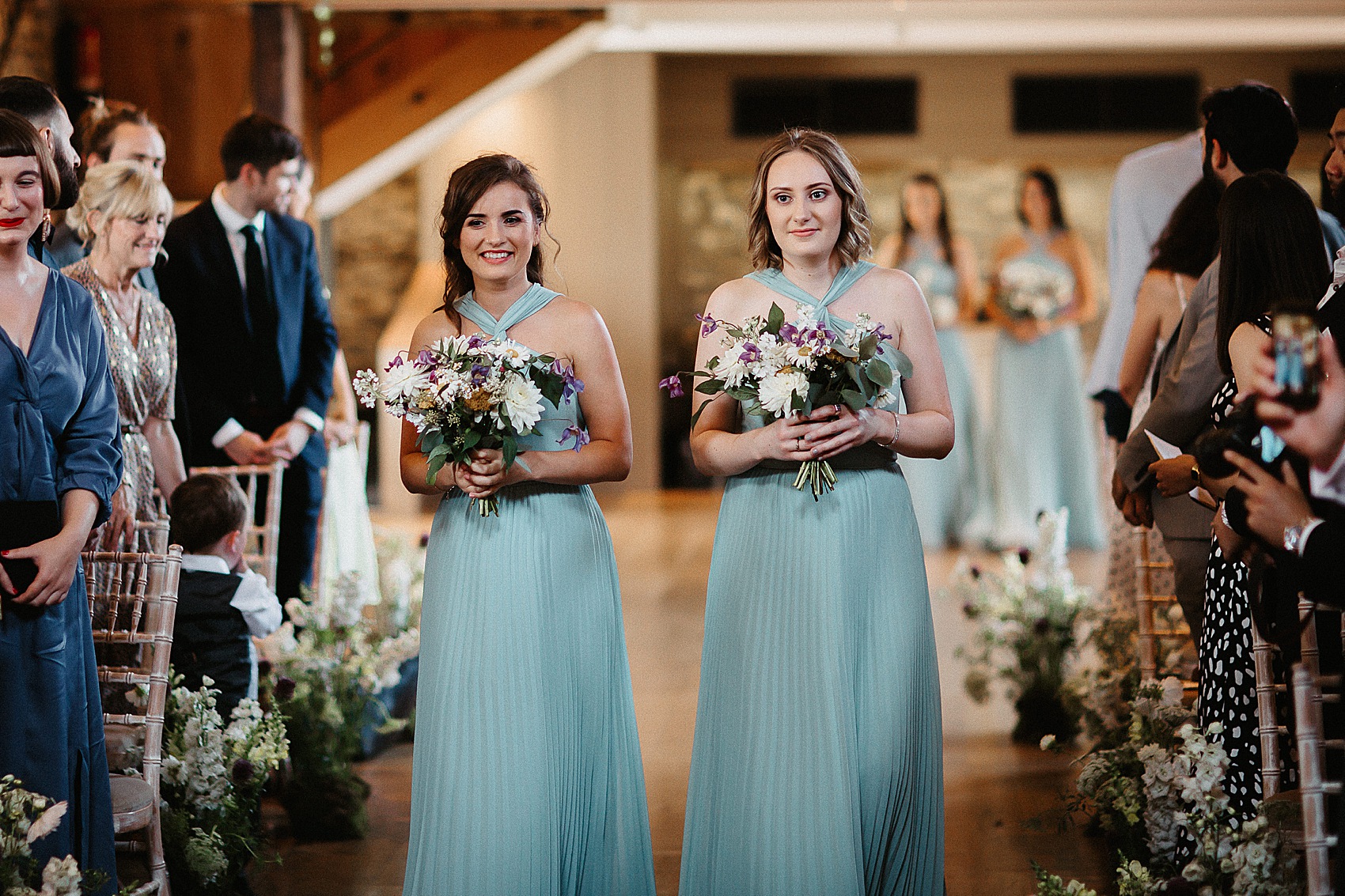 "We had three readings. I chose one from Americanah by Chimamanda Ngozi Adichie. It's a modern love story, and it's just a beautiful part where the main character talks about how her partner makes her feel like she's comfortable in her own skin."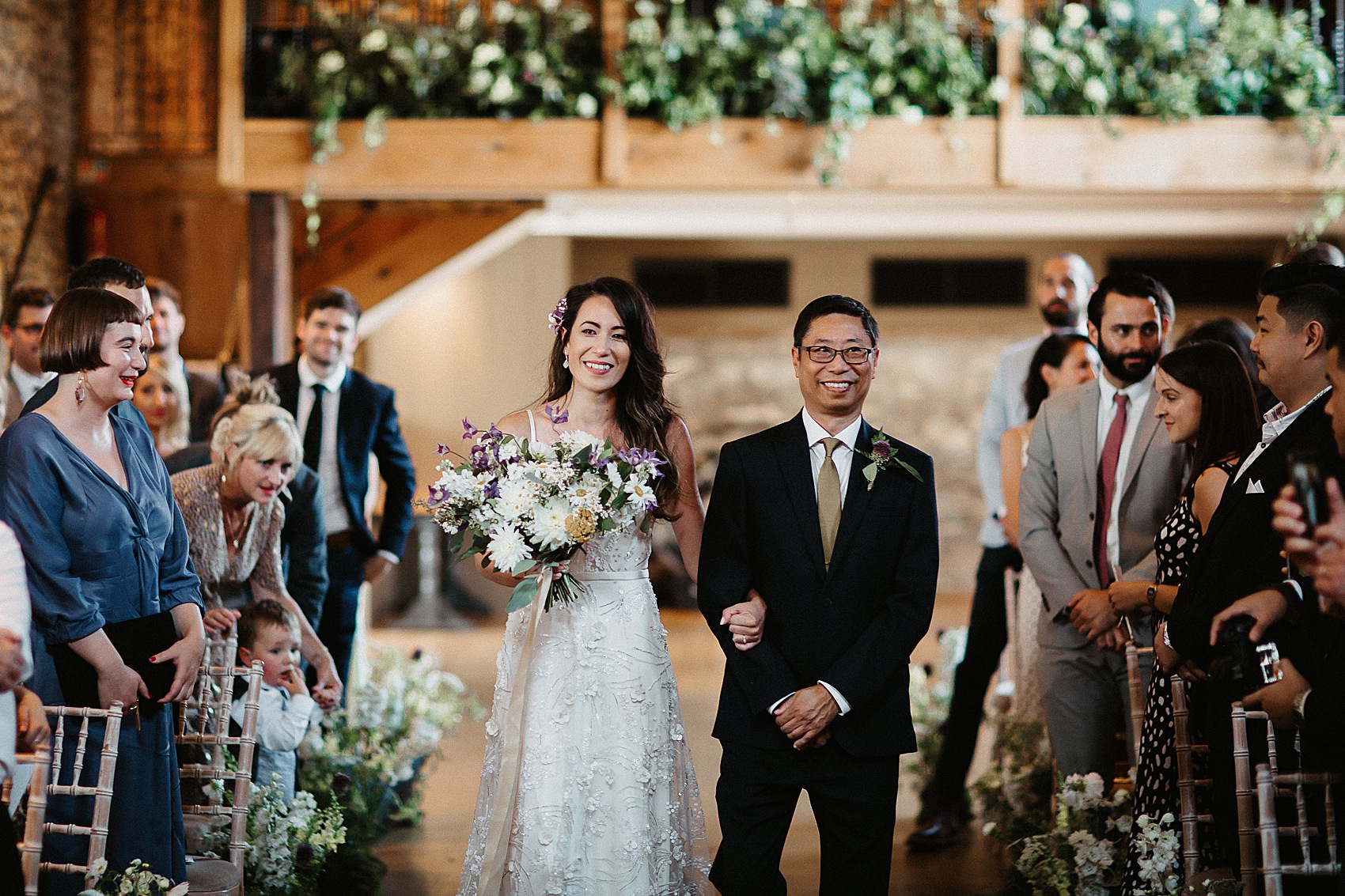 "John chose a piece from A Farewell to Arms by Ernest Hemingway, and then we had our professional poet friend Rebecca Tamas read a poem that she had personally written for us, but based on I carry your heart with me by E.E. Cummings, which is a poem we both love. It was really, really special, and very emotional. We are going to frame it and put it up in our house."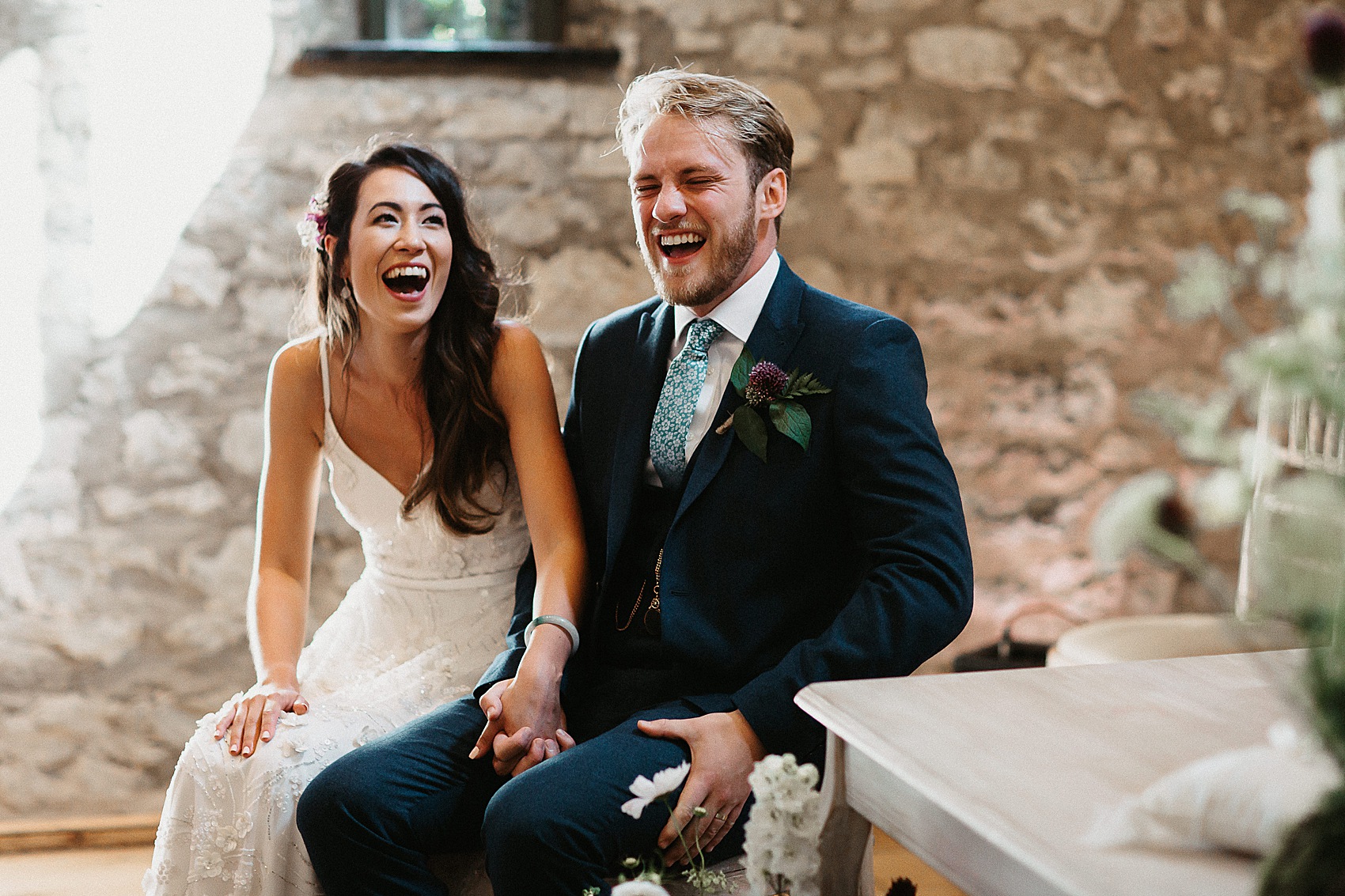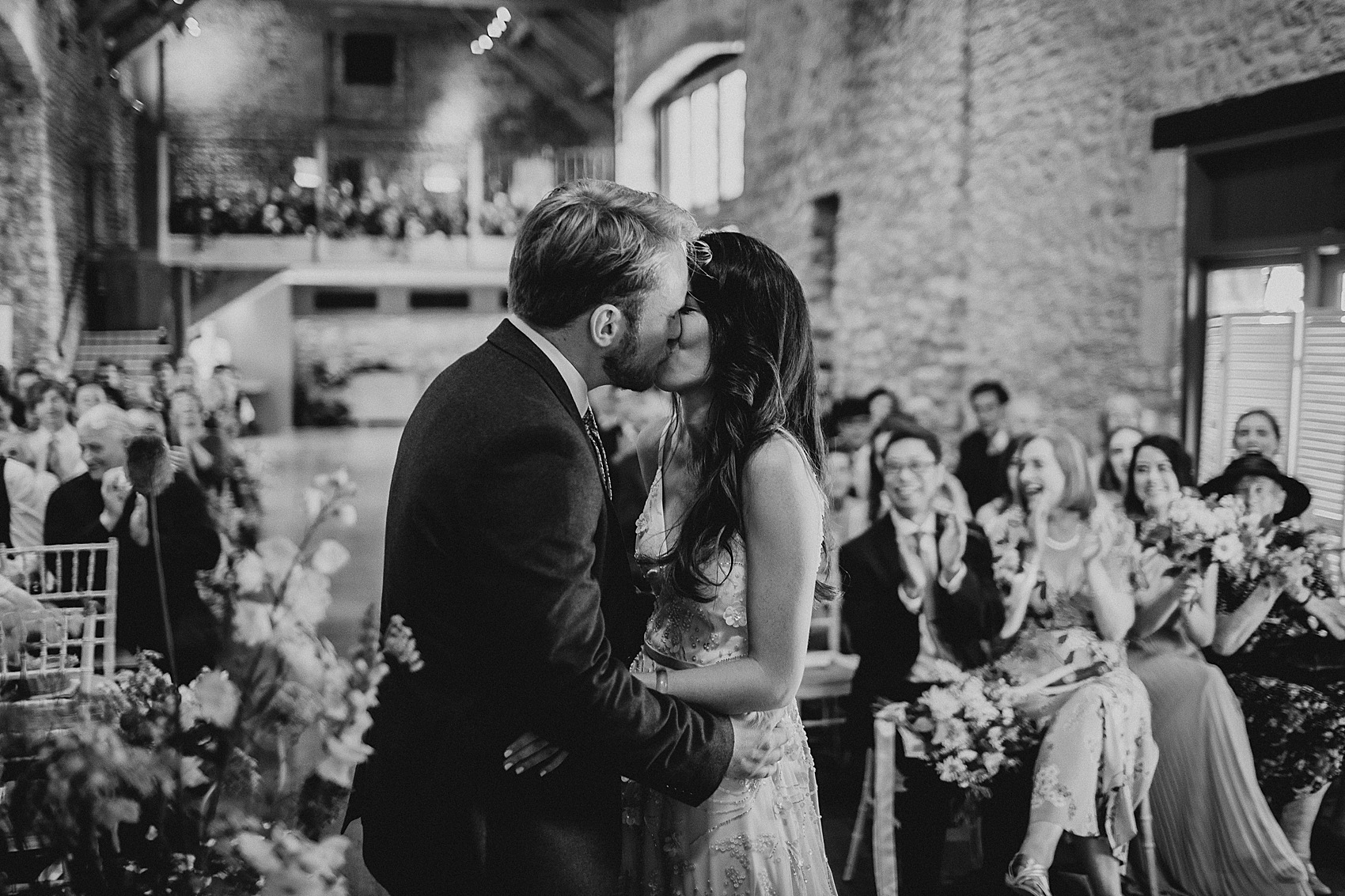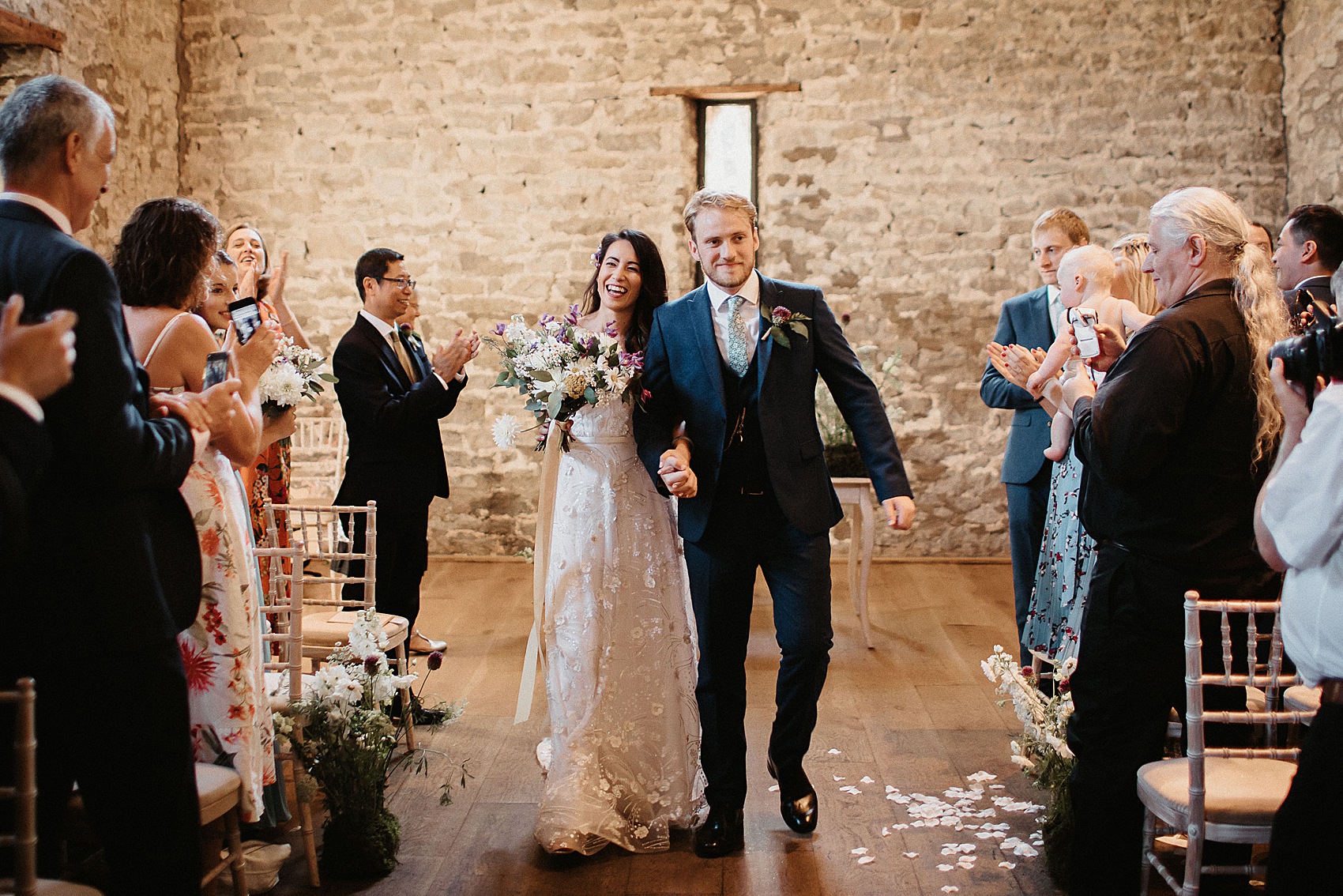 John and the groomsmen wore a blue three-piece suits from Next, together with white shirts and green floral print ties from T.M. Lewin.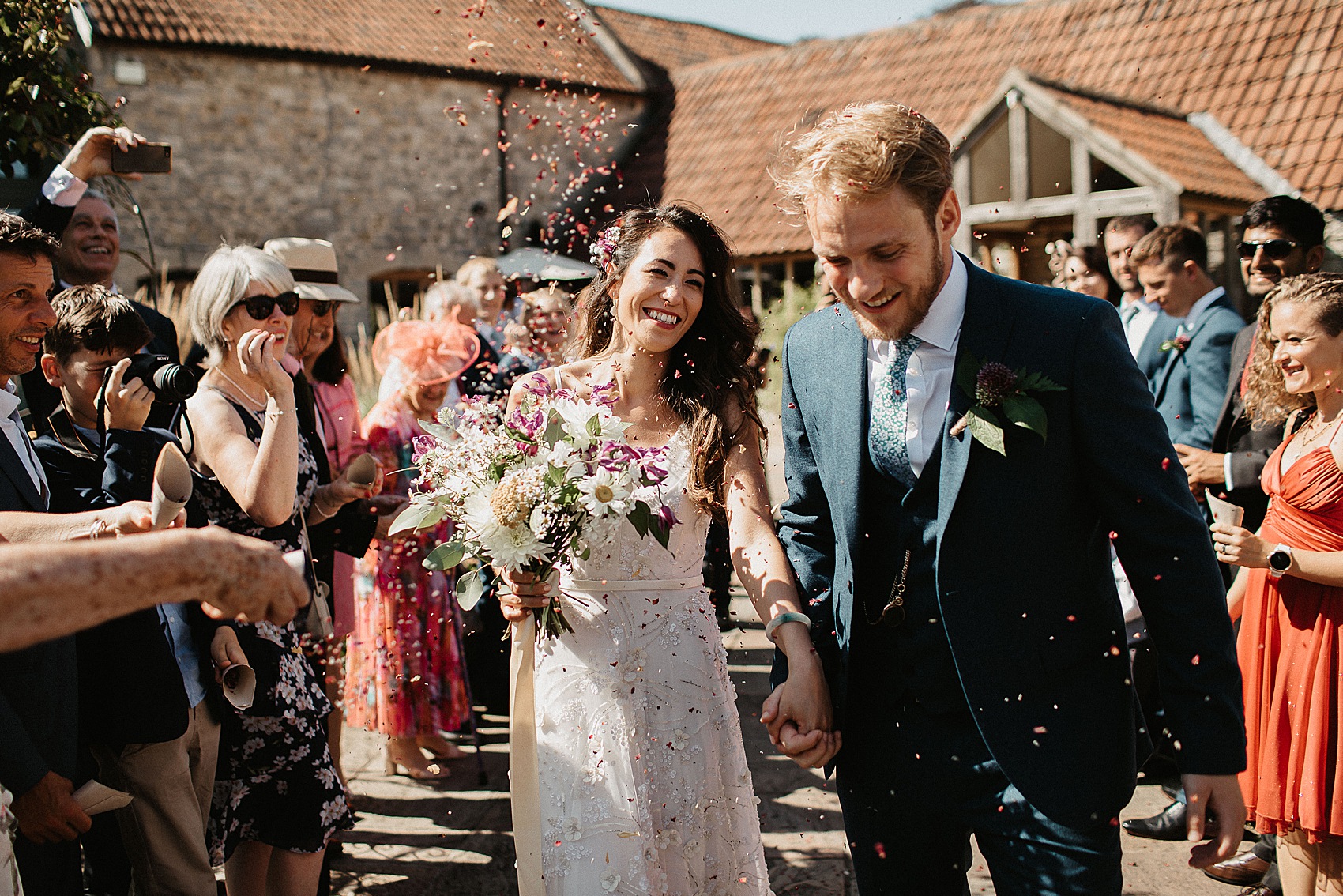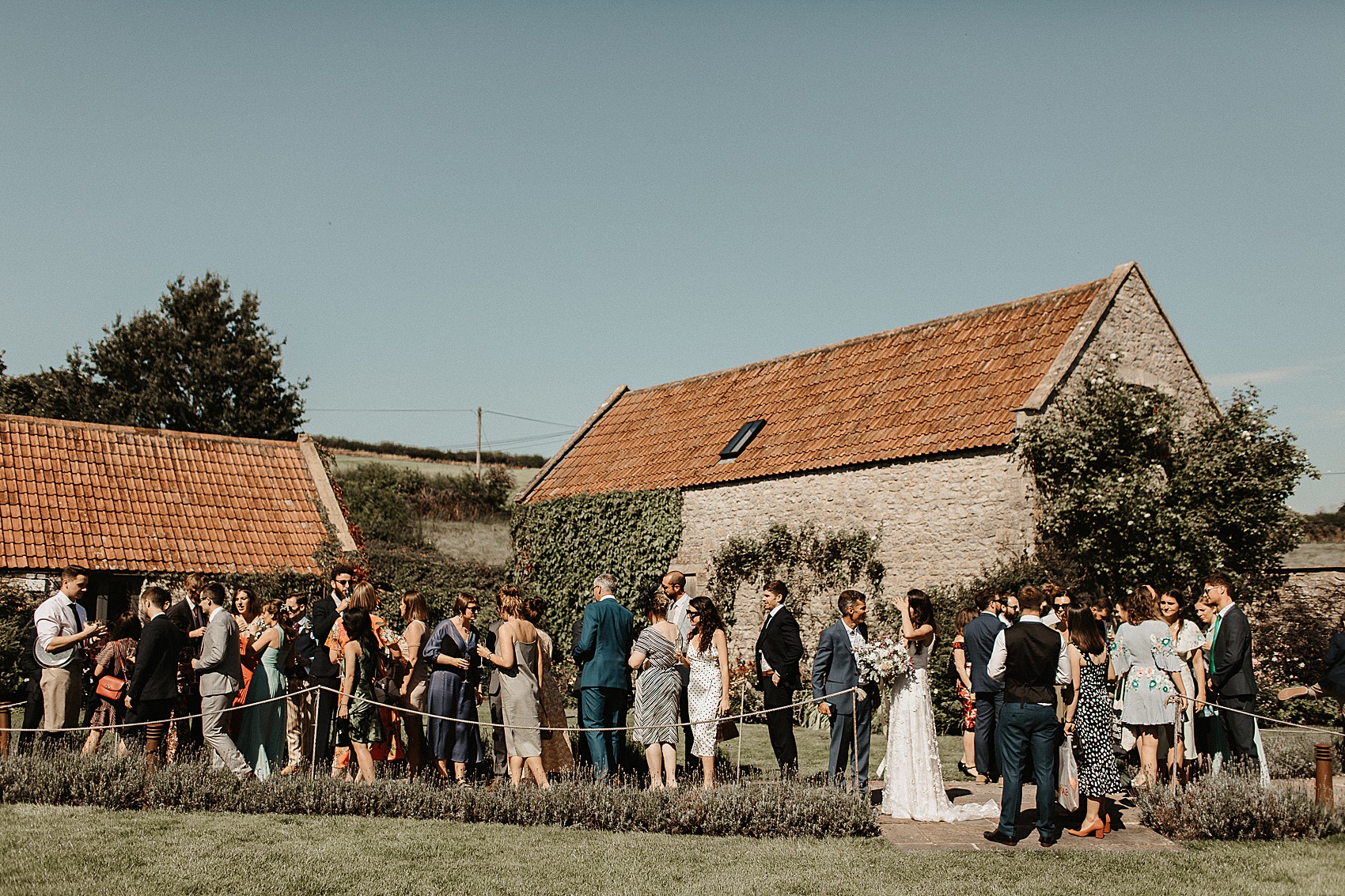 A traditional Chinese tea ceremony is usually on the morning of a couple's wedding, but as Lydia and John didn't want to see one another before their civil ceremony, they chose instead to hold the tea ceremony afterwards.
"It was all a new experience for me, as I had only been to one traditional Chinese wedding in Hong Kong when I was a child."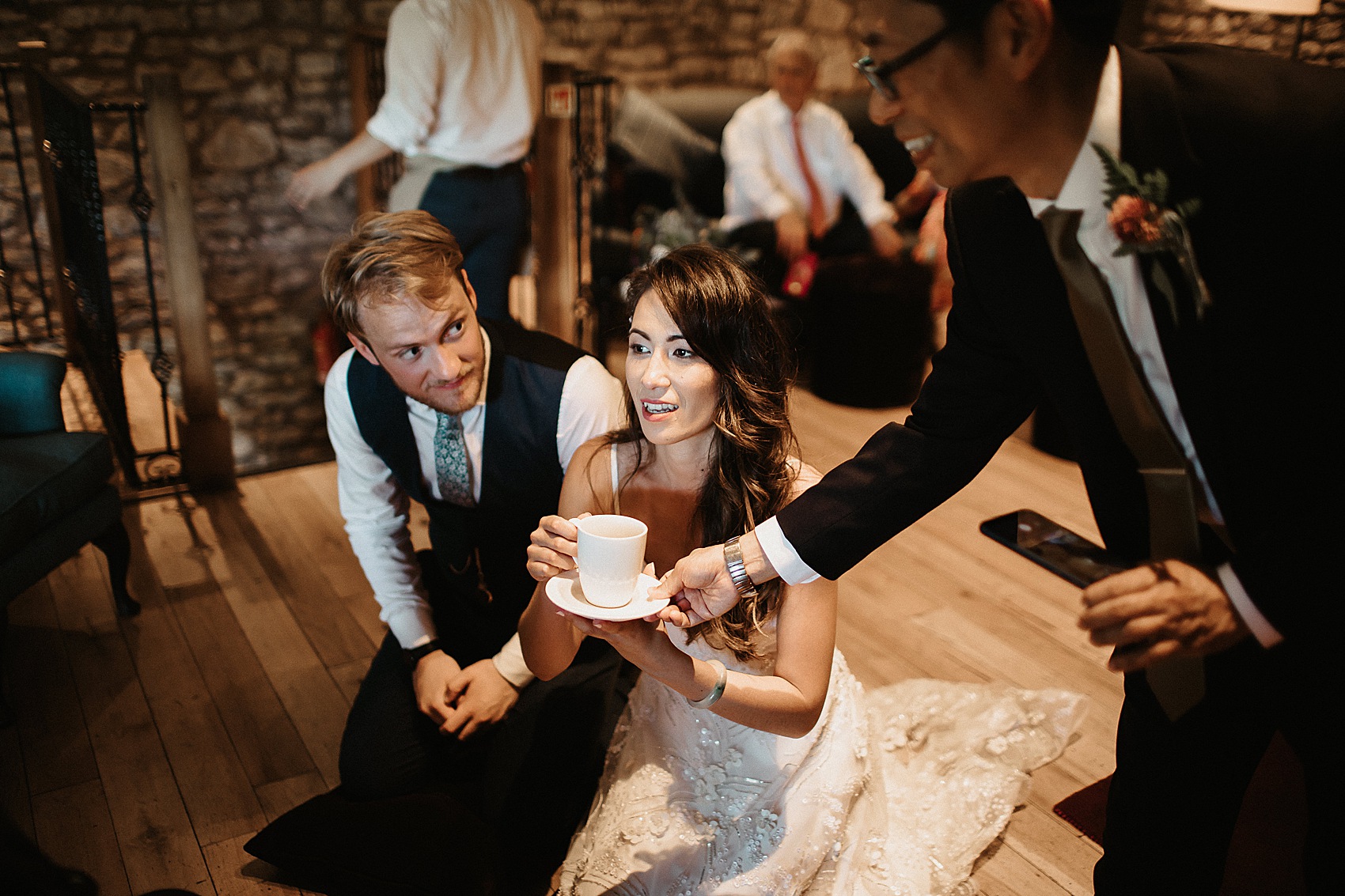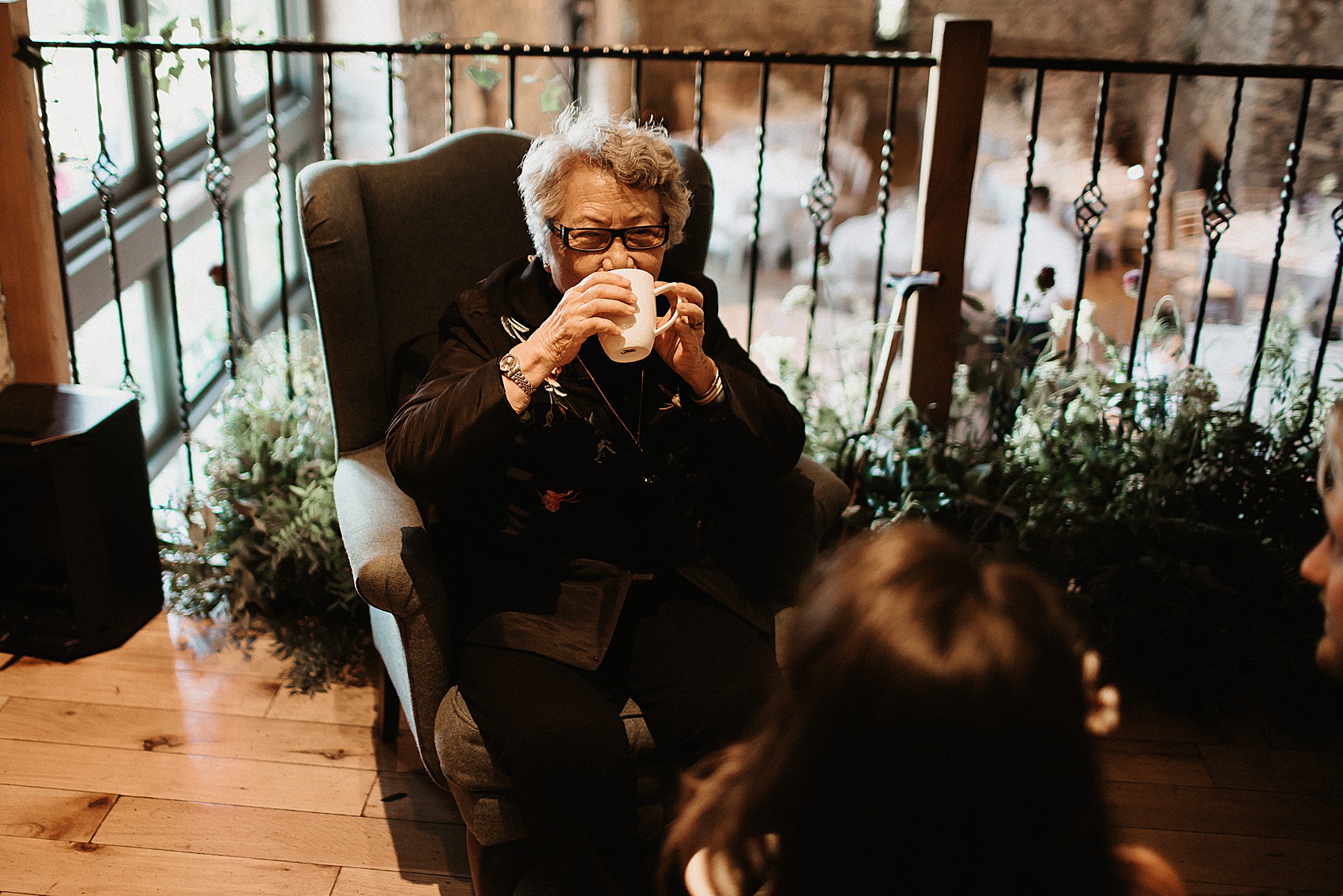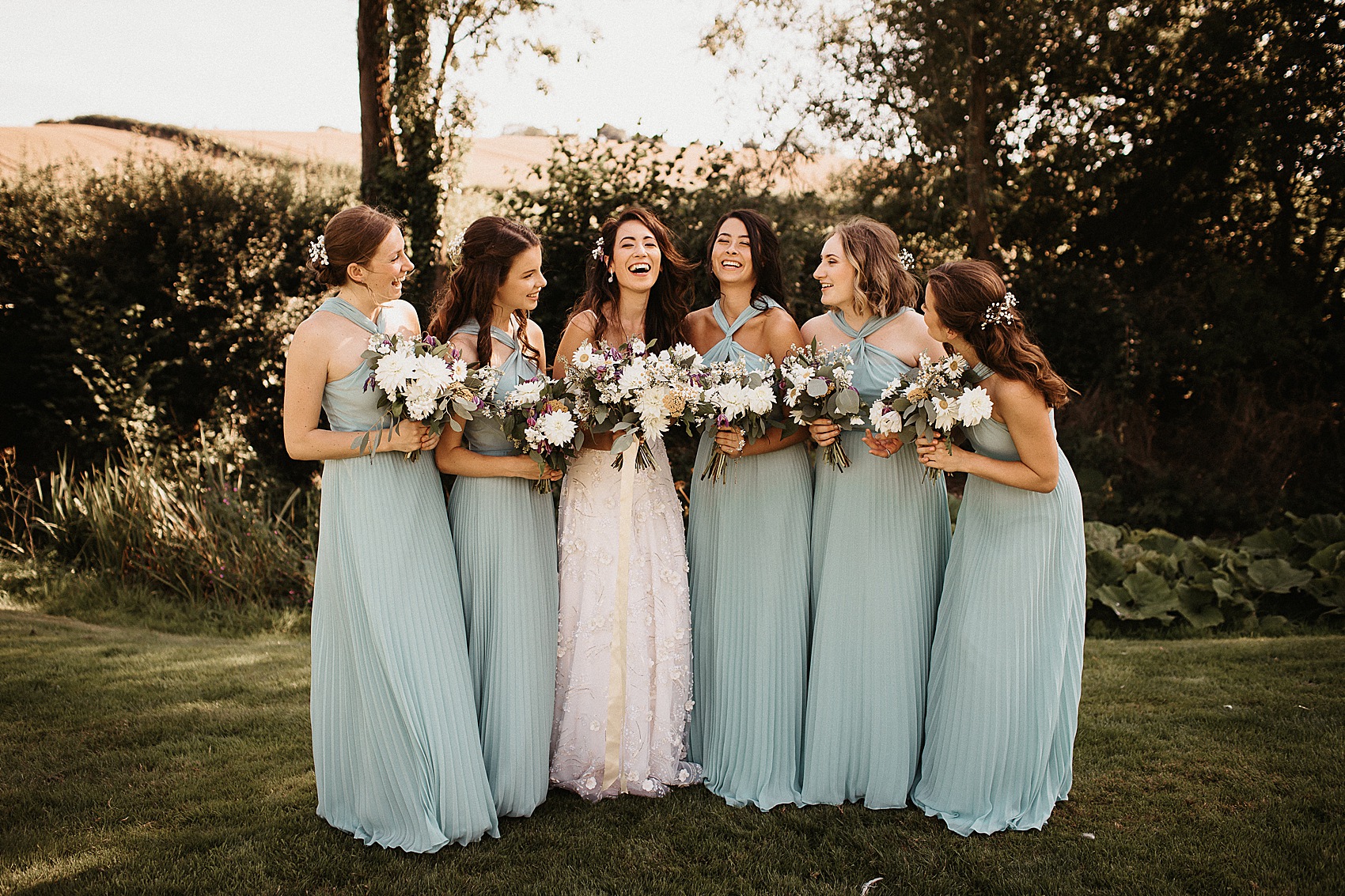 Photographer Steph Newton tells a wonderful visual story here with her honest and vibrant images from Lydia and John's day, and the couple were thrilled with her approach, and the resulting pictures.
"Steph is absolutely amazing, and I have already recommended her to two of my friends. I recommended her to one of them before she'd even photographed our wedding purely based on how friendly and helpful she was during the first chat I'd had with her. My friend ended up booking her, too, and she got married before me, so it was lovely to see Steph at their wedding before ours."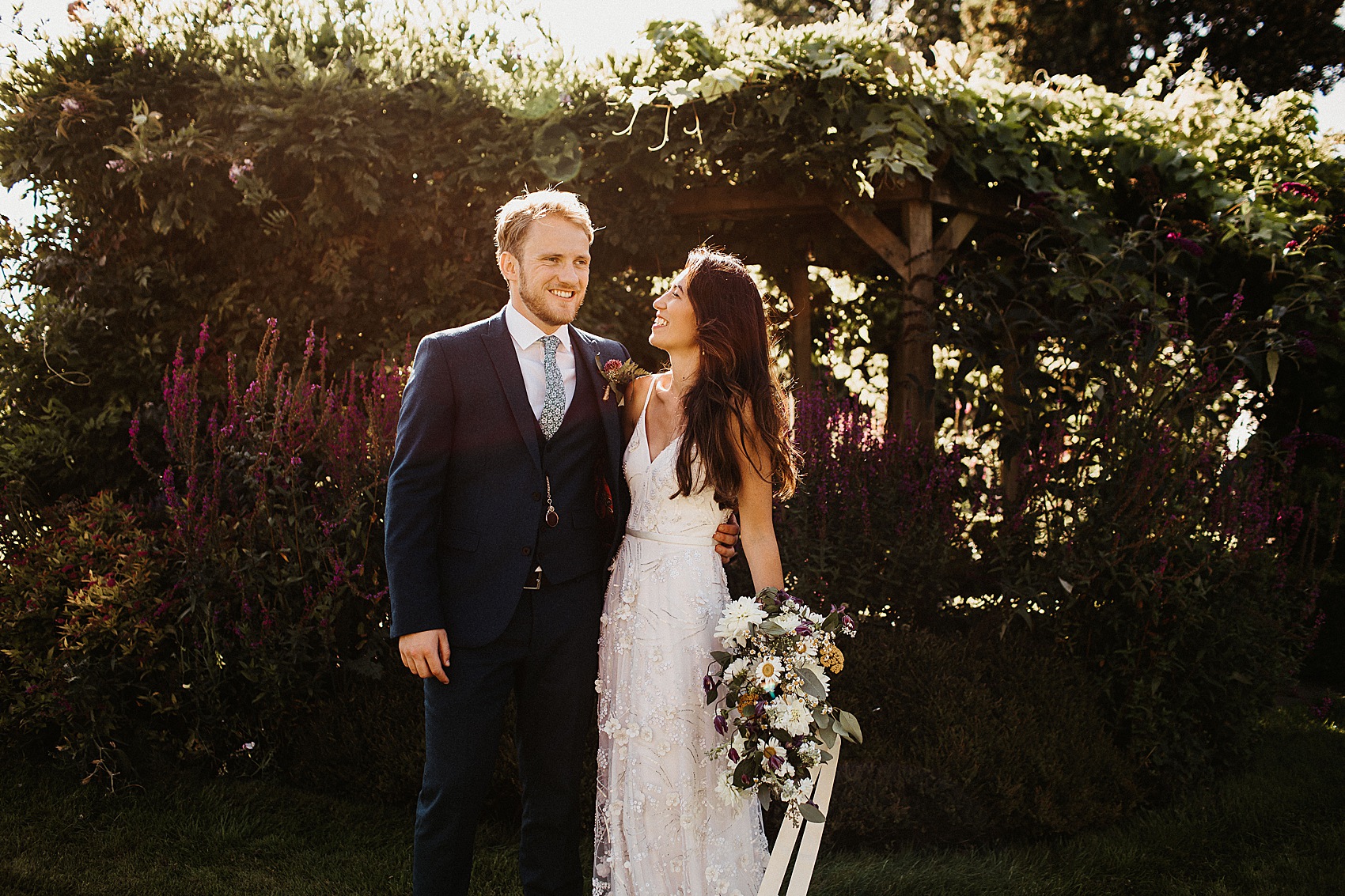 "From every interaction I've had with Steph, she is so down-to-earth, reassuring, calming, and she just puts you at ease. She was really organised in the lead up and on the day without being bossy or in your face. She is incredibly talented. Her photos are just what we wanted – natural and candid, capturing the emotion of the day. I'm so glad we chose her because we couldn't have had a better photographer."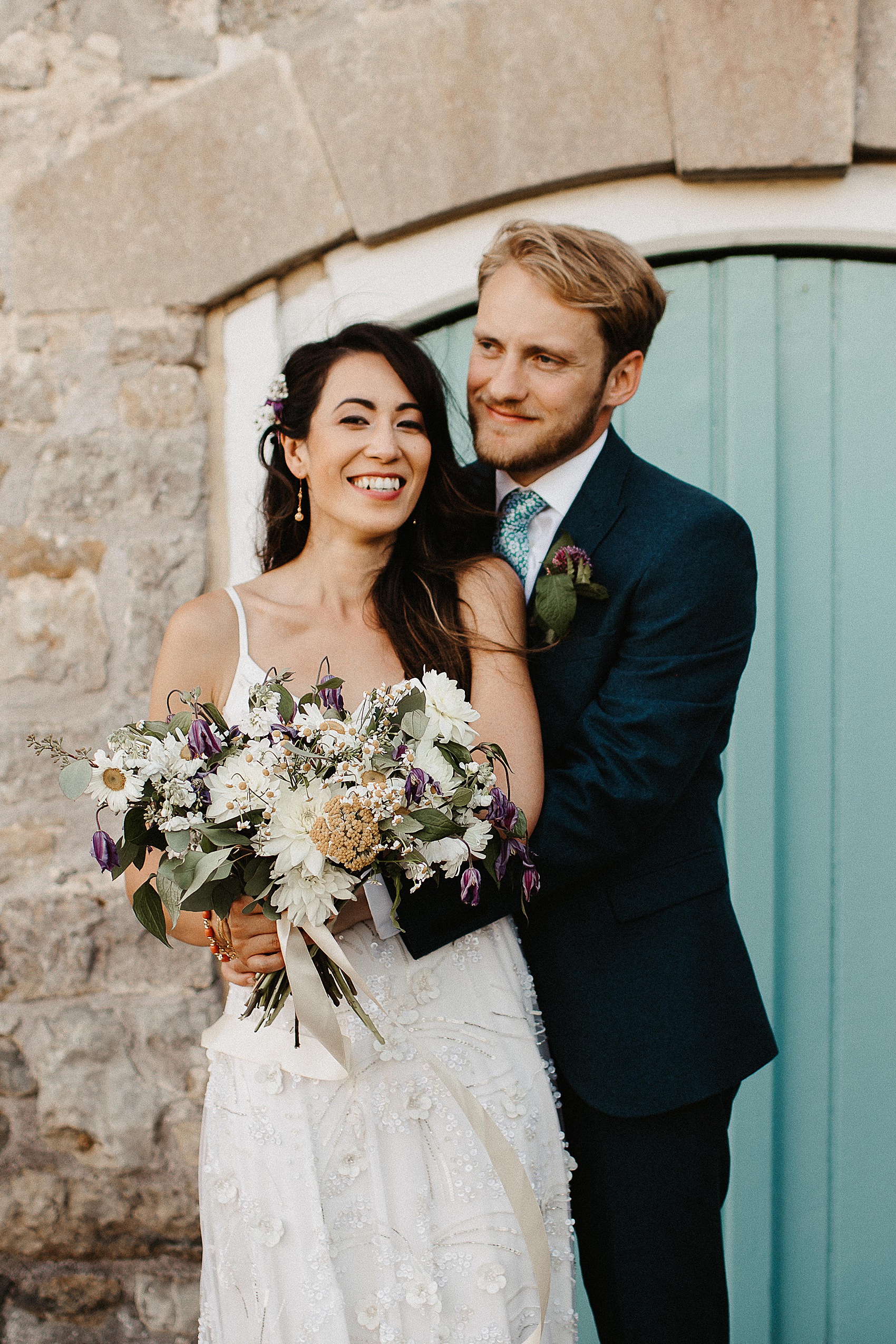 The soaring space of Priston Mill's Tythe Barn was transformed into an elegant space for dining. Tables were laid with simple white linens and decorated with posies of flowers in different, mismatched vases, all collected by Lydia and John in charity shops in the lead up to the wedding.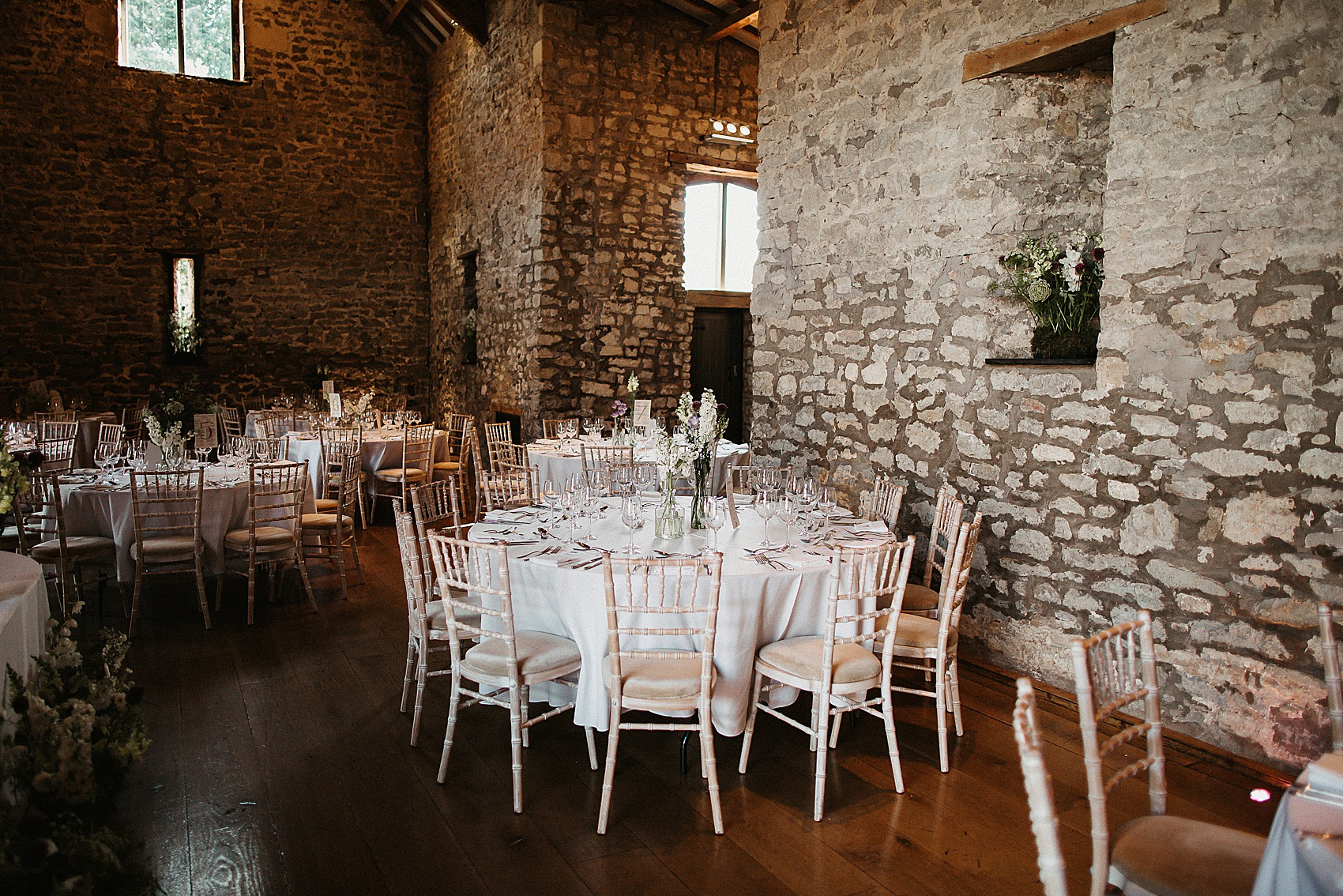 "My dad designed the wedding invitations for us as he's an artist, though he doesn't usually do wedding invites (I forced him)! I did the welcome board and the table plan myself, as I like calligraphy. We just bought cheap chalkboards and chalk pens, and I practised a bit and then had a go. I enjoyed it."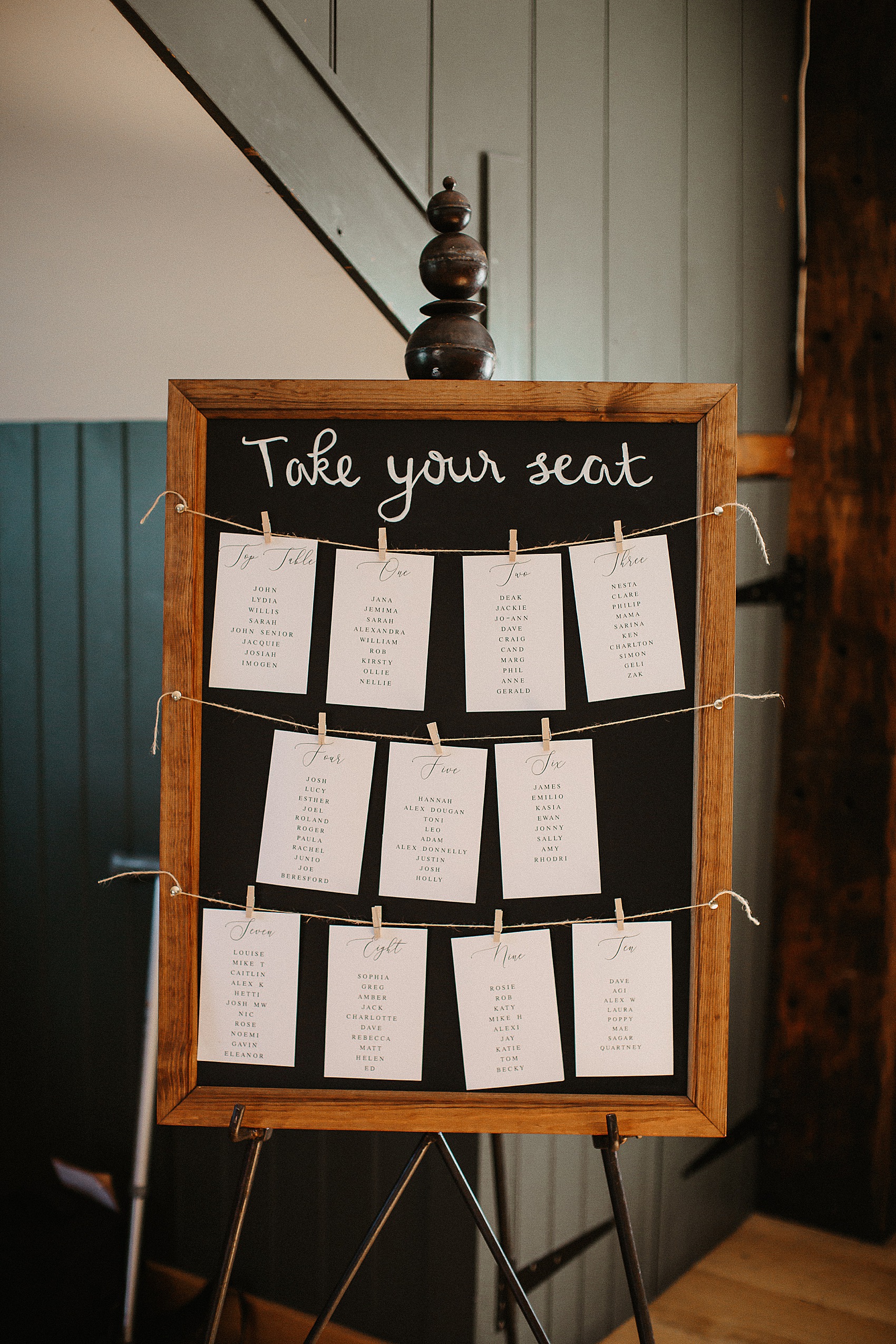 Menus and orders of the day were printed at home using design templates sourced through Etsy, and as a nod to the fact that they are both English teachers and book lovers, the couple gifted homemade bookmarks as favours, which also doubled as place settings.
"Again, my dad designed them with flowers around the sides and a little illustration of the venue in one corner, and then we had them printed through an online print company. I wrote everyone's names in the middle of their bookmark with a gold sharpie, and then tied gold ribbon around one end. Everyone could take them home to use."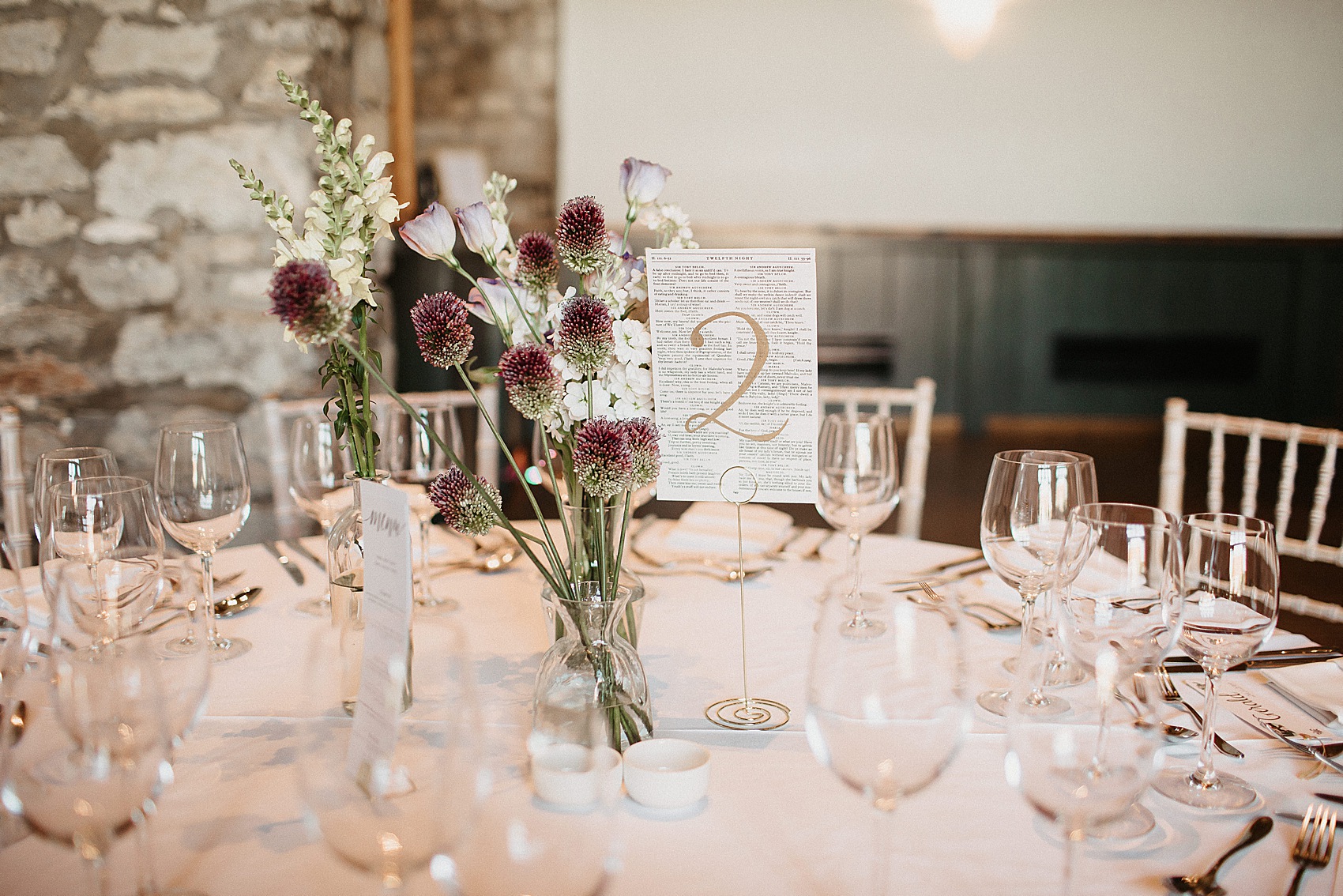 "We had some books on the guest book/present table, which we stood up. We wrote 'Please sign' on the spines to tie in with the slightly literary theme. We also had our table numbers written on pages from Shakespeare plays, which we selected ourselves."
The team at Priston Mill served a delicious, seasonal menu for the wedding meal, which began with Cornish smoked mackerel salad with pickled cucumber, capers and a saffron dressing, or Laverstoke mozzarella with chilli jam, tomatoes and basil crostini. Main courses were pork loin or wild mushroom and asparagus puff pastry cases, both with vegetables. The feast concluded with a chocolate and salted caramel brulee.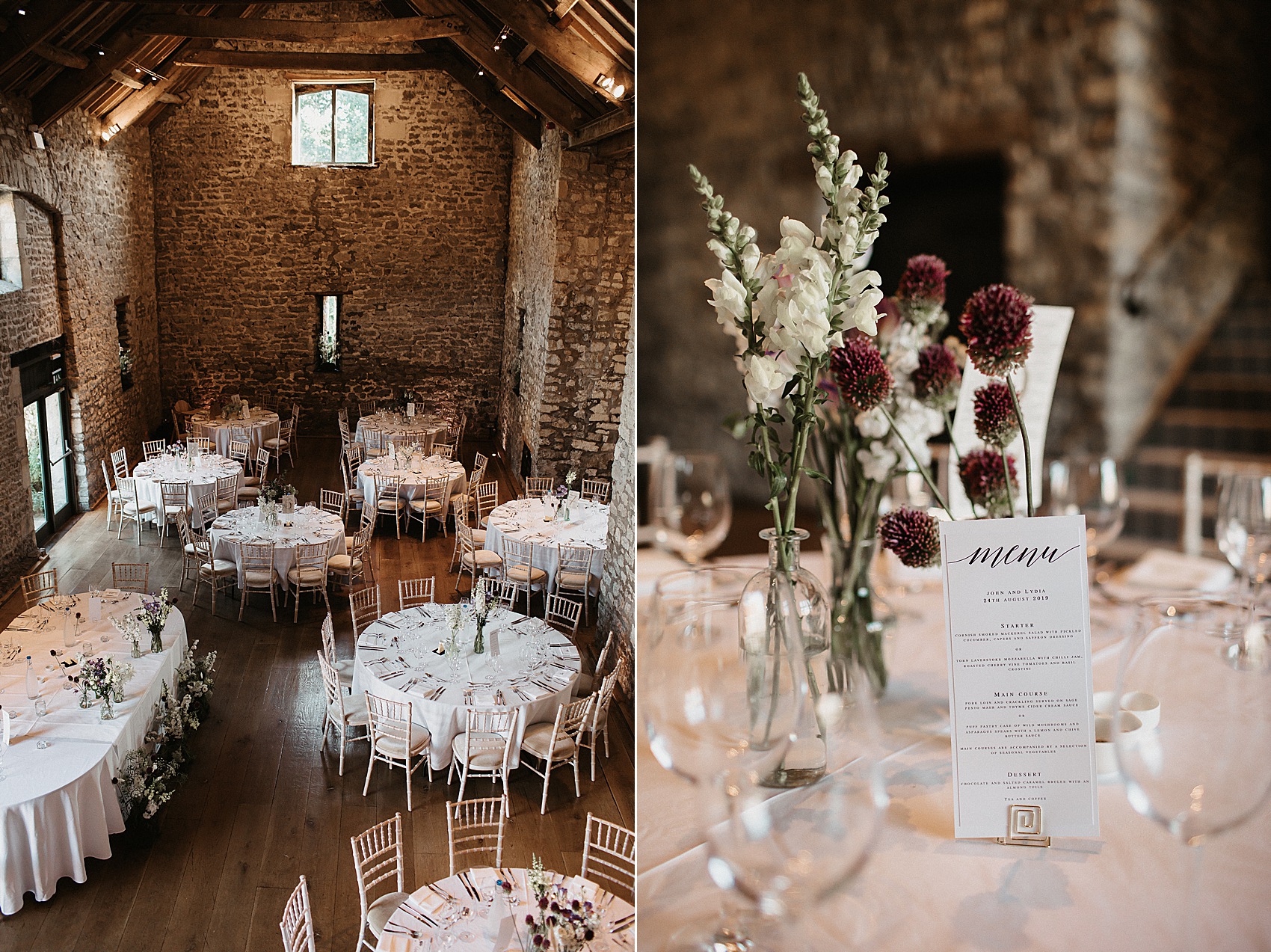 "Our big cake was made by our dear friend Rhodri. He should be a professional but he isn't yet! He works for Disney fitting costumes for their events – he also adjusted all of our bridesmaid dresses! We wanted gold to tie in with the table decorations (menu holders and table number holders) and so we had a whole tier in gold leaf."
"We also wanted to keep it rustic, so we went for a sort of semi-naked look. We love cake, so we had four tiers, each with flavours we made up with Rhodri. My favourites were our lemon and pistachio buttercream layer and our Bakewell inspired layer that Rhodri made from almond sponge with cherry and buttercream. We also had a traditional two-tier fruit cake made by my Auntie Clare, and everyone took a slice home."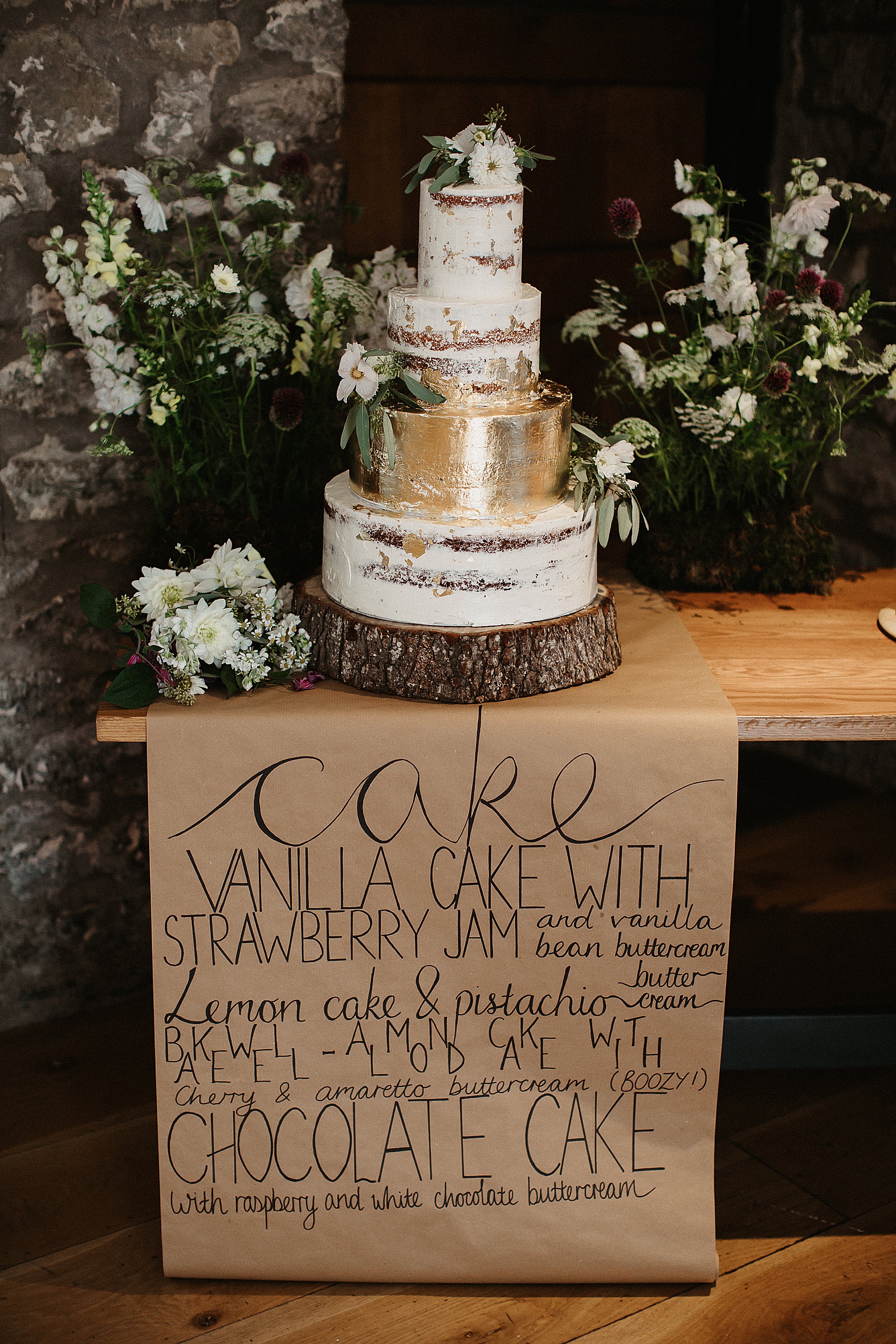 When the time came to take to the dancefloor for their first dance as husband and wife, Lydia and John chose Can't Take My Eyes Off You by Frankie Valli, which they followed up with the floor-filling Crazy In Love by Beyonce.
"My mum's best friend is a professional DJ, so he did our disco for us for free. He also hired all the equipment and lights. He did an amazing set."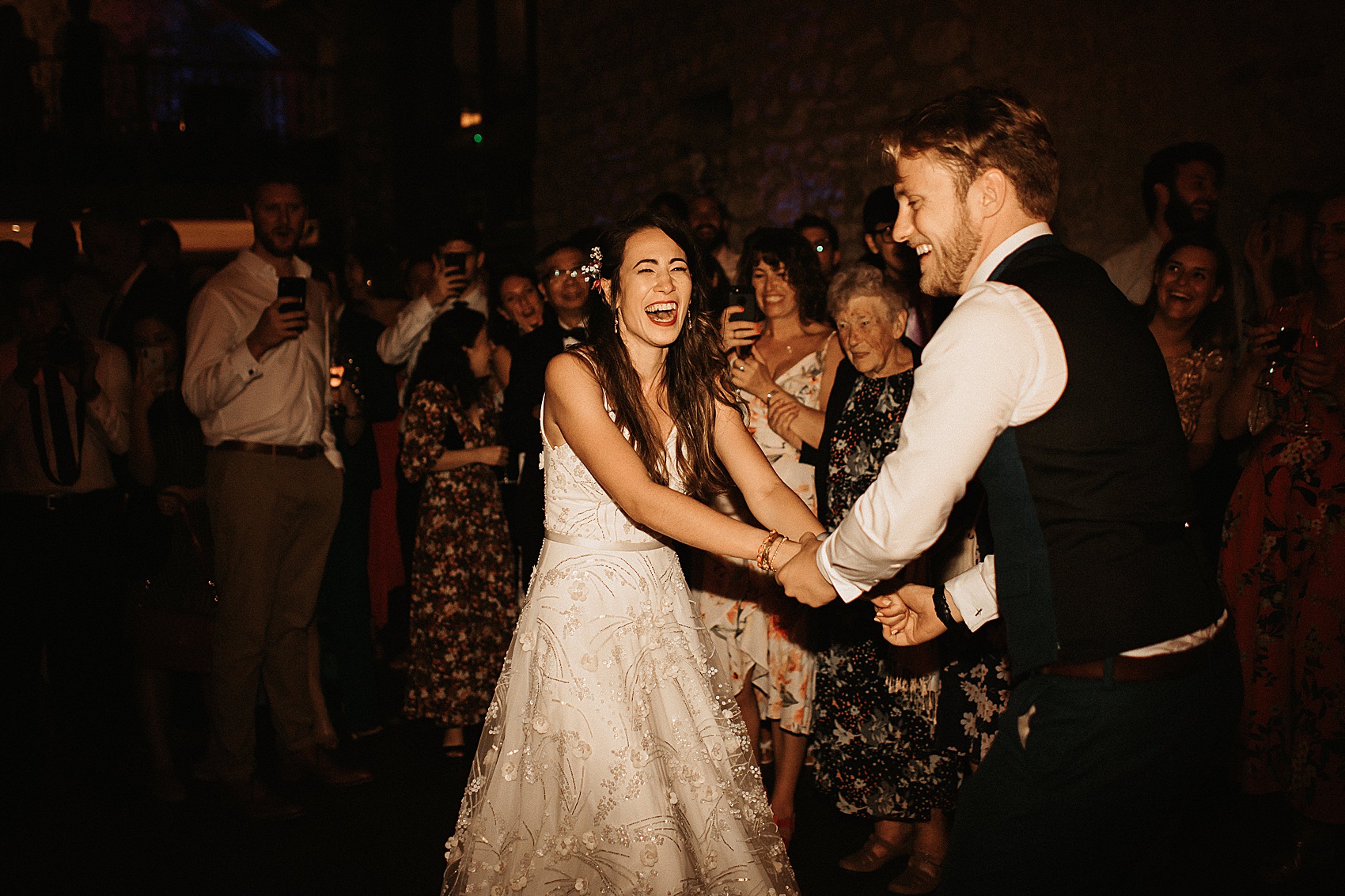 "We liked the party the best because John had got his speech out of the way, so could finally let loose. We both got to have a drink and let our hair down, and we love dancing together. My personal favourite moment was when everyone did a big love train conga to The O'Jays' Love Train, and later when all the ushers lifted me upon a chair to Love On Top by Beyonce. It was completely unplanned but amazing!"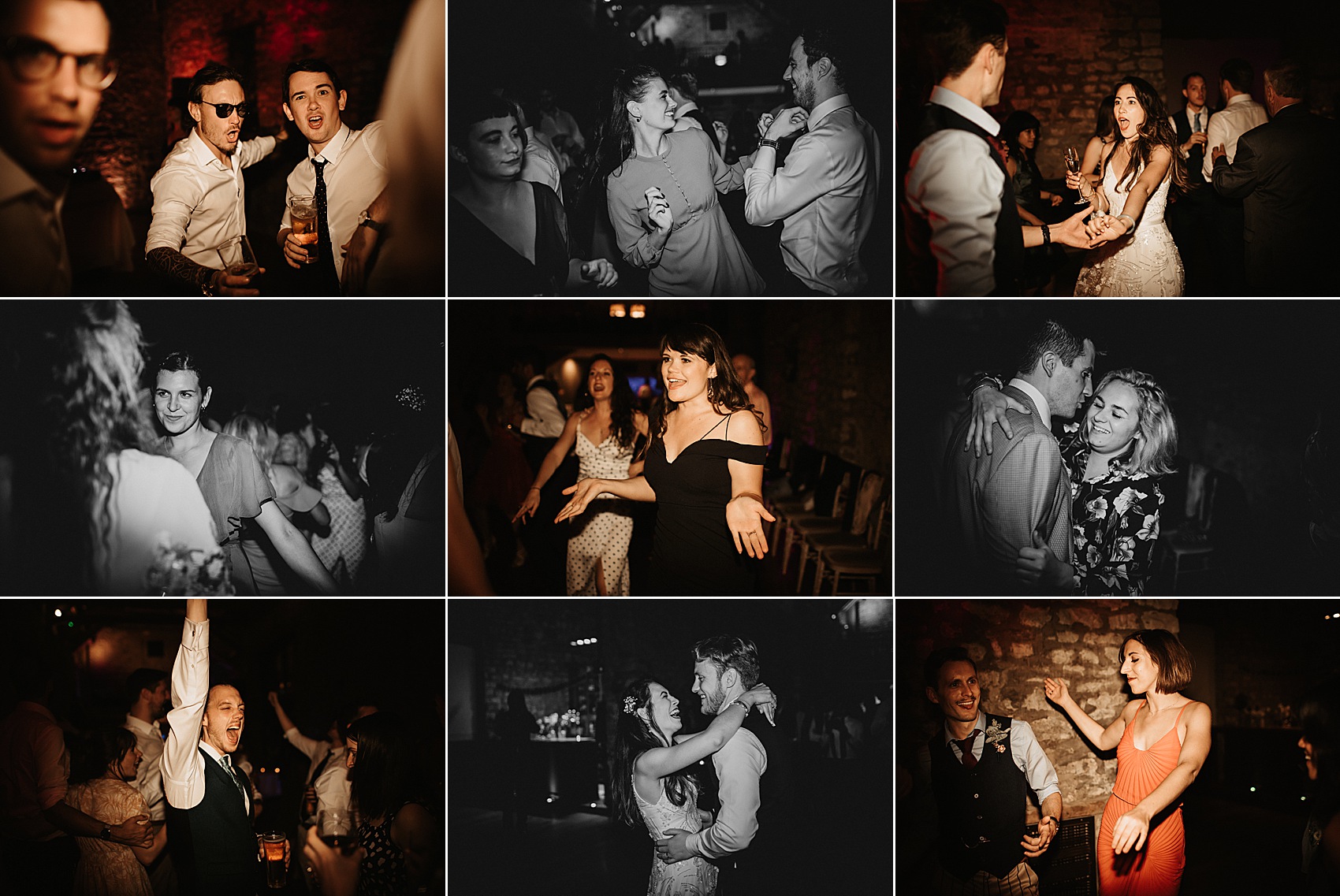 Words of Wedded Wisdom
"Call in favours where you can! We had lots of friends and family doing things, which made it feel so much more personal and unique, as well as saving us money. However, really don't feel bad about spending money on things that will minimise your stress on the day. I took so long to finally decide to get a professional florist, and was adamant that I'd do it all myself and go to the flower market the weekend before, but John convinced me that it wasn't worth the stress, and I'm so glad I listened."
"Secondly, spend money on a good photographer because those are the memories you will keep of the day! I have several friends who really regret not choosing a professional to capture their day."
"Be true to yourself and what you want, because ultimately the day is about the two of you and no-one else. During the planning, you will feel like there are so many people's feelings to accommodate, but really, they are all going to be there to celebrate you, so just enjoy it and do what you want. It's not selfish – it's your day."
"Take some time for the two of you on your day. We really enjoyed our couple photos because we got some time to chat, and on the way back from our second shoot, our photographer took us somewhere quiet to just sit and have a moment. That was really nice, as we got to reflect on our day and have brief time away from the guests to take in the fact we were actually married!"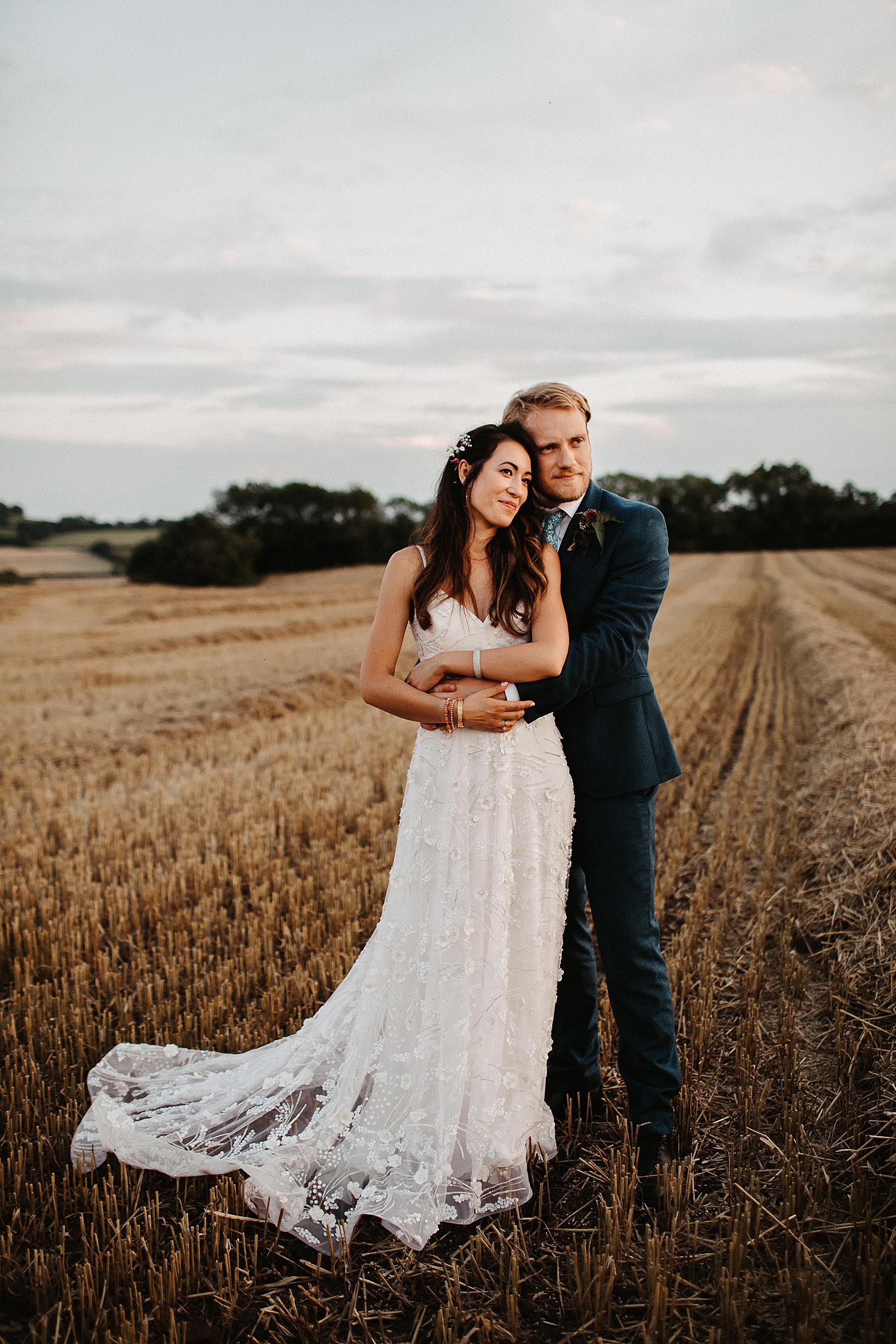 Lydia and John, many congratulations to you both, and thank you so much for sharing your day with us. Lydia, your dress was just breathtaking, and I especially loved the aisle lined with flowers, too! Many thanks to Steph Newton for her wonderful photography.
With love,
Laura