Today's wedding feature is one for all of you lovelies considering wearing a vintage gown for your wedding day. For this bride, a piece with a story behind it was the only way to go – and the ultimate way to set the tone for a day inspired by vintage style and city slick.
Say hello to community manager Leanne and quantity surveyor Jay, who wed on 20 April 2019 at One Fine Day in Liverpool, a historic grade 11 listed former cotton exchange and registry office. What better place to host a day inspired by vintage style, with a 20s vibe, elegant pen and ink handwriting and textures of gold, pink and green at its heart?
Paul & Nanda – Wedding Photography

+ Follow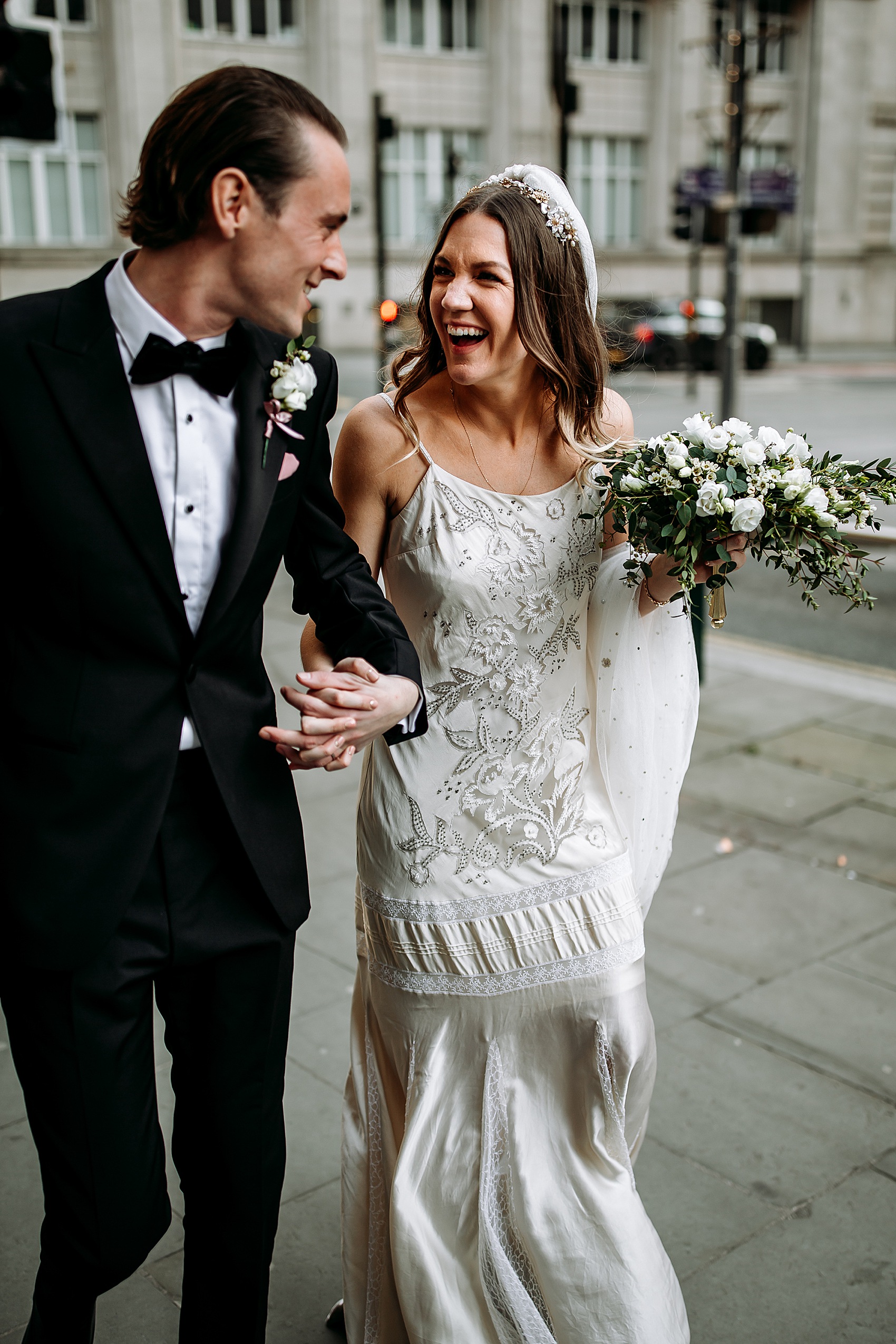 "We chose One Fine Day as it felt really relaxed. The location was perfect for our guests to enjoy the city and their long weekend alongside our wedding (we got married on a bank holiday). I love whimsical, vintage and natural beauty. I like old things, antique hunting, old buildings, pen-ink handwriting, handmade things – basically anything that isn't too perfect or 'put together'. I would say it was 20's mashed with 90's."
For an era-inspired day, a vintage dress was needed, and Leanne found this exquisitely-embroidered, slinky number at Sixpenny Bride. Like the bride, I love that her wedding gown had a story behind it and it looks simply wonderful on her.
"I found Jacky on Etsy, when I was in a campervan chilling out. When I checked her Etsy bio it said her studio was on the Wirral Peninsula which is where Jay is from. I couldn't believe the ease of it."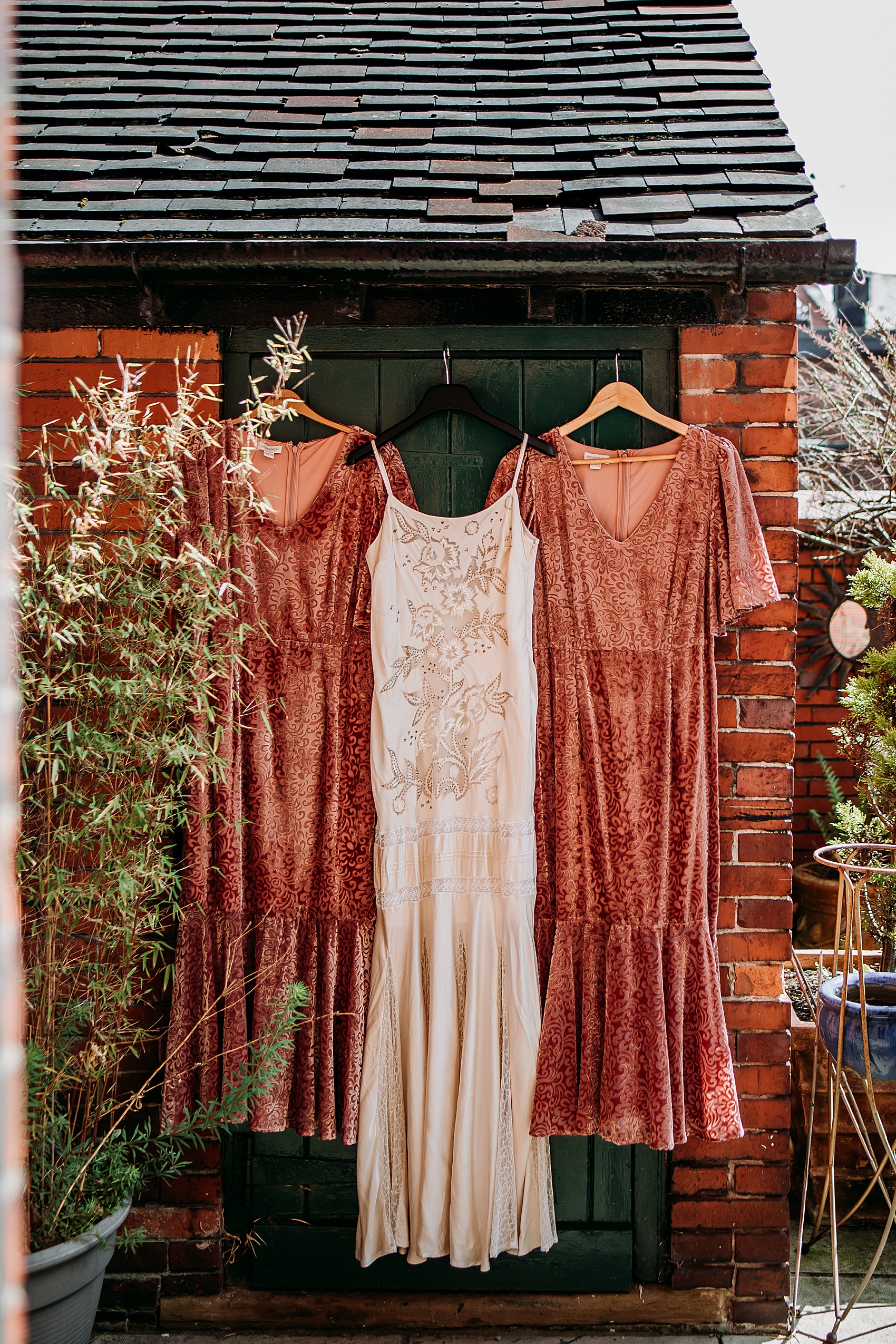 "I very much believe in things working out the way they're meant to. When I got back from travelling, my mum and I went to visit Jacky. It was a gorgeous day."
"I didn't visit anyone else; I just had a weird feeling it would be there. I tried on quite a few dresses with joy as I just love vintage clothing and I collect it. Jacky just said after about six dresses, 'I think I have one you'll like'. It's a credit to Jacky's creative eye as I LOVED IT."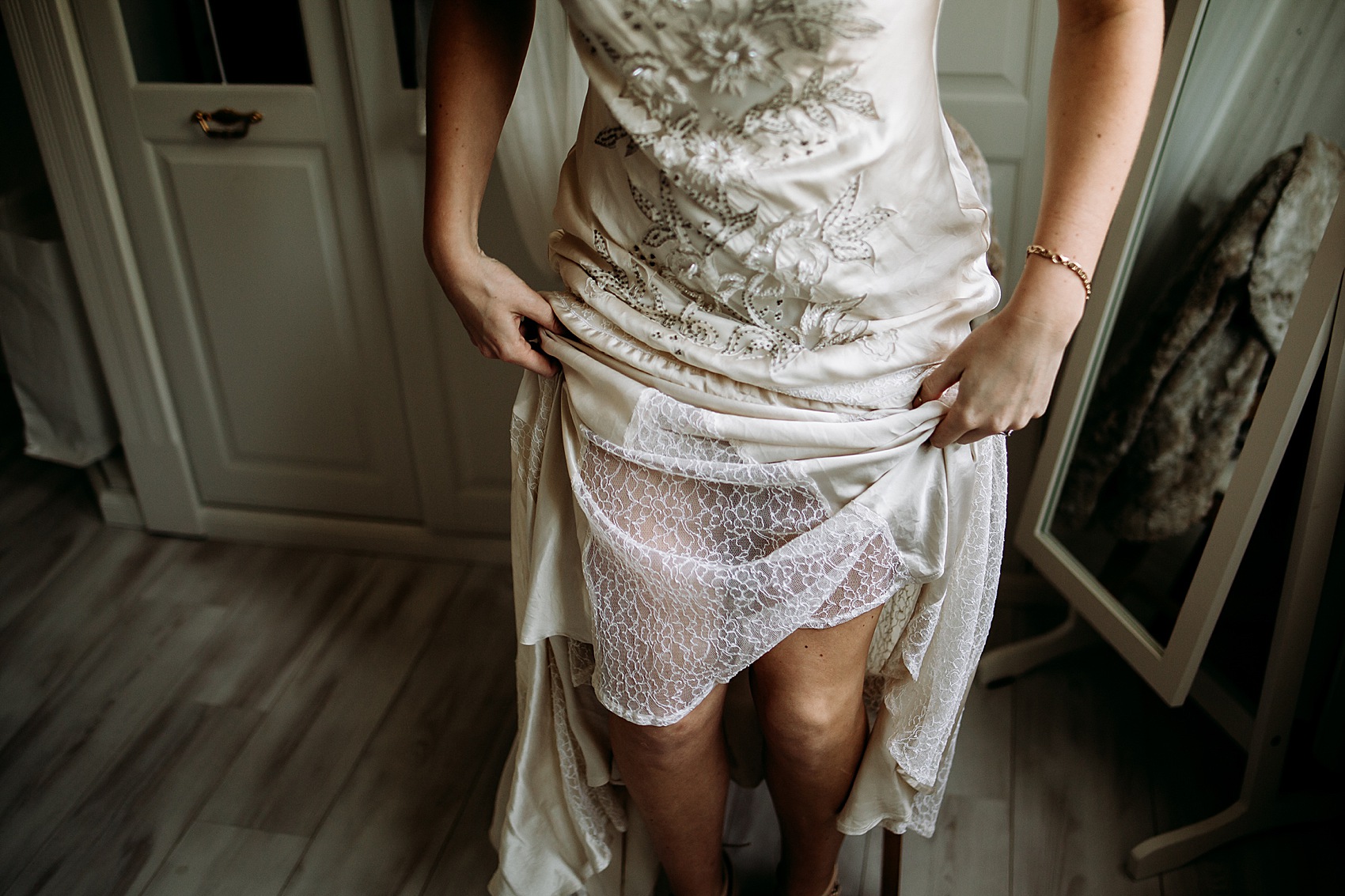 Jay and Leanne have started learning to jive, so the bride slipped on a pair of dance shoes from a dance school in Liverpool.
"I have no sense of smell so my mum and Jay buy my perfume for me.  The one perfume that everyone always says they love on me is 'Ricci Ricci' by Nina Ricci."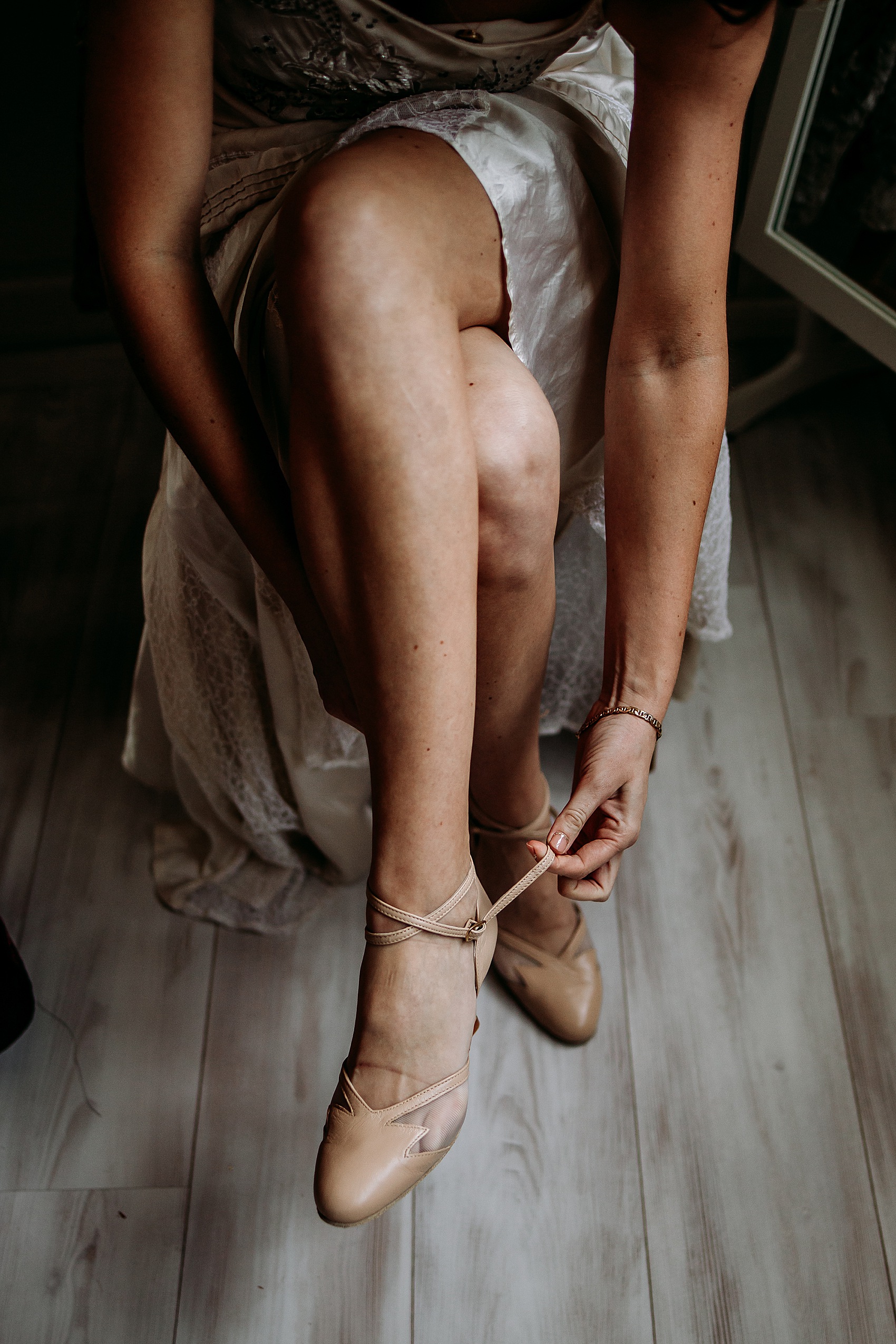 "My dress was vintage with gold tones, I felt amazing and so, so comfortable! I can't wait to wear is again one day or pass it on to someone in my family."
"I felt myself which is the most important. I'm not really one to spend a lot of money on clothes, in fact my wee brother will tell you my saying is 'you can't buy style', hence the reason majority of the clothes in my wardrobe are second-hand pieces."
"My necklace was a very special gift from my Granny Fyffe, who couldn't make it to the wedding. She bought it when she was 30 and I was 30 the day before I got married. My Italian, vintage, gold bracelet was a darling gift from my mum and dad for my 30th. My earrings were from an antique store in Wales."
"A gorgeous woman and fellow free spirit Maizie did my make-up. I met Maizie at the Charlotte Tilbury counter in Liverpool. We just hit it off and she made me feel at ease."
"I don't really like getting my make-up done and like a natural, no make-up look. Maizie was so lovely. She even showed up on the day with a lavender diffuser to provide some calmness and her positive energy is lovely."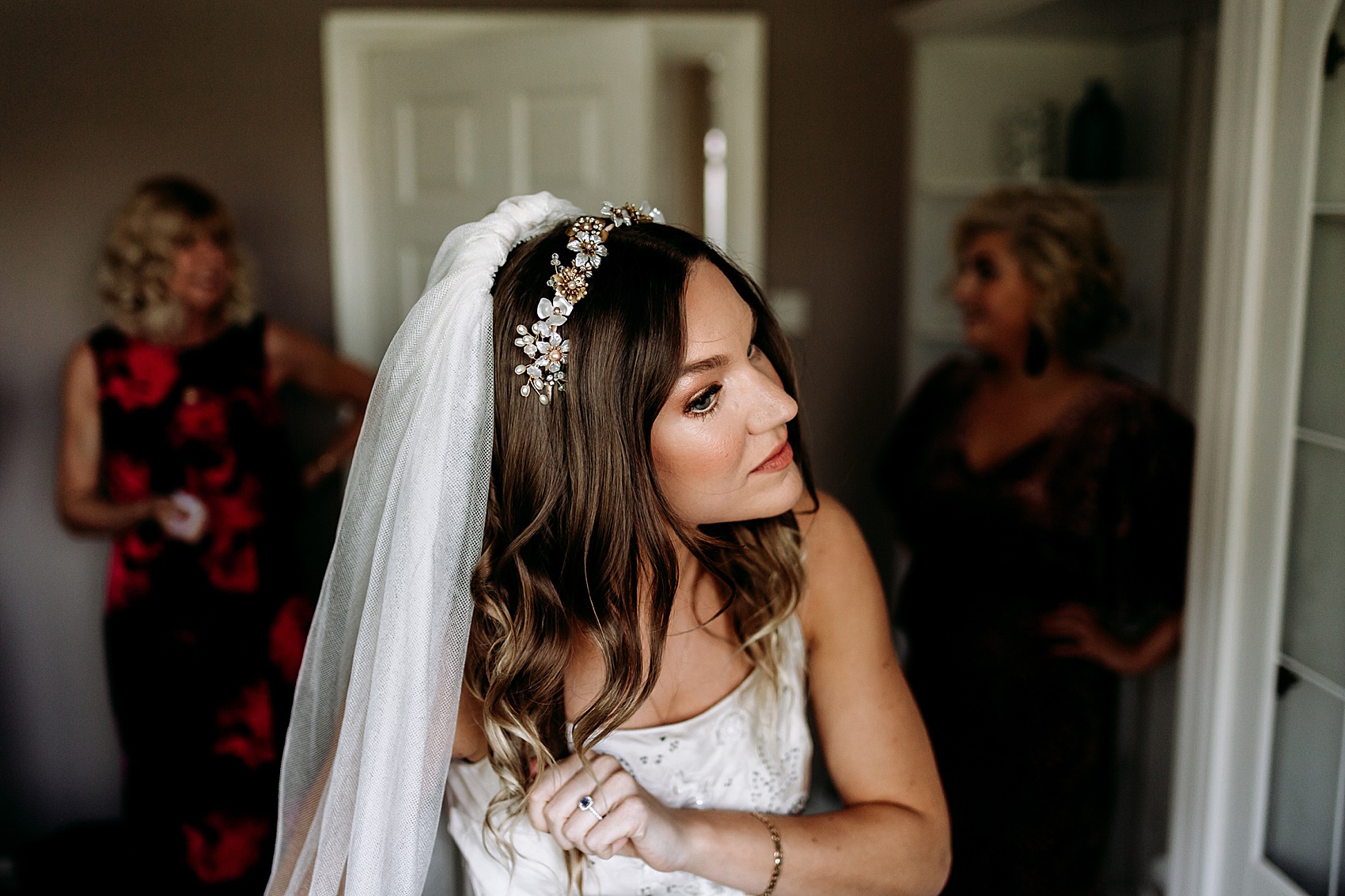 The bridesmaids wore luxe, crushed velvet gowns in pink from Monsoon, along with pink velvet shoes from Monsoon and H&M earrings. The entire party was styled by Sarah Chapman Hair, opting for soft and natural waves.
"Sarah is a fabulous woman who has done my hair for a fair few years – she is childhood mates with my sister-in-law and is brilliant. She ended up coming to the wedding as a guest and she did a guest's hair the following day. The people made my wedding – full of so much kindness and a family feel it's nice to reflect."
"I bought a 20s veil and fur jacket from Sixpenny Bride and Jacky handmade a headpiece to match. I am drawn to people who love what they do. Jacky is a kind soul with a beautiful talent and I'm glad I met her along the way. All hail makers and collectors – there is something beautiful about wearing a dress with a previous story."
Leanne and her mum sewed delicate gold gems on the the cascading veil, complementing her gold-toned jewellery.
Leanne and Jay's love story began in the bride's university days when they were brought together by mutual friends.
"I'm from Northern Ireland/North of Ireland and Jay is from the Wirral. Some of Jay's mates went to university with me in Manchester and we kept a wee long but short distance relationship between Liverpool and Manchester for the next five or six years."
"We've known each other for eleven years now. It's been a journey of growing up together in our twenties. Getting engaged and married is a celebration of the last nine years together."
"We got engaged in 2017, went travelling together for seven months and then got married in 2019. Really our wedding was a big party so that all the special people around us could meet!"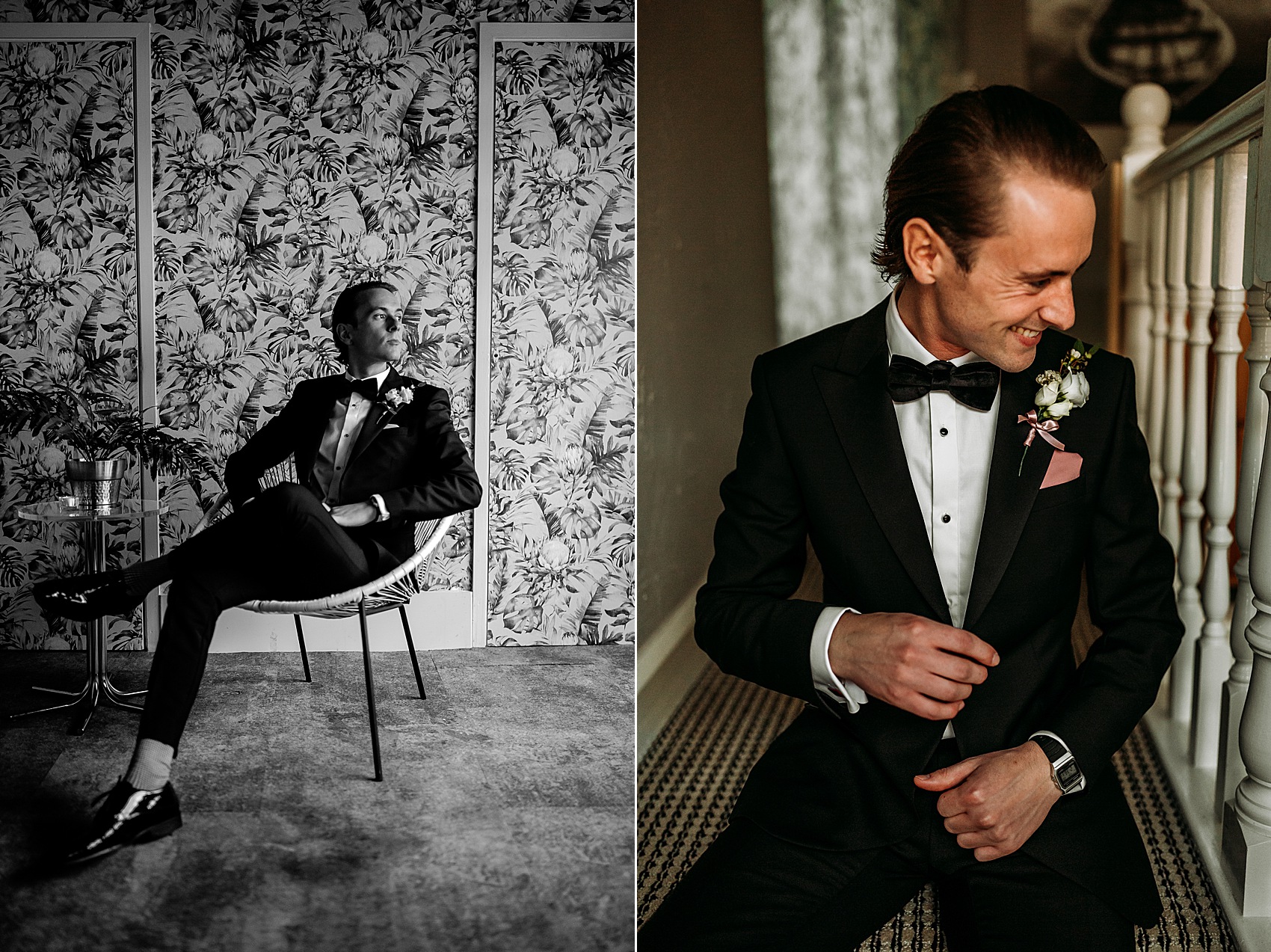 Jay chose to rock a sartorial style for his wedding day, donning a slim-fit tuxedo suit from Reiss, together with a handmade pocket squares with his name embroidered, a gift from Leanne.
For a vintage twist, the bride travelled through Liverpool in a powder blue Vintage Rolls Royce before walking down the aisle with her father to 'Let There Be Love' by Nat King Cole. Surrounded by their friends and family, Leanne's uncle, a minister in Ireland, married her and Jay. Fittingly, they exchanged vintage rings.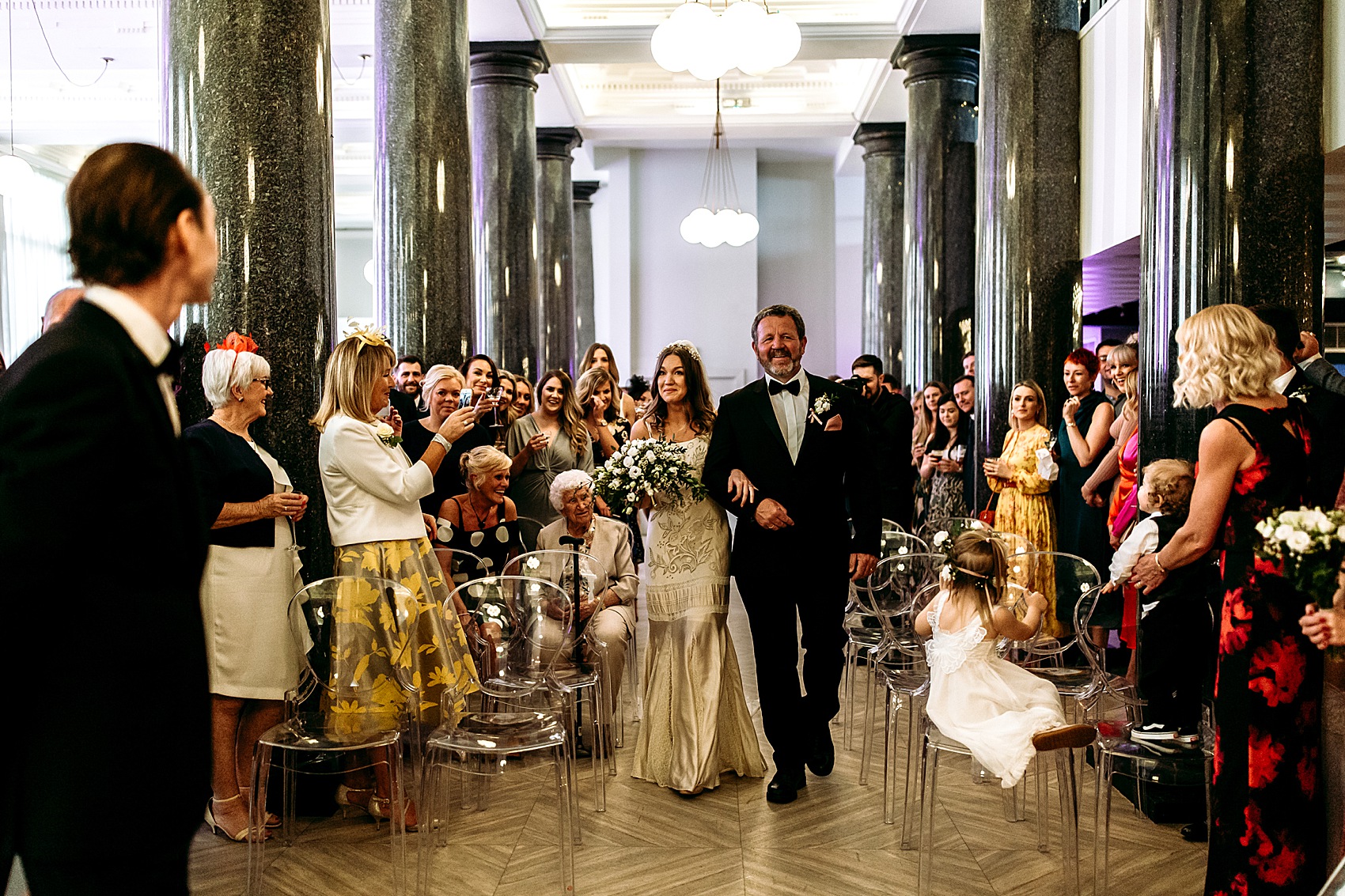 "We had a humanist wedding ceremony. We put together the ceremony ourselves and wrote our own vows. We are people's people; a marriage does not define our relationship, it is the nine years together that does and who we want to be in the future."
Leanne: "I vow to continue to go for it, to be a team, to be better people and to create our own way in this world."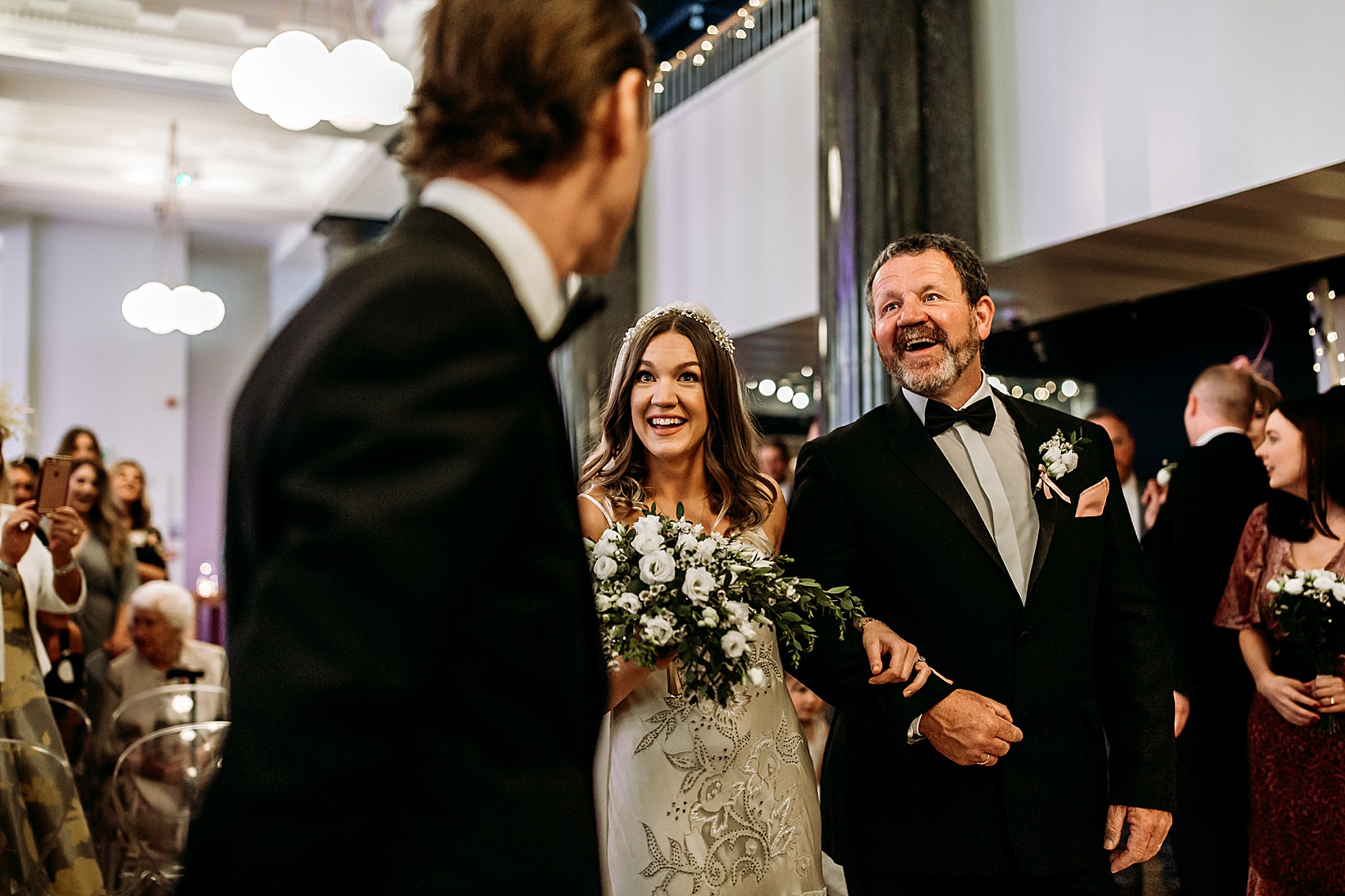 Jay: "Most of all, I vow to continue to live life our way. To never stop exploring and to never stop laughing, to be romantic, patient and to be there for you."
"I loved it to finally marry Jay, our vows and just standing there, to walk in and see our friends just all huddled together, standing there – magic!"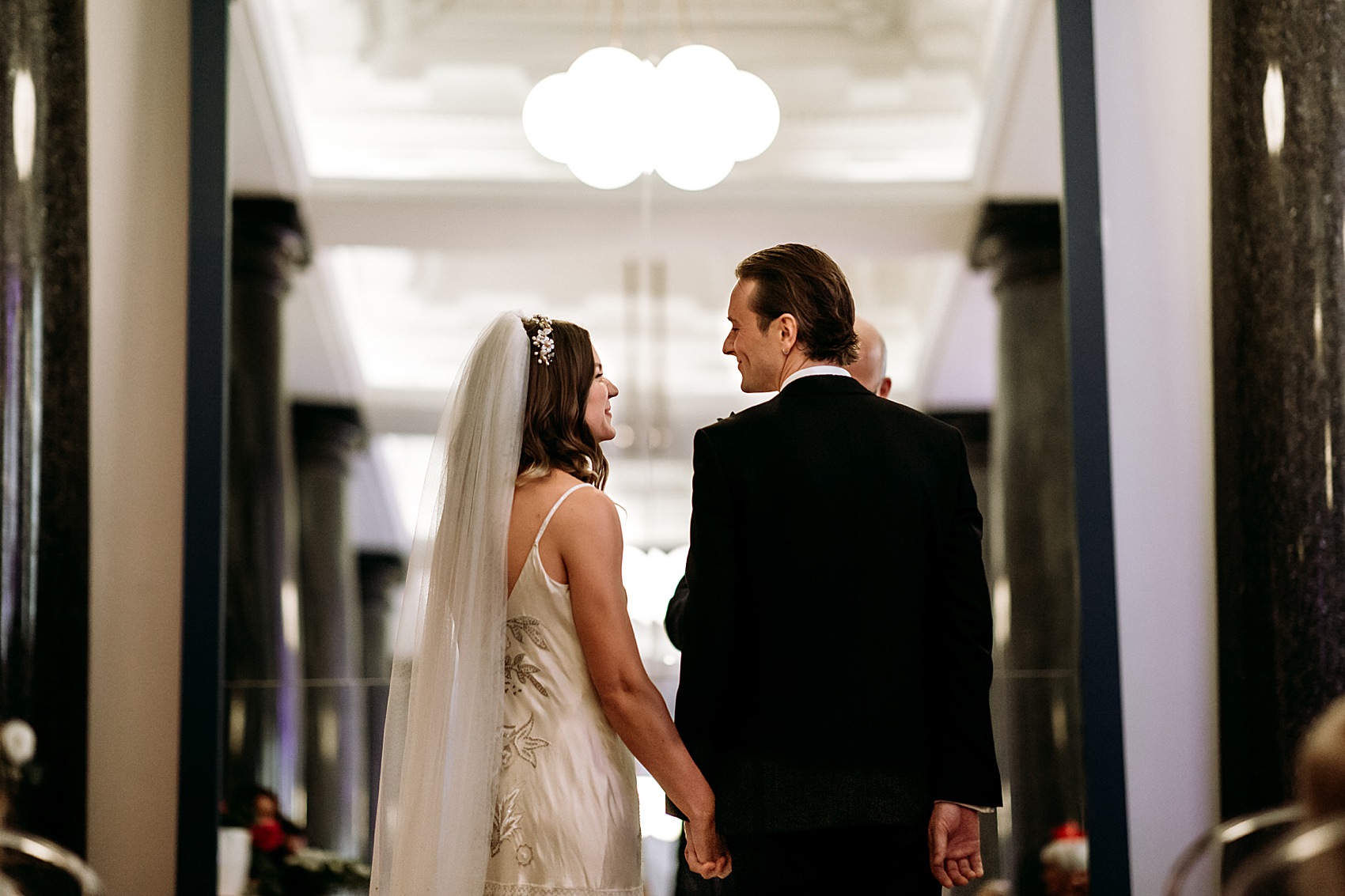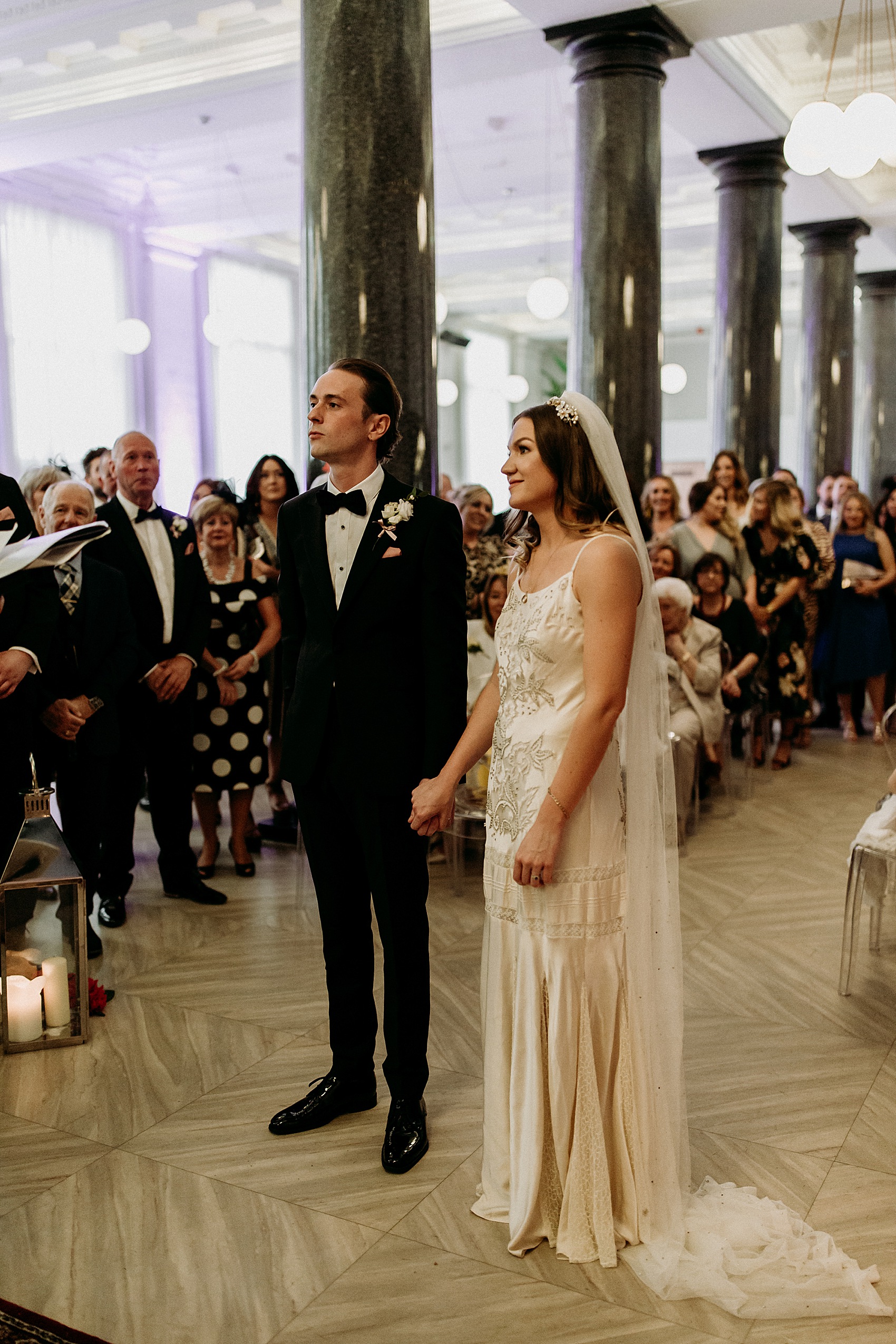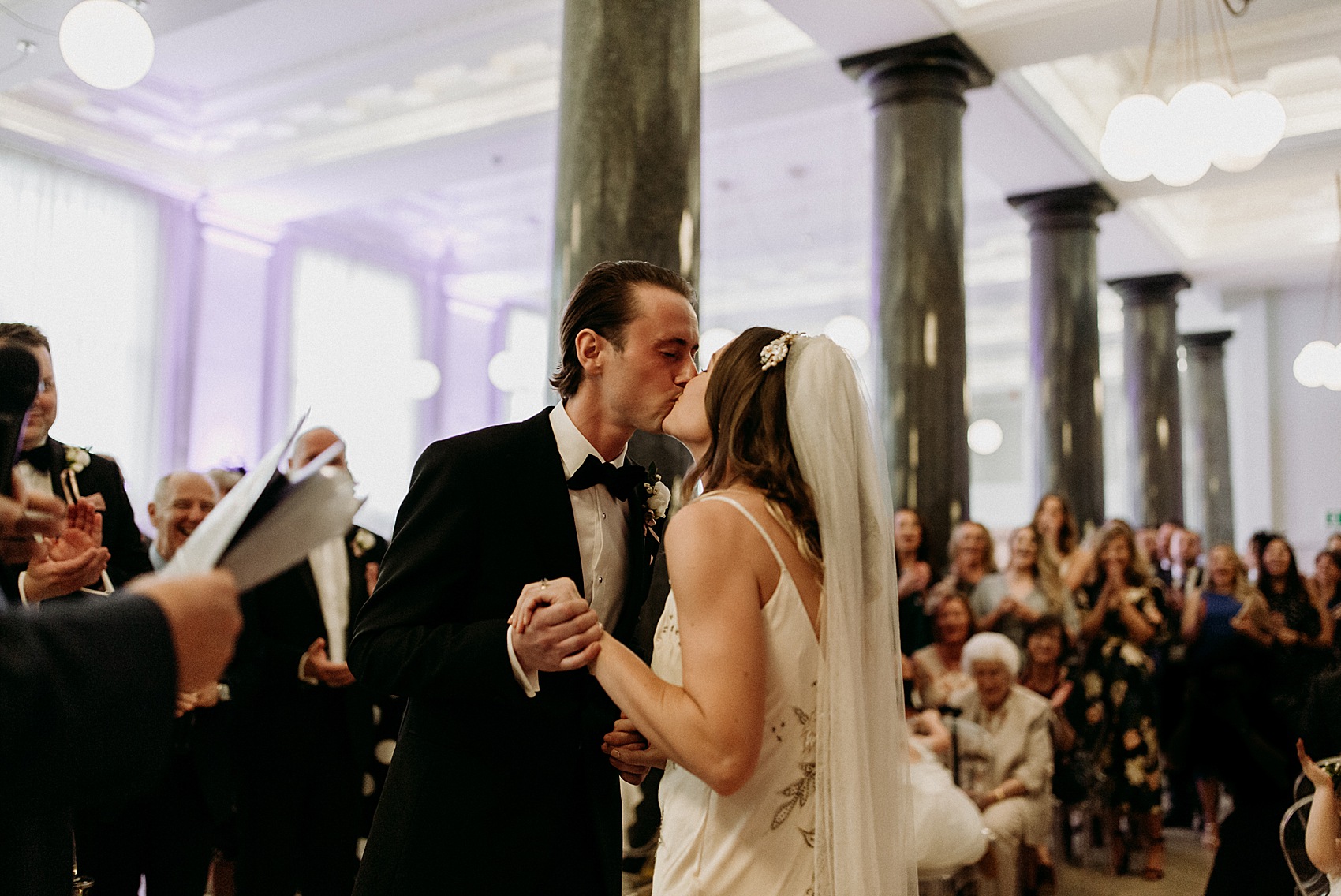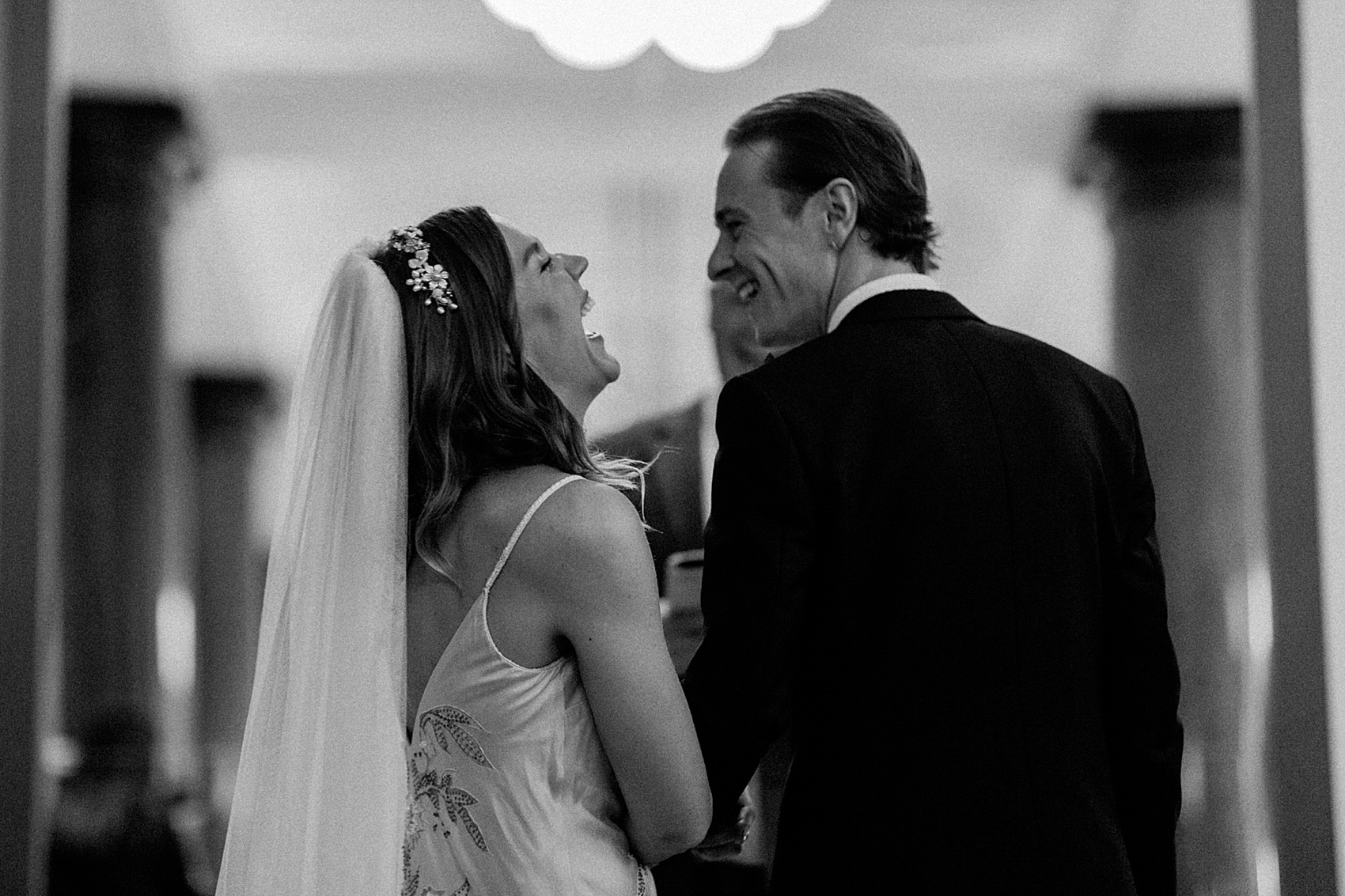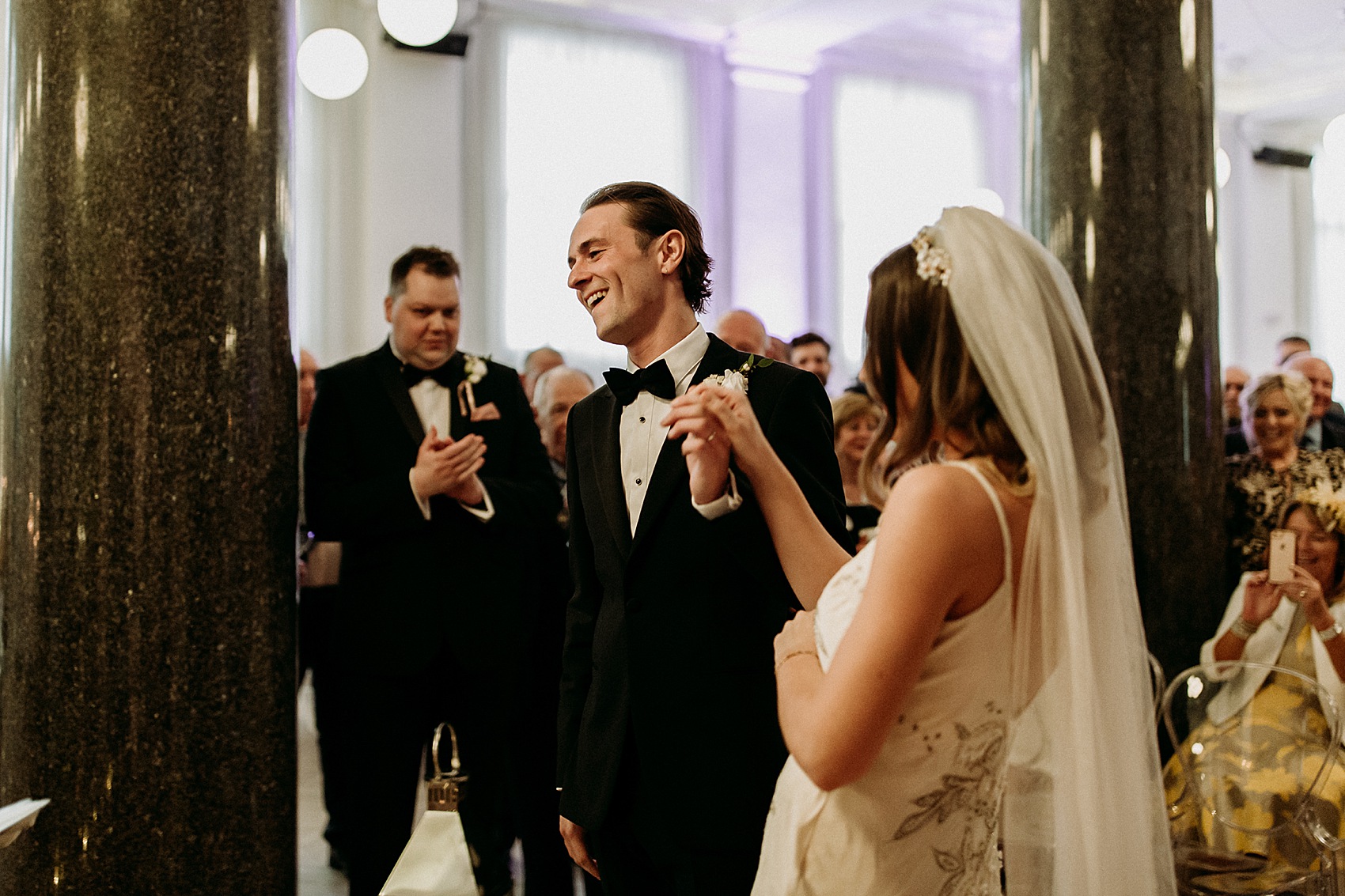 Leanne carried a dainty posy, inspired by that of Kate Middleton, of pure white flowers and green foliage, put together family friend Kay of The Flower Dispensary.
"I love flowers and Kay exceeded anything I had imagined – the bouquet was insane. I had shown Kay a picture of Kate Middleton's as I loved the simplicity of it and the fact it was on a handle – it was gorgeous. I've since pressed flowers from the bouquet and put them in a frame."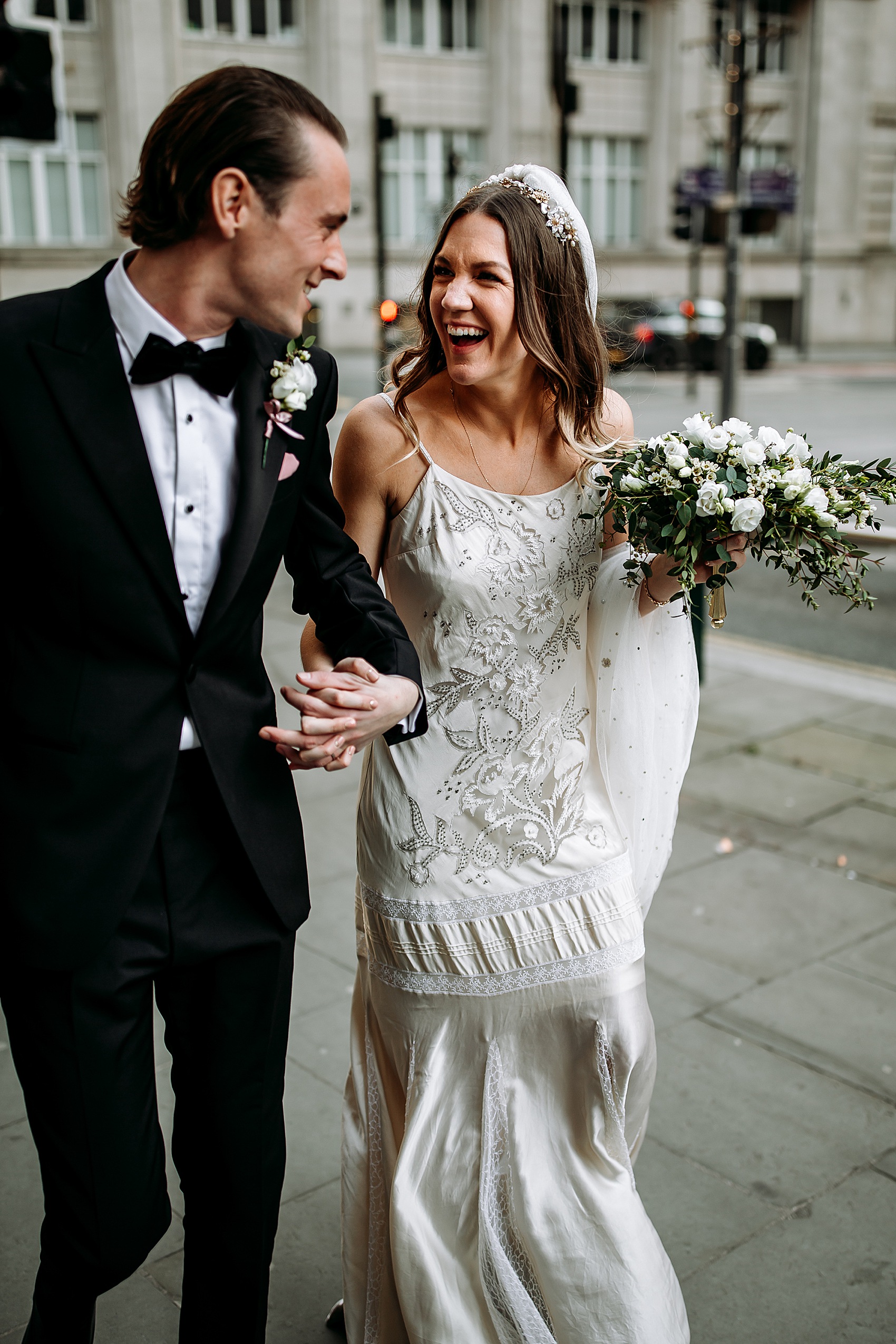 These photographs come thanks to photography duo Paul & Nanda – Wedding Photography.
"The power of asking people and connections! A friend in a previous job knew Nanda and Paul. She introduced us over email and I checked out their work and just immediately loved it. We wanted natural shots."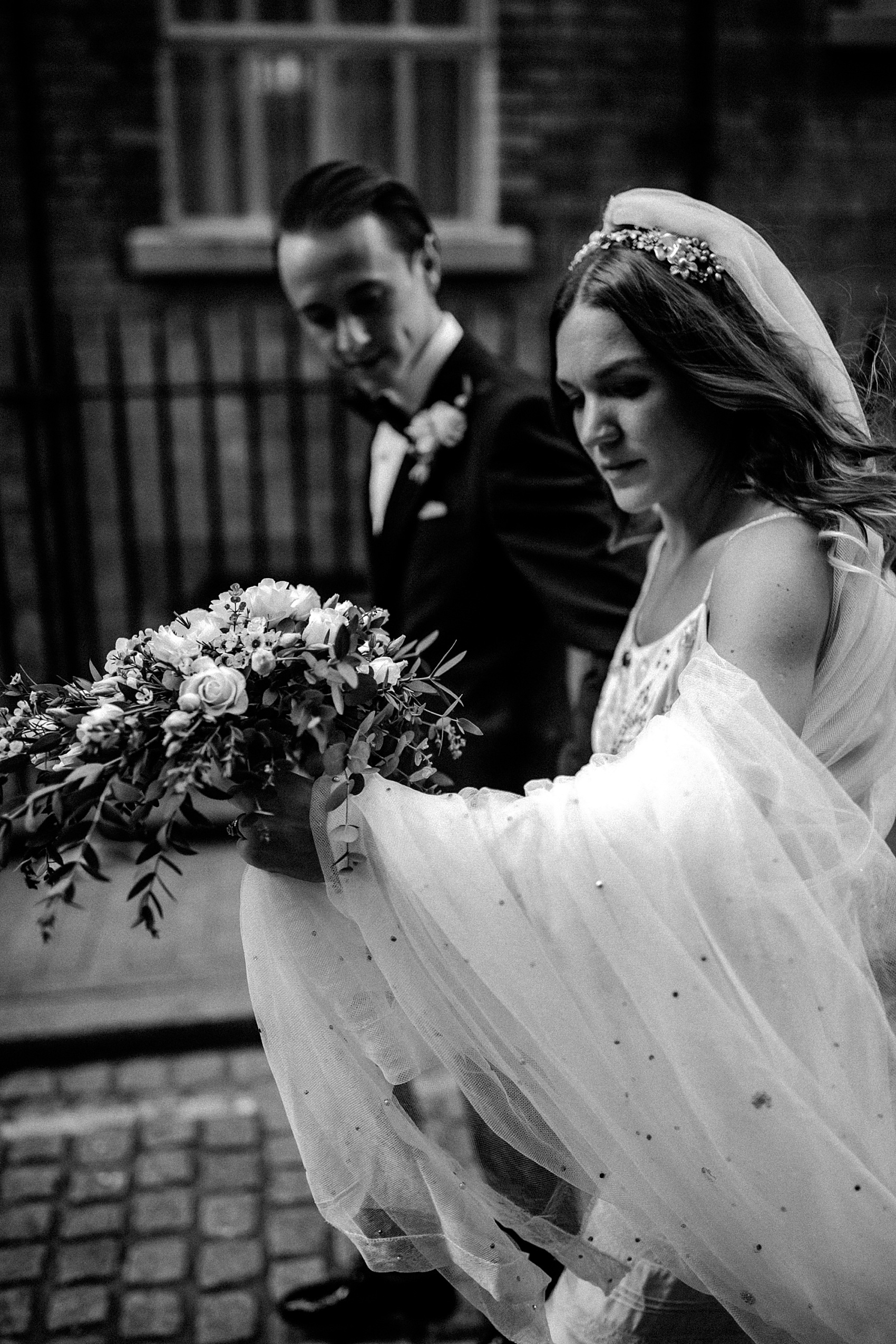 "I love real emotions, shots on the fly, wrinkles, mishaps, laughter and tears – just like real life! Jay didn't want to pose either for photos too much but some of his portrait shots I will cherish forever and I think he looks bloody gorgeous!"
"I never, ever expected the pictures to turn out the way they did. Jay and I are ordinary people – I say that in a lovely way, ordinary is good and real – when we look at those pictures we feel happy because every wee emotion is there – it's like nine years wrapped in a day. It's all very overwhelming!"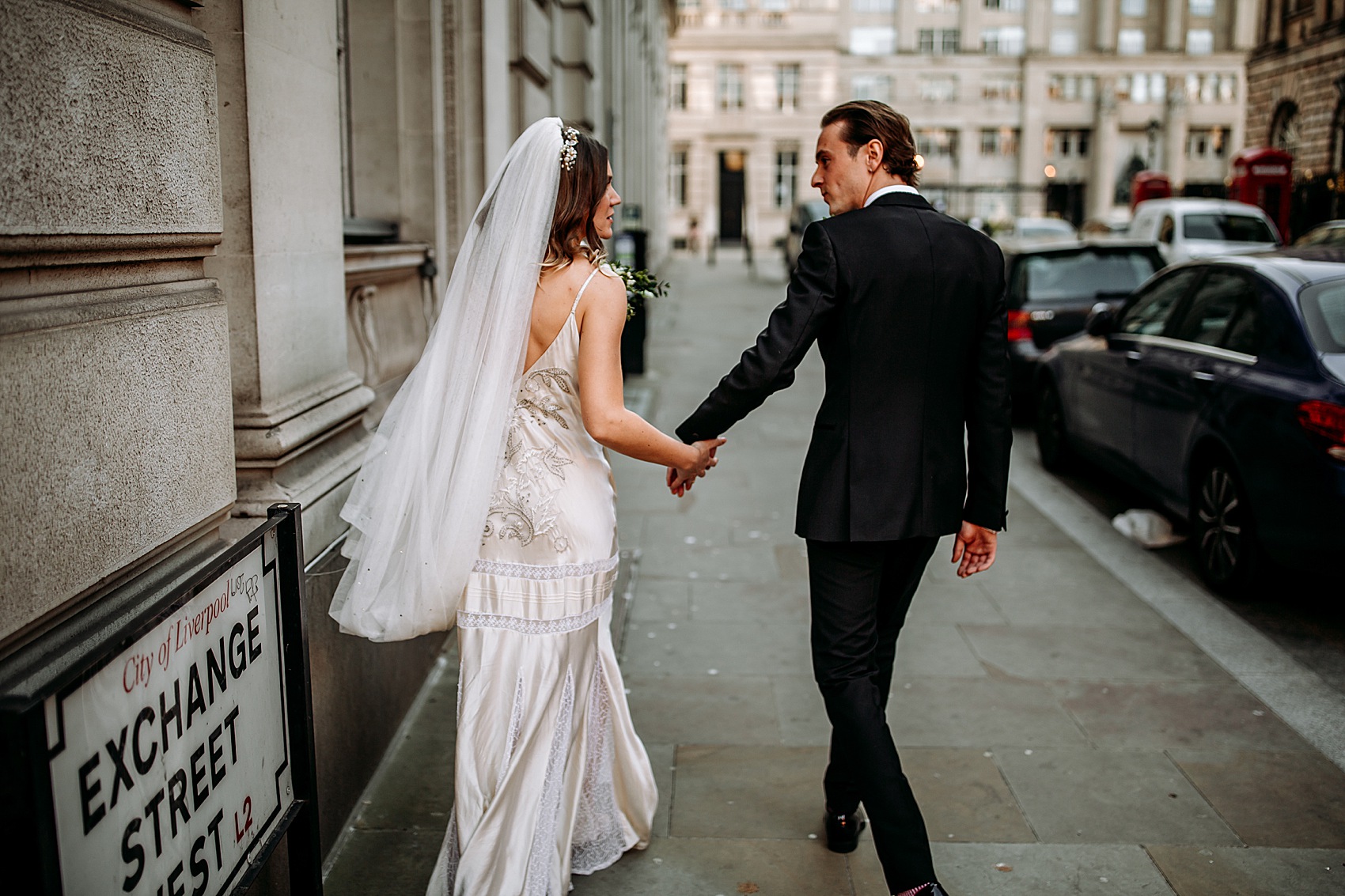 "My father in law hand-made the welcome sign and I painted on to it. My mum and dad hand-made a big crescent moon which was class and lit up – what a keepsake!"
The couple's taste for vintage pieces is so clear to see in their wedding decor, which they put together themselves, starting with the star-spangled stationery which Leanne made.
"I hand-made everything. I scanned in pressed flowers and gold stars and then my own handwriting and painting."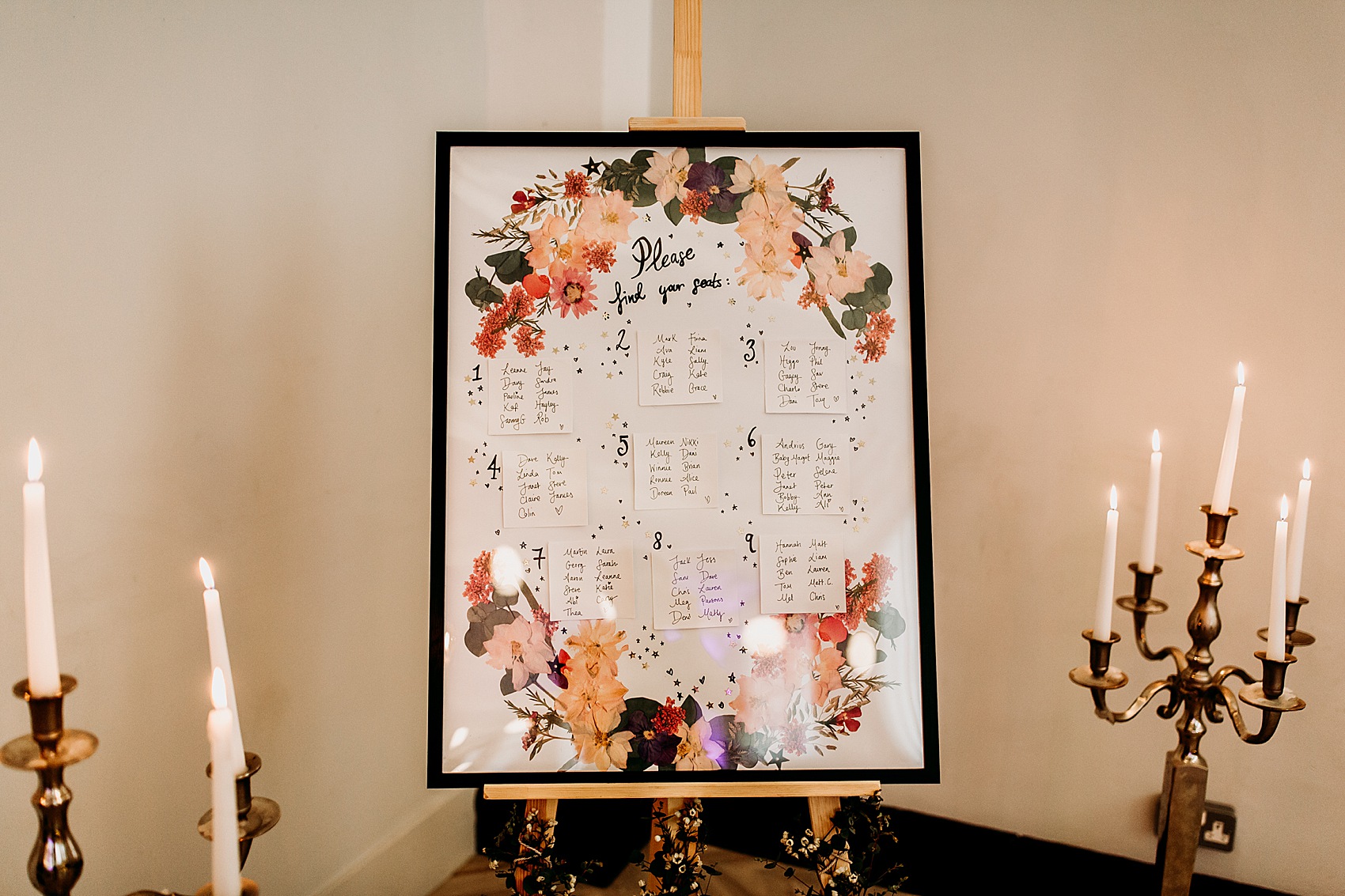 "Tablecloths were from H&M Home and our antique gold trimmings were borrowed from friends, charity shops and I took some bits from our house. I don't like waste so wanted to buy things we would like to have in our house too. We brought in plants which my mum had grown at home in Ireland."
The newly-weds and their guests sat down to a wedding breakfast from One Fine Day and, with a nod to Easter Sunday the next day, favours of golden chocolate Easter eggs. There was also a simple, elegant semi-naked cake baked by family friend Beth.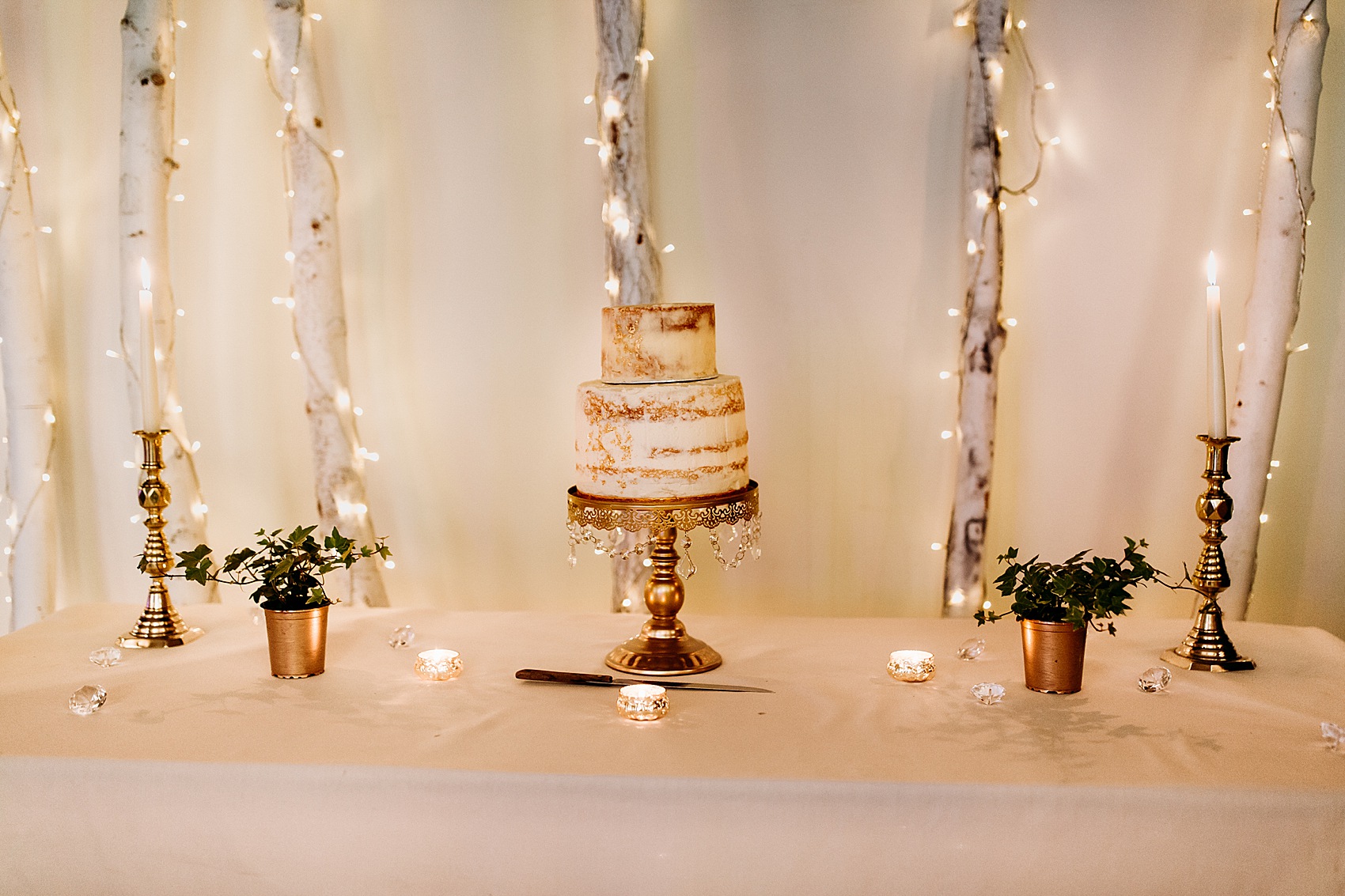 Jay and Leanne selected a very special song for their first dance, then partied the night away to music from The Mac Bros..
"'Baby I Love Your Way' by Peter Frampton is a very special song to Jay and I. Our close friends and family always sing it to us – especially my wee brother!"
"The band were brilliant and we definitely partied."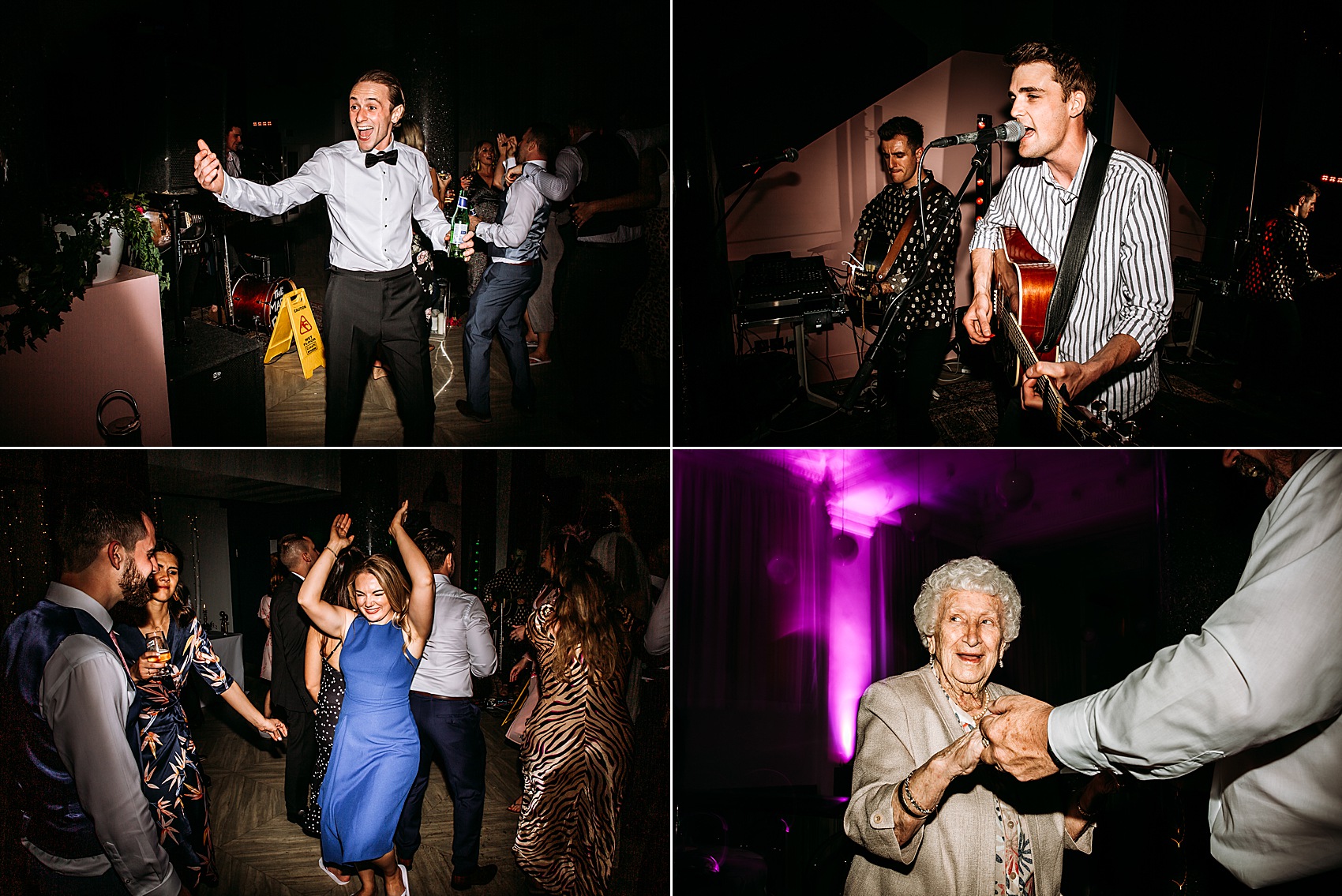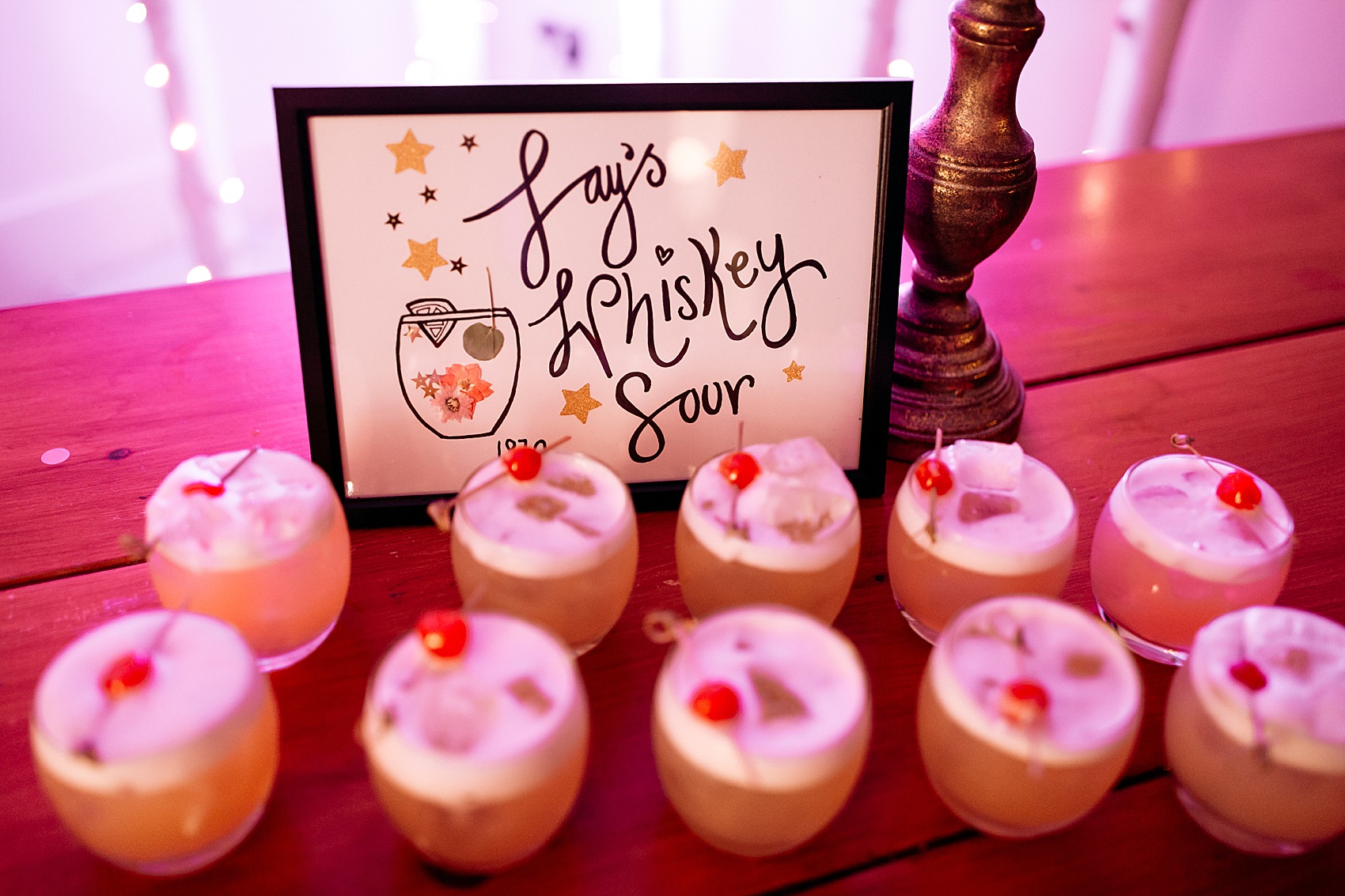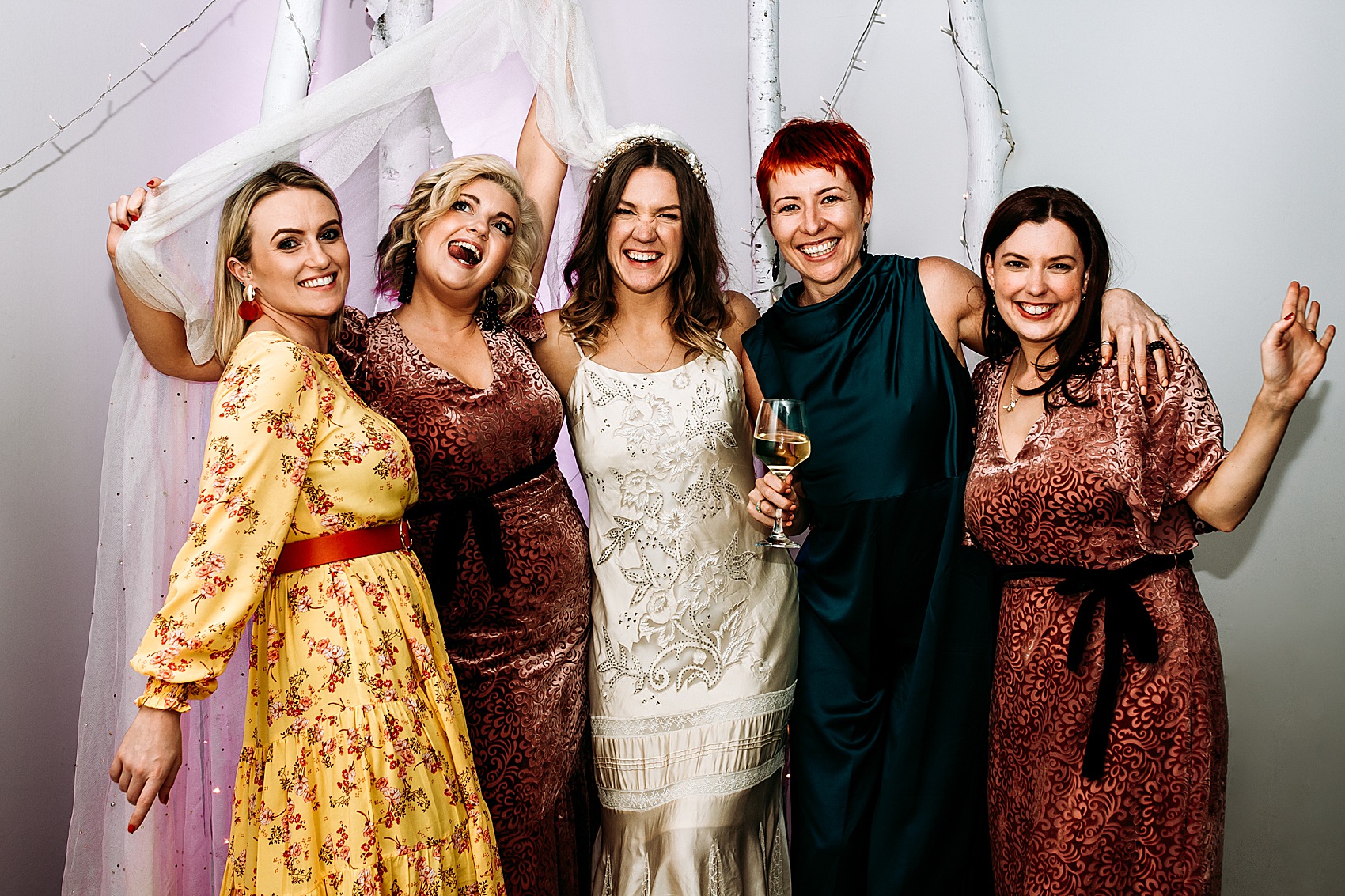 Words of Wedded Wisdom
"Be yourself – get married for your reasons."
"Do not get caught up in the wedding rush. Listen to very few and remember it is just a day. Try not to let it consume your life – your life is better than a wedding."
"Money does not make a wedding. The people there, the words spoken and the vibe is what it's about."
"I head-banged, I didn't re-apply make-up, I cried with joy, I forgot to wee, I danced all night until my hair was matted to my head, I looked hilarious but who cares. I was the last one to leave and I just really didn't care! It was the best day ever and I was high on life!"
"Don't think about the tiny things. Think about, as we Irish say, 'the craic'. Have fun, laugh, cry, kiss everyone and dance your butt off with your husband or wife!"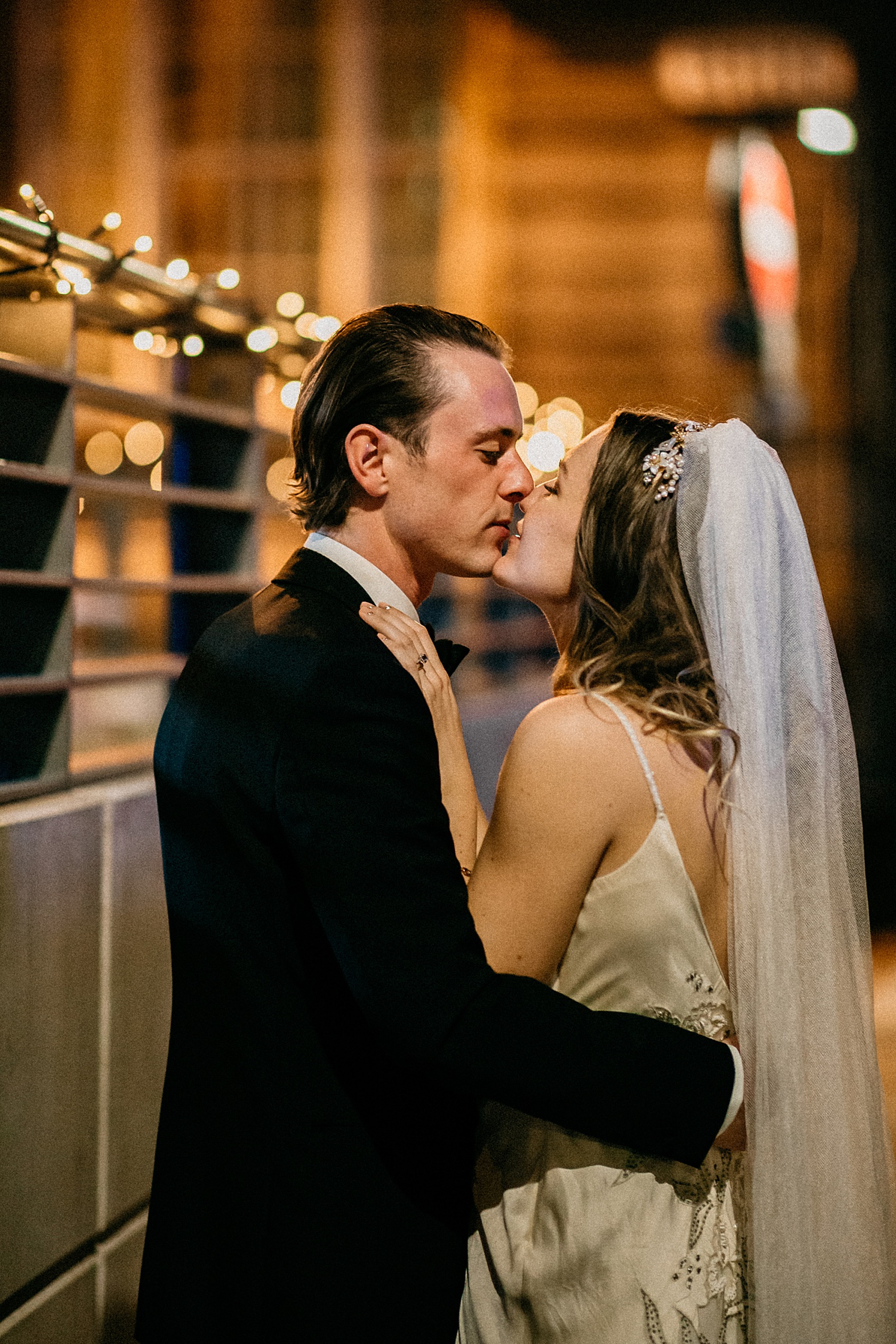 Leanne and Jay, what style and what emotion. Thank you so much for providing a vey real insight into your celebrations, and please accept my congratulations. Of course, I have to send so many thanks to these talented photographers, Paul & Nanda, as well. For more vintage inspiration I'd love for you to have a peek at these other Love My Dress weddings.
Ele xx