This is an unprecedented time of worry and uncertainty, and our thoughts are with you all right now. We've said it many times and will continue to do so – we're in this together, and we're here for you.
If you're postponing or planning a wedding in the midst of the Coronavirus crisis, and concerned or unsure about how to navigate these tricky waters, then we have a wealth of articles to provide help and support. We're also hoping to help you escape and inspire, too, if that's what you're looking for, and we hope our lovely real wedding features will do just that.
Today we're going to South West London, for a super-stylish celebration, with an Art Deco town hall ceremony, followed by a reception at a nearby restaurant. It's all brilliantly colourful, too, with gorgeous floral prints,  and accents of red and gold.
Matt Ebbage Photography

+ Follow
Mrs Kay is a costume supervisor, and Mr Kay is a sports massage therapist, and they were married on the 26 July 2019 in the Alexandra Room at Wandsworth Town Hall, followed by a stroll down the High Street to their reception venue, L'Affaire.
"We wanted the wedding to be Summery, so bold florals on the flower girls, shades of reds all over, (from the decorations to the bridesmaids dresses, groomsmens ties and bride's shoes) and flashes of gold for a special sparkly detail were the main features."
"We also wanted it to be playful as our first date was a lego robot-building night, so our cake topper, created by an Artist friend, was made out of toy parts and our guest book was a multi coloured giant jenga tower that guests were invited to write on and we had a red tinsel pinata."
"We had our ceremony at Wandsworth Town Hall, in the Alexandra room and our reception was at L'Affaire. I grew up in Wandsworth and we now live together nearby, so the area had a nostalgic value. L'Affaire ticked all of our boxes in looking for somewhere close to the Town Hall, it gave us freedom in creating our own unique day with exclusive access and had a great garden space."
"We used Greenvelope for our invites and all other communication thereafter, which was really easy, straightforward and environmentally friendly – highly recommend!"
Bouquets for the bride and her maids were supplied by the Urban Flower Company, who the bride discovered via Instagram.
"They offer seasonal bunches at great affordable prices and have an option for 'Florists Choice' – I loved the idea of picking up the flowers and all being a surprise! They were stunning and I now have them dried and in a frame (they were so lovely, I didn't want to throw the bouquet!)"
Mrs Kay wore a modern, asymmetrical dress – a find from Solace London.
"I decided to buy various different dresses from online suppliers like The Outnet and Net a Porter and try them on at work as I have access to fitting rooms and work with some fantastic seamstresses."
"This meant I was able to take my time and try on a variety of looks and garments across many days (months…!) and have lots of friends and family, as well as my bridesmaids, give me their opinions before making a final decision and have more friends involved in the experience."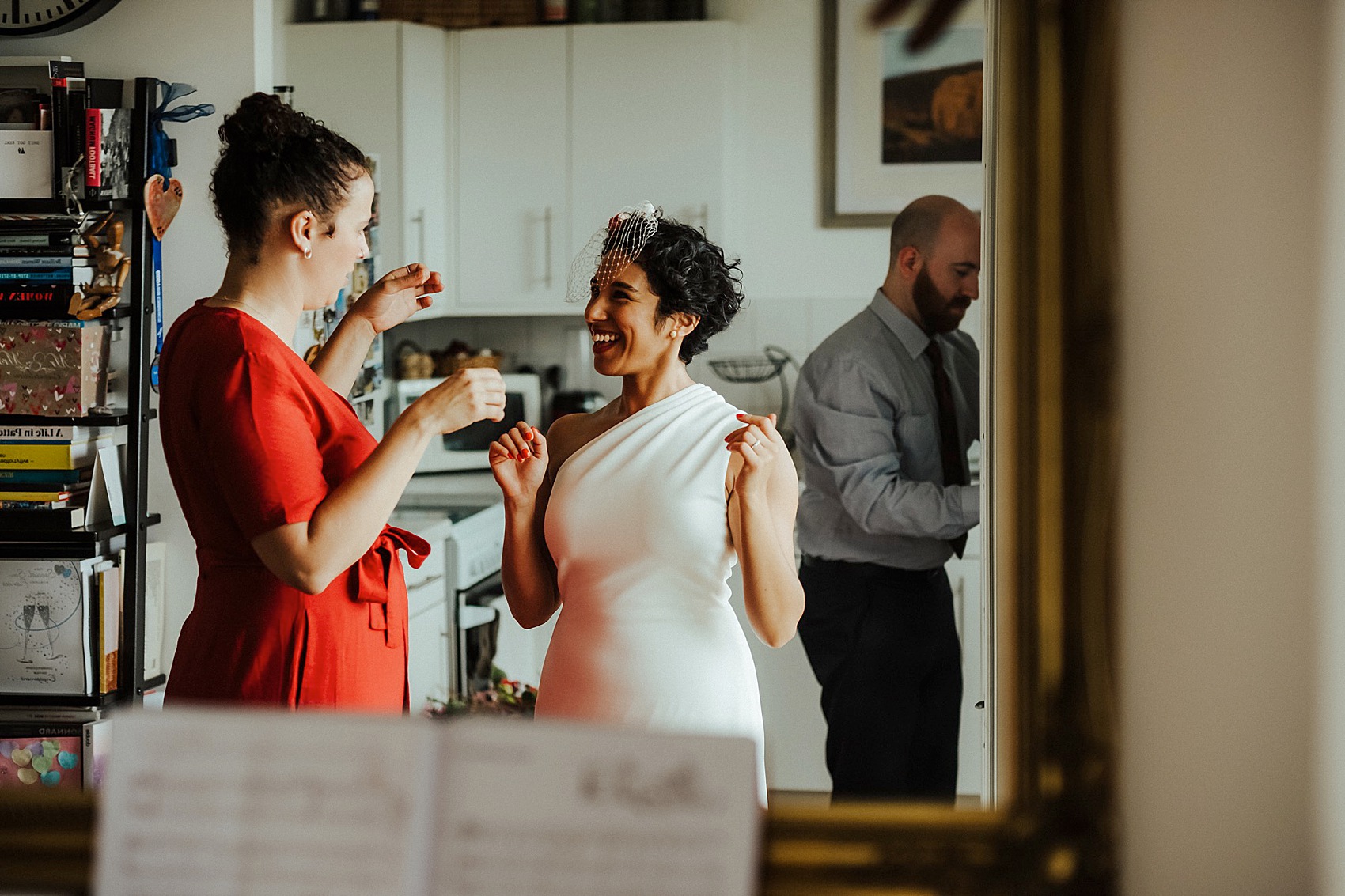 "I wanted this particular dress as it was simple and unfussy with no beads, lace or embellishment. It as modern and fashionable, with the one shoulder and thigh split; and was figure hugging enough to make me feel fabulous but made of a stronger weight fabric so it hid lumps and bumps well. Also, I could wear it all day, feeling elegant at the ceremony but flexible to wear onto the dance floor."
"I wore bright red block heel cutout sandals from Topshop – I wanted to find something edgy to keep with the contemporary look of the dress and more importantly, heels I could wear all day!"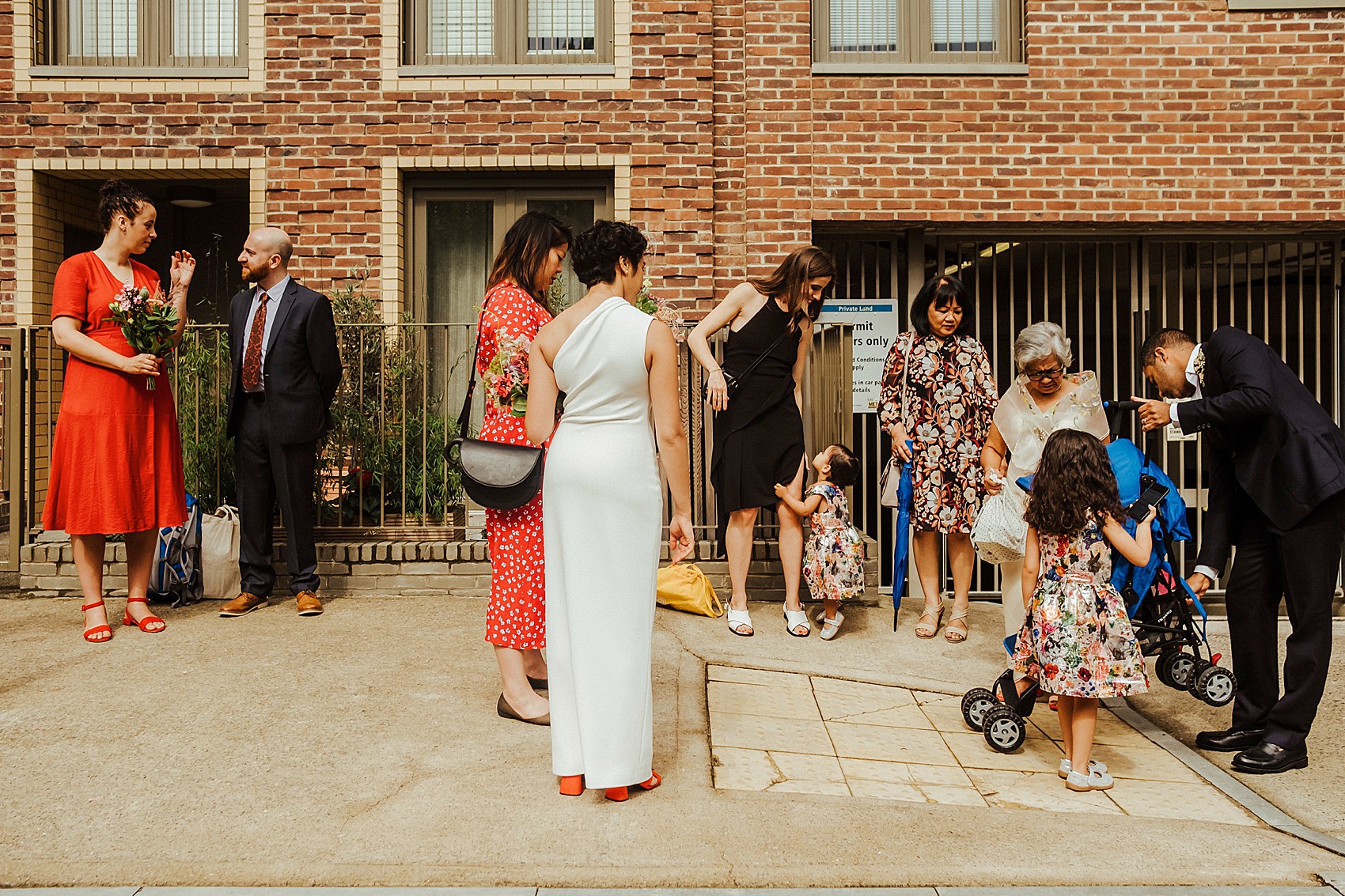 "I did my own make up using Bobbi Brown products after a couple of make-up trials with them, I felt confident enough to do this myself. For my family, I asked Gemma Fee to do their hair and make-up and they all gave her incredibly high praise for being so calm, friendly and professional as well as making them look wonderful."
"I wore a birdcage veil that I designed after looking at references from Pinterest which was made from vintage lace and flowers that I sourced from work and asked my friend, who is a Milliner, to make. After the ceremony, as it was small, the veiling was easily pinned back so that I could still carry on wearing it throughout the whole day into the reception."
"I wore 'Paris' by Balenciaga as its my favourite perfume and was given to me by Mr Kay's mum last Christmas."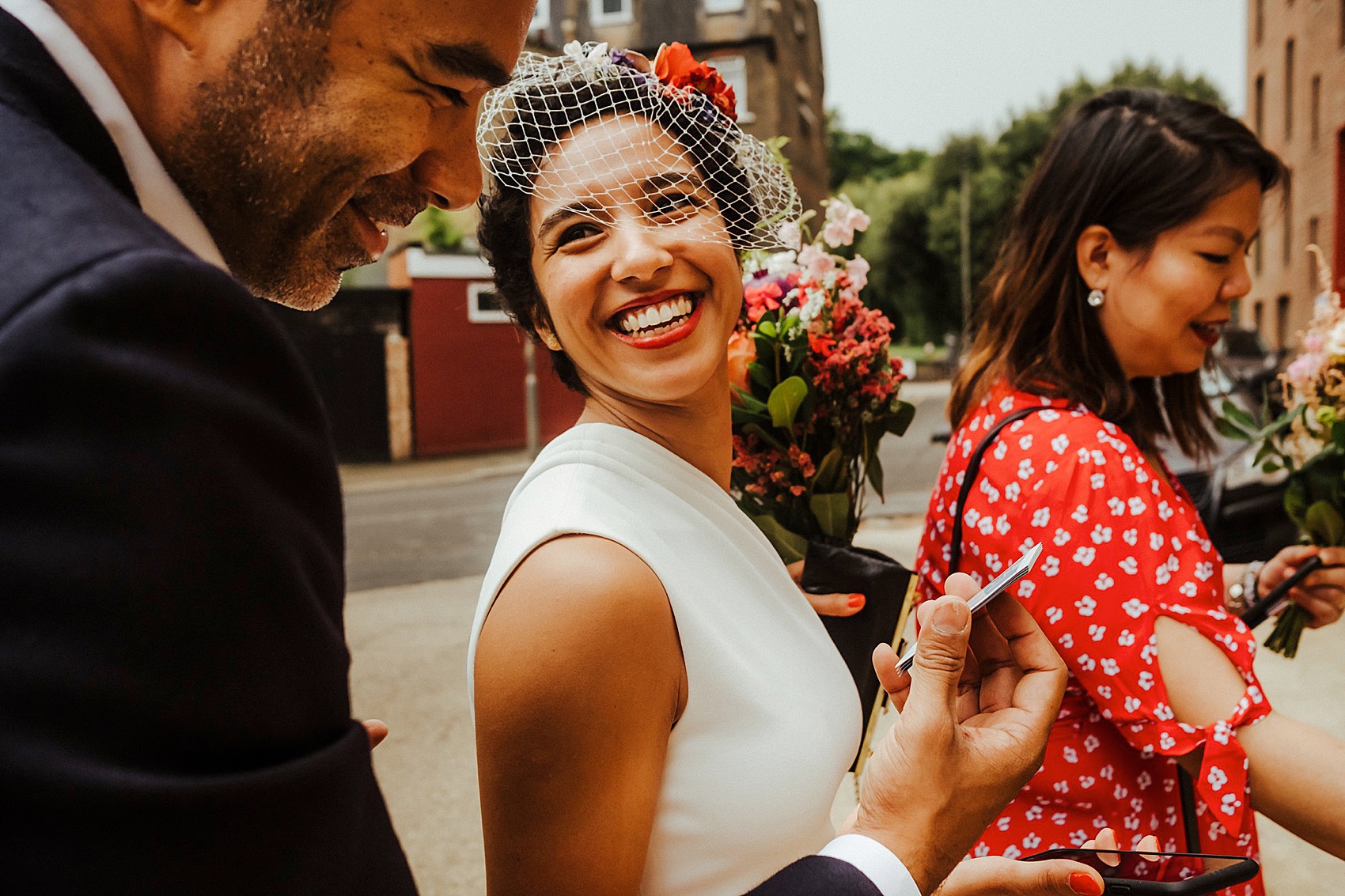 "Apart from the wedding and engagement rings, the only other piece of jewellery I had on was a pair of circular gold and diamond earrings, a gift from a family friend – this was my 'something old'."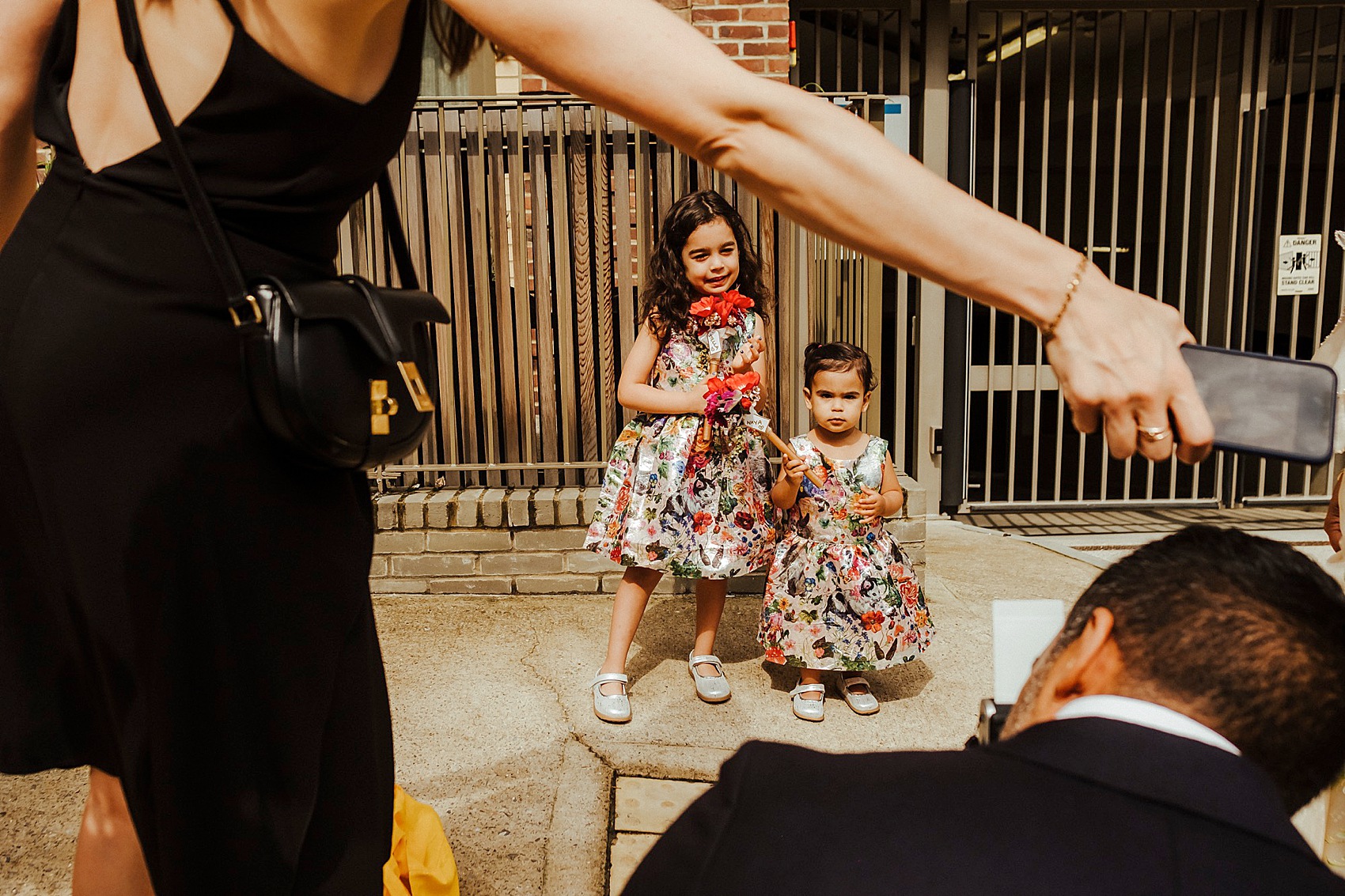 "Mr Kay and I met on Tinder! We've been together for five years and Mr Kay proposed after we had been to the Wimbledon mens tennis final (which was also the day before his birthday, so no pressure!) by the lake in Wimbledon Park. We had been engaged for exactly a year before the wedding."
"My older brother accompanied me down the aisle. Our two friends both played guitar, they had made an acoustic version of 'Magic in the Air' by Badly Drawn Boy."
"We were offered three ceremony options from the Town Hall – traditional, contemporary and minimalist. We opted for contemporary and decided not to adapt it as we wanted to save any additions to the speeches we both made during the reception as the ceremony was family only and we wanted everyone at the reception to feel part of the whole day too."
"Also, saying the pre-scripted words given to us was just enough for the groom to handle before the water works started!"
"My ring was from the groom's mother – a ring his dad gave his mum the day he was born. From that ring, we had made a white gold with five diamonds engagement ring and a yellow gold wedding ring with the original engraving of the grooms birthday still inscribed."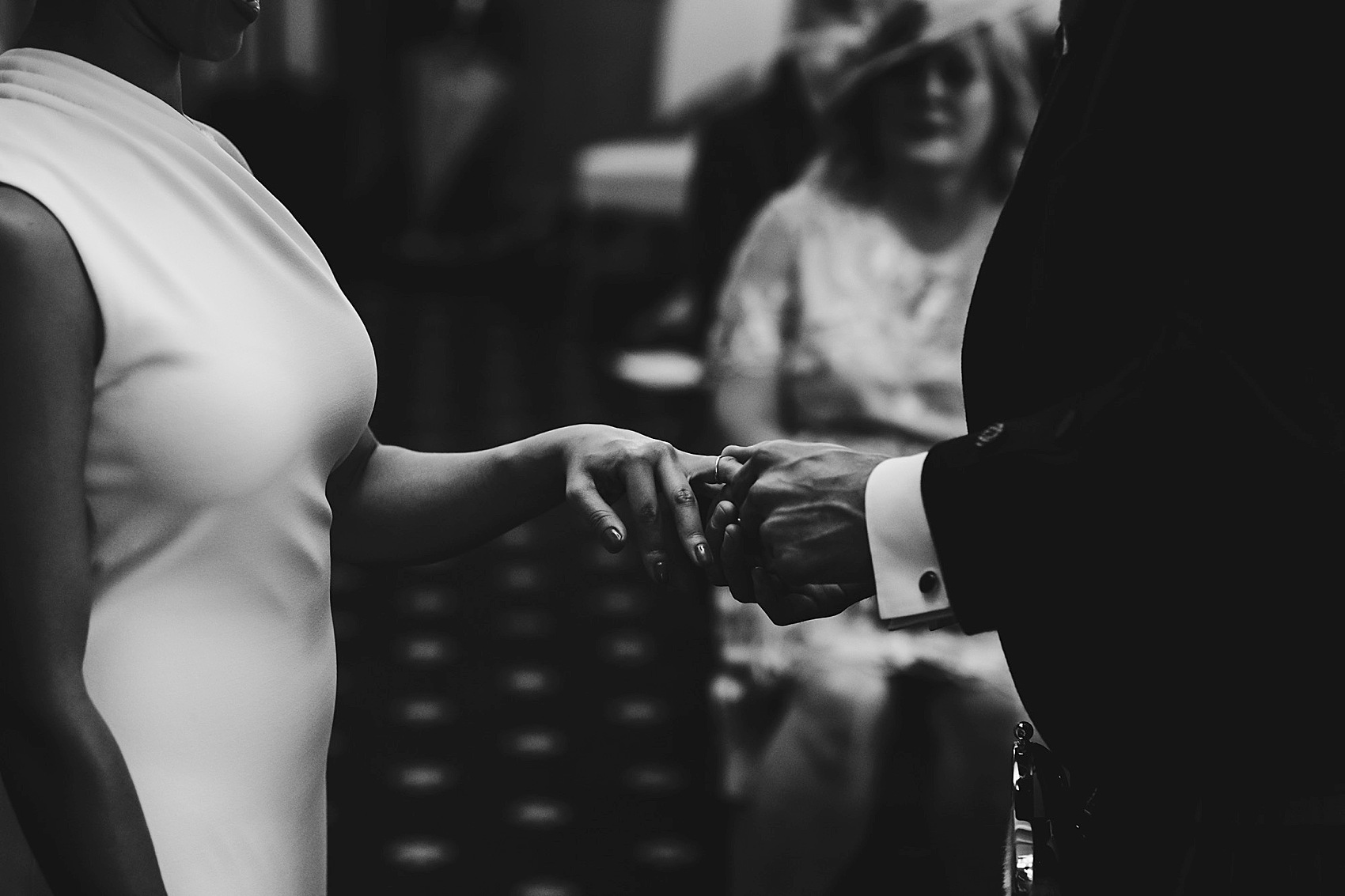 "We had two readings at our ceremony, the first was read by the bride's sister-in-law (the second verse of 'Absolute Beginners' by David Bowie) as we share a mutual love for David Bowie."
"The second reading was read by the groom's brother (the final paragraph from 'High Fidelity' by Nick Hornby). This book has a particular significance to the groom and was one of the first books he recommended to read."
"We used dried flower buttonholes comprised of a thistle and white rose combination, representing his Scottish and Yorkshire heritage, made by Florence & Flowers, who were brilliant in communicating and providing a fast turn-around at short notice."
"The groom wore a black watch tartan kilt and formal wear, in honour of his grandfather who served in the Black Watch regiment, hired from Slaters."
"Mr Kay's ring is a palladium band from The Beautiful Company, the metal chosen to suit his job."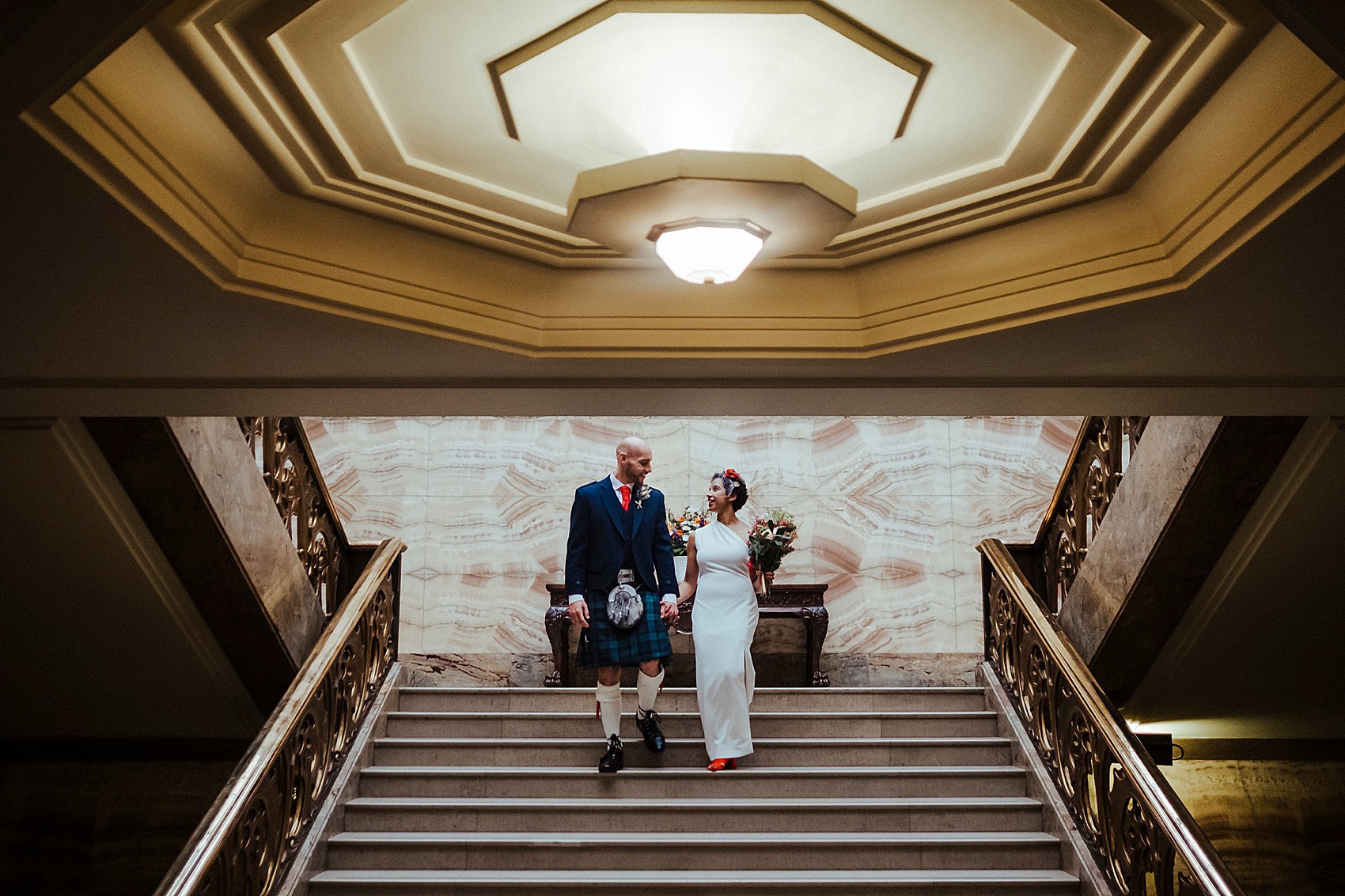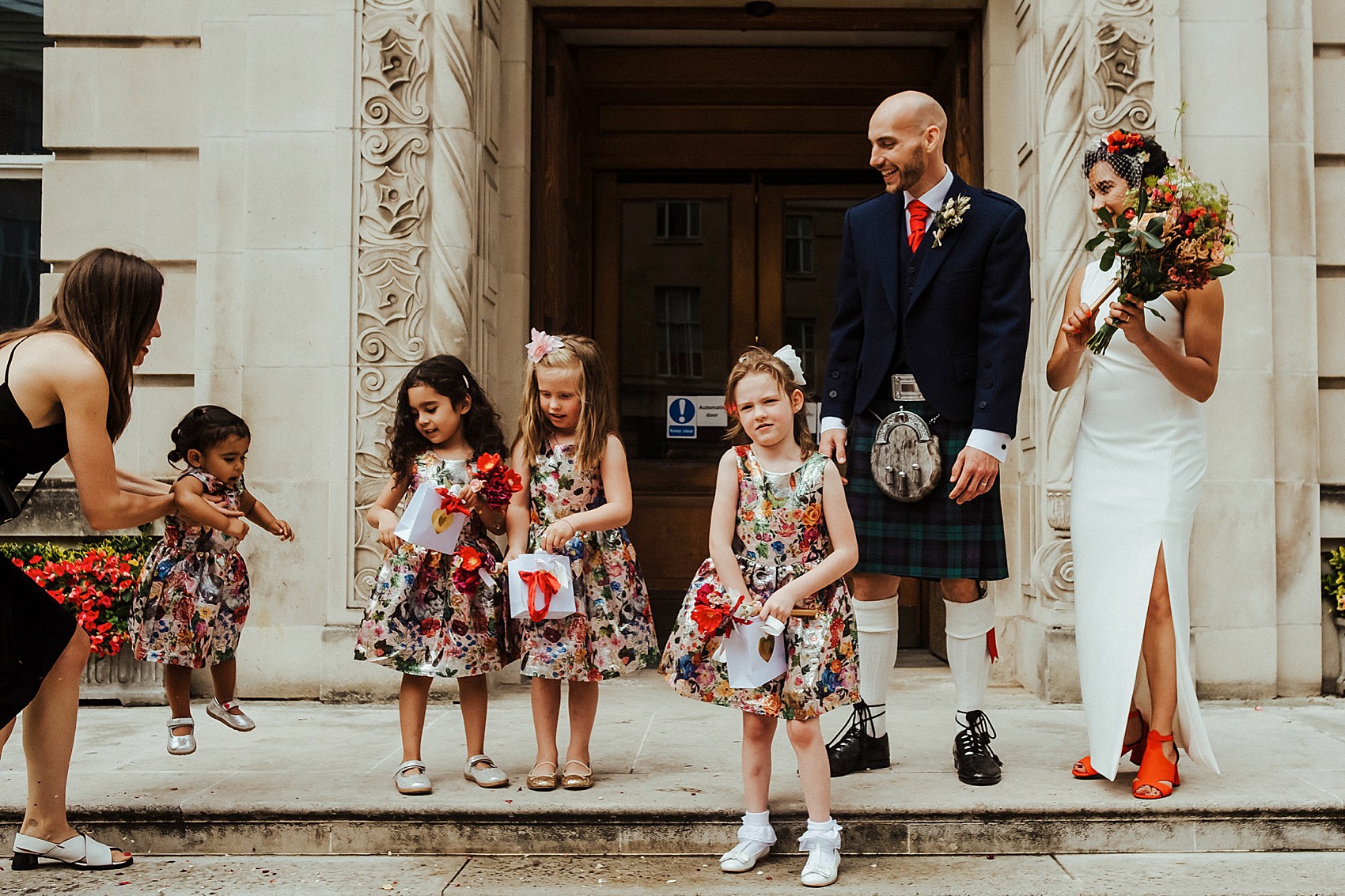 "I asked my three bridesmaids to wear any knee length, bright red dress they liked – I had seen them all wear red in the past, so I knew they would like the colour, that it suited them and would be something they would wear again. One wore Mango, the other Whistles, and the third wore & Other Stories."
"They all wore their own choice of shoes ranging from high street to Sophia Webster."
"The venue itself was quite rustic which we liked so we didn't feel the need to add too much décor – I made a ribbon garland using strips of fabrics in reds, blues, whites and pinks with gold letters of our name bought from Pelemele on Etsy."
"Our photographer, Matt Ebbage, was fantastic from the moment we asked him to photograph our special day. We were completely at ease with Matt, he blended in so well with our family and friends on the day and went over and beyond in delivering photographs that we absolutely love."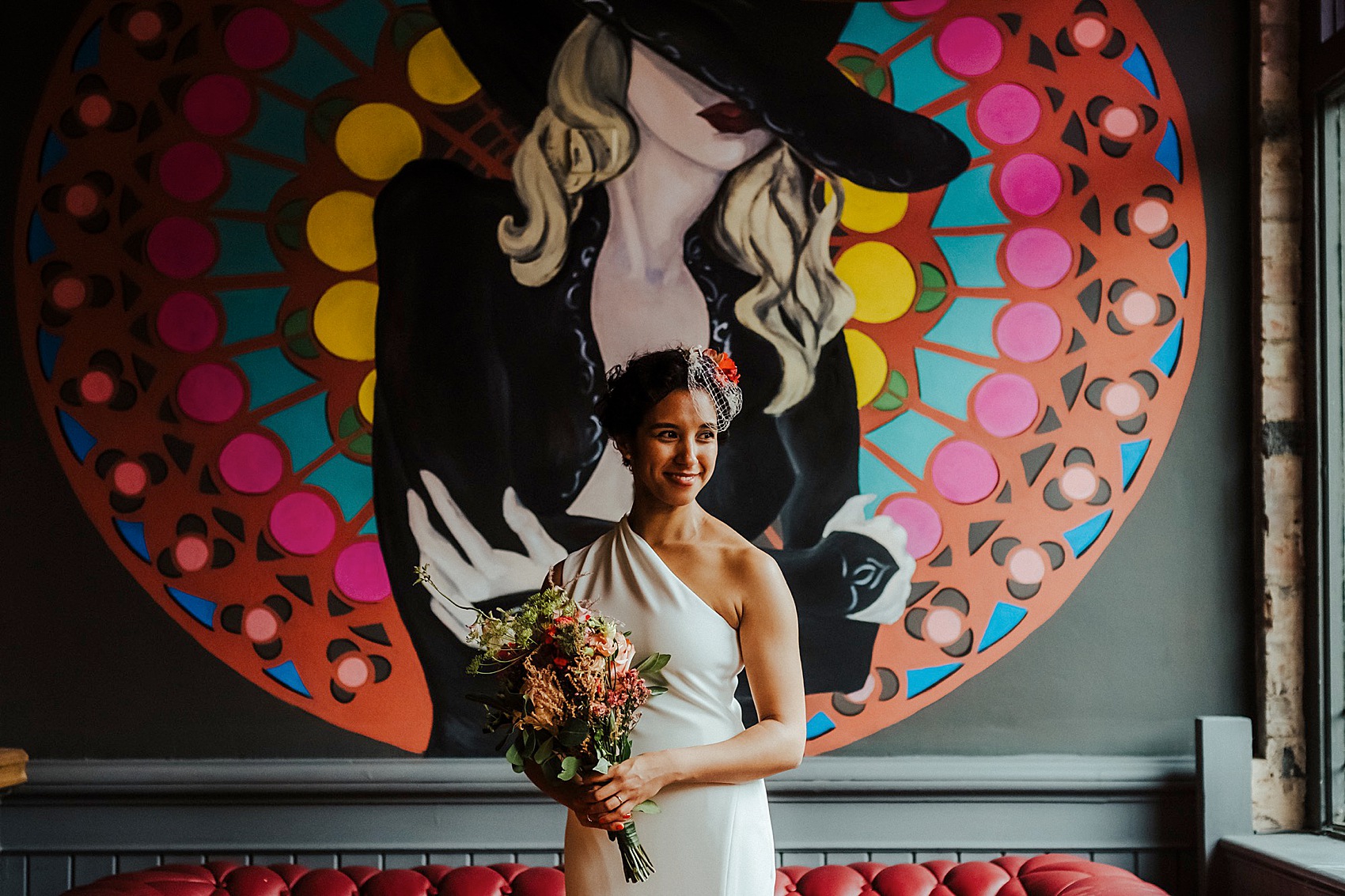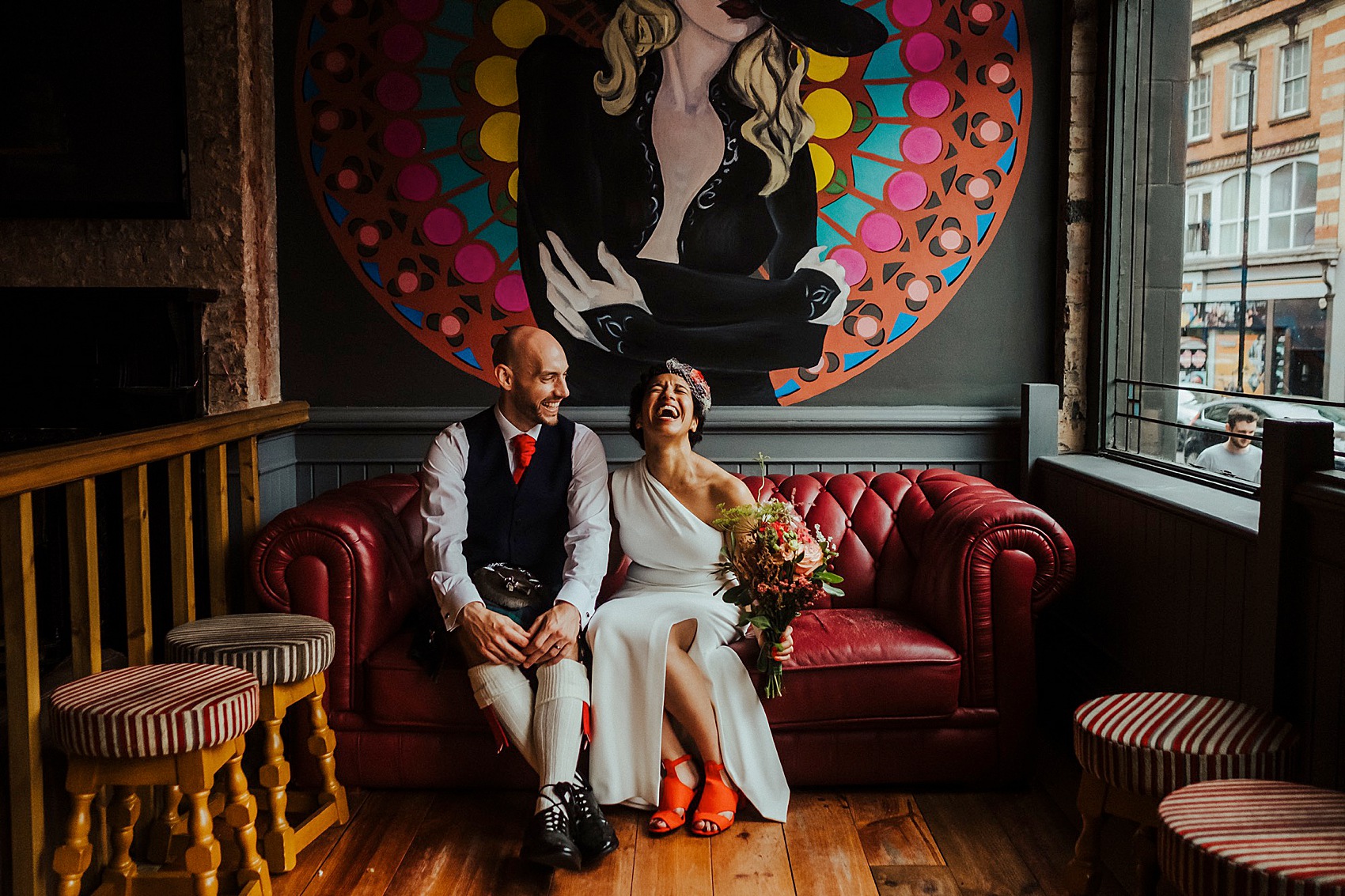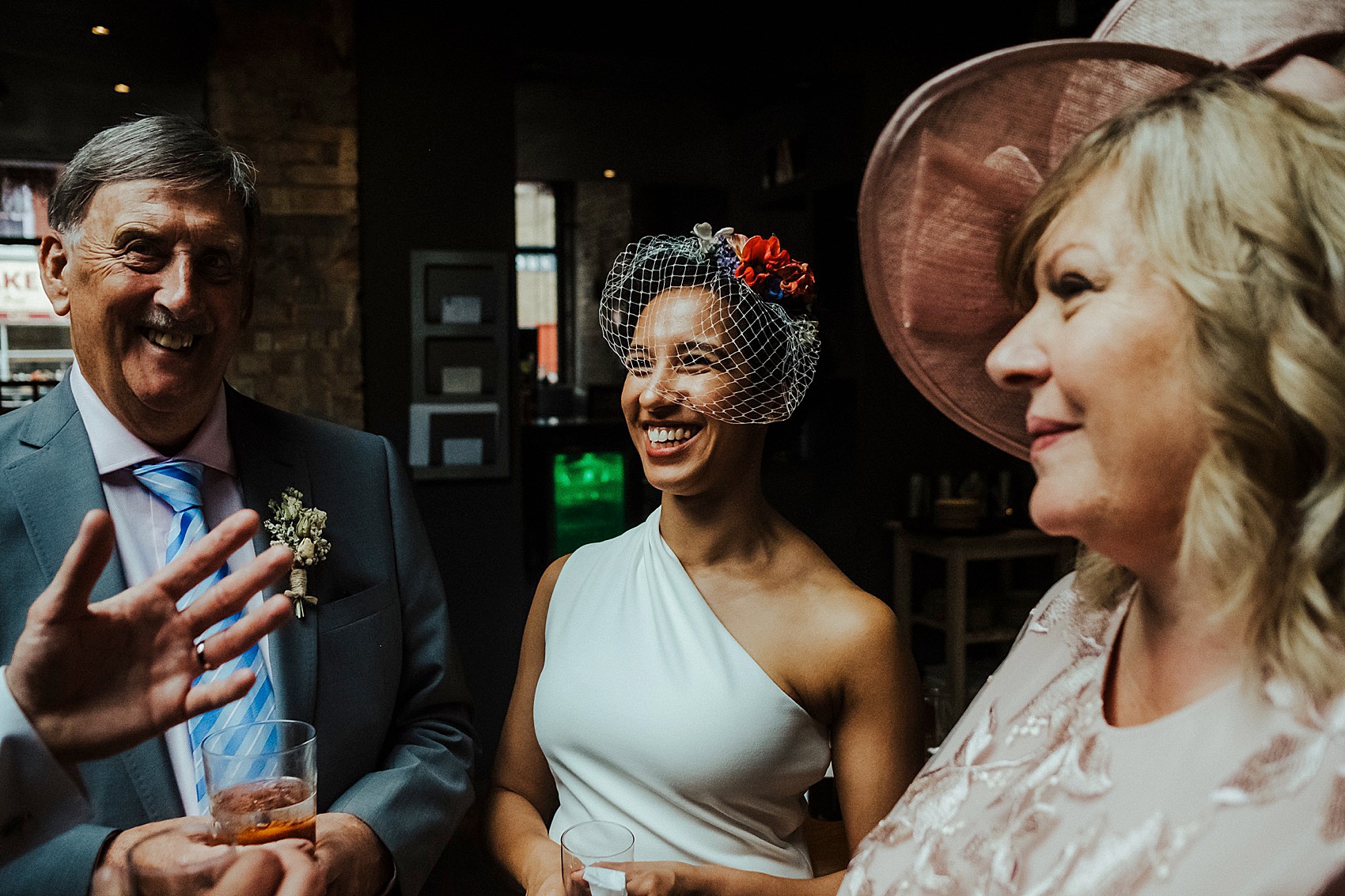 "Our favourite part of the day was greeting all of the guests as they entered the reception venue – we had initially planned for our families to join us in a 'wedding line up' but it became too complicated with little ones, but we really enjoyed having individual moments with everybody."
"It meant we knew we had definitely talked to every guest before the flow of Prosecco really started!"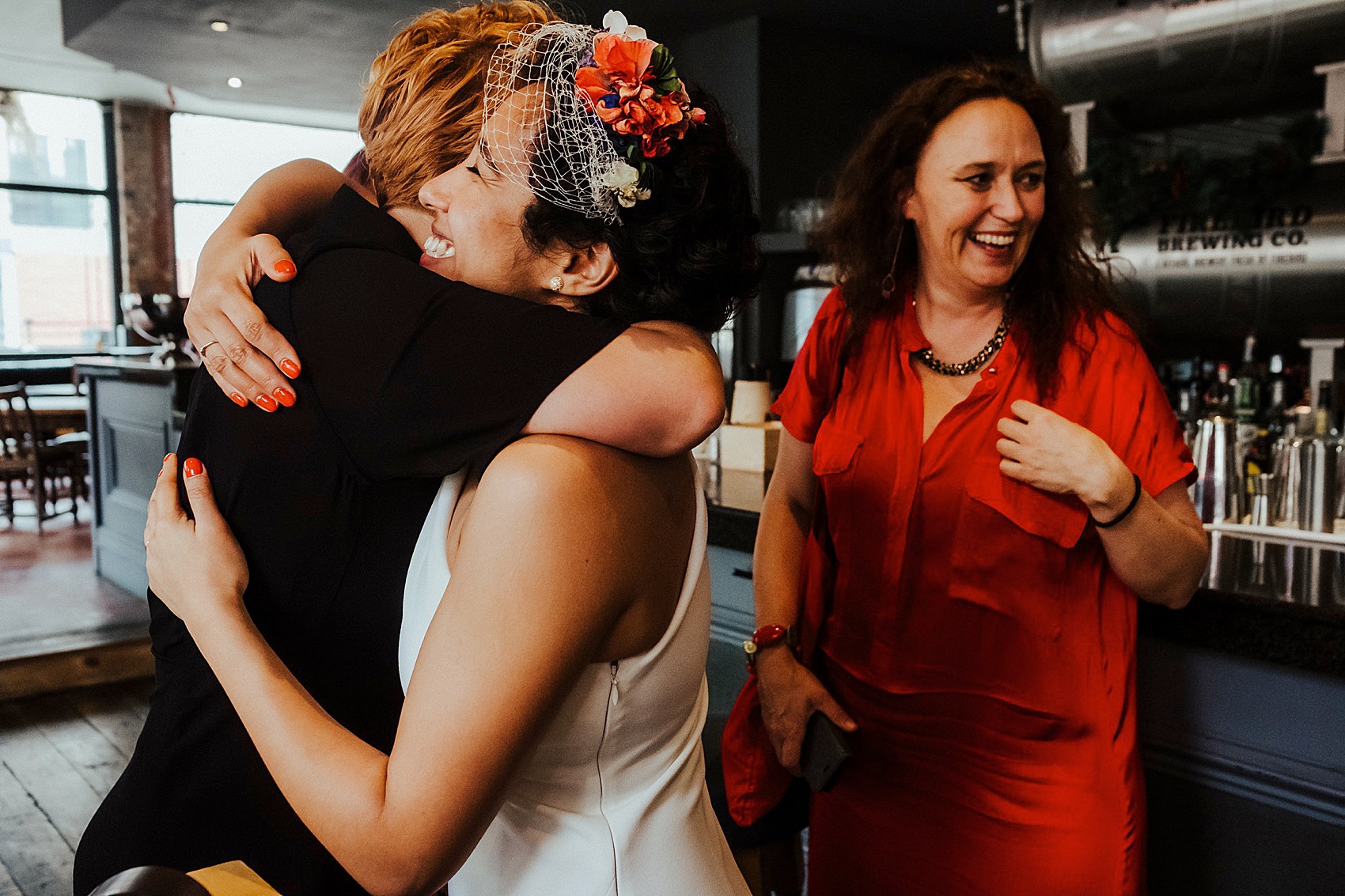 "Our food was supplied by the venue L'Affaire, their cuisine was French-British bistro inspired. We were able to choose our wedding lunch and reception canapes ranging from hot, cold and charcuterie to mini burgers."
"Our cake was made by one of my bridesmaids who runs a baking company www.mysweettoothfactory.com, and after researching ideas on Pinterest and Instagram, came to like the look of a semi-naked two tiered cake, decorated minimally with raspberries, blueberries and rosemary. The cake was a lemon drizzle sponge with raspberry filling in the bottom tier and blueberry in the top tier, all covered in cream."
"They were flavours that we thought suited the Summer vibe, would be light and refreshing and liked by most guests!"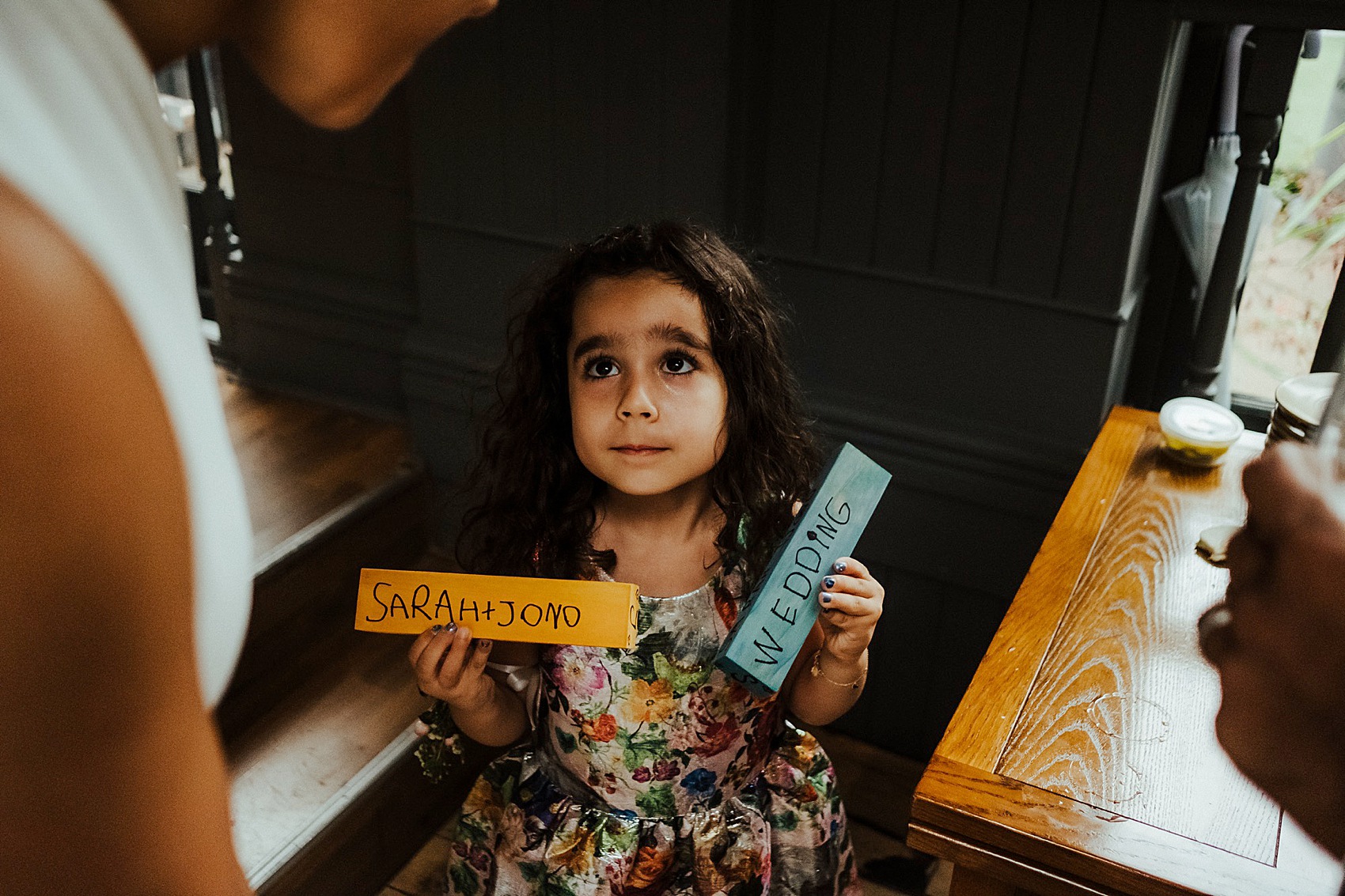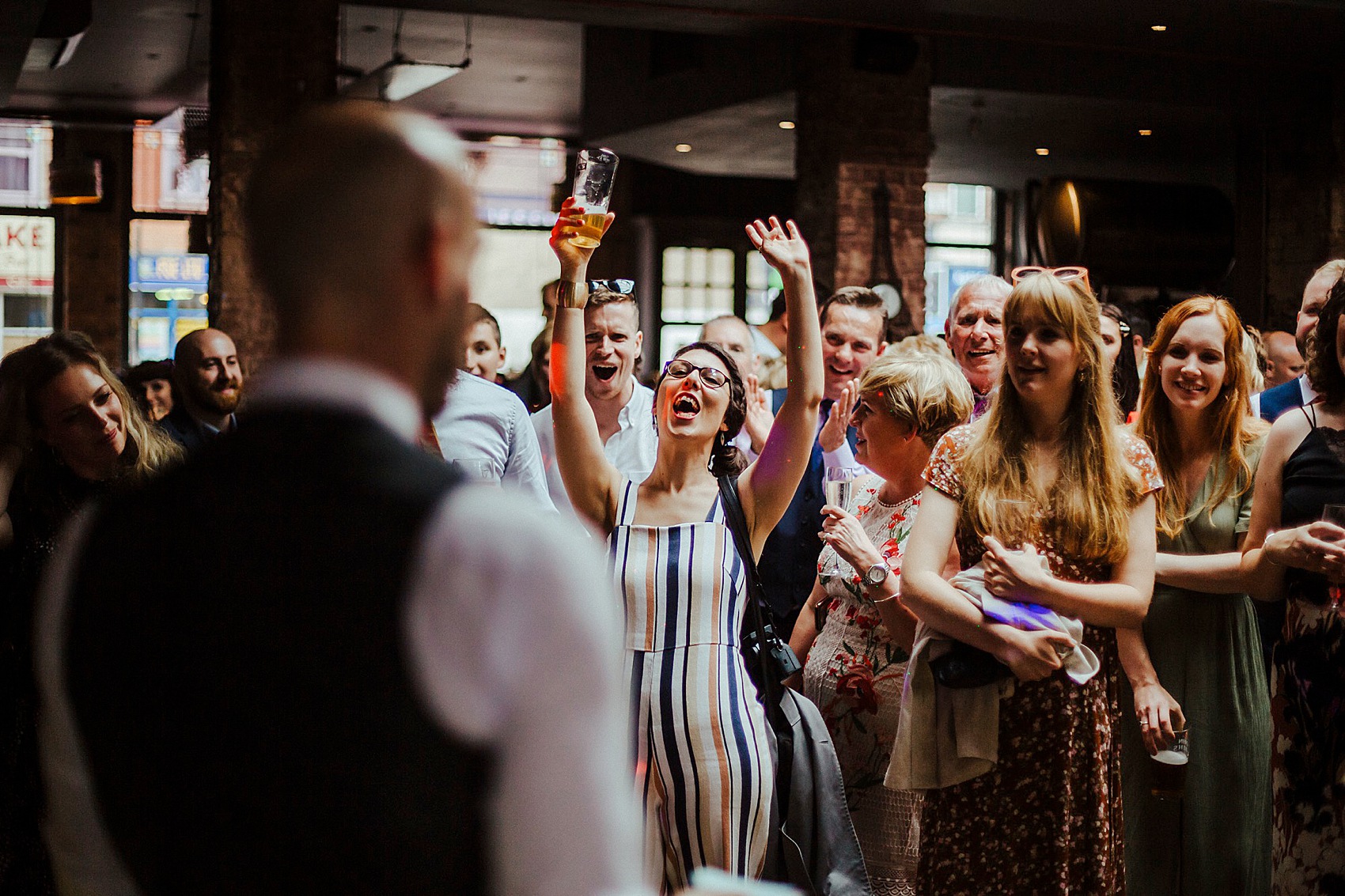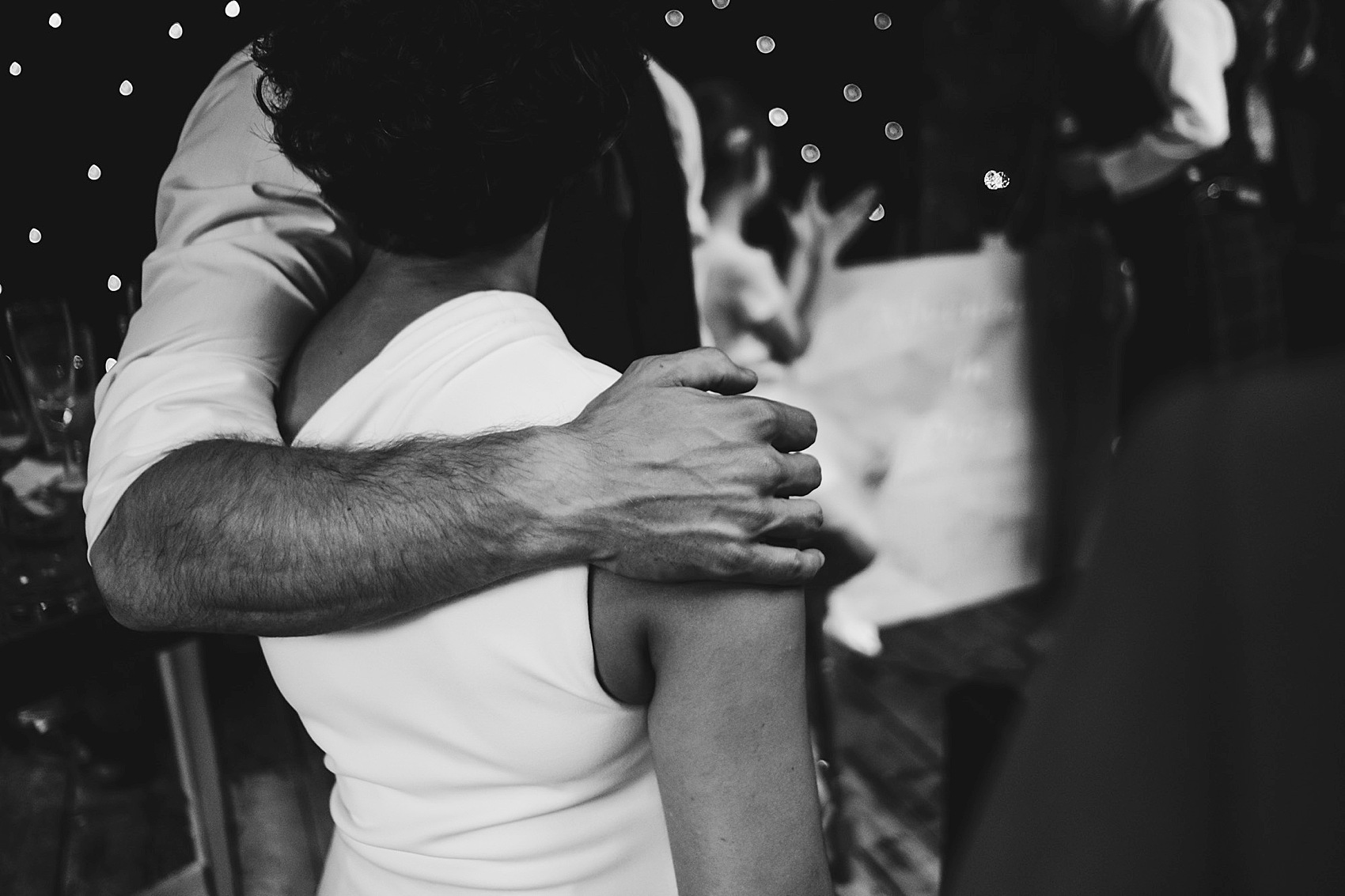 "We didn't have traditional wedding favours but opted for Percy Pigs that we had packaged in mini organza bags and placed inside a big red 'J&S' pinata, made by Pinyatay, so the guests had to play for their wedding favours."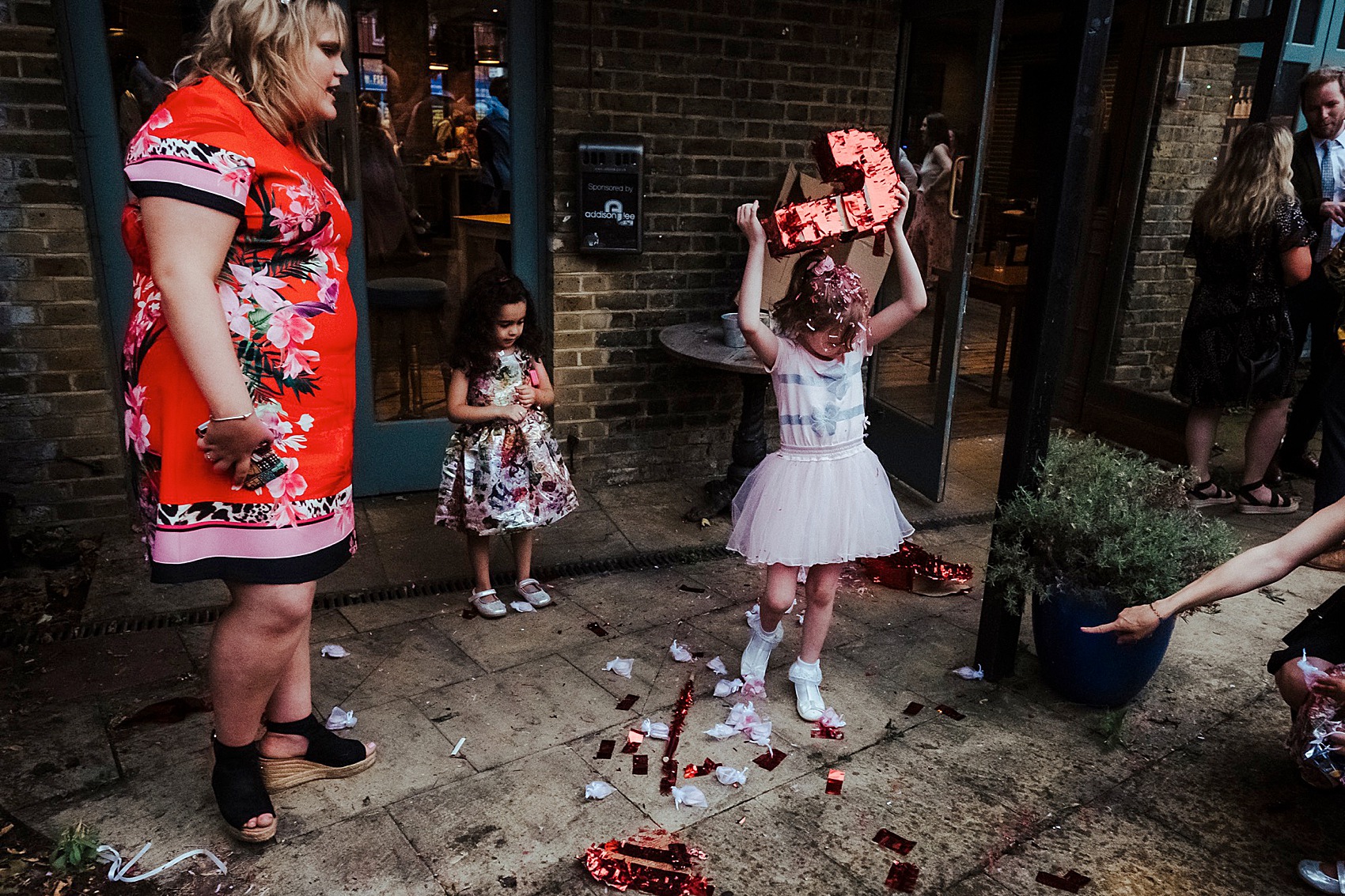 "Our first dance was 'This must be the place' by Talking Heads, one of the bride's favourite bands and such a beautiful romantic song."
"Our DJ was John Stanley of Adventures in Disco, who was a recommendation from a friend on Facebook."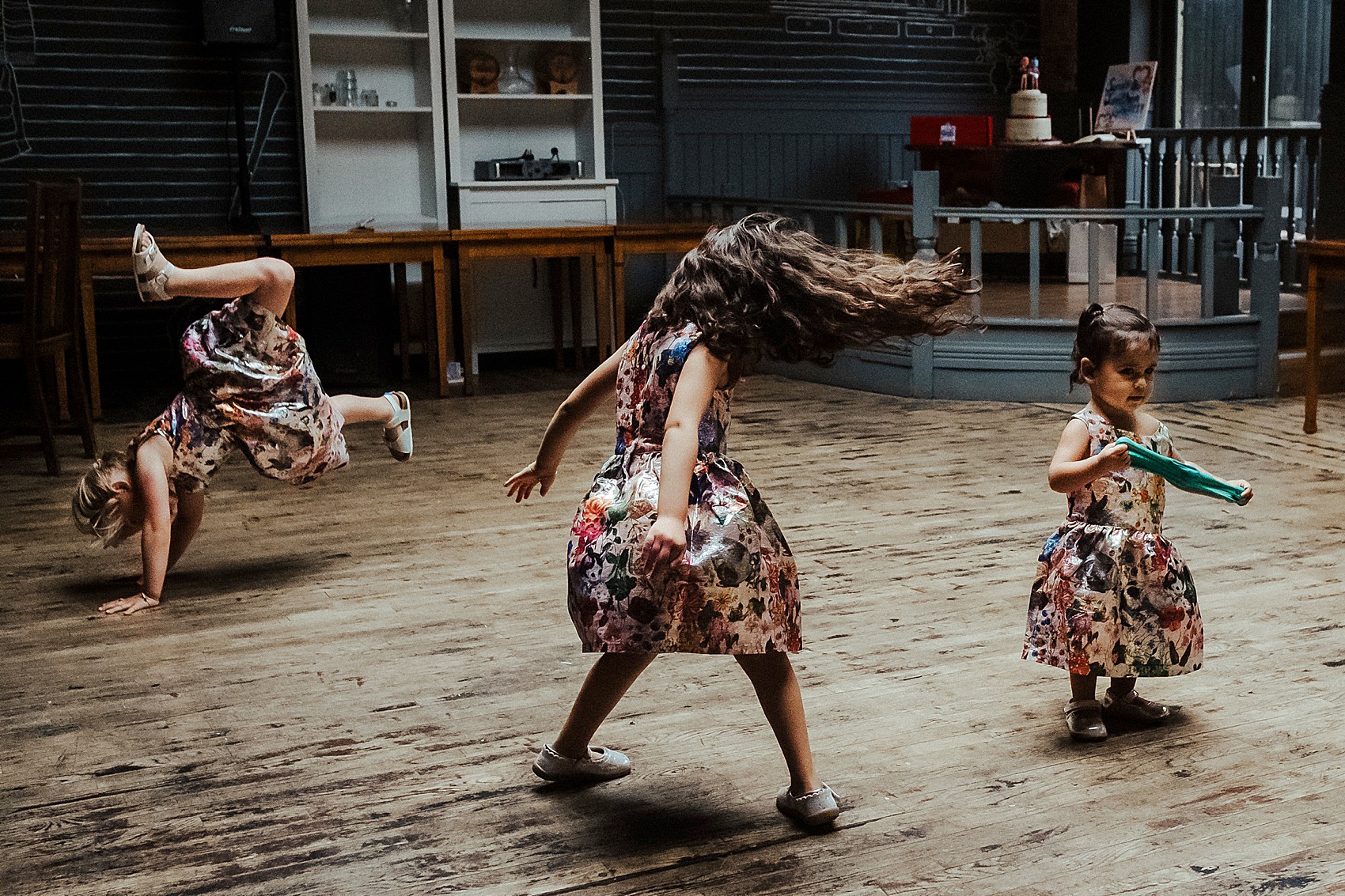 Words of Wedded Wisdom
"I would say the hardest thing was listening to everyone's advice (my mum, mother-in-law, families, friends, other brides!!) but having the confidence to ultimately make all the decisions between you and your husband-to-be. Take all the advice in but don't feel pressured to do what everyone else thinks you should do, its your big day in the end and should be exactly what you both want it to be."
"Also don't worry if the day doesn't go exactly to time – it doesn't matter, have fun and soak it all in because it does fly by!"
"As we paid for the wedding ourselves, we set the most realistic budget possible of no more than £9,000 and came in at £8,500 which we were very pleased and very surprised about!"
"Although we used Greenvelope for our invites and subsequent communication, we always had it in our plan to make 'real' wedding thank you cards – which we tailored to each guest by picking individual photographs that featured them at the wedding. These have been brilliantly received and although they took a long time, it also meant we could make the most of the excellent photographs."
"One thing we definitely would have done differently is stay in the same hotel that most of our guests and family stayed in – we chose to stay in a separate hotel as we thought that is what we needed to do but we wished we had stayed with everyone else and carried on the party and been able to have breakfast with them the next day."
Love and thanks to photographer Matt Ebbage for sharing this lovely wedding with us. We have more celebrations from Matt coming up soon, but in the meantime lovely ones, you can see more colourful weddings here and I sincerely hope the lively hues brighten your day a little.
Sending much love to you all – please take care over the Easter lockdown weekend,
Annabel