A wedding dress with pockets in its gorgeous full skirt – need I say anymore?! Okay, maybe a little more, because we're off to the Dordogne in France for another absolute beauty of a destination wedding.
There's a flurry of pink peonies, fluttering bunting, bridesmaids in cornflower blue, silk ribbons, and paper lanterns, all taking place at a charming rural country estate.
Lauren, who works in marketing for Amazon advertising, and Nils, who works in social media at a sports PR agency celebrated their marriage on the 29 June 2019, with a Catholic church ceremony followed by a wonderful party at La Léotardie, Saint-Georges-de-Montclard.
I'm delighted to share the work of our Little Book members The Georges today, who did an amazing job of capturing all of the charm, whimsy, and fun of the day in their super-stylish way.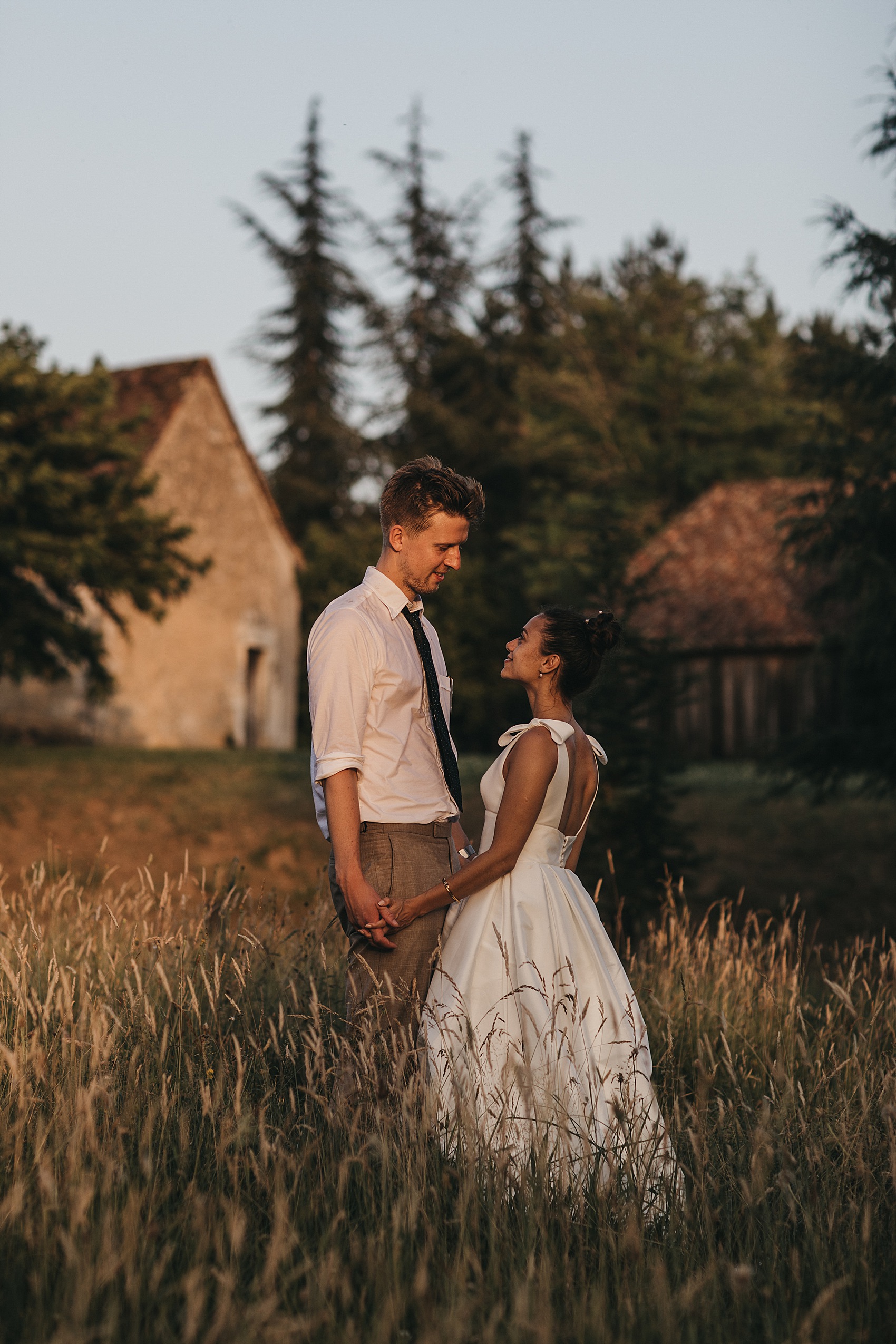 "I cannot recommend Lou and Tim enough. Before we met them, we only knew what we didn't want – which was posed, unnatural, formal. Lou and Tim gave us hundreds of photos of pure joy, happiness and colour. Everyone in these photos looks glowing and radiant and it's so clear how much fun everyone is having by the looks on their faces. They captured the whole day to perfection."
"Not only are they incredibly talented but they are lovely people. I broke my leg two weeks before the wedding so was very worried that I wouldn't be able to stand for the photos."
"Lou and Tim made sure I was comfortable and at ease for all the photos, and really considered how to get the best photographs given my broken leg!"
"The fact they are married is fabulous. Tim spent the morning with Nils and the groom's party, and Lou spent the morning with me and my bridesmaids."
It was so special to see all of Nils' morning documented so beautifully, and I was stunned at the moments they had captured, which I had no idea about at the time: my dad getting ready in the morning, my brother-in-law getting the car ready, my mum organising everyone at the church."
"They are just magical photos. Thank you Lou and Tim."
Colourful, botanical inspired watercolour stationery was made by Lauren's talented mum Yvonne South, who is an artist. If you're interested in having her create something for your day, you can reach her by email.
"We wanted our wedding to be romantic and free flowing. We loved the idea of a party that went on into the night, rather than being constrained by set timings. We were definitely inspired by our love of festivals and being outdoors, and La Leotardie's natural beauty."
"I guess the style we had in mind was quite whimsical– think pale blue silk ribbons, damask roses, pink peonies, candlelight and white paper lanterns and strawberries and cream under the stars. We were always adamant that our wedding would be open to children and babies, as we wanted our friends and family to feel relaxed and at home."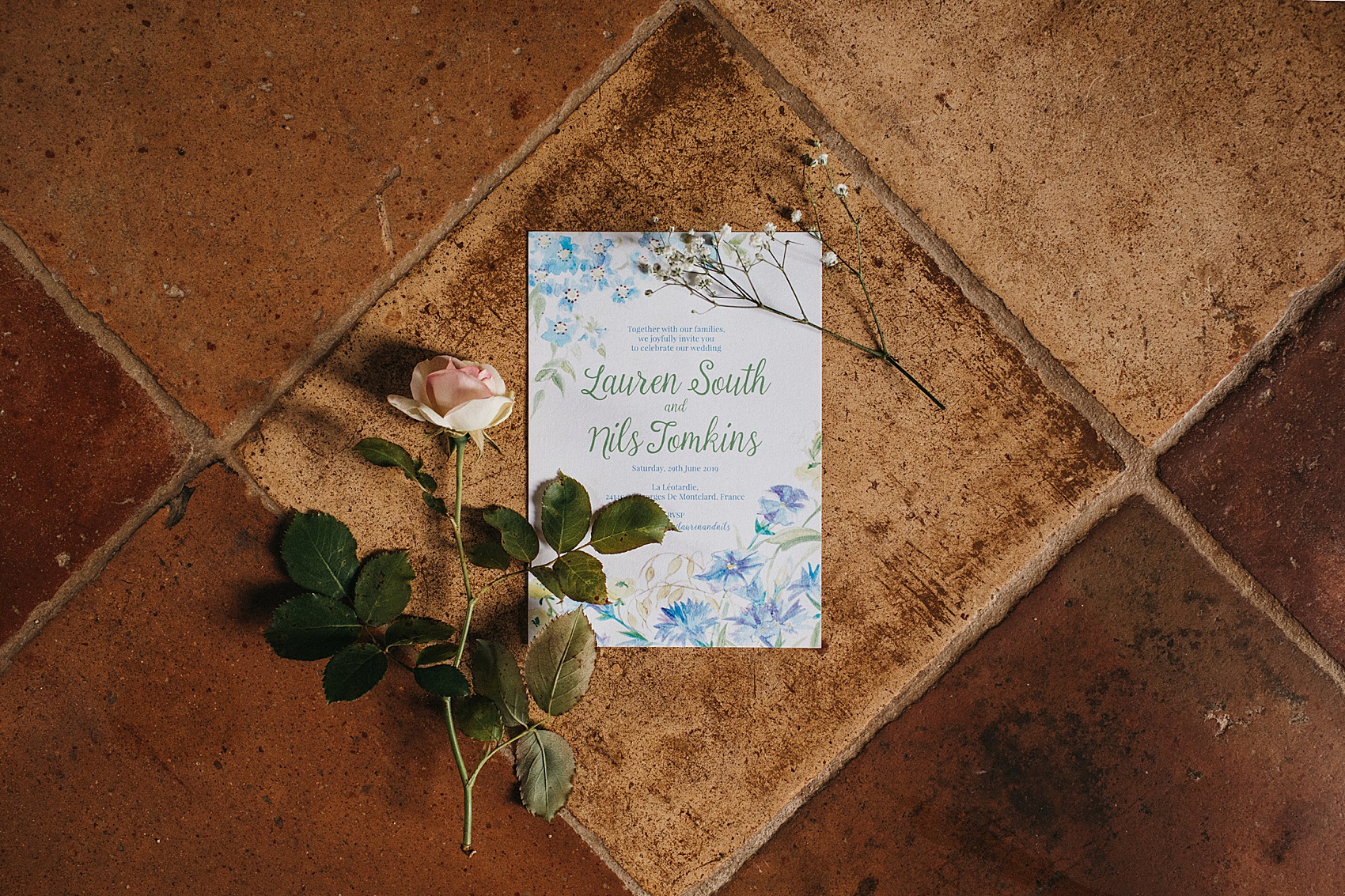 "We knew immediately we wanted a wedding celebration which felt a bit like a festival – something organic and a bit wild, and naturally beautiful. Nils had been to a wedding at La Léotardie a few years ago, and loved the experience."
"We saw some beautiful chateaus, but none of them felt quite right until we saw La Léotardie. I felt so much emotion as we drove through the beautiful pine forest, and the sky cleared as we drove up to the house itself."
"It's such a magical place – set in the middle of a valley with pine trees surrounding it, and its own turquoise pool, and a dove house set in the middle of a huge green, rolling walled garden. It's rustic but elegant, and the colours are beautiful."
"Practically it was perfect too – it accommodates around 100 guests on site (in the main farmhouse and surrounding gites) and there is the most charming Catholic church about 5 minutes drive away. It was beyond perfect, and nothing else came close to comparing to it."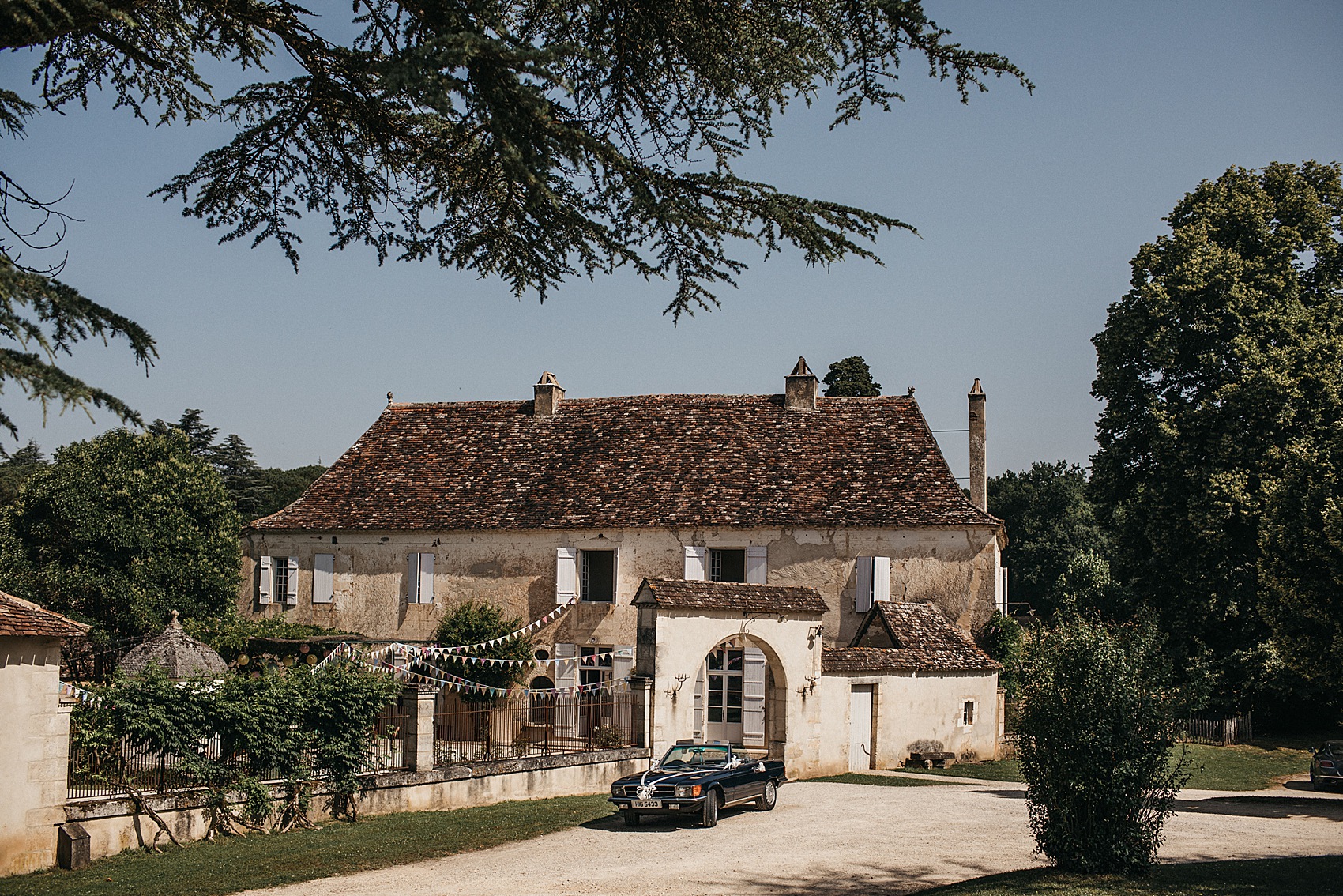 Lauren did her own make-up, using an array of lovely products by the likes of Laura Mercier, NARS and Charlotte Tilbury. Her hair was styled in a sleek and elegant braided top knot by Guy Kremer.
"It's a lovely story. Guy has cut my mother-in-law's hair for years and years in Winchester, and she took me to him for a bridal hair trial. He is a wonderful kind person, and when he found out I was getting married in France not too far from his home town, he made it happen that he could be my hairdresser for my wedding day."
It was very special having him with us the morning of our wedding to make sure we all looked and felt beautiful. Thank you Guy!"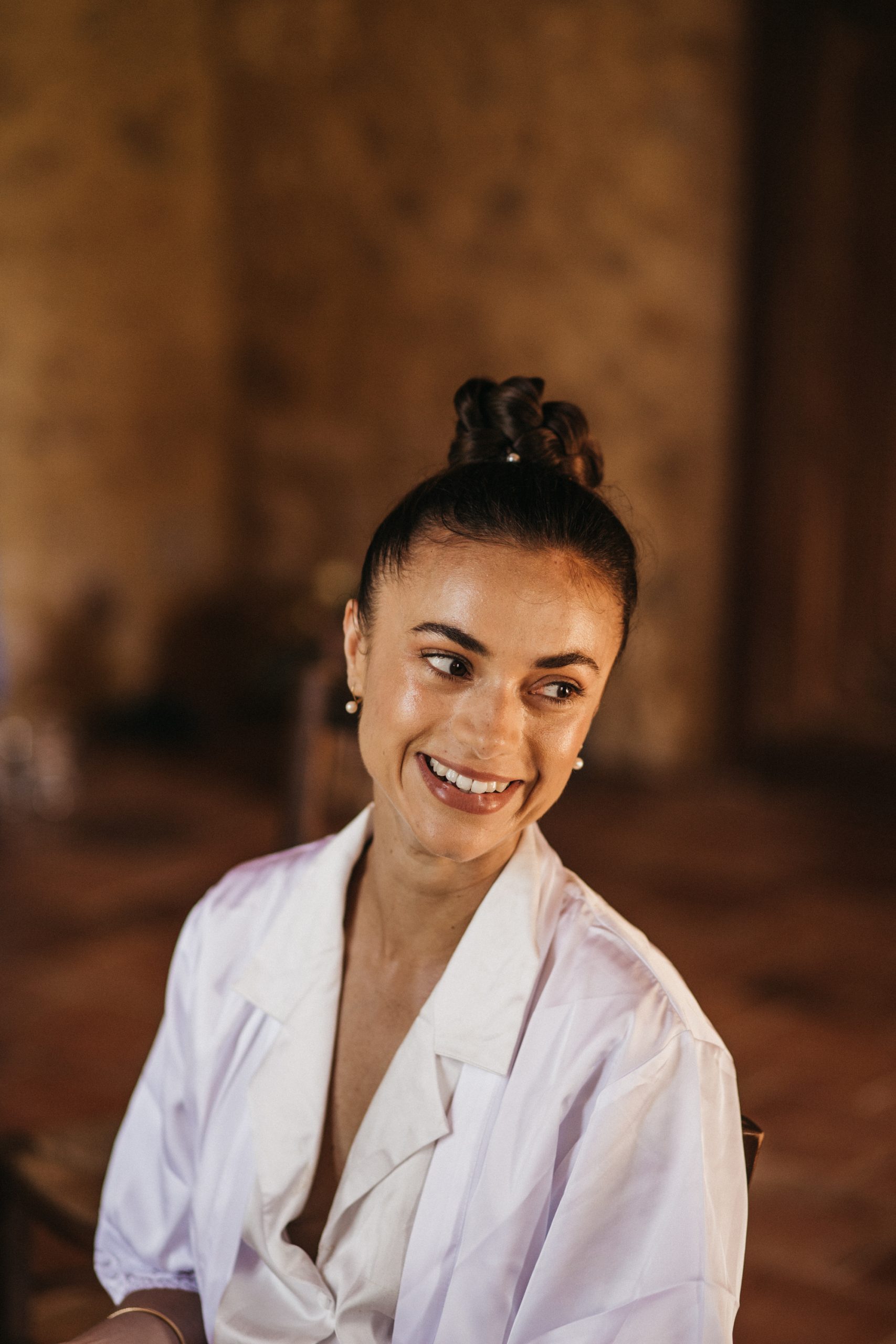 Guy brought his own hair accessories with which to dress Lauren's hair – delicate pearl pins to match the pearl drop earrings gifted to her by Nils, and hand delivered by her brother-in-law on the morning of the wedding.
"I wore two gold bangles given to me by mum who received them as a child from her dad (my grandpa) when they lived in India. I also wore a gold bracelet with sapphires given to me by my aunty in Istanbul, who sadly could not make our wedding as she is unwell."
We've long been fans of bridal designer Jesus Peiro's beautifully crafted dresses here at Love My Dress, and for her wedding gown, Lauren chose a showstopper – the '933' from brilliant boutique and Little Book members The Pantiles Bride, in the picturesque Kent town of Tunbridge Wells.
I just love how this dress manages to be modern, with it's low V neck, square cut back and pockets in the skirt, but also timeless with the full, structured shape of the skirt, the long train, and those pretty shoulder bows.
"I cannot recommend The Pantiles Bride enough. This was the first dress shop I went to, and actually the dress I wore on my wedding day was the first dress I tried on. They have an amazingly varied selection of dresses of all shapes and sizes from different designers."
"It's a great place to go if you are open to trying on dresses and designers, and receiving amazing advice from the Pantiles team. Shout out to Alex who looked after me so well, and seemed to just get my style after 5 minutes."
"Nothing compared to the way this dress made me feel. It made me stand up tall and straight. It made me feel sexy and confident and strong. I love this dress for being the perfect balance of modern elegance and timeless classic."
"I am very petite ( 5ft 2) and my husband is 6 ft 4, so I was conscious of not disappearing next to him. This dress is structured and dramatic, yet so feminine and romantic with its bows and satin and v-neck. I love it so much."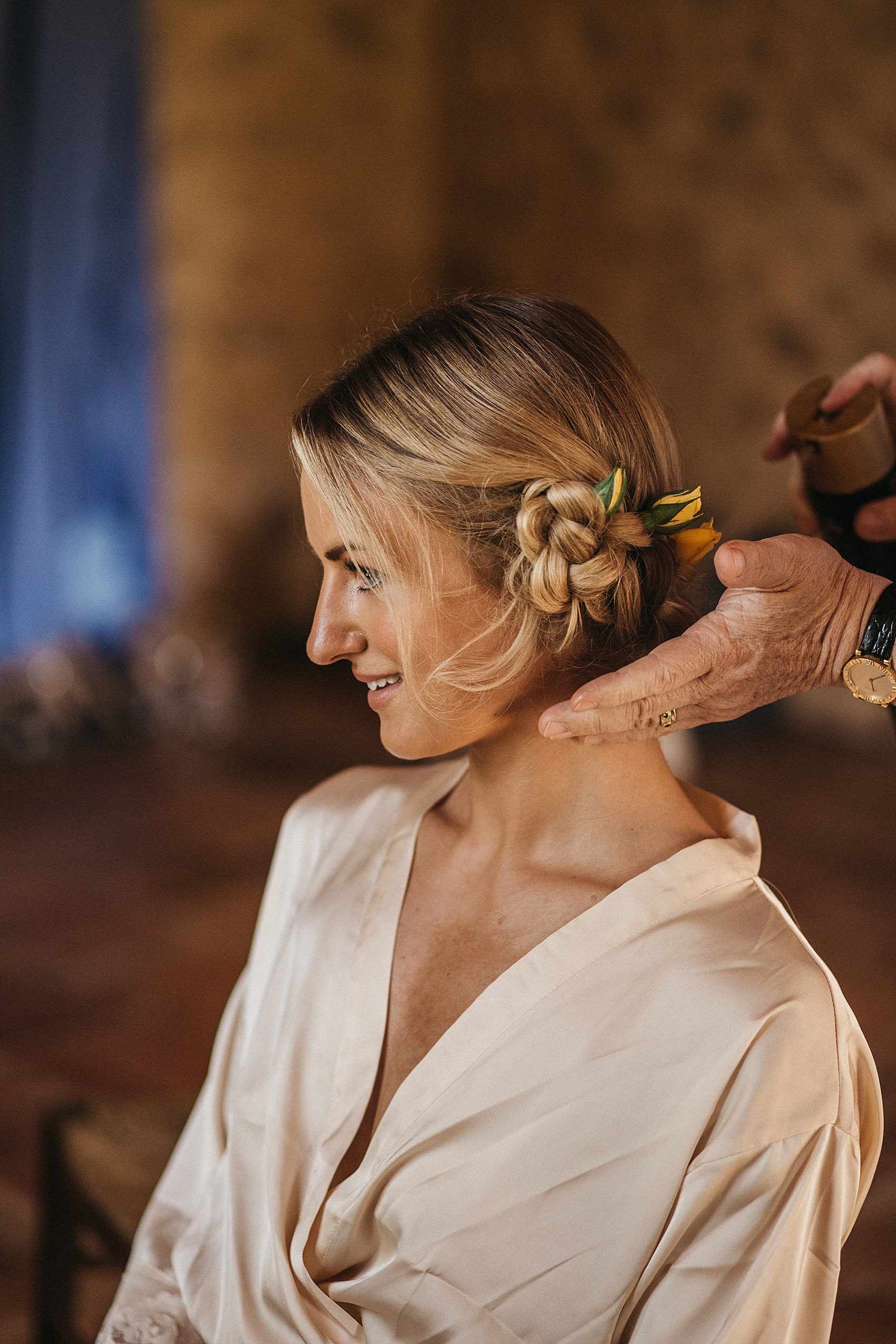 "The bridesmaids' dresses were all TFNC London cornflower blue dresses in four different styles. My bridesmaids picked their favourite to wear, so we had a mixture of pleats, open backs, lace, and a bit of a ruffle. Because of the different textures, the cornflower blue looked slightly different, which I loved."
In their hair, the bridesmaids wore fresh roses picked from the gardens at La Léotardie, and they chose their own shoes and jewellery to go with their dresses.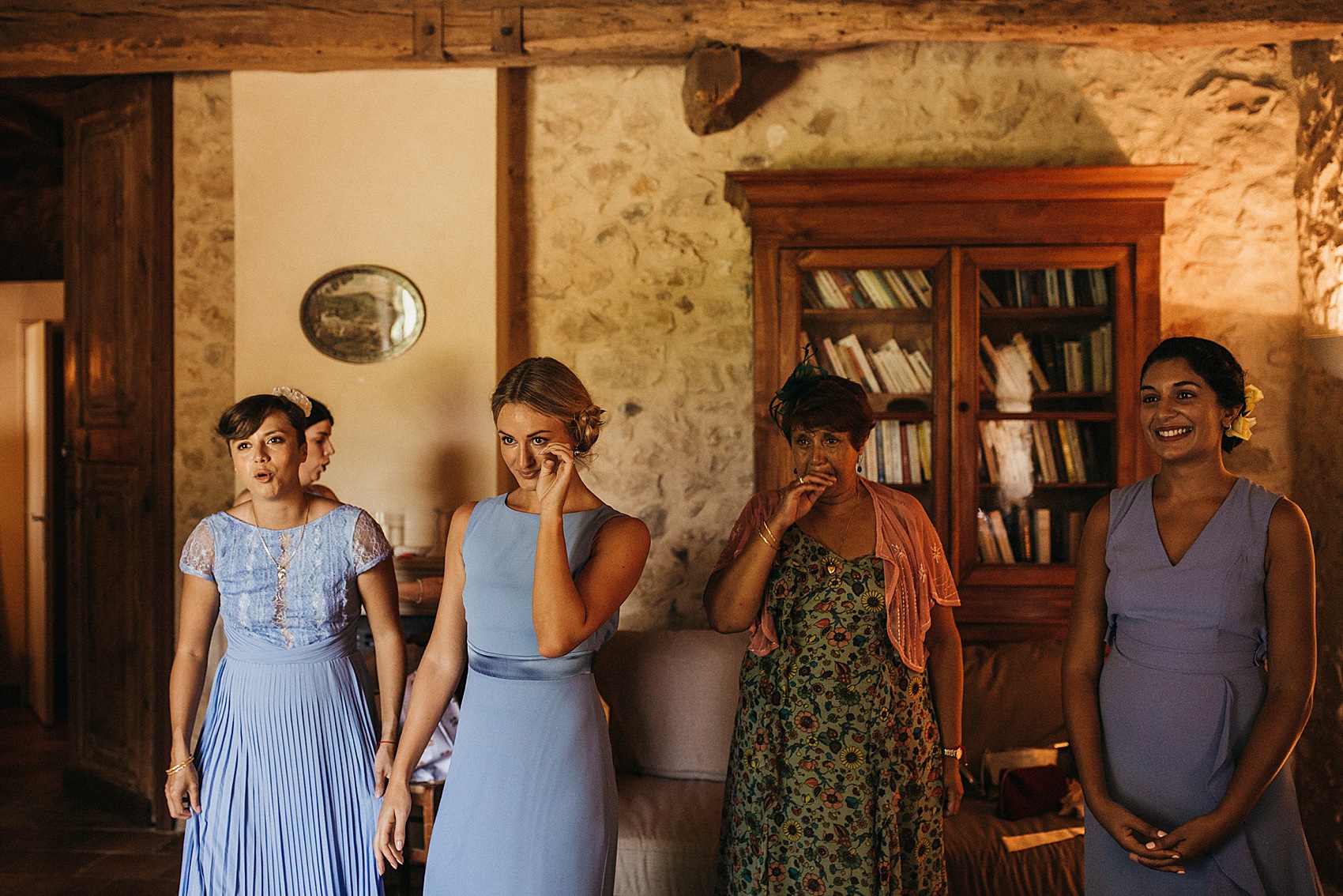 Although it was a relaxed affair, Lauren and Nils did have support with on-the-day coordination, especially given the fact that Lauren had unfortunately broken her leg a couple of weeks before the wedding. Lucy and Rich from Mise-en-scène Extraordinary Events were on hand to make sure everything ran smoothly.
"Breaking my leg made me feel like I needed the extra support, and I am so glad we did because we also experienced a heat wave in France (48 degrees on the day) which we could not have anticipated or planned for!"
"I really recommend couples thinking of a destination wedding on a budget to consider doing the planning from the UK, and then hiring an on-the-day coordinator or some extra help the week before."
Florist Agnès Laye created dreamy bouquets for Lauren and her bridesmaids; coral peonies, jewel toned dahlias, cosmos, ranunculus, and roses, tied with silk ribbon.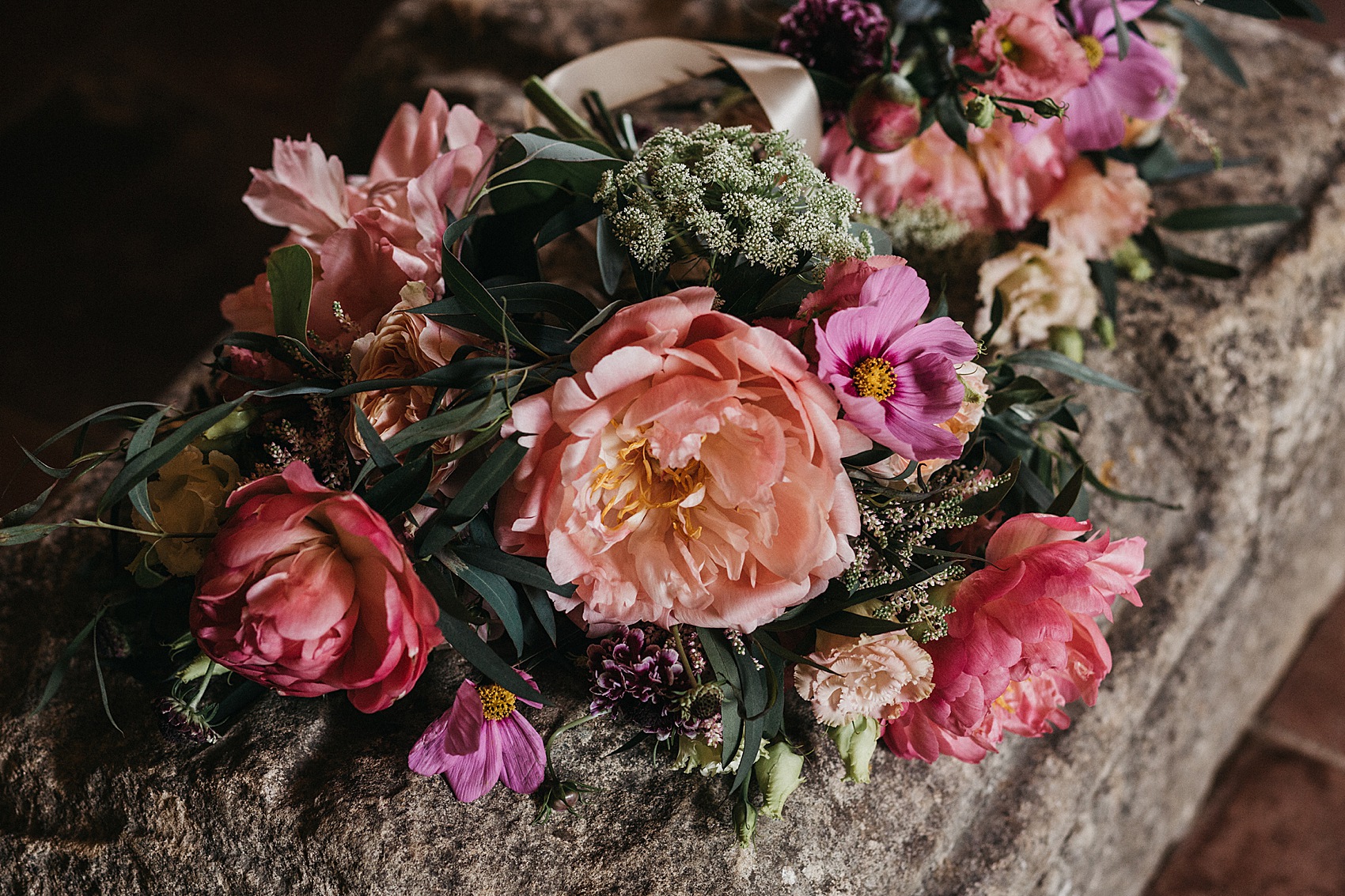 "I wanted peonies as they represent a happy marriage, and I wanted my flowers to be a trailing, cascading bouquet with lots of scent. I thought the pink would offset the blue dresses, and warm up the boys' suits."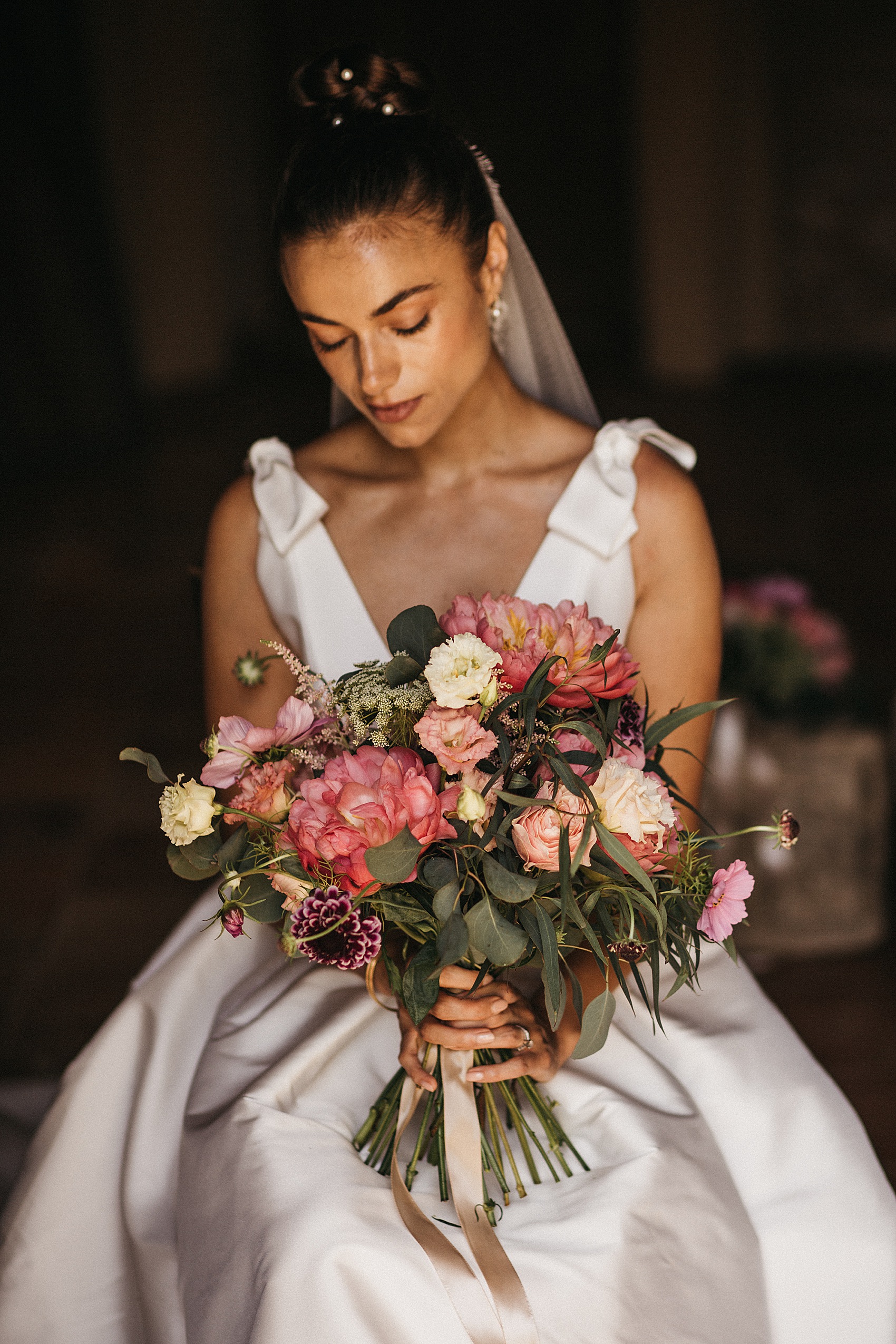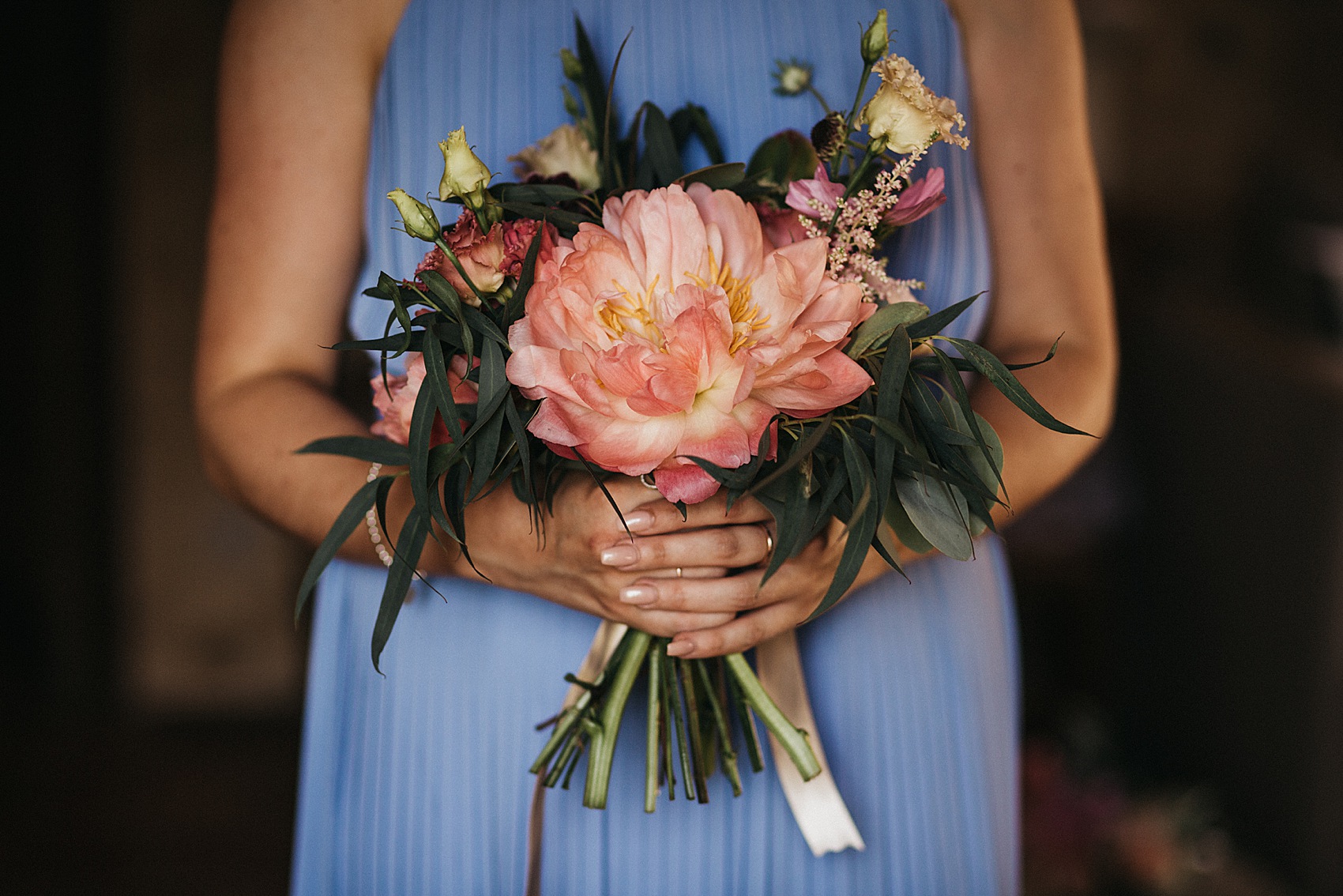 "We met at work. It was my first job after graduating, at a big media agency in London. Nils romantically asked me out via letter (after weeks of getting advice from my teammates at work!). I said yes, and the rest is history. We got engaged after we'd been together for around five years."
"Nils proposed whilst we were on holiday in Kerala, on the Allepey backwaters on a houseboat – just the two of us at sunset. He proposed with his grandmother's engagement ring. We were engaged for 20 months before our wedding day."
Lauren's veil was floor length silk edged with lace from Richard Designs, and her shoes were blush pink leather platform sandals by Chie Mihara via Yoox.
"The leather is very supple and soft, and knotted over the toes. Chie Mihara includes a handwritten note within the shoe box of every pair of shoes. The packaging is so lovely, as the shoes come with a material drawstring bag as well. I wanted to keep to a Spanish designer to go with my Spanish dress."
"I wore Narciso Rodriguez For Her. This is my scent I have worn for many years. I love how sensual and floral it smells – it's musky but sweet. I wore Aesop's Hydrating Geranium Oil on my skin, given to me by my best friend."
Nils' wedding outfit was perfect for a summer wedding – a light taupe suit by Richard James, which he wore with a white shirt and polka dot tie, polka dot socks from Reiss, and 'Bass Weejuns' loafers by G.H. Bass & Co. He also wore his grandfather's 1971 Seiko watch, with a black strap and gold face.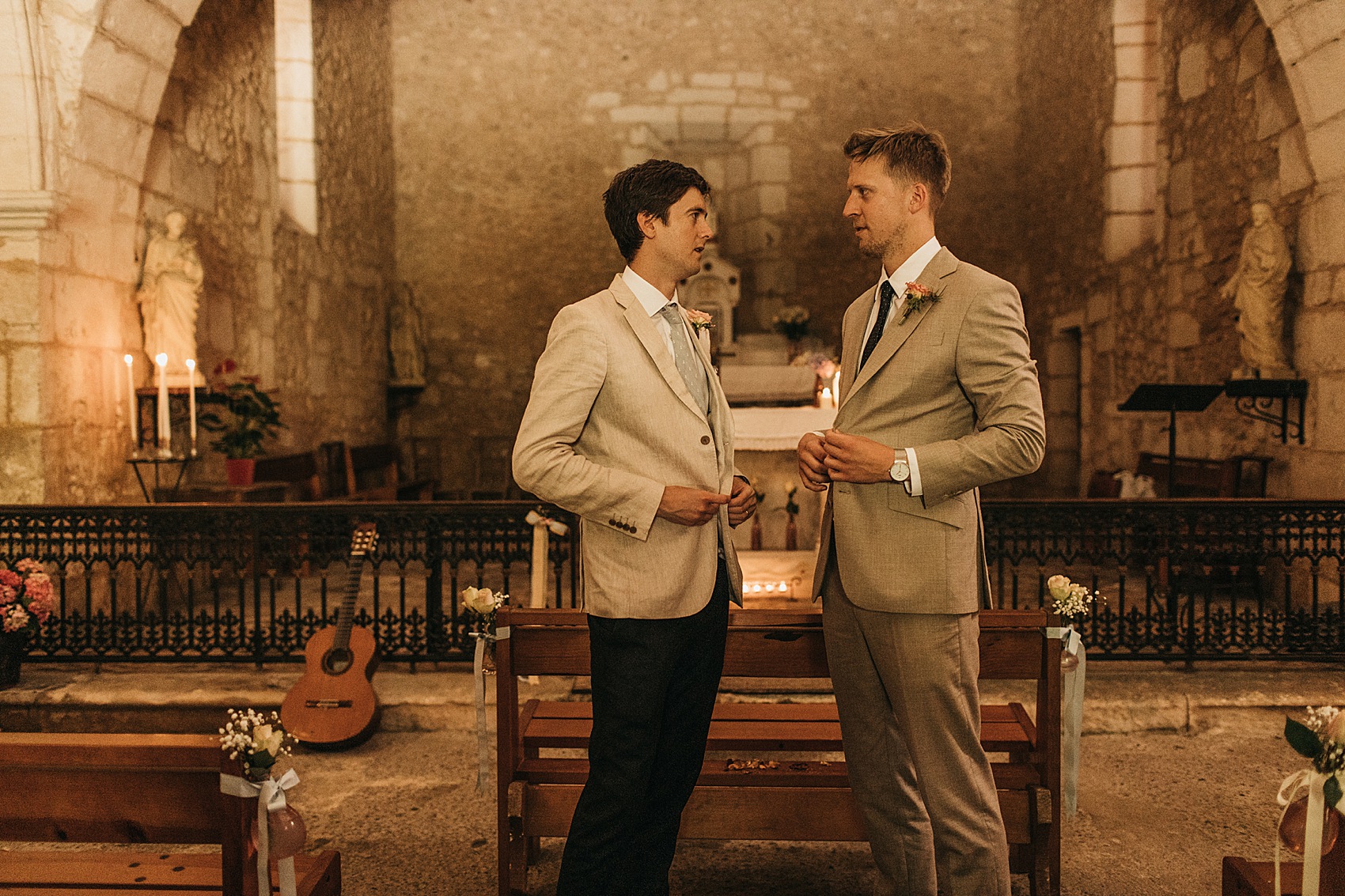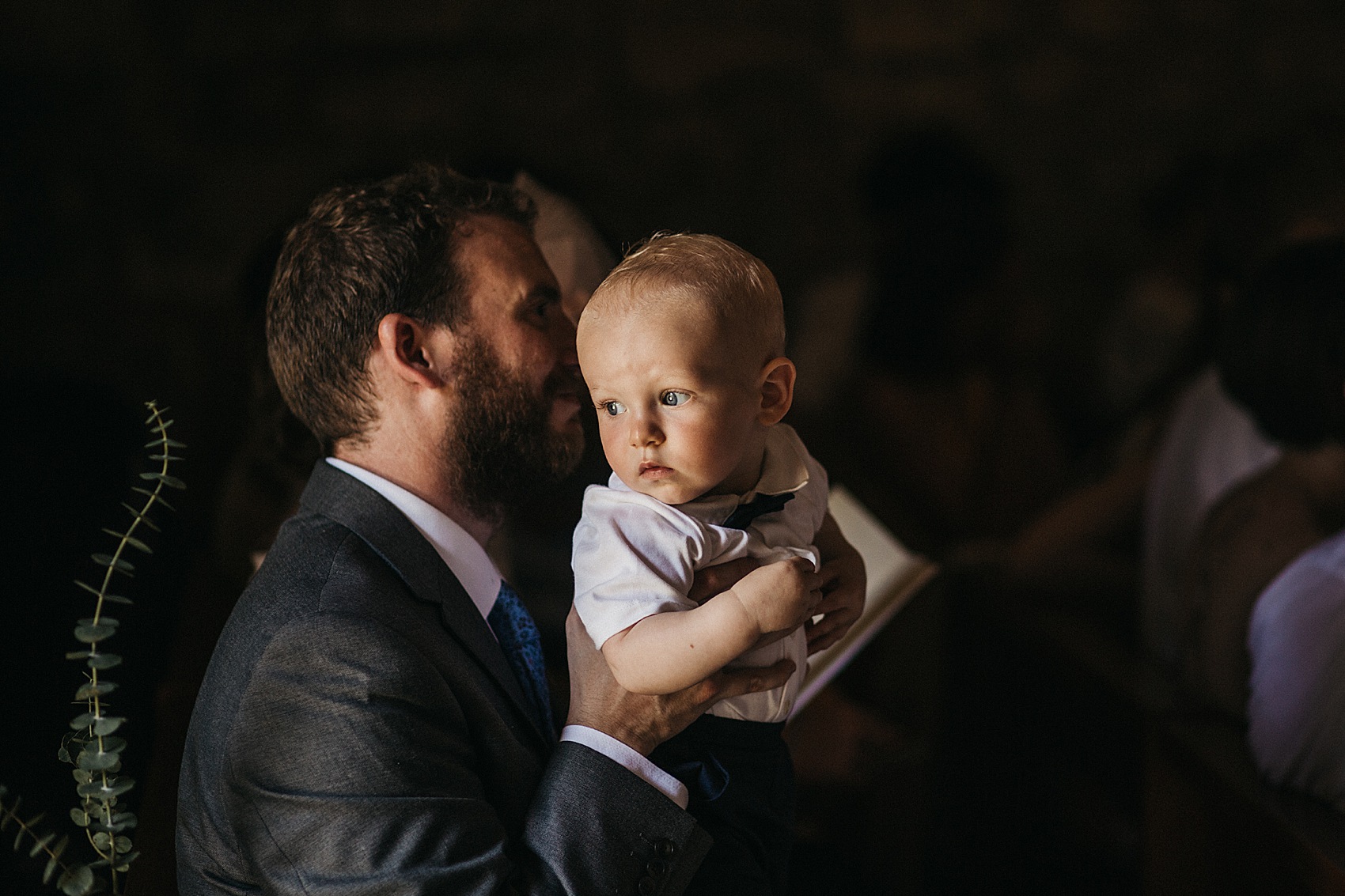 "My dad walked me down the aisle. As I mentioned, I badly broke my leg two weeks before the wedding (and had an operation to fix my leg with metal plates and screws) and the shock of it was definitely a challenge to overcome – both physically and mentally."
I had gone from focussing on the smallest, most granular detail, like what kind of lash perm should I have, to questioning how I would even get down the aisle."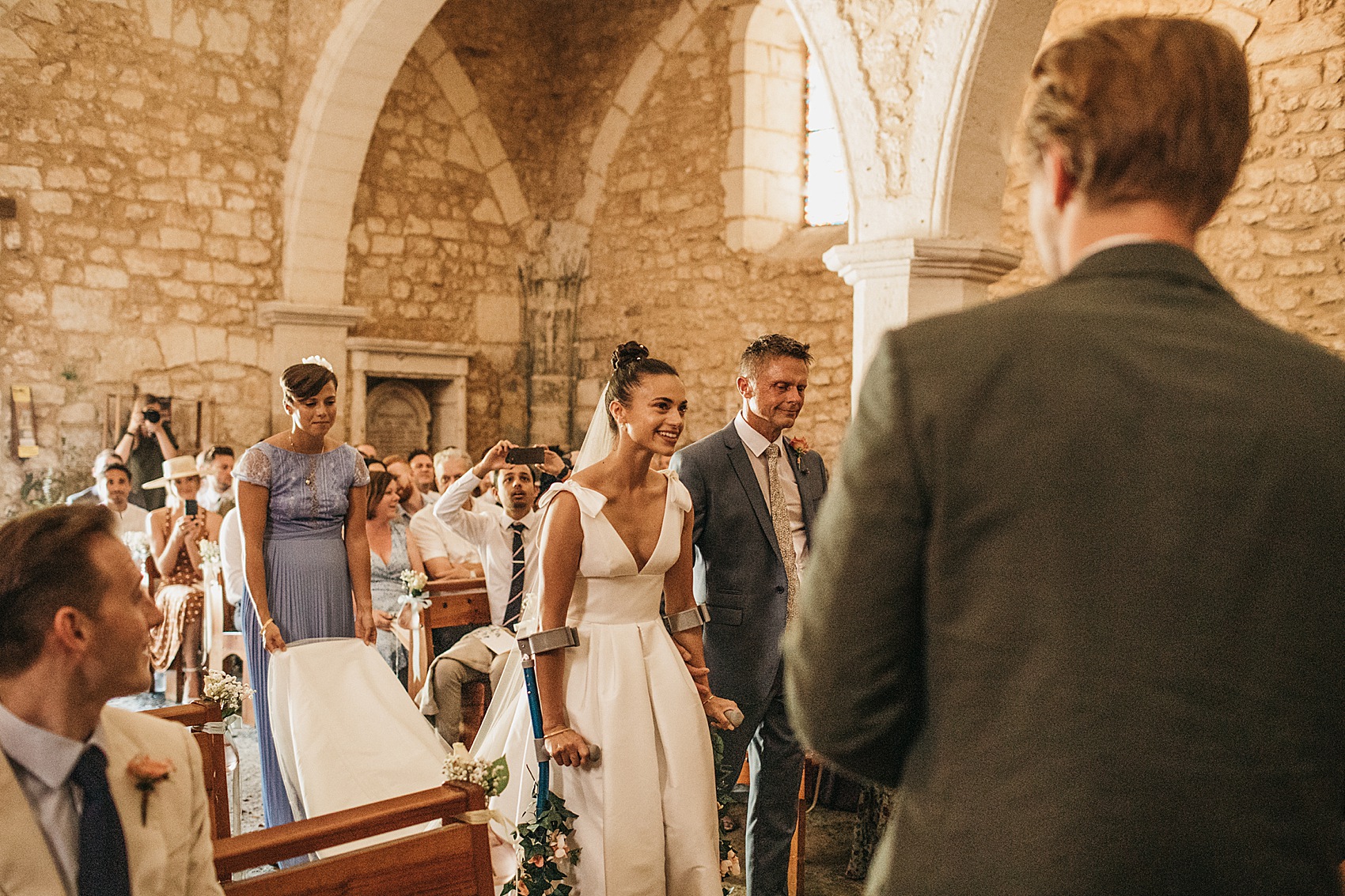 A friend very kindly decorated Lauren's crutches with flowers and foliage, as she was determined to walk down the church aisle wearing at least one of her beautiful wedding shoes, which she did – to Pachelbel's Canon in D, played live by Hicksville.
"I managed to walk down the aisle with crutches (shaking slightly) wearing one 11cm heel, linking arms with my dad. You can see the determination in my face!"
The couple's wedding mass was celebrated by the local priest, who translated everything from French to English in real time, and who also played his guitar throughout proceedings!
Lauren's mum read the first reading from the Book of Tobit, followed by one of the groomsmen reading Responsorial Psalm 32. Finally, Nils' mum read Philippians 2:1-2.
"Our wedding rings and my engagement ring are from one of the most amazing antique jewellers on Hatton Garden, A.R. Ullmann  – it's literally like an Aladdin's Cave. Our wedding rings are made from gold melted down from four family rings from both sides of our family. They are engraved with 'Lauren & Nils, 29th June 2019'."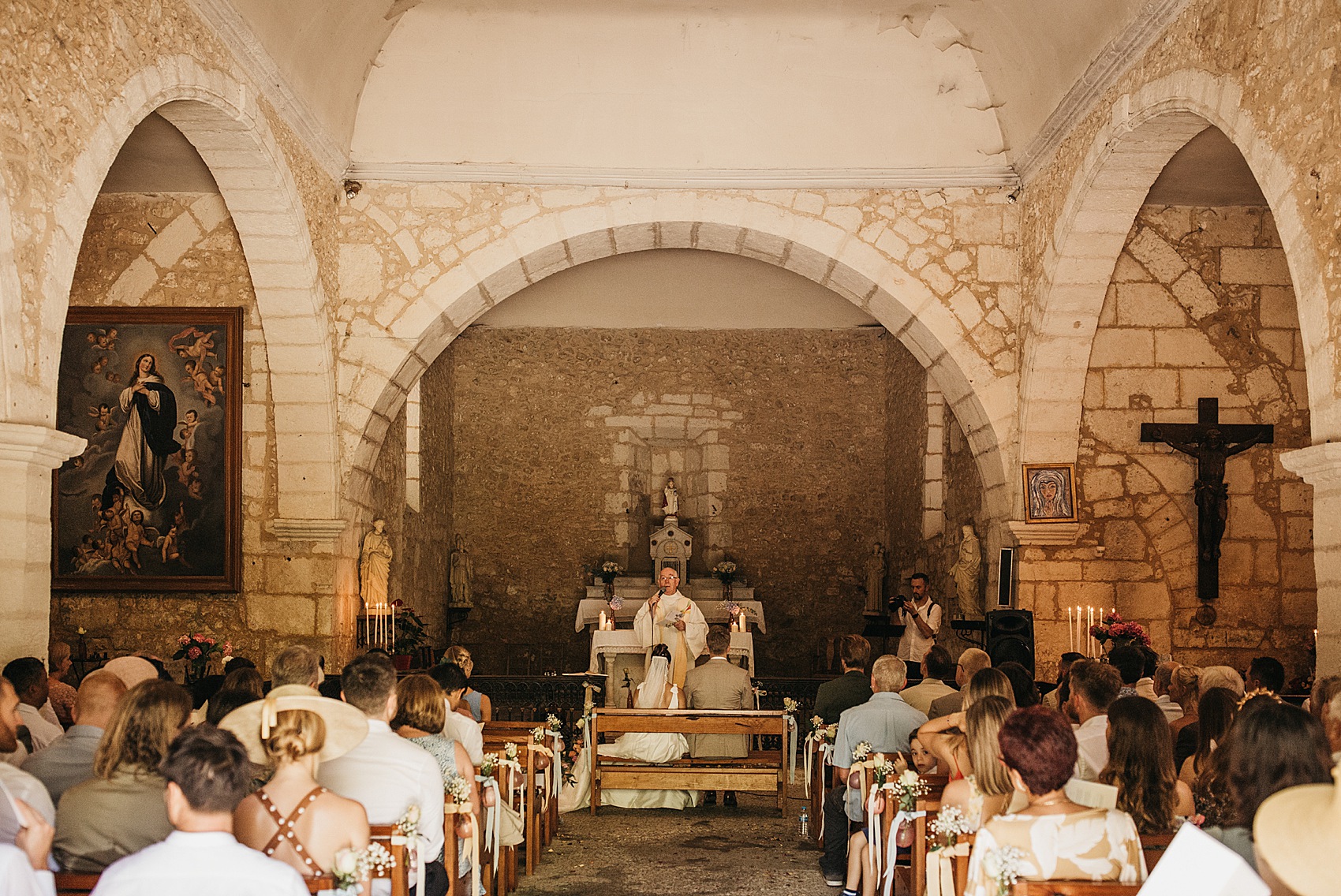 "My engagement ring is 1920s Art Deco diamond and platinum. I actually had two engagement rings, as Nils proposed to me with his grandmother's ring, and then we went shopping together to choose my ring. I love the history and sentiment that comes with all of these rings, as they have all been worn by women before who must have loved them a lot. We are romantics, and antique jewellery is very special for us."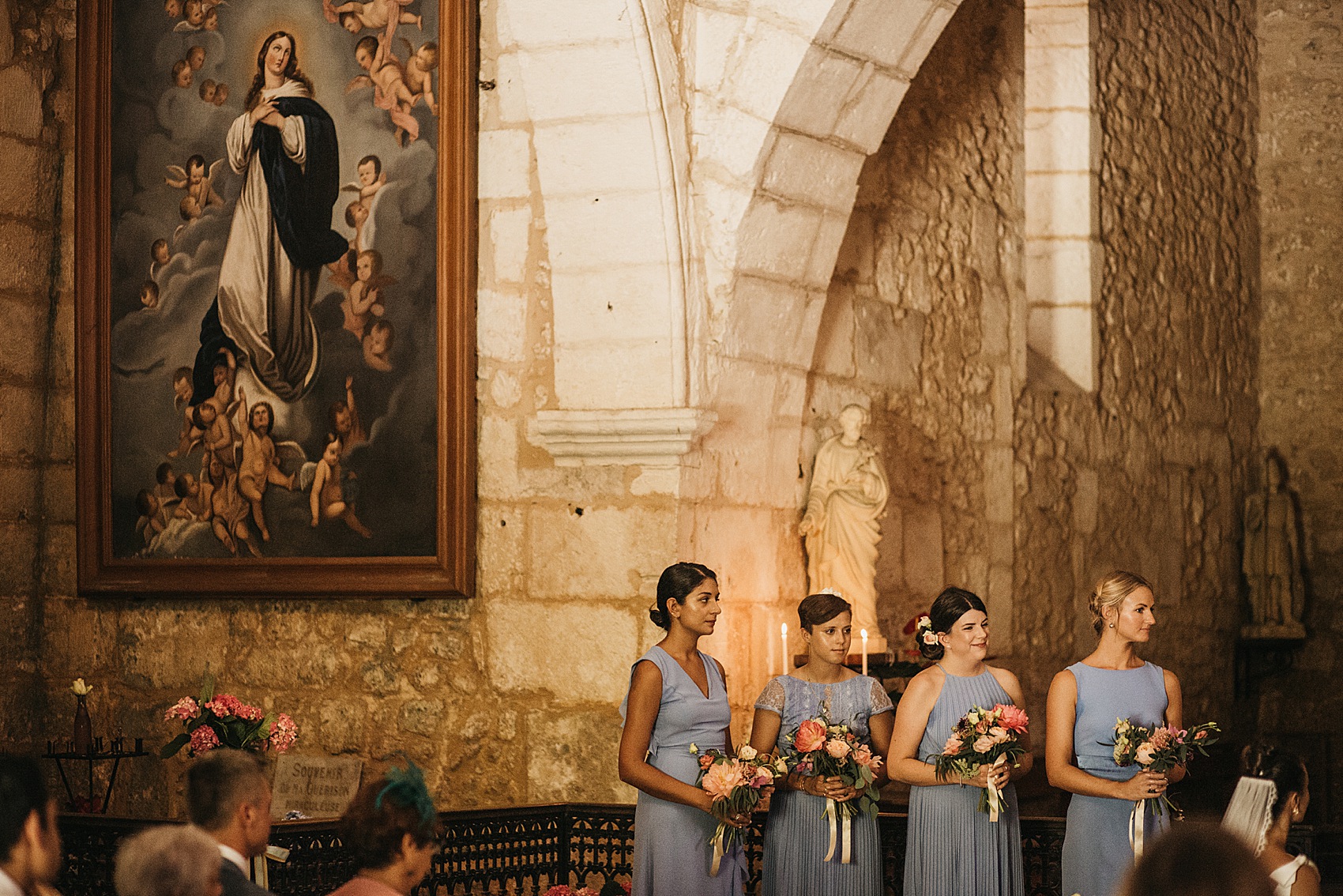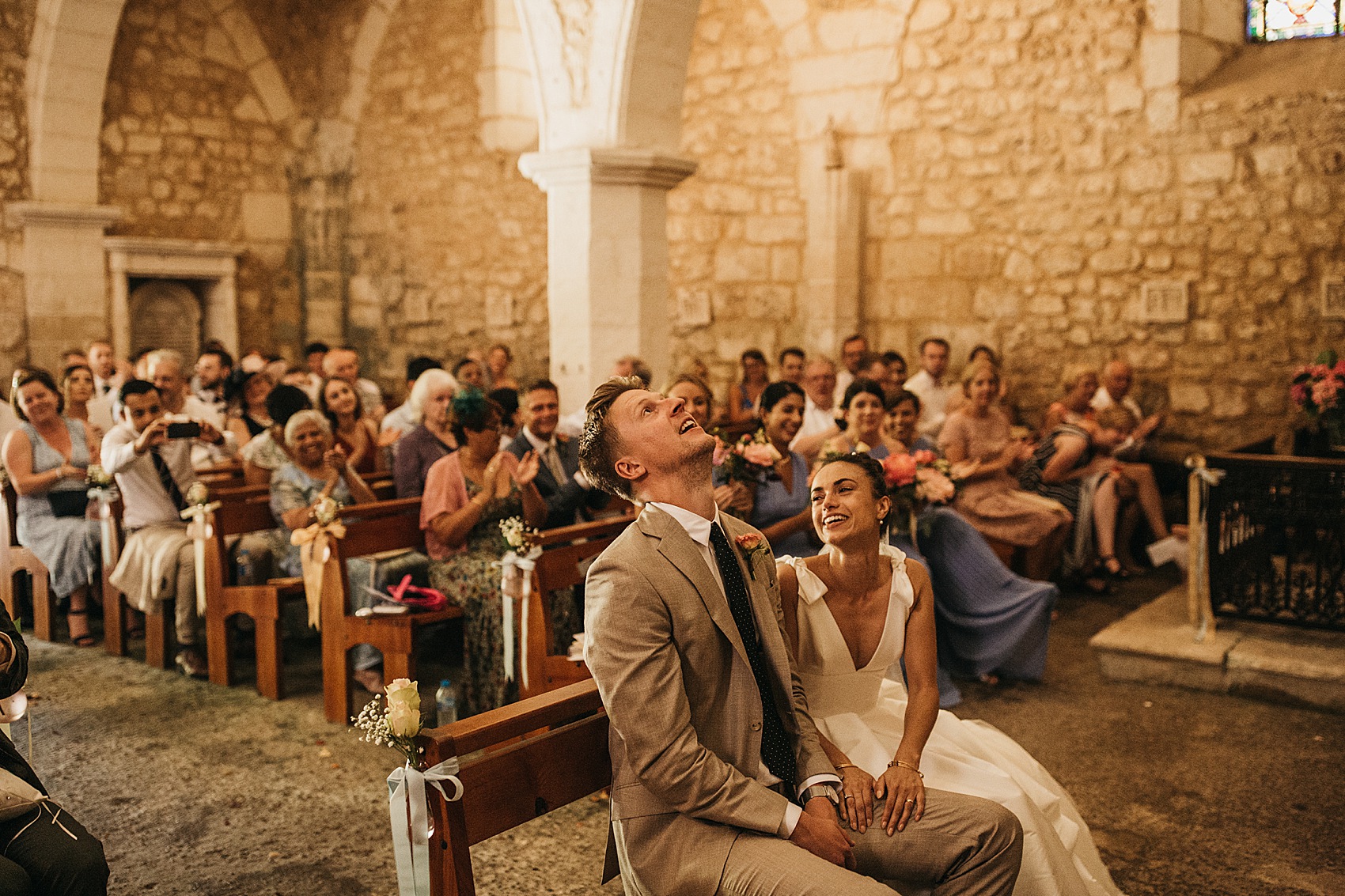 Nils carried his bride out of the church to a shower of confetti, and the newly married pair drove in a convertible over to La Léotardie for drinks outside, with more live music from band Hicksville.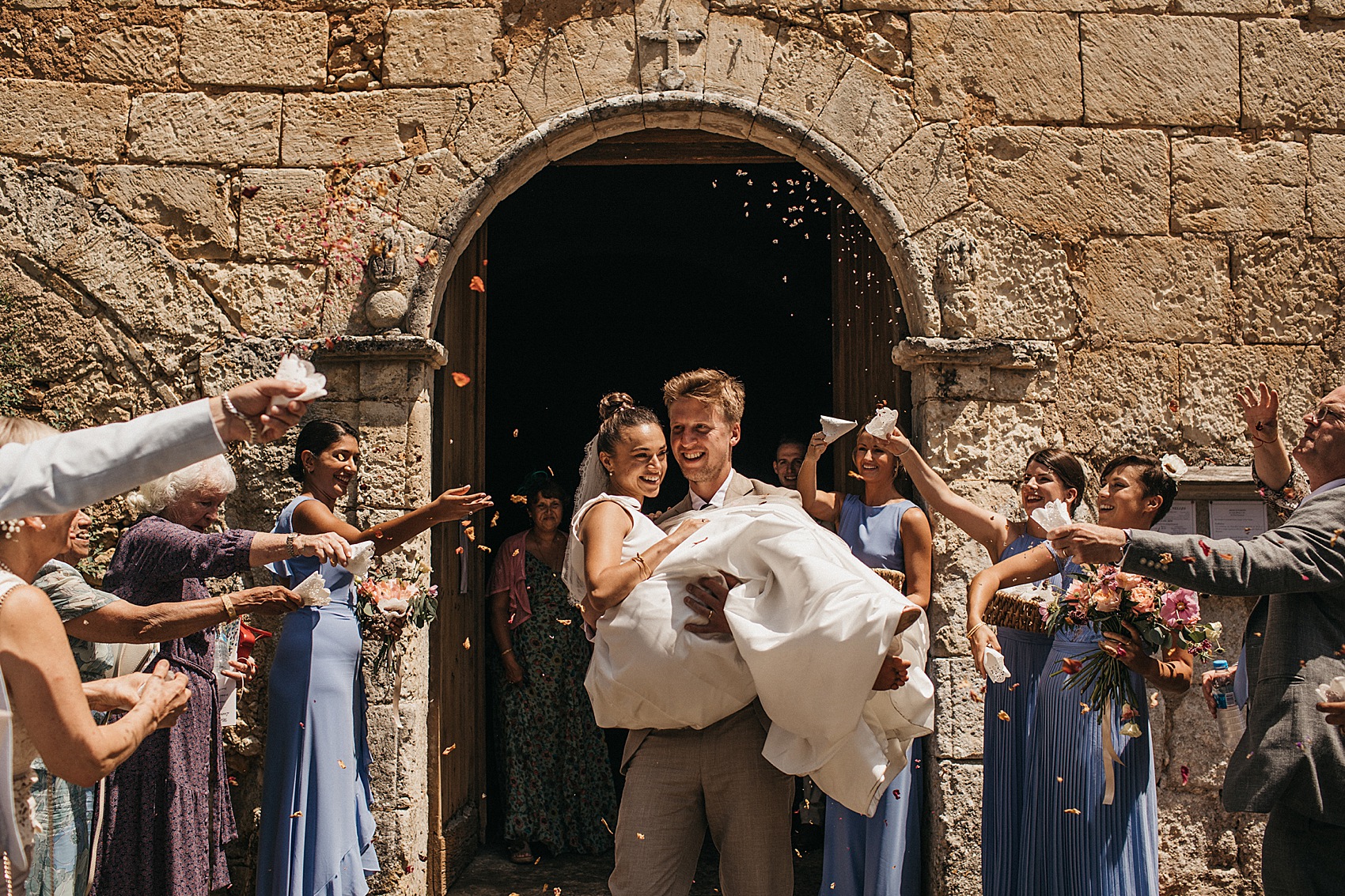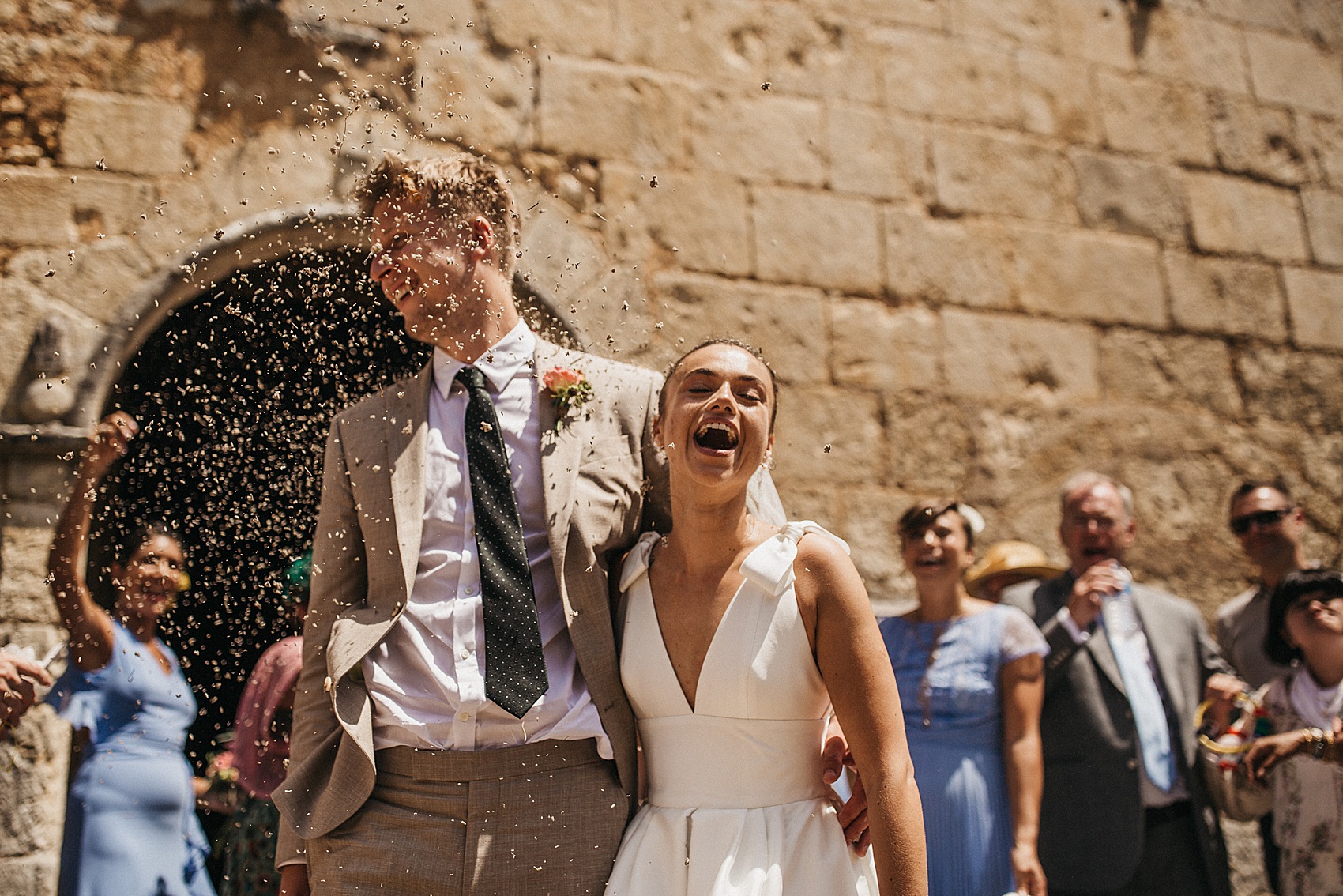 "Hicksville performed a wandering minstrels set, which was incredible. They wandered around playing to all of our guests while the rose flowed and canapés were passed around. Heaven!"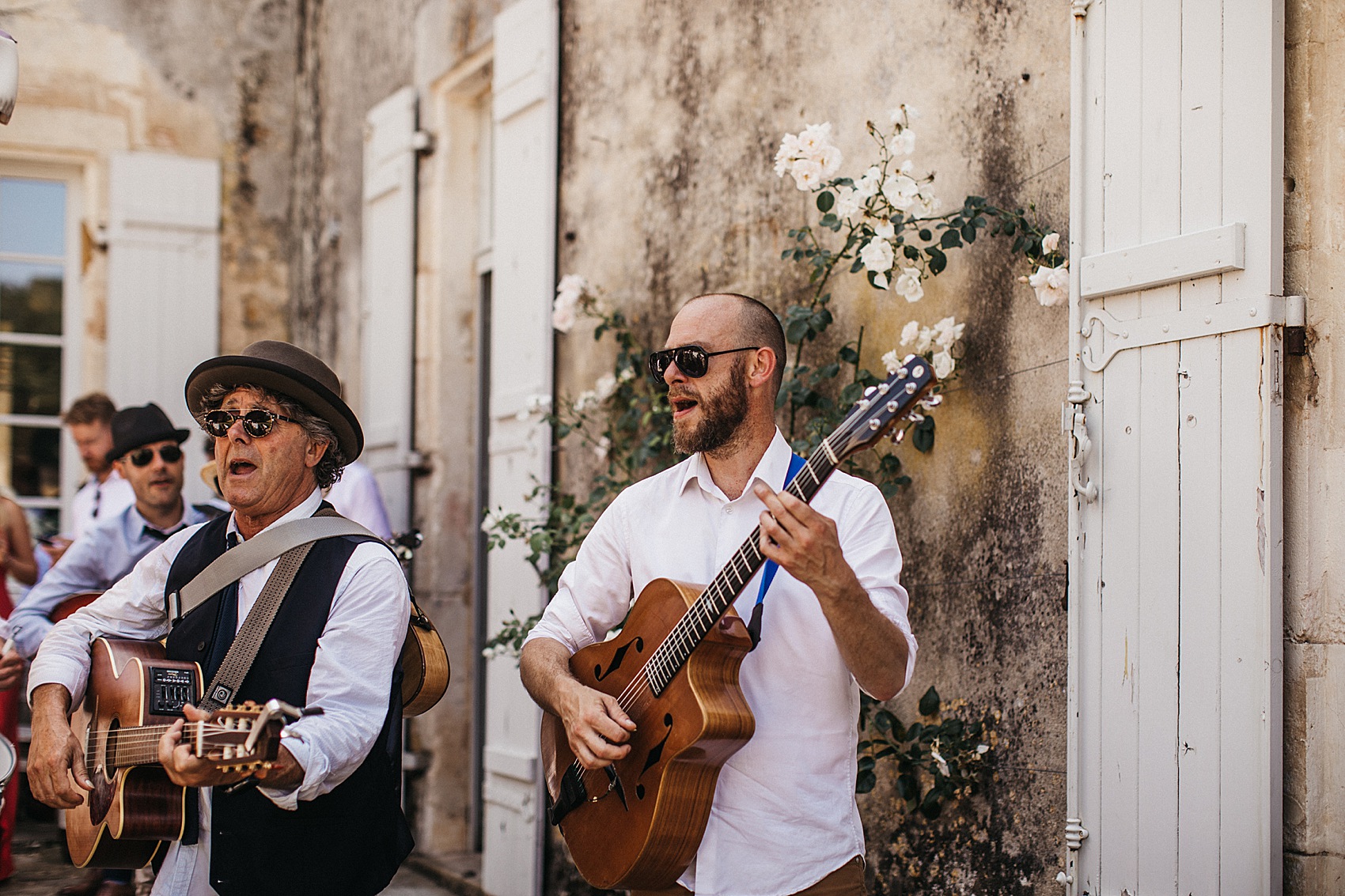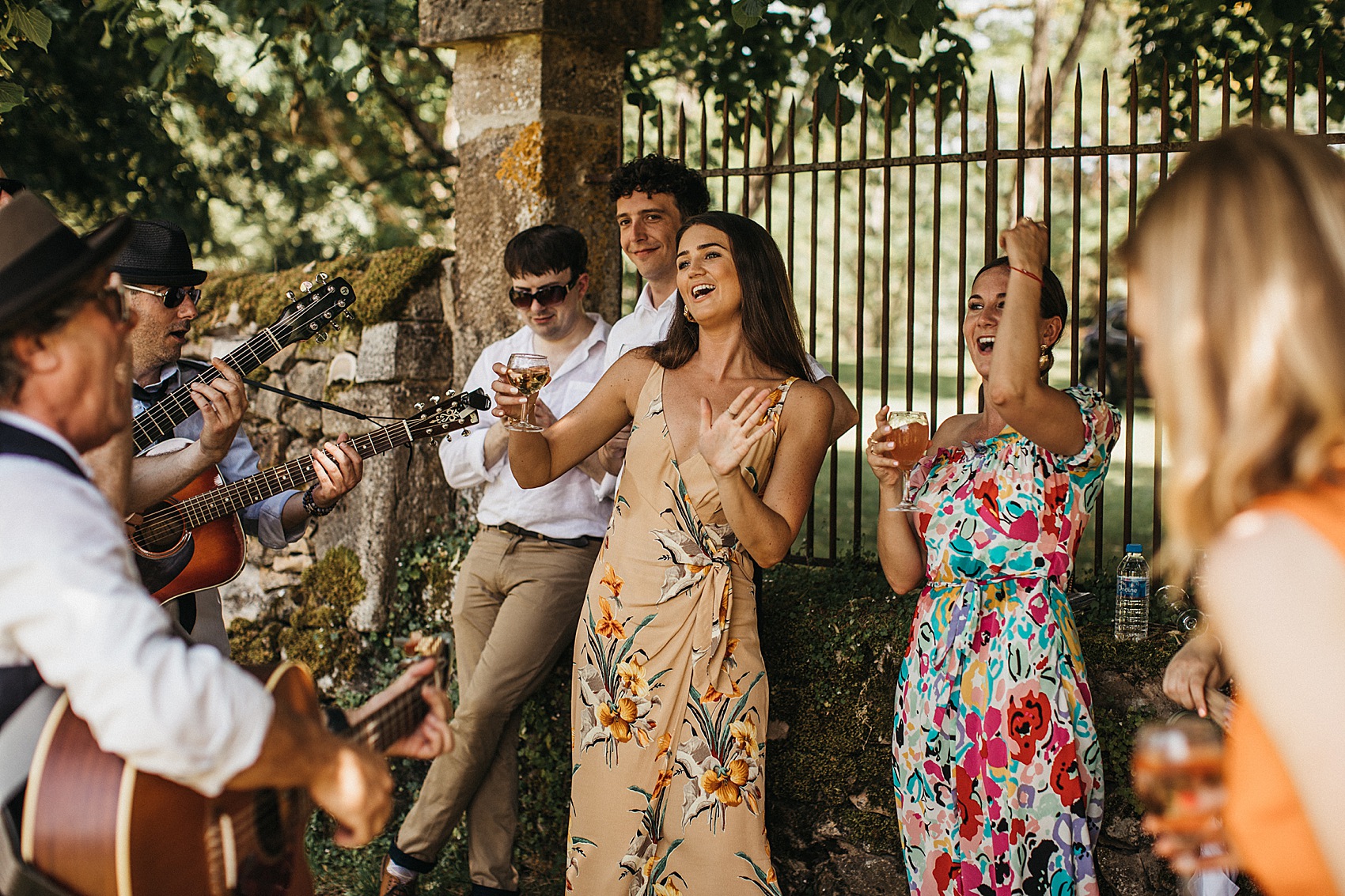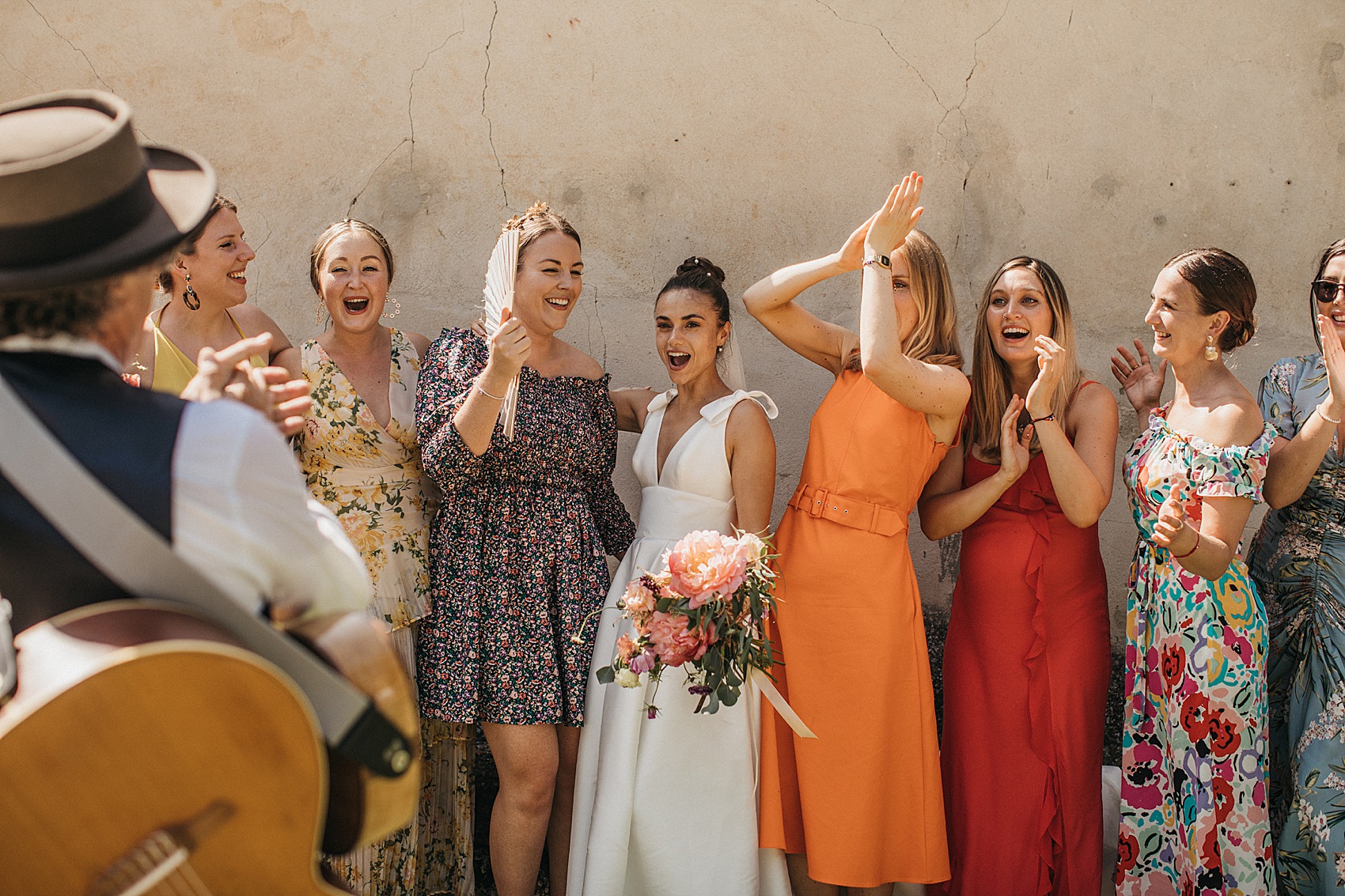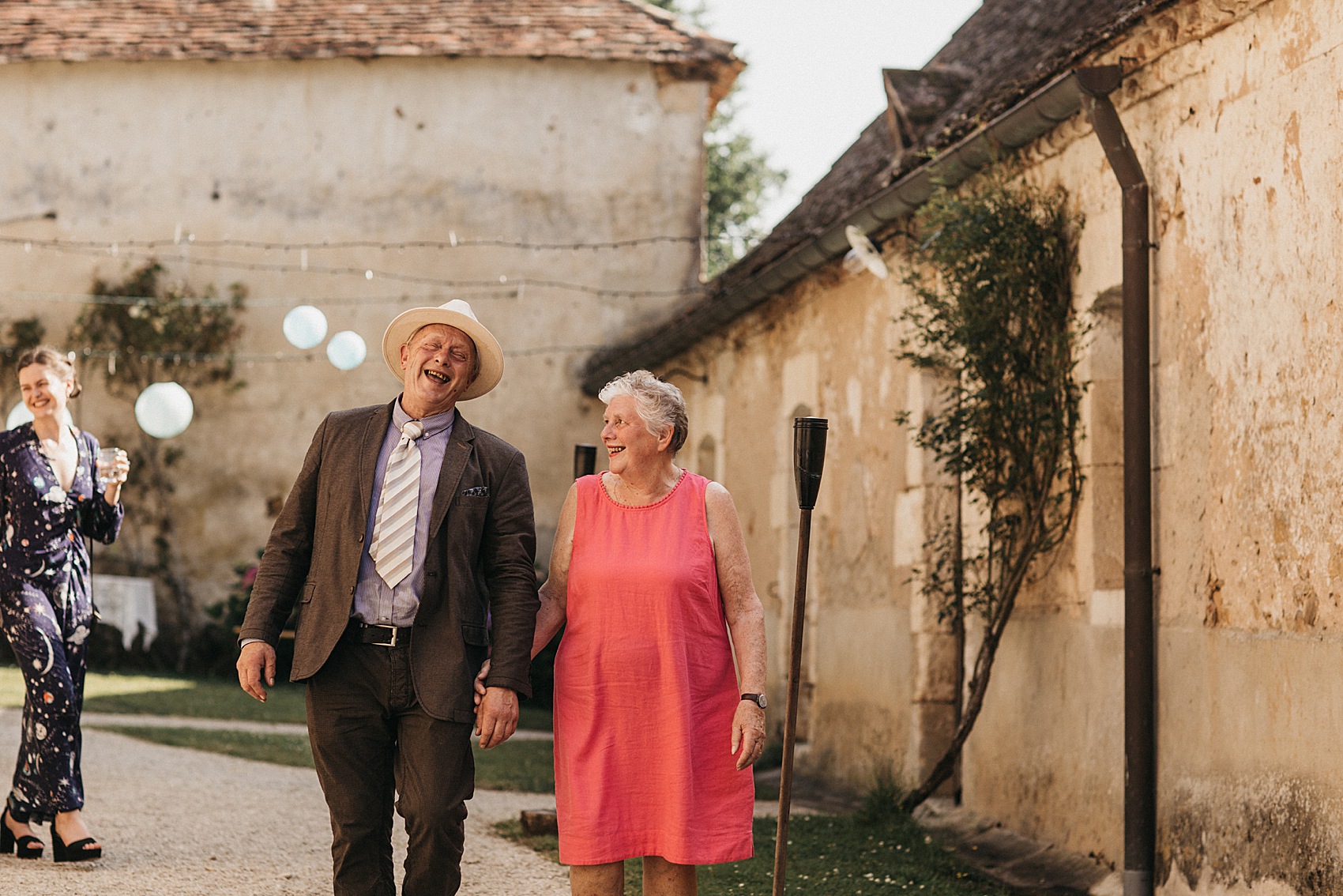 Lauren's mum Yvonne also brought her creative talents to the decor and styling of the venue, and there was colourful bunting from Lauren's nan, too. Her dad and Nils also strung solar powered festoon lighting across La Leotardie's beautiful courtyard, and there were paper lanterns with candles inside, too.
"In the disco room, my dad put up a huge rotating disco ball with coloured disco lights. In the dining hall we had old fashioned candlelight, held up by big, round candle holders suspended from the ceiling."
My mum collected flowers from the surrounding gardens and local area, and used these to decorate the tables both inside and outside – pale blue and pink hydrangeas."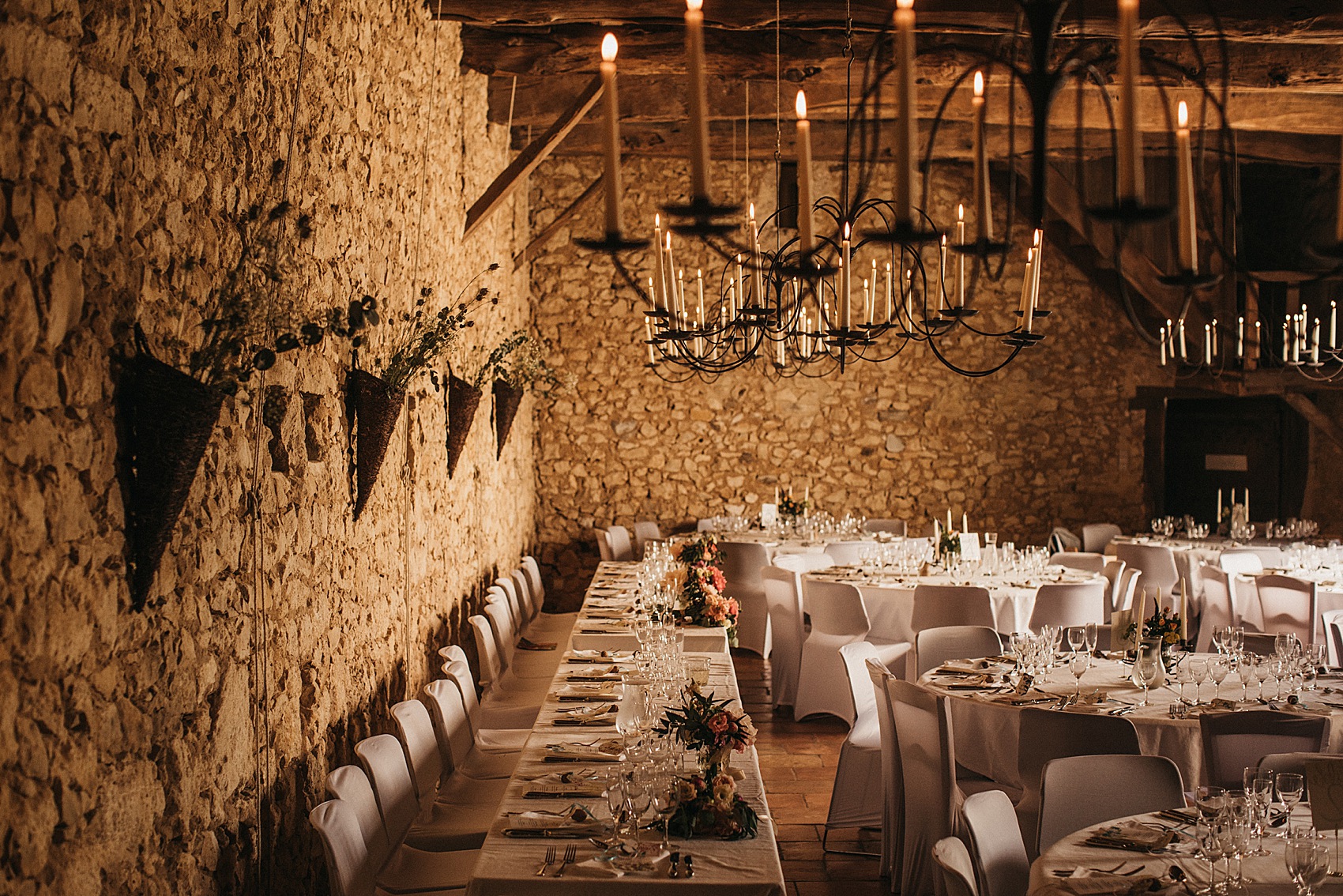 "Instead of wedding favours, my mum created place settings made out of walnuts, which we collected from the walnut trees surrounding La Leotardie the October before our wedding. She tied them to our place cards using pale blue and yellow ribbon tied in bows."
"Our table plan was made from local Bergerac wine bottles (empty!) with hand painted stickers with our guests' names on."
For their wedding feast, Lauren and Nils wanted an authentic French experience, and Angélique and Fabrice of Finesse Cuisine Catering did an amazing job. After the canapés, there was a prawn and asparagus ravioli, scallops and pork belly, duck and foie gras salad, and sea bass with risotto.
"The food was really the most important thing for us (after the venue). Finesse were super accommodating of our special requirements – for example we gave our guests the option of vegan, vegetarian (two options) as well as two options for non-vegetarian."
"We didn't have a wedding cake on our wedding day, but we had dessert which was Millefeuille, strawberries and cream. The day after our wedding, on the Sunday, we hosted a BBQ lunch, and my bridesmaid Nathalie and best friend Rosie baked us a cake, too!"
"They went to a huge effort as it was a heatwave, and they brought all of the cake decorations to France with them."
"The speeches were our favourite part of the day. Both Nils and I agree on this. We are lucky enough to have very clever and funny family and friends (in our opinion!) who absolutely smashed the speeches. It was amazing to sit back and relax, and listen to my dad, my brother-in-law and Best Man, and my sister (Maid of Honour) tell such unique and special stories from the heart."
"We have never felt so much love. The banquet hall was absolutely crammed with 130 of our favourite people in all the world, we had a huge top table with all the bridesmaids and groomsmen, and the atmosphere was so festive and party like – it was very, very special."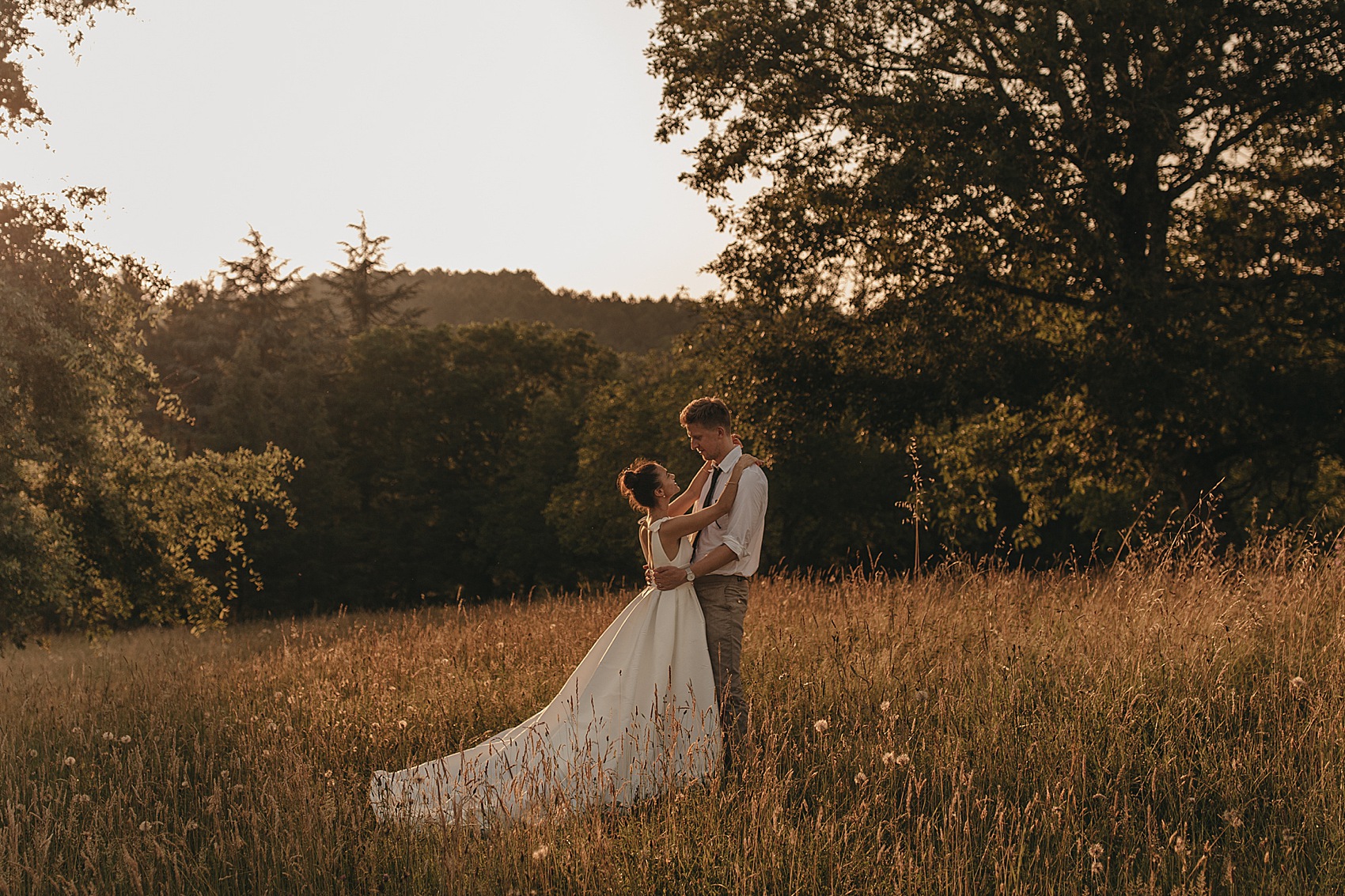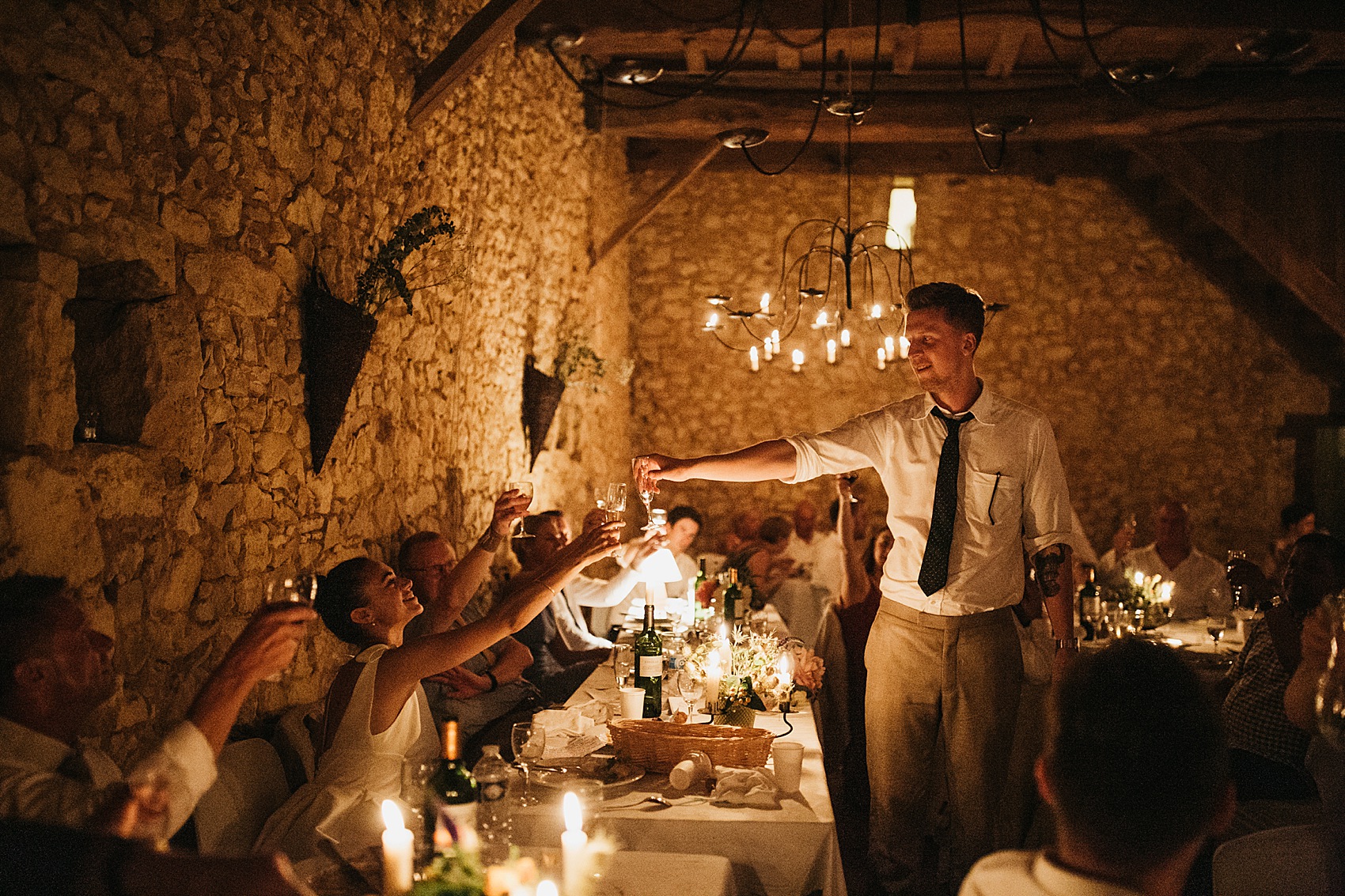 The couple's brilliant band Hicksville learned Lauren and Nils' first dance song, which was Baby I Love You by The Ramones, and sent them a recording of it ahead of their wedding day, too!
The couple also took dance lessons from an old friend and dance teacher, Jessica Bennington, who runs classes at Jacksons Lane in Highgate, North London.
"Hicksville – these guys are the best. I heard a rumour that George, their frontman allegedly used to perform alongside The Clash – or some thing like this!"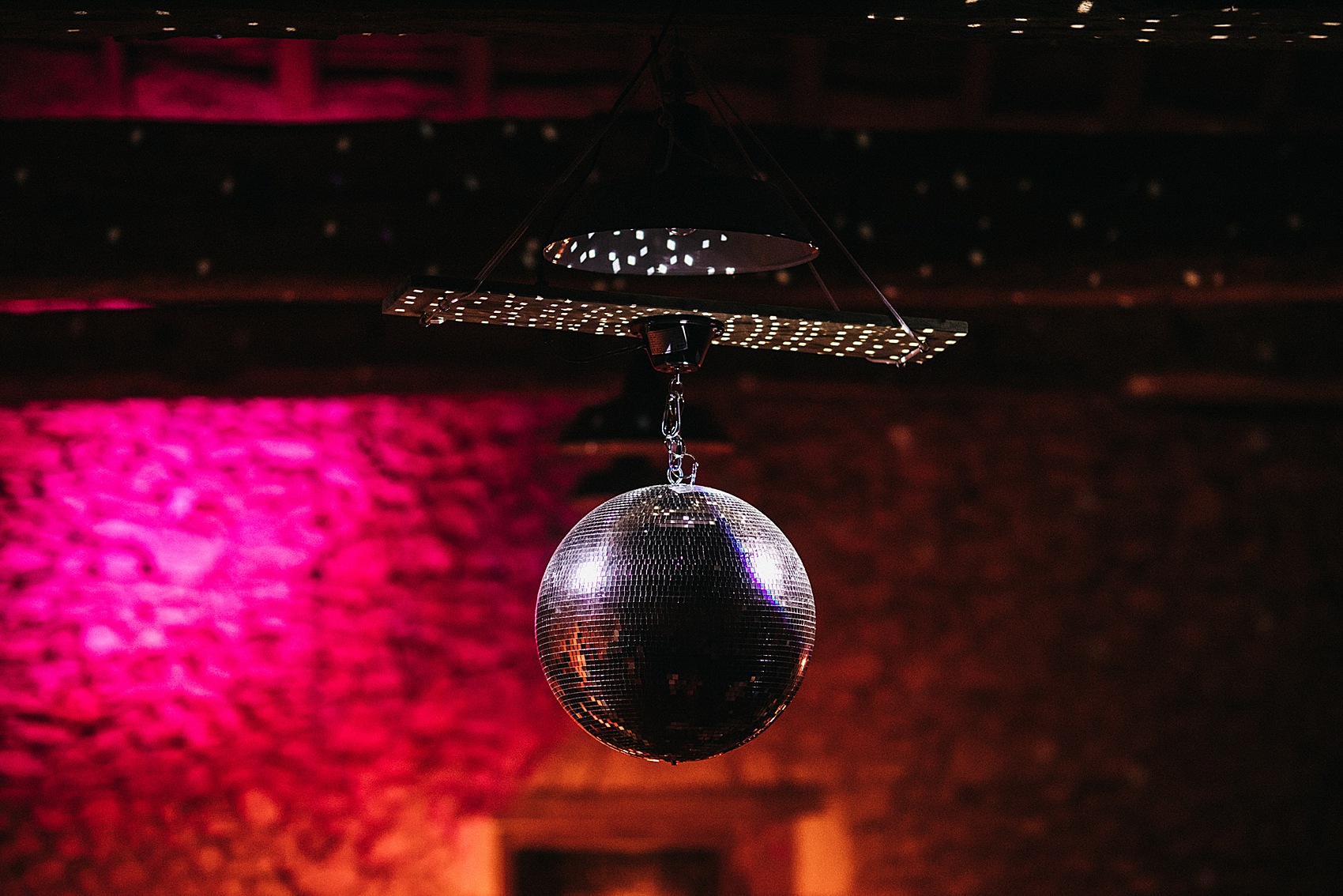 "They were amazing. We wanted something fun, romantic, playful, and not too soppy for our first dance. We like rock music, so this song was a perfect mix of rock n roll, and lyrics full of love."
Words of Wedded Wisdom
"I was a dedicated reader of Love My Dress, and joined the Facebook group, too. I loved how the brides-to-be are so kind and helpful, and have such a range of experiences to share. I think it is a really good group to be a part of, and have recommended it to all of my friends who are newly engaged."
"Love my Dress feels more real than some bridal or wedding blogs, which is so important as it's easy to get swept away with all of the fantastic imagery around on social media. It's important for couples to know that weddings can be anything you want them to be!"
"I would say that your engagement period is very special and important for many reasons. It can bring you closer to many people in your life – for example, family and friends, and of course it brings you closer to your partner. It is a great opportunity for you to figure out how you work best as a team because it can certainly be stressful planning a wedding, and you always need to be there for each other and give support."
"Make sure your partner is doing their share of the planning – it's their wedding too, and they should play a big role in making your dream wedding happen. In terms of budget, be realistic. Have open conversations, and spend time doing the maths. If you are on a budget (like we were) it is still possible to have your dream wedding whilst looking for ways to save money and cut corners, for example the most expensive wine is not always the best tasting. You don't need to have champagne with the canapés – rose works, too."
"You can look on preloved websites, and find stunning dresses which have only been worn once and have huge discounts (I am selling mine at the moment). But most of all remember what your wedding is about – at the end of the day you and your partner getting married is the single most important thing. At the end of our wedding, we felt a huge sense of satisfaction that somehow we had pulled off one of the biggest and best achievements of our life so far, even with a broken leg! This time is really precious, treasure it when you can! I know it can feel very stressful."
"In hindsight, I would have tried not to break my leg (of course!) however there were silver linings, like being carried around all day, and having to sit still meant I got to spend quality time with almost all of our guests."
Well, wasn't that just absolutely gorgeous? Lauren and Nils, thank you so much, and as you approach your first anniversary, many congratulations. If you've fallen for Lauren's dreamy Jesus Peiro dress by the way, we have lots more to enjoy from this superb designer right here. Lastly, huge thanks to photographers The Georges for their wonderful imagery.
Lots of love,
Laura