Hey there weekend friends, what a week it's been, hasn't it? Looooooong and surreal. How are you all? Brides, have you checked in to our closed Facebook group for brides lately?
Suppliers, venue owners, have you joined our Industry wide Facebook group? In the absence of anything wedding related in the news this week that might have otherwise brought us all a little hope about when weddings, as we know them, might return, we're going to do our best to remind you of why the wait is worth it.
The wedding we're sharing with you today is an absolute belter – the whole vibe is joyful and I sincerely hope it will make even those of you facing the most difficult of postponement issues smile and remind you what it's all about. Marketing Manager Danielle tied the knot with Faculty Director Colm on 20th July 2019 at the ridiculously wonderful and beautiful Iscoyd Park.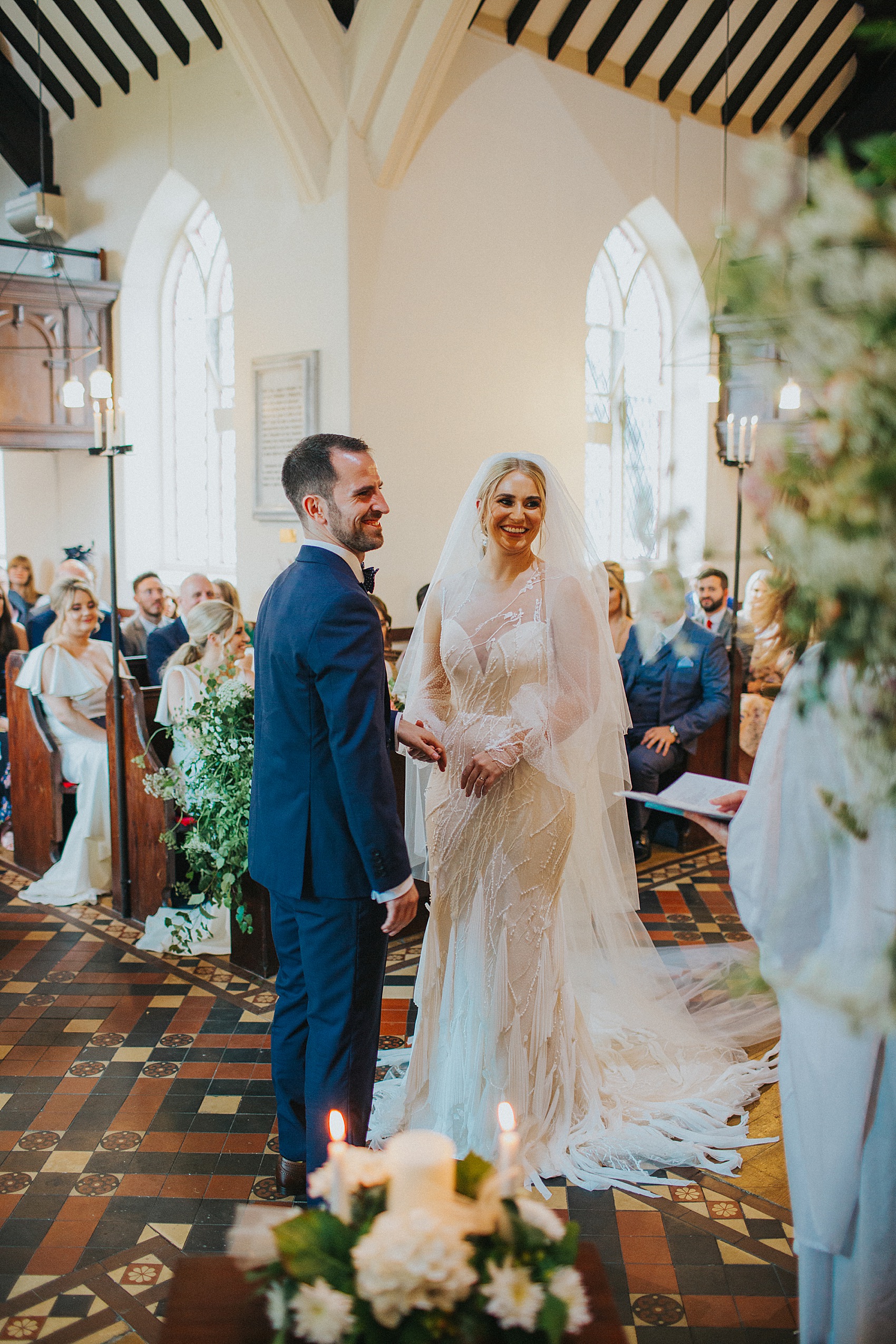 I want to put it on record, of how impressed and humbled I've been this week, in observing how well the Iscoyd Park team have supported their couples needing to postpone their weddings as a result of the Coronavirus.
These are such exceptionally difficult times for everyone, we fully acknowledge this. And our heart goes out to both brides and couples, as much as it does to suppliers and wedding venues. I have endless respect and admiration for those venues whose teams are handling the overwhelm and pressure of postponing weddings and facing many months without income, with absolute grace and empathy right now. Iscoyd Park have consistently put their clients and compassion first and I really want to say, Team Iscoyd, you guys are doing a truly fantastic job, I hope you know that.
"Iscoyd Park ticked almost every box for us, exclusive use, grand features, large enough for the amount of guests, the most incredible church on its doorstep, indoor and outdoor space, BBQ area to continue the celebrations the next day, sooo perfectly decorated and I just remember the most amazing smell ('Happiness', by NEOM). It was perfect."
The bride got ready at nearby Willington Lodge – billed as a fabulous place to get ready before a wedding at Iscoyd Park.
"Our makeup was done by the fabulous Laura Chan, she has done my makeup many times, so it was an easy decision, and the only one we trusted to paint our faces! I wanted a natural dewy look that would last the day and I was amazed by the results, I honestly felt amazing!"
"My hair was styled by my very talented mum. We had the vision, maybe not the patience (me) but we got there in the end and it was styled to perfection! She is a hairdresser, for the record."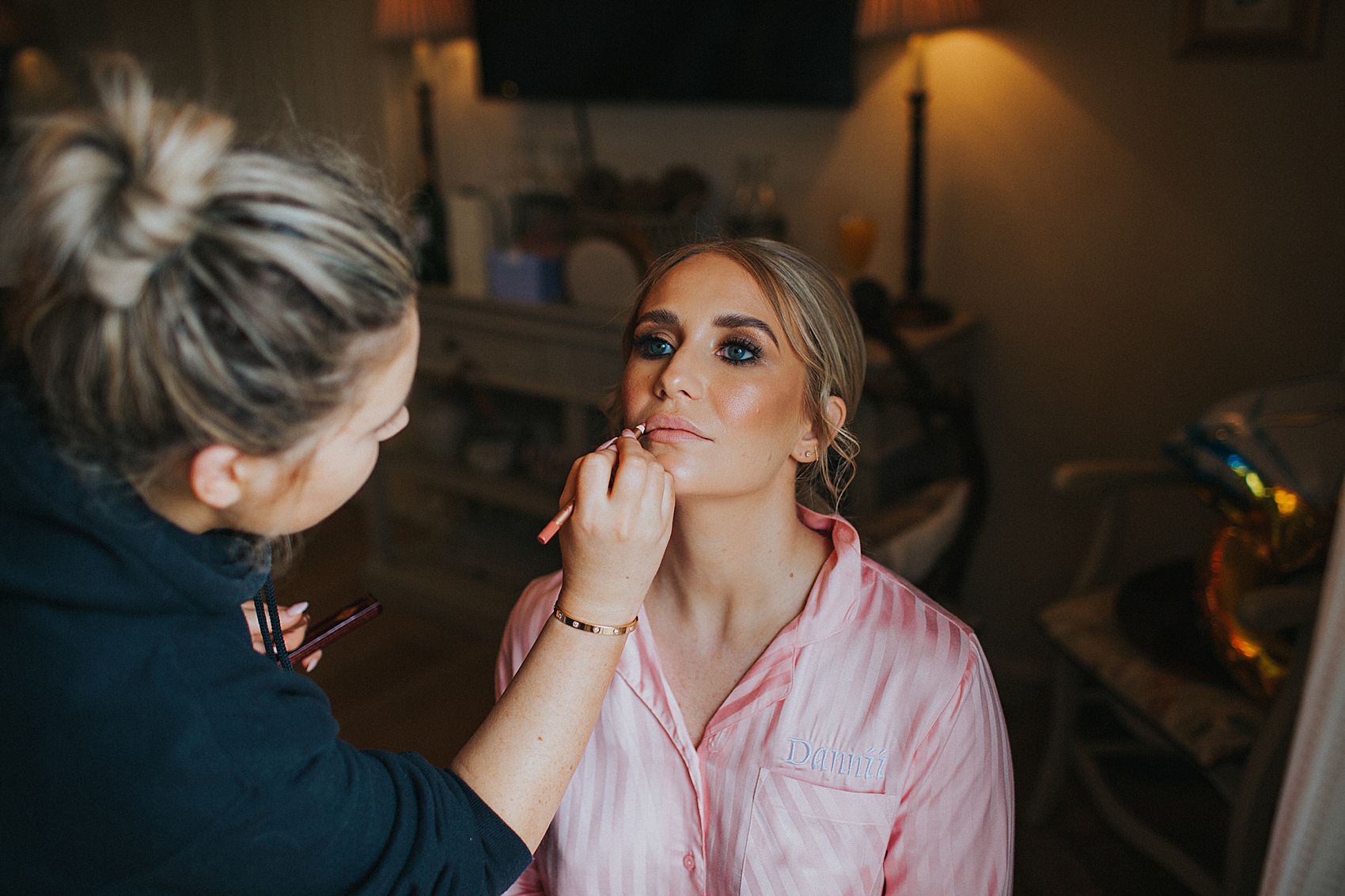 "When it came to my hair accessory – this was challenging, as I kept changing my mind, but eventually came across an image on Pinterest which I had to recreate. I searched on Etsy and came across Whirligig Bridal, which had moon (pearls) and star (Swarovski) pins which were perfect."
"We created a scatter of them in all different sizes on one side of my hair and it looked amazing, thanks to my mum."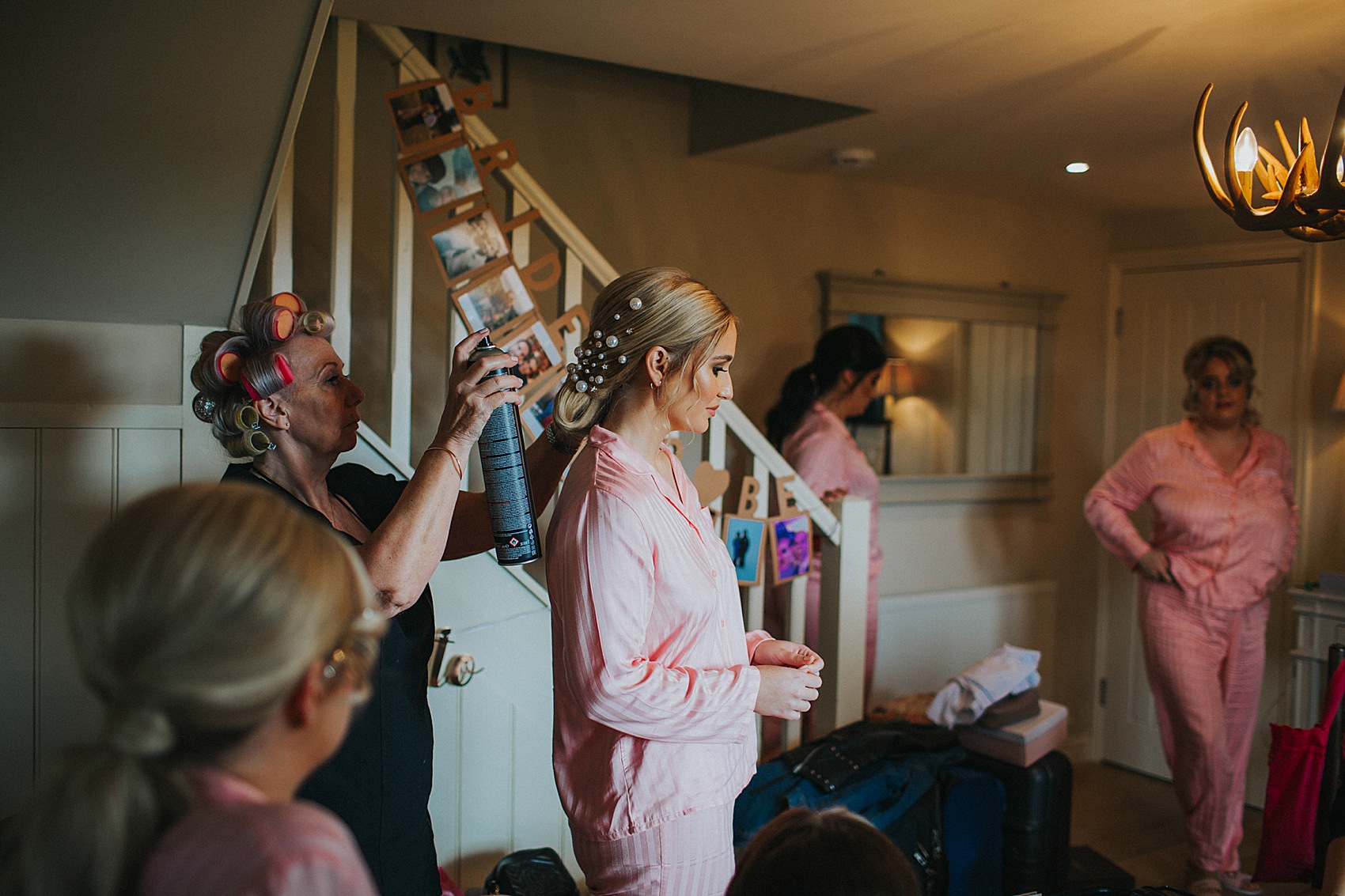 "My beautiful dress was made by the very talented Emma Beaumont.  I can't explain how perfect Emma was, within the first 10 minutes of meeting she had sketched my perfect silhouette and shown me the most breath-taking fabric, I knew there and then she had to make my dress and that the previous 54 dresses I had tried were a distant memory."
"Every appointment was very personalised and intimate and with fizz of course! We used to make an evening of it and go for tapas and some drinks afterwards to celebrate the delight Emma had developed onto my dress design."
"Her team are so incredibly talented and I would not have had my dream dress without them."
"I loved anything couture but when I was trying on it was the simple dresses that stood out most. I remember saying to myself, you only get married once so go for it and be me, so I did."
"The dress was everything from polka dots and dramatic sleeves to pleated tassels and embroidery. The most amazing part were the sleeves – they incorporated cuffs of dreams, delicate buttons and embroidered initials, adding a personalised touch."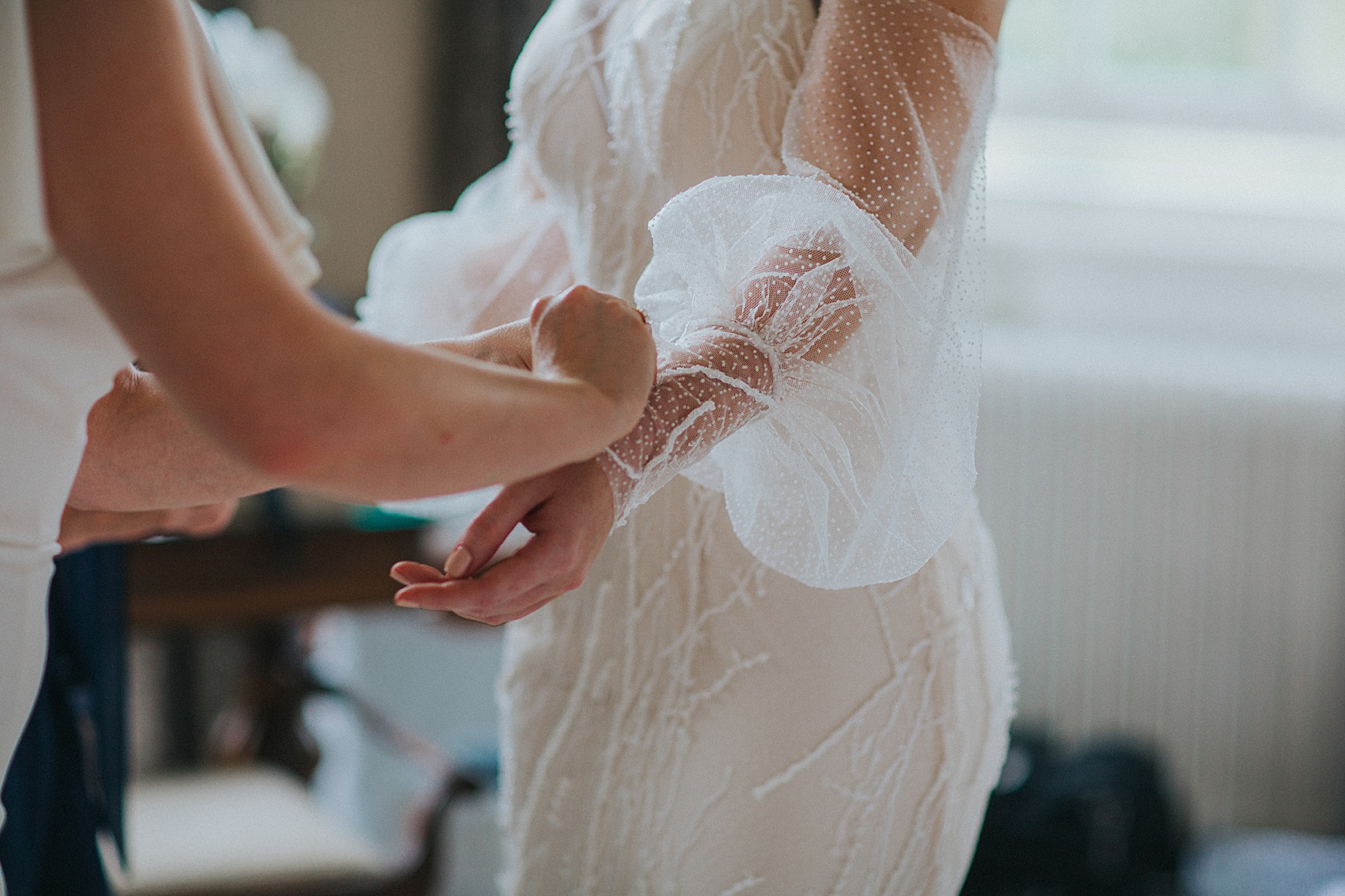 "My shoes were the cheapest shoes I think I have ever bought! They were £15 from Simmi and were so simple, elegant and just the perfect height. I just came across them by chance as had never even heard of the brand before."
"We actually went shopping for our wedding perfume and aftershave, I wanted to get something new for us both to remember the smell forever.  I went for Jo Malone Myrrh and Tonka and Colm went for Valentino."
"We knew we wanted a traditional wedding with a modern twist. I love botanical look and clean cut stationery and simple elegance. We wanted it to be different but for all the right reasons. It just came together."
"I had meetings with a couple of florists, as my first choice was unavailable for our date, so I had passed her on to my best friend who was also planning her wedding. Then one day she contacted me to say the date had become available again (hurrah!), so I snapped her up!"
"The florist of dreams – and one of the nicest and hard working person you will ever meet is of course Sasha of Sass Flower."
"The blooms she created for our wedding day were incredible and we had so many people comment on their beauty and scent that filled the rooms – utter perfection!"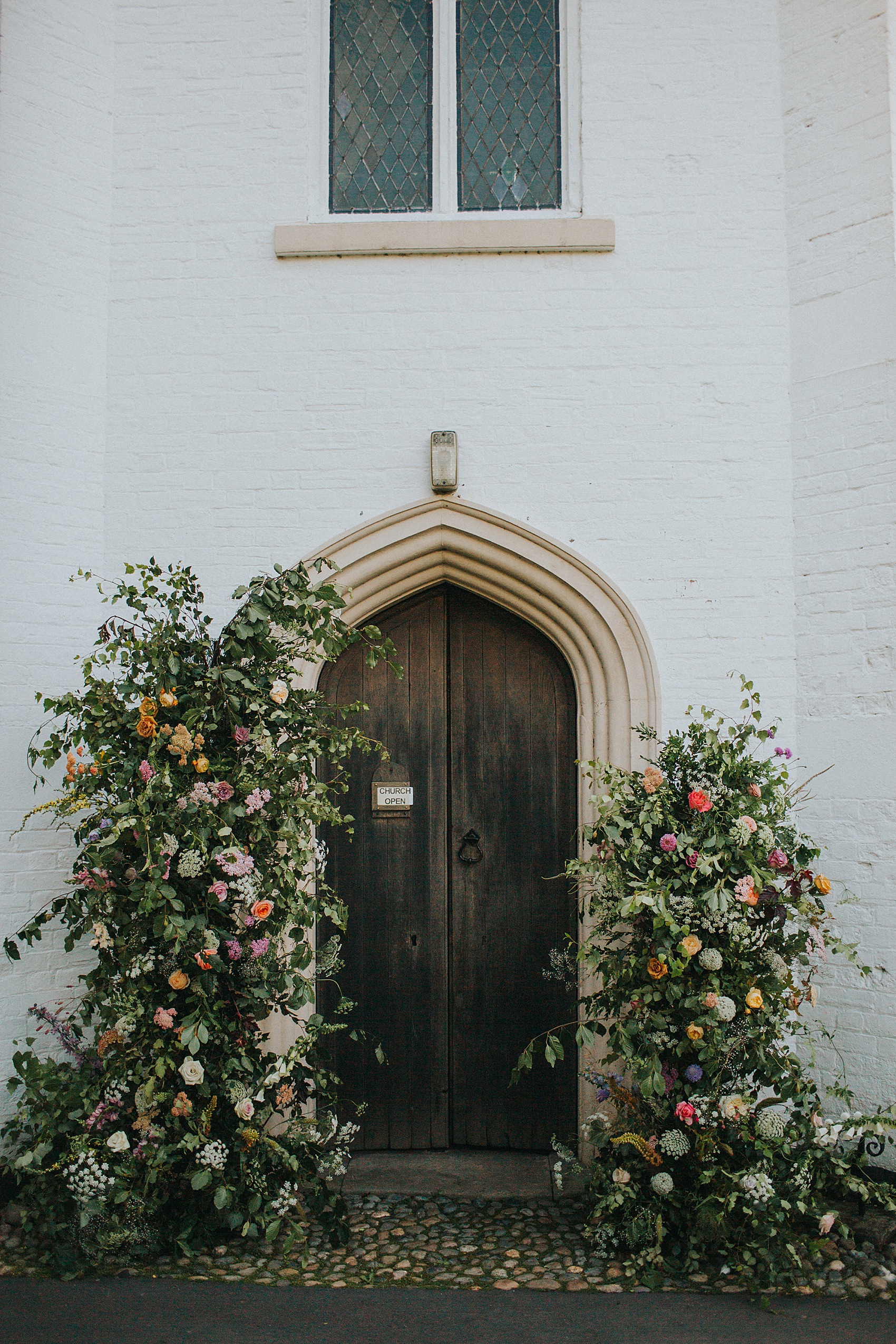 The groom and his groomsmen were kitted out in hired suits from Whitfield and Ward.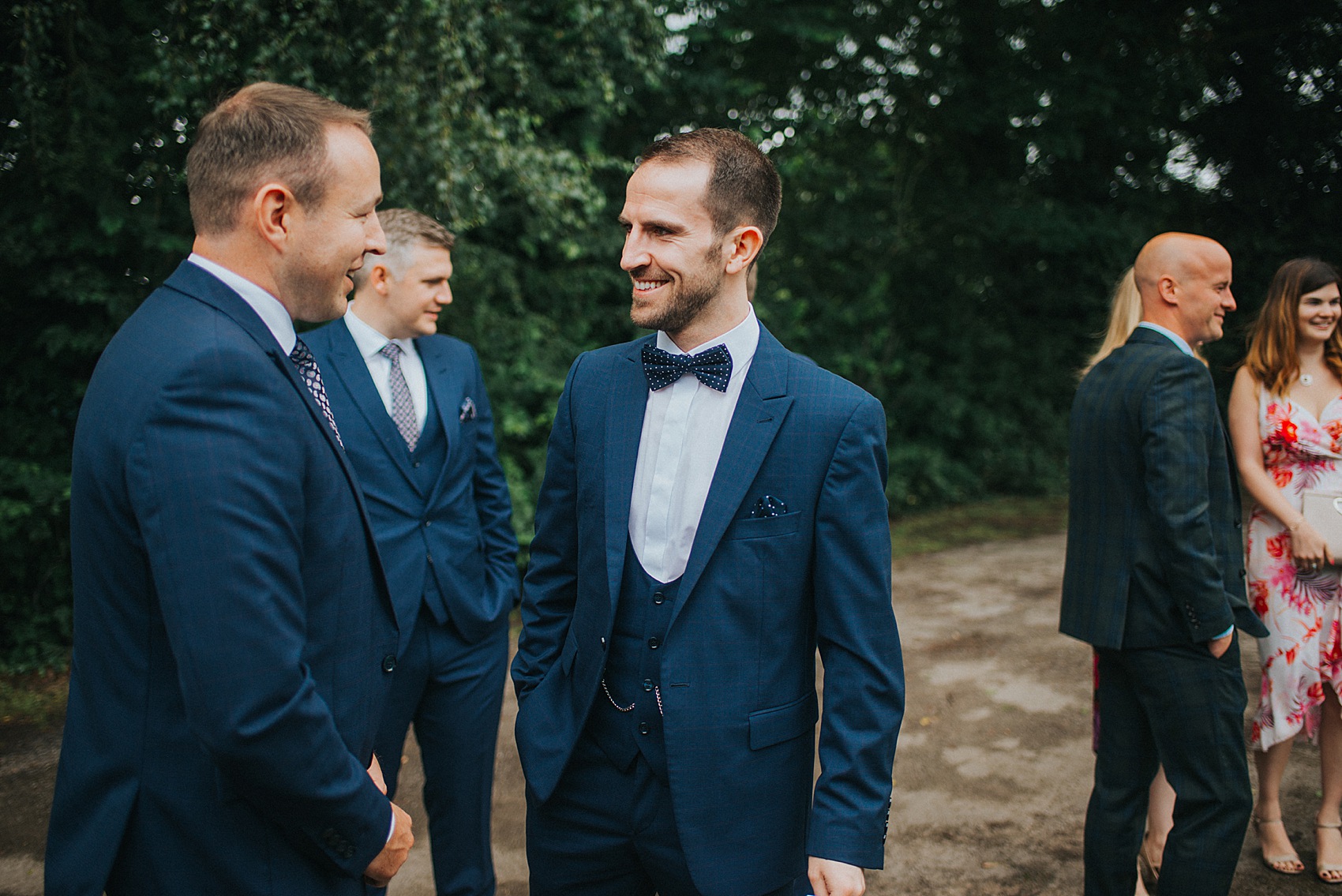 "Upon Iscoyd's recommendation, we hired Regency Cars, who supplied us the Beauford in white – it was really stylish and the perfect weather allowed us to drive back with the roof off! We had the most amazing driver too!."
"I wore a cathedral length veil, super fine silk which tiered over my face. I wanted to keep this really simple so my dress did the talking! This was also from Emma Beaumont's boutique."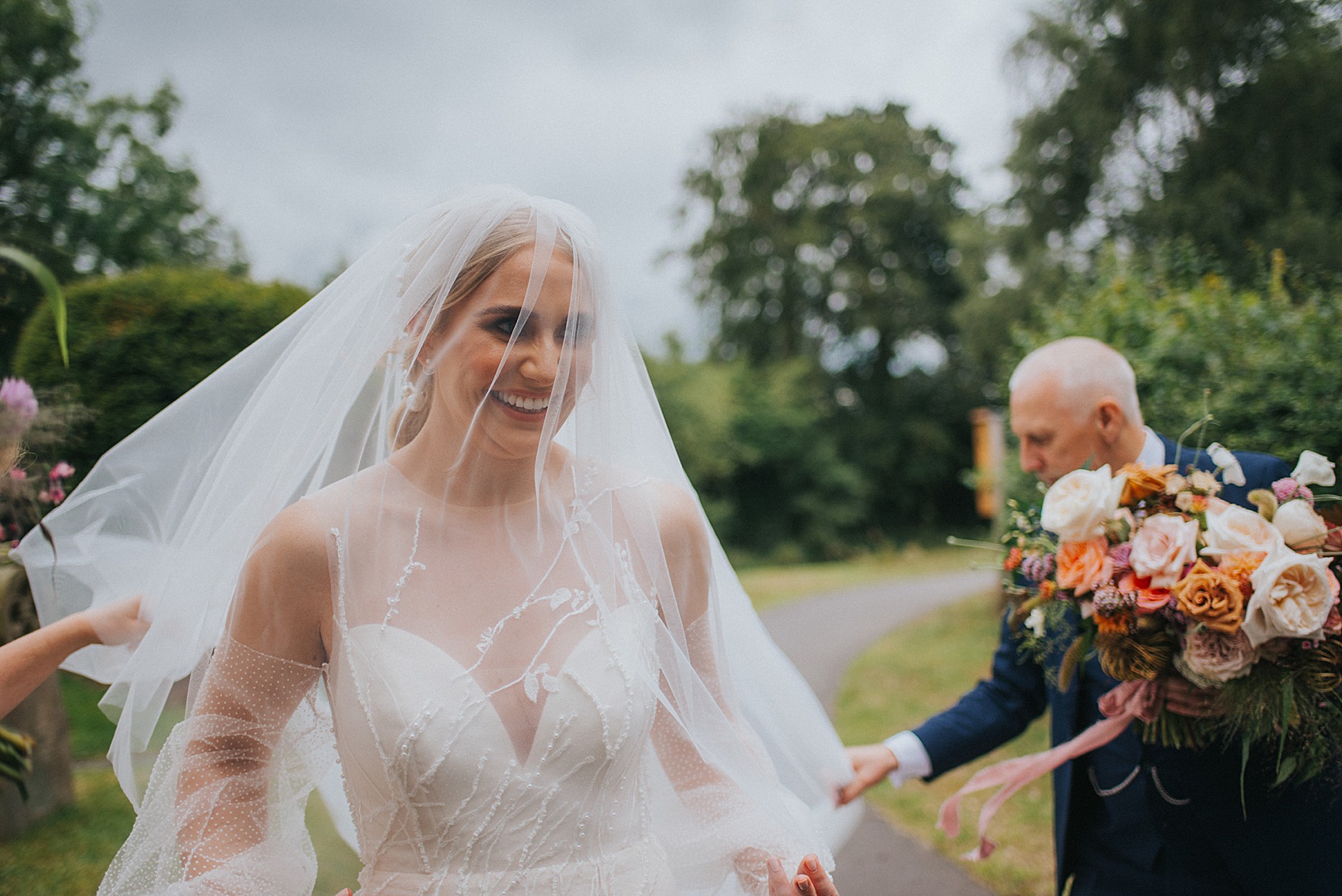 "As Whitfield and Ward didn't do kids suits, I needed to find an alternative for my two nephews. It was a tough find but I was so happy with the outcome. 'V by Very' came to the rescue with an almost identical checked navy suit."
"My flowergirl's dress was from JJshouse – this was an easy choice as Olivia would have looked pretty in anything!"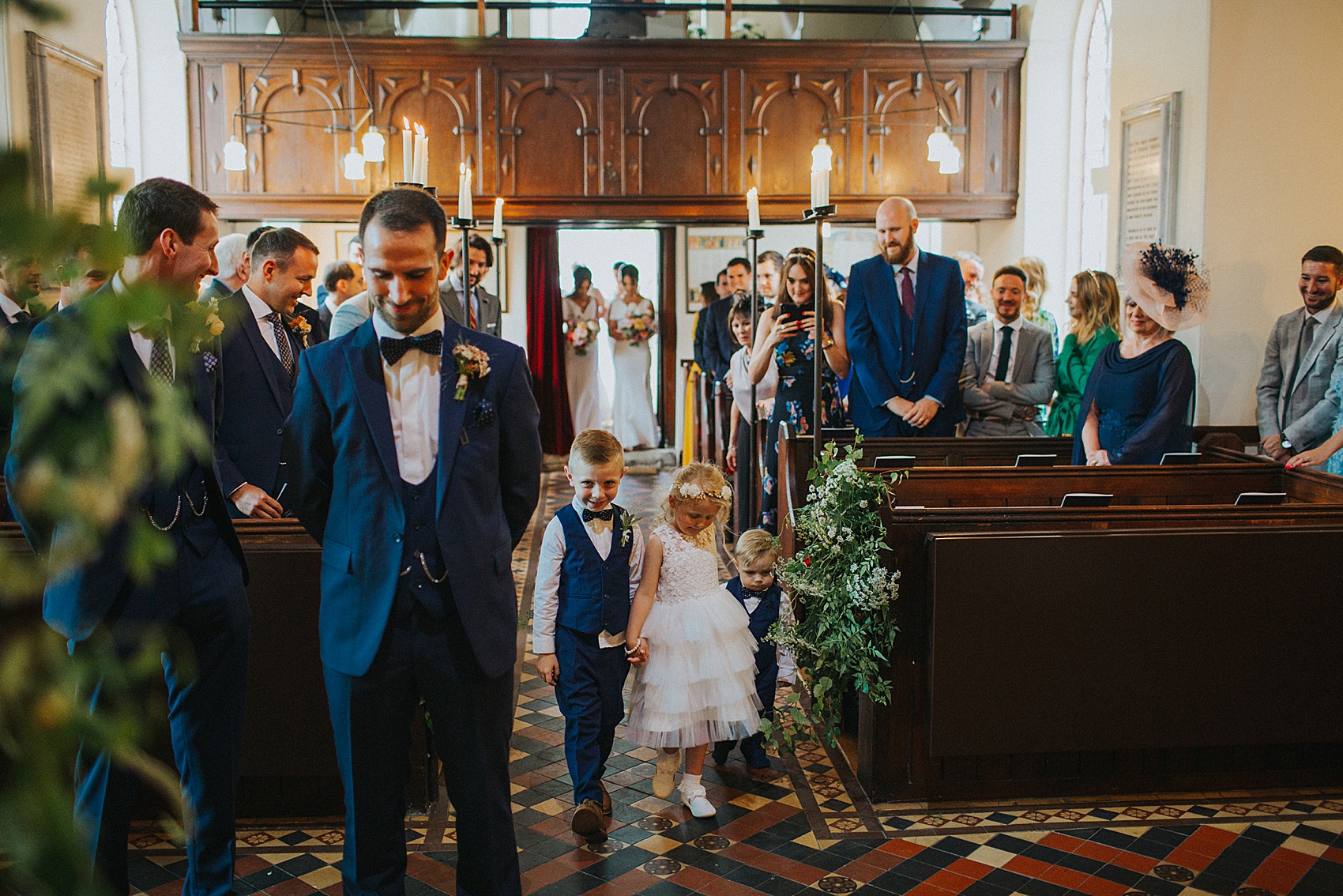 "My dad walked me down the aisle – I loved the time with him on our own whilst everyone else was waiting for us to arrive."
"Being his only daughter, I knew it was a big moment for him, although he never let it phase him – big Mike keeping it together. We walked down the aisle as the organist played 'Pachelbel Canon in D' – it was rather dramatic but I loved it! I actually thought I would cry but I didn't."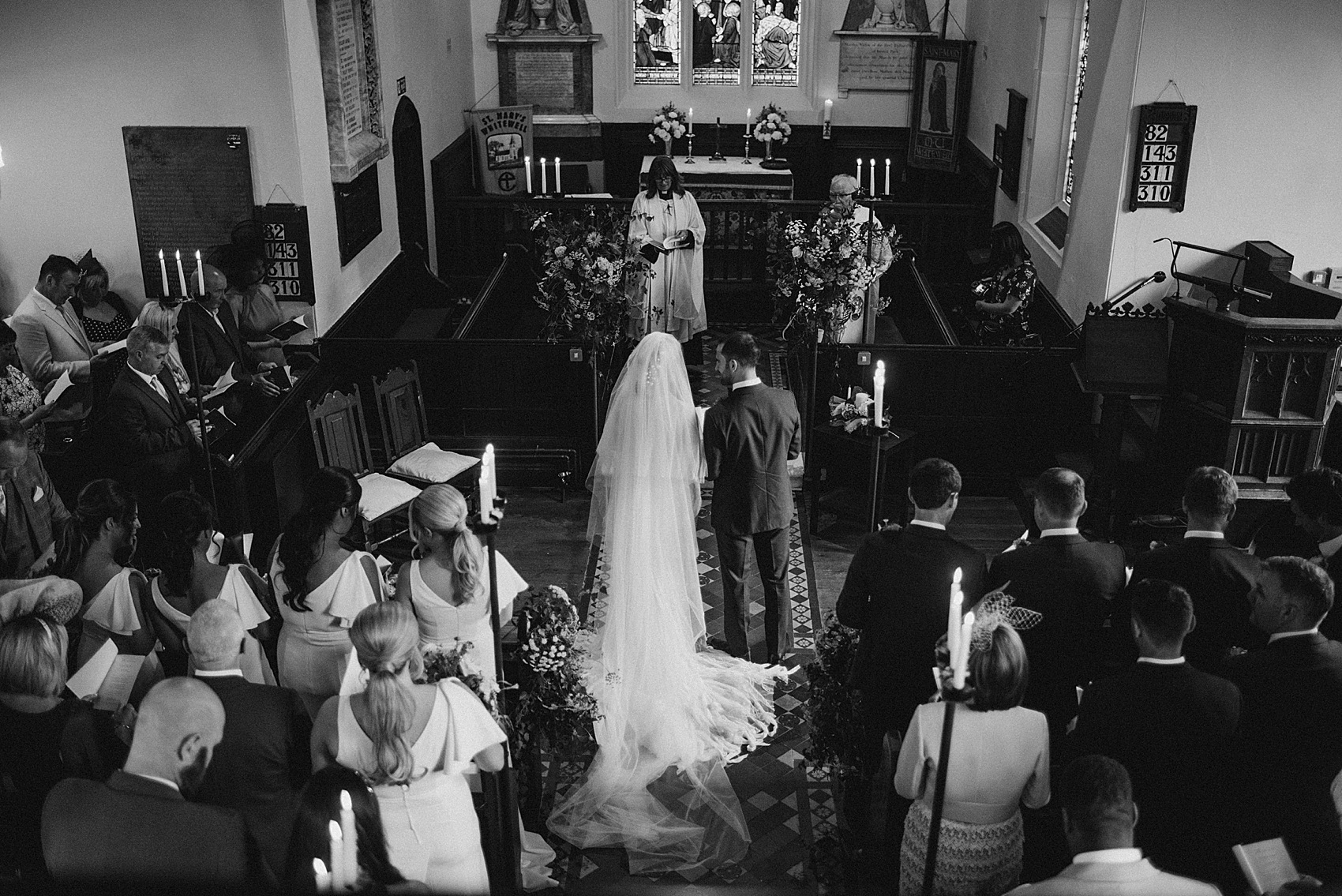 The couple had a church service with traditional vows and their readings included 'Love, Actually', and 'The Art of Marriage'.
"However, my favourite thing was the poem we had in our order of service…"
'His hello was the end of her endings
Her laugh was their first step down the aisle
His hand would be hers to hold forever
His forever was as simple as her smile
He said she was what was missing
She said instantly she knew
She was a question to be answered
And his answer was "I do."
Simple, sweet and timeless, don't you think!'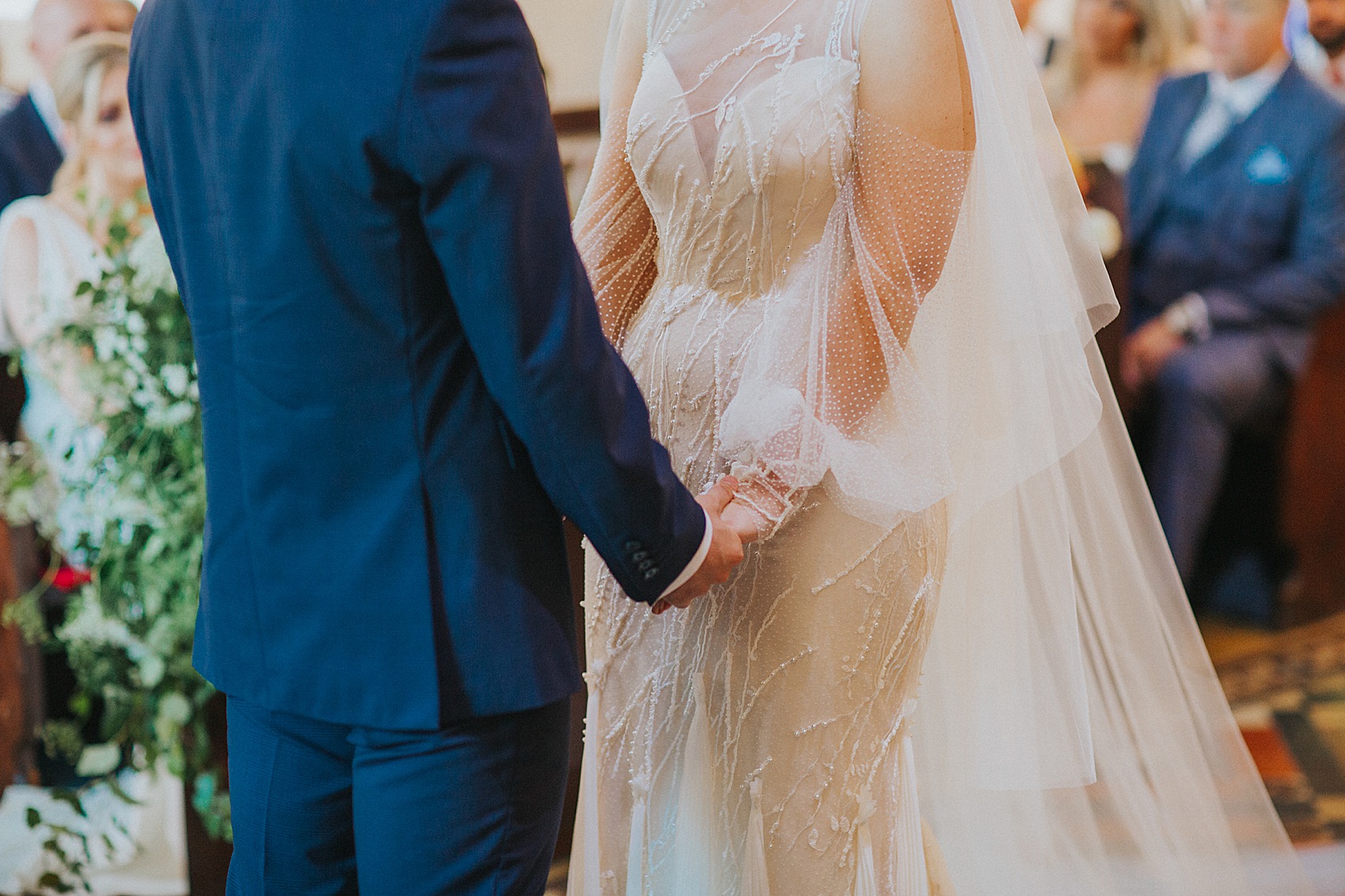 When it came to the couple's rings, the bride says…
"It is probably no surprise that this was also a 'Danielle needs to be different moment' so I didn't go to a high street jewellers. We went to the same place that created my engagement ring and had a bespoke wedding band to fit. This was from the very talented (and patient) Jeremy – JFK Diamonds! What a guy!"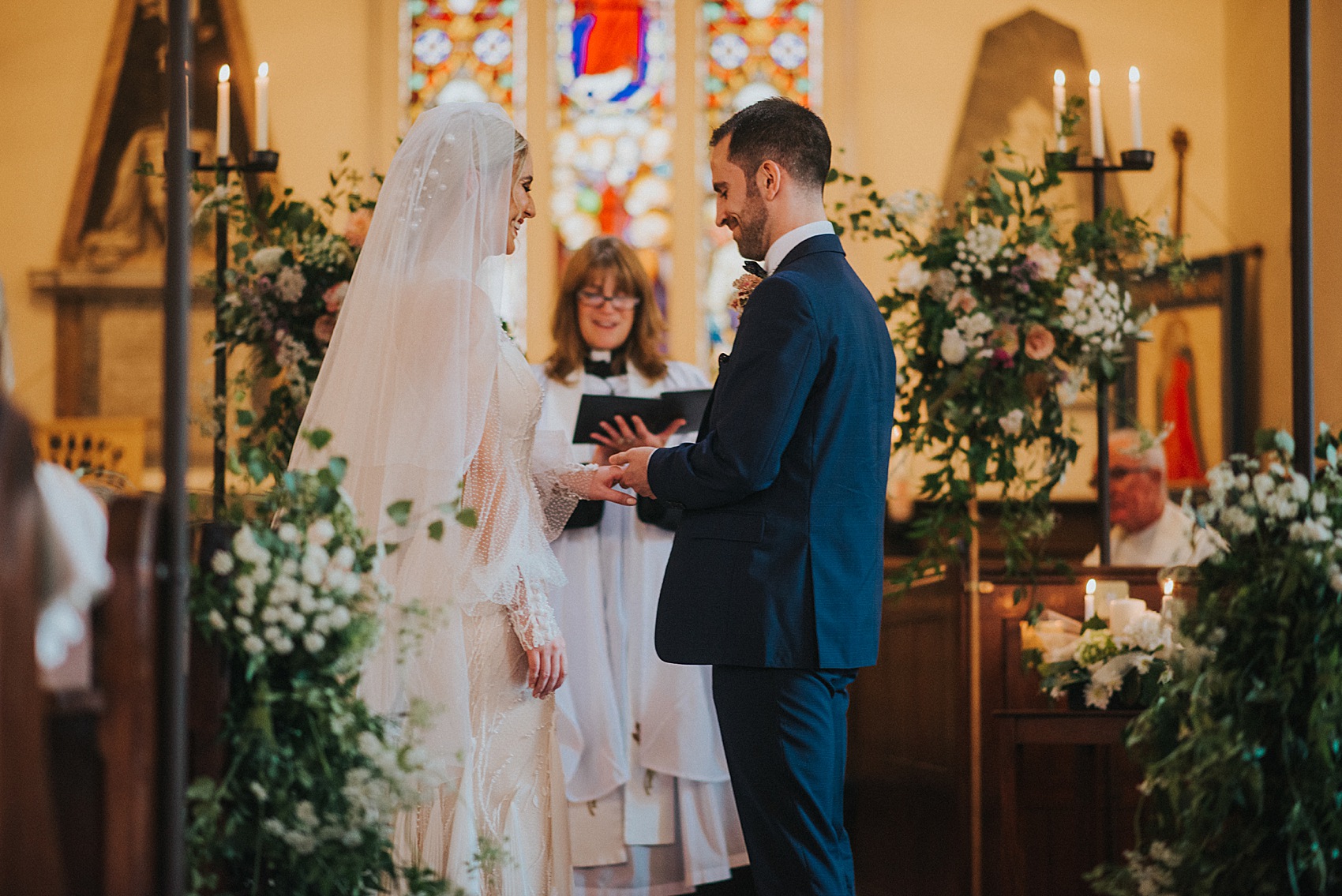 "Paula Kingston, Colm's cousin, is an amazing singer in Ireland and we just had to have a piece of her magic involved in our ceremony. She brought it all together with her truly angelic voice."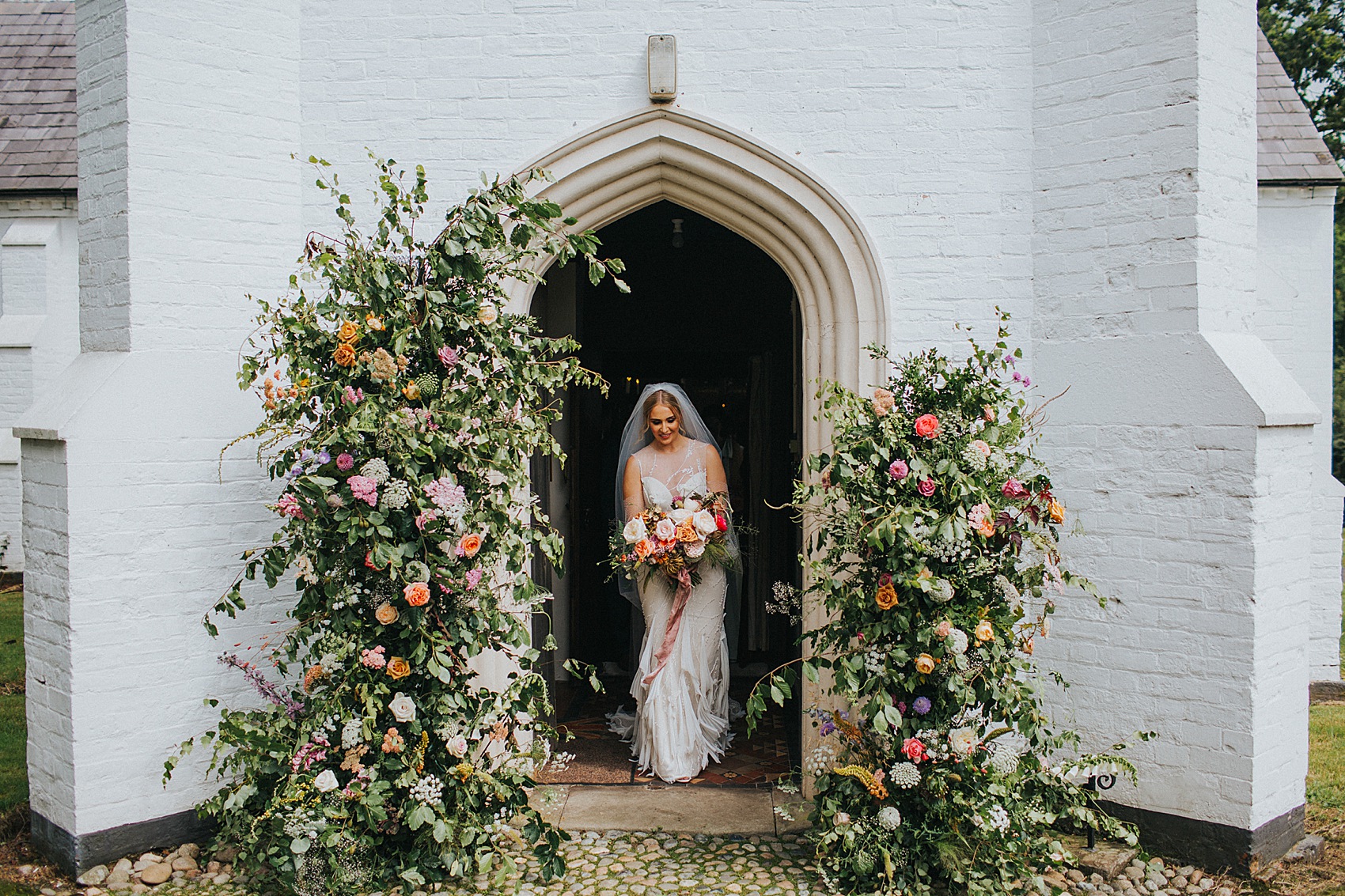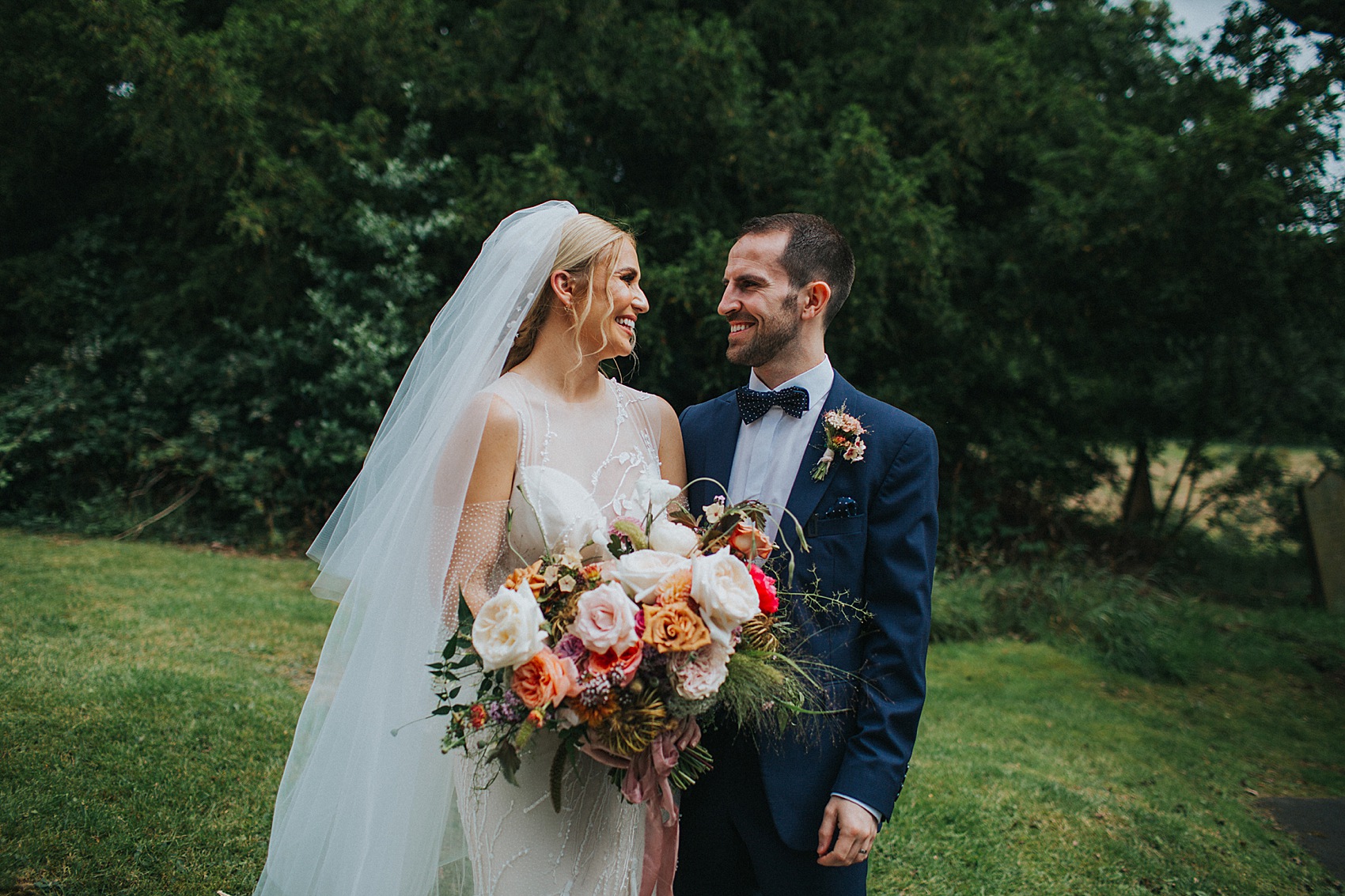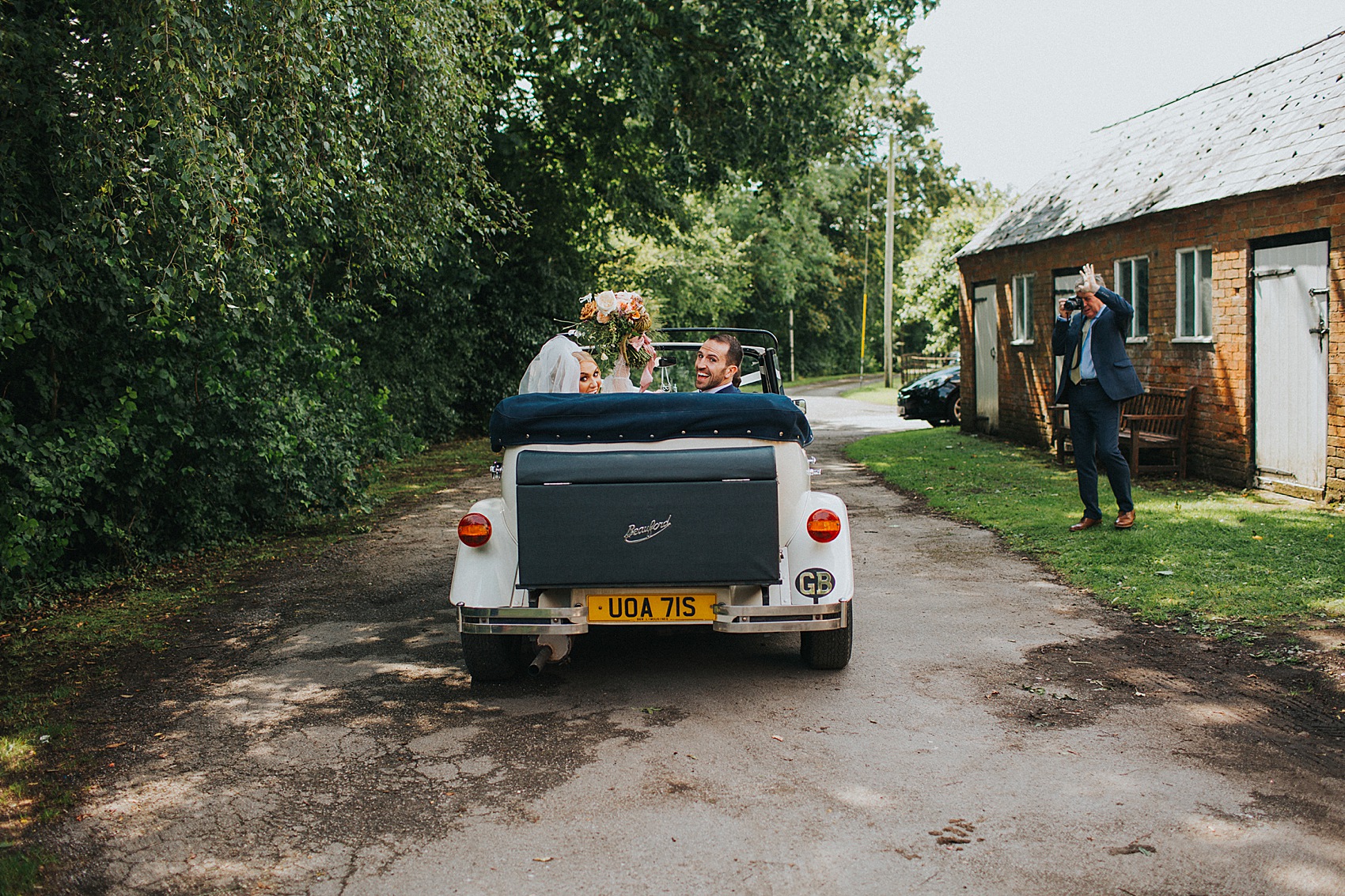 "I knew I didn't want the traditional bridesmaids dress and I had seen a lot of the same style, so the hunt was on with these. I found the dresses on Jarlo and although we had a bit of a 'drama' on the wedding day, they looked fabulous."
"For the bridesmaids shoes, we went with the trusted ASOS. They were a blush pink colour which complimented the girls' bouquets."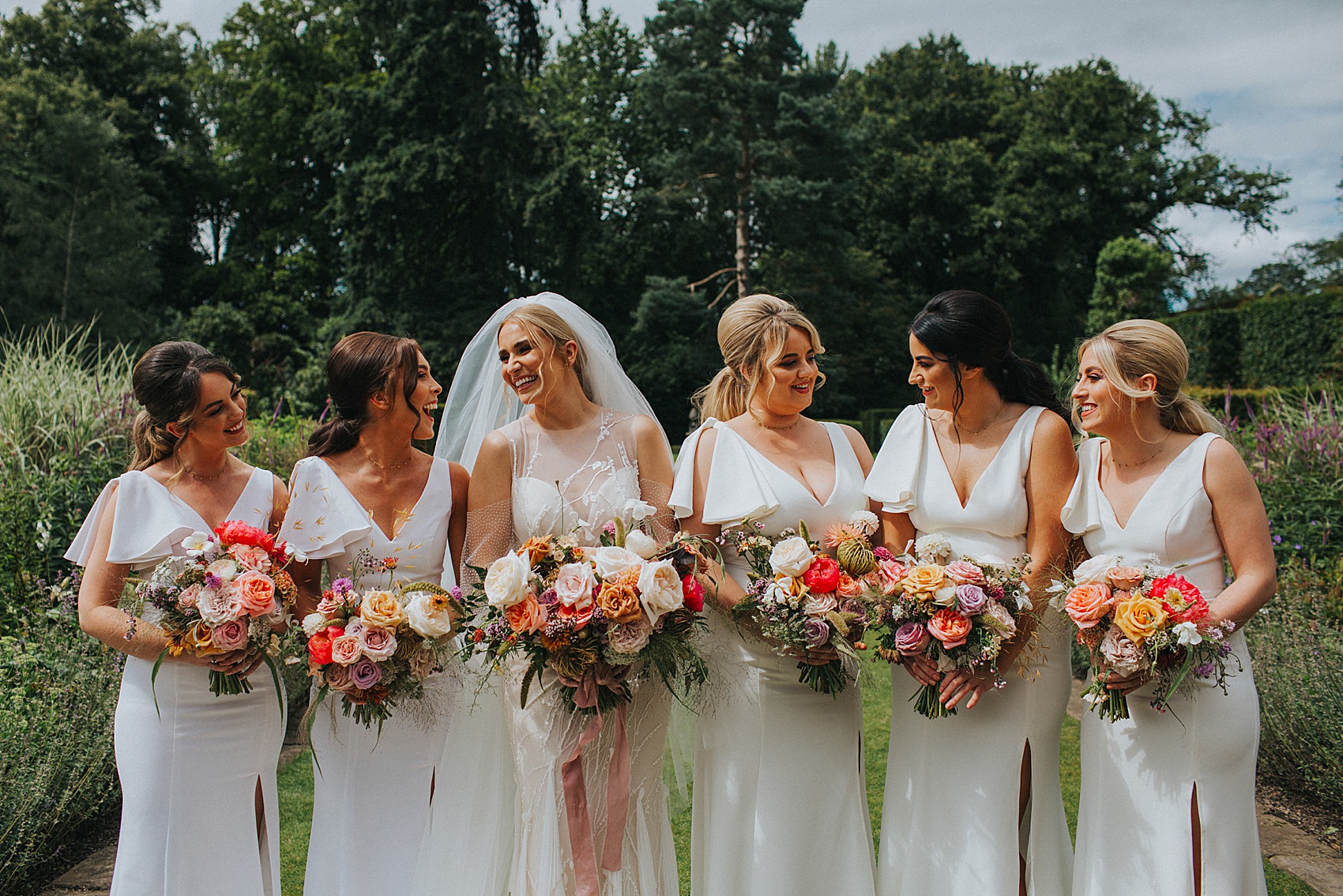 "My good friend Sara of Silverleaf, created all of our stationery – and this was no mean feat. She was so patient and creative with the initial ideas to the final artworks and they all come together so well."
"I loved the elegancy and modern influence it had – its something close to my heart being in the design industry! Sara is amazing at what we does and created masterpieces for our wedding day."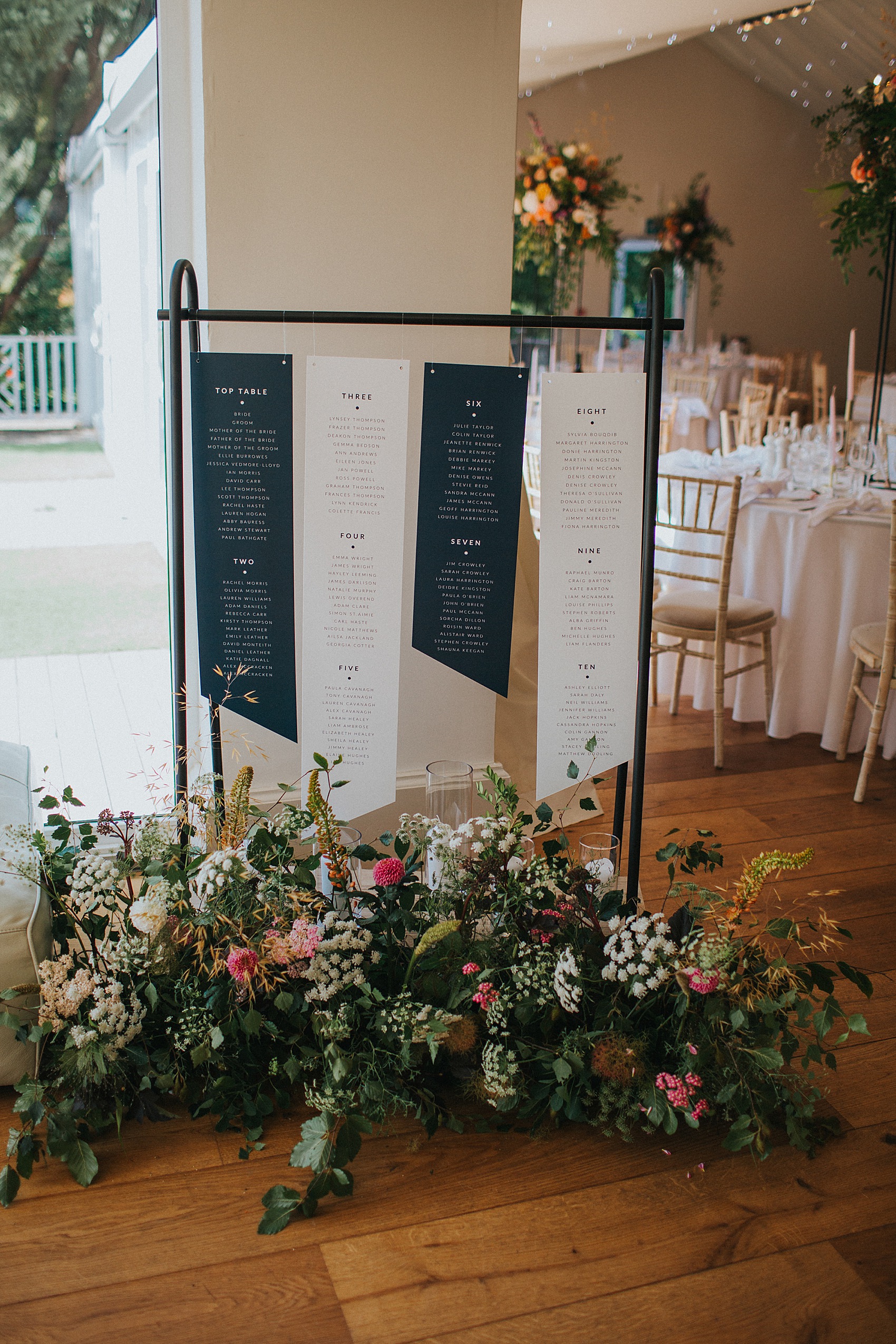 Catering was provided by the talented in-house kitchen team at Iscoyd Park.
"This was part of the Iscoyd team and what a team that is, the most incredibly talented chefs. Every dish was a delight!"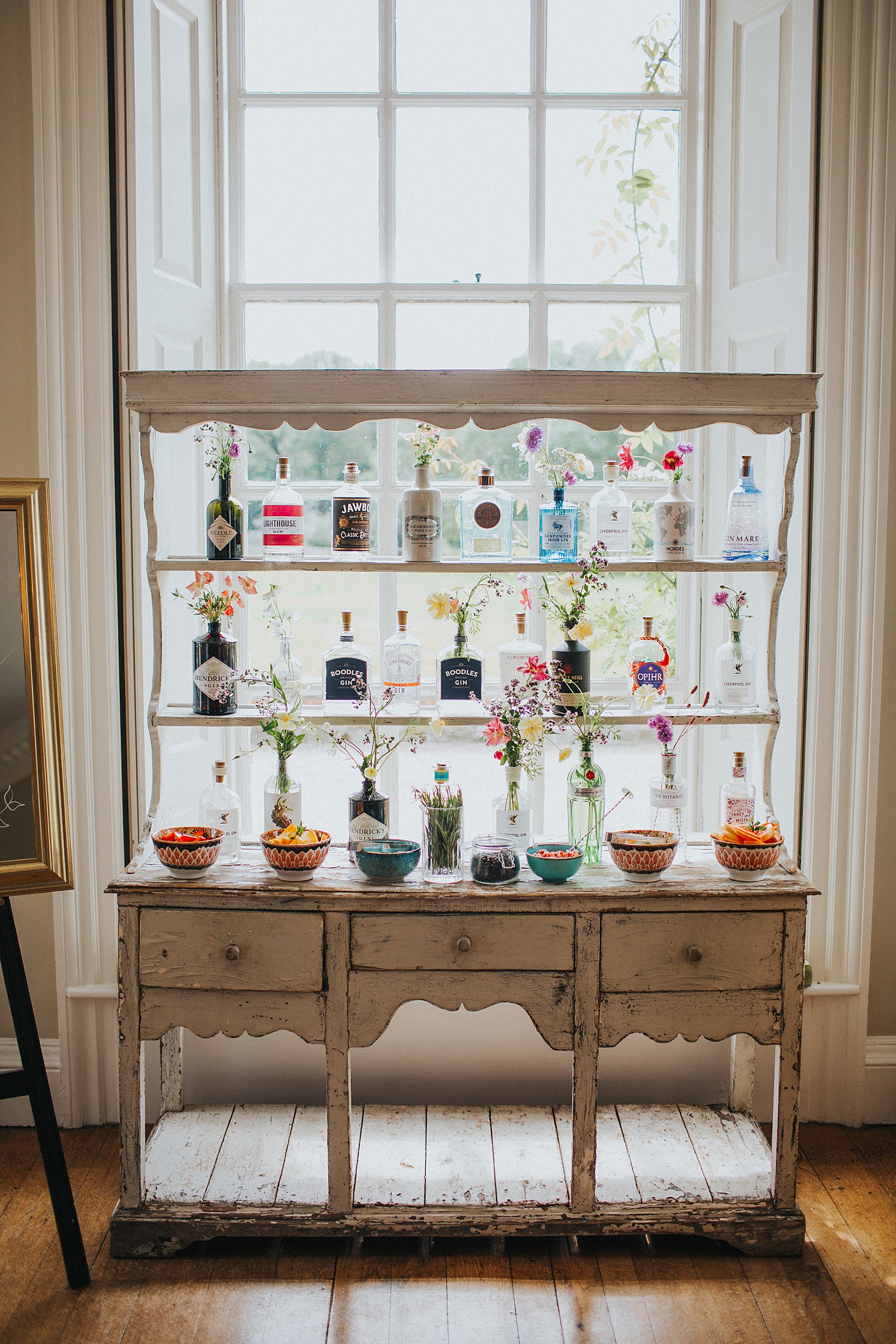 The couple hired cakemaker A Moment On The Lips to create this gorgeous pastel pink treat.
"Our cake was a last minute addition, it wasn't something we really wanted and didn't want to make a huge feature of so we went for an elegant and simple sponge. It was blush pink to compliment the tones in the blooms and draped in the same silk that wrapped the bouquets as a bow."
"We hired a neon frame via The Word Is Love, which sat at the top of the dance floor and read 'Till Death Do Us Party'.  It was such a fun additional to the décor!"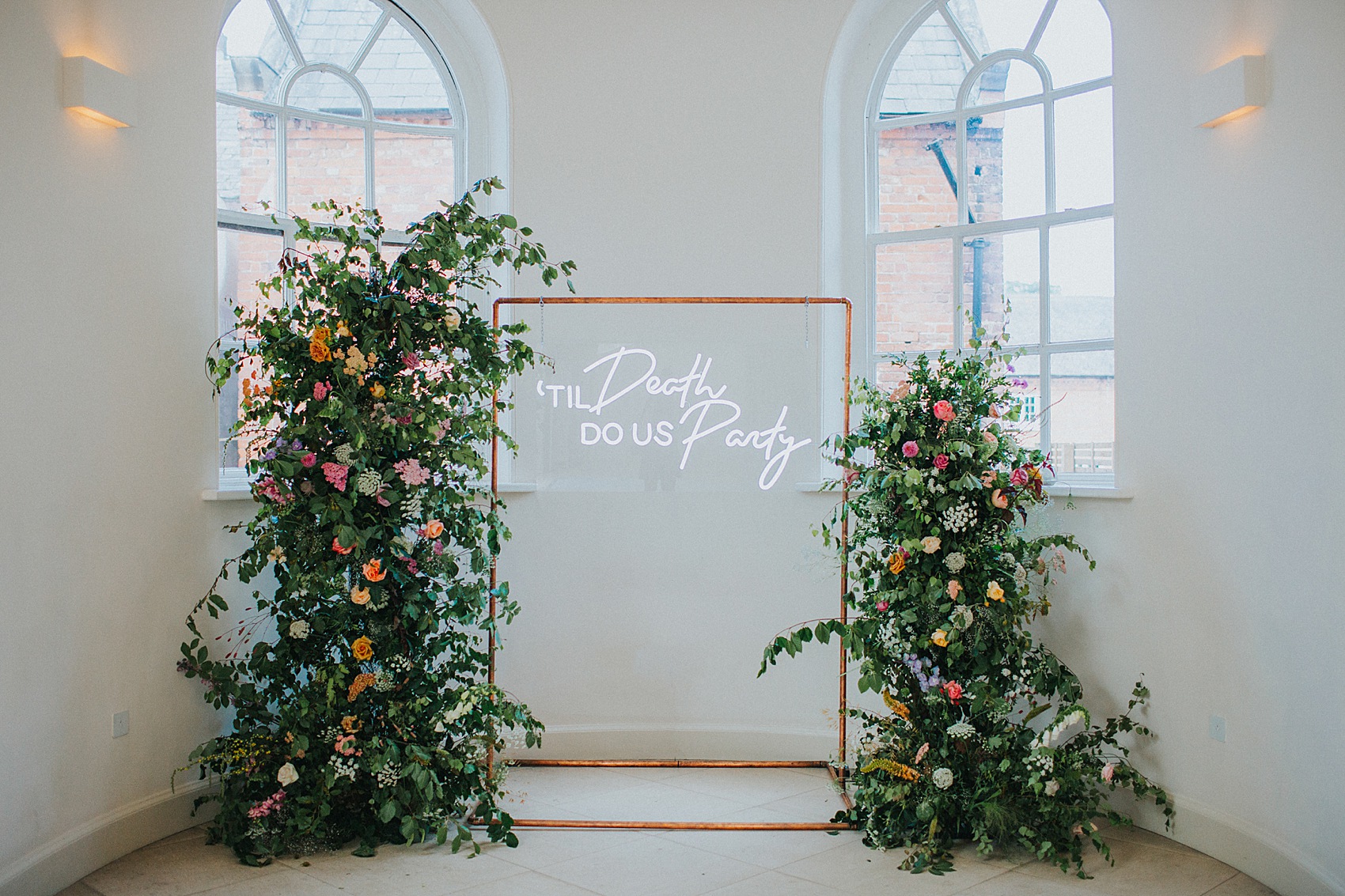 "Our photographer, Lisa Webb, was at the first open day we went to at Iscoyd Park, although we had already booked the venue, we hadn't booked any of our suppliers yet and Lisa was the first."
"We wanted the photographs to capture the happiness of the day and be fun and natural with clear style. Lisa was the perfect choice for us and knew the venue well which is always good."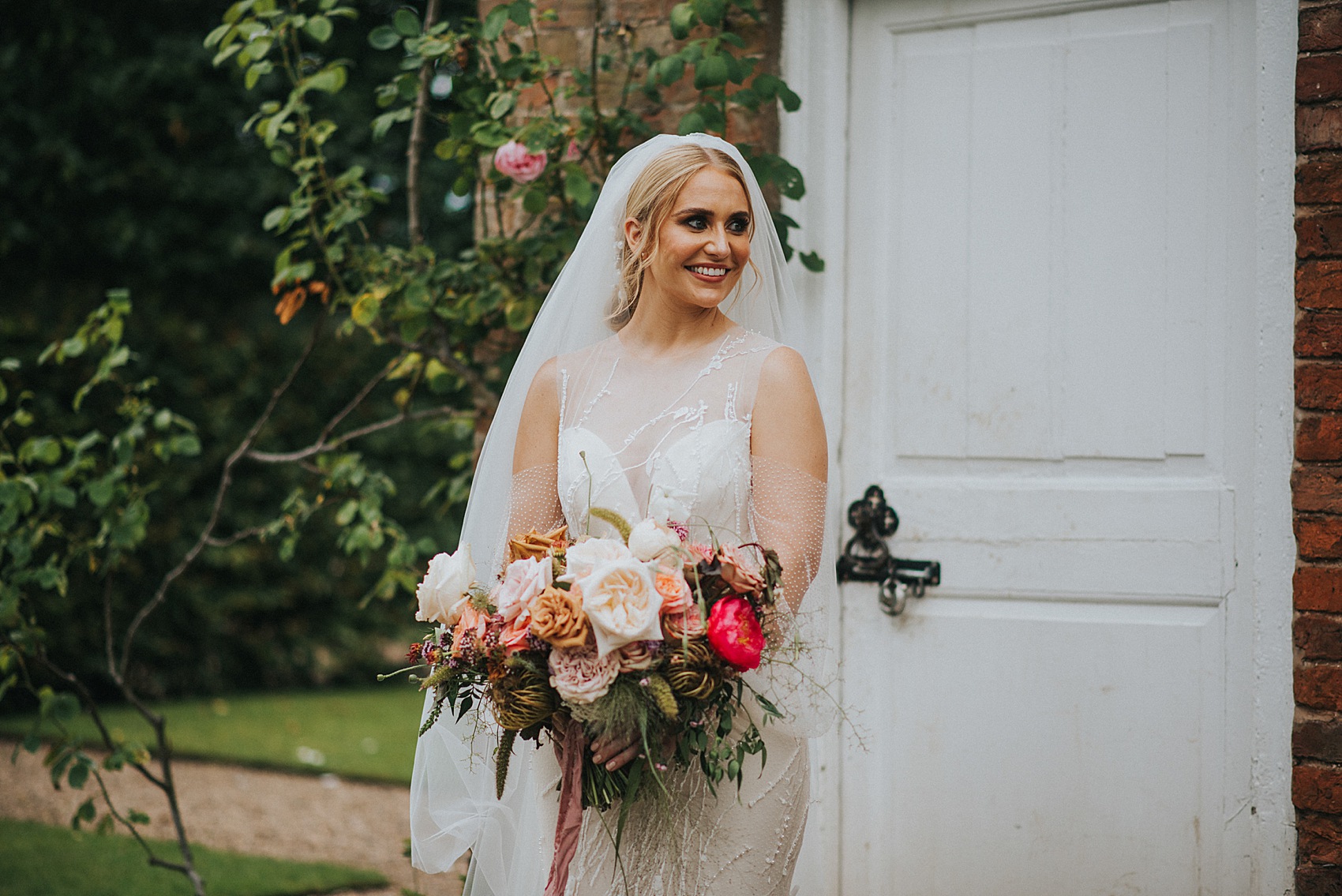 "Lisa was amazing on the lead up and the day, the pictures and album are simply stunning and has gifted us with photographs that will remind us of our perfect day forever."
"Our videographer, Shtutterbox Films, were at the Iscoyd open day and we had some great conversations and ideas. I did a fair bit of research on film content and didn't want it to be dated and slow, I kept going back to Shutterbox so needed to get them booked in!"
"Lisa had also worked with them so was an easy duo to have by my side on the day. Lee was brilliant throughout and is so talented we are thrilled with the video content."
"So, we broke every rule in the 'bro code', Colm is my brothers friend from football! (ooops!). We actually knew each other before we dated but there was never a thing, it was all very random if I am honest."
"It was new years eve, in a local pub, my best friend worked behind the bar and my brother and his mates were also in there (including Colm). As the night went on, we shared a not so discreet kiss and the rest is history."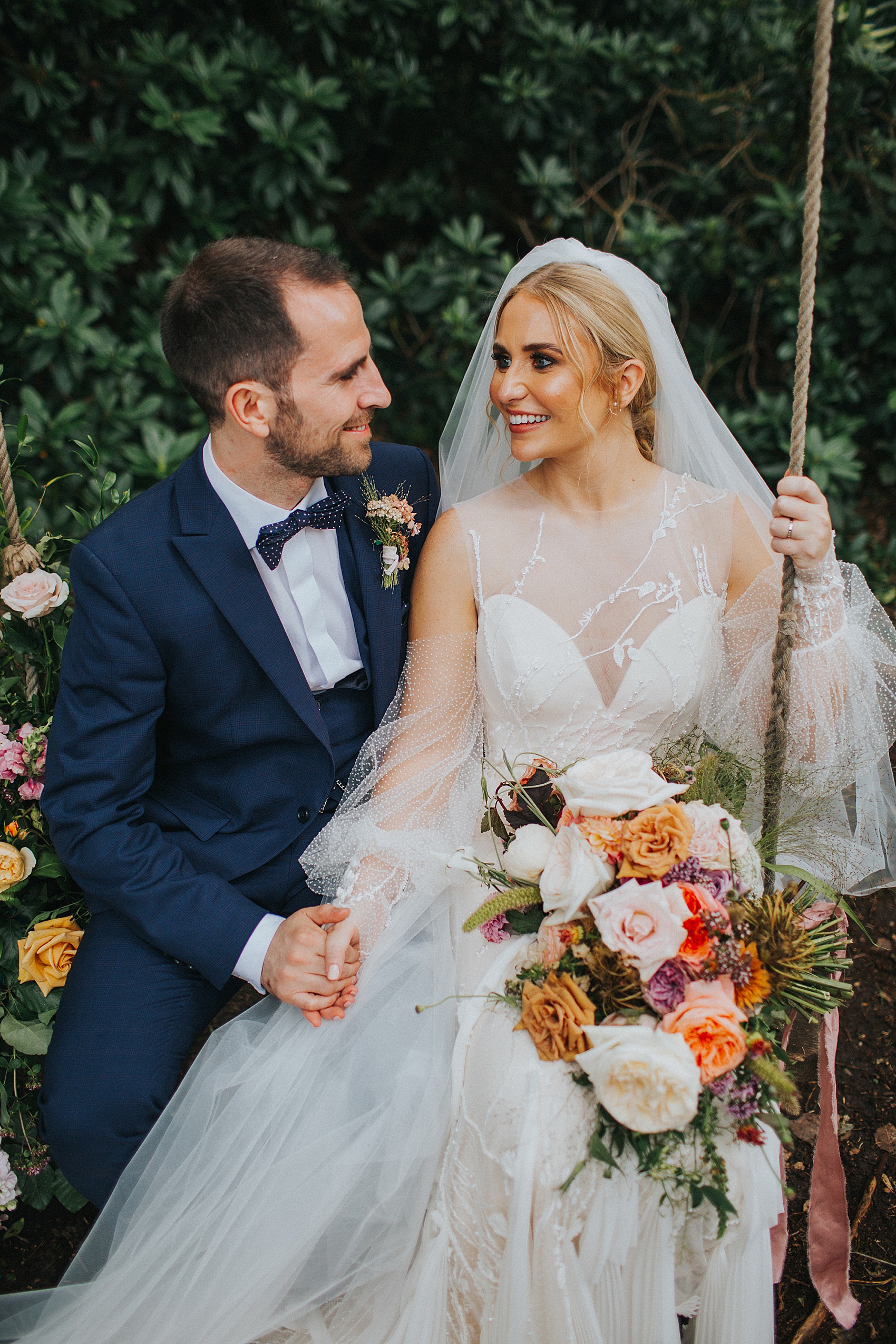 "Colm was at university in Leeds at the time and the following year I went off to Huddersfield university, so it was a long distance relationship for some time."
"That was when we were actually allowed to date rather than sneaking around after my brother said HELL NO! – I suppose you can't escape true love hey!"
"We moved in to our first home in 2015 after a few years of saving and it was a surprise trip to Florence in 2017 when he popped the question. It was honestly the most romantic he has ever been (and probably will ever be!), he really pulled out all the stops on top of Piazza de Michelangelo."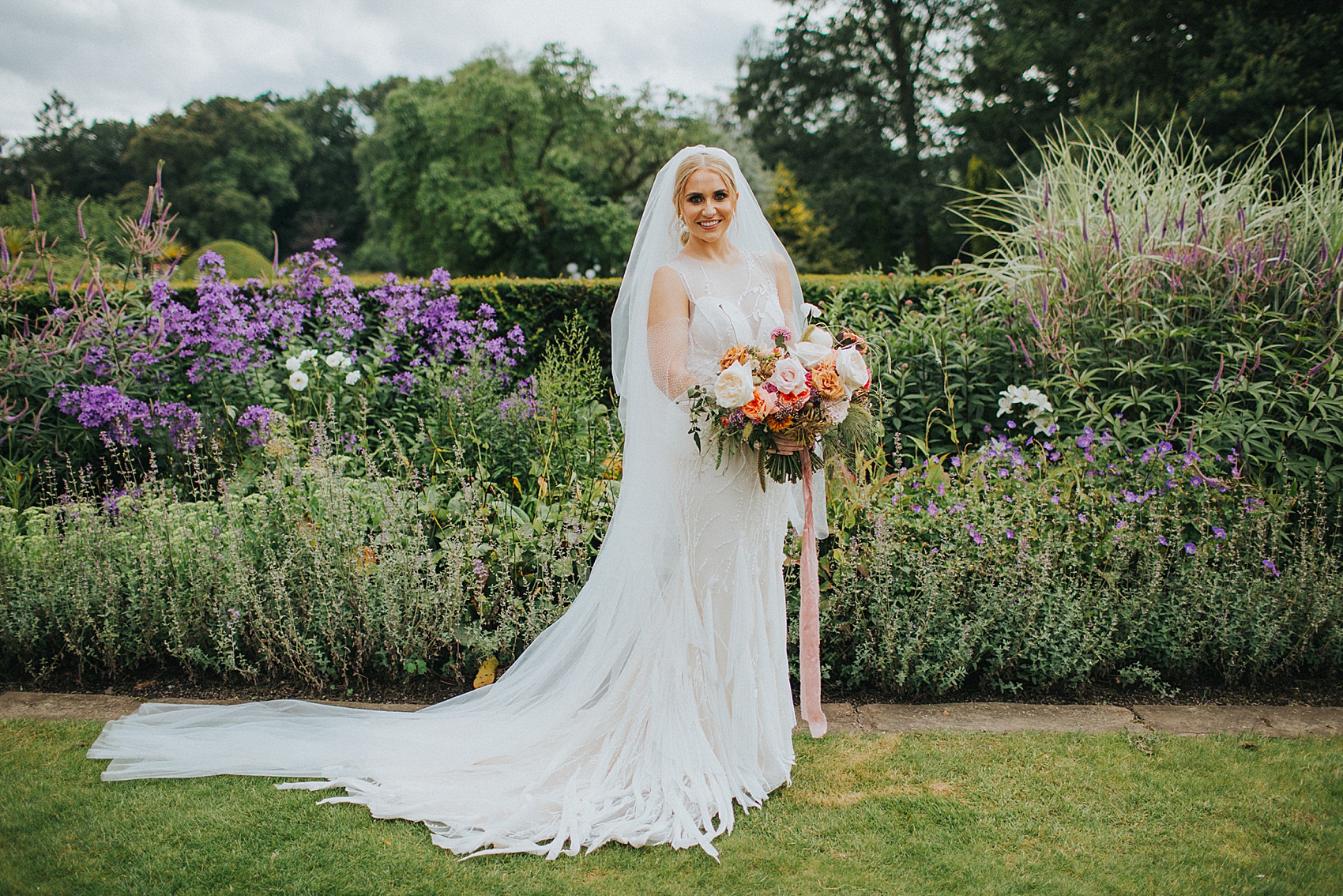 "I would do anything to relive that moment again. We dined whilst on Cloud 9 in Michelin starred La Bottage Del Buon Caffe and had the most perfect couple of days in what is now my favourite city."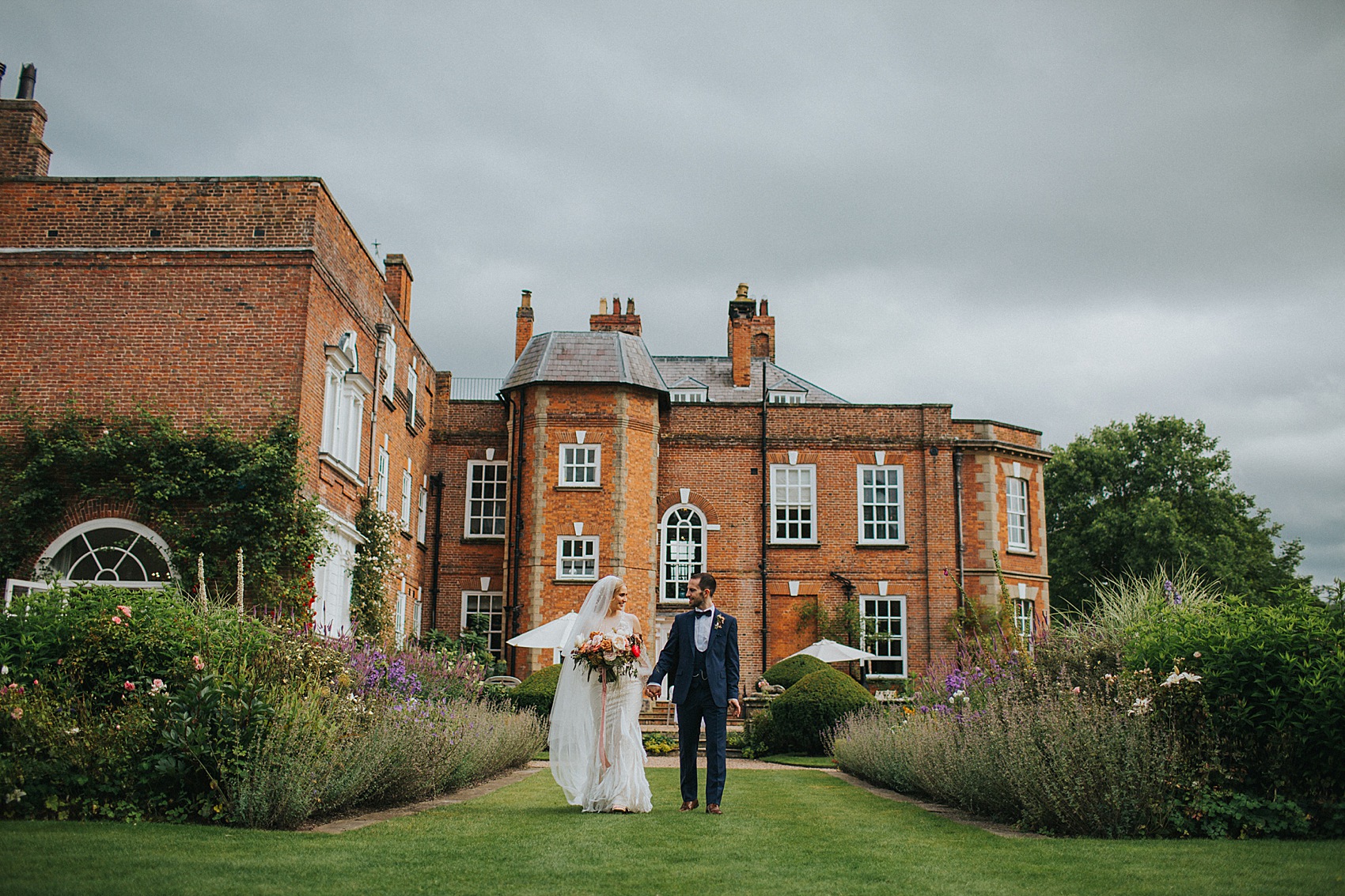 "We felt like celebrities or royalty in our own little love bubble. Seeing everyone in the same room all for us was breath-taking and having an absolute ball from start to finish. I found myself looking around speechless sometimes, which never happens."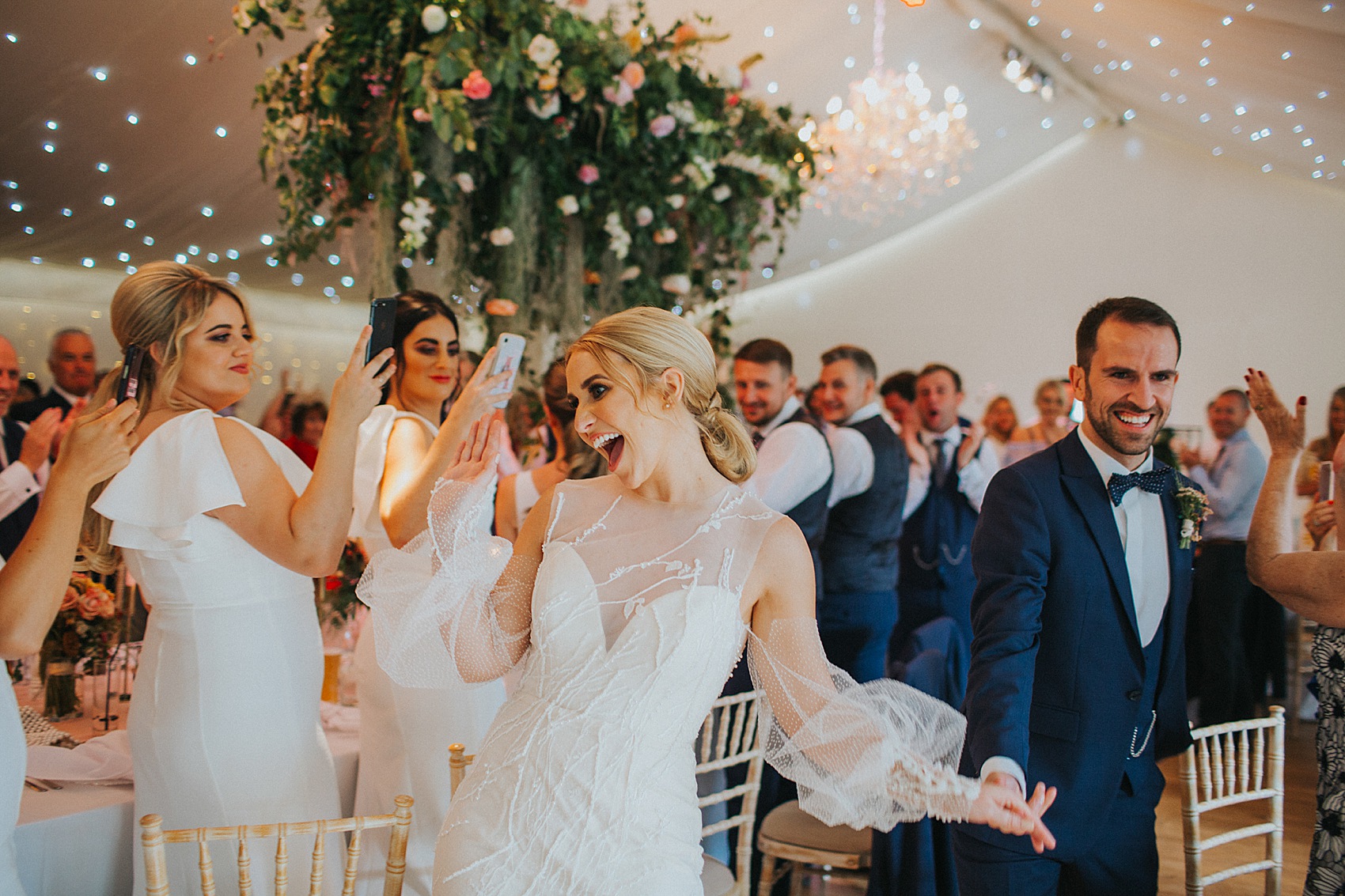 "Colm chose our dance track – it was playing one day when we were in the car and he said THIS IS IT. I simply couldn't find a more fitting one so we went with it. It was 'Hey, Soul Sister', by Train.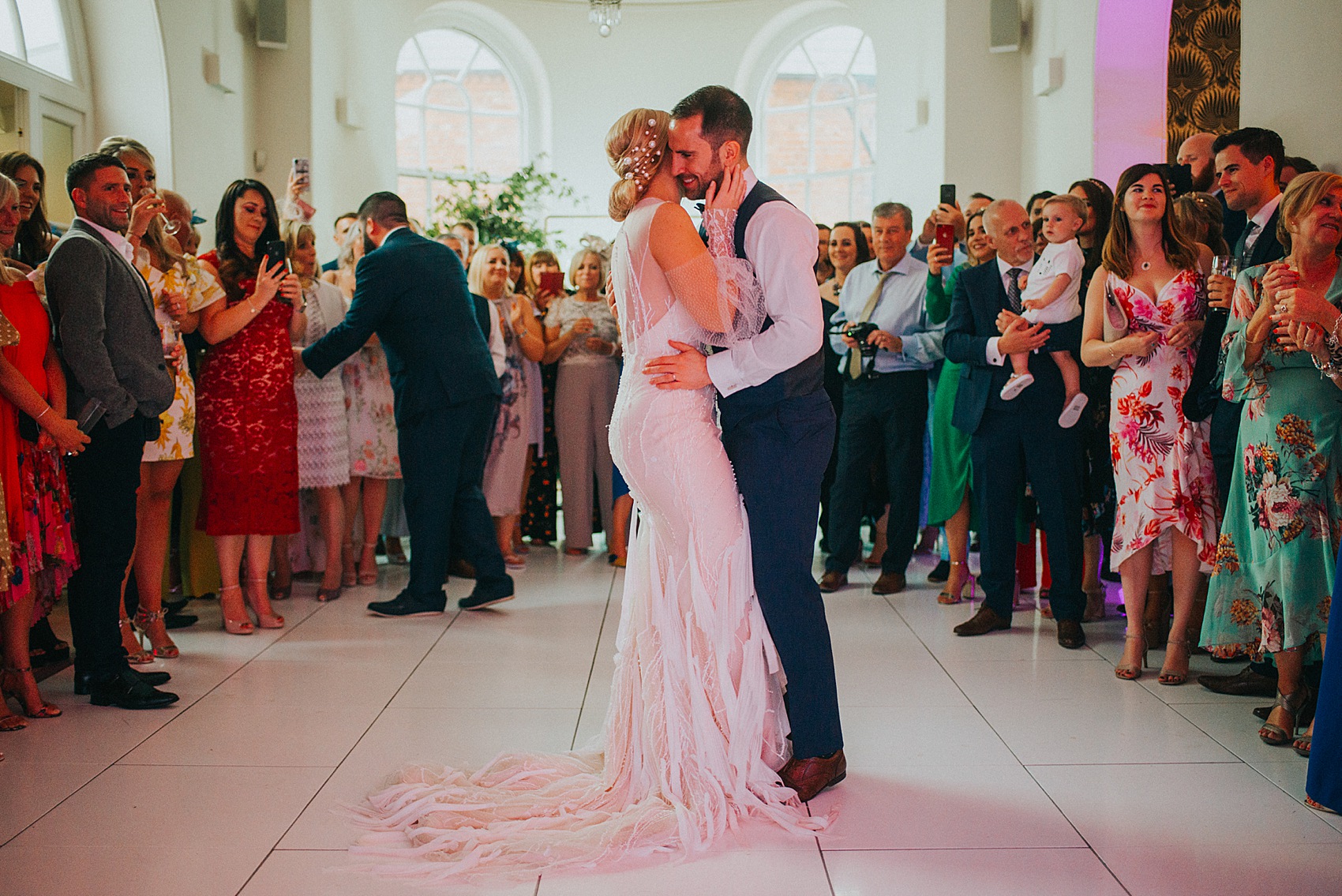 When it came to entertainment, the couple hired band UkeBox.
"This five-piece ukulele band had everything we had wished for. They are so unique and after going to see them in a local bar in Liverpool we just had to book them. They really made the evening and we had so many compliments on their performance."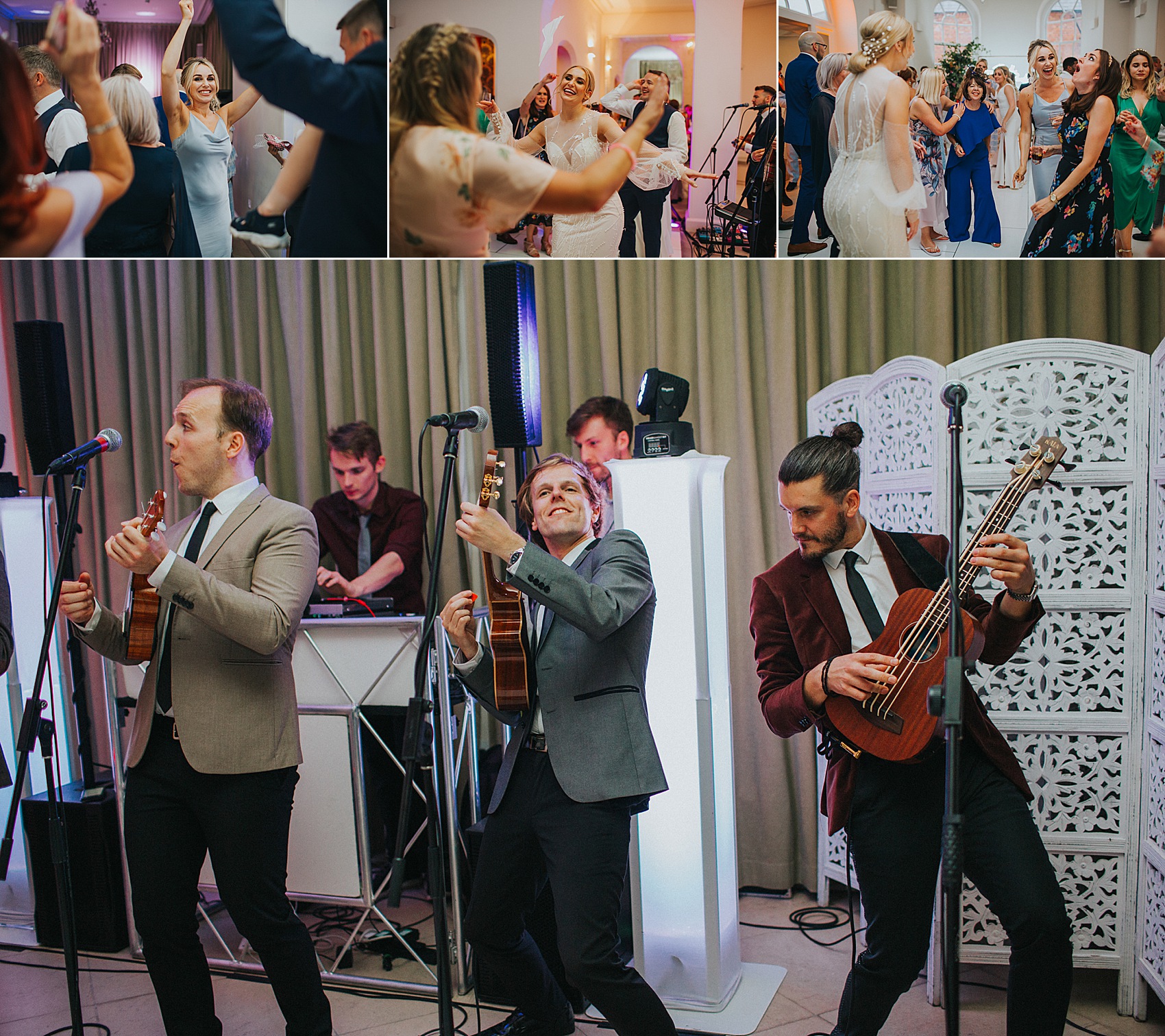 "We needed to add a bit of fun with a saxophonist, and surprised the guests with Jonny Ross after our band performed. It was a great duo and helped us party all night long."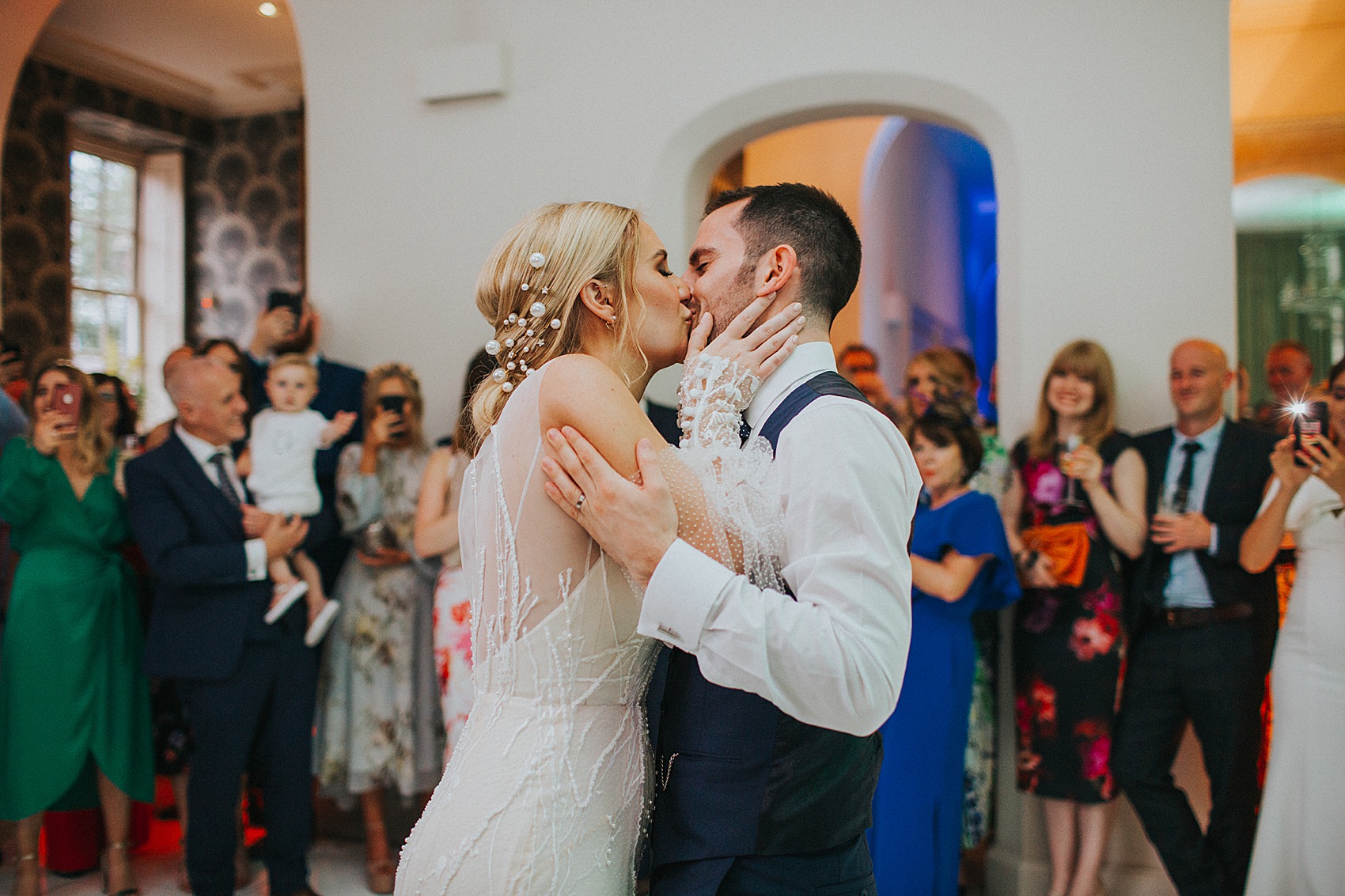 Words of Wedded Wisdom
"Honestly, take your time, enjoy every moment and do YOU. Don't have any regrets and if Auntie Winnie who lives in Glasgow doesn't want you to have pink flowers, so what!? It is your wedding! The biggest thing is having a spreadsheet with budgets, inspiration, links, contacts etc! I wish I could plan ours all over again."
"Ohh, another thing… something WILL go wrong (or not to plan) on the day. So What?! No-one else knows what's meant to be where and when so don't let it get to you and you just enjoy your special day!"
"I would have checked the bridesmaid dress colours! I alluded to the fact there was a 'drama' and it was that two of my bridesmaid dresses were a slightly different shade to the other three – it was very subtle but when you are a perfectionist like me it took me milliseconds to realise when the girls walked in to the bridal suite. I won't share what else went wrong with them!)
"We didn't really have a 'set' budget, which was probably a mistake, but we certainly covered the chunky end of £45K. Honestly… it was worth every single penny!"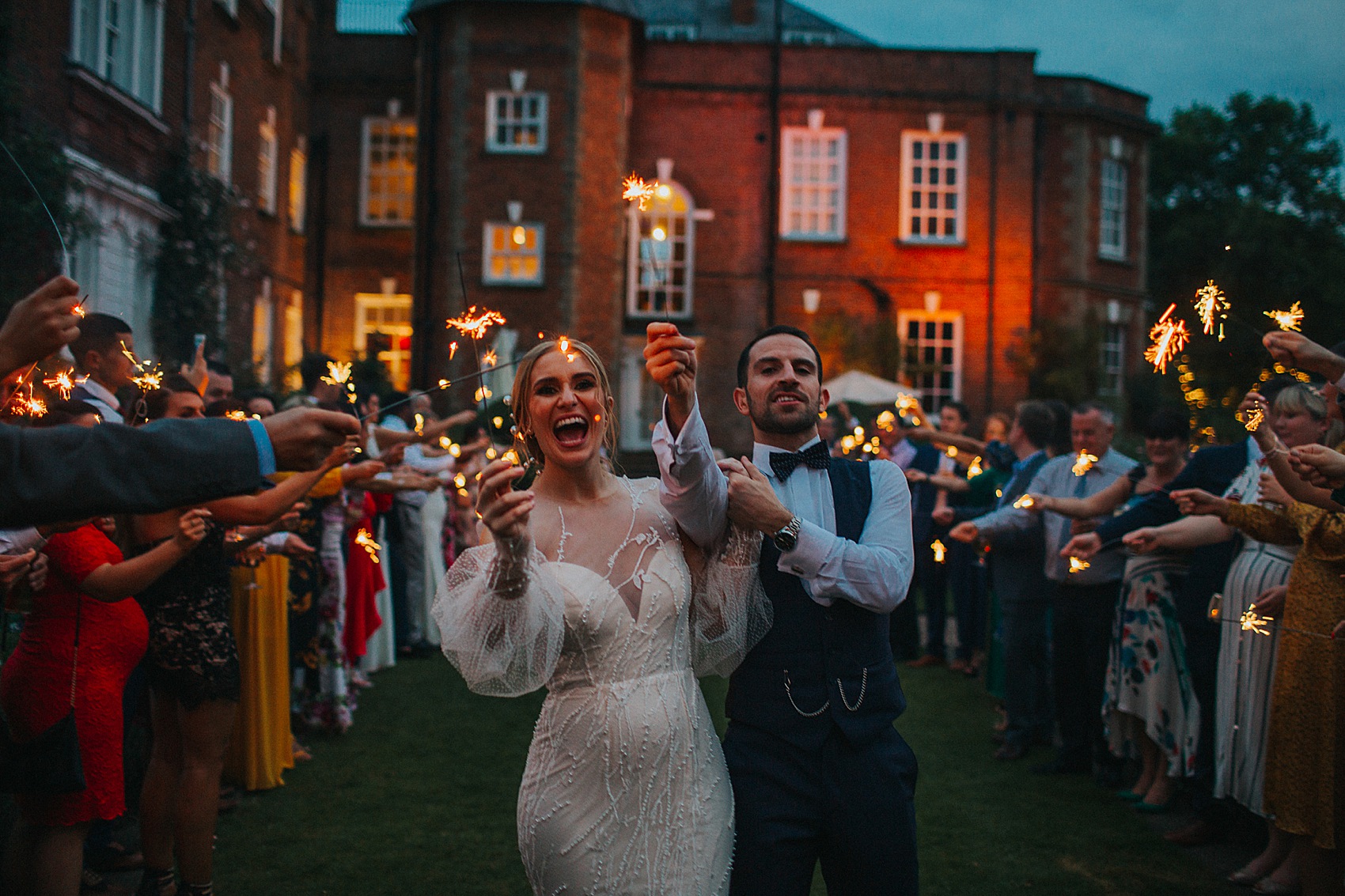 Absolutely gorgeous – such a beautiful dress, such joy captured in these wonderful images. I truly hope this lifts your weekend spirits lovely friends.
If you love the look of Iscoyd Park – you'll find more, including a variety of wedding films to enjoy, in Iscoyd Park's Little Book listing. You can also enjoy more content featuring the delicious designs of Emma Beaumont here.
Love Annabel x