Oh loves, I've the most special, wonderful wedding celebration to share with you today – a double dose of pure joy and escapism that I really hope makes you smile.
But before we go on, a quick reminder dear brides, that if you haven't already, you can join our closed group for brides support on all things wedding planning, including postponements – and you can bookmark these pages for updates on everything COVID-19 related. We'll be adding to these pages soon with fresh, uplifting and supportive content.  For now, lets enjoy this super beautiful day starting out with a creation from master film maker, Philip White.
Philip White Weddings

+ Follow
Francesca and Ben's gorgeous Spring wedding took place on 25th May last year at Low Hall The Lakes in Cumbria, The Lake District – a venue owned by the couple themselves.
"We are the owners of Low Hall The Lakes, so our time is spent running that. From gardening and maintenance, to wedding planning and coordinating, to running the bar. It's our new venture. We did look at other beautiful venues when we initially got engaged as we were worried we wouldn't be able to relax and fully enjoy the day getting married at our own venue, but we overcame that and so glad we did."

"Our photographer was the wonderful Jono Symonds. He shot my brother's wedding the year before and his images are awesome. He's also super lovely and relaxed and was a dream to have around on the day."
"Our videographer was Philip White – I'd followed Philip White's work for ages, so we were so excited when he could do it. His work is incredible. We'd definitely recommend couples to get a videographer if you can. It's such a treat to watch. We still watch it in disbelief on how beautiful it is."
"I'd worked with our florist Becky of Picking Posies before and she's fab and super lovely too. We wanted lots of rich bold colours for the bouquets."
"I had a great local make up artist who has just started out, she's called Felicity and she works under Jaye Adams.."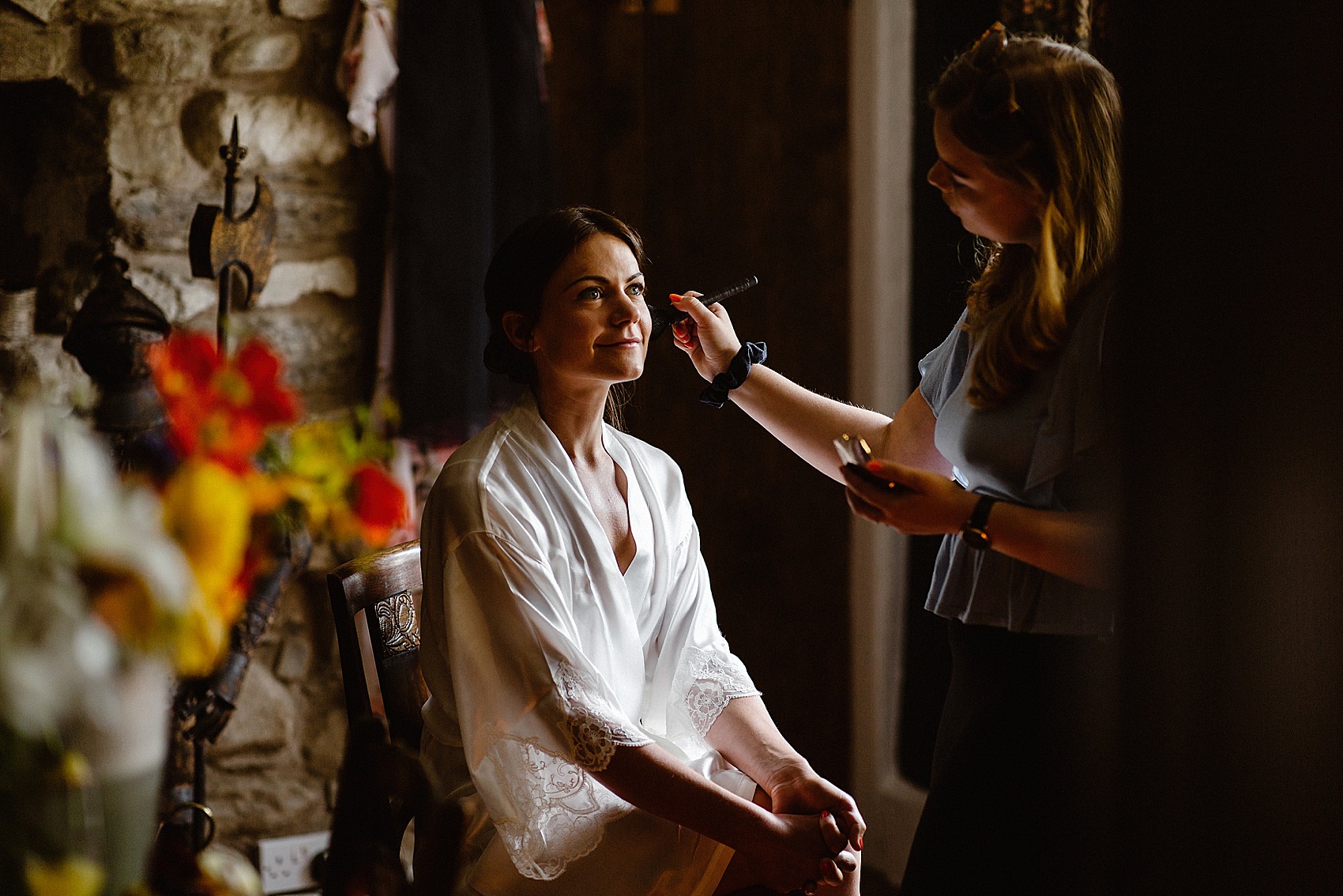 "My feather headpiece was by a gorgeous boutique in Barcelona called Lito & Lola. One of my bridesmaids lives in Barcelona and introduced me to the shop, it's amazing! So she went in and took loads of snaps for me then over instagram I ordered one."
"They were so so good, as I was very last minute in getting in touch and they made it for me the weekend before Aimie flew over for our wedding."
"I wore my late nana's dress ring, she would have loved to have been there and never quite made it to Low Hall. I also wore my great nana Jessy's dress watch. Ben bought me some sunflower earrings which I was surprised with on the morning. I'd spotted them a while ago and the bugger put me off them."
"Faber Novella where I got my shoes was also a really personal one on one experience that I loved and the shoes are so comfy."
They're super cool – you choose your heel; shape, height and colour then your shoe; shape colour style etc. I mixed fuschia pink with a light gold block heel."
Francesca wore the coolest separates by Parisian designer Rime Arodaky, from The Mews in Nottinghill.
"My dress above all was amazing. Rime Arodaky is a wonder woman, every collection, every dress is insane and so unique I would have tried every one on if I could as they all just make you feel incredible. My dress was a clear winner though, as soon as I put it on I knew and didn't want to take it off."
"A lot of people said to me you should get a dress that suits the venue. I'd say that's true to an extent but only for practicalities. If you love it you'll make it work. The Mews at Nottinghill was fab. It was such a warm joyous experience and Justine my main contact in there was so lovely."
The couple hired a local wedding planner Annabel of Weddings By Annabel to help them plan and style their day.
"In order for us to truly enjoy the day we got Annabel to run around behind the scenes and do all the coordinating bits we usually would. She was fab!"
"We just had one flowergirl – lil Ayda our niece. She wore a gorgeous tutu from SixStories on Etsy, which she would love now but hated then, I think she was just a little too young whereas now she'd be dancing down the aisle.  Sparkly converse, a simple tee and a colourful little denim jacket completed her look."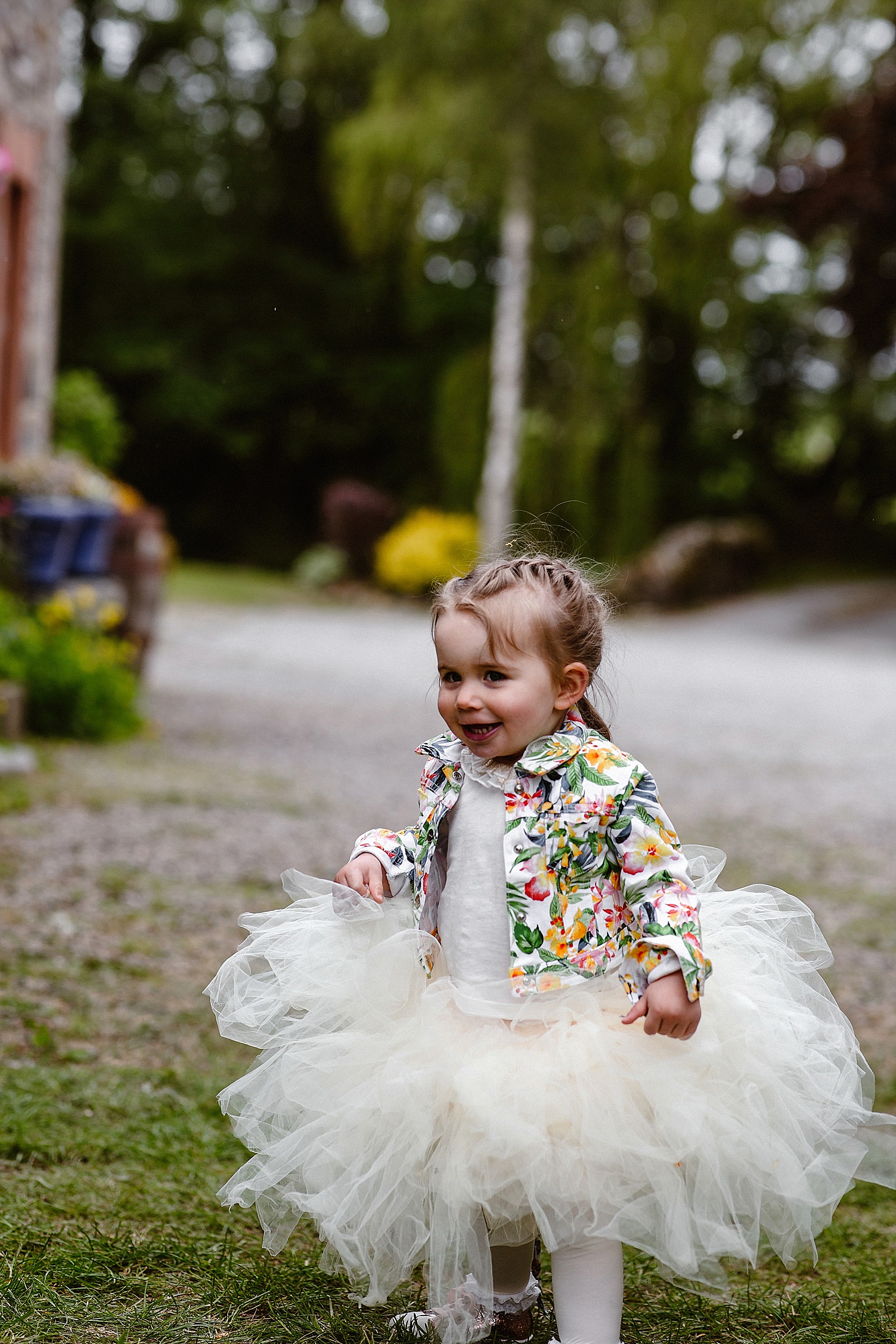 "We met while both travelling solo around South America on a bus in Rio. The coolest city on earth. I'd spent a week there at carnival and Ben had just just arrived. So I put myself on a tour bus for the day to see the sights I'd missed."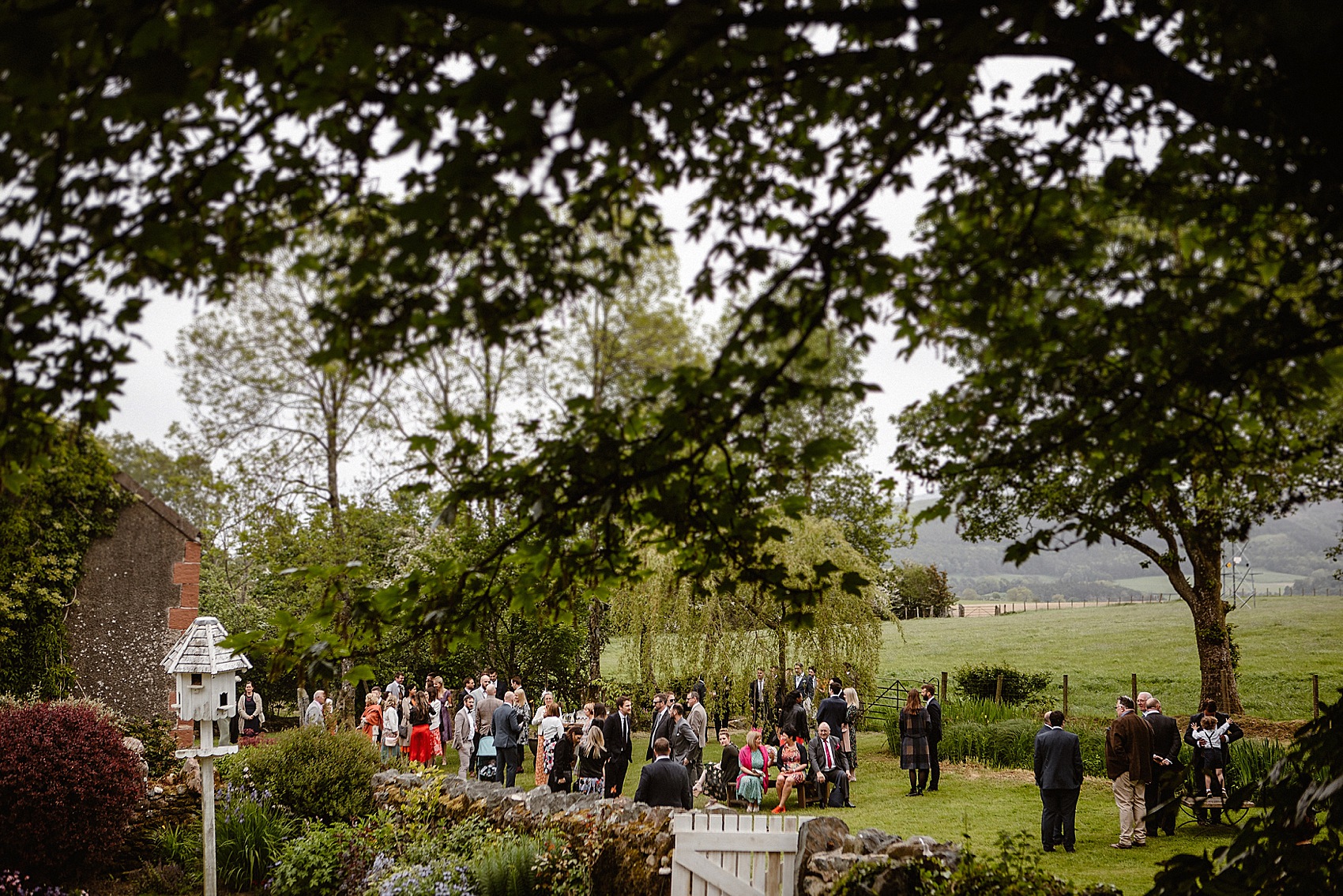 "Ben hadn't booked on the tour but we picked a few people up from his hostel and the driver shouted to see if anyone wanted to join as there was a spare seat."
"That seat was next to me and Ben got on. We spent the best day ever going around all the amazing sights then partied more at Carnival that night. It was my most favourite day ever."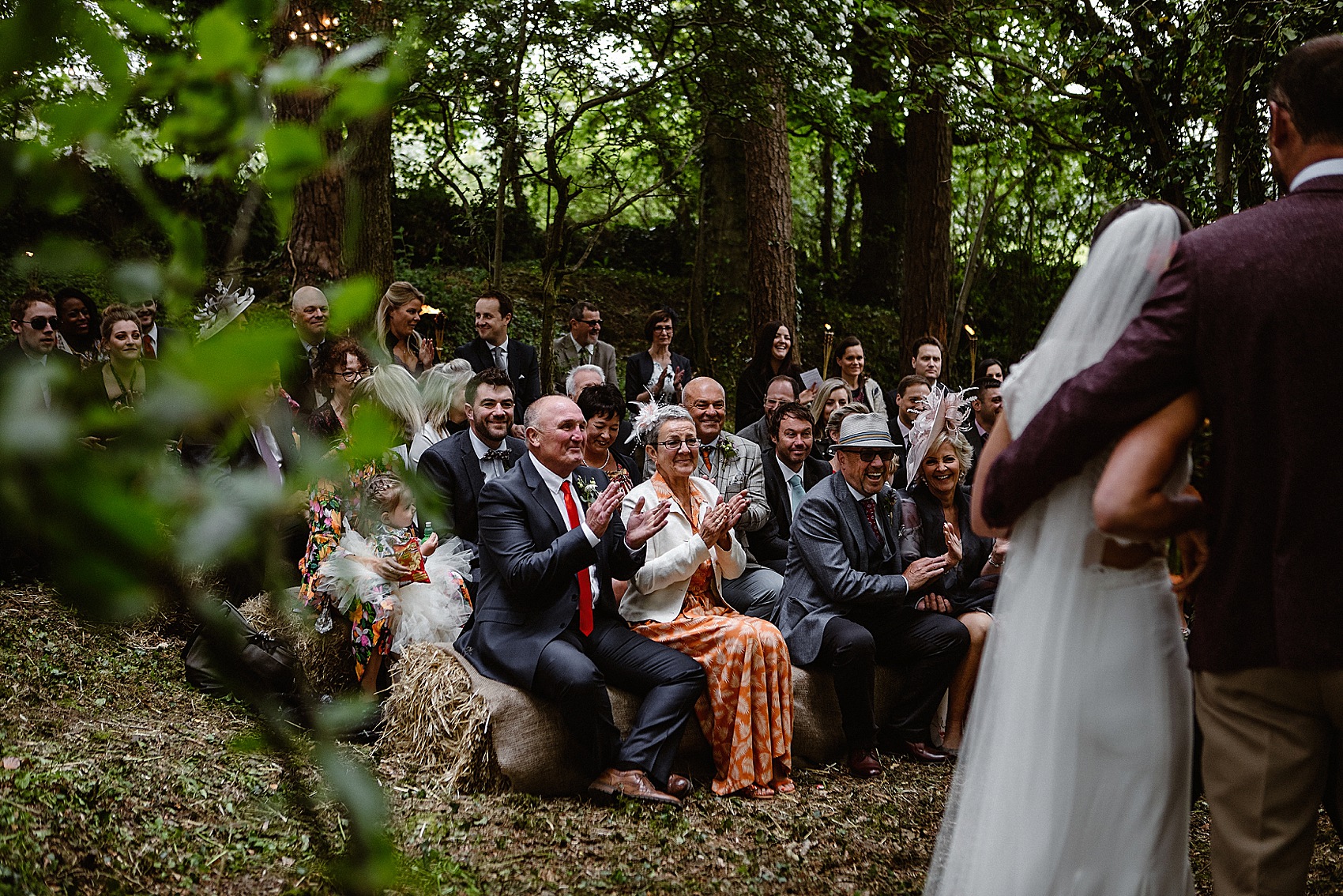 "We had our second date in Buenos Aires and third in Columbia which is actually where we first formulated the dream to leave our jobs and start our own business where we'd have fabulous events and a cool guest house. A month later, I met Ben off the plane at Heathrow and we've not been apart since."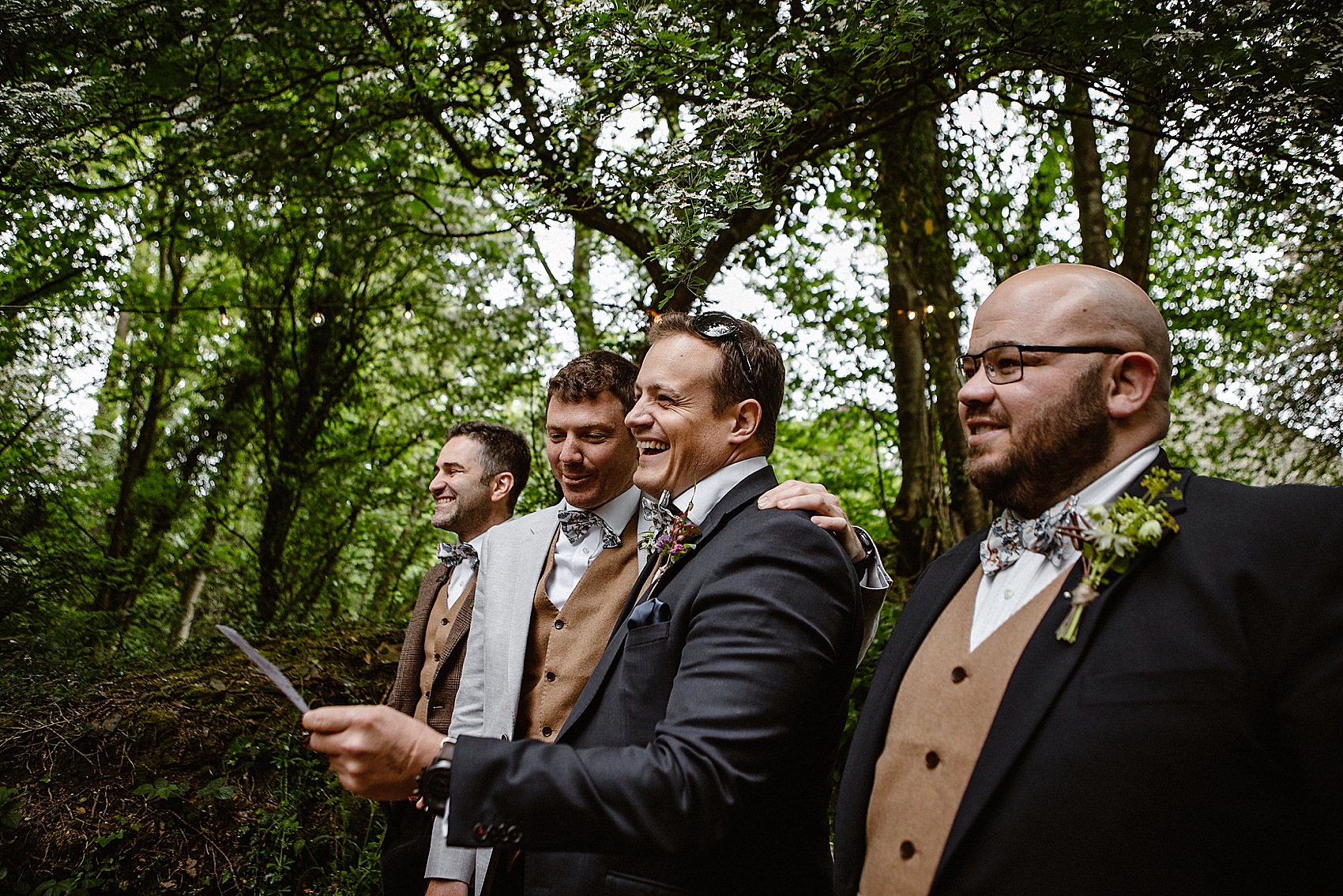 "Ben proposed the night we got the keys for Low Hall, there was a storm, so we had no electrics and had to order in a curry. It was in front of the fire and perfect. The cuzza arrived 15 mins later."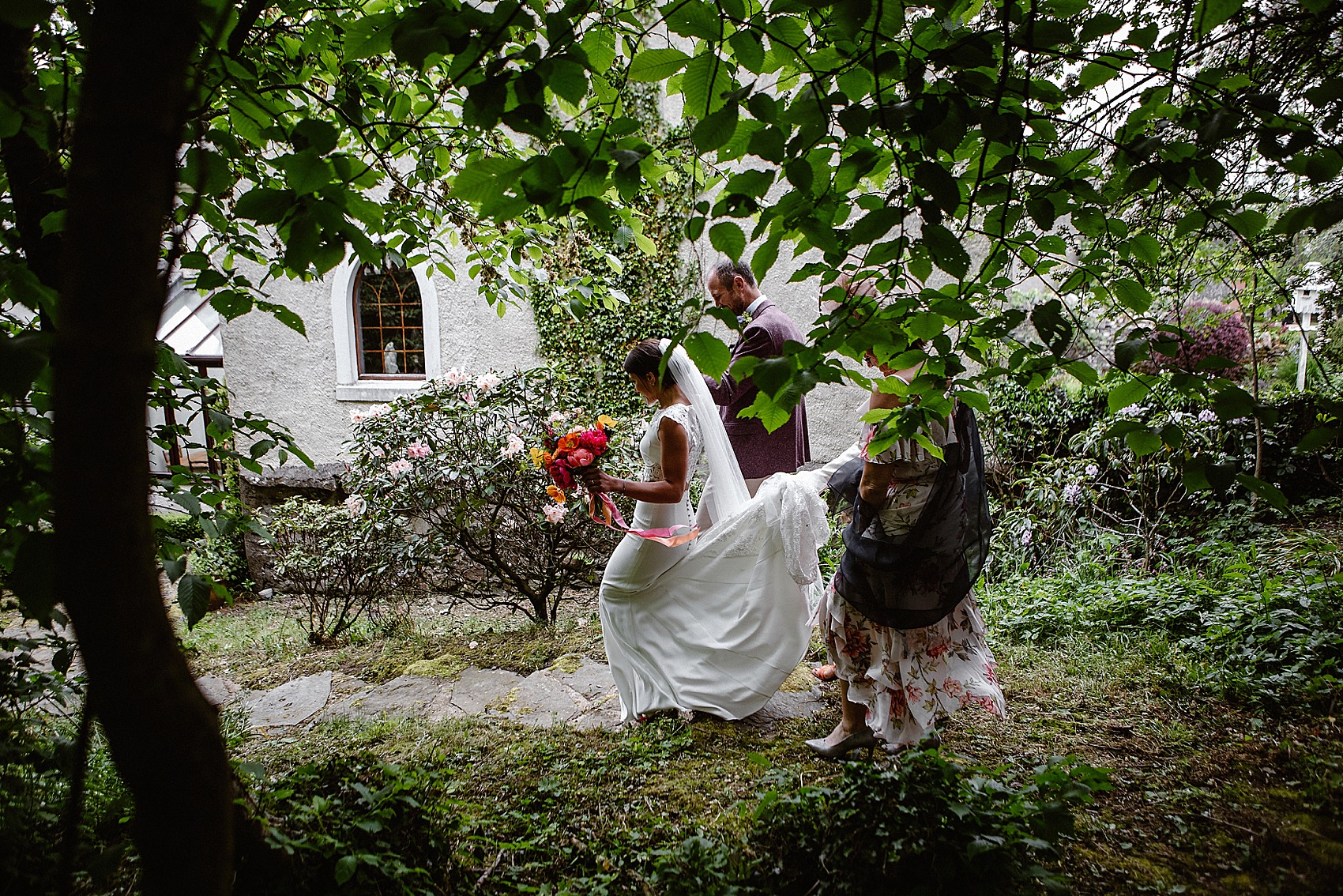 "Our meeting in South America. Rio Carnival in a sense that we wanted a super fun and colourful day of partying. And one of our main dreams since moving in was to have a mass carnival style parade/party up our lane with the cows watching on in bemusement."
"So despite the weather, we did it and raved in the rain. Plus, we drank a lot of coco locos in Columbia so we had these totally tropical delights complete with paper umbrellas served late afternoon to get everyone in the mood to party."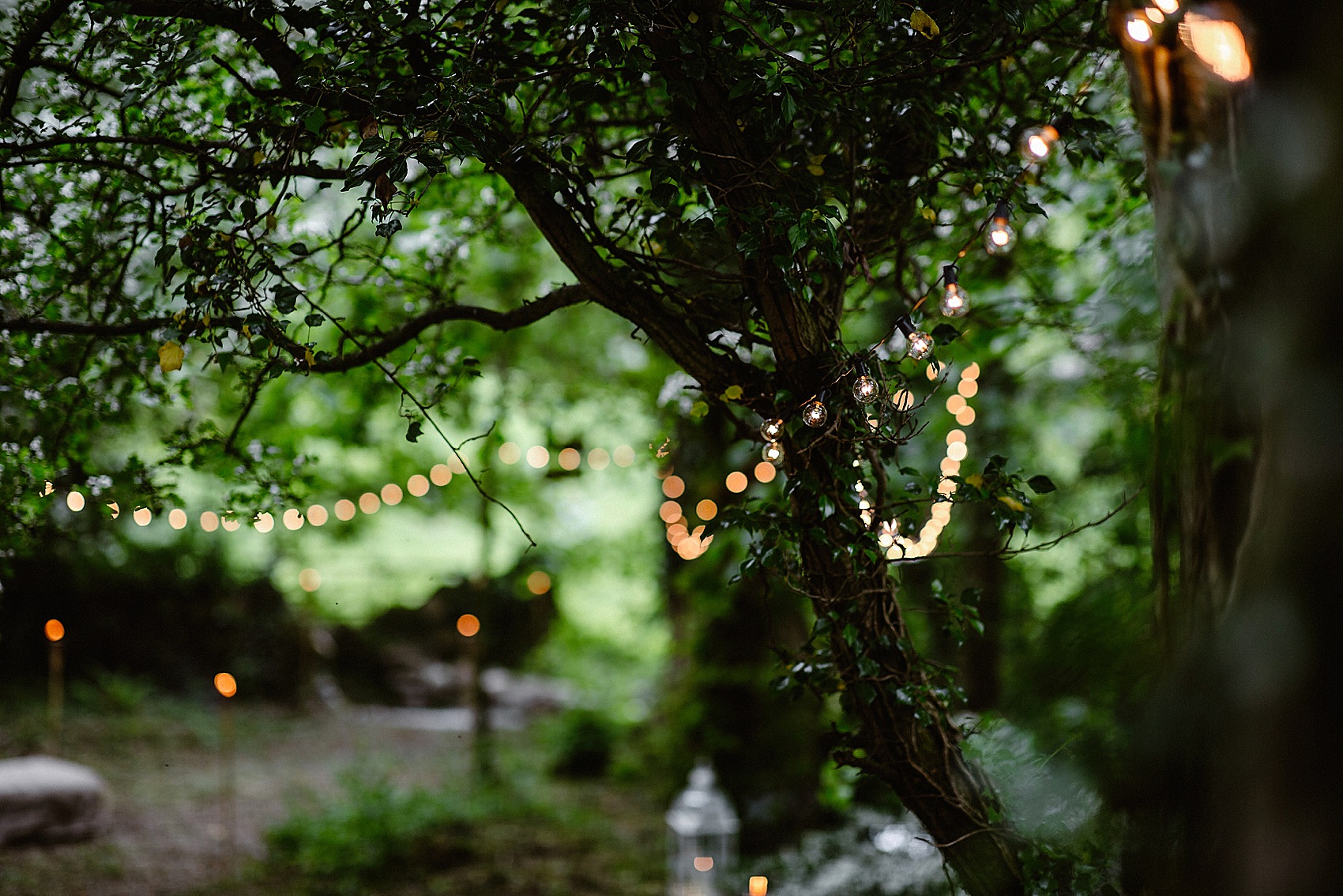 The bride entered the ceremony with her father, to the sound of a beautiful version of LA Vie En Rose, by a french duo called Laura and Anton.
"We had two, one by one of Ben's Groomsmen, Marriage (Author unknown) A more realistic view of marriage, very funny and surprisingly lovely all the same'. And one by my brother, which was beautiful but I can't find the title and nor can he."
"It was very wonderful though and lovely from brother to sister. We let both of the guys choose their own readings. We also had two of our really good friends perform Ben E King's Stand By Me and we all joined in. Helen used to be an opera singer and Bart is fab on the guitar. "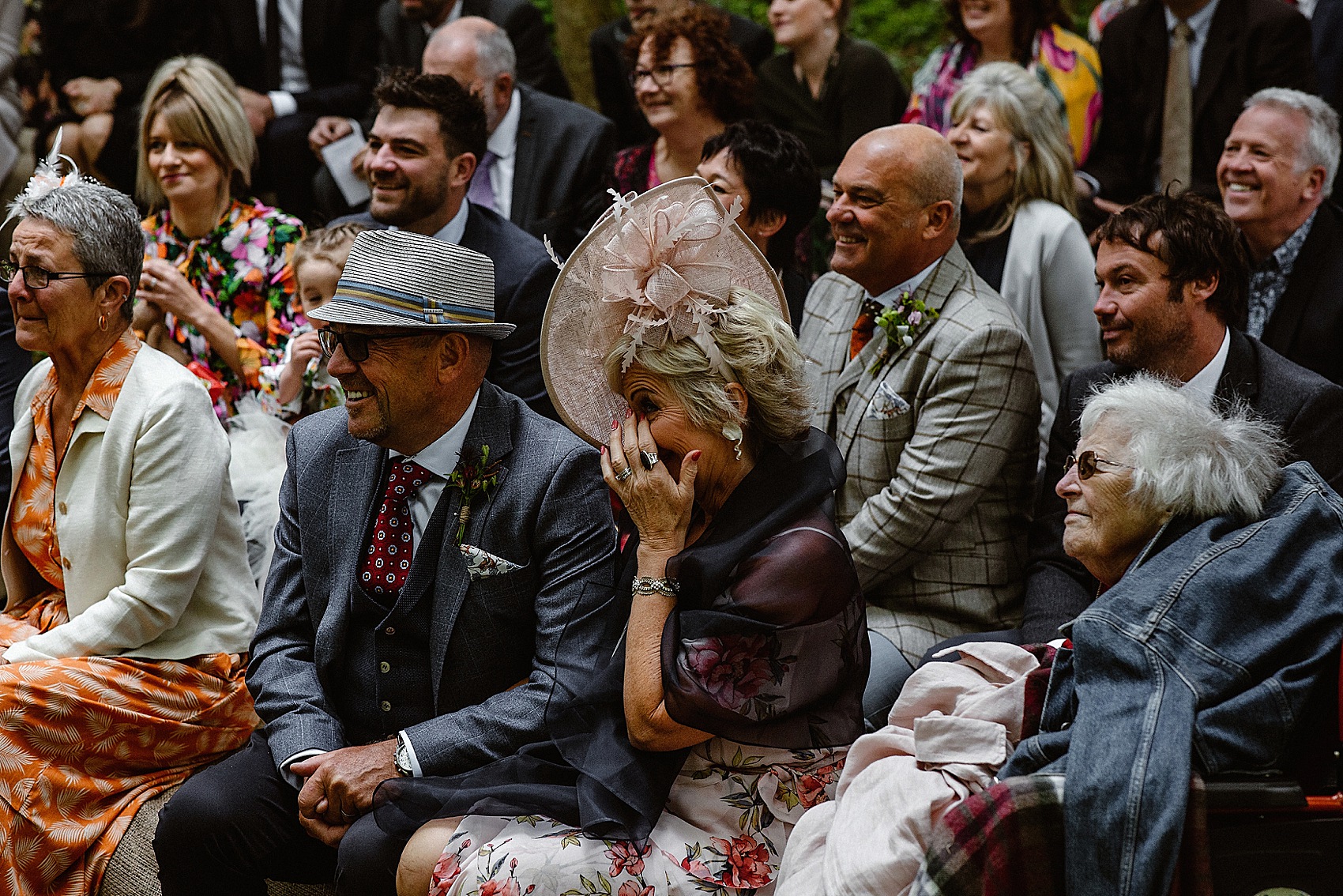 "Ben was so laid back about getting a suit, but eventually I persuaded him to have his trousers and shirt tailored, his jacket was Farah and we had his tie and the lads' dicky bows made out of one of our favourite Liberty prints – Tree Tops. It has monkeys and palm trees on it. It's glorious."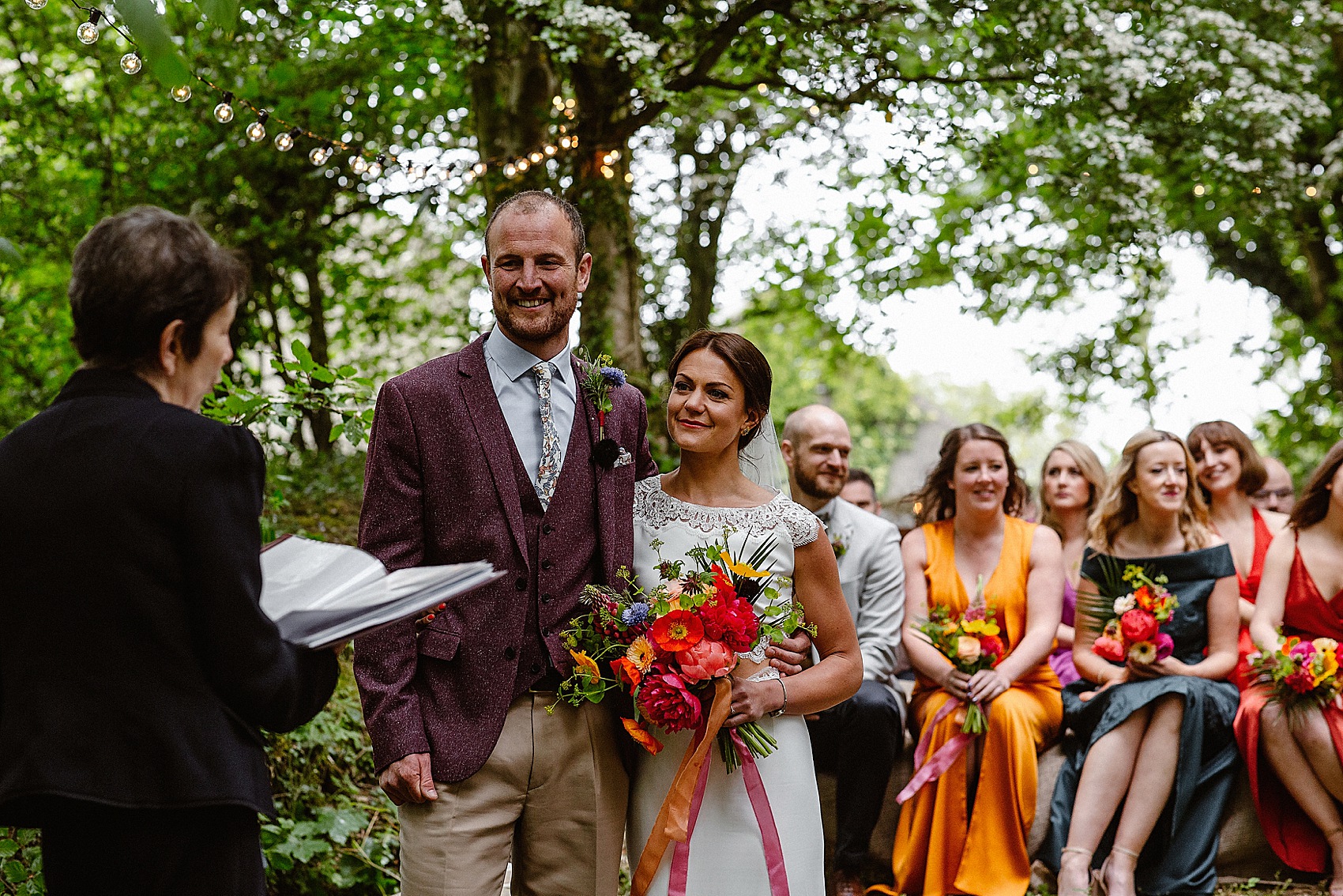 "We designed our own rings with the help of the crew at Necessary Angel. A really lovely little business in one of our local towns, Keswick."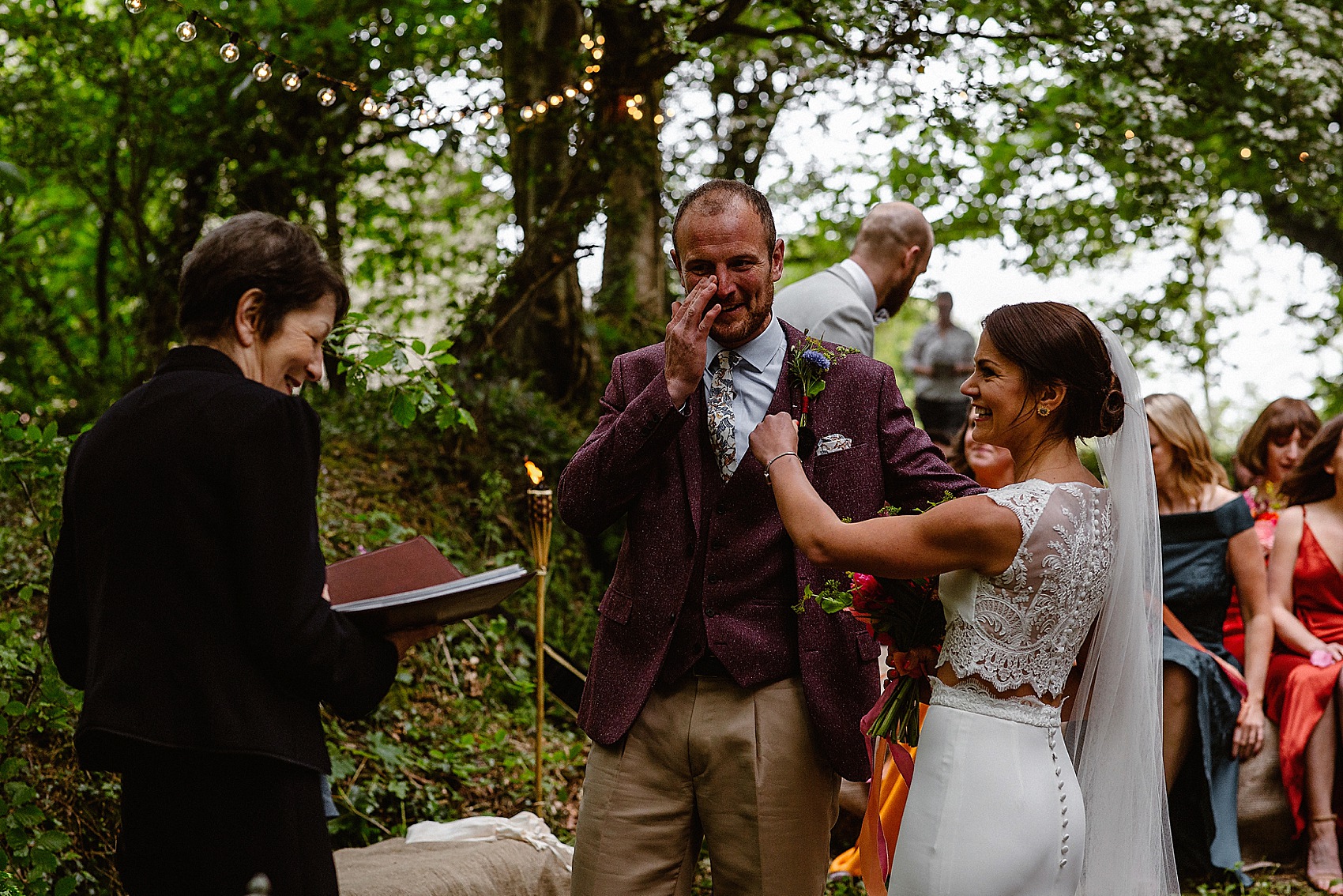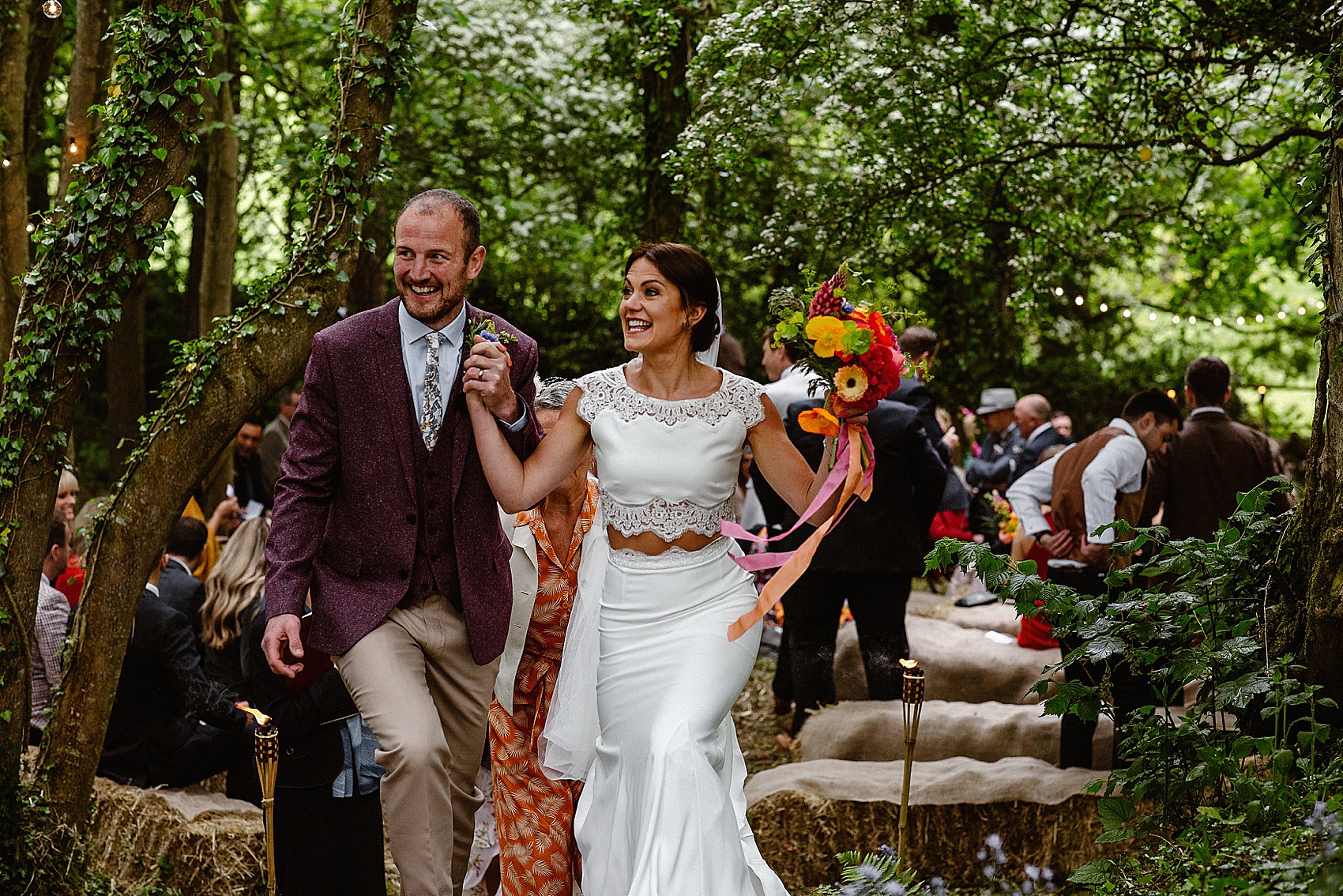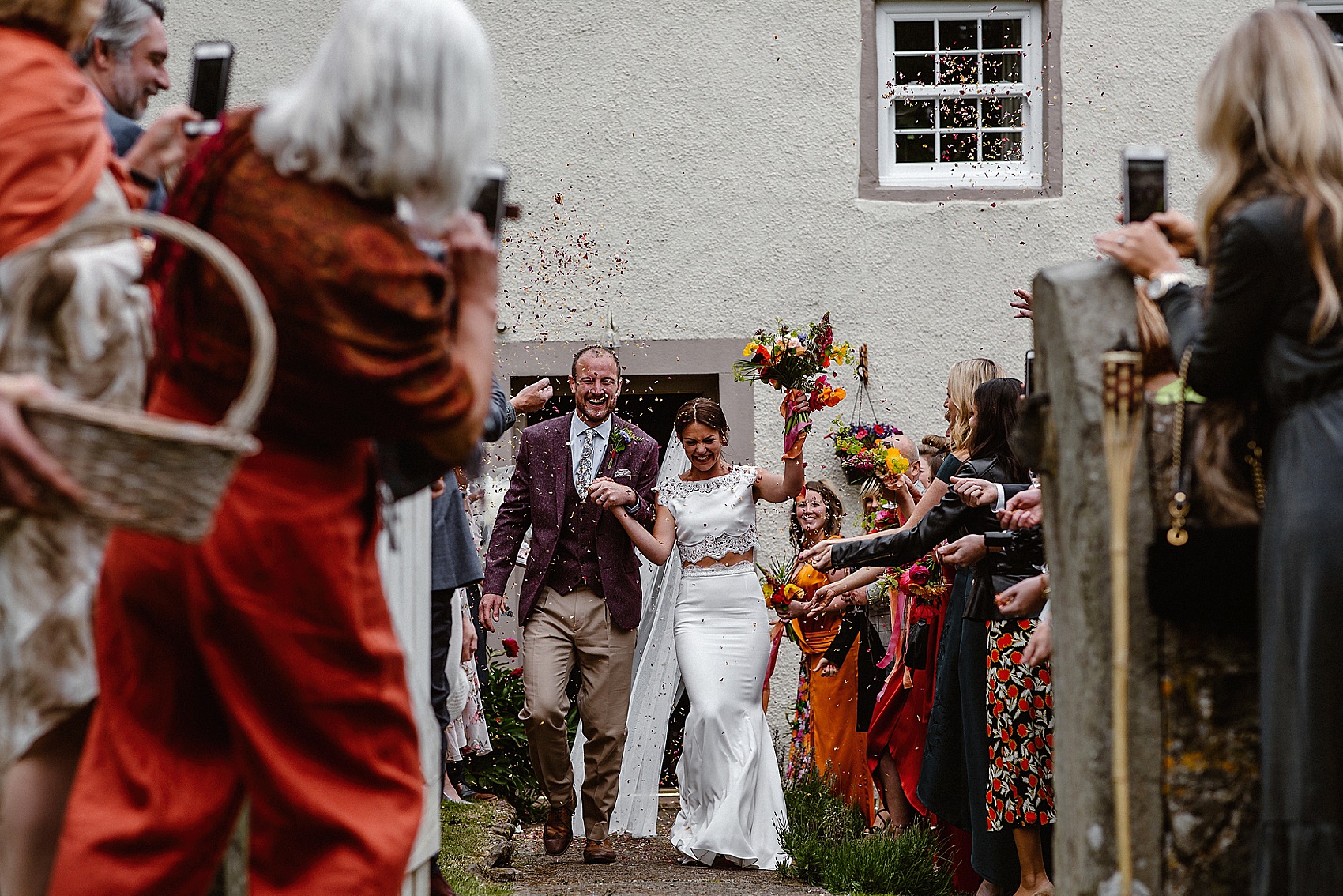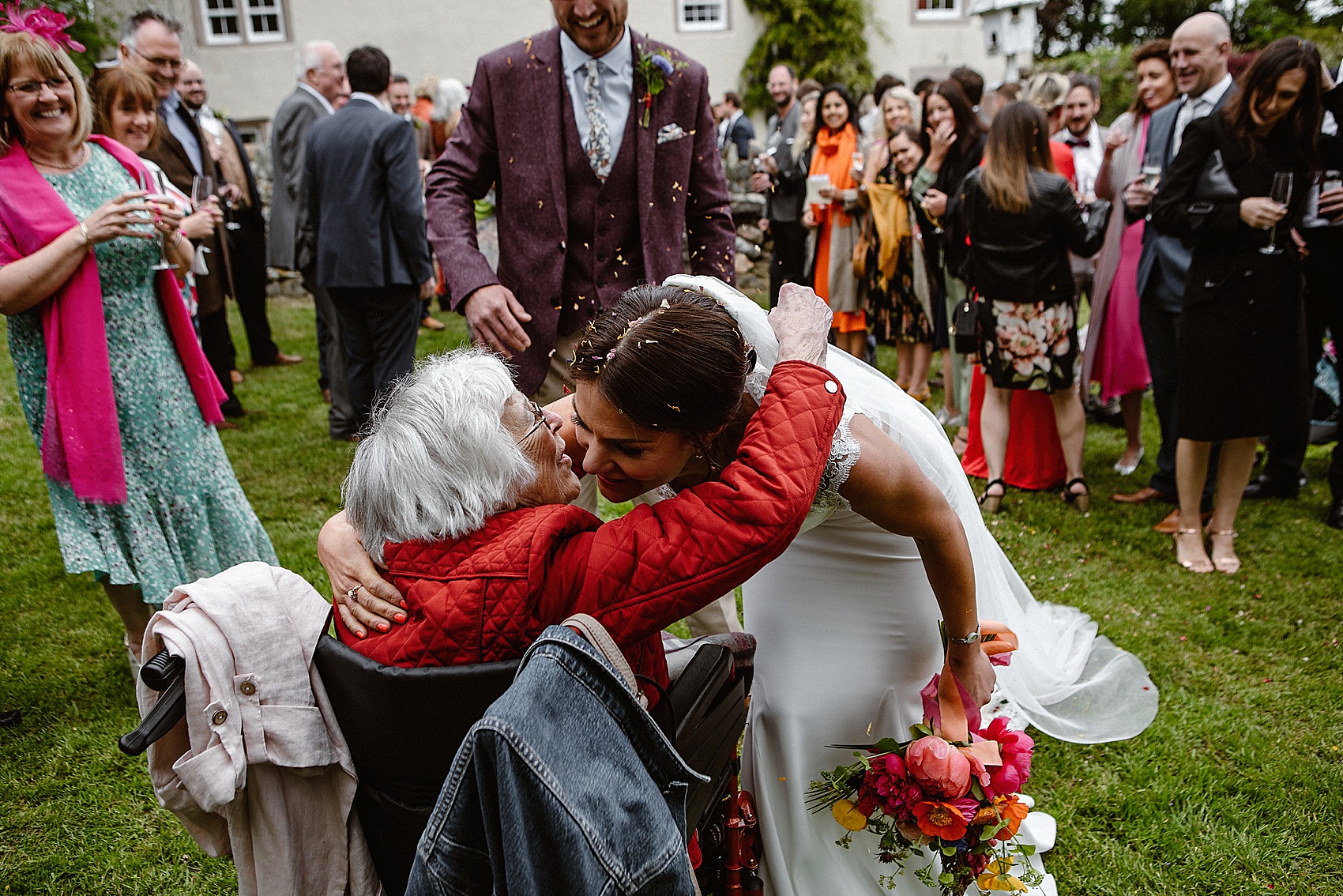 "Ben stayed about 15 mins away so I hired him an old Triumph Stag for the weekend as a surprise and his wedding prezzie. "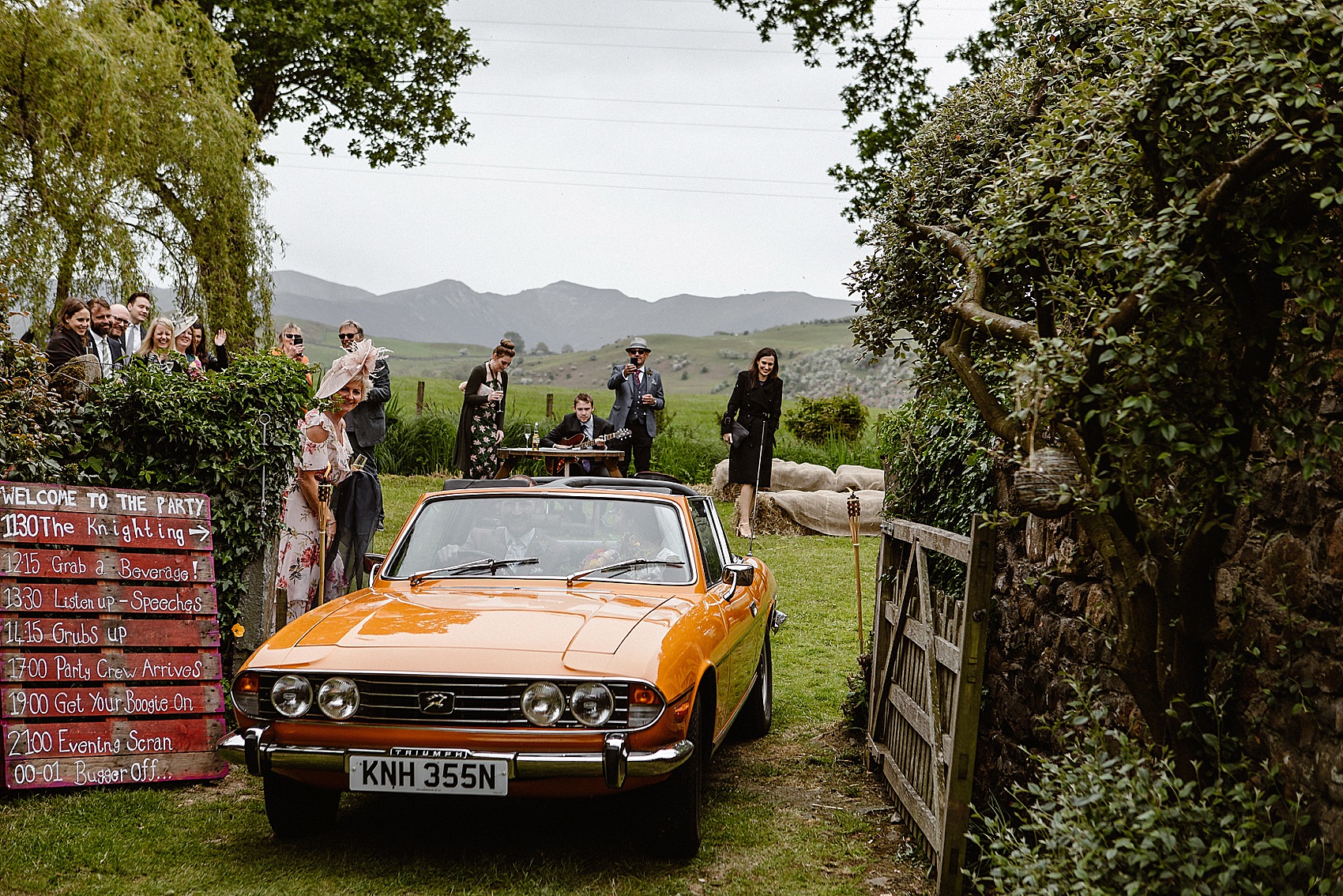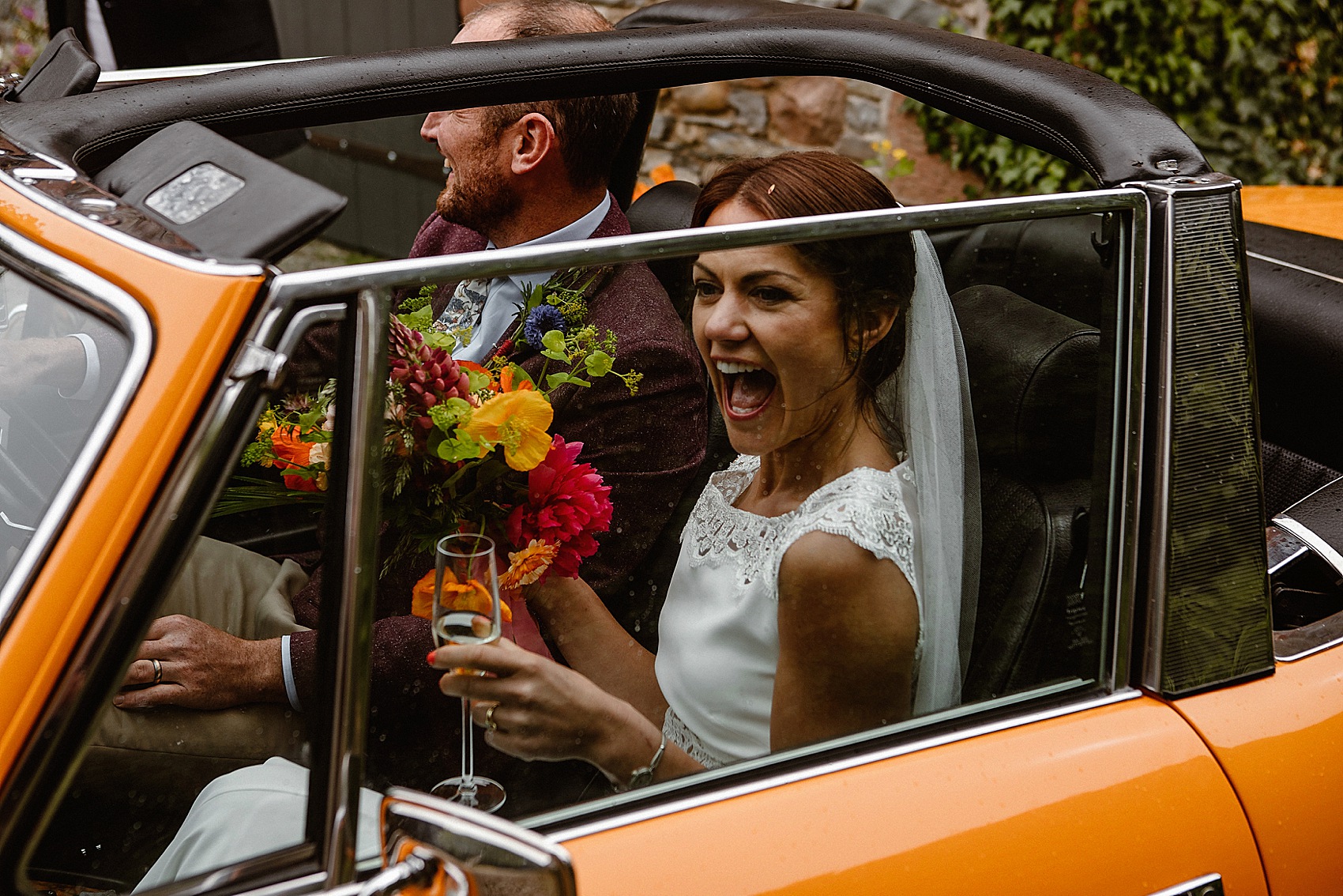 "My bridesmaids dresses were an eclectic mix of highstreet from Mango to Outline to Topshop. We wanted them to be a burst of colour and to wear a colour, style and shape they suited and felt good in."
"We were one Bridesmaid down though, one of my besties had a baby two weeks before and wasn't very well so had to stay home."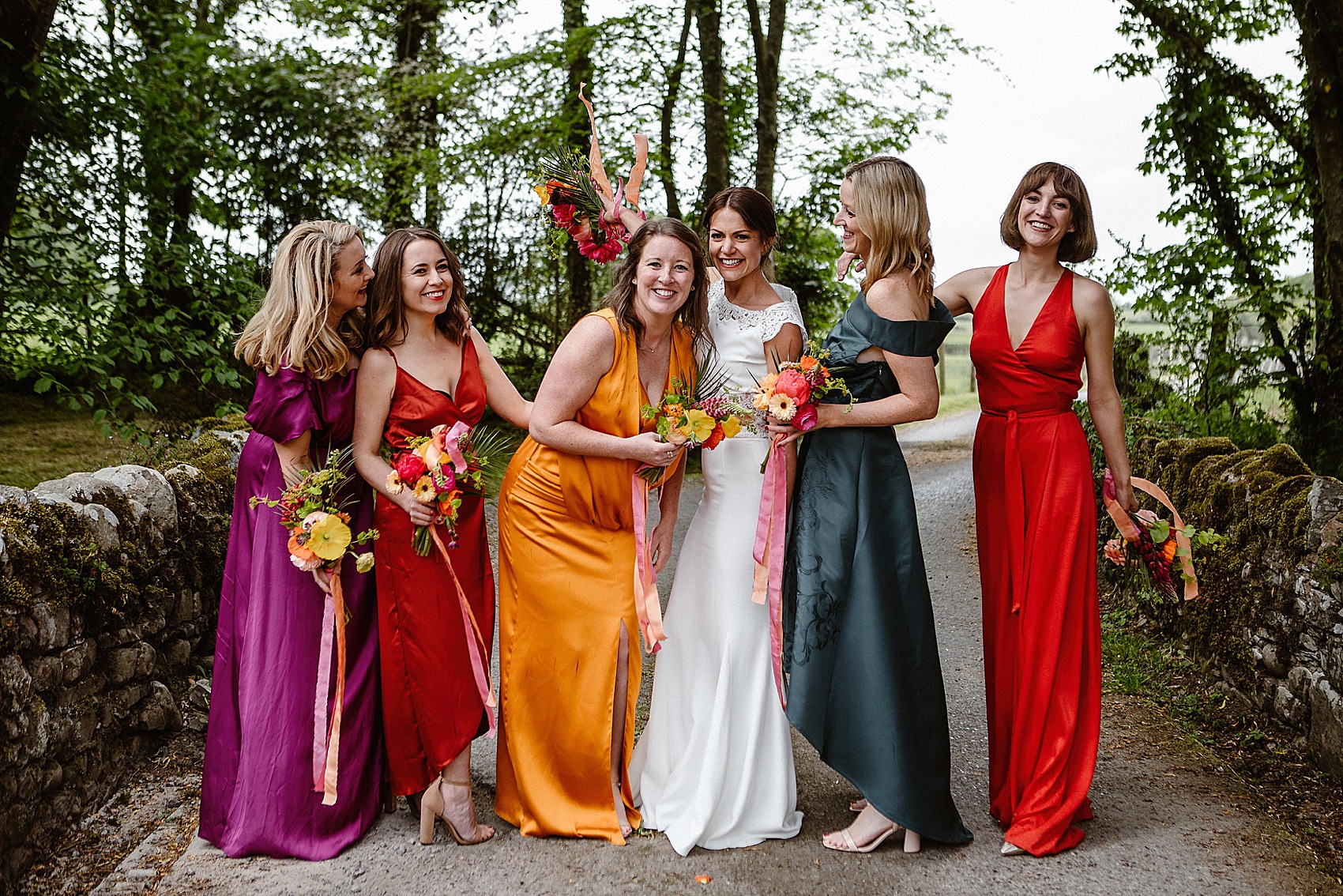 "We had two awesome and very different music marvels! One being Mr Wilsons Second Liners – a brass New Orleans style funeral band that plays 90's rave classics They are so much fun and just the best thing ever"
"We also had a good family friend named Lynne with an amazing voice who sang a whole load of Northern soul and motown classics. She always sings at family parties and she's brilliant! Totally chalk and cheese but somehow it all worked perfectly and no one stopped dancing."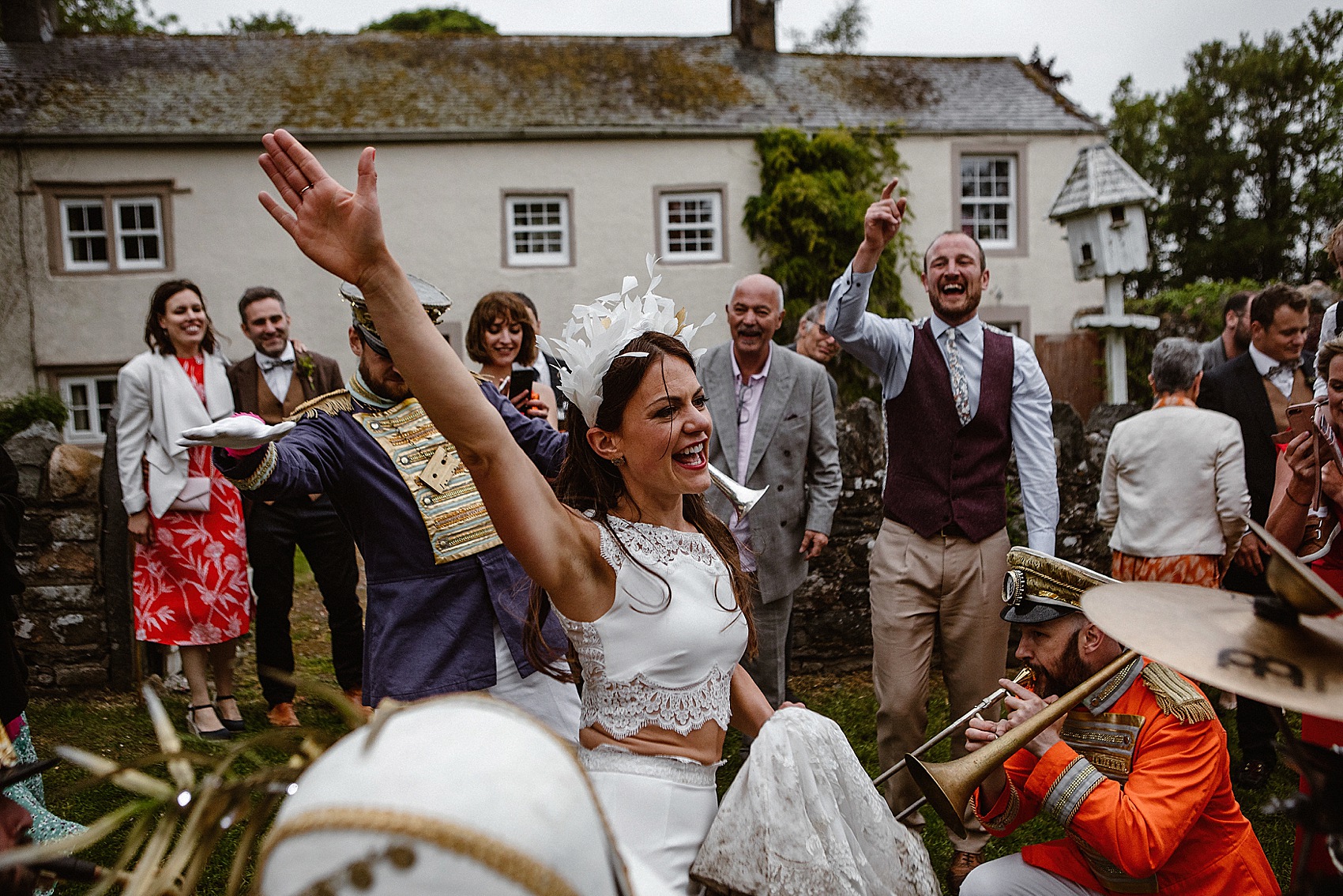 "We really just wanted our first dance to be the start of the party parade up the lane, so we chose one of Mr Wilson's finest songs, 'You Got The Love', by Candi Staton."
"Once everyone had been served with a coco loco I snuck off to rejig my hair while our Mistress of Ceremony (one of my bridesmaids) announced everyone to head out into the courtyard (and into the drizzle)."
"Unsure, they did as they were told. I met Ben and Mr Wilsons (who looked amazing!) in our cottage and we appeared from the back of the house with the band tooting out 'You Got The Love' behind us."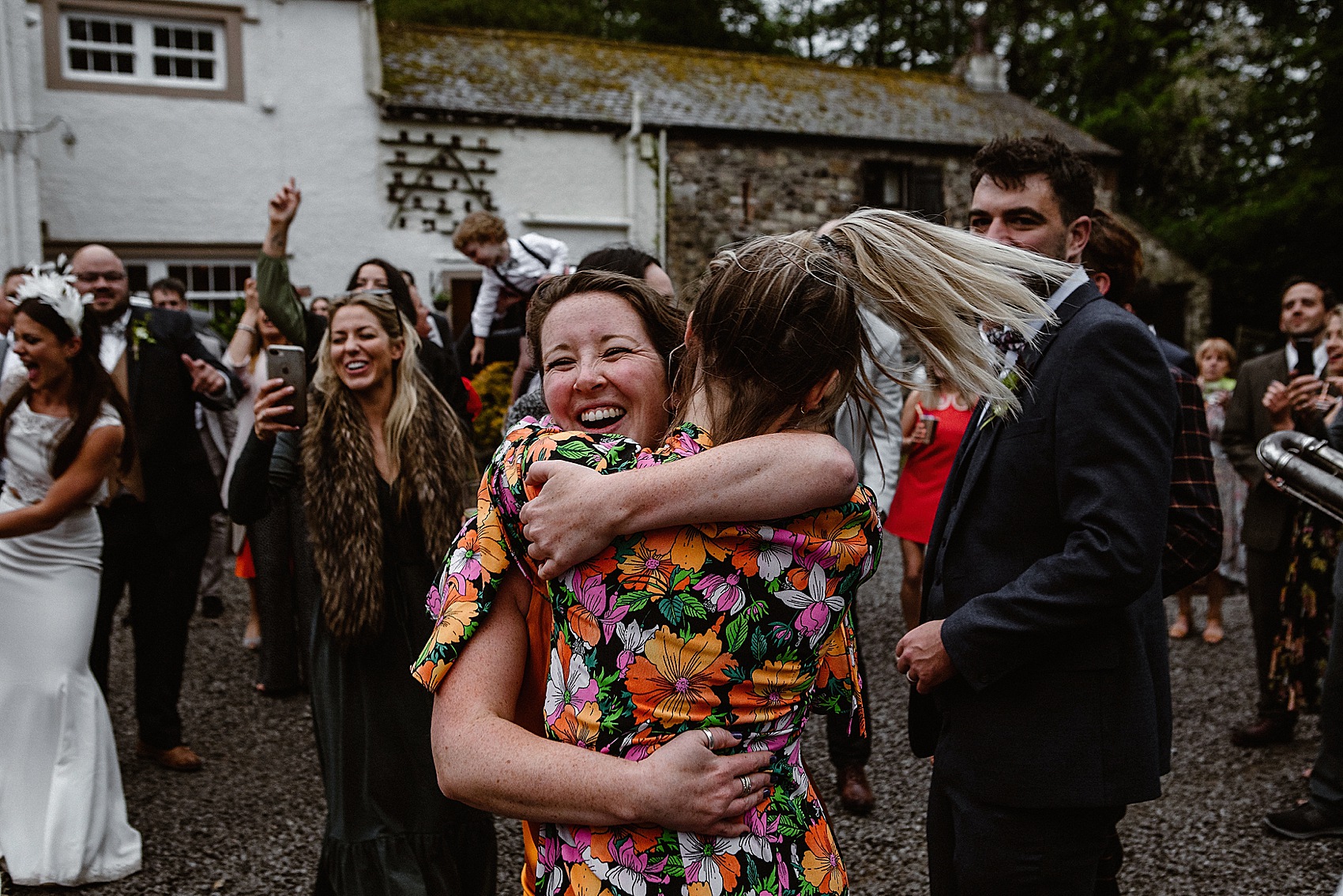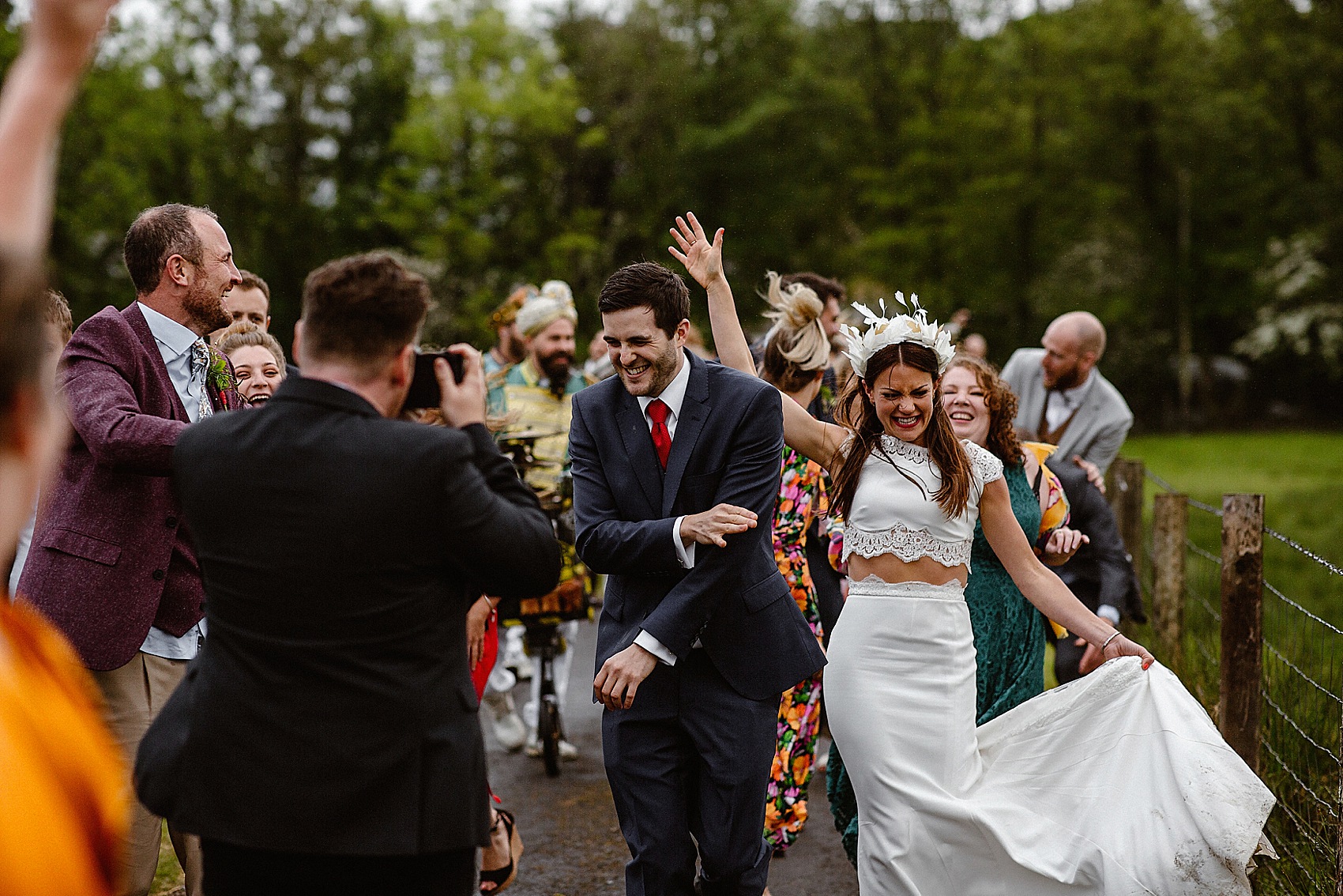 "We planned to head straight up the lane but we ended up doing a full on first dance at the front of the barn, with everyone joining in at the end. It was epic! "
"After a few songs we made it up and down the lane a few times then into the front garden. It was total madness."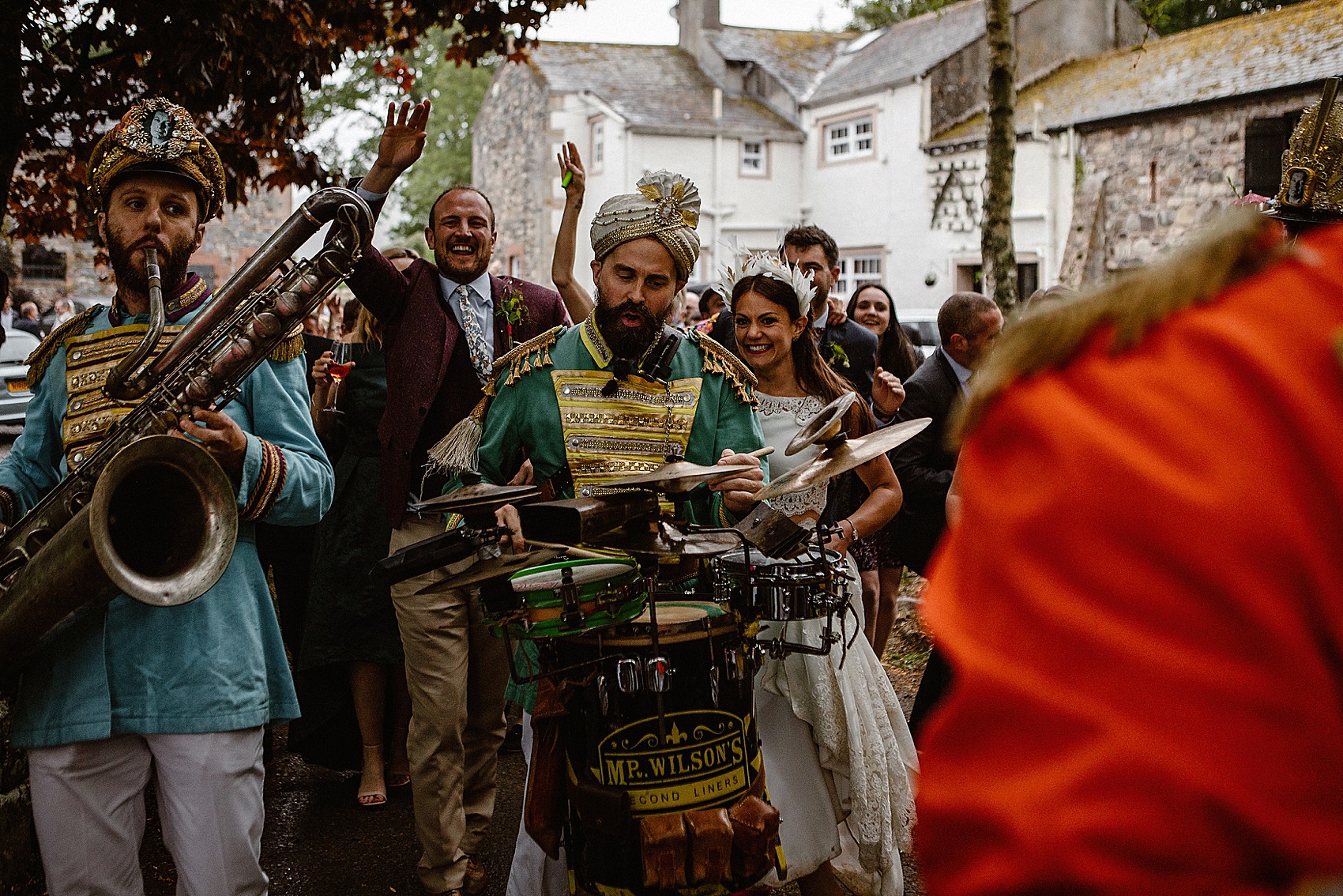 "There's so many favourite moments of the day, but by far my favourite was seeing Ben waiting for me in the woods and actually becoming Mrs Knight."
"Followed by the mammoth party, dancing up the lane with everyone in tow and seeing all of our friends and family (with no exceptions) going absolutely nuts and raving to Prodigy Insomnia."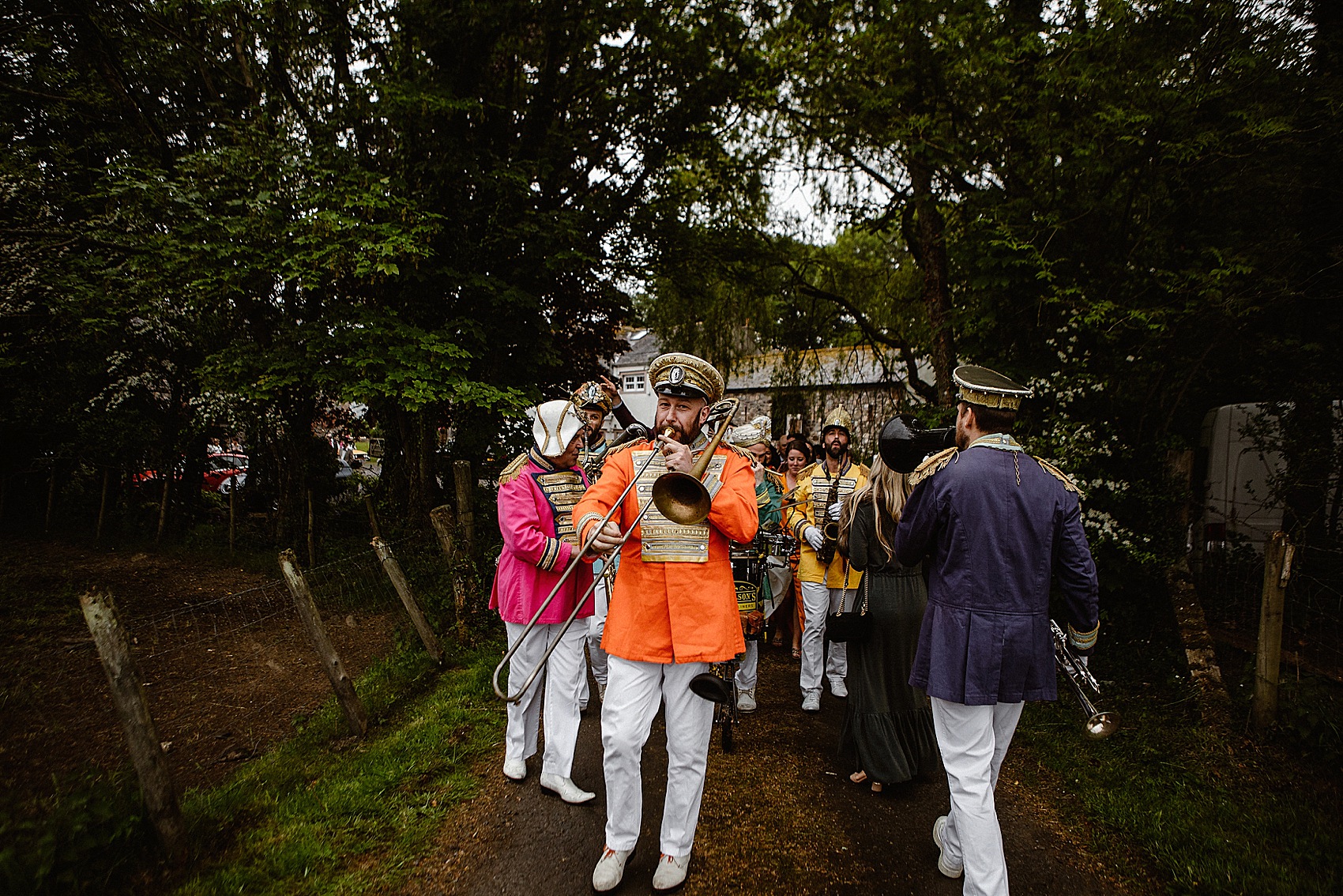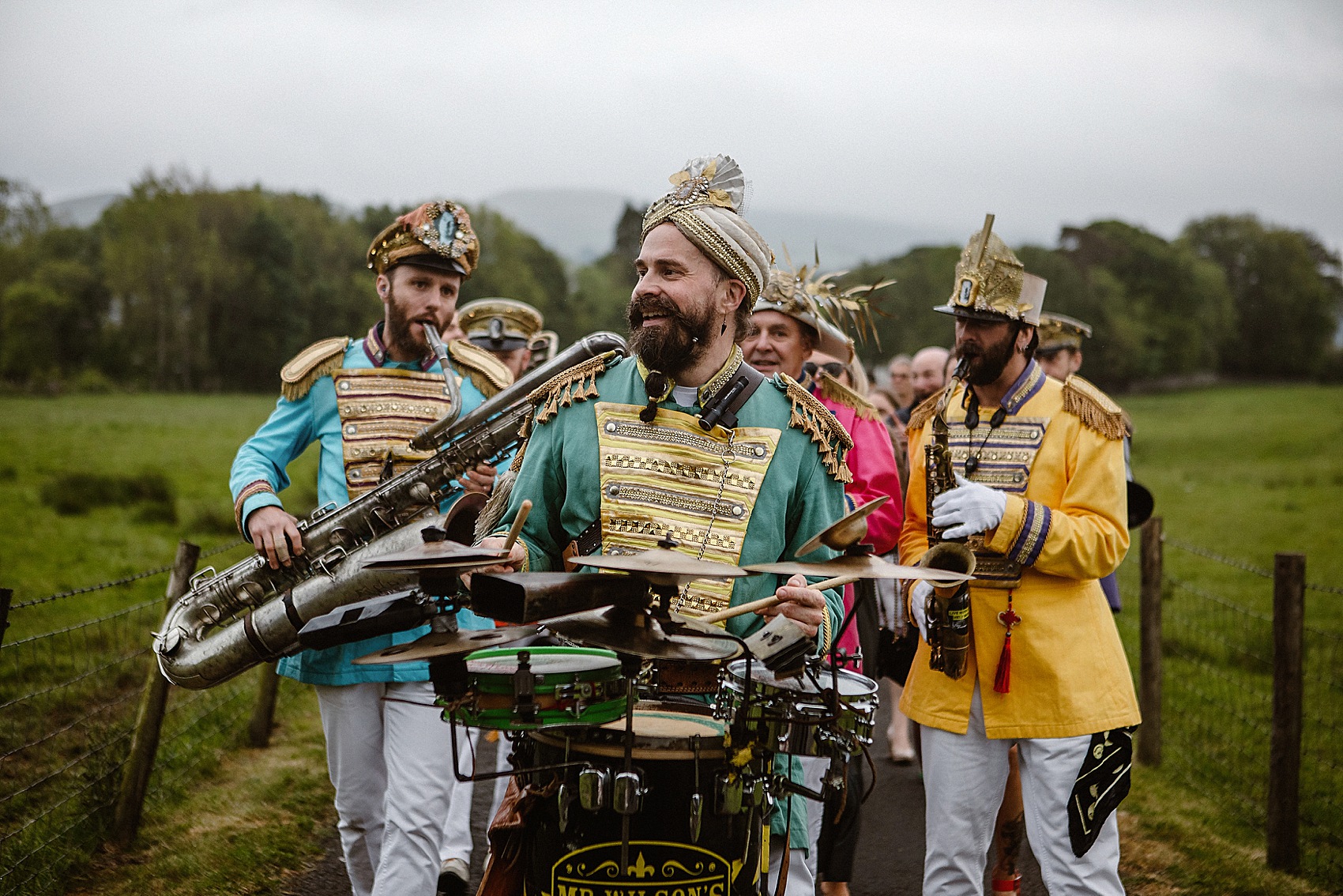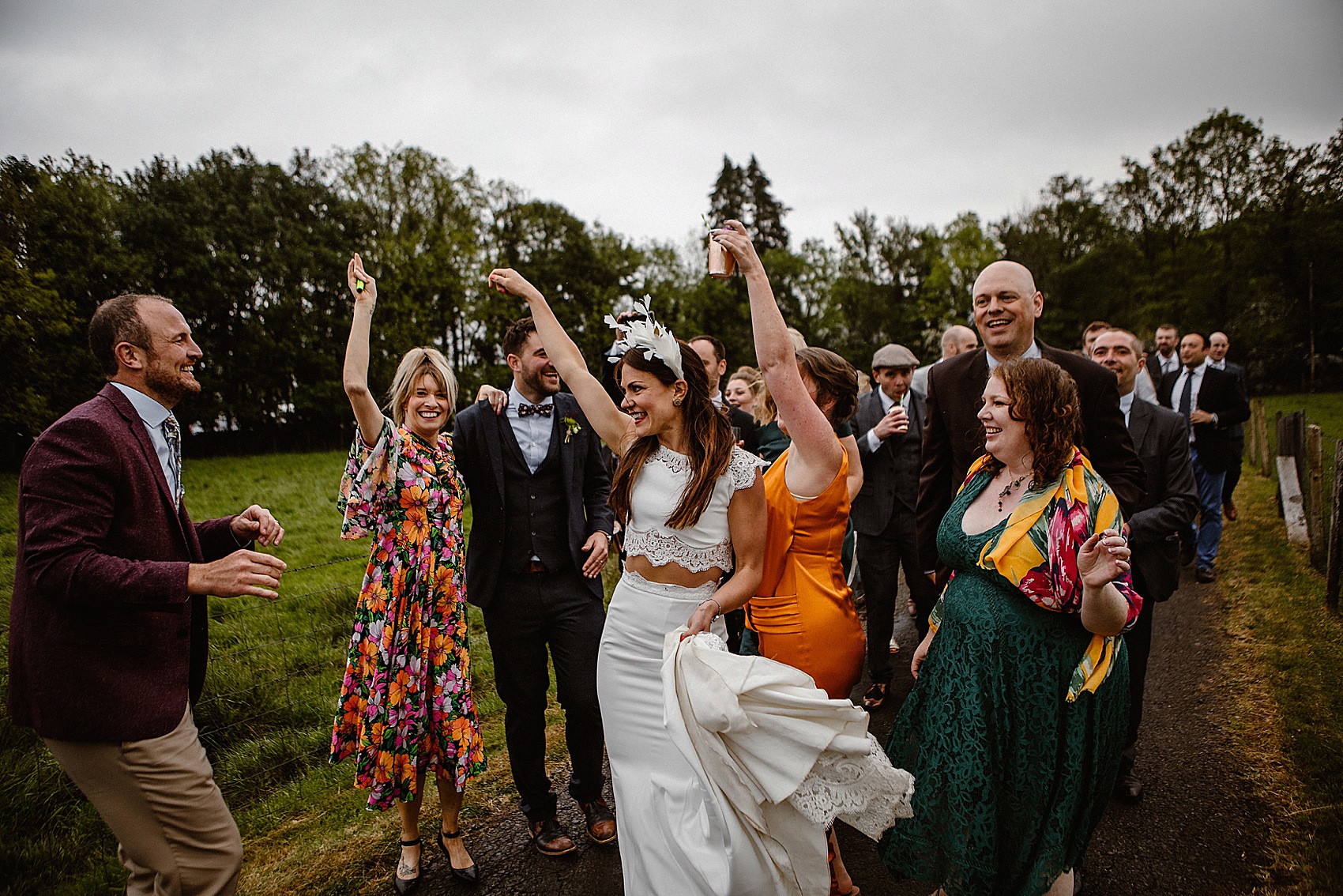 "We didn't provide favours as such, but instead, we put homemade sloe gin (Sloe Hall Gin) using the berries from the garden and had beautiful cut glass decanters on each table for everyone to tuck in to."
"My mum and I went on a little trip to Marrakech a couple of months before and bought loads of gorgeous coloured silks that my mum kindly made runners and napkins out of. We also had loads of palm leaves delivered which we decorated certain areas with."
"We turned our bar into a caribbean shack with a nod to our time spent off the coast of Columbia when we met. We renamed it Caribbean Knight's for the day."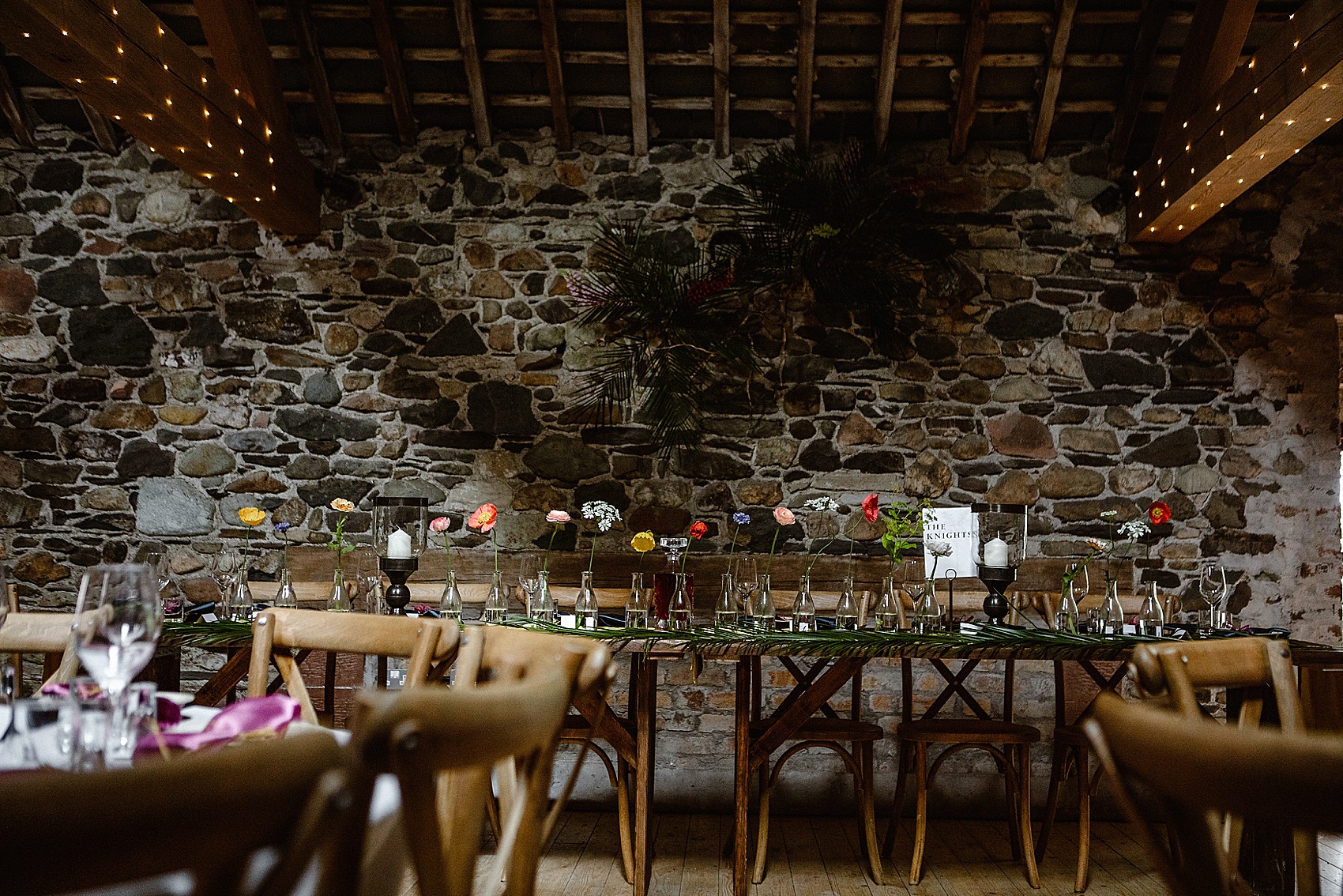 "In the barn we had bright silk runners on the tables, so already lots of colour, so to keep costs down we just had single stem flowers in bottles going down the length of the top table, they were so playful and joyous. Having no big displays on the tables also meant there was plenty of room for our feasting boards."
"Our caterers were Stonehouse Smokery – they're amazing! Lee and Shelle the duo behind the business. They rear their own pigs on a gorgeous small holding where they've transformed one of the old barns into a smokery. They're completely sustainable and all about ethical farming."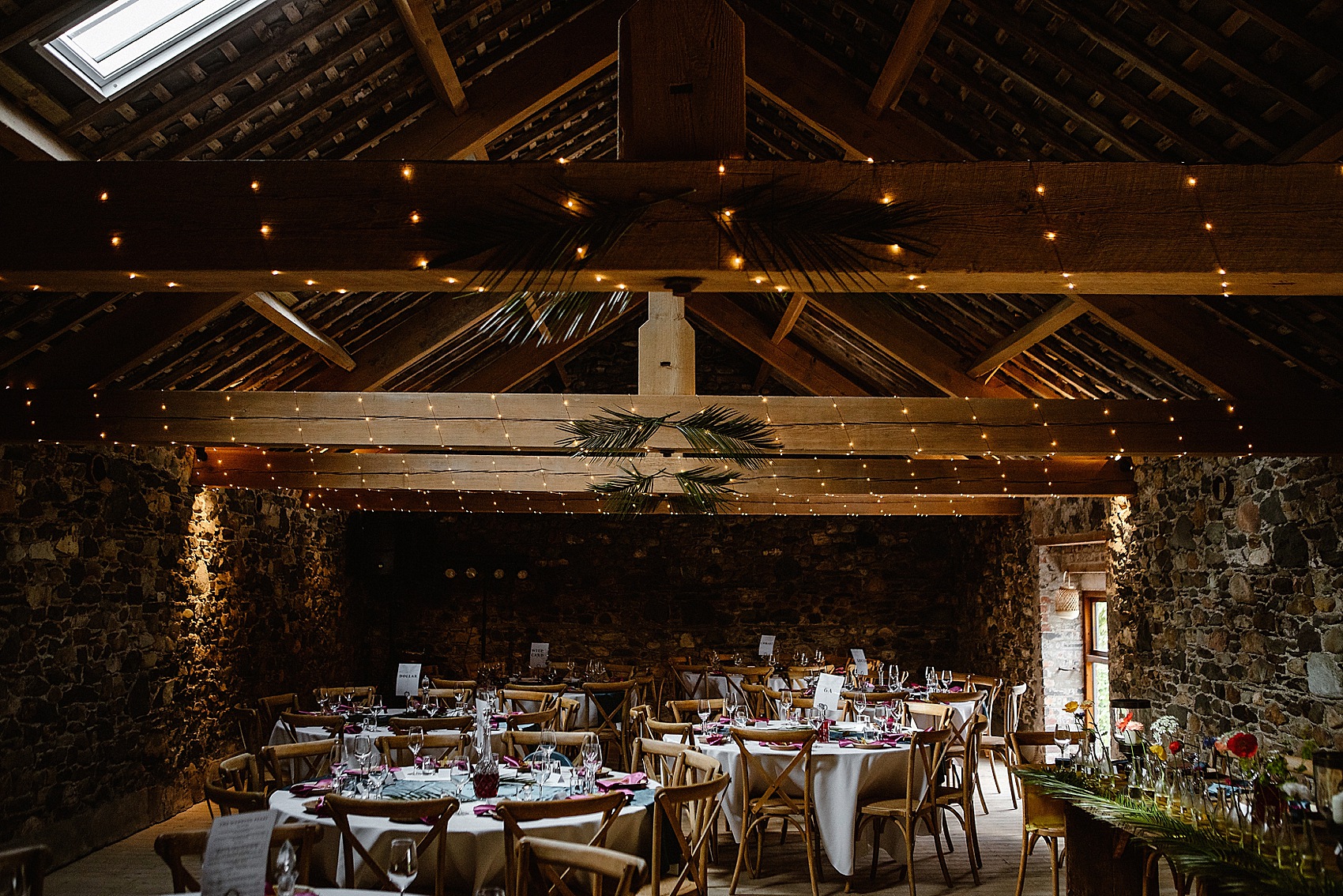 "Oh and their food is INCREDIBLE! We had charcuterie to start then massive feasting platters of pork and lamb which they started smoking on site at 4.30 am(!!!) Sides of charred broccoli, feta courgettes and all sorts of yumminess accompanied it."
"For pud we had a traditional ice cream van pull up and for supper, Stonehouse Smokery made us two massive curries. One veggie and one mutton with homemade flatbreads, the tastiest ever rice and chutneys."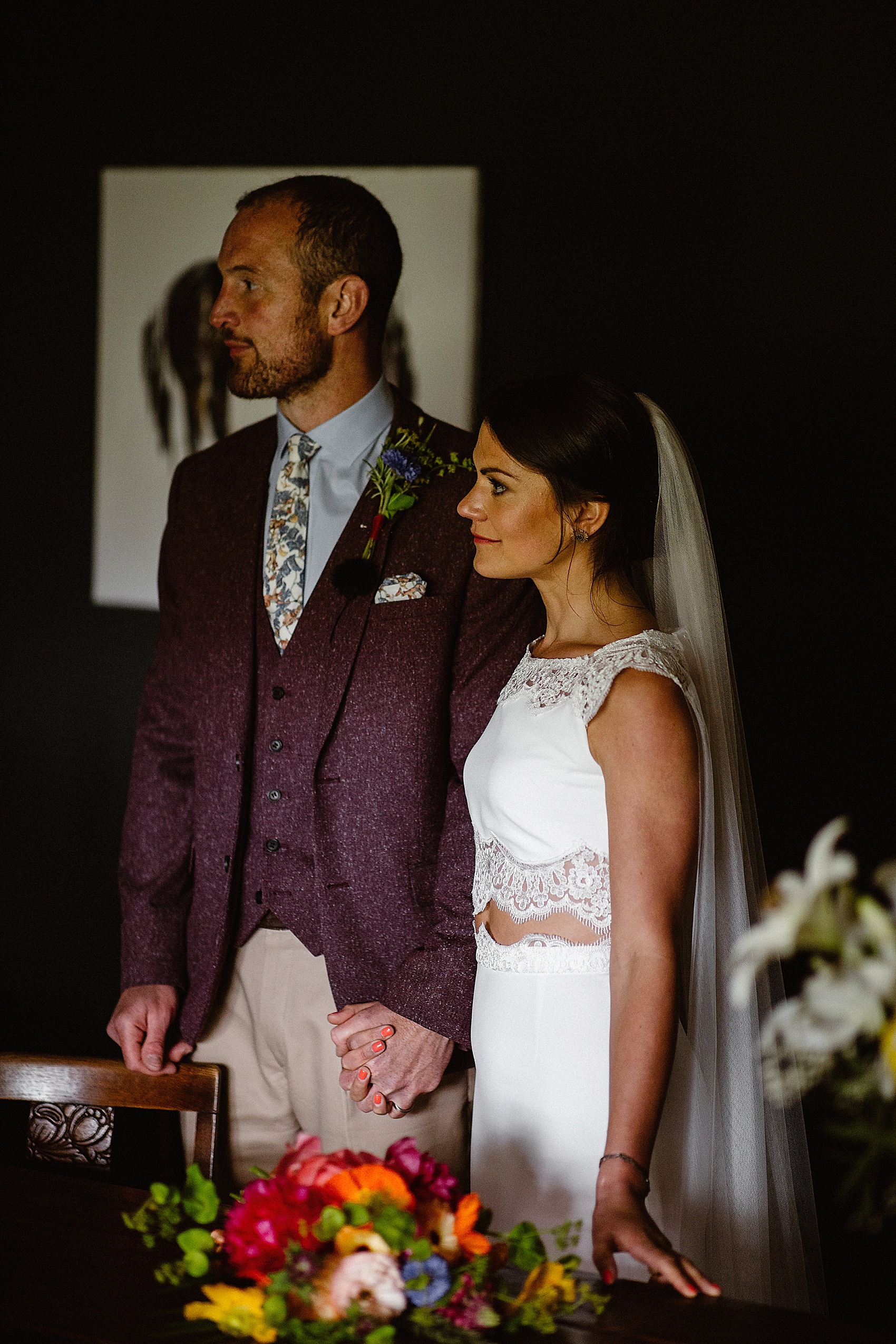 "The one thing I was fretting about was the speeches and who and how many were speaking. I was desperate to do a speech and had it all in my head and decided not to do it at the last minute as I was worried they were going to go on for too long and I was going to say something someone had already planned."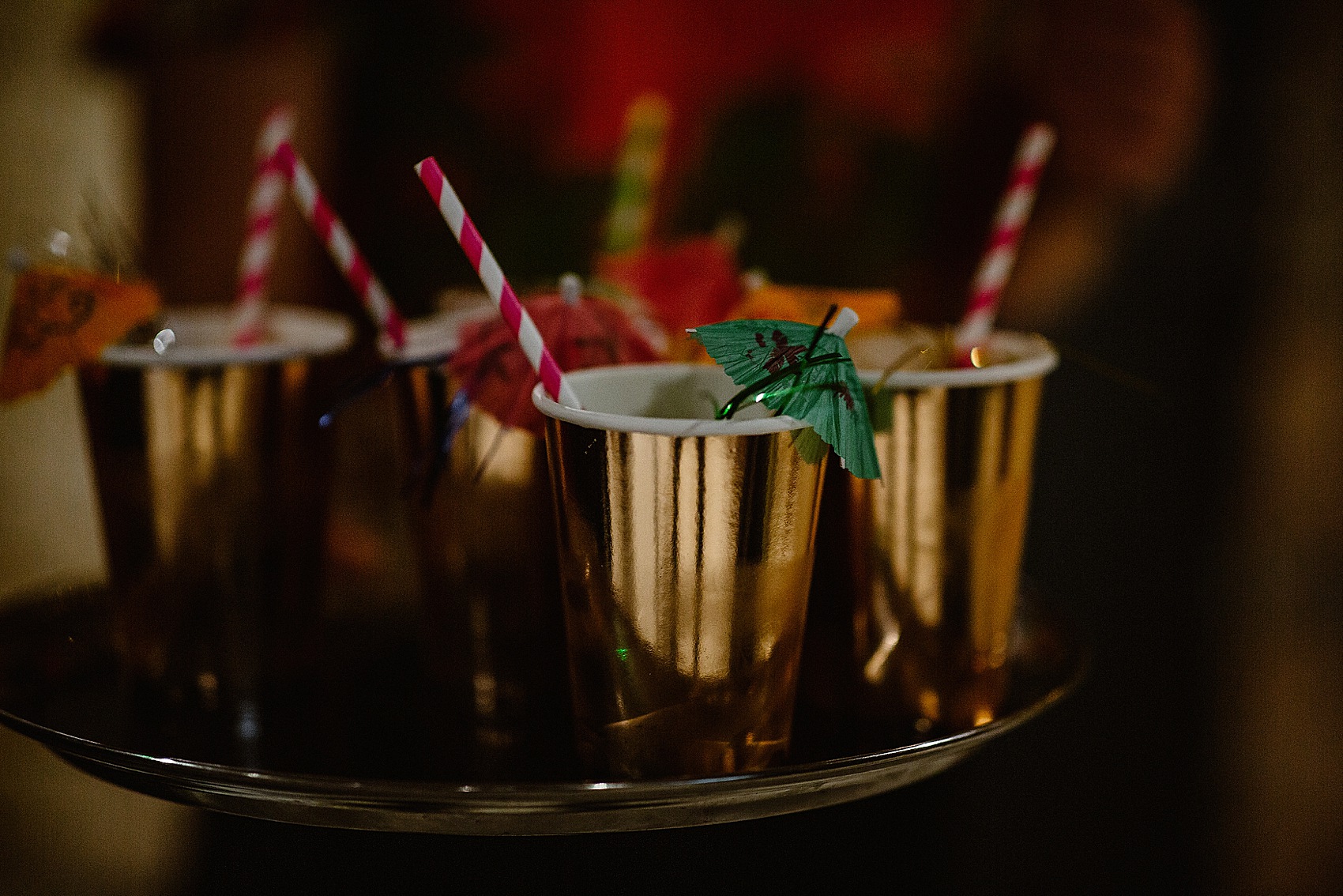 All daft worrying! We had 5 speakers, my dad, one of our best pals (my bridesmaid and Mistress of Ceremony) , my mum, Ben and Ben's best man – in the end they did go on for a lot longer than planned, but it didn't matter one bit, they were all brilliant!"
I did mine for Ben later that week but should have just stopped worrying about everyone and done it on the day. Everyone had wine, they were happy."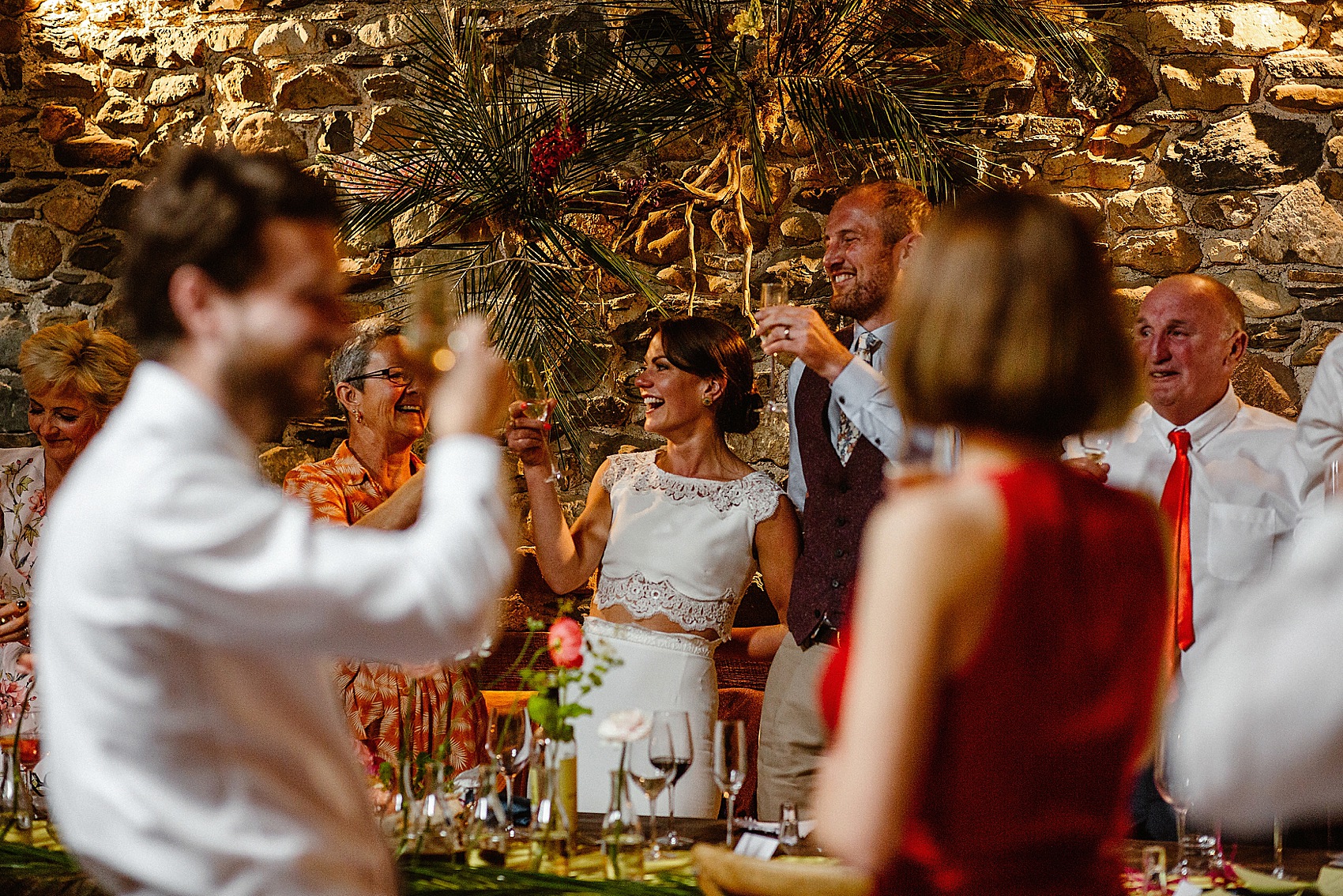 "We weren't going to get a cake until my very generous gran insisted she wanted to get us one as our wedding present. We went straight to The Yummy Pudding Company after we'd sampled one of her cupcakes a few weeks previous."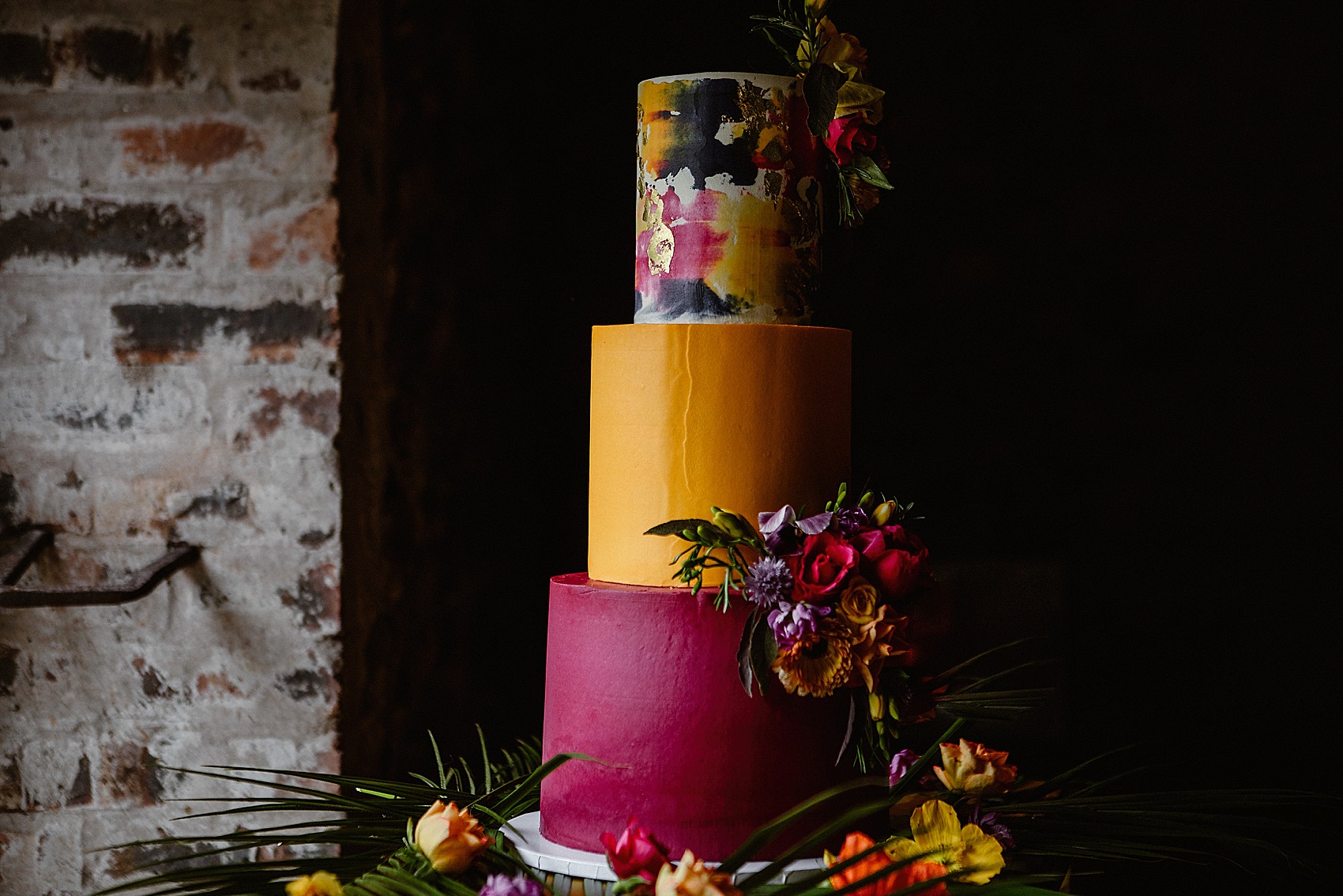 "Again we wanted it to be bright and bold, so we worked with Sally to come up with a design that was exactly that. We loved it!. We had three tiers of absolute deliciousness."
"Sticky Toffee Pudding, Lemon and Raspberry and Carrot Cake. It was SO good and we were so thankful to my granny."
Words of Wedded Wisdom
"There's no right way to do things, no time of when things should or shouldn't happen. It's your day, do it exactly how you two want and don't worry about every one individually. Not everyone's going to like courgettes, some might prefer a beer over your tropical cocktail, most might prefer sticky toffee pudding to simply ice cream and some may think jumping around in the rain dancing to Insomnia is utter madness, but it's your day. Do it."
"Stop worrying what you think you should or shouldn't do. There's no right way to do things, no timings of what should or shouldn't happen."
"There's nothing quite like the love and emotion that goes into a wedding and is indeed felt at a wedding – it's so intense and so special. I think now having experienced it ourselves, from the planning to the partying, it makes us even more thankful for our mega venture and for our roles in the most wonderful wonderful of days. It also makes us believe truly that all of the pain that so many couples are going through now is 100 times worth it."
What an absolutely gorgeous day! Francesca and Ben, thank you so much for sharing your inspiring, uplifting and truly wonderful wedding with us. What a way to celebrate the gorgeous Low Hall The Lakes!
Sending much love to you all this Sunny Sunday,
Annabel x