Hello loves, and a very happy V.E. Day to you! I hope that however you are spending today, you are safe and well and healthy. I know how much we're all hanging on what the Prime Minister has to say this Sunday evening, but until then, lets indulge in a little bit of wonderful, warming wedding inspiration.
Camilla , a teacher at a boarding school and Rob, who works in financial technology, tied the knot on 27th July 2019 at Trinity Hall, Cambridge. I am so very thrilled that several of our lovely Little Book Wedding Directory members helped make this day happen.
The Vintage House that Could, was appointed as venue stylist and floral designer, the bridesmaids wore pink gowns by Maids To Measure and the bride looked resplendent in a beautiful beaded wedding dress by Eliza Jane Howell.
"I found Katie at The Vintage House that Could through Love My Dress. I also used Love my Dress to get lots of initial ideas about bridal fashion and visited several of the bridal boutiques listed in your directory, such as Mirror Mirror and Sassi Holford."
The Vintage House That Could

+ Follow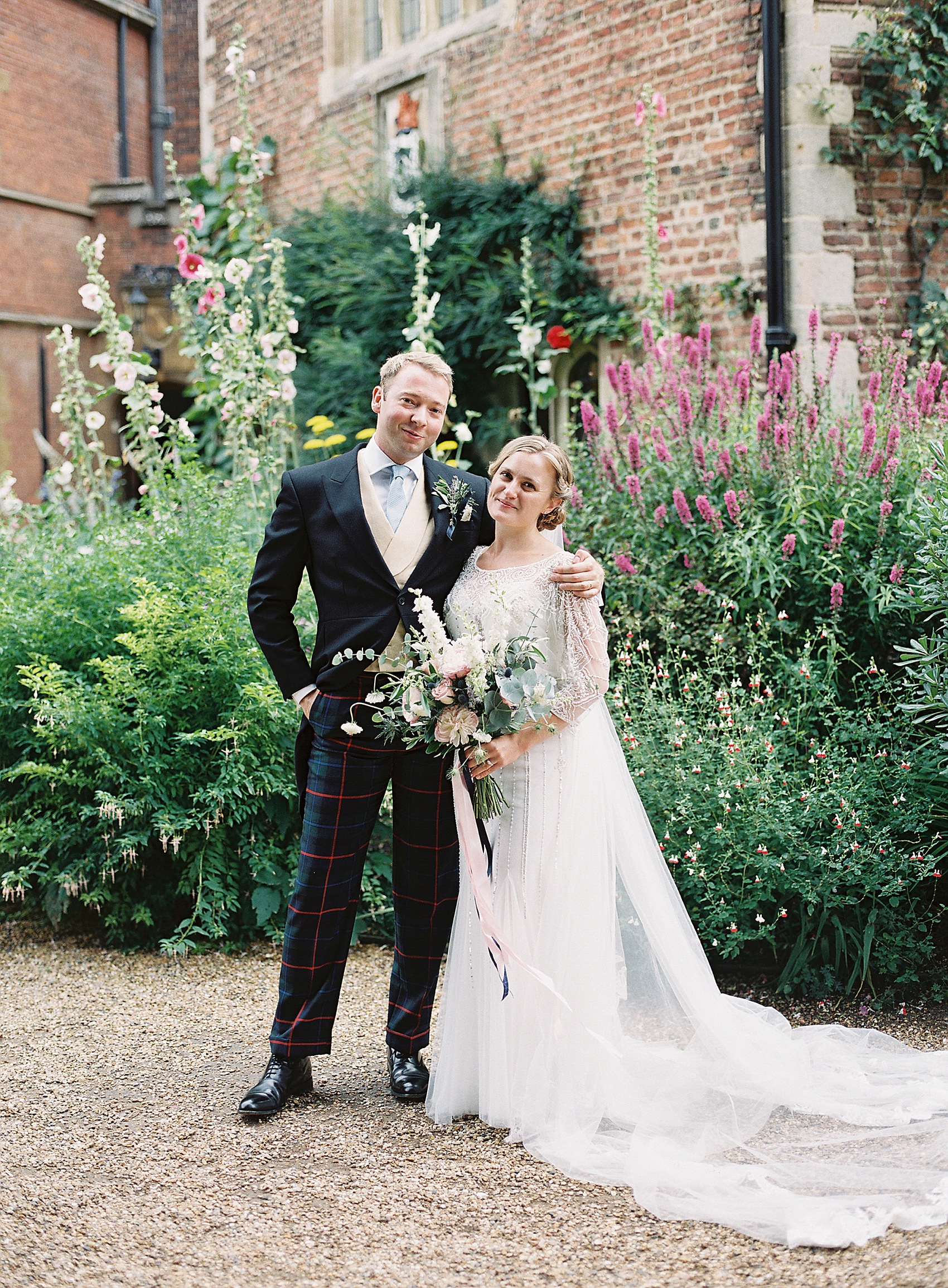 These beautiful photographers were taken by British wedding photographer Camilla Arnhold, who has a wonderfully romantic and elegant aesthetic.
"Camilla was the first supplier we booked. She had photographed my friend's wedding a few years previously, at which I was a bridesmaid. Because of her friendliness and amazing creativity, I remember saying at the time that I wanted her to photograph my wedding (I hadn't even met Rob then!)."
"I am fairly obsessed with the 1920's and 1930's, so it seemed obvious to have lots of vintage touches at our wedding."
"I had in mind the novels set in Oxford and Cambridge Colleges in that era, such as Evelyn Waugh's Decline and Fall – and the TV programme Endevour, telling the story of a young Inspector Morse in Oxford!"
Camilla Arnhold Photography

+ Follow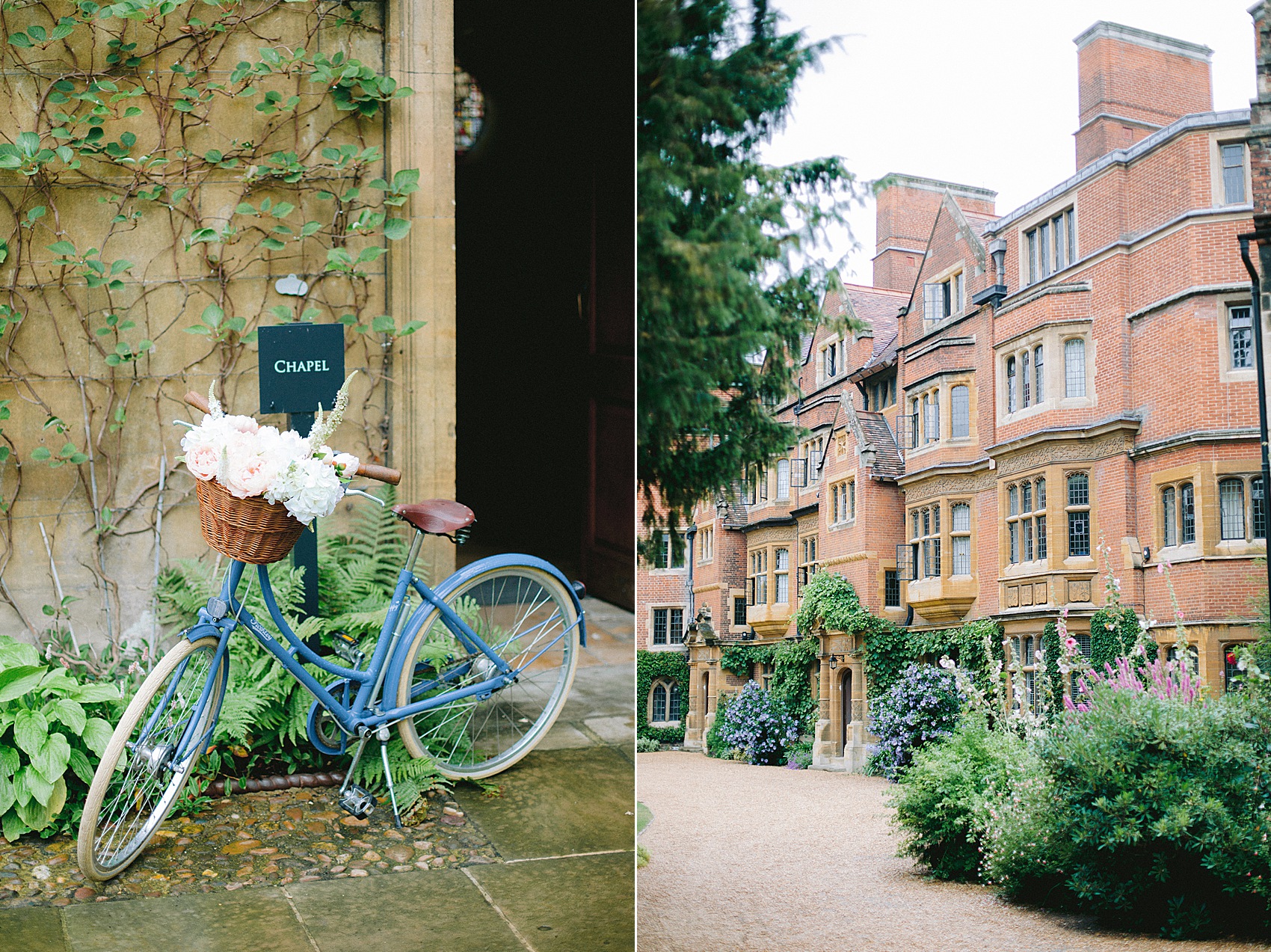 Camilla's bridesmaids looked pretty in pale pink dresses by the wonderful Maids to Measure. We adore Maids to Measure – they recently launched a gorgeous new collection of floral bridesmaids dresses (that could be worn time and time again!), take a look here.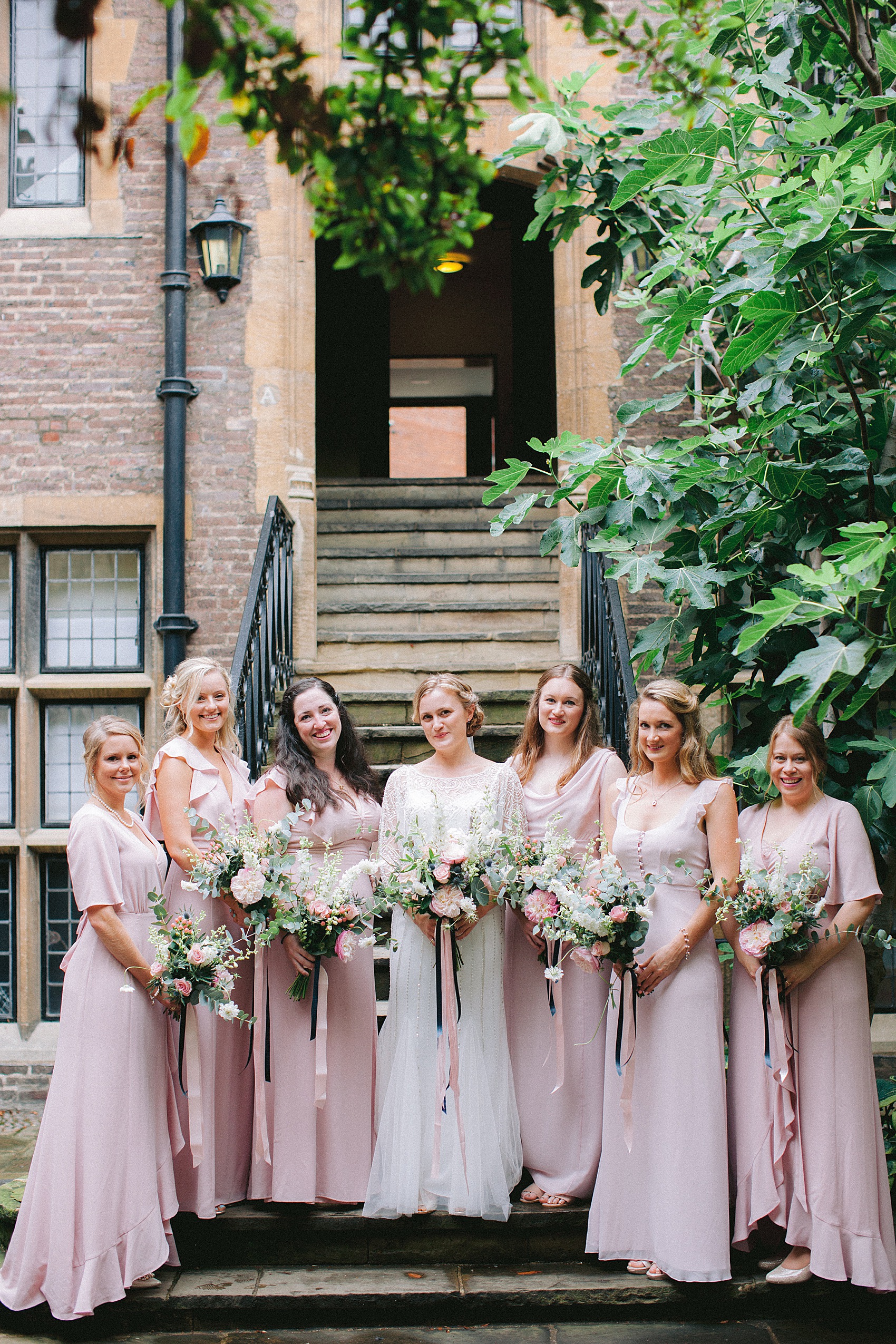 "Katie from The Vintage House that Could did all our flowers. I gave her complete creative control as I didn't really have a fixed idea of what I wanted and I knew she would do a great job!"
And what a truly gorgeous  job she did too – Katie, we are so proud to recommend you through our Little Book….
The groom and his groomsmen all looked incredible on the day, some, in their army uniforms, others in traditional morning suits.
"Rob wore his morning suit, substituting the dark trousers for some trousers in Campbell tartan from House of Bruar. He also carried his army sword."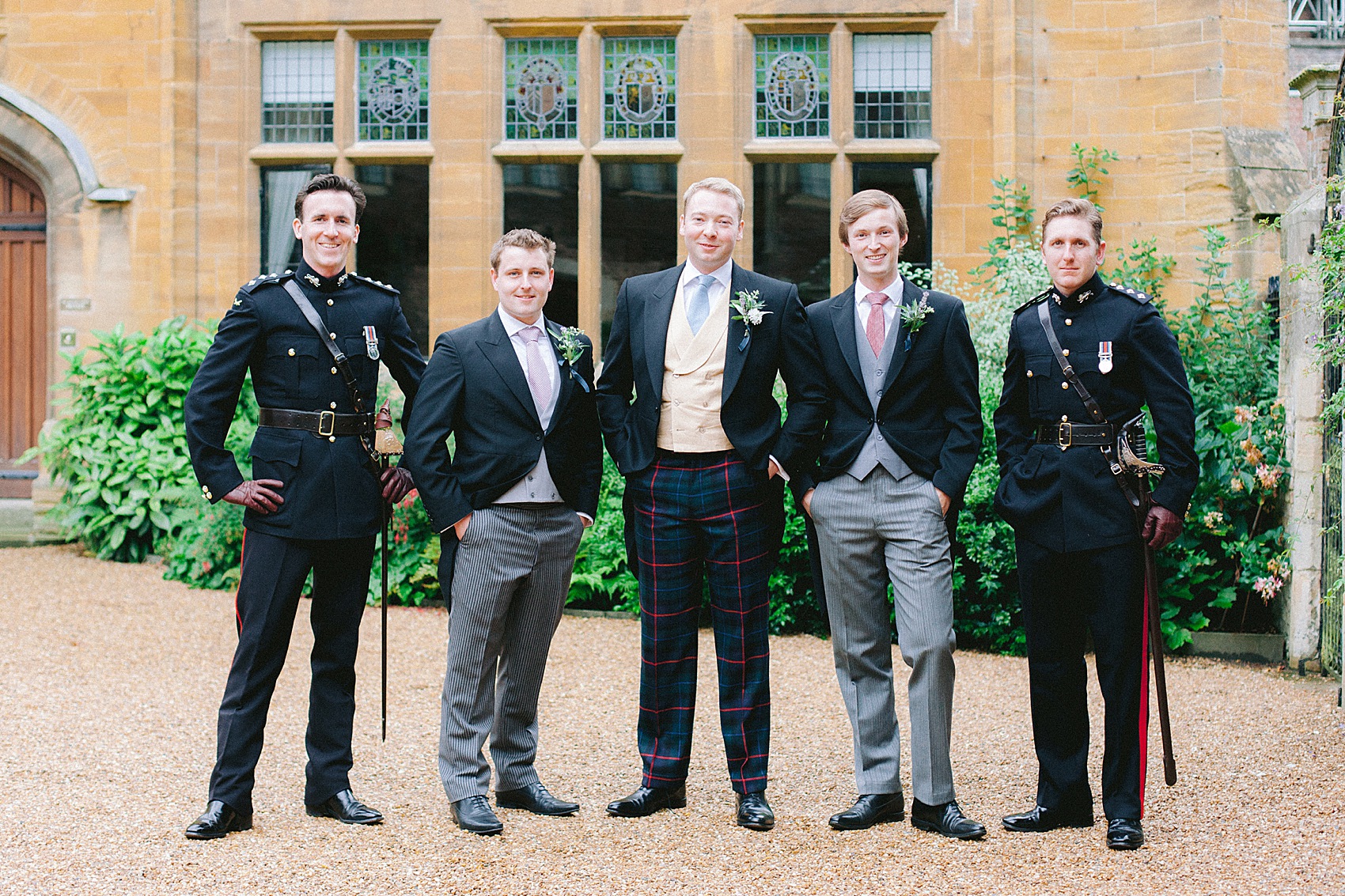 "Our invitations, orders of service and menus were designed by my very talented friend Juliet as a wedding present."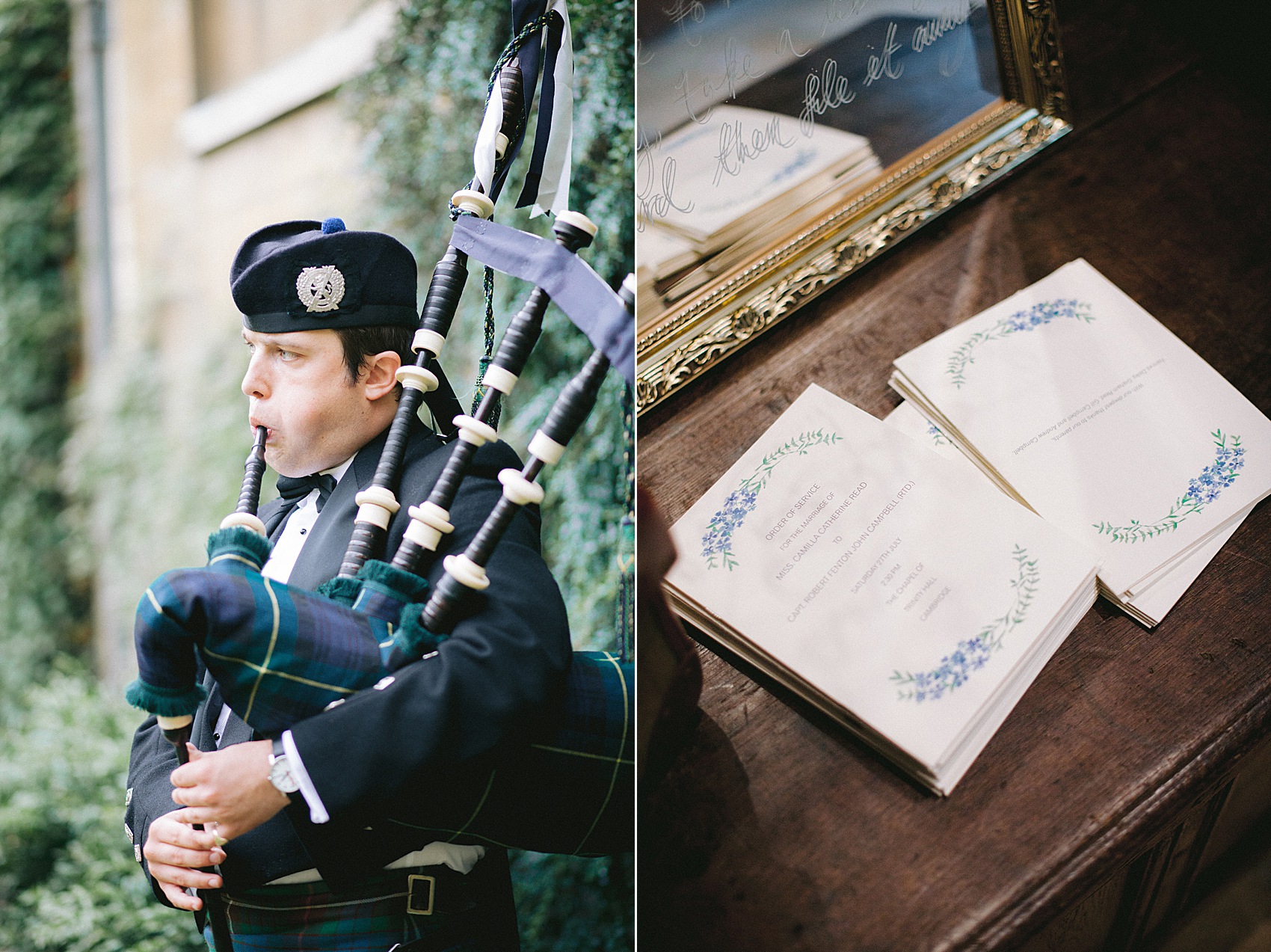 "We first met through friends at the Rugby Sevens at Twickenham in 2015. Rob says I was very rude to him: I didn't believe he was in the army and made him show me his ID card."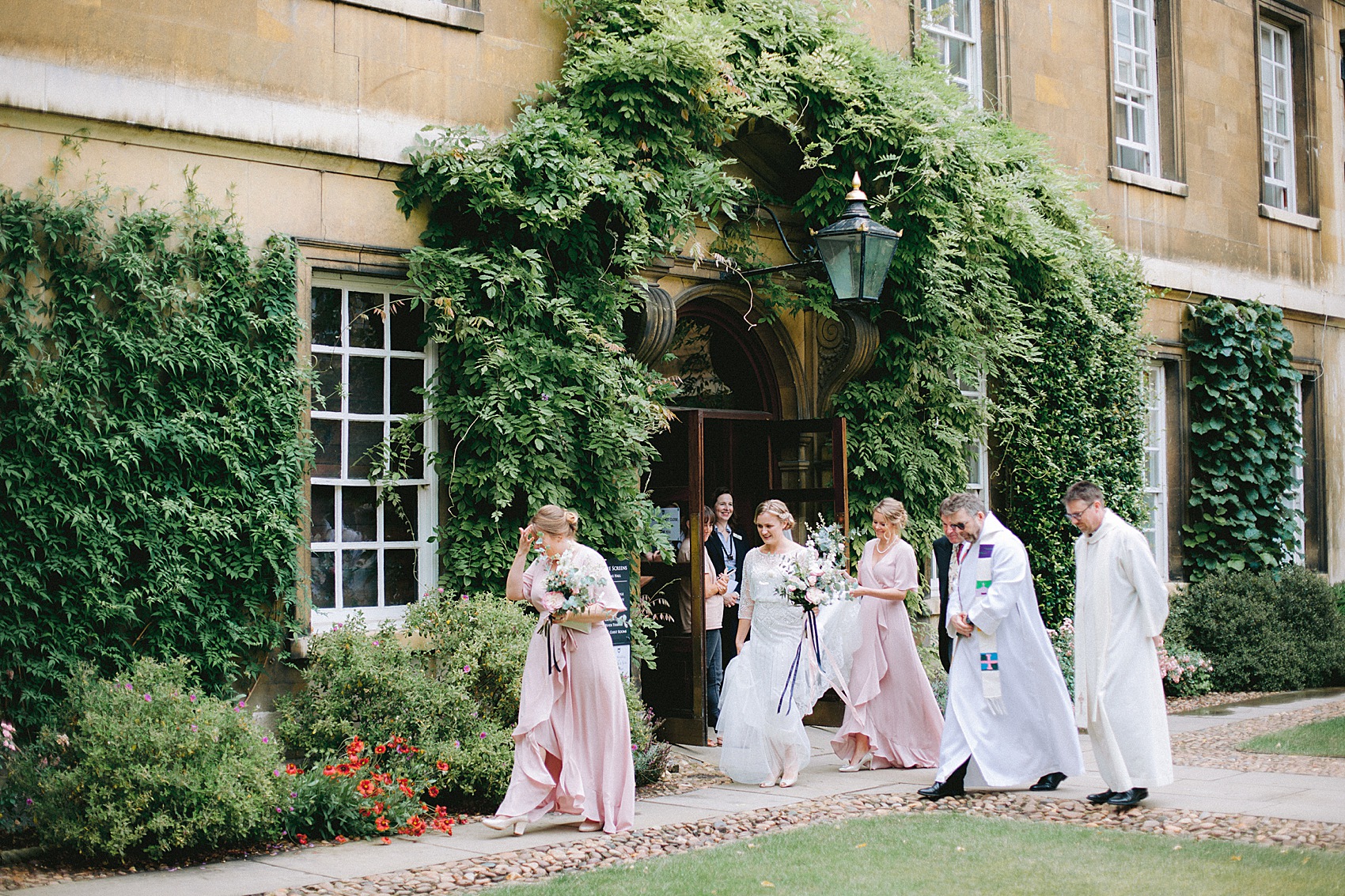 He added me on Facebook, but we didn't see each other again for 18 months, as Rob had been posted to Cyprus. Fast forward to autumn 2016, we saw each other again at a drinks party."
"No one can remember who made a move on whom, but we arranged to go on a date soon after. On this date, Rob dropped the bombshell that he was about to be deployed to Afghanistan."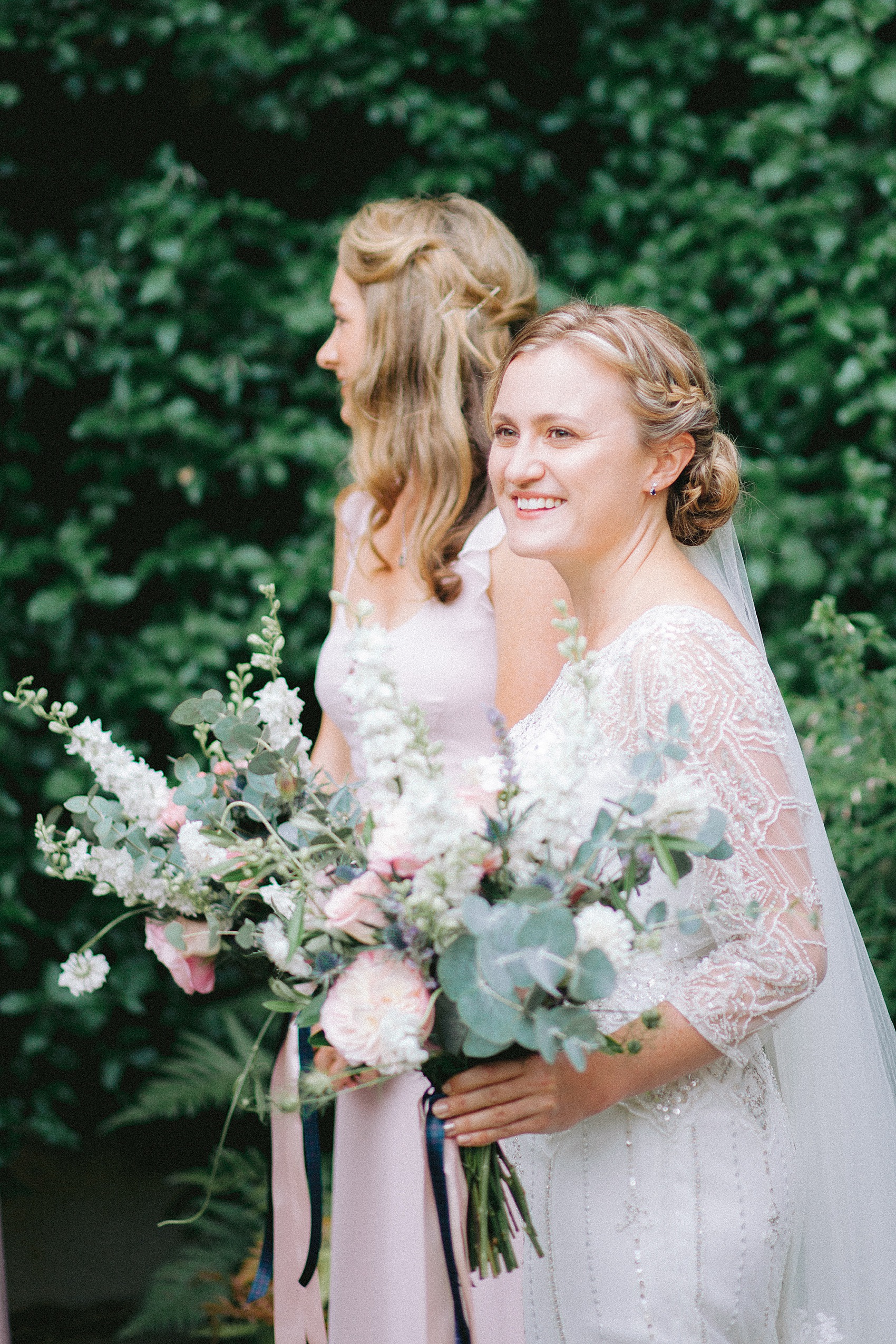 "He spent six of the first eight months of our relationship in Kabul, where we spoke most days on Skype – dodgy internet permitting – and wrote letters to one another."
"Rob left the army shortly after and we moved down to Kent for my teaching job."
Camilla's father accompanied her into the chapel.
"The College Chapel is so small that we could only walk next to each other down half of the aisle. (It was a very short walk anyway!), to the sound of Handel's 'The Arrival of the Queen of Sheba'."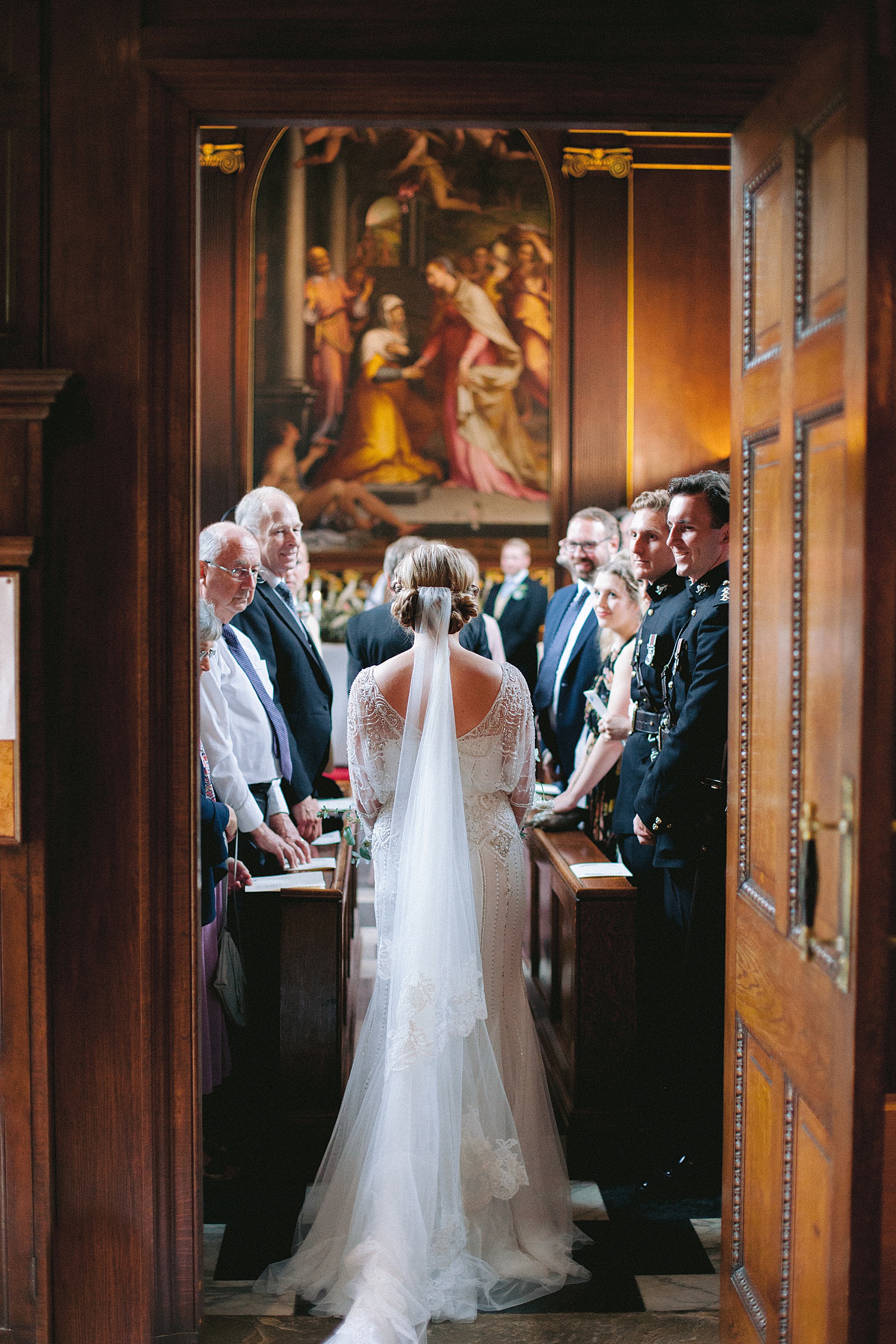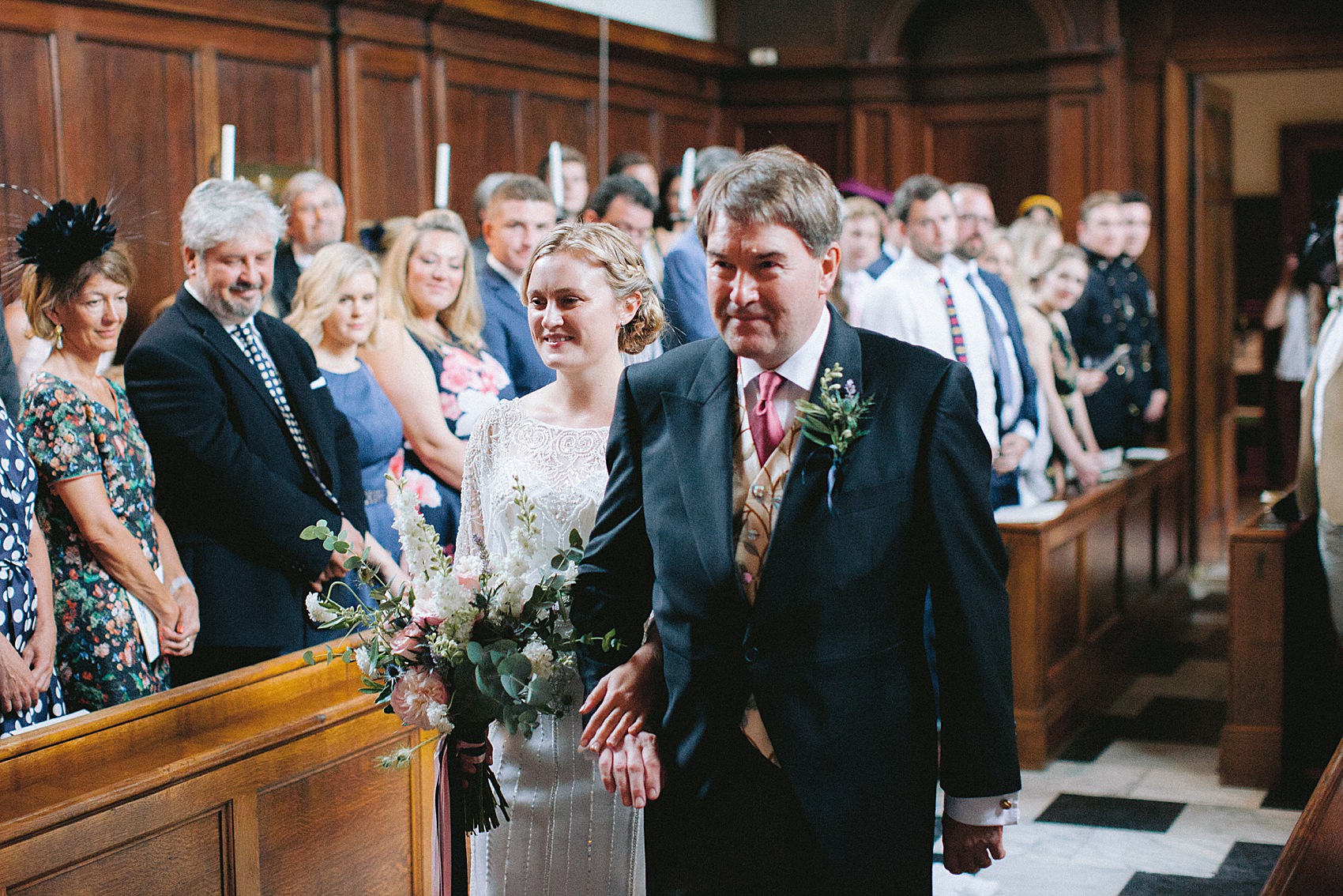 "We had a 'two vicar wedding' (a la Harry and Megan!): the Dean of the Chapel, Rev. Stephen Plant, presided over the more formal aspects of the service and a close friend, Rev. John Watson, gave the sermon and said prayers for us.
""We stuck to the Church of England service wording. And we had two readings: Psalm 139, v.1-10 and An Extract from Plato's Symposium."
"The Extract from Plato's Symposium was the section where Aristophanes is describing how once all humans used to be joined together, but they were split apart. Everyone now goes about searching for their other halves and when they find it, they are whole again."
"Rob referenced this passage in the letter to me in which he proposed, so it seemed fitting to have it as one of our readings."
The couple found their wedding rings at G Collins and Sons in Tunbridge Wells.
"We got my engagement ring there too, so it seemed like the obvious choice. The service there is excellent."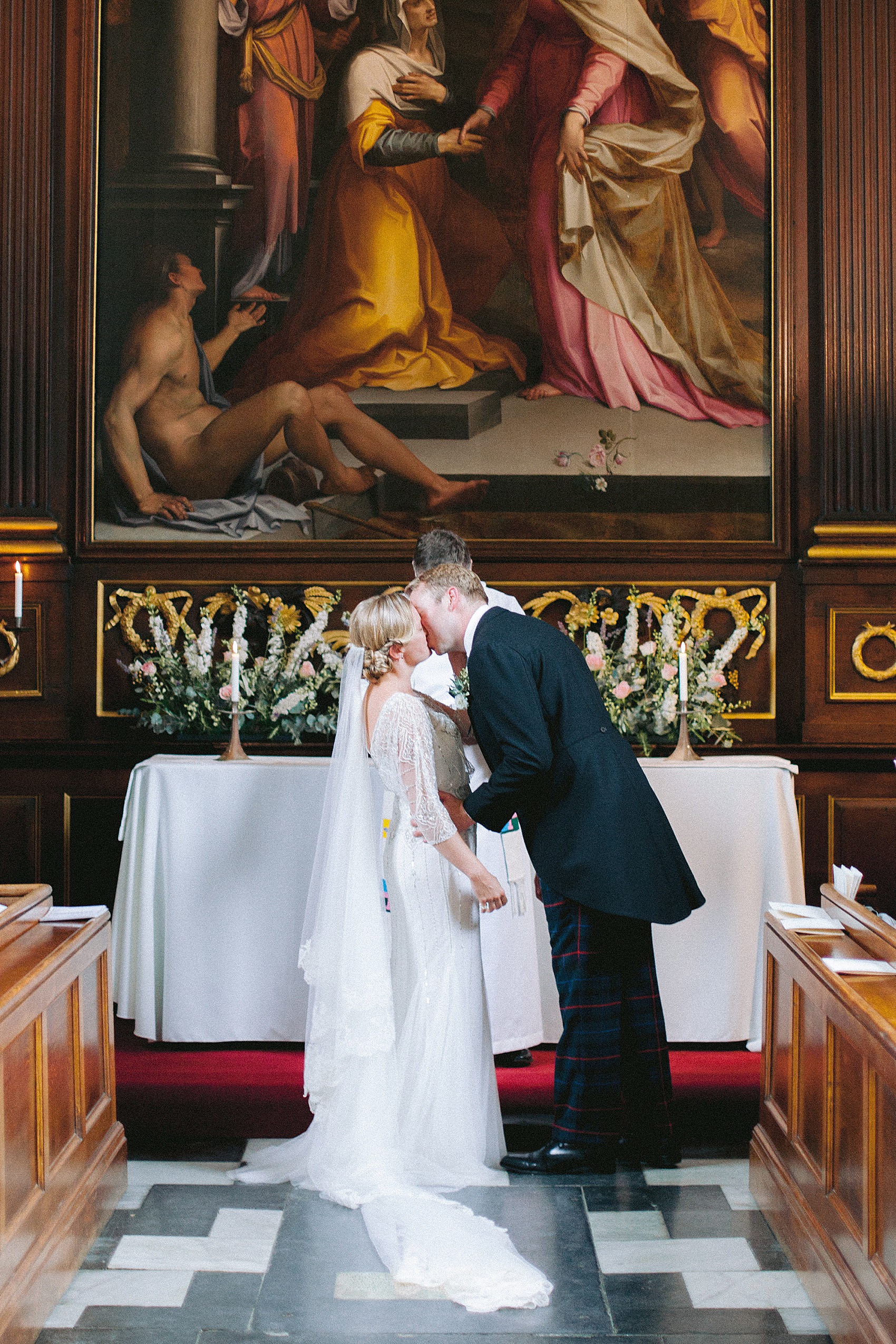 Camilla chose a 1920's inspired beaded dress by British brand Eliza Jane Howell, which she discovered at Isabella Grace bridal boutique in Tunbridge Wells, who she says had a lovely selection of dresses and a beautiful showroom.
"I had my 'Elsa' dress altered by Miss Kay Seamstress, which is over the road from Isabella Grace. Martine was incredible: she is the loveliest woman and she made me feel like a princess every time I went for fittings. She made my dress fit me absolutely perfectly – the precision with which she works is incredible."
"I wanted a dress with a vintage feel to fit with my plans for a 1920s/30s aesthetic. The 'Elsa' dress seemed like an obvious choice: slim fitting, batwing sleeves and lots of beading – I felt like something out of Downton Abbey when I tried it on and I just knew it was 'the one'."
"I borrowed my veil from one of my best friends from Trinity Hall, Emma, who had married 18 months earlier on my 30th birthday. Emma and her husband were sadly unable to make our wedding, as Emma had given birth to their daughter Evie a few days earlier, so it was nice to have her there in spirit."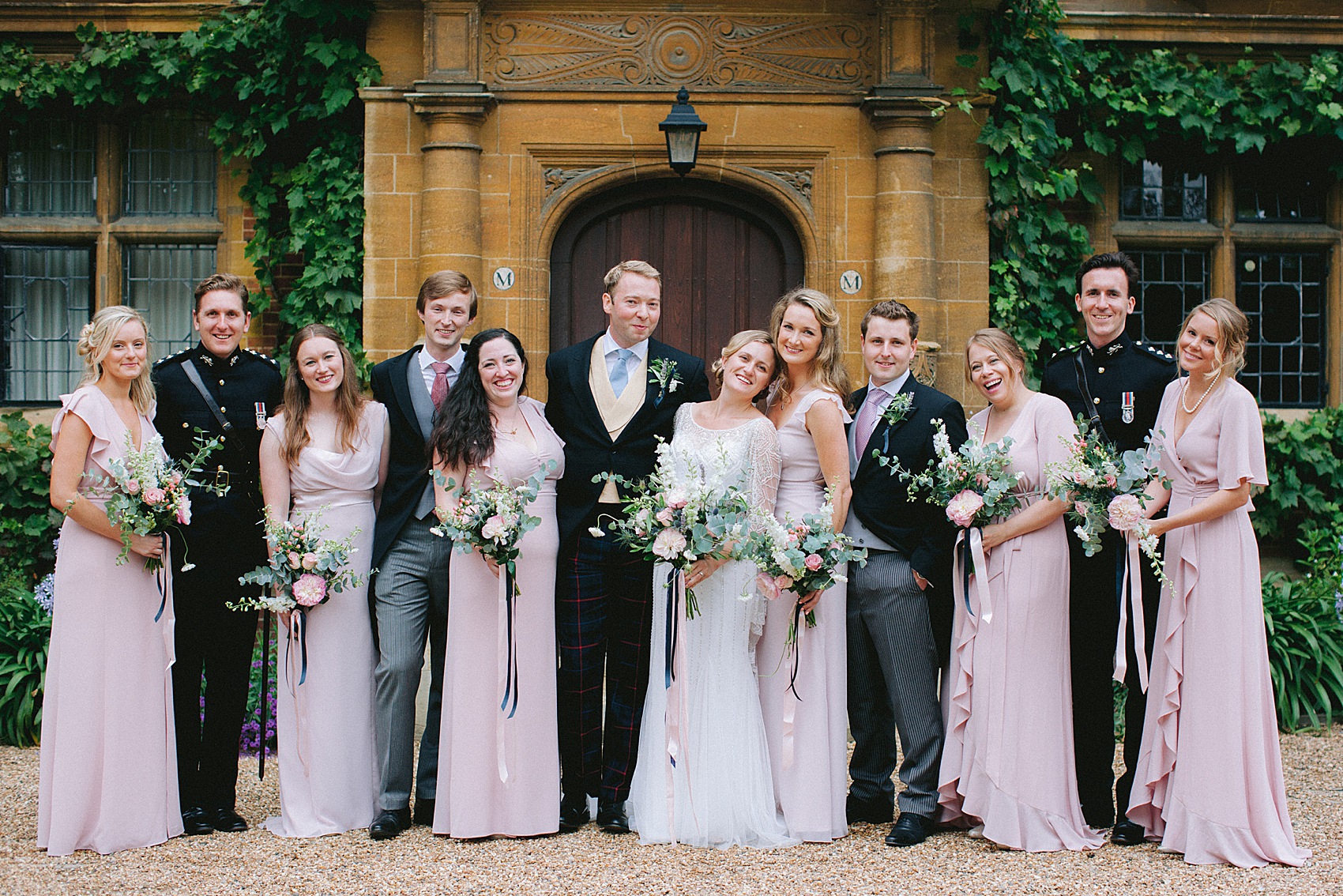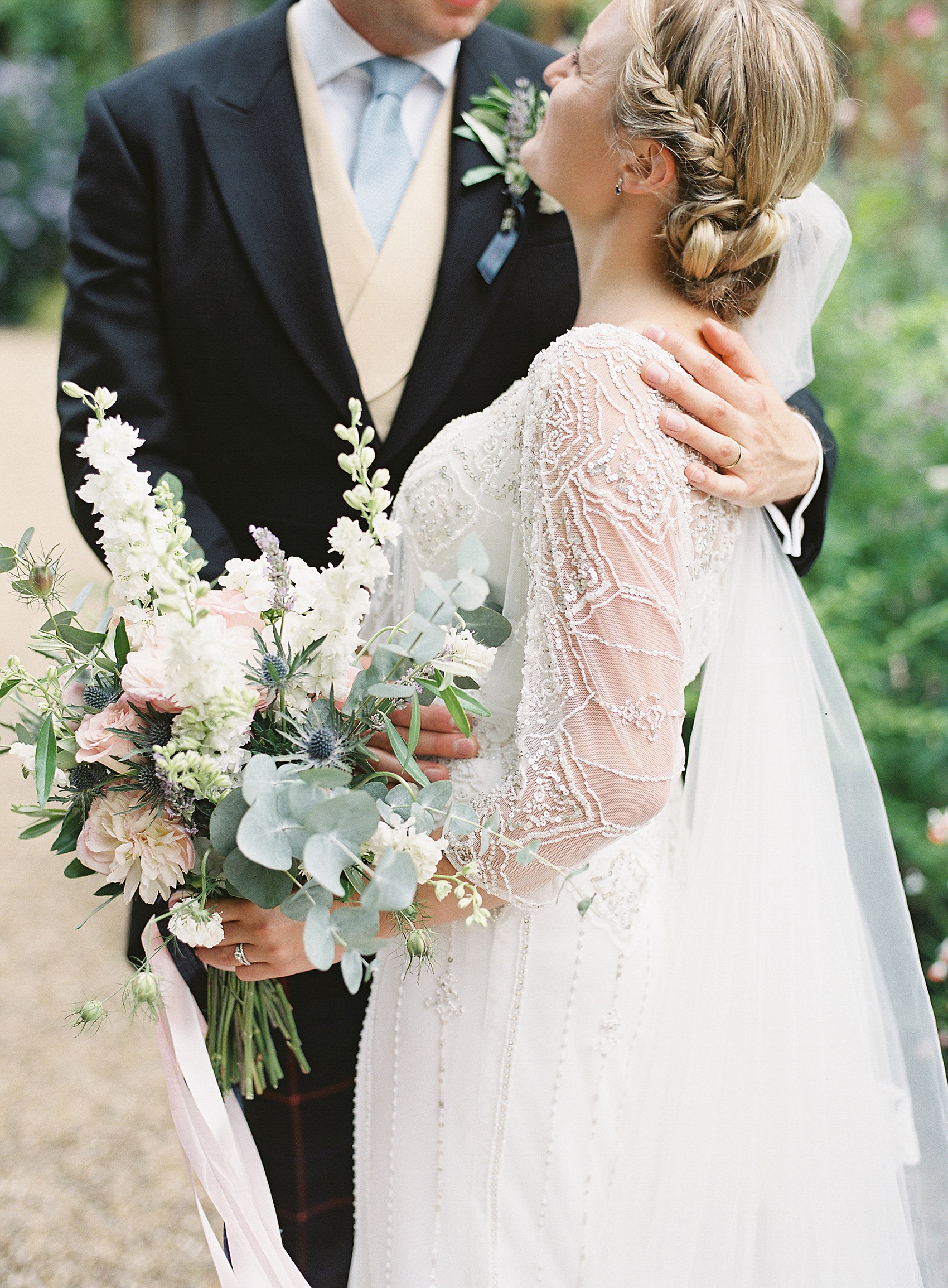 "Trinity Hall is the Cambridge College where I read Classics as an undergraduate. It has a lot of meaning for my family, as my parents also studied there – it's where they met."
My mother, Frances, was in the first year that the College accepted women, so I am the first baby born of two 'Trinity Hall parents'."
"Rob proposed in June 2018. He took me back to the restaurant in Greenwich where we had our first date, then, during a walk by the river, he pulled out a letter in which he asked me to marry him."
"It was a complete surprise – he'd let me believe we were going for dinner at Jamie's Italian in Canary Wharf."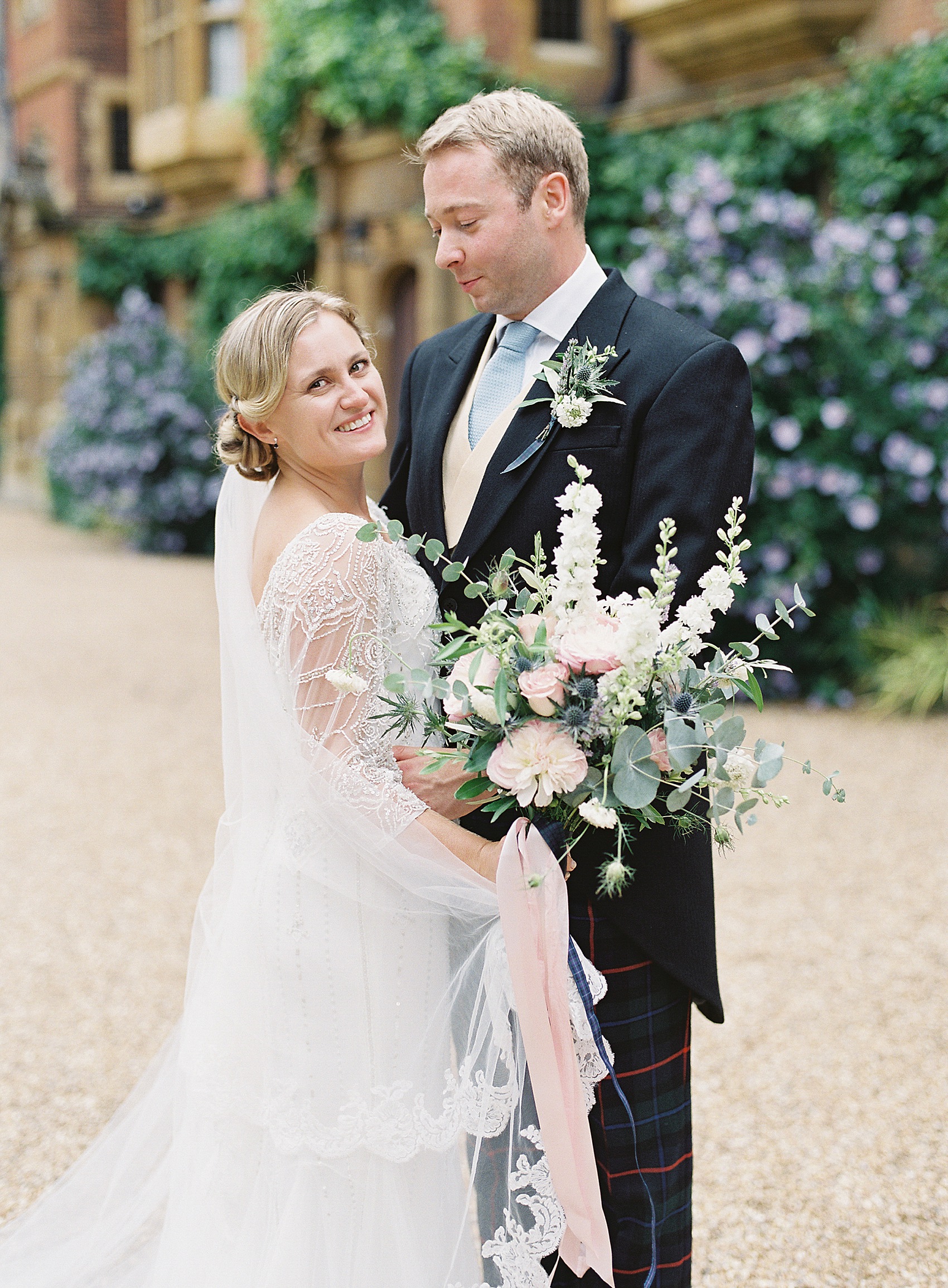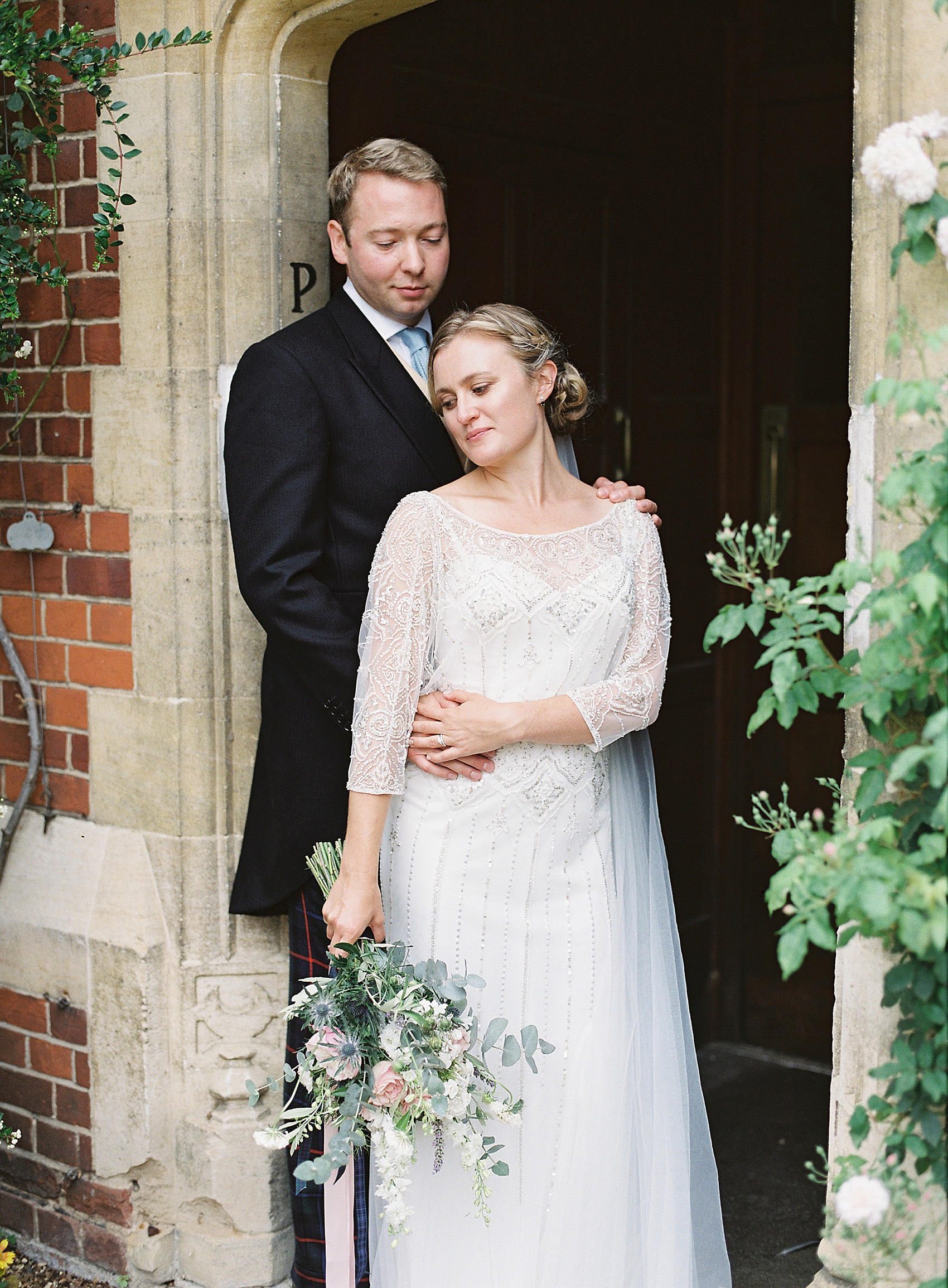 "Katie did everything to style and decorate the College. Her decorations in the dining room where my absolute favourite – they took my breath away when I walked in."
"I came across The Vintage House that Could of when I was looking to hire some vintage tea cups – I realised she could offer us so much more than chinaware. I cannot recommend Katie more highly."
"She worked so hard to make the already stunning venue look absolutely divine and no request was too complicated or difficult."
"Katie created the fabulous book-themed table plan, place cards and other signage…"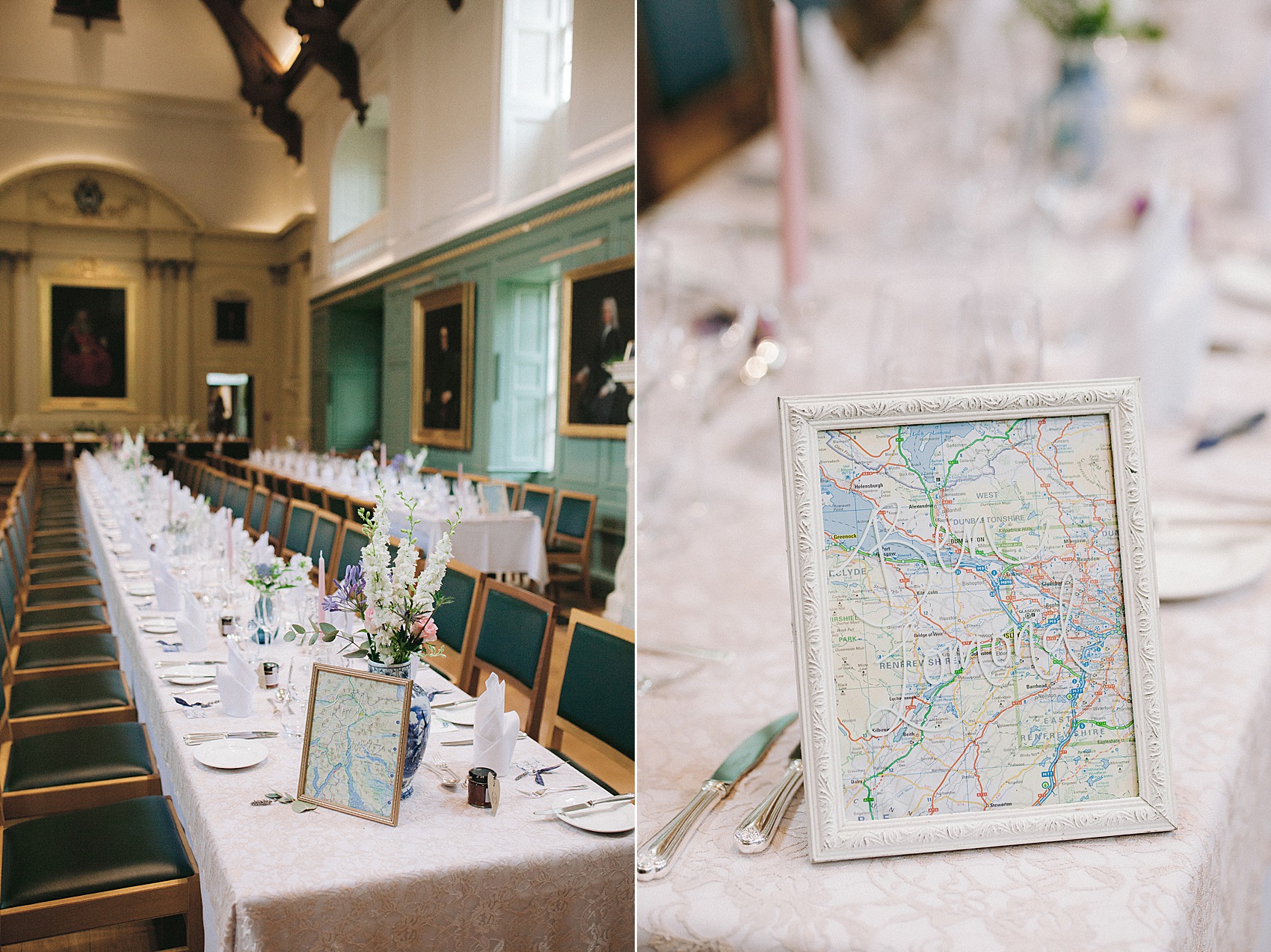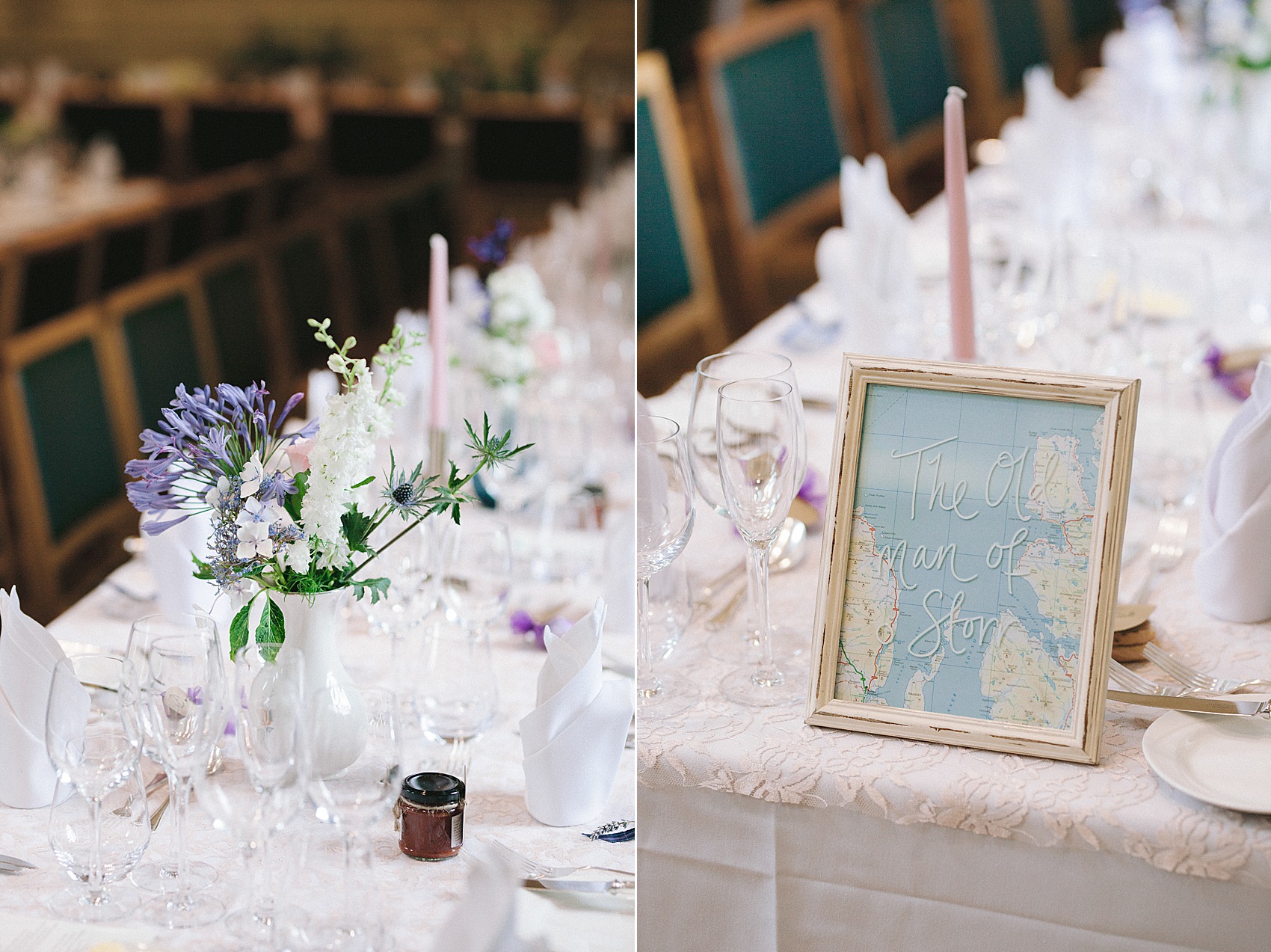 "Our cake was a four tier cake with different flavours to each layer. It was made my Vaani at Sugar Plum Bakes Kingston. She was a joy to work with and the cake was delicious."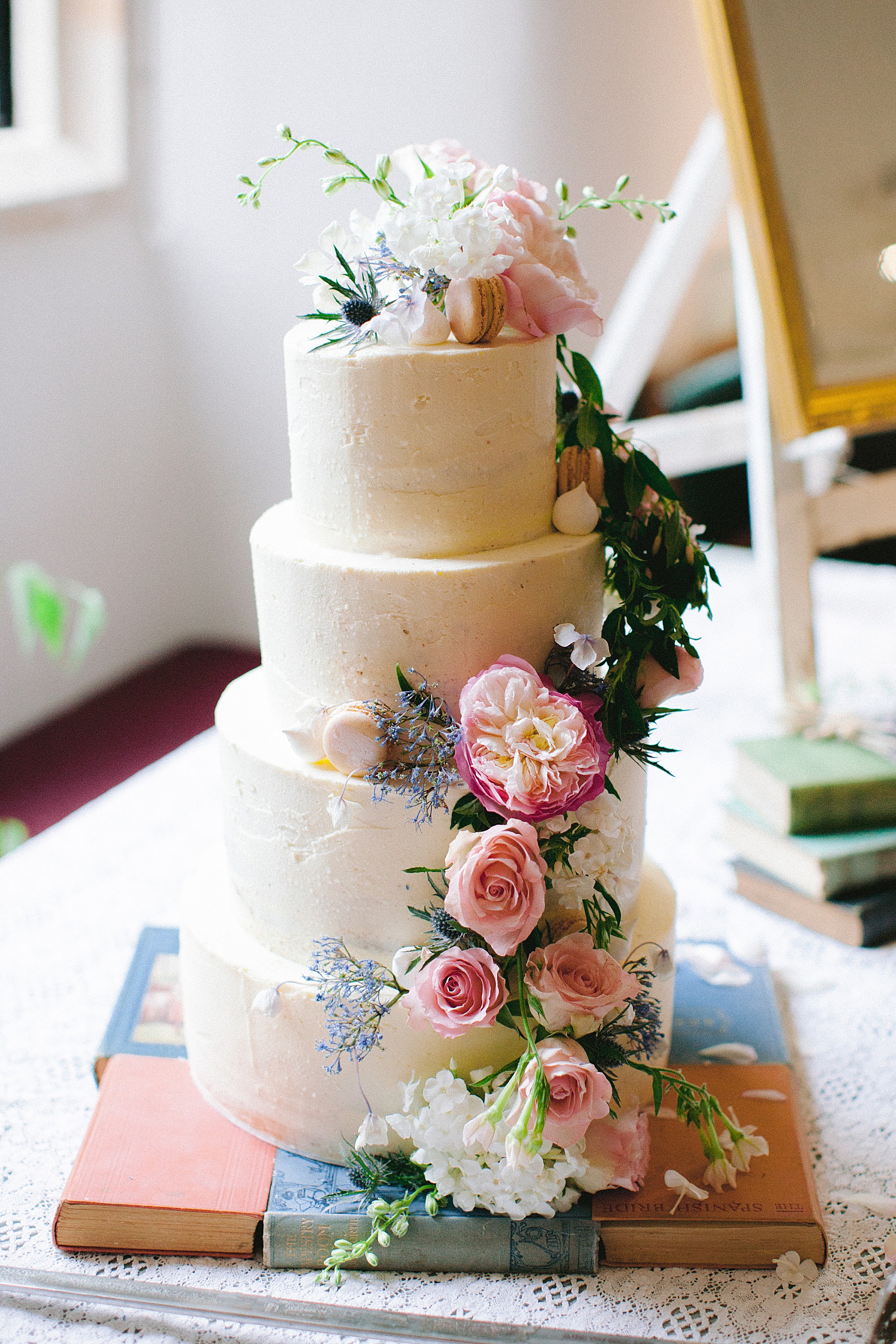 "The cake had something of a starring role, as we served it at the afternoon drinks reception immediately after the service, so I'm thrilled it looked as stunning as it did – not to mention tasted as good as it looked!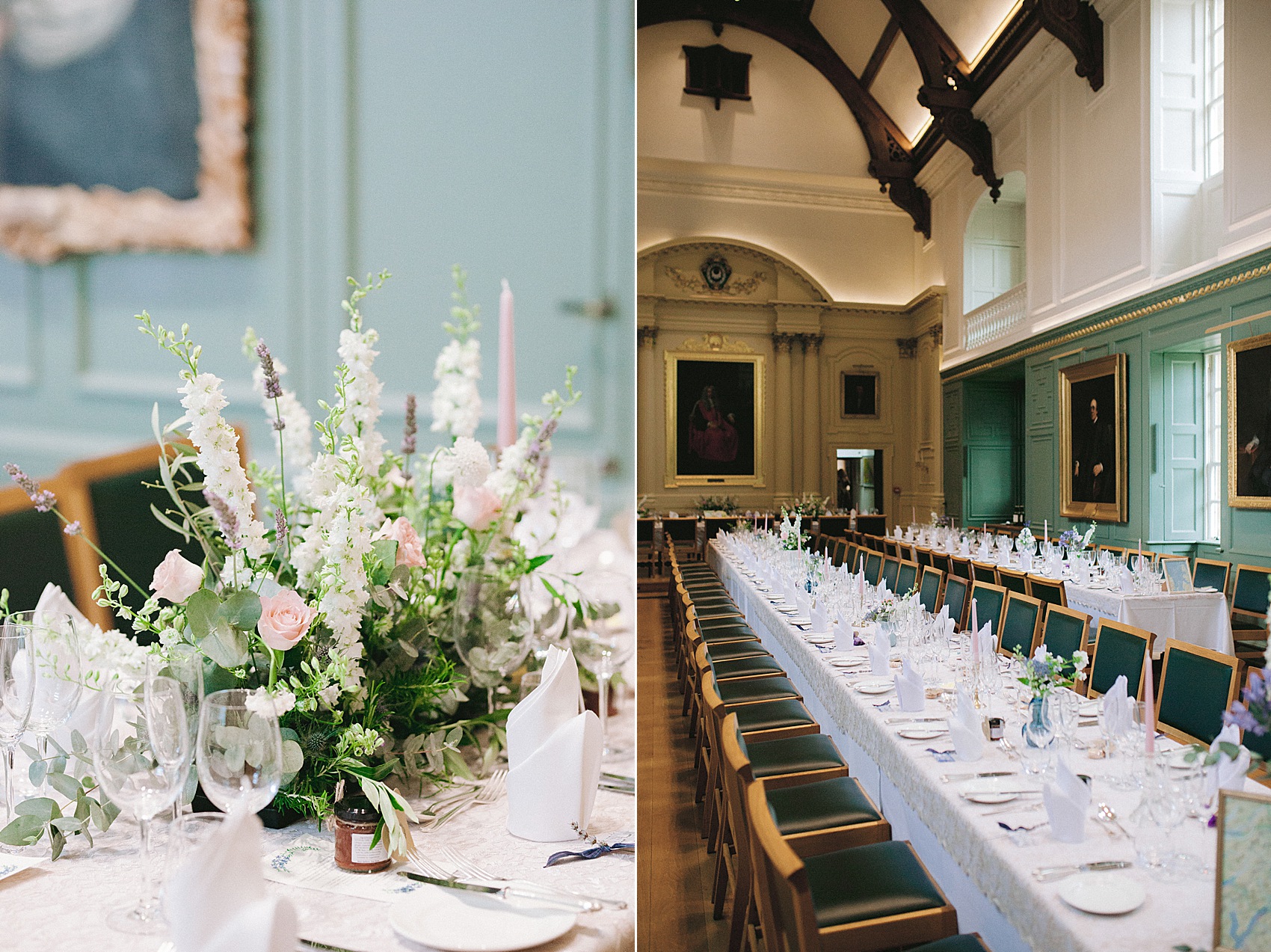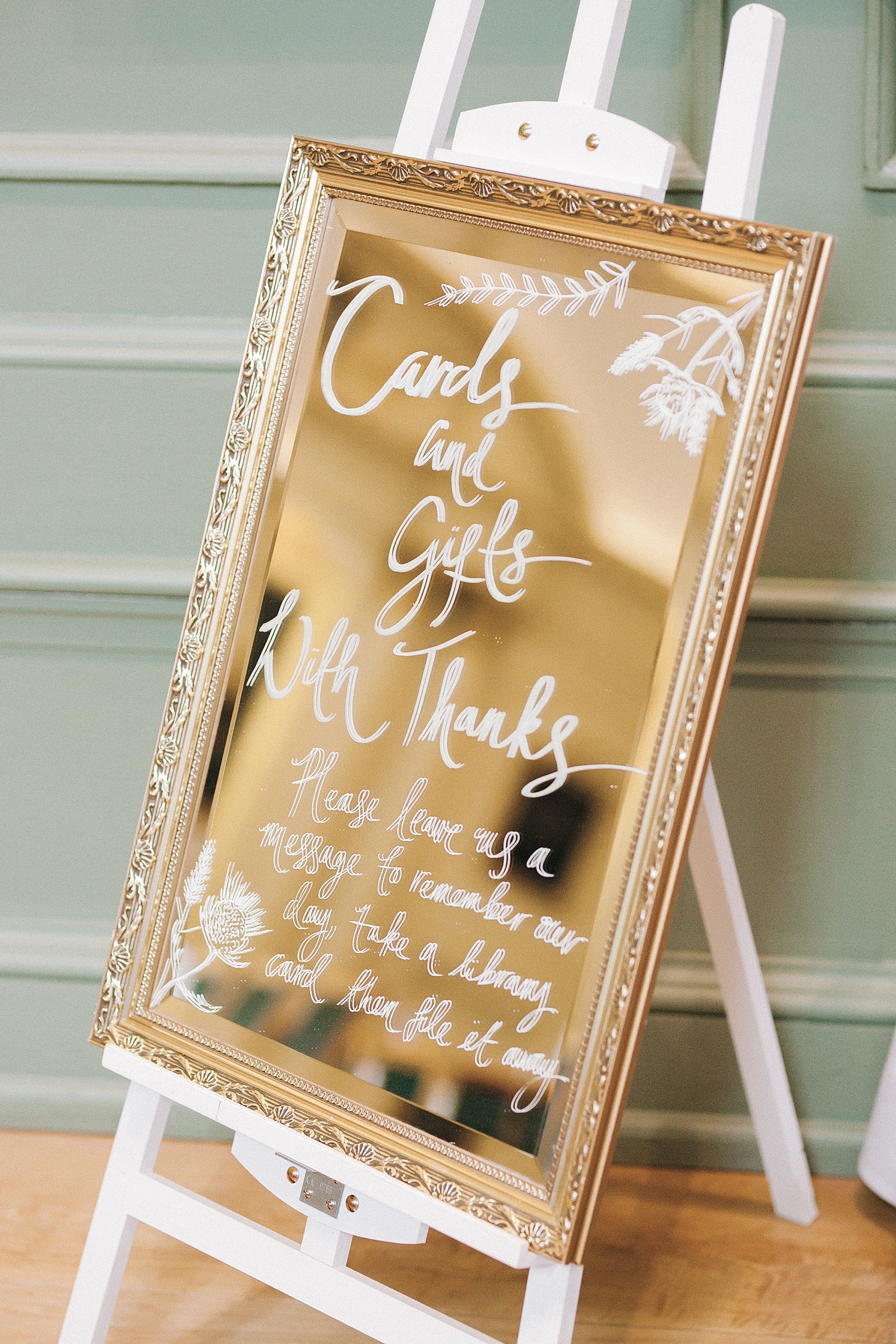 "Our wedding favours came from my friends' lavender farm (the Hop Shop at Castle Farm), which is local to us in Kent and where I've worked in the past."
"We had a three types of favours: small pots of tomato and lavender chutney, lavender tea bags and lavender short bread."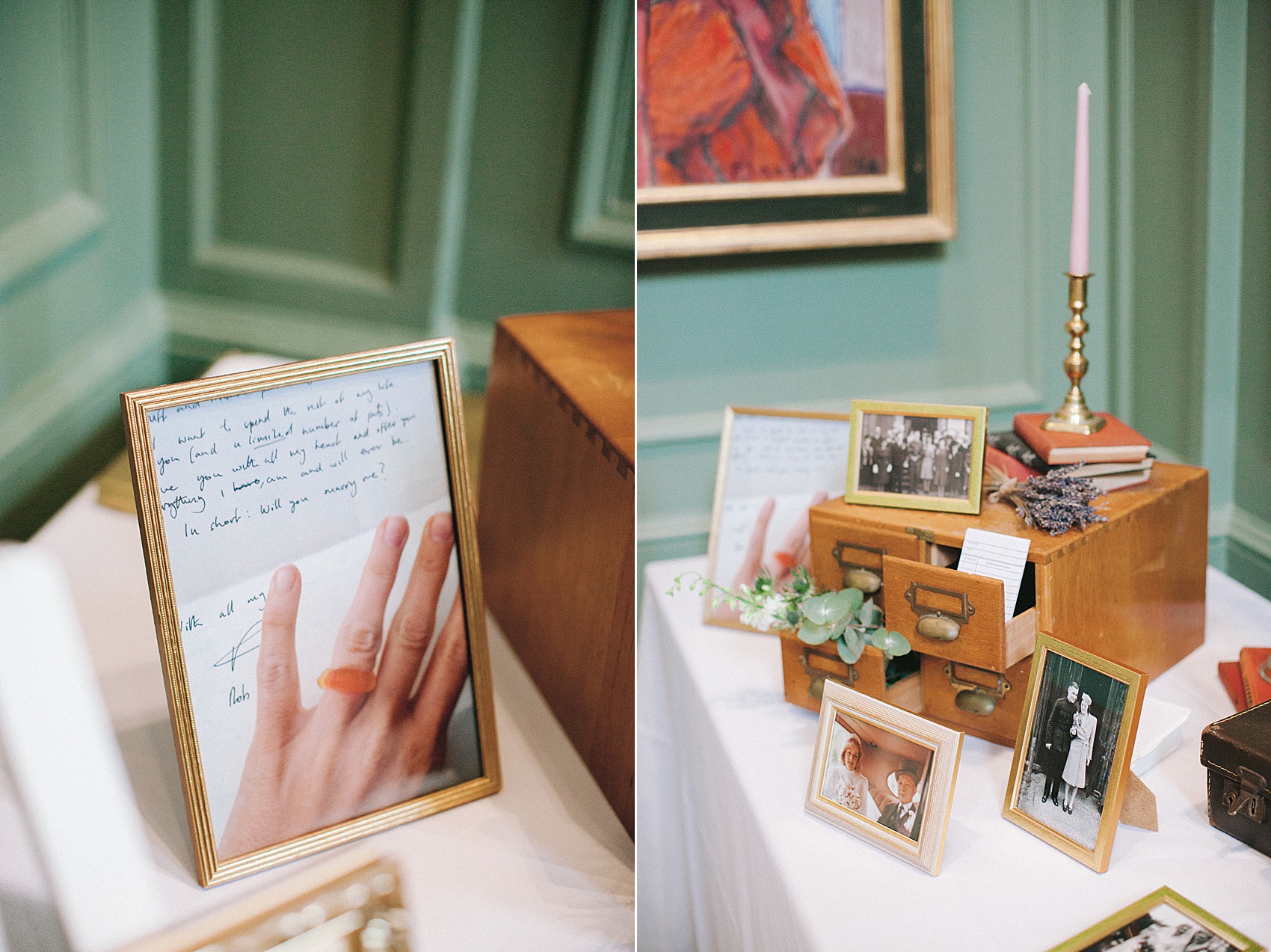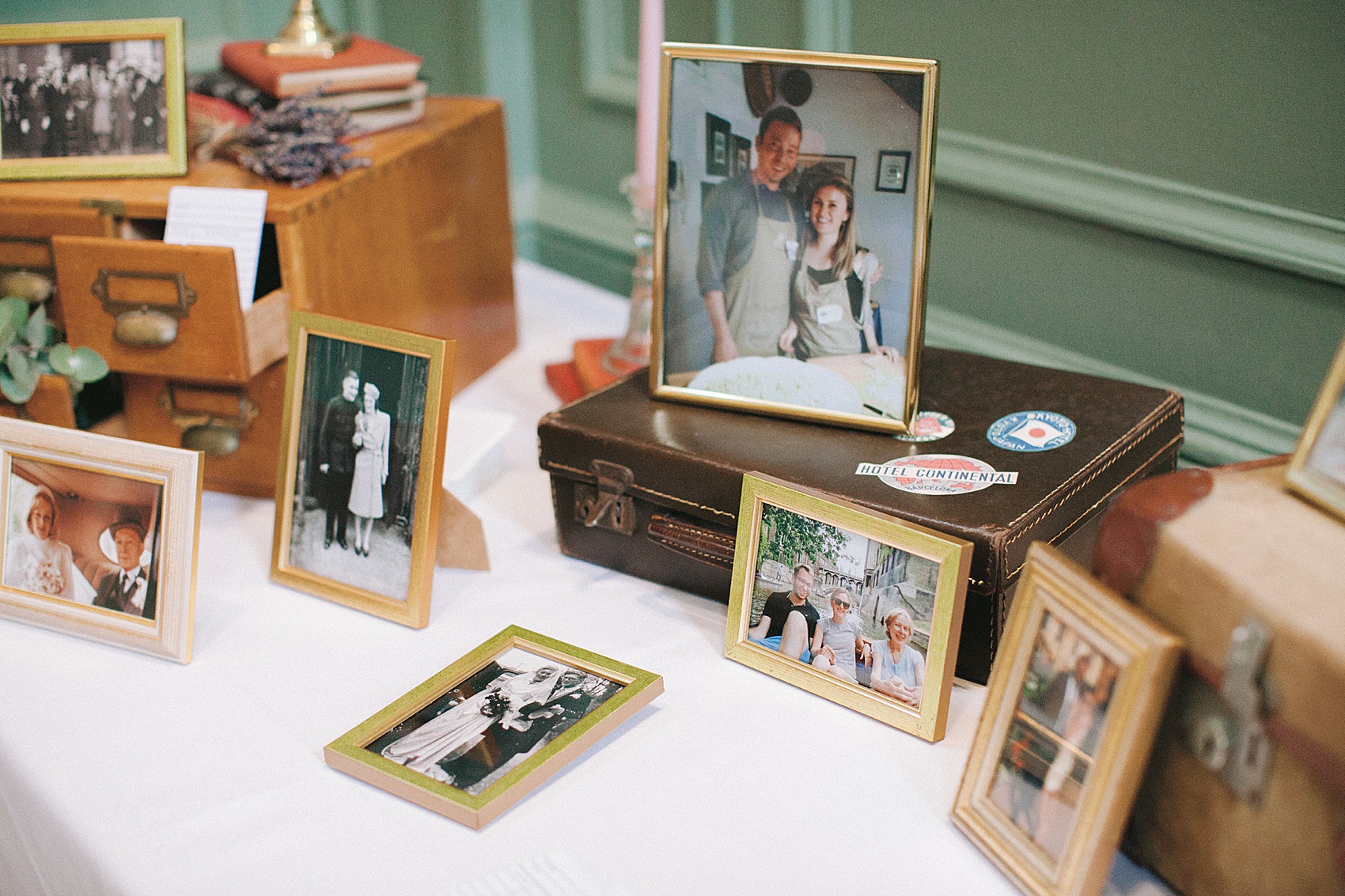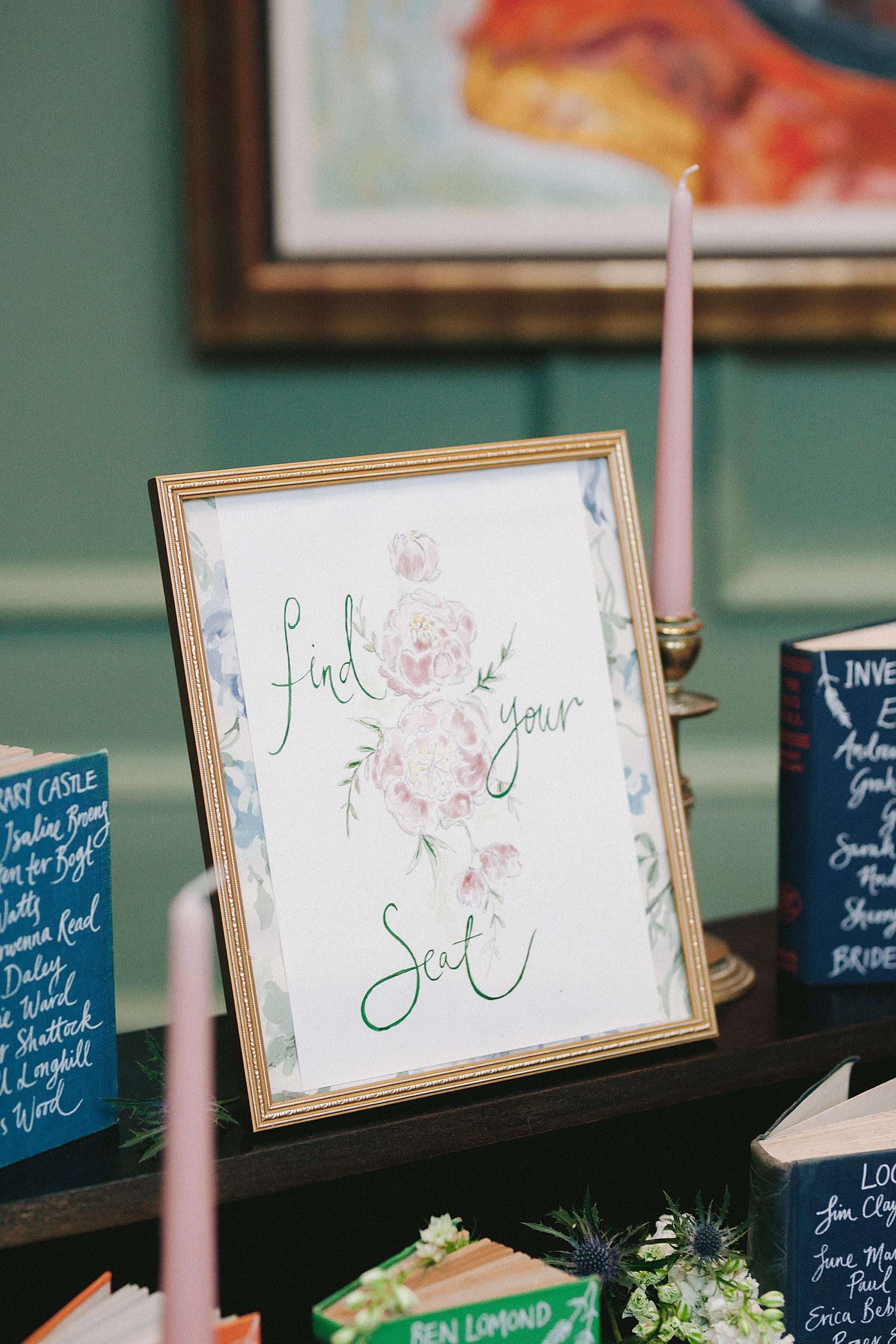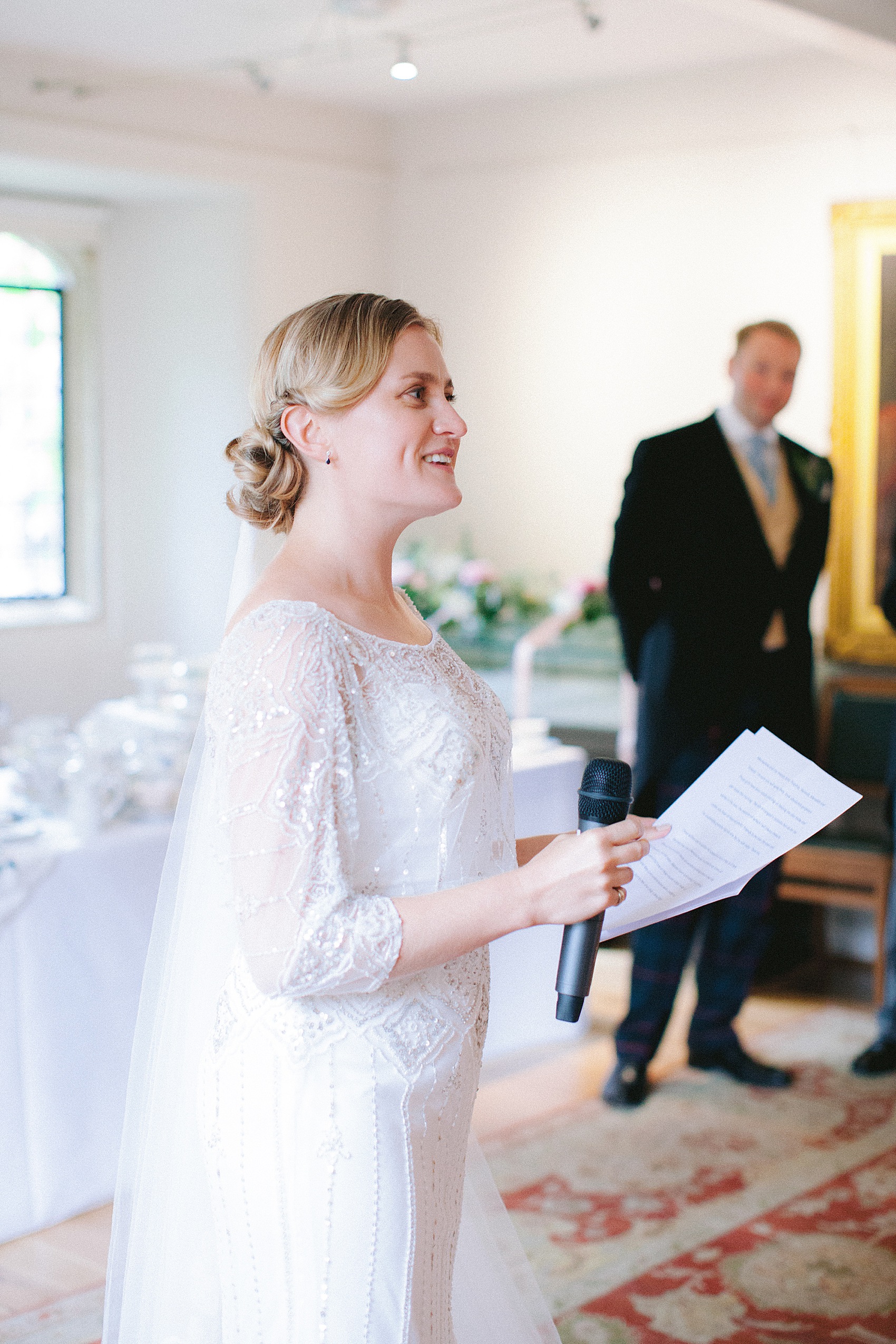 The couple's first dance was to Carly Simon's 'Nobody Does it Better'…
"I couldn't pin our favourite part of the day down to just one moment – I really enjoyed going for a short punt trip with Rob – it was lovely to spend ten minutes alone together. Also, it was amazing that the rain held off for the whole of the outdoor drinks reception – it literally started raining as the last guest went in for dinner!
Words of Wedded Wisdom
In all the wedding planning itself, make sure not to neglect planning for the actual marriage. Rob and I went on a special date night once a month in the year running up to the wedding, where we talked about our hopes and dreams for married life: our expectations around children, family, work/life balance, money – you name it, we talked about it! I think it really helped us lay the foundations for what will hopefully be a long and happy life together."
"I absolutely love the Real Weddings section of Love My Dress. It really helped me to visualise the little touches that we were planning for our wedding – what sorts of things stand out on the day."
Extra, extra proud to be sharing this wedding knowing the lovely bride was able to find so much inspiration and several wonderful suppliers through these very pages and our beloved directory. Thank you so much Camilla for letting us share your day.
Wishing you all a lovely long weekend ahead.
Annabel x