Come with me to Cheltenham for the gloriously colourful and modern nuptials of Liv, a reception class teacher and Dan, a branding designer for Superdry.
They wed on 25 July 2019 in a ceremony at Queens Hotel Cheltenham followed by an intimate and relaxed reception opposite at The House at No.131 The Promenade. Keeping the base simple and neutral, the couple wanted to include big, bold colours through their flowers, with a modern, vibrant vibe inspired by their shared love of fashion and style.
Claudia Rose Carter Photography

+ Follow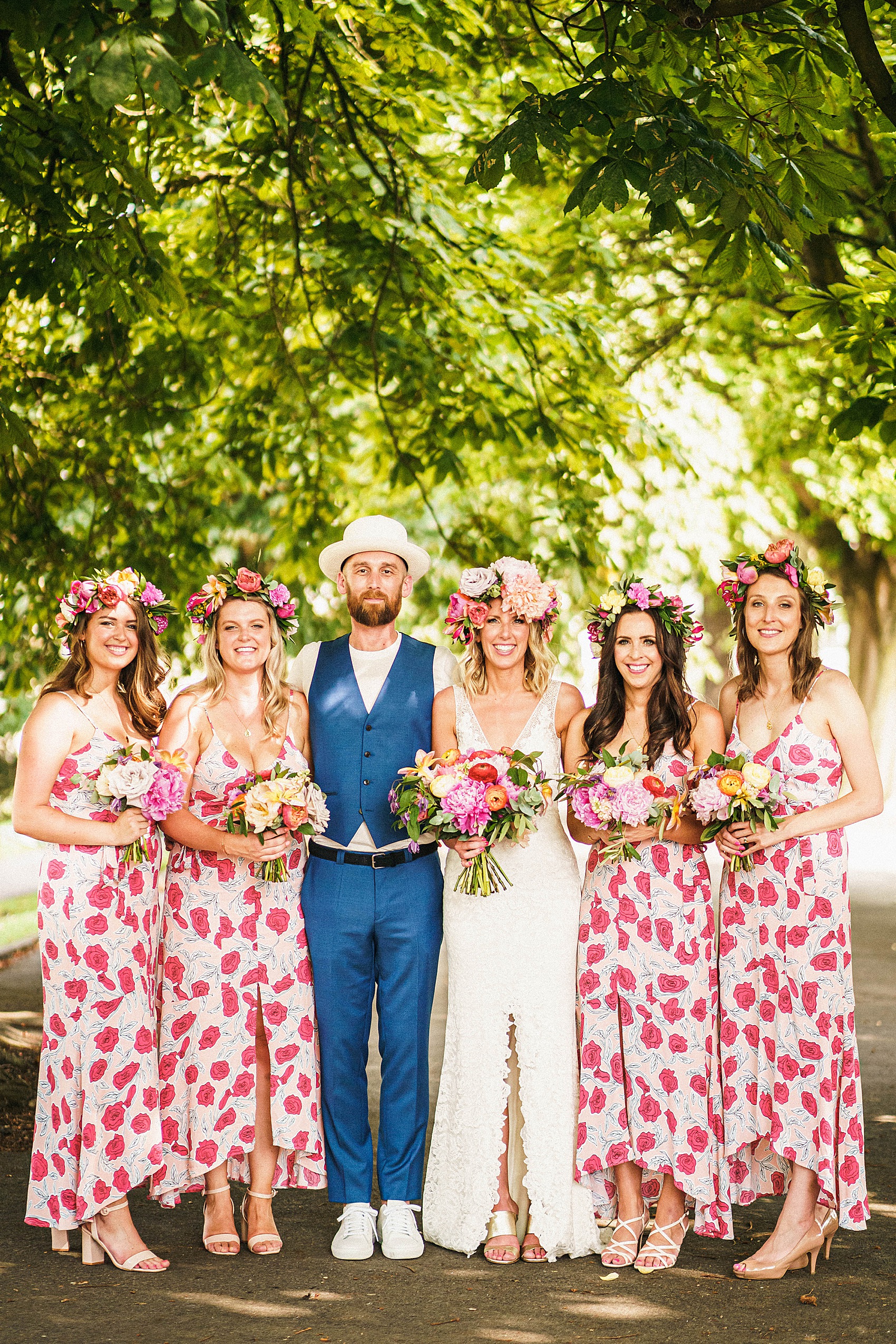 This look was just so well-matched with that of their photographer, the wonderful Claudia Rose Carter. We really admire her flair for using natural light to creative emotive and evocative work, and are so proud that she is one of our Little Book Wedding Directory members.
"We loved the style of Claudia's photography; her use of natural light creates a mood in her photos that we really liked.  We also knew that we wanted 'moments captured' rather than lots of staged, formal photos."
"On the day, Claudia spent the morning of the wedding with me and my bridesmaids getting ready and Mark Brown (a second photographer organised by Claudia) was with Dan and the boys. Claudia and Mark just blended in and captured so many wonderful moments, most of the time we weren't even aware we were being photographed. I highly recommend Claudia to anyone."
The bride's hip, laid-back bridal look is so beautiful and summery and comes courtesy of Grace Loves Lace, another supplier who we are proud to support on our Little Book.
"I always wanted a Grace Loves Lace dress. I had been following them on Instagram for years before we got married so when they opened the showroom in Shoreditch, London I thought it would have been rude not to at least go. I had the most incredible experience."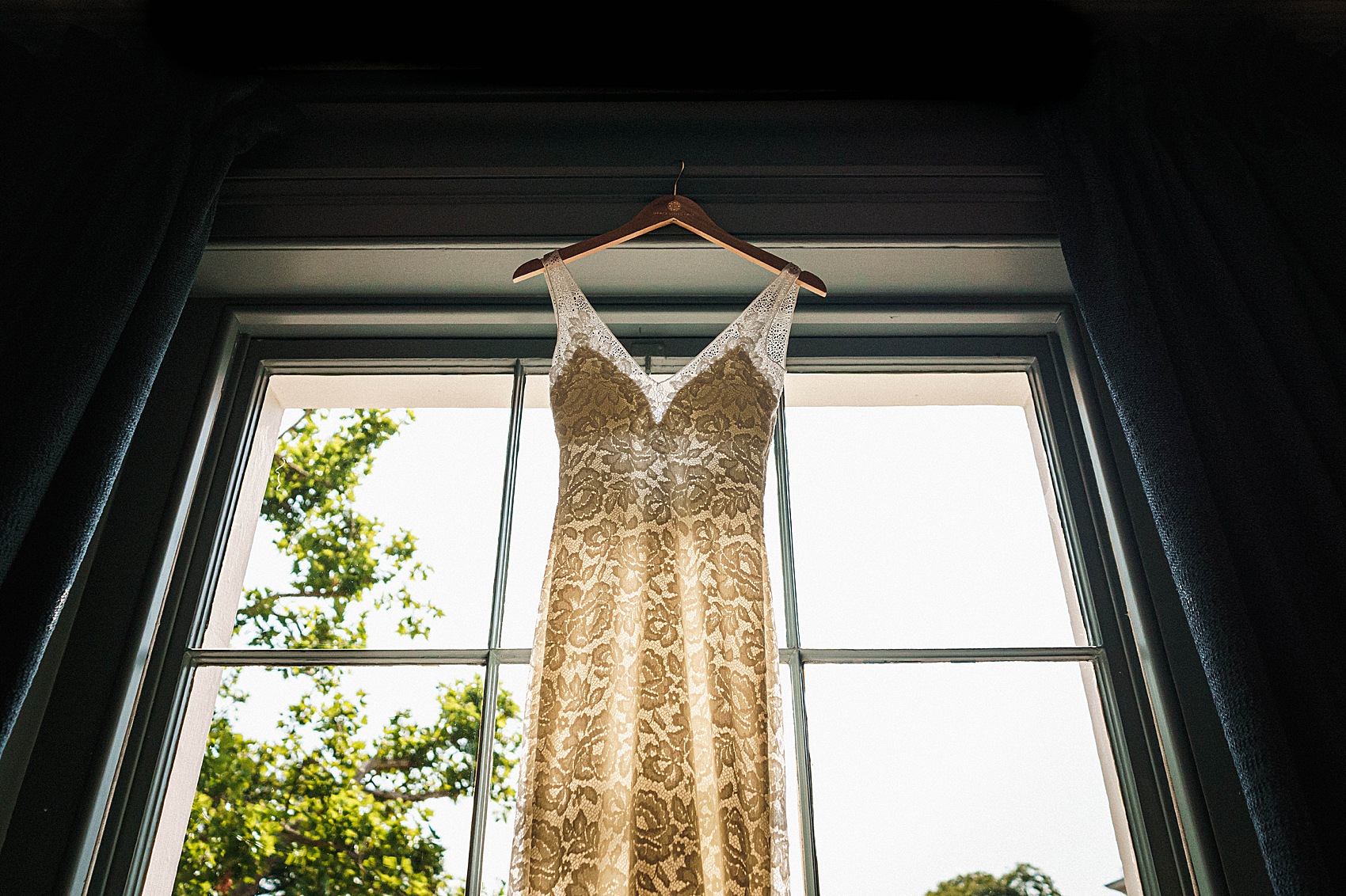 "I visited with two of my best friends first and then went back again with my mum and sister. We had the best service from Hilary who I dealt with from beginning to end. I was then passed onto the production team in Australia."
"Hilary was patient and offered invaluable advice and guidance when I was choosing the dress. I would 100% recommend. In my view, no other bridal boutique came close."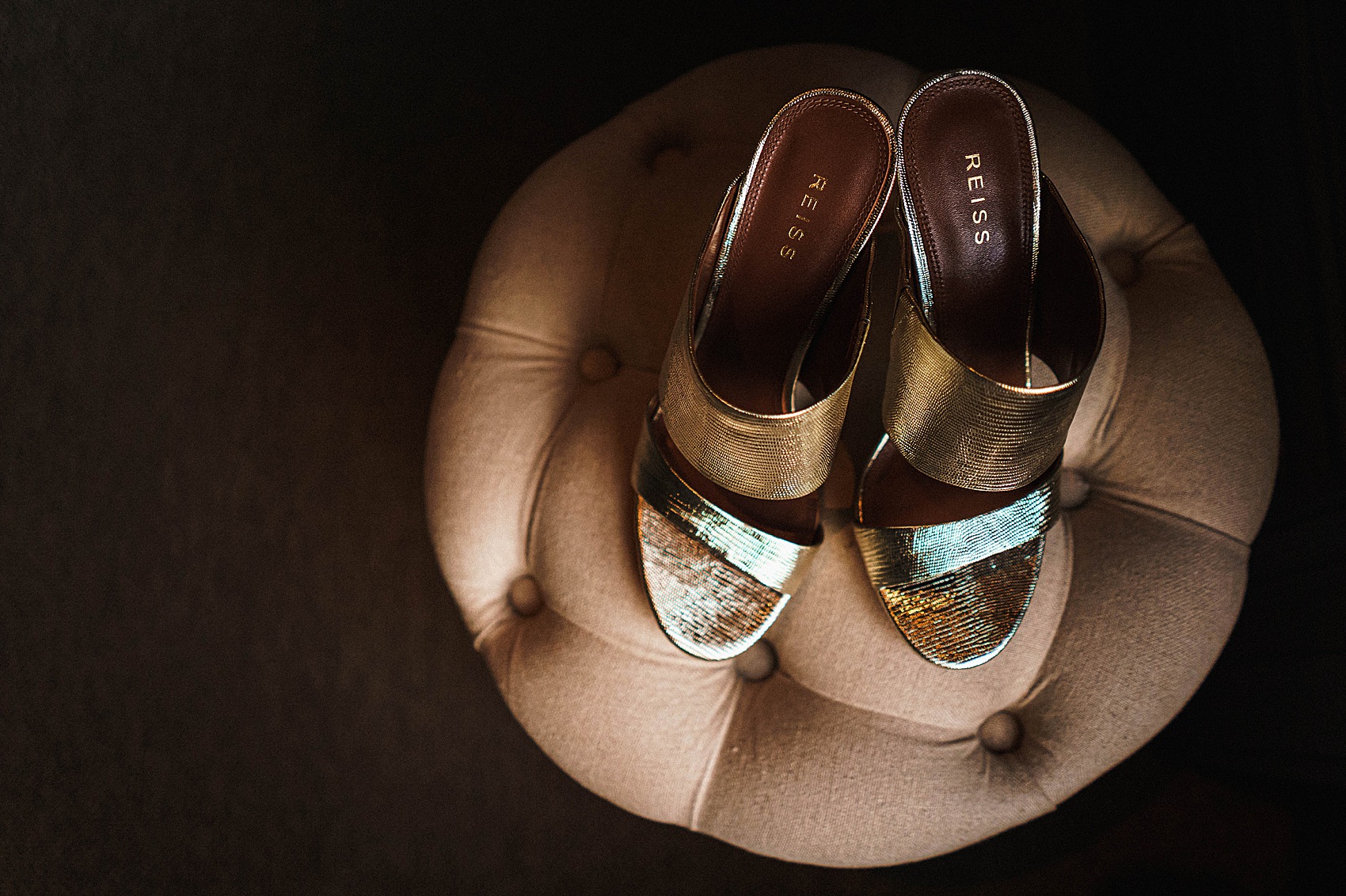 She slipped on a cool pair of gold Reiss sandals and accessorised with a statement floral crown of roses and peonies in vibrant pinks, styled by Rebel & The Rose.
Her hair was styled in to romantic, tousled waves by Cat Parnell and she looked absolutely glowing, her natural beauty enhanced by Nina Ruberry.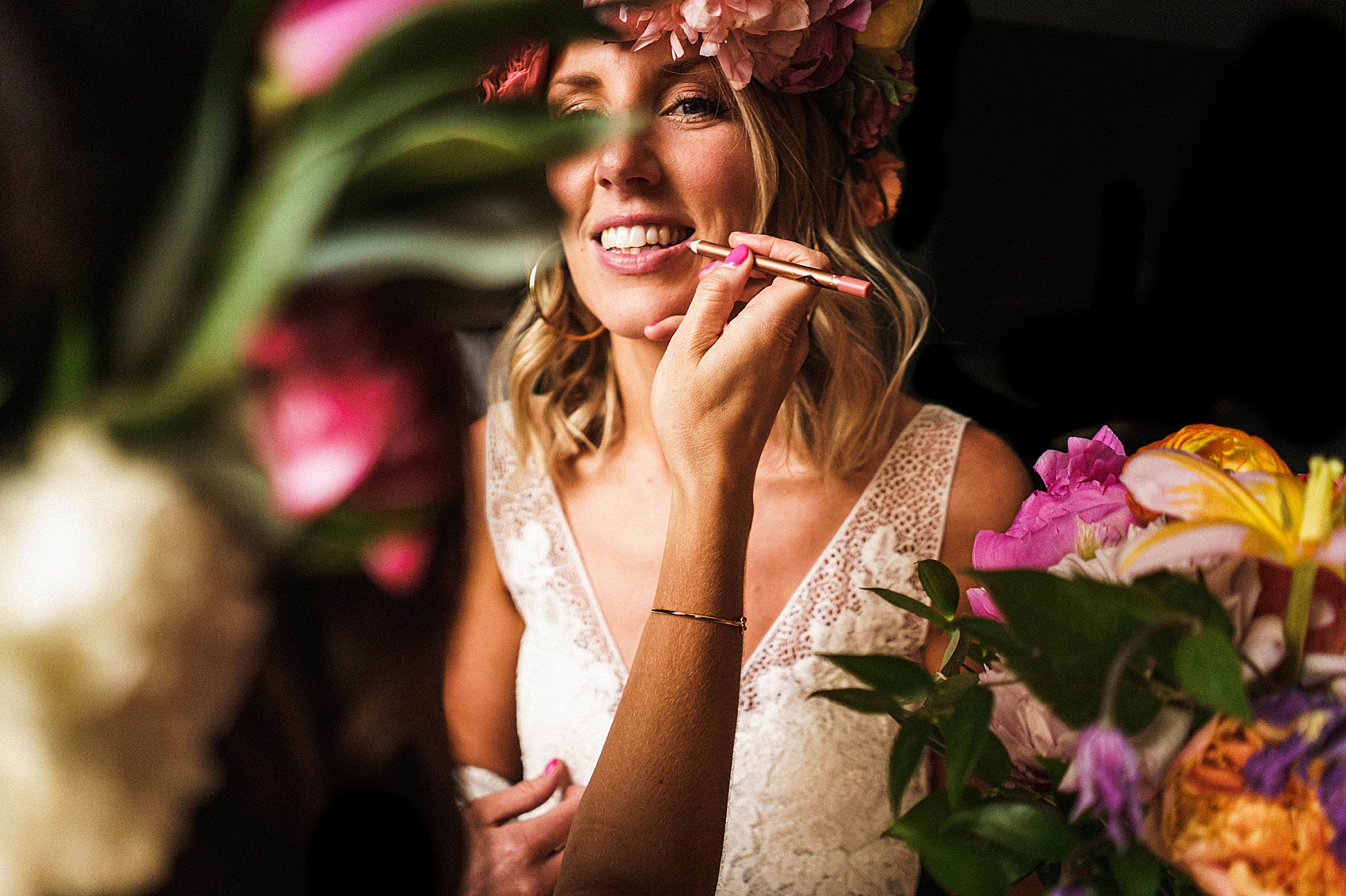 "I loved the lace and the light and comfortable style of the dress. As it was a summer wedding I didn't want to get too hot and I knew I would be carrying/ running around with our two boys! I loved the slit detail at the front of the dress and a low back was always a feature I wanted."
"We wanted the flowers on the day to provide all of the colour! We wanted statement pieces in the venue and on the tables and I knew that I wanted flower crowns for me and my bridesmaids. I chose all of my favourite flowers for that time of year and asked if these could be included."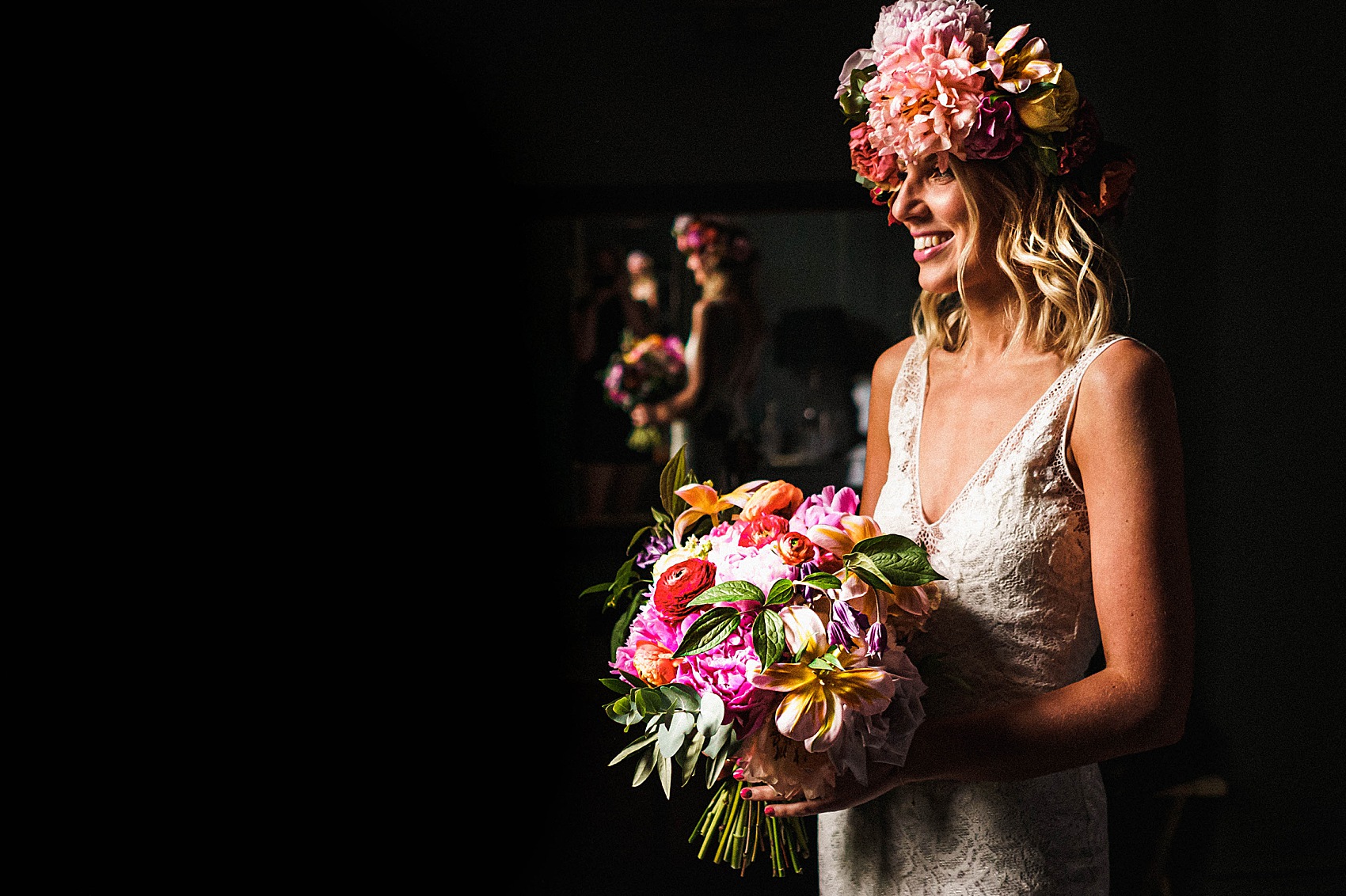 "I especially wanted peonies to be used. Esther, the owner of Rebel and the Rose, created mood boards and a colour palette that we loved and then I asked her to use her artistic judgement for everything else!  She did such an amazing job and we both feel that the flowers really made it."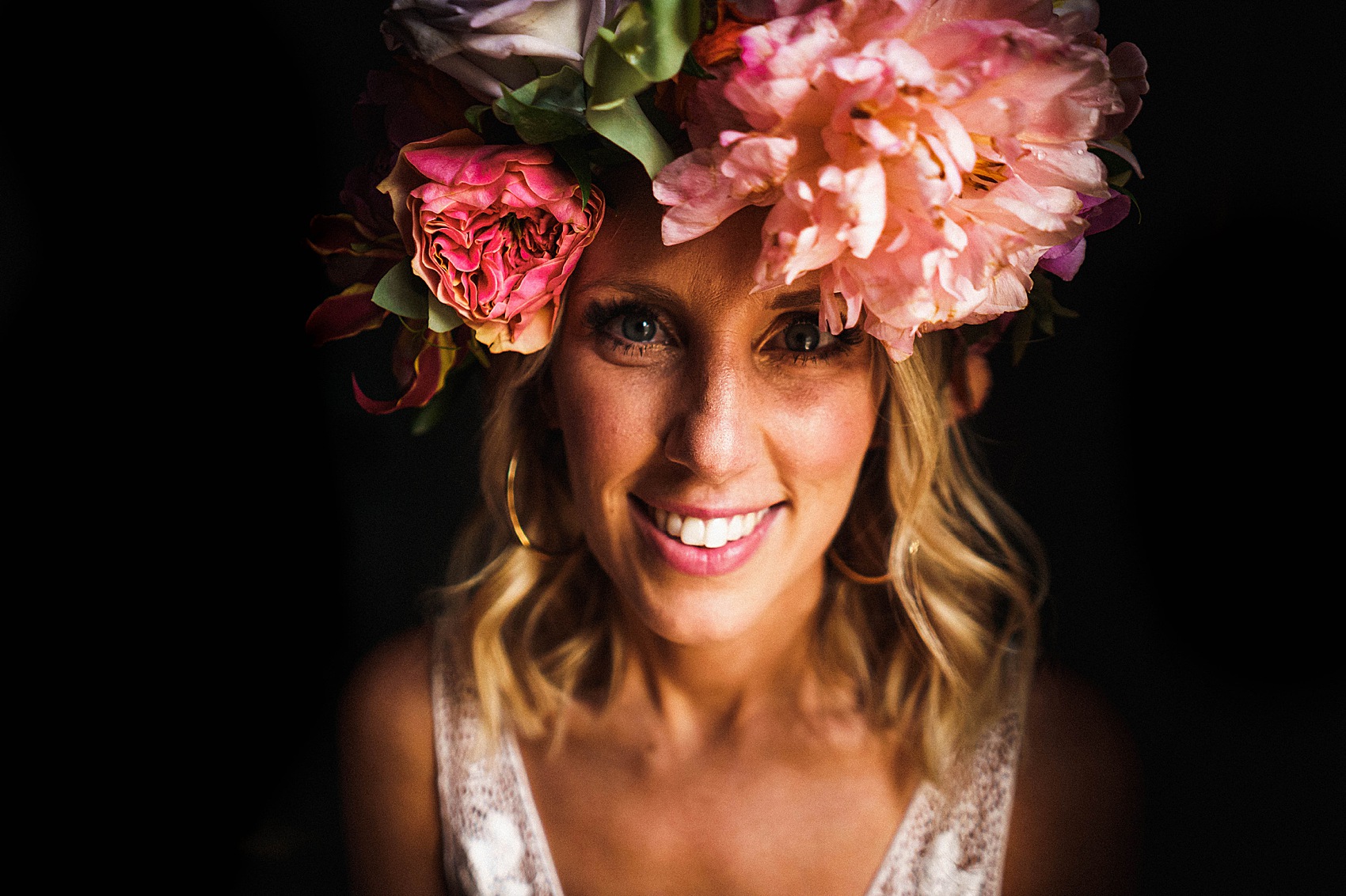 The bridesmaids wore the most fun, floral summer dresses from & Other Stories along with floral crowns to match Liv's whilst the two page-boys, the couple's sons, were in shorts from Zara Kids, t-shirts from Next and box-fresh, white Nike Air Force 1 trainers. The girls, along with the bride's mum, were styled by Amy Hickey and Stuart Holmes.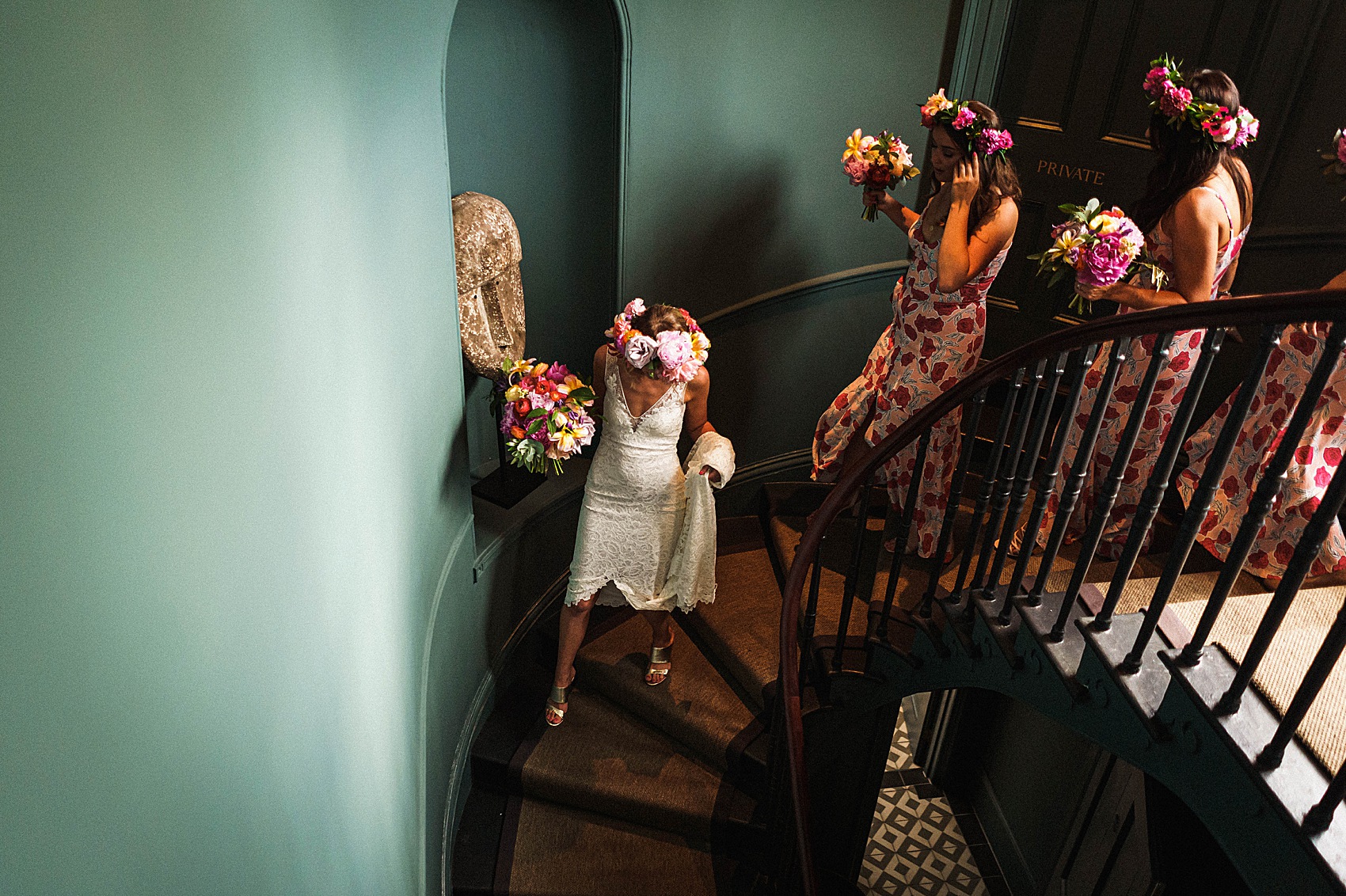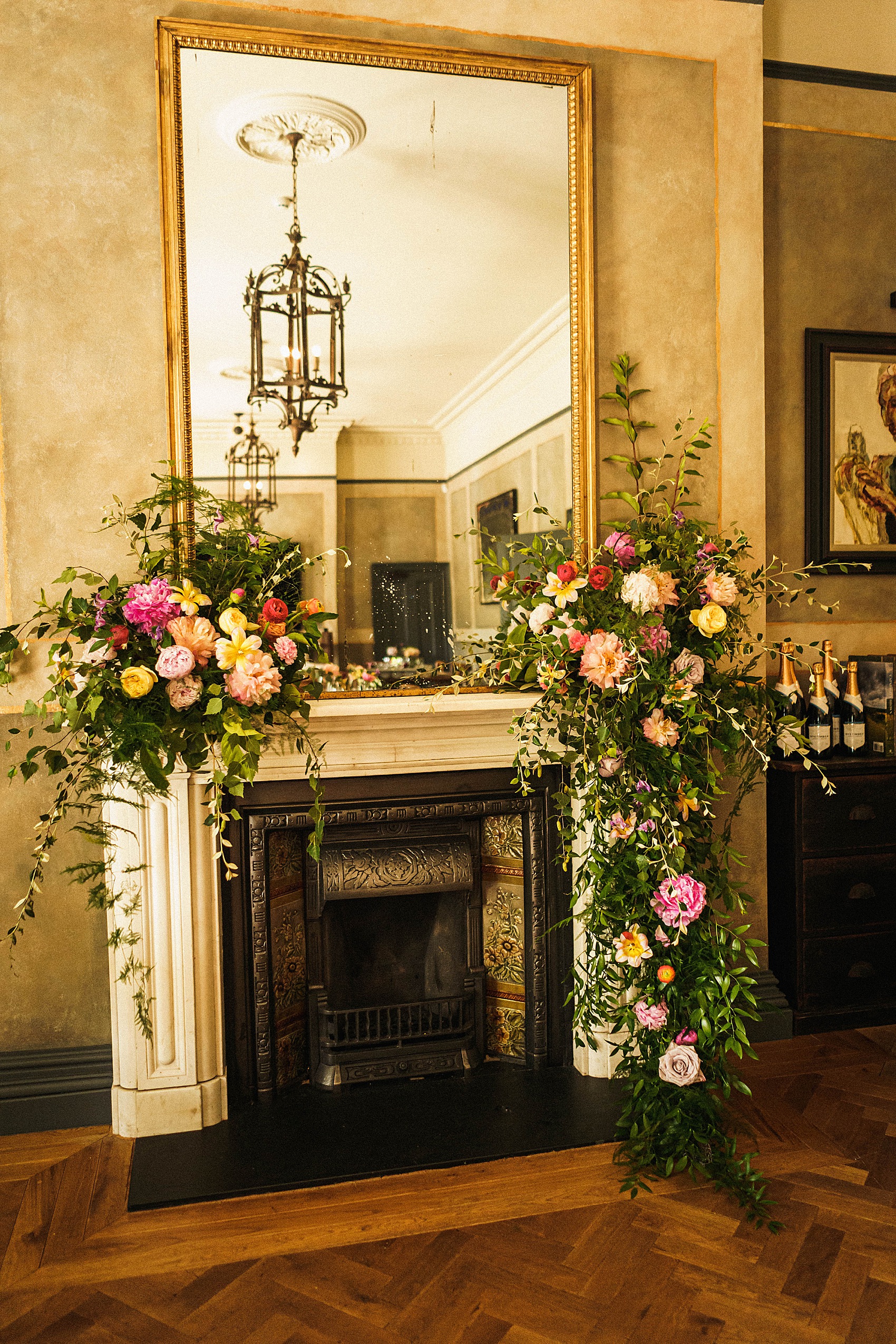 Dan and Liv met in Cheltenham in June 2010 and the bride moved there two years after they began to date. It was the natural choice of location for their venue, with its glorious Regency architecture.
"Dan was living here at the time and I was living in Bristol (my home town), I came to Cheltenham to go to my friend's birthday party, Dan was there too and we got on really well. We travelled between Cheltenham and Bristol on the weekends for the following year and then I moved up here.  Two children later we were engaged and started to plan our wedding."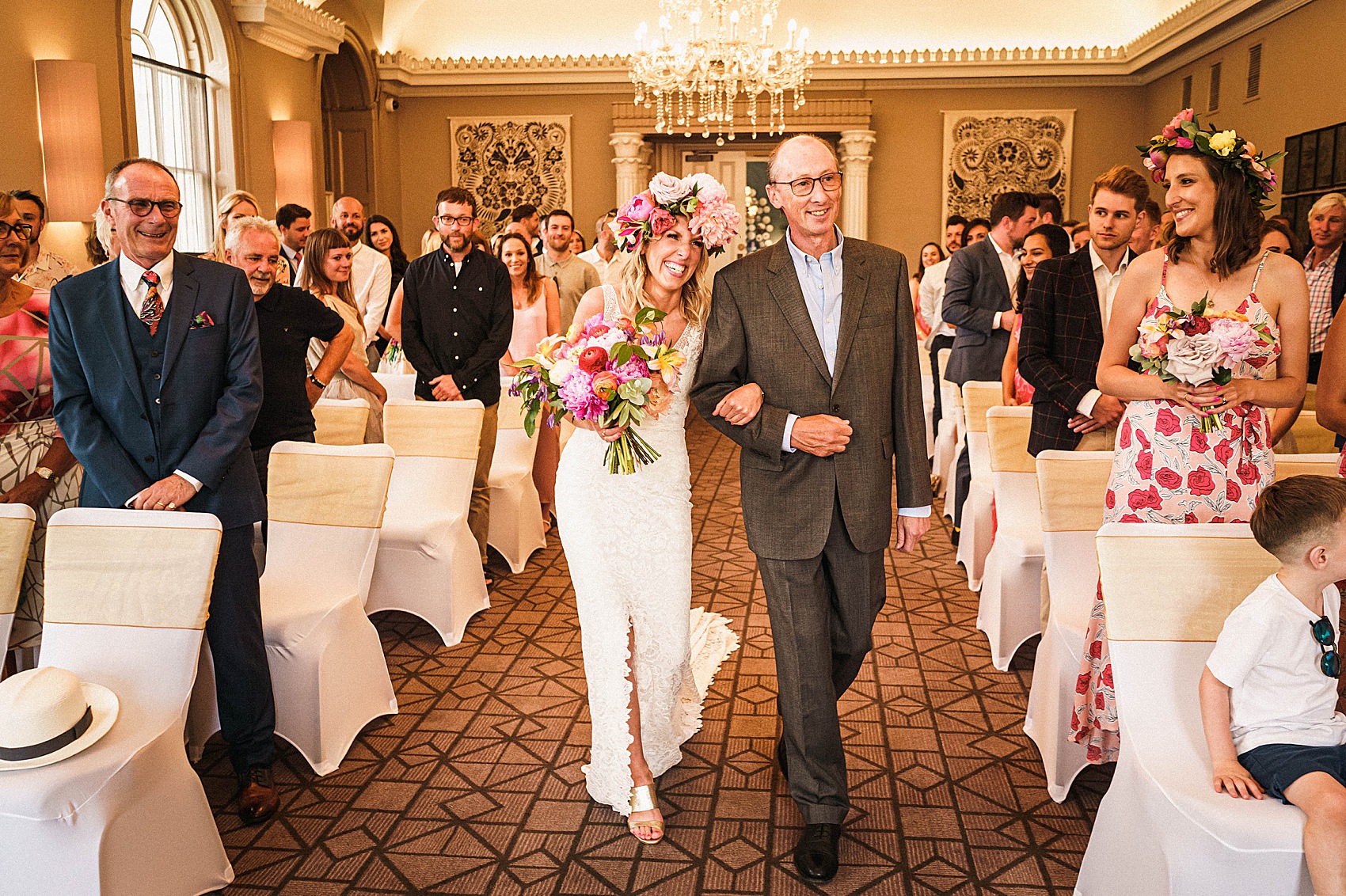 The intimate ceremony was held at Queens Hotel and Liv entered with her father Steve as her brother played 'Tender' by Blur on the guitar.
"Freddie lives in Japan and we hadn't seen him for nearly two years."
"We both loved the ceremony; it was probably the bit we were least looking forward to but it turned out to be one of our favourite bits. I was really nervous about walking down the aisle but it was really good fun seeing all of my favourite faces."
The couple included a reading of Bob Marley's 'He's Not Perfect' and they exchanged bespoke rings from Aariya Diamonds in Birmingham's jewellery quarter.
"We both knew what we wanted. Dan had used this company to make my engagement ring so it seemed fitting to use them for our wedding rings too."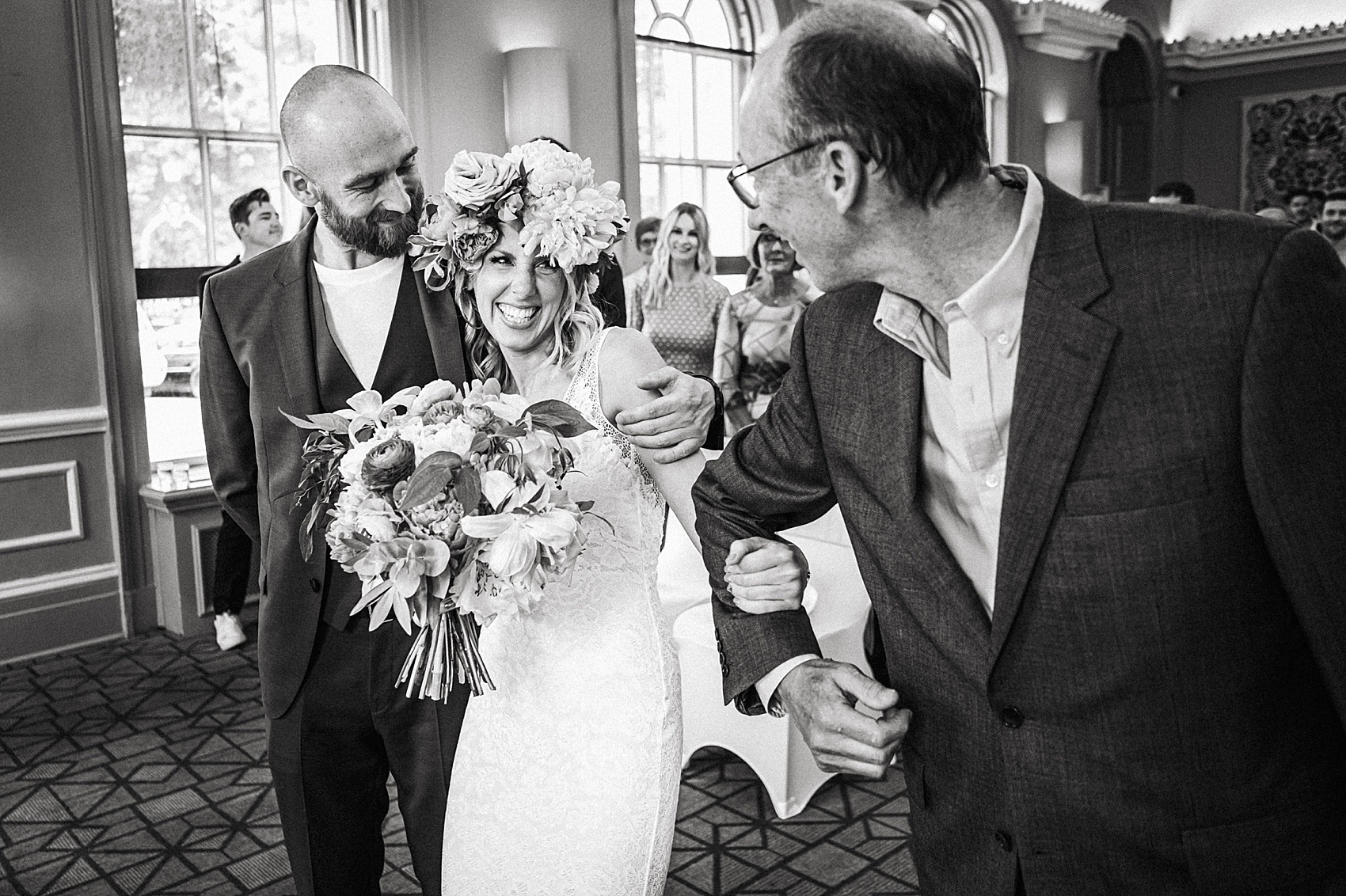 For a cool, laid-back look for the summer day, Dan chose a bright blue, three piece suit from Hugo Boss, layered over a simple white t-shirt and white Axel Arigato trainers.
"As it was a summer wedding Dan didn't want to get too hot. He loved the idea of wearing a t-shirt under his suit and he always knew that he didn't want to wear a pair of formal shoes for the wedding."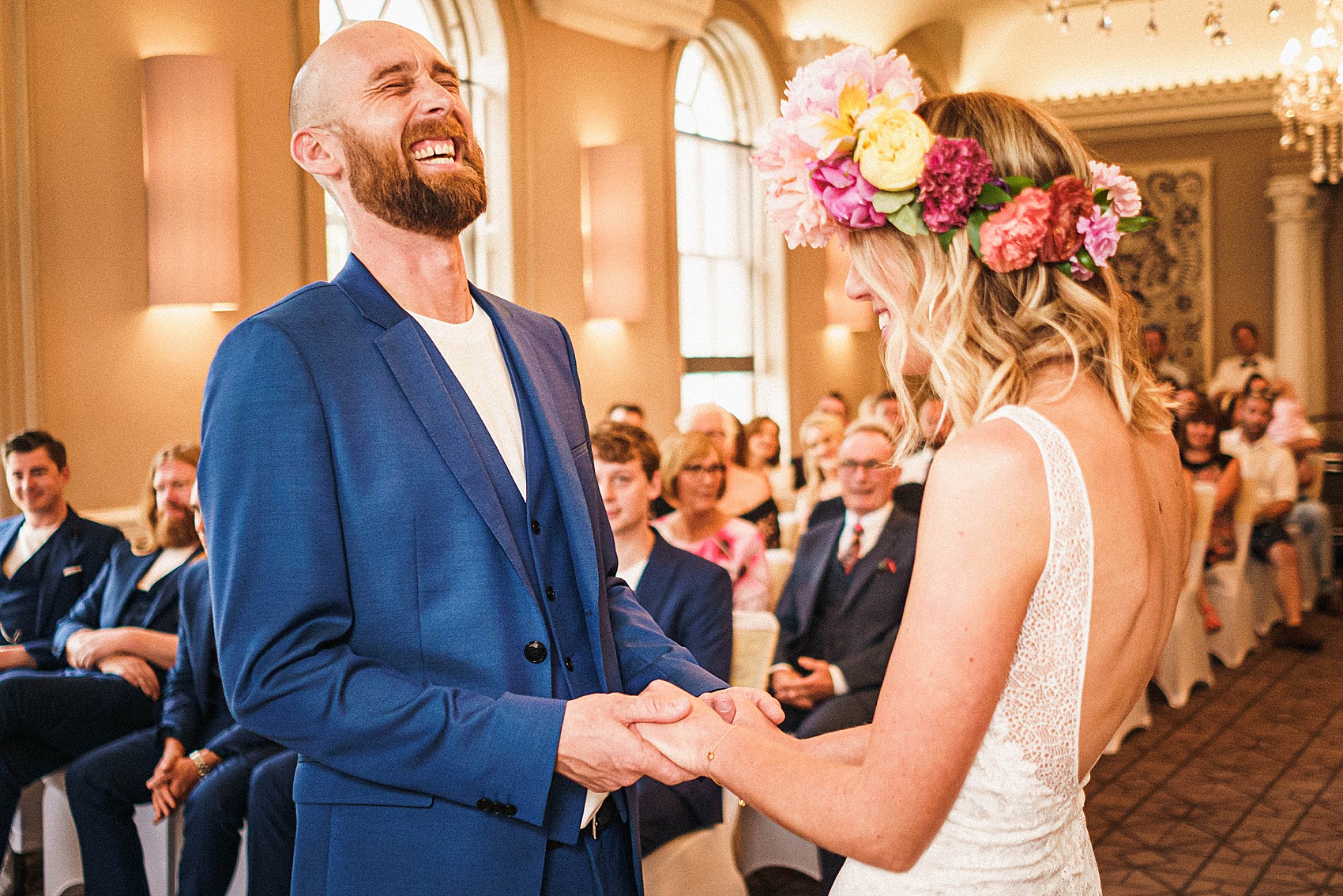 "Dan is trainer-obsessed so it wouldn't have seemed right him wearing shoes. Dan went to Hugo Boss in London and had a really good experience trying on the suits. He knew that he wanted a blue suit that was quite bright in colour; finding the right shade of blue was important to him."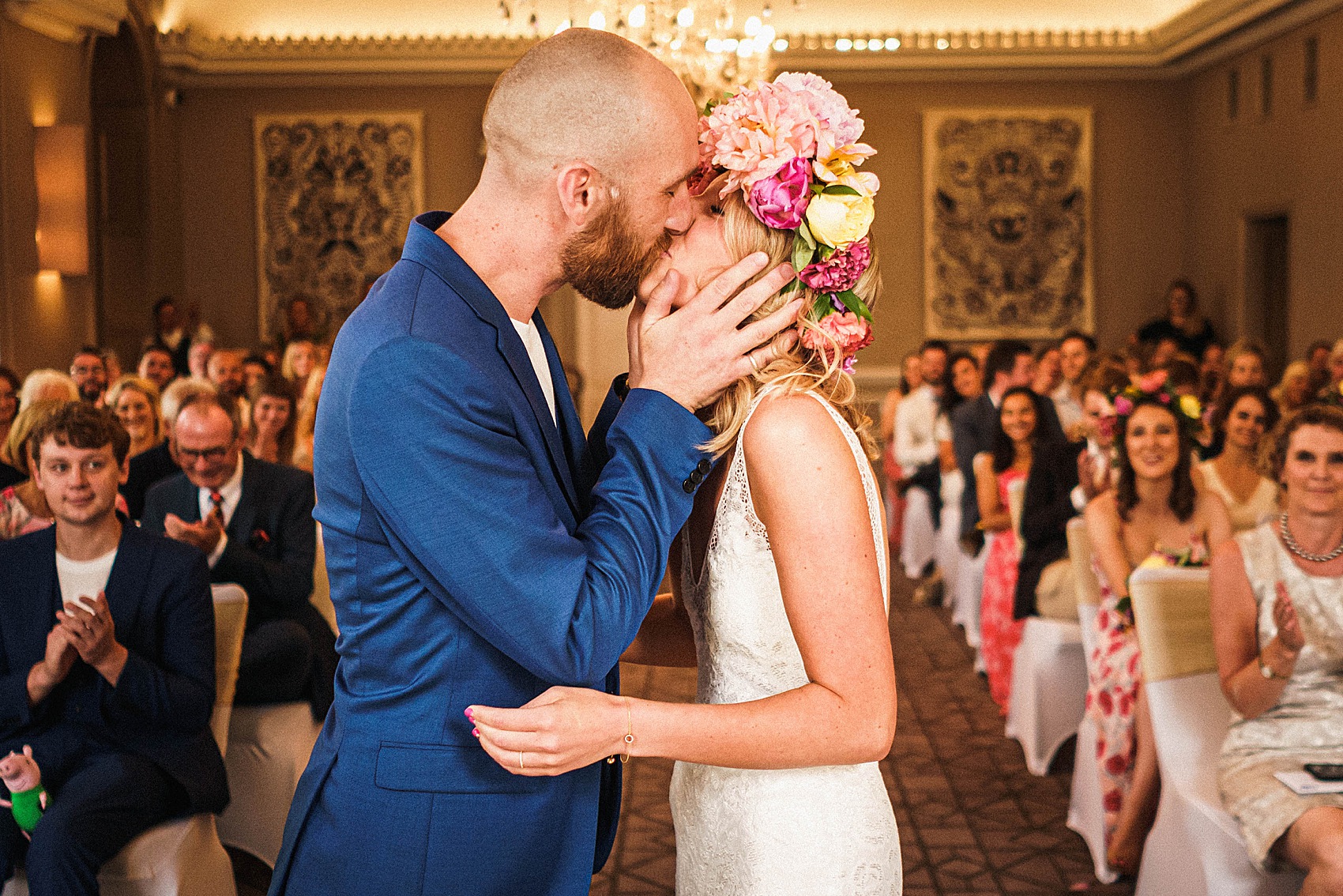 After the ceremony, it was a short walk across the street to their reception venue. I think these photographs are my favourites; they are so full of movement, joy and colour.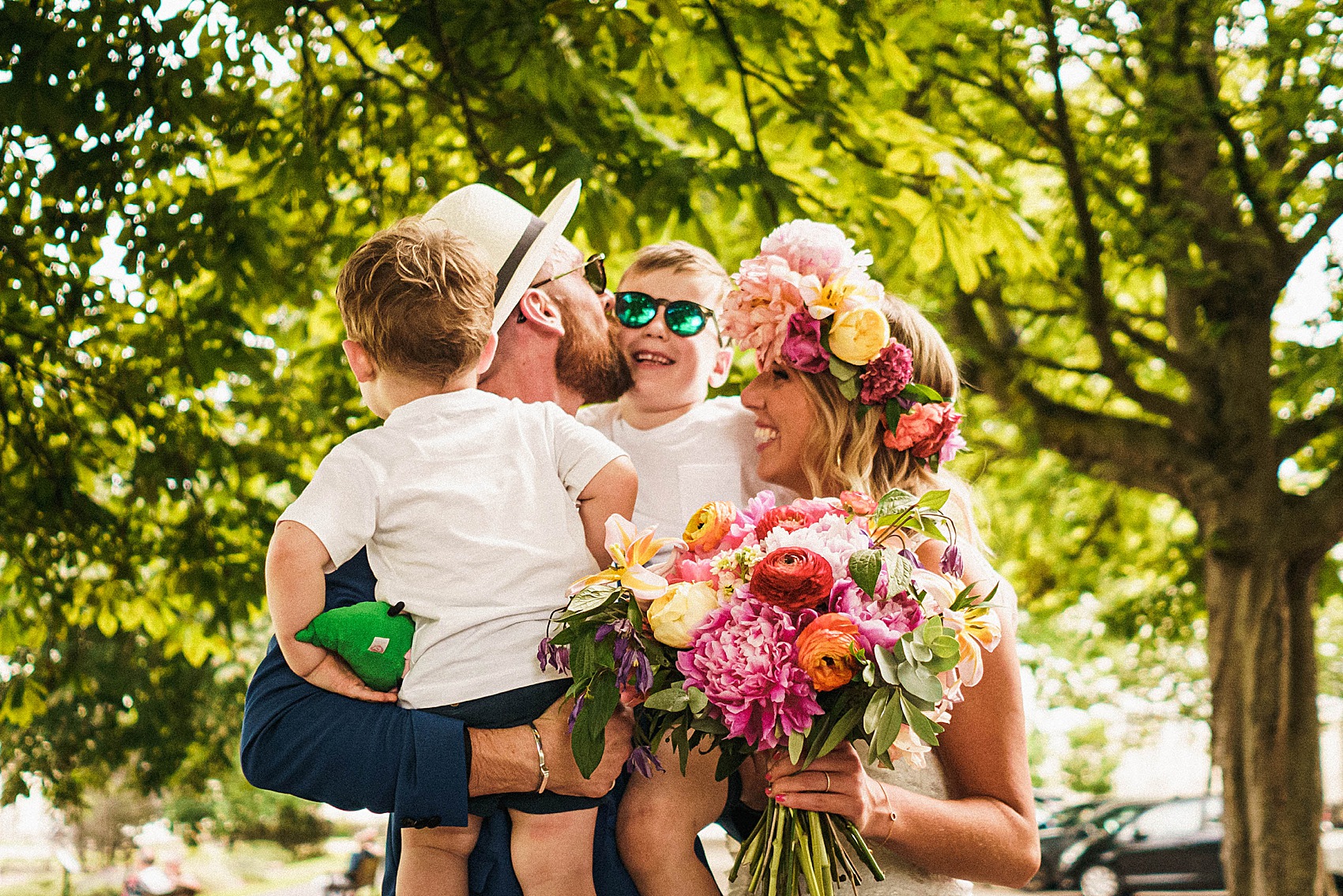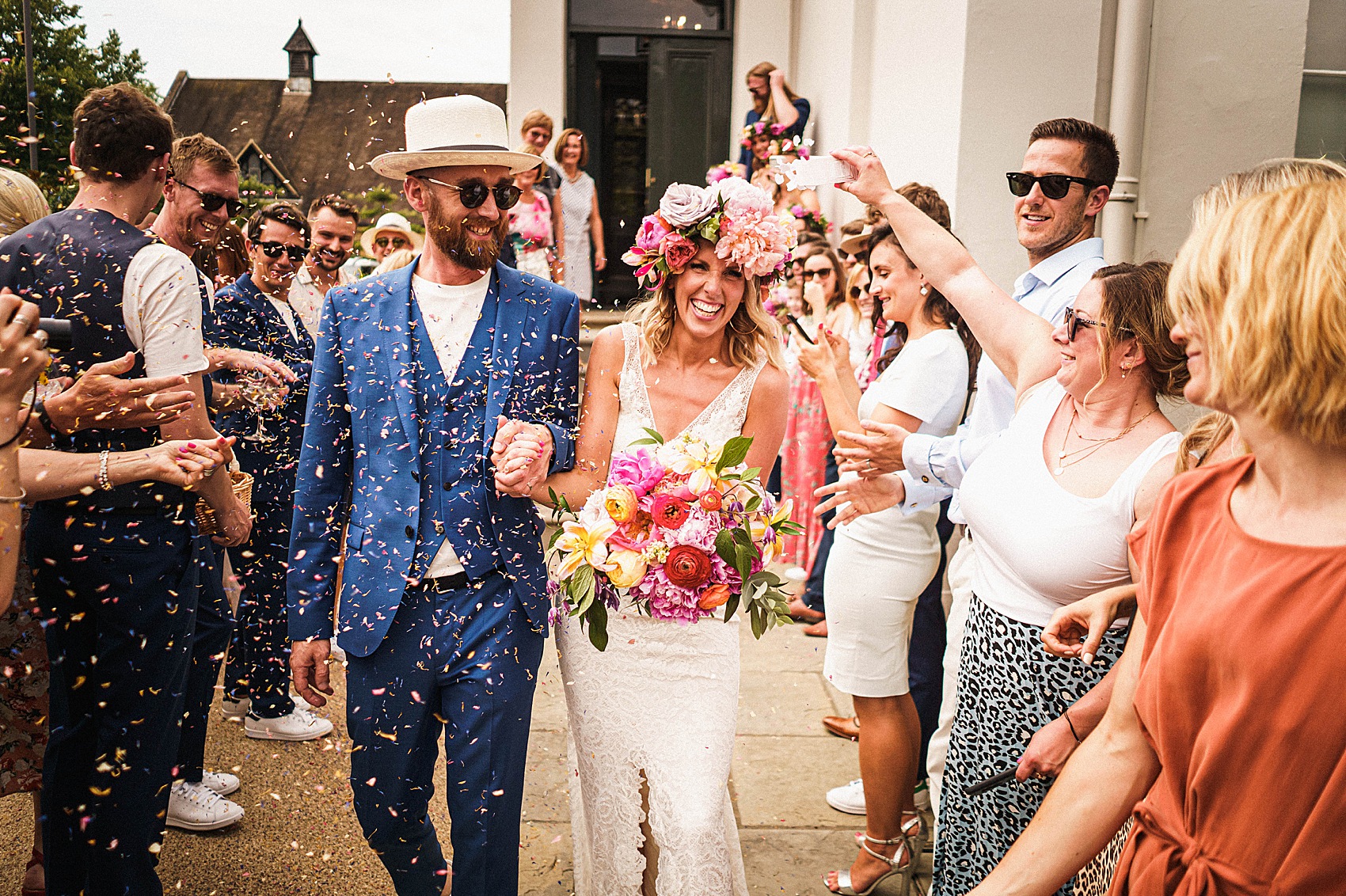 "We love the style and decor of No.131 and we knew that the service, food and drinks would be amazing. It was also convenient as we live in Cheltenham so it made wedding planning easier whilst juggling life with two young sons."
"The key for us was for everyone to have a good time and for us to put on a good party. We both have a keen interest in fashion and style and enjoyed putting our own mark on the day. We wanted big, bold colours in the flowers but kept everything else quite neutral – we didn't really want there to be an obvious theme or colour scheme."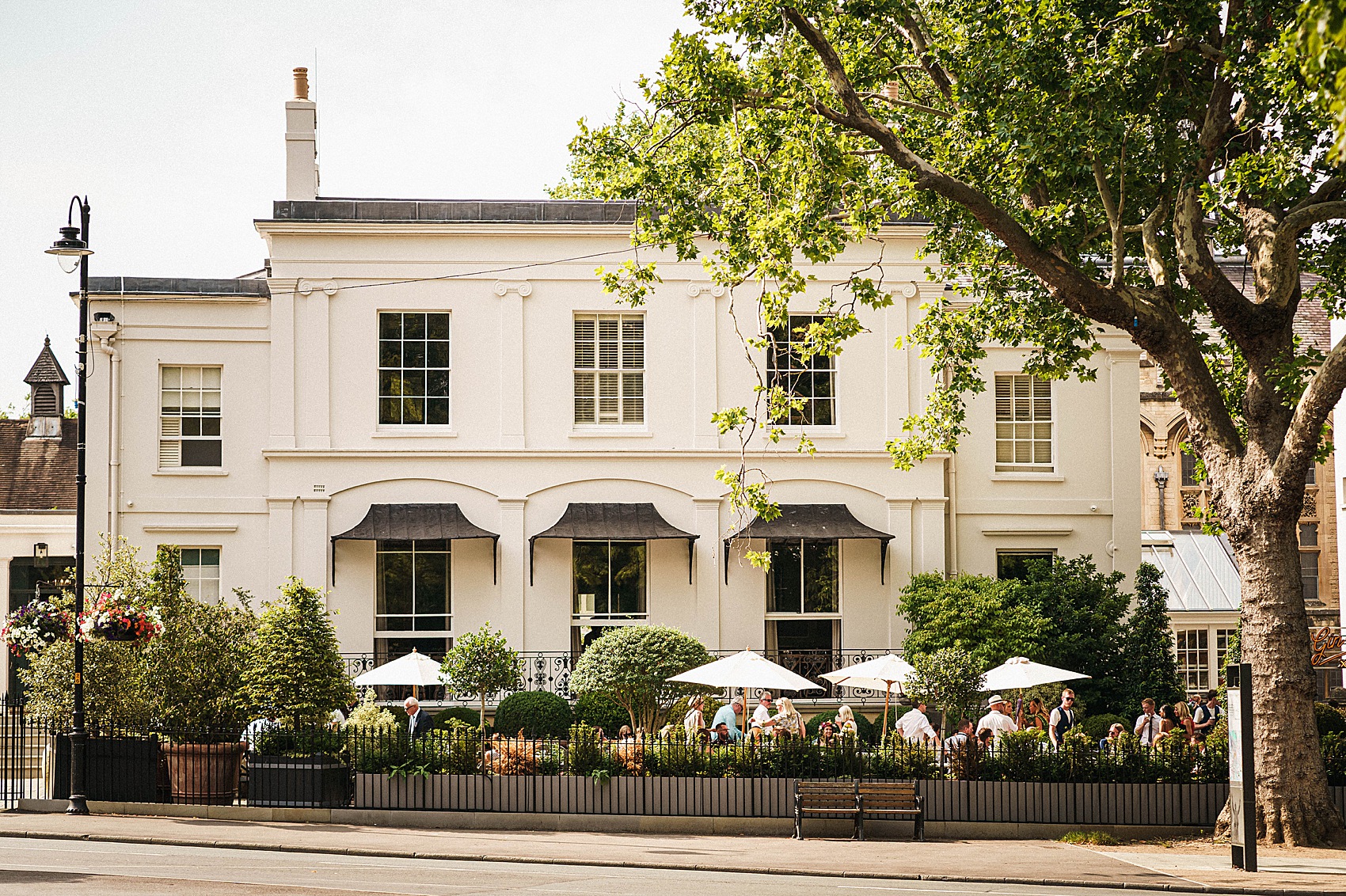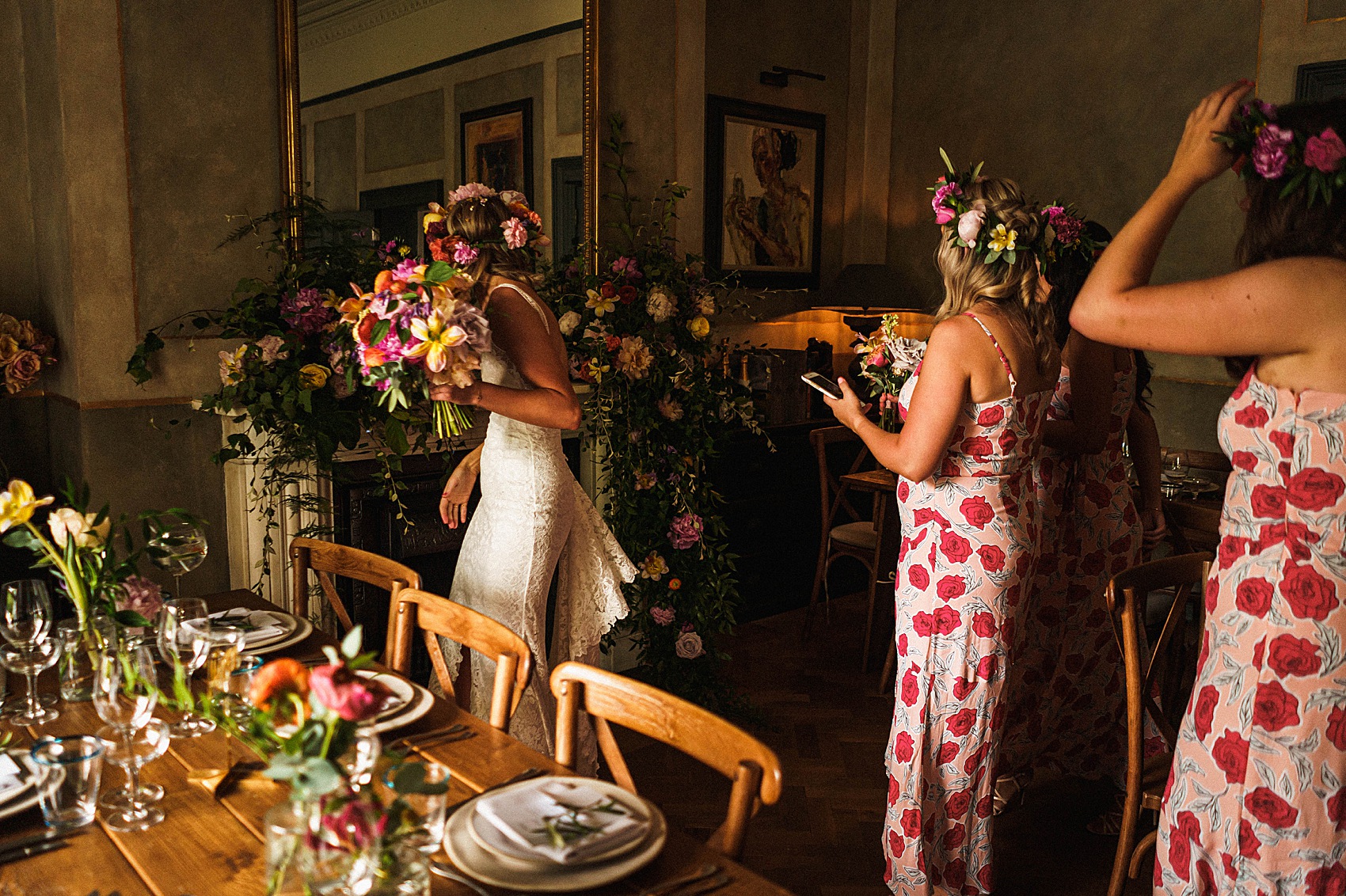 "We used Pitch Up And Play to set up a 'Little Wedding Corner' for the boys to play in. It was bespoke and tailored to the boys' interests and the style of the wedding."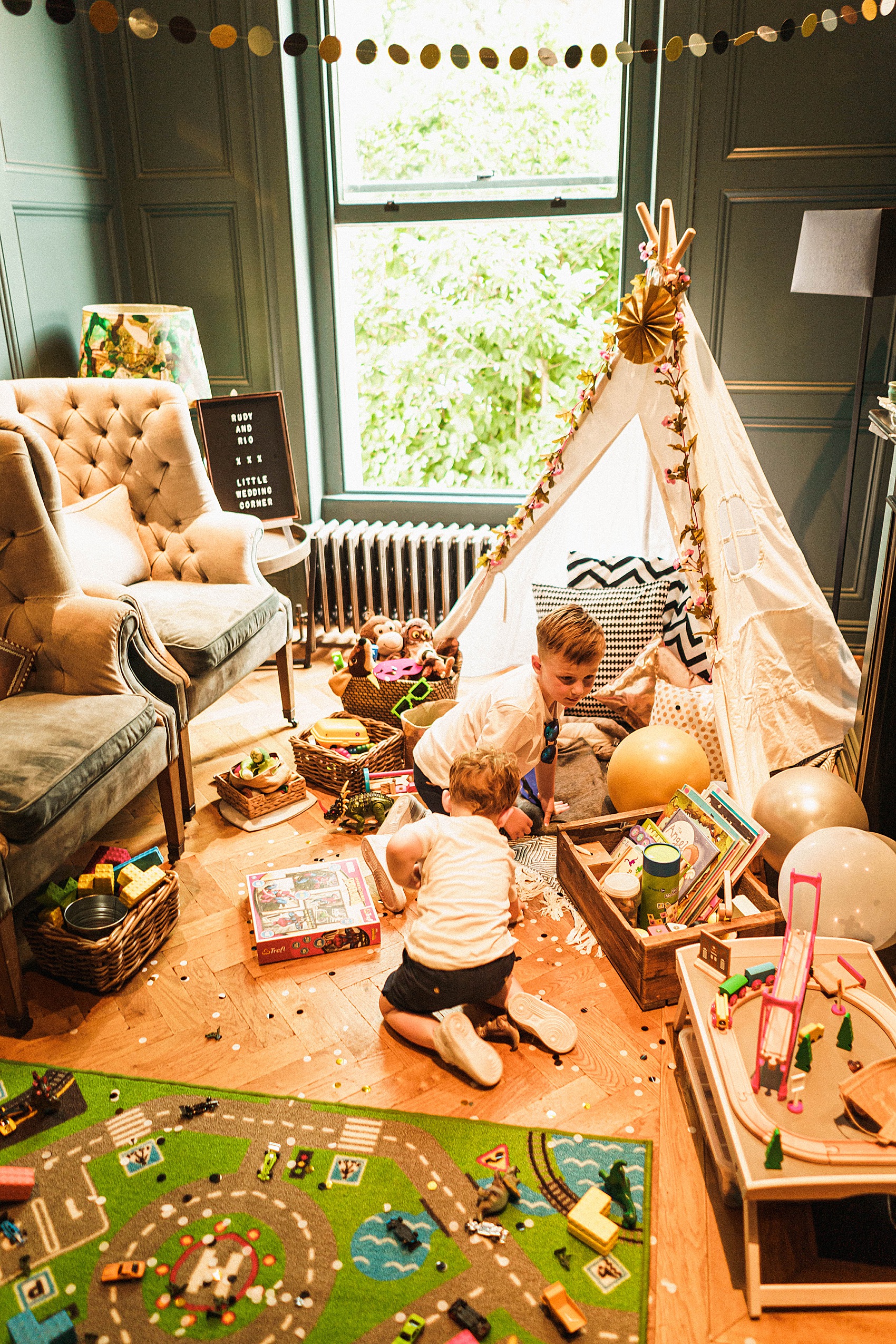 "All the food and drink were provided by The House at No.131 The Promenade. We didn't have a wedding cake but we ordered traybakes of bite-sized pieces of chocolate brownie (my favourite) and carrot cake (Dan's favourite). They were made by Baker & Graze."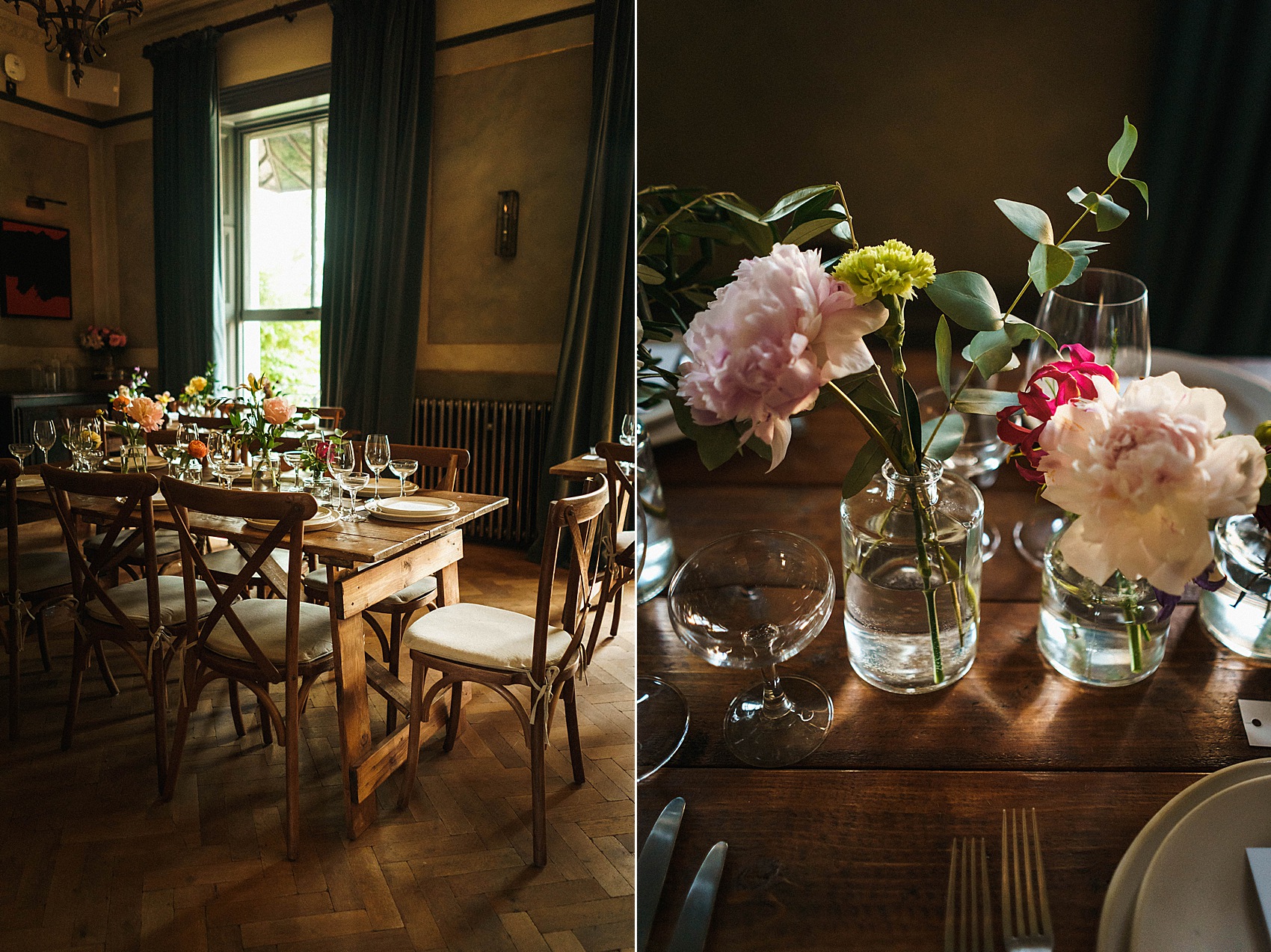 The modern, elegant wedding stationery had been designed by Dan and I love the simple decor of the venue; just plenty of those beautiful fresh blooms. The star of the decor has to be the kids' room though, complete with teepee and plenty of games.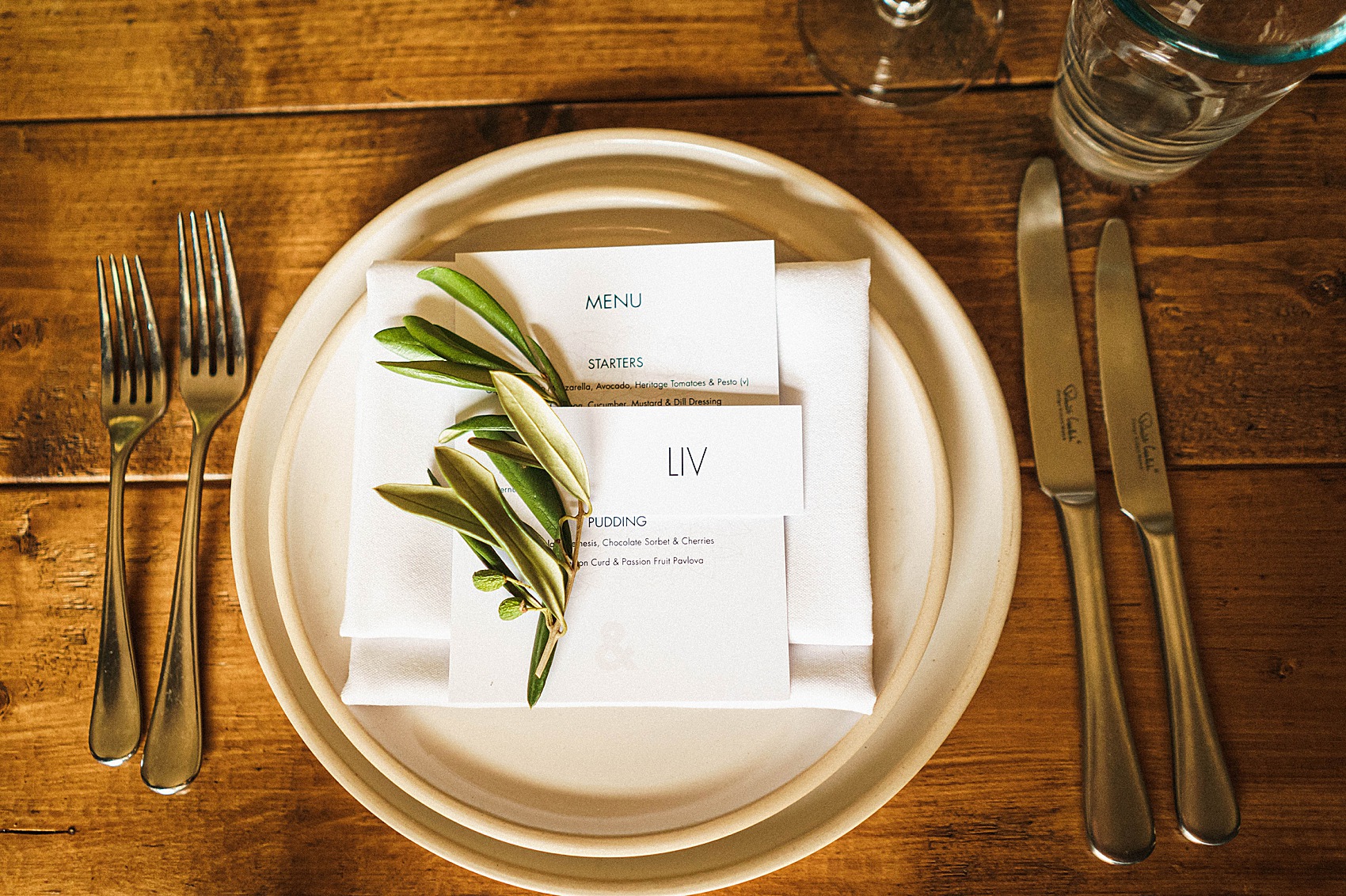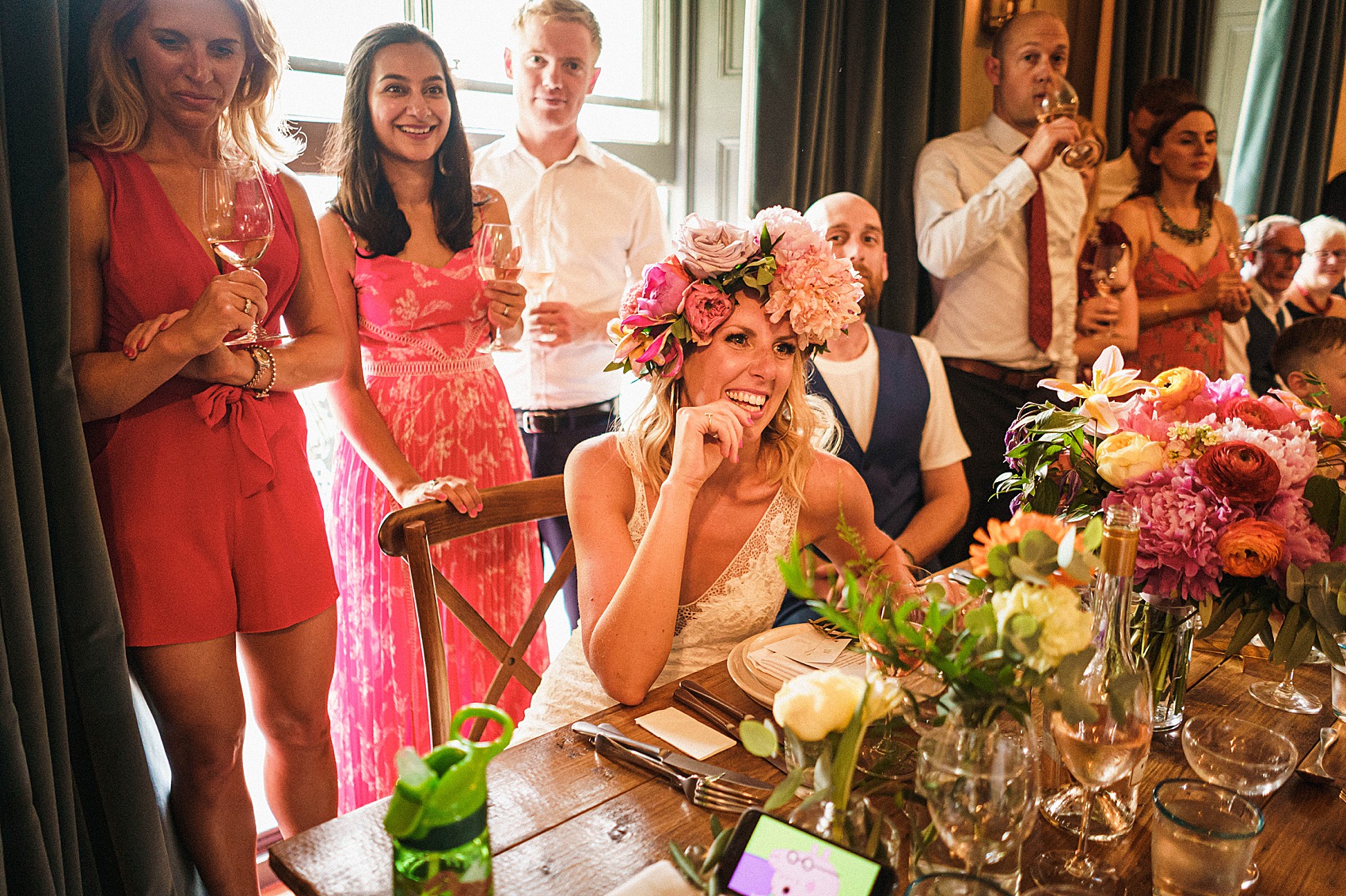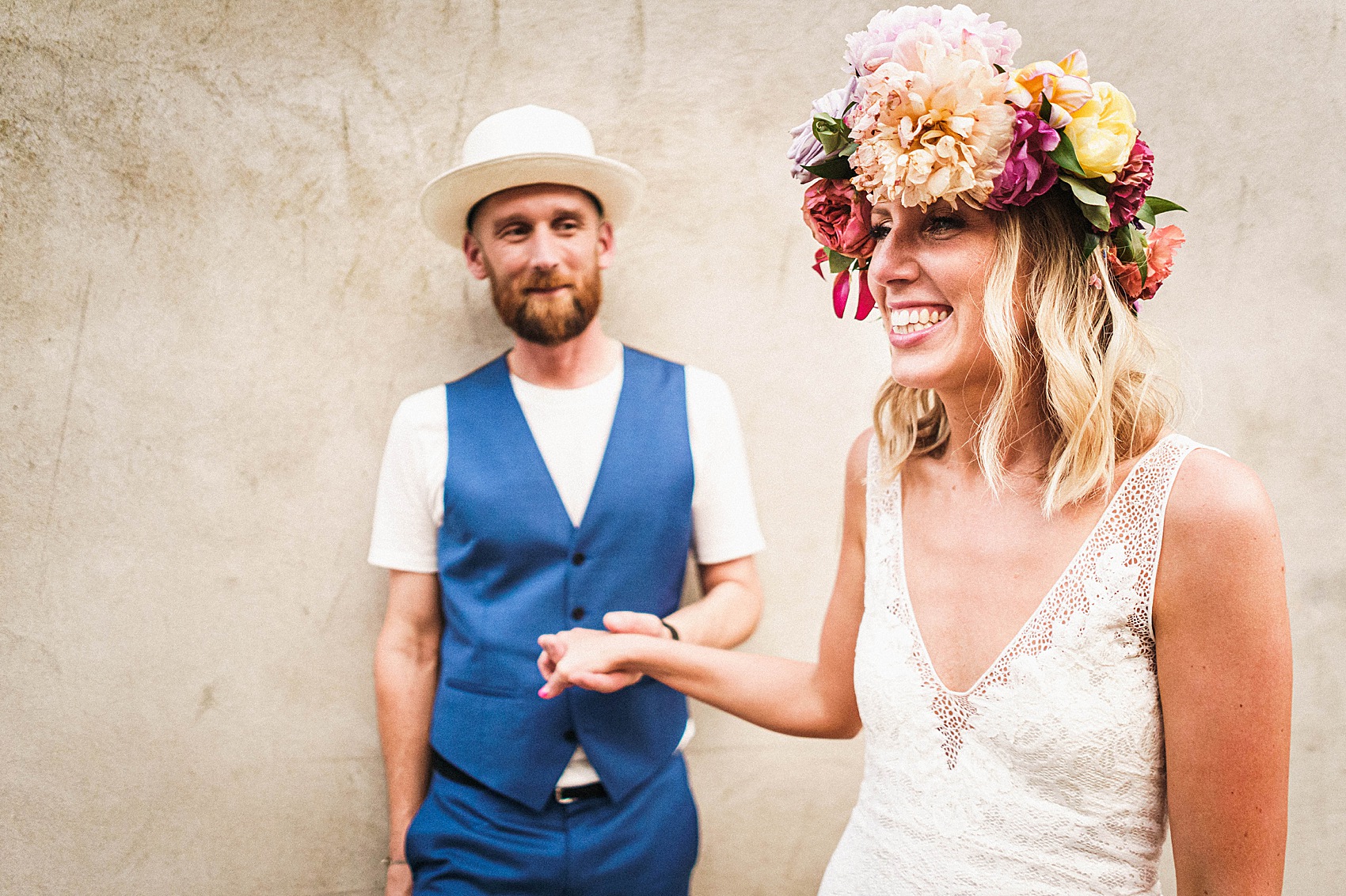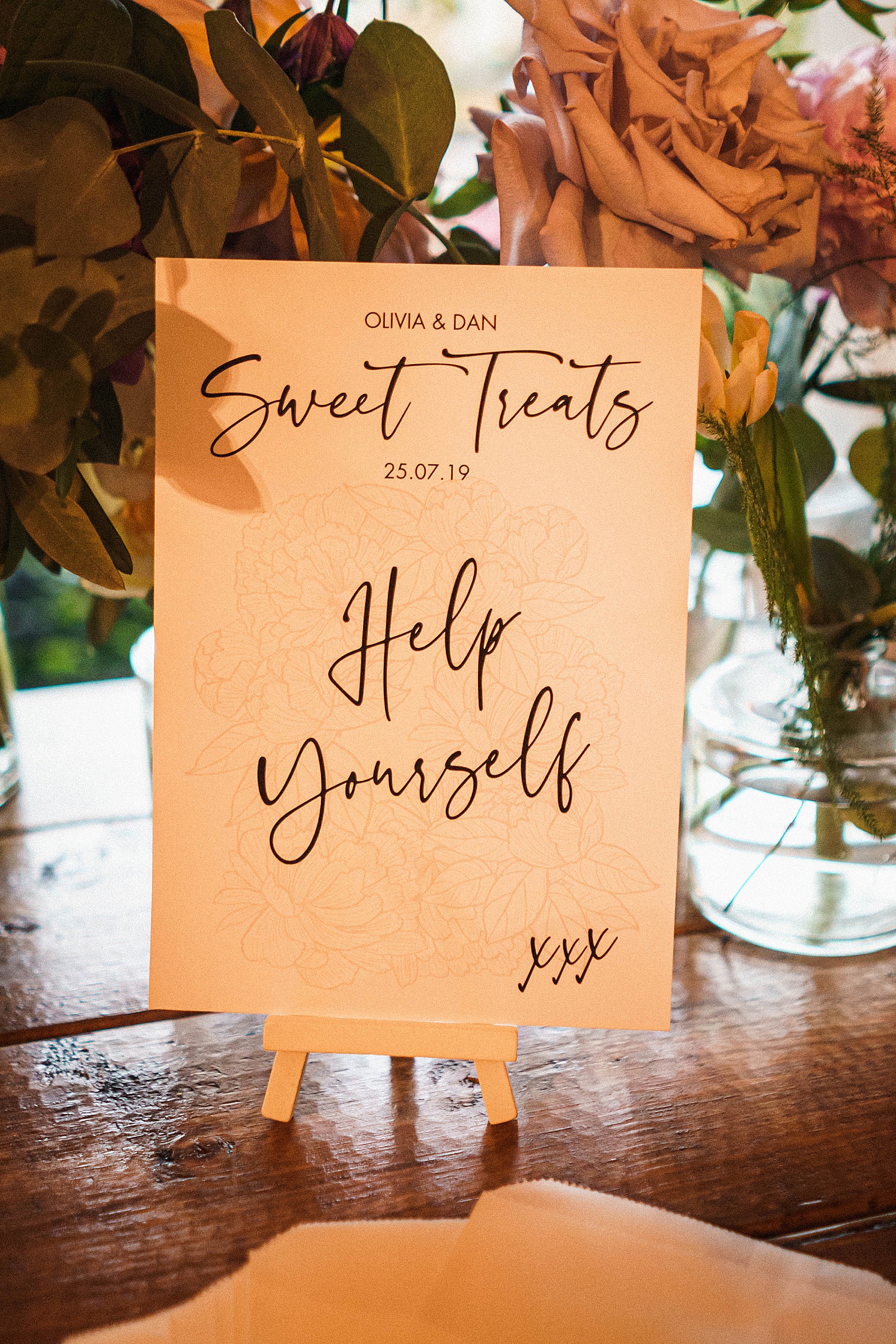 After the wedding breakfast and speeches, the party started with live DJ music and a first dance to Bob Marley's 'Is This Love'.
"We chose this song because Dan has always been a big reggae fan and we both have vivid memories of dancing to this at various festivals and carnivals over the years."
"We also love the sentiment behind the song. We danced with our sons and it was the most perfect moment!"
"Dancing with the boys was a perfect moment – I love watching videos of it back. We both had the best party of our lives!"
Words of Wedded Wisdom
"Don't sweat the small stuff."
"Take a few moments on the wedding day to take a step back and enjoy it with your new husband." 
"If you have children use a nanny for the day. We used Lottie at The Cotswold Nanny. It really helped give us peace of mind knowing that they were being looked after whilst playing a very important part of the day."
Well Liv and Dan what a total pleasure it's been to immerse ourselves in your colourful, joy-filled day. Thank you so, so much. Readers, if you'd like to see more brides in Grace Loves Lace then why not take a look here? Oh, and for more of Claudia Rose Carter's sublime work we'd love for you to check out other weddings of hers that we've shared.
With love,
Ele xx