I've got the sweetest of celebrations to share with you today, and something of a Love My Dress first – a wedding which took place aboard a ship
This is no ordinary ship, either, being as it's the RRS Discovery (now moored in Dundee) which was the research ship that took Ernest Shackleton and Robert Scott on their first voyage to the Antarctic. This is the beautifully intimate wedding of sailing sweethearts Eleni, a play worker and play therapist, and Euan, a landscape designer and builder
Ruth Segaud Photography

+ Follow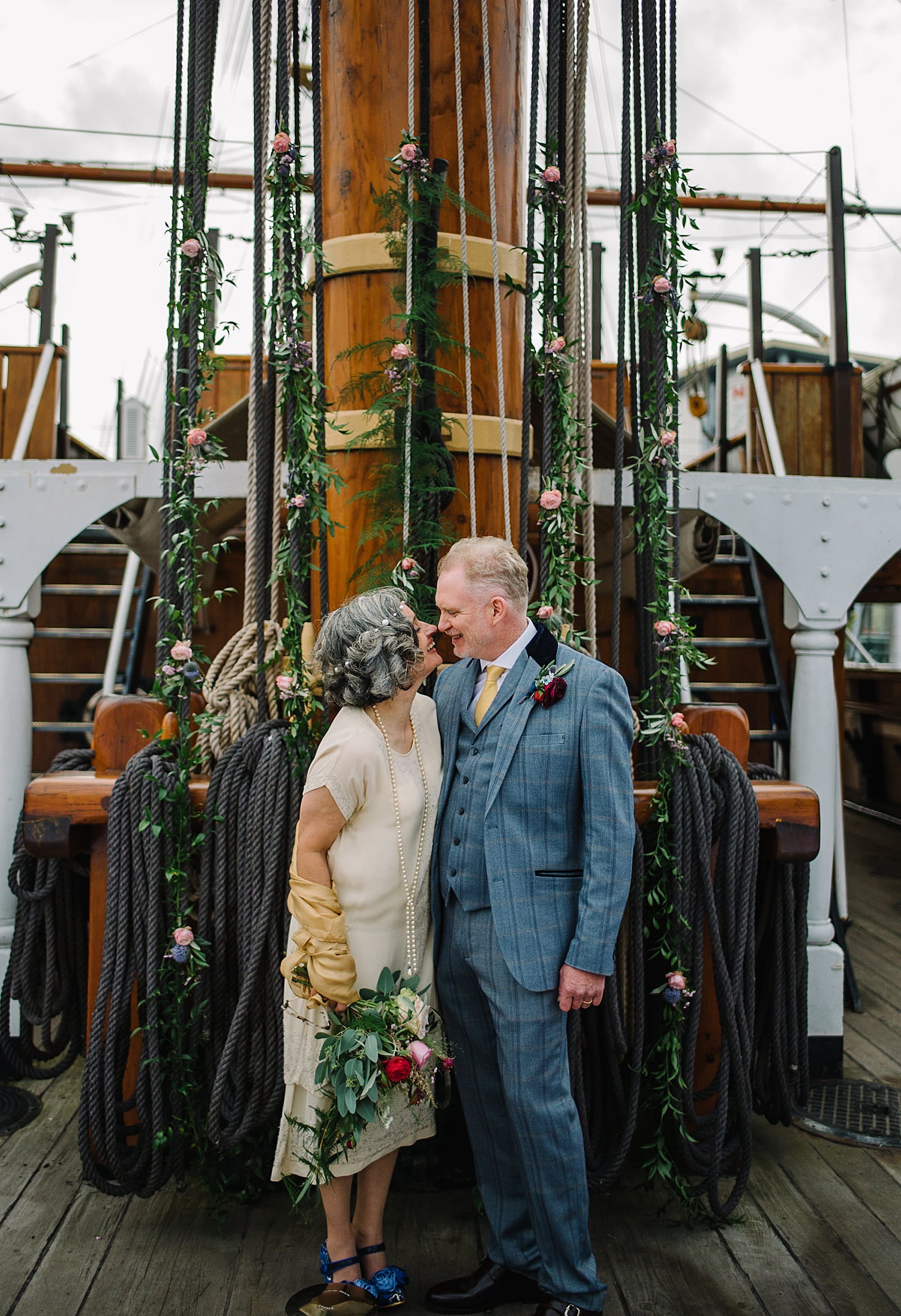 This lovely couple were wed on the 22 August 2019 on the deck of the Royal Research Ship Discovery, followed by quayside drinks, and a reception in the function suite at Discovery Point, Dundee.
"As keen sailors based in Dundee, we were totally blind to any venue options other than the iconic RRS Discovery. Vintage is the style we prefer anyway, and it lent itself to a dress style and décor that matched the classical splendour of the ship."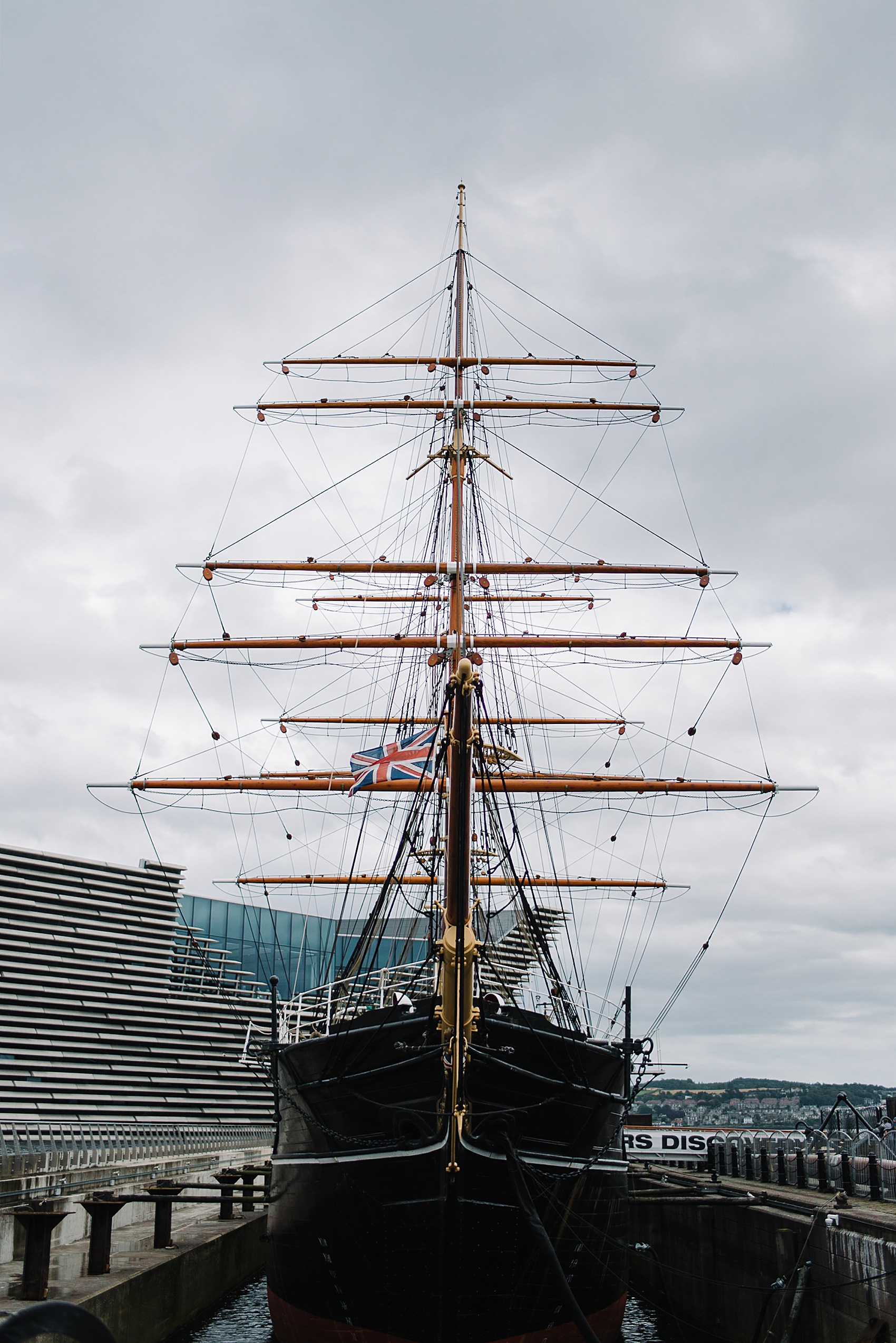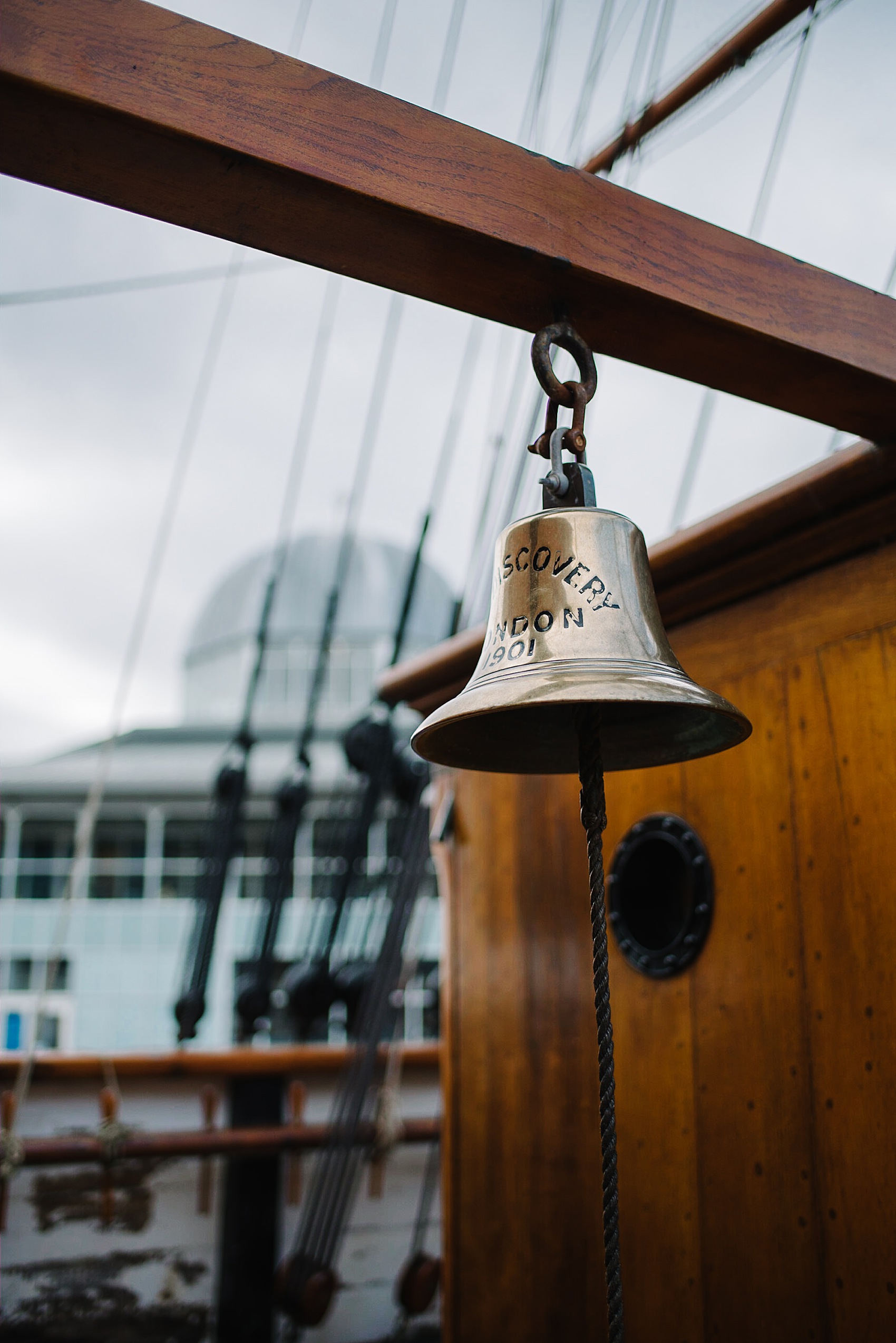 Eleni's dress was a wonderful 1920s vintage find from Etsy shop FabGabs, and doesn't she look like a dream wearing it?! I love the classic 20s dropped waist silhouette, with its tiered tunic style skirt, and delicately shimmering embellishment – absolute magic.
"We were looking for a vintage and timeless look, not a typical wedding wardrobe. Something we felt comfortable with; smart but understated. It was a choice we made partly because we felt it suits our age, but also our personalities. I adored the plain elegance of the dress, which set the tone for all other choices."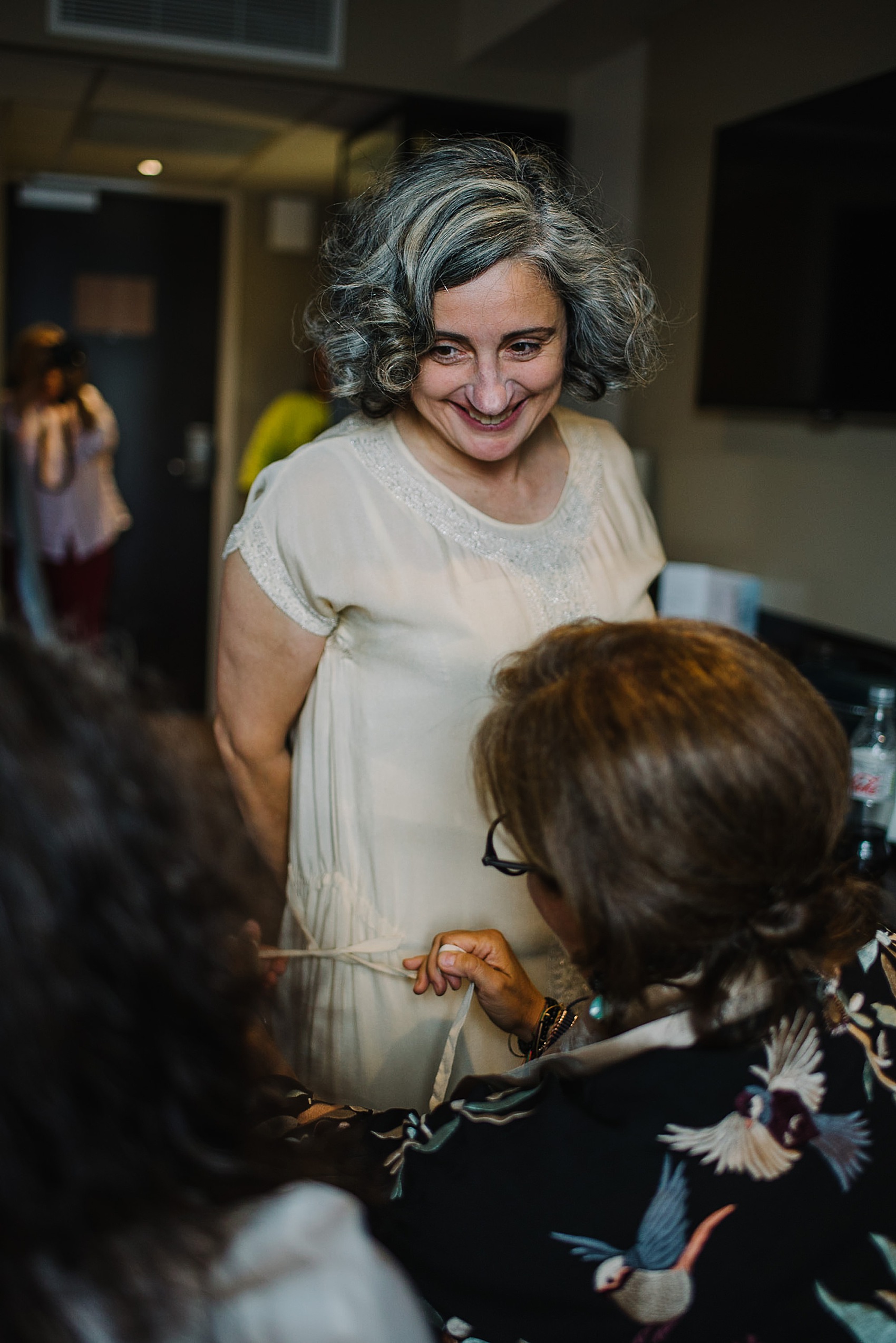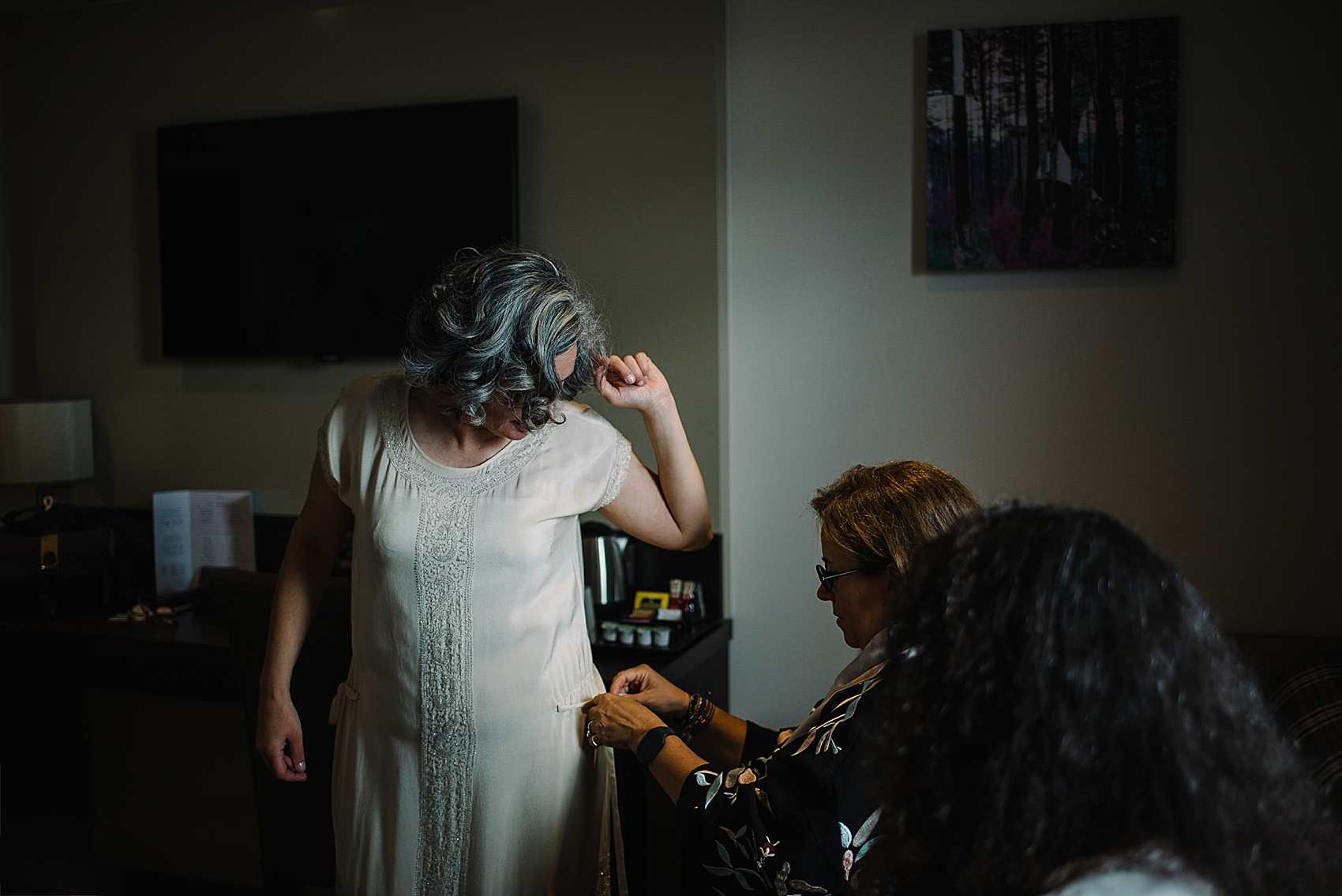 "I had my hair styled by my regular hairdresser at HB2K in Dundee. My make-up was a collaborative effort involving mum, my sister, and bridesmaids."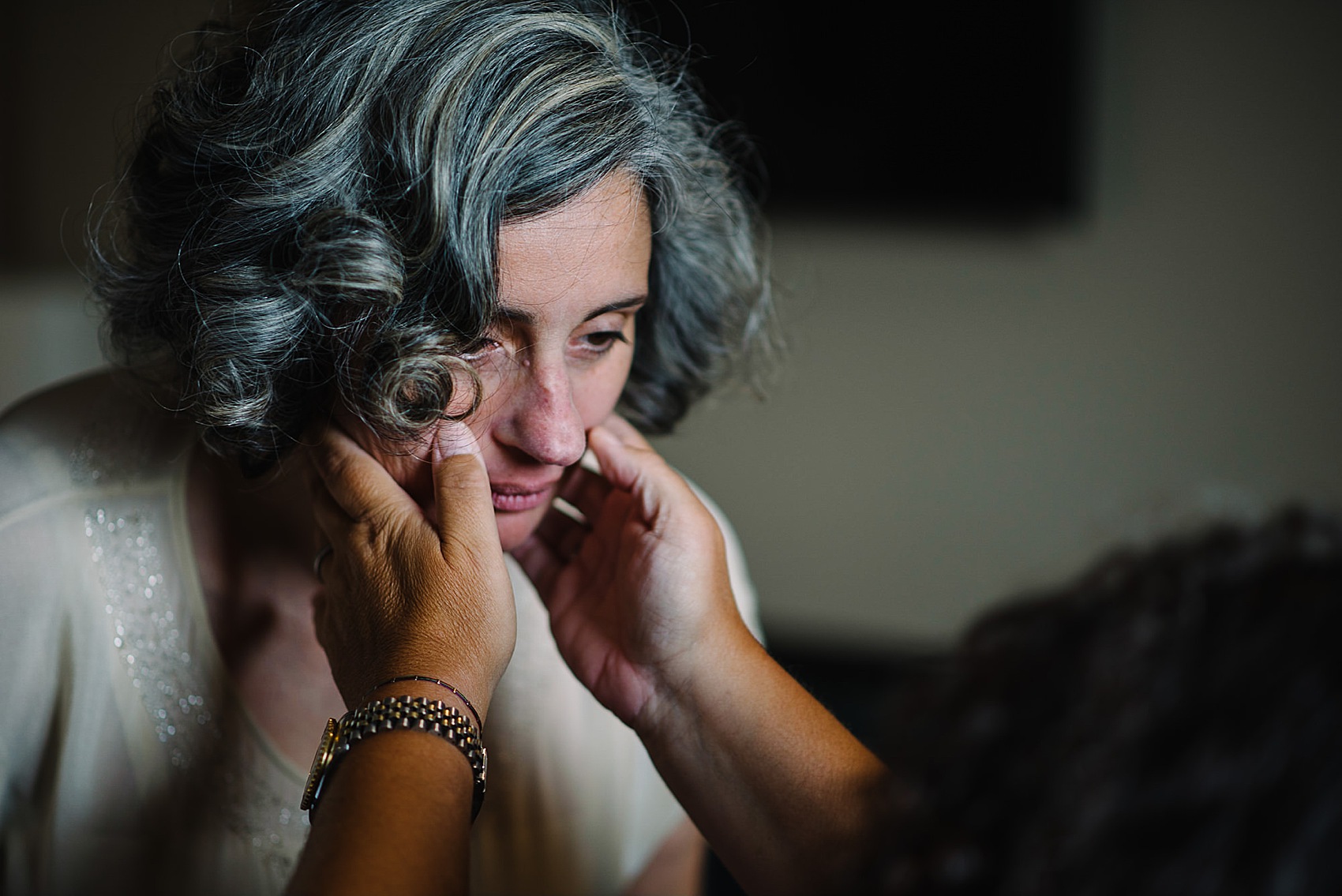 Sumptuous embellished blue velvet heels were by Irregular Choice, found at St. Andrews boutique Susan Sloan, and Eleni's jewellery came courtesy of her mum Marina, and her grannies.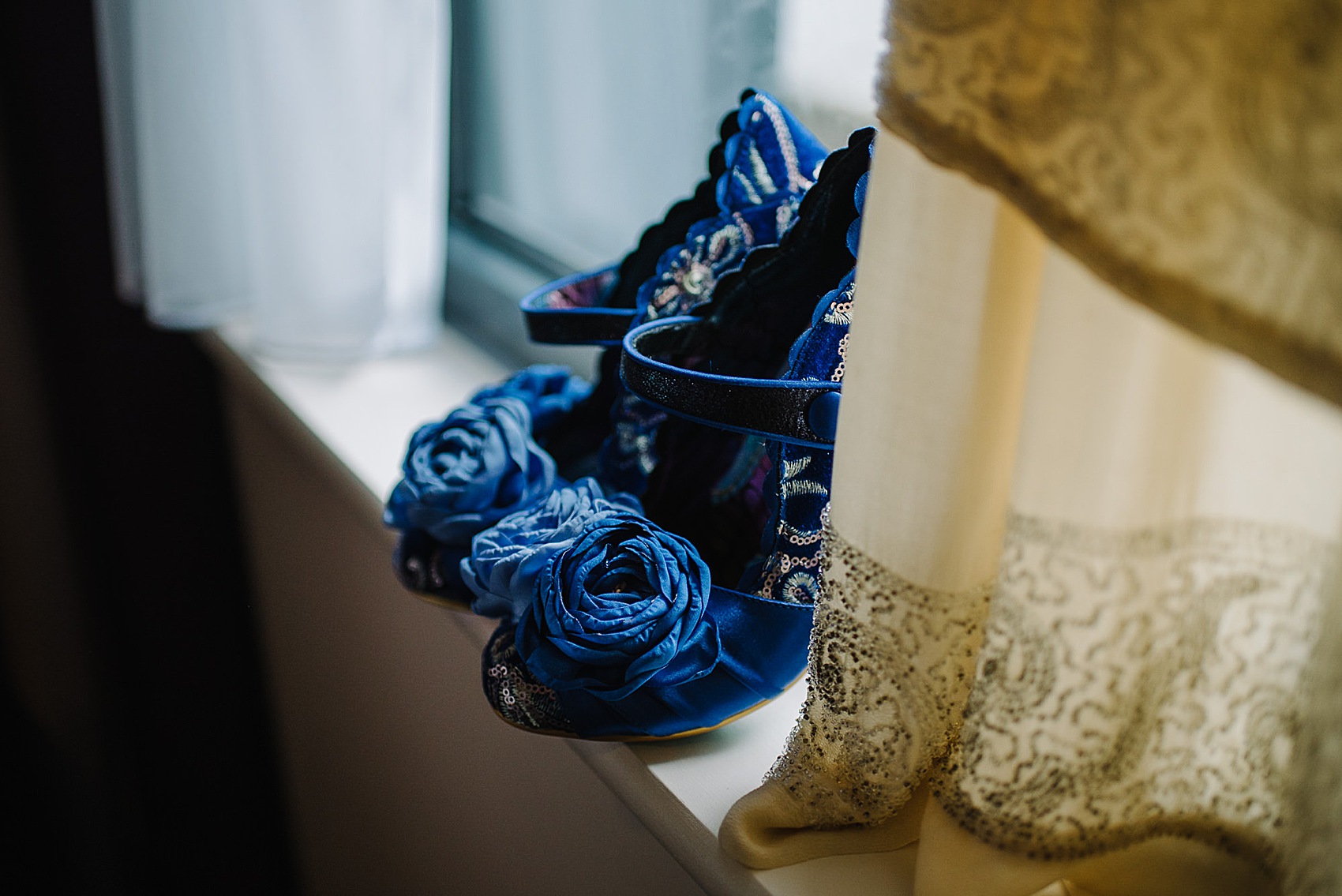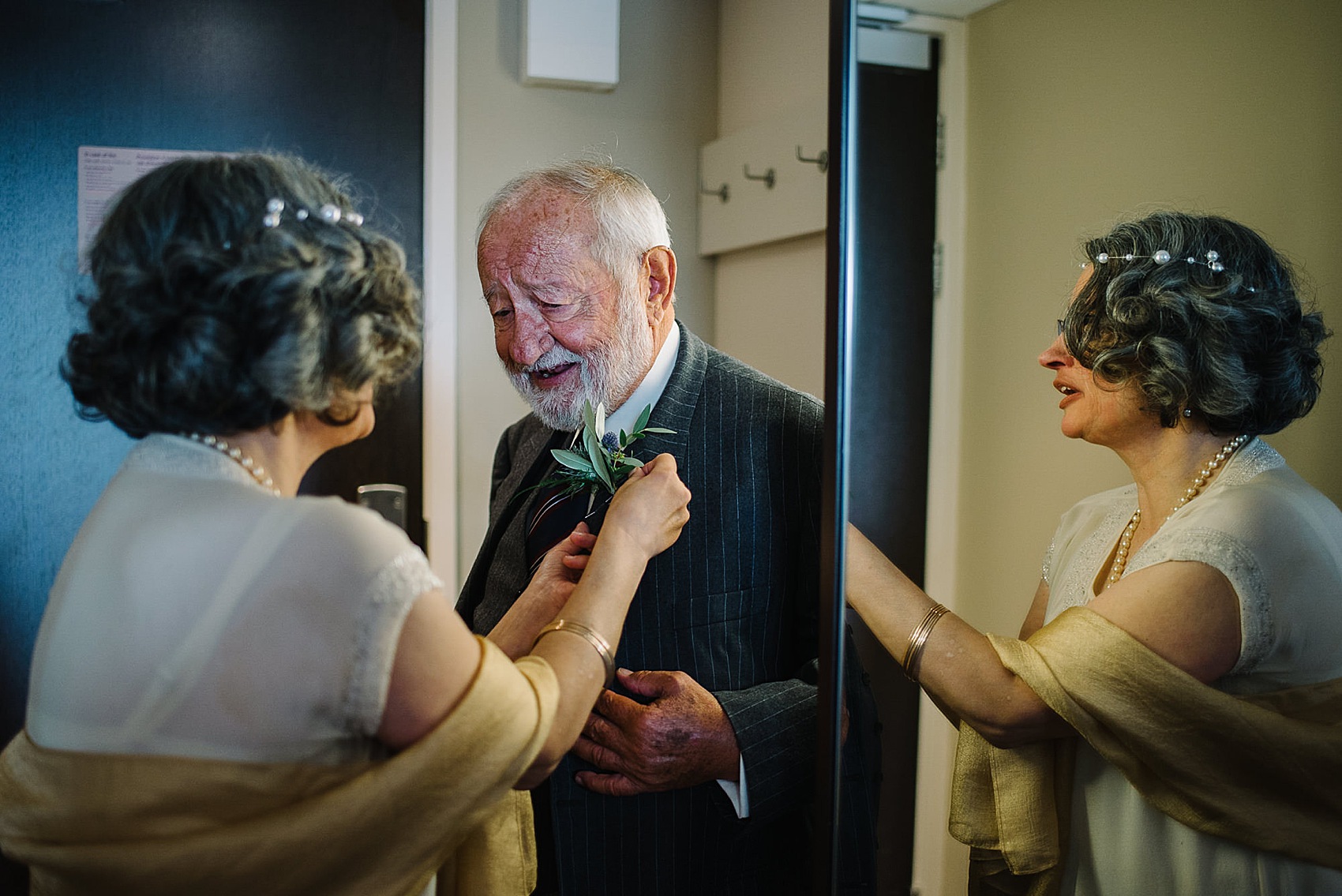 In her hair, Eleni wore a pearl headpiece from Kela Hair Jewellery, arranged 1920s style, and she wrapped a gold shawl from Antonia York around her shoulders.
"We mostly shopped online. It gave us more options to create the style we wanted, given the limitations of our local market. We were happy with the retailers and deliveries. A special mention to Kela Hair, Antonia York, and Julie from FabGabs for courteous service and lovely packaging, and to Susan Sloan in St. Andrews for helping make my Irregular Choice!"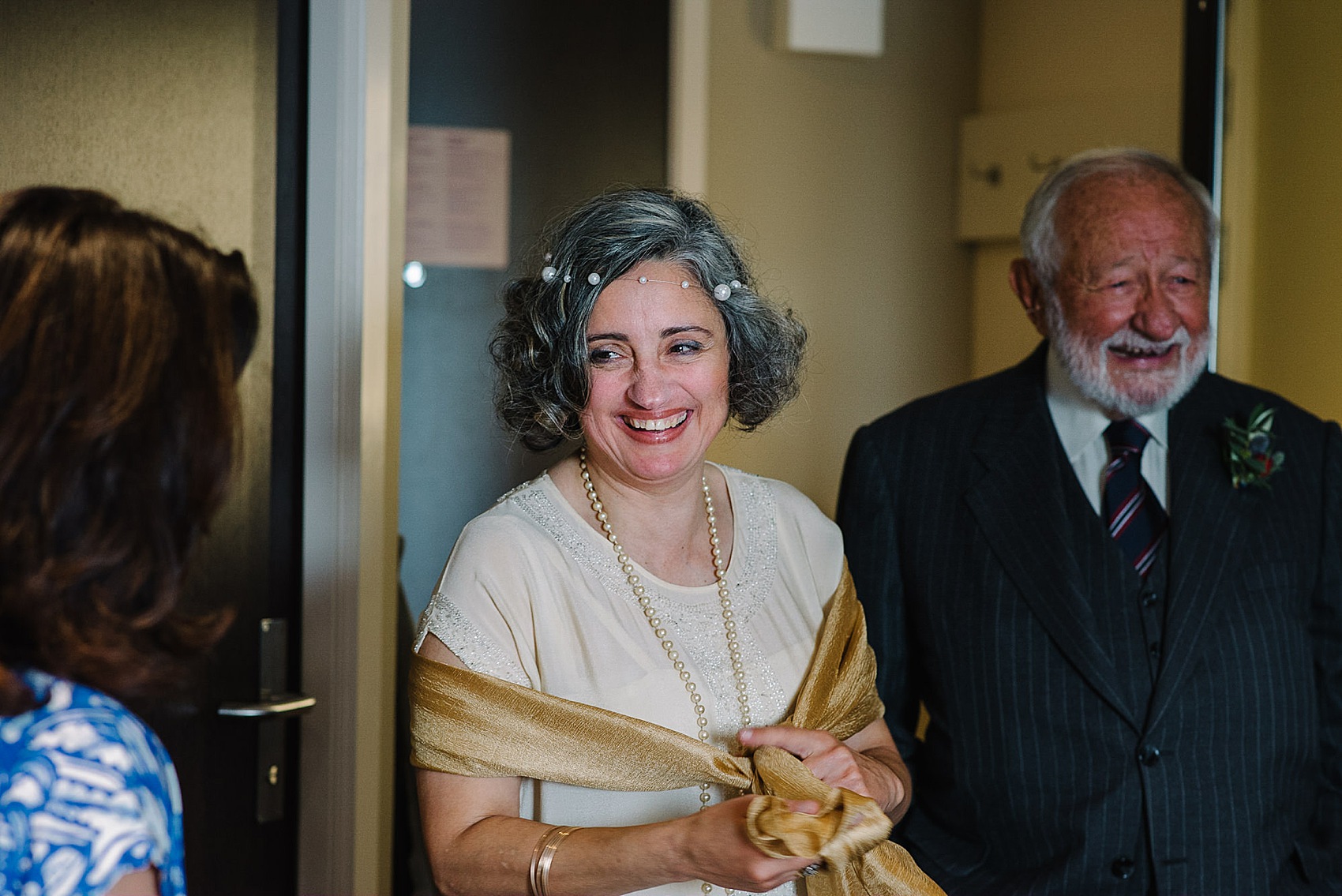 "The bridesmaids were really left to improvise their own outfits. As they arrived from Greece the night before the wedding, we had no idea what to expect, but being my old friends though, we knew we were going to look good together!"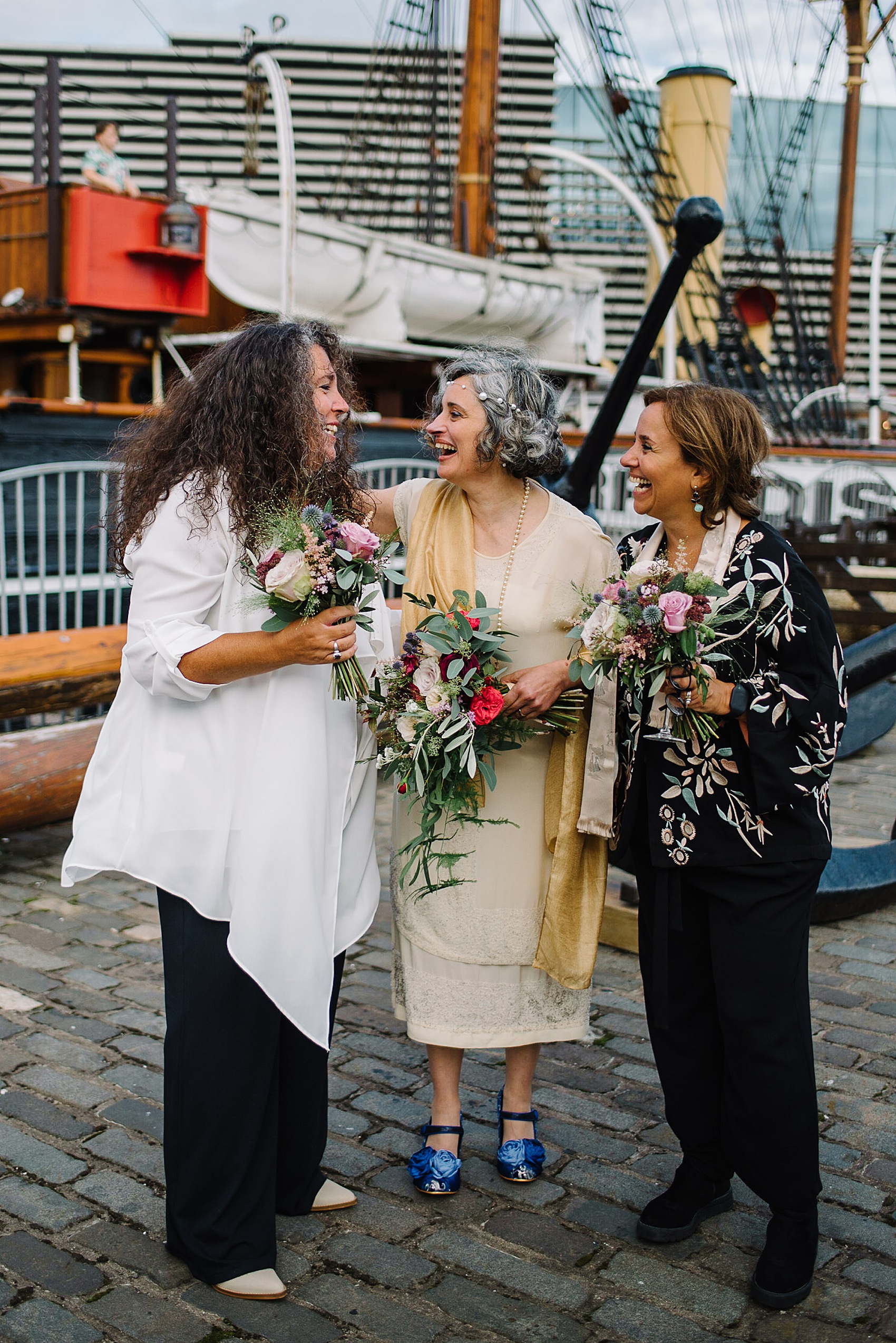 Florist Linda at The Flower Pavilion decorated the RRS Discovery so beautifully, with garlands of greenery, ethereal asparagus fern, thistles and roses twisting round the mast ropes, and a big vase of lovely blooms beside as a focal point for the ceremony.
Eleni and her bridesmaids carried gorgeous bouquets filled with bursts of cheerful colour and beautiful texture, too.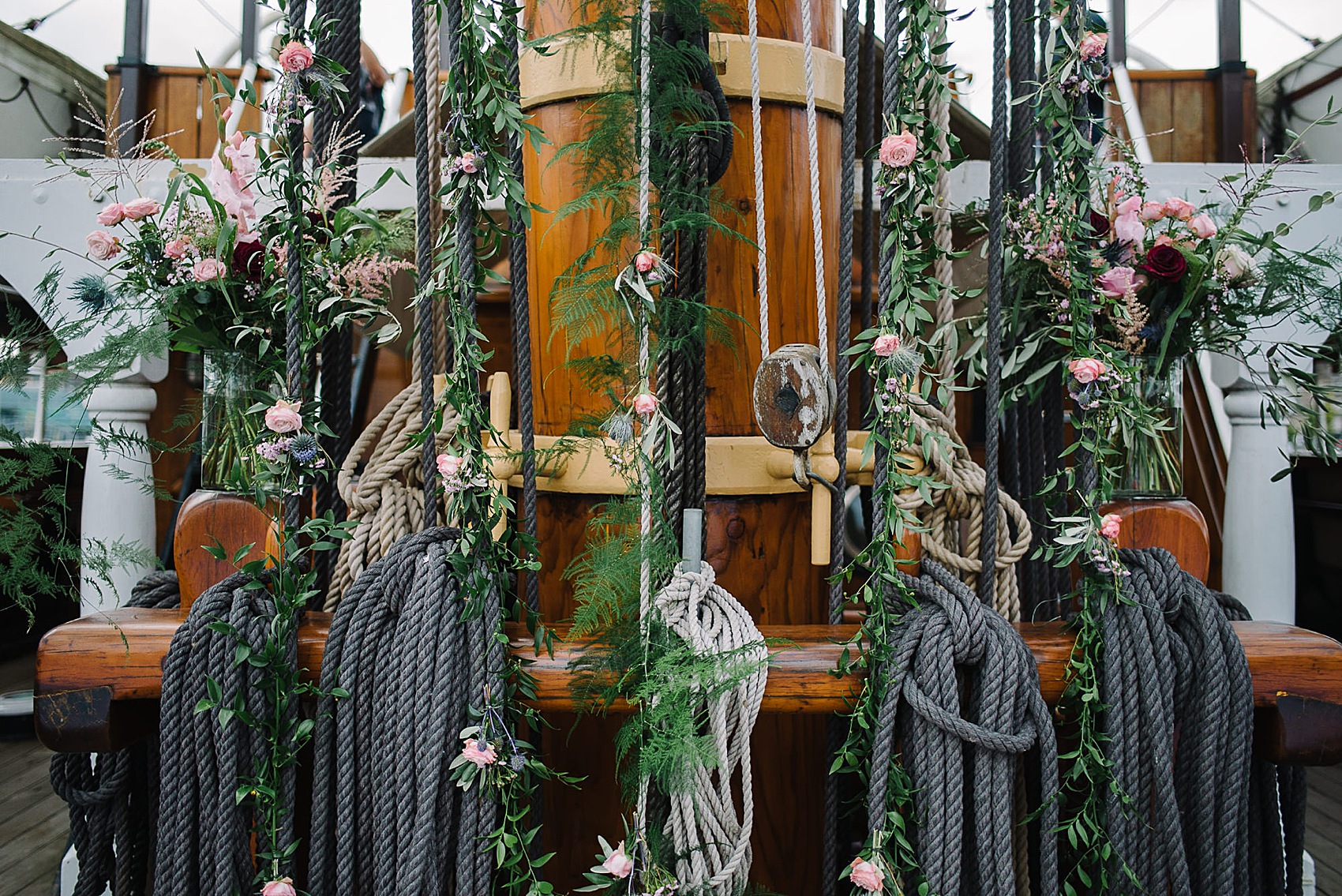 "We were inspired by samples of Linda's delightful work, and were really guided by her. Our input was in colour schemes and style, and everything else was Linda's expertise and tastefulness. We loved everything that she created, especially the garlands decorating the ropes on the ship's mast at the ceremony."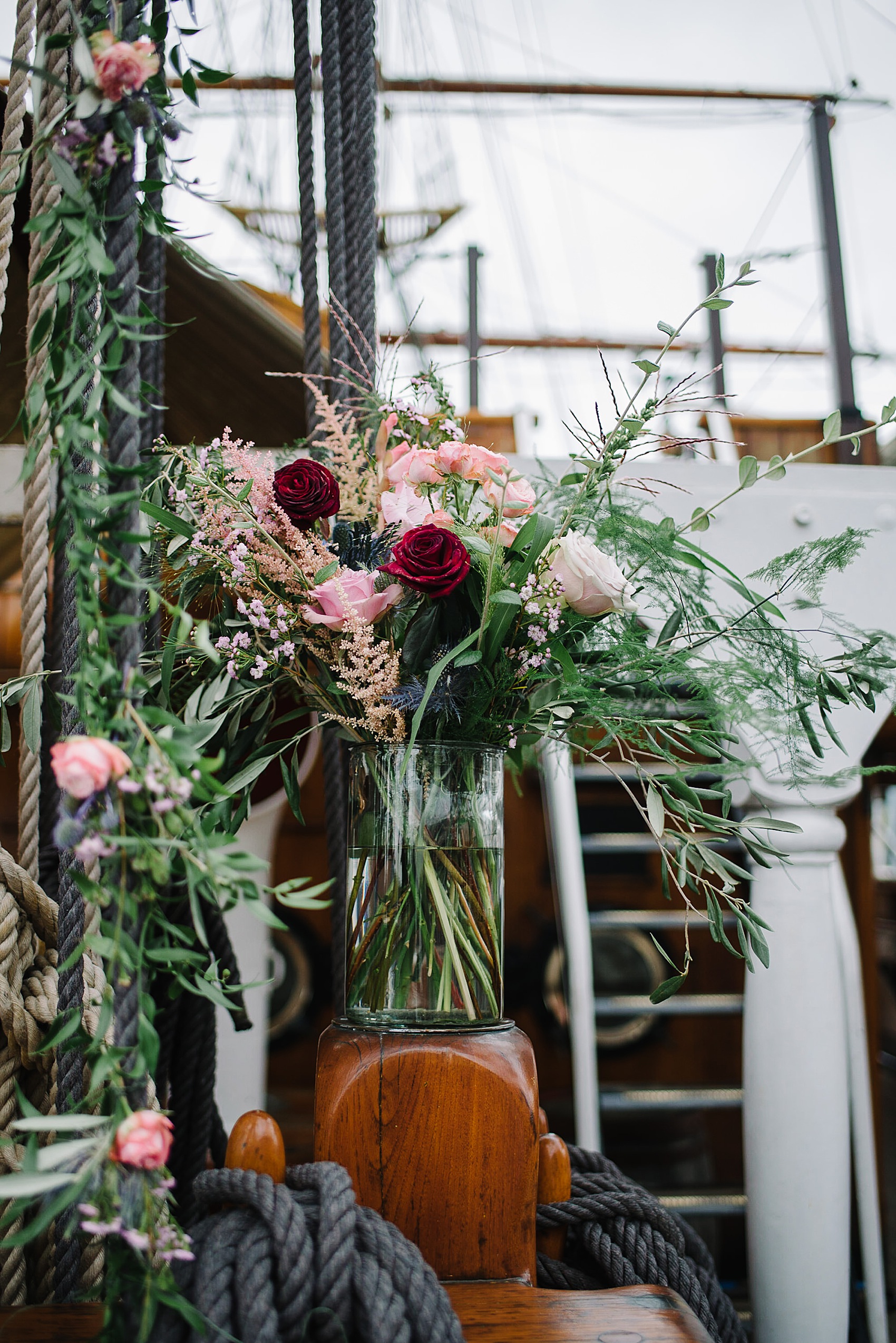 "I was lucky and proud to have my dad walk me down the aisle. Our entrance music was Bach's Unaccompanied Cello Suite No.1 in G Major – Prelude, played by Yo-Yo Ma."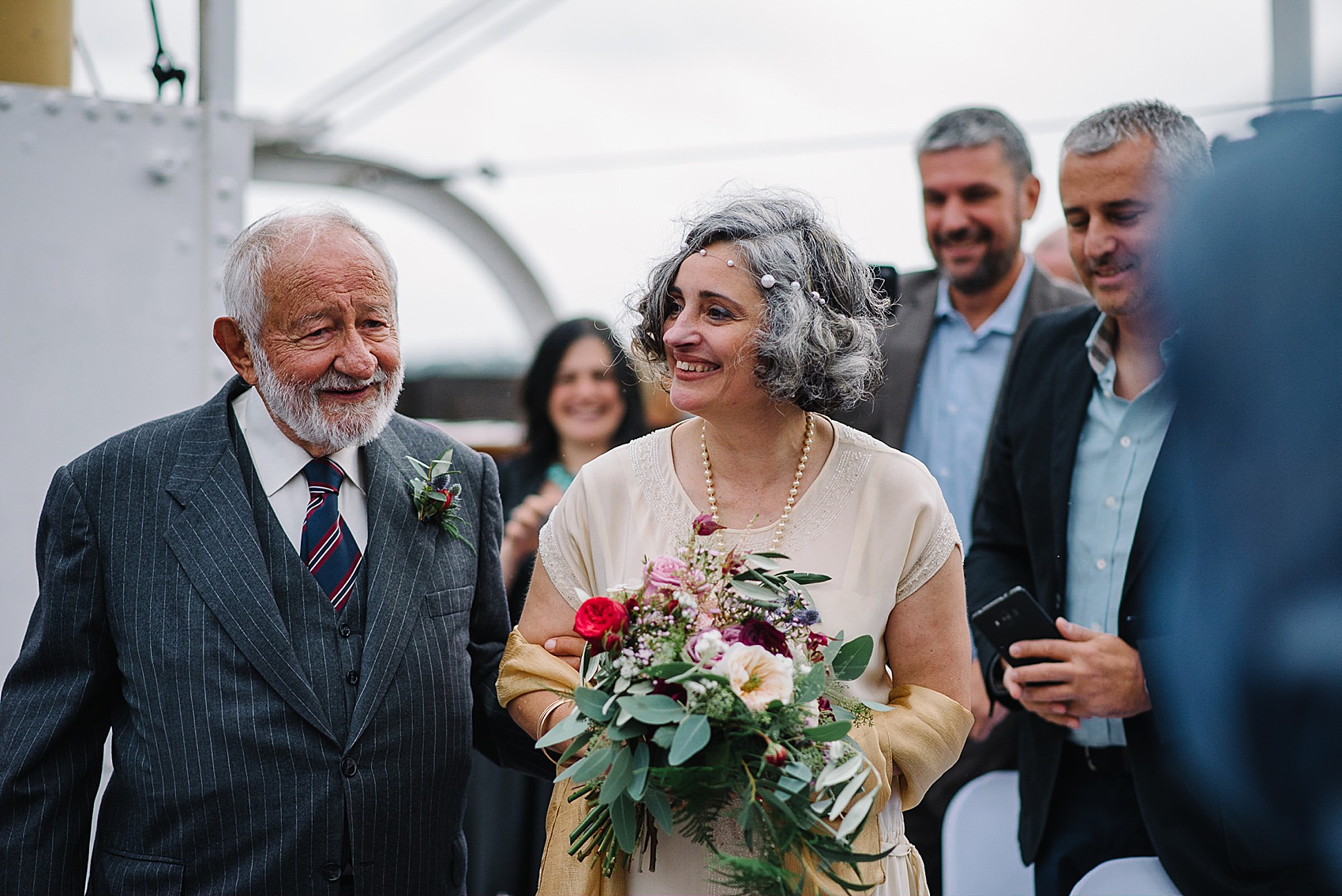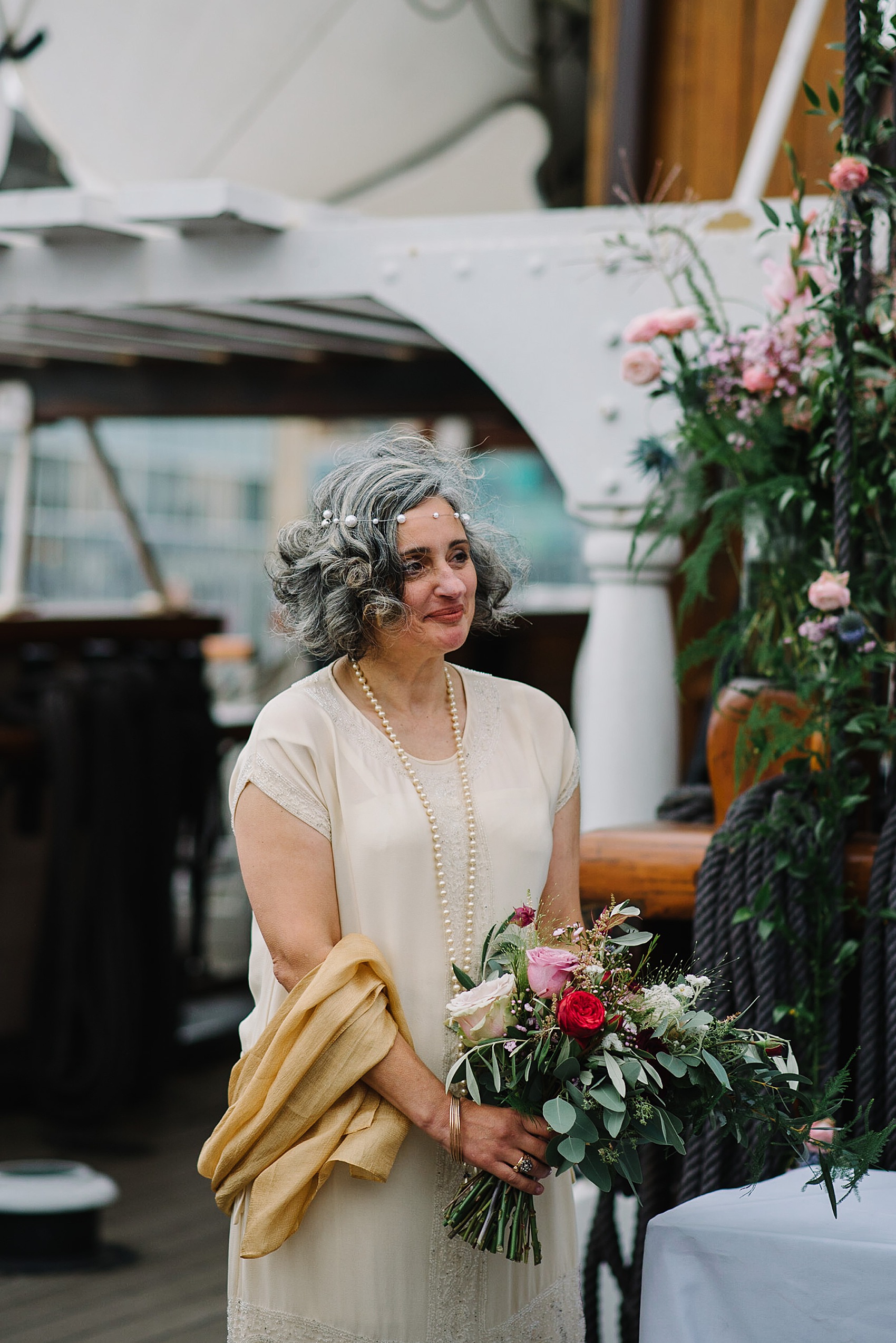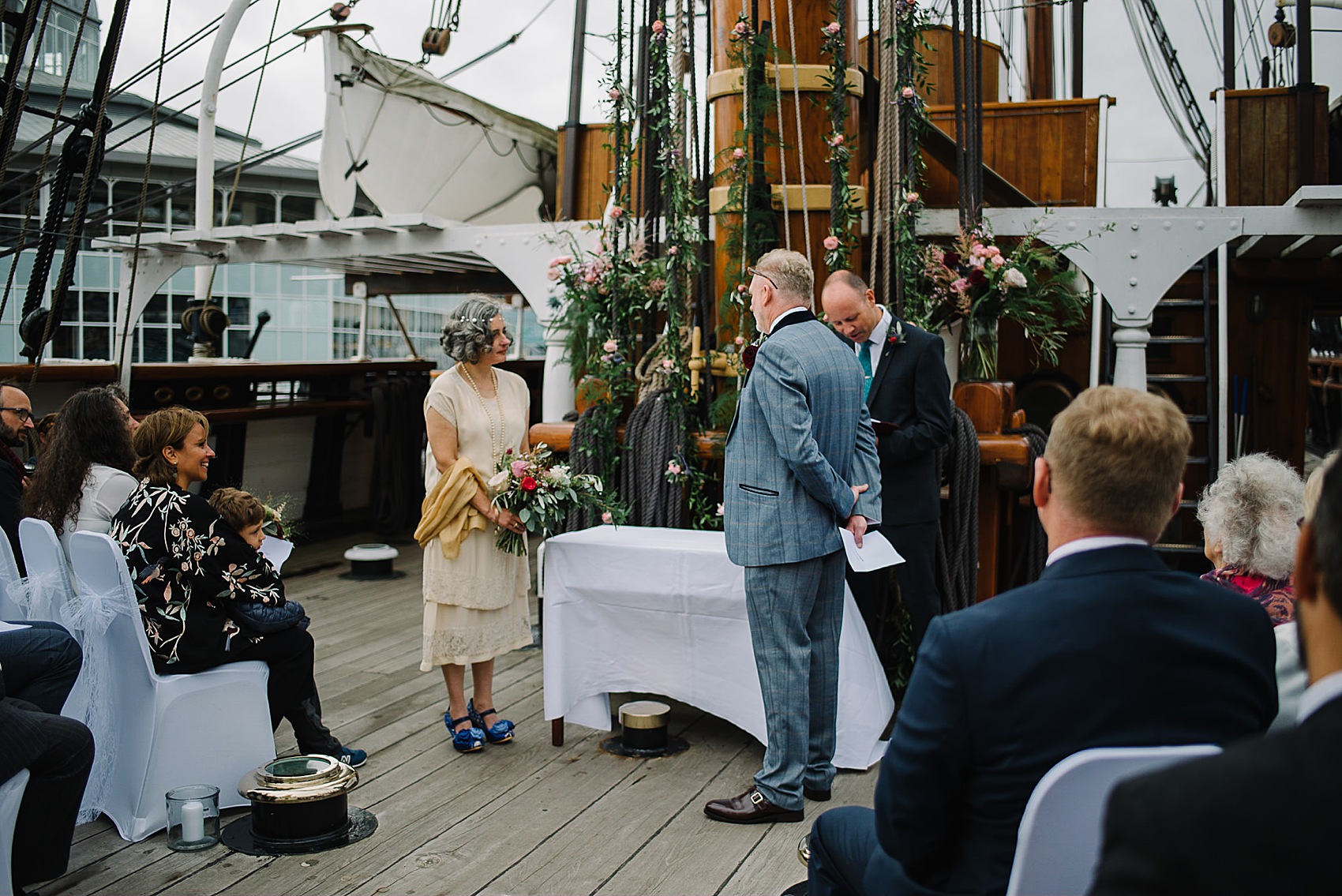 The couple's ceremony was conducted by family friend Pastor Rob Jones from Buckhaven Baptist Church, which made for a heartfelt and personalised service.
"We met at Dundee Sailing Club in November 2017, and a year later we decided to get married. When you have, like we do, a combined life experience of a century, you know a good thing when you see it, and we didn't see any reason to wait. In hindsight, we feel very lucky that we didn't wait for another year. It would be a very different event in 2020."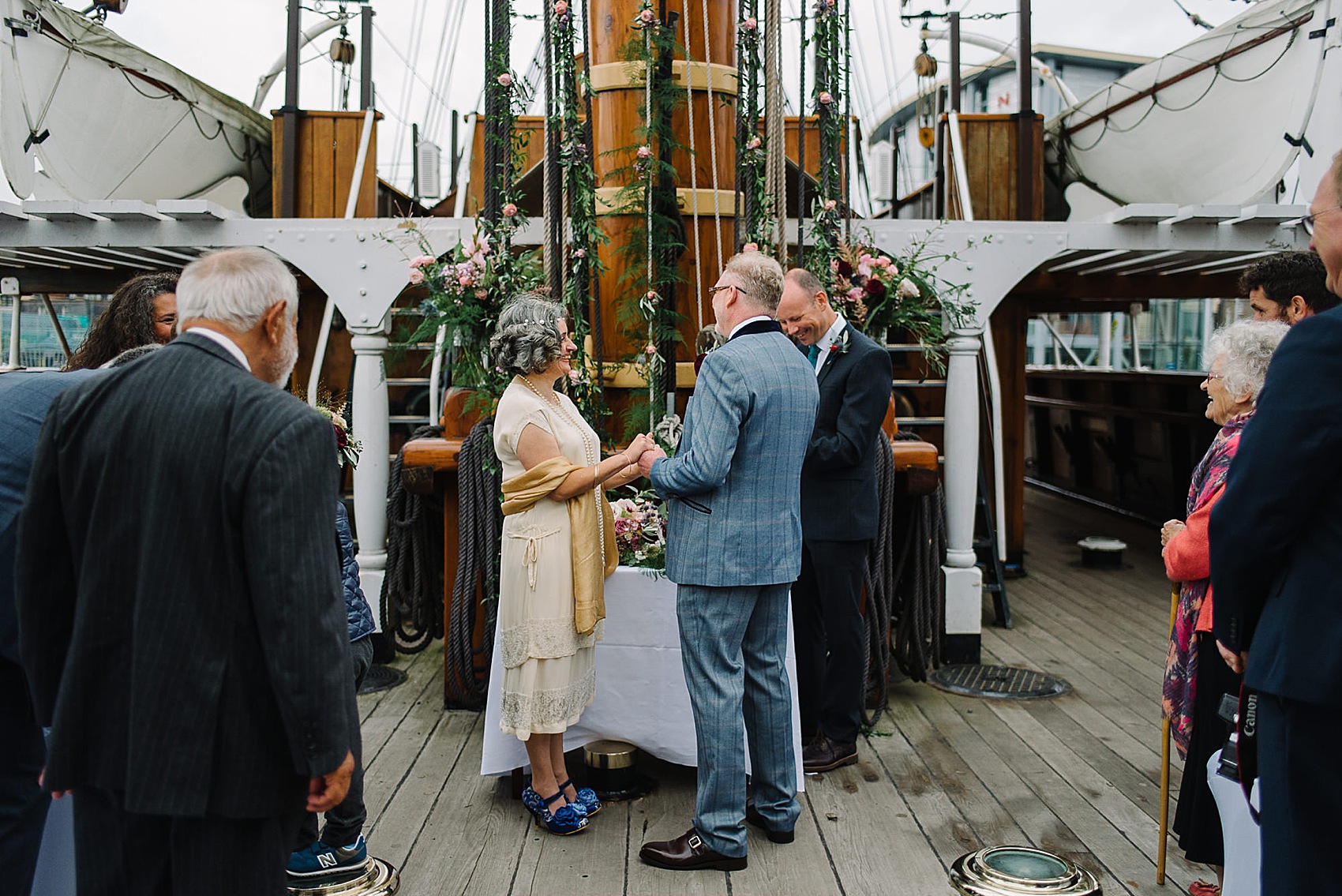 As they made their vows to each other, Eleni and Euan also exchanged rings. They both chose classic gold bands, which they also had engraved, from jewellers Robertson & Watt, who provided excellent service along the way.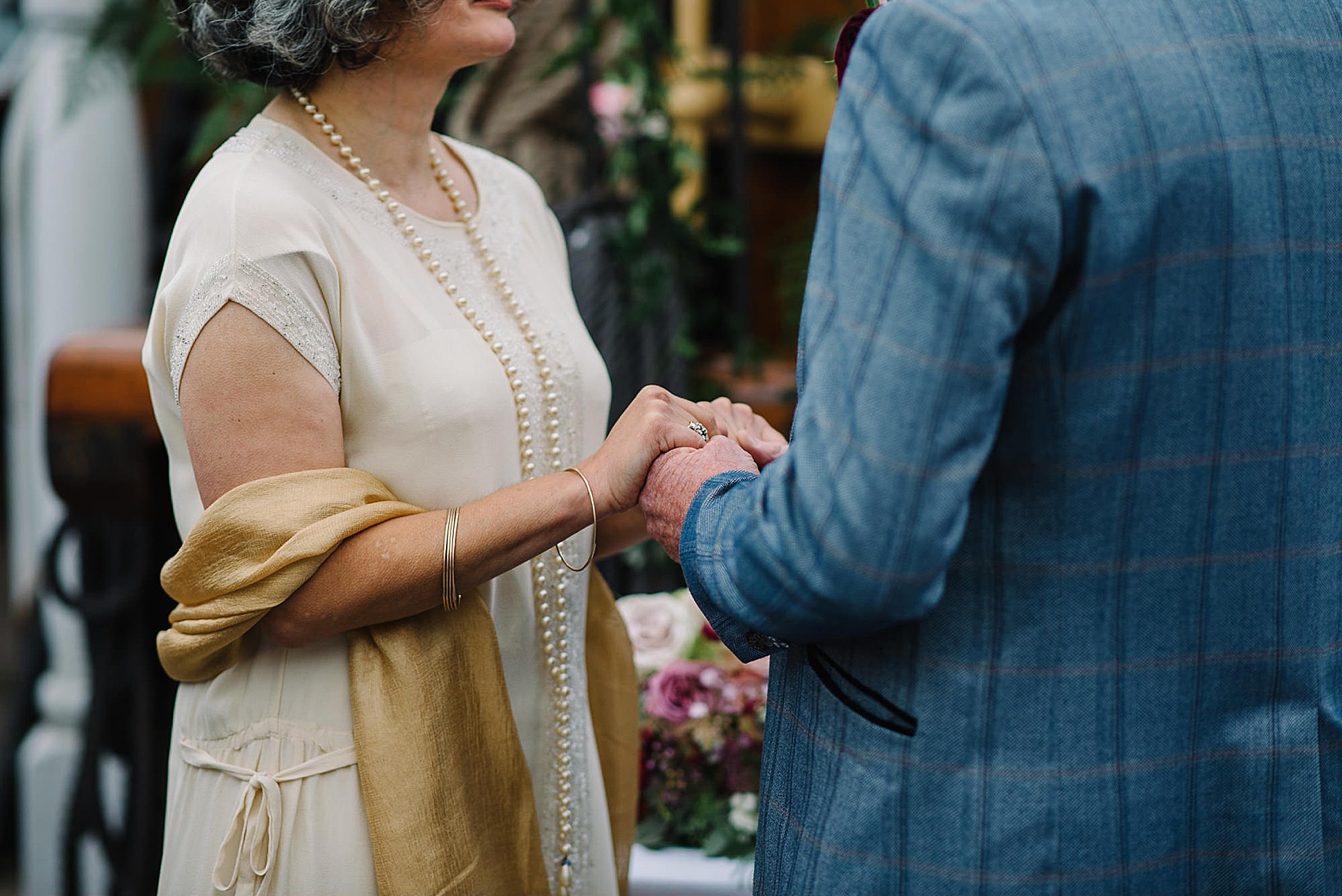 "The marriage ceremony was our favourite part of the day. It is, after all, why we were there. It was awesome to see our close family and friends gathered from all corners – Greece, England, Scotland, Ireland and New Zealand – for this moment."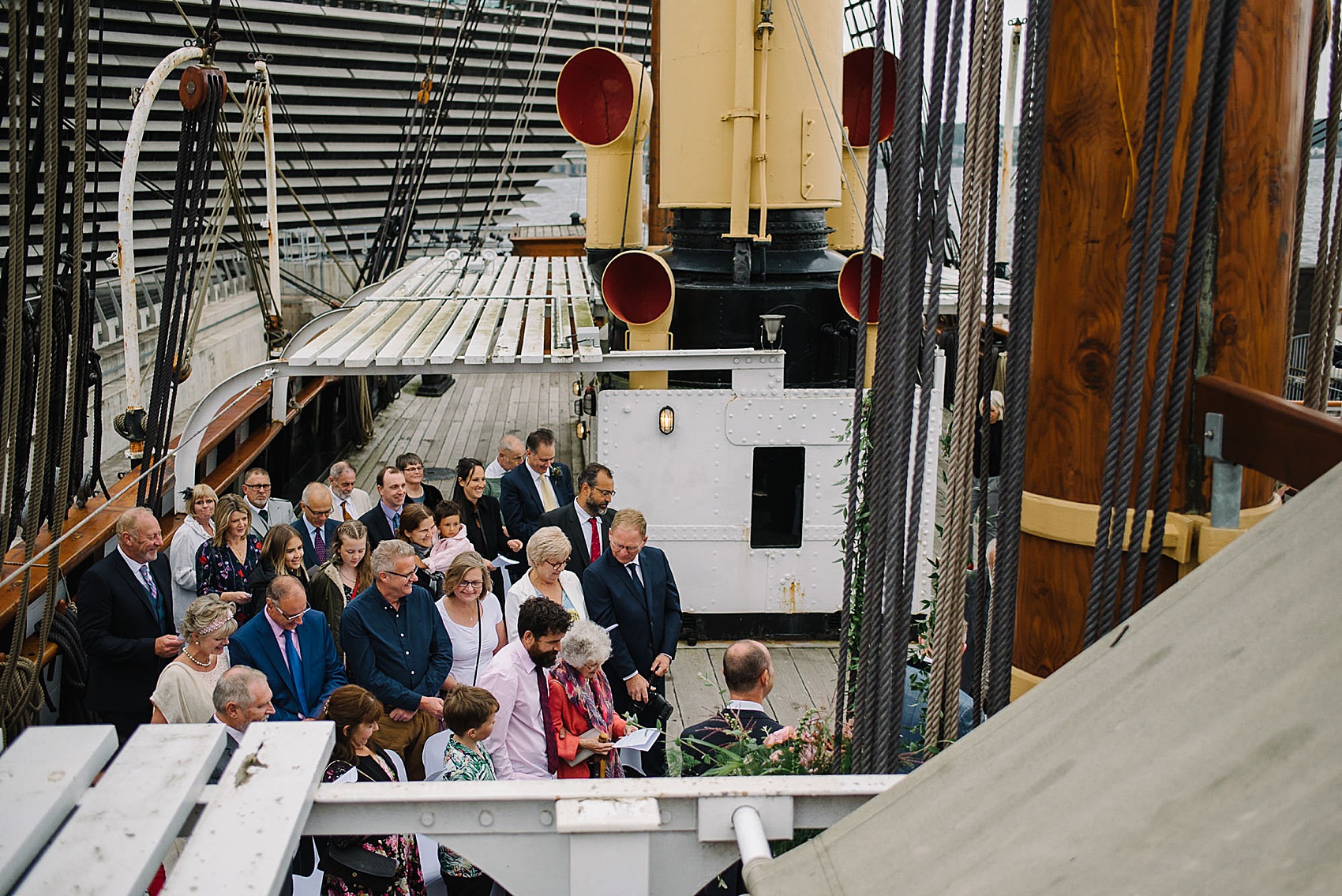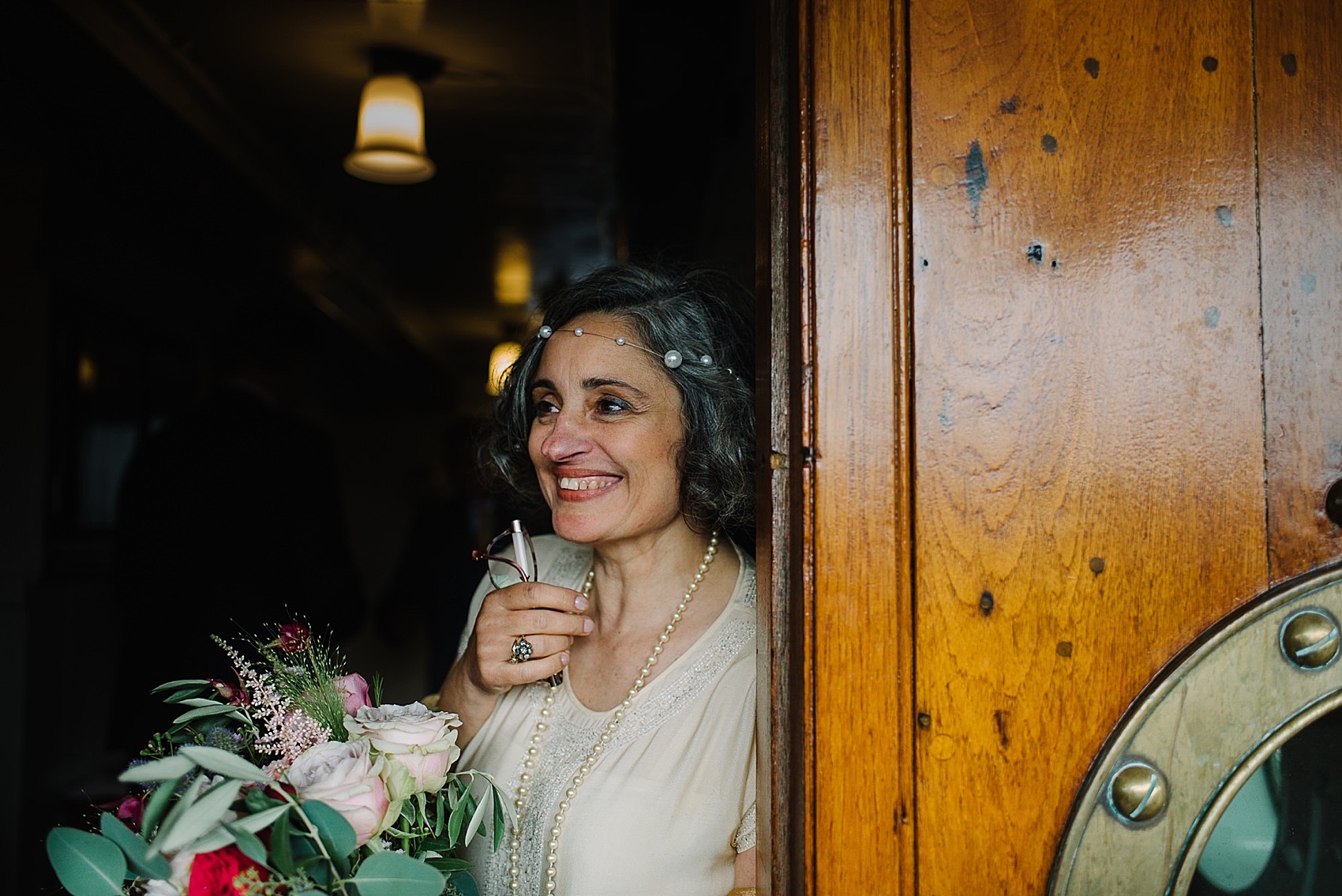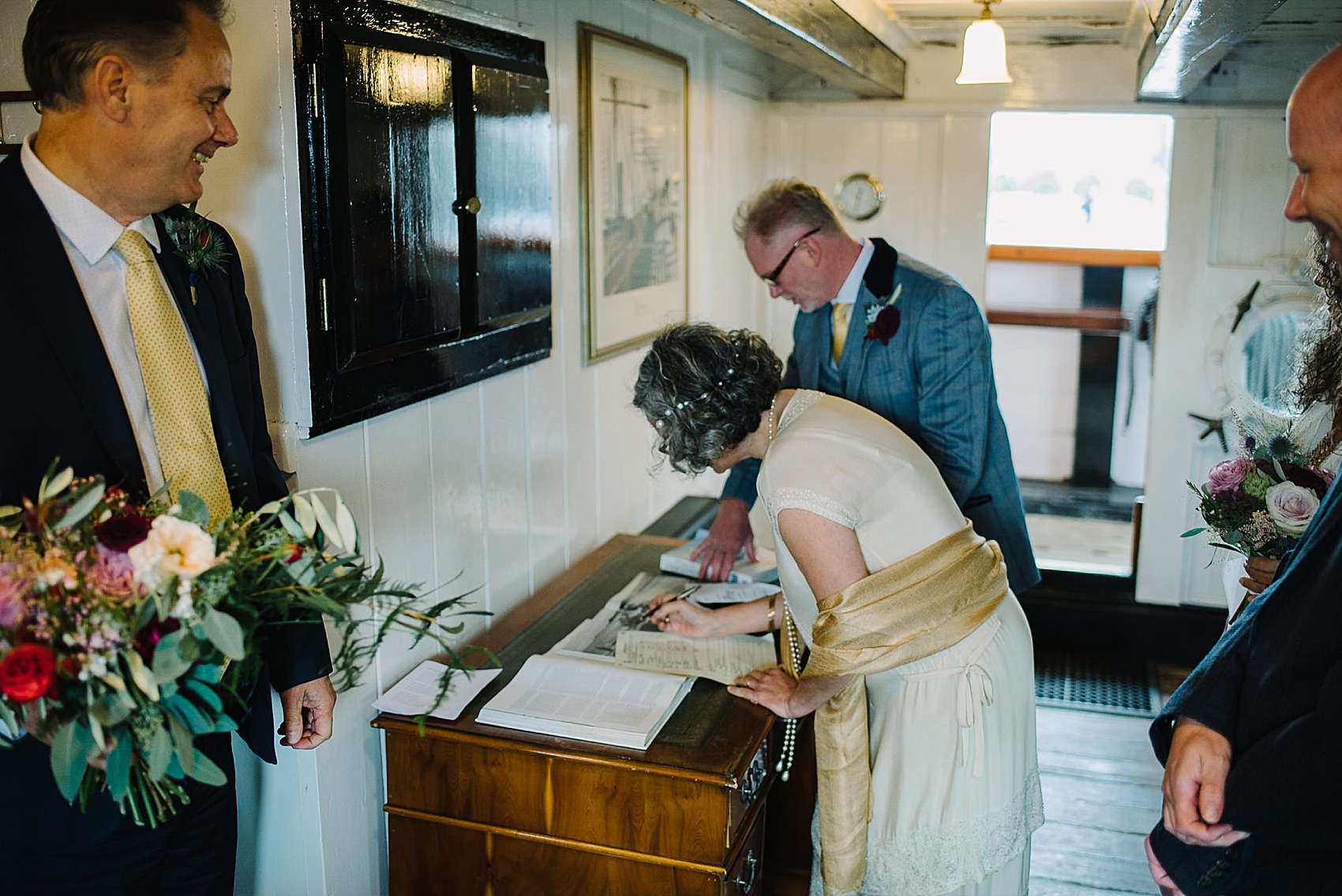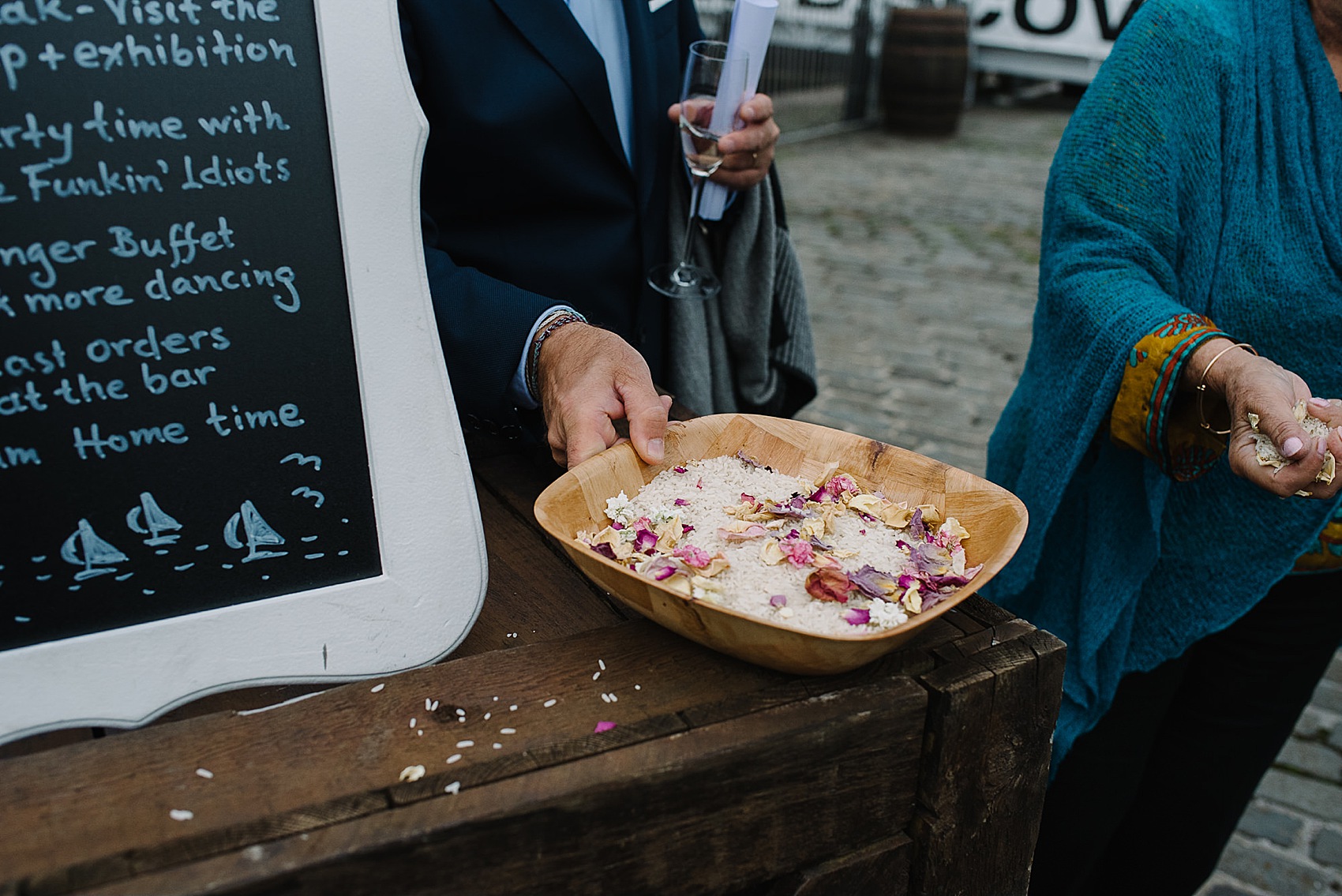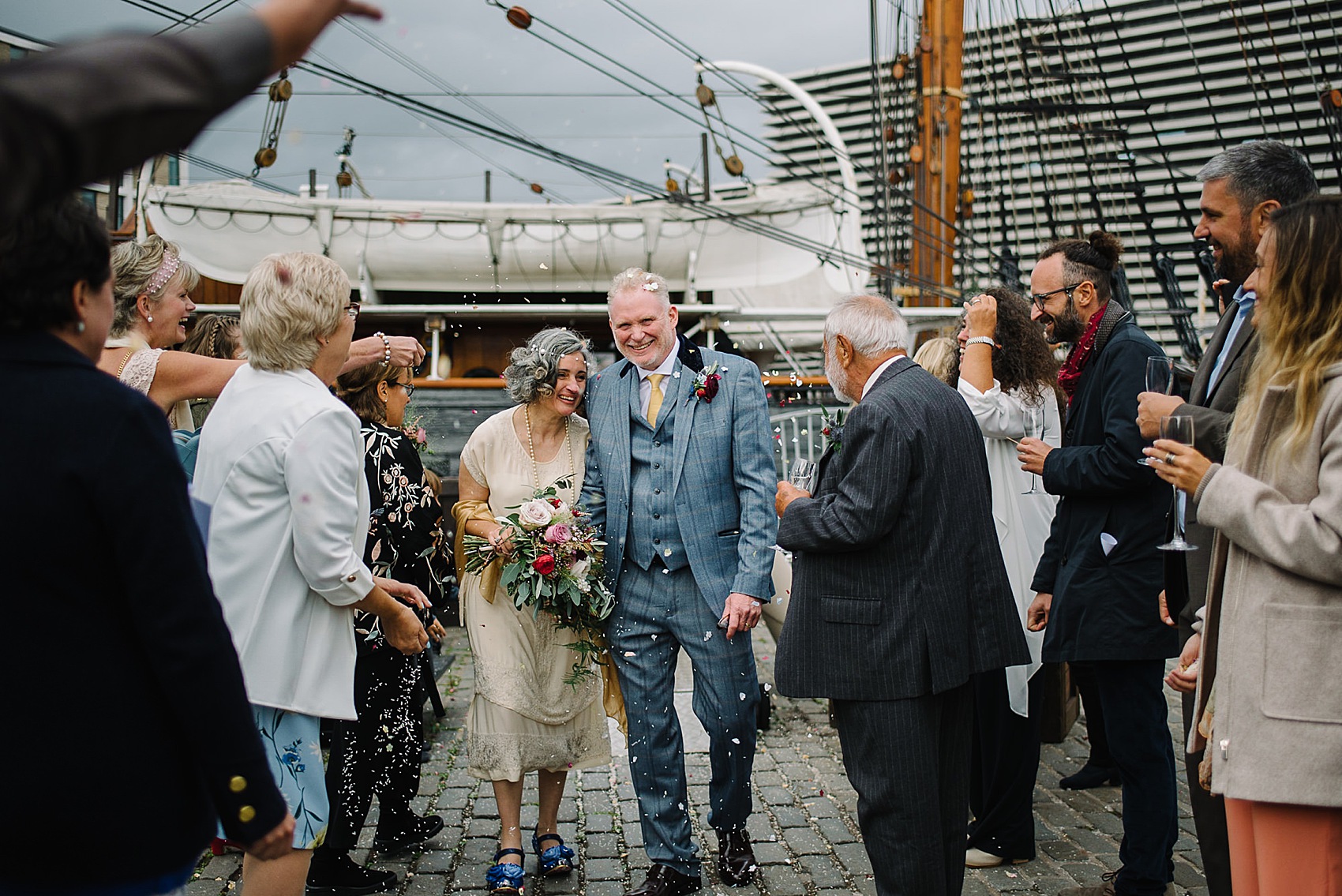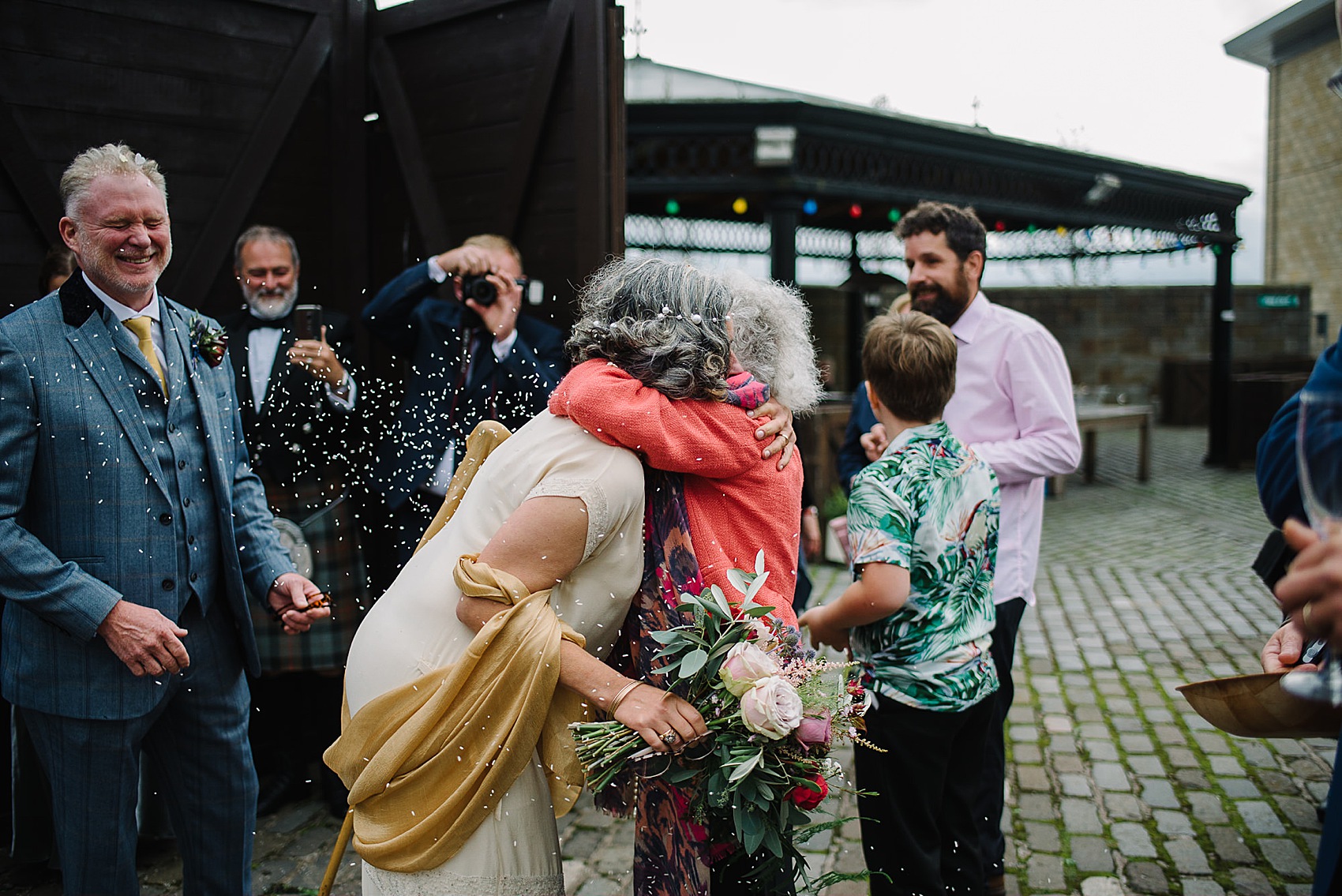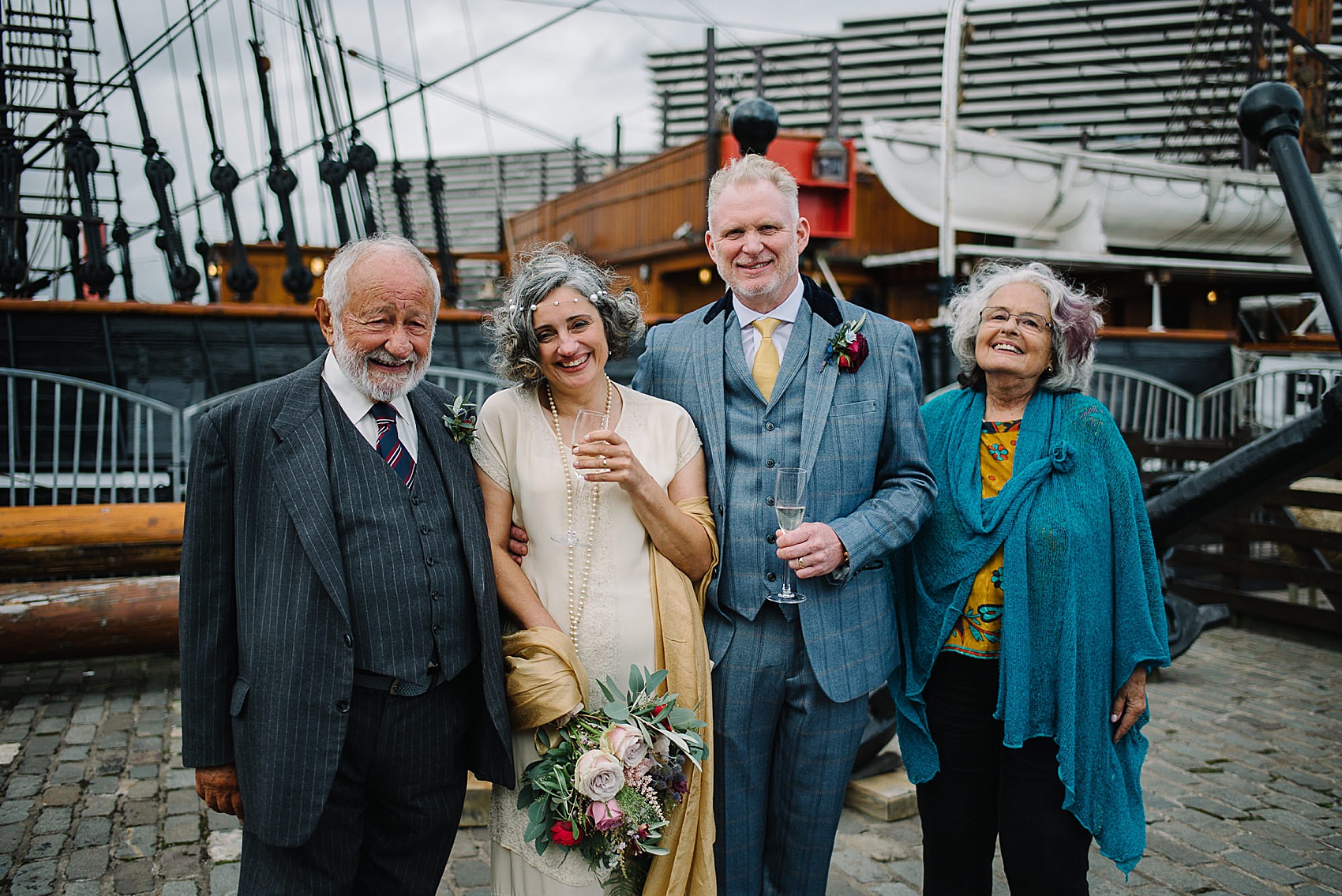 It's always a pleasure to share the work of a new photographer or photographers on our pages, and this collection of sweetly captured, joyful images comes to us courtesy of Ruth Segaud Photography. Thank you, Ruth!
"We met Ruth Segaud at a wedding fair, when we had no idea what to look for in a photographer. We liked her photography style from the start – the natural, non-staged look; the aesthetically pleasing composition and framing; her way of capturing moments beyond the obvious."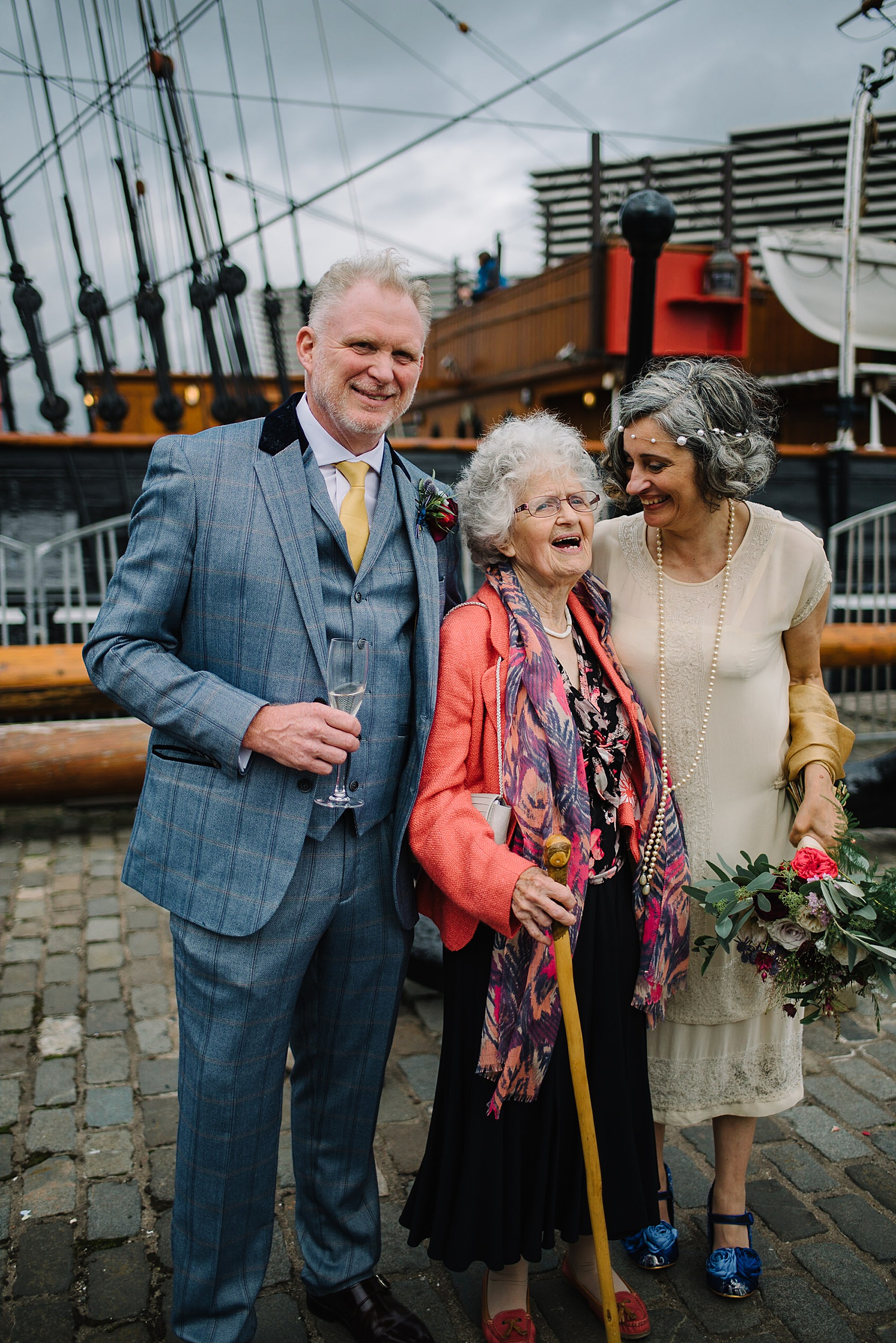 "Ultimately, we found out that it all comes down to her eye, her unique way of seeing people and really noticing them. At the same time, we genuinely liked her personality. She had a quiet confidence, and combined kindness and professionalism."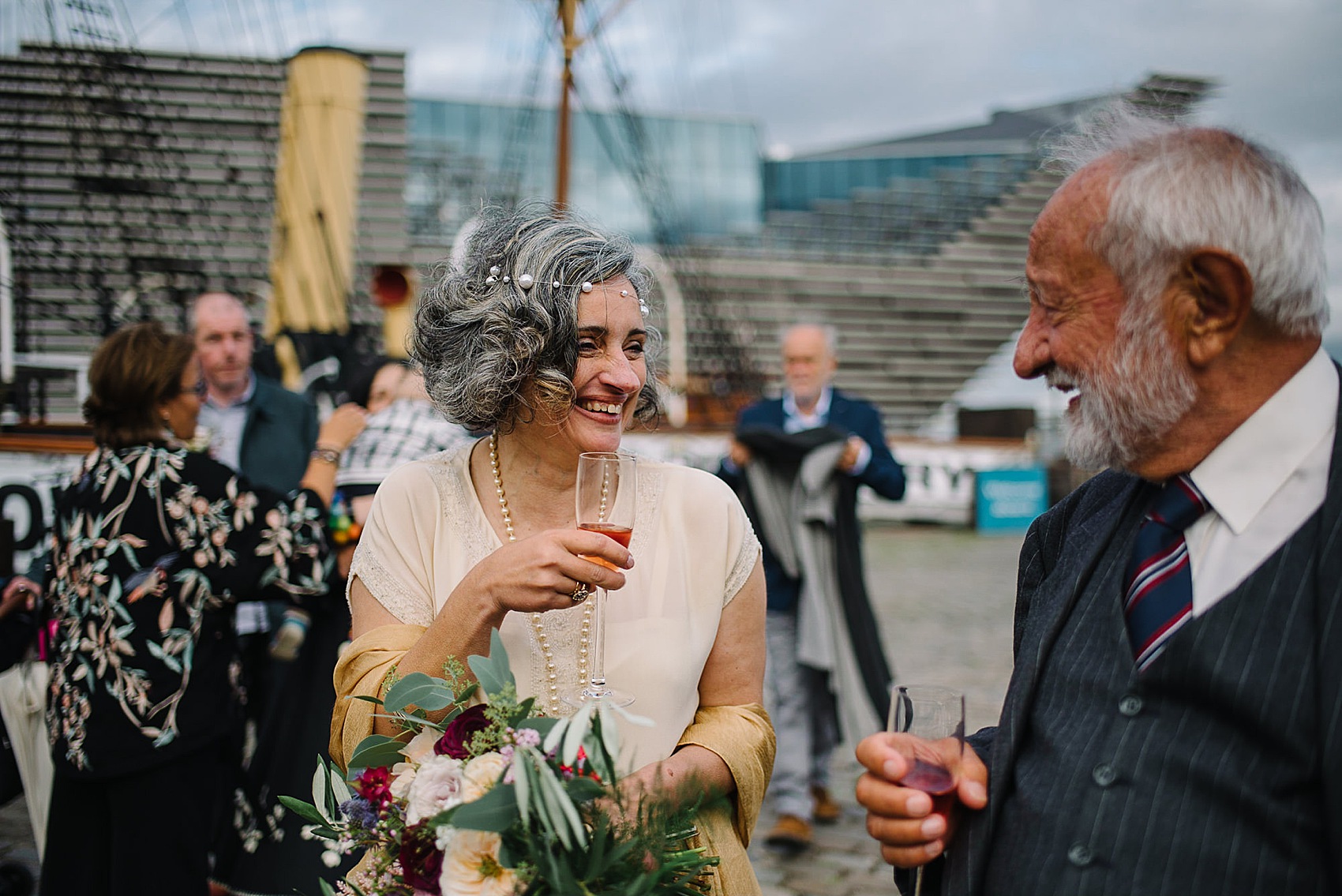 "Ruth was delightful to have on board on our wedding day. A discreet and positive presence, she blended in, while also being fully in control of the photography schedule and the organisation of group photos."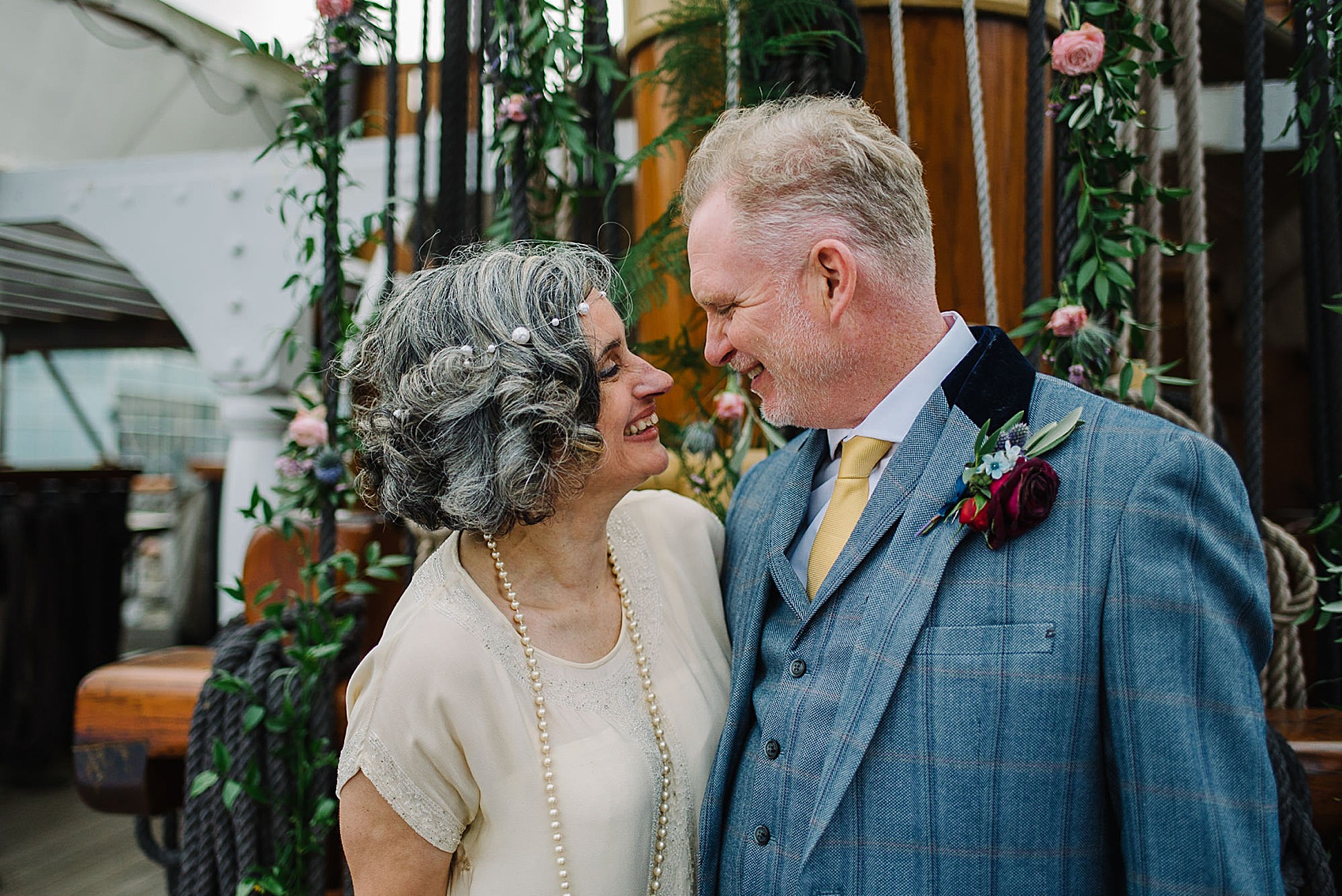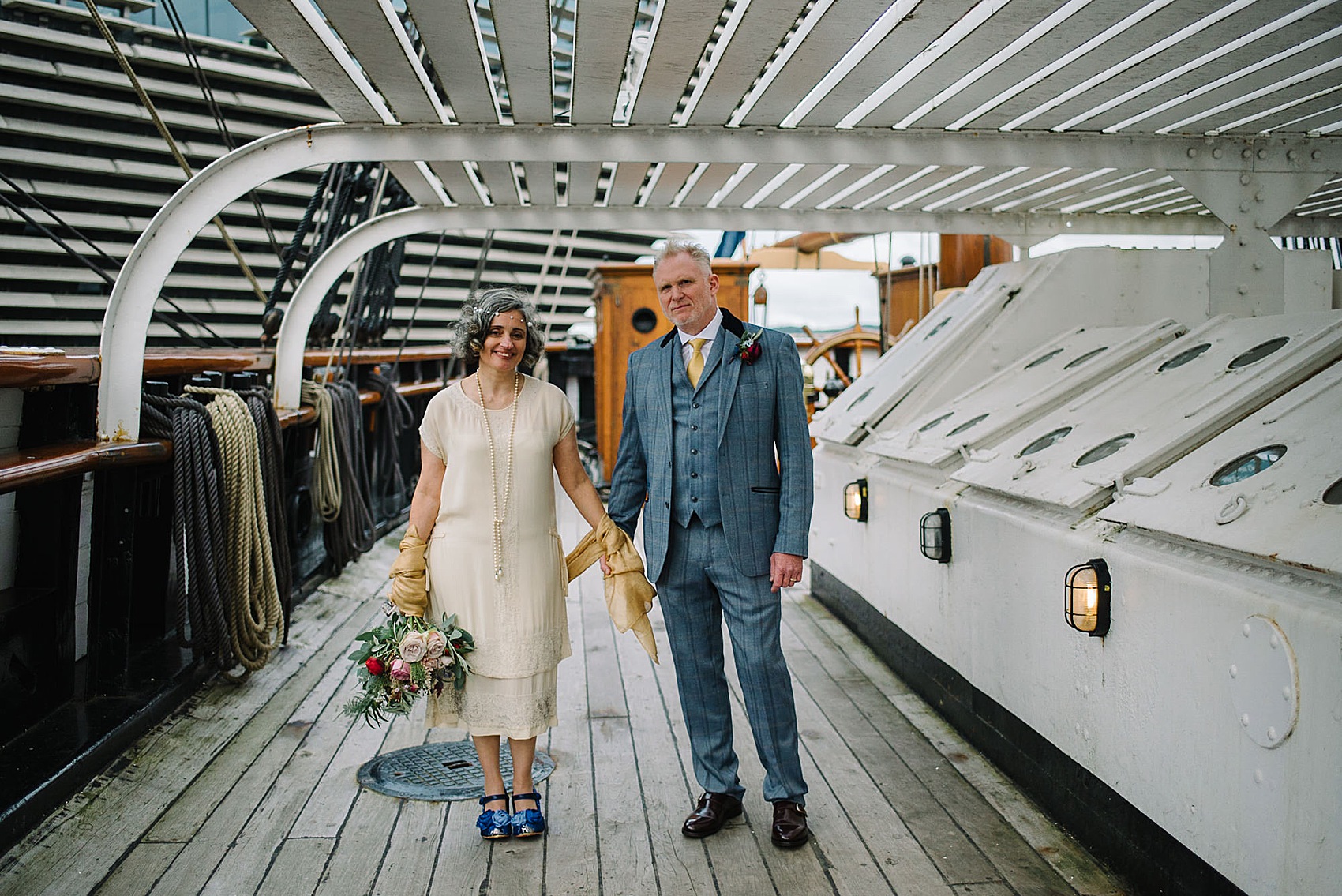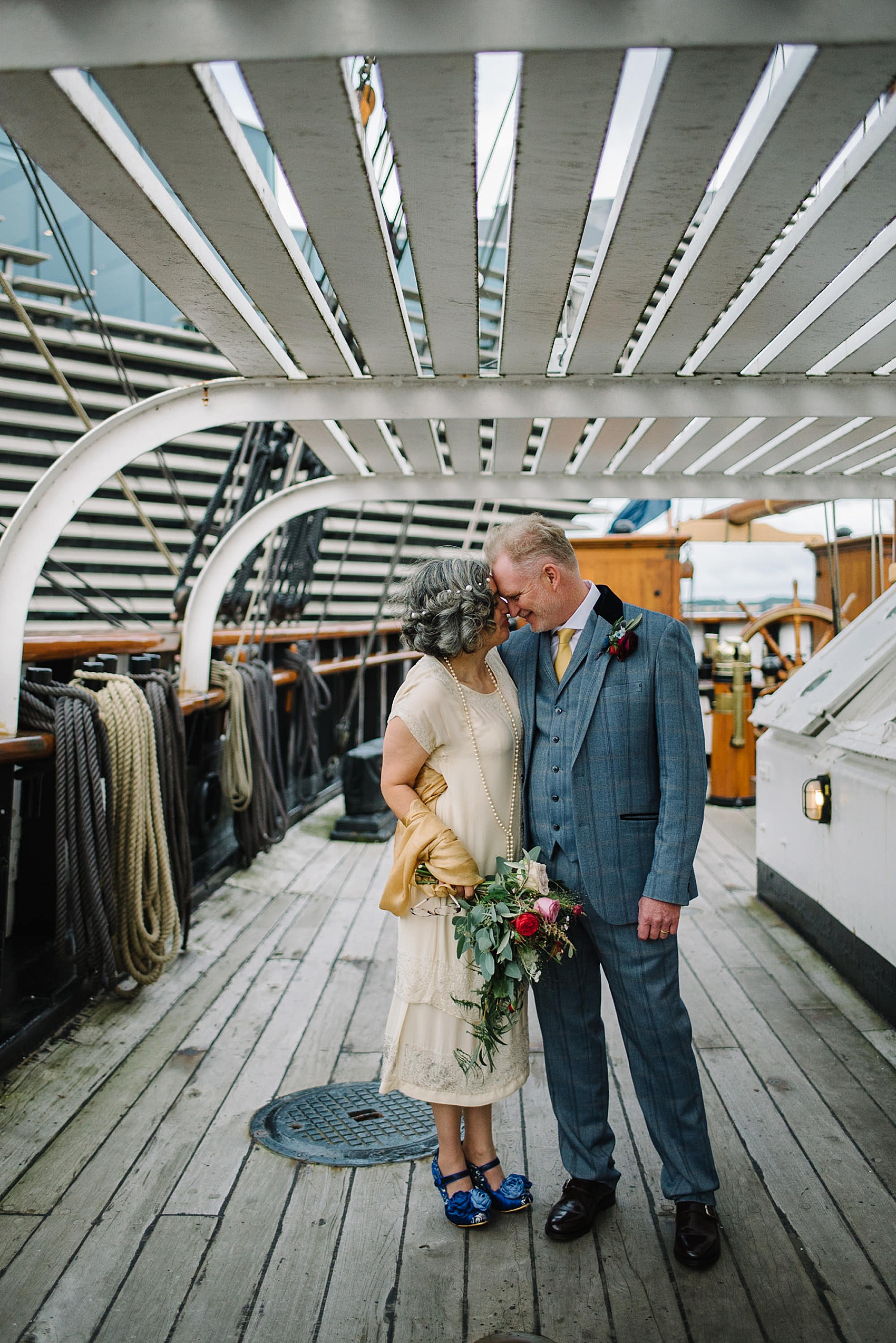 Groom Euan looked completely splendid in a three-piece grey suit with a subtle yellow check, and velvet lapels by Cavani. His shirt was from Debenhams, and he wore a yellow tie to complement the colour through his suit by Michelsons. Shoes were by Samuel Windsor, and Euan also wore a pair of his grandad's antique cufflinks.
"Euan loved the finishings on his suit, and the way the shoes complimented the suit, too."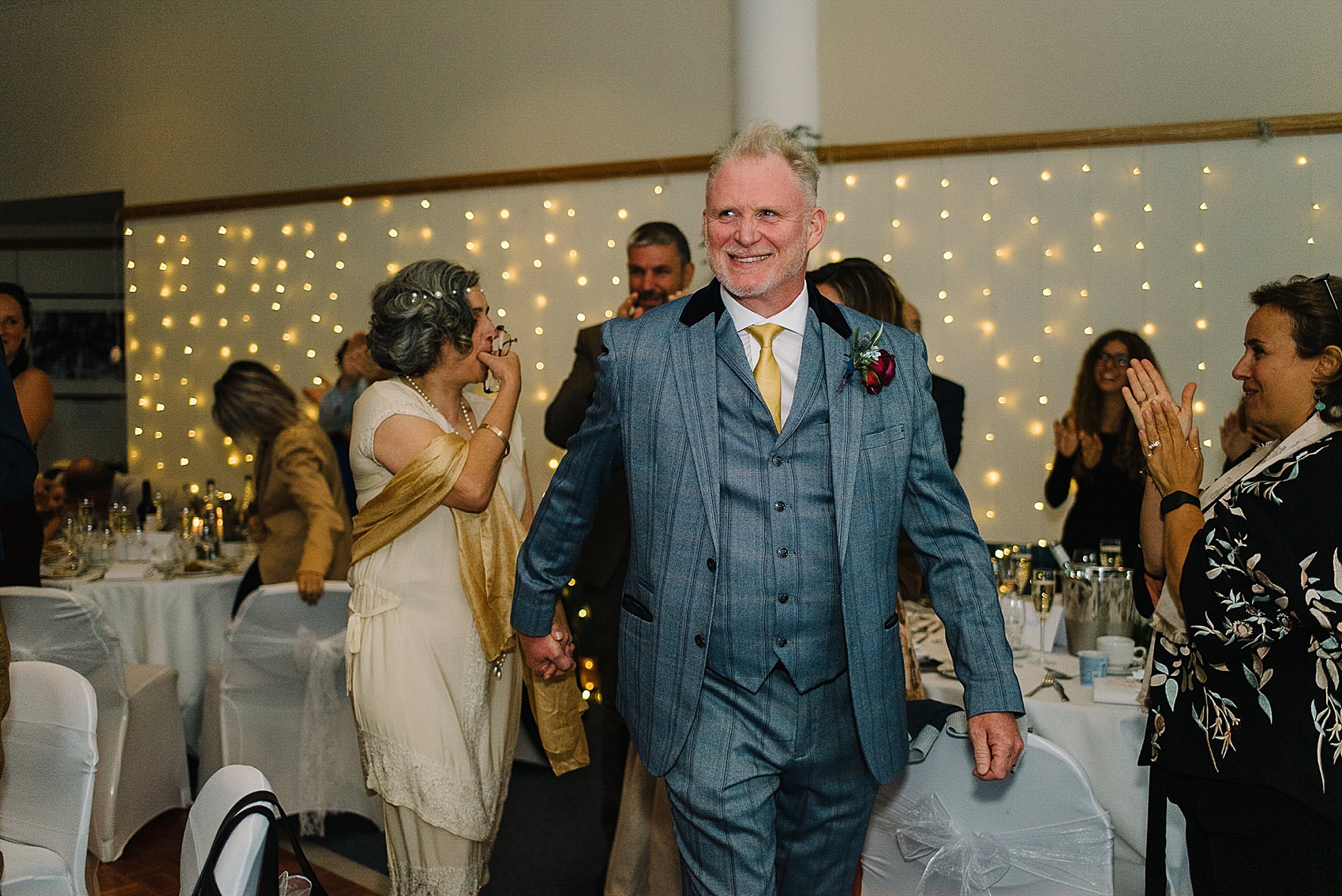 "Then, we enjoyed the drinks reception on the quayside – the first opportunity to chill with our loved ones after the emotional intensity of the ceremony, but also after many months of anticipation and planning for this day."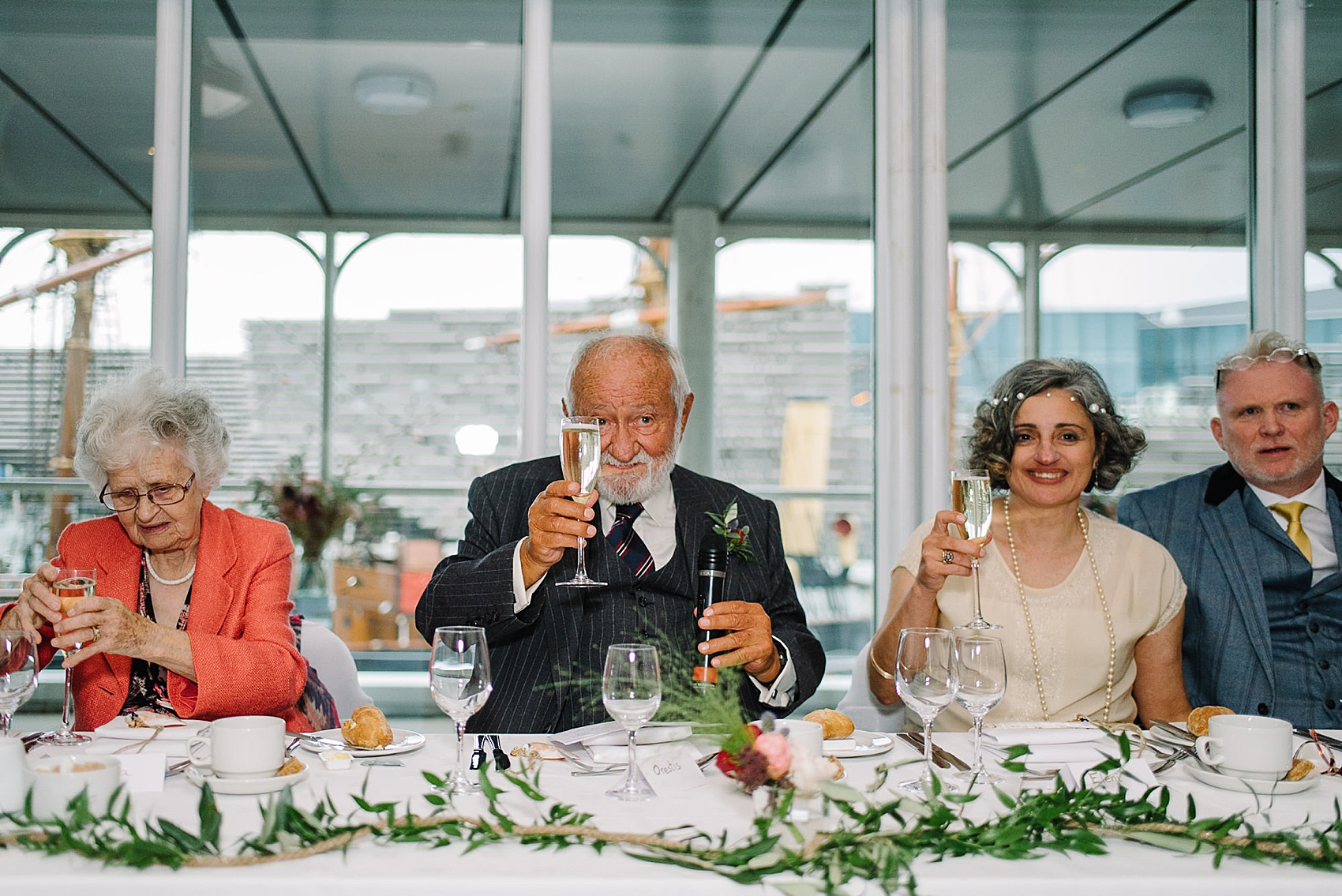 Tables were set for an elegant dinner inside Discovery Point's function suite, with views out over the ship. Stationery was designed by Eleni and Euan, and tables were decorated with garlands of greenery and candles.
"Our favours were sourced from the beach: Seashells with our initials and wedding date, with anchors and blue beads (a Greek custom for good luck) all bound together with traditional Dundee jute string."
The venue's catering partners Regis Banqueting took care of dinner, and then there was cake – and what a cake! It was a beautiful three-tiered, nautical themed creation by Roslyn at Cake 32.
"Sailing and the sea was our obvious theme for our cake. We discussed it with Roslyn, who interpreted the concept with a cake that looked great, and tasted even better."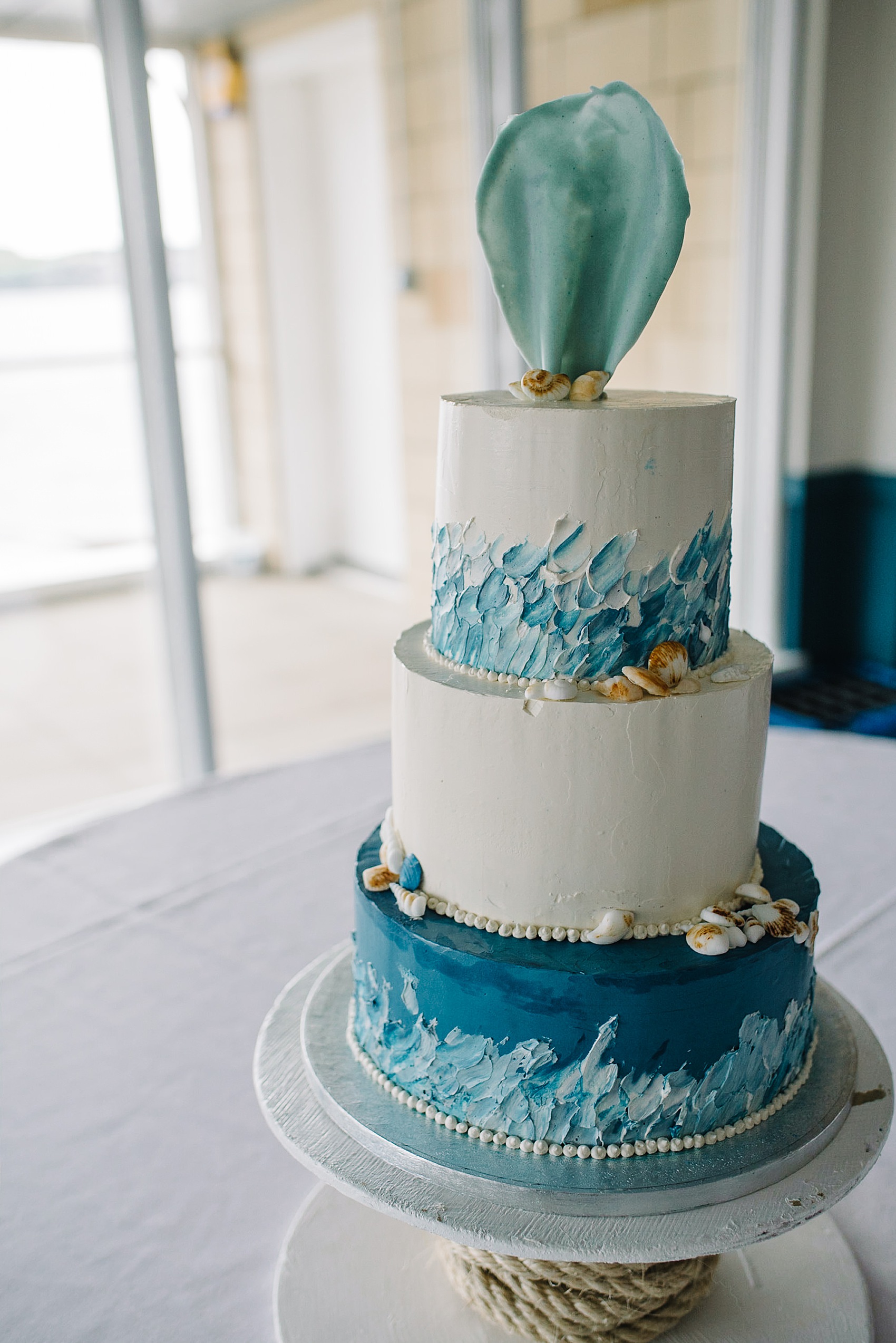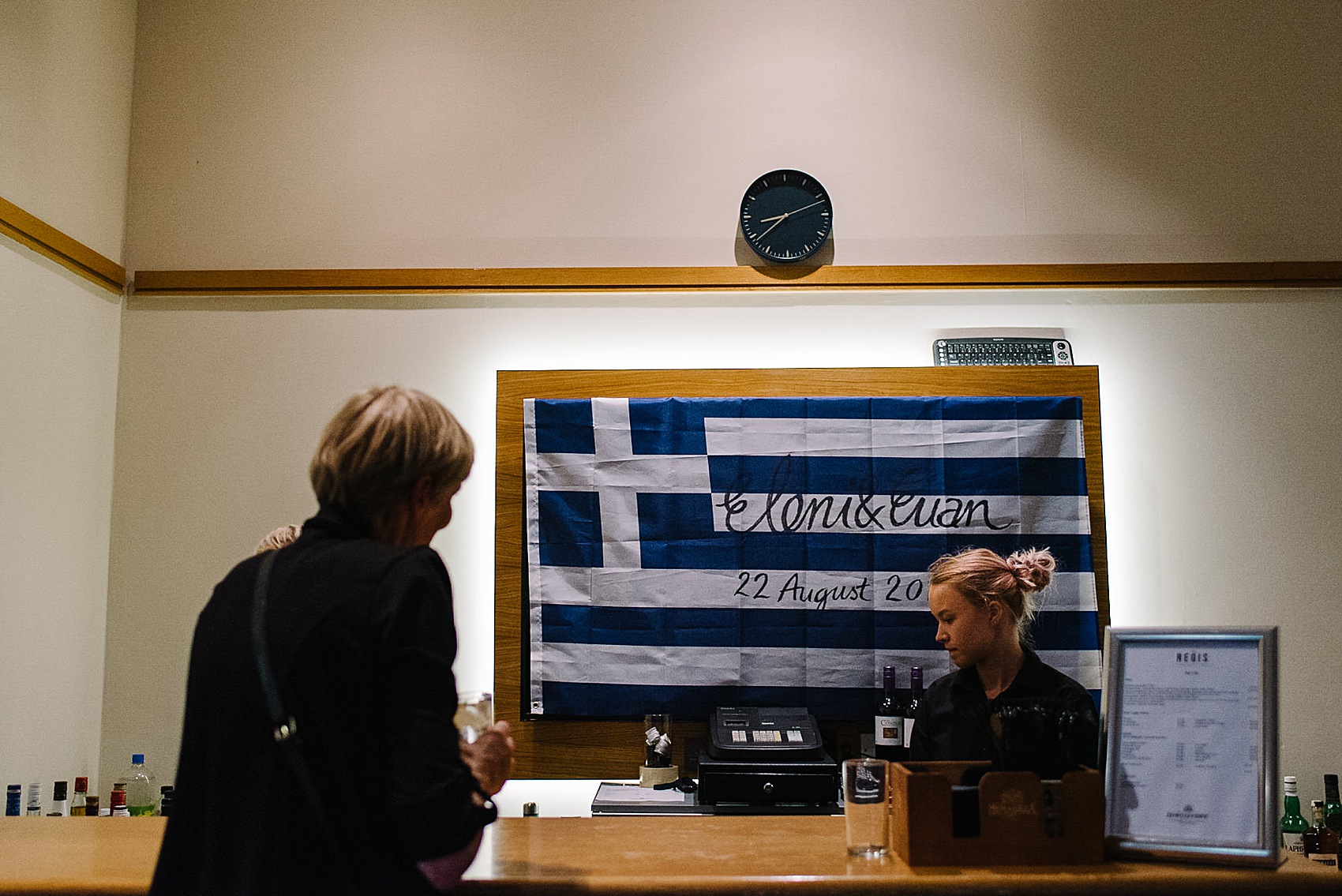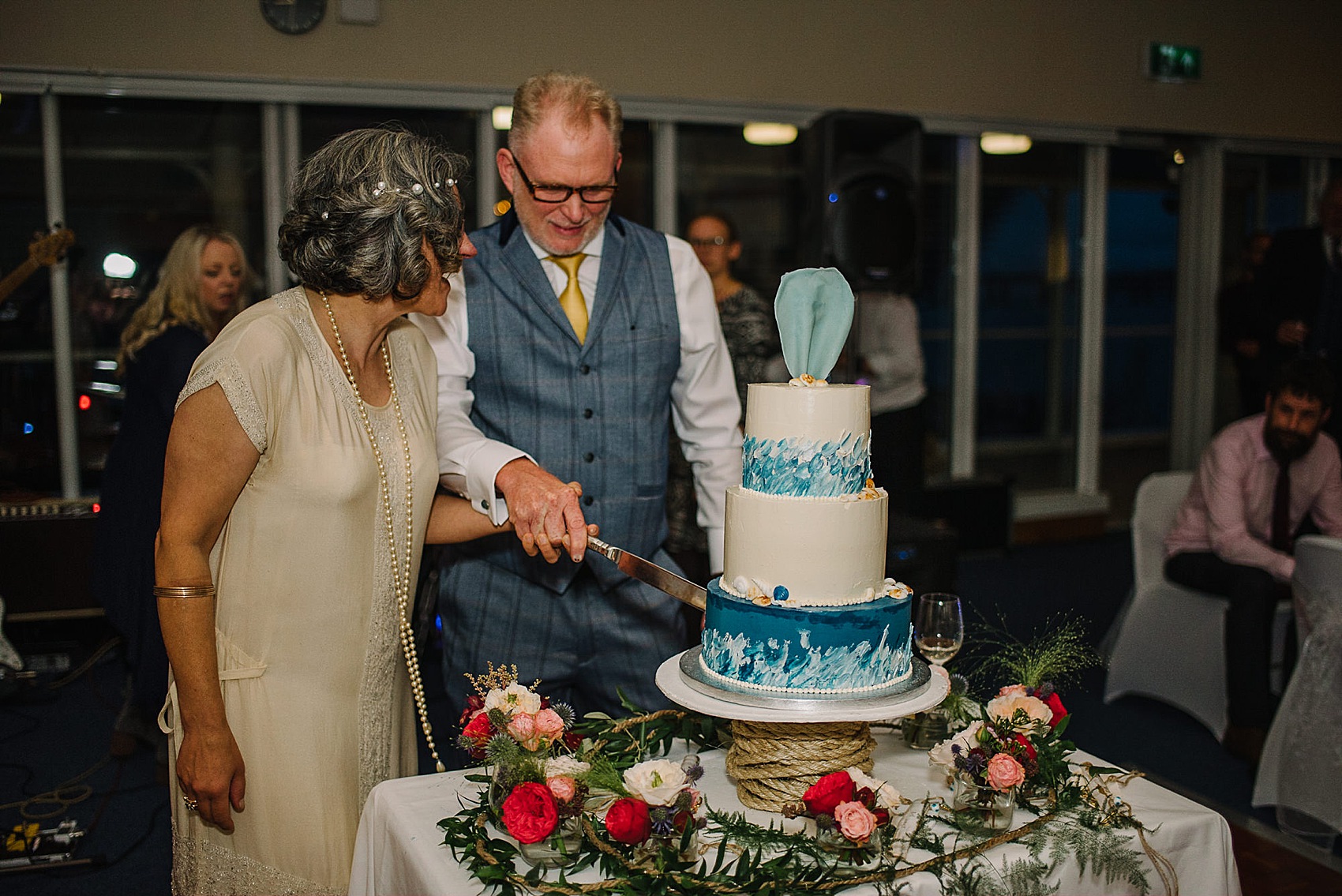 After the cake cutting, Eleni and Euan took to the dancefloor for their first married dance together, and they chose Chanson d'Amour by The Manhattan Transfer as their song.
"We love this hearty love song, sung with gusto, for it's carefree romantic feel, and because it is an uncommon choice. The Funkin' Idiots were our evening entertainment. They are our favourite funk and soul band in Dundee and beyond. They kept us on our feet all night! We couldn't have wished for a better party."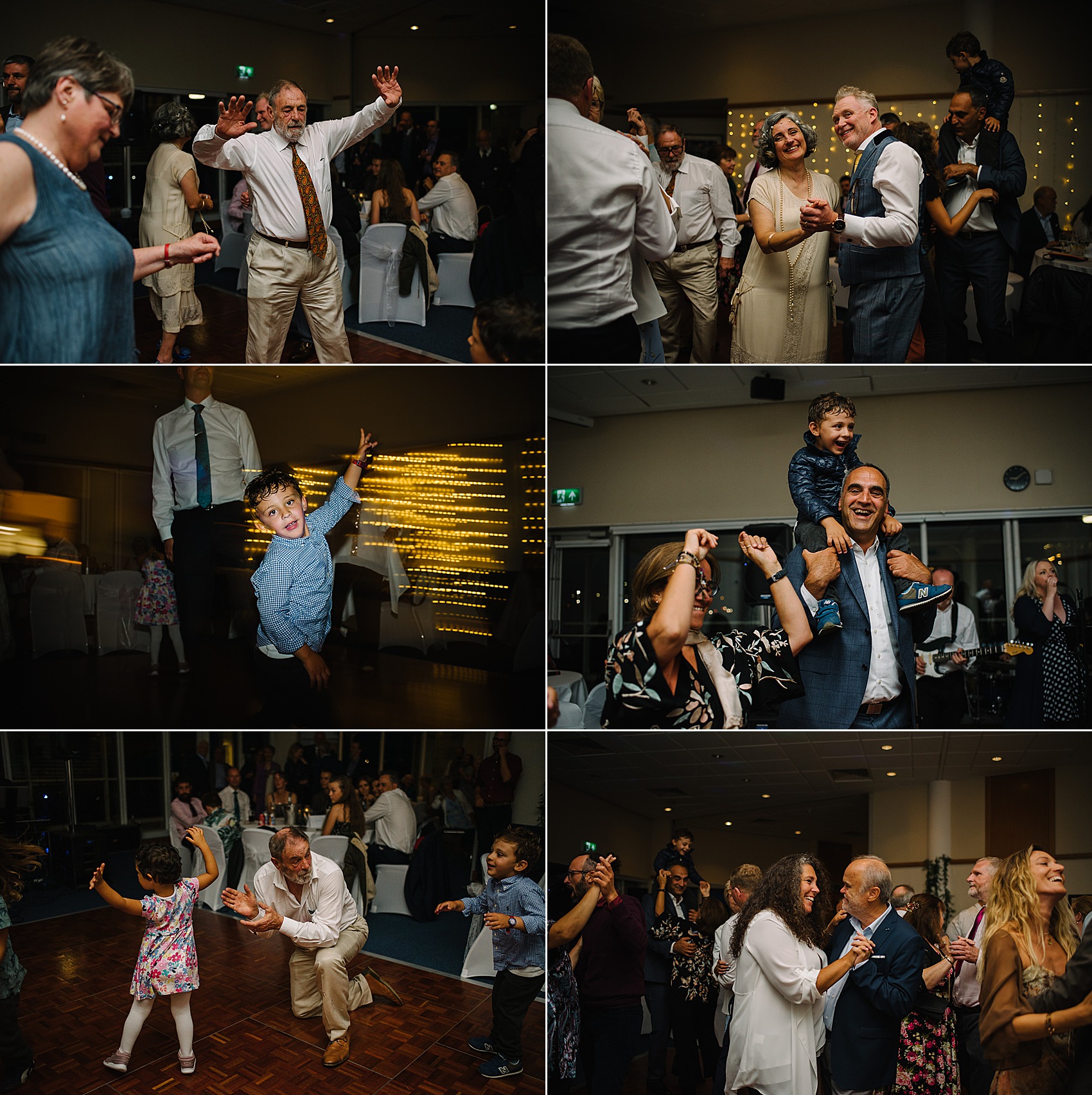 Words of Wedded Wisdom
"Our original plan was for a modest celebration, but we found out that the conventional wisdom holds: it's always more costly than you think. And do you know what? It was absolutely worth it."
"Ensure that everything is well organised ahead of time, down to the last detail – it is surprising how much you discover at every stage of the planning. It is important to be well prepared, so all that's left to do is enjoy the day."
"Be yourself. Make the choices that represent you and make you happy. There is no right or wrong way to get married – it's your day, and you make the rules."
"In the past, we both have found weddings to be formal events and remote to us. Our wedding was quite the opposite. A day full of joy and significance, a celebration like no other. It brought friends and families together, marking a new chapter to our life."
Eleni and Euan, thanks a million. This has been such a joy to share, and your beautiful words throughout have made it even more of a pleasure. Many thanks to Ruth Segaud, too, for these lovely images.
With love,
Laura