I know plenty of us will be doing a lot of armchair travel right now in light of the current global pandemic situation, so I sincerely hope that the wedding I have to share with you today gives you a joyful escape, and a dose of beautiful Italian sunshine.
Brokers Nimisha and Charles were married on the 5 October 2019 at La Pescaia Resort, Sticciano in Tuscany, Italy.
They decided on Italy after enjoying trips there as a couple and with friends, deciding that the food, culture and hospitality would give them exactly the kind of celebration they wanted.
David Bastianoni

+ Follow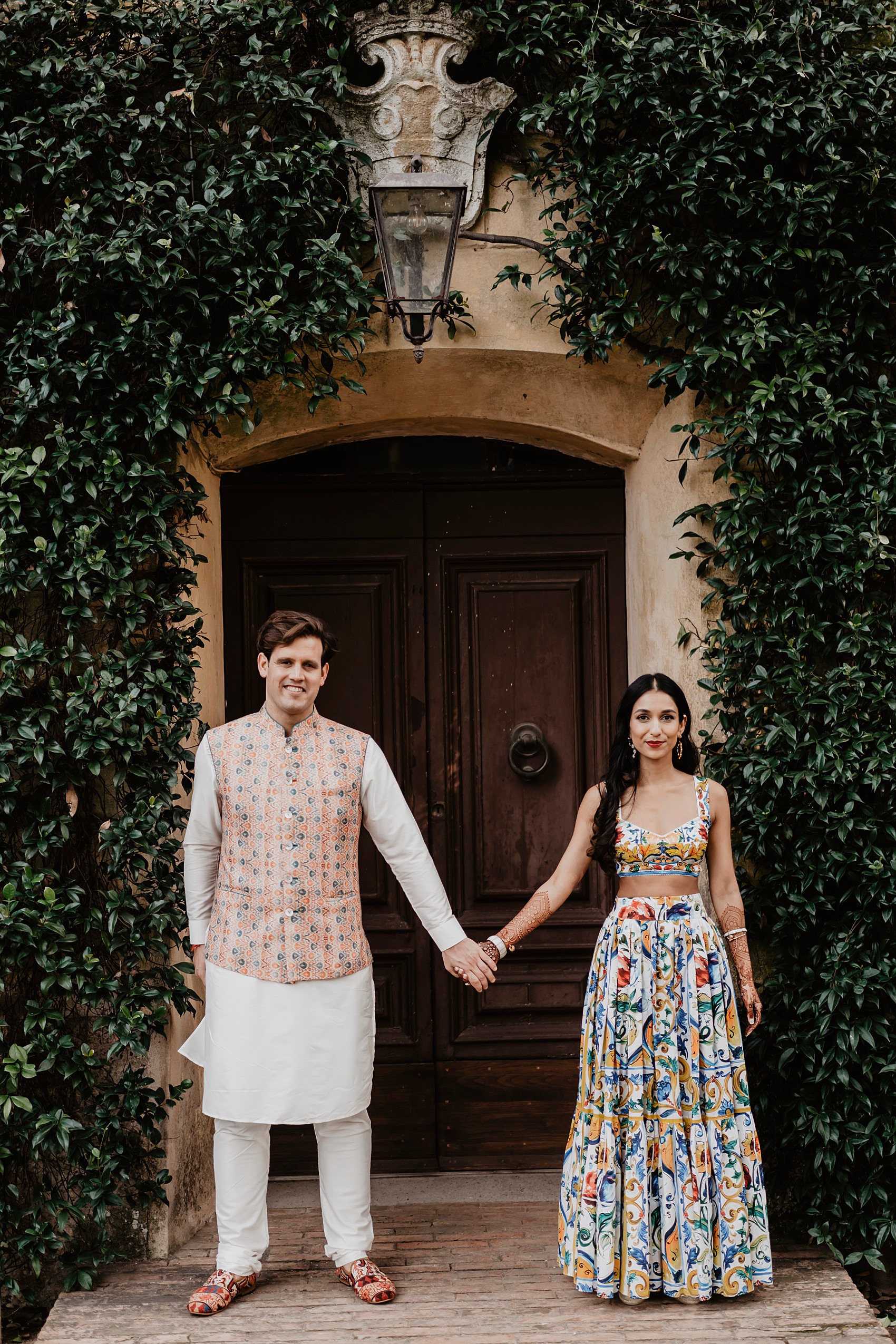 Helping Nimisha and Charles bring their vision to life was Lucy and her team at Wiskow & White, who I'm delighted to say are part of our excellent supplier directory, Little Book.
"Our wedding planners advised us on the best suppliers they work with in Italy. We trusted Lucy and her team completely with providing the right people."
"We chose the venue for its location, range of spaces and authentic Tuscan charm. It is a privately owned villa, which has been in the same family for over 500 years. It was an amazing place, and we were lucky enough to stay there for a long weekend prior to our wedding in May 2019, to fully appreciate the rooms and décor. It was a great way to map out our wedding."
"We knew we made the right choice of venue because it was private, away from tourists, and we hired out the whole space so our close family and friends were able to stay on site. The venue offered different spaces, which were completely distinct, therefore enabling us to host multiple events at one location."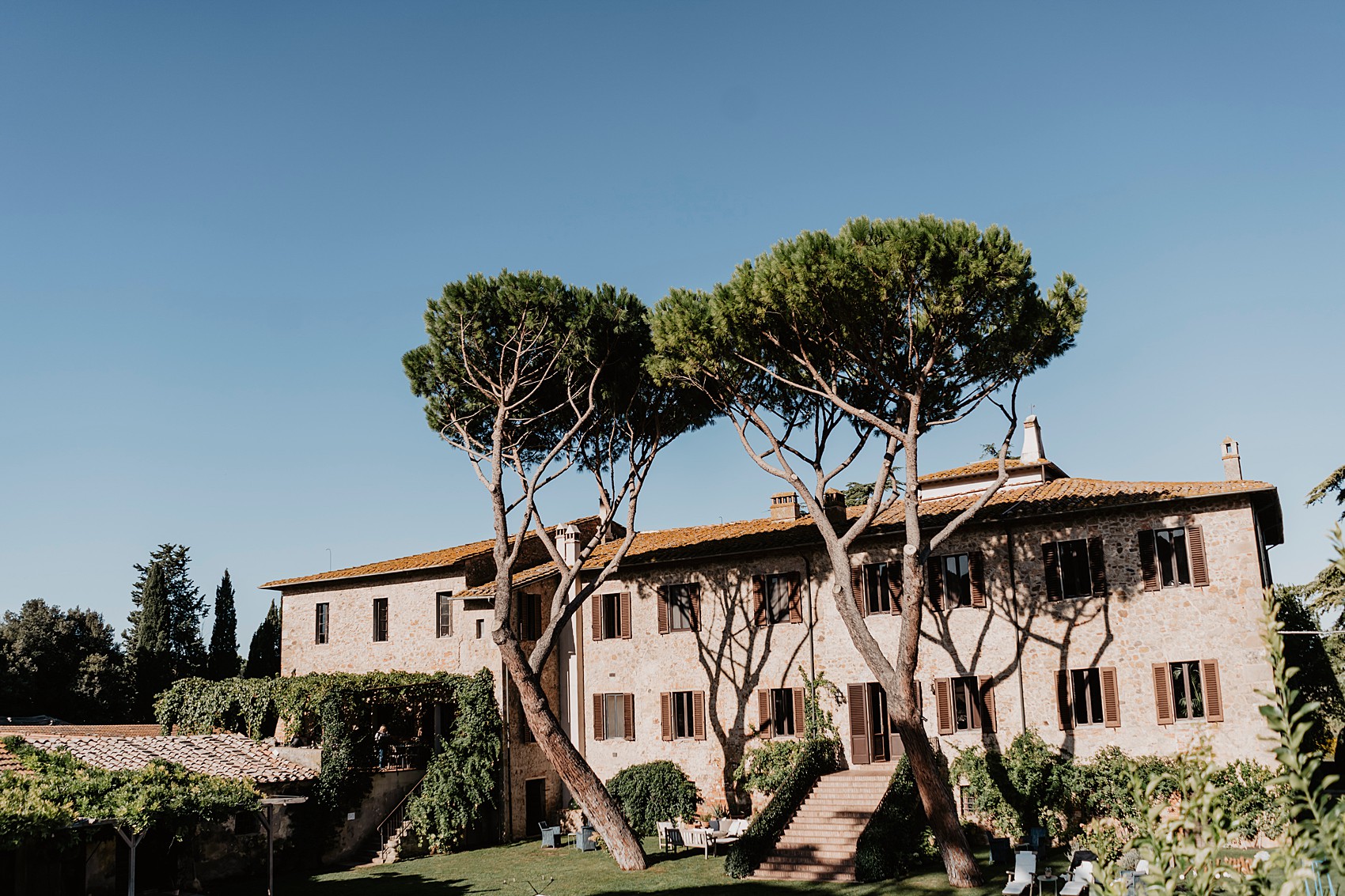 "We really strived to ensure that as a couple we were true to ourselves, and our wedding was an illustration of that. We didn't want a cookie cutter Indian wedding, we wanted it to be about Charles and I – from the outfits to the food and the music, our wedding was an amalgamation of what makes us unique."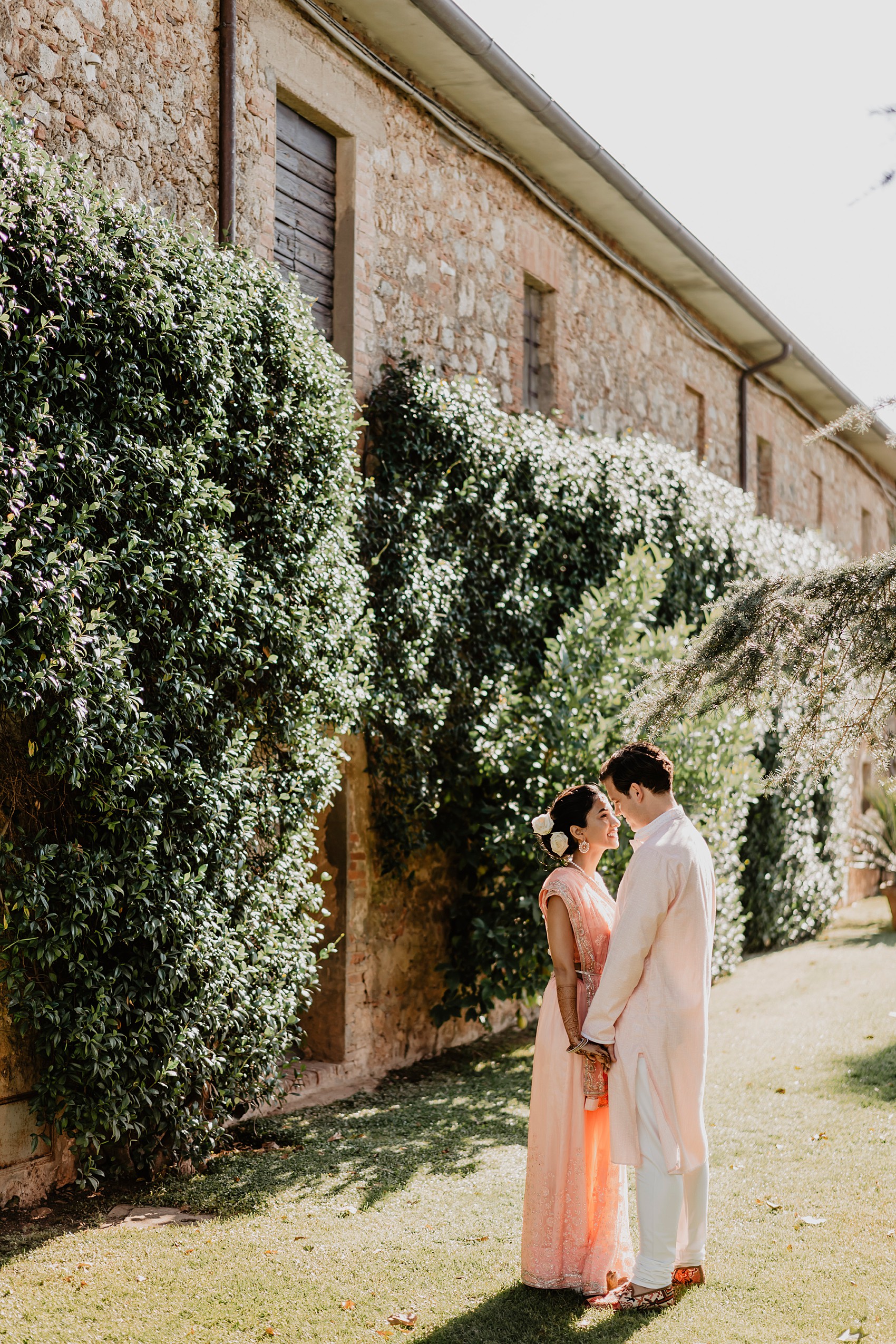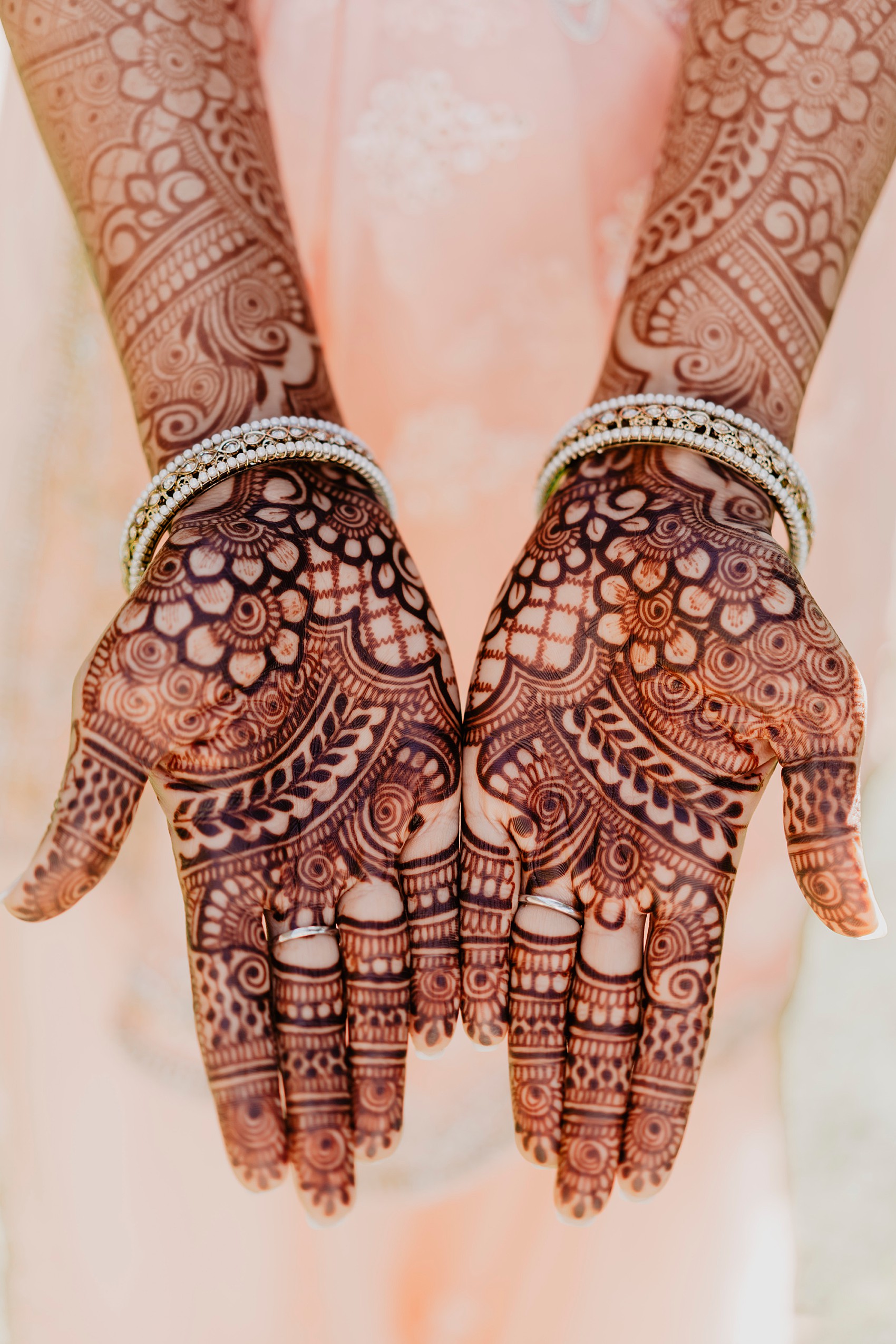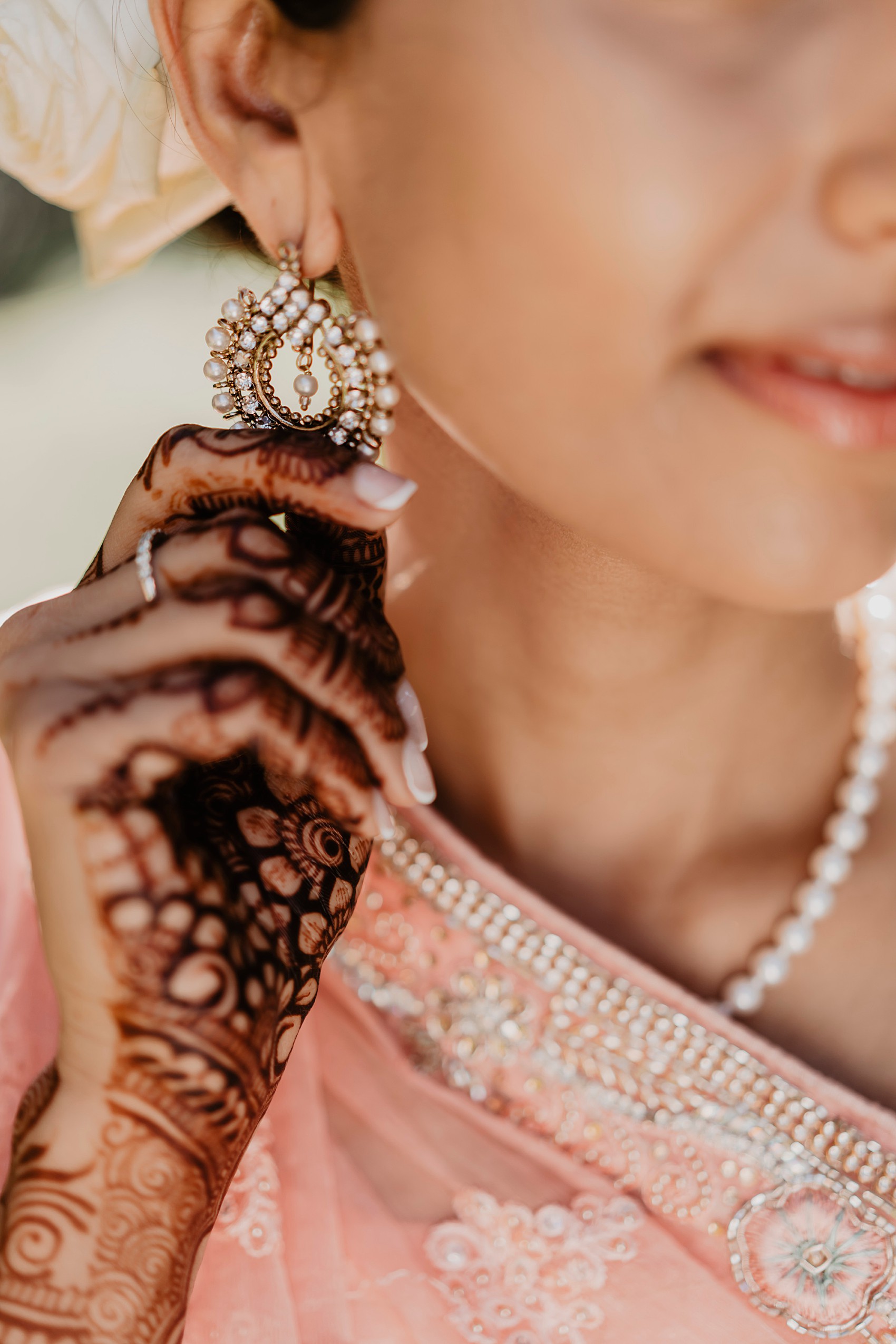 On their arrival day, Nimisha and Charles hosted a dinner with family and friends at a nearby hilltop restaurant. The next day, they held a joint Vidhi/Pithi/Haldi ceremony, which was followed by an evening rehearsal dinner and a poolside Mehendi party.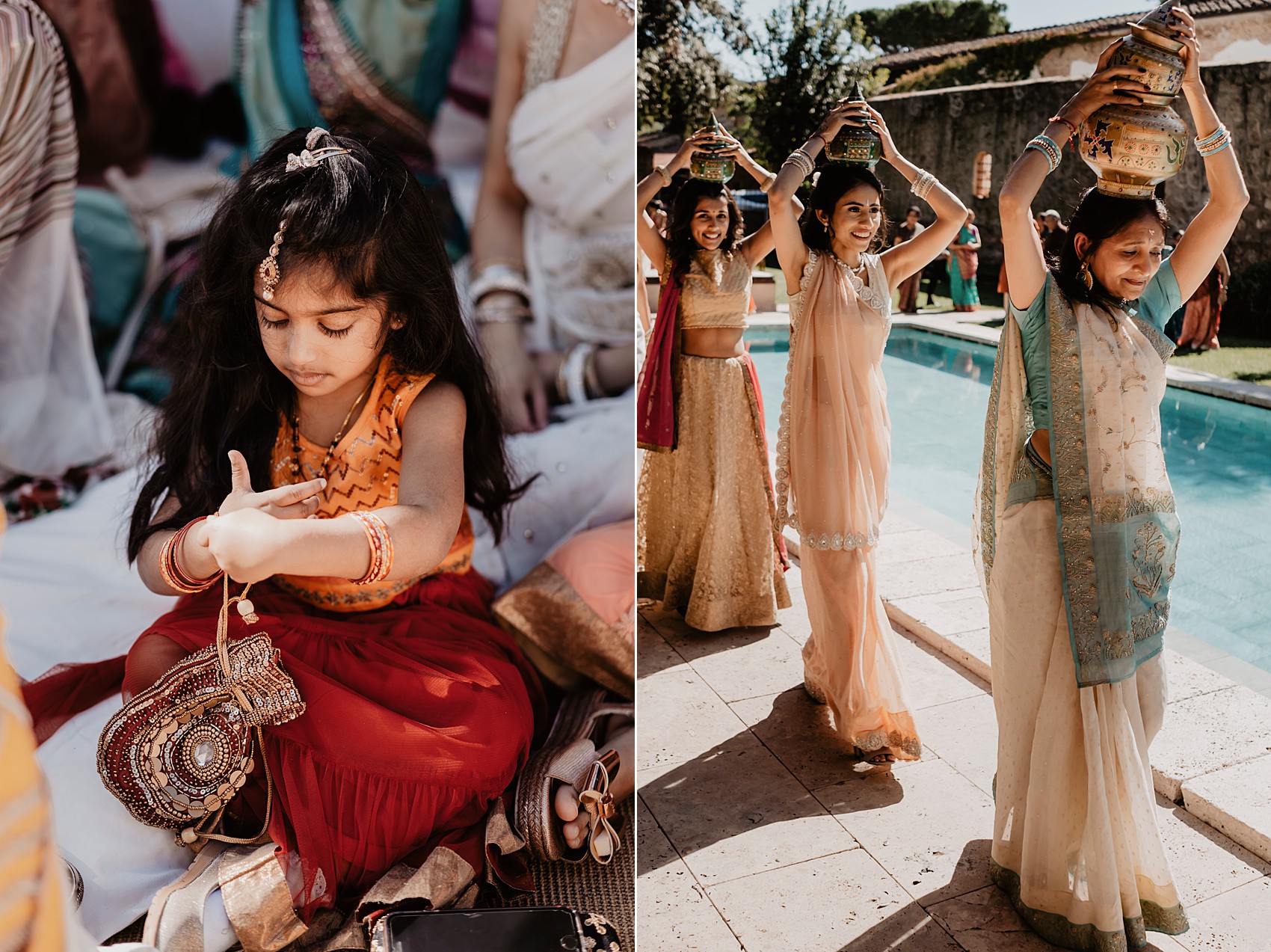 For the Vidhi, Pithi and Haldi ceremonies, Nimisha wore a beautifully embroidered shell pink sari, and Charles wore a kurta from JadeBlue.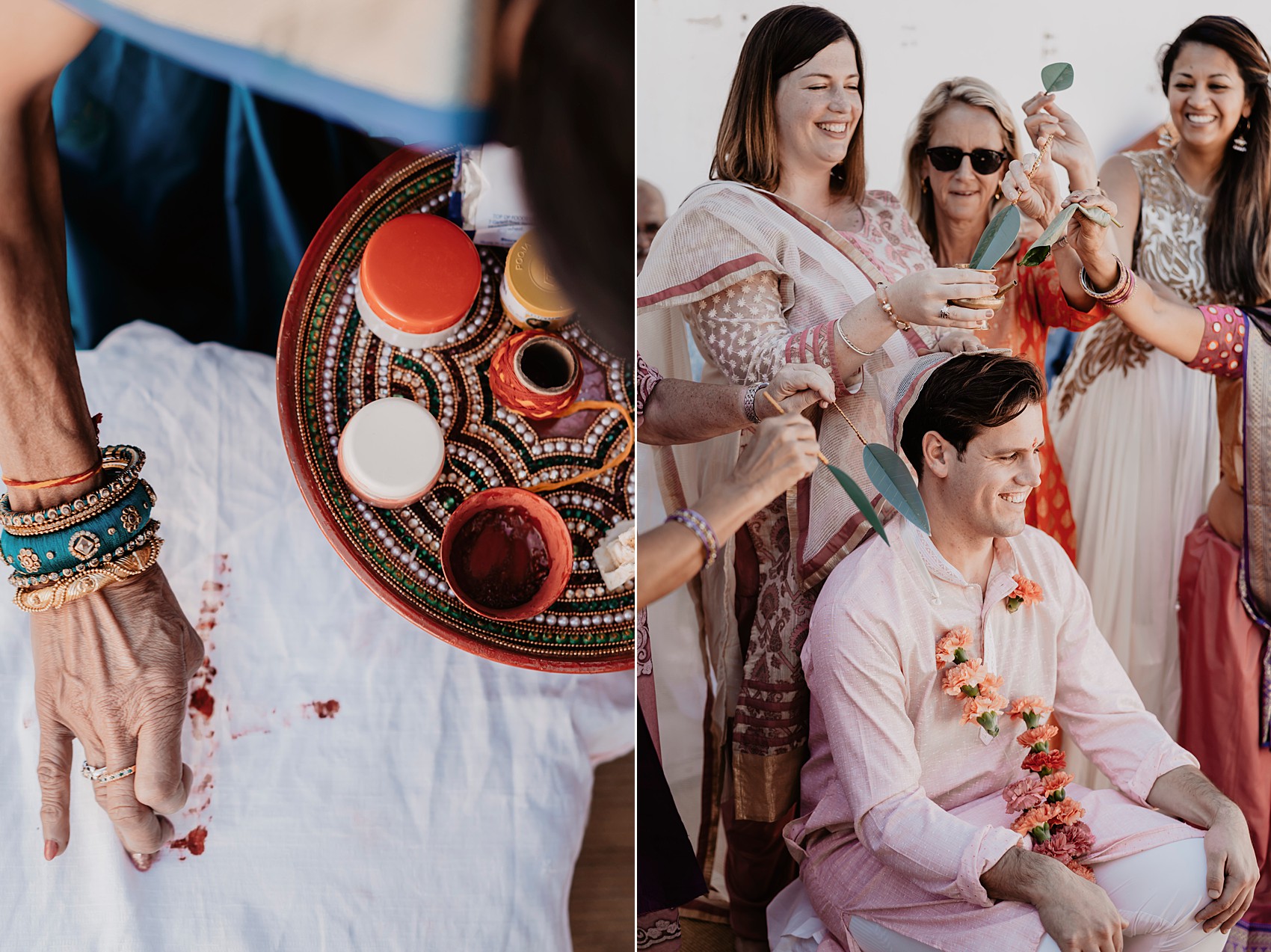 "The Friday Vidhi ceremony was very simple and rustic. The ceremony was conducted in a beautiful white and brick alcove within the grounds of the property. The seating and rugs were bamboo/rattan. The colour scheme was soft pink."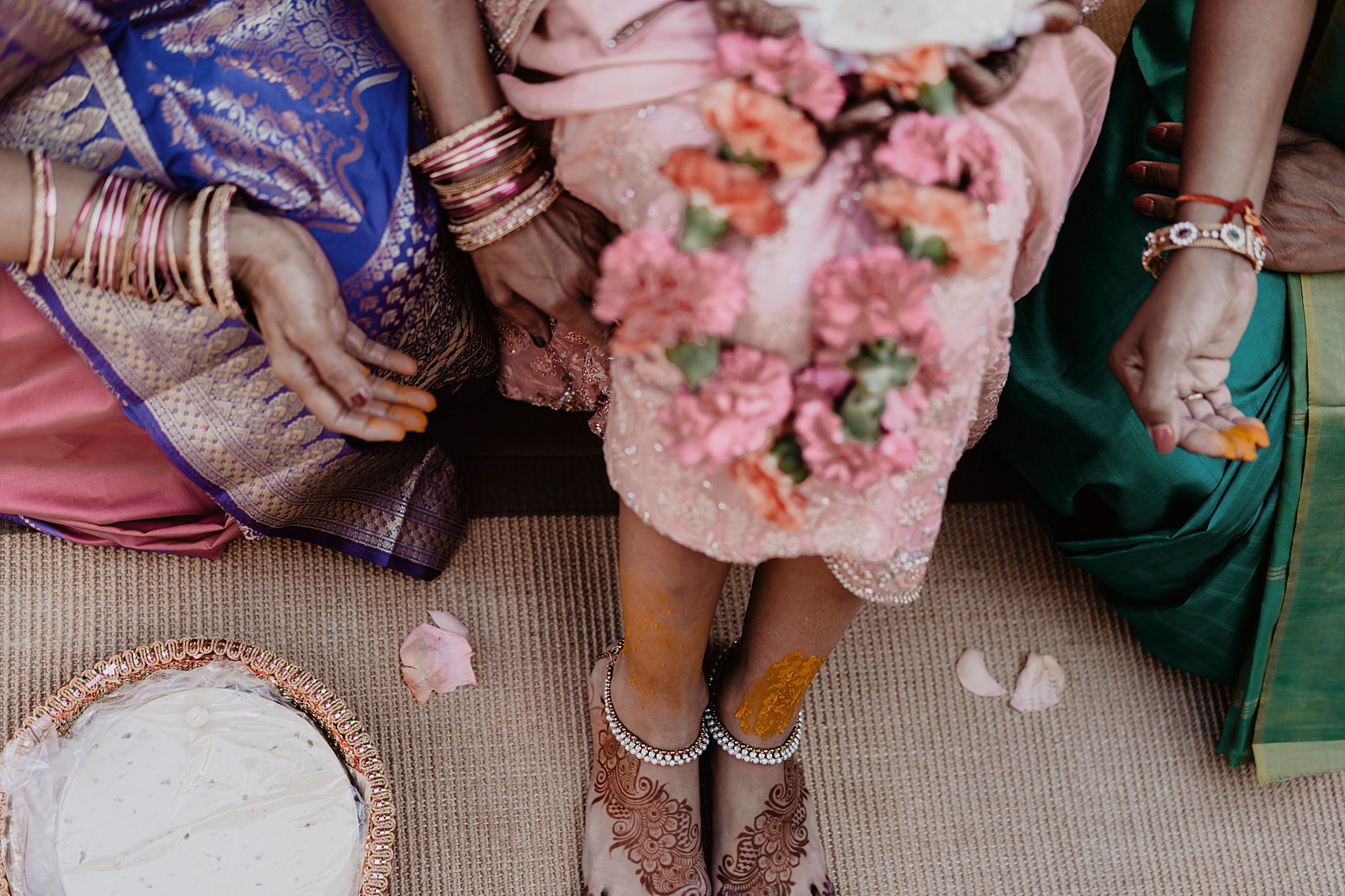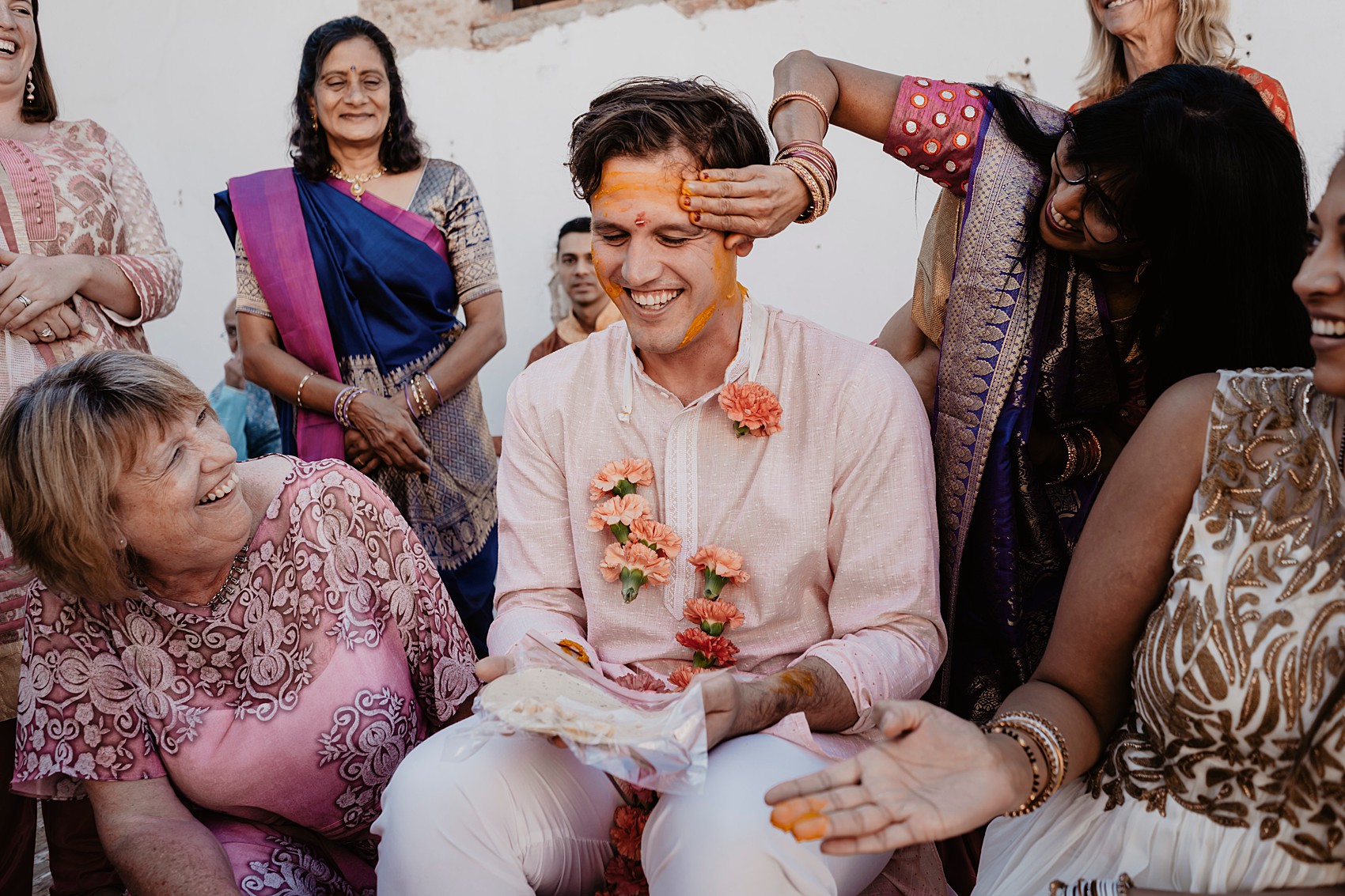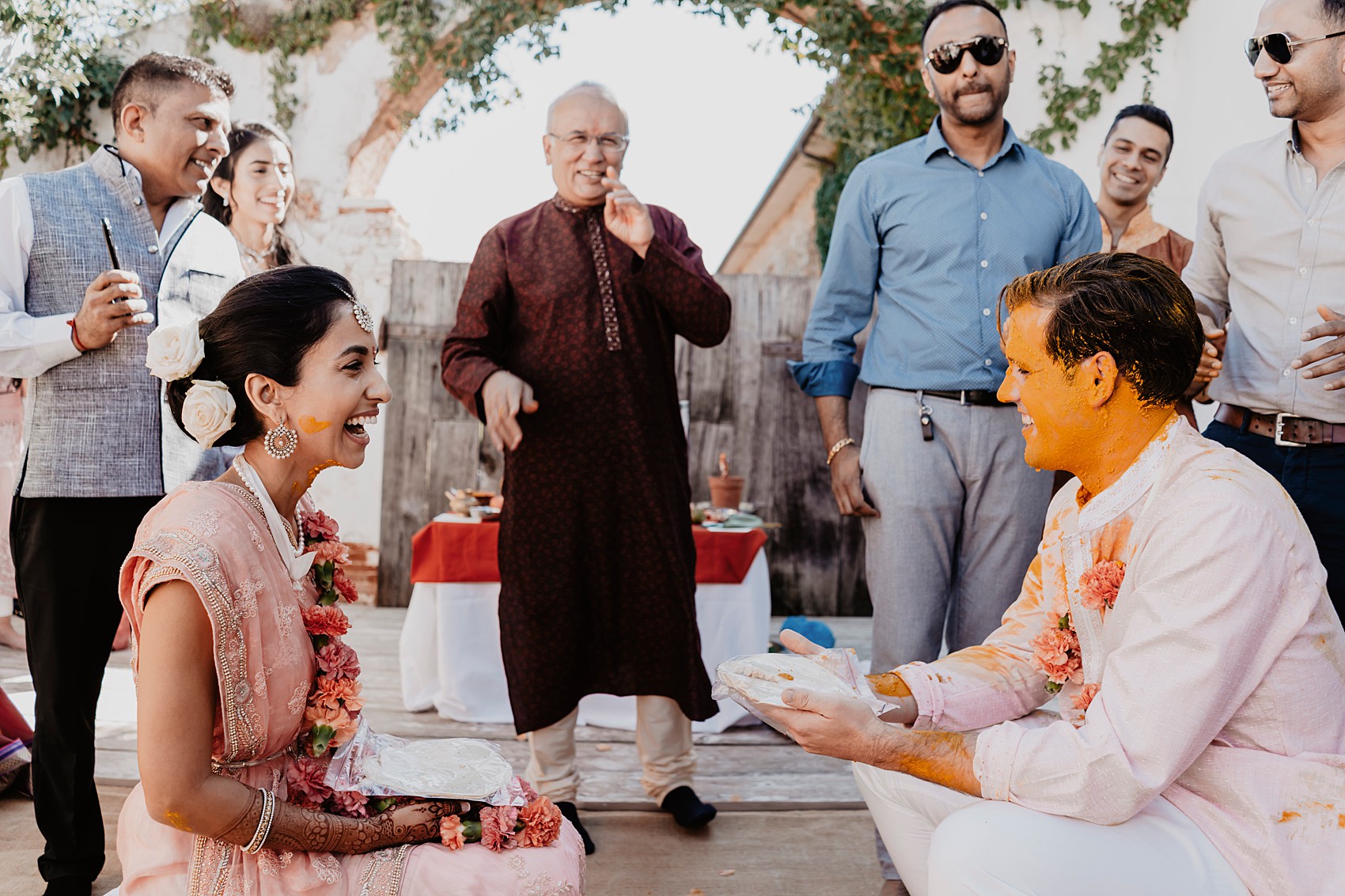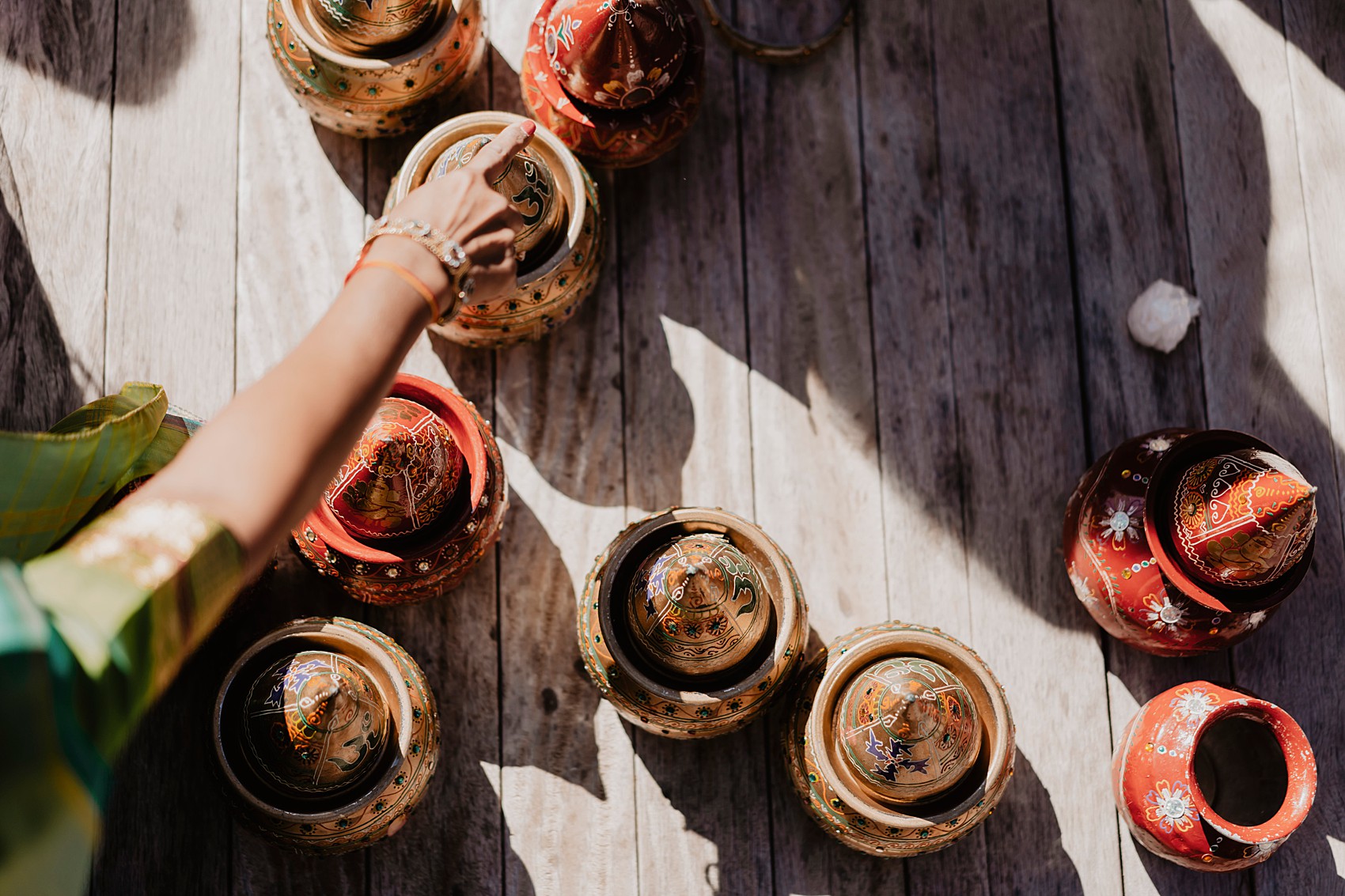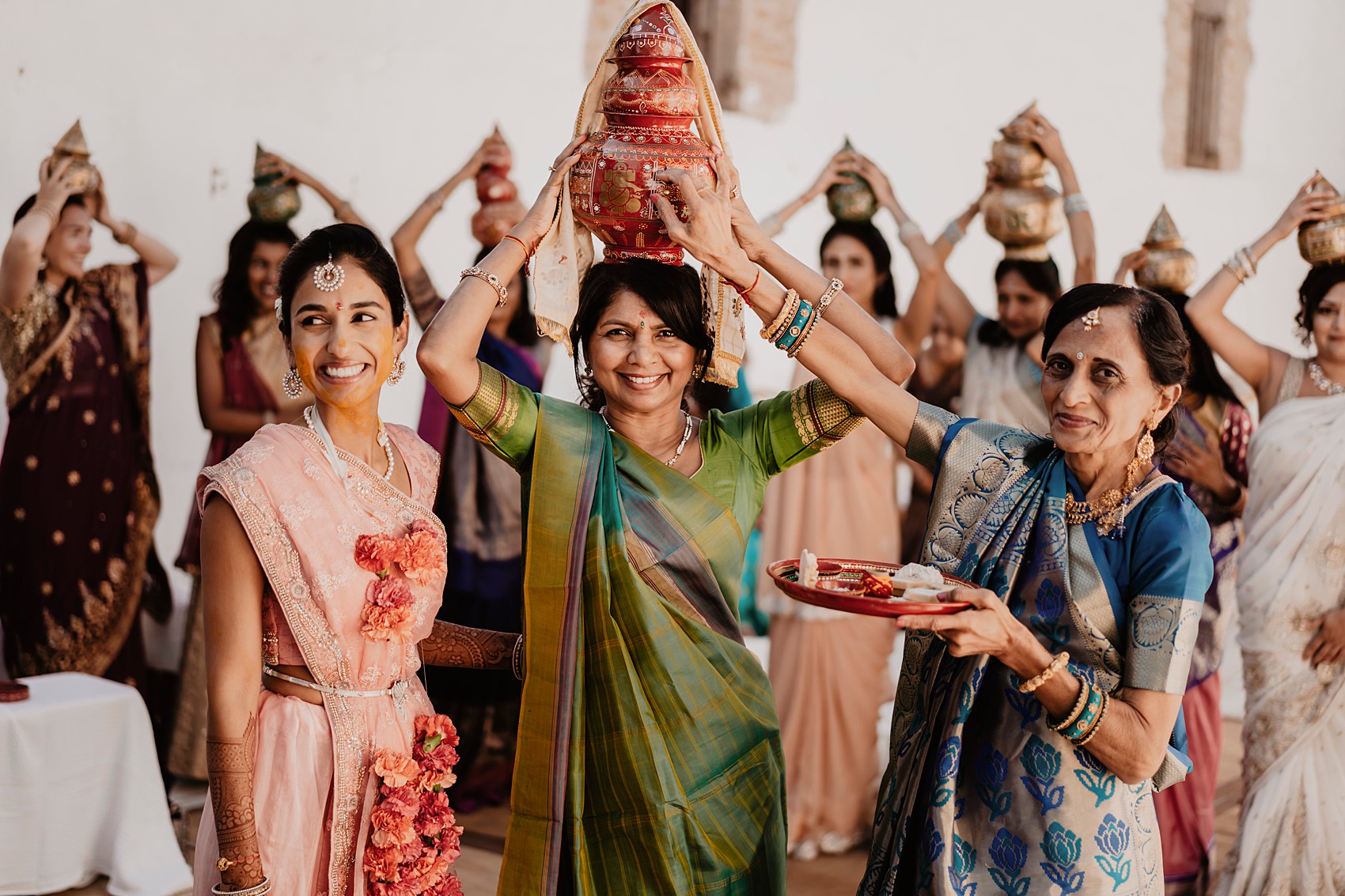 As evening fell, Nimisha changed into a long floral print skirt and top by Dolce & Gabbana.
"For the Friday evening décor, I didn't want to do the traditional Indian Mehndi night theme, but still wanted to keep it bright and vibrant. I decided early on that a Sicilian/Amalfi themed party would be beautiful, and would create the right vibe."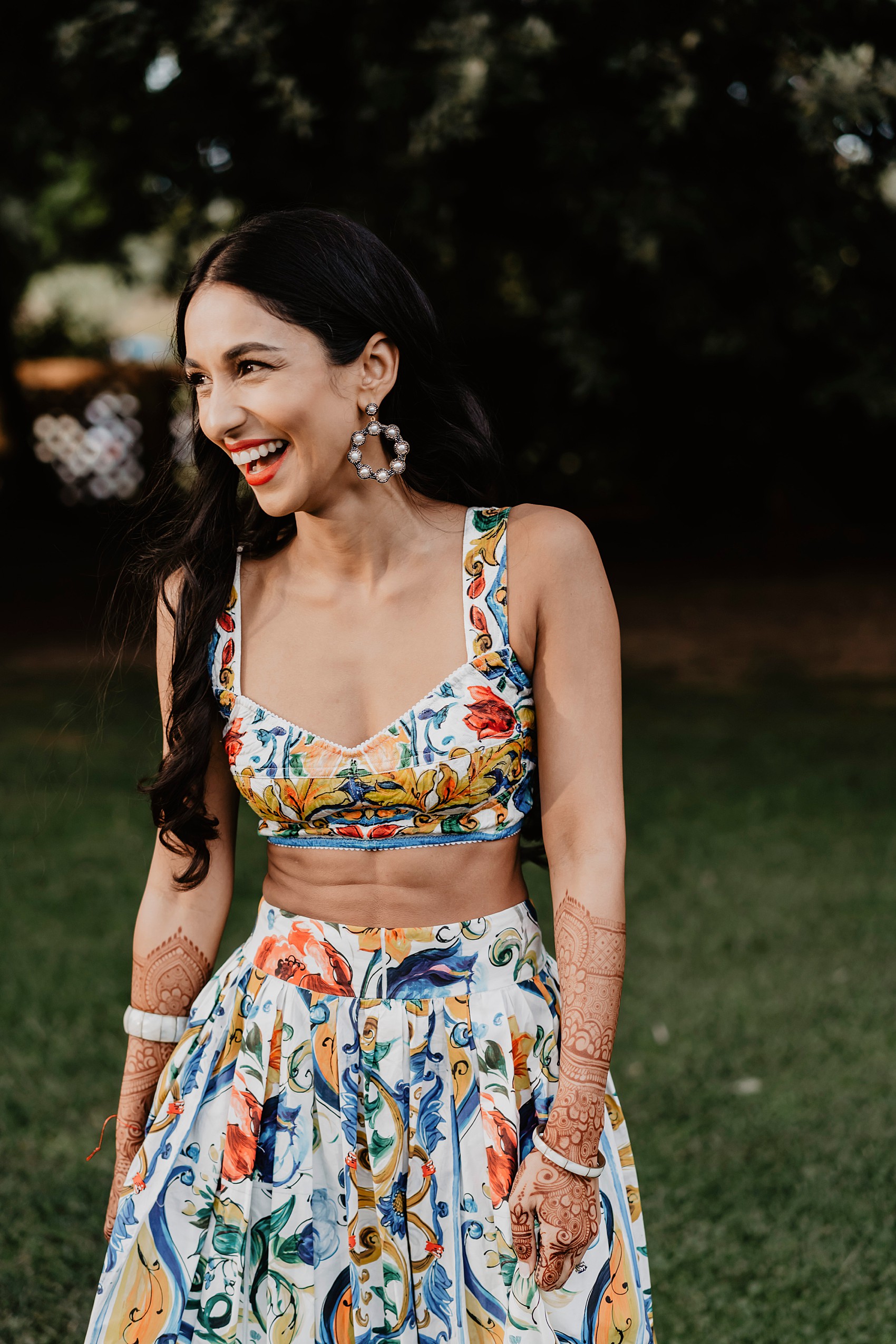 "The inspiration for this theme came from a holiday Charles and I went on to the Amalfi coast a few years ago, so decided that for the Mehndi evening we would bring a bit of Amalfi to Tuscany."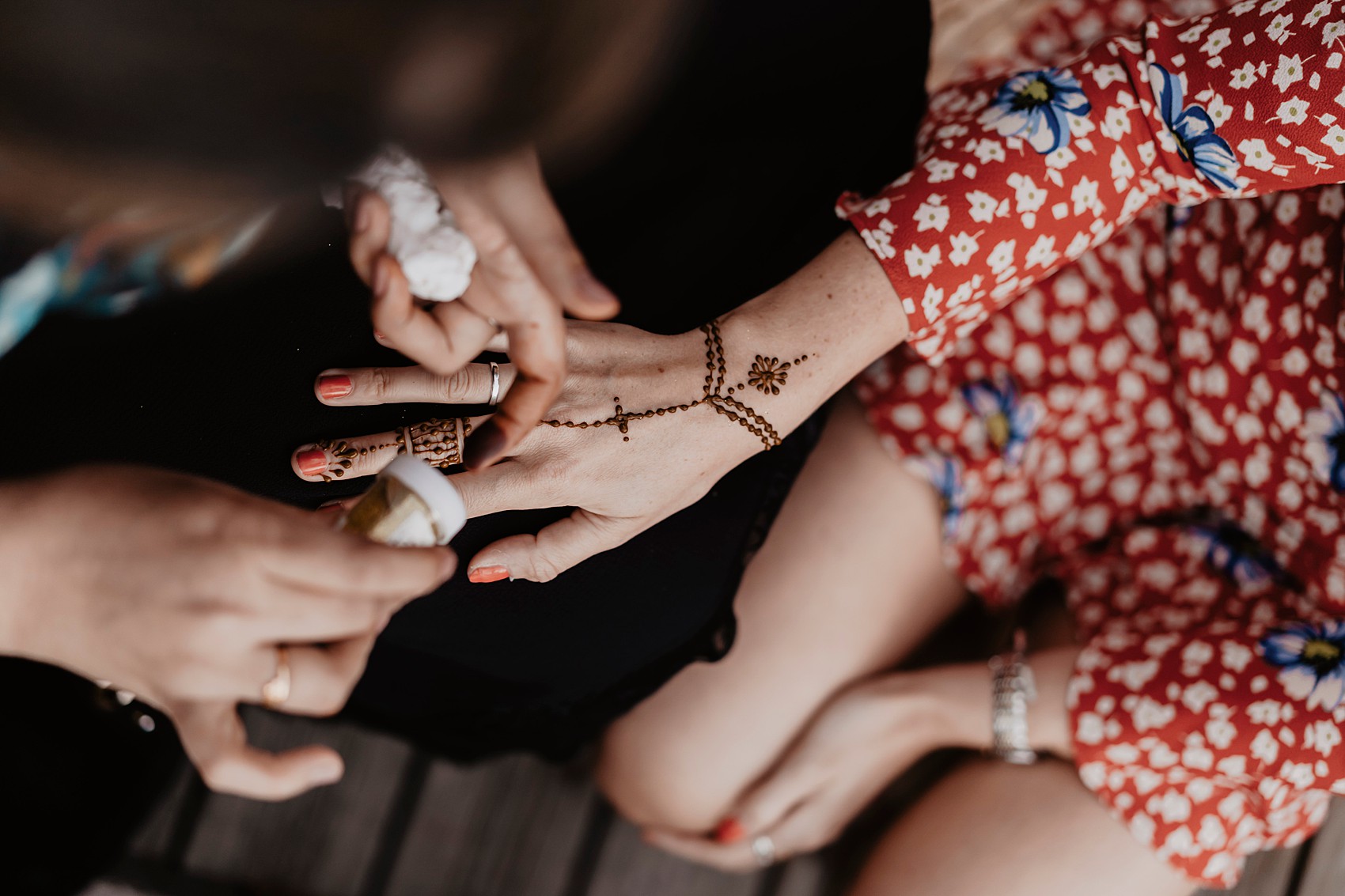 "My Mehndi outfit formed the base of the concept, and we worked the décor from there. The seating was rattan furniture with lemon and blue majolica cushions – even our outside bar was decked out in the theme."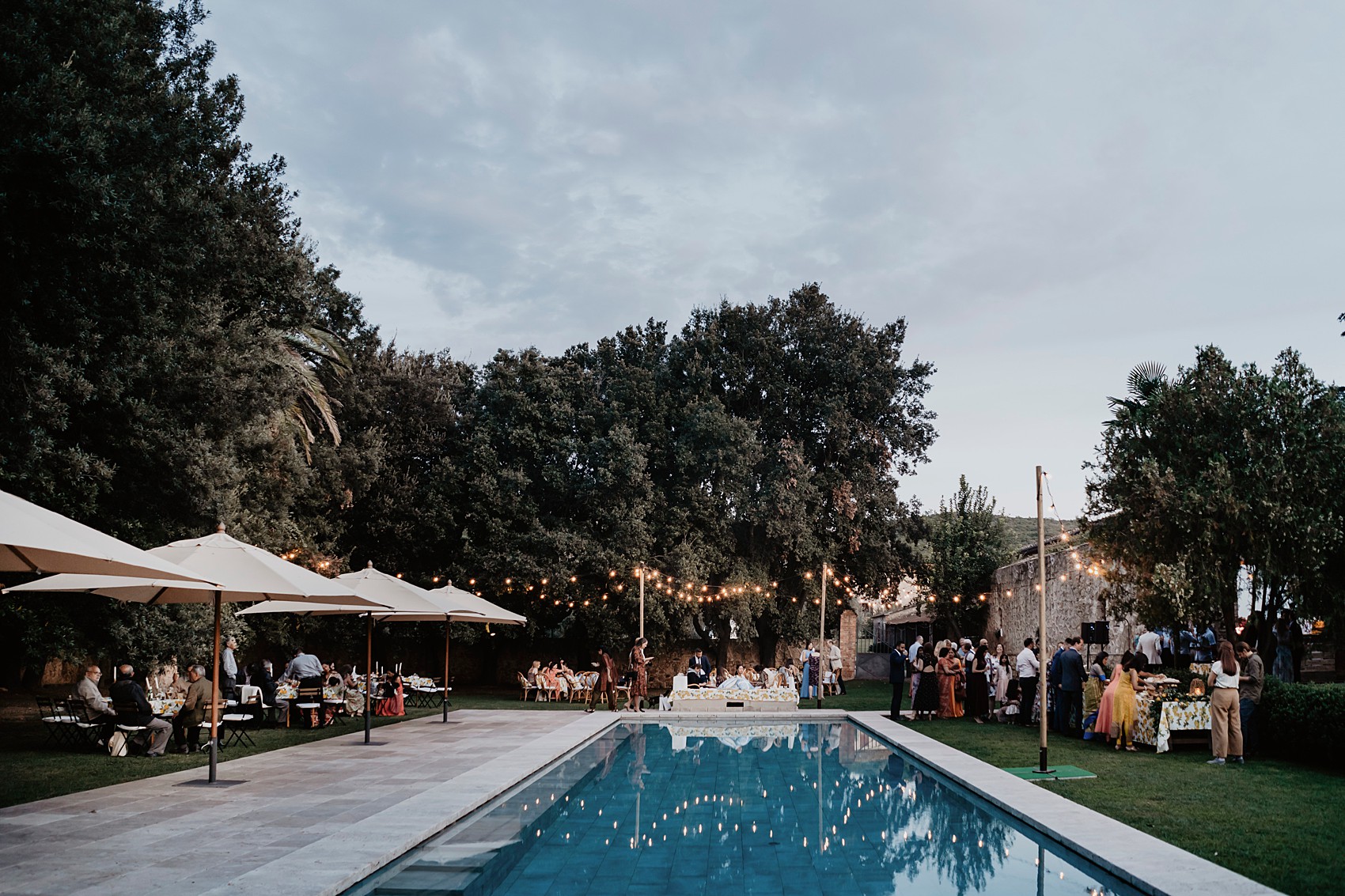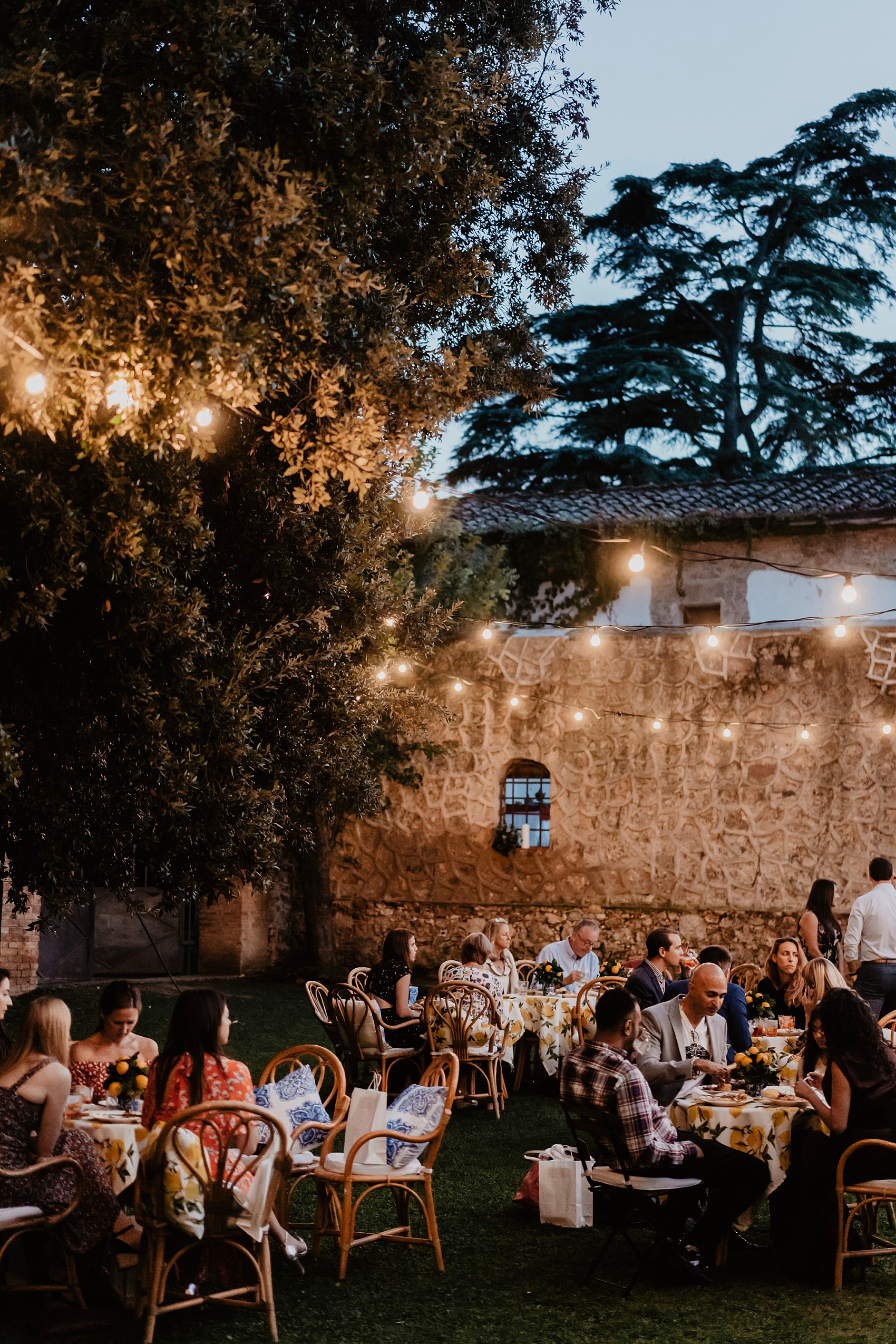 "A highlight has to be all the dancing! It was two crazy days of partying, and has to be the best party I have ever been too. Our friend Harpal played an incredible Dhol set for our Mehndi, which kicked the wedding celebrations off."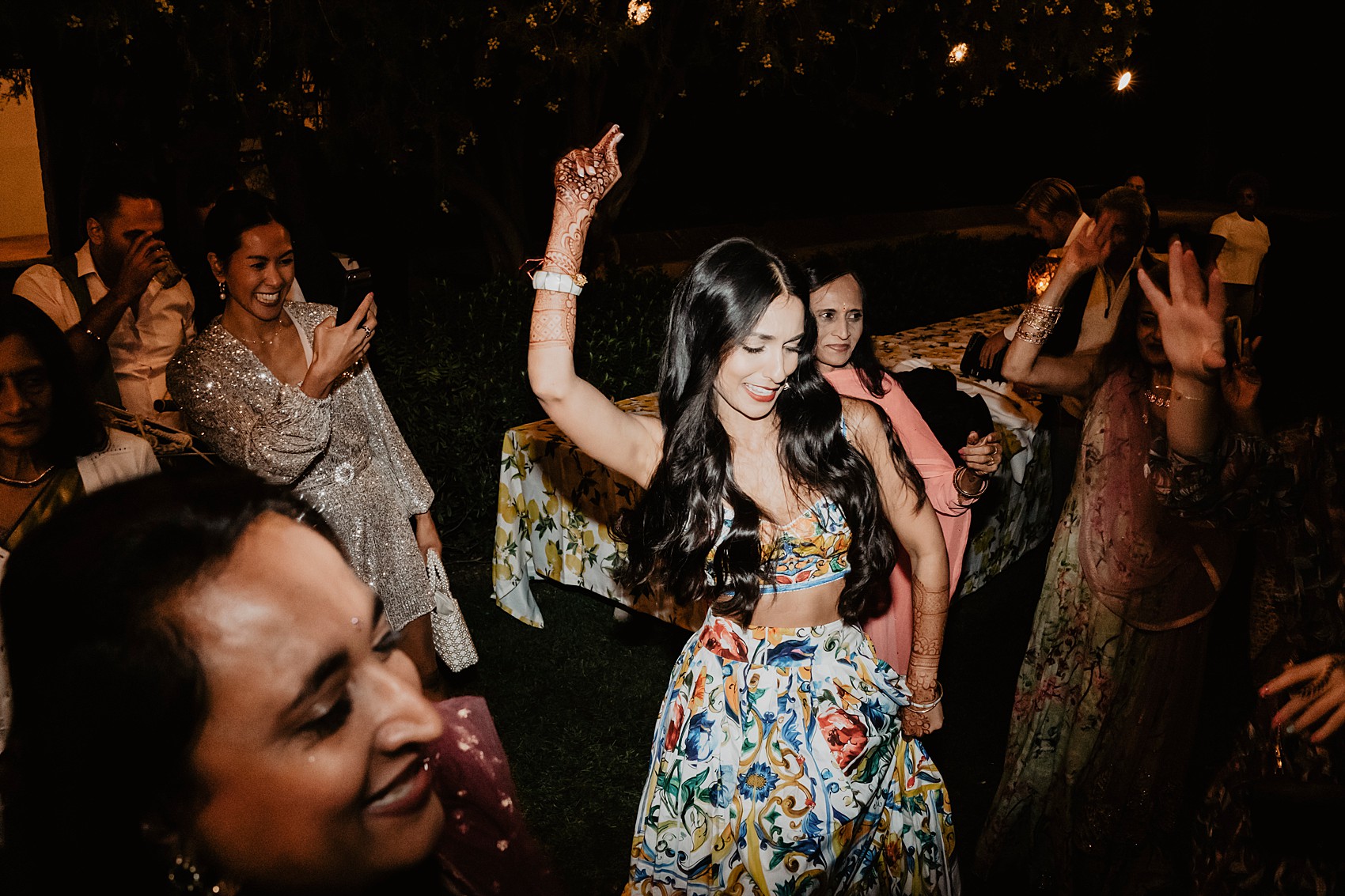 Nimisha created an exquisite suite of monogrammed stationery, illustrated with lemons, flowers and cypress trees, and at the Mehndi party, guests were given welcome gift bags with personalised treats and notes, as well as olive oil and Italian sweets.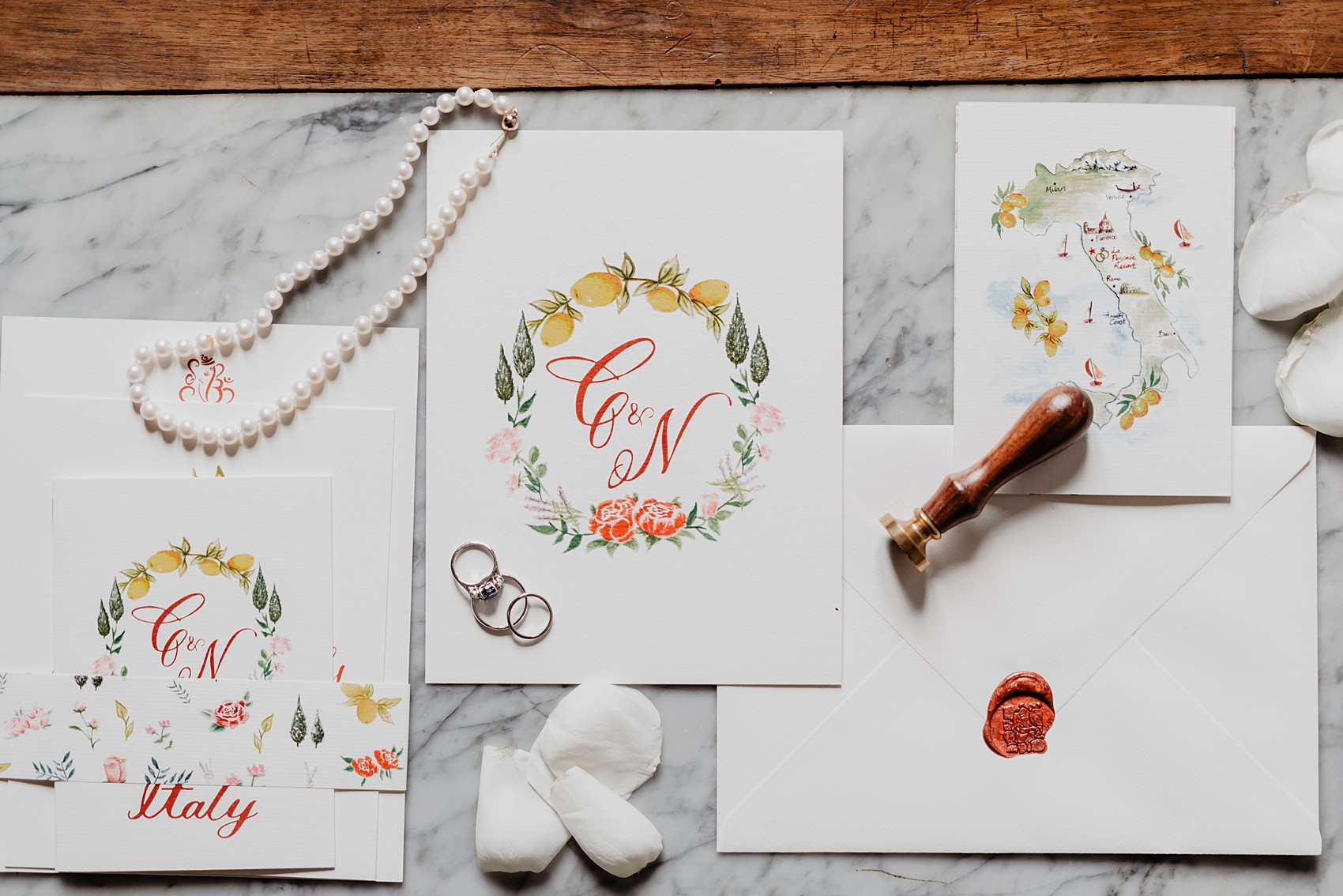 "My make-up artist, Tamzin Cummings, I had known for a few years. She is a senior artist at Charlotte Tilbury, and had done my make-up many times before, including our engagement party – so it made sense to get her involved."
"Plus she is super calm, and has incredible soothing energy about her. I knew she would make me relaxed on the wedding day."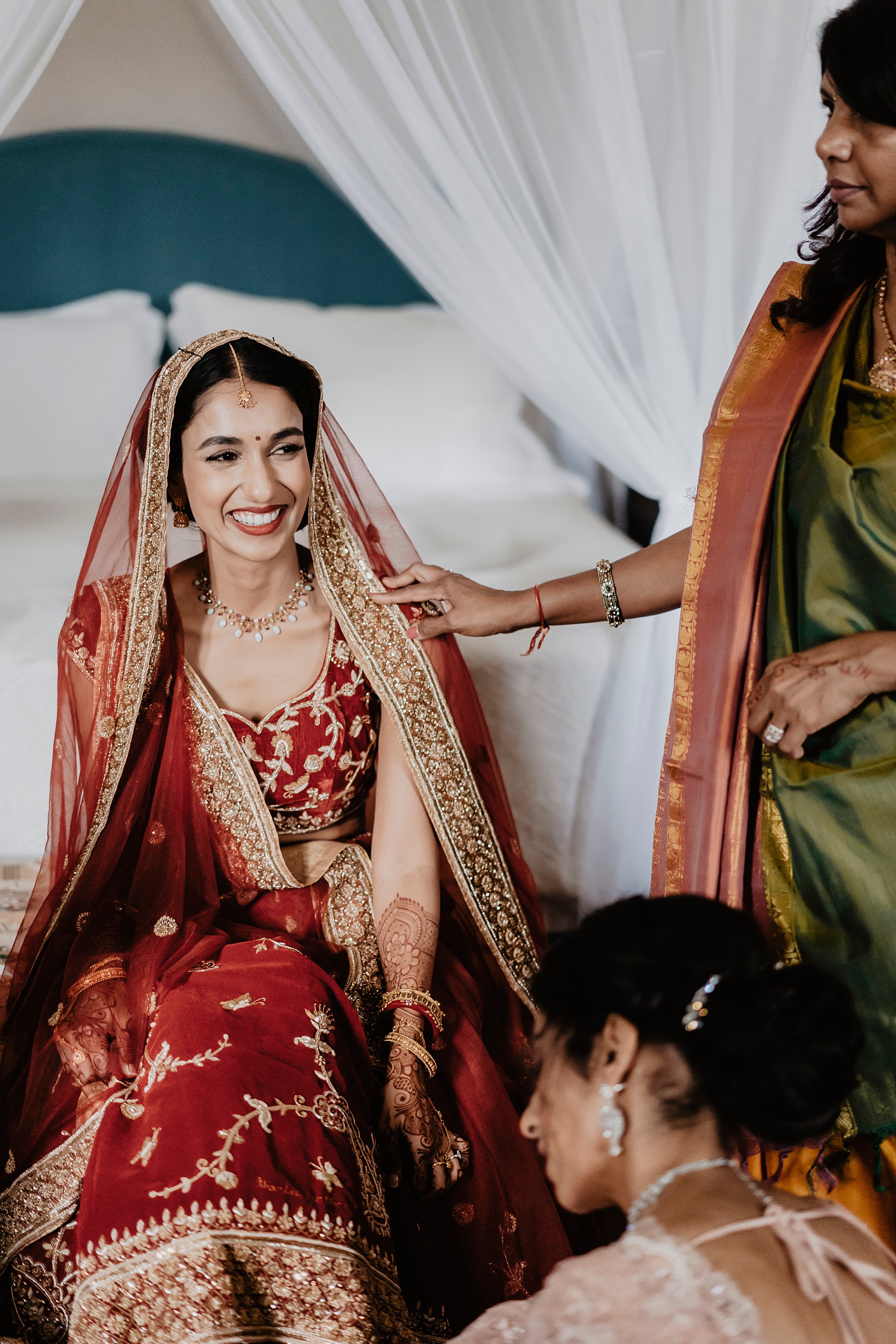 Nimisha struggled to find a traditional outfit she liked for their wedding ceremony, but was able to design her lehenga and have it custom made by B. Chorosch in Mumbai.
"I spent a lot of time choosing and tailoring my outfits for the wedding day. Let's say a lot of thought went into them! My wedding jewellery was very special. I always wanted to wear real gold and precious stones."
"During the jewellery process, I thought it would be a great way to celebrate the women of my family, and pay homage to them by wearing family pieces. I wore my grandmother's, mother's and aunt's wedding bangles, earring and rings."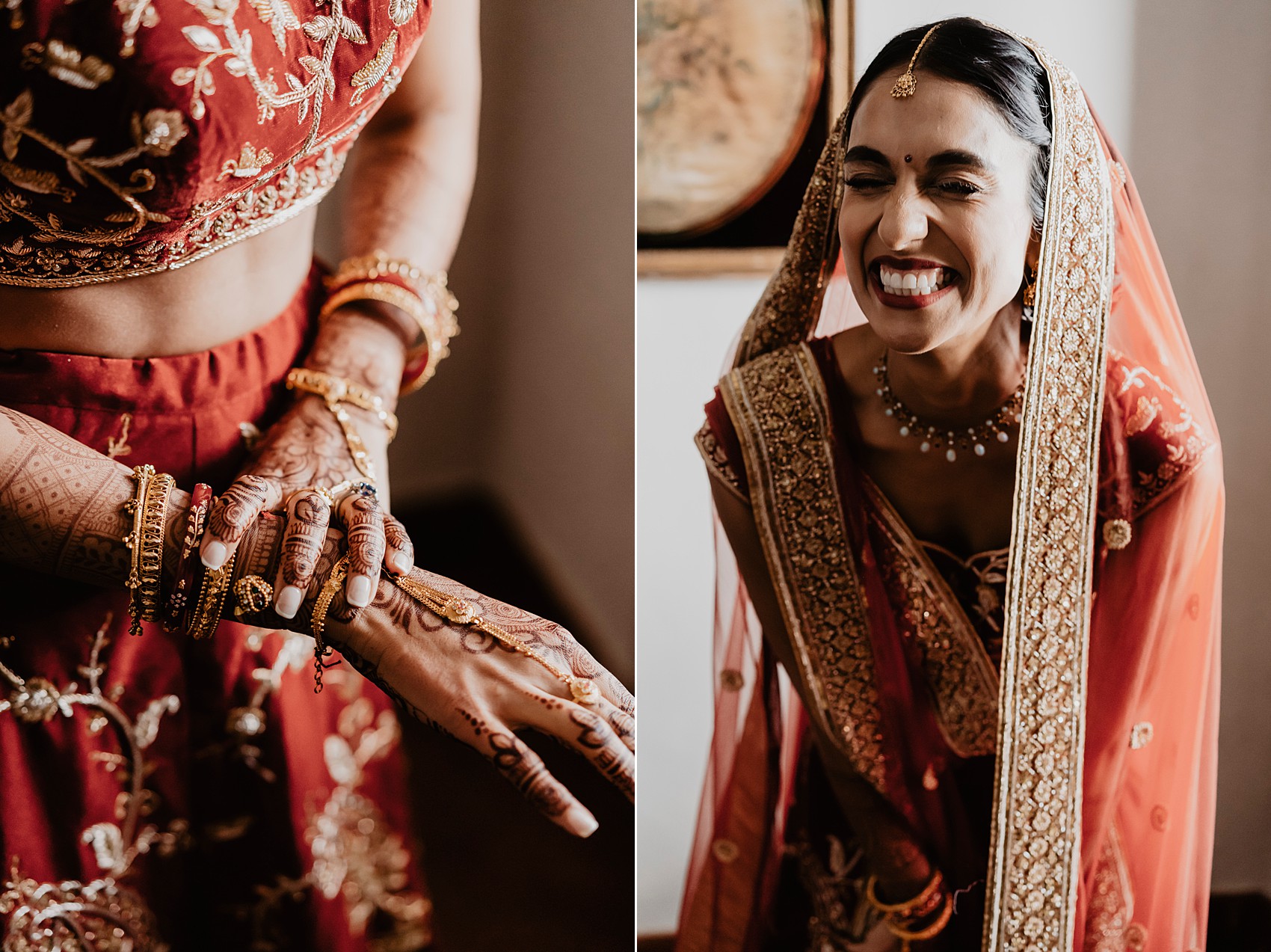 "Charles' family also gifted me his grandmother's opal and ruby necklace prior to the wedding. It was the first time anyone in his family has worn the piece, which dates back to the early nineteenth century, so to wear that on our wedding day was extra special."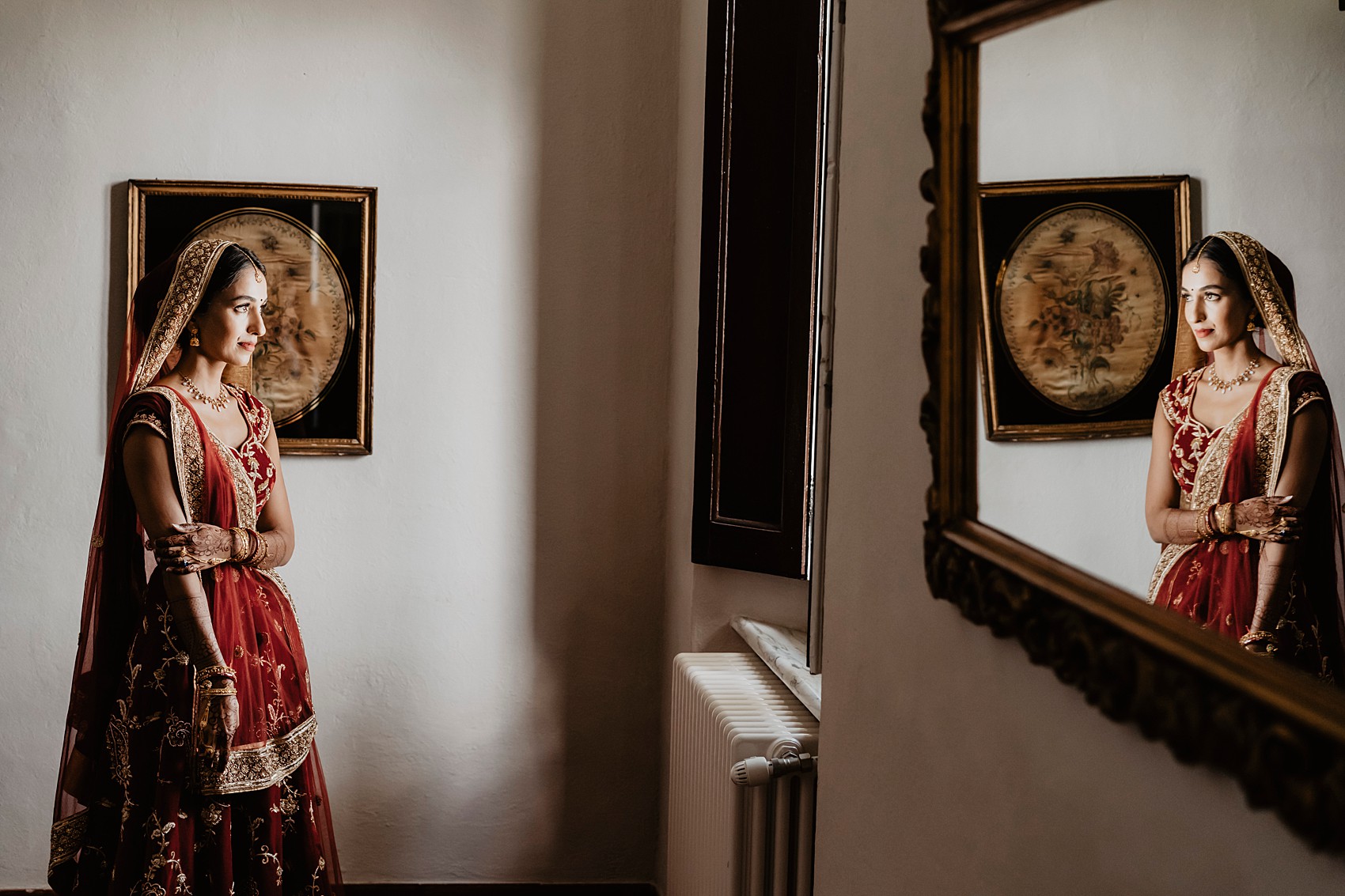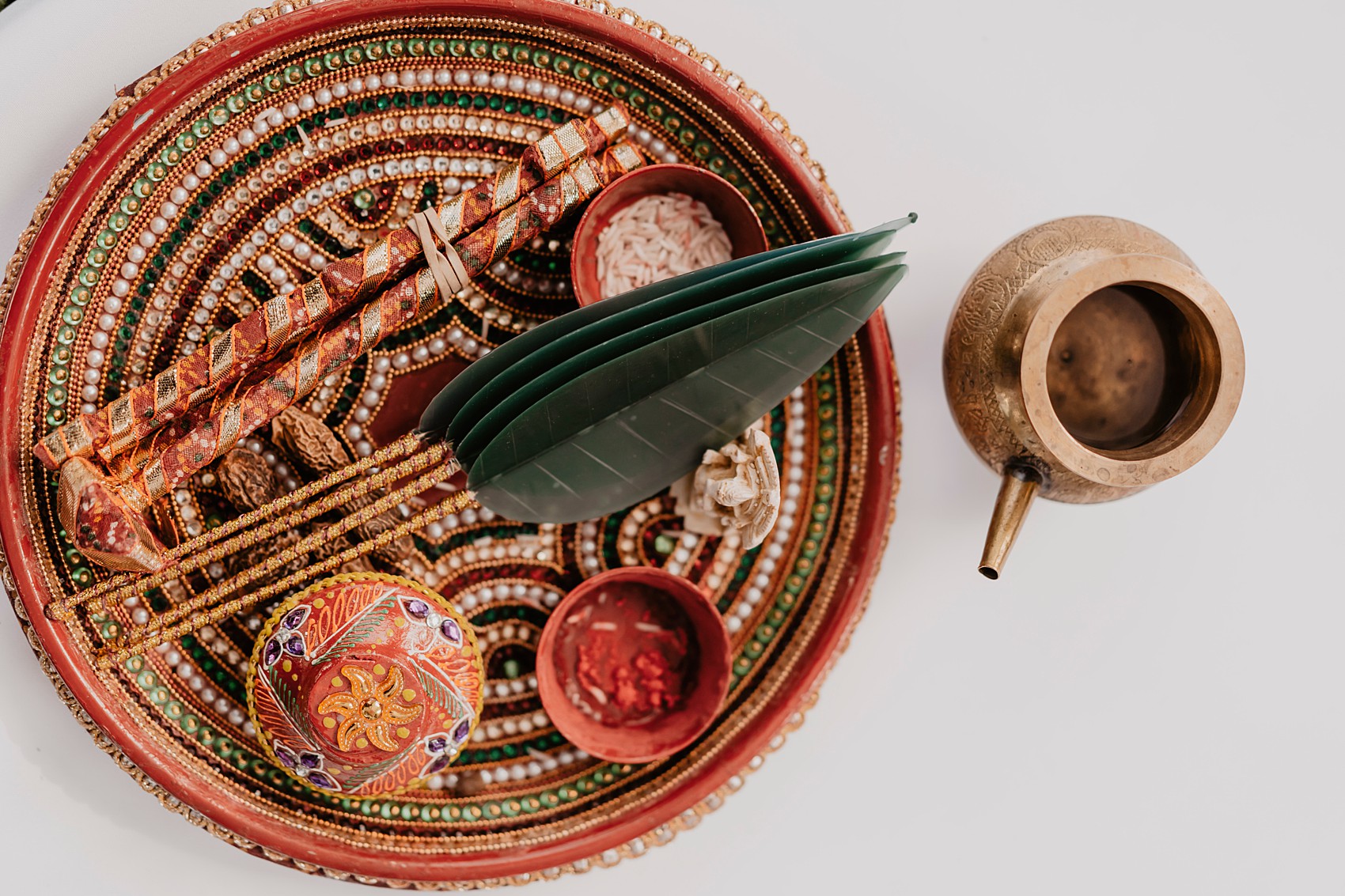 "We got married during Navratri, which is a holy time in the Hindu calendar, and which meant a lot of my family missed out on garba. My aunts didn't let that stop them though – they got everyone on the dancefloor for dancing garba, and not even to Indian music – it was to western music, which was even more incredible!"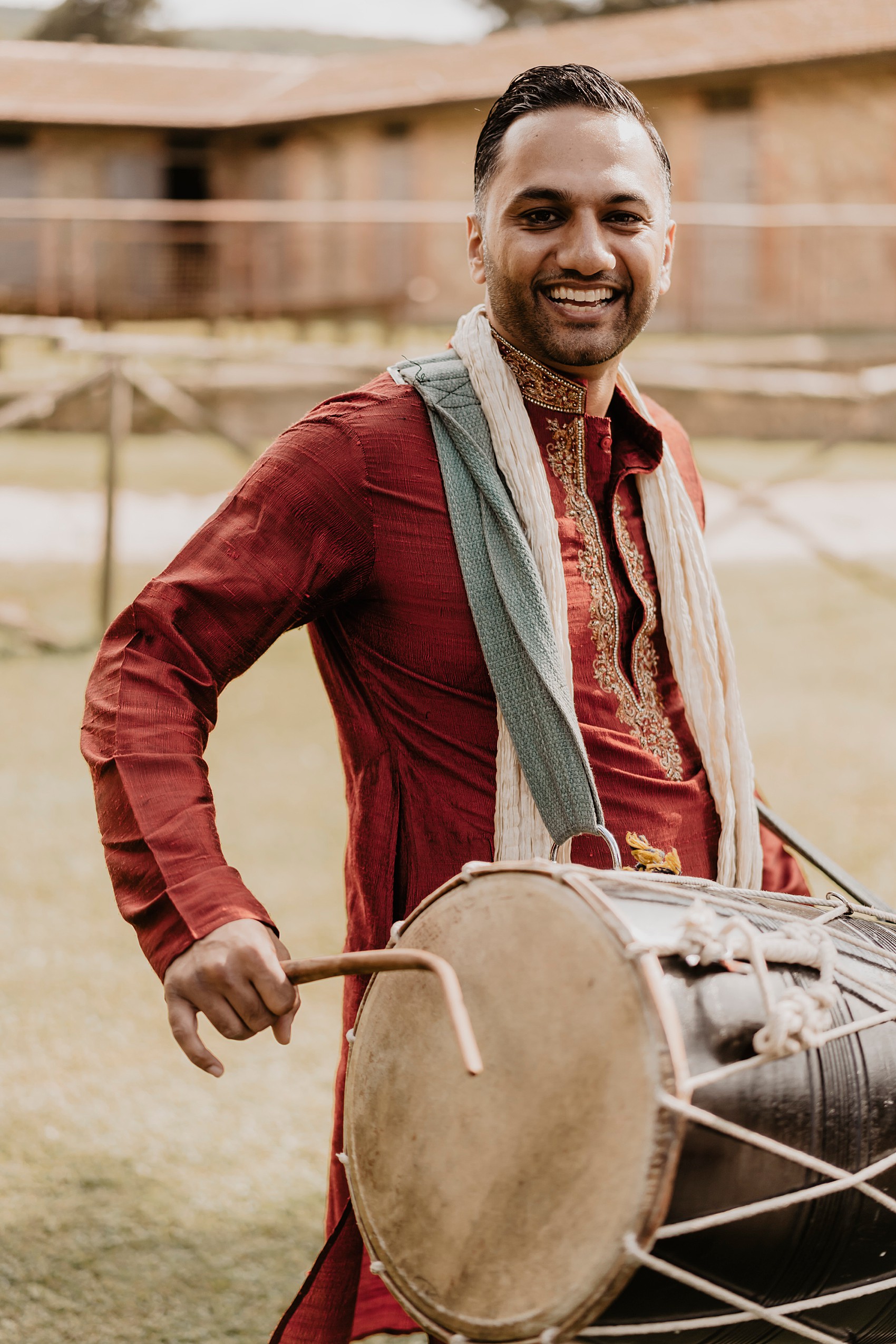 For her ceremony entrance, Nimisha wanted to keep to tradition, and was met by her two uncles (her mother's youngest brothers) at the bottom of the villa staircase. They then accompanied her part of the way, and she was then joined by her mum's eldest brother, who led her to the Mandap.
"For me, my mum's family has been a huge part of my upbringing, so that moment was a really special moment for them, as I was their first niece they had walked down the aisle."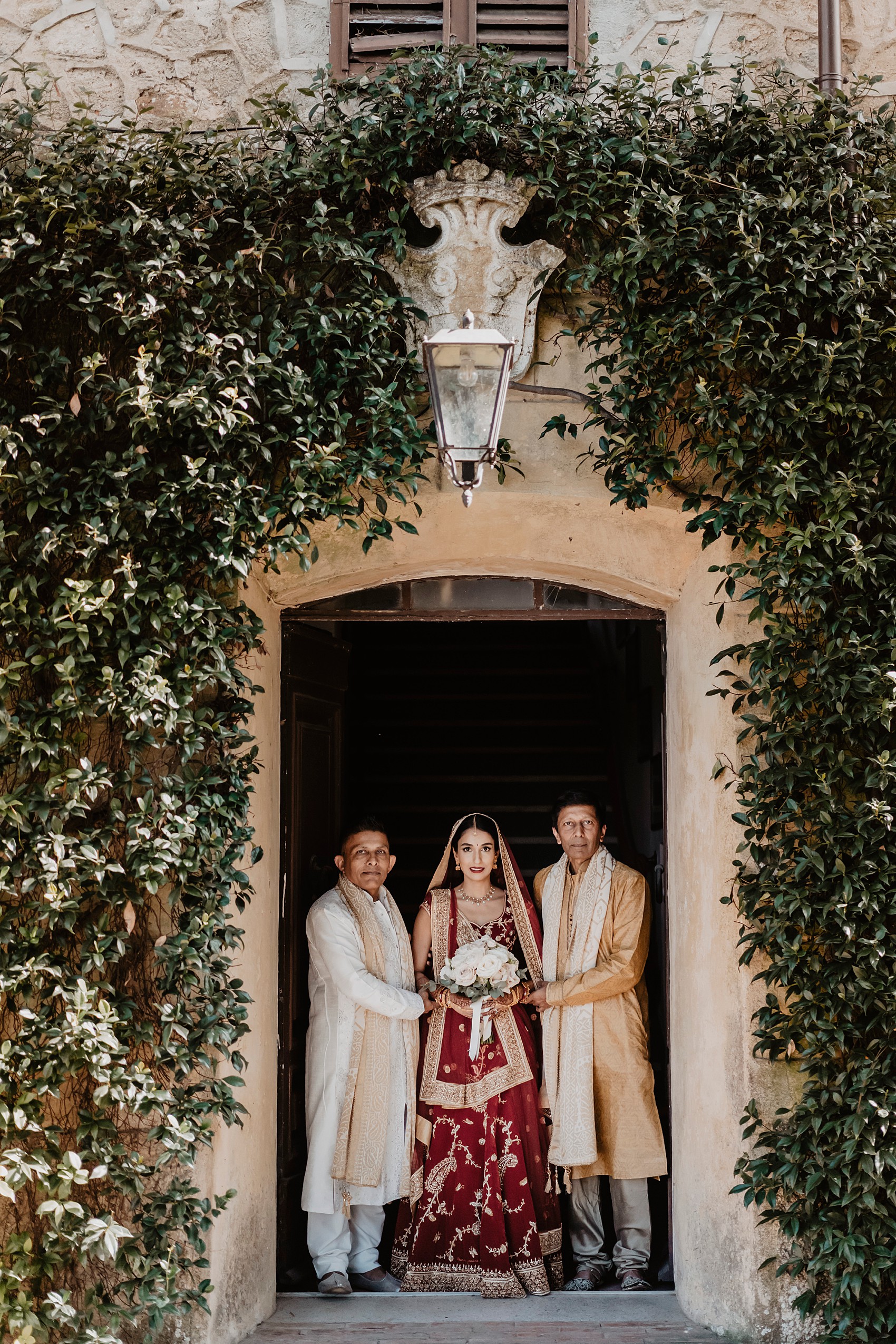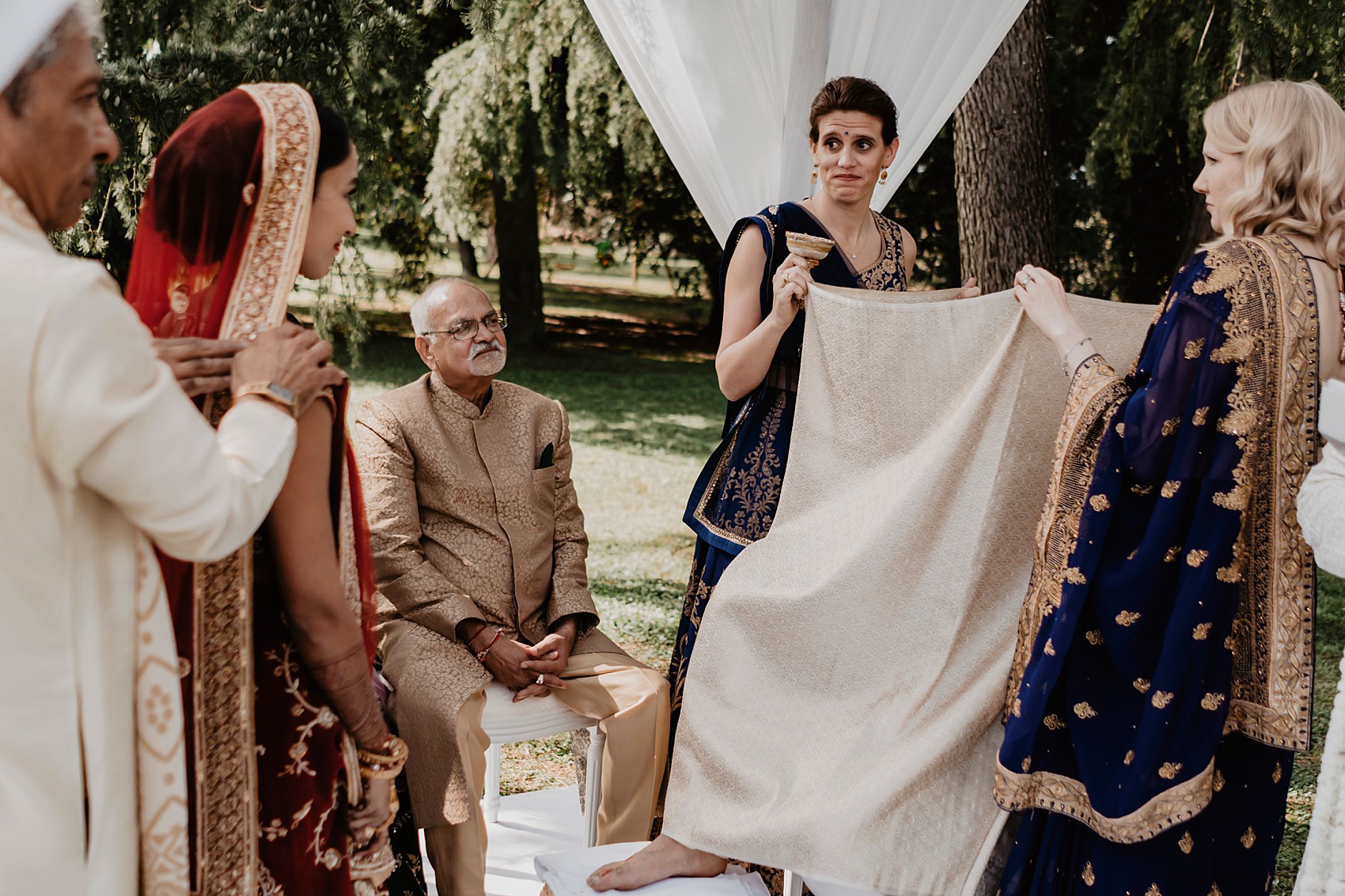 The couple tailored their ceremony with the help and support of their priest, Rajubhai Pandya.
"We wanted something traditional, informative and exciting for people to enjoy. I also created very detailed orders of service, therefore everyone could follow what was going on."
Nimisha was supported by her sister as Maid of Honour, and her closest girlfriends as bridesmaids, each wearing a handmade sari.
The colour palette for the ceremony was white, with accents of green and soft pastel hues, which were reflected in the lovely floral arrangements on the Mandap, and at the entrance to the aisle.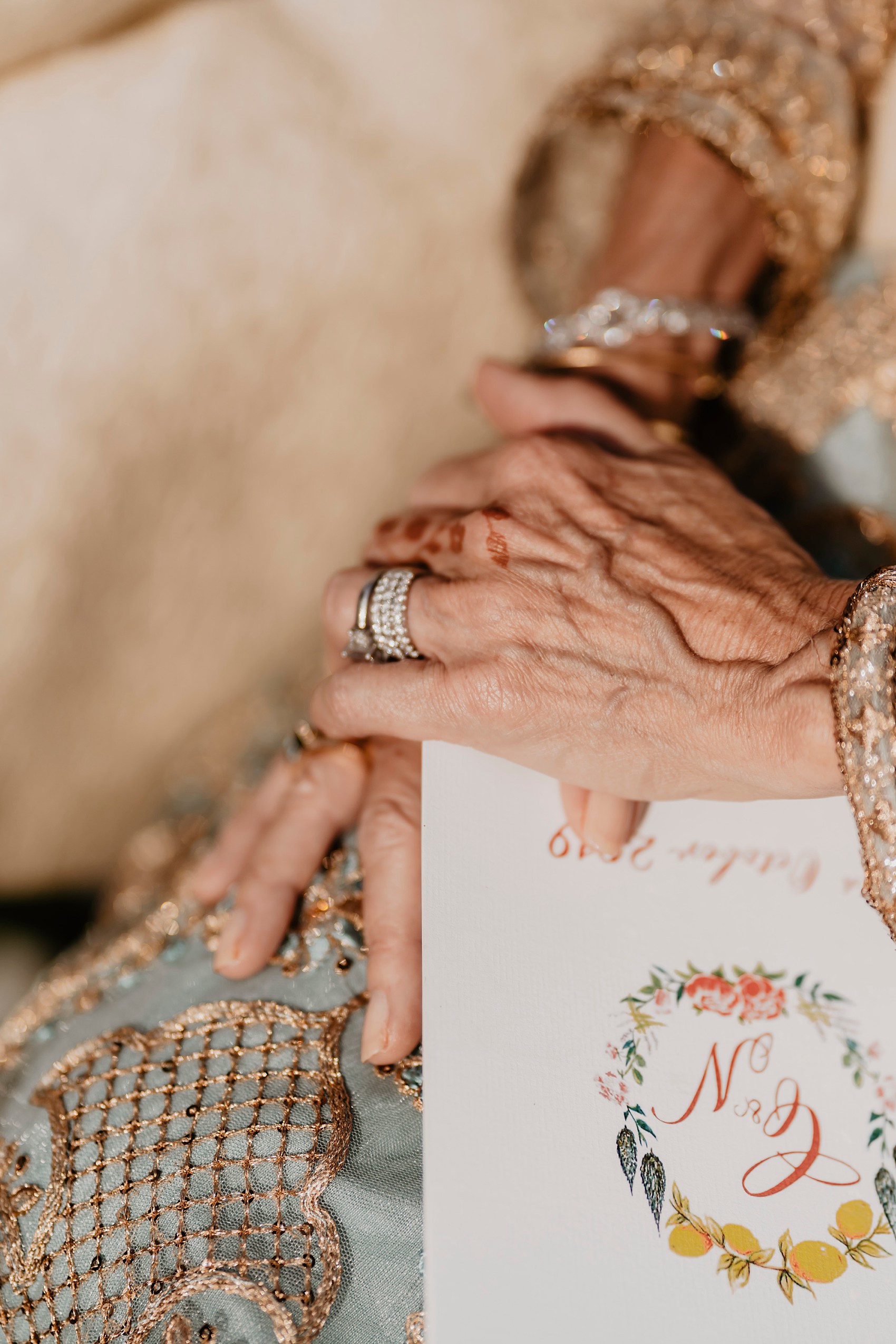 "These were fully styled by Flowers Living and Wiskow & White to meet our unique brief. We wanted to use flowers to add elegance and luxury to our rustic setting, but in the right way, and we think together W&W and FL did this perfectly."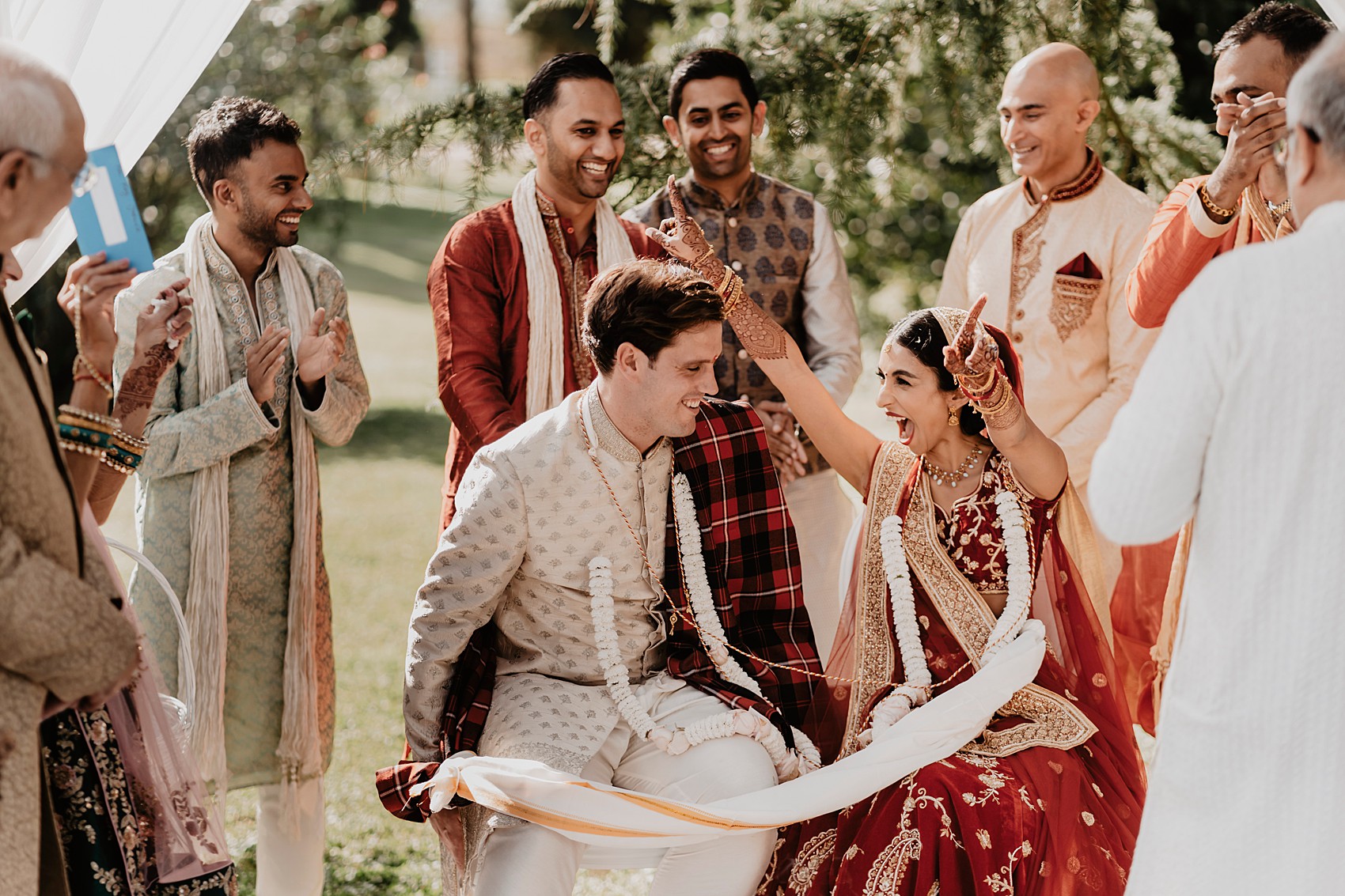 Charles wore a fantastic, custom-made outfit in ivory and gold, with a vibrant tartan accent, made by Sequinze in Vadodara, Gujarat.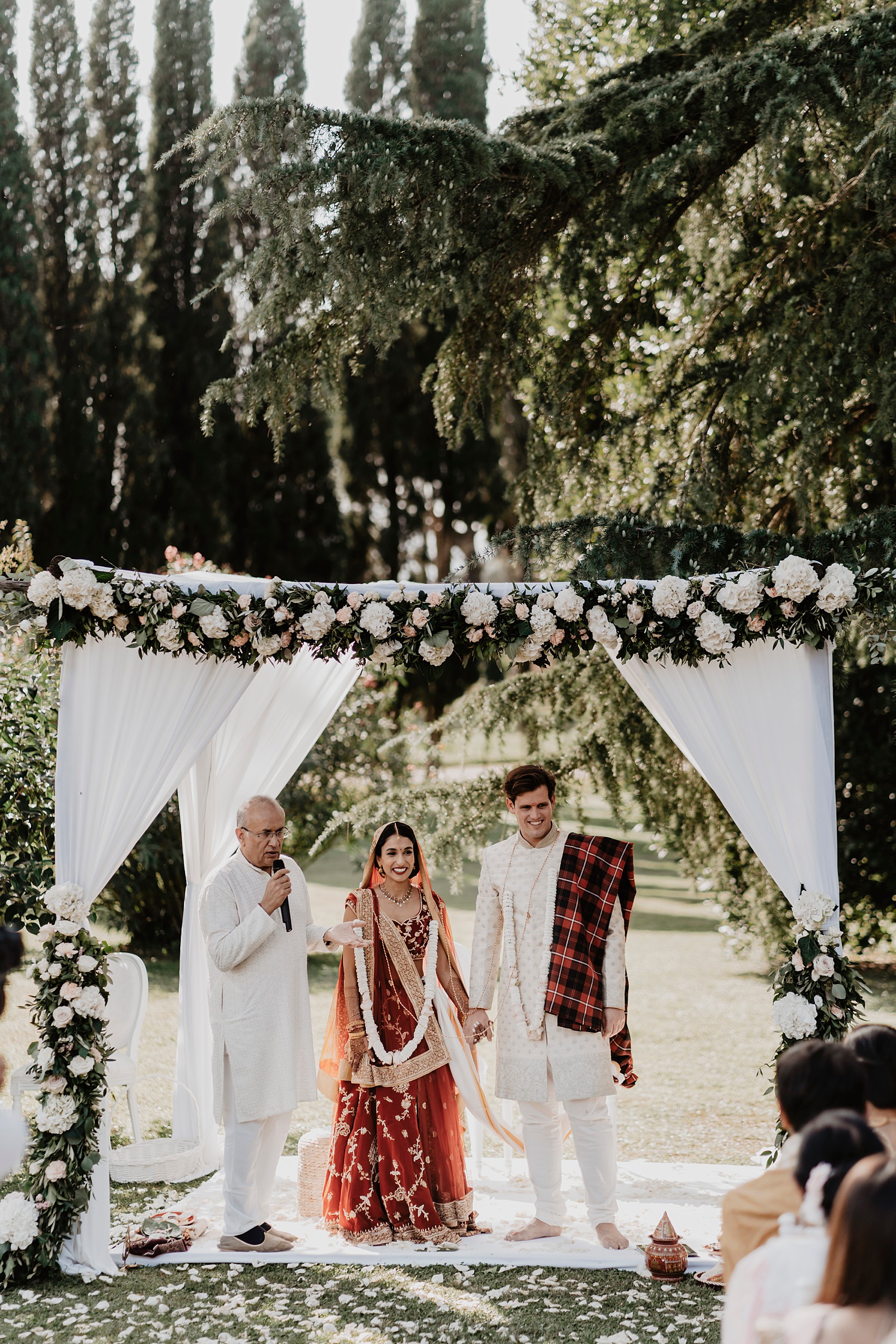 "Our ceremony was a favourite moment for us. We had a silent Hindu ceremony, which was very important to us. Most of Charles' guests had not attended an Indian wedding before, so we wanted the whole experience to be extra special."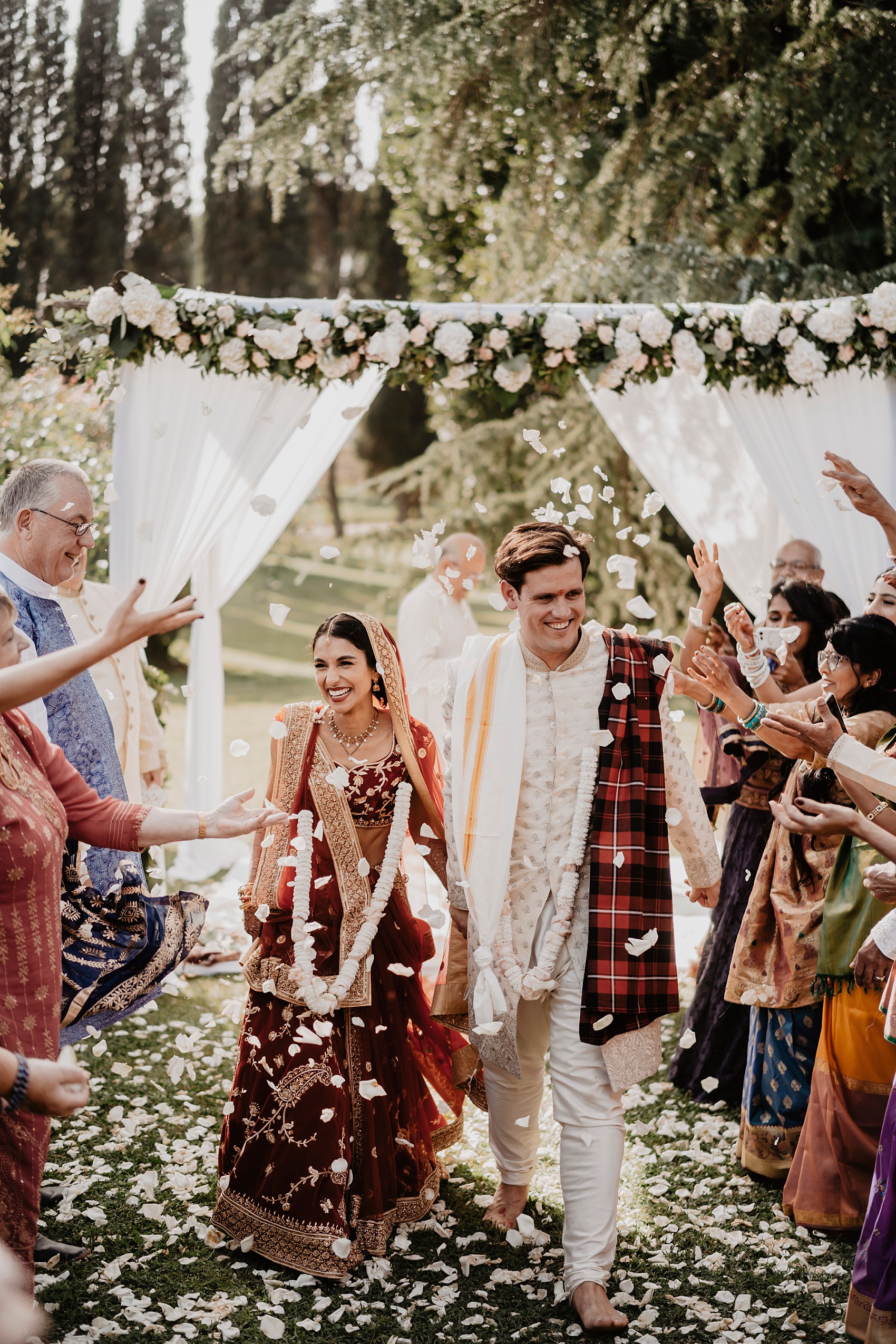 After the ceremony finished, the newly married couple took a spin in a vintage Alfa Romeo, provided by Wiskow & White, and I just love the joy radiating from this glorious series of images. Nimisha and Charles chose photographer David Bastianoni, and it's wonderful to be able to add to his work featuring on our pages.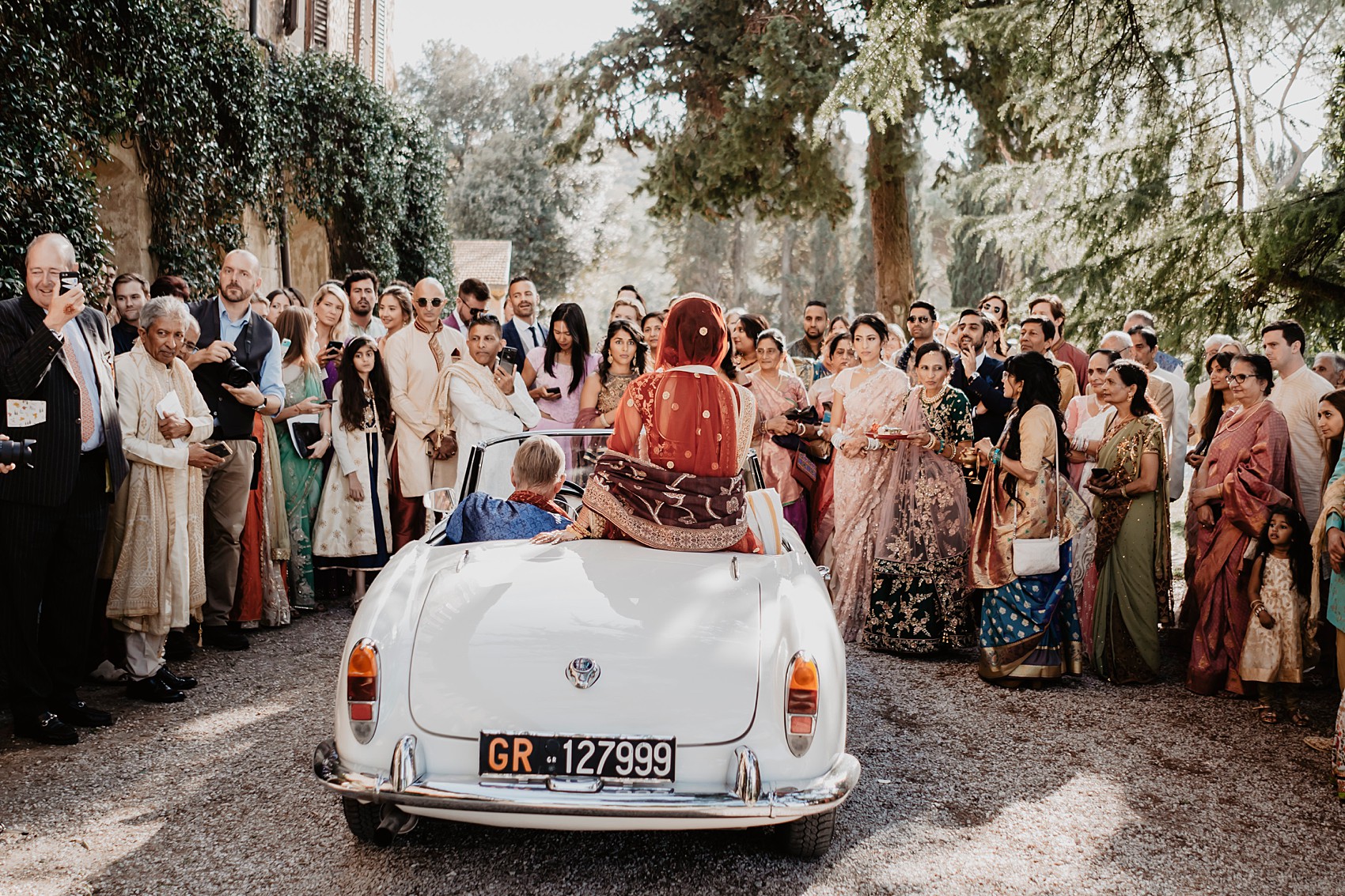 "David is extremely professional, and we were exceptionally happy with the photos across events. We really wanted Italian photographers and videographers – both teams had worked together previously, which meant they knew how each other worked."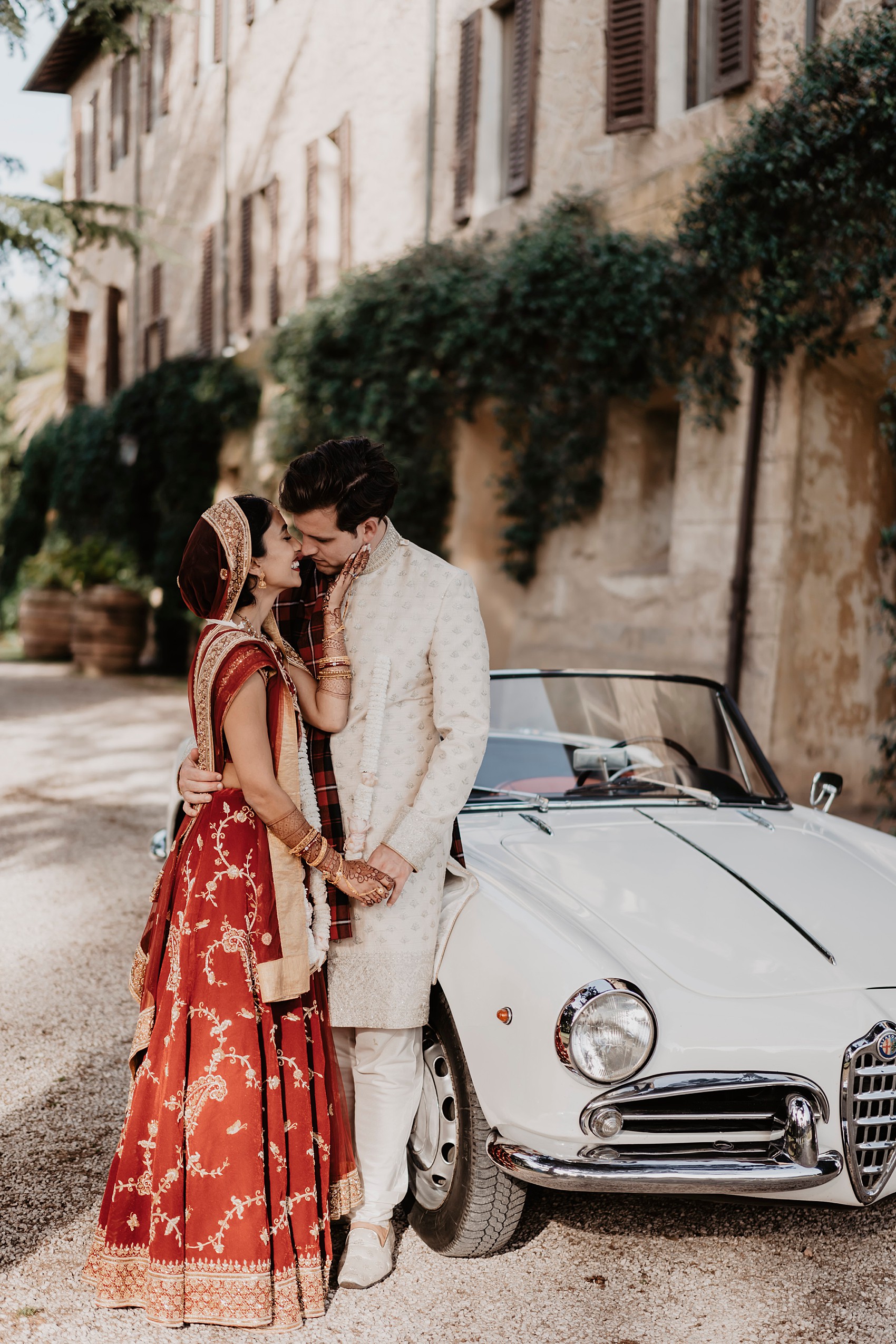 "More importantly, both teams came with amazing credentials, and had shot Indian weddings before. Our videographers were Waterfall Visuals."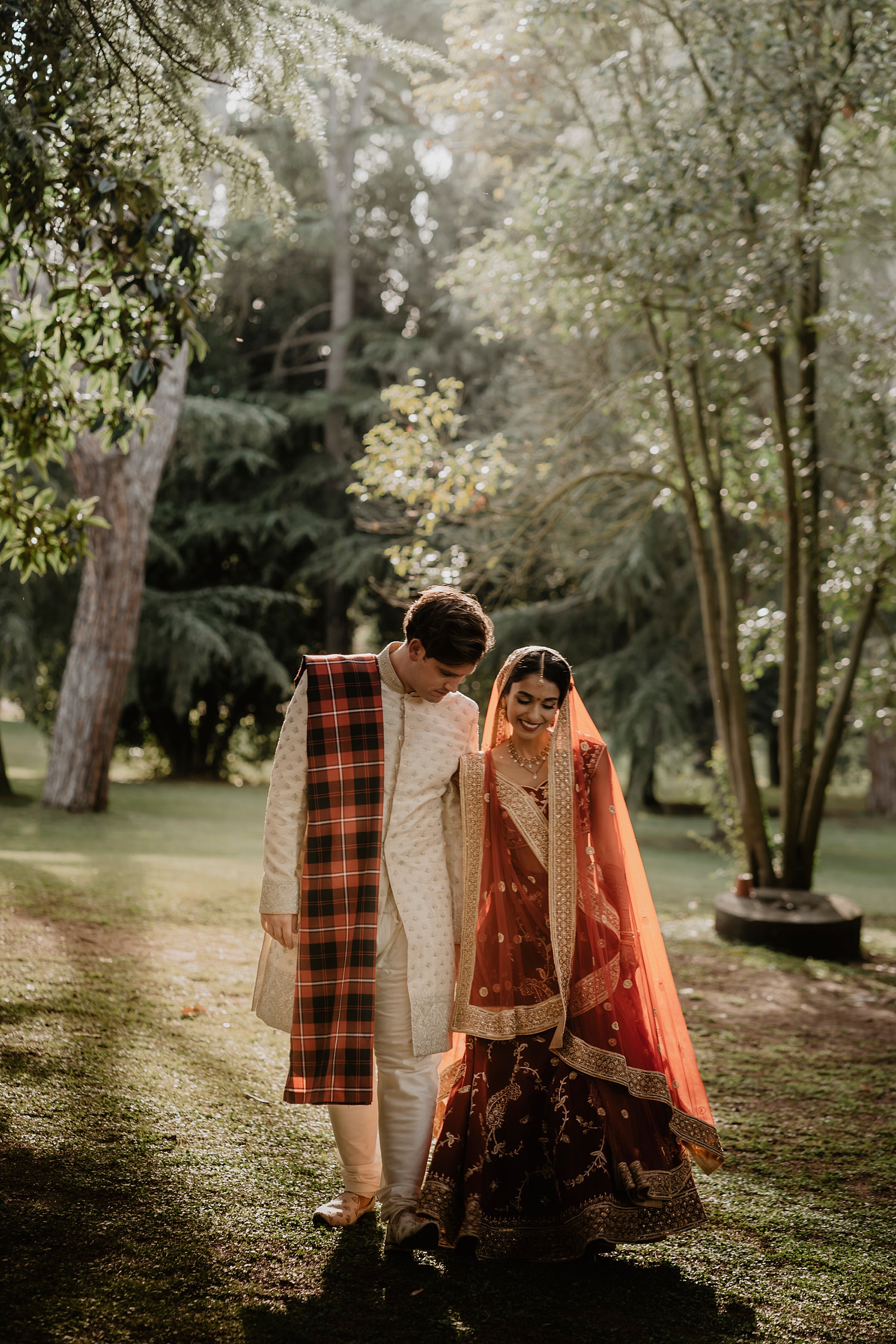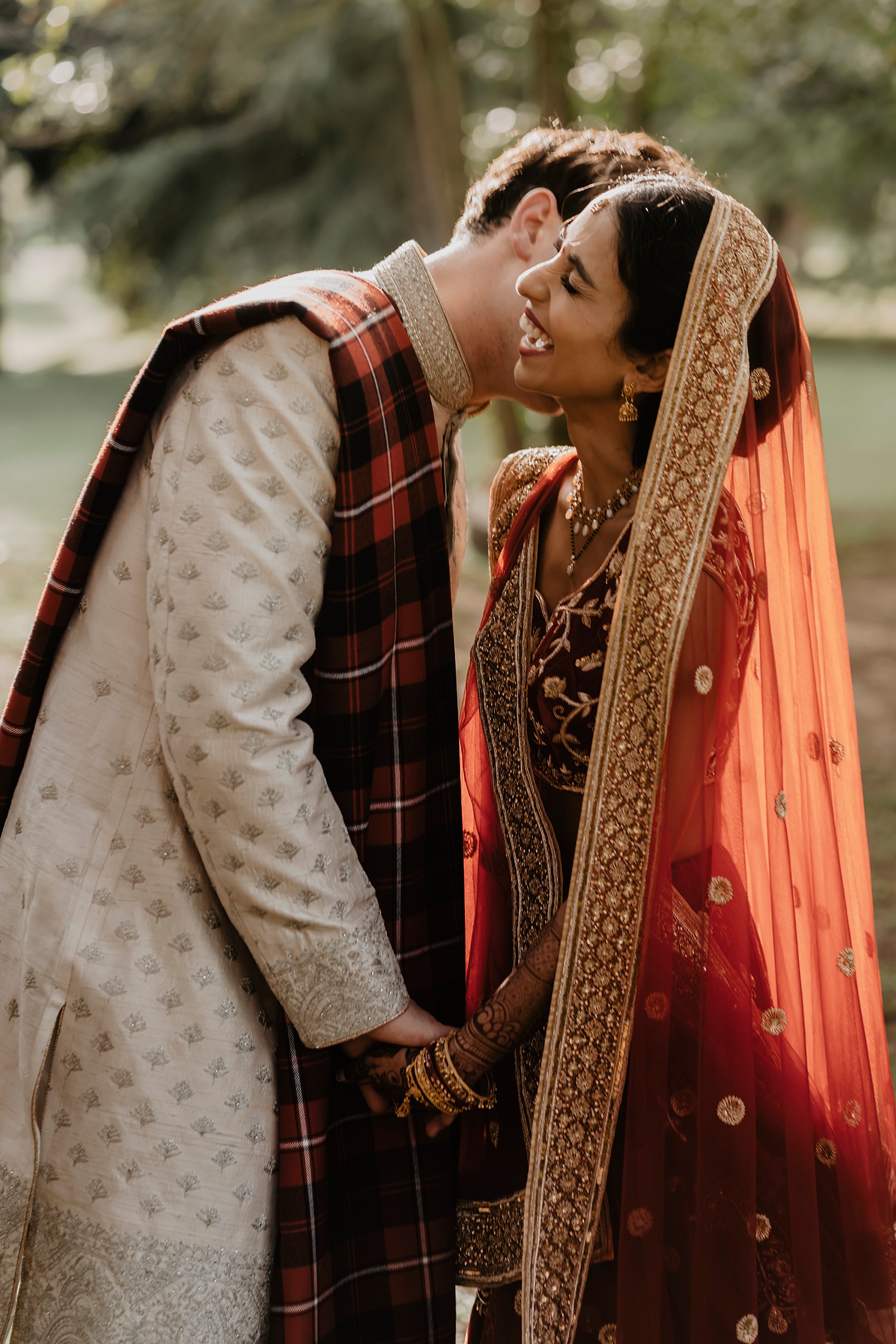 As guests enjoyed post-ceremony drinks around the pool, Nimisha and Charles headed indoors for a final outfit change.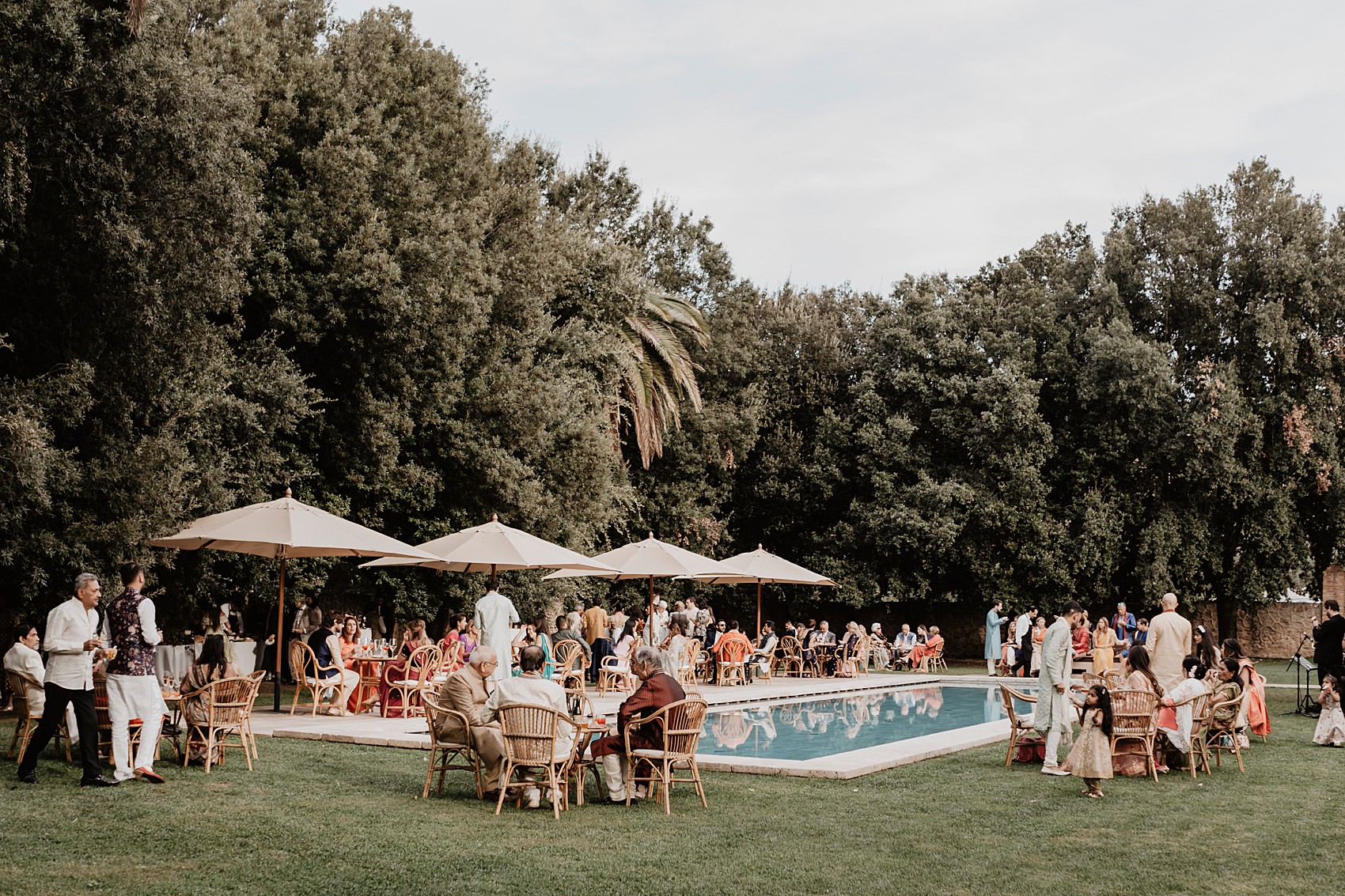 In her hair, Nimisha wore a sparkling hair vine, which she paired with elegant drop earrings. Her choice of gown was  a showstopping floral lace design with an embellished bodice and beautiful train, by Berta, which she paired with Prada heels.
"For my reception outfit, I decided early on I wanted to wear Berta – it was the first dress I tried on! I was literally floating on air when I tried it on, and I knew it was the dress I wanted to marry Charles in. I felt amazing when I put on each of my outfits, as they represented a different part of my personality."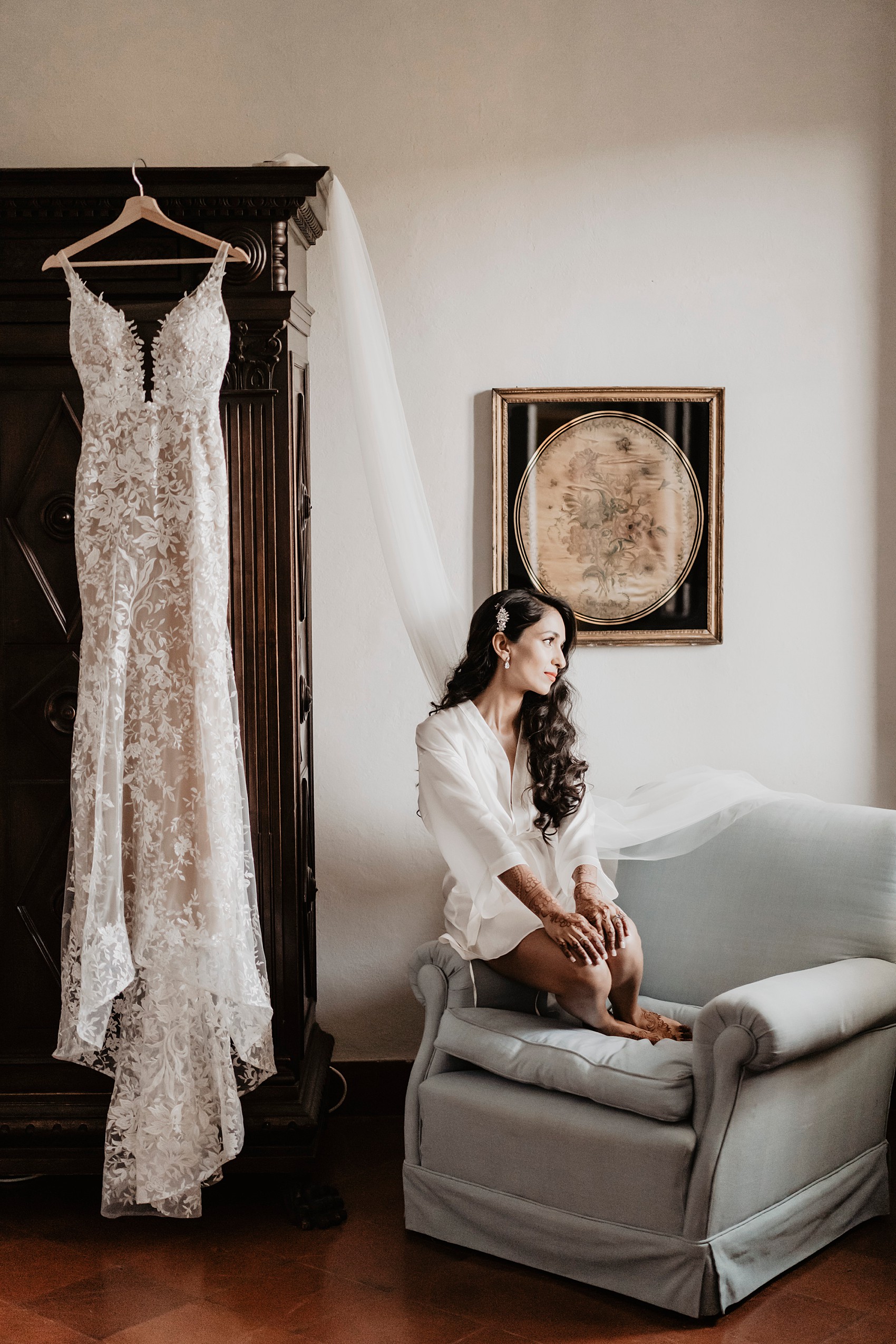 Charles wore a bespoke suit in a navy blue check, with a white shirt and coral tie by McCann Bespoke London.
"We met in 2015 at a corporate event at the Henley Regatta. We spent the whole day together it was like a first date. Let's just say no rowing was watched! We have known each now for 4.5 years now, dated for 3 years, and after 3 years Charles proposed. The other 1.5 years we planned our wedding and got married!"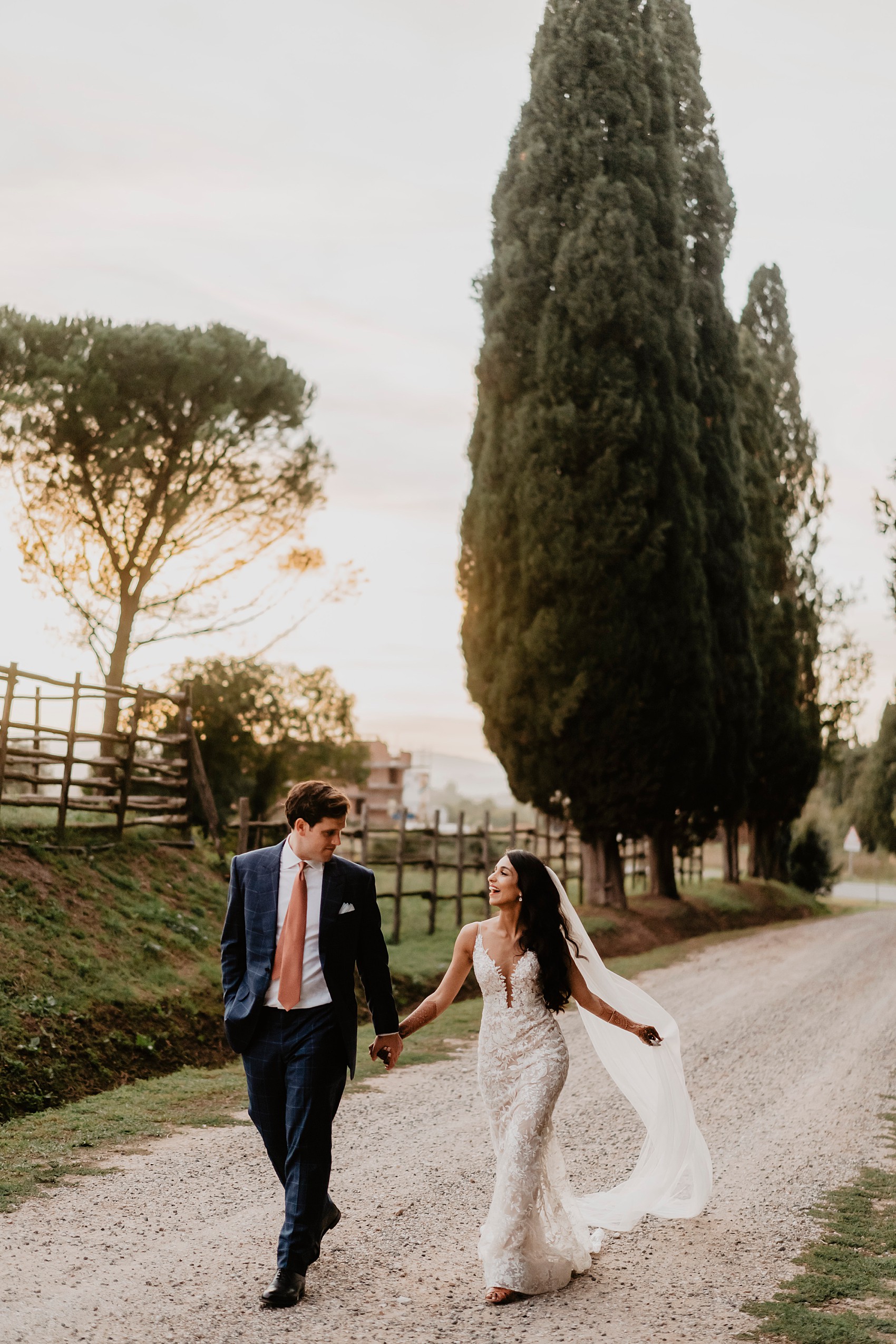 The evening's feasting took place underneath a magnificent open-sided stretch tent from Tentickle Italia, which was decorated with cascading fairylights to look like a canopy of twinkling stars.
"Our theme was understated elegance throughout the wedding, and the reception was no different. We didn't want anything ostentatious, as there was no need because the reception was outside in immaculate surroundings."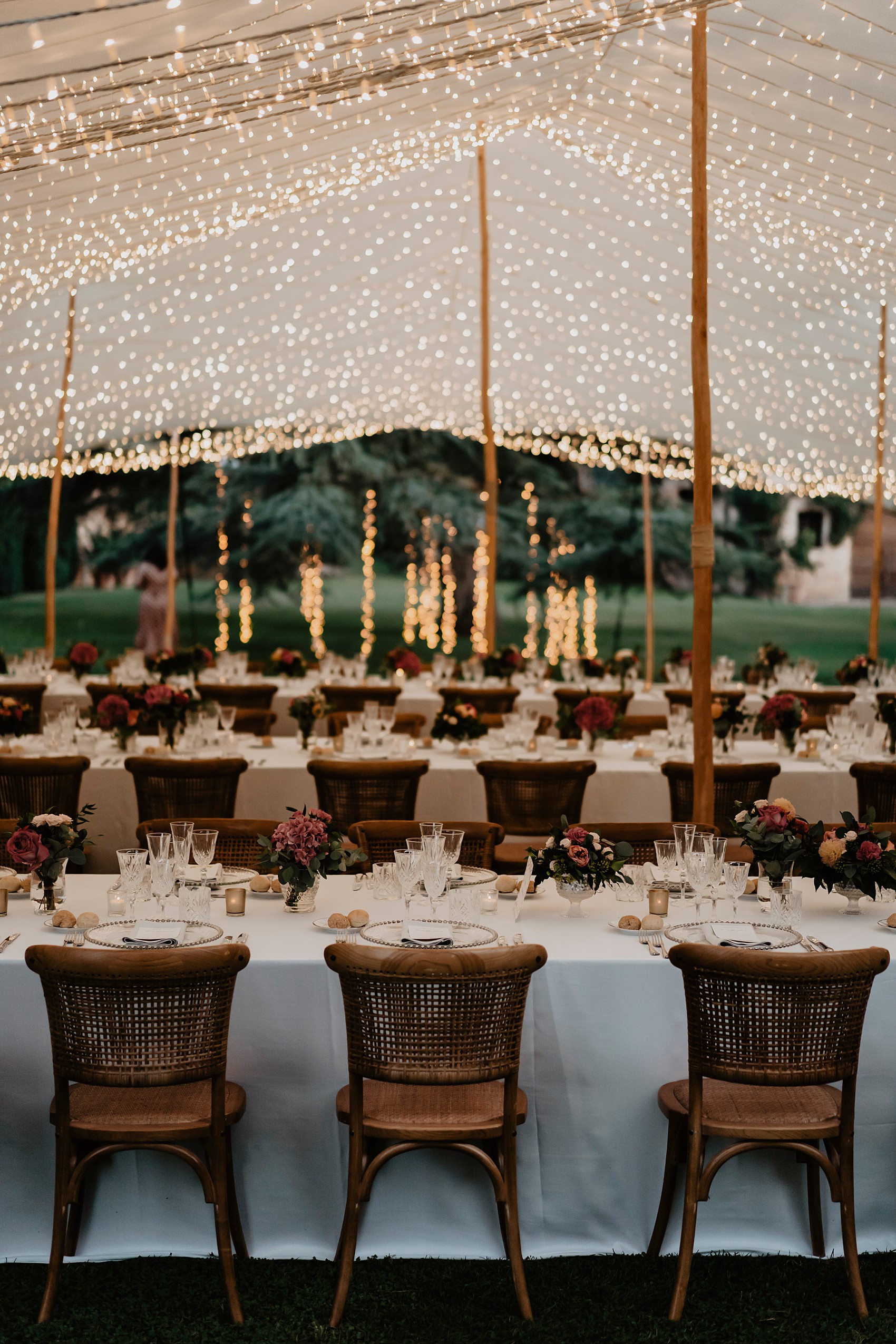 "We thought white would be best colour to use as a base, and built everything around that. We covered the inside of our marquee with lights, which bounced off the ceilings and the glassware, creating a beautiful spectrum of light."
"The second significant moment for both of us was walking down the villa steps to our reception. Seeing all our friends cheering was an amazing feeling!"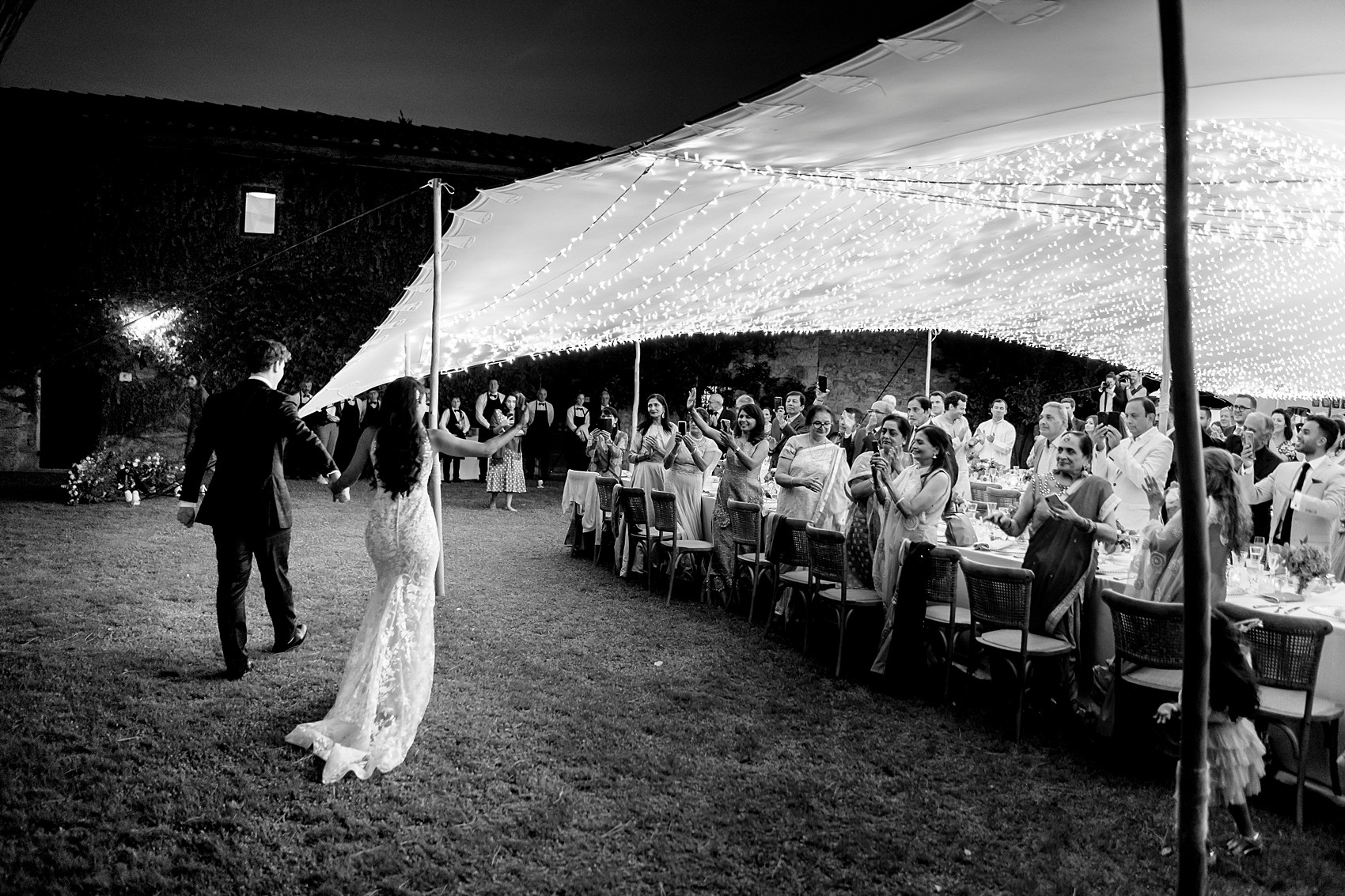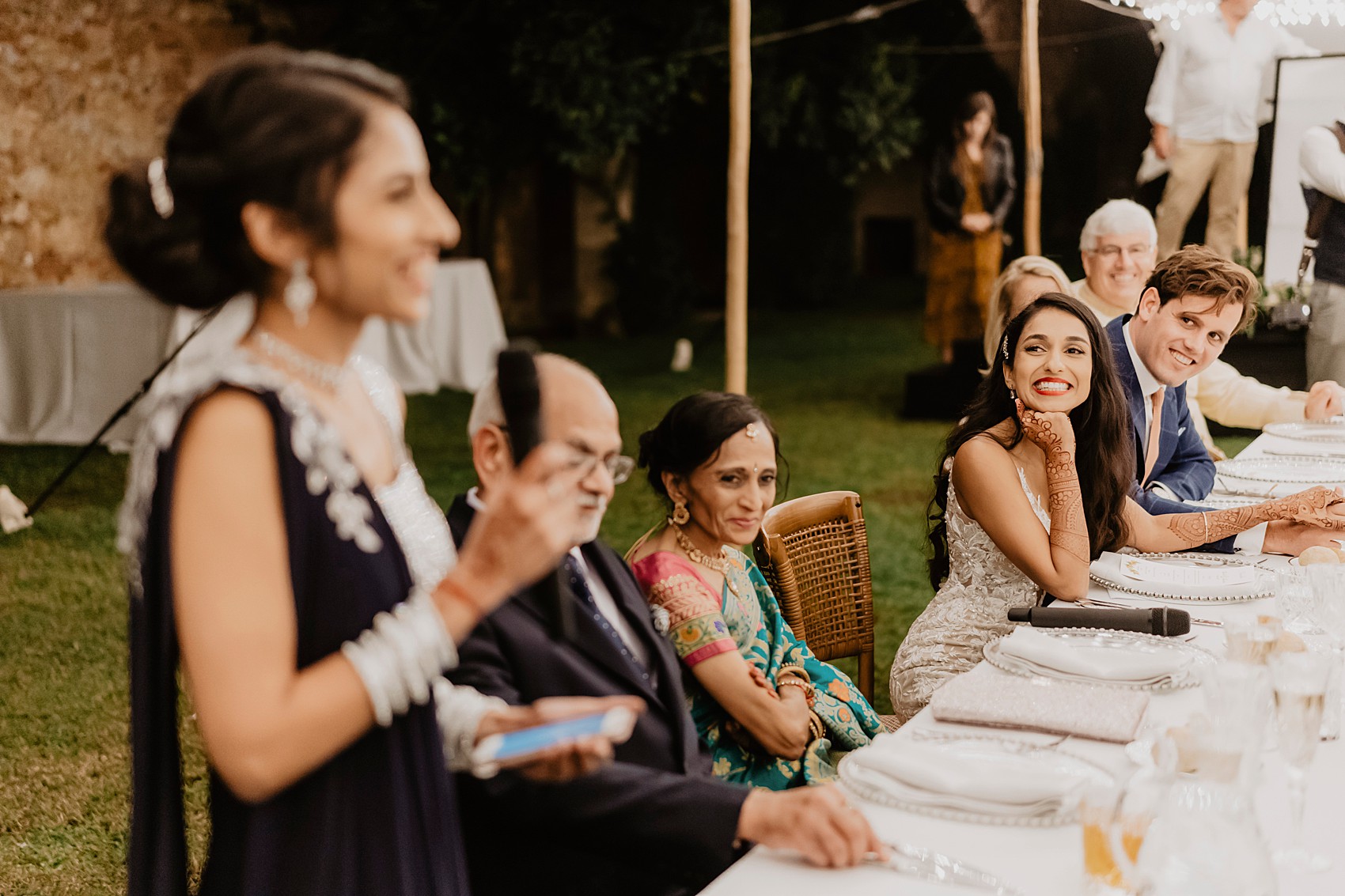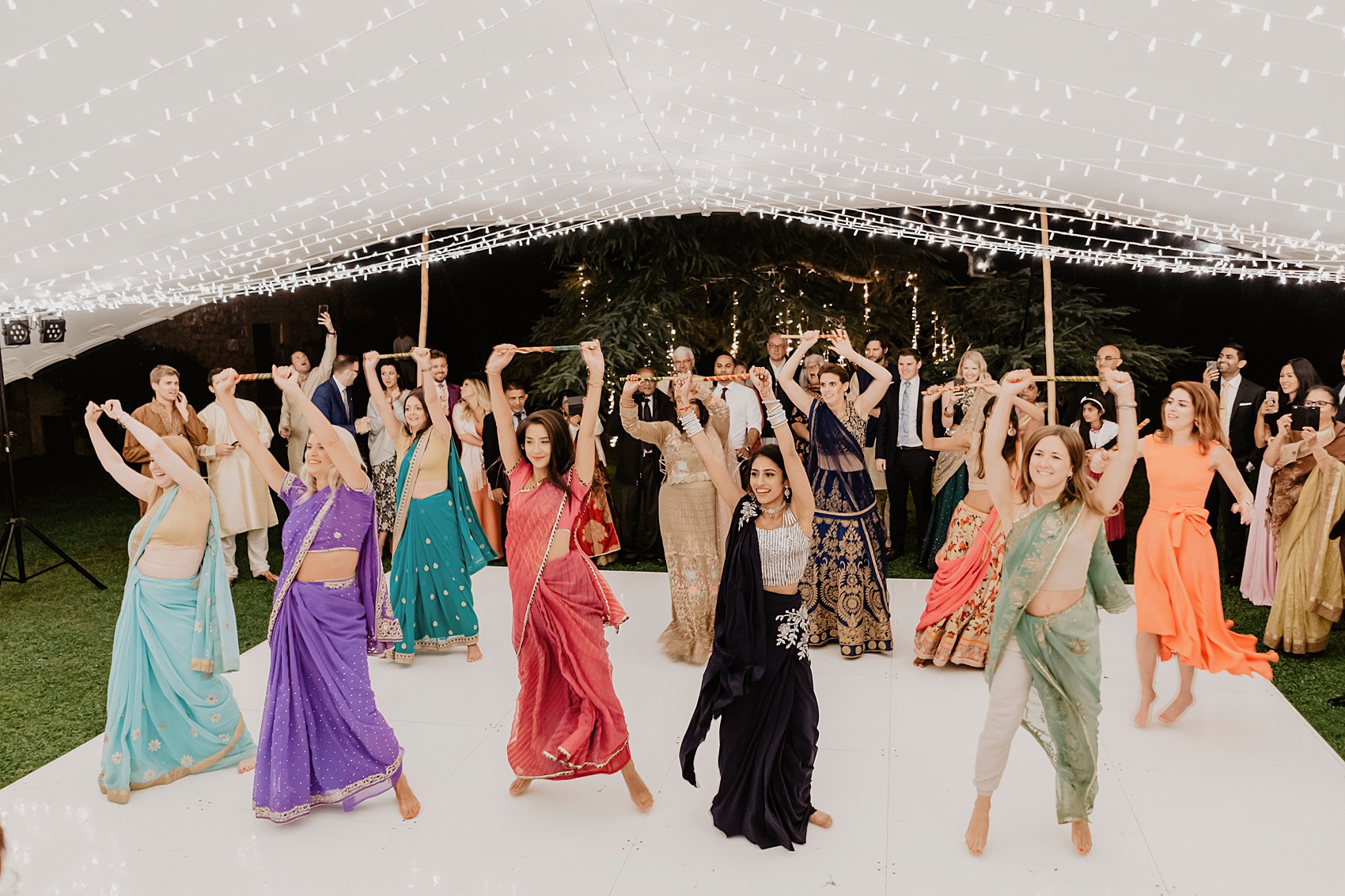 Catering came courtesy of Guidi Lenci, which also included a classic Italian wedding cake of millefoglie, decorated with cream, flowers, and fresh fruit.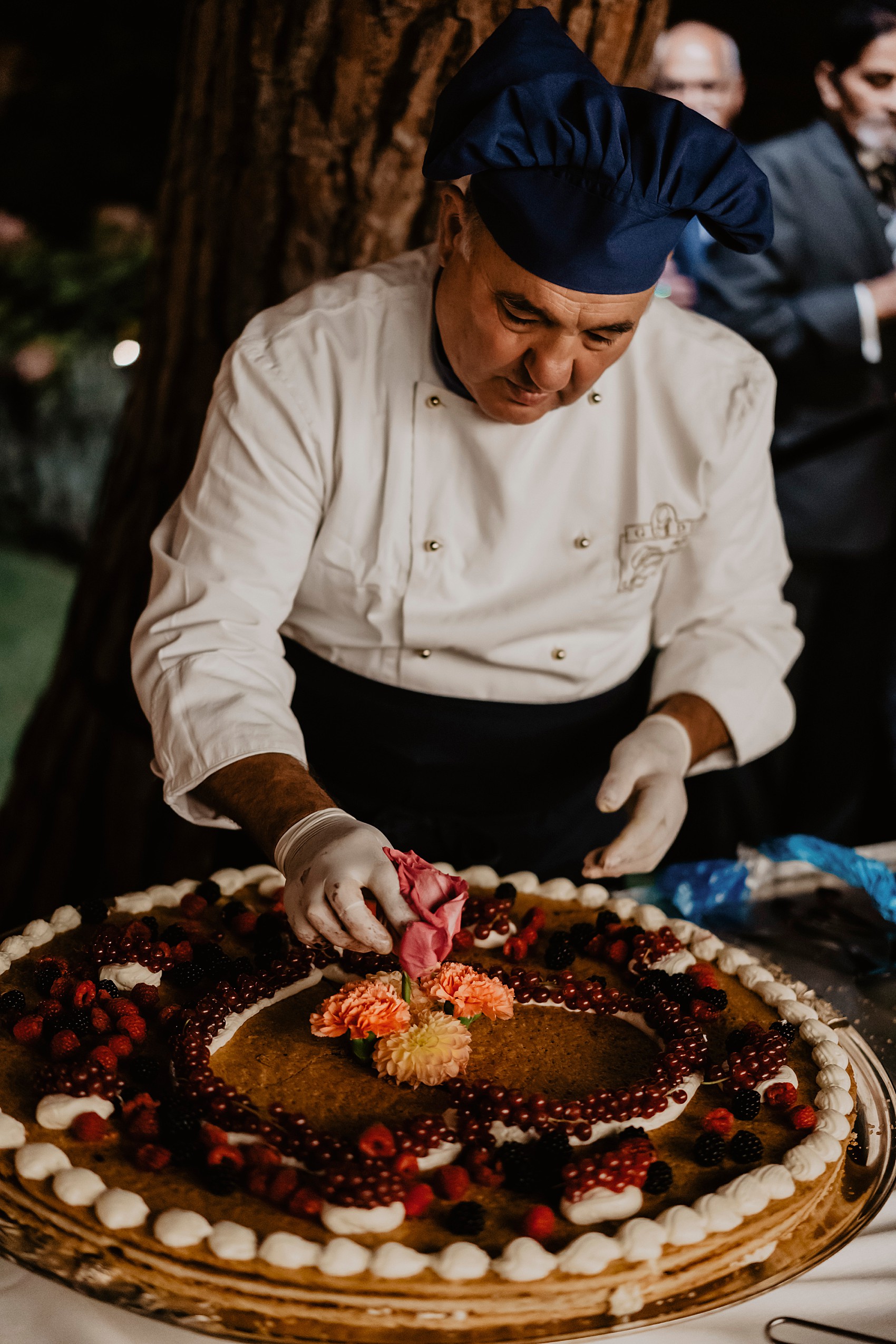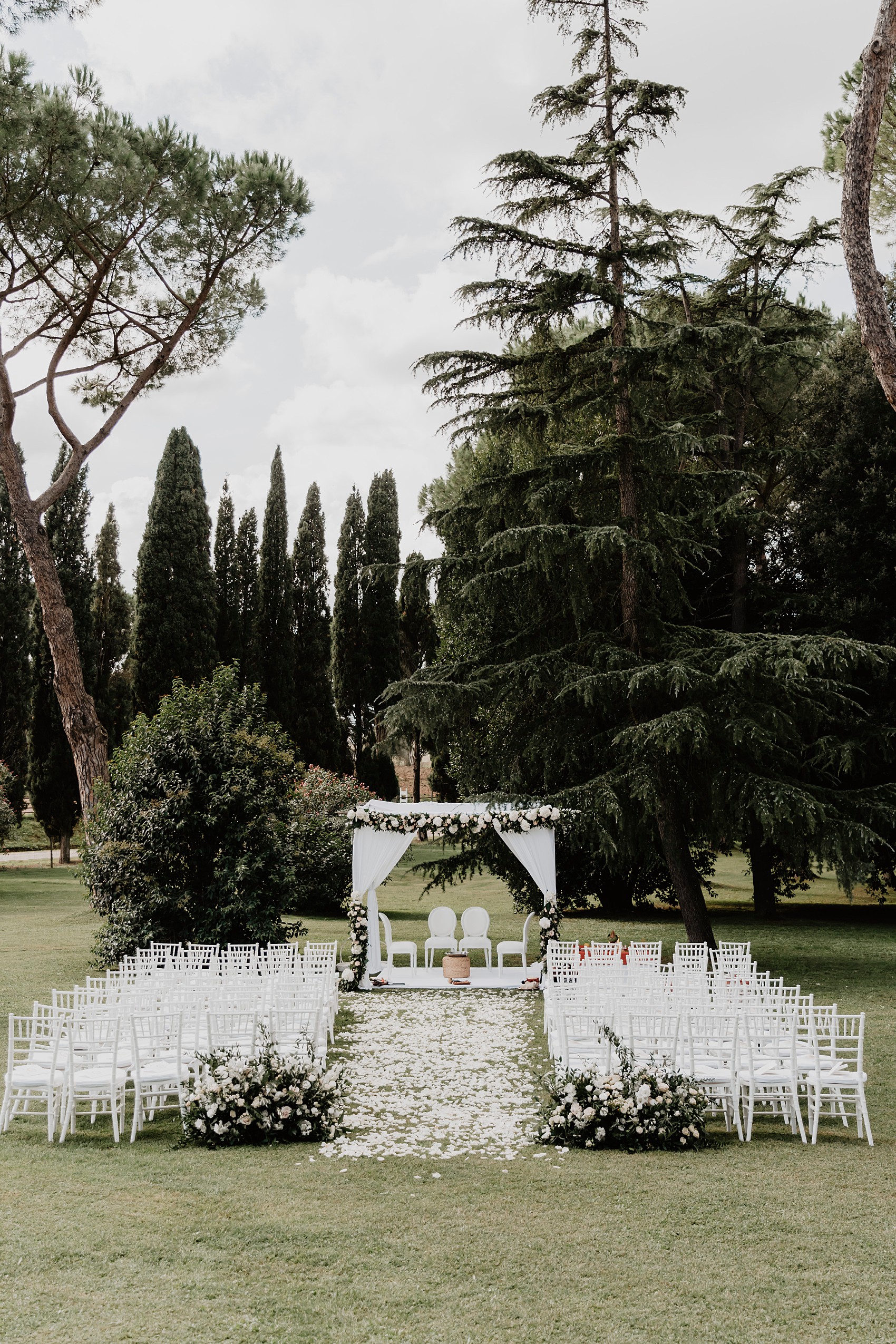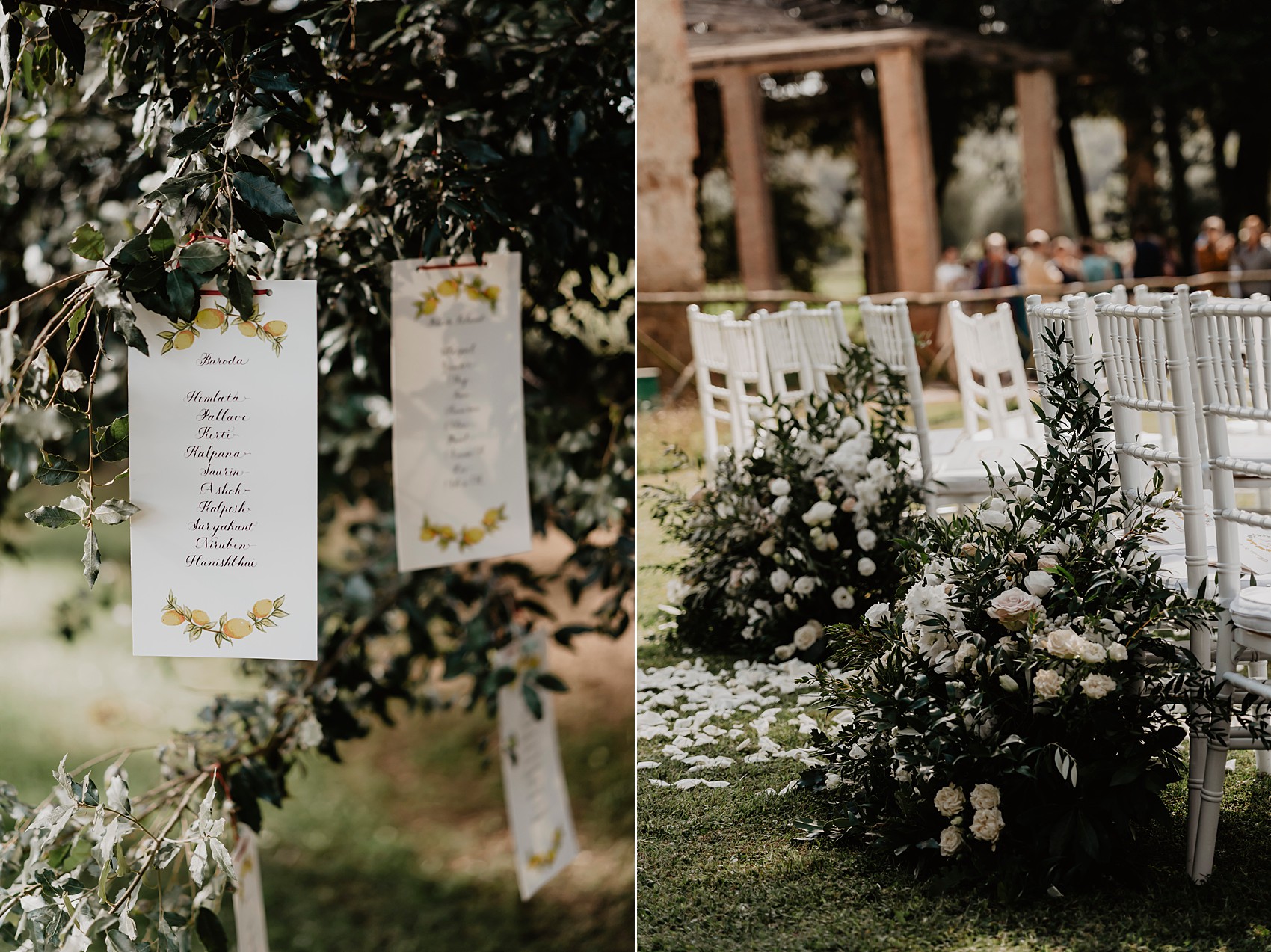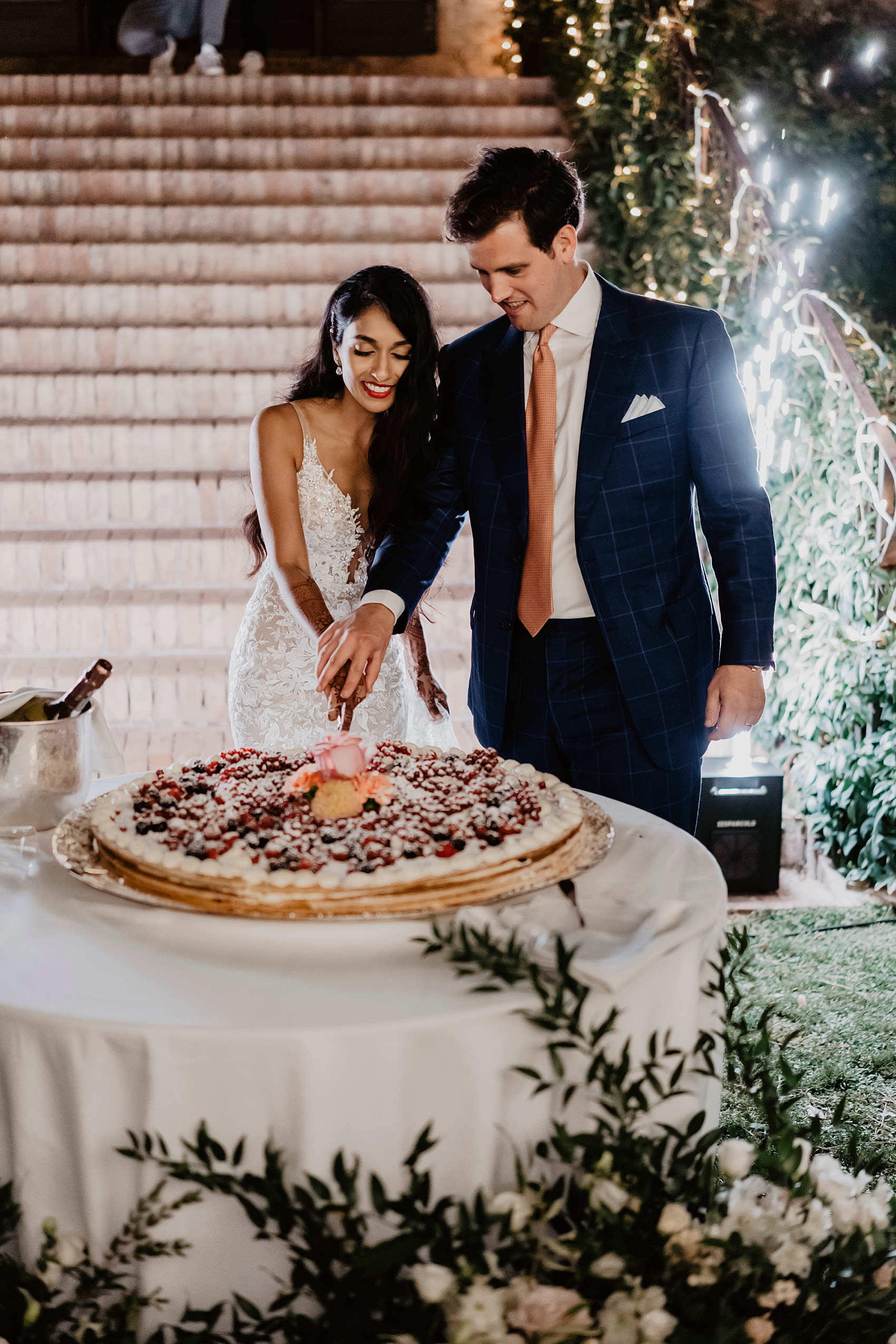 Evening party DJ was Sam Young, and Nimisha and Charles enjoyed their first married dance together to Lovin' in My Baby's Eyes, by Taj Mahal. There was also a joint dance by their friends to a mash-up of Bollywood songs and Bhangra.
"Oh, did I mention, all our guests did the conga?! My mum got all our guests joining in!"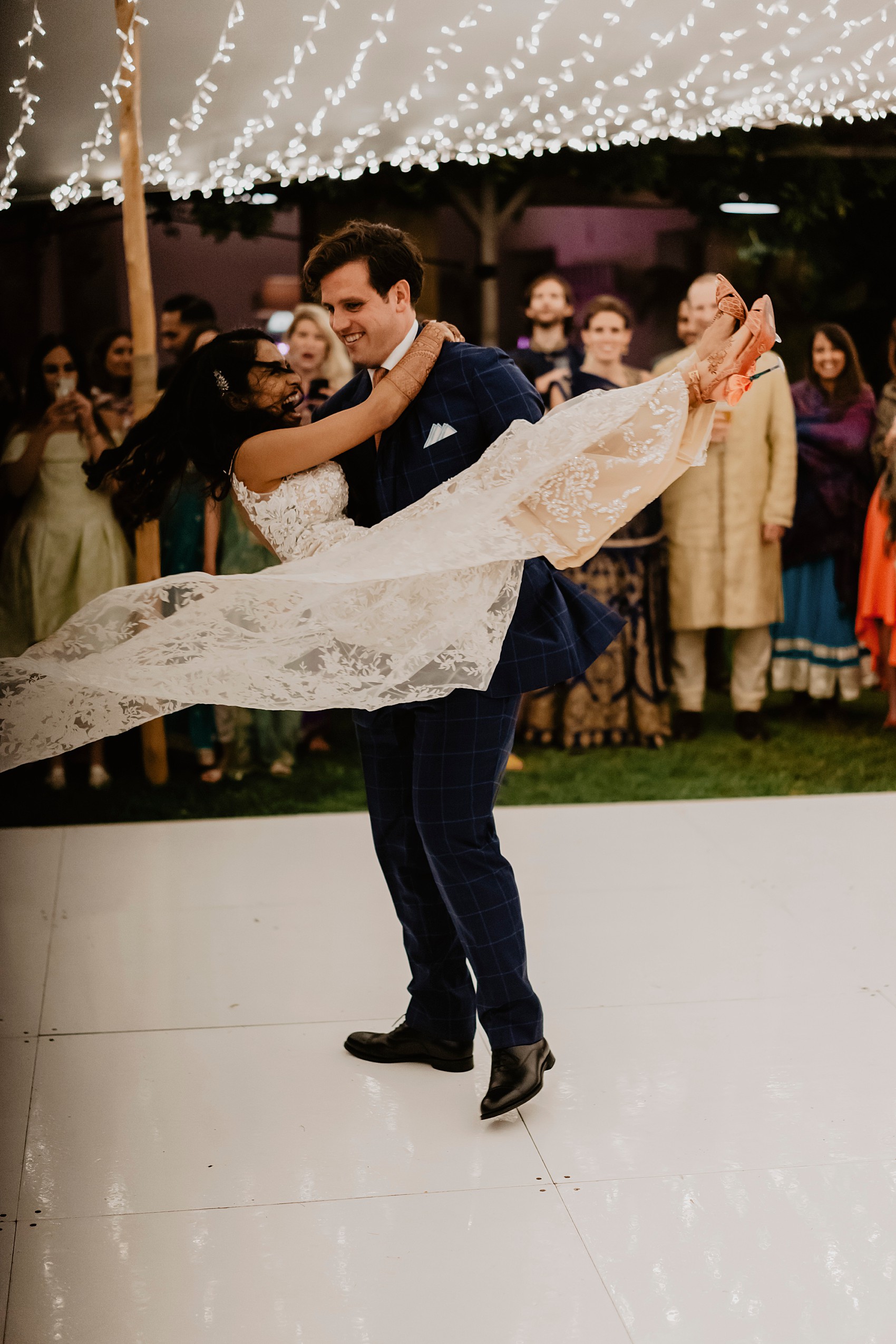 Words of Wedded Wisdom
"Remember not to stress. Keep true to yourself, and don't listen to what others say – it's your wedding!"
"Remember that you set the tone. Rain or shine, it's one big party and everyone is in attendance for you. Smile, and be present on the dancefloor. Guests will gravitate towards you!"
Nimisha and Charles, thank you so much. It's been wonderful to be able to share your day with our readers, and these beautiful images by David Bastianoni, too. Thank you, David.
With love,
Laura