This is the second Christmastime wedding I've written about in as many days, and I could not be happier about it.
I also love it when a couple funnels all the merriment and joy of the season into their decor and styling, too, and it was all captured brilliantly by our Little Book member Carrie Lavers Photography. This is the wonderful wedding of lovebirds Zoe and James, who are both TV producers for an advertising agency.
Carrie Lavers Photography

+ Follow

They were married on the 21 December 2019 at One Friendly Place in Deptford, South East London. Friendly Place is a totally unique film, photographic and events studio filled with character and curiosities.
"Carrie Lavers was hands down the best decision we made all year. Carrie's sumptuous, moody style suited our London winter wedding so well. The pictures are drop-dead gorgeous, and Carrie was a dream on the day. She was super quick at capturing the group and couple shots, and then so discreet. She captured so many great candid moments."
Beautiful hair and make-up, including glorious statement red lipstick came courtesy of Katie Coward, and Zoe wore a gold and pearl botanical inspired crown sourced via eBay.
"My something old, borrowed and blue were a pair of 1950s stud earrings that belonged to my grandmother."

Zoe looked like a fairy queen in her ethereal tulle dress embellished with Swarovski crystals and beautiful beading. It was the 'Kylie' dress by Maggie Sottero, which Zoe found pre-loved through Sylvia at Dream Second Hand Wedding Dress.
"I was adamant not to spend a fortune on my dress, so started on the high street and even trawled a few charity shops before coming across Sylvia online. Sylvia sells second hand and ex-sample dresses from a bridal boutique set up in her attic at home, and most of them are around half the original price."

"She has a small collection, but I was lucky enough to find my dress among them. Sylvia was great, very patient and honest, and with a few alterations, my dress was just perfect!"
"I wanted something classic but with a bit of sparkle given the time of year. I love soft tulle, so that was high on my list too, but the back of the dress really sold it to me – invisible lace with delicate embroidery and beading detail.
Our gorgeous flowergirls Lottie and Ella thought I looked like a princess! That was validation enough for me!"

On her feet, Zoe wore gold T-bar shoes by Vivienne Westwood, which she borrowed from a friend, and her perfume was her favourite everyday fragrance of La Vie Est Belle by Lancome.
Zoe asked her bridesmaids to wear a gold gown of their own choosing, and didn't they all look magical together? I love the array of styles and fabrics, from sequins to silk and velvet in shades ranging from antique to bright gold.
"My artist/Buddhist brother Mathew, and costume-designer girlfriend Emma foraged for and arranged all the flowers.
We added a few stems of eucalyptus, gypsophila and thistles, and tied them with long velvet ribbons. They looked so beautiful and seasonal."
A white London cab from Taxi Premier transported Zoe over to One Friendly Place in style.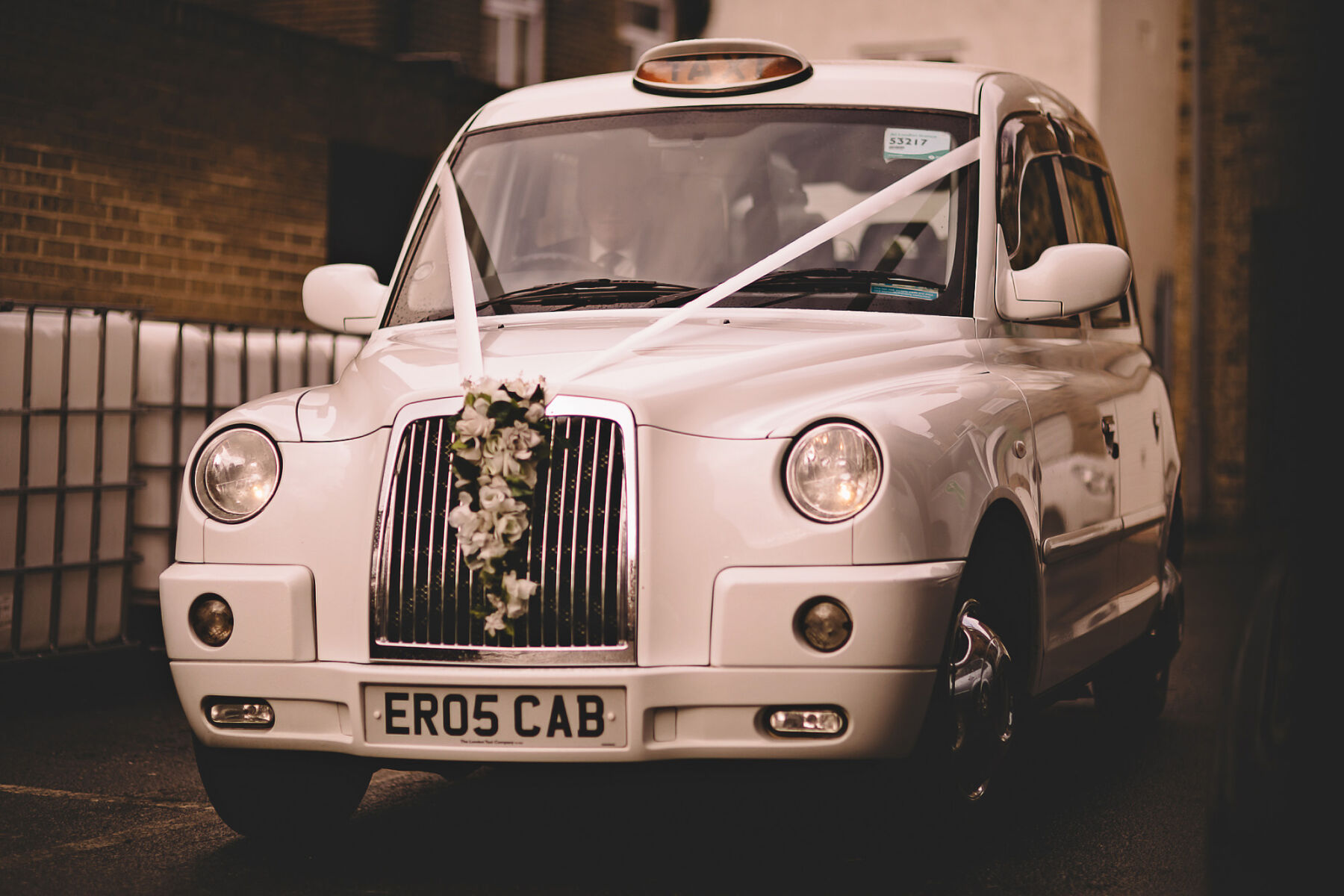 "Our twin nieces Lottie and Ella were in classic flowergirl dresses from La Redoute. I loved the over-sized bow on the back, and we paired them with white bolero cardigans with gold sequins from H&M Kids, and flower crowns from Etsy."
Zoe walked down the aisle together with her dad, Alan, choosing I'll Try Anything Once by The Strokes as her entrance music.
The couple opted for a Humanist ceremony, beautifully written and delivered by celebrant Pip McCormack.
"We were largely lead by our celebrant Pip, but wrote a short message to each other to read on the day. It made everyone laugh and cry when it turned out we had basically written the exact same thing! I guess it's meant to be!"
This lovely moment during the vows turned out to be James' favourite part of the day, too.

"One of our 'things' is always that we are thinking the same thing. When we said our vows, I said I can't wait for Zoe to fall asleep 10 minutes into every film we ever watch. After her lovely words Zoe said, 'I can't wait to fall asleep in front of films with you for the rest of my life'. It was a lovely moment having written the same thing independently."
Zoe and James included readings that were heartfelt and meaningful, but also non-traditional and fun at the same time. The chose the Dr. Seuss rhyme, Oh, The Places You'll Go, the lyrics to the Bright Eyes song, First Day of My Life, and finally an extract from On The Road by Jack Kerouac.
"Zoe's engagement ring belonged to my grandmother, so it was really special to be able to be able give it to her, especially as she loves antique jewellery so much. We got our wedding rings from Touch of Gold in Hatton Garden."

"We had been colleagues and close friends for six glorious years before we realised that we were meant to be together. By that time we knew each other inside out, so it wasn't long before James moved in with me and Pip (the cat) in Camberwell."
"That Christmas, James asked me to marry him at our favourite boutique B&B in Dorset – Abbots Court, and one blissful year later we tied the knot."

James had a wonderful time getting his suit made to measure at Beggars Run, and went for a fantastic dark green Merino wool three-piece, which he wore with braces, and a navy blue polka dot tie.

The couple designed their own stationery, which included an awesome table plan, with tables named after some of their favourite pubs. On the tables, there were also miniature swinging pub signs made by Zoe's dad.

"We had Christmas crackers on the tables, and each guest's name written onto a wooden Christmas tree decoration, which we made ourselves."

"We have a bit of a penchant for the weird, wild and wonderful, so a venue full of theatrical props and old furniture really appealed to us."
"Getting married a few days before Christmas inspired us to make giant wreaths covered in holly and mistletoe, paper chains made from old sheet music, and to string up an abundance of fairylights."

The different interiors of One Friendly Place are so brilliantly quirky and atmospheric, and looked even more enchanting when decorated for Christmas, with paper chains and green wreaths looping across the ceilings in one room, and lots of festoon lighting, neon and fairylights in the other. Additional lighting came courtesy of IA Sound & Light.

"We spent the summer scouring car boot sales for old glass decanters, which looked perfect as vases on the tables. It also helps to have a dad who volunteers in the local park, and who can nab a boot-load of mistletoe for a bargain £10!"

For their wedding banquet, Zoe and James went for delicious curry, which was supplied by the excellent Canababes, who are an East London-based, female led catering company.
"We can highly recommend Canababes. Katie helped me so much with planning along the way."

"My favourite part of the day was after dinner when our friend Sigrid led us in a rendition of the Twelve Days of Christmas. We had hidden the words under everyone's plates, and it's safe to say that after a few glasses of wine it was a rousing rendition!" 

After curry, there was an array of beautiful cakes baked by various guests, as well as a tasty stack of cheeses, too.

"Our first dance was to In My Life by The Beatles, then The Jukebox 45s, who are friends of James'. A fantastic bunch of ragtag musicians who really elevated the night to another level. Everybody loved them. We couldn't recommend them enough. Our DJ was also a friend, Jim Griffin."

Words of Wedded Wisdom
"Try and spend the day together. It's tempting to 'divide and conquer' to get round as many guests as possible, but James and I spent the majority of the day together, found ourselves in the middle of many dance circles, and we're glad that we have so many shared memories."
"Enjoy the prep. If you're making decorations / favours etc., start early – do something small every weekend, that way it doesn't become too overwhelming a few weeks before the wedding."
"Make things and ask favours – you'll save a fortune. Get creative – it's fun and will make your day totally unique."
"That said, no matter how much you do yourself, weddings are expensive. If you have 12 months or so, try and spread the cost, paying for things each month rather than leaving it all to the end."

Zoe and James, thank you so much for giving us the lovely glimpse into your glittering, festive day. It's been so beautiful, and made even more so by these exquisite images full of drama by Carrie Lavers. Thank you, Carrie.
Until next time, and with love,
Laura