As I write this, the rain has suddenly started to pour down in torrents. It feels a world away from the glorious setting of the wedding I have the privilege of sharing with you today.
Set against the lush greenery of Sheffield Botanical Gardens, this celebration is whimsical, relaxed and a true celebration of all that's good in life.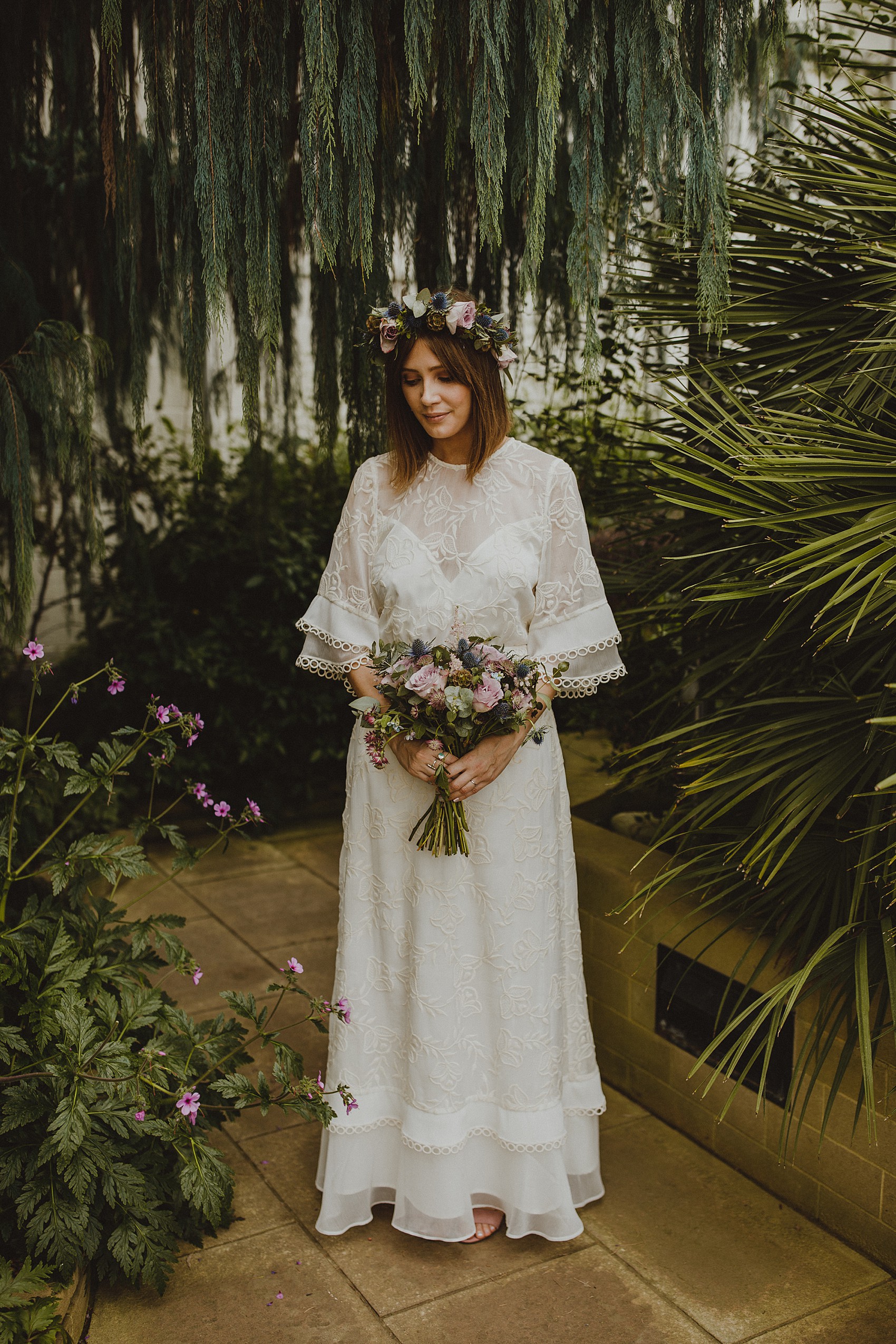 On 25 May 2019, Nichole, a support supervisor for disabled university students wed software engineer Michael at Sheffield Botanical Gardens. Its light-suffused, plant-filled space was a wonderful setting for an informal ceremony and the party moved on to the vast, industrial 99 Mary Street in Sheffield for their drinks, dinner and evening reception, with 70s inspired touches scattered throughout.
"The gardens are beautiful and very close to our house so we've spent a lot of time there over the years. We liked the idea of being able to go and walk round the gardens whenever we wanted to remember our wedding day."
"We had loose-tied bouquets with pale pink flowers and lots of greenery, which worked great in the botanical gardens glasshouse and had a wildflower/meadow/informal feel. They were from Plantology."
The bride nailed the relaxed vibe with her quirky, daintily-embellished gown, inspired by 70s style, from Stevie May via ASOS. Its double-layered, floaty sleeves and tiered remind me of so many dresses my own mum wore in the 70s… I just love it!
"My dresses (day and evening) were influenced by my love of 1970s styles. Both had a vintage style but the day dress was classic and suited the informal feel of the day, whereas the evening dress was more of a statement for the reception. Neither had been made as a wedding dress but both felt special, whilst still feeling like they were 'me'."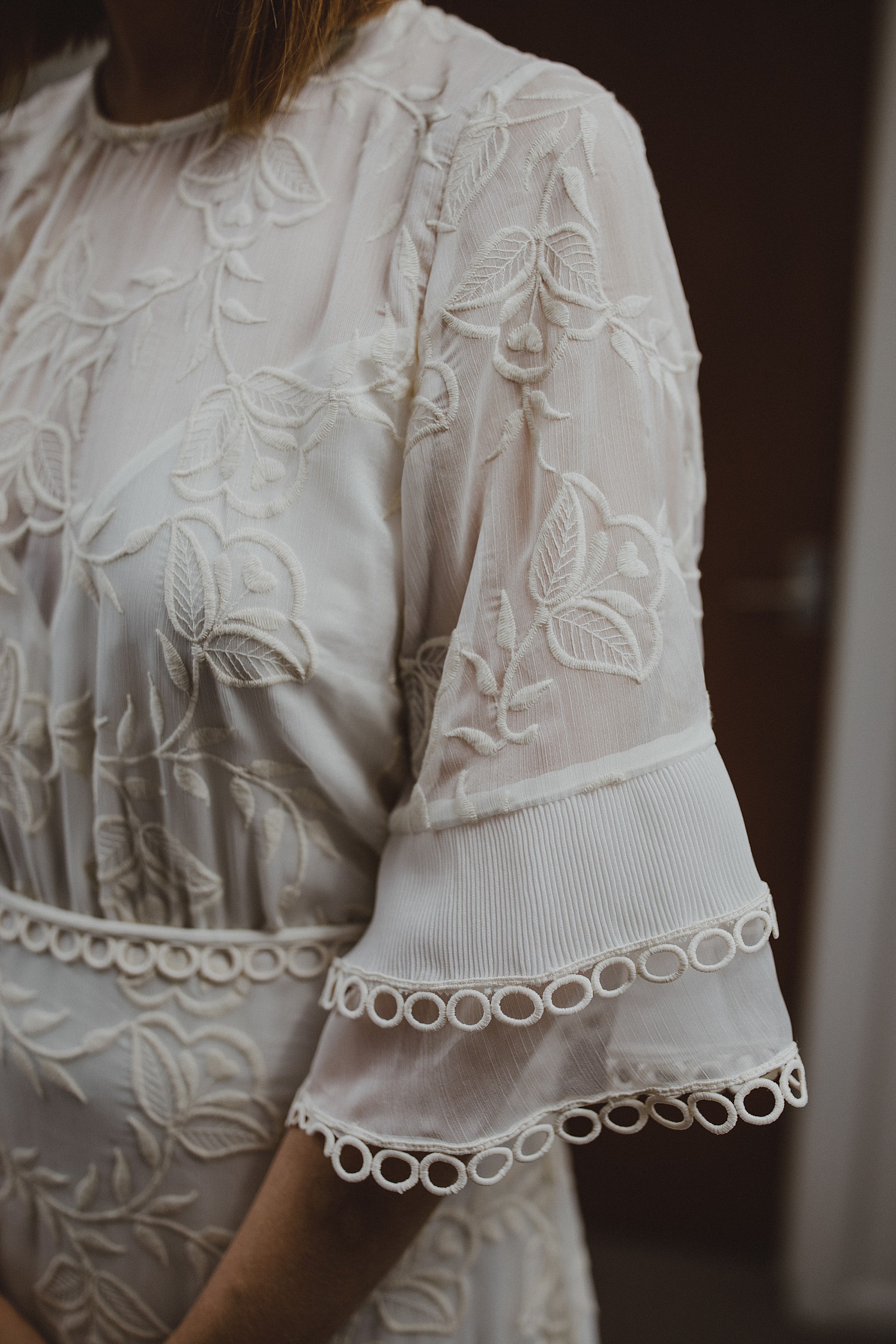 For day time, Nichole slipped on dusky pink, block heel sandals from New Look and finished her look with a fanciful floral crown of greenery, thistles and roses on her smooth long bob. She also wore dusky pink, polymer heart earrings from Nighttime Holiday and a spritz of Dolce & Gabbana's Pour Femme.
"It's my normal scent but it fitted perfectly with the spring day."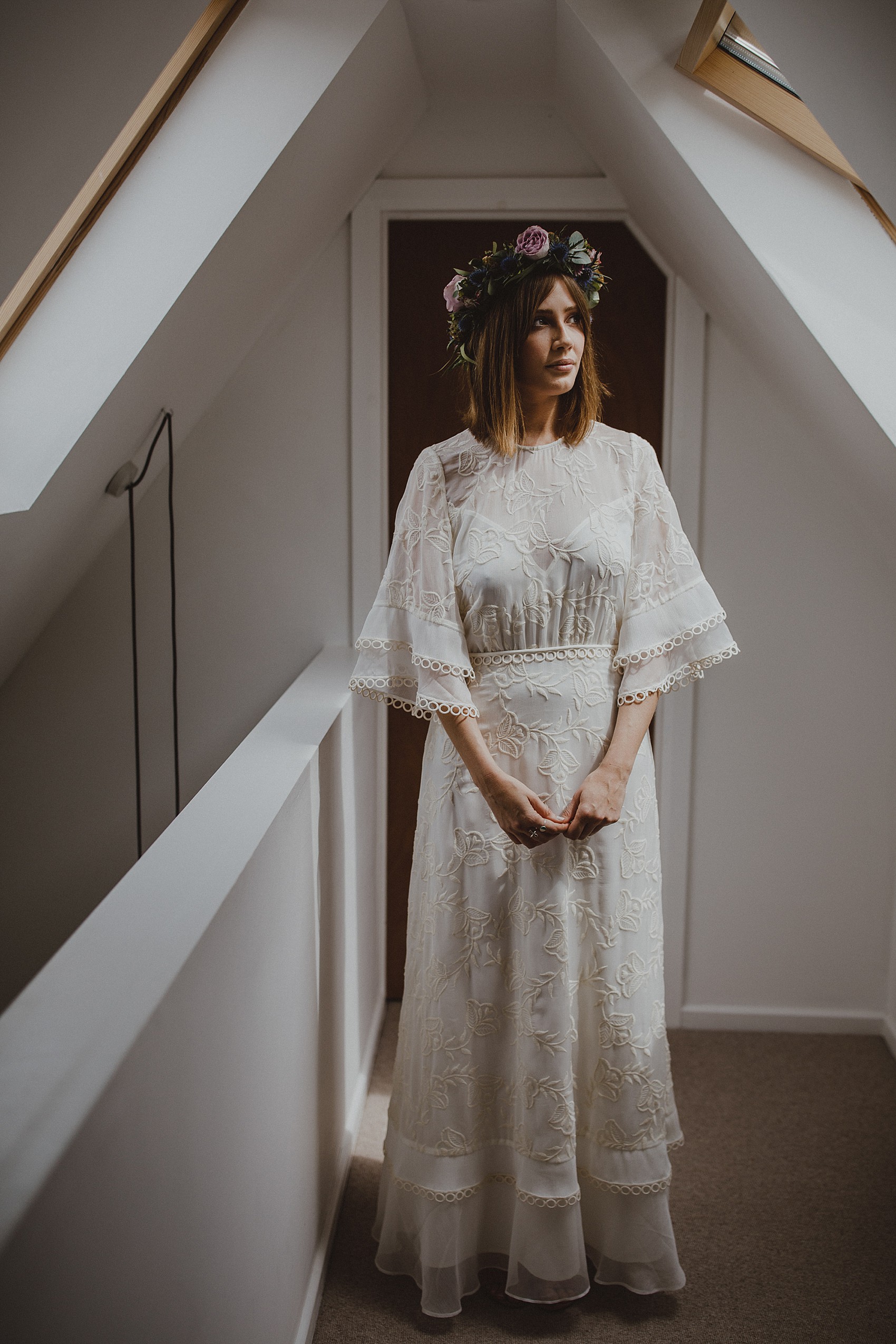 Lauren Eaton MUA has absolutely nailed the soft, blurred look of the 70s, straightening the bride's hair into a smooth long bob and applying barely-there make-up.
"Lauren was recommended to me by my hairdresser and she was amazing. She instantly understood what I wanted and what would suit my style. All my friends want to book her for their weddings now."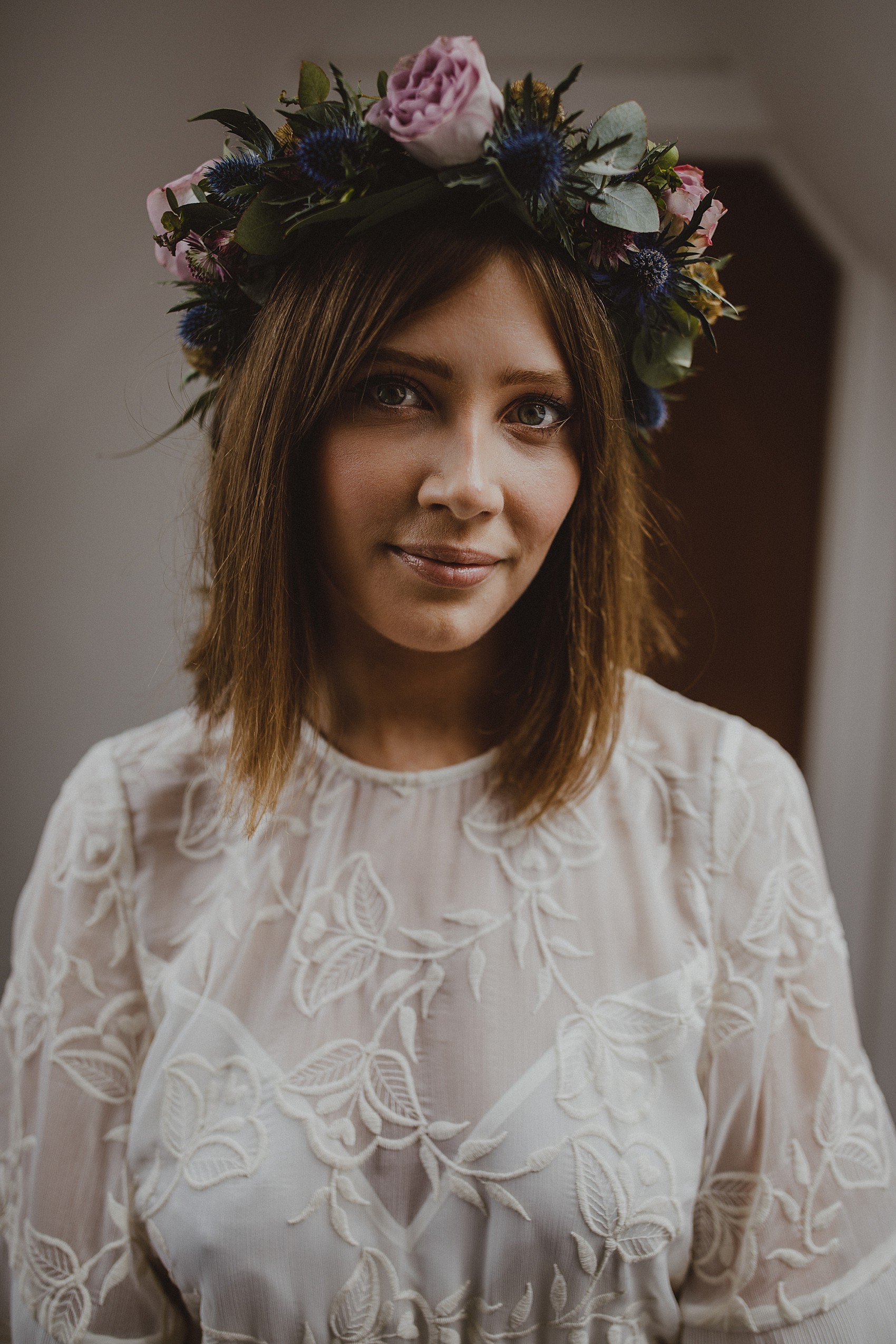 After eight years together, Michael proposed whilst the couple were in Welsh village Portmeirion for Nichole's birthday in January 2018. They married in May the following year.
"The main idea when planning our wedding was that we wanted our guests to enjoy the day as much as us. We wanted it to be beautiful whilst still being relaxed and informal, with plenty of food and drink and lots and lots of dancing."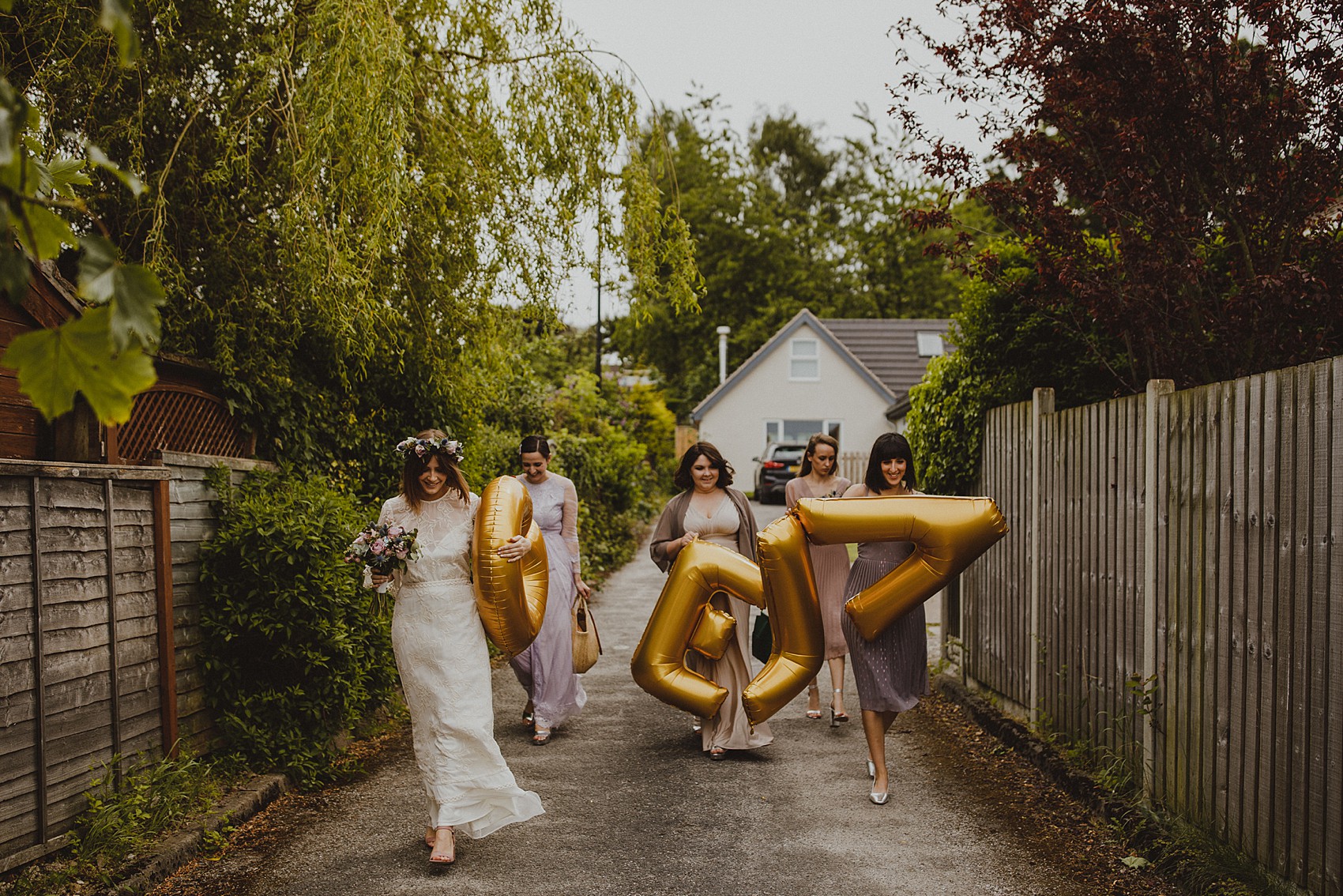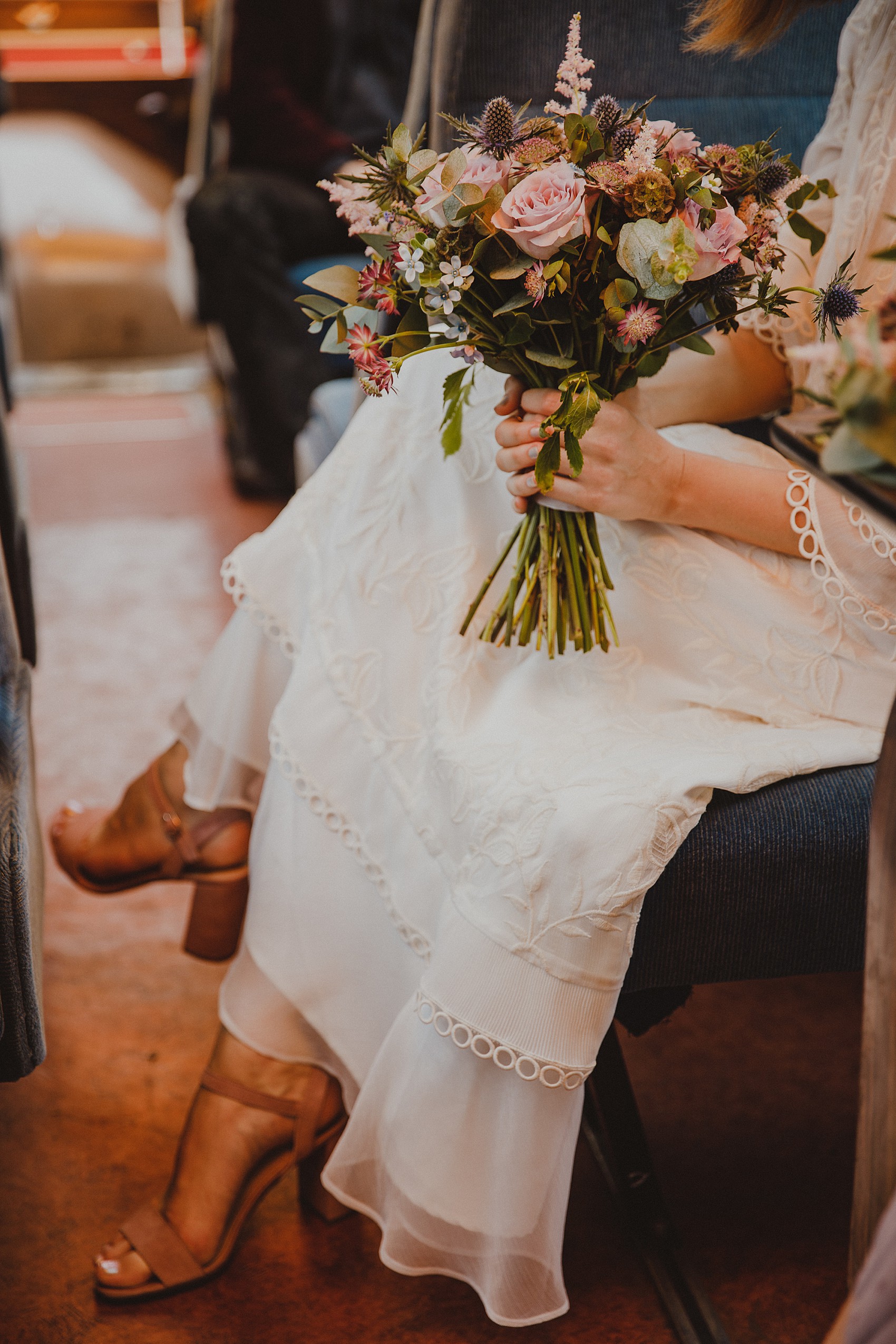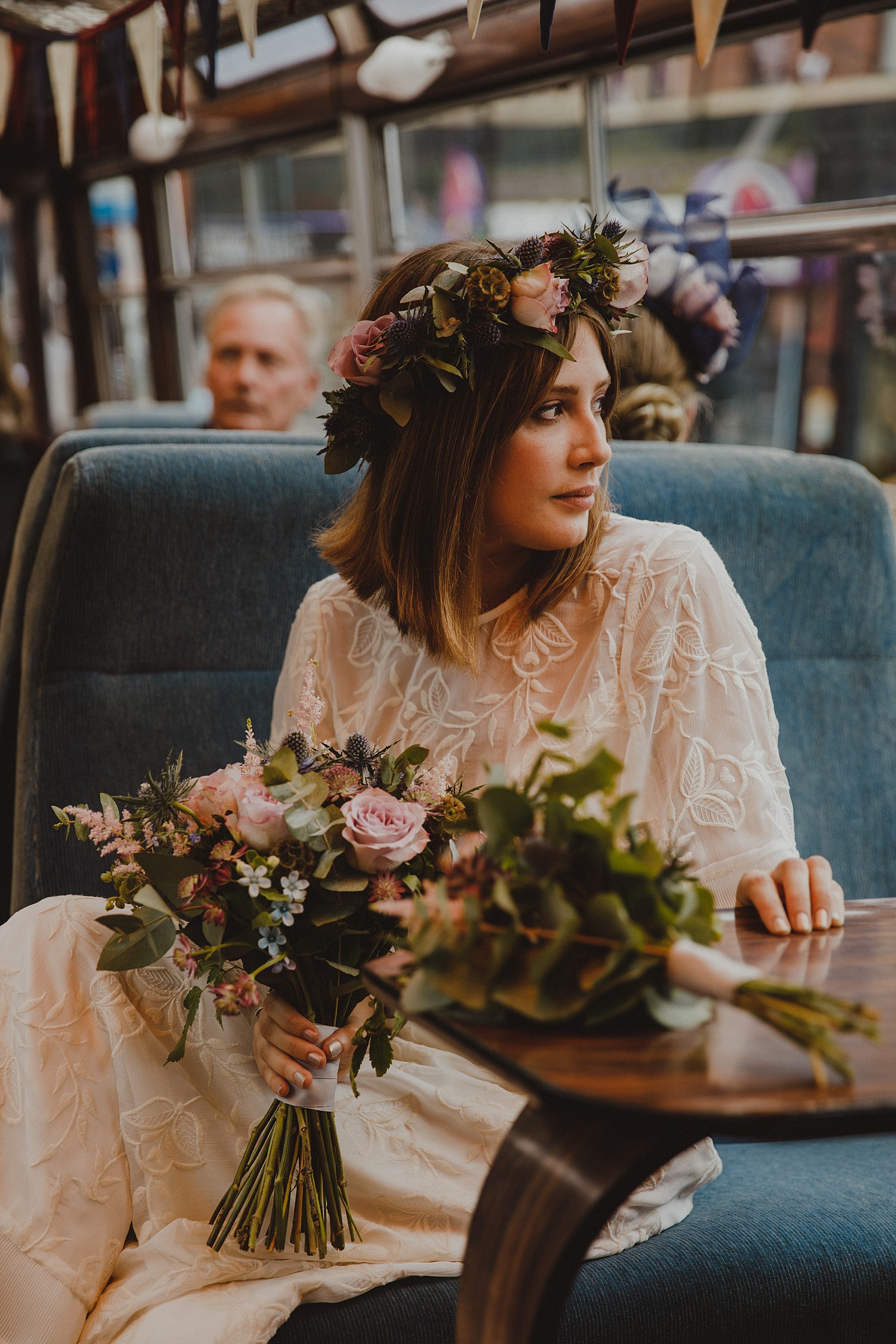 The beautiful glasshouse, in the centre of the Botanical Gardens, meant that the bride, her dad and her five bridesmaids enjoyed a leisurely, five minute 'aisle' walk through the gardens to reach Michael, finally entering to 'These Days' by Nico flowing into 'Rue St Vincent' by Yves Montand.
The fine weather meant that the guests could sit outside whilst the bride and groom wed just inside the glasshouse doors.
The soft pinks and lilacs of the bouquets were mirrored by the bridesmaids' gowns. I love the cool, mix and match feel of short and long in complementing shades.
"I gave the bridesmaid a colour theme and let them all choose their own dress. It meant that they could wear something they loved and felt good in, and again fitted with the informal feel."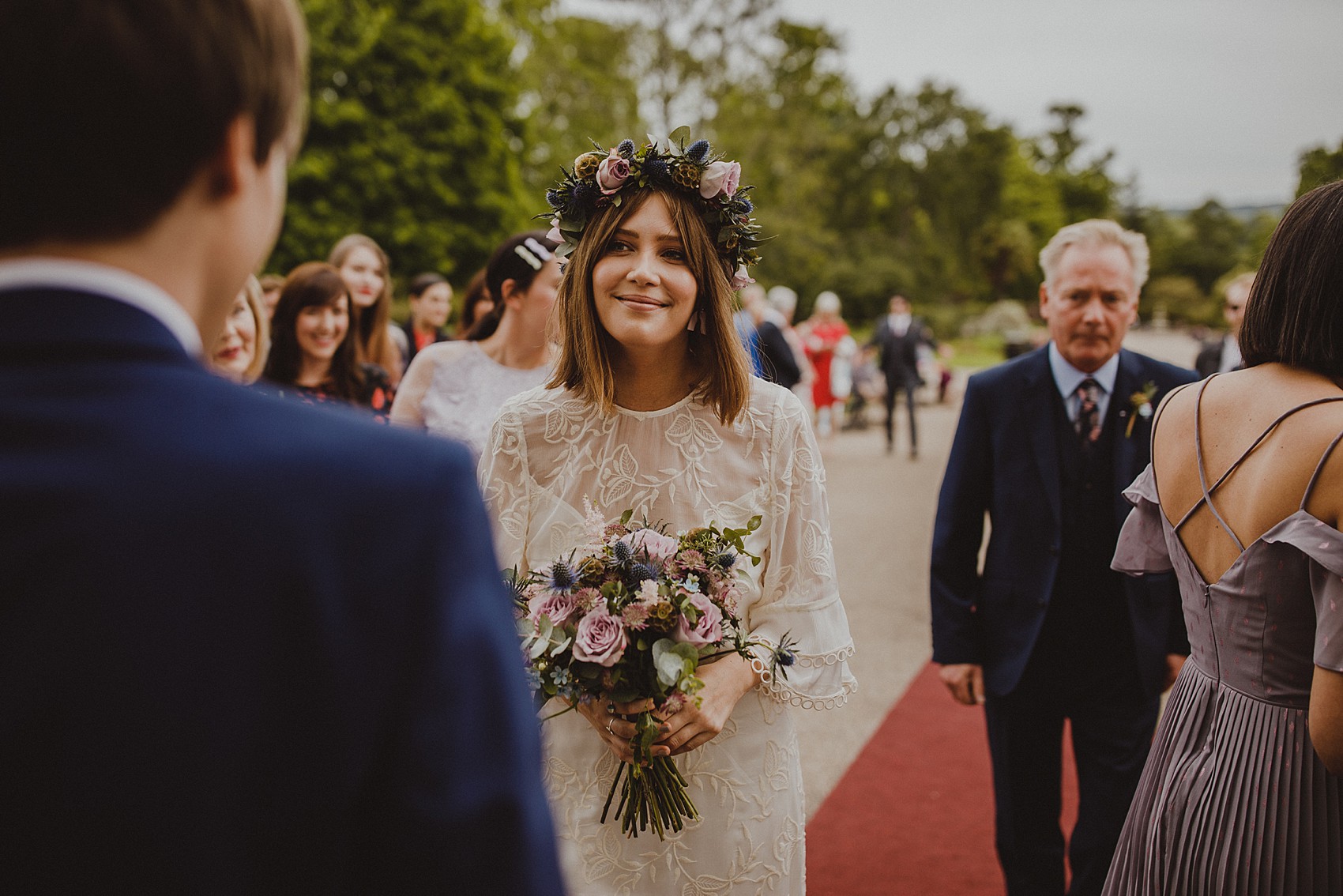 Michael chose a slim-fit navy suit from The Kooples, adding a skinny tie in pale blush for a 70s twist.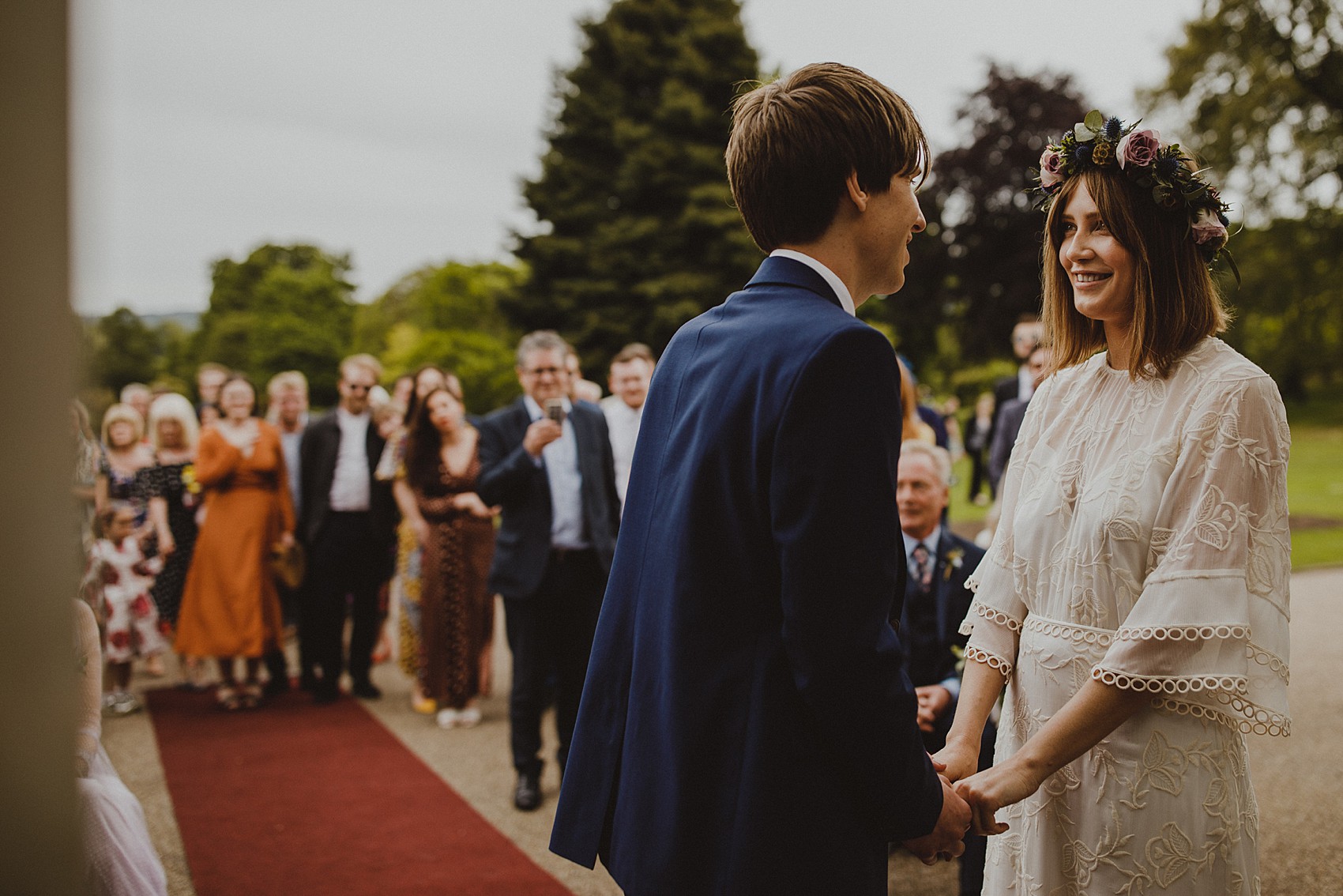 "We choose our vows from options from the council, but we wanted to keep them as modern and simple as possible. Our readings were extracts from the book 'Just Kids' by Patti Smith and lyrics from the song 'God Only Knows' by the Beach Boys. We definitely didn't want anything soppy, but we wanted the readings to mean something to us and our friends and family. We felt like these readings meant sense as they are related to things we like, rather than being generic nice words."
Our rings were from PA Jewellery, a local independent company that was recommended to us by friends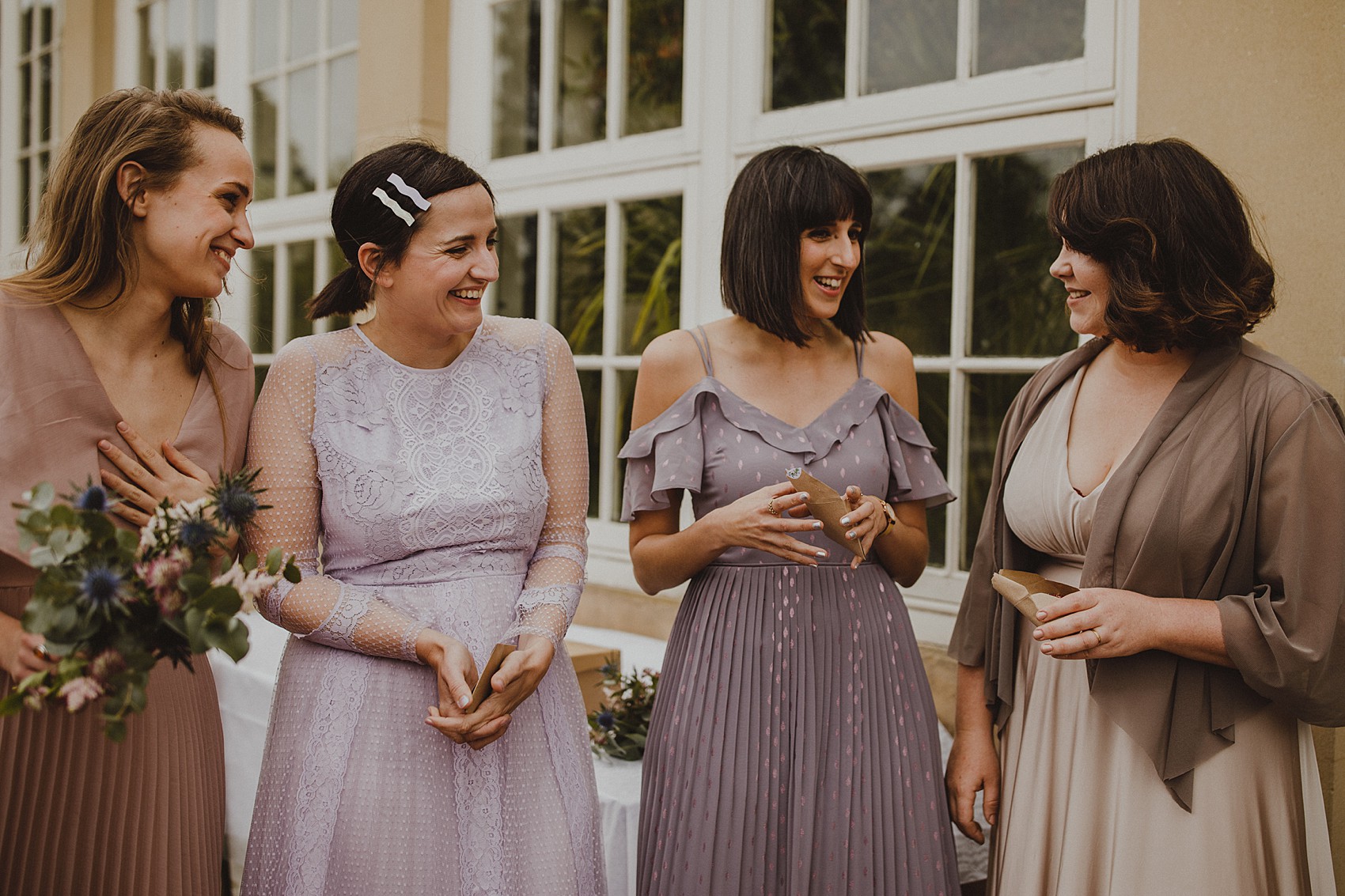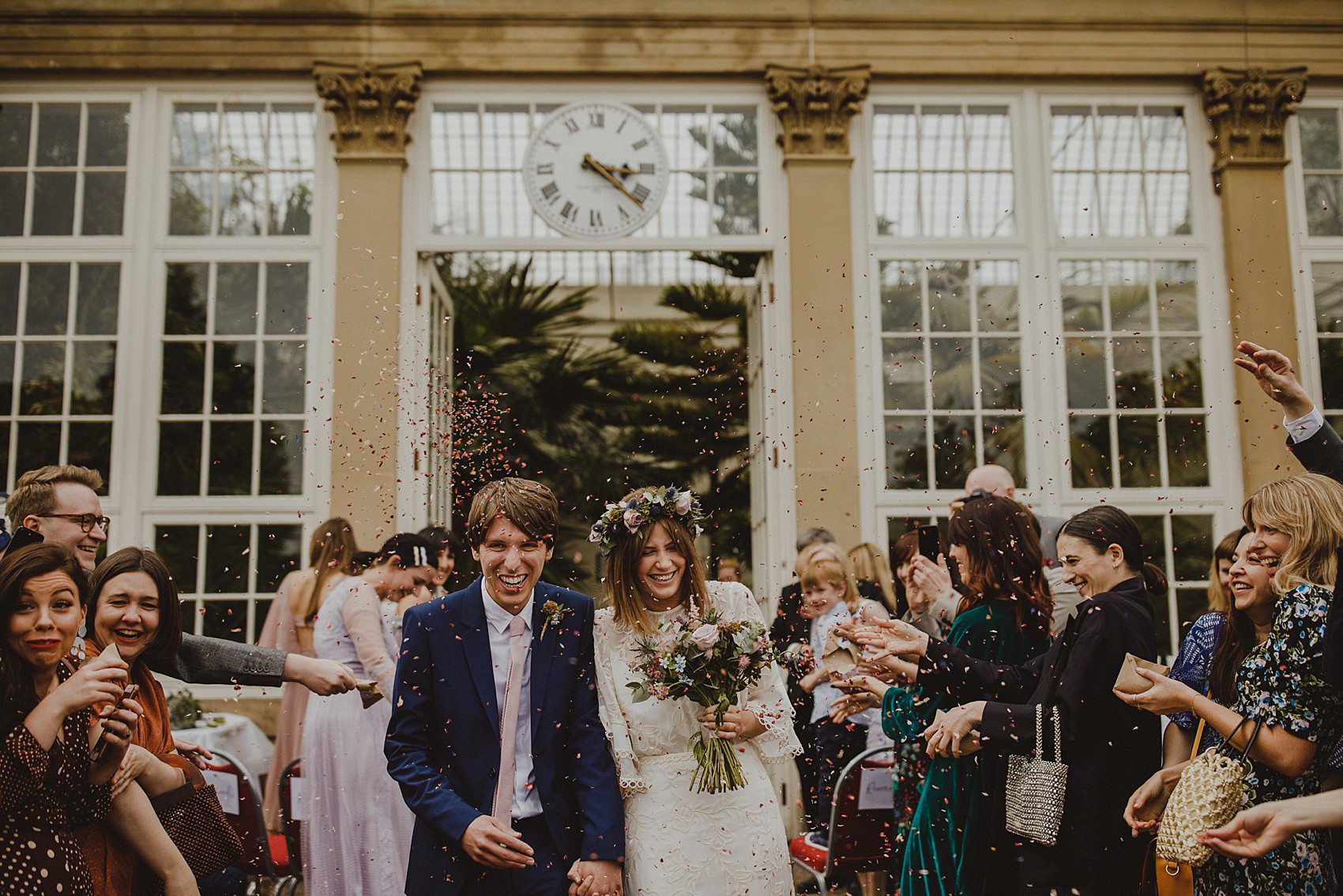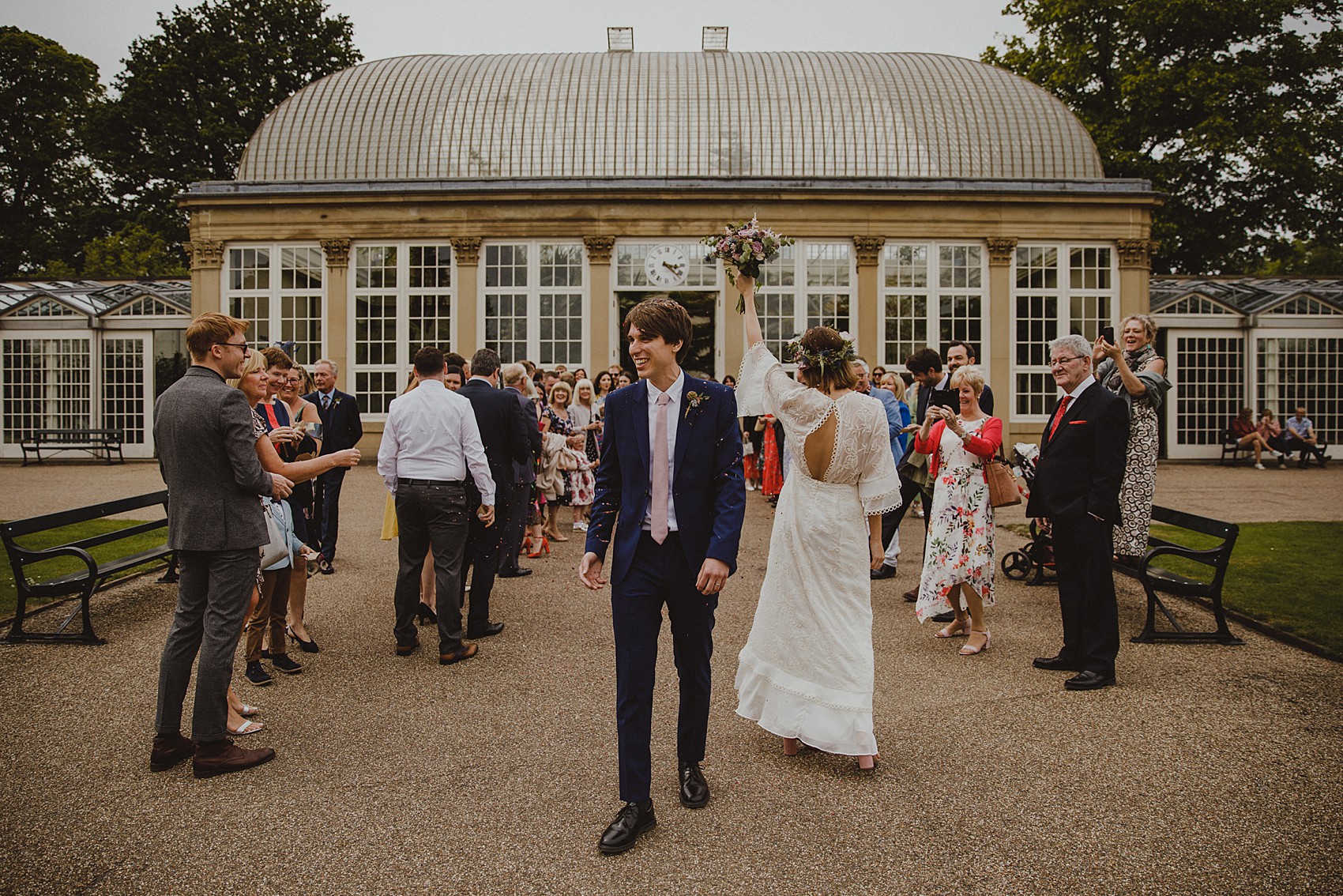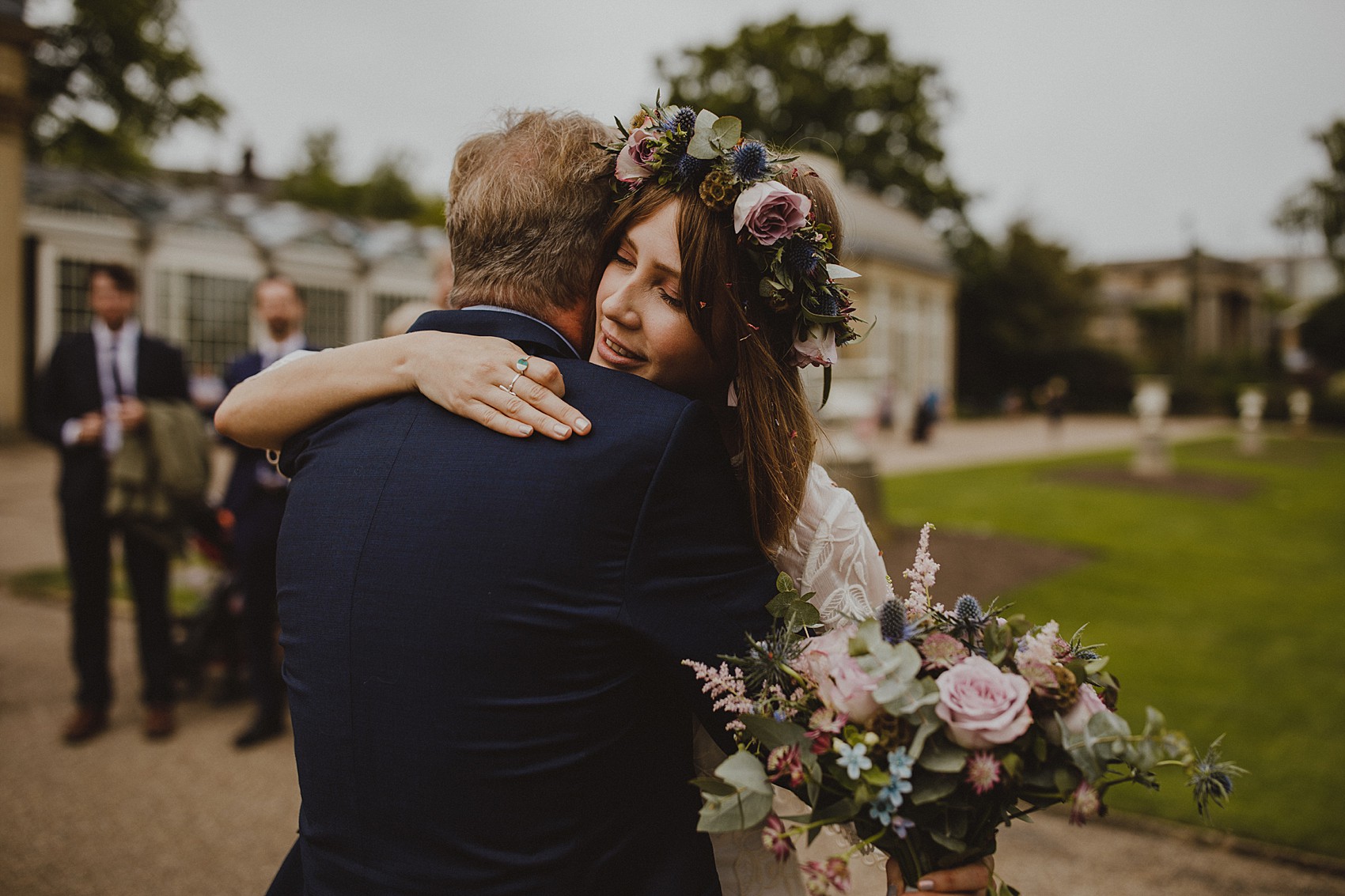 Photographer Tony Wilson of Photography34 made full use of the divine gardens to capture these wonderful, intimate newly-wed portraits shots.
"Tony was recommended to us and we have also recommended him as he was great. He's taking photos at our friends' wedding in October on our recommendation so it'll be nice to see him again."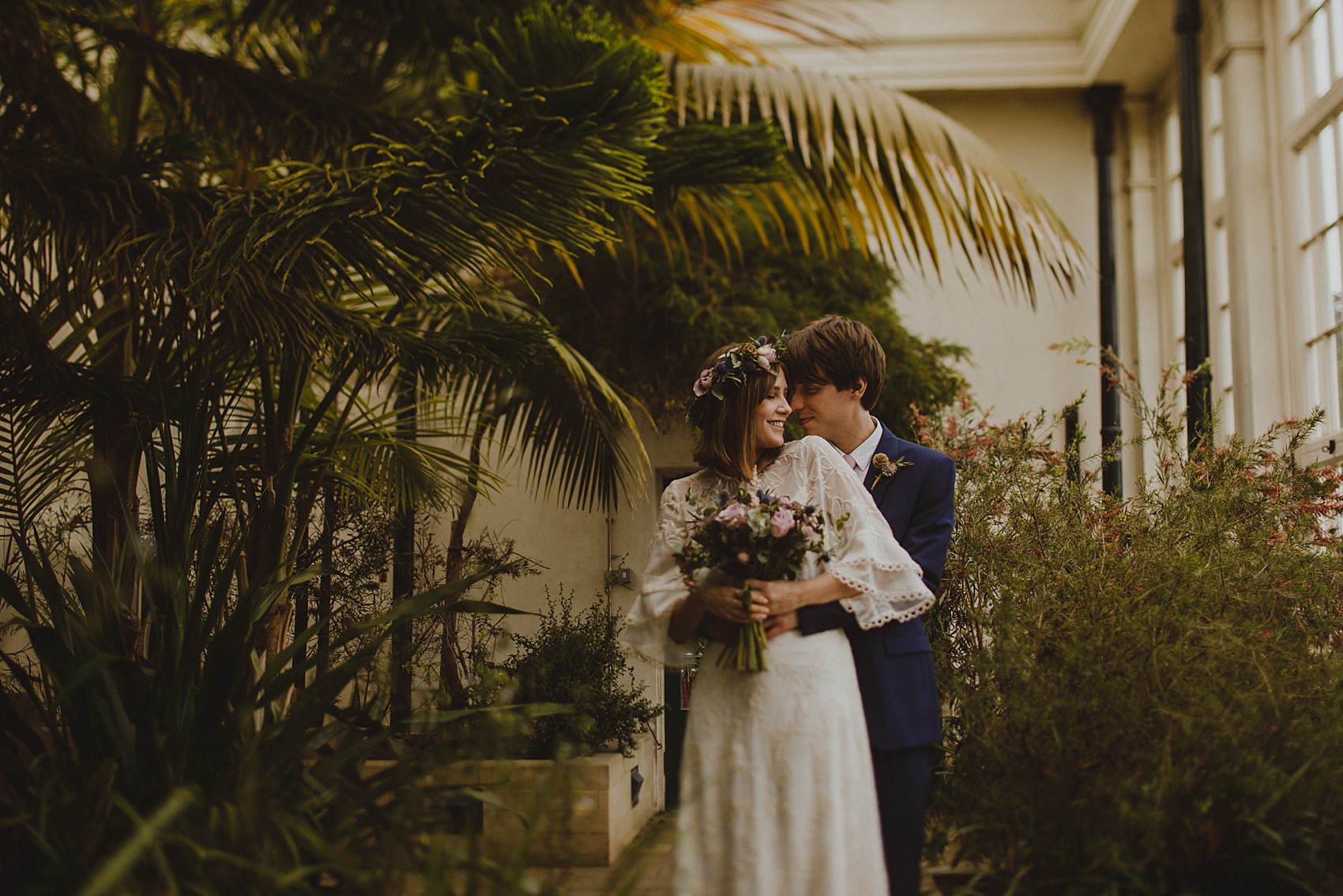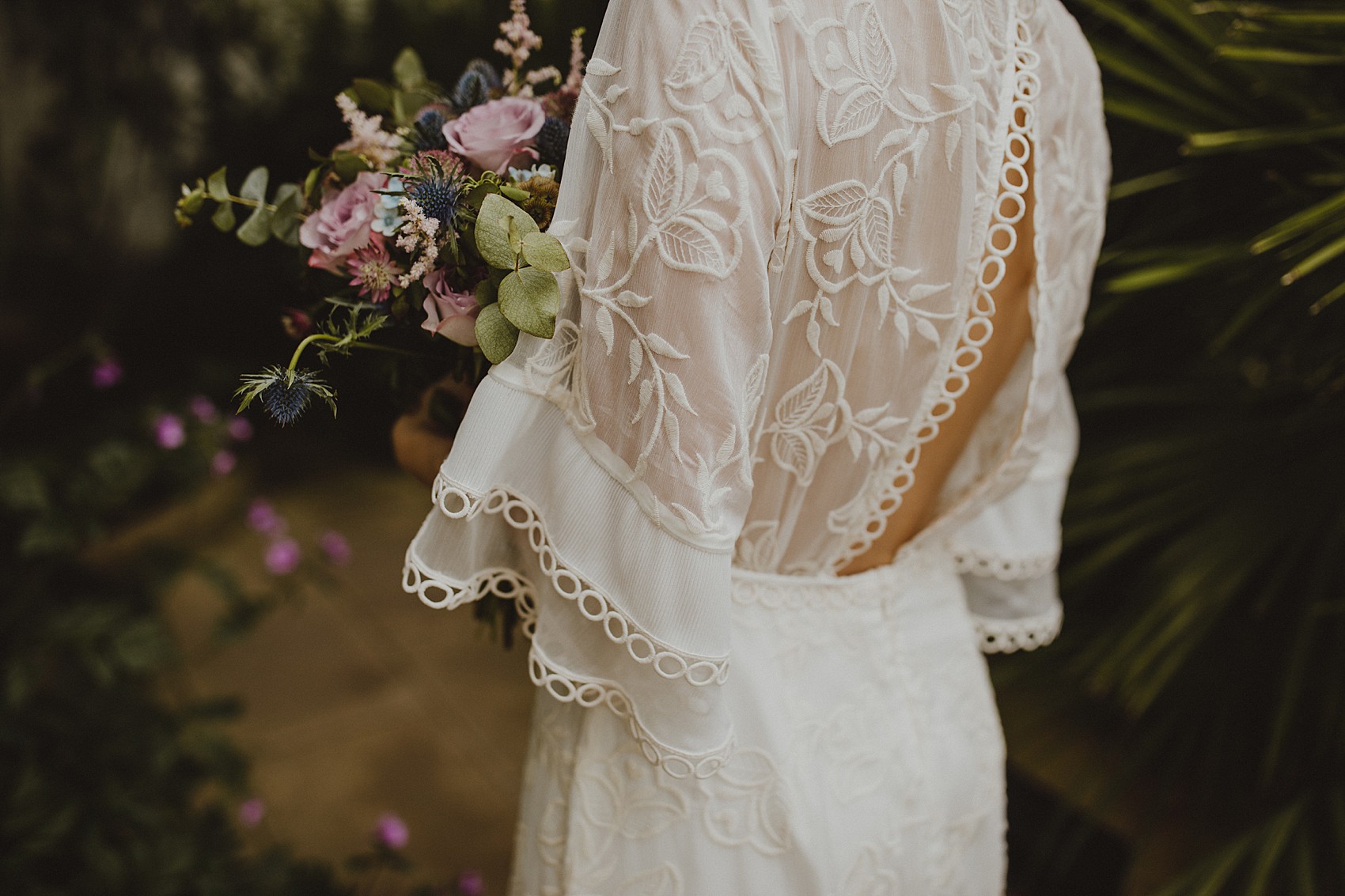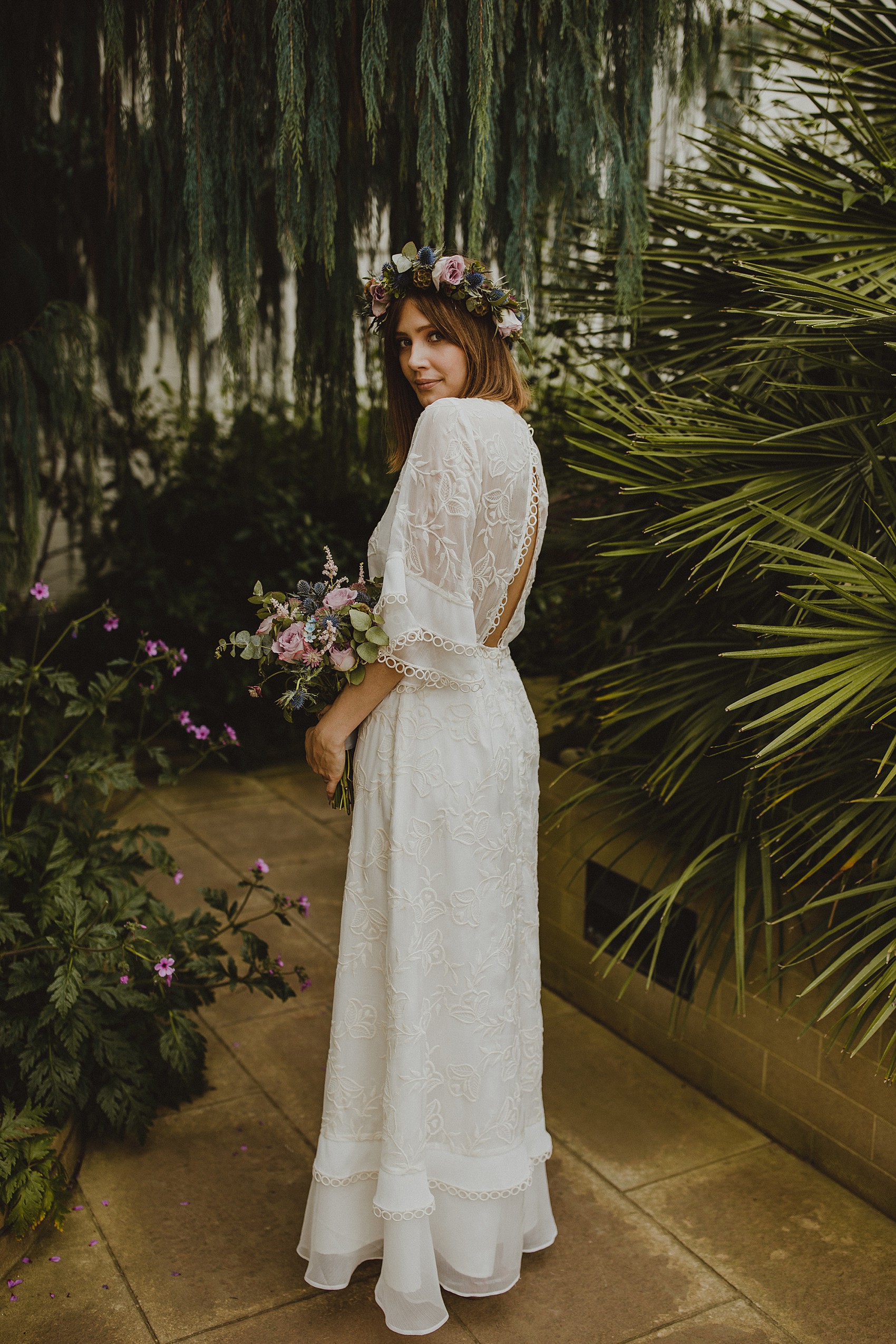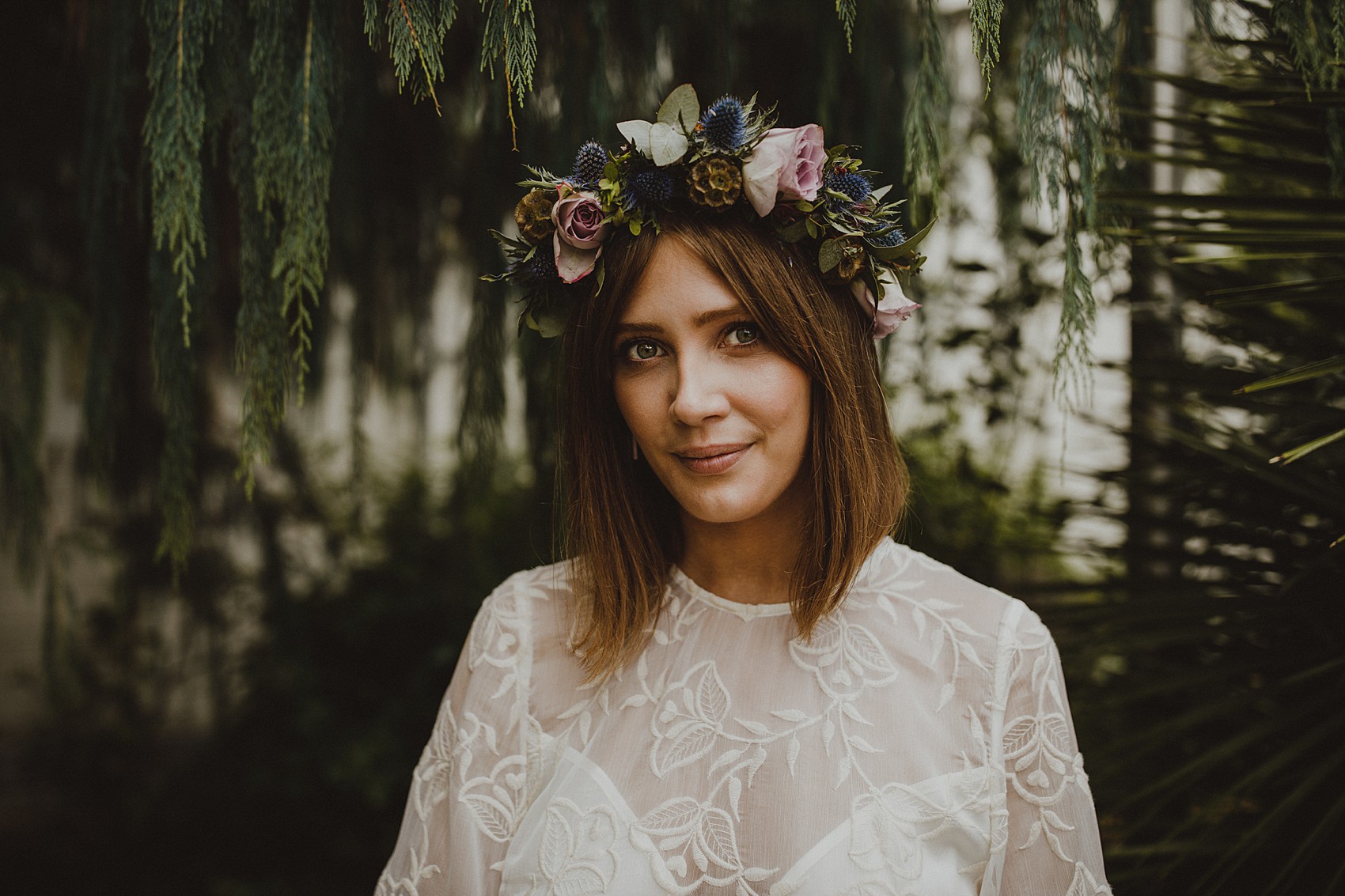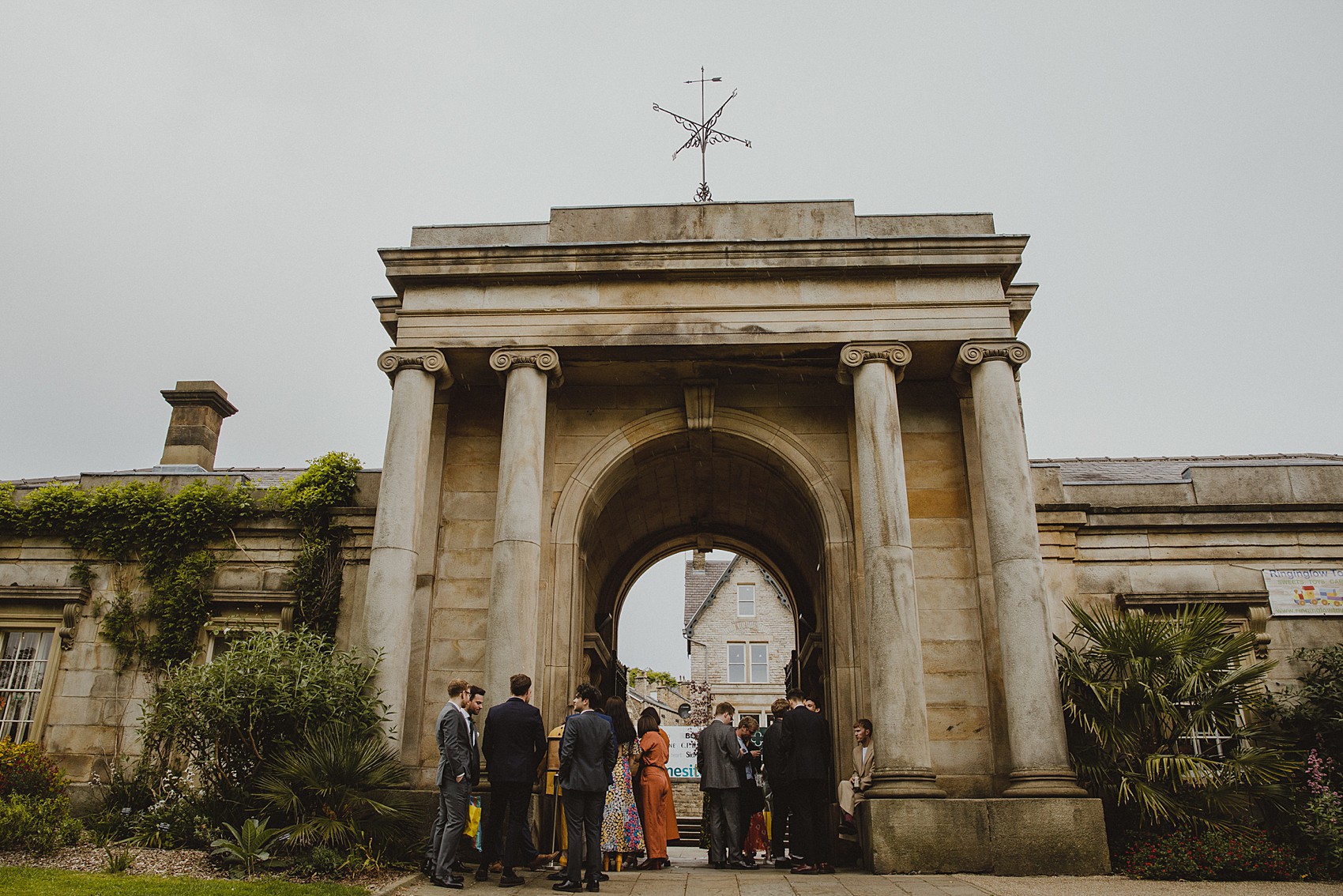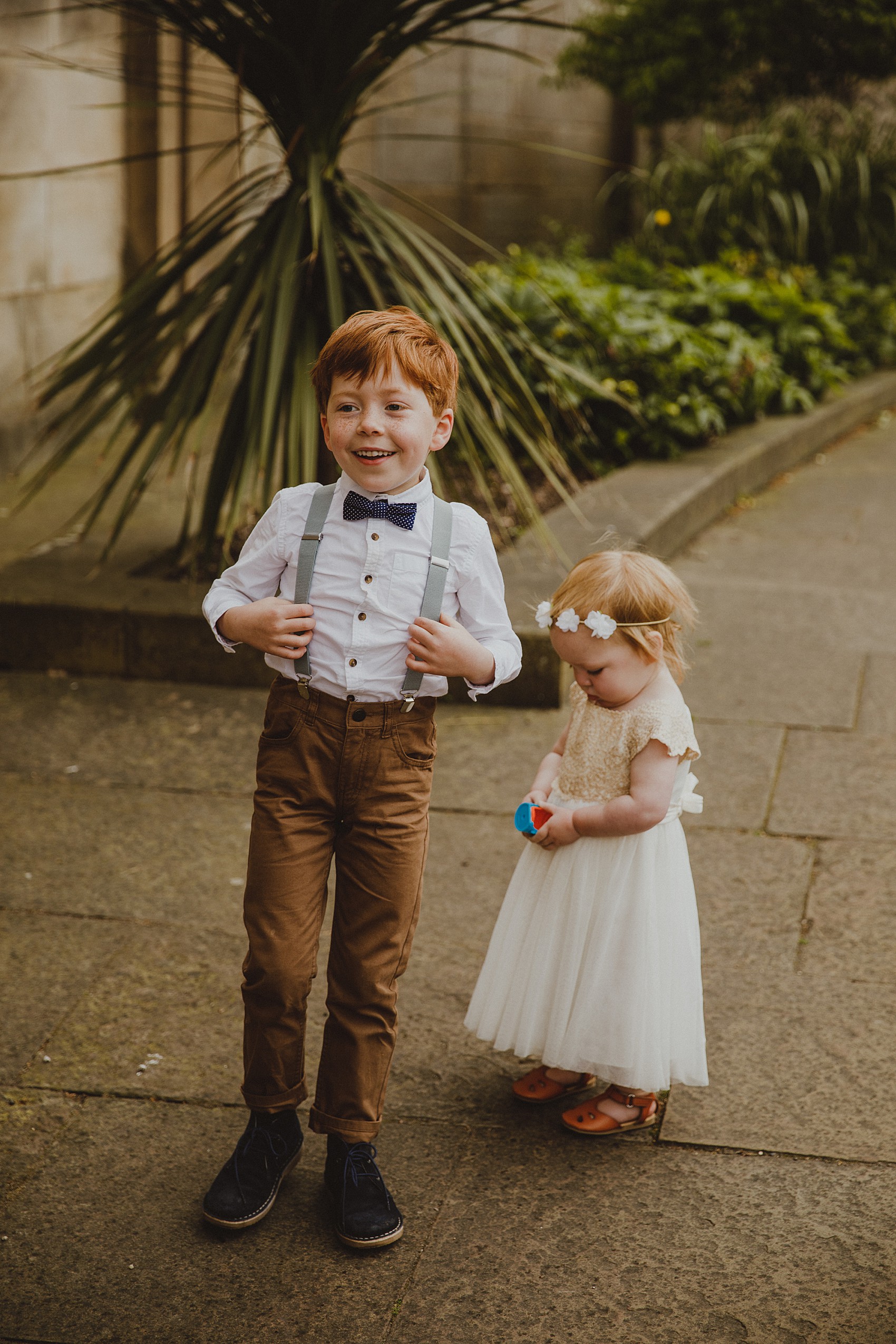 After time celebrating and relaxing in the gardens, the whole party piled into 1966 single decker coach from White's Nostalgic Transport to travel to 99 Mary Street.
"The coach was one of the highlights of the day. It was a great way to travel in between the venues, listening to music and having a drink."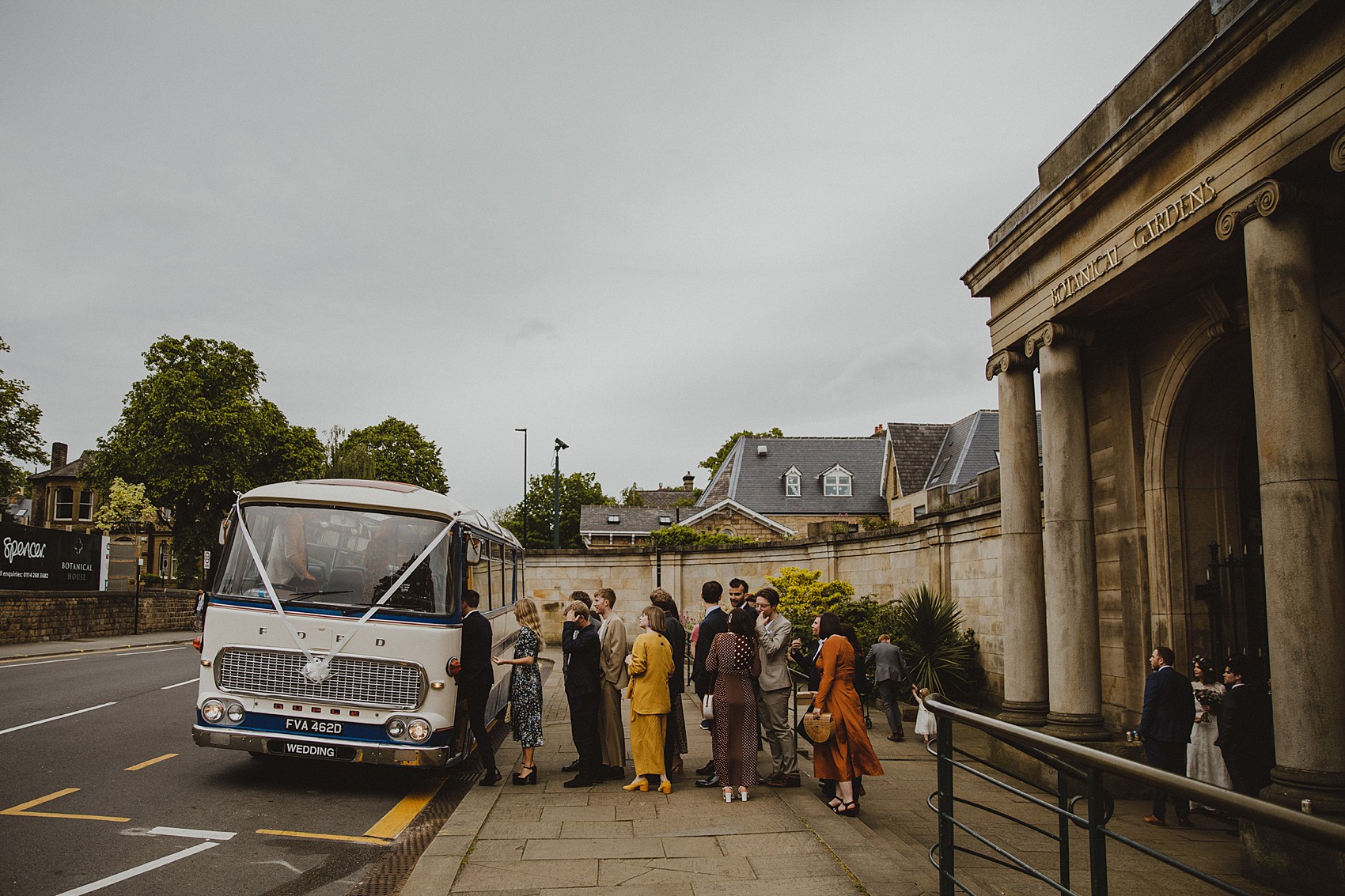 "Our reception was at 99 Mary Street. We fell in love with the venue as soon as we saw it. The building has a lot of character as it's an old industrial space but it's intimate with beautiful old bricks and big windows."
"Nik and Jon, who own it are also great. They were really relaxed and happy to help with all my questions. They also put margaritas on the drinks menu for us, which was a big plus."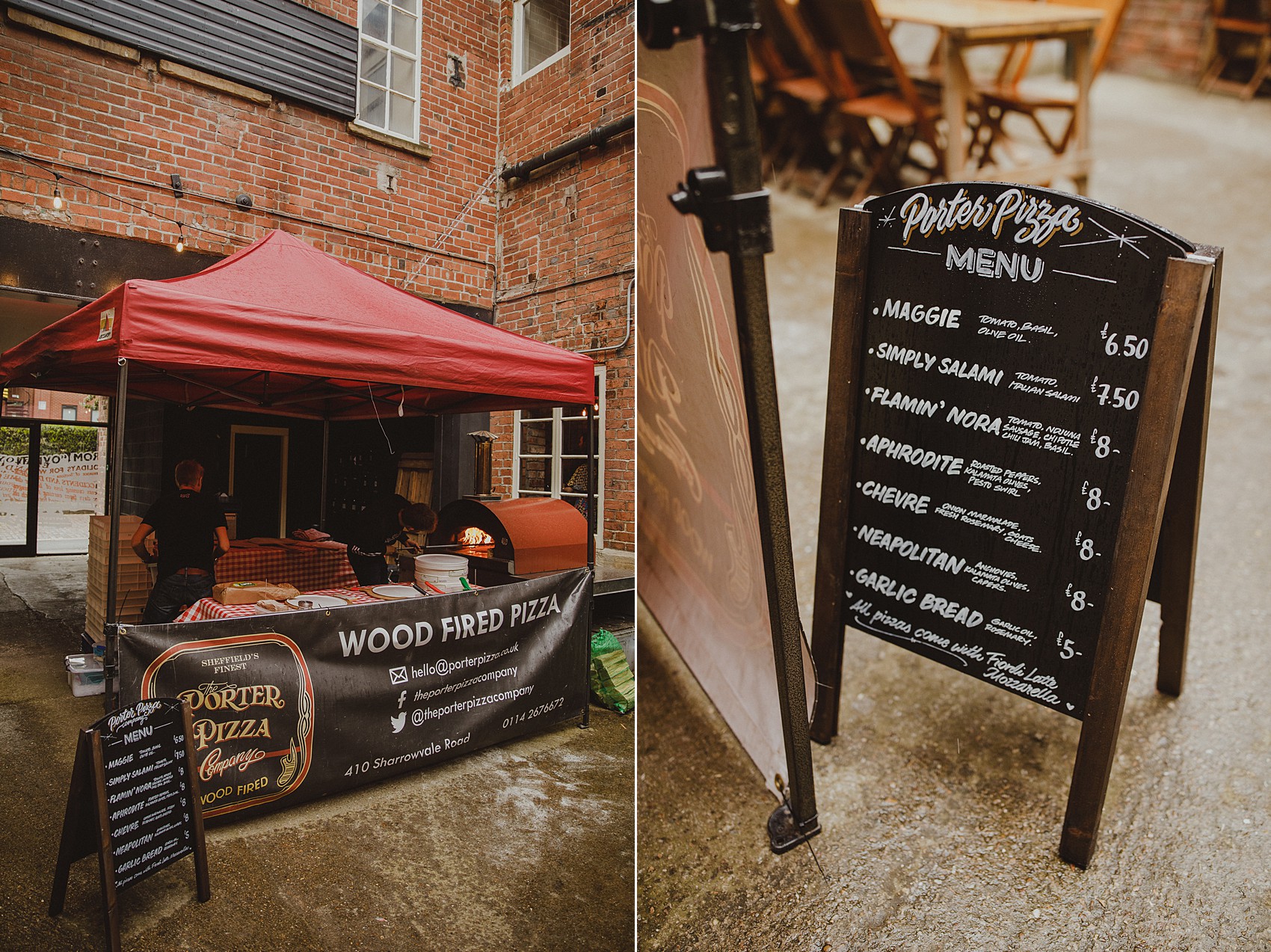 Dinner was held at long trestle tables, laid with garlands of foliage, taper candles in wine bottles and packets of wildflower seeds as favours.
"We spent hours and hours getting the labels off wine bottles and putting candles in them but they looked really good on the tables in the venue."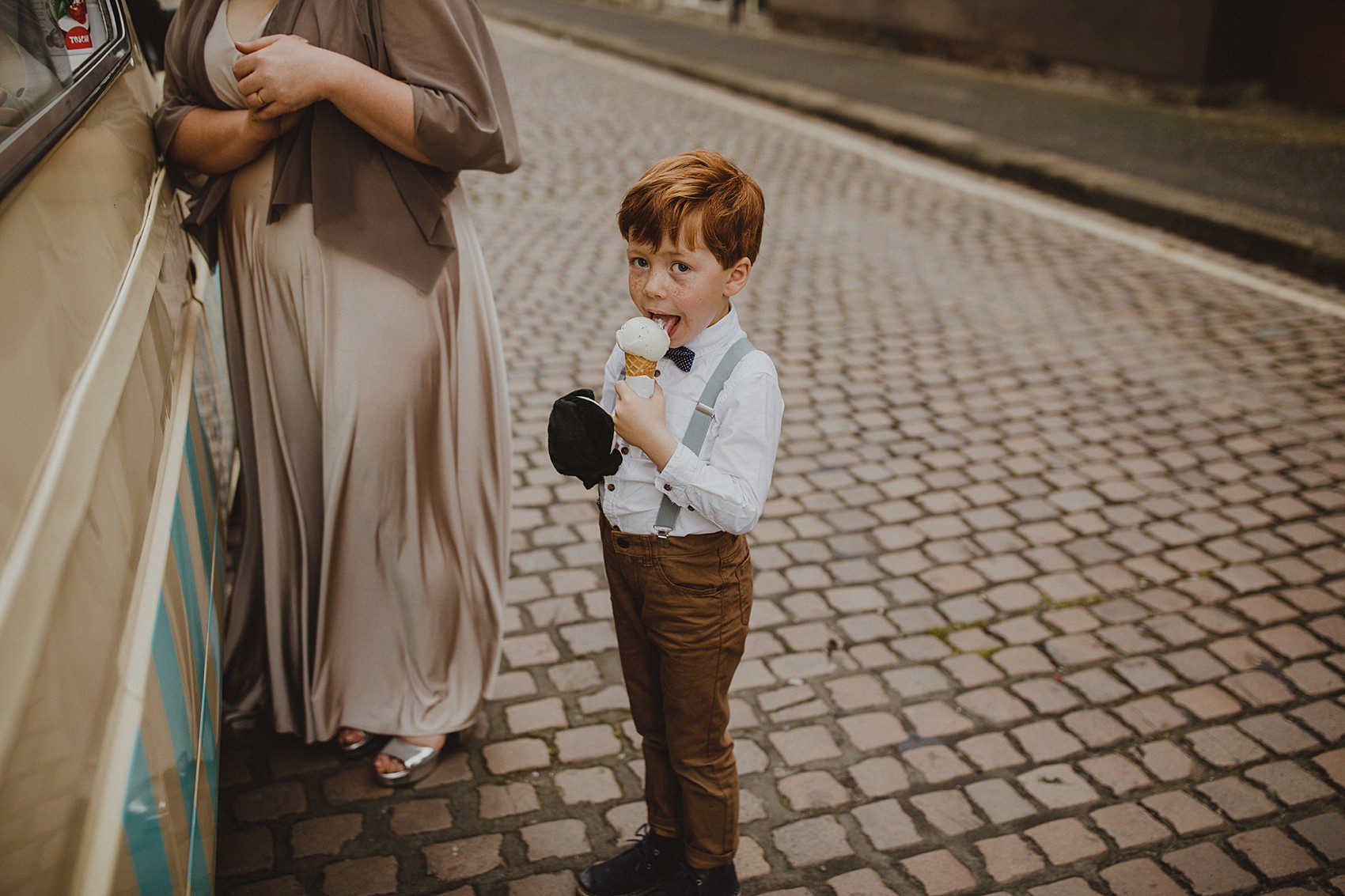 "Michael's mum made us the best fruit cake we'd ever eaten, with plenty of brandy. We also had a cheese celebration cake from M&S."
After dinner, the cutting of the cake and speeches, the bride slipped off her white gown to don a striking blue, maxi dress from Desert Sun. I love the fluidity of its wide bell sleeves and intricate Joshua Tree embroidery on its back, shoulders and sleeves. She also wore statement silver platform shoes from Schuh, and the couple took the opportunity for more extraordinary portrait shots on the streets of Sheffield.
I love how the industrial brickwork of the reception venue was softened by careful use of candles, greenery and wreaths of fairy lights. This couple chose to do things their own way, kicking off with canapés from Kollective Kitchen and hiring in Porter Pizza's pizza van for freshly-cooked, pizza joy.
I love the inclusive feel of the reception where everyone got involved to make the day a true celebration.
"We asked friends to do themed DJ sets at the reception. This worked really well as it gave a focal point for people on the dance-floor and we could set the mood in a way. We started with 60s and 70s which was great for getting people of all ages up dancing from the start, because the dance floor was then full all night."
For their first dance, Michael and Nichole chose none other than 'This Time Tomorrow' by The Kinks.
"It's a really lovely song that's personal to us. It also has the lyric, 'This time tomorrow where will we be?', which I thought was a nice sentiment for looking forward to our lives together. Straight after we played 'Be My Baby' by The Ronettes to get the dance-floor started!"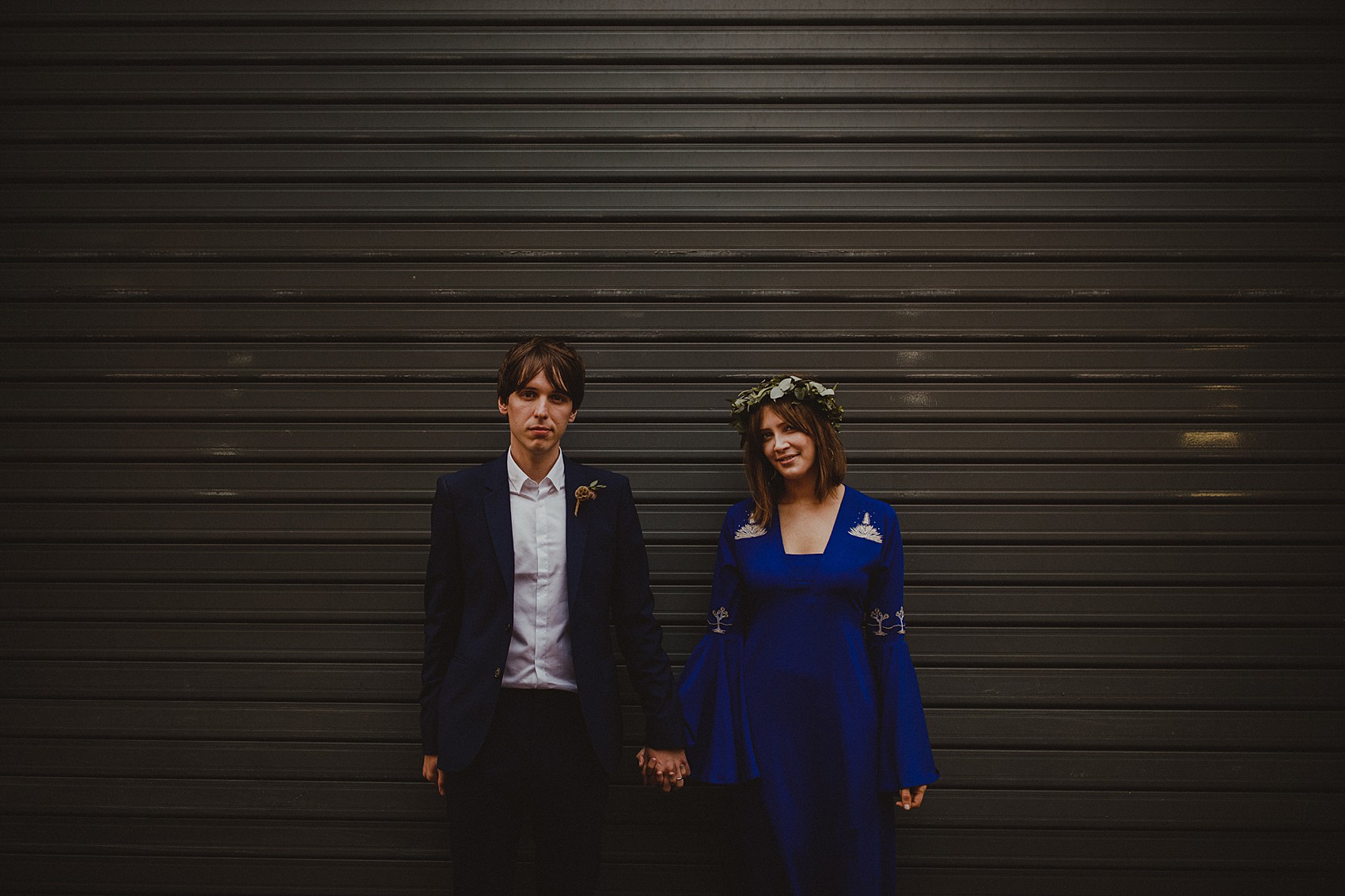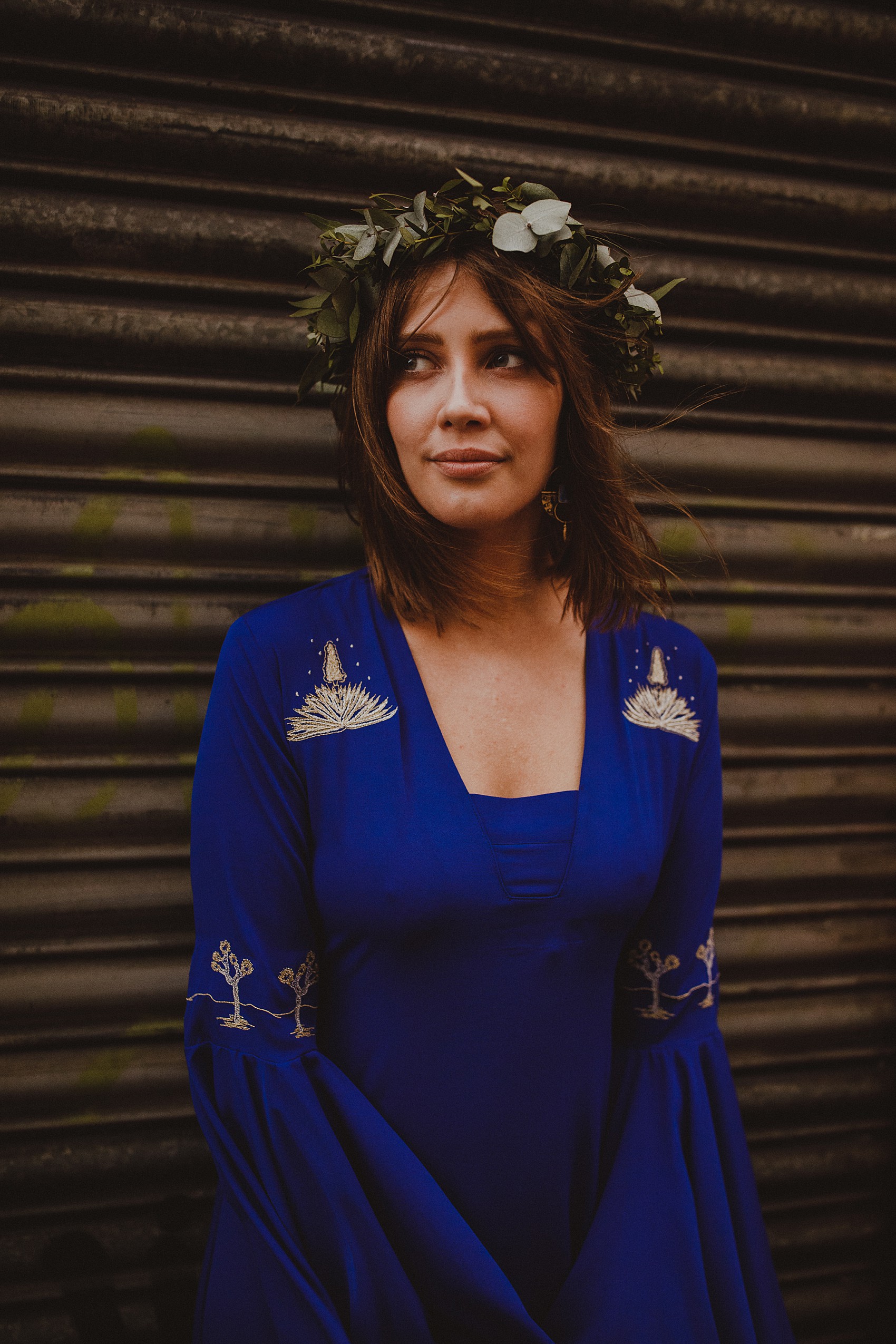 "The whole day was perfect but when I think back to it, the moment that stands out is being on the coach after the ceremony, driving to the reception venue. It was a moment of calm with Michael but also very fun as our friends were there enjoying themselves."
"Another was having a quiet moment and a drink with my maid of honour Liz after the ceremony, walking in the gardens. I think it's the moments that you can't plan for that are the most poignant sometimes."
Words of Wedded Wisdom
"Being organised so that you have a clear plan for the day really helps to keep you relaxed. People in the wedding party (bridesmaids, best man, ushers etc.) will also be happy to have small jobs to do on the day to make sure things run smoothly, so it's fine to ask them."
"But… don't worry and stress too much over the tiny details. You will have the best day no matter what and your guests will be intent on having a good time! No one knows what decisions you didn't make, or what you almost went with instead, so let it go."
Well, for botanical beauty, can you get more gorgeous than this? I love the juxtaposition of the leafy, outdoorsy feel of your ceremony and the urban, industrial vibe of 99 Mary Street. Michael and Nichole, thank you so much for sharing your wedding with us and Photography34, it's been a true pleasure to feature your work.
Wishing you all a lovely bank holiday,
Ele xx