If you love the cosy merriment of Christmas time as much as I do, then this is going to be a wedding you'll want to curl up with and enjoy.
Today's festively minded couple were inspired by the season, and by botanical beauty, too, which seems entirely fitting given what they both do for a living.
OW Productions Wedding Videography

+ Follow
This is the wedding of Heather and Josh. Heather is Senior Press Officer at the Royal Botanic Gardens, Kew, and Josh runs London-based tree surgery business, Hi-Line.
They were married on the 21 December 2019 – the winter solstice – in a church ceremony followed by a reception at luxury country retreat ANRÁN, in South West Devon.
Richard Skins Photography

+ Follow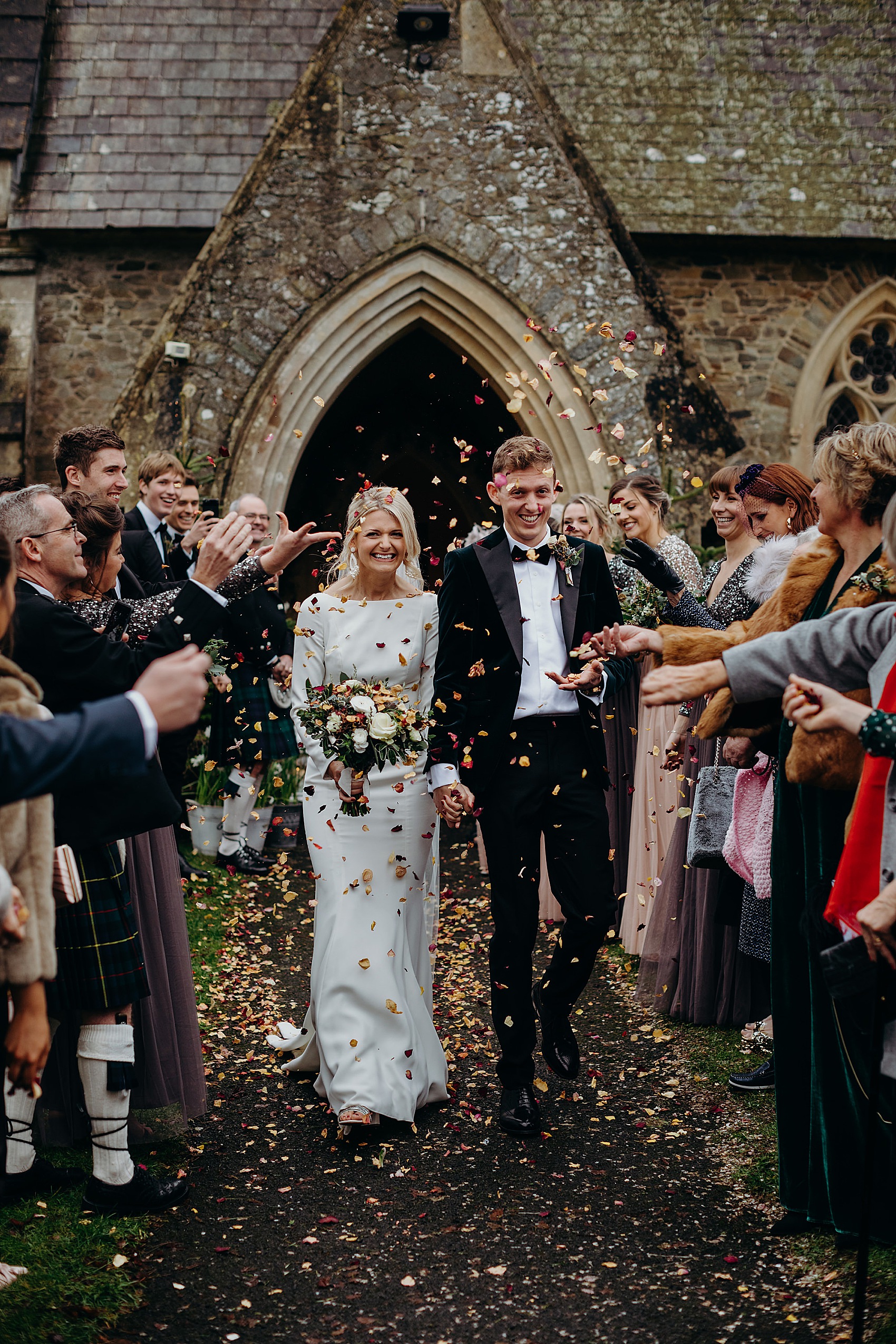 It's always a pleasure to share the work of our Little Book member Richard Skins on our pages. Richard has such a wonderful eye for documenting moments as they naturally unfold, but every single one elegantly composed. Richard was assisted by second shooter Keziah Davies from Hello Pictures, too.
"Richard exceeded our expectations in every way. We were so pleased with our wedding photos, they were exactly what we could of hoped for and more. The way Richard captures the emotion and fun of the day without being intrusive is incredible."
"We were both quite worried about having our pictures taken, but we didn't feel shy or embarrassed on the day, as Richard spent time to find out what we wanted beforehand, and captured the day in a beautiful yet candid way. Receiving the photos back and being able to relive the day was amazing and is well worth every penny. I couldn't recommend him highly enough. Thank you so much Richard, you are extremely talented, and we feel very lucky that we managed to snap you up on our date before somebody else did!"
"Olly Wilkes from OW Wedding Videography was incredible. He captured the most stunning video of our day, without us even realising it was being filmed. We're so glad we have it as a memory of the day, especially the separate speech and church service edits, too."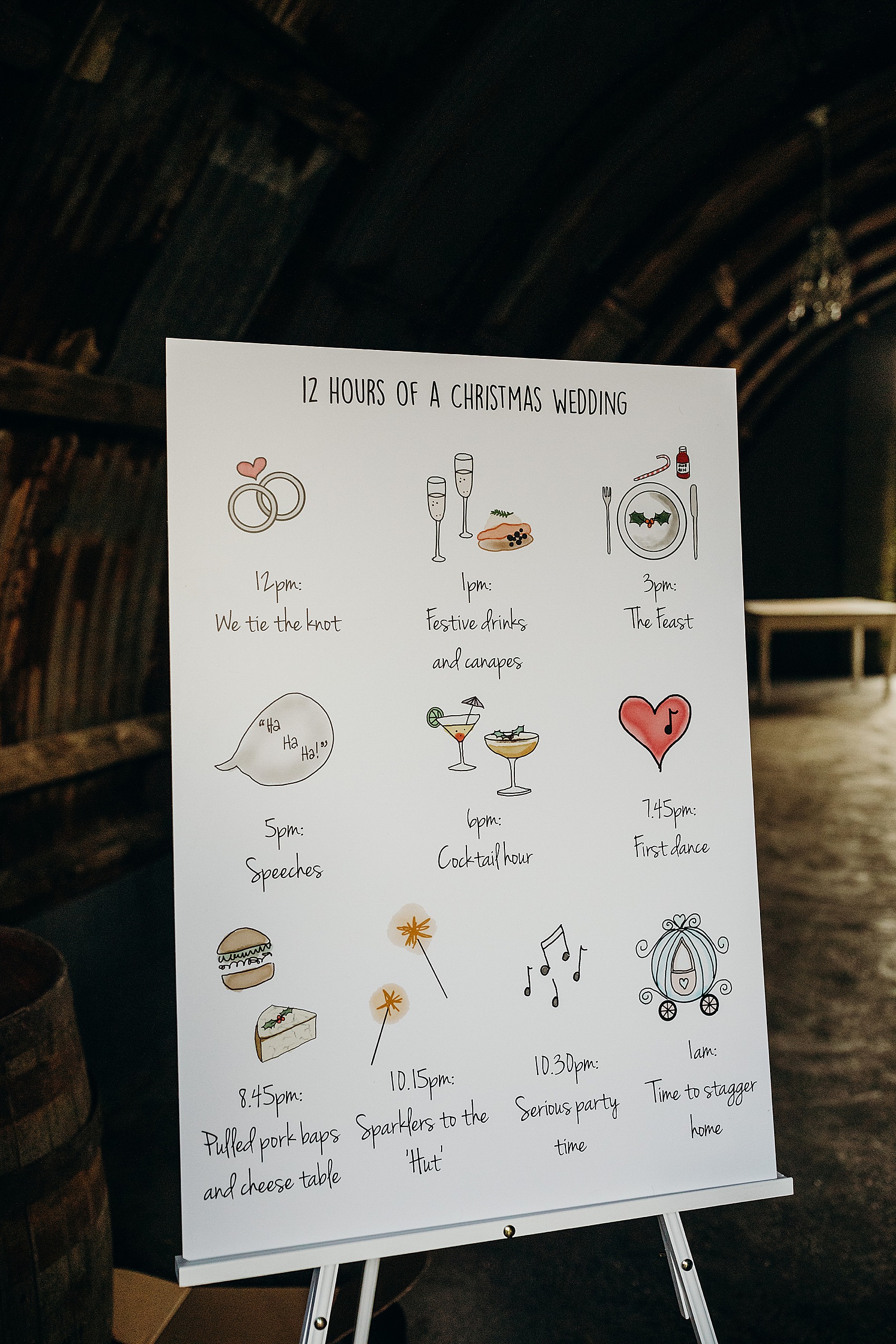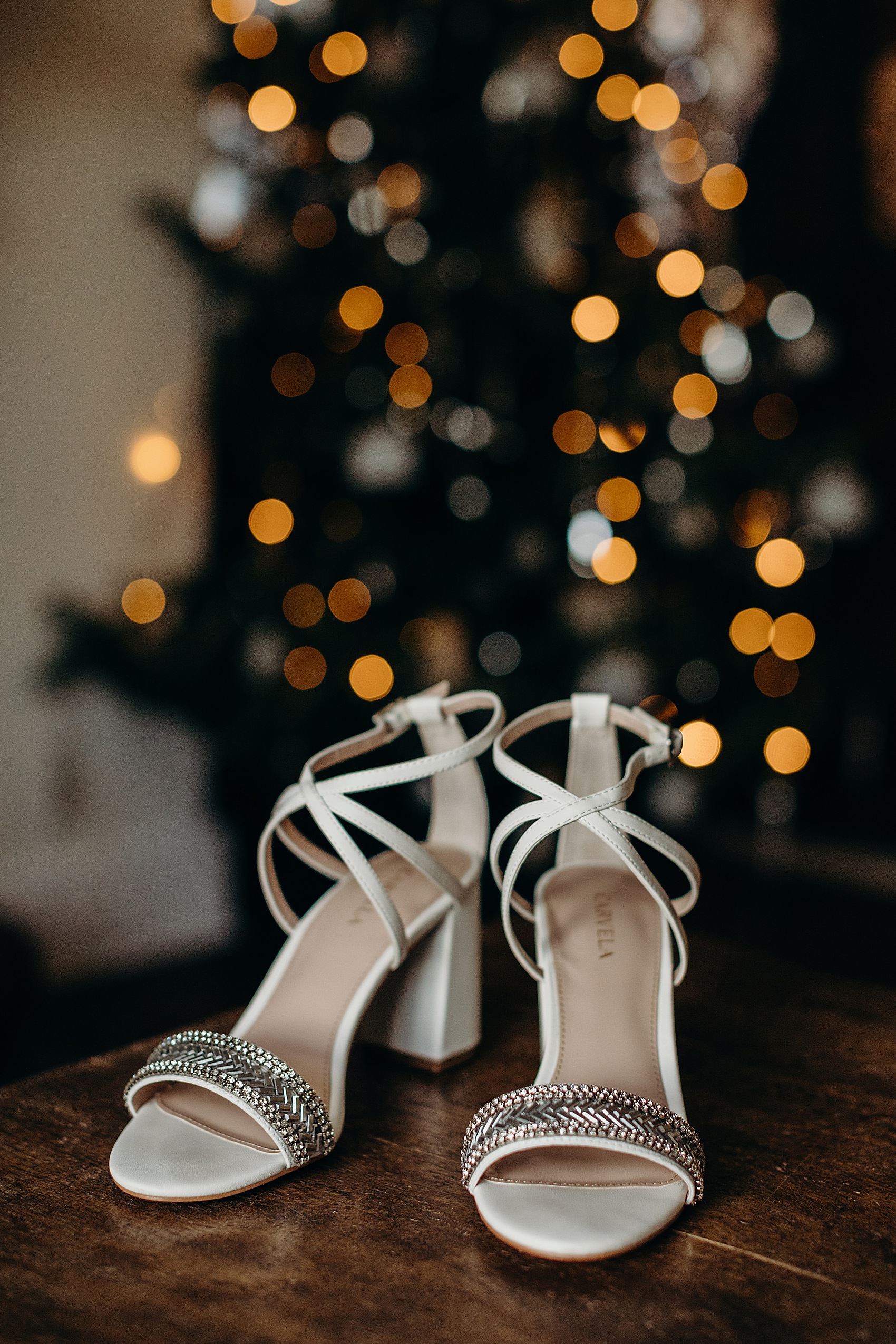 Heather and Josh are naturally drawn to botanical style, and this was their main inspiration when styling their day. Well, that and Christmas, too!
"We both love Christmas, so deciding to get married at this special time of year helped shape the day, and we went for green and gold tones. We had the vision of candlelight everywhere, Christmas songs, mistletoe, mulled wine, and sloe gin."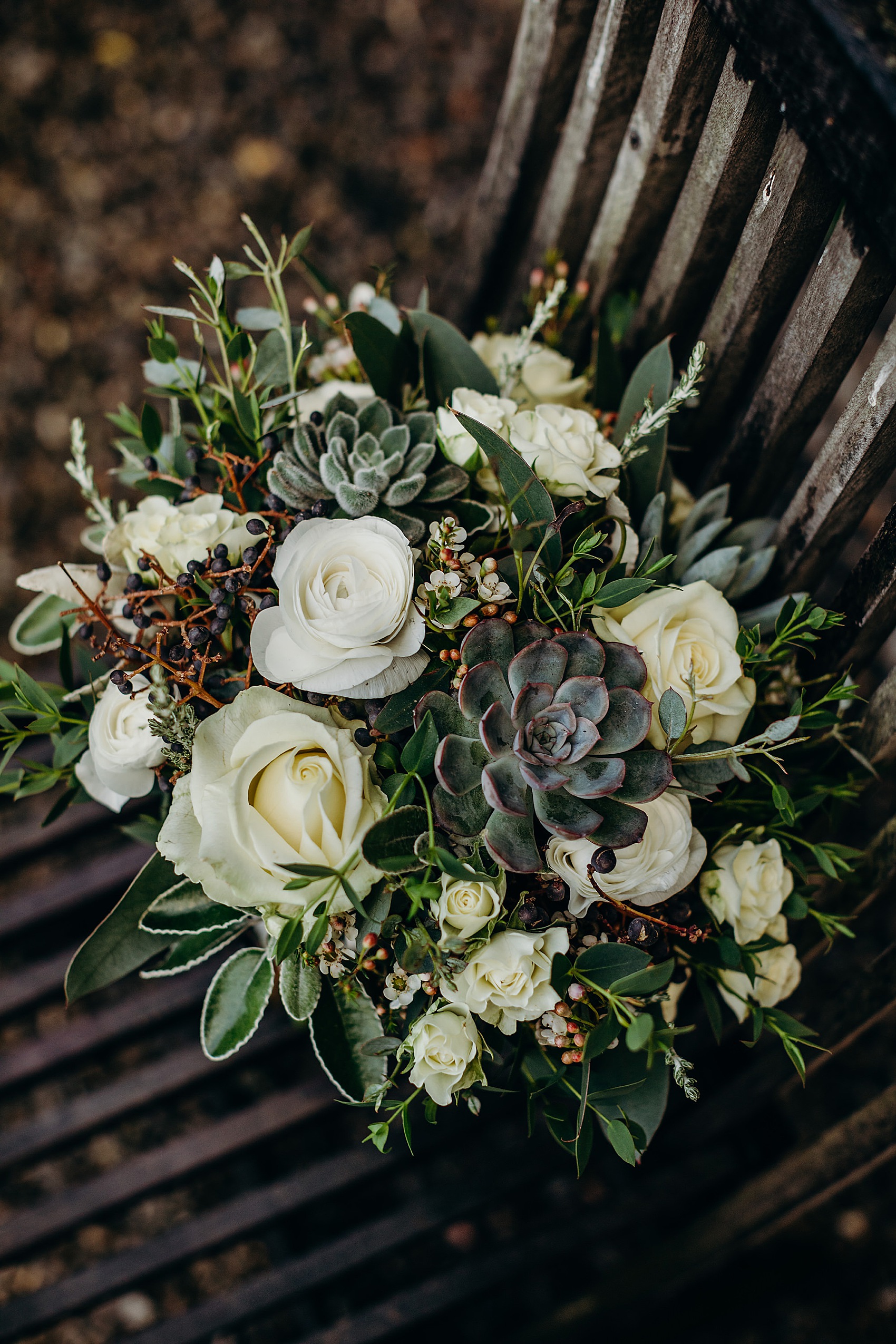 Heather discovered florist Emma Hewlett Floral Design on ANRÁN's Instagram feed, and loved her luxurious, seasonal style. Heather's bouquet was filled with greenery and white roses, together with succulents, berries and branches of waxflower blooms.
"I loved Emma's style, and when I met up with her in person and explained what I wanted she understood the look we were going for, and came back with a beautiful mood board. I would really recommend Emma, she's lovely and even came to gift us a couple of succulents similar to those used in my bouquet on our wedding morning."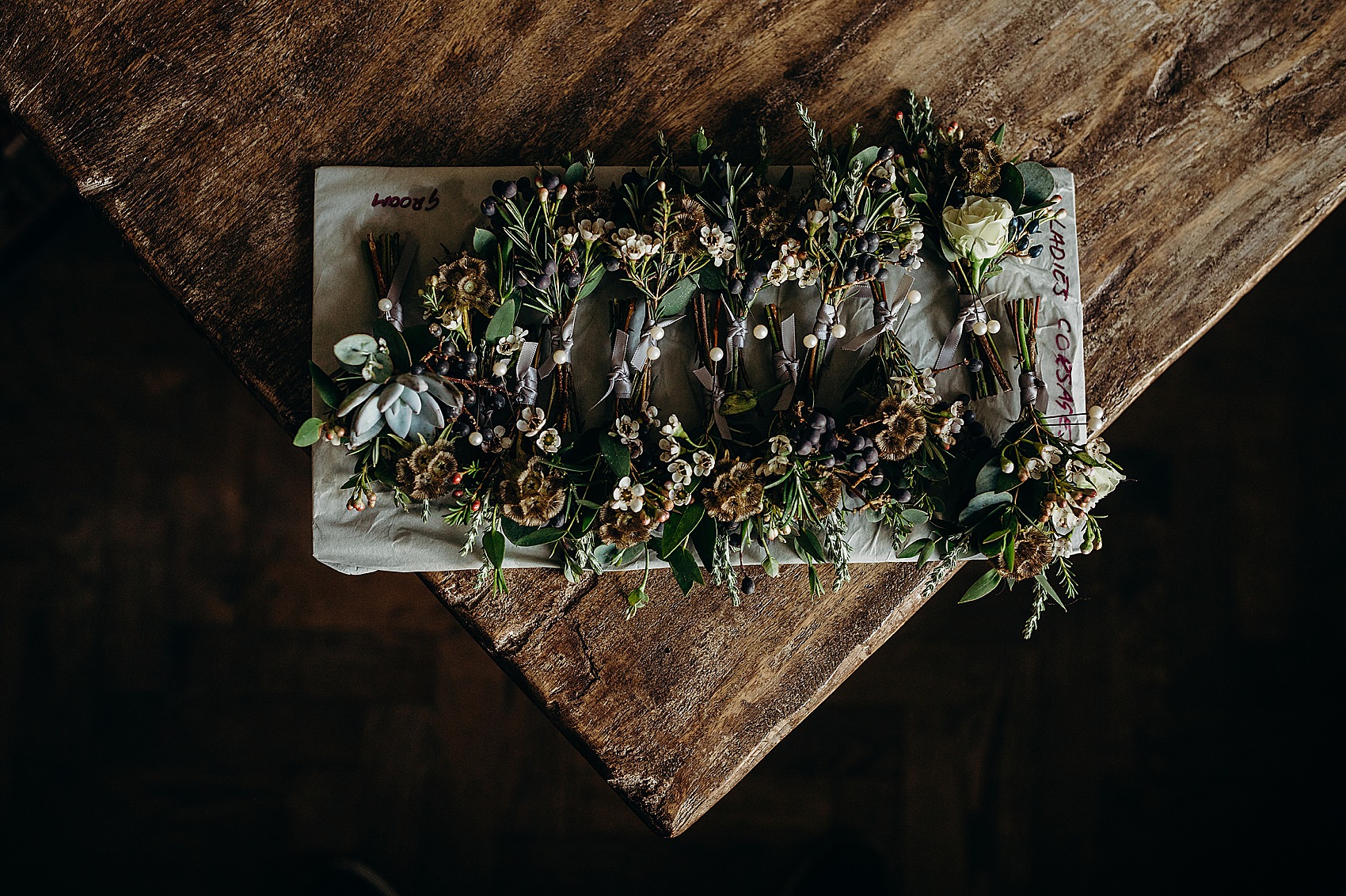 "The bridesmaids' dresses were from ASOS, and were long-sleeved, glittery and very festive. They sparkled in the candlelight in the church and looked amazing."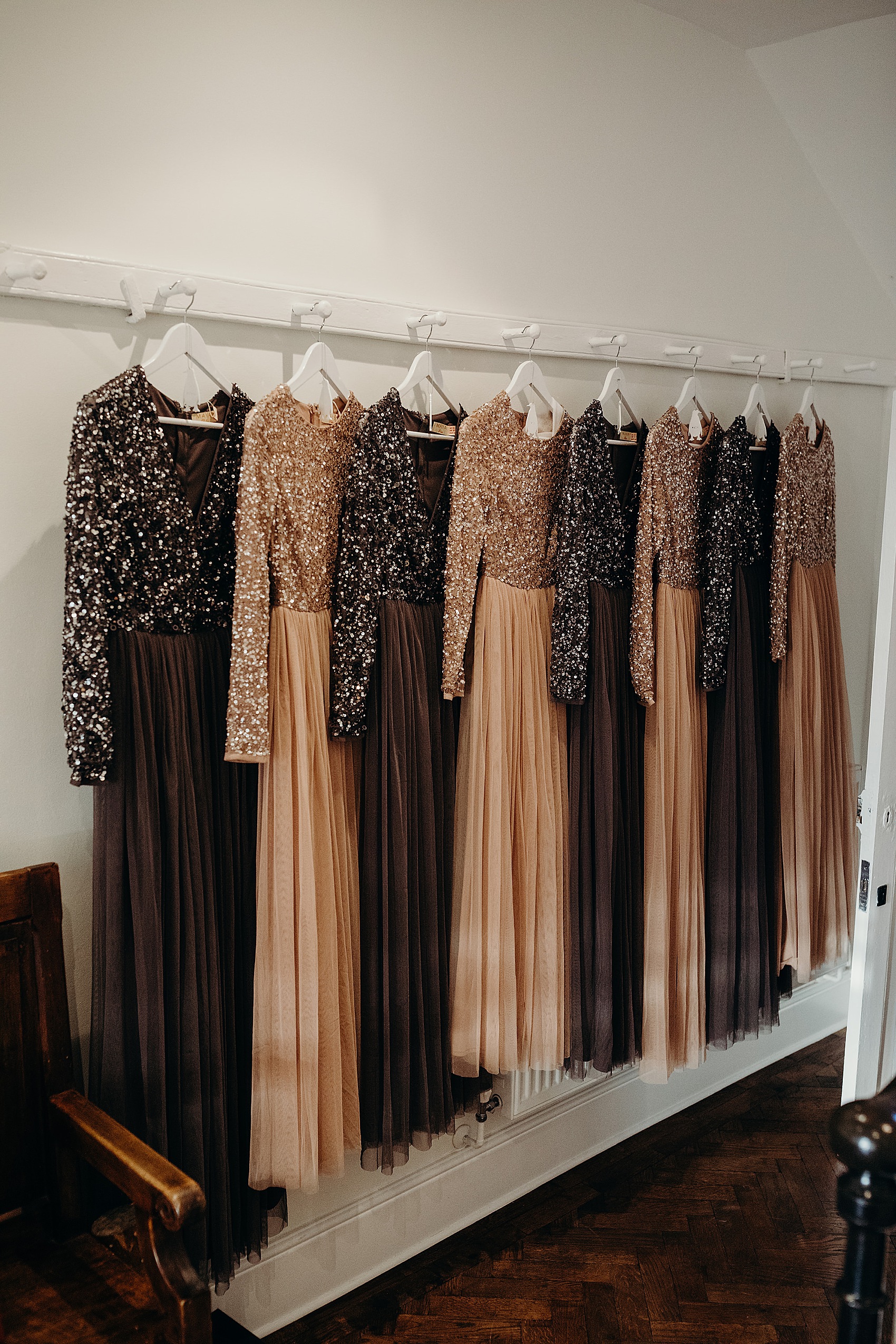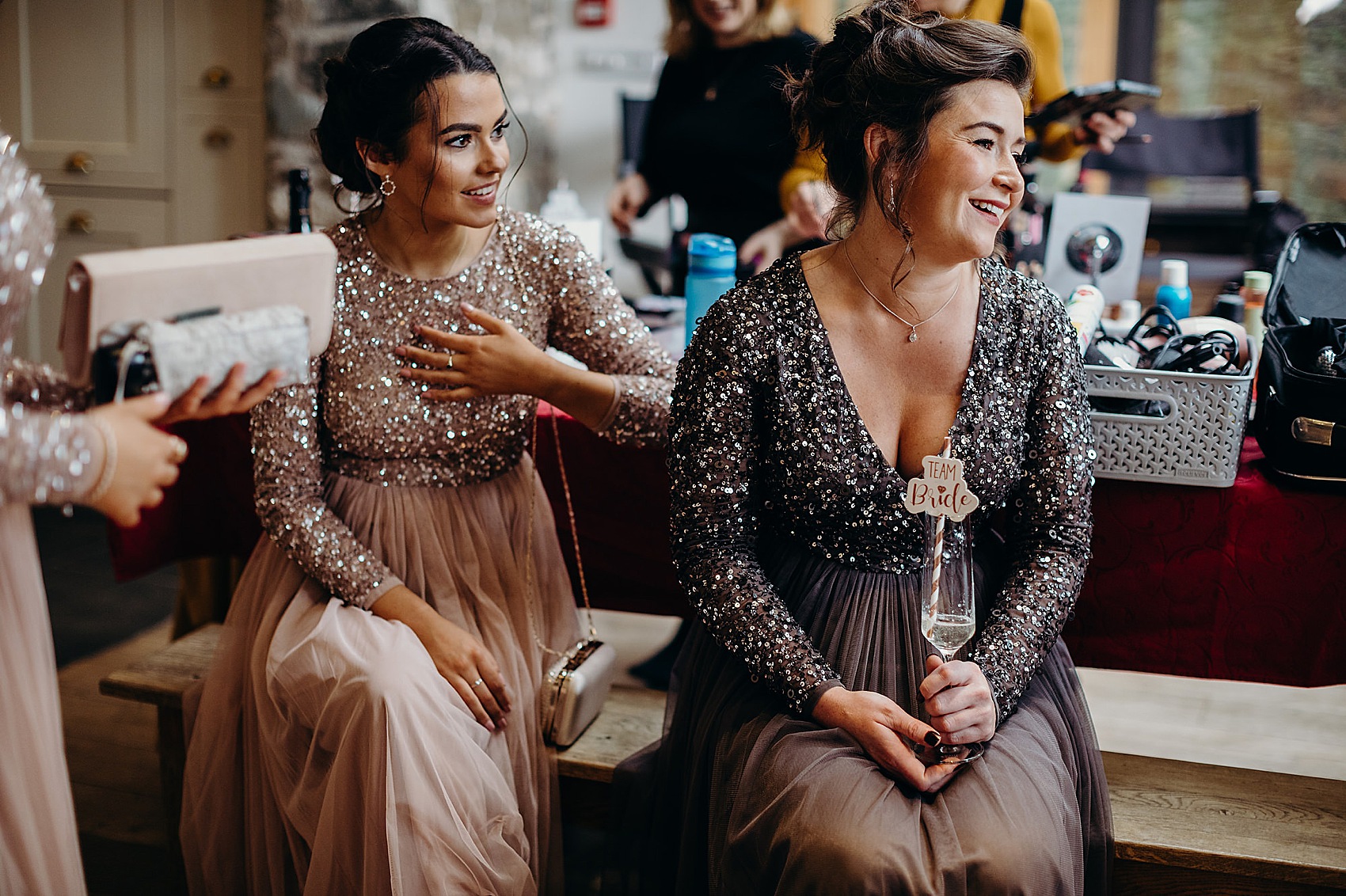 Once Heather and Josh had decided upon a winter wedding, Heather began the search for a long-sleeved dress. She also wanted something simple and classic, and found just the right dress by Justin Alexander at London Bride UK in Elephant and Castle, South London.
"They were fantastic, and all of the staff were so warm and friendly. I bought my dress 15 months, so I was frequently asking to come in during the months leading up to try my dress on and check how it was fitting. The staff working there were always so accommodating and happy for me to come in. I would highly recommend them."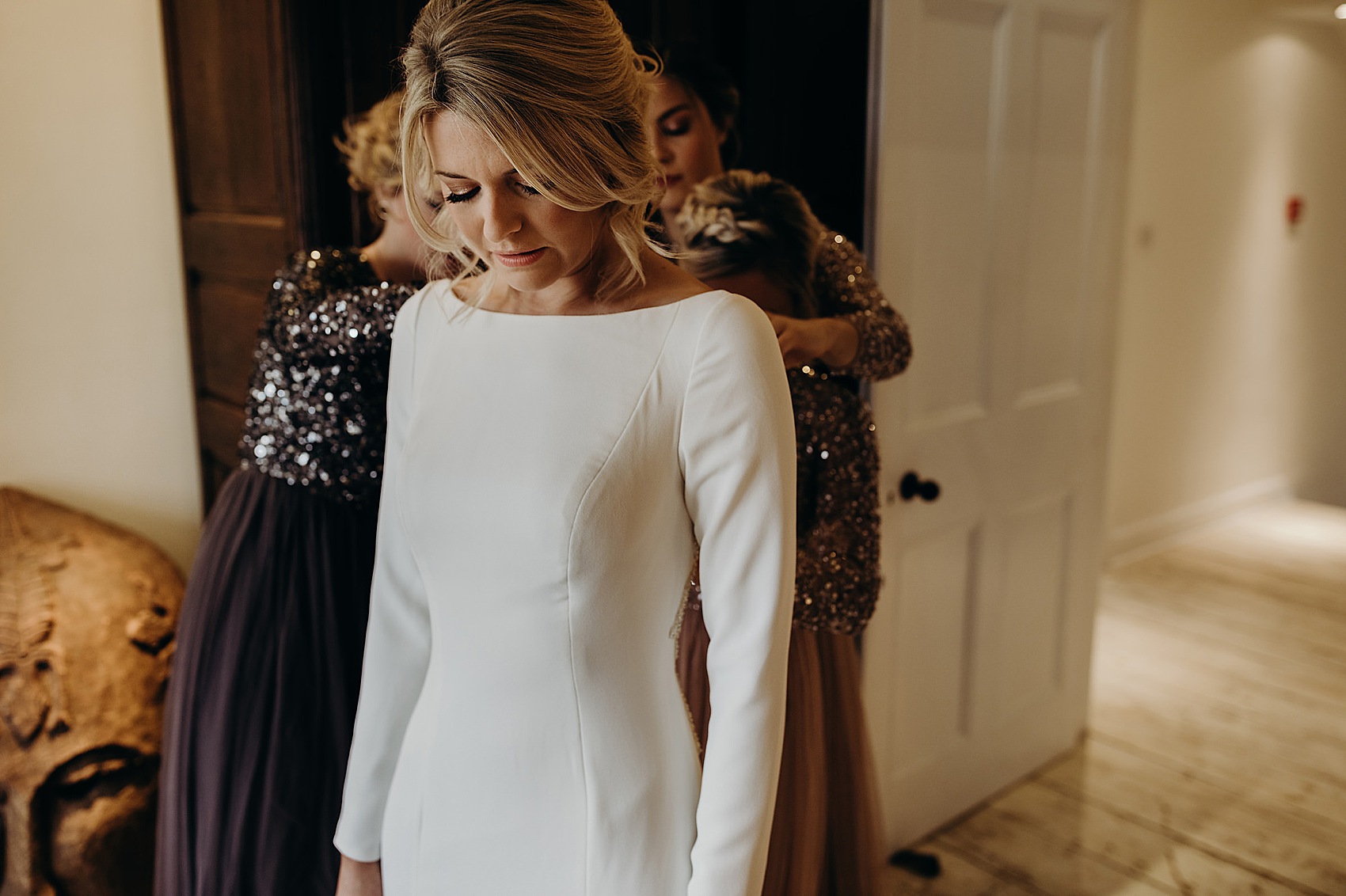 I love the graceful simplicity of the front of Heather's dress; the bateau neckline and beautifully fitted fishtail skirt. At the back there was some drama and sparkle with floral inspired crystal and sequin embellishment.
"The dress I loved (which I spotted in a bridal magazine) was one from Justin Alexander, but it was from a few seasons ago, so my mum rang up looking for stockists in the UK, and one of the few shops to have it was London Bride UK in Elephant & Castle."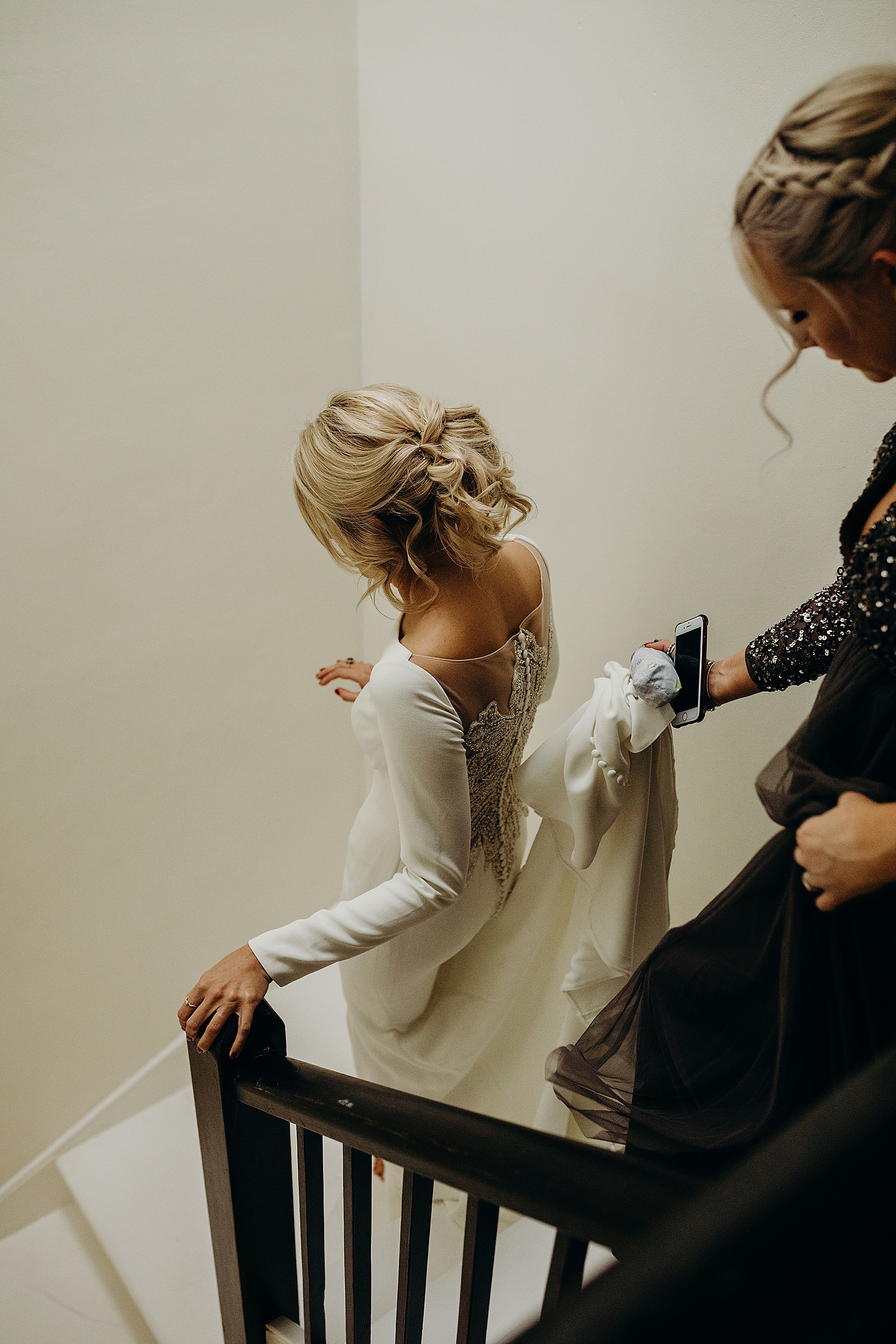 "It was the first dress I tried on, and my mum and auntie burst into tears. I tried on some others afterwards but knew that the original was the one. My veil was also from London Bride."
"I really wanted to be able to wear a veil for the church service and was so glad I did – it felt very traditional and separated my outfit from the church to the reception."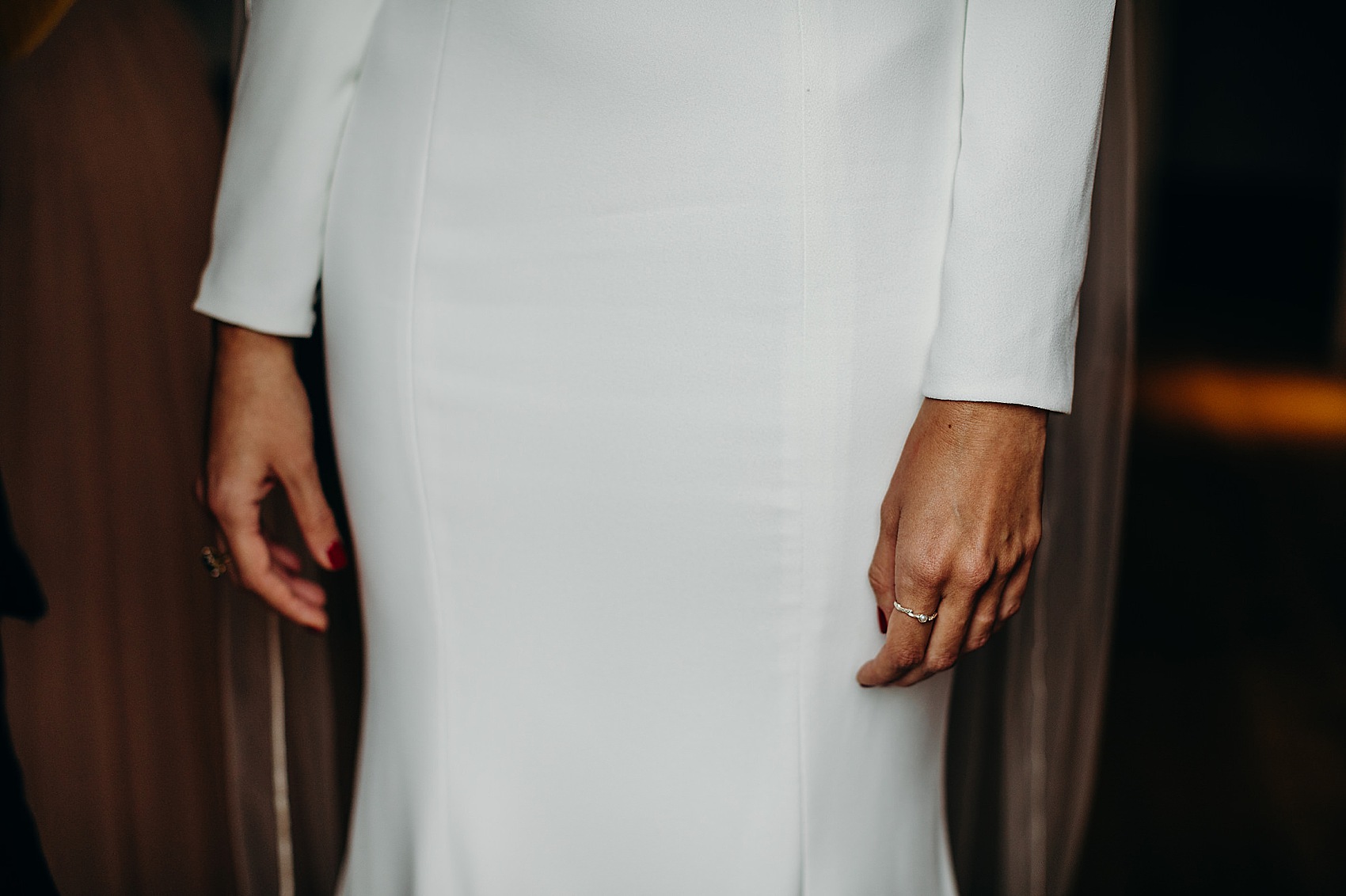 Heather's amazing statement pearl chandelier earrings were from BHLDN, and she wore her usual perfume – Alien by Thierry Mugler, which she likes for its woodiness and warm spice, and which also seemed perfect for a festive, winter's day.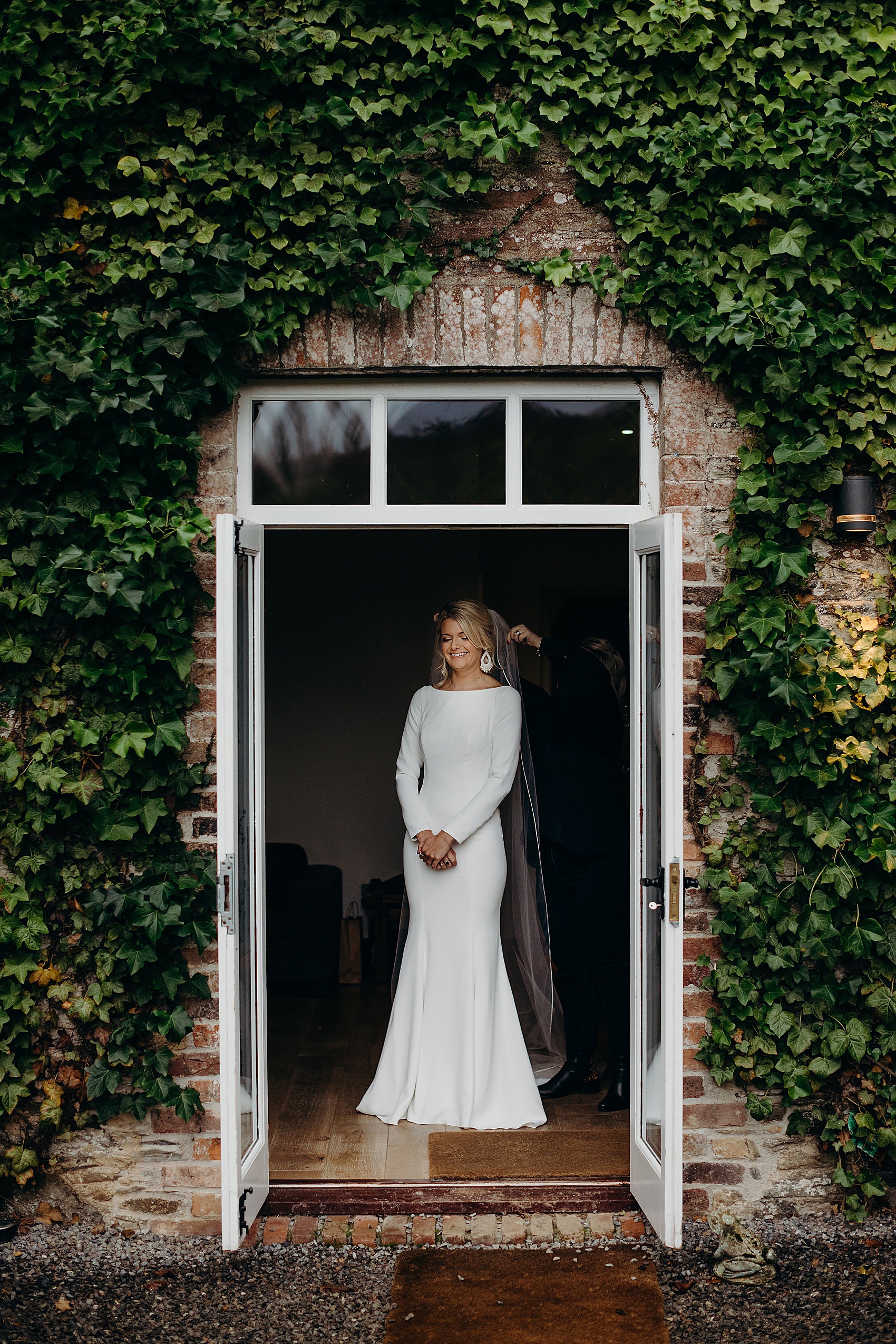 Heather's hair was beautifully done by family friend Faye, who has been styling her hair since she was 16 years old. Radiantly elegant make-up came courtesy of Amy Elizabeth.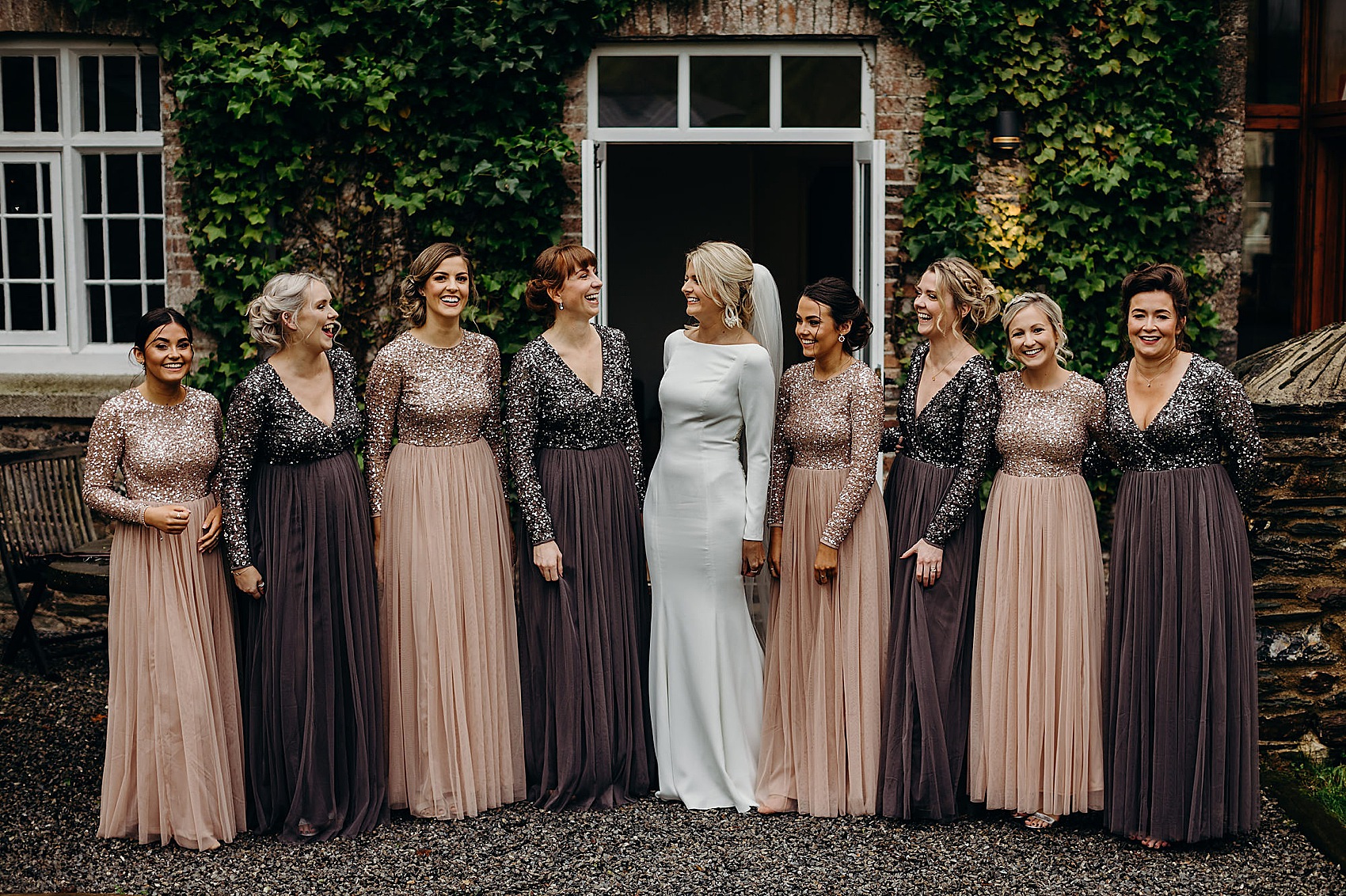 "Josh's suit was from Moss Bros. and was specially made. It was green velvet with gold lining, and our names and the wedding date sewn in. Josh and the groomsmen's socks were from Fred Perry in the McLeod clan tartan as a nod toward my Scottish side."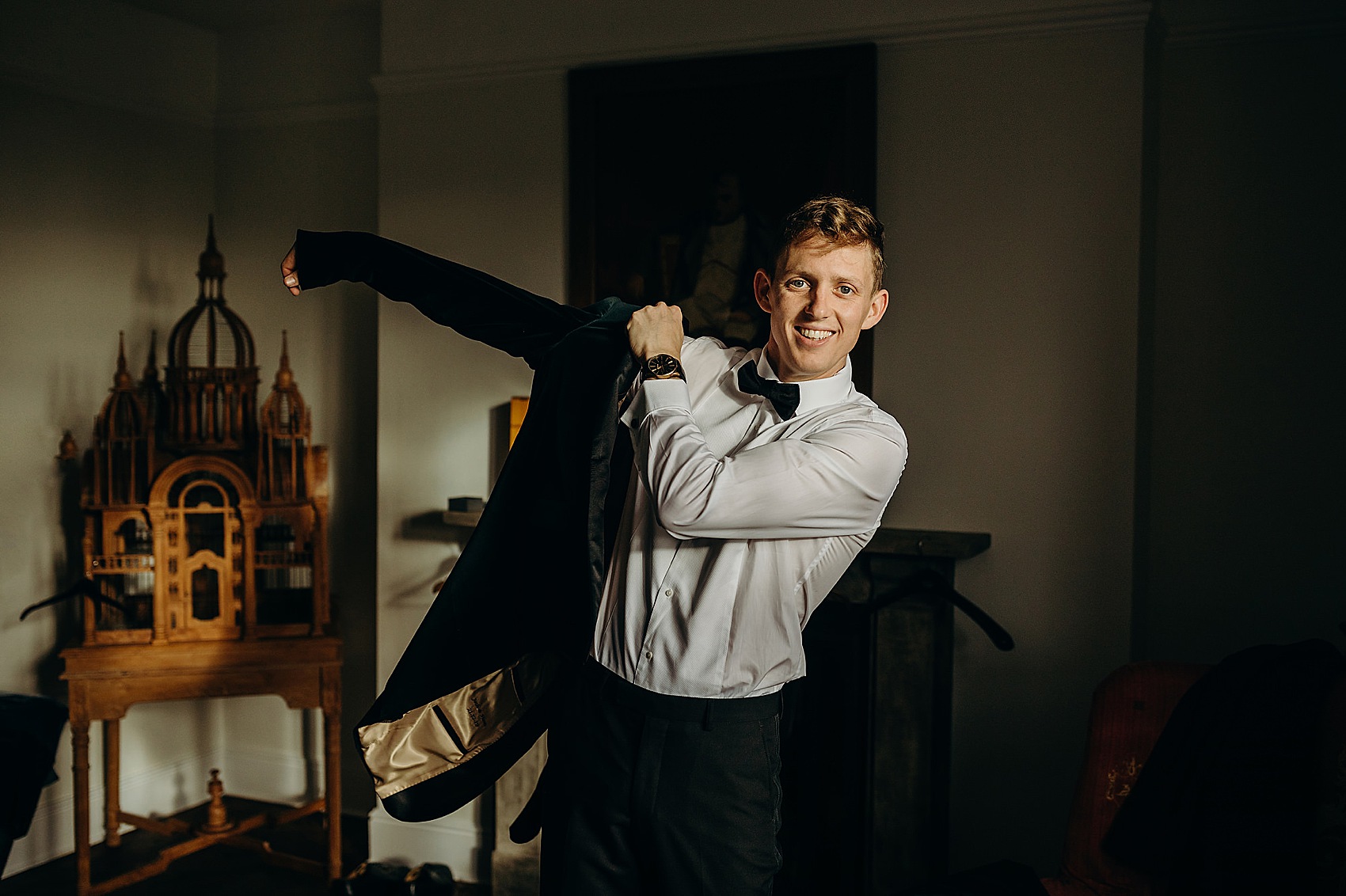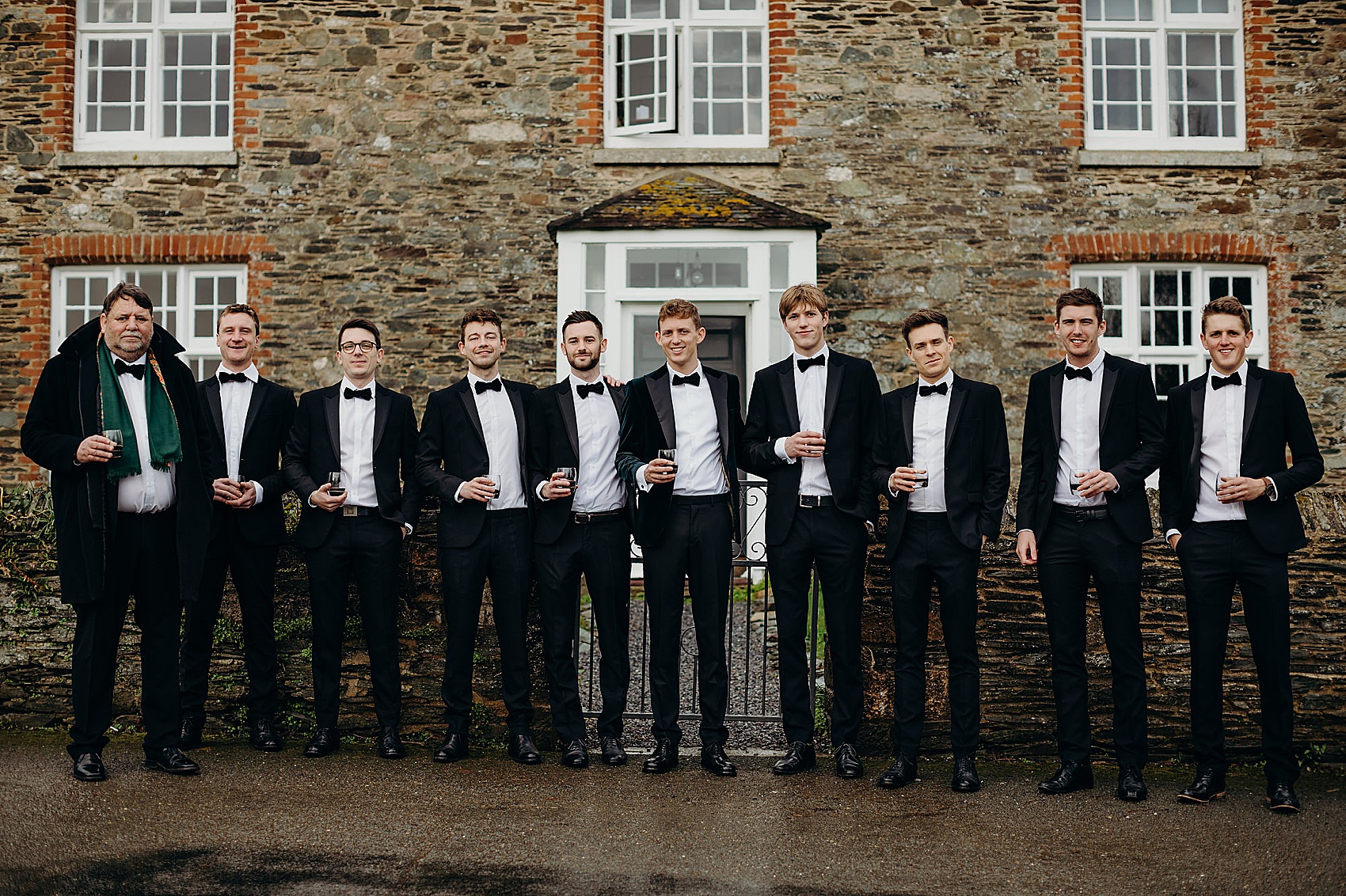 Heather's wedding transport was a vintage Morris Minor belonging to Josh's mum, although there was a slight hiccup when it came time to leave for the church!
"It is very old and I was about 20 minutes late to the church as my brother (who was driving my dad and I) couldn't get it started!"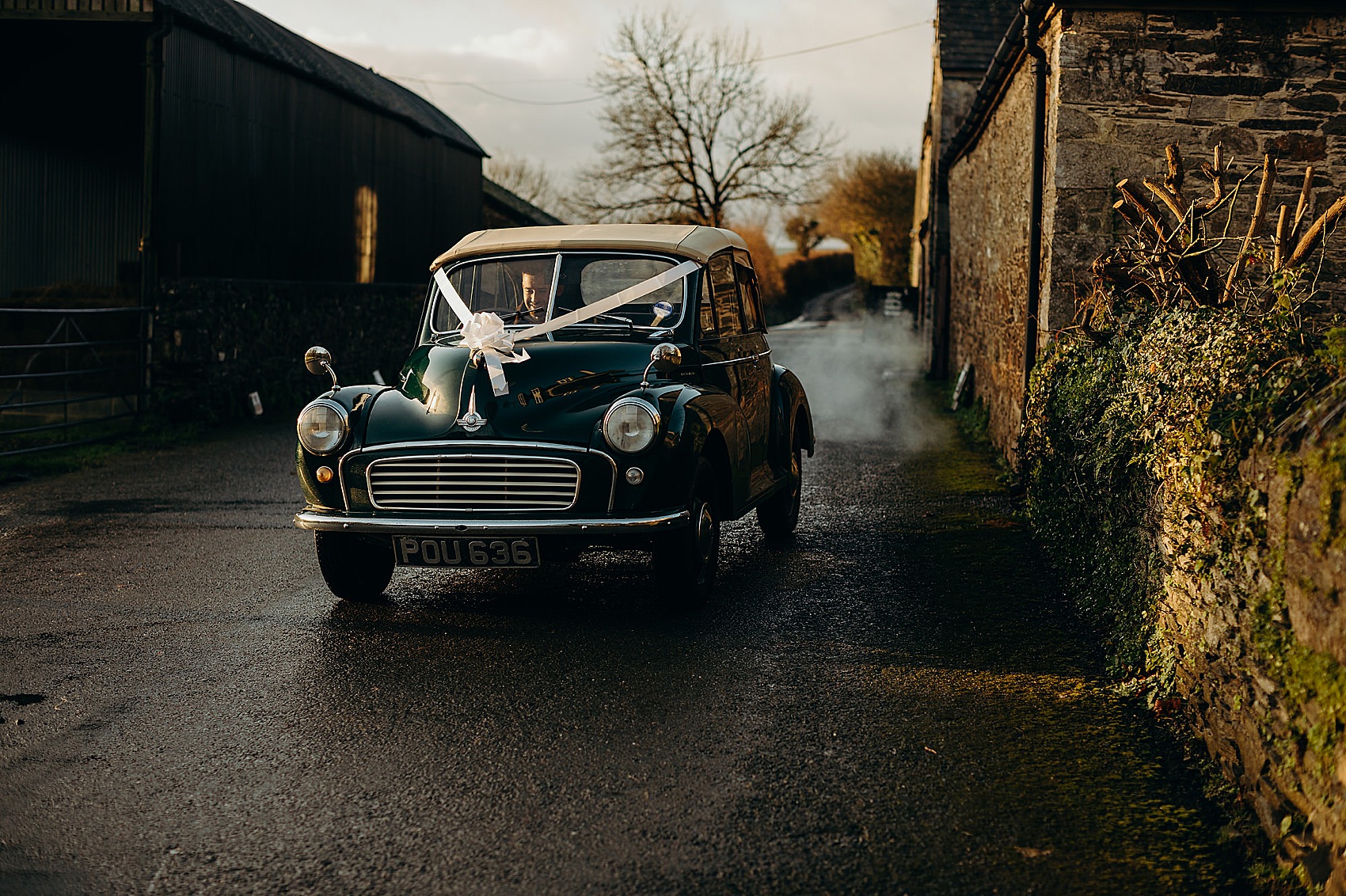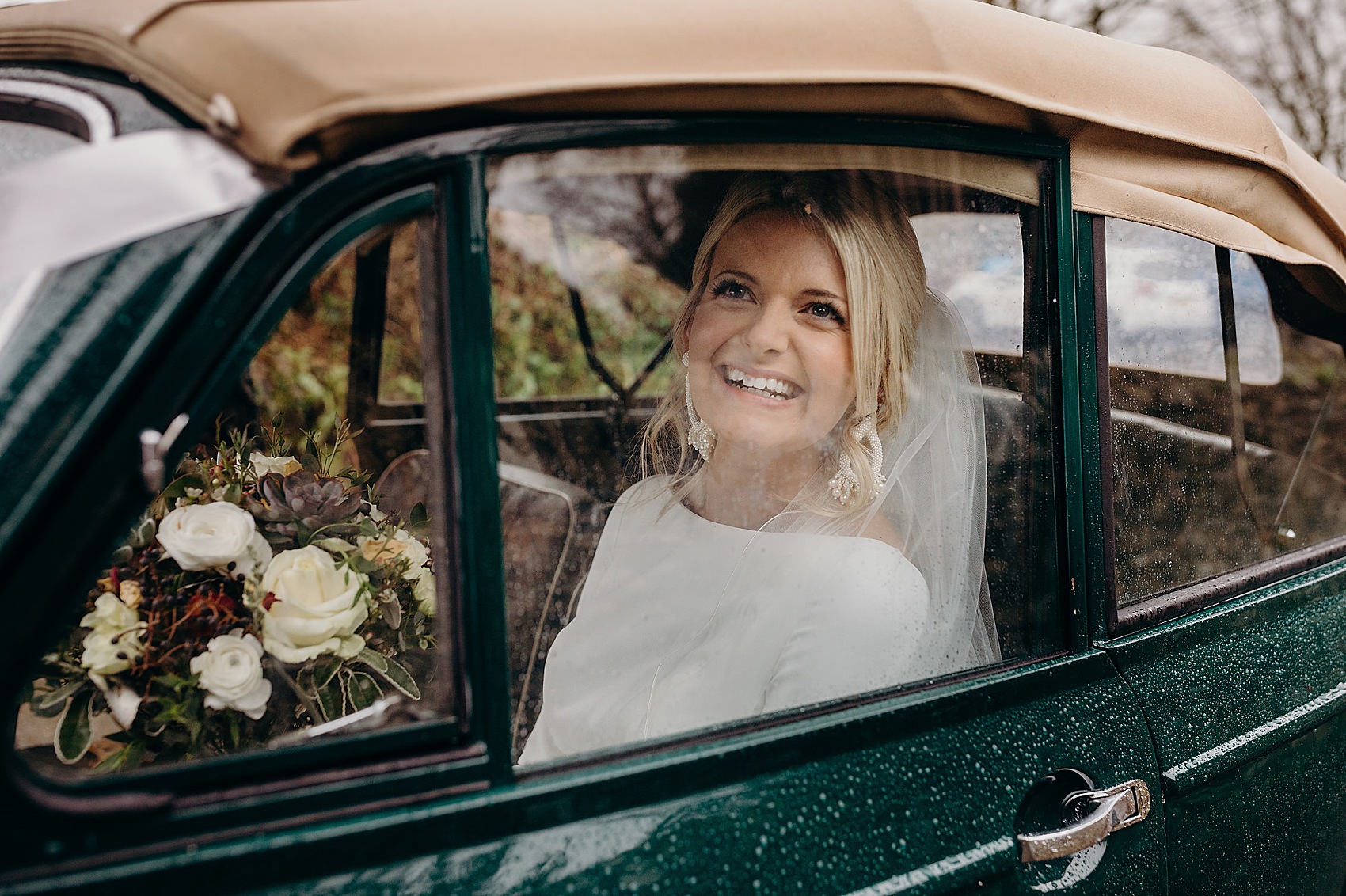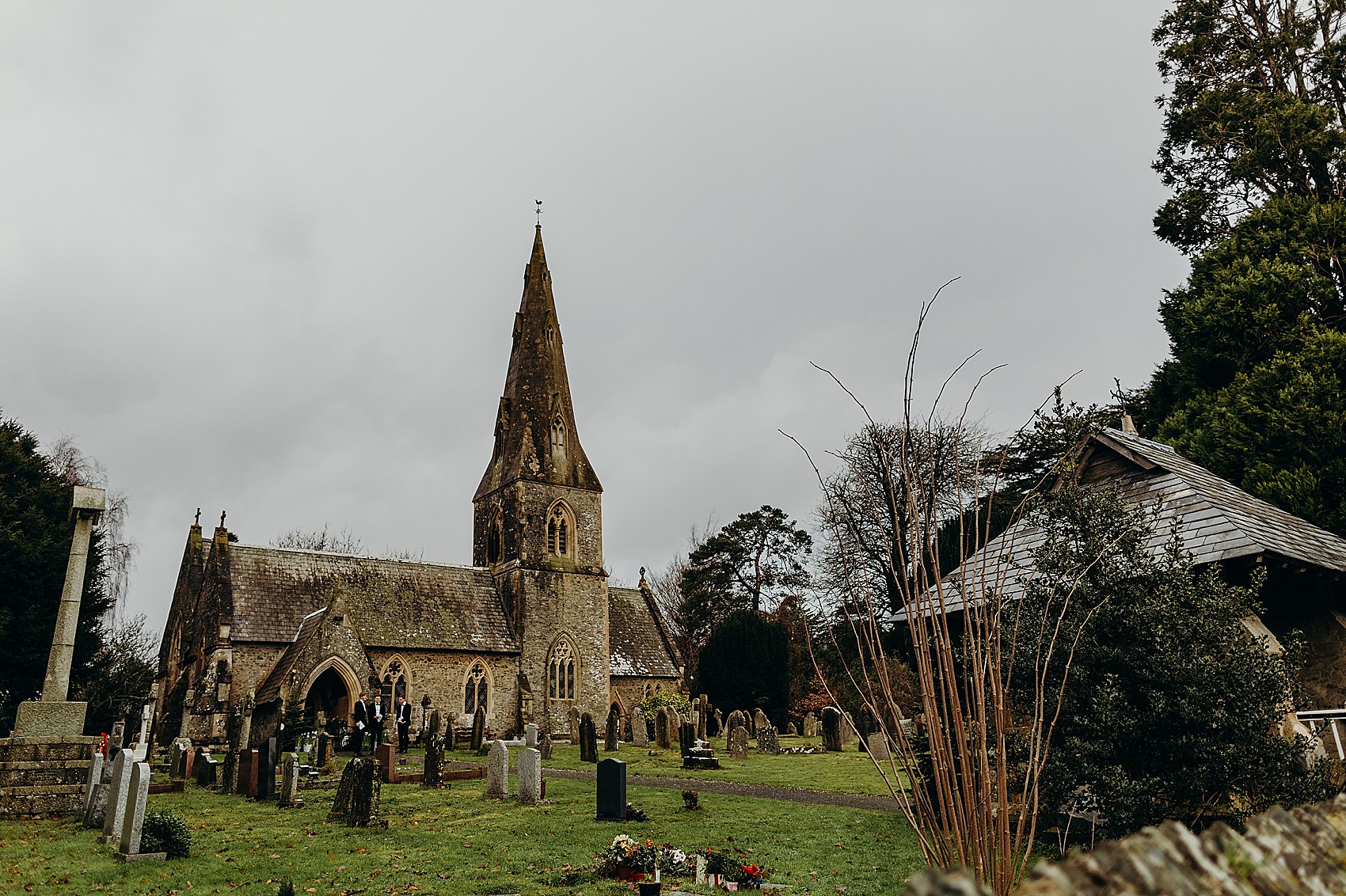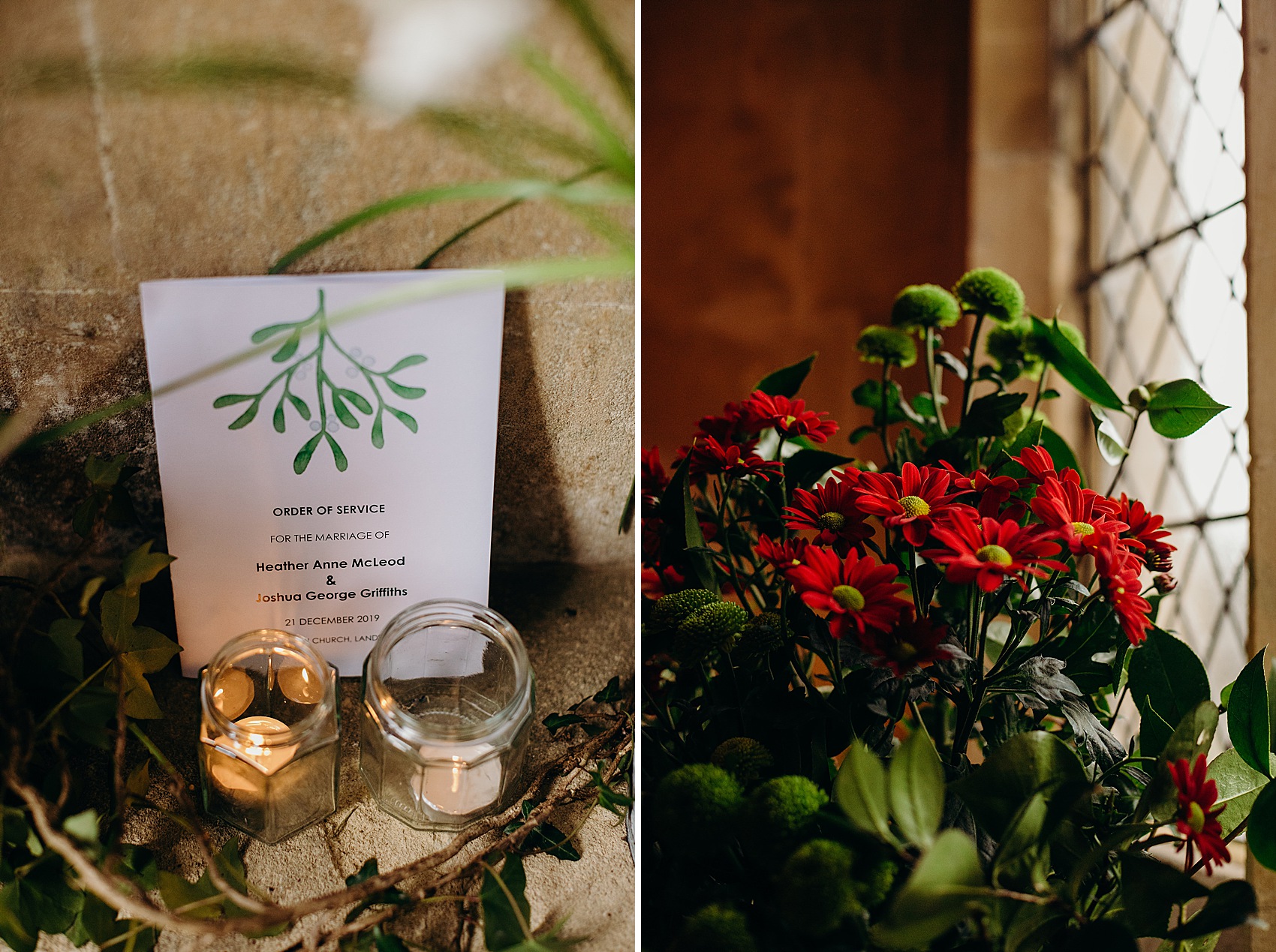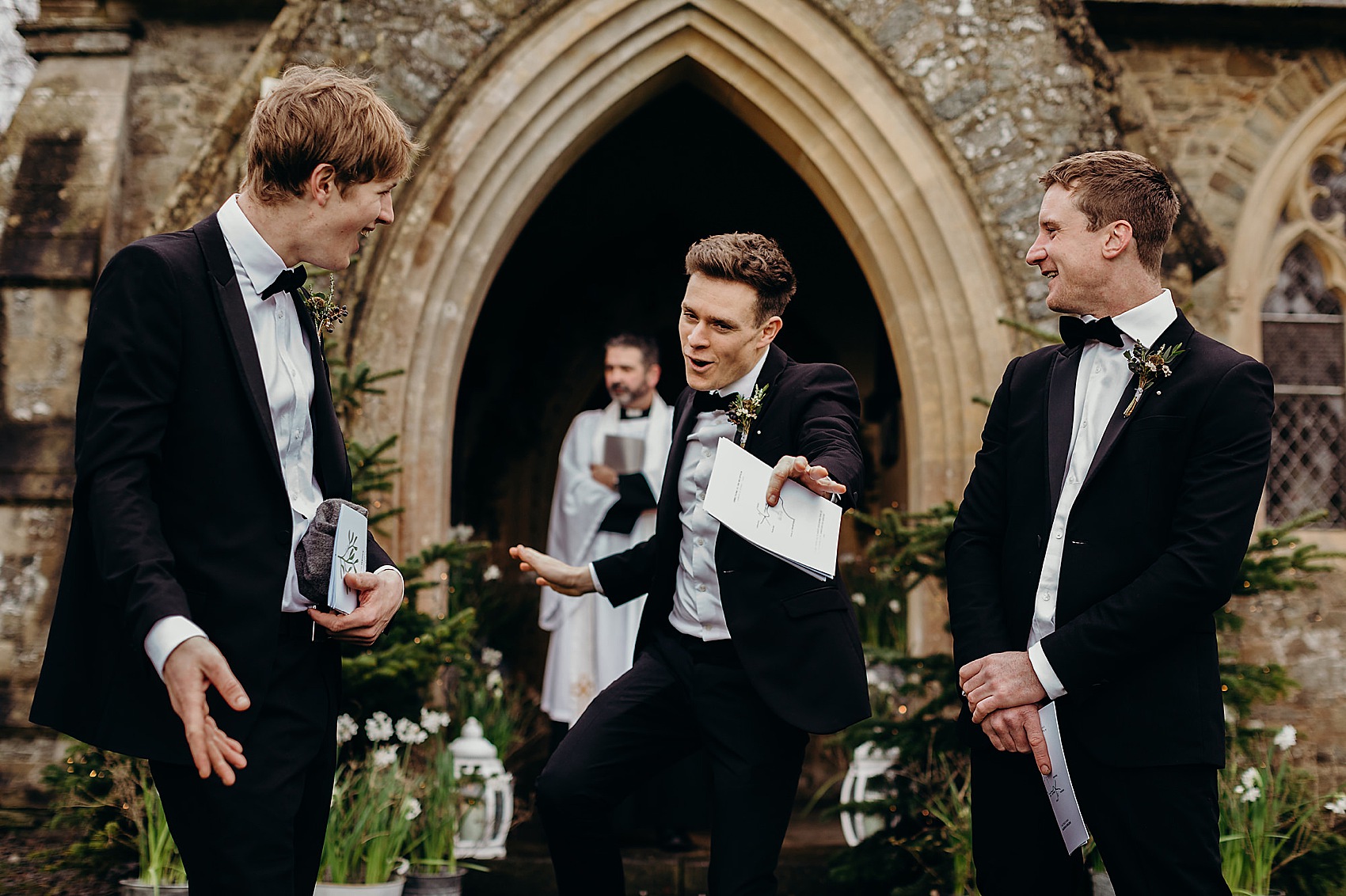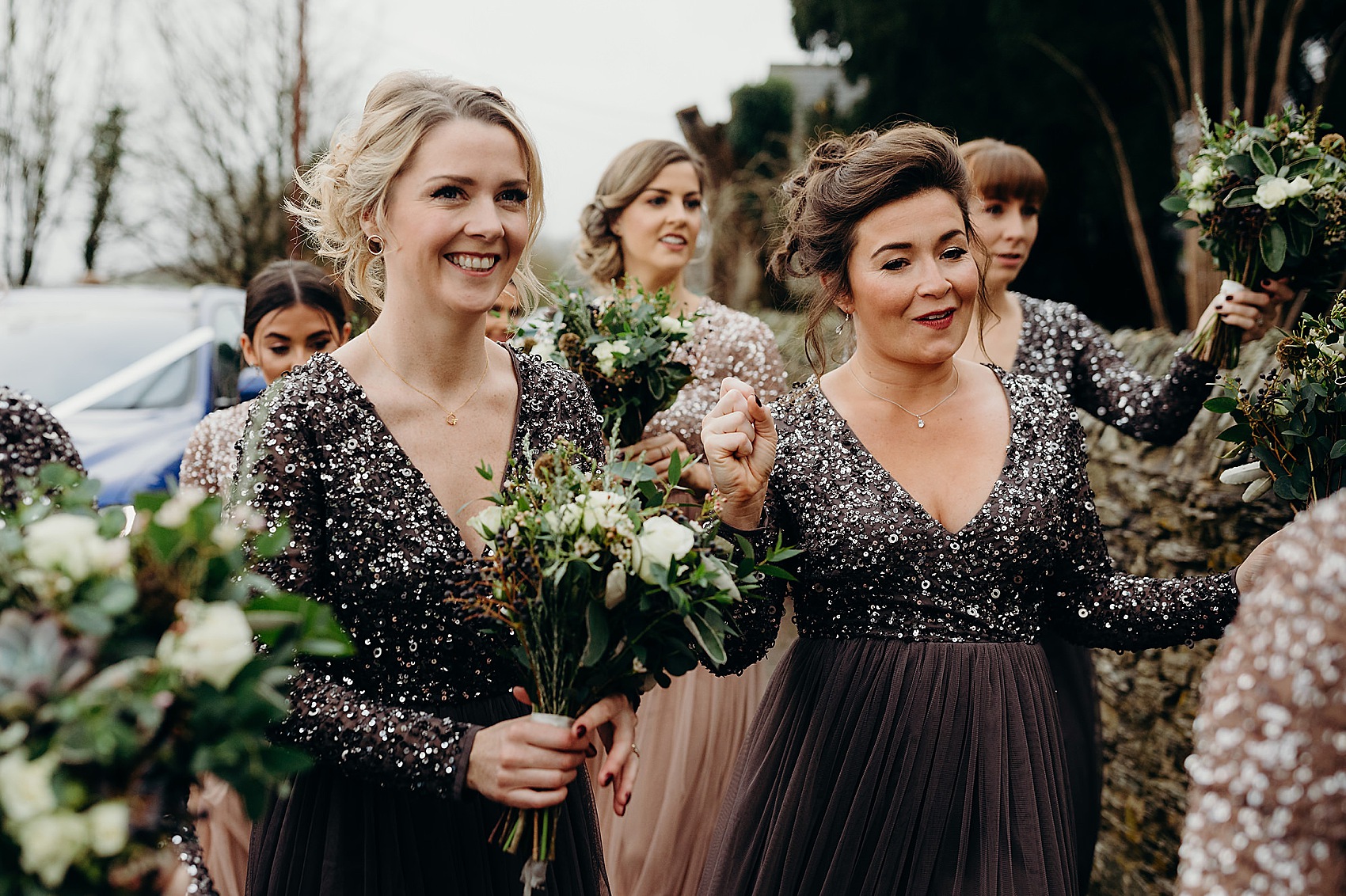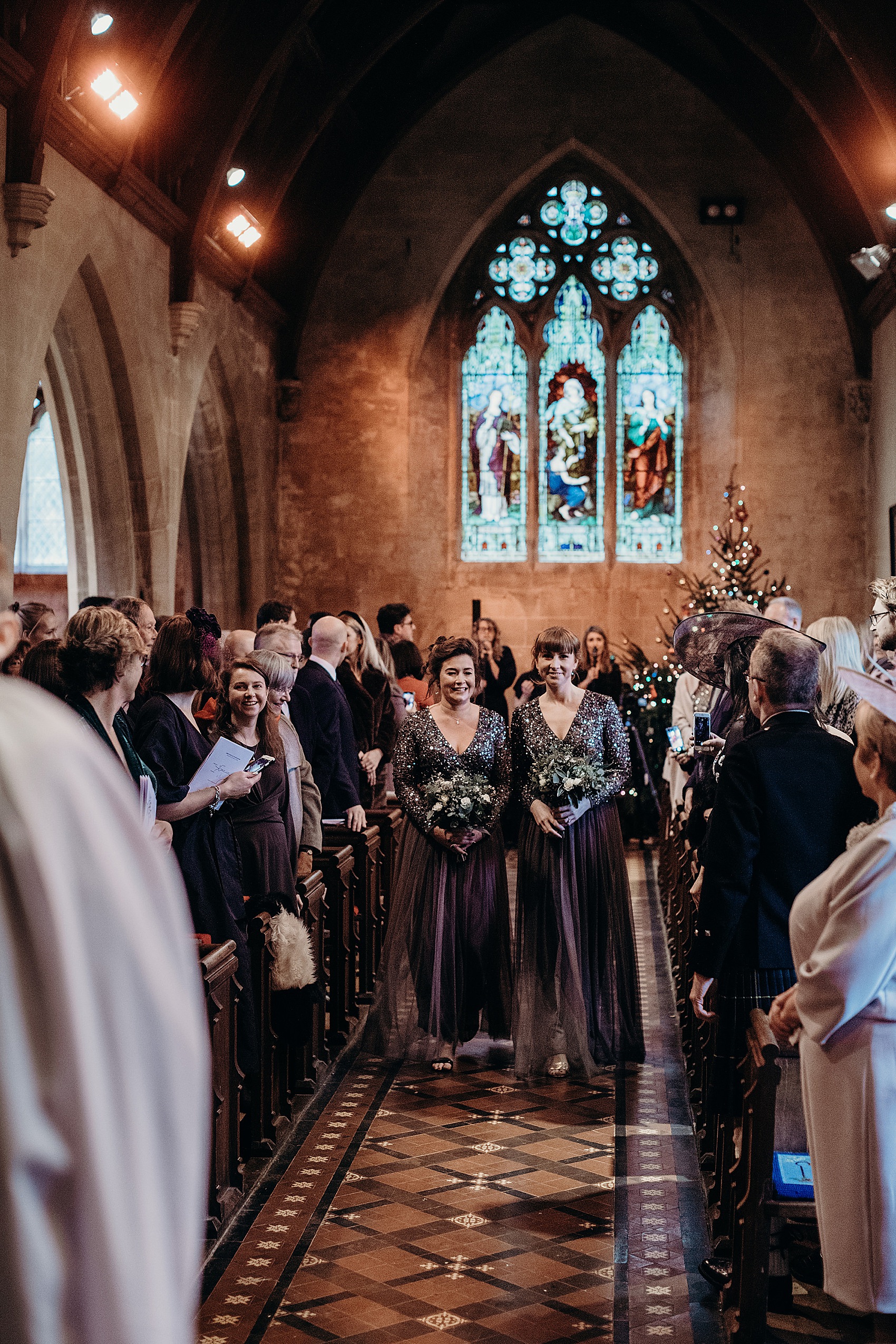 Heather was accompanied down the aisle by her dad, Neil, and they walked to Florence and the Machine's song, The End of Love performed by Vocal Works Gospel Choir.
"We renamed it to Joshua, so it was more fitting for the occasion! It was a song we heard when we went to see Florence a few months after we got engaged and we loved it. She does sing about a boy called Joshua in the song, so it worked very well, but we asked Vocal Works to change a few of the lyrics so it didn't sound too much like a break-up song."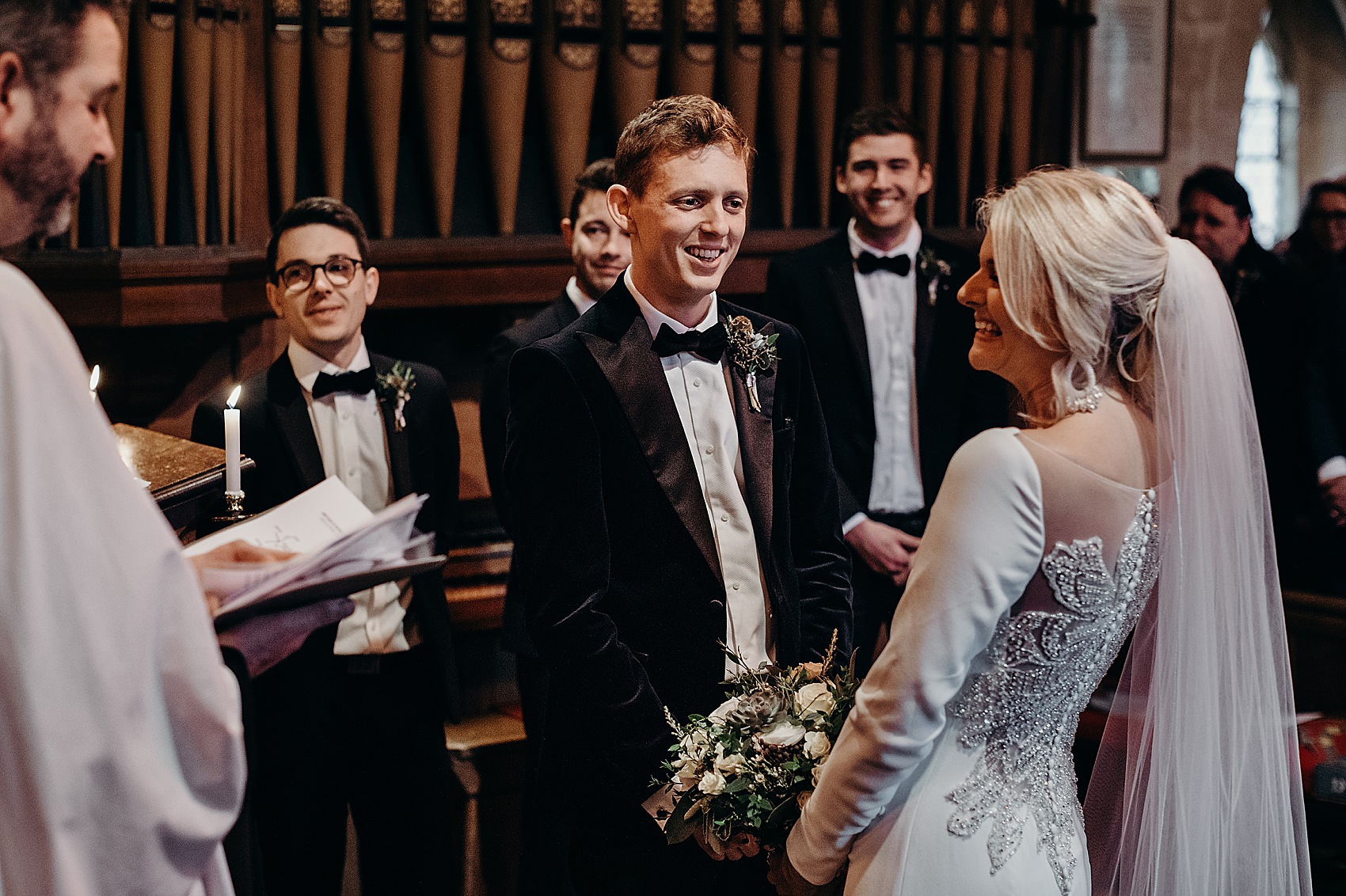 "My mum found Vocal Works through social media and they were amazing! We asked them to learn one song especially for us, and they also sang a few Christmas songs as people arrived and left the Church – it really added to the festive feeling, and I'm so glad we booked them. Their singing as I first came into the church made me very teary!"
During their lovely ceremony, there were three readings. The first was from the Bible, and was Song of Solomon 8:6-7 ('Set me as a seal upon thine heart'.) with the second an extract from Dolly Alderton's book, Everything I Know About Love. Finally, there was a reading of the brilliant Lemn Sissay's poem, Invisible Kisses.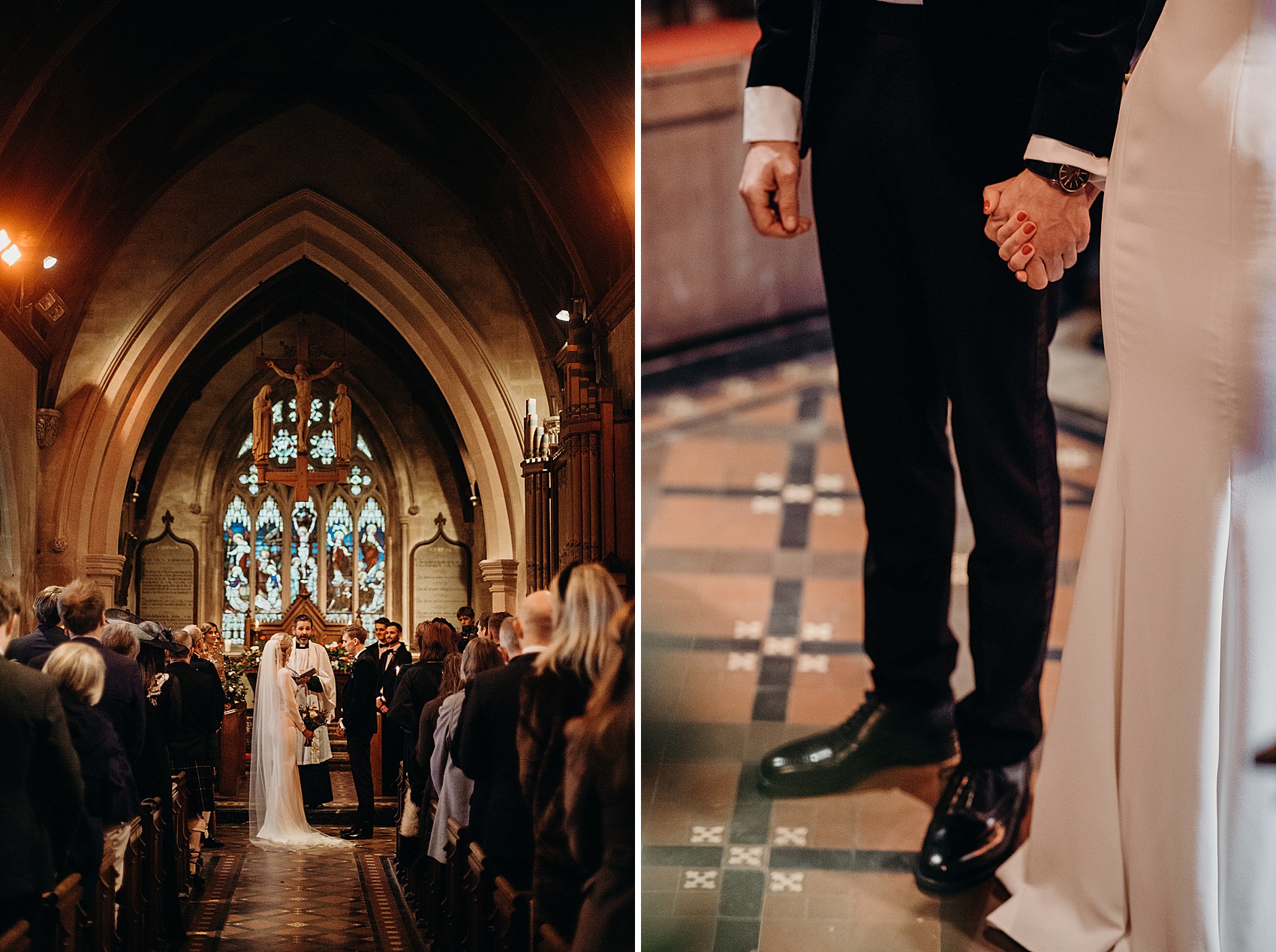 "We met at school, sitting next to each other in Maths in year 9. We remained good friends all throughout and finally became a couple after Josh finished university in Leeds, and I was in my final year at Cardiff in 2011. We got engaged on the Isle of Skye, Scotland in July 2018 at Dunvegan Castle – the home of the McLeod clan, my family name, which was a very nice touch."
Alongside their vows, the couple also exchanged rings, which they sourced at a jewellery outlet in Hatton Garden (no further details given) and had engraved with their initials and wedding date.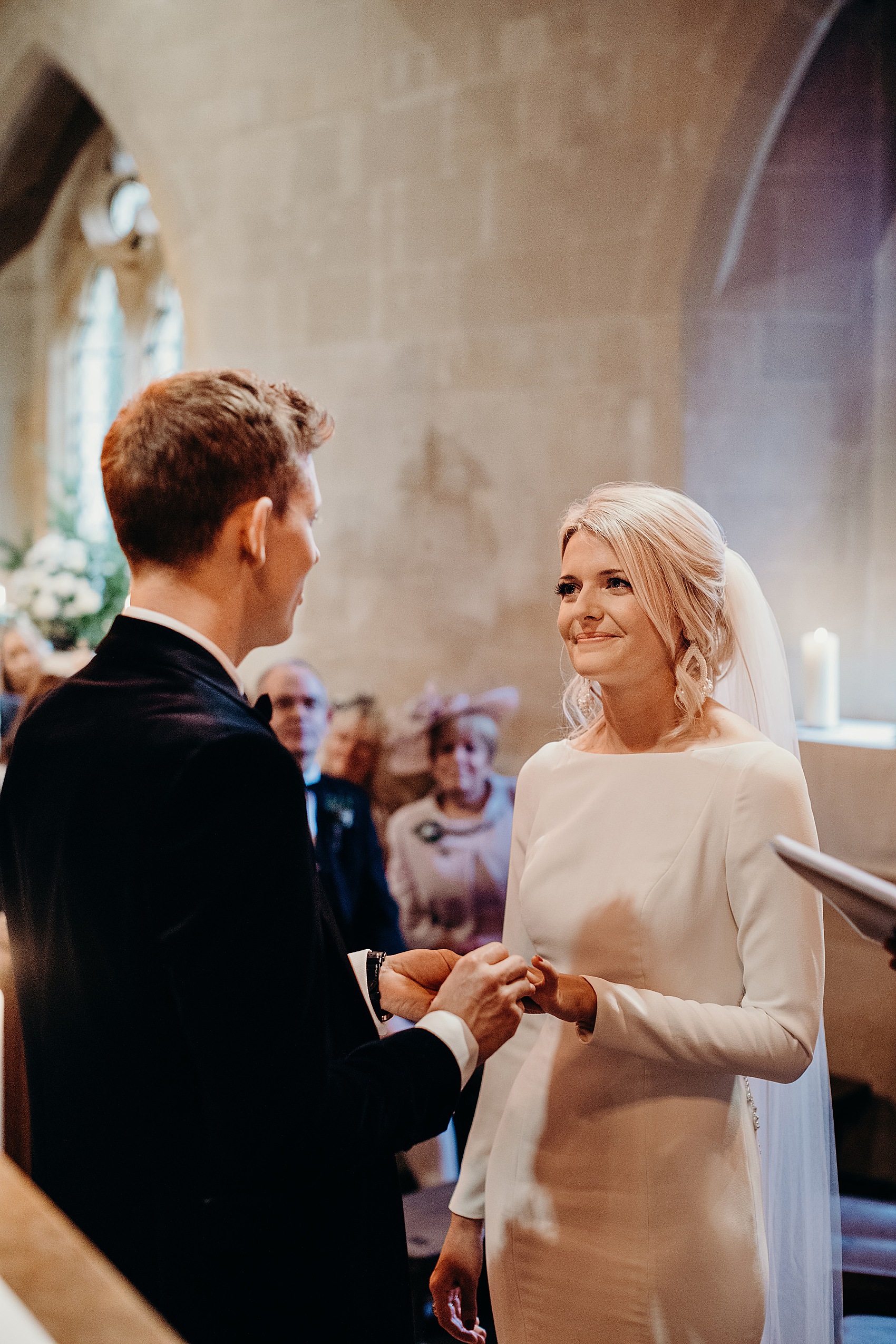 "The church service  was my favourite part of the day, which I wasn't expecting. Walking into the church to one of my favourite songs being played by the choir, and to see Josh and all our family and friends amongst the candlelight was the most amazing feeling. It just set the tone perfectly for the rest of the day, which was the best day of our lives."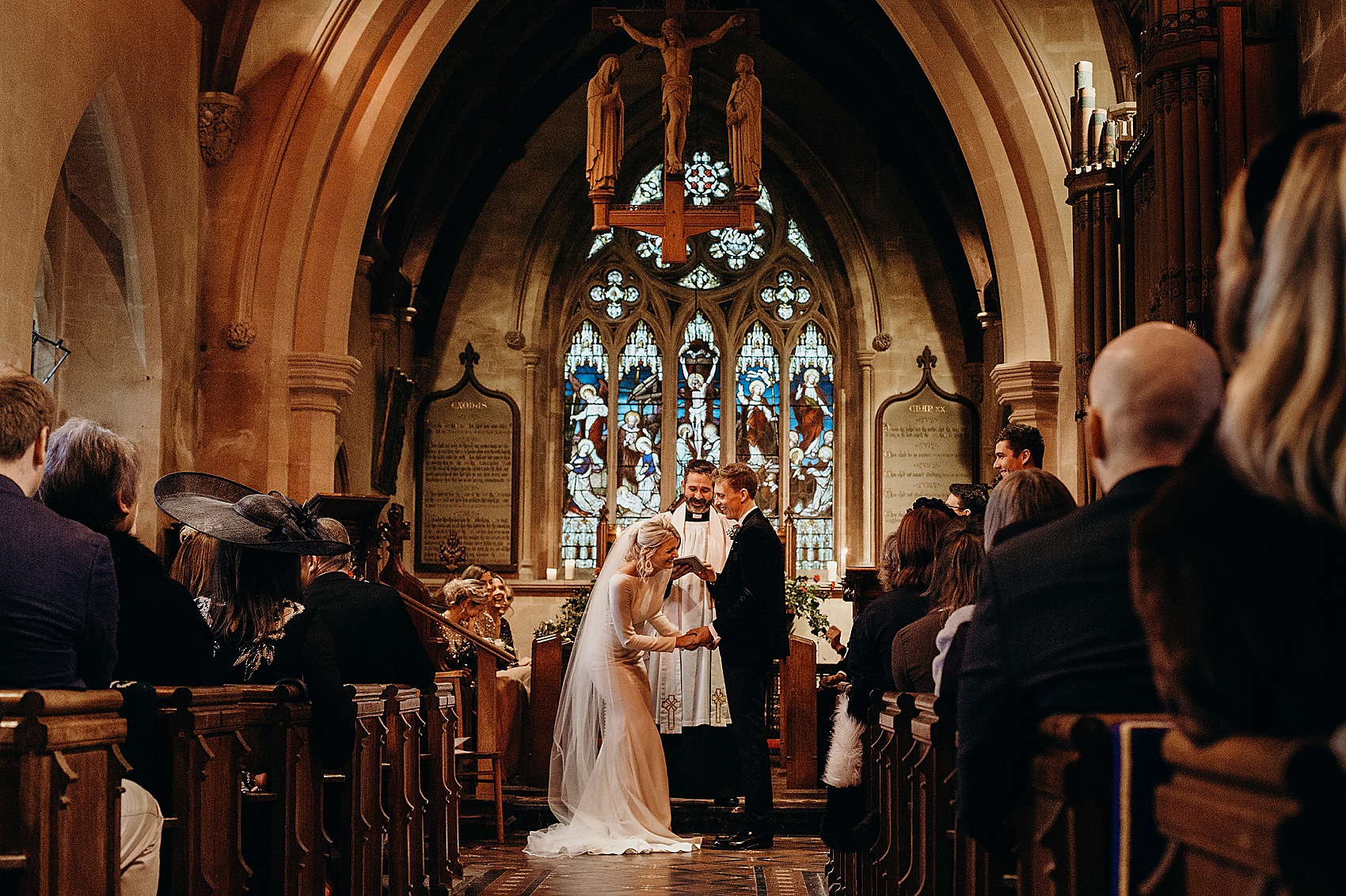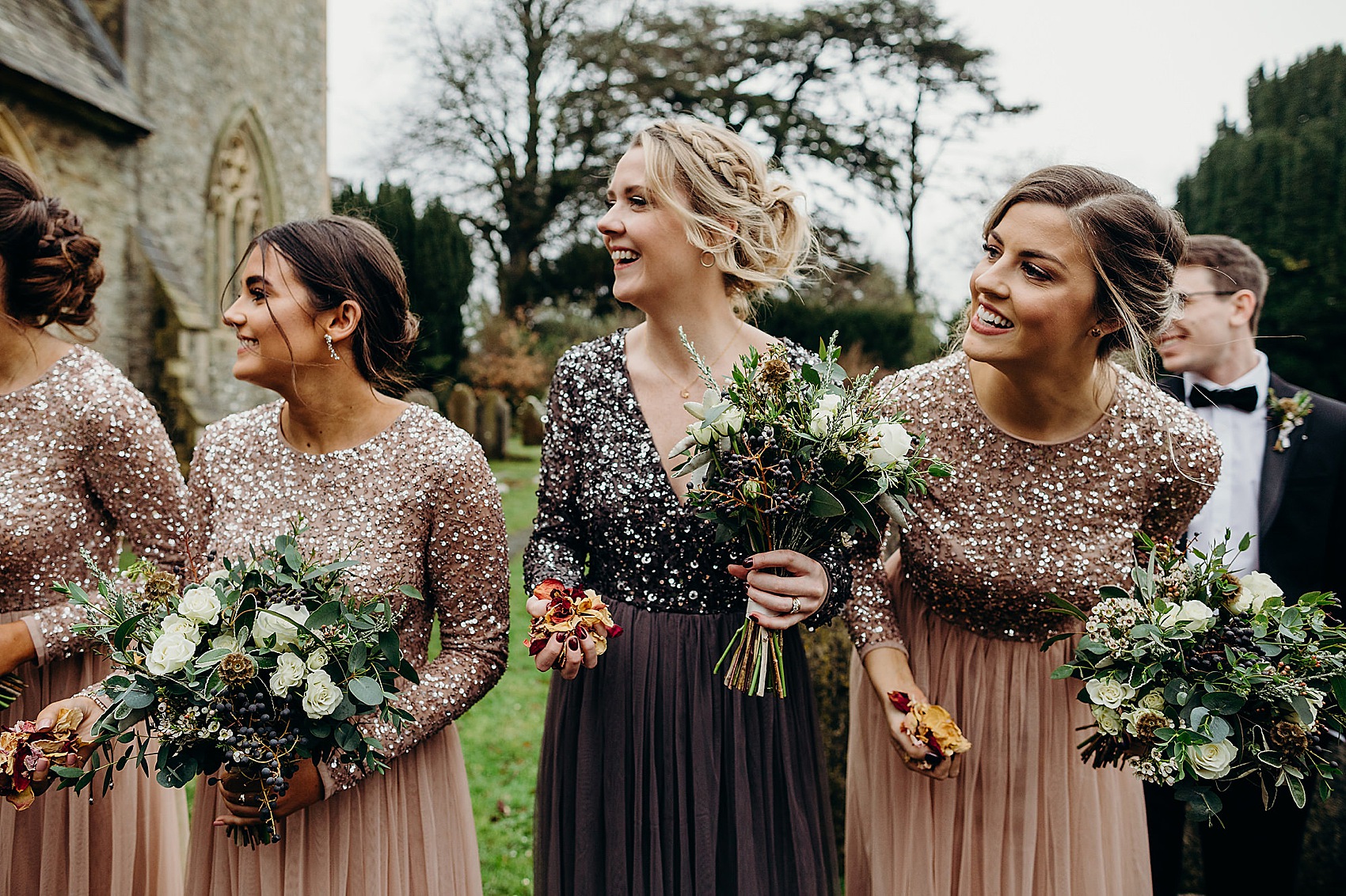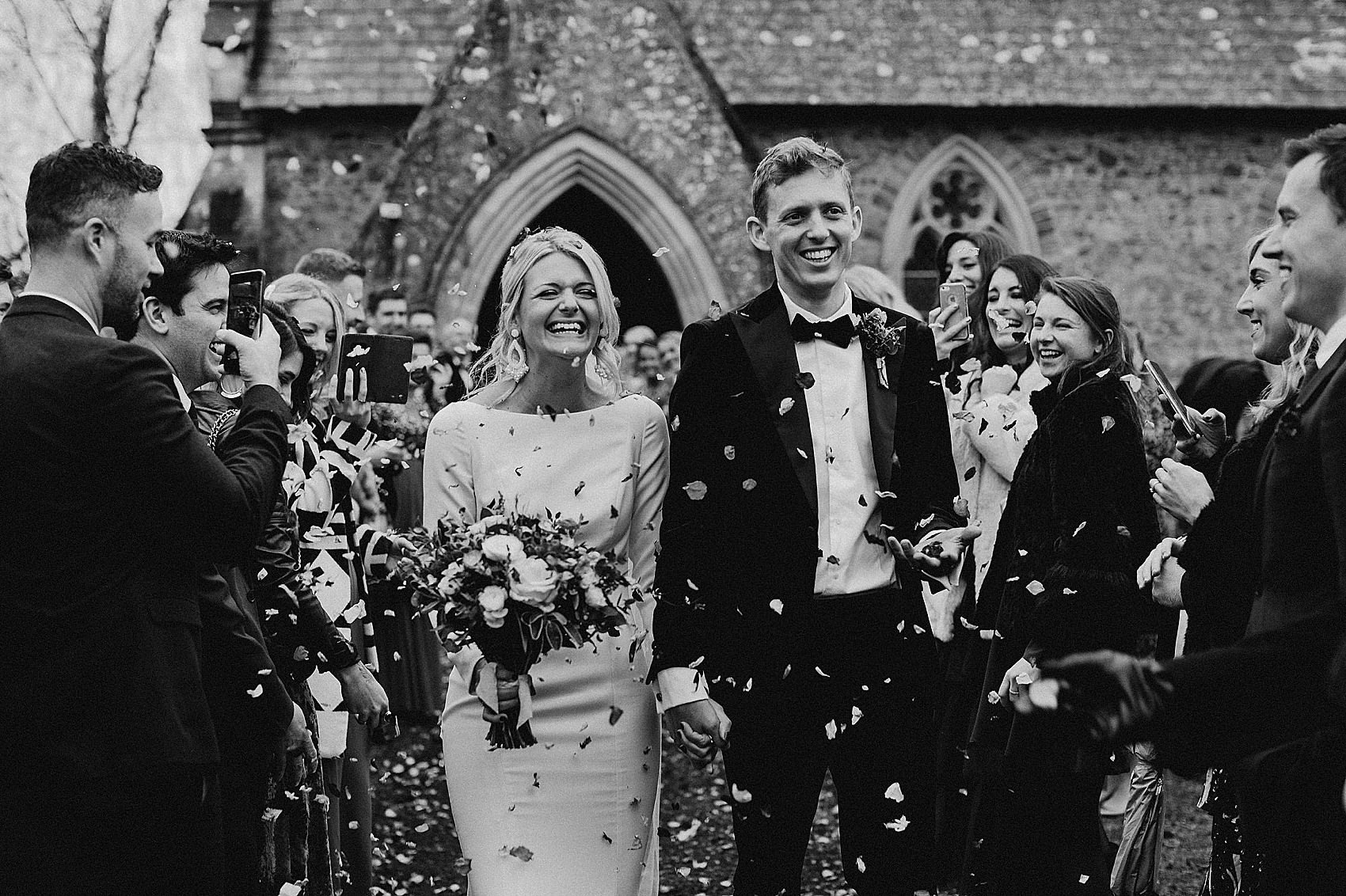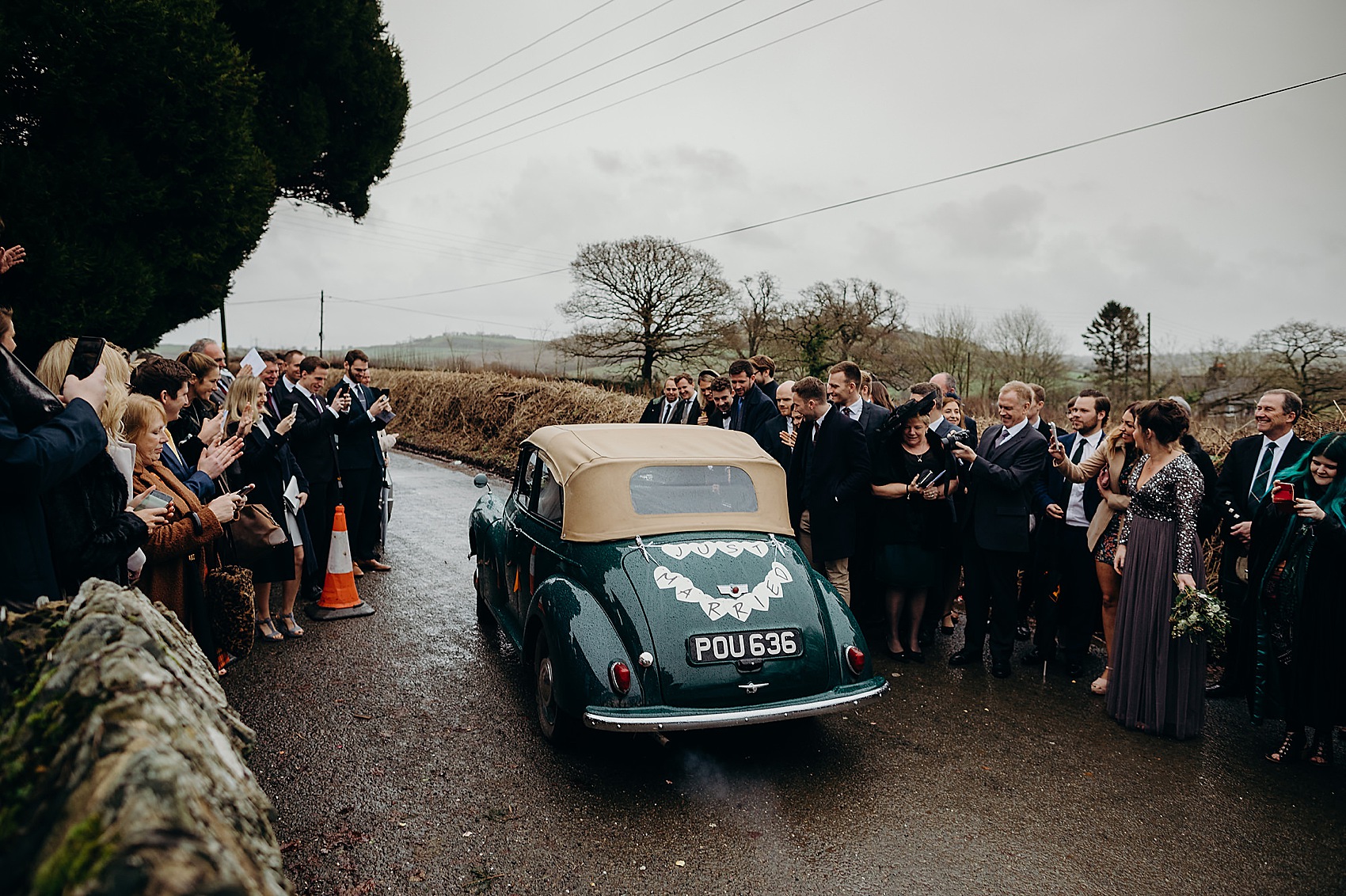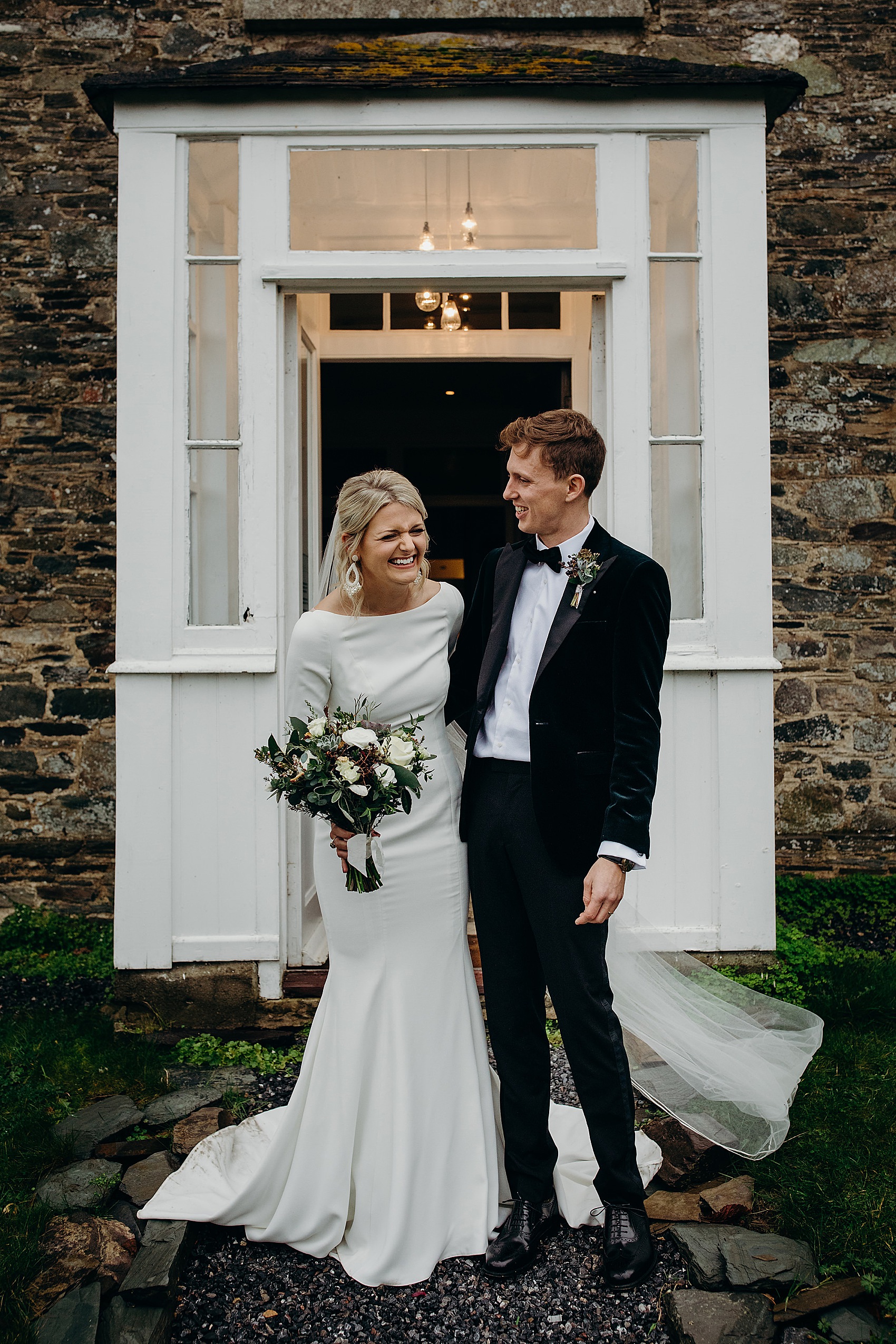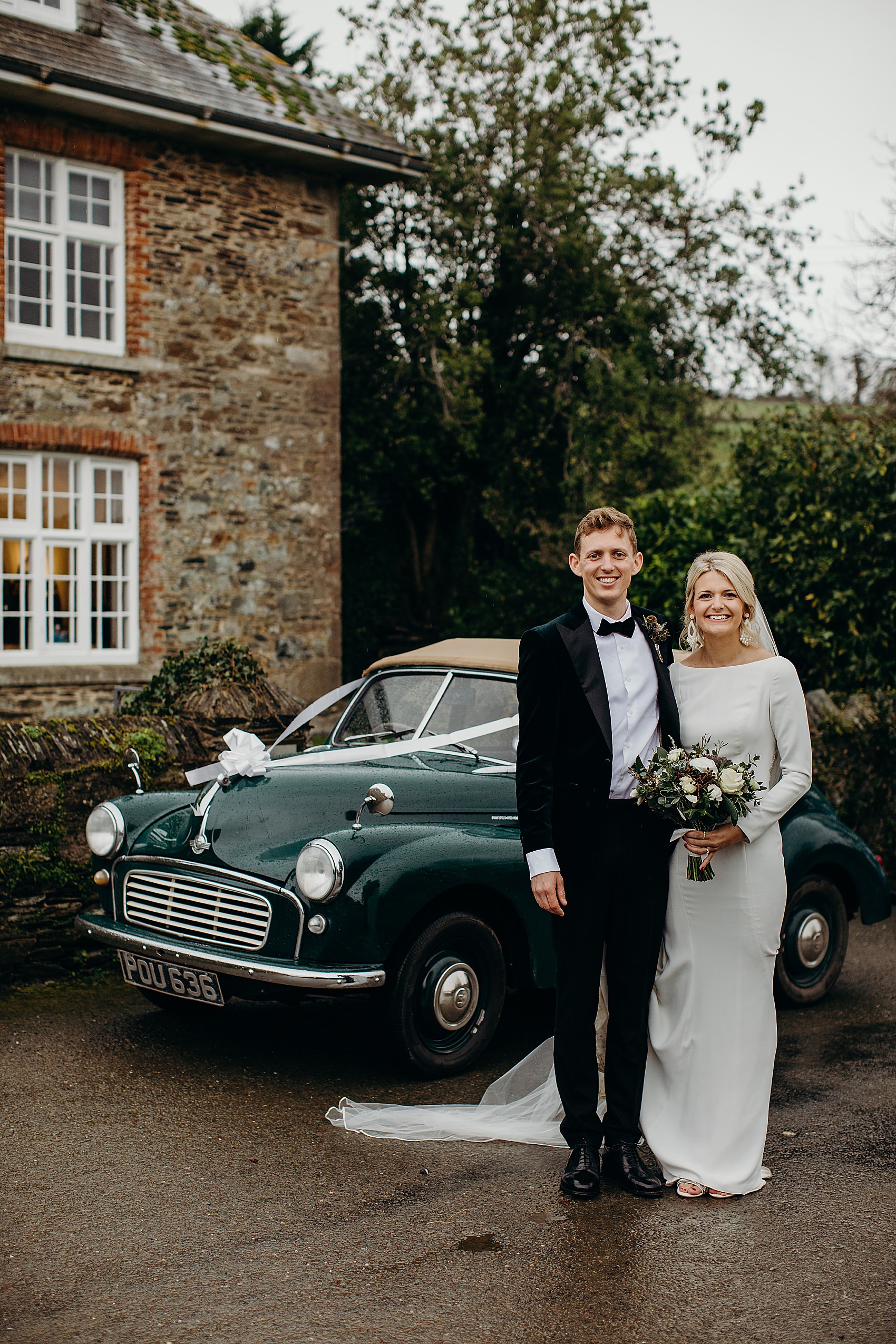 "Josh's parents live next door to a Christmas tree farm, so we used a lot of fresh fir trees across the venues, loosely decorated with warm gold fairy lights."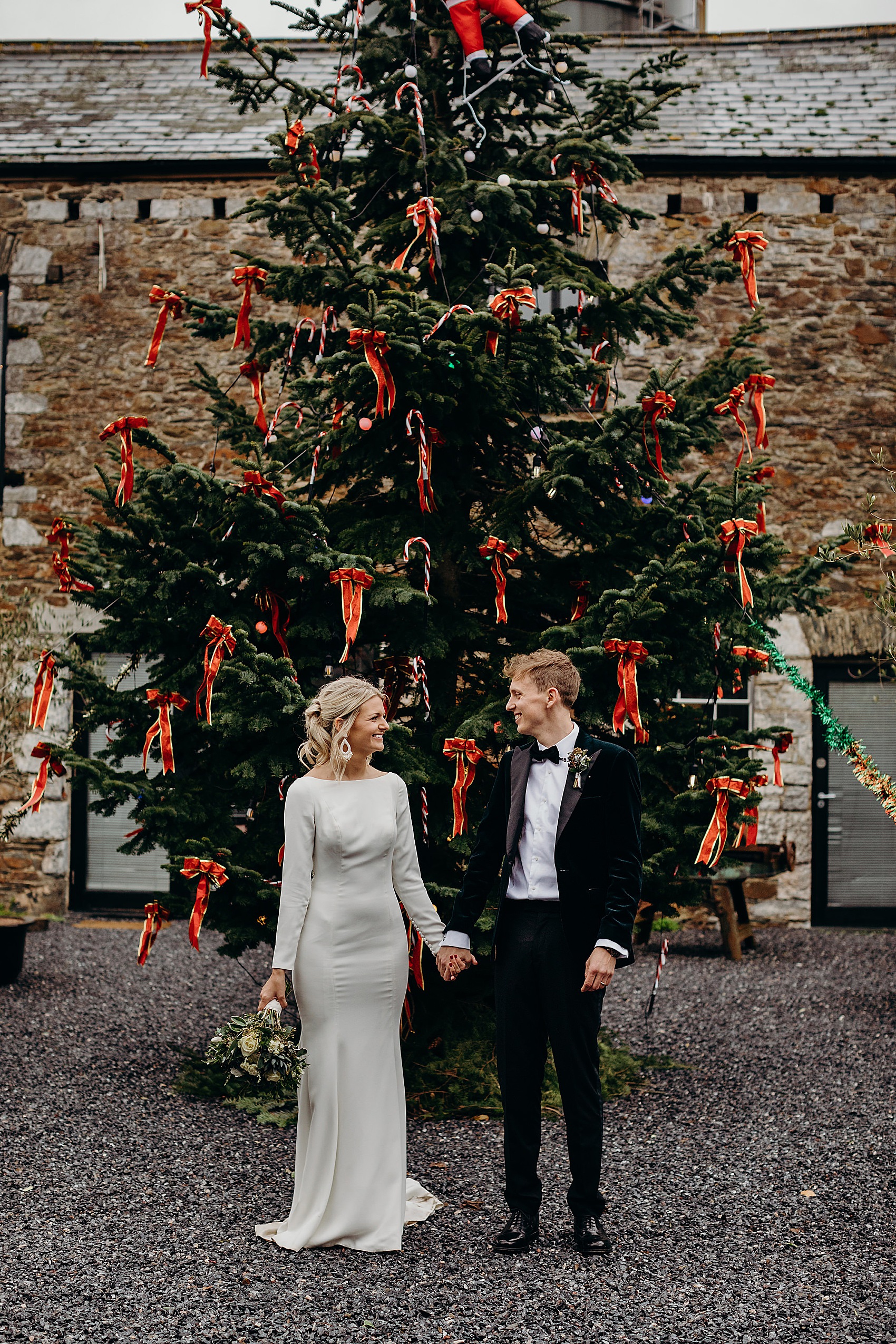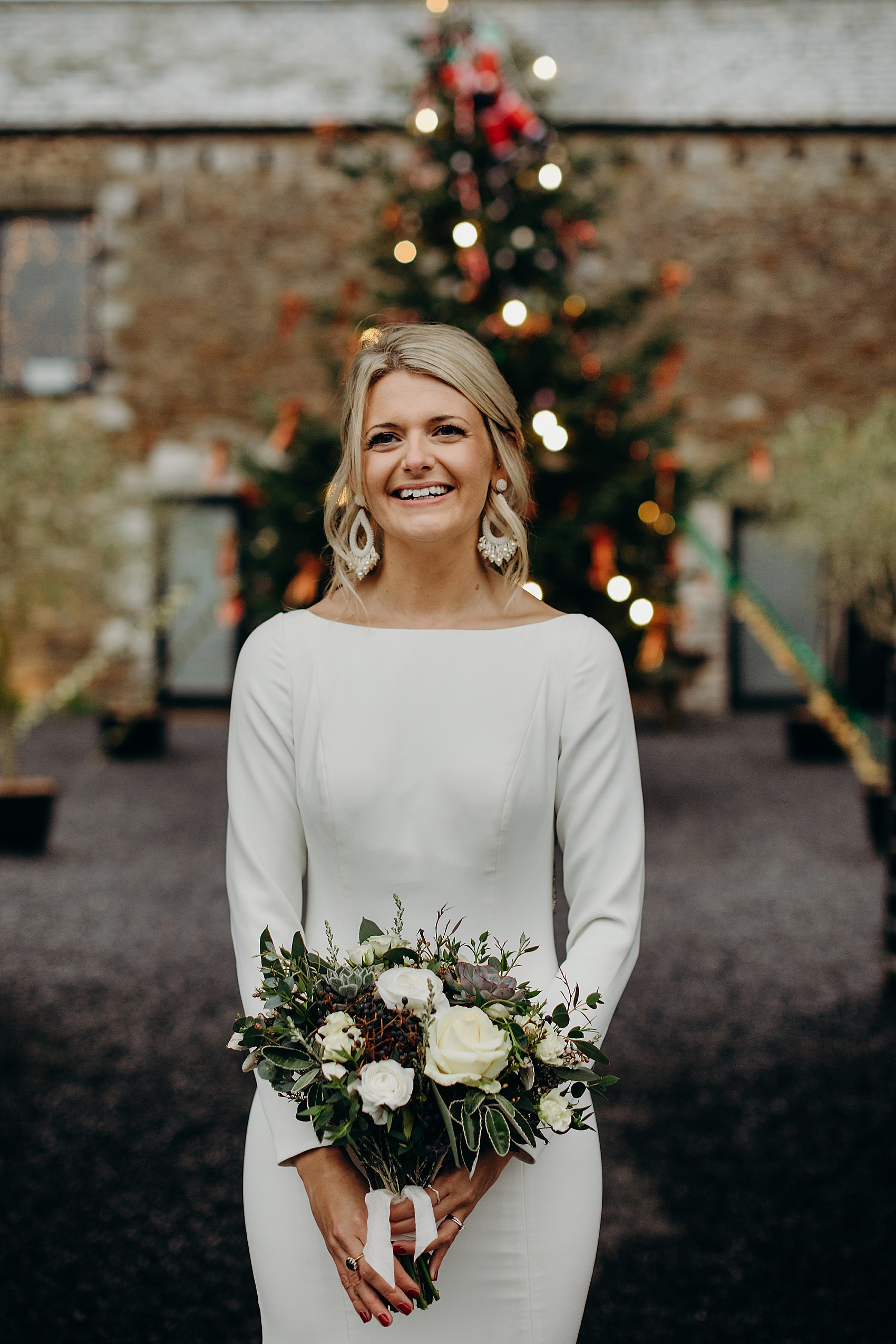 Venue ANRÁN is owned and ran by Edwin and Mike, and is their much-loved home as well as a bed and breakfast, with a collection of beautifully restored and re-purposed spaces in which to celebrate, including the most amazing glasshouse where Heather and Josh held their reception.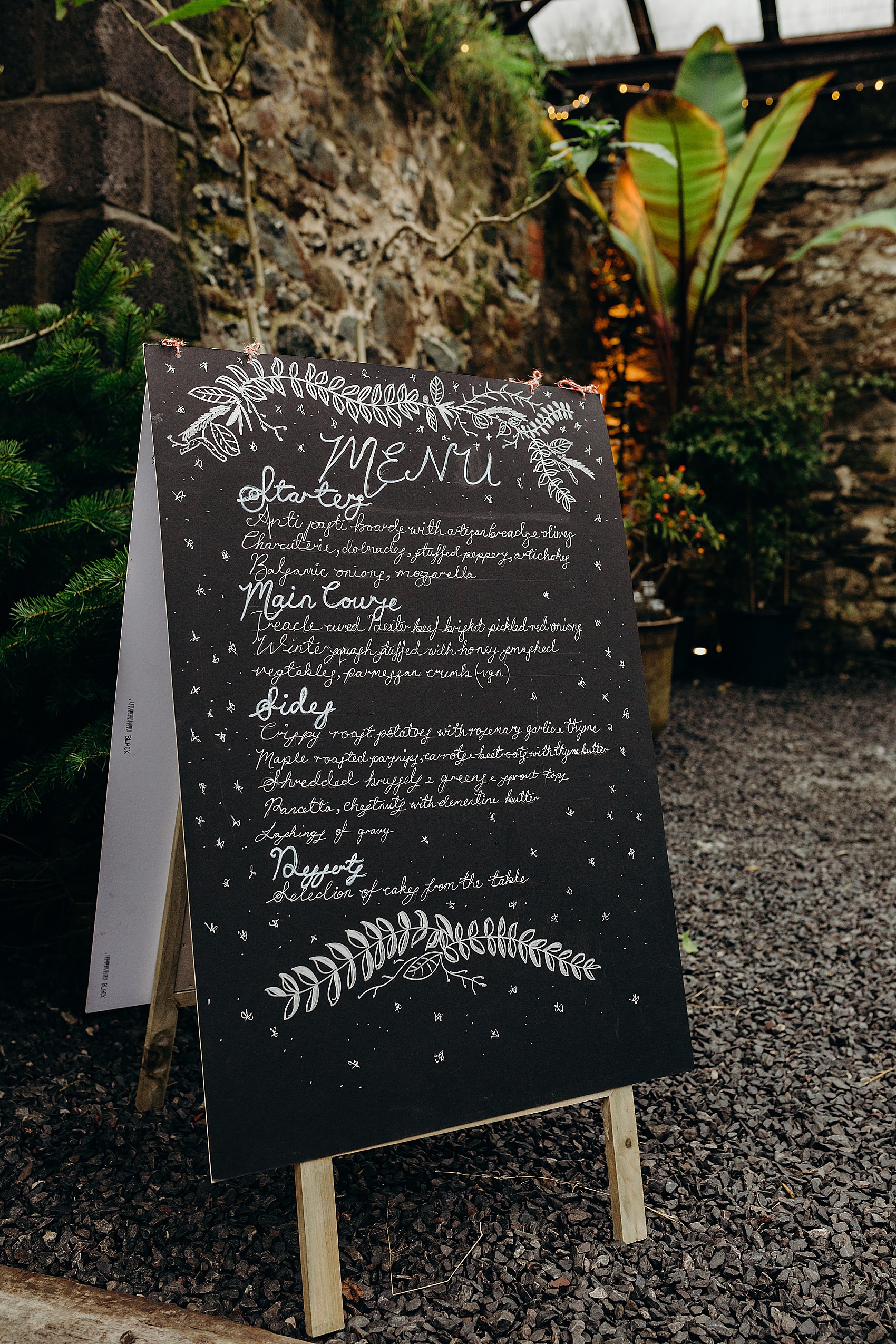 "We actually found our wedding venue on Pinterest when looking for inspiration to decorate a marquee in the kind of style we wanted. We were looking at 'indoor greenhouses' and a venue with beautiful greenery everywhere popped up, and we couldn't believe it when we realised one of the pictures was from a venue in Devon!"
"We both grew up in Devon, met at school there, and both our families live there, so it was always our plan to get married in this area."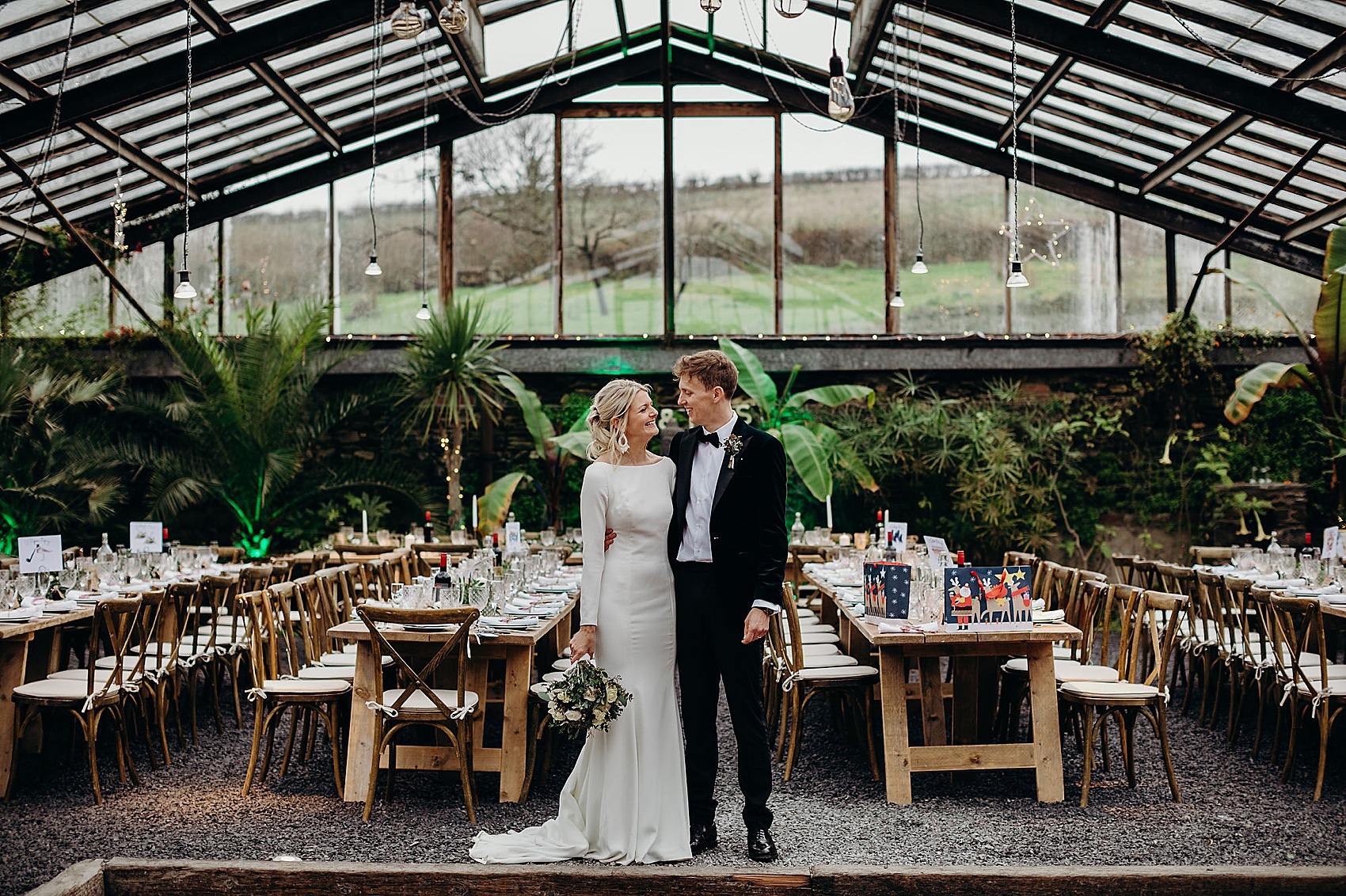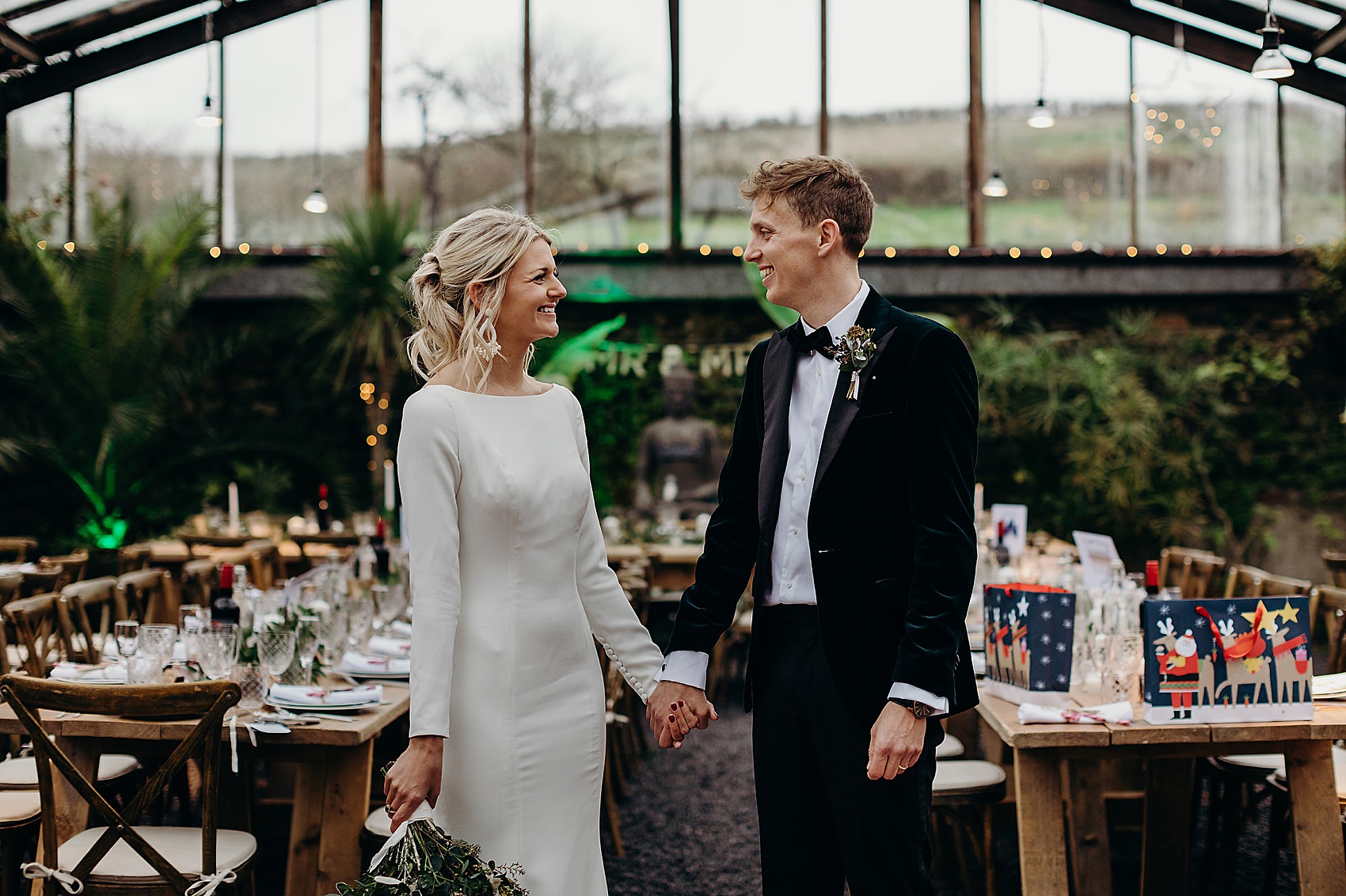 The walled garden of the venue was built on as the gorgeous, light-filled glasshouse, and you can still see the old brick from the walls contained within the space – such a clever idea. Florist Emma Hewlett's electrician husband fitted atmopsheric lighting, including lots and lots of fairylights to give the perfect cosy Christmas glow.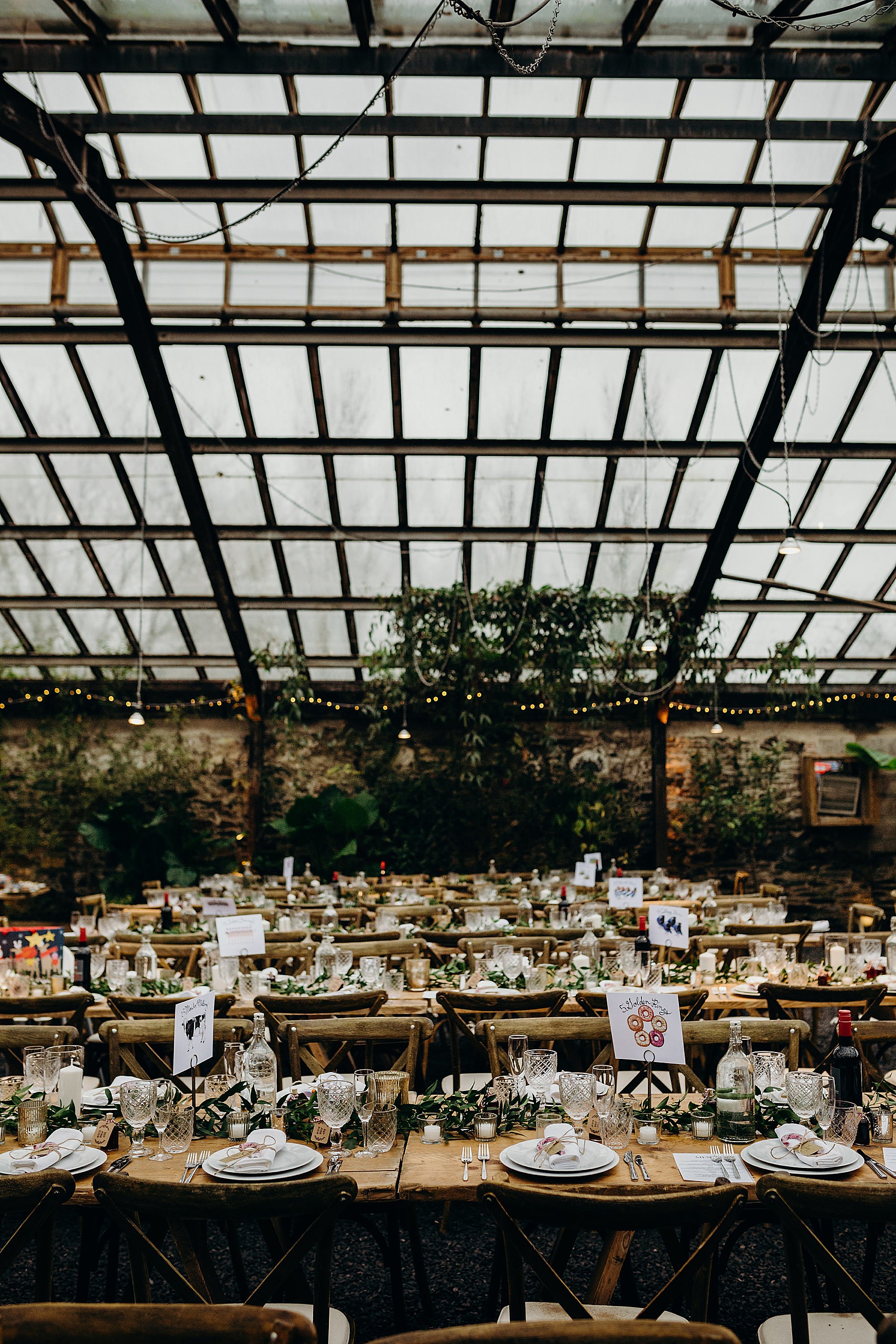 Drinks, including glasses of hot mulled wine, were enjoyed in the venue's converted Nissen Hut (dating from the Second World War) and decorated with crystal chandeliers to make for a lovely and inviting space.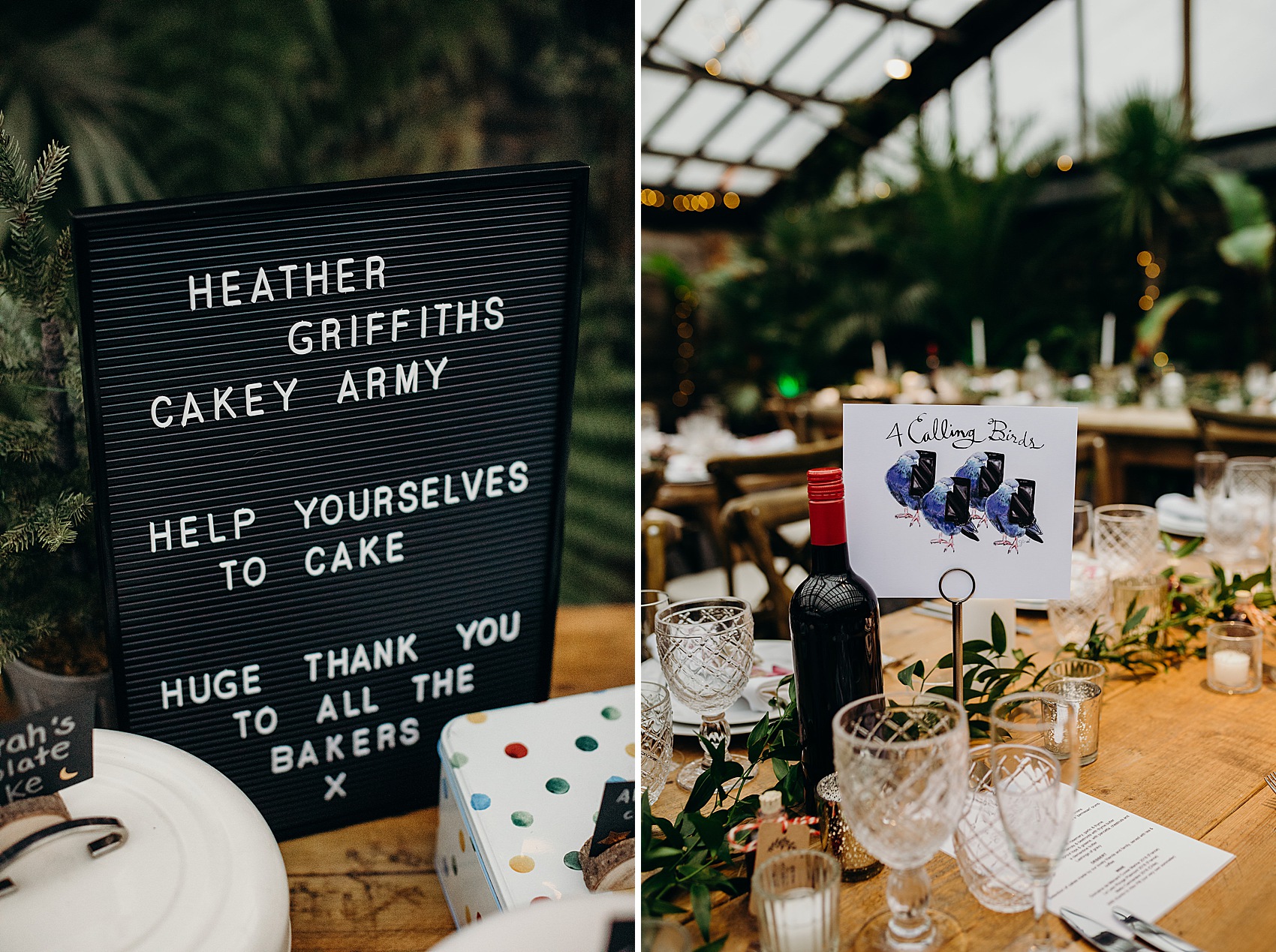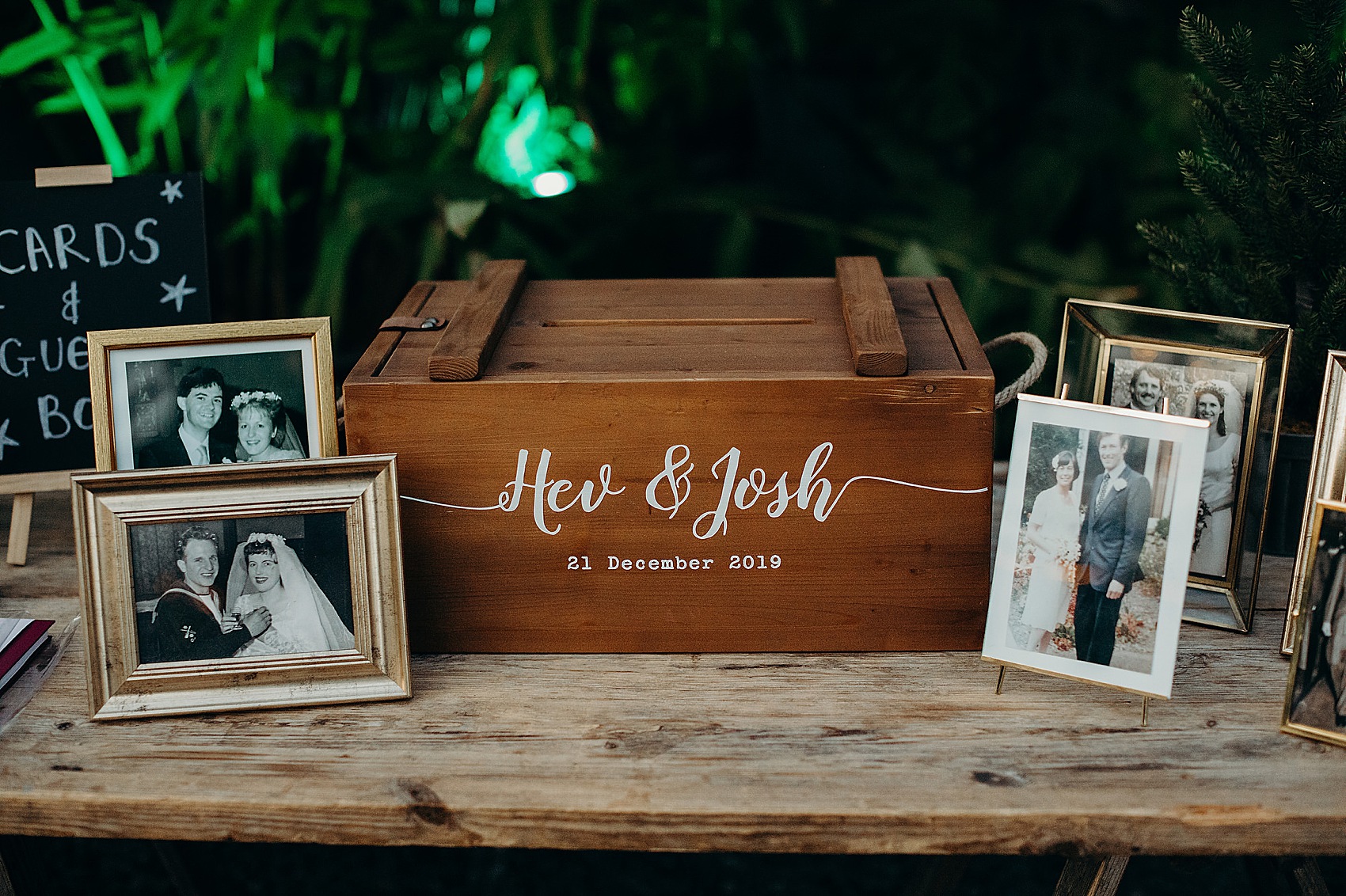 "Stationery was all done either by myself, or friends and family. My bridesmaid Rach is a graphic designer and designed the invitations. The place cards were handwritten in calligraphy by Josh's mum Nicky, and I asked a designer I found on Etsy – Little Light Invites – to design a few things for me in the Twelve Days of Christmas theme, like our order of the day."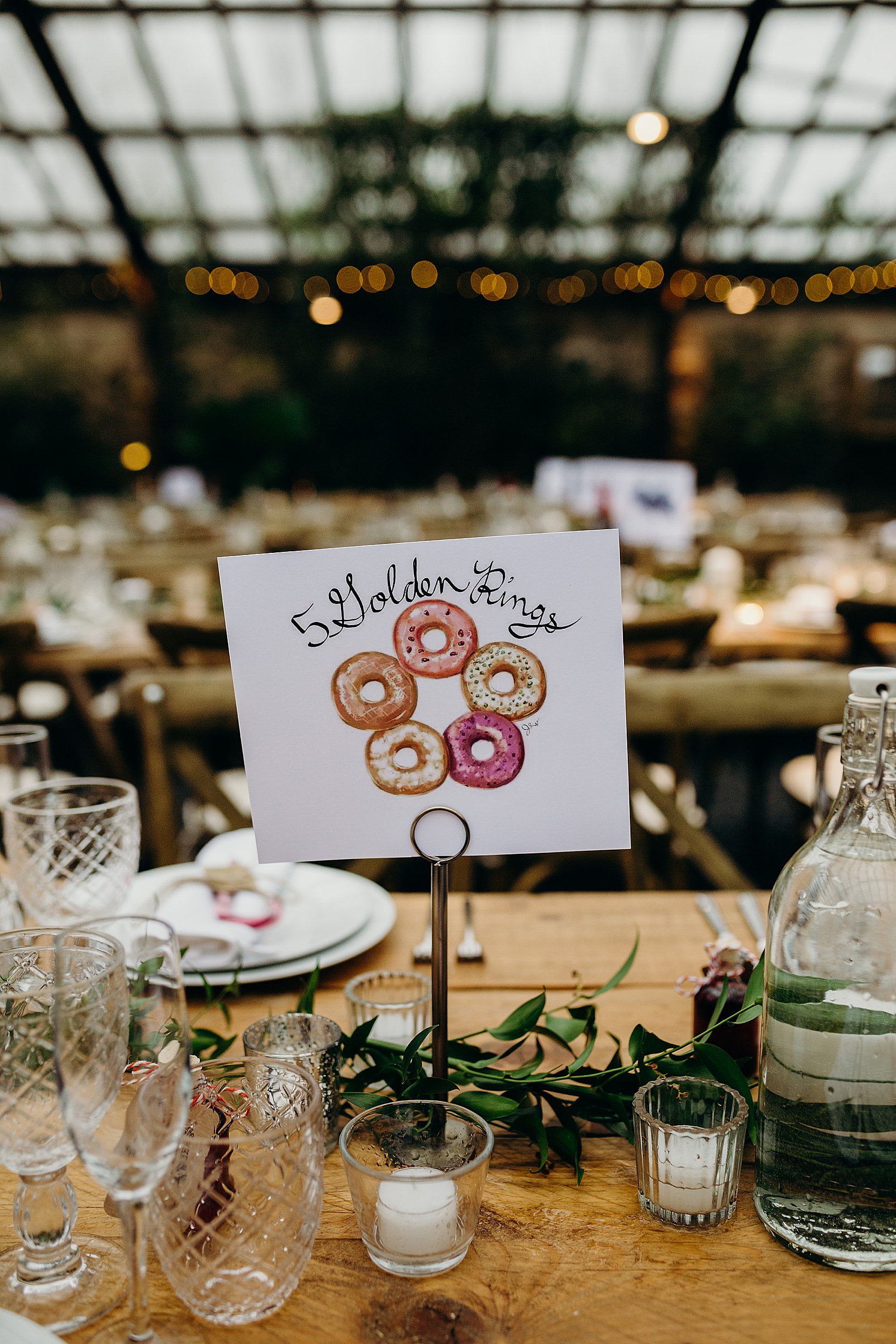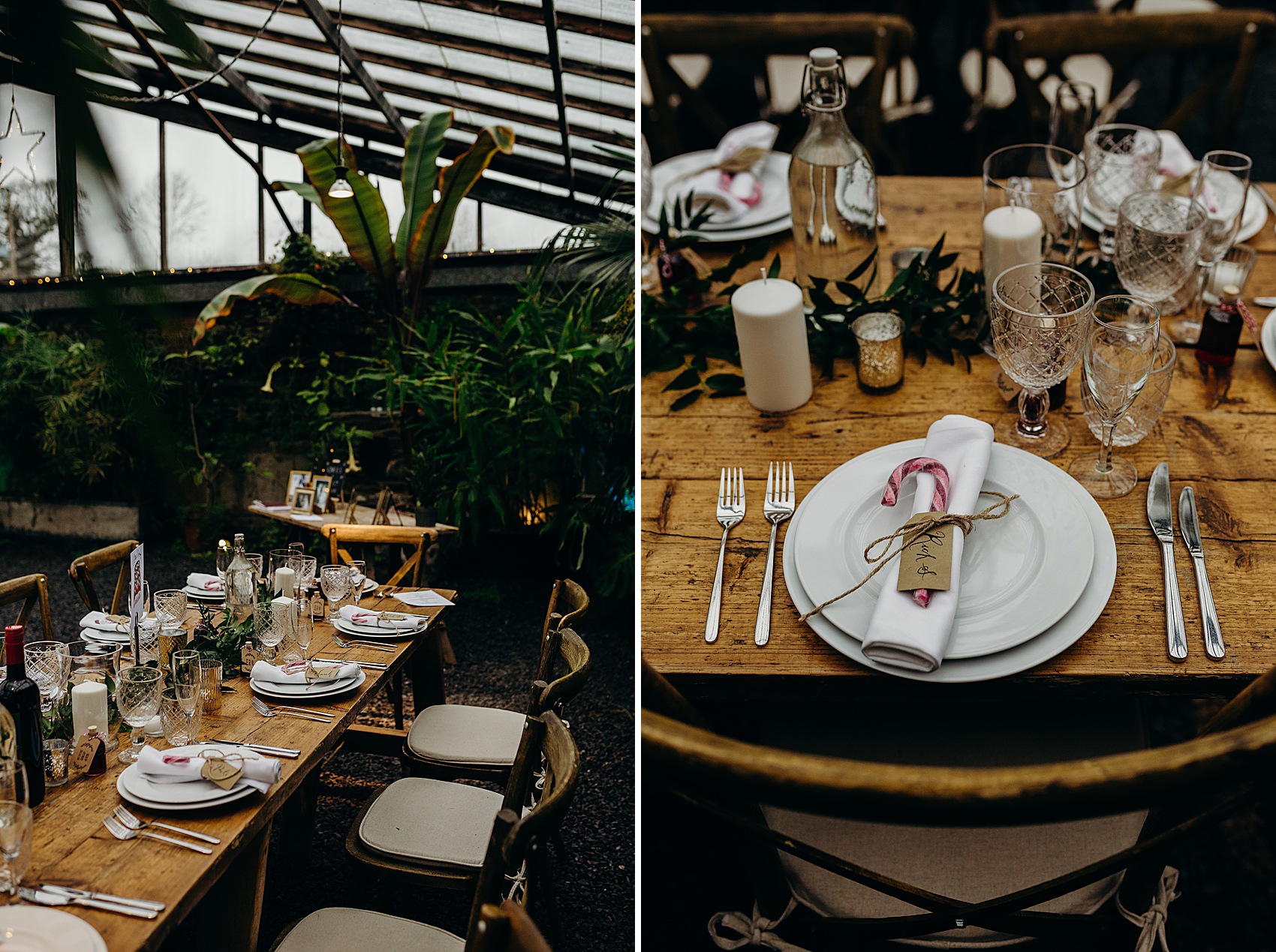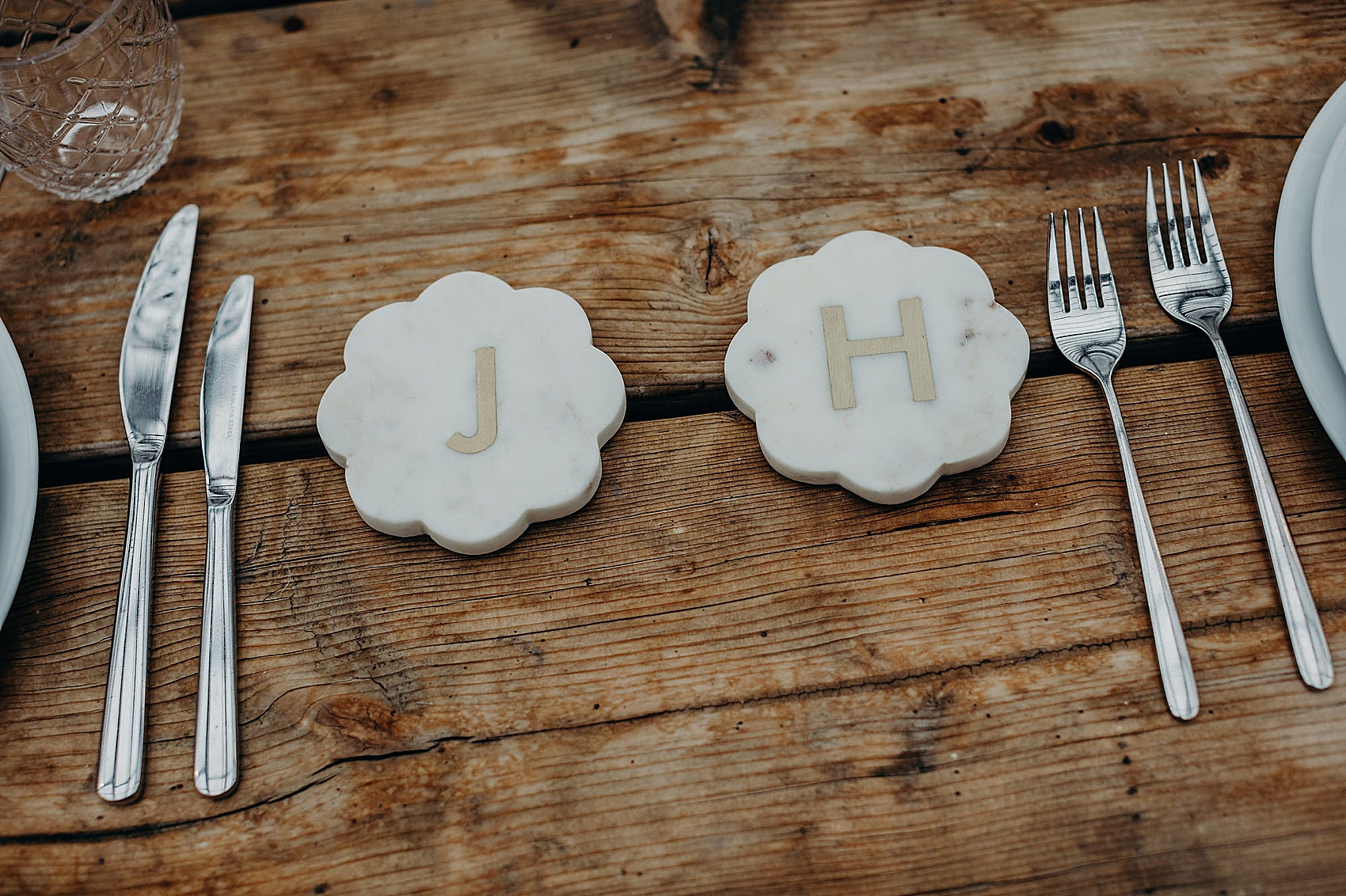 I love the mixture of tropical plants already living inside the glasshouse, together with the seasonal greenery trailing across the rustic dining tables, and hanging from the chandelier. The beautiful and rustic tables and chairs, as well as lots of other items to perfectly style the space, like metal stars, barrels and clothes rails were rented through Virginias Vintage Hire.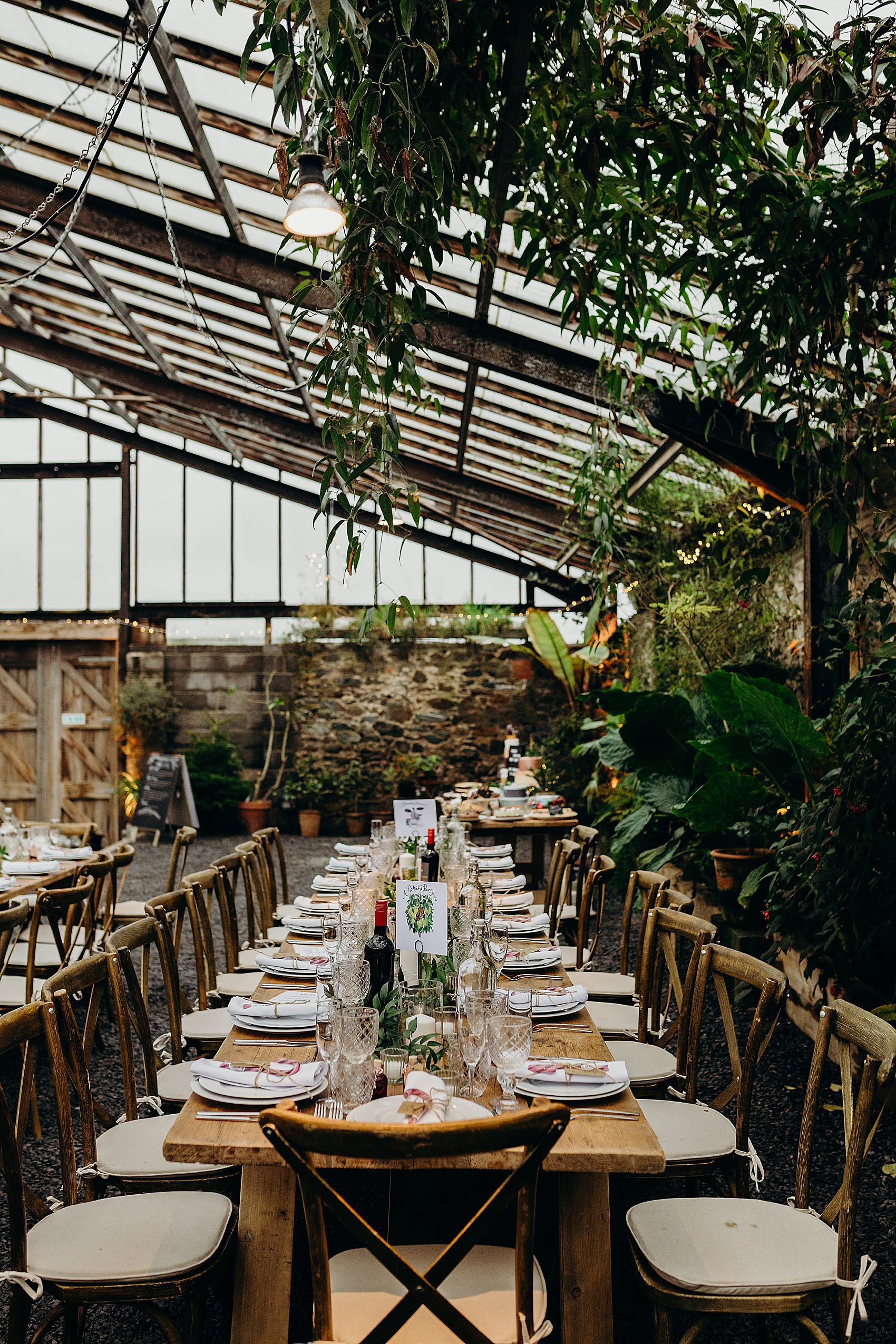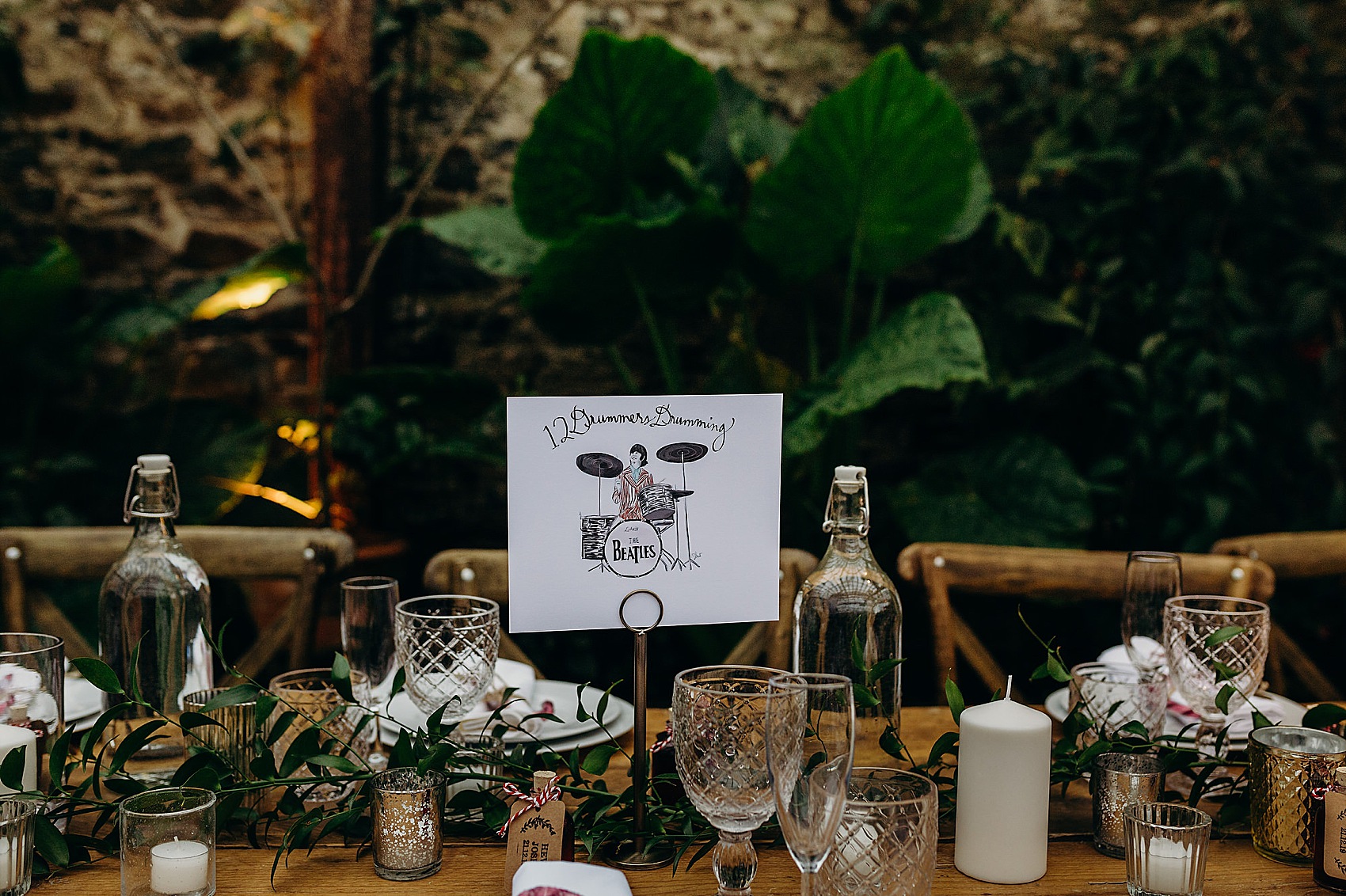 "Award winning* sloe gin made by Josh's mum as favours. A group of us spent hours a couple of nights before decanting into the small bottles. We encouraged everyone to drink during the speeches, and it was delicious. The small bottles were ordered off Amazon and we used some festive twine and handmade labels to finish off. *Awarded by the local village fete last summer."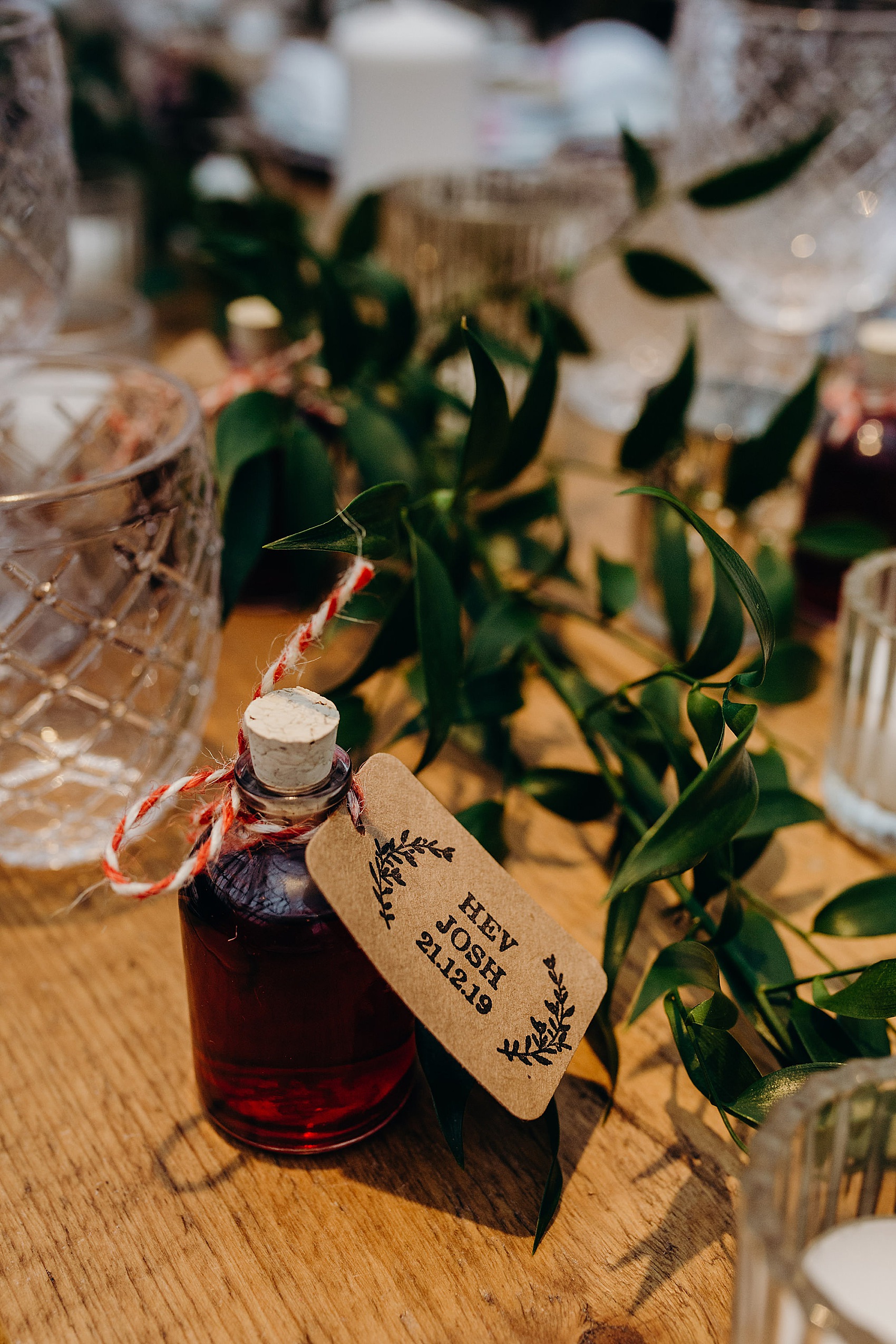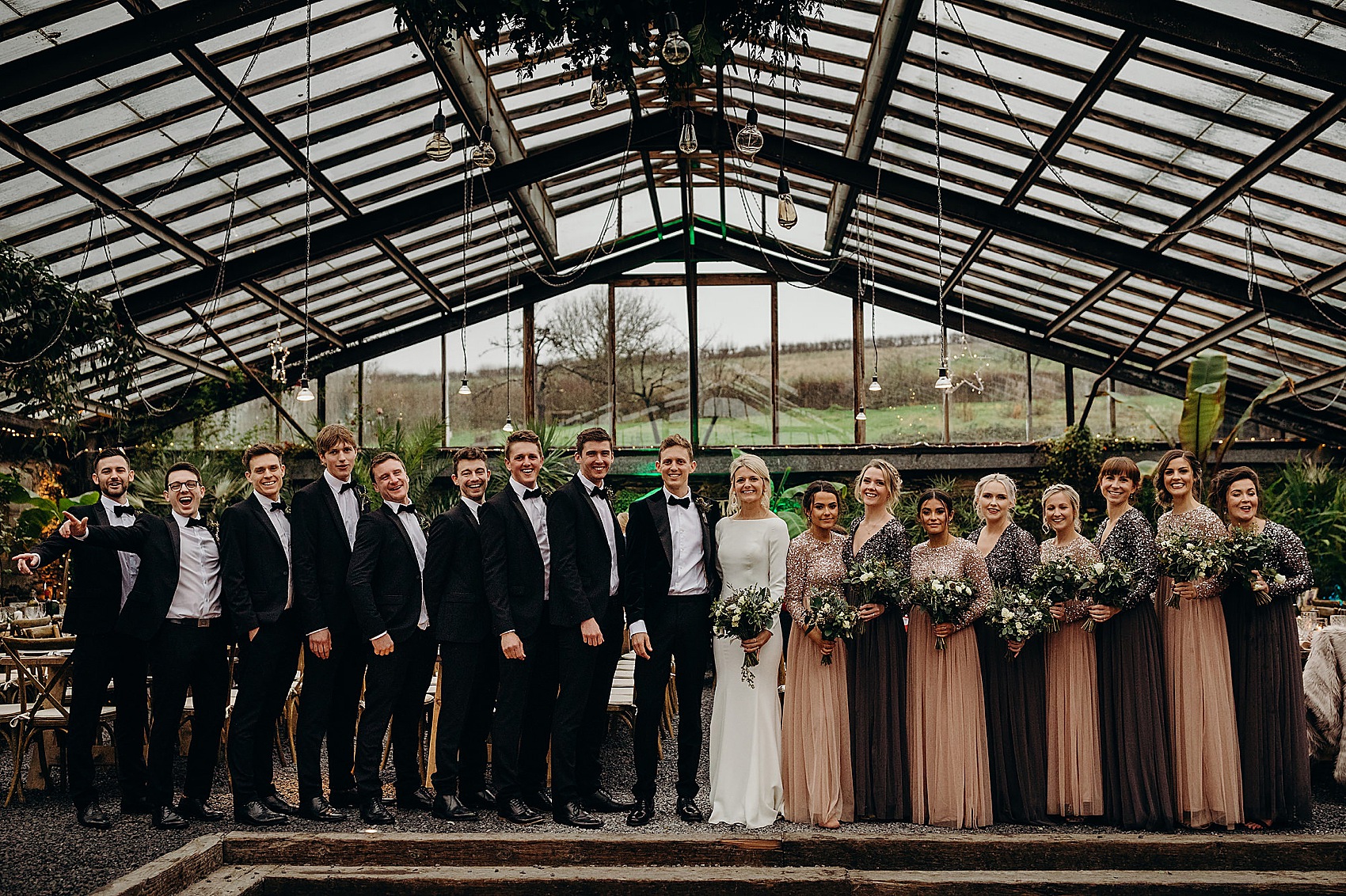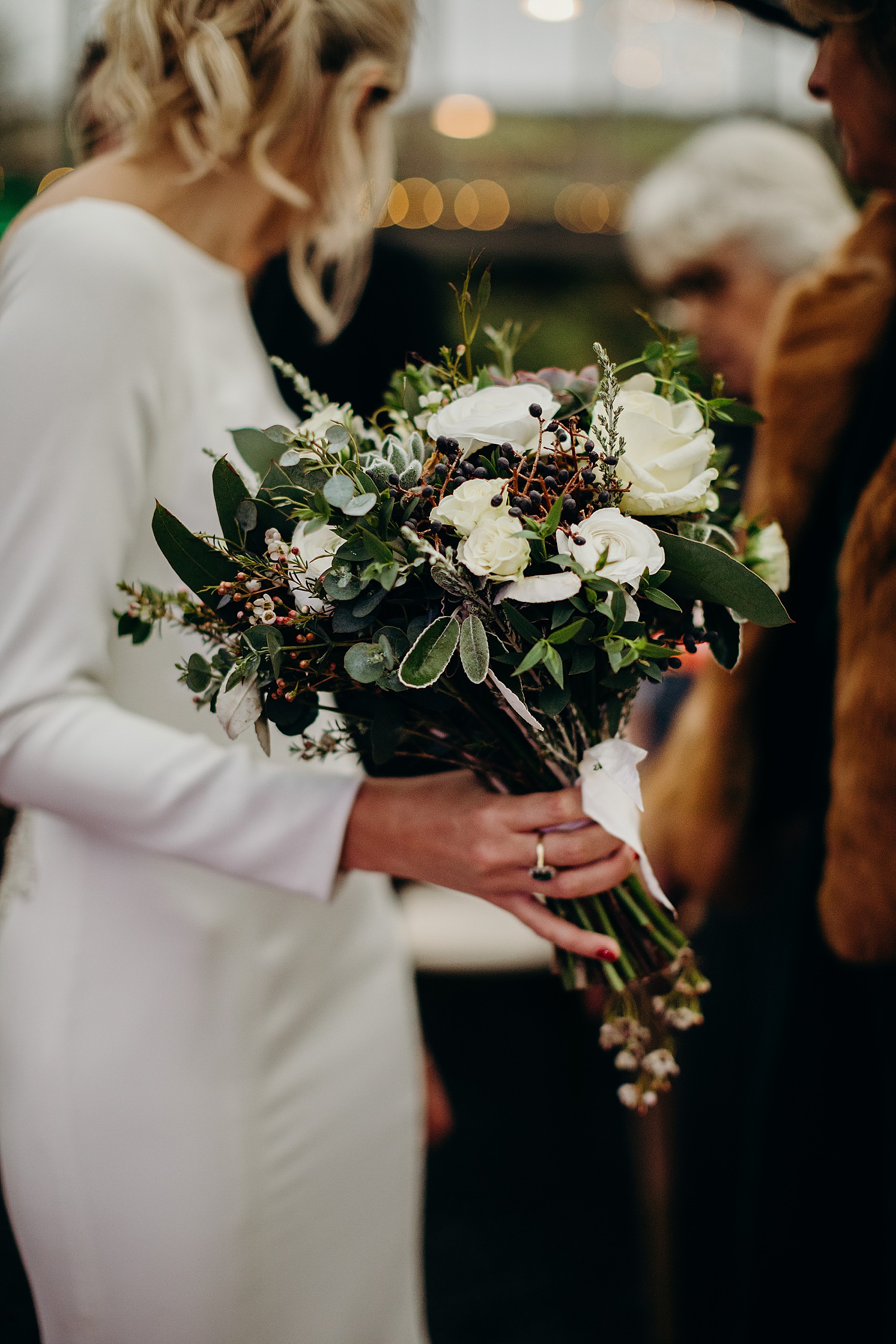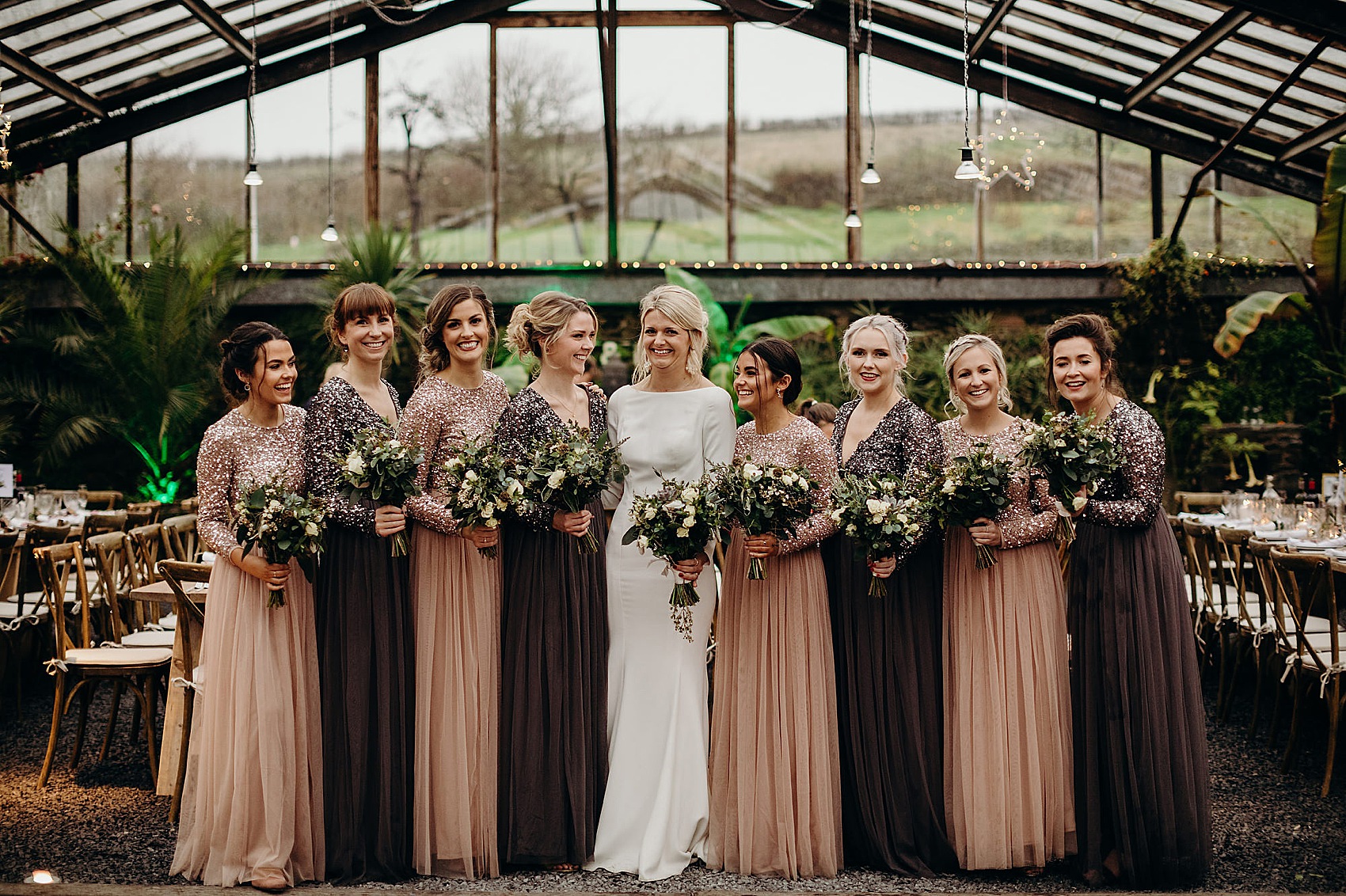 The wedding feast came courtesy of Hayley and the team at Cru Events, who cater for most weddings taking place at ANRÁN.
"The menu was perfect, and there was plenty of food to go around. We went for an antipasti starter and beef brisket with all the Christmas trimmings for main. Pudding was from the cake table with tea and coffee."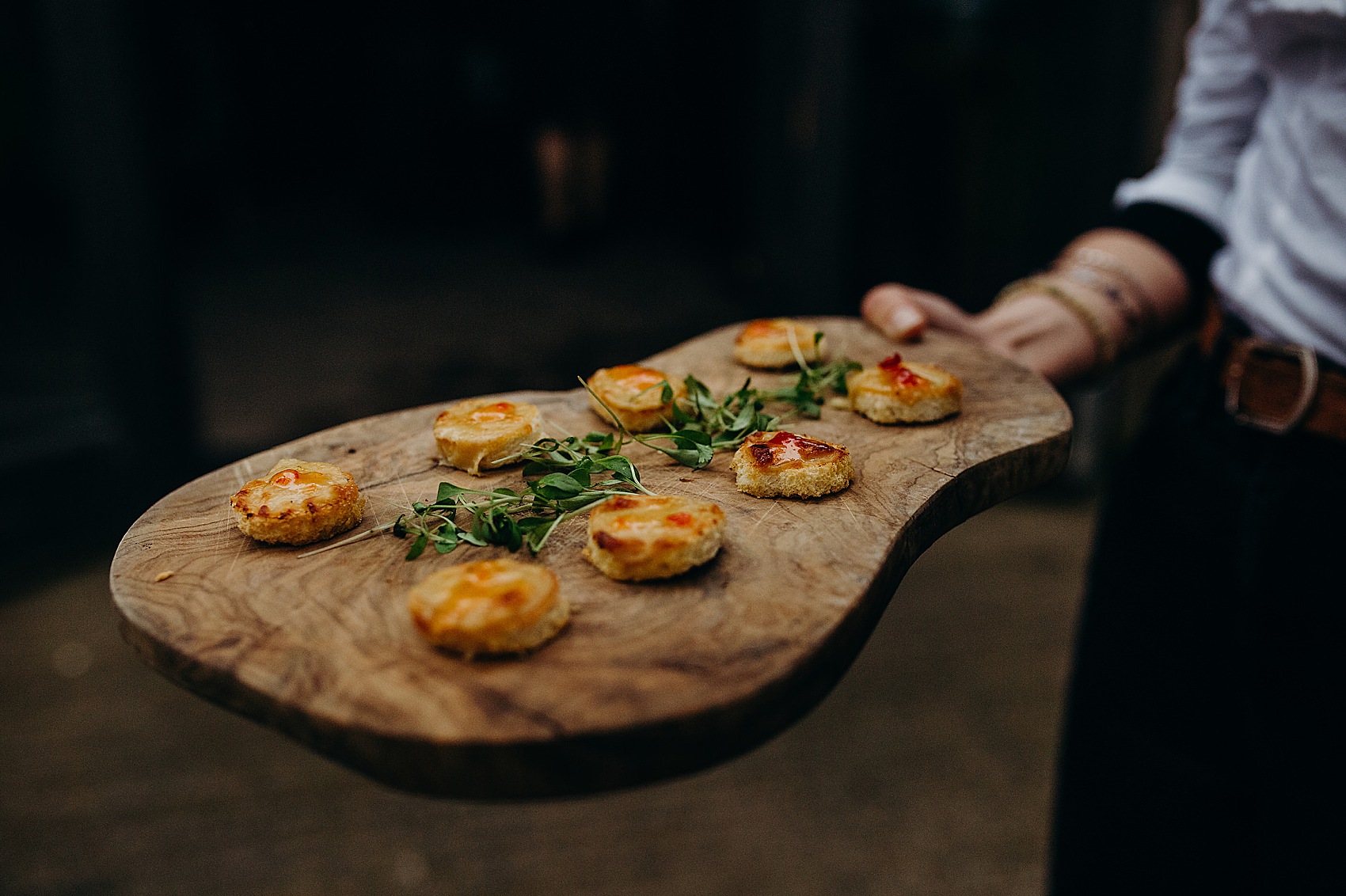 Cakes on the cake table were baked by family and friends, and Heather's friend Deb made a spectacular two-tier gold cake, with one layer of gin and tonic flavour, and the other of spiced rum and ginger.
After dinner and speeches, Heather changed her outfit, and opted for some seasonal sparkle with an amazing, glittery disco jumpsuit from ASOS.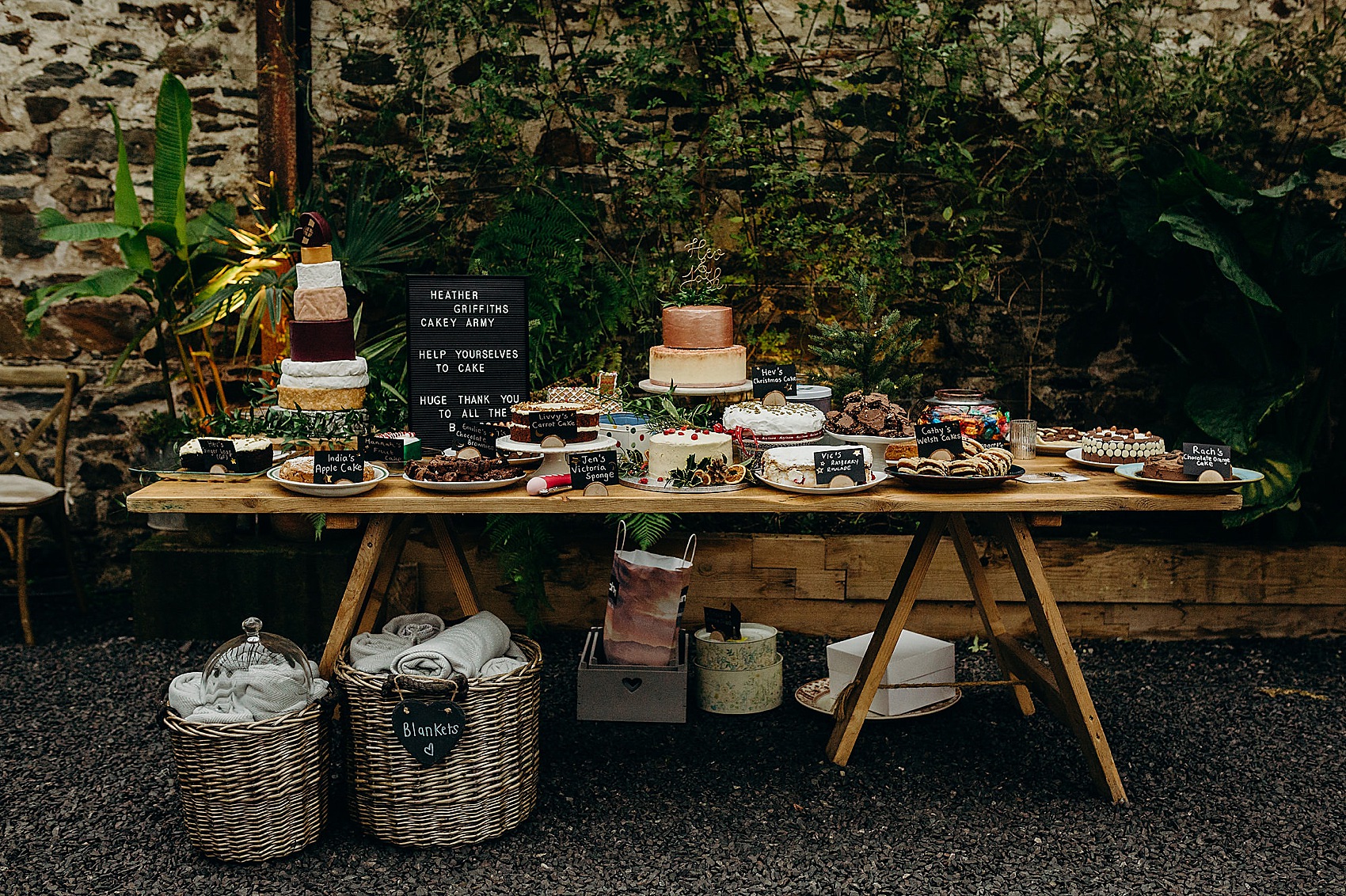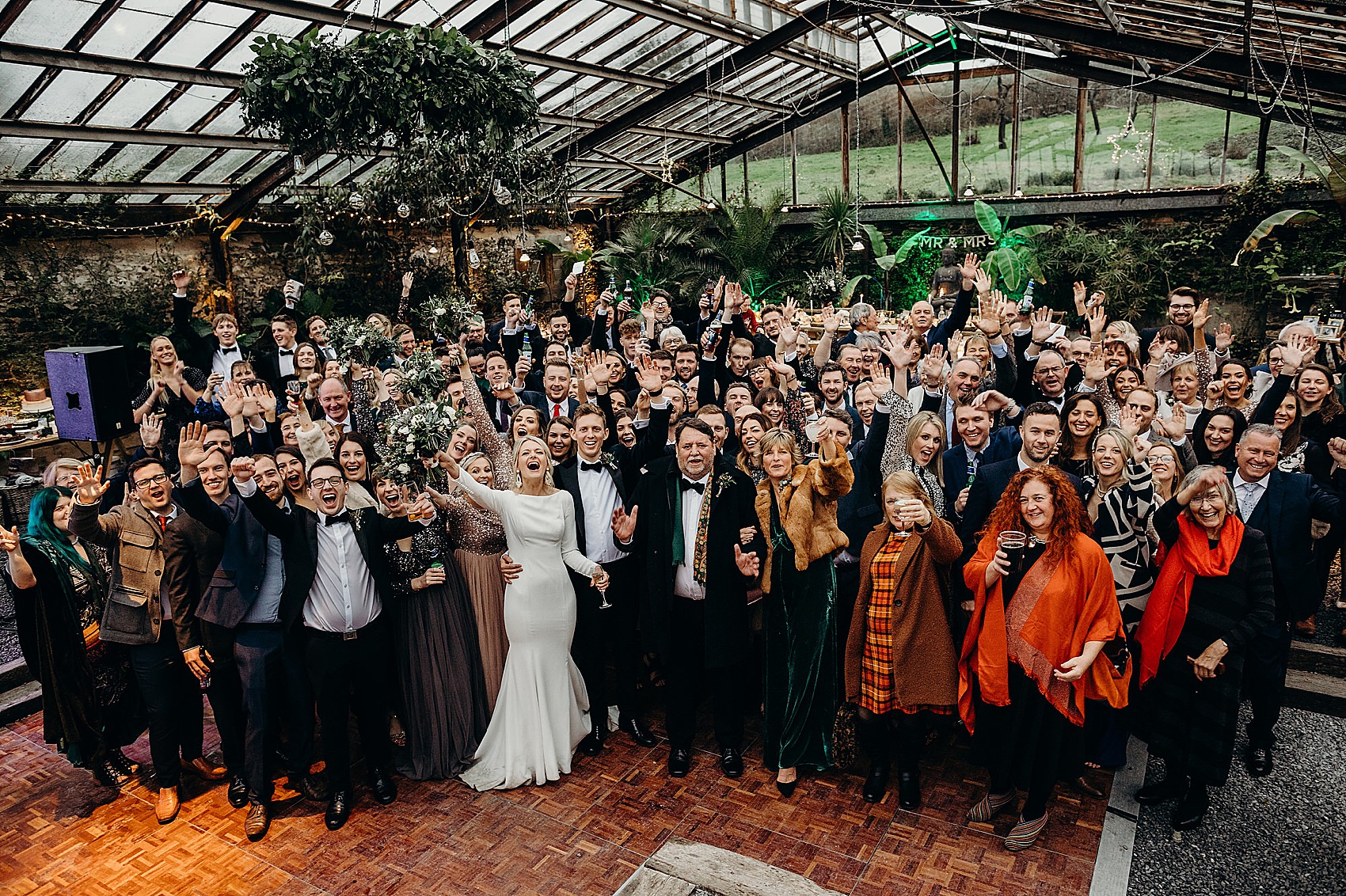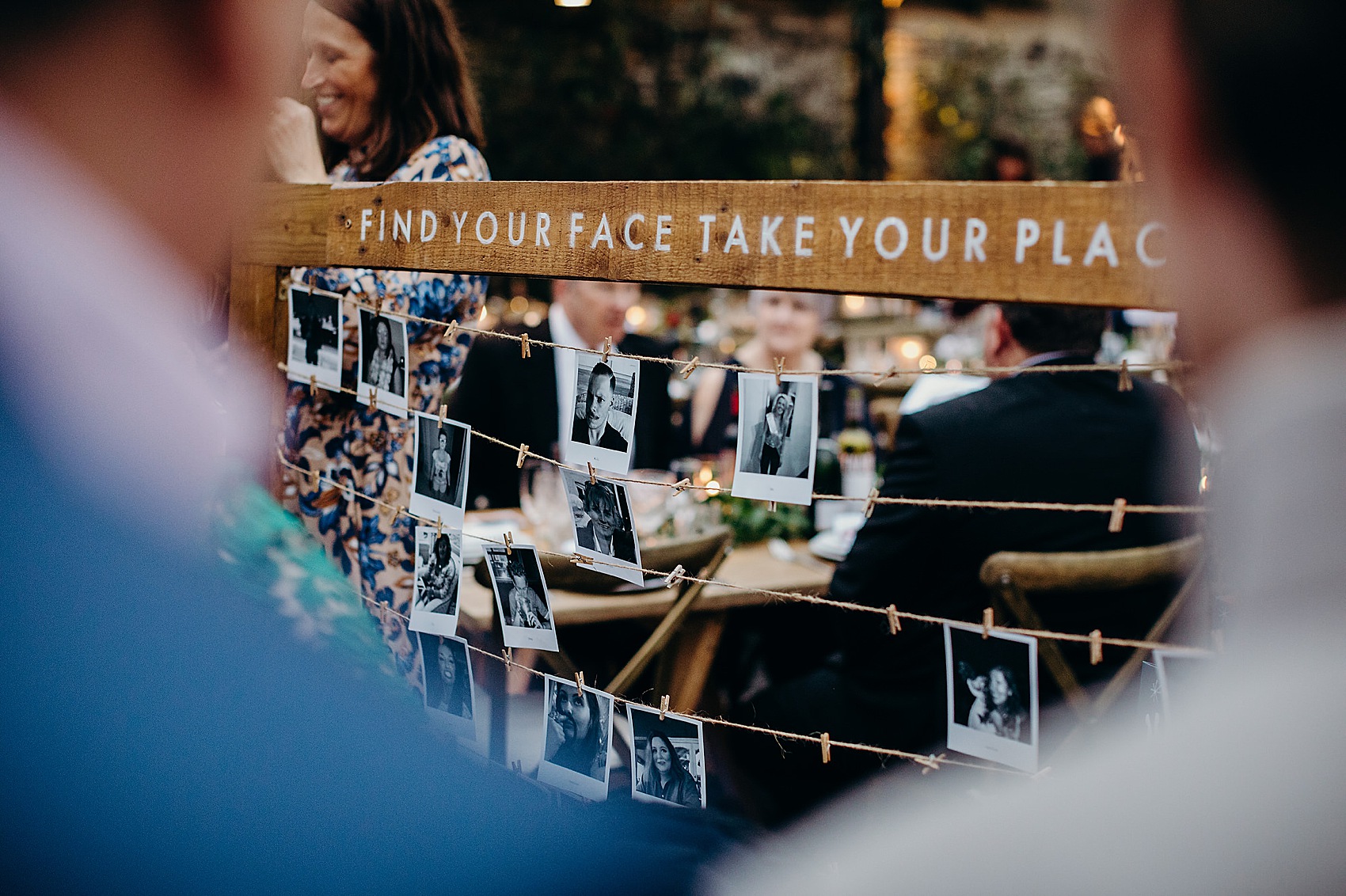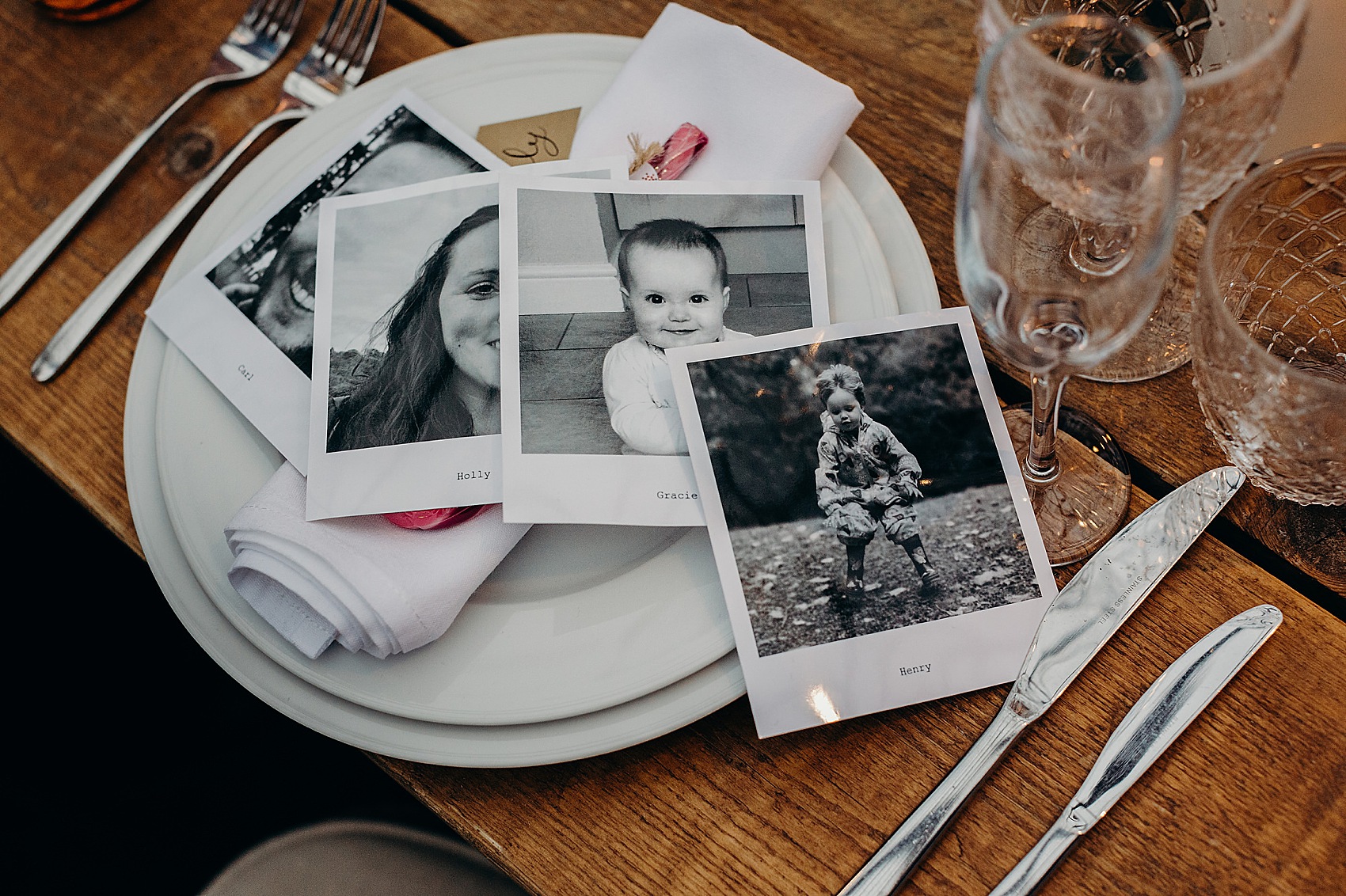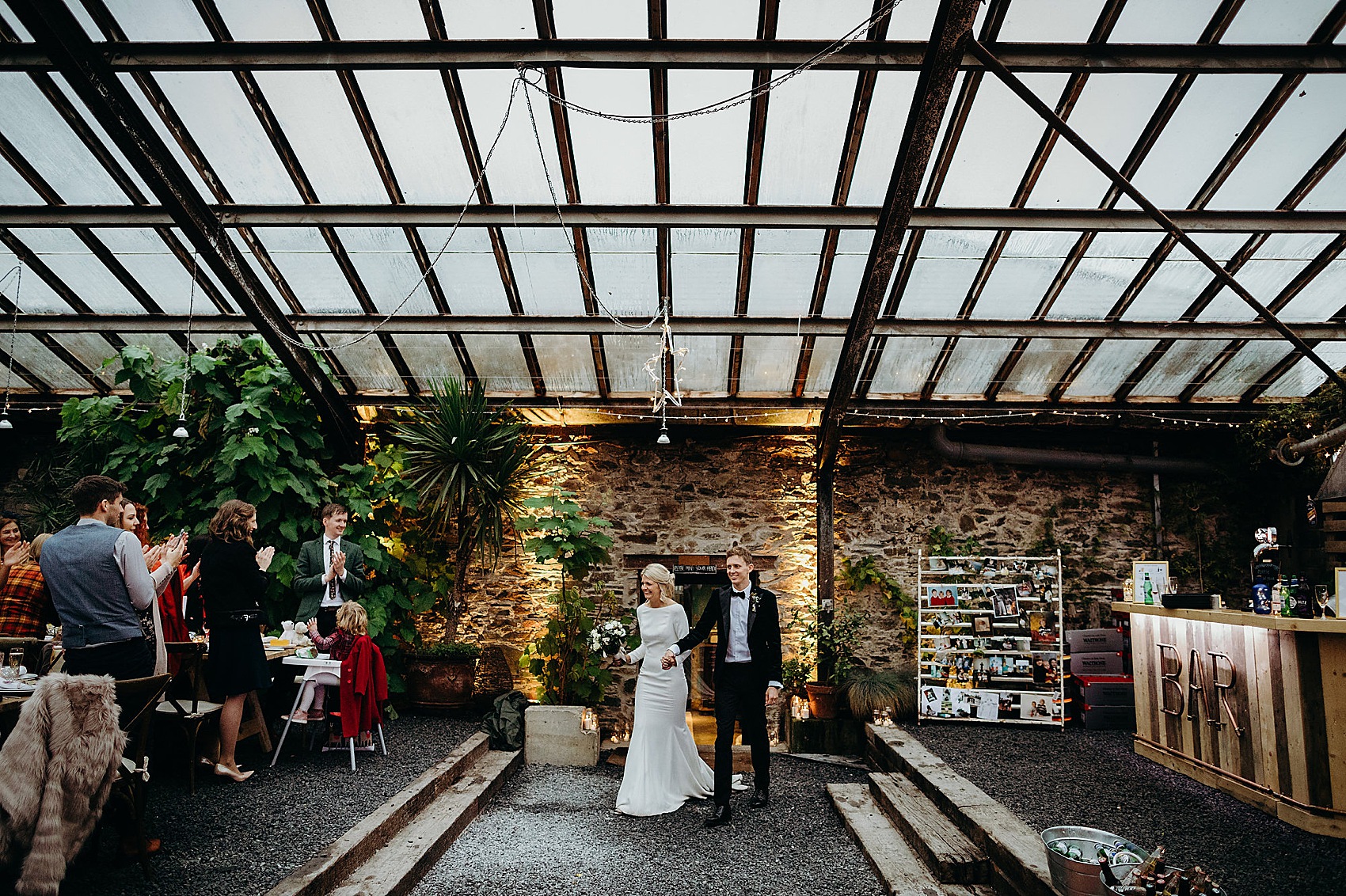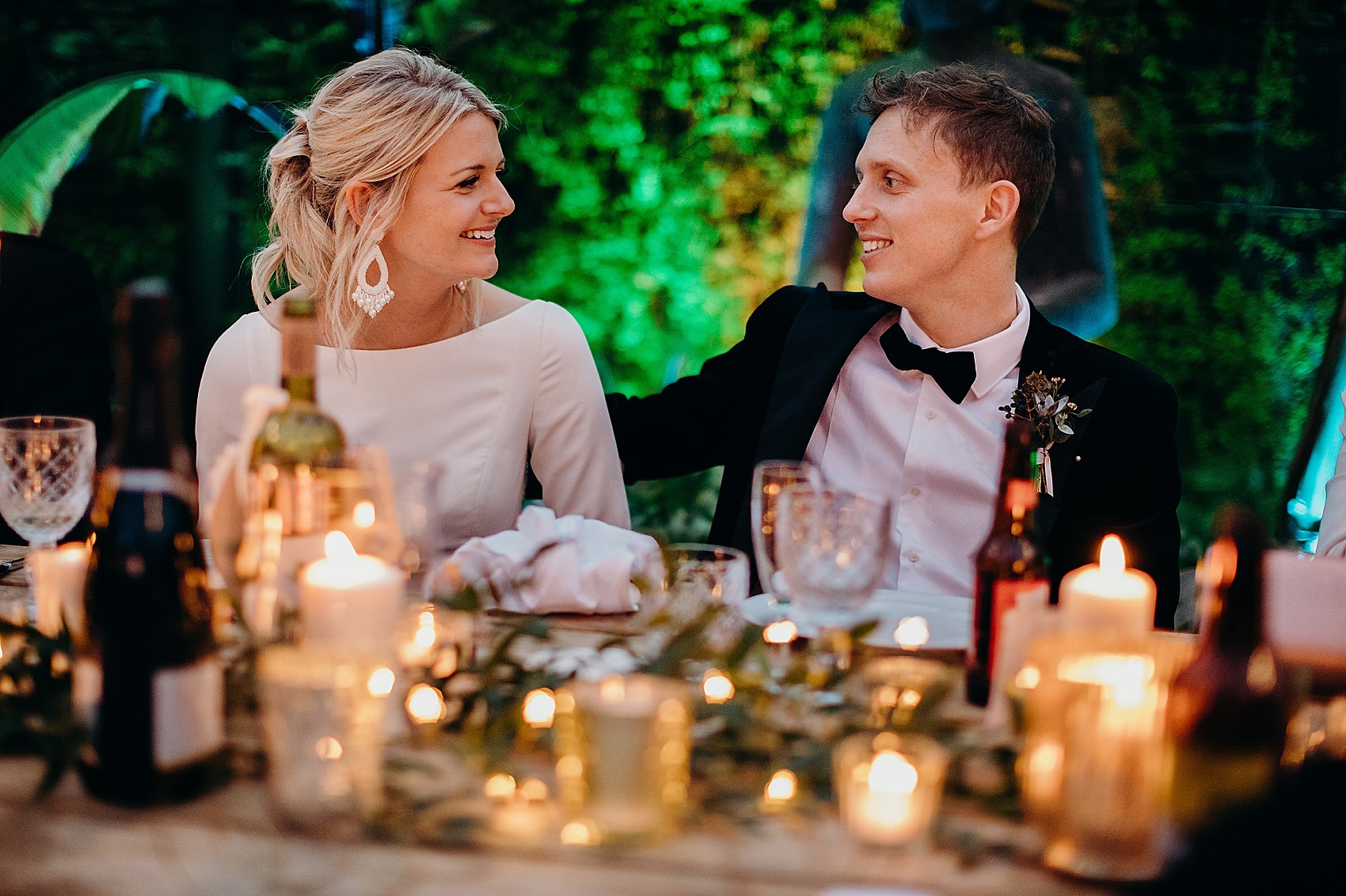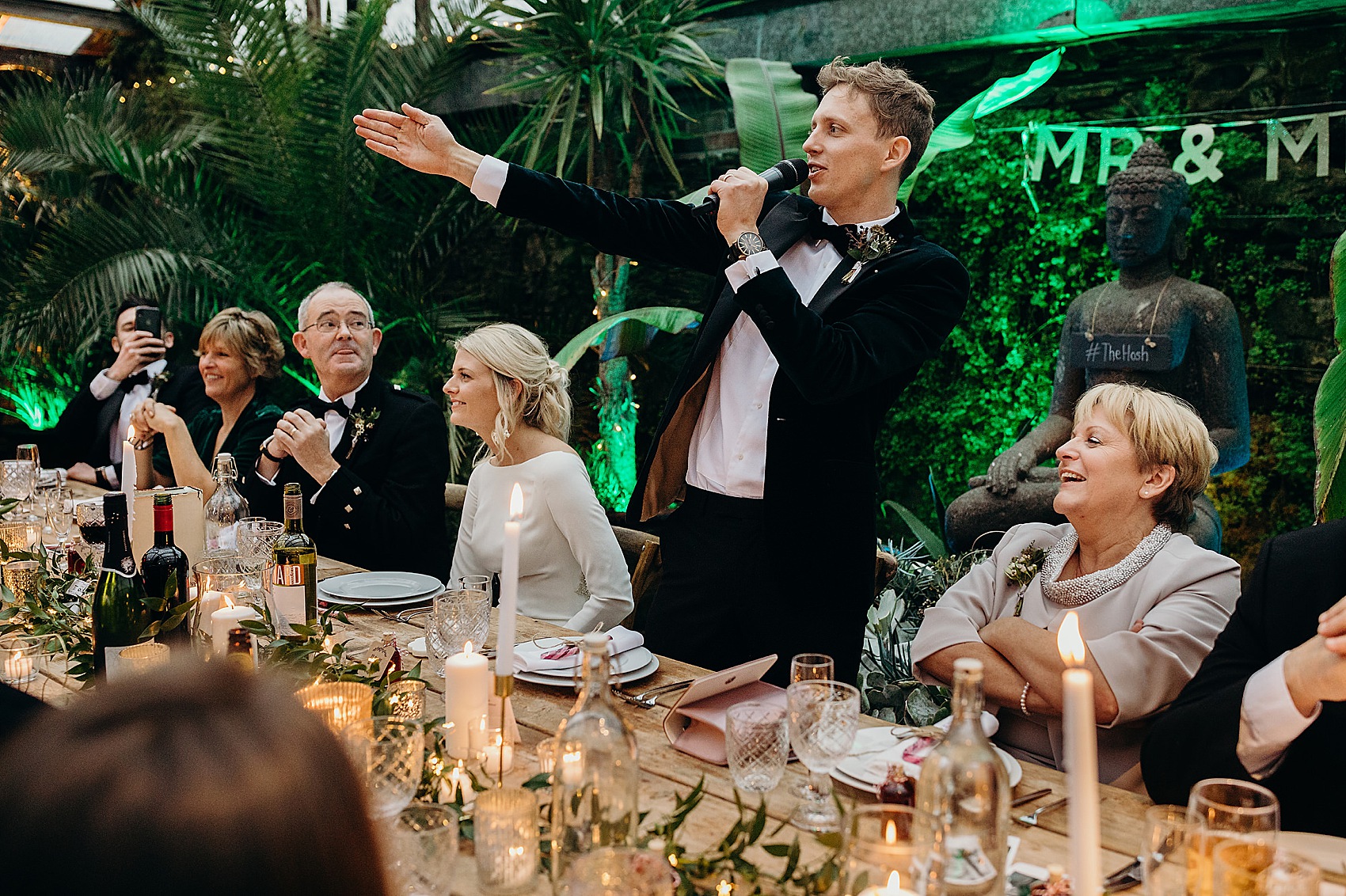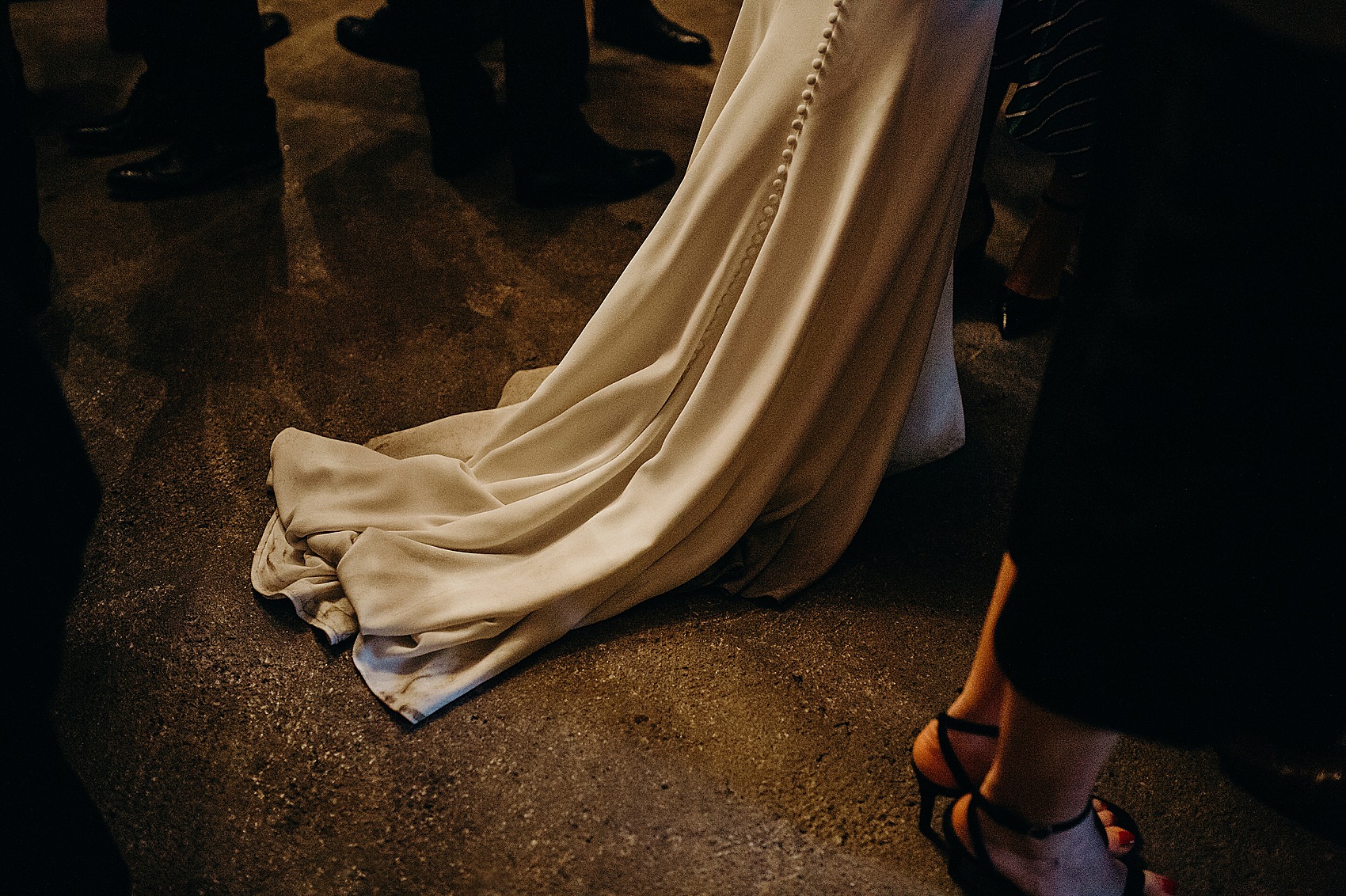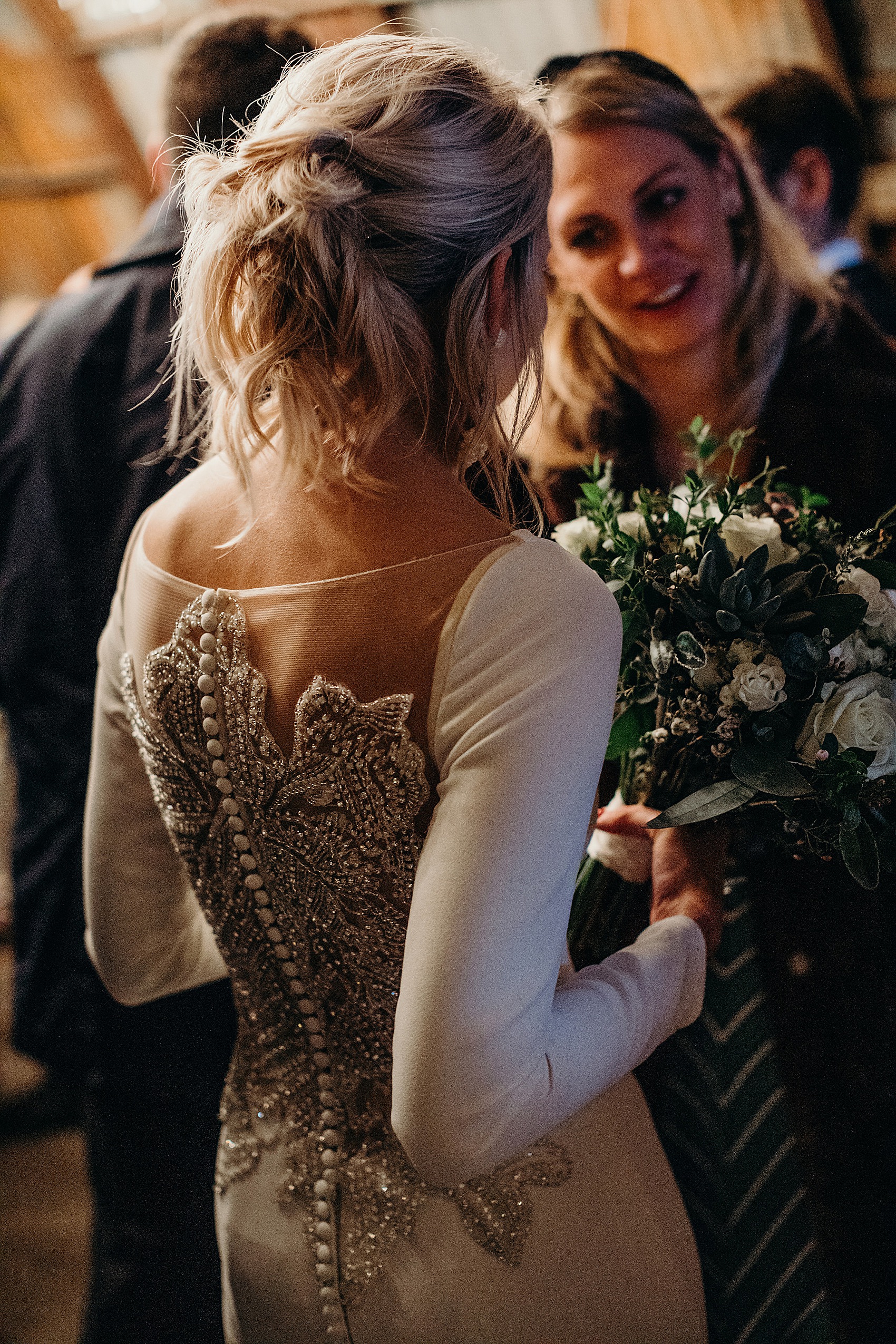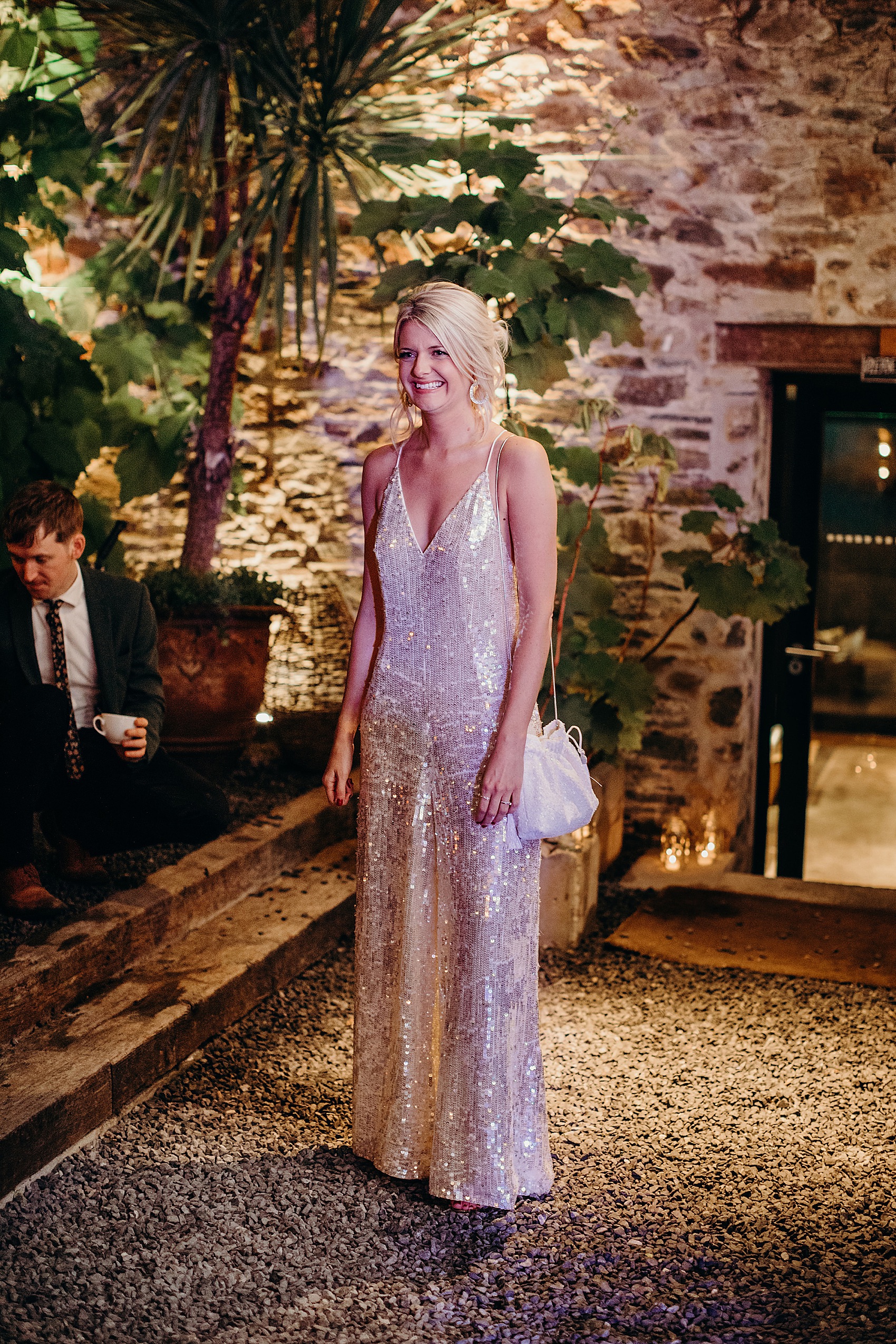 "Our first dance was L.O.V.E by Nat King Cole. We've said for years this would be our first dance, it's just such a happy song and one we always sing in the car. We loved the sax, and just thought it would sound great played by a band, which it did!"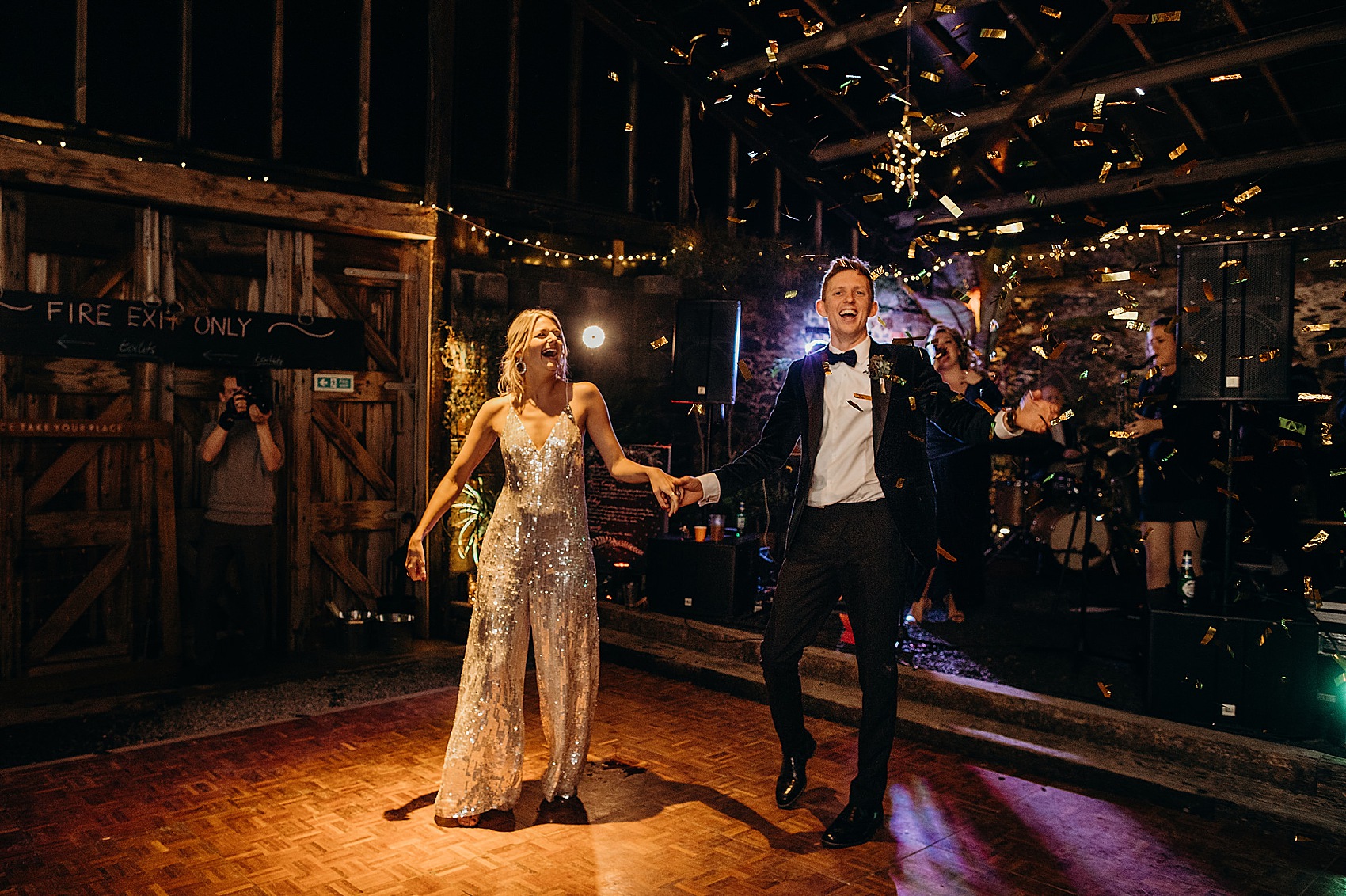 "Velvet Soul, our band for the evening came all the way from Cardiff . They were a six piece soul/disco/Motown band who really got the party started. The dancefloor didn't empty once. They also learned our first dance song, which was really cool."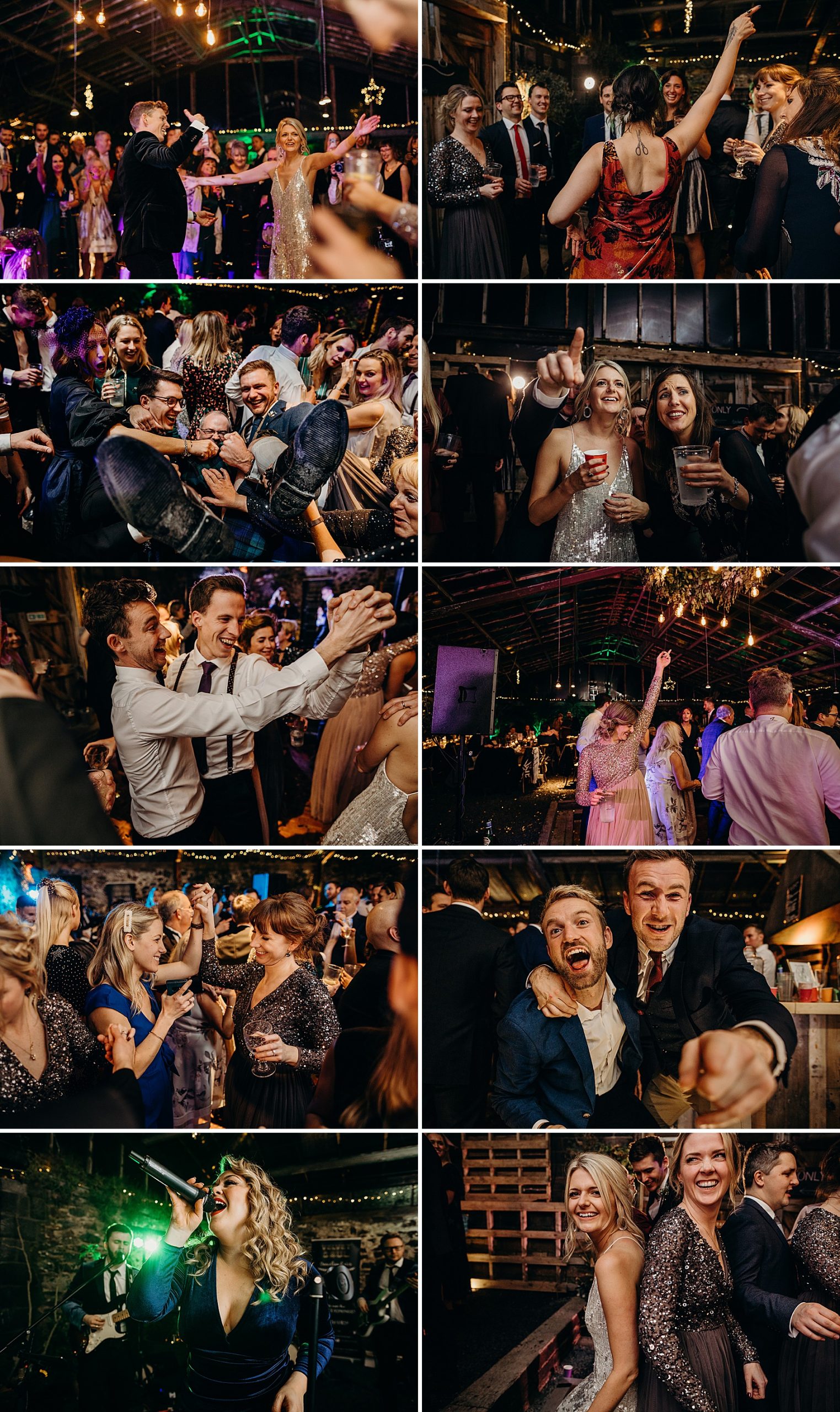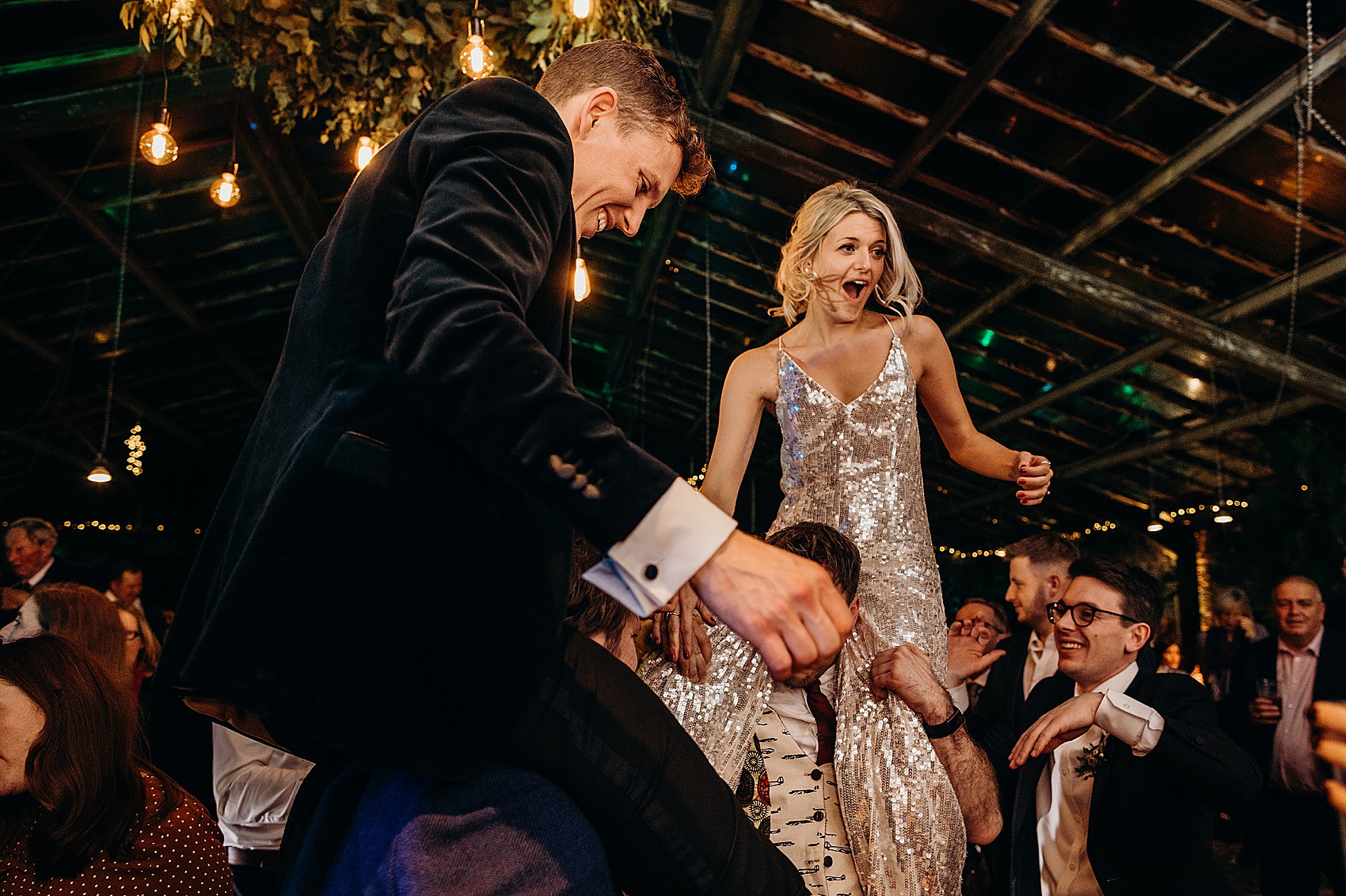 Words of Wedded Wisdom
"You can plan and plan and plan, but on the day before, and day itself just try to let it all go. After the day, I remembered loads of tiny things that I had forgotten to use to decorate, but I just wanted to enjoy the weekend, and as everyone started to arrive those little things didn't matter. My advice would be to go with the flow and don't lose yourself in the organisation."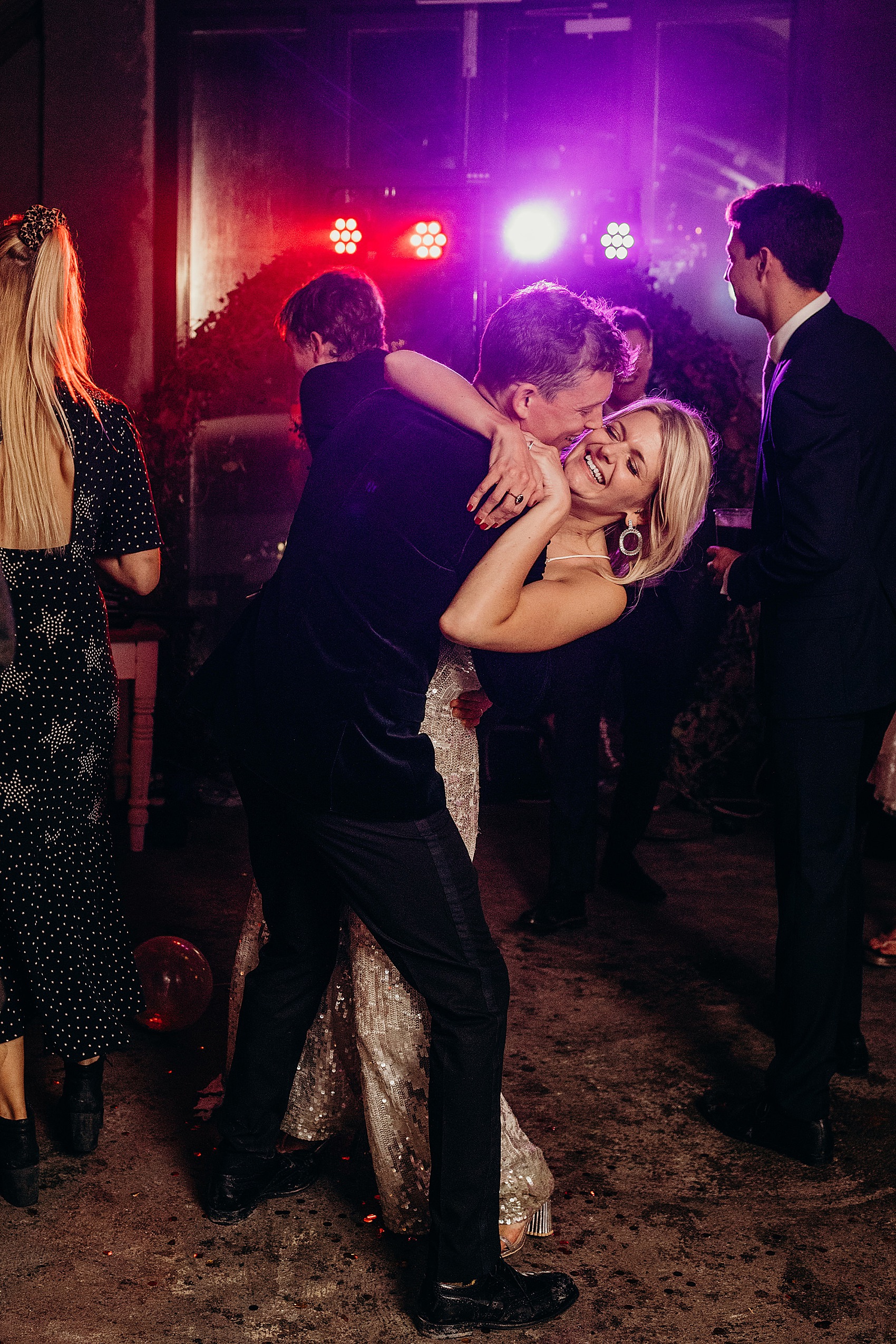 Heather and Josh, thank you! That was just wonderful to share – so decadently festive, and what a gem of a venue you found in ANRÁN. Thanks so much to OW Productions Wedding Videography for the lovely film, and to Richard Skins for this joyful collection of images.
With love,
Laura