A wedding venue that combines the historic grandeur of a medieval castle (on the ancient Hoo Peninsula in Kent) with beautiful barn spaces for both ceremony and reception – that's where we're off to today – how does that sound?!
In that wonderful setting, our couple styled their day with lots of lovely greenery, neutral florals, and stylish, modern touches. This is the wedding of Lola and Jake. Lola is an Insurance Broker, and Jake is a Recruitment Manager, and they were married on the 12 April 2019 at Cooling Castle Barn in Kent.
Black Box Videography
Their ceremony was held inside the venue's Fathom Barn, and afterwards, their reception was in the venue's magnificent Tithe Barn.
"We fell in love with the whole of Cooling Castle Barn as soon as we saw it. We were only able to book due to a cancellation, so we were super lucky."
Michelle Cordner Photography

+ Follow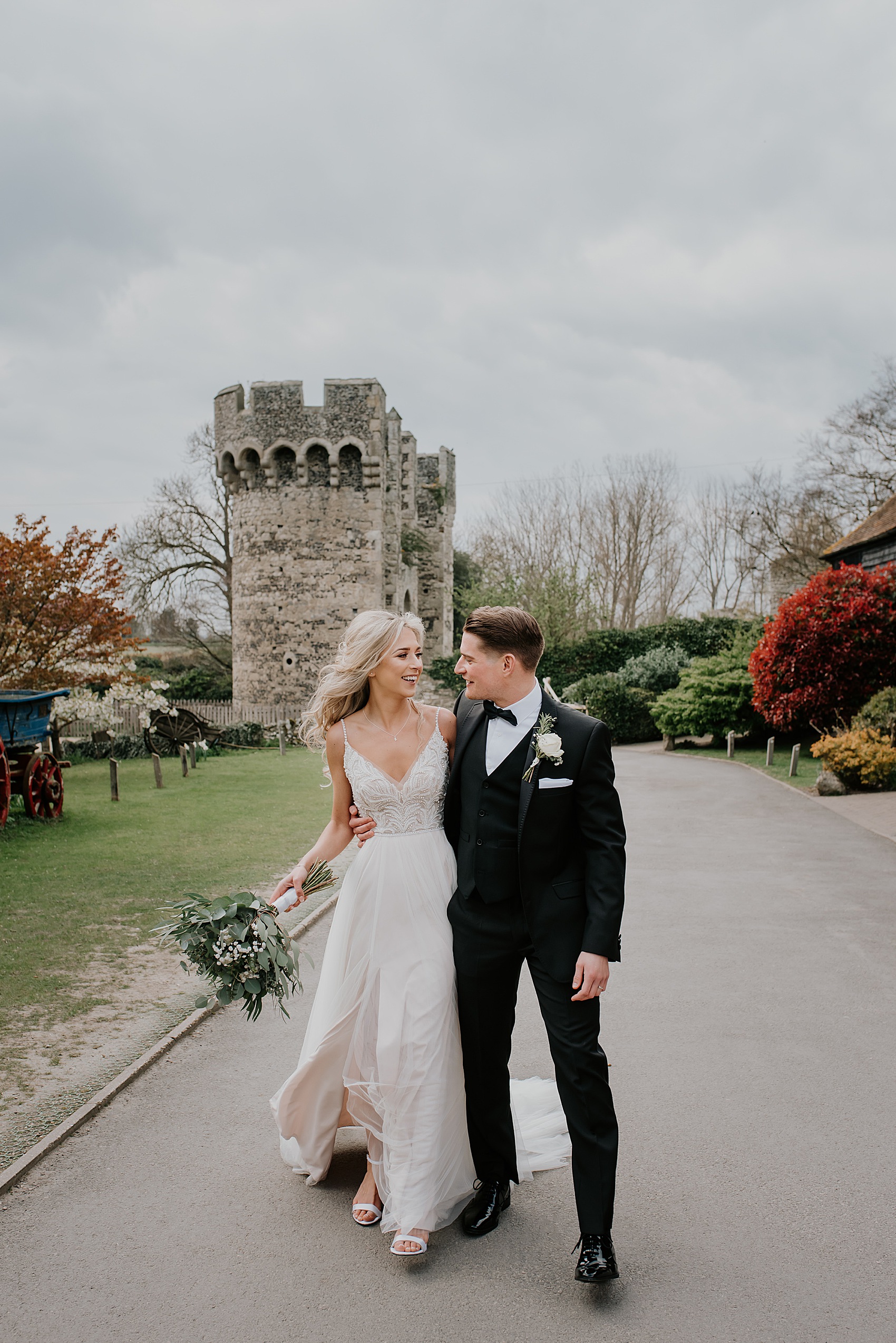 There's a beautiful vintage feel to Lola's chosen dress – 'Charlene' by Maggie Sottero, from boutique Go Bridal in Tunbridge Wells. I love the contrast between the illusion tulle bodice embellished with beads and shining Swarovski crystals, and the soft and ethereal tulle skirt.
"Go Bridal was the first shop I visited, and I found my dress in my first appointment. They were so helpful, and let me take my time. The shop assistant was so friendly and really put me at ease. My dress was definitely not a style I had ever imagined wearing, but fell in love with the skirt and beading."
The bridesmaids wore lace and tulle dresses in a pretty shade of peachy pink from TFNC London, which they paired with shoes from New Look, and Katie Loxton pouches.
Lola spent a happy morning getting ready with her mum and bridesmaids, sipping sparkling wine and exchanging gifts and cards. On hand to create a radiant and glamorous make-up look for Lola was Ebony Arney, whilst her hair was styled by Sophistic Hair.
"Sophistic Hair – she was amazing, and even helped to put my shoes on and calmed me down!"
Lola's shoes were from ASOS, and she accessorised with a delicate 'J' pendant necklace from Accessorize, and a pair of diamond earrings, which were gifted to her on the morning of the wedding.
"My perfume was Jo Malone's Honeysuckle & Davana. We both chose wedding scents, and mine was fresh and not like anything I had smelled before, so now reminds me of the wedding whenever I wear it! I'd recommend doing this to anyone."
Jake opted for classic black tie for his wedding outfit, which he chose at French Connection. Jake was supported by his Best Man and brother, Joe.
"We met at work 6 years ago, but didn't actually get together until Jake had left. We got engaged 3 years later on a beach in Mexico, and married two years later."
"Our flowers were by Petal Creations. I wanted a really simple theme, and loved the look of lots of greenery with a few white flowers. I loved my bouquet so much I had it framed. We wanted quite a low key wedding in terms of style, so kept it simple with  greenery.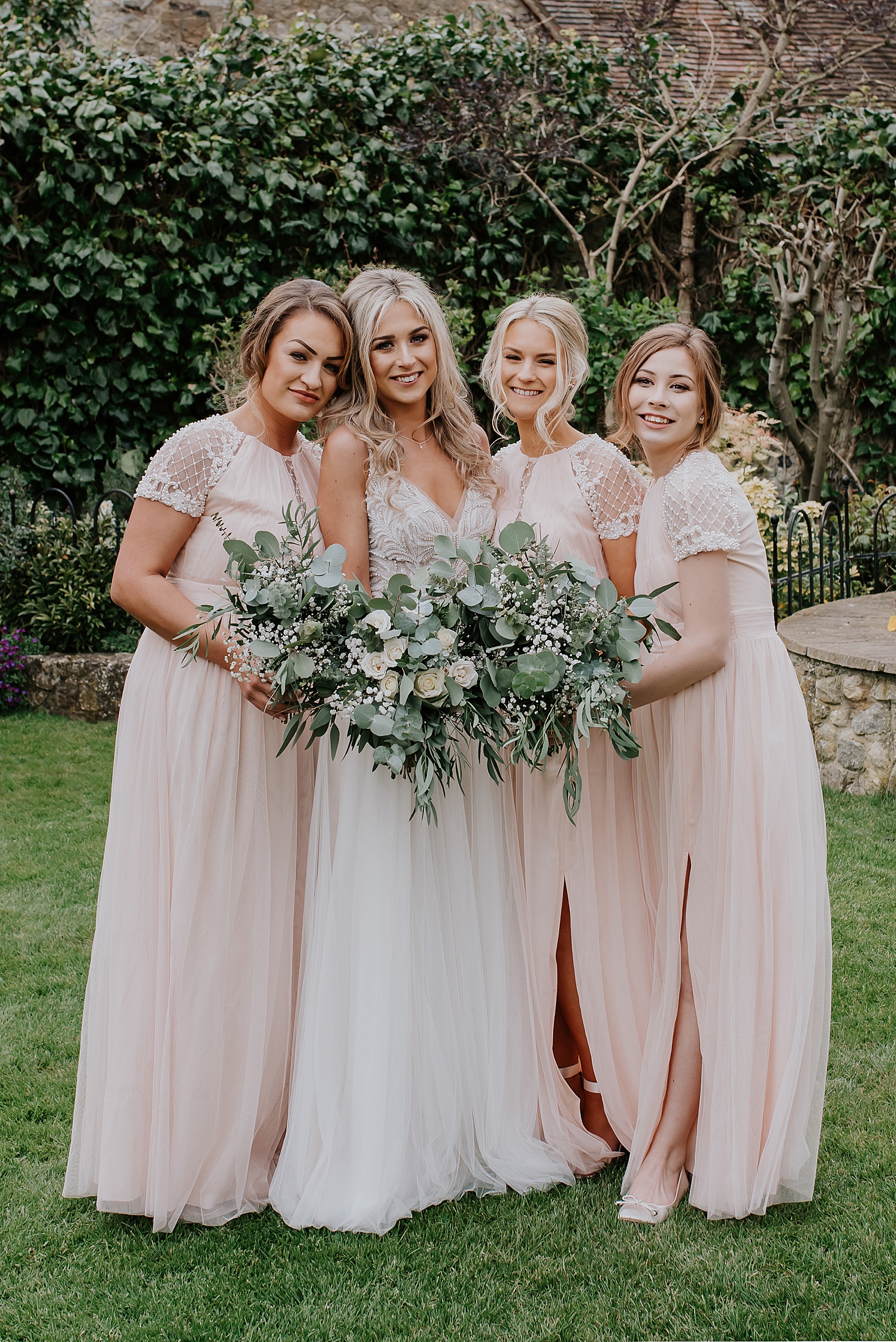 The venue's beautiful and atmospheric Fathom Barn was the space Lola and Jake used for their ceremony, with its warm, weathered brick and high timber ceiling.
There was also a minstrel gallery, too, to make the walk down the aisle extra special. Lola was accompanied down the aisle by her stepdad, to the song Yours, by Ella Henderson.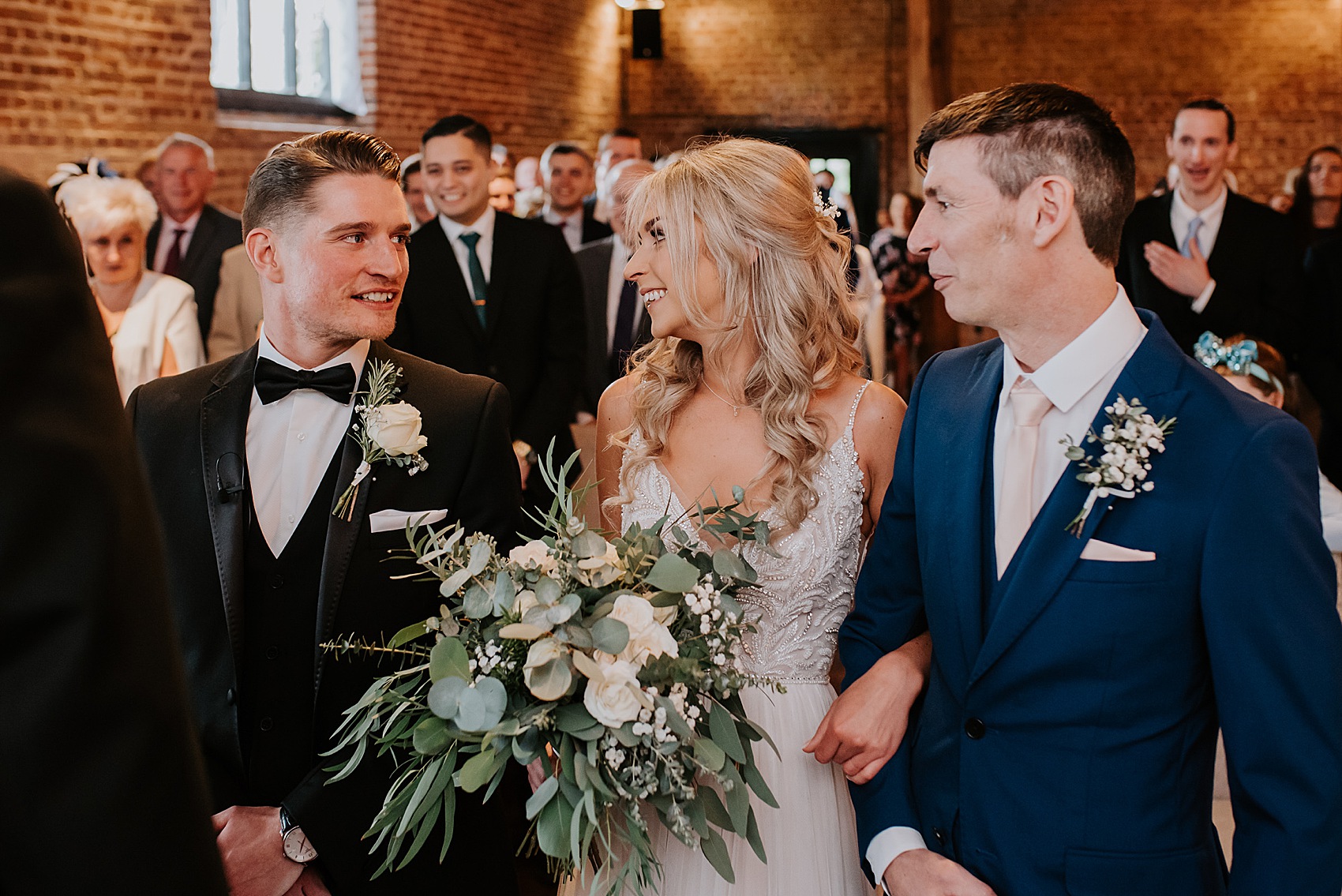 "Our ceremony was conducted by a registrar from Medway Council. We thought it was really important to have personalised vows. It was really hard to put everything into a couple of sentences, but we focussed on what we value most, and managed to sneak a pet name in!"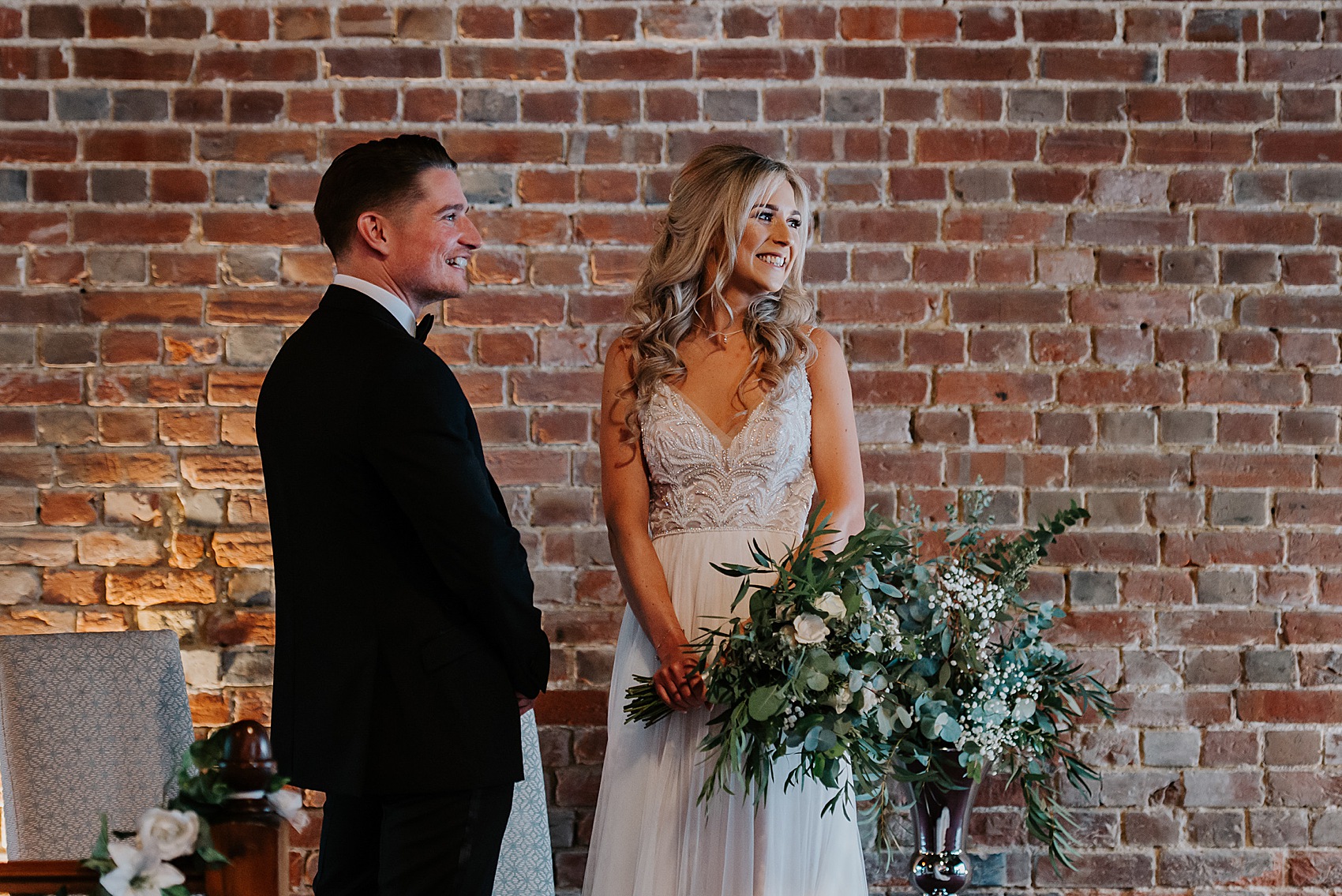 Lola's engagement ring was custom designed and made by 77 Diamonds, and so the couple headed back there to choose their wedding rings, too, with Lola's matching her engagement ring.
For their sweet ceremony reading, the couple chose Wilferd Arlan Peterson's poem, The Art of a Good Marriage.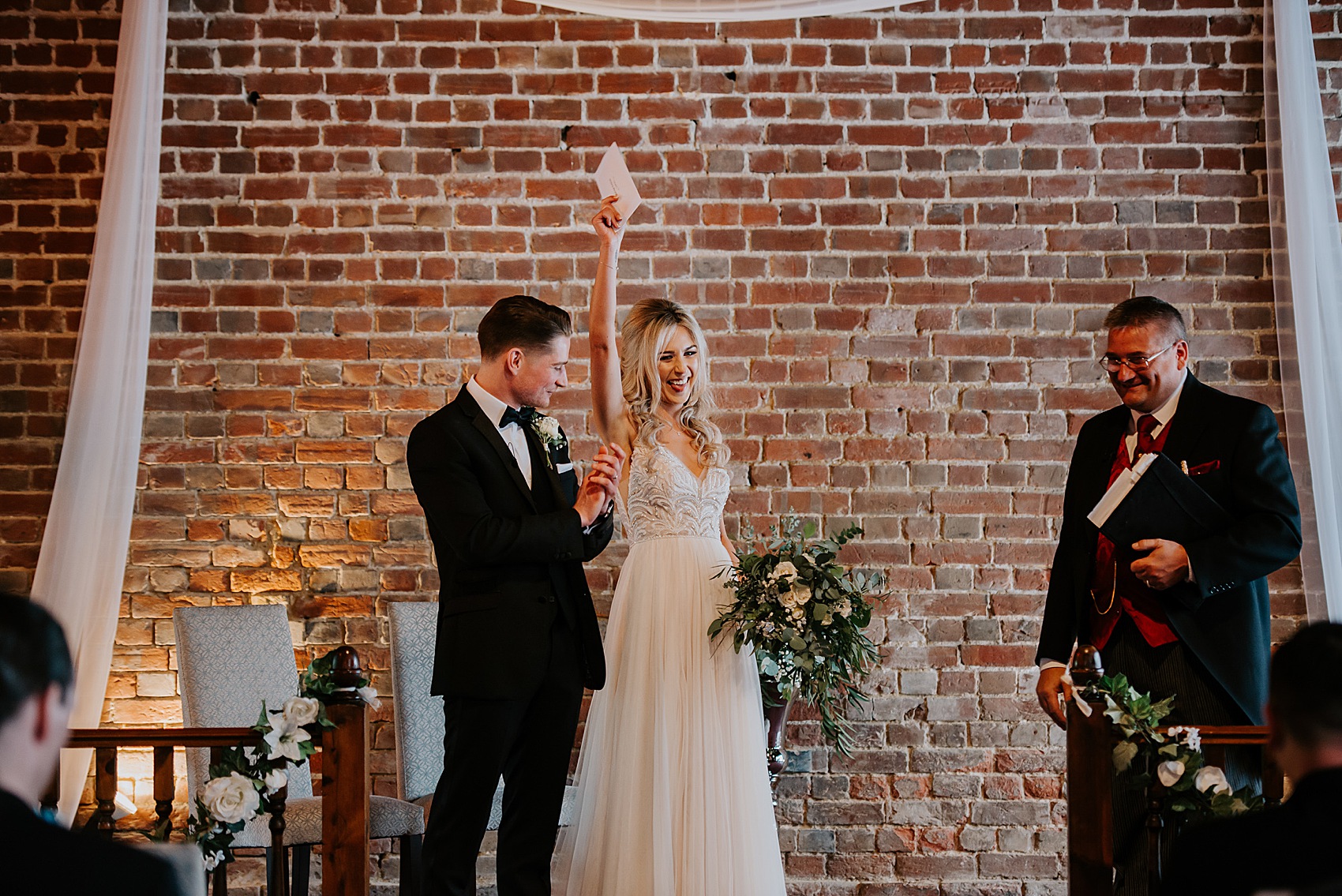 "I really can't pinpoint one favourite moment as the whole day was incredible, but just after we were married, we had 5 minutes alone to take it all in, and that was definitely a top highlight."
"The only thing I would have changed would have been to take it all in a little more. With so much going on, it's hard to appreciate every little moment."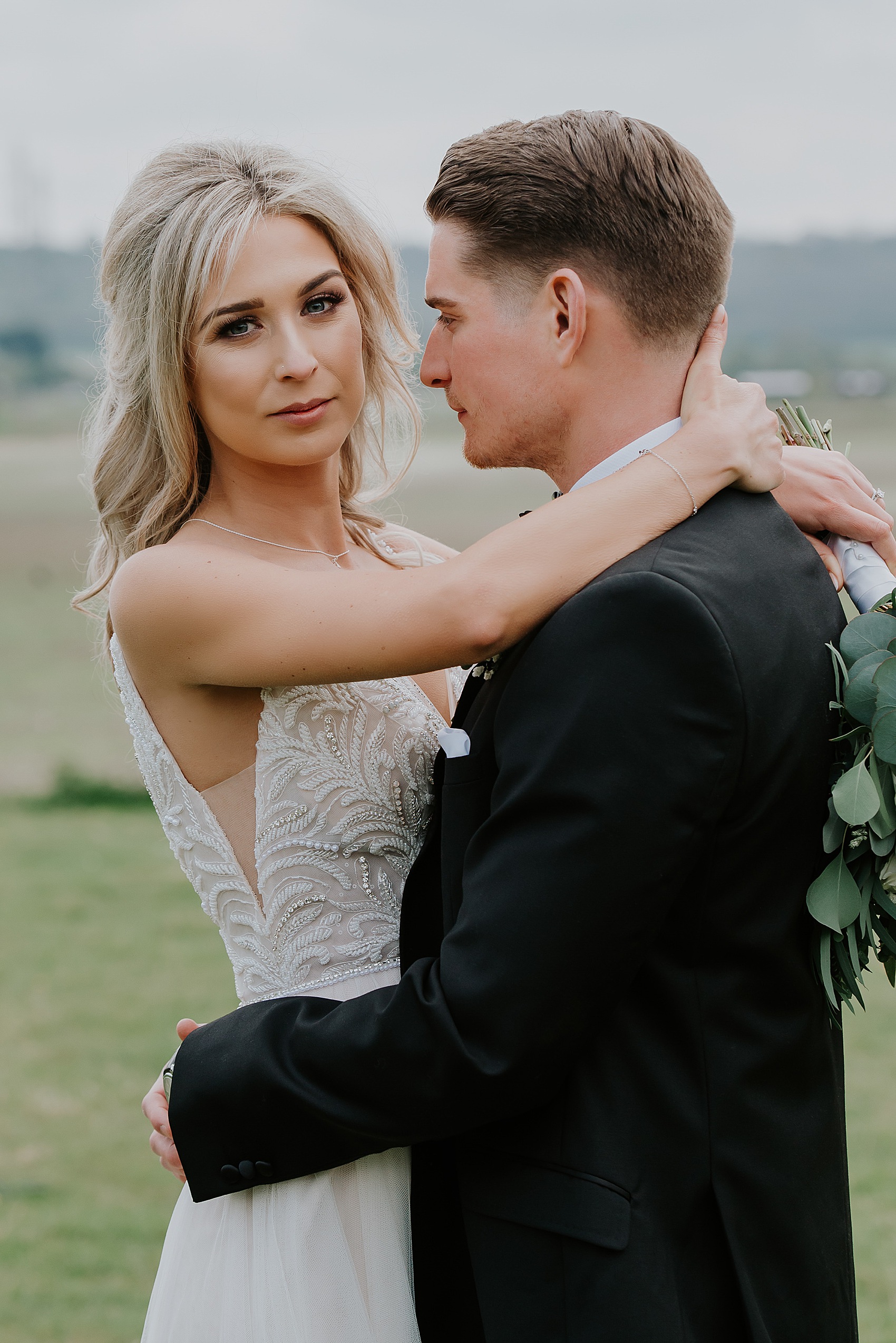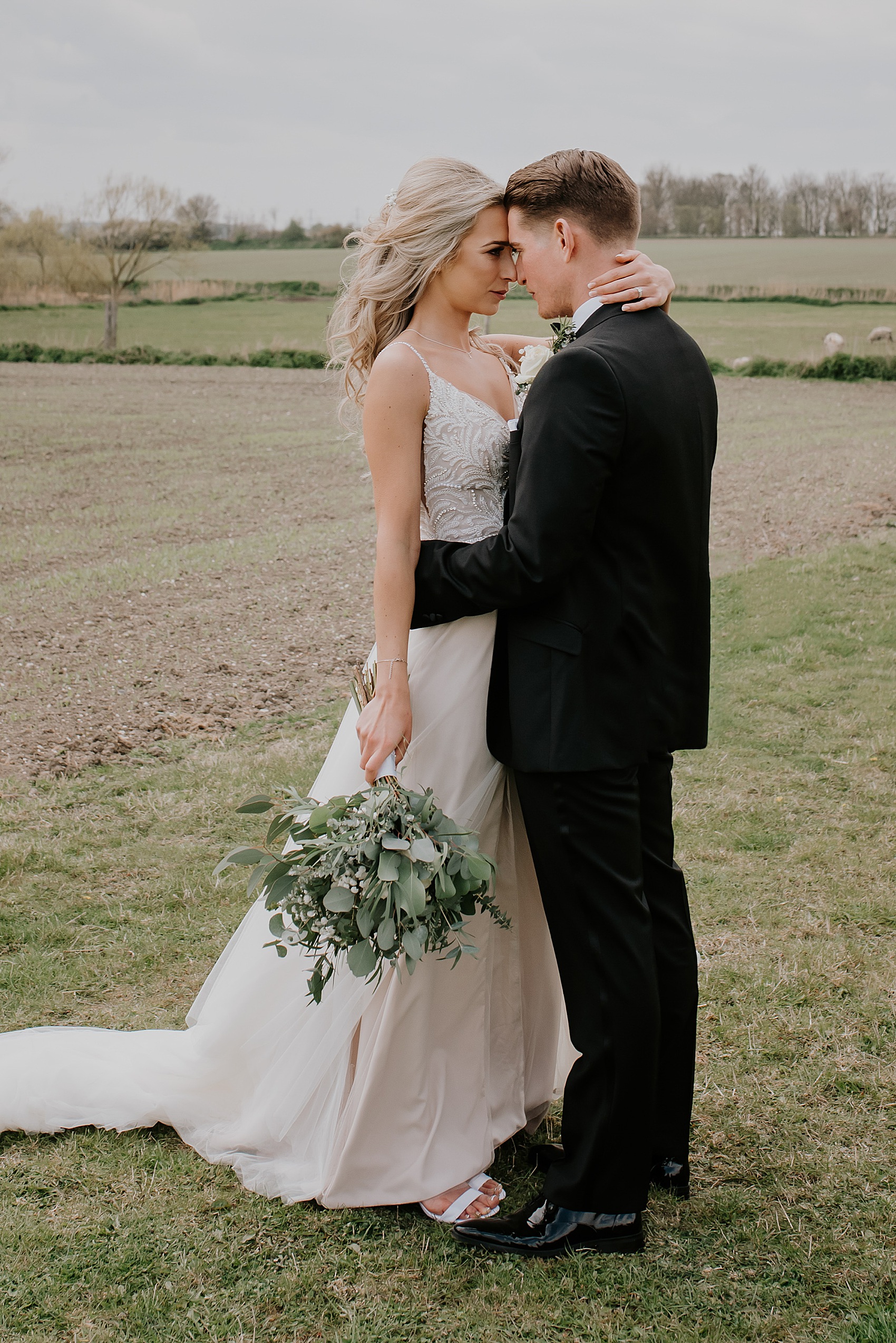 I love the beautiful narrative that photographer Michelle Cordner has conveyed so wonderfully in the collection of images, especially in capturing the delicate beauty of Lola and Jake's springtime celebration.
"What can I say? Michelle was amazing from start to finish, really captured every emotion of the day and put us at ease. The photos are absolutely incredible, and we couldn't have wished for more. The photos were back so quick (before we got back from our honeymoon!) and I definitely have too many to chose from!"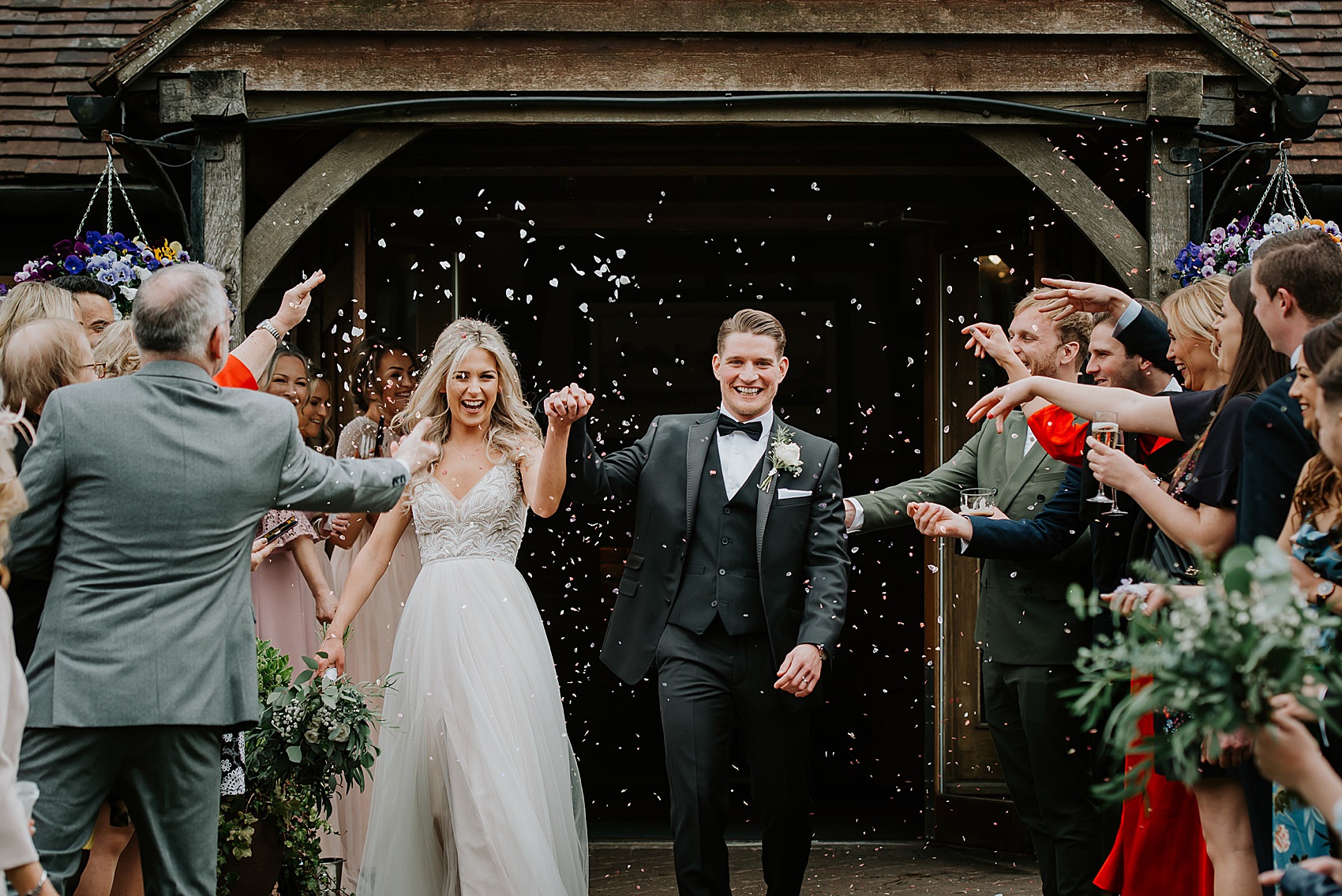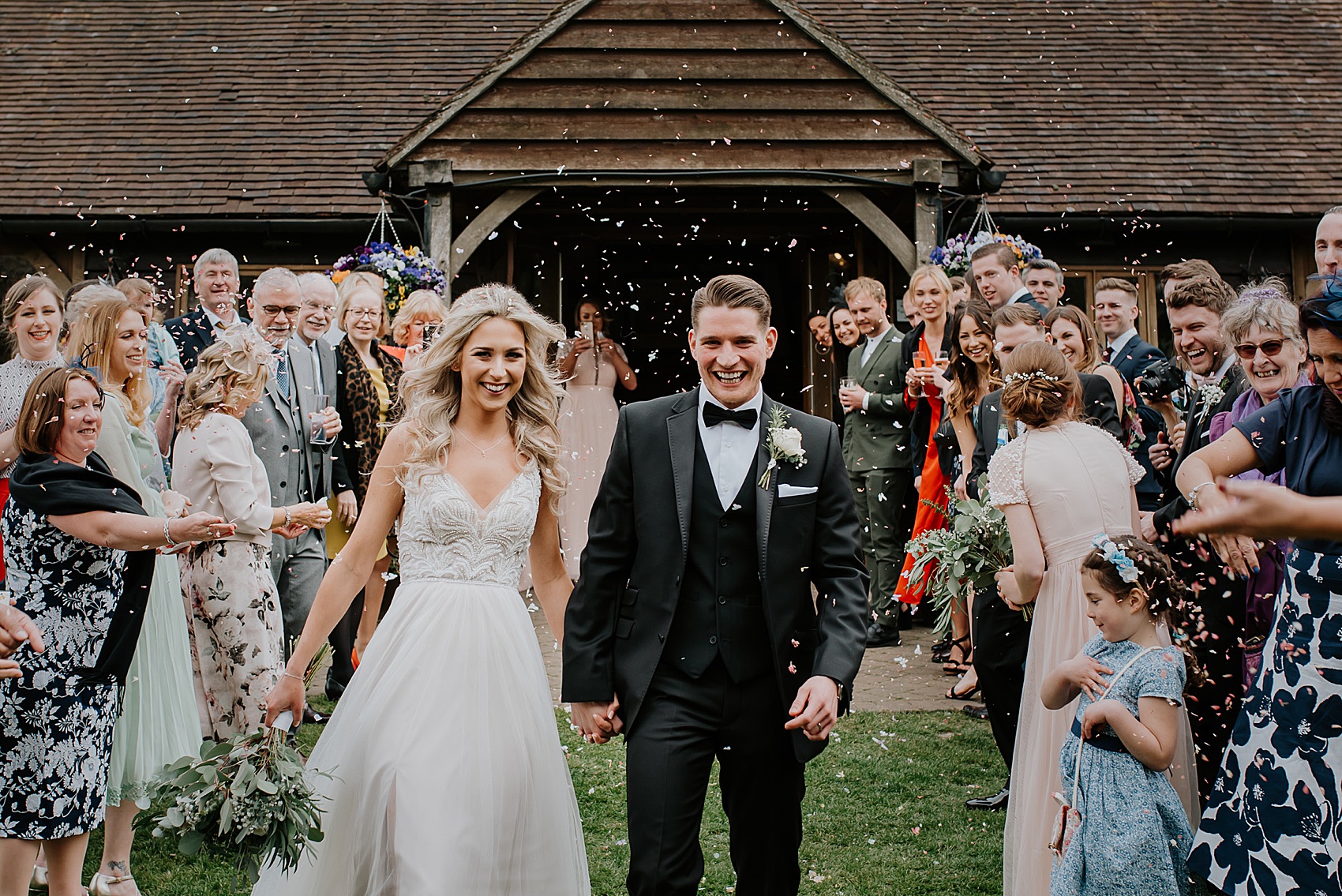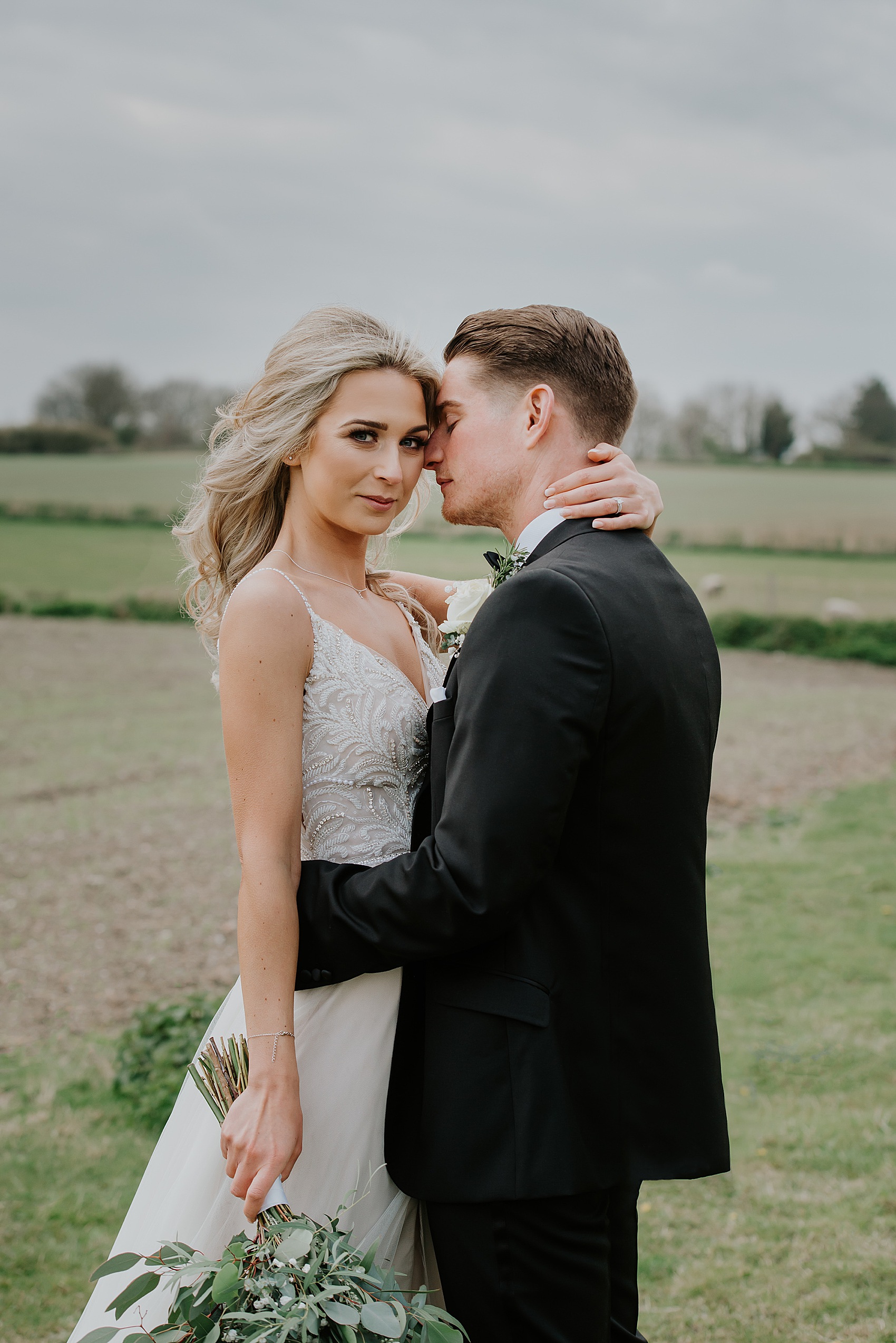 Cooling Castle's Tithe Barn was the setting for the couple's reception, and it was decorated elegantly for the occasion. Botanical inspired stationery was sourced from Etsy (sadly no seller details provided) with a table plan inside a white frame, placed on an artist's easel.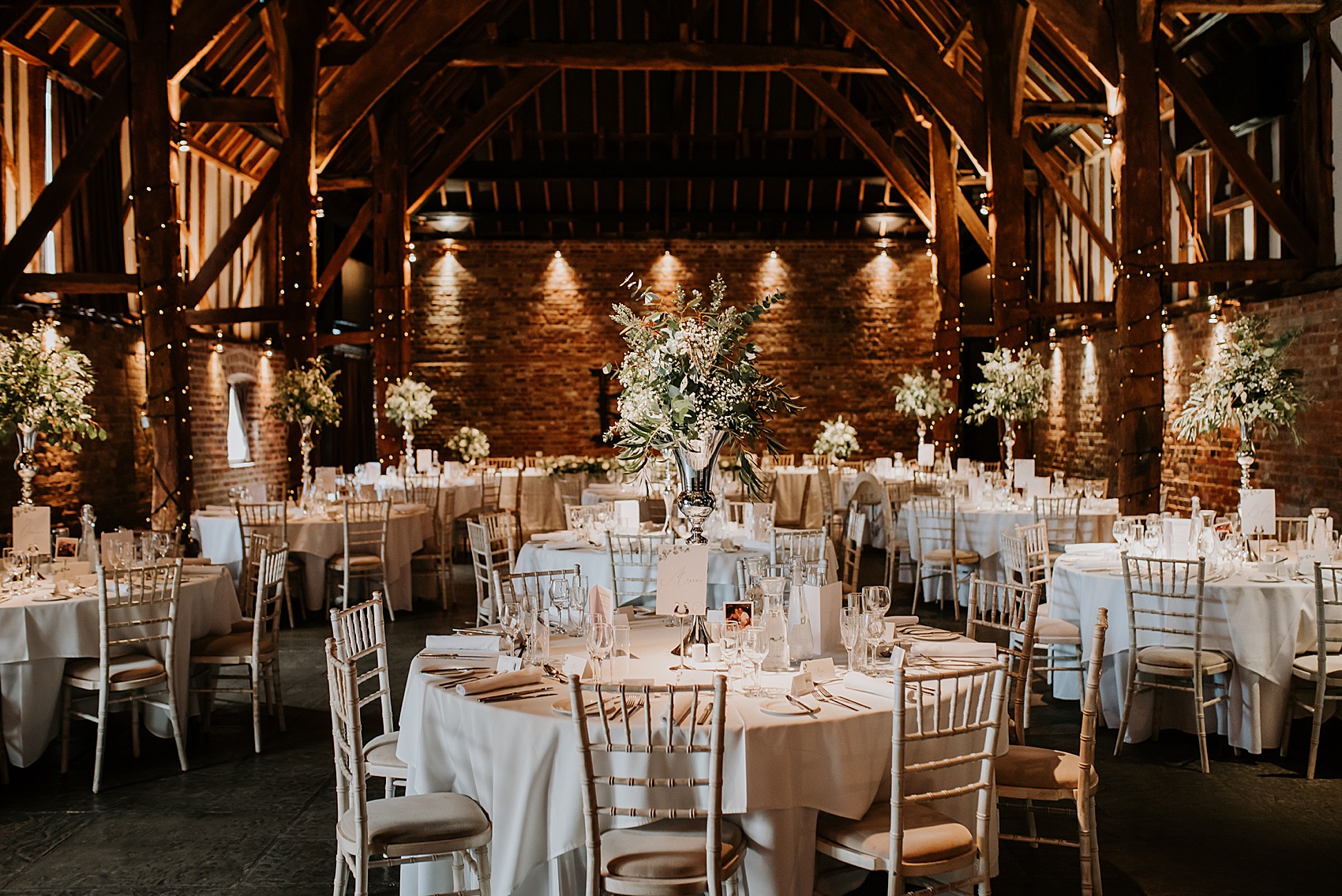 On the dining tables (named after places they had travelled to) Lola and Jake placed snaps of themselves in those locations, which surrounded magnificent tall pedestal arrangements of flowers.
On the top table, there was pretty floral garland, too, and guest favours were donations made to blood cancer charity Bloodwise.
Everyone sat down to a wedding feast prepared and served by the Cooling Castle team, and instead of a cake, Lola and Jake had a sweet stall, which guests could help themselves to throughout the day.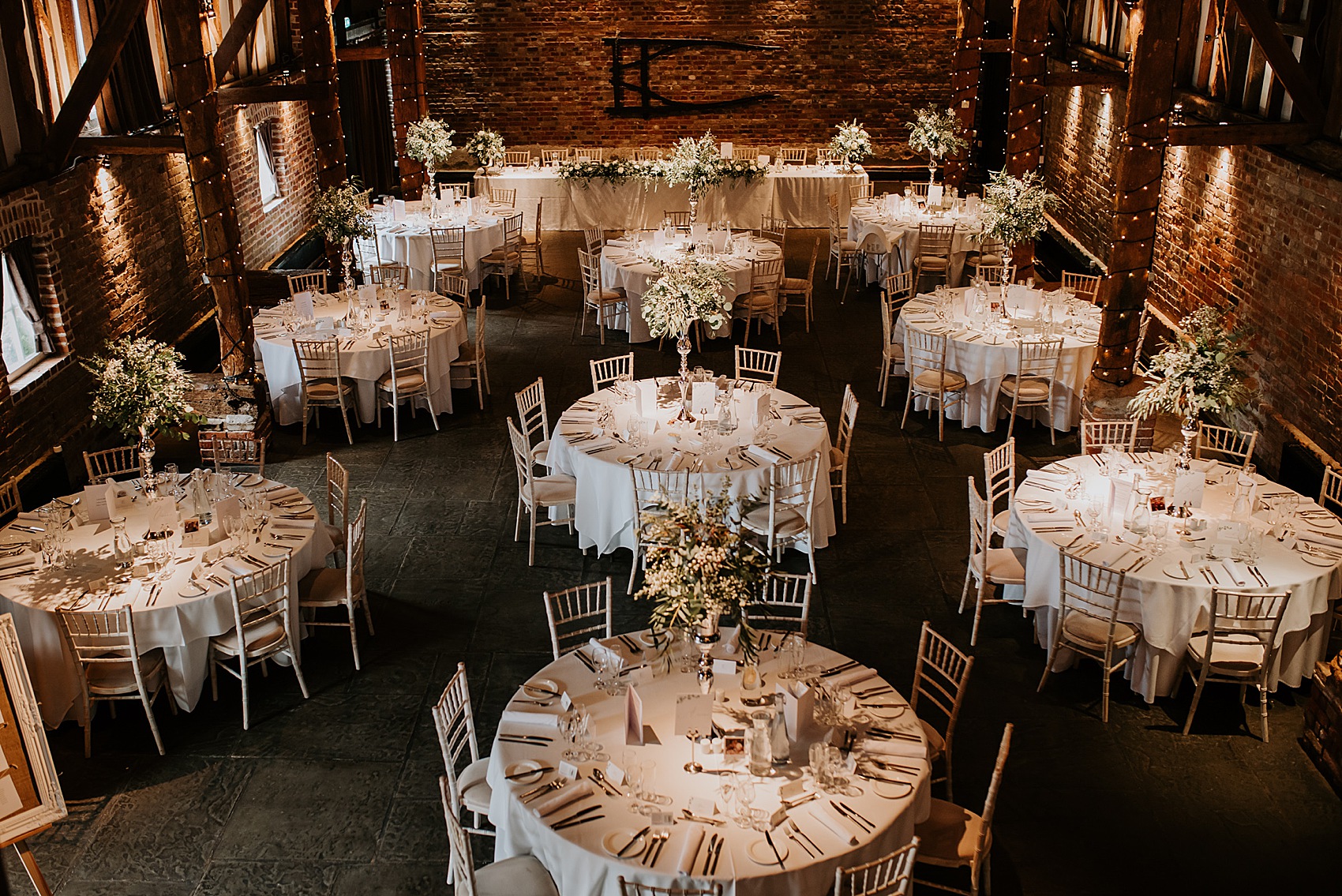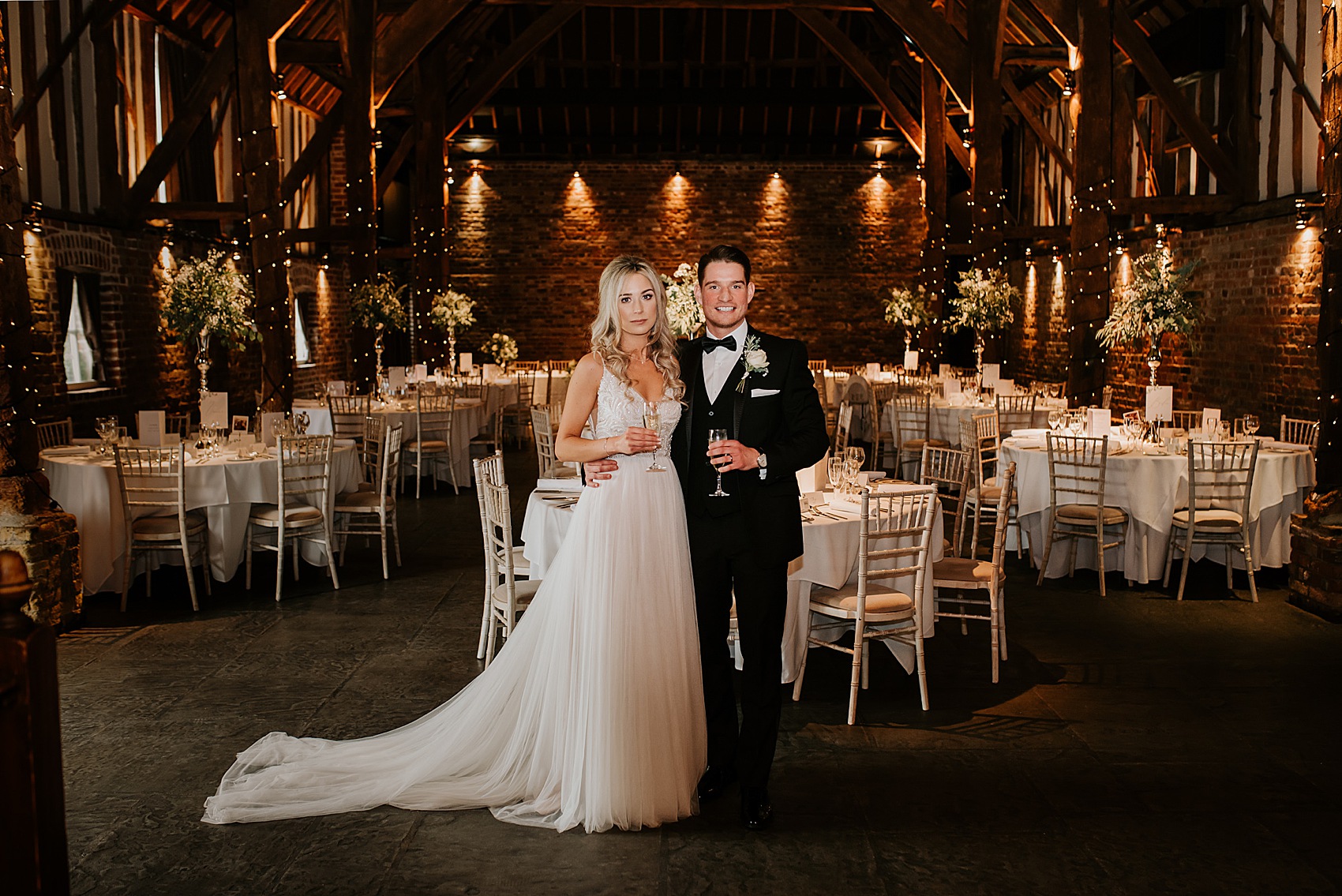 After dinner and speeches, the couple and their loved ones went outside in the twilight air, and sparklers were lit in celebration. Back inside the Tithe Barn, the tables were cleared to the edges of the room to make space for a central dancefloor.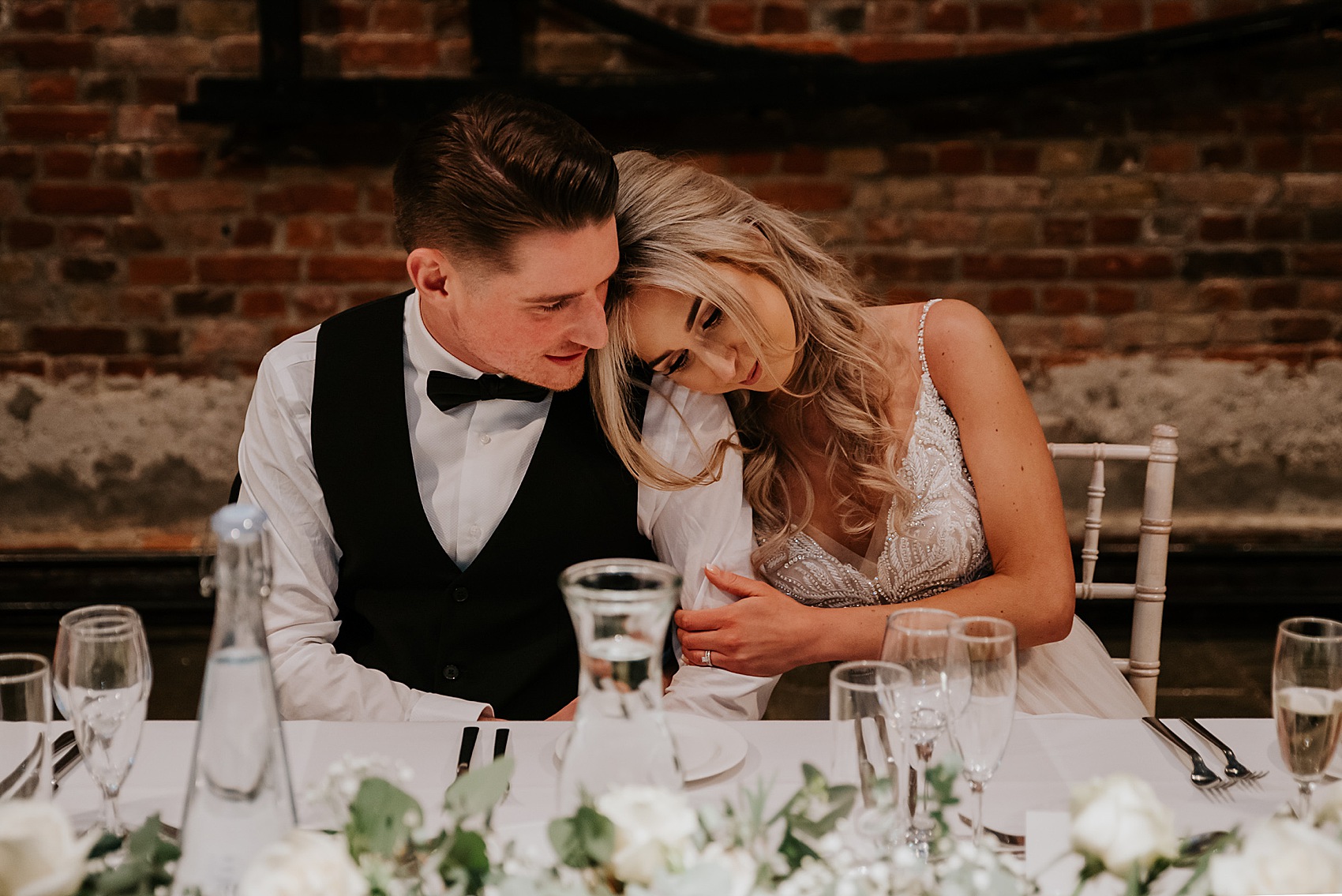 "Our first dance was Tom Walker, Just You and I. It wasn't a song that had any particular meaning for us, but was perfect for who we are as a couple. Our second dance was Beyoncé's  Love On Top, which was a contender for number 1!"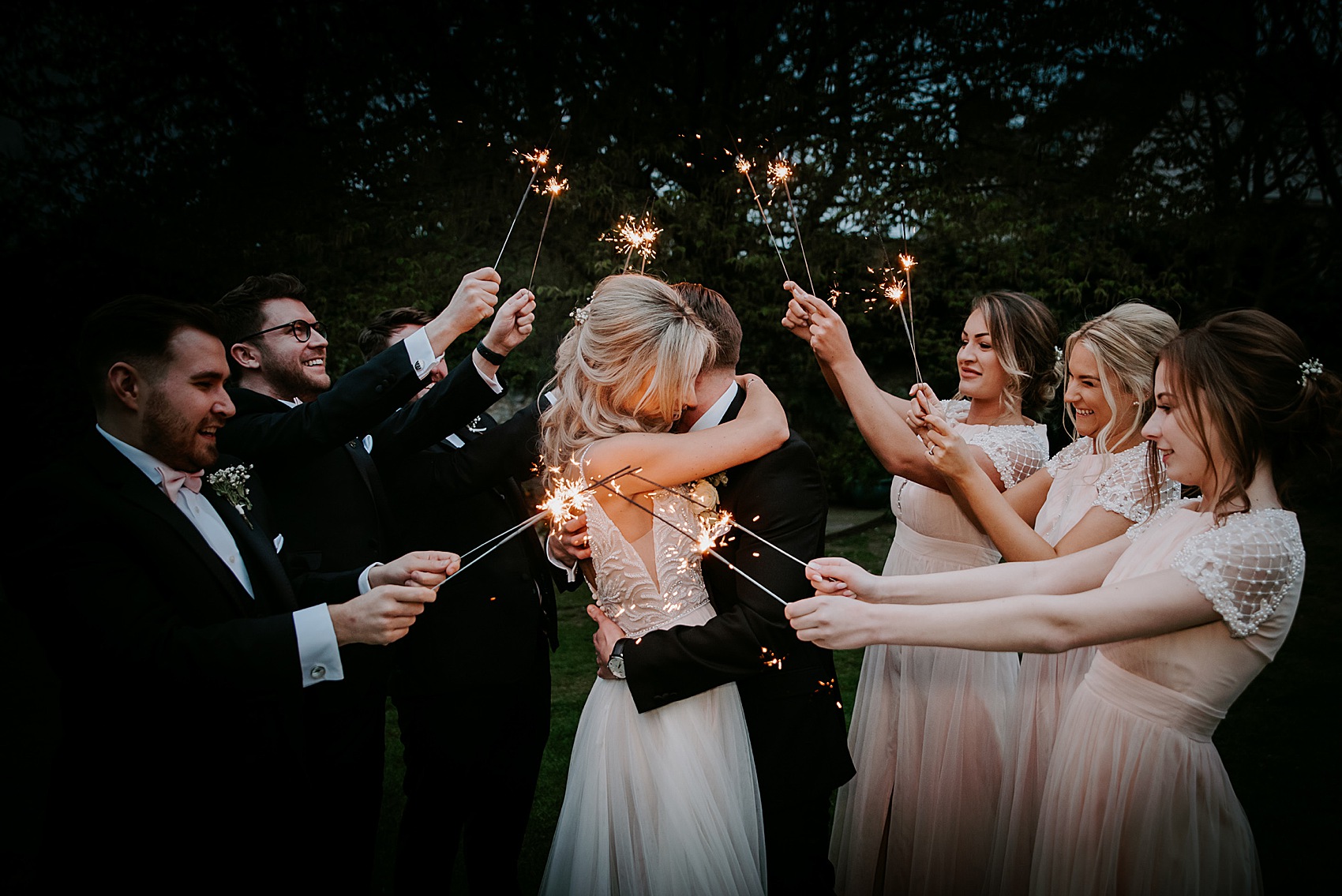 Words of Wedded Wisdom
"Don't sweat the small stuff! There could have been things that went wrong or didn't work on the day, and I wouldn't have known. Everyone is there to celebrate the both of you, and that's all that matters."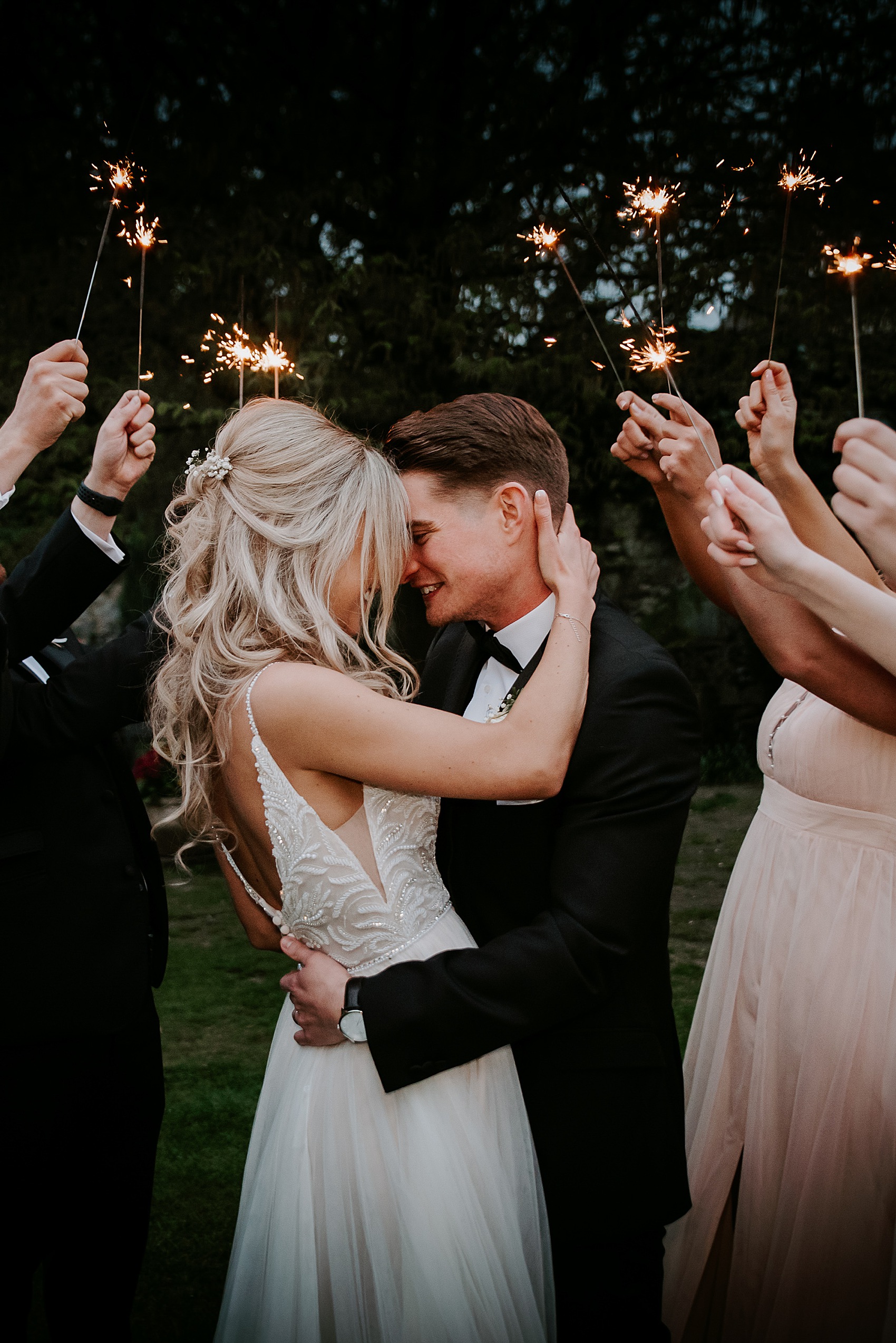 Wasn't that just brilliant?! Thank you so much, Lola and Jake, and all the very best to you. Thanks also go to Black Box Videography for their gorgeous highlights reel, and to Michelle Cordner for her elegant images.
With lots of love,
Laura