Today I have the very great pleasure of sharing a post-lockdown wedding which took place in August of this year.
Our wonderful couple were married on their originally planned date, but needed to pare back their day to its essential heart, with an intimate country church ceremony surrounded by those nearest and dearest to them. On the 1 August 2020, secondary school French teacher Alex, and her love David, a primary school teacher, were married at St. Mary's Church, in the Kent village of Chartham.
Matt Ebbage Photography

+ Follow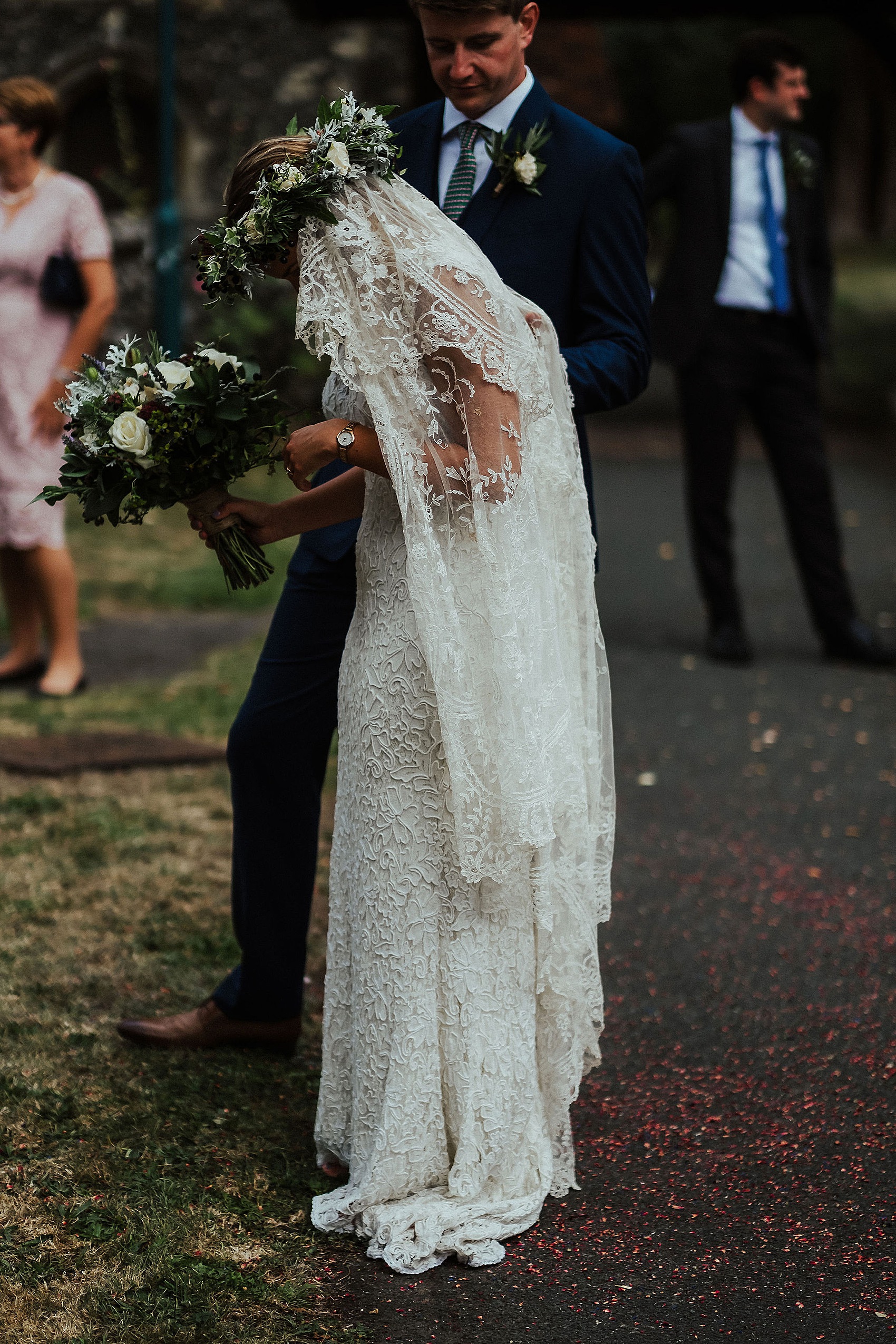 "We moved to the village two years ago, and wanted to get married somewhere that meant something to both of us. It was also important to us to get married somewhere we plan to spend the rest of our lives."
"Our reception was meant to be in the next village along in a medieval village hall – Chilham Village Hall. But with restrictions, we decided to have a BBQ in my parents' garden in Whitstable where I grew up. It meant we could go to the beach and see the sunset, which was magical."
On the morning of the wedding, David gave Alex a locket containing pictures of her granny and grandpa.
"I did my own make-up. This was always the plan pre-Covid. I bought my make-up from Bobbi Brown, which I was really pleased with. I don't wear a lot of makeup normally and wanted to look like me on the day, and I wore my hair naturally curly."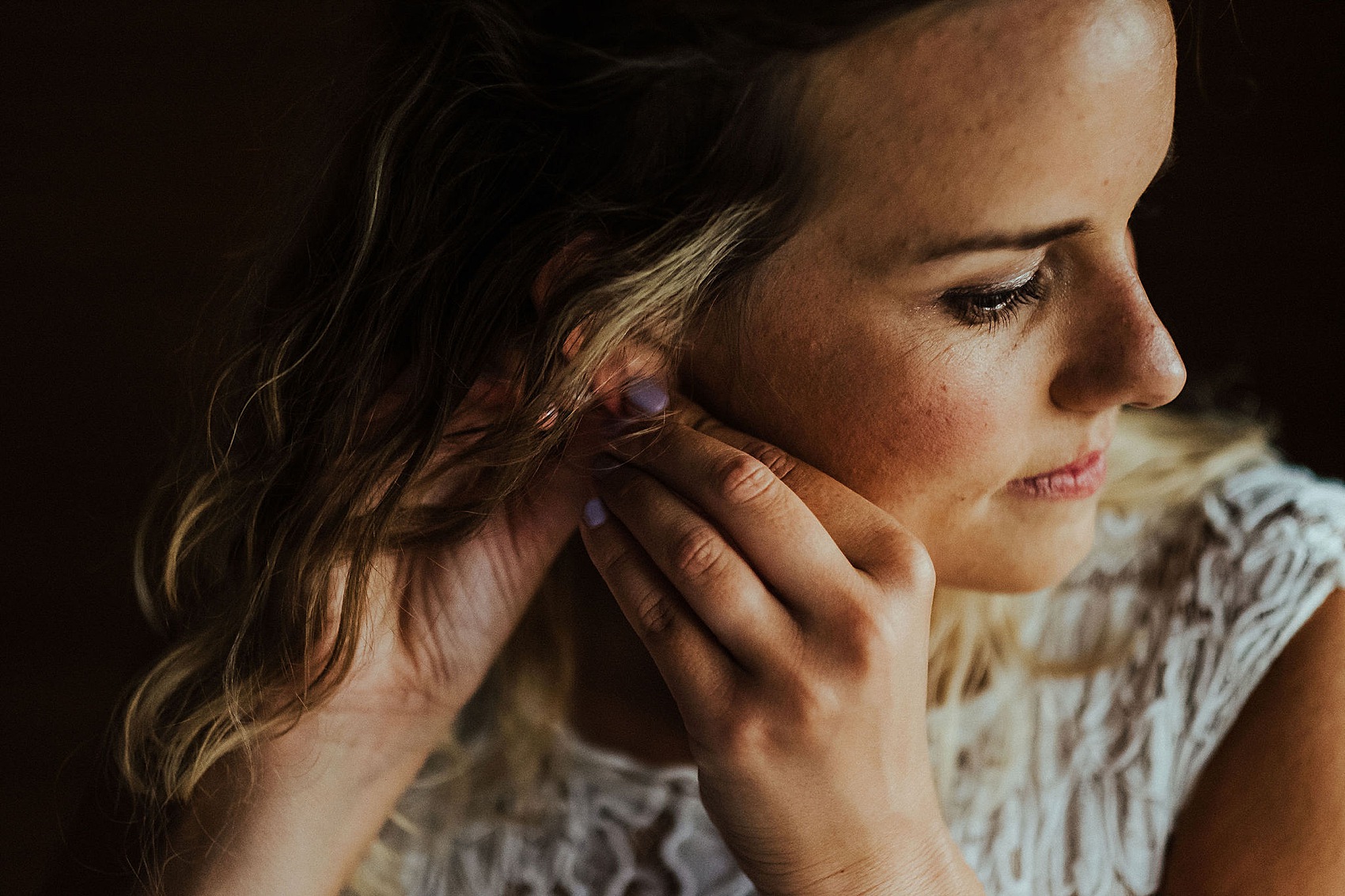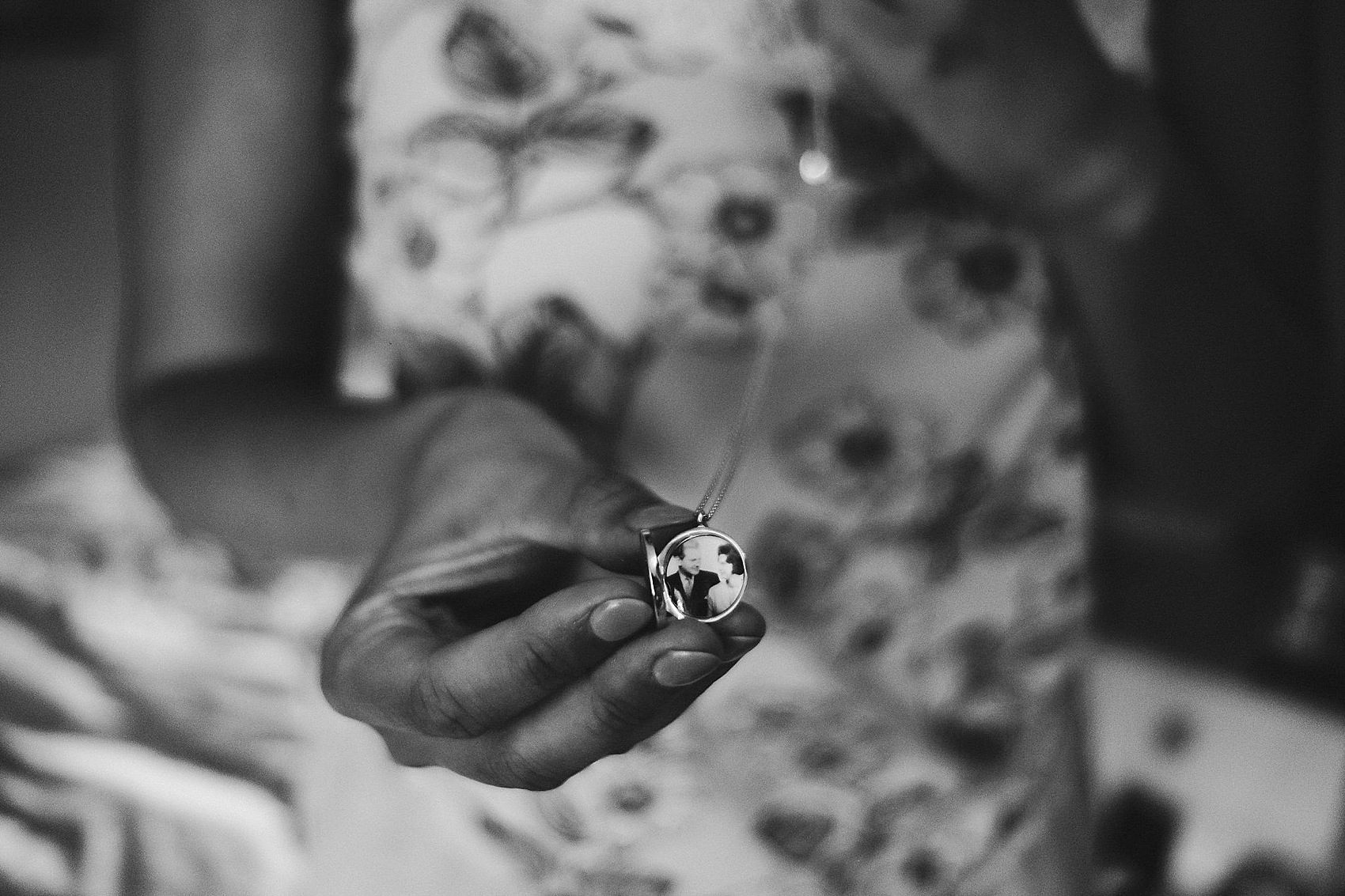 Alex's pre-loved dress of botanical inspired lace, with a simple scoop neck and sweetheart bodice underneath was discovered at Canterbury charity shop Demelza Hospice Care for Children.
"The shop supports a hospice for terminally ill children in Kent. I plan on donating it back so it can continue to raise funds. As soon as I saw it I knew it was 'the dress'. It was exactly what I had wanted, and it fit perfectly!"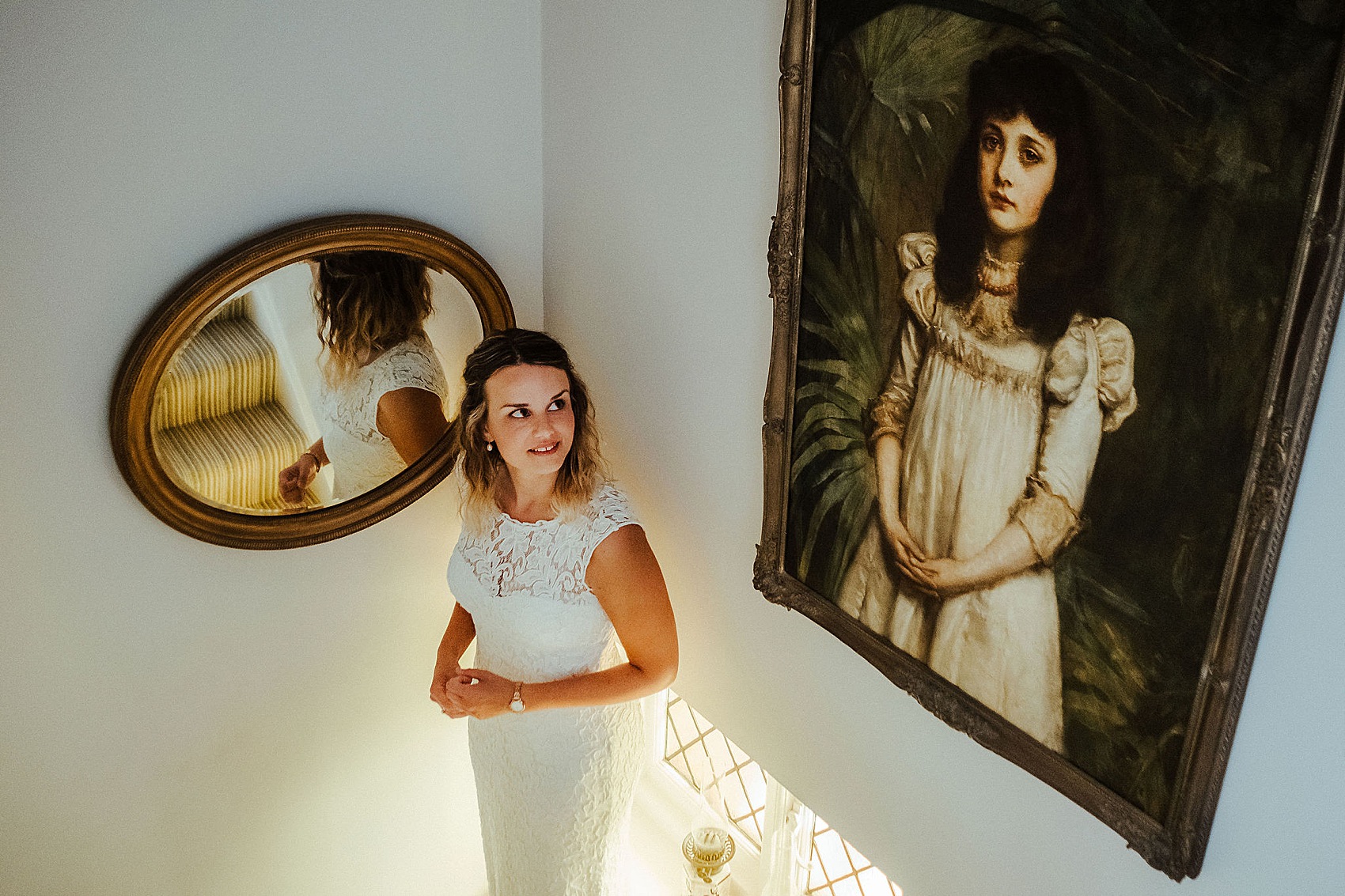 "I knew I didn't want to spend thousands on a dress. I completely understand why people do, as it's such a special day, but I always knew that wasn't for me. When I heard about the Demelza Hospice charity shop I knew that was the place for me."
The shop has a dedicated wedding boutique, which is such a wonderful idea for those looking for secondhand wedding dresses.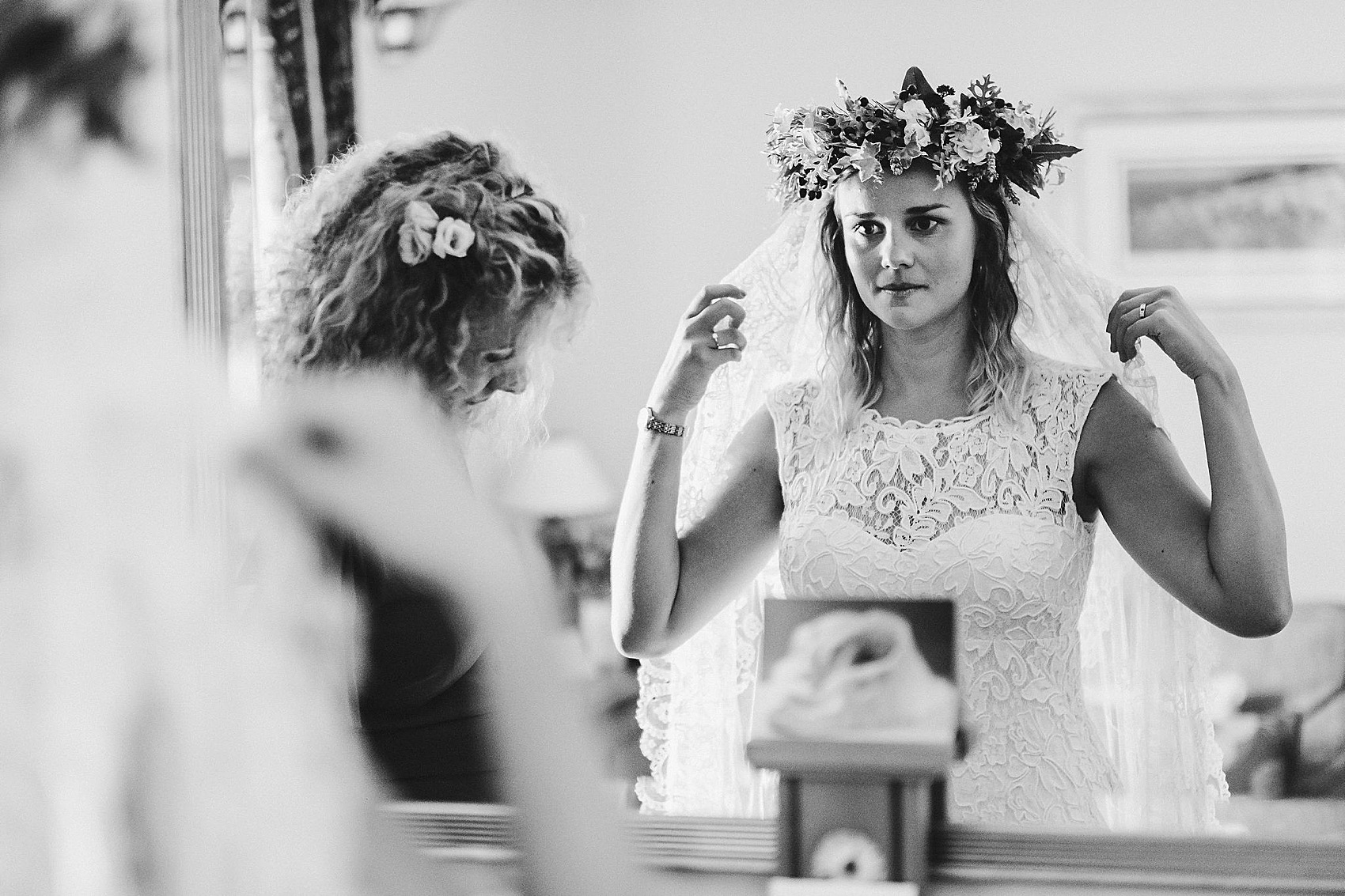 Family friend Angela also volunteers there, and was a wonderful help when choosing the dress, which she also hand washed, and added a button so that Alex was able to hook up the train after the ceremony. Angela also restored the family heirloom veil Alex wore, which had such special and emotional significance for her.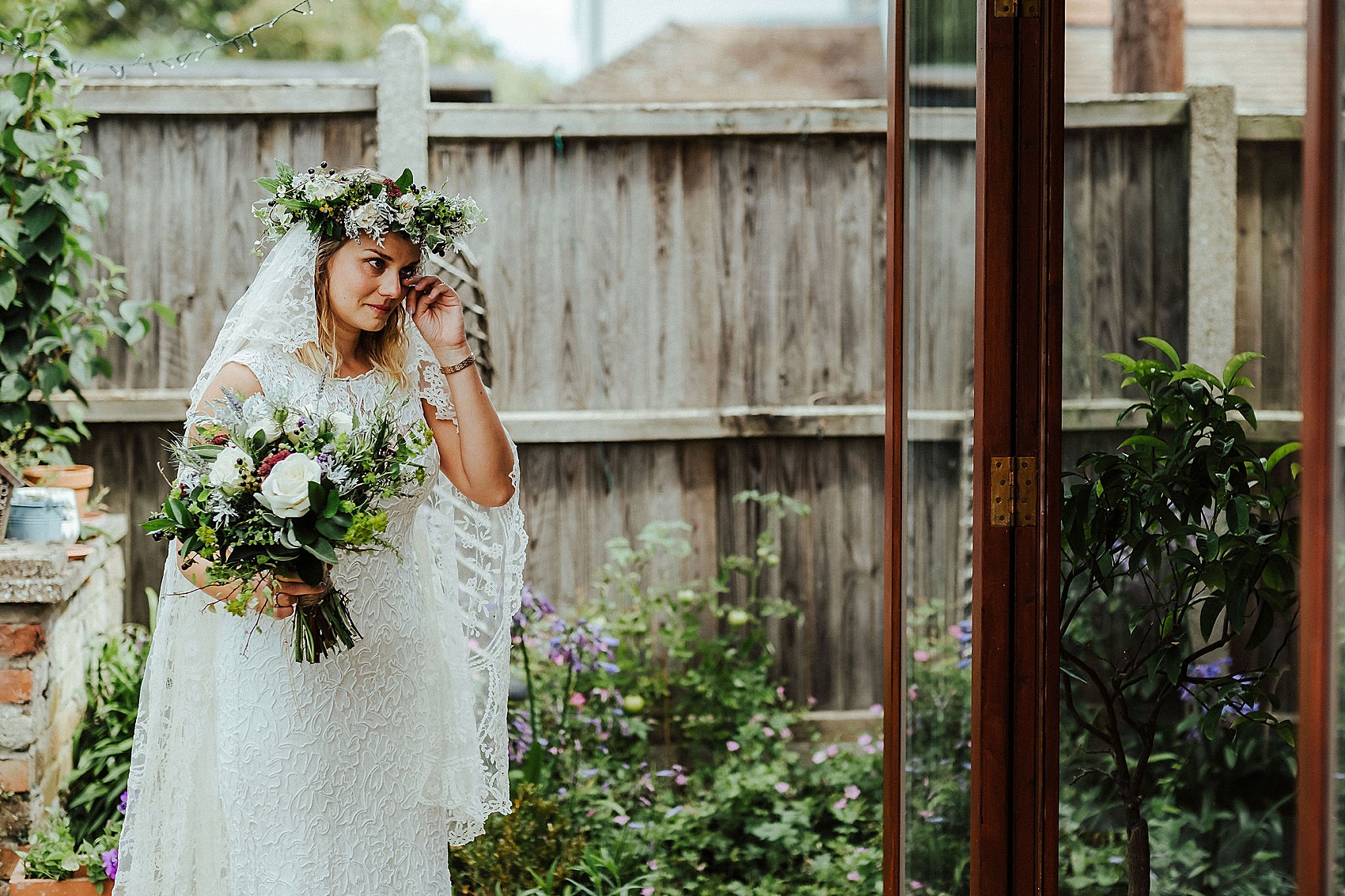 "What was perfect was that my great-grandmother's veil was a perfect match for the dress. It was as if they were made for each other. My veil was the best part of my wardrobe for me. Having lost my granny last year, it was very emotional putting it on."
"She wore it in 1929, and we had a picture of her wearing it at our barbecue. My granny then wore it in 1960, my mum and aunty in the 90's. We lost my granny last year, and she had been so excited about the wedding so it was very emotional. It's now ready for future generations to wear, too!"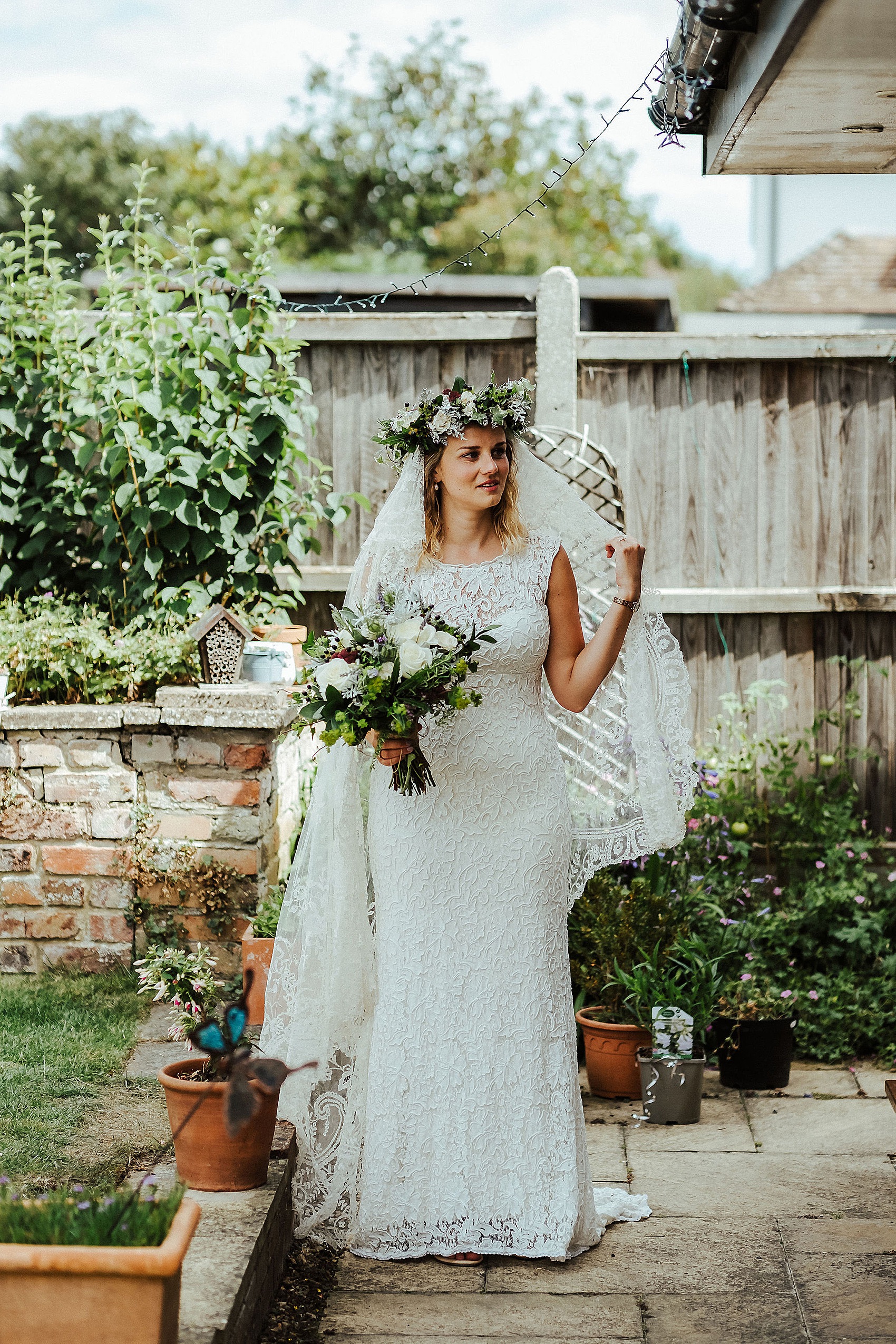 Alex's friend Design Technology teacher friend Avril Howard is also a florist, and the plan was always for her to create the floral arrangements – which she will again next year when Alex and David are able to have a bigger party! She made such a beautiful flower crown and bouquet for Alex, filled with freshly picked garden beauties and lots of greenery.
"Avril made them from flowers in her garden and they were stunning! She is so creative, and really helped bring my whole look together – I can't take any credit for that!"
A key consideration in all of the couple's planning, and something that remained despite the changes of plan was a commitment to sustainability, with no single-use items or unnecessary waste. Alex and David's much-missed grandparents were also a big inspiration for the day, and they remembered them in so many lovely ways, through heirloom pieces and photographs.
"This was always the plan pre-lockdown. I love greenery, so we let our garden grow out and then pruned it for foliage. My amazing friend Avril also used her garden to make the bouquet, flower crown and buttonholes. Most things were secondhand, e.g. my dress and veil. My bridesmaids Lauren and Jenny chose dresses that they would happily wear to other events, and the ushers wore their own suits."
"My friend Lauren had planned for my friends to all send cards for the morning of the wedding, which I opened. That was so special, and she had also asked everyone to submit a song that reminded them of me, and she put together a getting ready playlist. It was so much fun guessing who had chosen what, and made my friends feel with me even if not in person."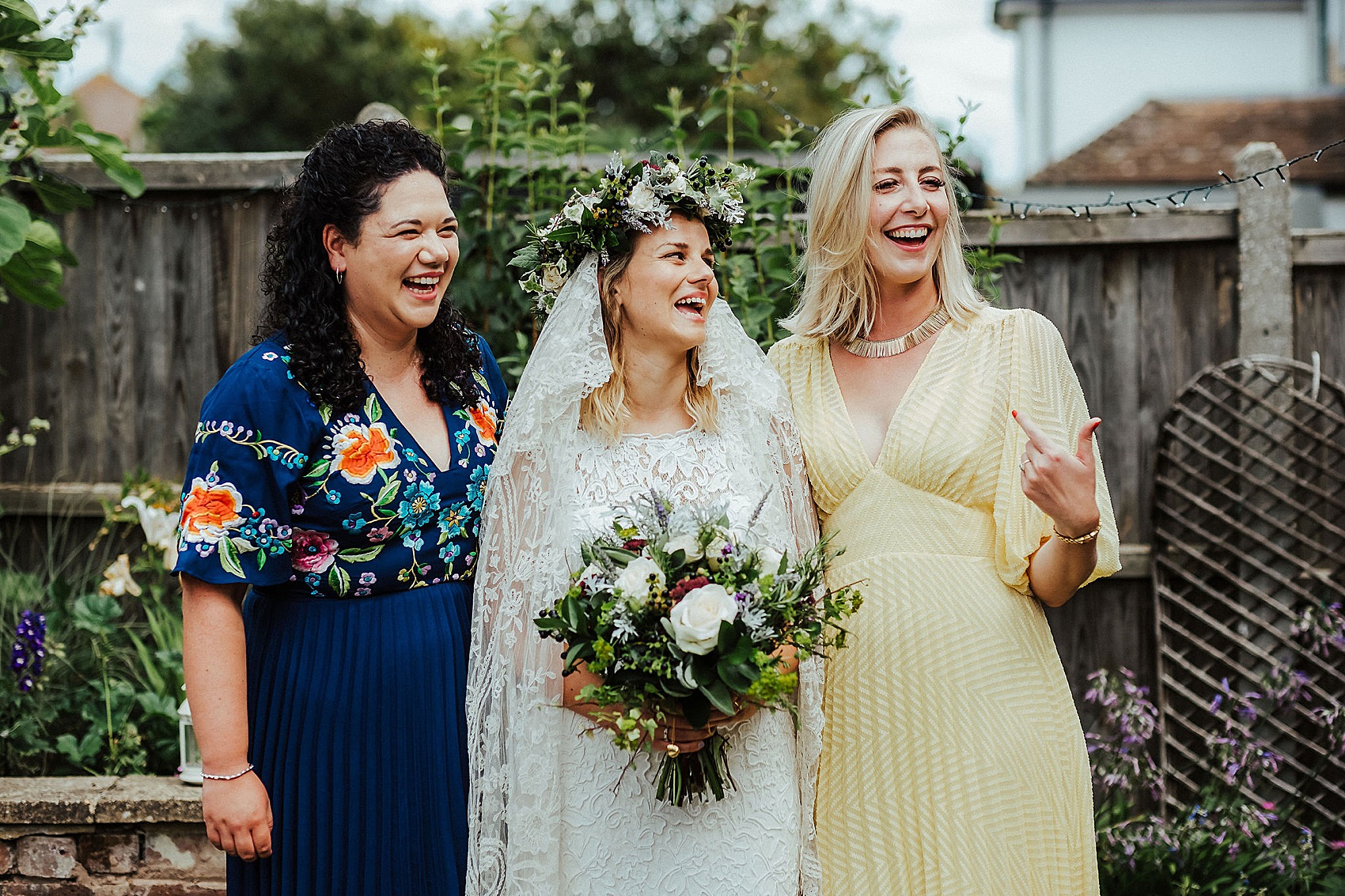 On her feet, Alex wore a pair of strappy sandals she had worn the year before as a bridesmaid (no details about where these were from, sadly) and she layered two lovely Jo Malone scents – Honeysuckle and Davana and Earl Grey and Cucumber.
"They go beautifully together. I covered myself in them, and love the idea that I can buy a candle to remind me of the wedding day. I wore my grandma's (dad's side) eternity ring. She passed away when I was very young, but I have grown up with pictures of us together when I was a baby and stories about her, so it was important to me to have a part of her on the day."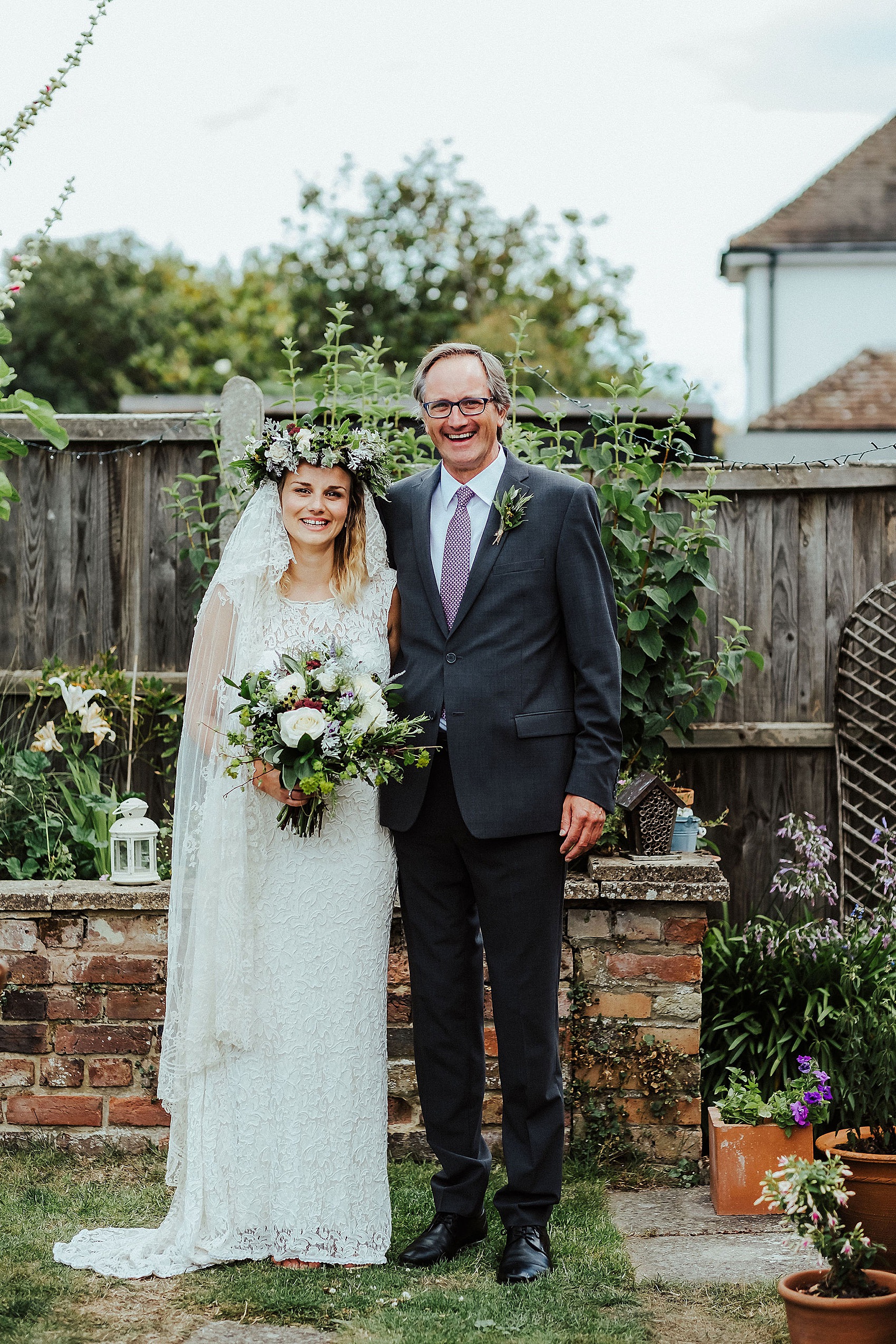 "David wore a blue three-piece suit from Marks & Spencer. He is 6′ 6″ so finding suits to fit can be a challenge! He wore a pocket watch from his Best Man. It's engraved with 'So you're not too early' as David is always early for things."
"I also gave him some cufflinks from Not On The High Street, which have the coordinates of our house and the church."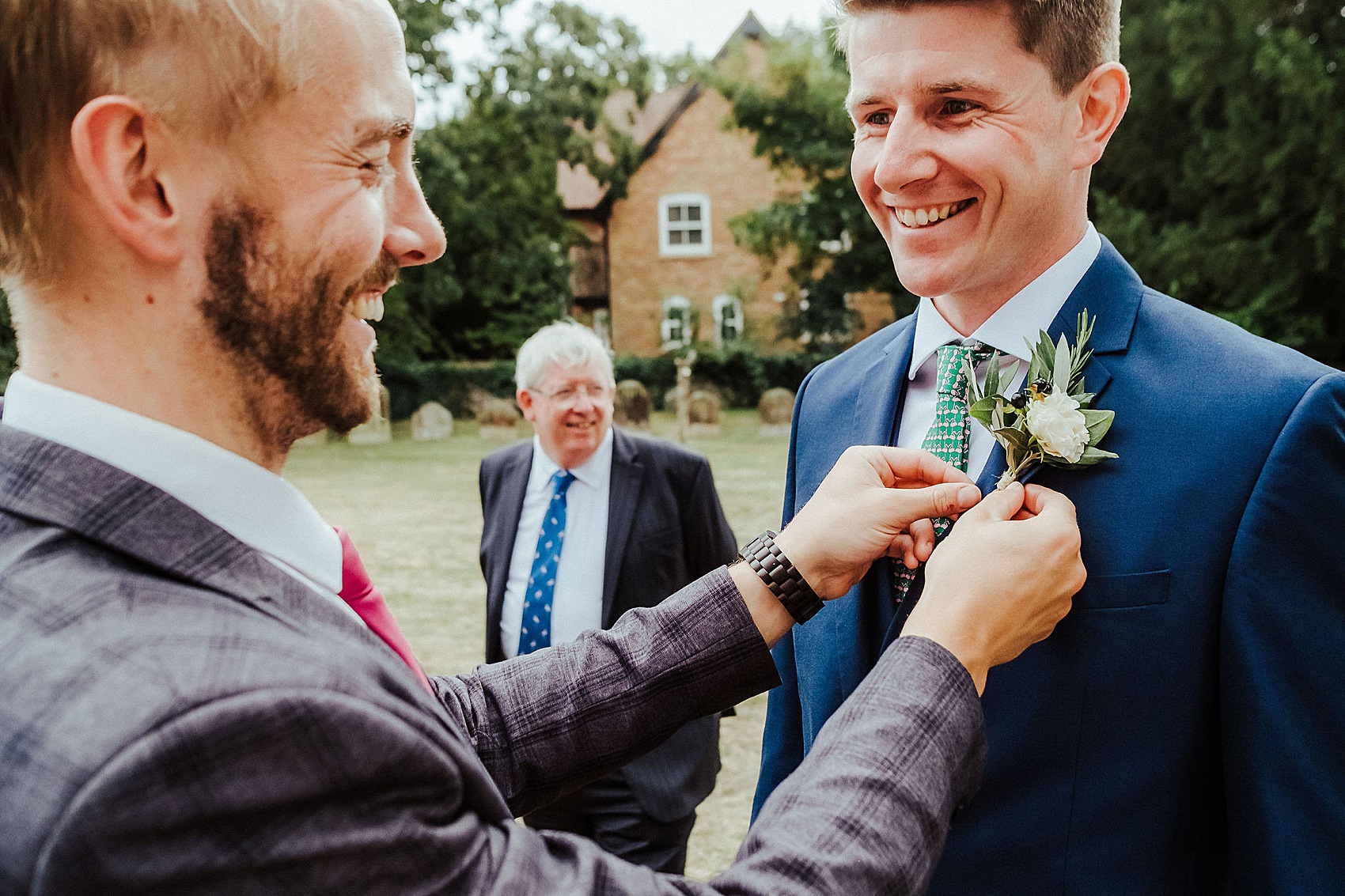 Alex was driven to the church in her mum's Fiat 500, which had been decorated with bows by her dad!
"We were able to get married on our original date, but obviously with huge changes. We had originally planned a wedding with 120 day guests, increasing to 150 in the evening. There was going to be a band, lawn games, and we both had 7 bridesmaids and ushers each."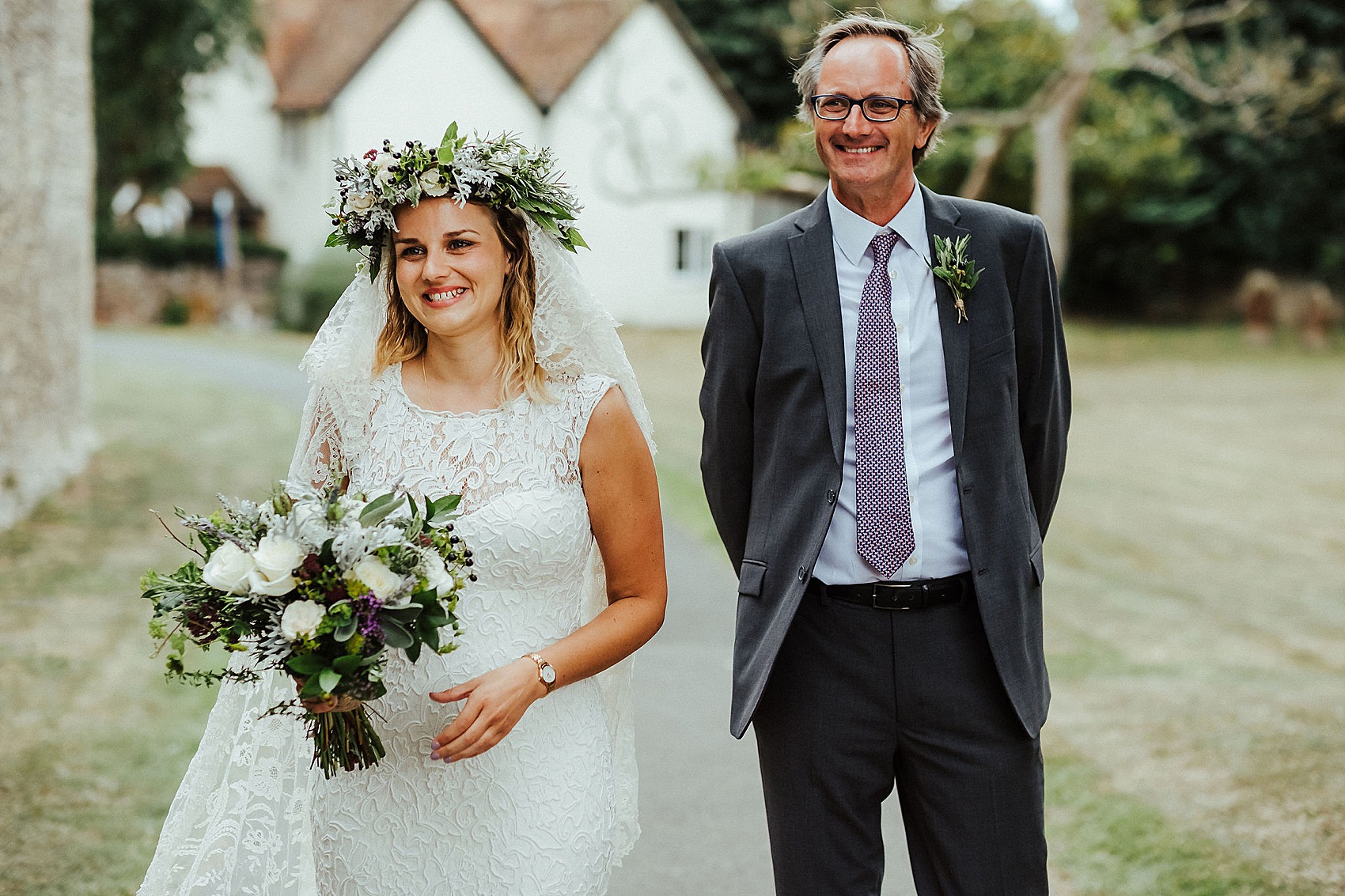 "Once it became clear that we would not be able to have that wedding, we both agreed that rather than maxing out the number permitted it would be easier to be really strict and say parents and siblings only. There was no way we were going to be able to choose which friends and family could come and which couldn't."
The St. Mary's Church organist played Canon in D by Pachelbel as Alex walked down the aisle together with her dad.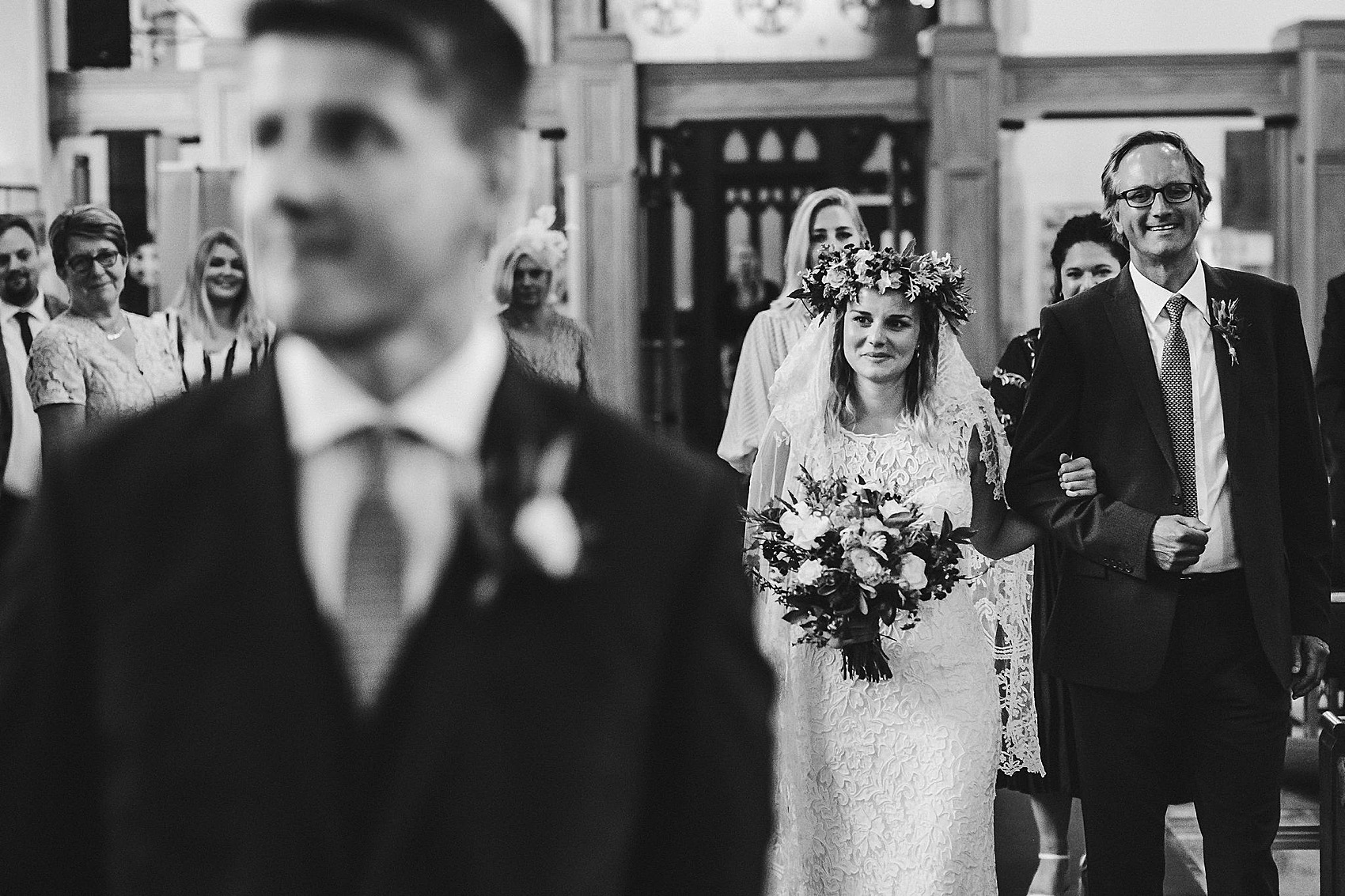 "We later decided to also have one friend each, which I'm really grateful for. So in all, we had 16 including us for the ceremony. I was worried it would feel empty and sad but it really didn't. Our families filled the space with love and happiness and their smiling faces while I walked down the aisle put me at ease instantly."
"As the church was a very large space, social distancing between bubbles was not too difficult with our small number, which was basically made up of 3 households. The vicar allowed my dad to walk me down the aisle, which was really special. No masks were worn until the signing of the register, when we had to be within 2 metres of each other."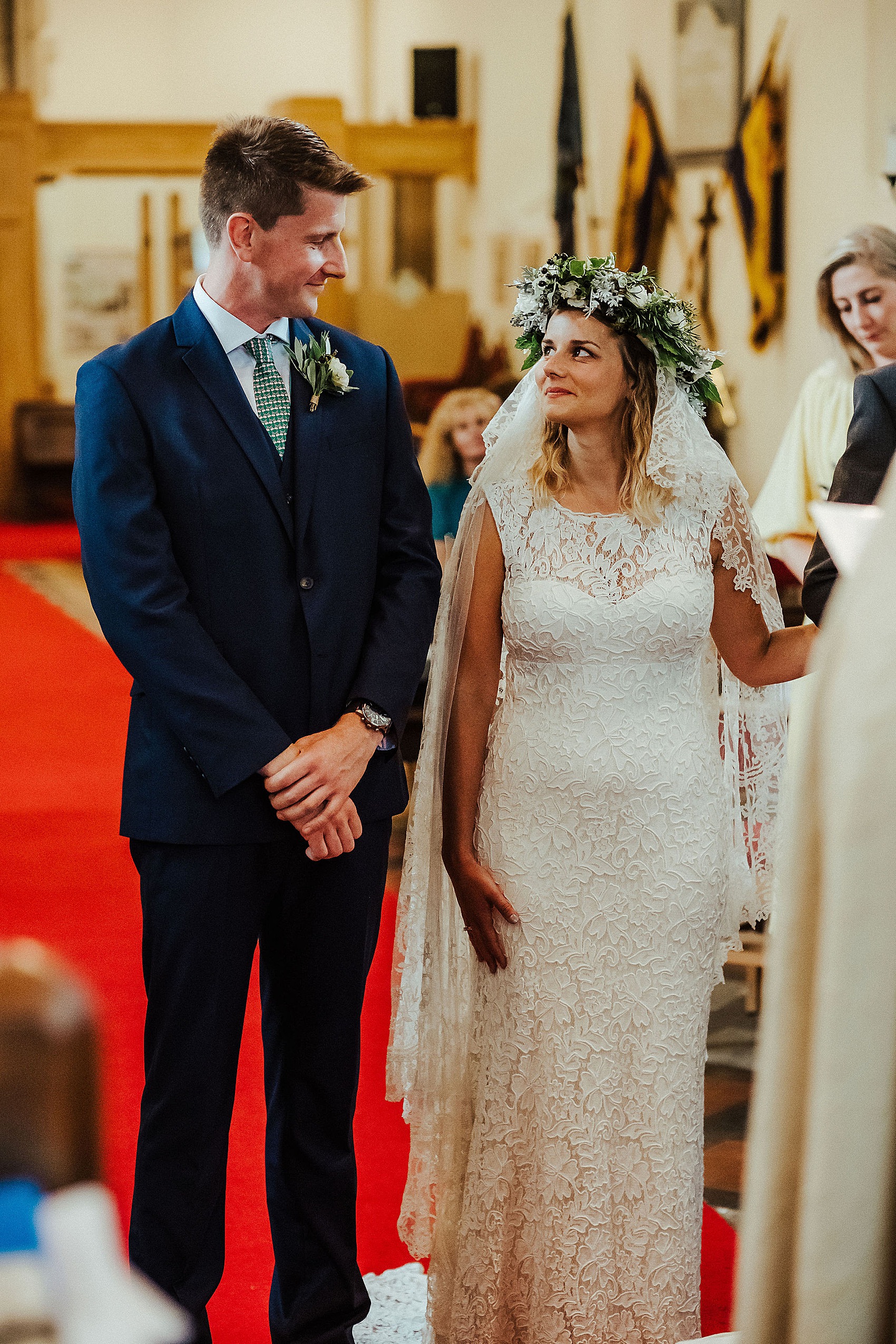 Reverend Chris Duncan officiated the ceremony, and Alex and David opted for modern Church of England vows. With less guests there than originally planned, and everything that had happened in the last few months, making their vows was an even more cherished moment for them both.
"We had two readings. My brother read 1 Corinthians 13: 4-8 (the classic 'Love is patient', which my parents had at their wedding). David's sister read Blessing For a Marriage by James Dillet Freeman."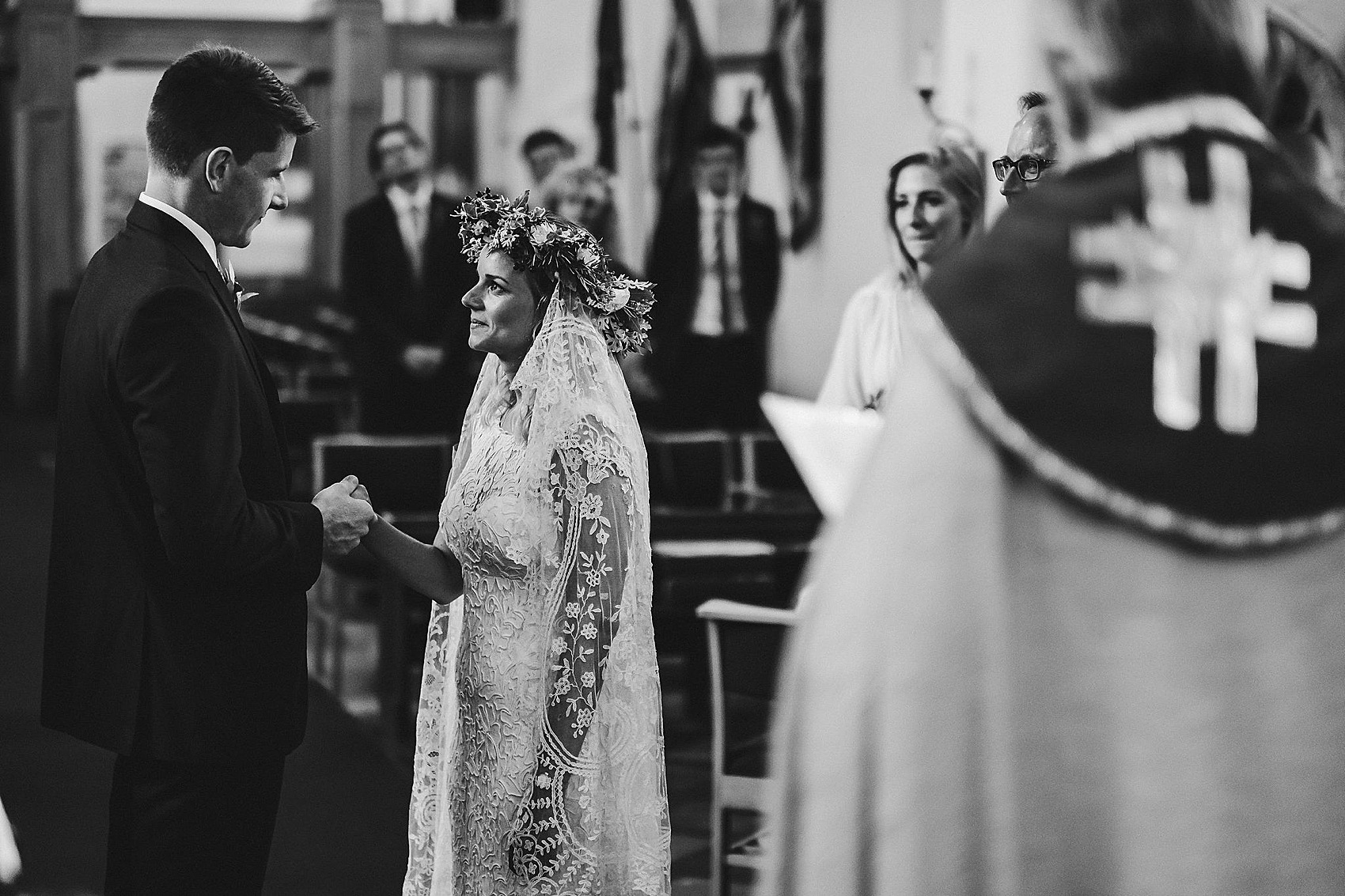 "I really love this one as I often find wedding readings make it sound as if being in a couple is the only way you can find happiness, which, when I was single attending weddings, I found quite demoralising. This one speaks more about complementing each other. My favourite line is 'May you always need one another – not so much to fill your emptiness as to help you to know your fullness'."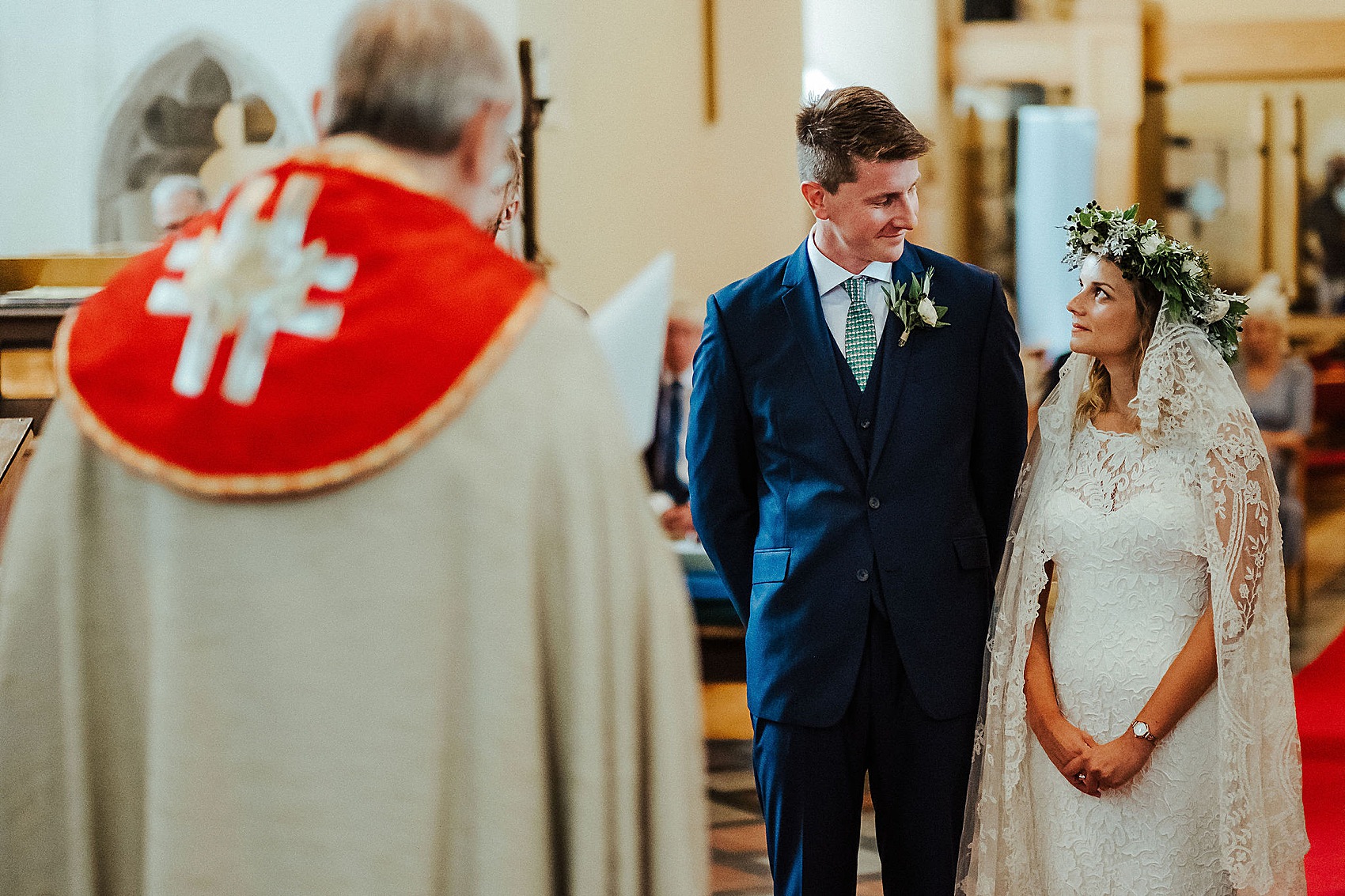 Artisan jeweller Luke Goldsmith made a bespoke wedding ring for Alex. She chose one of his designs to fit perfectly around her manufactured diamond engagement ring, and Luke made it beautifully to Alex's specifications.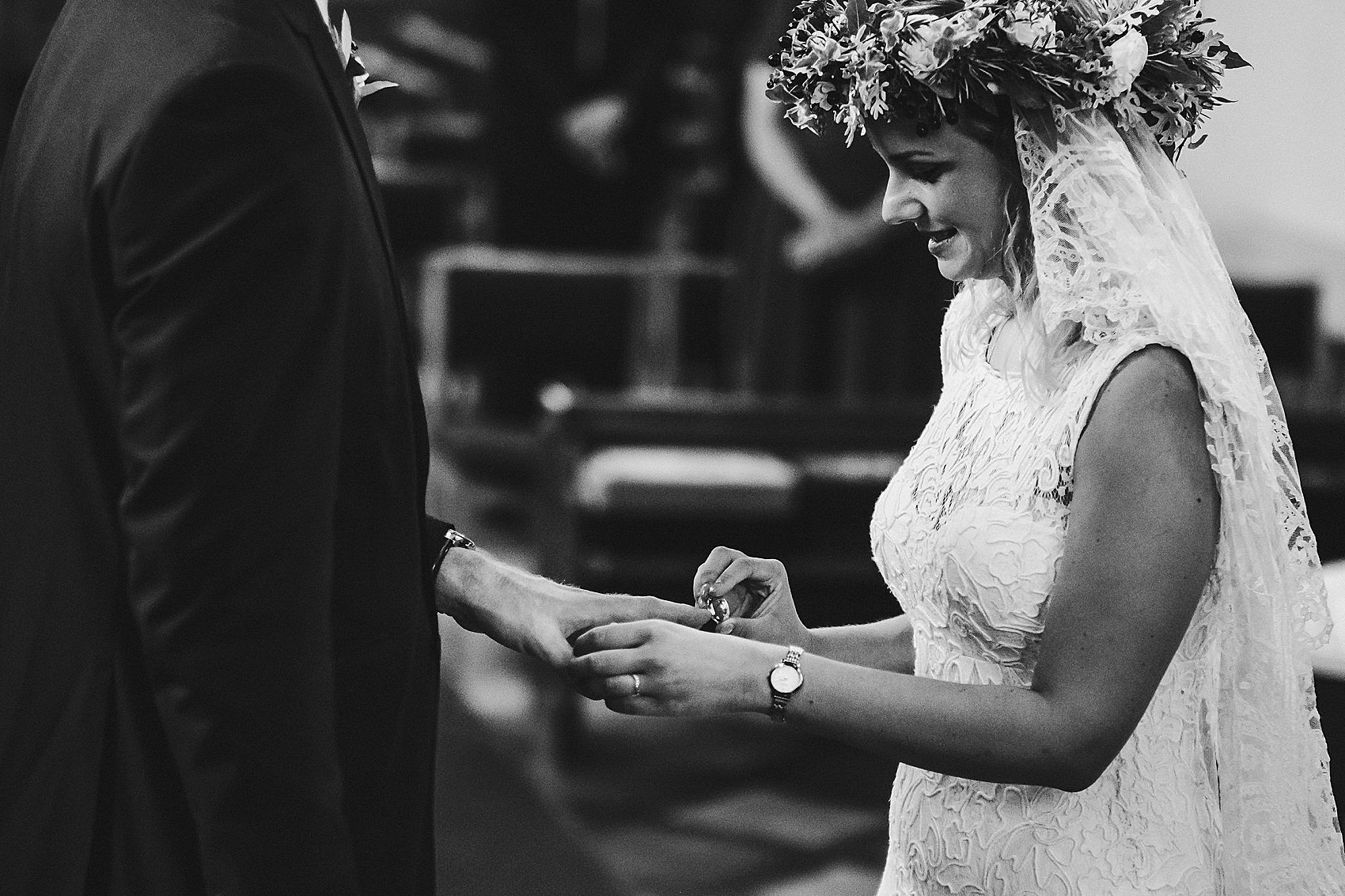 Alex and David were also able to share their ceremony over Zoom, with loved ones raising their glasses, and typing 'We will' when Reverend Chris asked for the participation family and friends.
"It was so touching. We managed to do a quick hello to them at the end, too."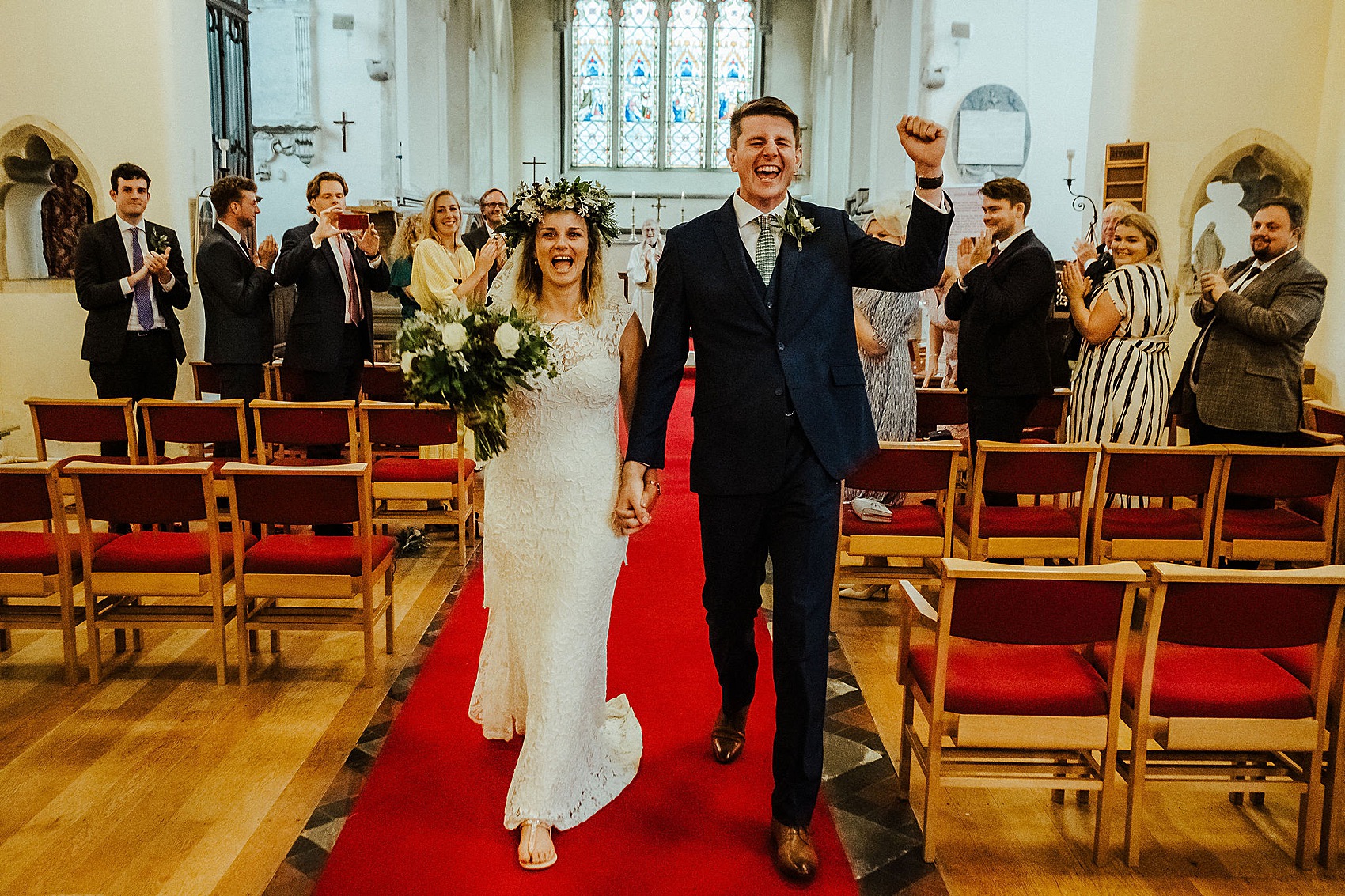 "Some friends and family surprised us when we came out of the church. It was such a shock, and we were so touched. We were able to go round and speak to everyone at a distance, and it made it feel like they were at our wedding! Saying our vows was so romantic and intimate, but then coming out of the church to the surprise of friends and family was unbelievable."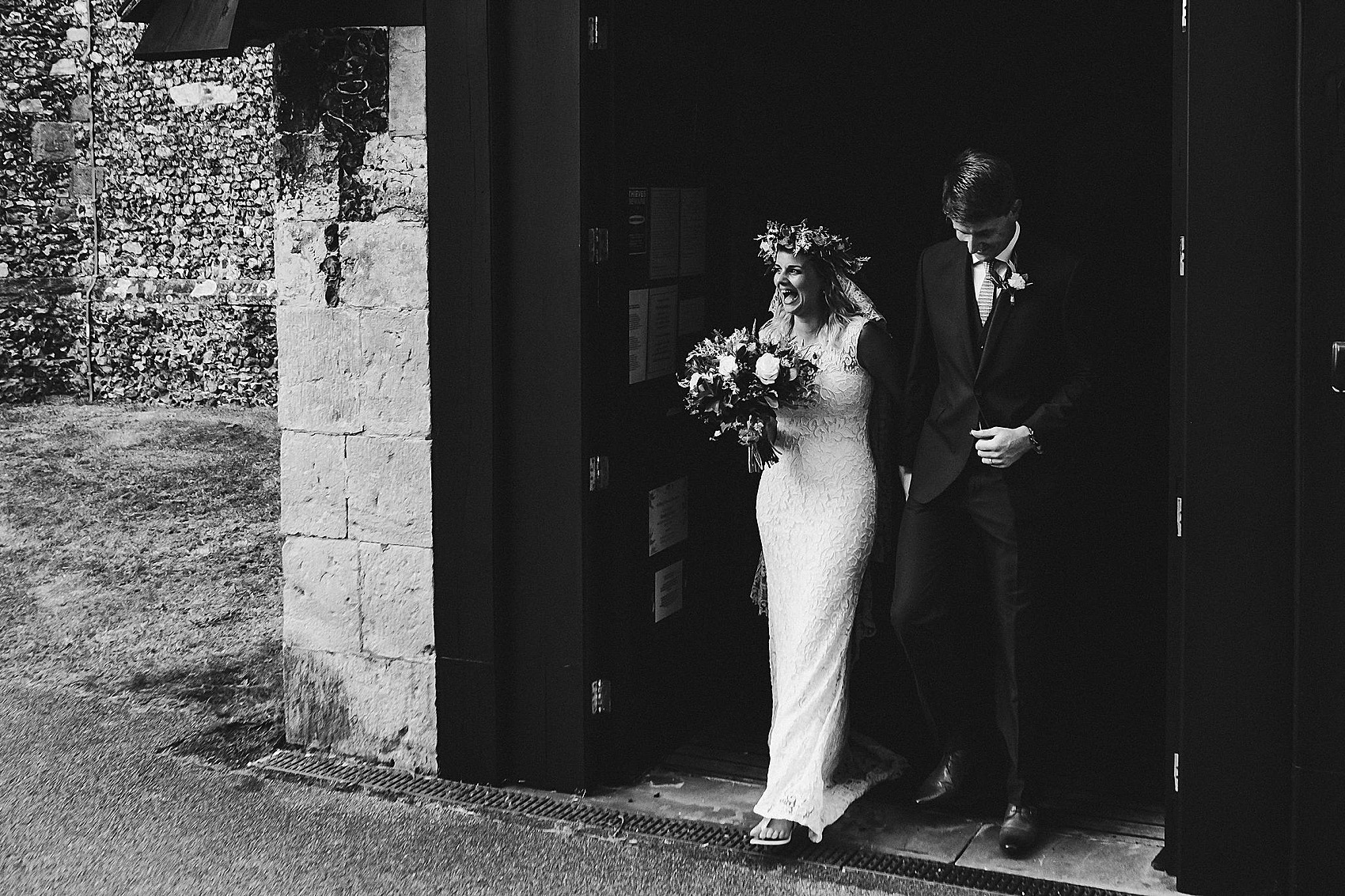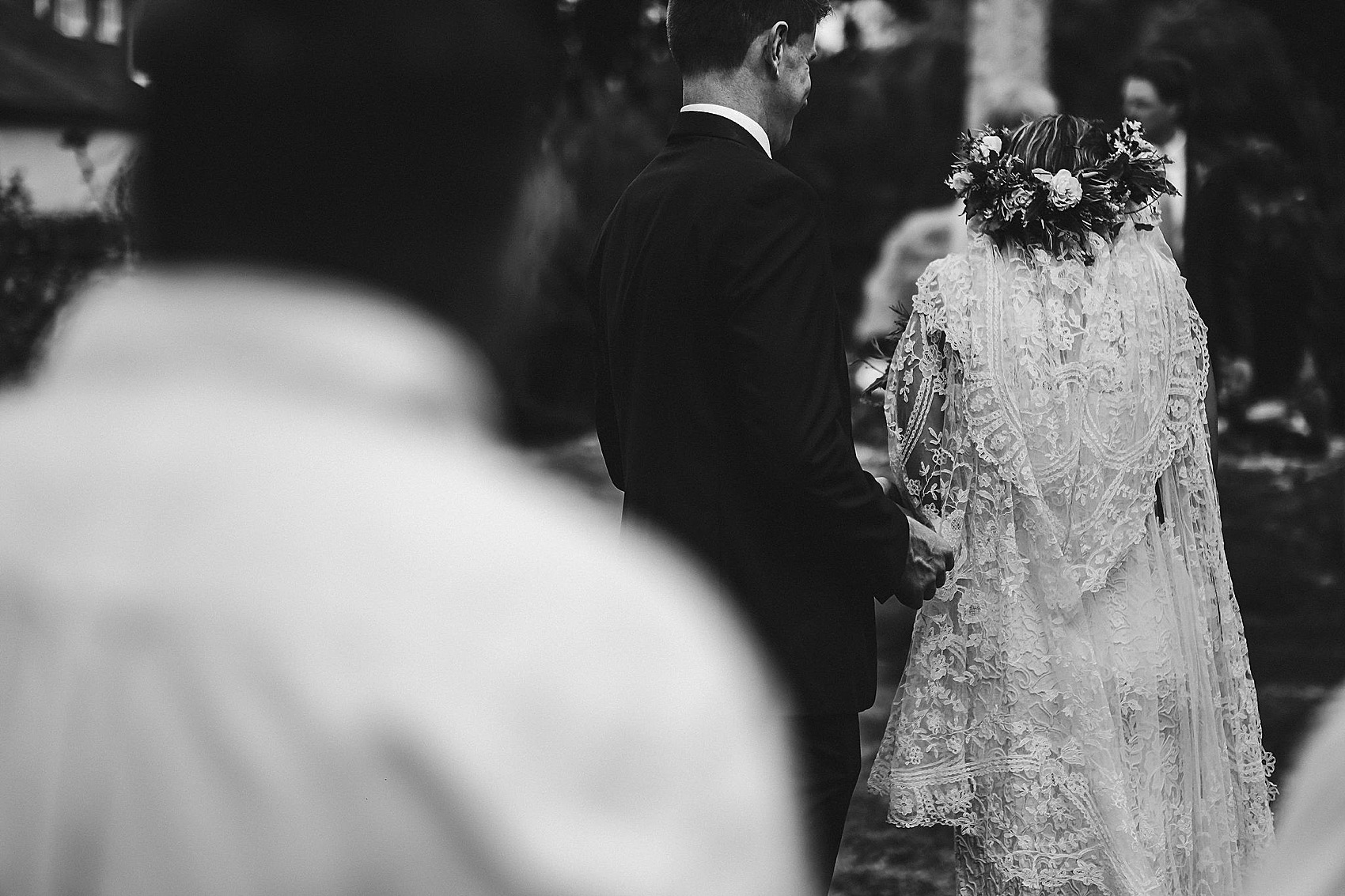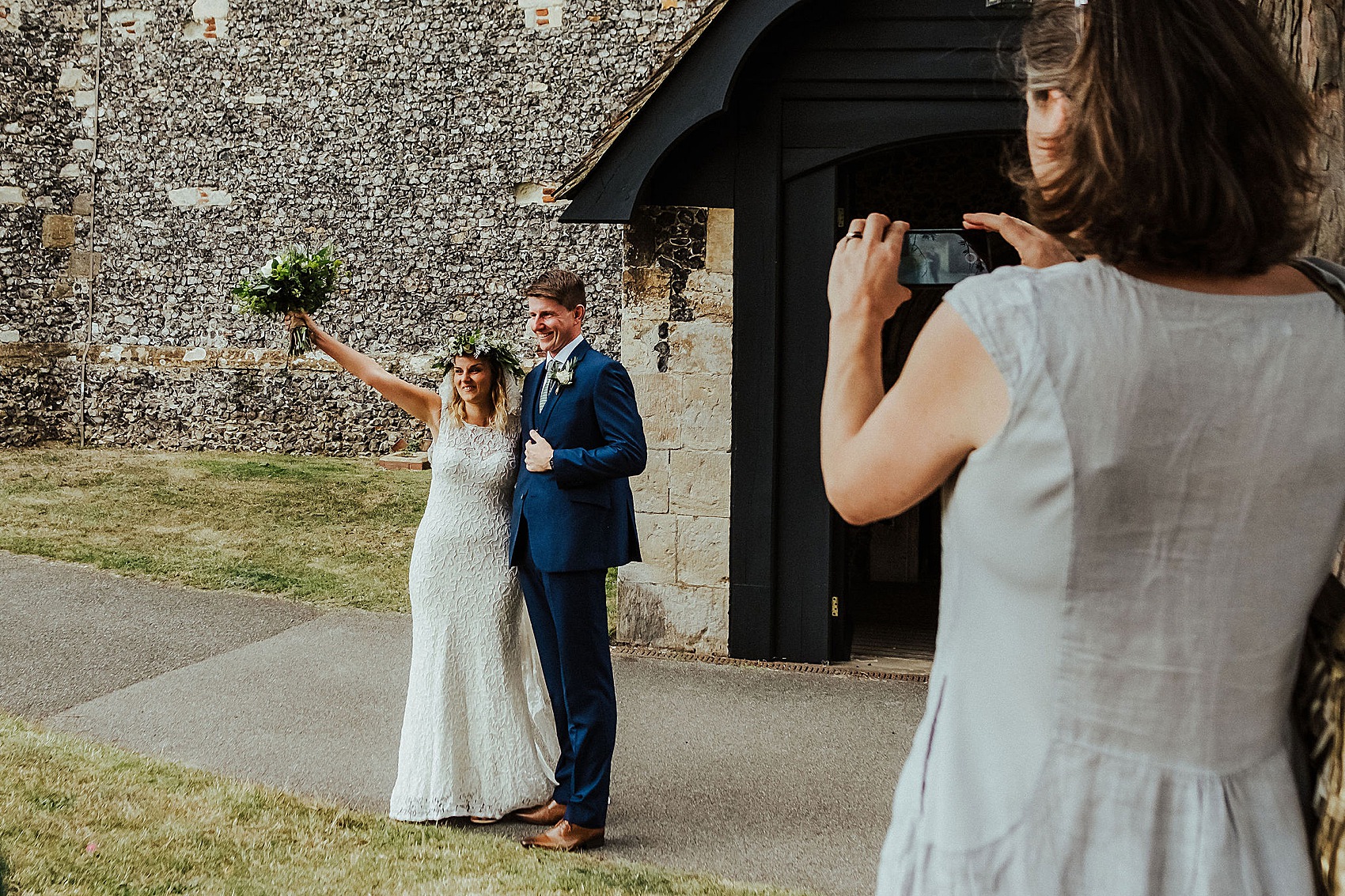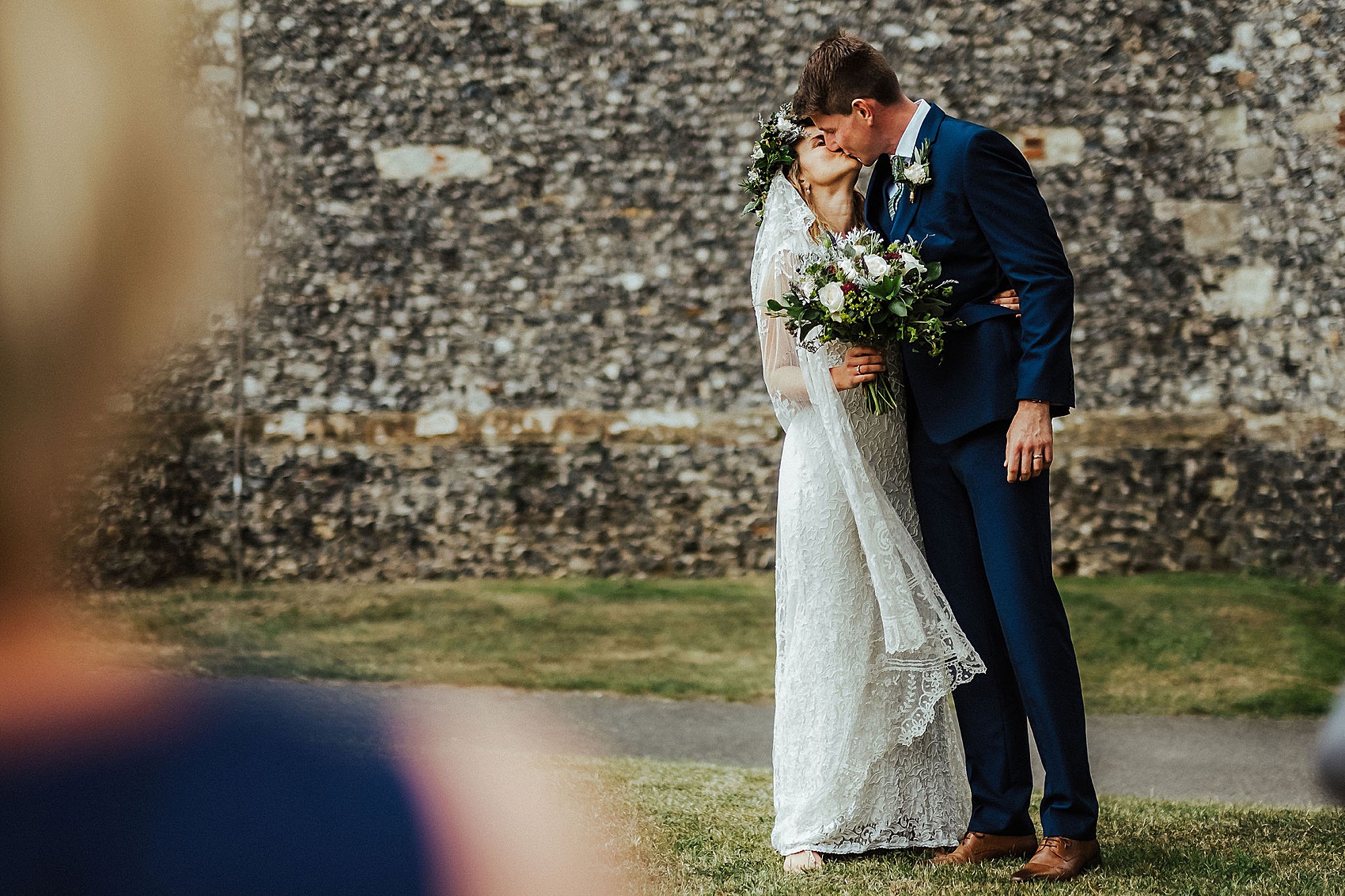 There to capture these moments, and all the deeply felt emotions and meaningful moments was photographer Matt Ebbage, who did so not only with great flair and style, but also with sensitivity and grace, too.
"David had been Best Man at a wedding last year, and we thought he was amazing! He is so friendly and fun, and you don't notice him as he dresses like a guest and gets right in there and mingles."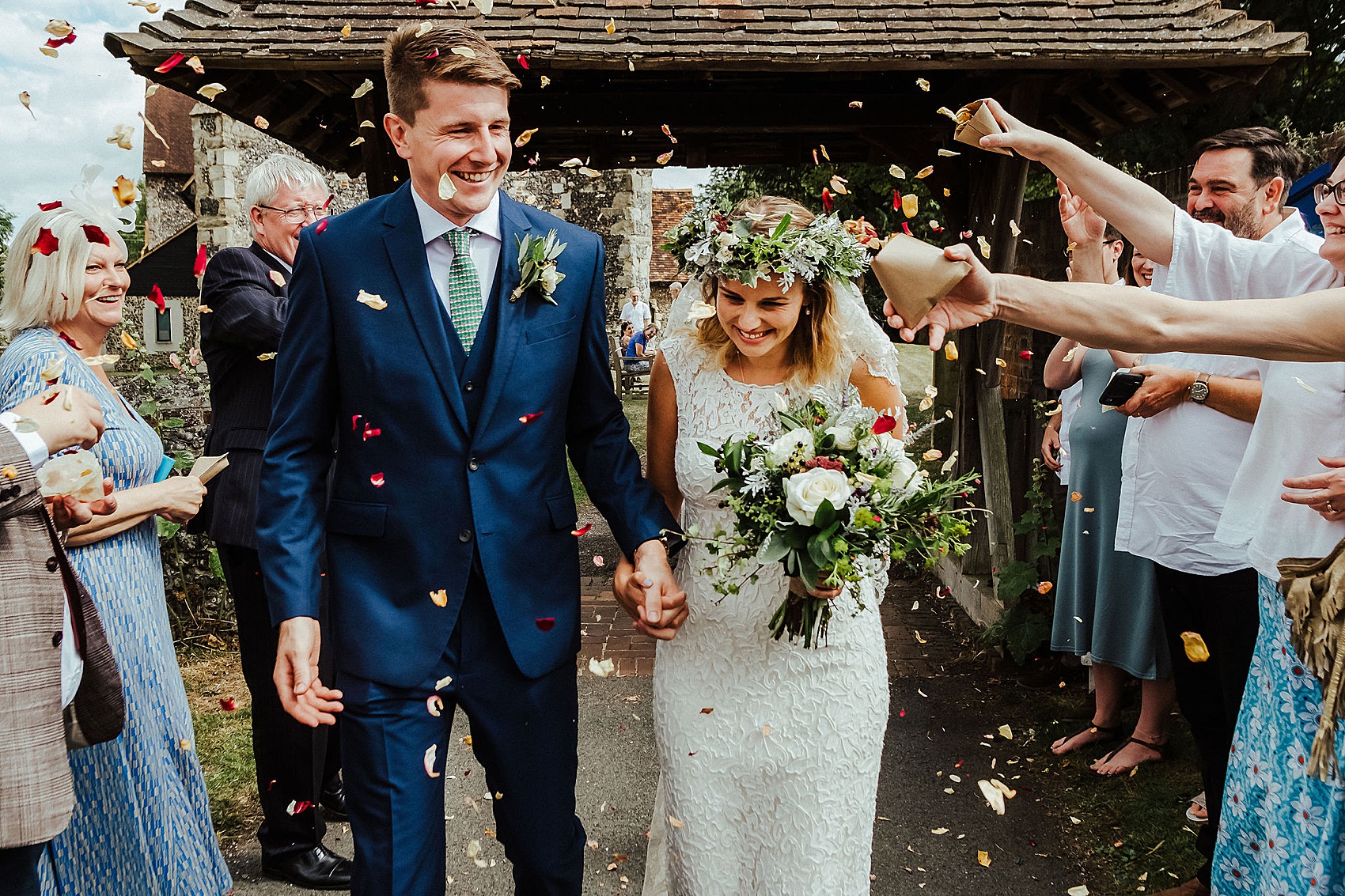 "On top of that, his photos are incredible! I could not recommend him more. He puts you and all the guests at ease, and captures so many special moments. We've booked him for our October 2021 reception and can't wait to see what he captures there!"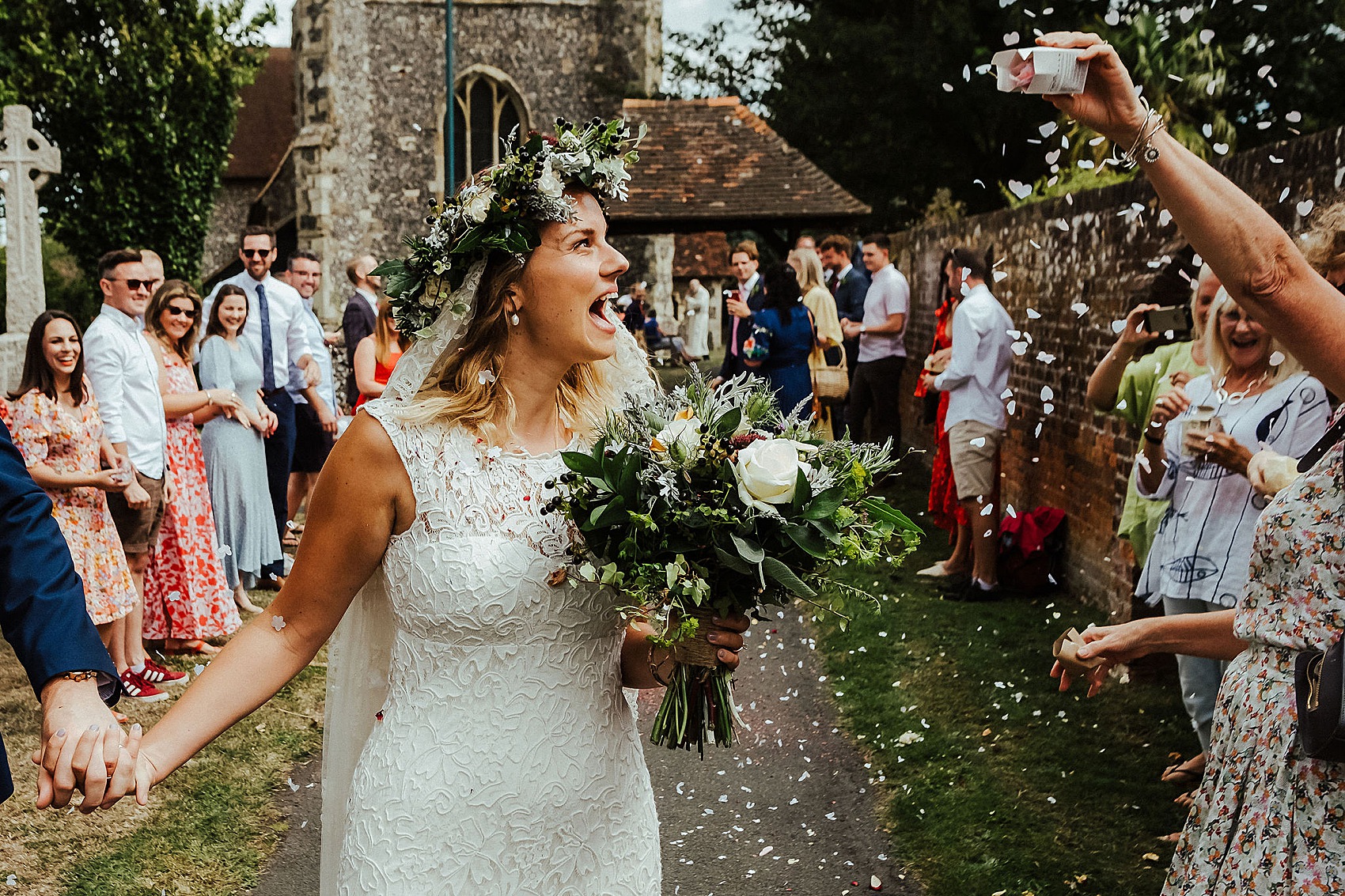 "David and I met on Tinder four years ago and had a successful first date in Whitstable on the beach. With it being the summer holidays, we were both off travelling and therefore fell out of touch. Then in November, we reconnected and started dating again, and the rest is history"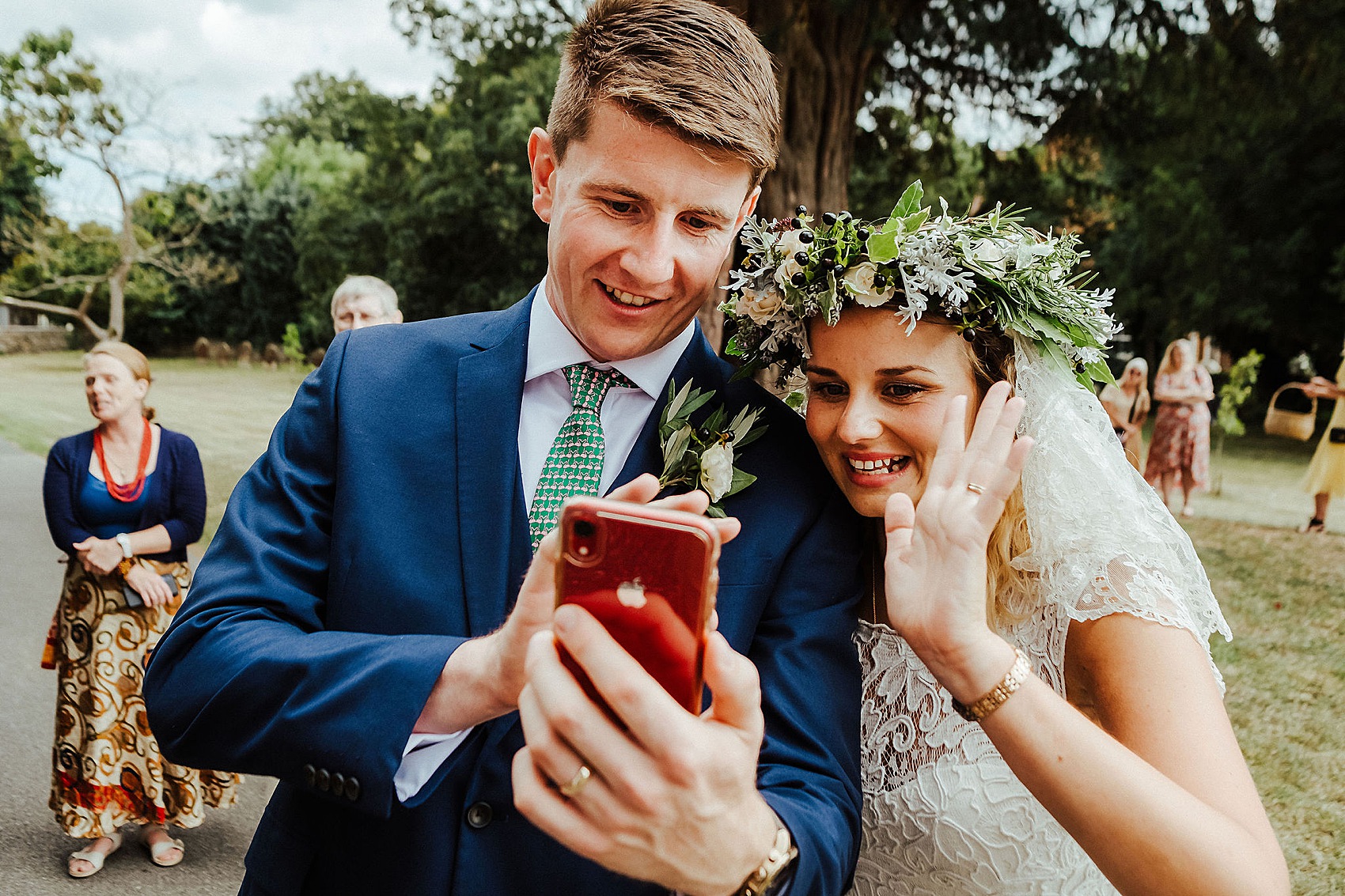 After the ceremony, Alex, David, and their immediate family made their way back to Alex's parents' garden for a barbecue feast. The garden was decorated with fairylights borrowed from the Maid of Honour, who used them at her wedding the year before.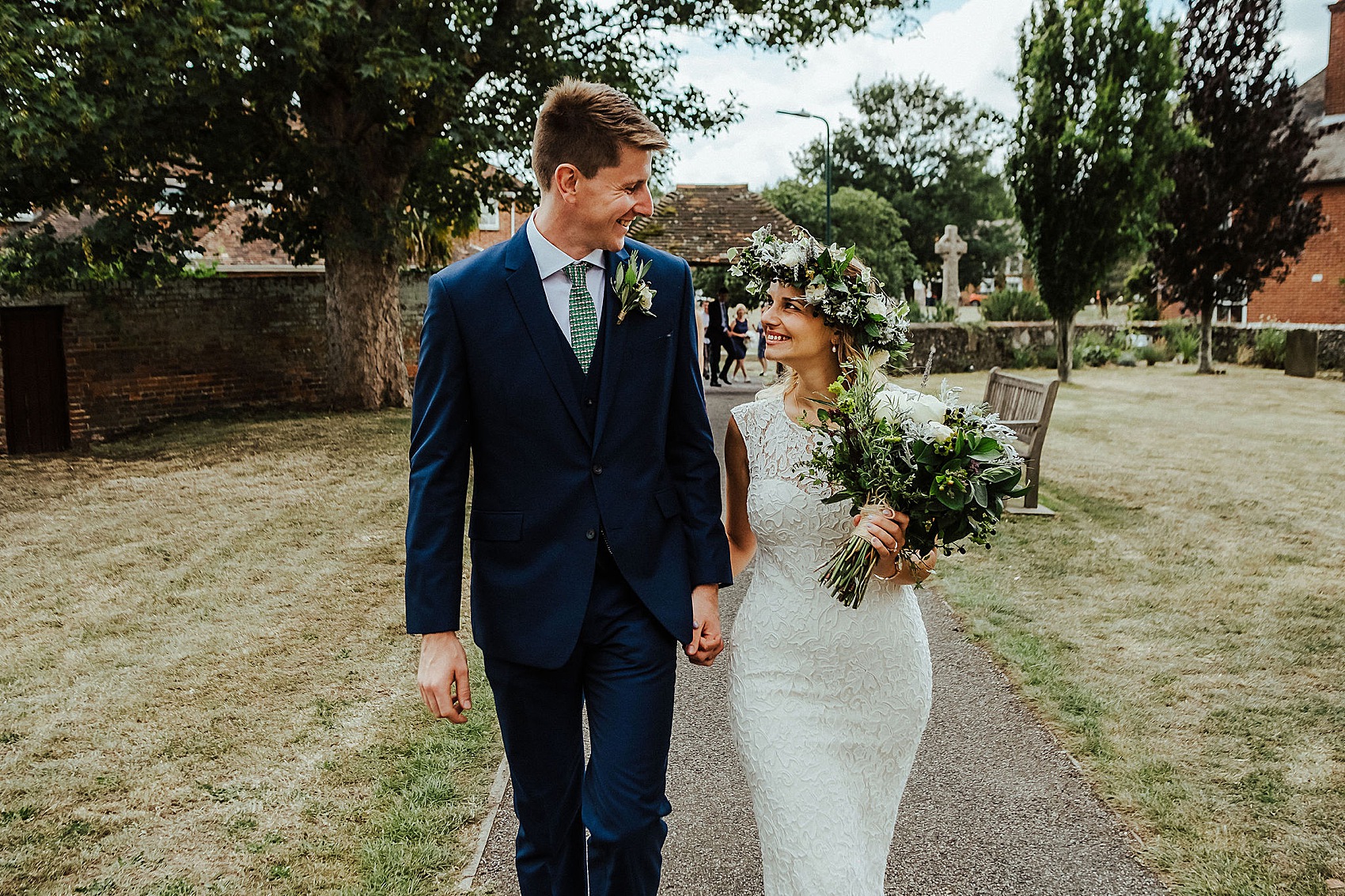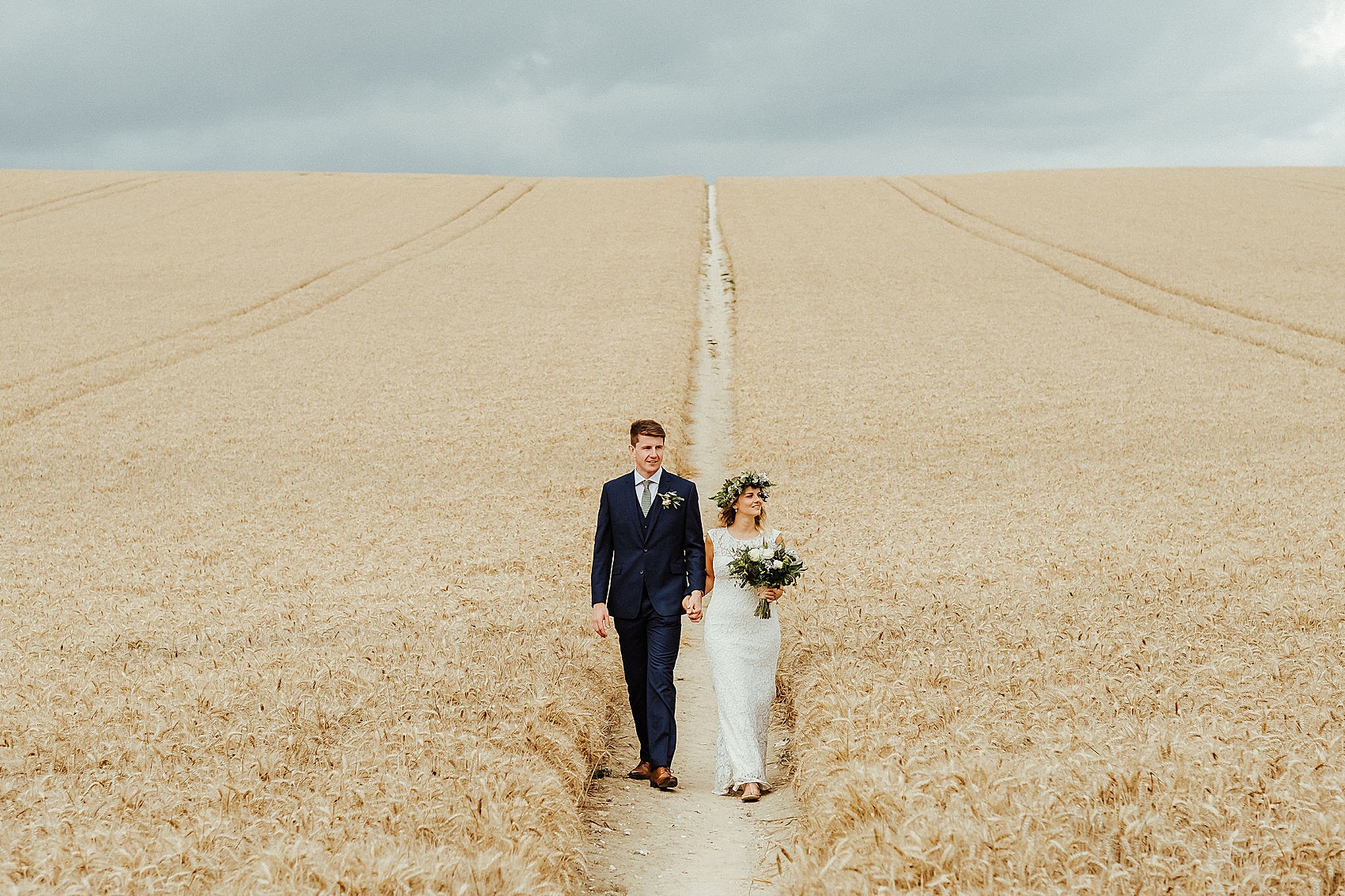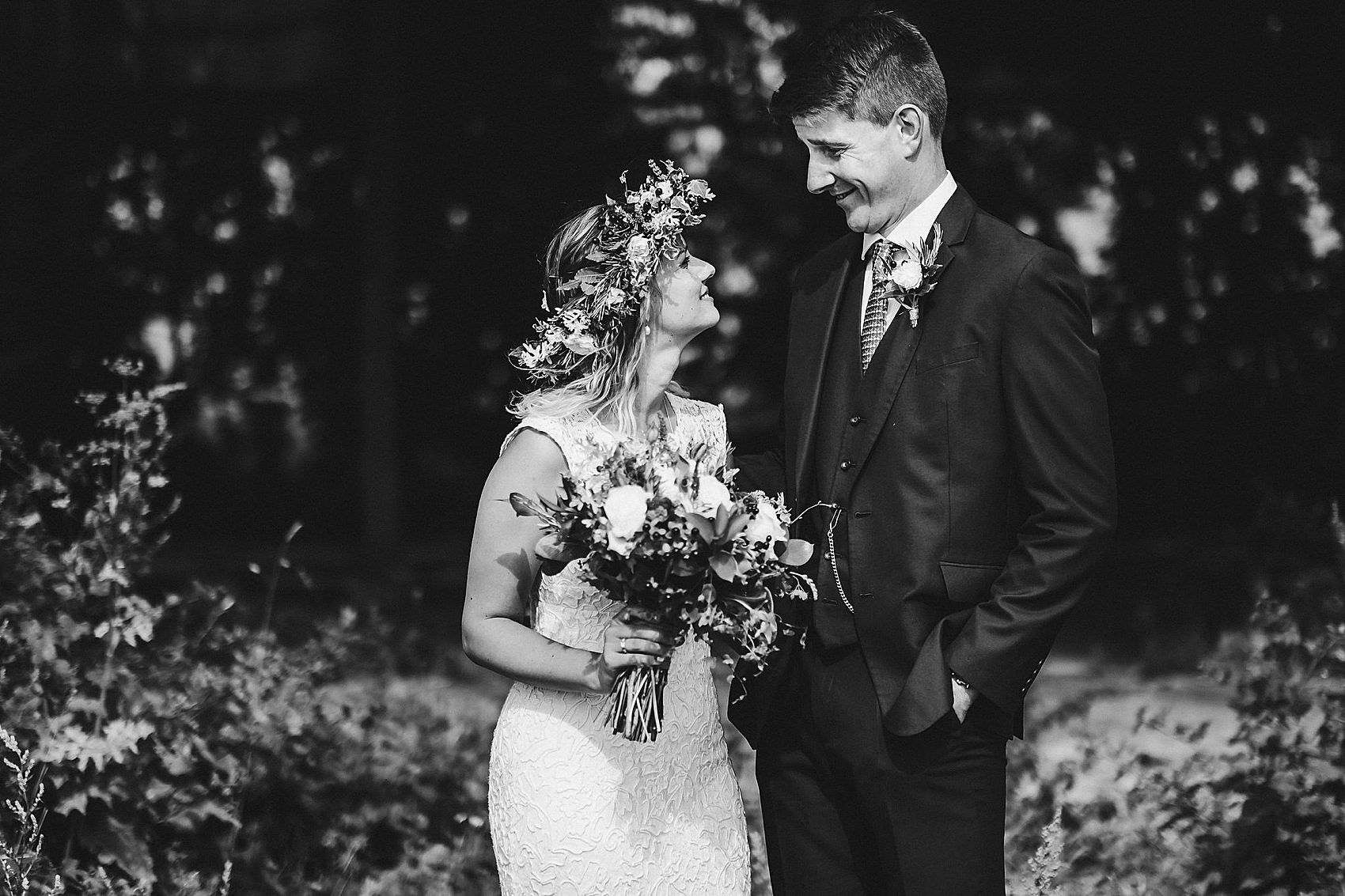 Stationery had been designed and hand drawn by another friend who has recently started her own wedding stationery business, Fiori d'Arancio.
"My parents have incredible lavender in their garden so that was a focal point. We used my granny's lace table cloths on the table, and then I made centrepieces with old bottles, which I sprayed with white gloss spray paint and then dark blue and green to create an ombré effect. I filled them with greenery from our garden. This is the same décor for our party next year, so it was a good opportunity to try it out on a much smaller scale."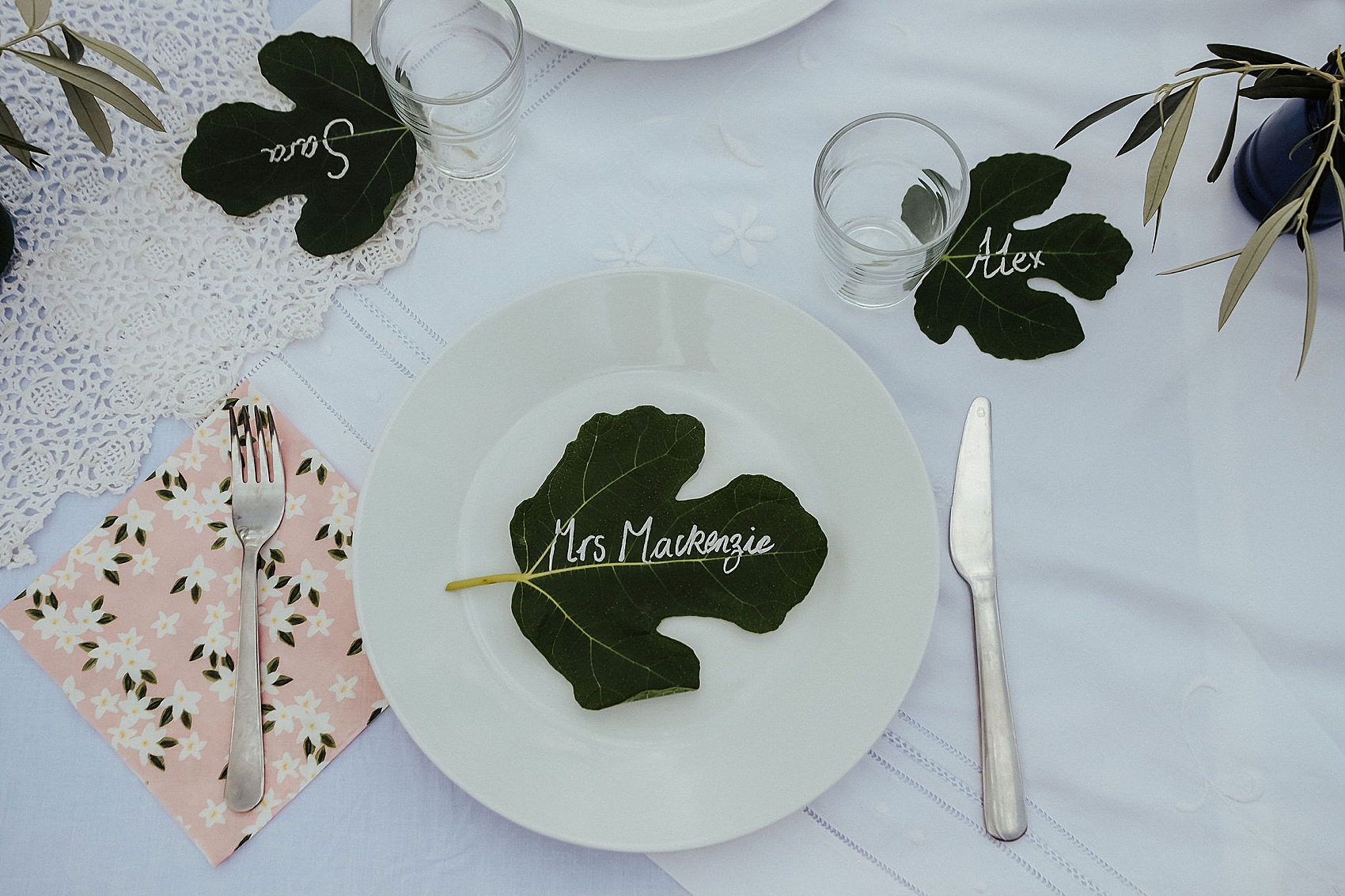 David's dad made delicious butterflied leg of lamb for the barbecue, and Alex's mum made a selection of Greek inspired salads. Alex's friend Emily also arranged for an amazing selection of cheeses from Whitstable based The Cheese Box to be sent to the house, too.
"With only a few people, we were able to splash out on wine and fizz from the vineyard in our village, Chartham Vineyard. It was delicious and felt extra special."
Alex's cousin and aunt made a lovely lemon and poppy seed cake with buttercream, which was then decorated with a wreath of eucalyptus and a wooden topper, too.
"The first dance was the only part that felt slightly odd (we'll do another one next year) as there were only a few people there! We danced to You're My Best Friend by Queen."

Words of Wedded Wisdom
"So many of my married friends say that their wedding day was a blur, but I remember every second. Only having a small number of people meant I could take in every moment, speak to everyone properly, and it just felt so romantic and intimate."
"We still have our big party to look forward to in October 2021, so I don't feel I've missed out. Pandemic or not, I would actually recommend having a small wedding day followed by a big party (maybe not 14 months apart though). It really was the perfect day, and although we missed so many of our family and friends, they still felt with us."
"Remind yourself why you are doing this. When things get overwhelming and stressful or don't go to plan, look at each other and say 'But we're going to be married'. As at the end of the day that's all that matters. Covid couples, your wedding may not be what you had planned, but it can still be the best day of your life! I am now a big believer in small, intimate weddings and then a celebration later, I never thought I would say that!"
"I always thought the most important thing was to have everyone physically around you on your day. However, having had a lockdown wedding I now think the most important thing is each other, and making those promises to each other for the rest of your lives."
Alex and David, thank you, and of course – congratulations! It's been so special to share your words, and wonderful to read how you turned potential negatives into positives, which in turn changed your opinions on weddings altogether. Readers, I hope you've enjoyed this as much as I have. Huge thanks to Matt Ebbage for this beautiful photography, too.
With love,
Laura