Having had two glorious weeks away and offline, I'm more than ready to get back into the writing mode and what a way to get started. The wedding I'm sharing with you today is a joyful riot of colour, sequins and uninhibited happiness and, for all of you planning a winter wedding, I'm sure that taking this approach will banish any winter blues.
This is the non-traditional wedding of Emily and Dave, whose 22 February 2020 celebration took place at Asylum Chapel with a party afterwards at Stanley Halls, South Norwood. Taking inspiration from their shared love of music and film, the couple's relaxed celebration was full of fun, colour and confetti.
Eclection Photography

+ Follow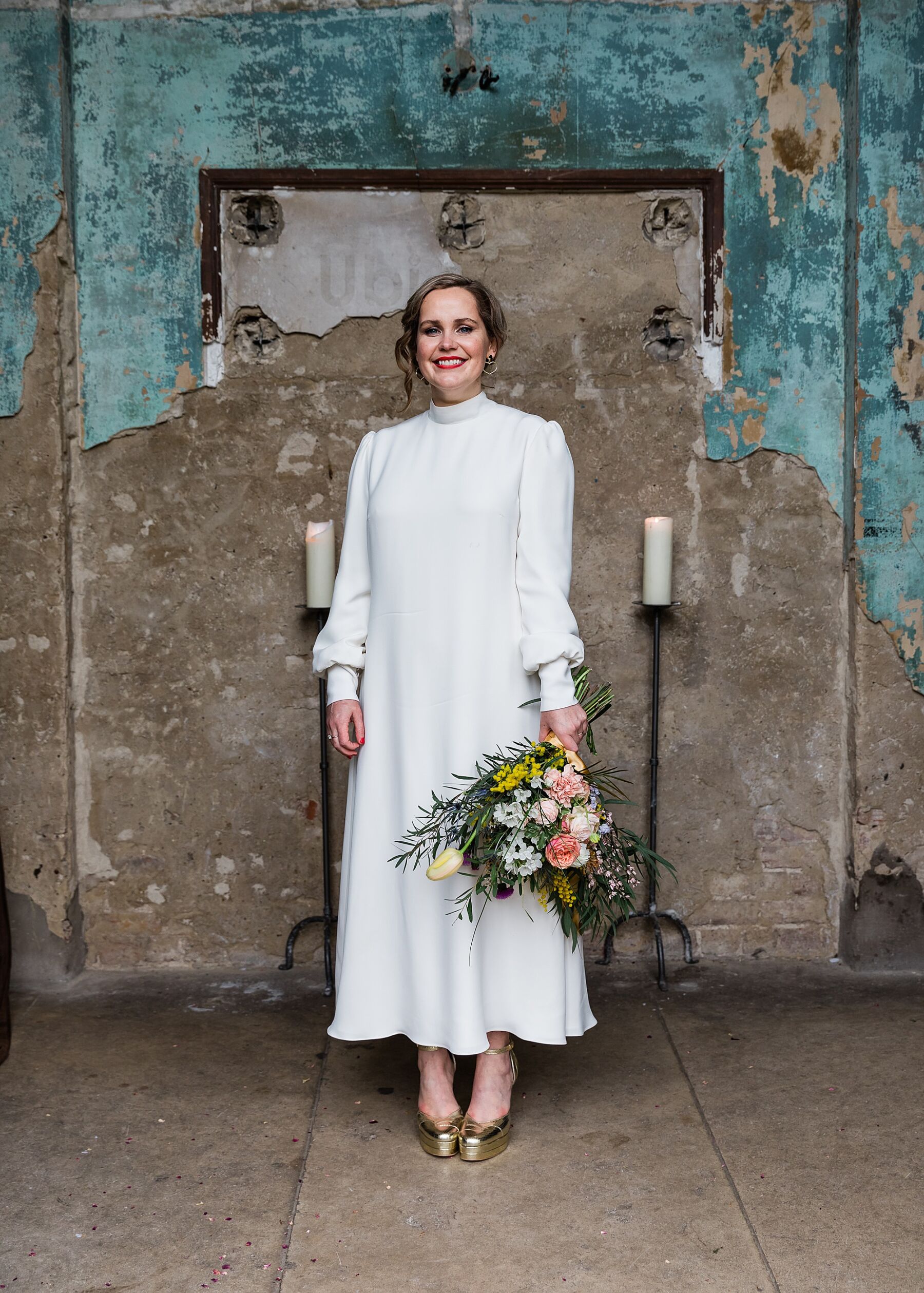 "We liked the idea of a relaxed Working Men's club vibe with lots of colour. So we bought a gold slash curtain for the Stage at Stanley Halls and covered the place in multi-coloured pom-poms which seemed to do the trick! We also had some confetti cannons and lots of gold balloons which we added in later on! TVs in the bar would play our favourite movies & our adoration of music would be prevalent throughout the day."
Capturing every single, special moment was our Little Book Wedding Directory favourite Eclection Photography, whose style combines fine art background with contemporary detailing, and is just perfect for Emily and Dave's unique day. She was given support and creativity from Jade at GASP Photo Co. Over to Emily to give you a fabulous insight into Heather's approach and way of working.
"When we were scouring Google for a wedding venue we kept stumbling on Heather's photos and they really stood out to us. They seemed natural and honest and exactly the vibe that we were looking for. When we met and realised we were both northern and chilled it was definitely a match made in heaven and needed Heather for our wedding! She was GREAT and was so much more than a photographer. She took on the role of project manager, advisor and so much more. We were so lucky to be surrounded by such like-minded people on our special day."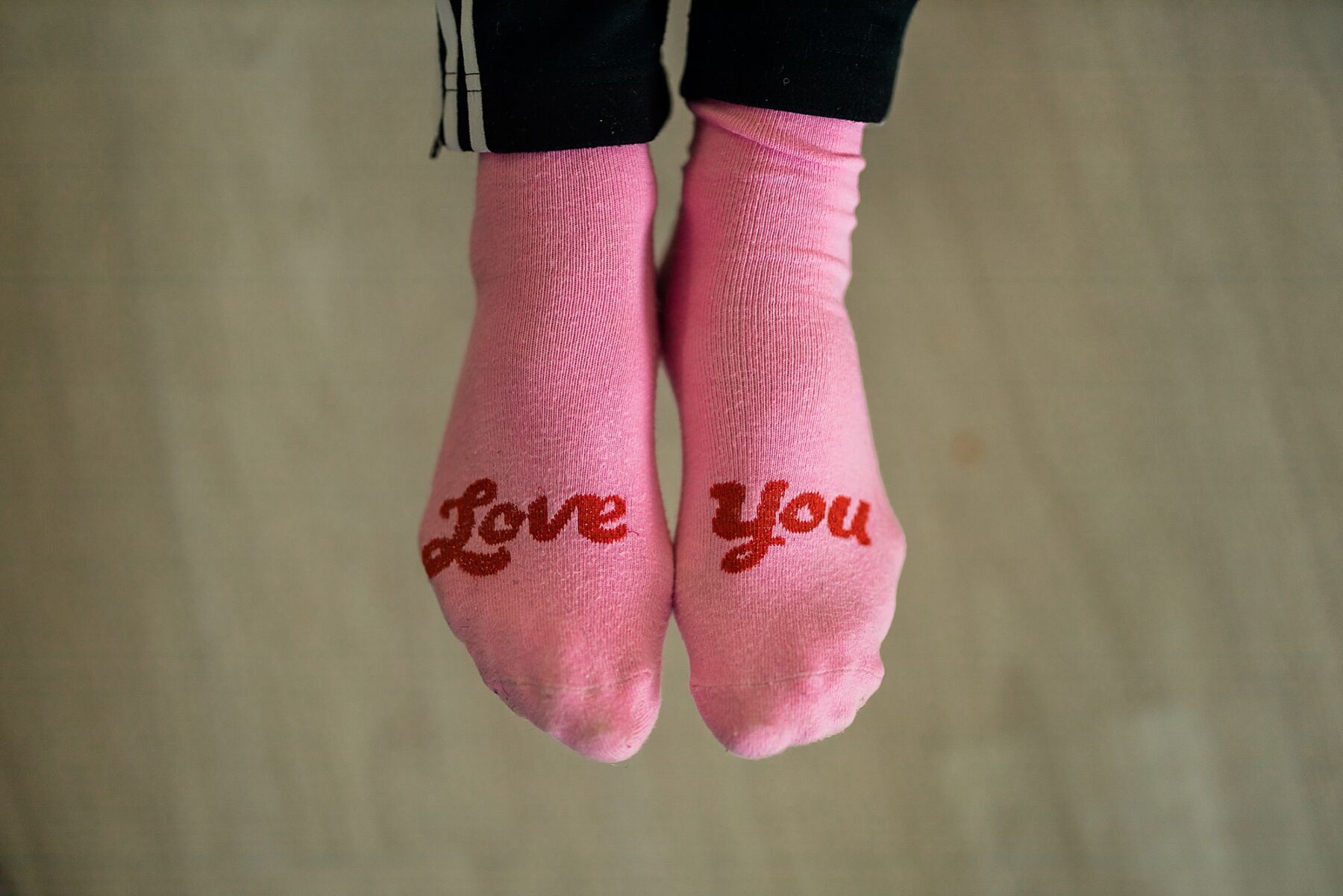 On her feet she wore skyscraper, 70's inspired platforms in bright vintage gold from Terry De Havilland, and in her hair was a delicate pearl seashell clip from Hub Shop.
"My friend Grace did my make-up and Fran did my hair. My beautiful heart-shaped pearl bag was by Loeffler Randall and my gold Shashi heart drop earrings were from ASOS."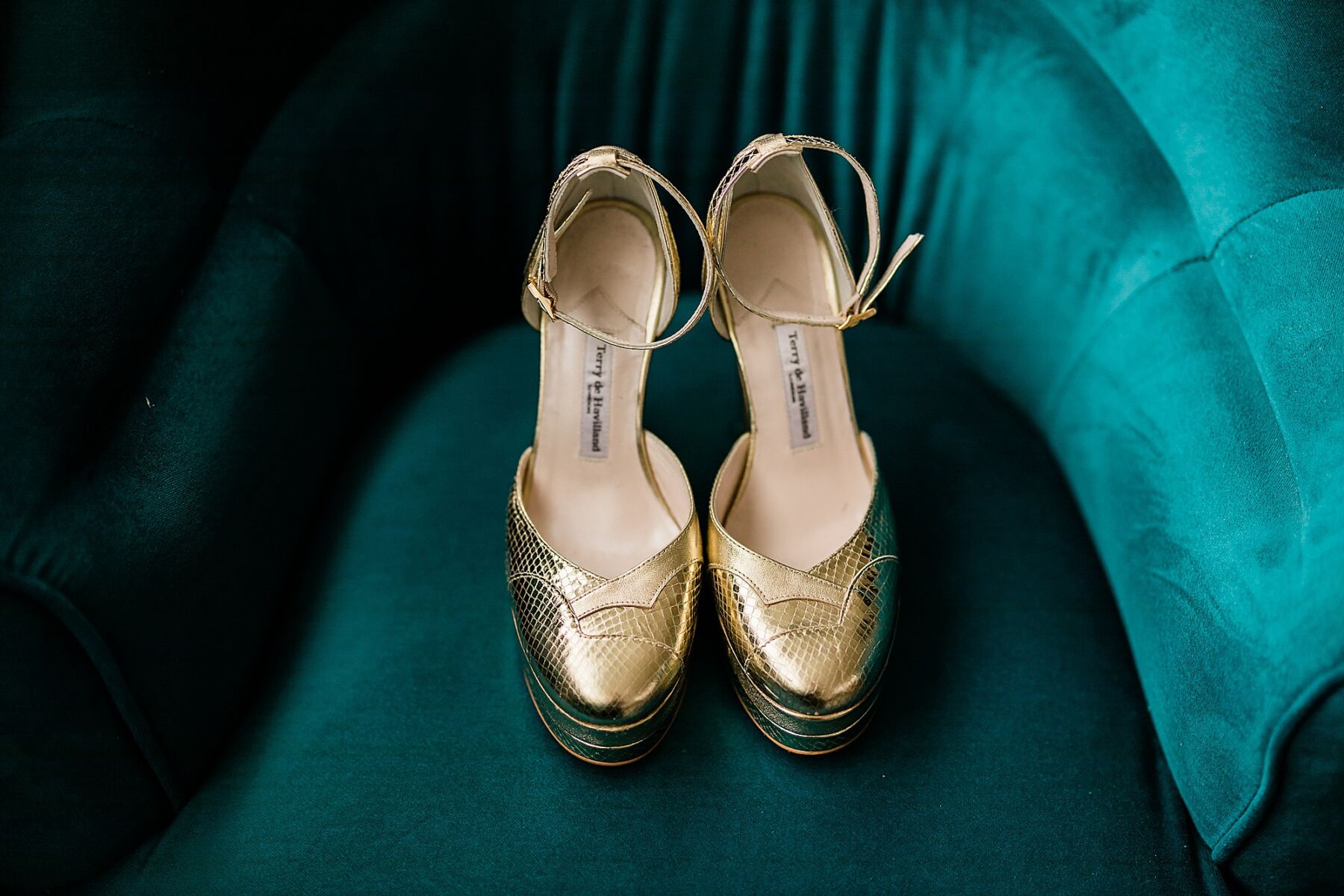 Another friend, Terri – one half of florists Worm – put together Emily's extravagant bouquet of flowers and the finishing touch was Chanel's Gabrielle.
"The brief for my bridesmaids was GOLD SEQUINS. All four of them got their own dresses and looked incredible. I worked with a wonderful local jeweller, Jess Fontaine, to create a bespoke necklace for each of my bridesmaids."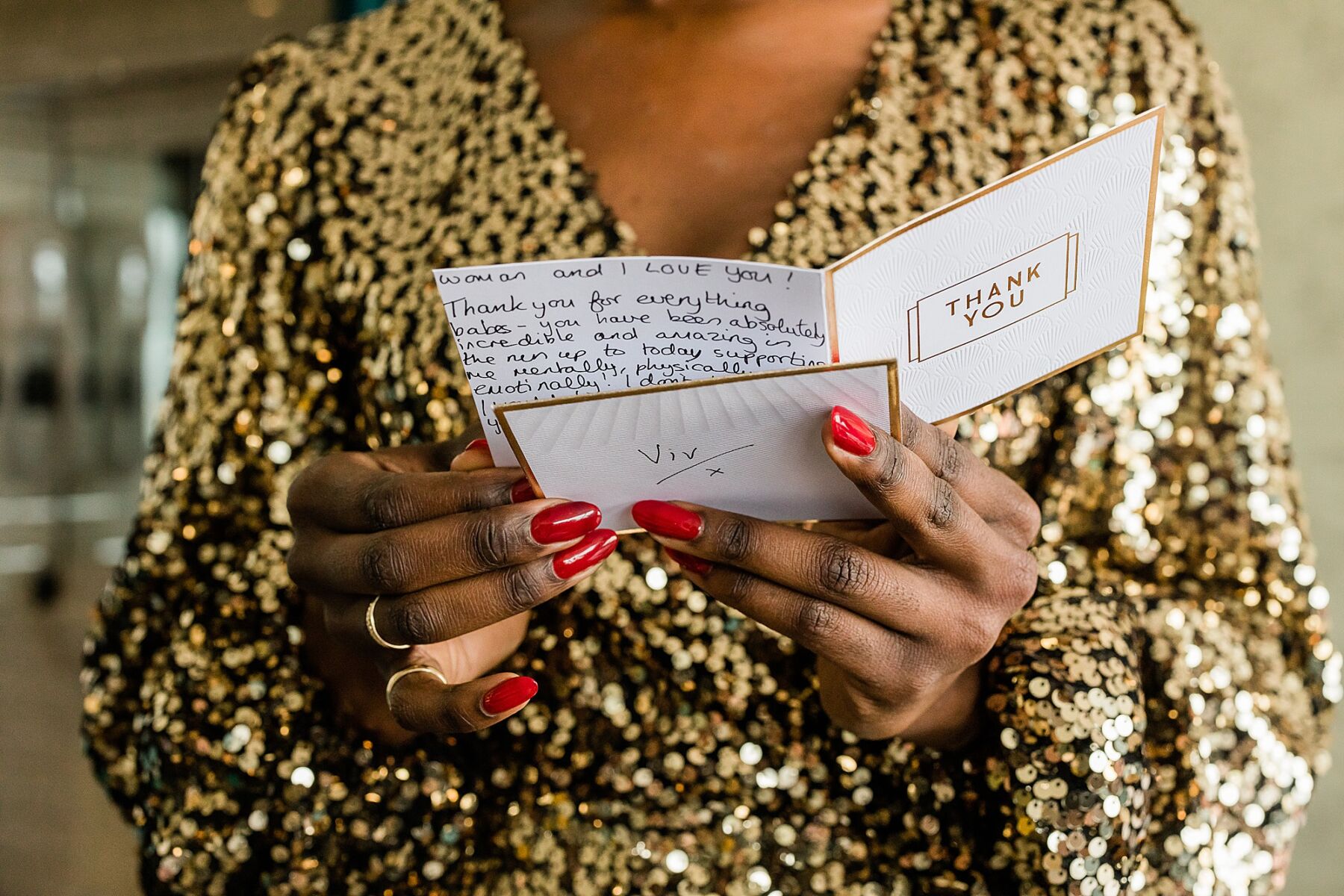 "I made the coin-shaped pendant and engraved a heart in them in wax. Jess then took these and made them with silver and plated them in gold. They were beautiful."
The key principals for Emily in her search for her wedding dress were that it had to be comfortable and it had to be true to her unique sense of style. I think that the team at Sewn Right have totally nailed it with this elegant, silky gown with its subtle vintage vibe.
Just look at those exquisite sleeves and the floaty skirt which ends just above her ankles.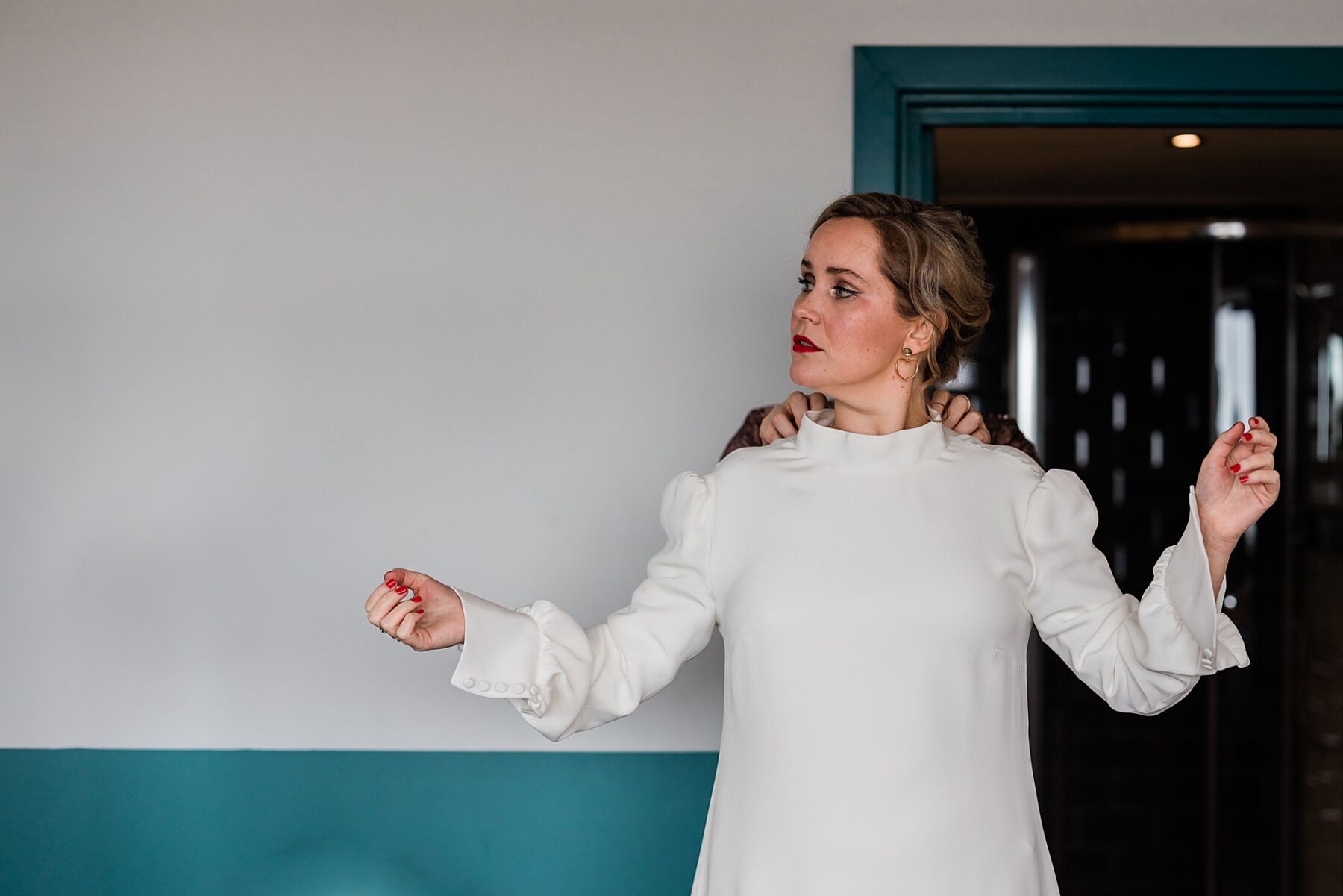 "I could not recommend Charlotte and Sewn Right enough. I didn't want a traditional wedding dress and wanted something where I felt like me (but a fabulous version) and she created that for me! I'd felt very uncomfortable at all of the wedding dress places I had been to before and as soon as I met Charlotte she put me at ease and got me and my style right away."
"She made me two bespoke dresses – one wedding and one sequin dress for the next day. I loved them both. She felt more like a friend at the end and I was so grateful to her for creating my perfect dress.  The dress felt beautiful on. I could dance in it, I could eat and miraculously it was still white at 2.30am."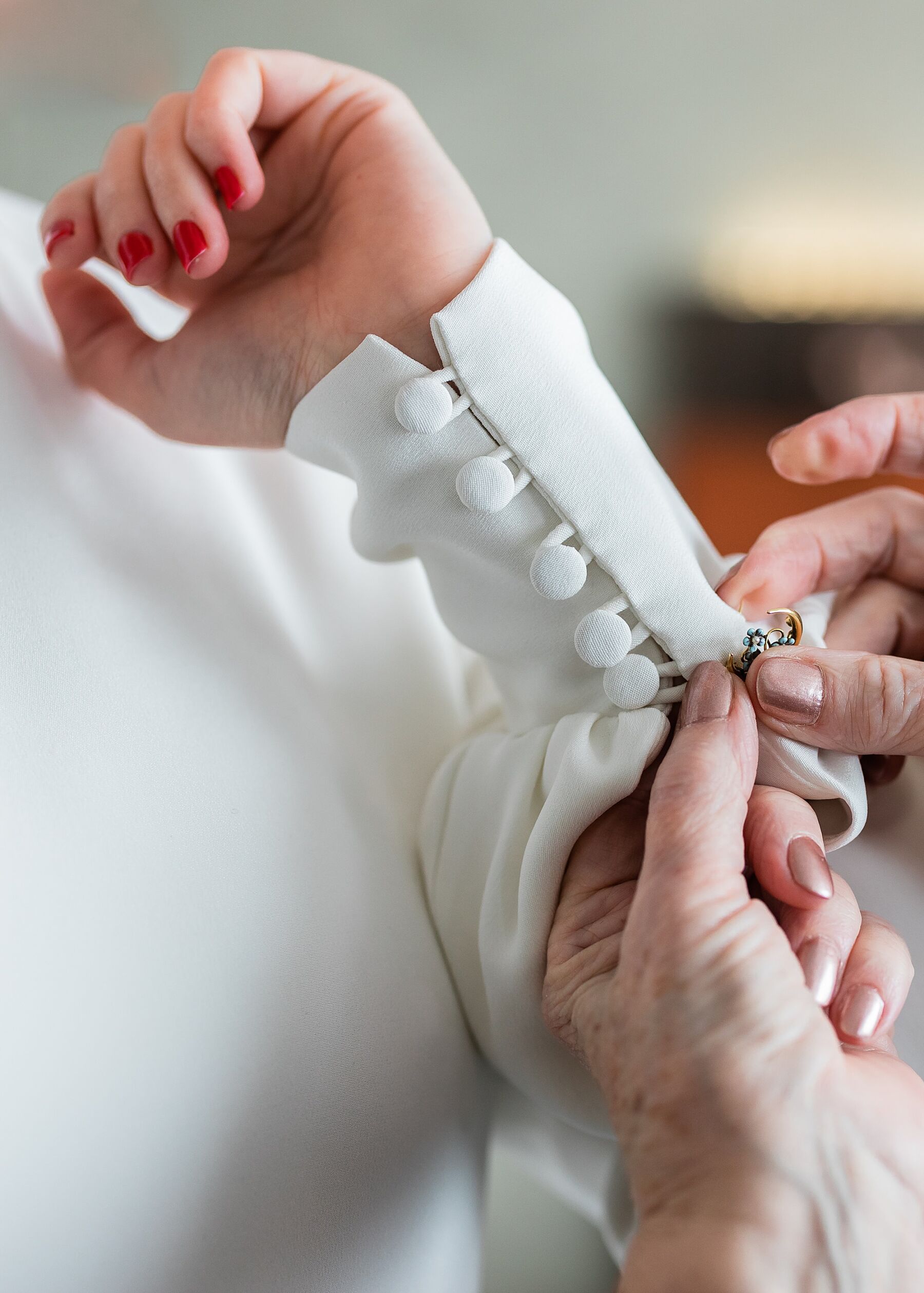 "We were adamant that we wanted to get married in South East London – it is where we live and we adore it here. Consequently, it would not have felt right to have had our day anywhere else. Asylum Chapel is just gorgeous and was always our first choice for the ceremony."
We did not require a religious ceremony and loved the charm and atmosphere that the Asylum Chapel exuded. A truly wonderful venue in the heart of Peckham!"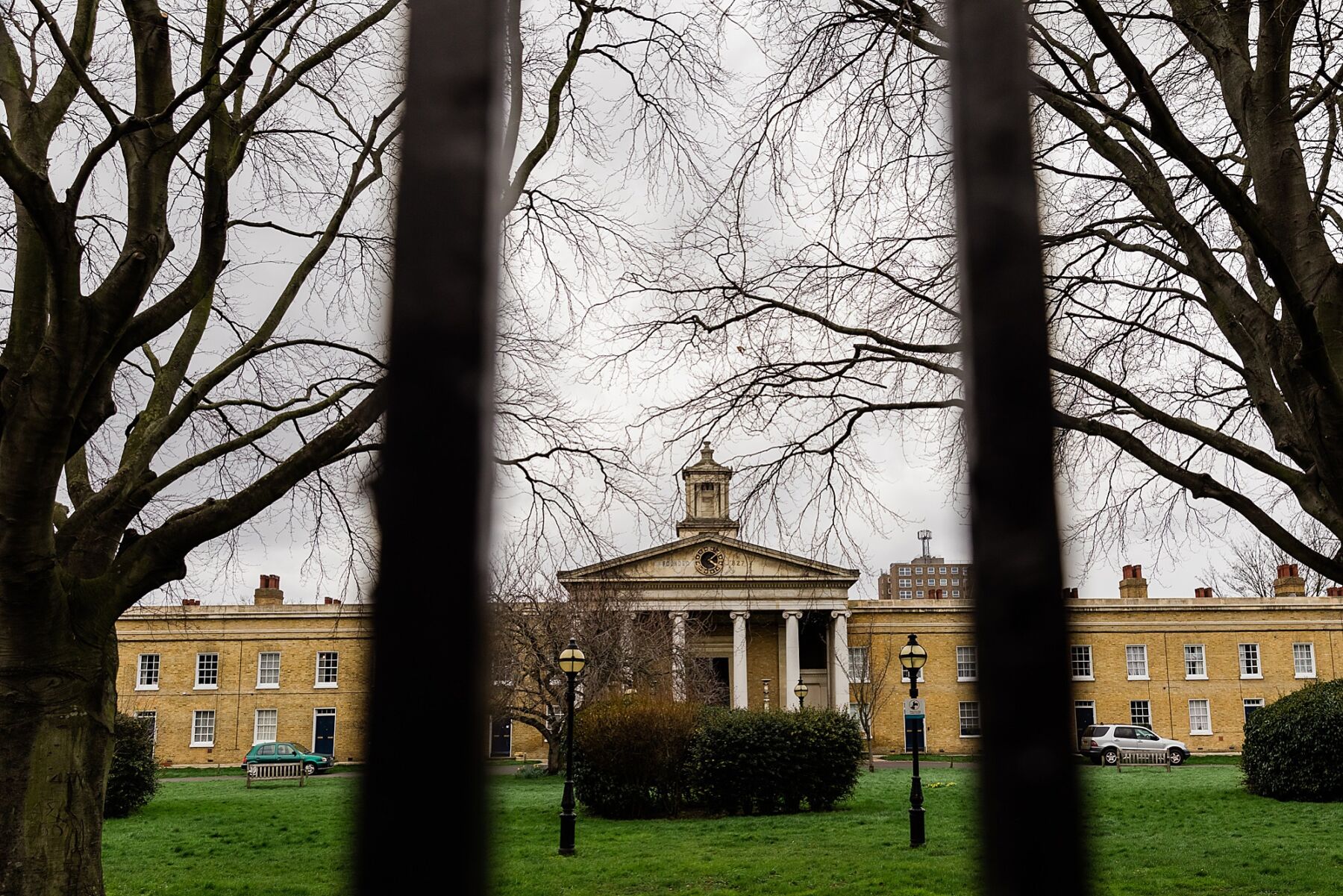 "Finding a party venue that we liked and could afford was far more problematic – we had visited a LOT. Then fate intervened and a friend from work recommended the Stanley Halls in South Norwood."
"Absent from South London wedding searches it is an absolute hidden gem – a beautiful community led Edwardian building."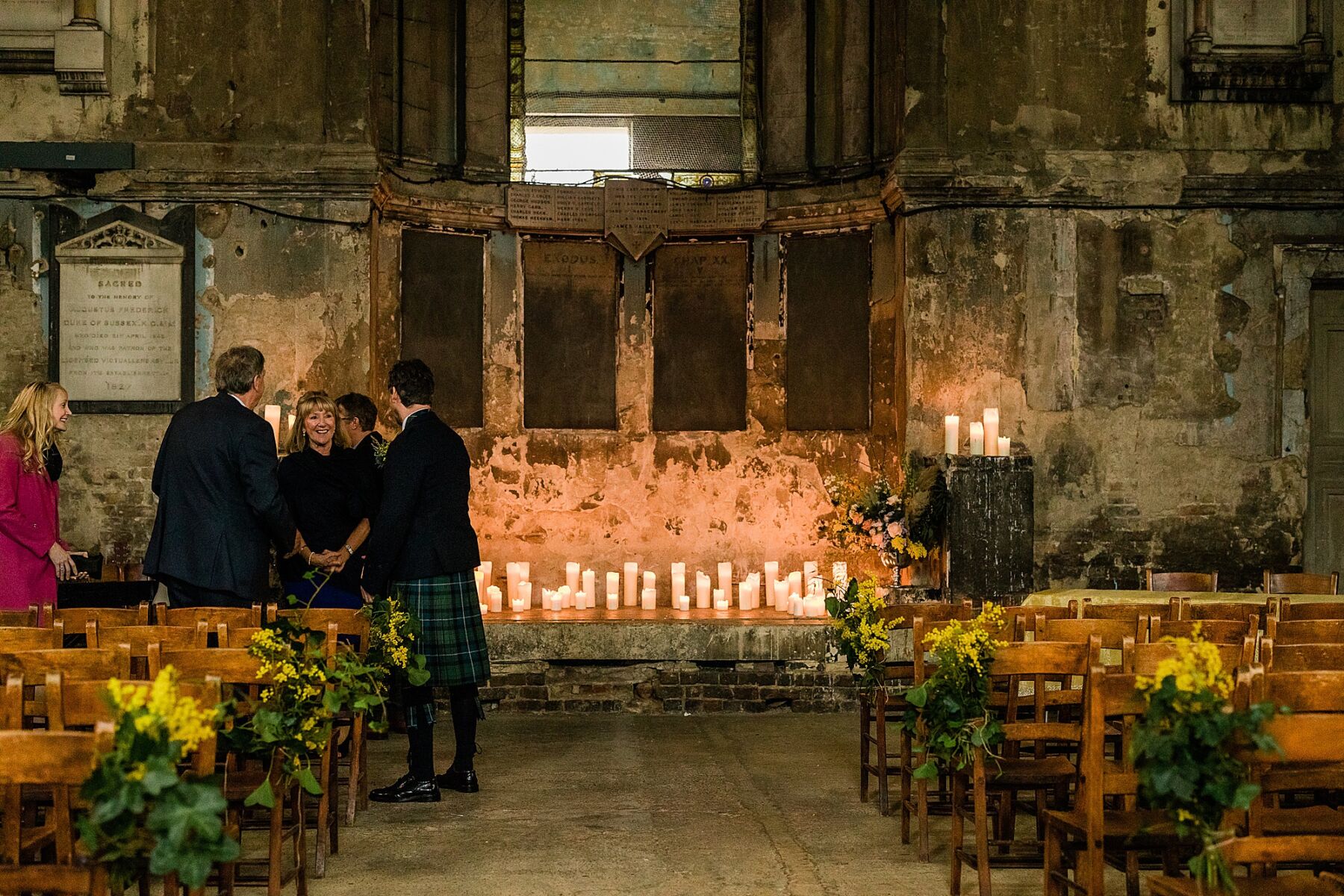 "We were blown away when we got there. The space was just incredible with a beautiful stage, balcony and an abundance of character."
"The staff were incredible and exceptionally friendly. We knew immediately."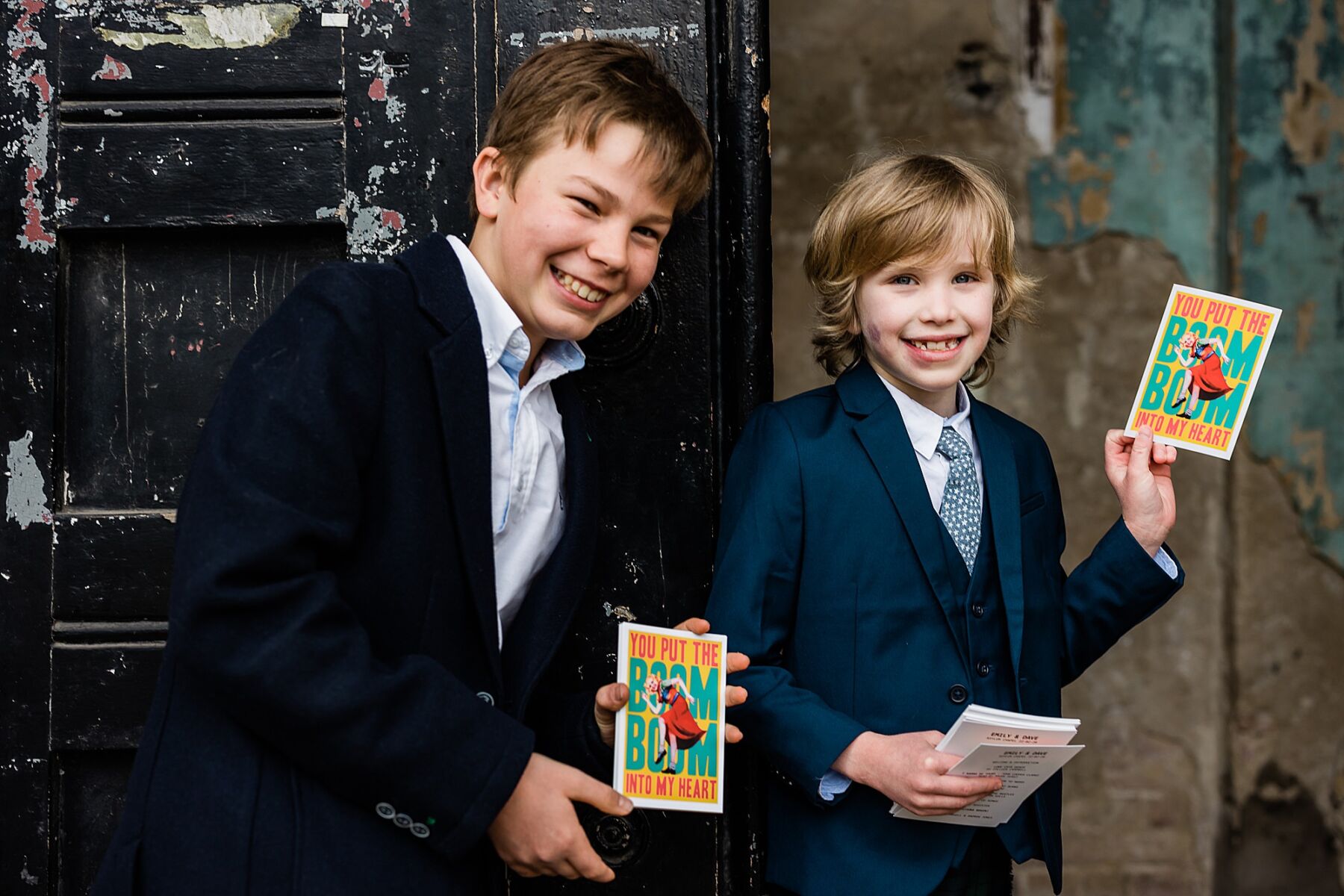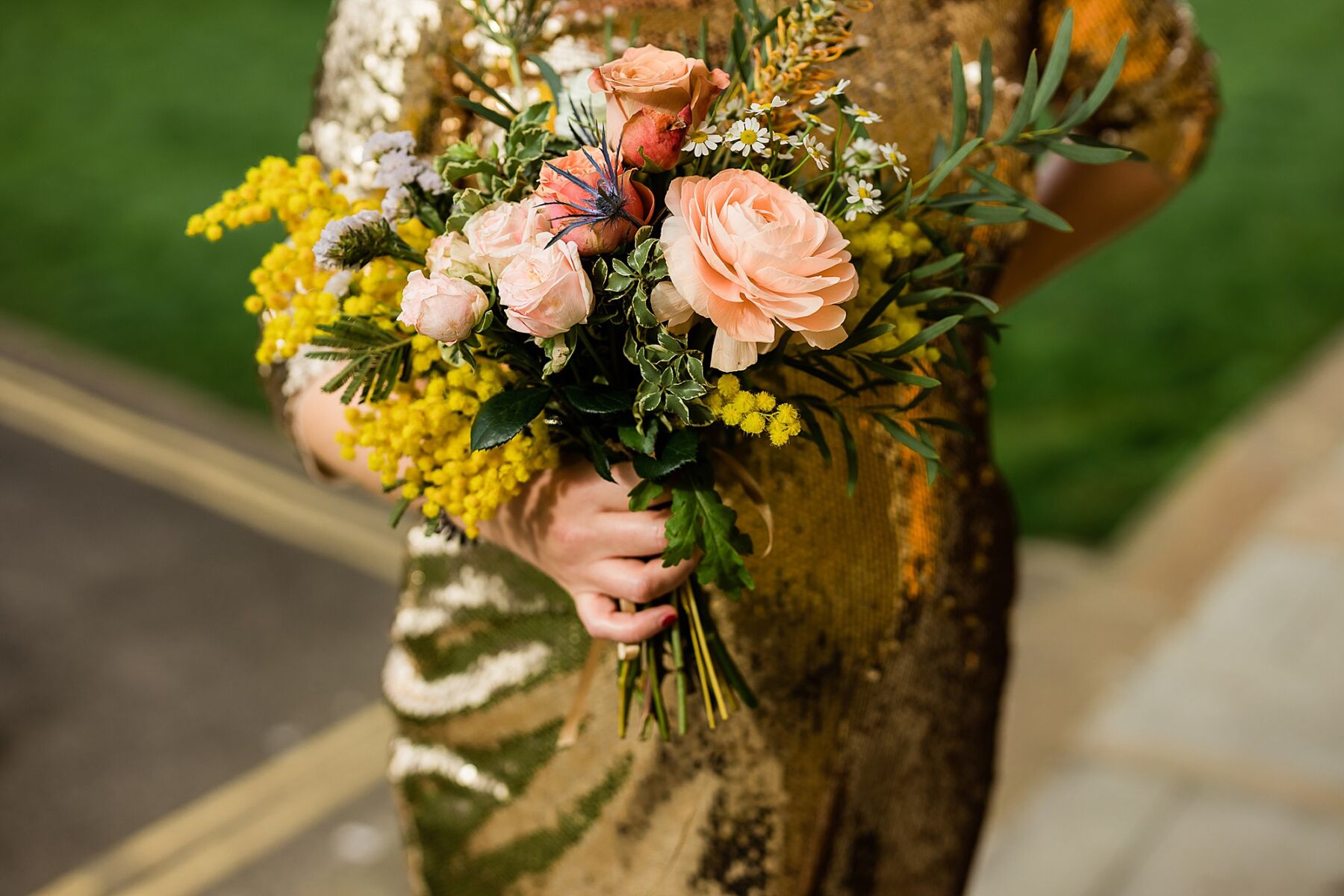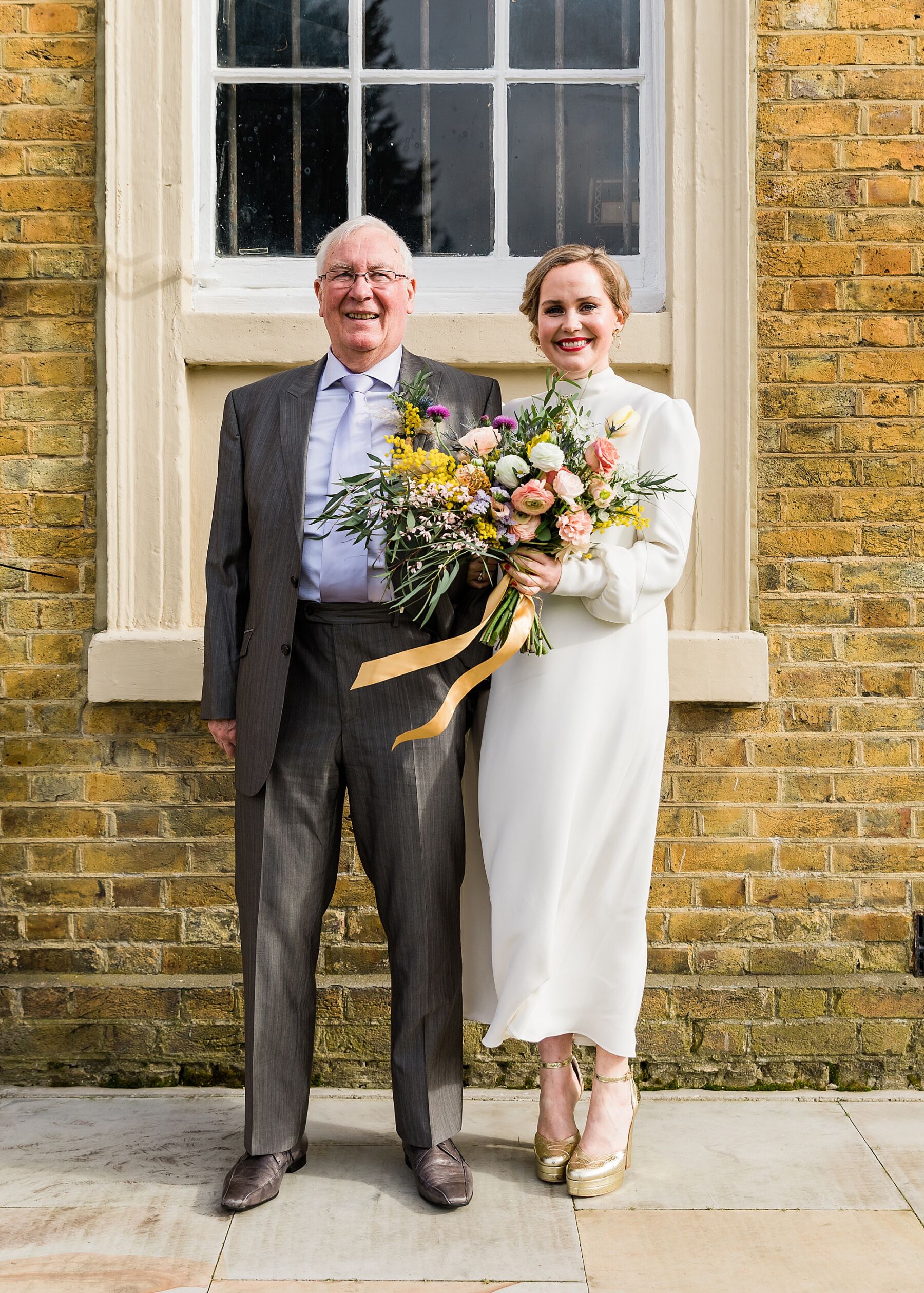 Asylum Chapel is such an atmospheric venue, and its historic interior needed little other than strings of fairy lights and groups of candles to bring it to life.
The bride walked in with her father, John, to a version of '16 Reasons' by Connie Stevens, performed by two of Emily's best pals who she used to be in a band with.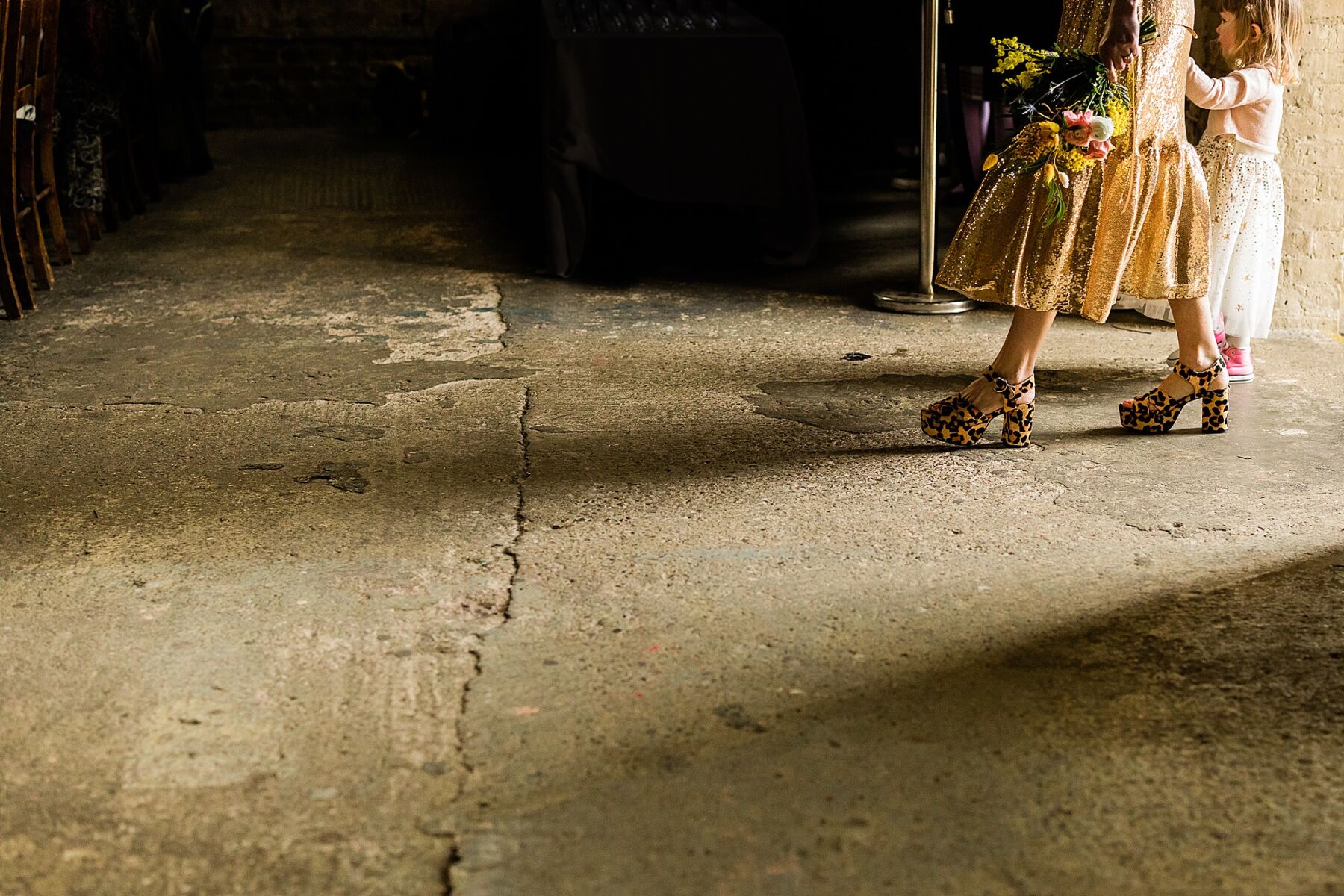 Tying in with the adults were the flowergirls, in white and gold sequin tulle dresses from H&M with and pretty pink Converse.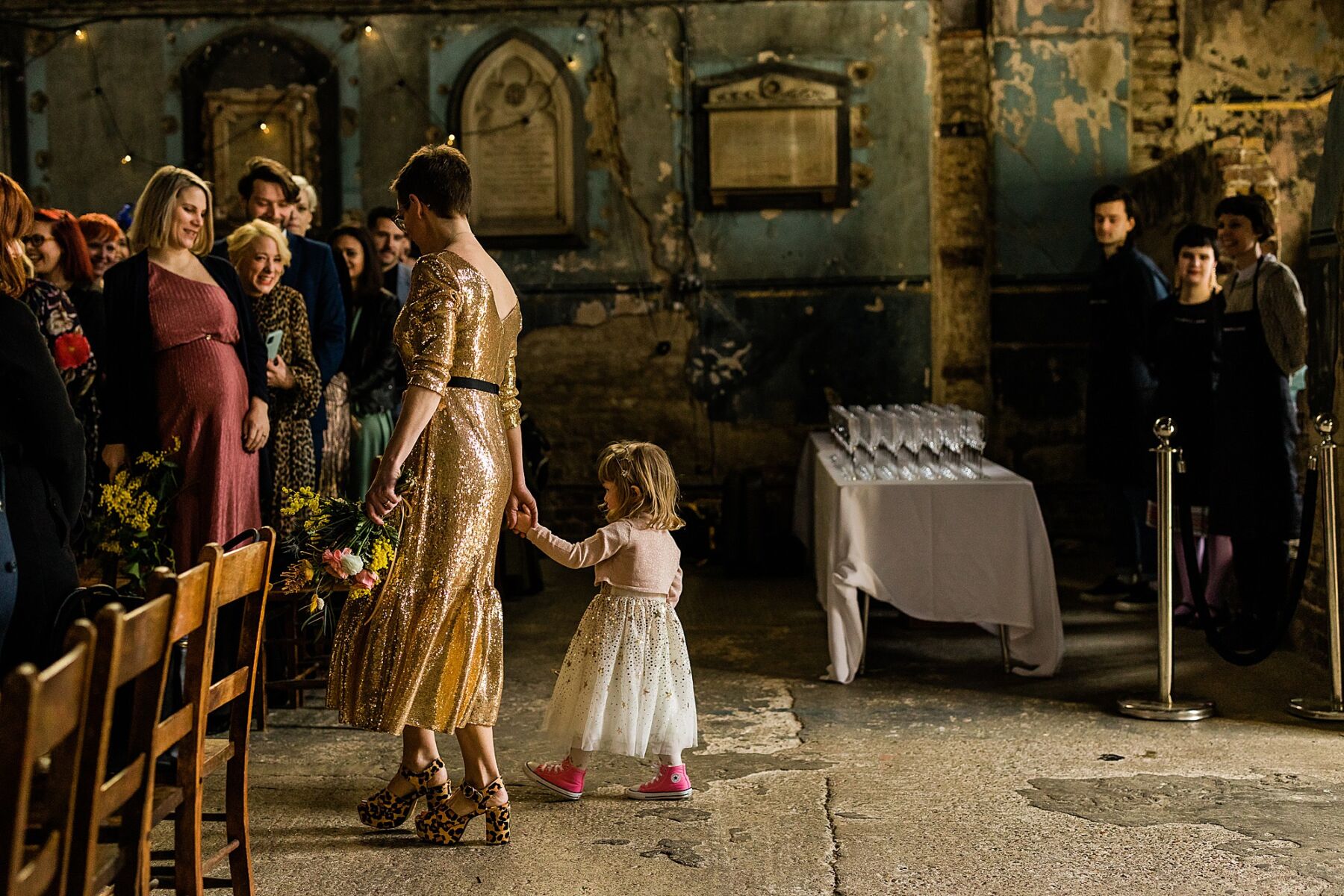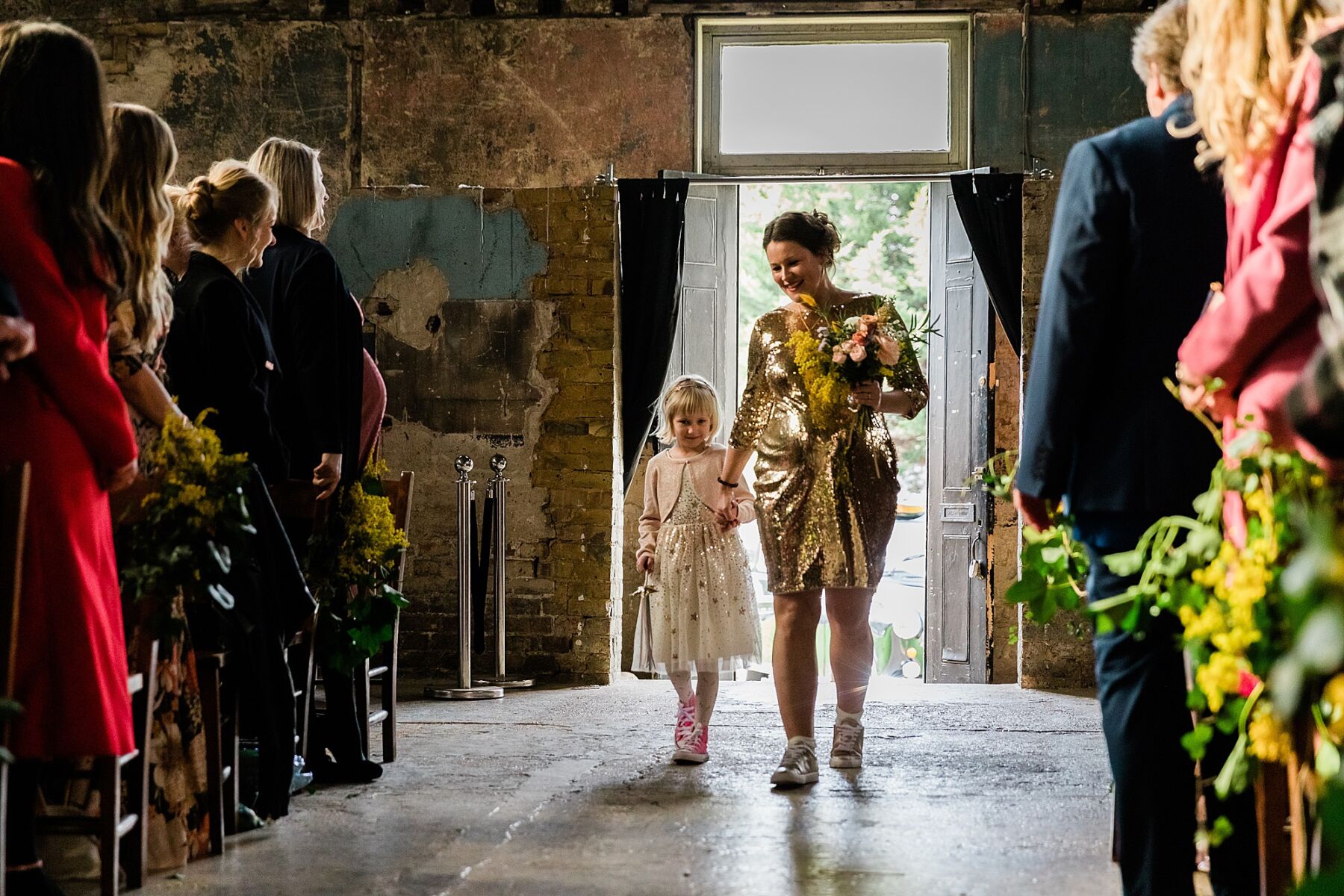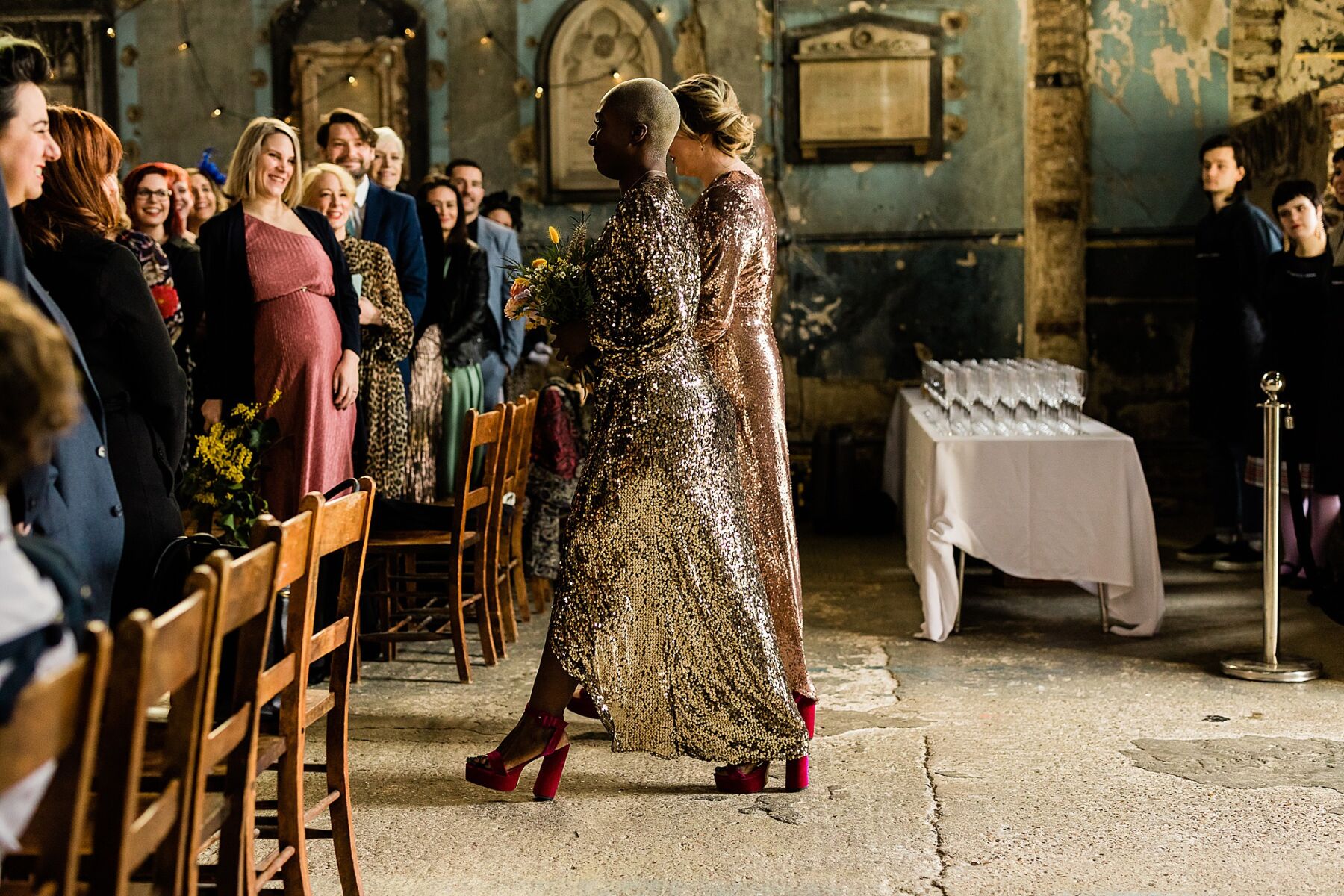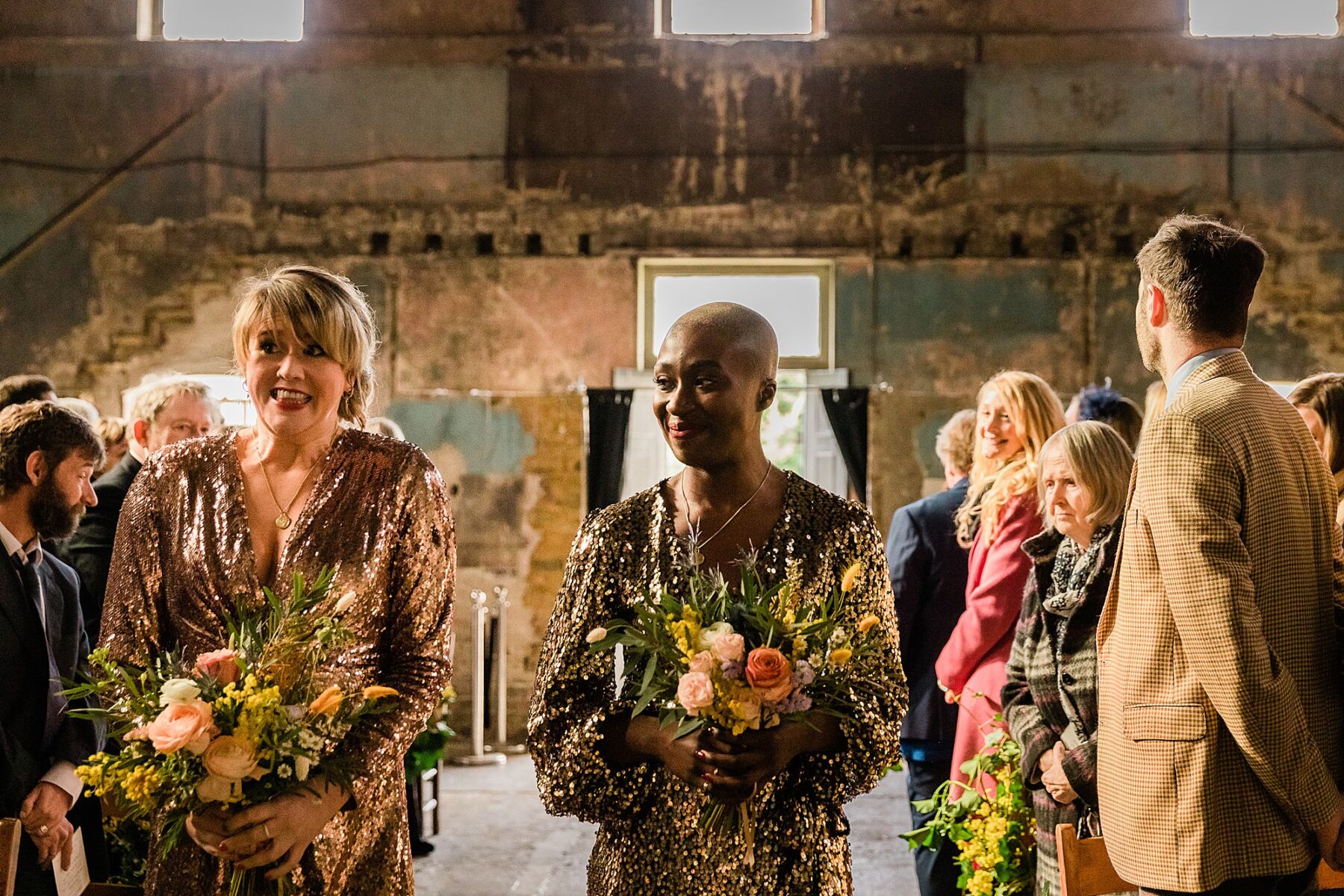 Dave honoured his Scottish roots by choosing to wear a traditional Scottish kilt and jacket, with a deep green tie, from Kilts 4 All.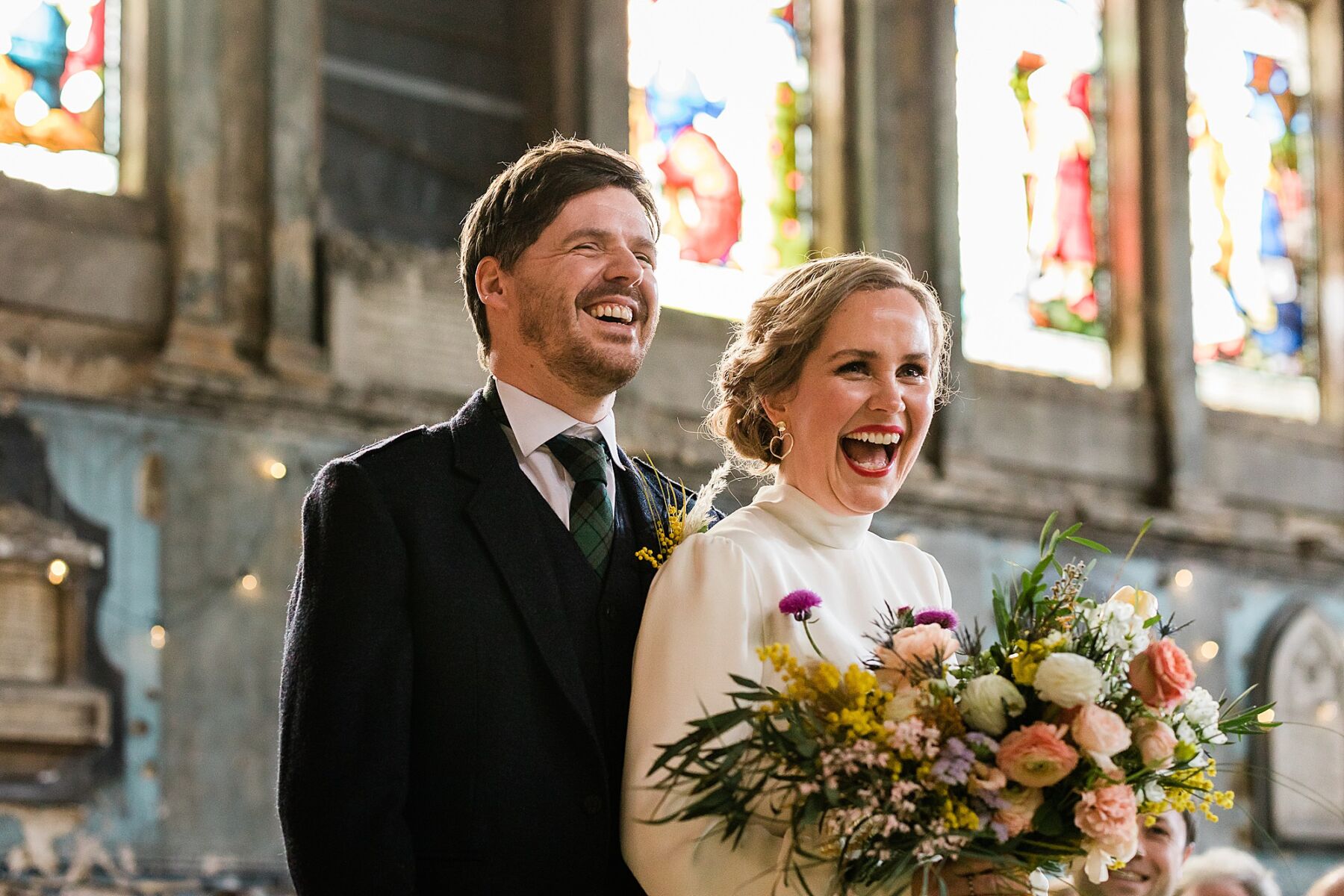 The wedding ceremony was conducted by Dawn at Southwark Council and the couple chose to use Dawn's selection of vows.
"The ones that Dawn created were gorgeous."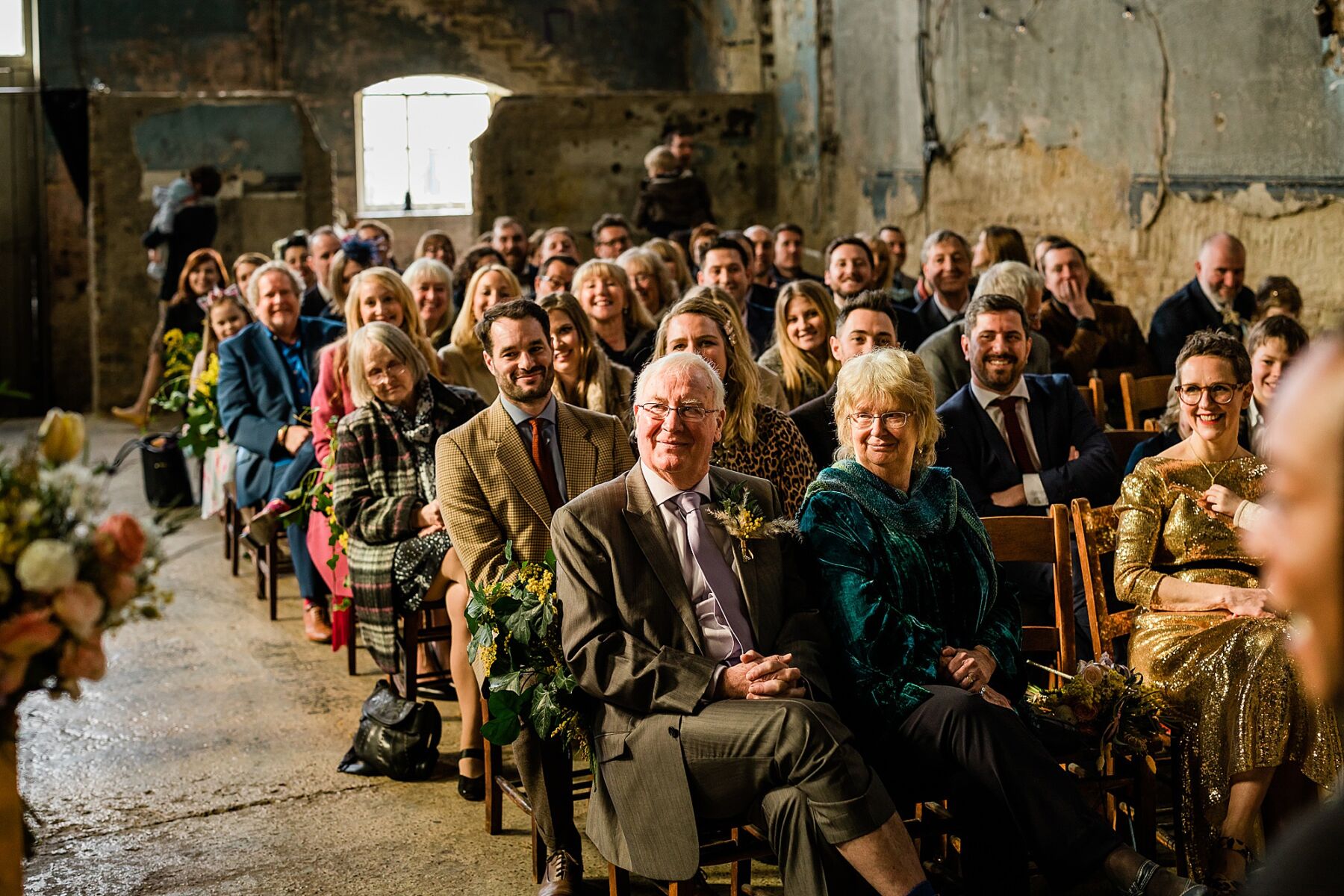 During the ceremony there were three readings, all chosen for sentimental reasons.
"'Love Cats Disco' was a poem written especially for us by one of our best friends, Coll. It was perfect, touching and hilarious – a wonderful addition to the ceremony."
"'Of A' the Airts' by Robert Burns was because we wanted Dave's dad to read a traditional Scottish poem (they are from Glasgow and my mum is from Aberdeen). This one was a bit different and suited the vibe perfectly."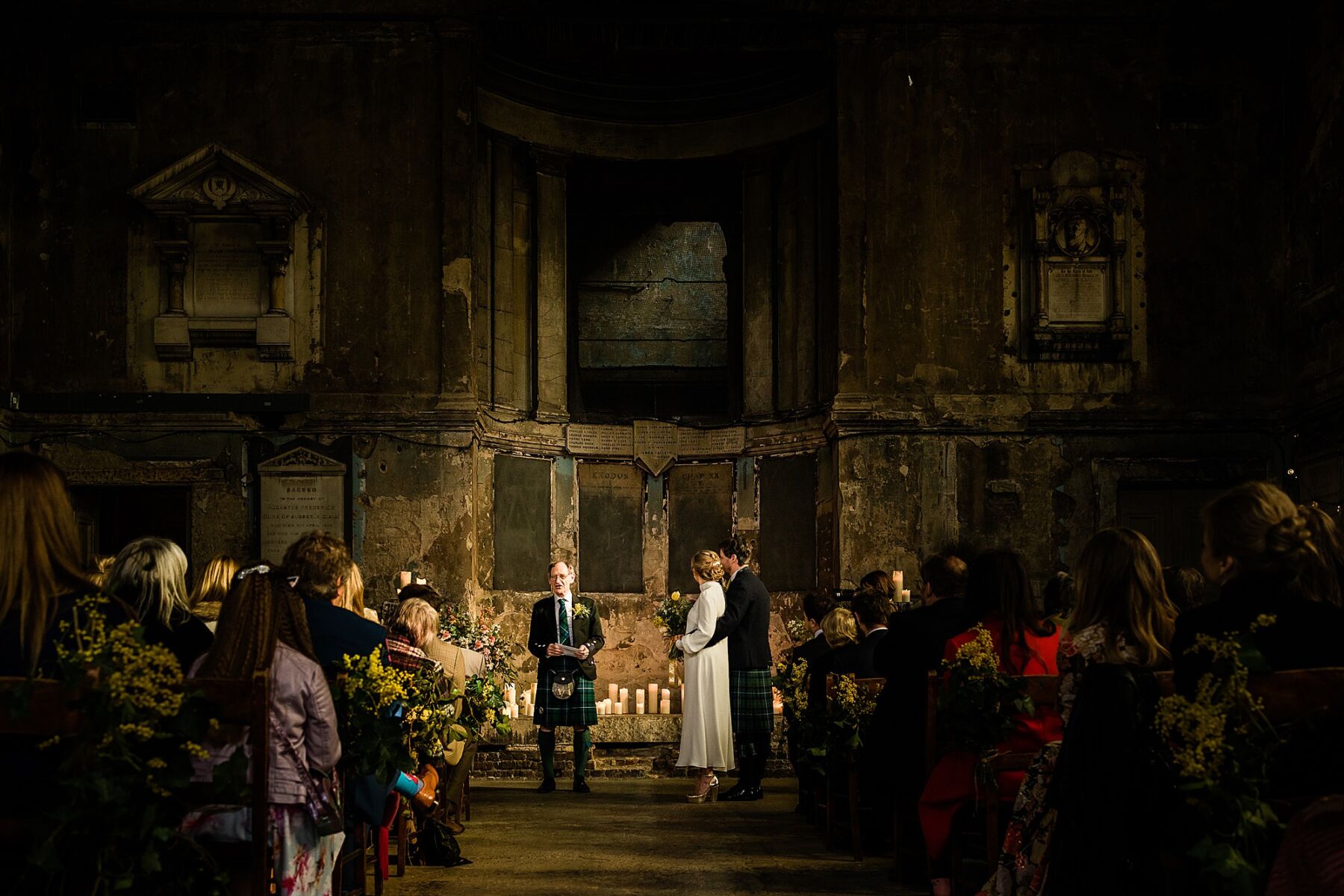 The couple's friends also provided music throughout the ceremony, including a version of The Cure's 'The Love Cats' during the signing of the register and 'Sucker' by The Jonas Brothers as exit music.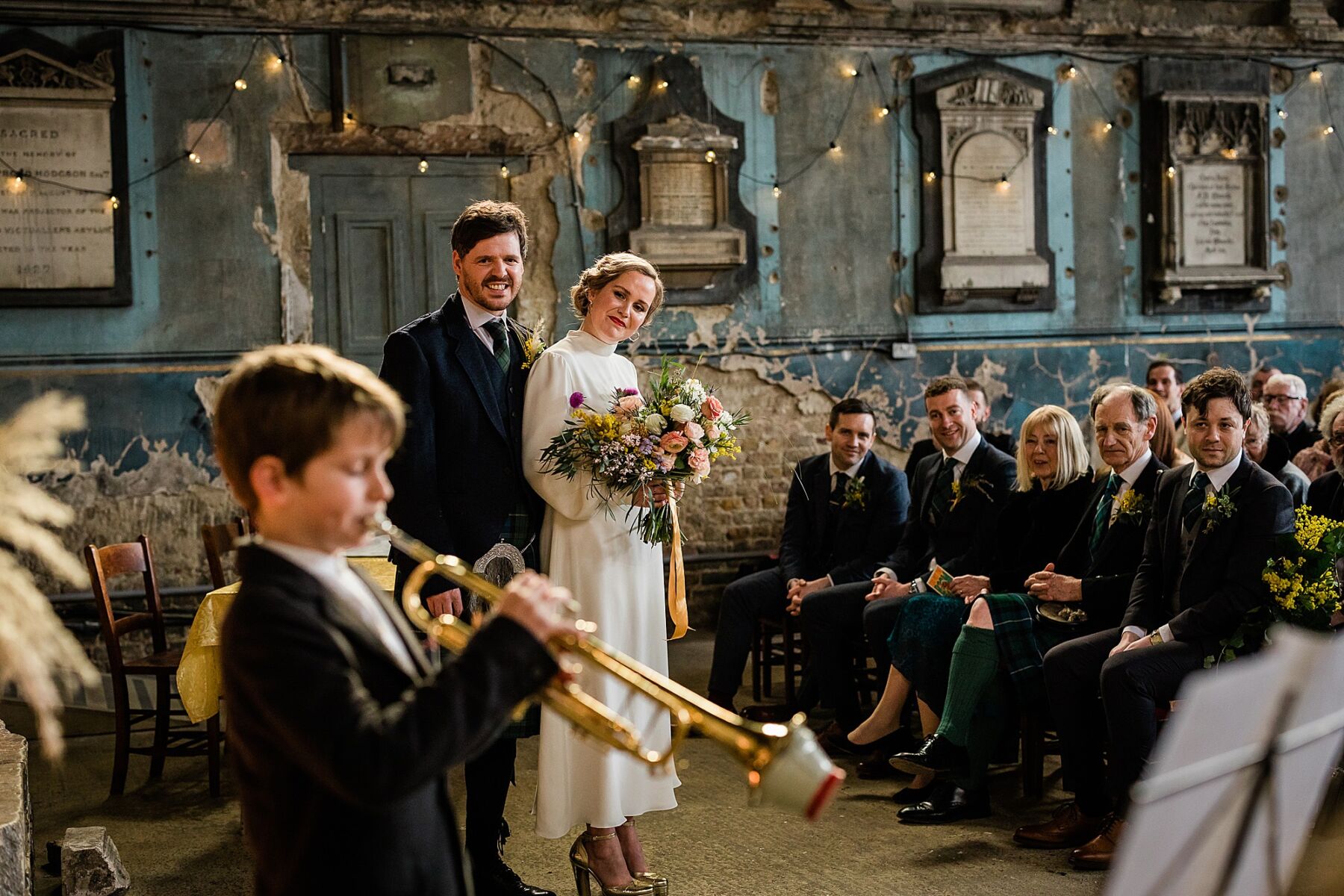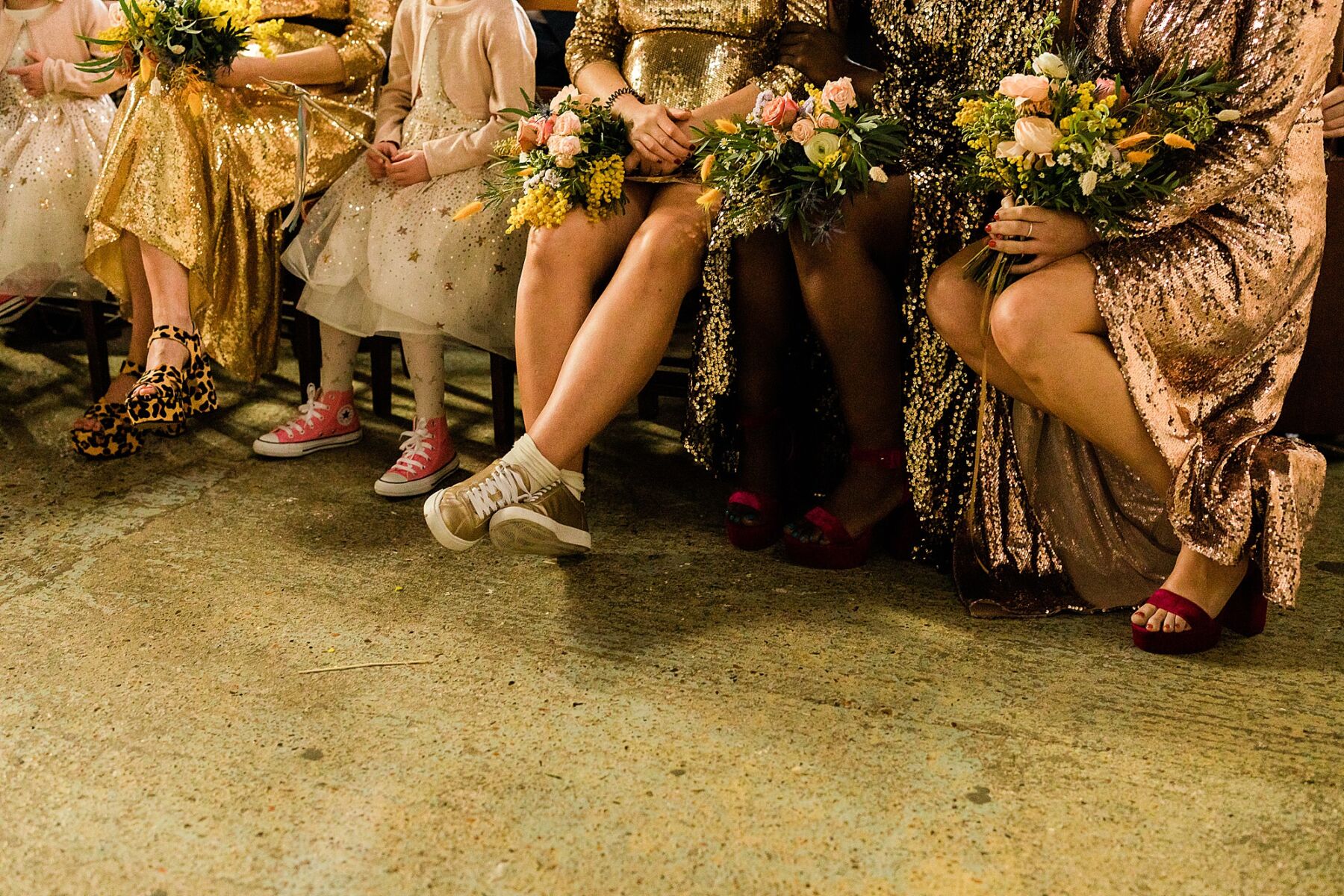 "Diamond Rocks in Hatton Garden made our rings. The service was incredible and I would highly recommend them."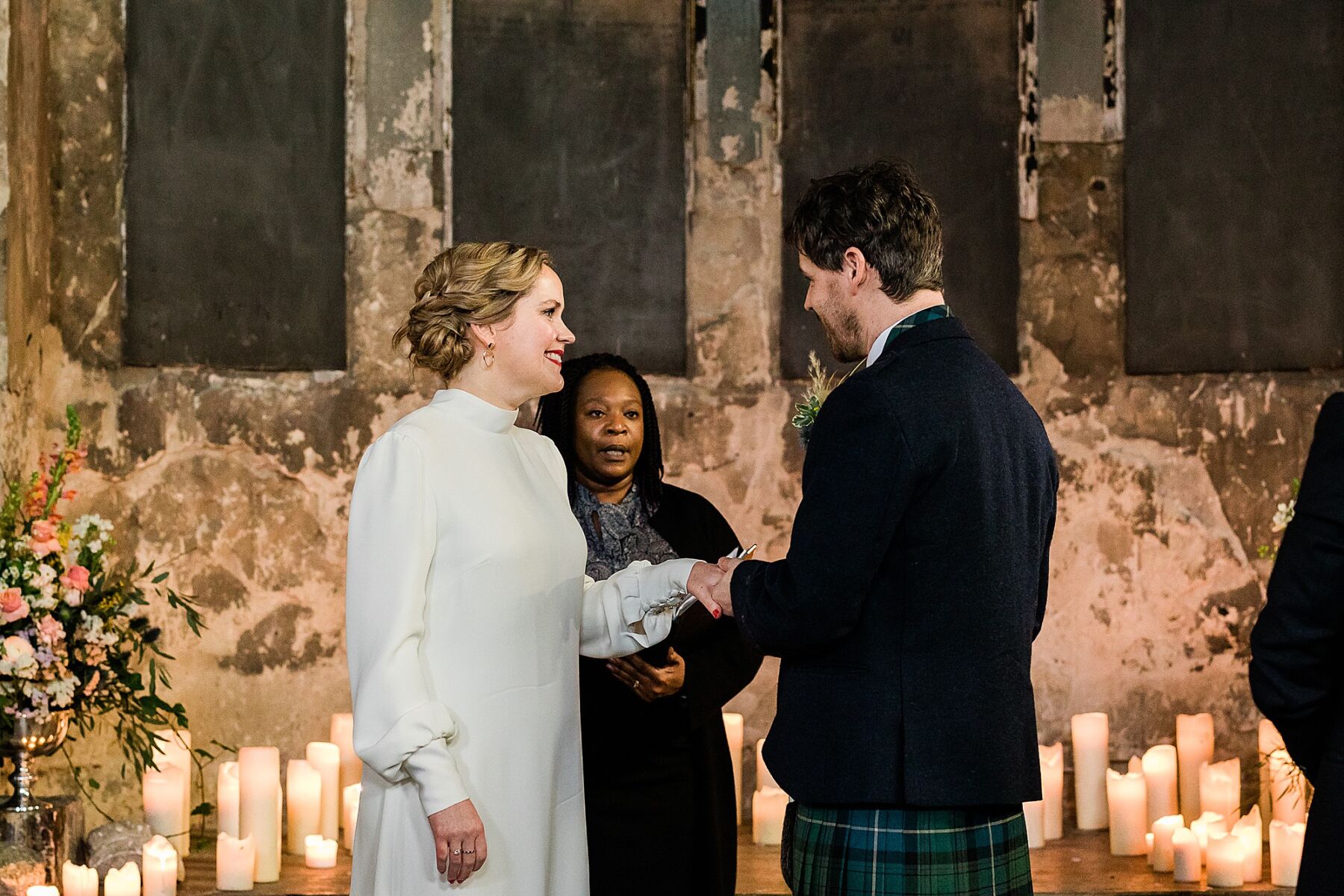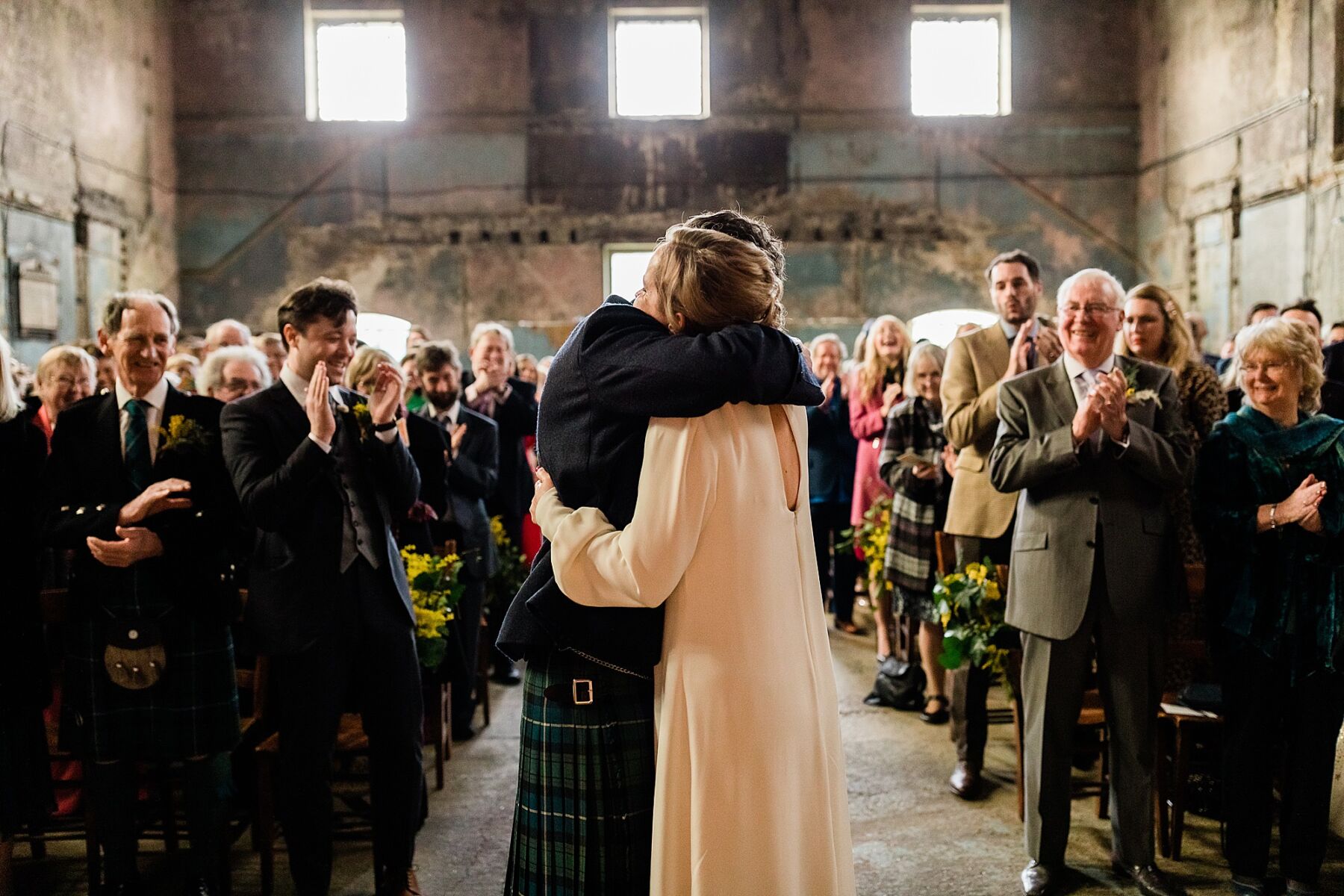 After being pronounced husband and wife, the couple and their guests made the most of Asylum Chapel's beautiful spaces for photographs before travelling to Stanley Halls for a vibrant, fun party reception.
Decorated with a gold slash curtain, music prints, splashes of gold and lots and lots of giant multi-coloured pom-poms, the hall looks like such a great place to dance the night away, especially with the stage making a natural space for live entertainment.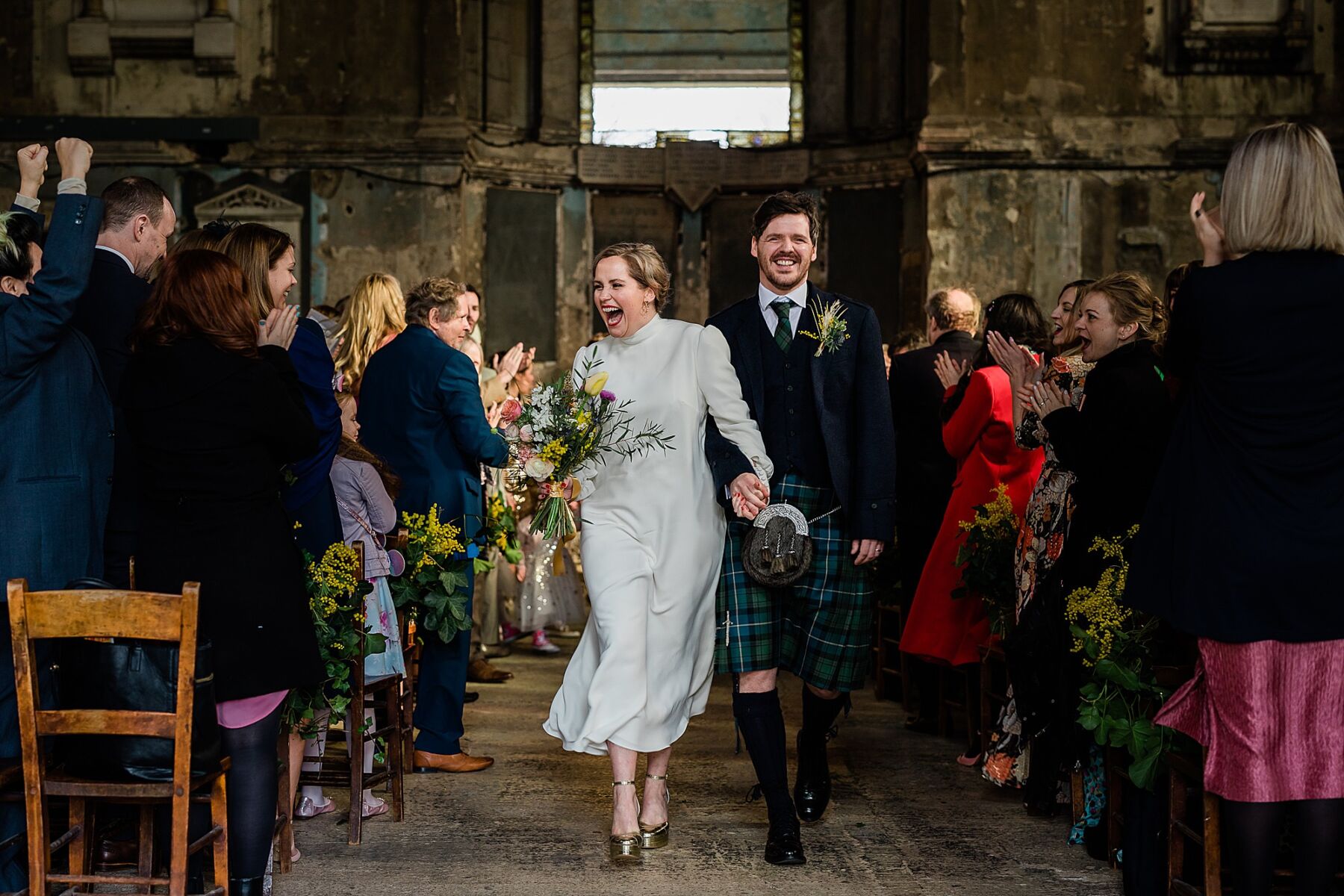 "We were absolutely delighted when we got our wedding photos back from Heather of Eclection Photography. The photographs were simply stunning and fully captured the reality, emotions and joy of the day."
"The variety of shots was magnificent and gave the pictures a truly unique feel. When first meeting Heather she went out of her way to understand who we were and what we were after – even if we didn't fully understand ourselves."
"She had an air of calmness and confidence which projected on us. Explaining how the day should be approached from her point of view (and ours) we were confident in letting Heather do her thing – which she did wonderfully."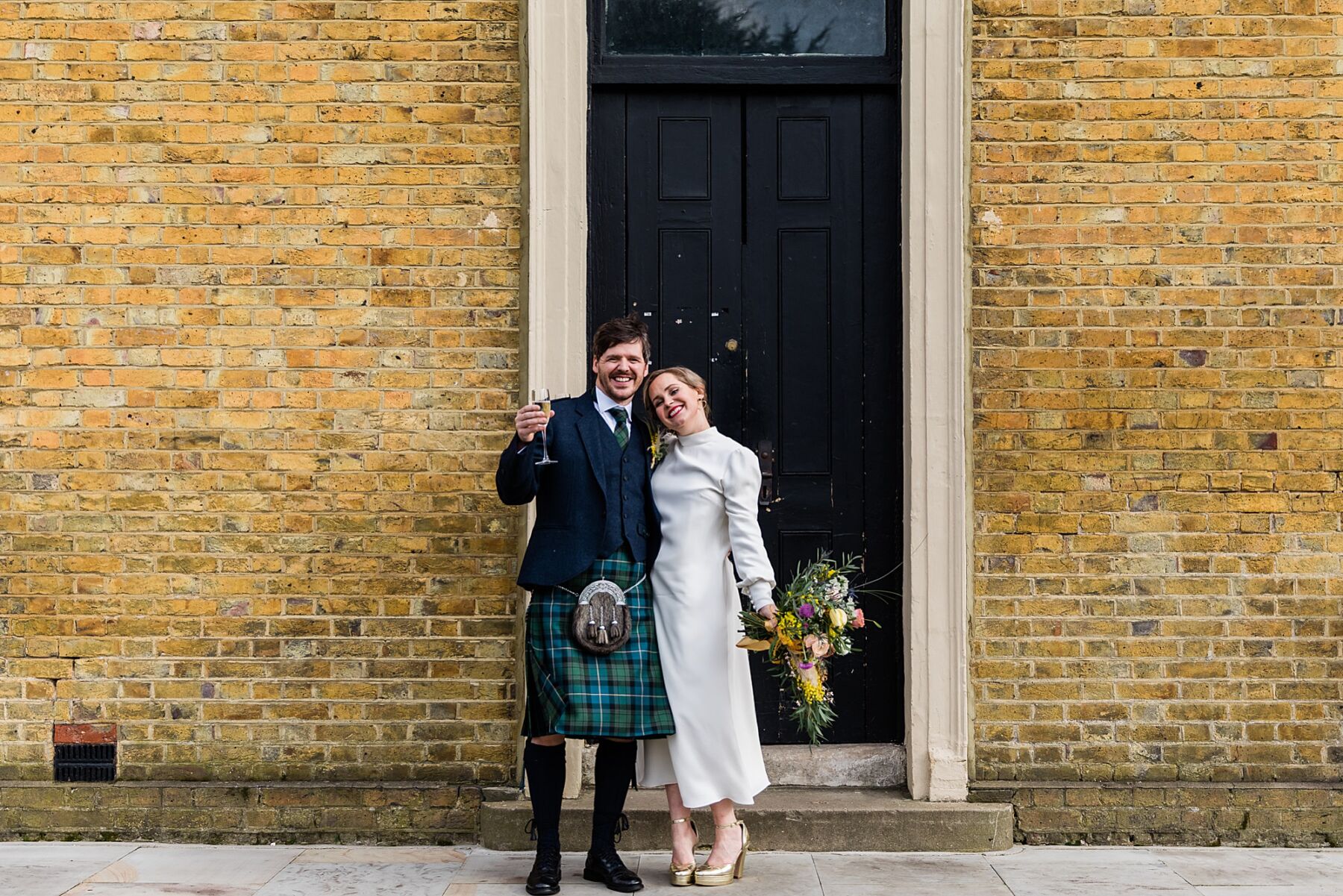 "Throughout the wedding Heather was very hands on yet in no way intrusive. She was a pleasure to have around, be around and worked with a reassuring smile. She also really took the time to get to know and involve our friends and family."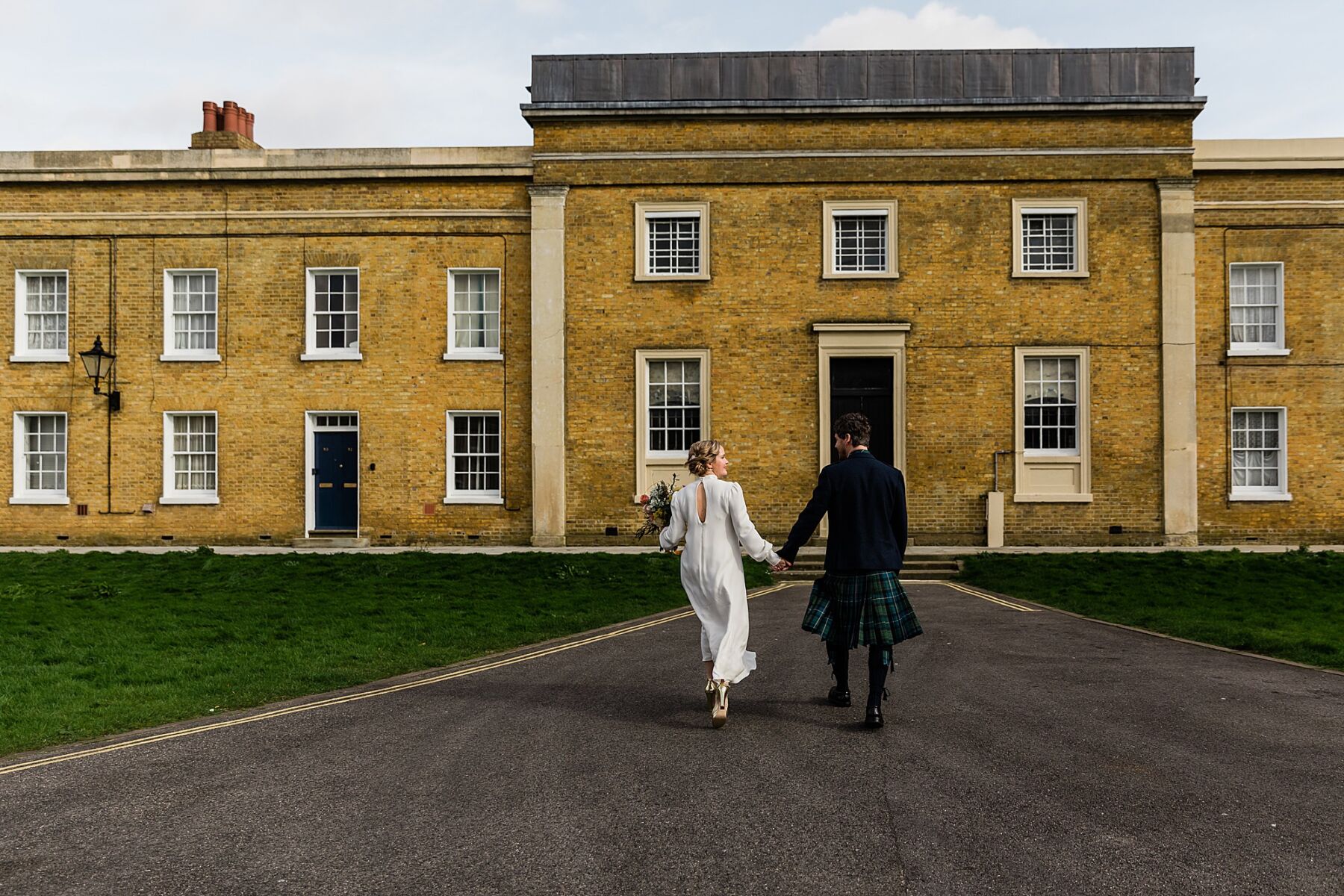 She was firm when we needed her to be and allowed space when we needed it too. She went out of her way for us and genuinely cared about helping to make not only our photographs but our whole wedding the best that it could be."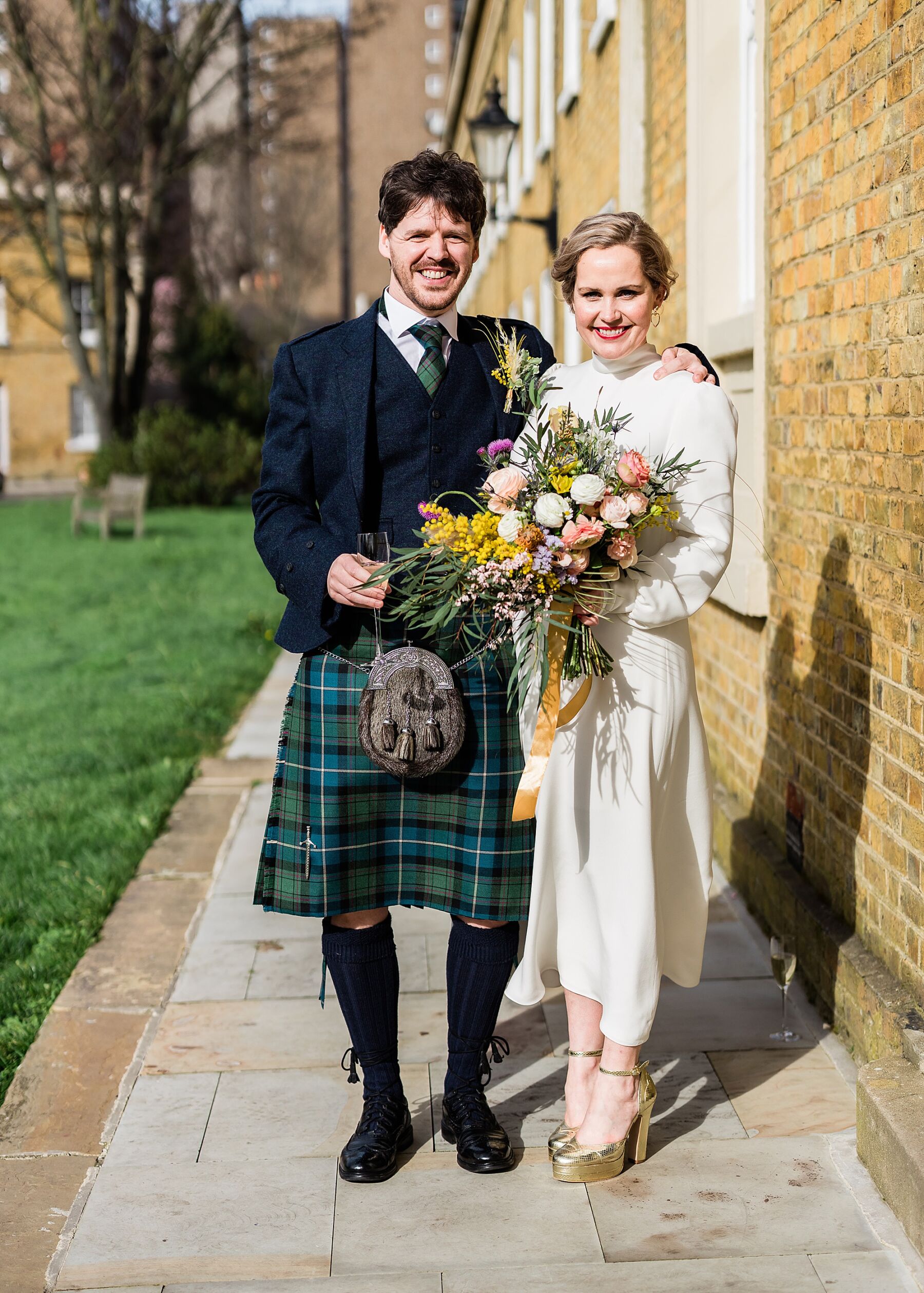 "Keeping in close contact after the wedding we always felt so close to the process. The personal touches were incredible and Heather kept us involved (and valued our input) in the process throughout. The highlights of the day were absolutely and splendidly recaptured by the photos."
"Heather is so intuitive and creative and consequently captured so many beautiful moments that we were unaware of at the time."
"Heather went so far above and beyond the call of duty for us and we cannot thank her enough – if we had to do it all again we would not change a thing! It was an absolute joy to have Heather there on our big day and we genuinely came to think of her as a friend."
Thank you for everything Heather – your photos are simply divine."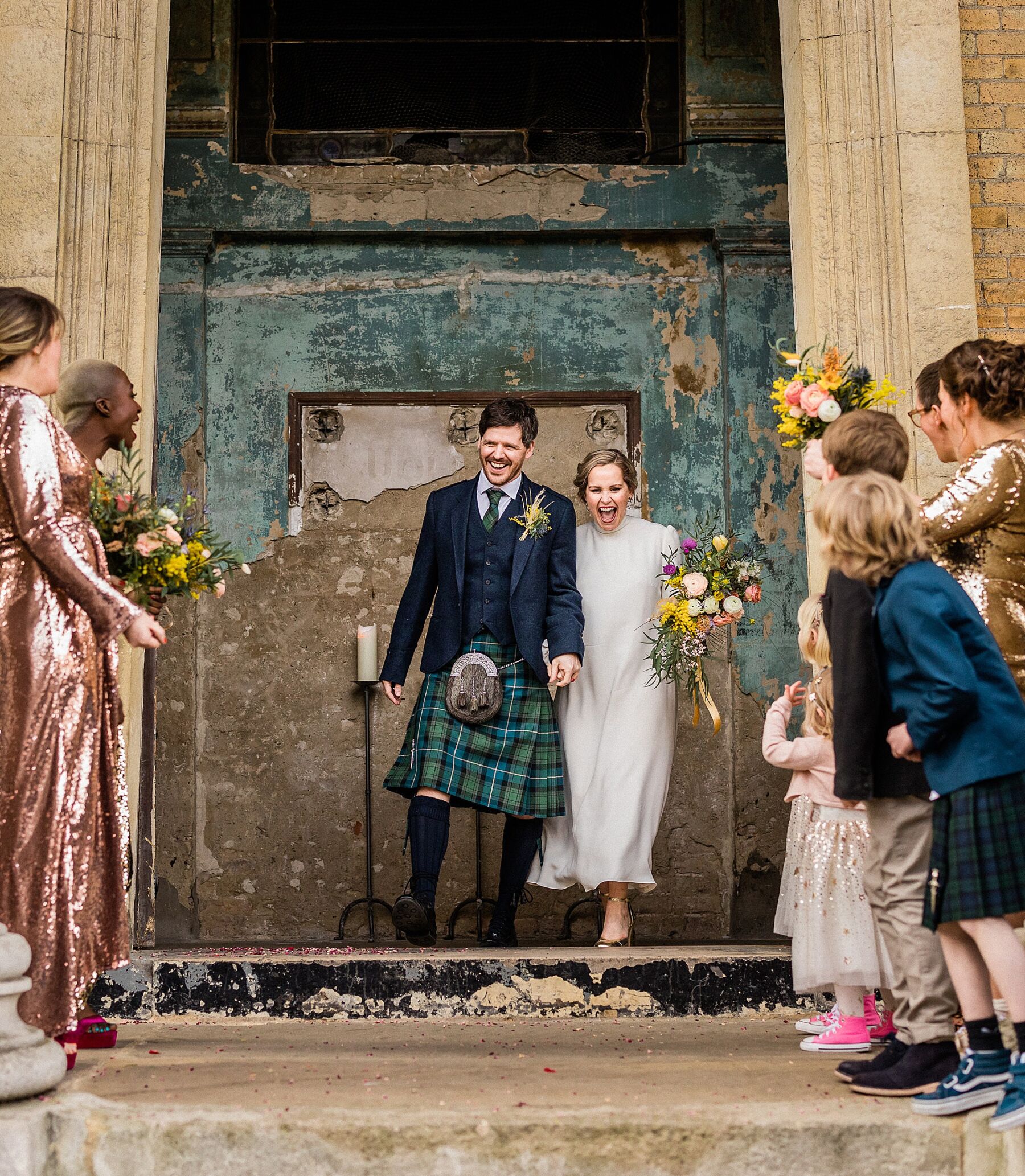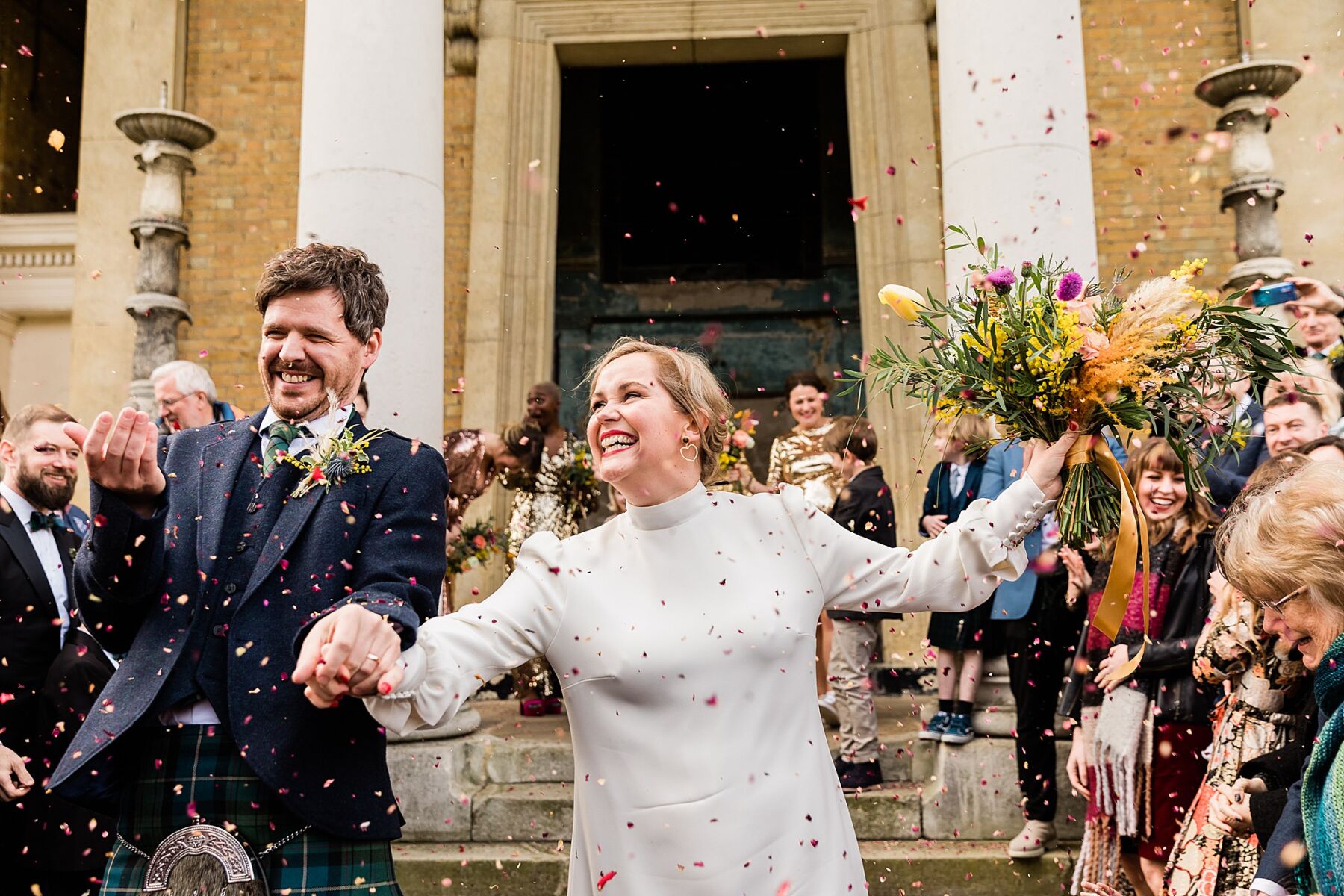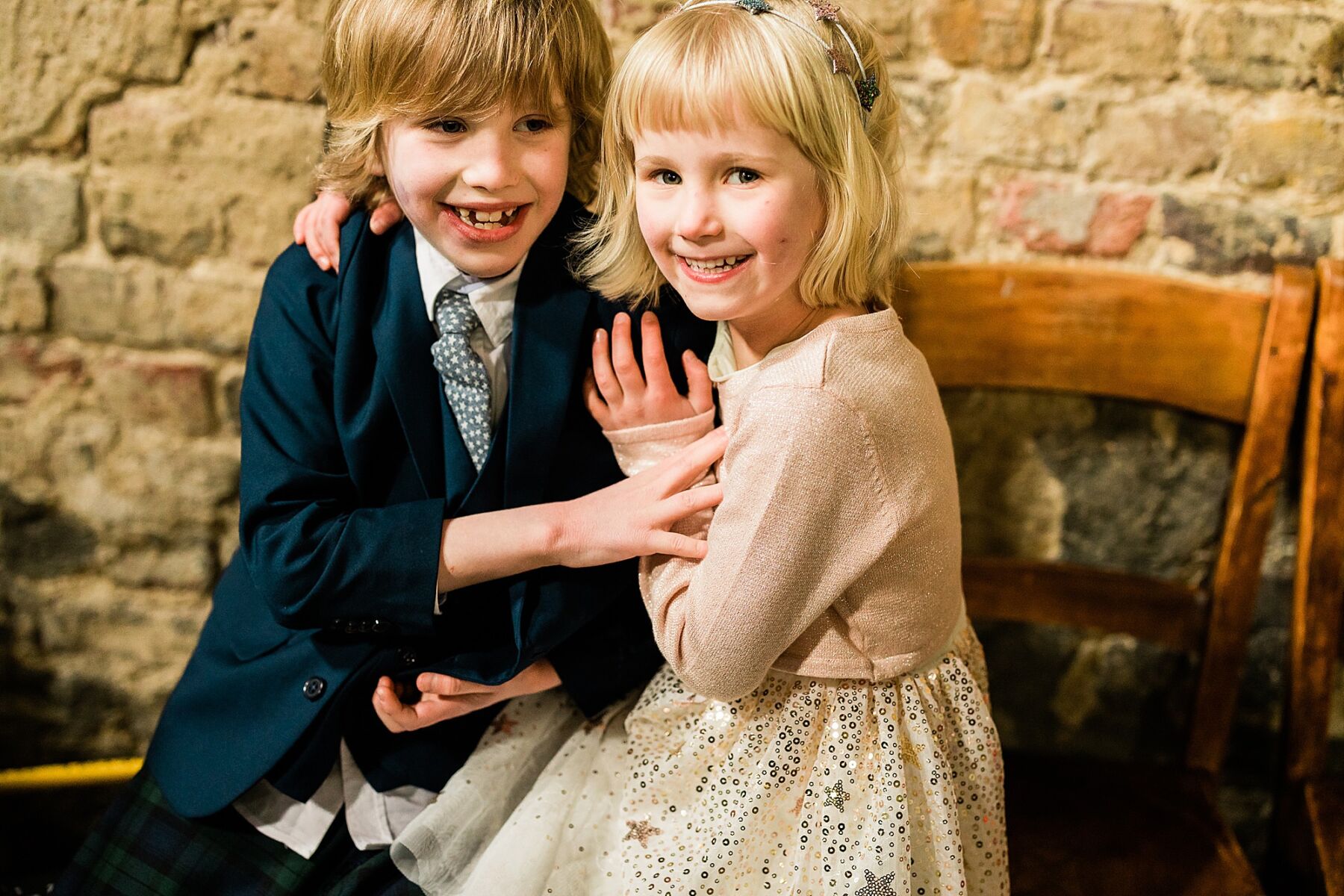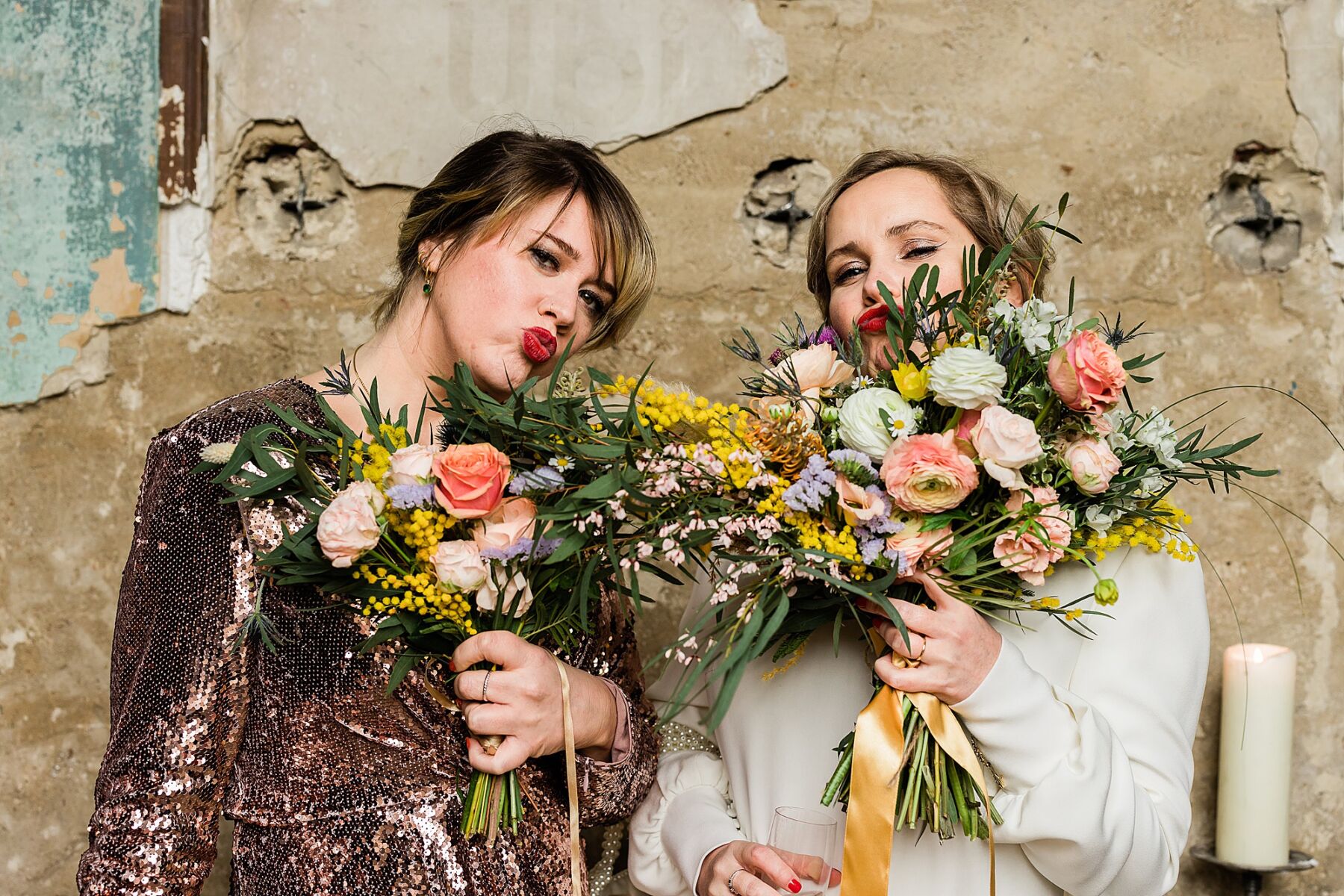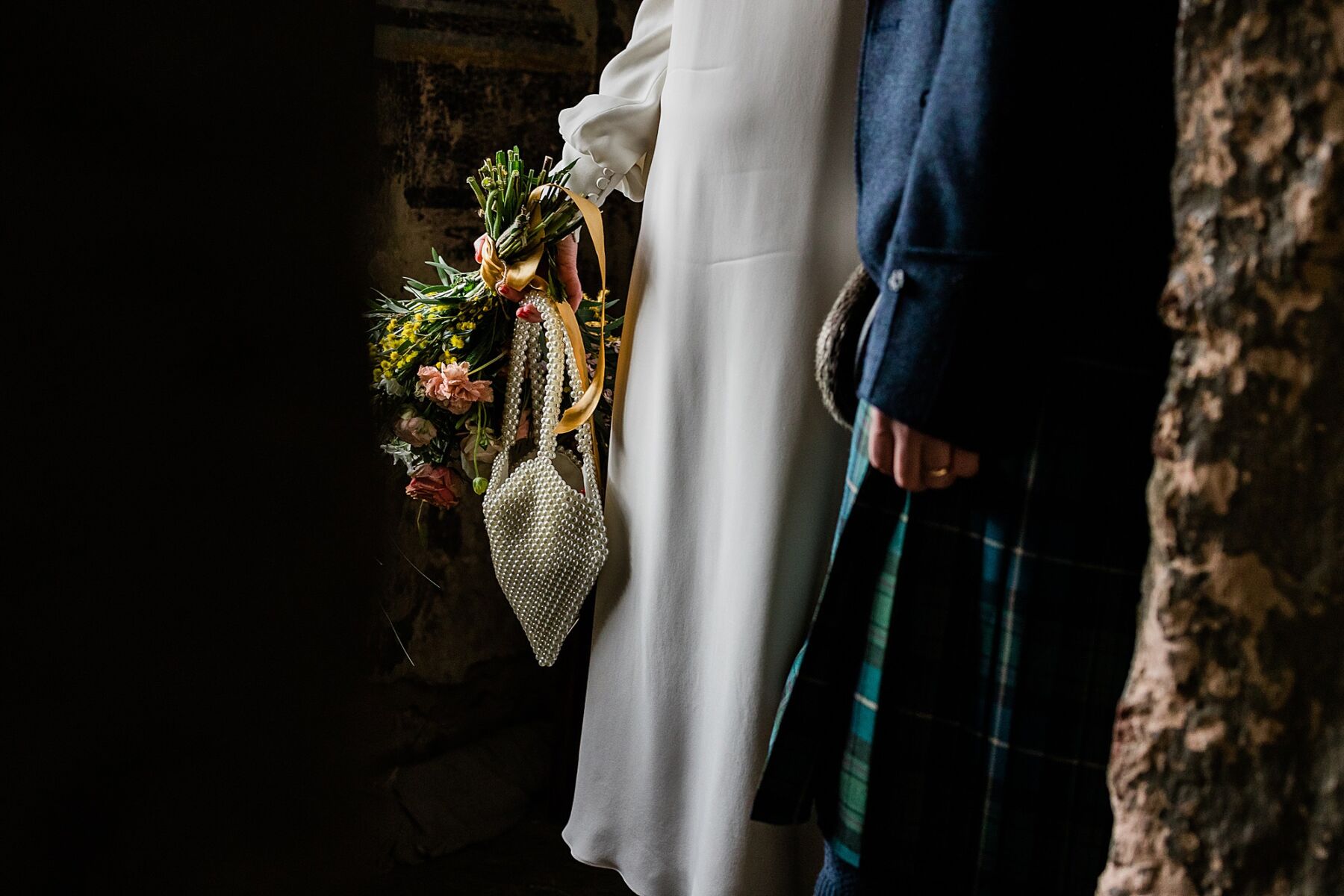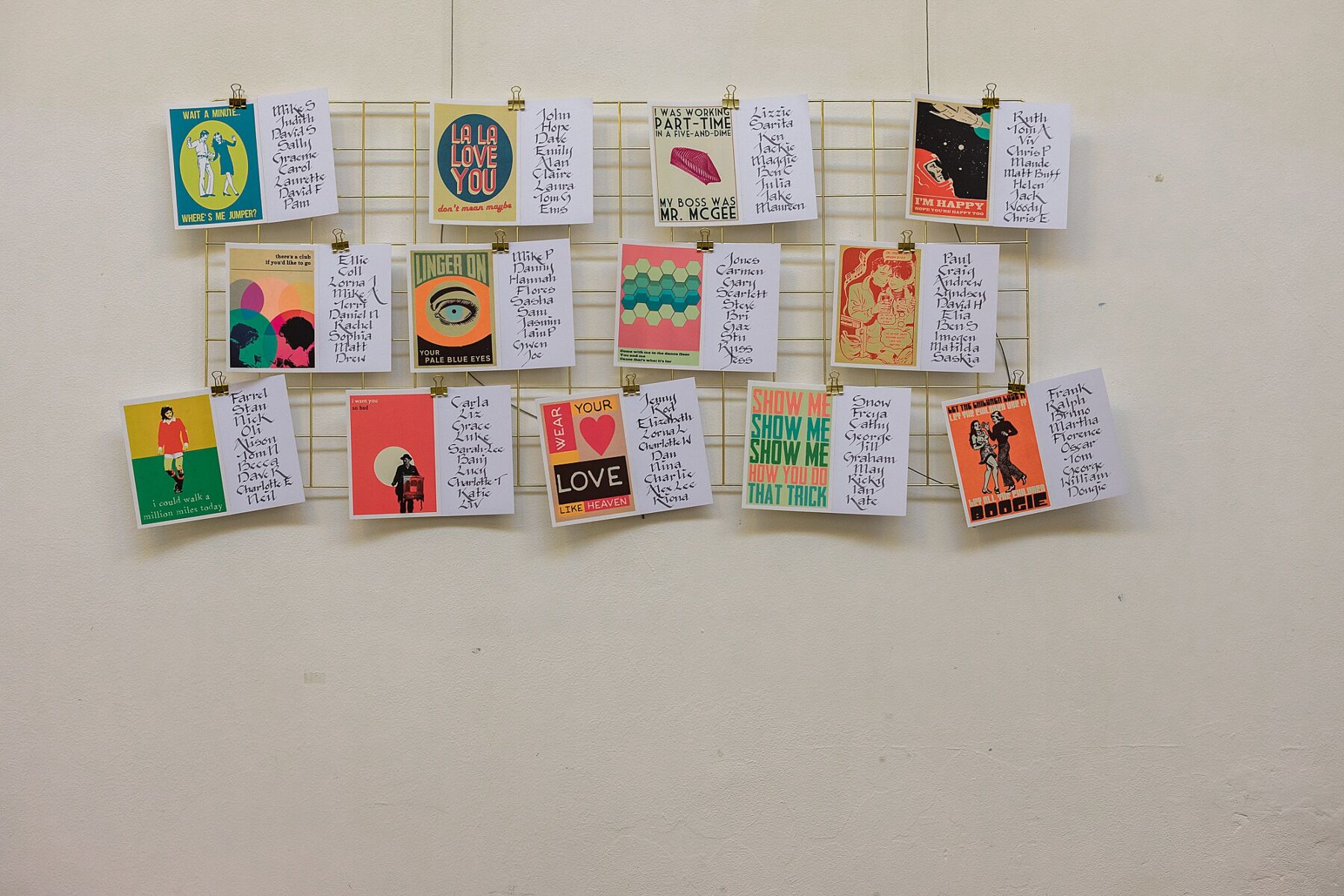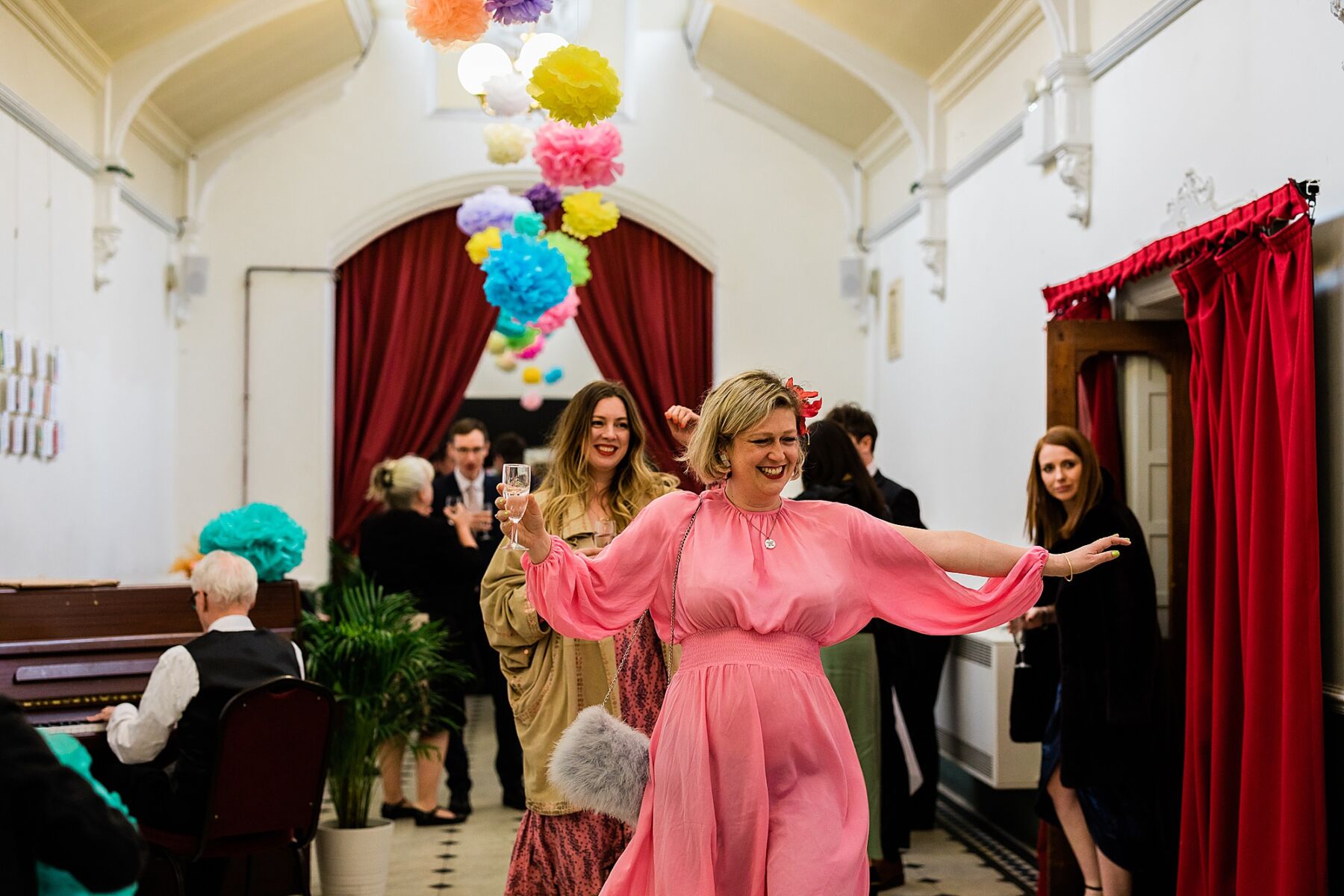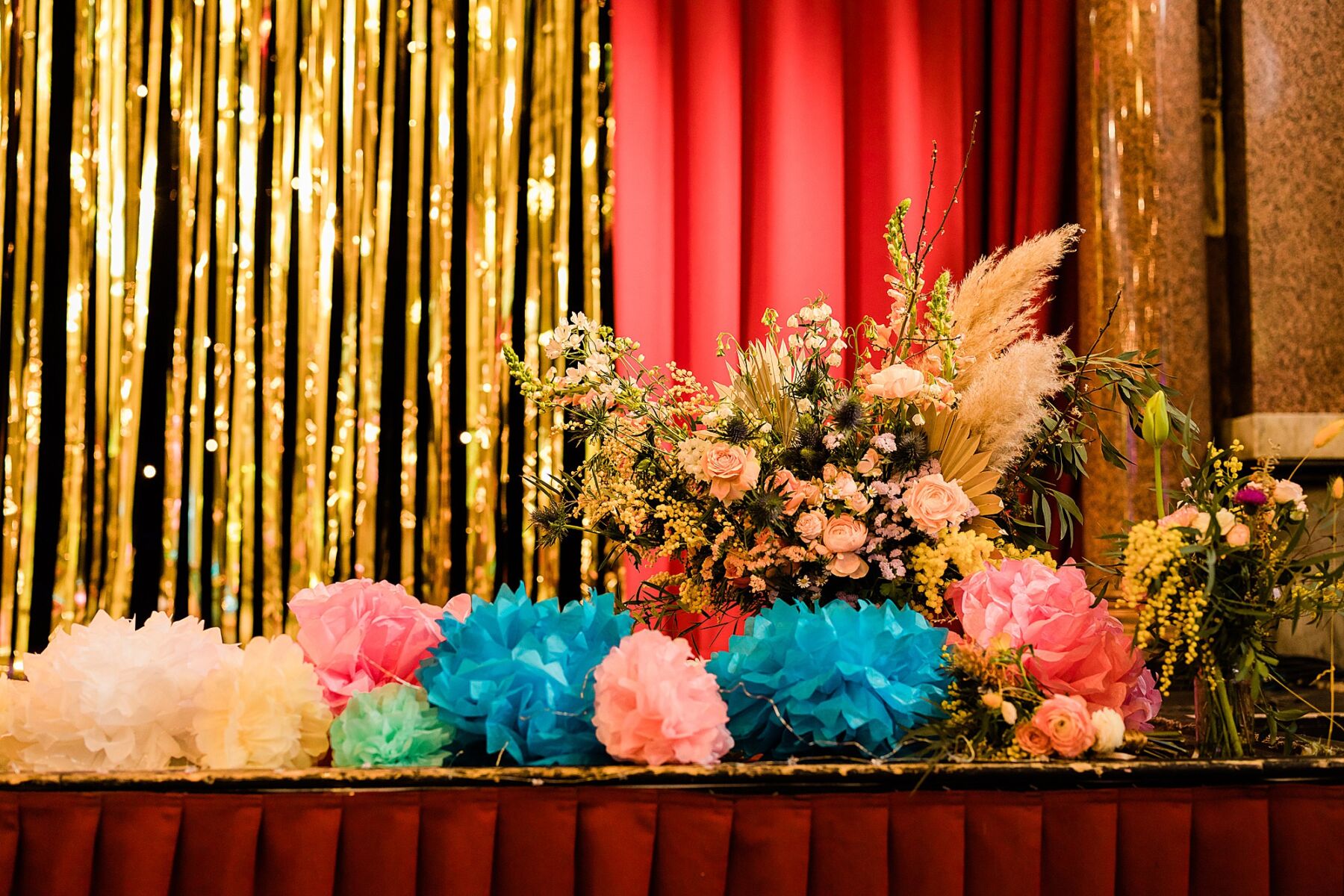 The wedding dinner was provided by The Camberwell Arms and the favours were traditional, and delicious, Scottish tablet made by the couple's friend Jackie. Meanwhile, the confetti-sprinkled cake was created by another friend, Shannon.
"We wanted to keep things local and so many of our guests said that this was the best wedding food they have ever had. They were wonderful to work with. Our tasting was super fun and we've been back lots to the restaurant since. Delicious!"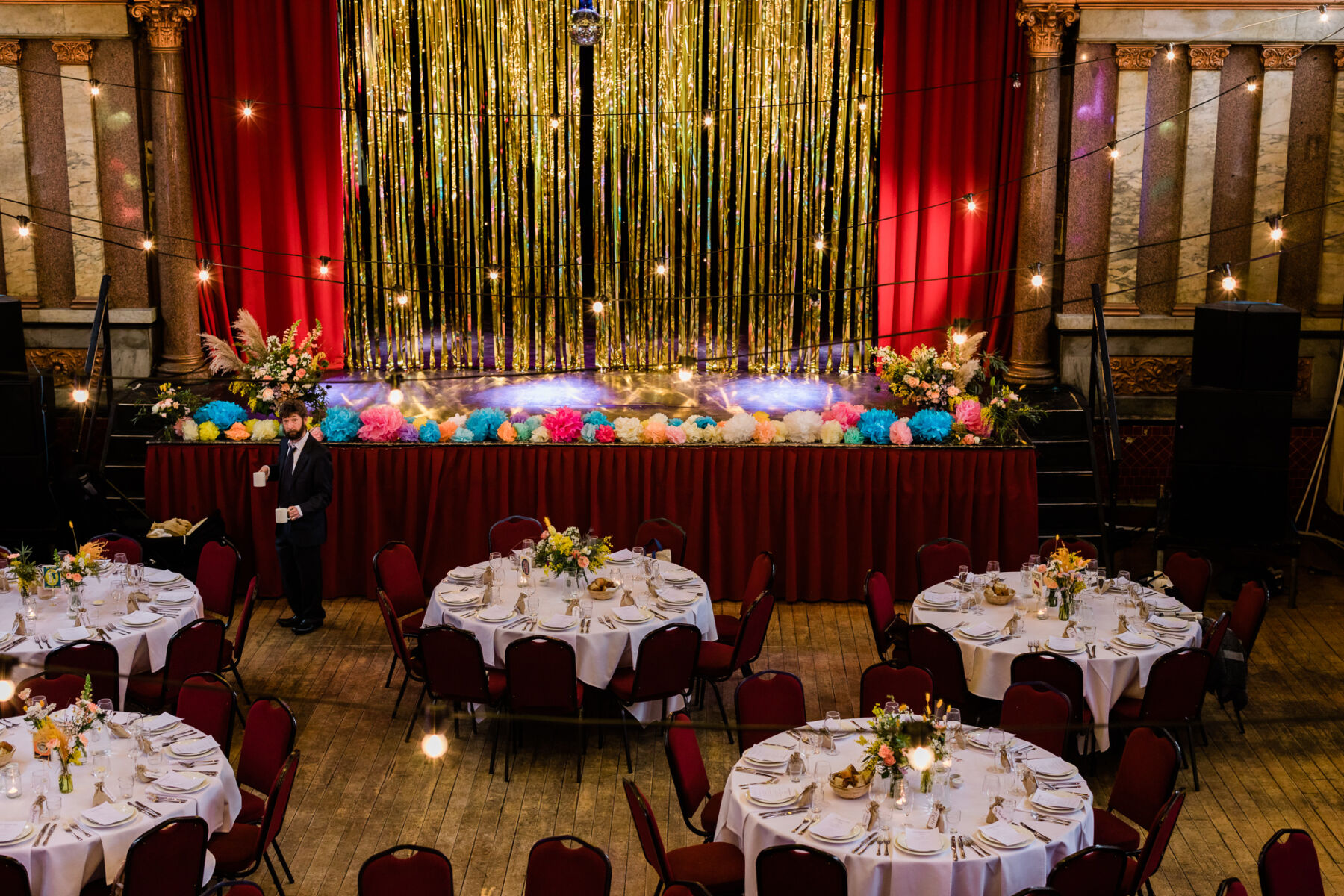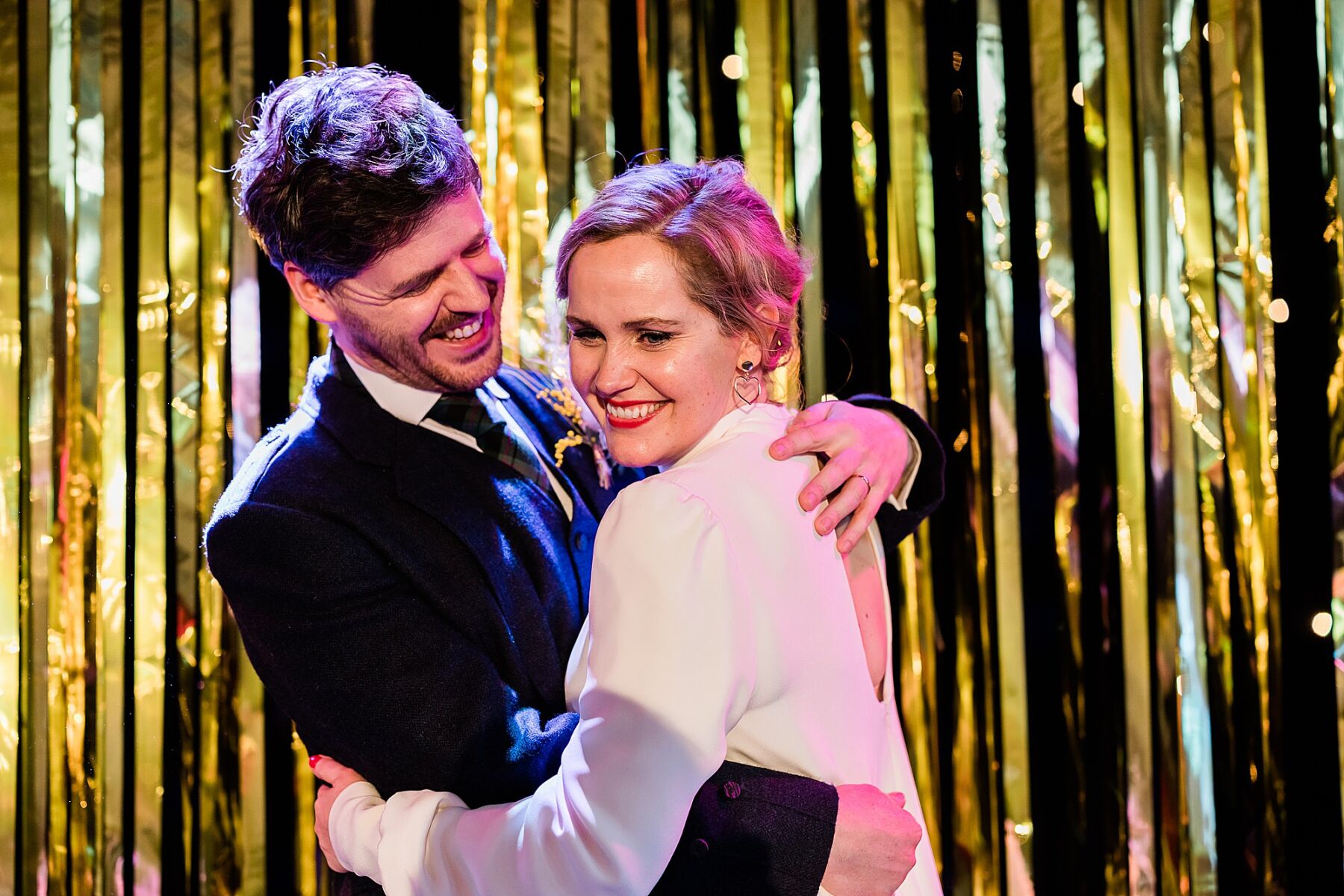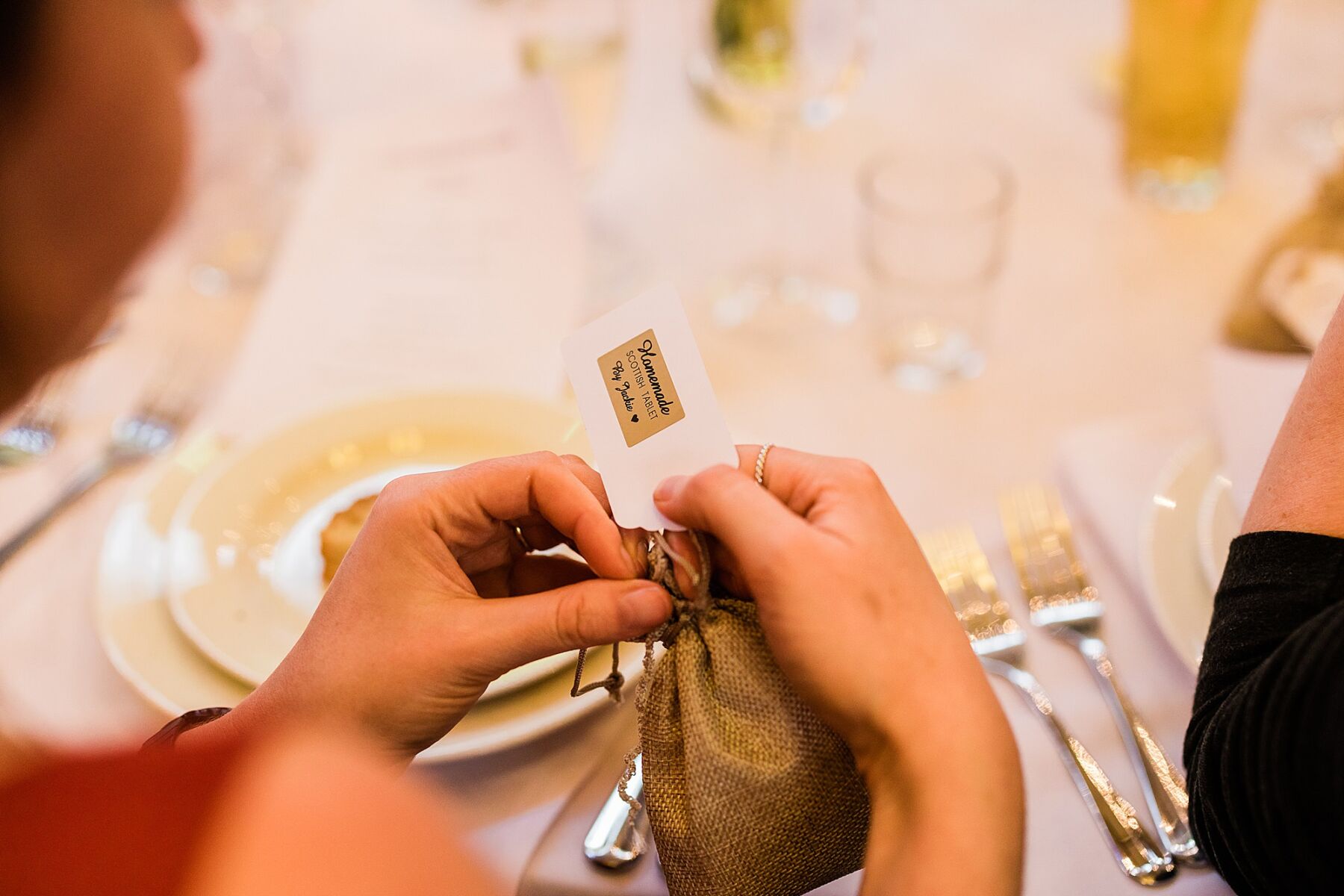 The bride's favourite part of the day had to be the speeches.
"Every single speech was just brilliant and thoroughly enjoyed by all. We spread them throughout dinner. Me, my Mum and my best friend all did speeches too so it was equal women to men."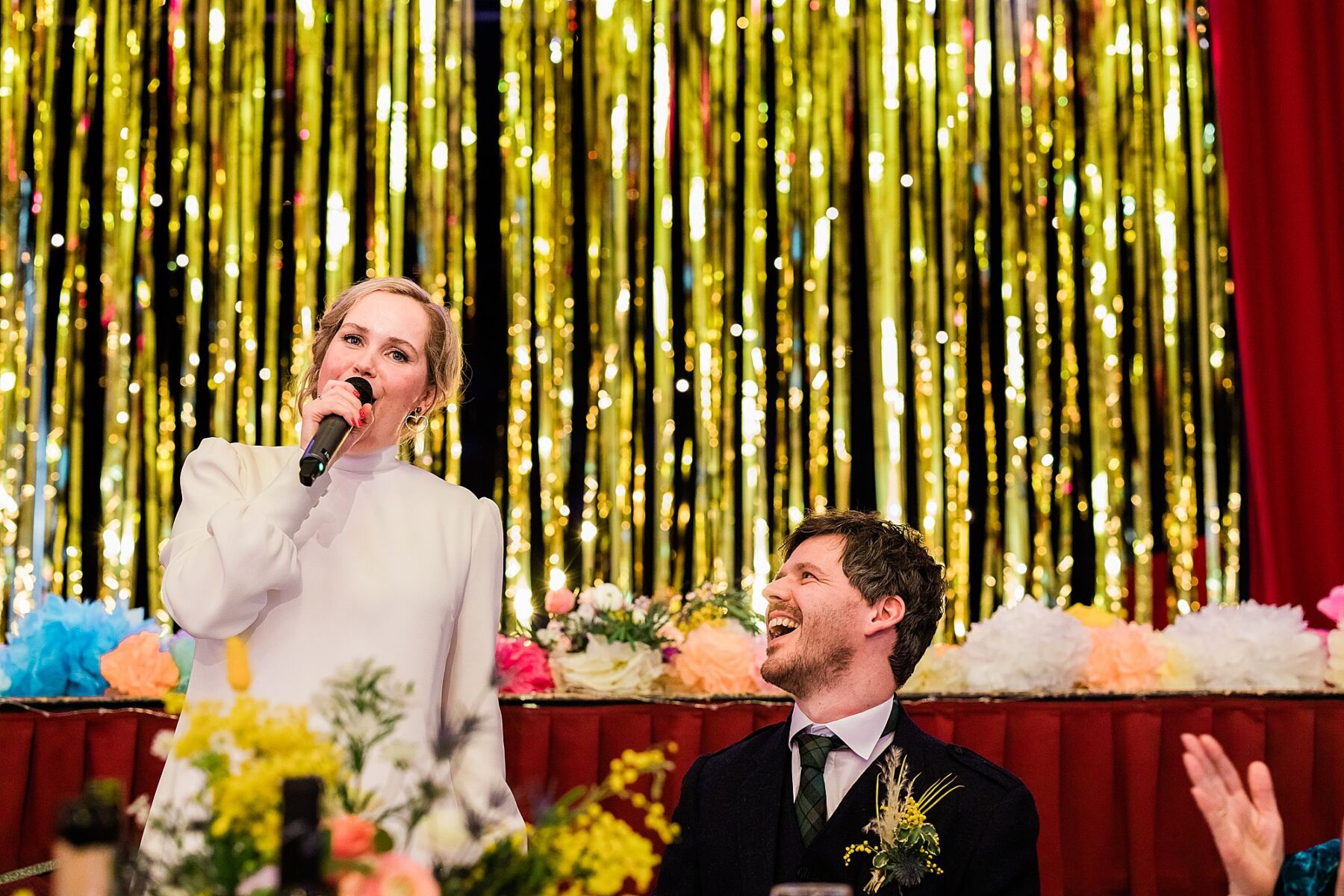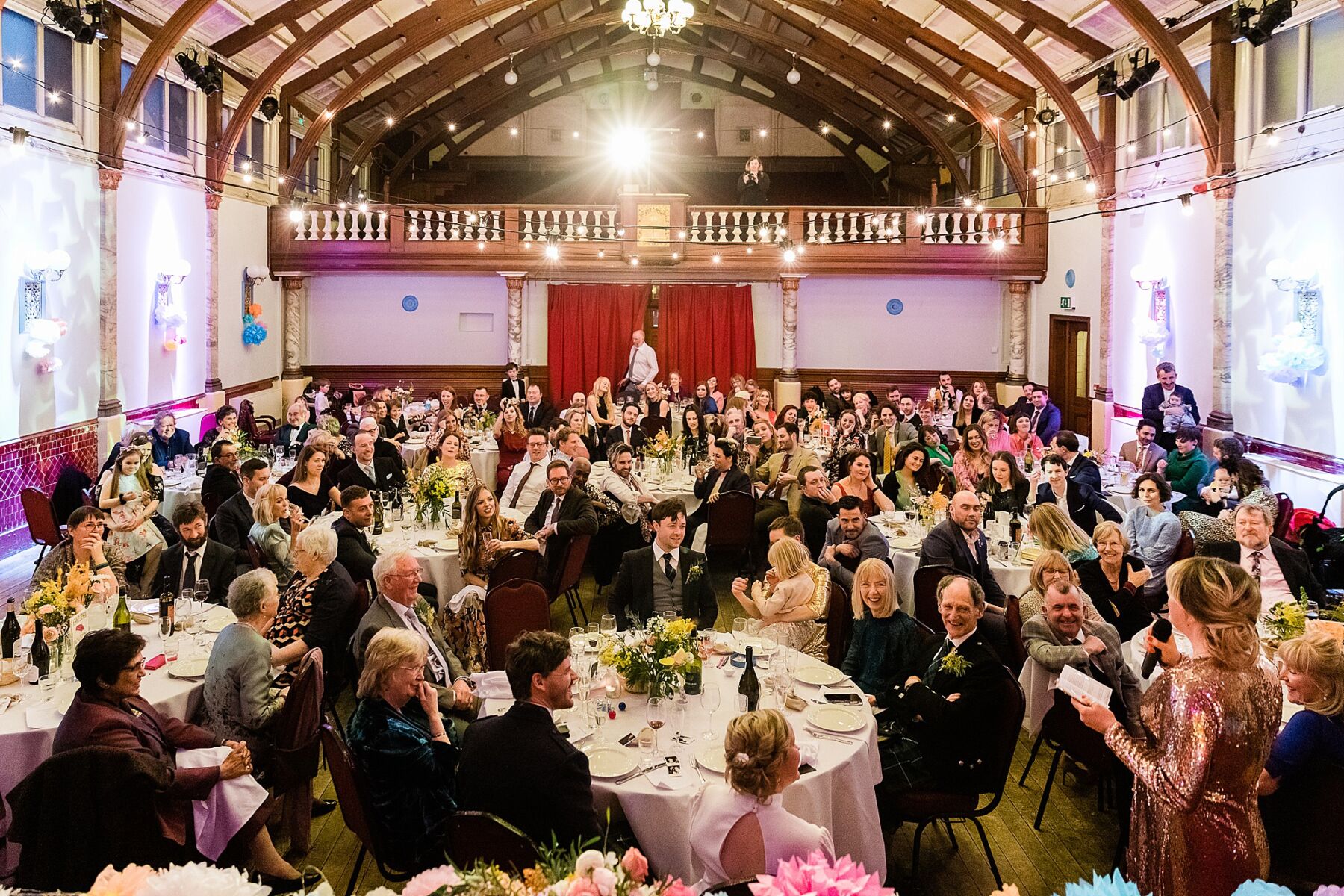 After dinner was entertainment-time, and what an eclectic selection the couple had. As well as brass band Old Dirty Brasstards, they had friends playing, a friend DJing during interludes and, not least, an Elvis impersonator. The first dance was to 'Slide Away' by Oasis.
"It was performed by another of my great pals who I also make music with – Gaz Tomlinson aka Quiet Boy."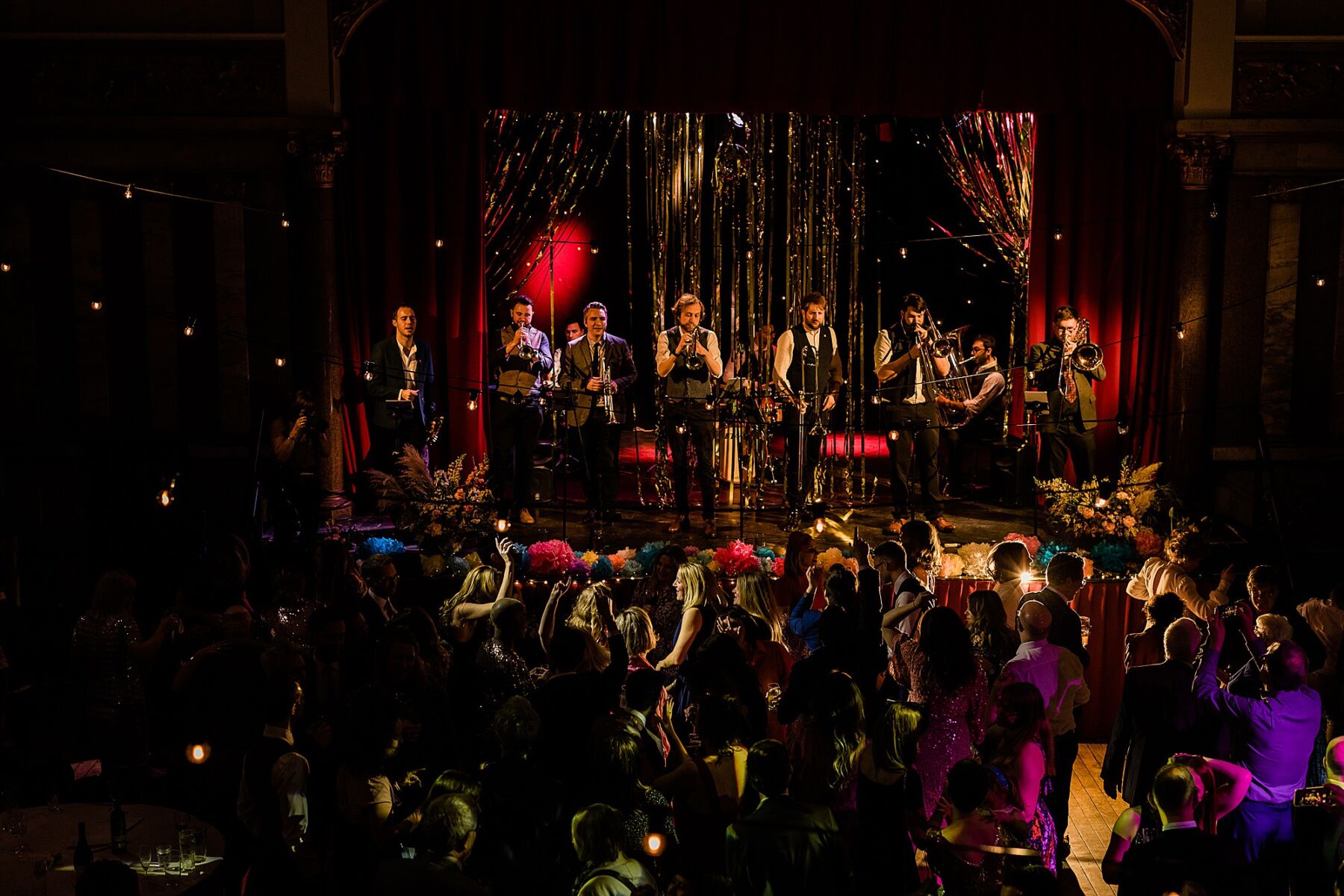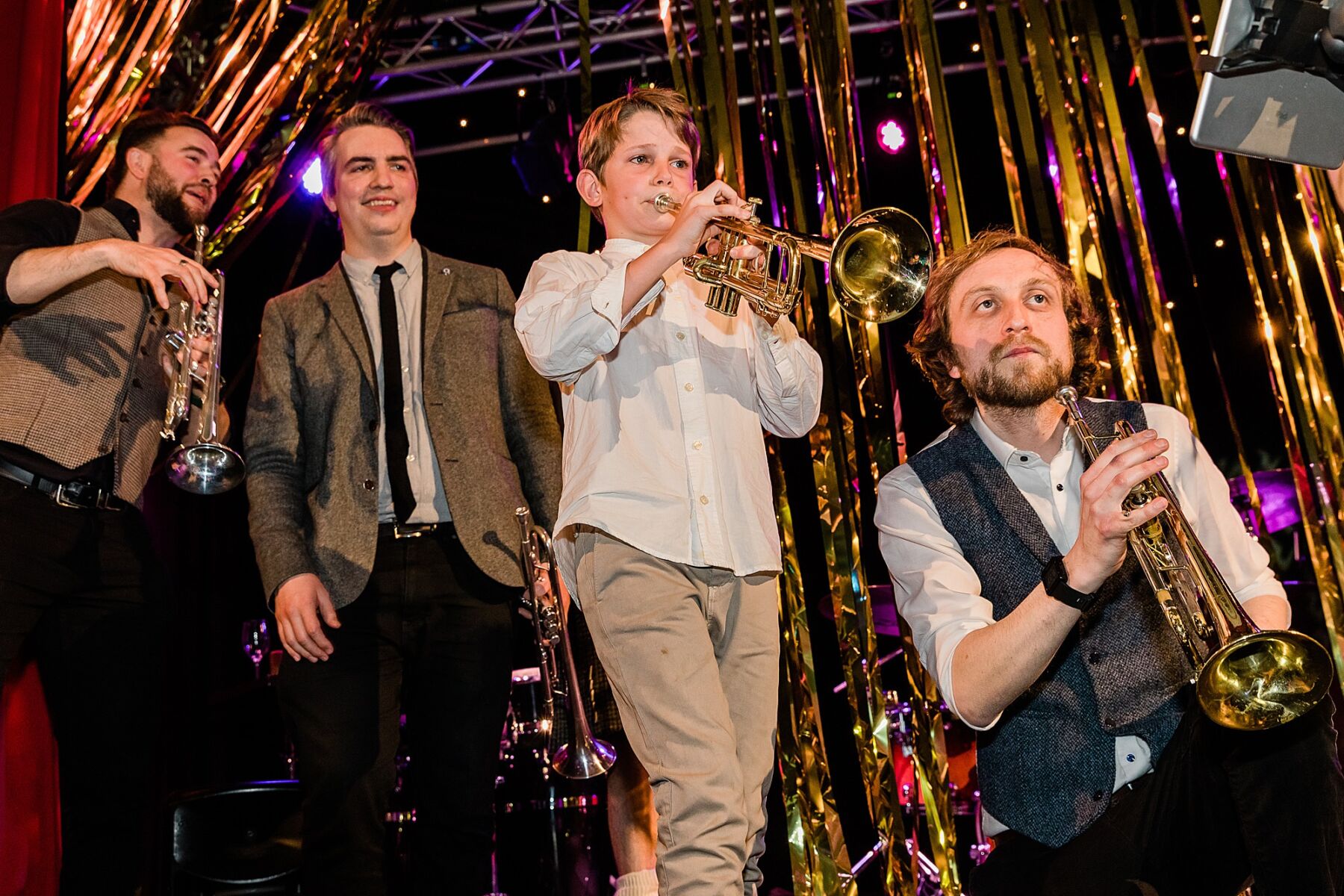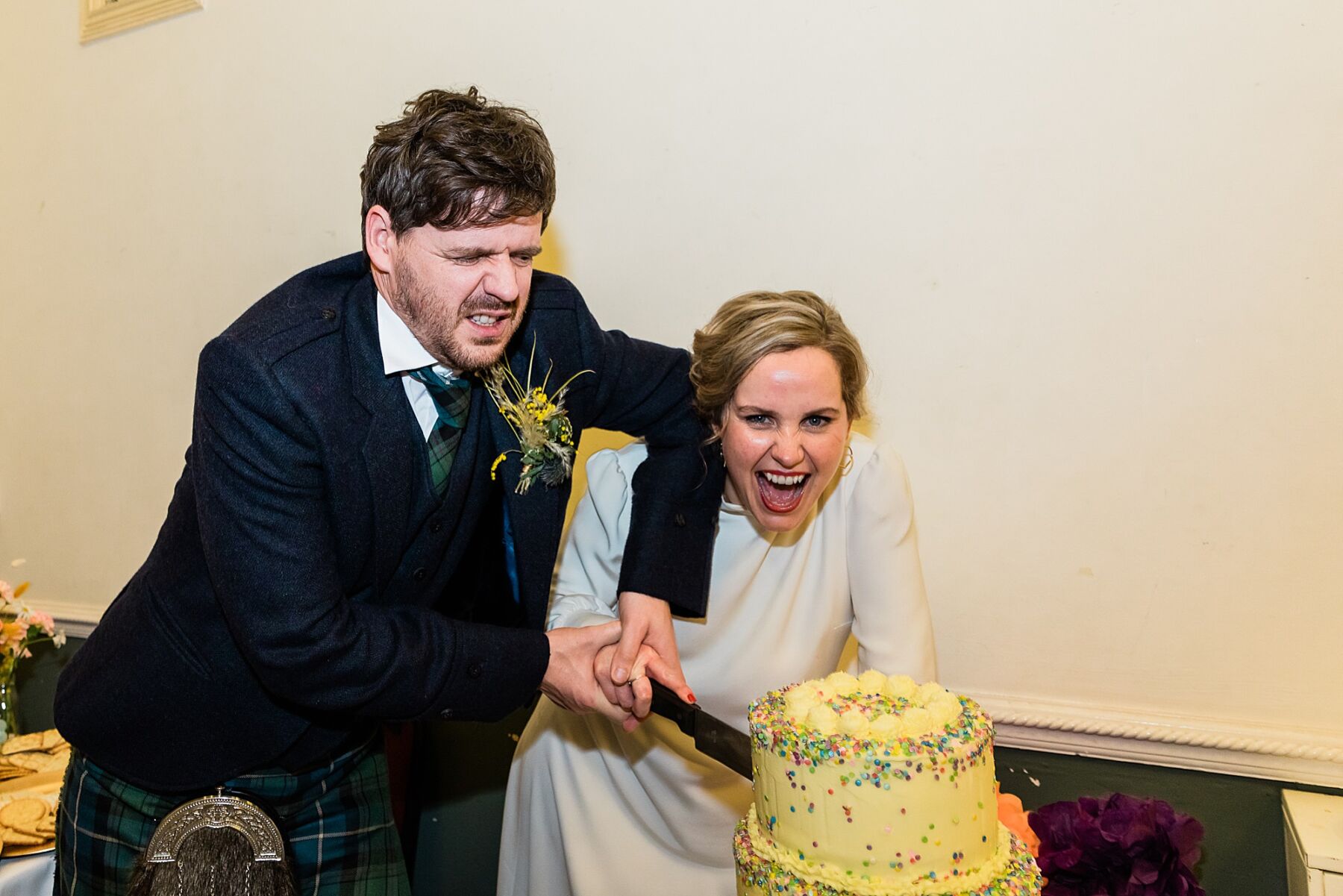 Words of Wedded Wisdom
"Weddings are really, really hard work and they take up so much of your time and energy. They are worth it though."
"You will get lots and lots of opinions from everyone you come into contact with. Take them all with a pinch of salt and do exactly what you want to do in the way that you want. If you do this, everyone will have a lovely time!"
"Try not to worry about the small details. On the day just try and enjoy it as if you were a guest and not the person who arranged it all."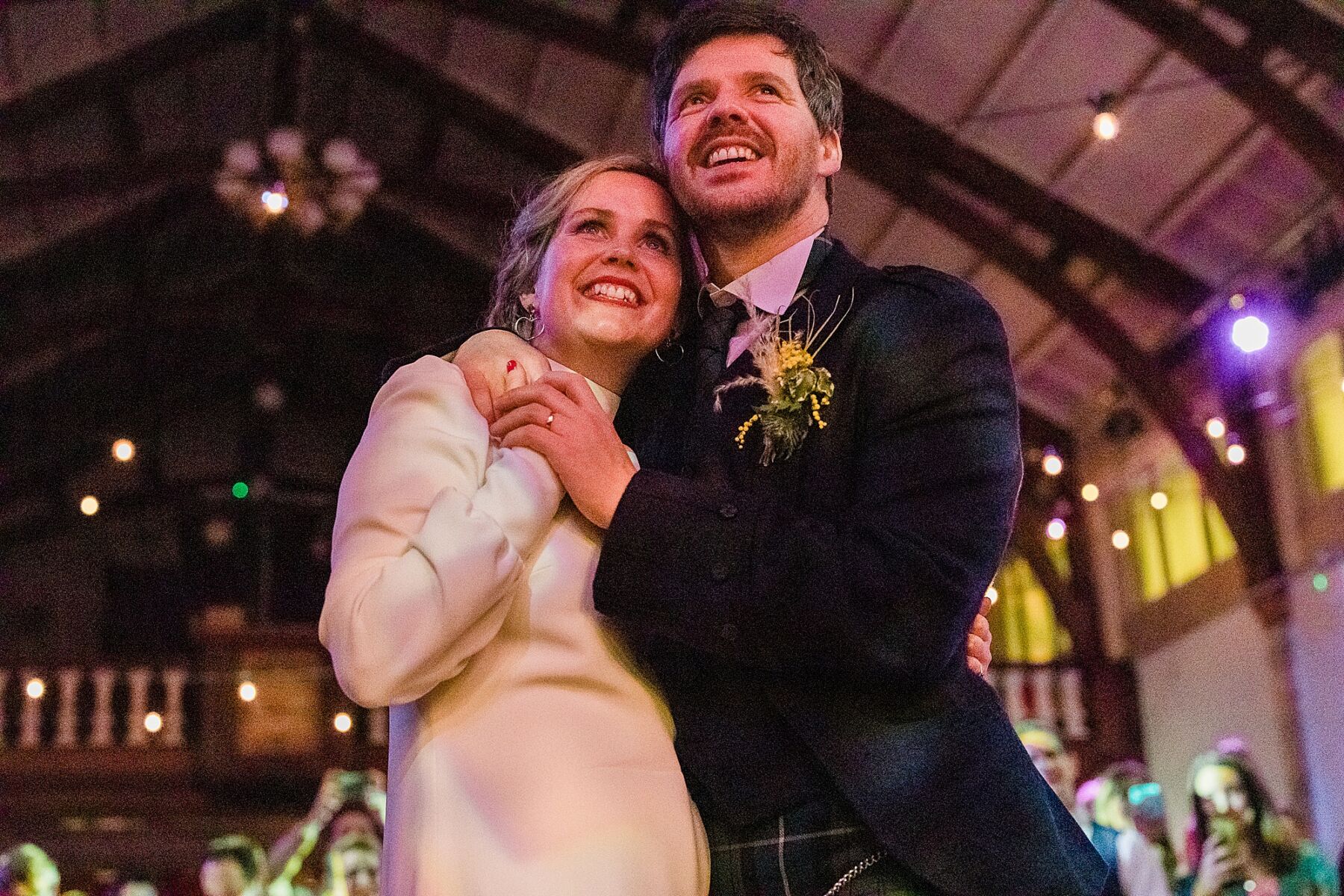 If you've fallen in love with Heather at Eclection Photography's work then I invite you to find out more about her on our Little Book Wedding Directory here, and check out other weddings we've featured on Love My Dress here. We've also got plenty more Asylum Chapel inspiration for you here.
With love
Ele xx