Over the past few months, like many of you, I've really come to appreciate and savour the little things in life.
You know the ones I mean; that first sip of a really good coffee, the unexpected splash of vivid colour from a rose in full bloom, a friend checking in just to say 'hi'. Another is the joy and reverie of immersing myself in a portfolio of beautiful images and that is what I have the pleasure of sharing with you this evening. Please, find somewhere quiet for ten minutes and enjoy this romantic Italian wedding.
WeddinginWonderland

+ Follow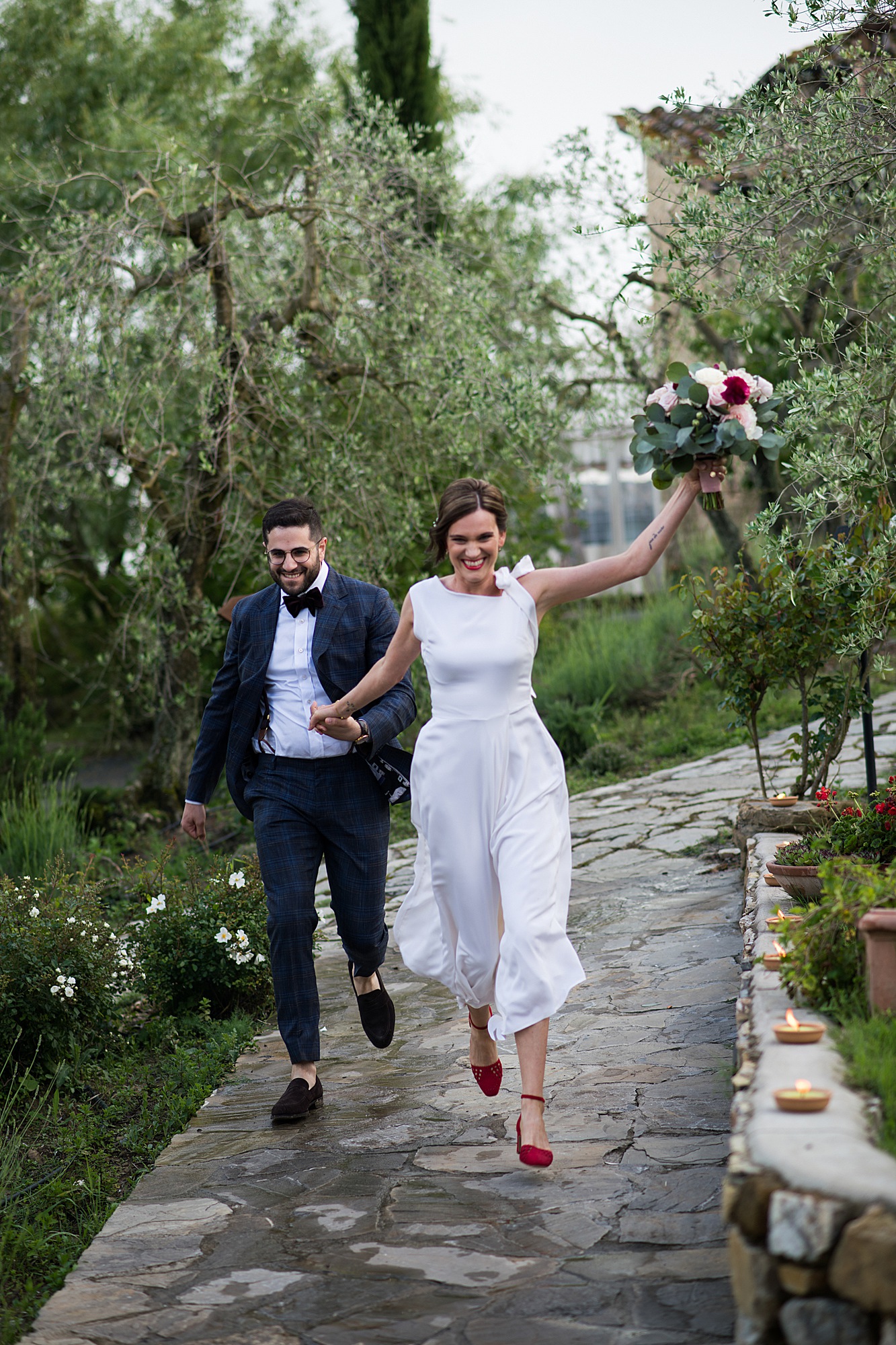 Please meet product manager Heather and software engineer George, who escaped to Casa Cornacchi in Bucine, Tuscany, Italy on 28 May 2019 for their romantic, boho day, full of intense greens with gentle pops of pinks and purple.
To help them plan and style their outdoors celebration, the couple worked with Rosy Strati of WeddingInWonderland, and what an exceptional look they've created. This fantastic wedding planner is a much-valued member of our Little Book, and you can find out a lot more about her work and approach on her listing here.
"We wanted something very relaxed and not overly produced. We landed on a more bohemian sort of theme because it is pretty much our style in life. The colour scheme took a while to nail down.We worked with Rosy using different palette and inspiration boards to finalise the mood, the shades and the style of the decor in full accordance with the environment of the venue. A lot of the decorative inspiration came from trolling Pinterest."
"Everything came together piece by piece and we were beyond in love with it. The choice to have a lot of eucalyptus was the smell and, obviously, given our life in Australia."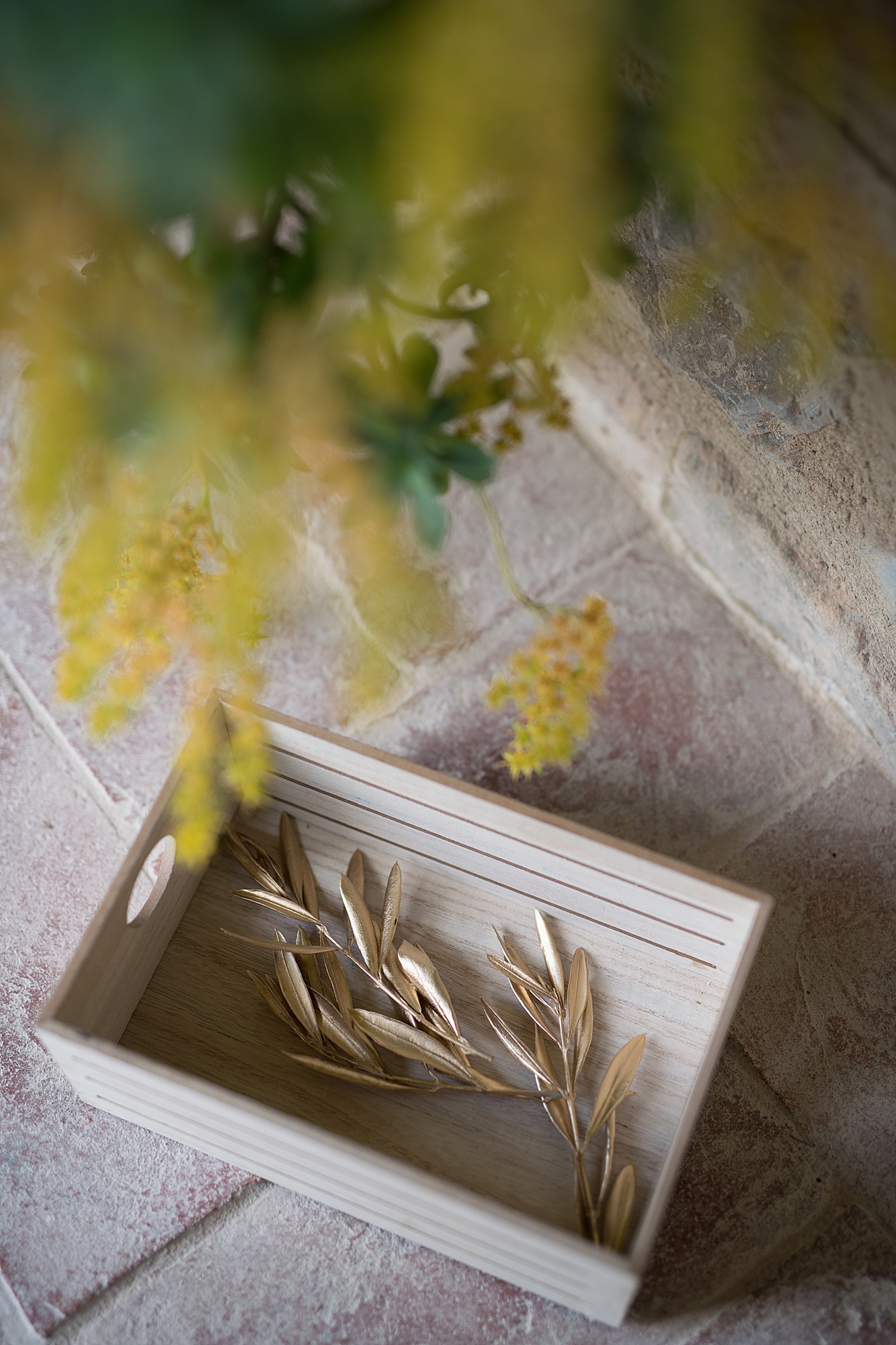 The bride's shoes were understated and elegant Jimmy Choos and in her hair she wore olive branches from the garden of Casa Cornacchi, spray painted with gold paint.
"I had never considered Choos but I couldn't find anything neutral, not white, low heel and classy: not until I did some extensive research and found the Erin. When I visited the Jimmy Choo flagship I was greeted like a regular. When I told them what I was after there was hesitation because it was a limited and new style. The attendant did a bit of a dig and before I knew it, I was strutting through the shop. The experience was both elegant and personal."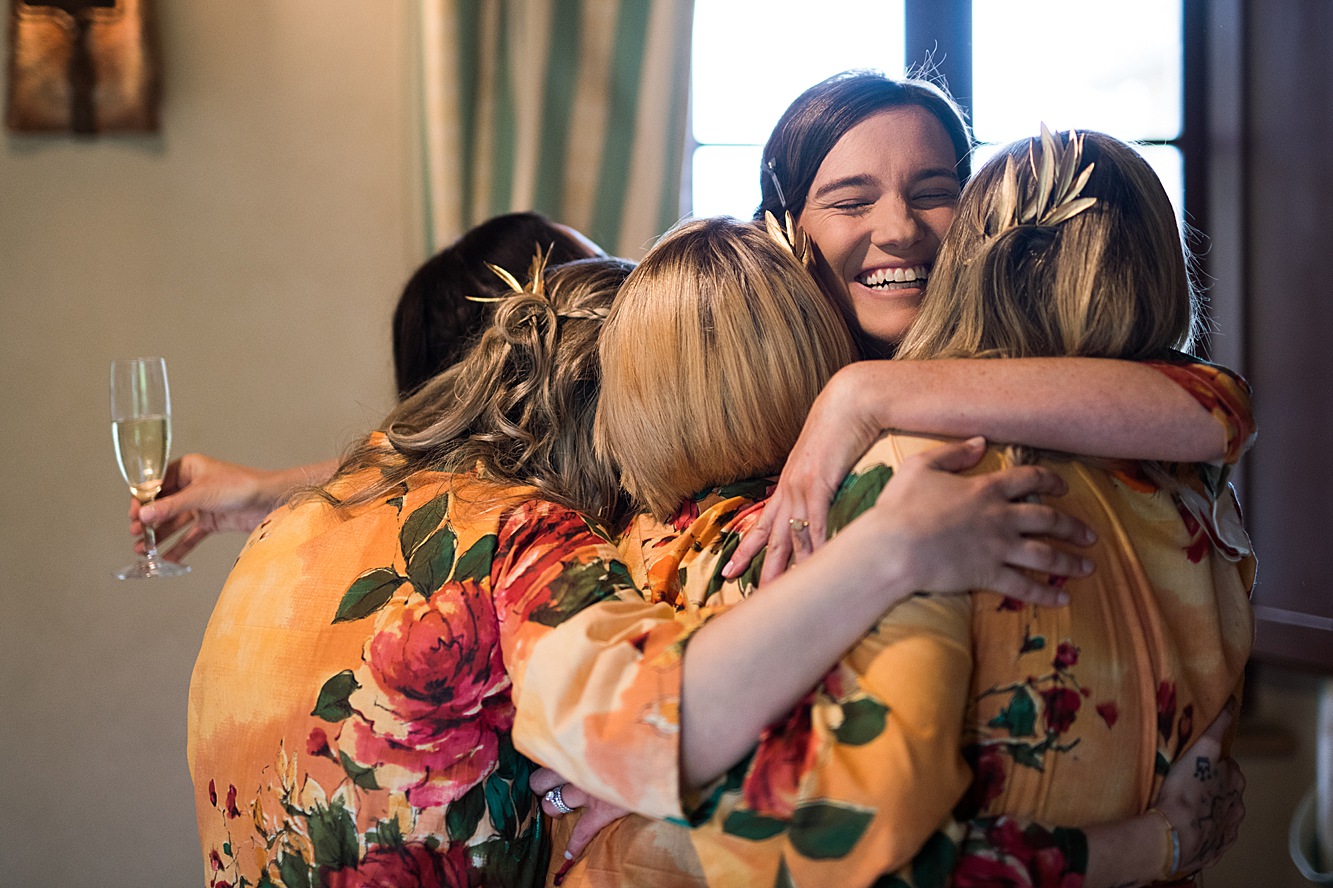 Fittingly for the Tuscan setting, the bride chose an Italian fragrance – Aqua Flor Firenze, Corps Diplomatique.
"Before the wedding, a large group of friends met us for our Hens & Bucks in Florence. My maid of honour and I were walking one of the days and were pulled into a store purely from the beautiful aroma wafting into the streets. We were both drawn to one scent and when we went to the counter, she bought one for the both of us. It's now only for special occasions."
Heather's style is so understated and she enhanced the elegance of the cowl-neck gown with a beautiful up-do and subtle, flawless make-up.
"One of my best friends is a makeup artist and she was also a bridesmaid, so she took care of all the girls and me. We hired a local hairdresser to do for me a simple and sophisticated hairstyle, which was completed with a little real olive branch sprayed in gold. The bridesmaids also had this in their hair."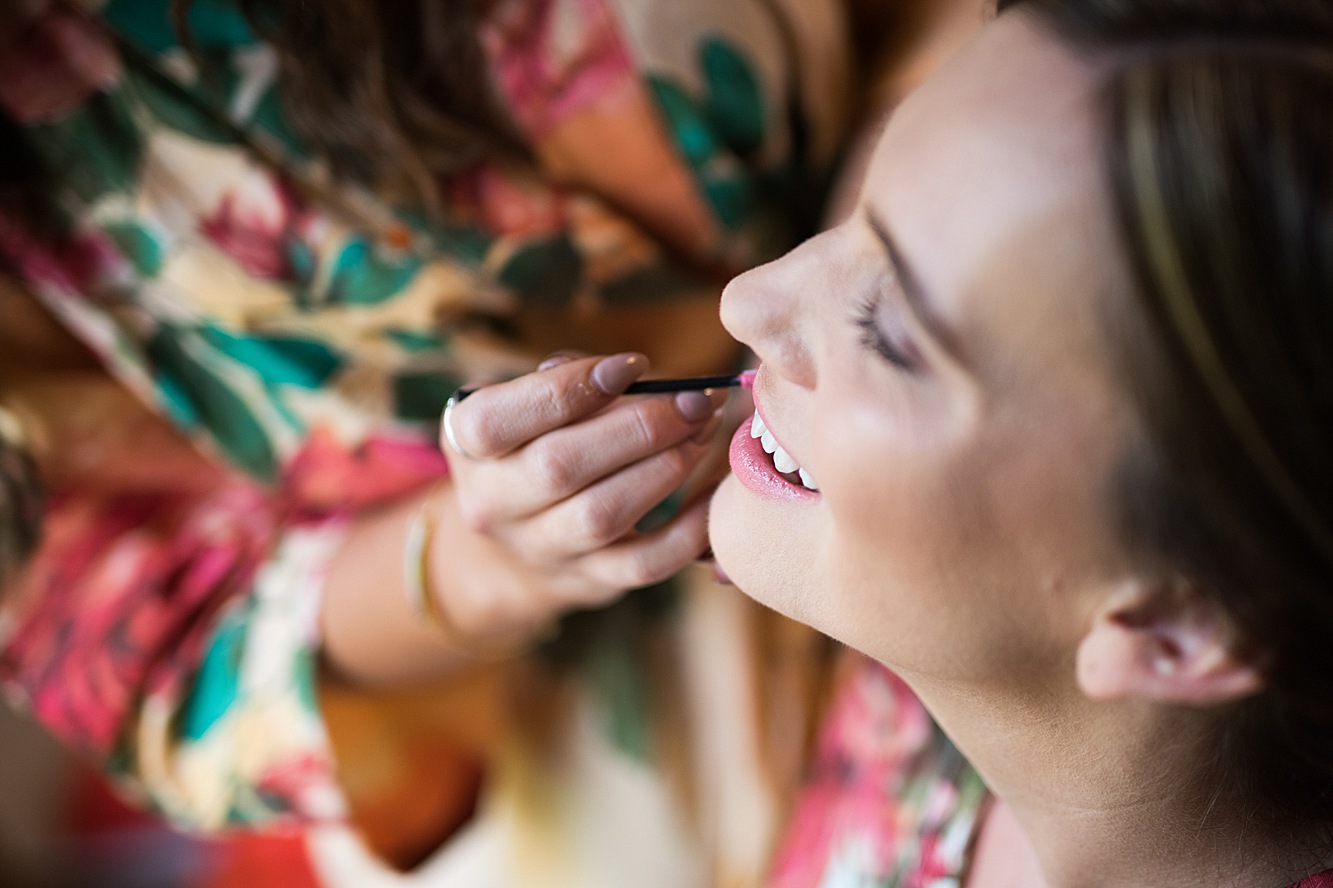 "I wore sentimental jewellery; a bracelet engraved by George from Monica Vinader, a bracelet handed down from my best friend and maid of honour, and a custom necklace with birthstones of my mother and grandmother (both passed away) and myself, from Maya Magal.
"We met whilst working in a start-up in Australia. I was in sales and he was a software engineer. Almost all of our colleagues predicted that we would date."
"One day after work, I asked those who were left in the office if anyone wanted to get something to eat or a drink. George was the only one who was interested – I still don't know if the others had backed away from the proposal for that reason."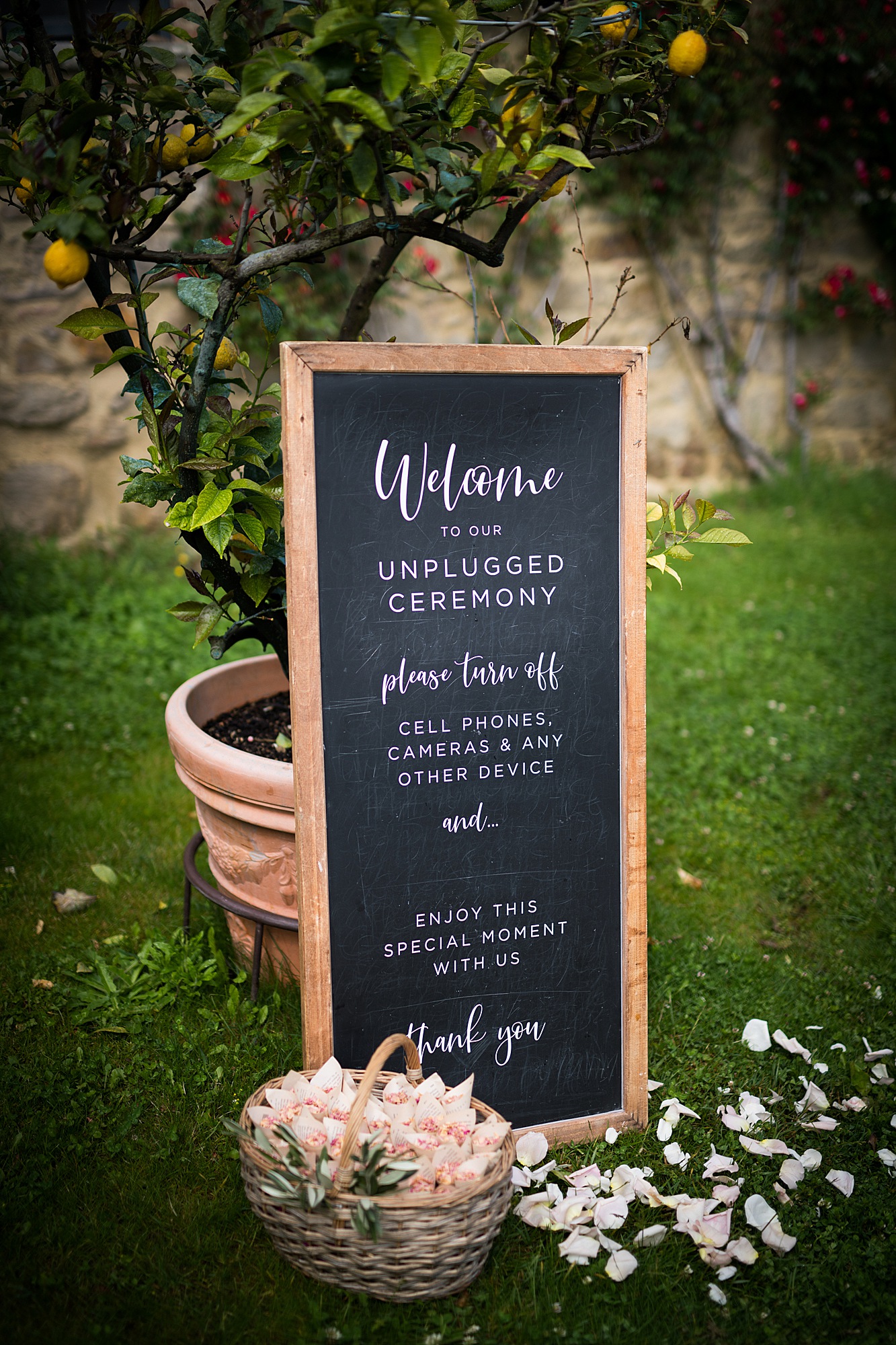 "We ended up having dinner three nights in a row and on the third night, George professed to me that he would 'like to get back in the dating scene', to which I responded by stopping dead in my tracks and exclaiming that this, indeed, was a date. We've been together ever since."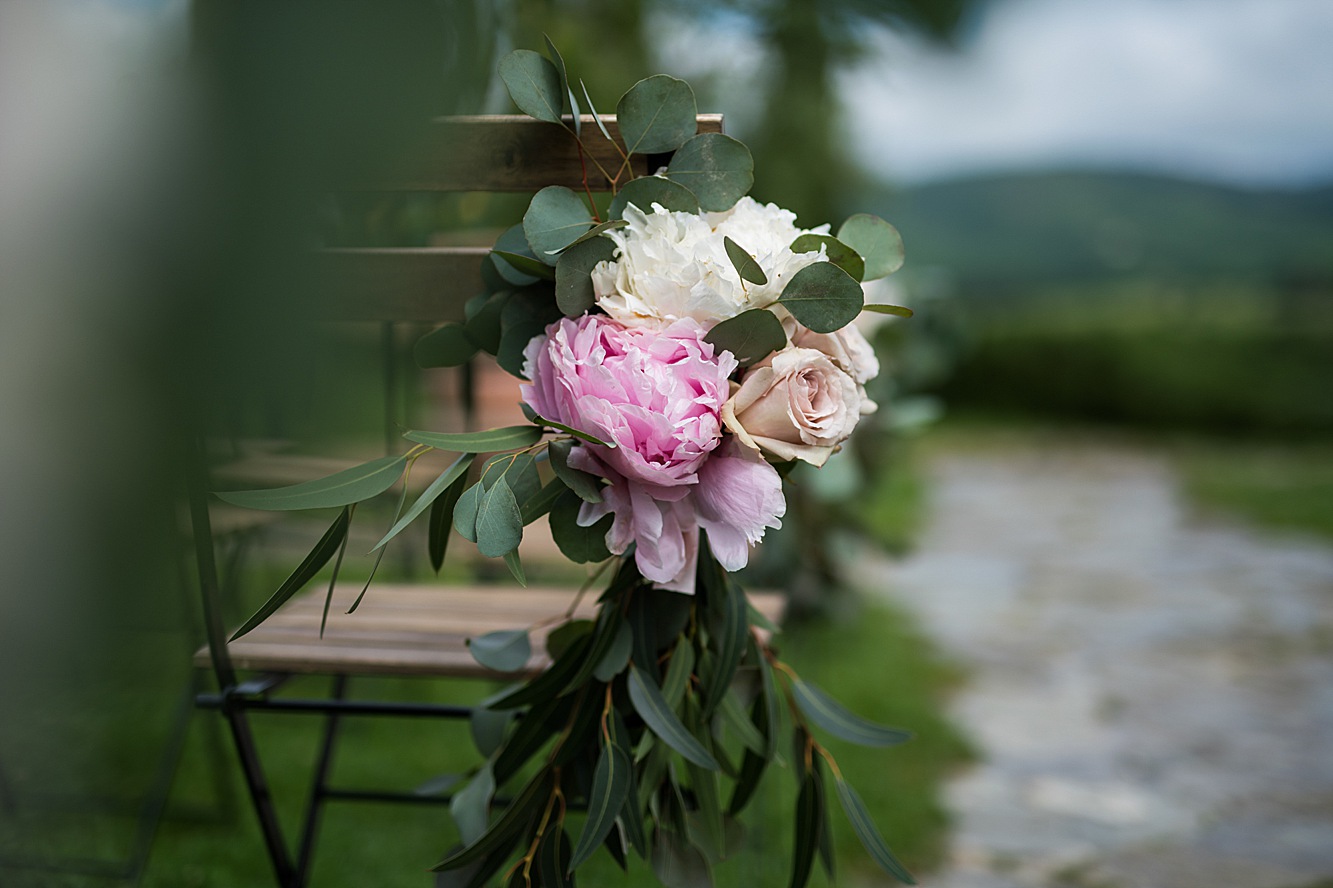 "George proposed to me in France at Chateau Chenonceau after we had toured the castle. We were leaving the tour and he was insistent that we go for a wander in the garden – I however, wanted to sit down and relax. As though he didn't hear me, we marched through the gardens and towards the woods."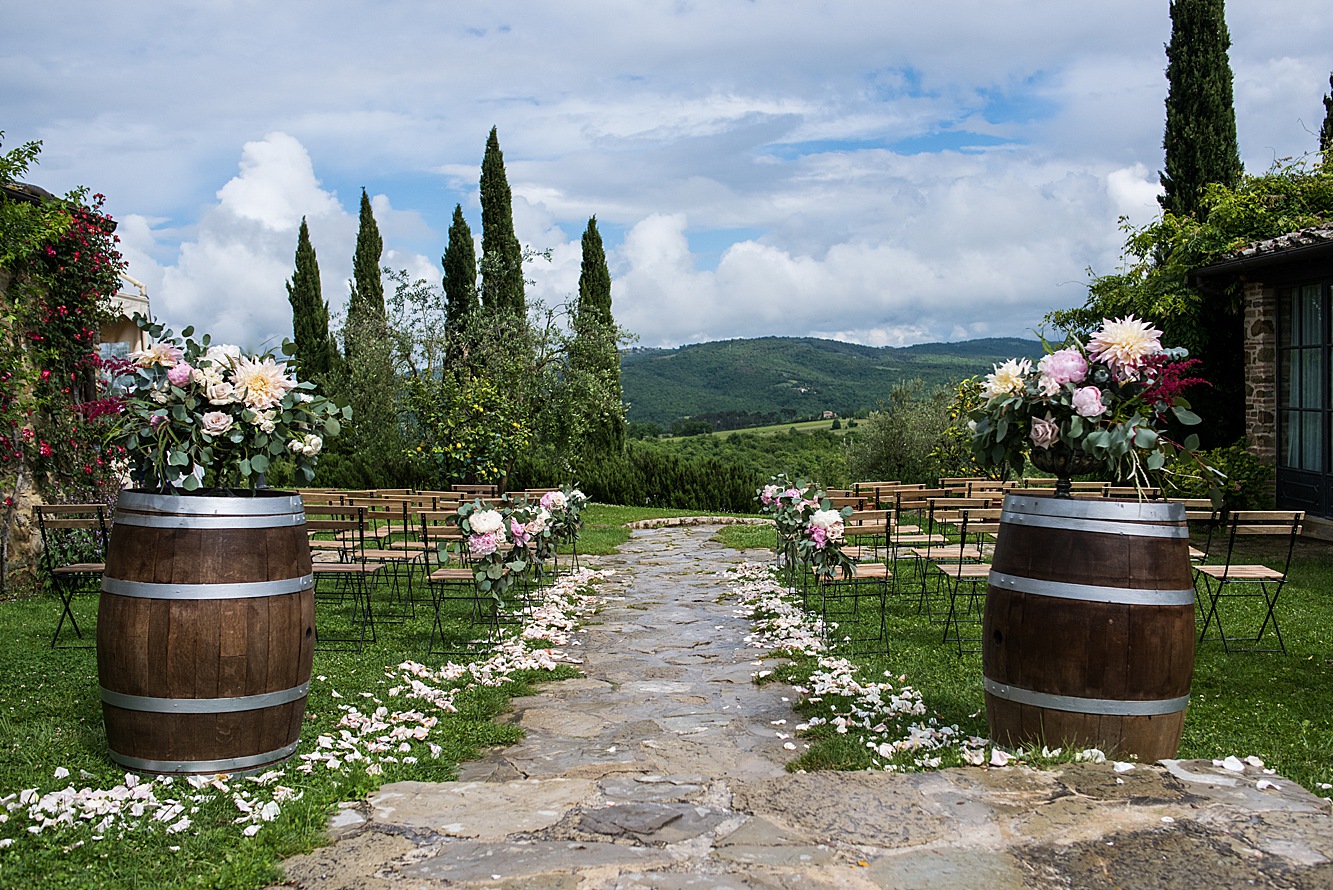 "I was walking ahead of him, probably complaining that I didn't have a drink. I heard from behind me, "I don't have a drink, but I have this". He was on his knee. I blanked and only remember asking him if he was going to ask me the question. He had, but I didn't hear it."
For the males of the party, Heather rolled with the boho, hipster vibe. George wore a slick Paul Smith suit with Joseph Cheaney shoes.
"The men at Paul Smith Covent Garden were FABULOUS. George must have tried on ten suits, all colours and patterns – always keeping me with champagne in hand. Once he chose the one, after a few visits, the tailoring was quick and painless. For the suit and the groomsmen, we kept with the 'hipster boho' style with the bowtie and suspenders. George wore cufflinks engraved with the wedding date and coordinates of the venue."
With such a beautiful spring day, the couple were able to marry outside in the relaxed, personal service that they envisioned.
"The ceremony area at Casa Cornacchi is incredibly beautiful as it features a lovely view of the Tuscan hills so we just emphasised the natural setting using bunches of flowers and real petals along the aisle."
Heather walked down the aisle with her father as 'A Thousand Years' by Christina Perri.
"Neither of us are religious so we decided to ask a friend of ours from Sydney to officiate the wedding. The ceremony was simple but extremely personal and intimate – we couldn't have chosen better. We wrote our own vows; a little bit funny, some a bit soppy, all heartfelt and something we would like to keep to ourselves. We kept them very short and wrote them from the heart. We did, however, write them on paper with a black cat on the back – an ode to our cat at home."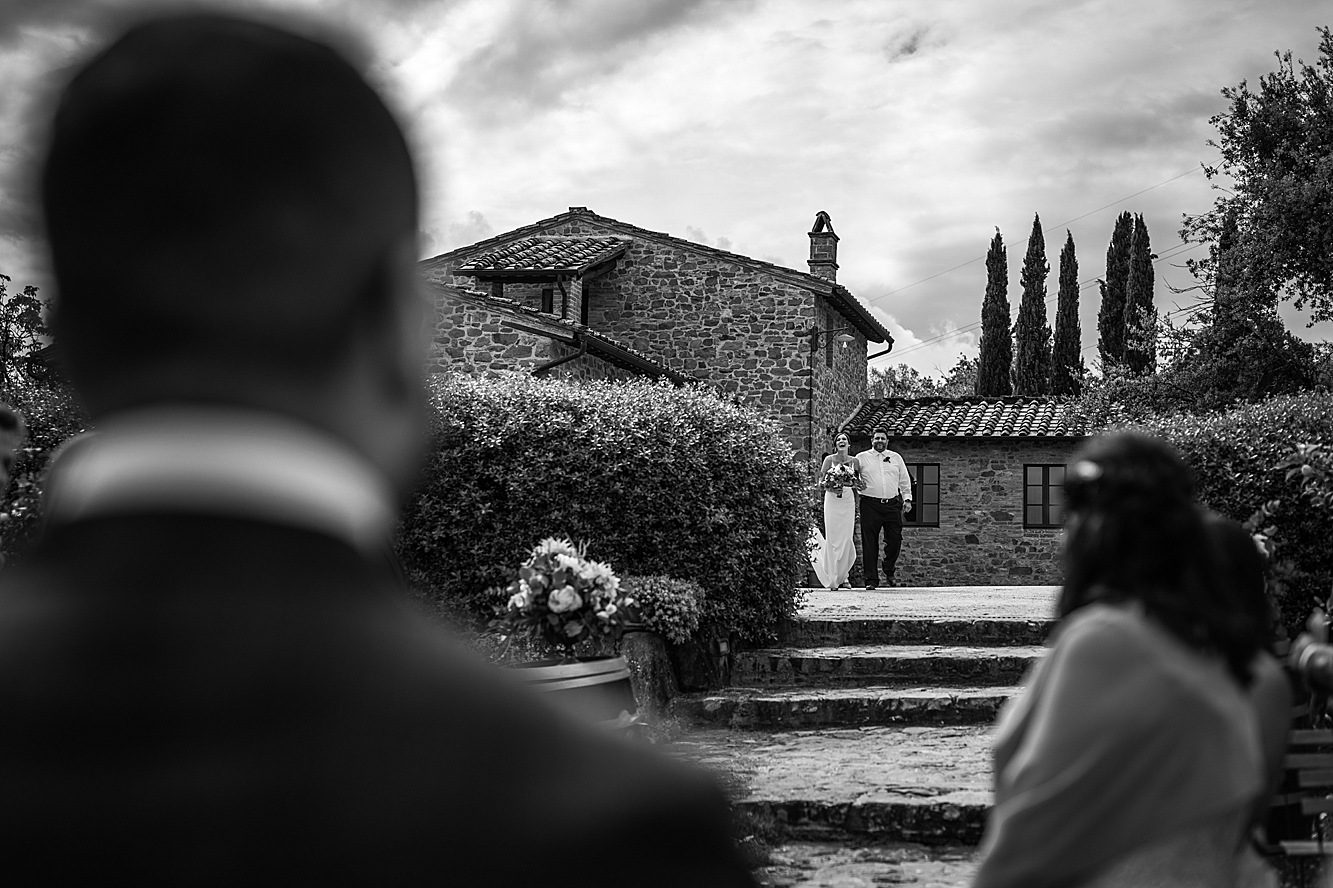 Heather selected an exquisite, custom, tree branch design ring from The Wedding Ring Workshop in London whilst George's titanium ring was from Joy Everley.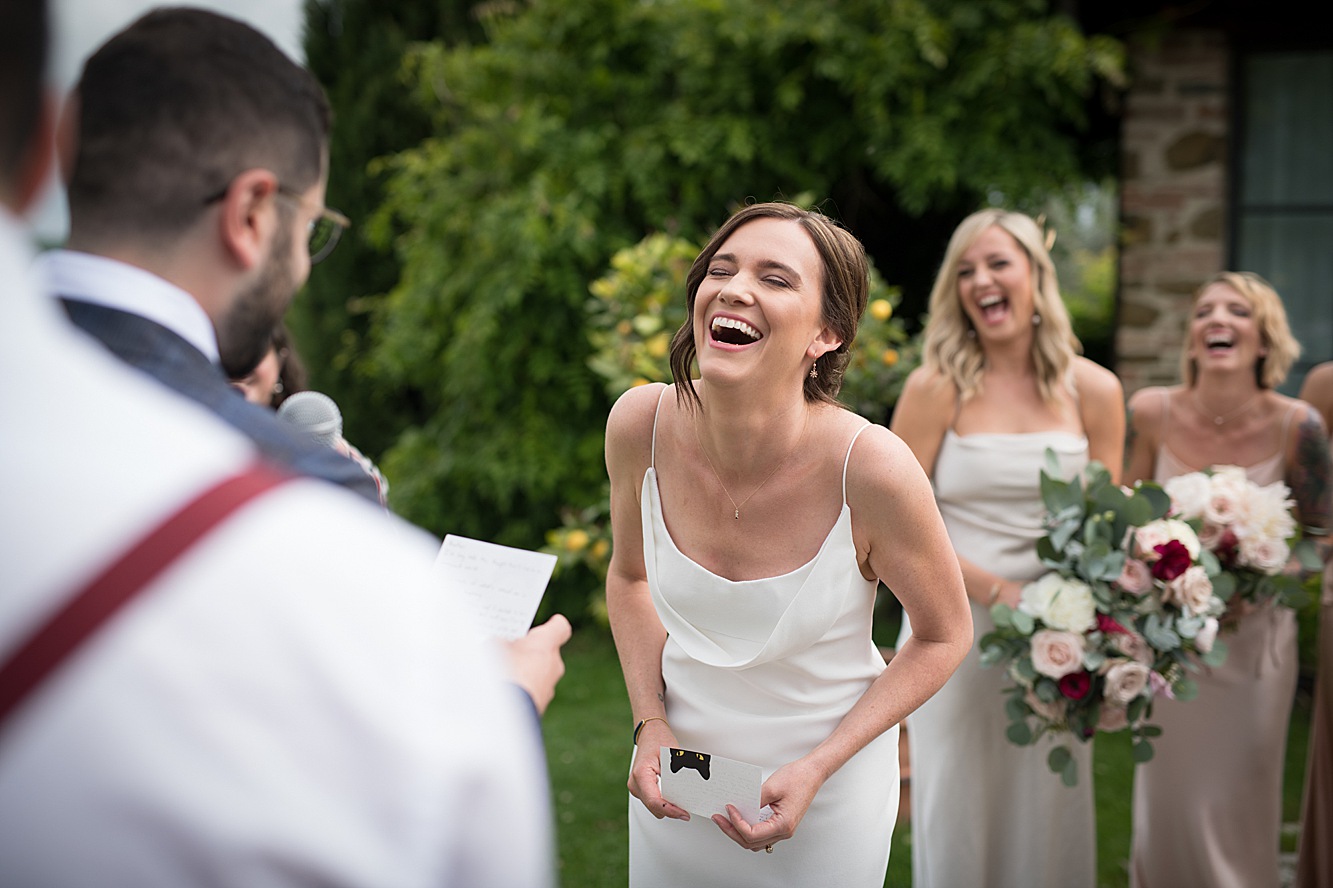 "I am from the USA and George is from Australia (where we met). Our family and friends are spread throughout the world so we wanted a central location for everyone to come together and have a holiday."
"We chose Casa Cornacchi after viewing nine venues because of the welcoming nature of Giacomo and the beautiful views. The best part is the farm to table, though, as I'm a bit of an environmentalist."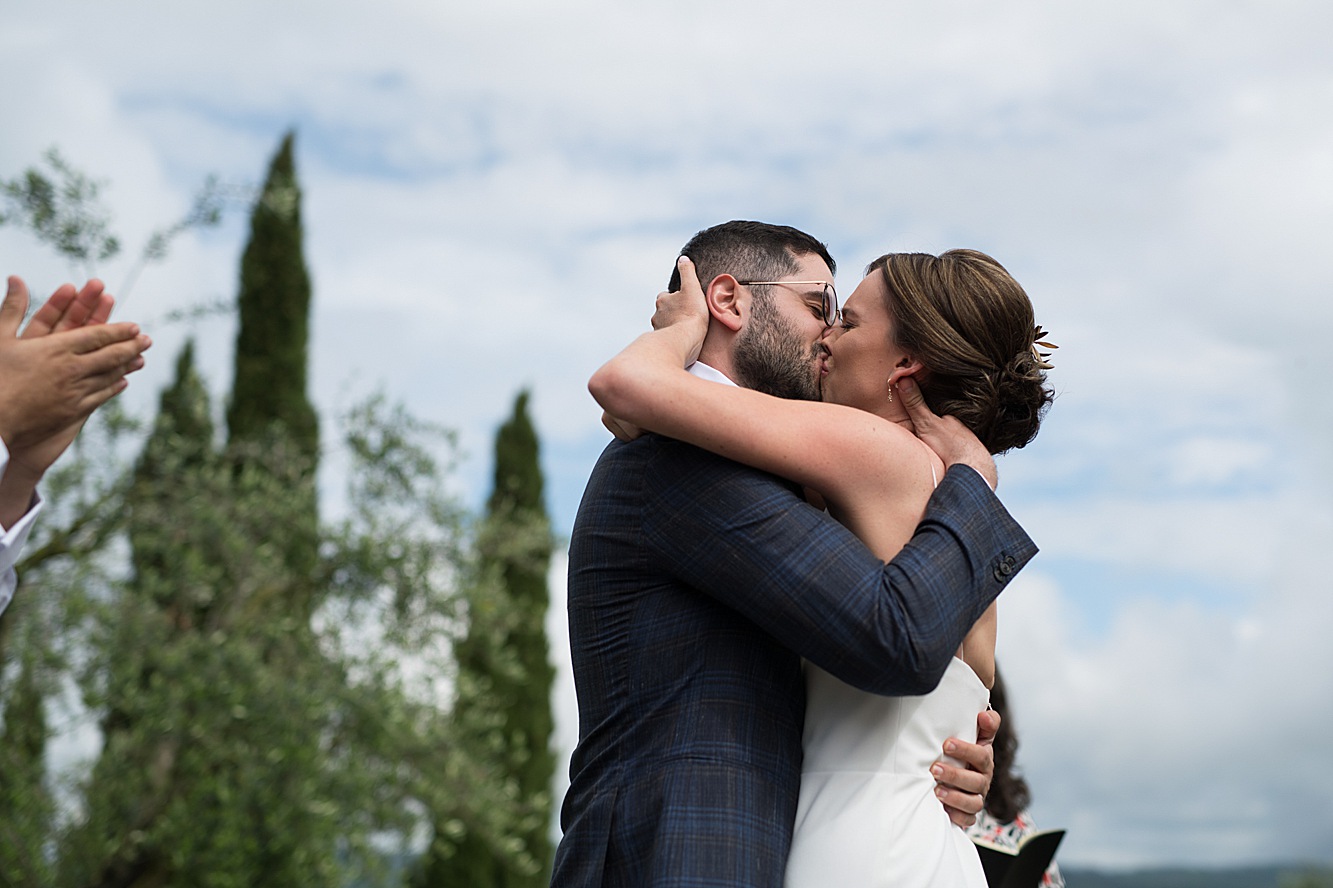 As you can see from these wonderful images by photography Nataly Montanari Photographer, the overarching styling of the wedding was roses, roses and more, glorious, full-blown roses paired with eucalyptus.
"After looking at some local florists' work we chose Stiatti Fiori as we felt their creative proposal was really the best interpretation of our ideas. We particularly liked their suggestion of creating a hanging green decoration over the tables, paired with some light bulbs. This created a stunning feature in the reception room and enhanced the tables setting with an incredible wow effect."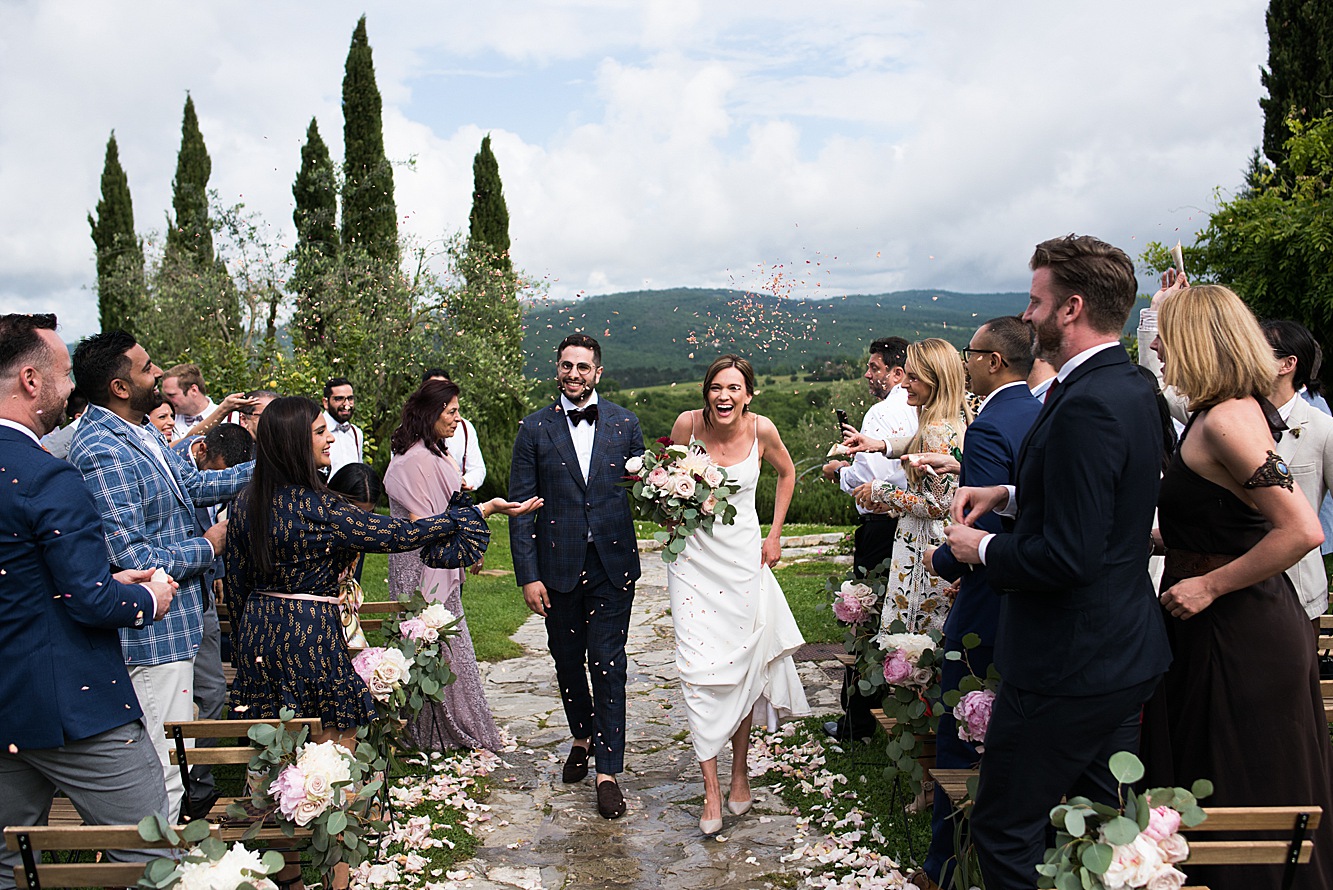 "We must have looked at over one hundred photographers' sites. Nataly came across to us as the one best able to capture our day the way we wanted – without fuss, natural and classic."
"Beyond the fact that she did that, she is an absolute JOY to work with and we would recommend her without hesitation."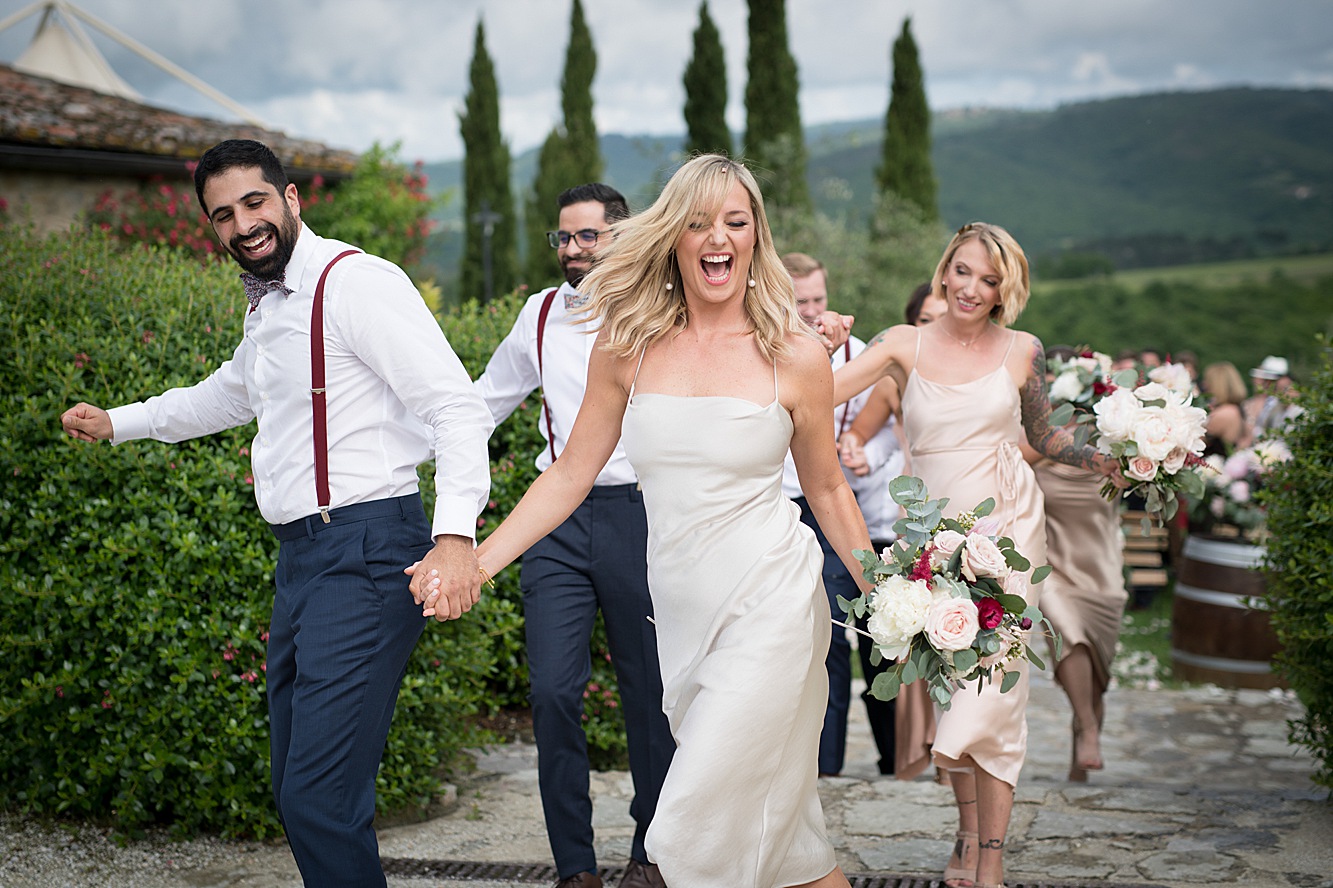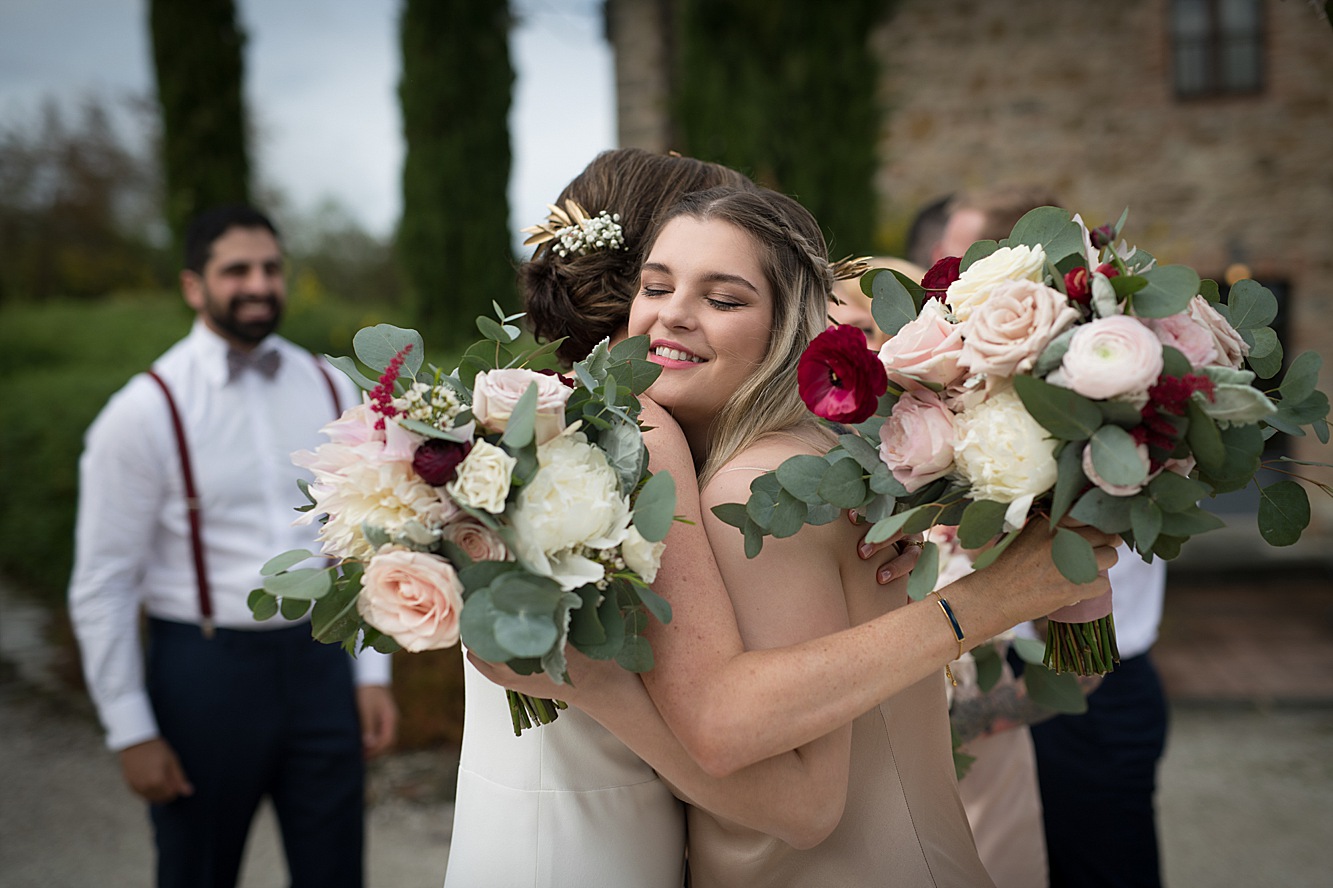 I absolutely adore the simple, elegant style of Heather's gown, in which she looks so incredibly graceful and which marries with the full-blown roses so perfectly. It's Vera Wang's 'Floriana' from London's The Wedding Gallery.
"I had been to four dress shops on the day before going to The Wedding Gallery and thought I had chosen the dress – I almost didn't go. After nearly getting hit by a bus walking in (a story for another time), the ladies who greeted me calmed me down with some bubbles and led me through a bookcase to their beautiful shop. My bridesmaid and I were shown to a waiting area to relax."
"The gallery has various areas with styles to fit any bride and I went to each – choosing a couple from more than others. Finally, I was told that there was a Vera Wang section. I had never considered a Vera and was unsure I'd look nice in any."
"I chose a very classic fit and added it to my line-up. Needless to say, it was the dress I chose. The ladies at The Gallery were so accommodating in every way possible and I would 100% recommend them to any bride."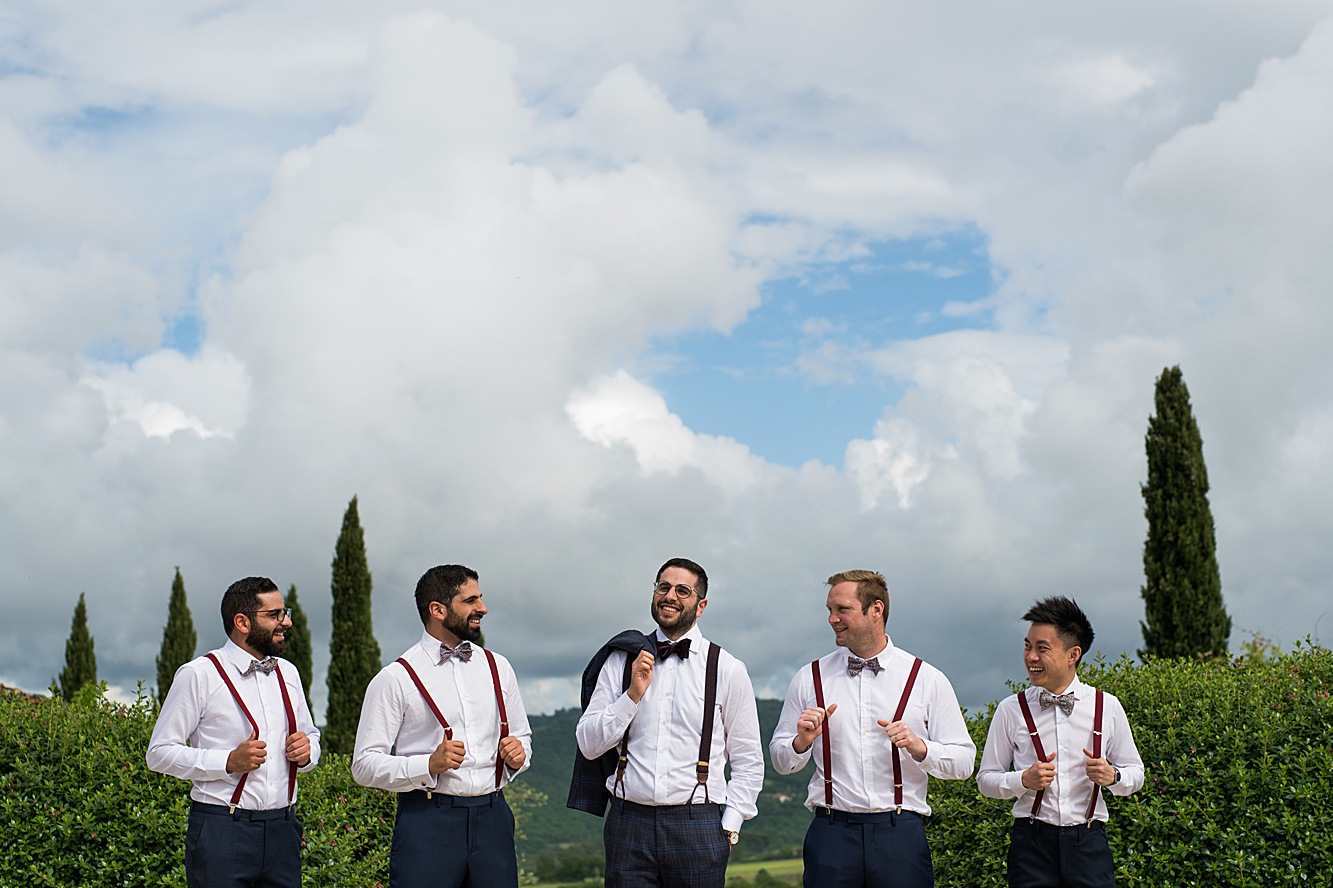 The bridesmaids looked sensational in their slinky slip and wrap gowns in hues of pink and nude, all from Bec + Bridge.
"I chose a palette and a selection of dresses for each of them to choose from – they chose what worked with their taste and body type."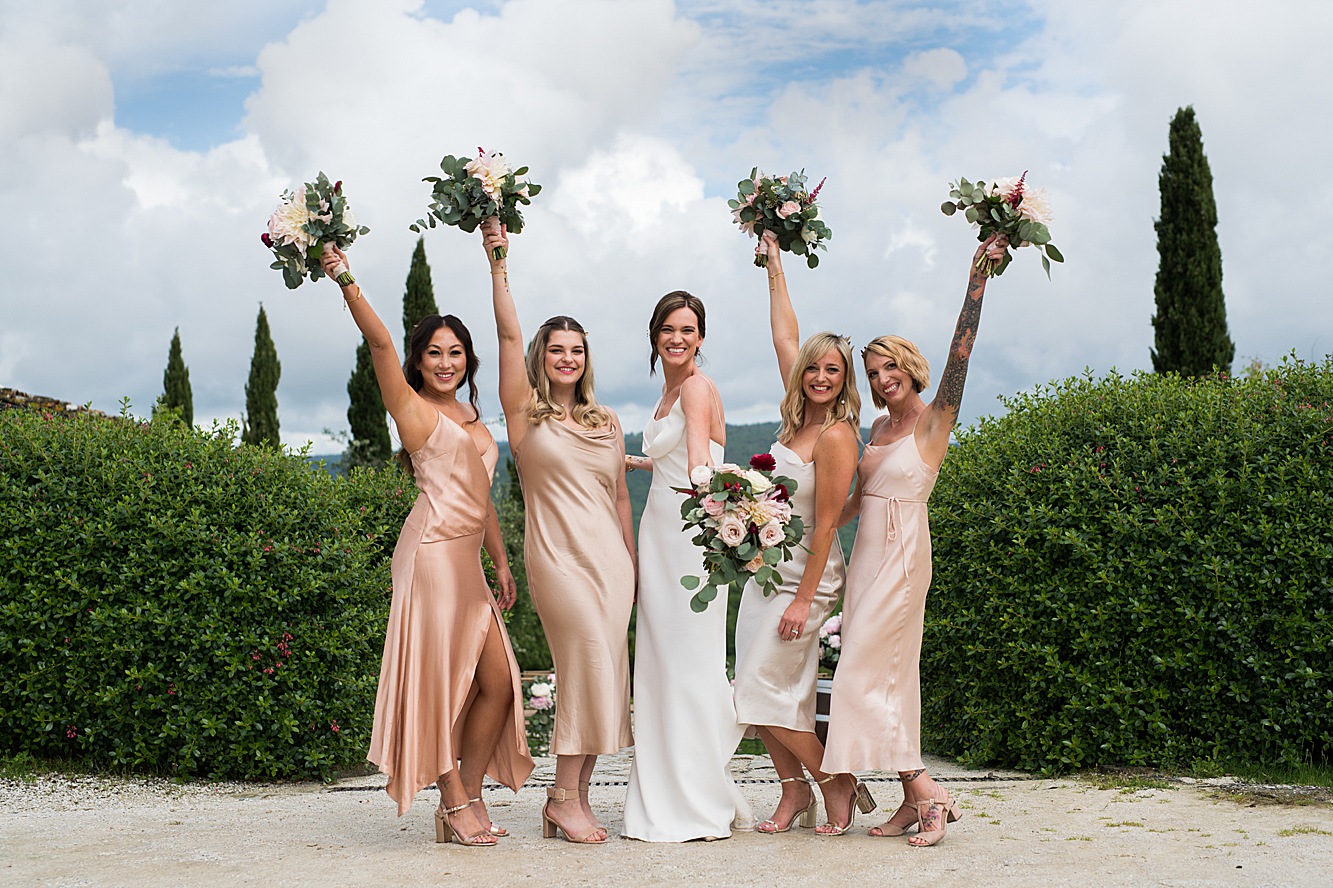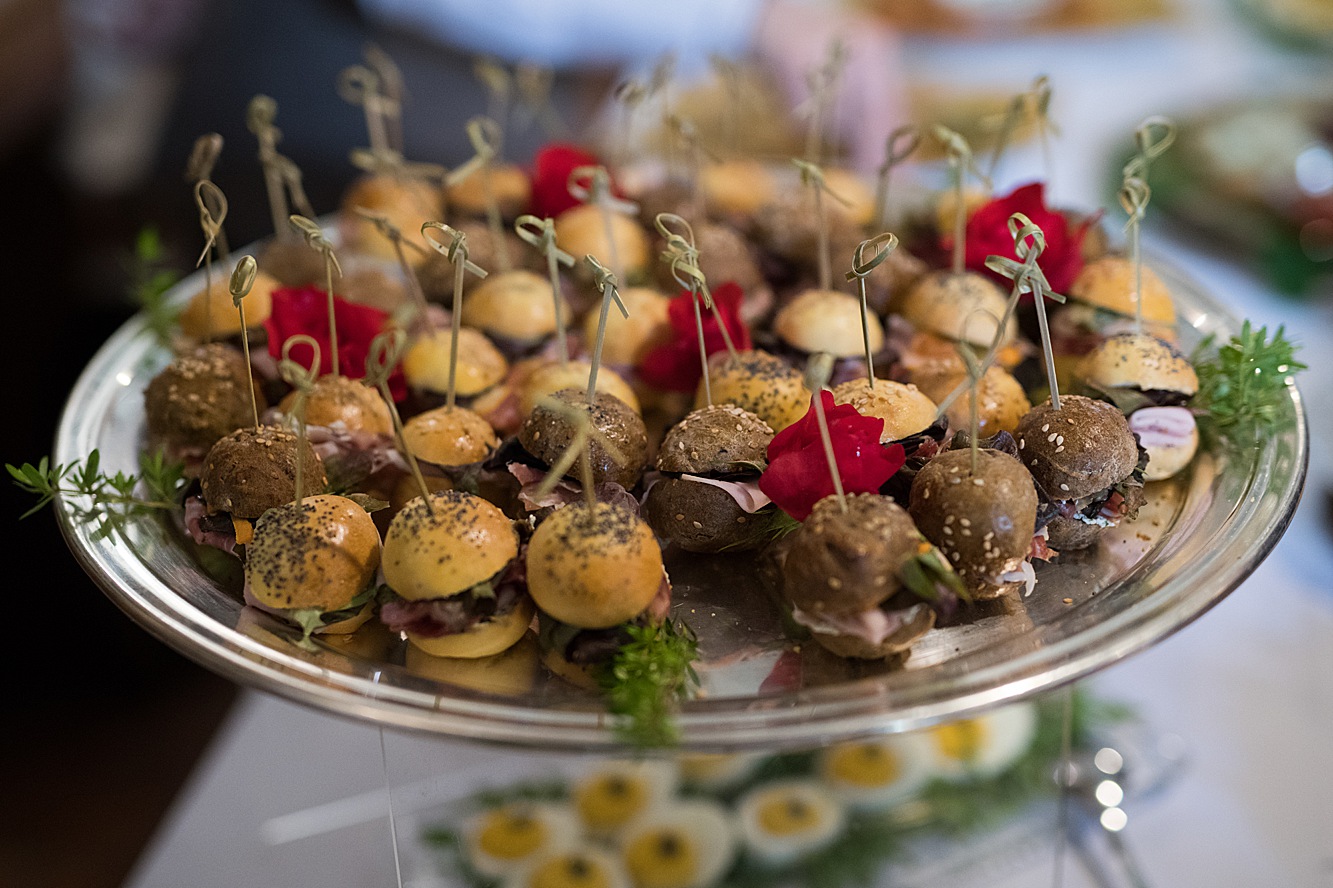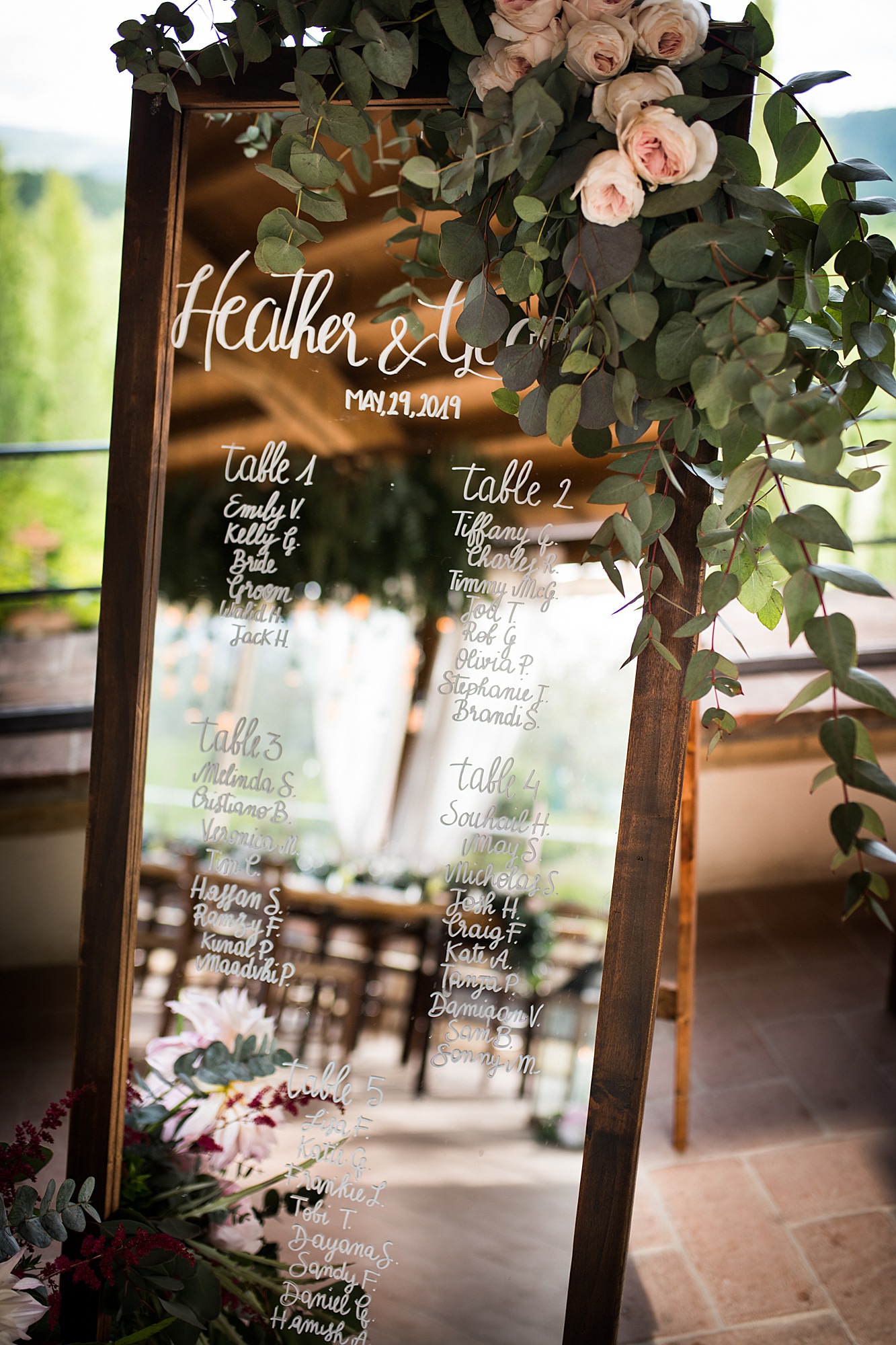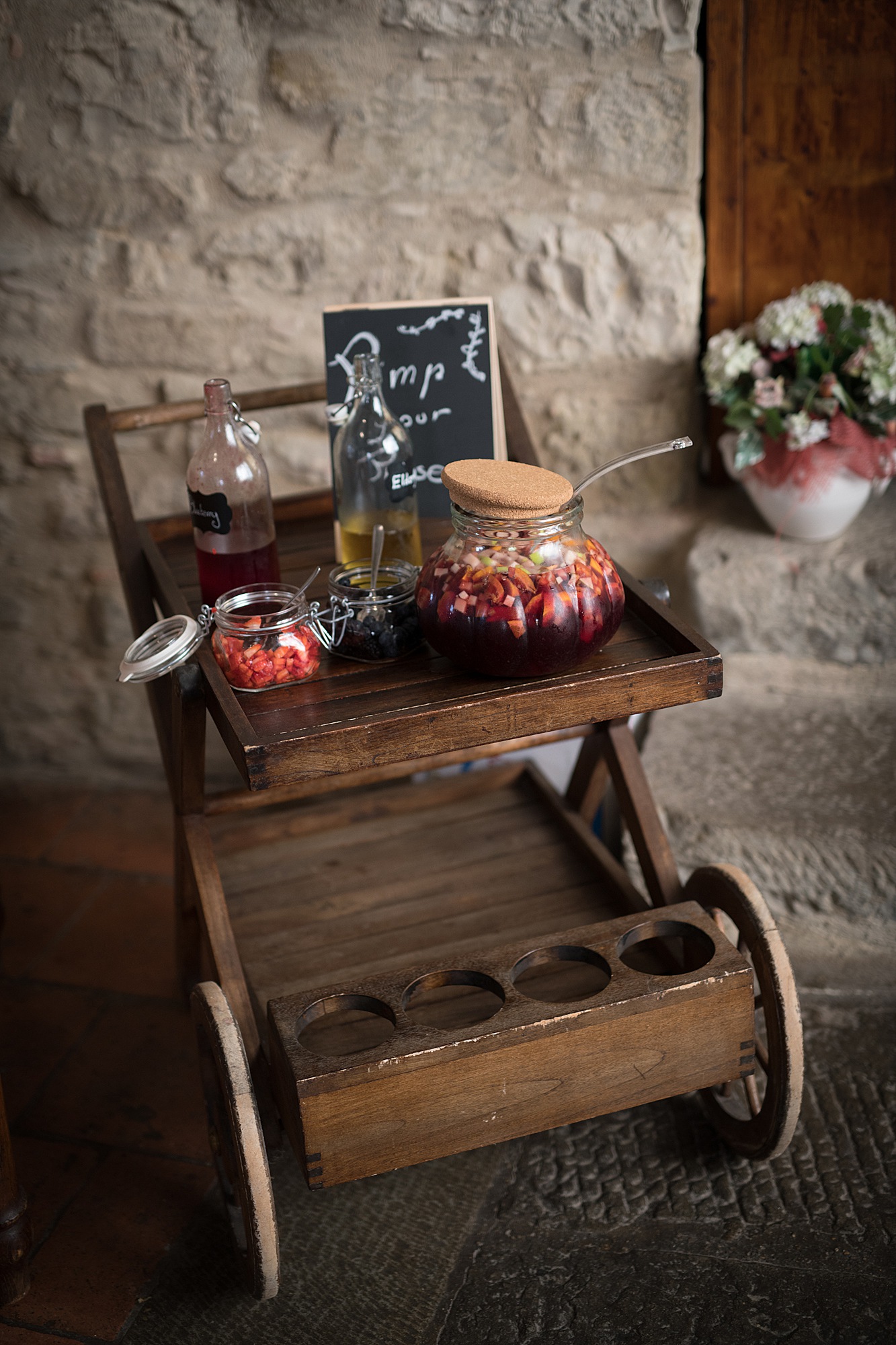 Looking at the wonderful view of Tuscany, I'm so glad that the weather held and the couple could celebrate with their family and friends in the beautiful outdoors.
"We were keen to have some live jazz music for the aperitivi so we found a Tuscan quartet –  LessJazz Quartet – who specialise in this style. Camilla and her musicians were perfect for creating a relaxing and chilled-out atmosphere during the cocktails, but they were also fantastic at playing the tunes we chose for our ceremony."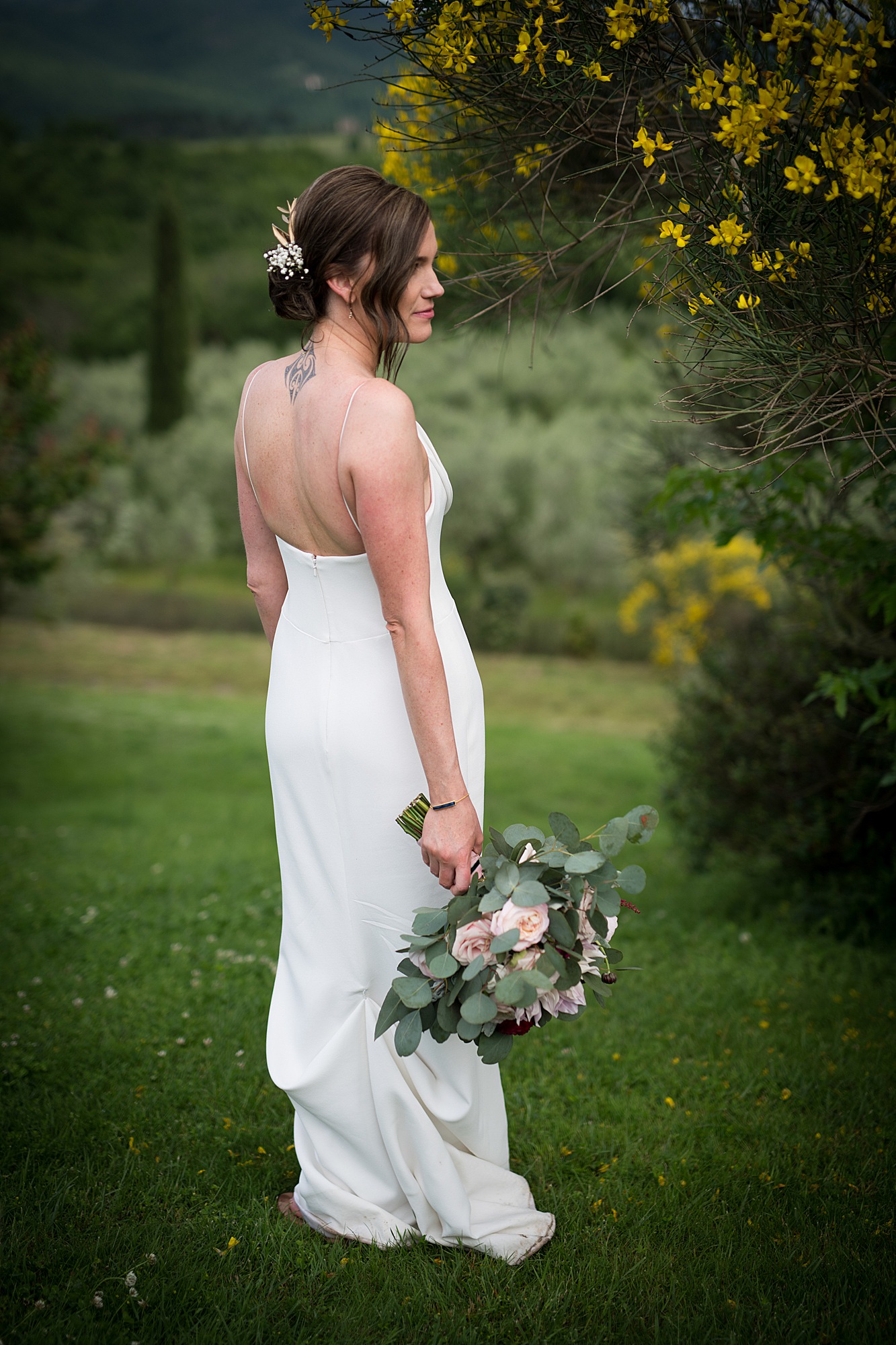 "A marquee was not in our original plan but due to the adverse forecast in the days before the wedding we have to make a last moment decision to have one."
"Luckily, we managed to do almost everything outdoors but later in the evening it was quite chilly and it was nice to have the marquee for our party! We used the local company Happy Days Italia."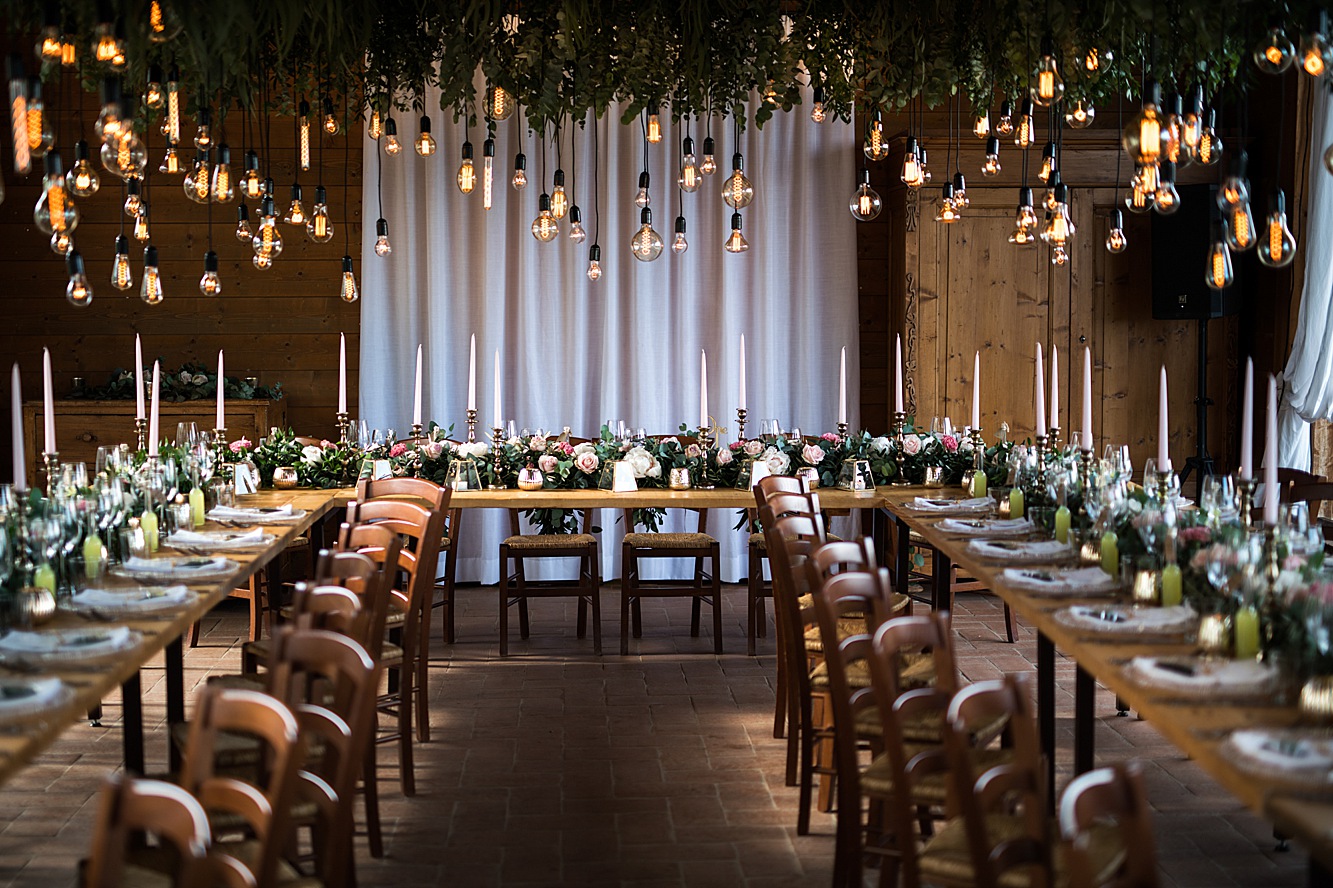 I have to agree with Heather that the lighting organised by event planner Rosy really brought the dining room to life.
"The reception was arranged in the covered terrace of the venue, which we decorated with falling greens and vintage bulbs. Timber tables were left naked and decorated with a beautiful runner of Tuscan greens and delicate pink flowers, light pink candles in dark gold candlesticks and white tea lights in amber glasses."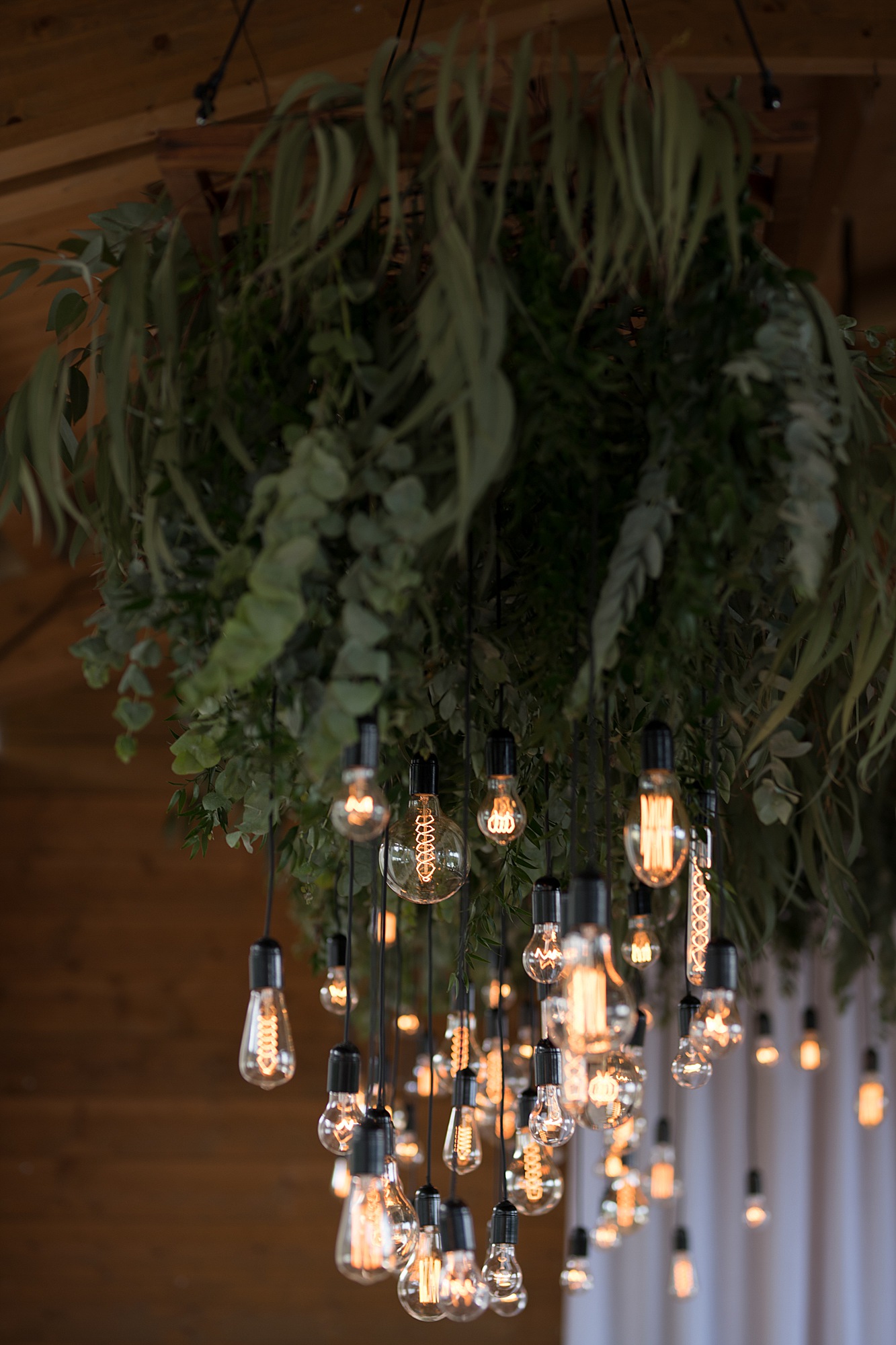 "To complete the design scheme in the reception room we chose Wedding Central House, a local lighting company specialising in wedding light installations. The hanging work took several hours of labour between the florists and the lighting company to combine the hanging greenery with the bulbs but the result was spectacular and we felt it really made the setting unique."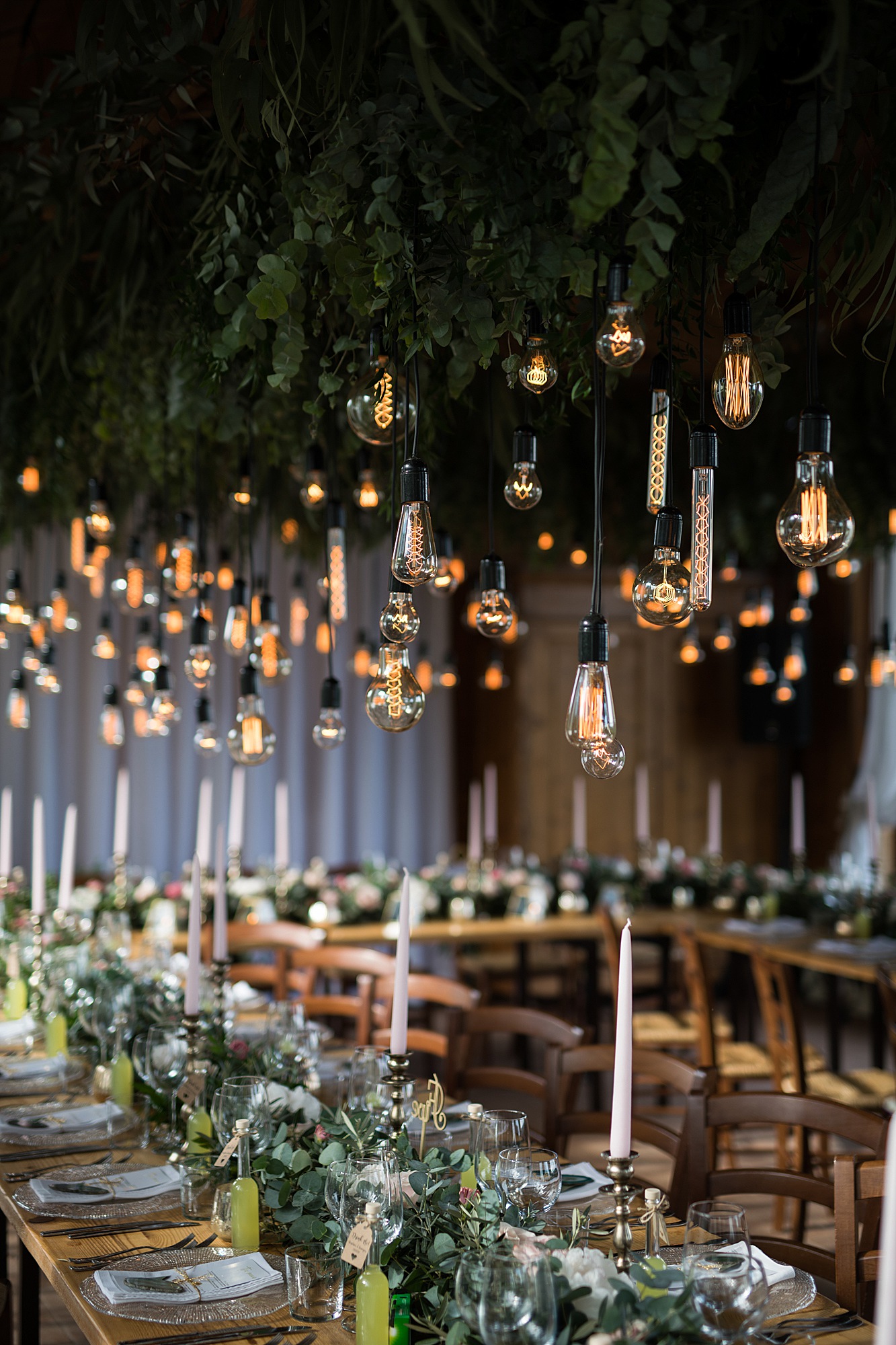 In a gorgeously stylish touch, the guests' place cards were green agate slices with their names in gold ink, from EGLettering on Etsy.
"They made a fantastic statement on the tables. We wanted to have something truly Italian to give to our guests, but that would look nice on the tables and complement our scheme, so Casa Cornacchi crafted some delicate Limoncello bottles. They also added a gentle yellow touch to our tables."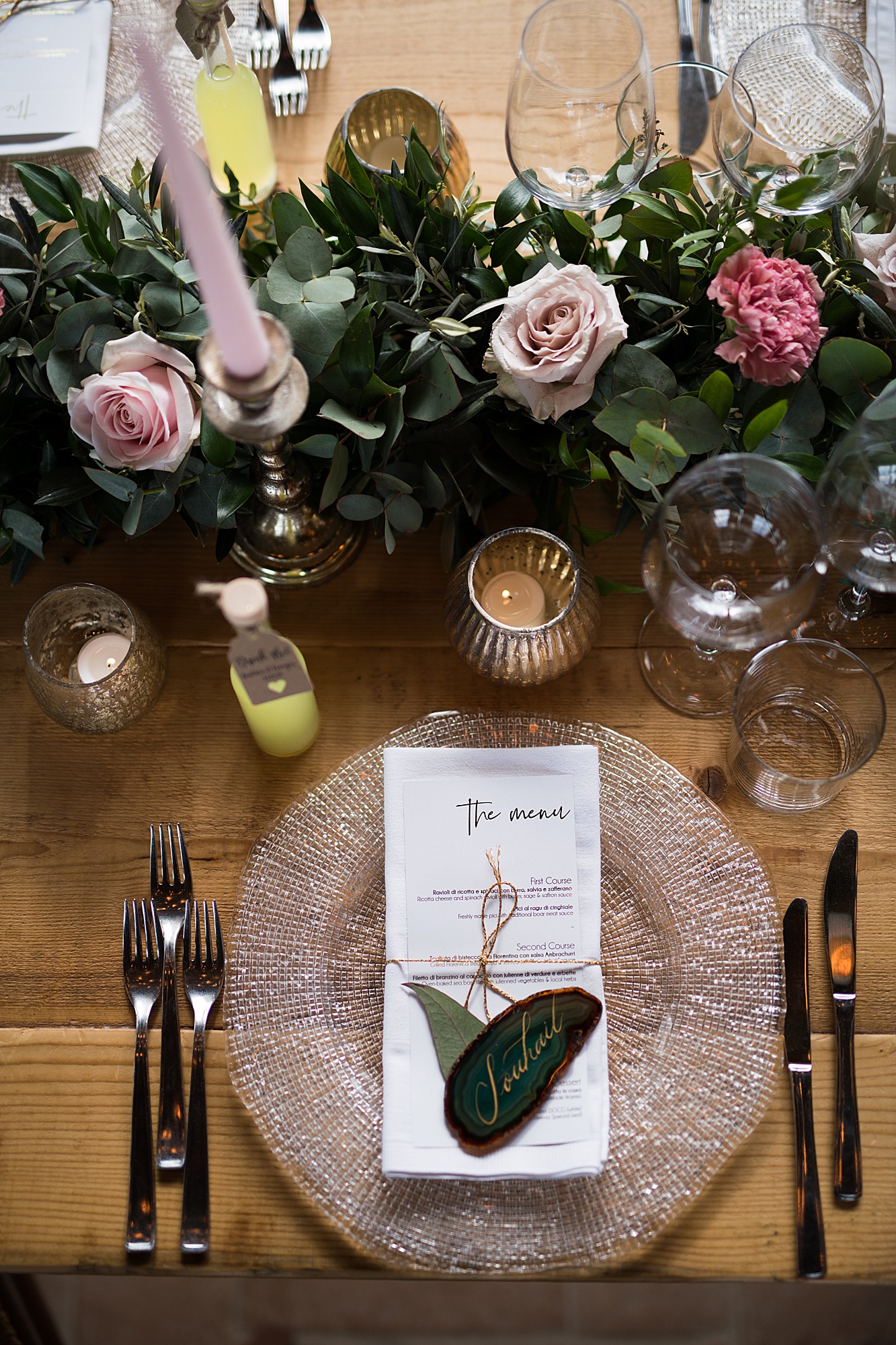 "We were very lucky as Casa Cornacchi has its own catering service so we were provided with fantastic meals throughout the whole weekend including, of course, the wedding dinner; all freshly prepared and in true Tuscan style."
"We went for the traditional Italian wedding cake, the millefoglie; flaky puff pastry layered with a rich mix of cream and custard (Chantilly cream) and finished with summer berries and powdered sugar. It was made by the Casa Cornacchi pastry chefs in front of our guests!"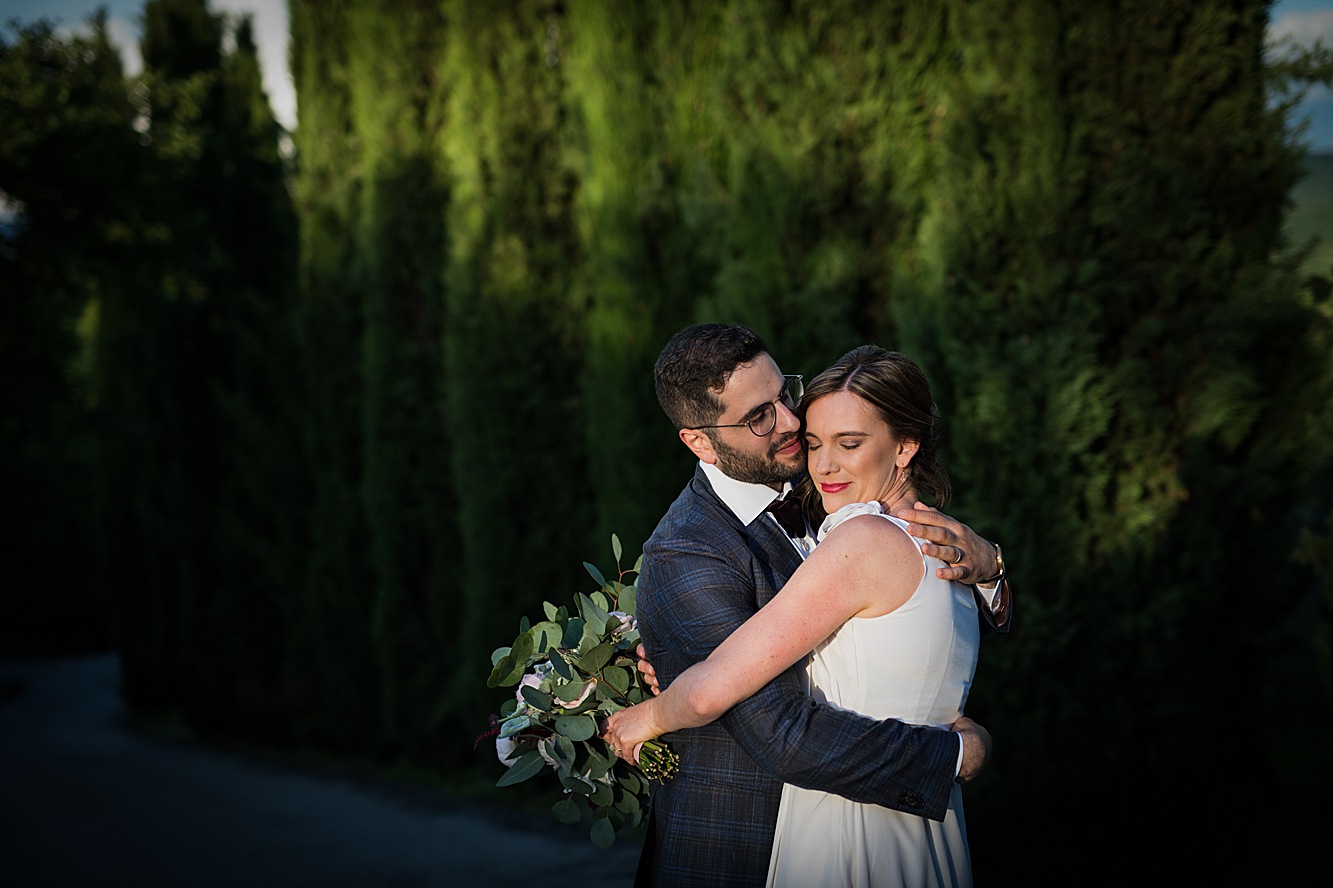 Before the evening party got underway, Heather slipped into something more suitable for dancing, with a pair of garnet-red velvet heels from L'Atelier de Charlotte via Anthropologie. Her white silk dress from Emelita via Wolf & Badger was the perfect blend of bridal and boho, and flows so wonderful as she moves.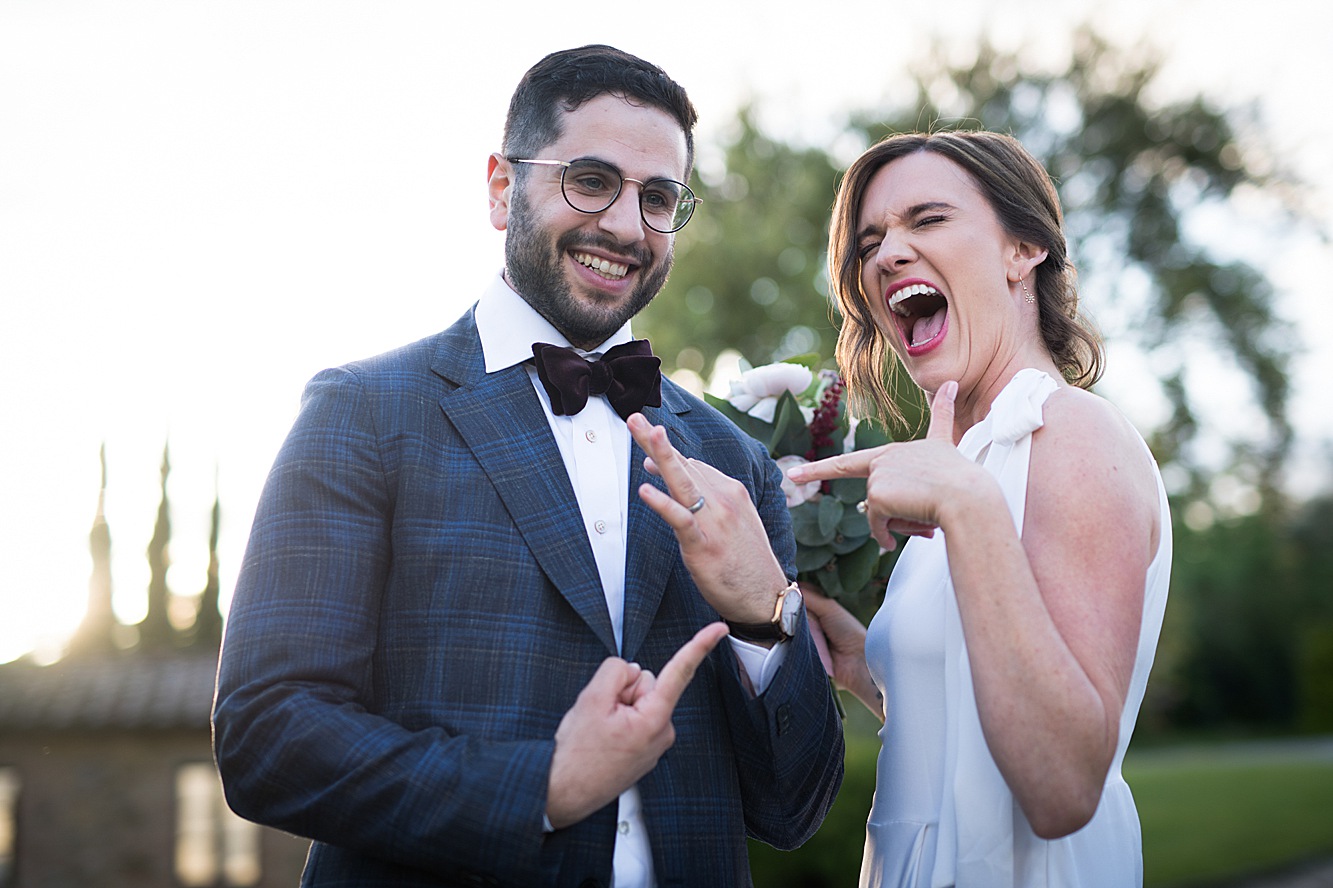 "For the reception dress, I needed something more giving for the dance. I love a pop of colour and comfort, hence the red shoes."
"For the party we wanted a DJ who used the traditional vinyl records and we found Ed Gillum from First Dance. the perfect mix of English and Italian music culture which we wanted."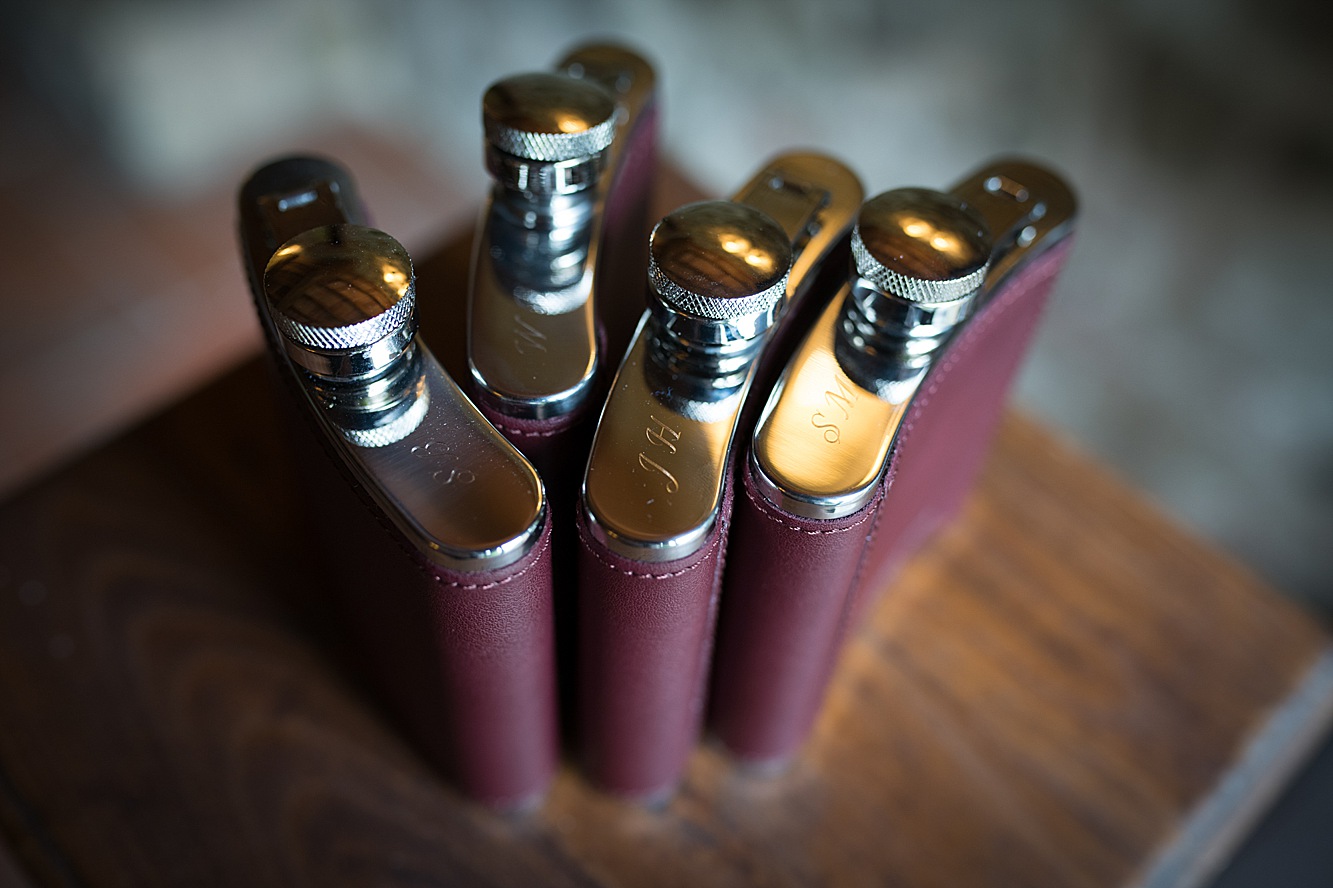 The newly-weds' first dance was the beautiful 'Cheek to Cheek' by Fred Astaire.
"It was a tribute to my grandparents. We also had a wonderfully choreographed first dance, partially re-enacting the dance from the movie 'Top Hat'. Ending on a funny note, we finished the dance off with the 'Fresh Prince of Bel Air' rendition of 'Jump On It'. Our choreographer was Miriam from Start The Dance – and she was wonderful!"
Over to Heather for some of her favourite moments of her and George's wedding day.
"The entire day was so special it would be difficult to choose one moment. The day was meant to start at 3pm and it rained ALL morning. We nearly went with plan B when the clouds parted just on cue, leaving the most magical lighting. The photos that Nataly took captured our joy and our friends and family better than we imagined. A true highlight, however, was the rainbow which lasted during dinner and the speeches for a good 45 minutes. We all feel it was my mom and grandma watching. It still brings tears to my eyes."
Words of Wedded Wisdom
"If you have a planner, listen to them and try to respond quickly – they're trying to help you. If you don't have a planner, get one!"
"Don't drink too much. We held off until after our dance (because it was choreographed and we were nervous as hell ) but are glad we did. I can vividly remember more than imaginable and I'm thankful for that."
"Wear comfortable shoes."
"And most of all, at various points through the night, turn to your husband or wife and take a moment to pause. Capture moments in the night. Remember and take a minute to breathe. It goes by in an instant."
Heather and George, words cannot express how much I've loved sharing your beautiful Tuscan day. Your gown is the epitome of elegant and graceful and it's incredible just how atmospheric a careful selection of flowers and lighting can be. Thank you so much to you both for sharing your day with us, and thank you to photographer Nataly Montanari too.
Finally, thank you WeddingInWonderland for your exquisite styling and planning work and for all of you brides thinking about heading to Italy for your day, please do check out her Little Book listing here.
With love
Ele xx